ファックブックフジタブロック
FUCKBOOKFOUJITABLOCK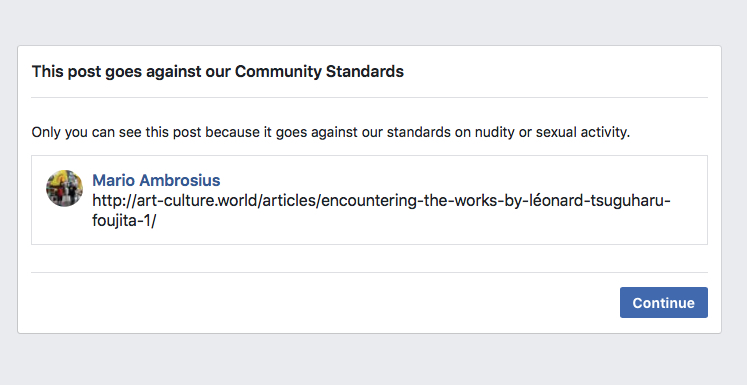 Let's use American language、米国の日常生活の中、表現語彙を使用させていただきます:
FBFB。ファックブックブロック。
Fuckbook is actually blocking my account for 1 week, because I attached the link about Foujita
藤田嗣治・Léonard Foujitaの作品との出会い(1)
Encountering the works by Léonard Tsuguharu Foujita (1)
http://art-culture.world/articles/encountering-the-works-by-léonard-tsuguharu-foujita-1/
to this ART+CULTURE website on my fb "comment" section.
Nothing changed after my complains, see attached screenshots. Looking at other people's postings on my timeline (when the "case" was still 'open'), I wonder where the criteria regarding censorship starts. Via a youtube video, see below, the Flemish Tourism Board perfectly pointed out to this severe problem.
We are not only talking about "cultural censorship", but an art-related "nudity" fb-posting means: Facebook is actually obstructing your profession as an artist!
That's my case, as I can't post some of my nudity-related works on my facebook page.
Instagram behaves even worse. Instagram's censorship regarding art-related erotic works is so common, it makes no sense for me to open an account if I can't show my works there.
Twitter, on the contrary, behaves much more liberal.
急ぎで、ご連絡したい方へ, in case you want to contact me urgently, please use my contact sheet at my website.
https://marioa.com/contact/
Wishing you a hotty and a lovely summer vacation
Tokyo, 2018/8/2
Mario
See the Flemish Tourism Board's Hilarious Response to Facebook's Relentless Censorship of Peter Paul Rubens
In the satirical video, a team of "Social Media Inspectors" block viewers from seeing paintings at the Rubens House in Antwerp.
Kate Brown, July 24, 2018
Still from the video released by the Flemish tourism board. Via YouTube.
In a satirical new YouTube video, the Flemish tourism board is calling out Facebook for the site's incessant censoring of one of Belgium's national treasures: the baroque Flemish painter Peter Paul Rubens.
An advertisement featuring Rubens's celebrated painting The Descent from the Cross, which depicts Jesus Christ in a loincloth, is among those that Facebook has taken down in recent years.
In the satirical video, Facebook-branded security—called "fbi"—redirect unwitting crowds at the Rubens House in Antwerp away from paintings that depict nude figures. "We need to direct you away from nudity, even if artistic in nature," says one Social Media Inspector.
According to Facebook's policy, ads containing sexually oriented content, including artistic or educational nudes, are prohibited on the sharing platform. This excludes statues, apparently, though they did try to censor the prehistoric figurine the Venus of Willendorf earlier this year, after it was posted on the Facebook account of the Kunsthistoriches Musem in Vienna.
In March, a French court ruled that Facebook could not censor Gustave Courbet's painting Origin of the World after its image had been removed from the site. There was also an outcry when Facebook forced the removal of Eugene Delacroix's Liberty Leading the People (1830) from an advertisement. (The social media site later apologized.)
The Flemish video, as well as a cheeky open letter from the tourism board and a group of Belgian museums, asks Facebook to roll back its censorship standards so that they can promote Rubens. "Breasts, buttocks and Peter Paul Rubens' cherubs are all considered indecent. Not by us, but by you," the letter, addressed to Facebook CEO Mark Zuckerberg, says. "Even though we secretly have to laugh about it, your cultural censorship is making life rather difficult for us."
The social media scandal comes on the heels of string of censorship issues from the media giant, which is struggling to keep its younger users on board.
The Guardian reported that Facebook is planning to have talks with the Flemish tourist board.
https://news.artnet.com/art-world/flemish-museums-art-censorship-rubens-1322735
Art museums fight Facebook over nudity
AP, REUTERS, JUL 29, 2018 

BRUSSELS – For four centuries, the opulent, exuberant nudes of Peter Paul Rubens have been known to shock and delight in sometimes equal measure. Now his baroque paintings are jolting the internet.
Belgian museums are uniting in protest against Facebook because they cannot promote Flemish masters, including Rubens, for fear of falling foul of the social media site's rules on adult content and its automatic censorship.
"The bare breasts and buttocks painted by our artist are considered by you to be inappropriate. We have noticed that Facebook consistently rejects works of art by our beloved Peter Paul Rubens," over a dozen top Belgian art officials wrote to Facebook CEO Mark Zuckerberg.
The Visit Flanders tourist board even produced a mock video in which two "social media inspectors" wearing uniforms emblazoned with something like the Facebook logo approach people at the Rubens House Museum in Antwerp and ask if they have social media accounts. If they answer yes, the tourists are steered away from Rubens' "Adam and Eve" to paintings without nudity, "for your own protection."
Point made, the tourist board hopes.
"Twenty percent of the (Facebook) posts that we dedicated to the Flemish masters couldn't be shown to our audience, our cultural audience worldwide," said spokeswoman Tama d'Haen of Visit Flanders.
"It's really embarrassing for Visit Flanders that we cannot show one of our main assets to the world. That's why we came up with the idea of a video," she said.
Facebook says it understands the issue. Yet even if it allows paintings like those from Rubens to be posted, it has more restrictive rules when it comes to advertising, which "must not contain adult content. This includes nudity, depictions of people in explicit or suggestive positions, or activities that are overly suggestive or sexually provocative."
The Facebook rules go on to say that it includes "nudity or implied nudity, even if artistic or educational in nature."
And that is where Rubens and other masters get caught in the act.
D'Haen said Belgian officials want Facebook to "make a difference between nudity in general, pornographic nudity — which is of course not allowed on their platform — and the nudity which is part of many paintings hanging in Flanders and worldwide."
She said they never get complaints from museum-goers about the nudity.
Both sides have agreed to a meeting to discuss the topic in detail.
Facebook wrote to The Associated Press on Friday saying that "as part of a longer running and continuous review process, we want to make sure that museums and other institutions are able to share some of their most iconic paintings."
"We are thus currently reviewing our approach to nudity in paintings in ads on Facebook," the statement said.
In 2016, Facebook reversed its decision to remove a famous Vietnam War photograph of a naked girl, Phan Thi Kim Phuc, running away after a napalm attack.
The issue of censorship wouldn't be unfamiliar to Rubens, who died in 1640. After all, the Roman Catholic Church in his time already asked him to paint loincloths over body parts of his Venus figures, although he preferred the natural concourse of muscle, skin and fat.
It was always thus, said Paolo Grossi of the Italian Cultural Institute in Brussels.
"Everyone knows the story of Il Braghettone, the famous Daniele da Volterra who was asked to paint loincloths over Michelangelo's nudes in "The Last Judgment' " in the Sistine Chapel at the Vatican, Grossi said.
That directive was driven by moral concerns. Grossi, however, wondered if Facebook is now driven "by the need to deliver a politically correct message … and comply with Facebook's ad and business model to avoid any ripples."
https://www.japantimes.co.jp/news/2018/07/29/business/tech/rubens-vs-facebook-fight-artistic-nudity/#.W12gXy2B2Rs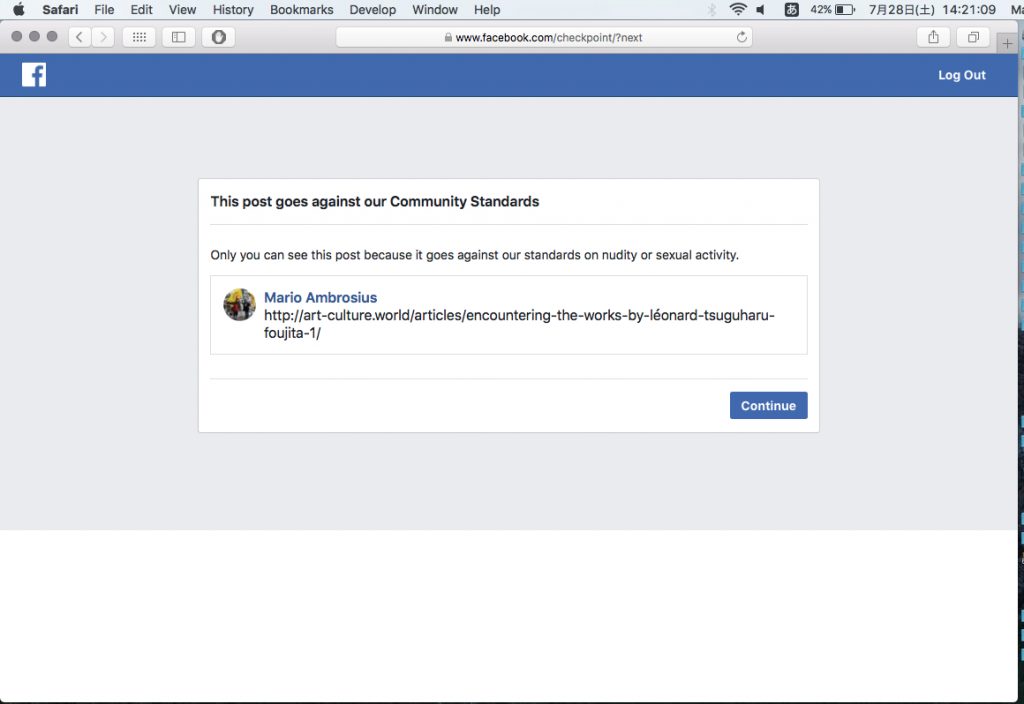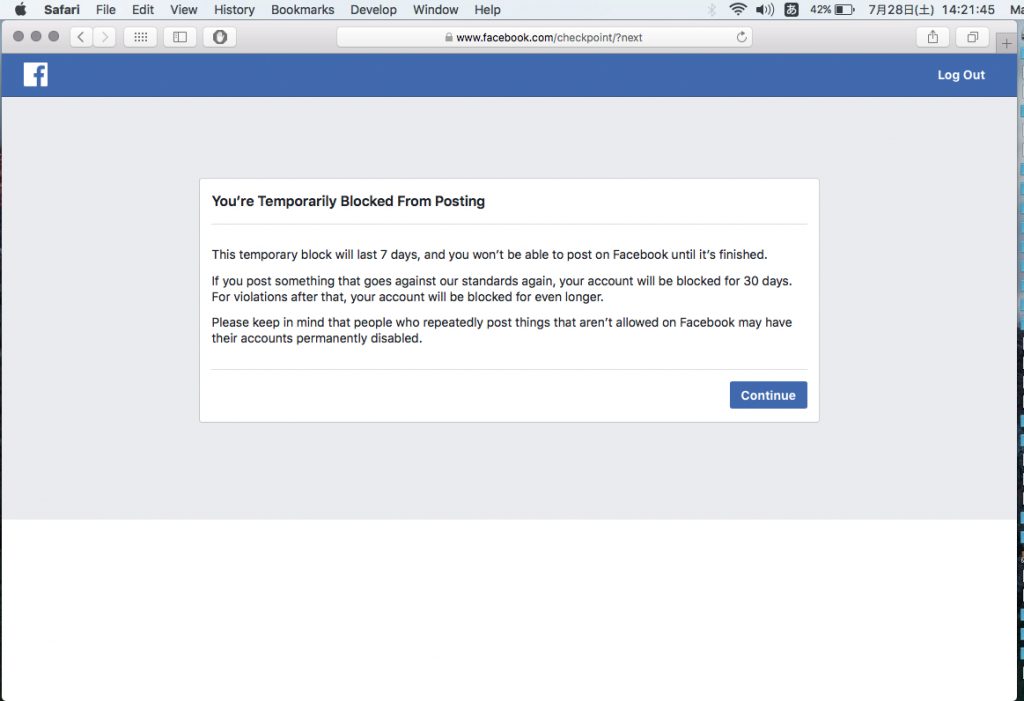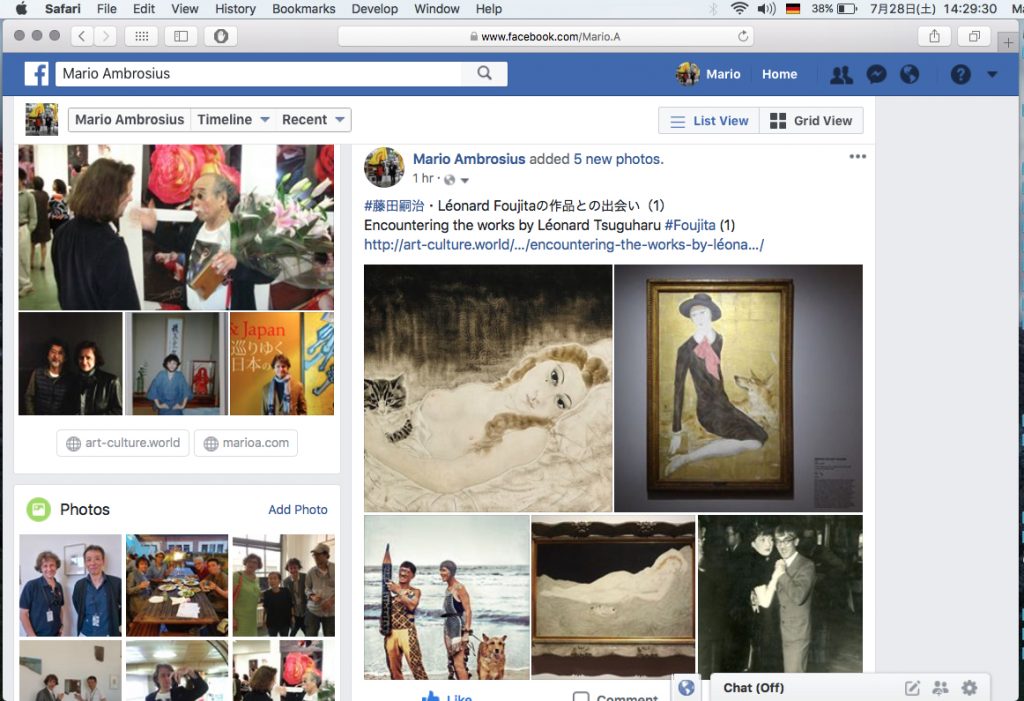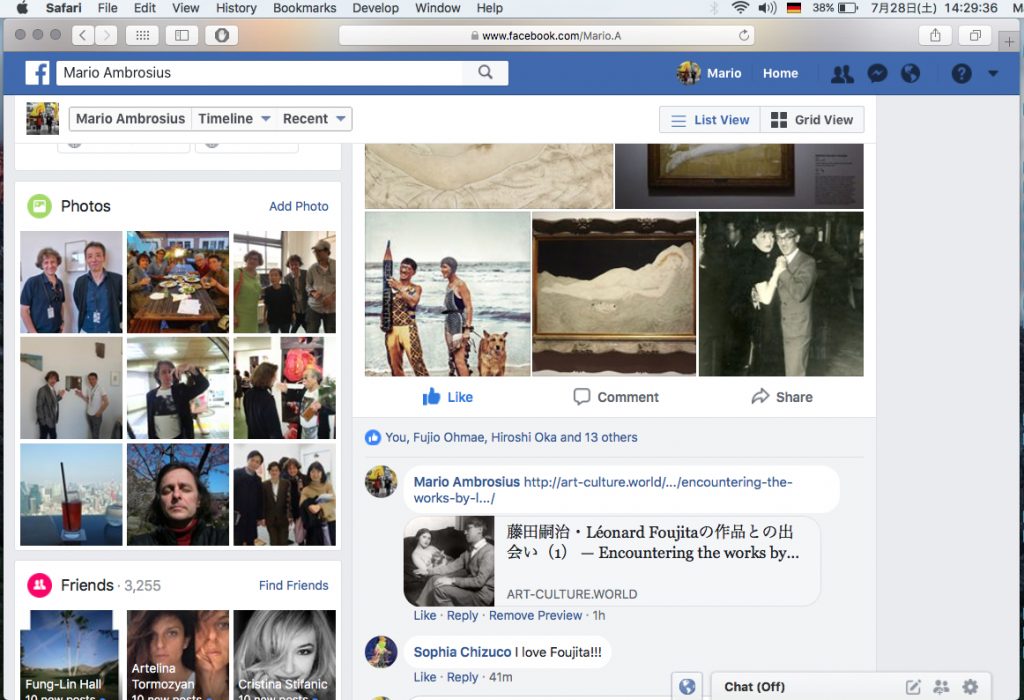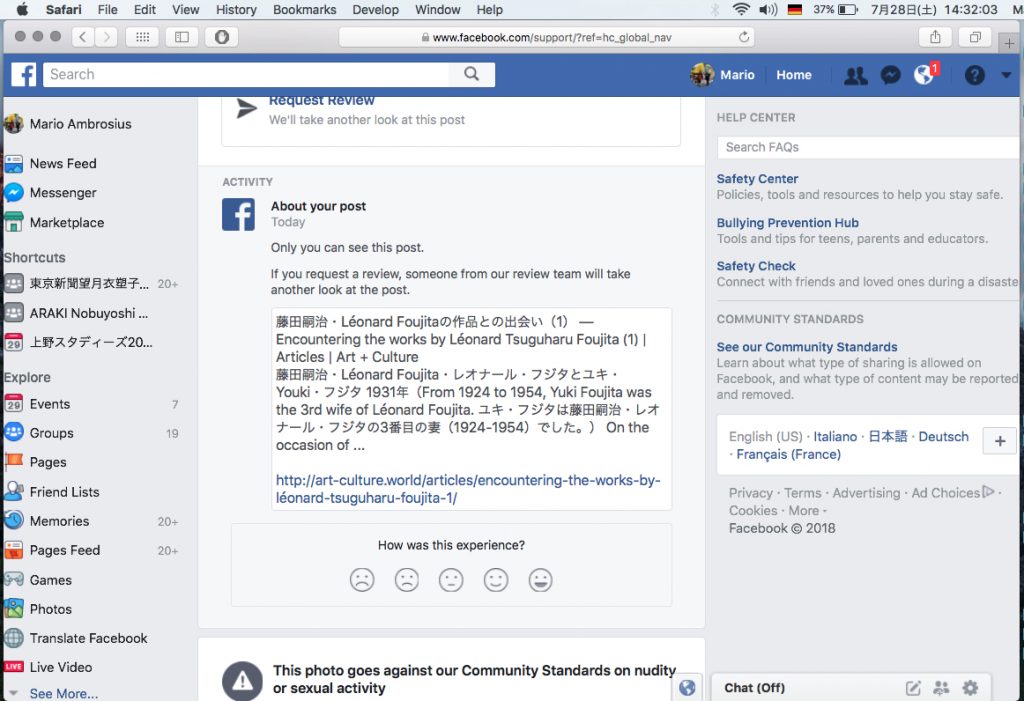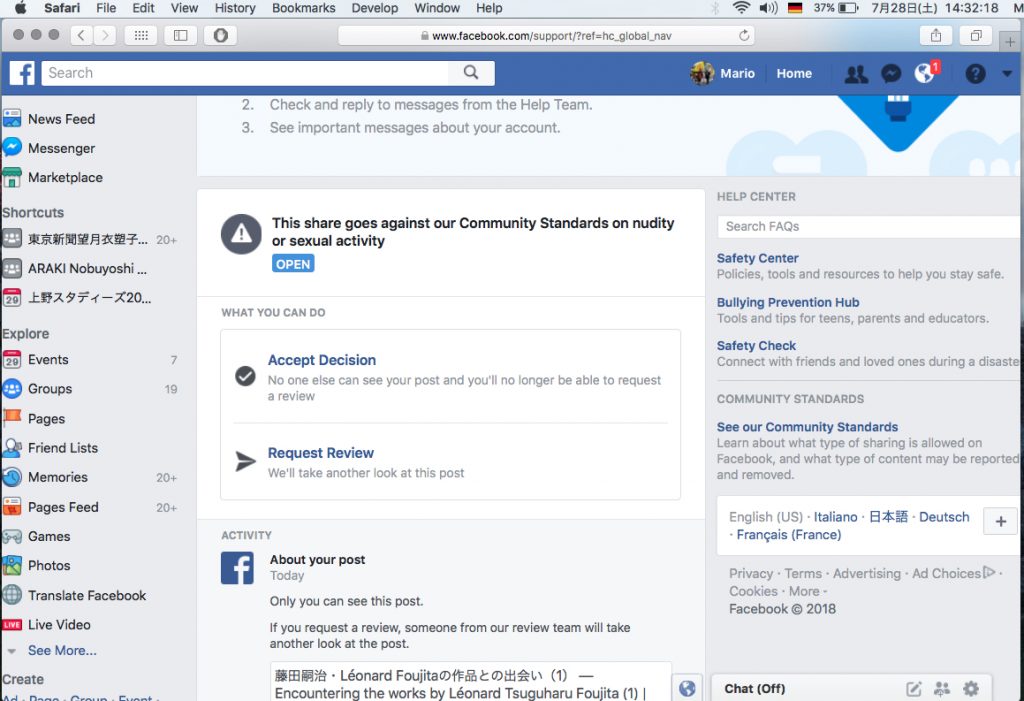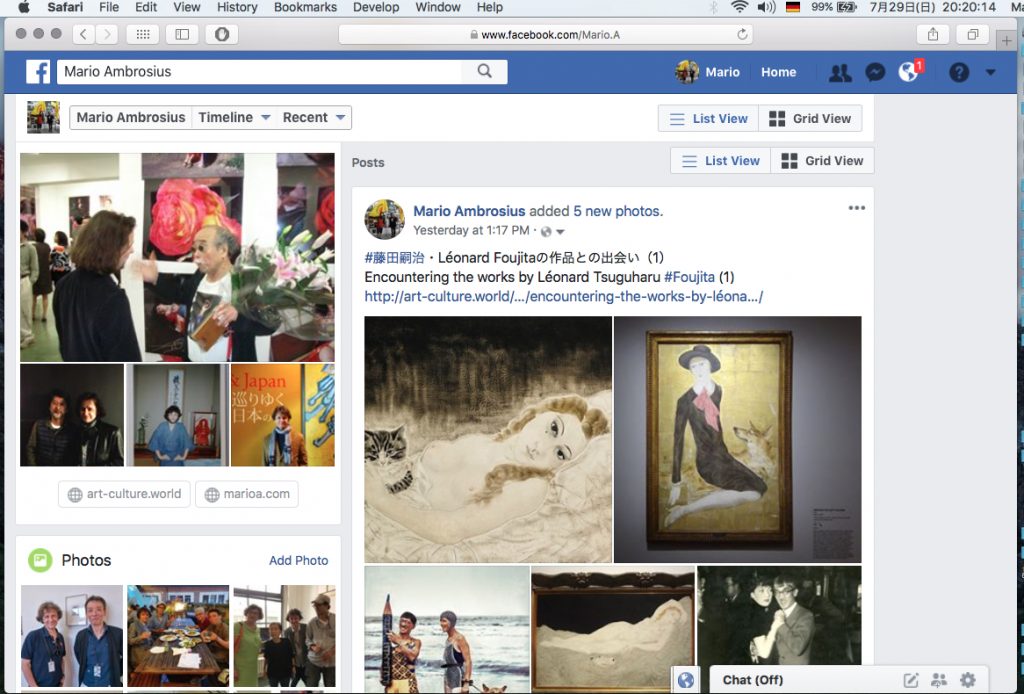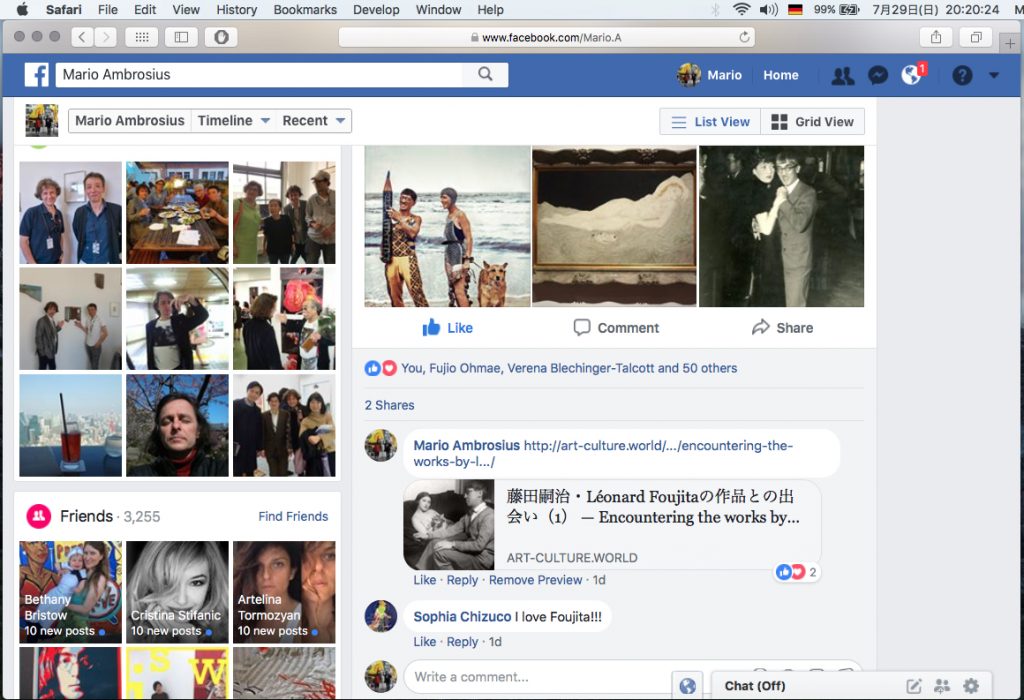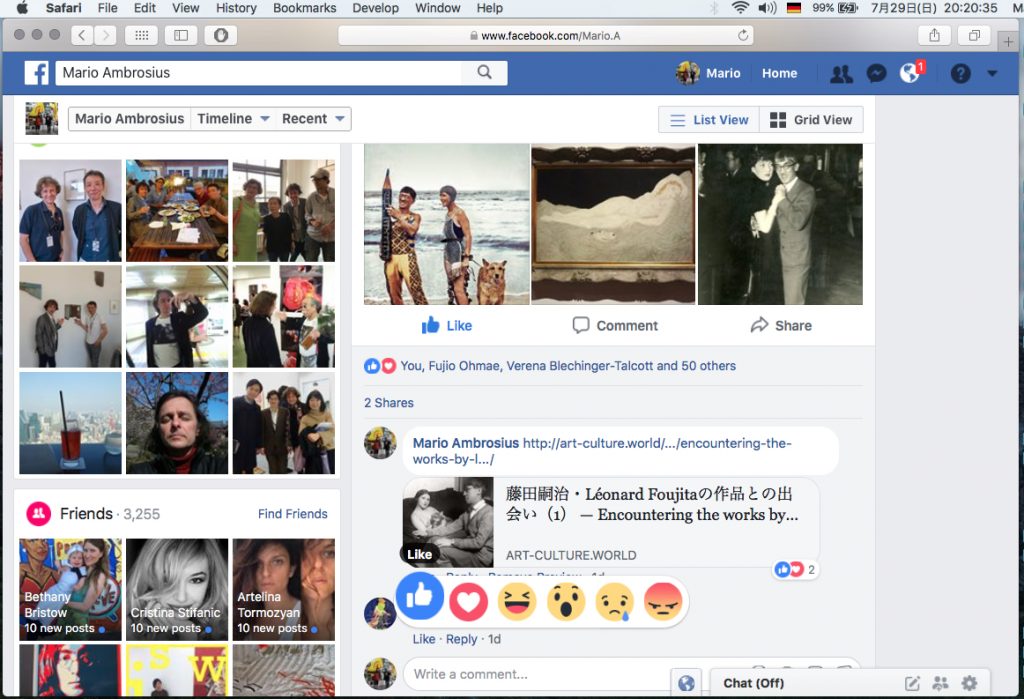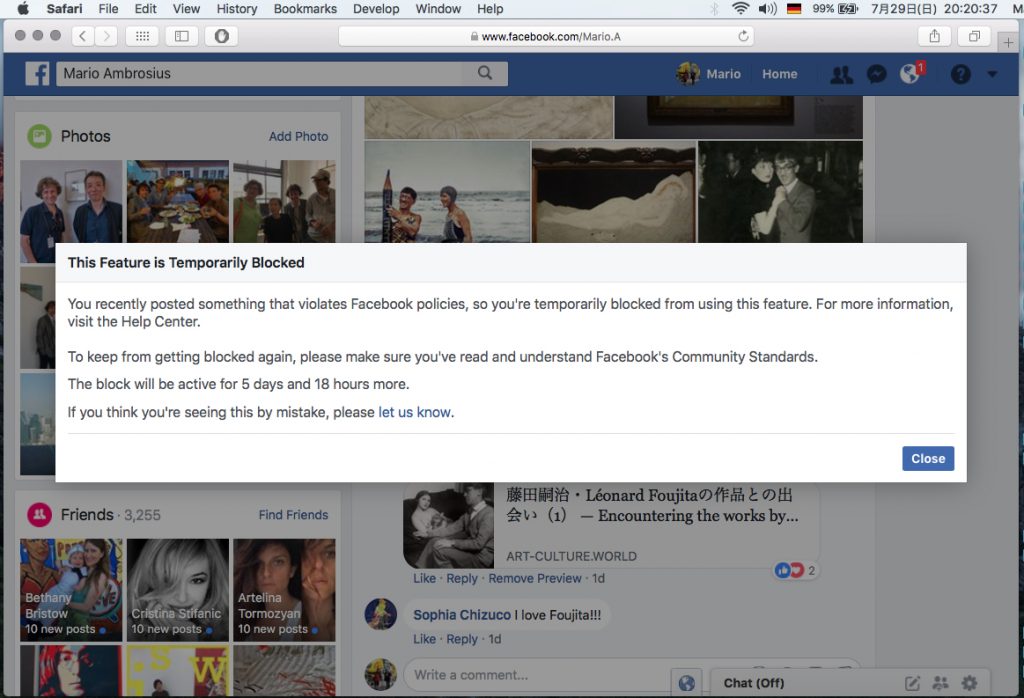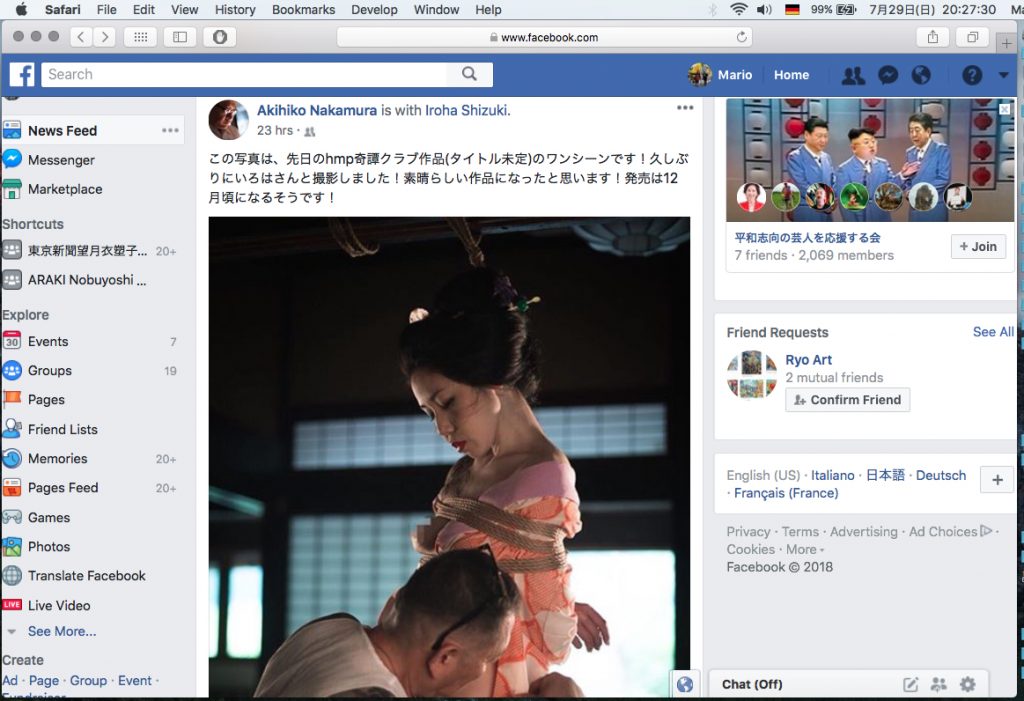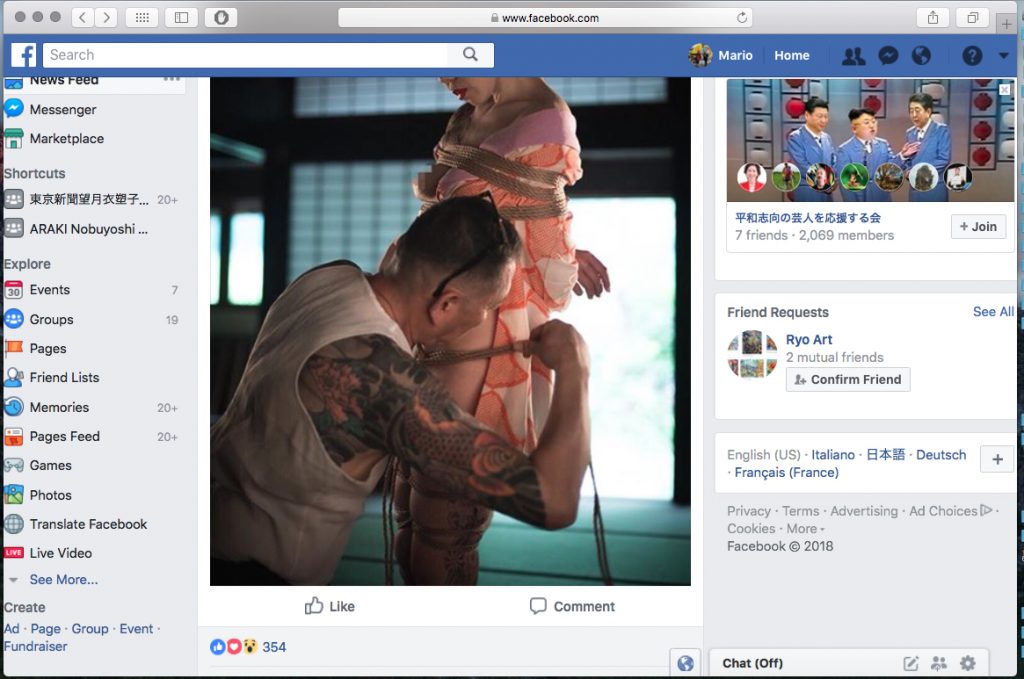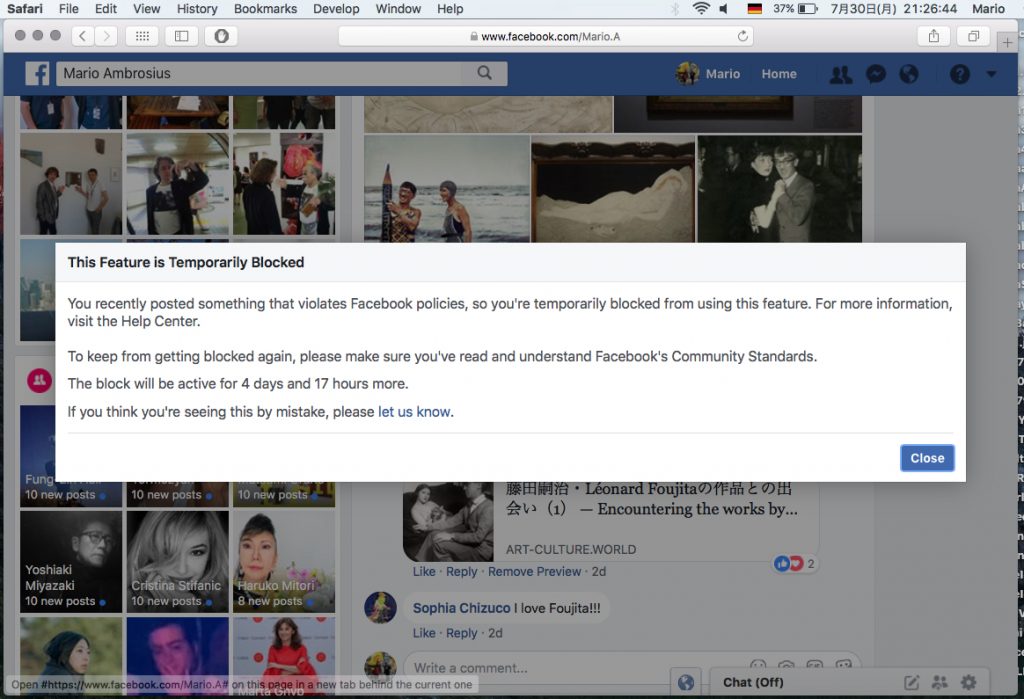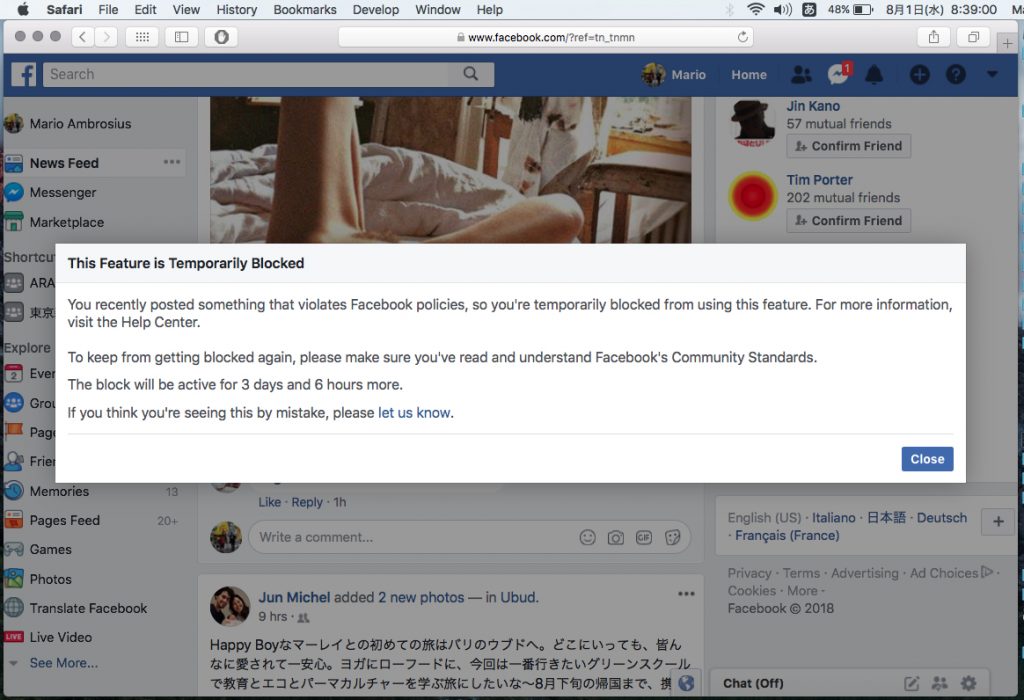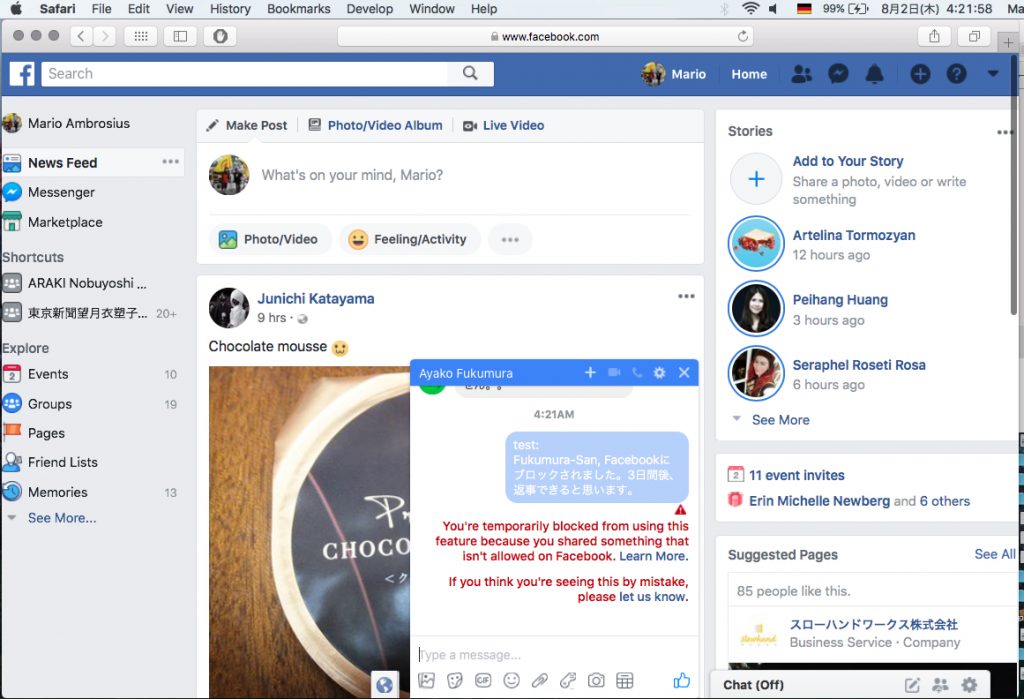 2018年8月2日、21:37、アップデート: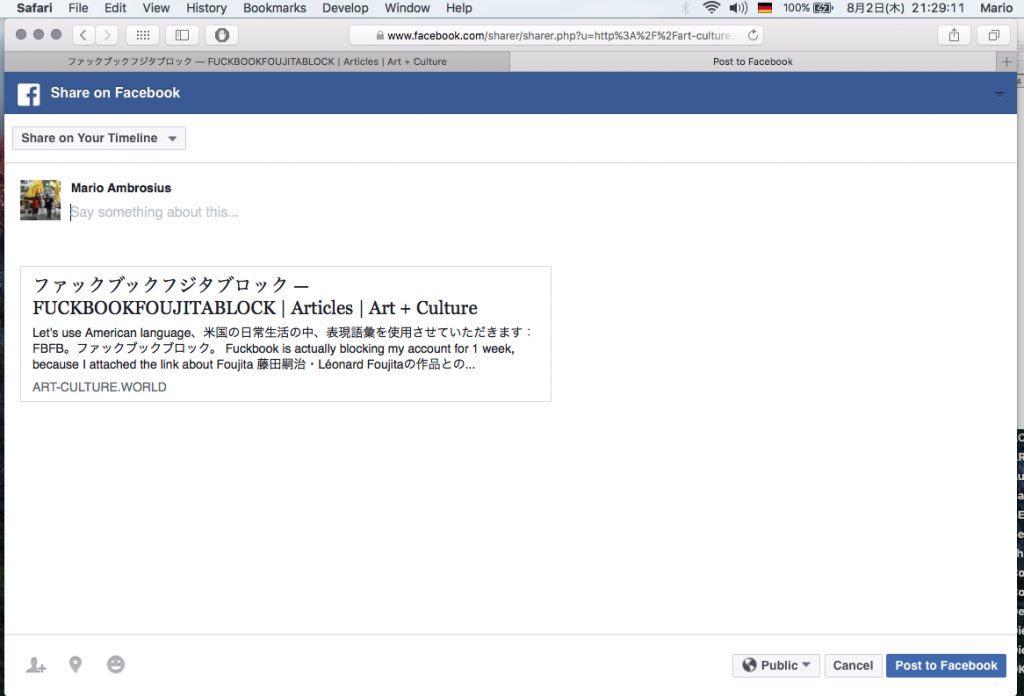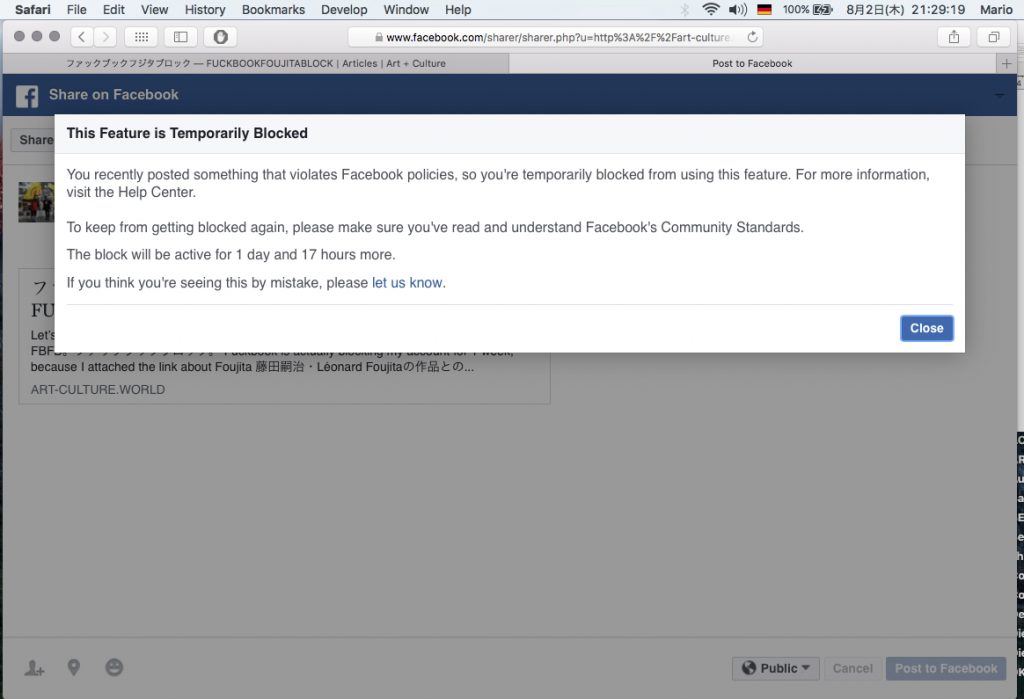 2018年8月9日、アップデート:
Facebook censors artist's work criticising male-dominated society because it features naked breasts
Icelandic artist Borghildur Indridadóttir says the social media giant also deleted friends and likes from her account
CLEMENS BOMSDORF
The Art Newspaper, 9th August 2018
The Icelandic artist Borghildur Indridadóttir says Facebook censored her images and took over her account after she had posted pictures that included bare female breasts. "Facebook told me that the pictures were against their community standard and did not only take those away from my timeline, but also deleted my friends and likes", she says.
….
Pictures and a livestream from the performance as well as a video advertising her exhibition—all including nudity—were uploaded on Facebook, but then deleted by the social media giant. The same happened to comments posted on Indridadóttir's Facebook site, according to the artist. A couple of weeks ago she tried to get in touch with Facebook asking why the company deleted friends and comments, but so far has not received a response.
more at:
https://www.theartnewspaper.com/news/facebook-censors-icelandic-artist
——–
2018/9/21 up-date
Facebook warned over 'misleading' user terms
Tech group faces sanctions in EU countries unless it clarifies how personal data is used
Mehreen Khan in Brussels Financial Times 2018/9/20
Brussels has warned Facebook it risks being hit by fines in EU member states if the social media giant does not make clearer how it uses personal data.
The European Commission on Thursday urged Facebook to amend its terms of service in order to comply with EU consumer protection laws or be hit with possible sanctions. Brussels has complained that Facebook's terms of use, which were updated in May, are misleading because they do not make clear that the company uses personal data for commercial purposes.
Facebook has been given until the end of the year to satisfy the EU's demand or face action in the bloc's 28 member states.
"My patience has reached its limit," said Vera Jourova, EU commissioner for justice and consumers. "While Facebook assured me [that it would] finally adapt any remaining misleading terms of services by December, this has been ongoing for too long. It is now time for action and no more promises."
Ms Jourova's warning came after the commission met Facebook representatives this week. The commissioner said she would encourage EU governments to "act swiftly and sanction the company" if the terms are not updated in the next three months.
Although the commission has no power to fine companies that breach consumer law, it can put pressure on the EU's member states to do so using national consumer protection legislation.
The case escalates tensions between the EU, which has one of the strictest data protection regimes in the world, and Facebook after the Cambridge Analytica scandal, in which an estimated 2.7m EU users had their information improperly shared.
This year Facebook rewrote its terms and data policy to reflect what information it collects about its users. Its data policy states that users' information helps "to select and personalise ads, offers and other sponsored content that we show you". 
Brussels is now pushing the social media platform to make clear that harvested data are used for commercial purposes.
In response to the commission's warning, Facebook said it had made a "vast" number of the changes proposed by Europe's consumer protection authorities and Brussels. 
"Our terms are now much clearer on what is and what isn't allowed on Facebook and on the options people have," the company said. "We . . . will continue our close co-operation to understand any further concerns and make appropriate updates."
Ms Jourova said the Cambridge Analytica scandal was a "stark reminder that not many people have clarity on how Facebook uses the personal information of its users and how it works with third parties like apps and games".
https://www.ft.com/content/336add48-bcc2-11e8-94b2-17176fbf93f5