前澤友作の米国アーティスト・ダーリン、マーク・グロッチャンの作品:クリスティーズのロンドン・オークションで下落
MAEZAWA Yusaku's American Artist Darling Mark Grotjahn @ Christie's London & Lévy Gorvy : Sharp Depreciation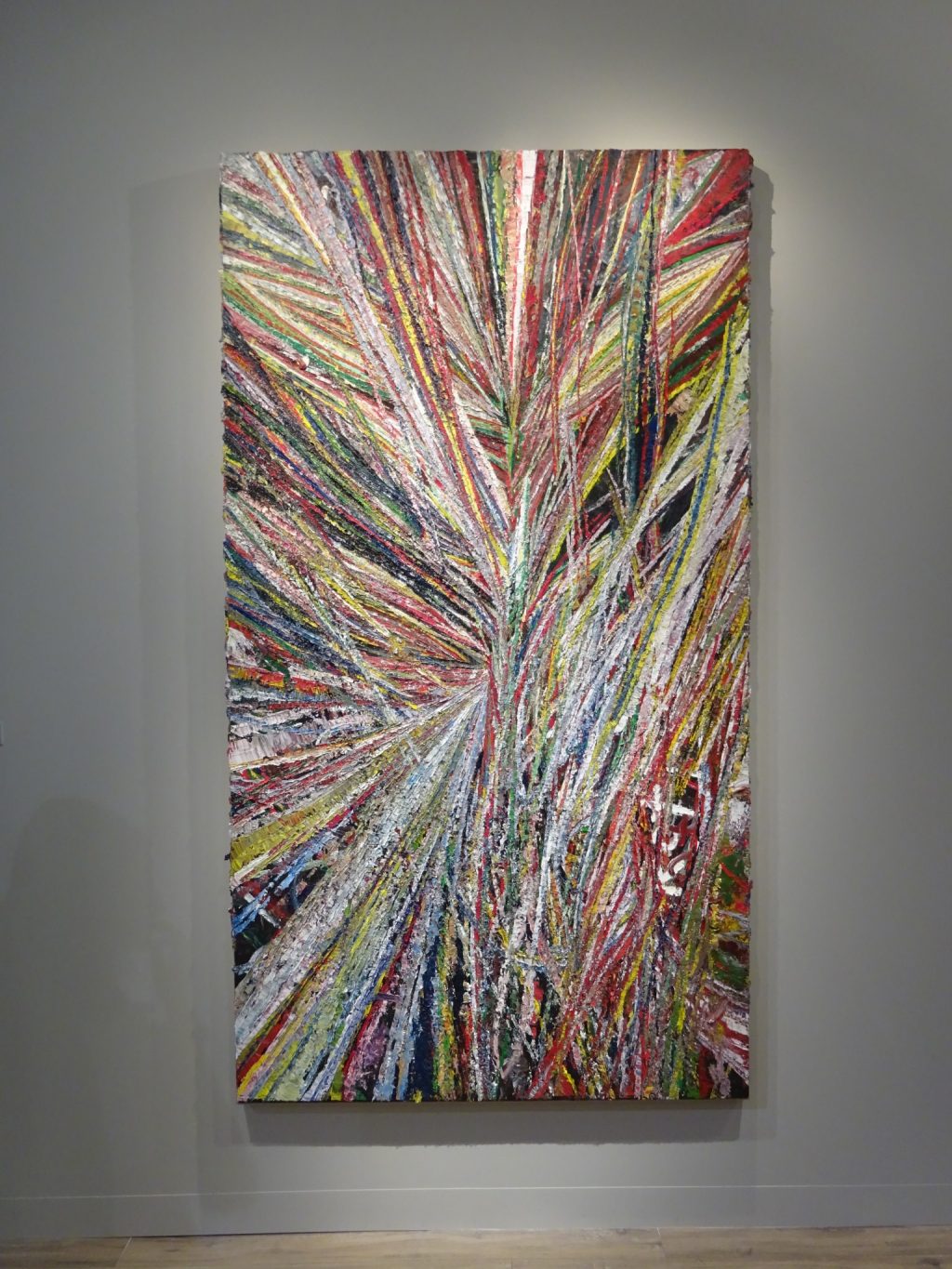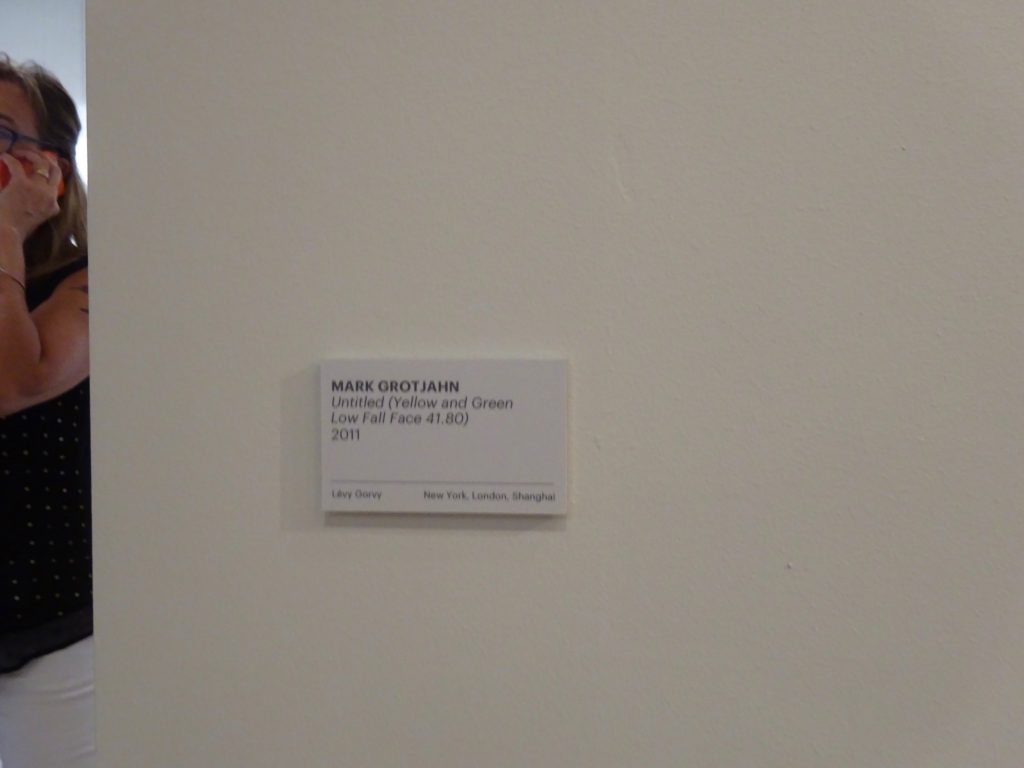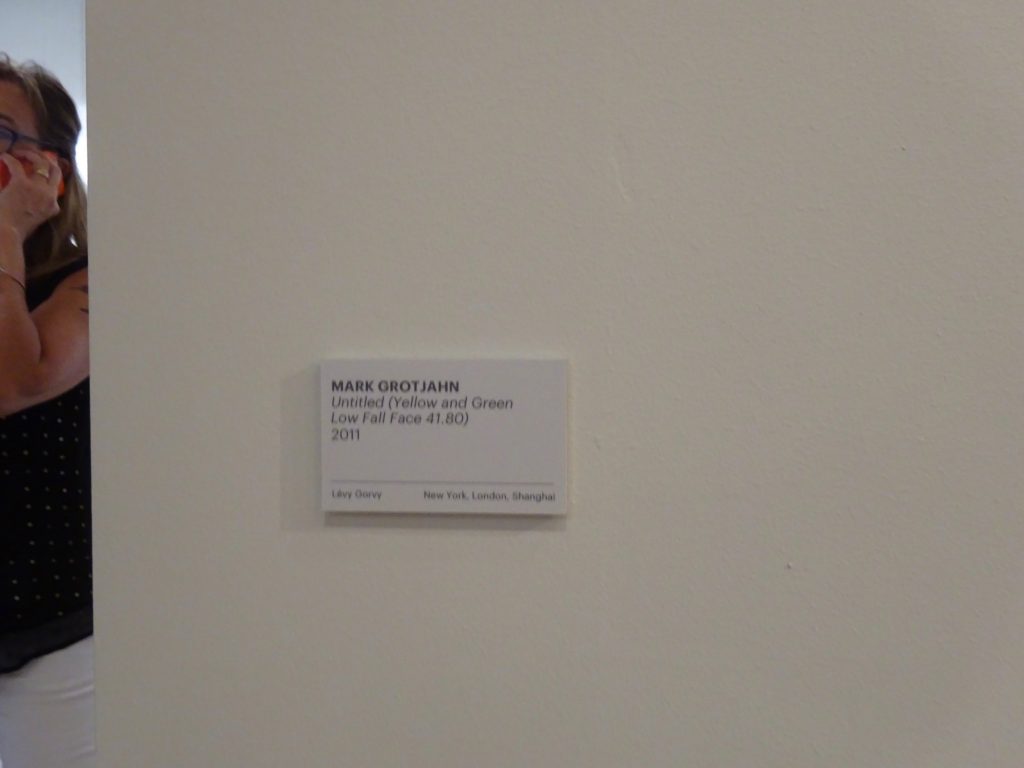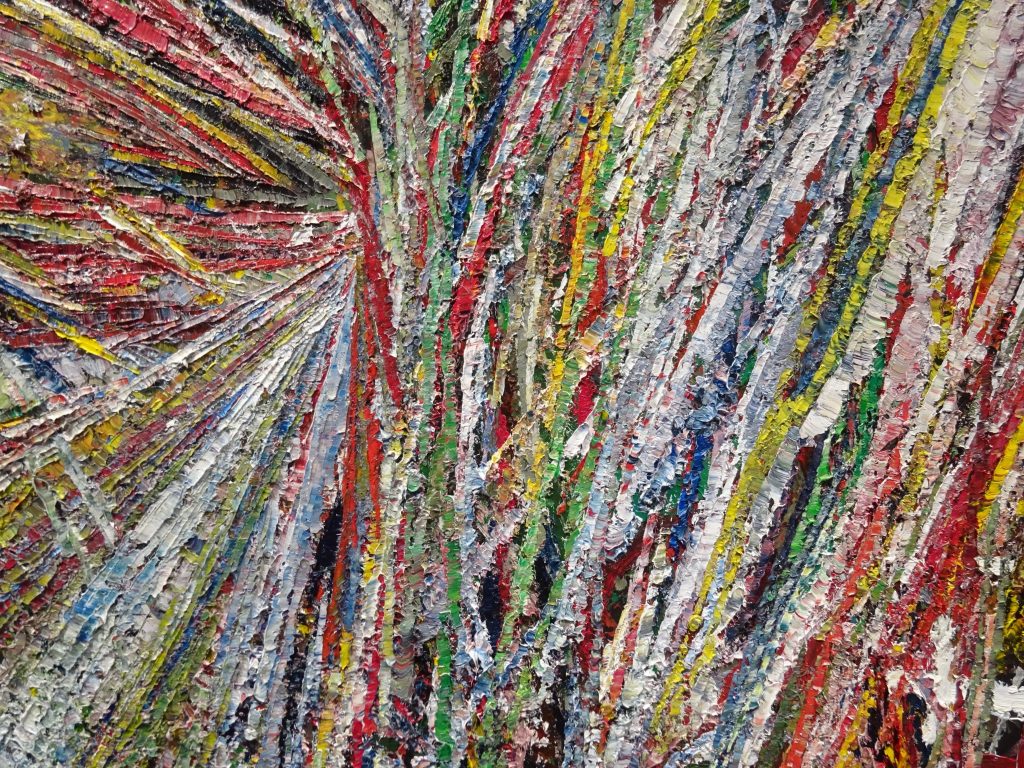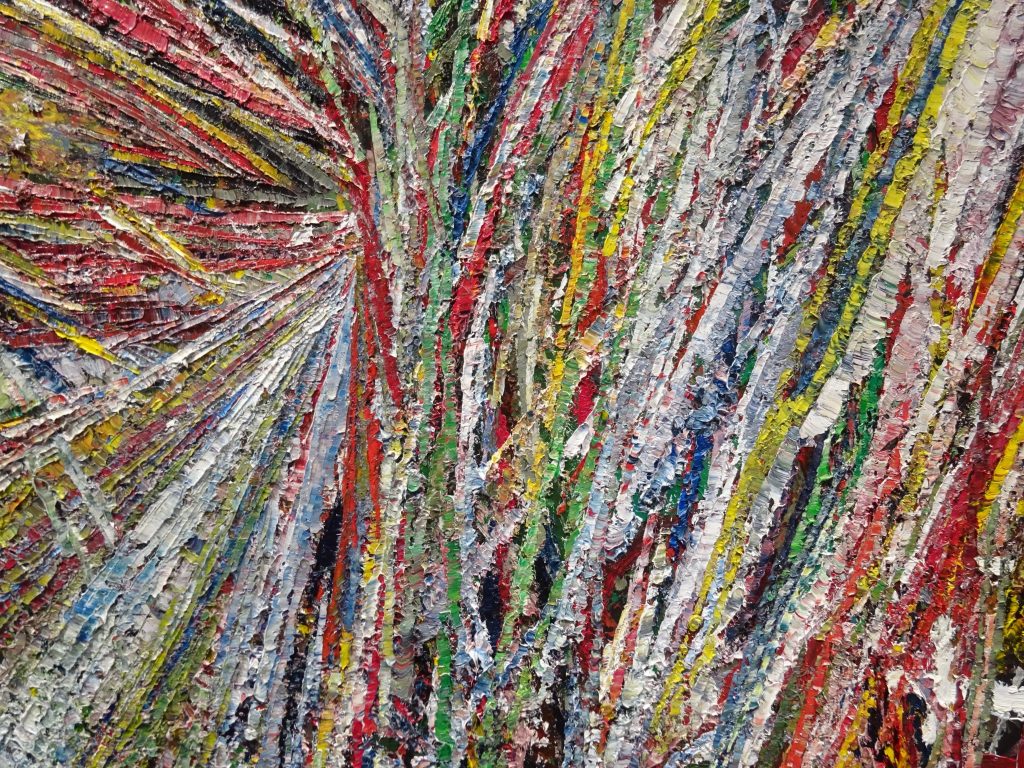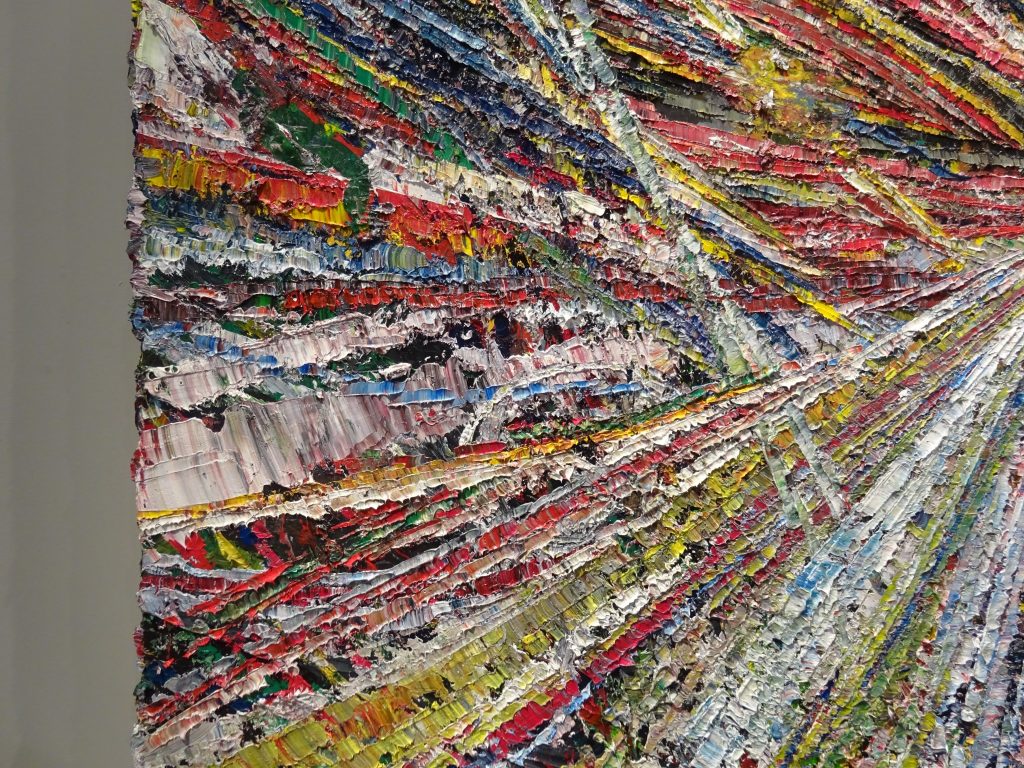 Yesterday's article by Anna Brady in The Art Newspaper about Mark Grotjahn at Christie's London caught my eye. Quote:
"A painting by the American painter Mark Grotjahn, Untitled (Yellow and Green Low Fall Face 41.80) estimated at £6m to £8m (low estimate US$ 7.8 million), also went unsold. "Grotjahn's is a complicated market, and it's interesting to see it playing out at auction—his work has been at an inaccessible price point on the primary market for a while and it's hard to find these works," Schiff says. "Mark was a victim of mass speculation from very early on, in 2006-08, so he took control of his own market to stop that happening — he really controls who is able to buy his work and his prices." Schiff says she has already contacted Christie's "to see if there is a good post-sale opportunity" but it seems not."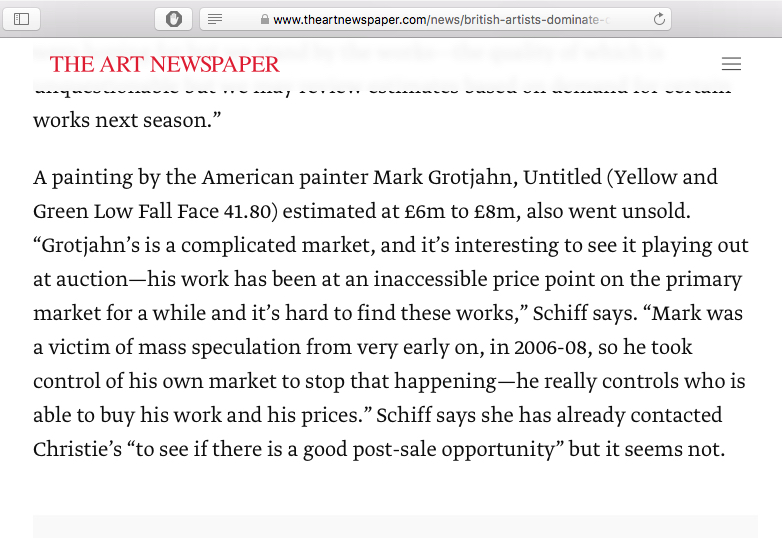 British artists dominate Christie's patchy £71.1m sale, as over-priced Koons and Richter fail to sell
Francis Bacon's lighter depiction of George Dyer leads auction at £17.5m, with strong prices for Hurvin Anderson, Bridget Riley and Albert Oehlen
ANNA BRADY
5th October 2018 11:06 GMT
https://www.theartnewspaper.com/news/british-artists-dominate-christie-s-patchy-gbp71-1m-sale-as-over-priced-koons-and-richter-fail-to-sell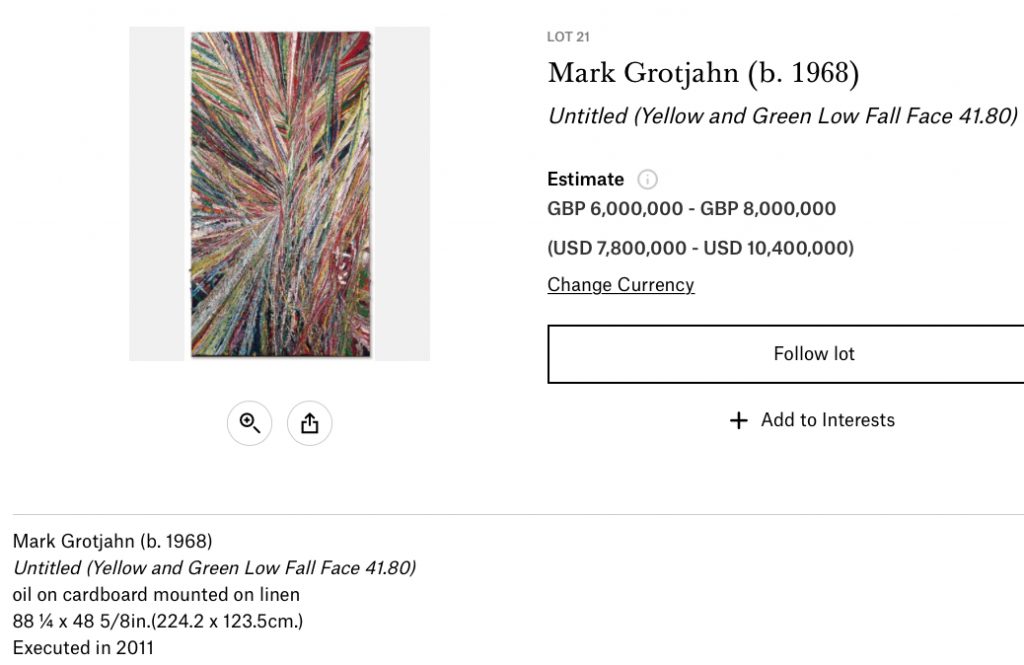 https://www.christies.com/lotfinder/Lot/mark-grotjahn-b-1968-untitled-yellow-and-6162422-details.aspx
I saw the same painting in June at the entrance of the booth of LÉVY GORVY at ART BASEL, Switzerland. Prominently displayed in an eye-catching position, easily recognizable for potential collectors and the 95.000 visitors.
As this only 7 years old painting by Mark Grotjahn "Untitled (Yellow and Green Low Fall Face 41.80)" failed to find a buyer either at ART BASEL or 4 months later at Christie's, I may hereby conclude that the darling of American Art Flippers couldn't find any dumb European speculator with deep pockets.
The low estimate was US$ 7.8.million, which means a deal could have been done at around US$ 6.3 million in the post-sale environment.
Japanese collector Mr. MAEZAWA Yusaku 前澤友作氏 posed with great pride in front of Mark Grotjahn's triptych which he seems to have bought directly from the artist's studio for around US$ 45 million. In the actual art market matrix he could have had purchased the work for about US$ 18 million, – hence a whopping loss of US$ 27 million could be now "socialized" via his tax bureau.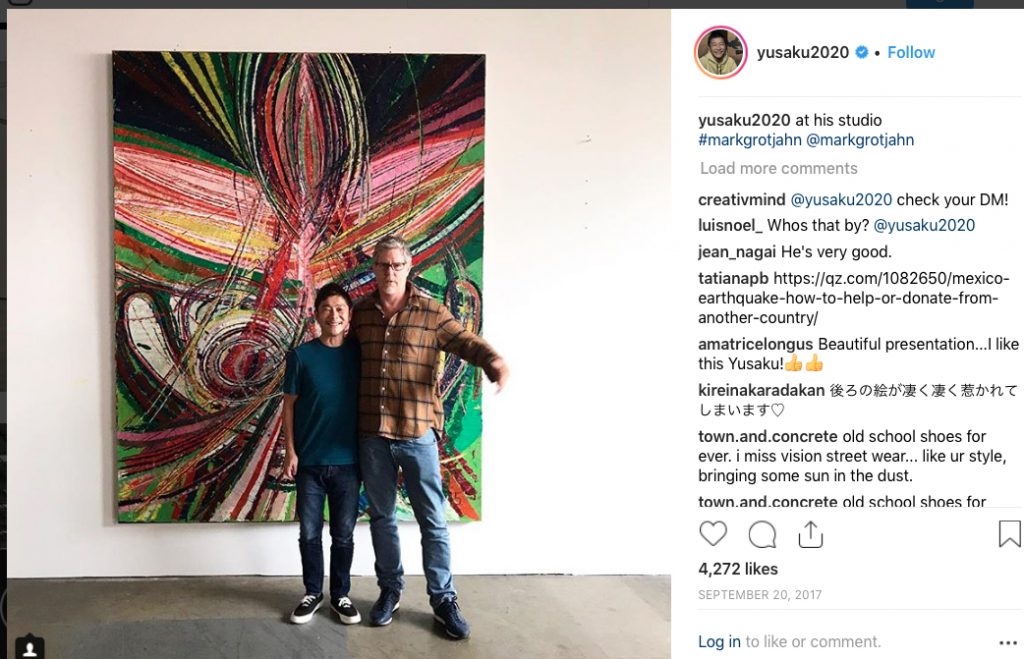 https://www.instagram.com/p/BZP_k8VDcW5/?taken-by=yusaku2020
see also MAEZAWA Yusaku at:
ARTnews の「トップ200コレクターズ」」2018
THE TOP 200 COLLECTORS (ARTnews 2018)
http://art-culture.world/articles/the-top-200-collectors-artnews-2018/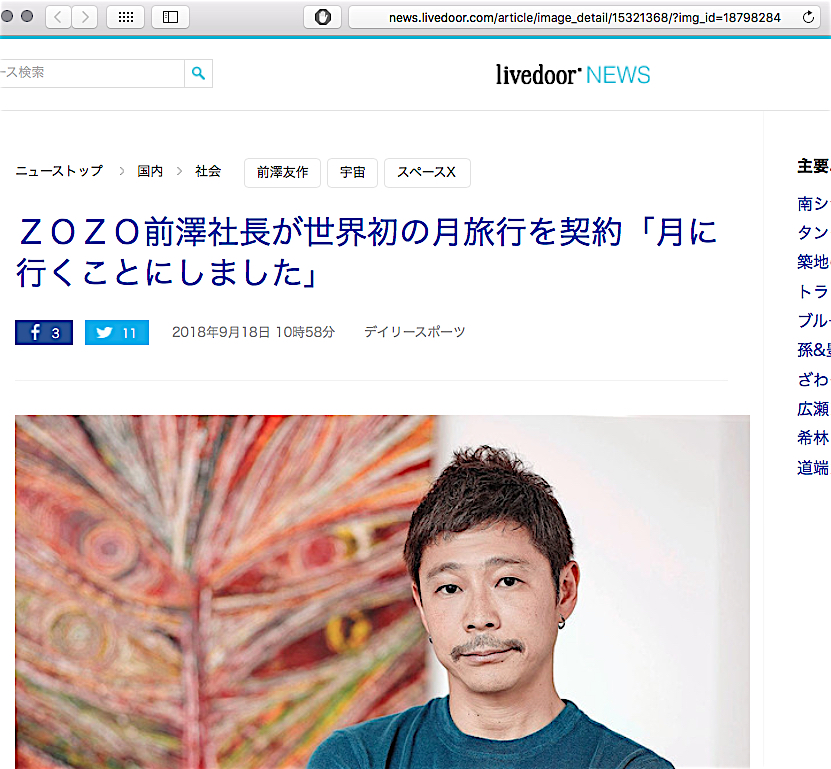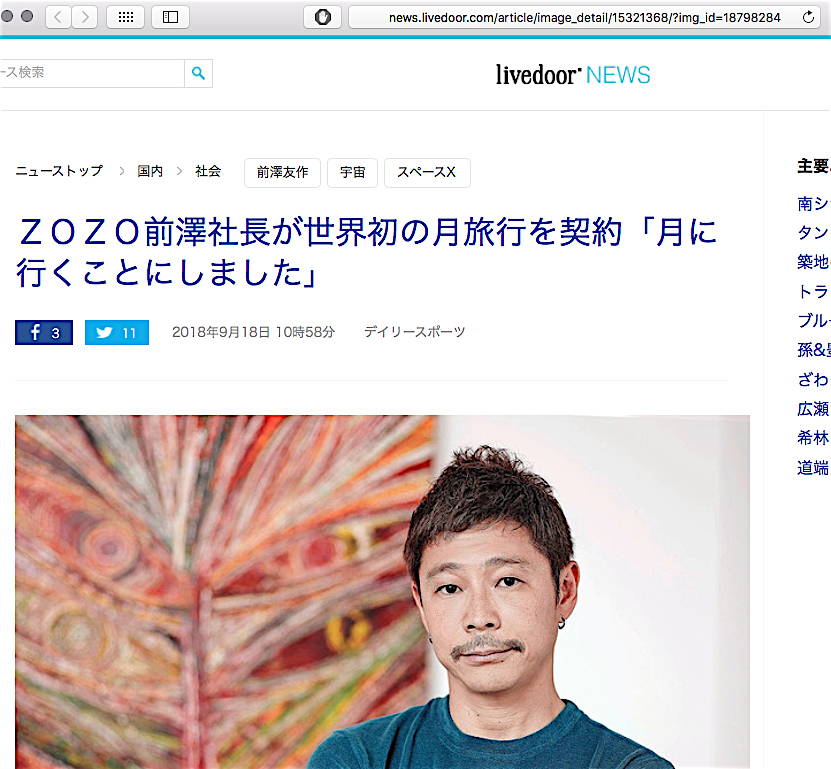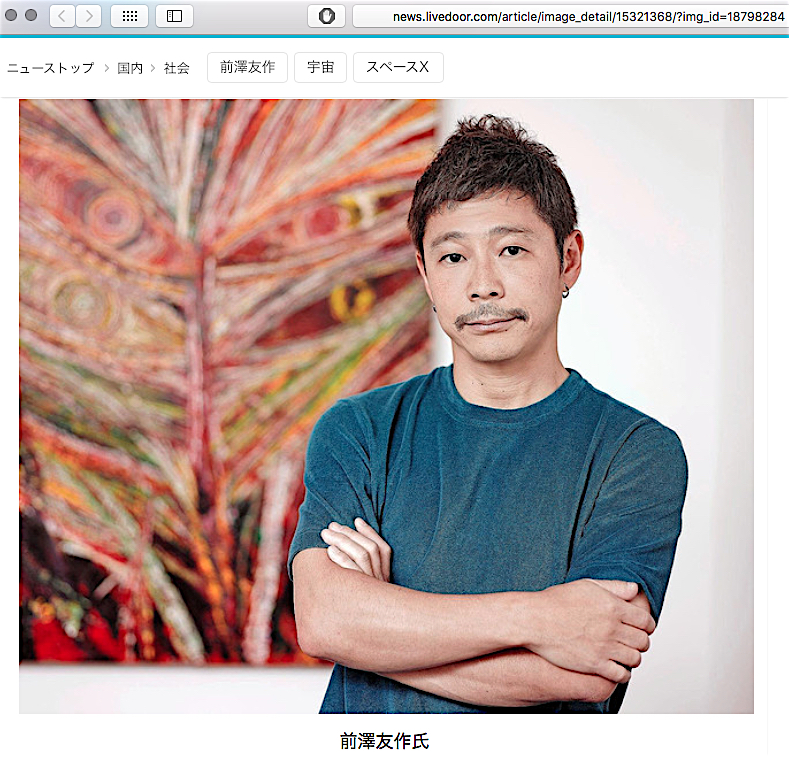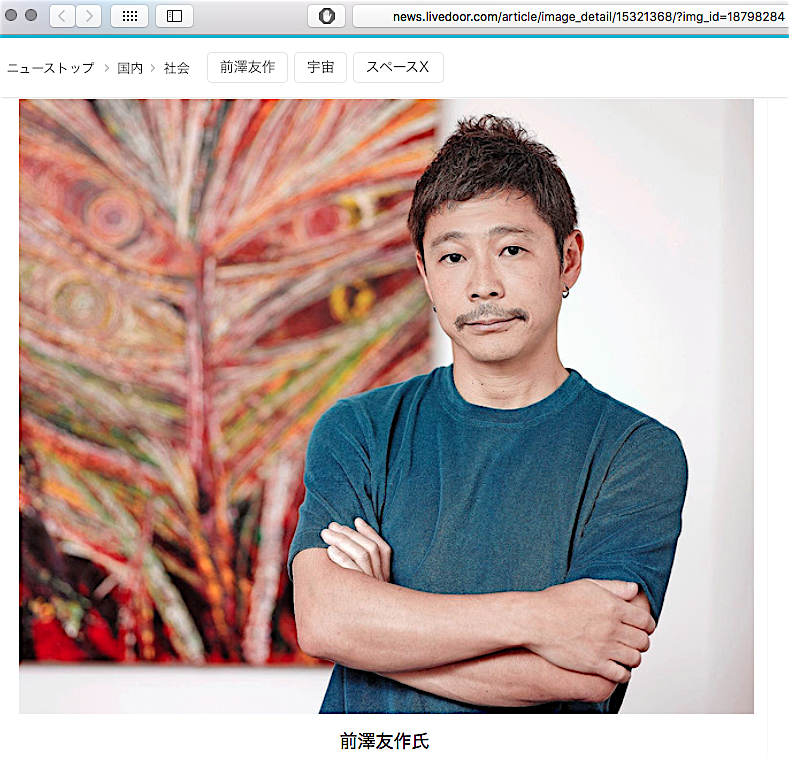 I may hereby take the opportunity to politely point out that I do not appreciate Mark Grotjahn's works, more or less bullshit and dimenticabile.
But hey, Los Angeles museum trustees with not-so-deep-pockets are betting on Grotjahn.
An artist, who, 4 years ago, could only find a small countryside Kunstverein for his first (and last?) solo show in Germany.
https://www.kunstvereinfreiburg.de/htmldocs_e/archive_until_2016.html
More American Art Flippers' bullshit, please!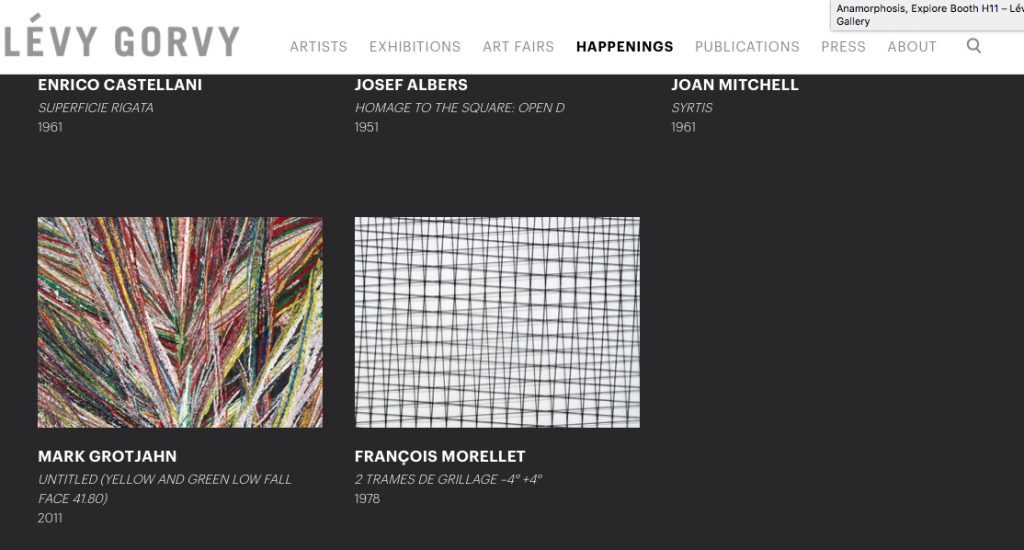 https://www.levygorvy.com/happenings/mark-grotjahn/
https://www.levygorvy.com/happenings/anamorphosis-explore-booth-h11/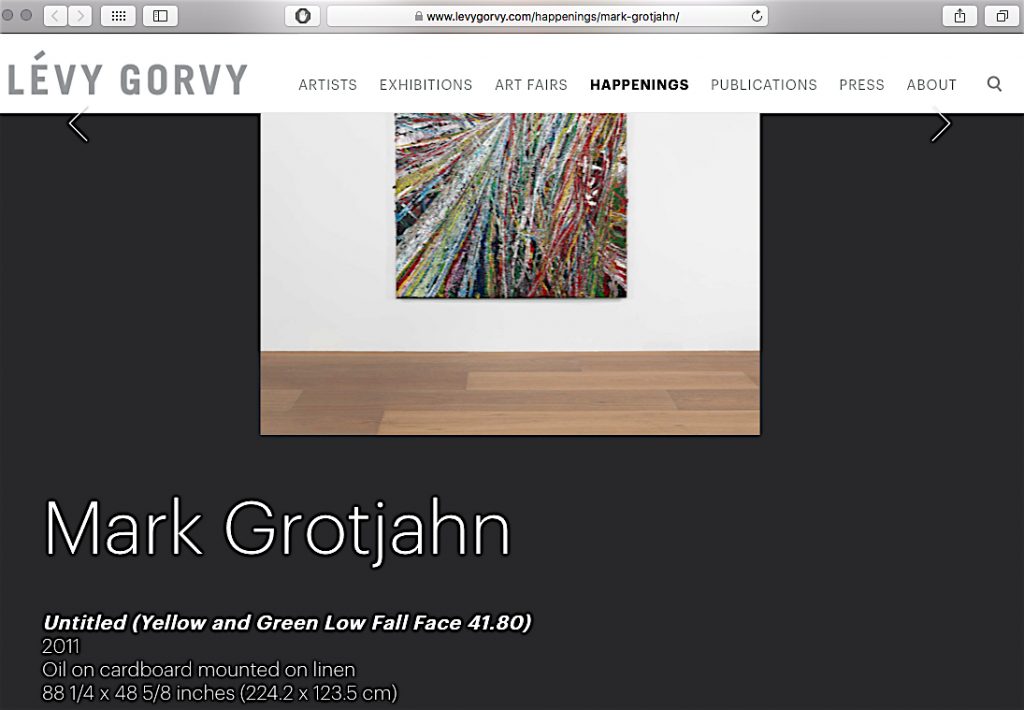 ---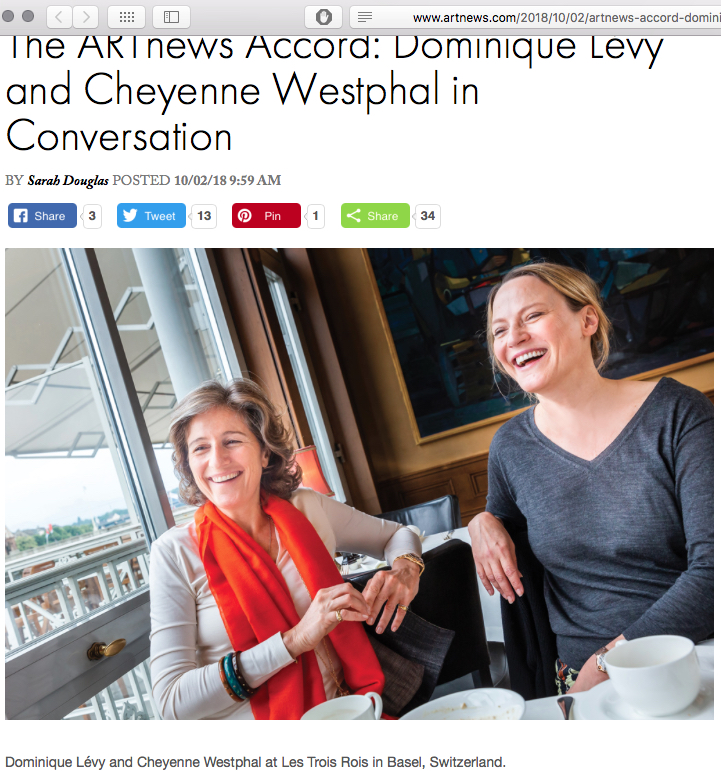 The ARTnews Accord: Dominique Lévy and Cheyenne Westphal in Conversation
ARTNews, by Sarah Douglas POSTED 10/02/18
(quote:)
ARTnews: Are they (collectors) buying with their eyes and not their ears?
Dominique Lévy, ex Christie's, ex Sotheby's:
Sometimes, but sometimes both. They're both valid. You can buy with your eyes, but when you hear a museum is getting ready for a retrospective, is that a wrong kind of information that prompts you to buy or to commit? We have 90 percent real collectors. I had extraordinary conversations at the booth. They didn't all lead to a sale, but they were fantastic.
Cheyenne Westphal, ex Sotheby's, now chairman of Phillips auction house:
I think 90 percent is high, but I can completely see it when I look at your program. At auction you see a broader [range] of patrons. You see a lot of serious collectors putting collections together, often from younger generations. But we know that we can't take [investment] value out of an art discussion. I look at that myself, in my own collecting. To take that away from anybody's thinking I think is just impossible.
http://www.artnews.com/2018/10/02/artnews-accord-dominique-levy-cheyenne-westphal-conversation
---
Sotheby's New York "Contemporary Curated" 25 September 2018, Auction results, unsold works by Mark Grotjahn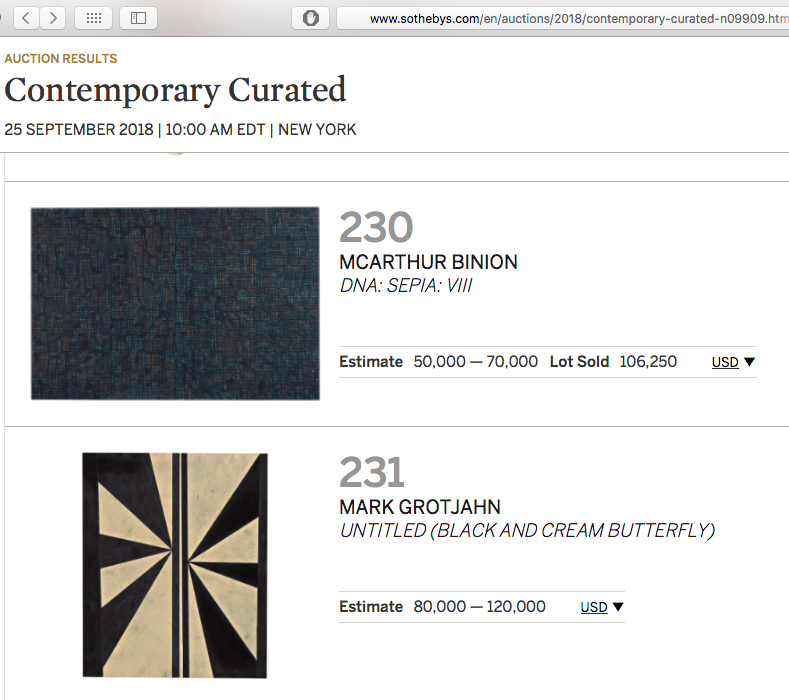 Mark Grotjahn
B.1968
UNTITLED (BLACK AND CREAM BUTTERFLY)
signed twice and partially titled on the reverse 
colored pencil on paper
13 by 10 3/4 in. 33 by 27.3 cm.
Executed in 2005. 
PROVENANCE
Gagosian Gallery, Los Angeles
Acquired from the above by the present owner
http://www.sothebys.com/en/auctions/ecatalogue/2018/contemporary-curated-n09909/lot.231.html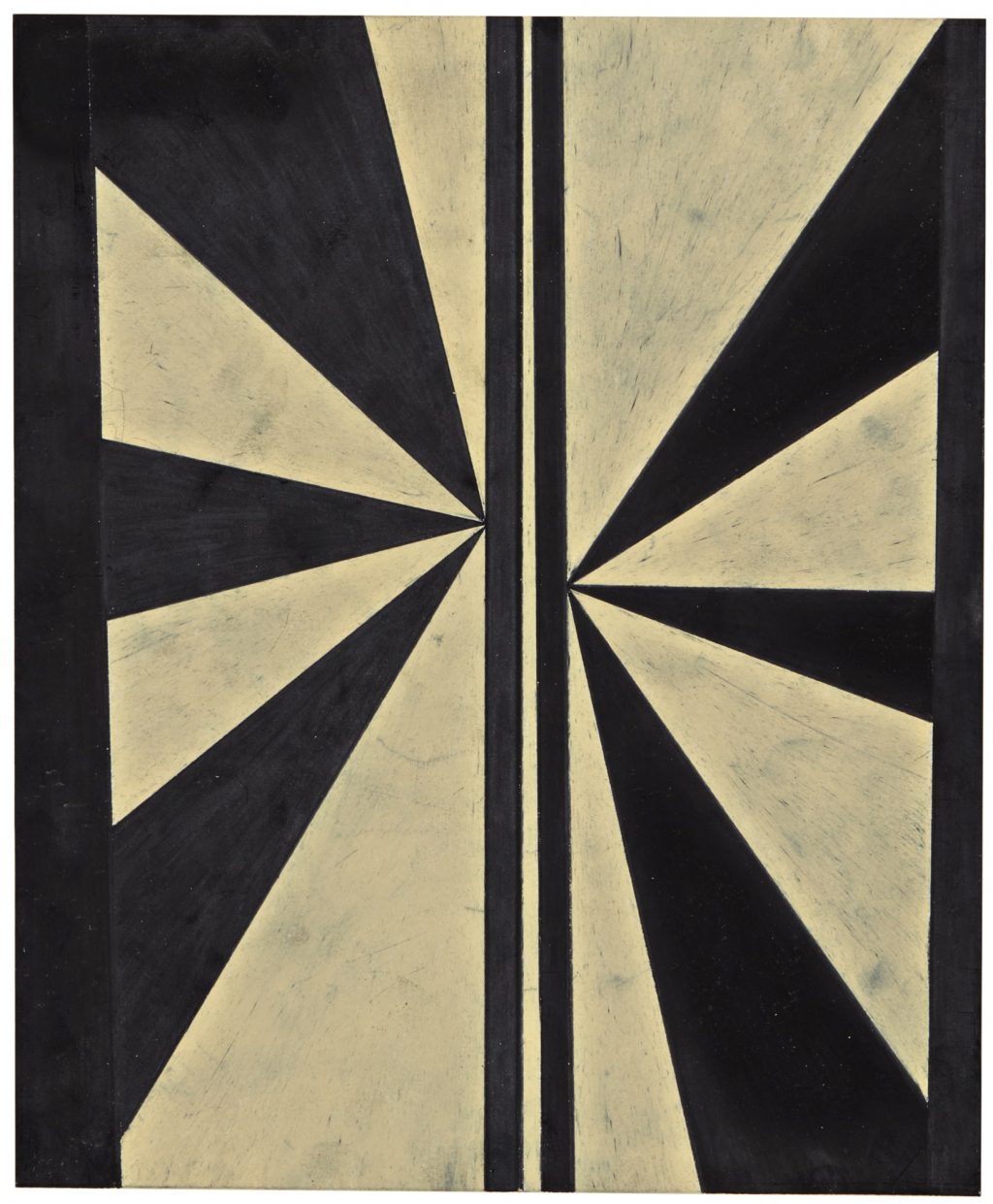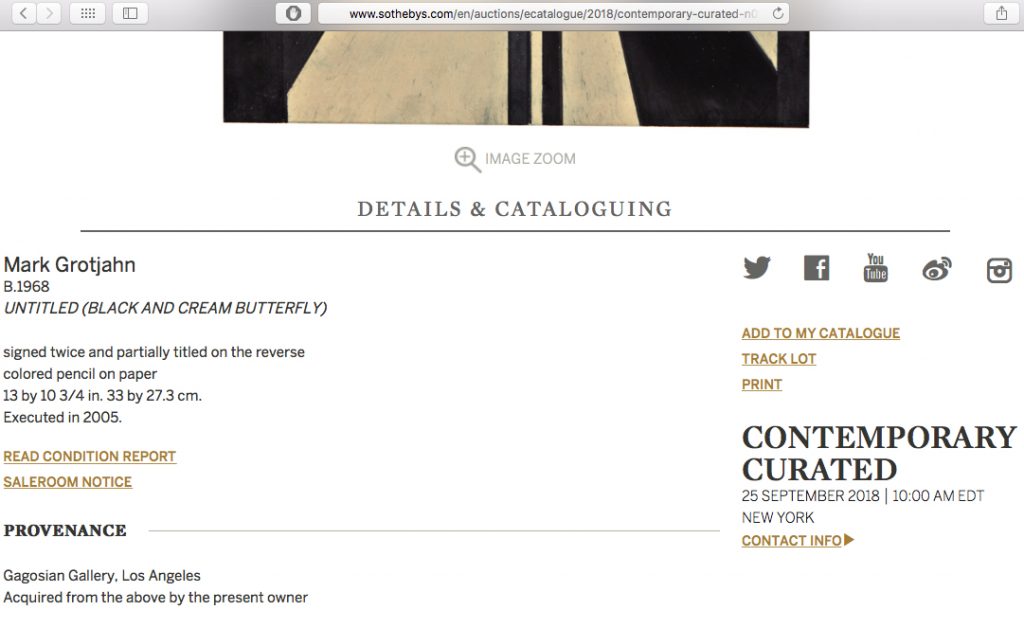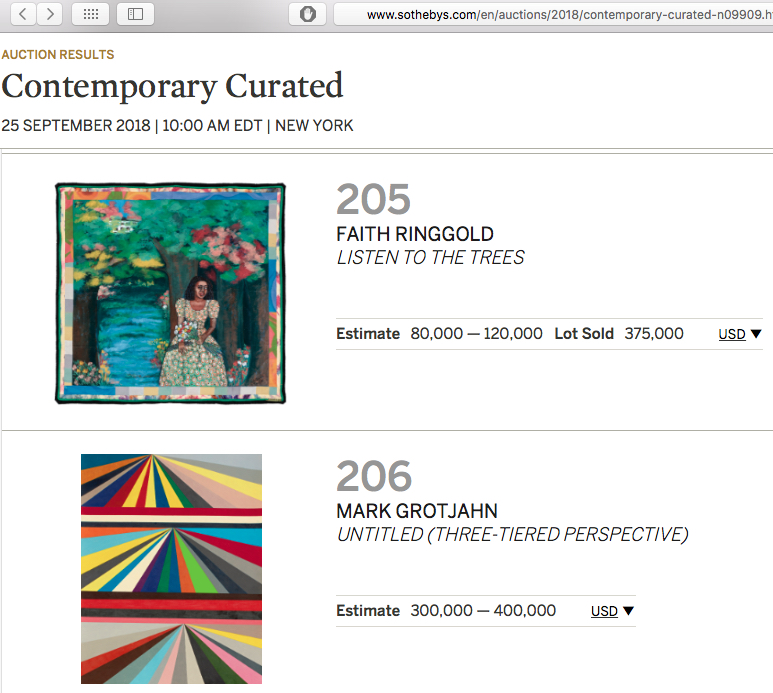 Mark Grotjahn
B.1968
UNTITLED (THREE-TIERED PERSPECTIVE)
signed and dated 2000 on the reverse
colored pencil on paper
24 by 19 in. 61 by 48.3 cm.
PROVENANCE
Blum & Poe, Santa Monica
Acquired from the above by the present owner
EXHIBITED
Palm Beach, Gavlak Gallery, Blessed Oblivion, November 2014 – January 2015
http://www.sothebys.com/en/auctions/ecatalogue/2018/contemporary-curated-n09909/lot.206.html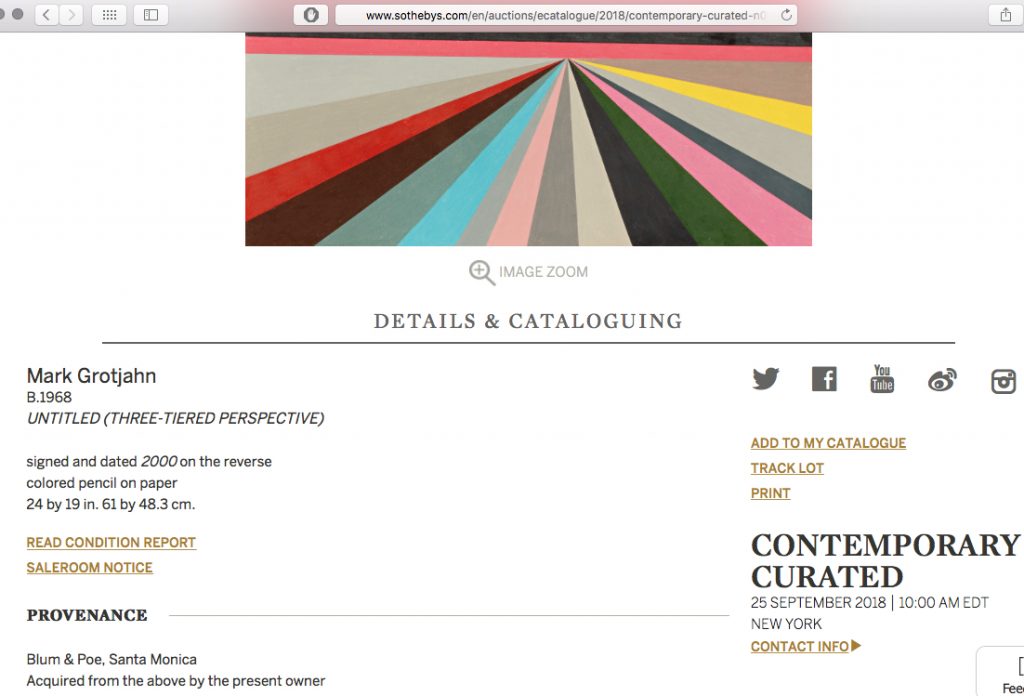 ここに載せた写真やスクリーンショットは、すべて「好意によりクリエーティブ・コモン・センス」の文脈で、日本美術史の記録の為に発表致します。
photos: cccs courtesy creative common sense