22.2.2: Japan as No. 1. We're the Champions!
22.2.2:日本はナンバーワン。俺たちはチャンピオンだ!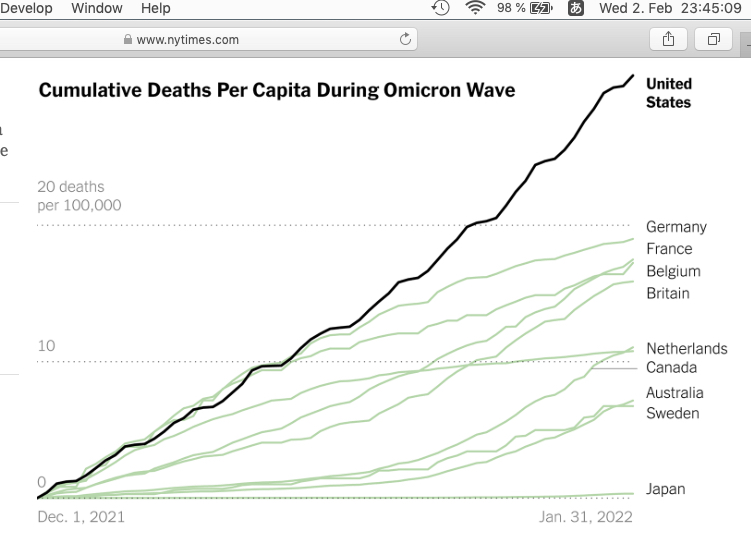 Americans (aka U.S. citizens) love to call their country GNoE, the "Greatest Nation on Earth".
All those social constructs called "nations", with their religious, moral and economic values.
There was a time in Japan, when Japanese called themselves No.1 in the world. You don't remember, I guess.
Even you won't remember that South Koreans said, that they will surpass economically-wise Japan, – 1 day, 2.
And China sees itself as the center of the world, and will become Number 1, 2.
I know, you like to read and sing this kind of bullshit, 2.
Oh, I forgot: Japan's as No.1 in the New York Times. Check it out, baby.
https://www.nytimes.com/interactive/2022/02/01/science/covid-deaths-united-states.html
The Imperial Country Japan with its Emperor will love it, 2.
You'll read or hear that tomorrow in every Japanese newspaper, gossip magazine and commercial TV News Programm, 2.
Welcome to our beloved country, Japan, 2.
You know, Japanese people LOVE to be called UNIQUE, 2.
They love the word "NUMBER 1″, 2.
Are obsessed with the word「日本一!」"NUMBER 1 IN JAPAN!". Just watch TV, every day you'll see and hear it, 2.
"Cool Japan" is Number 1, 2.
Actually Cool Japan's slogan is: "No Foreigners, Please!", 2.
Even Japan is a mixed/multi-racial culture, 2.
We love to win as an export-oriented country… but dislike foreigners, 2.
Japanese cocks are Number 1, 2. Just look at those "SHUNGA" pictures, 2.
Japanese YAKUZAs are Number 1, 2.
Japanese PRISONs are Number 1, 2.
Japanese HOSPITALs are NUMBER 1, 2.
Japanese POLITICIANs are NUMBER 1, 2.
Japanese HOUSEs are NUMBER 1, 2.
Japanese FUTONs are NUMBER 1, 2.
Japanese TATAMI is NUMBER 1, 2.
Japanese HOTELs are NUMBER 1, 2.
Japanese BEDs are NUMBER 1, 2.
Japanese HEATING SYSTEM is NUMBER 1, 2.
Japanese SEWAGE SYSTEM is NUMBER 1, 2.
Japanese LANGUAGE is NUMBER 1, 2.
Japanese MOUNT FUJI is NUMBER 1, 2.
Japanese SNOW is NUMBER 1, 2.
Japanese CHERRY BLOSSOMS are NUMBER 1, 2.
Japanese CATs are NUMBER 1, 2.
Japanese DOGs are NUMBER 1, 2.
Japanese HORSEs are NUMBER 1, 2.
Japanese BASEBALL PLAYERs are NUMBER 1, 2.
Japanese FLOWERs are NUMBER 1, 2.
Japanese TEA is NUMBER 1, 2.
Japanese SAKE is NUMBER 1, 2.
Japanese RICE is NUMBER 1, 2.
Japanese SUSHI is NUMBER 1, 2.
Japanese BEEF is NUMBER 1, 2.
Japanese WATER is NUMBER 1, 2.
Japanese FOOD is NUMBER 1, 2.
Japanese CULTURE is NUMBER 1, 2.
Japanese GEISHAs are NUMBER 1, 2.
Japanese KIMONO is NUMBER 1, 2.
Japanese COSMETICs are NUMBER 1, 2.
Japanese MAKE-UP is NUMBER 1, 2.
Japanese FAMILY is NUMBER 1, 2.
Japanese WIVES are NUMBER 1, 2.
Japanese HUSBANDS are NUMBER 1, 2.
Japanese SAMURAIs are NUMBER 1, 2.
Japanese SALARYMEN are NUMBER 1, 2.
Japanese SHINTO is NUMBER 1, 2.
Japanese MUSIC is NUMBER 1, 2.
Japanese FILMs are NUMBER 1, 2.
Japanese FASHION is NUMBER 1, 2.
Japanese LITERATURE is NUMBER 1, 2.
Japanese MANGA is NUMBER 1, 2.
Japanese ANIME is NUMBER 1, 2.
Japanese GAMES are NUMBER 1, 2.
Japanese HOSTESS CLUBs are NUMBER 1, 2.
Japanese ART WORKERs are NUMBER 1, 2.
Japanese ARCHITECTs are NUMBER 1, 2.
Japanese SHINKANSEN is NUMBER 1, 2.
Japanese SUBWAY is NUMBER 1, 2.
Japanese CARs are NUMBER 1, 2.
Japanese TOBACCO is NUMBER 1, 2.
Japanese SOCIAL WELFARE is NUMBER 1, 2.
Japanese DOCTORs are NUMBER 1, 2.
Japanese NURSEs are NUMBER 1, 2.
Japanese PILOTs are NUMBER 1, 2.
Japanese SOLDIERs are NUMBER 1, 2.
Japanese PENSION SYSTEM is NUMBER 1, 2.
Japanese EDUCATION SYSTEM is NUMBER 1, 2.
Japanese TAX SYSTEM is NUMBER 1, 2.
Japanese NATIONAL DEBT is NUMBER 1, 2.
WE ARE THE CHAMPIGNONS, 2!
Back to seriousness:
If you are living here, I strongly recommend to read my text on "For those who need help in Japan", 2.
https://art-culture.world/articles/for-those-who-need-help-in-japan/
Tokyo, 22.2.2.
A
---
Japan's harsh border controls on foreigners send message it only cares for itself: scholar
February 1, 2022
TOKYO — Japan continues to ban nearly all new entries from abroad as an omicron variant-fueled sixth wave of COVID-19 infections sweeps through the country. The Mainichi Shimbun sat down with Toyo University professor and public diplomacy expert Kumi Yokoe to ask her about issues with Japan's current border control measures, as well as how the Japanese public should respond to the rising chorus of disapproval overseas.
* * * * *
Mainichi: There have been numerous cases of both foreign residents of Japan and Japanese citizens being separated from non-Japanese family because foreign nationals cannot enter the country. How do you view this situation?
Kumi Yokoe: I also have foreign students enrolled in my courses who have been unable to come to Japan. If they are locked out like this for another year, there are concerns that it will impact first-year foreign students' mental health.
Meanwhile, the Japan Tourism Agency estimates that 512,200 Japanese citizens made outbound trips in 2021. That comes out to about 1,400 Japanese people leaving the country every day. People going on vacation would naturally return to Japan. While Japanese citizens and foreign nationals with long-term residency status can come and go freely, other foreigners have been unable to enter Japan.
Some in the immigration regulation field have been calling for a review in nonessential and nonurgent departures, to reduce the number of people entering the country. Some advocate enforcing restrictions on departures to curb the number of outbound trips, to open up space for more inbound travelers, even if that's a very small number.
M: It seems that most Japanese people have little sympathy for the plight of foreign students and other foreign nationals seeking to come to Japan. Why is that?
Y: The coronavirus pandemic has spotlighted society's fundamental problems and hidden sentiments. Even before the pandemic, Japanese people tended to be indifferent toward foreign people's problems. This may partly be caused by the fact that few people interact with foreigners in their daily lives. Right now, because the government hasn't provided an explanation and people don't really know about what's going on with Japan's inbound and outbound travel, a lot of them have come to accept the situation without serious thought.
M: There have been protests in various places around the world against Japan's border restrictions. What can be said about this from a public diplomacy standpoint?
Y: The goal of public diplomacy is to promote Japan's national interests by boosting the image of Japanese products abroad and encouraging more people to have a favorable image of Japan. This is exemplified by the government's Cool Japan strategy to promote Japanese culture in foreign markets.
It's important to consider the kind of message Japan wants to send to people in other countries. In the case of the coronavirus, Japan's strict anti-infection measures could be seen positively by overseas audiences. If Japan is viewed as a society with good hygiene where one can live at ease, more people may want to come here. However, the message out there now about its border controls is negative.
M: Why was the message turned into a negative one?
Y: As Japan's border controls are extremely strict toward foreigners, the message they send overseas is that "Japanese people think the restrictions are OK as long as the situation is convenient for themselves." The fact is, Japanese people can go on holiday abroad, while at the same time there are foreigners who have been separated from family and those who have been unable to enter Japan for more than a year. This is clearly unfair.
Needless to say, it's a country's duty to protect members of its public, and it wasn't wrong to take these control measures in the initial stage of the virus's spread. However, if unfair conditions targeting foreigners are imposed for such a prolonged period, the government will not be able to give a justifiable explanation. For example, New Zealand also introduced rigid border measures, but these included strict regulations on its own citizens.
Up to now, many of the non-Japanese people around me regarded Japan as "a fair society." For example, if you line up to get on a train or other vehicle, anyone can get a spot on-board if they wait their turn. My foreign acquaintances apparently felt that this was fair in a sense.
However, when it comes to Japan's current border restrictions on foreign nationals, people are stuck in a situation where they have no idea where to queue to gain entry. And as this is going on, some people get in through "VIP treatment." Many countries do not have nationality-based entry controls, so I understand there's growing discontent over Japan's unfair policy.
M: There seems to be many people who have no problem with Japan being seen as uncaring as long as the situation is convenient for its own residents. What are your thoughts on this?
Y: Perhaps people will keep their distance from those who are concerned only for their own interests, leading the latter to become isolated. If such individuals grow in number in Japan, the same kind of thing is likely to happen on a national level.
Let's take a look at present-day Japan. It can't even handle coronavirus testing kit supplies, let alone manufacture its own vaccines. The semiconductors used in smartphones cannot be made solely here at home. There are many places in Japan facing labor shortages and that will cease to function without the help of foreign workers. It's the same for the nation's military and national security affairs. Japan won't last long unless we rely on other countries.
We should think carefully about the consequences of being left out and isolated from other countries. We must not send an intensely self-interested message out to the world.
* * * * *
Kumi Yokoe was born in 1965. She received her doctorate from the Chiba University of Commerce, and specializes in U.S. politics. She has worked as a guest researcher at Princeton University and then as a senior research fellow of the U.S. Heritage Foundation think tank. She has been teaching at Toyo University since 2017.
https://mainichi.jp/english/articles/20220201/p2a/00m/0na/025000c
水際作戦で続く制限 日本人さえ出入国できれば、いいのか?
毎日新聞 2022/1/31
 新型コロナウイルスの感染拡大を受け、政府は外国人の新規入国を原則禁じ続けている。パブリック・ディプロマシー(広報外交)に詳しい東洋大の横江公美教授に、今の入国制限の問題点や、海外で広がる反発を日本人がどう受け止めるべきか聞いた。【聞き手・日下部元美】
東洋大・横江公美教授に聞く
 ――外国人の新規入国ができず、外国籍の家族と離別を強いられる事例などが相次いでいますが、現状をどう見ていますか。
 自分が教えている授業にも、日本に来られずにいる外国人の生徒がいる。大学教師として、何とかできないものかという気持ちに駆られる。このまま更に1年入国できないと、新入生たちのメンタルヘルス(心の健康)に支障をきたすのではないかという懸念もある。
 だが、変異株「オミクロン株」が流行し、全国の新規感染者が日々、最多を更新している。新型コロナの検査薬も足りないといわれている状況だ。空港検疫で約150人の感染者が確認された日もあった。空港の検疫に関わる職員や医師の話を聞くと、現場は非常に逼迫(ひっぱく)した状況で、そう簡単に入国者の枠を広げられないのではないかと感じる。
 一方で、今でも出国者は1日当たり1000~2000人に上るという。観光庁の推計によると、2021年の日本人出国者数は51万2200人で、単純計算すると1日に約1400人の日本人が出国している。観光旅行で出国すれば、当然帰国してくる。日本人と長期の在留資格のある外国人が自由に出入りできる中で、それ以外の外国人は入国できずにいるのだ。
 このため、出入国管理の現場では、入国者数を減らすためには不要不急の出国を見直すべきだという声がある。実際に現在、問題になっている「入国を求めている外国人」の絶対数は、それほど多くはない。出国を一部制限し、そこで抑制した分を入国者枠に少しでも回すという考え方もある。これは外国人の入国規制を緩和した時に、一斉に入国者が殺到することも防ぐことができる。
昨秋に改善するべきだった
 入国と出国を制限する時期を交互にするローテーションのような制度を作ってもよい。いずれにせよ、戦略的にやっていくべきだ。一律で長期間にわたり入国を禁止するのではなく、時期と状況に合わせて政策に緩急をつけるべきではないか。今思えば、国内の感染者が少なかった昨年の10~11月に、できるだけ緩和すべきだった。当時は今に比べれば、まだ医療体制も物資も余裕があったはずだ。
 ――当時でも入国を緩和すれば、多くの国民が反発した可能性があります。今でも留学生や外国人の置かれた状況に共感する人は決して多くないのでは。
 コロナ下では、社会の根本的な問題や、隠されていた気持ちがあぶり出される。コロナ禍とは関係なく、以前から日本人は外国人が置かれた問題に関心を払ってこなかった部分がある。普段の生活で外国人と関わりを持っている人が少ないことも影響しているのだろう。今は政府からの説明もなく、出入国の実態もよく知られていないので、多くの人がなんとなく現状を受け入れてしまっている。
広がる負のイメージ
 ――日本の入国制限に対して世界各地で抗議デモも起きています。パブリック・ディプロマシーの観点から何が言えるでしょうか。
 パブリック・ディプロマシーというのは、最近では価値観を共有することにより、お互いの国の好感度を高める試みにも使われるようになった。「クールジャパン」に代表されるように、日本製品や日本の好感度を上げることが結果的に国益につながるという考え方だ。
 日本は今、他国の人たちに、どんなメッセージを伝えたいのかということが重要だ。コロナについて言えば、厳しい対策をしていることは、海外に対し良いメッセージにもなり得る。衛生的で安心して暮らせる社会だと思われれば、日本に来たくなる人も出てくるだろう。だが、入国制限に関しては悪いメッセージが伝わってしまっている。
 ――悪いメッセージにつながったのはなぜでしょうか。
 日本の水際対策は、外国人には非常に厳しいため「日本人は自分たちさえ良ければ、それでいいと思っている」というメッセージとして伝わっている側面がある。現に海外に遊びに行ける日本人がいる中、家族と離れ離れになっていたり、1年以上も日本に入れなかったりする外国人がいる。これは明らかにフェア(公平)ではない。
長期化した不公平な状態
 自国民を保護することは国としては当然の対応であり、感染症が流行した初期段階では、そういう対応は間違っていない。ただし、外国人に対しアンフェア(不公平)な状態がここまで長期化すると、彼らに対し説明がつかなくなる。例えばニュージーランドも厳しい入国制限を敷いていたが、自国民に対する規制も厳しかった。
 従来、私の周りにいる外国人は「日本はフェアな社会だ」と評価する人たちが多かった。例えば、電車などの乗り物の前にできる列についてだ。どんな人でもちゃんと列に並べば、中に入れるという前提であり、外国人からすると、ある意味フェアだと感じられていたという。
 ところが、今の外…
full text:
https://mainichi.jp/articles/20220130/k00/00m/040/224000c
up-date:
Japan border policy keeps thousands of foreigners in limbo
February 3, 2022
More than a year ago Sebastian Bressa finished his paperwork to become a language teacher in Tokyo and made plans to quit his job in Sydney. His life has been in limbo ever since.
Japan has kept its door closed to most foreigners during the pandemic, and the 26-year-old Australian is one of hundreds of thousands denied entry to study, work or see their families.
Japan has become one of the world's most difficult countries to enter and some are comparing it to the locked country, or "sakoku," policy of xenophobic warlords who ruled Japan in the 17th to 19th centuries. The current border rules allow in only Japanese nationals and permanent foreign residents, and have raised the ire of foreign students and scholars who say the measures are unfair, unscientific and force talented visitors to go to other countries. Critics say the rules are also hurting Japan's international profile and national interest.
About half a million foreigners — including academics, researchers and others with highly skilled jobs and 150,000 foreign students — have been affected, various statistics show.
"I think the most difficult thing for me has been this state of living in standby," Bressa said. He has been unable to commit himself to any long-term plans with his family, friends or even at work. "I can't plan that far ahead in the future, just not knowing where I end up the next month or two."
Frustrated students have gathered near Japanese diplomatic compounds around the world to protest.
In Spain's second-largest city of Barcelona, Laura Vieta stood outside of the Japanese Consulate last week, holding up a sign saying "Stop Japan's Travel Ban."
"I gave up my job because I thought I was going to Japan in September," said Vieta, 25, who wants to study Japanese at a private school for six months or longer. "As you can see, I'm still here."
Japan plans to keep the border measures in place through the end of February as it copes with a record surge of cases in Tokyo and other major cities. Makoto Shimoaraiso, a Cabinet official working on Japan's COVID-19 response, said the situation is painful but he asked for patience, noting much higher infection levels overseas.
Japan recently decided to let nearly 400 students enter, but many others including those on foreign government-sponsored scholarships still cannot get in.
A letter to Prime Minister Fumio Kishida, signed by hundreds of academics and Japan experts and submitted last month in a petition drive, called for a relaxation of the border controls to enable educators, students and scholars to pursue their studies and work in Japan. It said many already have given up Japan studies, opting to focus elsewhere, such as South Korea.
"They become the bridges between Japan and other societies. They are future policymakers, business leaders, and teachers. They are the foundation of the U.S.-Japan alliance and other international relationships that support Japan's core national interests," the letter said. "The closure is harming Japan's national interests and international relationships."
Japan is not the only country imposing strict border controls, but the policy is drawing criticism from within Kishida's governing party and from the business community.
Taro Kono, an outspoken lawmaker who has studied at Georgetown University and served as foreign and defense minister, urged that the government "reopen the country so that students and others waiting for an entry can have a future outlook and make plans."
Masakazu Tokura, head of Japan's powerful business organization Keidanren, recently said the border measures were "unrealistic" and are disrupting business. He called for a quick end to "the locked country situation."
However, the border controls have wide public support. Many Japanese tend to think troubles such as the pandemic come from outside their island nation.
Tightening border controls quickly after omicron outbreaks began overseas may have been unavoidable, Nippon University crisis management professor Mitsuru Fukuda said, but the decision to exclude only foreigners appears aimed at rallying public support. With careful preventive measures, Japan could allow foreign visitors just as many other countries are doing, he said.
"Crisis management is for the protection of people's daily lives and happiness, and people should not have to compromise their freedom and human rights in exchange for their lives," Fukuda said.
Japan's coronavirus cases plunged as delta variant infections subsided in the fall, and Kishida has said closing the border to most foreign travelers in late November helped delay the latest surge in infections. He contends that overreacting is better than doing too little, too late.
He was likely taking a lesson from his predecessor, Yoshihide Suga, who stepped aside after only a year in office partly due to his administration's perceived weak handling of the pandemic.
Japan has just begun giving booster shots, but only 3.5% of the population have received them, and the medical system has been inadequately prepared for the latest huge wave of cases, leaving many sick with COVID-19 to isolate at home.
The border closures did not keep omicron out of U.S. military bases, where Japan has no jurisdiction, including troops that fly directly into the country without observing Japanese quarantine requirements. They were not tested for weeks, until Tokyo asked them to.
Clusters of cases among U.S. troops rapidly spread into neighboring communities including those in Okinawa, home to the majority of the 50,000 American troops in Japan, beginning in late December. Infections at U.S. bases exceeded 6,000 last month.
On Wednesday, Japan reported nearly 95,000 new confirmed cases, near a record, and Tokyo's cases exceeded 20,000 for the first time. Some pandemic restrictions are now in effect in much of Japan, including Tokyo and other big cities like Osaka and Kyoto, for the first time since September.
Phillip Lipscy, a political science professor at Toronto University in Canada who is part of the petition drive, said he was denied entry despite his Japanese roots and his dedication to the study of Japan.
"I grew up in Japan. I am a native speaker of the language, my mother is Japanese and she lives in Tokyo. But under the current policy I cannot enter Japan because of the color of my passport," Lipscy told an online meeting.
With the outlook uncertain, many people are changing their studies or careers, he said.
"These are fateful decisions with long term consequences," he said. "The border closure is depriving Japan of a generation of admirer, friends and allies."
up-date:
Foreign students wait for Japan to lift COVID entry ban, some give up
February 6, 2022 (Mainichi Japan)
…
"I quit my job, sold my car, and did everything I could to help raise money" to live in Japan, she said. "Despite trying to adapt to the reality that was imposed on me, I never gave up on Japan."
…
According to Rossi, more and more students who once loved Japan "changed completely to haters," saying "enough is enough." "We see a lot of people going to South Korea instead of Japan," he added.
full text:
https://mainichi.jp/english/articles/20220206/p2g/00m/0na/026000c
up-date:
US, European business leaders urge Japan to end COVID entry ban
February 9, 2022
Business and education leaders from U.S. and European organizations on Wednesday urged the Japanese government to end its COVID-19 entry ban for nonresident business visitors and scholars, warning that the ban not only hurts Japan's economy but also risks the loss of future talent.
"The entry ban has really imposed an increasing economic and human cost…and has set back the efforts to revive Japan's economy," said Christopher LaFleur, an adviser to the American Chamber of Commerce in Japan, who virtually attended a press conference at the Foreign Correspondents' Club of Japan.
He said that while Japan aims to attract more foreign investors, the ban will "negatively affect their investment decisions," urging the country to adopt a science-based policy by permitting vaccinated business travelers and scholars to enter.
Japan has banned entries by foreigners in principle since Nov. 30 amid the spread of the highly contagious Omicron variant of the novel coronavirus.
Michael Mroczek, chairman of the European Business Council in Japan, said at the press conference that insufficient reporting by Japanese media about repercussions brought by the entry ban is part of the reason behind a lack of urgency for the Japanese government to resolve the issue.
Mroczek, who met with Japanese Prime Minister Fumio Kishida earlier in the day, said, "The government is aware that travel restrictions cause troubles, have a negative impact on the economy."
But he also said it appears that "nothing will change until the end of this month", adding, "Let's remain hopeful that from the first of March there will be some changes with respect to the travel restriction."
Matthew J. Wilson, dean and president of Temple University's Japan Campus, touched on the impact on foreign students, saying the entry ban is deflecting international scholars to other locations such as South Korea, Australia and Taiwan.
ここに載せた写真とスクリーンショットは、すべて「好意によりクリエーティブ・コモン・センス」の文脈で、日本美術史の記録の為に発表致します。
Creative Commons Attribution Noncommercial-NoDerivative Works
photos: cccs courtesy creative common sense