MURAKAMI Haruki 村上春樹 by Mario Ambrosius 亜 真里男
MURAKAMI Haruki by Mario Ambrosius, Mario A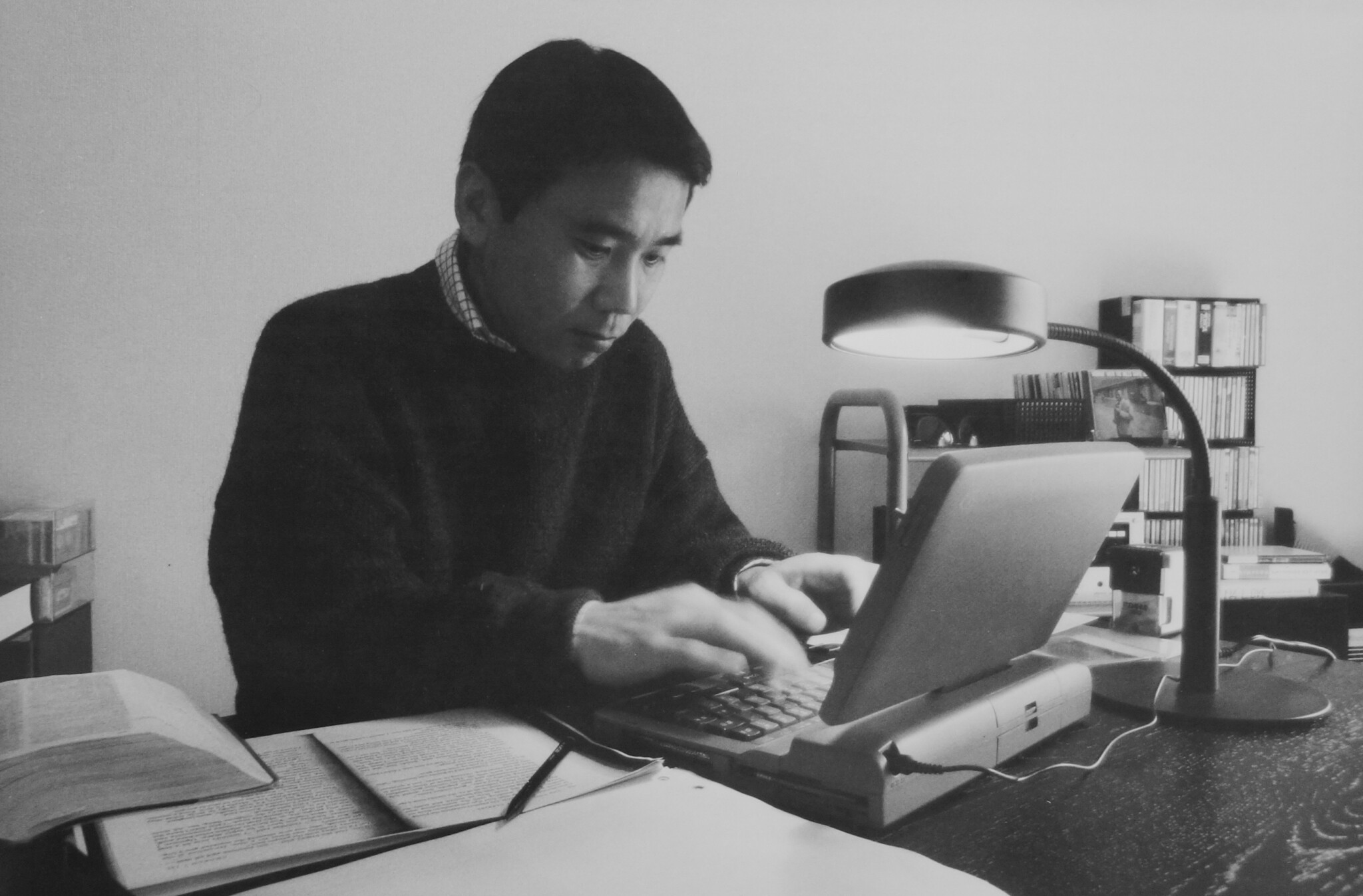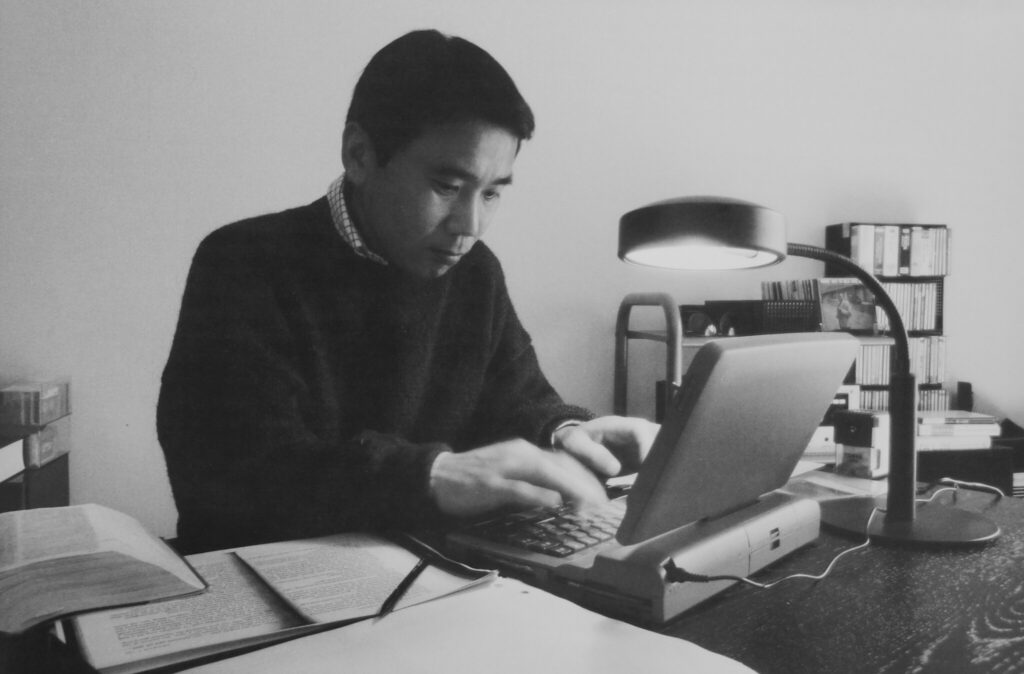 In the next weeks memorabilia about Japanese novelist MURAKAMI Haruki 村上春樹 will be auctioned off. Such events actuate some personal stories about my actual life in Japan to share with my friends. May I hereby humbly explain, that I am the only person on earth who succeeded in taking this picture (cover pic) from him at home in the 90's, working at his desk. And listening to his favourite songs.
An extremely rare picture, a jewel of document in the history of Japanese literature, so to say. Enjoy. For further questions, you can contact me.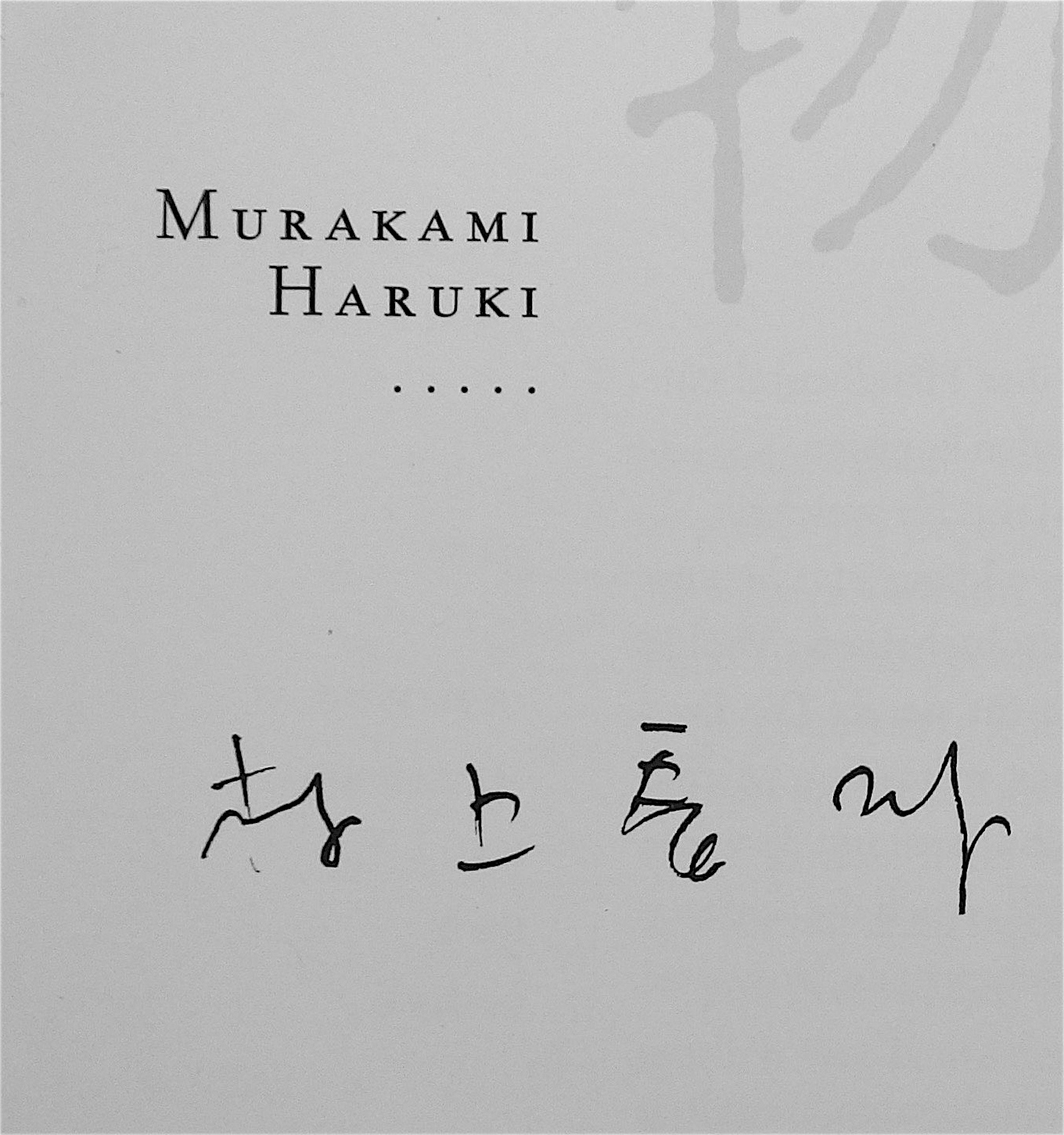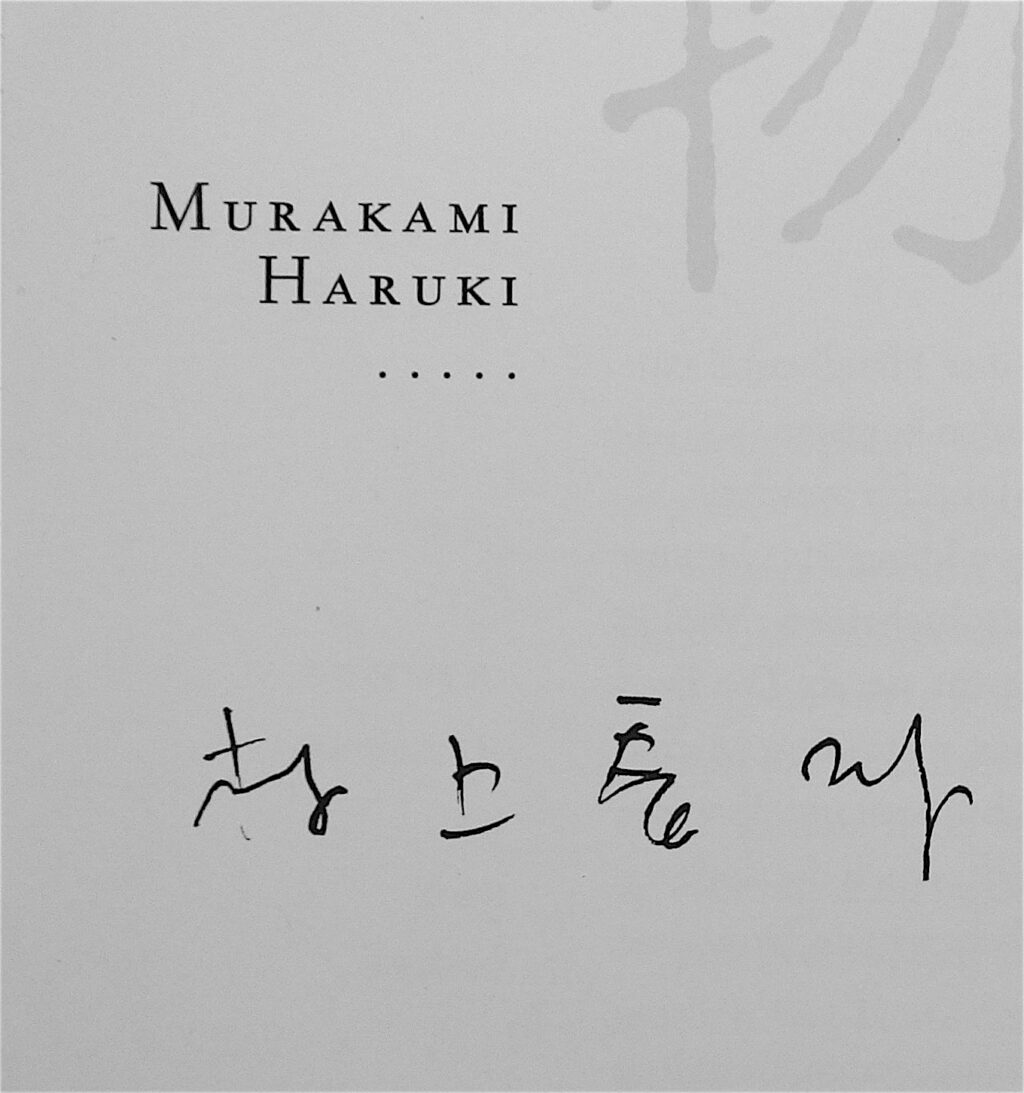 In case you are interested in the sale at Mallet Japan Auction, voilà.
English:
Sale No.210320 Haruki Murakami Special Sale; from Kurokochi Collection
https://www.invaluable.com/catalog/0lyaca6w2z
Japanese 日本語:
マレットジャパン、特別オークションを3月20日開催  作家 村上春樹氏の直筆原稿・サイン本の数々全98ロットが出品
https://www.atpress.ne.jp/news/248153
Sale 20210318 / 村上春樹スペシャルセール 出品作品一覧
Lot 001-237 Sale 210318 近現代アートオークション:Web入札期限 3月17日(水)18:00
Lot 1001-1098 村上春樹スペシャルオークション:Web入札期限 3月19日(金)18:00
https://mallet-i.com/auction?page=9
PRより:
村上氏の小説・翻訳・エッセイに直筆サインが入った本、デビュー前に経営していた「ピーターキャット」で実際に使用されていたレコード35枚、投稿誌や関係雑誌、装丁を手掛けたアーティストのイラストや版画をはじめ、大変珍しい翻訳とエッセイの直筆原稿22ロットなど全98ロットが出品されます。これらすべては、奈良美智さんのプライベートコレクションで知られる黒河内俊氏が、長年にわたり蒐集してきたコレクションで、市場では見ることの出来ない貴重なものが多数含まれています。
署名本は、初期3部作から「風の歌を聴け」と「1973年のピンボール」、識語と署名入りの「世界の終りとハードボイルド・ワンダーランド」、人気のエッセイ「村上ラヂオ」、「中国行きのスロウ・ボート」など約50冊。直筆原稿は村上氏が初めて日本に紹介した「レイモンド・カーヴァー」氏の翻訳草稿2種、「ポール・セロー」氏の翻訳草稿2種、エッセイ「映画をめぐる冒険」の草稿13種、80年代の雑誌「月刊DOLIVE」のエッセイ草稿2種。ほかにもコラムやエッセイ、作家の特集記事が掲載された当時の雑誌の数々、装丁を手掛けた安西水丸氏の原画や、大橋歩さんの版画など、とても興味深い内容です。
オークションは登録すればどなたでもご参加いただけます。出品作品が全て掲載されたカタログをご希望の方はお気軽にお問い合わせ下さい。
村上春樹スペシャルセール
新規会員スポット参加費*(カタログ込み) ¥1,280(税・送料込)
【新規WEB会員登録で先着100名様に村上春樹スペシャルセールカタログを無料でお送りいたします】
会員登録はこちら: https://mallet.co.jp/member/regist
皆様のご参加を心よりお待ちしております。
※カタログの転売・画像の転載はご遠慮下さい。
オークション開催は2021年3月20日(土・祝)14時~。
事前入札・電話入札の申し込みは3月19日(金)まで受け付け可能。
オークション参加に際して会員登録はマレットジャパンHPから随時受付中。
マレットジャパンのSNSアカウント(Instagram/Twitter/Facebook/LINE)では最新情報を随時更新中。
●オークション詳細
オークション開催日 : 2021年3月20日(土・祝)14:00~
下見会日時     : 2021年3月15日(月)10:00~18:00
           2021年3月16日(火)10:00~18:00
           2021年3月17日(水)10:00~15:00
会場        : マレットジャパンオークションハウス
所在地       : 東京都江東区東陽3-22-6
会社HP       : https://mallet.co.jp/
お問い合わせ    : special-sale@mallet.co.jp
---
黒河内俊氏について、アートコレクターとして、次のように紹介されています:
株式会社タグボート代表取締役の徳光健治が日々のことで思いついたことを書くブログです。
2013年4月9日火曜日
黒河内コレクション
日本を代表するアーティストのひとり、奈良美智の作品35点がサザビーズの香港オークションに4月5日に出品された。
実はこのオークションの結果については、日本のニュースでほとんど報道されていない。
落札結果は予想を大幅に上回る4100万香港ドル(約5億1496万円)であった。
1億円を超える作品が2点もあった。
こちらの作品はすべて、元銀行員である黒河内俊さん個人が所蔵していた作品である。
個人が所蔵するコレクションがここまで一気にオークションに出品されるのもすごいが、いち銀行員だった黒河内俊さんが1988年から2006年までコツコツと奈良美智の作品を信じて収集してきたことにはただ恐れ入るばかりである。
奈良さんの作品のクオリティもさることながら、その価値を見極めたその審美眼に敬服したい。
こういったホンモノのコレクターがどんどん日本で生まれることを強く願いたい。
写真は1億円超えの2点(Sleepless Night(上)とWhite Night(
下)
full text, more at:
http://tokumitsu.blogspot.com/2013/04/blog-post.html
Sotheby's to offer private collection of works by renowned Contemporary Japanese artist Yoshitomo Nara
HONG KONG.- Sotheby's Hong Kong announced the sale of the world's first private collection dedicated to the works of renowned contemporary Japanese artist Yoshitomo Nara (b.1959)–You Are Not Alone-Yoshitomo Nara Works from the Kurokochi Collection, to take place on 5 April at Hall 5, Hong Kong Convention and Exhibition Centre. The Collection, amassed between 1988 and 2006 by Mr. Shun Kurokochi, an ordinary man working at a bank in Tokyo, comprises 35 lots, ranging from acrylic on canvas, works on paper, edition prints to products such as wristwatches and skateboard. All the works, preserved in pristine condition, are fresh to the auction market, and have been published and showcased in various important Nara exhibitions worldwide including I Don't Mind, If You Forget Me and Nara + graf : A to Z. With some of the works dating back to the late 1980s when the artist was in his late twenties, this Collection, estimated to fetch in excess of HK$18 million / US$2.4 million*, is a retrospective of Nara's artistic career and a testimony of the unique connection between the collector and the artist in the past two decades.
Kurokochi, who has been living and working abroad for over a year now, has been a keen supporter of Nara long before the artist shot to international fame and the two developed a unique personal connection through his collecting journey. Nara has always addressed the loneliness in his childhood as a central theme in his work. It is precisely this feeling that connects him with collectors including Kurokochi, who built an extraordinary art collection by saving up in exchange for Nara's works–you feel lonely, but you are not alone.
Evelyn Lin, Sotheby's Head of Contemporary Asian Art, enthuses: "We are honoured to present You Are Not Alone-Yoshitomo Nara Works from the Kurokochi Collection, the world's first auction of a private collection dedicated to the Yoshitomo Nara's works, alongside our Spring Sale Series this year. From collecting Nara's works, following Nara's footsteps around the globe, to interacting with the artist, Kurokochi regards art as an important part of his life. His endeavour truly inspires art lovers who intend to collect art they appreciate. Art collection is indeed not an unaffordable luxury."
Shun Kurokochi, the owner of the collection, says: "Assembled over nearly two decades, these works reminisce of childhood longings that I still feel as an adult. Being a lonely child myself, I see myself in the lonely and annoyed-looking children in Nara's works, and I wished to do for them everything I craved from my loved ones. This strong affinity drove me to give up the small luxuries in life in exchange for these works. Through collecting I developed a personal relationship with the artist whose intelligence I admire greatly. I am now ready to part with this Collection, and I believe through Sotheby's they will find new owners who are equally touched by them."
https://www.sothebys.com/de/auctions/2013/so-contemporary-asian-art-hk0456.html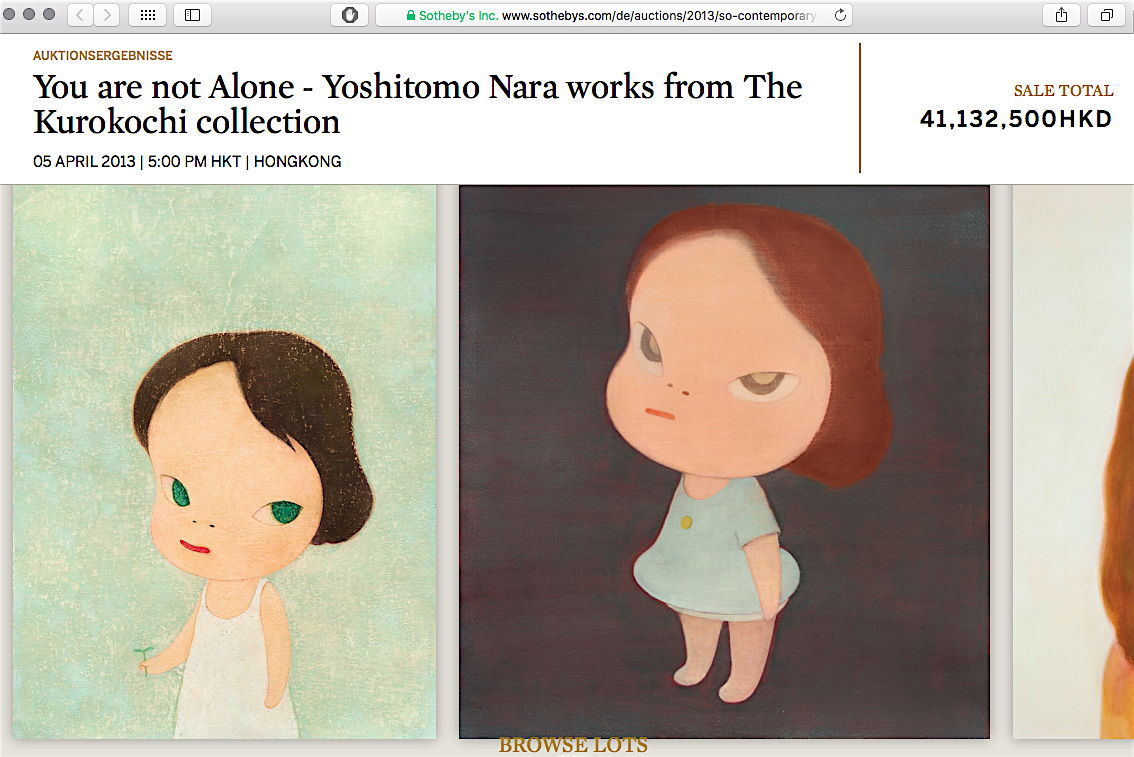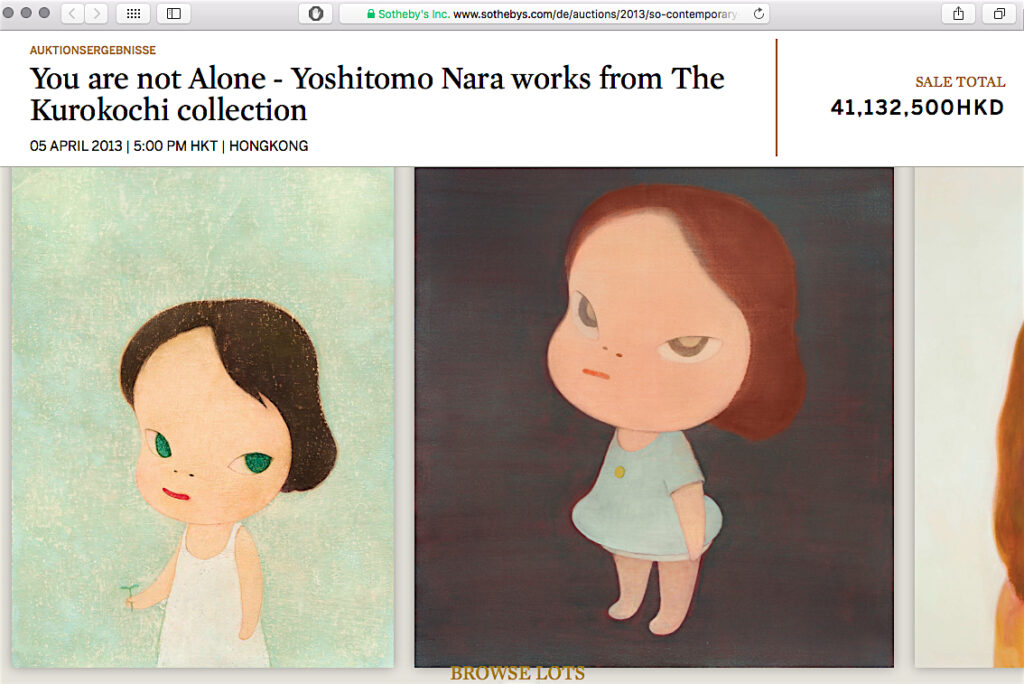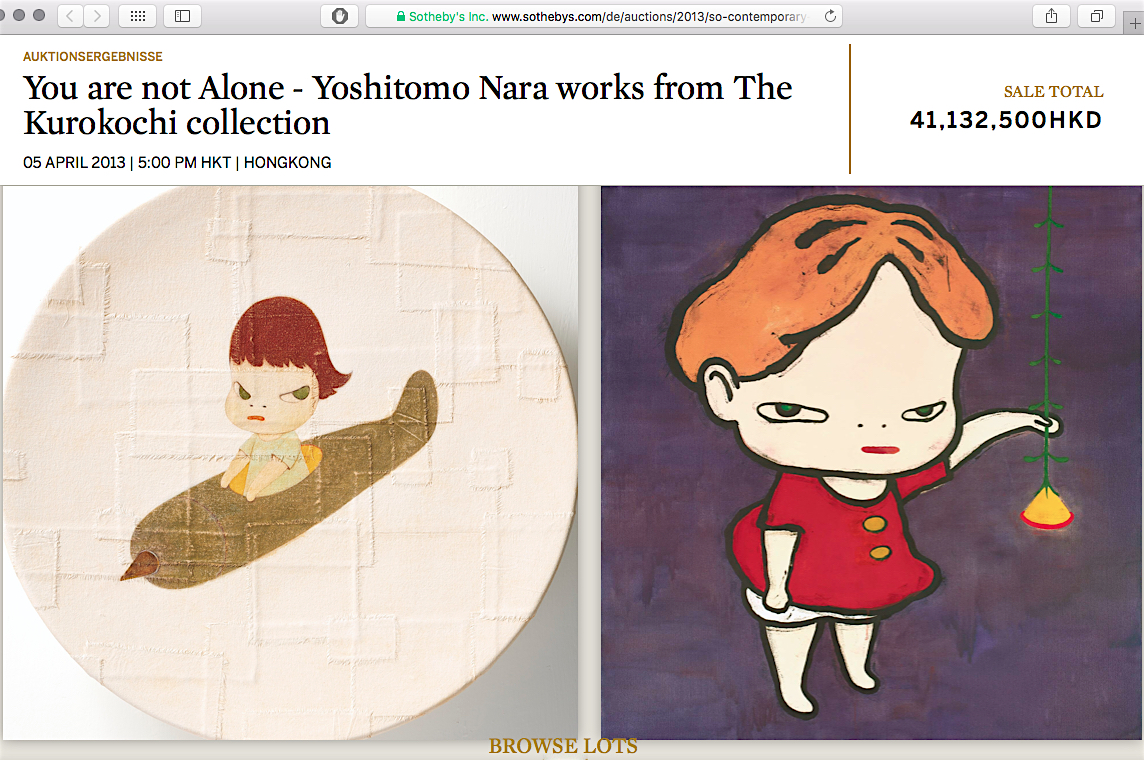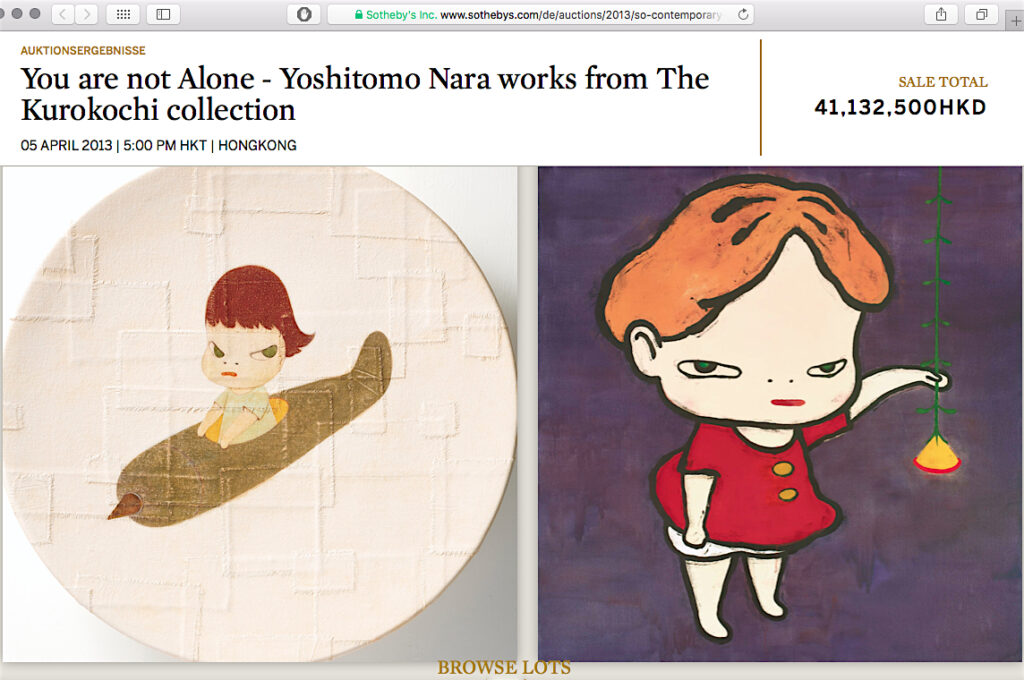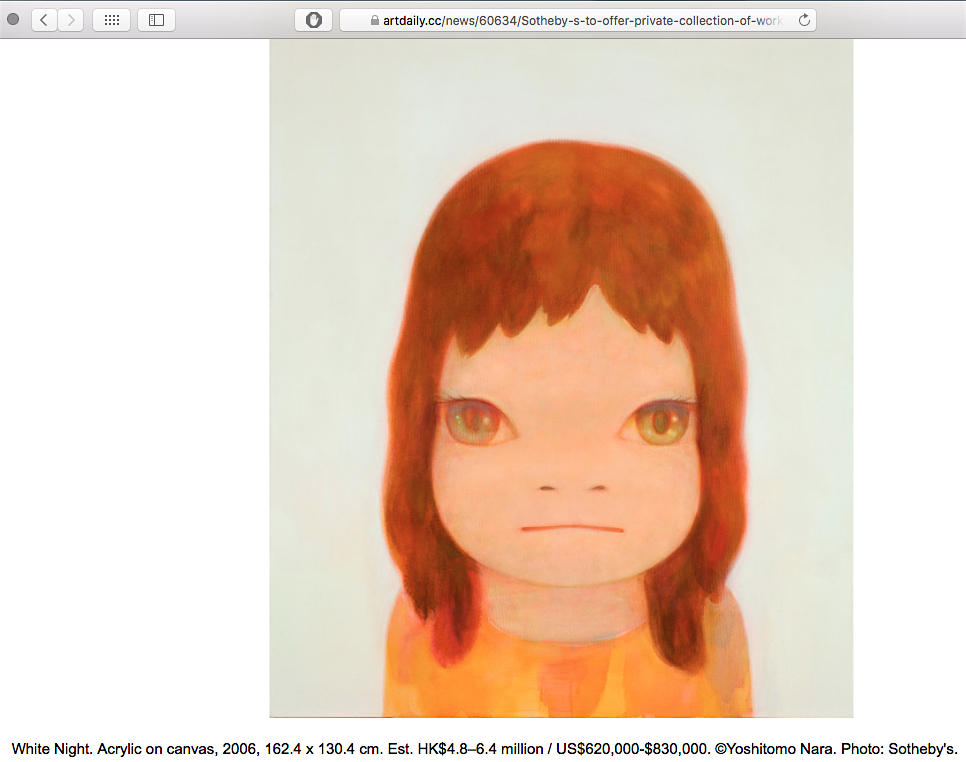 HIGHLIGHTS
White Night acrylic on canvas 2006 162.4 x 130.4 cm Est. HK$4.8 –6.4 million /US$620,000 -830,000
White Night represents a significant shift in the colour palette in Nara's work, consisted of multi-layered paint and brushstrokes. The eyes of the girl, in particular, are no longer in two or three solid tones, but rather encompass a full range of hues and shades. It is an important work that displays the highly imbued sentimentality within the artist's mature career phase. It was created during a crucial transition period in Nara's career in 2000s after he began to collaborate closely with the architecture and design collective, graf, in 2003. It was showcased in one of Nara's most elaborate solo exhibitions to date, Nara + graf : A to Z.
Sleepless Night acrylic on canvas 1997 120 x 110 cm Est. HK$3.2 –4.8 million /US$410,000 – 620,000
The pastel colour palette and sharpened contours of the eyes critically define the beloved style that became internationally recognised in the 1990s. While the blue dress is frequently seen in many of his works, the full-body portrait is an essential composition that constantly reappears throughout the artist's entire oeuvre as well.
Lamp Flower Girl acrylic on canvas 1993 150.3 x 140cm Est. HK$2 –2.8 million / US$260,000 – 360,000
First exhibited at Nara's solo exhibition–Be Happy, at Galerie Humanite in Nagoya, Lamp Flower Girl belongs to Nara's earliest body of work that featured children as the main theme. The bold black outline and solid colour tone signify two major characteristics inhis aesthetics from the early to mid-1990s, shortly after his study at the Kunstakademie Düsseldorf. The composition of the large head, high forehead and bulbous facial features, especially the elongated eyes, together formed a crucial prototype to the extremely popular iconic style that emerged in mid-1990s.
Pale Egg Mountain acrylic on canvas 1999 50×40 cm Est. HK$ 650,000 –950,000/ US $80,000 –120,000
Arguably the most popular icon in Nara's work aside from the children portrait,the sleepy-eyed puppy also dominates his drawings, paintings and sculptural works. Pale Egg Mountain depicts a close-up of the well-liked animal that certainly reveals a much closer resemblance with his human counterpart.
Drawing for Argentine Hag (set of fifteen) acrylic, coloured pencil on paper 2002 biggest: 34.3 x 36.3 cm; smallest: 17.5 x 20 cm Est. HK$1.2 –1.6 million / US $160,000 –210,000
This exceptional set of works serves as illustrations for the novel Argentine Hag by Japanese author Banana Yoshimoto, and is thus rarely seen in the market. Many of the motifs in the work, such as pyramids and dolphins, are not only visually distinctive, but also uniquely situated within Nara's practice. The novel's subsequent adaption into a film further highlights the subtle relationship of Nara's work with popular culture.
Chick the Ambassador acrylic on canvas 1993 100 x 90 cm Est. HK$800,000–1.2 million / US$100,000 –160,000
The chick from Chick the Ambassador can frequently be seen in Nara's works from 1993. It is one of the few animals to have been depicted by Nara in his expanding oeuvre and represents the earliest artistic practice of the artist.
Kai-Ten acrylic painted on cotton mounted on fiberglass reinforced plastic 2001 58 x 58 x 18 cm Est. HK$1.2 –1.6 million / US$160,000 -210,000
Made with acrylic paint on cotton on fiberglass reinforced plastic, Kai-Ten signifies Nara's experimental attempt in shifting towards three-dimensional paintings. The circular dish-shaped work challenges viewers in re-interpreting the traditional plane of painting, and remains one of Nara's most exciting medium ever applied.
Pandora's Box acrylic on canvas 1990 90.4 x90.2 cm Est. HK$800,000–1.2 million / US$100,000 -160,000
Painted in 1993, Pandora's Box embodies various intriguing themes from Nara's practice. The girl in the work is seen stepping in a water puddle, one of the most ubiquitous motifs in his works. The piece also draws on the reference from the Pandora's Box from Greek mythology.
---
早稲田大学国際文学館(村上春樹ライブラリー)
@waseda_WIHL
2021年秋開館予定の早稲田大学国際文学館のTwitterです。 当館へのご質問は下記メールアドレスまでお問い合わせください。 wihl@list.waseda.jp
Link_https://twitter.com/waseda_wihl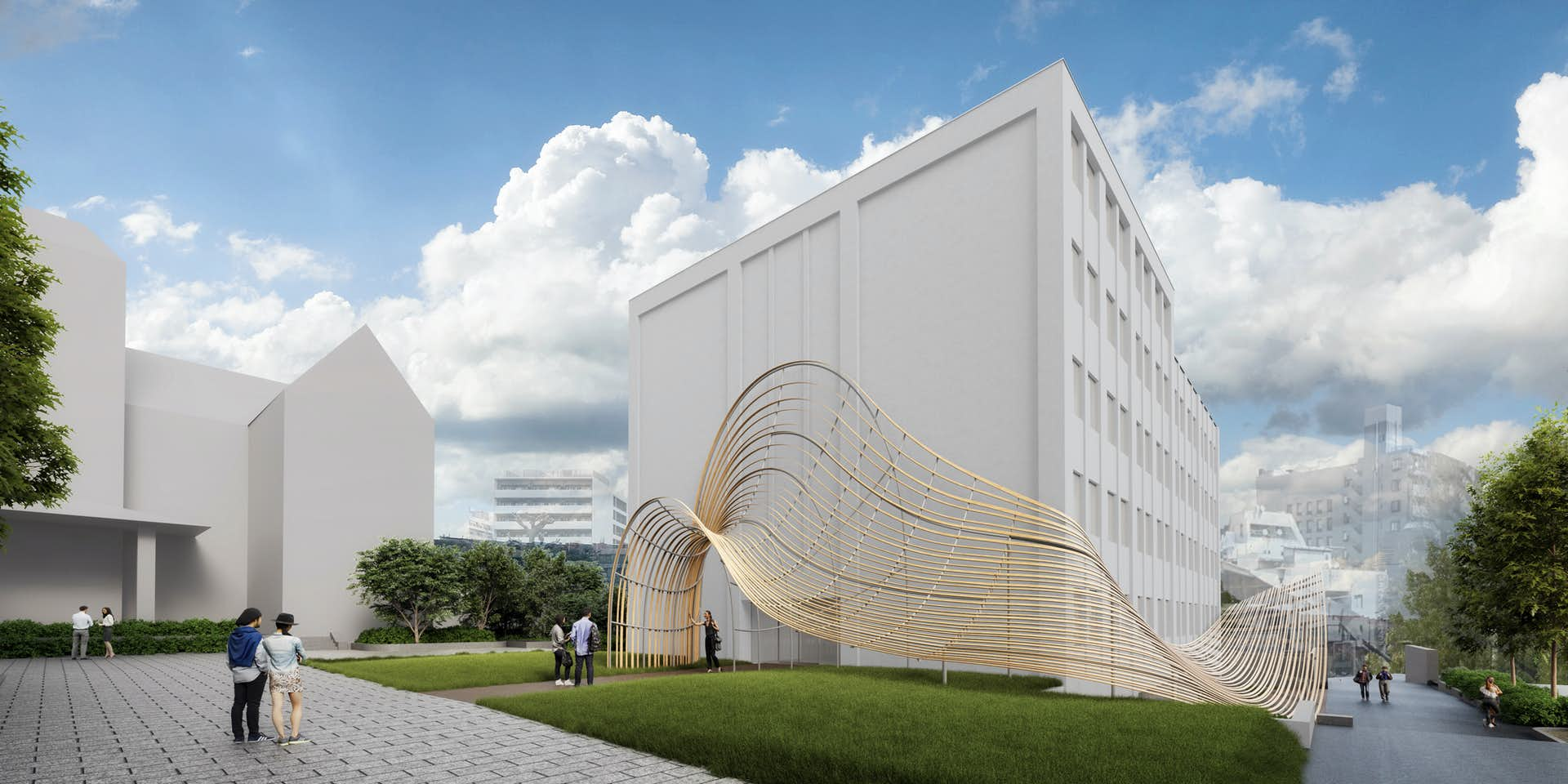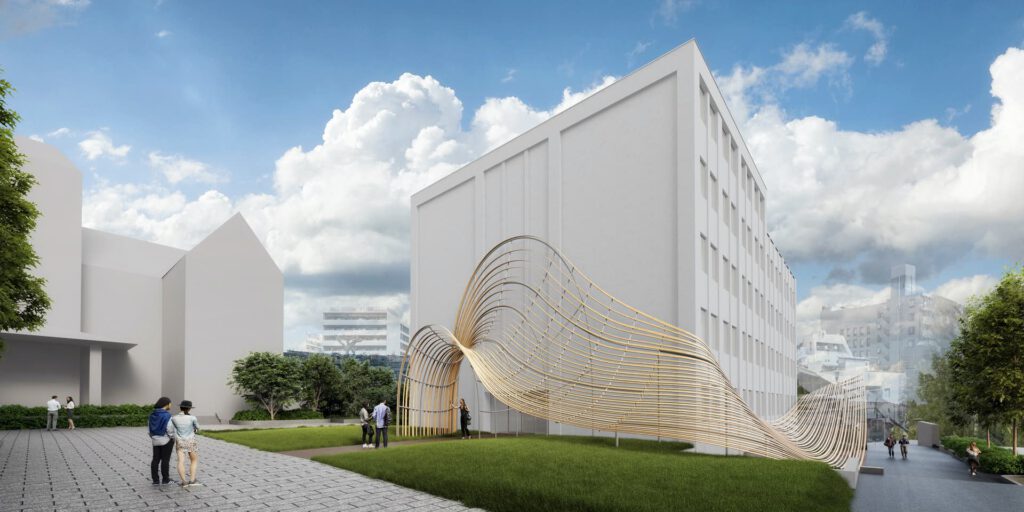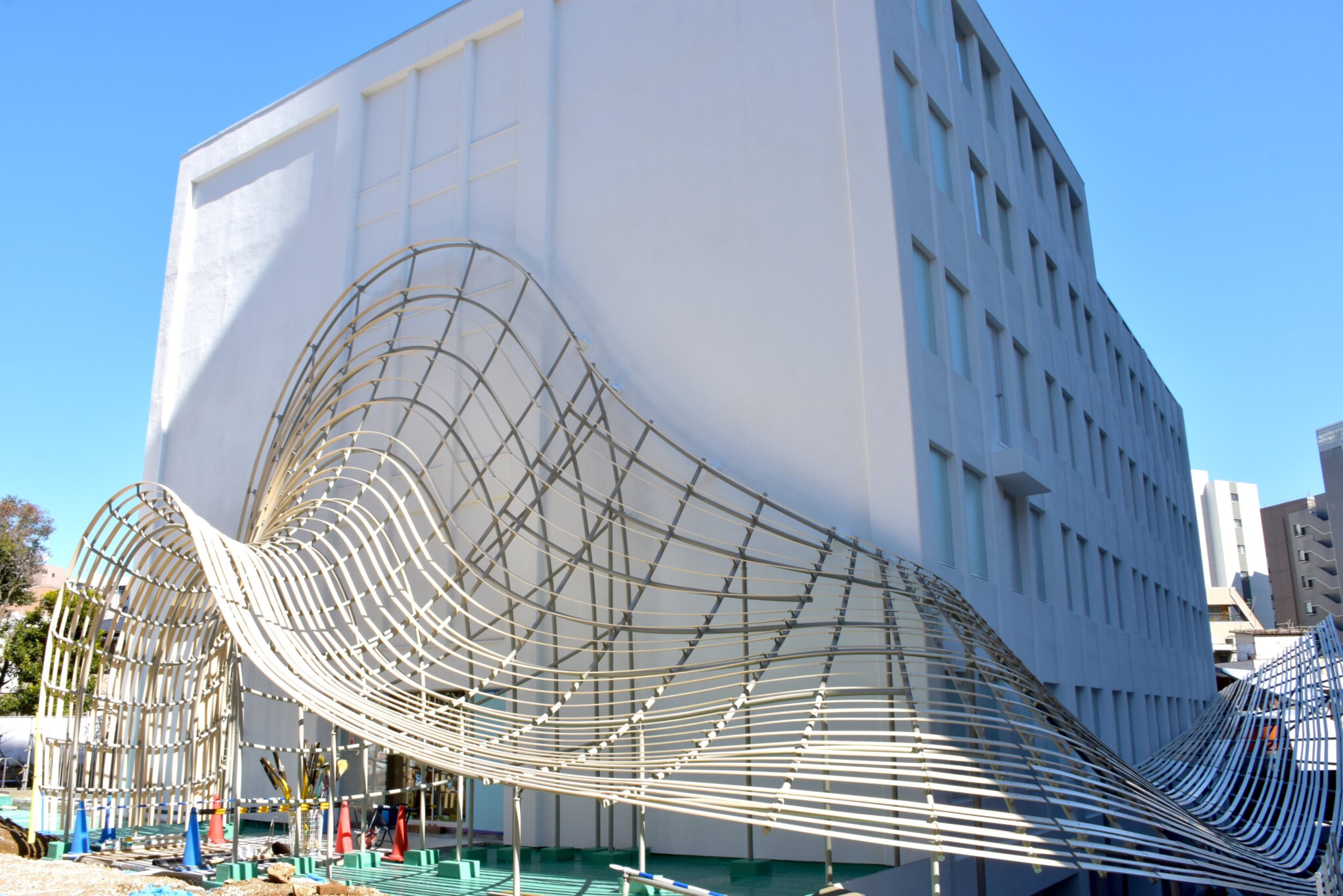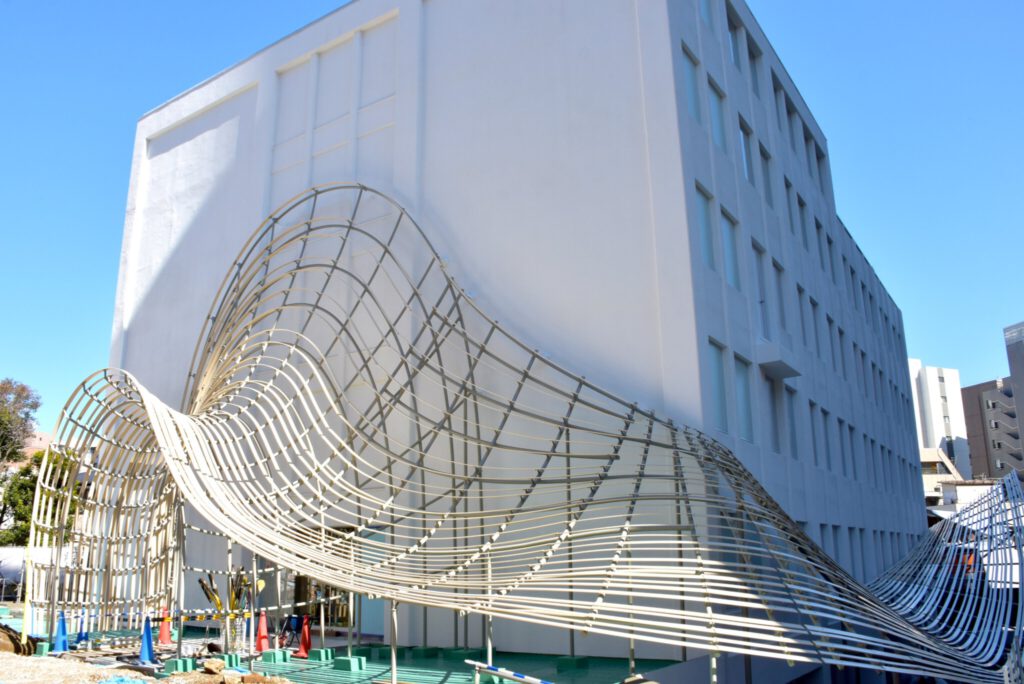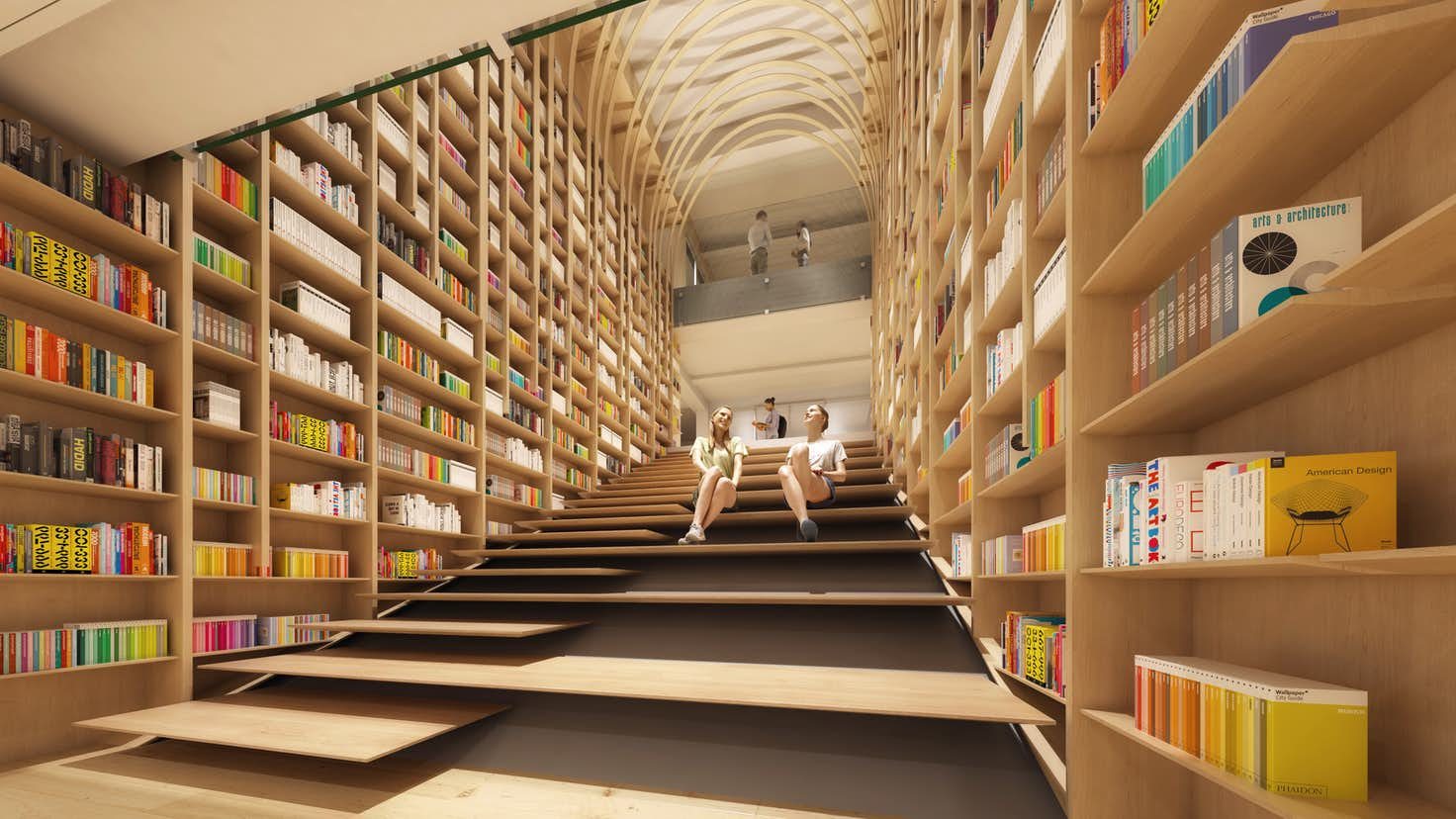 村上春樹さんが、小説作品や資料、さらには海外で翻訳された書籍、蒐集した数万枚のレコード等を早稲田大学へ寄贈して下さることが契機となった取り組みです。これらを整理・保管して皆様にもご覧頂くことで、世界中の村上文学の愛好者ならびに国際文学の研究者たちが、新たに「村上春樹文学」「国際文学」「翻訳文学」の研究に取り組める環境をつくりたい。そんな願いから、正式名称は「国際文学館」、愛称は「村上春樹ライブラリー」と名付けました。館内には、研究者のための資料室やセミナースペース、オーディオスペース等も計画されています。場所は坪内博士記念演劇博物館に隣接する4号館(早稲田キャンパス内)で、建築家隈研吾氏によって斬新なリノベーションを施し、2021年秋に開館予定です。