B like Baldessari, The Painter
概念とペインティング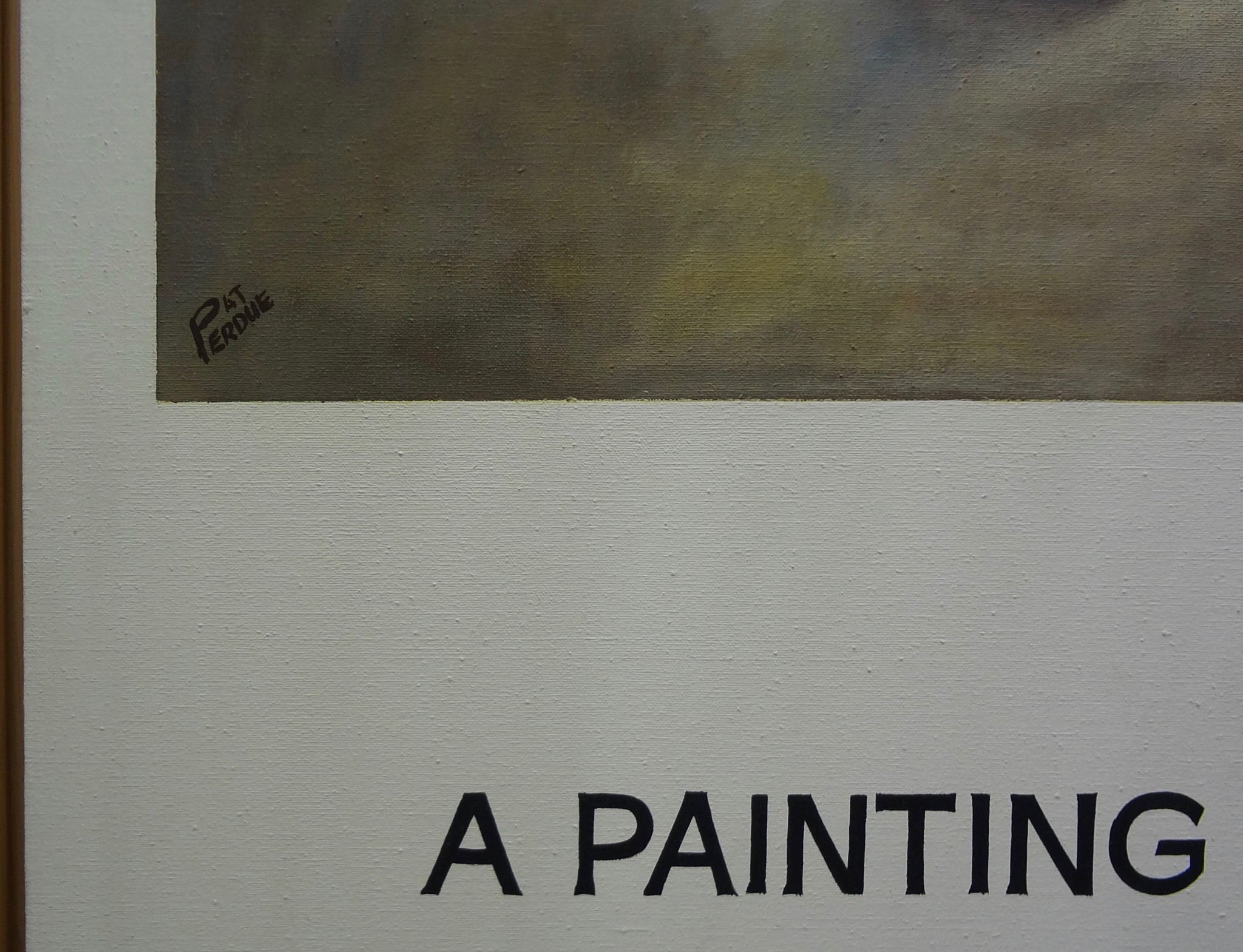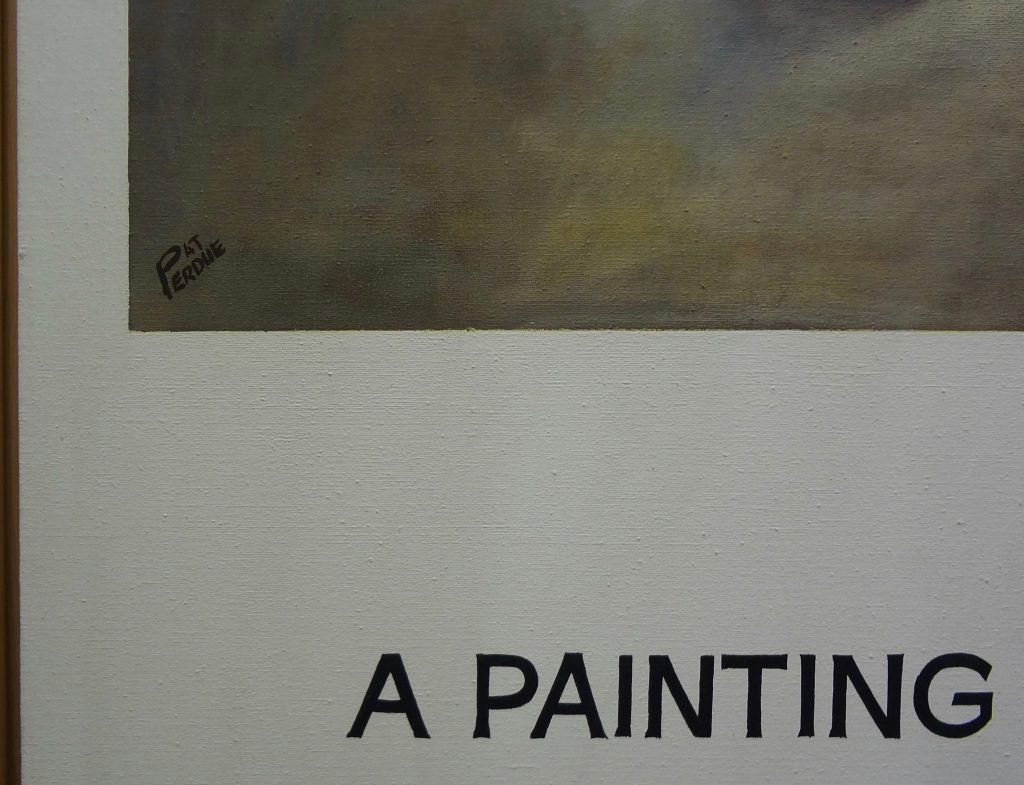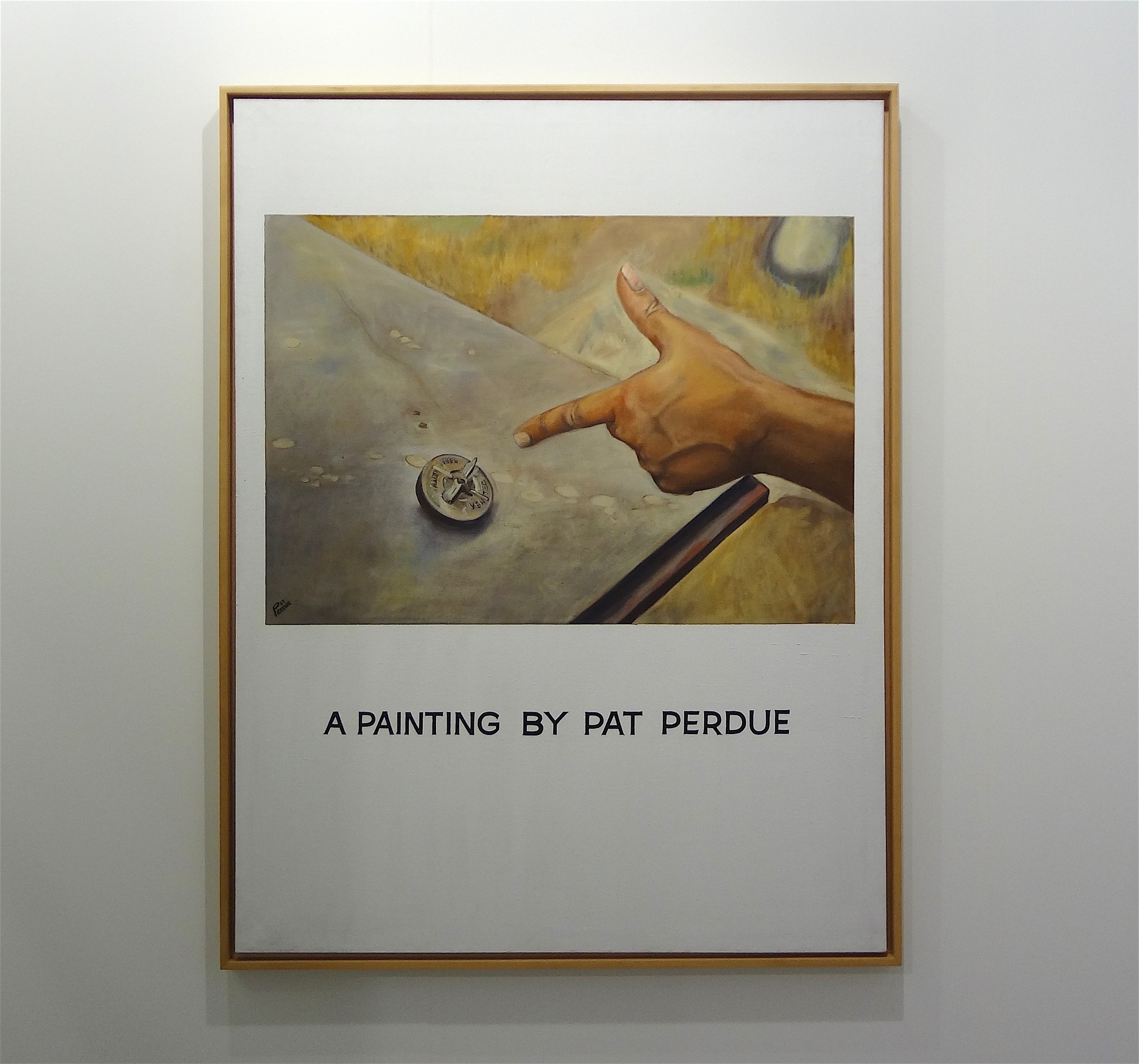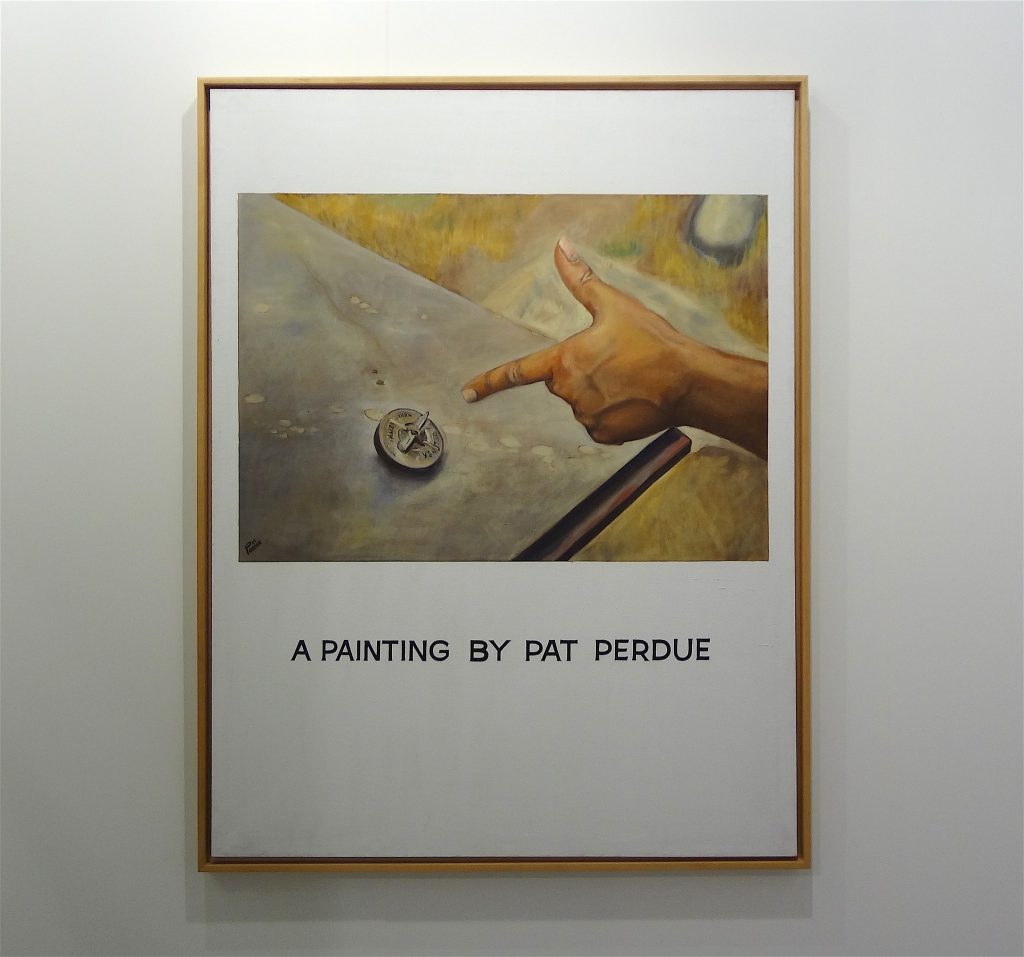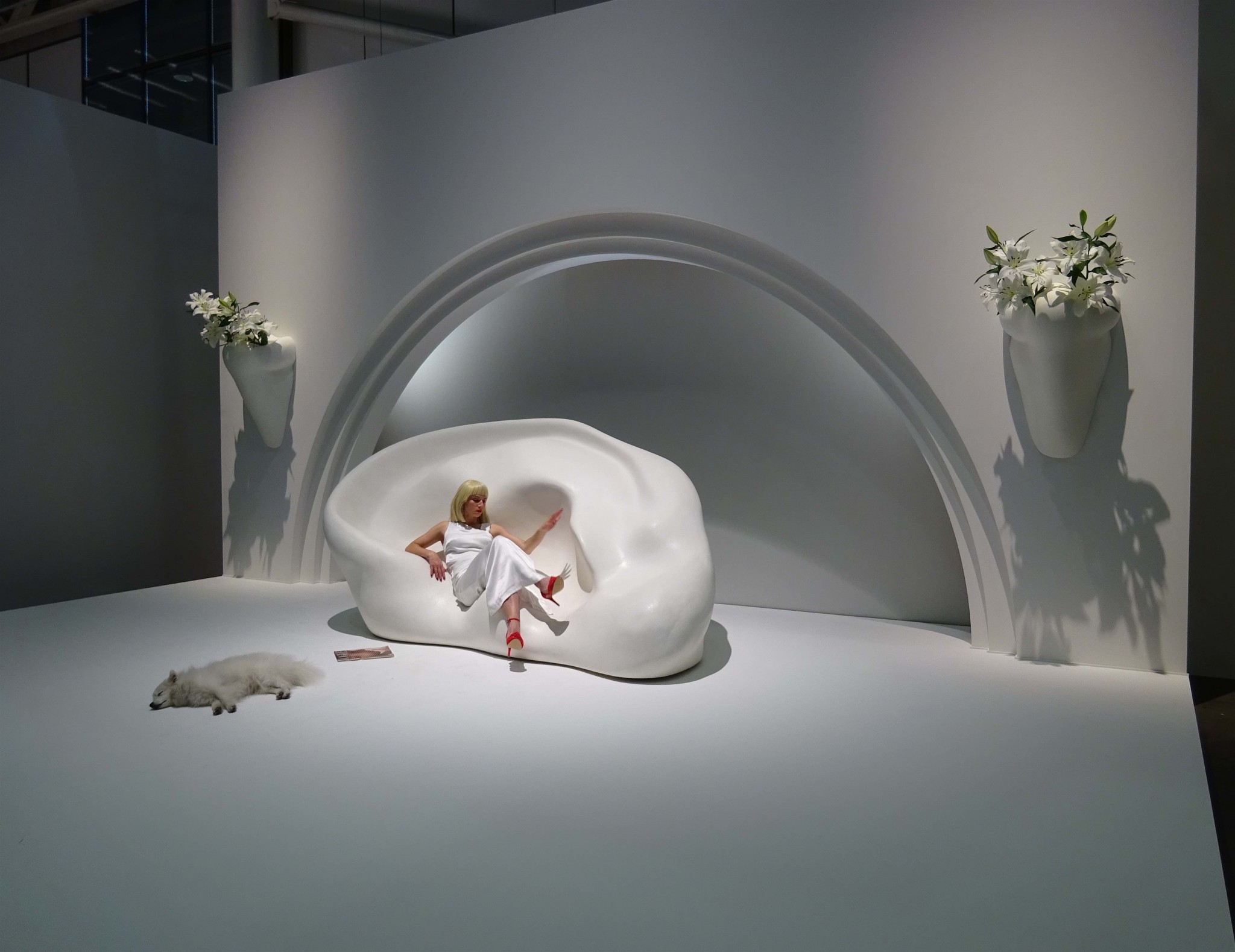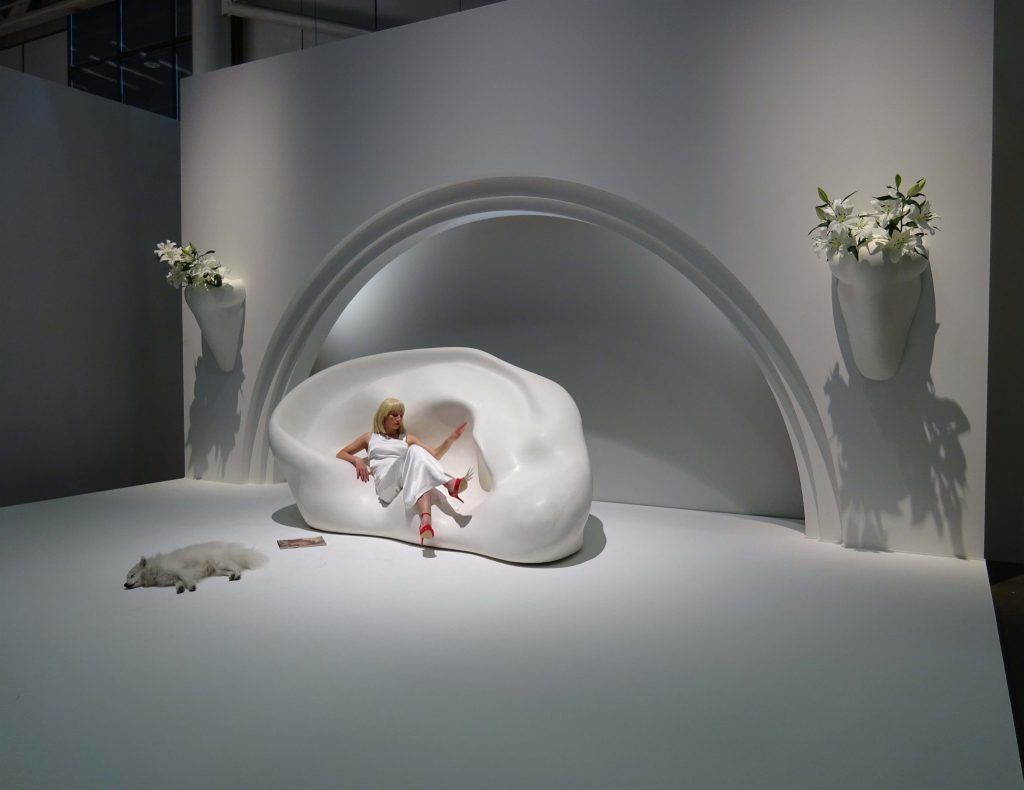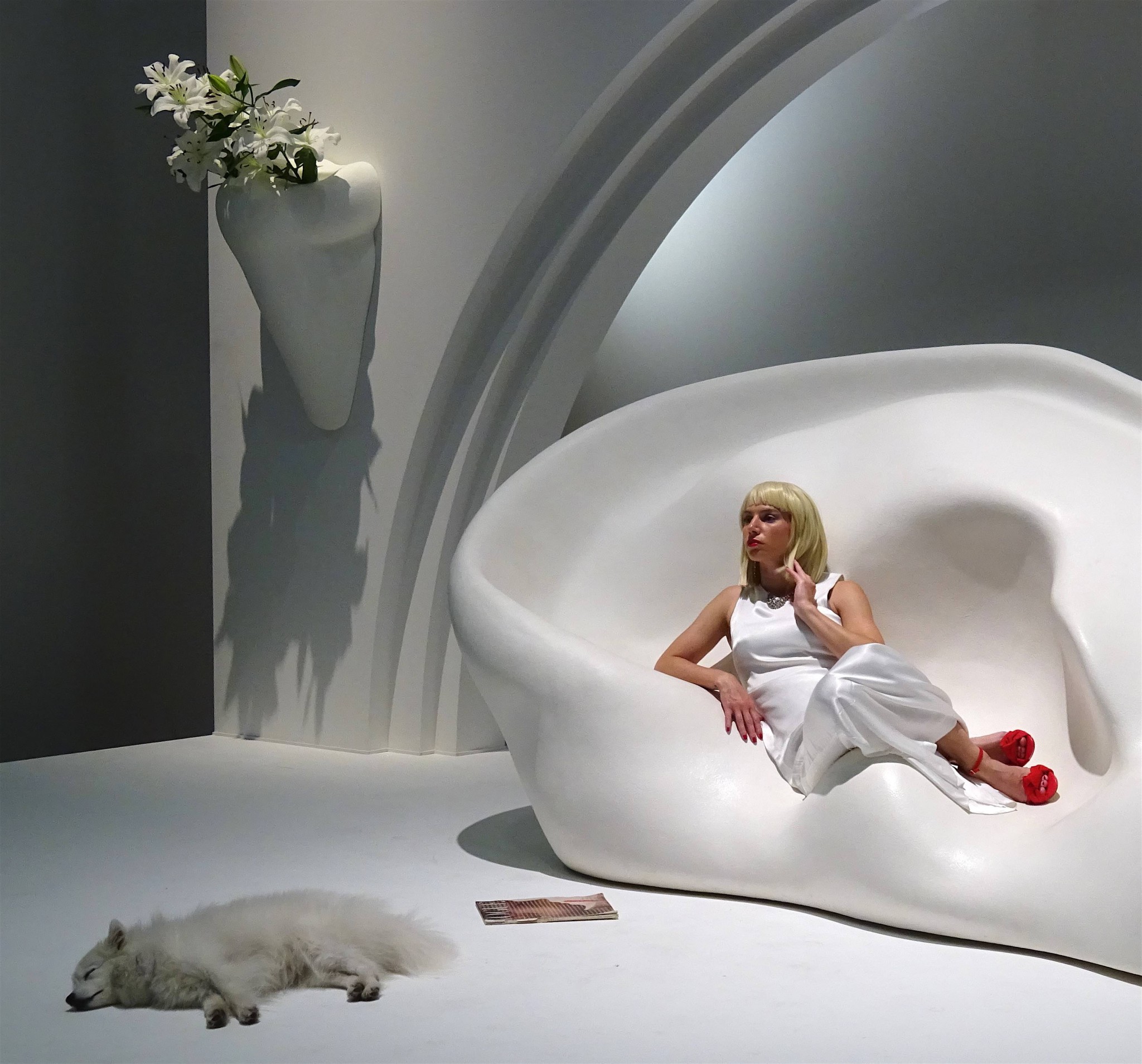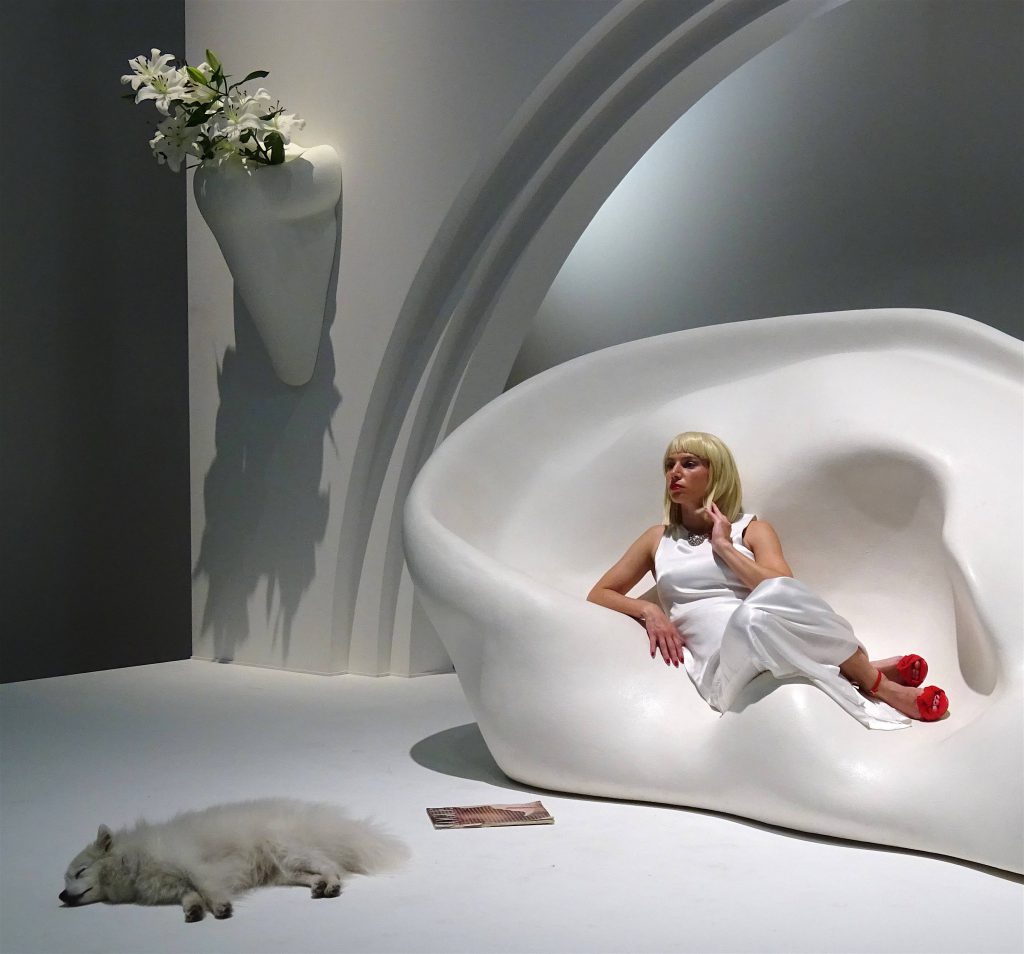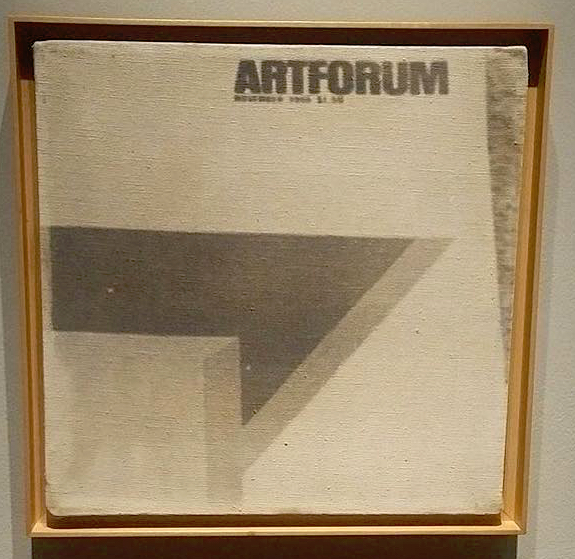 A canvas with photosensitive emulsion applied to its surface, which was then exposed to a negative, and then developed in the same way a regular photograph used to be in a darkroom.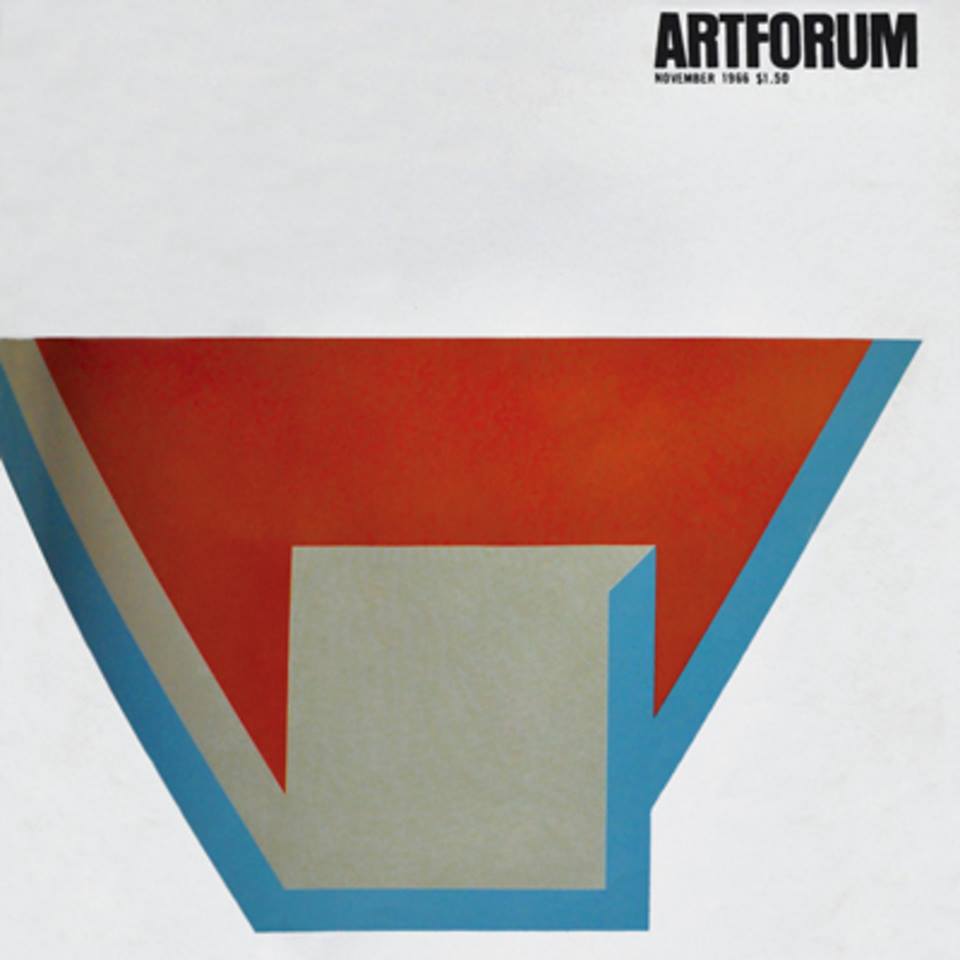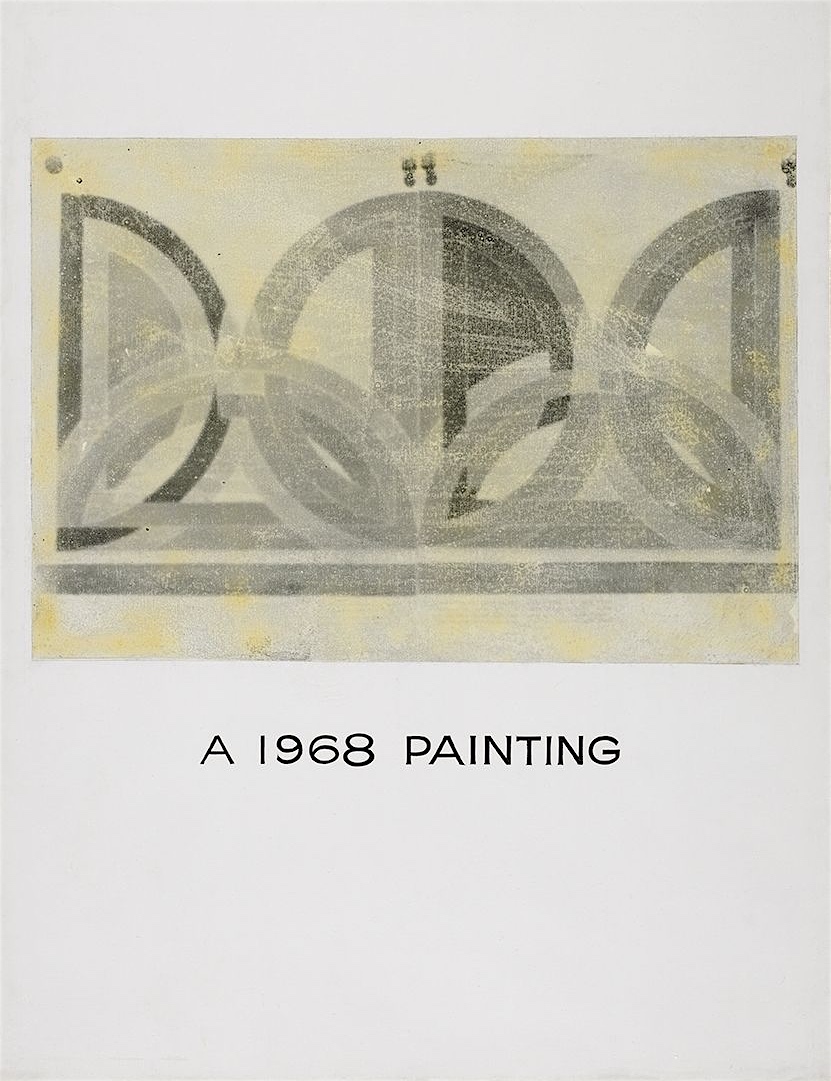 "A 1968 PAINTING" 1966-1968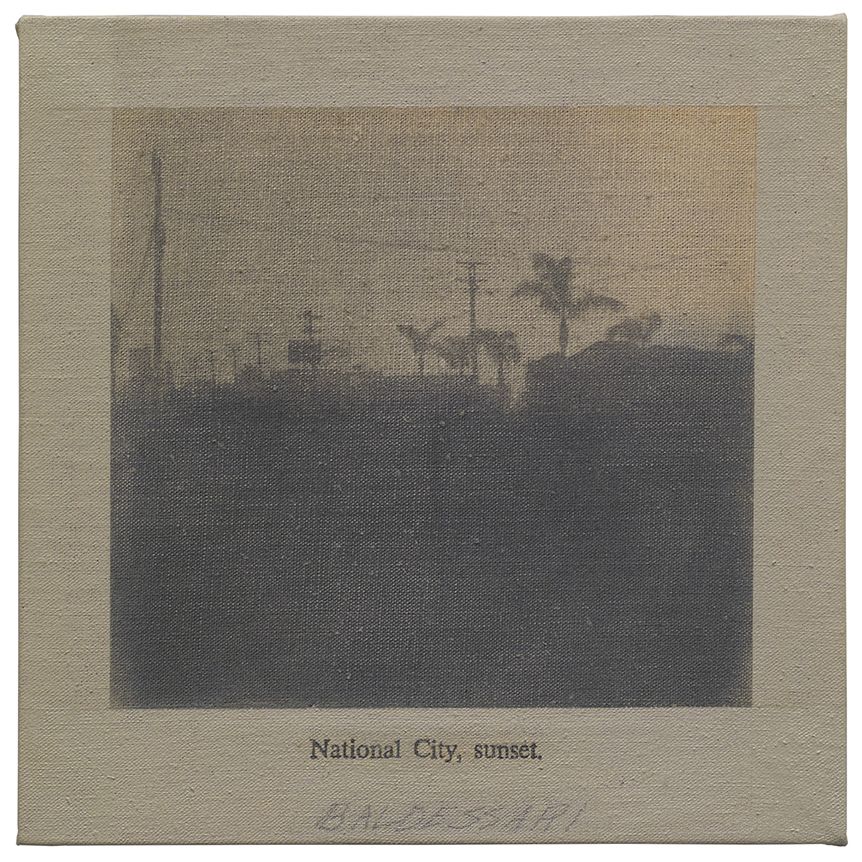 "National City, sunset" 1966-67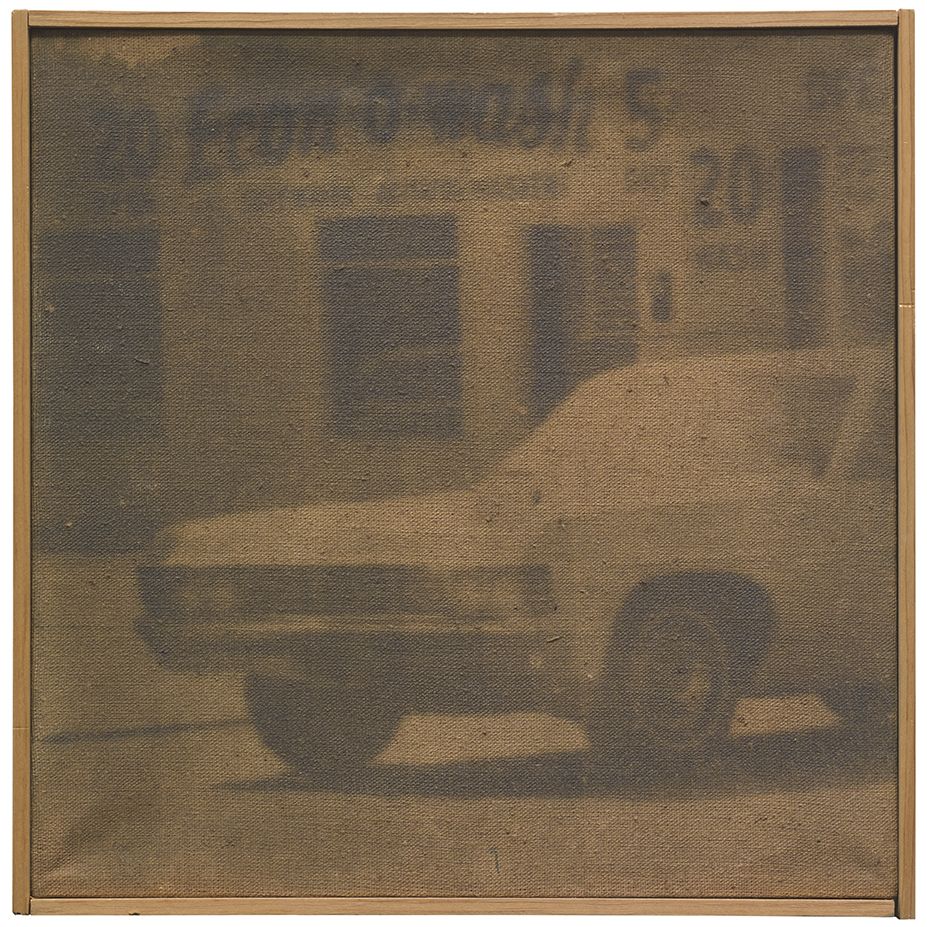 Study for Econ-O-Wash (Version A) 1966-67
Emulsion on canvas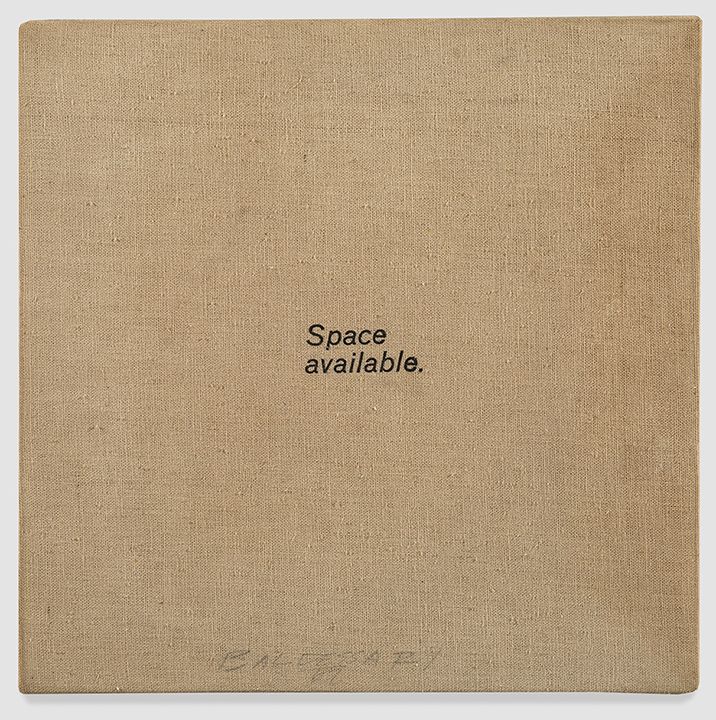 "Space Available" 1966-67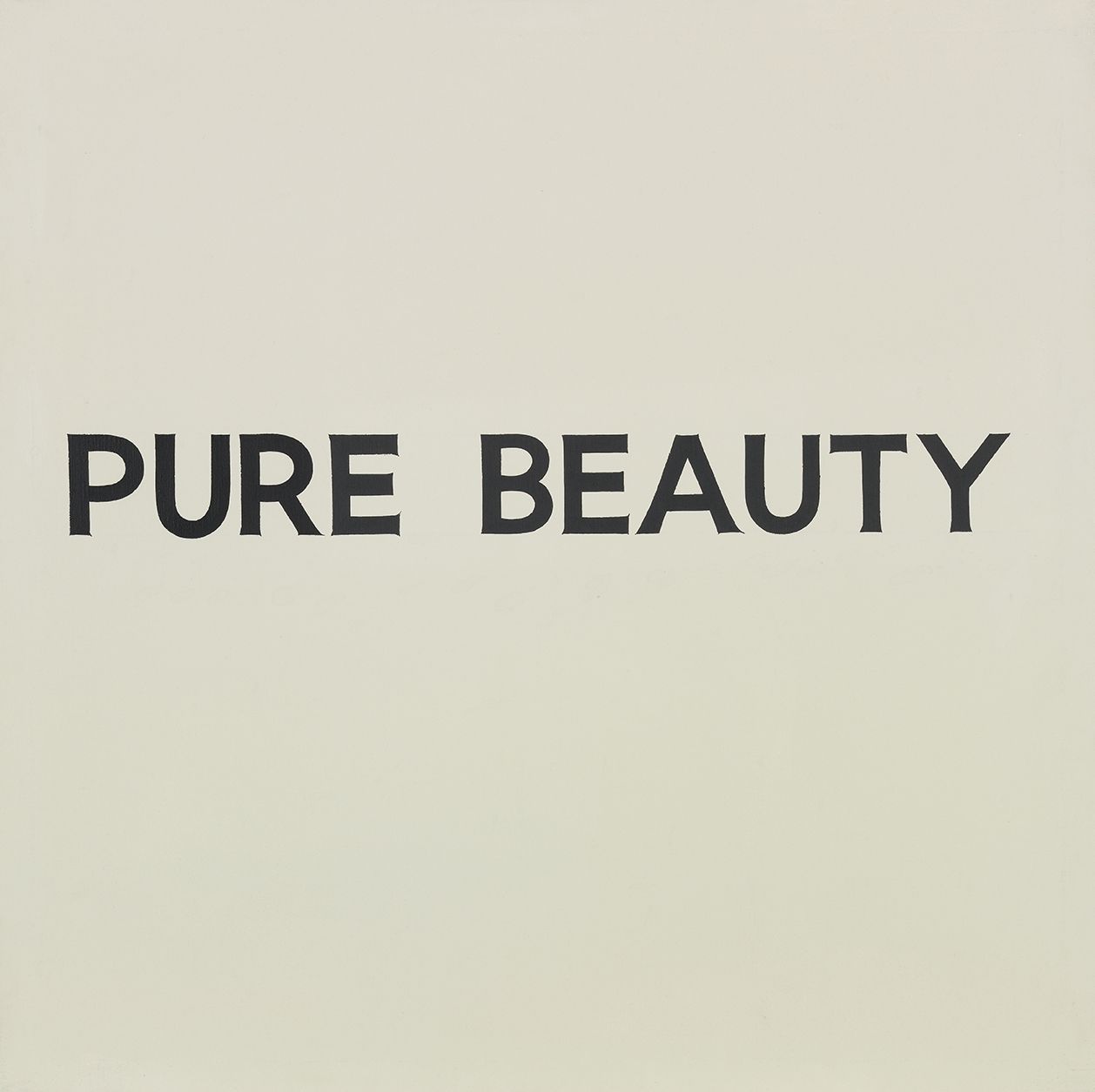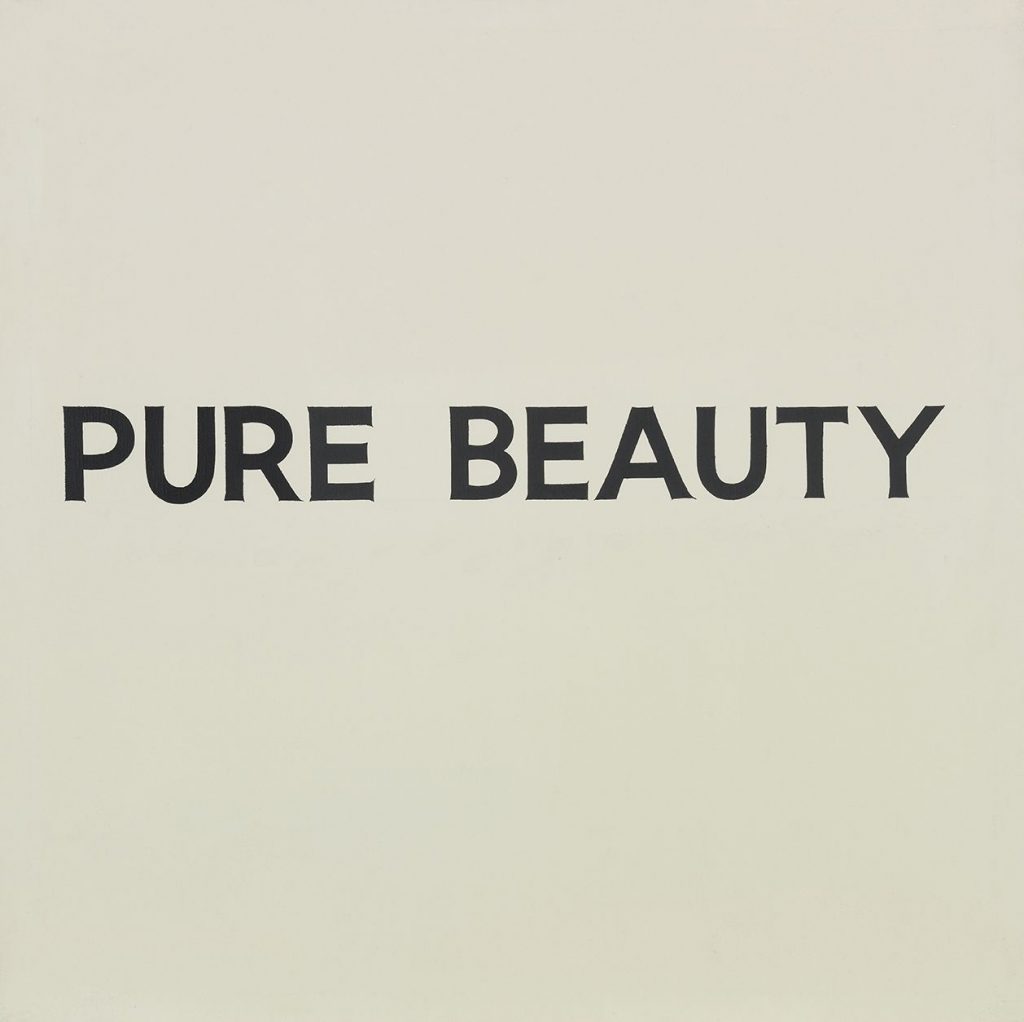 "Pure Beauty" 1966-1968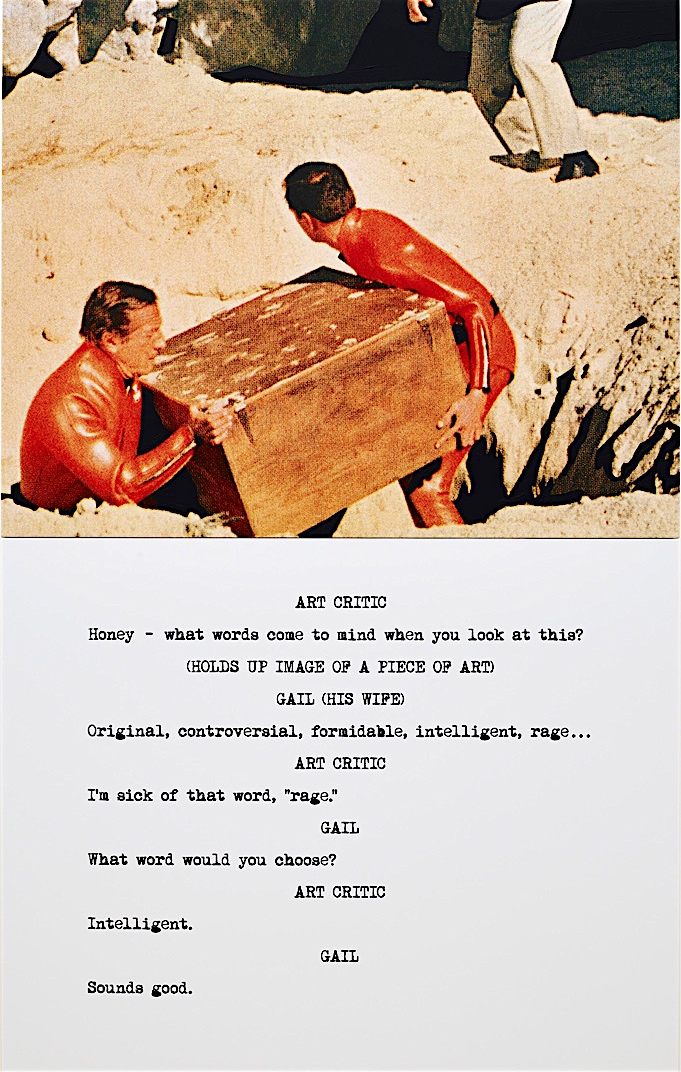 "ART CRITIC" 2015, Varnished inkjet print on canvas with acrylic paint, diptych
Let's continue, in the spirit of Baldessari, and add an AI translation of the English into Japanese (lol)…
アートクリティカル:ハニー–これを見たときにどんな言葉が思い浮かびますか? (芸術作品のイメージを保持)
GAIL(HIS WIFE):オリジナル、物議を醸す、手ごわい、インテリジェント、怒り…
アートクリティカル:「怒り」という言葉にうんざりしています。
GAIL:どの言葉を選びますか?
アートクリティカル:インテリジェント。
GAIL:いいですね。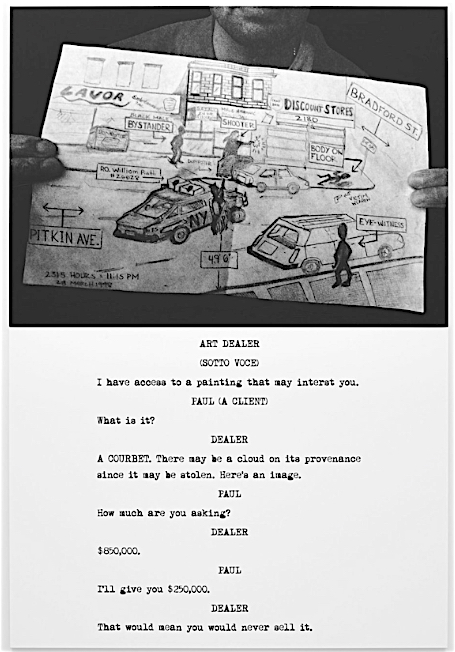 "What is it? A Courbet." 2015, Varnished inkjet print on canvas with acrylic paint, diptych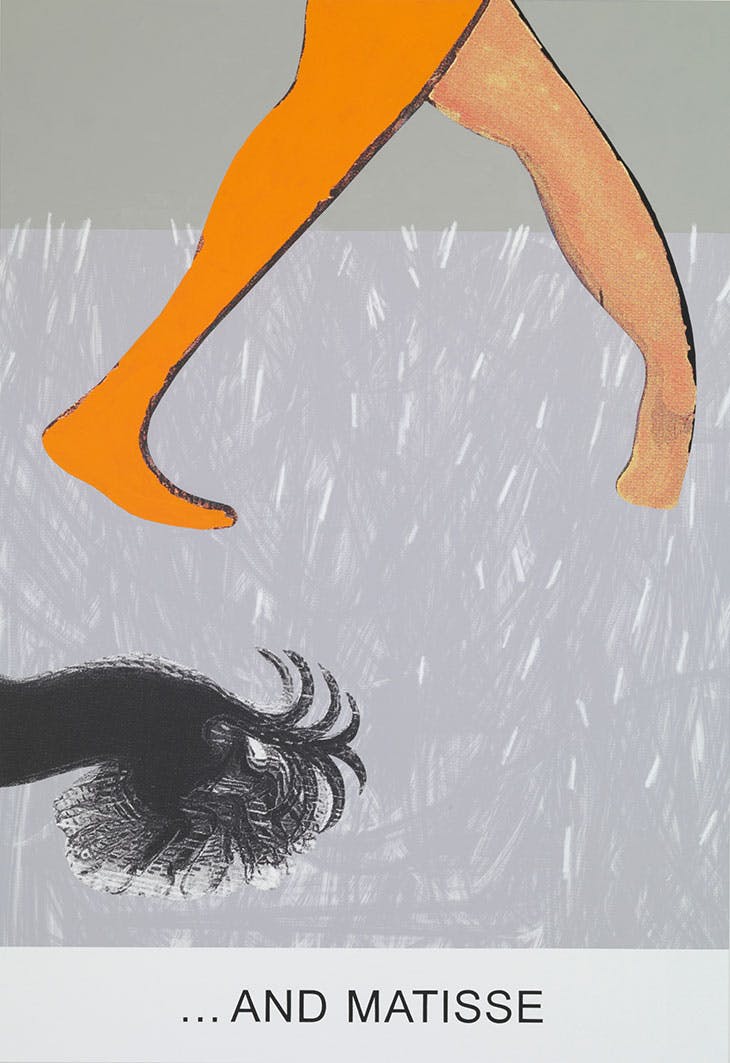 "… And Matisse" 2012
---
John Baldessari was one of the most lovable and kindest representatives of conceptual art, one of the smartest and certainly one of the most influential artists in our times. I think of Baldessari as a painter who happens to use/take photographs.
From an interview with David Salle, who had been taught at Cal Arts by Baldessari. "I was always interested in language. I thought, why not? If a painting, by the normal definition of the term, is paint on canvas, why can't it be painted words on canvas? And then I also had a parallel interest in photography…
I could never figure out why photography and art had separate histories. So I decided to explore both."
My preferred, superbly edited, video about him, see below. Resta in pace.
Interesting quotes by Baldessari in 2004, via artnet:
Interview with John Baldessari
by Nicole Davis
Nicole Davis interviewed John Baldessari in his studio in Santa Monica, Ca., on Apr. 12, 2004.
…
ND: Who would you consider to be a breakthrough artist within the last decade?
JB: There are certain artists that interest me. Not so much in what they're doing now, but why there's attention given to them at a particular time. For example, in 1985 I did a two-person show in Chicago with Gerhard Richter. Neither of us sold anything, which was not unusual back then, but the paintings he had in the show were the candle paintings, which are now $23 million each. I find that so puzzling. What was wrong with them then? Plus, he was doing pretty much the same art when I came across him in the late '60s. He didn't have much of a following.
…
JB: In the last three or four years, I changed galleries, and that was like a divorce for me. I got divorced and that was probably worse than getting divorced.
ND: Which gallery?
JB: I was at Sonnabend Gallery in New York, and you know, they're a fantastic gallery, and after over 30 years, I've gone to Marian Goodman Gallery. They are both very powerful women, but I began to panic a bit about what would happen to my kids after I died, and how they would support themselves. With Ileana Sonnabend, she has all the money in the world, and so she doesn't have to make money, and they only have a staff of about five or so, and they were just overworked all the time, so they could never pay attention to things. She didn't go out actively and try to sell work, and so I just decided I had to get somebody who was a little more aggressive, and Marian Goodman, I looked around, and she seems the best for me, but it was really really difficult for me after 30 years.
full text:
http://www.artnet.com/magazine/features/davis/davis12-7-04.asp
---
John Baldessari, Who Gave Conceptual Art a Dose of Humor, Is Dead at 88
Through his hybrid works and teaching, he helped build the Los Angeles art scene, mentoring a who's who of contemporary artists.
By Jori Finkel, Jan. 5, 2020
quote:
Mr. Baldessari started as a semiabstract painter in the 1950s but grew so disenchanted with his own handiwork — as well as the very notion of handiwork — that in 1970 he decided to take his paintings to a San Diego funeral home and cremate them. He was ready to embrace a wide range of mediums: videos, photography, prints, sculpture, text-based art, installations and, yes, paintings, but most of all hybrid forms of these, like text painting.
quote:
By then, Mr. Baldessari's reputation had grown to the point where every year or so brought another museum exhibition or honor. He received a lifetime achievement award from the Americans for the Arts in 2005, was elected to the American Academy of Arts and Letters in 2008, received a Golden Lion award for lifetime achievement from the Venice Biennale in 2009, and was awarded the National Medal of Arts from President Barack Obama in 2014.
quote:
In 2006, for the Hirshhorn Museum and Sculpture Garden in Washington, Mr. Baldessari curated a show of works drawn from its permanent collection. Later that year he designed a René Magritte-inspired survey at the Los Angeles County Museum of Art, putting images of clouds on the carpeting and images of Los Angeles freeways on the ceilings to disorient visitors in classic Surrealist fashion.
By that point, more people than ever before got the joke.
"All those things that initially seemed so light compared to, say, the deadly serious milieu of Abstract Expressionism — like John's irony, humor and topicality — those things emerged as major themes in art," said Michael Govan, the museum's director. "So it's not just that John taught so many students who went on to become major players. It's that art turned and walked through this door he opened."
full text:
https://www.nytimes.com/2020/01/05/arts/john-baldessari-dead.html
John Baldessari, radically influential Conceptual artist, dies at 88
By SUZANNE MUCHNIC, DORANY PINEDA, DEBORAH VANKIN
JAN. 5, 2020 1:43 PM
quote:
Inspired by the spirit of Marcel Duchamp, who overturned traditional definitions of art in the early 20th century, and by L.A. artist Edward Ruscha's imaginative combinations of pictures and words, Baldessari explored language and mass media culture in text-and-image paintings and photo compositions derived from film stills, magazines and other sources.
quote:
"John Baldessari has worked in the gap between paintings and camera images for the last 45 years," Knight wrote, noting that "his marvelous rummaging around in that fissure" demonstrated that the gap was fertile territory and "often a strange and funny place to be."
quote:
Baldessari was among the earliest artists to engage with image culture and the onslaught of mass media, said Lisa Wainwright, professor of art history, theory and criticism at the School of the Art Institute of Chicago. He pushed the notion that "the idea that generates the work is the key to the work, not the craft" and that art and art schools were "the last bastions of democratic thinking."
full text:
https://www.latimes.com/obituaries/story/2020-01-05/john-baldessari-dead
1973 in artforum:
POINTING, HYBRIDS, AND ROMANTICISM: JOHN BALDESSARI
JOHN BALDESSARI'S OBJECTS ARE interesting. It's unimportant that they are lightweight—texts, photographs, films, and video.
full text:
https://www.artforum.com/print/197308/pointing-hybrids-and-romanticism-john-baldessari-37986
up-date: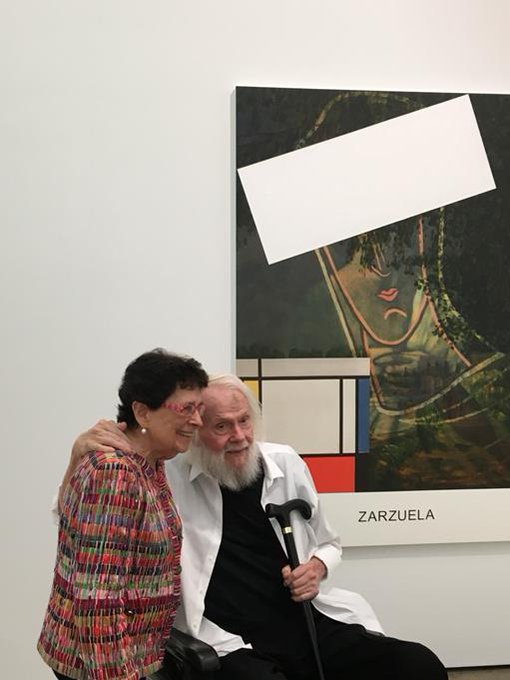 It is with immense sadness that I write to let you know of the death of the intelligent, loving and incomparable
John Baldessari.
The loss to his family, his fellow artists, his studio staff, friends and devoted former students is beyond measure.
– Marian
twitter.com/MarianGoodman/status/1213989203312283648
all photographs: CCCS Courtesy Creative Common Sense
---
up-dated 2023/9/14
September 13, 2023, ARTnews:
John Baldessari Estate Beleaguered by Lawsuits Over Damaged Art and Canceled Exhibition
quotes:
The suit claims that 55 works were damaged, but it does not note which ones or their individual values. (Baldessari's auction record, set in 2007, stands at $4.4 million; most of the works by him that have been sold publicly went for less than $1 million.)
"Some are a total loss," the suit reads. "All others require conservation and are diminished in value as a result of the damage."
Later on, the suit clarifies how the works were allegedly harmed: "It is immediately apparent from simply looking at many of the works of art that they were grossly mishandled by [Marian Goodman Gallery], for example by evidently having been dropped, leaving large dents, broken corners, scratches, and cracks in the surface of the art itself and in the materials on which they were created. Some of the paintings that had evidently been dropped show that the board materials on which such paintings had been created are now split and have significant and obvious loss of paint in places. Others show mishandling evidenced by water damage, punctures, rips and tears in the art itself."
"In addition to the art itself being seriously damaged," the suit continues, "many of the frames on works of art similarly show mishandling with clear evidence that they were dropped (such as broken, split and dented corners, broken glass and plexiglass, etc.), or were scratched by sharp objects. The damage was necessarily caused by [Marian Goodman Gallery's] own employees and/or by [Marian Goodman Gallery's] failure to properly supervise other workers."
The Baldessari estate alleges that when representatives for its current gallery, Sprüth Magers, went to pick up these works, some pieces were even contained in boxes that had "DAMAGED" stickers affixed to them.
In court filings, Marian Goodman Gallery and AXA denied the Baldessari estate's claims. They are seeking to have the case dismissed. Marian Goodman Gallery attributed any alleged damage against these works to "negligence, carelessness, recklessness and/or intentional acts of third persons over whom Defendant had no control."
According to the suit, the Baldessari estate went to retrieve his art from the gallery in 2020, after his passing, in order to appraise it in preparation for a tax filing. By that point, the gallery had "refused to cooperate and refused to communicate with the appraisers," and the works were to be transferred to Sprüth Magers. The estate said it stopped consigning works to Marian Goodman Gallery that same year.
The Baldessari estate said it informed Marian Goodman Gallery of the damage in 2021 but, it alleged, neither that gallery nor AXA would cover conservation costs.
…
Meanwhile, Beyer Projects claims in its suit that Baldessari's descendants will not issue a certificate of authenticity for Pineapple (2019), a six-and-a-half-foot-tall sculpture of a fruit that allegedly went unsigned upon his passing. It also alleges something similar regarding Brain Fountain, a functioning fountain shaped like a brain that Baldessari conceived in 2011. Beyer Projects claims that the estate has requested materials related to the work "so that it can ultimately sell Brain Fountain itself and deny Beyer Projects its contractual share of the profits."
Per the suit, Beyer Projects had begun discussing a Gagosian show of Baldessari works that it owned and co-owned. The show was eventually slated for May 2023 and was expected to "bring in millions of dollars—potentially as much as $10,000,000 or more," according to the suit. But, "because of this cloud on ownership, however baseless, the Gagosian Gallery canceled their exhibition."
full text:
https://www.artnews.com/art-news/news/john-baldessari-estate-lawsuits-marian-goodman-gallery-axa-beyer-projects-1234679459
Comments:
Another thing: AXA, like most insurance cos, sucks when you make a claim. All of a sudden, even though you paid big bucks for years to them in premiums, they are not on their side, you are an adversary. Don't pay for premium plan insurance unless you have read ALL the fine print.
Link_https://twitter.com/MaryMWalsh/status/1702110778378043548
Artists' Estates: Reputations in Trust
Salvesen, Magda, and Diane Cousineau, (Editors)
New Brunswick, New Jersey: Rutgers University Press, 2005. Hardcover. Black cloth boards, black DJ with color illustration. 381 pp. Many BW illustrations. VG/VG. Item #131028
ISBN: 9780813536040
From the jacket: "offers a fascinating journey into the complex and competitive art world through the distinctive lens of those who deal with the paintings, prints, and sculpture that artists leave behind after their deaths. The unique collection of interviews provides a window into the goals and desires, the conflicts and frustrations, and the emotional and financial strains that confront widows, companions, sons, and daughters at the heirs to artists' estates."
https://www.mullenbooks.com/pages/books/131028/magda-salvesen-diane-cousineau/artists-estates-reputations-in-trust