クリスティーズ:葛飾北斎「冨嶽三十六景‐神奈川沖浪裏」(約1831年)が1.6 Million 米国ドル(約1億8千万円)で落札
HOKUSAI "Under the Well of the Great Wave off Kanagawa" (ca. 1831) sold for US$1.6 Million @ Christie's March 2021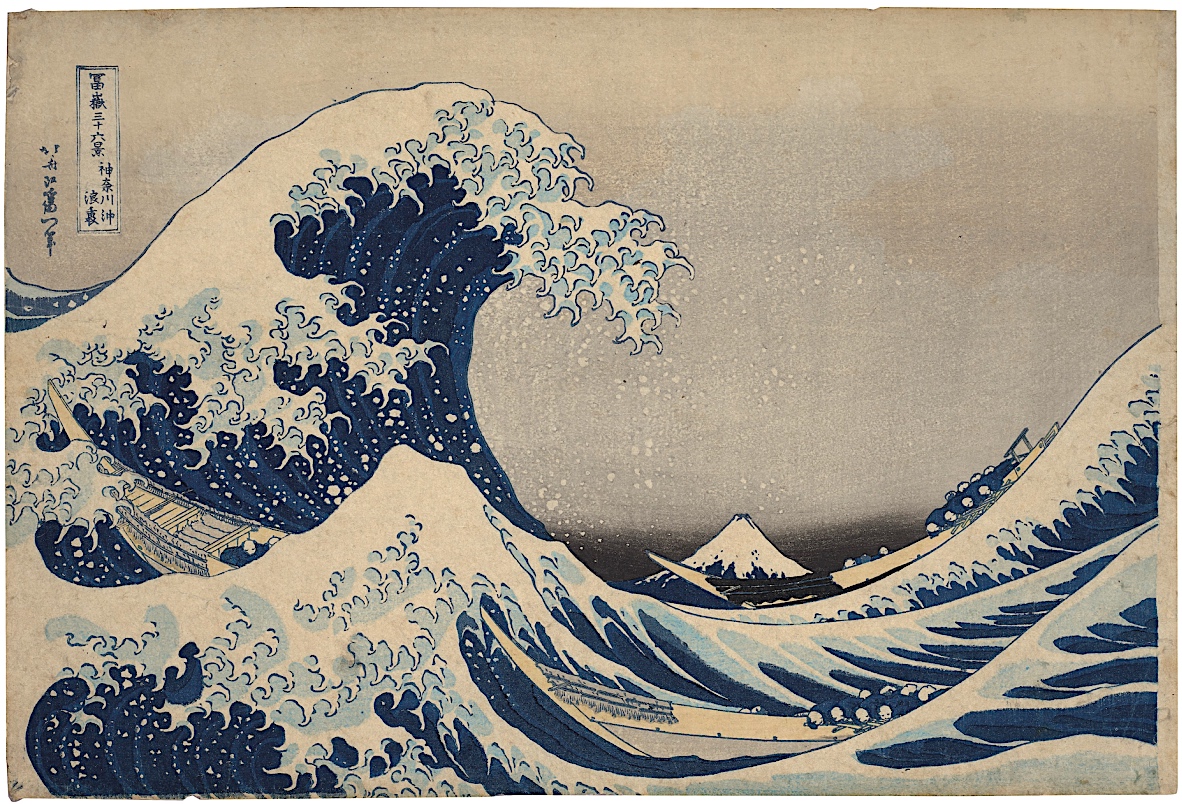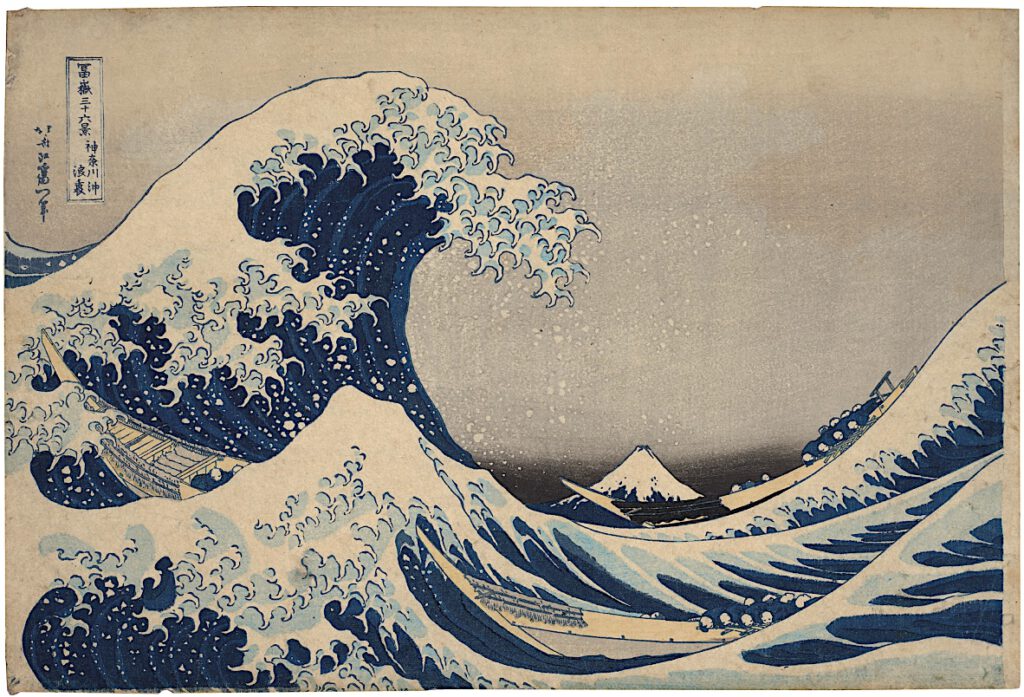 16th of March 2021, "Japanese and Korean Art" Live Auction during Christie's Asia week sales in New York.
Katsushika Hokusai's woodblock print 葛飾北斎の浮世絵「冨嶽三十六景‐神奈川沖浪裏」(約1831年) "Under the Well of the Great Wave off Kanagawa", made sometime around 1831, sold for $1.6 million with buyer's premium, 10 times its low estimate of $150,000, a new record for the artist. The scene, which is the Japanese painter's signature image, depicts Tokyo-bound boaters confronting rough waters, with Mount Fuji visible in the background.
Hokusai's wave prints, begun in the early 1800s, are his most famous works. They were introduced to the European market in the mid-19th century. By the time this print was produced, the artist was in his 70s and in financial need.
more works will be up-loaded sometime in the near future…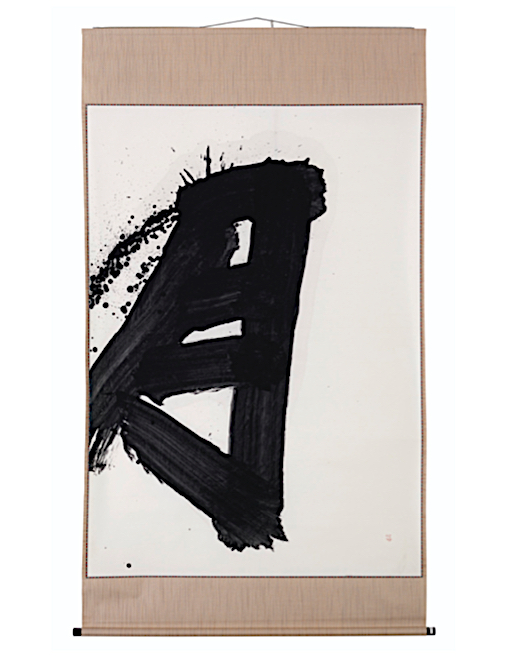 井上 有一 INOUE YUICHI (1916-1985)
Tsuki (Moon)
Sealed Yuichi
Hanging scroll; ink on paper
70 ½ x 49 5/8 in. (179.1 x 126.1 cm.)
Inscribed 'CR 82102a'
Private collection, Japan
This work will be included in the forthcoming catalogue raisonné Vol.4, now in preparation by Masaomi Unagami, under No.CR82102a.
井上 有一(いのうえ ゆういち、1916年2月14日-1985年6月15日)は、昭和時代の教育者・書家。
東京市下谷区(現在の東京都台東区)出身。1935年、青山師範学校(後の東京学芸大学)を卒業後に、小学校の教員をしながら画家を目指すが挫折。1941年に上田桑鳩の弟子となって書道に転向する。東京大空襲に巻き込まれて生死の境を彷徨ったこともある。
戦後、保守的な書道界に対する反発から師の下を離れて、森田子龍・江口草玄・中村木子・関谷義道と「墨人会」を結成して前衛的な書道を意図するようになる。以降は教員生活を続けながら創作活動を行い、内外の書道展・美術展に作品を発表する。特に1957年にブラジルのサンパウロ・ビエンナーレに出展した『愚徹』がイギリスの美術評論家であるハーバード・リードに絶賛されたことからその名は海外で知られるようになった。同じ頃、神奈川県茅ヶ崎市の菱沼海岸にアトリエを設置して創作活動の舞台とした。1958年に開かれたブリュッセル万国博覧会「近代美術の50年展」に手島右卿とともに日本を代表する書家として作品を出展する。
1971年に神奈川県の寒川町立旭小学校の校長に就任したのをきっかけに1975年にアトリエを寒川町に移し、翌1976年定年で校長職を退いてからは芸術活動に専念する。1985年に肝不全により69歳で死去。
"To my mind, he (Yuichi) is unquestionably one of the small handful of great artists of the second half of the twentieth century. I do not know whether his work has been shown outside Japan, but it certainly should be. He was a marvelous painter of what I call, in my mind," essences" and I can think of no higher ideal in modern art which has abandoned storytelling" .
– Robert Motherwell (Letter to Masaomi Unagami, dated 16 April 1987)
Cofounder in 1952 of the avant-garde Society for calligraphy Bokujin-kai, Yu-ichi Inoue, along with four Kyoto-based calligrapher had the ambition to break through with the Post War Japanese calligraphy which felt to them merely decorative and lacking of new creative breath.
After a long seven-year training under mentorship of the established sho calligraphy master Ueda Sokyu, Yu-ichi started practicing calligraphy as he personally conceived it, slowly emancipating himself from the guidance of his teacher. This new exercise first destabilized the artist who suddenly realized that creativity can only go with a freeing movement. Then, followed a time when Yuichi devoted his entire self to the exploration of art by digesting and deconstructing his learning. Tirelessly he experimented new media and technics, hunted any rhetorical movement or set of rules to deepen his practice and finally acquire a complete freedom beyond any consciousness.
Tsuki (Moon) is created by wielding deft and powerful brush strokes, where composed boldness orchestrates vertical and horizontal structural lines that embody a beautiful artistic fusion of Western abstract expressionism and modern Japanese Calligraphy. Yu-ichi breaks with tradition and abandons the use of conventional small-size square paper. Instead, he opts for large sheets of paper with size over a hundred centimeters (40 in.) long in what he calls" the calligraphy of humans" — a liberation from traditional form of calligraphy that emphasizes skills to truthfully express the personal beliefs and emotions of the calligrapher by merging the human body and soul as one in the creation. At the end of the hook stroke in Tsuki (Moon), Yu-ichi lets the hook tapers off by sealing the space altogether: is it Moon or it isn't? This essentially blurs the literal sense of the character 'yue' (moon), where the three geometric patterns conjure a sheer composition from the visual perspective, while the intense burst of ink dots on the upper left suggest the artist's surge of creative passion.
https://www.christies.com/lot/lot-inoue-yuichi-1916-1985-tsuki-moon-6307083/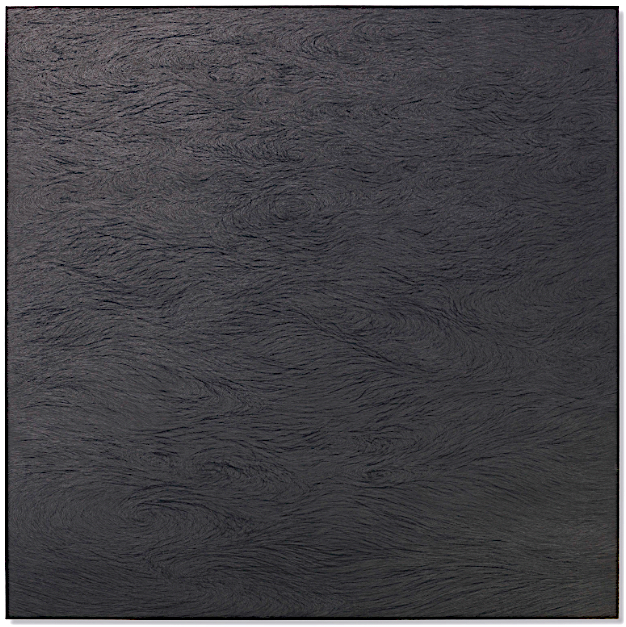 KAJIOKA TOSHIYUKI (B. 1978)
Hyohaku / Spiritual Darkness
Signed Toshiyuki Kajioka and titled
Indian ink, pencil on Japanese paper
63.9 x 63.9 x 1.4 in. (162.2 x 162.2 x 3.5 cm.)
Painted in 2017
With original certificate issued by the artist
https://www.christies.com/en/lot/lot-6307084
https://art-japan.jp/artists/4805/
https://seizan-gallery.com/toshiyuki-kajioka
TOSHIYUKI KAJIOKA
Born in 1978 in Tokyo, Japan Lives and works in Otsu City, Japan
Toshiyuki Kajioka has stoically painted a single subject, the surface of a flowing river, for the past twenty years. After receiving training in traditional Japanese painting at school, Kajioka had an epiphanic moment and discovered what became his ultimate subject matter: the surface of a flowing river. Using only sumi ink and graphite pencil, Kajioka captures the wildness, tranquility, and depth of the river. He obsessively creates works as large as 90 x 430 inches, made of six panels. While the artist intends to capture a riverscape, his work also shares the intense characteristics of abstract painting.
梶岡俊幸
1978 東京生まれ
2005 京都造形芸術大学大学院 芸術研究科芸術表現専攻 修士課程修了
【主な個展】
2009 梶岡俊幸展 art-life+ vol.11「The Birth Canal―未来へのうねり」(スパイラルガーデン、東京)
梶岡俊幸展「黙視」(masayoshi suzuki gallery、愛知)
2011 梶岡俊幸展「深夜行」Deep Night(g3/gallery、東京)
2013 個展(G/P+g3/gallery、東京)
【主なグループ展】
2003 混沌から躍り出る星たち 2003(スパイラル、東京)('04、'07、'14)
2004 第13期「佐藤国際文化育英財団 奨学生展」(佐藤美術館、東京)
2005 METAⅡ展(神奈川県民ホール、神奈川)※2020年7月現在も国内巡回
2006 京都新鋭選抜展(京都文化博物館、京都)
美大力 14人の作家展(Gallery d.g.画廊はね、東京)
霜月ノ荘厳(豪商稲葉本家、京都)
2008 Cool Black展(大丸東京店、東京)
URTLA001(スパイラル、東京)
2009 URTLA002(スパイラル、東京)
2011 TOKYO FRONTLINE(3331Arts Chiyoda、東京)('12)
日本画新展(美術館「えき」京都、京都)('12)
Trans-Plex(關渡美術館、台北)
梶岡俊幸 梶岡百江 二人展(galleryサラ、滋賀)
日美展「特別展示:2011年 現代水墨作家作品」(国立新美術館、東京)(~'16)
ART STYLE TOKYO(Q|b Studio、台北)
アートフェア京都(ホテルモントレ京都、京都)
ART TAIPEI 2011(Taipei World Trade Center、台北)(~'14)
2013 ~24名の作家による~ 今日の墨表現展(佐藤美術館、東京)
Imago Mundi(Fondazione Querini Stampalia、イタリア)
2014 日常/オフレコ(KAAT神奈川芸術劇場、神奈川)
墨の色(豊橋市美術博物館、愛知)
第23回奨学生美術展(招待出品)(佐藤美術館、東京)
2016 現代水墨2015展 (永井画廊、東京)
2017 25人の作家たち~佐藤国際文化育英財団25周年記念奨学生選抜~(佐藤美術館、東京)
2019 Sumi: Japanese Ink Painting From Post-War to the Present (SEIZAN Gallery, New York)
京都 日本画新展 in 二条城 ~100人の画家・嵯峨野線を旅して~(二条城、京都)
Seattle Art Fair (CenturyLink Field Event Center, SEIZAN Gallery Booth, Seattle)
2020 Abstraction Japonaise(galerie tamenaga、Paris)
透明展(2kw gallery、滋賀)
モノ黒展(ギャラリーえがく、京都)
Art on Paper(Pier 36, SEIZAN Gallery Booth, New York)
【受賞歴】
2002 第2回トリエンナーレ豊橋 星野眞吾賞展 優秀賞(豊橋市美術博物館、愛知)
2005 第3回トリエンナーレ豊橋 星野眞吾賞展 入選(豊橋市美術博物館、愛知)
京都造形芸術大学大学院修了制作展 大学院長賞(京都市美術館、京都)
2015 第6回東山魁夷記念日経日本画大賞展 入選(上野の森美術館、東京)
2016 The 2016 Sovereign Asian Art Prize "Finalist"(Christie's Hong Kong・One Exchange Square、香港)('18)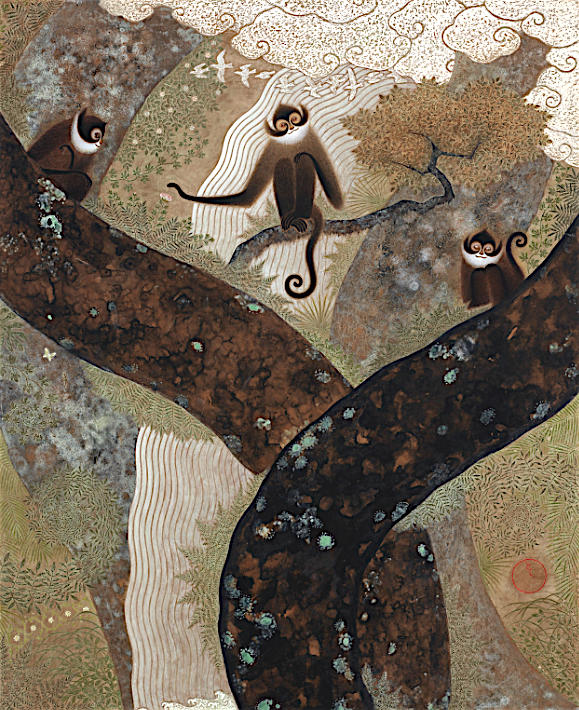 ENOKI TOSHIYUKI (B. 1961)
Sennyu (Spring), 2017
Signed Toshi, titled and dated on reverse
Acrylic, ink and natural pigment on panel
39 3/8 x 31 5/8 in. (100 x 80.3 cm.)
Educated in several different genres of lacquer painting, traditional Japanese painting and western painting, Toshiyuki Enoki's works are an amalgamation of the new and the aged, reality and myth. The artist strives to antiquate his works, not only in his thematic tribute to well known traditional artists such as Maruyama Okyo, but also in his artistic process. Using particularly worn brushes, Enoki cyclically paints, erases and transfers images in his works to create a unique atmospheric depiction of nature. As can be seen in all three pieces, the details of brushstrokes and overall reflective surface are reminiscent of lacquer works which served as an inspiration to the artist. His selection of warm color palette and scattered gold leaves across his canvas creates an overall magical and tranquil depiction in the three featured paintings.
https://www.christies.com/en/lot/lot-6307085
https://www.toshiyukienoki.com/gallery/
https://www.163.com/dy/article/FTKS0N640521PSGL.html
水墨画/掛け軸「Meditation(瞑想)」の解説
榎俊幸 ENOKI Toshiyuki
1961 東京都出身
1986 東京藝術大学卒業・デザイン賞
1988 東京藝術大学大学院修了
1989 東京藝術大学研究生修了
2001~2004 東京藝術大学非常勤講師
2001~現在 日本美術家連盟会員
2019 講義 河北美術学院 美術館(中華人民共和国・河北省)
展覧会
1987 個展 みゆき画廊(銀座)
1988 個展 彩鳳堂画廊(銀座)
1992 「前田寛治大賞展」倉吉博物館/日本橋高島屋
1997 個展 日本橋高島屋
1998 榎俊幸展「心を映す鏡」河口湖ミューズ館
1999 個展 日本橋高島屋
2000 個展 松坂屋本店(名古屋)
2003 個展「音楽の肖像」東急本店(渋谷)
2004 個展「ANIMA MUNDI」日本橋三越本店/高松三越
2005 榎俊幸展「内なる目」おぶせミュージアム・中島千波館
2006 個展「2006 東美アートフェア春(絵画・近代美術)」東京美術倶楽部
2007 個展「榎俊幸∞INFINITY」日本橋三越本店/高松三越
2008 個展「榎俊幸∞INFINITY」札幌三越
2009 「観〇光 EXPO 2009」清水寺経堂/元離宮二条城二之丸御殿台所(京都世界遺産)
     アートフェア東京「榎俊幸個展-種の保存-」
2010 「観〇光 ART EXPO 2010」御寺泉涌寺/元離宮二条城二之丸御殿台所(京都世界遺産)
2011 榎俊幸展 -Mysthic Monster- 日本橋高島屋
     第11回~15回 「21世紀展」(東京・京都・金沢・富山・大阪・名古屋)美術倶楽部
     「観〇光 ART EXPO 2011」 御寺泉涌寺(京都)
     「碧い石見の芸術祭2011」石正美術館(島根県・三隅町)
2012 「ざ・てわざⅡ~未踏への具象~」日本橋三越本店
2013 「観〇光 ART EXPO 2013」 御寺泉涌寺(京都)/浄智寺(鎌倉)
     「榎俊幸個展」19回東美特別展にて
     榎 俊幸・恵美展 蔵丘洞画廊(京都)
2015 「観〇光 ART EXPO 2015」 東本願寺別邸 渉成園(京都)/浄智寺(鎌倉)
     「不〇空 FU-KU Project inIwami」中堀慎治×榎俊幸展 浜田市立石正美術館
2016 「創と造 2016」(東京・京都・金沢・富山・大阪・名古屋)美術倶楽部
     「ざ・てわざⅢ~未踏への具象~」日本橋三越本店
     「観〇光 ART EXPO 2016 鎌倉展」 浄智寺(鎌倉)
     「榎俊幸・加藤巍山 二人展」高島屋大阪店6FギャラリーNEXT
2017 榎俊幸個展「夢中開花」天満屋(広島)Whitestone Gallery Hong Kong(香港)
     「創と造 2017」(東京・京都・金沢・富山・大阪・名古屋)美術倶楽部
     「榎俊幸 絵画展」松坂屋名古屋店
     「観〇光 ART EXPO 2017」御寺泉涌寺(京都)
2018 「創と造 2018」(東京・京都・金沢・富山・大阪・名古屋)美術倶楽部
     「観〇光 ART EXPO 2018」円覚寺塔頭 龍隠庵(鎌倉)
     「-塑像と乾漆-」榎俊幸・恵美 二人展 丘洞画廊(京都)
2019 「意・藝・詣―中日書画写真交流展」中国文化センター(東京・虎ノ門)
     「創と造 2019」(東京・京都・金沢・富山・大阪・名古屋)美術倶楽部
「当代日本岩彩画作品展」石家荘美術館(中華人民共和国・河北省)
個展「東風 HIGASHIKAZE」彩鳳堂画廊(京橋)
「河北美術学院国際芸術交流展・当代日本岩彩画作品展」
河北美術学院 美術館(中華人民共和国・河北省)
パブリックコレクション
     おぶぜミュージアム中島千波館
     長谷川町子美術館
     石家荘美術館(中華人民共和国)
     河北美術学院 美術館(中華人民共和国)
via:
http://kan-hikari.seesaa.net/article/143491814.html
1961 Born in Tokyo metoropolis
Education
1989 completed research fellow from Department of Design,
1988 Master of Arts
    Graduate School of Fine Arts.
    Tokyo National University of Fine Arts and Music,Tokyo,Japan
1986 Bachelor of Arts with Design Award
    Faculty of Fine Arts.
    Tokyo National University of Fine Arts and Music,Tokyo,Japan
Professional experience:
2001-2004
    Lecturer/Department of Design.
    Tokyo National University of Fine Arts and Music,Tokyo,Japan
    Menber of japan Bijutsuka Renmri
Exhibitions:
2017 Private exhibition in Hong Kong Whitestone Gallery Hollywood Road.
    Originalkakeru×Real 2017 [Tokyo Bijutsu Club]
    One-person exhibition [Matsuzakaya main store]
    KAN-HIKARI ART EXPO 2017 KYOTO [sennyuji]
2016 Originalkakeru×Real 2016 [Tokyo Bijutsu Club]
    THE TEWAZA Ⅲ [Nihonbashi Mitsukoshi]
    KAN-HIKARI ART EXPO 2016 KAMAKURA [jyochiji]
    「Toshiyuki ENOKI/Gizan KATOH Two people exhibition」TAKASHIMAYA OSAKA Gallery NEXT
2015 KAN-HIKARI ART EXPO 2015 KYOTO [higashihonganji] KAMAKURA [jyochiji]
    「FU-KU Project inIwami」Hamada-shi Tateishi Museum of Art
2013 KAN-HIKARI ART EXPO 2013 KYOTO [sennyuji] KAMAKURA [jyochiji]
    One-person exhibition TOBI Special Exhibition [Tokyo Bijutsu Club]
2012 THE TEWAZA Ⅱ [Nihonbashi Mitsukoshi]
    THE 21ST CENTURY EXHIBITION OF JAPANESE ART
2011 -Mysthic Monster- Toshiyuki ENOKI Exhibition 2011 [Nihonbashi Takashimaya]
    THE 21ST CENTURY EXHIBITION OF JAPANESE ART
    KAN-HIKARI ART EXPO 2011 KYOTO [sennyuji]
2010 FU-KU EXHIBITION 2010 TOKYO
    The Sompo Japan Art Foundation selected
    [SOMPO JAPAN MUSEUM OF ART]
    FU-KU EXHIBITION 2010 BEIJING
    THE 21ST CENTURY EXHIBITION OF JAPANESE ART
    KAN-HIKARI ART EXPO 2010 KYOTO [sennyuji/nijyojyo]
2009 "Save Species" ART FAIR TOKYO 2009 [Tokyo International Forum
    KAN-HIKARI EXPO 2009 KYOTO [kiyomizudera/nijyojyo]
2008 "∞INFINITY" [Sapporo Mitsukoshi]
2007 "∞INFINITY" [Takamatsu Mitsukoshi]
    "∞INFINITY" [Nihonbashi Mitsukoshi]
    TCAF2007 [Tobi Art Forum]
2006 One-person exhibition TOBI ART FAIR SPRING [Tokyo Bijutsu Club]
2005 ENOKI Toshiyuki Exhibition "内なる目"
    [Obuse Museum, Nakajima Chinami-kan (Hall)" ]
    One-person exhibition "悠久の現在" [Zokyudo Gallery]
2004 One-person exhibition "ANIMA MUNDI" [Nihonbashi Mitsukoshi]
    One-person exhibition "ANIMA MUNDI" [Takamatsu Mitsukoshi]
2003 One-person exhibition "Portrait of Music" [Shibuya Tokyu]
2002 One-person exhibition "MASK" [Zokyudo Gallery]
2000 One-person exhibition [Matsuzakaya main store]
1999 One-person exhibition [Nihonbashi Takashimaya]
1998 ENOKI Toshiyuki Exhibition "心を写す鏡"
    [Kawaguchi Lake Muse Gallery]
1997 One-person exhibition [Nihonbashi Takashimaya]
1992 MAEDA Kanji Grand Prix Exhibition
    [kurayoshi Museum, Nihonbashi Takashimaya]
1988 One-person exhibition [Saihodo Gallery]
    annually from 1988 to 2001
1987 One-person exhibition [miyuki Gallery]