村上作品の価値?不幸な村上隆、、、
The Value of Murakami's Works? An Unhappy MURAKAMI Takashi...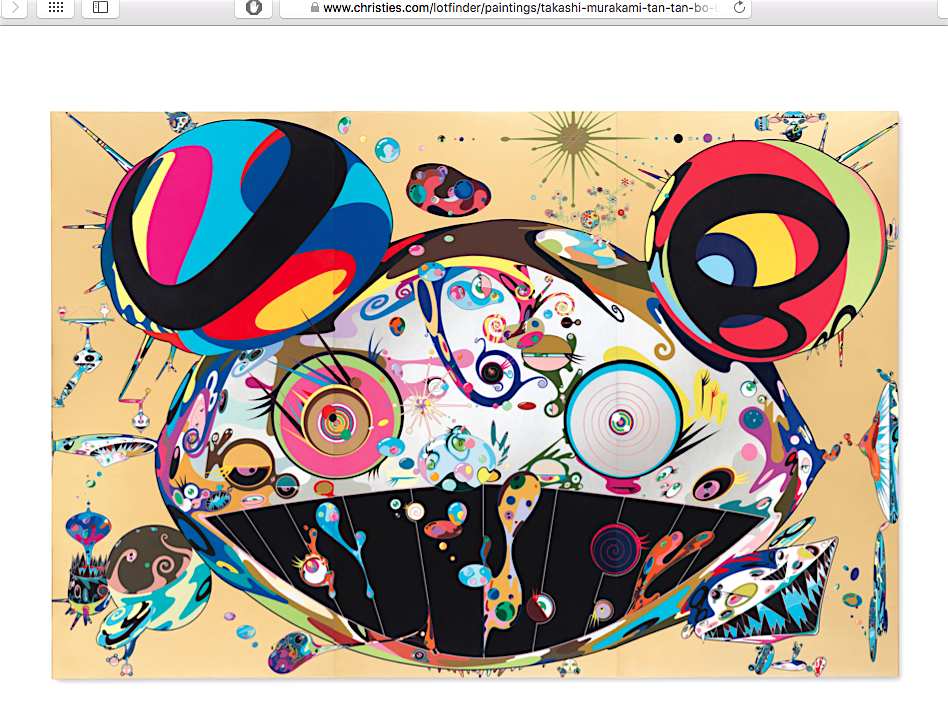 Today's front page of the New York Times, New York edition: "David Hockney Painting Sells for $90 Million, Smashing Record for Living Artist".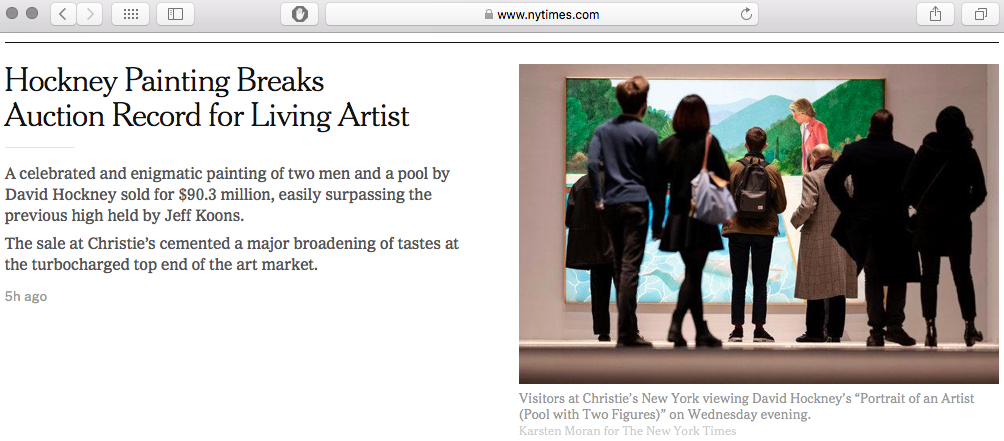 https://www.nytimes.com/2018/11/15/arts/design/david-hockney-christies-portrait-of-an-artist-jeff-koons.html
Sensational auction hammer prices, like hours ago, become quickly top news not only in the art world.
For Japanese art interested readers, yesterday's "Post-War and Contemporary Art Evening Sale" at Christie's New York also manifested MURAKAMI Takashi's position, together with KUSAMA Yayoi, as one of the most expensive 'living artists' from Japan. Executed in 2001, "Tan Tan Bo" realized a whopping US$ 5.037.000 (= 約5億7千円) .
---
Bidding on MURAKAMI Takashi starts @ 1:16:16
Live Stream | Post-War and Contemporary Art Evening Sale, New York | 15 November 2018
---
Besides celebrity MAEZAWA Yusaku, I don't know any other collector or museum in Japan, that would pay such a sum for MURAKAMI, who can, art historically seen, still be called a relatively young artist at the age of 56.
"Tan Tan Bo" symbolizes for us Japanese art lovers the highly significant turning point in Japanese contemporary art, as in 2001 we all marveled at MURAKAMI's solo show in the Museum of Contemporary Art, Tokyo (MOT). We are still applauding the risk taking attitude of the MOT curators in those times.
MURAKAMI himself, rightfully recapitulated, via instagram, the precarious time during the process making of "Tan Tan Bo" in the context of his MOT exhibition.
quote:
---
"I produced this painting in 2001, so 17 years ago now—I could not have predicted then that this work would now be sitting calmly on the main stage of art auction, at Christie's NY. Such was the reality for an artist working in the contemporary art genre in Japan at the time.
What motivated me into making this painting was that my first large-scale solo exhibition, Summon Monsters? Ope the Door? Heal? Or Die?, was going to be held at the Museum of Contemporary Art Tokyo (MOT) and I had to make a number of large works to fill its vast space. I didn't yet have the leverage of loaning existing works from those who had purchased them, so I had to fill the huge space in its entirety with new works alone. I believe this was around the time when I started to incorporate the workshop system into my practice in earnest.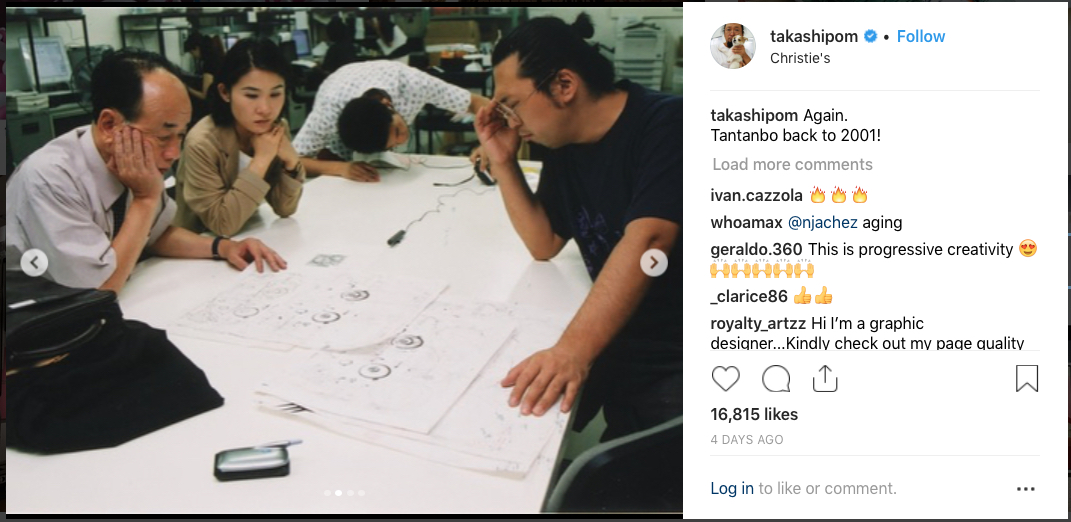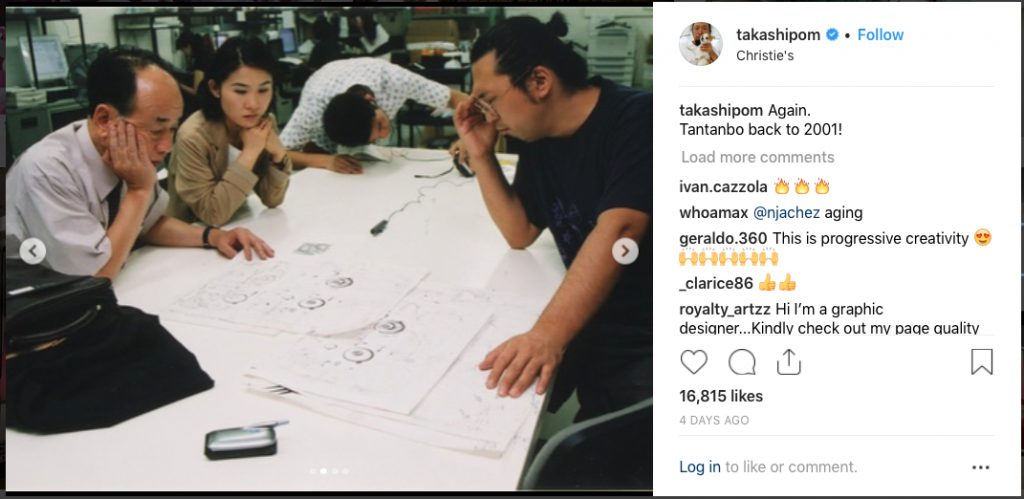 Looking back, however, the "workshop system" at the time was a total mess, and I worked 24/7 with 20 or so young people producing my works. This painting is something akin to a self-portrait in which such a state of madness is engraved.
Hélène Kelmachter, the then-Chief Curator of Fondation Cartier pour l'art contemporain, saw the exhibition, and as a result it became a stepping stone for my solo exhibition, Kawaii! Vacances d'éte, at the said museum the following year. Given that Marc Jacobs saw the exhibition at the Cartier Foundation in turn, which led to my collaboration with Louis Vuitton, the MOT show marked the start of my career that has led me to where I am now, and this painting was its main feature.
It's now a total mystery to me as to through what kind of thinking process this imagery had emerged."
---
Personally, I do appreciate Murakami's publicly articulated reflections (sometimes with a healthy self critic), even if it transgresses in an arrogant tone. On the other hand, showing a kind of vulnerability (because of the offending contents) means, to open the door for a personal cleansing ritual, that can help to change the vector in one's own artistic career.
Somehow I do still sense that his main focus of concern remains in pointing out to the sleepy and out-dated, structurally rotten situation of the Japanese art world and its operators in the museums and galleries. However, from the European view point, I don't accept Murakami's American way of doing art business, which functions, abstractly speaking, through museum trustees (who like to speculate on art works) and on the concept of "boom & bust".
Today's front page of the New York Times featuring auction results is unimaginable in Japan. Neither did I experience such a case in German newspapers. I don't want to judge, if the New York Times handles this kind of spectacle rightly, however I do envy the readers for the almost daily coverage of contemporary art related events. On the same level, do 'The Guardian', 'Le Monde', 'The Frankfurter Allgemeine Zeitung' or the 'Neue Zürcher Zeitung' show their passion for contemporary art.
In this regard, I may hereby emphasize that the most important, serious Asahi (Shimbun) Newspaper introduces only every second Tuesday (!) contemporary art on only one page (!) (with 1/3 for advertisement) . By having been transferred into the less subscribed, minor evening edition, in comparison to the morning edition, this catastrophic, shameful situation got the contemporary art section in the Asahi Shimbun in a forgettable, to be ignored, position.
A deadly situation for Japanese contemporary artists, indeed.
(For non-Japan insiders: Besides Asahi Shimbun, following newspapers exist, too: Yomiuri Newspaper, Mainichi Newspaper, Sankei Newspaper, Tokyo Newspaper, Nikkei Newspaper. From the Japanese/global point of view, regarding art coverage, the monopoly of the New York Times can be regarded as an anomaly.)
On the other hand, I take note, that "bribed" art journalism is all the common in the U.S. media. Documented recently again in the Wall Street Newspaper (New York), which published the art work prices of Mark Grotjahn, even the pre-sold ones in abstract terms, "timely" 1 week before (!) the exhibition started at Gagosian.
As "we" all know, Gagosian and other established galleries in New York are obliged to show (= visible on the desk or at the wall) the art works' price list in the exhibition space. However, Gagosian et al. act against the law by keeping the detailed price list secret.
This kind of art business anomaly makes the ordinary art lover suspicious. As the auction houses entered aggressively into the contemporary art world around 20 years ago, and as an oxymoron: because of "artnet" and "artprice", transparency got lost.
---
AMM 2018/11/19 up-date:
"Late in Sotheby's Contemporary Evening sale, Alberto Mugrabi jumped into the bidding on a white Warhol shadow painting topping another bid in the room but chopping it unexpectedly to $1.175m, visibly annoying auctioneer Oliver Barker.
The next night it was Larry Gagosian's turn to be annoyed as he was seen buying to two different Warhol's in the $5m range. On the second Warhol of the night, Gagosian got visibly annoyed when Christie's auctioneer eked out another bid just as Gagosian thought the work had been bought. Nonetheless, the dealer topped the bid and bought the work."
---
Painting/tableaux works, on the other hand, experienced a revival, as its medium is easy to "trade" as commodity, easy to store in freeports in Switzerland, Luxembourg or New York, and useful for mortgage.
For beginners: the higher the hammer price for a Grotjahn painting at an auction is, the easier you can mortgage that Grotjahn painting to get a large loan.
In this well known context, art flippers and auction "guarantees" became the new dysfunctional normal.
Murakami can nowadays be regarded as an artist who is well versed in art business. He obviously puts his energies on the speculative art market in mainland China.
Just by chance I got the opportunity to hear, read and see the actual prices of some of his works. A rare opportunity to get a pretty accurate up-date, or let's say a reference regarding the secretive "art value" in Murakami's art business world.
Most artists still rightfully believe in the "pureness" of art. The new reality in the global art world however implies clever art business practice. The art industry became an important economic factor in the international-oriented metropolis. Most museum directors, curators and collectors do art market research, even if they don't mention it in art discussions. Of course, personal taste and passion for art should command our choice towards art work acquisitions. However, in every discourse, extracting the word "investment", would mean to avoid the power of "myth making".
Art practice involves myth making.
Sometimes in a conceptual way, sometimes in a wall power context, sometimes in a socio-political environment, and sometimes in the most decadent way one could not imagine until the "now".
So here's the info I can share with the reader.
Murakami's recently executed big paintings could cost around US$ 3 – 4 million.
Smaller paintings/sculptural works should start at around US$ 200.000.
New middle-sized paintings could cost between US$ 250.000 and 1 million.
Established big paintings could value around US$ 5 – 6 million.
Established middle-sized paintings could go for US$ 2 – 3 million.
Good sculptural works in collaboration with other artists could start at around US$ 100.000.
Huge sculptural works should cost over US$ 5 million, if the subject seems to become of art historical value.
Printed edition works start at US$ 400, medium price = US$ 3000, last editions go for US$ 10.000.
Please note, that I can NOT guaranty that these numbers are exact, as they change from month to month. However, they help to get a reference, on the long run also for other Japanese contemporary artists of high calibre.
Tokyo, 16th of November 2018
Mario A
---
TAKASHI MURAKAMI IN WONDERLAND
@ PERROTIN, Shanghai
NOVEMBER 10, 2018 – JANUARY 05, 2019
https://www.perrotin.com/exhibitions/takashi_murakami-takashi-murakami-in-wonderland/7196
MURAKAMI & ABLOH
"AMERICA TOO"
October 10–25, 2018
@ Gagosian, Beverly Hills
https://gagosian.com/exhibitions/2018/murakami-abloh-america-too/
Part 5 of Takashi Murakami×Virgil Abloh Collaboration prints "BRANDED IN TIME"
October 2018 @ Oz Zingaro, Nakano, Tokyo
http://oz-zingaro.jp/2018/10/virgil_print5_en/
---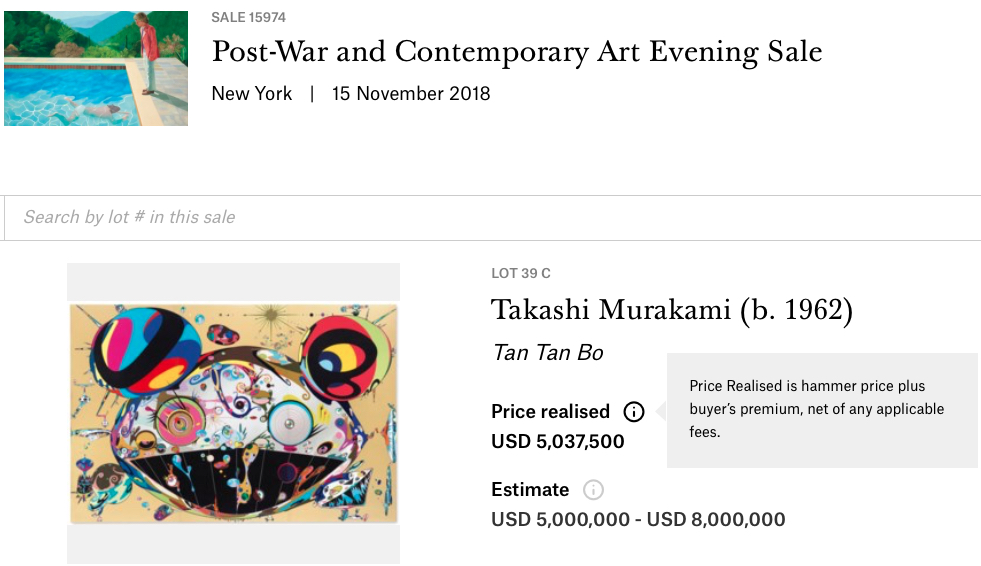 Takashi Murakami (b. 1962)

Tan Tan Bo

acrylic on canvas mounted on board, in three parts

overall: 141 3/4 x 212 5/8 in. (360 x 540 cm.)

Painted in 2001.
Provenance
Tomio Koyama Gallery, Tokyo
Acquired from the above by the present owner, 2001
Pre-Lot Text
Property from an Important British Private Collection
Exhibited
Tokyo, Museum of Contemporary Art, Takashi Murakami: summon monsters? open doors? heal? or die?, August-November 2001, pp. 63-66 (illustrated in color and work in progress illustrated in color).
Paris, Fondation Cartier pour l'art contemporain; London, Serpentine Gallery, Takashi Murakami, KaiKai KiKi, June 2002-January 2003, pp. 7-11, 92-97 and 108 (illustrated in color; work in progress and installation views illustrated in color).
Los Angeles, Museum of Contemporary Art; Brooklyn Museum; Frankfurt, Museum für Moderne Kunst; Guggenheim Museum Bilbao, ©Murakami, October 2007-May 2009, n.p. and p. 303 (illustrated in color).
Museum of Contemporary Art Chicago; Vancouver Art Gallery; Fort Worth, Museum of Modern Art, Takashi Murakami: The Octopus Eats Its Own Leg, June 2017-September 2018, pp. 27-28, 144, 152, 154-7, 240 and 270 (illustrated in color).
https://www.christies.com/lotfinder/paintings/takashi-murakami-tan-tan-bo-6171897-details.aspx
---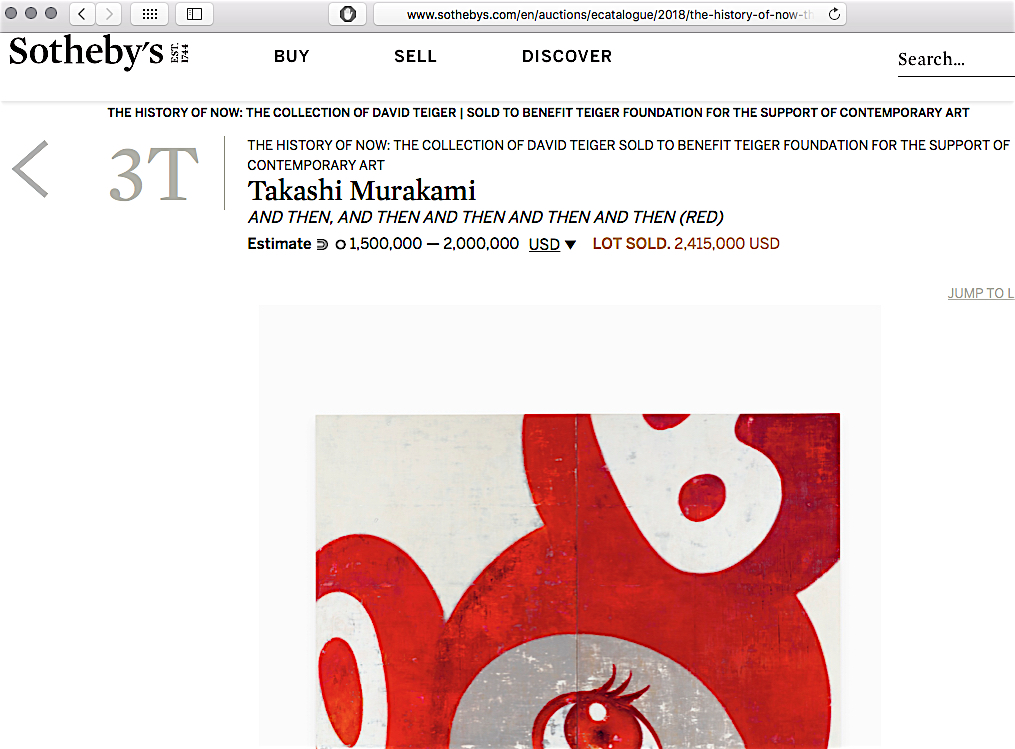 Takashi Murakami
B.1962
AND THEN, AND THEN AND THEN AND THEN AND THEN (RED)
signed, dated '96, and variously inscribed on the reverse of each panel
acrylic on canvas on board, in two parts
overall: 110 1/4 by 118 1/8 in. 280 by 300 cm.
14 NOVEMBER 2018 | 6:30 PM EST
SOTHEBY'S NEW YORK
PROVENANCE
Blum & Poe, Los Angeles
Private Collection, Boston (acquired from the above in 2000)
Blum & Poe, Los Angeles
Acquired from the above by David Teiger in July 2002
EXHIBITED
Annandale-on-Hudson, New York, Center for Curatorial Studies Museum, Bard College, Takashi Murakami: The Meaning of the Nonsense of the Meaning, June – September 1999, p. 34, pl. 17, illustrated in color, p. 61, illustrated in color (detail), and pp. 62-63, no. 17, illustrated in color
Boston, Museum of Fine Arts, Takashi Murakami: Made in Japan, April – September 2001, illustrated in color on the brochure (detail) (incorrectly dated 1995) 
Tokyo, Museum of Contemporary Art, Takashi Murakami: summon monsters? open the door? heal? or die?, August – November 2001, p. 35, illustrated in color, p. 59, illustrated (as reproduced in The New York Times), p. 63, illustrated (as reproduced in Vogue)
Los Angeles, The Museum of Contemporary Art; New York, Brooklyn Museum; Frankfurt, Museum für Moderne Kunst; and Bilbao, Guggenheim Museum, Murakami, October 2007 – May 2009, p. 179, illustrated in color
Chicago, Museum of Contemporary Art; Vancouver, Vancouver Art Gallery; and Fort Worth, Museum of Modern Art, Takashi Murakami: The Octopus Eats Its Own Leg, June 2017 – September 2018, p. 97, illustrated in color (detail), p. 98, illustrated in color, and p. 266, illustrated in color
http://www.sothebys.com/en/auctions/ecatalogue/2018/the-history-of-now-the-collection-of-david-teiger-n09990/lot.3T.html
---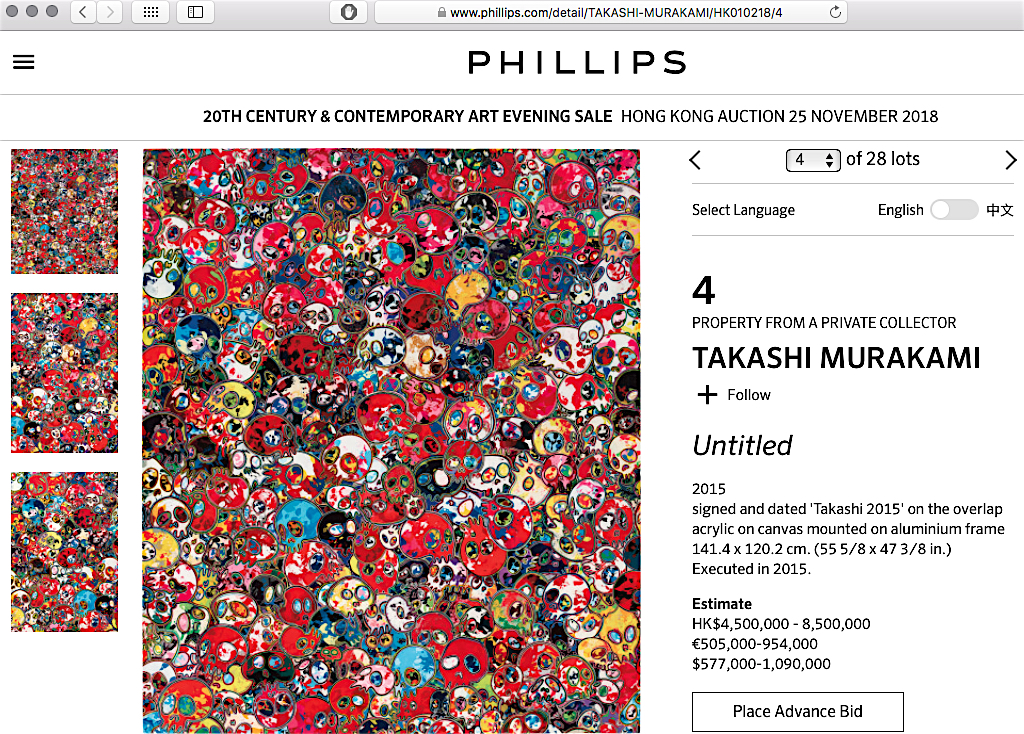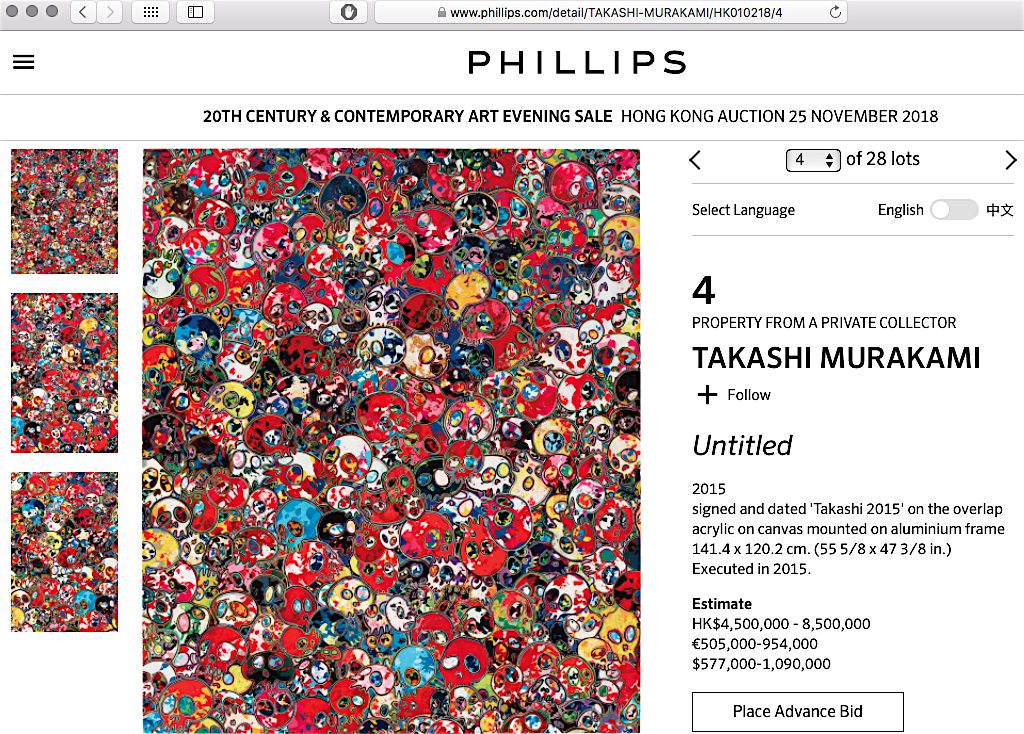 (ART FLIPPER)
PROPERTY FROM A PRIVATE COLLECTOR
TAKASHI MURAKAMI
Untitled
2015

signed and dated 'Takashi 2015' on the overlap
acrylic on canvas mounted on aluminium frame
141.4 x 120.2 cm. (55 5/8 x 47 3/8 in.)

Executed in 2015.
Estimate
HK$ 4,500,000 – 8,500,000 
€ 505,000-954,000

$ 577,000-1,090,000
up-date:
SOLD FOR HK$5,860,000
PHILLIPS, 20TH CENTURY & CONTEMPORARY ART EVENING SALEHONG KONG AUCTION 25 NOVEMBER 2018
Provenance

Galerie Perrotin, Hong Kong

Acquired from the above by the present owner
Exhibited

Australia, Art Gallery of South Australia, 2016 Adelaide Biennial of Australian Art: Magic Object, 27 February – 15 May 2016
https://www.phillips.com/detail/TAKASHI-MURAKAMI/HK010218/4
---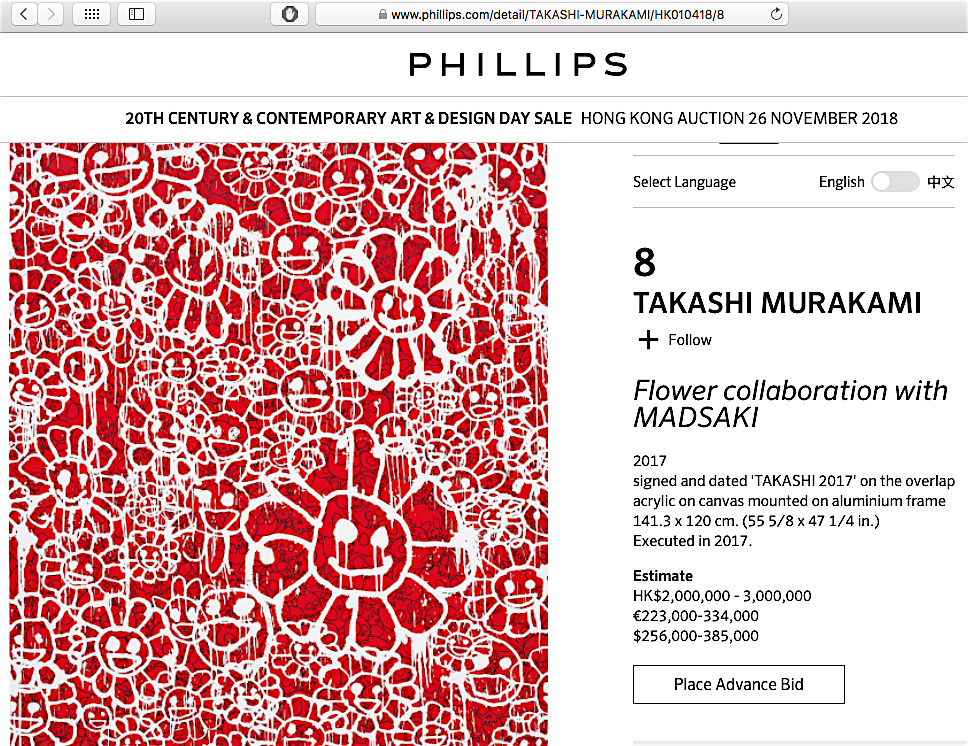 (Next ART FLIPPER)
TAKASHI MURAKAMI
Flower collaboration with MADSAKI
2017

signed and dated 'TAKASHI 2017' on the overlap

acrylic on canvas mounted on aluminium frame

141.3 x 120 cm. (55 5/8 x 47 1/4 in.)

Executed in 2017.
Estimate
HK$ 2,000,000 – 3,000,000 
€ 223,000-334,000

$ 256,000-385,000
up-date:
SOLD FOR HK$2,000,000
Provenance

Galerie Perrotin, Hong Kong

Acquired from the above by the present owner
https://www.phillips.com/detail/TAKASHI-MURAKAMI/HK010418/8
---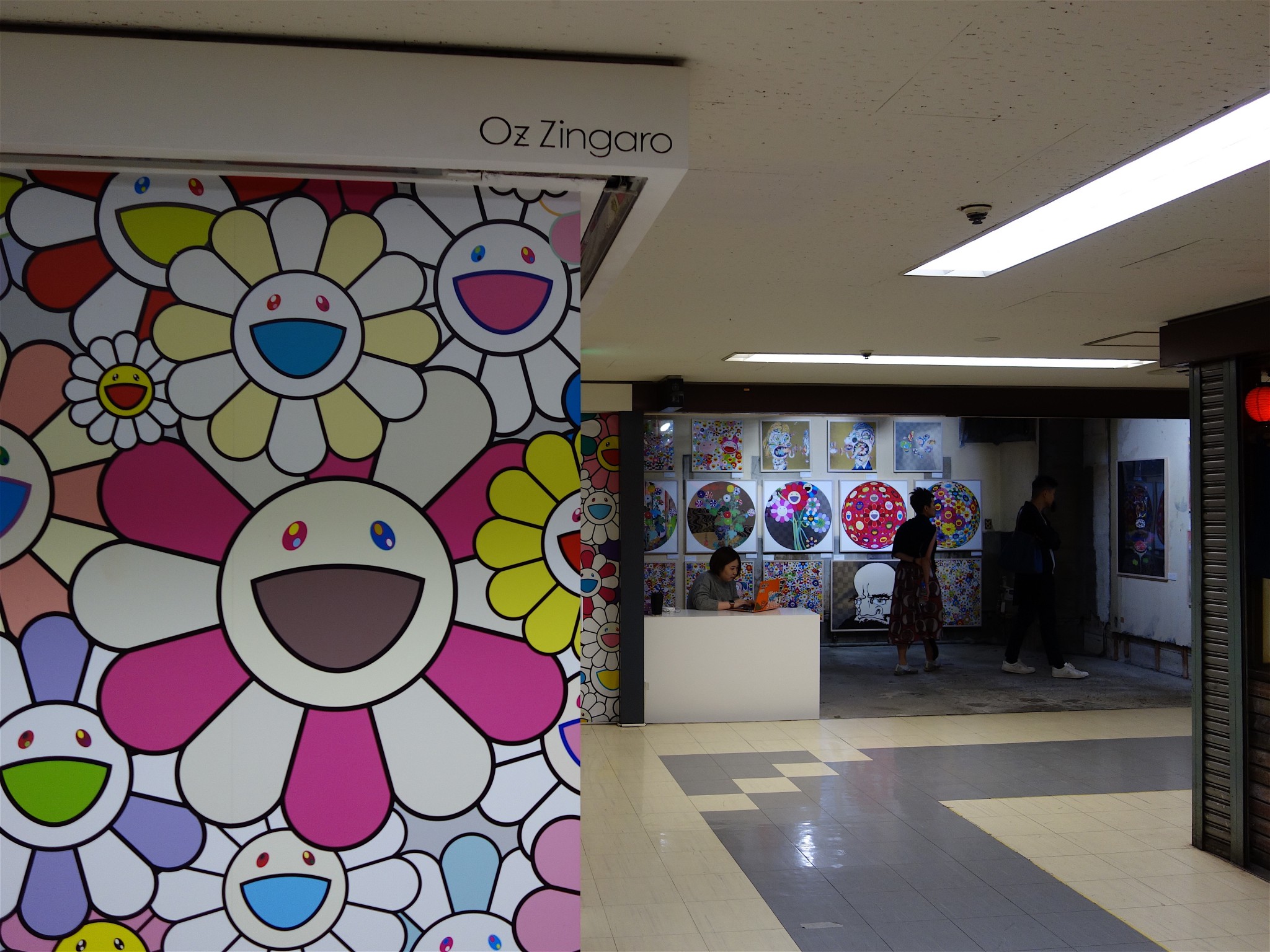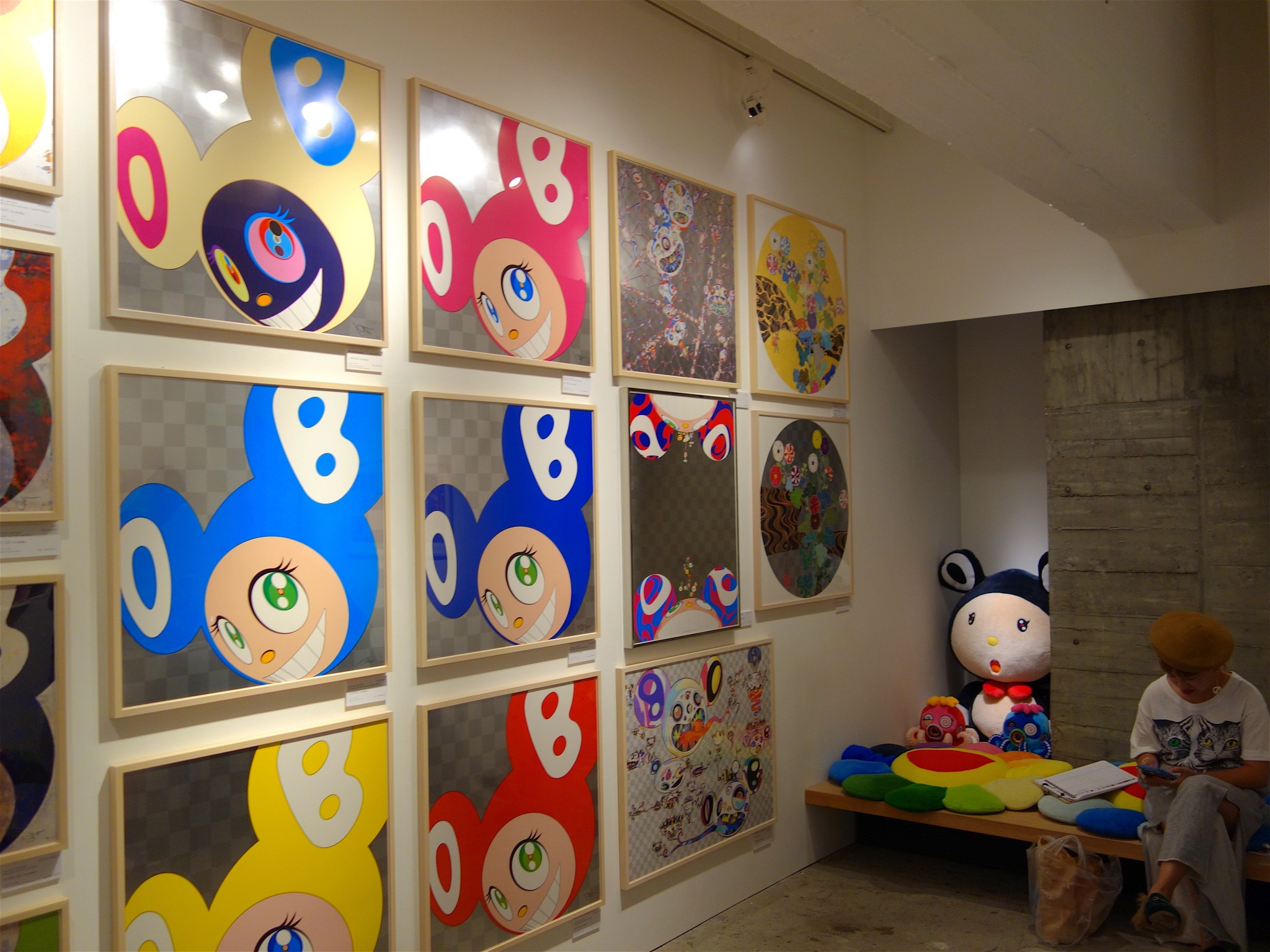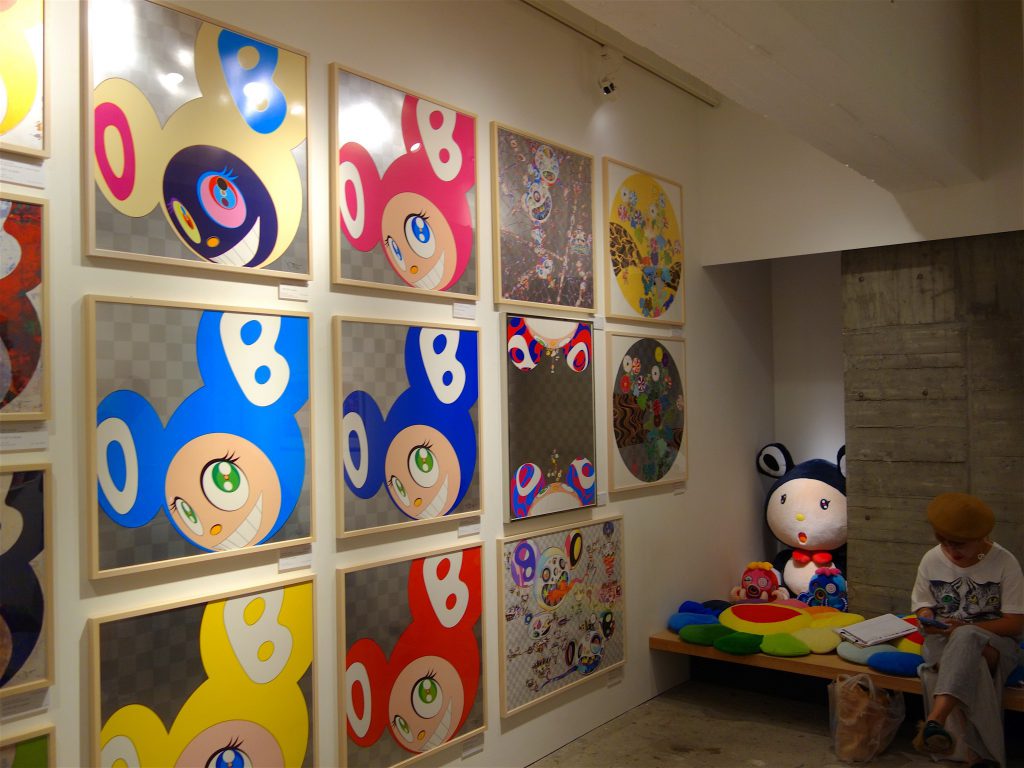 ---
今日のおまけ: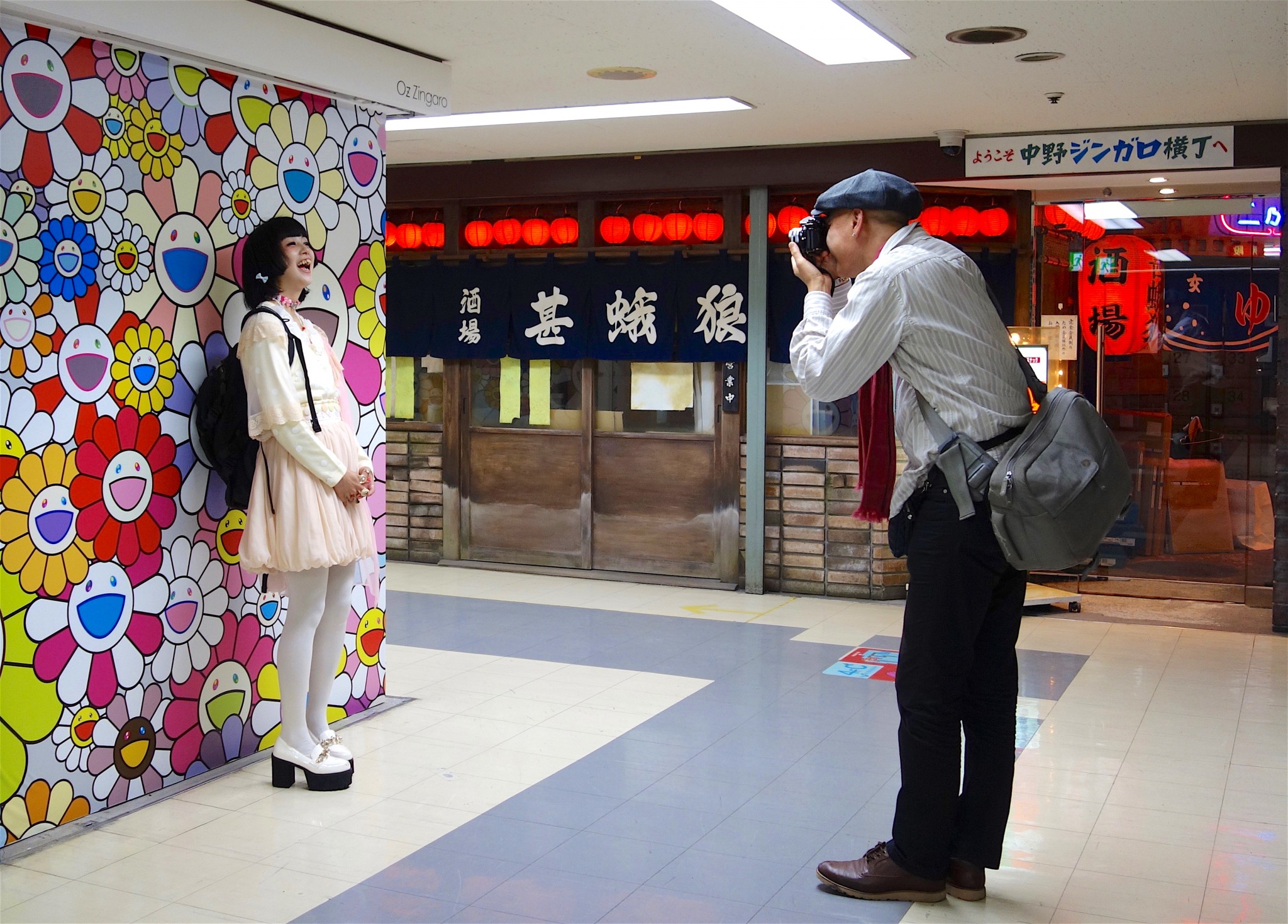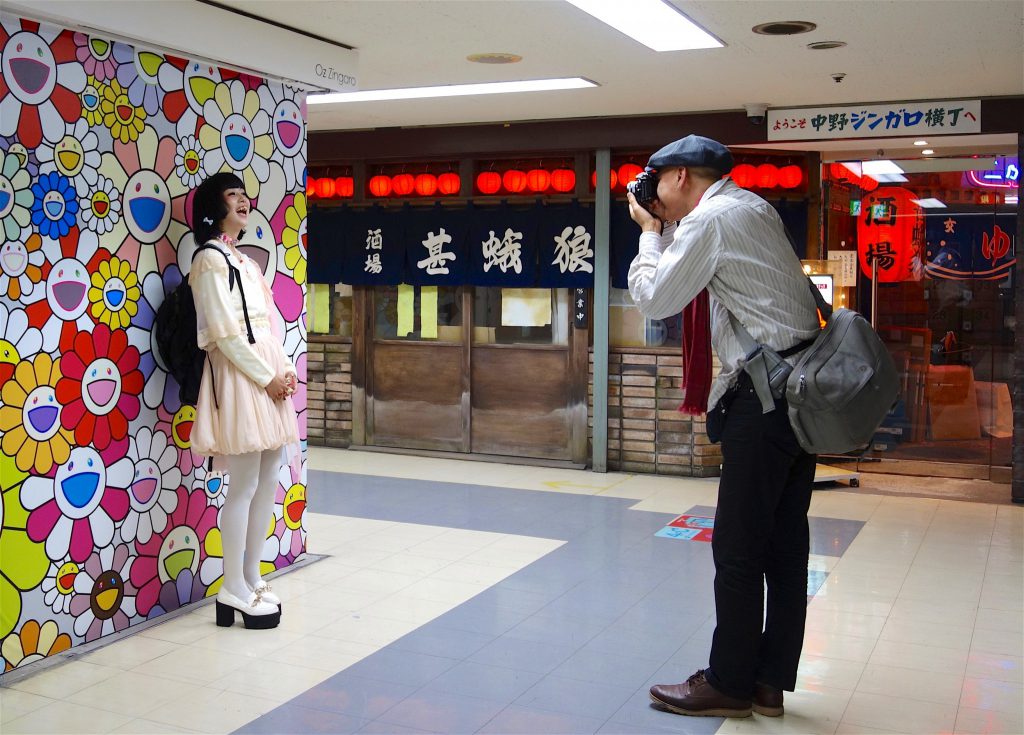 ---
update, courtesy:
https://dailyartfair.com/exhibition/8877/takashi-murakami-perrotin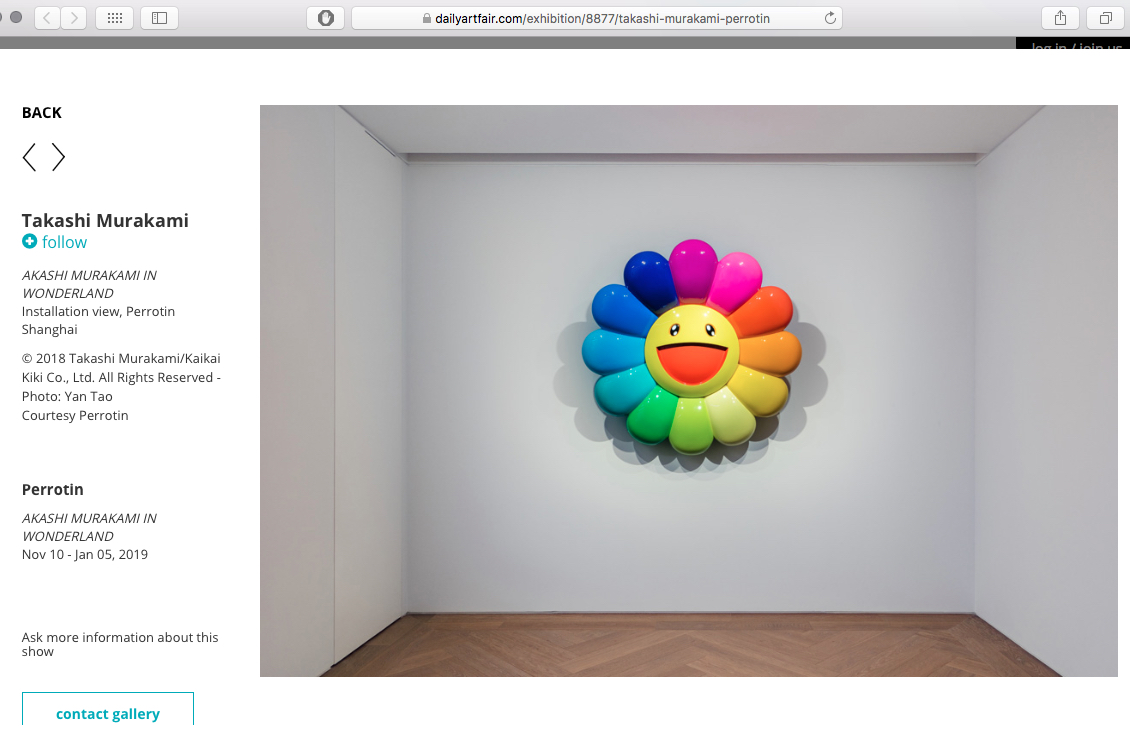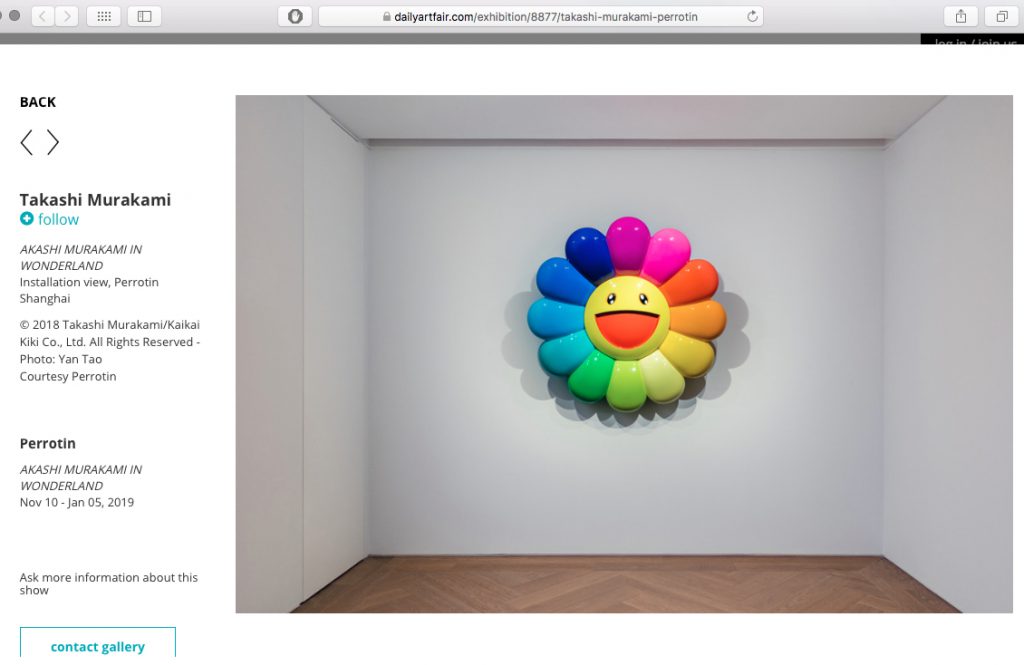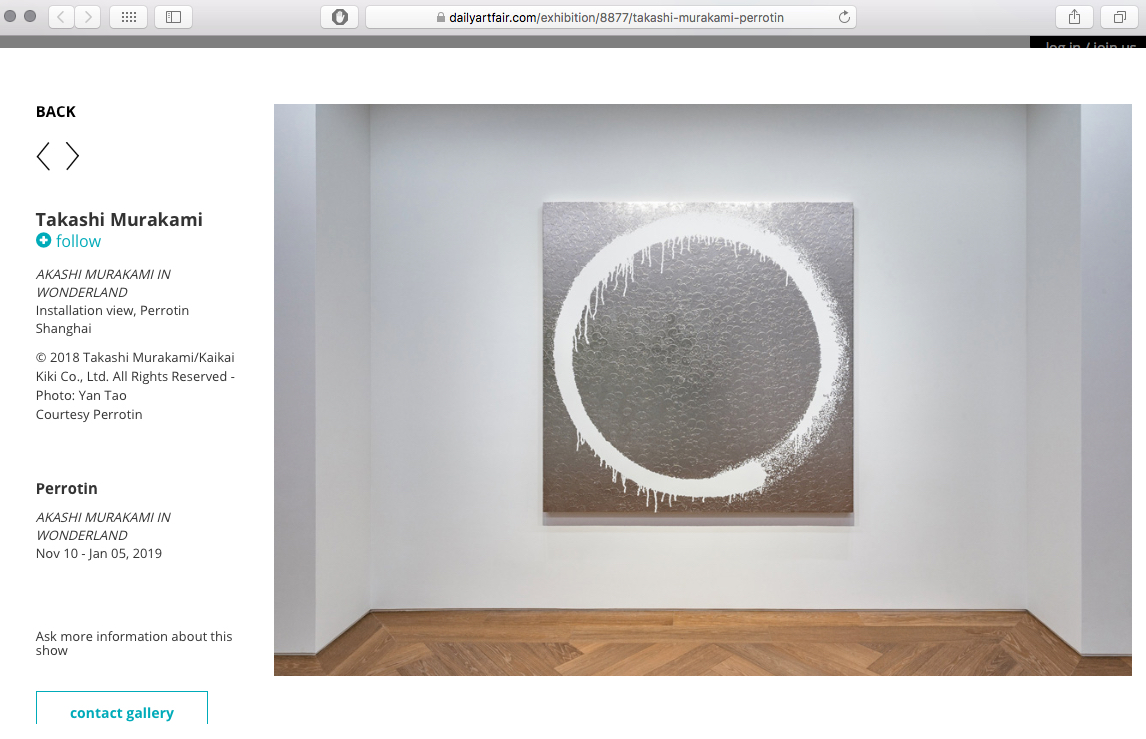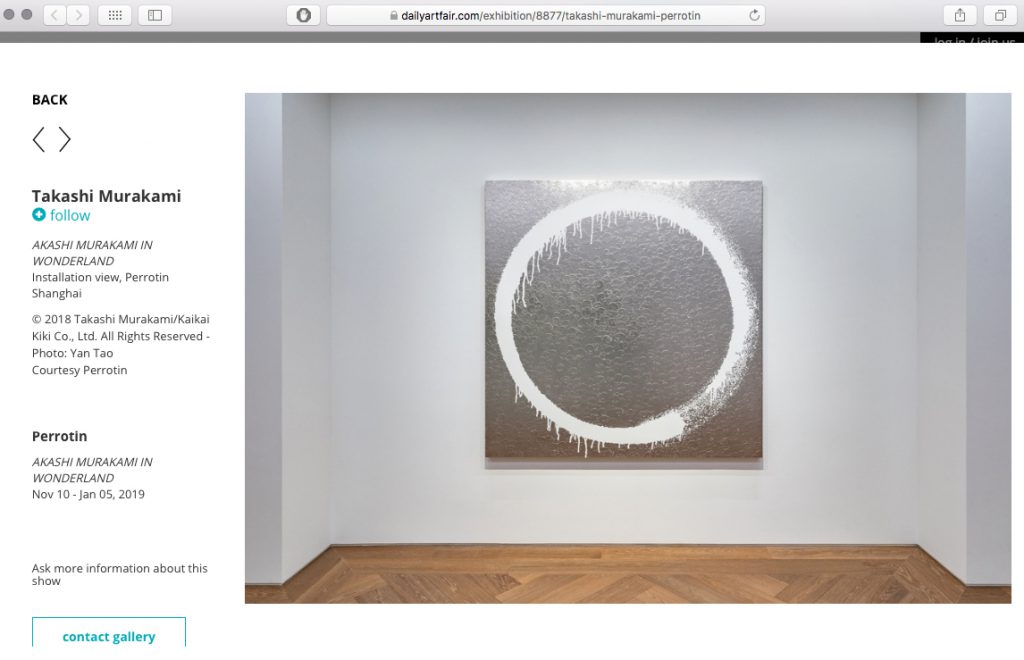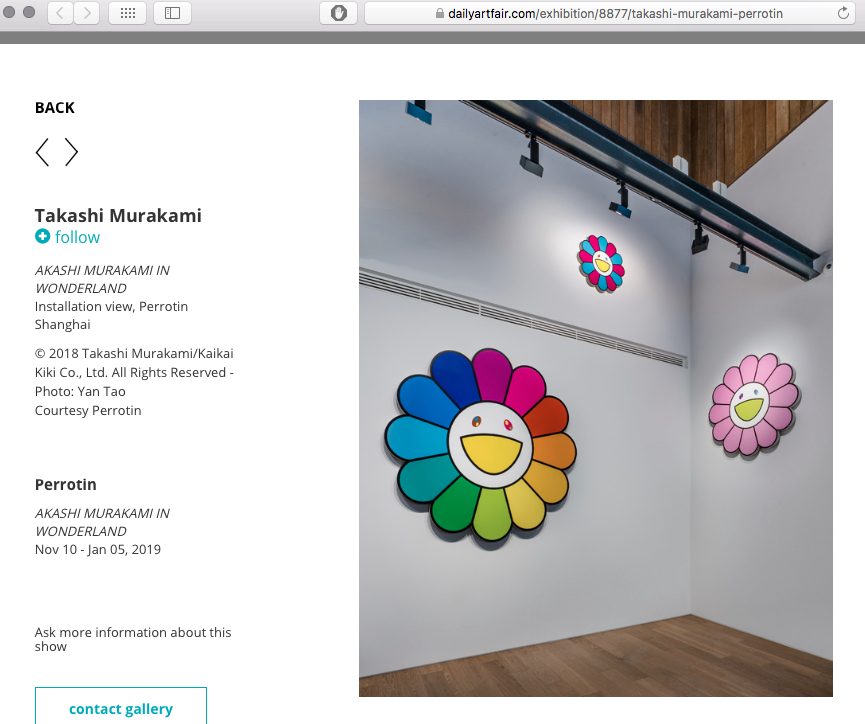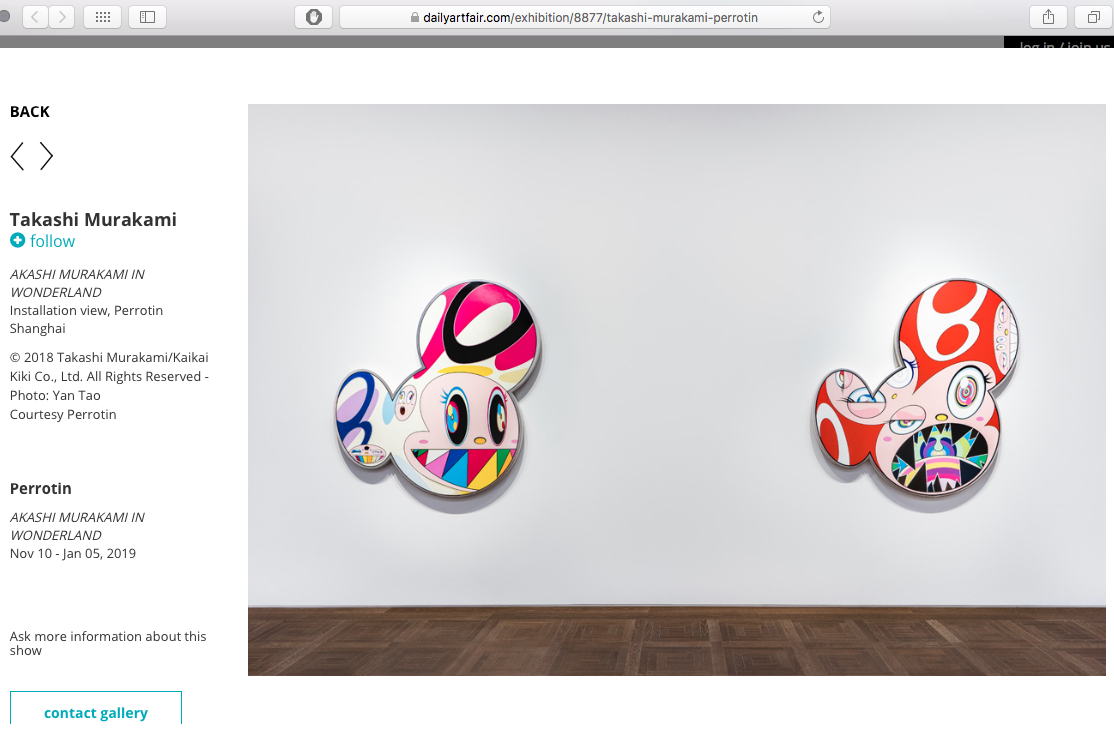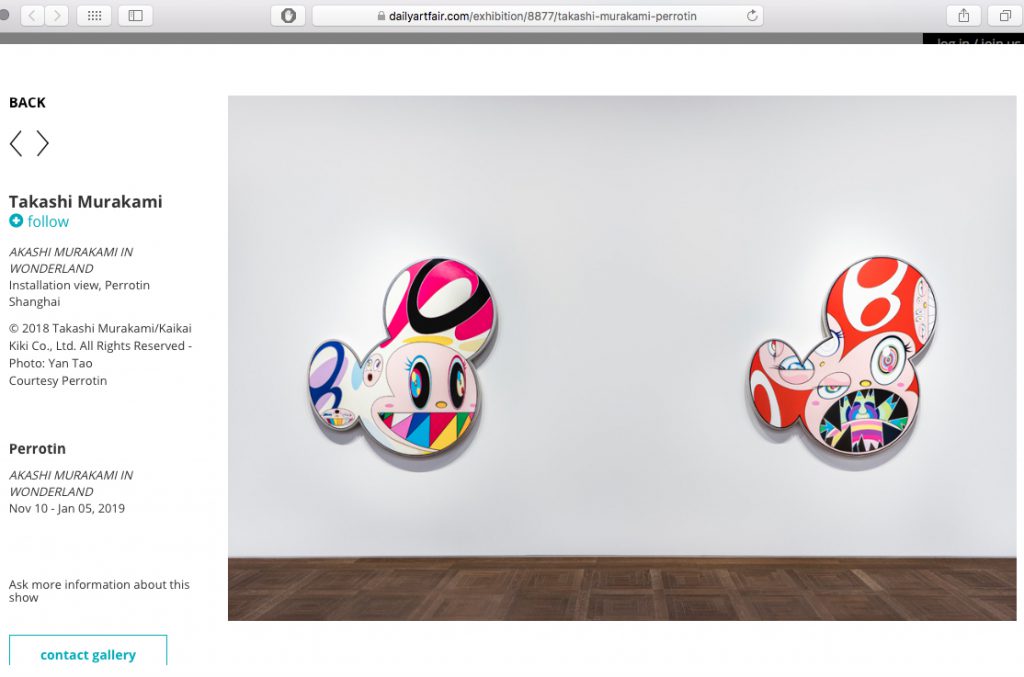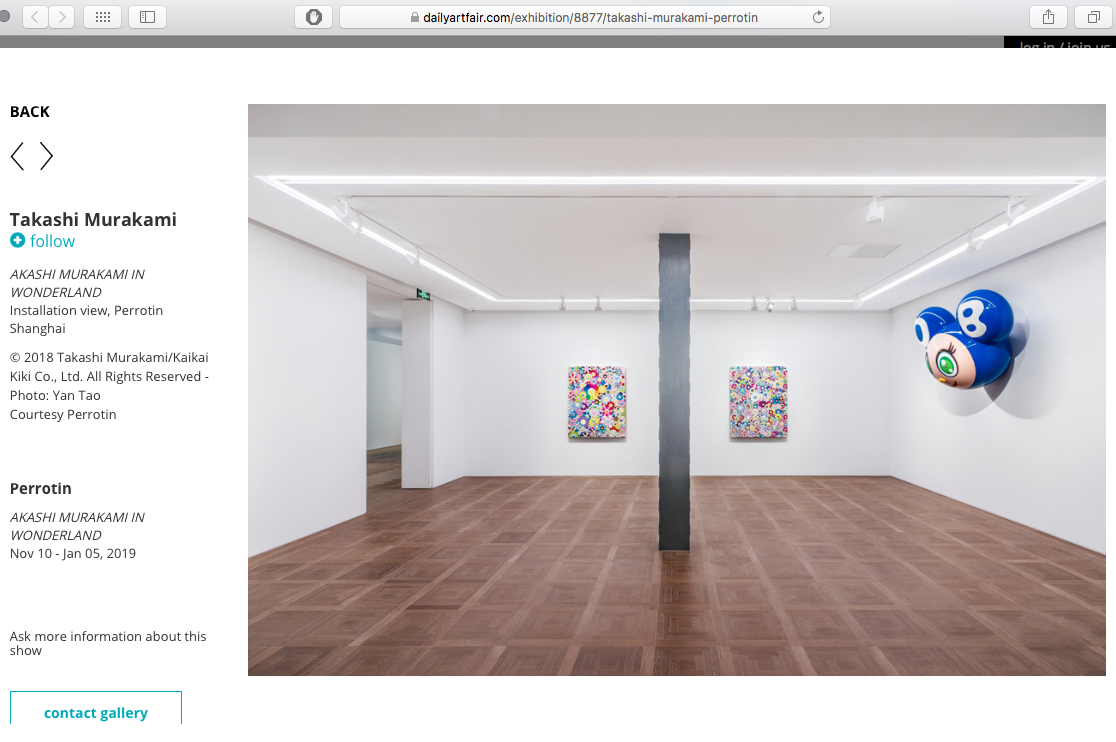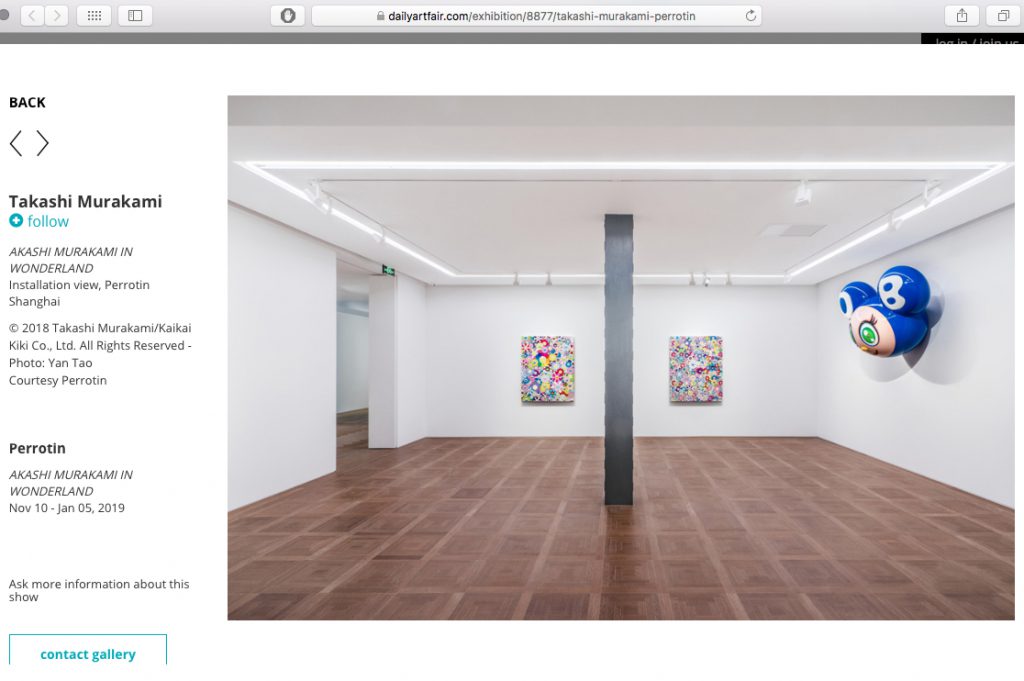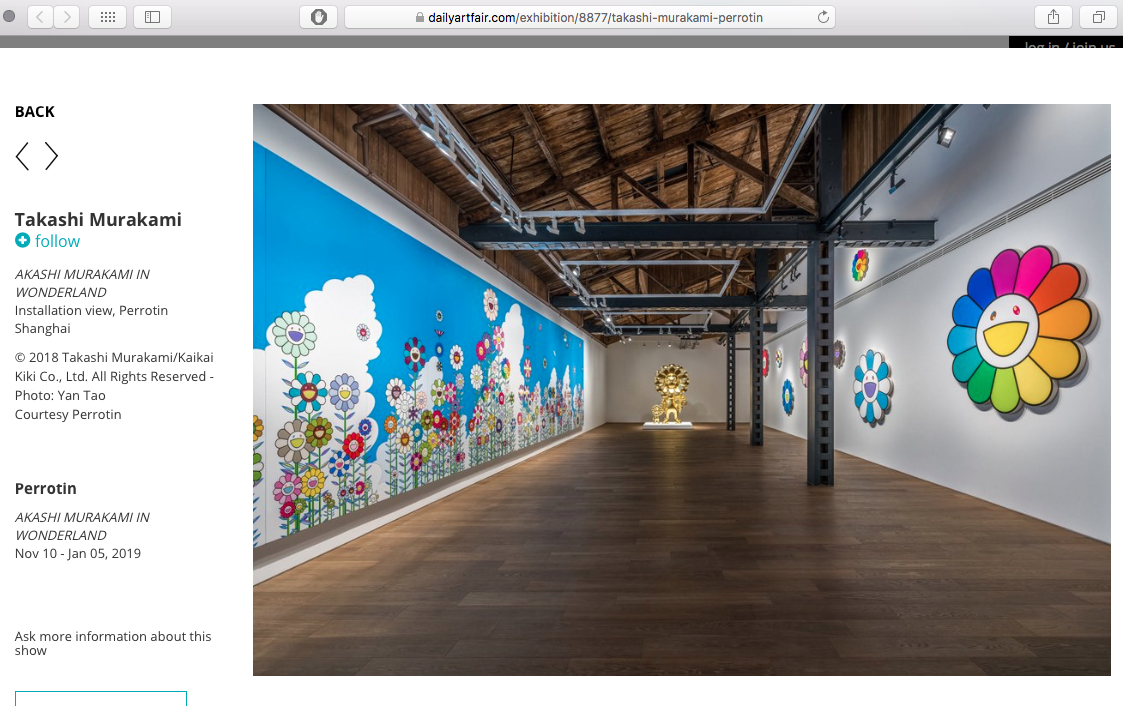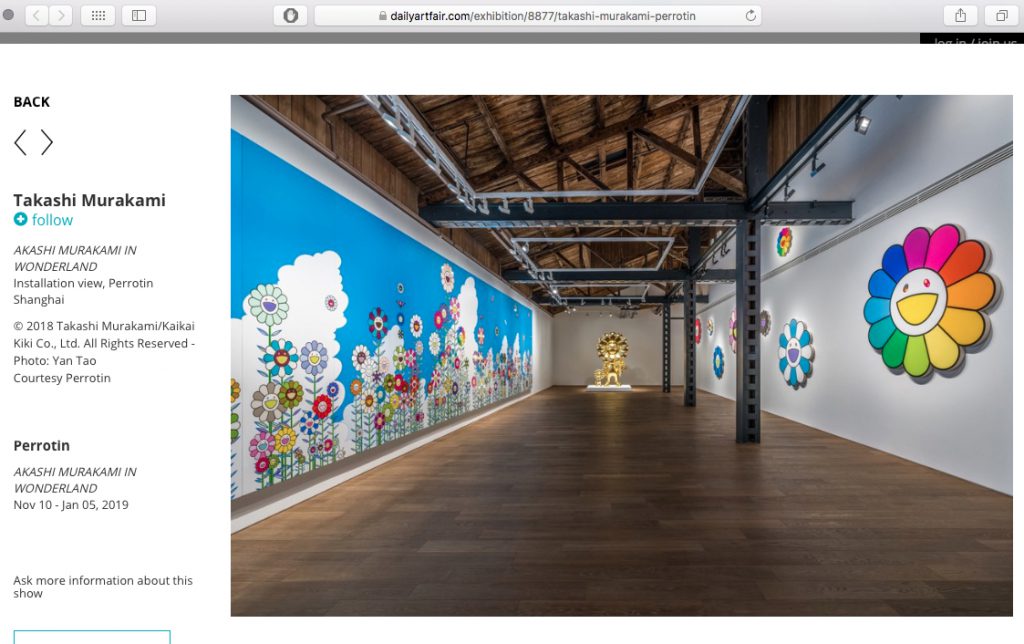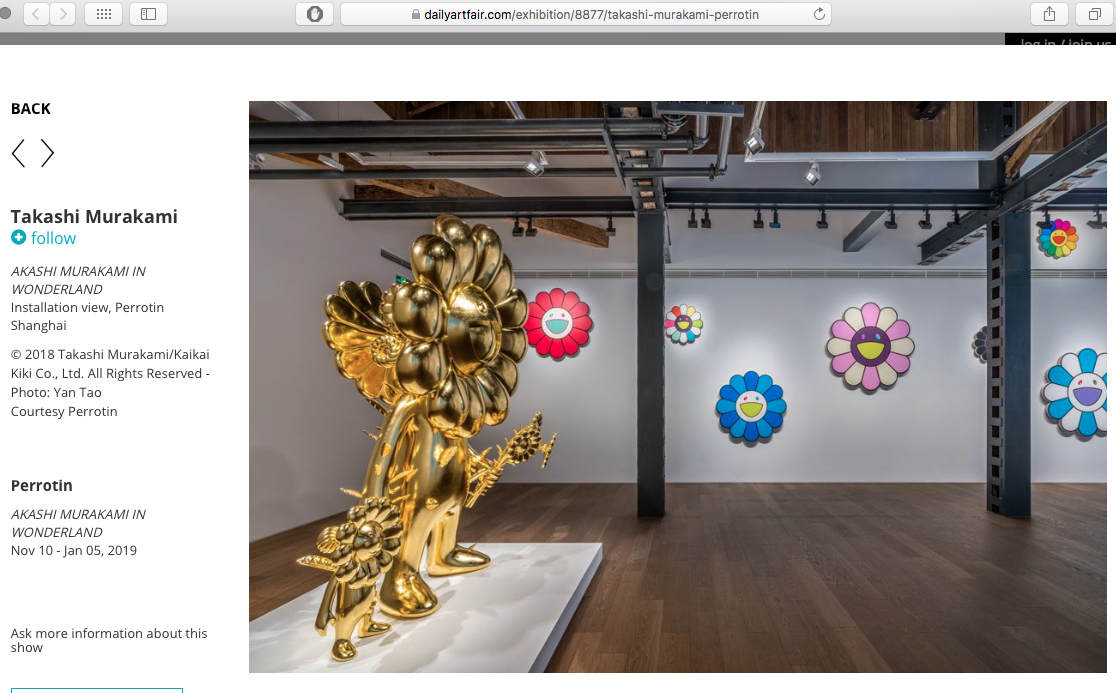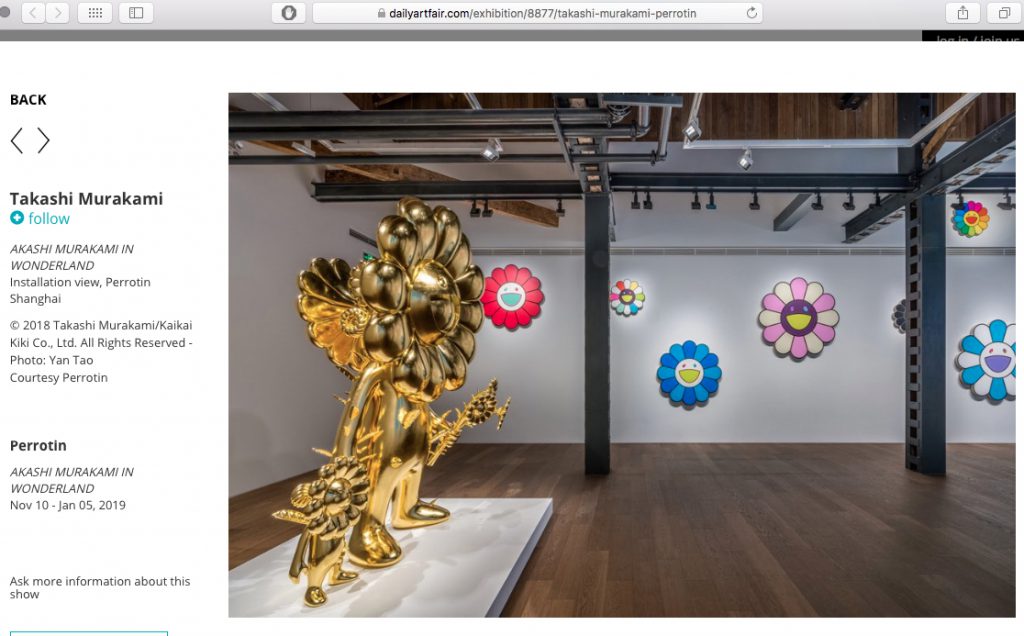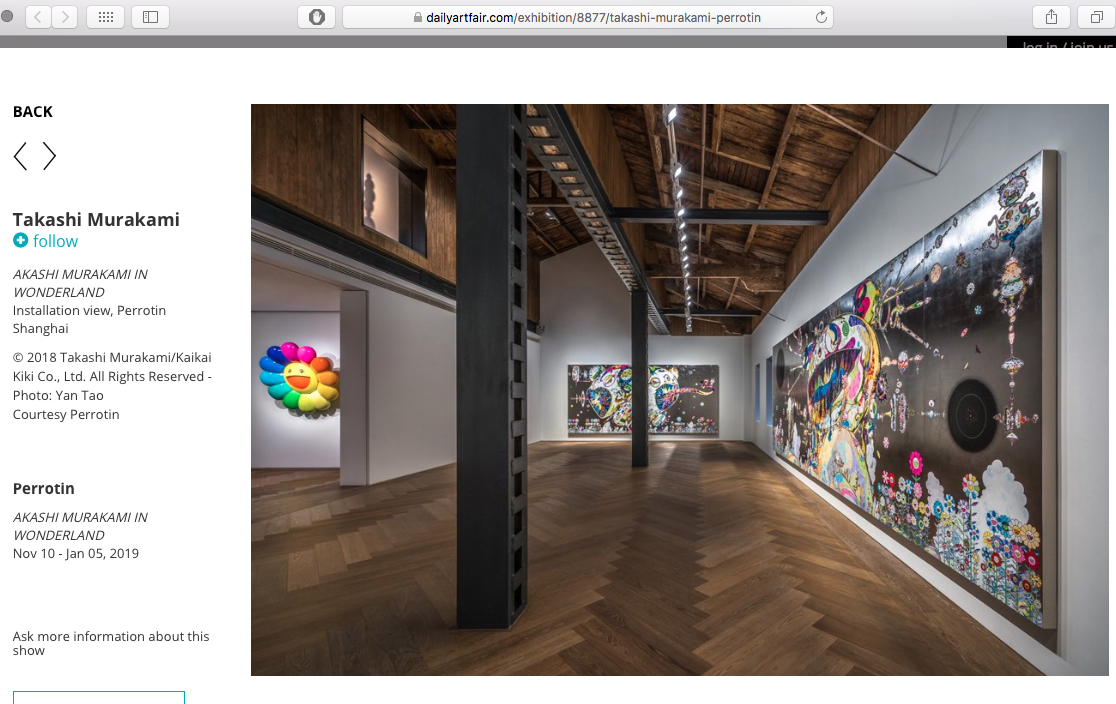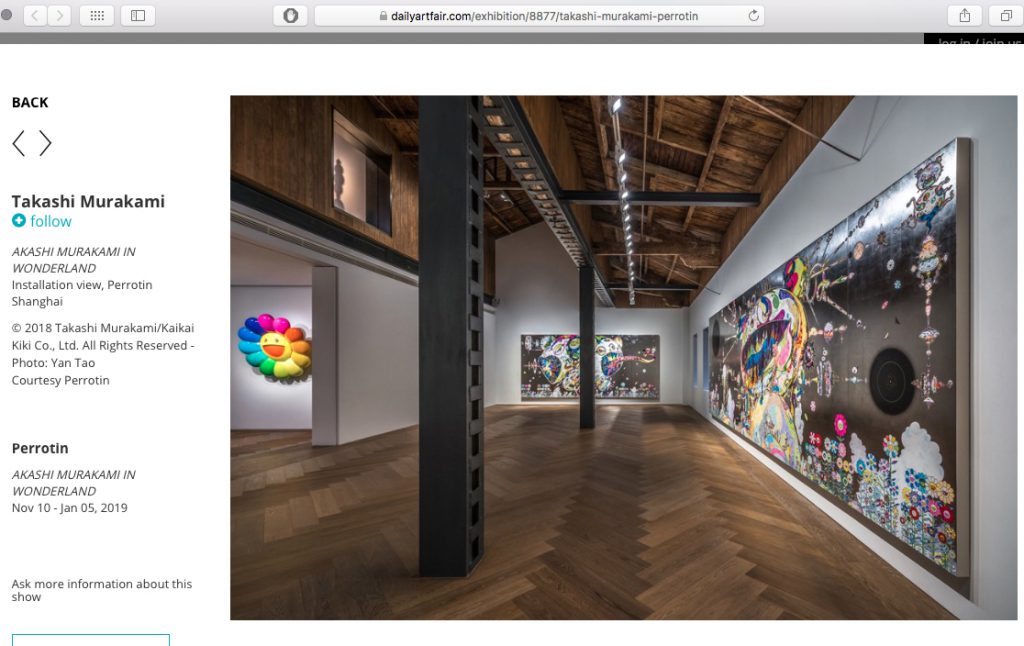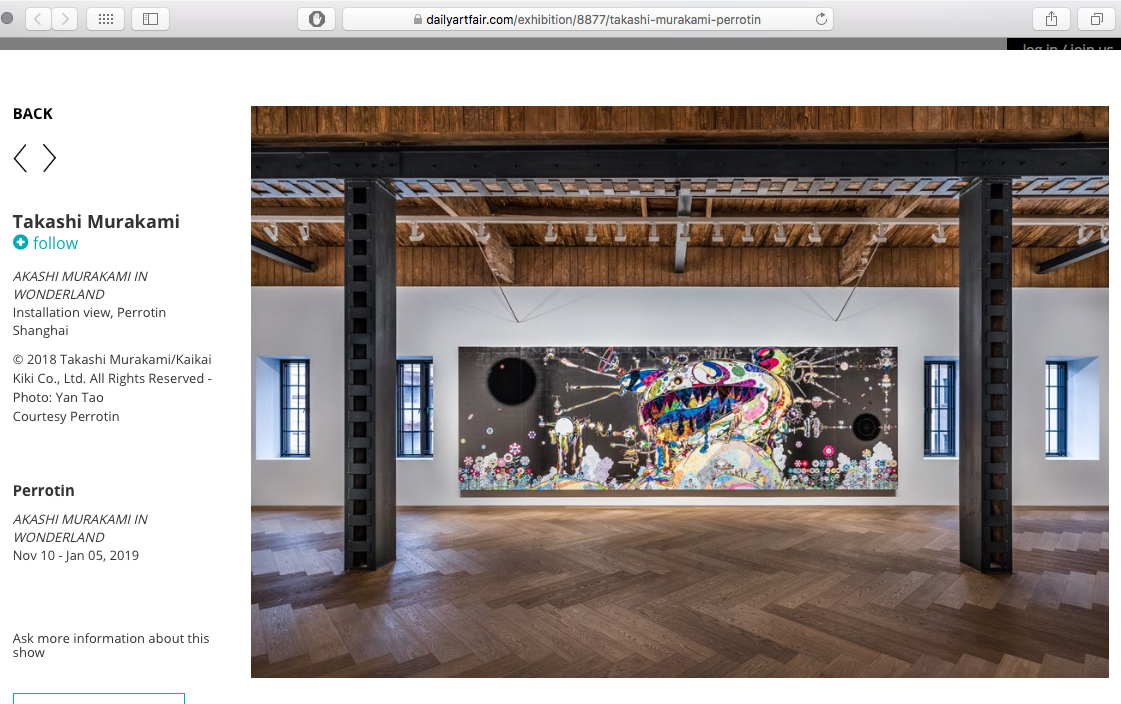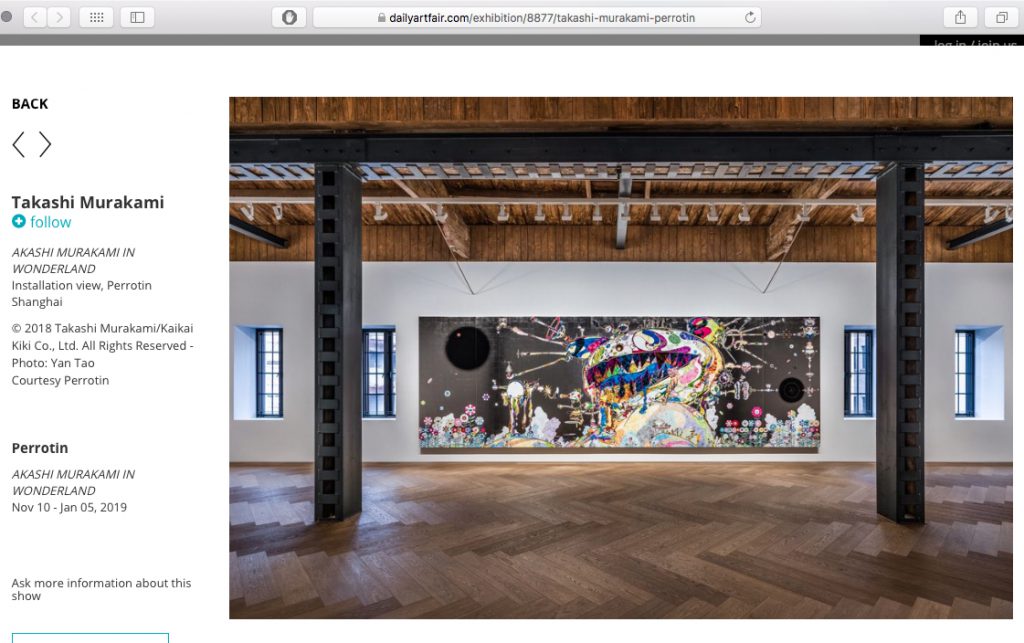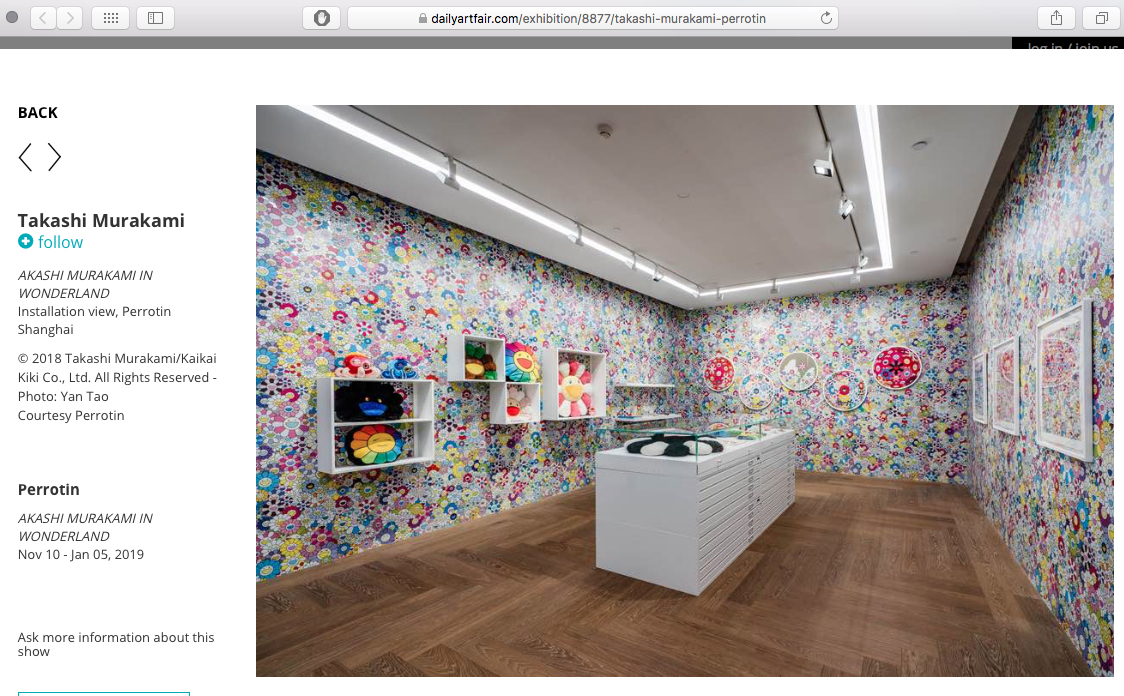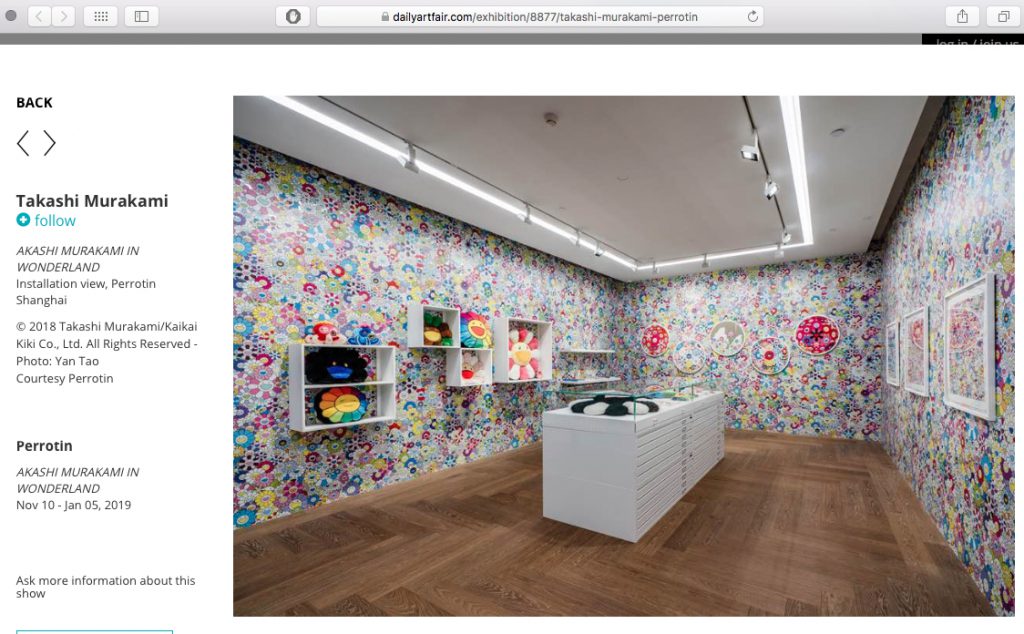 2019/9/6 up-date:
https://www.artnet.com/auctions/artists/takashi-murakami/dob-me-on-the-red-mound-of-the-dead
DOB & Me: On the Red Mound of the Dead, 2013
Acrylic on canvas mounted on board
39.4 x 39.4 x 2.5 in. (100.08 x 100.08 x 6.35 cm.)
Frame: 41 x 41 x 2.8 in. (104.14 x 104.14 x 7.11 cm.)
Inscribed with the staff names of Kaikai Kiki Co., Ltd., Japan/New York on the reverse
Ending: 12 days, 19 hours, 33 mins
September 17 at 12:33 p.m. (EDT)
Estimate: 450,000—550,000 USD
Opening Bid: 380,000 USD
History and Provenance
Provenance:
Blum & Poe, Los Angeles
Private Collection, London
Private Collection, New York
Exhibition:
Takashi Murakami, Arhat, Blum & Poe, Los Angeles, April 13-May 25, 2013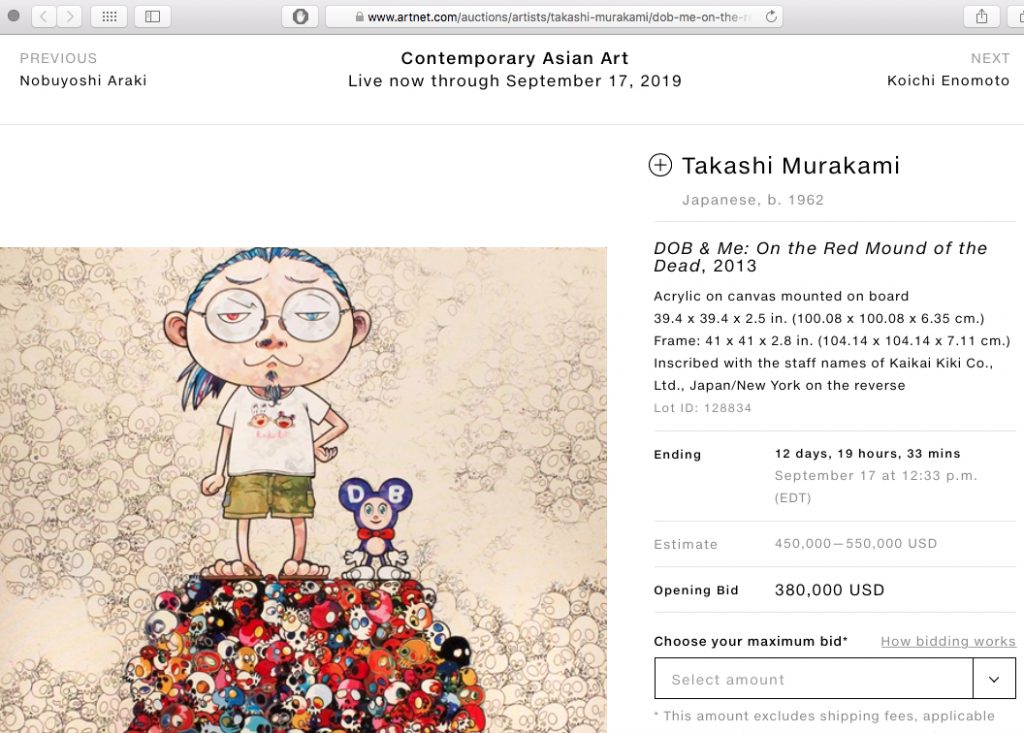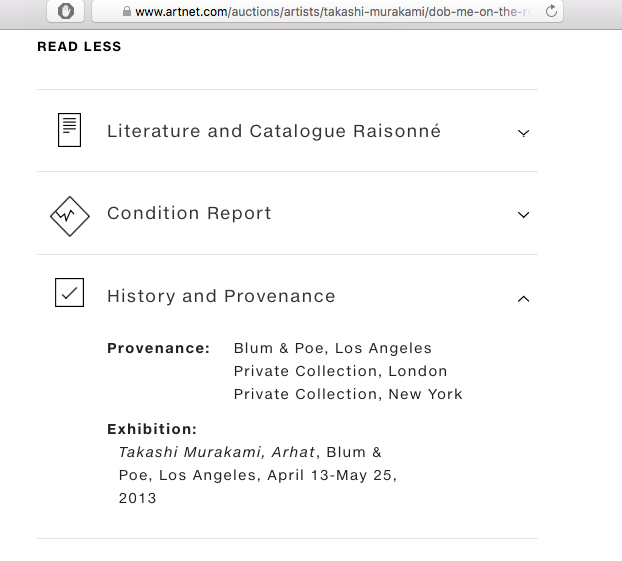 ---
up-date:
日本のアート界を駄目にした男? 不幸な村上隆、、、
The Man Who Ruined The Japanese Art World? An Unhappy MURAKAMI Takashi…
https://art-culture.world/articles/takashi-murakami-kaikai-kiki-japanese-art-world/
米国ギャラリー Blum&Poeのアーティスト・リストから外された村上隆 (2019/4/23)
Takashi Murakami Had Been Erased From American Gallery Blum & Poe's Artists' List
https://art-culture.world/articles/takashi-murakami-blum-poe-村上隆/
今日のJapan Times。「村上隆:日本のアート・アウトサイダー、平成時代を定義した、'嫌われた'アーティスト 」。不幸な村上隆、、、(2019/3/14)
Today's Japan Times. "Takashi Murakami: Japan's art outsider. The 'hated' artist who defined the Heisei Era". An Unhappy MURAKAMI Takashi…
https://art-culture.world/articles/takashi-murakami-japans-art-outsider-the-hated-artist-村上隆/
日本の現代アーティスト・トップ 6(2020年)
Contemporary artists from Japan, Top 6 (2020)
https://art-culture.world/articles/contemporary-artists-from-japan-top-6-2020-日本の現代アーティスト・トップ-6-2020年/
ここに載せた写真とスクリーンショットは、すべて「好意によりクリエーティブ・コモン・センス」の文脈で、日本美術史の記録の為に発表致します。
Creative Commons Attribution Noncommercial-NoDerivative Works
photos: cccs courtesy creative common sense