LACMA acquires Yoshitomo Nara's "Miss Forest"
LACMA acquires Yoshitomo Nara's "Miss Forest"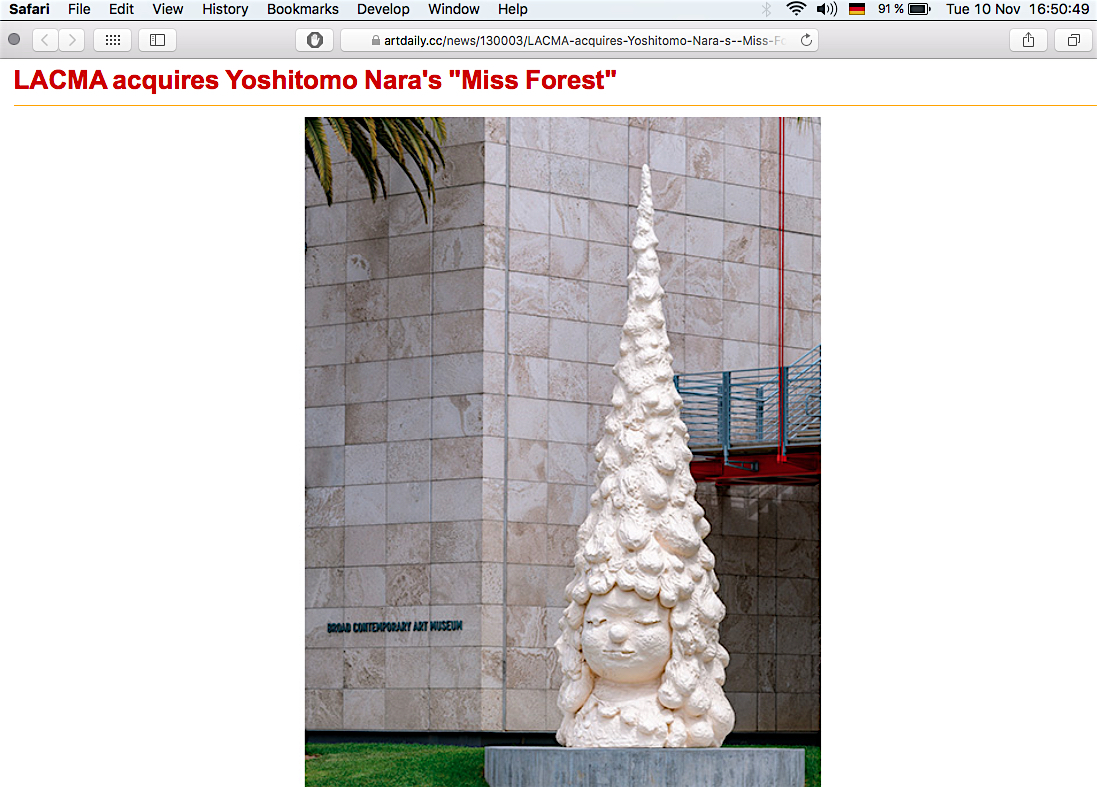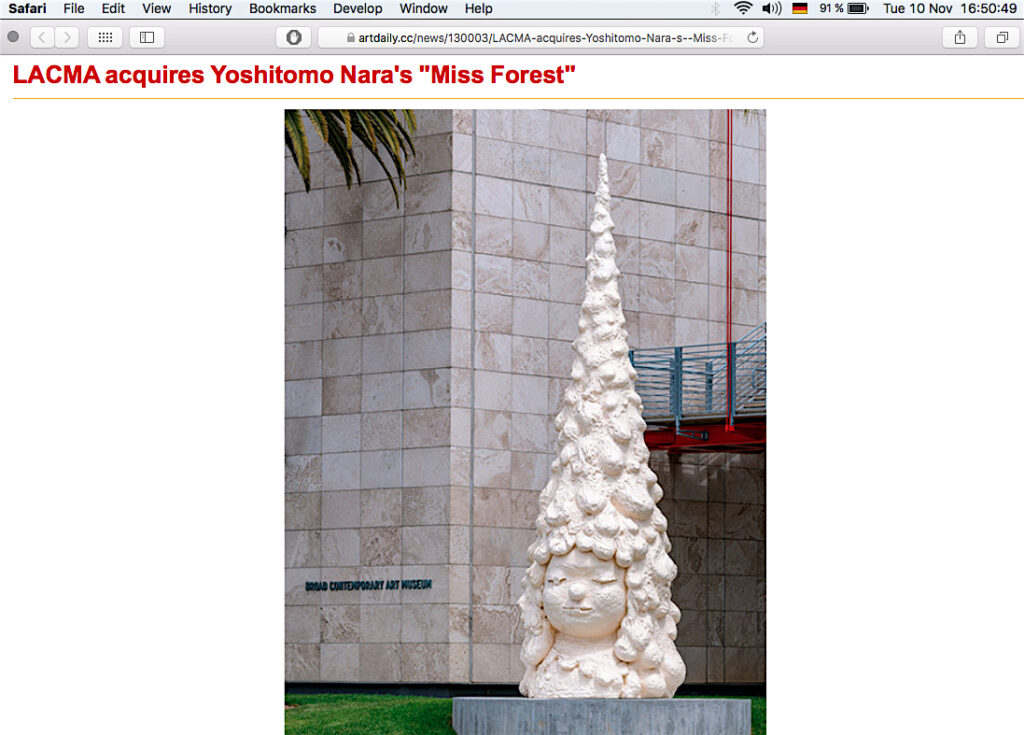 Simultaneously two mails arrived today, from Blum&Poe and "artdaily", announcing that
"Today, we're excited to announce that this monumental work is now in LACMA's permanent collection, thanks to the generosity of an anonymous donor.".
For the Japanese art scene this kind of global recognition, especially from the world famous Los Angeles County Museum of Art, means a lot, as it adds a new stimulus to the artistic practice by young artists. Well deserved and my sincere congratulations! Herzlichen Glückwunsch, Yoshitomo!
Exactly one month ago, the Toyota City (Toyota Municipal Museum of Art) announced the acquisition of a brand-new work of NARA named "Through the Break in the Rain" for about 1.05 million US$ (一億一千万円).
Compare with:
今日のアート・ニュース:豊田市が奈良美智新作、ポーラ美術館がゲルハルト・リヒター作を購入
Today's Art News: City of Toyota Buys New Painting by NARA Yoshitomo, Pola Museum Acquires Gerhard Richter Painting
https://art-culture.world/articles/nara-yoshitomo-gerhard-richter-奈良美智-豊田市/
The acquisition comes just weeks before a major Nara painting heads to auction at a collaborative sale between Phillips Hong Kong and China's Poly Auction, scheduled to take place on November 29th. "Hot House Doll, in the White Room III" (1995) carries an estimate of at least 40 million HKD ($5.1 million), a price which, if achieved, would place the work within Nara's top five most expensive works at auction.
In this context, I may say, that Nara can be now called the hottest contemporary artist from Japan!
Interestingly, these newly created works expose Nara's wish to finish a well-thought "body of work", read the quote from the press release: "Miss Forest (LACMA Version) (2020), is Nara's largest outdoor sculpture to date and the newest iteration in this series. Created for LACMA's exhibition Yoshitomo Nara, the sculpture is currently installed at the southeast corner of BCAM along Wilshire Boulevard. In a recent interview with exhibition curator Mika Yoshitake, Nara describes the genesis of Miss Forest: "In Japanese, it's called 'Moriko' or the child of the forest. Ever since I began to produce works in clay, … in the beginning, I was making large lumps, but then began to produce works that took the form of plants like a tannenbaum. Miss Forest is the final version of that series."
Please continue via:
https://unframed.lacma.org/2020/11/09/new-acquisition—yoshitomo-nara's-miss-forest
or
https://artdaily.cc/news/130003/LACMA-acquires-Yoshitomo-Nara-s–Miss-Forest-#.X6q9yy2ZORs
Let's keep in mind that we rarely find a long interview with Nara on youtube. Thanks to amazing and highly motivated curator Mika Yoshitake, Nara reflects on his major LACMA retrospective, which gathers a whopping 800 artworks and focuses on the deep influence of music, in honest manner and gracious attitude.
Nara's humble comment regarding the acquisition by LACMA today on Twitter illustrates his fine character.
ロサンゼルスのLACMA前に設置されている彫刻が館に収蔵されることになりました。今の場所は個展期間中の間だけなので、来年の夏以降に敷地内の適切な場所に設置されます。
Link_to_Twitter_https://twitter.com/michinara3/status/1326008670455427074
Please enjoy!
Due to Covid-19, please first check LACMA's website:
Please note: LACMA is temporarily closed to the public. We are actively reviewing the possibility of extending exhibitions that are affected by the museum's temporary closure. We will announce any news about exhibitions by email, on our website, and through social media (@lacma).
https://www.lacma.org