米国ギャラリー Blum&Poeのアーティスト・リストから外された村上隆
Takashi Murakami Had Been Erased From American Gallery Blum & Poe's Artists' List
本日のグローバル・アートのビッグニュースをお届けします。村上隆とBlum&Poe(ブラム・アンド・ポー)の仕事関係は上手くいかず、Blum&Poeのアーティスト・リストから村上隆の名前が外されました。
Artnet Newsによると、村上隆の作品が売れず、作品と制作に関して、赤字のアート・ディーリング状態になった事が原因のようです。
(アップデート:私の調べによりますと、約5か月前から、お互いに離れる準備が始まっていたようです。)
忘れてはいけないのは、Blum&Poeは、村上隆を戦略的に米国に売り込み、育てたギャラリーであったことです。
Facebook、Twitter、Instagramにおける村上隆ご自身は、無口です。
ご存知の通り、村上隆は、日本のアート・ジャーナリスト、日本のアート・ライター、日本のマスコミからの質問を嫌ってもいます。森美術館個展の2015年10月、「森ビルさんや、協賛のスポンサーさん達にはご迷惑をお掛けしております が、メディアへのインタヴュー一切をお断りしております。」というステートメントは象徴的な態度の表れです。
森ビルさんや、協賛のスポンサーさん達にはご迷惑をお掛けしております が、メディアへのインタヴュー一切をお断りしております。
2015年10月16日
https://www.art-it.asia/u/sfztpm/B4e9iINrL1x2bqTGEtD5/
www.facebook.com/takashi.murakami.142/posts/904937792905811
---
Strange that Murakami has nothing to say on this arty earthquake.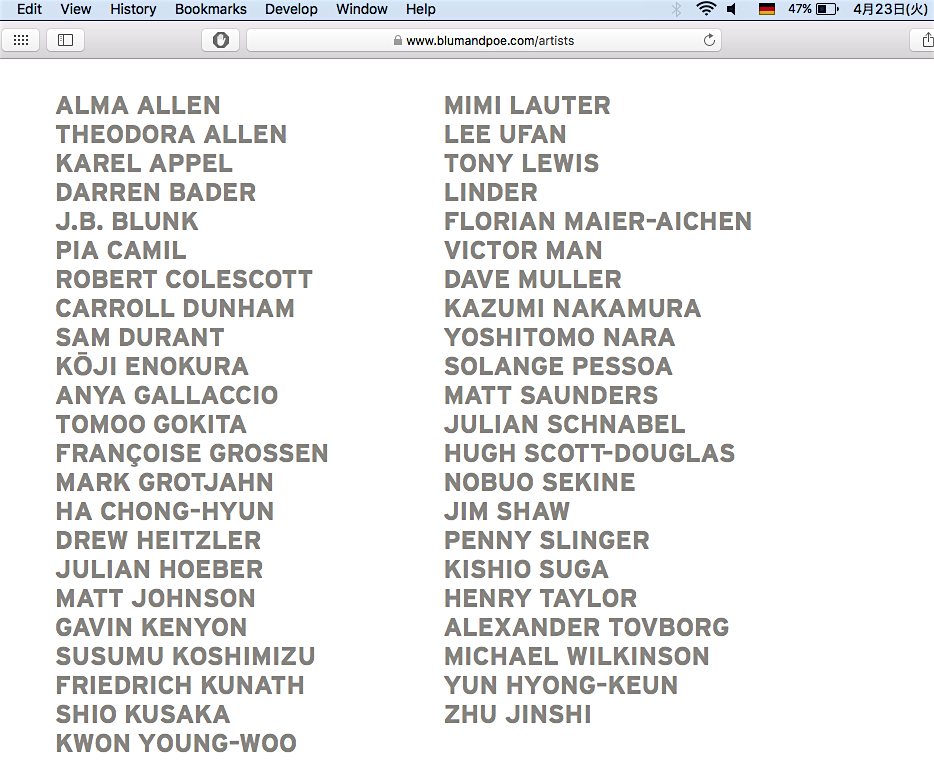 https://www.blumandpoe.com/artists
Superstar Artist Takashi Murakami Splits With Longtime Dealer Blum & Poe
Experts have various theories about what caused the breakup.
(up-date 2019/4/24. The title at artnet News had been altered. New title is…)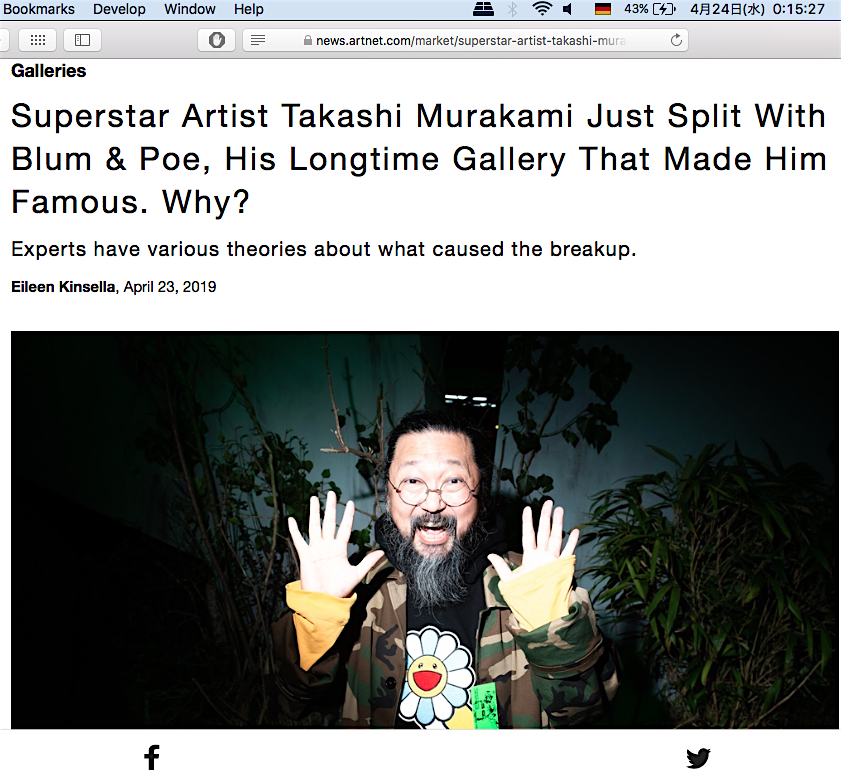 Superstar Artist Takashi Murakami Just Split With Blum & Poe, His Longtime Gallery That Made Him Famous. Why?
Experts have various theories about what caused the breakup.
Eileen Kinsella, April 23, 2019
quotes:
Global art star Takashi Murakami has split from his longtime dealer, Blum & Poe, after more than two decades together, artnet News has learned. The gallery, which has locations in Los Angeles, New York, and Tokyo, first began showing the artist's work back in 1997.
…
Murakami's company, Kaikai Kiki Studio, did not respond to artnet News's requests for comment.
…
Several sources told artnet News that Blum & Poe had been losing money with the artist's practice for some time, though opinions differed about whether the artist himself or the gallery's management was to blame.
"That's why he started doing collaborations, like that with [fashion designer] Virgil Abloh, so that he could start selling again because the other stuff wasn't moving," one collector told artnet News.
…
An art advisor familiar with the Murakami market argued that galleries representing the artist bore responsibility for his shaky performance by releasing too much work over the years, some of which he described as "poorly edited and over-produced."
…
more, full text at artnet news
https://news.artnet.com/market/superstar-artist-takashi-murakami-split-gallery-25-years-1522423
---
artnewsの後、artsyの記事:
https://www.artsy.net/news/artsy-editorial-takashi-murakami-split-one-longtime-galleries
quote:
The Los Angeles powerhouse gallery Blum & Poe, founded in 1994 by Tim Blum and Jeff Poe, gave the artist Takashi Murakami his first show in the city in 1997. In 1999, they took the artist's work to Art Basel in Basel, Switzerland for its first exposure at a grand international fair. Though he had shown in Paris with the dealer Emmanuel Perrotin, who met Murakami in Japan in 1993, and in New York with the dealers Gavin Brown and Hudson, he hadn't yet broke out in the market. In Basel, collectors who ventured into the Blum & Poe booth greeted the then-shocking blend of post-Koons Pop, classical Japanese painting, and blitzkrieg anime with horror.
Blum told the Wall Street Journal years later that visitors to the fair thought the dealers were "out of our minds, like insane, strange, deluded idiots." But they sold every last work.
---
その他、こちらのリンクへどうぞ、compare with other up-dates:
日本のアート界を駄目にした男? 不幸な村上隆、、、
The Man Who Ruined The Japanese Art World? An Unhappy MURAKAMI Takashi…
https://art-culture.world/articles/takashi-murakami-kaikai-kiki-japanese-art-world/
村上作品の価値?不幸な村上隆、、、
The Value of Murakami's Works? An Unhappy MURAKAMI Takashi…
https://art-culture.world/articles/takashi-murakami-art-works-value/
今日のJapan Times。「村上隆:日本のアート・アウトサイダー、平成時代を定義した、'嫌われた'アーティスト 」。不幸な村上隆、、、
Today's Japan Times. "Takashi Murakami: Japan's art outsider. The 'hated' artist who defined the Heisei Era". An Unhappy MURAKAMI Takashi…
https://art-culture.world/articles/takashi-murakami-japans-art-outsider-the-hated-artist-村上隆/
ここに載せた写真とスクリーンショットは、すべて「好意によりクリエーティブ・コモン・センス」の文脈で、日本美術史の記録の為に発表致します。
Creative Commons Attribution Noncommercial-NoDerivative Works
photos: cccs courtesy creative common sense