Fascinating TANAKA Koki solo exhibition: "A Poem Written by 5 Poets at Once"
魅力的な田中 功起個展:「ひとつの詩を5人の詩人が書く」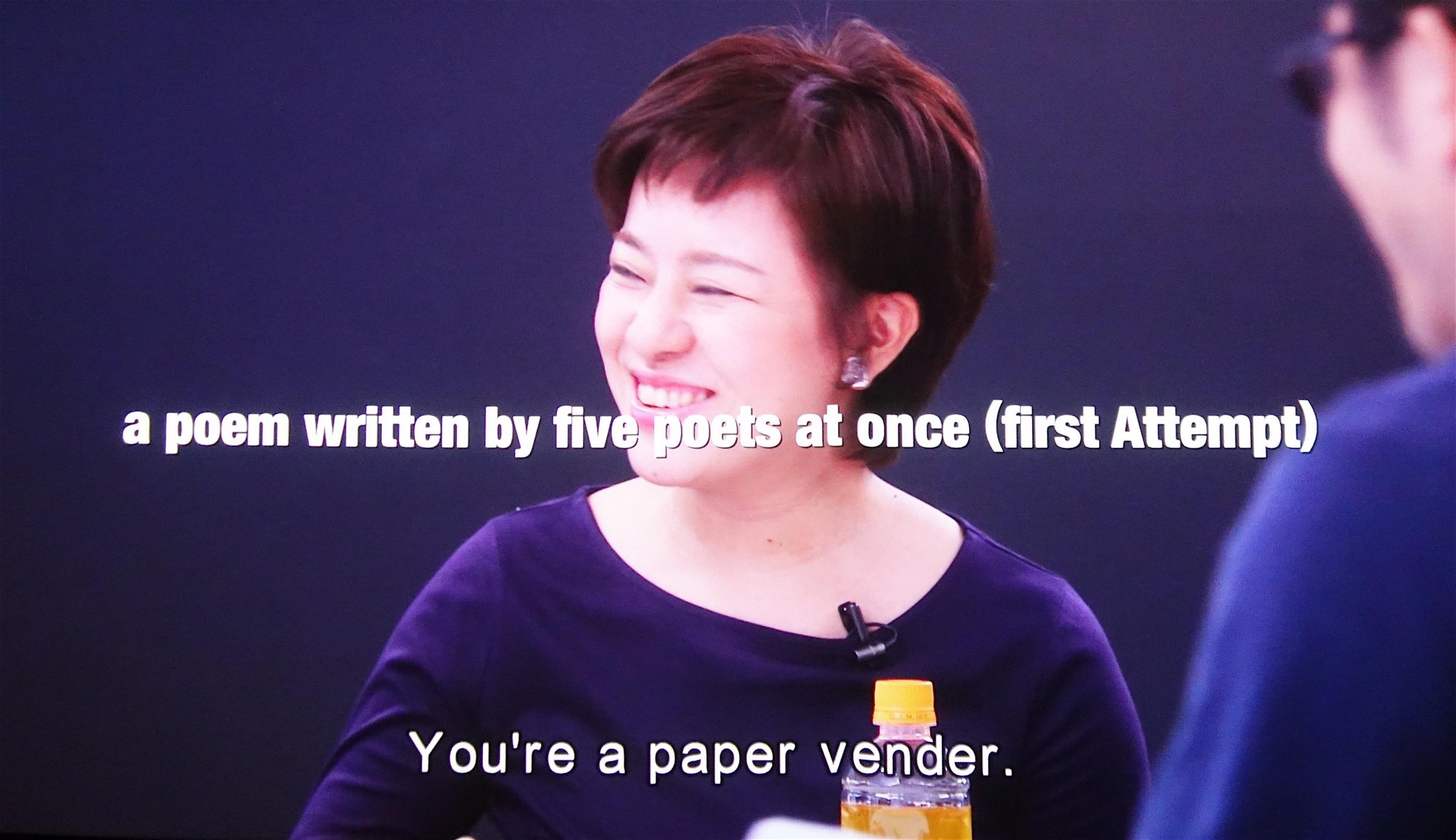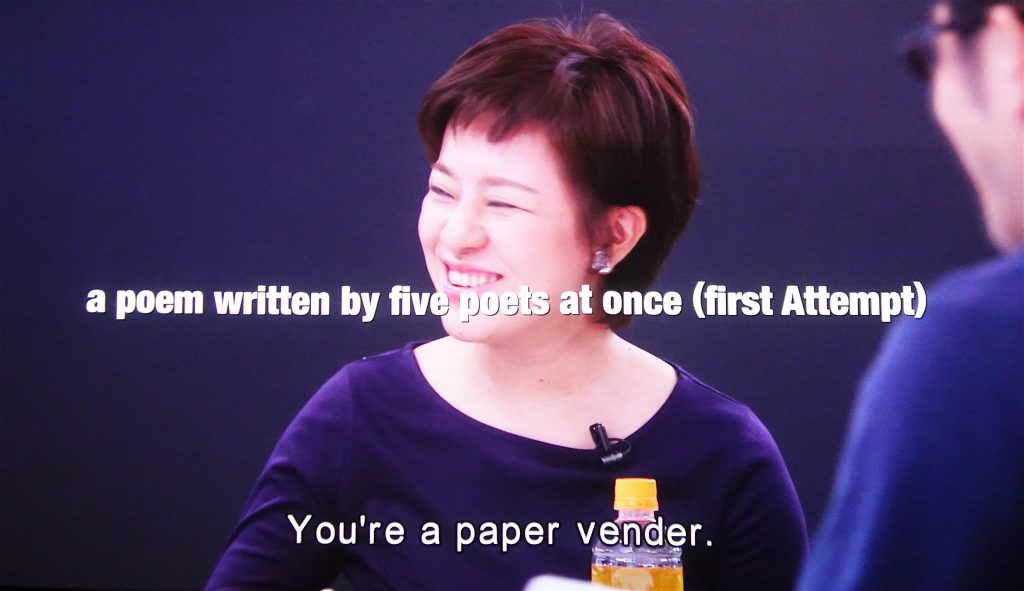 Actually AOYAMA | MEGURO 青山|目黒 is exhibiting a highly sophisticated poetical show, which superbly reflects aspects of contemporary art practice.
TANAKA Koki 田中 功起, in the context of global artists' activities, can be nowadays regarded as one of the busiest and most sought-after artists from Japan. Prized Japan Pavilion at the Venice Biennale (2013), awarded with "Artist of the Year" (2014, Deutsche Bank KunstHalle, Berlin), invited in 2017 for "Skulptur Münster" and Venice Biennale, followed then by a highly sociological Umweltschutz-related solo exhibition in the Kunsthaus Graz, plus, a group show at the Kunsthaus Zürich, chapeau! The thought provoking, successful solo exhibition at the 'Migros Museum für Gegenwartskunst' in Zürich in 2018 generated new paths, attractive objectives in the awareness, art-practice-context between the local audience, the curatorial task and Tanaka's works.
While this year's Aichi Triennale fulminated against antiquated perception in a tiny section of the local art audience (which pales in the context of Hans Haacke's art practice), seeing the absurd in the mundane and the sublime in the absurd, newly commissioned Tanaka's installation stood out as a chef d'oeuvre.
The relating gallery's statement oscillates between ambiguous 'entropy sociali' and a precarious constructiveness.
Quote from the gallery's statement:
"Tanaka's new work 'Abstracted / Family' was a project which had been meticulously designed and prepared for the international art festival. Its outcome was apparent not only in the content of the video, but also in the arrangement of the entire installation in which several exhibitions were incorporated, such as site-specific abstract paintings. Actually, his concept was evident even in the unusual words and gestures expressed by the participants of meetings/assemblies, which were held several times during the festival."
Refer also to the article by NAKAMURA Fumiko published in the BT webmagazine 2019/10/6 参考:
展示終了後、私たちはいかに問題に向き合うのか。中村史子評 田中功起《抽象・家族》
3年に1度行われる、愛知県を主体とした国際芸術展「あいちトリエンナーレ」。4回目の今年は津田大介が芸術監督を務め、「情の時代 Taming Y / Our Passion」をテーマに約80組の作家が参加している。しかし、本トリエンナーレの一展示「表現の不自由展・その後」の中止・展示室閉鎖を受け、一部作家が抗議として展示を中止。田中功起の作品《抽象・家族》も9月3日より「再設定」(展示の変更)として、展示室内には入ることができない。《抽象・家族》とはどのような作品なのか? 愛知県美術館学芸員の中村史子が、「絵画」「普遍性」のキーワードから考察する。
文=中村史子
https://bijutsutecho.com/magazine/review/20687
The exhibited work "A Poem Written by 5 Poets at Once (first attempt)" (2013, HD-video, 68 min 30 sec) at AOYAMA | MEGURO had been consciously chosen in a curatorial context.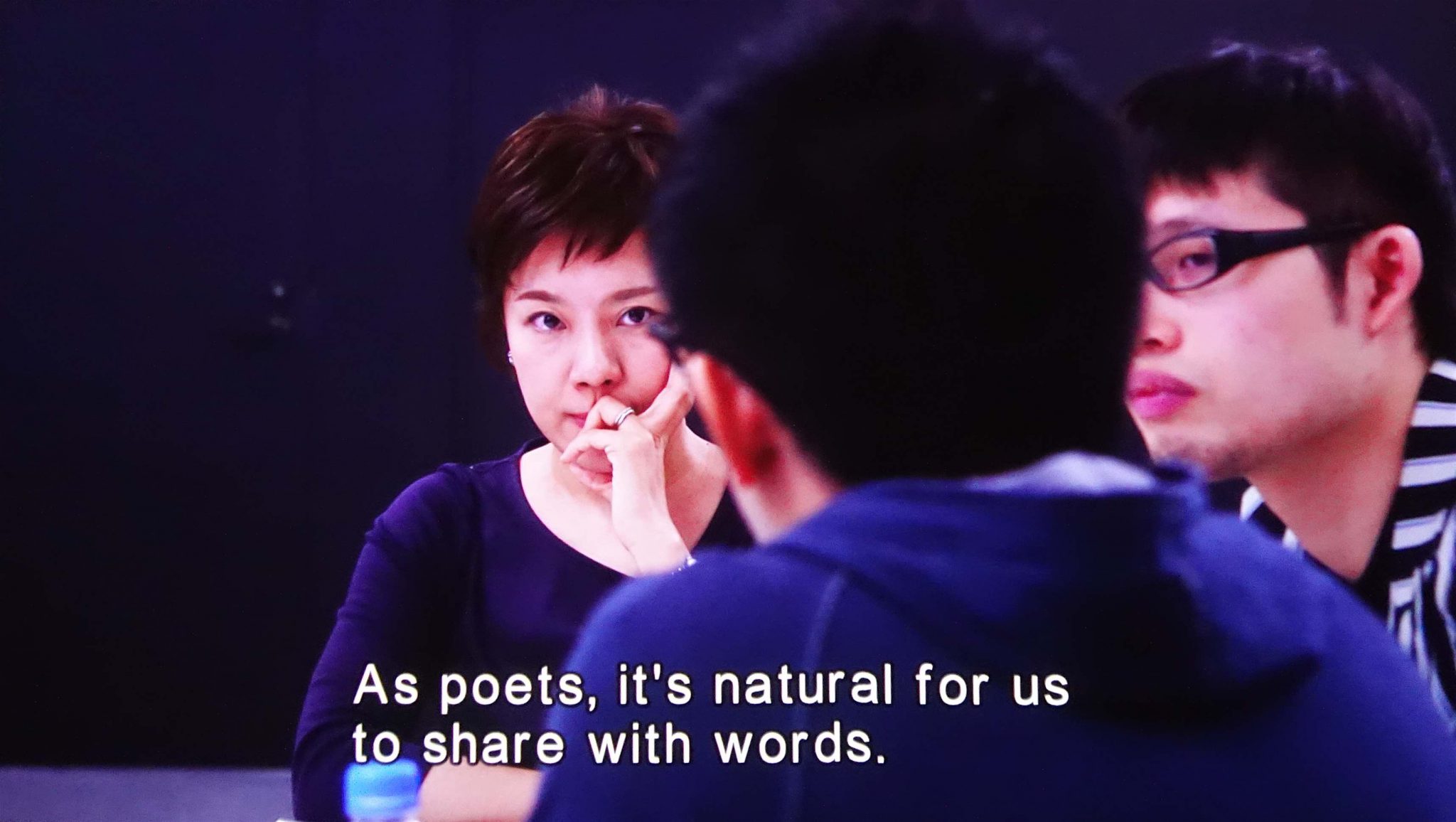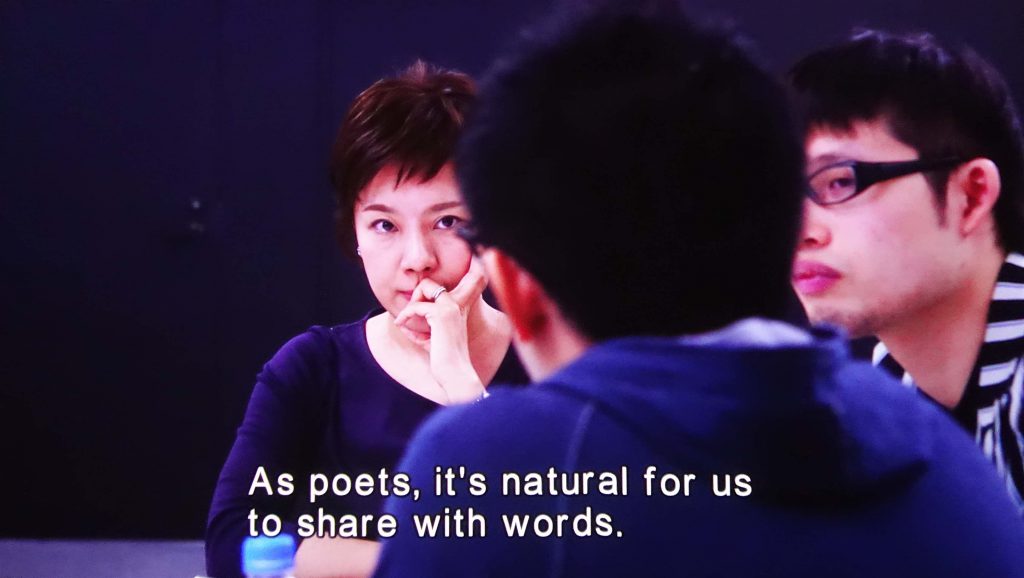 First shown in the awarding solo show in the Japan Pavilion during the 55th Venice Biennale, – the artist's intention, an allegory on timeless poetry, intellect-motivating philosophical language, had been given another inspiring, new contemporary time-frame.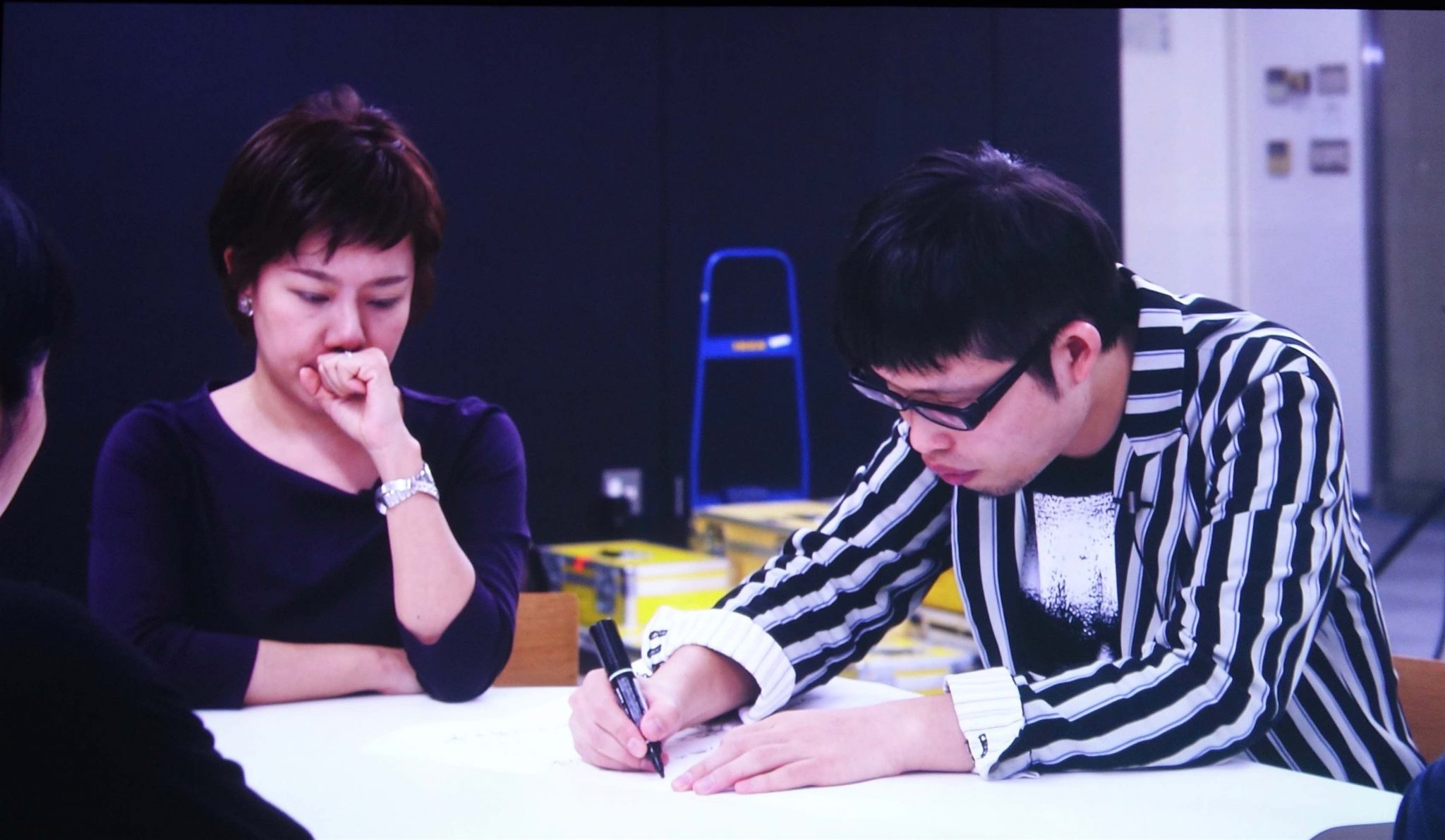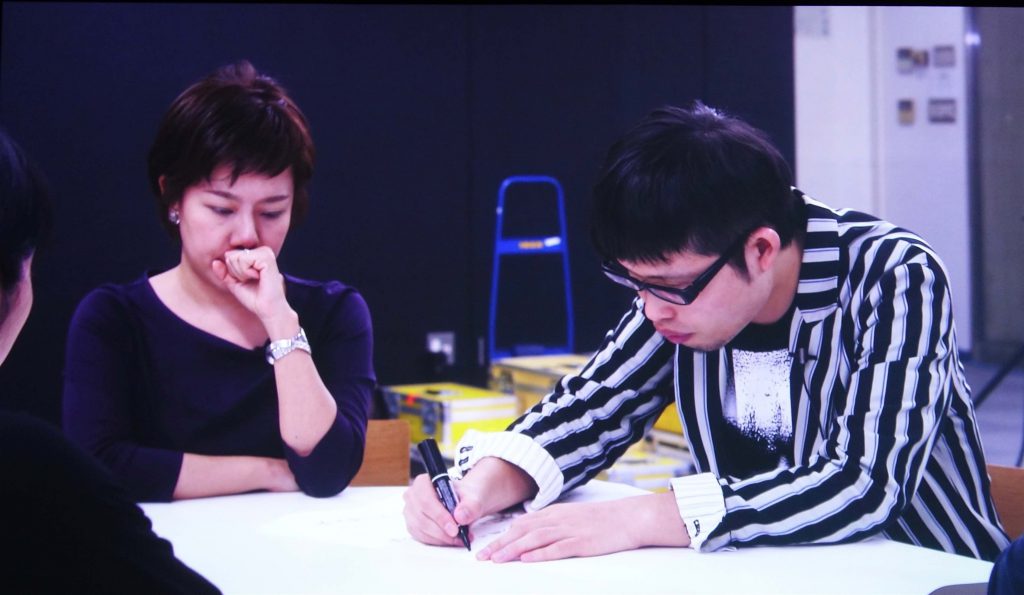 A sense of interval brings clearness.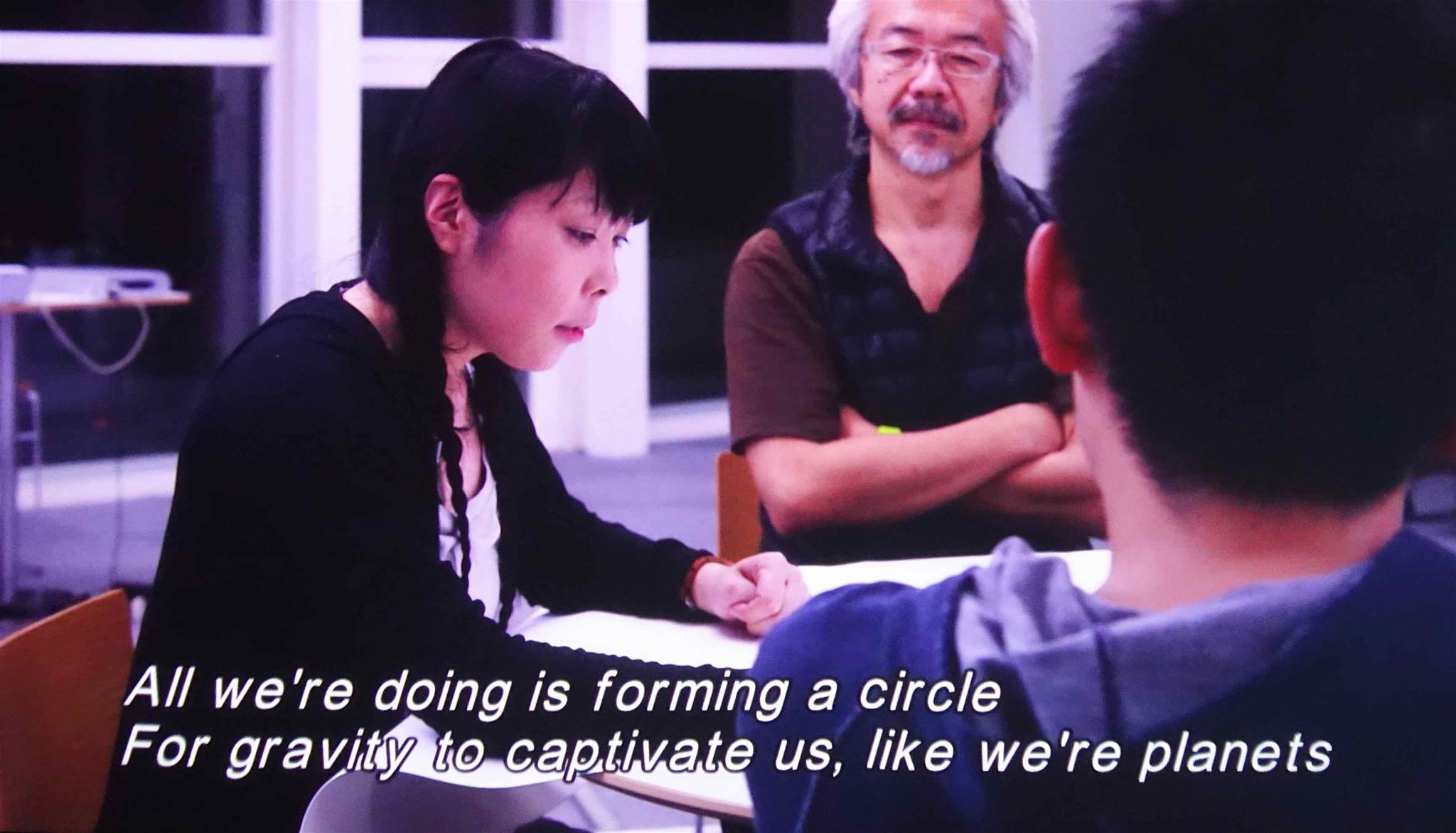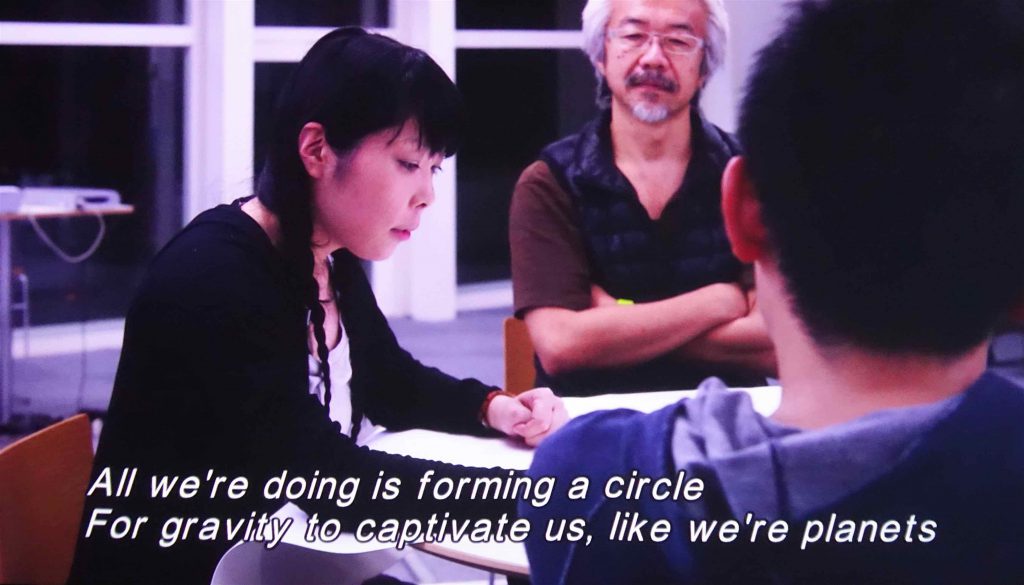 With his art-concept of success/failure in mind, in which ambivalence and artistic mediation are well pronounced, Tanaka as facilitator, transmitted an unfiltered, highly aesthetically and wonderful aura of Japanese poetry.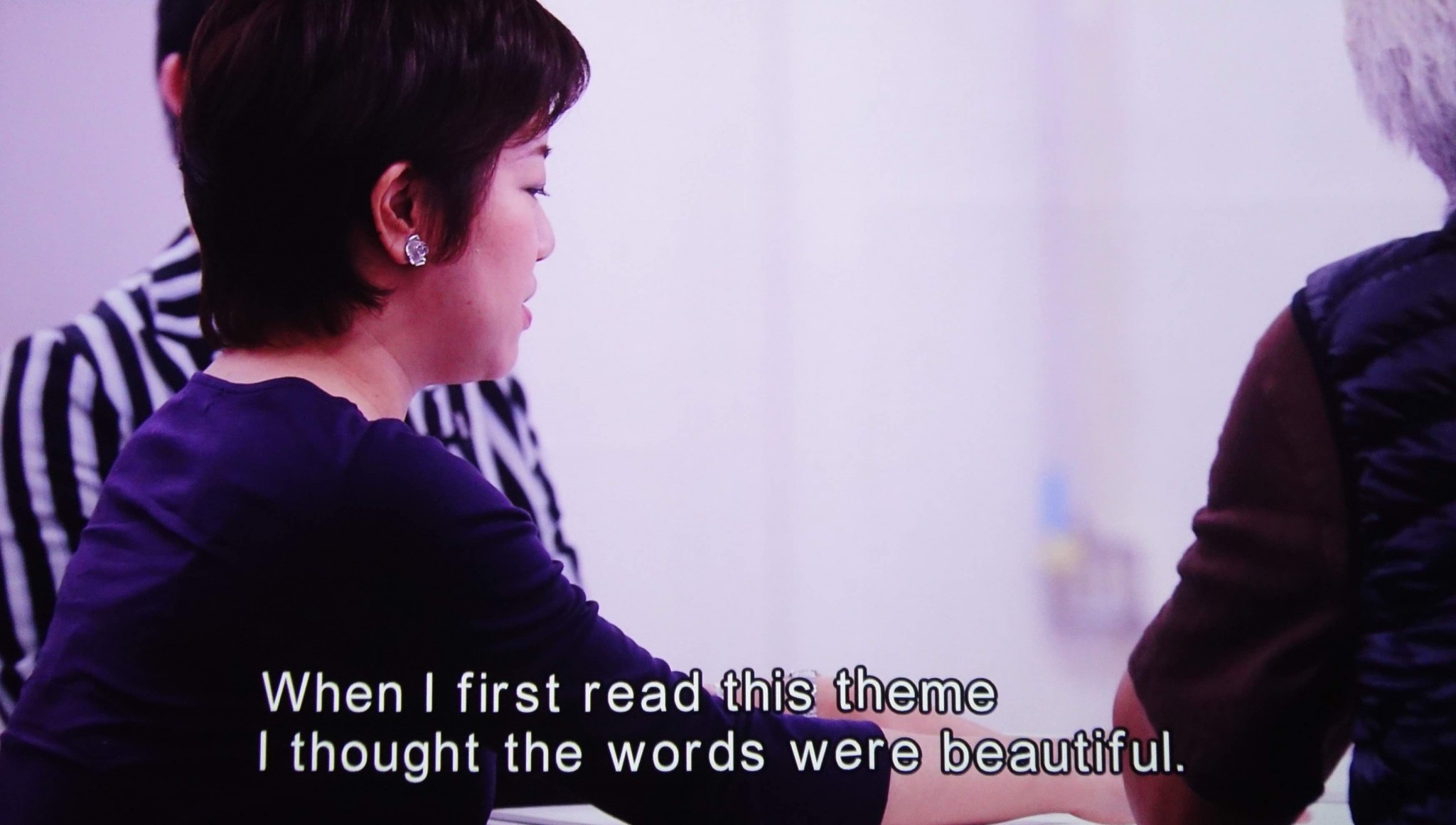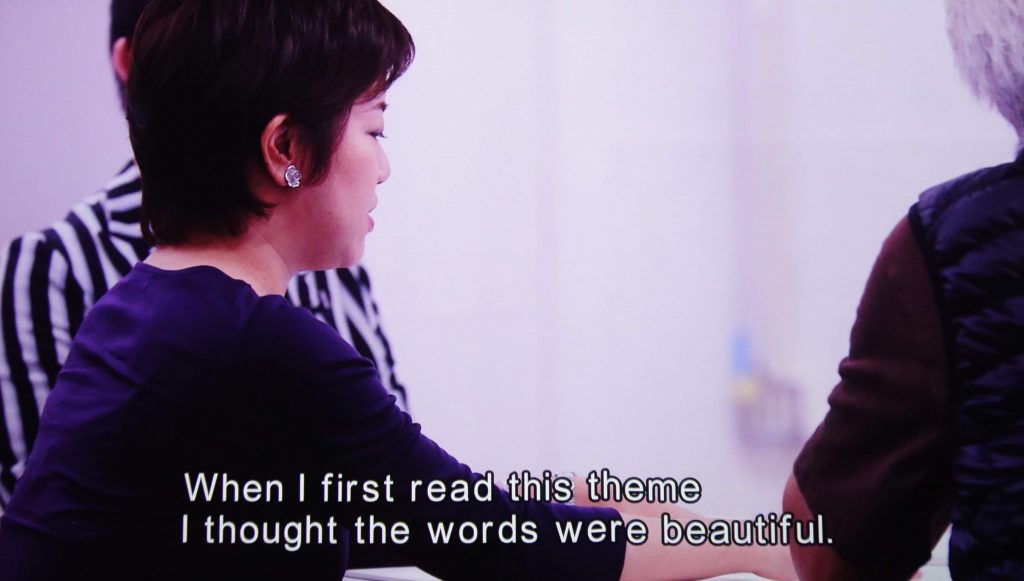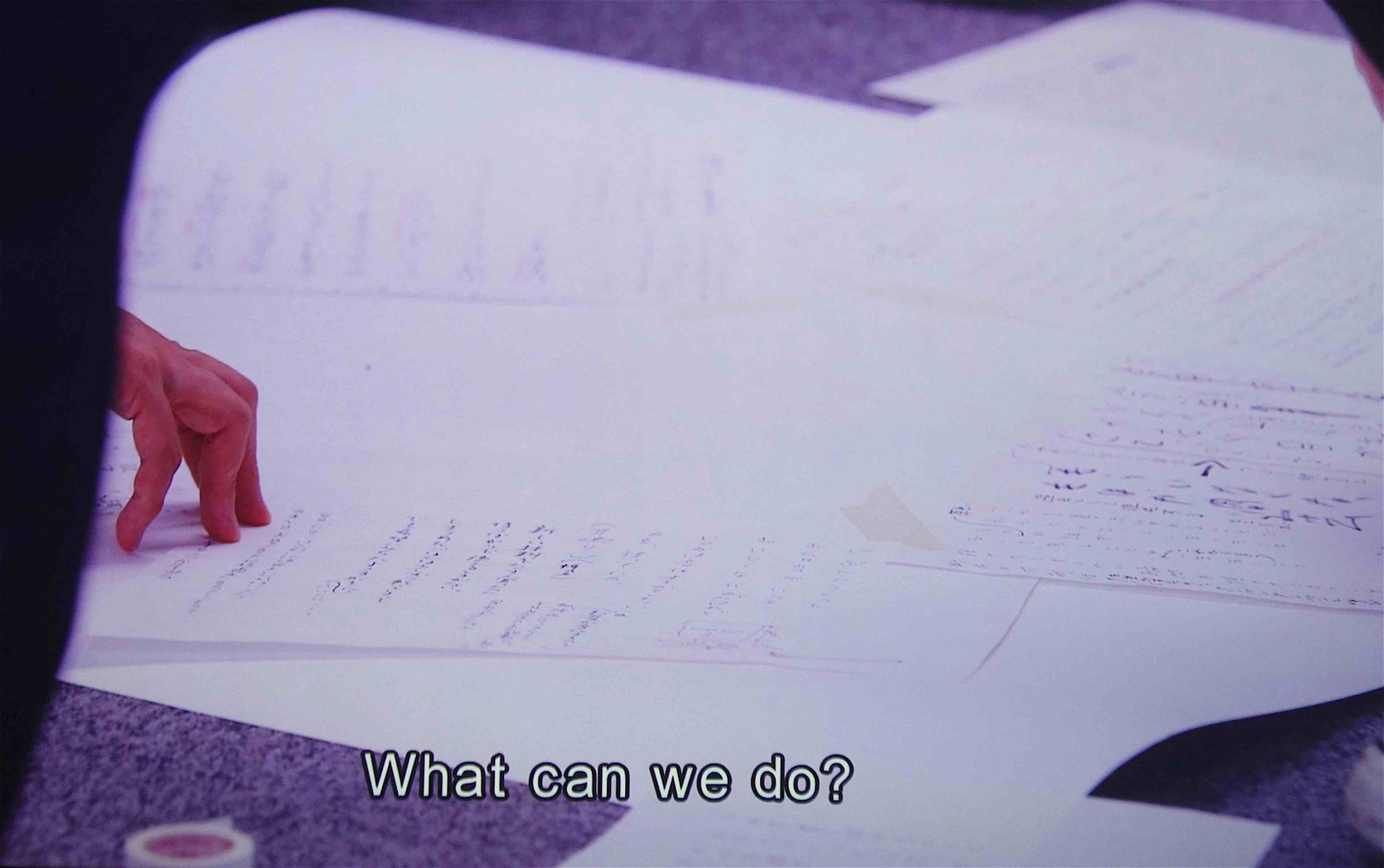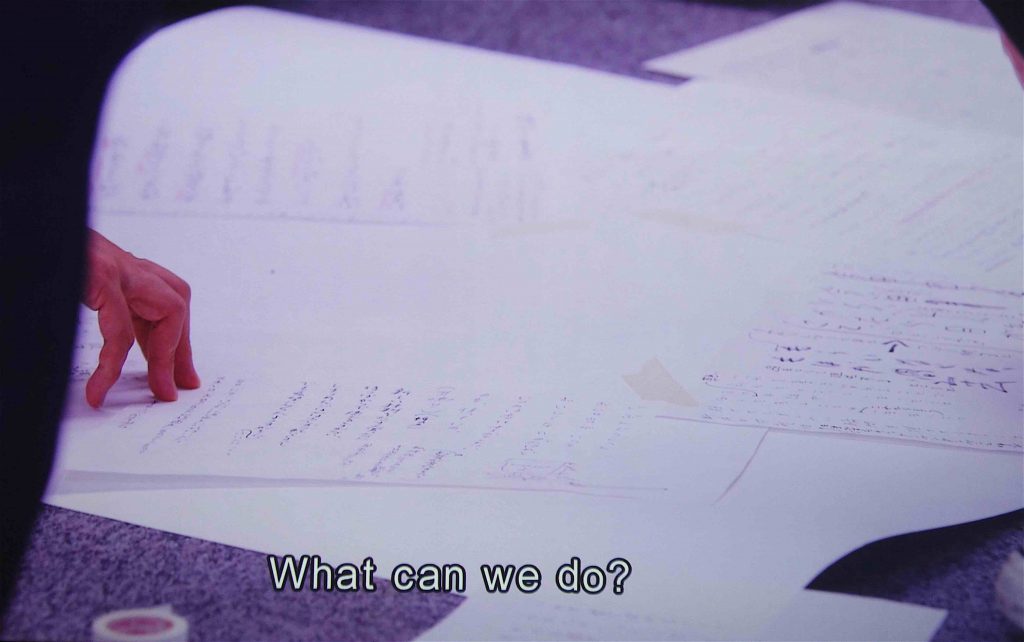 The invited protagonists, KASHIWAGI Mari 柏木麻里, MISUMI Mizuki 三角みづ紀, SAITO Rin 斎藤倫, SUGA Kenjiro 菅啓次郎, TACHIBANA Jo 橘上, radiated a warm feeling of humility, gender-consciousness and the yearning towards a harmonious climax. Three final poems, each created in a radical, asymmetric way, and the poetry-reading by the different creators, superbly transcended the spirit of art+language. The partly elegiac verses reminded the audience in the gallery of the evolutionary process in poetry making as a work of art.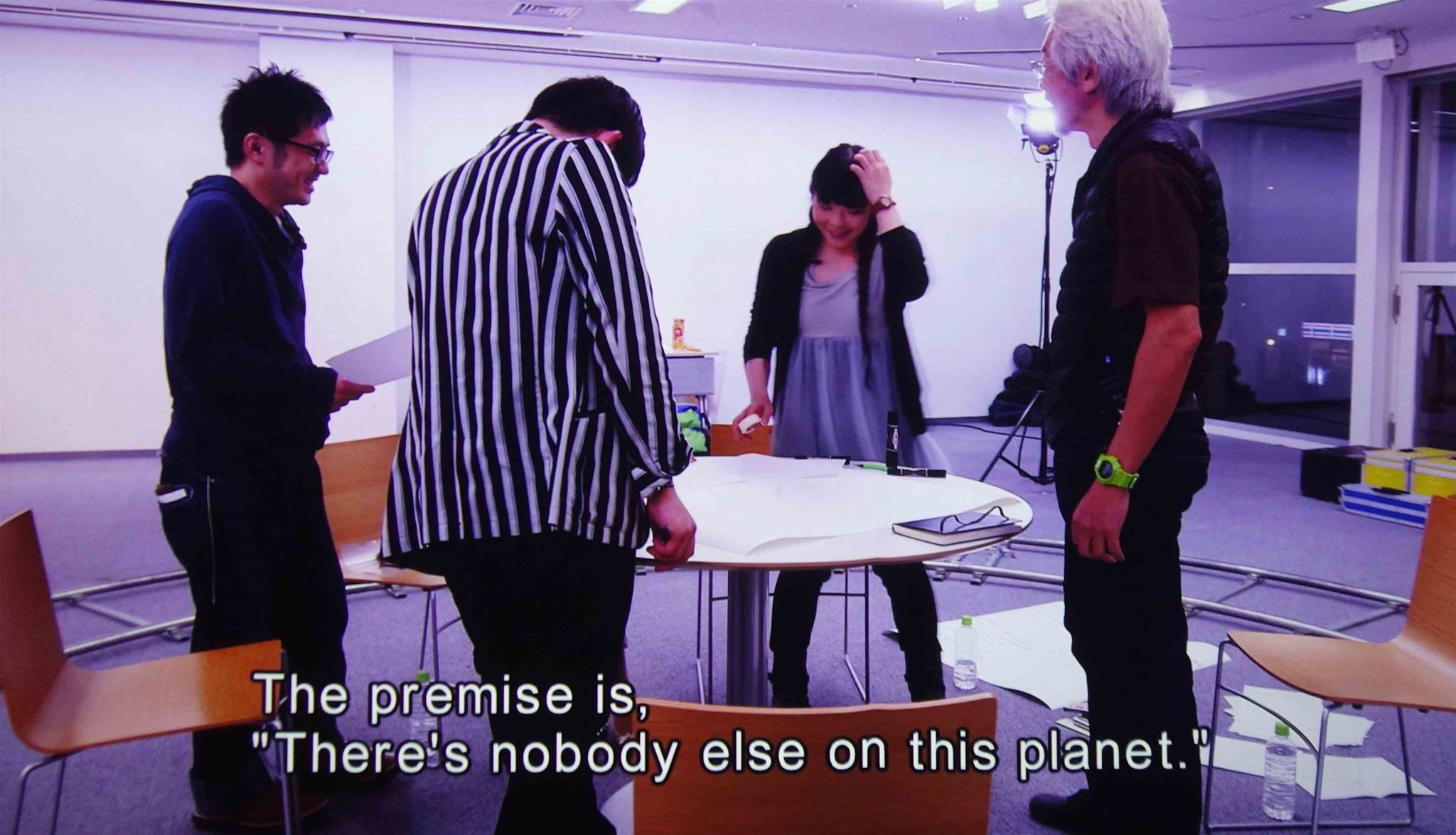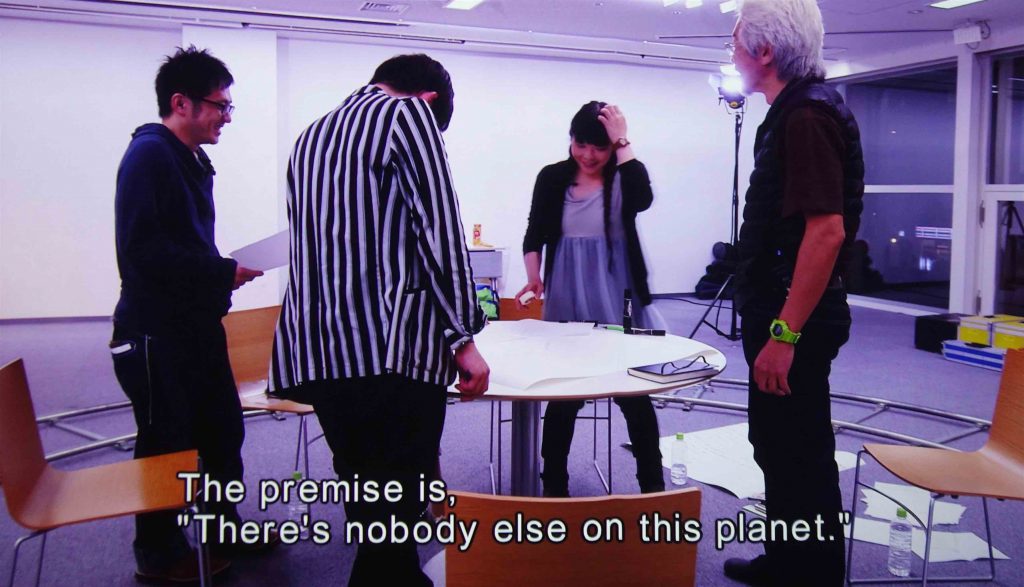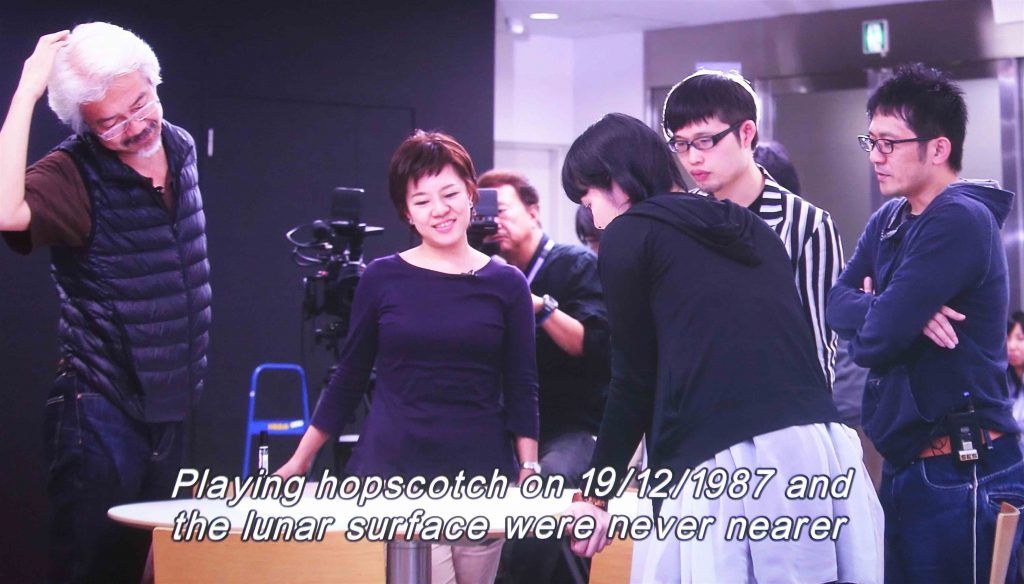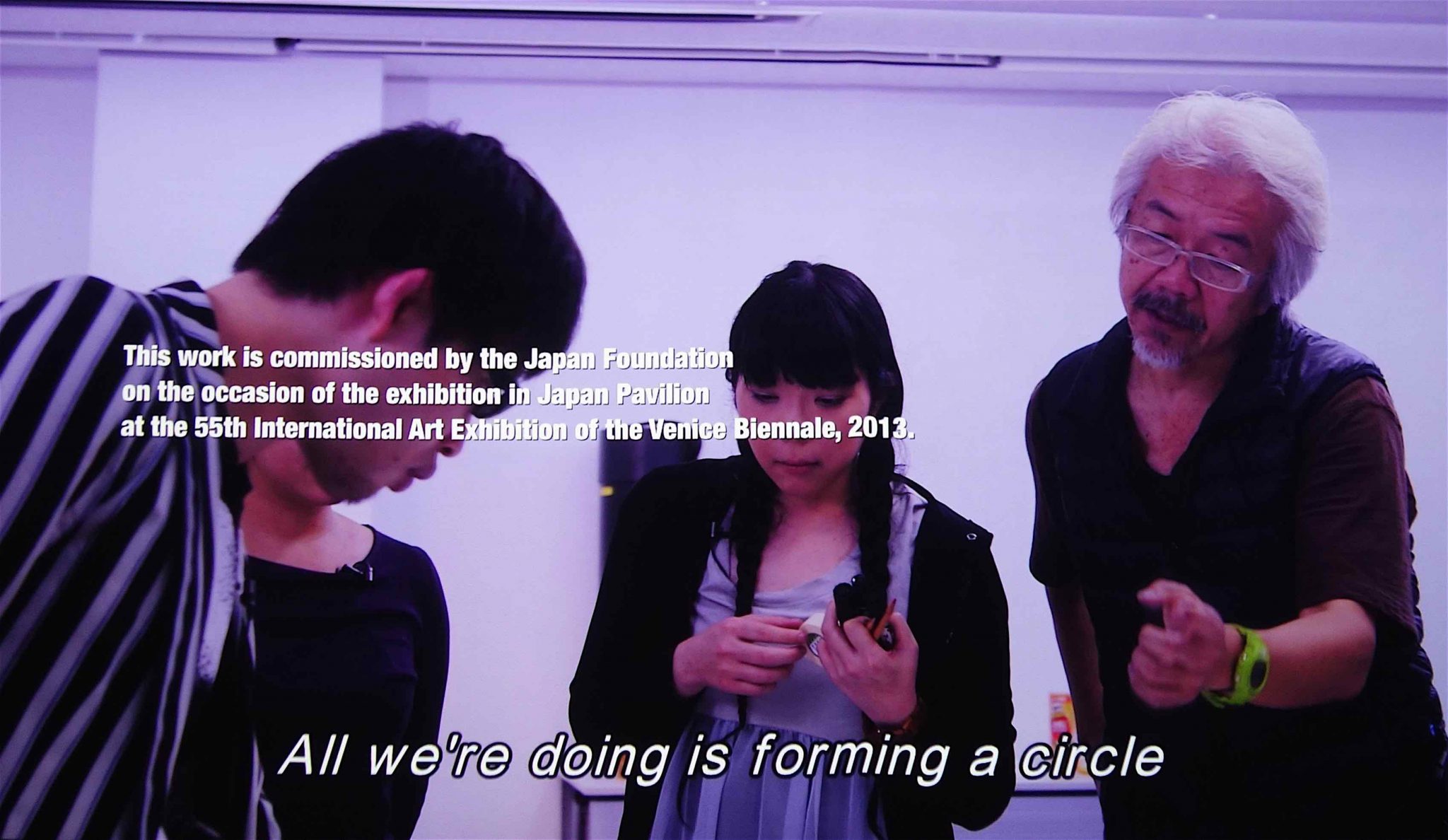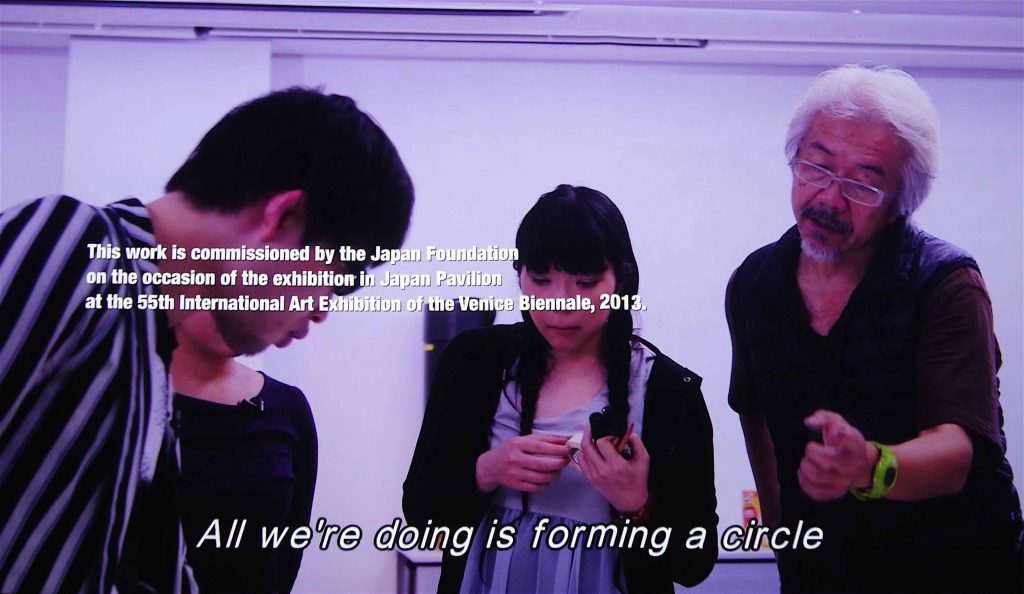 Which meant, finding a lineage by starting with art patron and poet Gertrude Stein, passing the baton to the Renshi 連詩 creators OOKA Makoto 大岡 信 and TANIKAWA Shuntaro 谷川俊太郎 (who interchanged translated words and sentences with non-Japanese poets), finally culminating in the masterfully created poetry-performance by ITO Hiromi 伊藤比呂美, and consequently, metaphorically like a circle, chilling out with Twitter-Renshi.
Displayed TANAKA Koki's monographs and catalogues from institutional exhibitions give full answer to a wide range of contemporary art practice.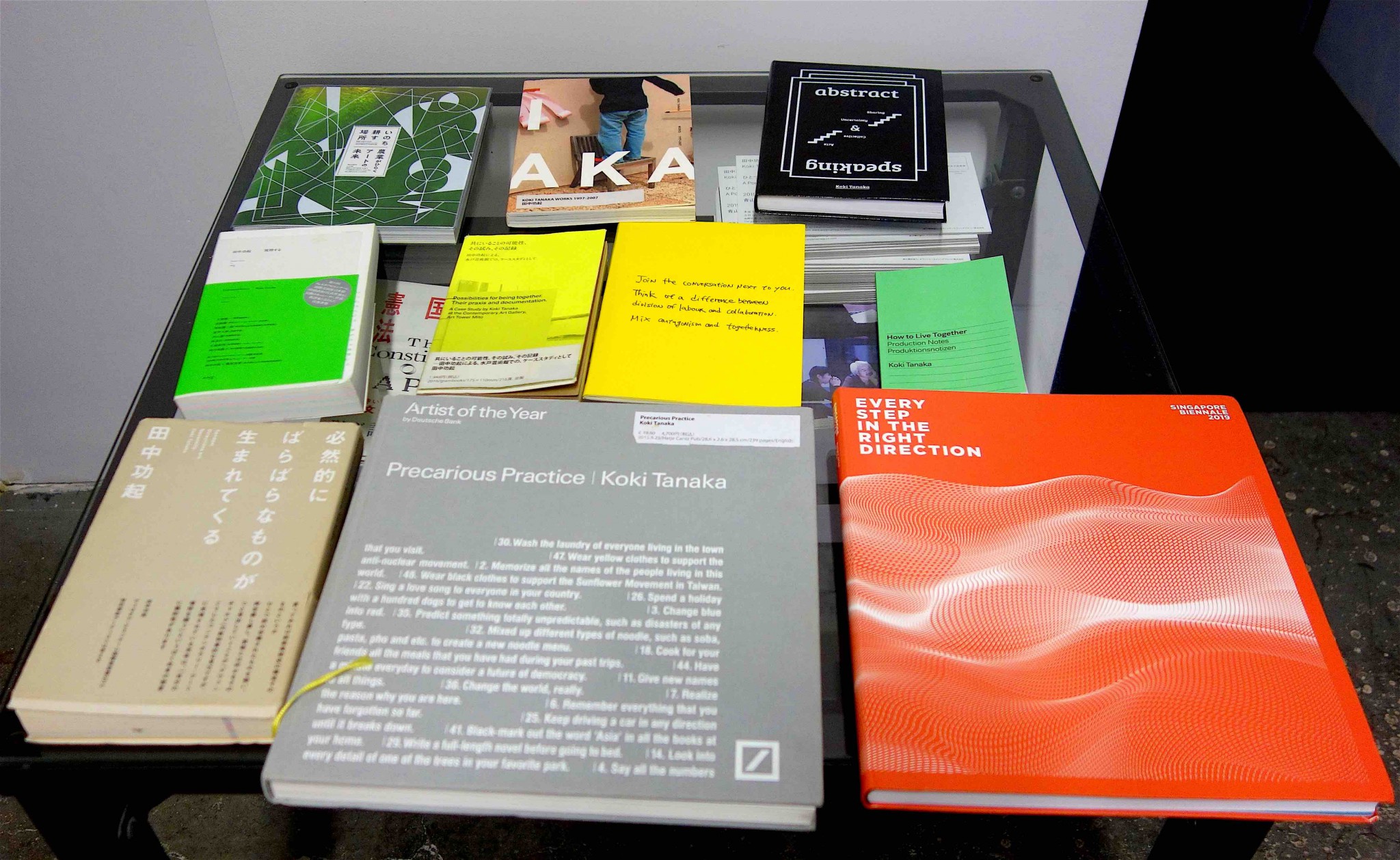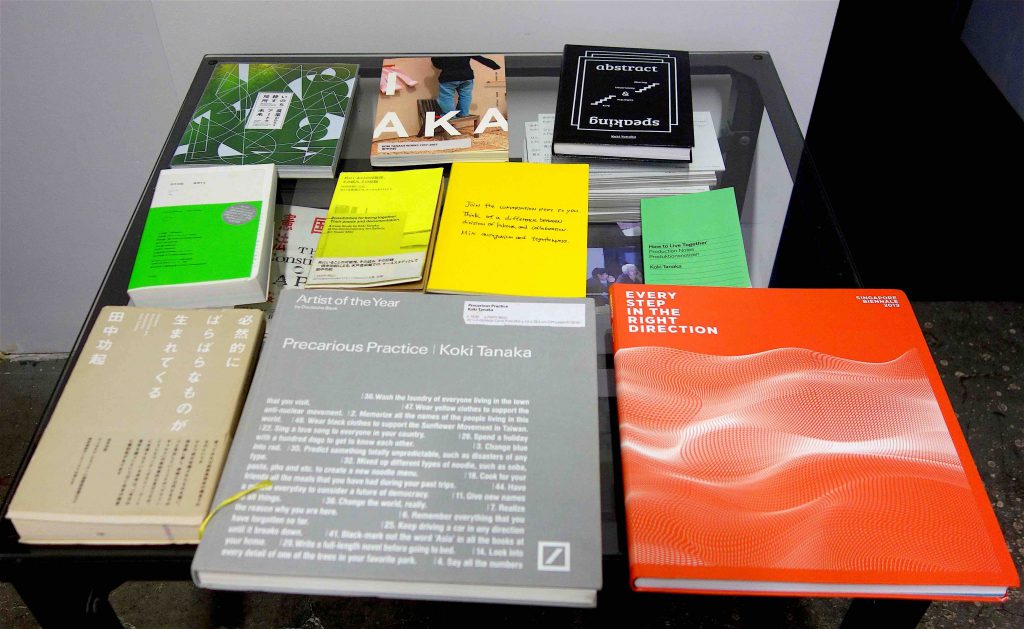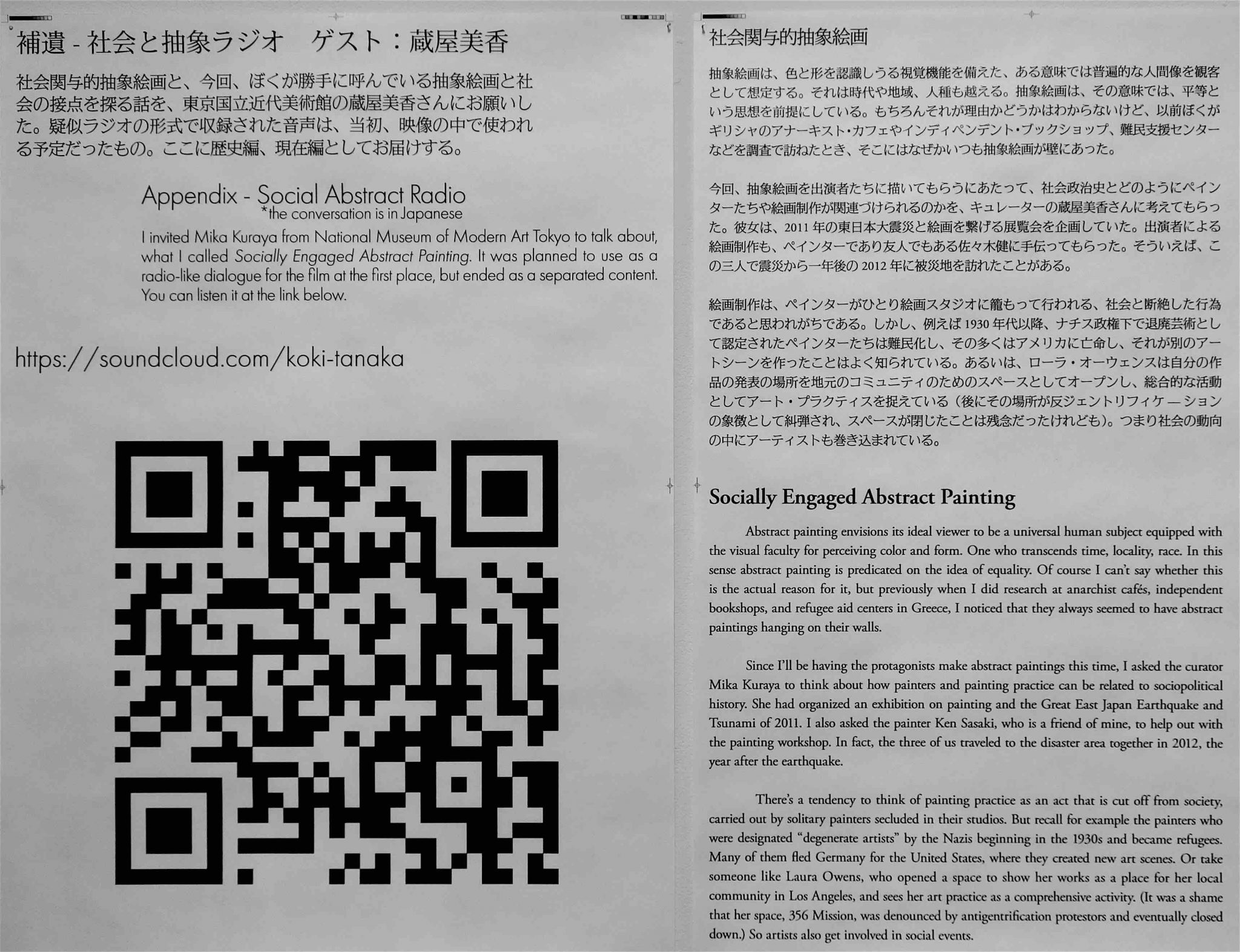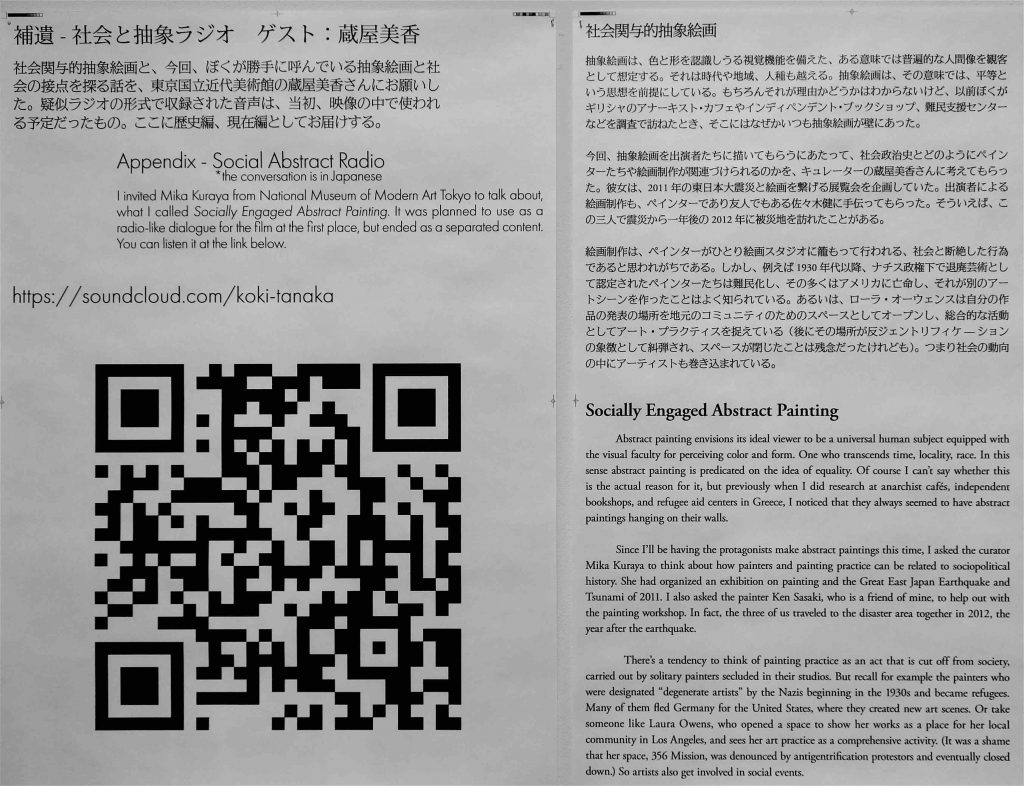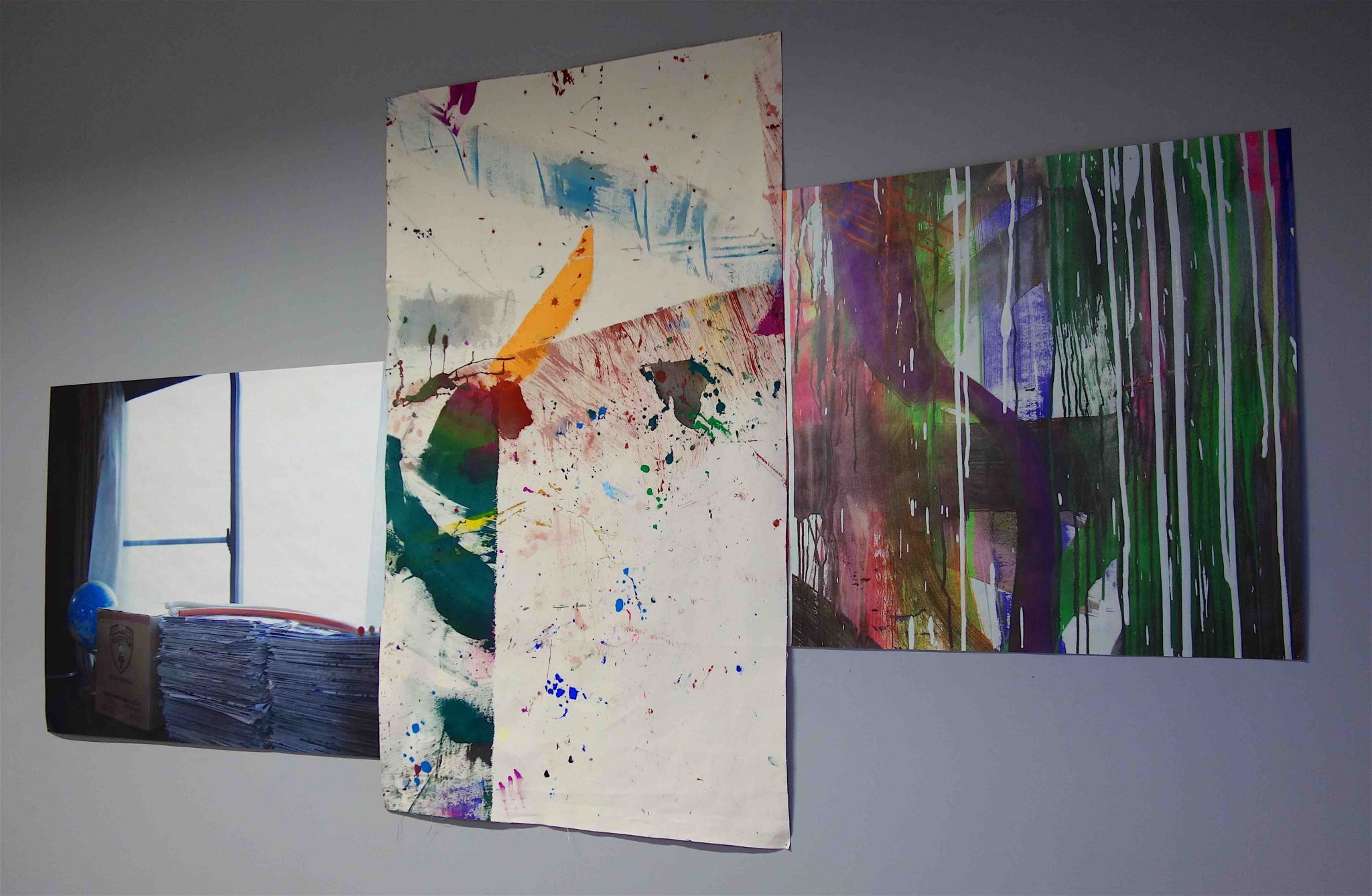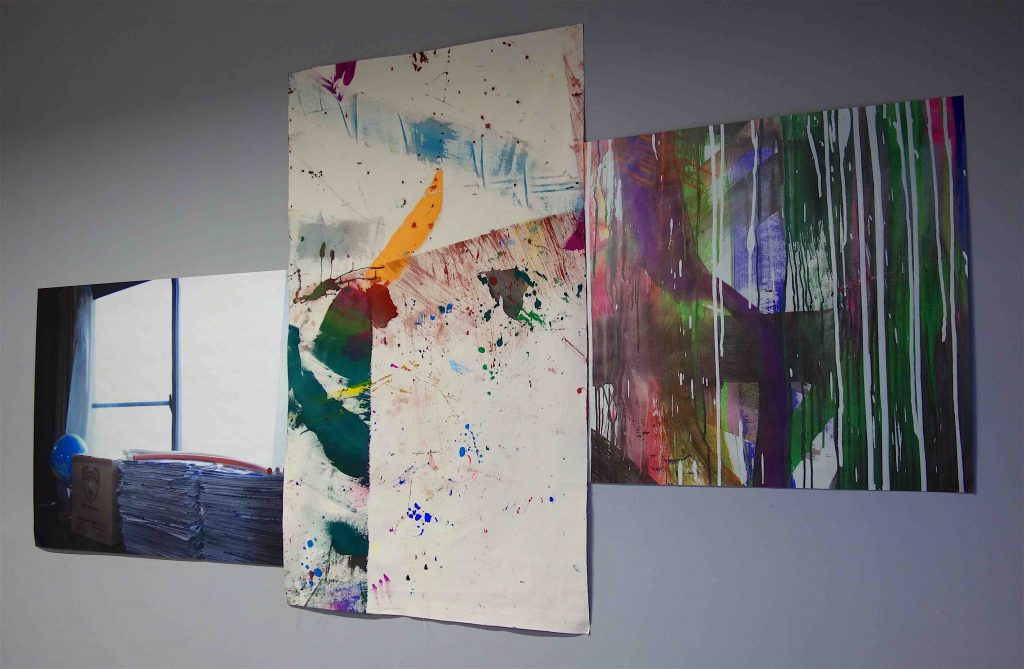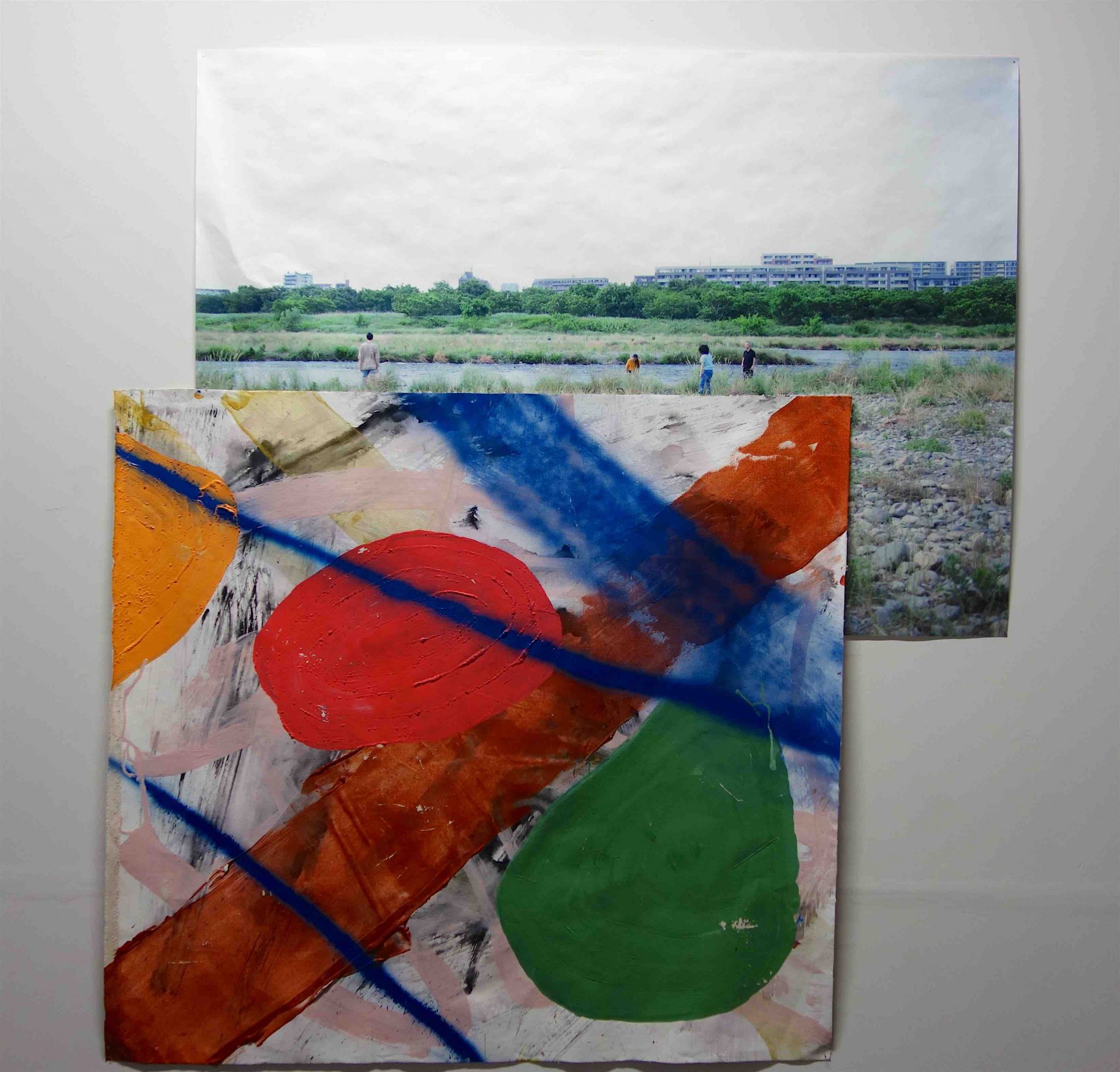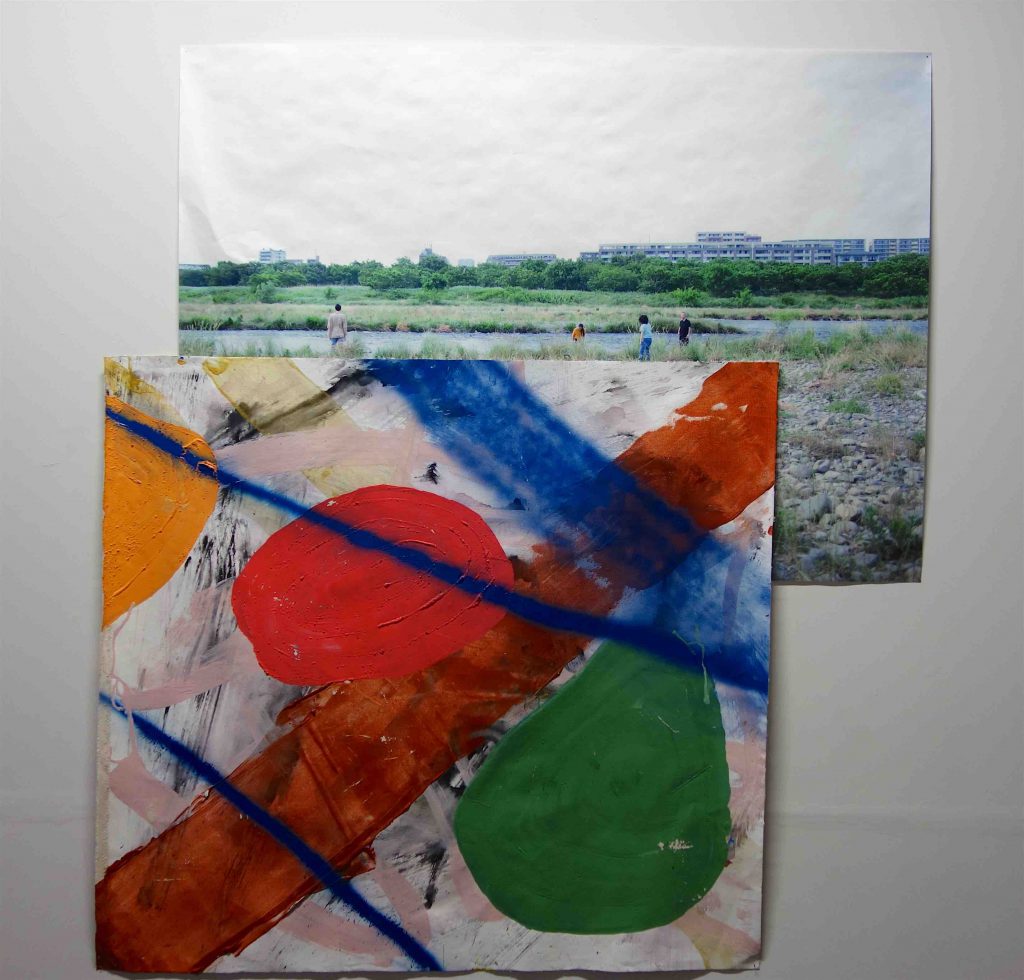 Part of the latest works from the Aichi Triennale installation 'Abstracted / Family', and a subtle, from a different perspective (means, Aichi Triennale context), enjoyable video work "A Behavioral Statement (Or an Unconscious Protest)" makes the visit to AOYAMA | MEGURO a very special one.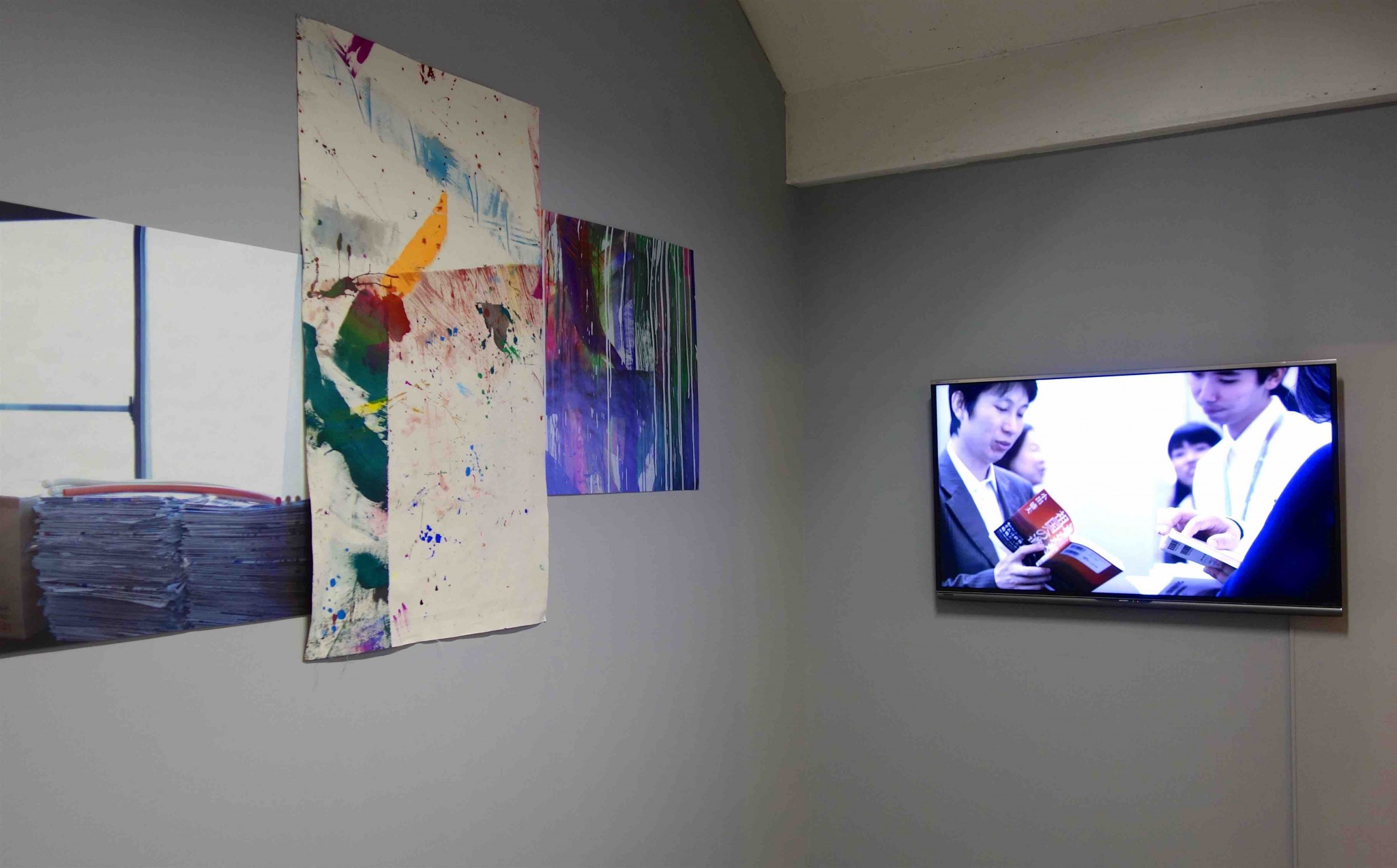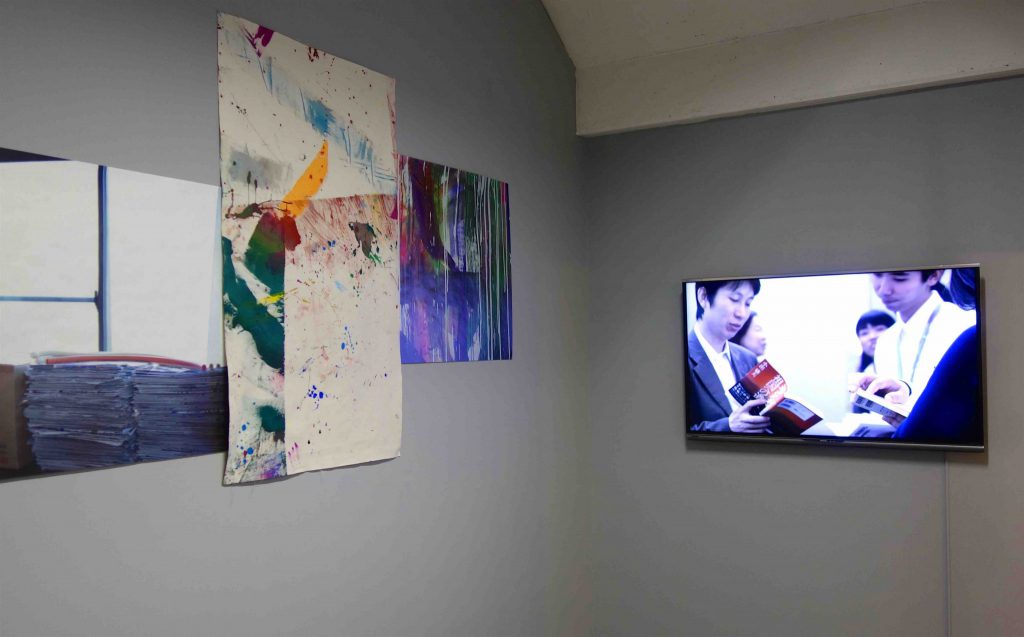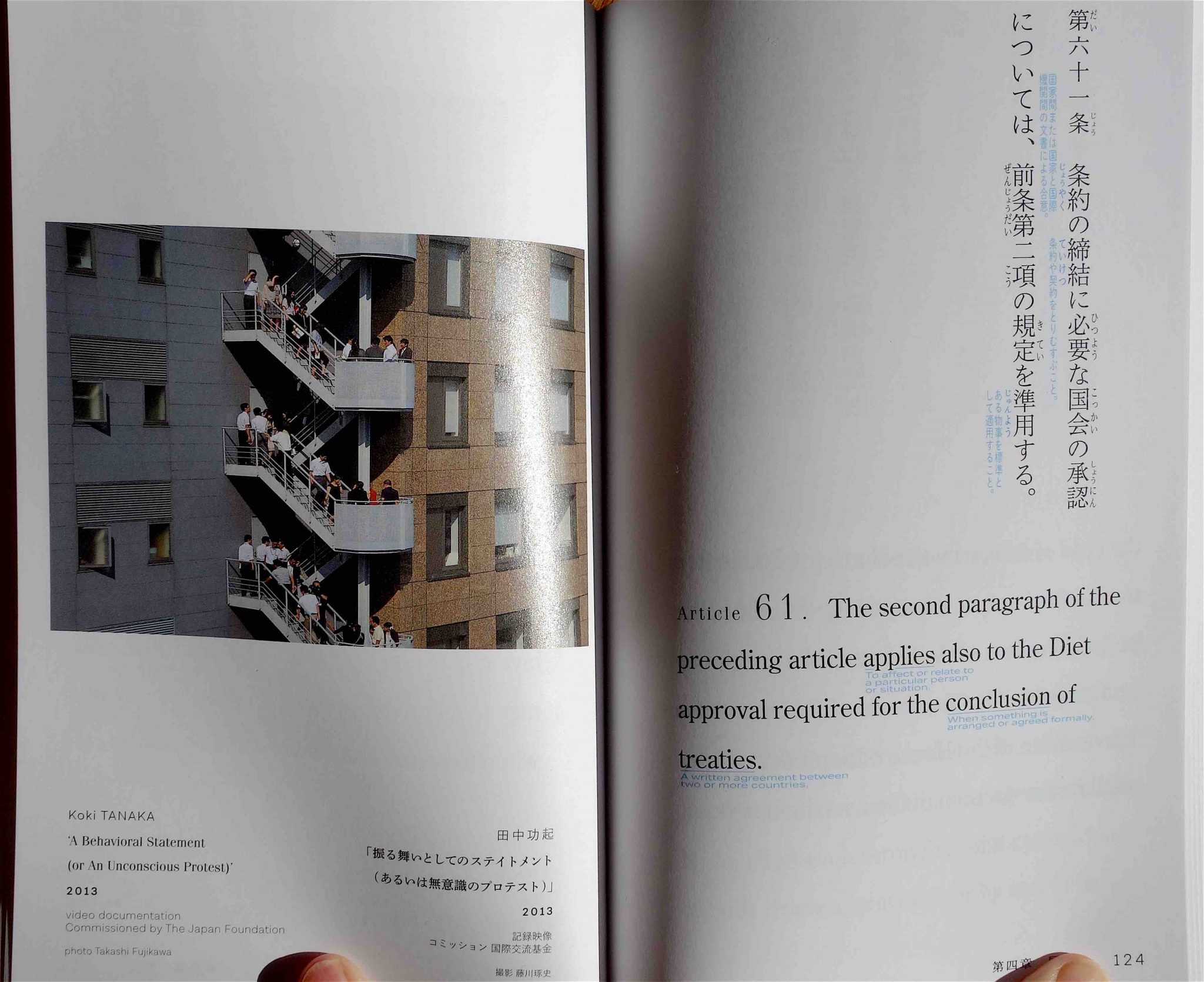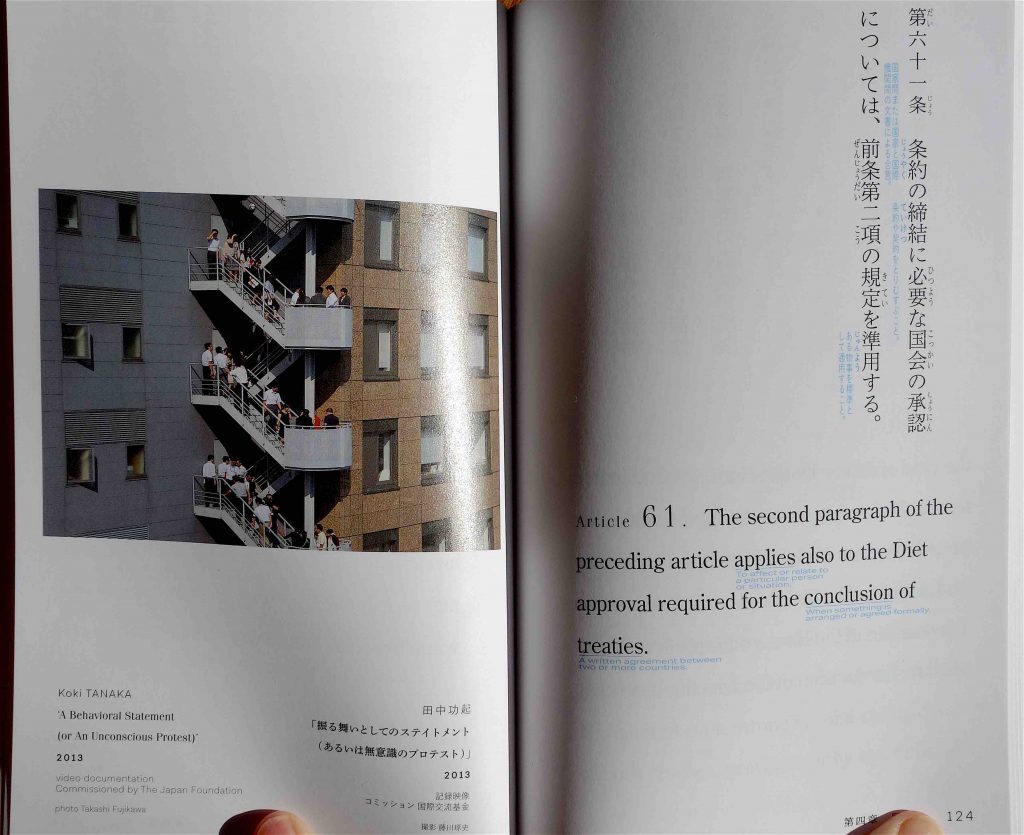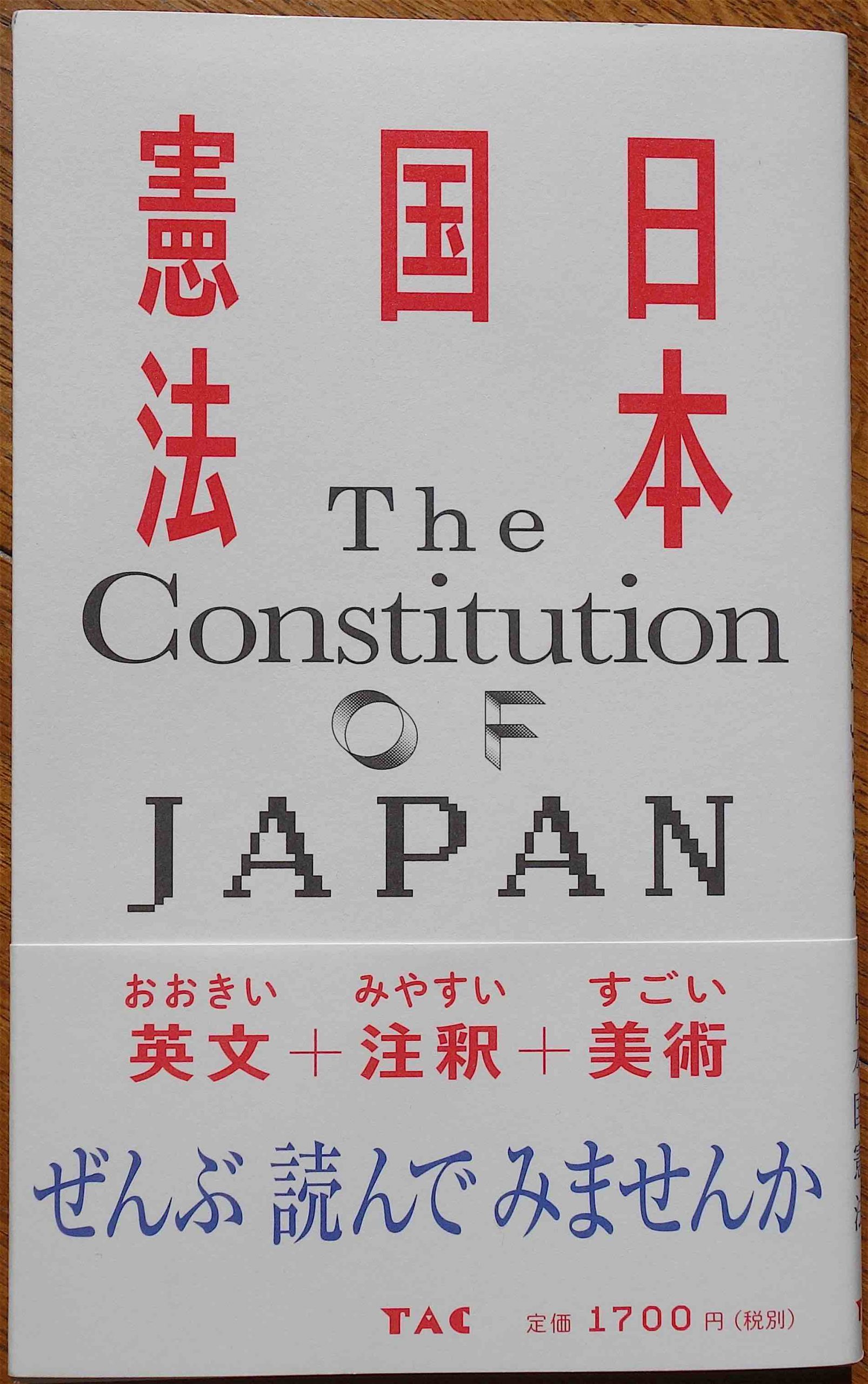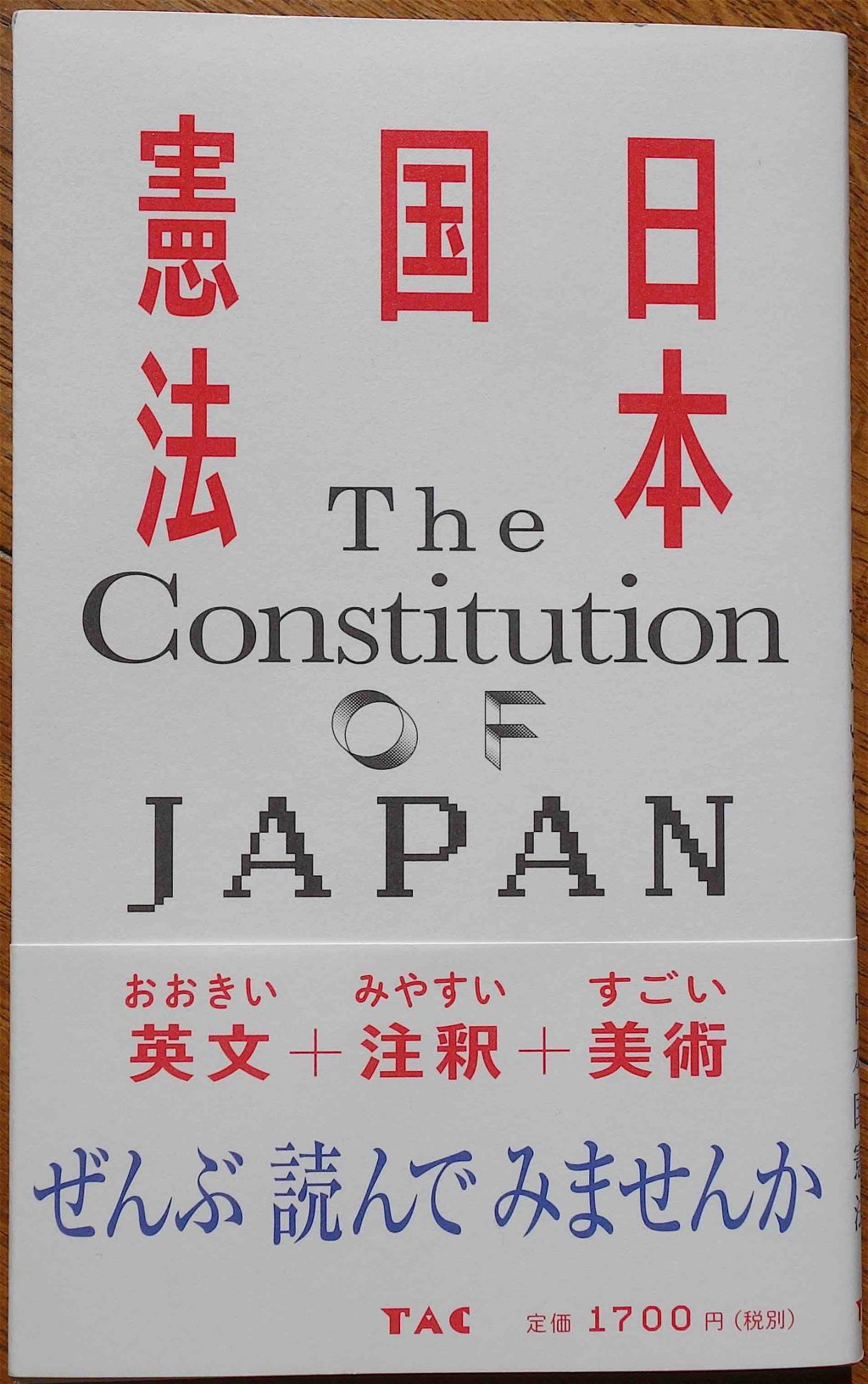 refer to 参考:
【「日本国憲法」を、ぜんぶ読んでみませんか? 】
令和版『日本国憲法』、満を持して登場!
103 の条文とすごい美術69作品で、憲法を味わう。
憲法×アートによる、あたらしいタイプの「日本国憲法」の本。
日本国憲法 The Constitution of Japan 松本 弦人 編、TAC出版、1700円
https://bookstore.tac-school.co.jp/book/detail/08673/
Coordinator: Hideki Aoyama (Aoyama Meguro)
コーディネーション  青山秀樹(青山目黒)
https://www.tac-kenpou-art.jp
The gallery will re-open after the holidays on January 9th.
In this sense, wishing you all a festive mood and a Happy New Year 2020!
Tokyo, 2019/12/31
亜 真里男 Mario A
---
Koki Tanaka: A Poem Written by 5 Poets at Once (First Attempt) 2013
田中 功起:「ひとつの詩を5人の詩人が書く(最初の試み)」2013年
青山|目黒 AOYAMA | MEGURO
2019/12/14 – 2020/1/19
opening hours:
Thu. and Fri. 12:00-19:00
Sat. and Sun. 12:00-18:00
closed on Mon., Tue., Wed.
30 Dec 2019 – 8 Jan 2020 (New Year holidays)
2-30-6 Kami-Meguro, Meguro-ku, 153-0051 Tokyo
開廊時間:木・金 12:00-19:00、土・日 12:00-18:00
定休日:月・火・水、2019年12月30日(月)– 2020年1月8日(水)
〒153-0051 東京都目黒区上目黒 2-30-6
English:
http://aoyamameguro.com/en/artists/koki-tanaka-a-poem-written-by-5-poets-at-once-first-attempt/
日本語:
http://aoyamameguro.com/artists/koki-tanaka-a-poem-written-by-5-poets-at-once-first-attempt/