エイミー・シェラルド
Amy Sherald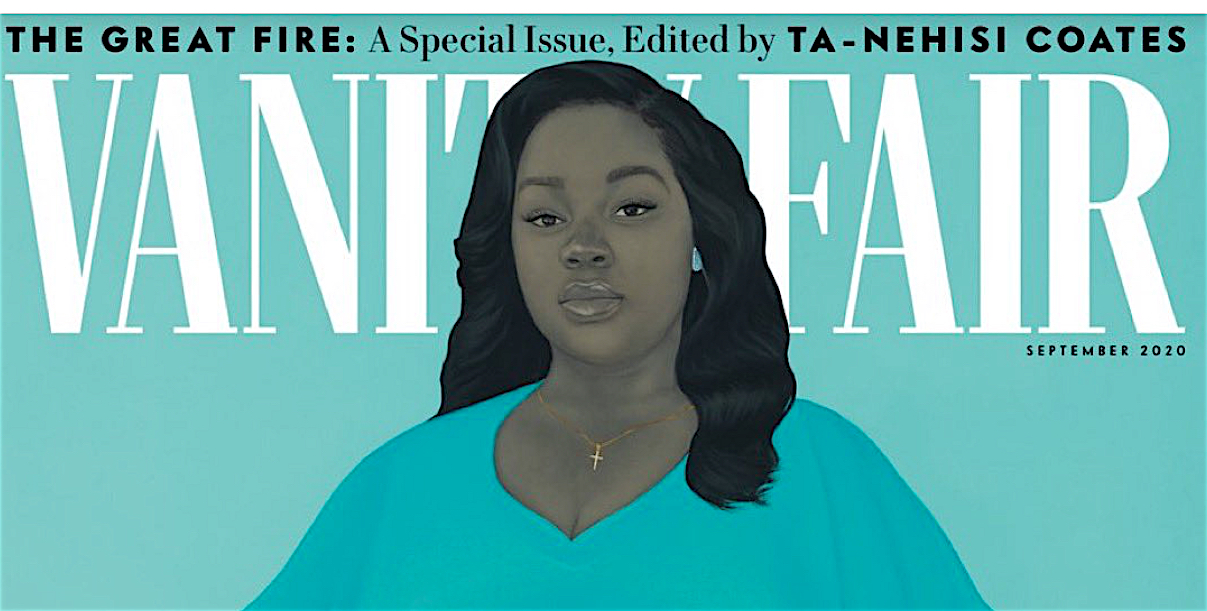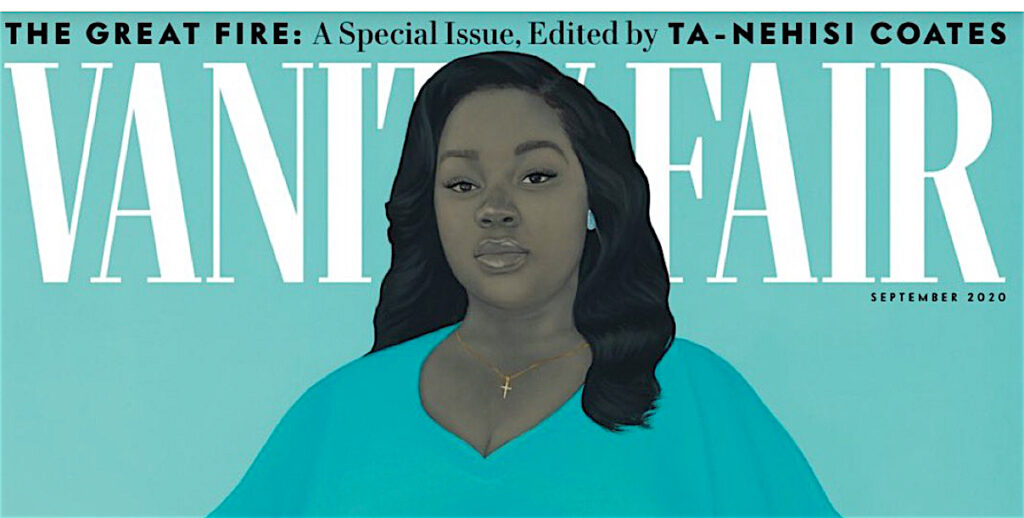 Social commentary through painting. Phillips will inaugurate its new Park Avenue headquarters in New York on June 23; – headlining the summer sale is Amy Sherald's portrait "It made sense… mostly in her mind" from 2011.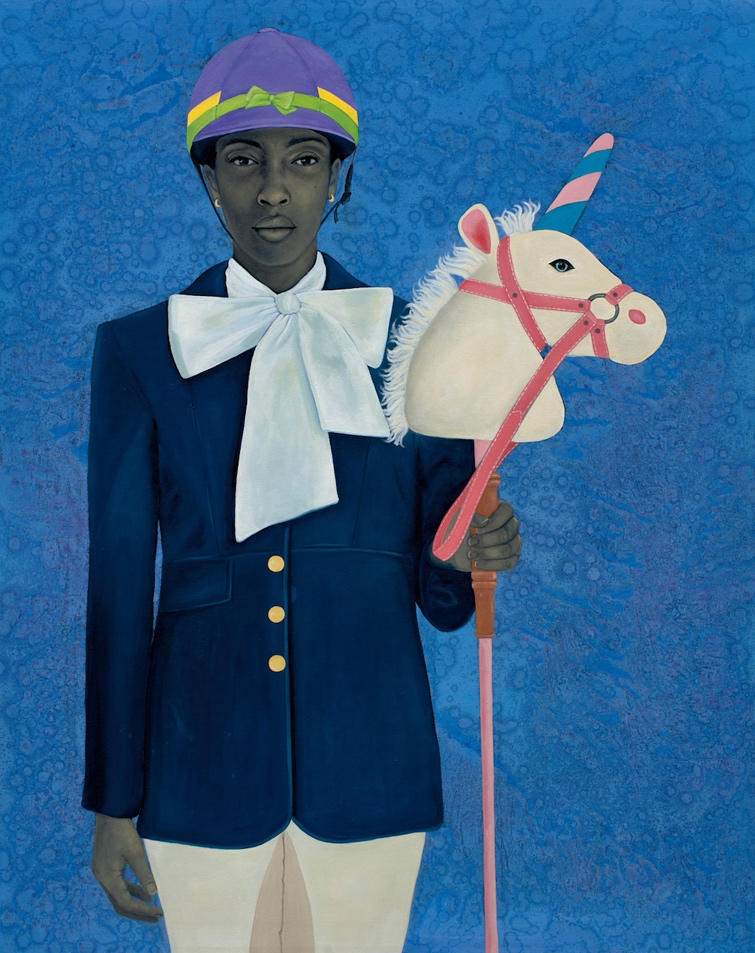 PROPERTY OF A PRIVATE COLLECTOR, WITH A PORTION OF PROCEEDS TO BENEFIT THE ACQUISITION, EXHIBITIONS AND ENDOWMENT FUNDS OF THE NATIONAL MUSEUM OF WOMEN IN THE ARTS, WASHINGTON, D.C.
Amy Sherald
It Made Sense…Mostly In Her Mind
titled and dated ""It Made Sense…Mostly In Her Mind" 2011″ on the overlap; further signed and dated "Amy Sherald 2011 Amy Sherald" on the reverse
oil on canvas
54 1/4 x 43 in. (137.8 x 109.2 cm)
Painted in 2011.
Estimate
$500,000 – 700,000
Provenance
Acquired directly from the artist by the present owner
https://www.phillips.com/detail/amy-sherald/NY010321/20
The press release by Phillips reads "The work depicts a woman dressed in equestrian attire holding a stuffed animal and staring out at the viewer. It pays homage to the artist's childhood experience attending a predominantly white horse-riding camp. Since 2012, the work has been loan at the National Museum of Women in the Arts in Washington, D.C., where it hung alongside another single-figure portrait of a young girl titled "They call me Redbone but I'd rather be Strawberry Shortcake" (2009), promised as a gift to the museum by Baltimore collector Steven Scott."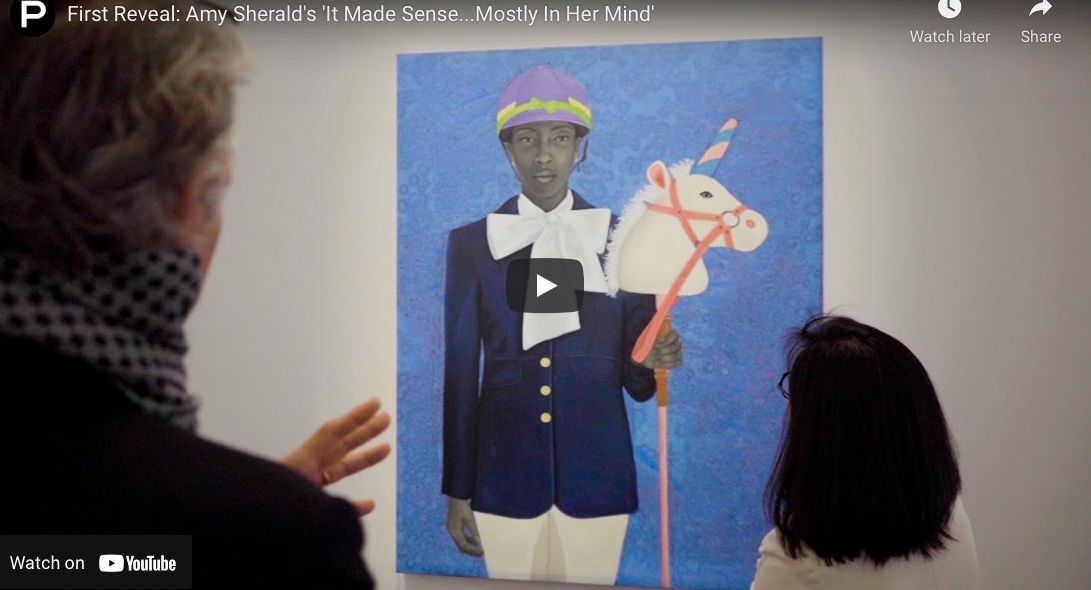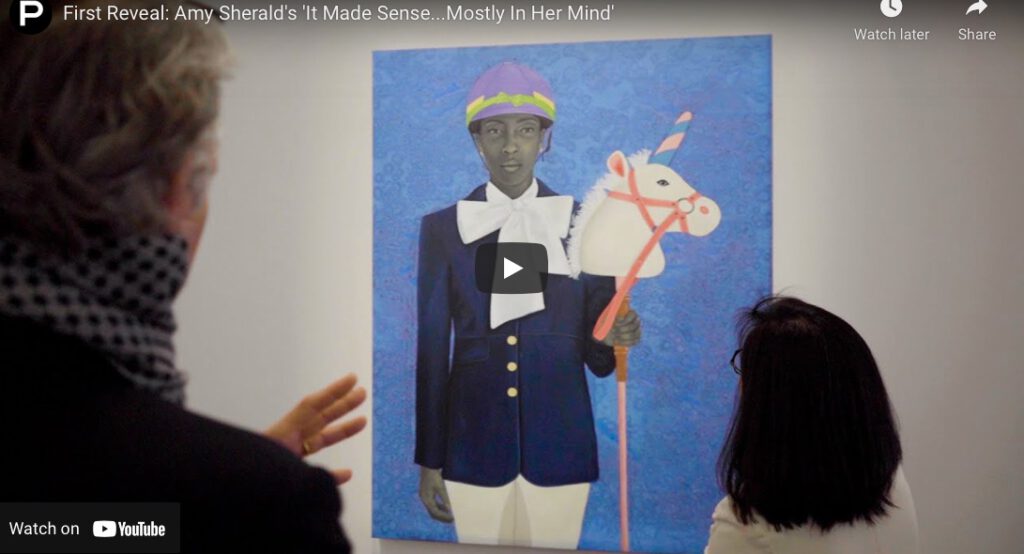 (screenshot of Phillips' video; probably will disappear) First Reveal: Amy Sherald's 'It Made Sense…Mostly In Her Mind'
Link_https://www.youtube.com/watch?v=gEbBSpxqQow
The crux is, that "It made sense… mostly in her mind" (2011) had been promised as a gift to the National Museum of Women by the same art dealer Steven Scott. See the artnet text, below. On top, Vice President Kamala Harris had been prominently placed in front of the painting, introduced on Instagram by Sherald, who calls this painting her favourite one, too.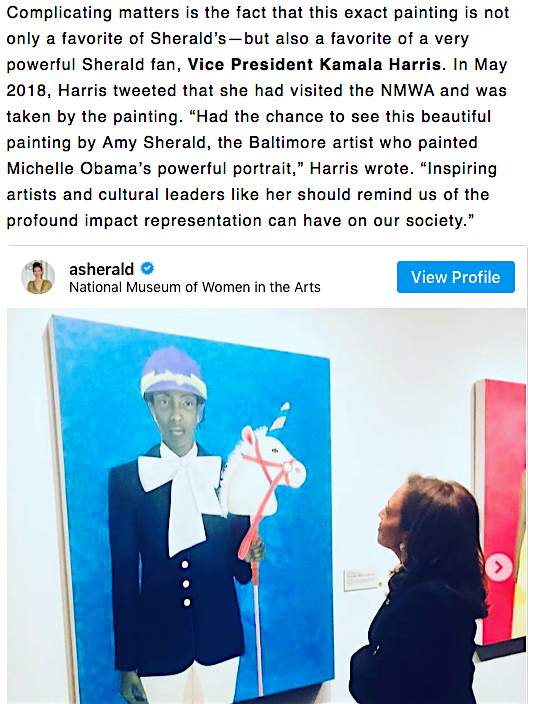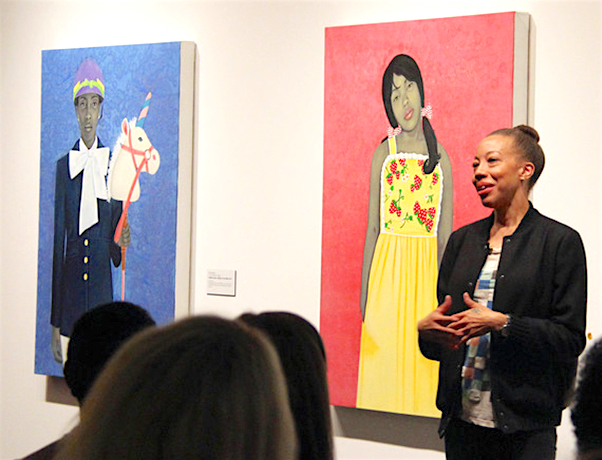 In my opinion, there should be a national outcry and Phillips should react in a common sense context, skipping this 500-700.000 US Dollar sale and be constructively engaged. This media-catching sale could backfire, putting the auction house in a bad light.
https://news.artnet.com/art-world/wet-paint-david-zwirner-tribeca-1957624
Amy Sherald was commissioned to paint Breonna Taylor for the cover of Vanity Fair's September issue in 2020, a special edition focused on activism and guest edited by Ta-Nehisi Coates. It marked Sherald's second commission, following the official portrait of former first lady Michelle Obama, which brought the artist international recognition, see below.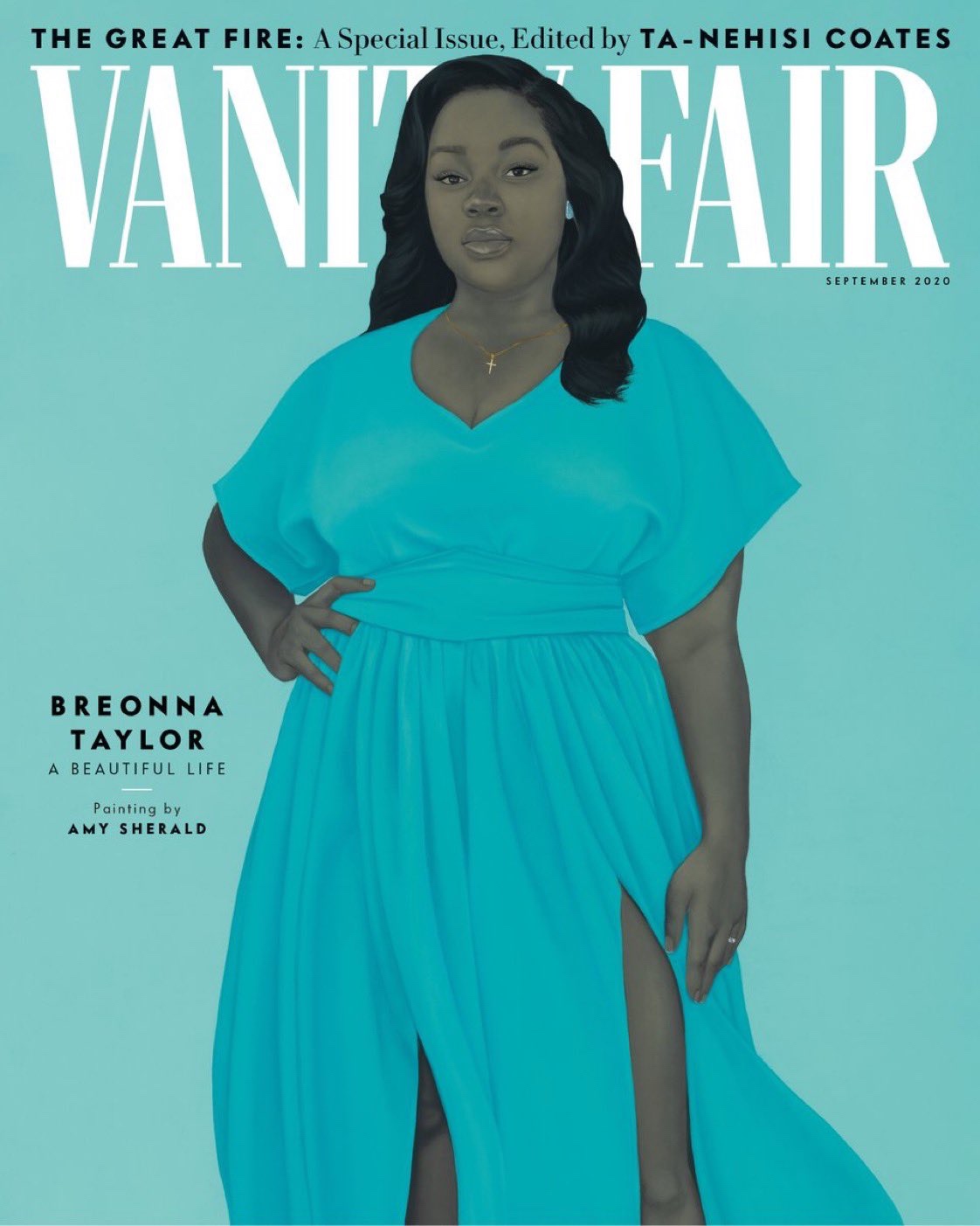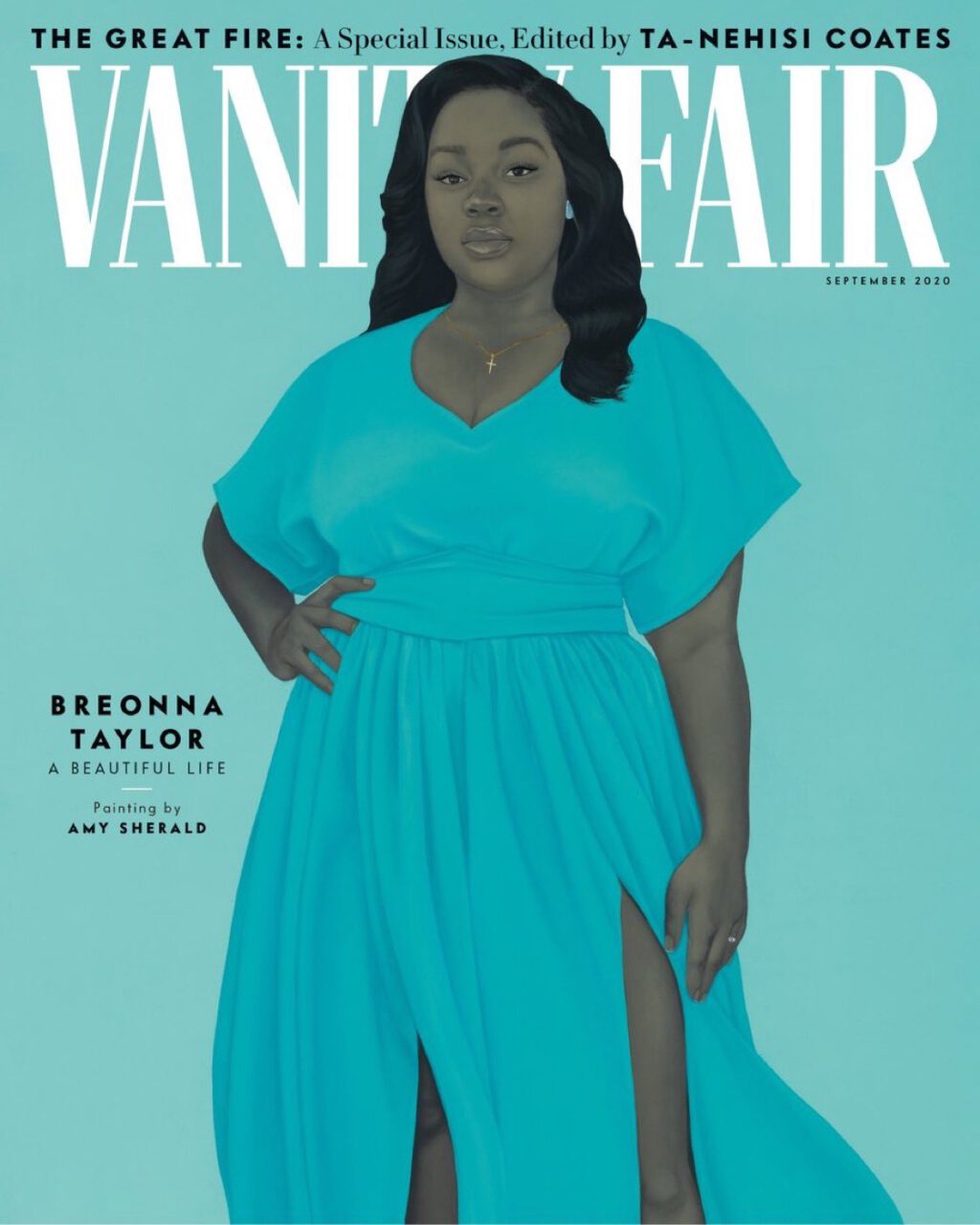 Amy Sherald's portrait of Breonna Taylor had been jointly acquired by the Smithsonian National Museum of African American History and Culture in Washington, D.C., and the Speed Art Museum in Louisville, Kentucky, ensuring that the artwork will reach a wide audience for the years ahead.
"I felt like it should live out in the world," Sherald told the New York Times, which first reported the news. "I started to think about her hometown and how maybe this painting could be a Balm in Gilead for Louisville."
Breonna Taylor, a 26-year-old medical worker, was fatally shot in her bed on March 13, 2020 by Louisville police offers who had forced their way into the apartment. Her killing helped galvanize global Black Lives Matter protests last year.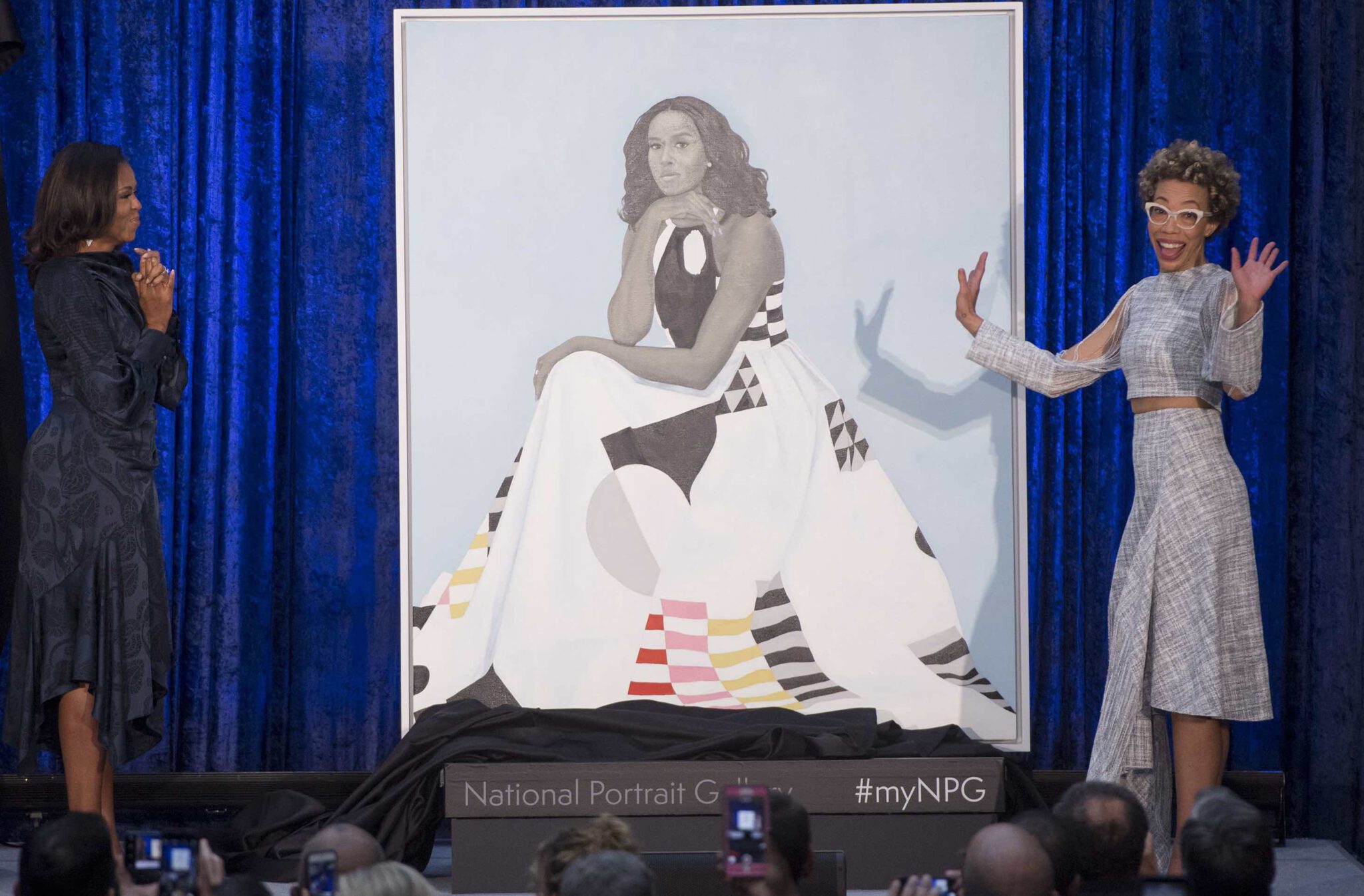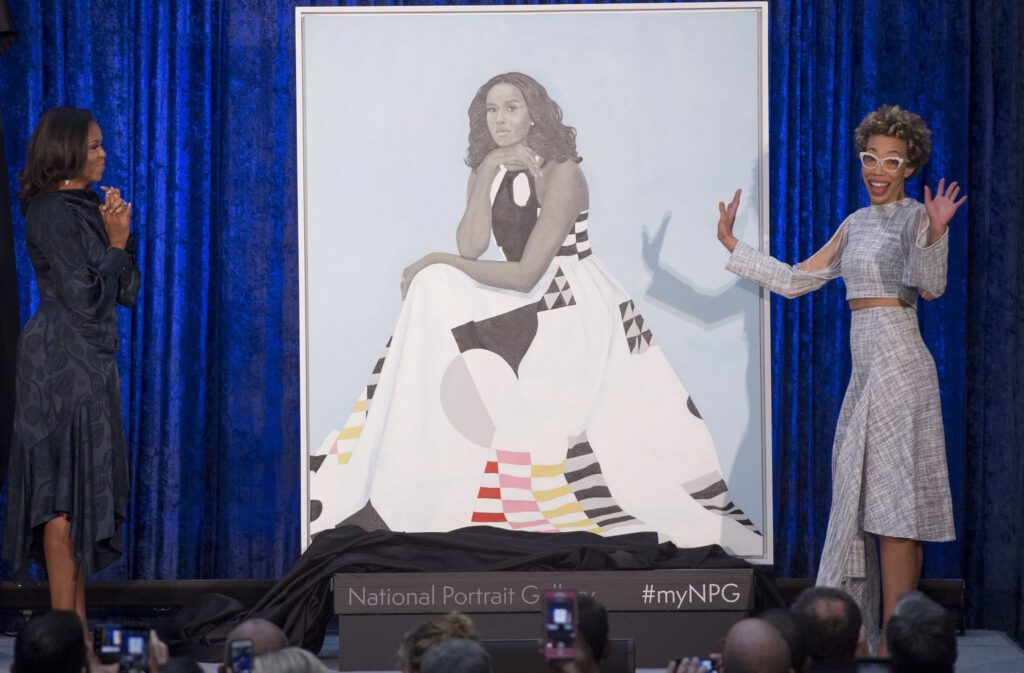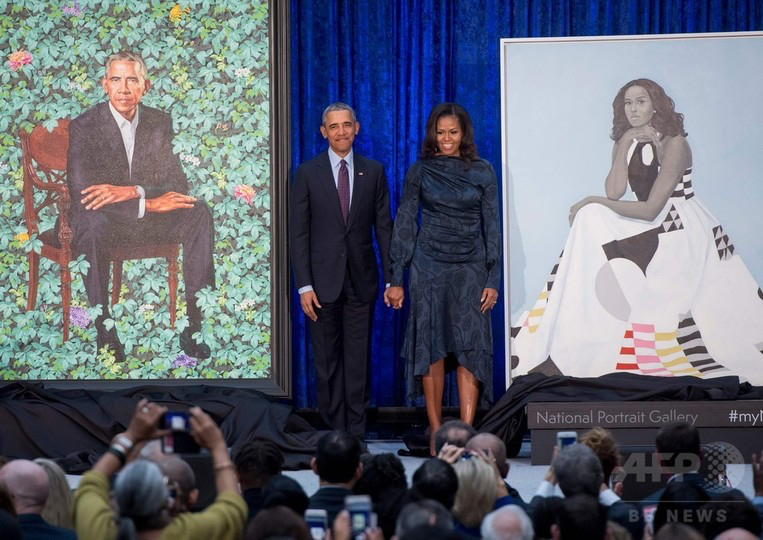 up-date 2021/4/12
Breonna Taylor show points art museums to a faster track
by Holland Cotter, New York Times, 2021/4/11
quotes:
Combining works from the Speed's permanent collection with loans in several cases directly from artists and galleries, the show was assembled and installed (beautifully) in a mere four months. And it was conceived as a direct response to a contemporary news event: the killing, by Louisville police, of Breonna Taylor, a Black 26-year-old medical worker, in March 2020. A posthumous painting of Taylor by artist Amy Sherald is the exhibition's centerpiece, accompanied by photographs of local street protests sparked by her death and by the lenient treatment of the white officers involved.
quote:
Glenn then began making requests for loans. Within a time frame most museums would consider impossibly tight, agreements were signed, and pieces began to come in. The last to be installed, shortly before the opening, was the Sherald portrait, which by then had been purchased jointly by the Speed and the Smithsonian's National Museum of African American History and Culture in Washington, D.C., with the help of a $1 million donation by two philanthropies, the Ford Foundation and the Hearthland Foundation (run by actress Kate Capshaw and her husband, director Steven Spielberg).
full text:
https://artdaily.cc/news/134725/Breonna-Taylor-show-points-art-museums-to-a-faster-track#.YHQhzS2B2Rs
Promise, Witness, Remembrance at the Speed Art Museum
curated by Allison Glenn
April 7 – June 6, 2021
Free and Open to the Public
Speed Art Museum
Louisville, Kentucky
https://www.promisewitnessremembrance.org
https://www.promisewitnessremembrance.org/about/
up-date:
Amy Sherald
The Great American Fact
20 Mar – 6 Jun 2021
Hauser & Wirth, L.A.
https://www.hauserwirth.com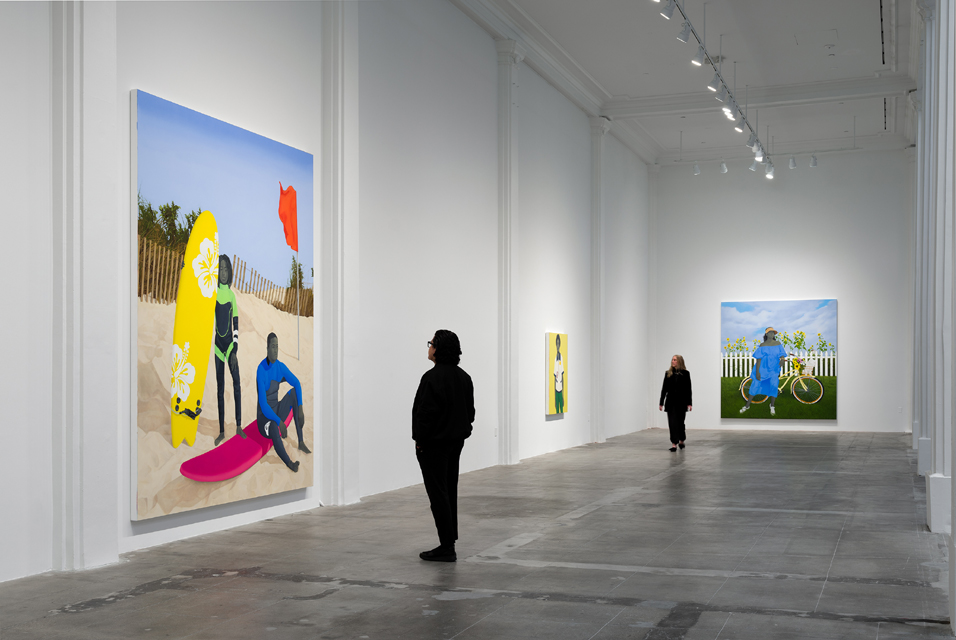 An Ocean Away, 2020, Oil on canvas, 330.2 x 274.3 x 6.4 cm
A Midsummer Afternoon Dream, 2020, Oil on canvas, 269.2 x 256.6 x 6.4 cm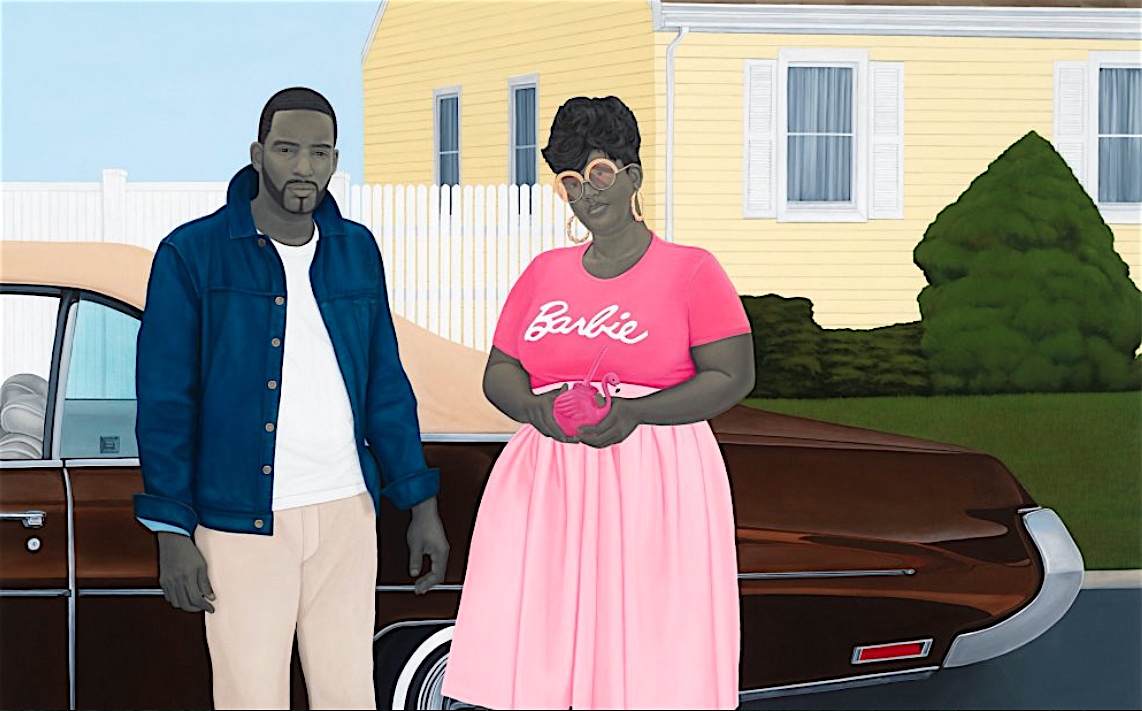 As American as apple pie, 2020, Oil on canvas, 312.4 x 256.5 x 6.4 cm, detail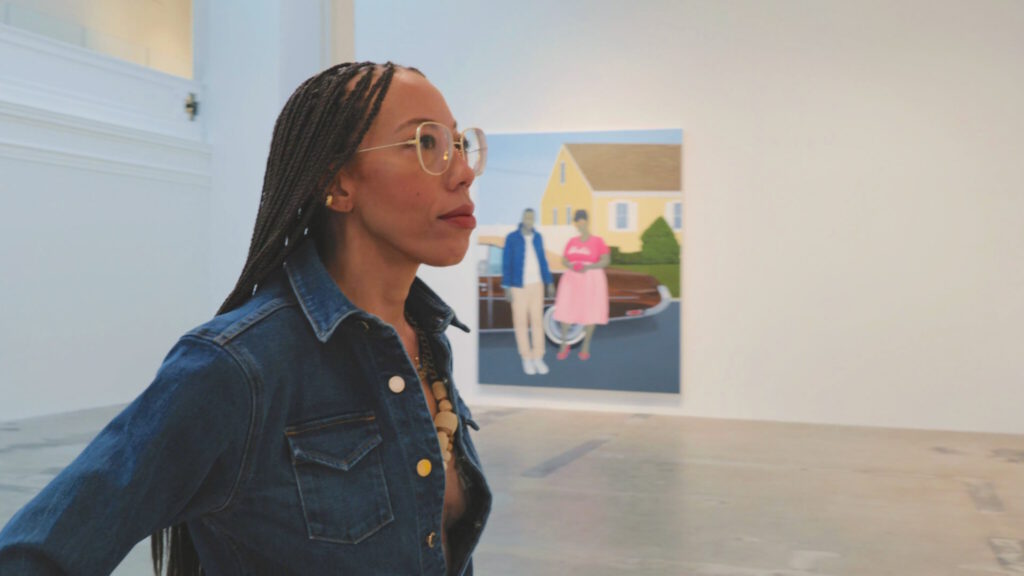 How Amy Sherald's paintings capture the spectacularly mundane moments of Black life
By Makeda Easter, March 31, 2021
quote:
"The beauty of that one simple, everyday, boring little banal action is something that's a part of our culture," Sherald said. "And a part of our cultural history."
https://www.latimes.com/entertainment-arts/story/2021-03-31/amy-sherald-profile-hauser-wirth-los-angeles
Video with her comments:
https://www.hauserwirth.com/hauser-wirth-exhibitions/30731-amy-sherald-the-great-american-fact?modal=media-player&mediaType=film&mediaId=31940
Shine Creative Artist Portrait: Amy Sherald, Portrait Artist of Michelle Obama
up-date 2021/11/2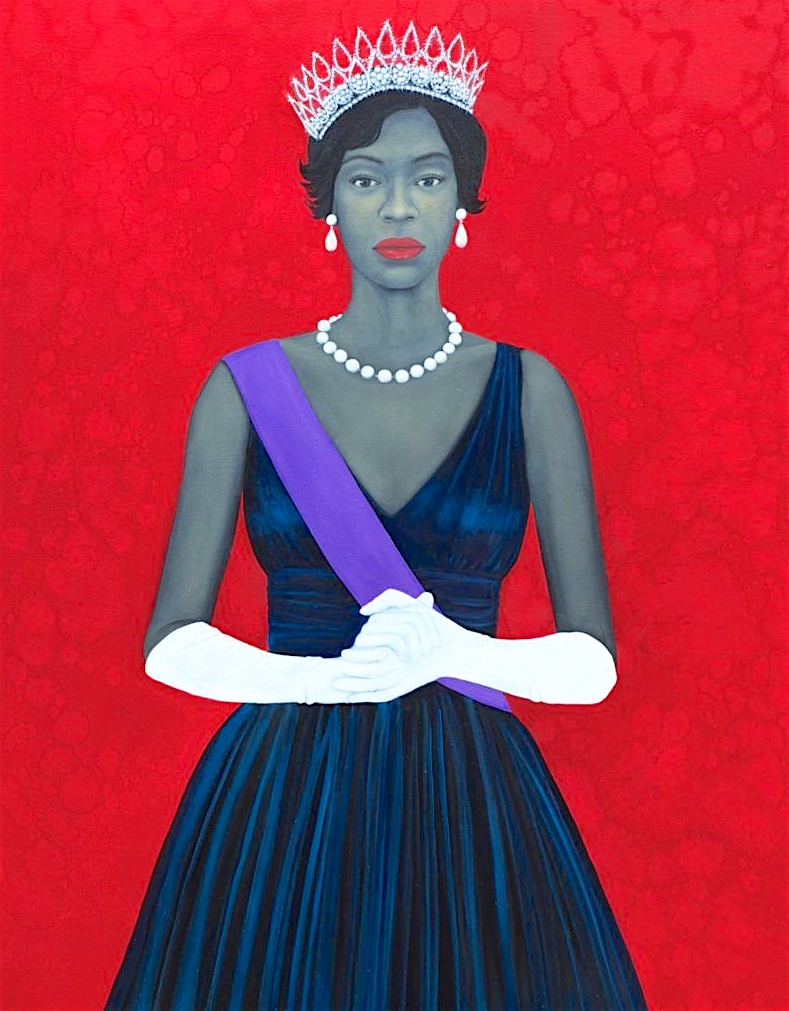 Amy Sherald's 'Welfare Queen' Philipps, 2021
check this interview…
quote:
JC: You photograph the models and then work from the photos?
AS: Yeah.
JC: Do you do any live sketching at all or do you just work from the photos?
AS: I'm so bad with that, I don't. Everybody's like, you need to sketch, and I'm like, what's the point? I already know what my idea is. My sketch is the photograph—but I do want to do more drawings: larger and smaller drawings because I have those moments when I look at an artist's work and I think, if she had a smaller piece, I'd totally buy that and then I point at myself, like, you need to make some smaller pieces. So my painting got better also because I stopped painting from an actual photograph and I started painting from my laptop. So when I am painting a hand, I can actually zoom all the way, all the way, all the way, in and then I can get all the little lights and reflections. All those little details add up. It's probably why painting became less of a struggle too because technology helped me become a better documenter of information.
https://bmoreart.com/2012/11/amy-sherald-in-depth-by-joan-cox.html
up-date 2021/11/23
The Recent Sale of Amy Sherald's 'Welfare Queen' Symbolizes the Urgent Need for Resale Royalties and Economic Equity for Artists
There are creative ways that collectors, auction houses, and artists can collaborate to build a system of "resale equity."
Cheryl Finley & Lauren van Haaften-Schick & Christian Reeder & Amy Whitaker, November 22, 2021
quote:
This past Wednesday, November 17, a regal portrait by the celebrated artist Amy Sherald sold for $3.9 million, double its $1.2 million-to-$1.8 million estimate, in the 20th-century and contemporary evening sale at Phillips New York. Welfare Queen (2012), listed in the catalogue as hailing from "a private East Coast collector," was consigned by Dr. Imani Perry, the Hughes-Rogers Professor of African American Studies at Princeton University. In an essay for Phillips, Professor Perry recalled acquiring the work from the artist, and credited Sherald's generosity in allowing her to use a payment plan to purchase the piece:
"I was hardly in a position to begin collecting art. My budget was tight, my responsibilities to others were high. But I shyly approached Sherald about purchasing the piece over time. Her generosity was heart-warming and frankly life changing. It was the first significant piece of art I ever owned."
Sherald, however, was surprised when she learned of Perry's intention to sell at auction. The artist wrote in a statement to Culture Type in response to the sale:
"Despite its common occurrence, it can feel personal when a painting is put up for auction by a collector. Especially, in this case, when it's someone you know and worked with to accommodate an alternative payment arrangement to acquire the piece in the first place. It is every artist's hope that collectors will do the right thing by the work and for the artist by leveraging the gallery to assist in placing the work."
quote:
The year that Sherald painted Welfare Queen, as the artist recently told Elaine Welteroth in conversation at LACMA, she also received a transplanted heart. Four years later, she was four months behind in rent and borrowed gas money to make it to the reception for the National Portrait Gallery's Outwin Boochever Portrait Competition. Sherald made history as the first Black woman to be awarded first prize.
quote:
Sherald's economic status before her commission for Mrs. Obama's portrait is important, too, as it mirrors the origins of so many artists. Many celebrated contemporary artists have juggled minimum-wage day jobs, sporadic income, and the burdens of life while managing to keep making art. Crucially, Sherald's is not a simple rags-to-riches tale, but one that illuminates a network of support, from gas money to grants and ultimately to a life-altering commission.
As Sherald herself has said, "Being an artist is not easy, it's feast or famine…." This is partly because artists make work before its value is legible, and often watch from the sidelines as collectors receive the full upside of secondary sales—a financial gain that is fueled, in part, by the artists' continued career trajectories. Resale royalties are intended to address the problem of value over time, with artists receiving a share of the upside when works resell.
full text:
https://news.artnet.com/opinion/amy-sheralds-welfare-queen-resale-royalties-economic-equity-artists-2037904
Creative Commons Attribution Noncommercial-NoDerivative Works
photos: cccs courtesy creative common sense