Warhol's works are protected by fair use because they are "transformative" of the original photo and "add something new to the world of art"
Andy Warhol Prints
Today's Art Newspaper's article about Andy Warhol prints in the context of photography by other persons should be taken seriously. The whole issue on copyright regarding art and photography is becoming more and more obsolete.
Quote:
Dismissing Goldsmith's copyright infringement claim, Judge John G. Koeltl ruled that Warhol's works are protected by fair use because they are "transformative" of the original photo and "add something new to the world of art", according to the court papers.
For the record, especially for my Japanese readers, I am posting the complete text.
Compare also the statement by Eikoh Hosoe regarding Mishima's photographs.
三島由紀夫のホモエロティシズム写真作品 © 細江英公
MISHIMA Yukio's homoerotic photoworks © Eikoh Hosoe
https://art-culture.world/articles/mishima-yukio-homoerotic-photoworks-eikoh-hosoe/
Or see also
リチャード・プリンス と著作権の問題:「元ソニック・ユースのキム・ゴードン」作 @ Blum & Poe 東京
Richard Prince and copyright issues: 'ex Sonic Youth Kim Gordon' @ Blum & Poe, Tokyo
https://art-culture.world/articles/richard-prince-and-copyright-issues-ex-sonic-youth-kim-gordon-blum-poe-tokyo/
Warhol's Prince series ruled fair use by a New York judge in contested copyright case
The ruling settles a heated two-year legal battle between the artist's foundation and photographer Lynn Goldsmith, who shot the original image in 1981
Margaret Carrigan

A portrait of Prince by Andy Warhol.
A New York federal judge ruled yesterday that a well-known Andy Warhol series, in which the artist modified a photograph of the pop music icon Prince, does not infringe the copyright of the photographer who took the original image.
The decision marks the end of a heated and potentially influential lawsuit brought in 2017 by the celebrity photographer Lynn Goldsmith against the Andy Warhol Foundation for the Visual Arts after she claimed that Warhol violated the copyright of her photographs of Prince, taken in 1981, when they were used to make the artist's screenprints.
Dismissing Goldsmith's copyright infringement claim, Judge John G. Koeltl ruled that Warhol's works are protected by fair use because they are "transformative" of the original photo and "add something new to the world of art", according to the court papers. The 16-piece Prince Series, made by Warhol in 1984 for Vanity Fair, also does not present "market substitutes for her photograph".
"We're pleased that the court recognised Warhol's invaluable contribution to the arts and upheld these works," says Luke Nikas of the law firm Quinn Emanuel, which represents the Warhol Foundation.
Goldsmith granted Vanity Fair a one-time license to use her photograph of Prince as source material for Warhol's illustration in 1984. In 2016, the Foundation licenced one of those portraits to Condé Nast for $10,000 for the cover of a magazine dedicated to Prince published shortly after the musician's death. Goldsmith says she learned of Warhol's series from online images posted after Prince died, though the portraits—a dozen of which were sold—have been exhibited in museums, including four in the Andy Warhol Museum.
When the lawsuit was filed two years ago, it immediately sparked debate about what constituted artistic appropriation versus copyright infringement. Goldsmith claimed that the Foundation violated her exclusive rights under copyright law to reproduce, display, licence and distribute works derived from her photograph. A ruling in its favour "would give a free pass to appropriation artists" and destroy licensing markets for commercial photographers, according to the initial court filings. The Warhol Foundation entreated the Manhattan federal court to "stay on the right side of history" and "reject" what it called Goldsmith's "effort to trample on the First Amendment and stifle artistic creativity".
In addition to declaratory judgment, the foundation is seeking retribution in the form of money, including the cost of the suit and attorneys' fees. Monday's ruling states that a "holistic weighing" of fair use factors "points decidedly in favour" of the foundation, which must submit proposed judgement by 8 July; Goldsmith must submit any objections by 10 July.
https://www.theartnewspaper.com/news/warhol-s-prince-series-ruled-fair-use-by-new-york-judge
up-date 2019/7/3:
Andy Warhol's Prince Portraits Are 'Fair Use' of Lynn Goldsmith Photo, Federal Judge Rules
BY Annie Armstrong POSTED 07/02/19 2:03 PM
quotes:
The fight largely centered on whether Warhol had sufficiently transformed the original photograph so as to quality as fair use. Weighing aspects of the world like color and shading, the judge wrote that the Warhol "works are transformative, and therefore the import of their (limited) commercial nature is diluted." (Goldsmith had argued that Warhol had improperly benefited from his use of the photograph.)
The opinion lays out several differences between Goldsmith's portrait and Warhol's iterations. "These alterations result in an aesthetic and character different from the original," the judge wrote, adding, "The humanity Prince embodies in Goldsmith's photograph is gone. Moreover, each 'Prince Series' work is immediately recognizable as a 'Warhol' rather than a photograph of Prince."
Luke Nikas, a lawyer from the Warhol Foundation, told ARTnews this morning over email, "Warhol is one of the most important artists of the 20th century, and we're pleased that the court recognized his invaluable contribution to the arts and upheld these works."
http://www.artnews.com/2019/07/02/andy-warhol-prince-series-fair-use-lynn-goldsmith-portrait/
Judge: Andy Warhol didn't violate Prince picture copyright
By LARRY NEUMEISTER
July 2, 2019
quote:
"The Prince Series works can reasonably be perceived to have transformed Prince from a vulnerable, uncomfortable person to an iconic, larger-than-life figure," the judge said. "The humanity Prince embodies in Goldsmith's photograph is gone. Moreover, each Prince series work is immediately recognizable as a 'Warhol' rather than as a photograph of Prince — in the same way that Warhol's famous representations of Marilyn Monroe and Mao are recognizable as 'Warhols,' not as realistic photographs of those persons."
https://apnews.com/d14de100e0454e658238546e0e036fc2
Art and Law
The Andy Warhol Foundation Has Won Out Against a Photographer Who Claimed the Pop Artist Pilfered Her Portrait of Prince
Photographer Lynn Goldsmith has vowed to appeal.
Sarah Cascone, July 2, 2019
quote:
Goldsmith claims to have spent $400,000 in legal bills to date, and expects to accrue costs in excess of $2.5 million. To help offset her legal costs, she's taken out a loan and launched a GoFundMe campaign that has raised $17,000 to date.
https://news.artnet.com/art-world/andy-warhol-prince-copyright-case-1590703
Prince – Purple Rain (Official Video)
up-date 2021/3/27
US court sides with photographer in fight over Warhol art
A U.S. appeals court sided with a photographer Friday in a copyright dispute over how a foundation has marketed a series of Andy Warhol works of art based on one of her pictures of Prince.
The New York-based 2nd U.S. Circuit Court of Appeals ruled that the artwork created by Warhol before his 1987 death was not transformative and could not overcome copyright obligations to photographer Lynn Goldsmith. It returned the case to a lower court for further proceedings.
In a statement, Goldsmith said she was grateful to the outcome in the 4-year-old fight initiated by a lawsuit from the Andy Warhol Foundation for the Visual Arts. She said the foundation wanted to "use my photograph without asking my permission or paying me anything for my work."
"I fought this suit to protect not only my own rights, but the rights of all photographers and visual artists to make a living by licensing their creative work — and also to decide when, how, and even whether to exploit their creative works or license others to do so," Goldsmith said.
Warhol created a series of 16 artworks based on a 1981 picture of Prince that was taken by Goldsmith, a pioneering photographer known for portraits of famous musicians. The series contained 12 silkscreen paintings, two screen prints on paper and two drawings.
"Crucially, the Prince Series retains the essential elements of the Goldsmith Photograph without significantly adding to or altering those elements," the 2nd Circuit said in a decision written by Judge Gerard E. Lynch.
A concurring opinion written by Circuit Judge Dennis Jacobs said the ruling would not affect the use of the 16 Warhol Prince series works acquired by various galleries, art dealers, and the Andy Warhol Museum because Goldsmith did not challenge those rights.
The ruling overturned a 2019 ruling by a judge who concluded that Warhol's renderings were so different from Goldsmith's photograph that they transcended copyrights belonging to Goldsmith, whose work has been featured on over 100 record album covers since the 1960s.
U.S. District Judge John G. Koeltl in Manhattan had concluded that Warhol transformed a picture of a vulnerable and uncomfortable Prince into an artwork that made the singer an "iconic, larger-than-life figure."
In 1984, Vanity Fair licensed one of Goldsmith's black-and-white studio portraits of Prince from her December 1981 shoot for $400 and commissioned Warhol to create an illustration of Prince for an article titled "Purple Fame."
The dispute emerged after Prince's 2016 death, when the Andy Warhol Foundation for the Visual Arts licensed the use of Warhol's Prince series for use in a magazine commemorating Prince's life. One of Warhol's creations was on the cover of the May 2016 magazine.
Goldsmith claimed that the publication of the Warhol artwork destroyed a high-profile licensing opportunity.
Attorney Luke Nikas said the Warhol Foundation will challenge the ruling.
"Over fifty years of established art history and popular consensus confirms that Andy Warhol is one of the most transformative artists of the 20th Century," Nikas said in a statement. "While the Warhol Foundation strongly disagrees with the Second Circuit's ruling, it does not change this fact, nor does it change the impact of Andy Warhol's work on history."
Attorney Barry Werbin, who represented Goldsmith in the lower court, called Friday's ruling "a long overdue reeling in of what had become an overly-expansive application of copyright "transformative" fair use."
"The decision helps vindicate the rights of photographers who risk having their works misappropriated for commercial use by famous artists under the guise of fair use," he said.
The three-judge 2nd Circuit panel said its ruling should help clarify copyright law. It cautioned against judges making "inherently subjective" aesthetic judgments, saying they "should not assume the role of art critic and seek to ascertain the intent behind or meaning of the works at issue."
It repeatedly compared the copyright issues to what occurs when books are made into movies. The movie, it noted, is often quite different from the book but yet retains copyright obligations.
The appeals court also said the unique nature of Warhol's art should have no bearing on whether the artwork is sufficiently transformative to be deemed "fair use" of a copyright, a legal term that would free an artist from paying licensing fees for the raw material it was based on.
"We feel compelled to clarify that it is entirely irrelevant to this analysis that "each Prince Series work is immediately recognizable as a 'Warhol,'" the appeals court said. "Entertaining that logic would inevitably create a celebrity-plagiarist privilege; the more established the artist and the more distinct that artist's style, the greater leeway that artist would have to pilfer the creative labors of others."
---
Another case, 2022/7/8
French Court Tosses Out Sculptor's Lawsuit Over Authorship of Maurizio Cattelan Works
July 8, 2022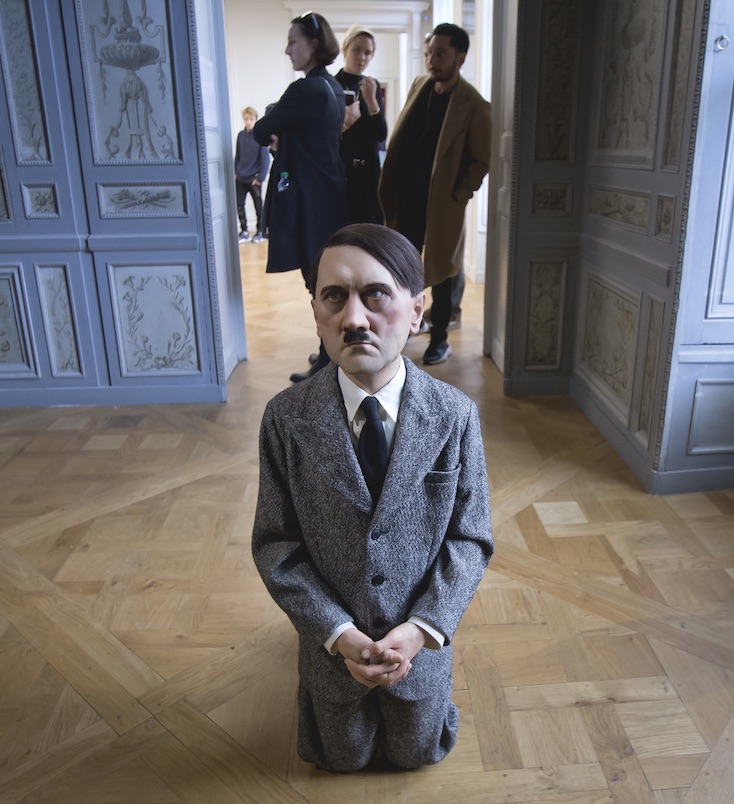 A French judge has dismissed a lawsuit over whether Maurizio Cattelan could be considered the true author of some of his most famous sculptures.
Sculptor Daniel Druet had sued Cattelan's gallery, Perrotin, and the Monnaie de Paris, the art space that mounted a Cattelan show in 2016. Druet claimed that he was the true maker of nine of Cattelan's works, among them Him, a famed 2001 sculpture of a kneeling Adolf Hitler.
The Paris court that issued the decision said that Druet, a maker of wax effigies, was effectively working for hire when Cattelan asked him to help produce the works and was therefore not the author of these objects.
The judgement reads, in part, "Daniel Druet was in no position – nor did he seek to do so – to take the slightest part in the choices relating to the scenic setting of the said effigies (choice of building and size of the rooms housing a given character, direction of the gaze, lighting, even the destruction of a glass roof or the parquet floor to make the staging more realistic and striking) or the content of the possible message to be conveyed through this staging."
Druet and Emmanuel Perrotin, the founder of the Paris-based gallery that represents Cattelan, agreed that the terms of the agreement between the sculptor and Cattelan were blurry. But the two diverged on whether that should ultimately matter when it comes to determining who was the true author of these works.
According to Le Monde, Druet must pay 10,000 euros to Perrotin and the Monnaie de Paris. It wasn't immediately clear whether he intended to appeal the decision, the French publication said.
Pierre-Yves Gautier and Pierre-Olivier Sur, two lawyers representing Perrotin, said in a statement, "beyond this court decision, it is conceptual art that is now protected by the rule of law."
https://www.artnews.com/art-news/news/maurizio-cattelan-authorship-lawsuit-dismissed-1234633671/
up-date 2023/5/19
May 18, 2023
SUPREME COURT RULES AGAINST WARHOL FOUNDATION IN LANDMARK COPYRIGHT CASE
The US Supreme Court today ruled 7-2 against the Andy Warhol Foundation for the Visual Arts regarding the question of whether Warhol's use in his own work of a photo of the musician Prince by Lynn Goldsmith constitutes fair use. The decision had been hotly anticipated in the wake of the Court's October 12, 2022, hearing of the case, which Goldsmith originally launched six years ago in New York State.
Goldsmith alleged that the late Pop artist illegally used her 1981 photo of the Royal Purple One in his 1984 "Prince Series," a series of sixteen screen prints featuring the rock icon's visage. Warhol created the series while on assignment for Vanity Fair, whose parent company, Conde Nast, licensed the photo from Goldsmith for onetime use, paying her $400. A single work from the series, Purple Fame, ran in the magazine, and the photographer was credited. According to Goldsmith, Warhol did not seek her permission to use her photo for the sixteen-part series, nor did he offer her credit or recompense. She was moved to sue when, following Prince's untimely 2016 death, Vanity Fair ran another work from the series, Orange Prince, in a commemorative issue, paying the Warhol Foundation $10,000 for the privilege, but failing to credit or compensate Goldsmith.
A New York federal district judge originally ruled in favor of Warhol on the grounds that the Pop artist's work was sufficiently transformative and thus fell within the realm of "fair use." Goldsmith appealed and was allowed to continue her suit. "The district judge should not assume the role of art critic and seek to ascertain the intent behind or meaning of the works at issue," wrote Judge Gerard Lynch of the US Court of Appeals for the Second Circuit. "That is so both because judges are typically unsuited to make aesthetic judgments and because such perceptions are inherently subjective."
Writing for the majority, Supreme Court Justice Sonia Sotomayor noted that "Lynn Goldsmith's original works, like those of other photographers, are entitled to copyright protection, even against famous artists."
In a statement provided to Artforum, Warhol Foundation president Joe Wachs said: "We respectfully disagree with the Court's ruling that the 2016 licensing of Orange Prince was not protected by the fair use doctrine. At the same time, we welcome the Court's clarification that its decision is limited to that single licensing and does not question the legality of Andy Warhol's creation of the Prince Series in 1984.  Going forward, we will continue standing up for the rights of artists to create transformative works under the Copyright Act and the First Amendment."
The case has been closely watched, as it is expected to have wide-ranging repercussions for artists whose work is themed around appropriation. The decision comes just days after a court ruled that two suits against noted appropriation artist Richard Prince could proceed. Those cases involve Prince's unauthorized use of Instagram photos, and likewise center on issues of transformation and fair use.
https://www.artforum.com/news/supreme-court-rules-against-warhol-foundation-in-landmark-copyright-case-90567