カウズがペロタン(東京・パリ)から離れた KAWS leaves PERROTIN
after a decade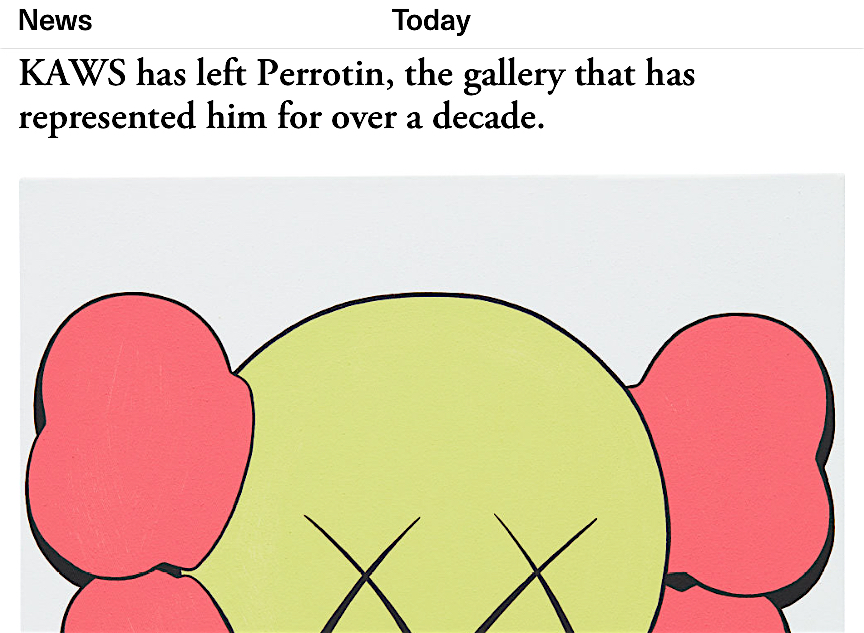 Today's arty news translates into the fact, that the gallery Perrotin lacks the money to support future ambitious projects by KAWS (Brian Donnelly).
KAWS and MURAKAMI Takashi 村上隆 are very much interconnected, supporting each other.
Just "recently", PERROTIN and BLUM & POE opened new spaces in Tokyo, partly because of MURAKAMI Takashi, at that time their leading Japanese artist.
In this context, one can question again, what caused the breakup between BLUM & POE (Los Angeles, New York, Tokyo) and MURAKAMI Takashi, 3 months ago.
米国ギャラリー Blum&Poeのアーティスト・リストから外された村上隆
Takashi Murakami Had Been Erased From American Gallery Blum & Poe's Artists' List
https://art-culture.world/articles/takashi-murakami-blum-poe-村上隆/
Speculation goes on; KAWS himself will try hard to be recognized in his home country as a 'serious' artist (whatever that means).
KAWS, reworking other artist's intellectual property for his own benefit. Actually, I find his works quite boring, repetitive, pretentious and ridiculous.
Next BULLSHIT art, made in U.S.A..
more at:
As His Market Explodes, KAWS Parts Ways With Longtime Dealer Perrotin to Show Exclusively With Skartstedt
Skarstedt has represented the artist for the last year and a half.
Sarah Cascone, July 3, 2019
https://news.artnet.com/market/kaws-leaves-perrotin-skarstedt-1592062
http://www.artnews.com/2019/07/03/kaws-leaves-perrotin/
quotes:
The departure from Perrotin's roster comes as KAWS's market is ballooning dramatically. His work achieved a new record at auction earlier this year at an auction at Sotheby's in Hong Kong, where his 2005 painting The Kaws Album soared past its $760,000–$1 million estimate and sold for $14.7 million.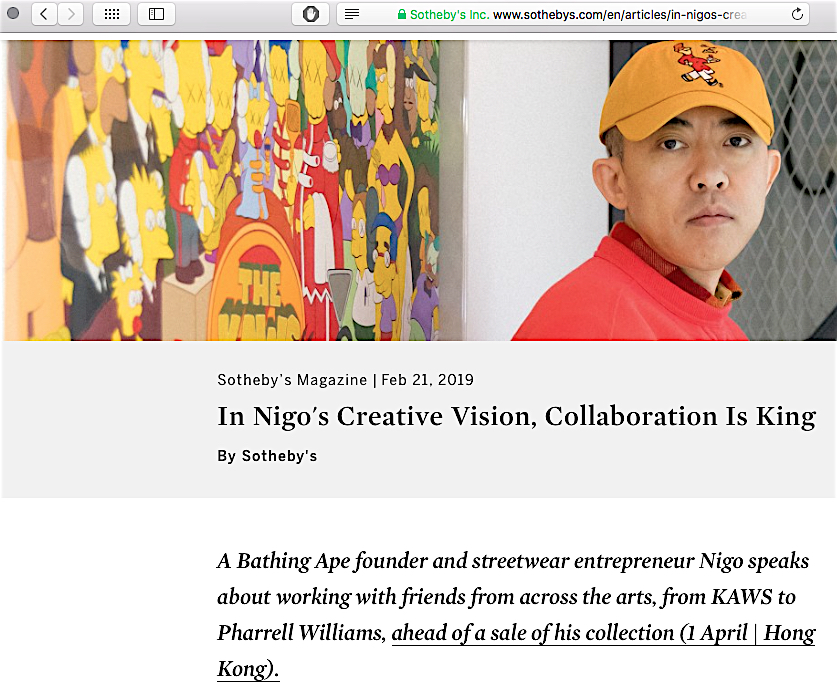 ここに載せた写真とスクリーンショットは、すべて「好意によりクリエーティブ・コモン・センス」の文脈で、日本美術史の記録の為に発表致します。
Creative Commons Attribution Noncommercial-NoDerivative Works
photos: cccs courtesy creative common sense
https://www.sothebys.com/en/articles/in-nigos-creative-vision-collaboration-is-king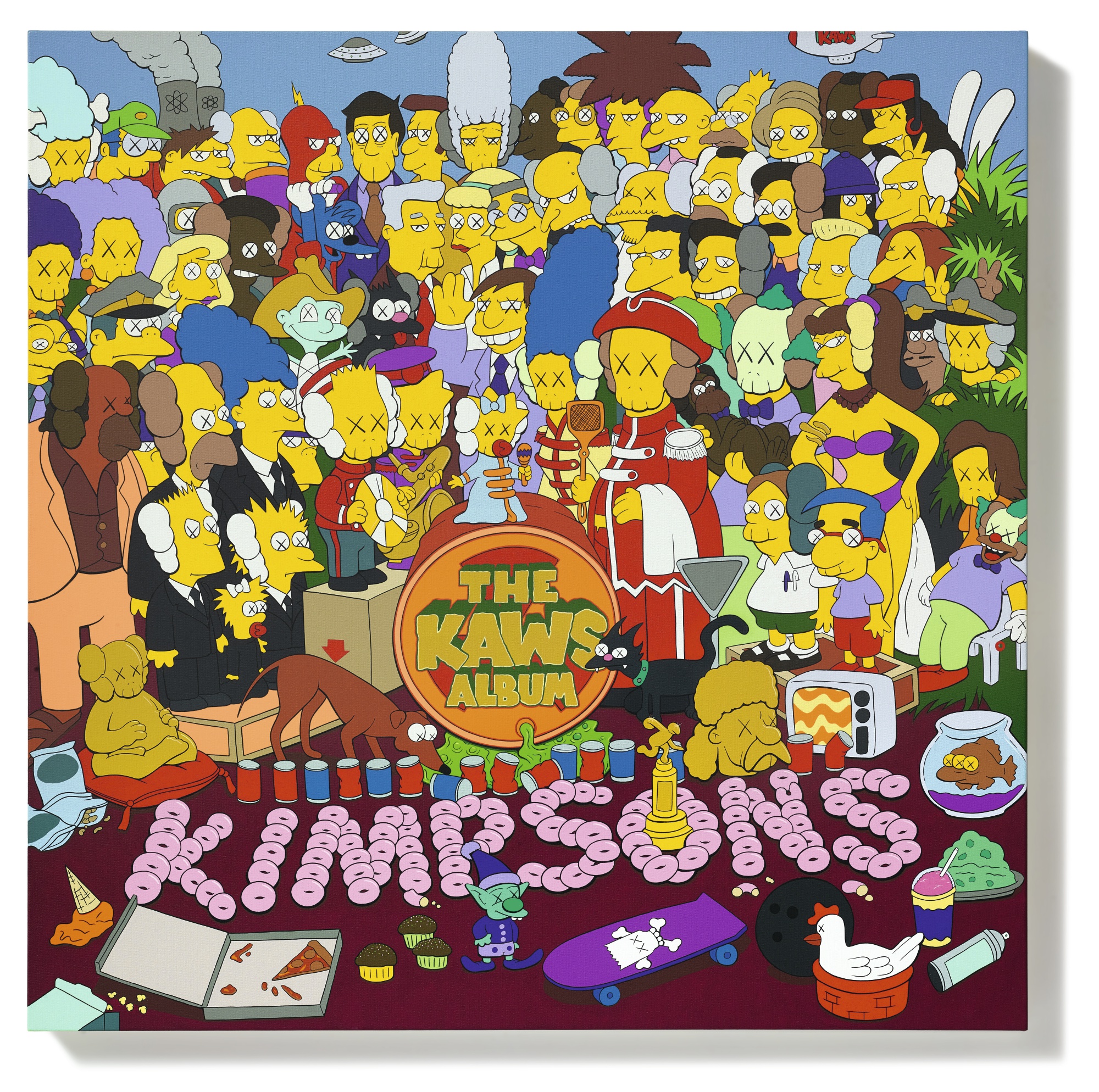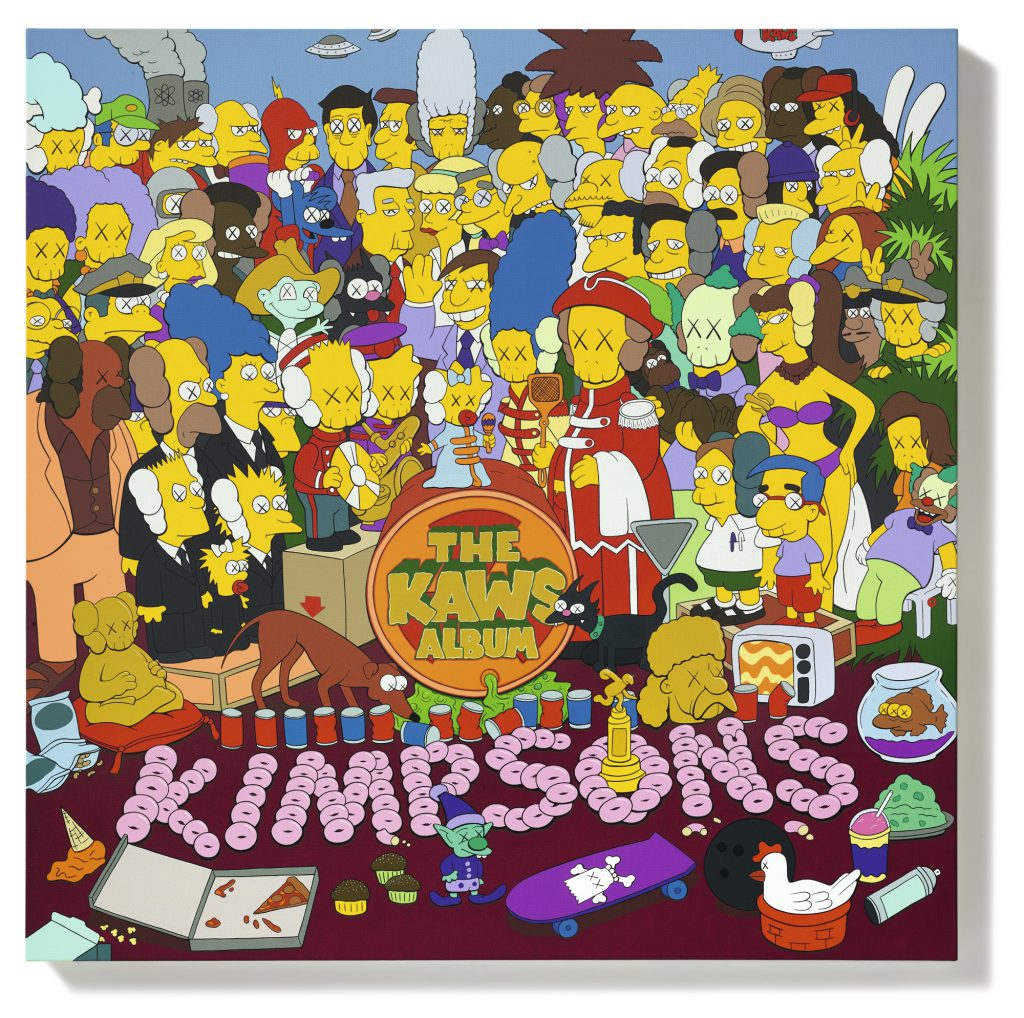 KAWS "THE KAWS ALBUM" (2005)
Estimate 6,000,000 — 8,000,000 HKD
LOT SOLD. 115,966,000 HKD
KAWS
B. 1974
THE KAWS ALBUM
signed, titled and dated 05 on the reverse
acrylic on canvas
101.6 by 101.6 cm; 40 by 40 in.
http://www.sothebys.com/en/auctions/ecatalogue/2019/nigoldeneye-volume-one-hk0912/lot.8.html
ここに載せた写真とスクリーンショットは、すべて「好意によりクリエーティブ・コモン・センス」の文脈で、日本美術史の記録の為に発表致します。
Creative Commons Attribution Noncommercial-NoDerivative Works
photos: cccs courtesy creative common sense
quote:
Commissioned by NIGO® in 2005, THE KAWS ALBUM is an appropriation of an appropriation – KAWS's take on The Simpson's The Yellow Album, which was itself a parody of The Beatles' 1967 album Sgt. Pepper's Lonely Hearts Club Band. In this historical 'family portrait', KAWS includes the whole host of his Kimpsons characters with their trademark sprouting puffy crossbones and X'ed eyes. In addition to these signature mutated characters, the portrait also features KAWS's emblematic COMPANION memorialized in the form of a seated miniature figurine on the lower left. Released in 1967, The Beatles' era-defining Sgt. Pepper album was lauded by critics for its bridging of popular music, high art and contemporary counterculture. THE KAWS ALBUM follows in its legendary footsteps in its bold straddling and uniting of genres, cultures and subcultures. Exemplifying KAWS's formal agility as an artist, the piece is the most accomplished work on canvas the KAWS ever created. The rich and complex composition demonstrates the epitome of KAWS's subversive wit, prescient vision and affectionate irreverence for our times, manifesting as an iconic apotheosis of KAWS's entire artistic and cultural lexicon.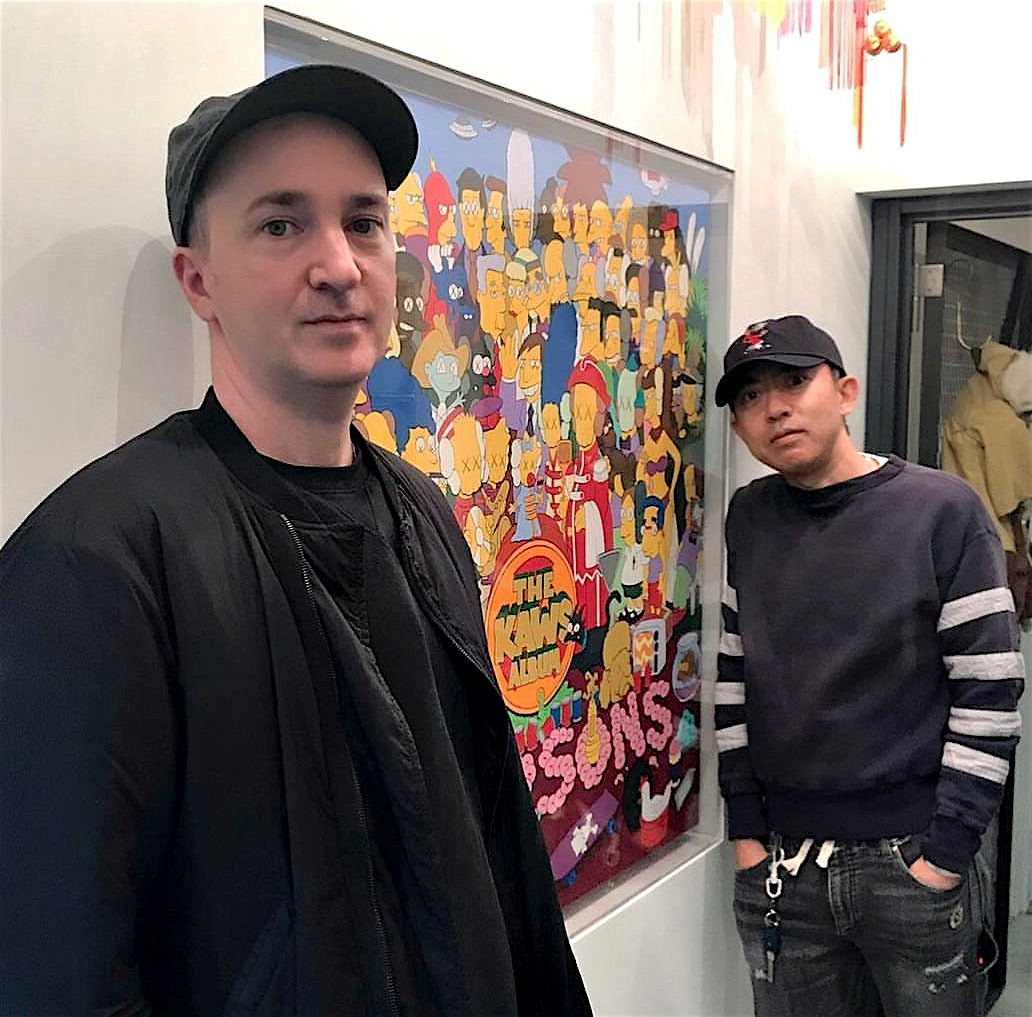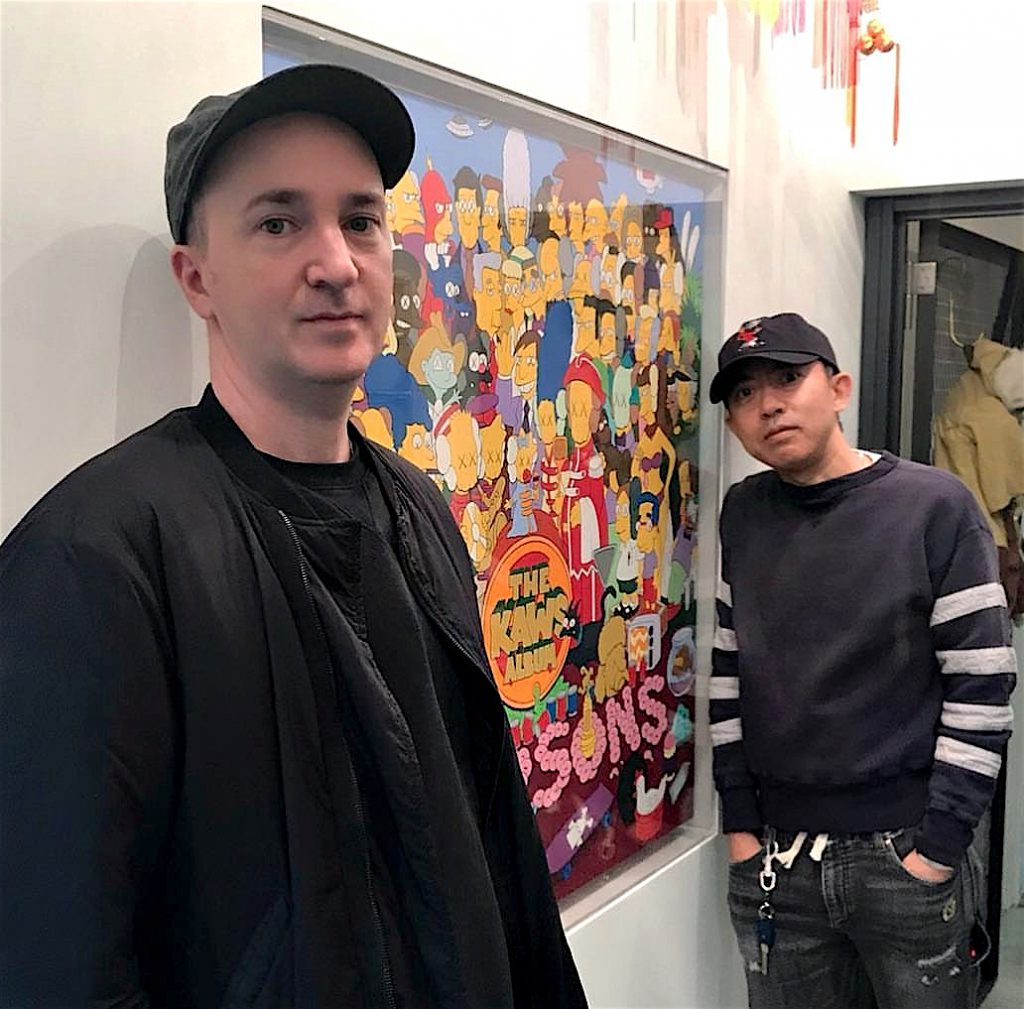 ここに載せた写真とスクリーンショットは、すべて「好意によりクリエーティブ・コモン・センス」の文脈で、日本美術史の記録の為に発表致します。
Creative Commons Attribution Noncommercial-NoDerivative Works
photos: cccs courtesy creative common sense
…
Watch the bidding battle unfold as a buyer shatters the auction record for street artist KAWS. The record-breaking work was based on The Beatles' 'Sgt. Pepper' album cover but populated by Simpsons characters featuring KAWS' signature Xs over their eyes. It came from the collection of A Bathing Ape founder and streetwear entrepreneur NIGO® and was a highlight of Sotheby's NIGOLDENEYE® Vol.1 auction in Hong Kong. All 33 artworks and collectibles were sold, for a total of HK$220 million / US$28 million, marking the third 'white glove', 100%-sold sale that Sotheby's and NIGO® have achieved together since 2014. 'The Kaws Album' sold for HK$116 million / US$14.8 million, around 15 times the estimate. Other highlights from NIGO®'s personal collection included another KAWS piece depicting the Simpson family called 'Untitled (Kimpsons #3), sneakers designed by KAWS for A Bathing Ape and a KAWS art toy based on Japanese manga character Astro Boy. Click here to watch more Sotheby's videos.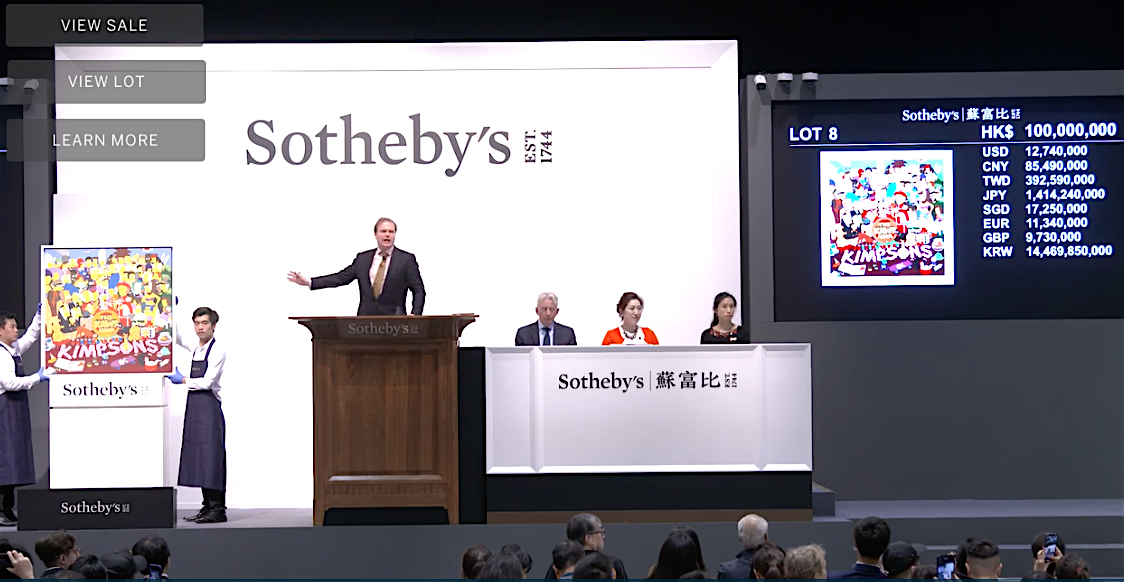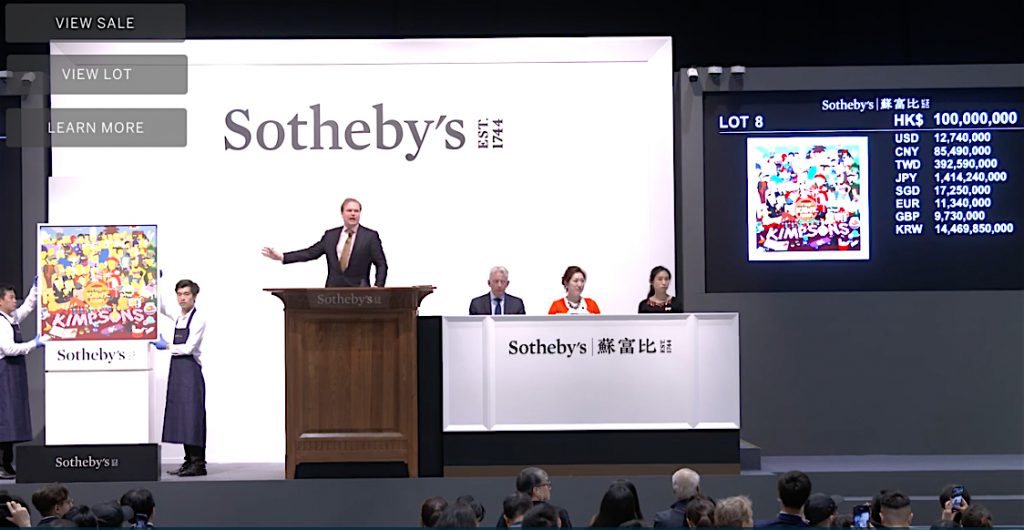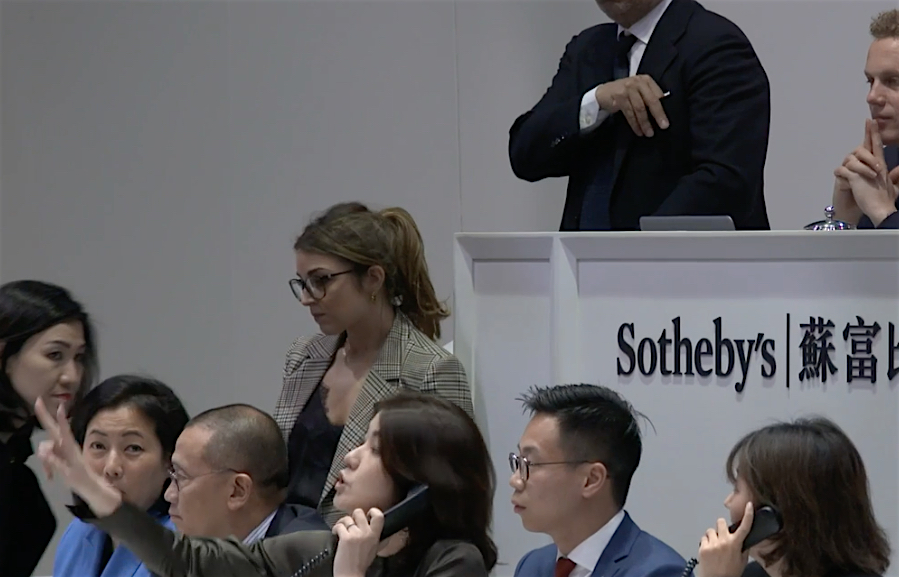 Yuki Terase, Senior Director, Head of Contemporary Art, Asia, Sotheby's Hong Kong
寺瀬由紀(てらせ・ゆき)/サザビーズスペシャリスト
サザビーズ現代美術部門唯一の日本人スペシャリスト/ディレクター。 2011年サザビーズ入社。アジア地区トップコレクターのグローバルな現代美術取引を担当
…
そして、その前澤氏の「代理人」として実際にビッド(入札)していたのが、サザビーズの寺瀬由紀氏。新卒で有力投資銀行のモルガン・スタンレーに入社し、畑違いのアート業界に転身。香港を拠点に全世界を駆け回り、現代美術のマーケット拡大を仕掛けている人物だ。
Yuki Terase was appointed Head of Contemporary Art, Asia in January 2018. Based in Hong Kong, she leads Sotheby's auction and private sales of Chinese, Japanese, Korean, and Western Contemporary art in Asia. She also plays an instrumental role in the company's business development efforts in Japan.
In 2018 under her new leadership, Sotheby's has achieved its highest total for Contemporary Art sales in the history of its Asian operation, achieved nearly 60% market share and significantly diversified and expanded its Contemporary Art offering to reflect the growing clientele in the region.
Since joining Sotheby's in 2011, Ms. Terase has been instrumental in introducing Japanese Contemporary art to Asia, cementing Sotheby's position as a category leader in the region. She has spearheaded a number of curatorial white-glove sales and her innovative curatorial approach to auction is best remembered for the phenomenal success of the dual sales with street fashion master NIGO®, as well as of #TTTOP in October 2016. Conceived by Ms. Terase and guest-curated by Asian pop icon and collector T.O.P, the sale achieved US$17.4 million, greatly exceeding its pre-sale estimate and generating strong interest from not only traditional and social media worldwide, but also from the emerging young collecting community.
Under the guidance of Ms. Terase, Sotheby's Japanese clients had a significant impact on the global auction market, best illustrated in the New York sale of Jean-Michel Basquiat's Untitled in May 2017, which sold to Japanese collector Yusaku Maezawa for a record-breaking price of US$110.5 million.
Prior to joining Sotheby's, Ms. Terase worked for Morgan Stanley as a member of its Mergers and Acquisition advisory team in Tokyo.
https://www.sothebys.com/en/about/team/yuki-terase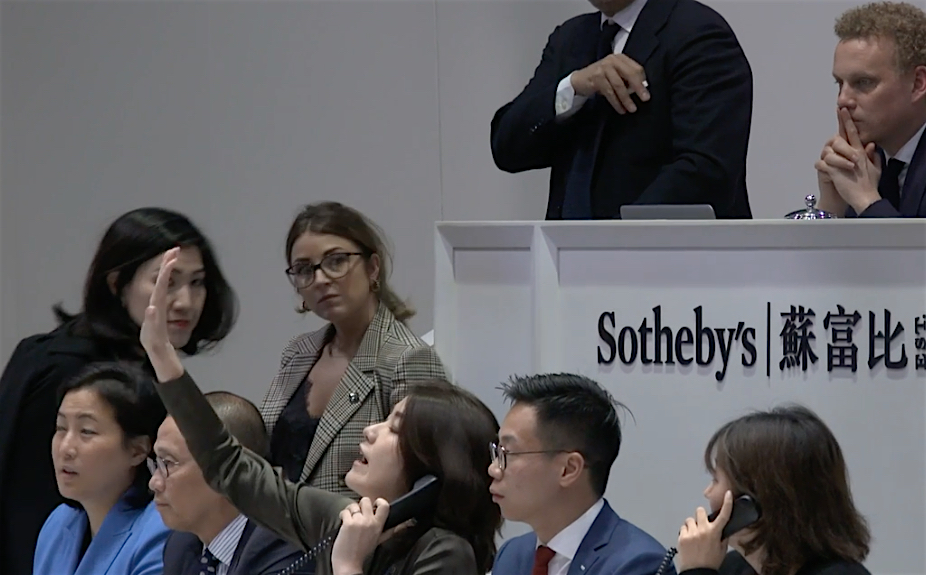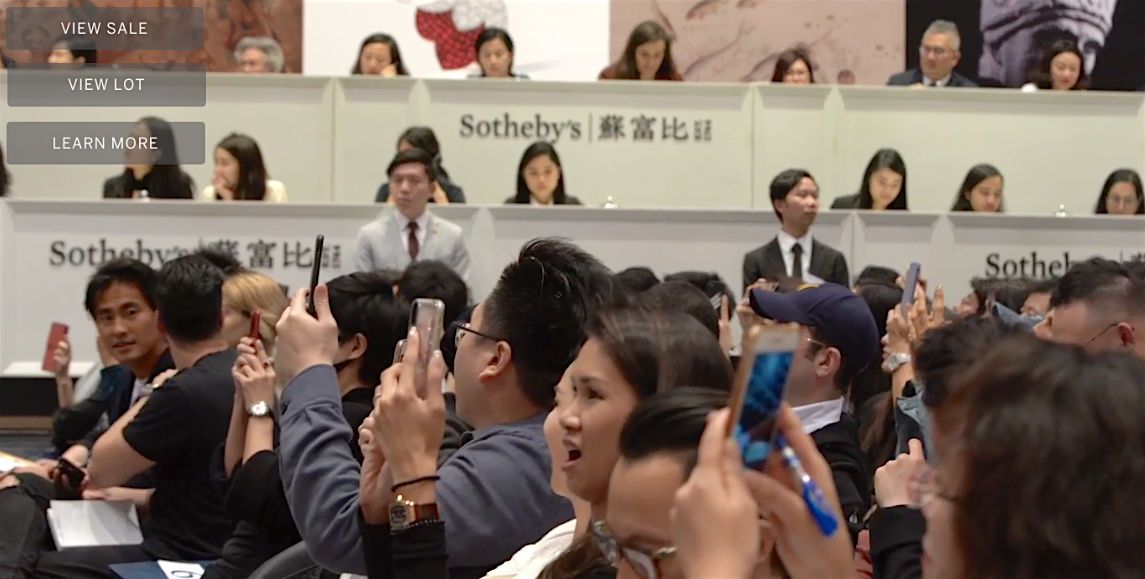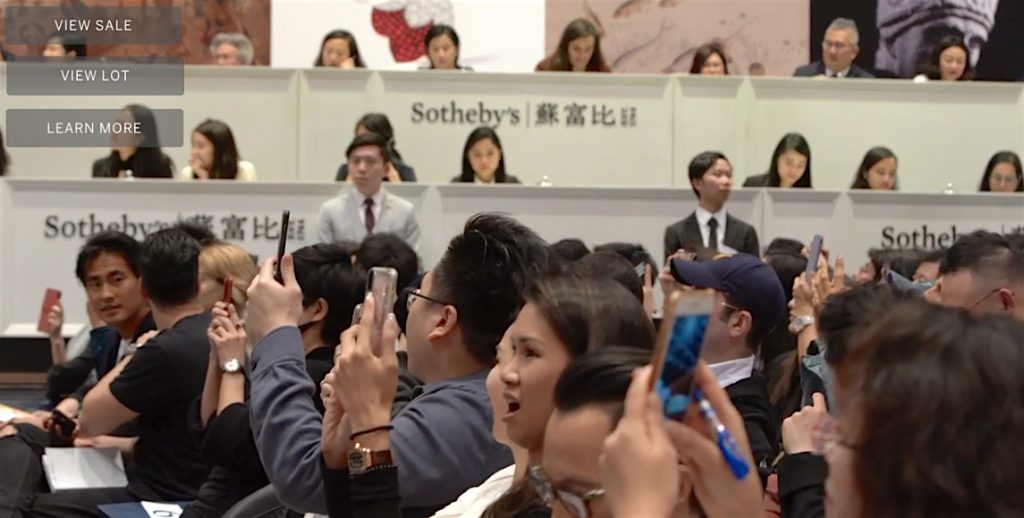 https://www.sothebys.com/en/videos/watch-as-kaws-simpsons-x-sgt-pepper-painting-smashes-record
Bidding Battle: #KAWS Smashes Record
In the recent London auctions, NYT (COMPANION CLOSE UP) Brown (2013) sold for $2.31 million at Christie's contemporary evening sale. In May in New York, KURF (Hot Dog), 2008, brought in $2.66 million at Sotheby's evening sale.
…
KAWS has become well known for his paintings and sculptures of characters culled from pop-cultural sources, including the television shows SpongeBob SquarePants and The Simpsons.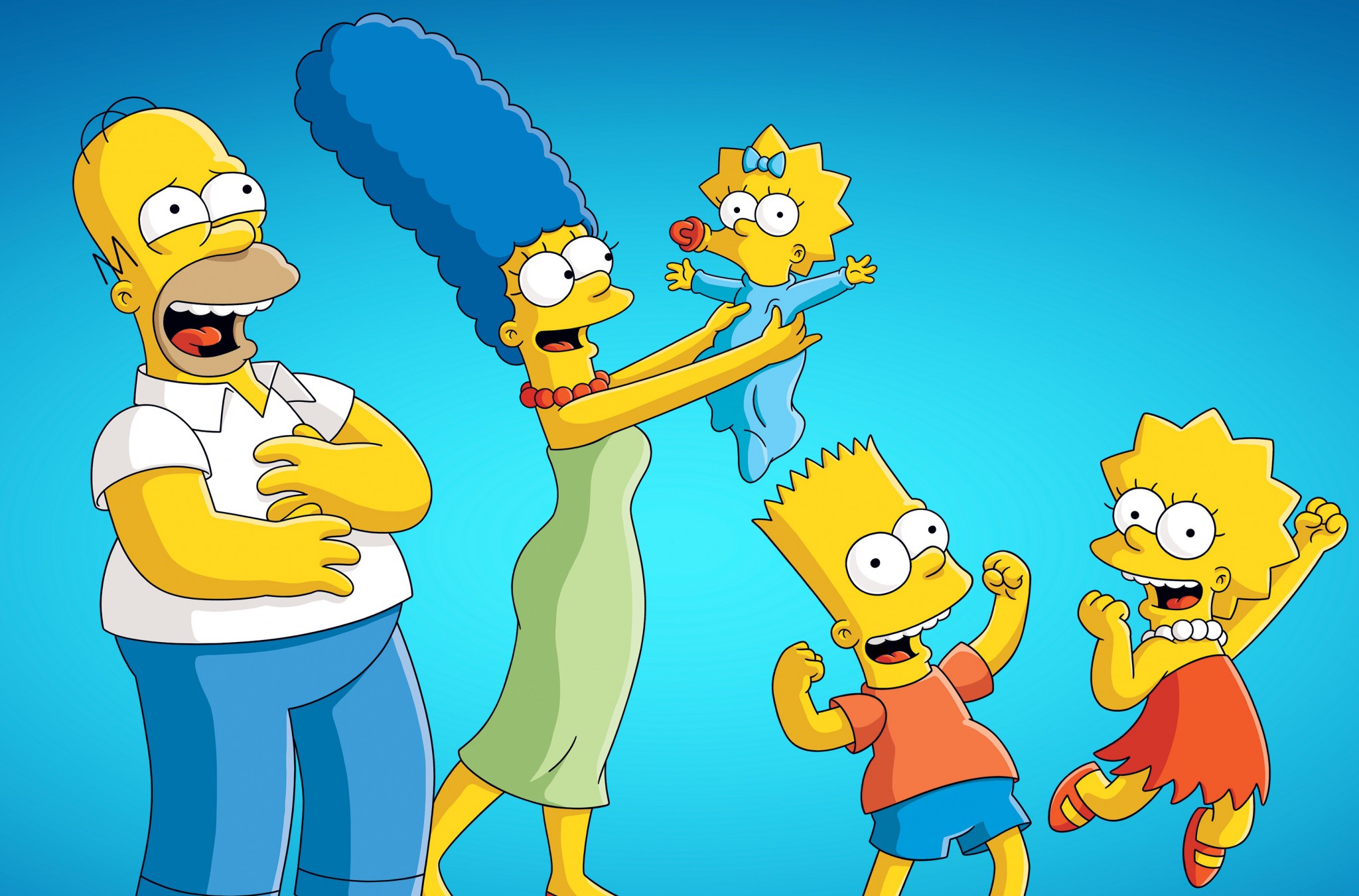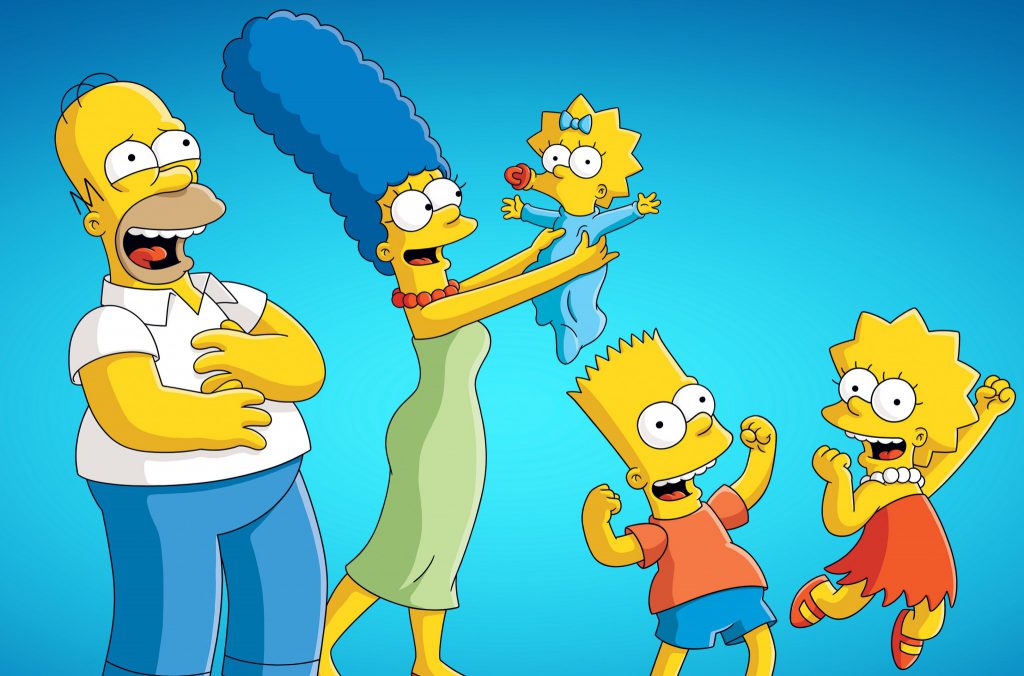 Having begun as a street artist, KAWS is now fully ensconced in the blue-chip gallery system.
---
Last year, KAWS had a solo show at PERROTIN, Tokyo, see the link and attached pics.
展覧会の画像一覧:BOOTLEG – 海賊盤 @ 青山|目黒、KAWS @ ペロタン東京
Exhibition Images: BOOTLEG – The Pirate Radio Station @ AOYAMA | MEGURO, KAWS @ PERROTIN Tokyo
https://art-culture.world/articles/exhibition-images-bootleg-the-pirate-radio-station-aoyama-meguro-kaws-perrotin-tokyo/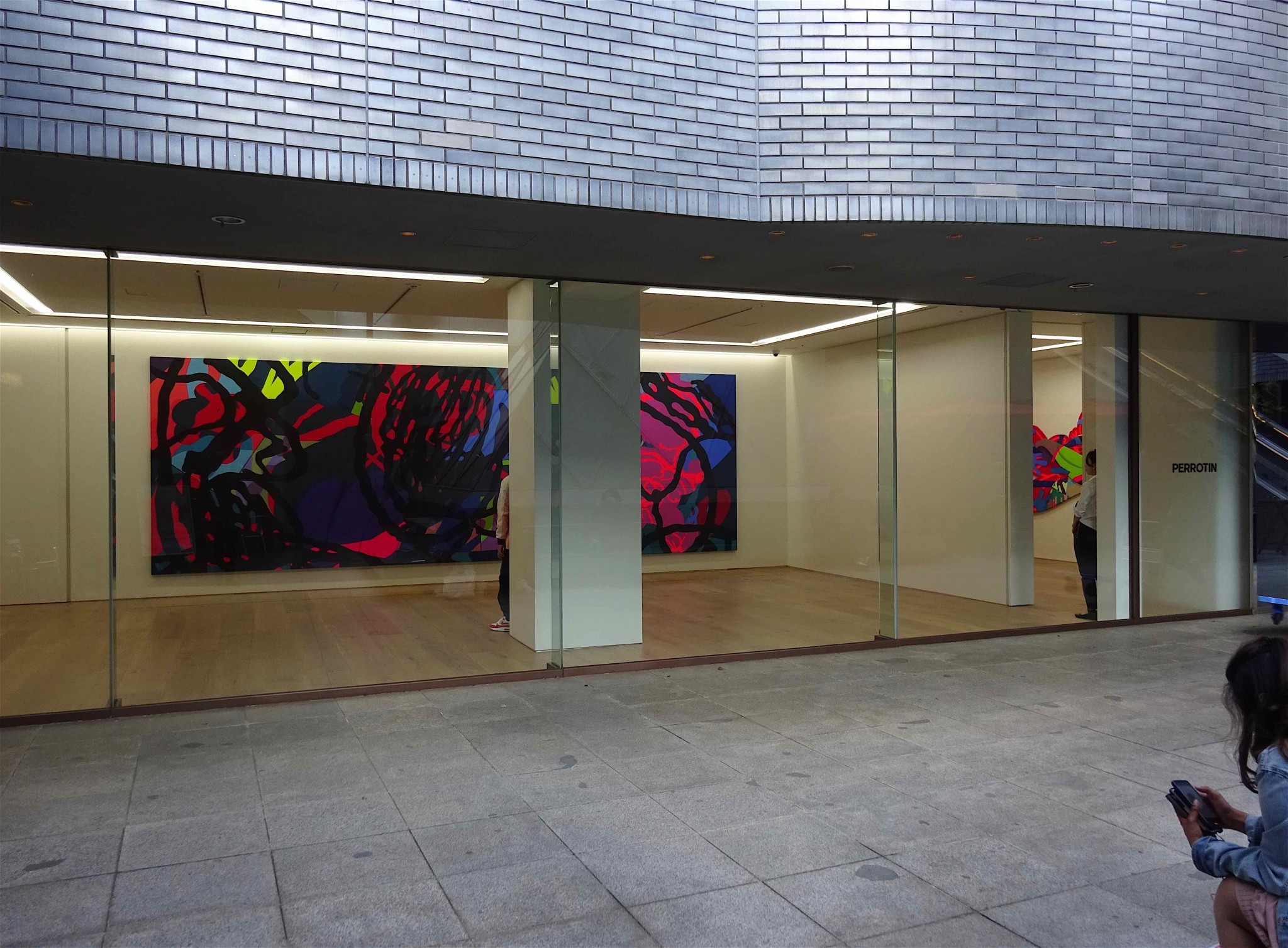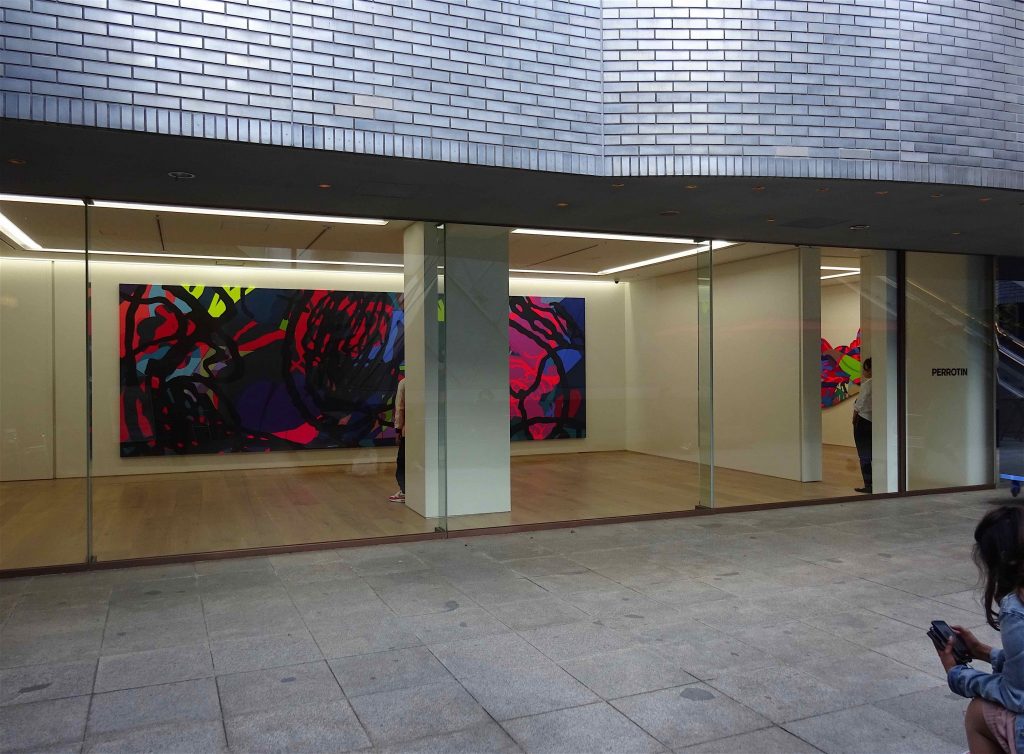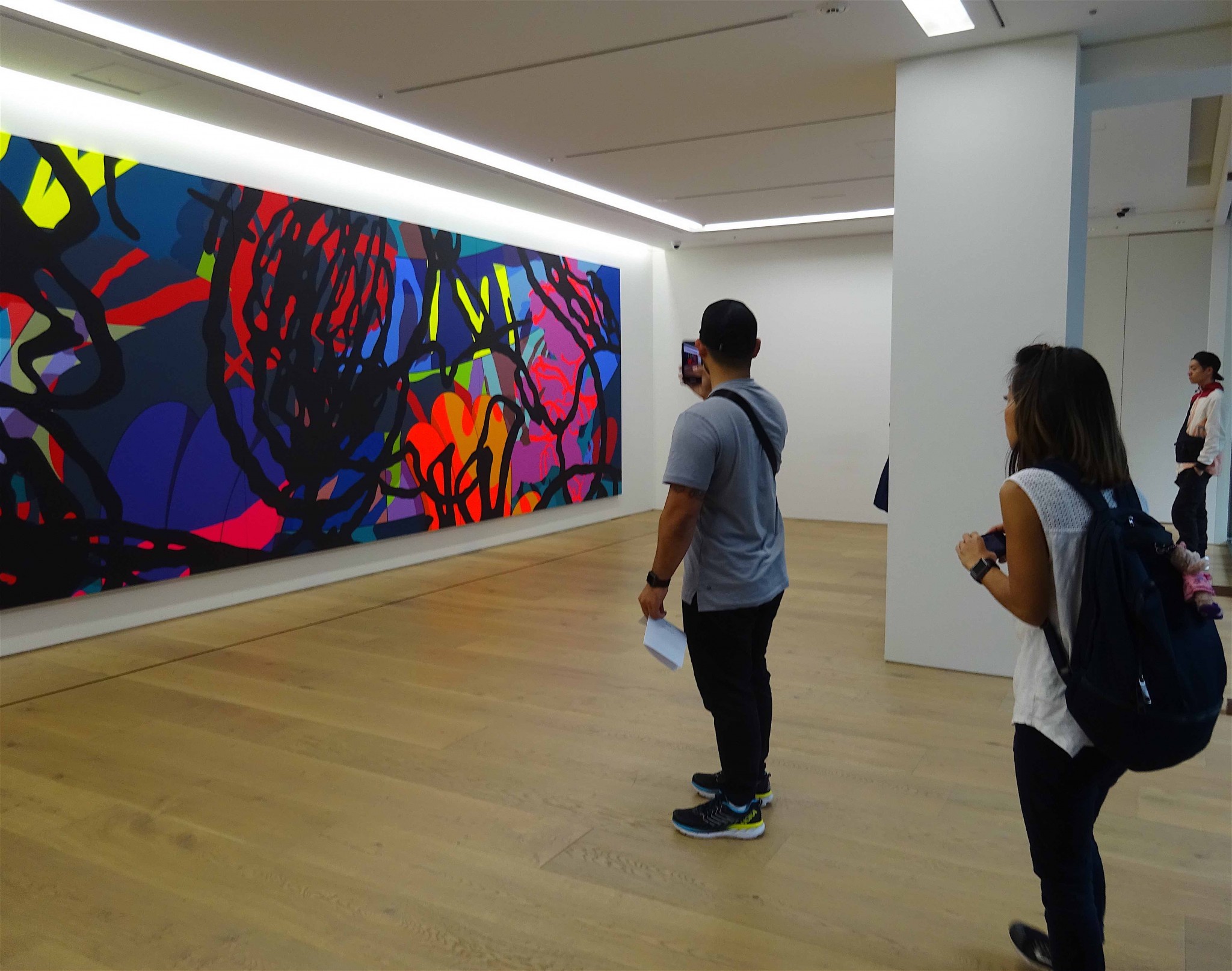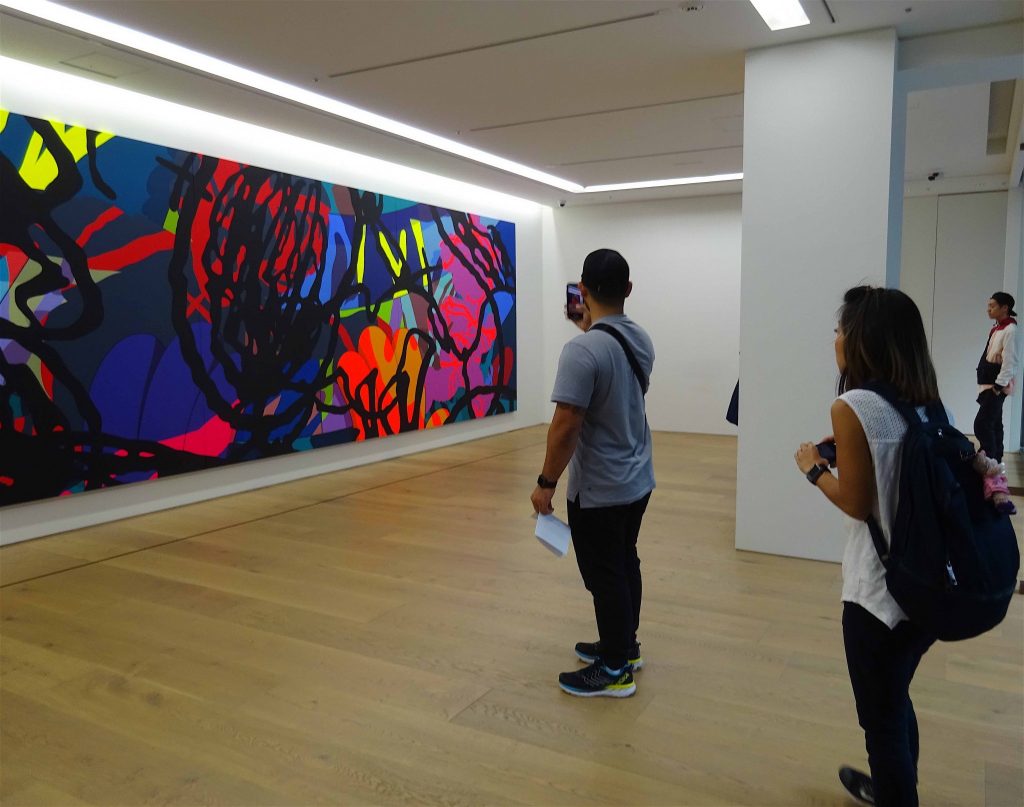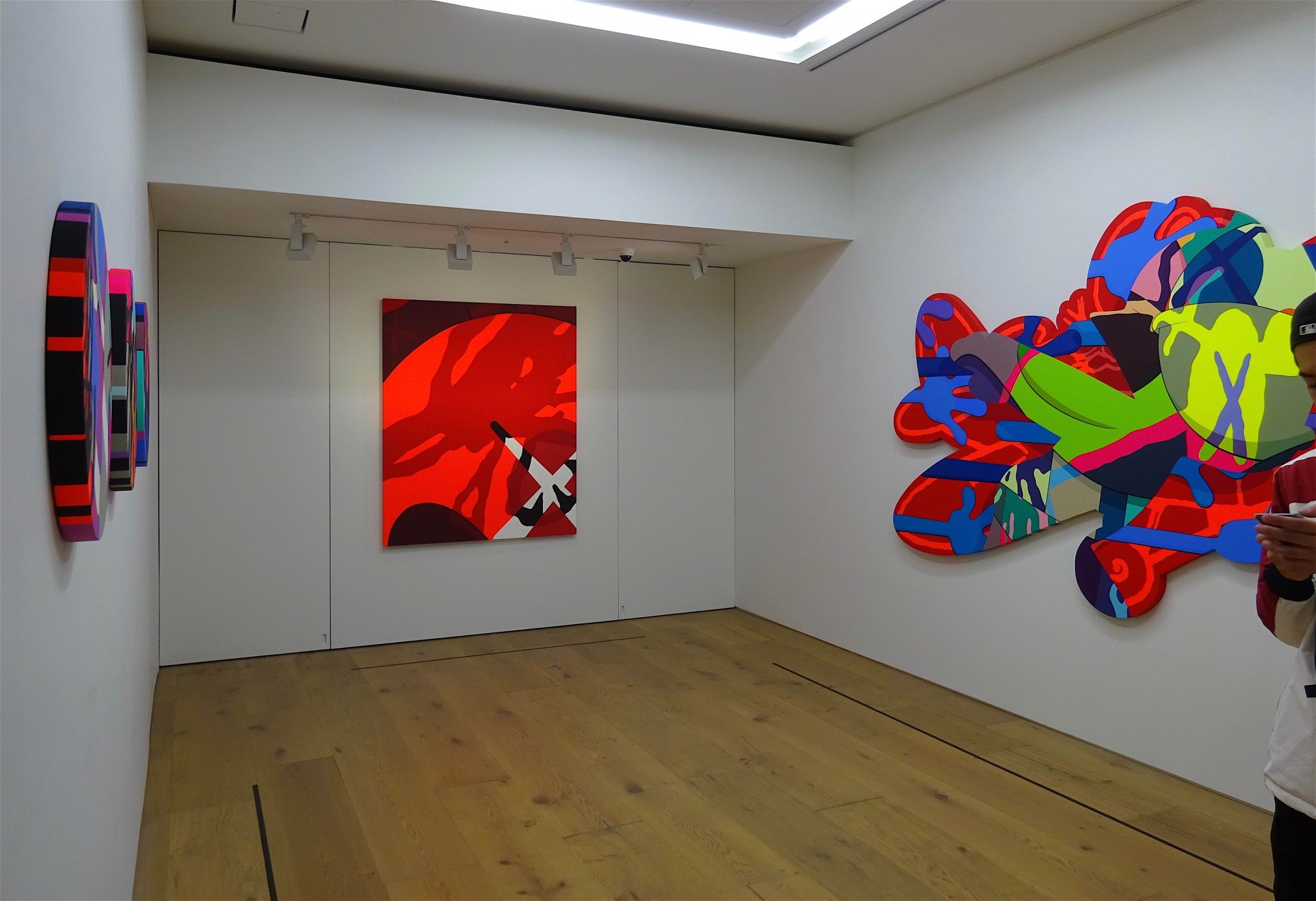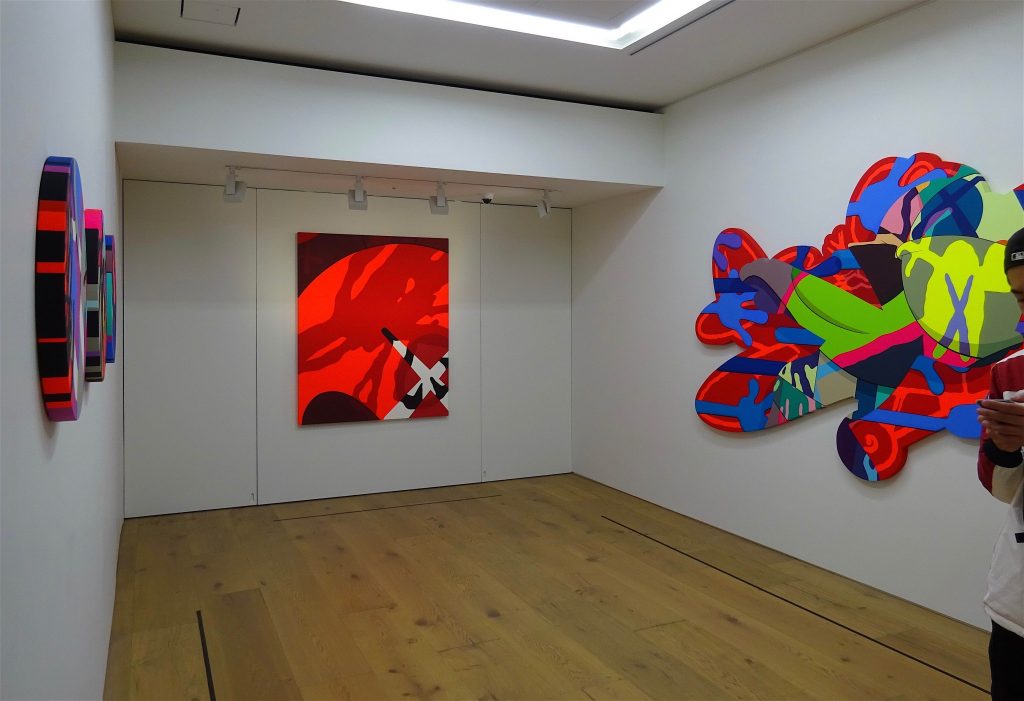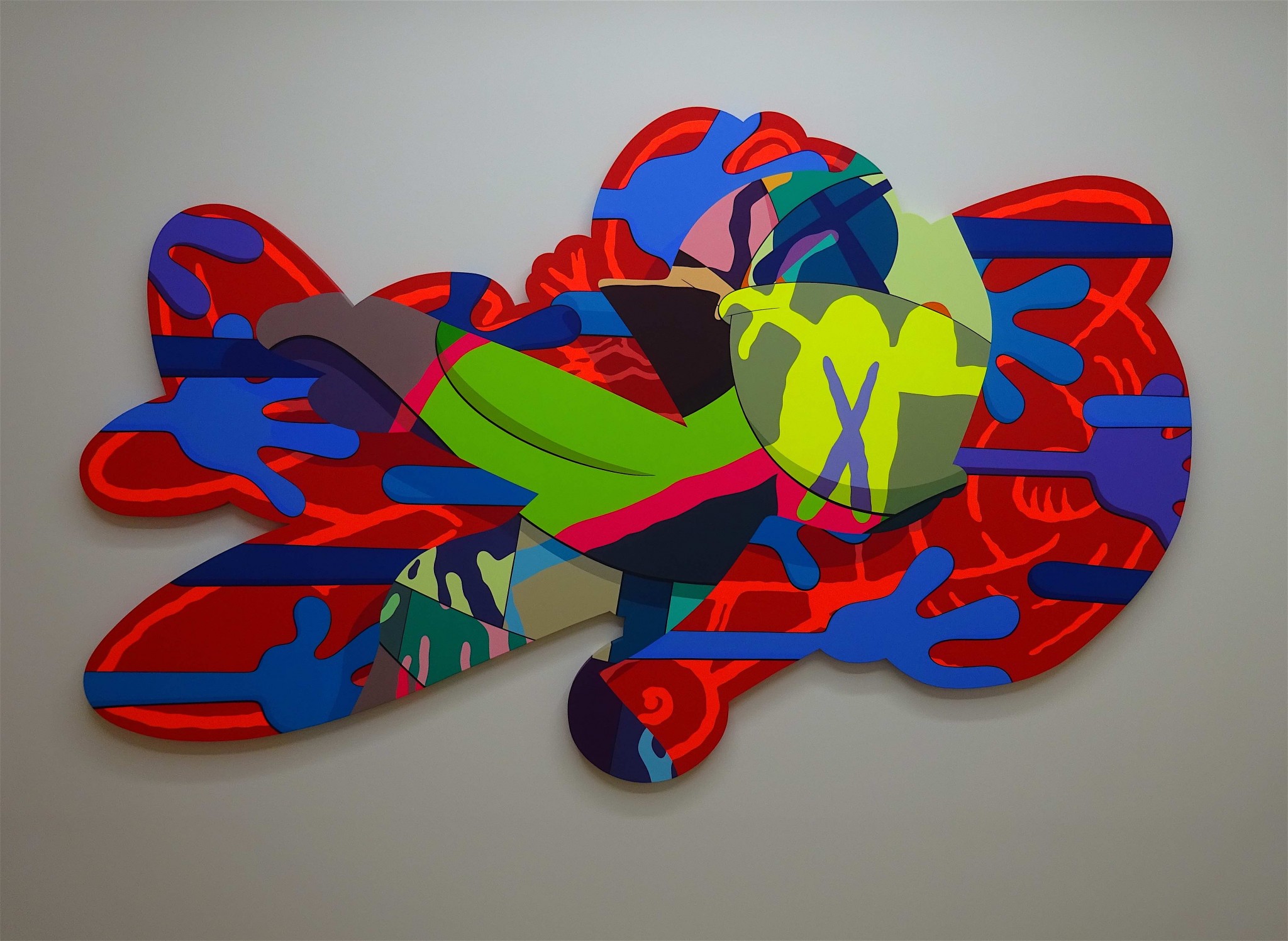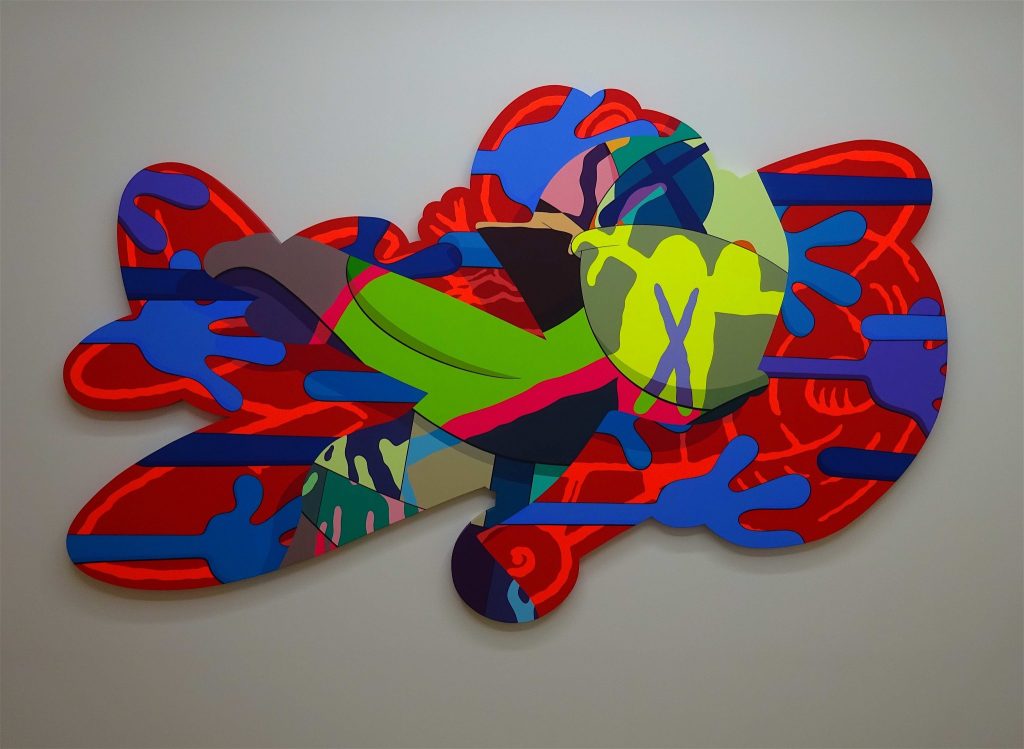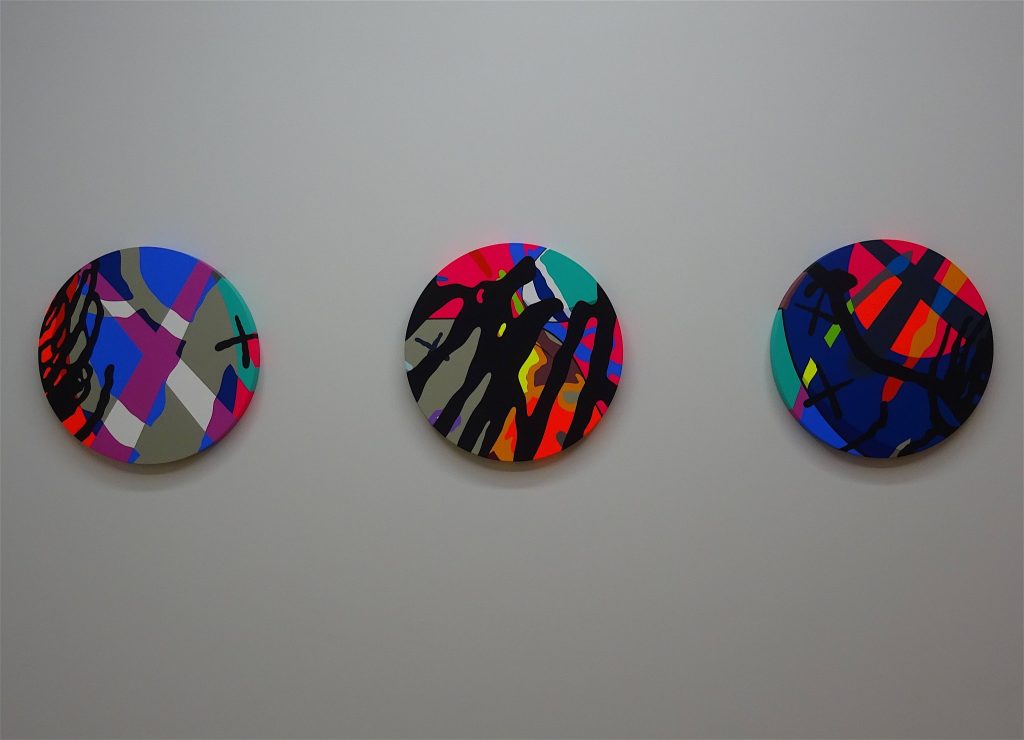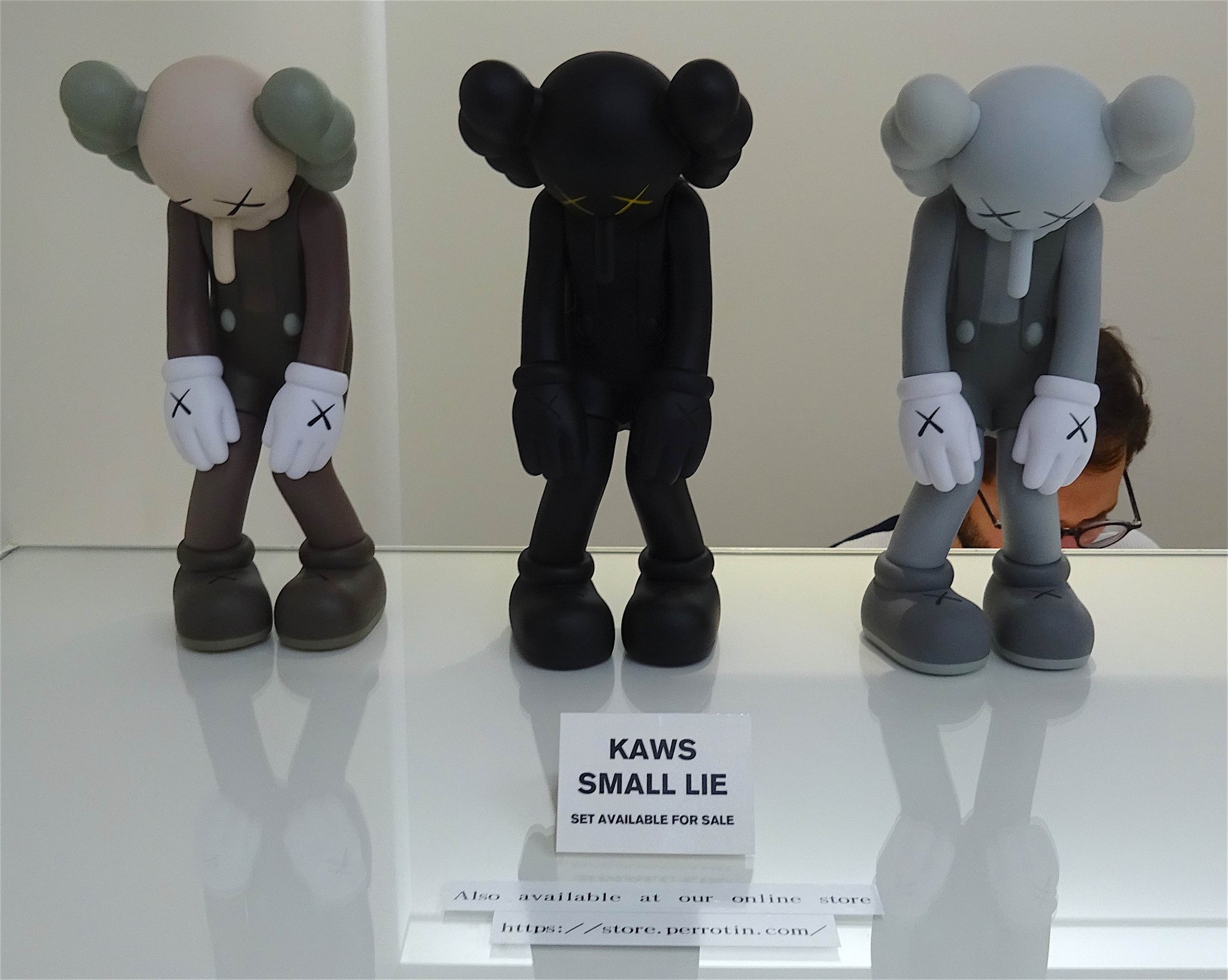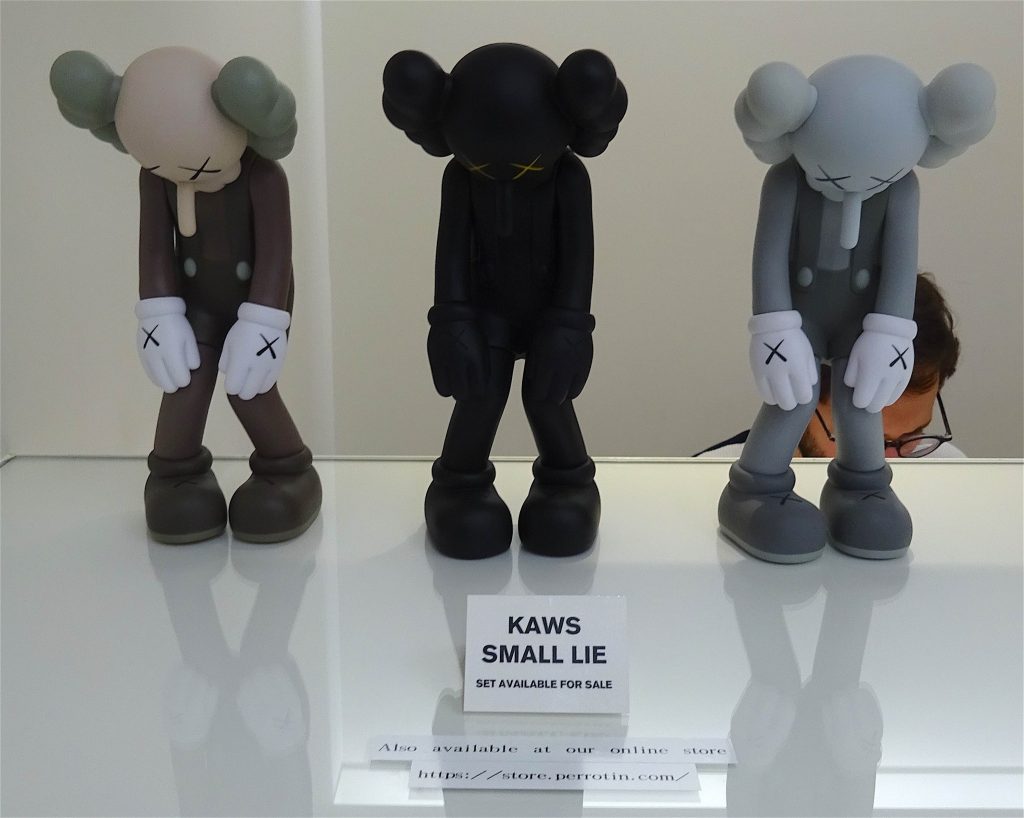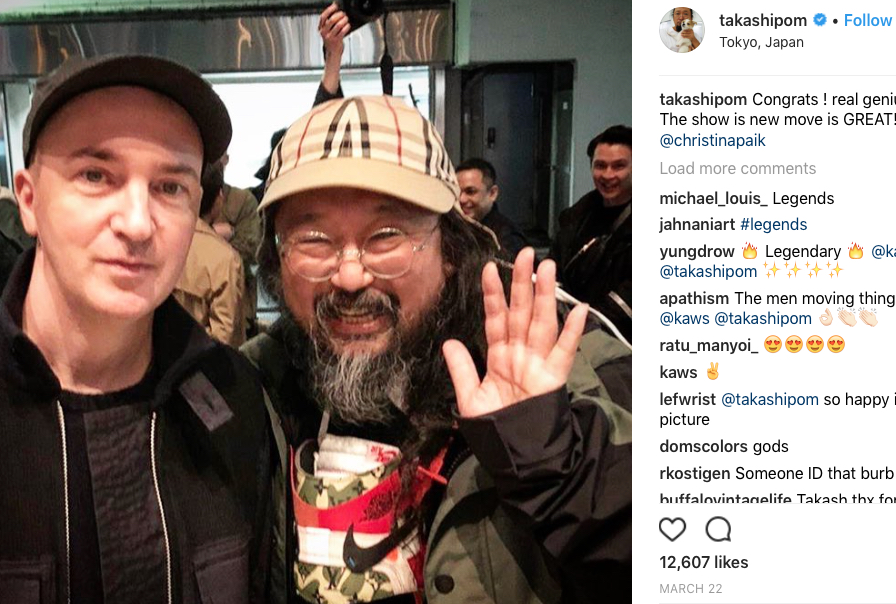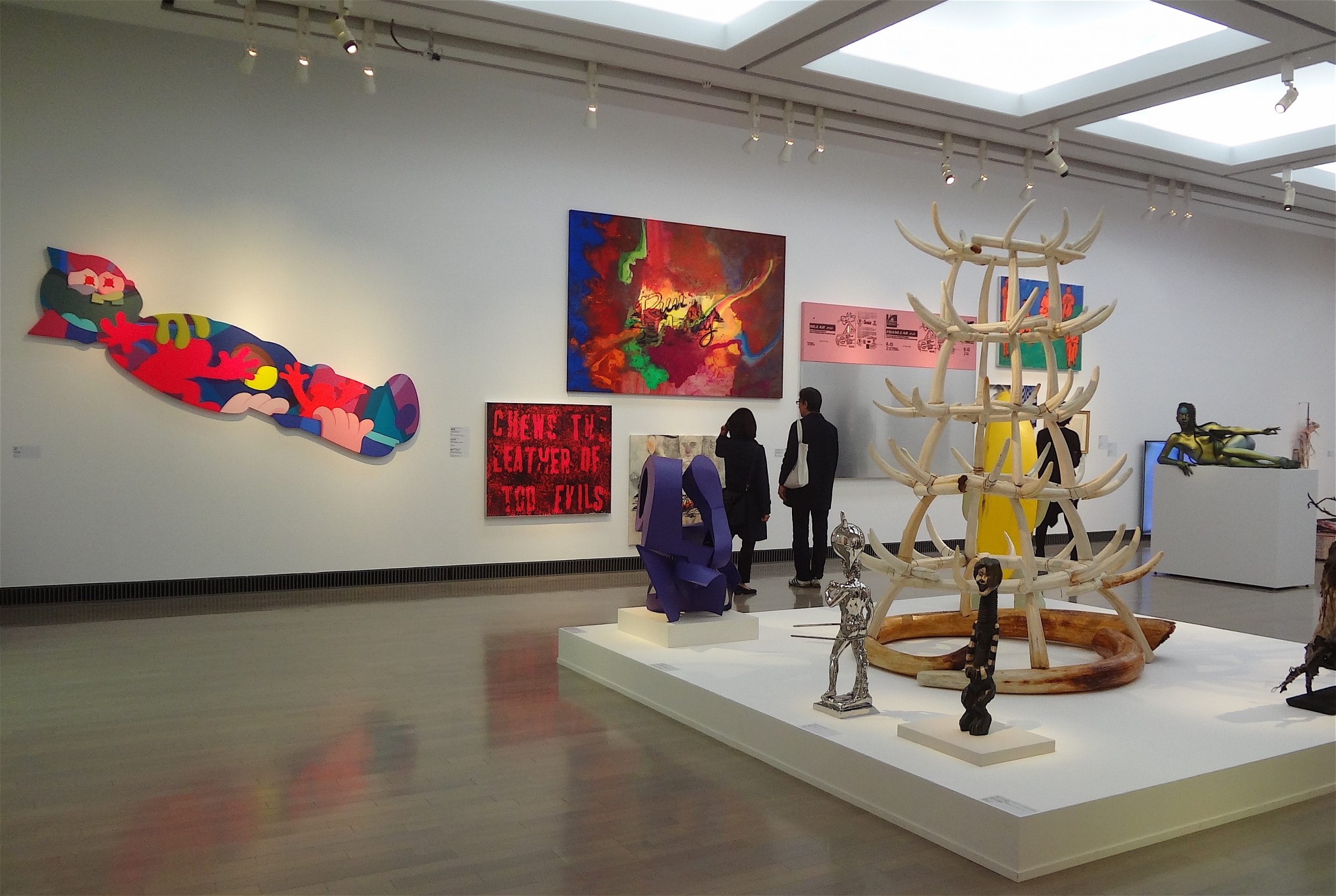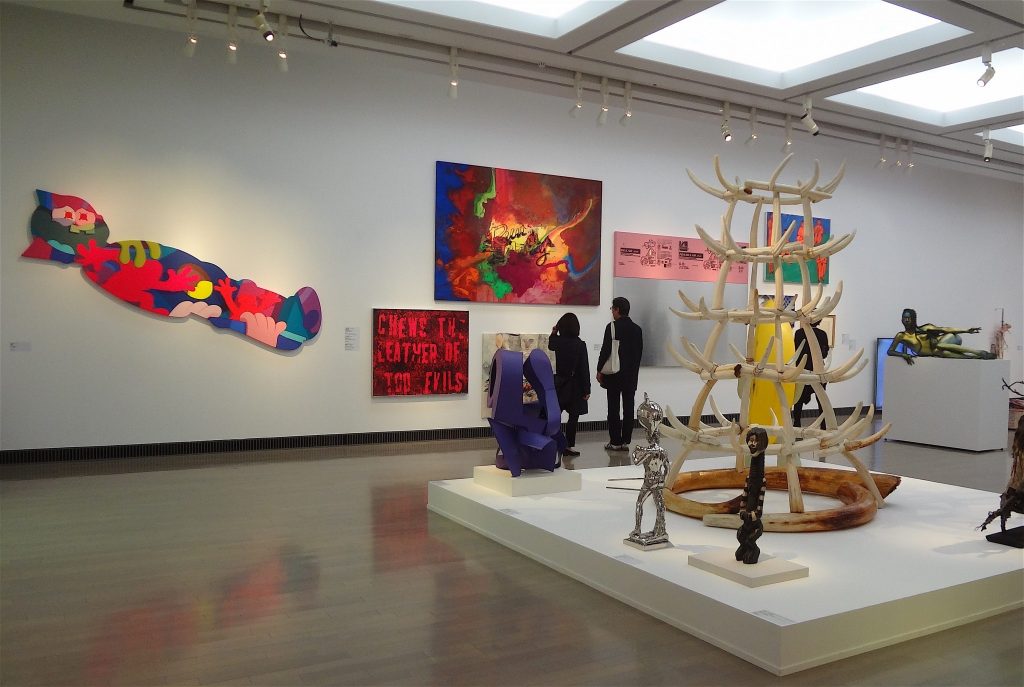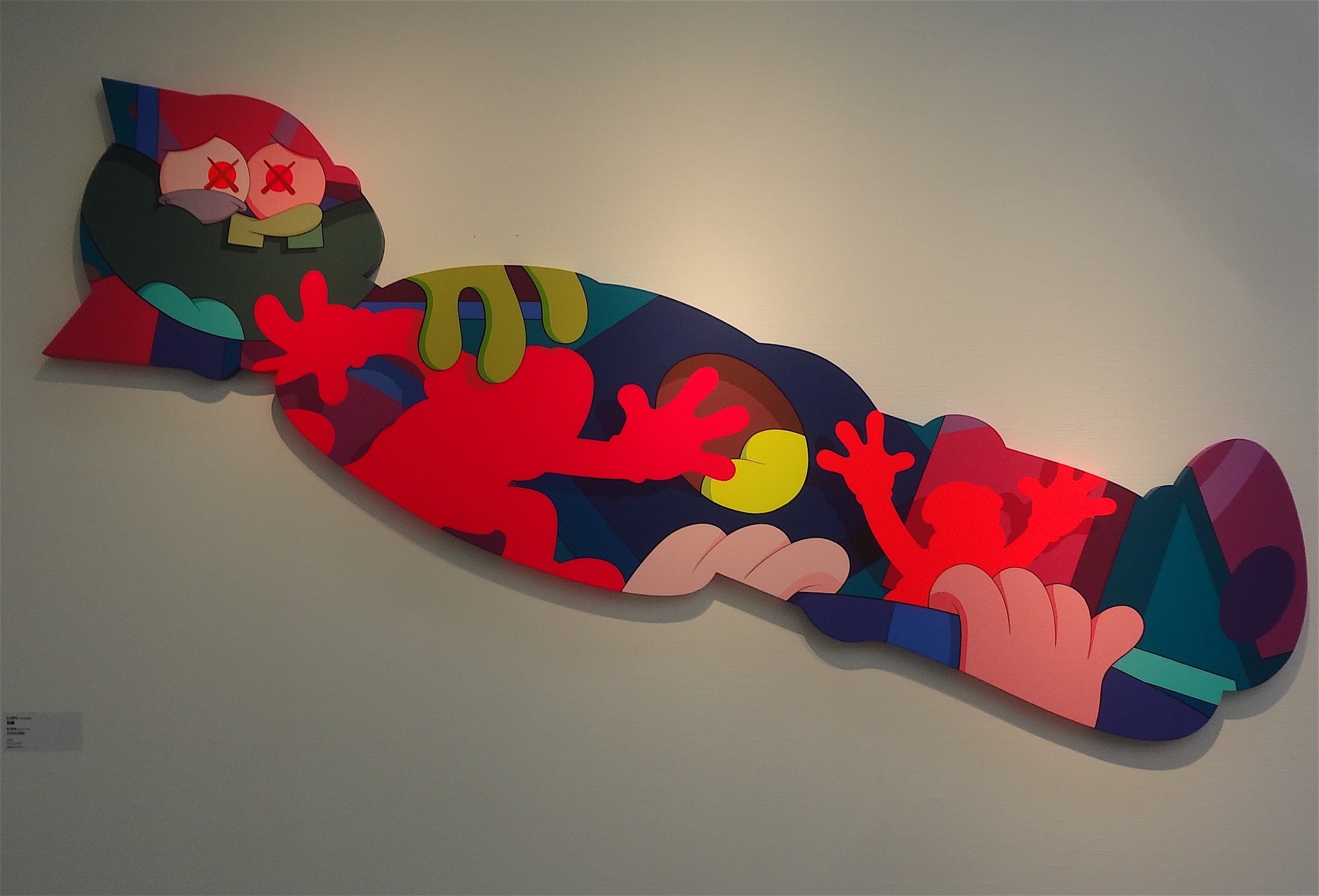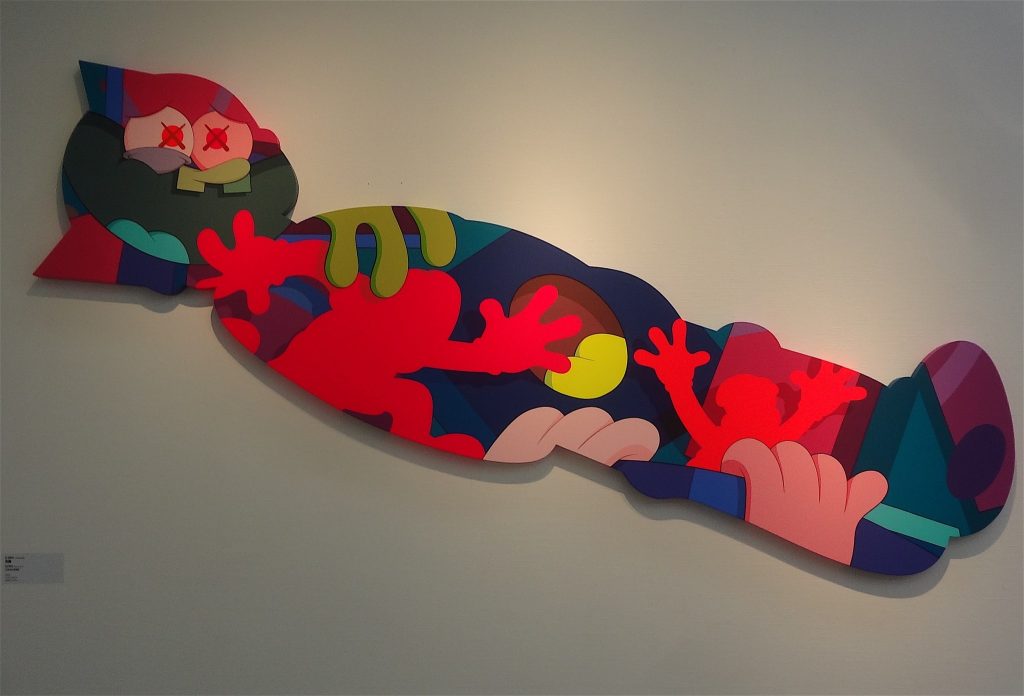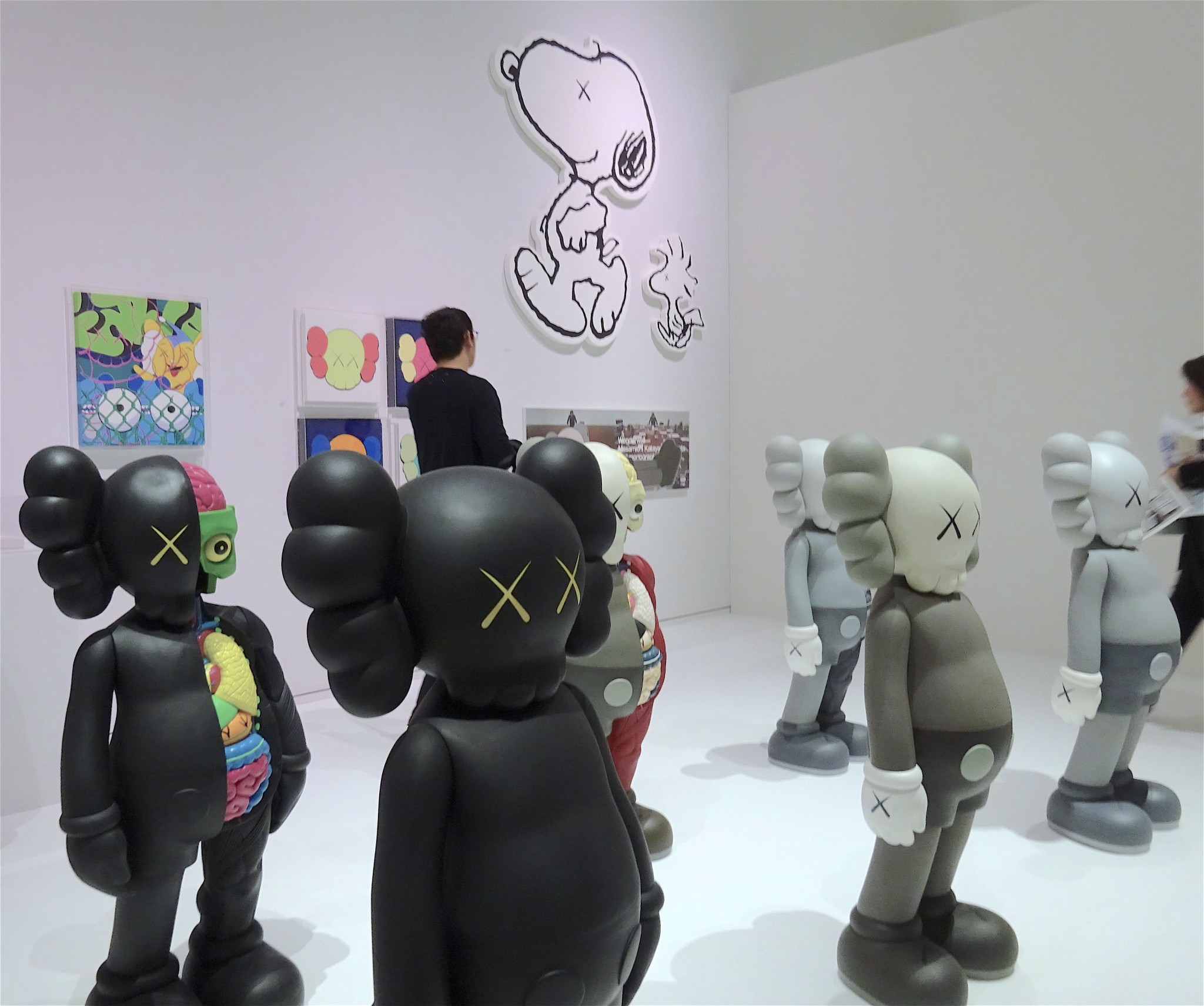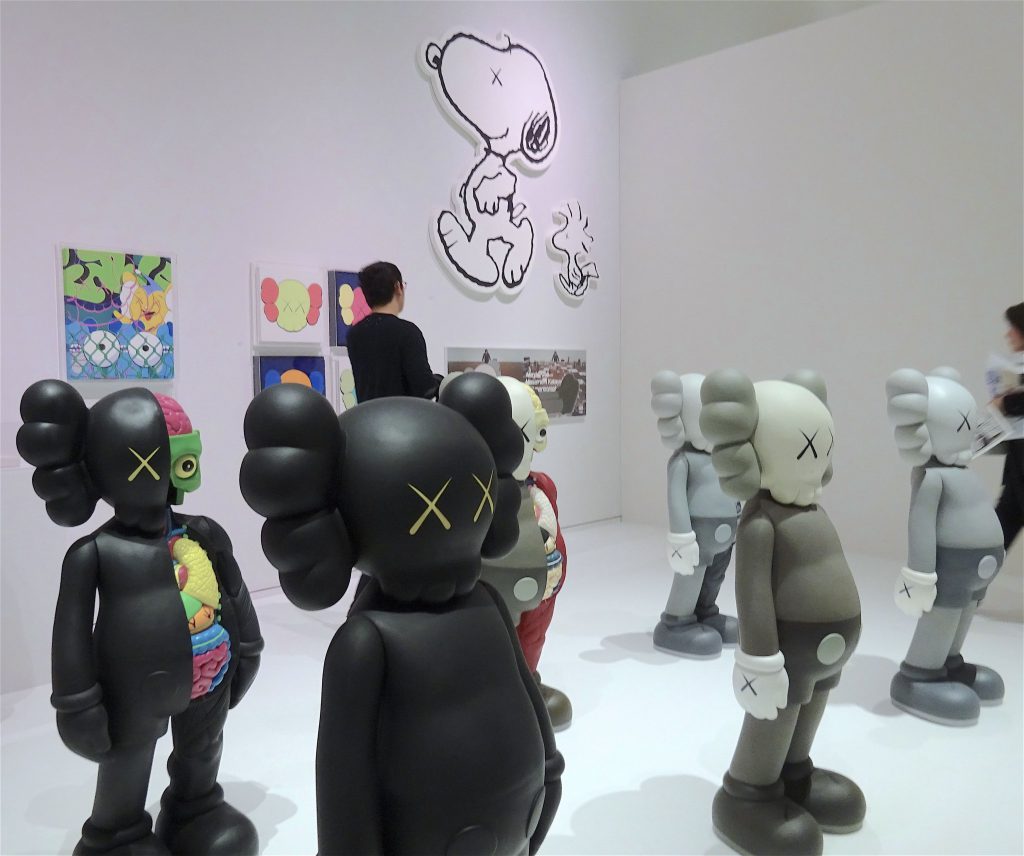 Above at: 東京オペラシティ アートギャラリー Tokyo Opera City Art Gallery
5 months later at: "The Now: The Katayama Collection" September 19 2017, PHILLIPS Auction, New York City
archival links:
アート・フリッパー、ワンダーウォール代表片山正通氏の態度はよろしくない (2017年9月24日)
http://www.art-it.asia/u/sfztpm/N8g2TcIo30j5biqhxreY/
ワンダーウォール代表、片山正通が所有するコレクション70点がニューヨークのオークションに出品 (2017年8月27日)
http://www.art-it.asia/u/sfztpm/JZtiyXgPLFTbqlws3KAu
クール片山正通:魅力的な現代アート・コレクションをイケル (1+2) (2017年4月16日)
http://www.art-it.asia/u/sfztpm/a5LmHOGh4i6ux0trKnUe/
http://www.art-it.asia/u/sfztpm/KhNmpocTA80b23Ue64gJ/
Another work by KAWS had been bought by Japanese collector Oketa, see the link:
桶田コレクション展 'LOVE @ FIRST SIGHT' @ スパイラル 東京
Oketa Collection exhibition 'LOVE @ FIRST SIGHT' @ SPIRAL Tokyo
https://art-culture.world/articles/oketa-collection-exhibition-love-at-first-sight-桶田コレクション/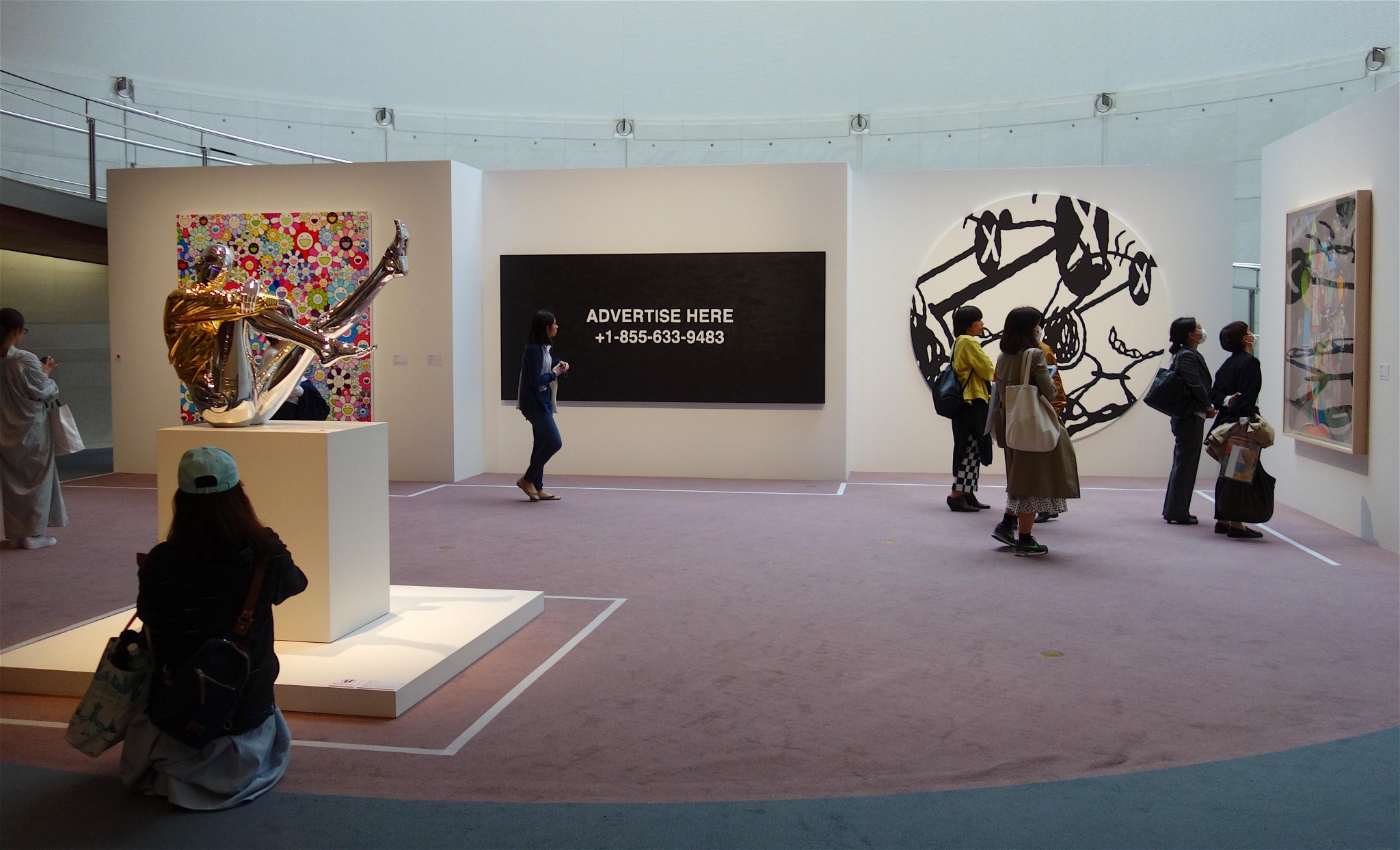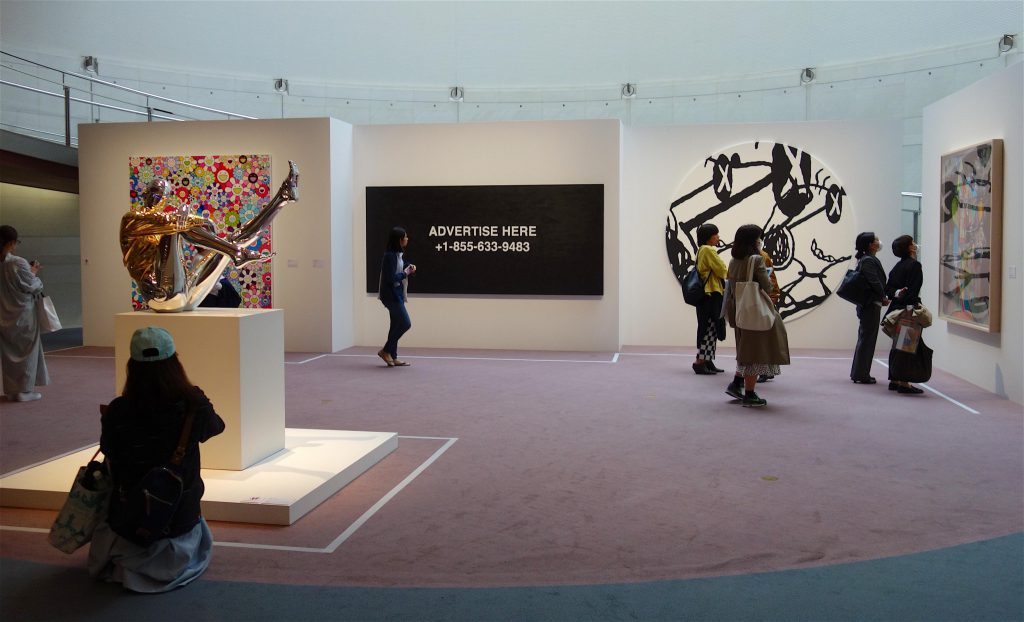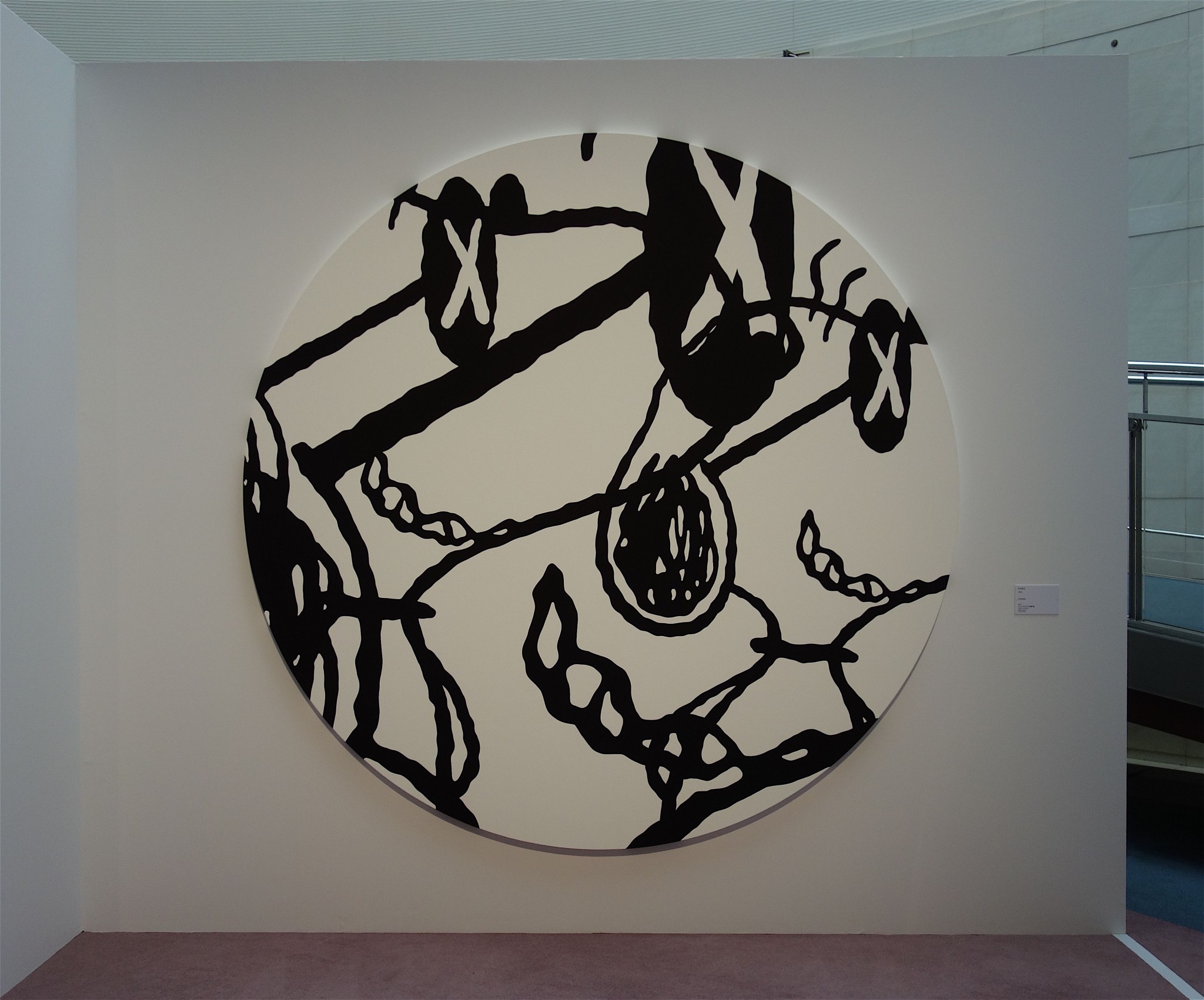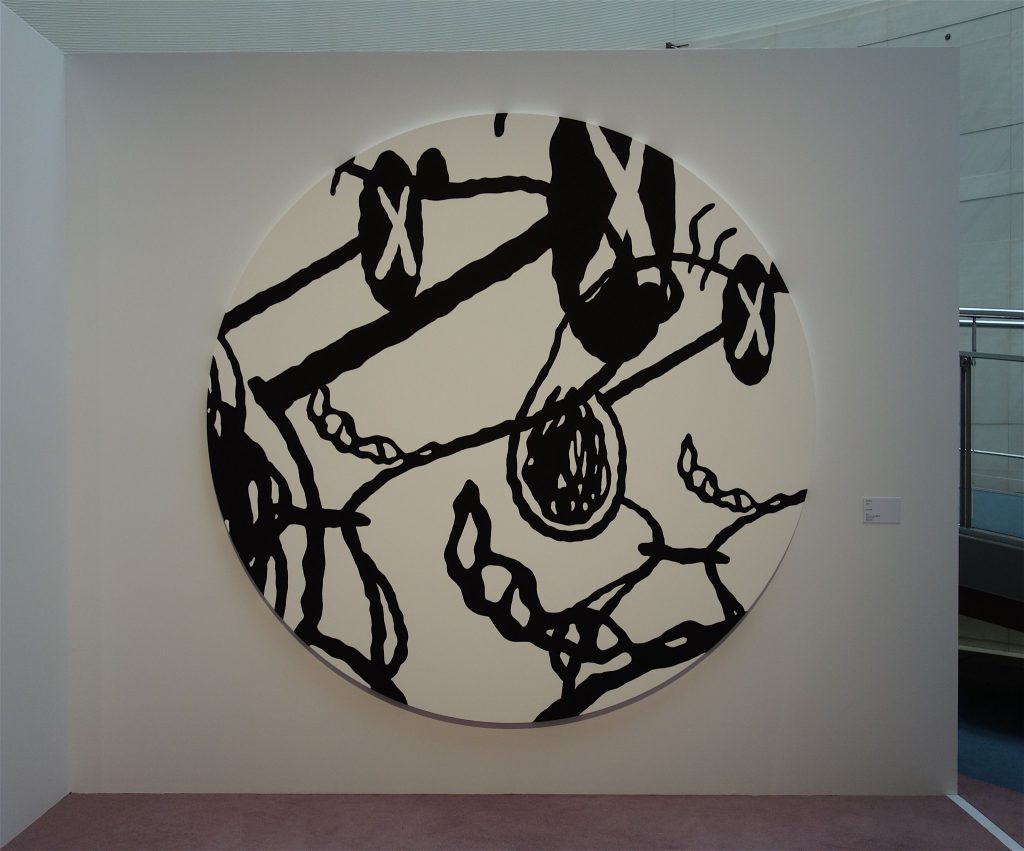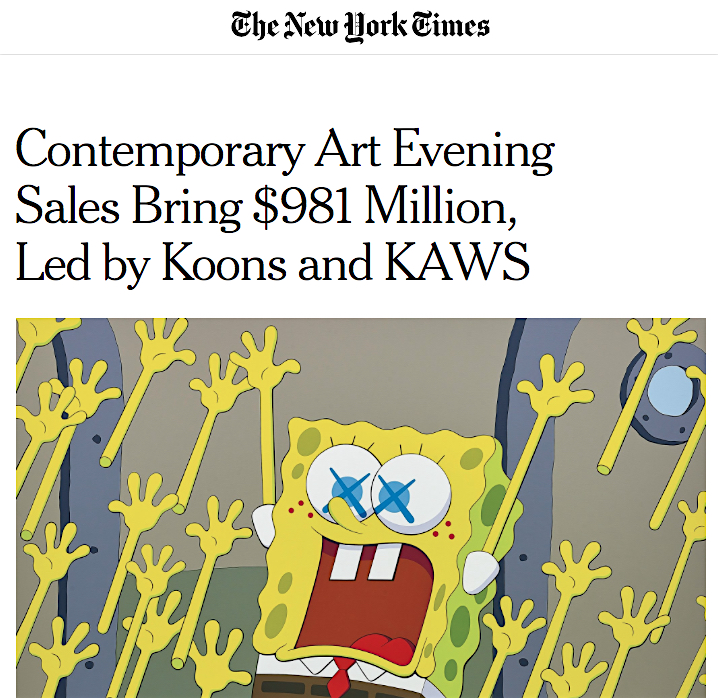 Contemporary Art Evening Sales Bring $981 Million, Led by Koons and KAWS
By Scott Rayburn, May 17, 2019, New York Times
(quote 1)
Call it KAWSMANIA. The former graffiti tagger Brian Donnelly, who in 2021 will be the subject of a survey show at the Brooklyn Museum, was definitely the artist of the moment at this week's marquee auctions held by Sotheby's, Christie's and Phillips.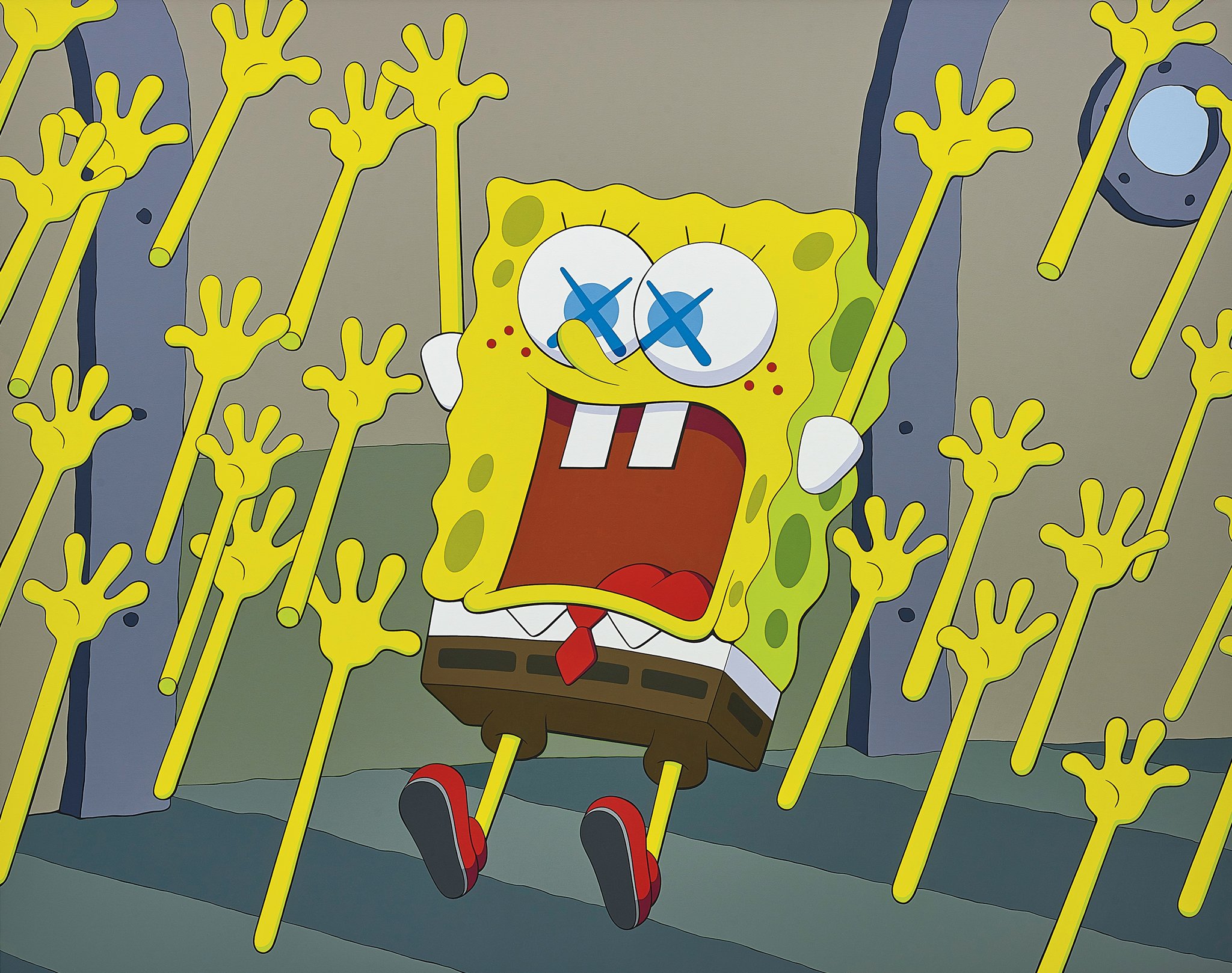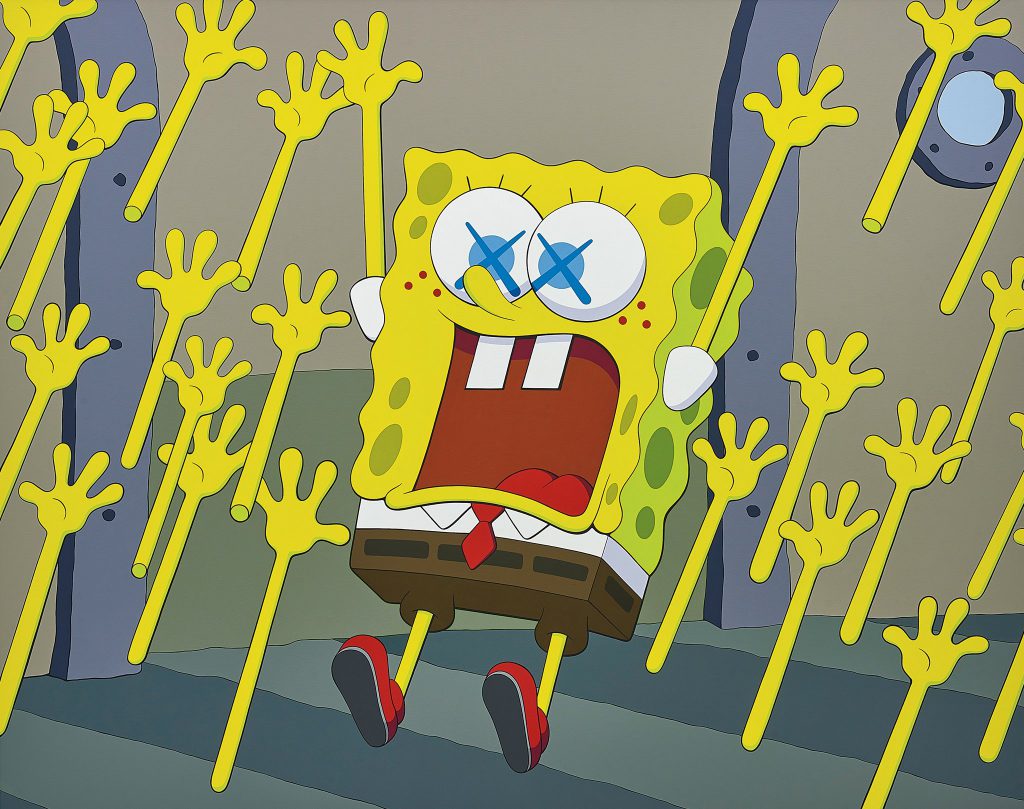 ここに載せた写真とスクリーンショットは、すべて「好意によりクリエーティブ・コモン・センス」の文脈で、日本美術史の記録の為に発表致します。
Creative Commons Attribution Noncommercial-NoDerivative Works
photos: cccs courtesy creative common sense
(quote 2)
Time and again this week, estimates were left far behind by eager multiple bidders when a KAWS came under the hammer. On Wednesday night at Christie's, the artist and designer's 2009 painting "Kurfs (Tangle)," inspired by the Belgian comic characters, the Smurfs, sold for $2.7 million, more than four times the low estimate.
Demand was even greater this afternoon at Phillips for "The Walk Home," a 2012 painting featuring the cartoon character SpongeBob SquarePants, but with the artist's trademark crossed-out eyes. At least five telephone bidders battled for this lot — at one point the price jumped $1 million with a single bid — before it finally sold for $6 million, the highest price of the week for the artist. The result was 10 times the low estimate of $600,000.
"The early attention to his work came from younger, emerging buyers from Asia," said Scott Nussbaum, head of 20th Century and Contemporary Art in New York at Phillips, explaining how the market for KAWS, who currently has 1.9 million followers on Instagram, has expanded. "But now we're seeing older, established collectors from the United States and Europe walking into our galleries and asking to see the KAWS as well as the de Kooning."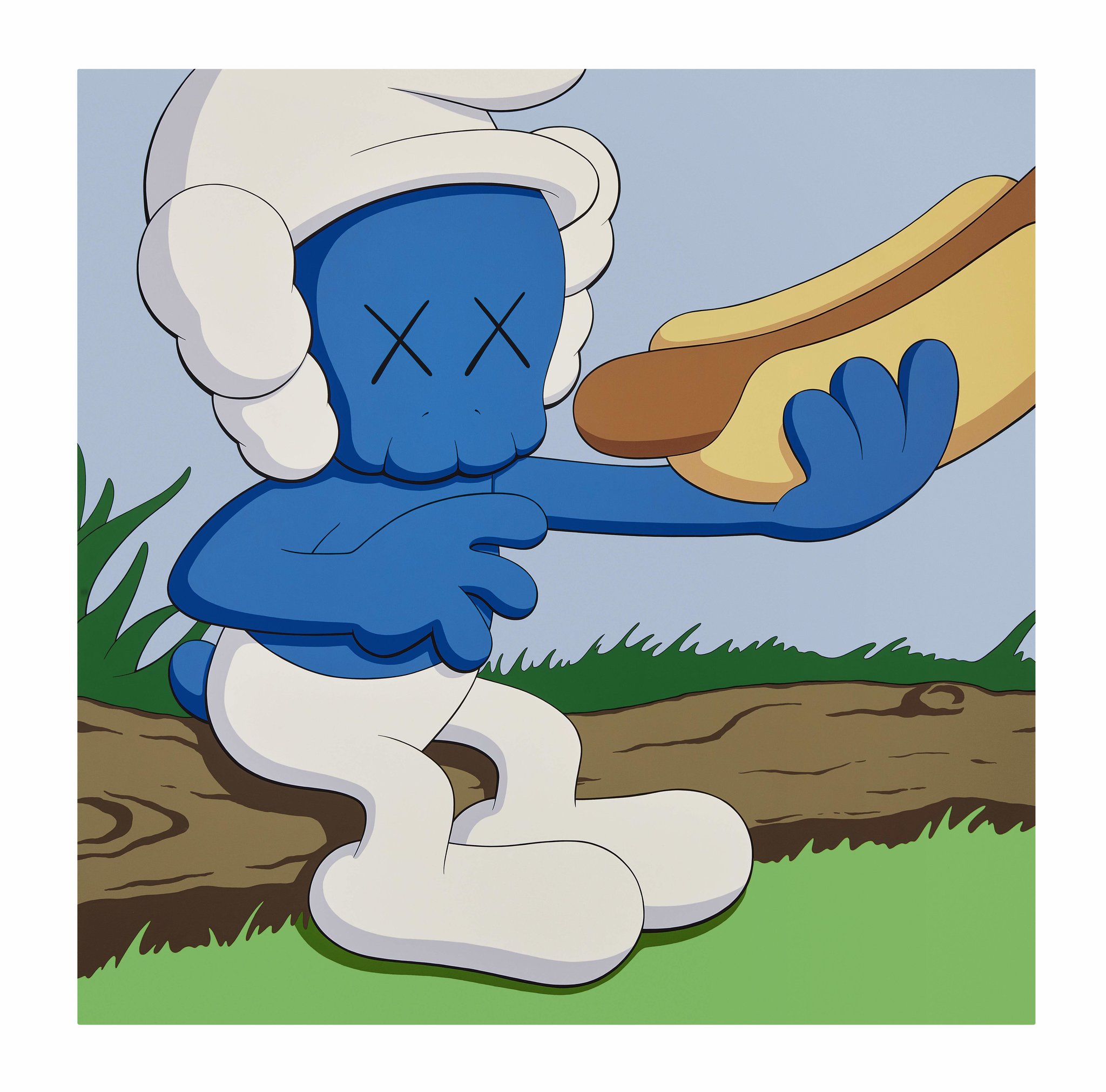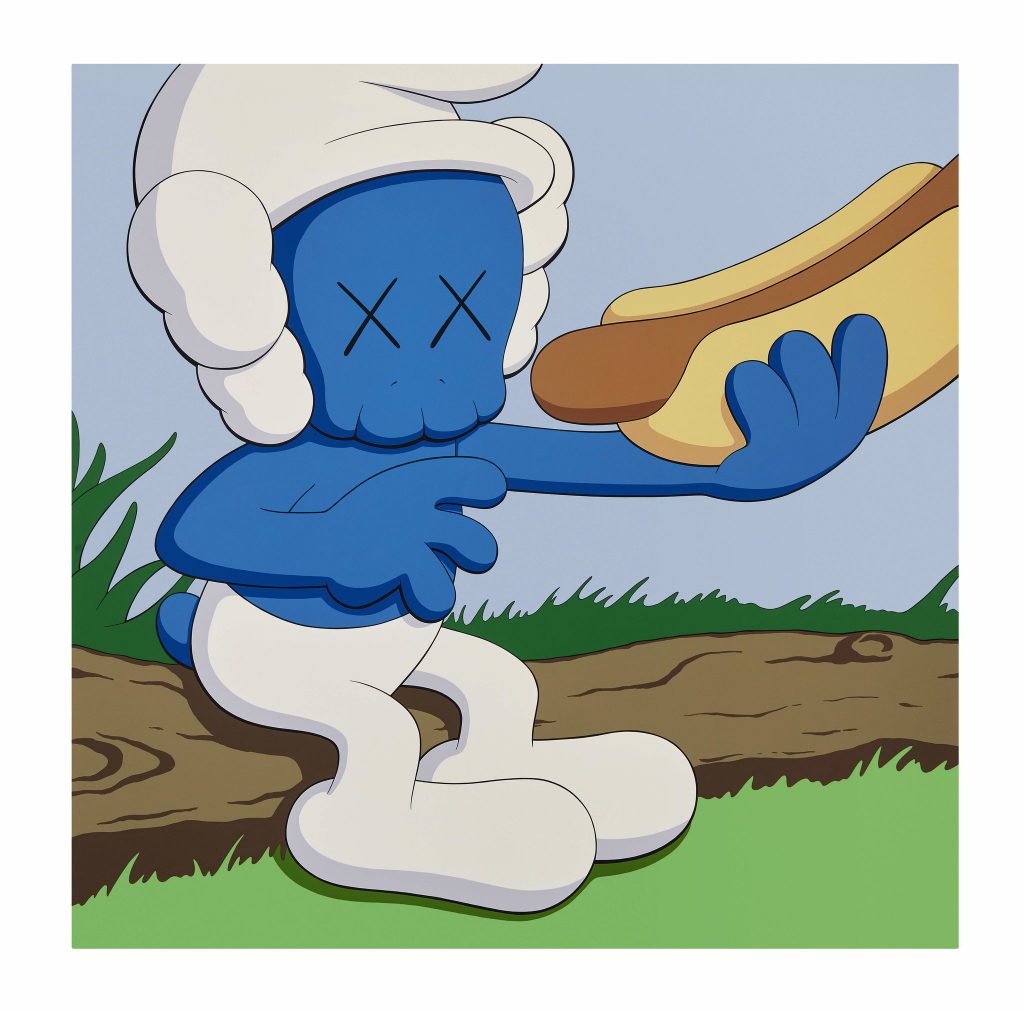 ここに載せた写真とスクリーンショットは、すべて「好意によりクリエーティブ・コモン・センス」の文脈で、日本美術史の記録の為に発表致します。
Creative Commons Attribution Noncommercial-NoDerivative Works
photos: cccs courtesy creative common sense
(quote 3)
Later in the evening, Sotheby's also jumped on the KAWS bandwagon when it offered the 2008 canvas, "Kurf (Hot Dog)," estimated at $1.5 million to $2.5 million. Competition was a little more measured here; the telephone bidding stopping at $2.7 million.
Still, it seemed to represent a speculative side of the market hungry for the next big thing. "The market is wacky. History means nothing. It's more about momentum and trading," said Douglas Walla, a private dealer based in New York, commenting on the current vogue for KAWS. "The whole thing is lubricated by social media. Artists have been able to become successful without having to engage with the critical arena."
full text:
https://www.nytimes.com/2019/05/17/arts/design/auction-contemporary-art-981-million-koons-kaws.html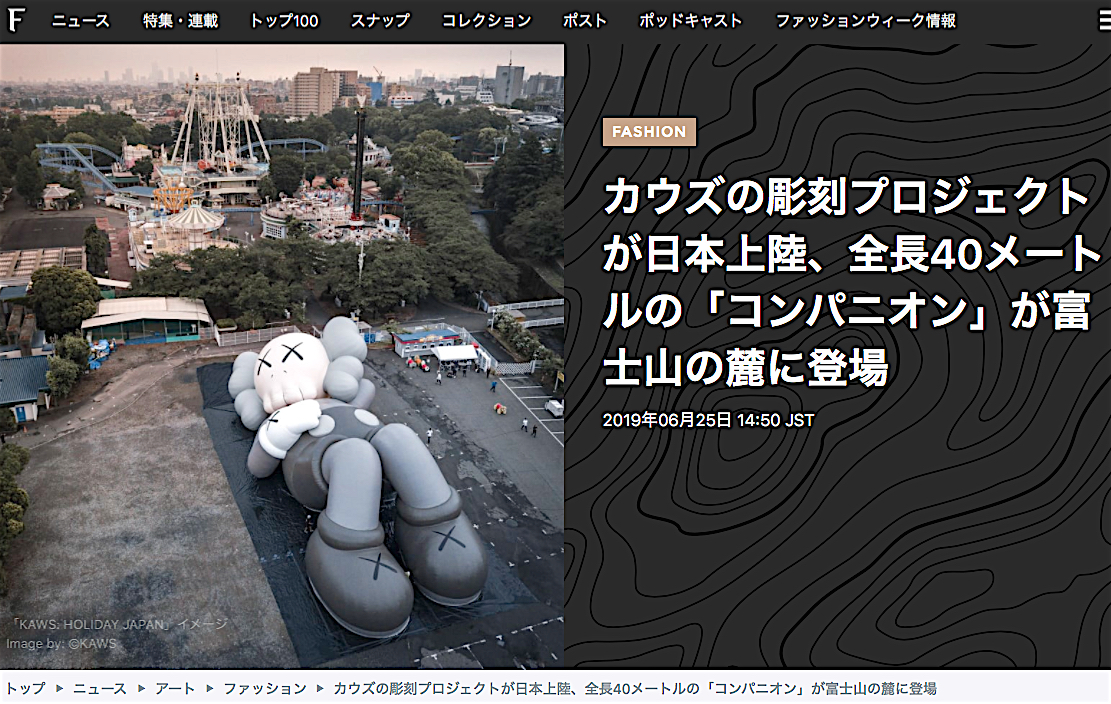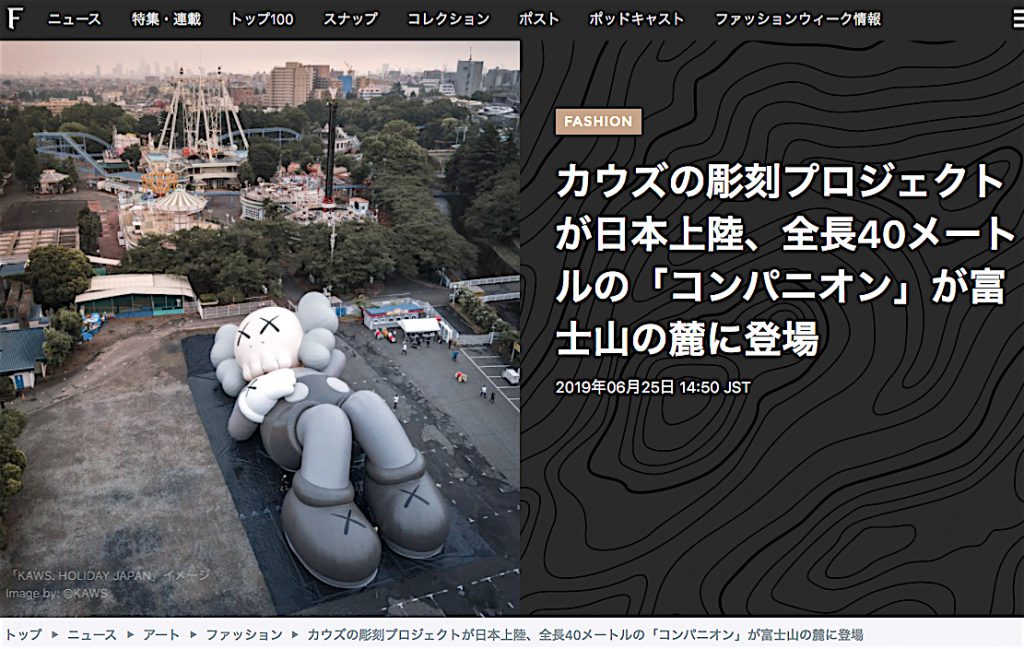 ここに載せた写真とスクリーンショットは、すべて「好意によりクリエーティブ・コモン・センス」の文脈で、日本美術史の記録の為に発表致します。
Creative Commons Attribution Noncommercial-NoDerivative Works
photos: cccs courtesy creative common sense
カウズの彫刻プロジェクトが日本上陸、全長40メートルの「コンパニオン」が富士山の麓に登場
https://www.fashionsnap.com/article/2019-06-25/kaws-holiday-japan/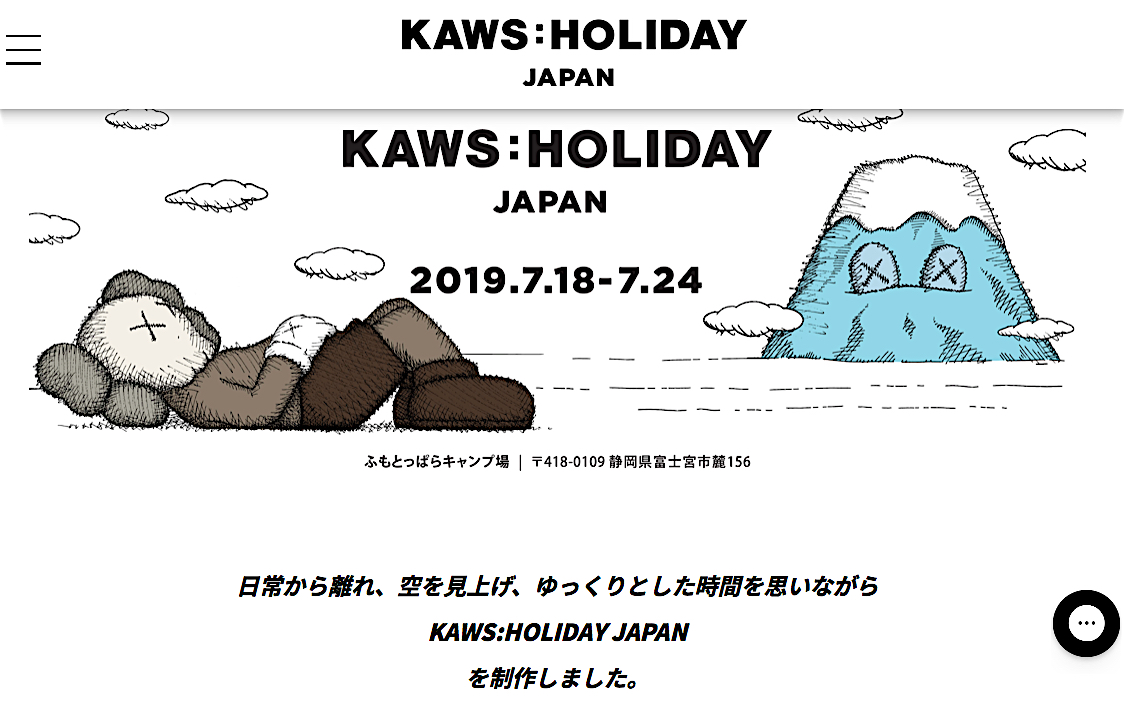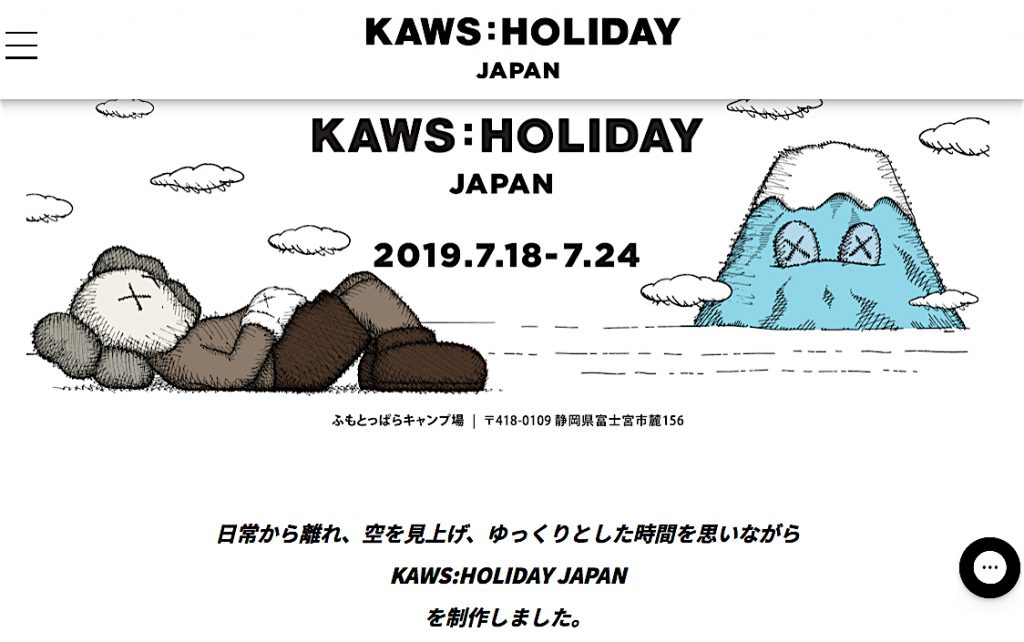 ここに載せた写真とスクリーンショットは、すべて「好意によりクリエーティブ・コモン・センス」の文脈で、日本美術史の記録の為に発表致します。
Creative Commons Attribution Noncommercial-NoDerivative Works
photos: cccs courtesy creative common sense
日常から離れ、空を見上げ、ゆっくりとした時間を思いながら
KAWS:HOLIDAY JAPAN
を制作しました。
https://kawsholidayjp.dingdongtakuhaibin.com/jp
Today's Facebook bonus 今日のフェイスブックより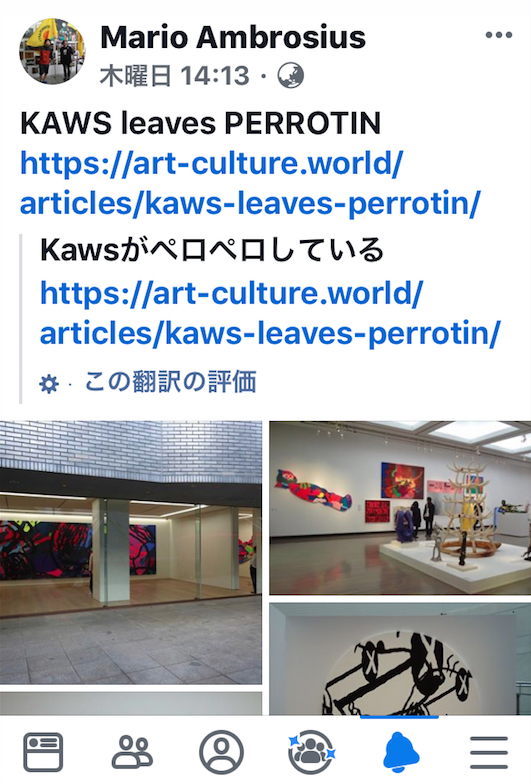 Today's instagram bonus 今日のおまけ: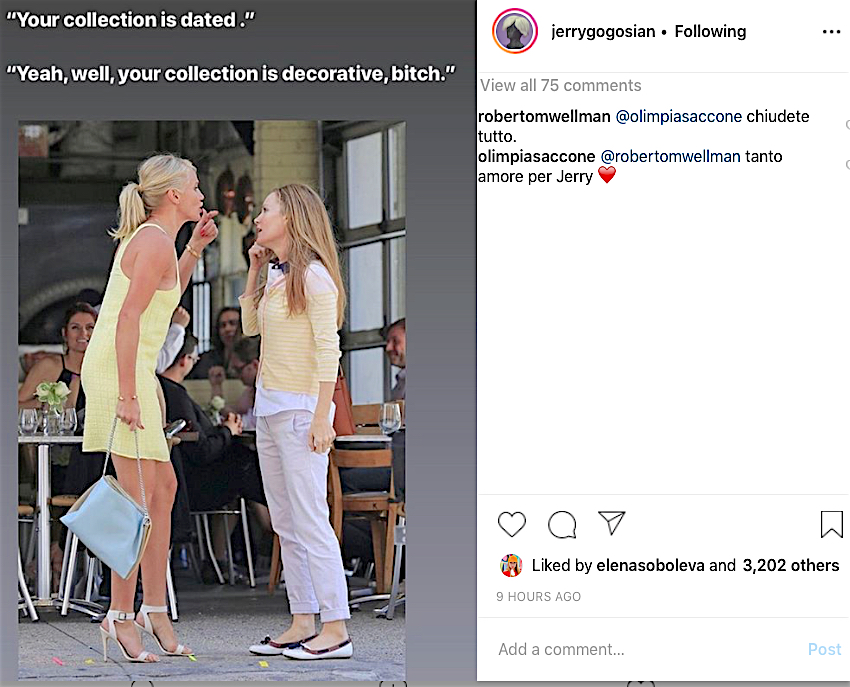 ここに載せた写真とスクリーンショットは、すべて「好意によりクリエーティブ・コモン・センス」の文脈で、日本美術史の記録の為に発表致します。
Creative Commons Attribution Noncommercial-NoDerivative Works
photos: cccs courtesy creative common sense