米国の経済対策、アーティストの為の給与補償プログラムローン
U.S. Business Loan Program PPP for Artists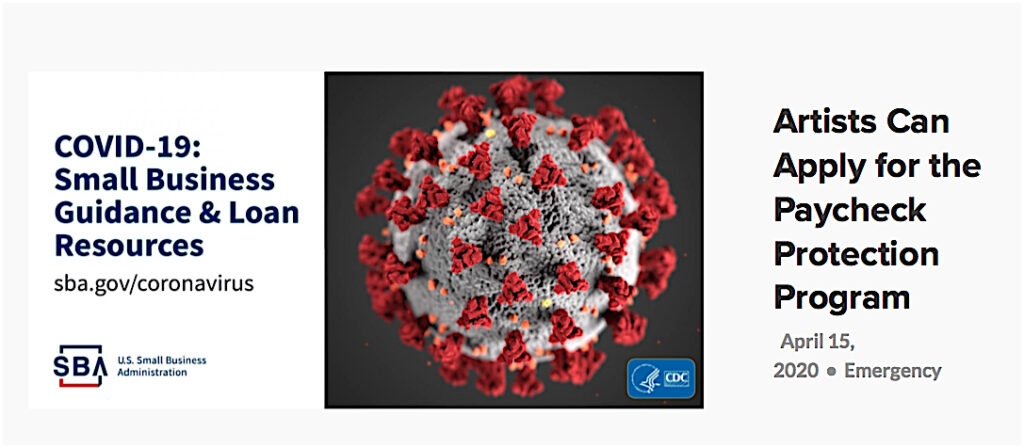 Unimaginable here in Japan, global art media reports that U.S. artists, regarded as "cultural workers", and art dealers are receiving thousands and millions of taxpayer-funded forgivable US-Dollar-loans during this precarious COVID-19 era.
The Paycheck Protection Program (PPP) allows entities to apply for low-interest private loans to pay for their payroll and certain other costs. The amount of a PPP loan is approximately equal to 2.5 times the applicant's average monthly payroll costs. The loan proceeds may be used to cover payroll costs, rent, interest, and utilities. The loan may be partially or fully forgiven if the business keeps its employee counts and employee wages stable. The program is implemented by the U.S. Small Business Administration. The deadline to apply for a PPP loan was initially June 30, 2020, and was later extended to August 8 2020.
To legally qualify for the loans, you have simply to certify in a vague context, that you and your staff are in an economic stressful situation. (Which normally is always the case here in Japan.)
Studios for artists such as Jeff Koons, Robert Longo, and Julie Mehretu received loans ranging from $150,000 to $2 million. Koons's studio reported that its $1m-$2m loan supported 53 jobs. Dan Colen, Daniel Arsham, Sterling Ruby, and Tom Sachs were all awarded at least $150,000.
Pace Gallery, Gagosian, and David Zwirner all received loans of between $2 million and $5 million from the program; Blum and Poe, Hauser and Wirth, Jack Shainman Gallery, Kasmin, Lisson Gallery, Barbara Gladstone, Luhring Augustine, Matthew Marks, 303 Gallery, Tonya Bonakdar, Perrotin, Skarstedt, Marlborough Gallery received loans ranging from $350,000 to $1 million. LA Louver, Anton Kern, Michael Rosenfeld, Richard Gray, Carpenter's Workshop, Petzel, Miguel Abreu and DC Moore received funds between $150,000 and $350,000.
Nevertheless, David Zwirner laid off around 20% of his 200 employees. Pace says it could retain 80 jobs with the PPP loan, although it had to furlough around 24 employees in April. Gagosian proclaims to have saved 203 jobs, although all part-time staff and interns are now on furlough, too.
On the auction side, Phillips and Bonhams were awarded between $2 million and $5 million. Artnet, online resource for the international art market, received between $1 million and $2 million.
Let's hope that we Japanese artists can survive in the next months to come. Daytime jobs for artists are the norm. There exists some smaller aid programs from the city of Tokyo and other organisations, however, in comparison to the U.S., the scale of help can be regarded as minuscule.
SBA Paycheck Protection Program Loan Level Data
https://home.treasury.gov/policy-issues/cares-act/assistance-for-small-businesses/sba-paycheck-protection-program-loan-level-data
米国の中小企業はコロナウイルス(COVID-19)の蔓延による前例のない経済混乱に直面しており、米国中小企業庁(SBA)は支援に乗り出しています。 新たなCOVID-19 救済パッケージによる追加出資金を受け、SBA は2020年4月27日(月曜日) から参加貸し手の給与保護プログラム(PPP)申請の受付を再開しました。
英語以外の方の応募に役立つ情報として、他の言語で提供される情報を参照してください。
注記:数多くのSBA プログラム(PPP 含む)では、申請者は英語以外の資料受諾あるいはカスタマーサポートを提供できない可能性がある銀行、信用組合、その他の貸し手との連携が求められています。従って、申請は英語で行う必要があります。以下の文書は全て情報提供のみを目的とします。
新情報が随時提示されますので、こちらを定期的に確認してください。
PPPに関するよくある質問
詐欺および詐欺の計画に要注意
宗教団体 よくある質問
SBA債務救済ファクトシート
SBA地域支援
PPP 融資額を計算する方法
PPPローン免除申請フォームの略式フォームの説明
PPPローン免除申請(略式)
PPPローン免除申請の説明
PPPローン免除申請
https://www.sba.gov/page/coronavirus-recovery-information-other-languages#section-header-12
https://www.sba.gov/sites/default/files/2020-05/Paycheck-Protection-Program-Frequently-Asked-Questions_05%2013%2020_Japanese.pdf
---
'This Moment Is Like a Tornado': In the Past Month Alone, 17 American Museums Have Cut Almost 1,500 Jobs
Museums across the US instituted cutbacks as PPP loans and the 2020 fiscal year ended in June.
artnet, Sarah Cascone, July 8, 2020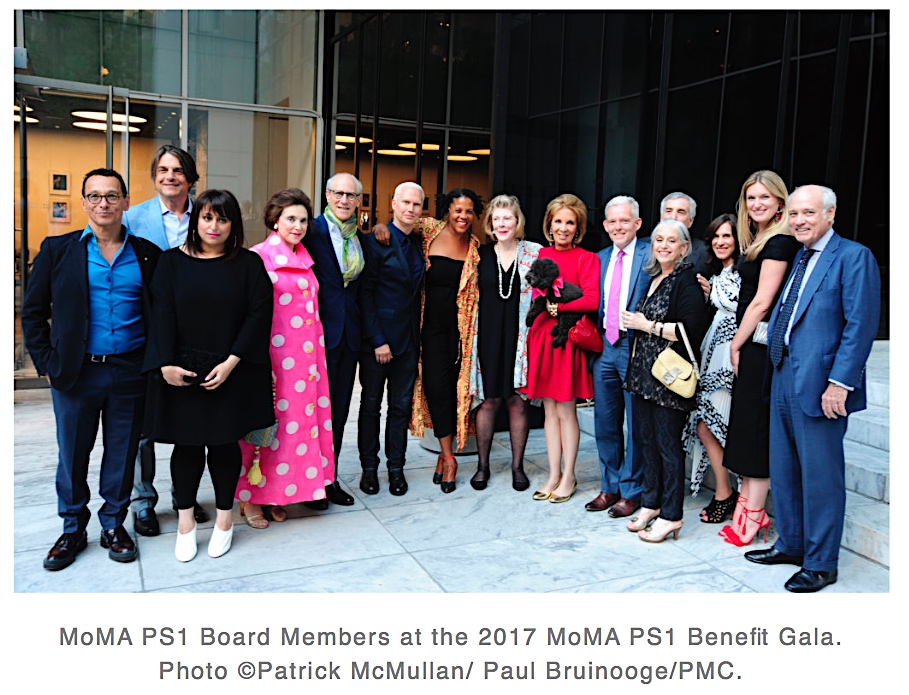 quotes:
The squeeze comes as museums have increasingly relied on a small number of donors giving large amounts of money to fund ambitious capital projects. Just four people—Leon Black, David Geffen, Ken Griffin, and Steve Cohen—gave more than 50 percent of the Museum of Modern Art's $400 million capital campaign to fund its recent expansion. "Asking them to protect workers is a much more modest request, but it doesn't come with an auditorium or gallery named after them," Art and Museum Transparency said.
—
June 30
The New Museum, New York, laid off 18 workers who had been among 41 staff members put on furlough in April, or 27 percent of full-time staff, on top of earlier reductions. After earlier reductions, only 56 of 137 staff members remain on payroll, including just seven union members from a unit of 84. The museum has cut the director's salary by 30 percent, with 10 to 20 percent pay cuts for other executives. The museum received a PPP loan of between $1 million and $2 million in April. Health care for furloughed or laid off employees is being extended through August.
https://news.artnet.com/art-world/widespread-museum-layoffs-1889770
---
(Similar help for art workers in Los Angeles.)
LA Art Workers Relief Fund Announces First Round of Emergency Grants
The LA Art Workers Relief Fund, an emergency relief fund designed to aid Los Angeles–based art organizations and workers impacted by the coronavirus pandemic, has awarded $1,000 emergency grants to 60 grantees in June. Since the launch of the project, 160 donors raised a total of $70,978. For the next round of grant-giving in September, the LA Art Workers Relief Fund hopes to raise at least $50,000 to distribute among 60 more grantees. This round of grantees was supported by a range of high-profile figures and spaces within the city's art scene, including artists Paul Mpagi Sepuya and Andrea Bowers and the gallery Blum & Poe.
https://www.artnews.com/art-news/news/breaking-art-industry-news-july-2020-week-1-1202693523/
---
7月10日に申請が始まった文化庁の「文化芸術活動の継続支援補助金」。フリーランスに20万円からの支援を行うこの補助金について、文化庁が簡便な手続きによる申請を呼びかけている。
フリーランスの芸術家等に該当することを認める《確認番号》の発行について
《確認番号》発行の申請については、多様な実作者やマネージメントの人材を統括する団体が美術分野に存在しないため、関係機関、団体と協議の上、法人格を有し、文化芸術推進フォーラムの会員である当連盟が事務手続の窓口を担うこととなりました。
実際の《確認番号》発行手続きにあたっては、今回に限って、以下の分類を設定して対応してまいります。
《1》なんらかの美術の団体に所属する方、日本美術家連盟会員、同連盟会員の推薦を受けた方
《2》《1》以外の無所属の方(実作者及びマネージメント系の職能の方を含む)
《1》のグループの方については、当連盟にて《確認番号》発行の要件に適合しているか要件確認を行います。
《2》のグループの方については、京都芸術センターの協力を得て編成された「無所属系作家確認証発行連合体」(メンバーリスト)にて要件確認を行います。
なお、《確認番号》発行手続きの混雑が予想されることから、美術について事業収入を得ていることを証明する資料《確定申告書、持続化給付金の受給証明等》を提出できる方は、《確認番号》を取得することなく、直接日本芸術文化振興会事務局にご応募いただきますよう、ご協力をお願いいたします。
日本芸術文化振興会標題補助金案内ページ
【本補助金に関するお問い合わせは下記まで】
日本芸術文化振興会標題補助金コールセンター
TEL: 0120-620-147(平日・土日 10:30〜17:00)
※当連盟事務局は、土日はお休みです。お問い合せは上記コールセンターまでお願いします。
http://www.jaa-iaa.or.jp/aid2020/index.html
---
up-date 2020/8/3
Germany boosts art acquisition budget to €3m from €500,000 to support artists and galleries
Government plans to buy 150 works to help overcome the economic impact of the coronavirus pandemic
Catherine Hickley, 2020/8/3
The German government has beefed up this year's budget for art acquisitions for the federal collection, pledging to buy around 150 works worth €3m in total in a bid to help artists and galleries overcome the economic impact of the coronavirus pandemic.
An independent commission will purchase art directly from artists and galleries across Germany as well as acquiring works at fairs, the culture ministry says in a statement. Most acquisitions will not exceed €20,000, the statement adds.
The six-fold increase in the budget is intended as a "quick and effective impetus to revive art production in a difficult climate", say the culture minister Monika Grütters in a statement. "Spreading the acquisitions broadly should above all help small galleries to profit and direct purchases from studios should encourage and support artists."
The federal collection of contemporary art was founded in 1971 and encompasses 1,700 works to date. Until now, its annual budget has not exceeded €500,000. An independent commission, whose members serve for five years, selects the acquisitions.
The Federal Association of German Galleries and Fine Art Dealers (BVDG) says its members have been "drastically damaged" by the coronavirus lockdown and subsequent restrictions, with galleries suffering income losses of between 60% and 100%. The association has demanded a series of government measures to help dealers get back on their feet, including a dramatic reduction in VAT and tax incentives for art purchases.
https://www.theartnewspaper.com/news/germany-boosts-budget-for-federal-art-acquisitions
---
up-date 2020/8/17, one case in Germany
Unterstützung für Künstlerinnen und Künstler und Kulturinstitutionen
Um die lebendige und vielfältige Kulturlandschaft Nordrhein-Westfalens zu sichern und kreative Potenziale freizusetzen, stellt das Land angesichts der Auswirkungen der Corona-Krise insgesamt 185 Millionen Euro bereit. Das Kulturstärkungspaket besteht aus zwei Bausteinen: Einem großangelegten Stipendienprogramm für freischaffende Künstlerinnen und Künstler in Höhe von 105 Millionen Euro sowie einem Stärkungsfonds für Kultureinrichtungen in Höhe von 80 Millionen. Die Mittel sind Teil des umfassenden Konjunkturpakets des Landes. Inklusive des NRW-Stärkungspakets "Kunst und Kultur" und den weiteren zuvor ergriffenen Maßnahmen belaufen sich die zusätzlichen Mittel des Landes zur Unterstützung der Kultur während der Corona-Pandemie auf mehr als 200 Millionen Euro. Das entspricht fast 75 Prozent des Kulturetats 2020 von 274 Millionen Euro.
more at:
https://www.mkw.nrw/FAQ_Sofortprogramm
---
文化芸術活動の継続支援事業
https://keizokushien.ntj.jac.go.jp
「文化芸術活動の継続支援事業」は、新型コロナウイルス感染拡大の影響により活動自粛を余儀なくされた文化芸術関係団体等に対し、感染対策を行いつつ、直面する課題を克服し、活動の再開・継続に向けた積極的取組等に必要な経費を支援し、文化芸術の振興を図ることを目的としています。
申請期間
【第2次募集】 令和2年8月8日(10:00)~8月28日(17:00)
【第3次募集】 令和2年9月12日~9月30日(予定)
 ※第3次募集は、行わない場合があります。
文化芸術活動の継続支援事業
https://www.bunka.go.jp/shinsei_boshu/kobo/20200706.html
2020.8.14
第5回交付決定  632件(音楽294件、演劇168件、舞踊44件、映画・アニメーション8件、コンピュータその他の電子機器等を利用した芸術1件、伝統芸能17件、大衆芸能42件、美術19件、写真4件、国民娯楽3件、舞台スタッフ32件)
8月14日(金)に,新たにA-①598件(うち事前確認団体による確認が行われていたもの454件),A-②31件(うち事前確認団体による確認が行われていたもの13件)、B3件の計632件を交付決定しましたのでお知らせします。前払い(概算払)を希望した方については,10日以内にお支払いする予定です。なお,今回決定に至らなかった申請については申請内容の事実確認などを行っています。
また,これまでに交付決定した累計件数は,904件(A-①861件,A-②40件、B3件)になります。
(注)
A-①:標準的な取組を行うフリーランス等向け(上限20万円)
A-②:より積極的な取組を行うフリーランス等向け(上限150万円)
B:小規模団体向け(上限150万円)
共同申請:小規模団体・個人事業者向け(上限1,500万円(10者の場合))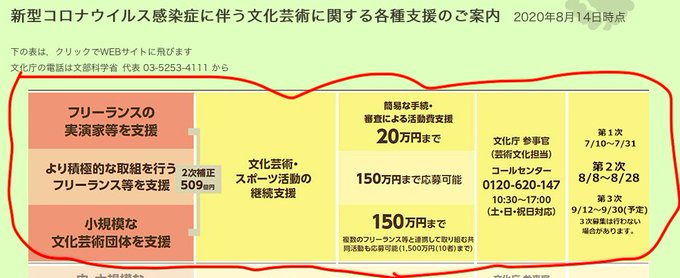 ---
2020/8/19 up-date
It's official: galleries and art fairs at risk of collapse can apply for UK's £1.57bn rescue package
Priority will be given to institutions of regional and national significance
quotes:
According to criteria published on the Arts Council England's (ACE) website, "limited companies registered at Companies House" and based in England can either apply for a long-term loan (in excess of £3m and repayable at 2% per annum over 20 years) or a recovery grant of between £50,000 and £3m. However, there has been some confusion as to who the rescue package applies to and some trade bodies and fair directors were not aware that commercial art businesses were eligible to apply when contacted by The Art Newspaper.
Unlike the ACE's previous emergency response package, this fund covers "charitable, publicly supported and fully commercial organisations of all sizes in the arts, museums, heritage sectors as well as music venues and independent cinemas", says a spokesman for the department of culture, media and sport (DCMS).
He adds: "Funding will be prioritised for organisations that are of local, regional and national importance, and where they play a key role in levelling up their local communities." The Tate is understood to be in line to receive £7m, although this has not been enough to prevent 313 redundancies from its commercial arm next month.
ACE will distribute £500m of the funding, while the British Film Institute, Historic England and the National Lottery Heritage Fund will also allocate grants. The loans package is worth £270m, with an initial repayment holiday of up to four years.
In order to receive support, organisations must have been financially stable before Covid-19, but are now "at imminent risk of failure and have done all they can to exhaust other options", the DCMS spokesman says. The fund is intended to provide organisations with support over a six-month period to ensure that by 31 March 2021 they can reopen, if they haven't done so already.
Successful applicants must also adhere to a number of conditions, including a pay freeze on all staff for at least 18 months and a 10% pay cut for those on more than £150,000 a year; a commitment to increase diversity both in terms of staff and audiences; and a pledge to reach net zero greenhouse gas emissions by 2050.
Organisations do not have to have a history of government financing—from the ACE or any other public body—to apply.
The first round of funding opened on 10 August and closes 21 August, while a second round runs from 21 August to 4 September. As much as 75% of the budget is being allocated in the first round.
full text:
https://www.theartnewspaper.com/news/it-s-official-galleries-and-art-fairs-at-risk-of-collapse-can-apply-for-uk-s-gbp1-57bn-rescue-package
---
up-date, 2020/8/24: "art for all"
制作:art for all
https://sites.google.com/view/artforall-jp/
20/08/22
文化庁の「文化芸術活動の継続支援補助金」 の申請方法ガイドを制作しました。美術の作品制作をする人の場合、どのように記載すれば良いのかなどを具体的に説明していますので、申請を迷ってる方など是非ご覧ください。
文化芸術活動の継続支援補助金
文化芸術活動の継続支援事業
支援金A-①(20万円)申請マニュアル
https://docs.google.com/document/d/1fUVnvxMyhX08ewt-pWP2swi2O84dvaGwL42QO2oukF0/edit
---
up-date 2020/9/4
「文化芸術活動の継続支援補助金」の3次募集
約500億円にのぼる文化支援策、9月12日(土)10:00 ~ 9月30日(水)17:00
https://keizokushien.ntj.jac.go.jp
https://bijutsutecho.com/magazine/news/headline/22640
により:
「ネックになっているのは申請方法だ。あらためて説明すると、美術分野では申請を一般社団法人日本美術家連盟が事前確認窓口を担っている。対象をグループ(1)なんらかの美術の団体に所属する人、日本美術家連盟会員、同連盟会員の推薦を受けた人、グループ(2):グループ(1)以外の、団体に所属していない人、の2グループに分けて窓口を設け、それぞれ当該分野の専門家による要件確認が行われる。日本美術家連盟を通すことで簡便な申請手続きが可能な「確認番号」を発行することができるが、これが浸透しきっていないのが現状と言えるだろう。文化庁は、8月には申請方法をよりわかりやすく説明するための動画を作成。文化庁ウェブサイトに掲載するなどアピールを強める。」
---
Up-date 2020/12/15:
Agency for Cultural Affairs allocates 55.1 billion yen in the third supplementary budget. 37 billion yen for corona measures
文化庁は令和2年度の第3次補正予算案を発表。551億円という膨大な数字となった。
https://bijutsutecho.com/magazine/news/headline/23253
---
アップデート2020年9月8日
twitter.com/susumususumu/status/1302968001281495040
@susumususumu
芸術関係の皆さん、「文化芸術活動の継続支援事業」に応募しましょう。電話窓口に問合せたところ、現在、展覧会等の発表予定がなくても、今後も芸術関係活動を続けていくのであれば、それだけで支援対象になるとのことでした。今つくってる作品の材料代が出るということです!
https://keizokushien.ntj.jac.go.jp
補助形態はいくつかありますが、とりあえず、個人事業者向けの「A-1(上限20万)」「A-2(上限150万)」を見ましょう。支援額上限の違い、事業計画書の提出(A-2)が必要な以外、対象となる活動内容の条件は同じ。窓口の方曰く、事業計画書もA-1の応募記入ができるなら難しくないとのこと。
支援額は、応募する活動経費の2/3(ICT活用が入ると3/4になる場合も)。要するに20万円満額ほしい場合、約31万円の経費が必要ということです。ただ審査で目減りする可能性があるので、活動にかかった経費をわざわざ上限にあわせて調整せず、全額(例えば経費50万なら50万そのまま)申請した方が無難。
いわゆる"現代美術"の関係者は無所属が多いと思うので、本事業に応募する前に、日本美術家連盟から「事前確認番号」を発行してもらうとスムーズ。この申請は難しくないのでトライしてください。
http://jaa-iaa.or.jp/aid2020/index.html
以下の方々が要件確認をするようです。
ーーーーー
ーーーーー
http://jaa-iaa.or.jp/aid2020/kac0810.pdf
無所属系作家確認証発行連合体
認定員

赤塚 祐二(武蔵野美術大学)

石井 瑞穂(アーカスプロジェクト)

植田 憲司(京都府京都文化博物館)

内海 潤也(黄金町アートバザール)

小澤 慶介(アーカスプロジェクト)

小田井 真美(さっぽろ天神山アートスタジオ)
加治屋 健司(東京大学)

勝冶 真美(京都芸術センター)

慶野 結香(国際芸術センター青森)

小泉 俊己(多摩美術大学)

住友 文彦(アーツ前橋)

高坂 玲子(大阪府立江之子島文化芸術創造センター)
東海林 慎太郎(アーツイニシアティヴトウキョウ)
徳山 拓一(森美術館)

人長 果月(京都市立芸術大学)

藤澤 祐介(秋吉台国際芸術村)

三瀬 夏之介(東北芸術工科大学)

毛利 直子(高松市美術館)

山本 麻友美(京都芸術センター) ※事務局長
連合体アドバイザー

建畠 晢(京都芸術センター館長)
現在、全国のアートセンター、アーティスト・イン・レジデンス、美術館、大学の職員、教 員を中心にアーティストも交え組織しています。今後も適宜、追加更新していきます。
2020/08/10 現在
ーーーーーー
ーーーーーー
私自身、作家でなく裏方であることもあって、支援事業が出た際、要項をざっと見ただけで「発表が決まって動いているプロジェクトがないから応募資格はない」と思い込んでいました。今は、やっと日本美術家連盟へ申請して、連絡を待っているところです。支援事業は、9/12からの3次募集に応募します。
重要なのは「これまで芸術文化に関わっていて」「今後も芸術文化の仕事を行っていく」かどうかです。「これまで芸術文化に関わっている」とは、2017年度以降、2回以上の活動歴があれば条件クリアです。
本支援は、期間内(2020年2月26日~10月31日)に開催される展覧会などの発表だけではなく、期間後の発表のための活動、そのための準備にかかる経費も対象です。今後も芸術文化の仕事をする人であれば、期間内の活動は全て経費になるということです。2/26から溜めていた領収書が生きるのです!!
記載する活動内容に「活動の継続・再開のための公演・制作方法等の検討・準備・実施」という項目があります。自分の「技芸の研鑽」「技能向上」に関わっていれば経費になります。ダンスの稽古場賃料はもちろん、語学や経理の勉強もokとのこと。玉掛けやフォークリフトの講習もありだと思います!
会田誠
@makotoaida
早い段階で申請して断られ、気持ちが萎えたケースが多いと聞きます。それがもし本当なら、なぜそんなことが起き、この期に及んで「申請者が少ない」といった話になるのか。その不合理のメカニズムをちゃんと解明しないとダメだと思います。
twitter.com/makotoaida/status/1303018717228400640
———
up-date 2020/9/11:
Germany Is Giving Out $1.3 Million to Support Nearly 100 Artists Struggling at Home With Young Children During Lockdown
Awarded artists will each receive a €2,000 salary for six months.
Kate Brown, September 10, 2020
quotes:
The German government will give 96 contemporary artists who have children under the age of seven a six-month scholarship of €12,000 ($14,282) each.
The grant, managed by Bonn's Stiftung Kunstfonds and totaling €1.1 million ($1.3 million), is part of the German government's sweeping Neustart Kultur program, a $1 billion stimulus package launched in June to bail out various parts of the culture sector.
The demand for the parent-artist grant, which was announced over the summer, was so overwhelming that it caused a one-week delay in the decision-making process as the jury waded through applications. Nearly 850 artists across the country applied with 11.4 percent of them receiving the grant, a number that Stiftung Kunstfonds's managing director, Karin Lingl, told Artnet News Lingl "is far too low."
The pandemic has hit parents "particularly hard, especially if they have to care for small children of pre-school age while also enduring a loss of their income," Lingl said. "Free artistic work is particularly difficult under these conditions."
The grant comes in the form of a monthly salary of €2,000 ($2,380) over six months. The awardees were announced on September 7.
Grants were awarded not based on need, but rather on the quality of projects proposed. Grantees include some higher profile artists including the American, Berlin-based artist Jason Dodge, as well as Pablo Wendel, one of the co-founders of the new E-Werk art center just outside the city. Lerato Shadi, whose solo show just opened as a part of Berlin Art Week at the Kindl Center for Contemporary art, was also awarded the scholarship.
full text:
https://news.artnet.com/art-world/artist-parent-stipend-germany-1907281
---
2020年9月15日 アップデート
今日:
細川英一|アート専門出版社「ART DIVER」代表
@eiichiHosokawa
神宮の杜芸術祝祭シンポで青柳正規さんが基調講演。なぜか政府批判から始まったのだけど、コロナ支援金の財源における、日本とドイツの比較はわかっていたけどショックだった。ドイツ=財源を明らかに、返済計画なども明示。日本=財源なし、返済計画もなし。つまり、子供、孫への借金。
twitter.com/eiichiHosokawa/status/1305520846958600193
2020/9/29 up-date:
In Germany's Latest Bailout for the Arts, the Government Is Spending $18.7 Million to Keep Commercial Galleries Afloat
The federal government is releasing funds specifically aimed at helping commercial galleries with their early 2021 programming.
Kate Brown, September 28, 2020
quotes:
The German government has announced a €16 million ($18.7 million) package to help the art market dig itself out of its current slump. The cash injection is intended to help the sector recover after a prolonged lockdown halted art fairs and collector spending.
As a part of its "New Start Culture" program, the country's culture ministry will provide support to commercial galleries across the country in the form of grants that range between €5,000 ($5,837) and €35,000 ($41,000) for its early 2021 programs. In a statement to the press, culture minister Monika Grütters says her aim is to help "stabilize the art market," citing its importance both to culture and the economy.
To be eligible, galleries must be based in Germany, operating full-time, and have been in business for at least three yearse. Applications will go live  October 1-31. Decisions will be made in early November.
Grütters says that art dealers are "indispensable talent scouts" who often ensure artists' livelihood with exhibitions, catalogues, and fair presentations. A recent nationwide survey by the Institute for Strategy Development and the Federal Association of German Galleries and Fine Art Dealers found that German dealers expected to lose, on average, more than 40 percent of their revenue this year.
"I want to support this achievement and set an example for art," Grütters says in the statement, adding that she hopes the support will help galleries resume their programs as quickly as possible.
Unlike this past spring's bailouts for freelancers and small businesses—categories that included artists and galleries respectively—this time an expert jury will be reviewing the applications. Galleries must apply with contemporary art exhibitions, digital education projects, or individual projects like readings or lectures, that are set to take place between January and May 2021. Funds are being provided to support transport, insurance, and printing costs, as well as expenses for online presentations and gallery staff.
….
The funds and jury process will be managed by the Kunstfonds Foundation. In addition to the funds provided by the government, 10 percent of the cost of shows must be managed by the galleries themselves.
full text:
https://news.artnet.com/market/german-commercial-galleries-bailout-1911212
---
up-date 2020/12/20
Scores Of Private Charitable Foundations Got Paycheck Protection Program Money
December 16, 2020
quote:
NPR has identified at least 120 foundations that collectively received more than $7.5 million in PPP funding. That's a small slice of the overall program, which disbursed about a half-trillion dollars, but some of the foundations are linked to individuals of considerable means: an oil magnate, a cable television tycoon, a dermatologist called the father of modern hair transplantation, and an aviation entrepreneur who founded companies with annual sales of more than a billion dollars.
Recipients also include the Walt Disney Family Foundation, the foundation of late celebrity photographer Robert Mapplethorpe and a foundation affiliated with multibillionaire investor Warren Buffett.
quote:
Previously, the agency had provided only the names of borrowers whose loans exceeded $150,000. More than a dozen private foundations were on that list. But in early December, the SBA also released the identities of borrowers who received less than $150,000. In that new data, NPR found more than 100 additional foundations that received PPP funding. They include:
Anverse ($611,300)
Ben Bronz Foundation ($317,666)
Fred and Clara Eckert Foundation for Children ($253,100)
Garfield Foundation ($167,157)
Interactivity Foundation ($283,010)
Joe W. and Dorothy D. Brown Foundation ($175,510)
Koenig Private Foundation ($150,521)
Letters Foundation aka Sunshine Lady Humanitarian Grants Program ($268,800)
Mission Increase Foundation ($277,320)
Niswonger Foundation ($200,529)
Orentreich Family Foundation ($13,100)
Peter and Elizabeth C. Tower Foundation ($154,800)
Piedmont Triad Charitable Foundation ($150,900)
Richard Diebenkorn Foundation ($157,380)
Robert Mapplethorpe Foundation ($103,200)
Walt Disney Family Foundation ($146,700)
Willard G. Pierce and Jessie M. Pierce Foundation ($156,400)
quote:
Contacted by NPR, the San Francisco-based Walt Disney Family Foundation and New York-based Robert Mapplethorpe Foundation — which received about $150,000 and $100,000 in PPP money, respectively — said their assets are primarily illiquid, such as Disney collectibles and Mapplethorpe photos, and cannot easily be turned into cash to cover budget deficits. And both said that accepting PPP funding let them avoid layoffs.
The president of the Mapplethorpe Foundation's board of directors, Michael Ward Stout, acknowledged that the foundation has about $4 million in cash reserves, but said, "I hate touching it" and "I didn't want to deplete that fund." He also noted that with so many art galleries closed by the pandemic, the foundation lost numerous opportunities this year to generate revenue by selling Mapplethorpe photographs.
Checking in with Michael Ward Stout and the Robert Mapplethorpe Foundation
more at:
https://www.npr.org/2020/12/16/946739398/scores-of-private-charitable-foundations-got-paycheck-protection-program-money
---
New $125 million program offers guaranteed income for NY artists
2,700 artists will benefit from steady monthly stipends and paid positions. Applications open in early 2022
Dec. 22, 2021
Universal basic income (UBI) pilot programs launched in Hudson and Ulster County this year, and now the movement to guarantee monthly payments to residents has taken a creative turn, with a new foundation-funded program to support 2,700 artists in New York State starting in 2022.
Creatives Rebuild New York (CRNY) is a new initiative that will provide monthly, no-strings-attached payments — similar to other UBI programs — for up to 2,400 artists with financial need. A second component of the program will fund and facilitate employment for 300 artists at dozens of small-to-mid-size community arts organizations statewide.
The program is intended to revitalize the arts sector in New York, which has been badly hurt by the pandemic, while recognizing the work of creatives across the state.
"Artists, as gig workers, have both been deeply affected by COVID but also we really need to look at workforce development for artists," said Sarah Calderon, executive director of CRNY. "We need to think of this idea of artists as workers. We appreciate the products of artists, but don't tend to appreciate the process artists go through making their art in a variety of settings, whether that's in a studio or a community."
"From an artist's point of view, this is a dream come true," said Keiko Sono, a Catskills-based artist, universal basic income supporter, and member of a group of artists that helped shape CRNY.  
CRNY is a three-year initiative that "aims to catalyze systemic change in the arts and cultural economy," which includes recognizing the value of artists as people, not just the work they produce. "Artists need and deserve to be paid predictable and regular incomes," the CRNY website states.
The arts and culture industries generate around $120 billion in revenue for New York State and account for nearly half a million jobs. However, as a result of the pandemic, the unemployment rate for some artists is as high as 55 percent nationally.
"It's a good opportunity for a narrative change," said Sono. "Even before COVID, there [was] a shift in the art world from an 'object being purchased' business model to artists who work within community organizations and municipal governments as facilitators of all kinds of things."
CRNY follows wave of experimental basic income pilot programs
The new initiative forges a response to assisting the arts community, while also experimenting with the universal basic income model. San Francisco implemented a UBI pilot program for artists last October in which 130 artists now receive $1,000 in monthly stipends there.
UBI programs already exist in the region. Hudson's UBI pilot is ongoing, and gives selected residents $500 a month, while Ulster County announced the launch of its universal basic income program in February. In Ulster, 100 residents who demonstrated a set income level were chosen at random out of 4,200 applicants to receive $500 per month for a year.
"I think the impetus was to really understand what guaranteed income looks like for artists," said Calderon. "Can it be transformational? Does it change the way artists work, plan, and consider their futures? If these pilots are rolling out across the country, what are the needs or artists within that?"
CRNY will make a call for applications for the program in early 2022, with funding dedicated solely to artists whose primary residence is in New York State and who show a certain level of financial need.
The initiative is anchored by $125 million from The Andrew W. Mellon Foundation, including $10 million in support from the Stavros Niarchos Foundation and Ford Foundation. CRNY is a fiscally sponsored project of Tides Center, which will provide organizational and operational support.
A nine-person leadership council and 28-person "think tank," each comprised of contributors from a range of backgrounds, from the arts to economics, all helped guide efforts to shape CRNY and get it off the ground.
"People always say you need people that will benefit from these kinds of programs to help design them, too," said Sono. "This is exactly what they're doing. So many of us are not big-name artists by society standards … yet we were really respected as think tank members."
Details have not yet been disclosed regarding how much chosen artists will receive per month or for how long. The employment program will pay salaries to artists to work three days per week at an arts organization in a position that uses their creativity, with the other two workdays free for artists to pursue their own creative practice.
Participating artists will receive a full-time base salary expected to align with New York State median income data plus benefits. Organizations that participate will receive financial support.
https://www.timesunion.com/hudsonvalley/news/article/guaranteed-income-program-for-NY-artists-16722374.php