米国の経済対策、アーティストの為の給与補償プログラムローン
U.S. Business Loan Program PPP for Artists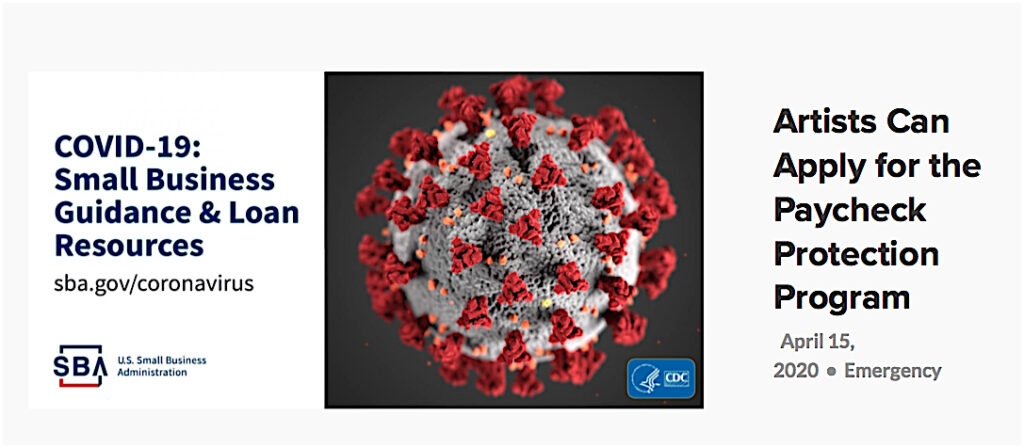 Unimaginable here in Japan, global art media reports that U.S. artists, regarded as "cultural workers", and art dealers are receiving thousands and millions of taxpayer-funded forgivable US-Dollar-loans during this precarious COVID-19 era.
The Paycheck Protection Program (PPP) allows entities to apply for low-interest private loans to pay for their payroll and certain other costs. The amount of a PPP loan is approximately equal to 2.5 times the applicant's average monthly payroll costs. The loan proceeds may be used to cover payroll costs, rent, interest, and utilities. The loan may be partially or fully forgiven if the business keeps its employee counts and employee wages stable. The program is implemented by the U.S. Small Business Administration. The deadline to apply for a PPP loan was initially June 30, 2020, and was later extended to August 8 2020.
To legally qualify for the loans, you have simply to certify in a vague context, that you and your staff are in an economic stressful situation. (Which normally is always the case here in Japan.)
Studios for artists such as Jeff Koons, Robert Longo, and Julie Mehretu received loans ranging from $150,000 to $2 million. Koons's studio reported that its $1m-$2m loan supported 53 jobs. Dan Colen, Daniel Arsham, Sterling Ruby, and Tom Sachs were all awarded at least $150,000.
Pace Gallery, Gagosian, and David Zwirner all received loans of between $2 million and $5 million from the program; Blum and Poe, Hauser and Wirth, Jack Shainman Gallery, Kasmin, Lisson Gallery, Barbara Gladstone, Luhring Augustine, Matthew Marks, 303 Gallery, Tonya Bonakdar, Perrotin, Skarstedt, Marlborough Gallery received loans ranging from $350,000 to $1 million. LA Louver, Anton Kern, Michael Rosenfeld, Richard Gray, Carpenter's Workshop, Petzel, Miguel Abreu and DC Moore received funds between $150,000 and $350,000.
Nevertheless, David Zwirner laid off around 20% of his 200 employees. Pace says it could retain 80 jobs with the PPP loan, although it had to furlough around 24 employees in April. Gagosian proclaims to have saved 203 jobs, although all part-time staff and interns are now on furlough, too.
On the auction side, Phillips and Bonhams were awarded between $2 million and $5 million. Artnet, online resource for the international art market, received between $1 million and $2 million.
Let's hope that we Japanese artists can survive in the next months to come. Daytime jobs for artists are the norm. There exists some smaller aid programs from the city of Tokyo and other organisations, however, in comparison to the U.S., the scale of help can be regarded as minuscule.
SBA Paycheck Protection Program Loan Level Data
https://home.treasury.gov/policy-issues/cares-act/assistance-for-small-businesses/sba-paycheck-protection-program-loan-level-data
米国の中小企業はコロナウイルス(COVID-19)の蔓延による前例のない経済混乱に直面しており、米国中小企業庁(SBA)は支援に乗り出しています。 新たなCOVID-19 救済パッケージによる追加出資金を受け、SBA は2020年4月27日(月曜日) から参加貸し手の給与保護プログラム(PPP)申請の受付を再開しました。
英語以外の方の応募に役立つ情報として、他の言語で提供される情報を参照してください。
注記:数多くのSBA プログラム(PPP 含む)では、申請者は英語以外の資料受諾あるいはカスタマーサポートを提供できない可能性がある銀行、信用組合、その他の貸し手との連携が求められています。従って、申請は英語で行う必要があります。以下の文書は全て情報提供のみを目的とします。
新情報が随時提示されますので、こちらを定期的に確認してください。
PPPに関するよくある質問
詐欺および詐欺の計画に要注意
宗教団体 よくある質問
SBA債務救済ファクトシート
SBA地域支援
PPP 融資額を計算する方法
PPPローン免除申請フォームの略式フォームの説明
PPPローン免除申請(略式)
PPPローン免除申請の説明
PPPローン免除申請
https://www.sba.gov/page/coronavirus-recovery-information-other-languages#section-header-12
https://www.sba.gov/sites/default/files/2020-05/Paycheck-Protection-Program-Frequently-Asked-Questions_05%2013%2020_Japanese.pdf
---
'This Moment Is Like a Tornado': In the Past Month Alone, 17 American Museums Have Cut Almost 1,500 Jobs
Museums across the US instituted cutbacks as PPP loans and the 2020 fiscal year ended in June.
artnet, Sarah Cascone, July 8, 2020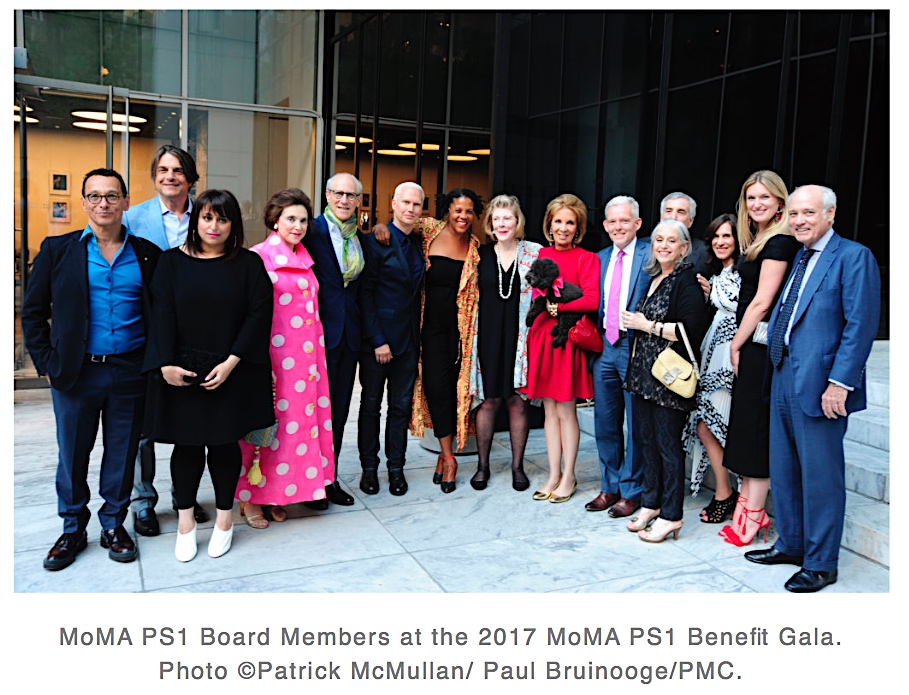 quotes:
The squeeze comes as museums have increasingly relied on a small number of donors giving large amounts of money to fund ambitious capital projects. Just four people—Leon Black, David Geffen, Ken Griffin, and Steve Cohen—gave more than 50 percent of the Museum of Modern Art's $400 million capital campaign to fund its recent expansion. "Asking them to protect workers is a much more modest request, but it doesn't come with an auditorium or gallery named after them," Art and Museum Transparency said.
—
June 30
The New Museum, New York, laid off 18 workers who had been among 41 staff members put on furlough in April, or 27 percent of full-time staff, on top of earlier reductions. After earlier reductions, only 56 of 137 staff members remain on payroll, including just seven union members from a unit of 84. The museum has cut the director's salary by 30 percent, with 10 to 20 percent pay cuts for other executives. The museum received a PPP loan of between $1 million and $2 million in April. Health care for furloughed or laid off employees is being extended through August.
https://news.artnet.com/art-world/widespread-museum-layoffs-1889770
---
(Similar help for art workers in Los Angeles.)
LA Art Workers Relief Fund Announces First Round of Emergency Grants
The LA Art Workers Relief Fund, an emergency relief fund designed to aid Los Angeles–based art organizations and workers impacted by the coronavirus pandemic, has awarded $1,000 emergency grants to 60 grantees in June. Since the launch of the project, 160 donors raised a total of $70,978. For the next round of grant-giving in September, the LA Art Workers Relief Fund hopes to raise at least $50,000 to distribute among 60 more grantees. This round of grantees was supported by a range of high-profile figures and spaces within the city's art scene, including artists Paul Mpagi Sepuya and Andrea Bowers and the gallery Blum & Poe.
https://www.artnews.com/art-news/news/breaking-art-industry-news-july-2020-week-1-1202693523/
---
7月10日に申請が始まった文化庁の「文化芸術活動の継続支援補助金」。フリーランスに20万円からの支援を行うこの補助金について、文化庁が簡便な手続きによる申請を呼びかけている。
フリーランスの芸術家等に該当することを認める《確認番号》の発行について
《確認番号》発行の申請については、多様な実作者やマネージメントの人材を統括する団体が美術分野に存在しないため、関係機関、団体と協議の上、法人格を有し、文化芸術推進フォーラムの会員である当連盟が事務手続の窓口を担うこととなりました。
実際の《確認番号》発行手続きにあたっては、今回に限って、以下の分類を設定して対応してまいります。
《1》なんらかの美術の団体に所属する方、日本美術家連盟会員、同連盟会員の推薦を受けた方
《2》《1》以外の無所属の方(実作者及びマネージメント系の職能の方を含む)
《1》のグループの方については、当連盟にて《確認番号》発行の要件に適合しているか要件確認を行います。
《2》のグループの方については、京都芸術センターの協力を得て編成された「無所属系作家確認証発行連合体」(メンバーリスト)にて要件確認を行います。
なお、《確認番号》発行手続きの混雑が予想されることから、美術について事業収入を得ていることを証明する資料《確定申告書、持続化給付金の受給証明等》を提出できる方は、《確認番号》を取得することなく、直接日本芸術文化振興会事務局にご応募いただきますよう、ご協力をお願いいたします。
日本芸術文化振興会標題補助金案内ページ
【本補助金に関するお問い合わせは下記まで】
日本芸術文化振興会標題補助金コールセンター
TEL: 0120-620-147(平日・土日 10:30〜17:00)
※当連盟事務局は、土日はお休みです。お問い合せは上記コールセンターまでお願いします。
http://www.jaa-iaa.or.jp/aid2020/index.html
---
up-date 2020/8/3
Germany boosts art acquisition budget to €3m from €500,000 to support artists and galleries
Government plans to buy 150 works to help overcome the economic impact of the coronavirus pandemic
Catherine Hickley, 2020/8/3
The German government has beefed up this year's budget for art acquisitions for the federal collection, pledging to buy around 150 works worth €3m in total in a bid to help artists and galleries overcome the economic impact of the coronavirus pandemic.
An independent commission will purchase art directly from artists and galleries across Germany as well as acquiring works at fairs, the culture ministry says in a statement. Most acquisitions will not exceed €20,000, the statement adds.
The six-fold increase in the budget is intended as a "quick and effective impetus to revive art production in a difficult climate", say the culture minister Monika Grütters in a statement. "Spreading the acquisitions broadly should above all help small galleries to profit and direct purchases from studios should encourage and support artists."
The federal collection of contemporary art was founded in 1971 and encompasses 1,700 works to date. Until now, its annual budget has not exceeded €500,000. An independent commission, whose members serve for five years, selects the acquisitions.
The Federal Association of German Galleries and Fine Art Dealers (BVDG) says its members have been "drastically damaged" by the coronavirus lockdown and subsequent restrictions, with galleries suffering income losses of between 60% and 100%. The association has demanded a series of government measures to help dealers get back on their feet, including a dramatic reduction in VAT and tax incentives for art purchases.
https://www.theartnewspaper.com/news/germany-boosts-budget-for-federal-art-acquisitions