If you want to remain famous, you have to cultivate your narrative: the case of Billie Eilish
ビリー・アイリッシュの場合:ナラティブ、イメージを高める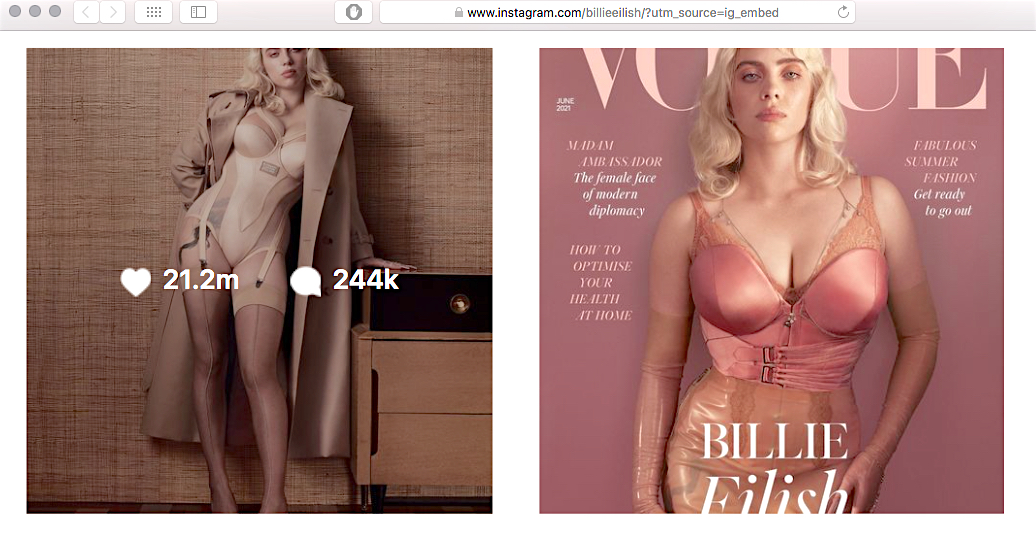 Why does a piece of art endure? Is it the quality of the work that matters most, or the artist's skill at self-promotion and provocation?
Readers of ART+CULTURE would probably remember that I introduced Billie Eilish for the first time in the connection with MURAKAMI Takashi 村上隆. As she loved his works, had a Murakami-flower cushion on her bed, dressed-up with his tailored clothes, the friendship between both became just a matter of time. Please check the links, UNIQLO-collaboration & the music video Takashi-kun directed.
日本の現代アーティスト・トップ 6(2020年)Contemporary artists from Japan, Top 6 (2020)
https://art-culture.world/articles/contemporary-artists-from-japan-top-6-2020-日本の現代アーティスト・トップ-6-2020年/
Billie Eilish – you should see me in a crown (Official Video By Takashi Murakami)
Billie Eilish & Takashi Murakami on Creative Collaboration at Adobe MAX 2019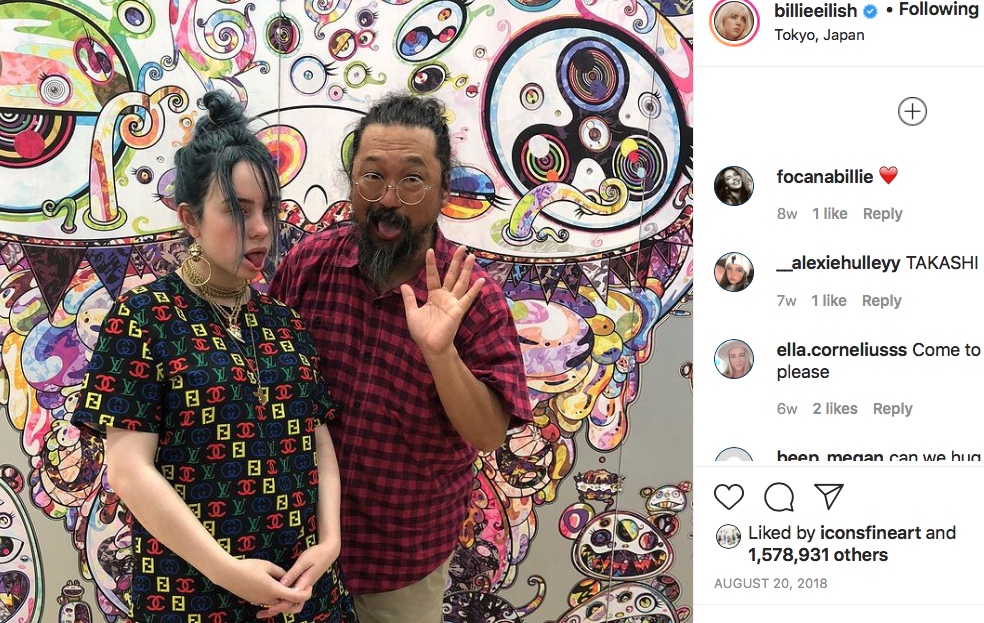 via_https://www.instagram.com/p/BmsG85JAIL3/
In this sense I felt quite sympathetic towards their collaboration, a win-win situation for both sides. Why she couldn't catch the attention by Japanese kids & teens like in the U.S.A. or in Europe, remains a mystery to me. Some Japanese music journalists probably analysed that phenomena already. Not cute enough? Shocking green hair? Too scary? Too emancipated? Strange beat?
Like Madonna, Billie actually tries to reinvent her image. It's anyone's guess how long she will endure this journey. Promoting a new album,
Happier Than Ever
accompanied by a provocative British VOGUE cover, which even caught the eyes of serious news websites' editors.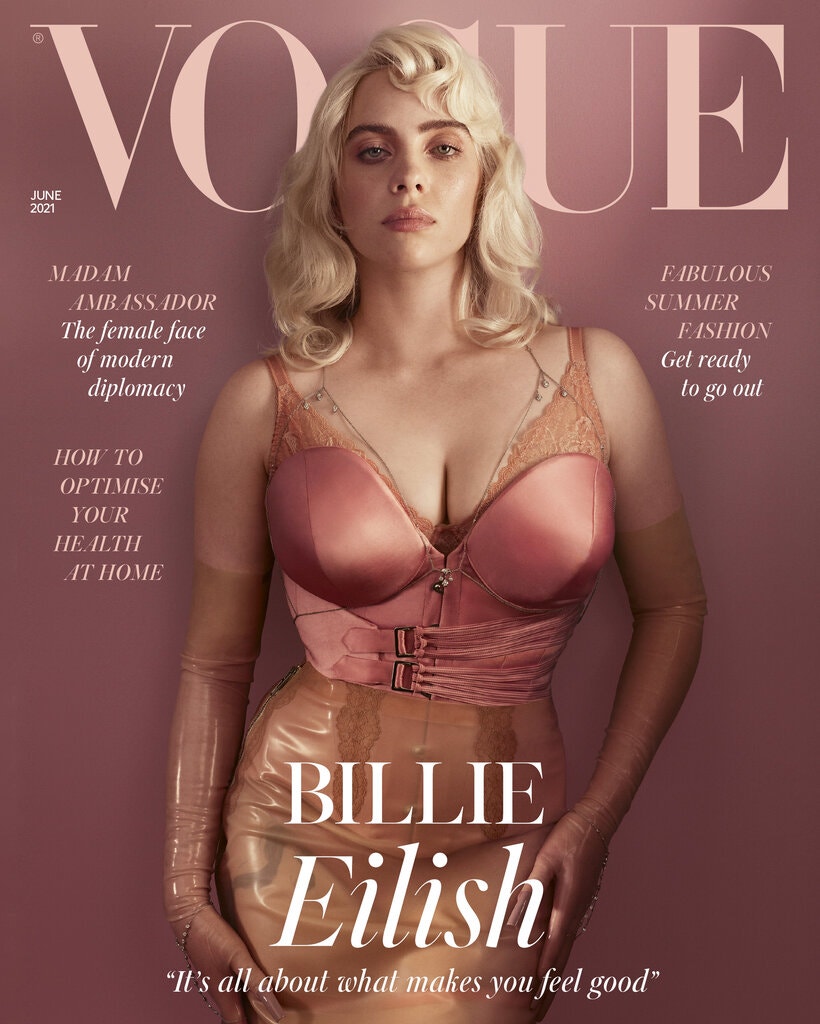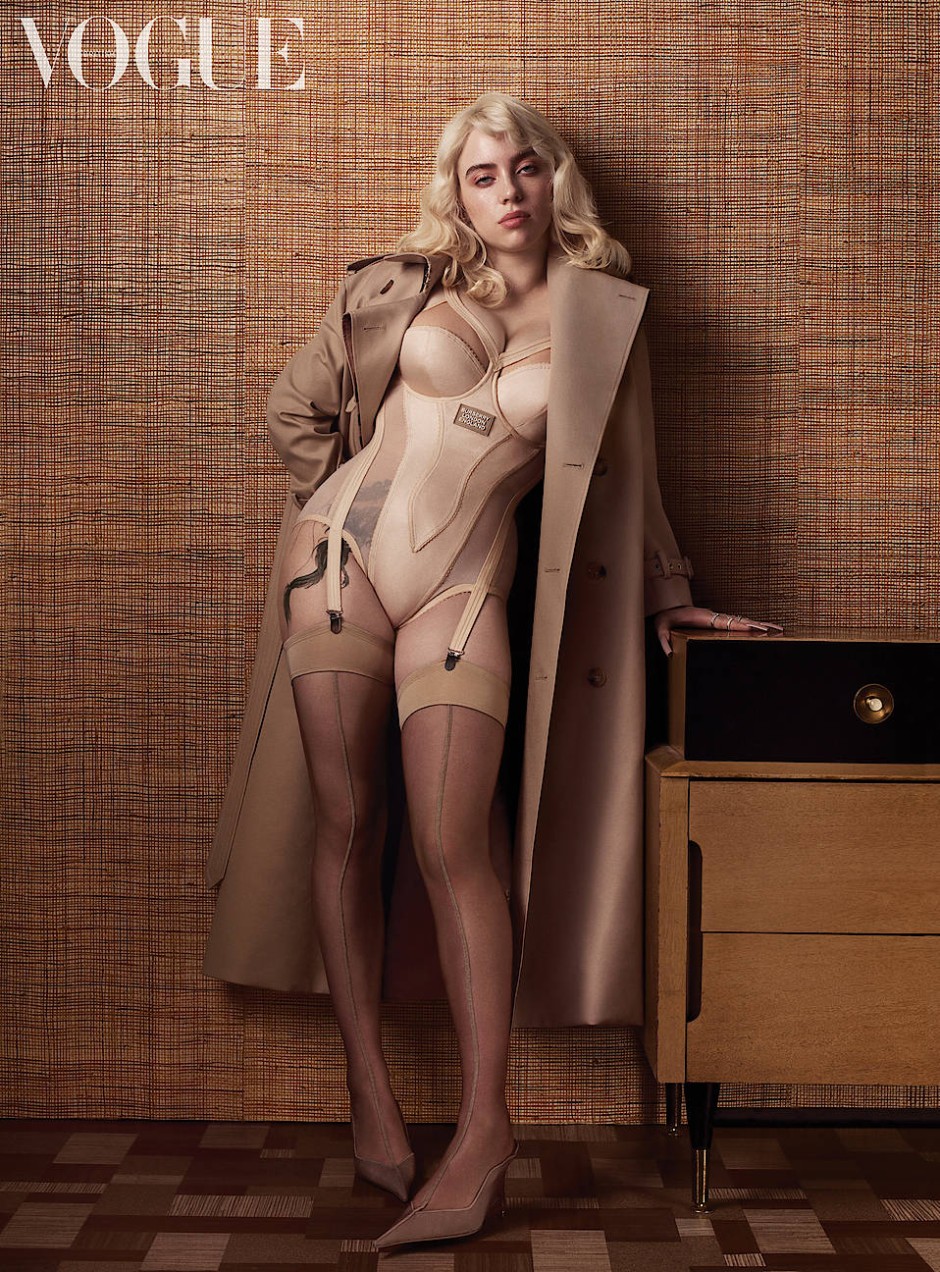 Should we care? Yes.
Why? Because of the corset, the straitjacket for women in the 18th/19th century. In my opinion, women should have liberated themselves from the corset. I consider even the bra as something useless. Women and men should just be natural, be yourself.
Be free, no corset, please!
I don't think Billie will succeed with her transformation. Promoting a "generational" taste shift, through all the "the Queen is dead, long live the Queen" moments that mark her phases as a mature musician. One's career is a process of "winning" often based on cults of personality, indifference to complex origins, and the fortune or misfortune of timing. In these precarious COVID-19 era, her timing was, let's say diplomatically: "unfortunate".
Billie Eilish, as a famous artist-protagonists seems haunted by a dialectic of shame and shamelessness, perhaps as a side effect of the rising tide of money and publicity swamping her actual accomplishments.
But hey, she should have the last word:
"i love these pictures and i loved doing this shoot. do whatever you want whenever you want. fuck everything else."
Link_https://www.instagram.com/p/COYIFeNFsvg/
2021/5/6
Mario A
Instagram account of Billie Eilish
https://www.instagram.com/billieeilish/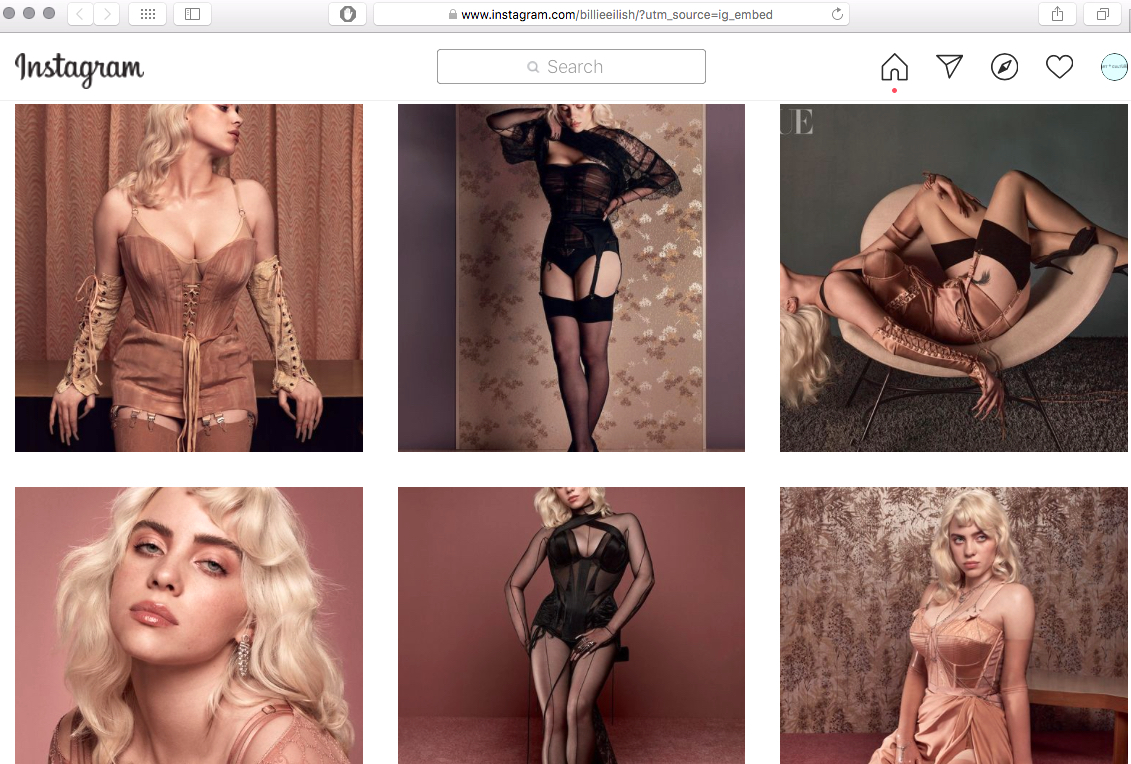 Billie Eilish – wish you were gay (Live)
wish you were gay
Billie Eilish
"Baby, I don't feel so good", six words you never understood
"I'll never let you go", five words you'll never say (aww)
I laugh along like nothing's wrong, four days has never felt so long
If three's a crowd and two was us, one slipped away (hahahahaha)
I just wanna make you feel okay
But all you do is look the other way
I can't tell you how much I wish I didn't wanna stay
I just kinda wish you were gay
Is there a reason we're not through?
Is there a 12-step just for you?
Our conversation's all in blue
11 "heys" (Hey, hey, hey, hey)
Ten fingers tearin' out my hair
Nine times, you never made it there
I ate alone at seven, you were six minutes away
How am I supposed to make you feel okay
When all you do is walk the other way?
I can't tell you how much I wish I didn't wanna stay
I just kinda wish you were gay
To spare my pride
To give your lack of interest, an explanation
Don't say I'm not your type
Just say that I'm not your preferred sexual orientation
I'm so selfish
But you make me feel helpless, yeah
And I can't stand another day
Stand another day
I just wanna make you feel okay
But all you do is look the other way, hmm
I can't tell you how much I wish I didn't wanna stay
I just kinda wish you were gay
I just kinda wish you were gay
I just kinda wish you were gay
---
Today's bonus 今日のおまけ: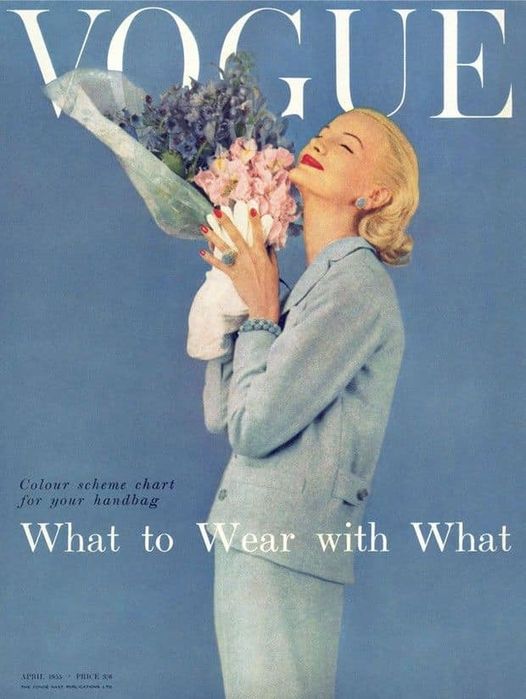 ここに載せた写真とスクリーンショットは、すべて「好意によりクリエーティブ・コモン・センス」の文脈で、日本美術史の記録の為に発表致します。Creative Commons Attribution Noncommercial-NoDerivative Works photos: cccs courtesy creative common sense