チャック・クロース、安らかに眠れ
Chuck Close, Requiescat In Pace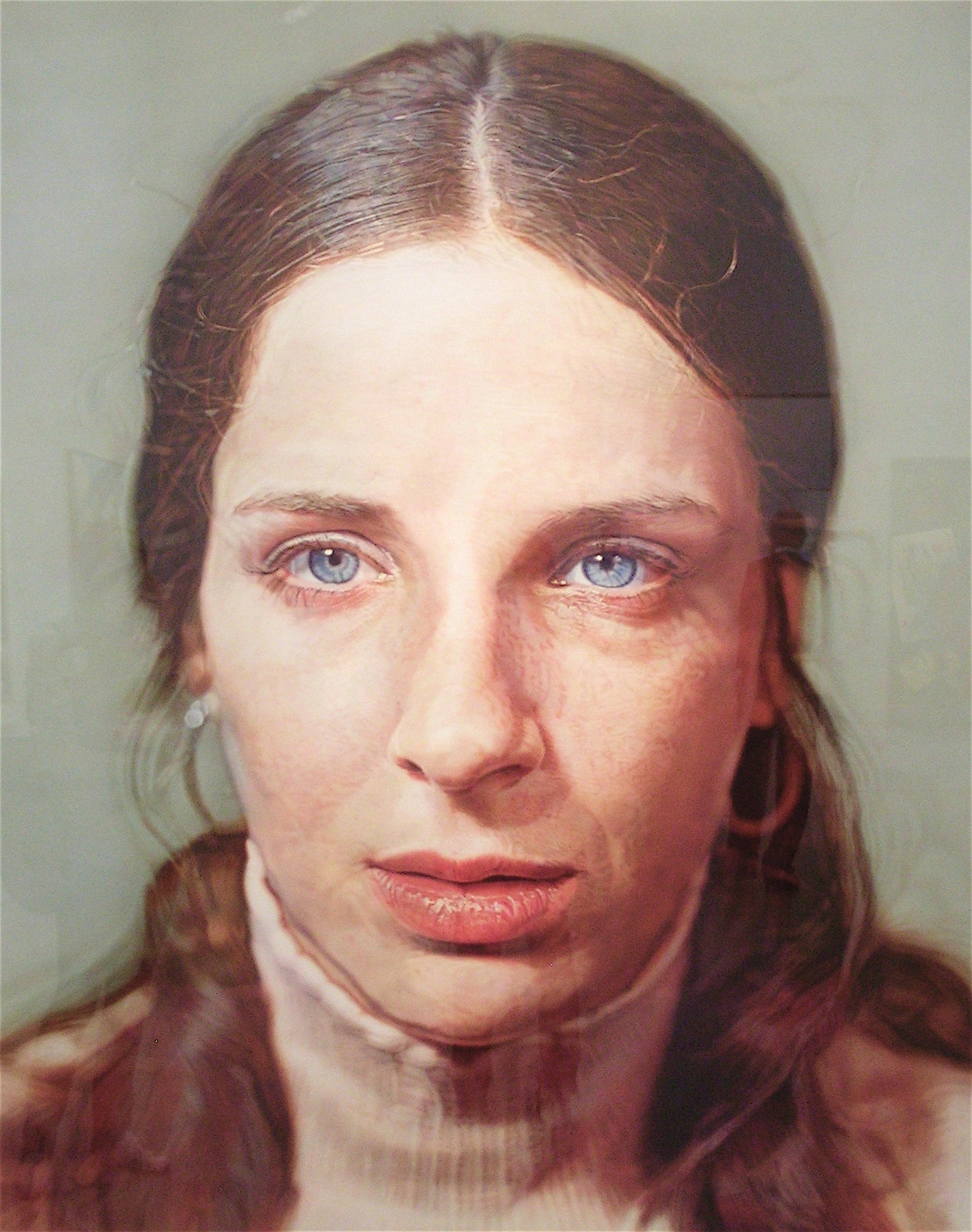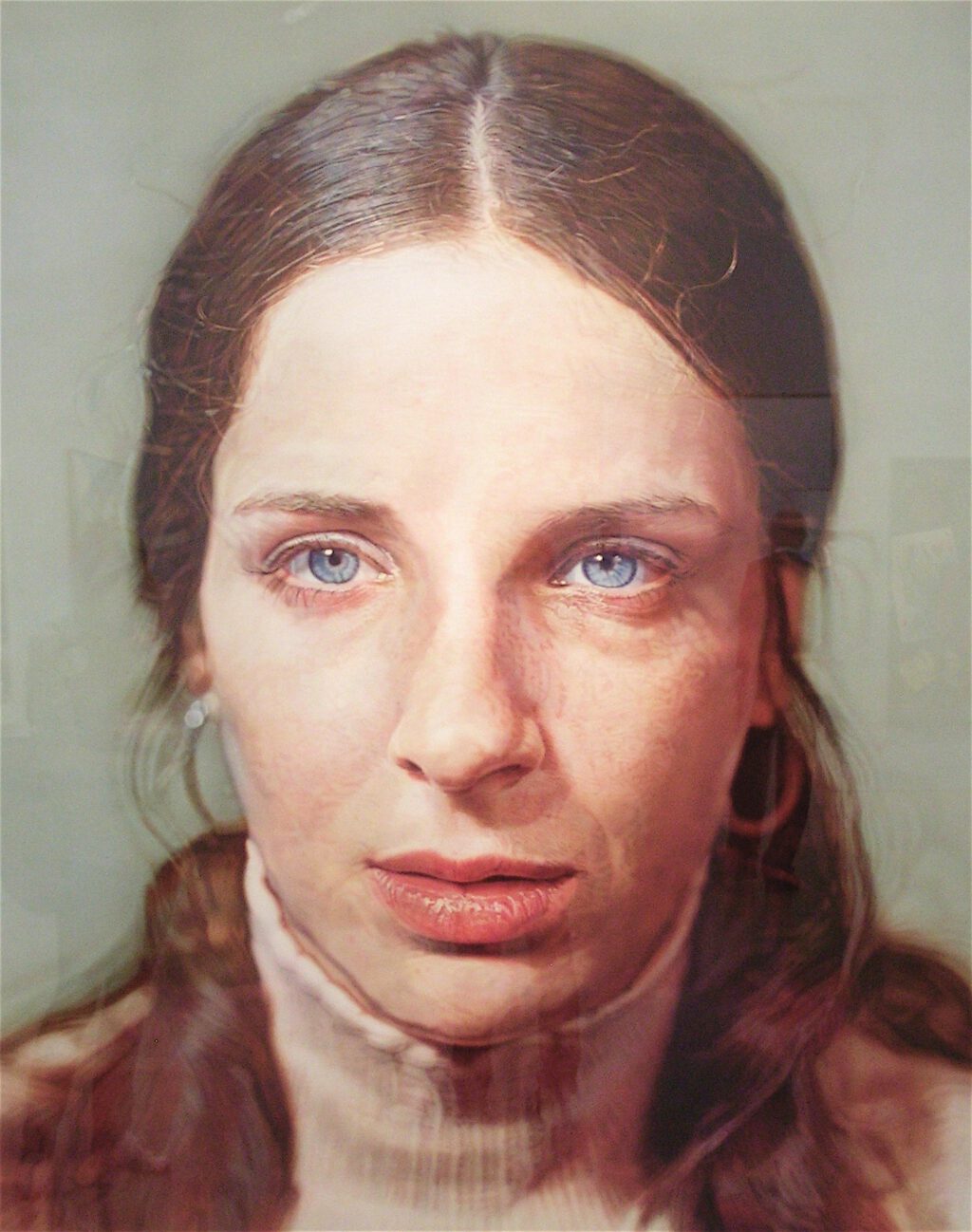 米国のアーティスト、チャック・クロースが19日に81歳で亡くなりました。
クロースが定期的に展示を行っていたペース・ギャラリーによると、彼は長い闘病生活の後、心不全によりニューヨークで亡くなったとのことです。
こちらのART+CULTUREではクロースと共に、米国のフォトリアリズムの画家たちを紹介させていただきました。
At "picturing america" (Deutsche Guggenheim Berlin) Mr. Close had been put together with his colleagues in the context of American Photorealism (aka New Realism, Super-Realism, Hyperrealism, Radical Realism).
Following is the artists's line-up from the authoritative, curatorial standing point in the year 2009:
Robert Bechtle, Charles Bell, Tom Blackwell, Chuck Close, Robert Cottingham, Don Eddy, Richard Estes, Audrey Flack, Ralph Goings, Ron Kleeman, Richard McLean, Malcolm Morley, John Salt, and Ben Schonzeit.
A global art history context from outside of the local New York art scene, which obviously sees Mr. Close, in a different, more broader world of artistic practice.
I met Mr. Close once, while I was exhibiting in the New York Armory Show, 2004. At that time I thought it was not appropriate to take a picture of him or of us together.
Resta con Pace, Signor Close.
2021/8/21
Mario A
Please check:
"picturing america @ Deutsche Guggenheim Berlin: Tristesse + Boredom"
ピクチャリング・アメリカ @ ドイツ・グッゲンハイム・ベルリン:トリステス+退屈
https://art-culture.world/articles/picturing-america-ピクチャリング・アメリカ-グッゲンハイム/
---
Chuck Close, Artist of Outsized Reality, Dies at 81
Aug. 19, 2021, New York Times
He found success with his large-scale Photorealist portraits, becoming one of the leading artists of his generation. Late in life he faced allegations of sexual harassment.
By Ken Johnson and Robin Pogrebin
quote:
In many interviews Mr. Close spoke eloquently about his art, communicating a clarity of purpose and a disarming humility. In a conversation published in the catalog for his 1998 retrospective at the Museum of Modern Art in New York, he told the show's curator, Robert Storr:
"I'm either dumber than the average painter, which is a pretty scary thought, or maybe there's something about my learning disabilities or whatever that I am really of the moment. I don't think much about the past, and I really don't think about the future. I am surprised often that I'm still painting portraits at all, to tell you the truth.
"I don't predict what I'm going to do. I don't plan ahead that much," he continued. "It doesn't matter where the whole art world is going. I've got my own little trajectory."
full text:
https://www.nytimes.com/2021/08/19/arts/design/chuck-close-artist-of-outsized-reality-dies-at-81.html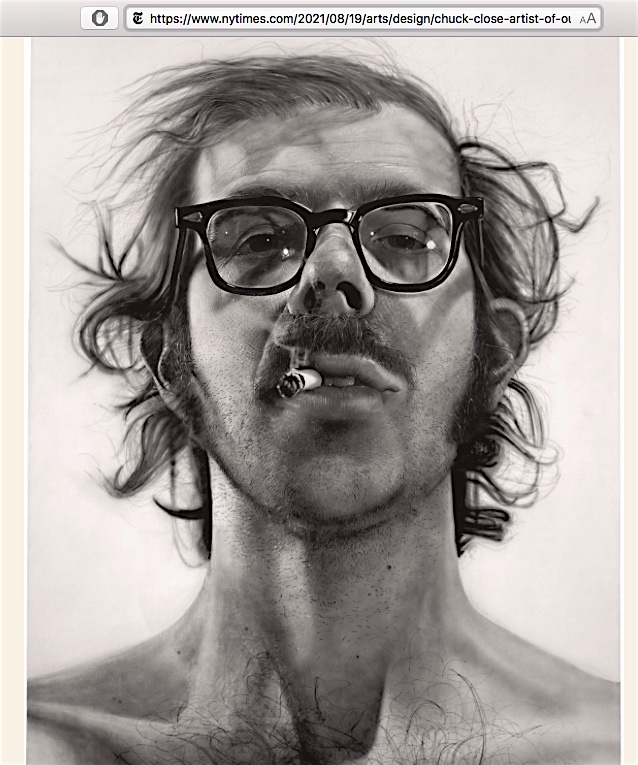 New York Times: "Chuck Close's "Big Self-Portrait," painted in 1968, was the first of his colossal Photorealist portraits and remains one of his best known."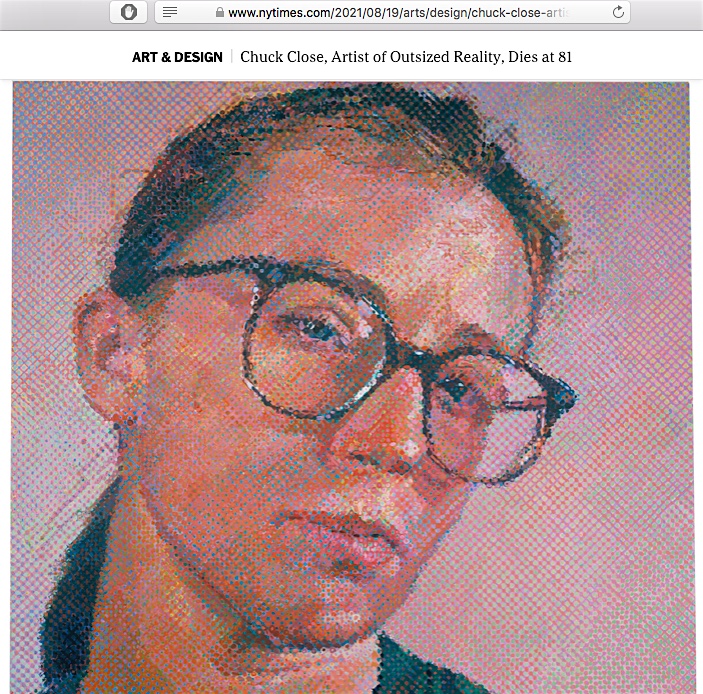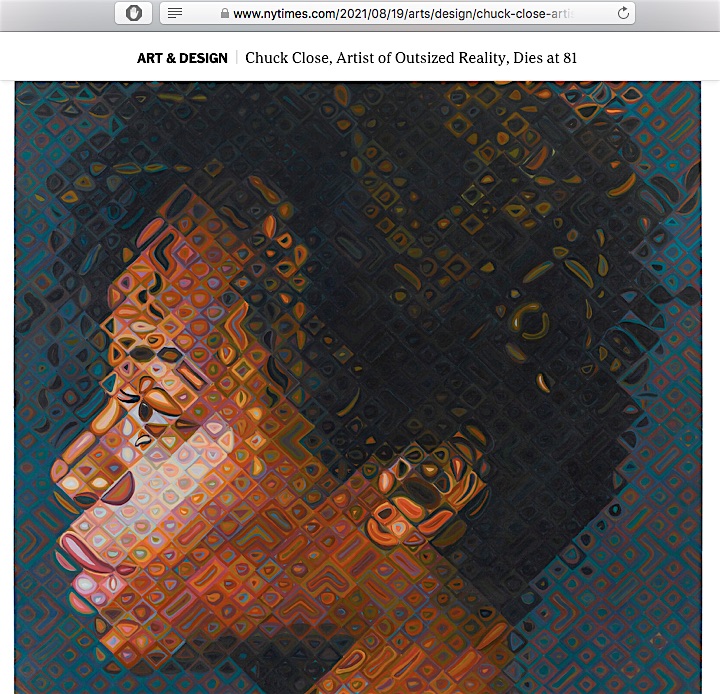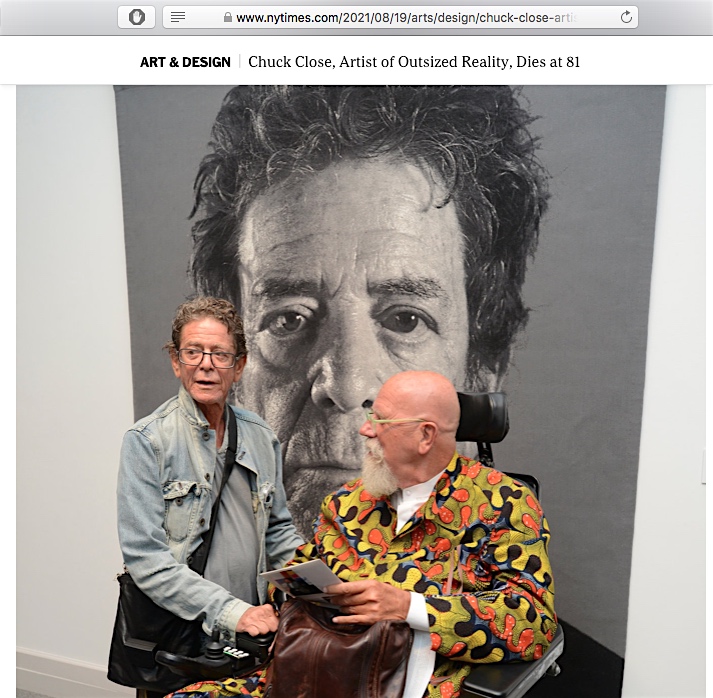 ---
Roberta Smith, New York Times
Chuck Close's uneasy, inevitable legacy
quote:
NEW YORK (NYT NEWS SERVICE).- Chuck Close's life as an artist divided into three distinct phases — two successful, one not. From 1967 to the end of 1988, he was a celebrated painter, a singular kind of photorealist known for enormous grisaille portraits of intimate friends and family (and himself, perhaps his favorite subject) rendered on a pencil grid with watered-down paint and an airbrush. His work was immanently desirable. Museums and private collectors started vying for it even before he had his first solo gallery show in New York in 1970. It had the instant pow of pop art — indeed the artist had stated his desire to knock people's socks off. But it also had the haughtier, more conceptual imprimatur of post-minimalism, arguably the last avant-garde art movement of classic modernism. He was equally admired by the cognoscenti and the public.
….
quote:
It will be interesting to see when and how Close's career is rehabilitated and whether it will garner an "asterisk," a label warning viewers of the less-savory aspects of his life. Because rehabilitation seems inevitable. Even when the scandal was at its height, museum directors defended his work — pointing to other artists guilty of offensive behavior down through the centuries but who made worthy — or at least museum-worthy — art.
And Close's work is in many, many museums — a staple of any self-respecting public collection. His big visages continue to startle and even thrill without offending. They are extremely accessible and slightly sensational at a time when museums are being careful to play down their elitism and push public outreach. I suspect his paintings will not be out of sight for long. And who knows, maybe asterisks aren't so bad. There are scores of male artists who qualify, maybe some female ones, too. It's healthier to see them — and their work — without the rose-tinted glasses.
Full text:
https://artdaily.cc/news/138608/Chuck-Close-s-uneasy–inevitable-legacy#.YSNA5C2B2Rs
---
Chuck Close obituary
Painter of huge portraits that explored the relationship between painting and photography
Oliver Basciano, The Guardian, 2021/8/20
quote:
Born in Monroe, Washington, Chick was the son of Mildred (nee Wagner), a piano teacher, and Leslie Close, a plumber and sheet metal worker who died when his son was 11. Chuck himself was bedbound that year with kidney disease. Mildred, left to raise the boy alone, supported his artistic interests against the background of her own breast cancer diagnosis. Chuck had severe dyslexia, which led him to struggle at high school, but he blossomed during evening art classes at Everett Junior College.
In 1960 he went on to the University of Washington to study art, where he saw himself as a "third-wave abstract expressionist", inspired by the likes of Arshile Gorky and Willem de Kooning, and completed a master's at Yale alongside Richard Serra and Nancy Graves.
After studying at the Akademie der Bildenden Künste in Vienna in 1964 on a Fulbright grant, Close returned to the US the next year, teaching at the University of Massachusetts Amherst, where he had his first solo exhibition, before moving to New York in 1967. There he taught at the School of Visual Arts, where he met his first wife, Leslie (nee Rose), one of his students, while spending his nights at performances and parties in artists' studios or at Max's Kansas City, a bohemian nightspot on Park Avenue.
Immersed in the New York scene, Close found ready models in his artistic peers. "It's hard to make art when nobody gives a shit. In an art ghetto we can convince ourselves that what we're doing is a very important activity because we're surrounded by other people who agree that it is."
In 1971 he had his first major museum exhibition at the Los Angeles County Museum of Art, introducing colour for the first time with Kent (1971), in which a freckled friend with a crooked nose is shown of dour demeanour across a 2.5-metre-high canvas. In 1980 the Walker Art Center in Minneapolis staged the artist's first retrospective, Close Portraits, which travelled to the St Louis Art Museum, Missouri, and the Museum of Contemporary Art, Chicago, before closing at the Whitney Museum in New York. During this period he experimented with painting with his fingertips, pressing them into an inkpad to make works such as Keith/Square Fingerprint Version (1979), and also with photographic collage, including Self-Portrait/Composite/Six Parts (1980), a 4.3-metre-high work made up of Polaroids.
Another touring retrospective opened at MoMA, New York, in 1998, travelling across the US and ending at the Hayward Gallery, London, the following year.
full text:
https://www.theguardian.com/artanddesign/2021/aug/20/chuck-close-obituary
up-date 2021/10/24
From Art Basel 2021, Pace Gallery booth: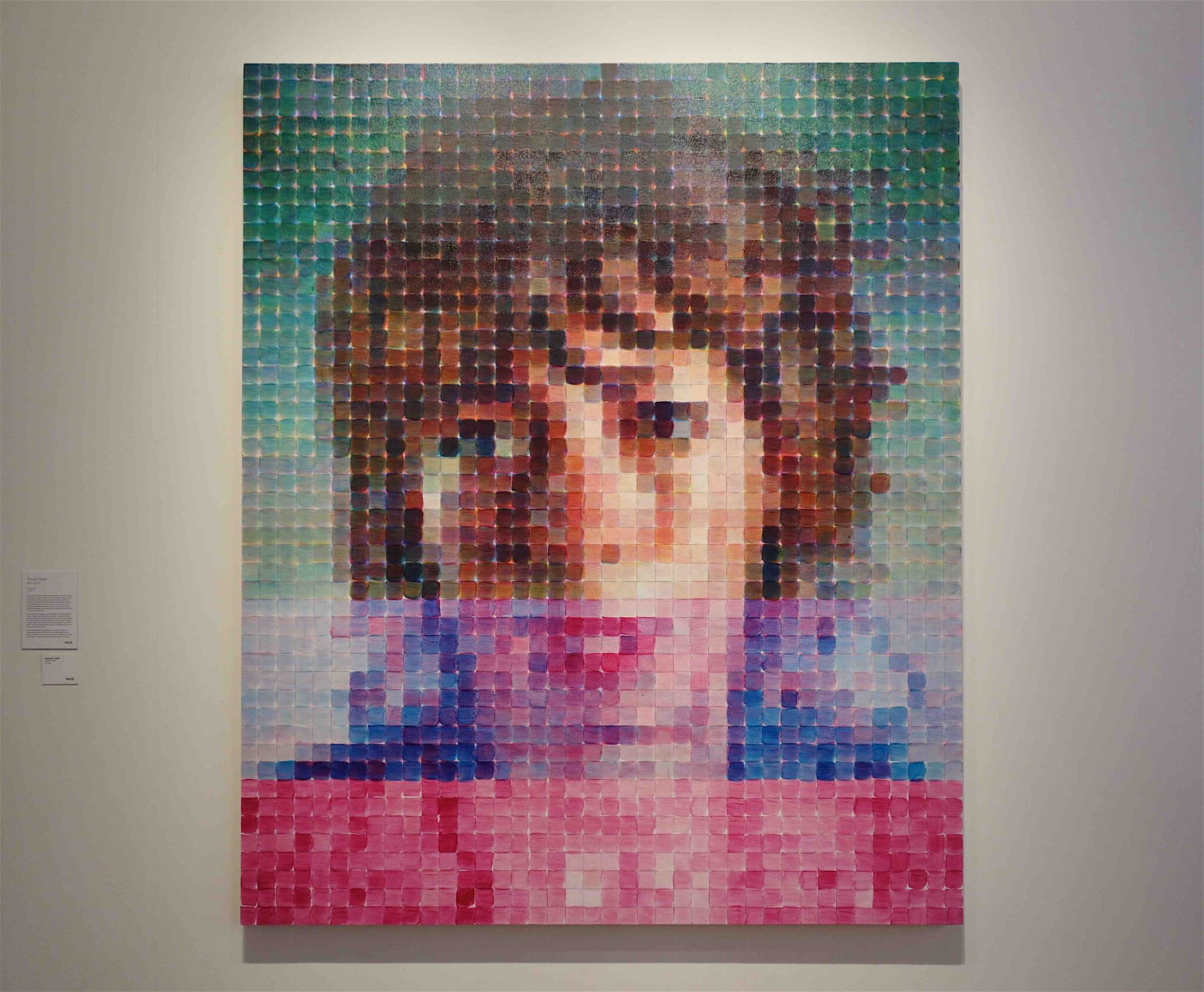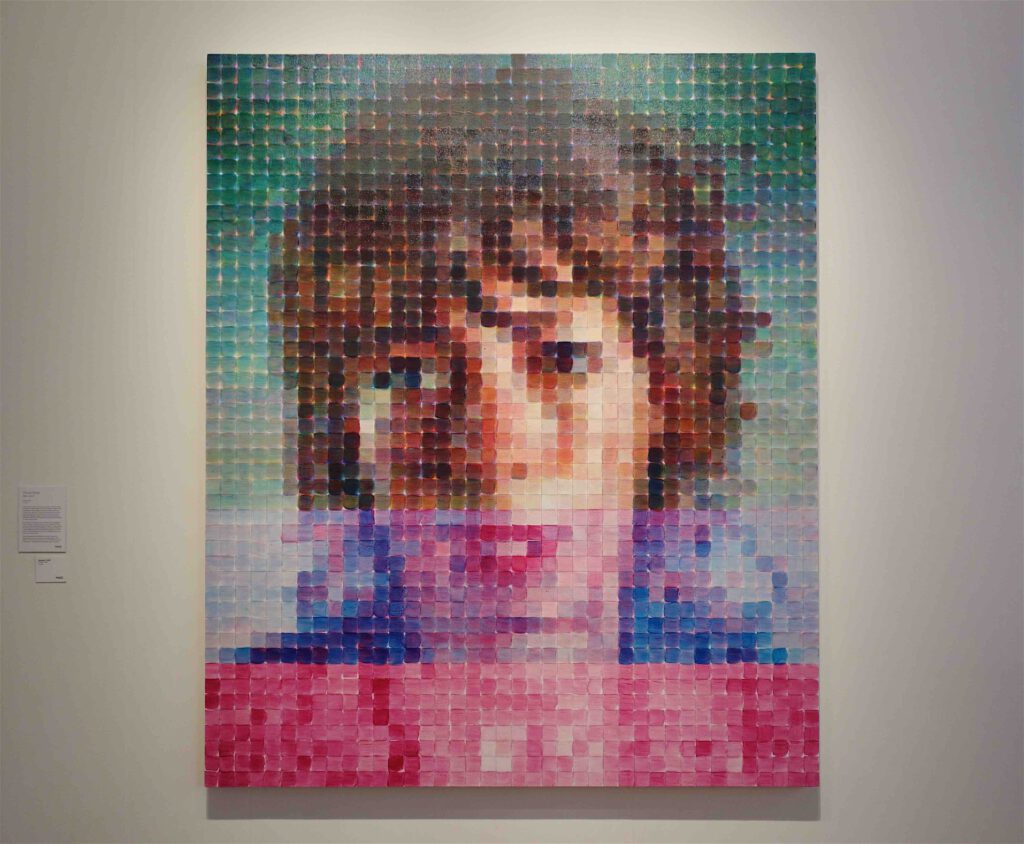 Cecily (2013) is presented in loving memory of Chuck Close, who died in August at age 81, and as a tribute to Close's long relationship with the gallery and his friendship with Pace's founder, Arne Glitchier. This painting depicts Close's fellow artist, Cecily Brown. Over the course of his career, Close painted multifarious images of himself, friends, and family members, pushing the boundaries of conventional portraiture for more than 50 years.
Best known for his large-scale canvases containing gridded colours, shapes, and forms that give way to legible portraits, Close is widely considered a great innovator in image making. The artist's practice spanned painting, printmaking, drawing, collage, daguerreotype and Polaroid photography, and finer works, and his experimentations and accomplishments loom large in the history of art.
"Chuck extended the perception of society through his magnificent works and found an inextricable place in the history of 20th- and 21st-century art," Arne Glitchier has said of the artist. "I feel honoured to have been a part of his life."