日本の現代アーティスト・トップ 68 (2013年度 ー 2016年度)
Contemporary artists from Japan, Top 68 (2013 - 2016)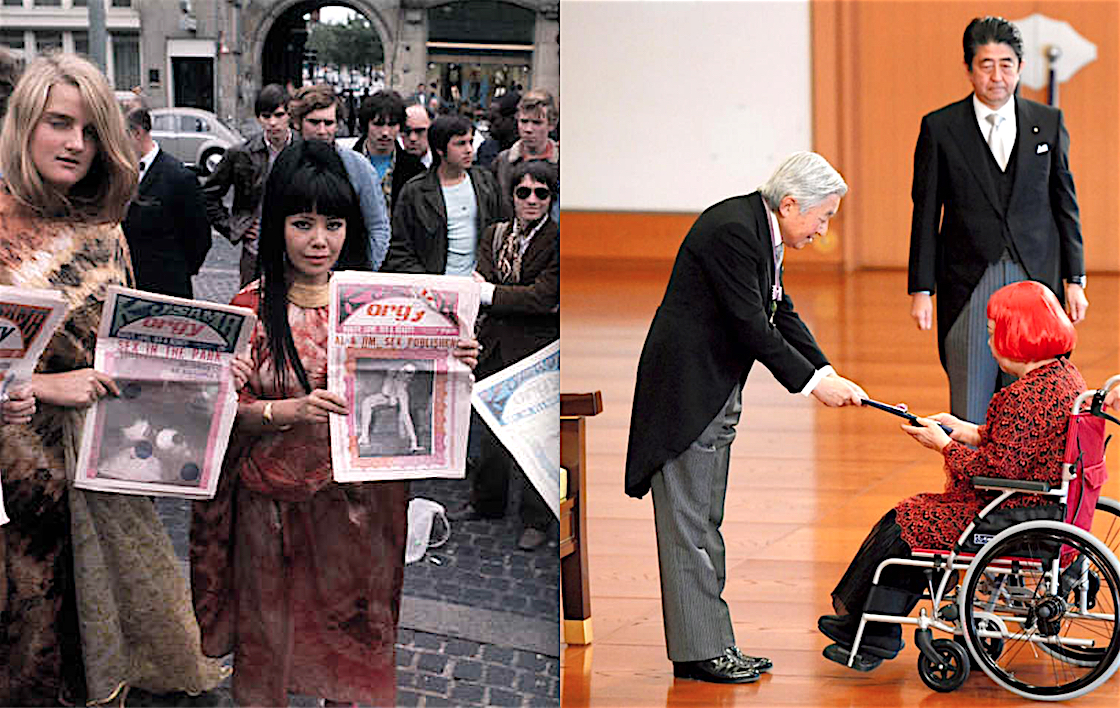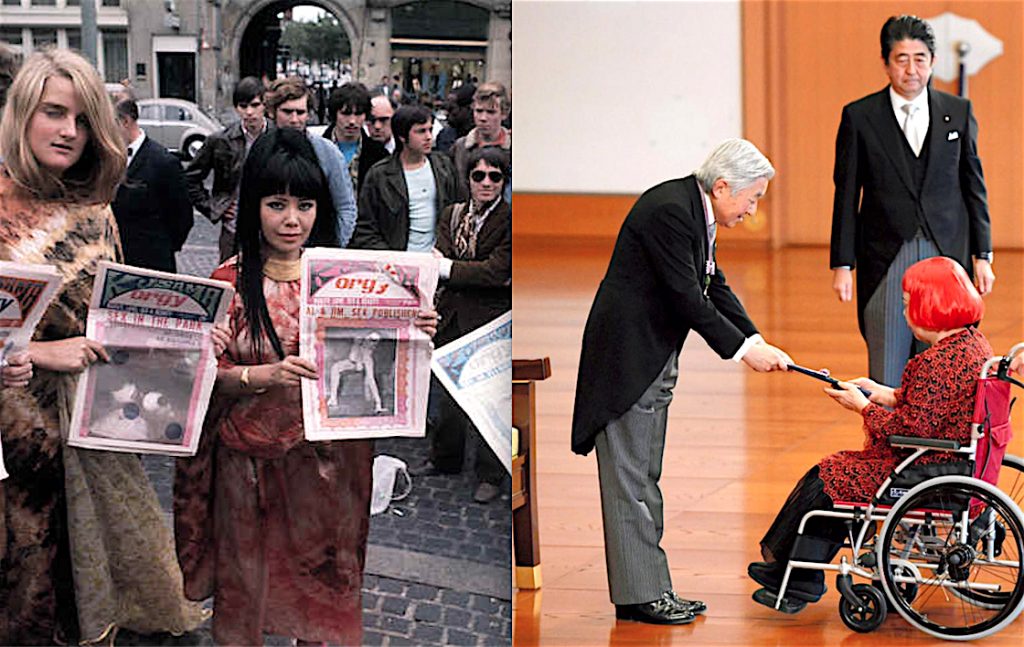 Recently, during reception parties, people tell me that they are missing the former ARTiT articles.
As an Official Blogger of the ARTiT Web Magazine during the period of 2009 and 2018, I may hereby take the opportunity in announcing that most of the former entries will be gradually transferred to this new site ART+CULTURE.
Actual circumstances will influence my decision about which ones will be up-loaded first.
Regarding Japanese contemporary art, I hope to give you a precious, informative archive for research, cultural entertainment and from time to time a serious, critical point of view.
For this occasion I re-post a much-talked-about "Contemporary artists from Japan Top 21 – 68", which started in 2013. Regarding the names and art practices by Japanese artists, I noticed the lack of knowledge by Japanese collectors, who referred to foreign statistics via internet sites like "artnet.com" or "artifacts.net" with its Top 100 Artists' list and other artists' rank lists.
https://artnet.com
https://artfacts.net
In summer 2013 I tried to fix that situation with my personally compiled list of "Contemporary artists from Japan, Top 50".
The positive response did let me continue to publish a list every year. Especially I appreciate to hear constructive hints and new artists' names.
The main criteria in the selection and editing process is the range of engagements by the artist in the global, not local, art scene.
In case a locally-focused "Top Artists list" should be compiled, and by remaining objectively fair, I would not hesitate to include a part of the conservative artist groups like NITTEN 日展, INTEN 院展 and artists from established 'rental-galleries'.
Finally, I would like to point out to non-Japanese readers (including curators and collectors), that a well known discrepancy, regarding the "art market value of an artist" and her/his position in my ranking, exists. The list does not reflect the speculative "art investment matrix" for Japanese contemporary artists.
For the latest lists, please refer to my posting on this site ART+CULTURE:
日本の現代アーティスト・トップ 157(2018年)
Contemporary artists from Japan, Top 157 (2018)
https://art-culture.world/articles/contemporary-artists-from-japan-top-157-2018/
日本の現代アーティスト・トップ 92 (2017年)
Contemporary artists from Japan, Top 92 (2017)
https://art-culture.world/articles/contemporary-artists-from-japan-top-92-2017/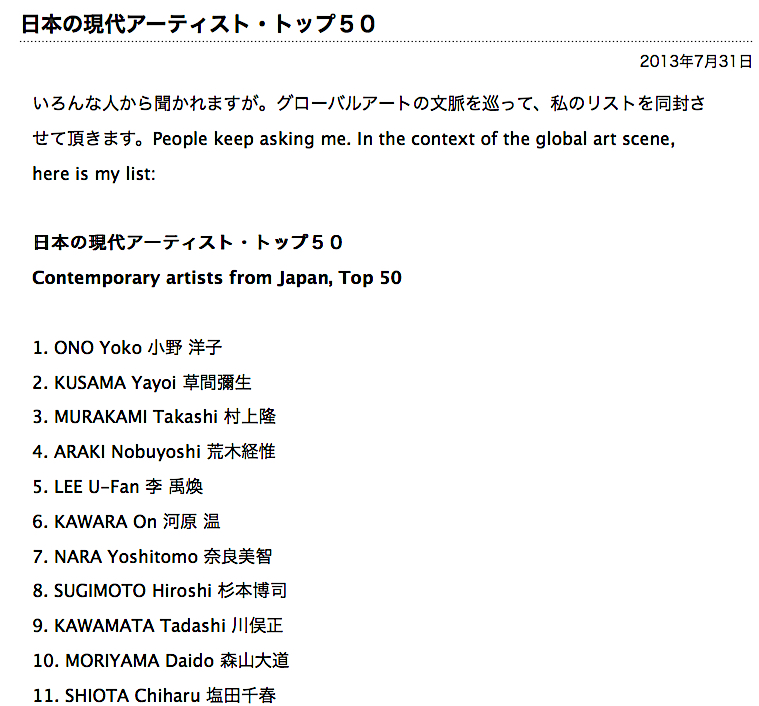 (screenshot)
日本の現代アーティスト・トップ50 (2013年)
Contemporary artists from Japan, Top 50 (2013)
1. ONO Yoko 小野 洋子
2. KUSAMA Yayoi 草間彌生
3. MURAKAMI Takashi 村上隆
4. ARAKI Nobuyoshi 荒木経惟
5. LEE U-Fan 李 禹煥
6. KAWARA On 河原 温
7. NARA Yoshitomo 奈良美智
8. SUGIMOTO Hiroshi 杉本博司
9. KAWAMATA Tadashi 川俣正
10. MORIYAMA Daido 森山大道
11. SHIOTA Chiharu 塩田千春
12. OHTAKE Shinro 大竹伸朗
13. MORI Mariko 森万里子
14. MORIMURA Yasumasa 森村泰昌
15. NISHI Tatzu 西野達
16. OZAWA Tsuyoshi 小沢剛
17. AIDA Makoto 会田誠
18. TANAKA Koki 田中功起
19. HIRAKAWA Noritoshi 平川典俊
20. YANAGI Miwa やなぎみわ
21. ORIMOTO Tatsumi 折元 立身
22. MIYAJIMA Tatsuo 宮島 達男
23. FUNAKOSHI Katsura 舟越桂
24. – 50. YOKOO Tadanori 横尾忠則, SENJU Hiroshi 千住博, YANAGI Yukinori 柳幸 典, MATSUI Erina 松井 えり菜, TSUBAKI Noboru 椿昇, NAKAMURA Masato 中村政人, ODANI Motohiko 小谷元彦, TAKAMINE Tadasu 高嶺格, MATSUI Fuyuko 松井冬 子, YASUDA Kan 安田侃, Chim↑Pom, NAITO Rei 内藤礼, IKEDA Ryoji 池田亮司, SUGA Kishio 菅木志雄, SUGITO Hiroshi 杉戸 洋, NOGUCHI Rika 野口里佳, IKEMURA Leiko 池村玲子, YONEDA Tomoko 米田知子, SEKINE Nobuo 関根伸夫, HATAKEYAMA Naoya 畠山 直哉, SONE Yutaka 曽根裕, UJINO 宇治野宗輝, KOGANEZAWA Takehito 小金沢健人, など…
東京、2013年8月1日
亜 真里男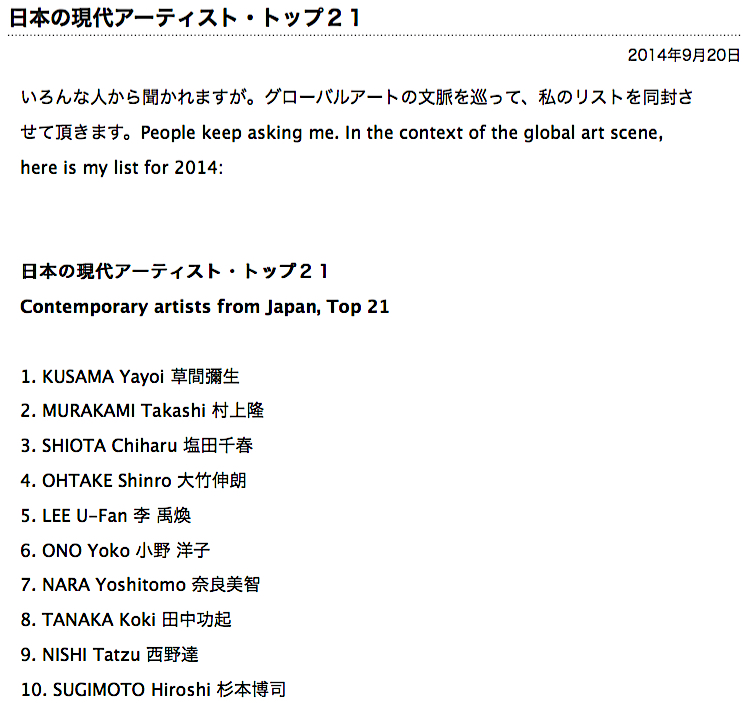 (screenshot)
日本の現代アーティスト・トップ21 (2014年)
Contemporary artists from Japan, Top 21 (2014)
1. KUSAMA Yayoi 草間彌生
2. MURAKAMI Takashi 村上隆
3. SHIOTA Chiharu 塩田千春
4. OHTAKE Shinro 大竹伸朗
5. LEE U-Fan 李 禹煥
6. ONO Yoko 小野 洋子
7. NARA Yoshitomo 奈良美智
8. TANAKA Koki 田中功起
9. NISHI Tatzu 西野達
10. SUGIMOTO Hiroshi 杉本博司
11. MORIYAMA Daido 森山大道
12. ARAKI Nobuyoshi 荒木経惟
13. MORIMURA Yasumasa 森村泰昌
14. KOIZUMI Meiro 小泉明朗
15. IKEDA Ryoji 池田亮司
16. AIDA Makoto 会田誠
17. OZAWA Tsuyoshi 小沢剛
18. KAWAMATA Tadashi 川俣正
19. SEKINE Nobuo 関根伸夫
20. SUGA Kishio 菅木志雄
21. ISHIUCHI Miyako 石内 都
東京、2014年9月19日
亜 真里男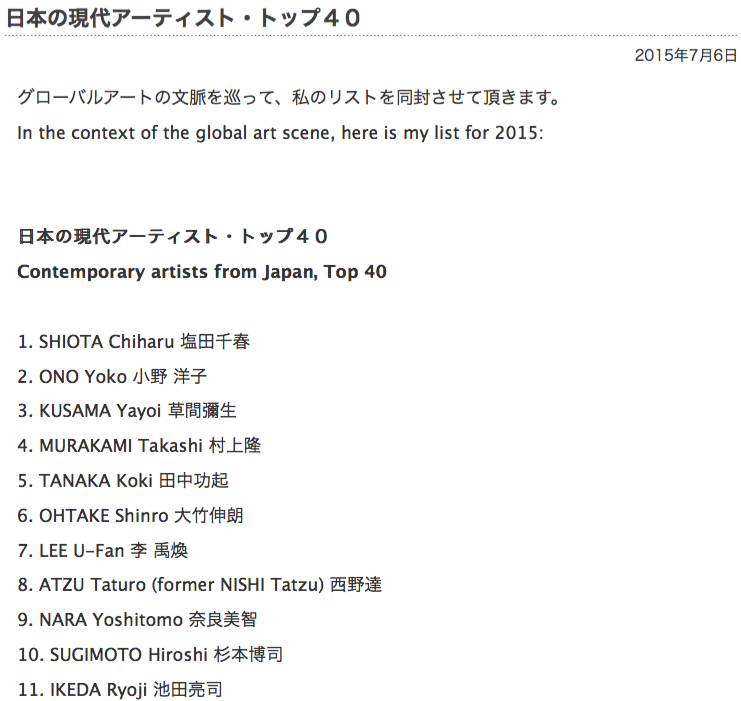 (screenshot)
日本の現代アーティスト・トップ40 (2015年)
Contemporary artists from Japan, Top 40 (2015)
1. SHIOTA Chiharu 塩田千春
2. ONO Yoko 小野 洋子
3. KUSAMA Yayoi 草間彌生
4. MURAKAMI Takashi 村上隆
5. TANAKA Koki 田中功起
6. OHTAKE Shinro 大竹伸朗
7. LEE U-Fan 李 禹煥
8. ATZU Taturo (former NISHI Tatzu) 西野達
9. NARA Yoshitomo 奈良美智
10. SUGIMOTO Hiroshi 杉本博司
11. IKEDA Ryoji 池田亮司
12. ARAKI Nobuyoshi 荒木経惟
13. KOIZUMI Meiro 小泉明朗
14. MORIYAMA Daido 森山大道
15. SUGA Kishio 菅木志雄
16. MORIMURA Yasumasa 森村泰昌
17. AIDA Makoto 会田誠
18. OZAWA Tsuyoshi 小沢剛
19. KAWAMATA Tadashi 川俣正
20. ISHIUCHI Miyako 石内 都
21. ARAKAWA Ei 荒川 医
22. Mr.
23. MORI Mariko 森万里子
24. Chim↑Pom
25. IWASAKI Takahiro 岩崎 貴宏
26. SASAMOTO Aki 笹本晃
27. Tabaimo 束芋
28. TAKAMINE Tadasu 高嶺 格
29. SHIGA Lieko 志賀理江子
30. SHIMABUKU 島袋道浩
31. KASAHARA Emiko 笠原恵実子
32. SEKINE Nobuo 関根伸夫
33. SHINODA Taro 篠田 太郎
34. ORIMOTO Tatsumi 折元 立身
35. YONEDA Tomoko 米田知子
36. HIRAKAWA Youki 平川 祐樹
37. MIYAJIMA Tatsuo 宮島 達男
38. KIMURA Yuki 木村 友紀
39. KANEUJI Teppei 金氏徹平
40. HIRAKAWA Noritoshi 平川典俊
バーゼル、2015年7月6日
亜 真里男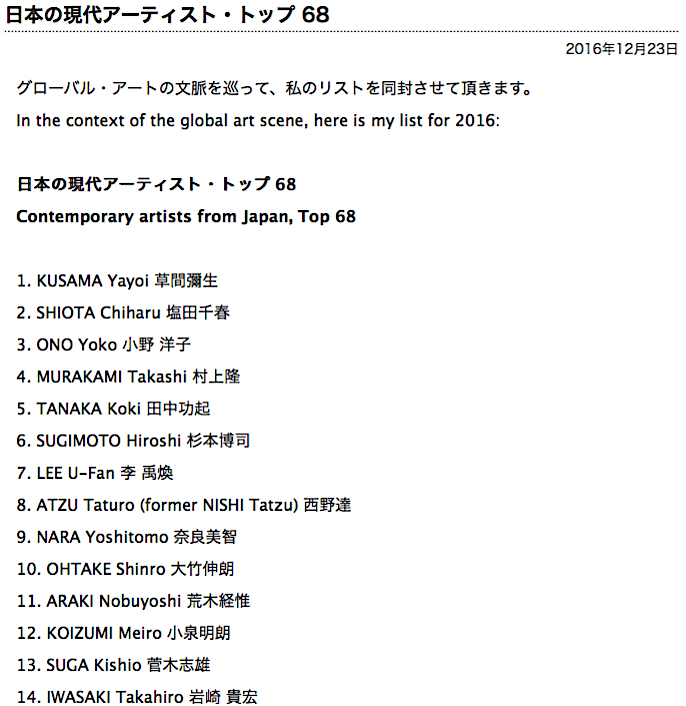 (screenshot)
日本の現代アーティスト・トップ 68 (2016年)
Contemporary artists from Japan, Top 68 (2016)
1. KUSAMA Yayoi 草間彌生
2. SHIOTA Chiharu 塩田千春
3. ONO Yoko 小野 洋子
4. MURAKAMI Takashi 村上隆
5. TANAKA Koki 田中功起
6. SUGIMOTO Hiroshi 杉本博司
7. LEE U-Fan 李 禹煥
8. ATZU Taturo (former NISHI Tatzu) 西野達
9. NARA Yoshitomo 奈良美智
10. OHTAKE Shinro 大竹伸朗
11. ARAKI Nobuyoshi 荒木経惟
12. KOIZUMI Meiro 小泉明朗
13. SUGA Kishio 菅木志雄
14. IWASAKI Takahiro 岩崎 貴宏
15. IKEDA Ryoji 池田亮司
16. MORIYAMA Daido 森山大道
17. MORIMURA Yasumasa 森村泰昌
18. AIDA Makoto 会田誠
19. OZAWA Tsuyoshi 小沢剛
20. ISHIUCHI Miyako 石内 都
21. ARAKAWA Ei 荒川 医
22. Mr.
23. Chim↑Pom
24. KAWAMATA Tadashi 川俣正
25. IKEMURA Leiko イケムラレイコ
26. MORI Mariko 森万里子
27. KAZAMA Sachiko 風間サチコ
28. MIYAJIMA Tatsuo 宮島 達男
29. MOHRI Yuko 毛利悠子
30. ORIMOTO Tatsumi 折元 立身
31. SASAMOTO Aki 笹本晃
32. SONE Yutaka 曽根裕
33. KAWAUCHI Rinko 川内倫子
34. NAWA Kohei 名和晃平
35. KATO Izumi 加藤泉
36. SHIMABUKU Michihiro 島袋道浩
37. Tabaimo 束芋
38. SEKINE Nobuo 関根伸夫
39. GOKITA Tomoo 五木田 智央
40. KASAHARA Emiko 笠原恵実子
41. TAKAMINE Tadasu 高嶺 格
42. HATAKEYAMA Naoya 畠山 直哉
43. ONODERA Yuki オノデラユキ
44. SHIGA Lieko 志賀理江子
45. YASUDA Kan 安田侃
46. YOKOO Tadanori 横尾忠則
47. FUNAKOSHI Katsura 舟越 桂
48. SENJU Hiroshi 千住博
49. HIRAKAWA Noritoshi 平川典俊
50. YANAGI Yukinori 柳幸典
51. ODANI Motohiko 小谷元彦
52. SHINODA Taro 篠田 太郎
53. YONEDA Tomoko 米田知子
54. HIRAKAWA Youki 平川 祐樹
55. KIMURA Yuki 木村 友紀
56. IZUMI Taro 泉太郎
57. KANEUJI Teppei 金氏徹平
58. YANOBE Kenji ヤノベケンジ
59. TERUYA Yuken 照屋勇賢
60. SAWADA Tomoko 澤田 知子
61. UJINO 宇治野宗輝
62. SPUTNIKO!
63. YAMASHITA Mai + KOBAYASHI Naoto 山下麻衣+小林直人
64. MITAMURA Midori 三田村光土里
65. TAKATANI Shiro 高谷史郎
66. OKUMURA Yuki 奥村雄樹
67. KAWAKUBO Yoi 川久保ジョイ
68. YAMASHIRO Chikako 山城知佳子
バーゼル、2016年12月23日
亜 真里男
—-
2:29 min
草間彌生についての新しいドキュメンタリー映画
Kusama – Infinity – Official Trailer