DORAEMON and Art Superstar MURAKAMI Takashi @ ROPPONGI ART NIGHT 2022
ドラえもんとアート・スーパースター村上隆@六本木アートナイト2022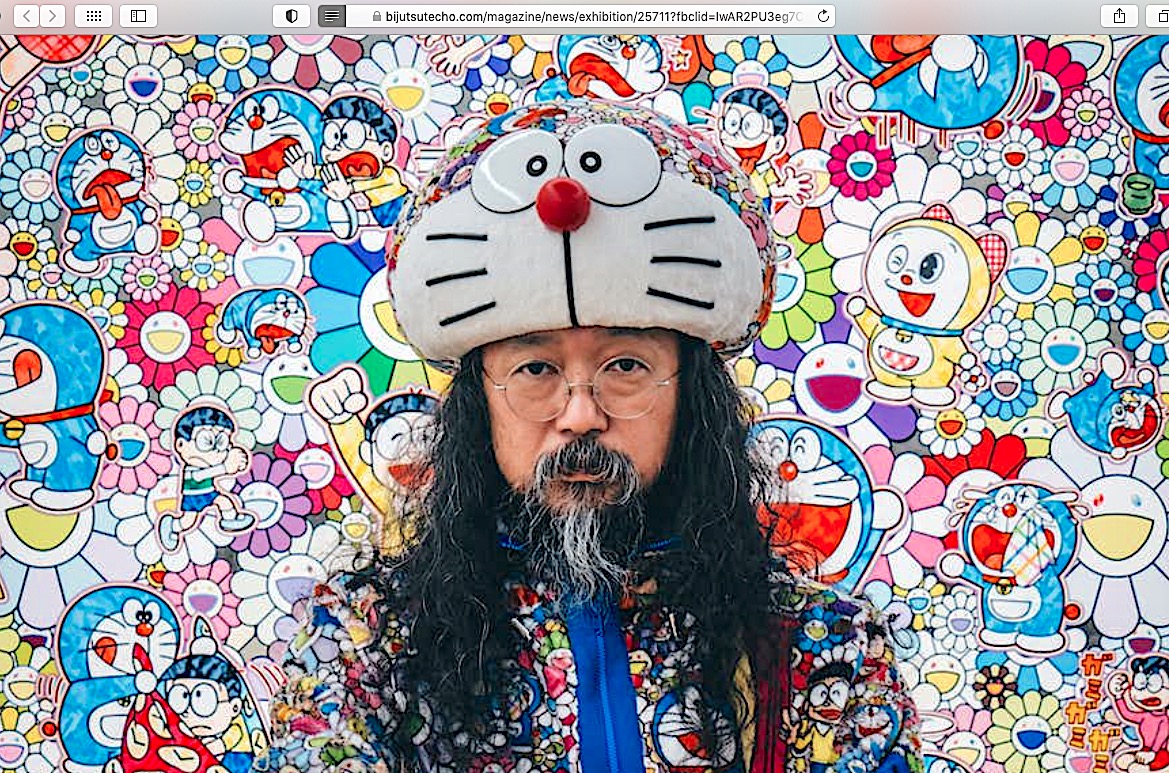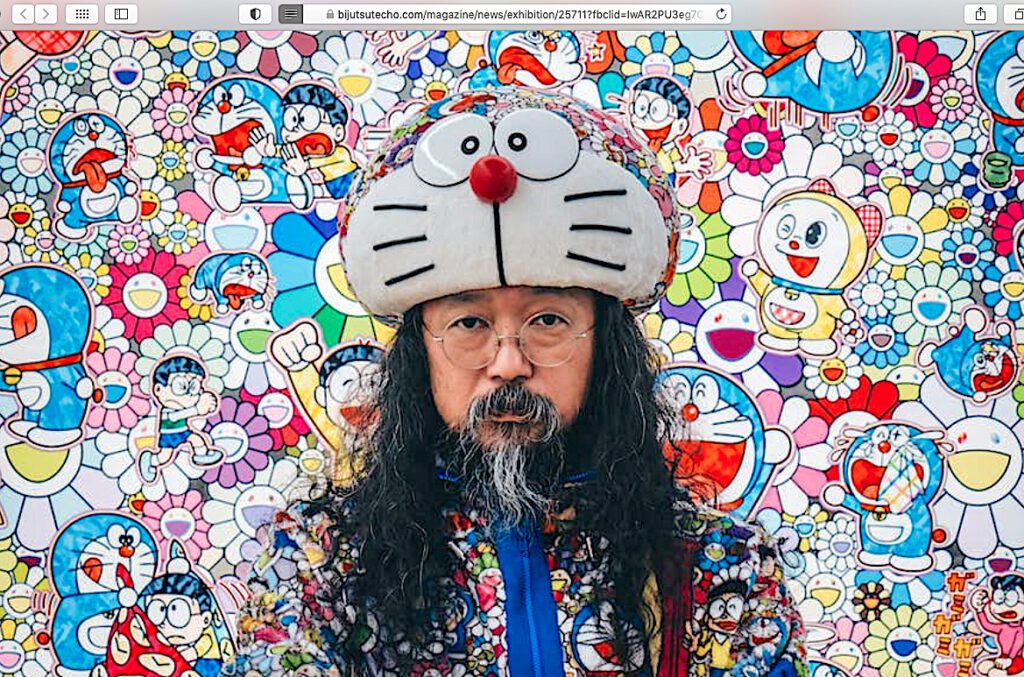 Everyone's talking about Venice-, Berlin-Biennale, Documenta, Manifesta or Art Basel.
Tokyo (!) has its ROPPONGI ART NIGHT, related to the Mori Art Museum, with art superstar MURAKAMI Takashi.
The gap couldn't be much greater. Infantile Japan at its best.
With the support by the Tokyo Metropolitan Government, ARTS COUNCIL TOKYO, Tokyo Minato-city, Agency for Cultural Affairs – Government of Japan and Japan Arts Council – Japan Cultural Expo.
Check it out!
六本木アートナイト、3年ぶりのリアル開催へ。メインプログラム・アーティストは村上隆
新型コロナウイルスの影響によってリアル開催が見送られてきた「六本木アートナイト」が、9月17日~9月19日の会期で開催される。テーマは「マジカル大冒険 この街で、アートの不思議を探せ!」。
https://bijutsutecho.com/magazine/news/exhibition/25711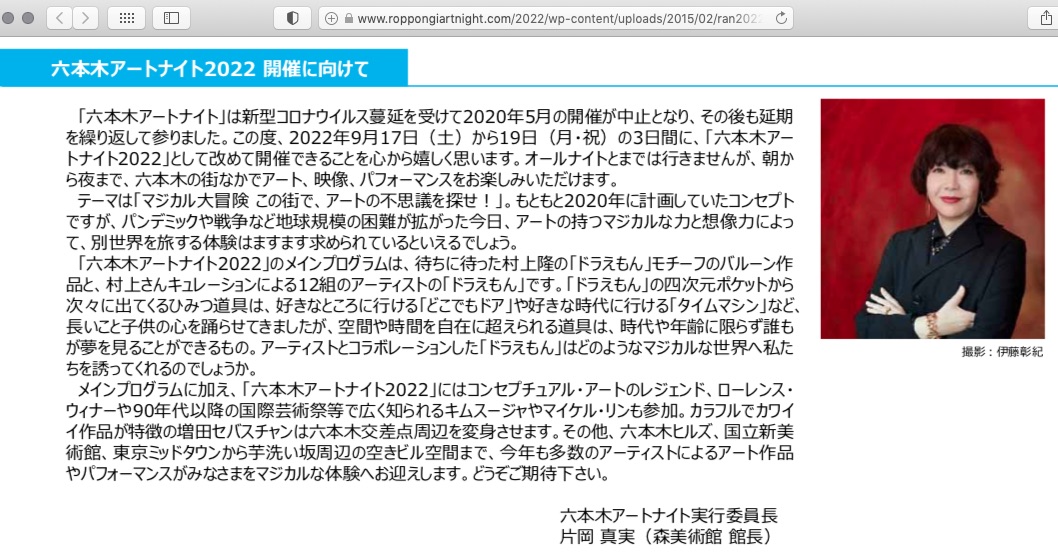 https://www.roppongiartnight.com/2022/wp-content/uploads/2015/02/ran2022_pressrelease_jp01.pdf
https://www.roppongiartnight.com/2022/en/
In this context, you may check the following links, too.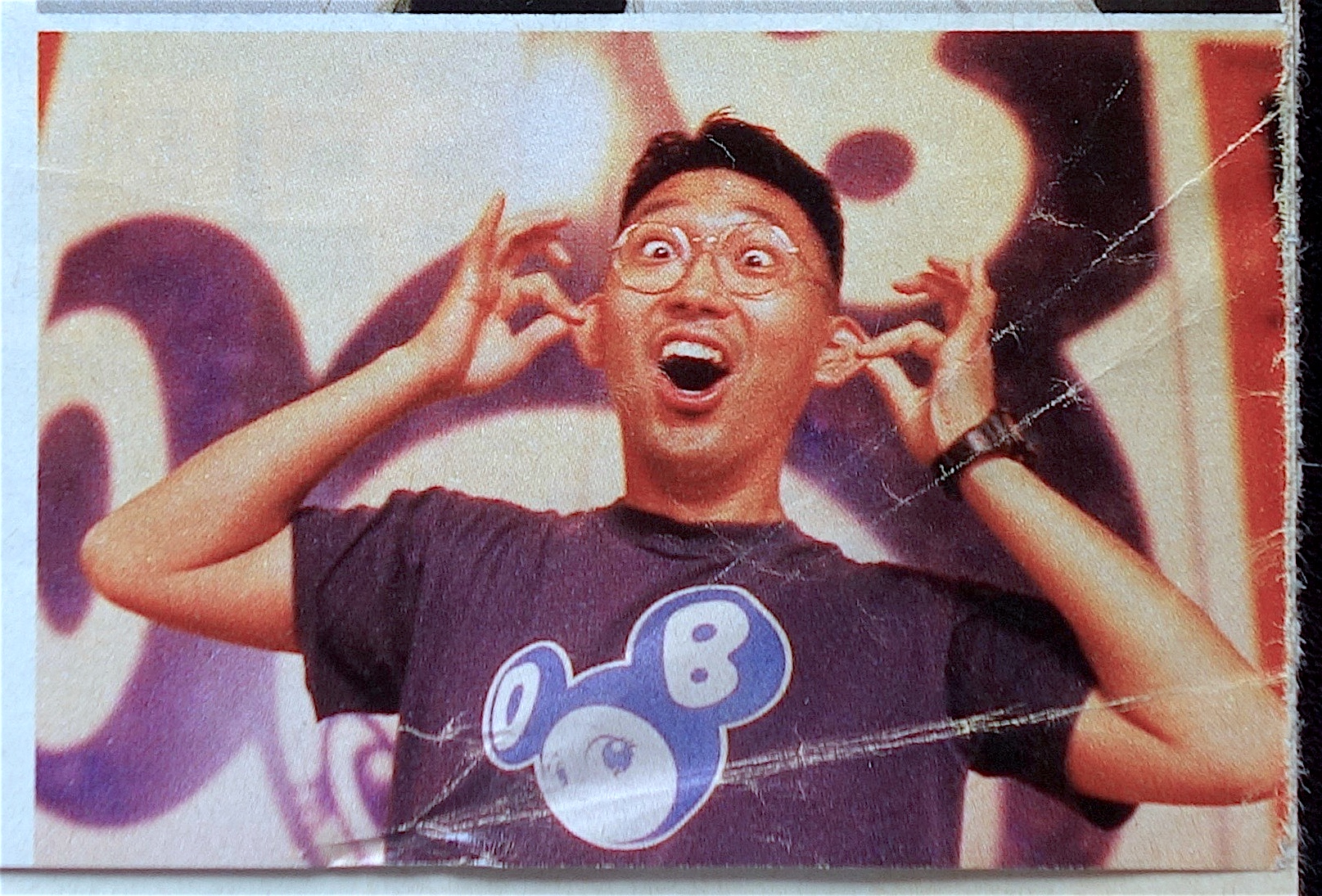 漫画家 藤子不二雄Aさん死去 88歳
Manga artist Fujiko A. Fujio passed away at 88. R.I.P.
https://art-culture.world/articles/fujiko-fujio-a/
日本芸術文化の象徴、国民的な漫画・アニメキャラクタードラえもん、村上隆の作品として、オークションにて約6100万円で落札
DORAEMON, iconic Manga-Anime-"character" and symbol of Japanese art + culture, sells as MURAKAMI Takashi's work for 565.000 US$ @ Sotheby's
https://art-culture.world/articles/doraemon-takashi-murakami-ドラえもん-村上隆/
「貧乏臭さ」の象徴:村上隆、ドラえもん、藤子・F・不二雄、ガゴシアン。アート・フリッパー:2020作を2021年4月のオークションへ
Symbol of "Shabbiness": MURAKAMI Takashi, Doraemon, Fujiko Fujio, Gagosian. Art Flipper: Work of 2020 Selling at April 2021 Auction
https://art-culture.world/articles/takashi-murakami-doraemon-fujiko-fujio-ドラえもん/
森美術館前なう!日本一美術家、天才村上隆の超ダサい、米国産、金色うんこ自画像!爆笑!!
In Front of The Mori Art Museum, NOW! Japan's No.1 Artist, Genius MURAKAMI Takashi's, Made in America, Golden Bullshit Self-Portrait Sucks! ROFL!!
https://art-culture.world/articles/genius-murakami-takashi-天才村上隆/