The Great Liar From The Tiny British Empire, Art Worker Damien Hirst @ A Rental Gallery In The Great Empire Of Japan. Hirst's Fucked-Up "Cherry Blossoms" Show Really Sucks! ROFL!!
小イギリス帝国の大嘘つき、アートワーカー ダミアン・ハースト @ 大日本帝國の貸画廊。ハーストの超ダサい桜展!爆笑!!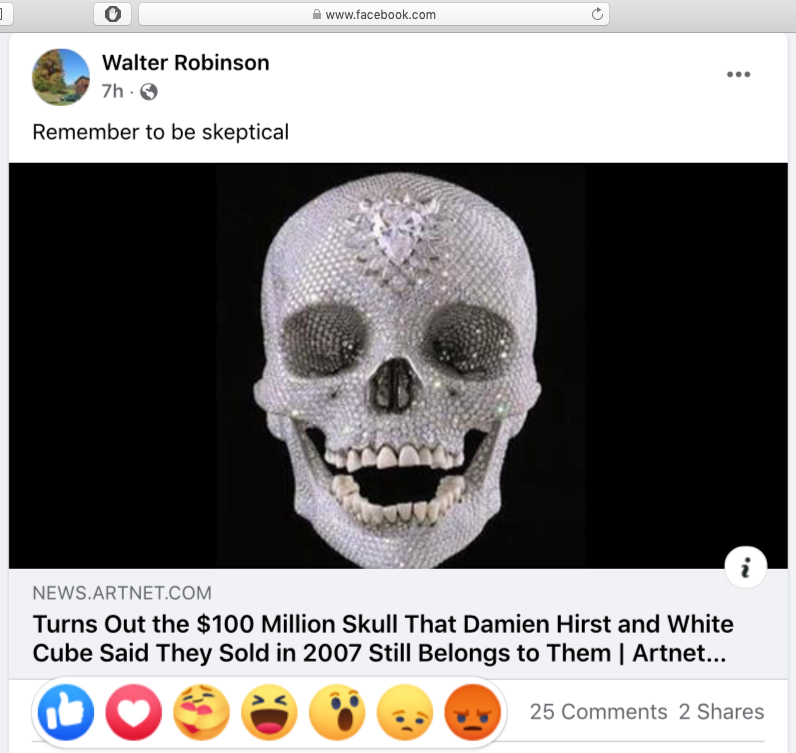 国立新美術館館長 逢坂恵理子氏の貸画廊・国立新美術館 (貸し館)with 大嘘つきのダミアン・ハースト。情けない展覧会ばっかり、、、
2020年に、ワシントンDCのナショナルギャラリーの予定された「フィリップ・ガストン展」が「中止」になりましたね。
2011年に、目黒区美術館の予定された「原爆を視る 1945-1970」が「中止」になりましたね。
逢坂恵理子さん、大嘘つきのダミアン・ハーストのくだらない「桜」展 を中止して頂けないでしょうか。
https://www.nact.jp/exhibition_special/2022/damienhirst/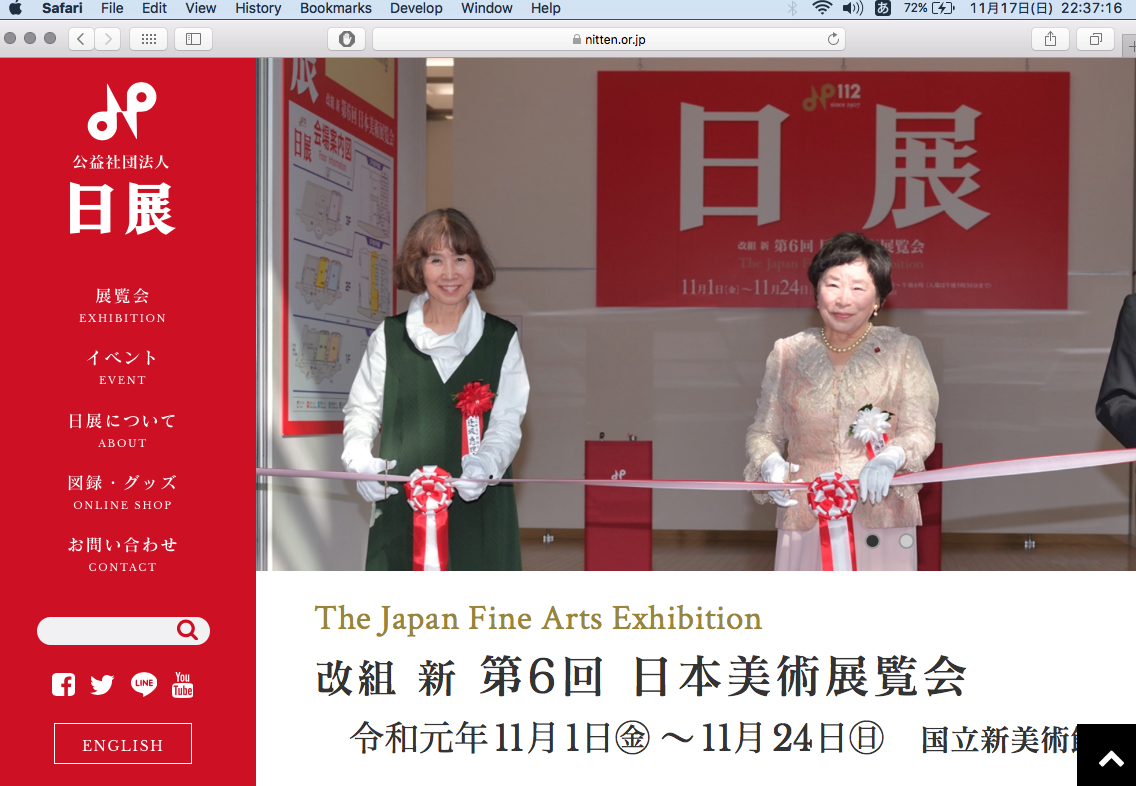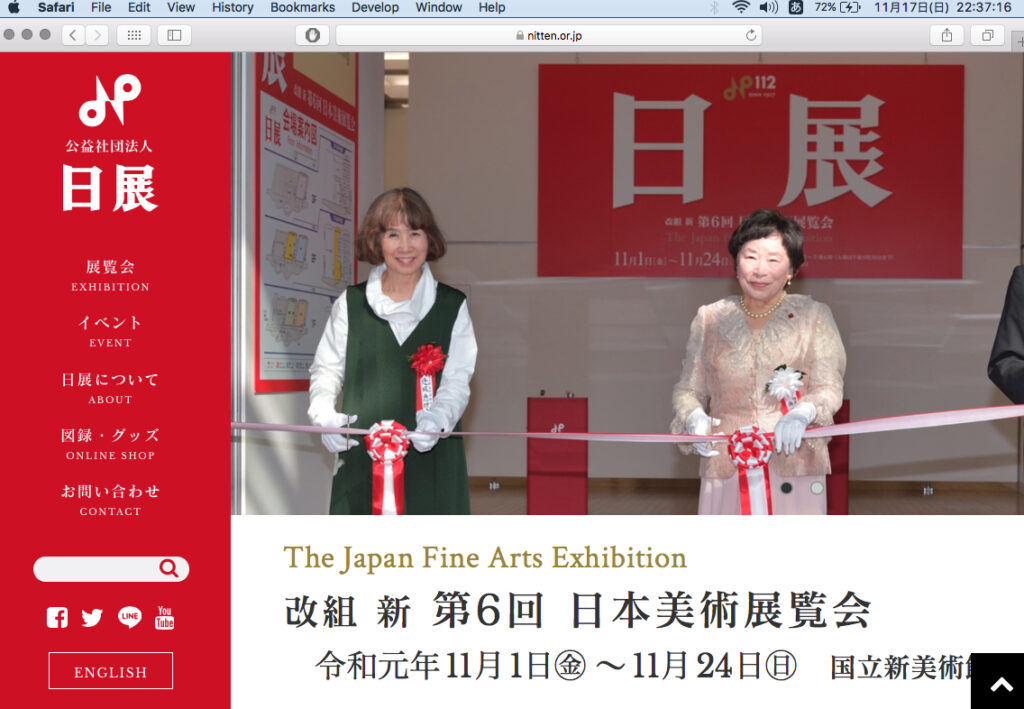 In the above written Japanese sentences I'm actually asking OSAKA Eriko, Director General of The National Art Center, Tokyo, to cancel the "Cherry Blossoms" show by the "Great Liar From The Tiny British Empire" + Art Worker Damien Hirst.
The exhibition should run from March, the 2nd until May, the 23rd.
Btw, "everybody" can rent one of the galleries in the National Art Center(貸し館).
https://www.nact.jp/english/exhibitions/2022/damienhirst/
Well, we all remember "The Great European Summer of Art" in 2007, right?
A dream for us art-lovers, as we could visit first the Venice Biennale (obviously every two years), then Art Basel, afterwards Documenta in Kassel (every five years)
and finally "Sculpture Project" in Münster (every ten years).
What did art worker Hirst and his art dealer Jay Jopling (White Cube) plan? "Let's get these art enthusiasts, this caravan full of media people, collectors and curators to London via a "fake" diamond scull. We will then publish a fake statement, that the scull had been sold for 100 million US Dollars."
Dear ART+CULTURE readers, you don't believe that kind of shit, right?
O.k.
After you have read the following articles, we may discuss this shameful, annoying, disgusting attitude by these British gentlemen (aka motherfuckers with tiny cocks) later.
Damien Hirst and the art of the deal (New York Times)
quote:
That $100 million skull, called "For the Love of God," was Hirst's ultimate test of whether artistic and financial value could be the same thing. It now languishes in storage in Hatton Garden, London's jewelry district, Hirst said, owned by him, White Cube and undisclosed investors.
https://artdaily.cc/news/143125/Damien-Hirst-and-the-art-of-the-deal#.Ye91gy2B0Wo
Turns Out the $100 Million Skull That Damien Hirst and White Cube Said They Sold in 2007 Still Belongs to Them
The work appears to have been inside a storage facility in London for 15 years.
Artnet News, January 26, 2022
quote:
According to Hirst, he still owns the bauble in partnership with his gallery, White Cube, and a group of unnamed investors.
…
"On the day we said they were negotiating a discount for buyers, suddenly, miraculously, it has been sold for £50 million, cash," she told London's Evening Standard at the time. "How likely is that? Cash is convenient because there is no paper trail."
full text:
https://news.artnet.com/art-world/damien-hirst-skull-storage-2064567
Did Damien Hirst really sell diamond skull for £50m?
https://www.standard.co.uk/hp/front/did-damien-hirst-really-sell-diamond-skull-for-ps50m-6691754.html
EDEN CONFIDENTIAL: After 15 years, Damien Hirst reveals where his $100m skull is buried
By RICHARD EDEN FOR THE DAILY MAIL, 26 January 2022
https://www.dailymail.co.uk/tvshowbiz/article-10441859/EDEN-CONFIDENTIAL-15-years-Damien-Hirst-reveals-100m-skull-buried.html
Cristina Ruiz @redsea99
Editor At Large The Art Newspaper; Contributing Ed The Gentlewoman; News Ed Vanity Fair on Art
quote on Twitter, 8:26 PM · Jan 22, 2022:
"For years, Damien Hirst, his manager, his gallery @_WhiteCube etc insisted his diamond skull had sold for £50m. Here, the first admission it never did—as we have said repeatedly"
Link_https://twitter.com/redsea99/status/1484849869756026882
Ben Lewis:
Link_https://twitter.com/theuniversalben/status/1484949210881474566
Hirst's diamond skull sells for $100 million
By Jeremy Lovel, AUGUST 30, 2007
LONDON (Reuters) – A diamond-encrusted platinum skull by artist Damien Hirst has been sold to an investment group for the asking price of $100 million, a spokeswoman for Hirst's London gallery White Cube said on Thursday.
The skull, cast from a 35-year-old 18th century European man but retaining the original teeth, is coated with 8,601 diamonds, including a large pink diamond worth more than four million pounds in the centre of its forehead.
The spokeswoman said she could give no more details of the buyer.
"Damien Hirst has retained a participation in the work — he still owns a share of it — in order that he can oversee a global tour of the work that is currently being planned," she added.
The skull caused a sensation when it first went on display at an exhibition of new works by Hirst at the White Cube in central London on June 3 — not least because of its price tag.
Some critics dismissed it as tasteless while others saw it as a reflection of celebrity-obsessed culture.
Works by Hirst, who first made his name displaying diced and pickled animals, became the most expensive at auction for a living artist when his "Lullaby Spring" pill cabinet sold at Sotheby's in London for 9.6 million pounds.
The skull is the most expensive piece to date by Hirst, already a millionaire several times over.
The sale of the skull brings to $350 million the value of works sold from the June exhibition. Generally the gallery takes 30 percent and Hirst 70 percent of the proceeds.
As an indication of the wealth he has amassed since being spotted in 1991 by art collector Charles Saatchi, Hirst, who financed the skull himself, said he couldn't remember whether it had cost 10 or 15 million pounds to make.
He said from the outset he wanted the work, inspired by similarly bejeweled Aztec skulls, to be on public view.
He rejected suggestions that his works were more a standing joke against the art establishment than real works of art.
But when asked at the time of the exhibition what his next project would be he immediately replied: "Two diamond skeletons shagging — no just kidding."
https://www.reuters.com/article/us-arts-hirst-skull/hirsts-diamond-skull-sells-for-100-million-idUSL3080962220070830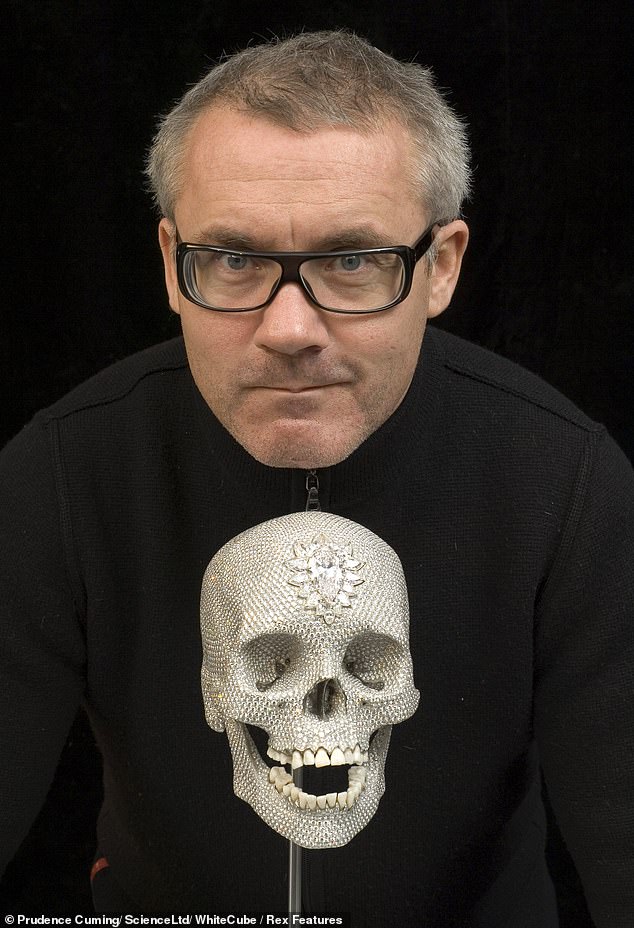 Fuck all the British, who bought + still buy, endorsed + still endorse art worker Hirst's shitty Kitsch.
Amen.
Tokyo, Reiwa 4, Jan. 30
A
up-date 2022/3/2: AD in the Yomiuri Newspaper (every Japanese newspaper had the same advertising).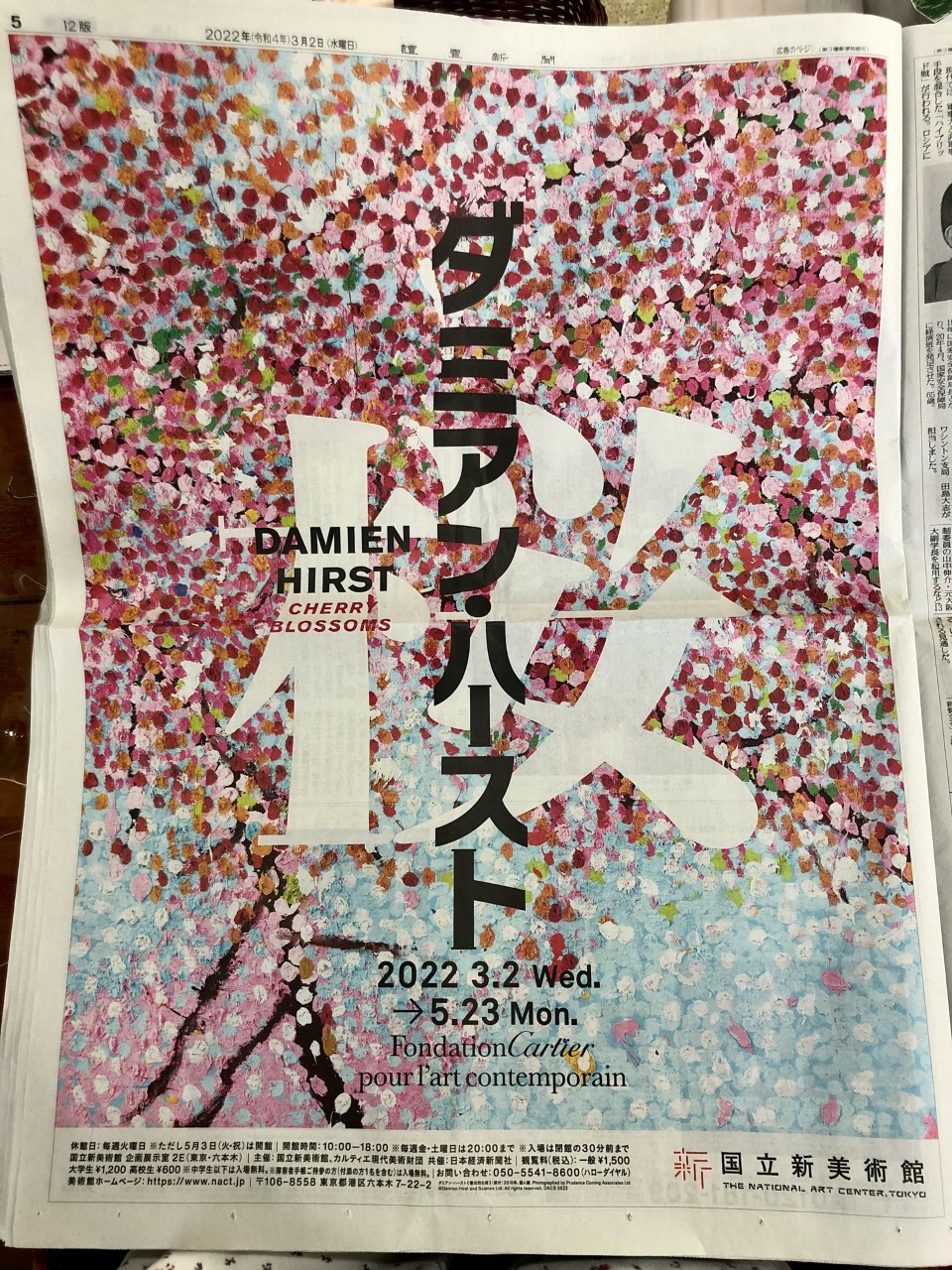 up-date: Hirst in f*cking, stupid Casa Brutus (May 2022 Issue) by Magazine House:
長濱ねるが日本初の大規模個展『ダミアン・ハースト 桜』で没入体験。
『カーサ ブルータス』2022年5月号より
quotes:
ホワイトキューブの空間を埋め尽くすのは桜の巨大な絵画だ。2018年から3年にわたって描き続けた《桜》シリーズ107点は2021年にパリで〈カルティエ現代美術財団〉が初公開し、日本では本人が選んだ24点を展示。それらは離れて見る分には桜に見えるが、近づくにつれ色の塊の集積へと変わる。キャンバスに投げつけられた絵具の塊はどこか暴力的で、その色は毒々しい。展示を観に訪れた長濱ねるも同じ印象を抱いたようで、「ダミアンが描くのだから、癒しや優しい桜ではないだろうと思っていました」と語る。
イヤリング《クラッシュ ドゥ カルティエ》489,500円、リング《クラッシュ ドゥ カルティエ》上385,000円、下588,500円(以上カルティエ/カルティエ カスタマー サービスセンター TEL 0120 301 757)。ジレ306,900円、中に着たシャツ96,800円、サンダル135,300円(以上マルニ/マルニ ジャパン クライアントサービス TEL 0800 080 4502)。
quote:
コロナ禍で、一人スタジオにこもり描き続けたという《桜》シリーズ。日本での展示が決まった時、ハーストは心から喜んだという。桜の季節に観る桜の絵画。その美しさ、儚さはひときわ増すだろう。
イヤリング《クラッシュ ドゥ カルティエ》489,500円(カルティエ/カルティエ カスタマー サービスセンター TEL 0120 301 757)。ニットドレス949,300円(ジル サンダー バイ ルーシー アンド ルーク・メイヤー/ジルサンダージャパン TEL 0120 919 256)。
https://casabrutus.com/art/228663/2
Regarding the magazine Casa Brutus, check this recently published, damn arty thing out, too:
ファックMagazine HouseのCasa Brutus Fuck Casa Brutus published by Magazine House, Tokyo
https://art-culture.world/articles/fuck-magazine-house-casa-brutus/
ここに載せた写真とスクリーンショットは、すべて「好意によりクリエーティブ・コモン・センス」の文脈で、日本美術史の記録の為に発表致します。
Creative Commons Attribution Noncommercial-NoDerivative Works
photos: cccs courtesy creative common sense