バーゼル市立美術館の学芸員フィアスコ:「ブラック・マドンナ」(キリスト教) vs. 「ブラック・天皇」(神道)
Curatorial Fiasco at the Kunstmuseum Basel: "Black Madonna" (Christianity) vs. "Black Tenno" (Shintoism)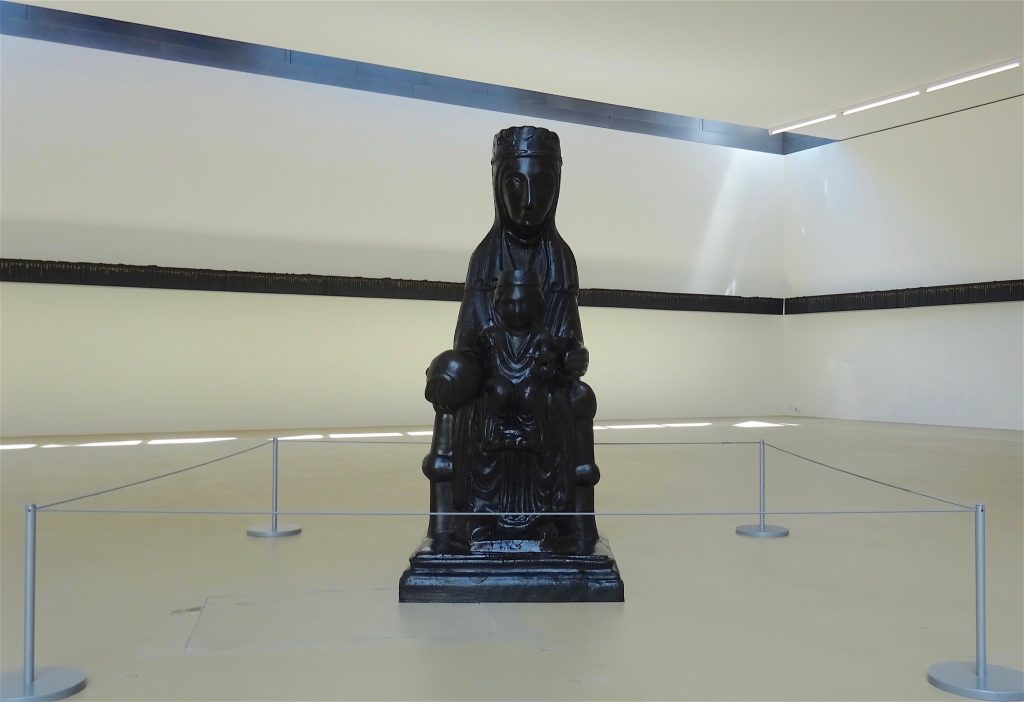 In his exhibition at the Kunstmuseum Basel, which will be spread out across two of the museum's venues, Gates will explore the cult of the Black Madonna, examining both its significance in the history of religion and its aesthetic and metaphorical tenor.
(provocative) official statement by the Kunstmuseum Basel, see:
https://kunstmuseumbasel.ch/en/exhibitions/2018/gates
1971.
"Imagine" Yoko Ono and John Lennon.
1972.
Strong pro-feminist statement by Yoko Ono and John Lennon with "Woman Is the Nigger of the World"
John Lennon & Yoko Ono — Woman Is the Nigger of the World — Dick Cavett .mov
in case of censorship: www.youtube.com/watch?v=Uk_tcu1Xq3I
2018.
And we are still arguing about "color" as boundary. In a progressing, quickly developing global mobility context, fear of losing its own cultural identity make people act in discriminative ways.
The still running, misleading curatorial practice at Kunstmuseum Basel "Black Madonna" questions identity politics, because Gates forces us to discuss about the termini "Black Art","black artist", "Black Americans", "artists who are black", "American artists of African descent who are American artists, and they create American art", "black archive".
"But for Mr Gates, the Black Madonna is first and foremost a black American phenomenon. The notion of a black mother of God has been powerfully resonant throughout American history"
https://www.economist.com/prospero/2018/06/25/theaster-gates-and-the-art-of-the-black-madonna
In the 80's I travelled as a back-packer around Latin America for one year.
No one in these catholic countries like Brazil, Colombia, Venezuela, Ecuador would use the terminus "Black Art". The terminology "American art" or "American history" used by U.S. citizens, even in this "Kunstmuseum Basel" case, is more than wrong, because it manifests, still today, an attitude of discrimination, segregation with a notion of supremacy.
One reason why this exhibition in the name of "American art" sucks.
One other reason to feel sensitively disturbed is the subtle layer of out-dated, old-fashioned anti-US-ism and an anti-catholic strategy in the curatorial practice, even if the artist had been given "carte blanche". Europeans do love the USA with Obama.
Further on, too many repetitive images, unnecessarily blown up photographs, boring zombie paintings, pretentious educational pseudo-science, wrong emancipatory context regarding human beings, women and men being mislead to explore the potential of new, imaginative, liberating connections.
In some body of works, a blurry "black fascism" can be recognized, which closes the stage for an open dialogue, because rational discussion will be restricted by political activism or a political agenda. Therefore I call this exhibition a curatorial fiasco.
Compare my opinion with the quote by Thomas Chatterton Williams, in the New York Times, June 27, 2018.
Adrian Piper's Show at MoMA is the Largest Ever for a Living Artist. Why Hasn't She Seen It?
https://www.nytimes.com/2018/06/27/magazine/adrian-pipers-self-imposed-exile-from-america-and-from-race-itself.html
"Piper believes that anyone who peers deep enough would find no such thing as a stable racial identity. When I asked her about it, she rejected the notion that there is even something so straightforward as a "black sensibility." "The concept of being black was not one that was in use in my home," she said with a laugh. "It's not as though we said, 'Here I am, a black person cooking an egg!' " But the civil rights movement made the question pressing. "Which side of the line are you on? That's where identity politics begins," she said, suggesting a subtle irony that black thinkers from Richard Wright to Fred Hampton would recognize as true: The fight for liberation from oppression can reify the very same racial categories that are bogus to begin with. This is one of the more perverse traps members of historically oppressed groups can find themselves hemmed up in."
Personally, my highlight of "Black Madonna" was a hidden jewel, intelligently positioned as the reception desk at the entrance of the Kunstmuseum Basel Gegenwart: "Arrival desk with red light John H. Johnson's desk".
Unfortunately, the kind person at this desk couldn't describe me the contextual background of this work; further on, the LP player didn't function in the exhibition area. These problems had been resolved later. German and French explanatory pamphlets, incomplete regarding all the works exhibited, were missing in both museum venues.
Now, let's change the color, especially from the viewpoint of Japan, where I (= African-European multi-ethnic background) consider myself an artist from Japan.
Should I mention, that my educational background could be defined as the so-called "Christlich-jüdische Leitkultur" in Deutschland?
Italian and German family relatives follow catholic and protestant beliefs. Because of my Japanese wife, I have to pray in Buddhist temples and Japanese Emperor "Tenno"-related Shinto shrines.
Hey, it's all fucked up, but I enjoy it and I am living a happy life as a human being.
In the "Black Madonna" context, I would suggest Gates in trying to exhibit a sculpture of the Japanese Emperor, by most Japanese regarded as the highest authority of the Shinto religion, all in black and tarred like the "Black Madonna". By changing one word, "Gates will explore the cult of the Black Tenno, examining both its significance in the history of religion and its aesthetic and metaphorical tenor", one can guess the worst reactions imaginable in Japan and the neighboring Asian countries.
How would you define "Yellow Art", "yellow artist", "Yellow American", "artists who are yellow", "American artists of Asian descent who are American artists, and they create American art", "yellow archive"?
You see, it's awful, really fucked up, too. And we could rotate, exchange the "colors" in every country of the world.
Hesitating to distinguish between mixed races?
Let's have a discourse in Japan or in any Asian country about identity politics by adding the layers "gender identity", "feminism", "religion", "spiritual seekers", "minority culture" and "multiple country origins". It will end up in discriminative, segregative statements, even in the contexts of scientific terminology and the so-called "Human Enlightenment". Or should I better use the term "Yellow Enlightenment" as a juxtaposition to Gates's "Black Enlightenment"?
Unfortunately, in other parts of the world, abstractly speaking, the cultural identity situation is getting worse.
Keeping the above mentioned, problematic ambivalence about being "designed" as black artist or artists who are black in mind, I therefore hesitate to see the works by Gates as "Black Art".
If Theater Gates calls himself a "Black Artist", I, Mario A, will call myself a "Yellow Artist". His creative practice would be "Black Art", mine "Yellow Art".
Let's have a laugh:
Black Panther Artist vs. Yellow Jaguar Artist.
Why should we rewrite (Western) art history?
For example, 100 years ago "White Painting" in the "Western Art Canon" had been already re-contextualized, emancipated by Oskar Kokoschka, Otto Müller, Ernst Ludwig Kirchner, Max Pechstein, Emil Nolde and many more… The faces and bodies are painted in green, red, yellow, black, etc…
Picasso was partly of Arabic origin, with North African roots. Picasso is NOT a WHITE painter.
Tokyo-Basel, 2018/7/1
Mario A
THEASTER GATES
"BLACK MADONNA"
Kunstmuseum Basel, Neubau + Gegenwart
2018/6/9 – 10/21
Kuratoren der Ausstellung: Josef Helfenstein, Søren Grammel
Assistenzkuratorinnen: Eva Falge, Olga Osadtschy

Konzept Programme: Theaster Gates, Daniel Kurjakovic ́
Wissenschaftliche Assistenz: Tuula Rasmussen
https://kunstmuseumbasel.ch/en/exhibitions/2018/gates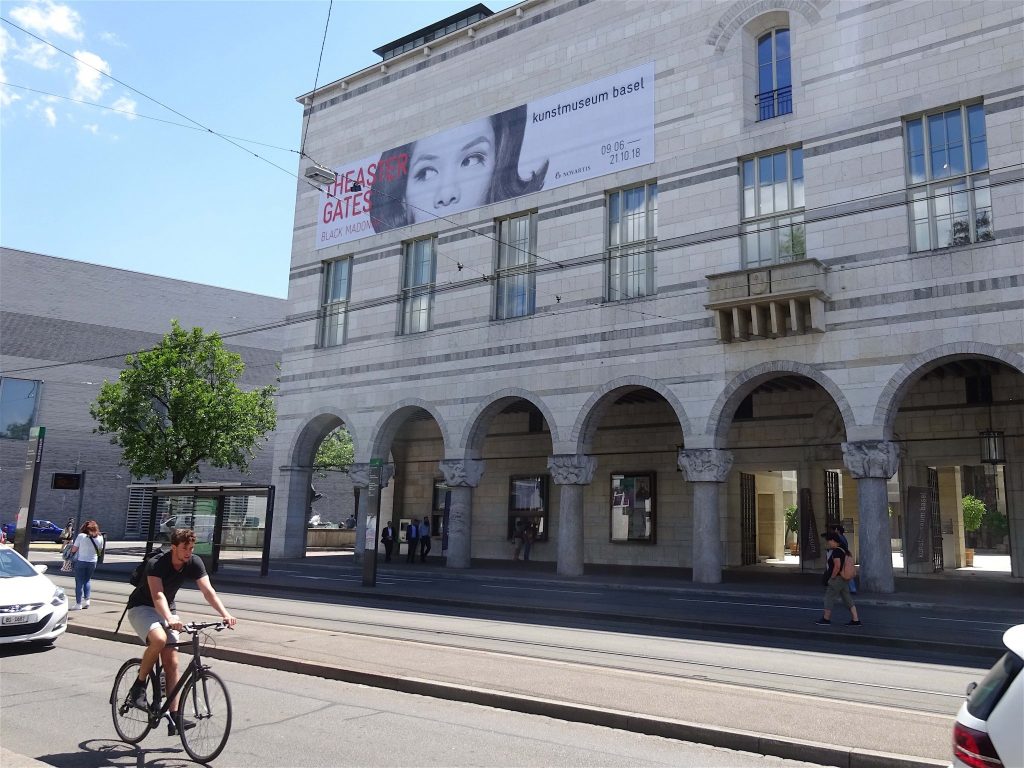 Kunstmuseum Basel, Hauptbau (Main Building), left building: Kunstmuseum Basel, Neubau (New Building)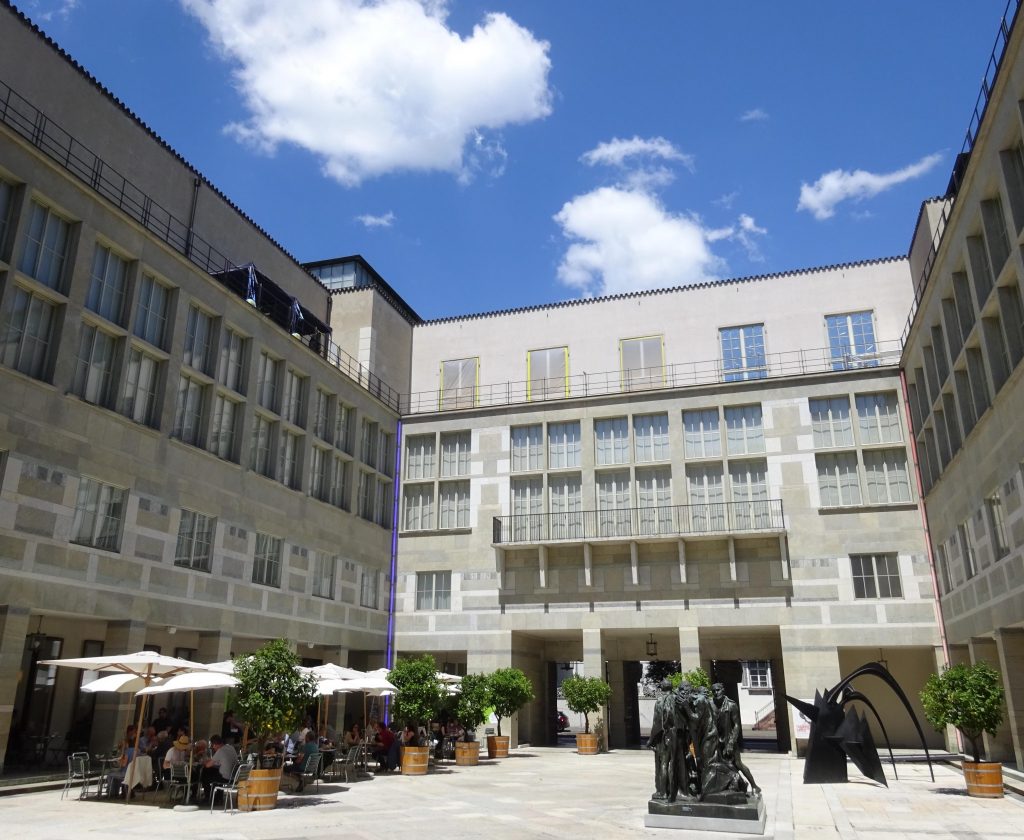 Kunstmuseum Basel, Hauptbau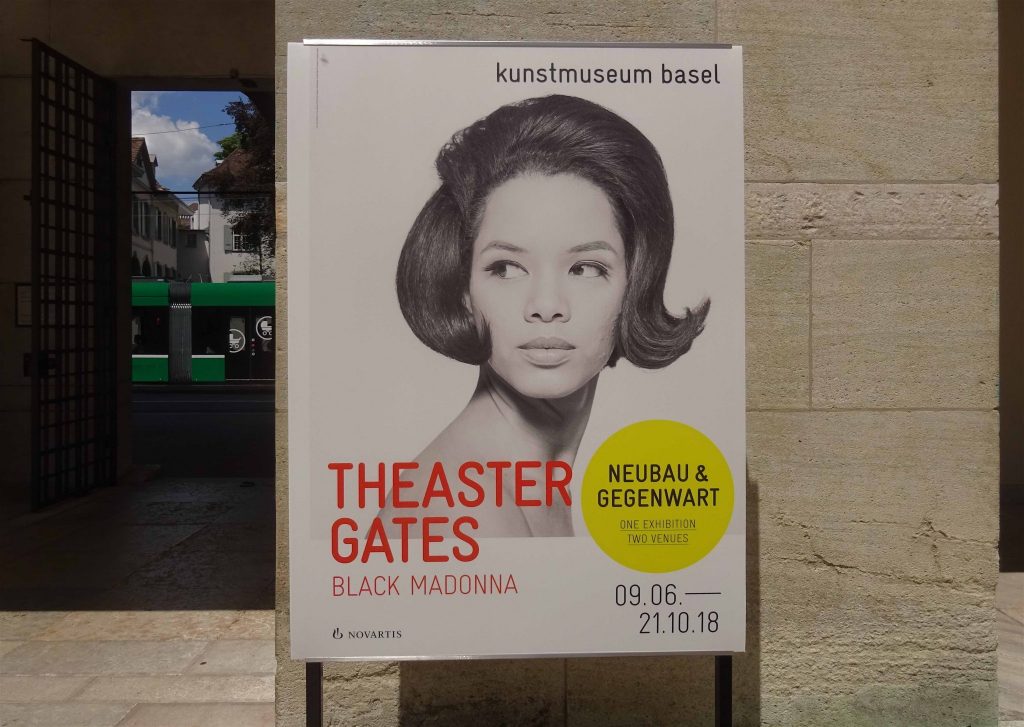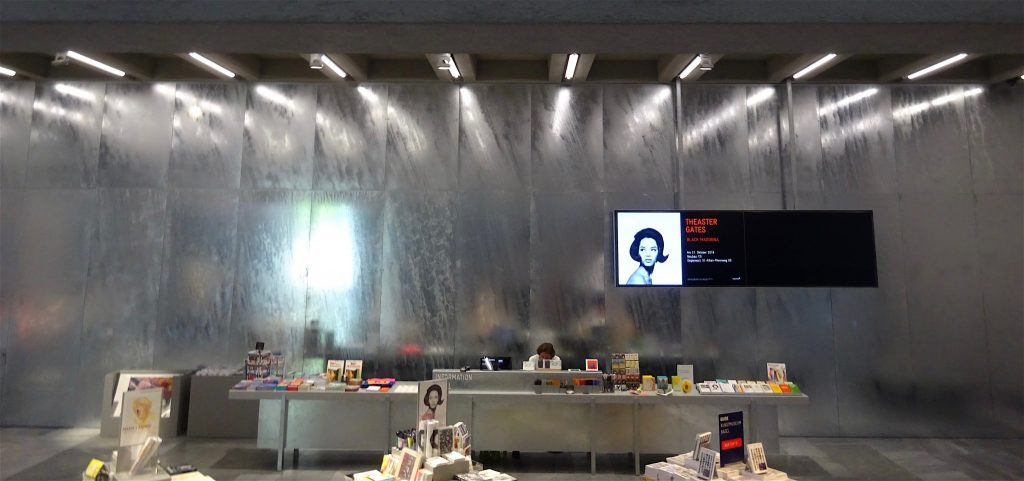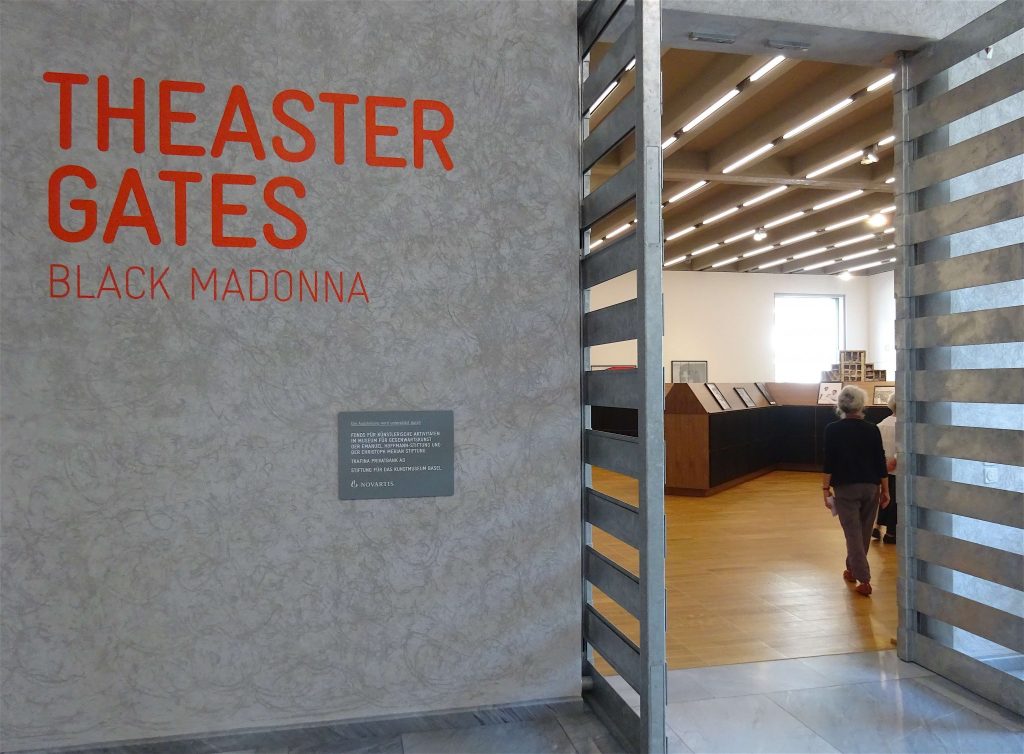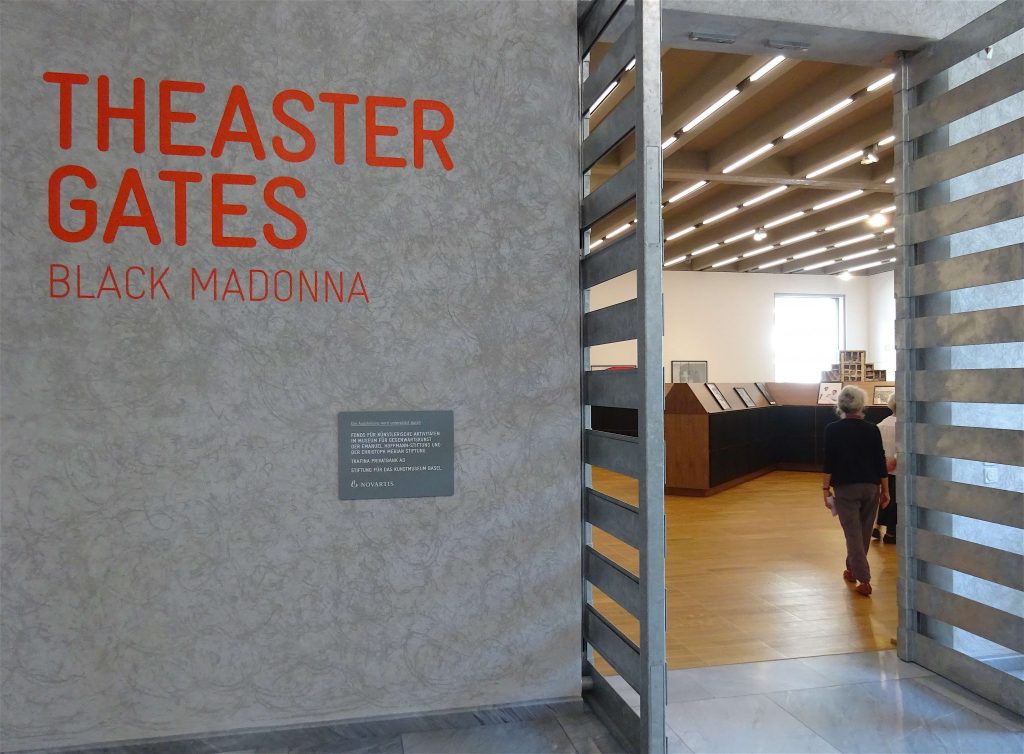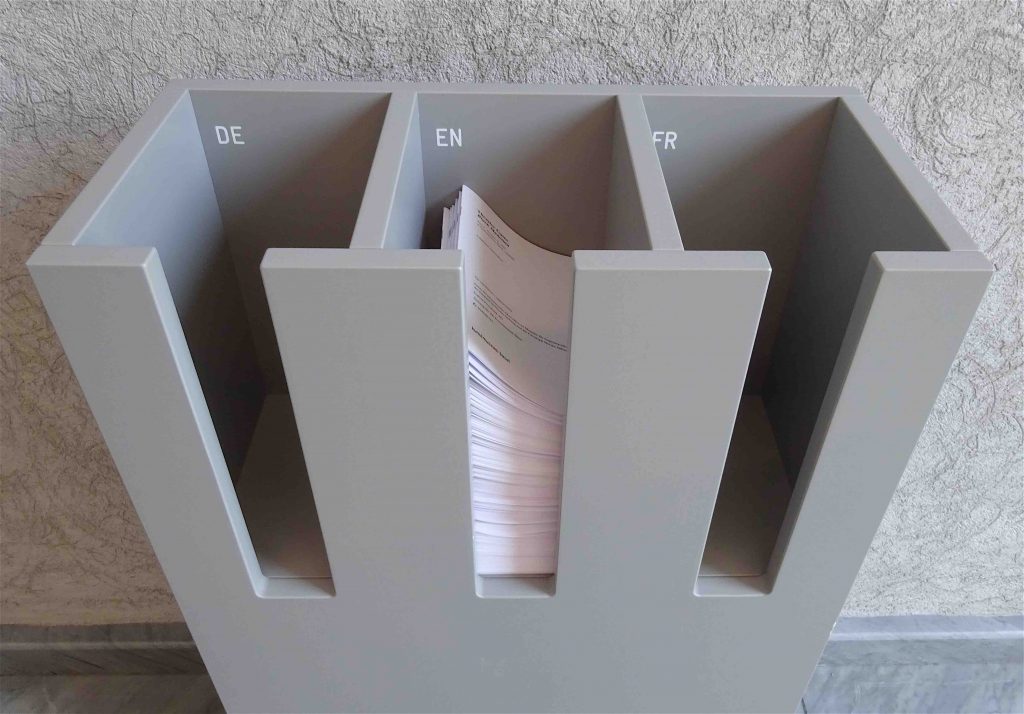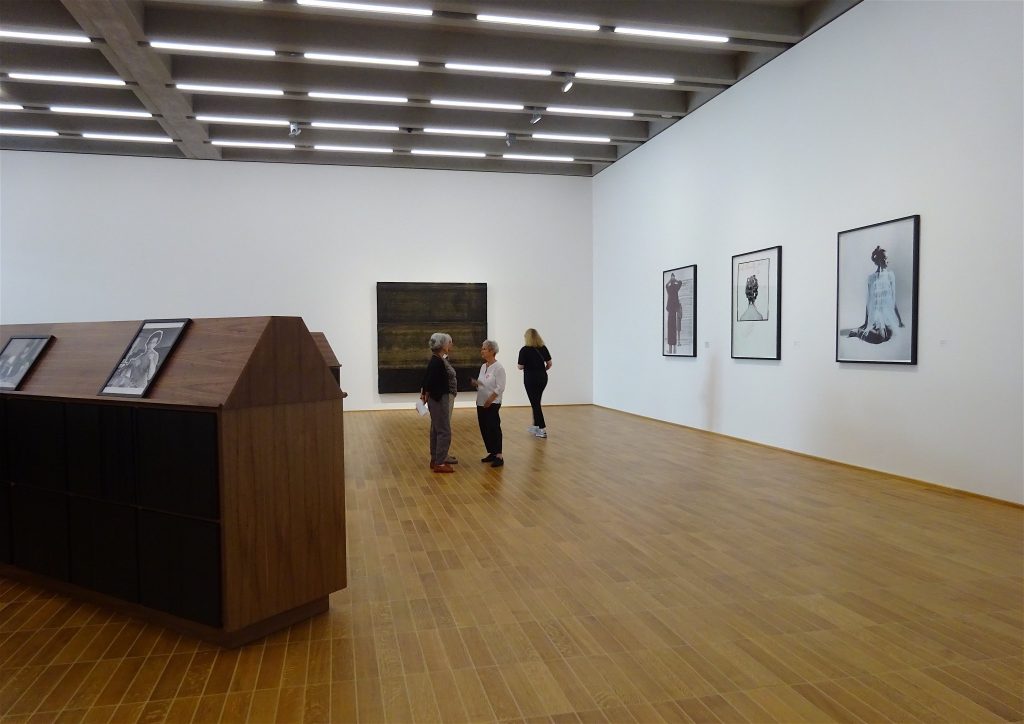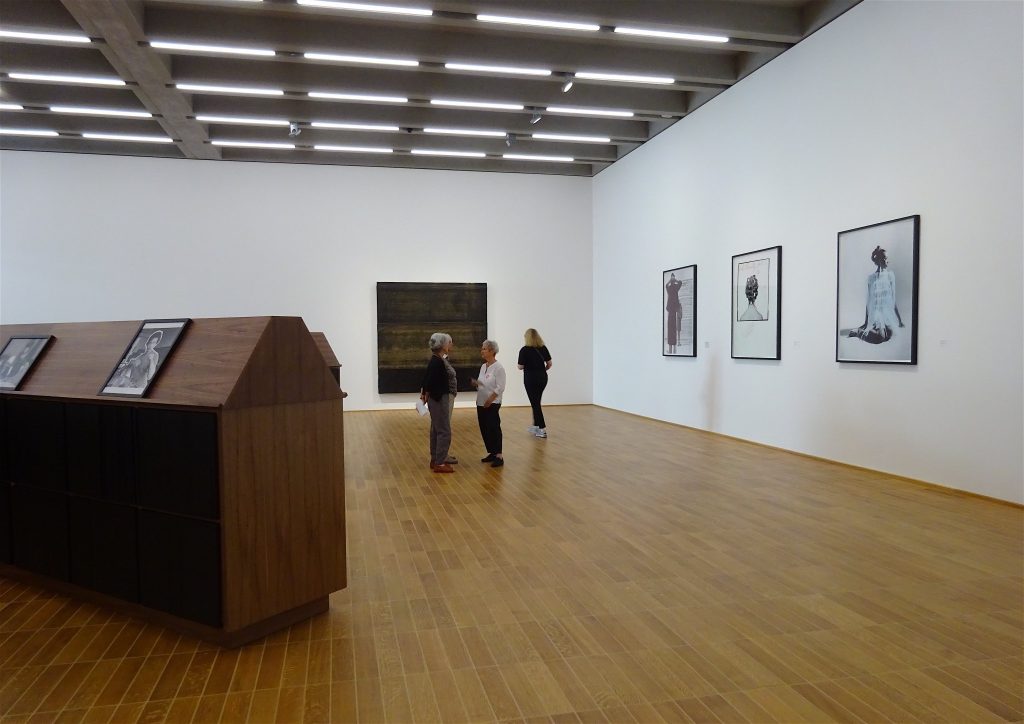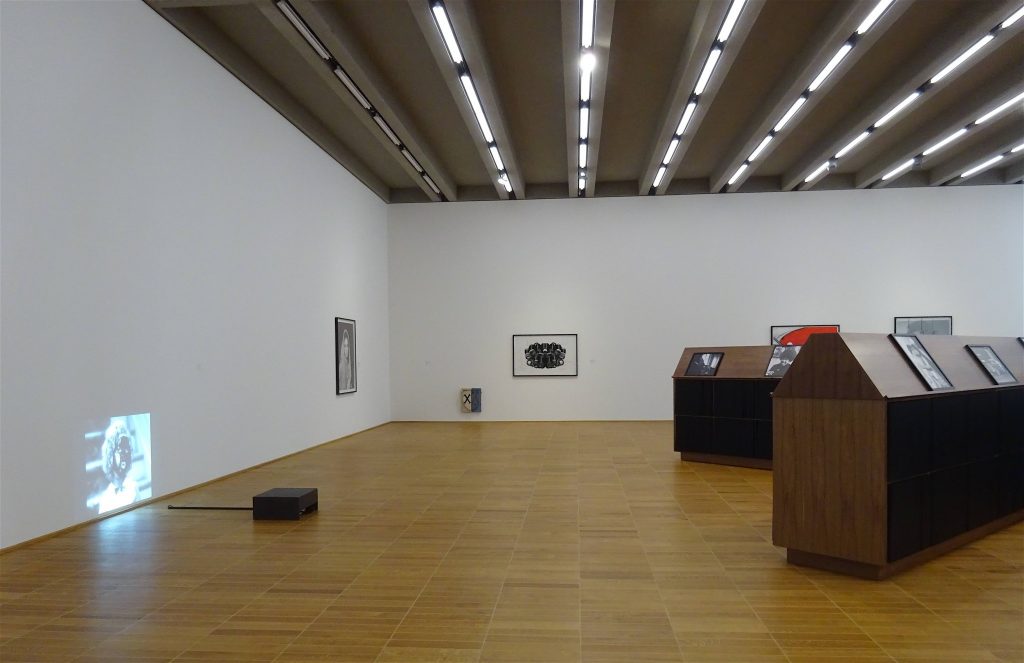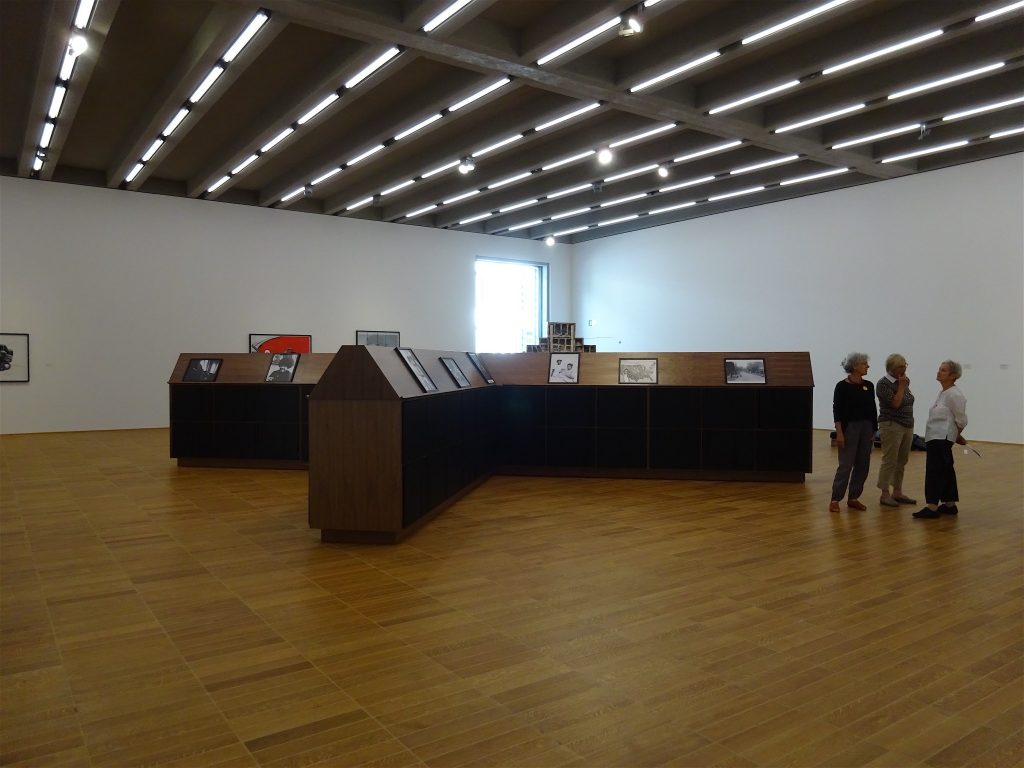 Theaster Gates "Facsimile Cabinet of Women Origin Stories" 2018, Wood construction, 2695 facsimile images of the John Johnson Archive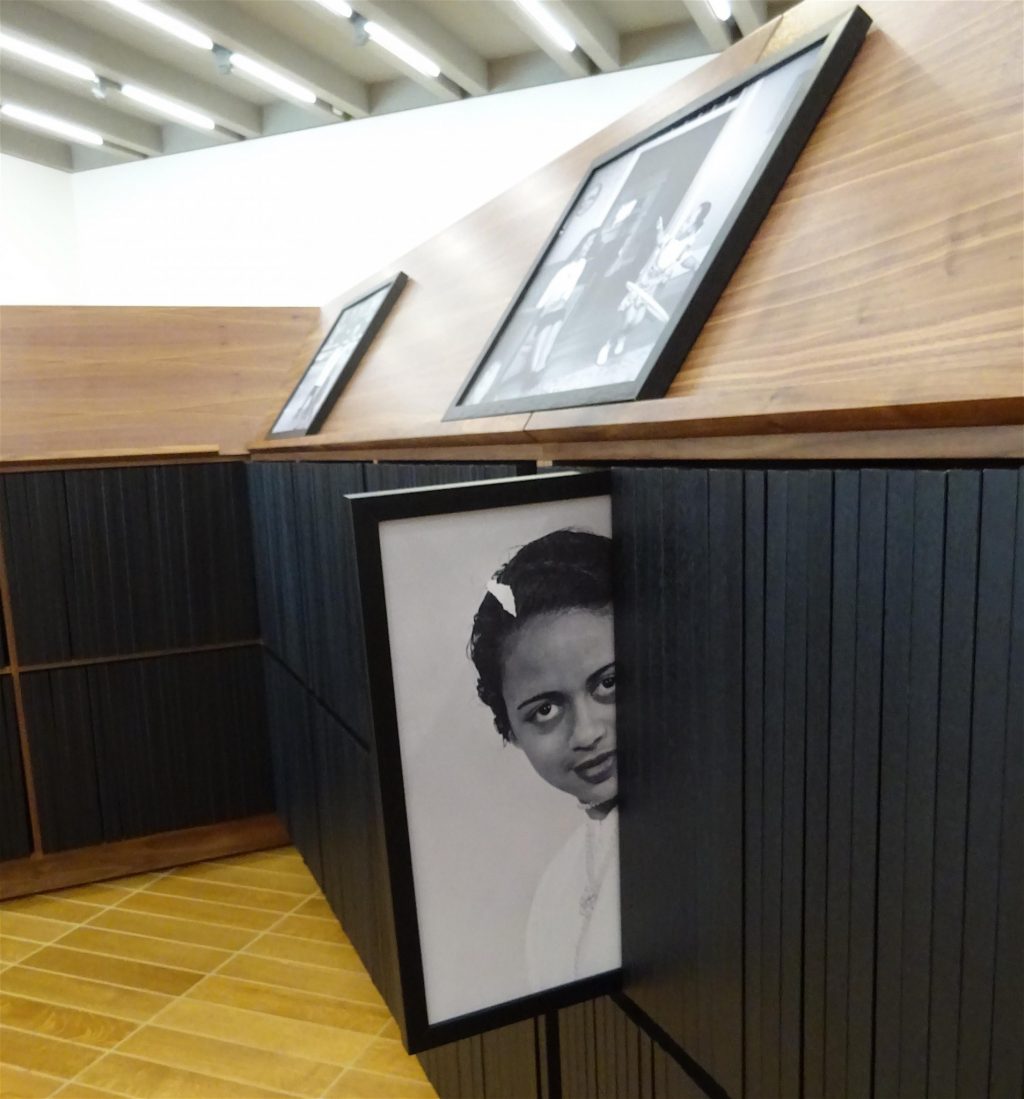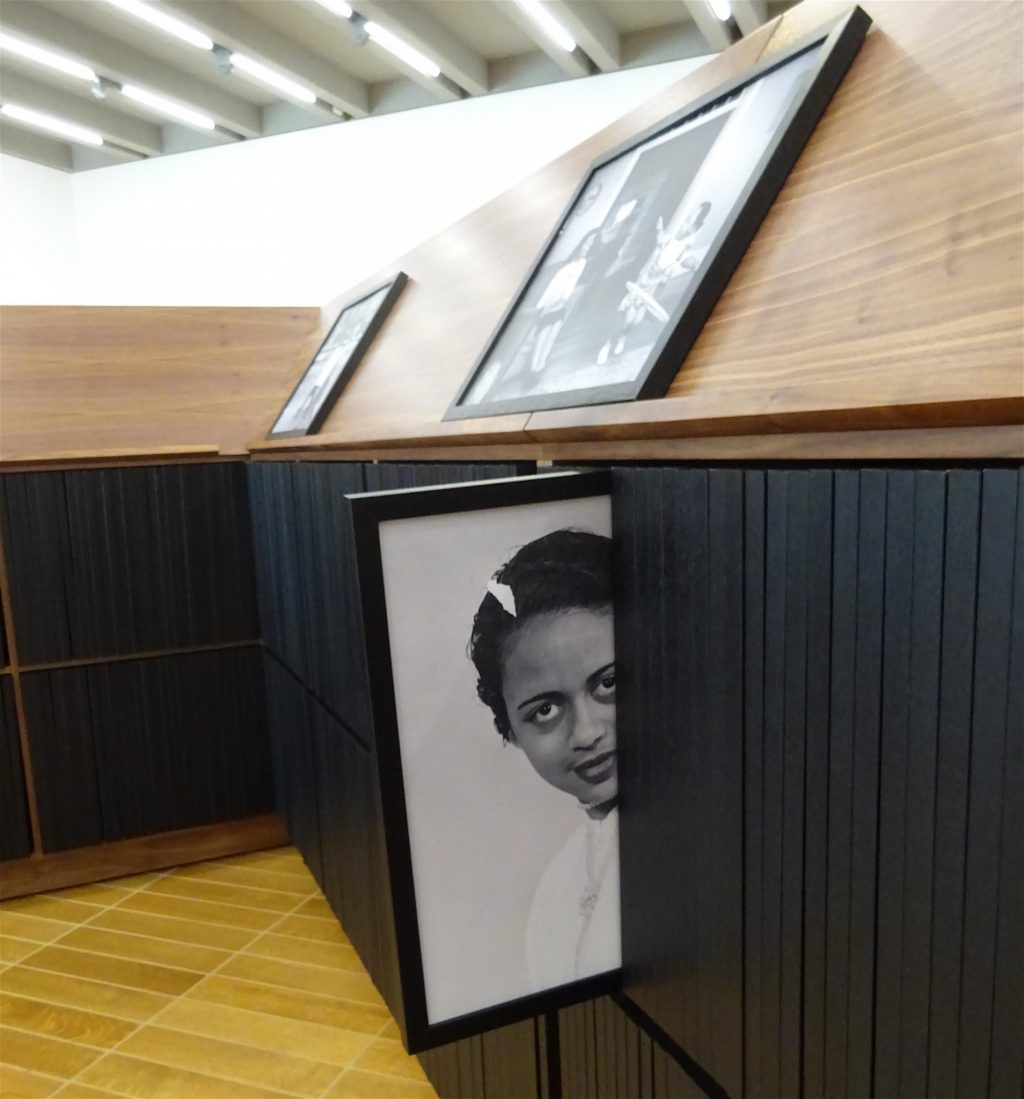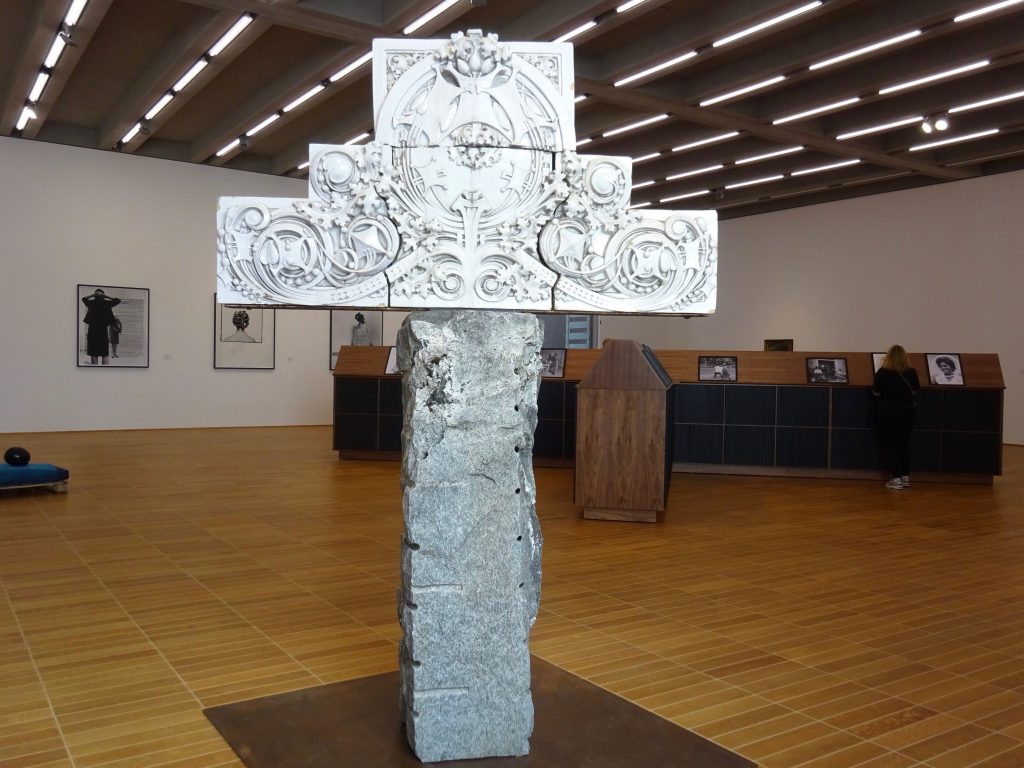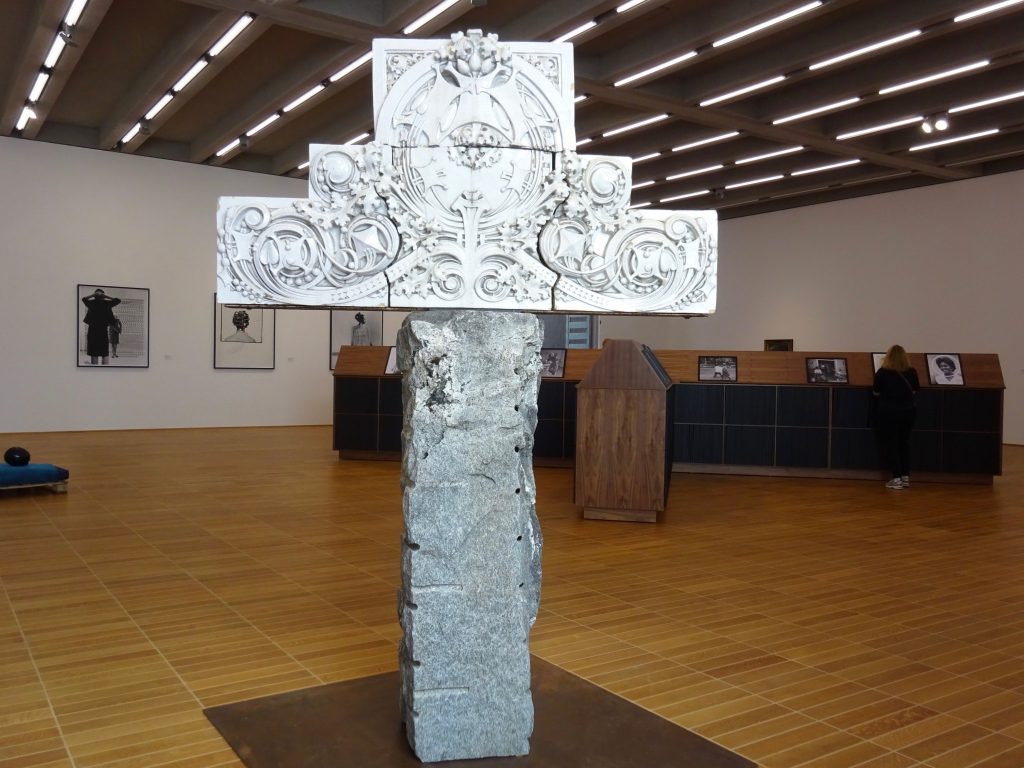 Theaster Gates "A Cross Between Finance and Pastoral Care" 2017, Terra-cotta, maggia gneis, iron plate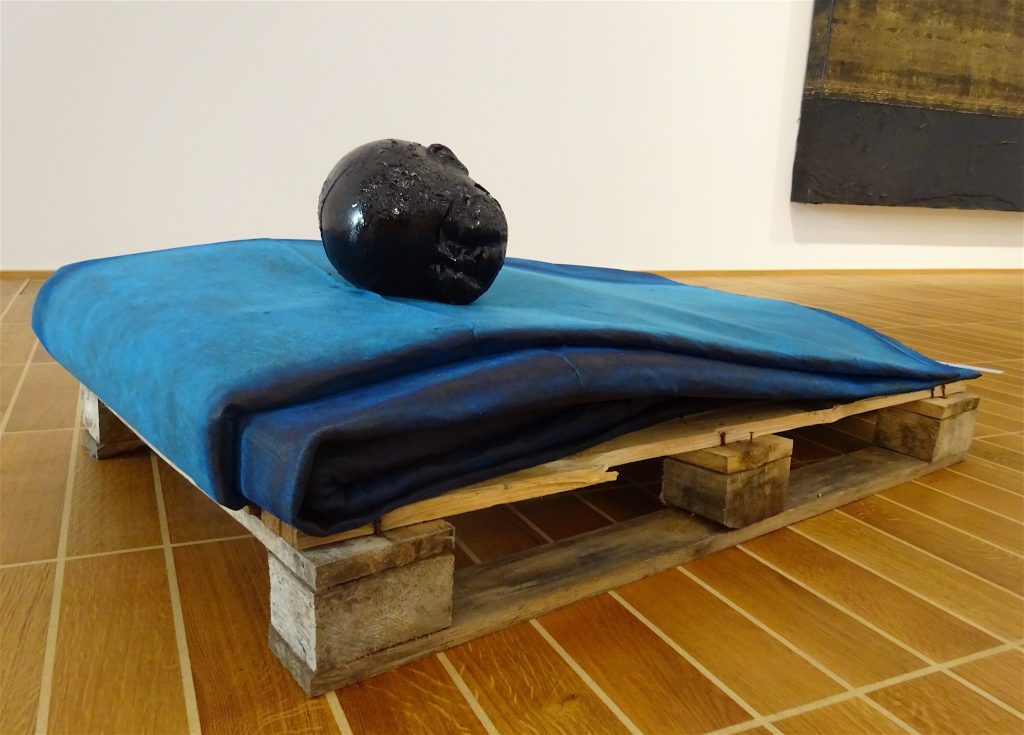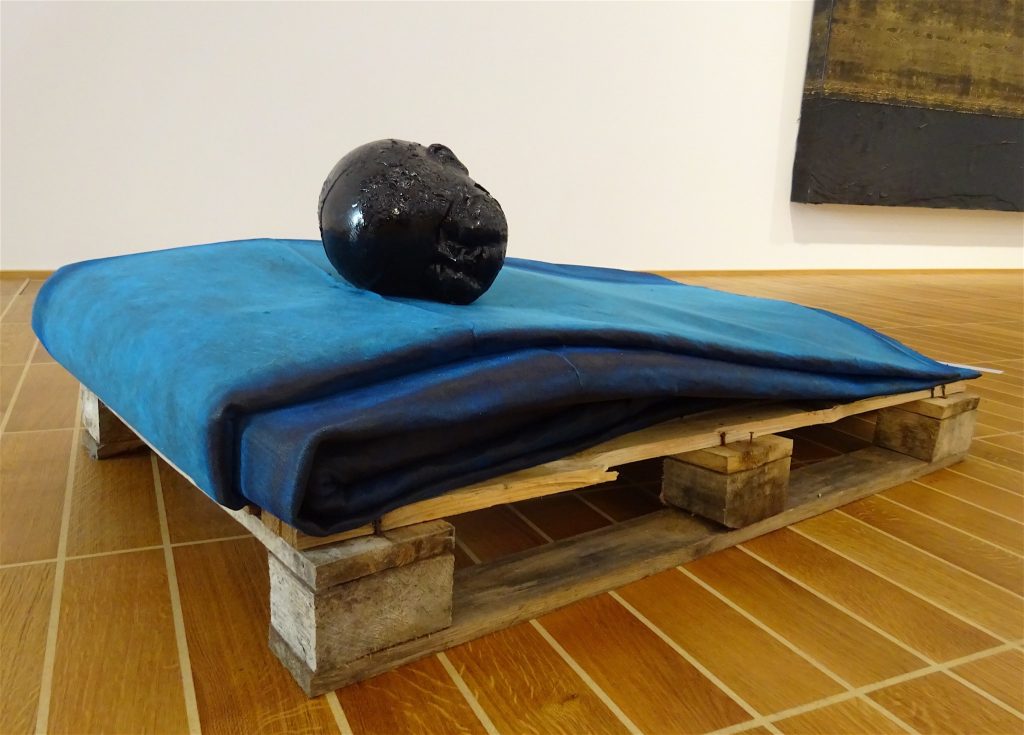 Theaster Gates "Tar Baby III with rubber components" 2016, Wood, rubber mat, tar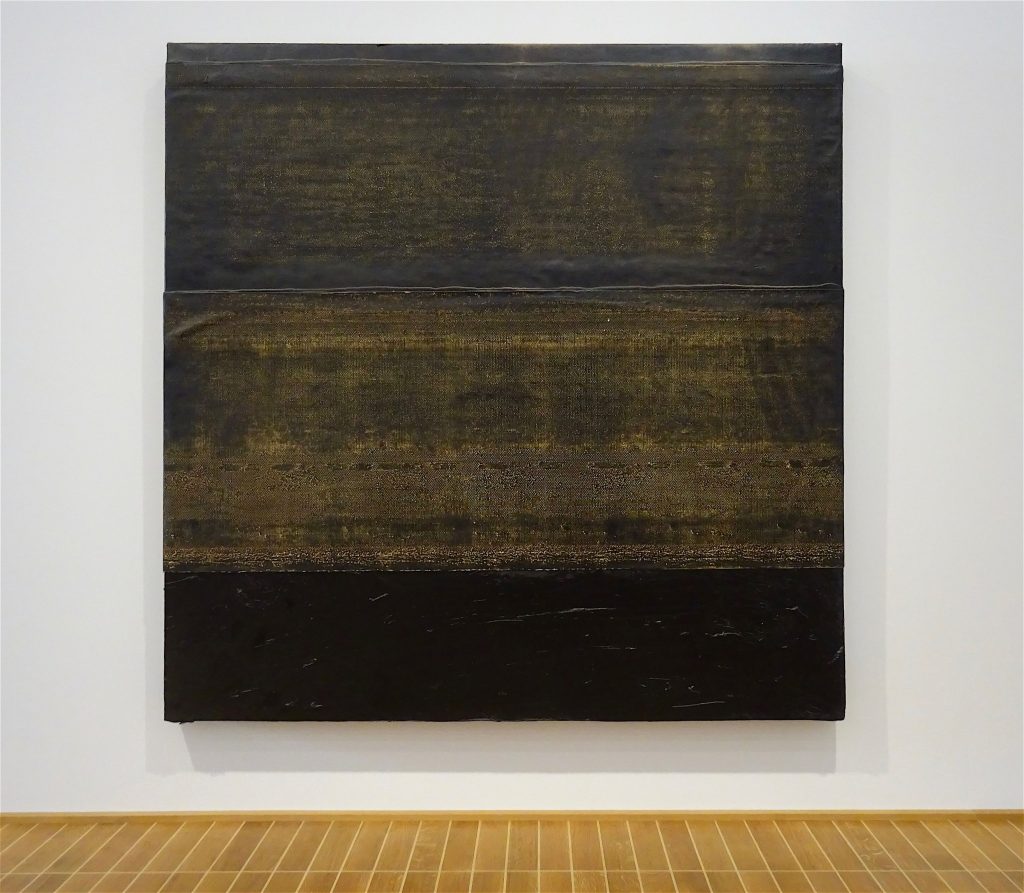 "Sky Study with Prime Real Estate on My Mind" 2013, Wood, rubber, tar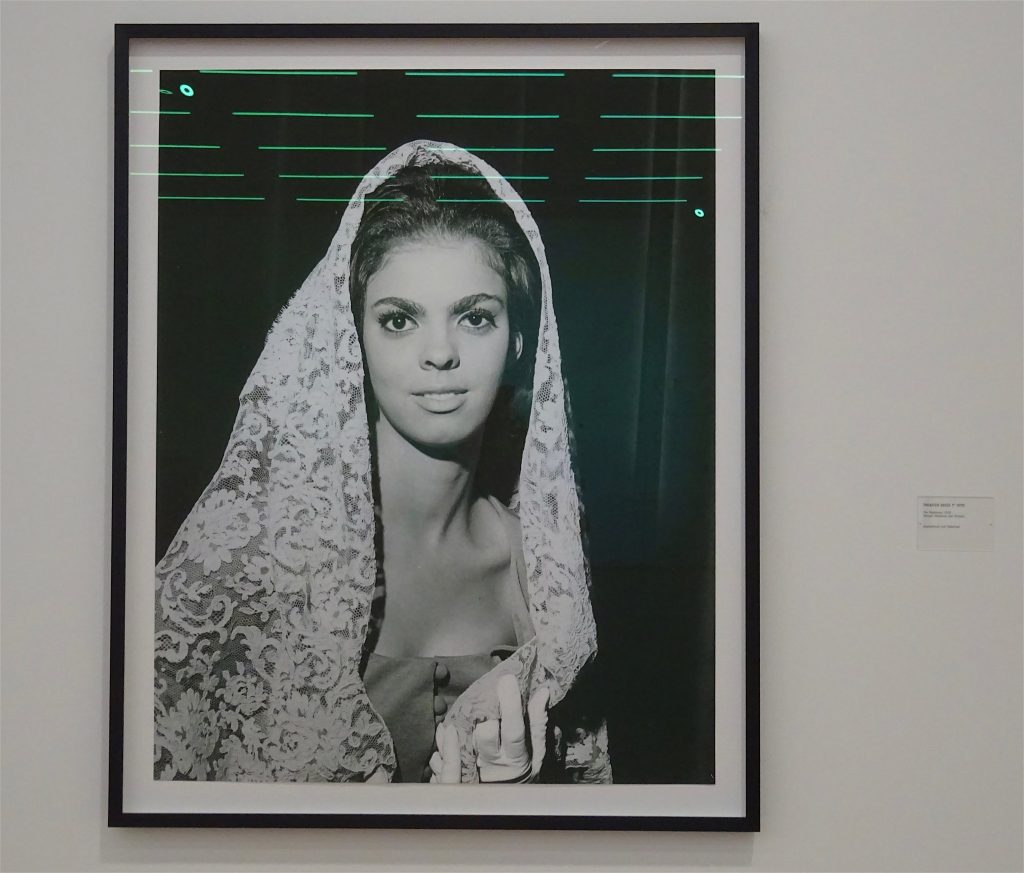 "The Madonnas" 2018, Shroud (Madonna and Shroud), Framed digital print with silkscreen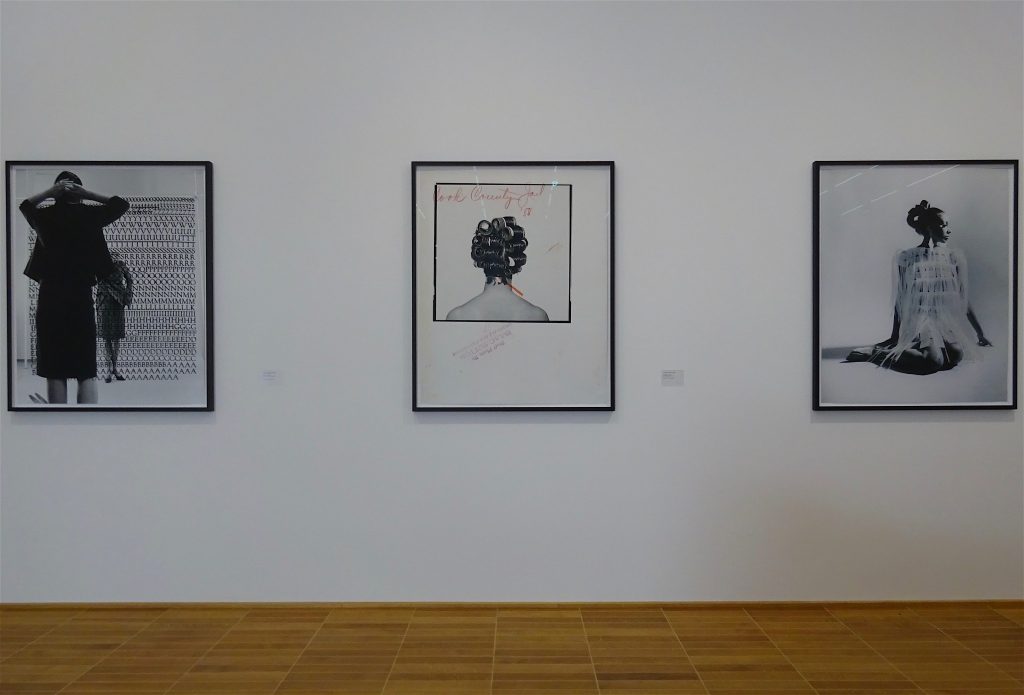 "The Madonnas" 2018, from left: (Be God in the Absence of Light), (Offset Rollers with Revlon), (White Dress with Silver Silkscreen), Framed digital prints with silkscreen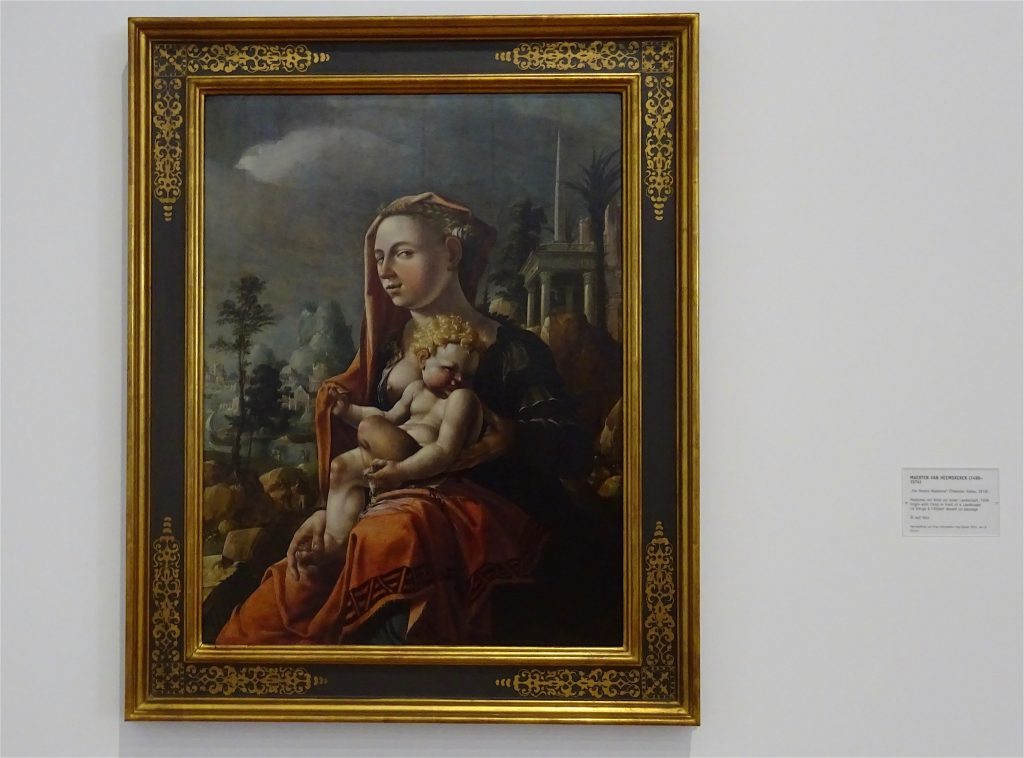 Maerten Van Heemskerck (1498 – 1574) "The Ghetto Madonna" (Theaster Gates, 2018)
Virgin with Child in front of a Landscape, 1530, Oil on Wood, 90 x 70 cm
Kunstmuseum Basel, Vermächtnis von Frau Antoinette Frey-Clavel 2014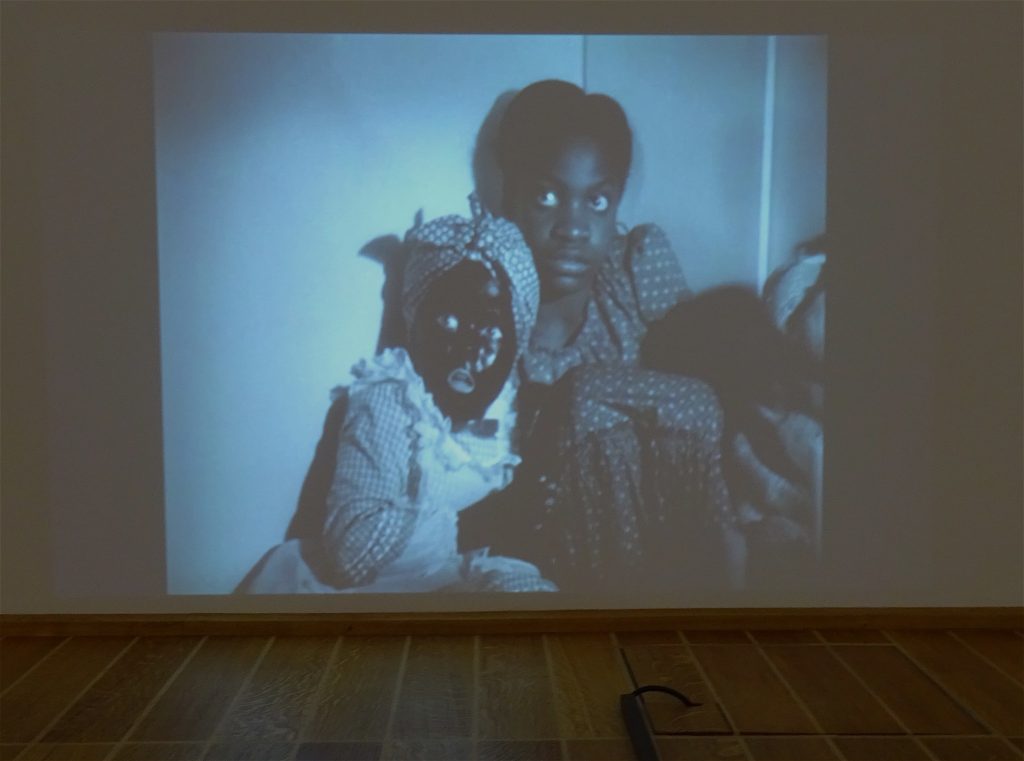 Theaster Gates "Black Temple. Shirley Temple Goes Black" 2016, video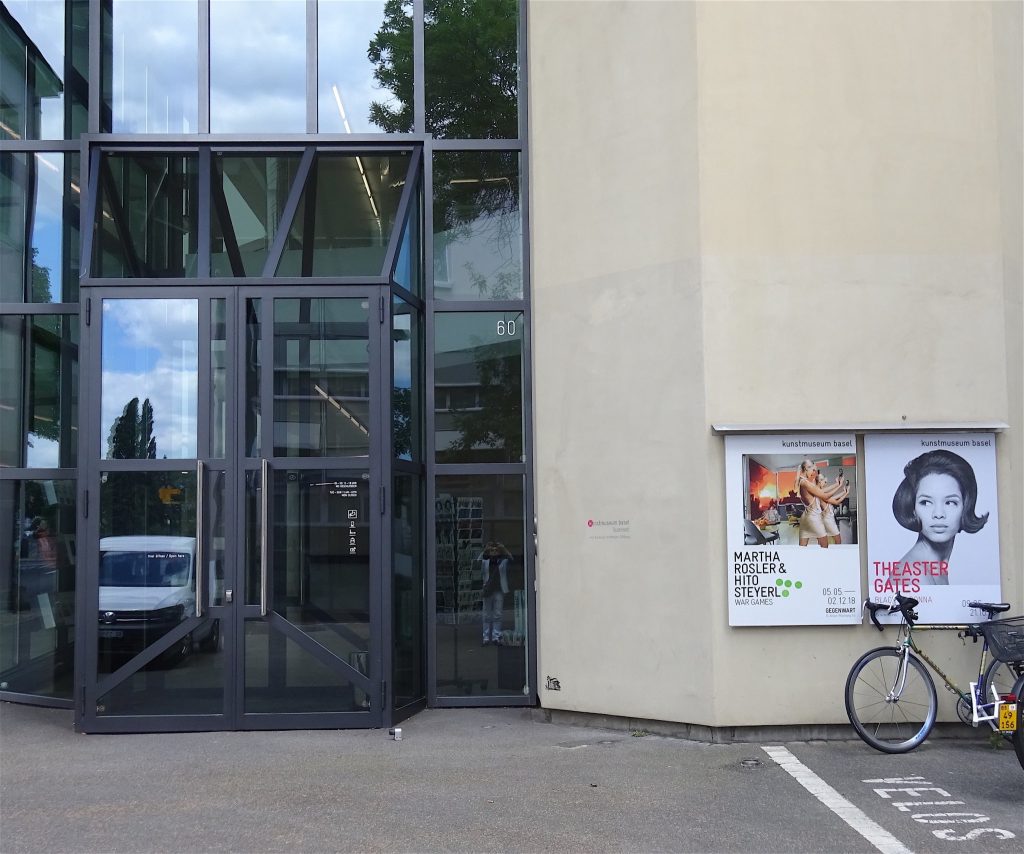 Kunstmuseum Basel, Gegenwart (Contemporary)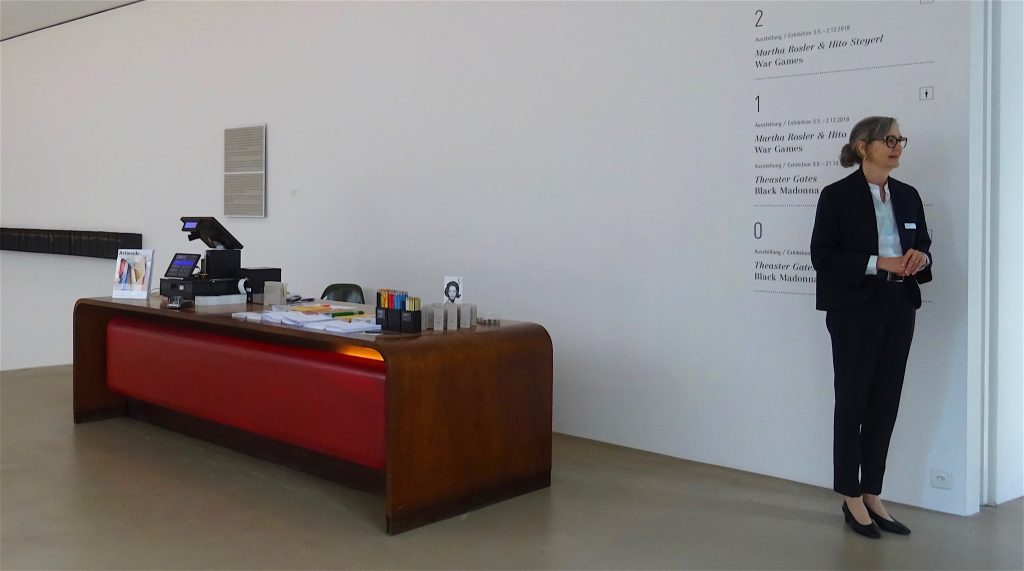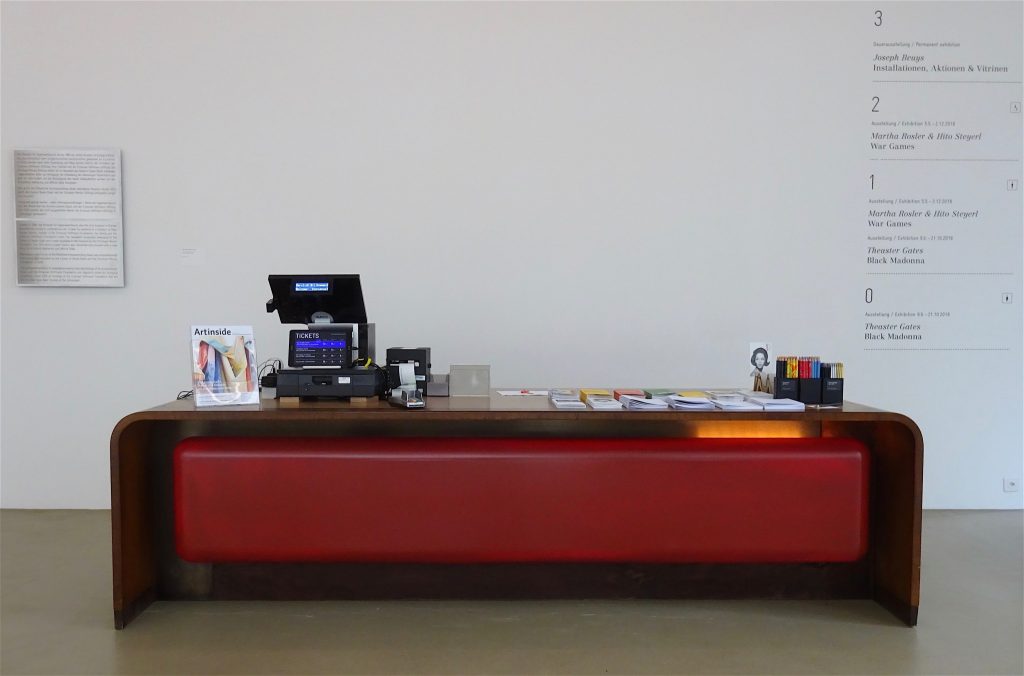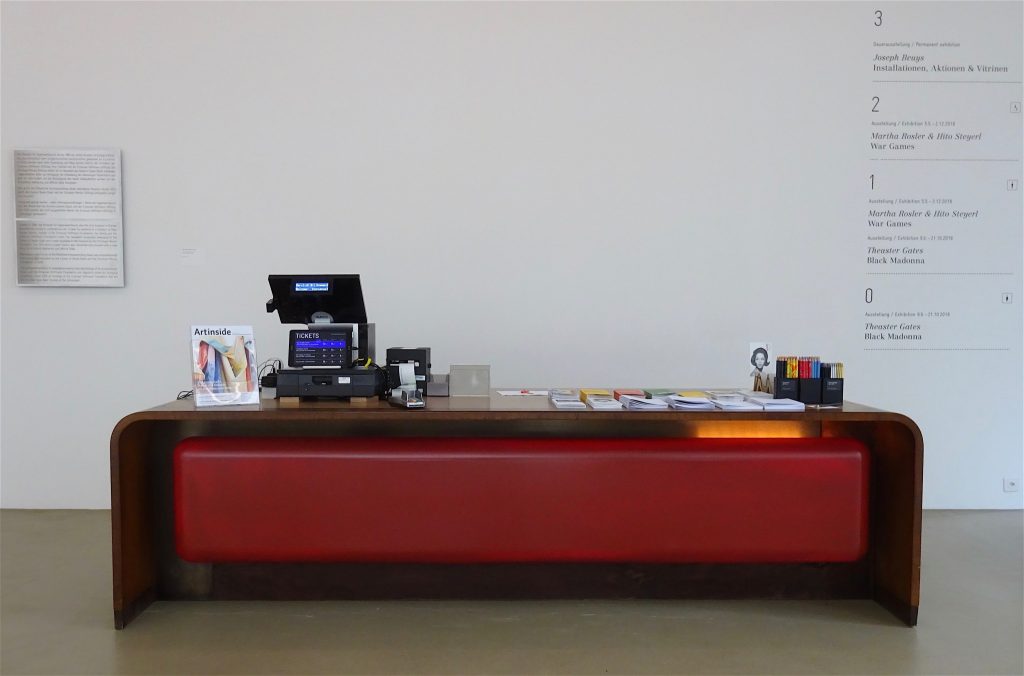 Theaster Gates "Arrival desk with red light" (John H. Johson's desk), no date, Wood, red light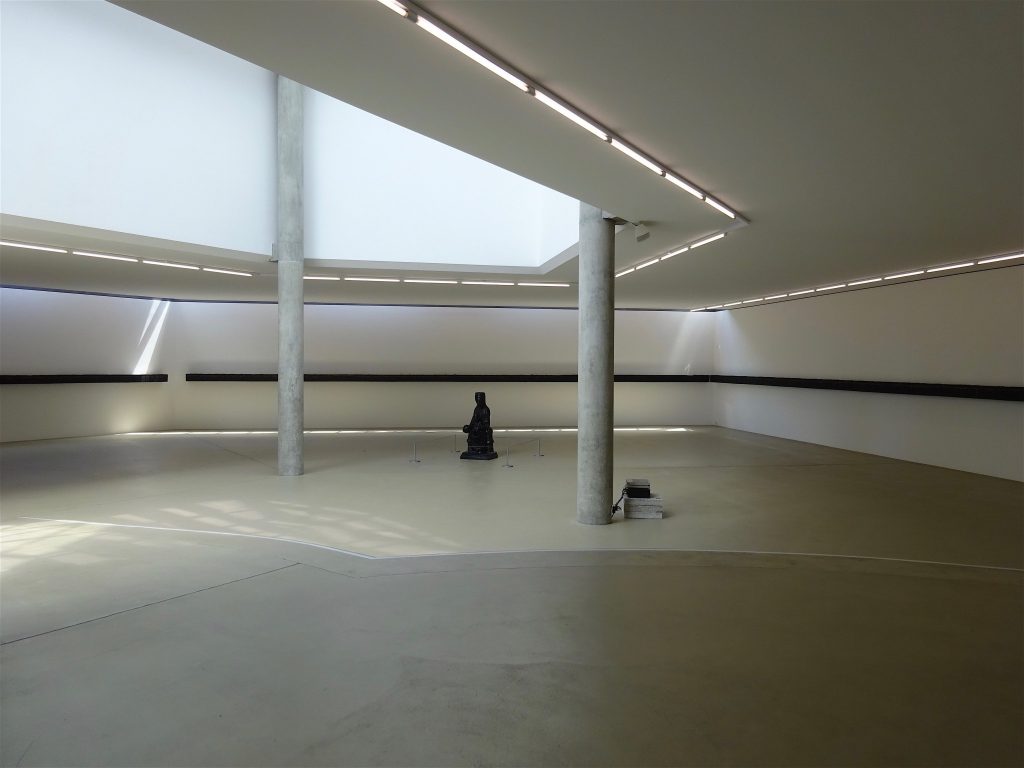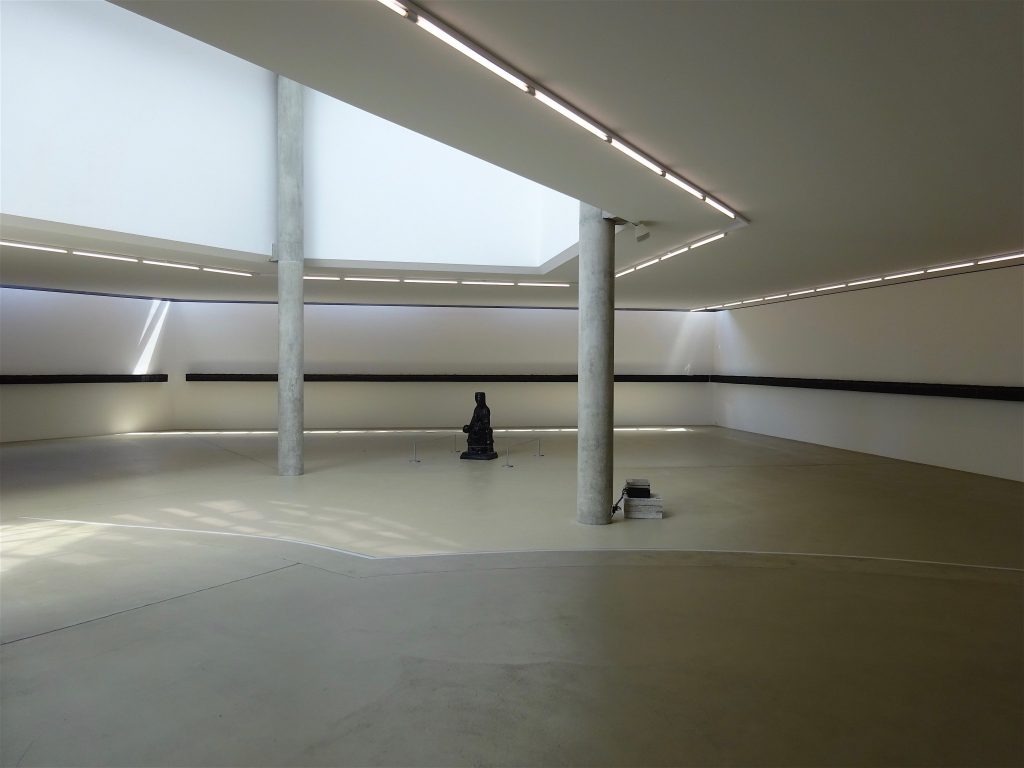 (misleading explanations:) Theaster Gates "Walking Prayer" 2018
Black Madonna, Arrival desk with red light, sound installation
Teer, neu gebundene Bücher mit geprägtem Gedicht auf den Buchrücken, sound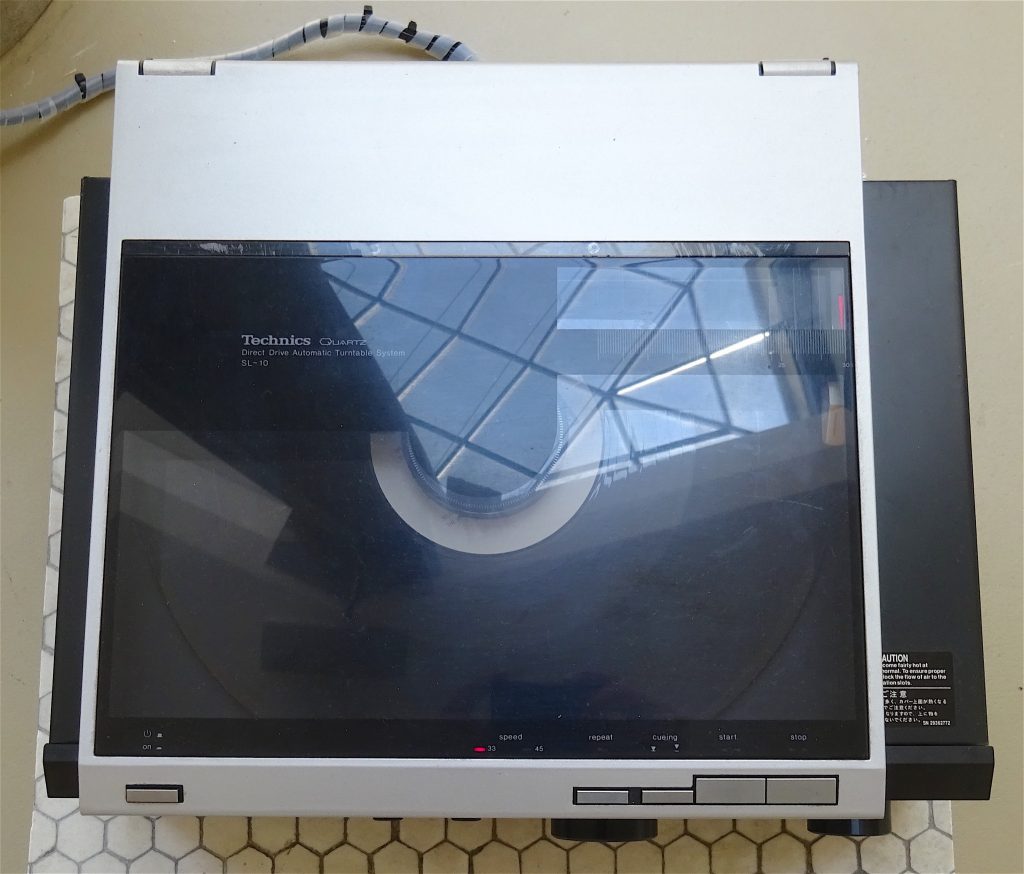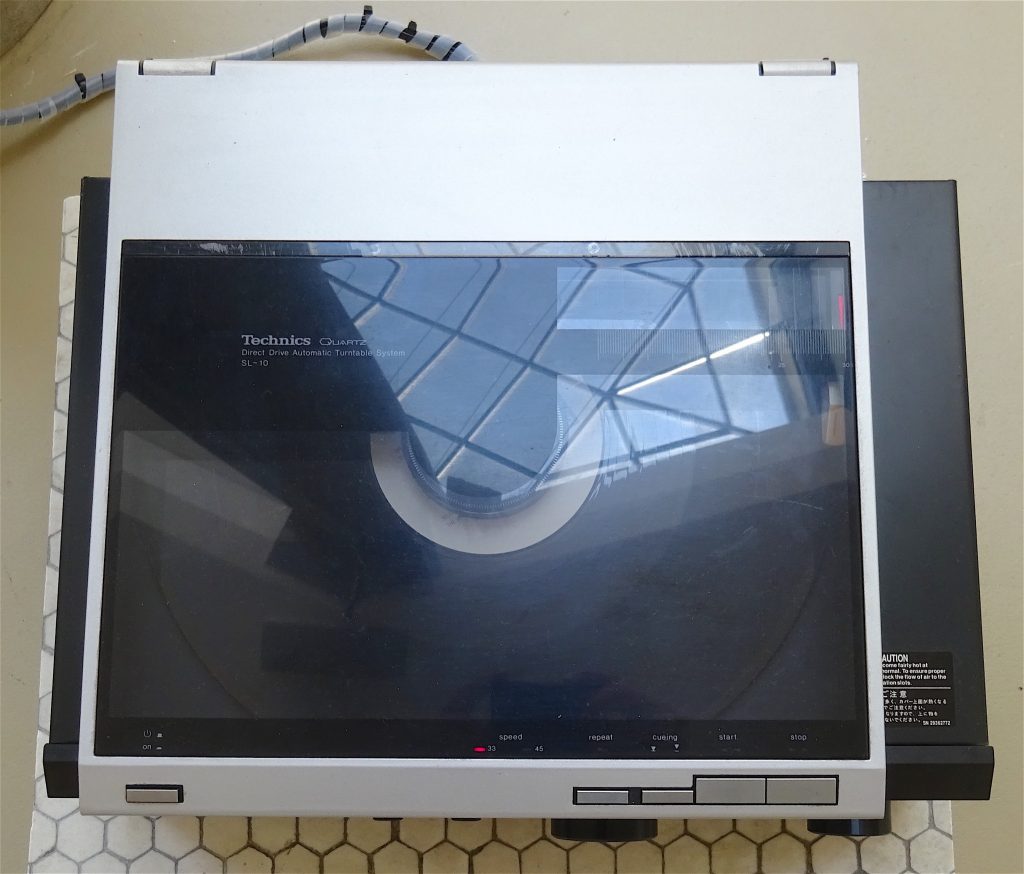 (not playing, no sound, no explanations)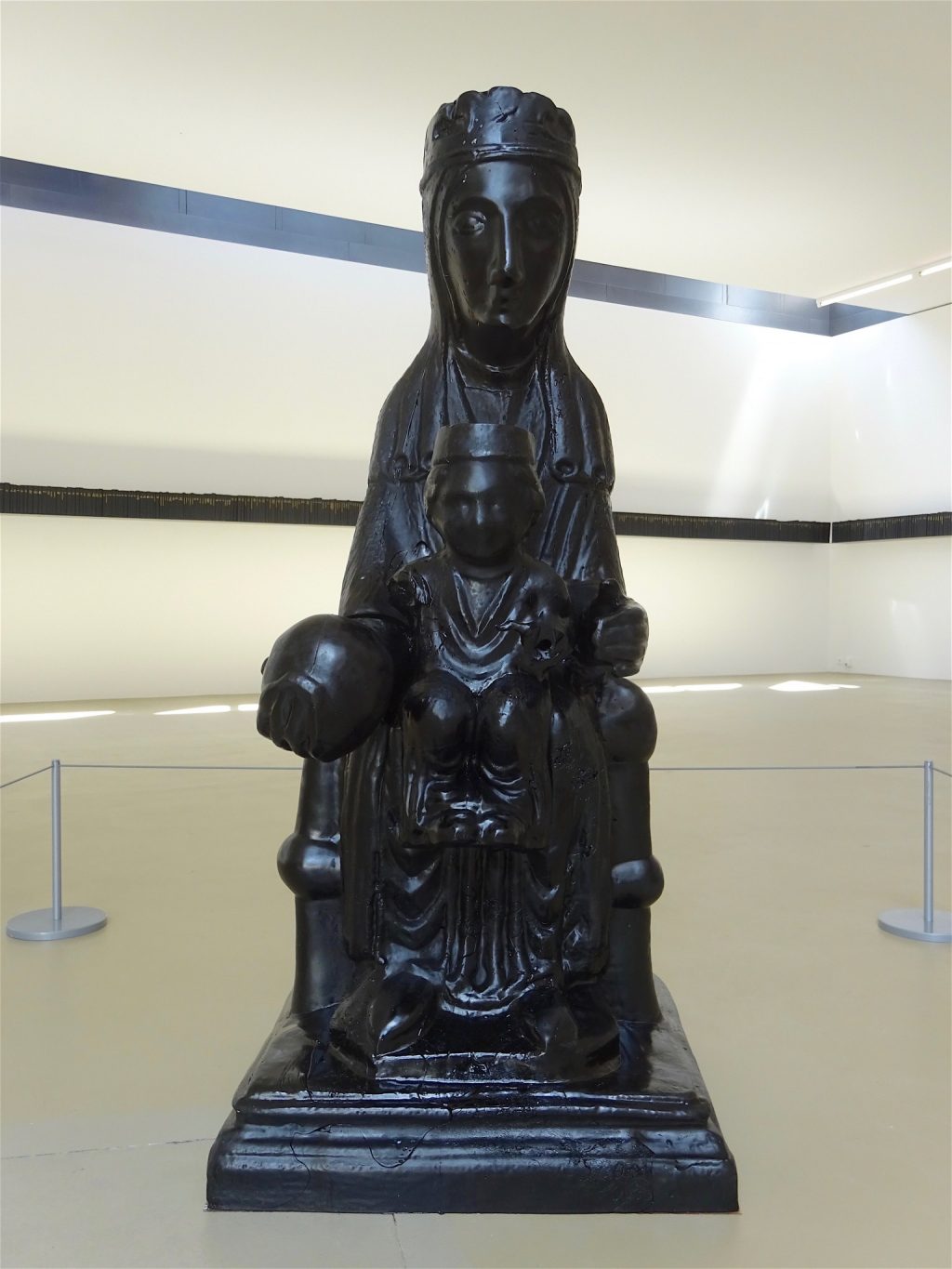 Theaster Gates "Black Madonna" 2018, Tar (the size was neither explained on the spot nor in the pamphlet)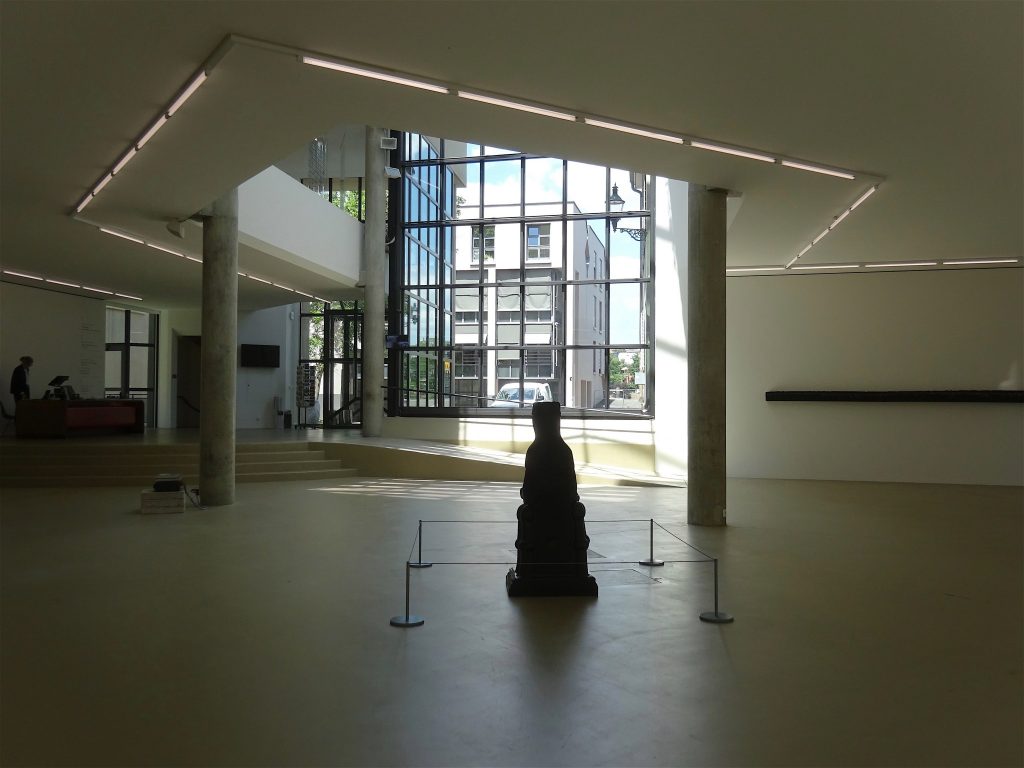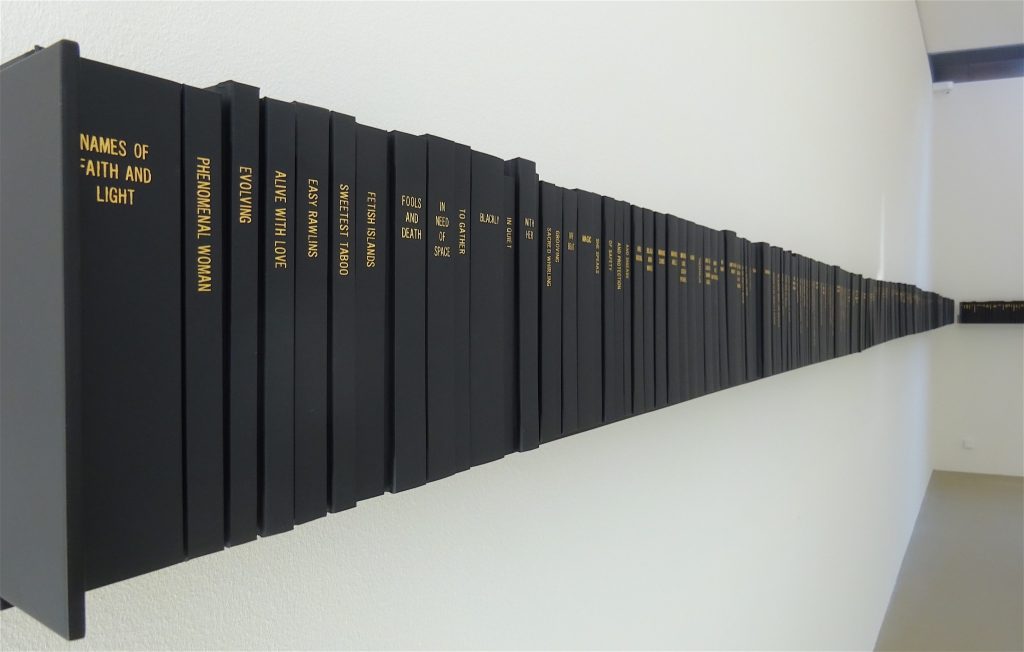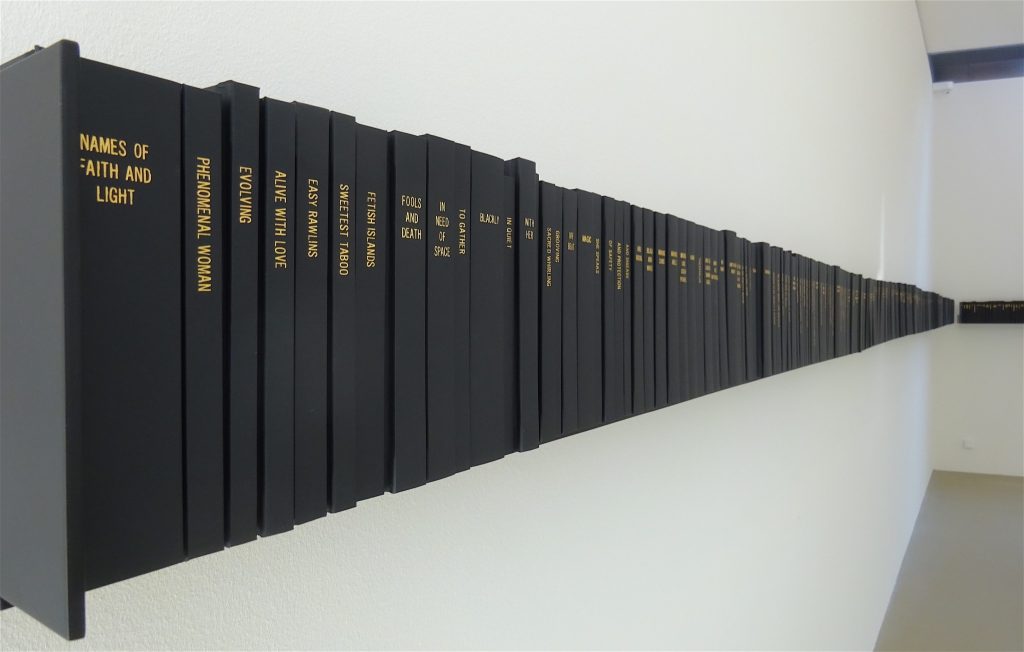 Theaster Gates "Walking Prayer" 2018, Rebound books (no size available)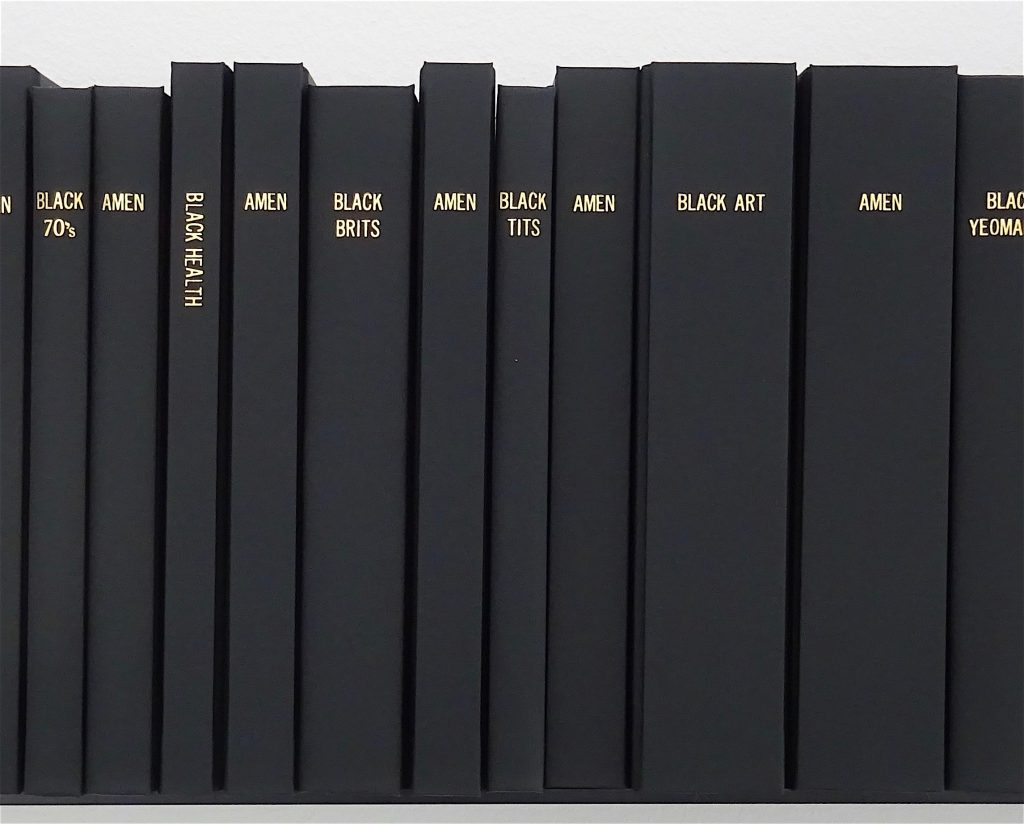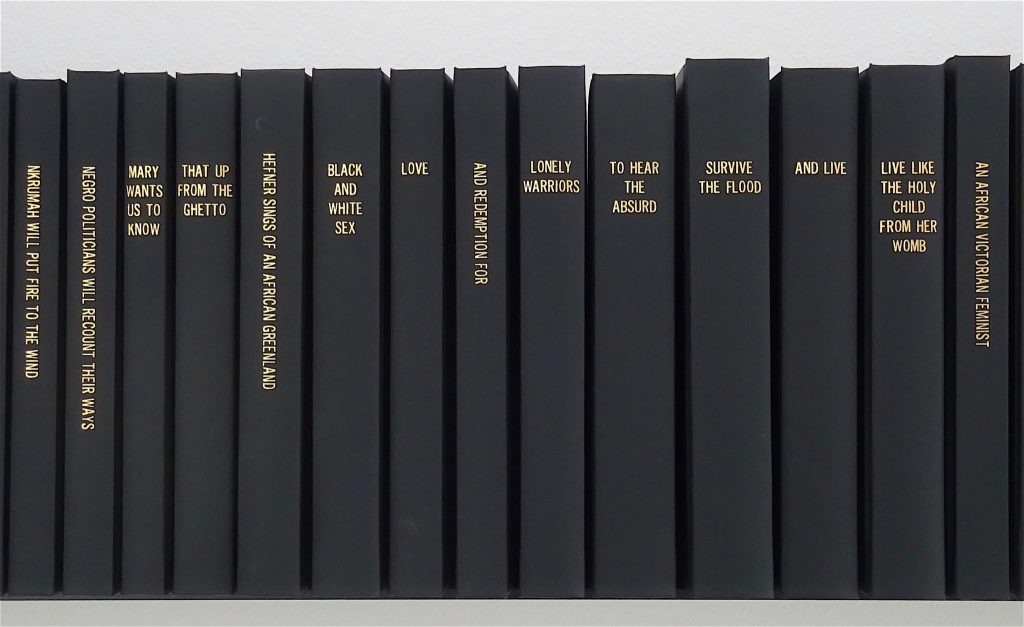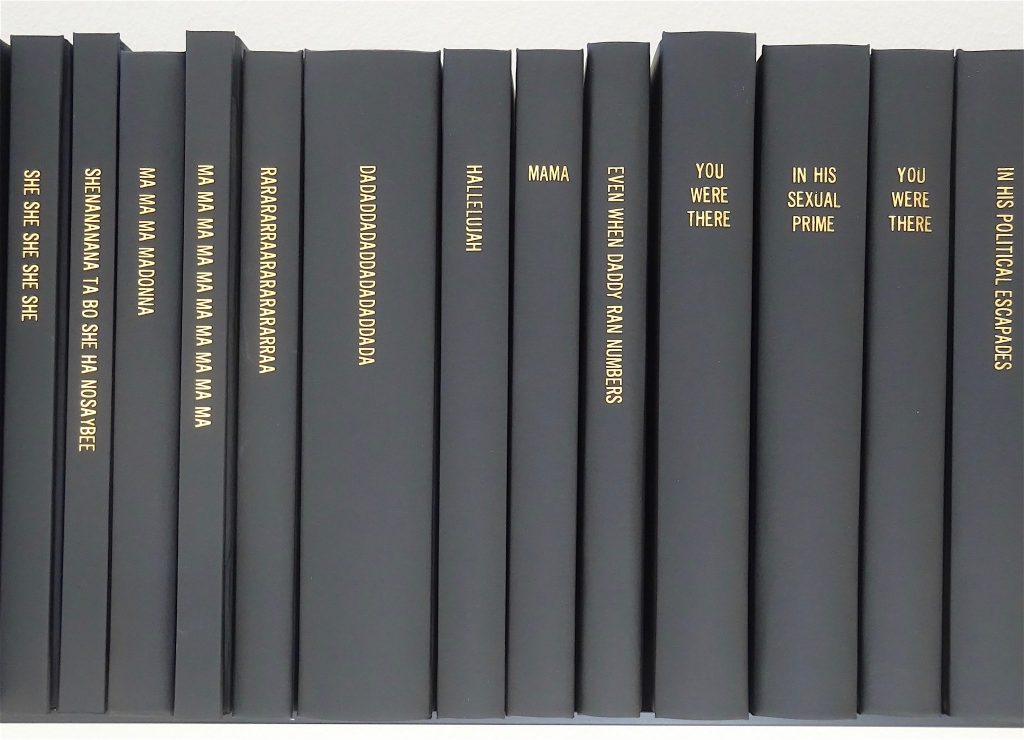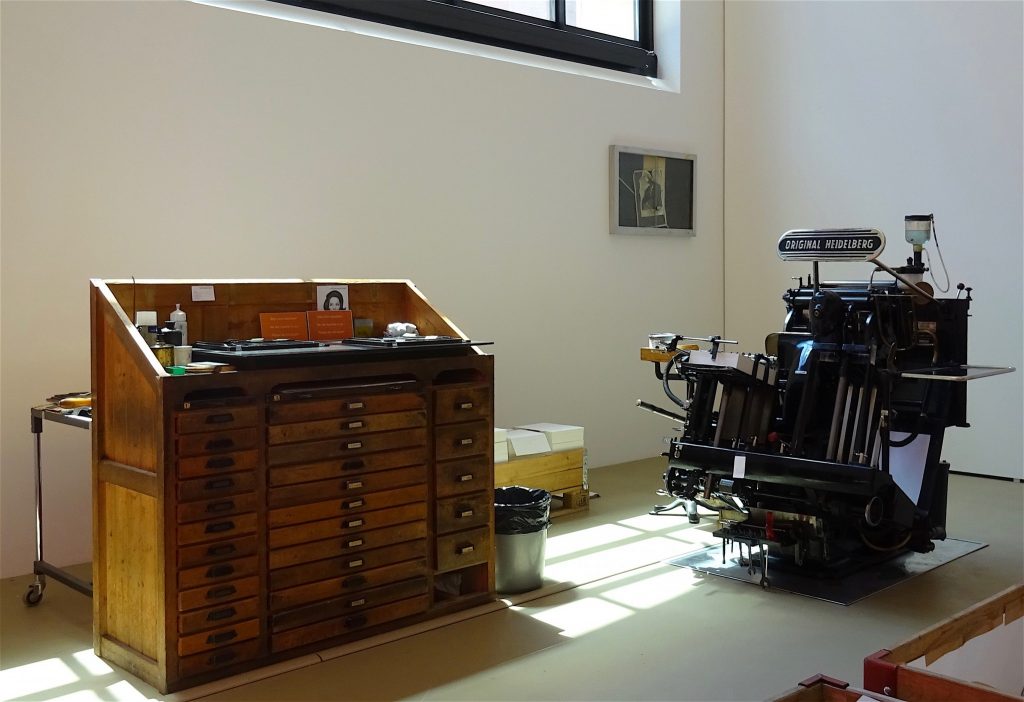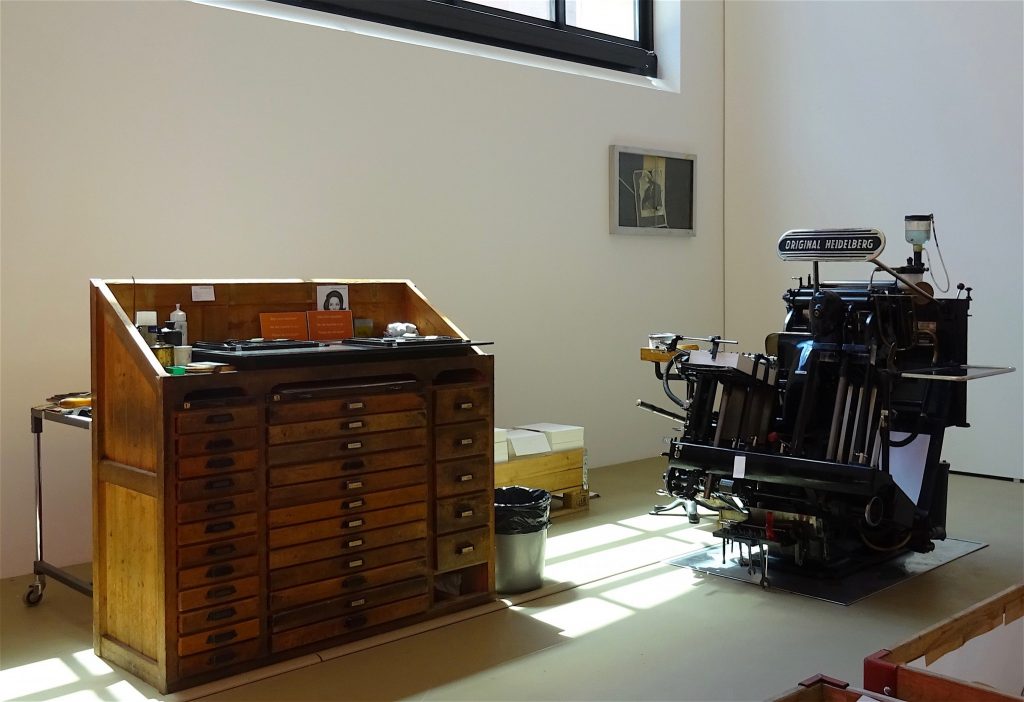 Theaster Gates "Black Madonna Press with King and Believers" (Maimed King, Mama Mamama) 2018, Heidelberg Printing Press, neon installation, photography, metal, glas and dust, detail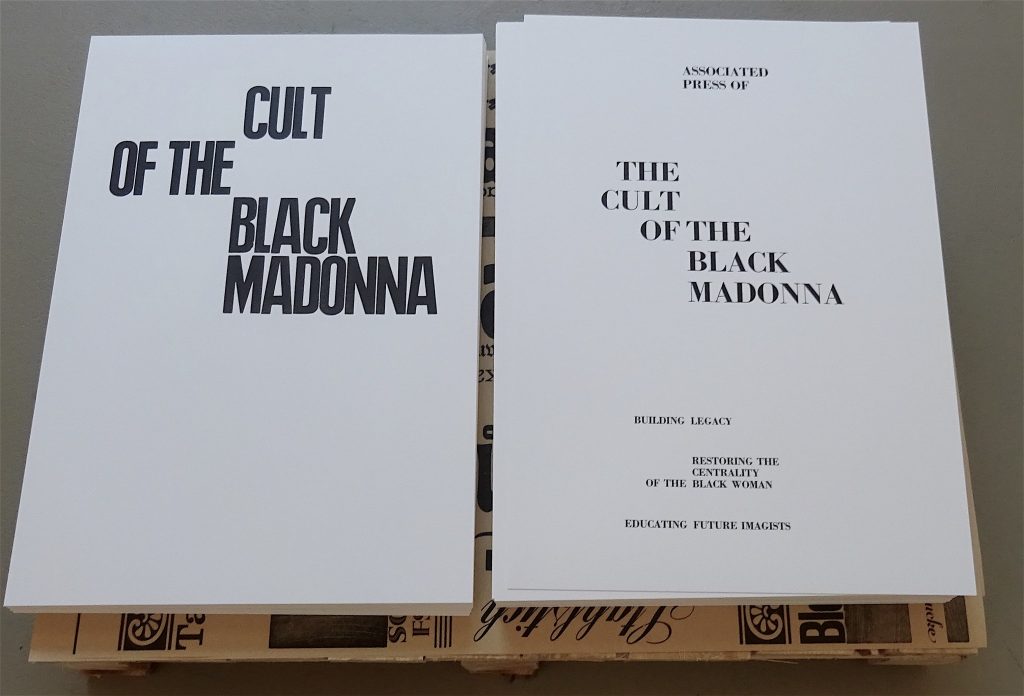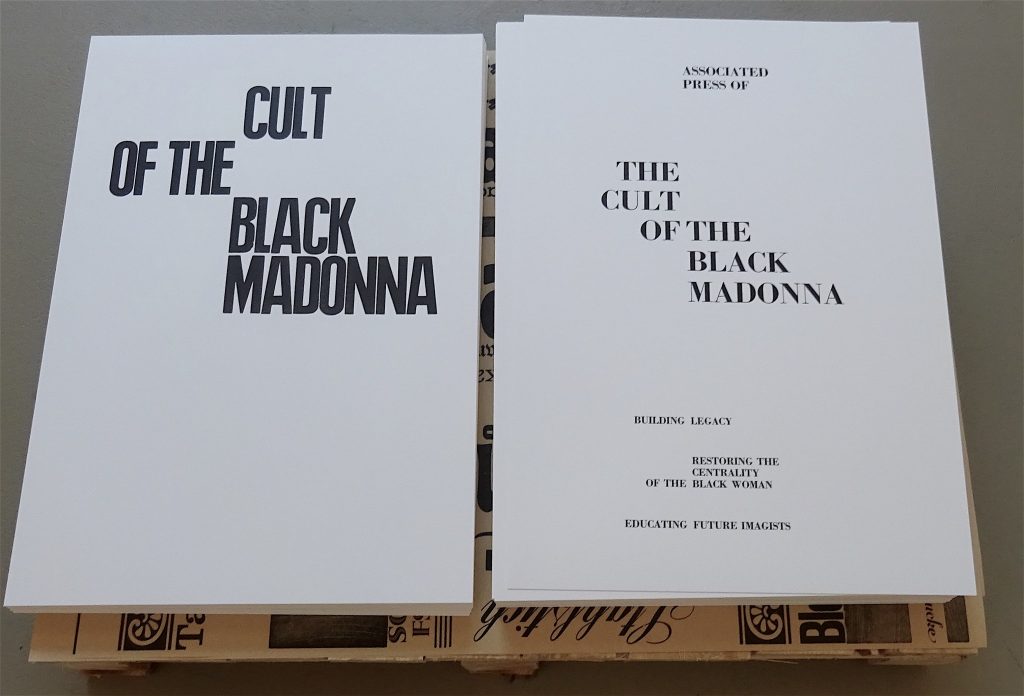 Theaster Gates "Black Madonna Press with King and Believers" (Maimed King, Mama Mamama) 2018, Heidelberg Printing Press, neon installation, photography, metal, glas and dust, detail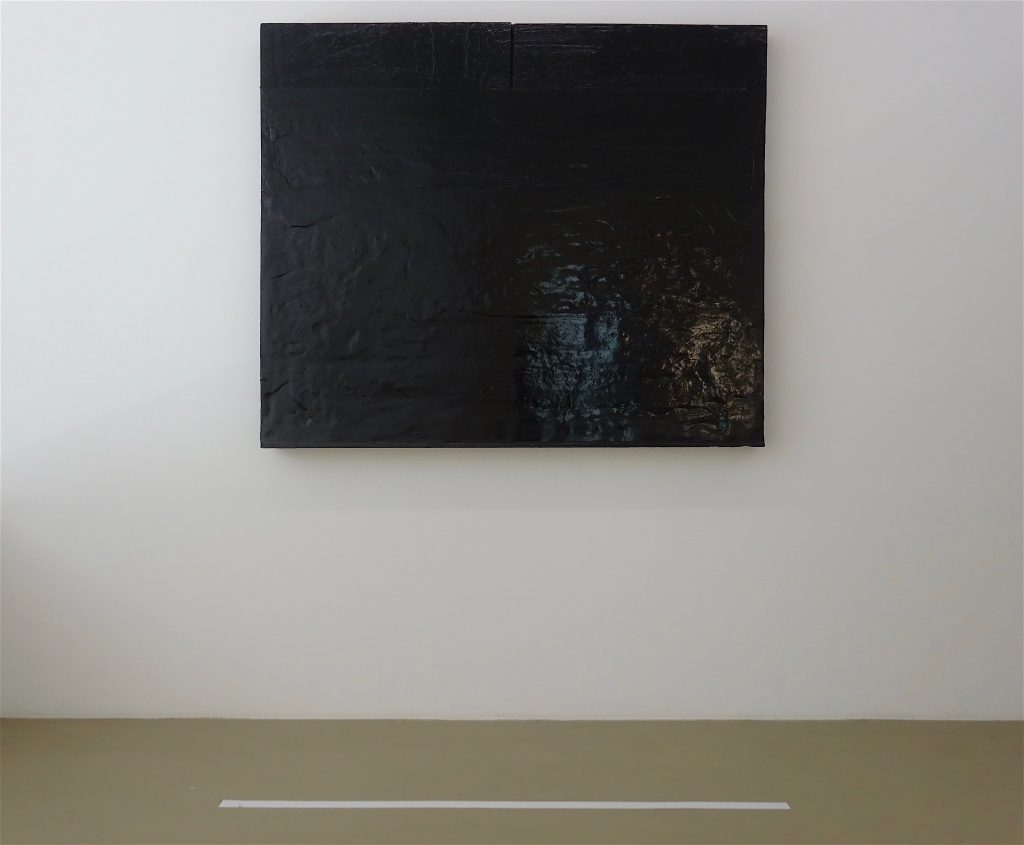 Theaster Gates "Shine Study 2" 2013, Wood, tar paper, tar, metal (no size available)
Theaster Gates "Bathroom Believer" 2018, Neon, porcelain tiles and concrete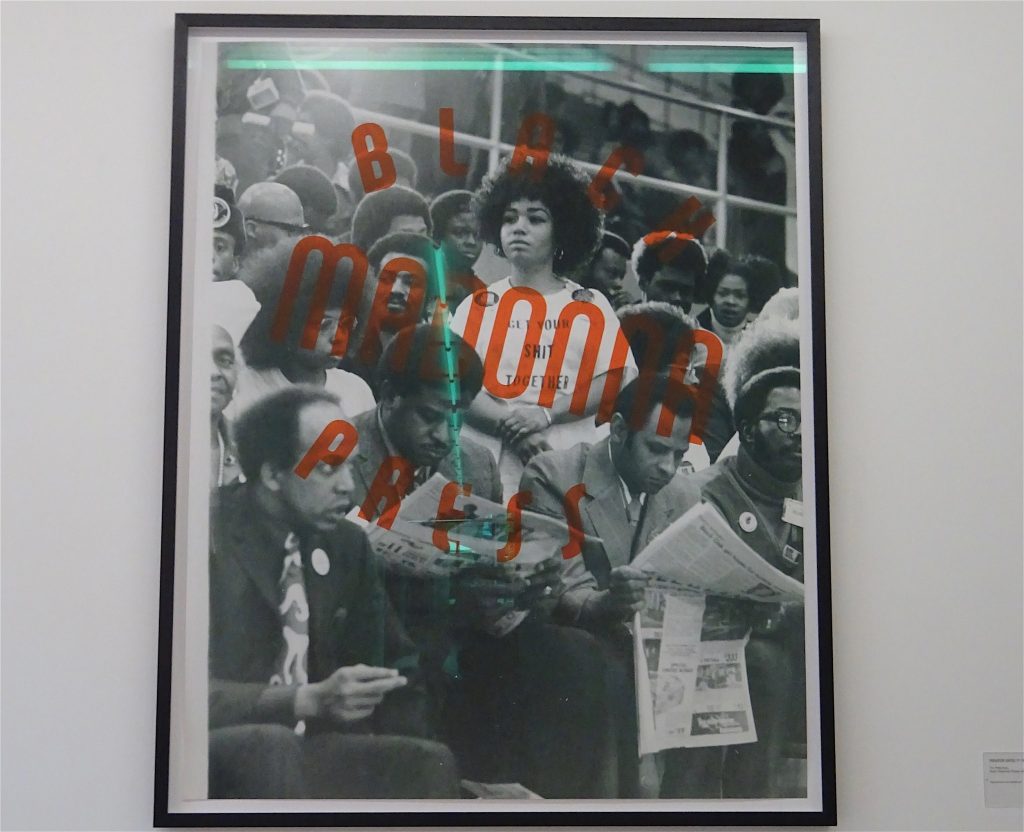 Theaster Gates "The Madonnas" (Black Madonna Stripes with Afro Model) 2018, Framed digital print with silkscreen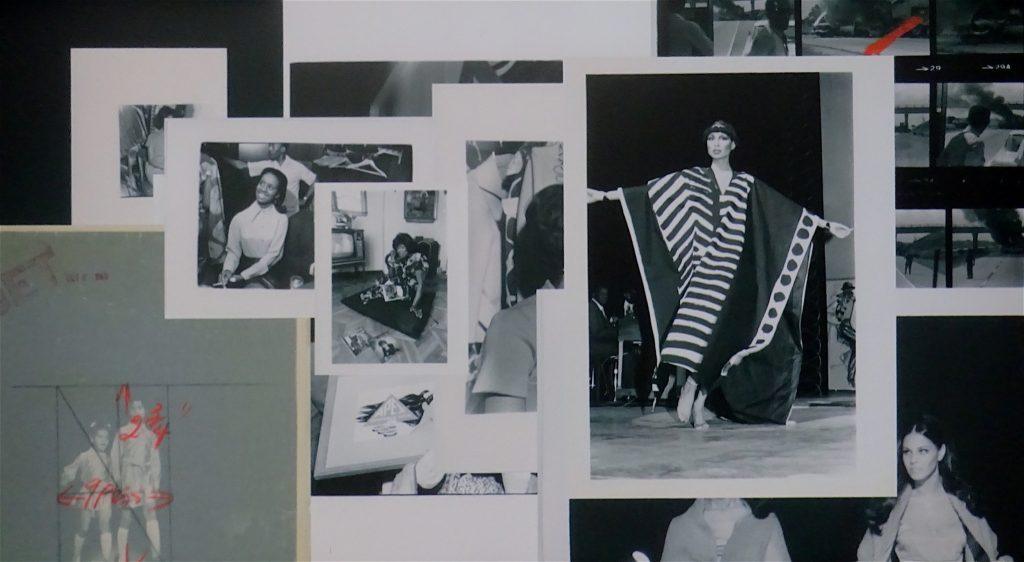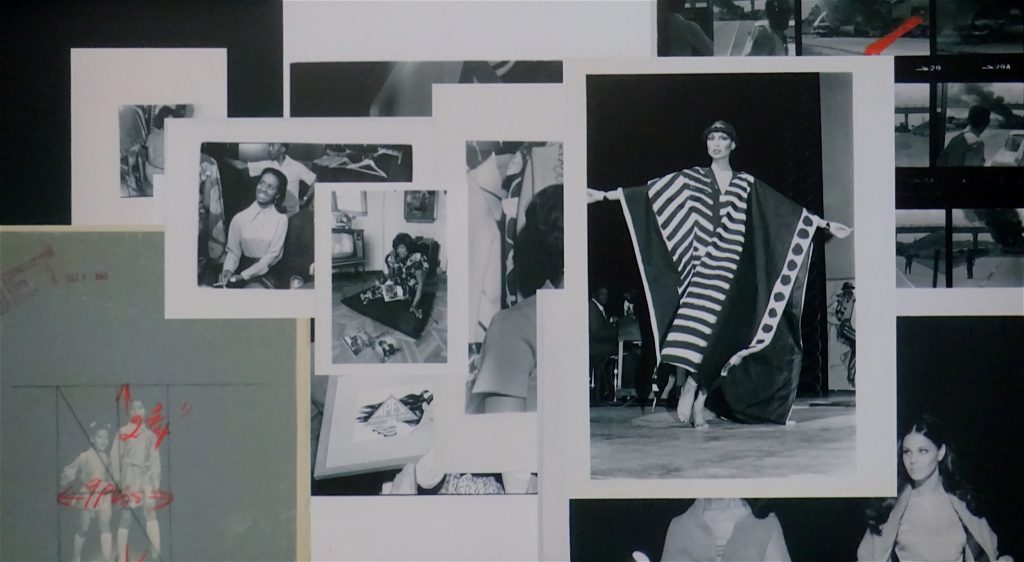 Theaster Gates "Do you hear me calling?" (Mama Mamama or What is Black Power) 2018, Video, sound, color, 42:40 min, and images by Johnson Publishing Company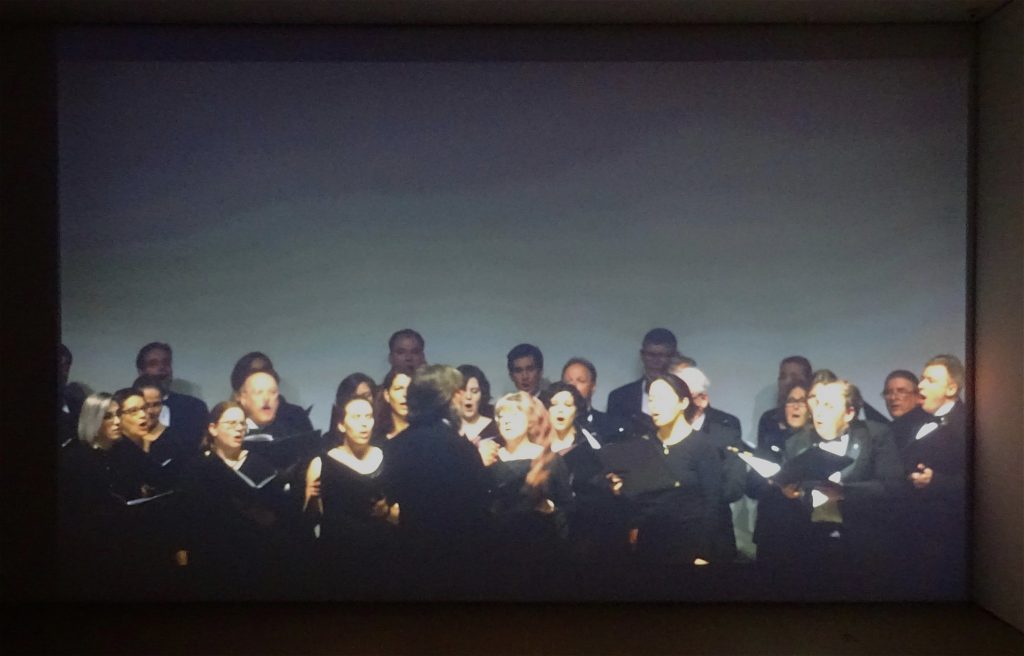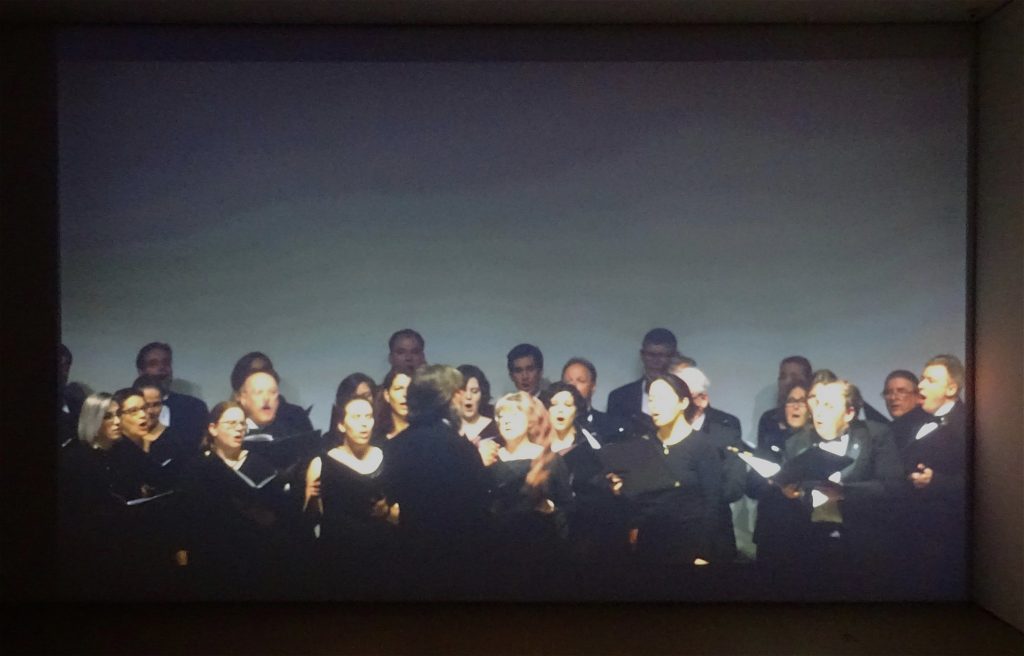 Theaster Gates "Ave Maria: An Exercise in reproduction" 2018, Video, sound, color, 39:56 min, and images by Johnson Publishing Company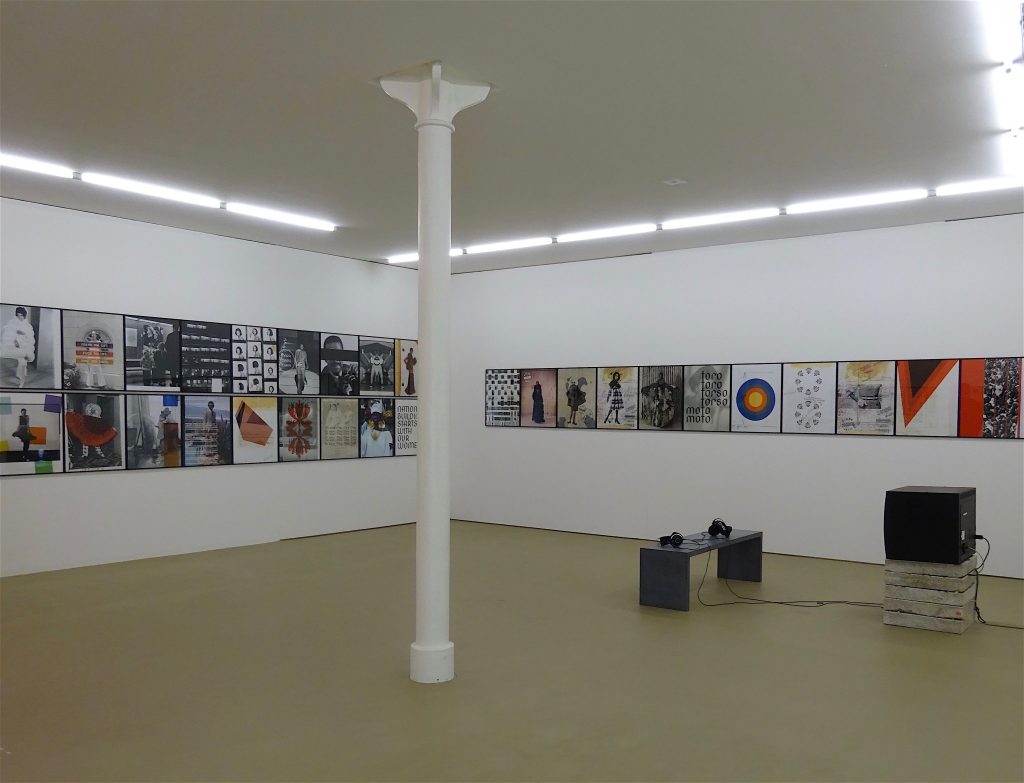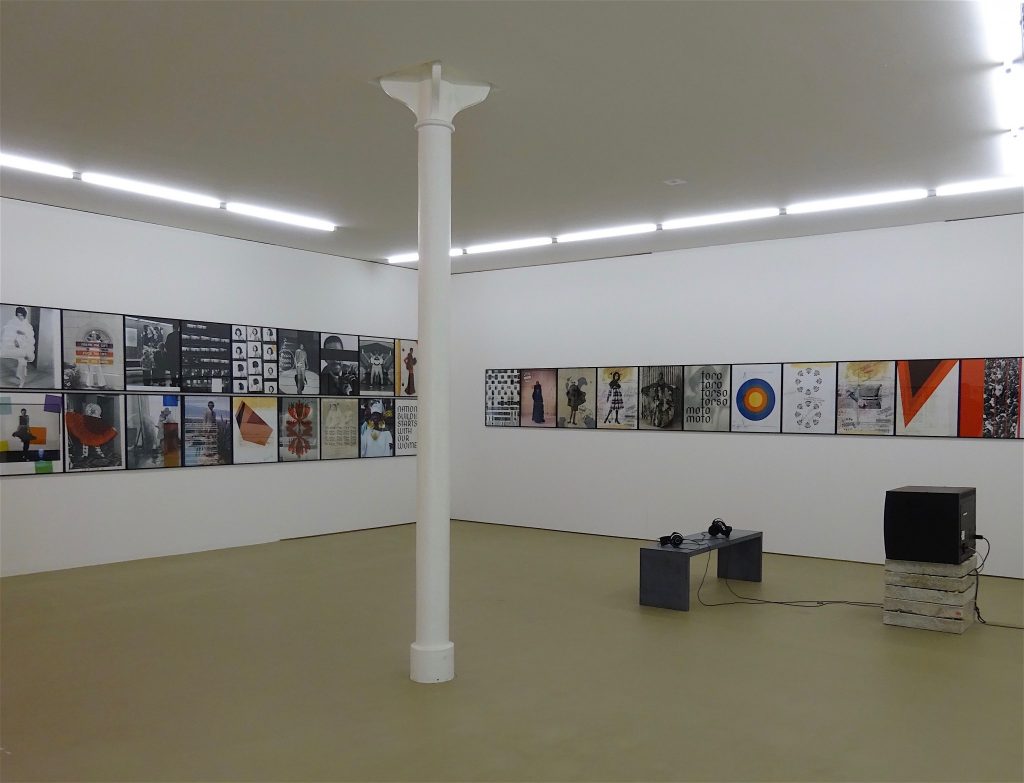 Theaster Gates "All night I looked for her, I looked for you, I looked for myself" 2018, Inkjet Prints, Johnson Publishing Company and interventions by Theaster Gates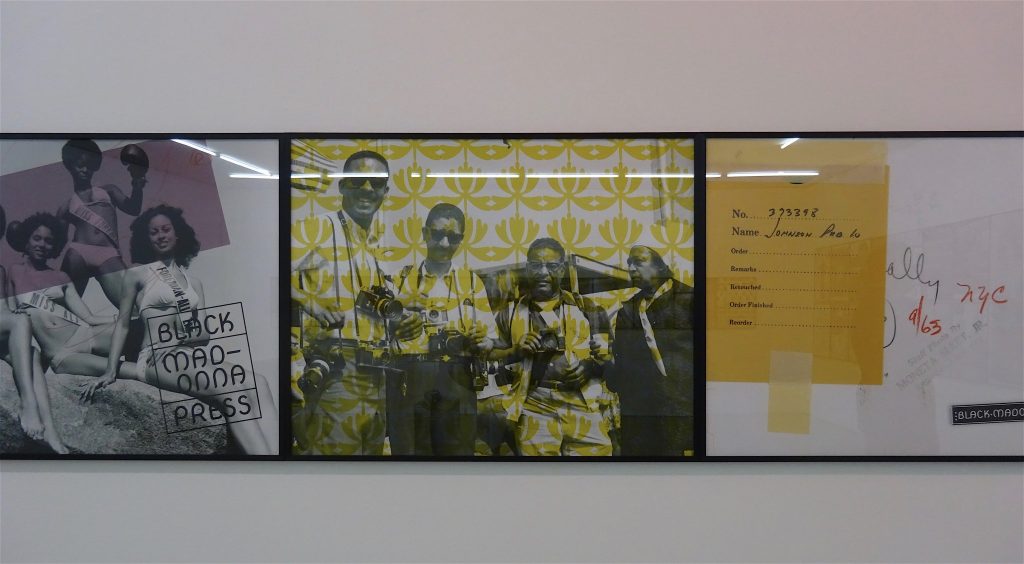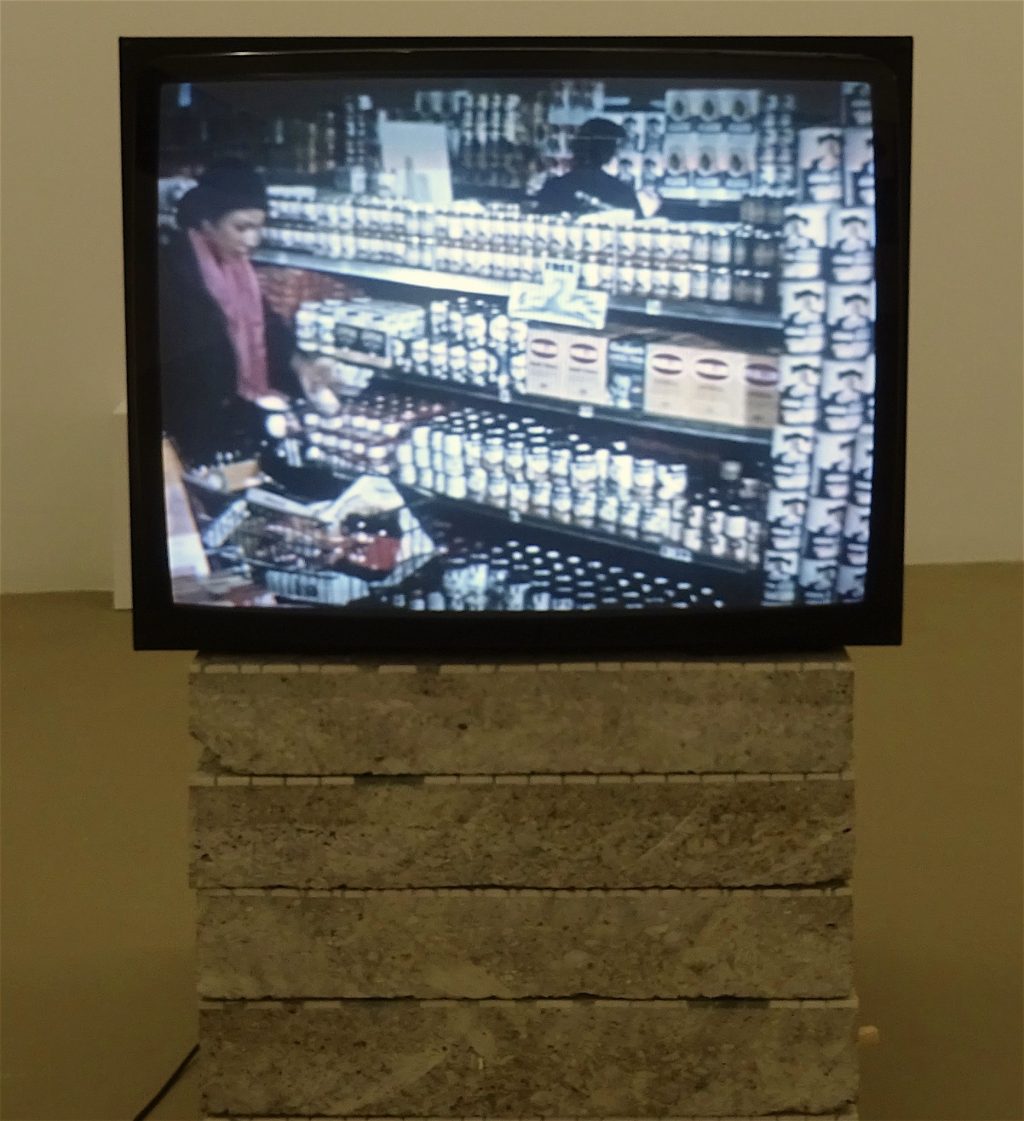 Theaster Gates "How to sell the negro" 1954, 16 mm Film, auf Video überspielt, Ton, Farbe, 21:36 Min
(no explanations available, neither on the spot nor in the pamphlet)
——————
Pics taken from my hometown's church: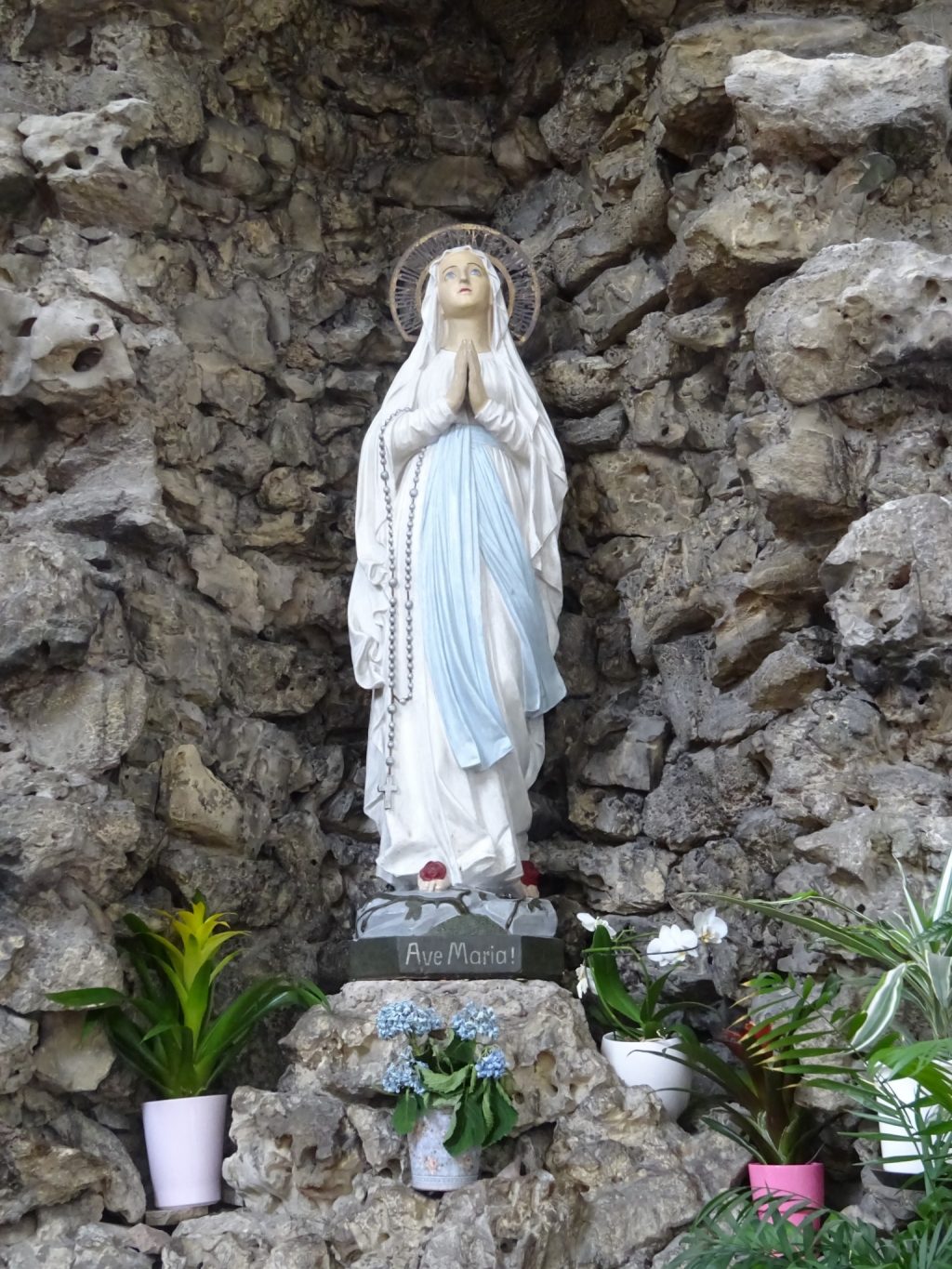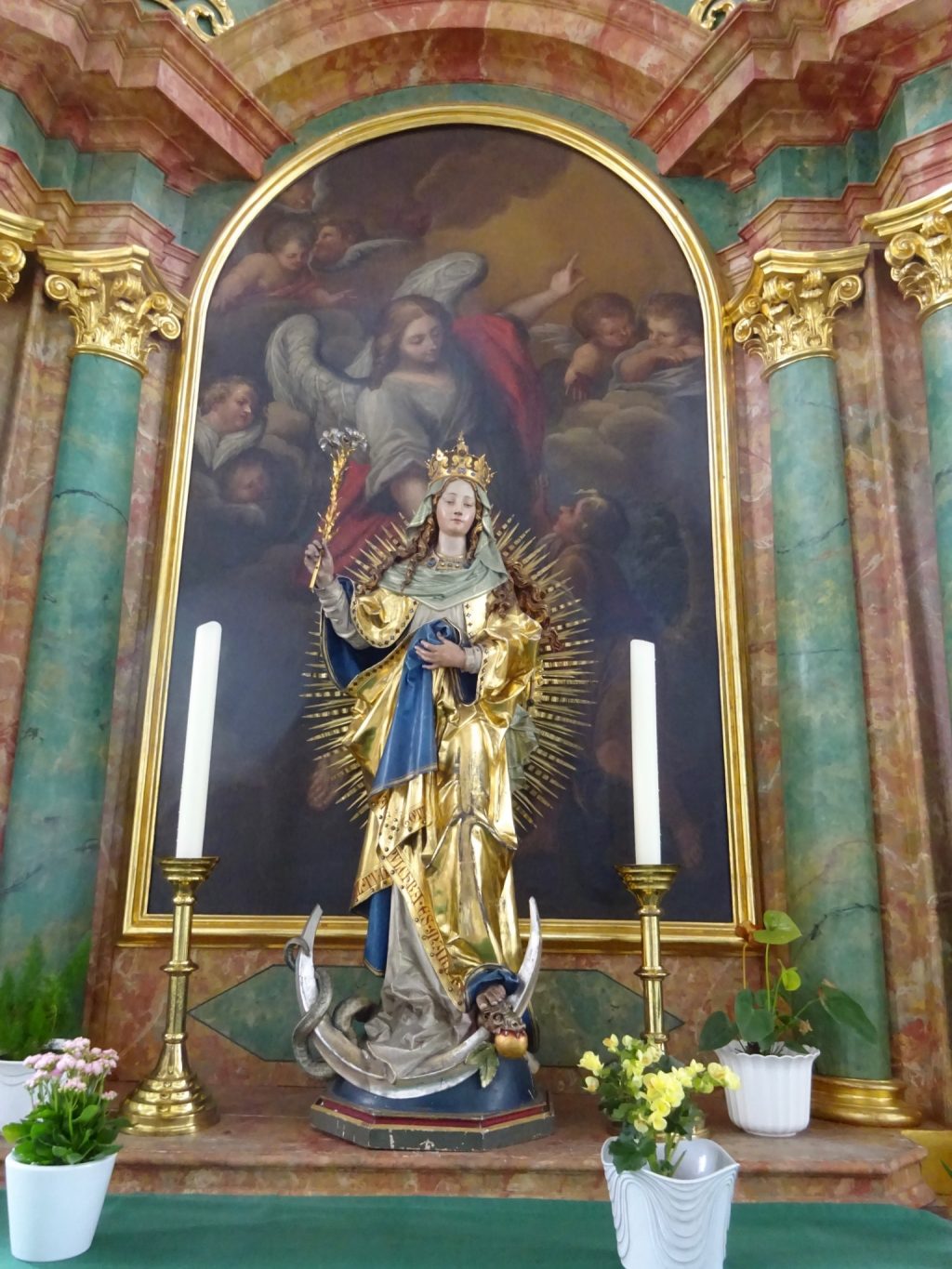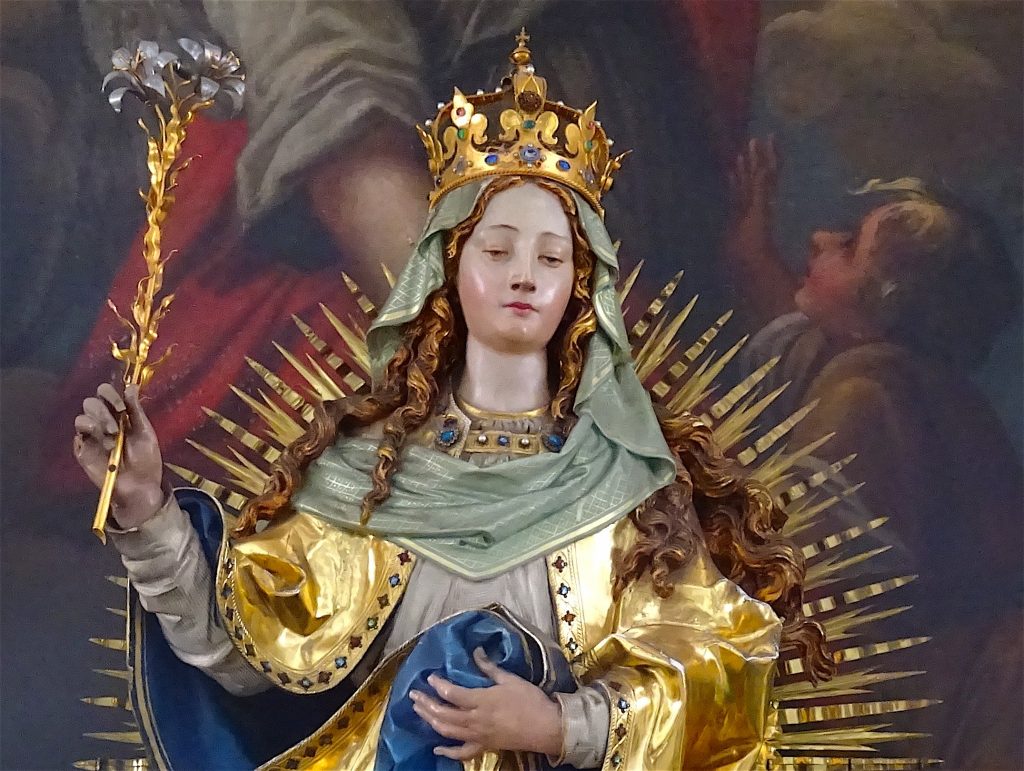 up-date 2018/7/21
Trevor Responds to Criticism from the French Ambassador – Between The Scenes | The Daily Show
ここに載せた写真は、すべて「好意によりクリエーティブ・コモン・センス」の文脈で、日本美術史の記録の為に発表致します。
photos: cccs courtesy creative common sense