アーティストたちによって裸にされたアート・バーゼル、さえも*
ART BASEL Stripped Bare by Her Artists, Even*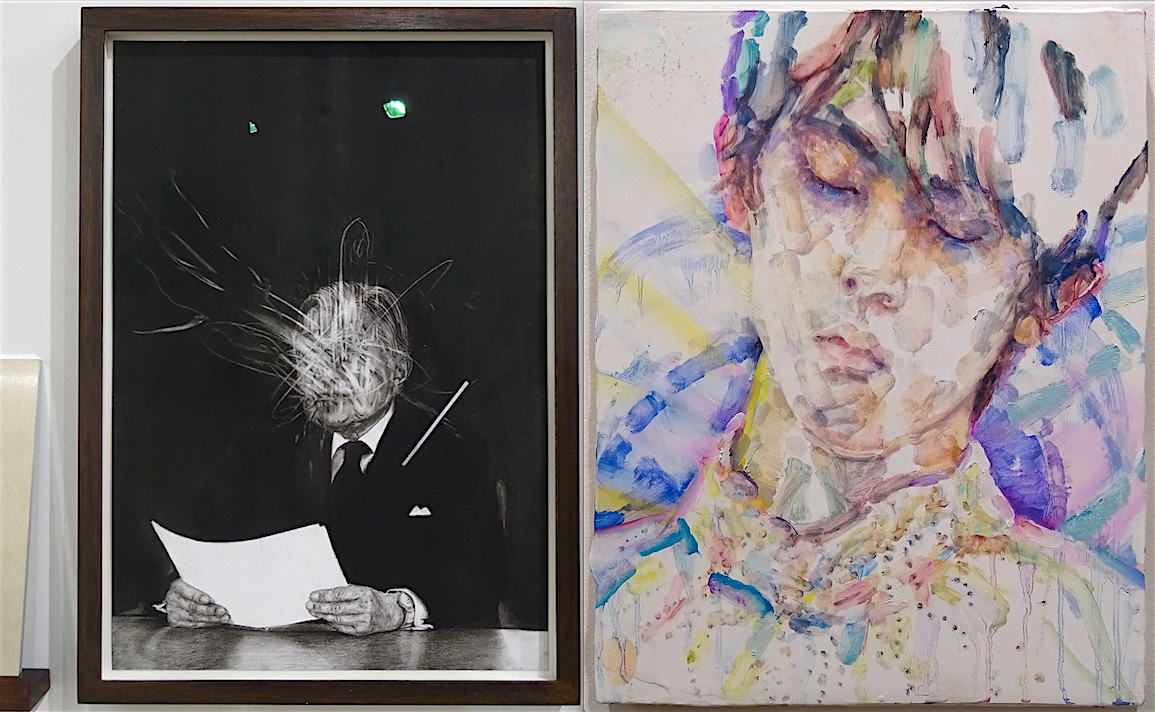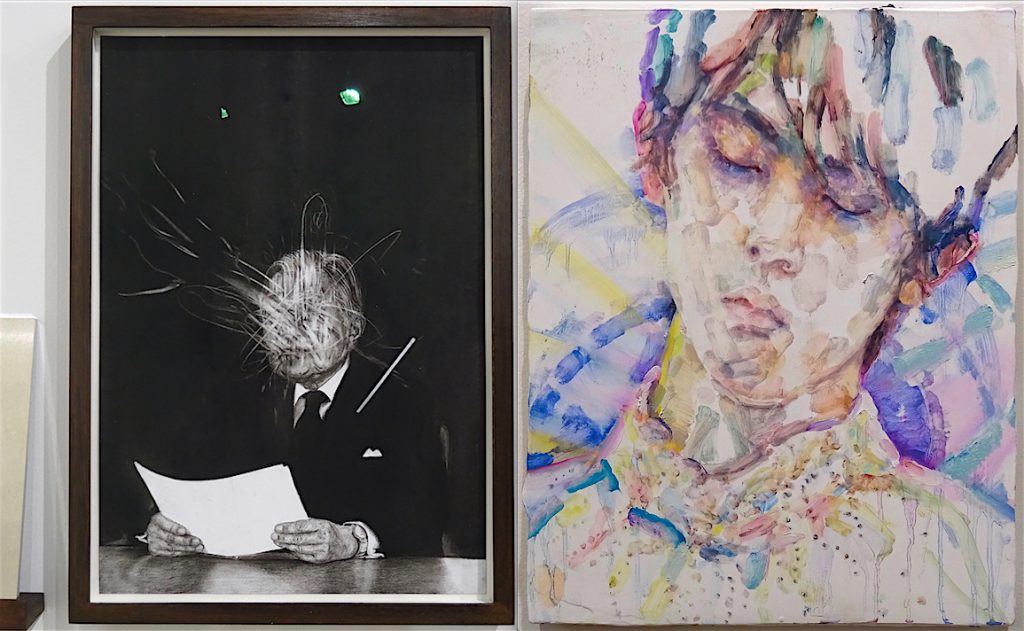 Fragen Sie mich nicht.
Ich bin nur ein Kunsthändler.
Ich mache Geschäfte mit Kunst.
Don't ask me.
I am only an art dealer.
I do business with art.
バーゼル市は故郷の近い街です。ドイツ語の「die Kunstmesse」から英語の「die ART」への変化・進化をアーティストとして体験、見えるようになりました。
今回、珍しい画像だと思いますが、世界一アートフェア、アート・バーゼル (スイス) の商売の雰囲気を少しでも紹介させていただきたいです。
特に、日本の「優秀な」アーティストたちに勉強して欲しいです。全ての写真は初日のアートバーゼル2018年度ですが、細かいディテールまで見てください。
(有名なアート・オペレーターたちの名前を付けましたが、この業界の1人ですので、それ以上の裏話を遠慮させていただきます。)
他のART+CULTUREエントリーにも、昨年のアートバーゼル画像を利用しました。
小泉明郎さんを別として、その画像はもう一度、こちらに発表していません。
参照として、リンクへどうぞ。
As a youngster I visited local 'Kunstmesse Basel', which started in the 1970's, and had been organized after the model of the 'Kölner Kunstmesse' (nowadays ART COLOGNE).
Later, my dream was fulfilled as my works appeared at ART BASEL.
It was only in the early 2000s that it developed into the giant of the art fairs.
"The reason that art fairs have become so important has to do with the shifting demographics of wealth," says Marc Spiegler, the global director of Art Basel. "Wealth is more and more in the hands of people who are working, rather than those who've inherited it."
ART BASEL belongs to the Swiss MCH Group AG, which owns art fairs, watch fairs, conferences, exhibition venues and other subsidiaries, including event companies. MCH employed 588 full-time staff in 2016. Expenses totaled US$ 425 million.
As for 2017, Art Basel's fair in Switzerland, charges from US$ 425 per square meter for its subsidized "Statements" section, to US$ 833 per square meter for its "Galleries" and "Feature" sections. A 60-square-meter booth would cost about US$ 53.000.
Because Art Basel is part of a much larger conglomerate, it's difficult to determine its profitability. In 2017 MCH had a net loss of US$ 10.5 million, consequently MCH Group CEO René Kamm stepped down in August 2018.
http://www.20min.ch/schweiz/basel/story/MCH-Chef-Rene-Kamm-tritt-zurueck-11791683
Regarding Art Basel, Marc Spiegler says, "It's the notion, that the galleries will gain more by sharing their collectors with other galleries than they'll lose."
However, from my experience, around 50% of the galleries in the main section of Art Basel change in the span of 15 years. Art Basel is tough to get into, but also harsh in kicking you out very quickly.
The turnover in the "Statement" and "Feature" section is roughly 30% per year.
Looking back, galleries like 'Koyanagi', 'Tomio Koyama', 'Shugo Arts', 'SCAI The Bathhouse', 'SIDE 2', which had a booth for many years in Art Basel Switzerland, have all disappeared. The ones left now are 'Taka Ishii' and 'Take Ninagawa'. In the last 3 years, veteran 'Tokyo Gallery+BTAP', suddenly appeared twice, with one year absence in between.
In this sense, the new turf for Asian galleries became Hong Kong.
In 2011 MCH Group purchased "ART HK – Hong Kong International Art Fair", later changing the name into 'Art Basel Hong Kong'.
I would like to remind the reader, that ART FAIR TOKYO had the chance to buy "ART HK – Hong Kong International Art Fair", too, therefore becoming the hub for Asian art operators and the 'commercial' and 'art critical' center of contemporary art in Asia. A lost opportunity, about which I'm going to refrain to comment publicly.
For the record, I would like to attach the original text by then Co-directors Annette Schönholzer and Marc Spiegler.
"We would like you to be among the first to know about a major development for Art Basel.
We are pleased to announce that MCH Swiss Exhibition (Basel) Ltd., the organizer of Art Basel and Art Basel Miami Beach – has signed a purchase agreement with Asian Art Fairs Ltd, the owners of ART HK – Hong Kong International Art Fair. As of July 1, 2011, MCH Group will take a majority ownership stake in Asian Art Fairs Ltd.
This entry in the Asian art market marks a significant step forward for Art Basel. Since its inception in 2008, ART HK has established itself as the leading art show in Asia. The strong momentum this provides, combined with the great experience and know-how of both organizations, and the expanding art markets throughout Asia, offer great potential for Art Basel to establish a premier art show in this key region.
As you know, Art Basel has been actively interested in the Asian art market for more than ten years, with ever-increasing contact to Asian collectors, galleries and artists. Not only the directors but also the selection committees have frequently travelled to explore the many Asian art scenes, and thus we have had a rising number of Asian galleries participating in our shows over the last decade.
The mid-term goal is to convert ART HK to the Art Basel brand as the third platform for our leading international art shows. The 2012 edition will remain under the show's current ART HK name, with Magnus Renfrew remaining as its director, but will take place from February 2 to 5, 2012, moving from its current late-May timing.
Art Basel looks forward to engaging even more intensely and continuously with galleries, collectors and institutions on four continents – in Europe at Art Basel, in North America and Latin America at Art Basel Miami Beach, and in Asia with the future Art Basel show sited in Hong Kong.
We would like to take this opportunity to thank you for your continuing support and your contribution to the success of Art Basel and Art Basel Miami Beach. 
Please do not hesitate to contact us should you have any questions about this exciting news.
Best regards from Basel,"
To get an overview of the beautiful atmosphere in the city of Basel during ART BASEL, please check the following links.
Most of its population is behind the concept of the art fairs; strong museum shows welcome the international art world, and people in the street spread a warm hospitality.
The following pics, taken at the first day of last year's ART BASEL, are especially targeted to artists in Japan. I want them to know the highly competitive atmosphere and structural hierarchy at ART BASEL, getting an idea of the "harsh reality" in serious, expensive, illogical and cruel art dealing.
Tokyo, HEISEI 31, January 13th
Mario A
バーゼルのアート + カルチャー 2018
Art + Culture from Basel 2018
https://art-culture.world/articles/art-culture-from-basel-2018/
バーゼルのアート + カルチャー 2018(続報)
Art + Culture from Basel 2018 (follow-up)
https://art-culture.world/articles/art-culture-from-basel-2018-follow-up/
up-date:
最高かつ最も重要な絵画@アート・バーゼル(アーティストたちによって裸にされたアート・バーゼル、さえも*)2019年度
The best and most important painting @ ART BASEL (… Stripped Bare by Her Artists, Even*) 2019 version
https://art-culture.world/articles/art-basel-2019/
---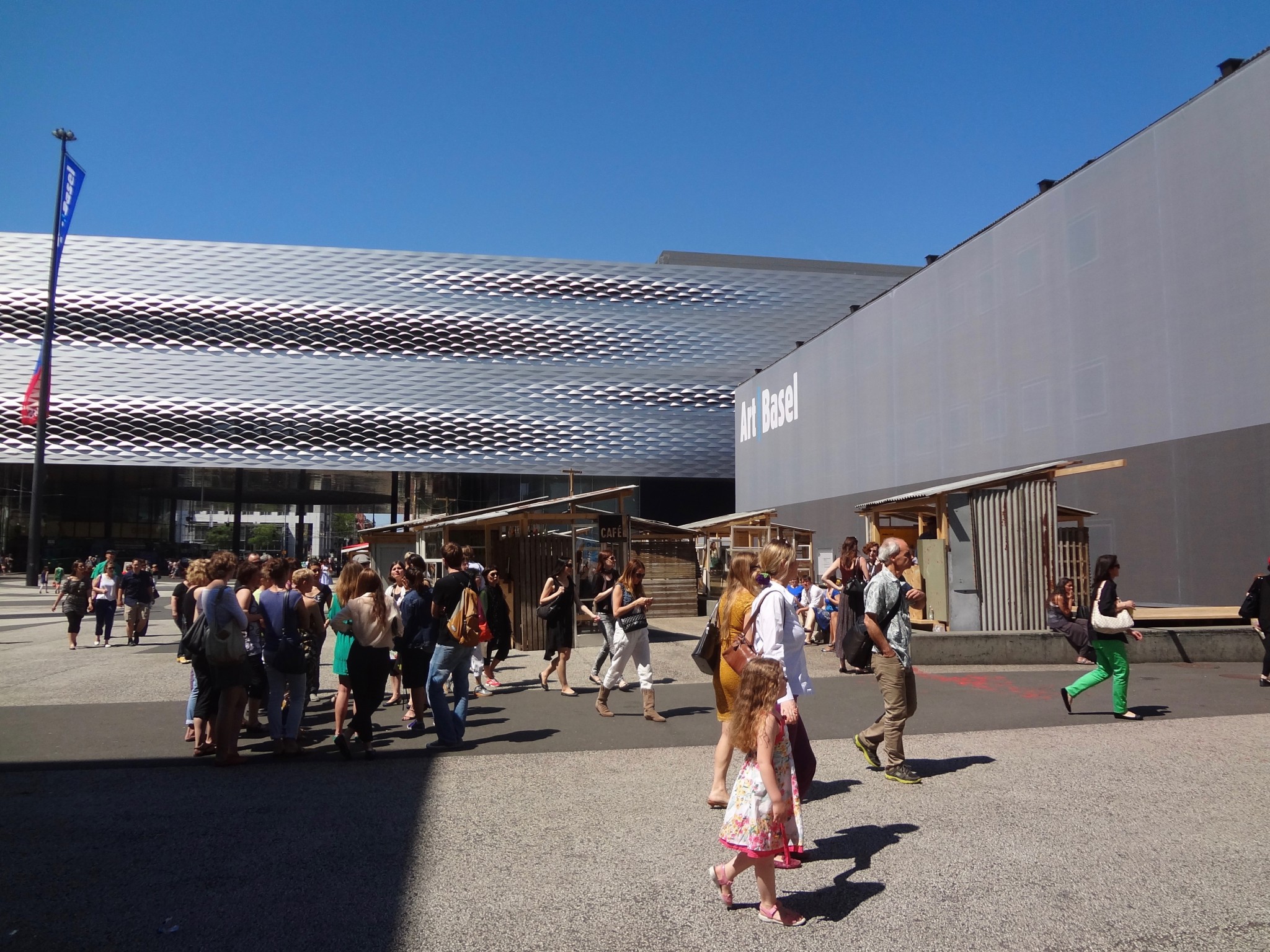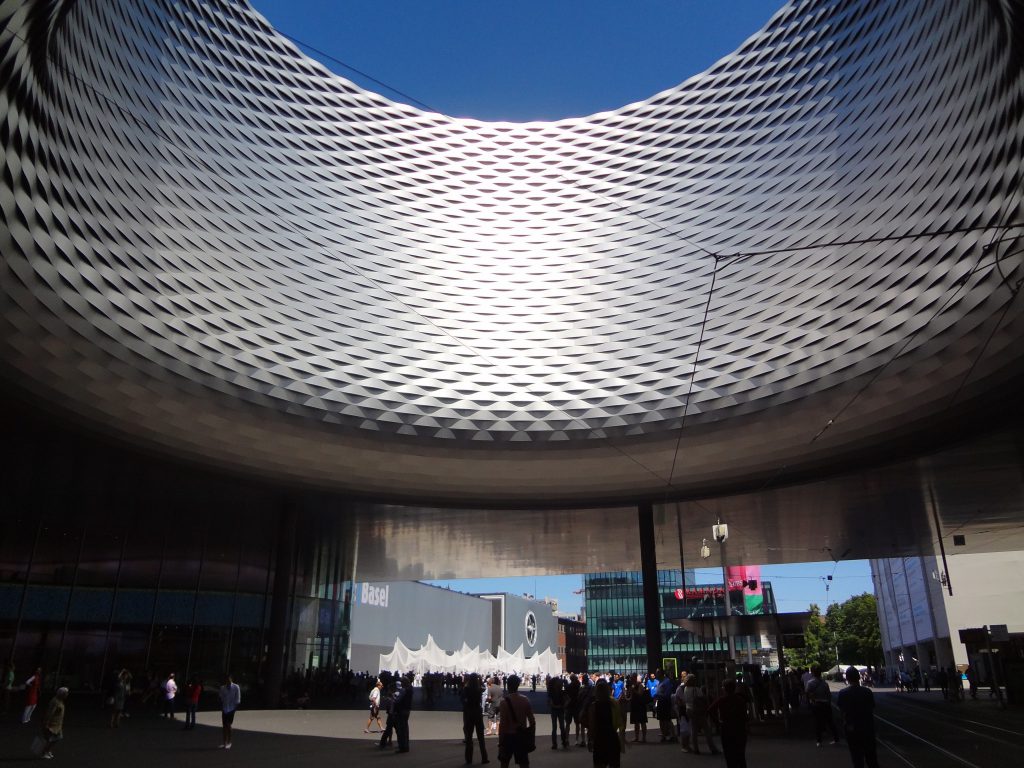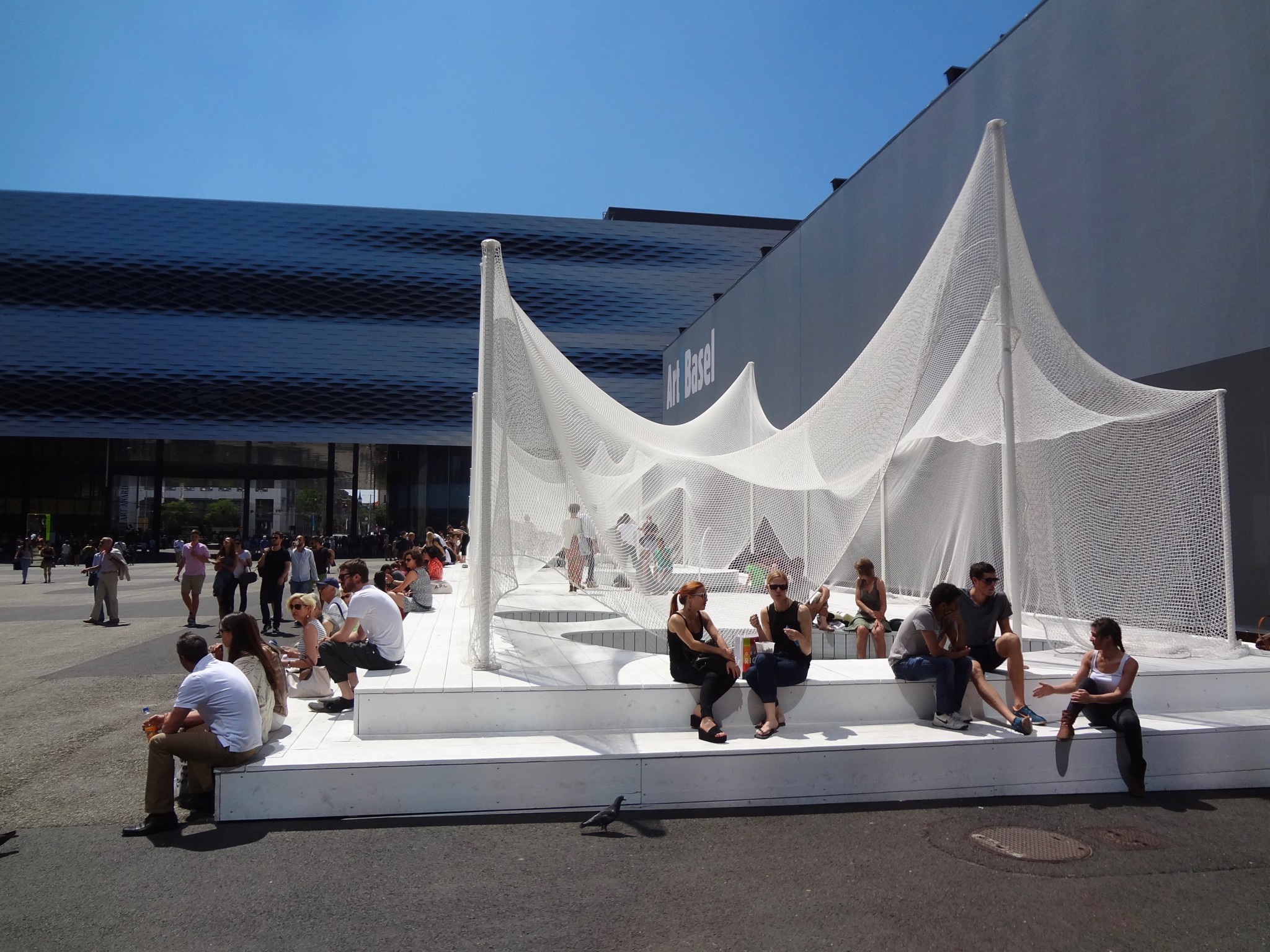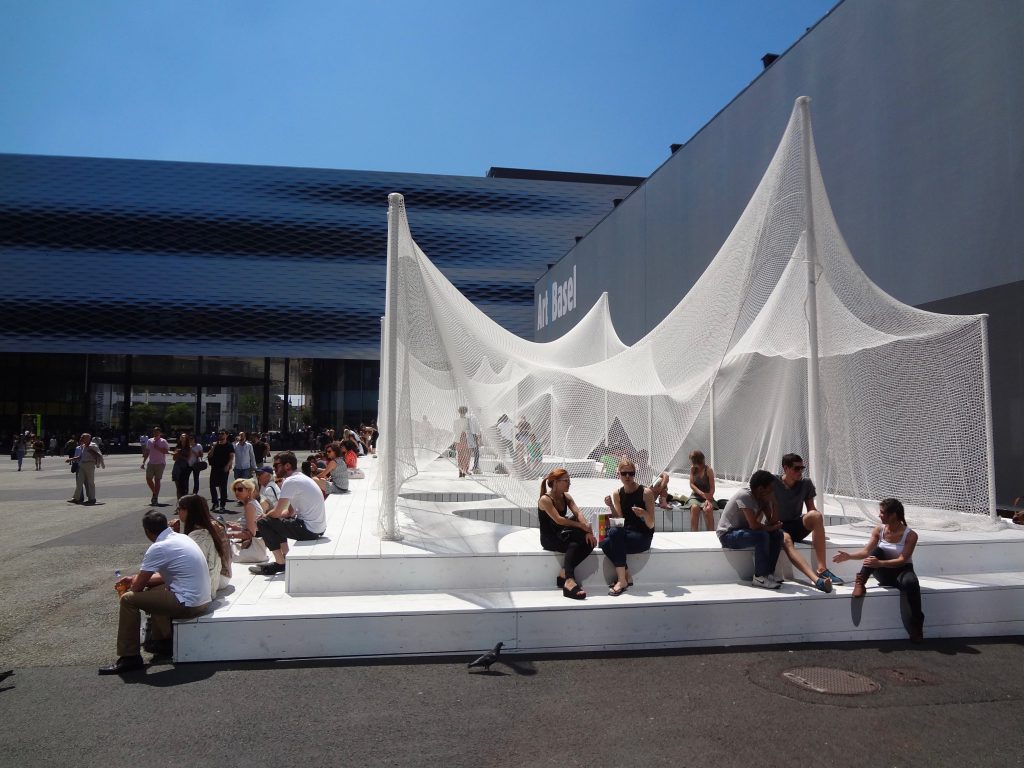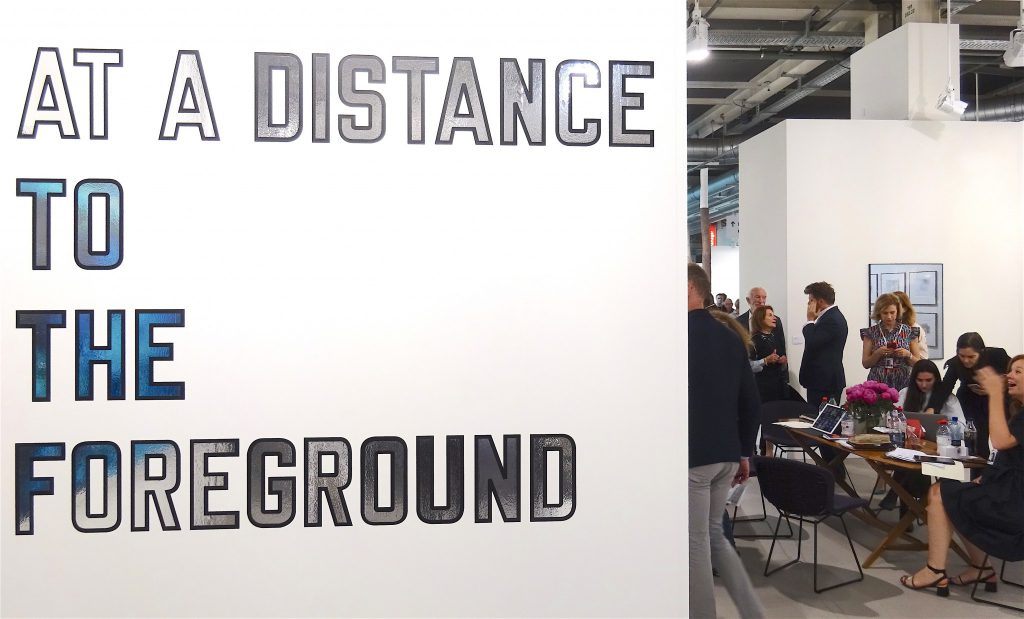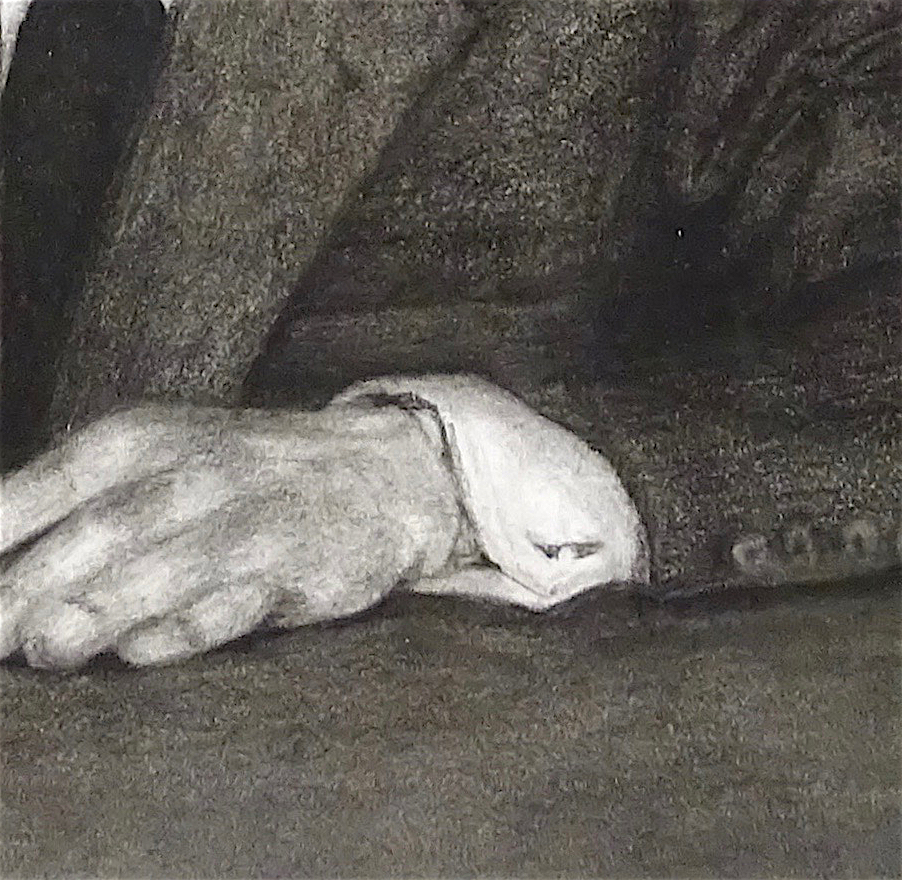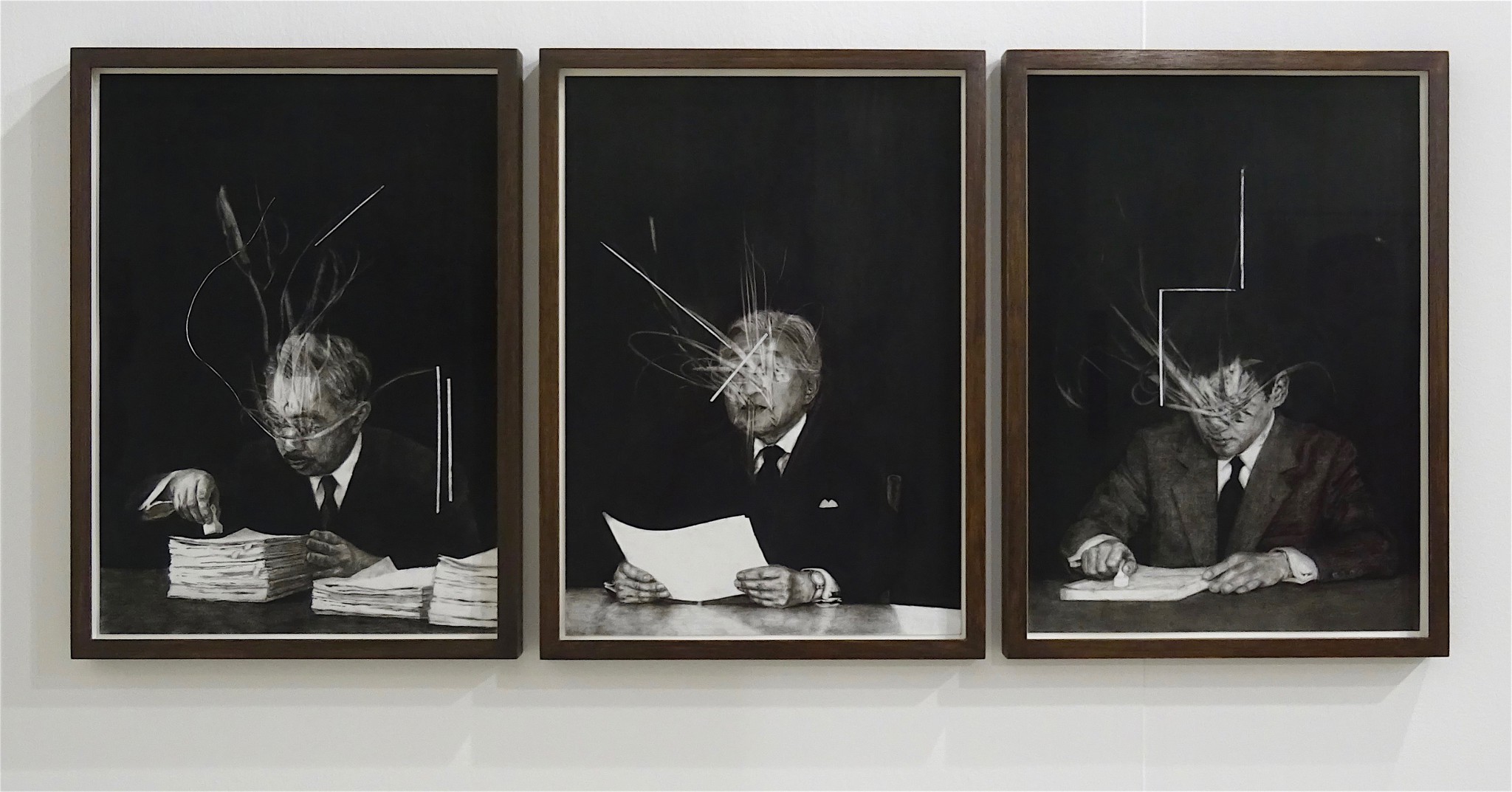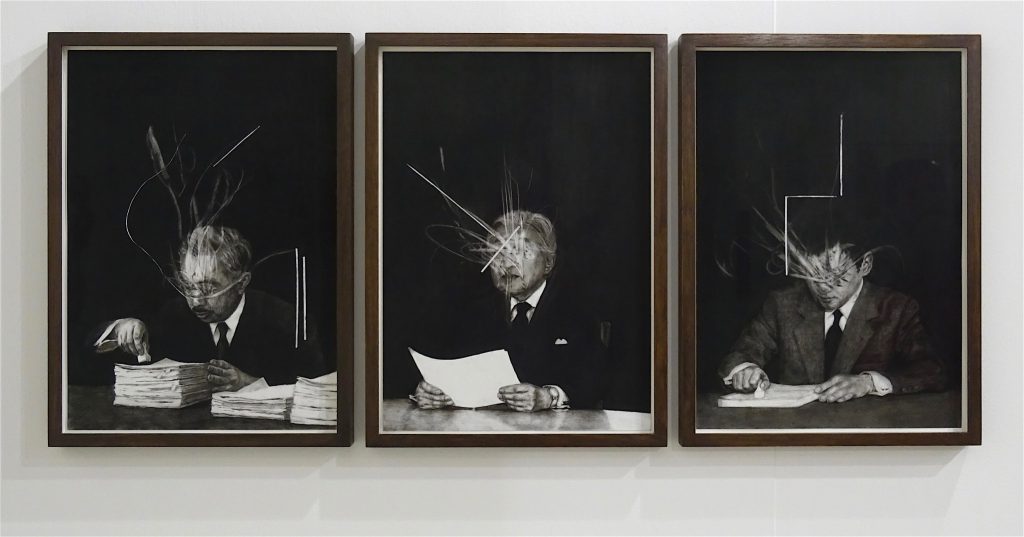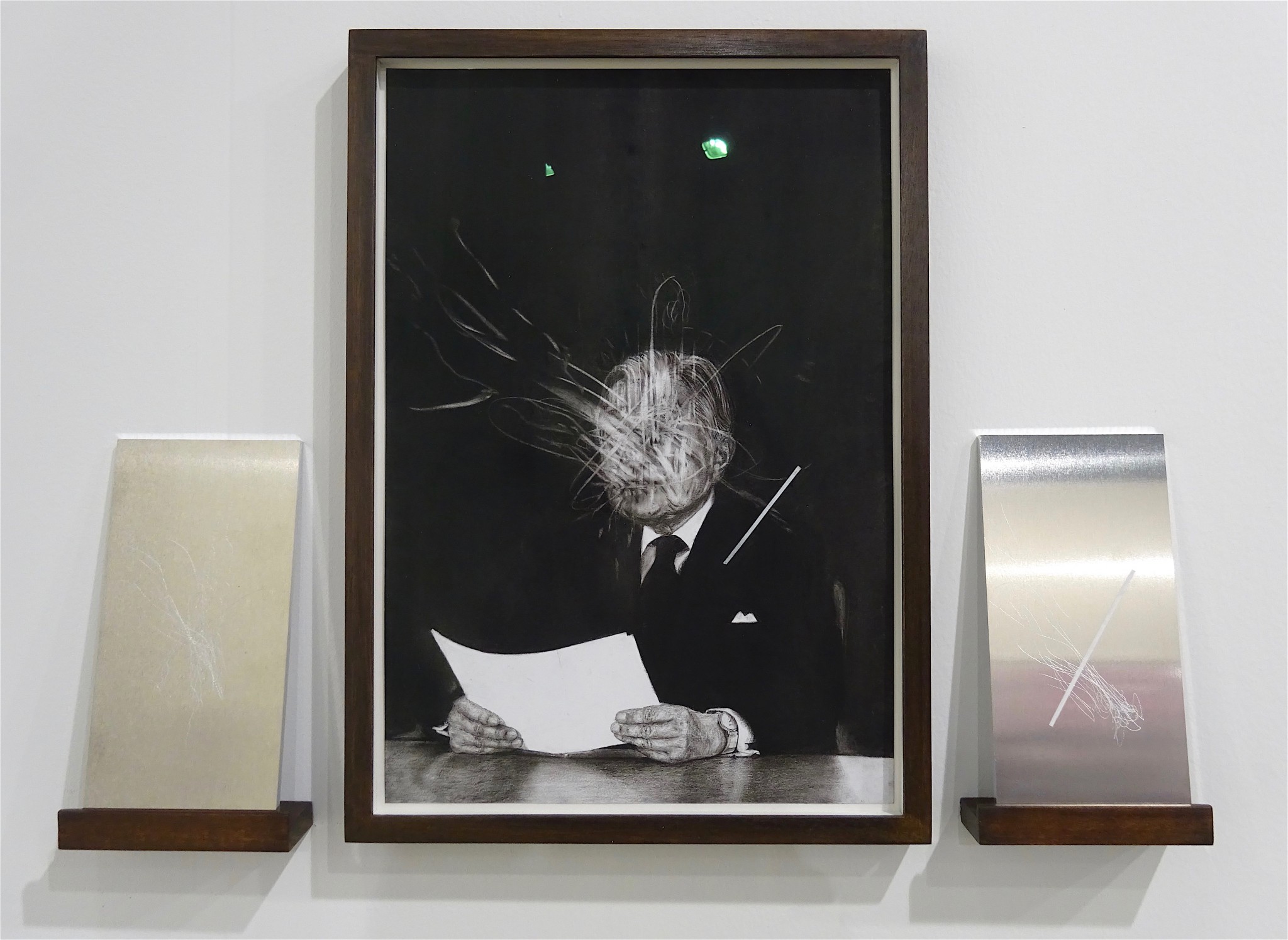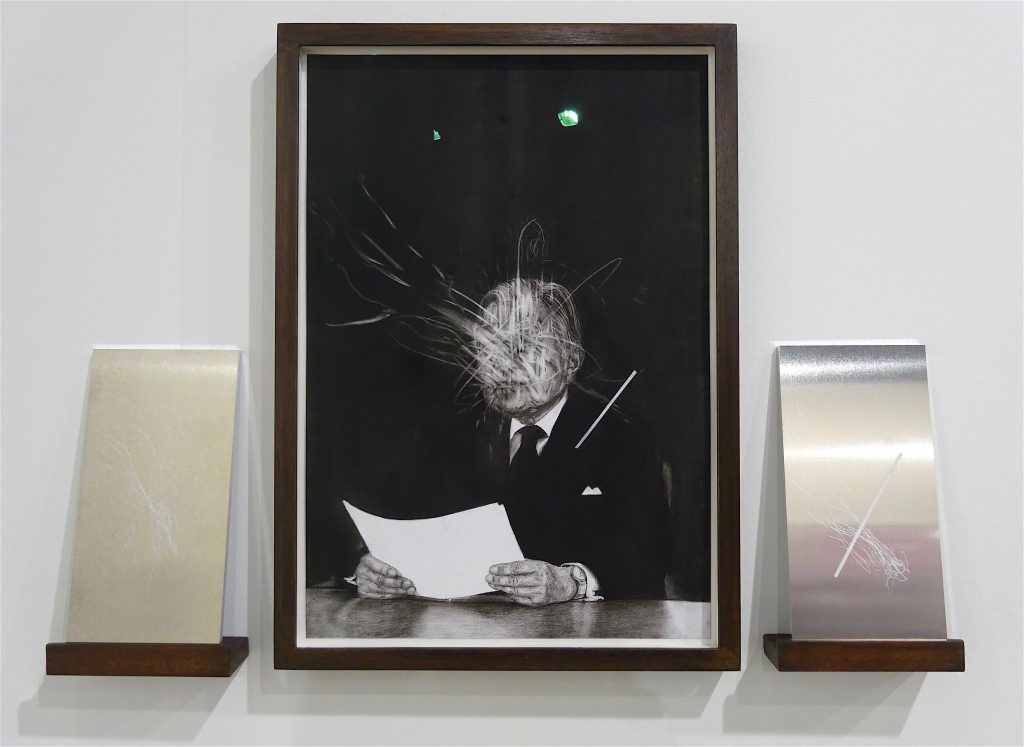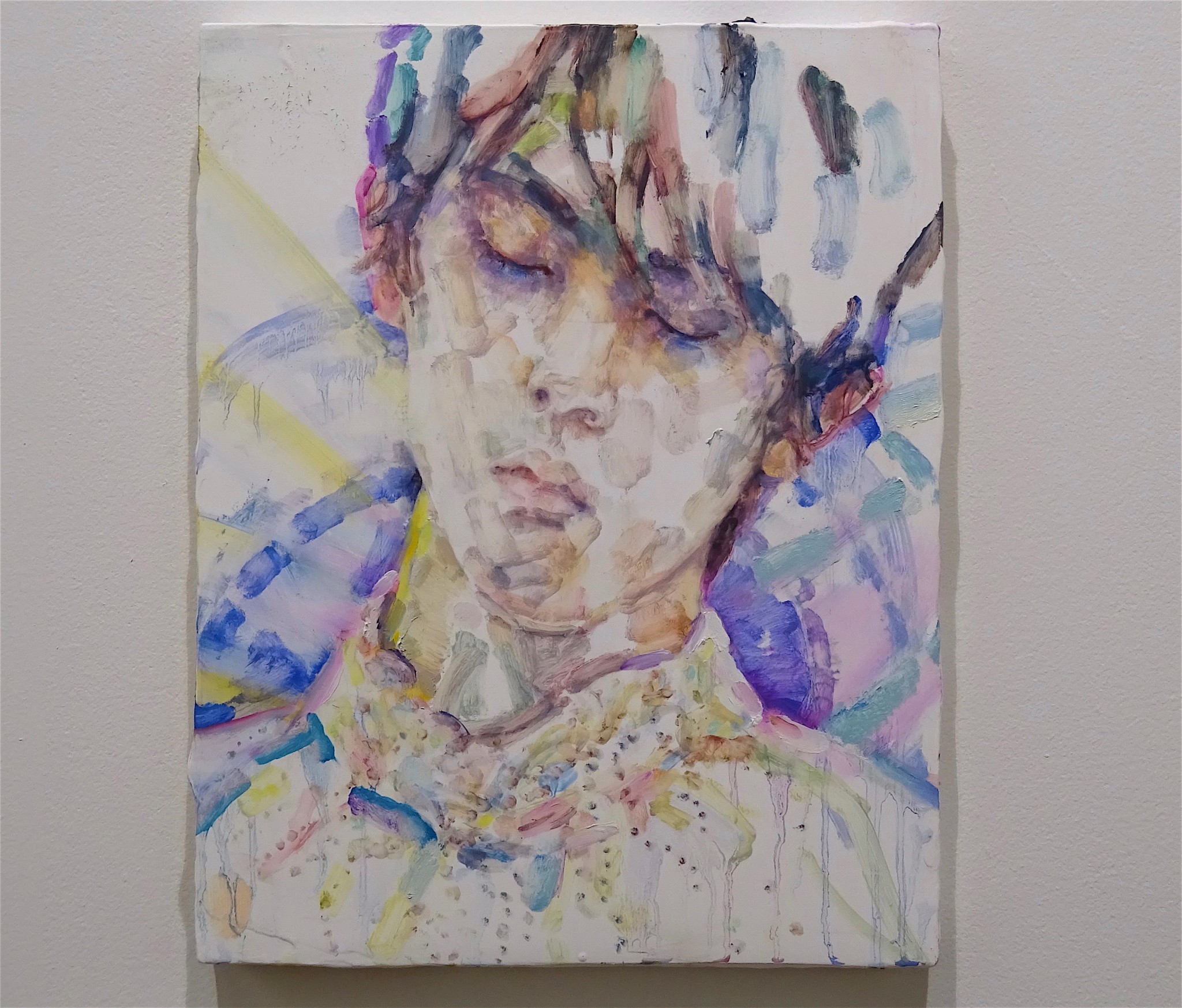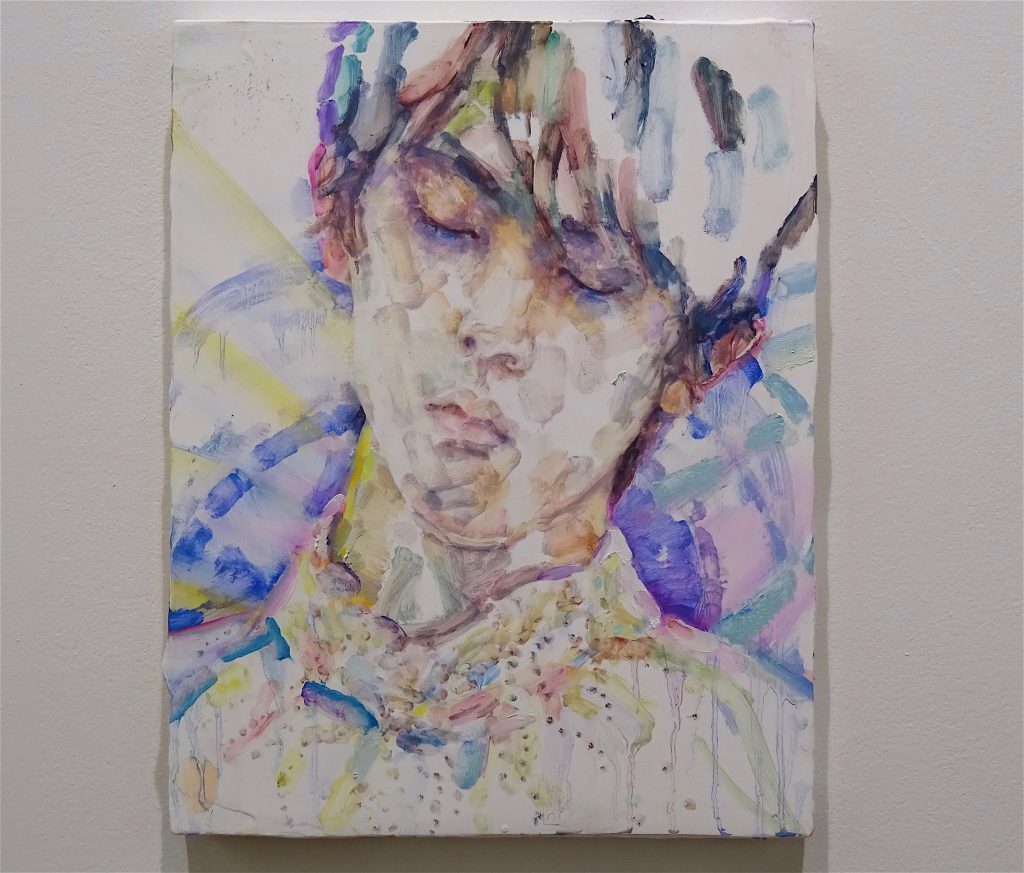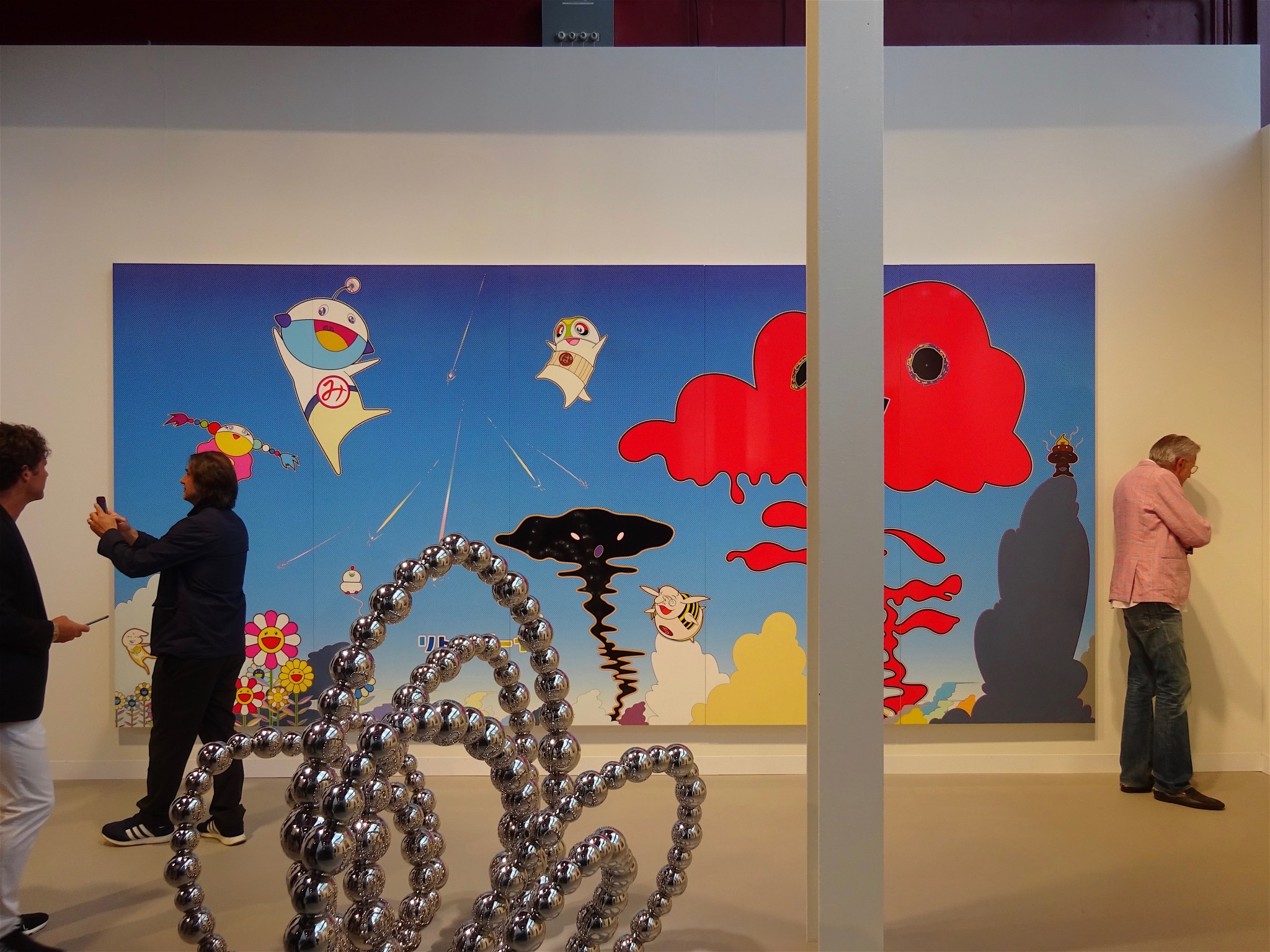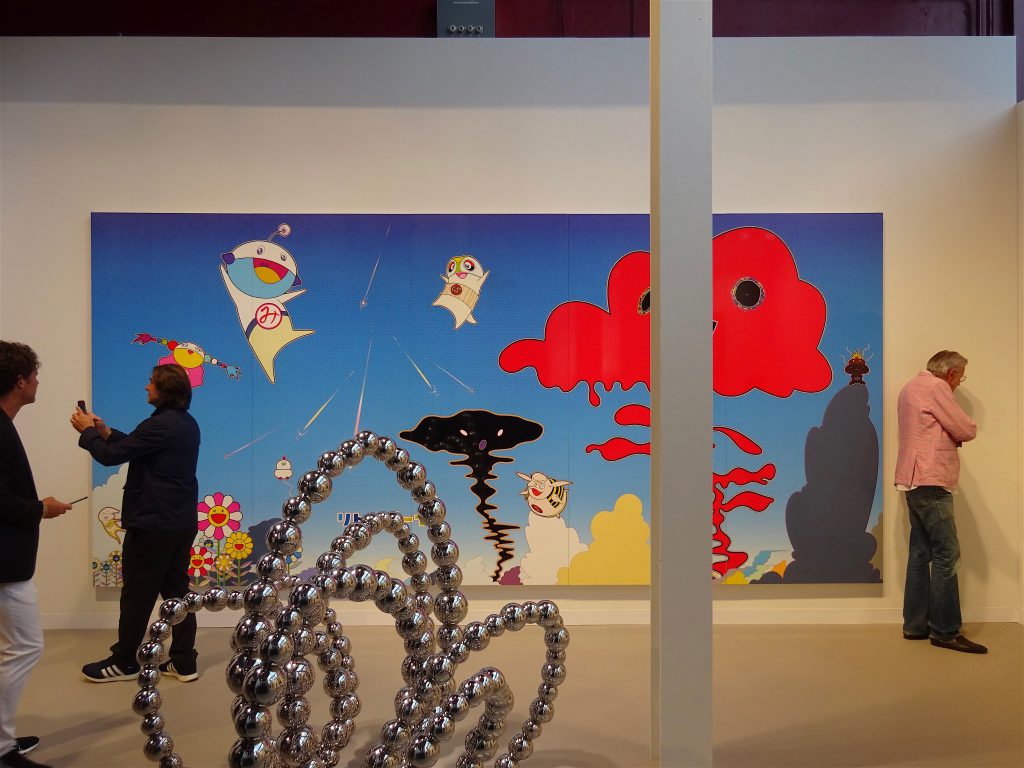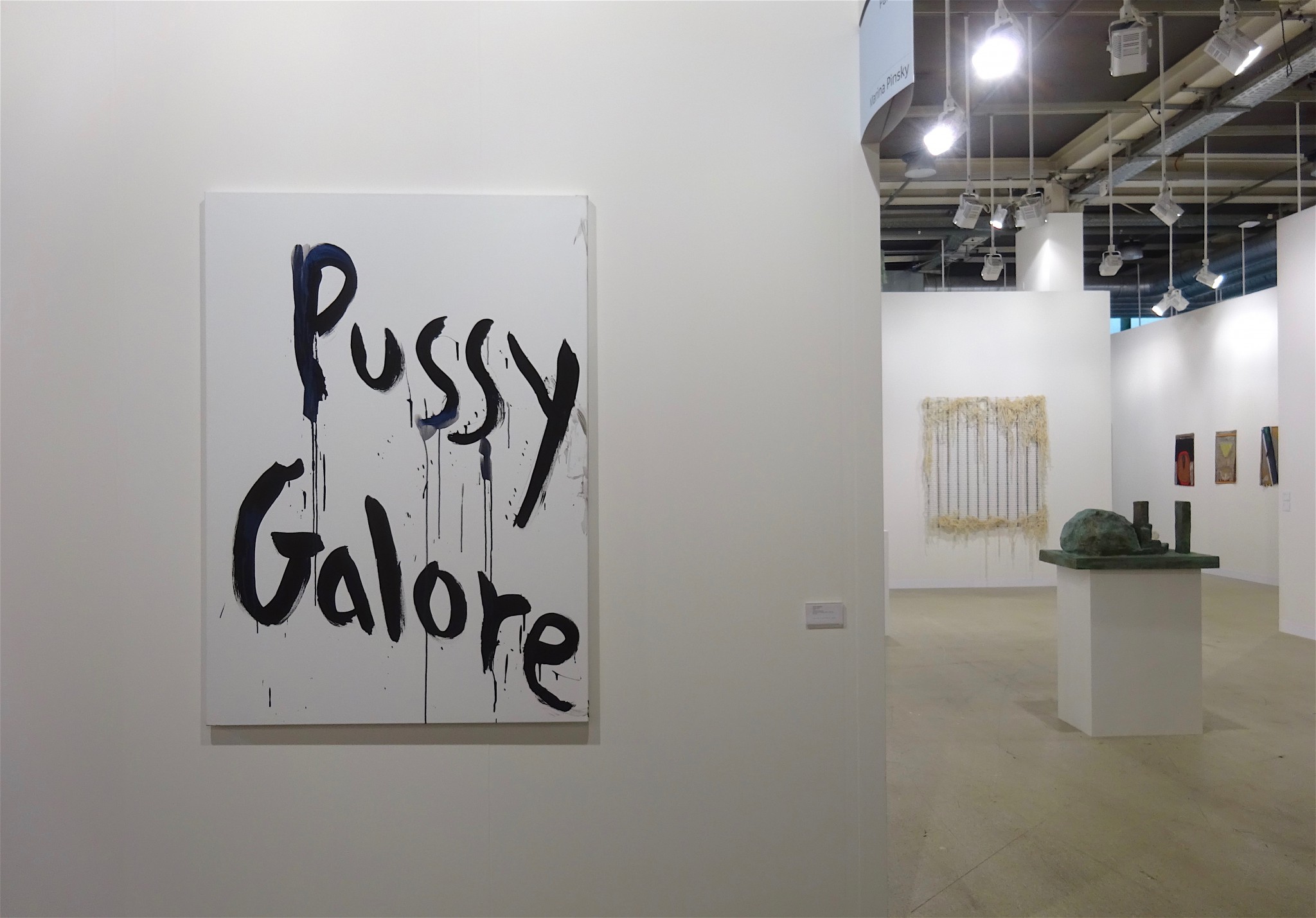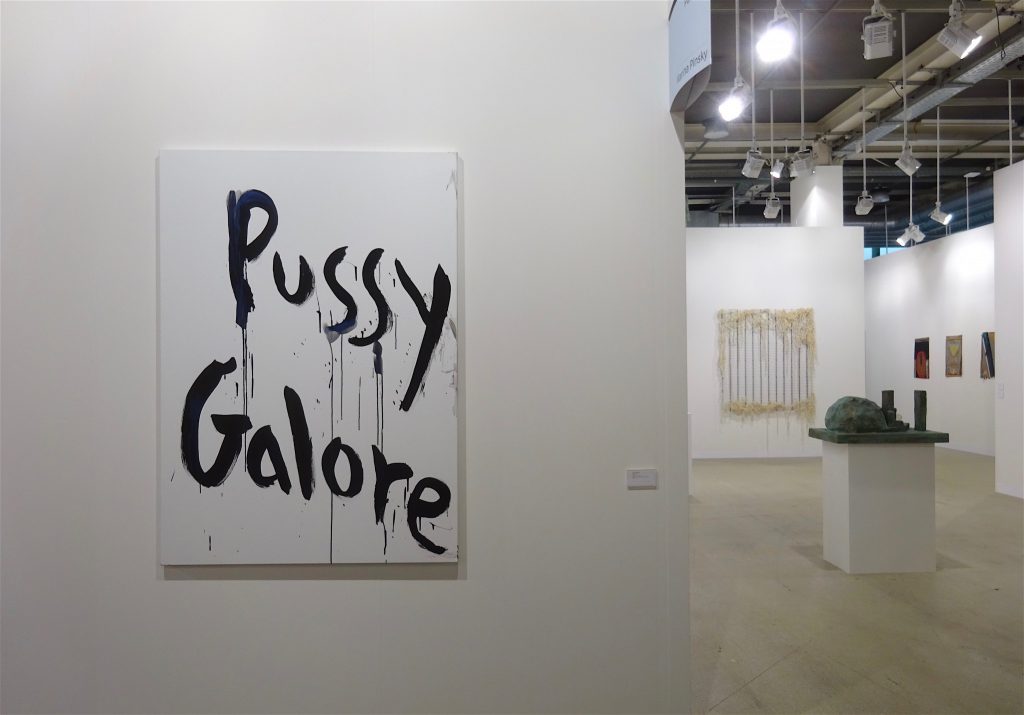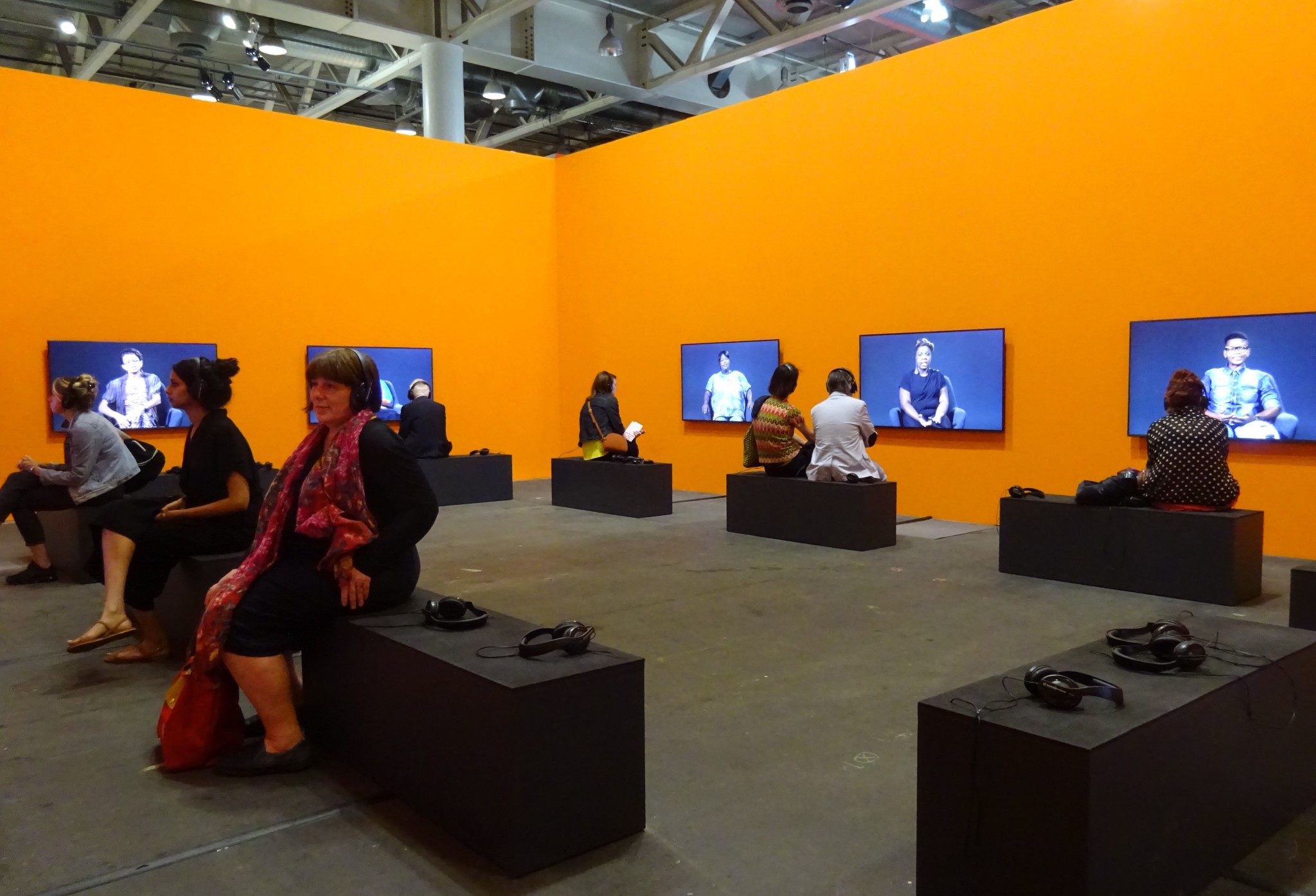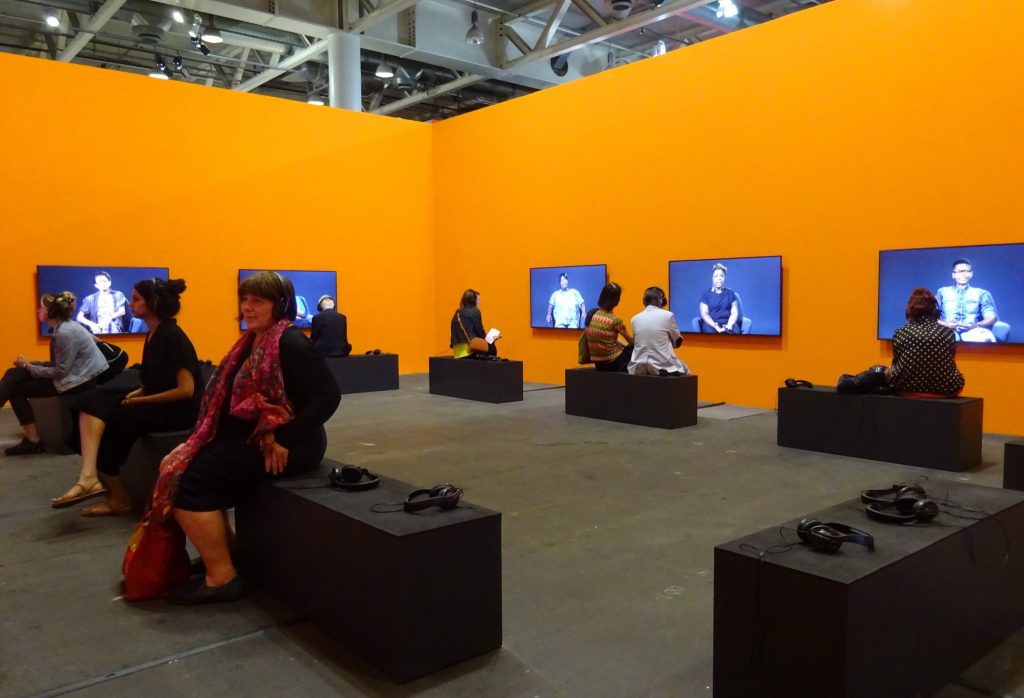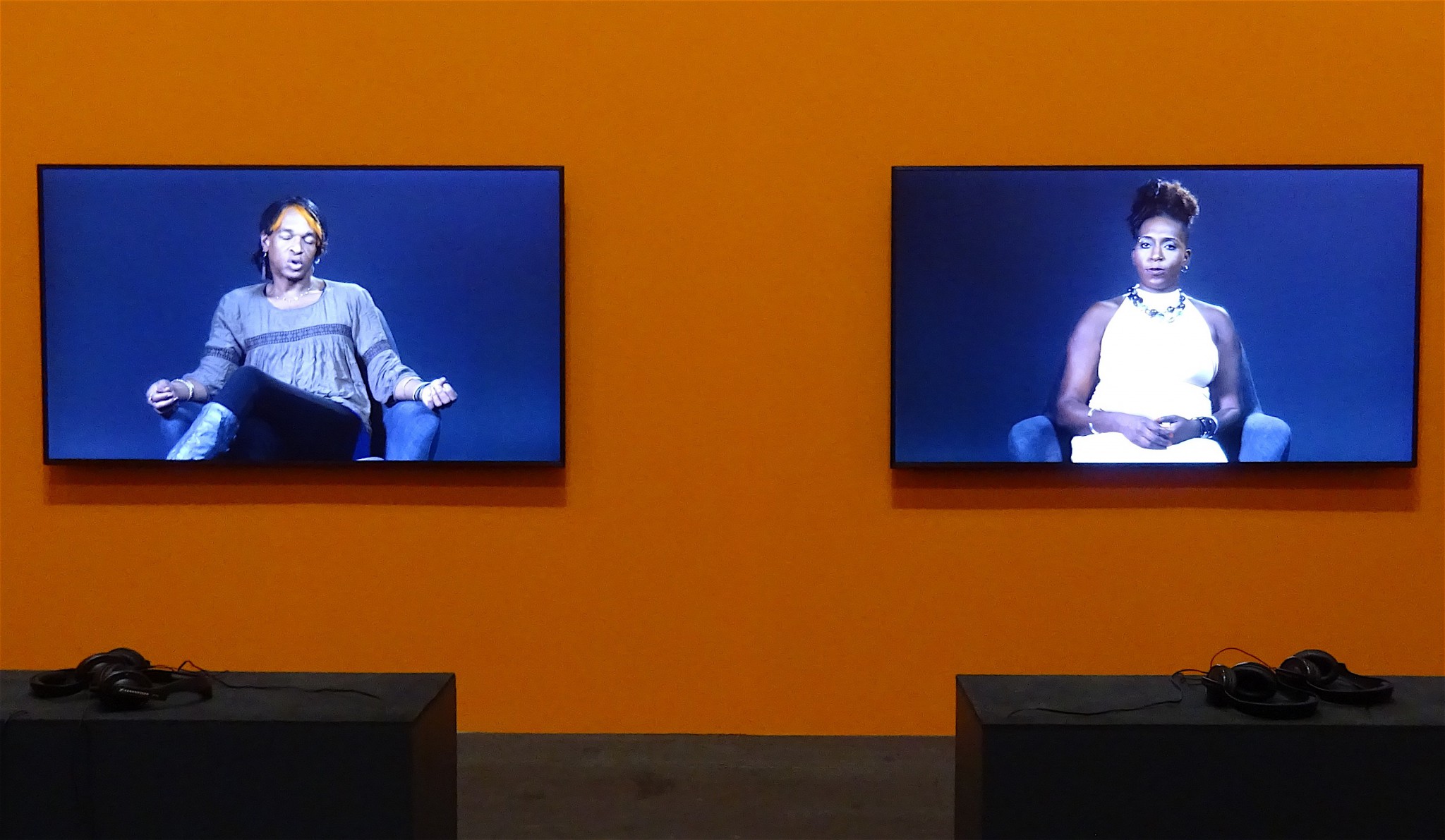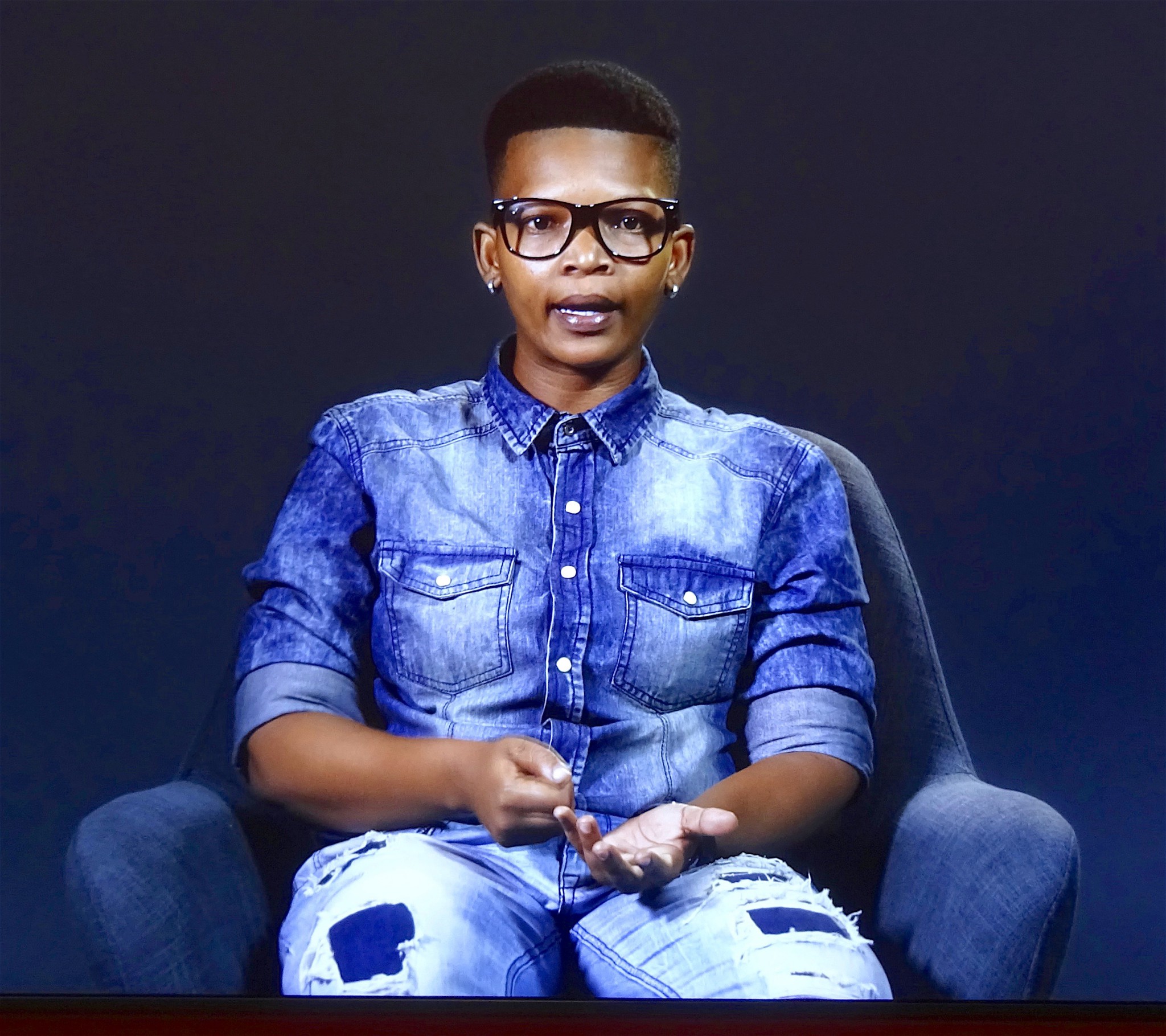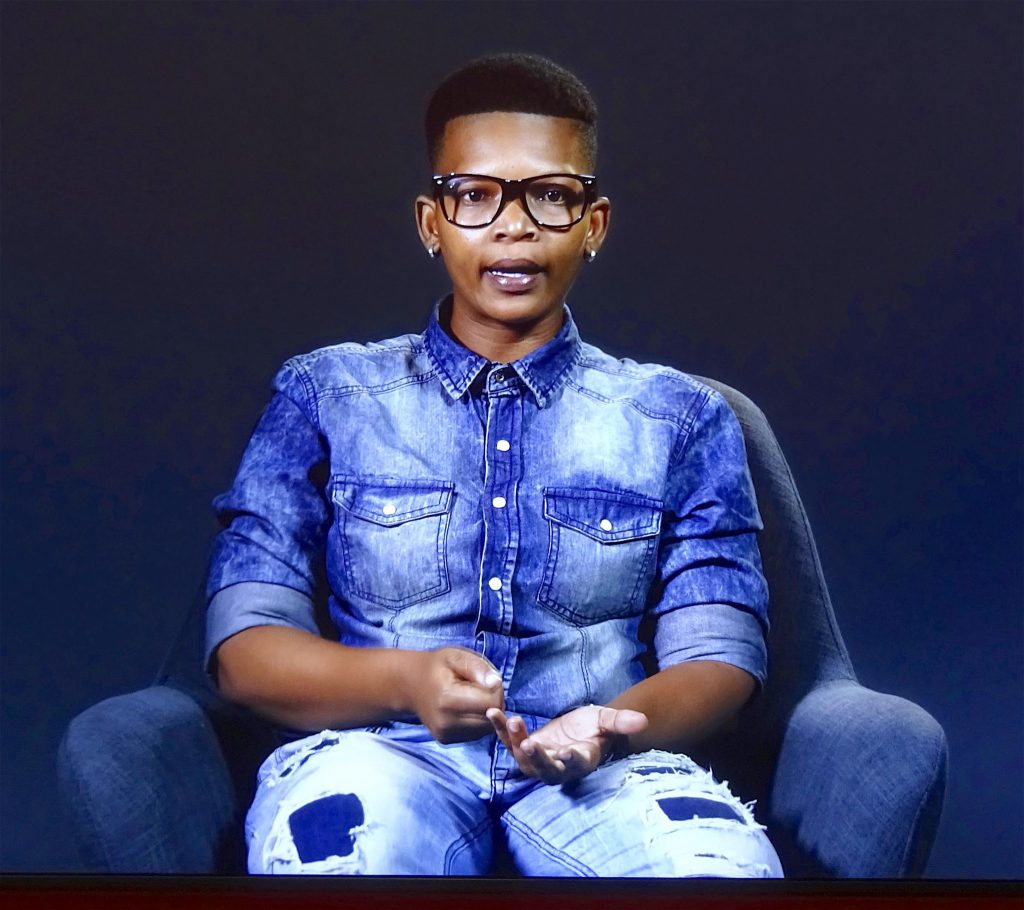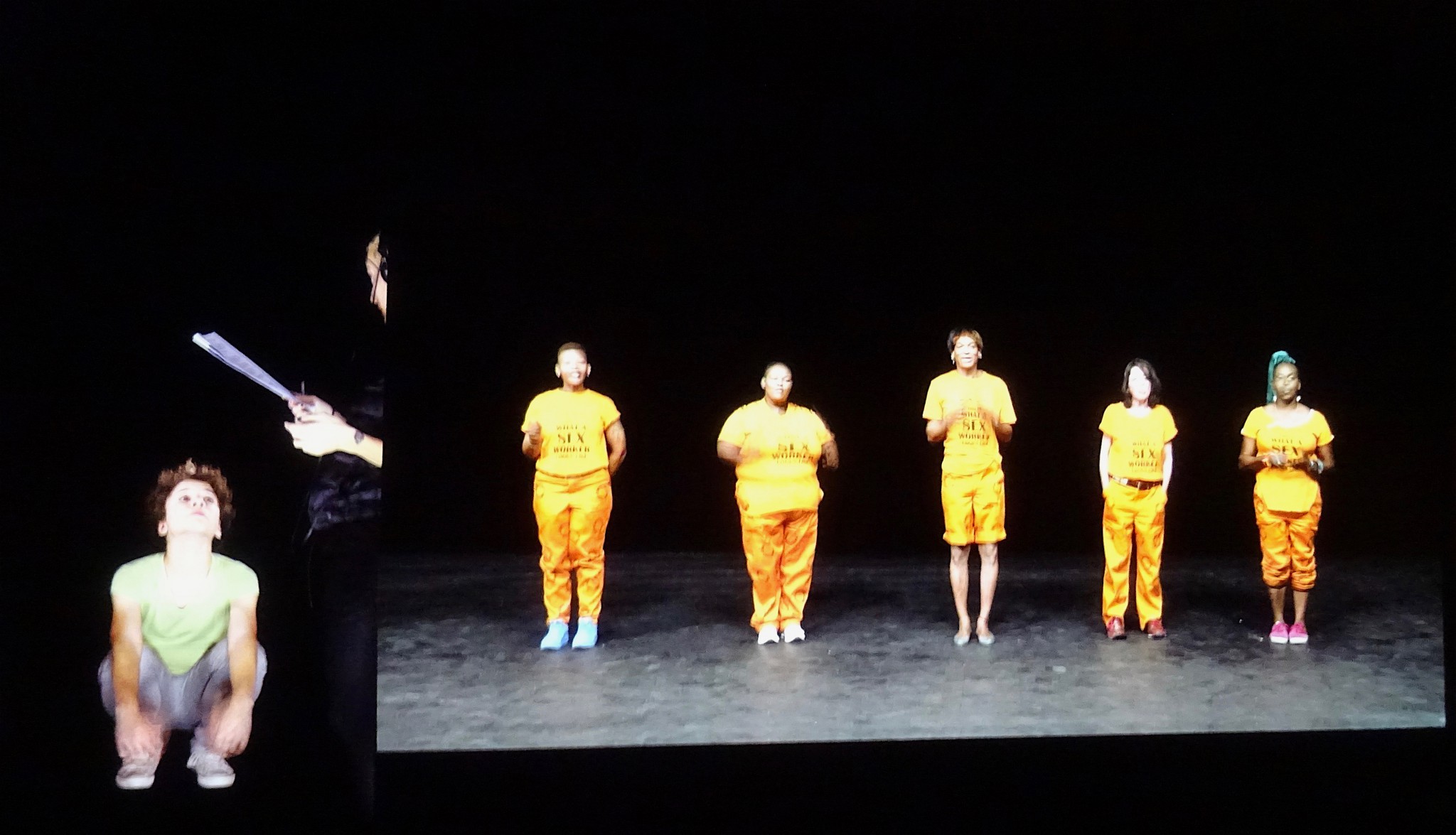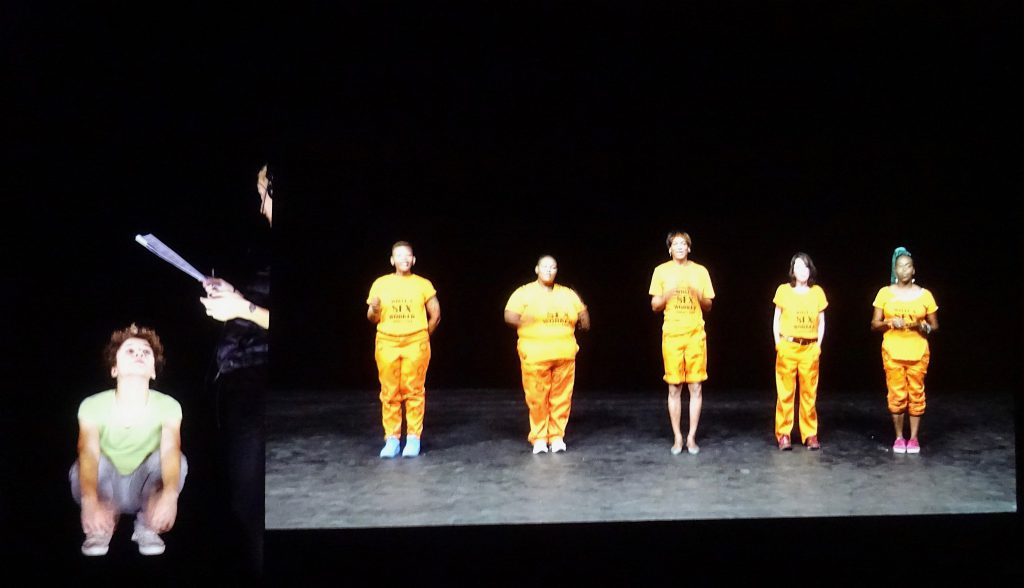 see also:
Do Artists Need to Leave Africa to be Successful?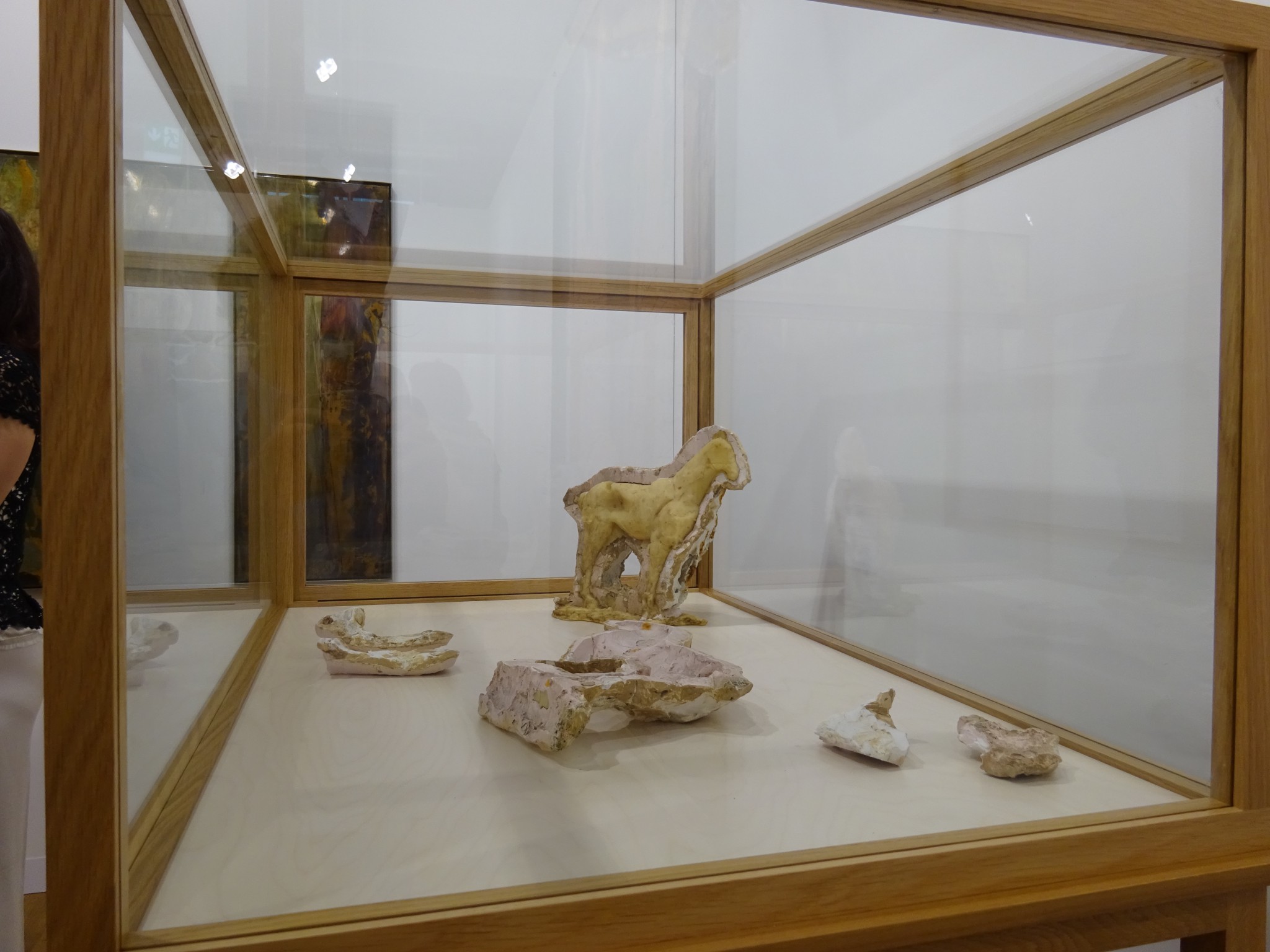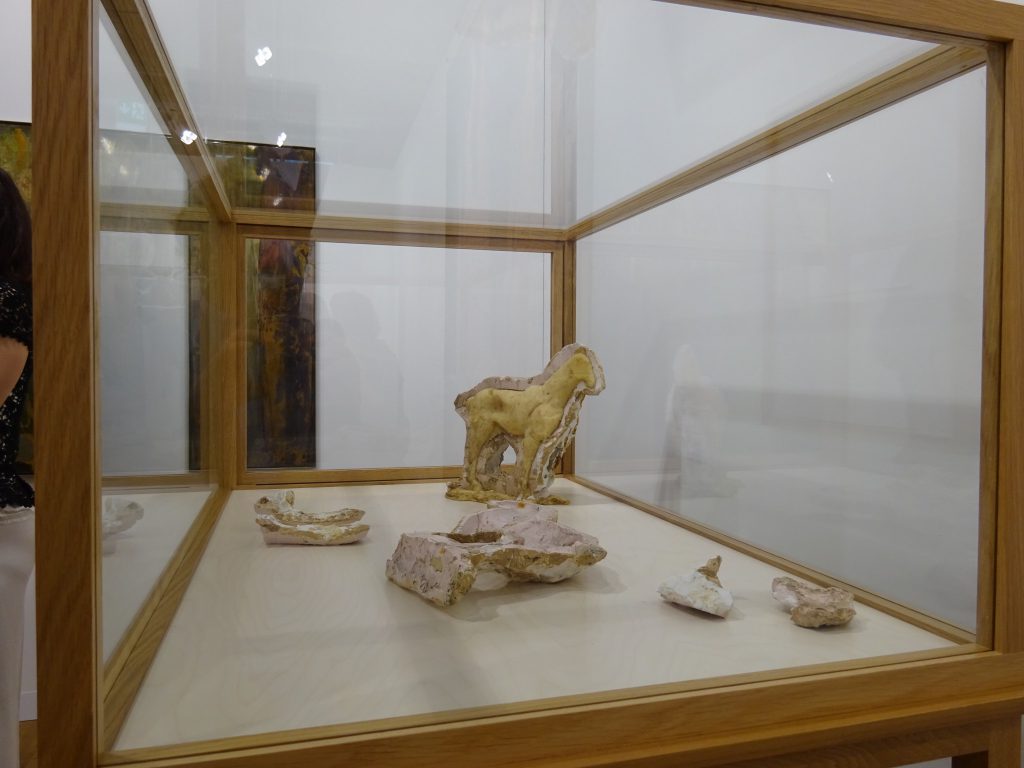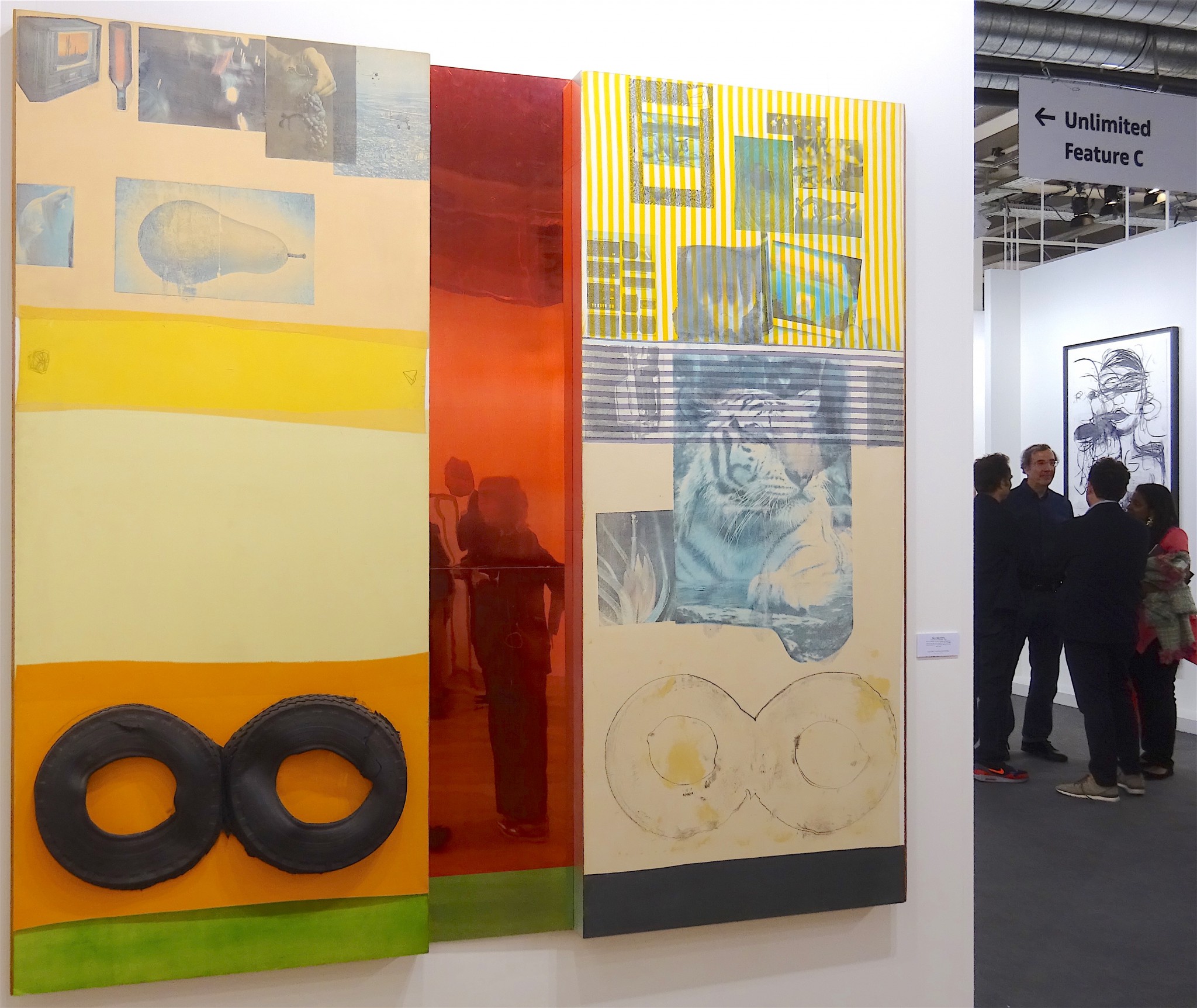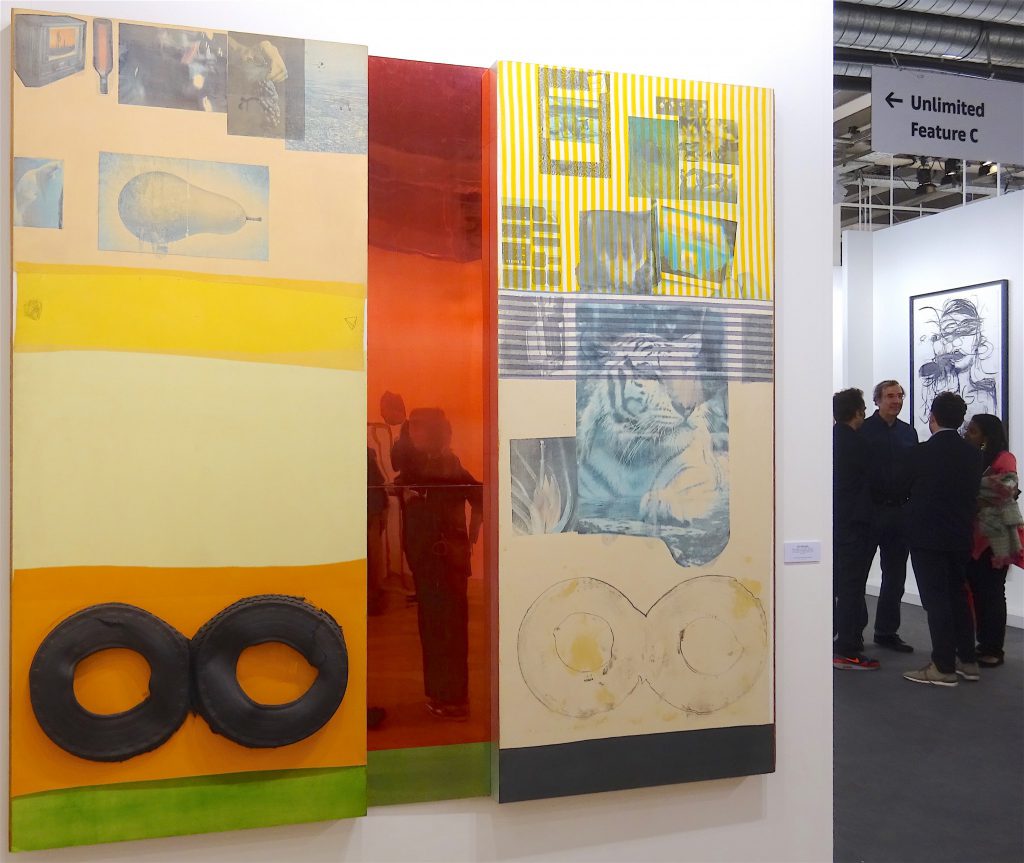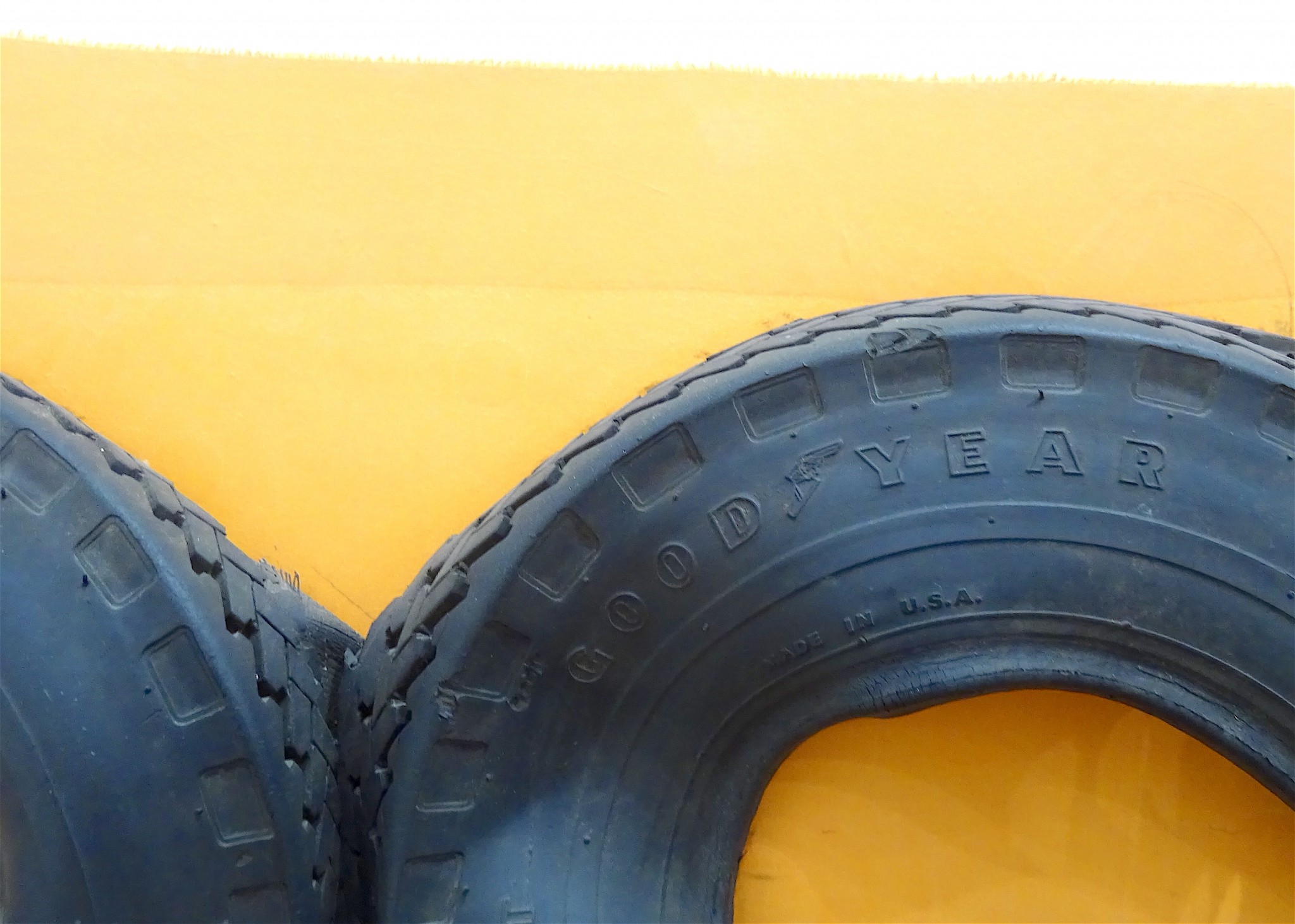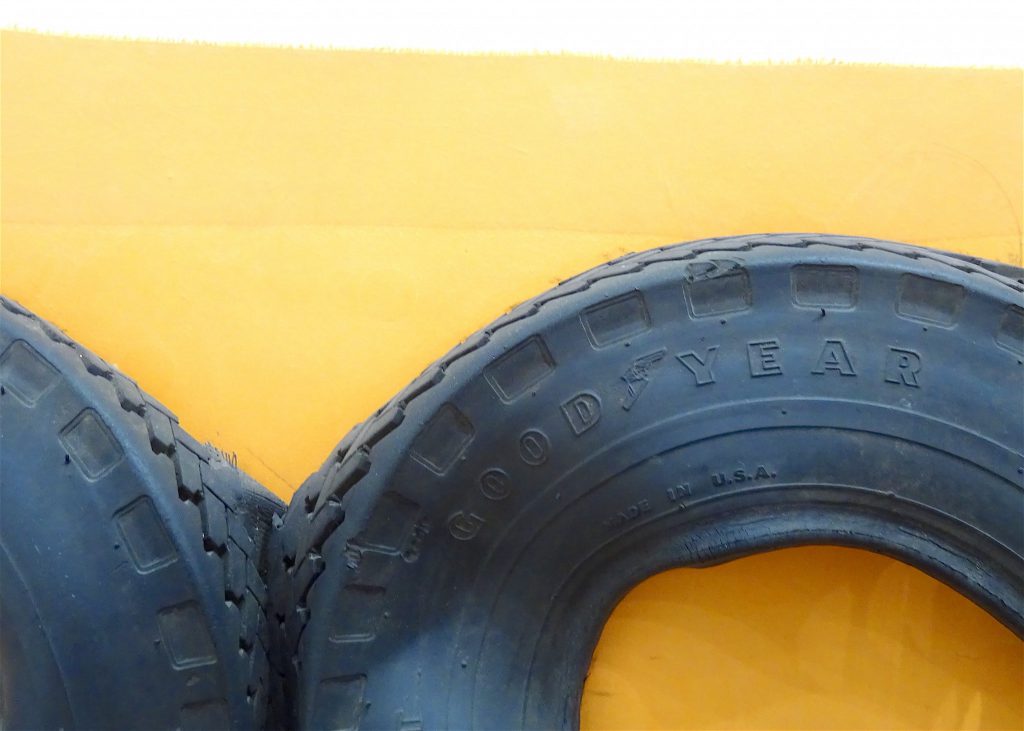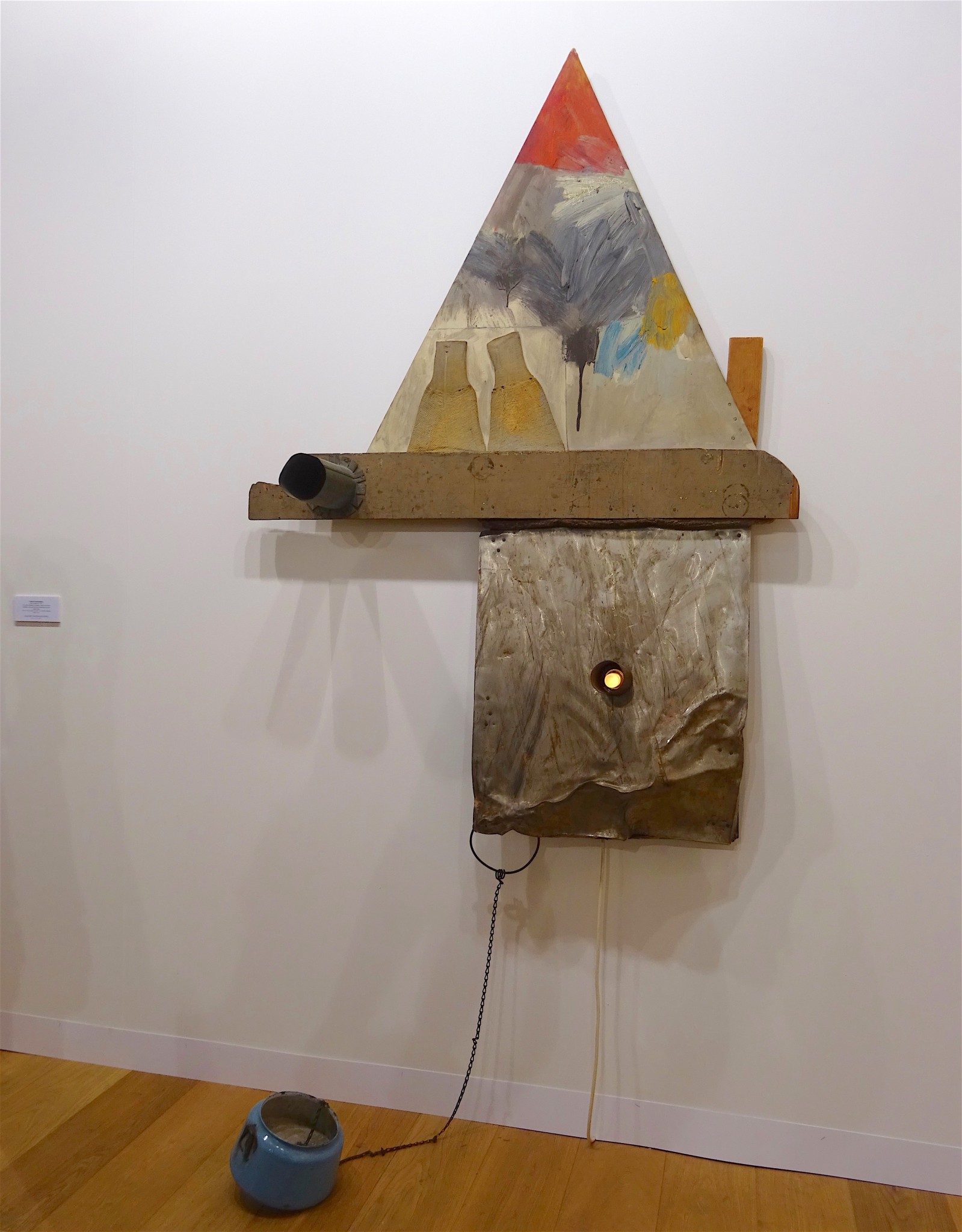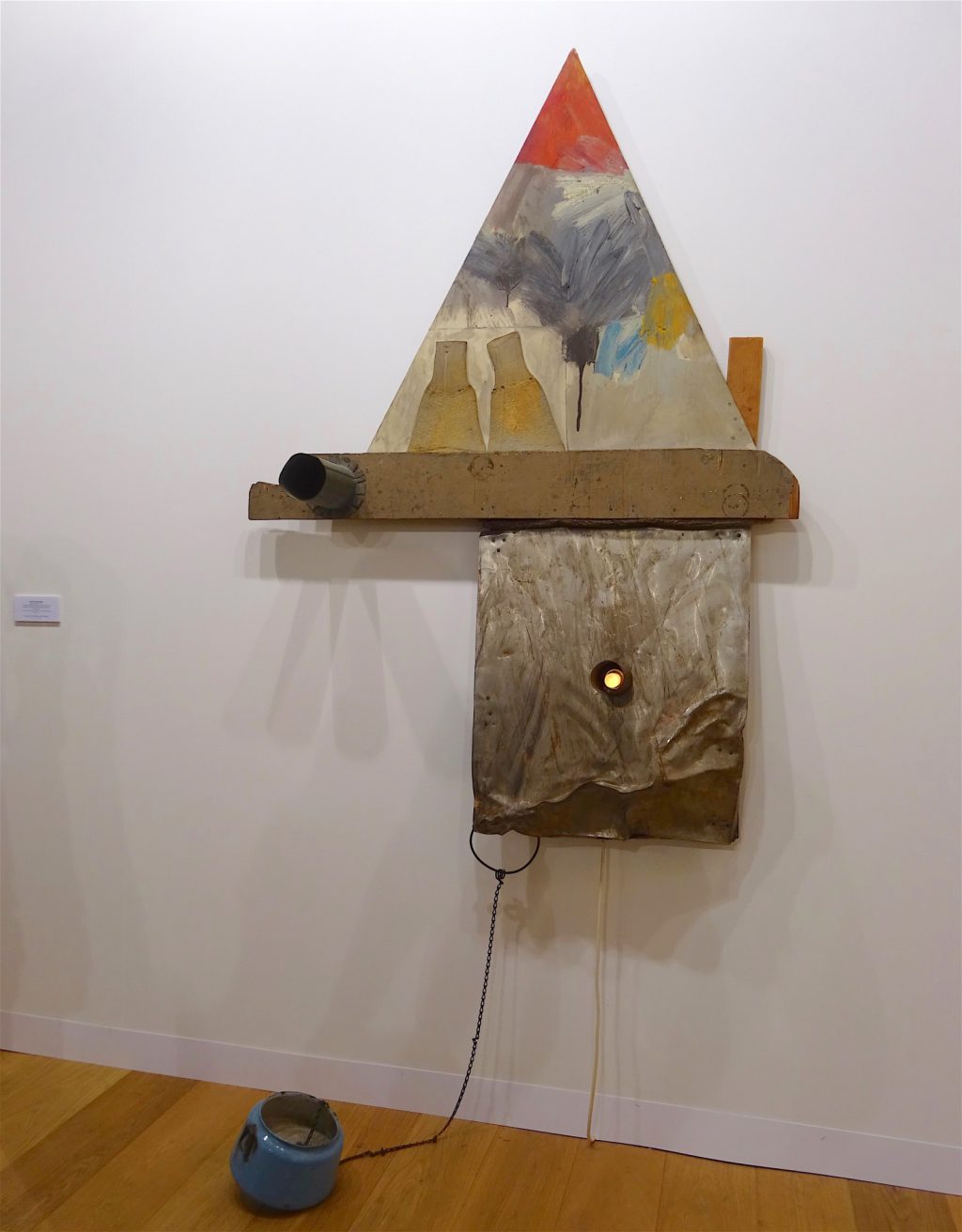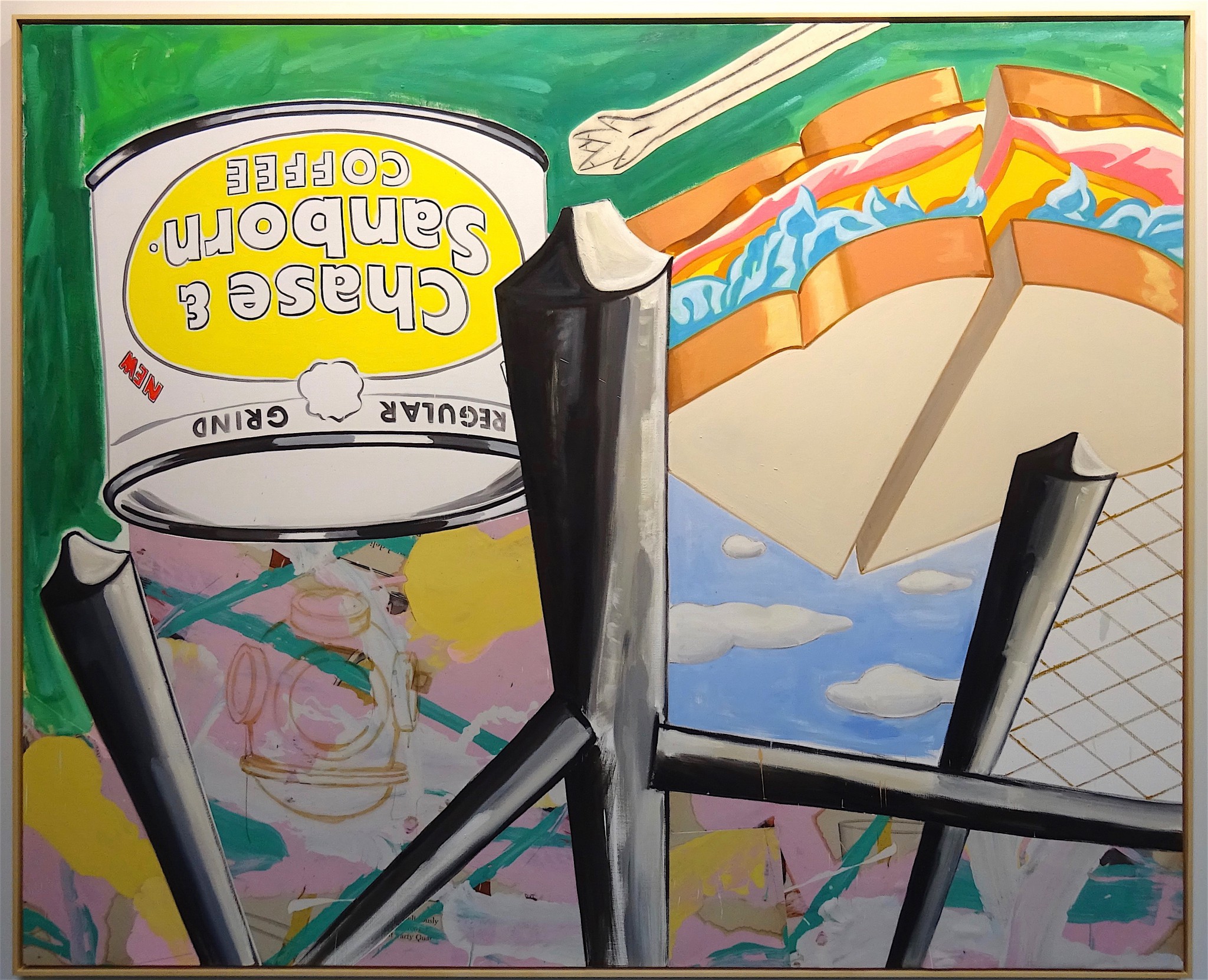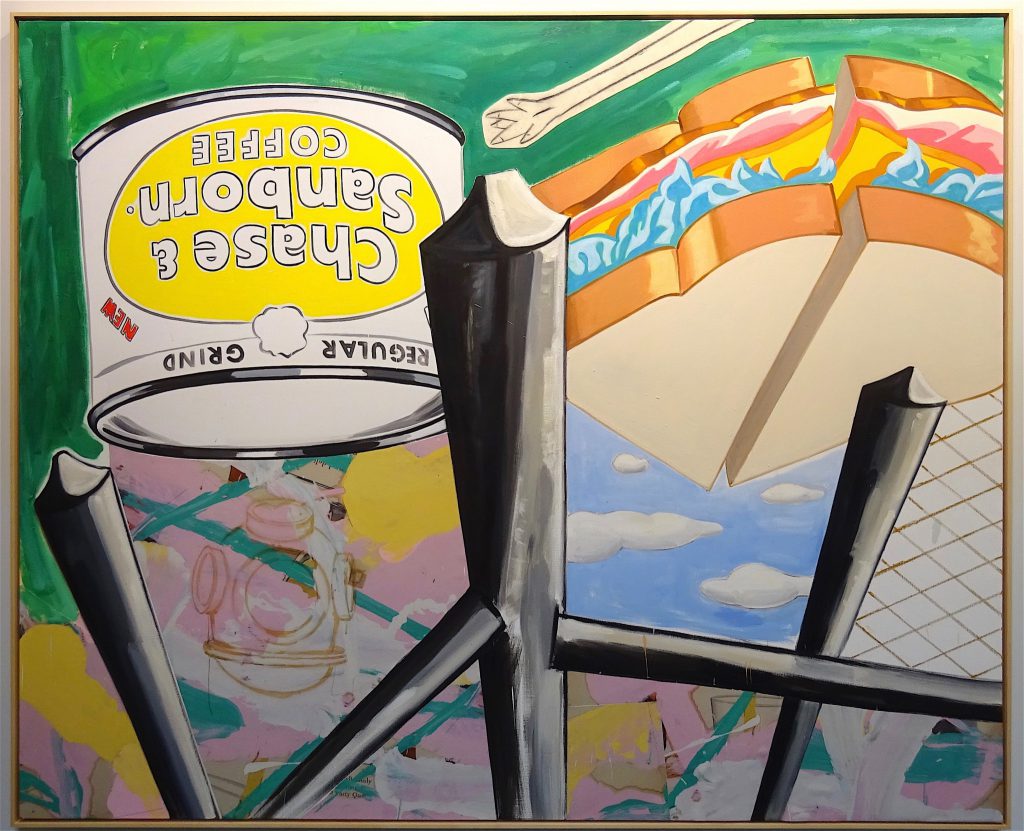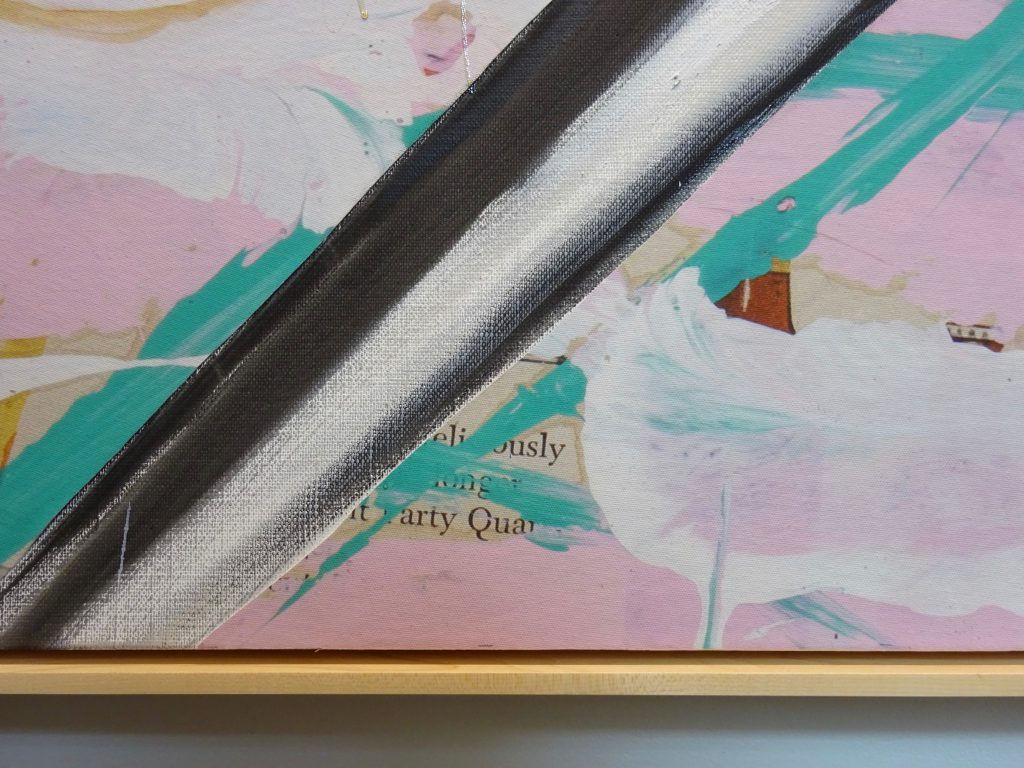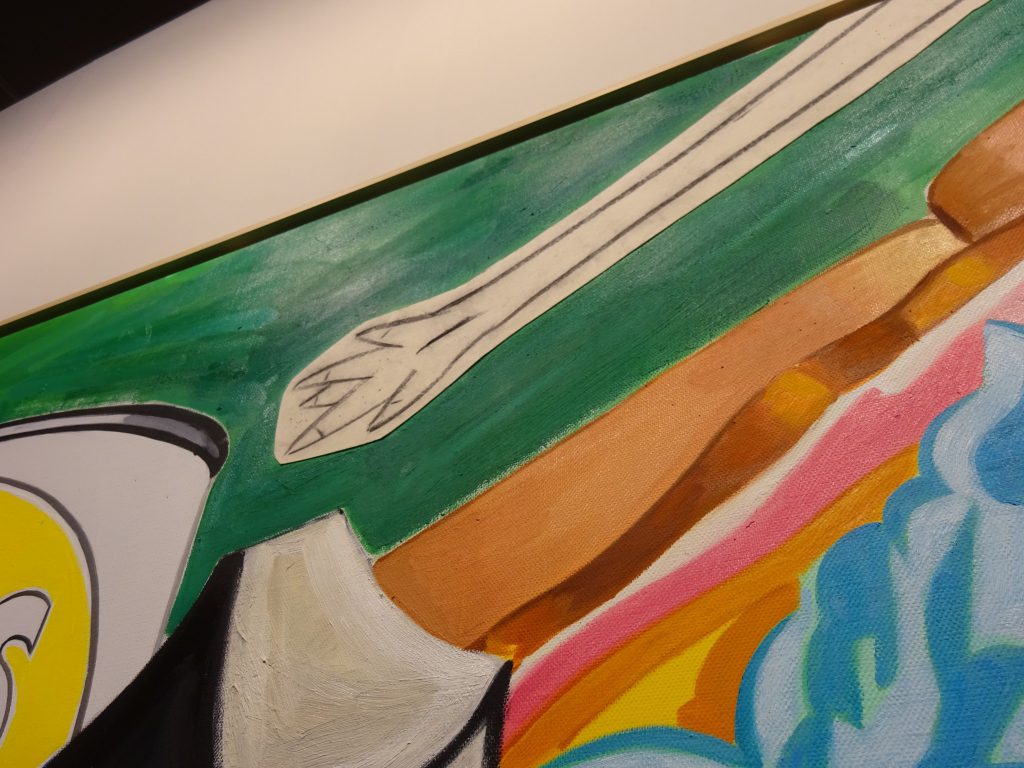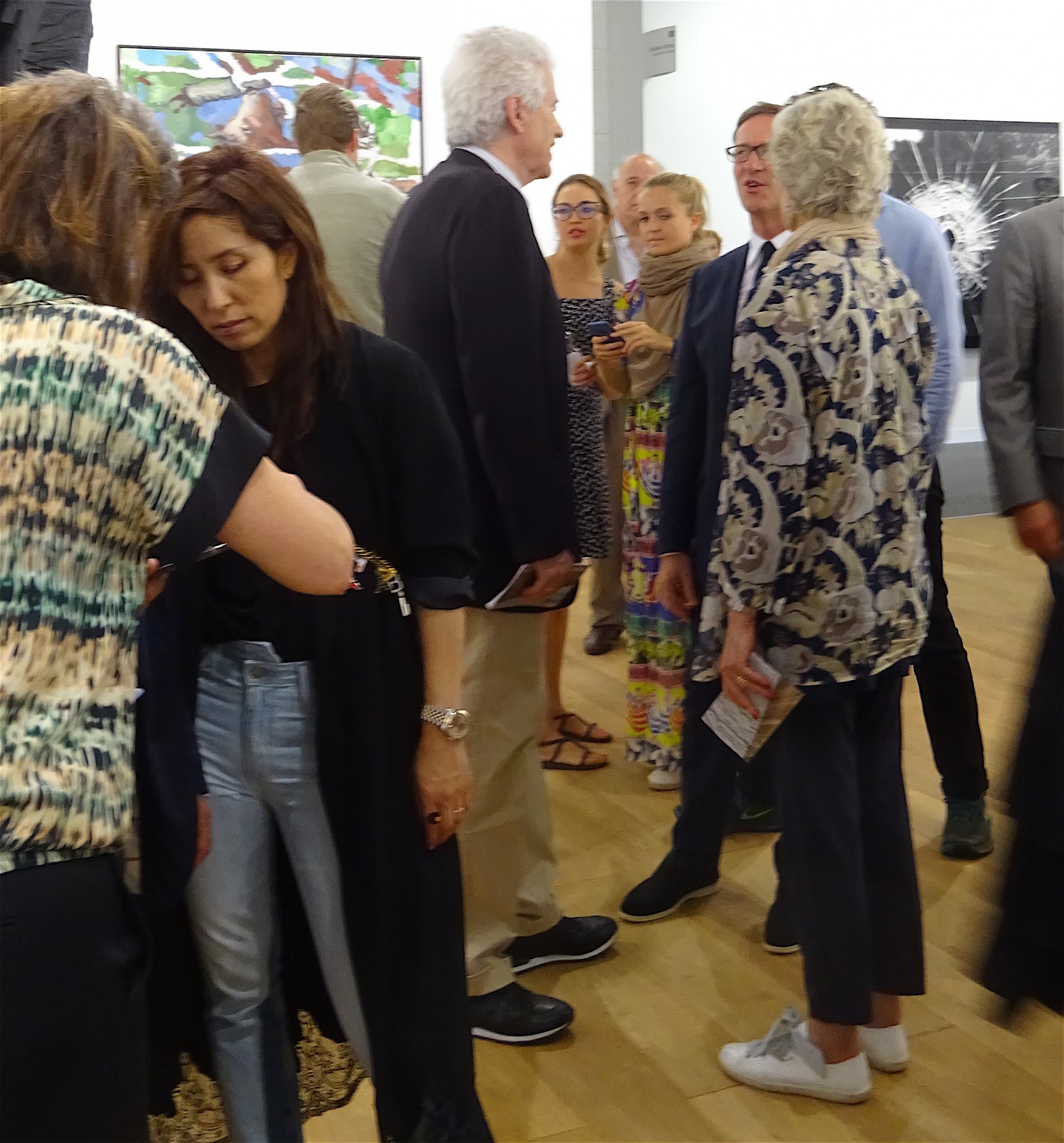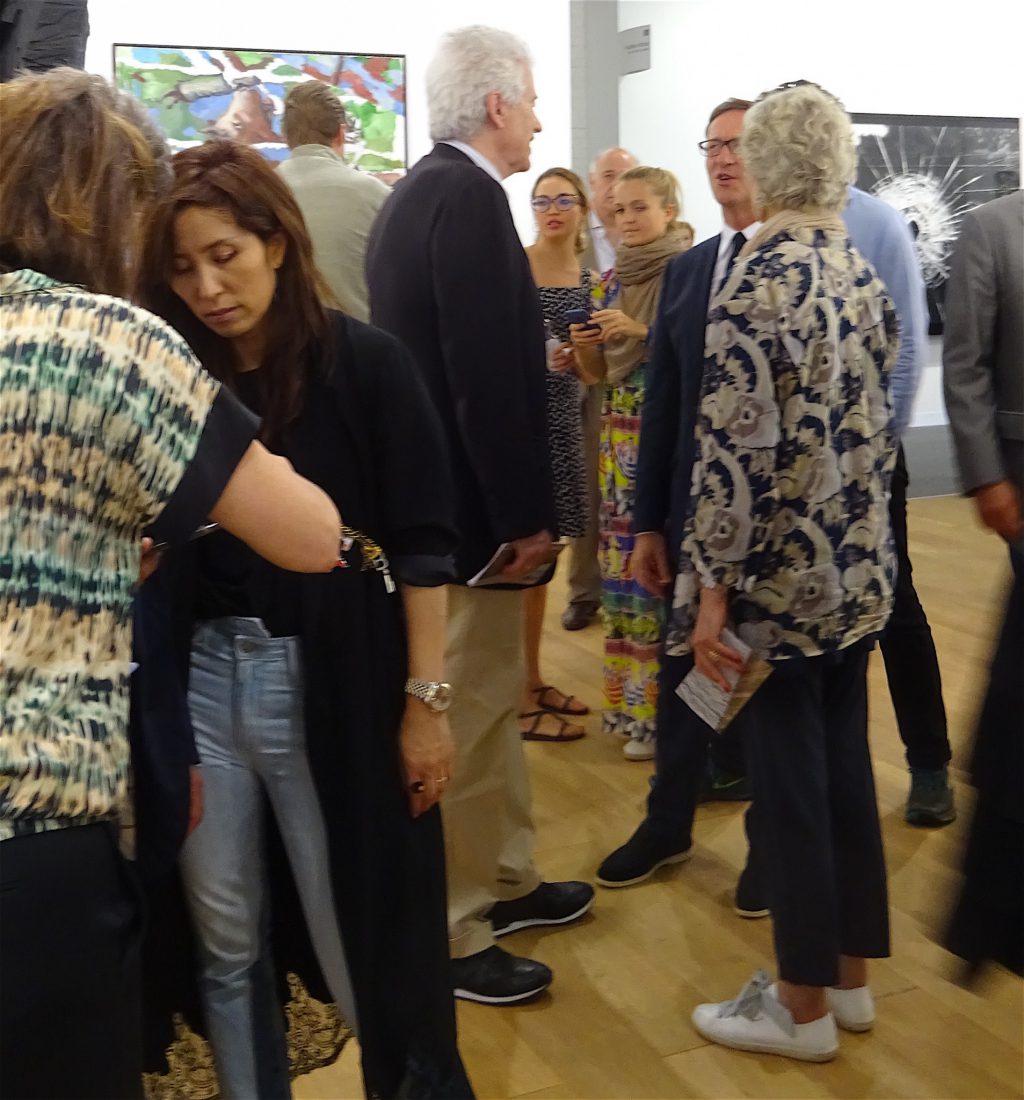 (A rare, honest interview with Mr. Ropac)
Transcript: Dealing Art with Thaddaeus Ropac
Published 22 February 2018
quotes:
And of course the bigger you grow, the bigger there's a risk to lose this very personal momentum with artists where they feel: "This is the best place for my work. I trust the gallery to take these works from the studio." You have to think—an artist works in the studio for months and months on their own, you know? Very much in their own world. They have to make decisions every day, how the work is going, which direction—they take all the risk at the end because their careers are depending on each work they're putting out.
So, they need a partner where they can lean on, they can trust that the gallery is doing their part of the work to present it the best possible way and also bring in the right people for the work. Selling it to the right people, which means institutions and collectors—serious collectors, and not investors. So, I think this is this precious good we have: to have the trust of the artist. And you can only be successful as long as you have it.
…
Thaddaeus Ropac: No, no. It changed—at the end of the '80s, yes, that's true. The end of the '80s was the beginning of change, and then it became bigger and bigger. In today's world, success is—critical success and commercial success, so this is really going hand in hand.
Charlotte Burns: You need both.
Thaddaeus Ropac: You need both as an artist today. Or at least as the pressure—if it's not happening, then artists for the wrong reason ask, they say: "Why is it not happening?" Back then, this pressure was very limited because any sale was surprise. I remember Leo Castelli would say this to me. I met him. He became a friend. He would come to Salzburg every summer because he had a keen interest in music, and he would tell me that the commercial success is one thing but the critical success is really what drives a program and what makes an artist great. He always told me to be patient, because when I started to meet him in the '80s and we worked on a few exhibitions, and of course the commercial result was so modest that I was embarrassed about it, but Leo would be very understanding.
I always say that I've seen in the 30 years since I have been in this business, the whole art world moved from the ivory tower to the center of life. Back then it was very exclusive, in a very intellectual sense. And it became so inclusive. Everybody can participate in Contemporary art today. When you grow up as a teenager, art is part of your life. It was not back then. Not in Austria, not in England and not in France.
So, I think we have achieved a lot. Besides everything you can criticize about Contemporary art and the way it is kind of money-driven today or commercially-driven, it is part of our upbringing. It's part of our lives, and it is not something in an ivory tower anymore. It is something very inclusive, very inviting. It's wonderful to see how everybody can be a part of it.
Then, of course, you have a lot of reactions in terms of the commercial part of it where you can criticize and say: "We have to be careful that this doesn't go out of control." To be careful and sensitive about it.
…
more at:
http://www.artagencypartners.com/transcript-thaddaeus-ropac/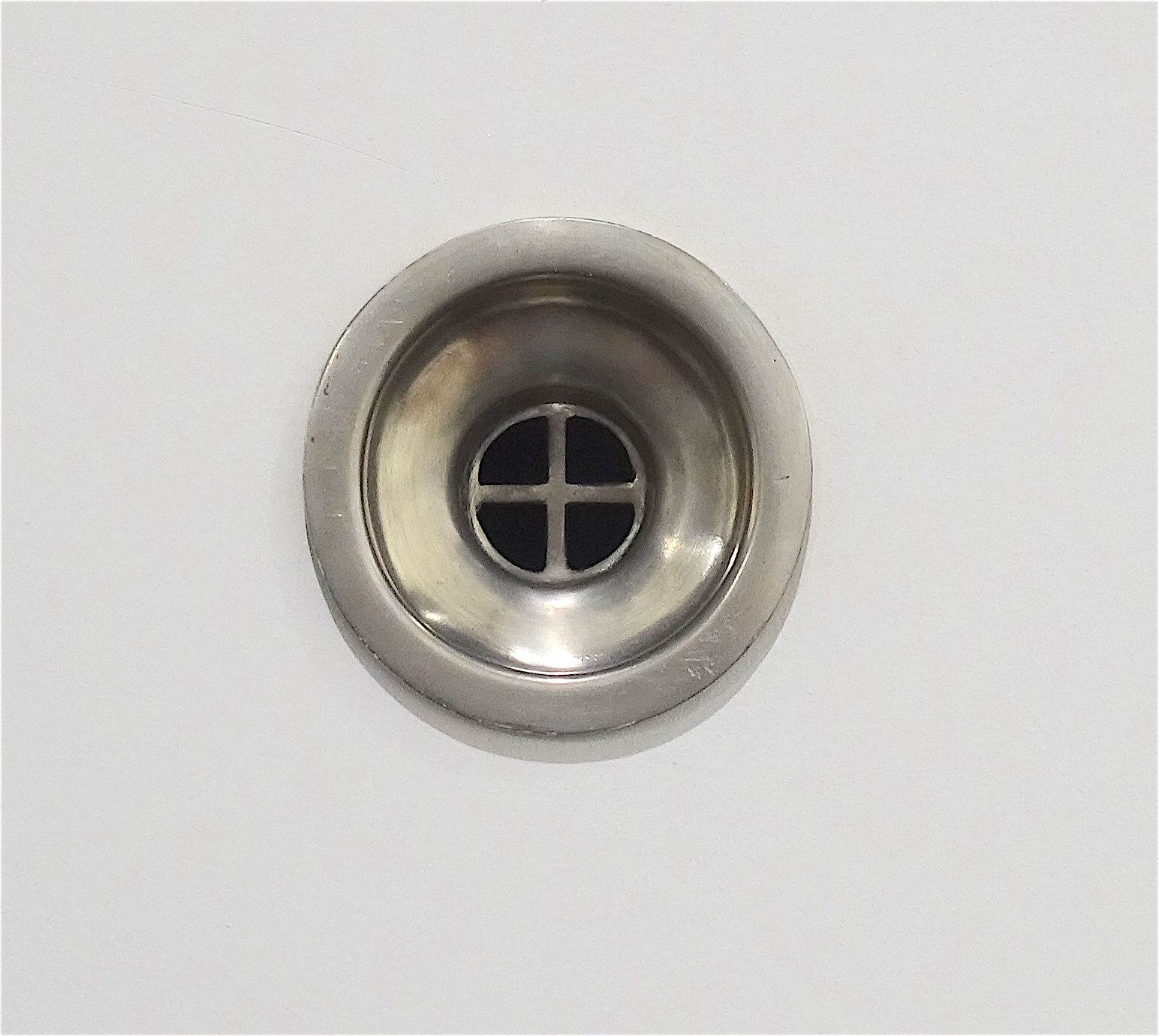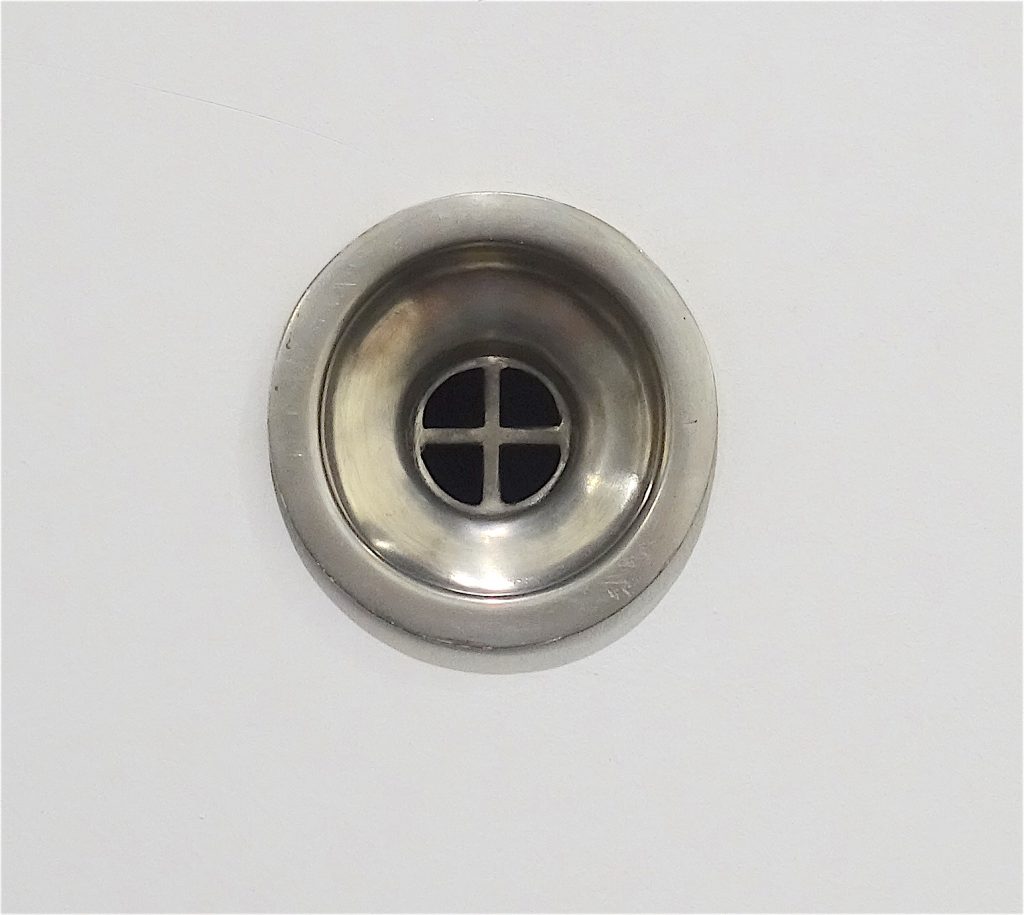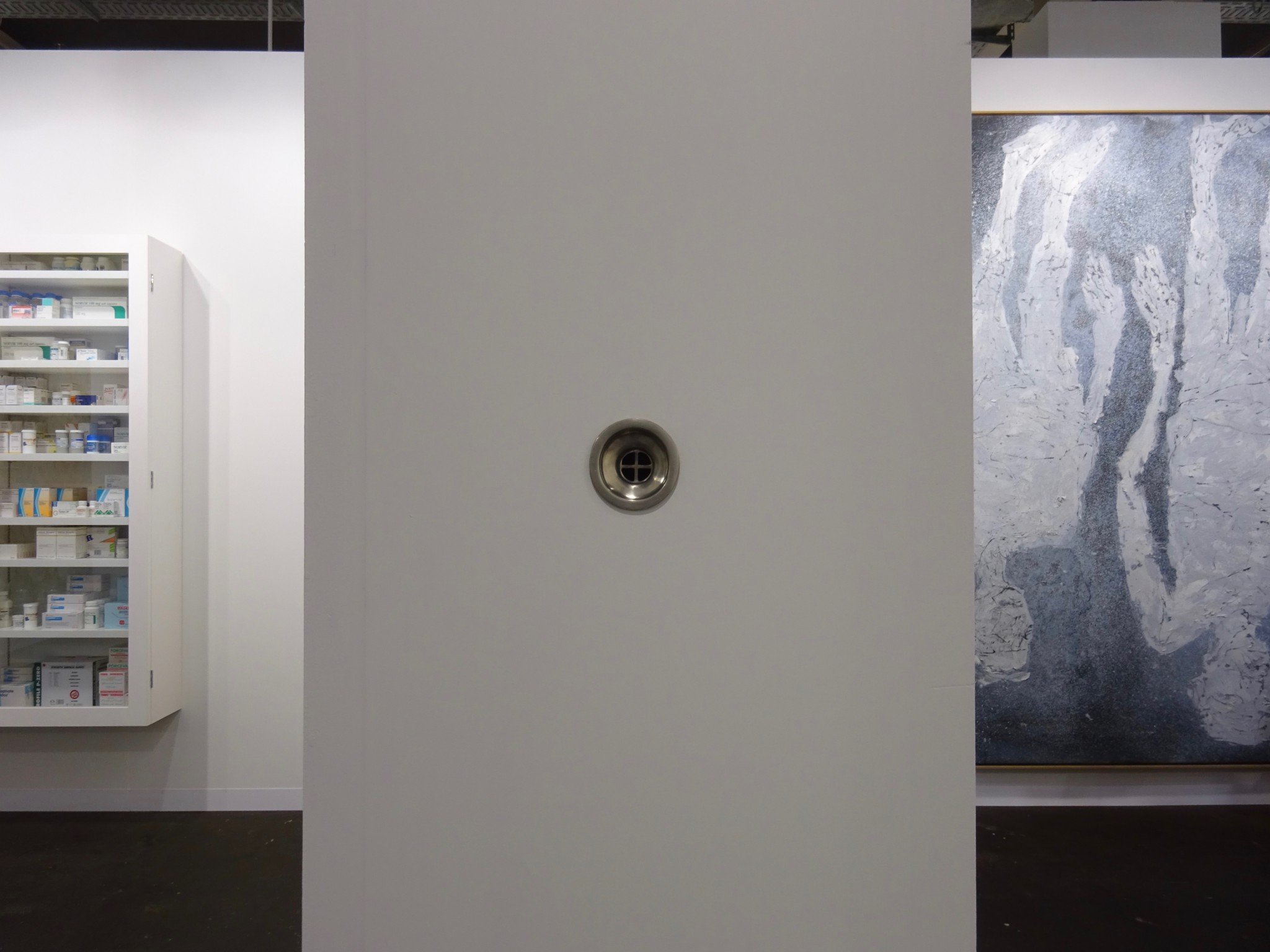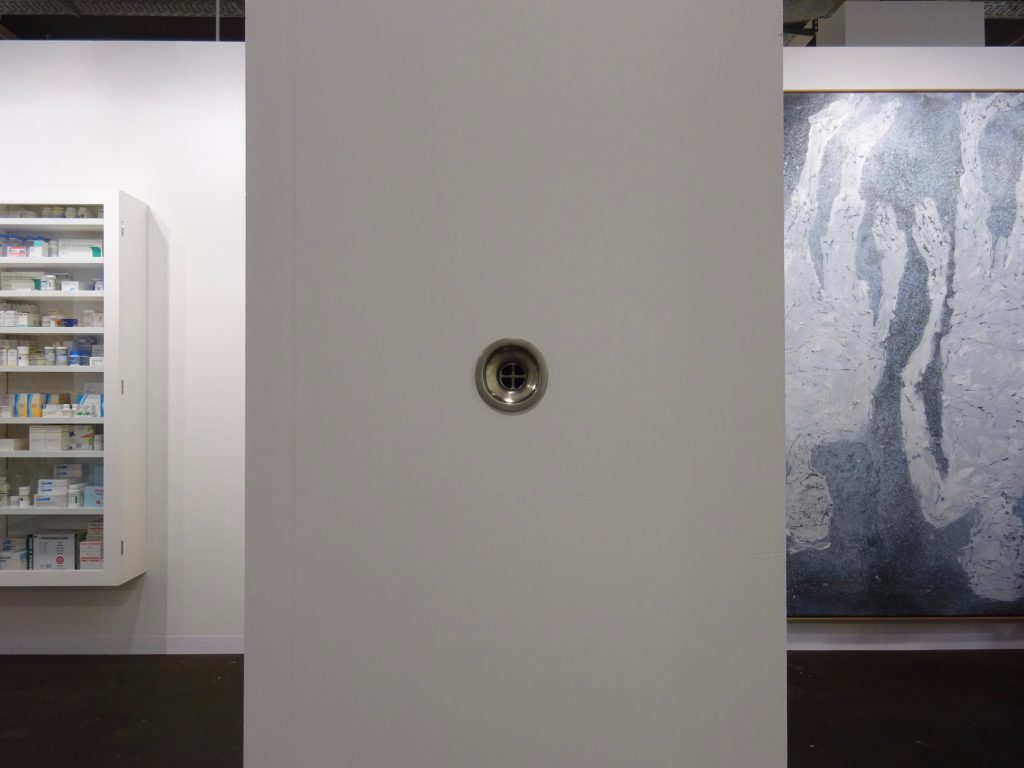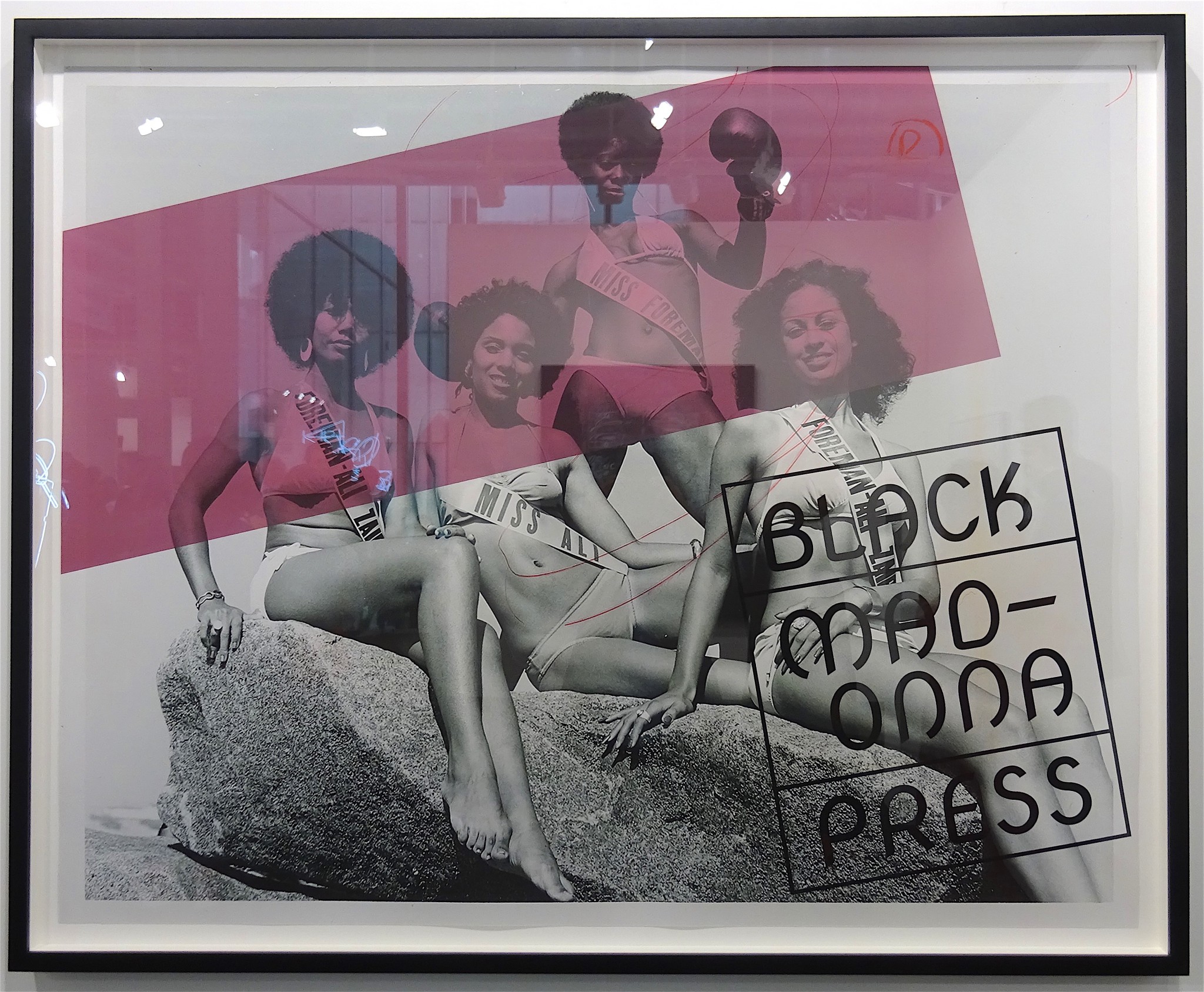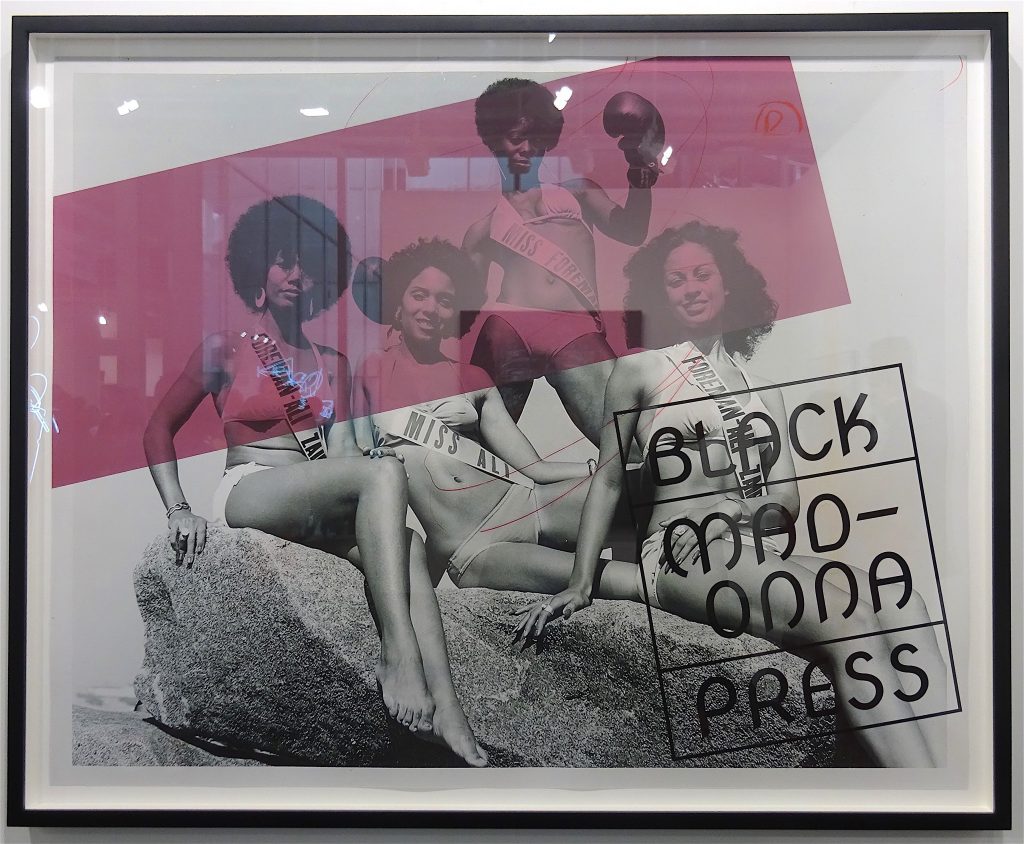 (see also:)
バーゼル市立美術館の学芸員フィアスコ:「ブラック・マドンナ」(キリスト教) vs. 「ブラック・天皇」(神道)
Curatorial Fiasco at the Kunstmuseum Basel: "Black Madonna" (Christianity) vs. "Black Tenno" (Shintoism)
https://art-culture.world/articles/curatorial-fiasco-at-the-kunstmuseum-basel-theaters-gates-black-madonna/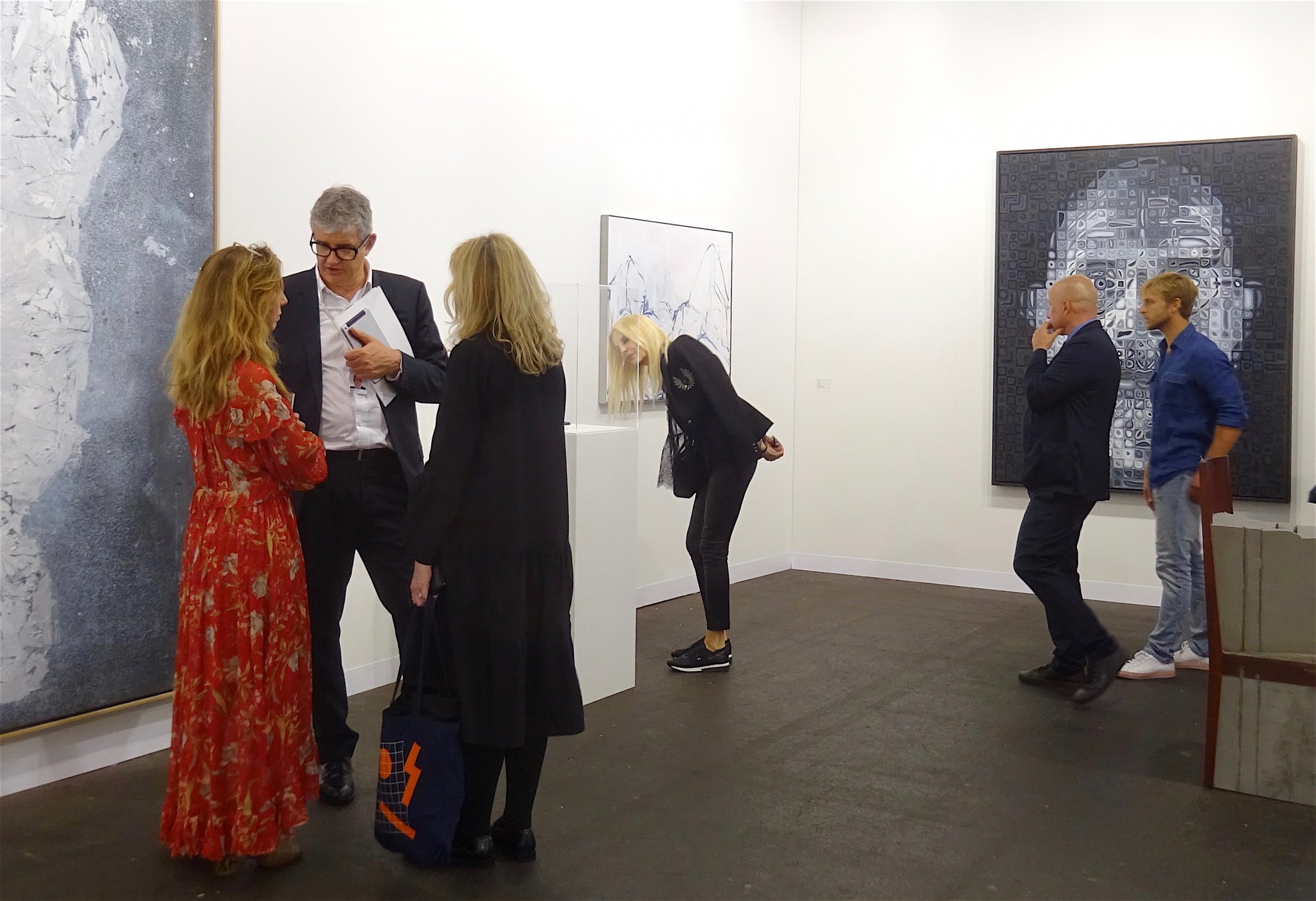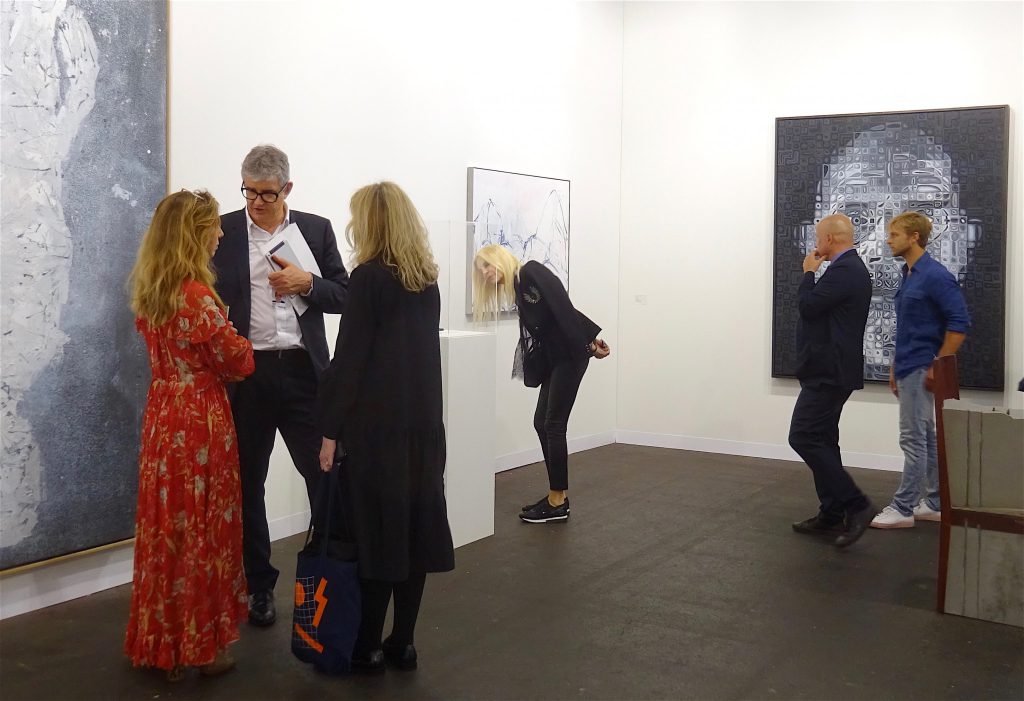 Marc Spiegler, see attached pic from 2013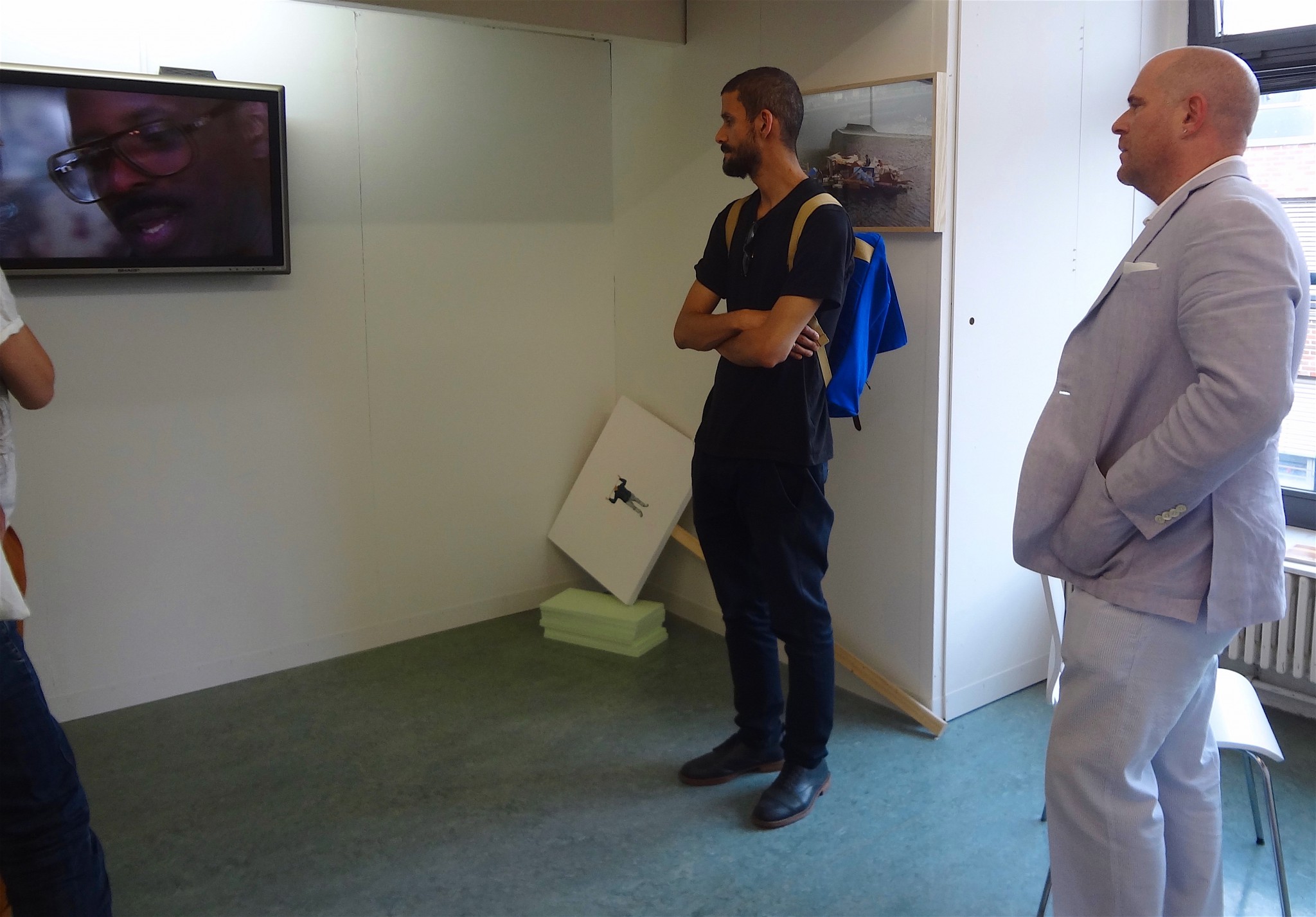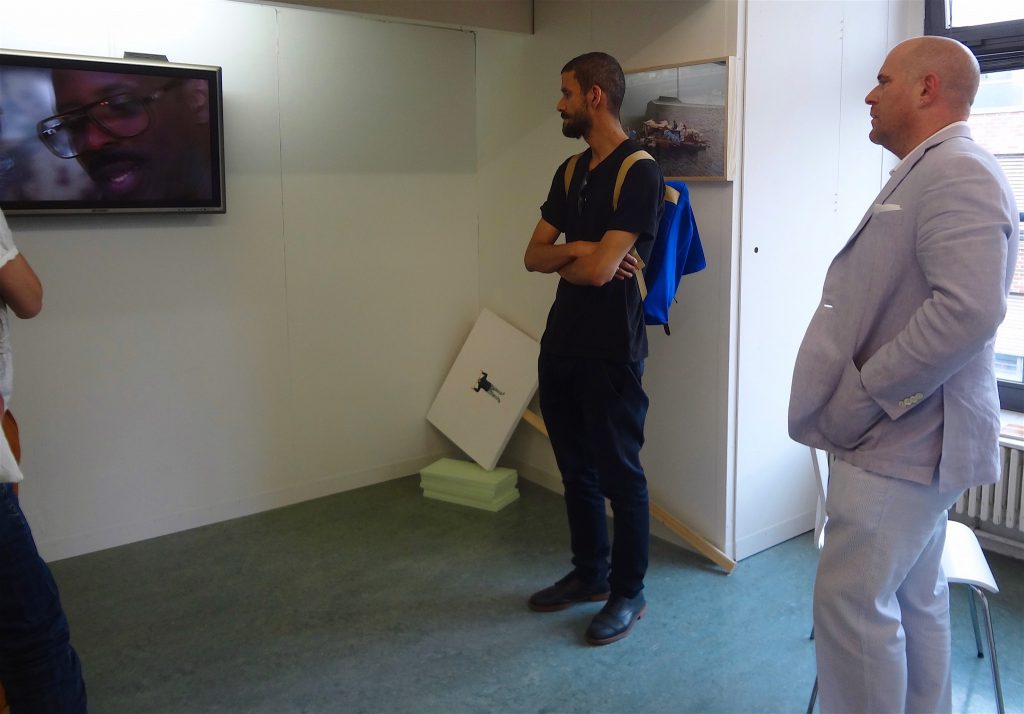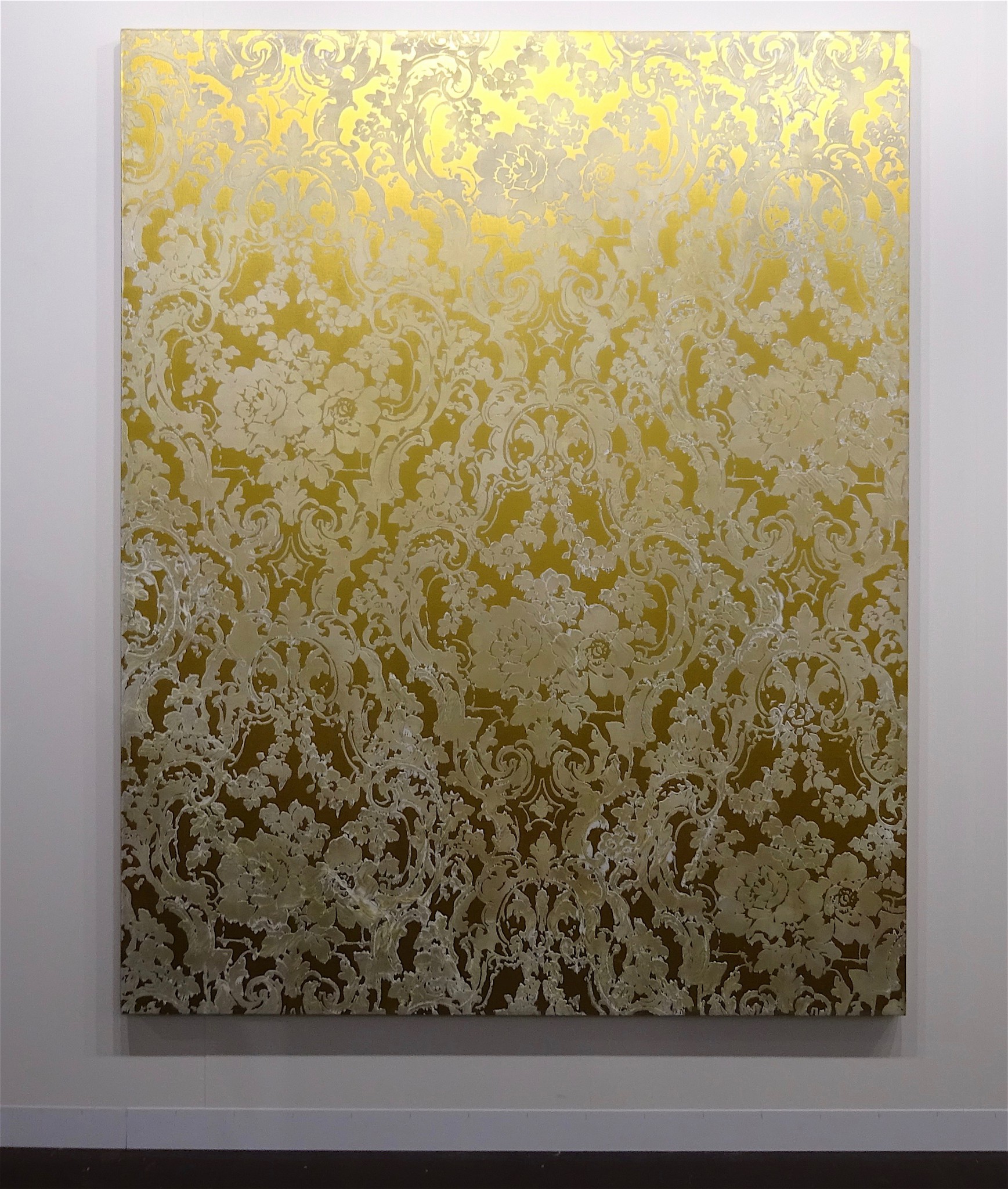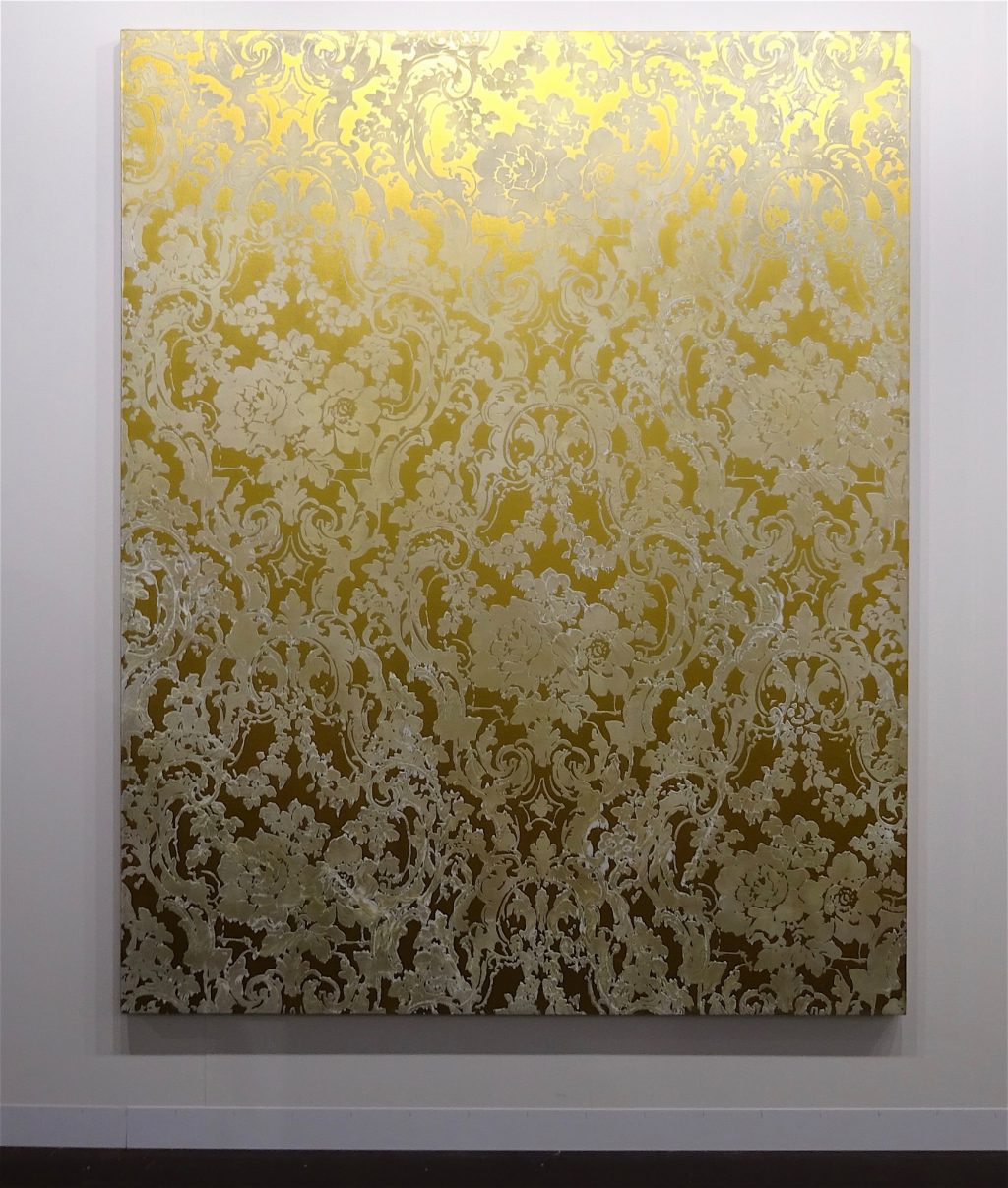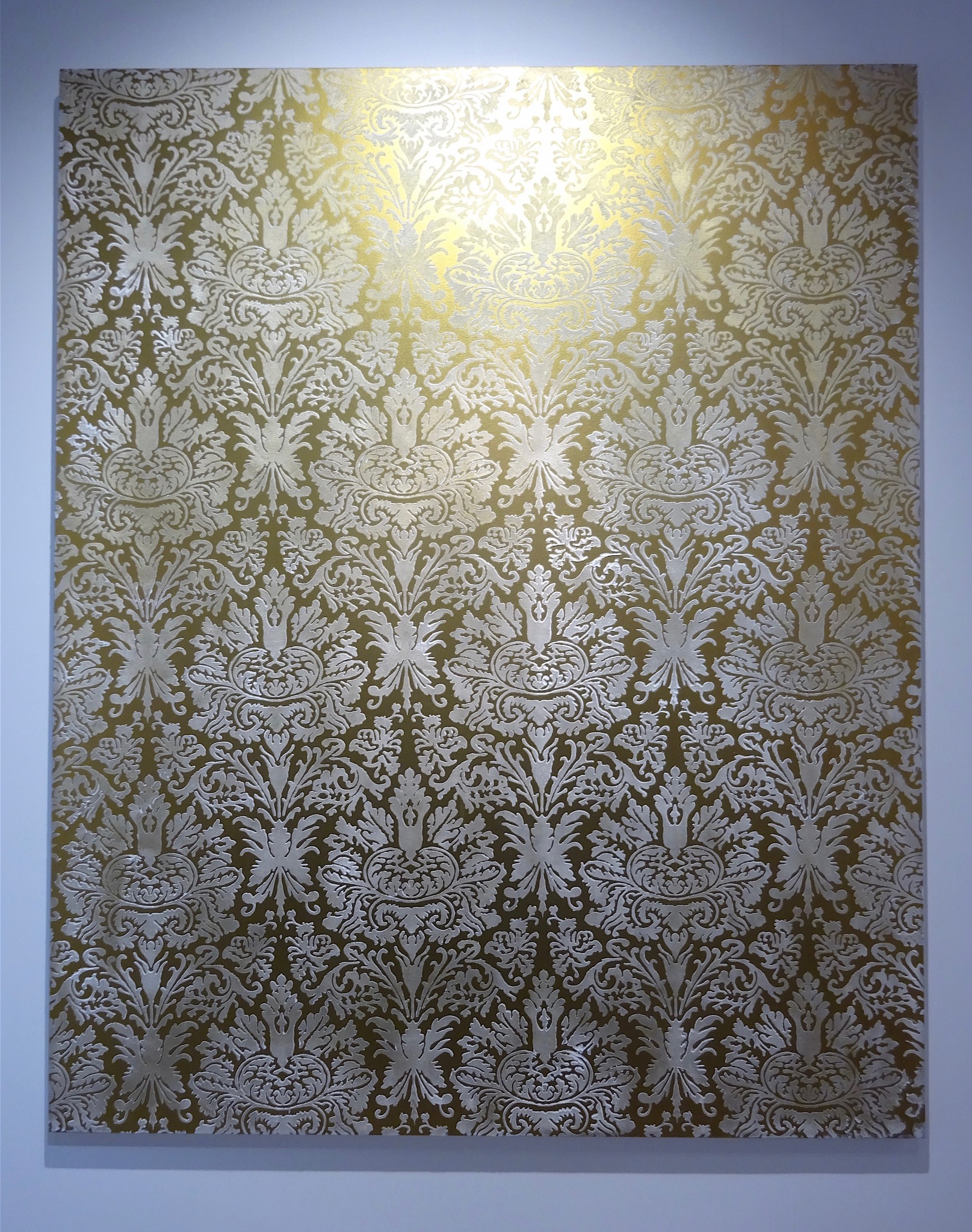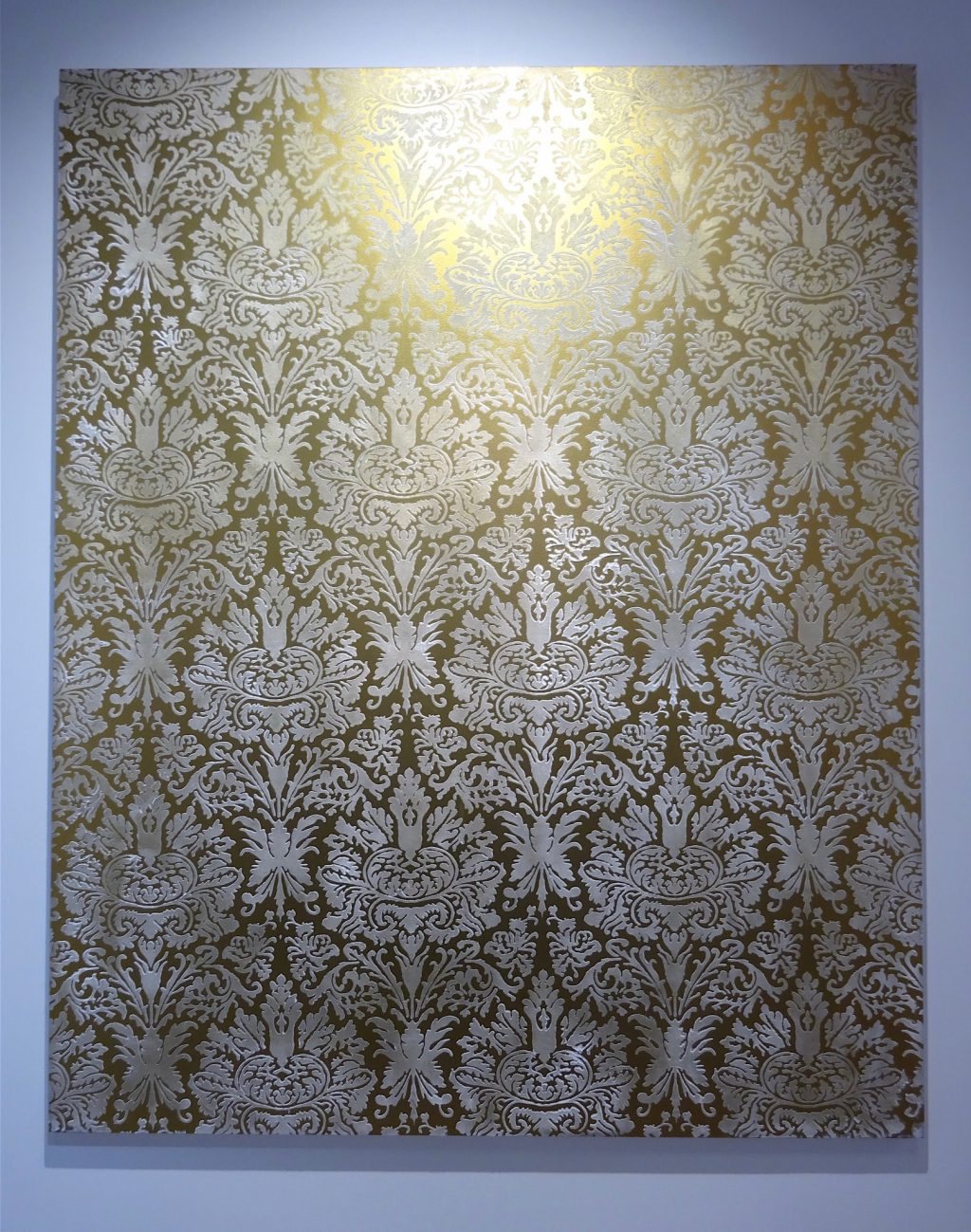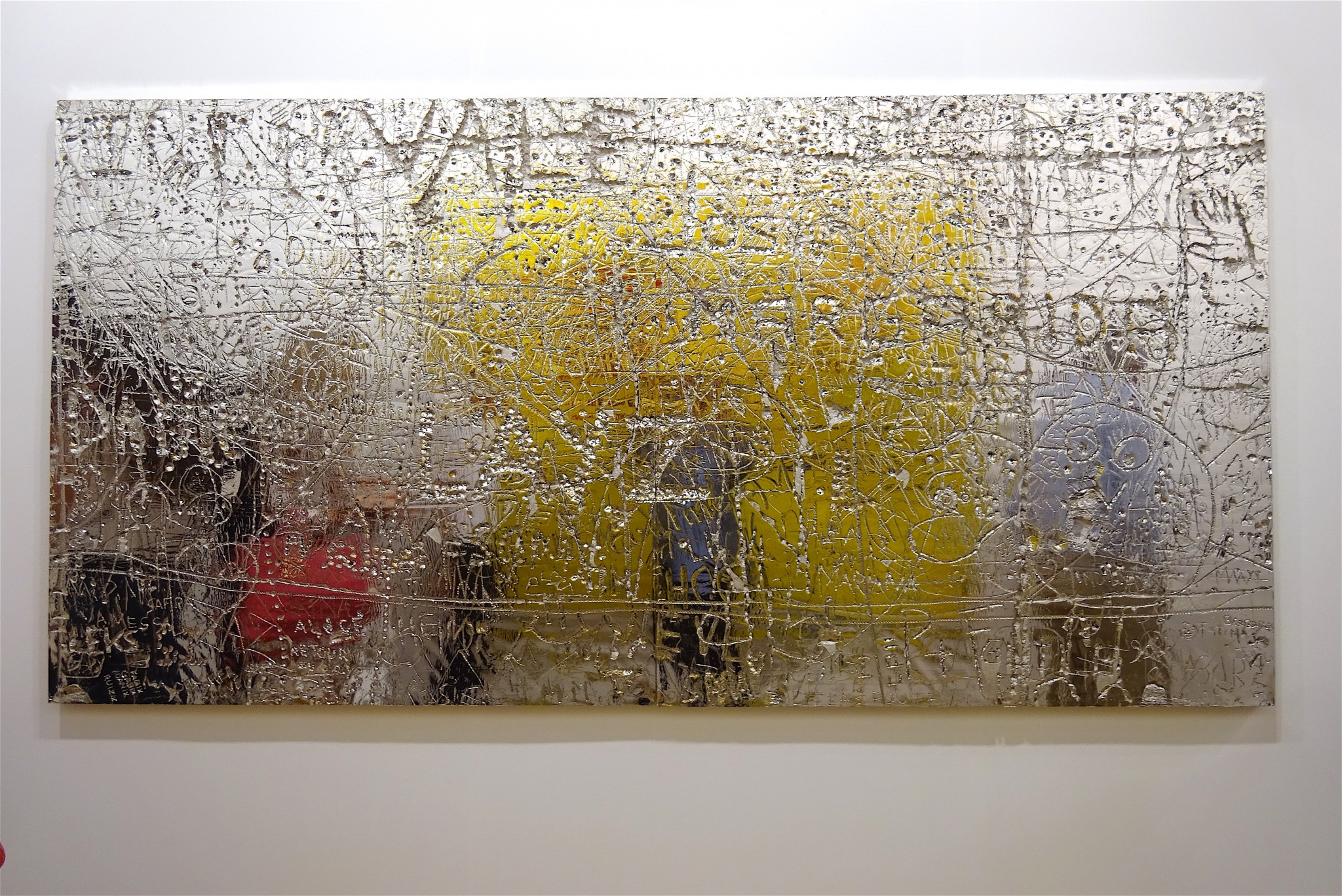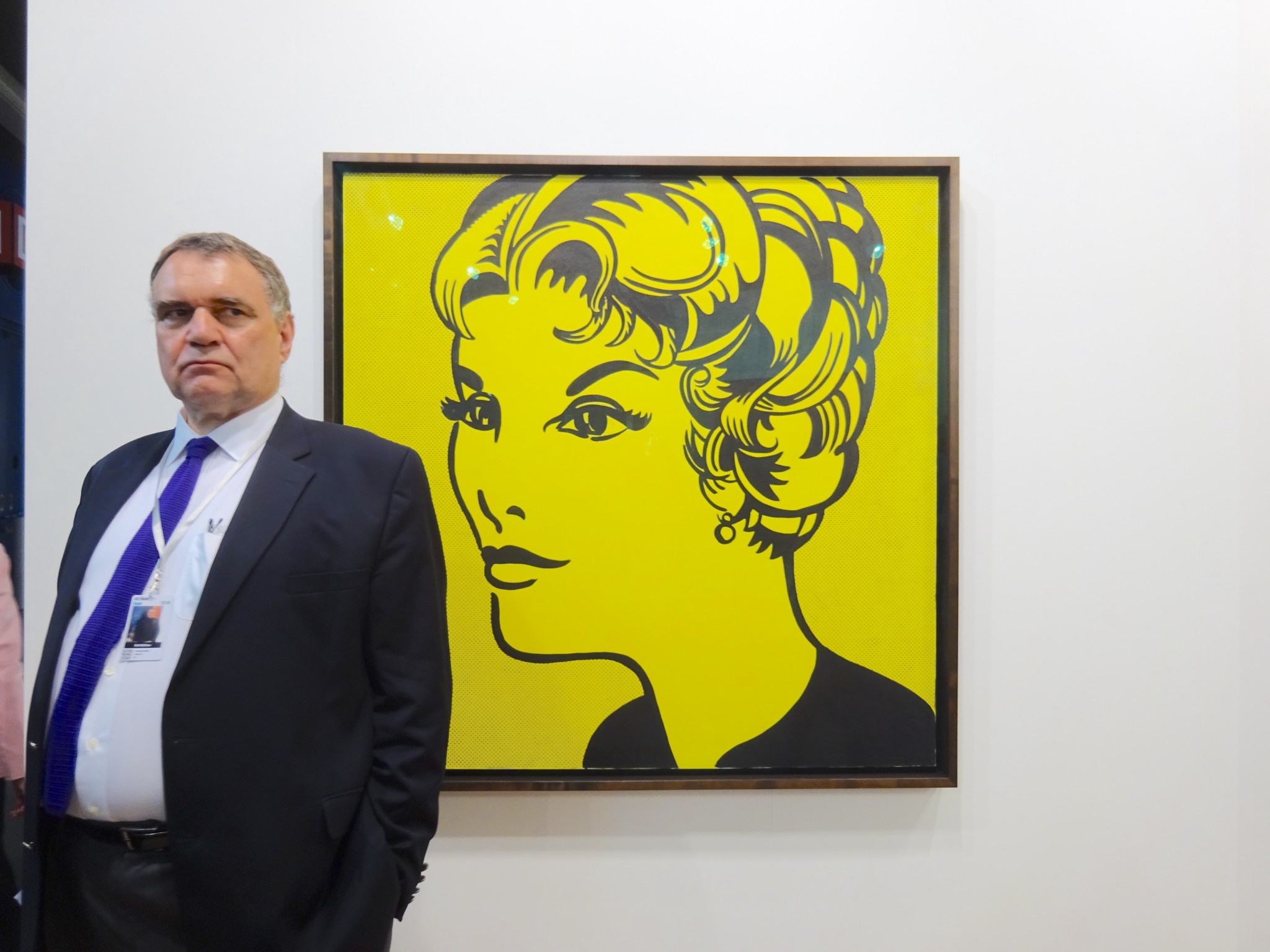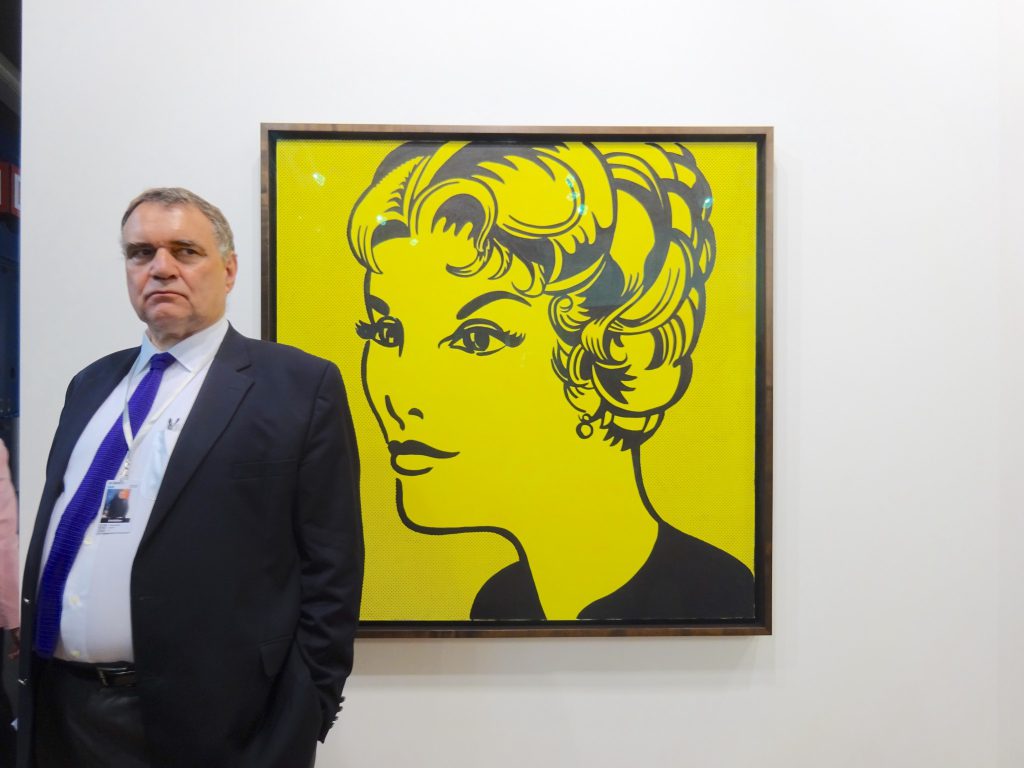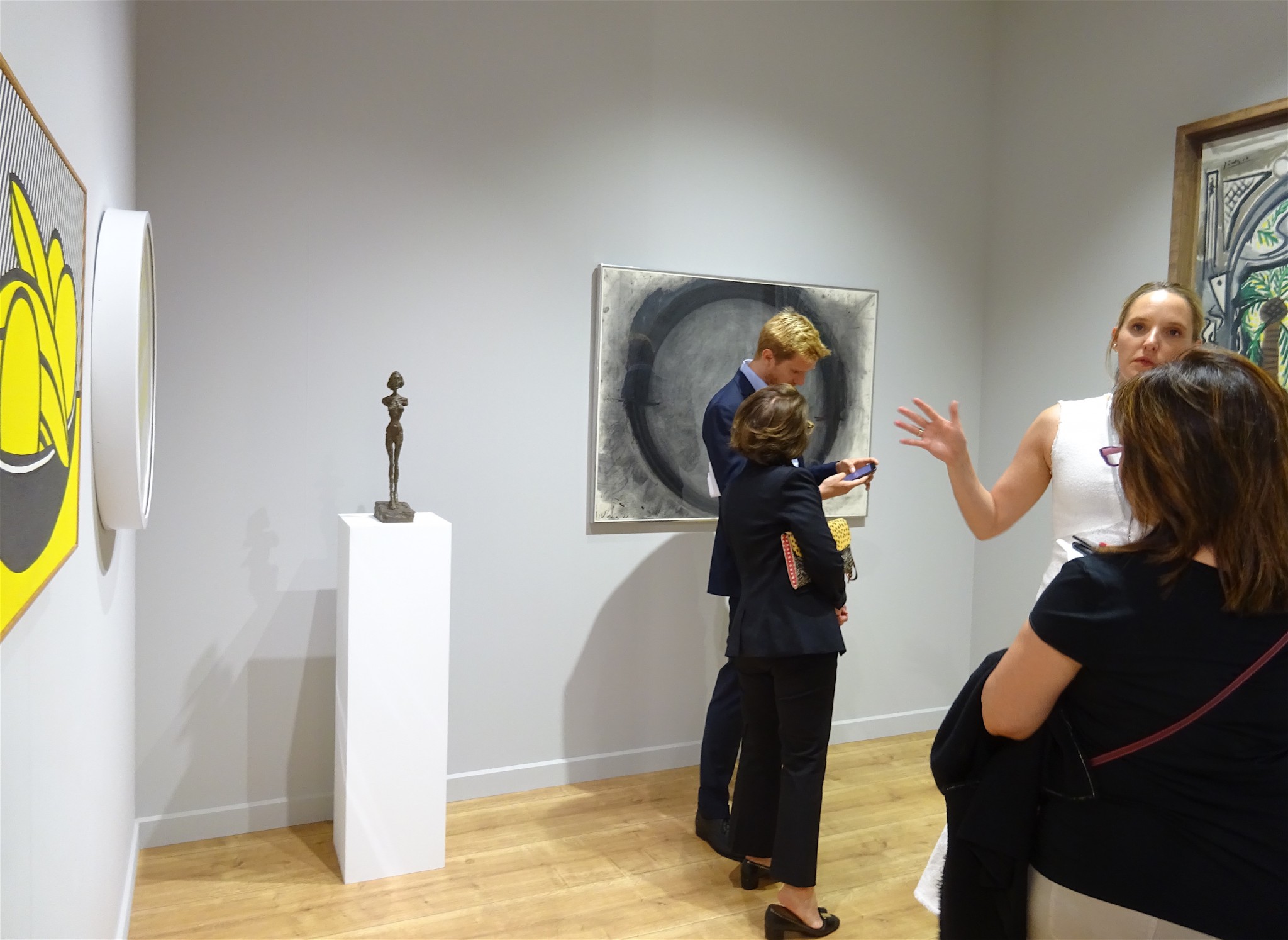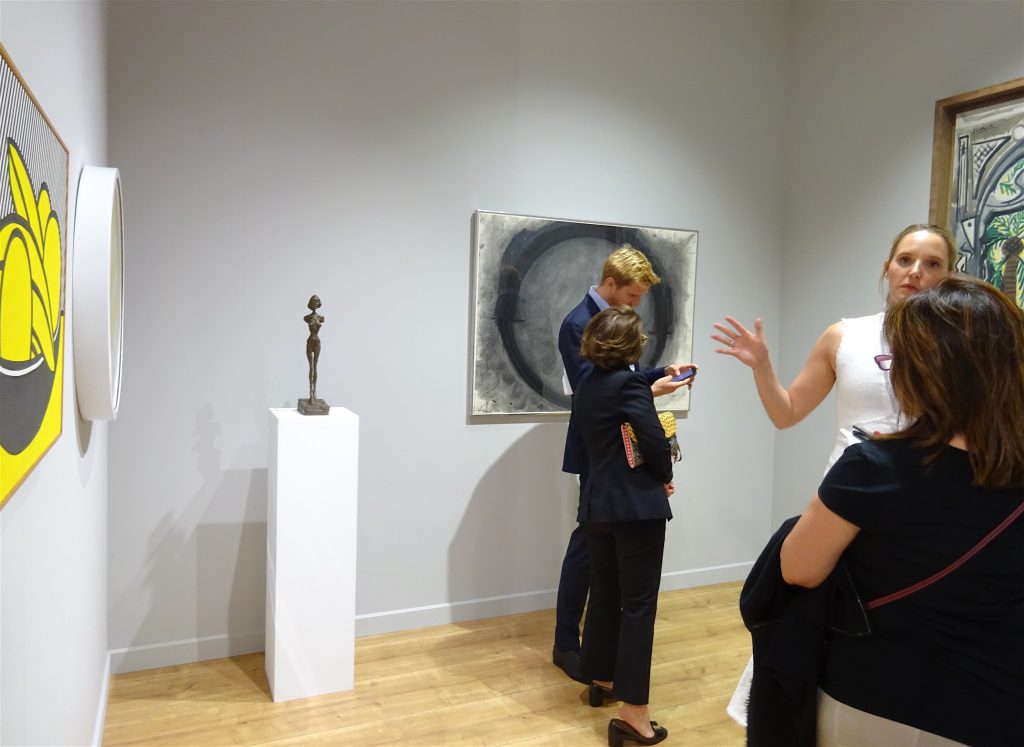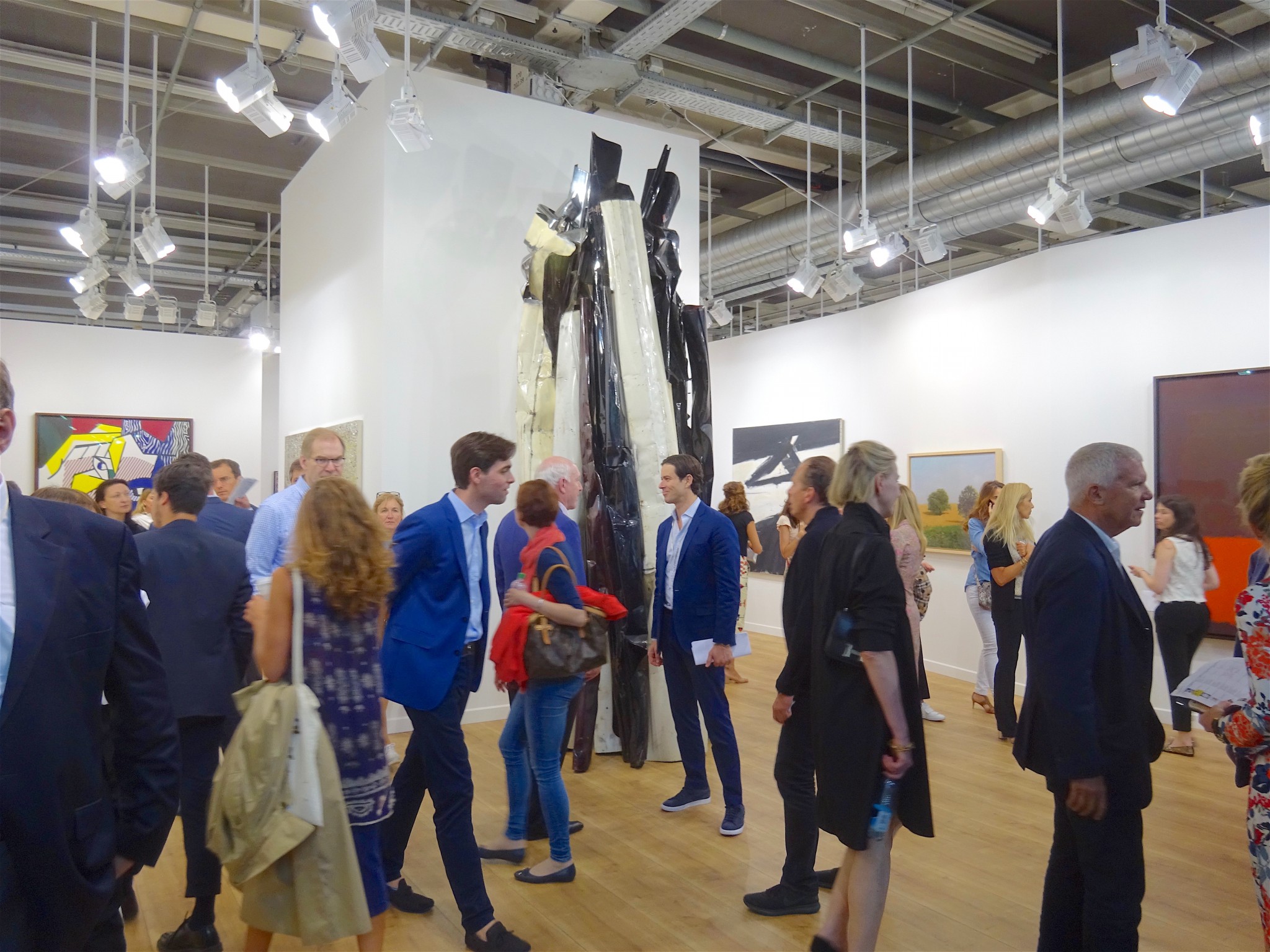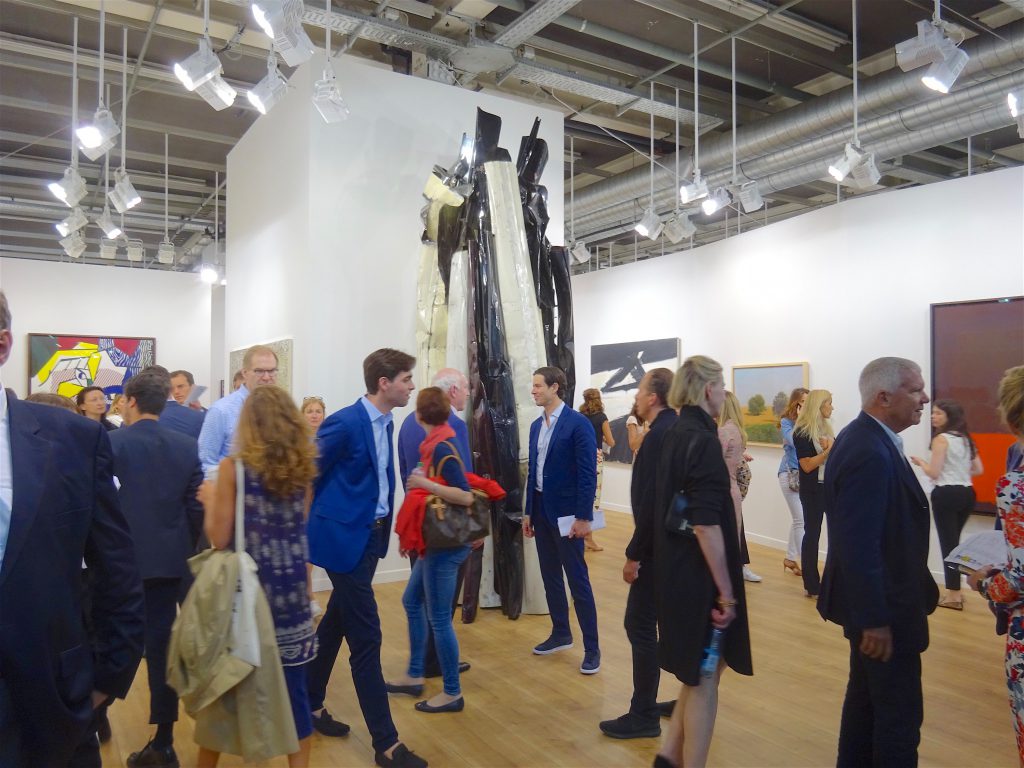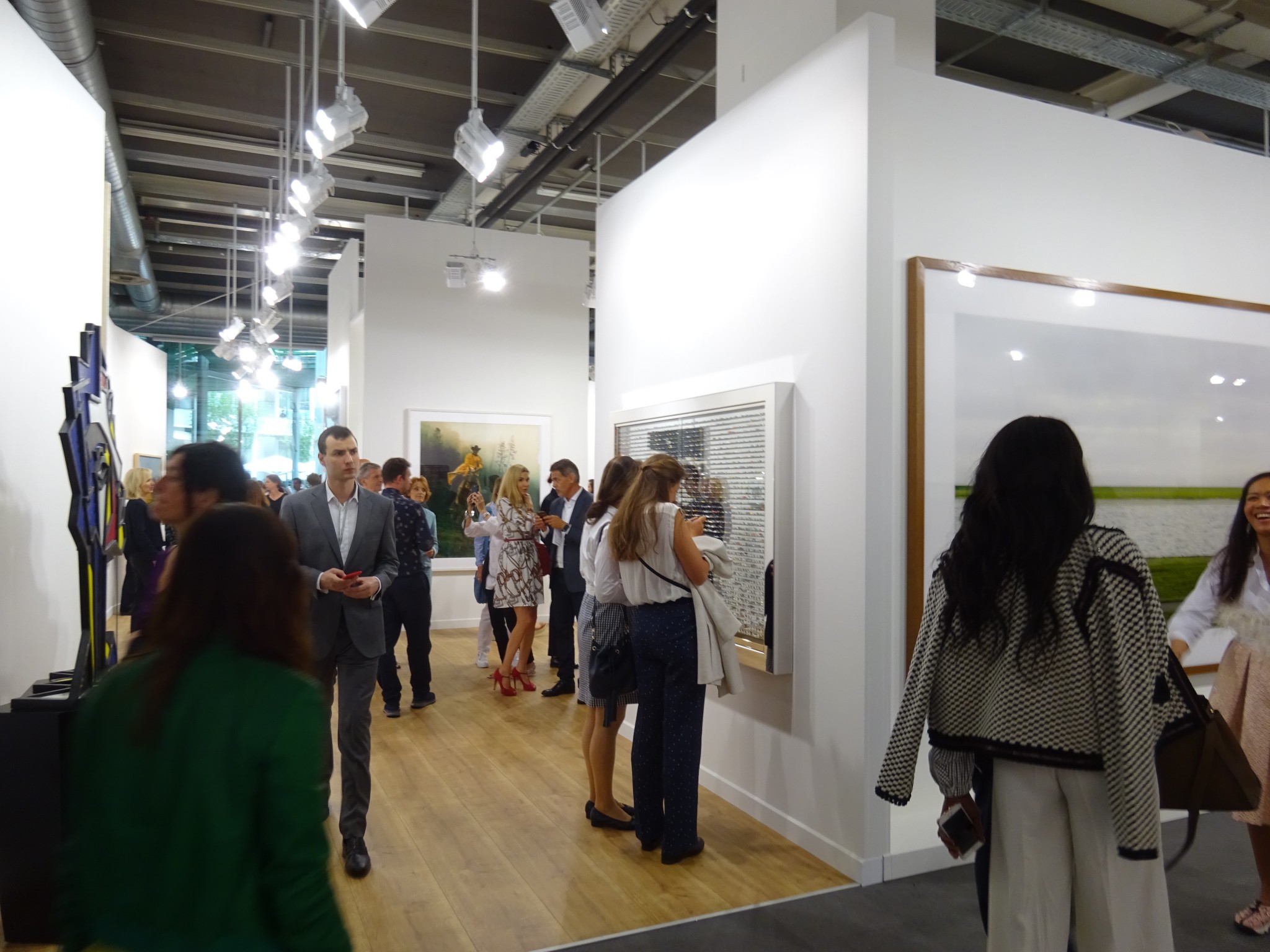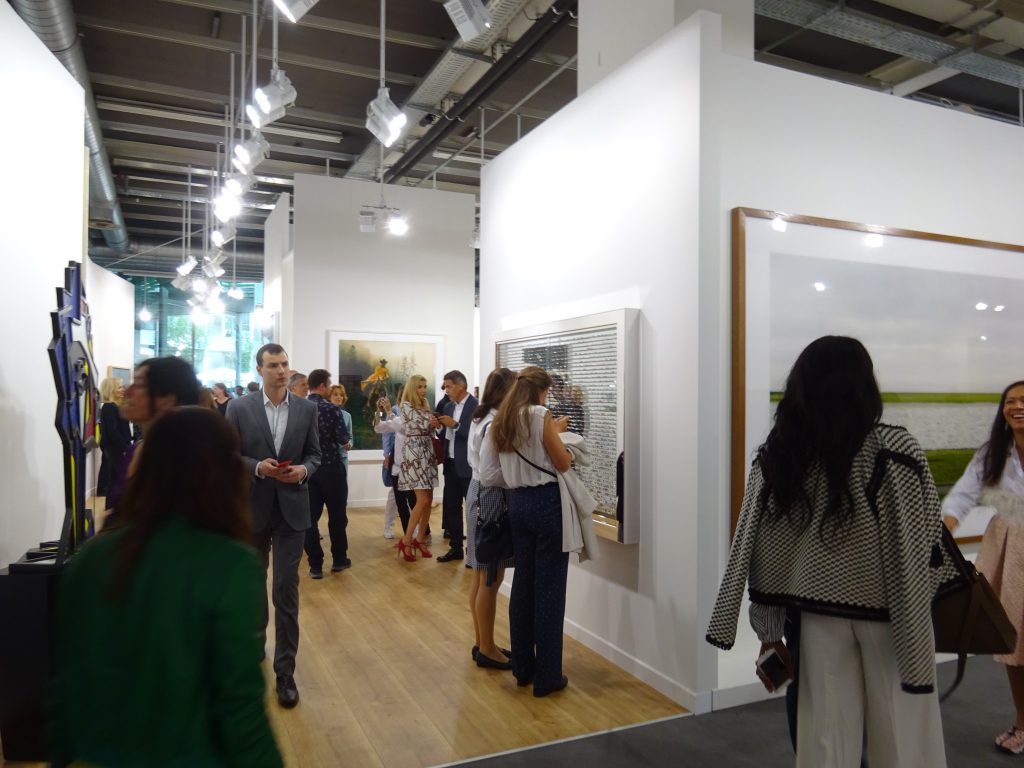 (bonus pic + text)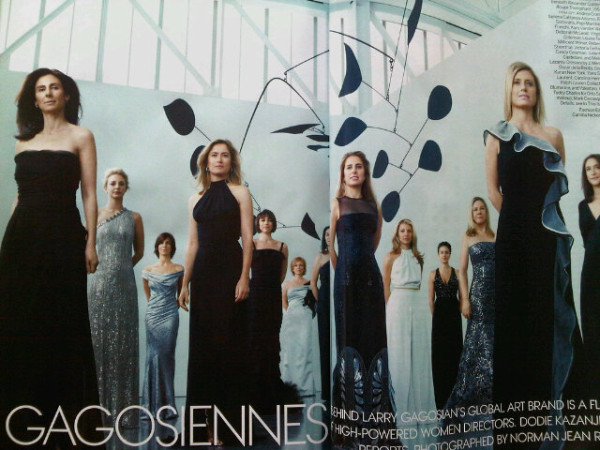 The Women of Larry Gagosian Get the Vogue Treatment
09/23/11
The October issue of Vogue has a big piece about the "Gagosiennes," dealer Larry Gagosian's "fleet of high-powered women directors." The article has not been posted online, but it is available on newsstands now.
To begin with, there is a two page photo of these women standing in Gagosian's mammoth 24th Street branch beneath a large Calder mobile (this is somewhat misleading. Gagosian has done shows of Calder's work, but he is not represented by the gallery; Calder is a part of the stable of Gagosian's major competitor, The Pace Gallery). They are all wearing gowns by the likes of Oscar de la Renta, Yves Saint Laurent and Valentino. Some of them are smiling.
So, you ask, what is a Gagosienne? According to the article:
"To be a Gagosienne, you have to be ambitious, intelligent, well connected, socially adept, highly discreet, reachable at all times, stress-resistant, and mad about art. It also helps to speak several languages and to dress well…and it doesn't hurt to be beautiful and come from an aristocratic family."
Some other things we learned here: Mr. Gagosian claims to have been totally unaware of the fact that his female employees outnumber the men almost two to one.
"'I'm not even aware of it,' he says. 'I guess you're right. But there have always been a lot of talented women in the art world, women who run galleries and museums. Look at Peggy Guggenheim, Ileana Sonnabend, Paula Cooper. It's never been a boys' club, like most corporations.'"
We'll gloss over Mr. Gagosian referring to the art world as a "corporation" in favor of directing you to Ms. Cooper's words to The Observer on the subject of the scene's social geography as a boys' club.
Andrea Crane, who specializes in Impressionist and modern art at Gagosian, had this to say about her boss:
"Larry is totally gender unspecific."
Mr. Gagosian had this to say about the female gender:
"The problem with women is they keep getting pregnant."
(Admittedly, this quote is attributed as being spoken in a "half-joking" tone. It doesn't help, however, that he follows up the statement by saying, "There are all these maternity leaves, one after the other, and it does create a certain amount of tension.")
The article stresses that Mr. Gagosian rewards his employees lavishly for their hardwork, but it also points out some of the absurdities of life on the job. Speaking of Valentina  Castellani, who according to the article is "closer to Larry than anyone else on staff," the reporter recounts:
"She had turned off her BlackBerry for the interview. When we finished and she turned it back on, Larry had called seven times. And when she got back to the office, she learned that he had called her husband to find out where she was."
The conclusion here is: "It sounds a little like the CIA—or a posse of intellectual Bond Girls."
If that's true, is Mr. Gagosian James Bond or Ernst Blofeld?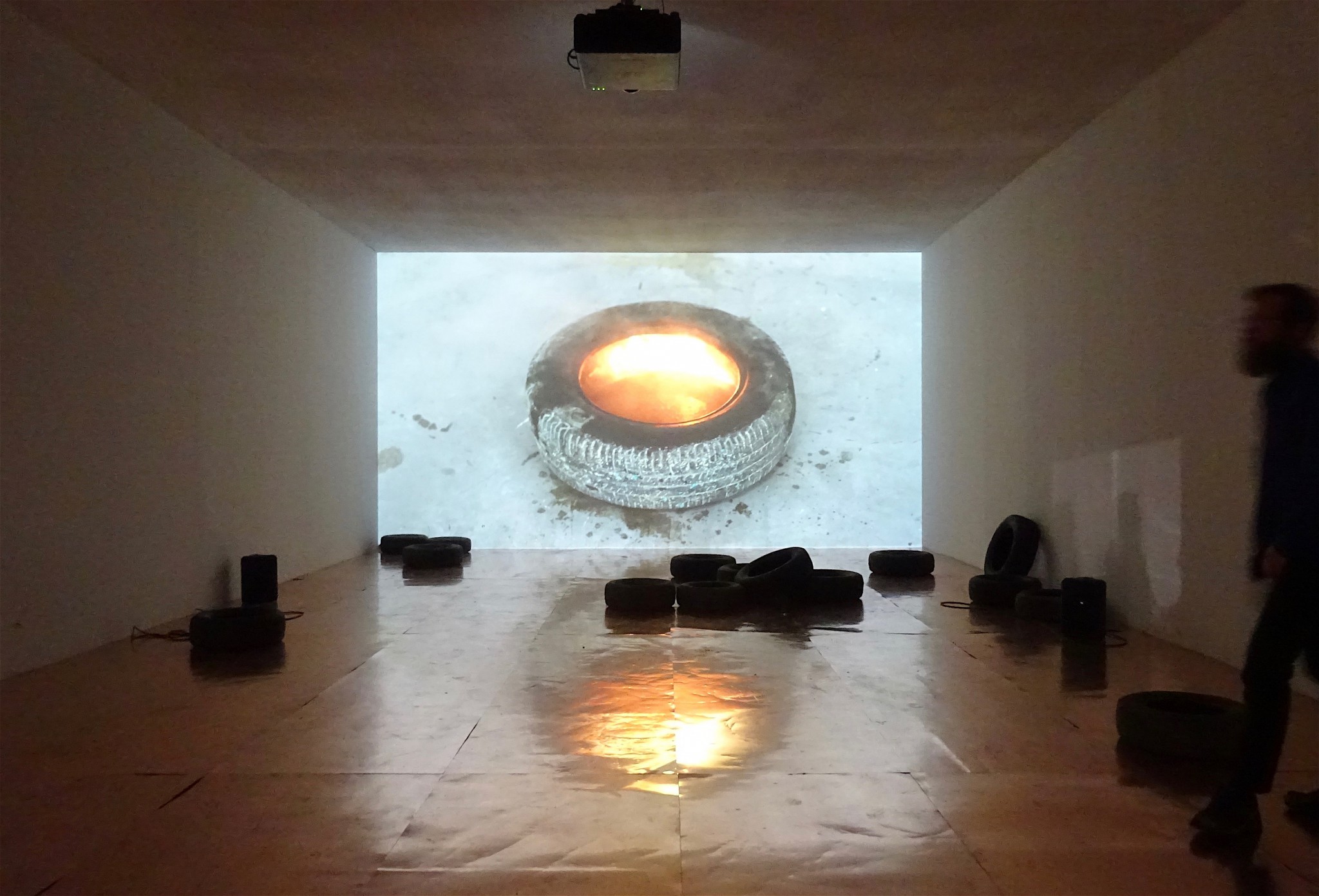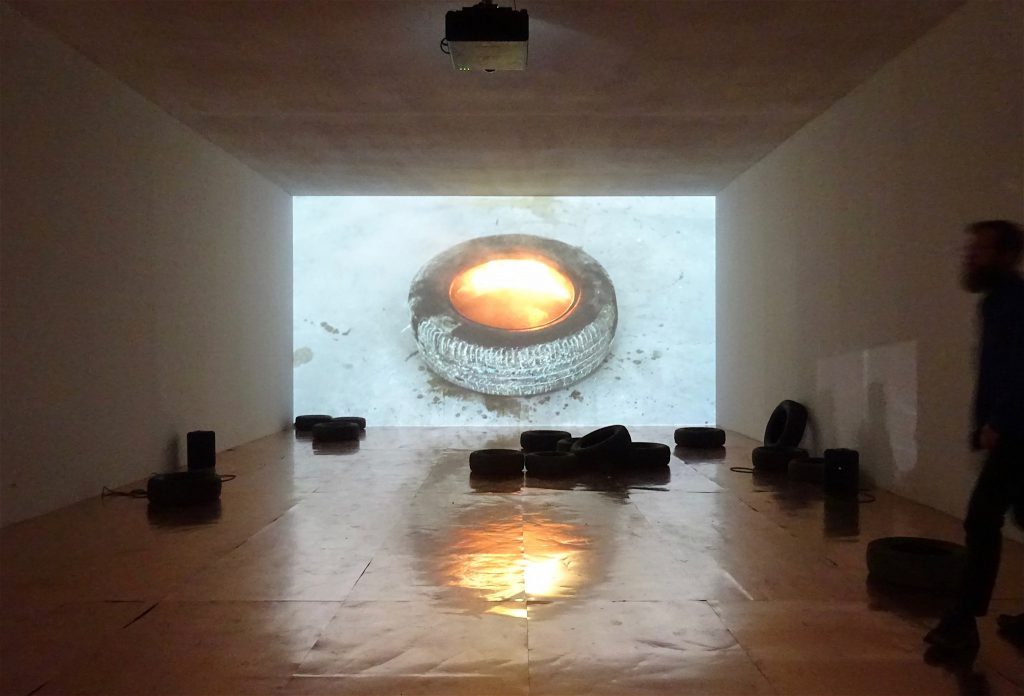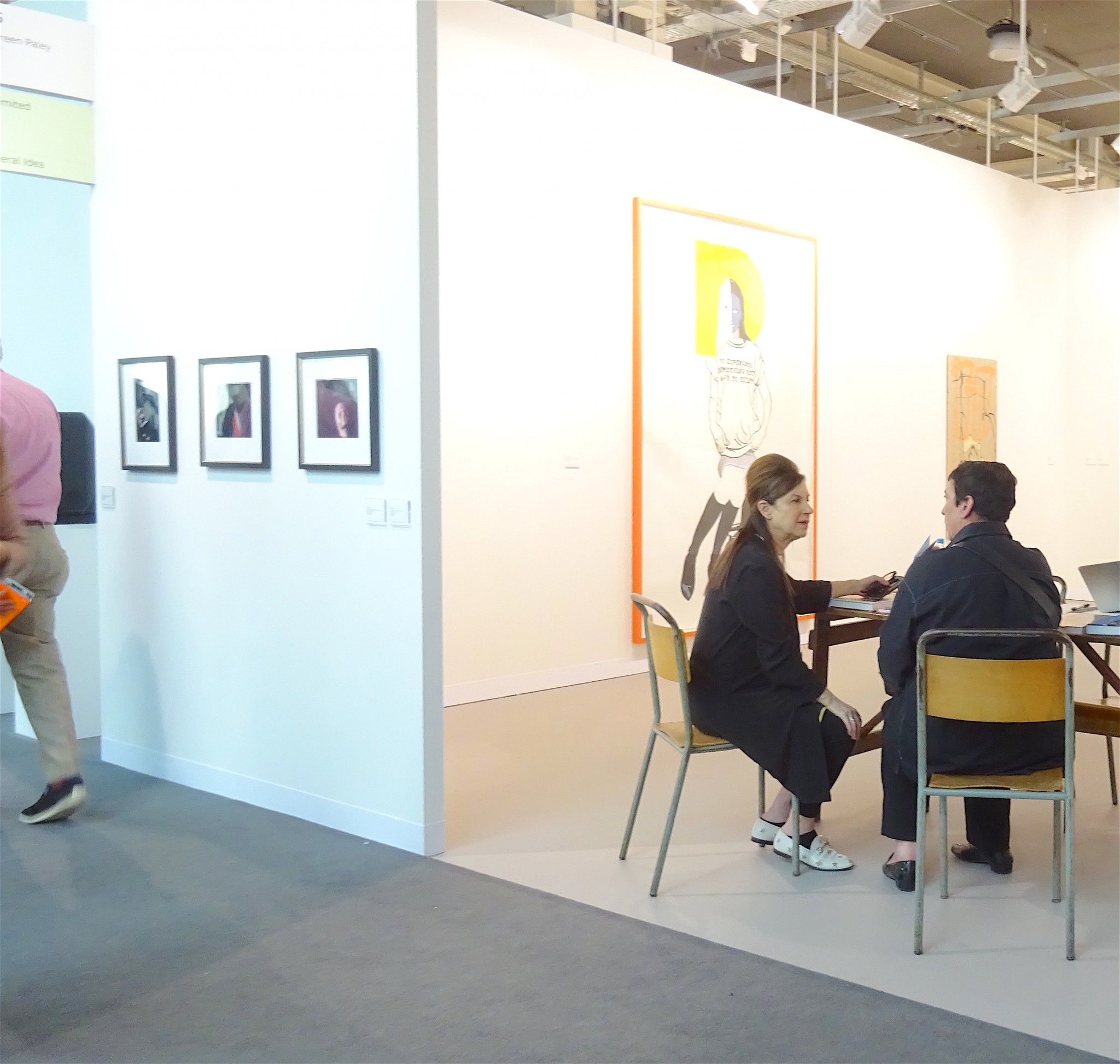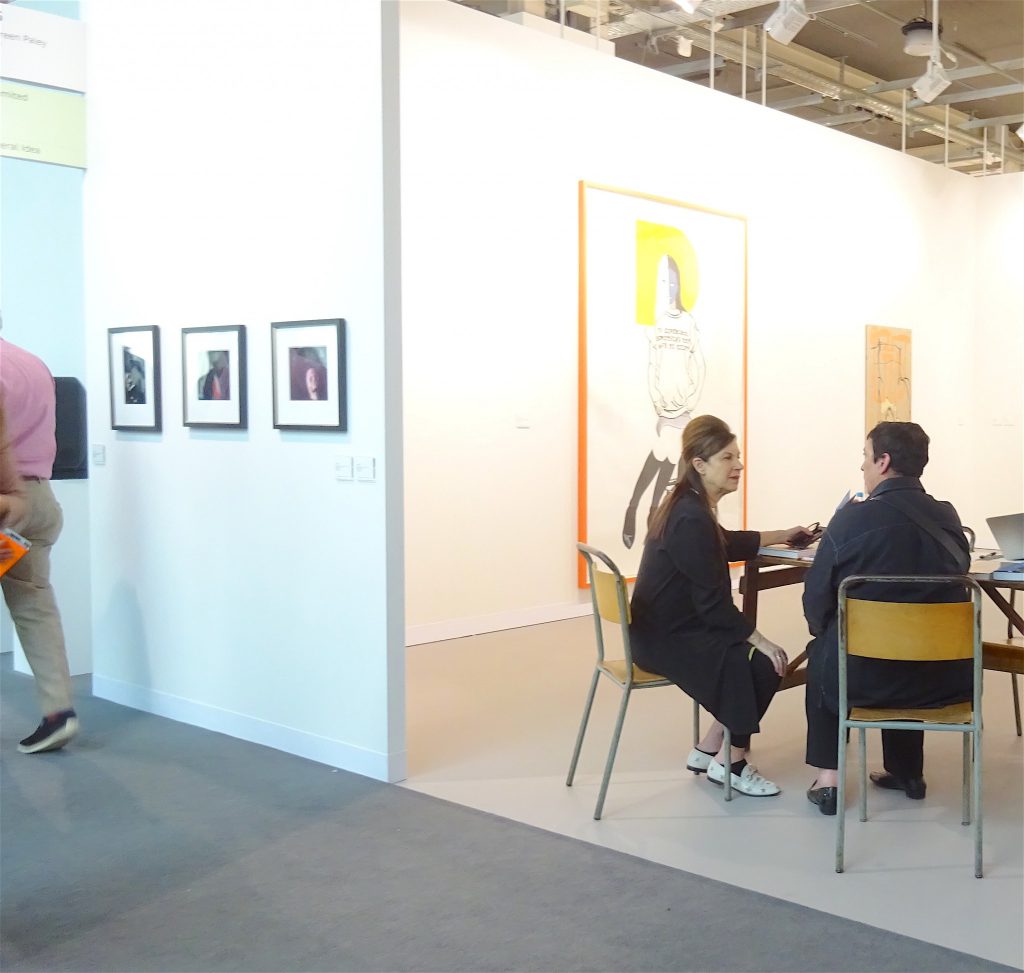 ABOUT MAUREEN PALEY
The gallery programme began in 1984 in a Victorian terraced house in London's East End. Initially named Interim Art the gallery changed its name to Maureen Paley in 2004 as a celebration of its 20th anniversary. Since September 1999 the gallery has been situated in its present location in Herald Street, Bethnal Green. From its inception the gallery's aim has remained consistent: to promote great and innovative artists in all media.
Maureen Paley was one of the first to present contemporary art in London's East End and has been a pioneer of the current scene promoting and showing art from the USA and continental Europe as well as launching new talent from the UK. Gallery artists include Turner prize winners Wolfgang Tillmans, 2000, and Gillian Wearing, 1997, and Turner Prize nominees Liam Gillick, 2002, and Rebecca Warren, 2006. AA Bronson, General Idea and Peter Hujar have recently been added to the gallery's roster along with Morgan Fisher and Tim Rollins and K.O.S. All of the gallery artists have exhibited widely in the UK and abroad.
Maureen Paley, the gallery's founder and director, was born in New York, studied at Sarah Lawrence College, and graduated from Brown University before coming to the UK in 1977 where she completed her Masters at The Royal College of Art from 1978–1980. 

Together with running the gallery Maureen Paley has also curated a number of large-scale public exhibitions. In 1994 she organised an exhibition of works by Felix Gonzales Torres, Joseph Kosuth and Ad Reinhardt at the Camden Arts Centre. In 1995 Wall to Wall was presented for the National Touring Exhibitions and appeared at the Serpentine Gallery, London, Southampton City Art Gallery and Leeds City Art Gallery showing wall drawings by international artists including Daniel Buren, Michael Craig-Martin, Douglas Gordon, Barbara Kruger, Sol Lewitt, and Lawrence Weiner. Maureen Paley also selected an exhibition of work by young British artists in 1996 called The Cauldron featuring Christine Borland, Angela Bulloch, Jake & Dinos Chapman, Steven Pippin, Georgina Starr and Gillian Wearing for the Henry Moore Sculpture Trust which was installed in their Studio space in Dean Clough, Halifax.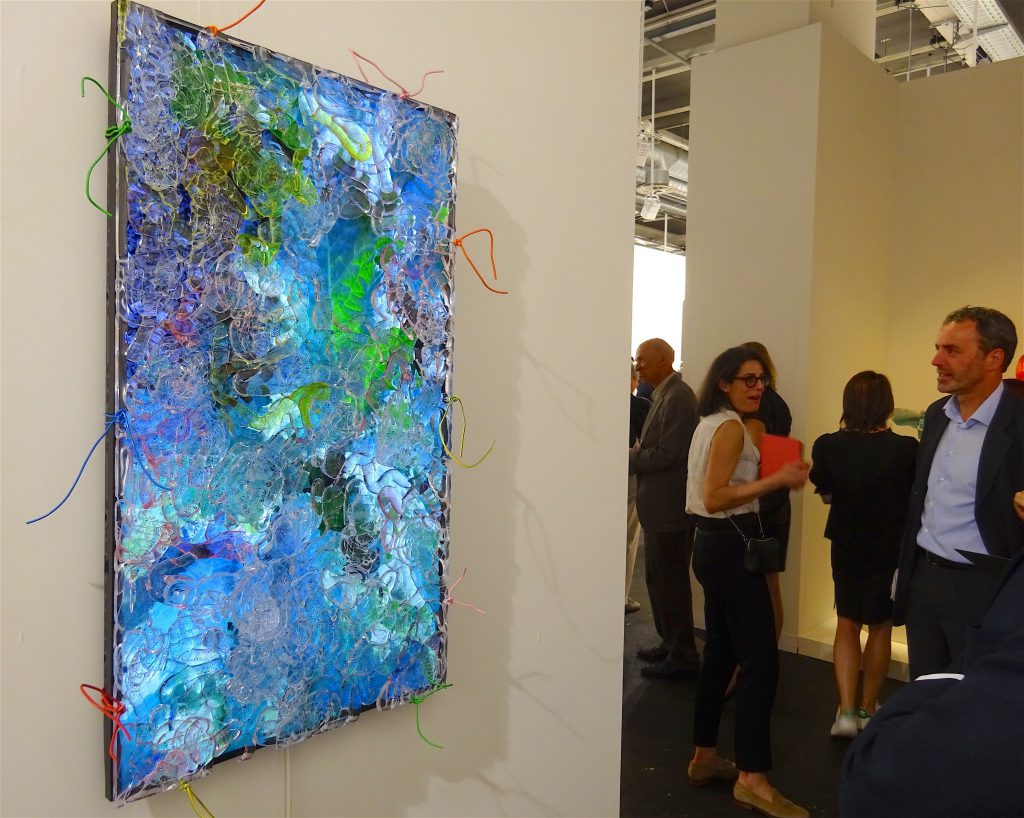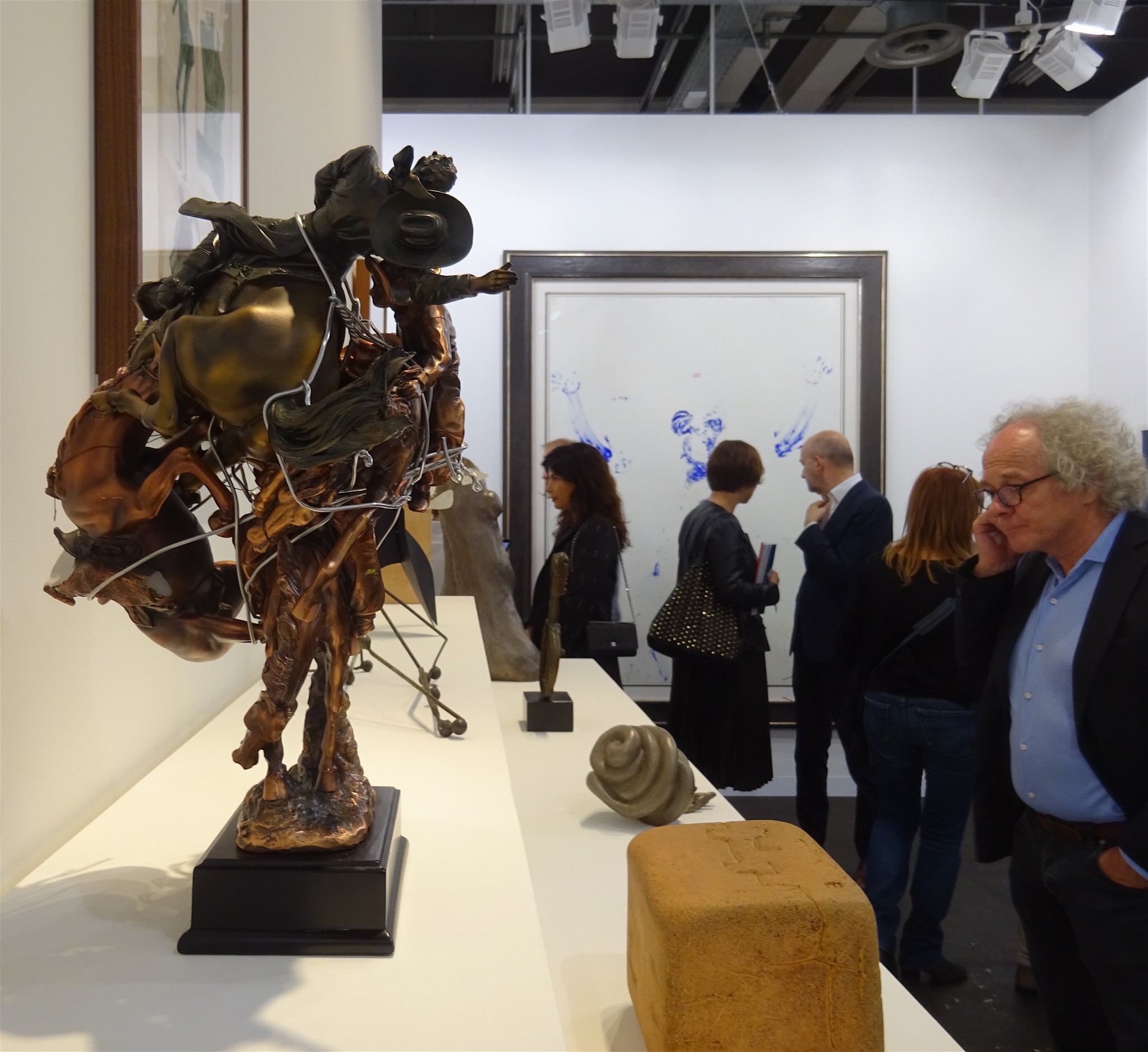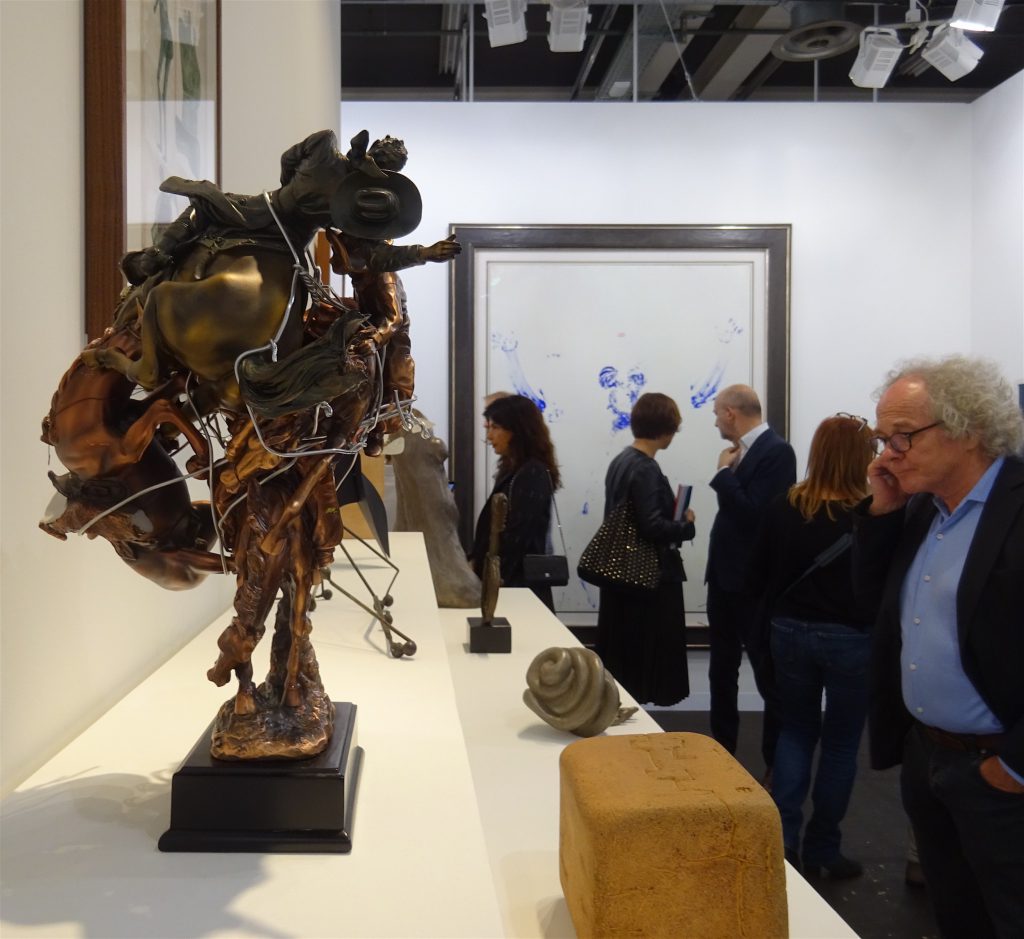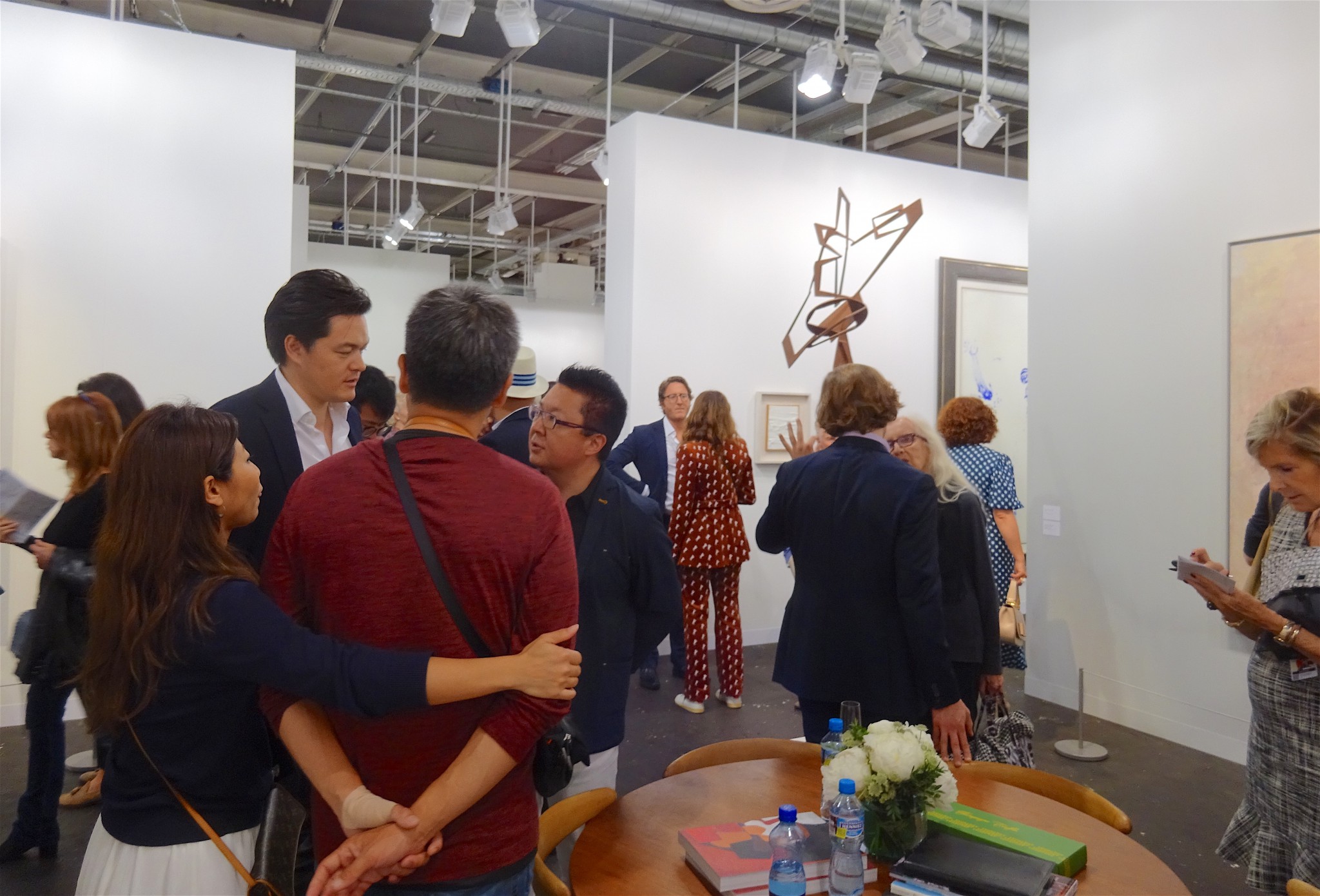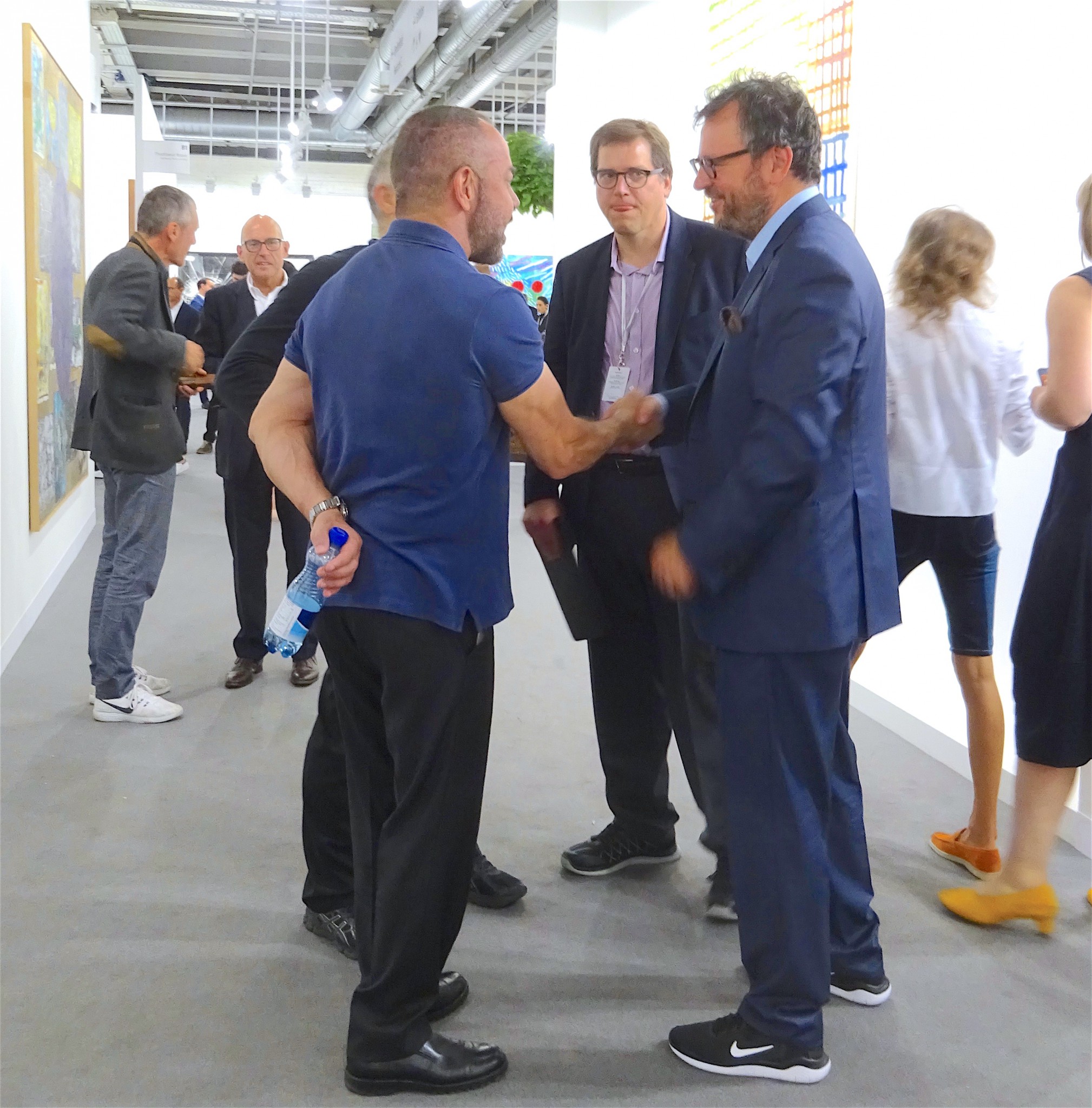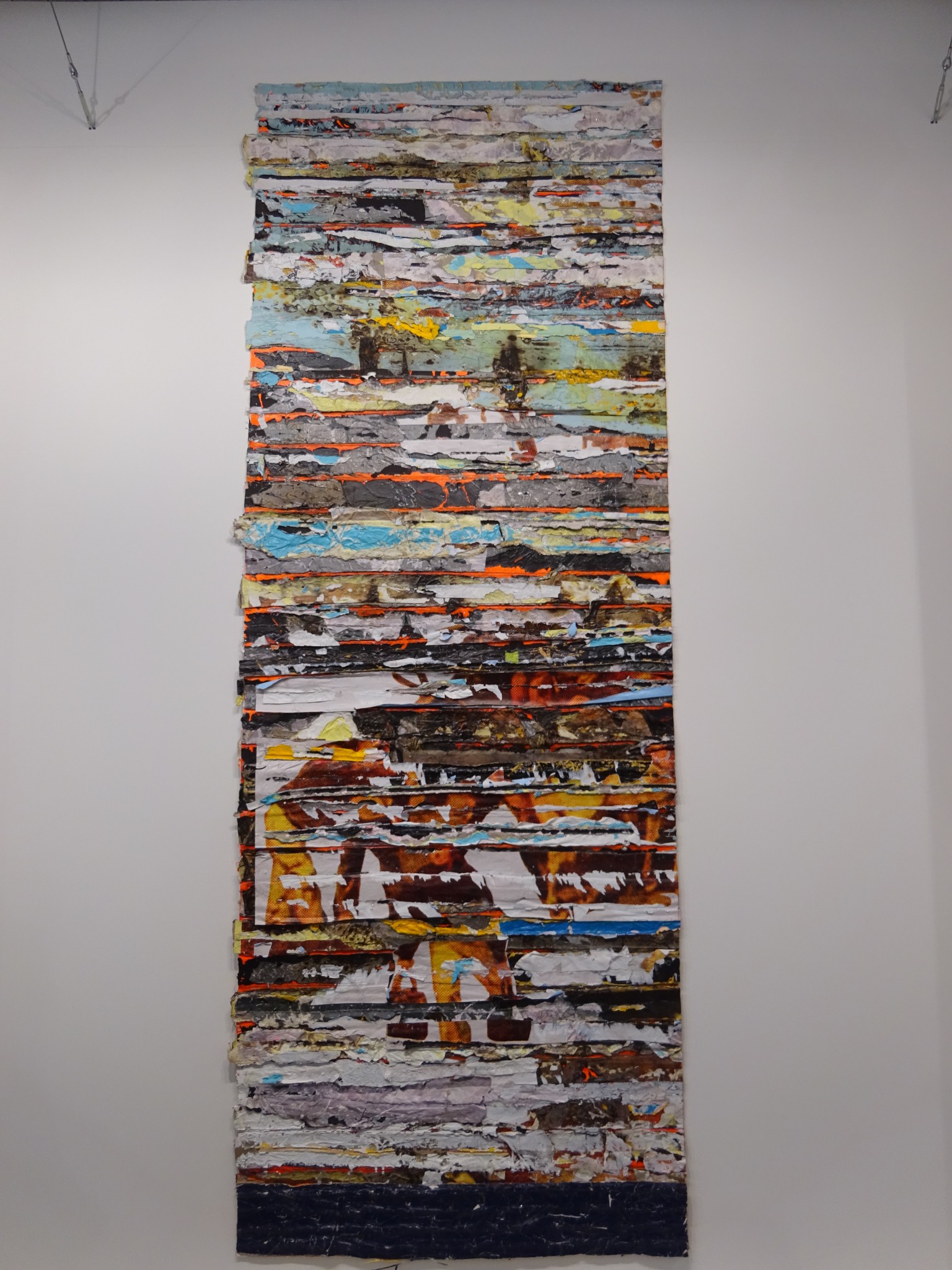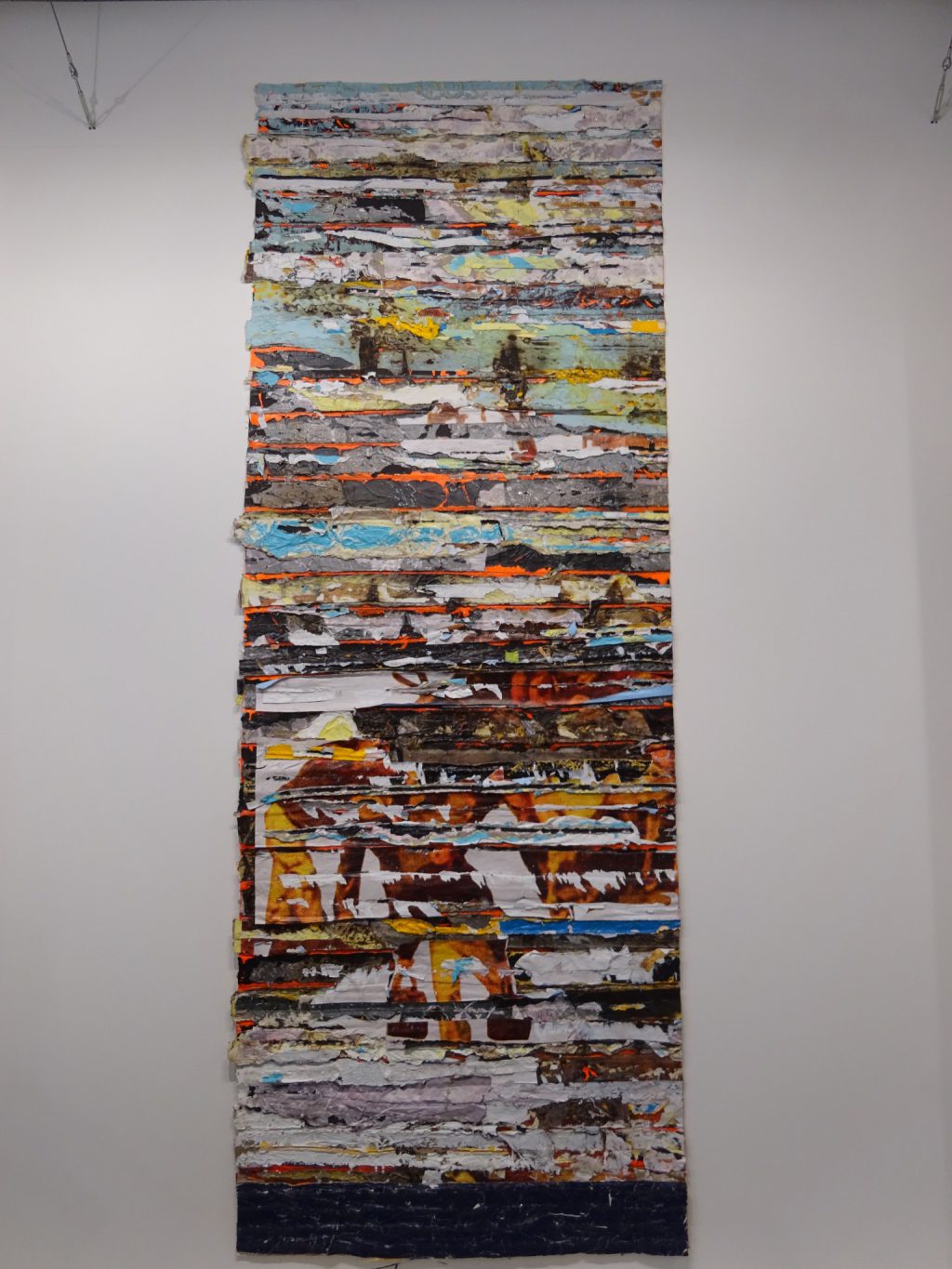 (compare with:)
Mark Bradford + Kerry James Marshall: 'Black Art' for American Art Flippers
https://art-culture.world/articles/mark-bradford-kerry-james-marshall-black-art-for-american-art-flippers/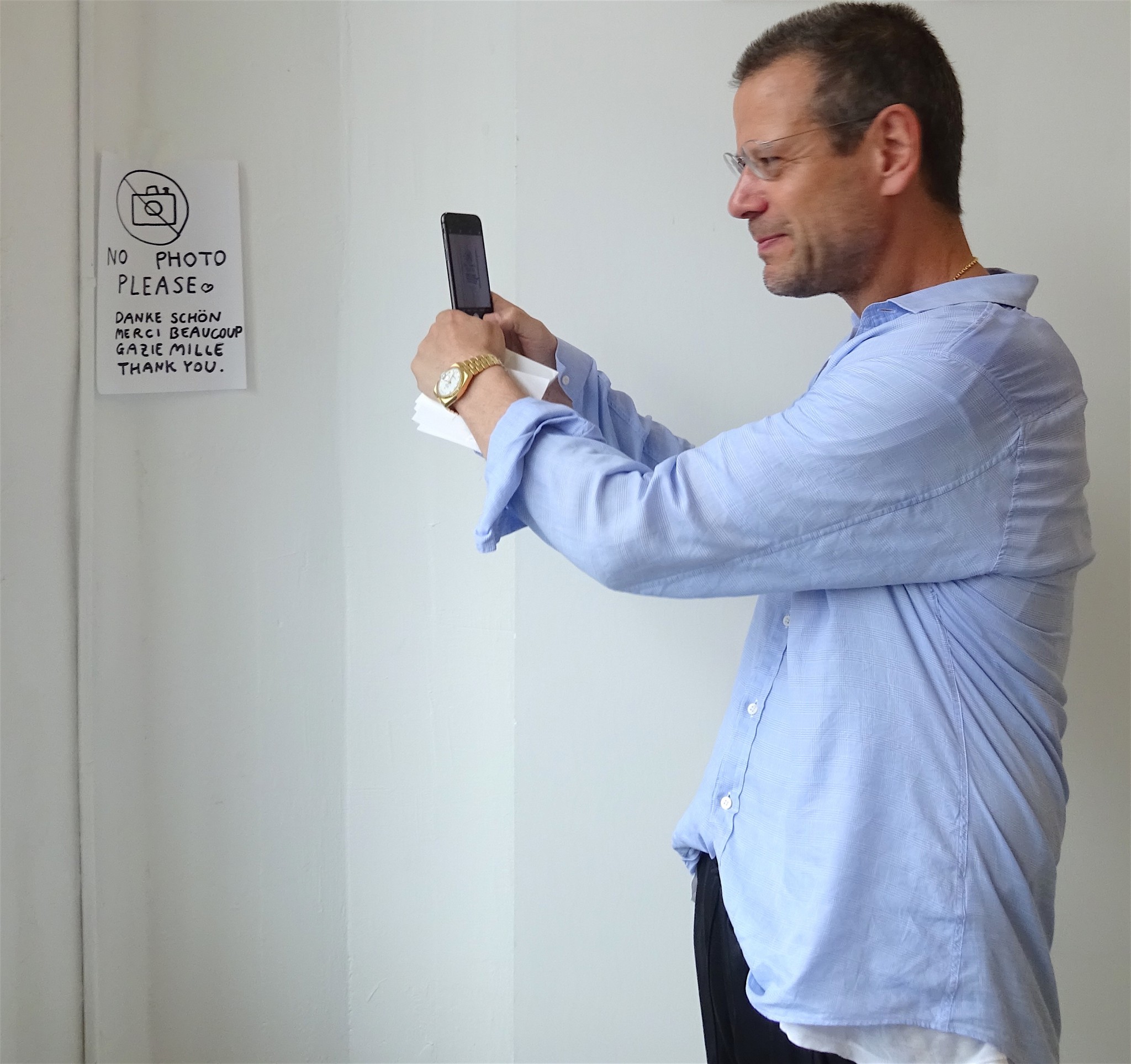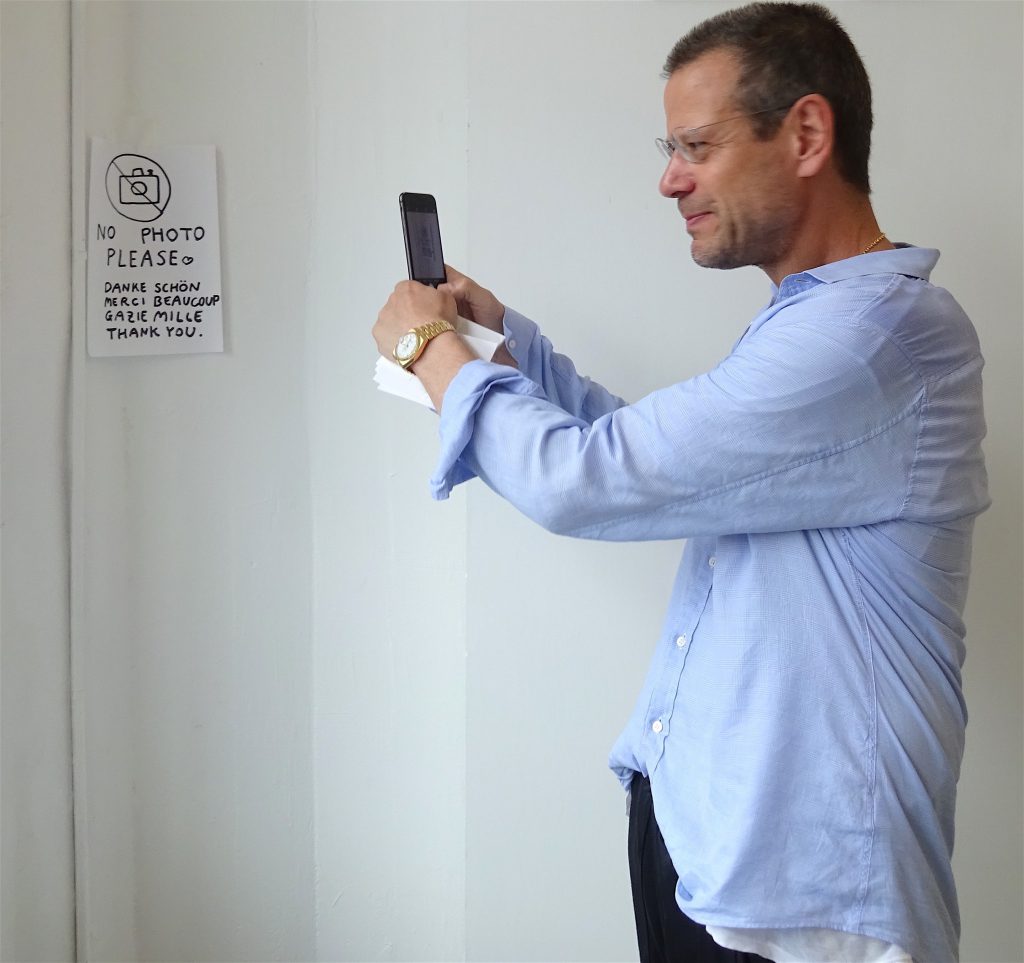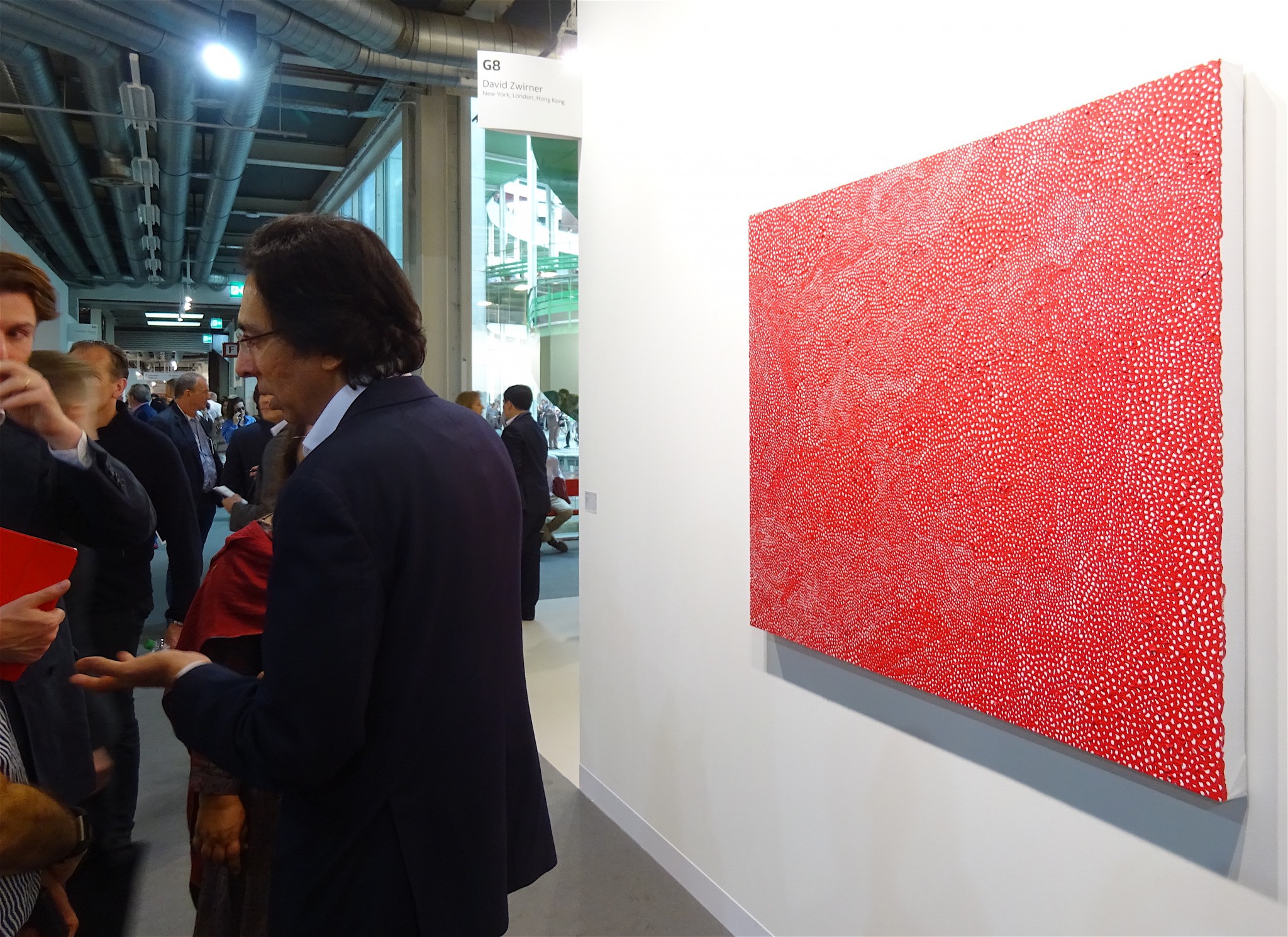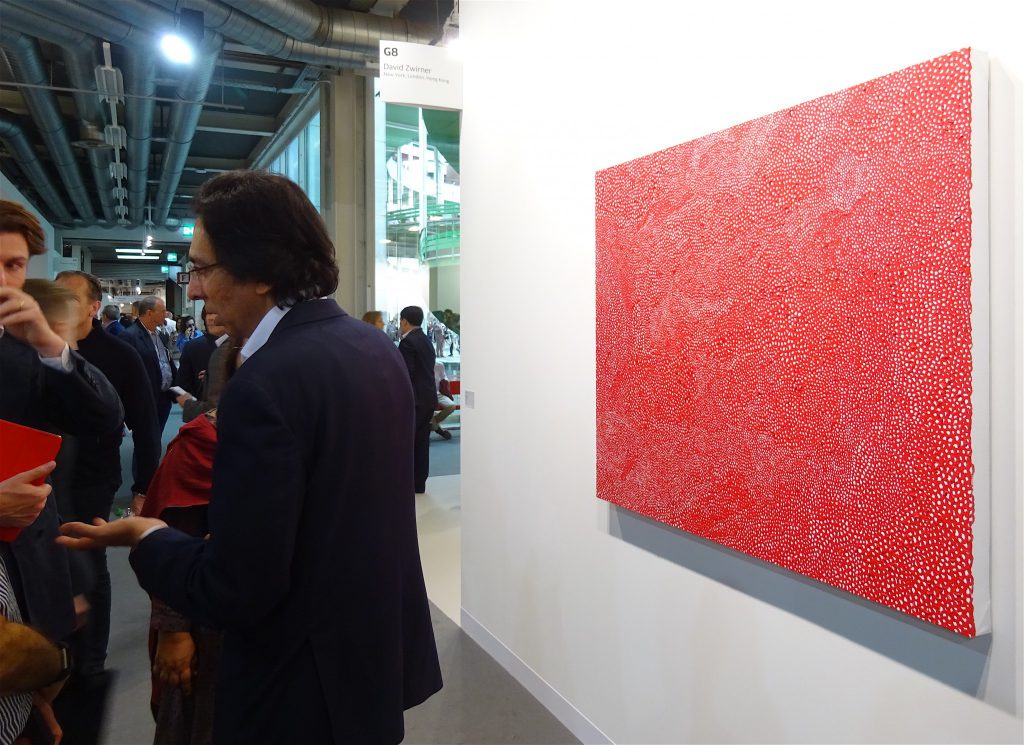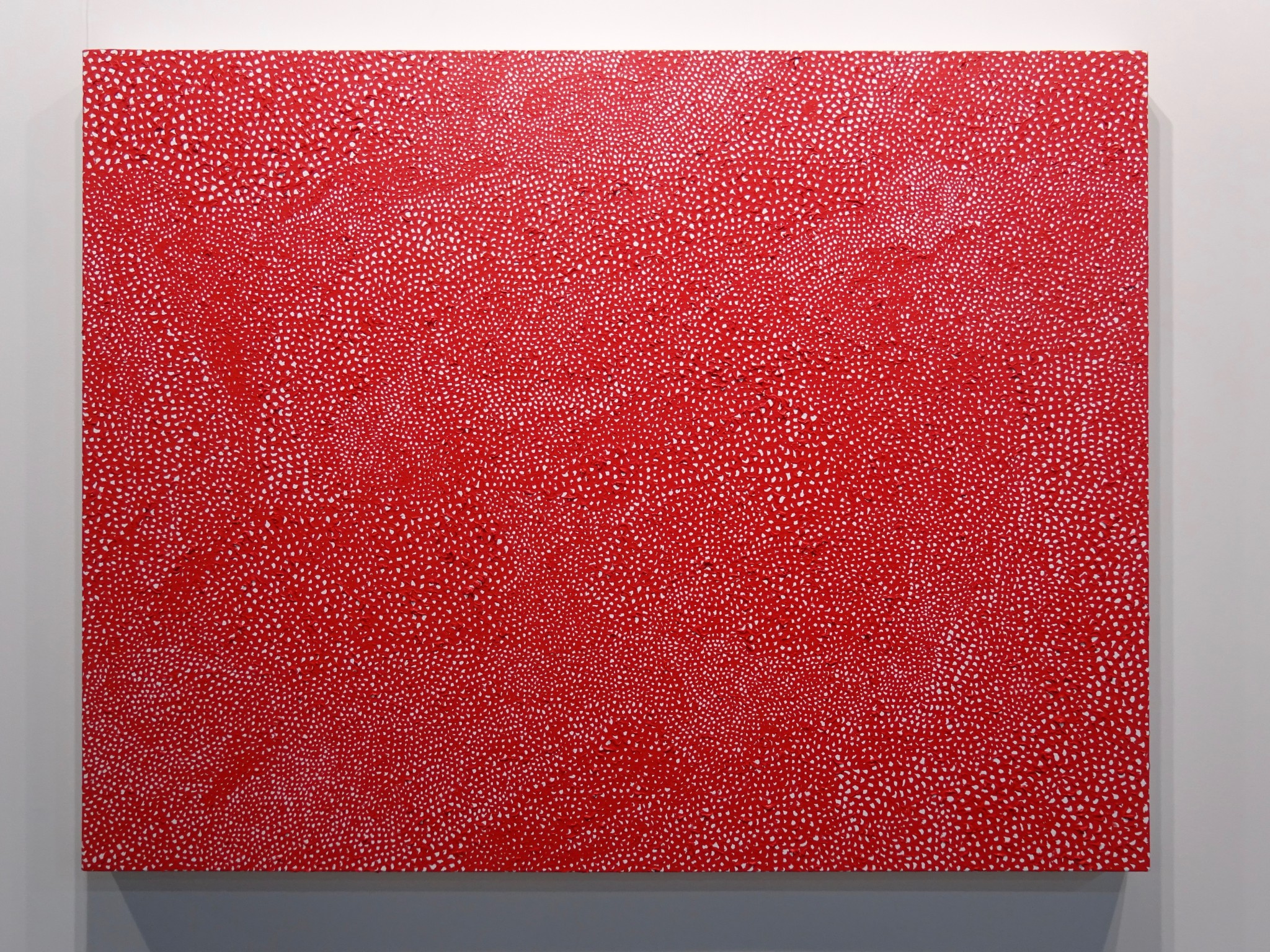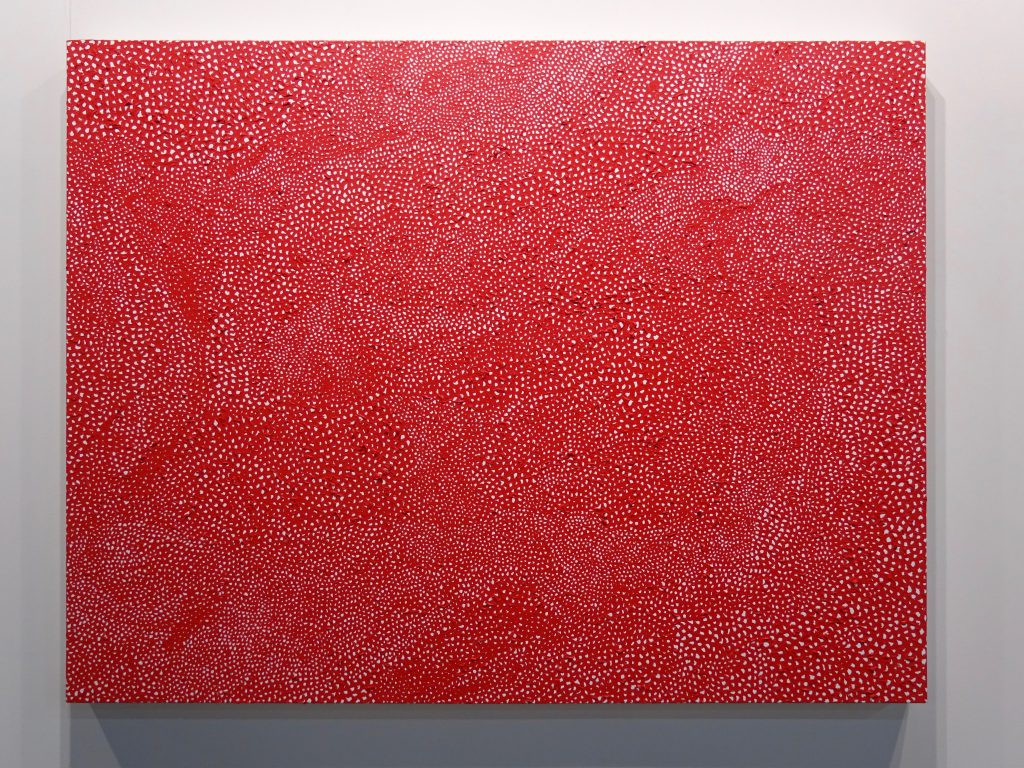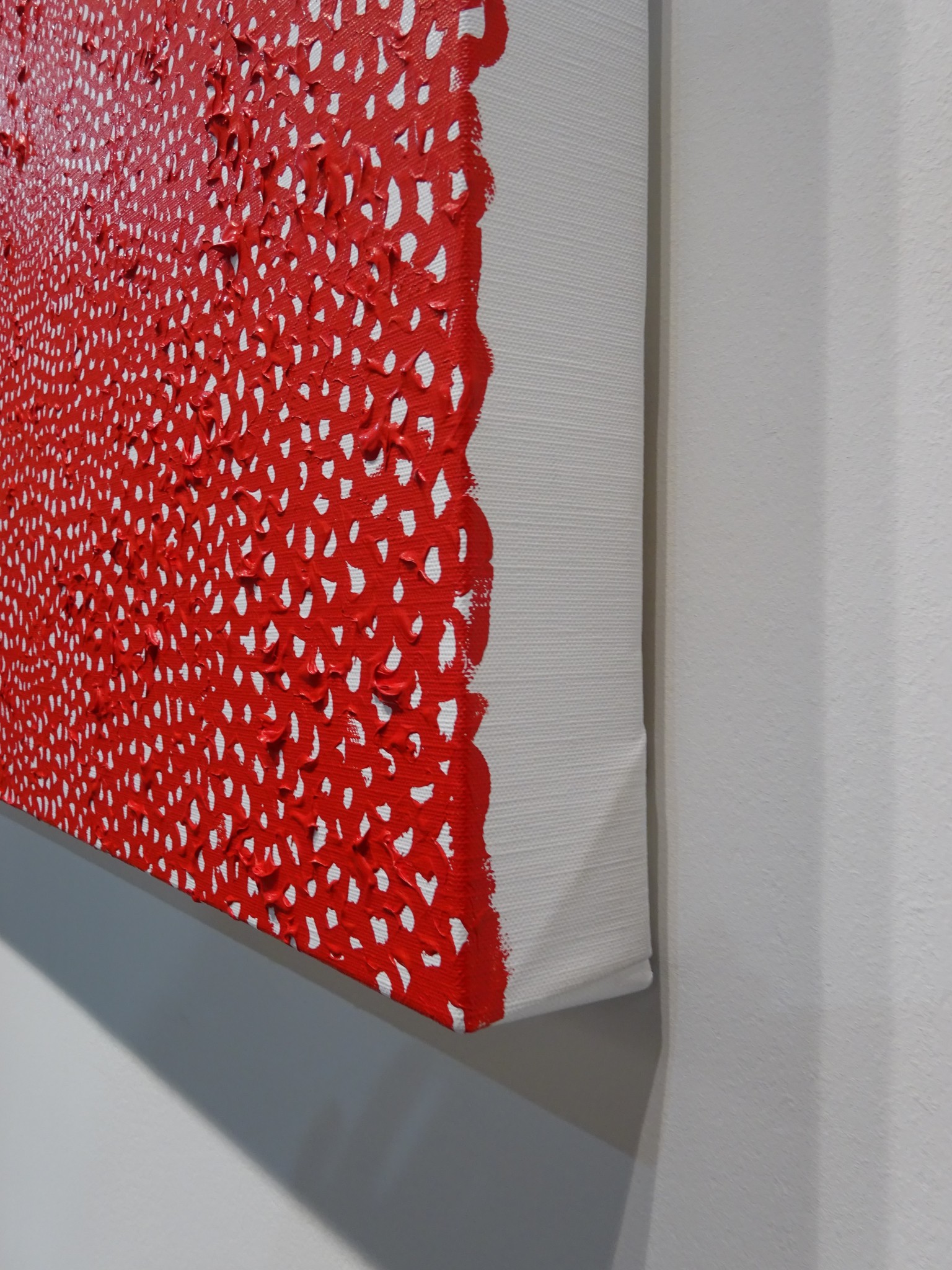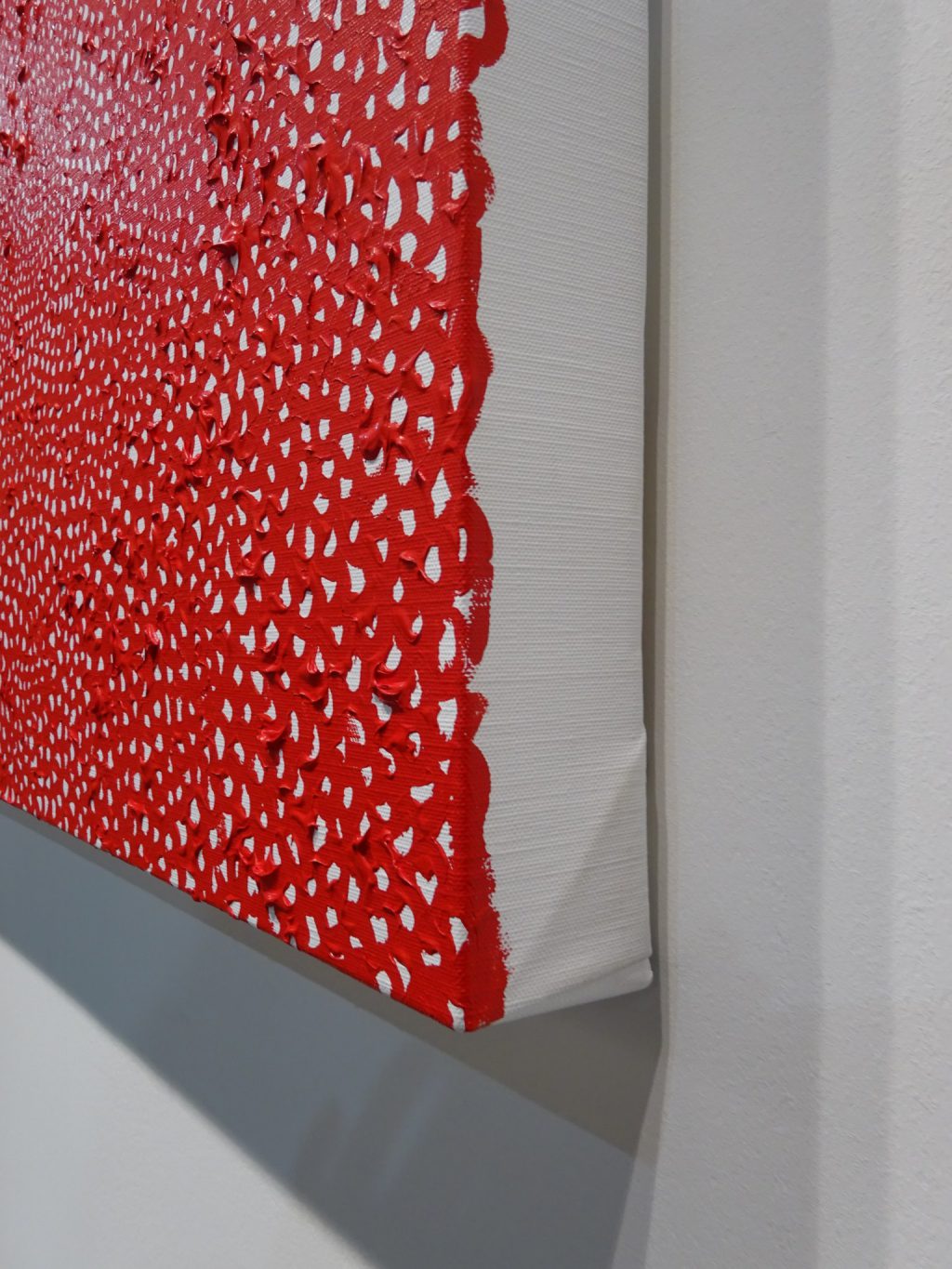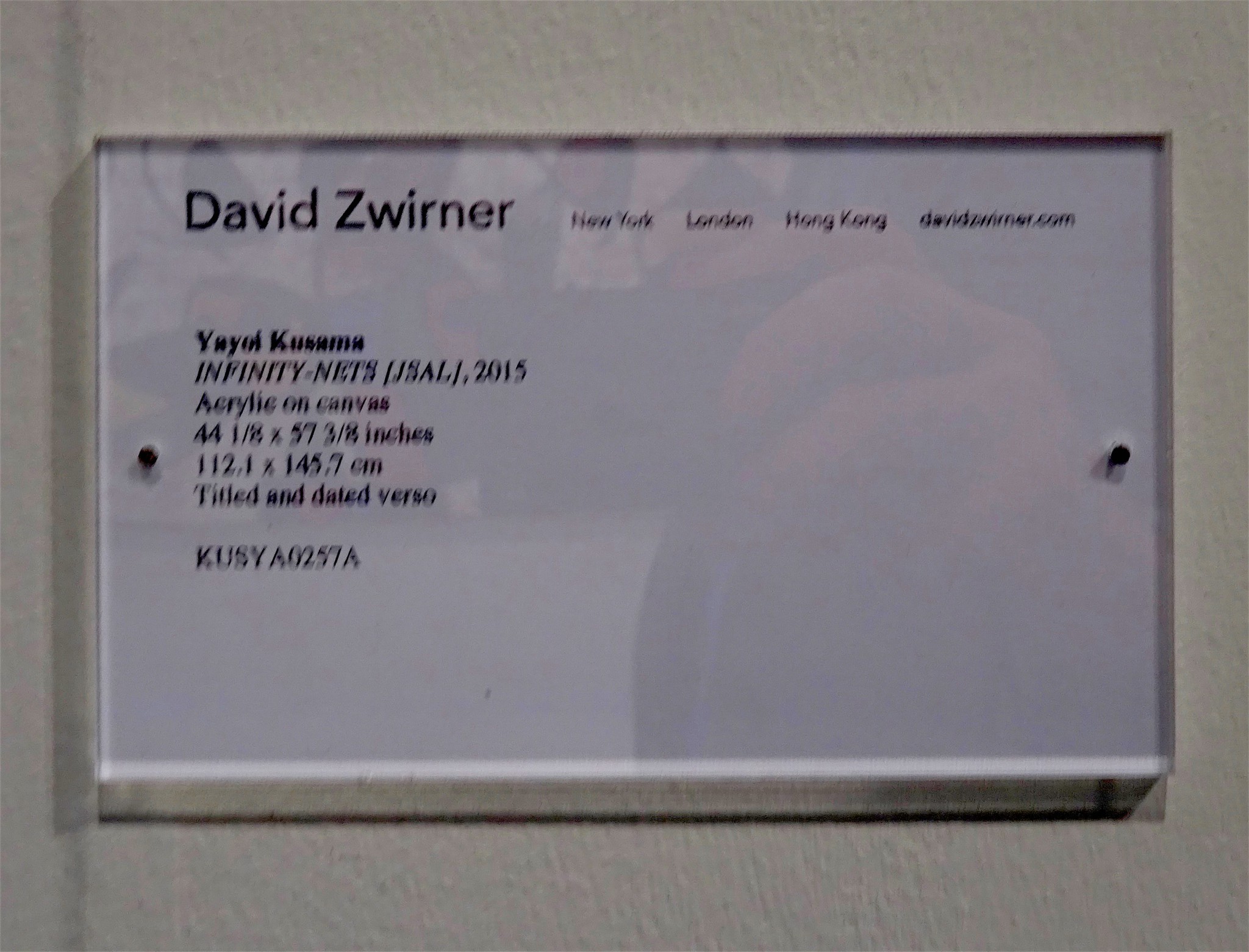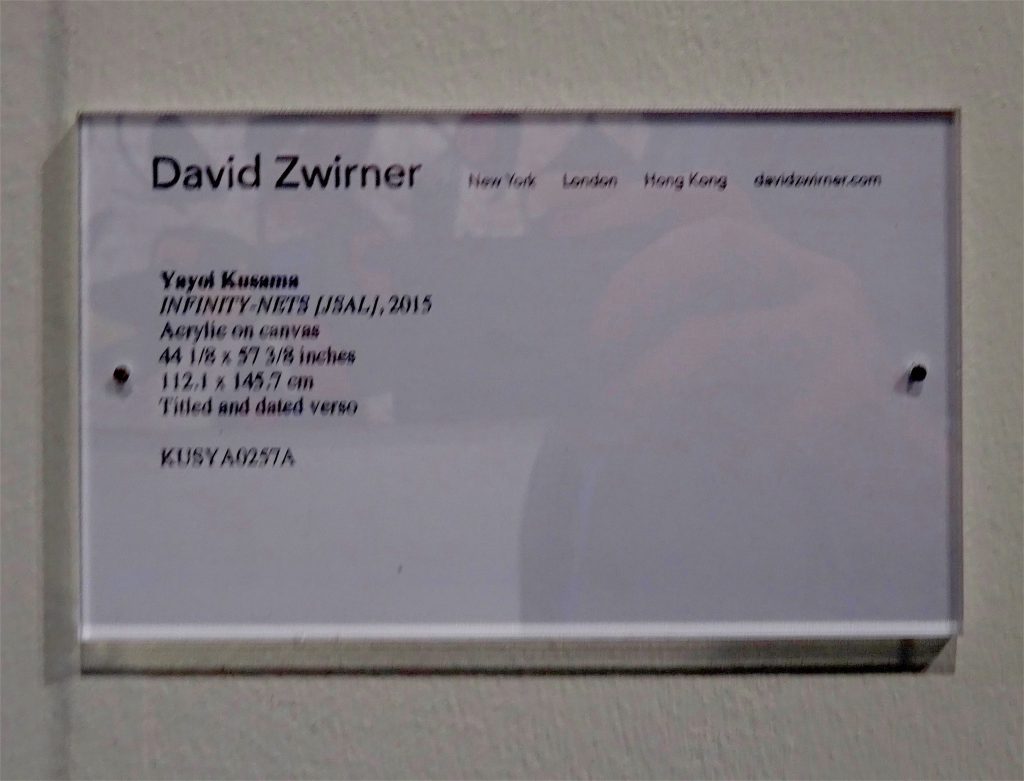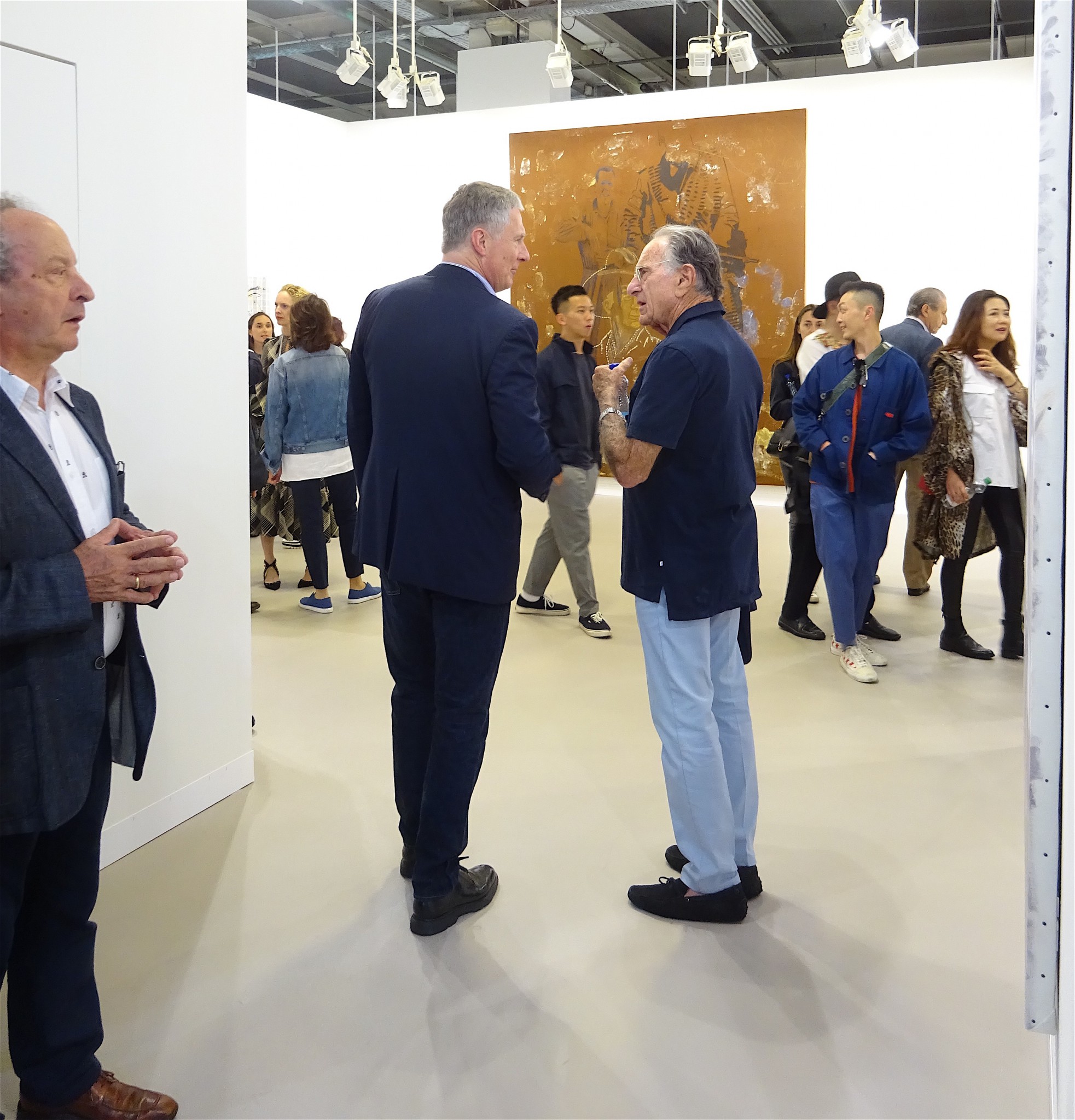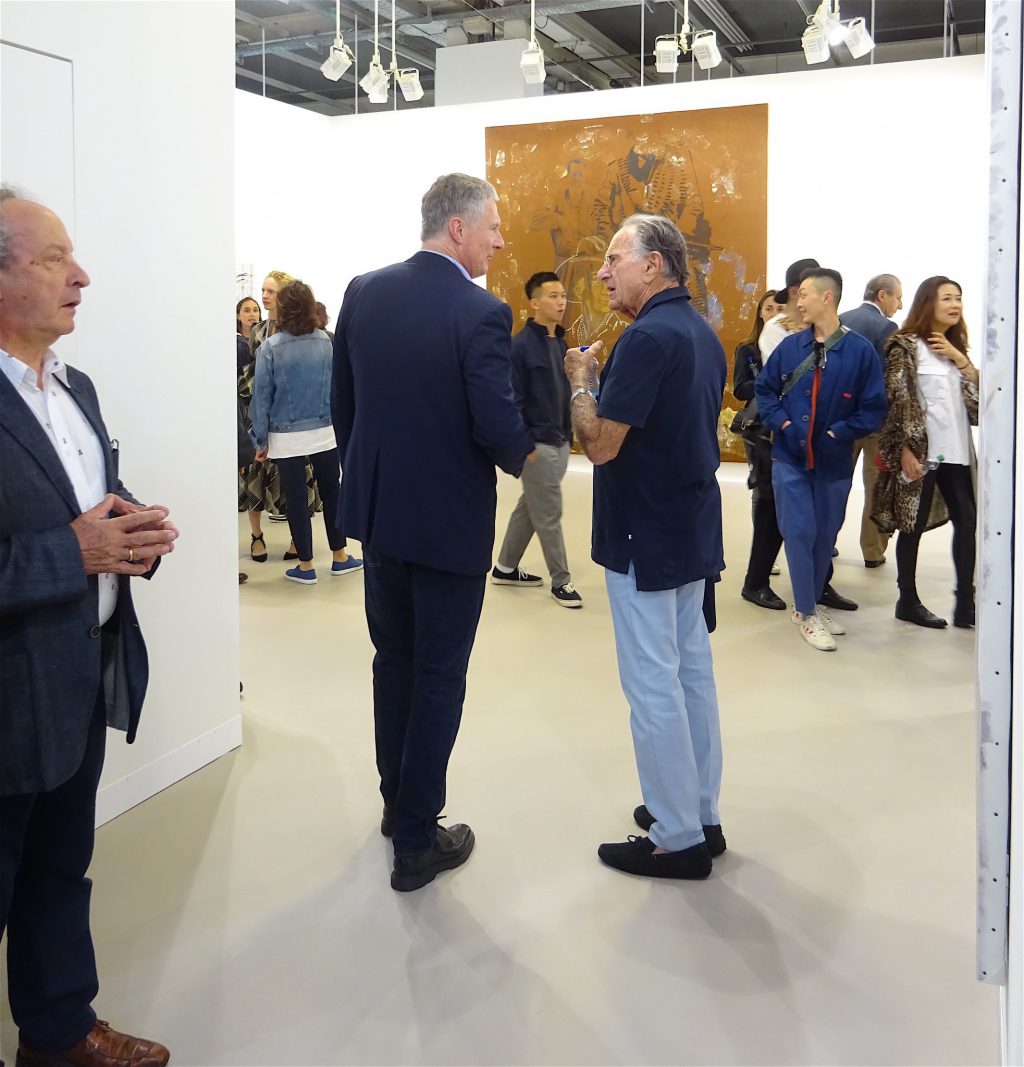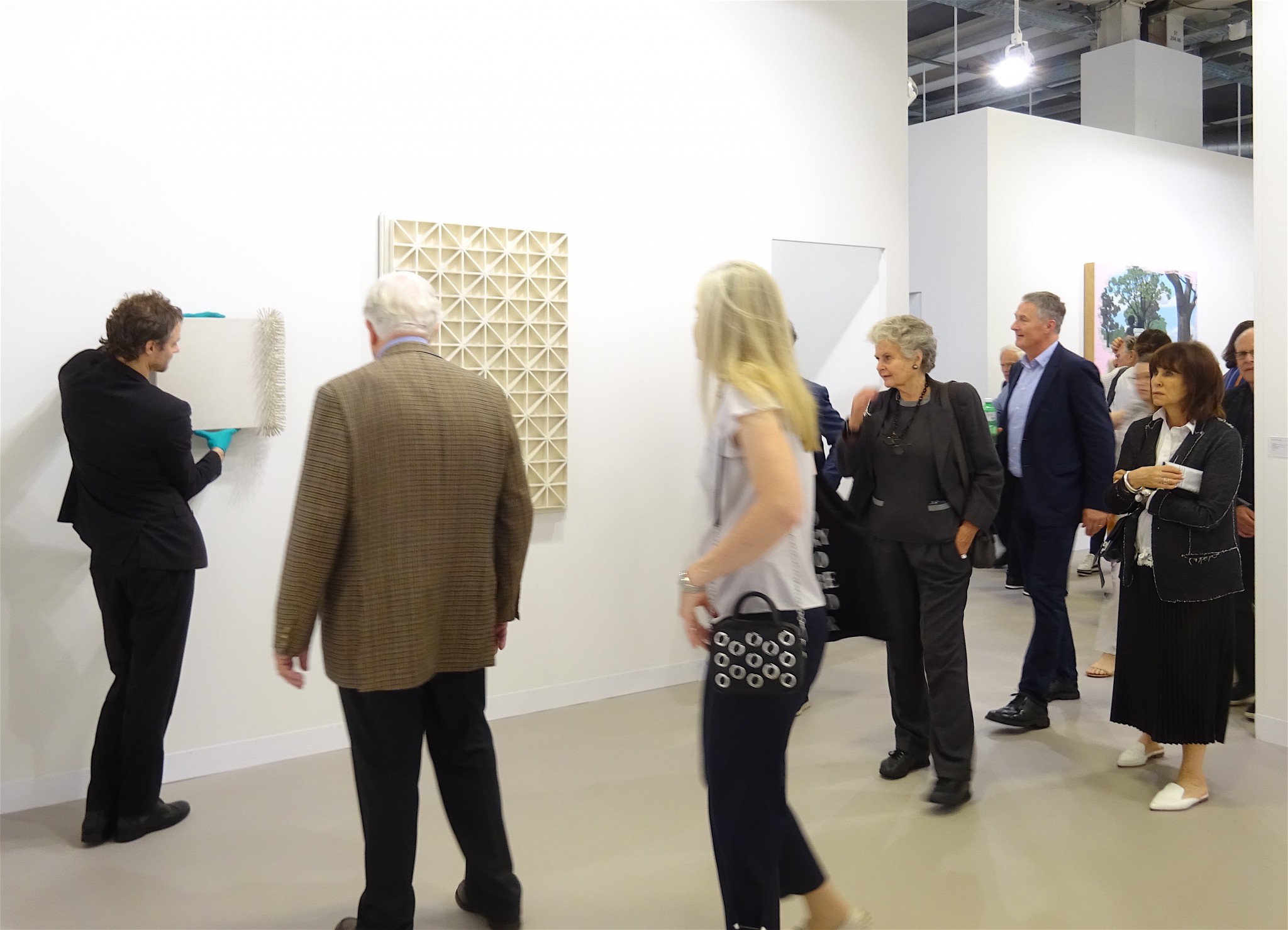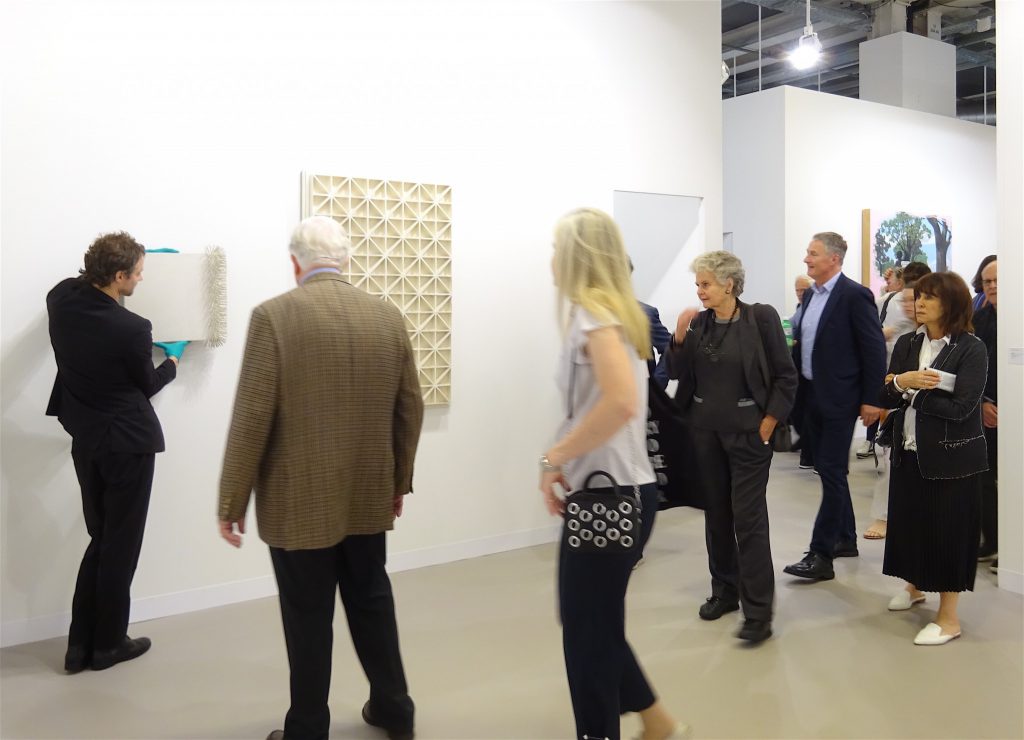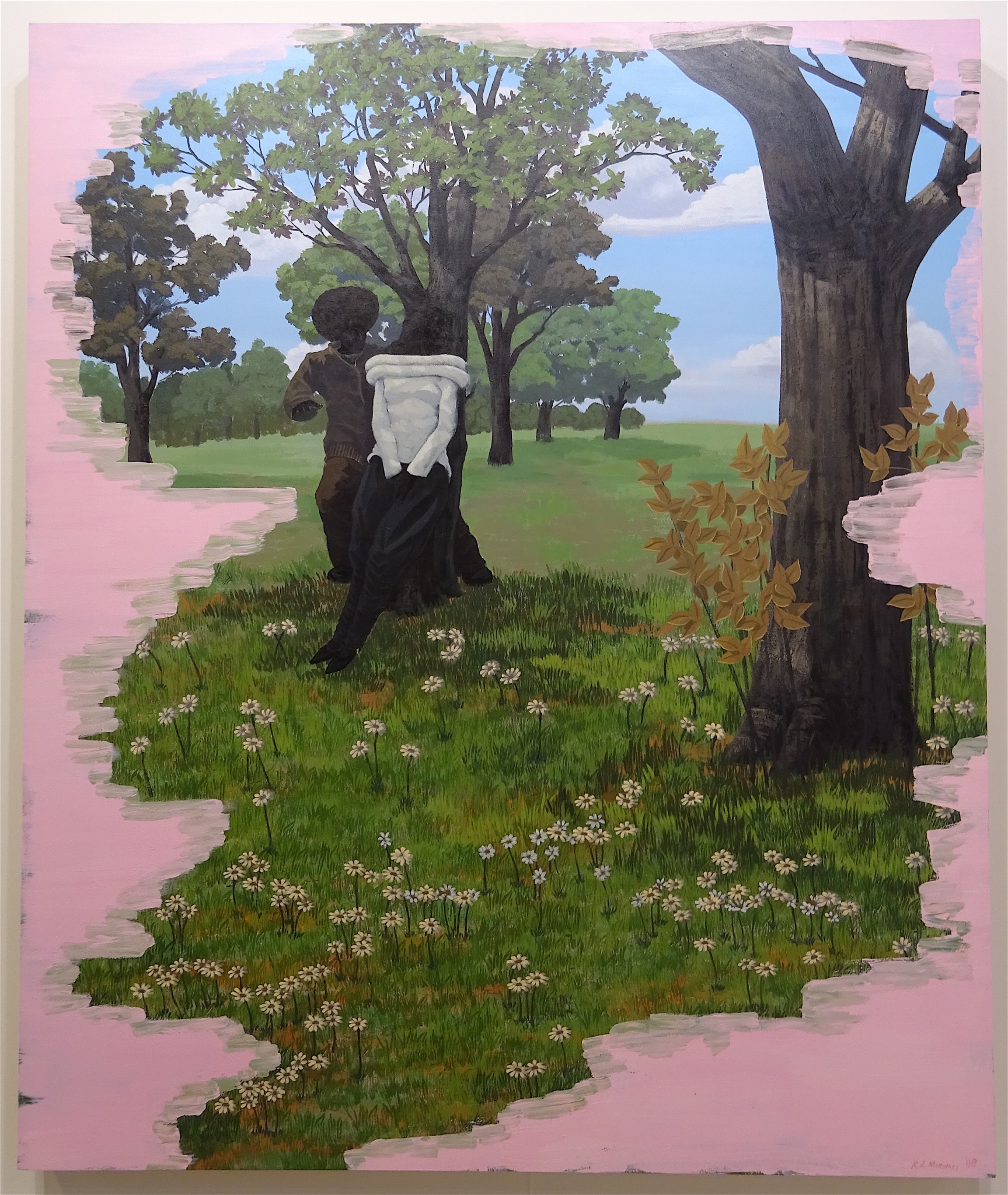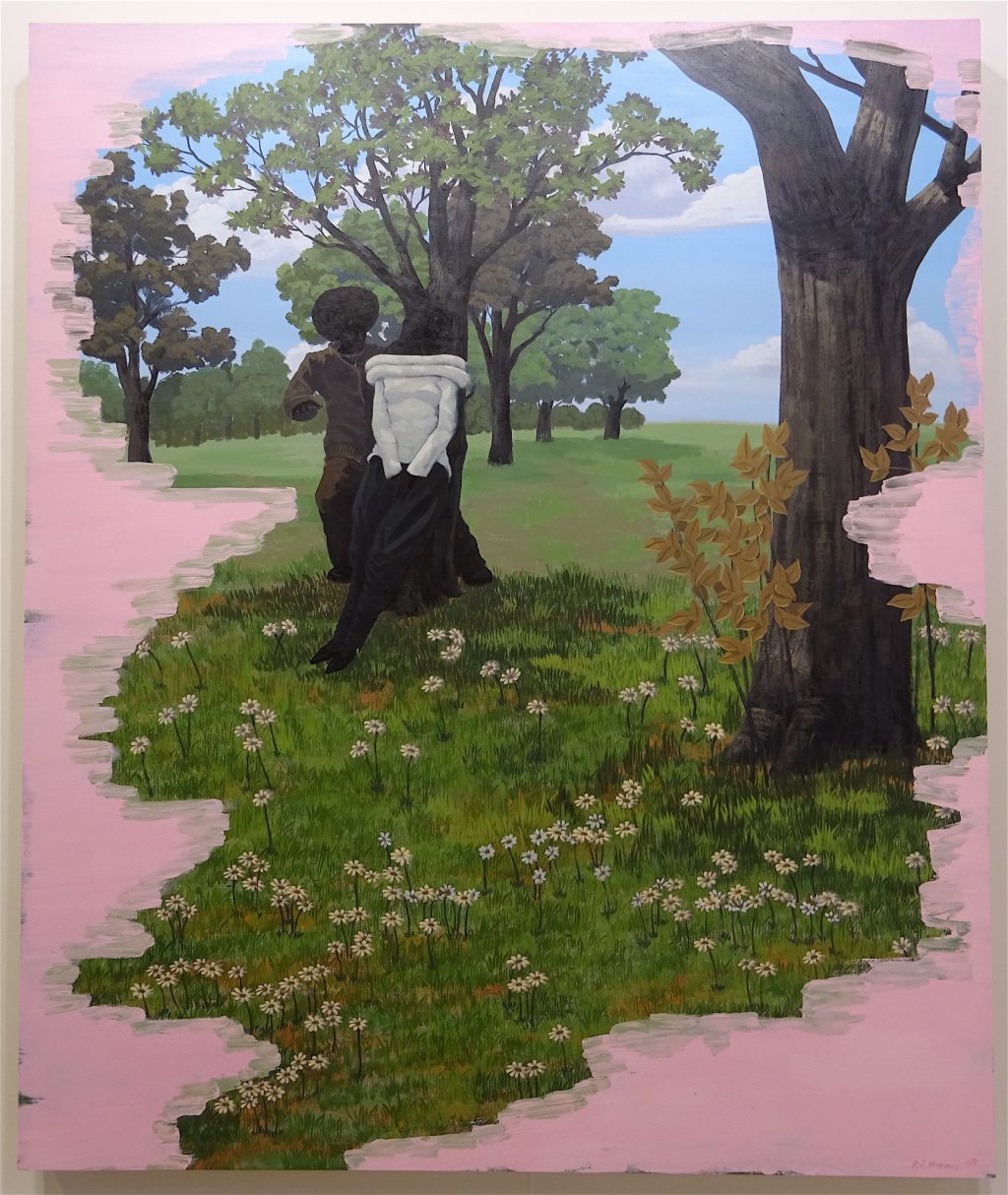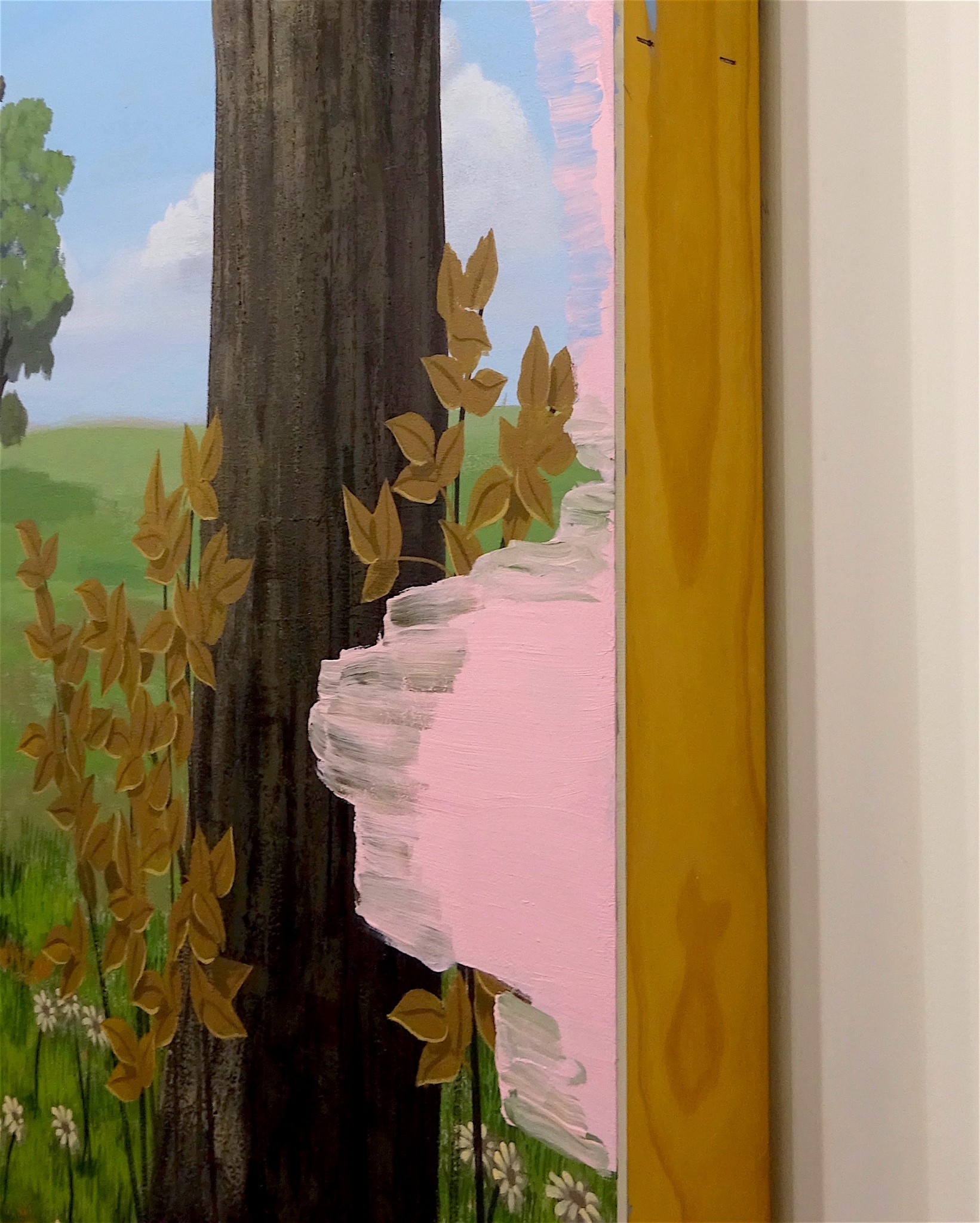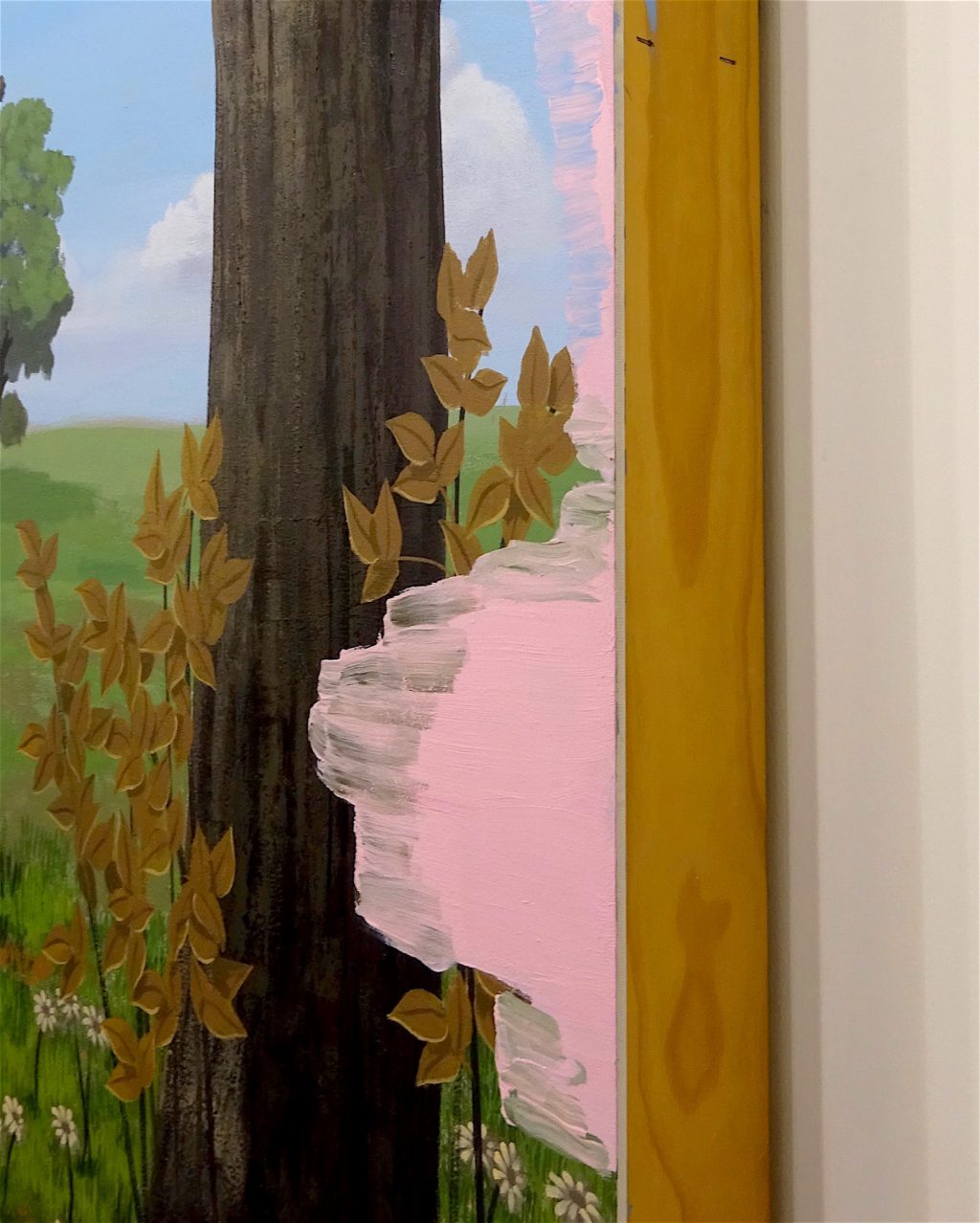 (compare with:)
Mark Bradford + Kerry James Marshall: 'Black Art' for American Art Flippers
https://art-culture.world/articles/mark-bradford-kerry-james-marshall-black-art-for-american-art-flippers/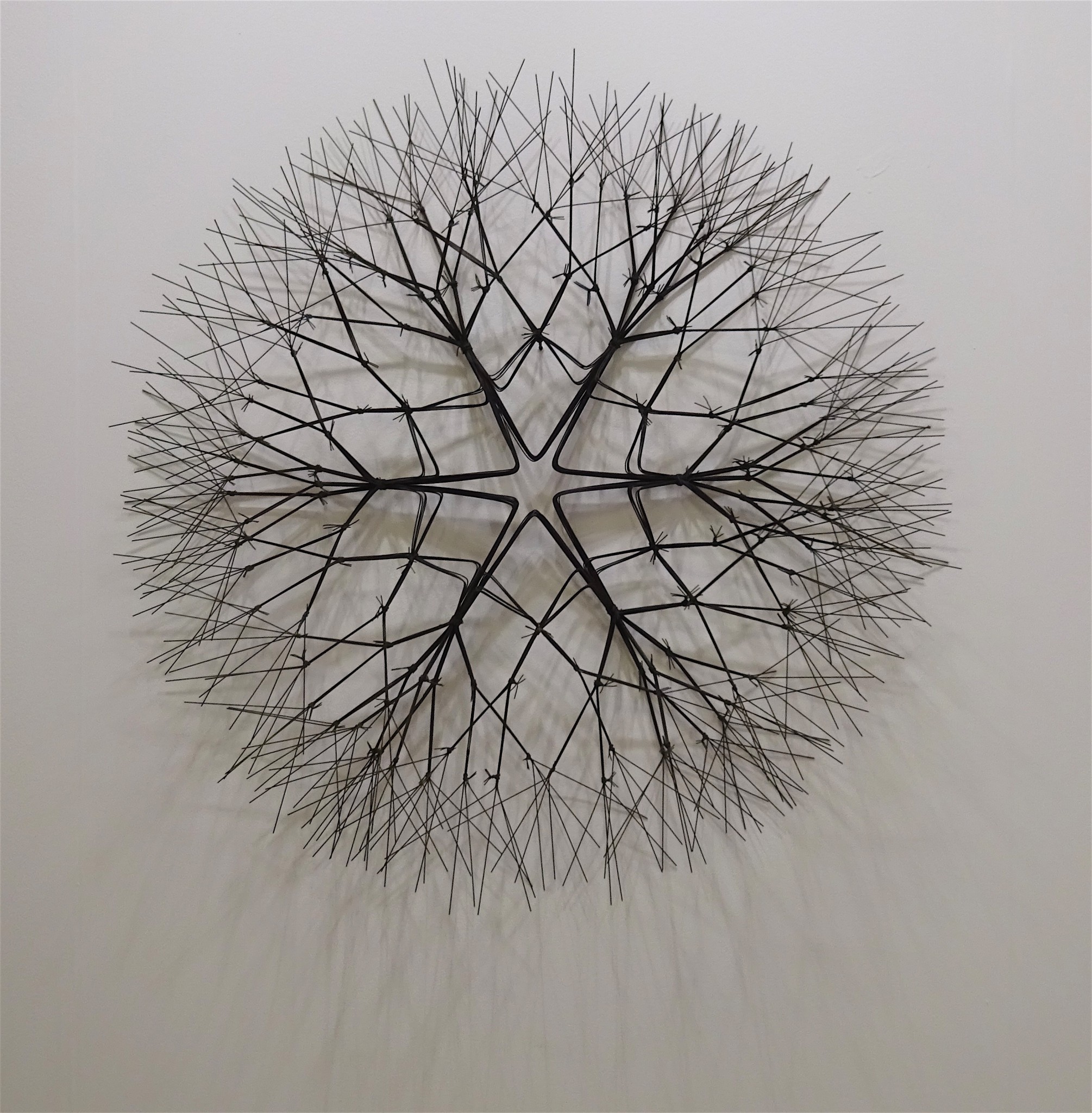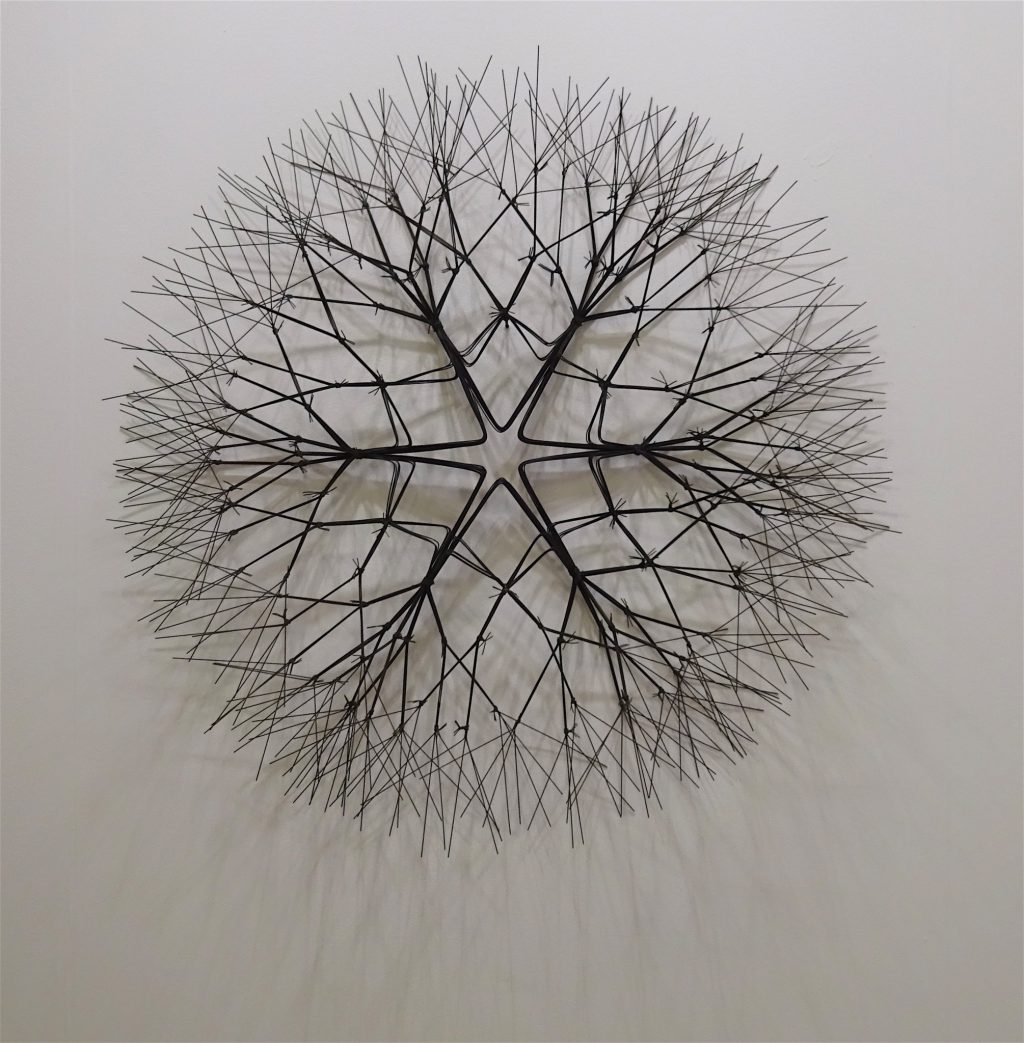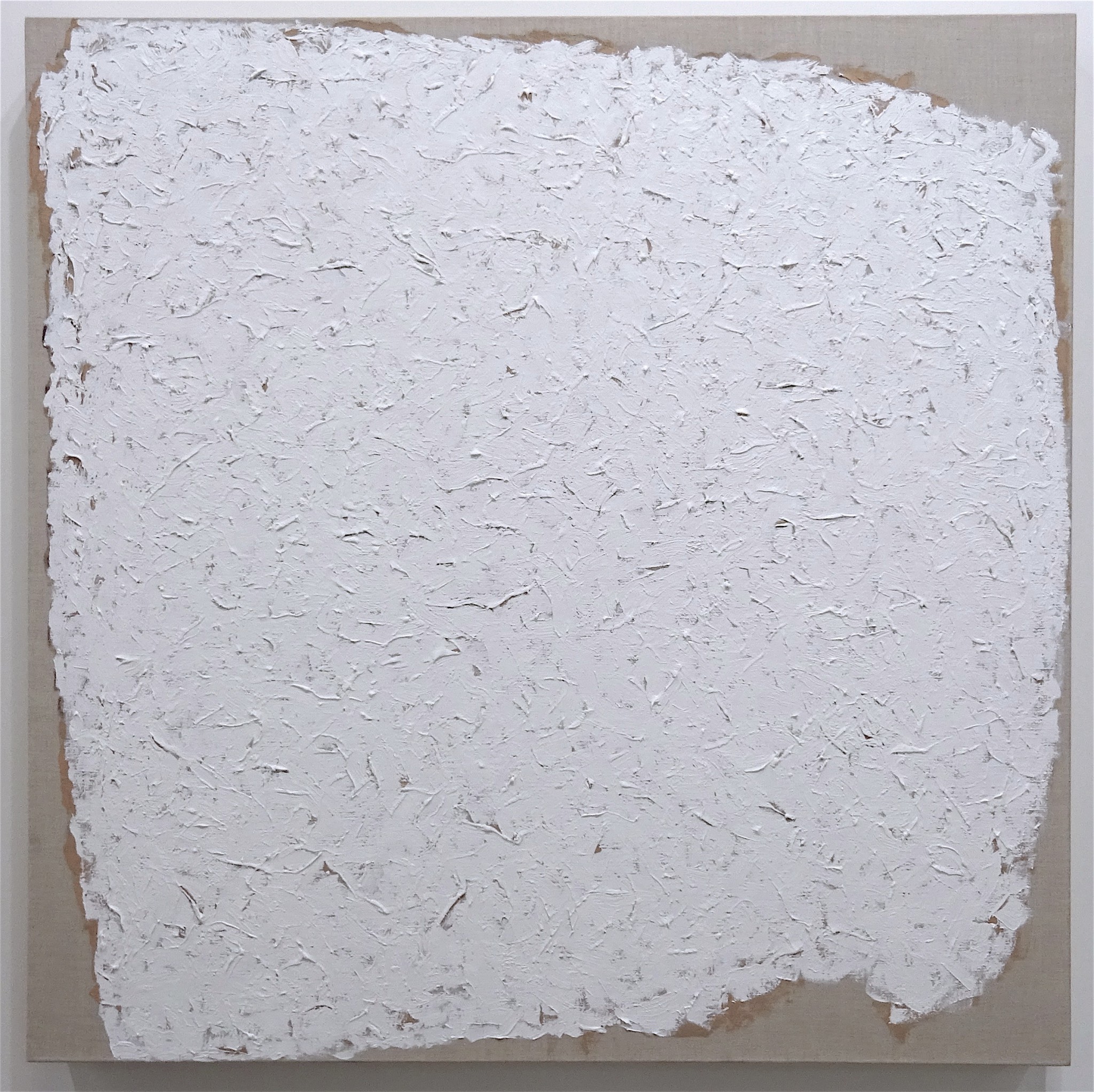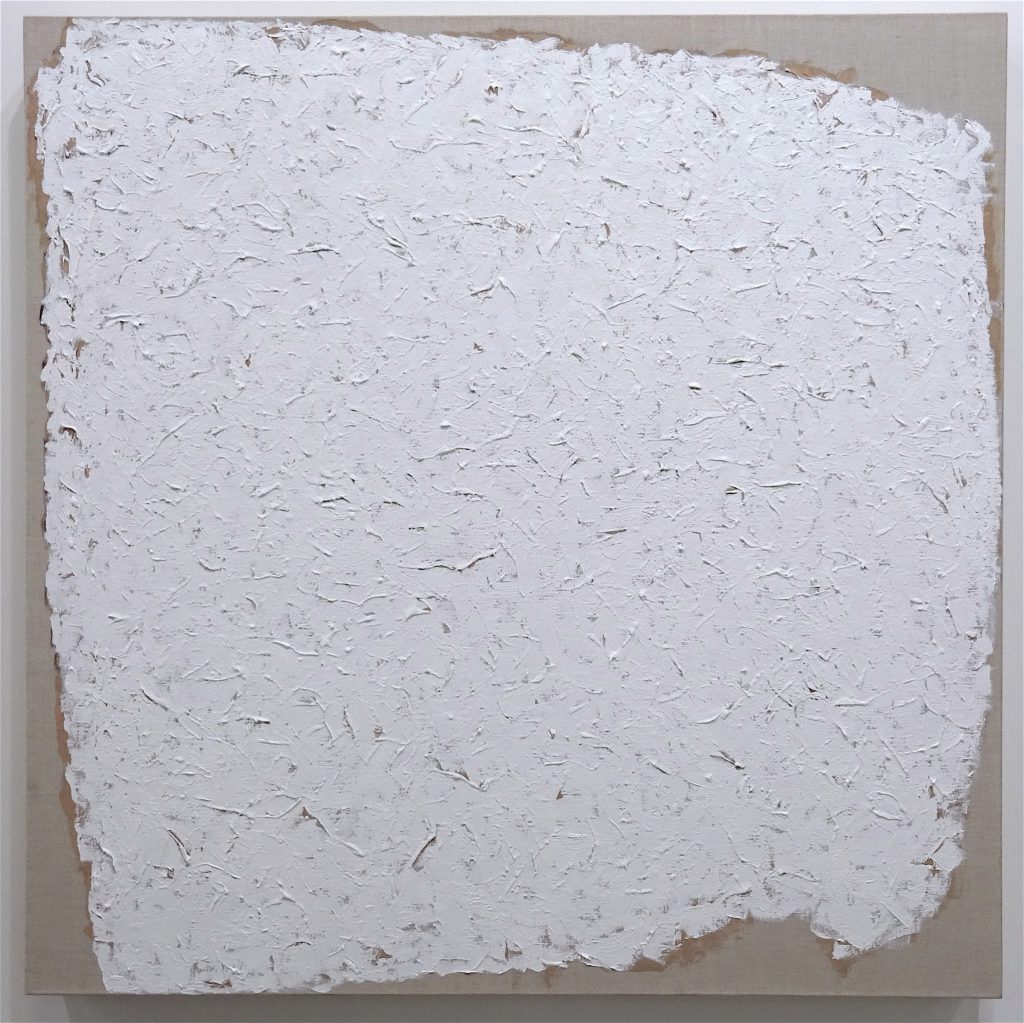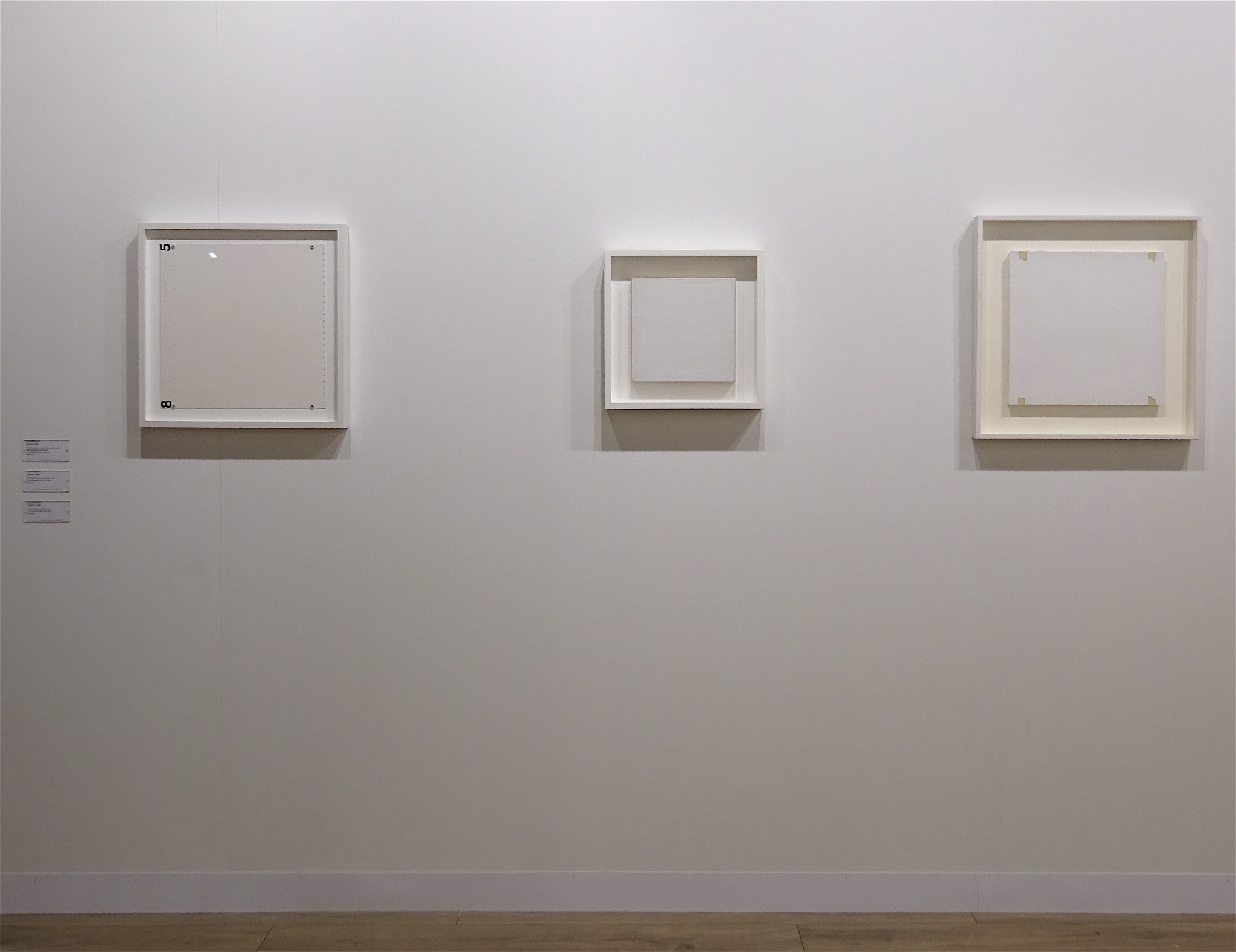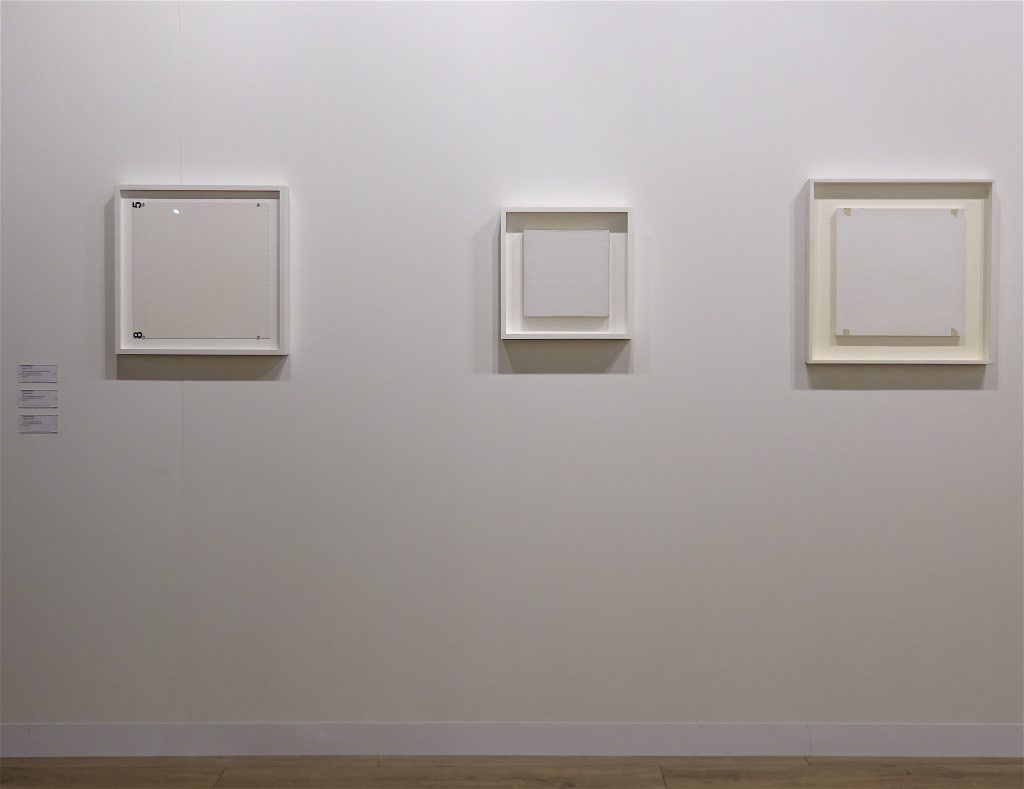 (compare with:)
ロバート・ライマン展 @ 新空間「ファーガス・マカフリー東京」ギャラリー
Robert Ryman @ New Gallery Space of Fergus McCaffrey Tokyo
https://art-culture.world/articles/robert-ryman-new-gallery-space-of-fergus-mccaffrey-tokyo/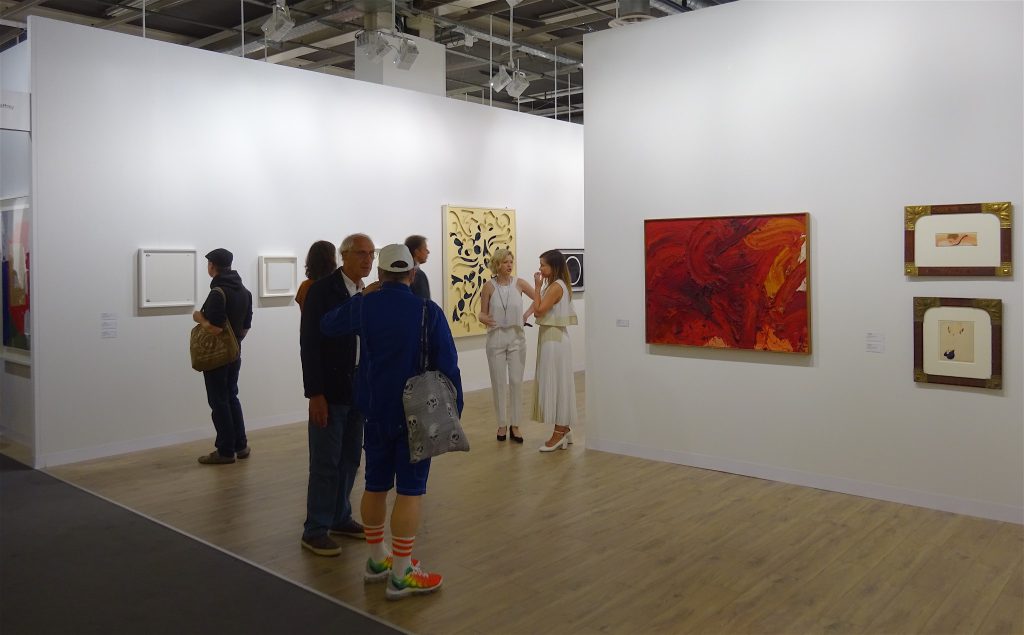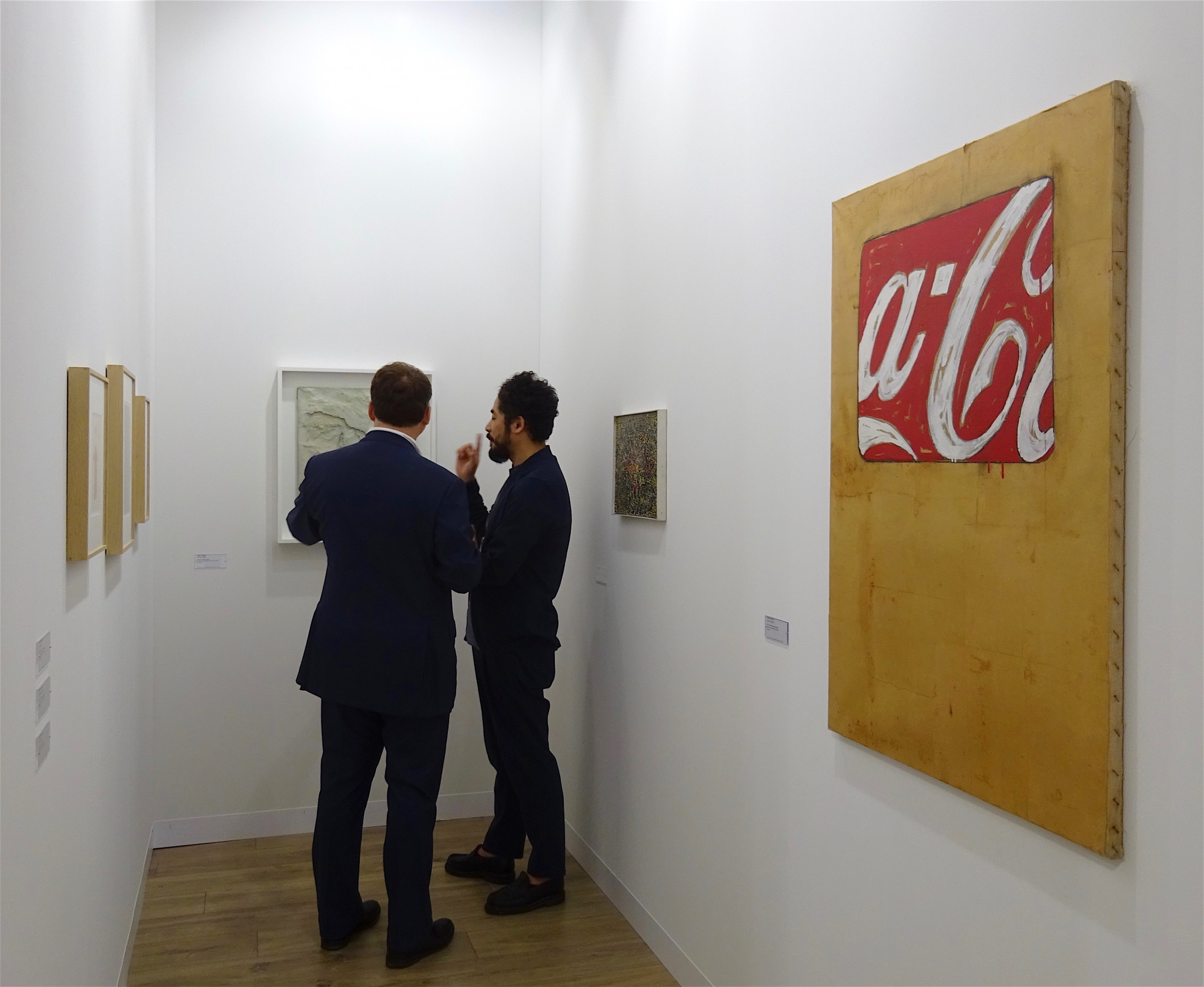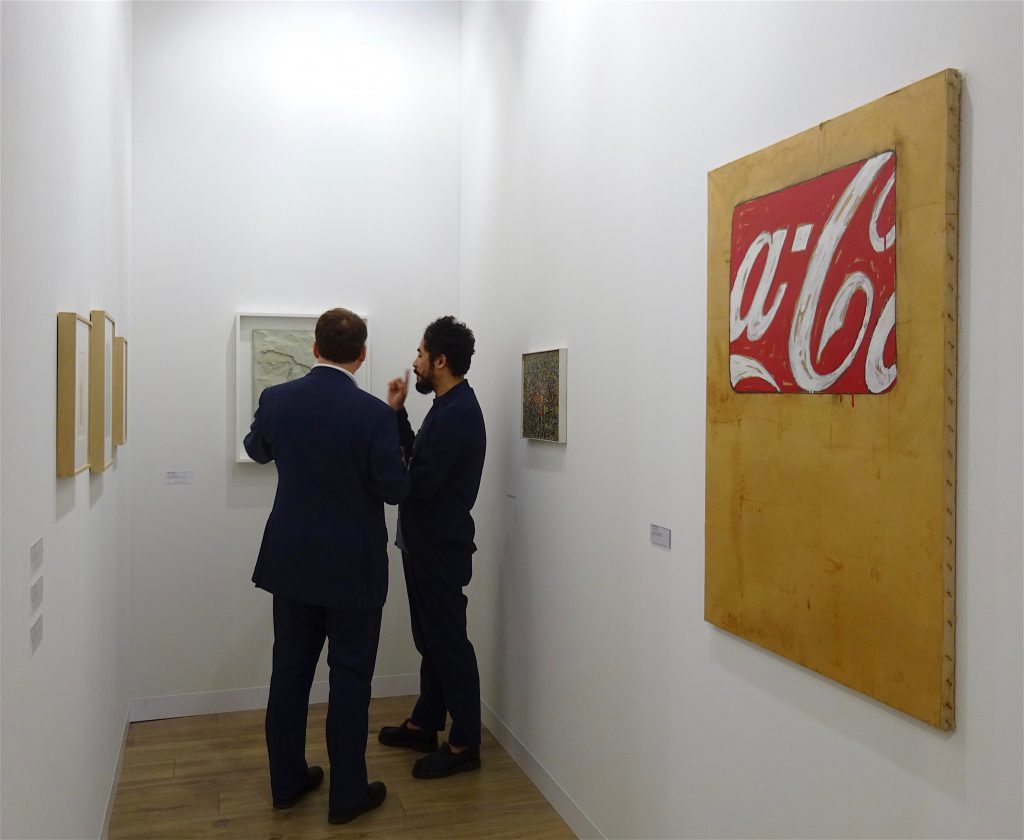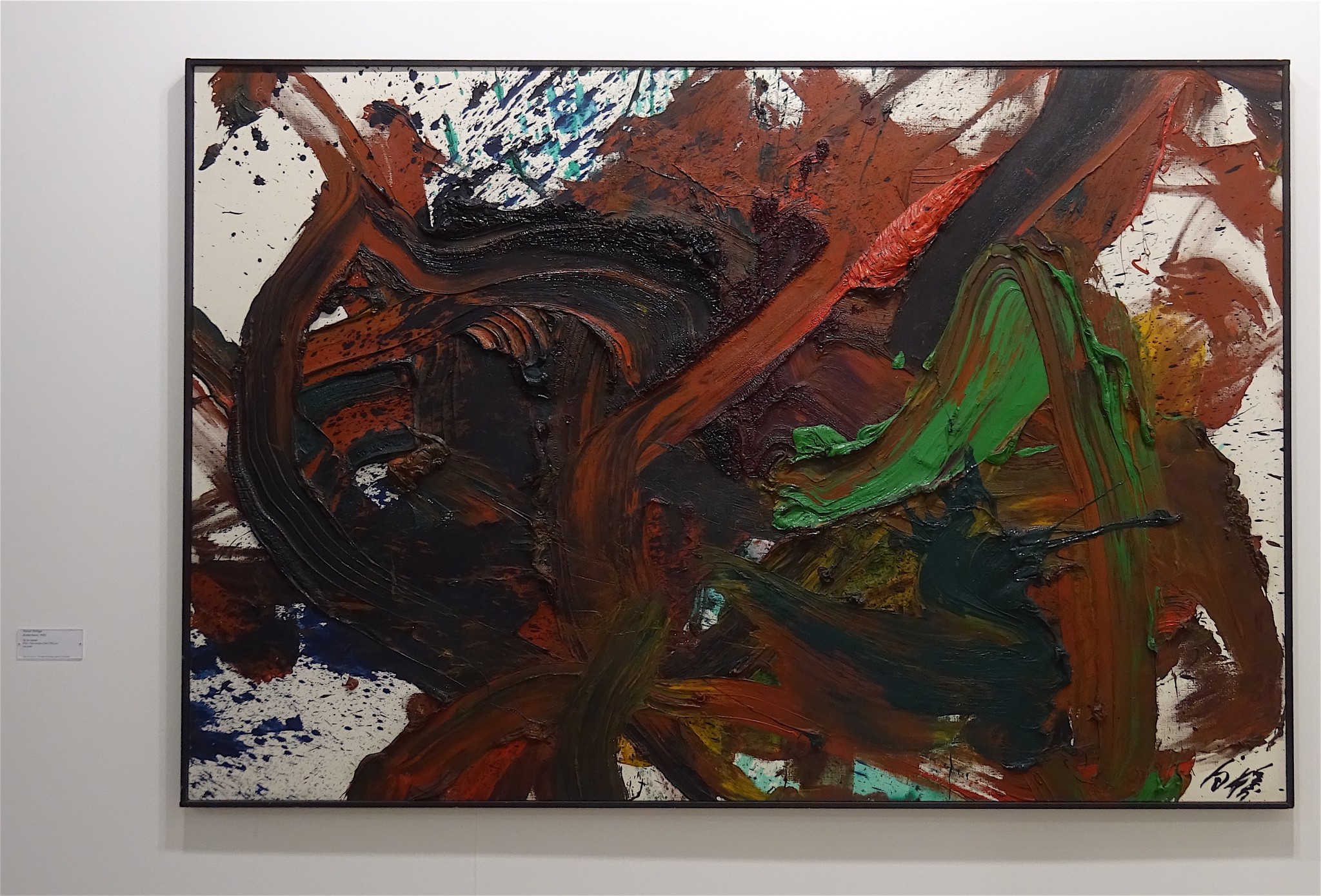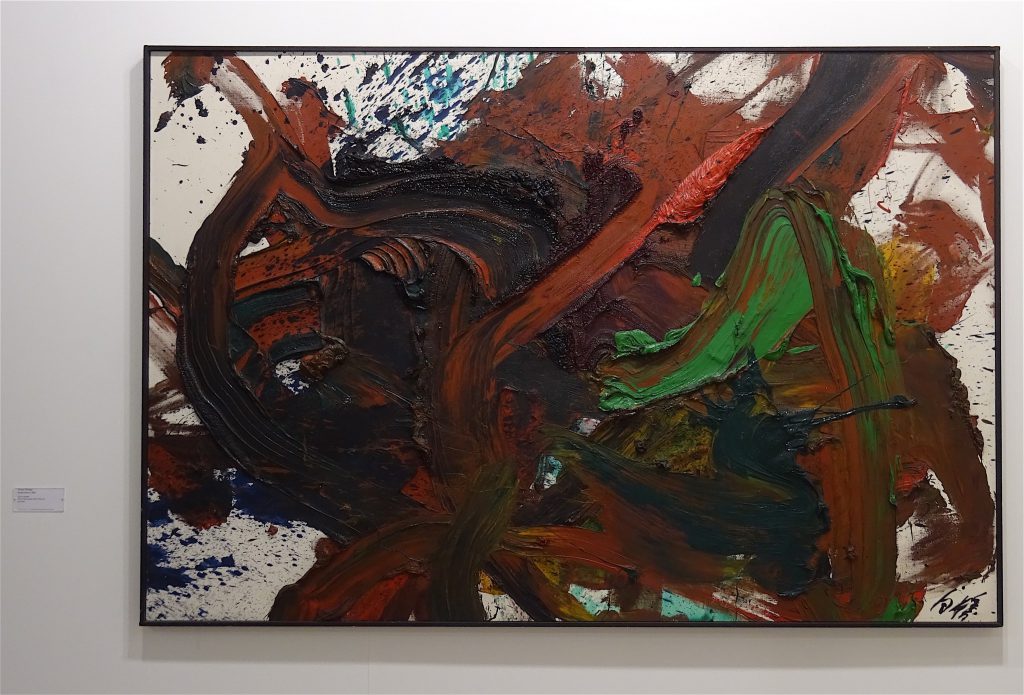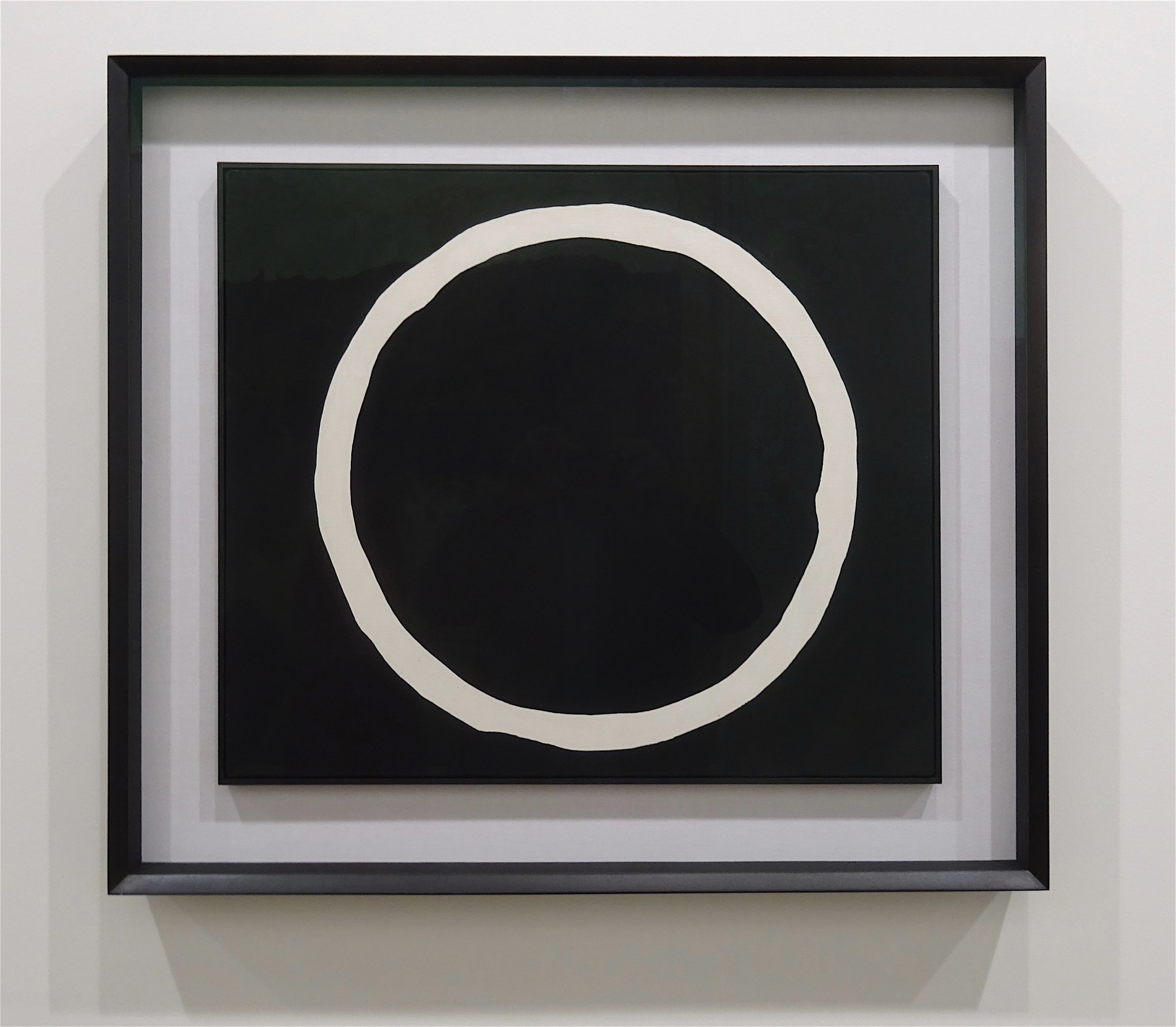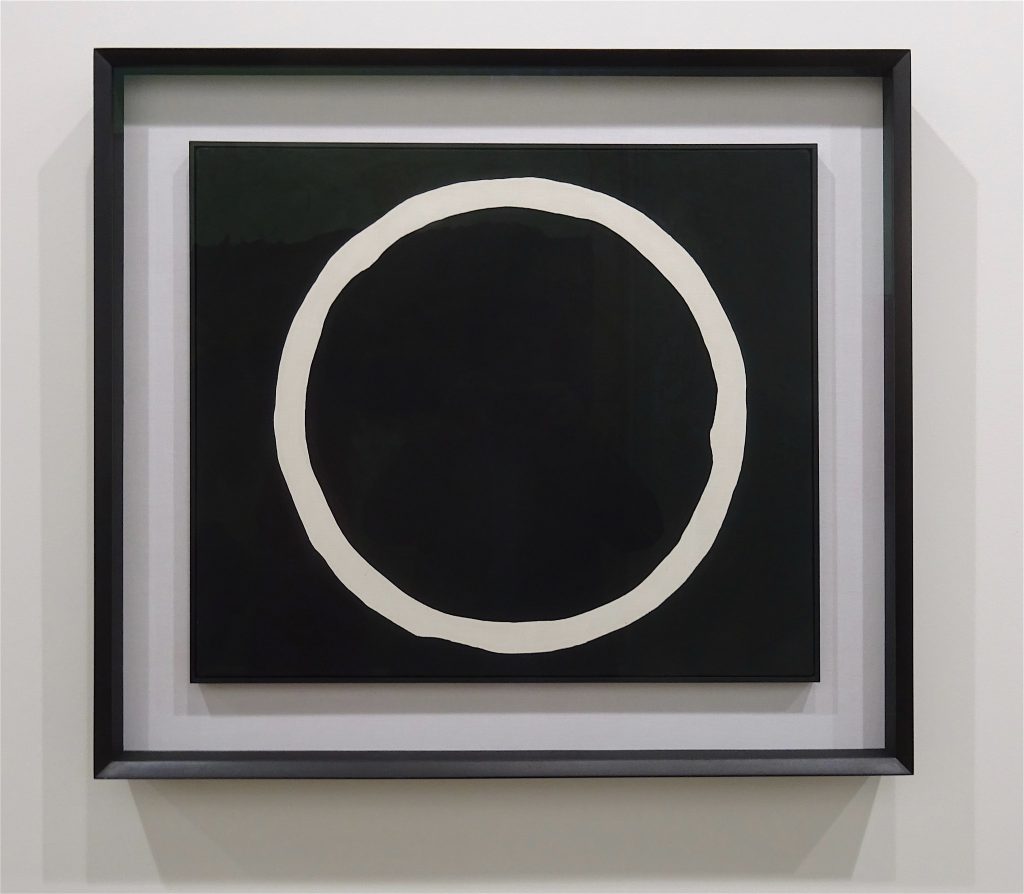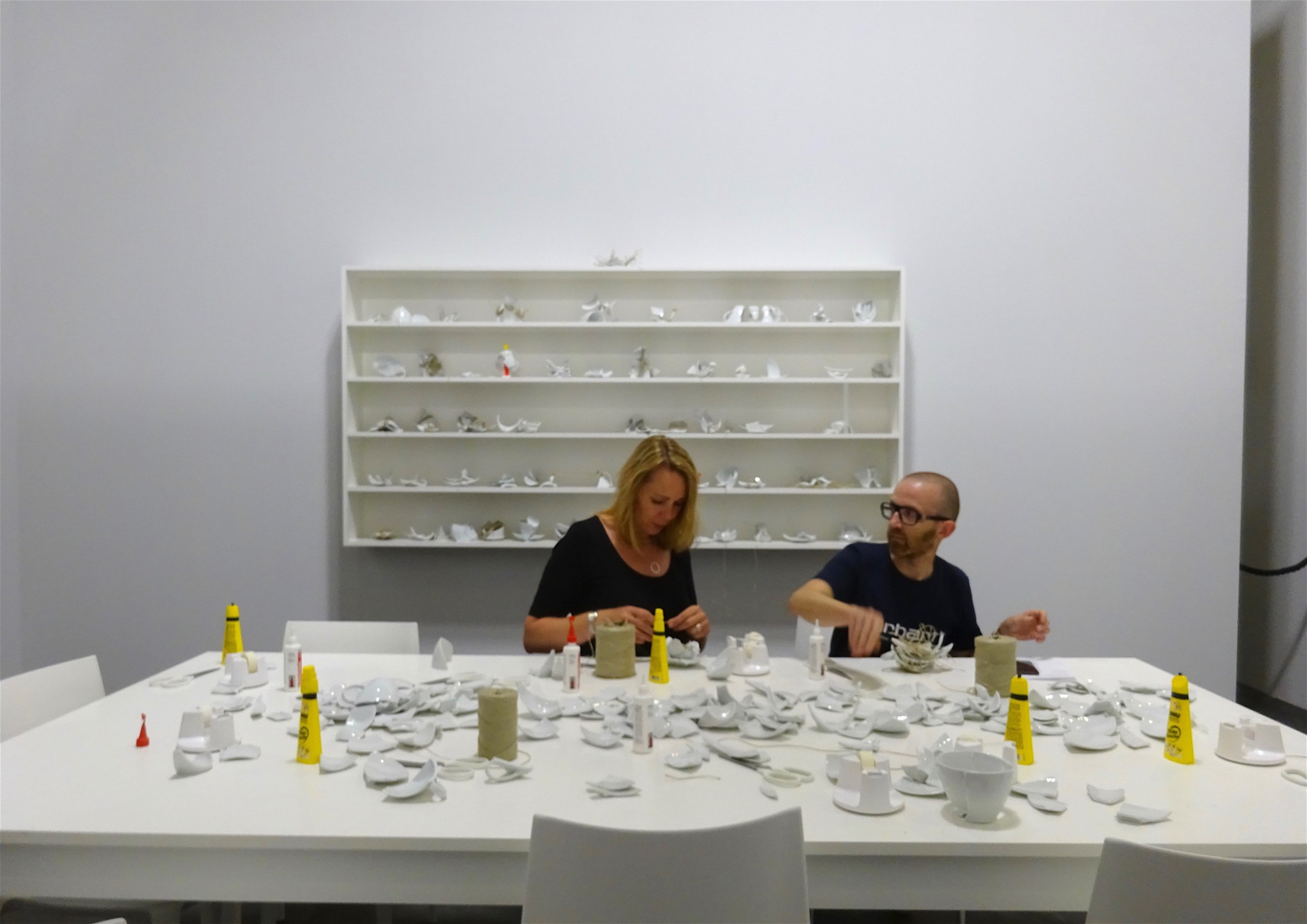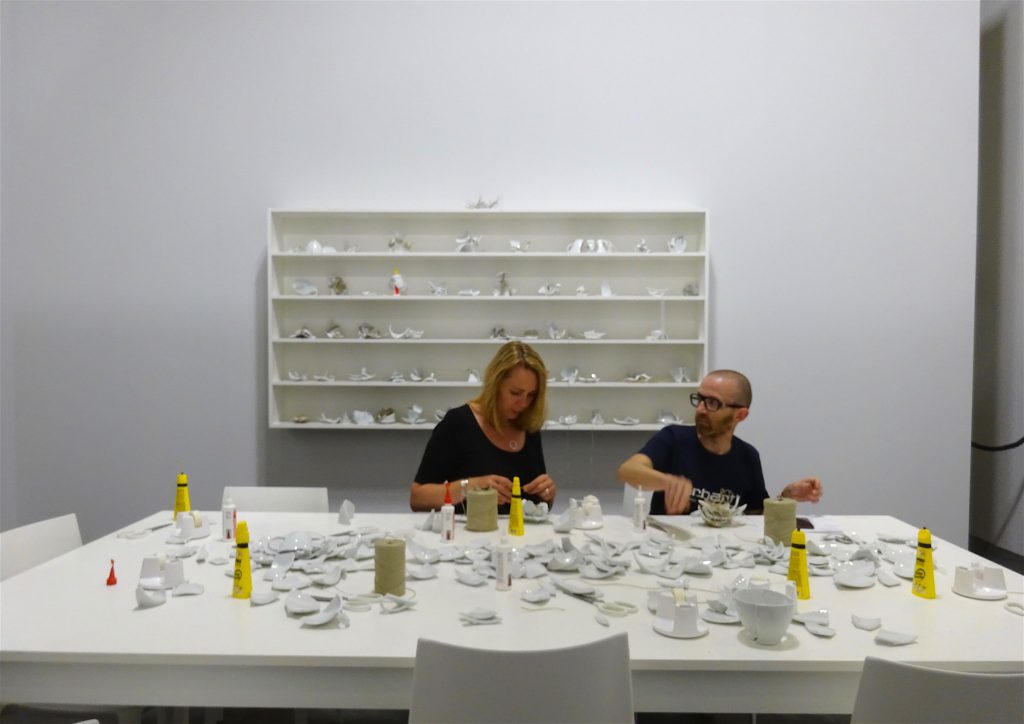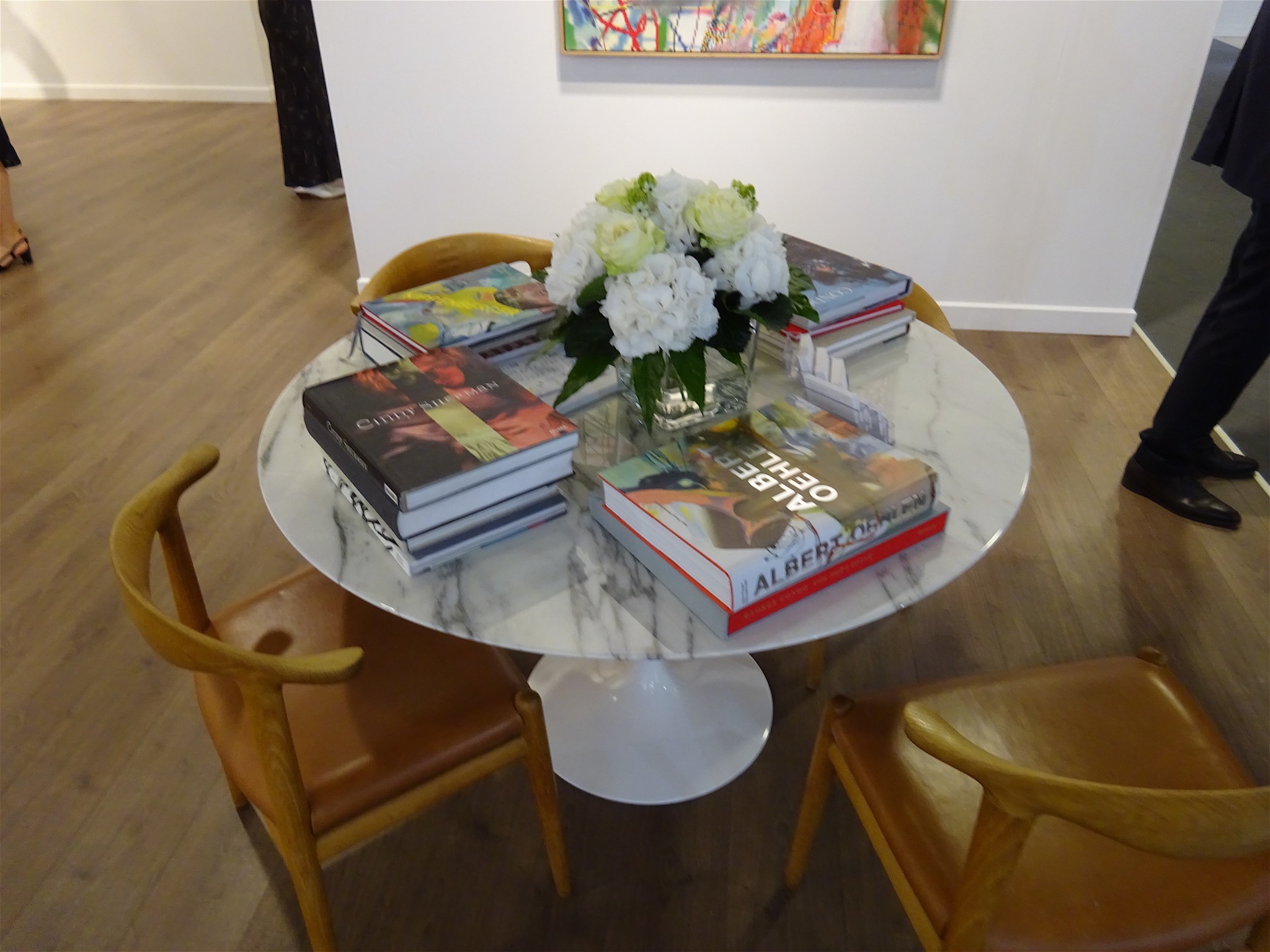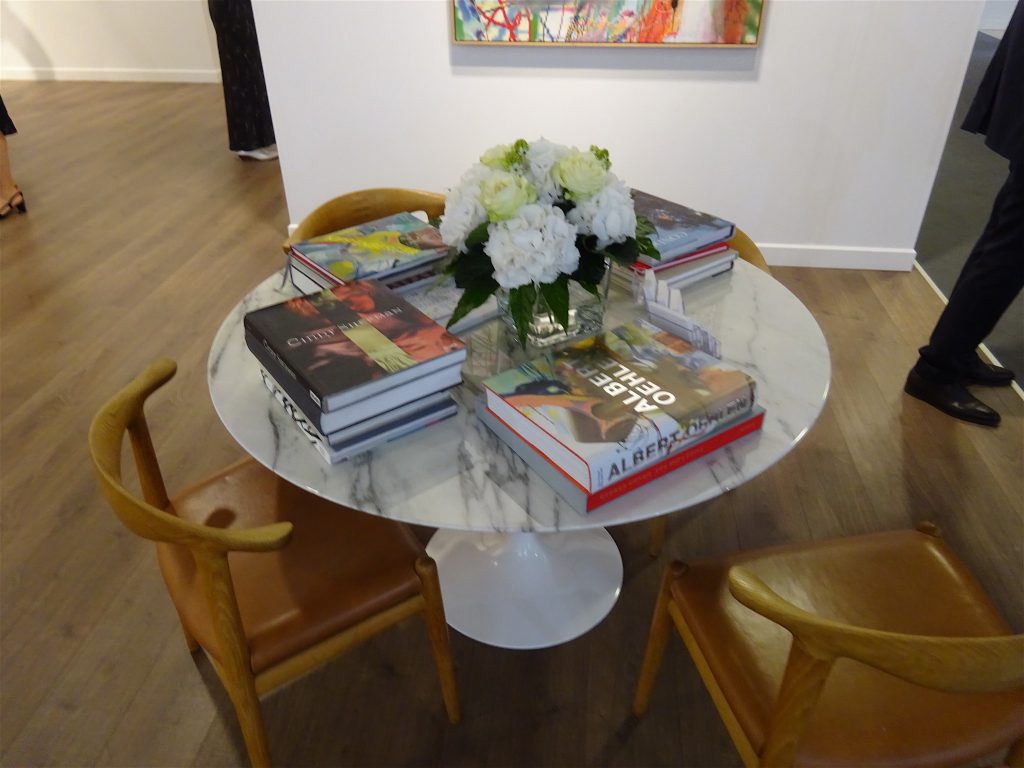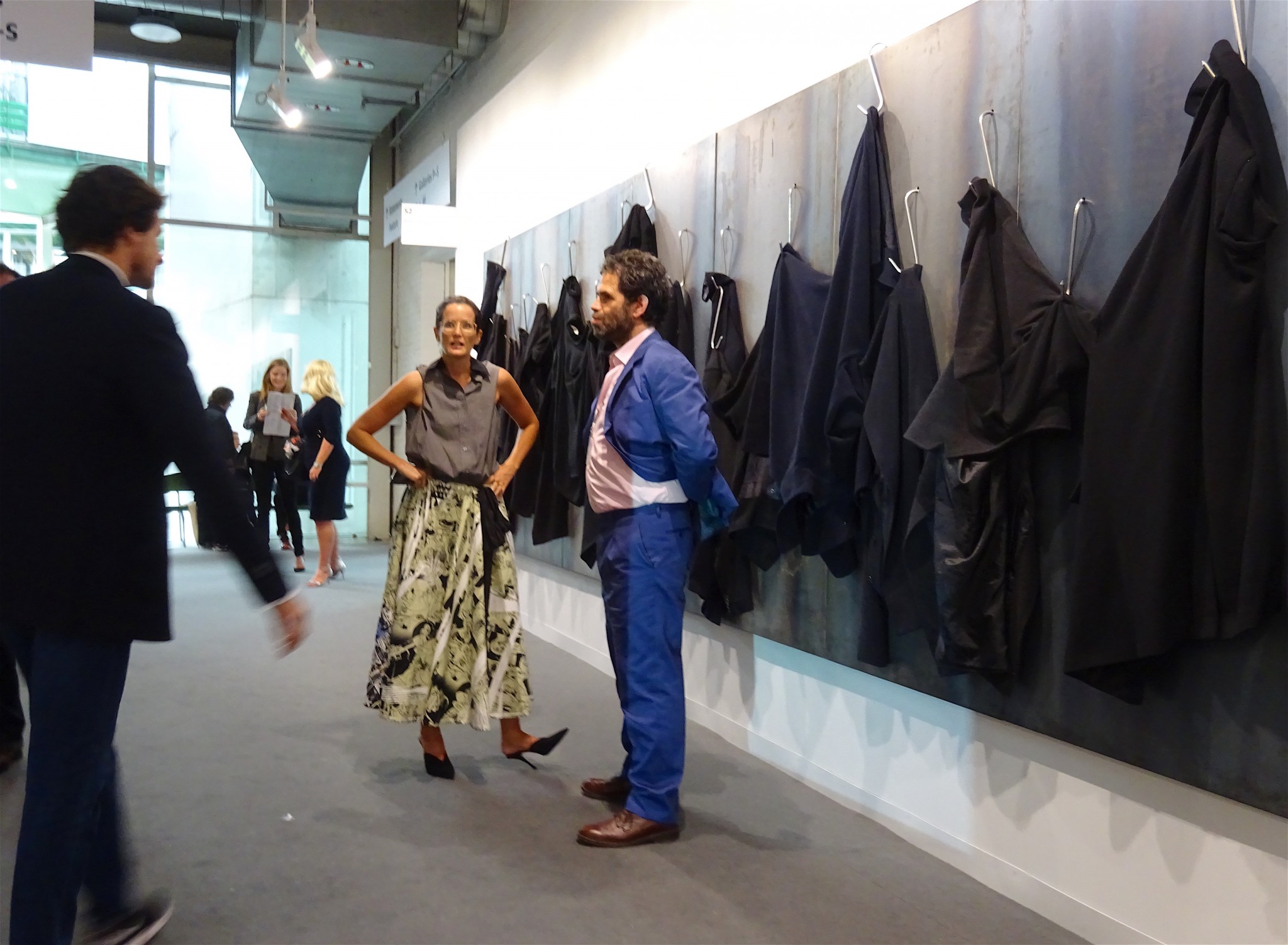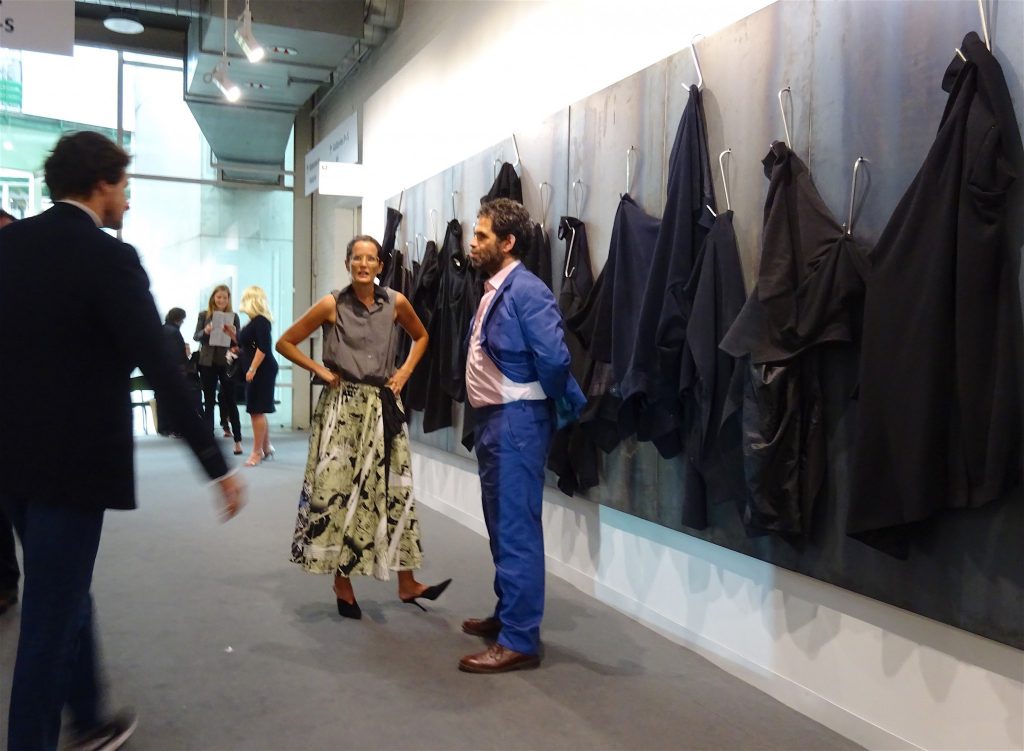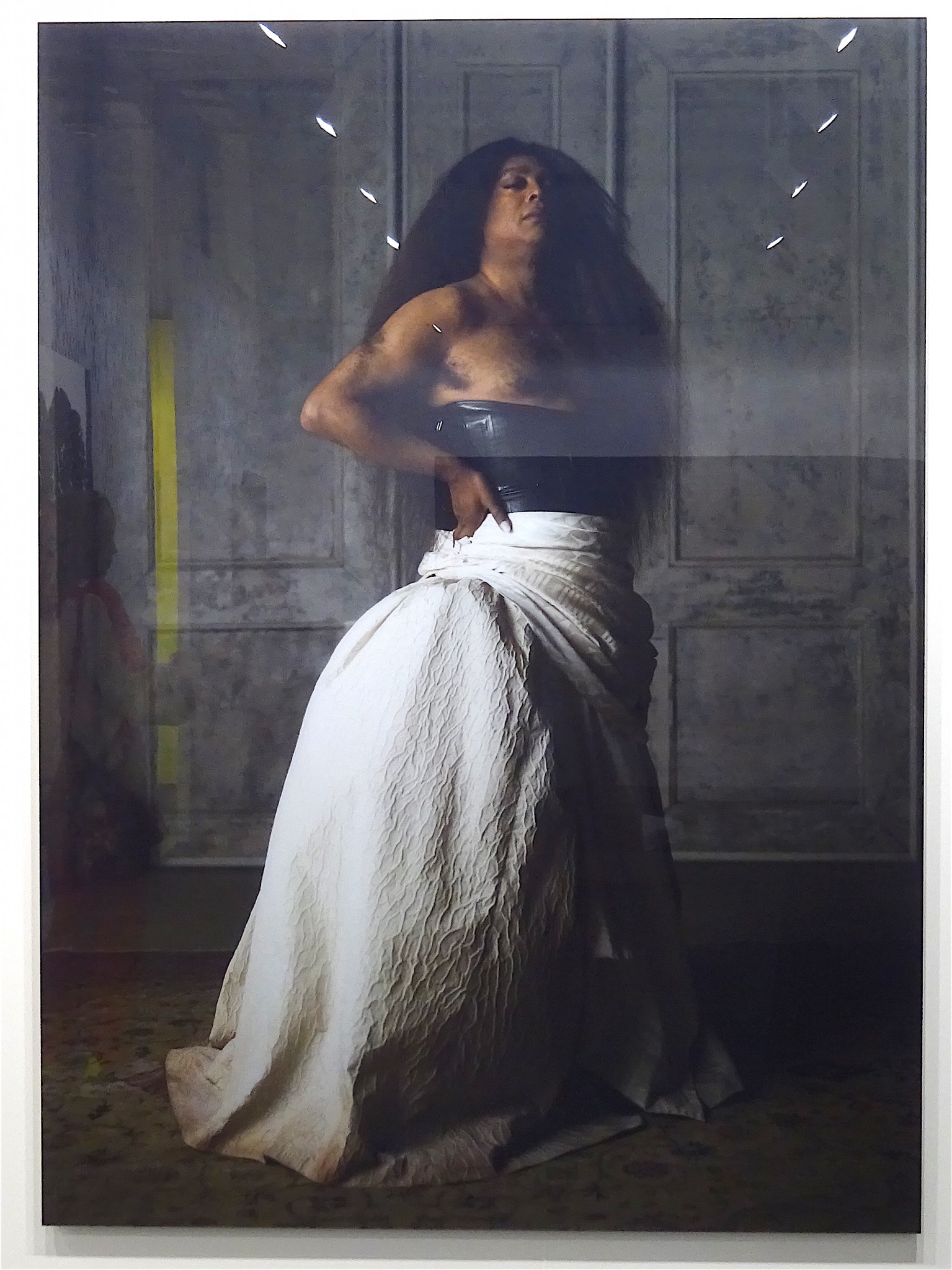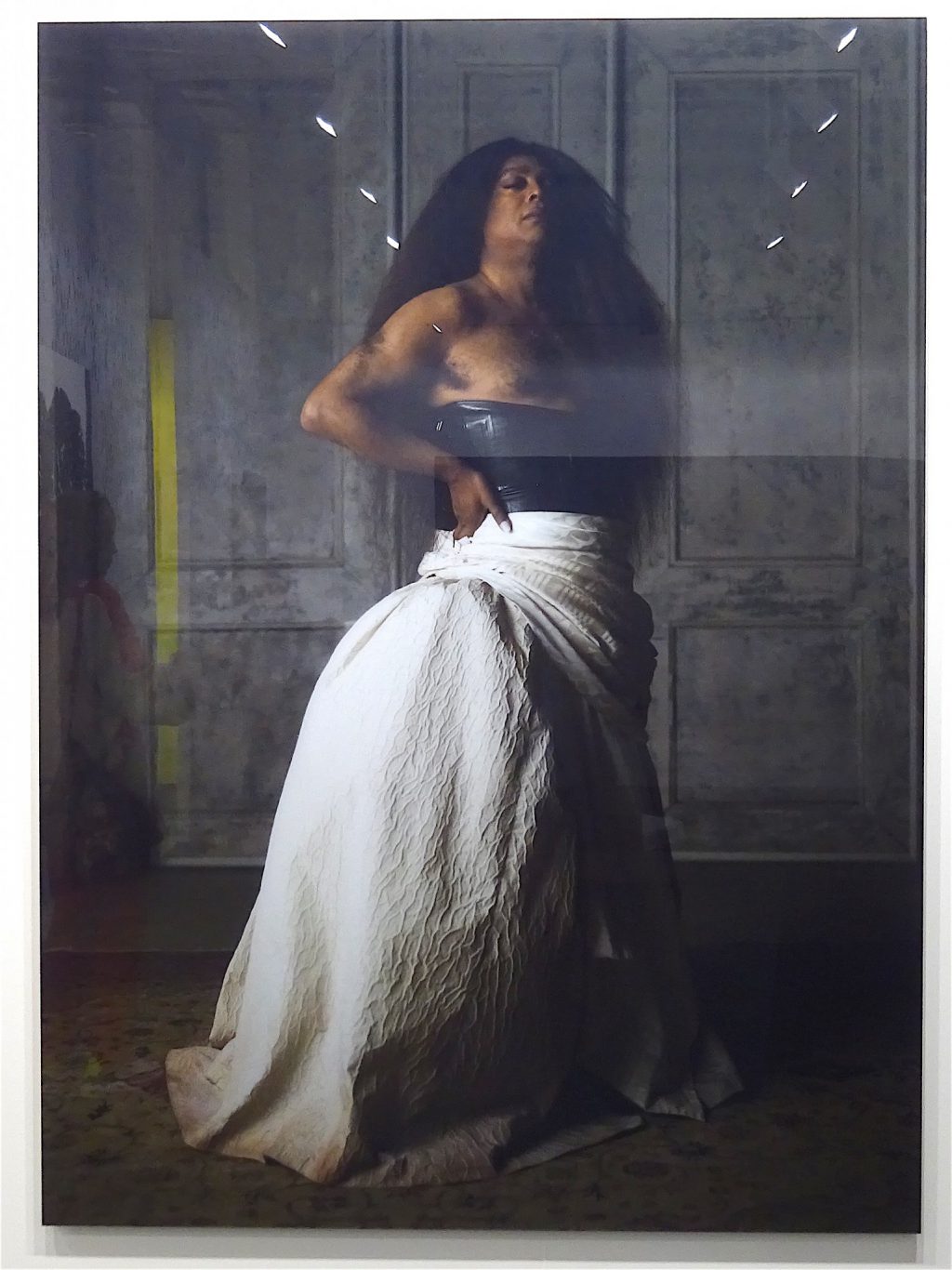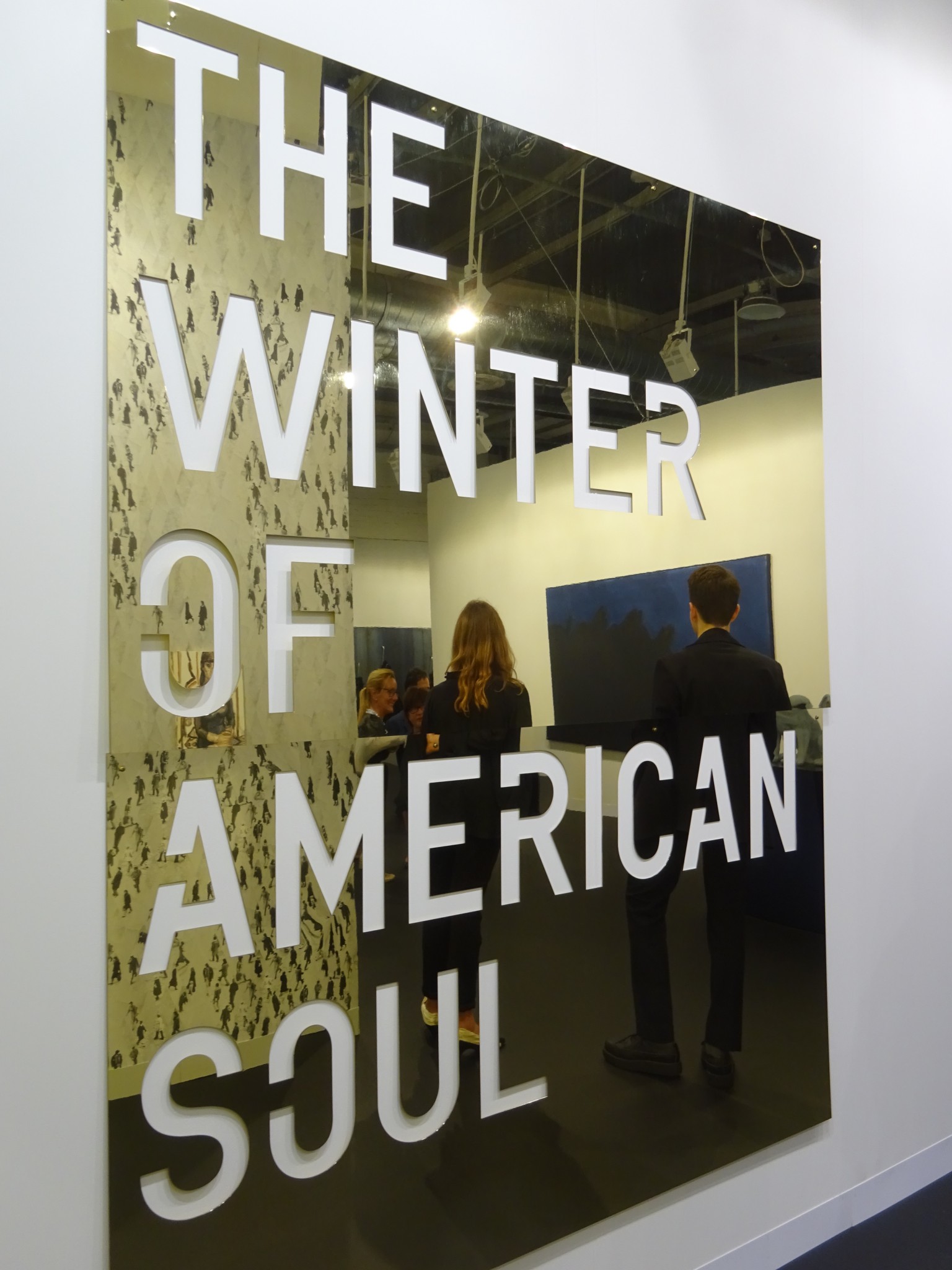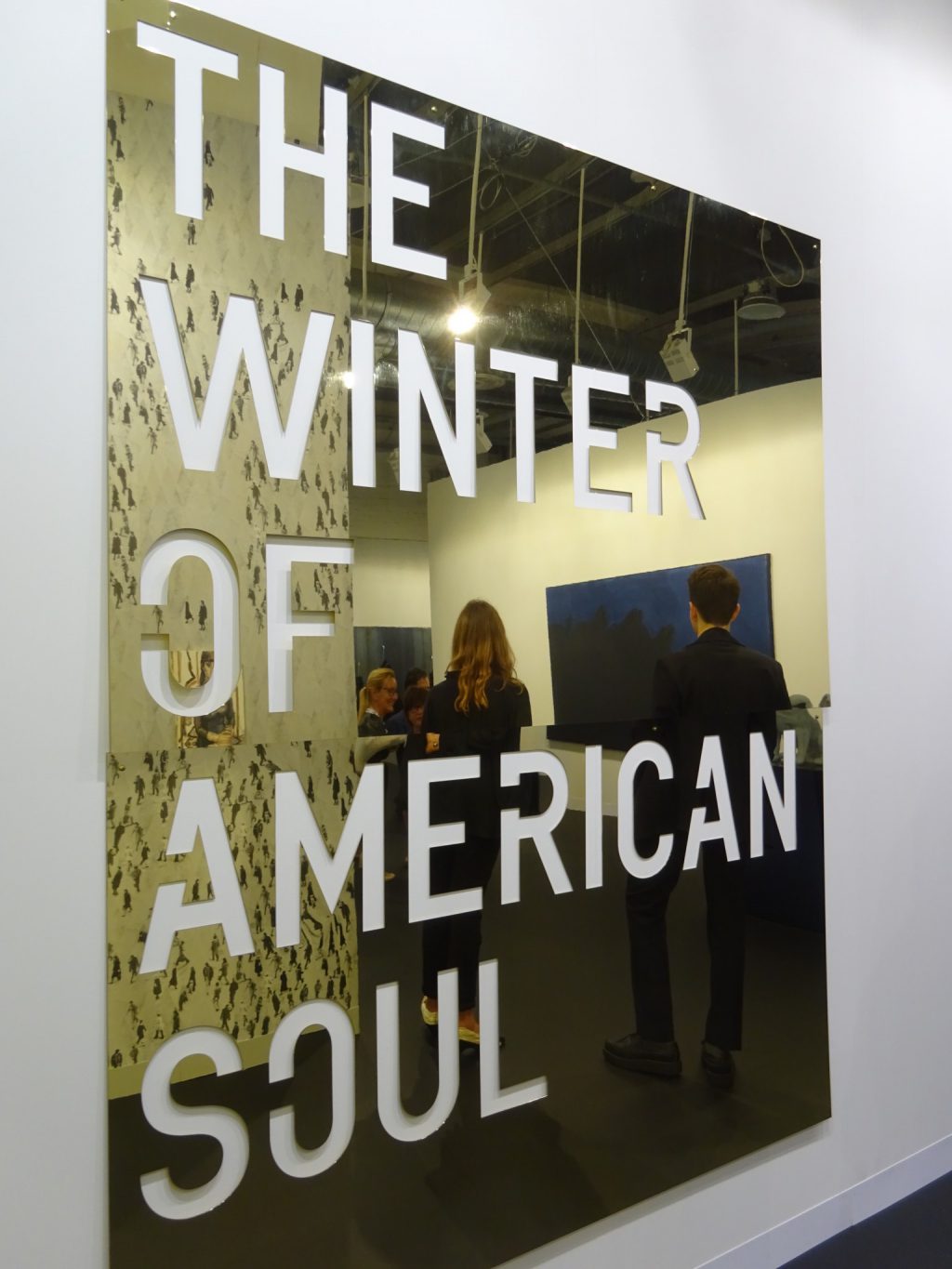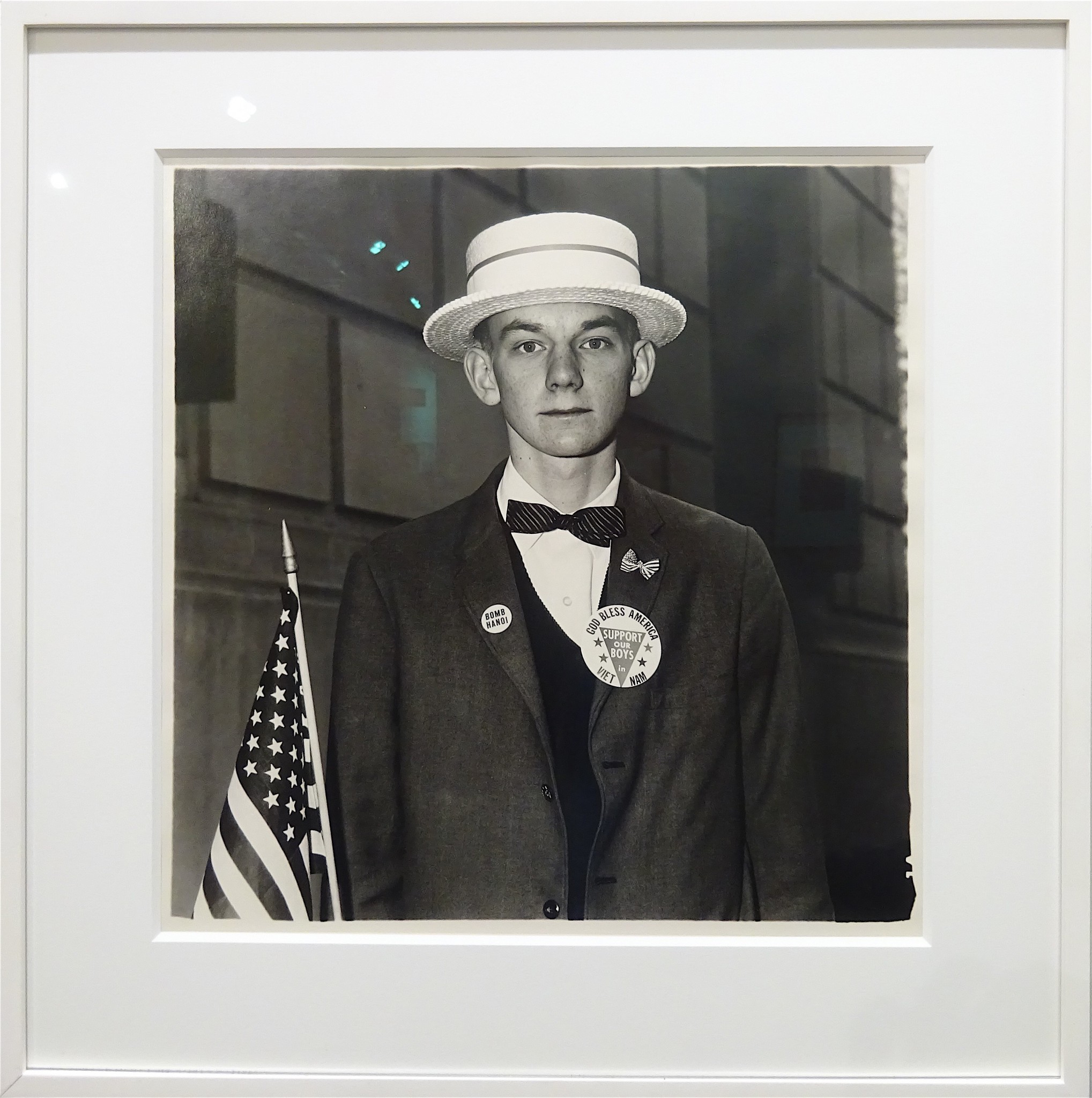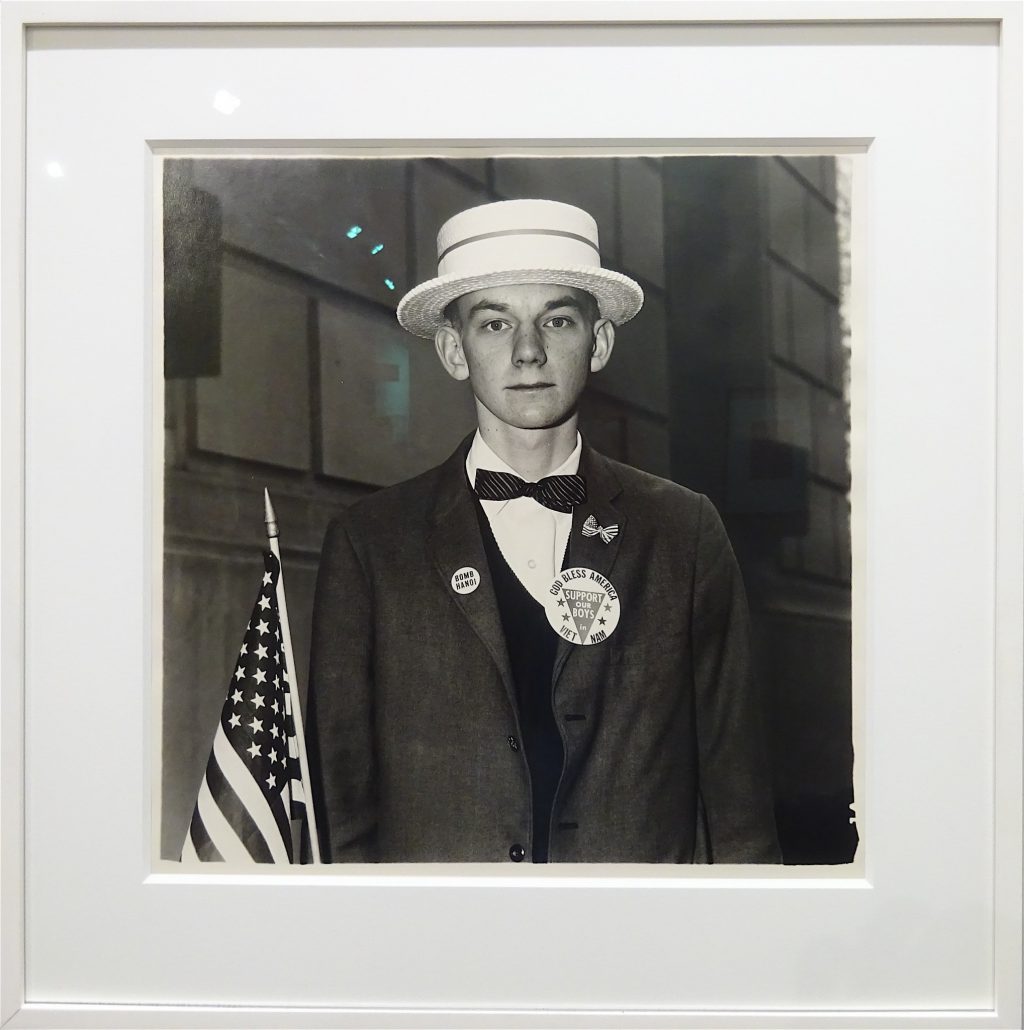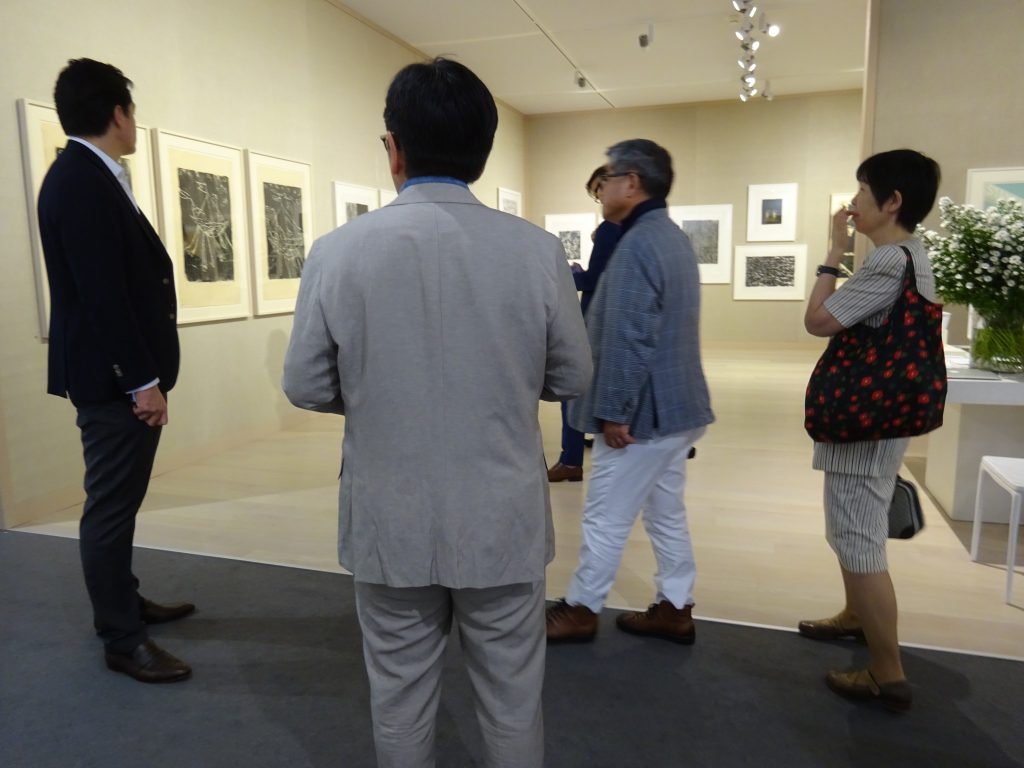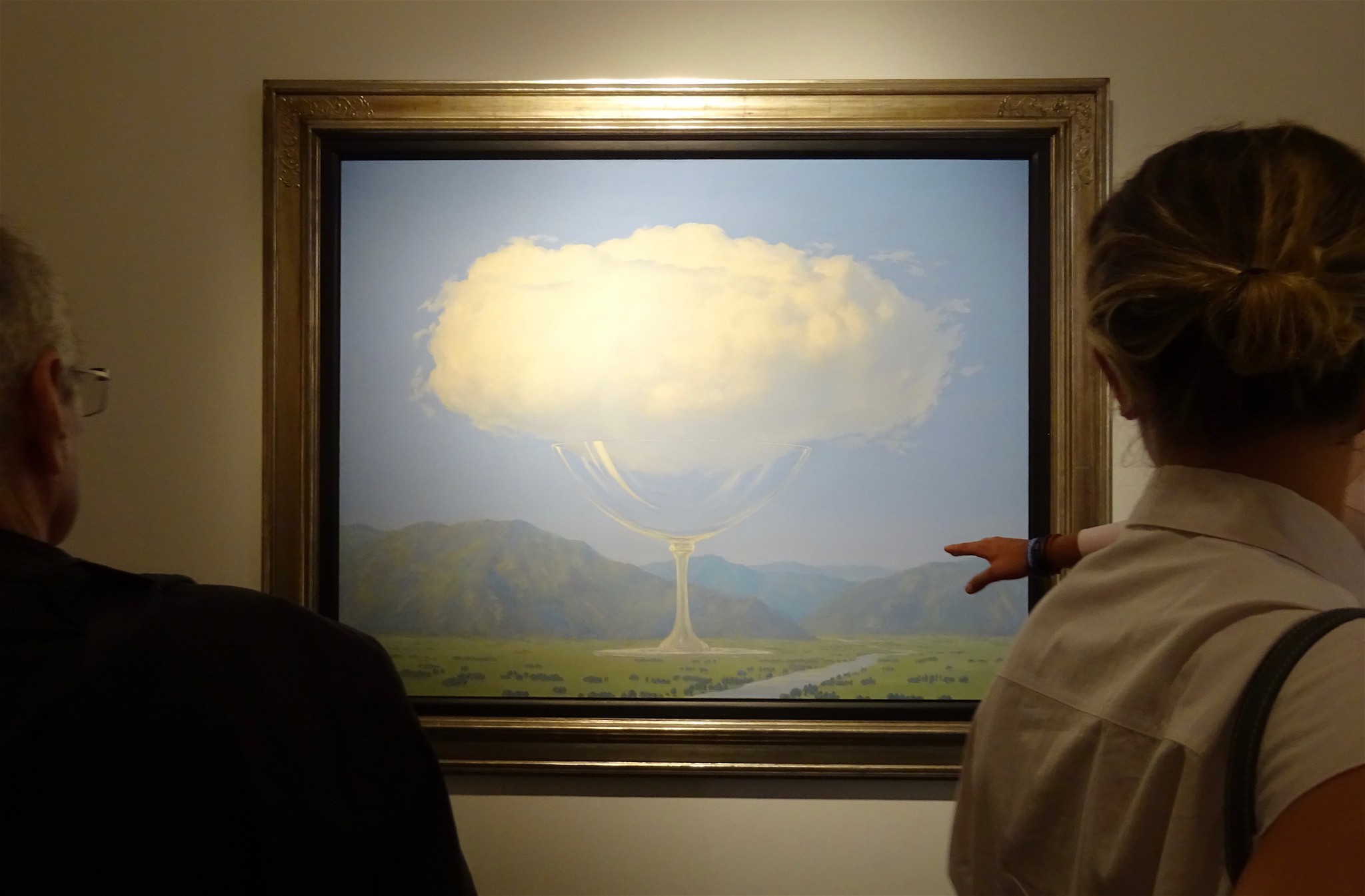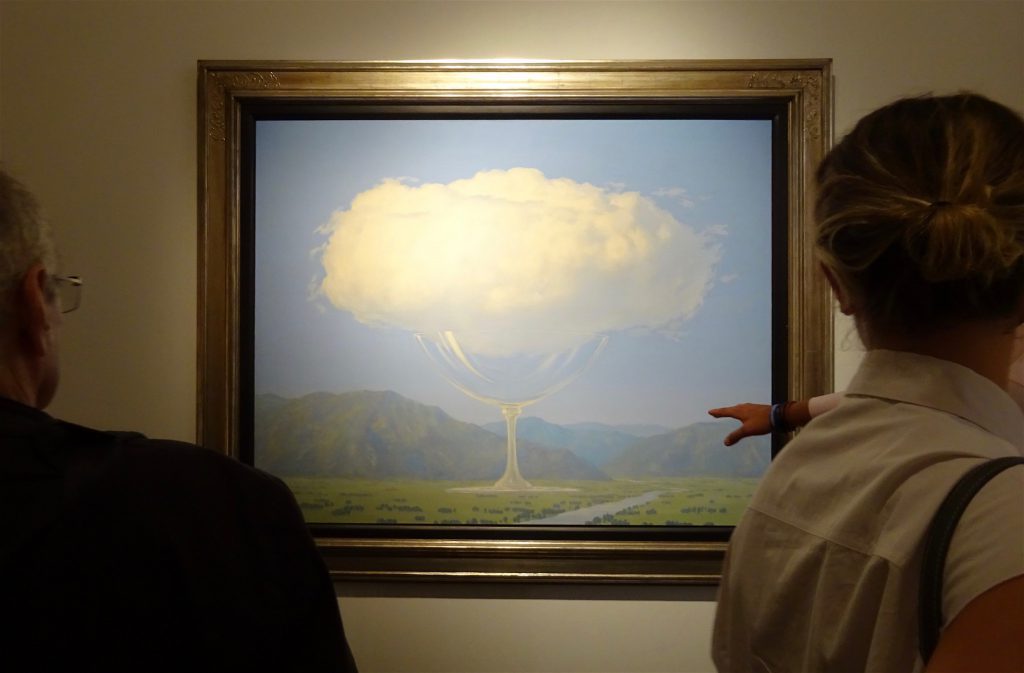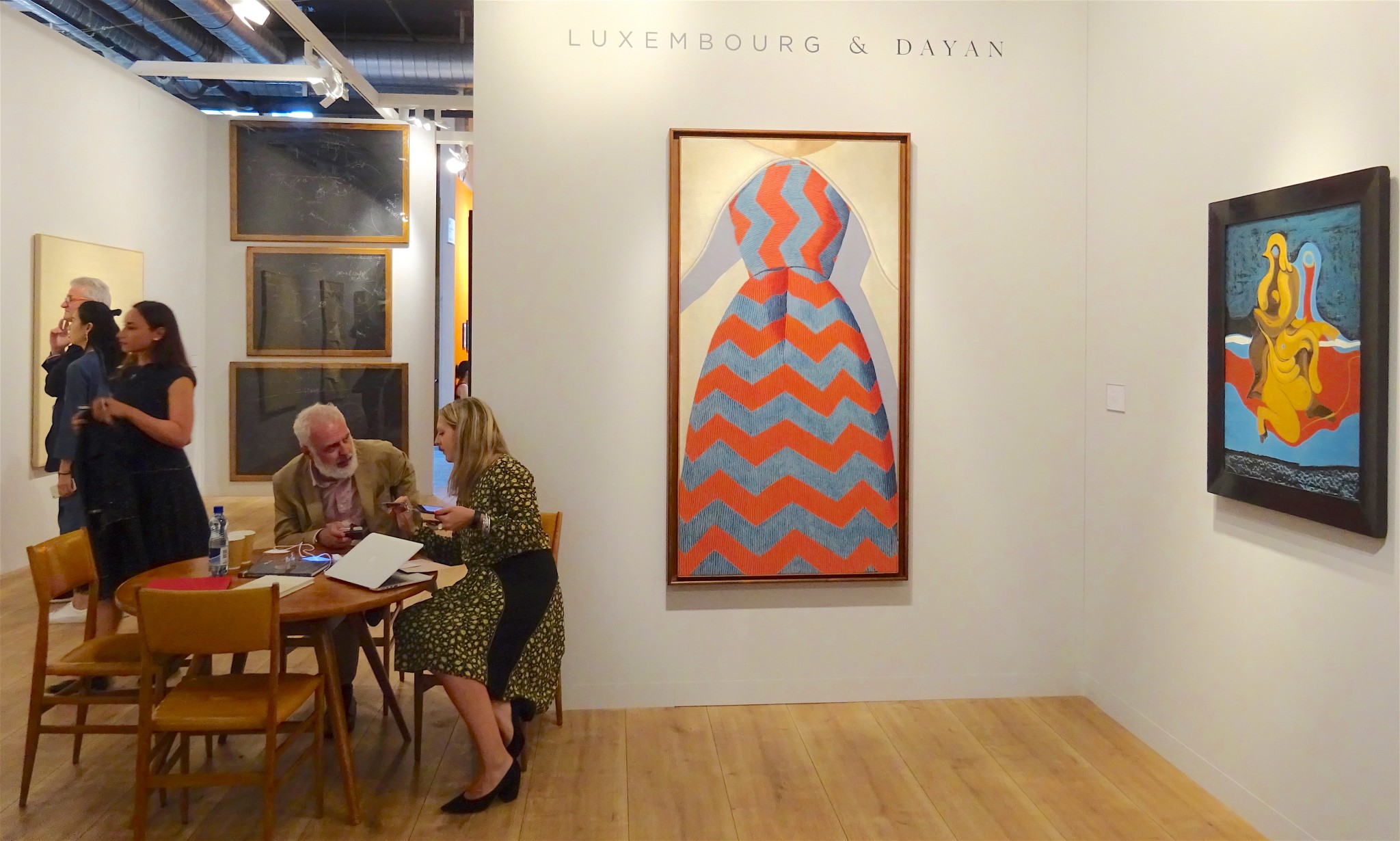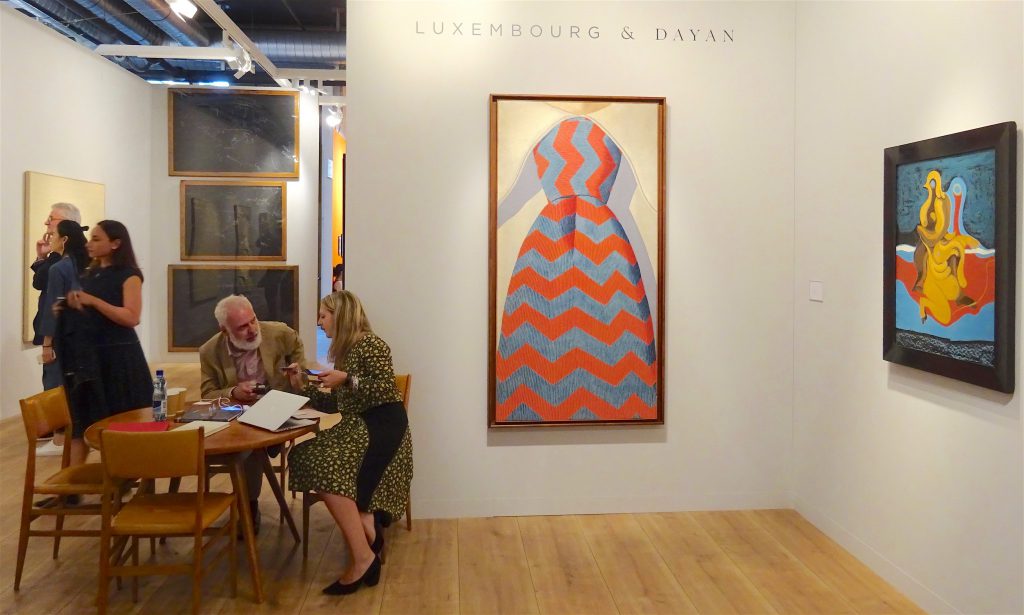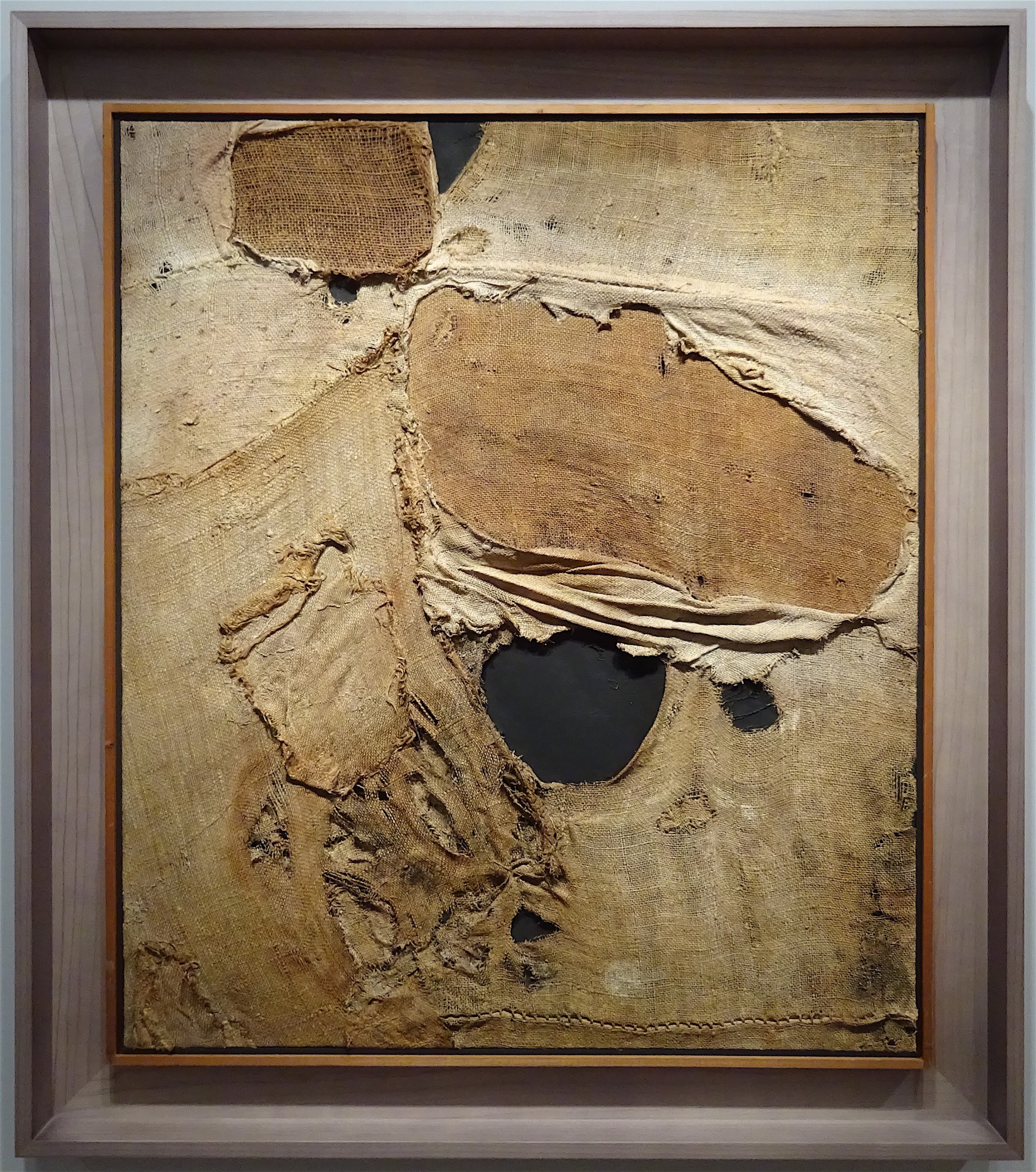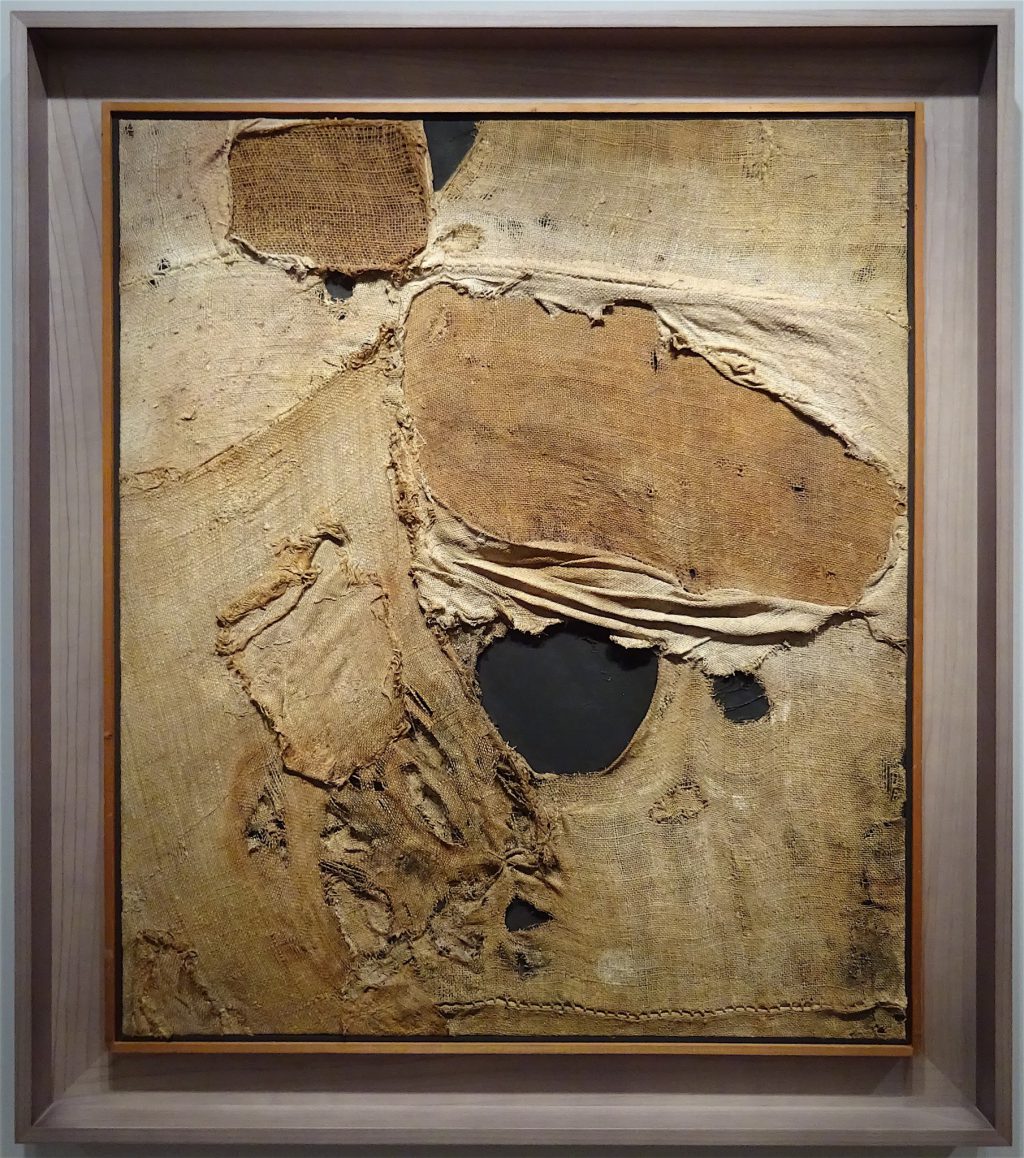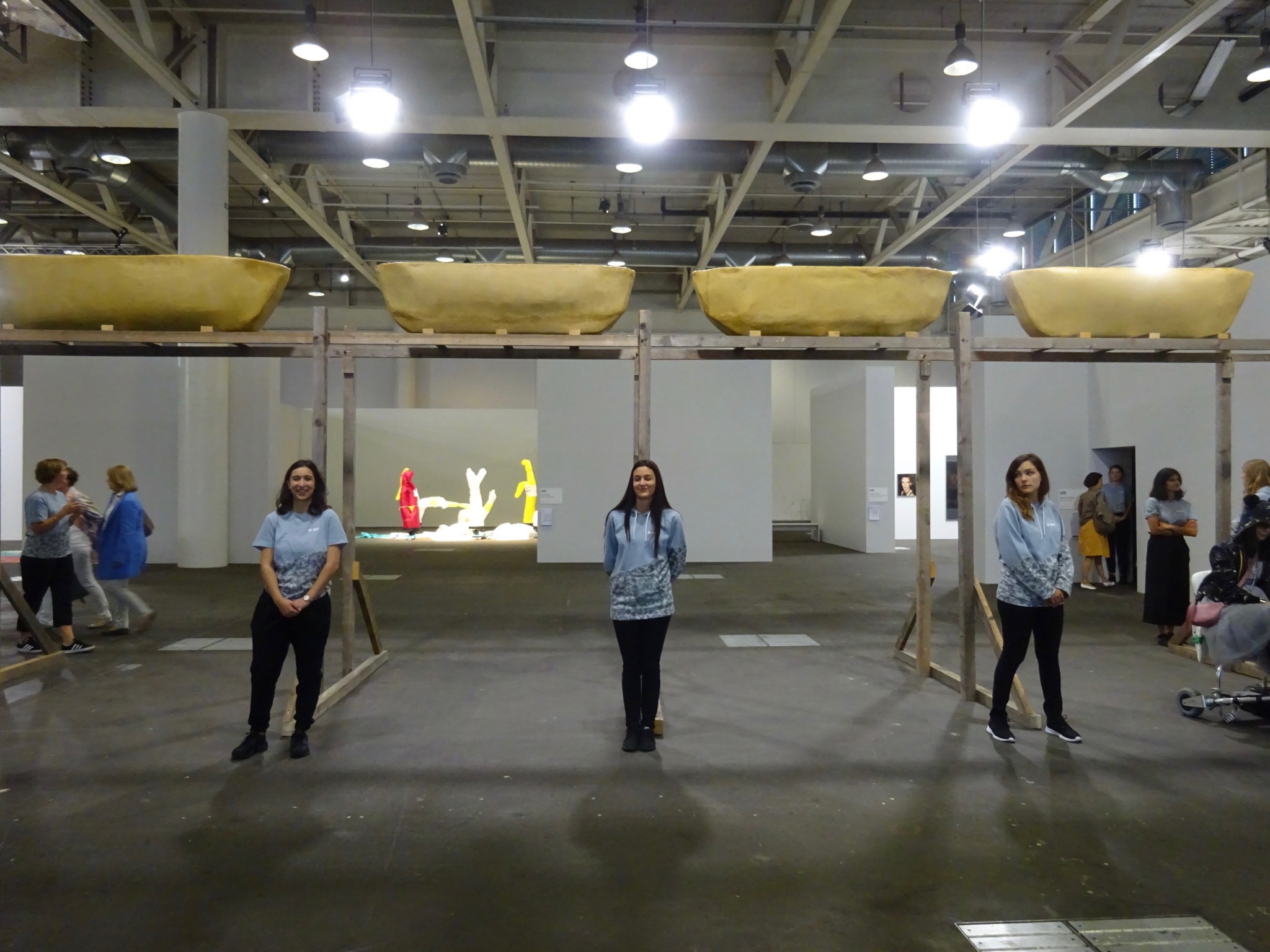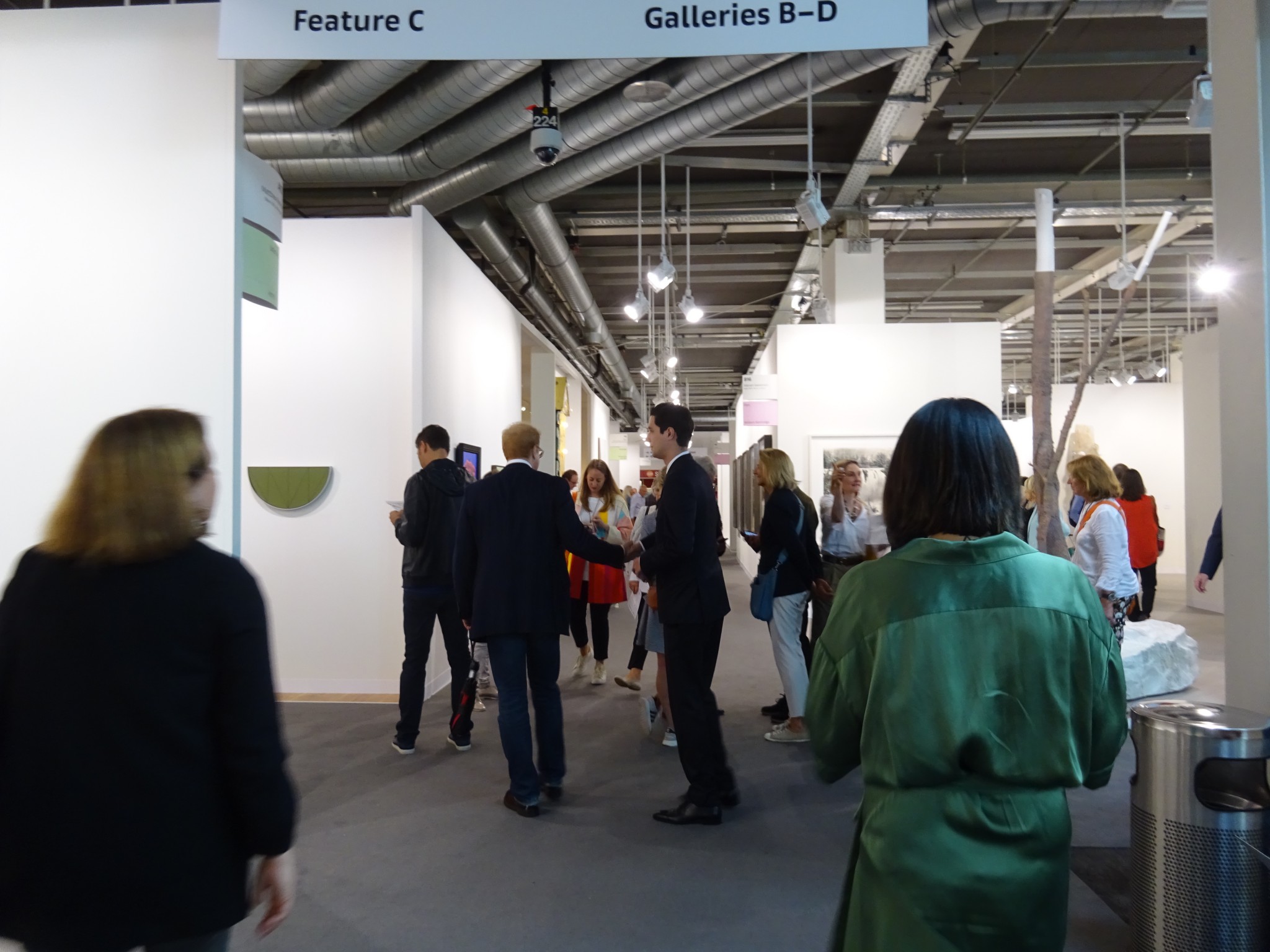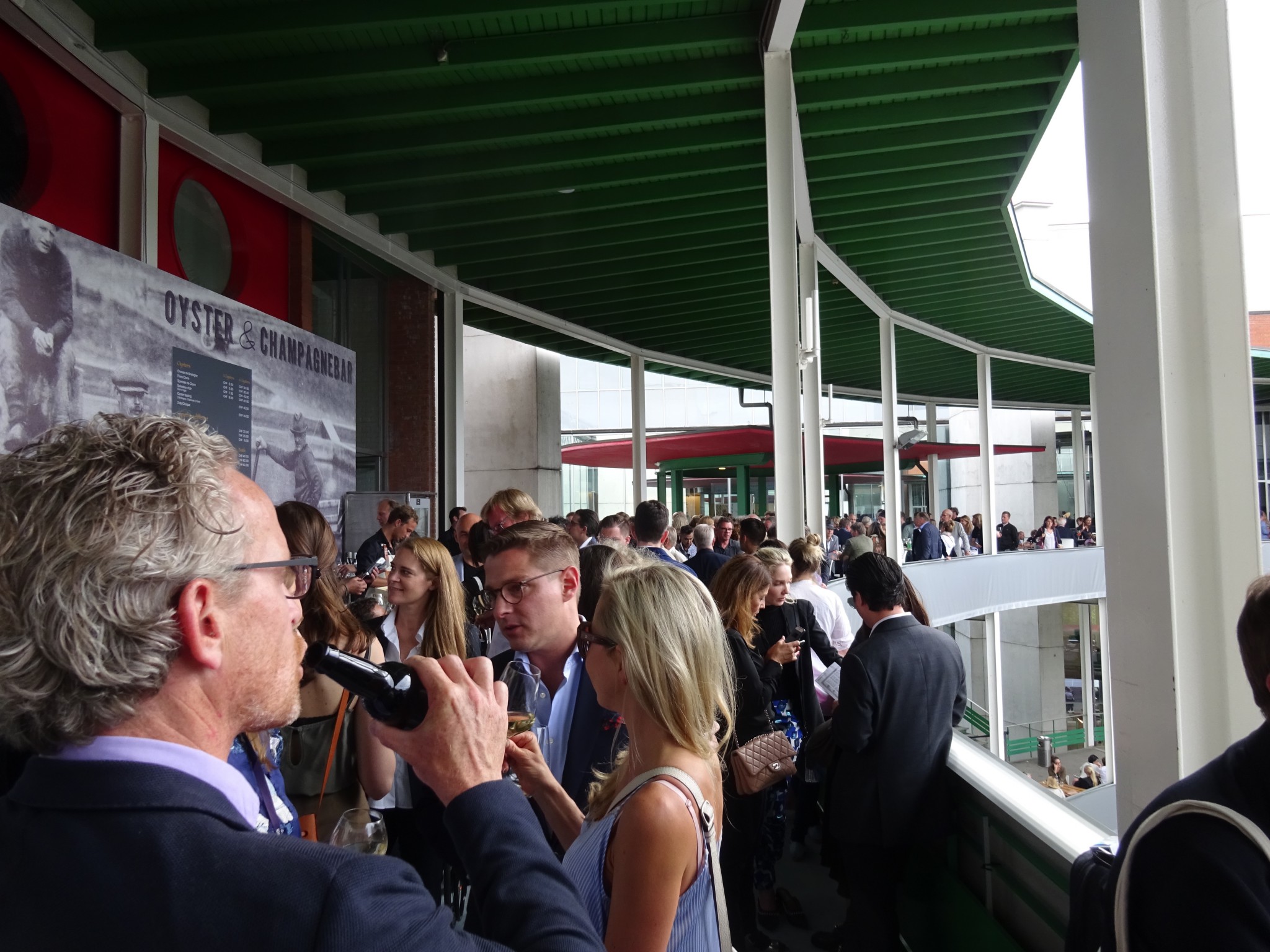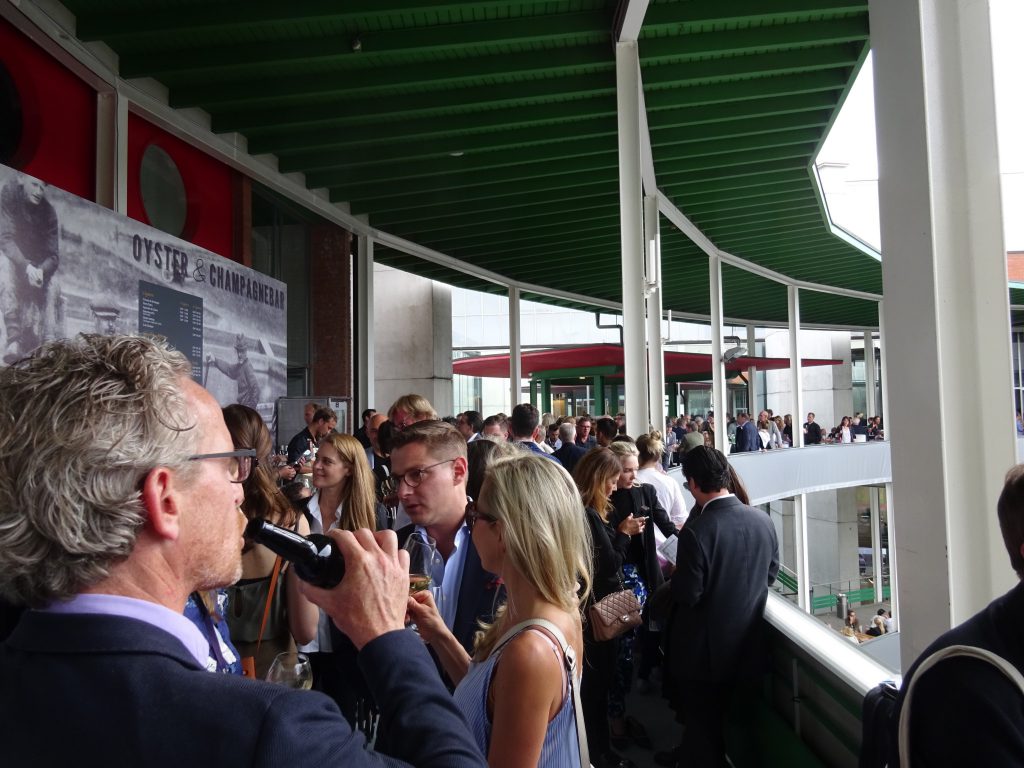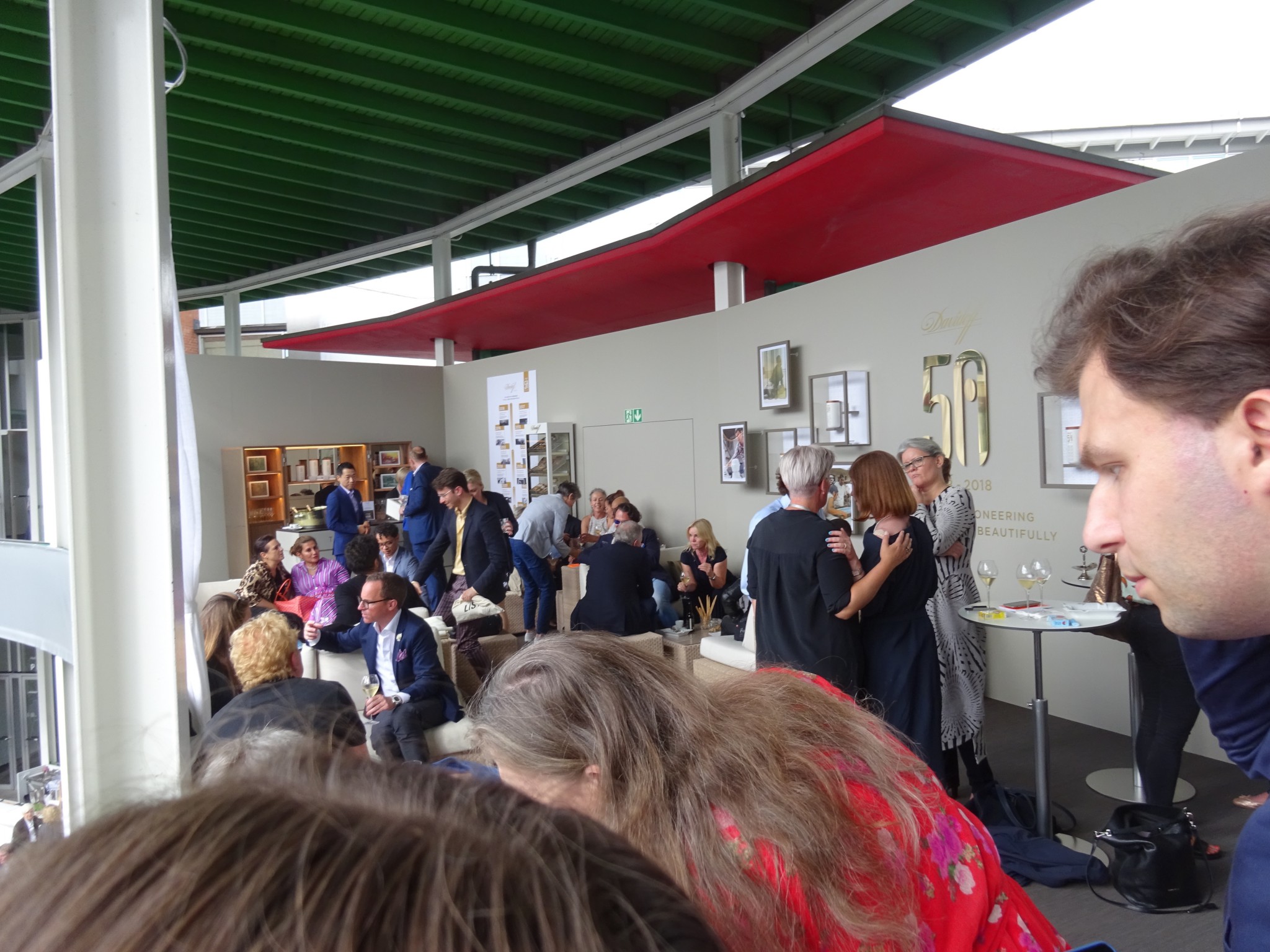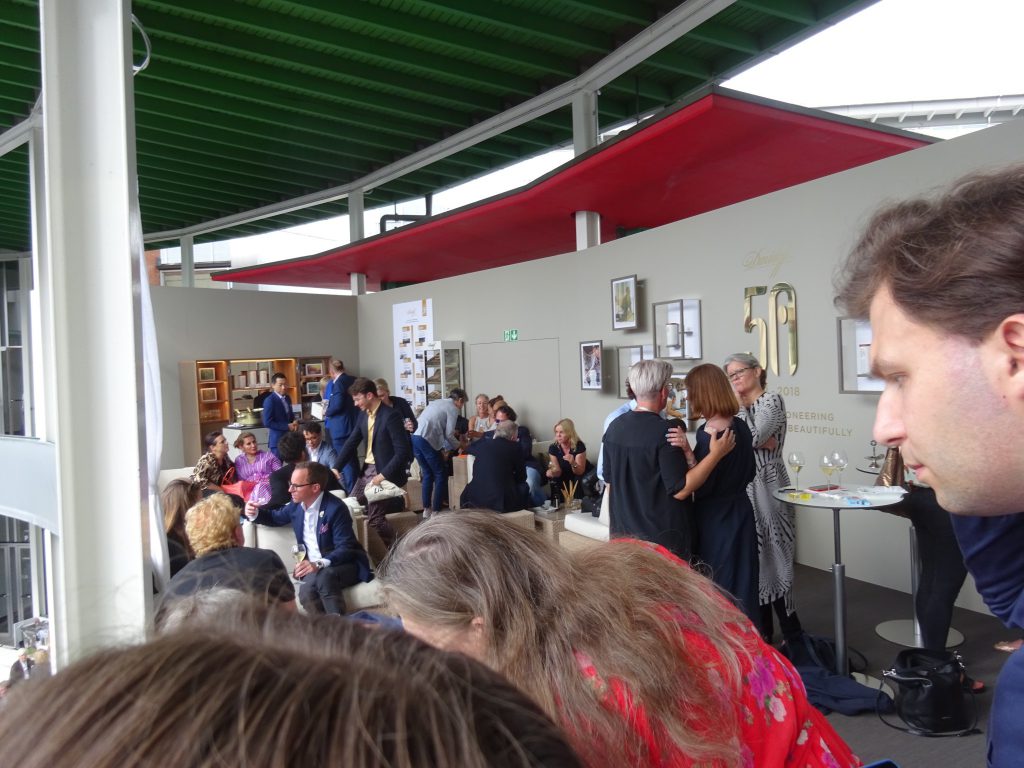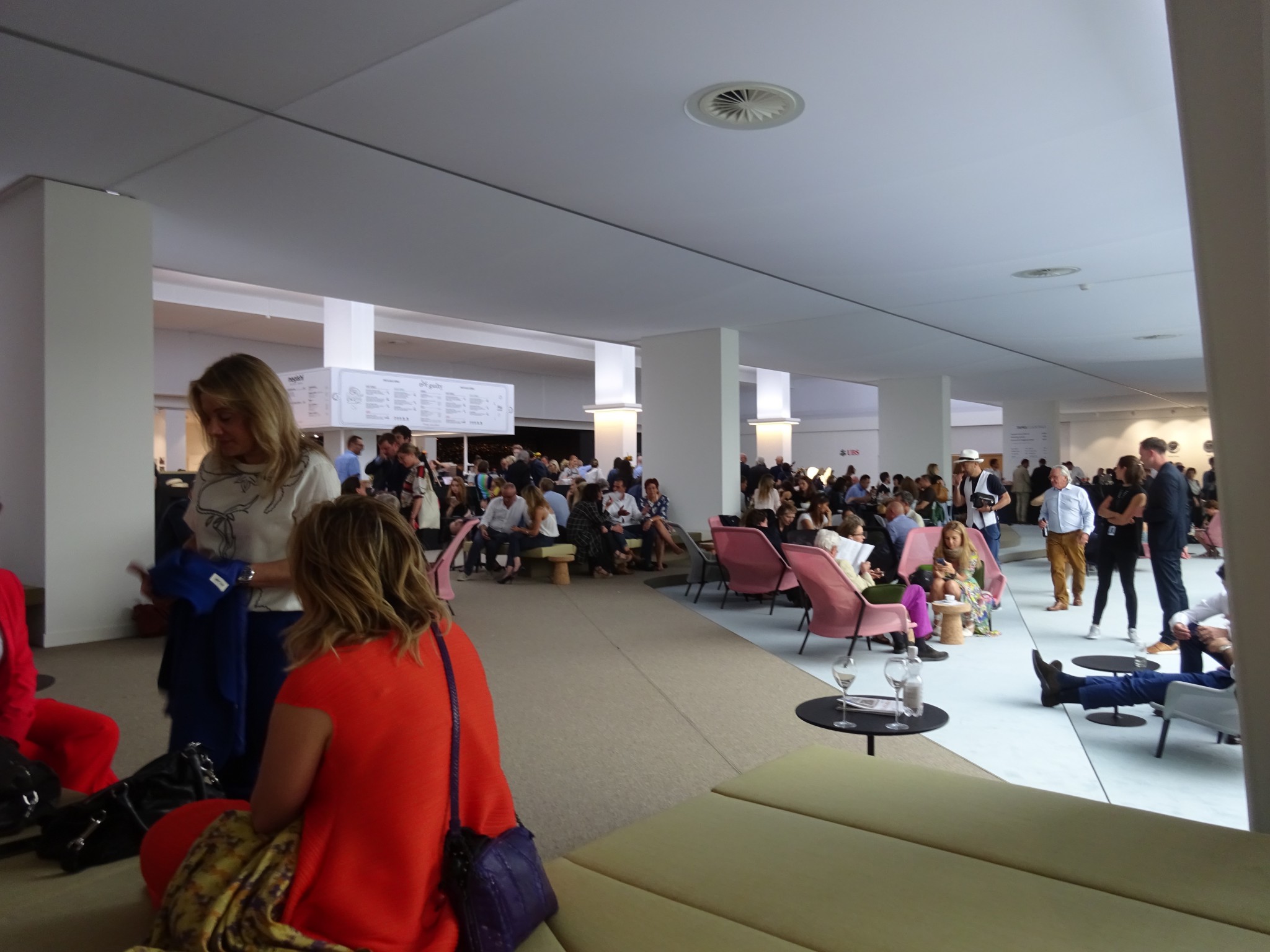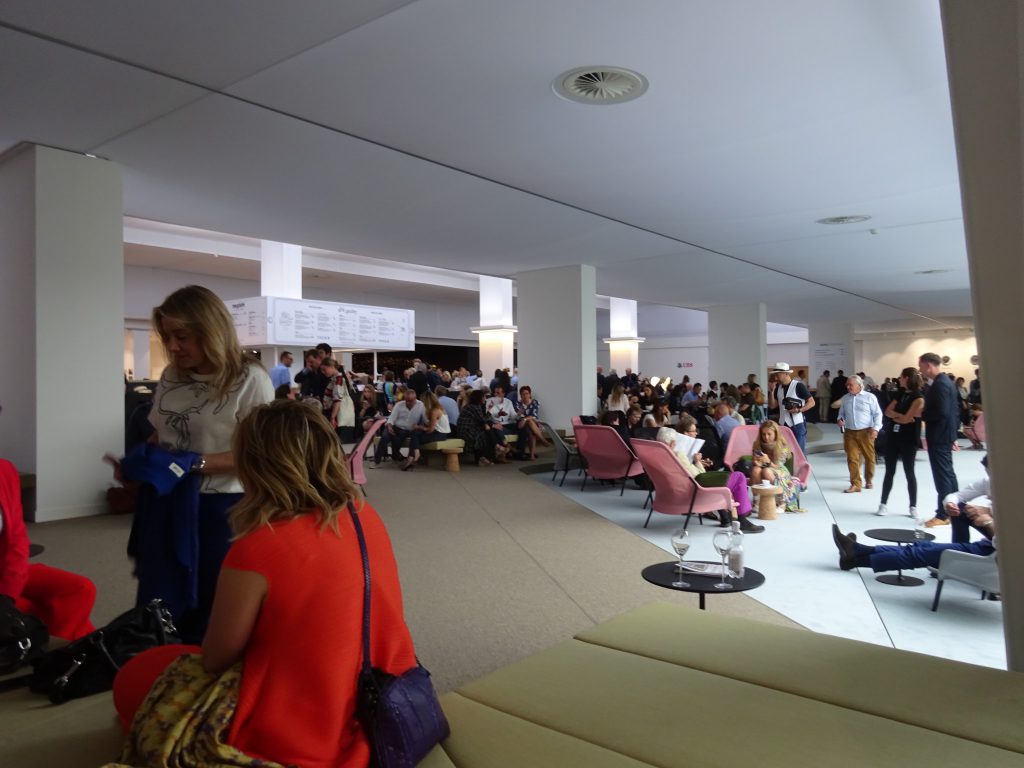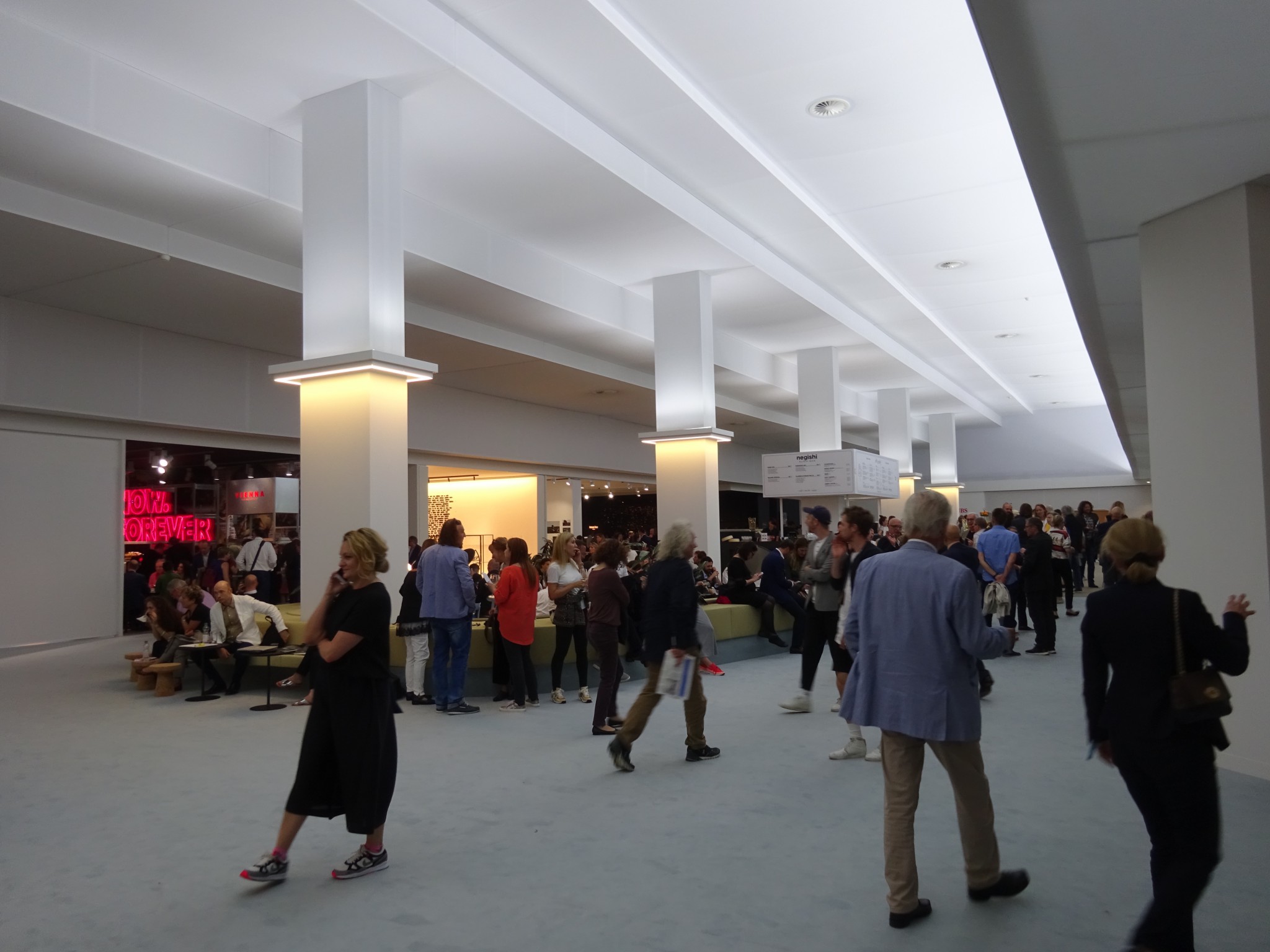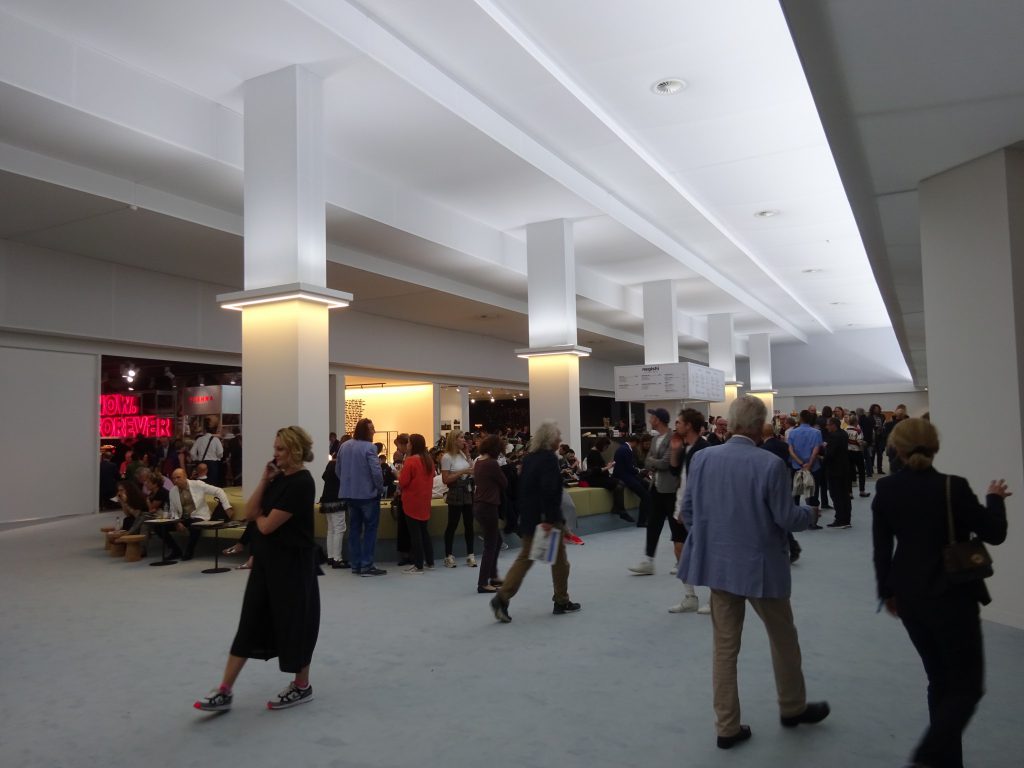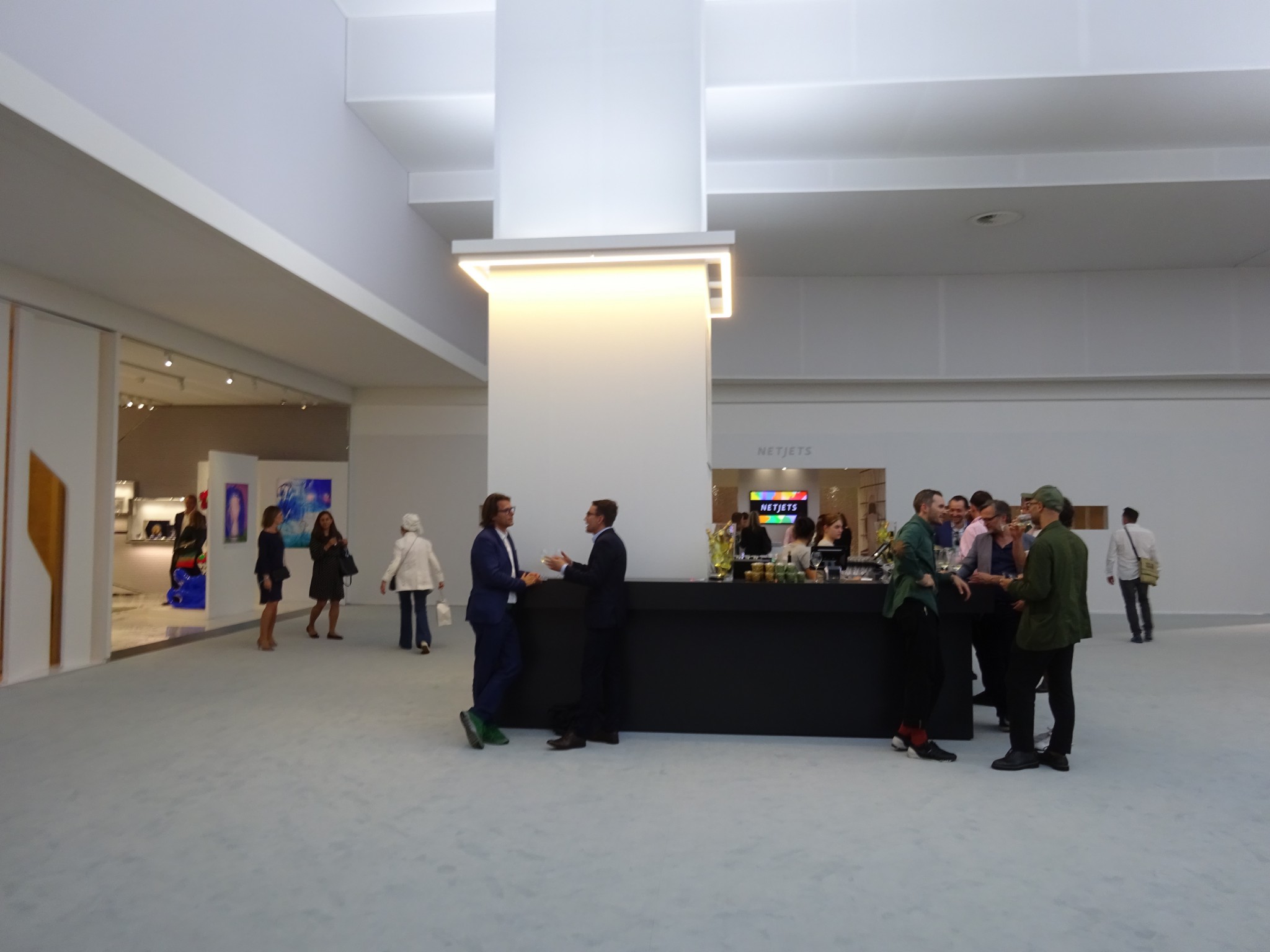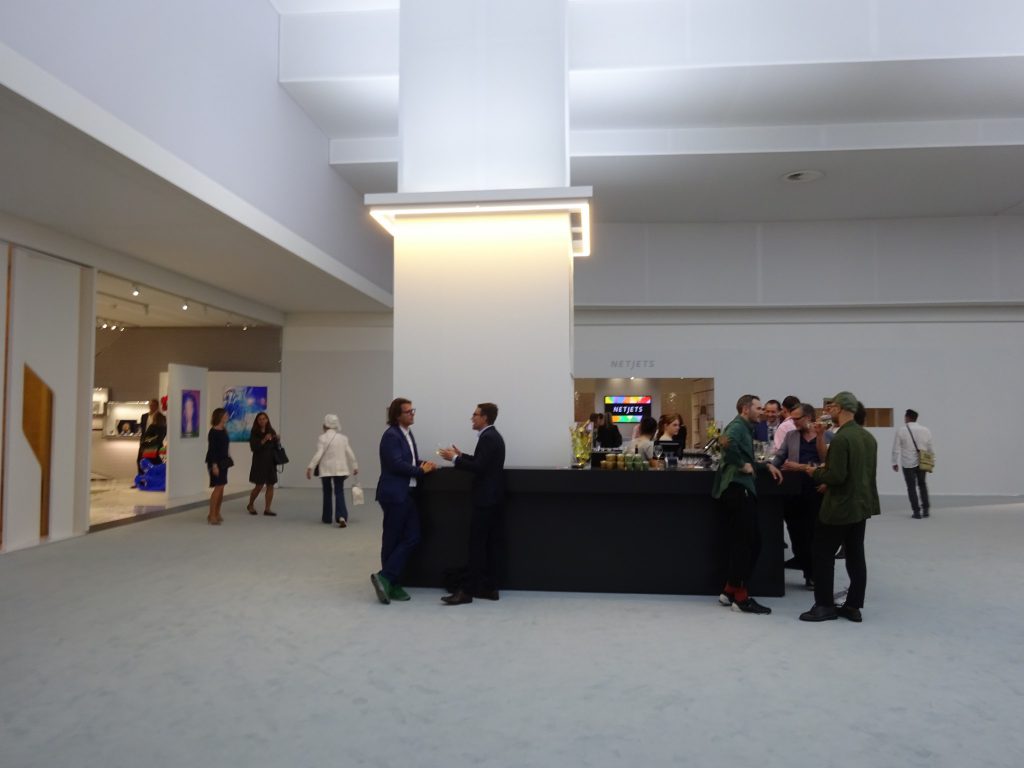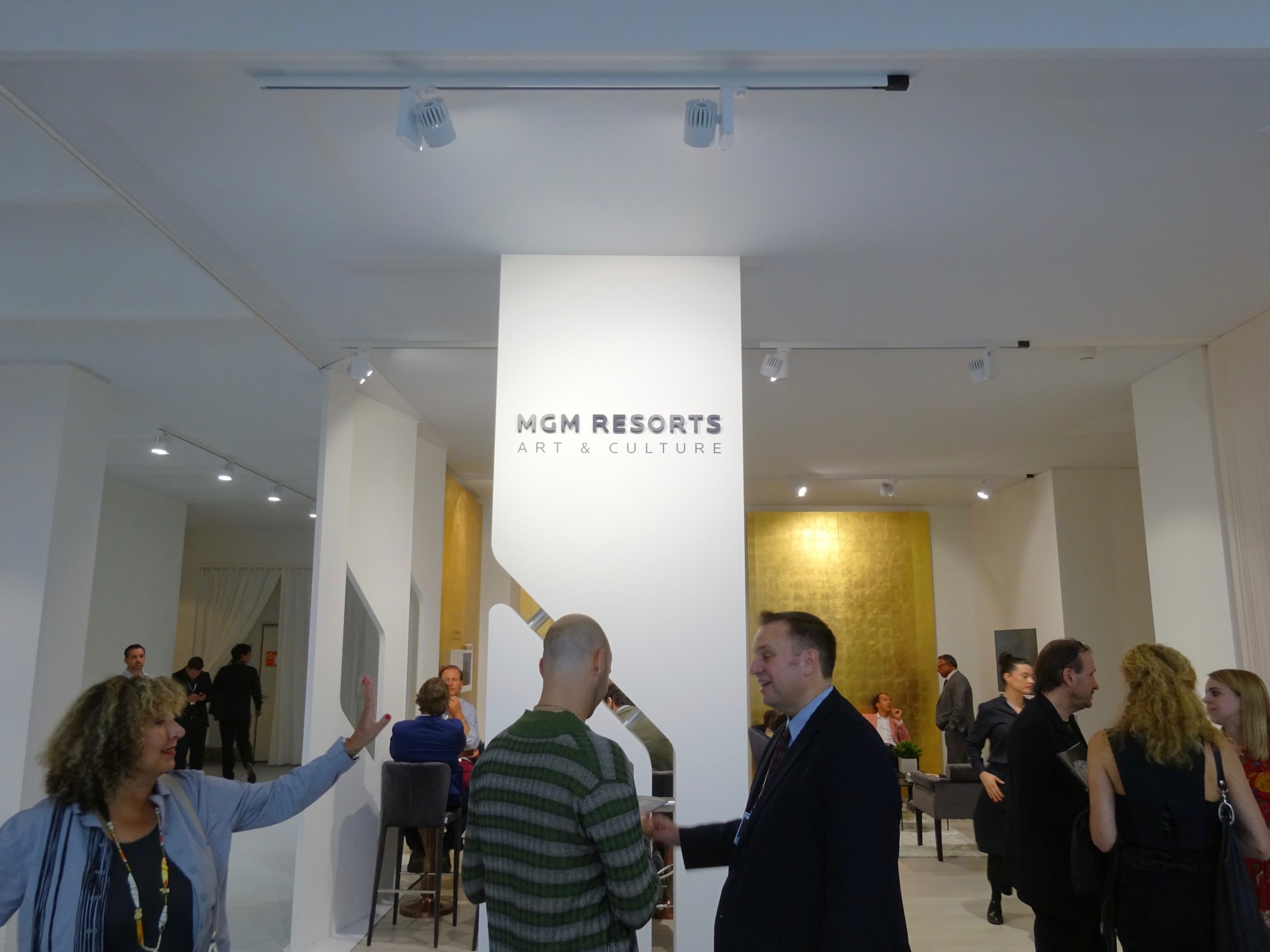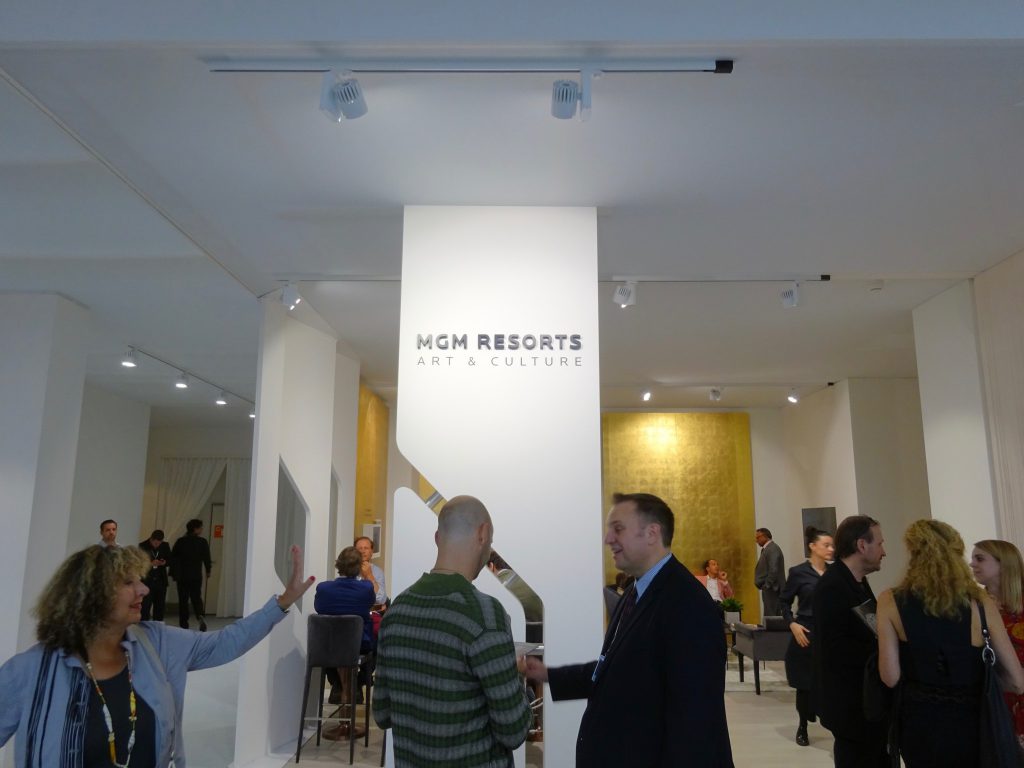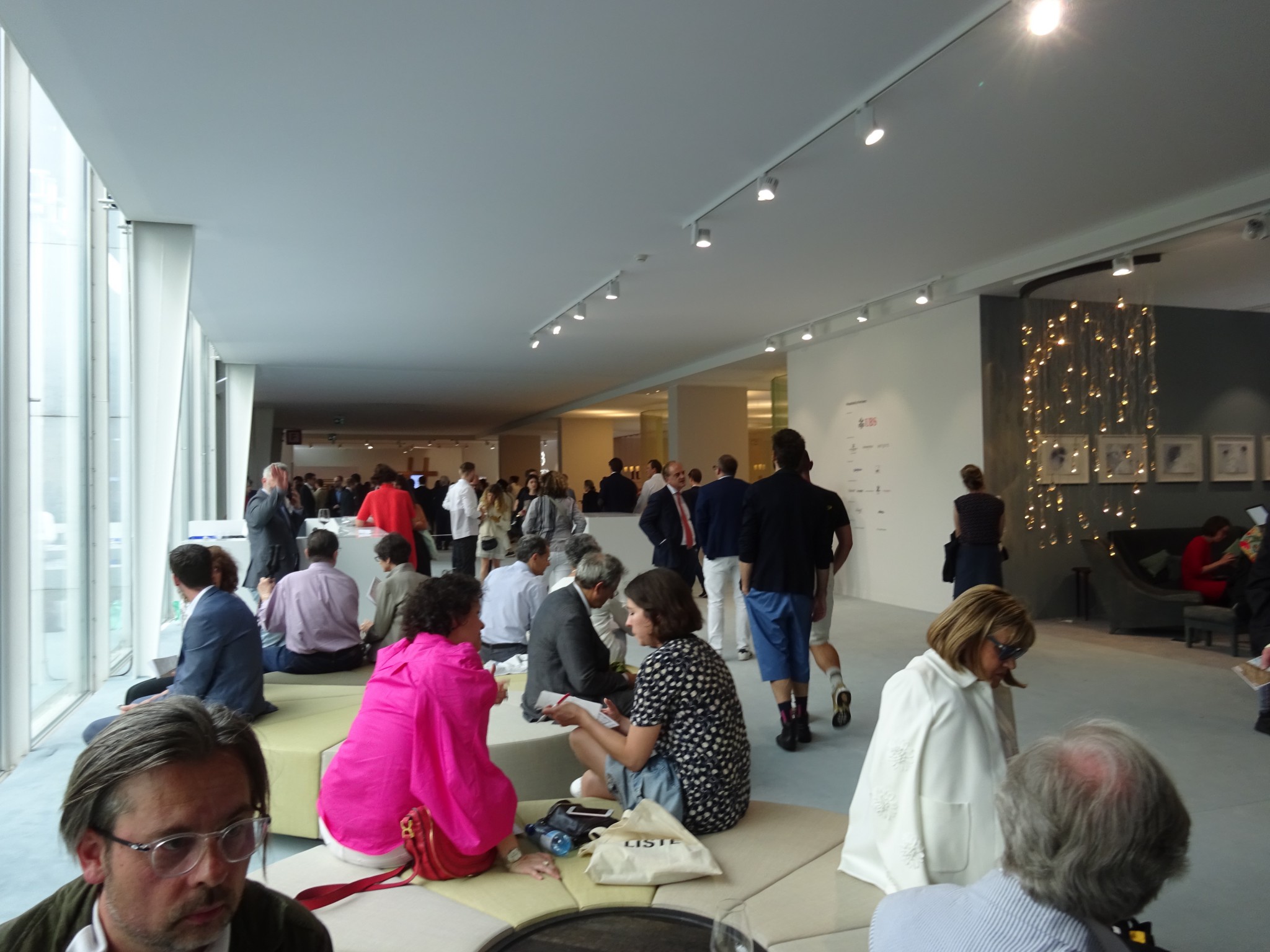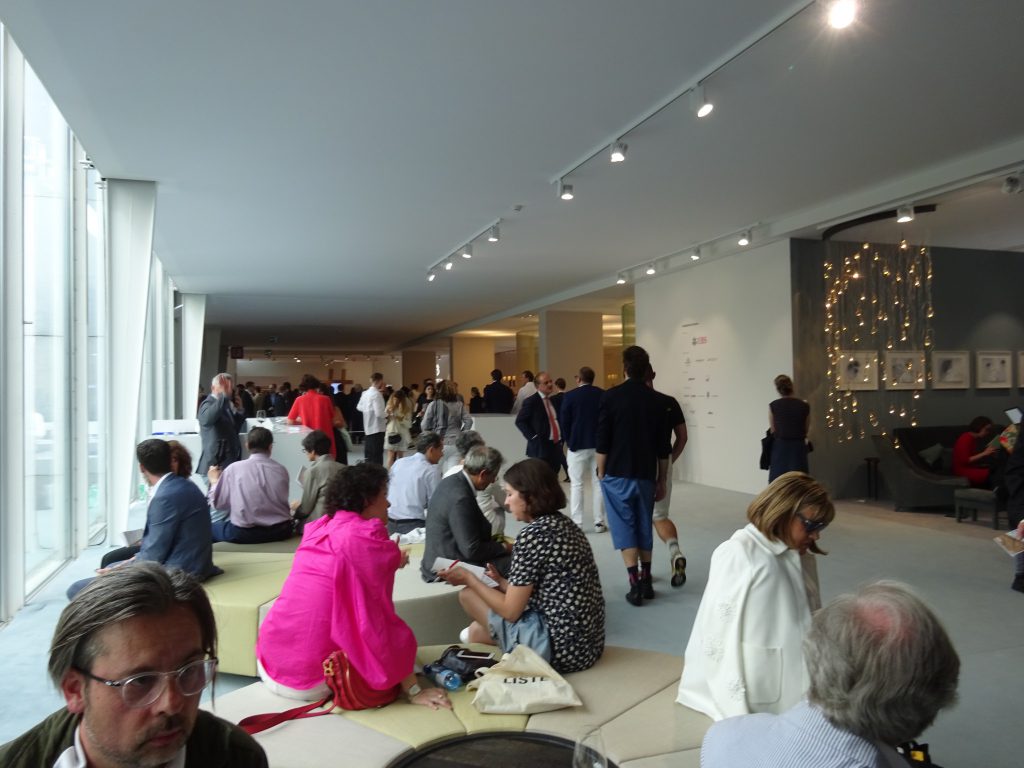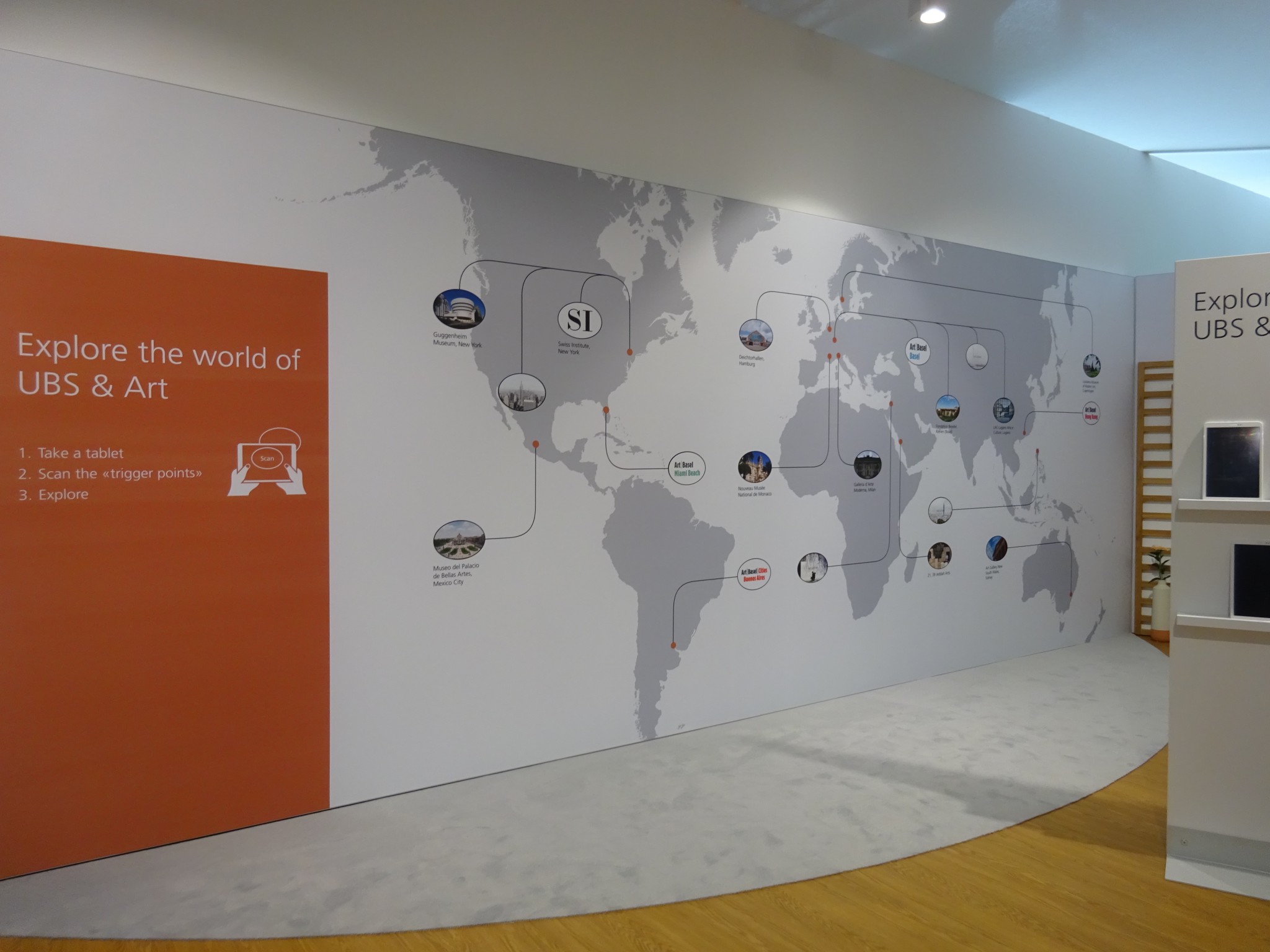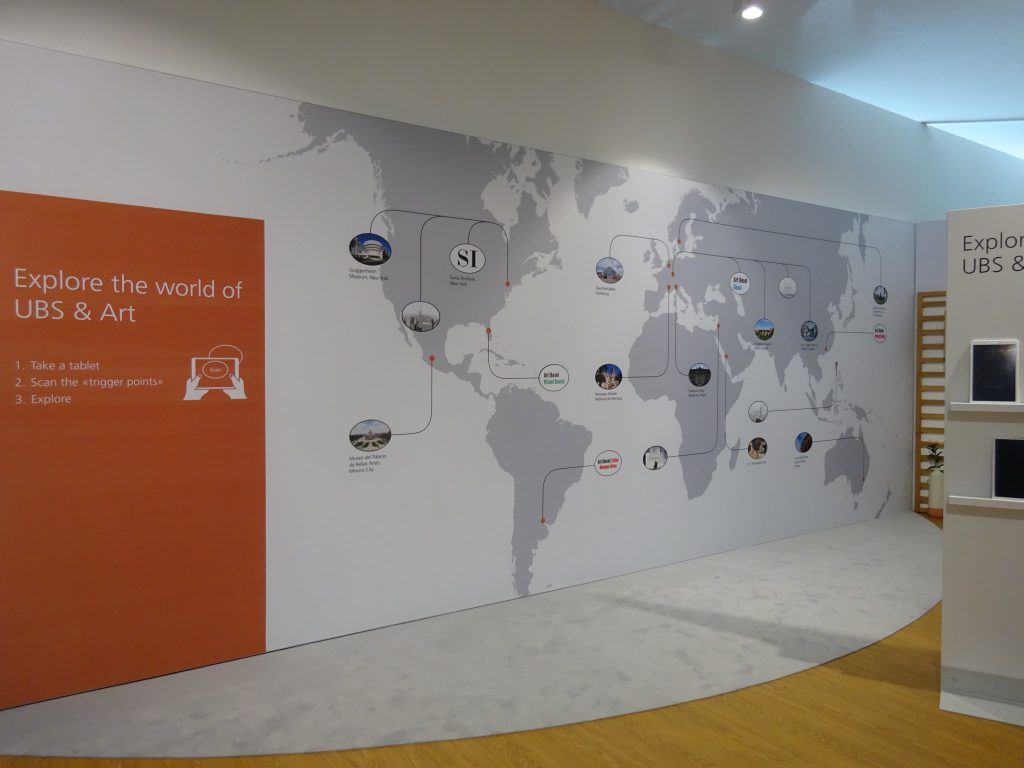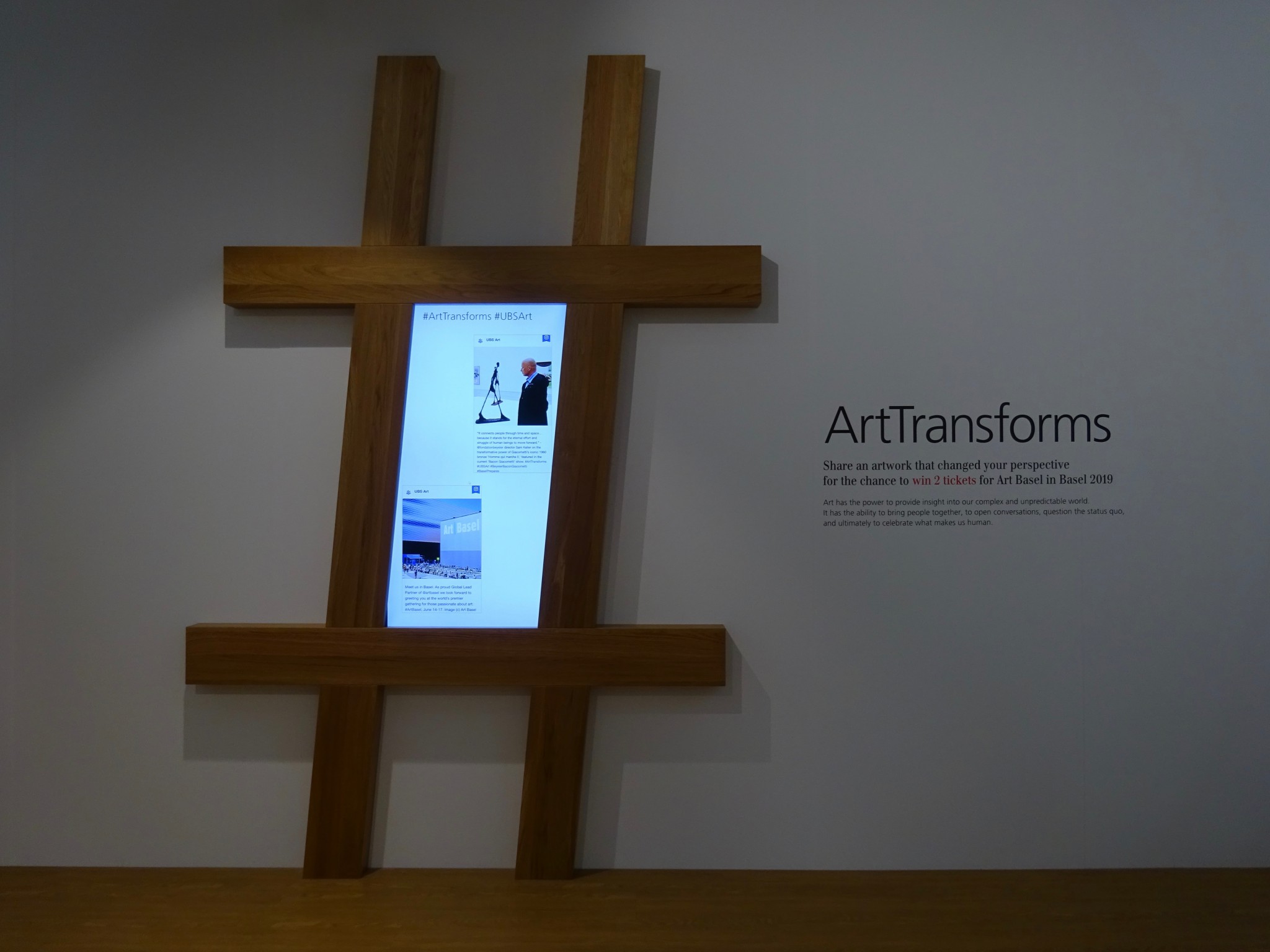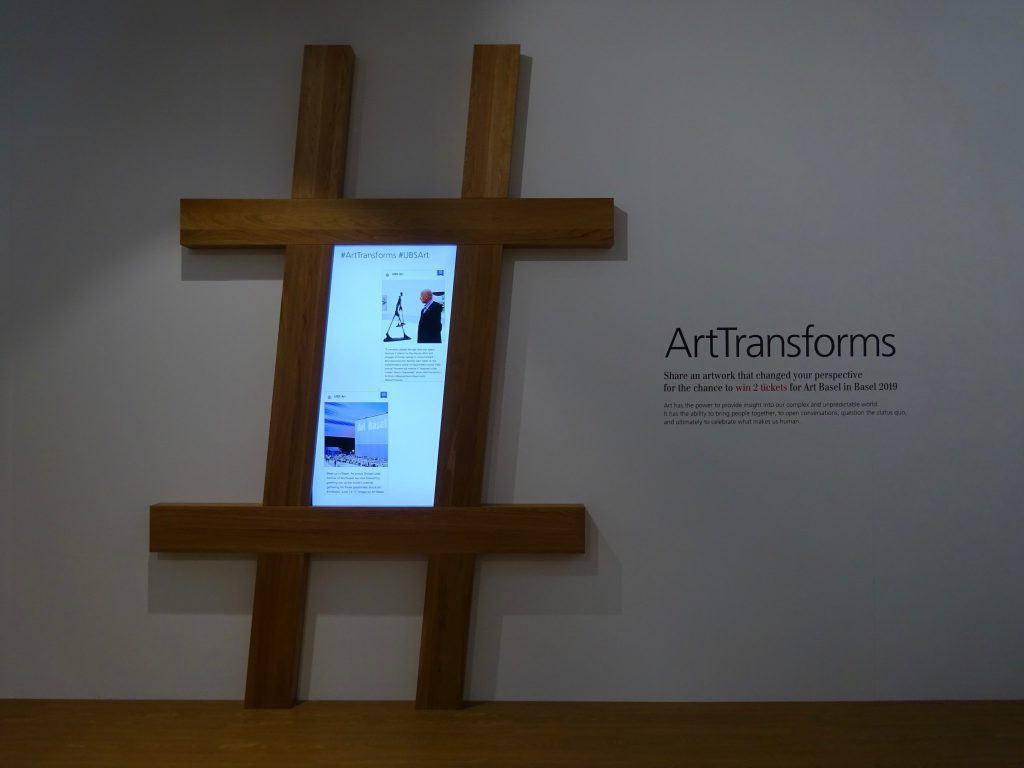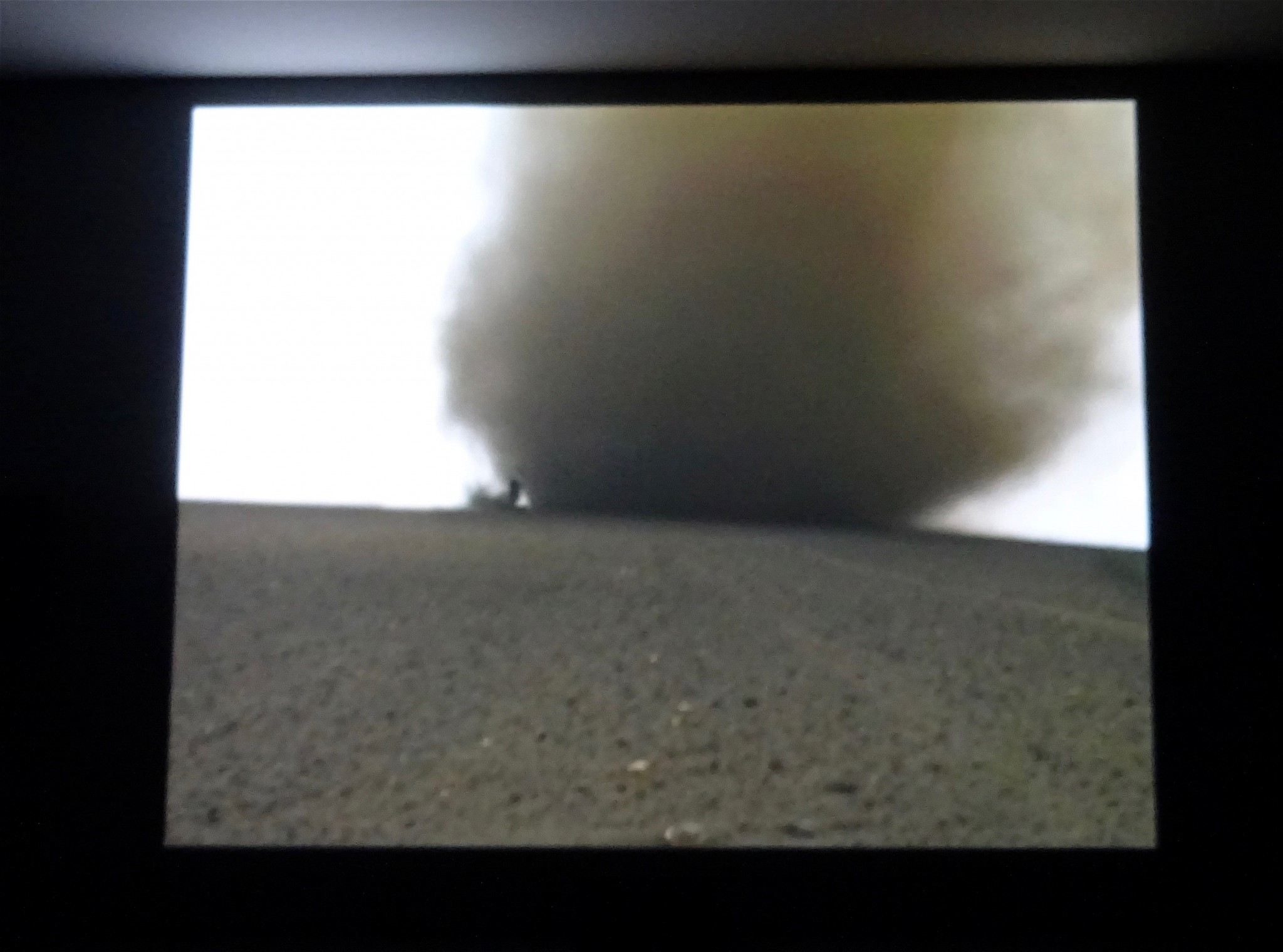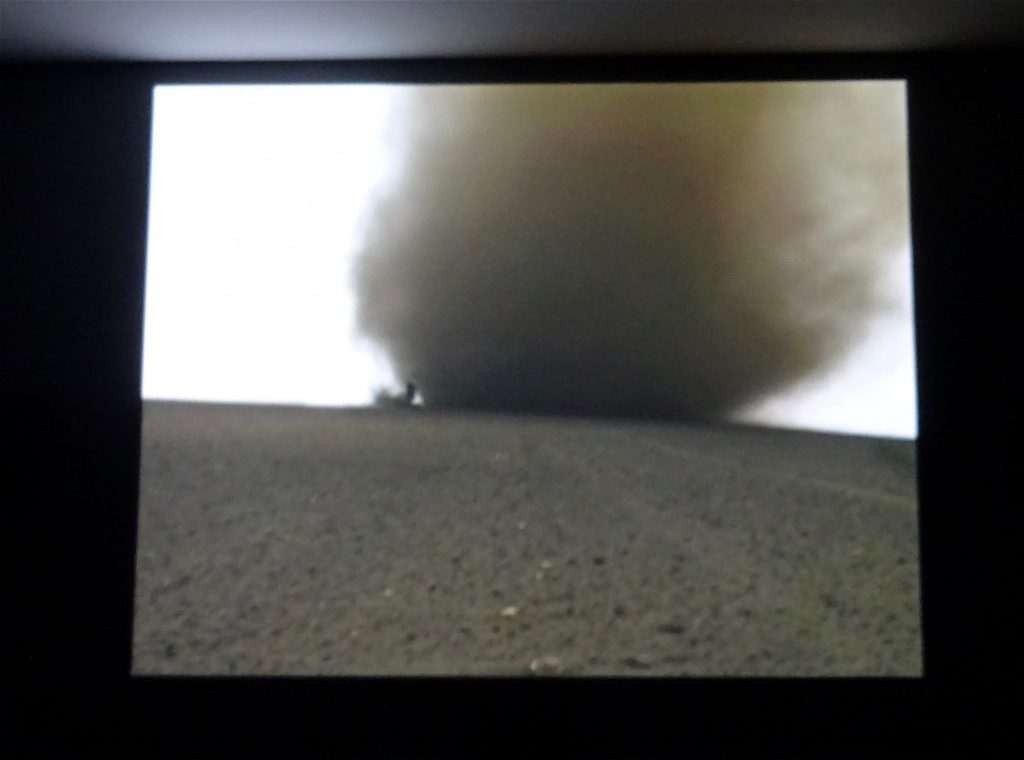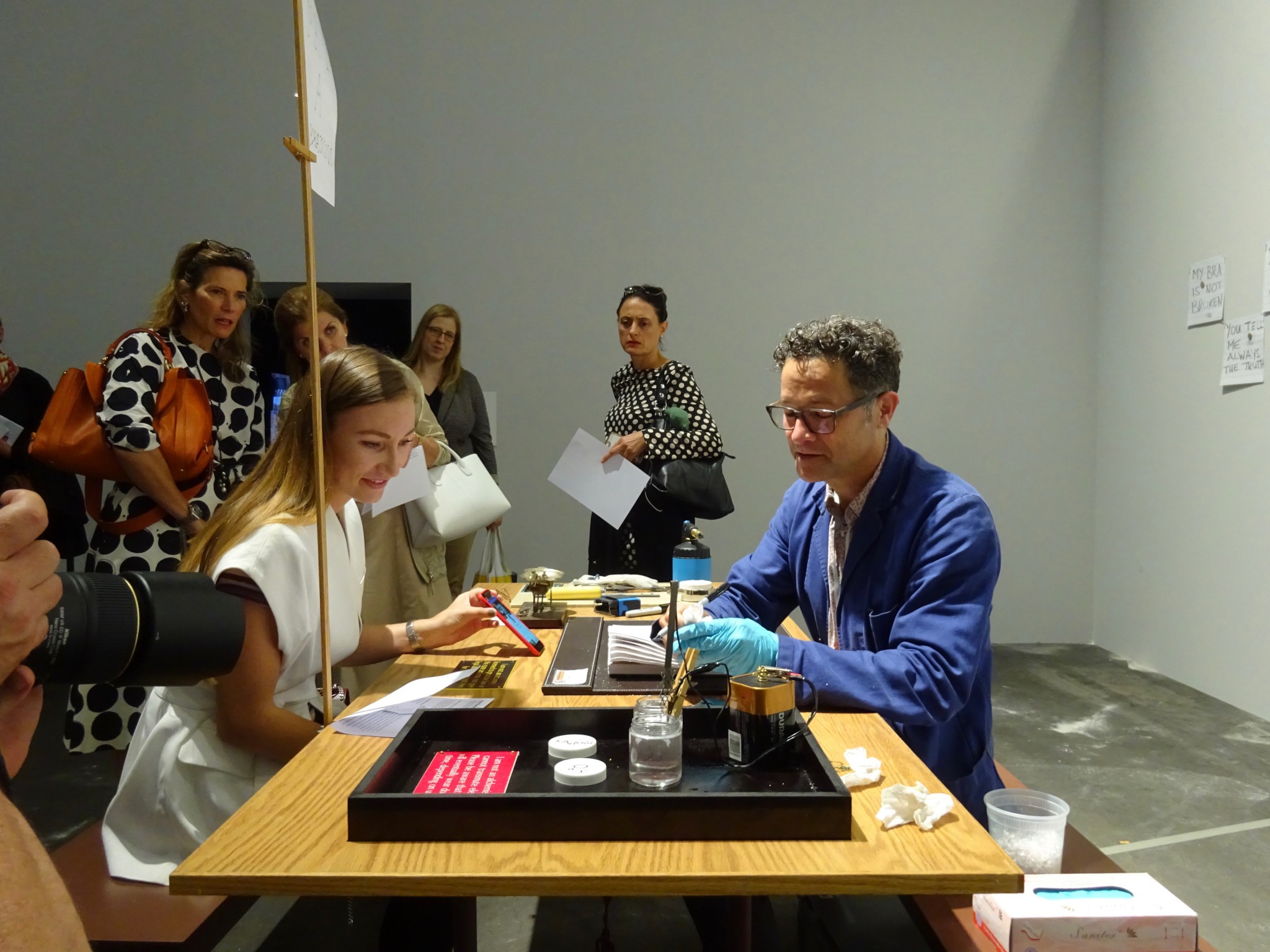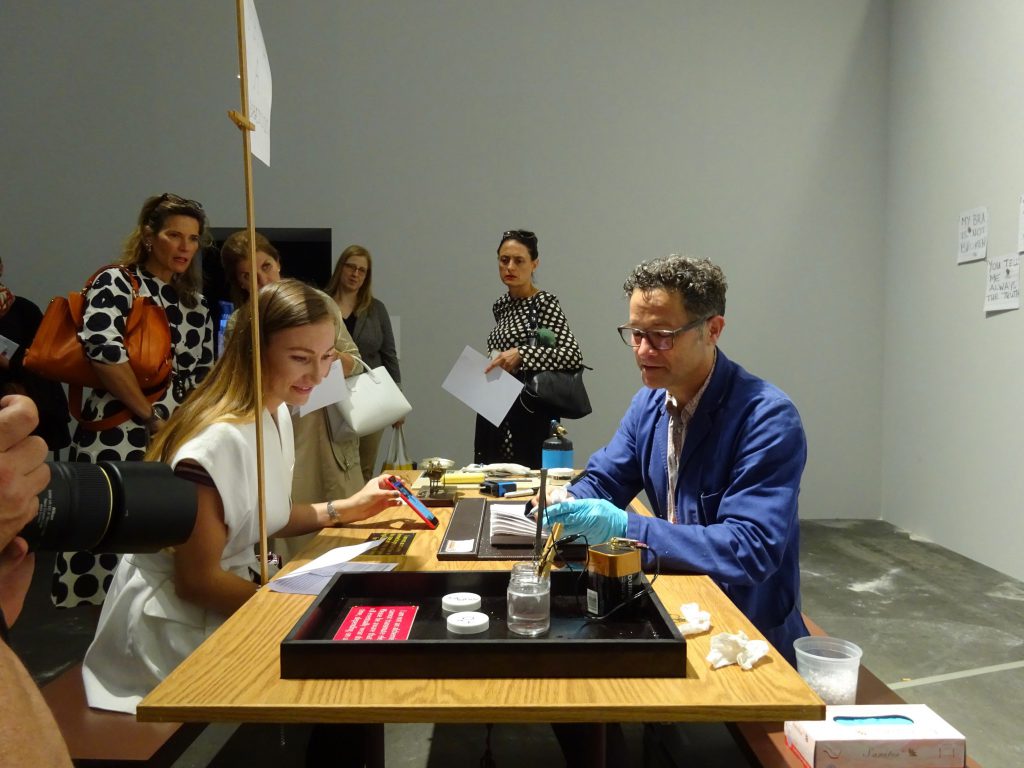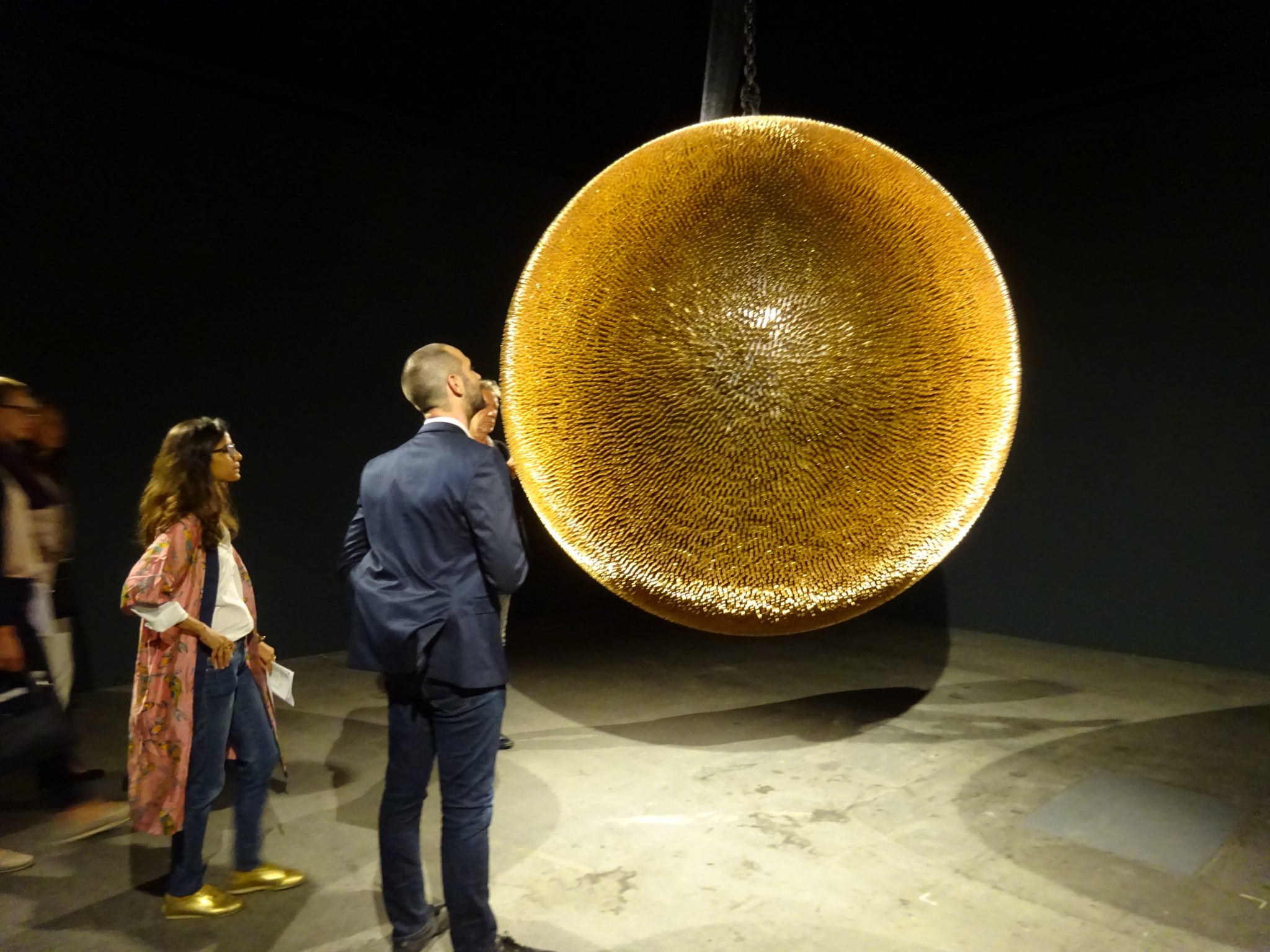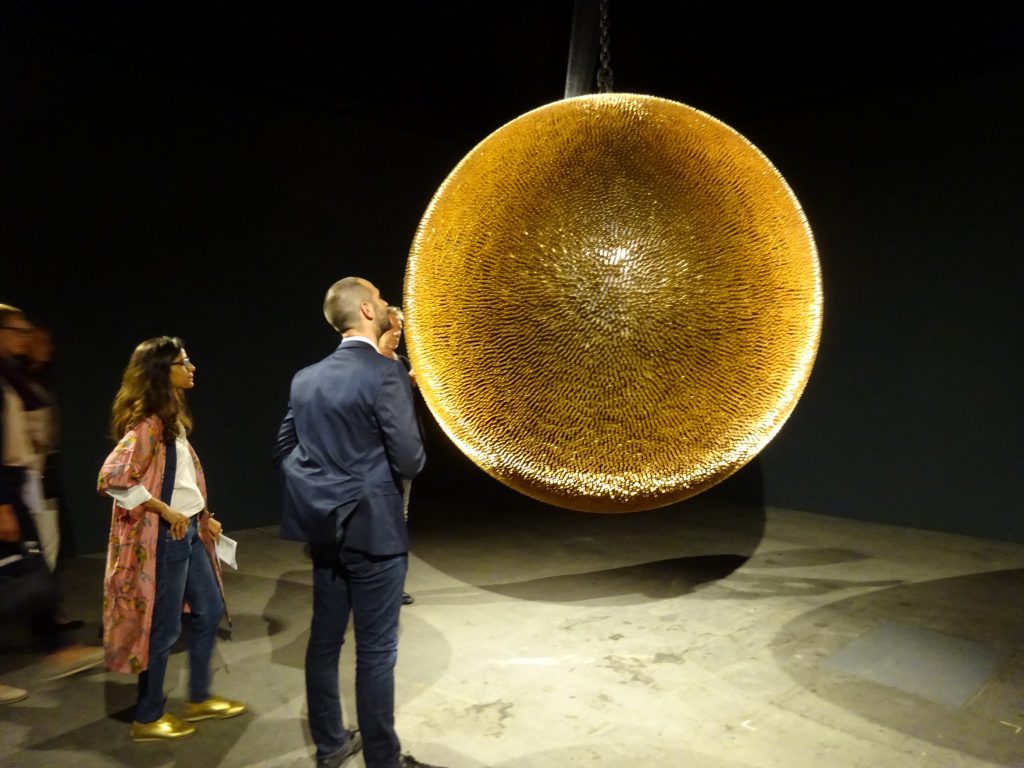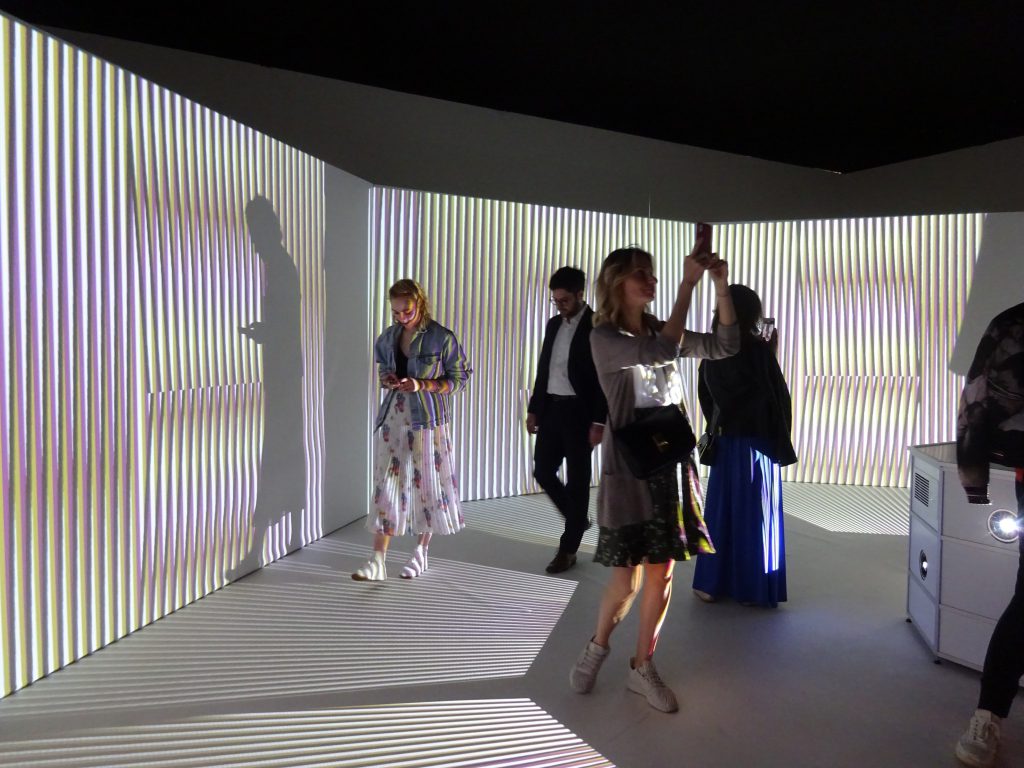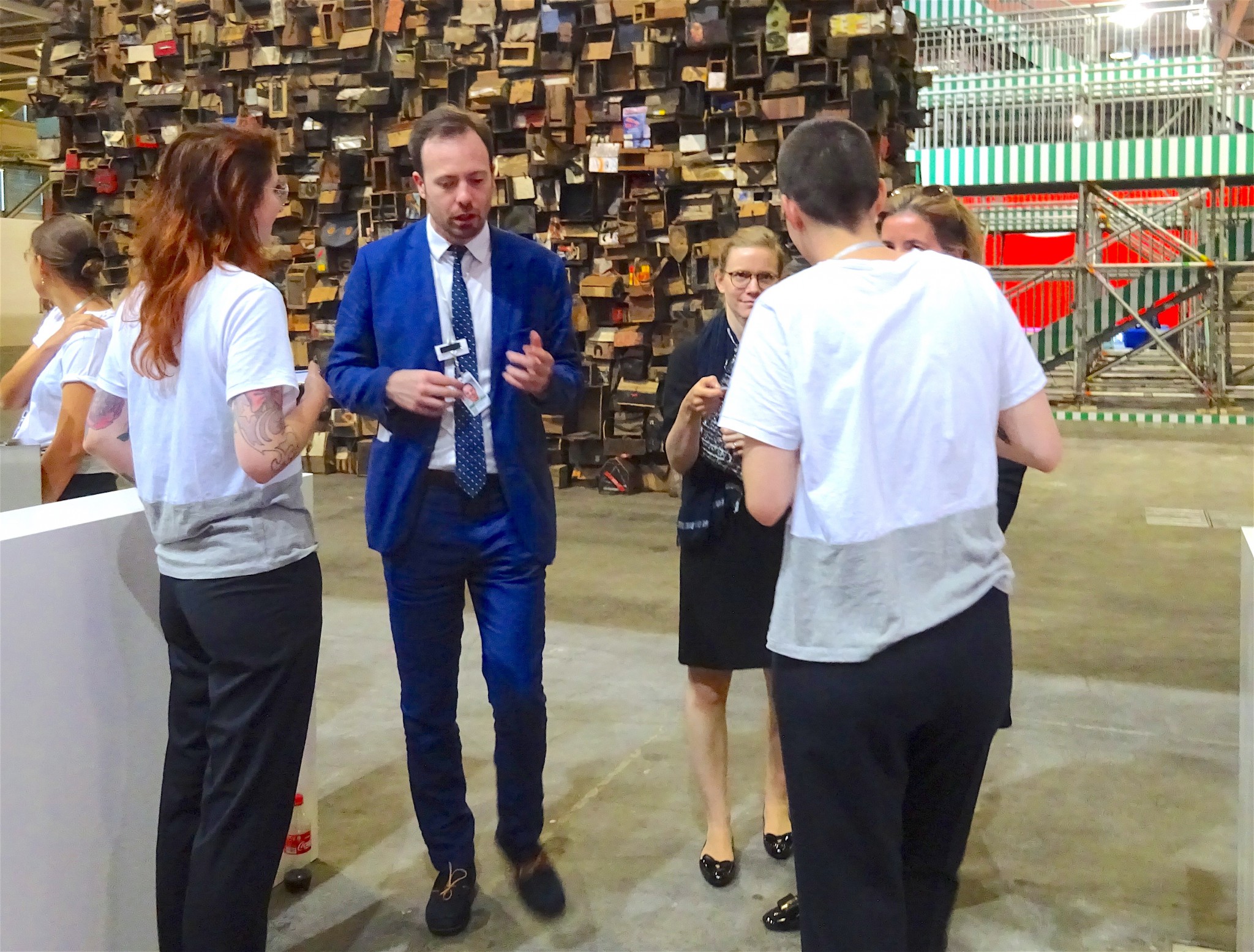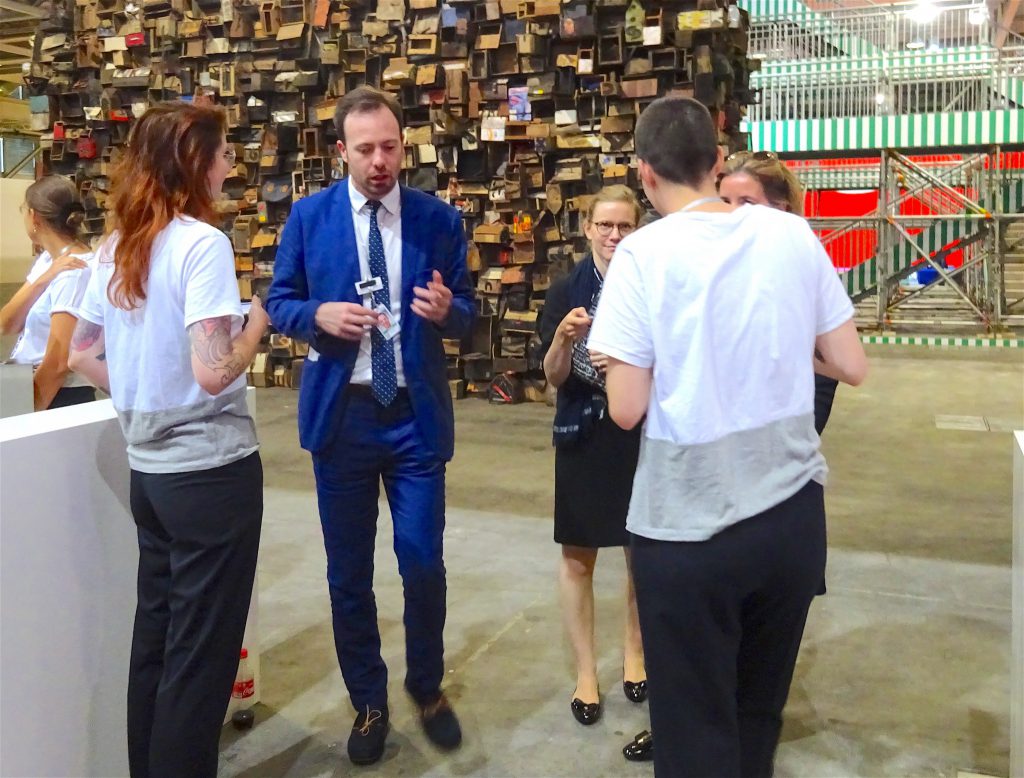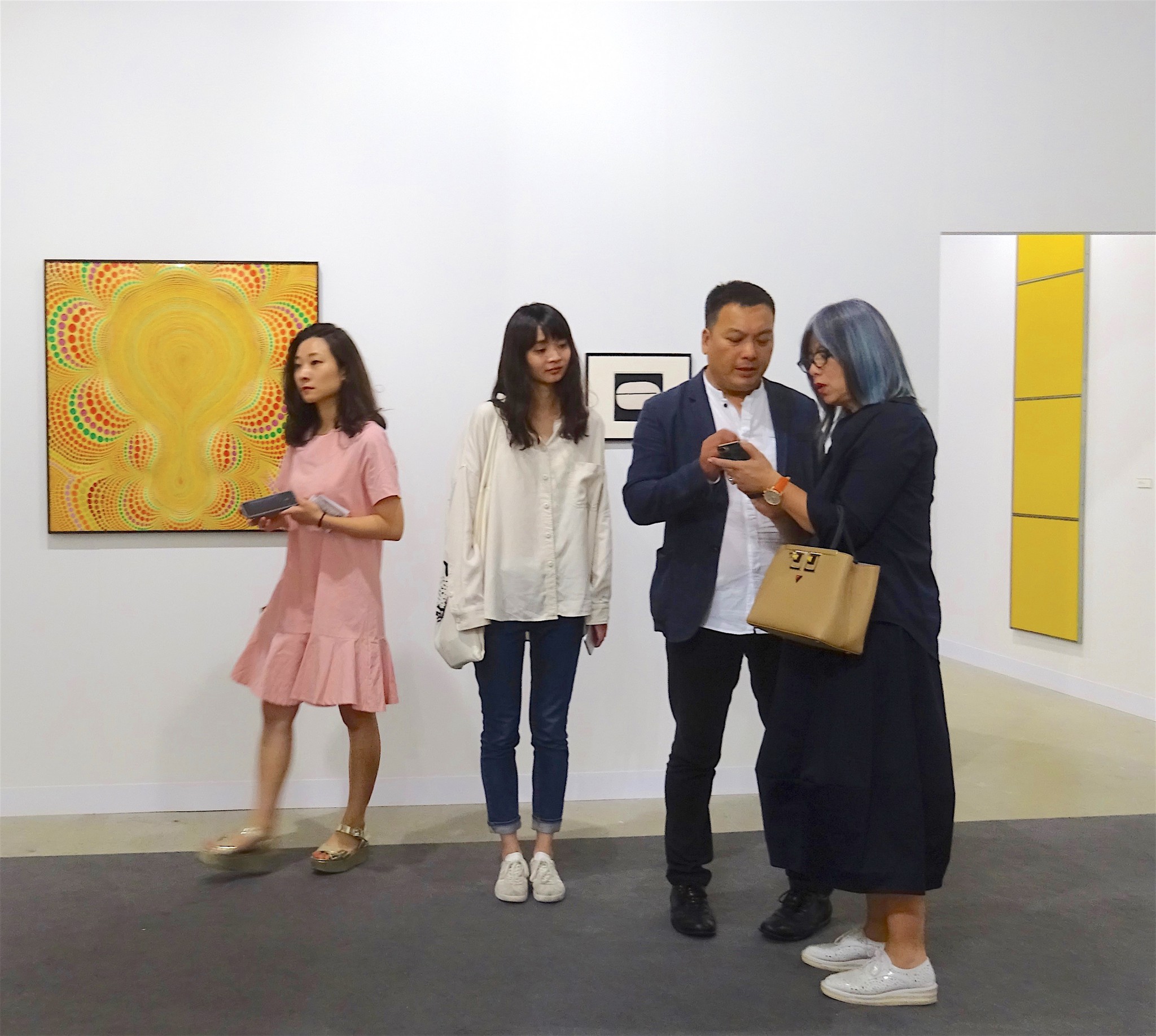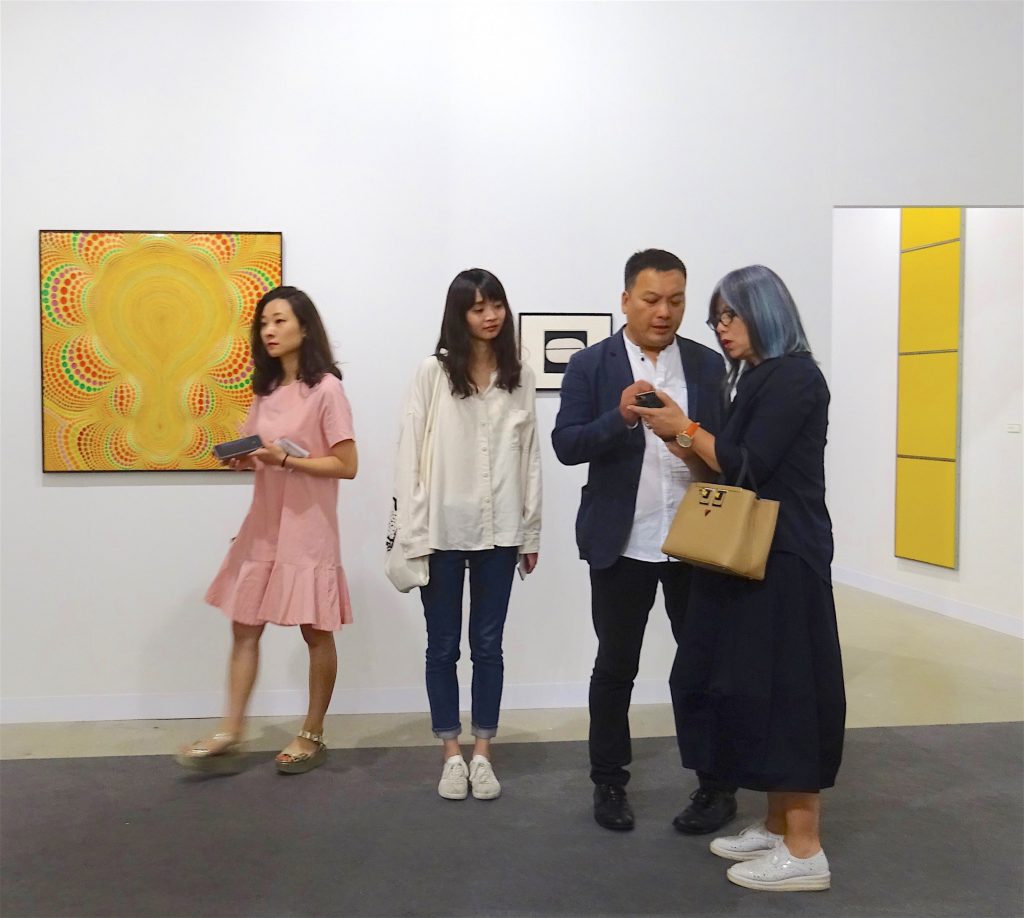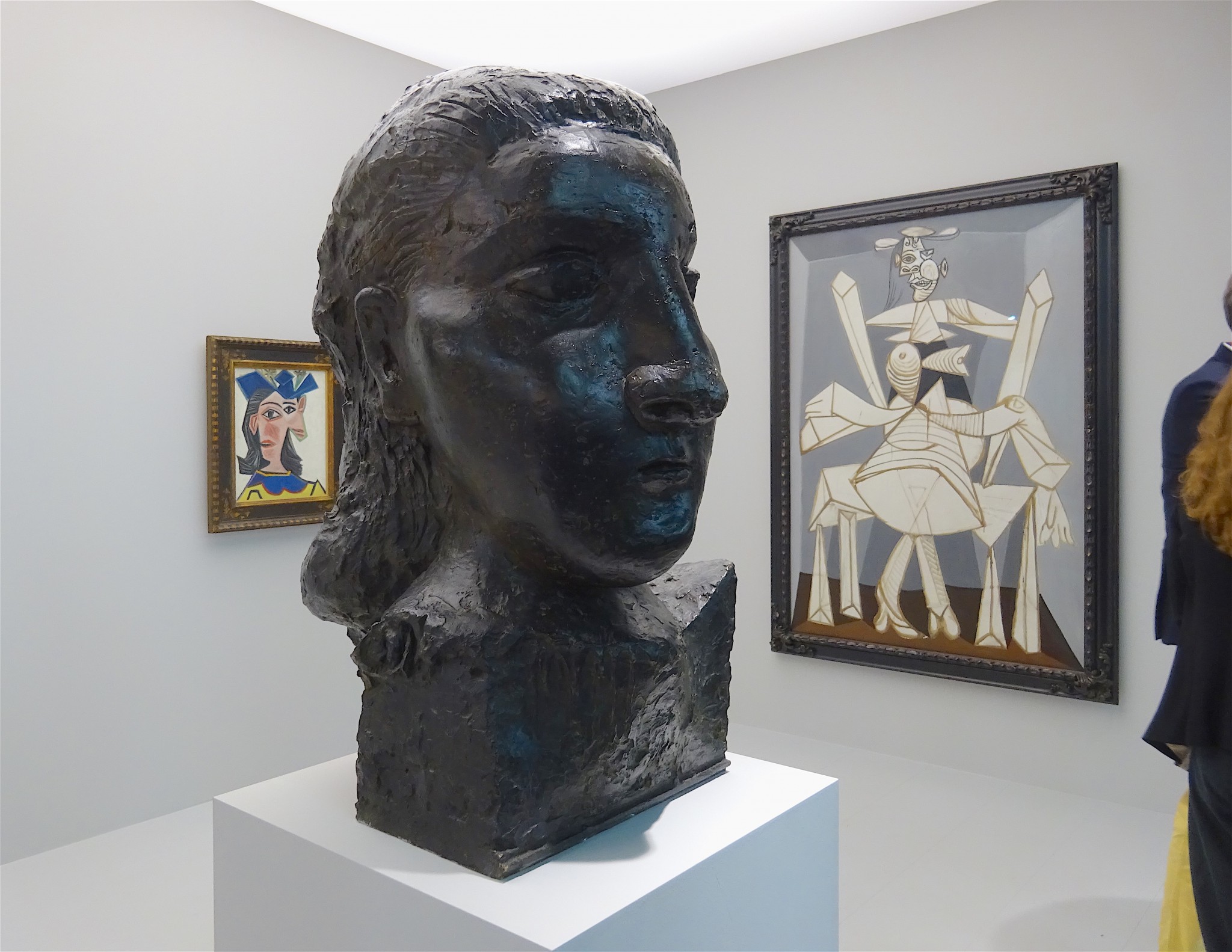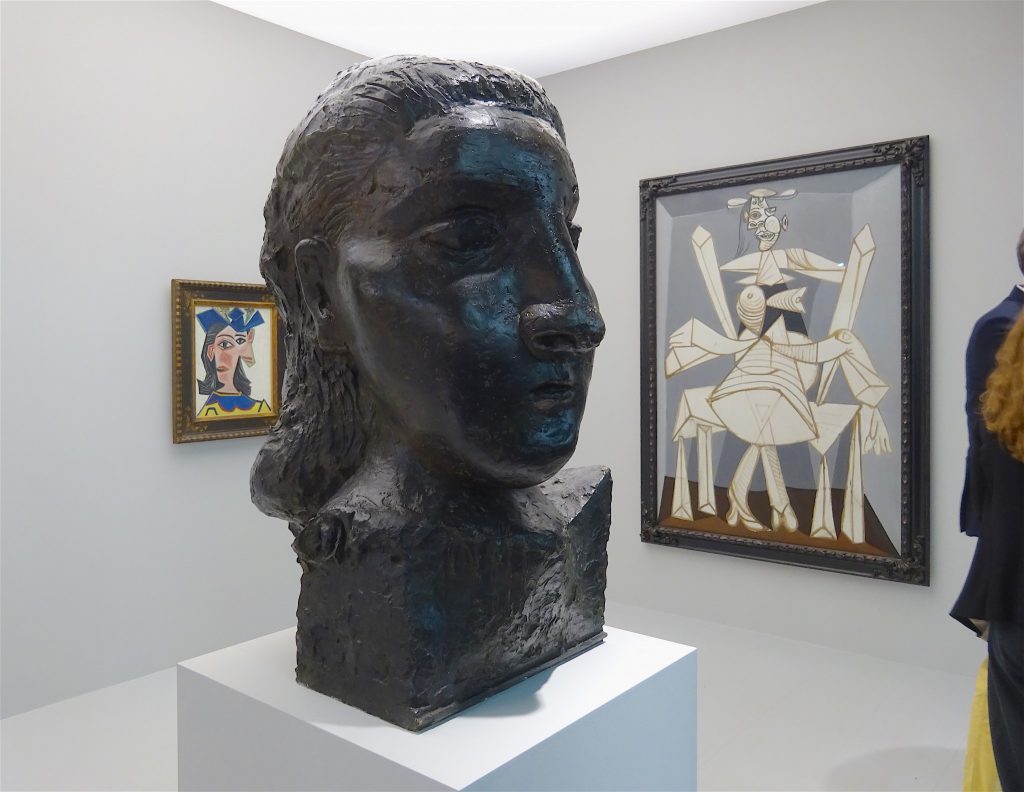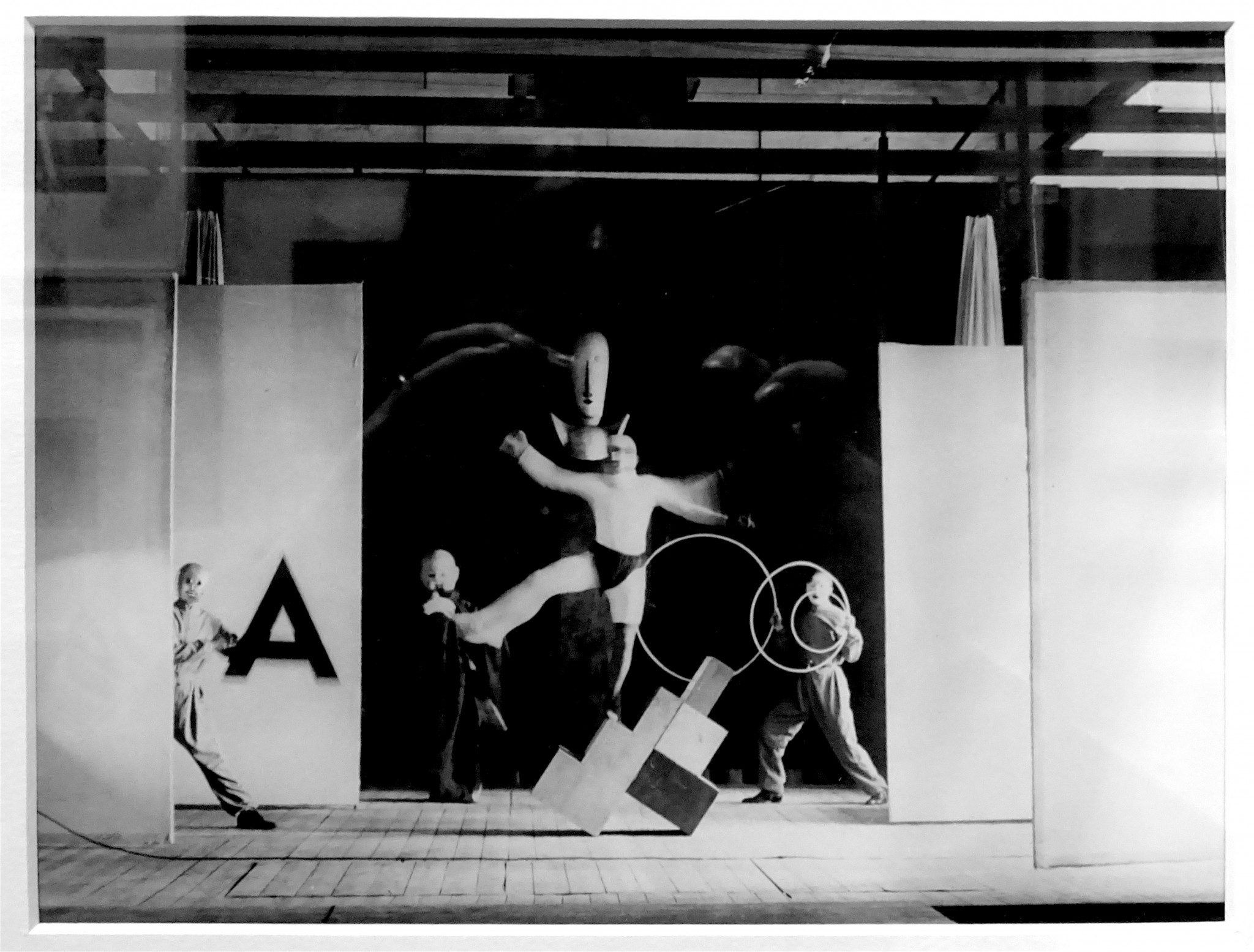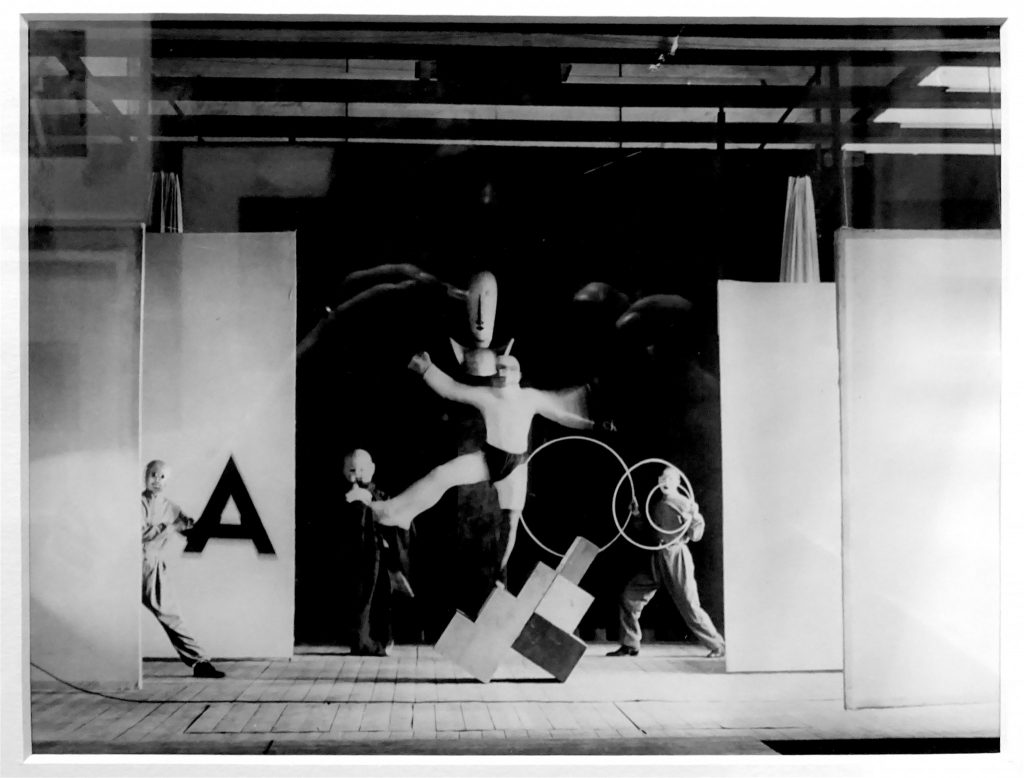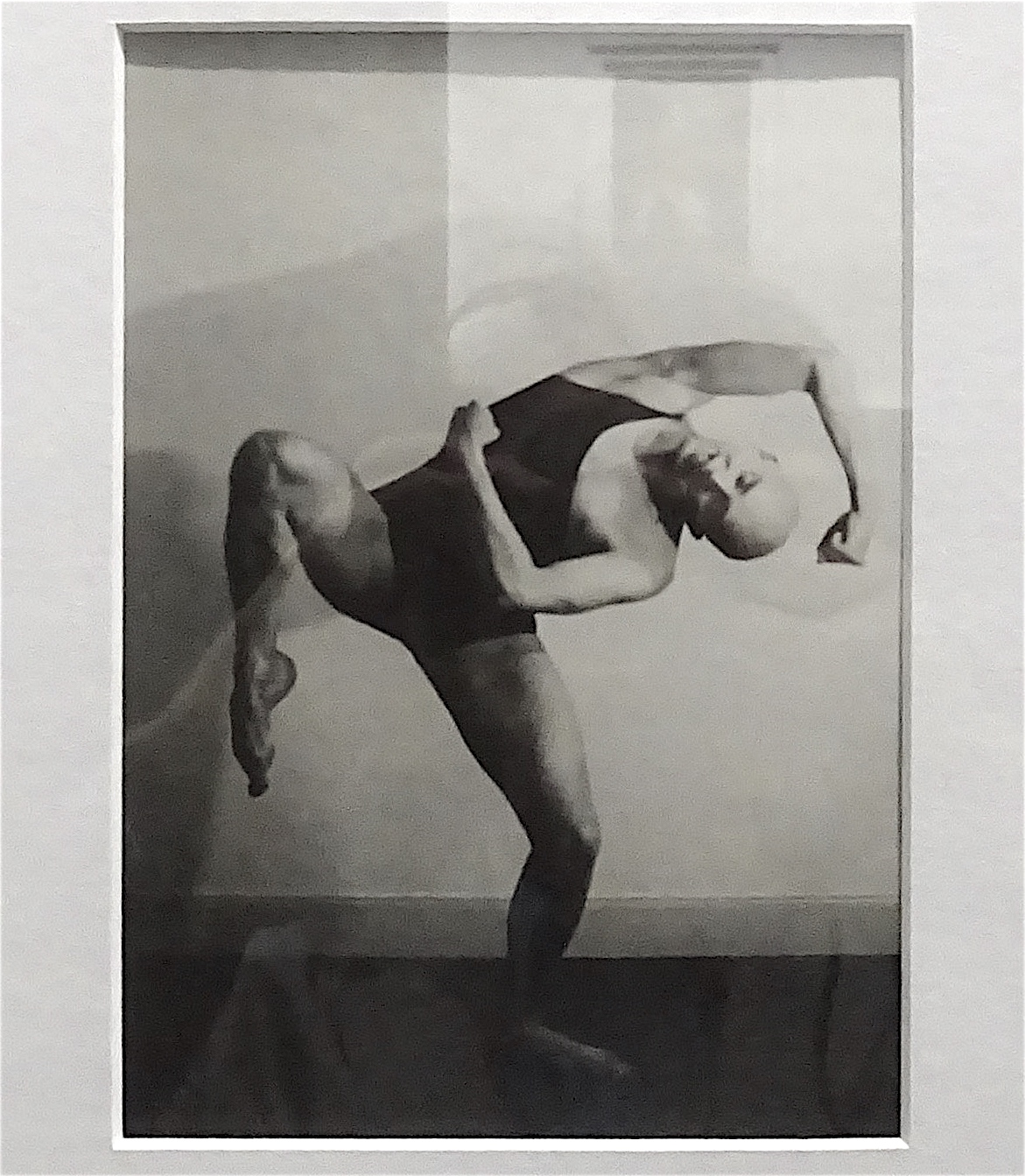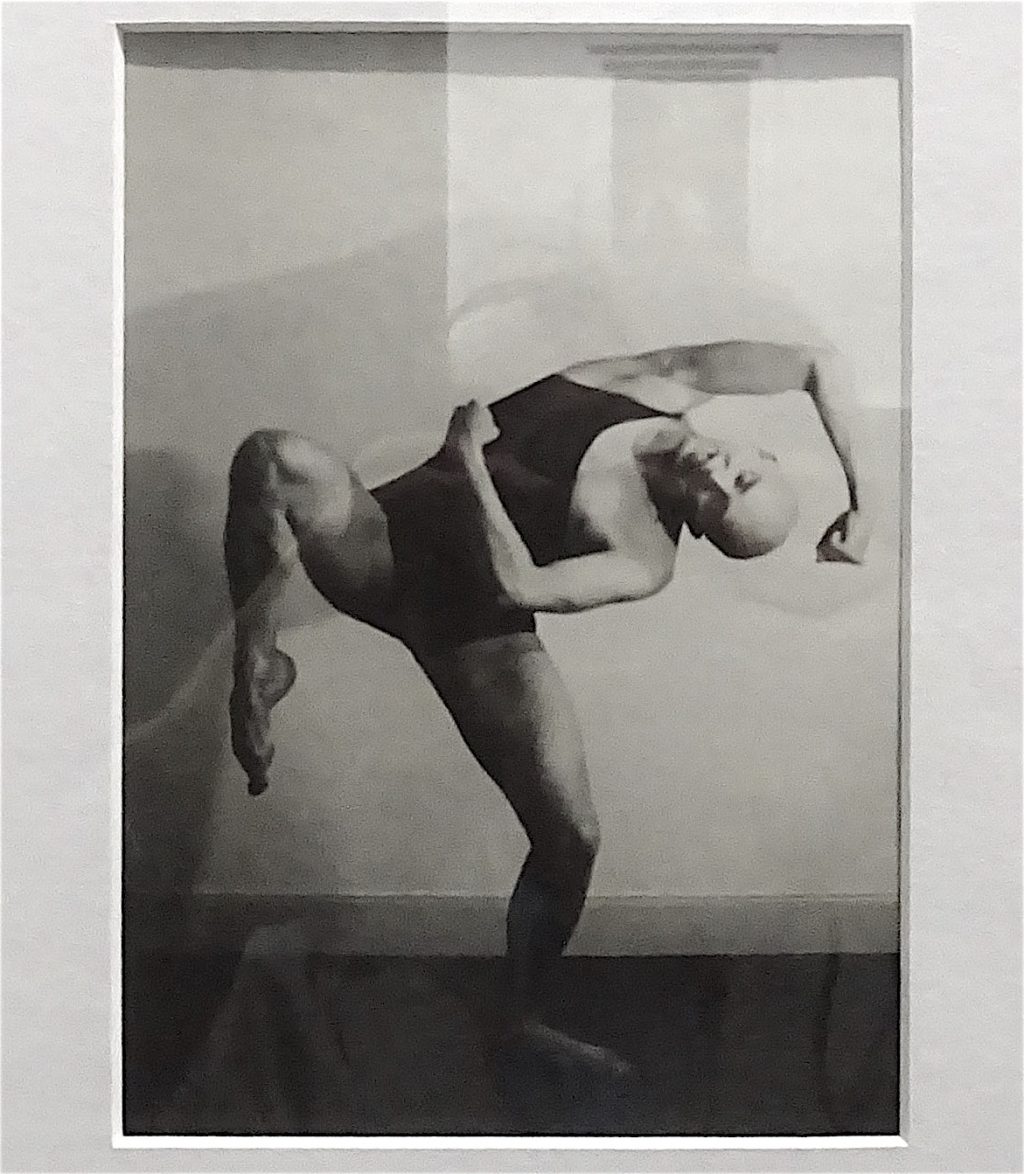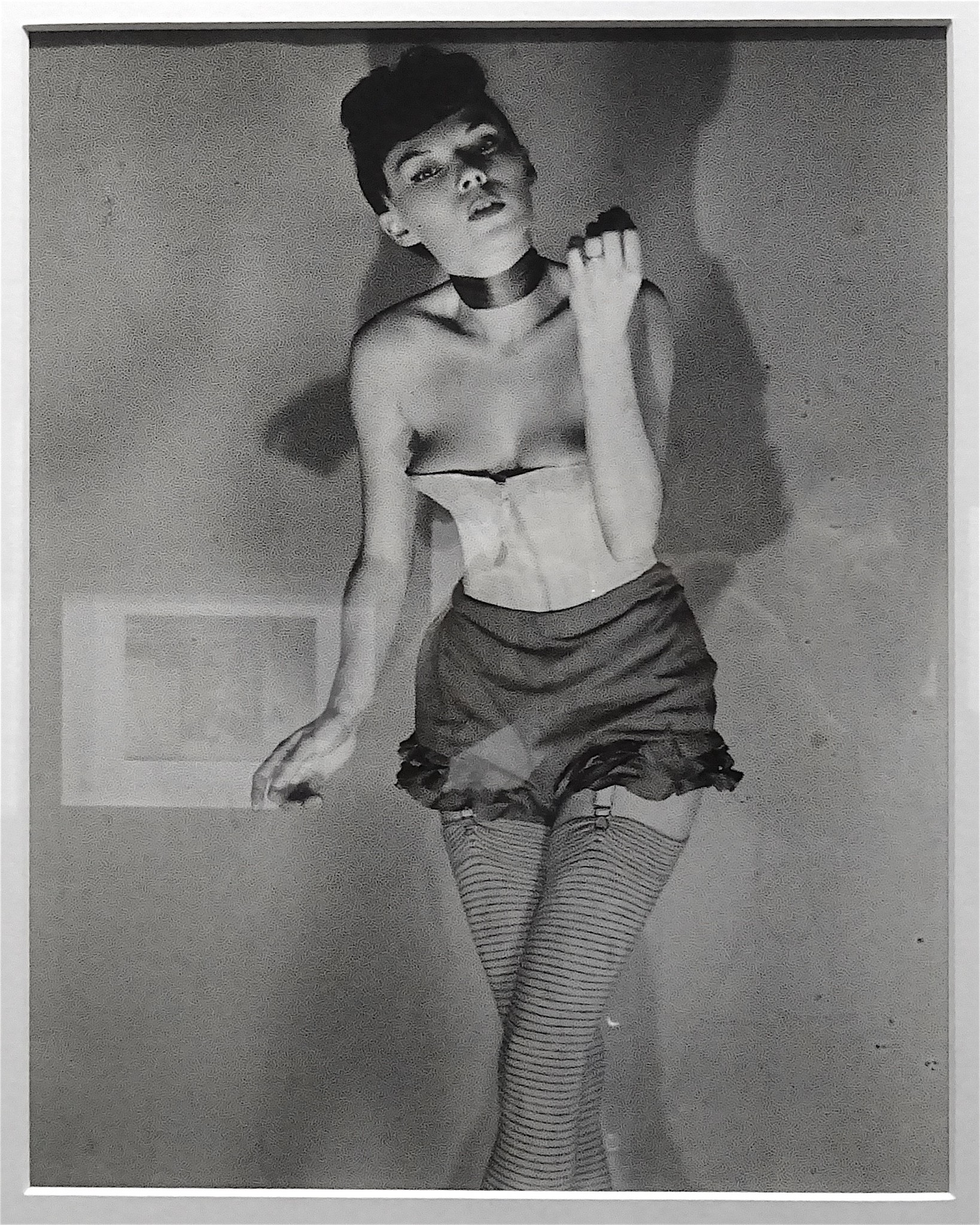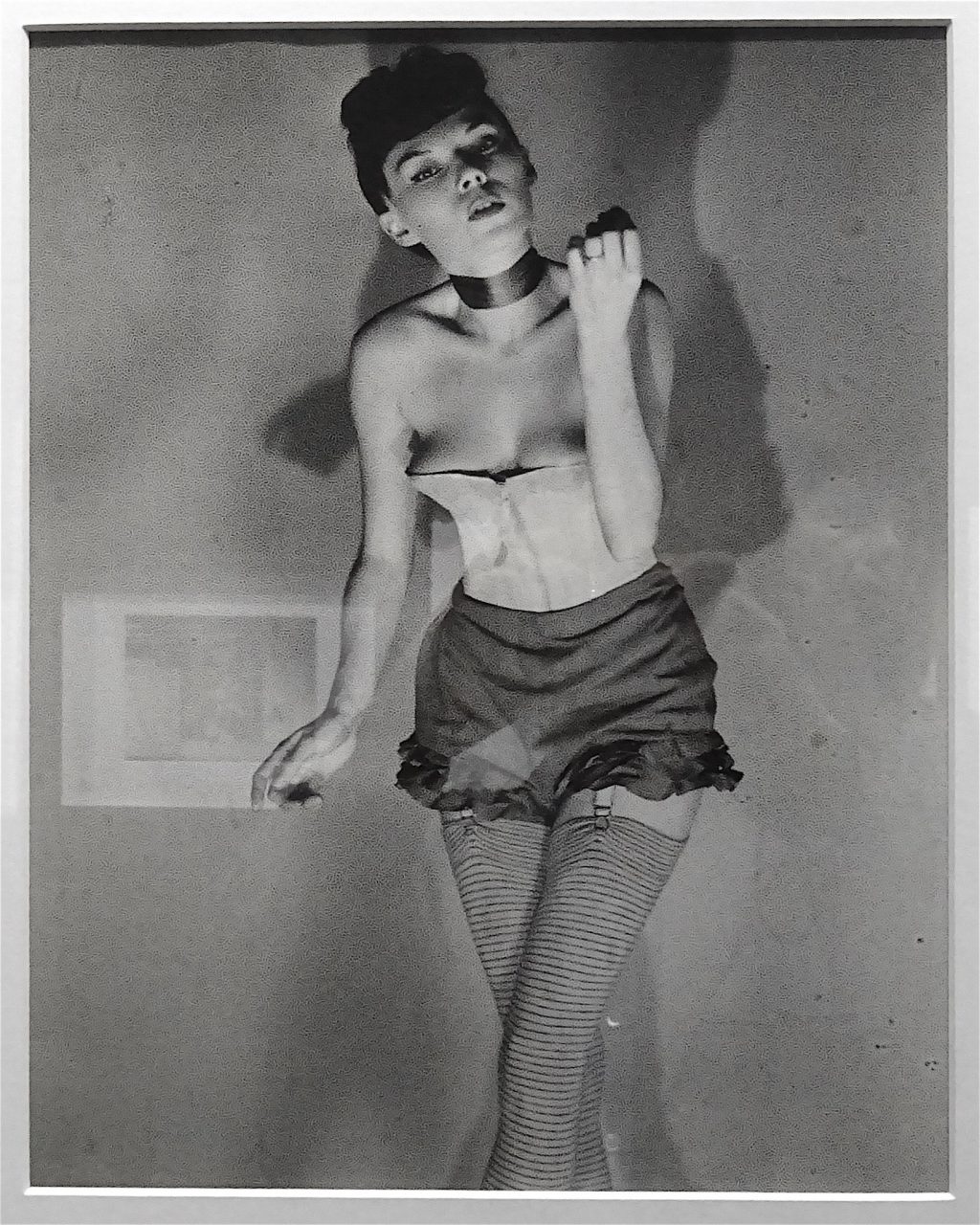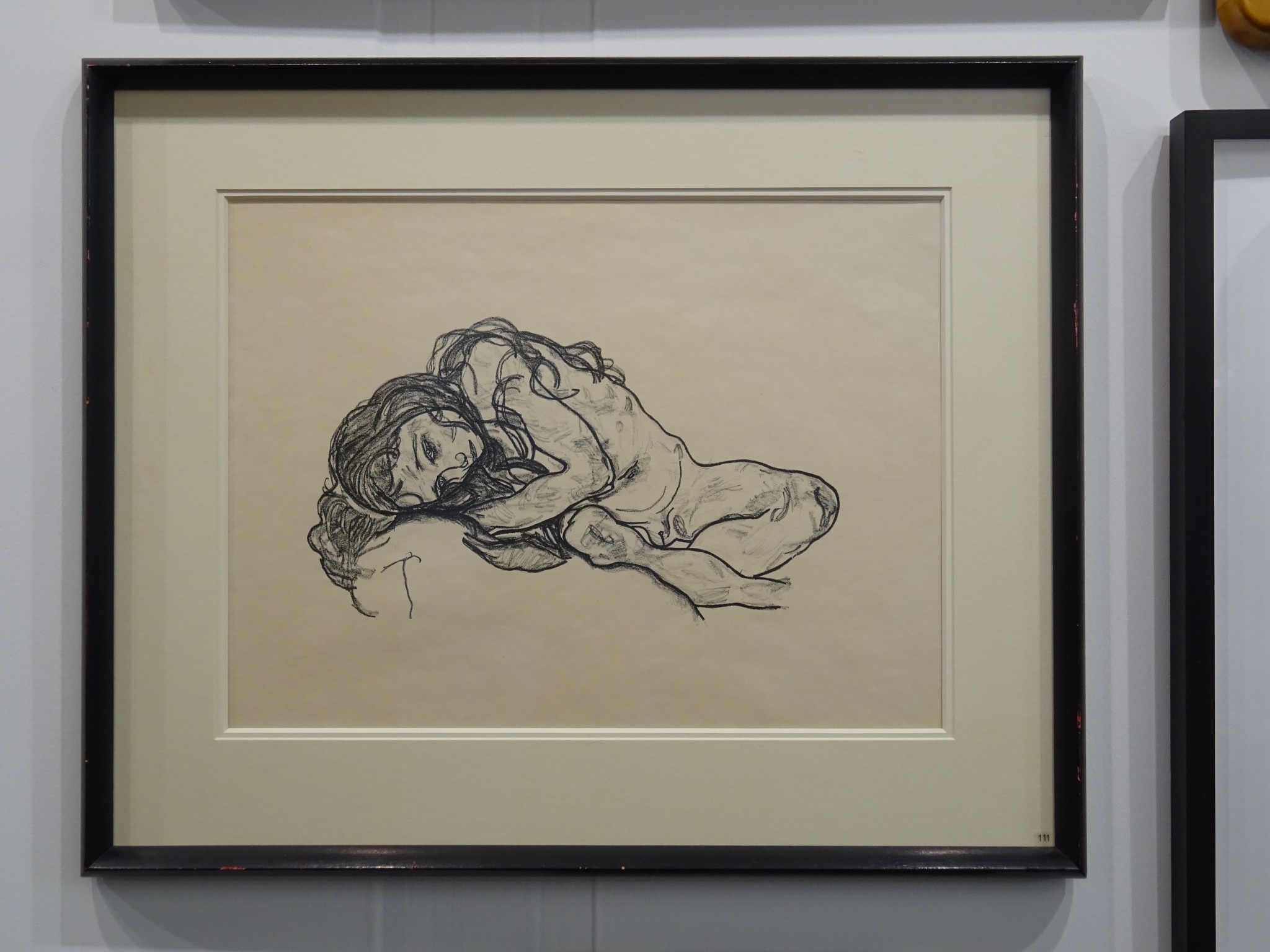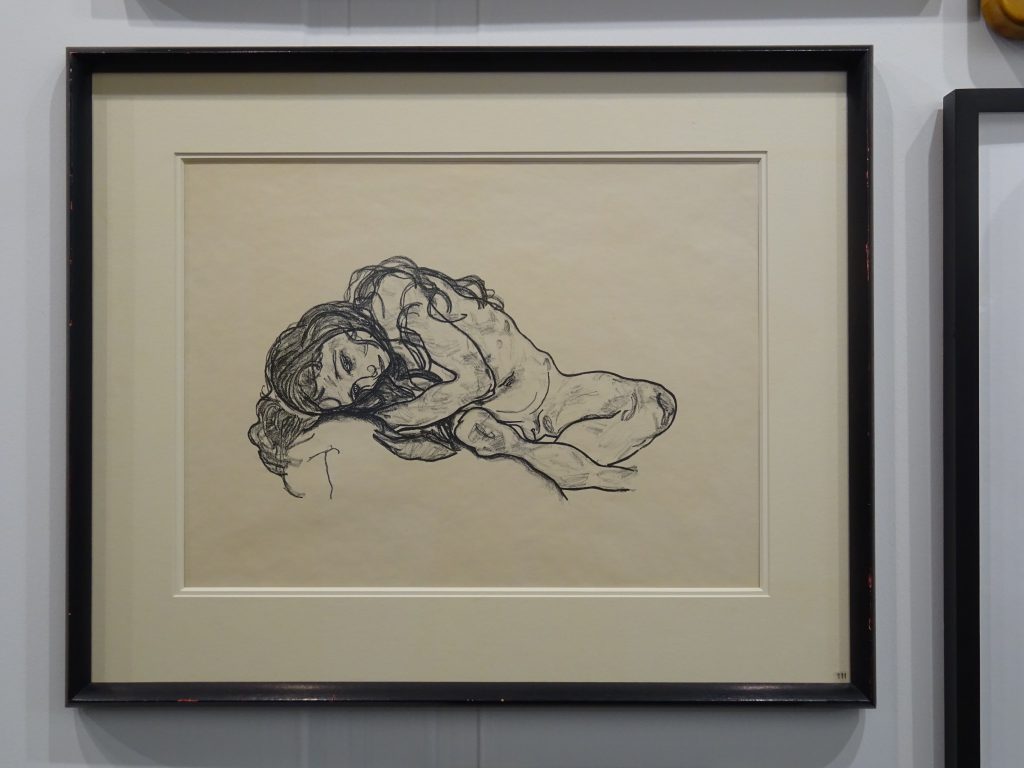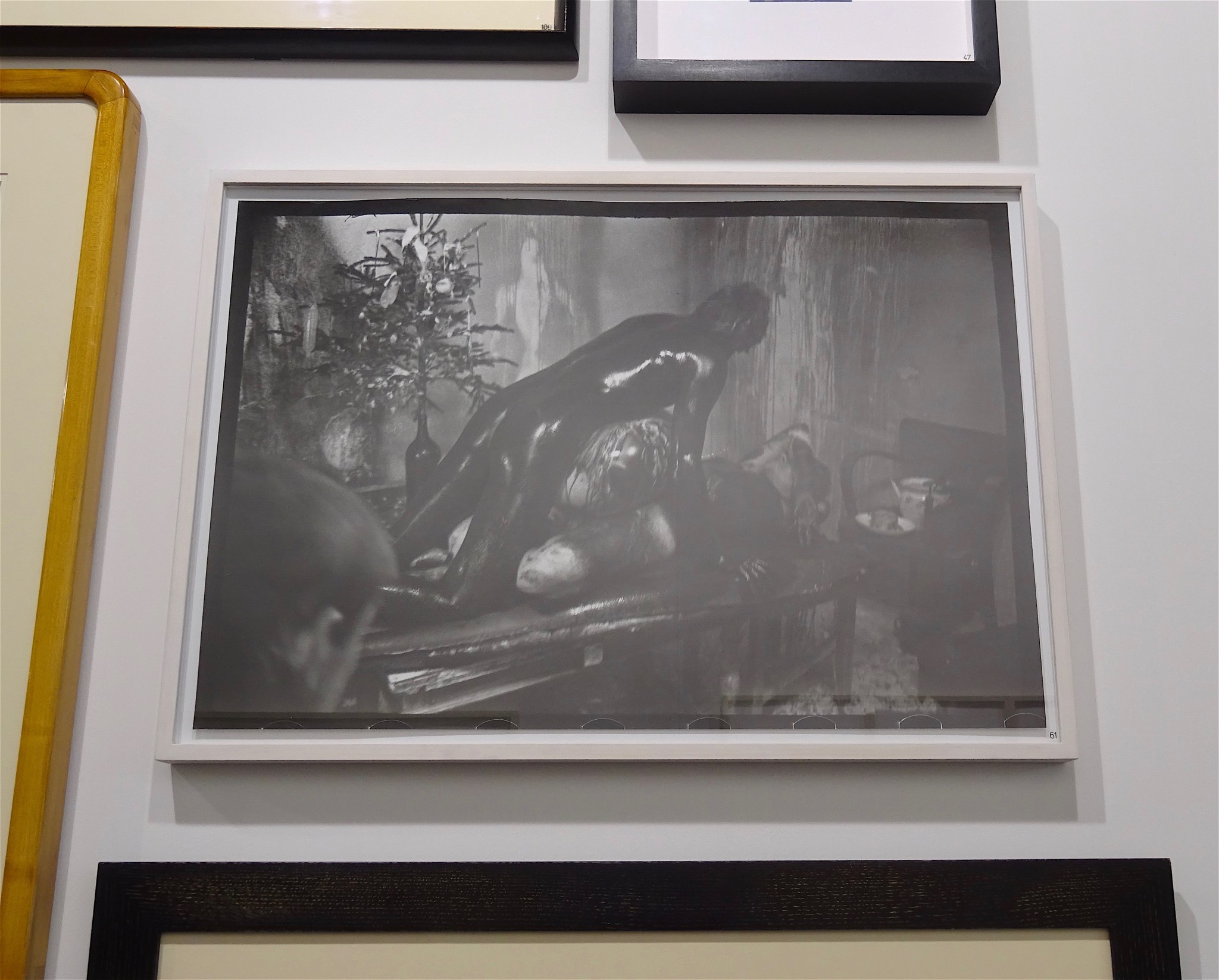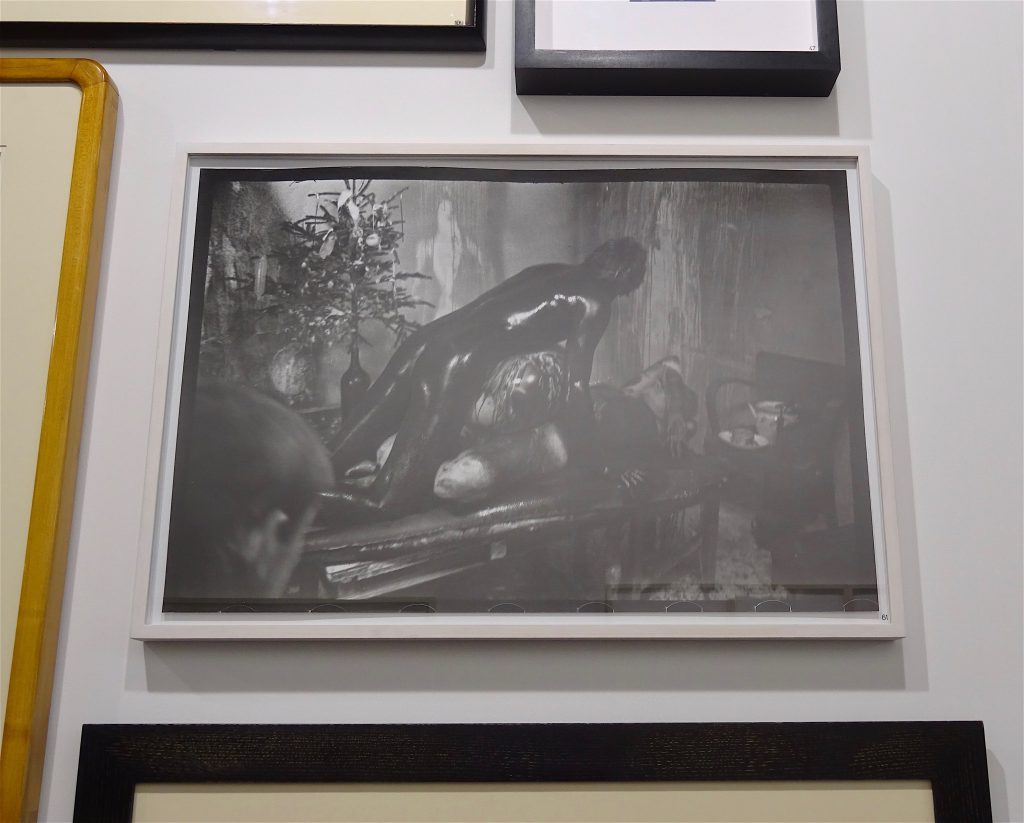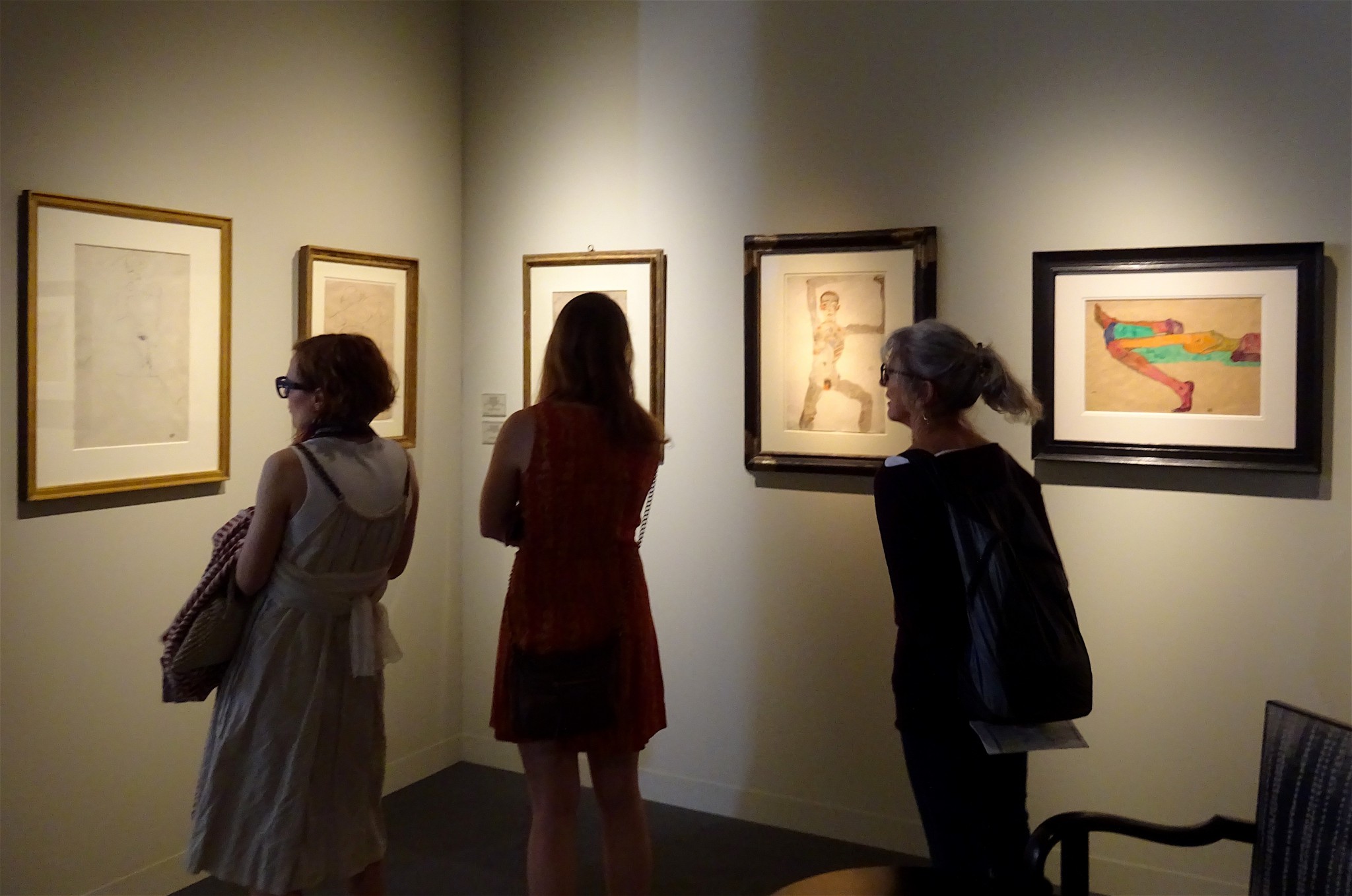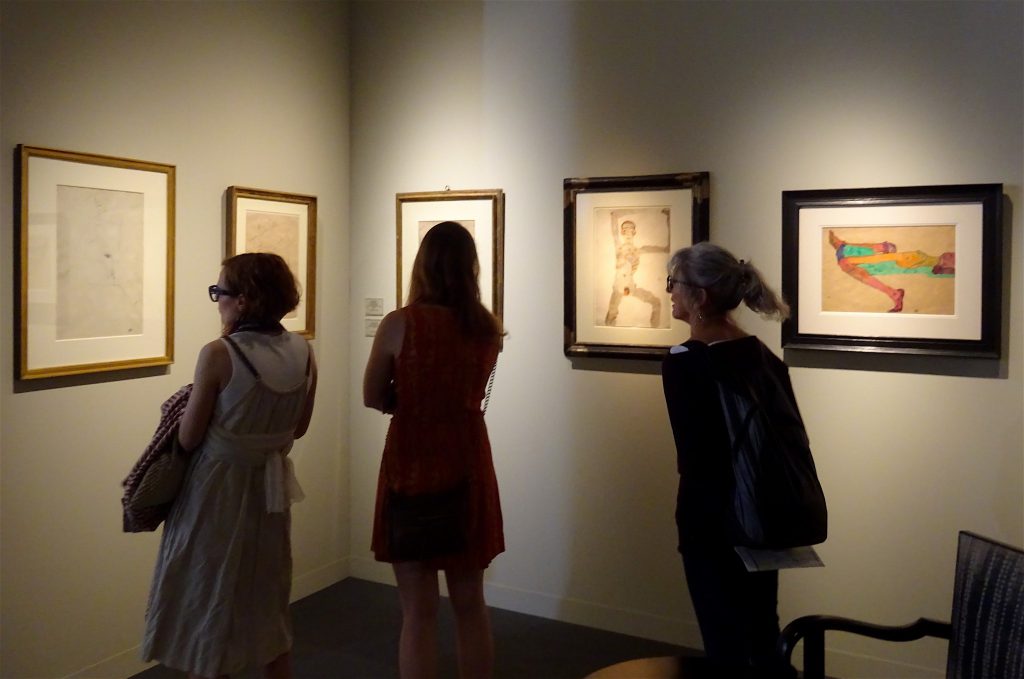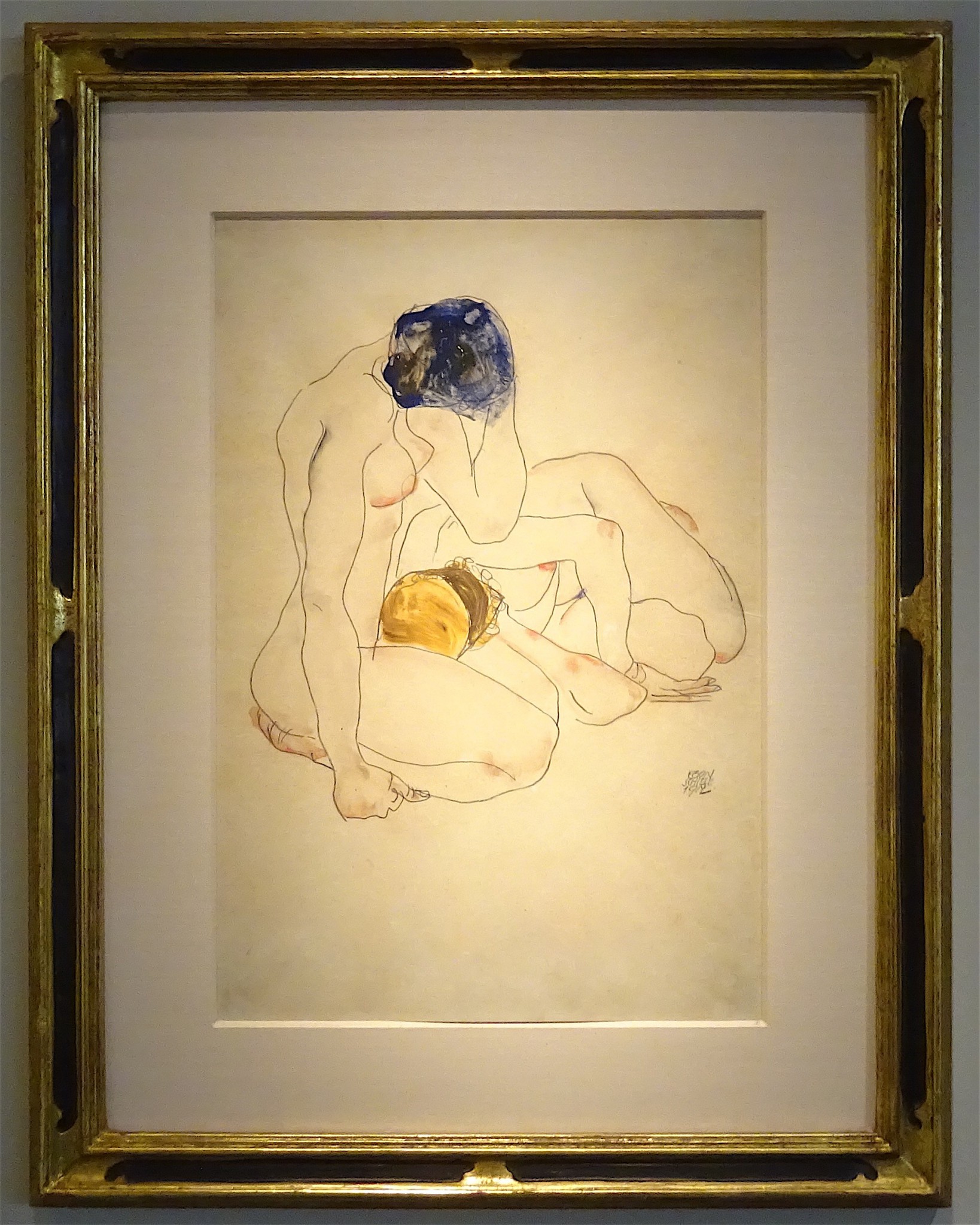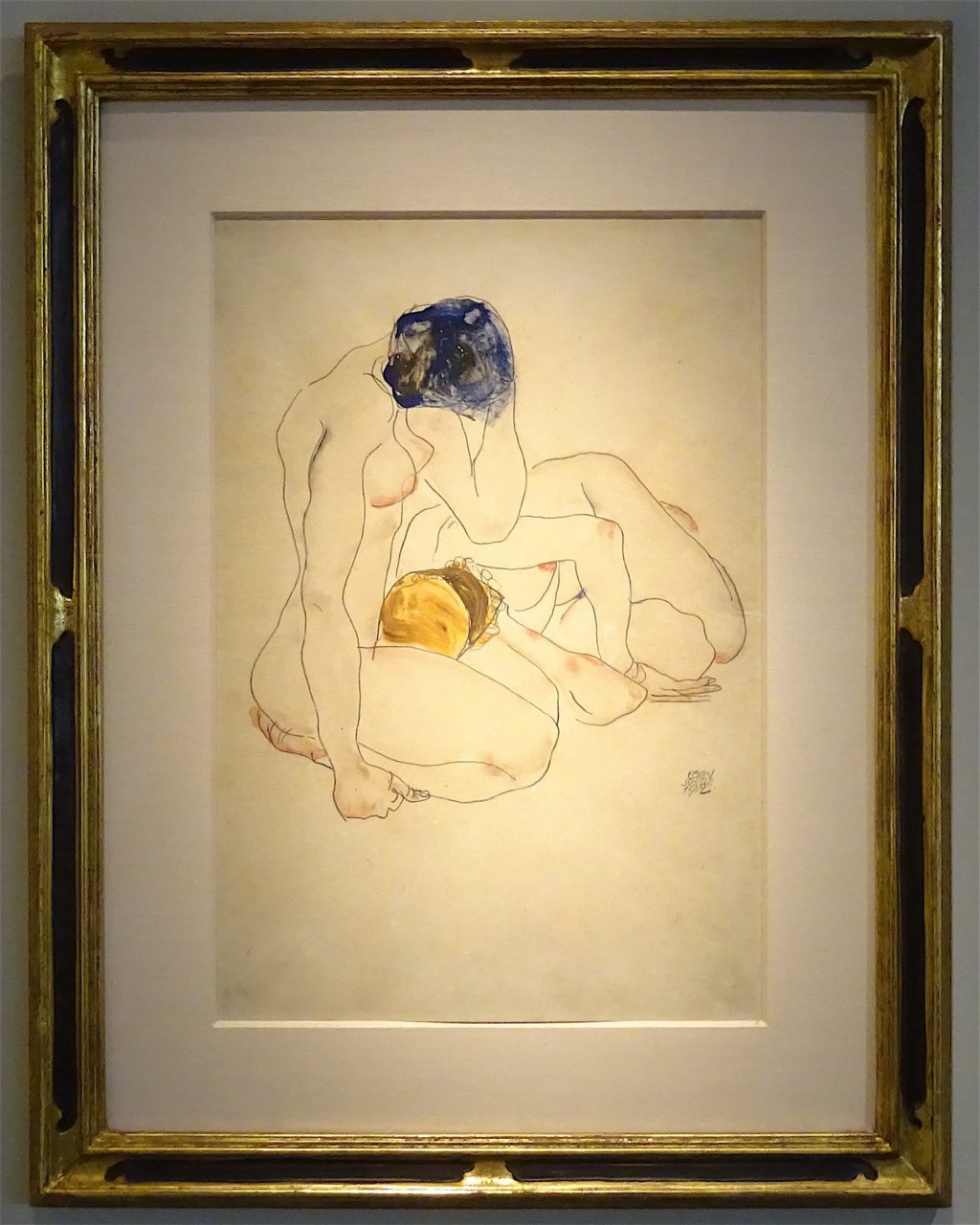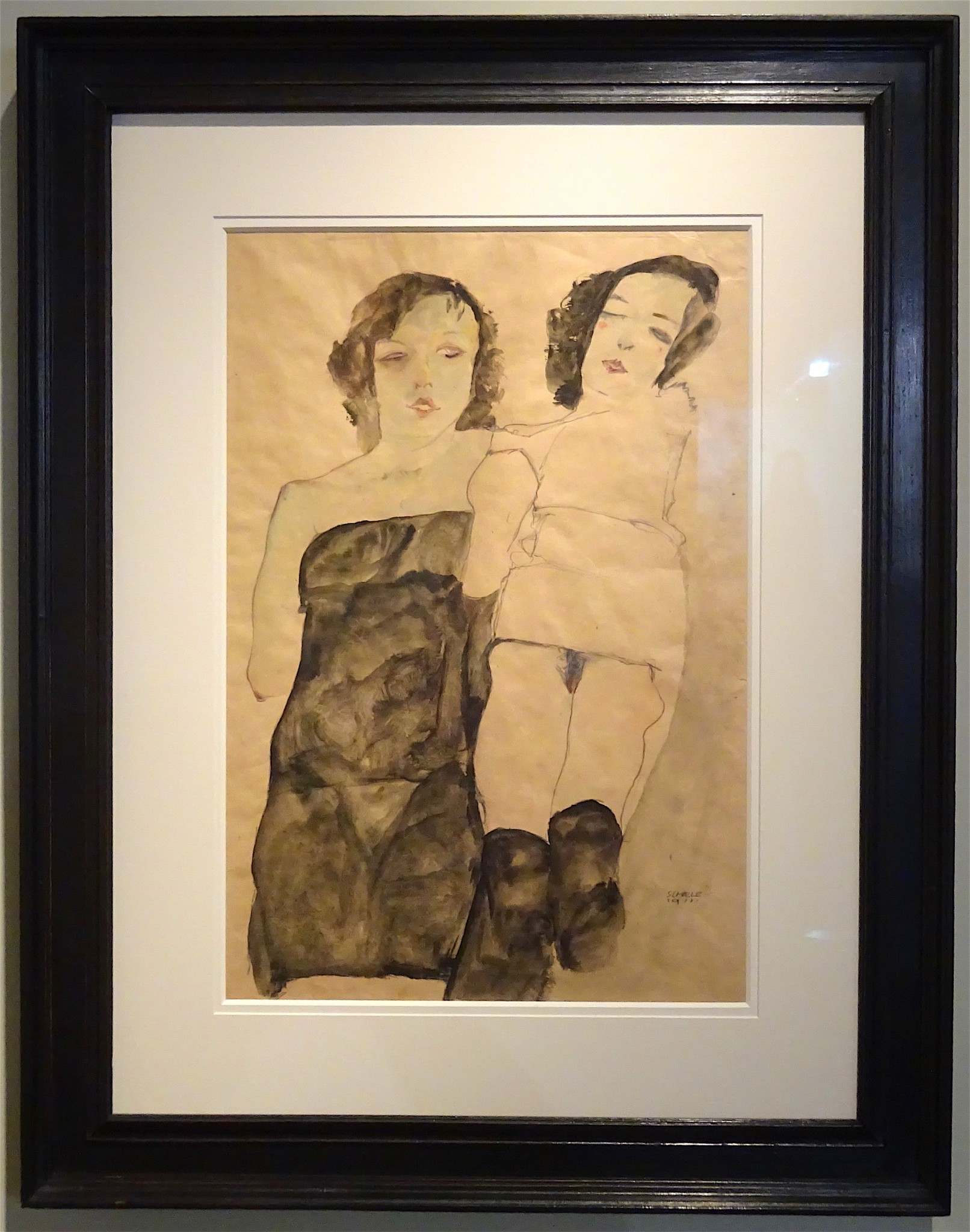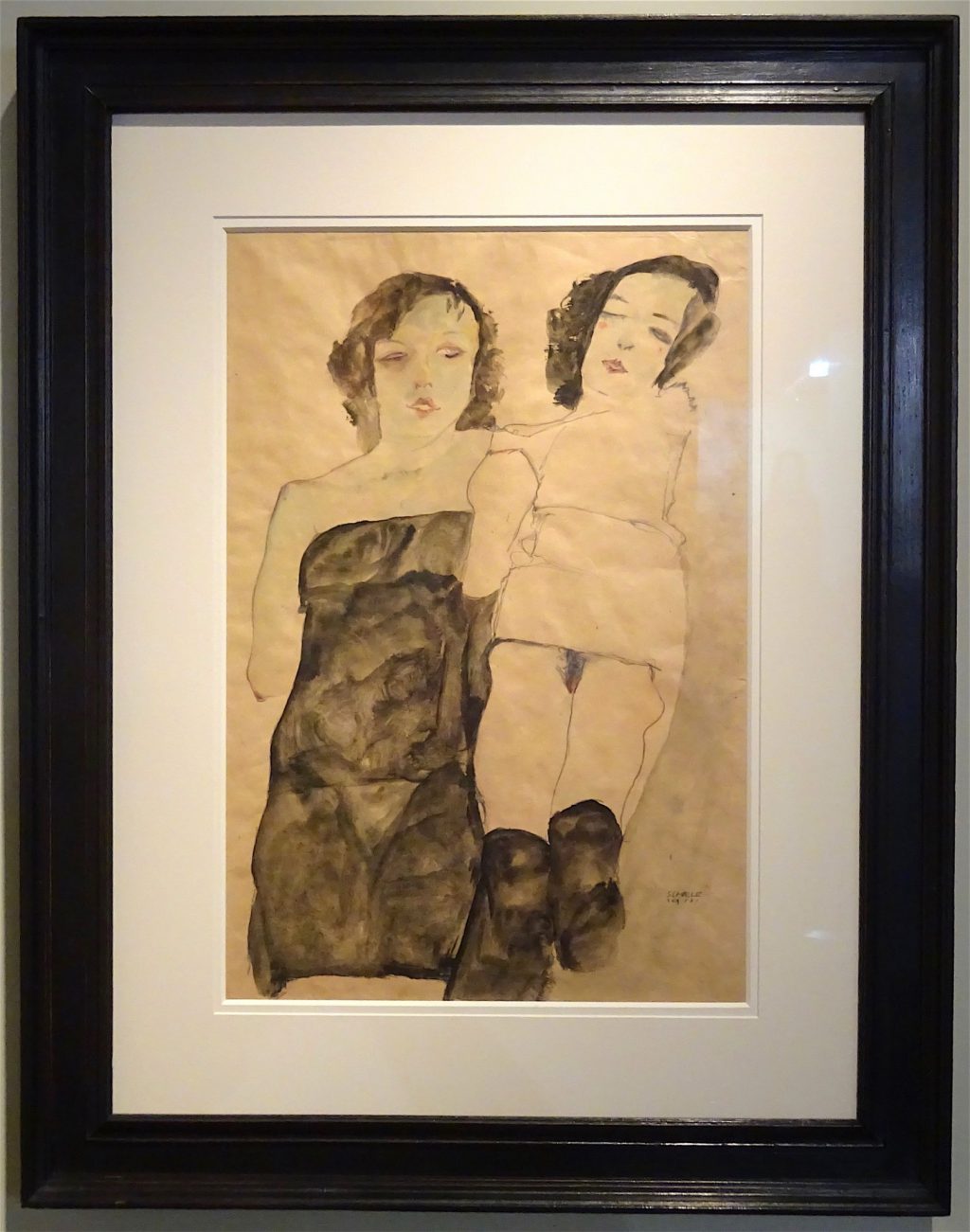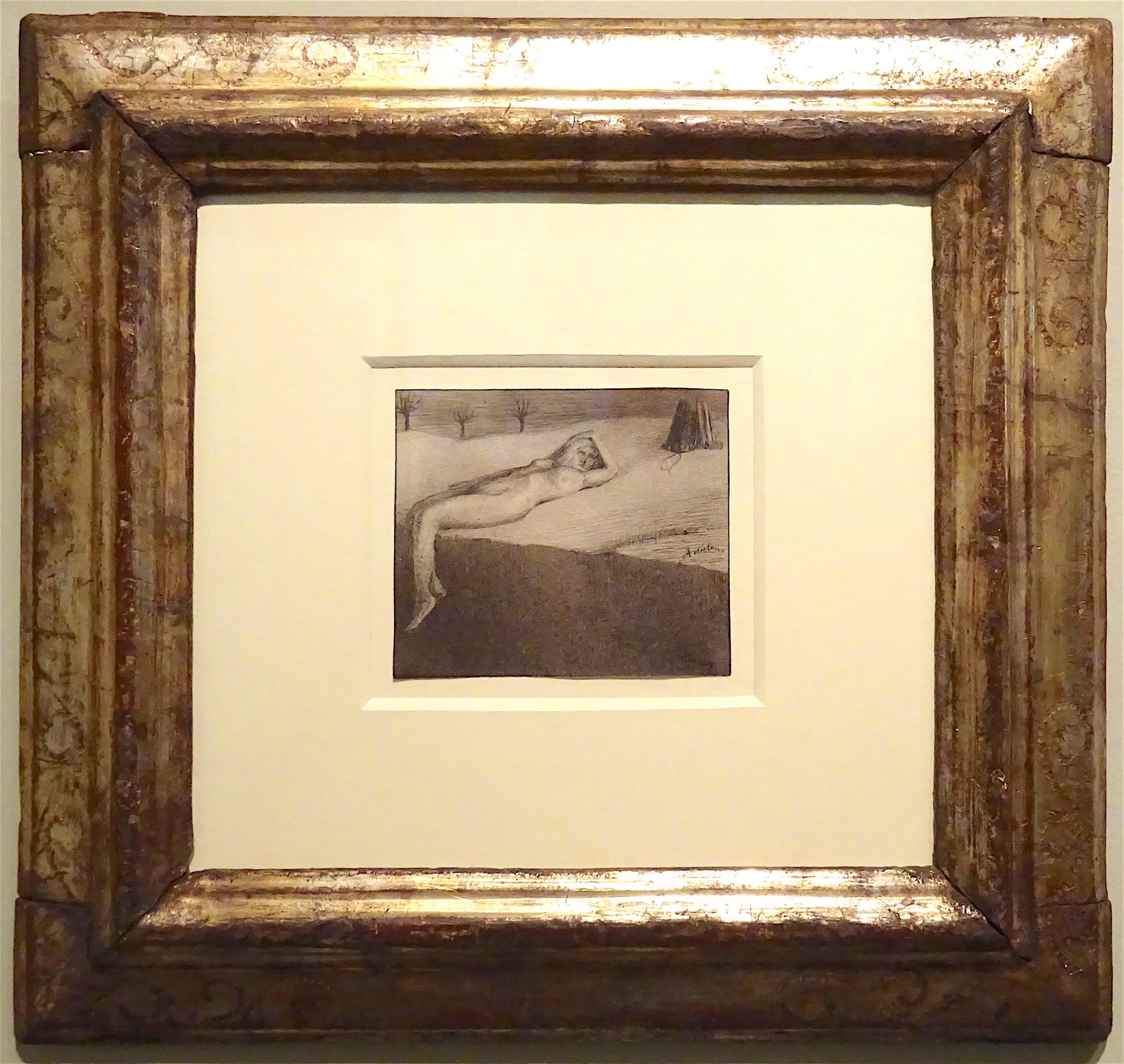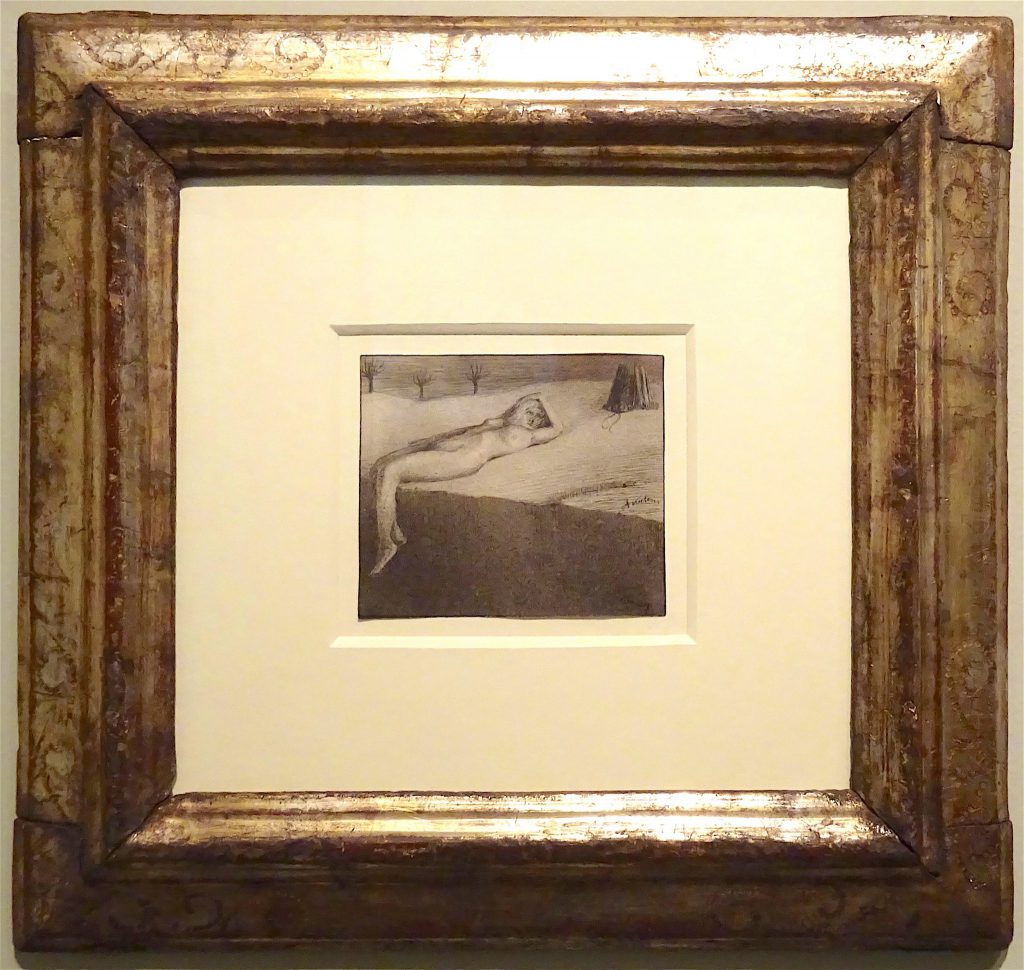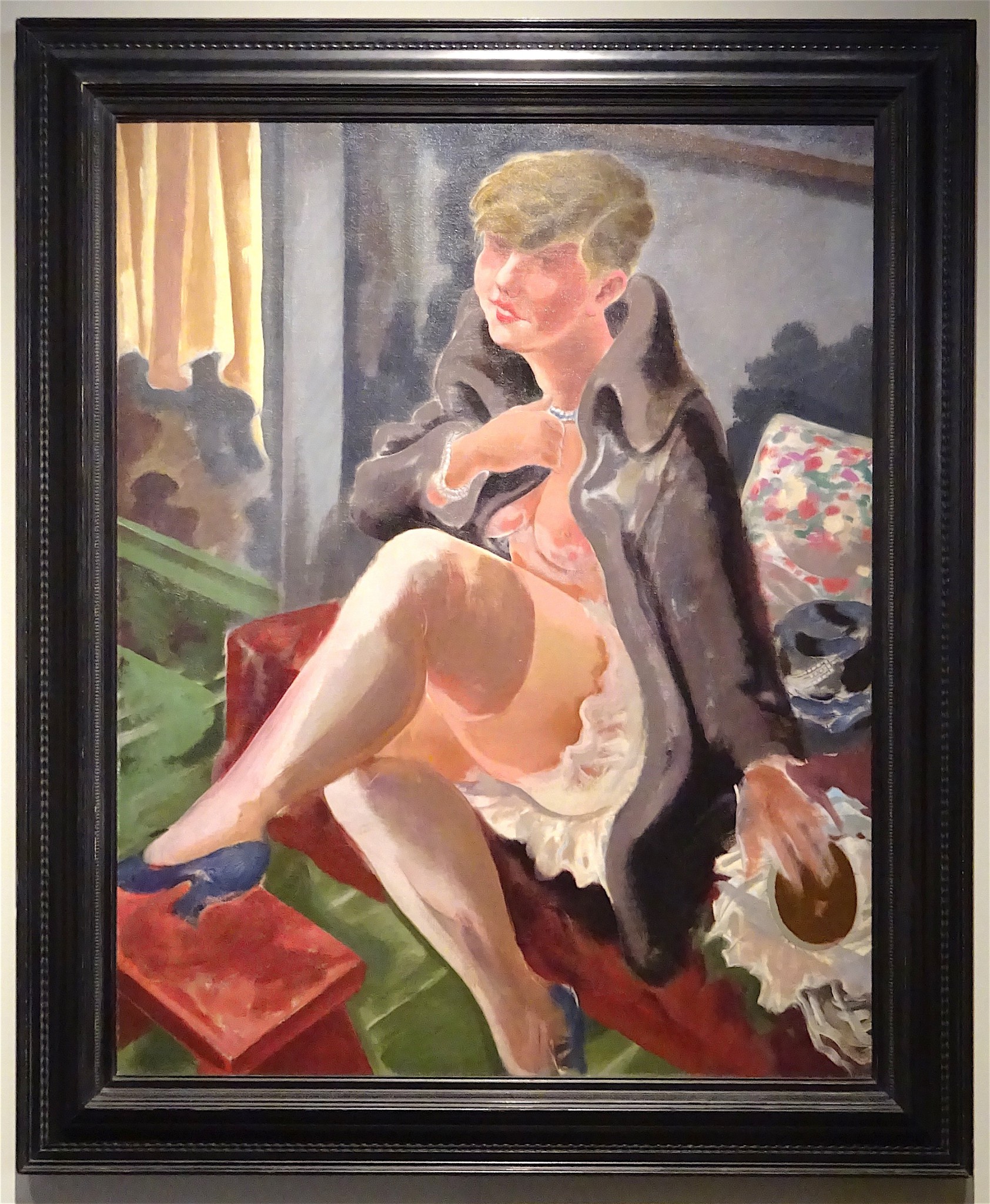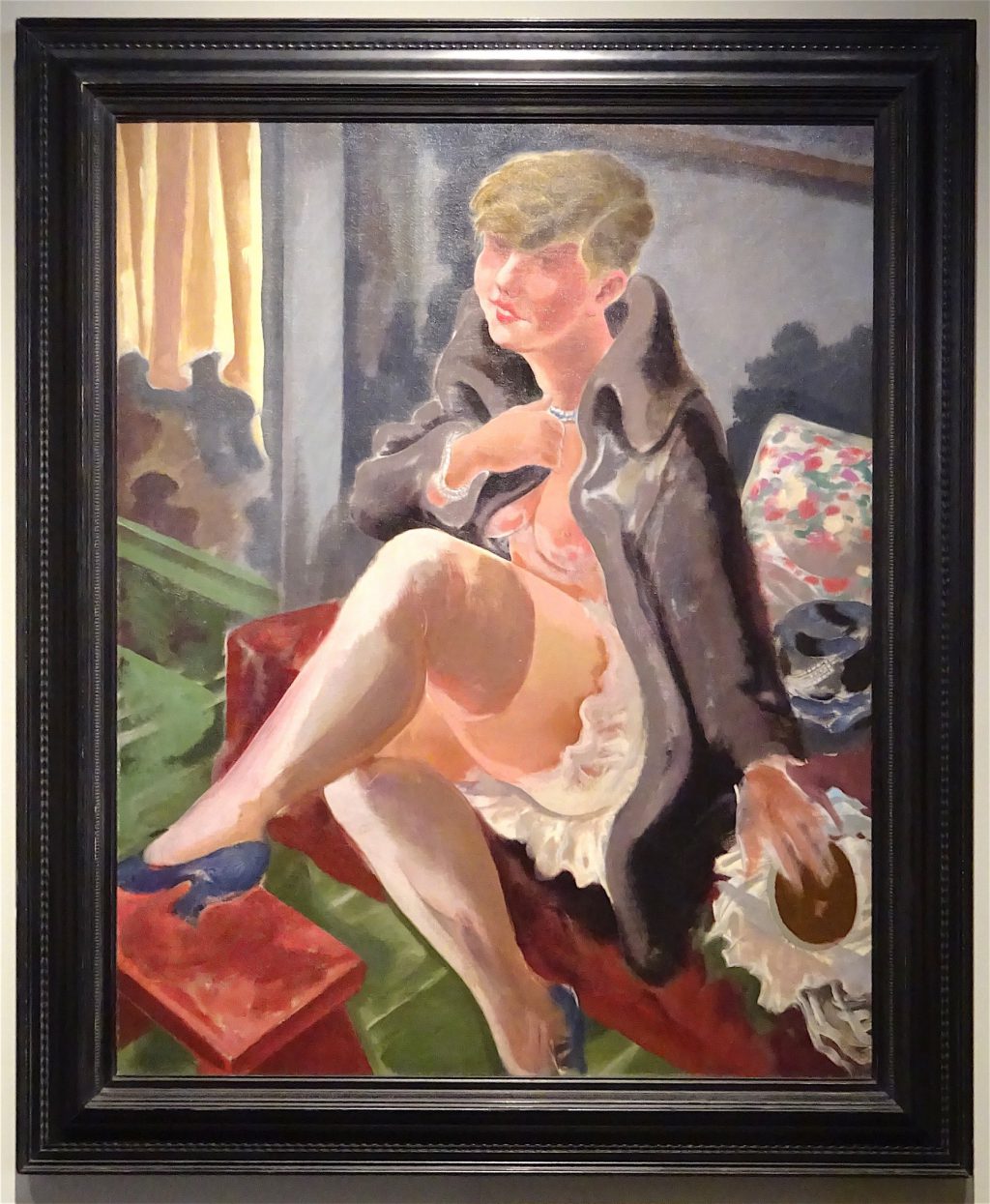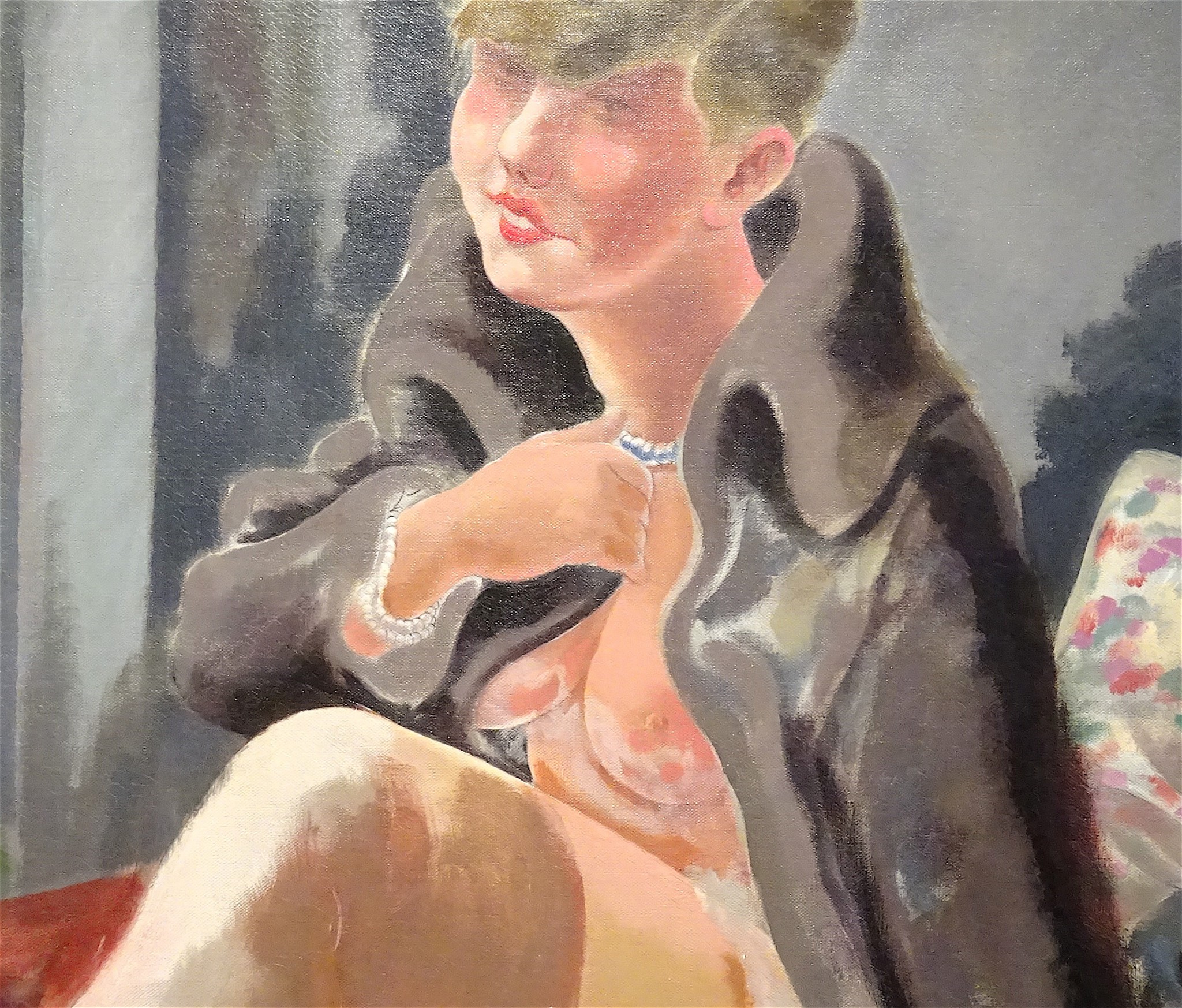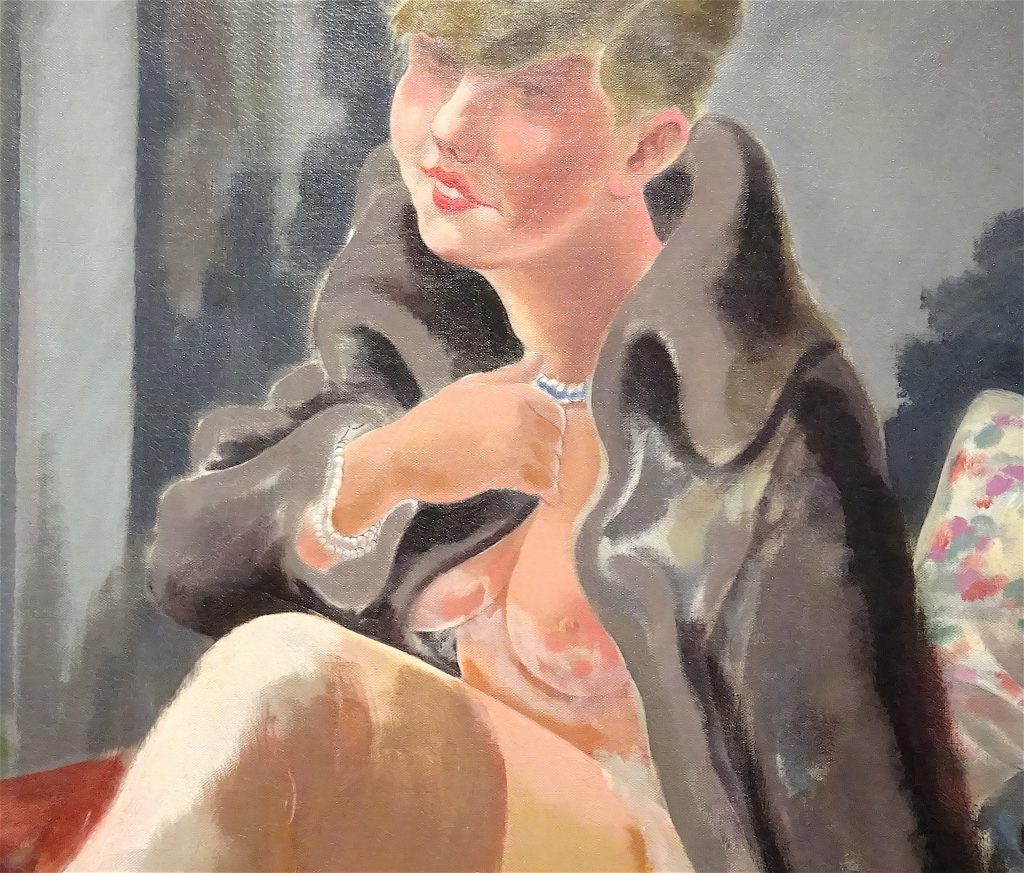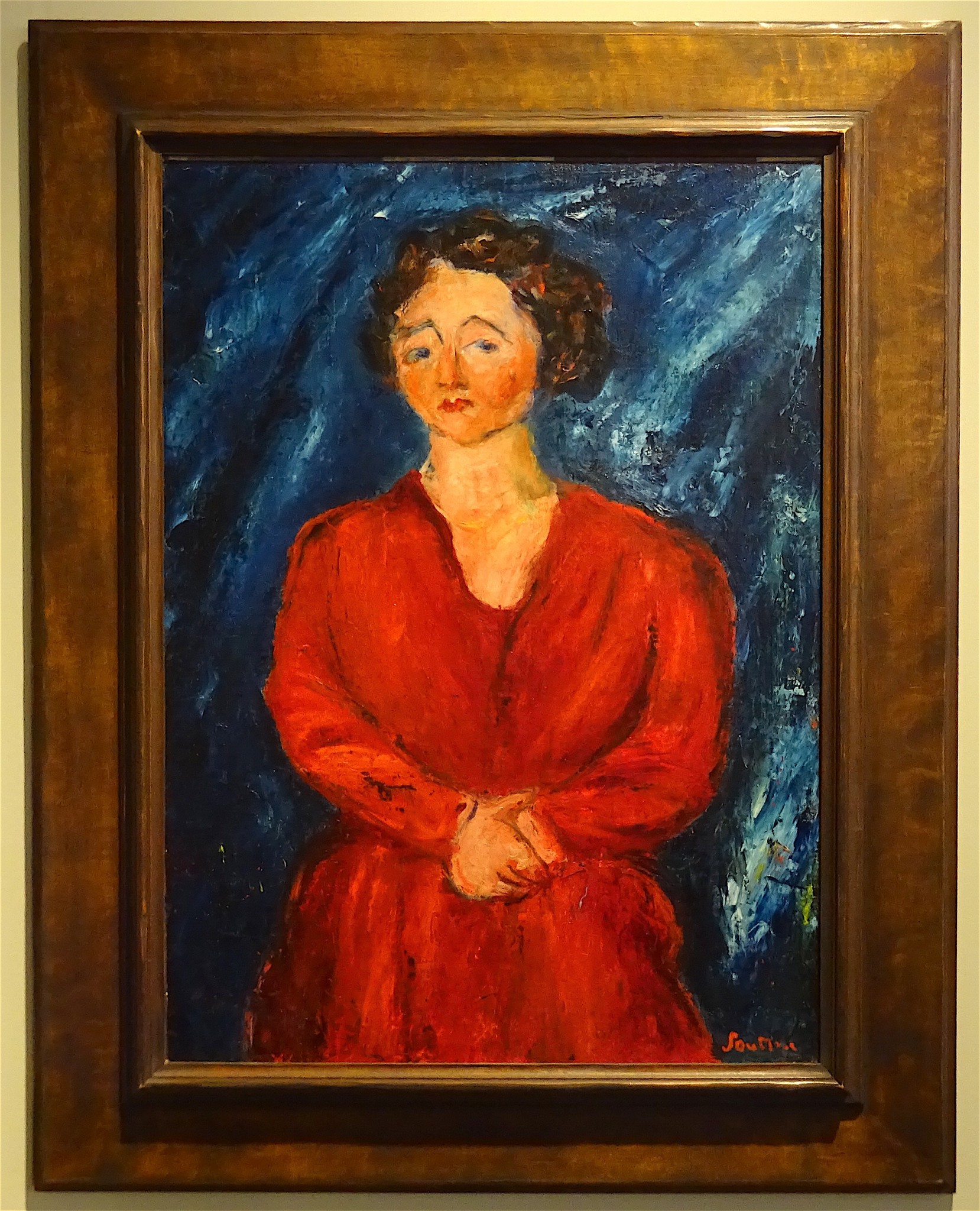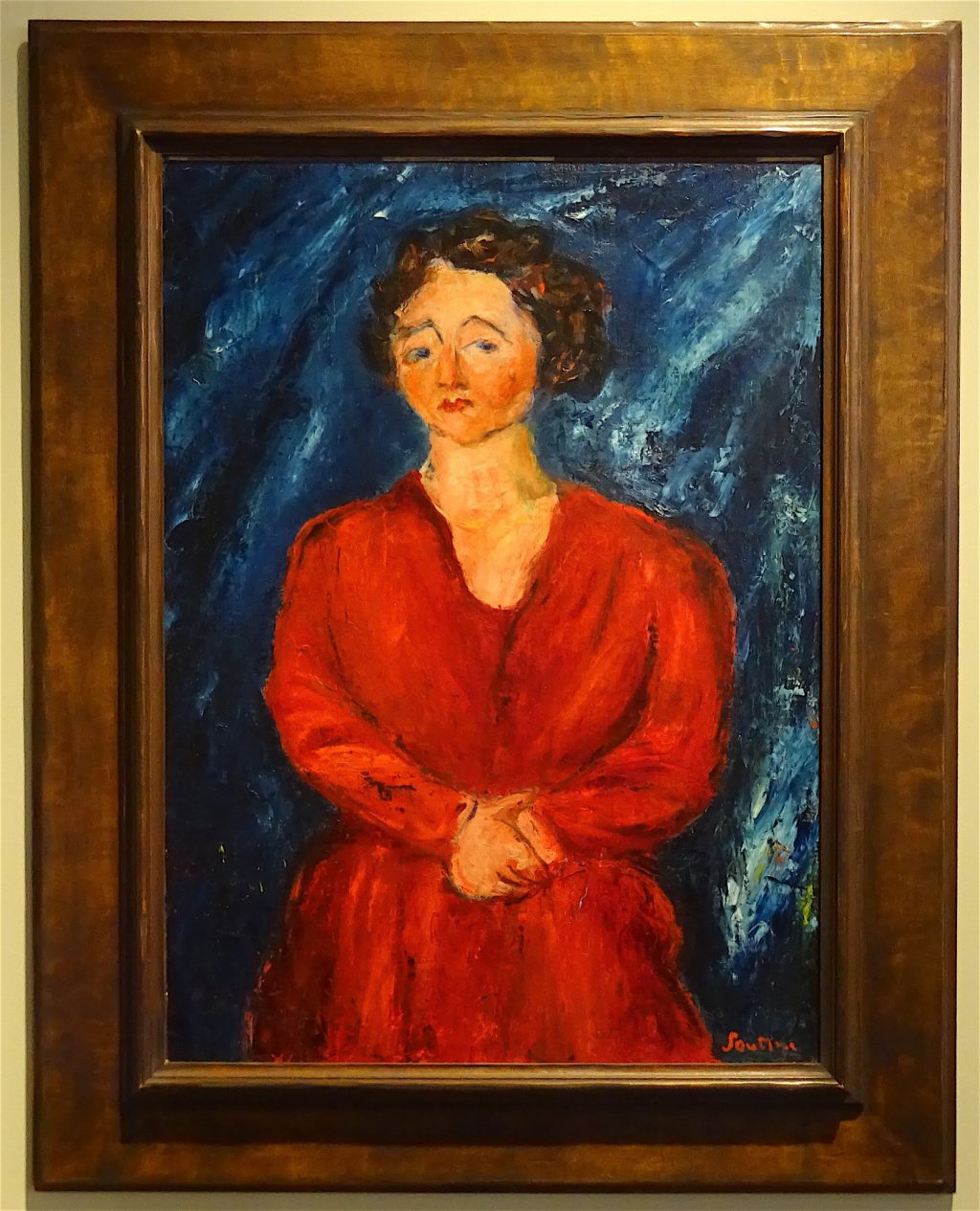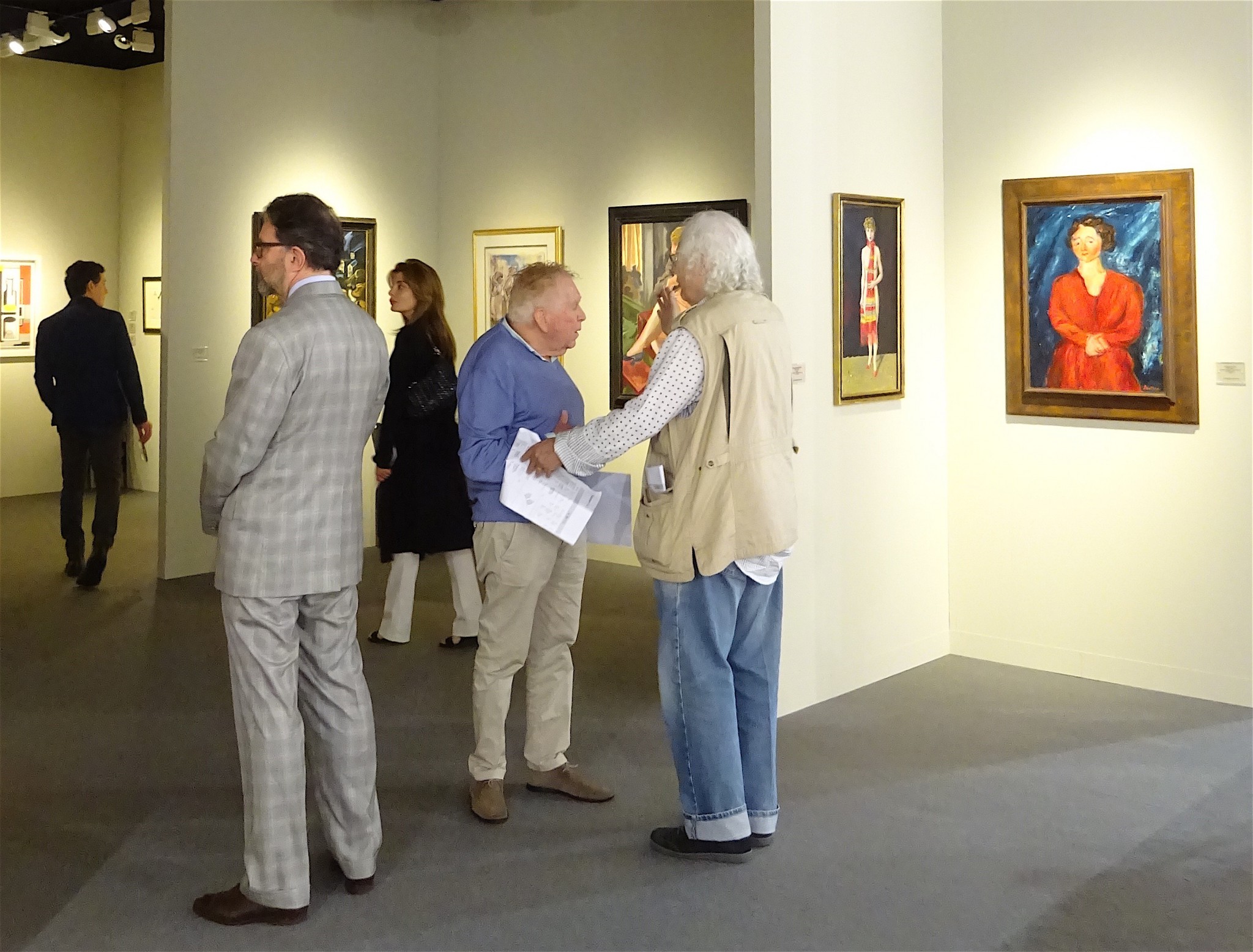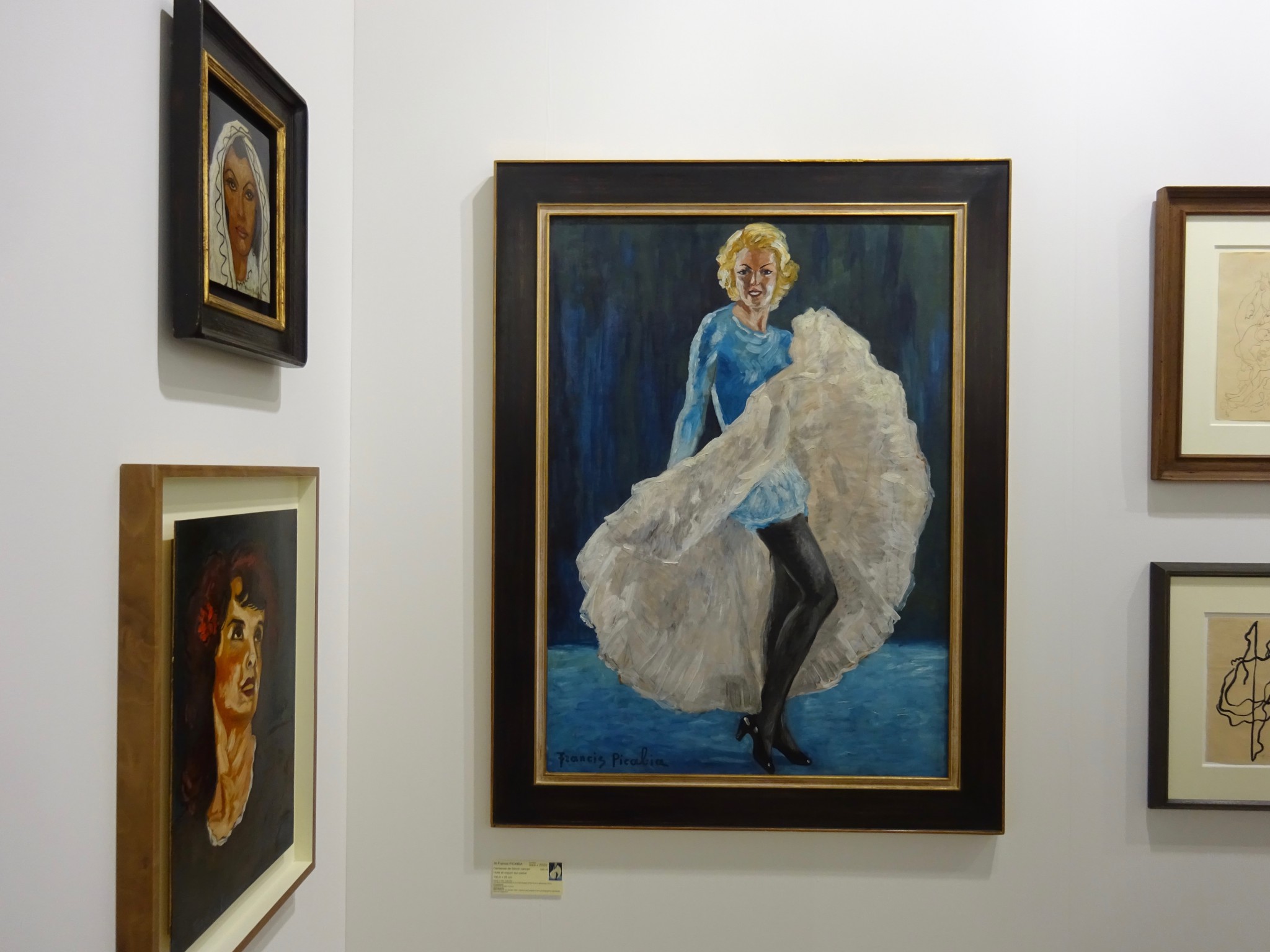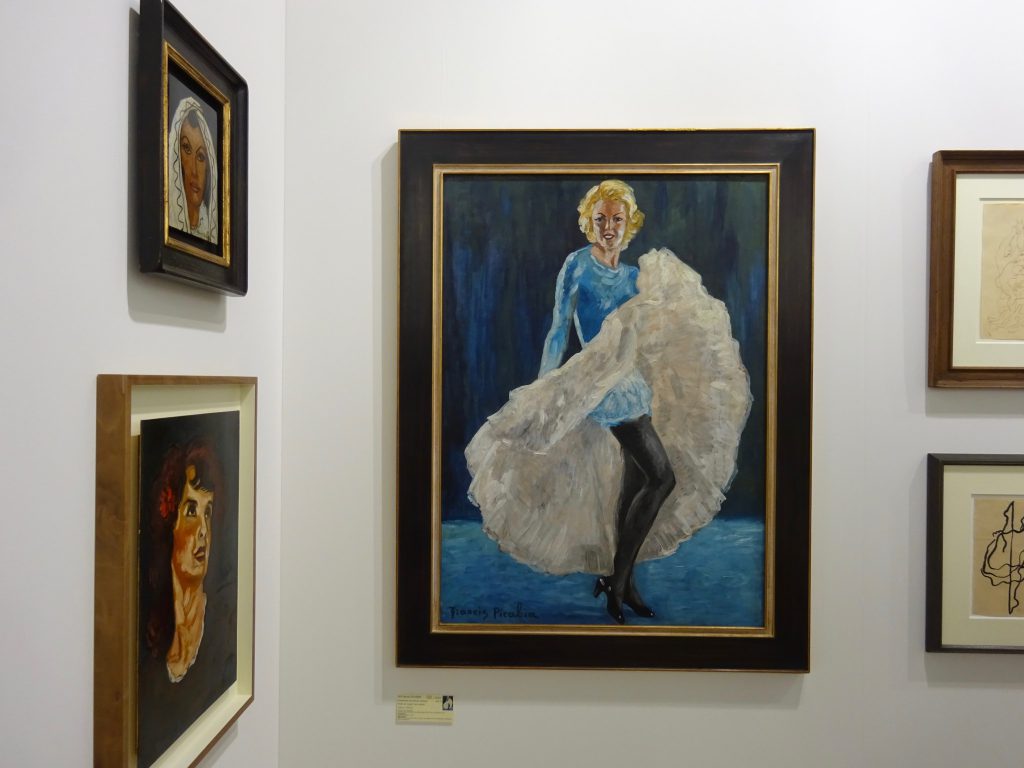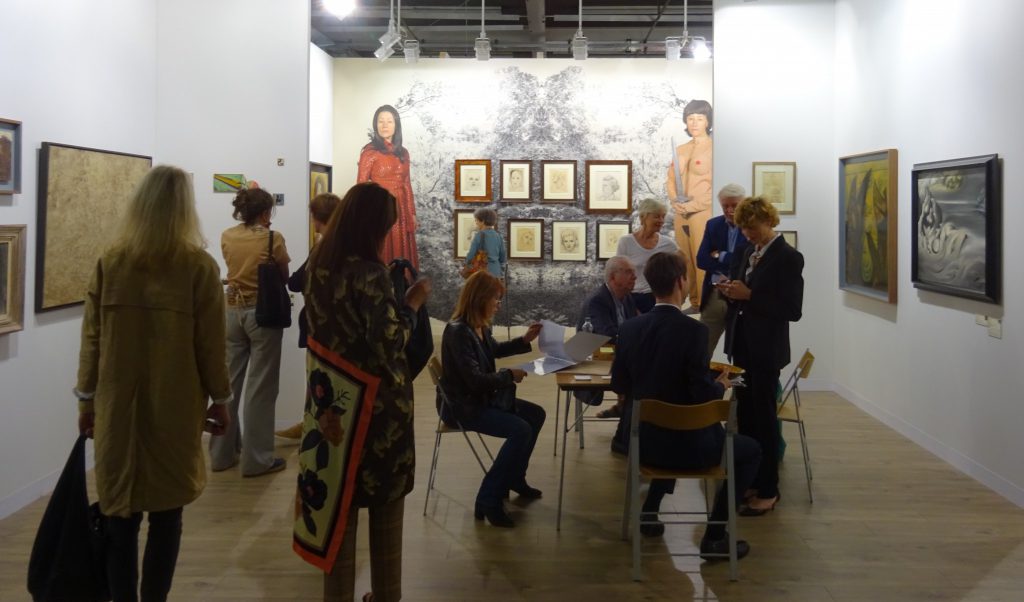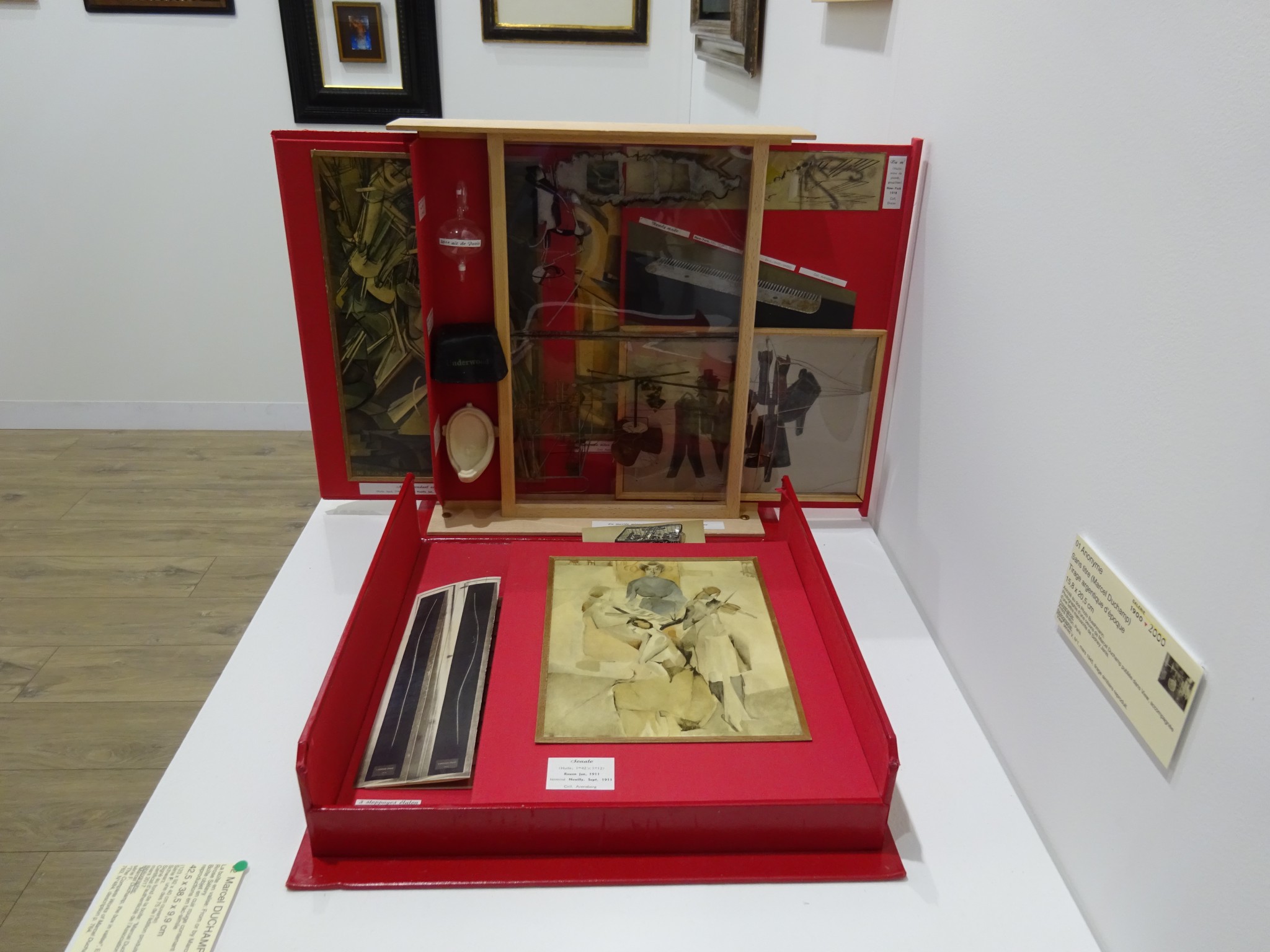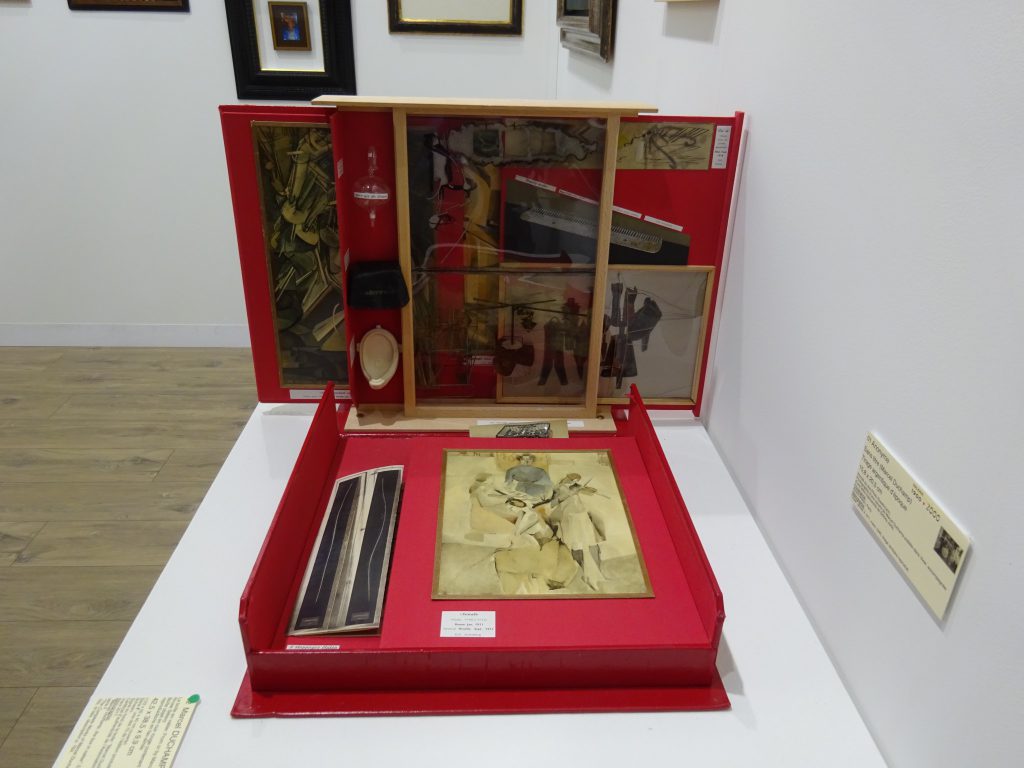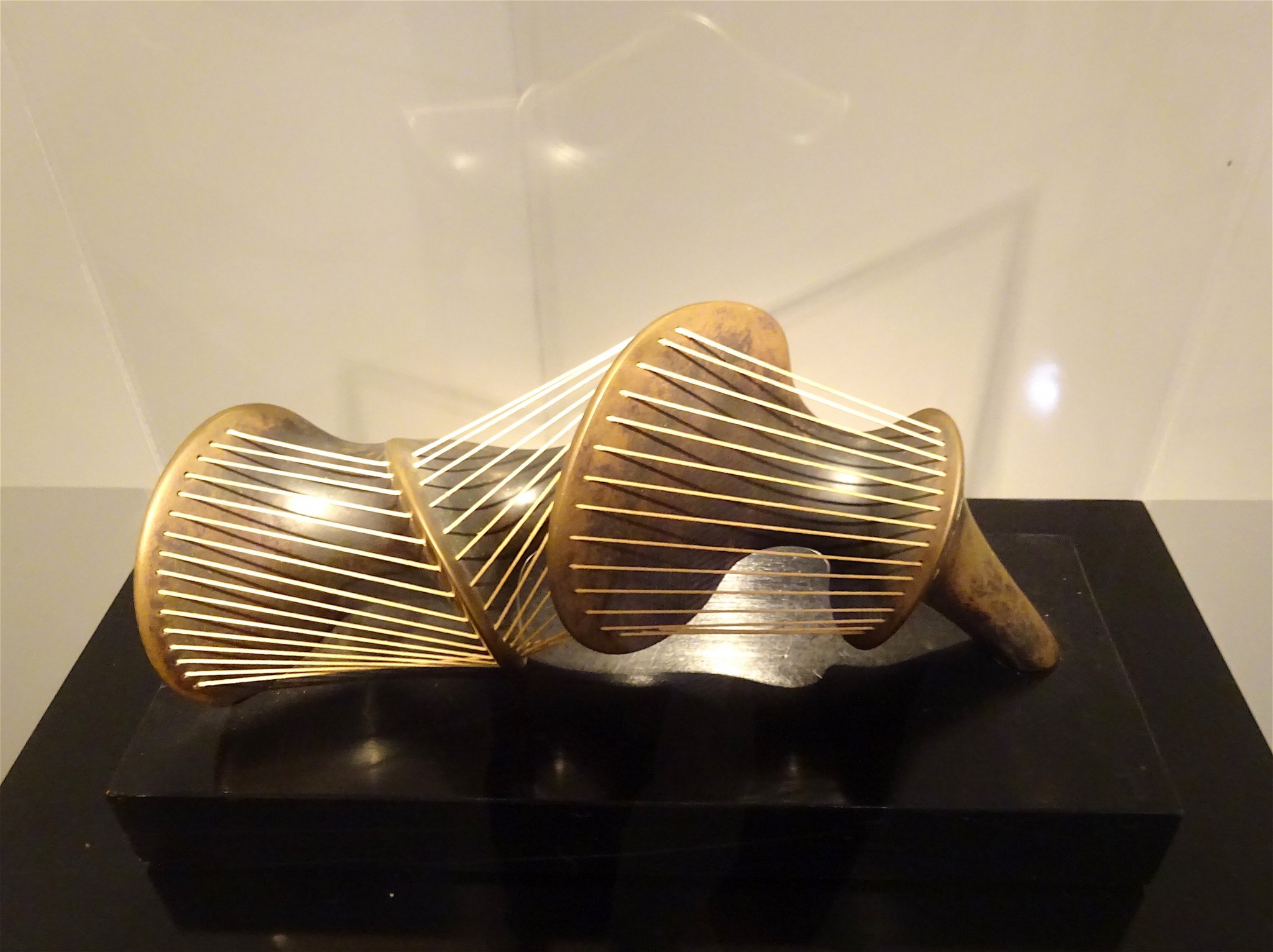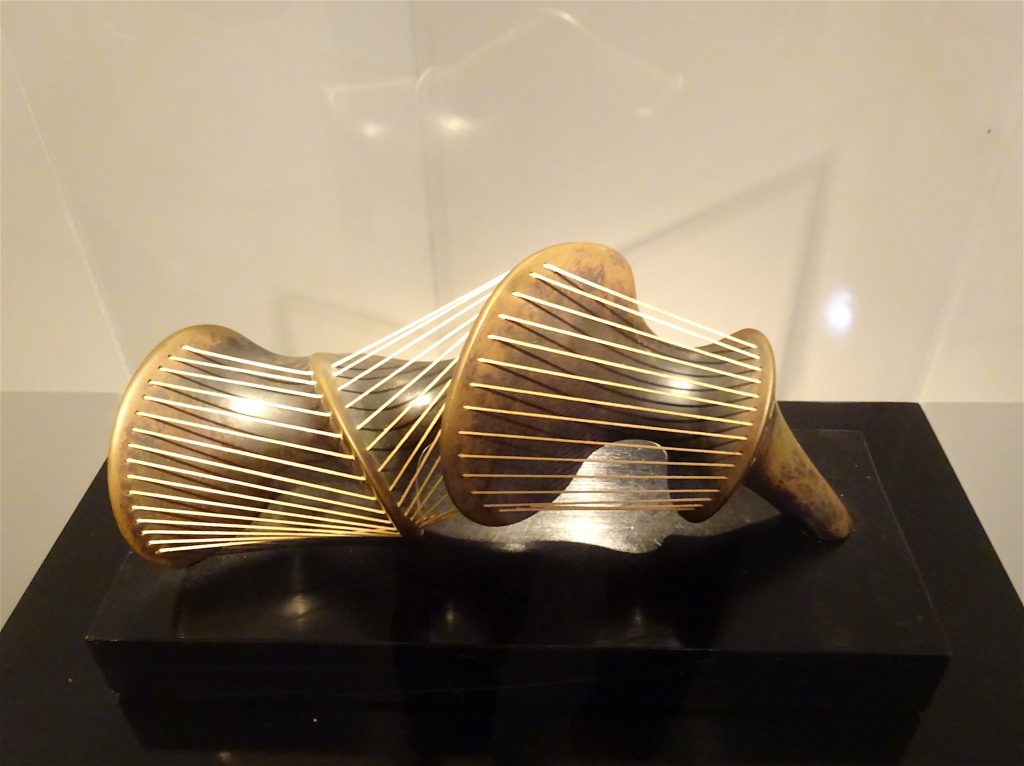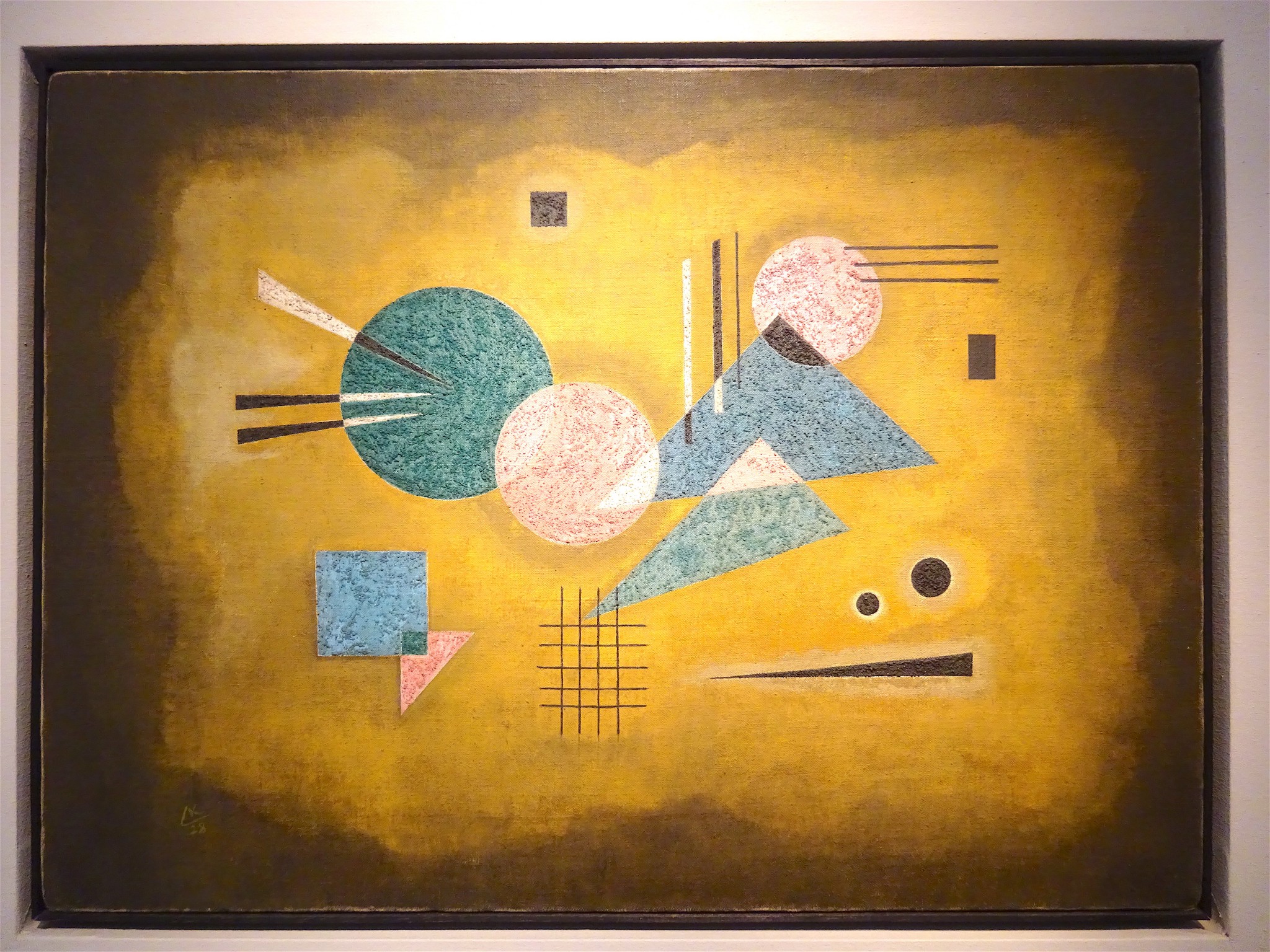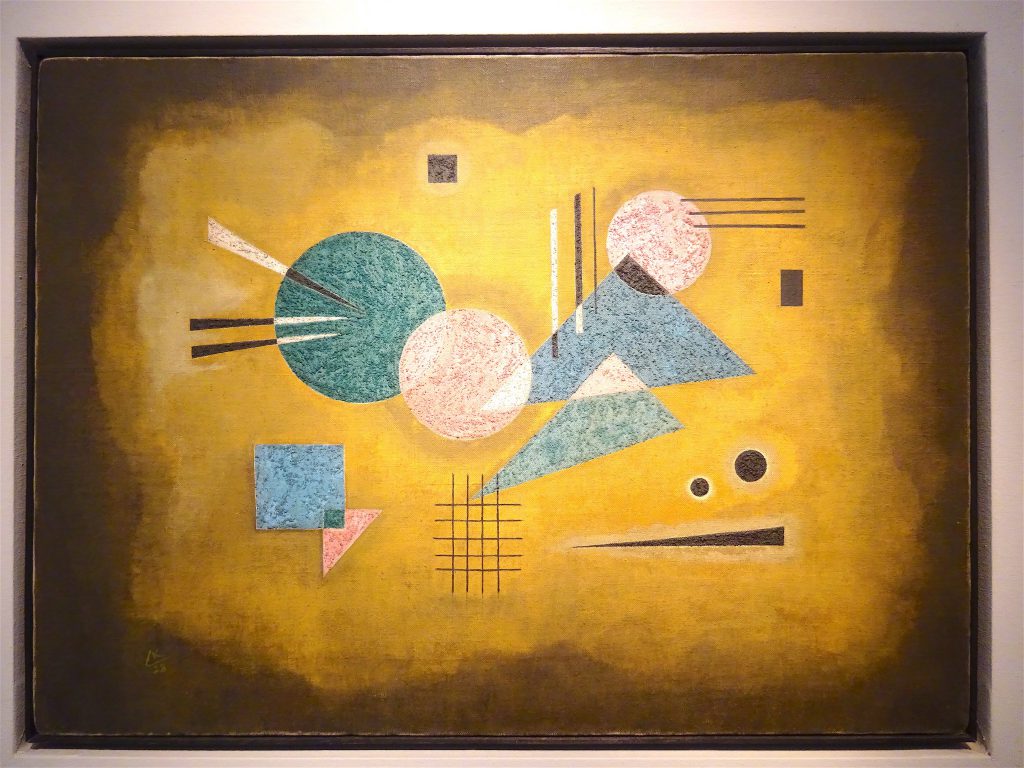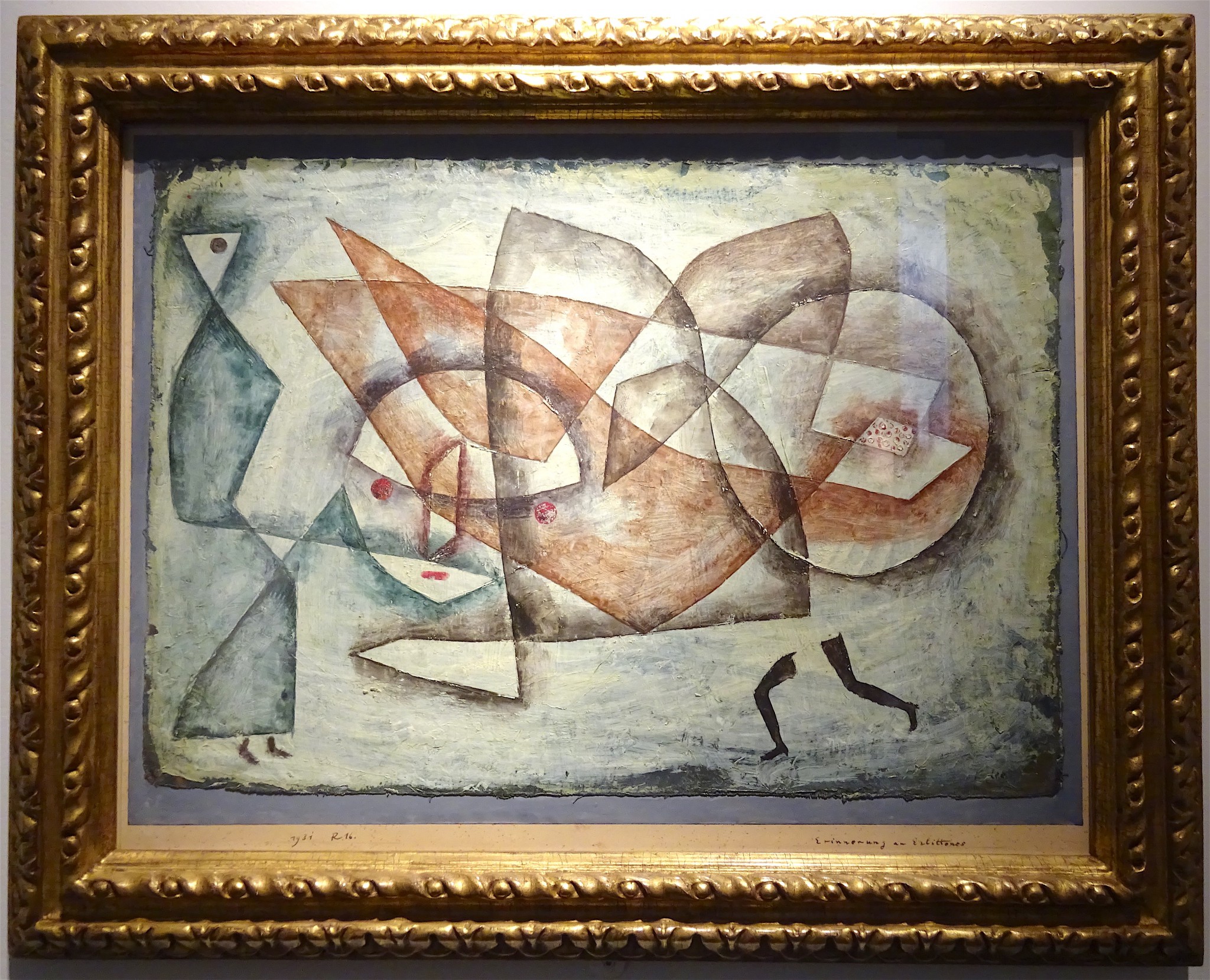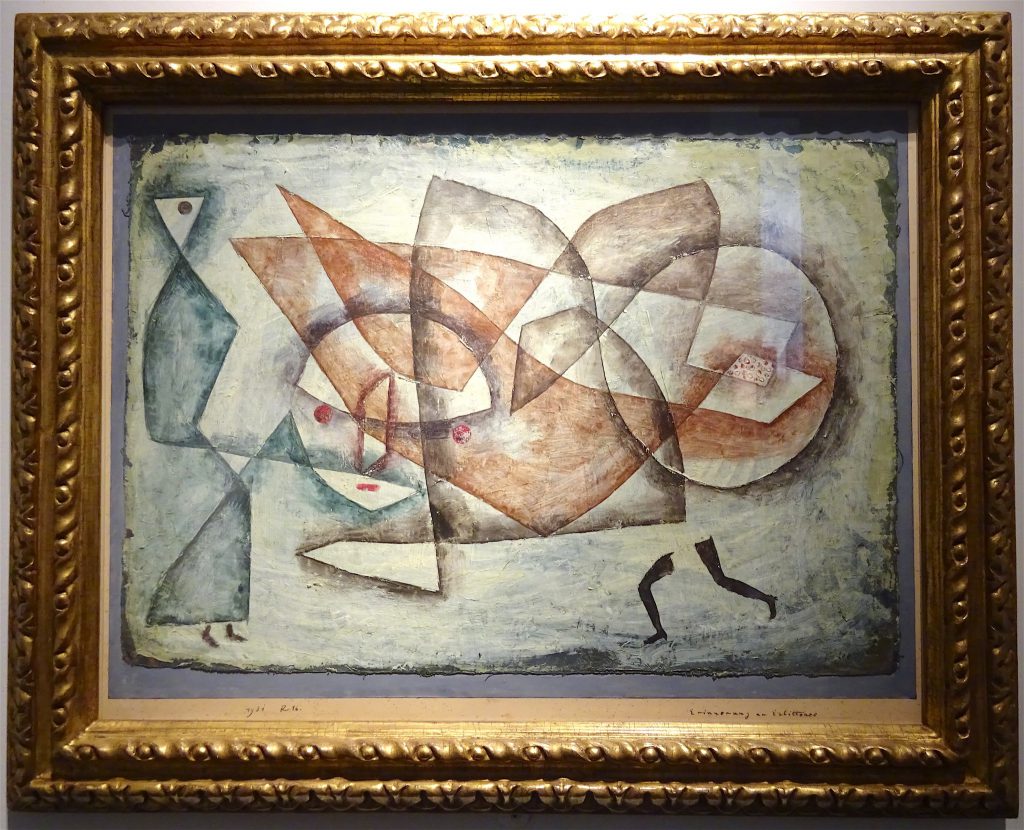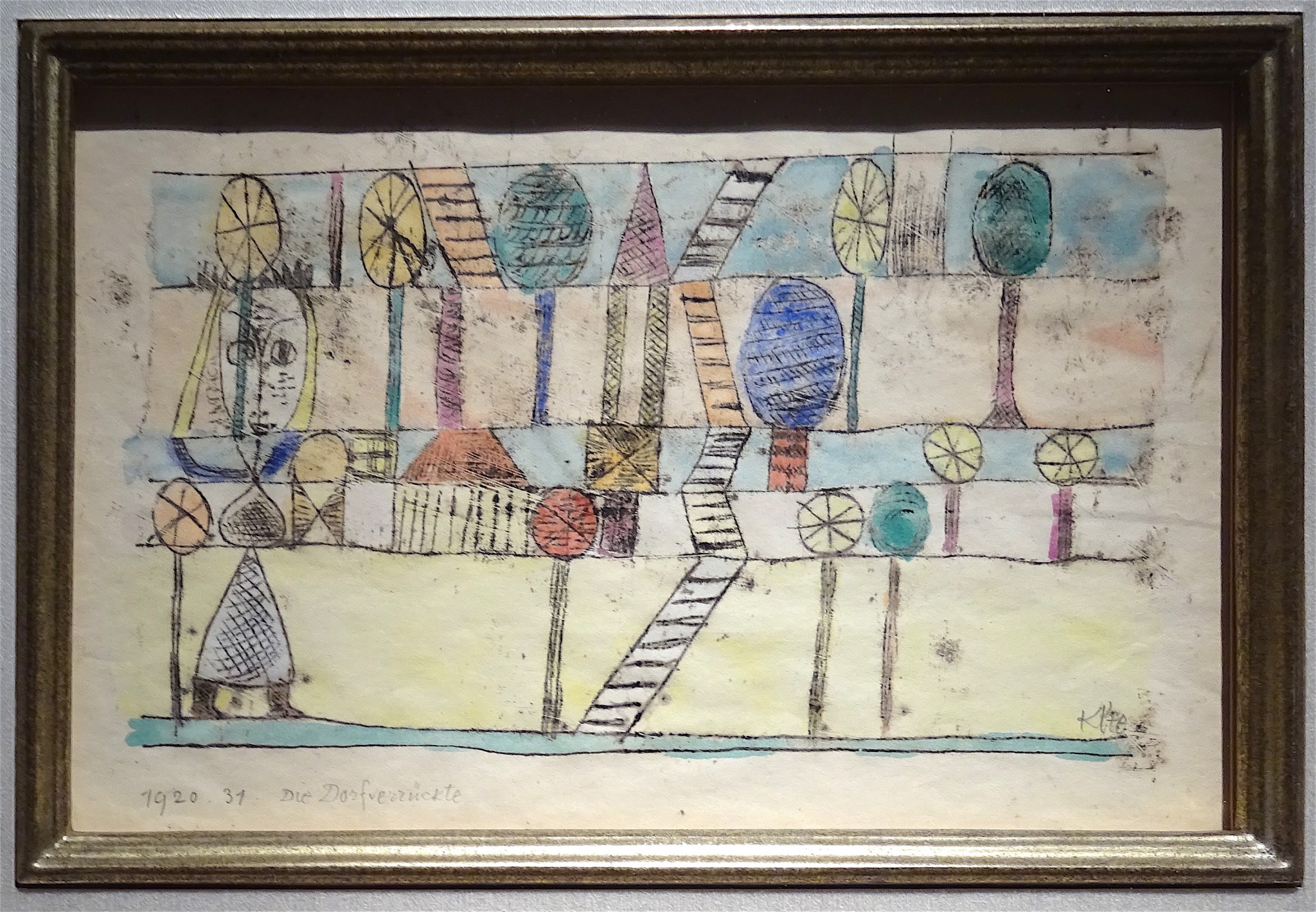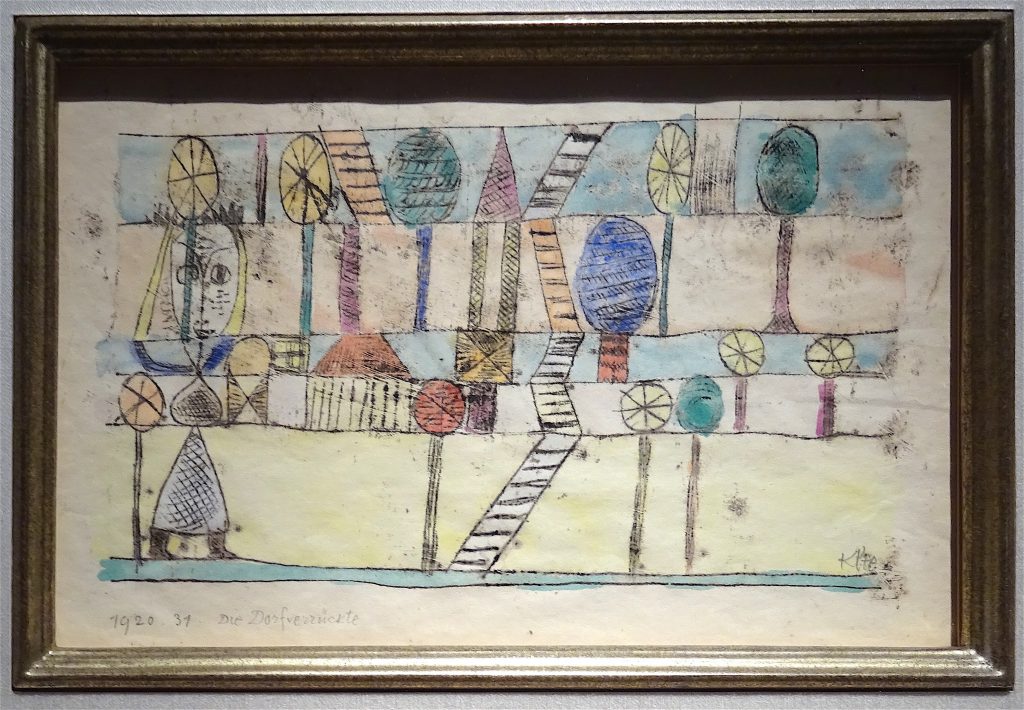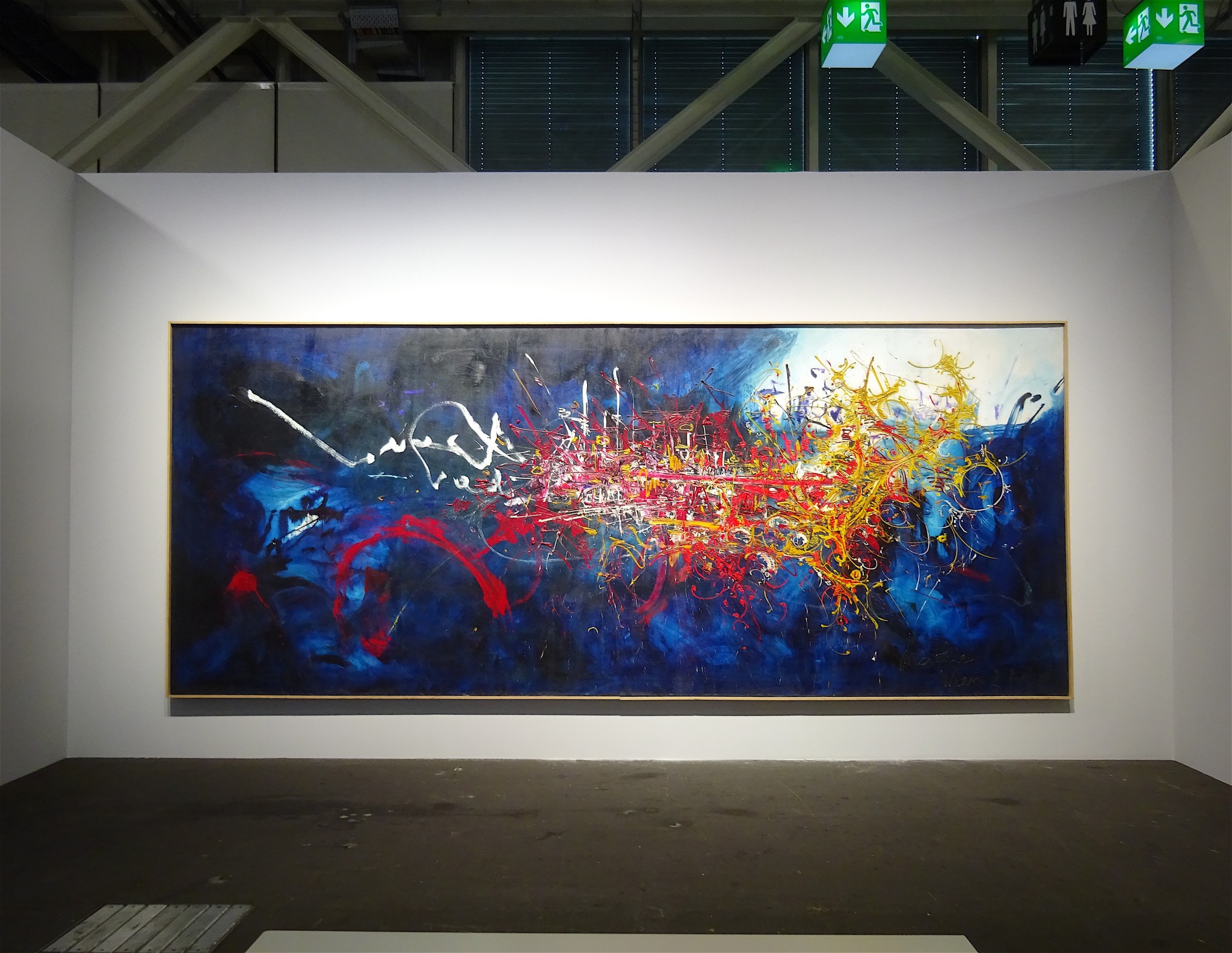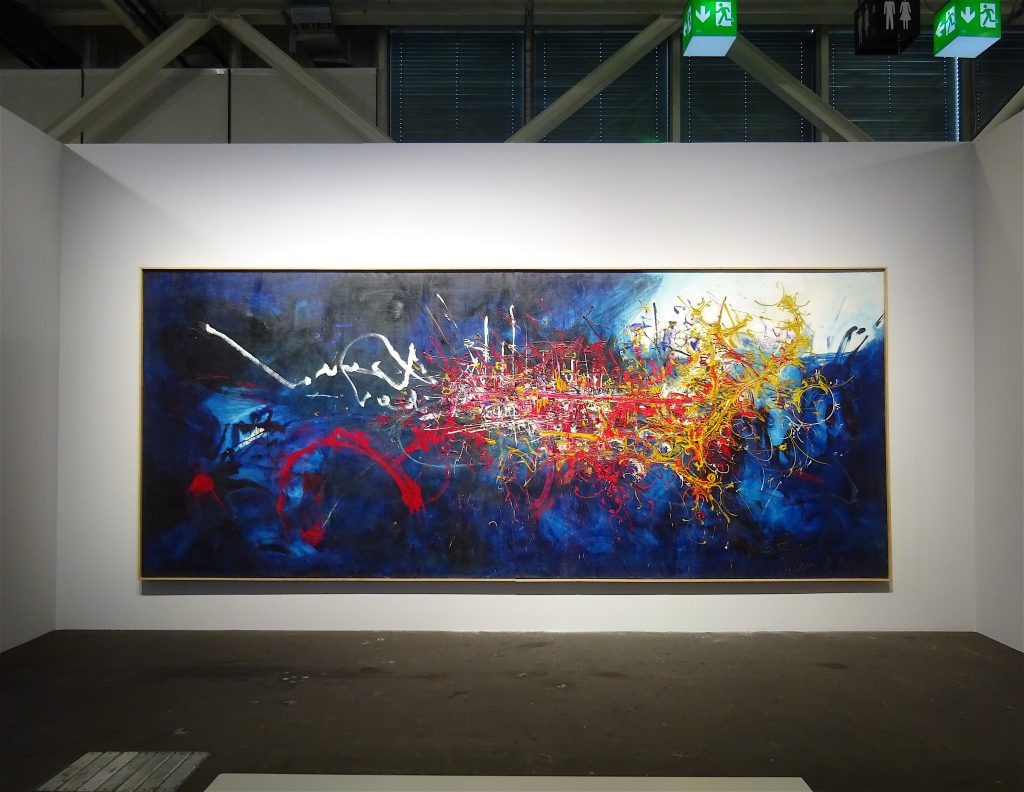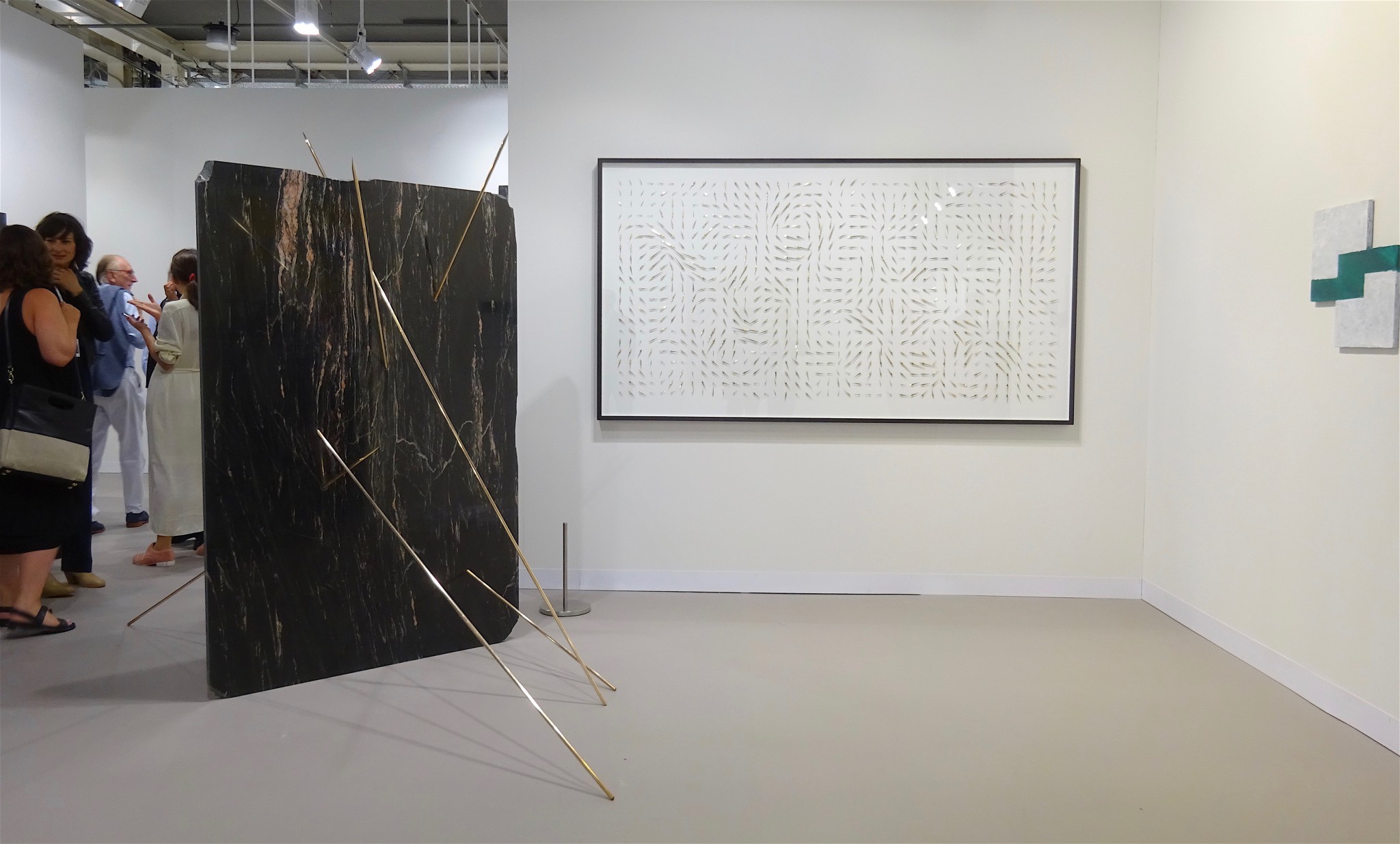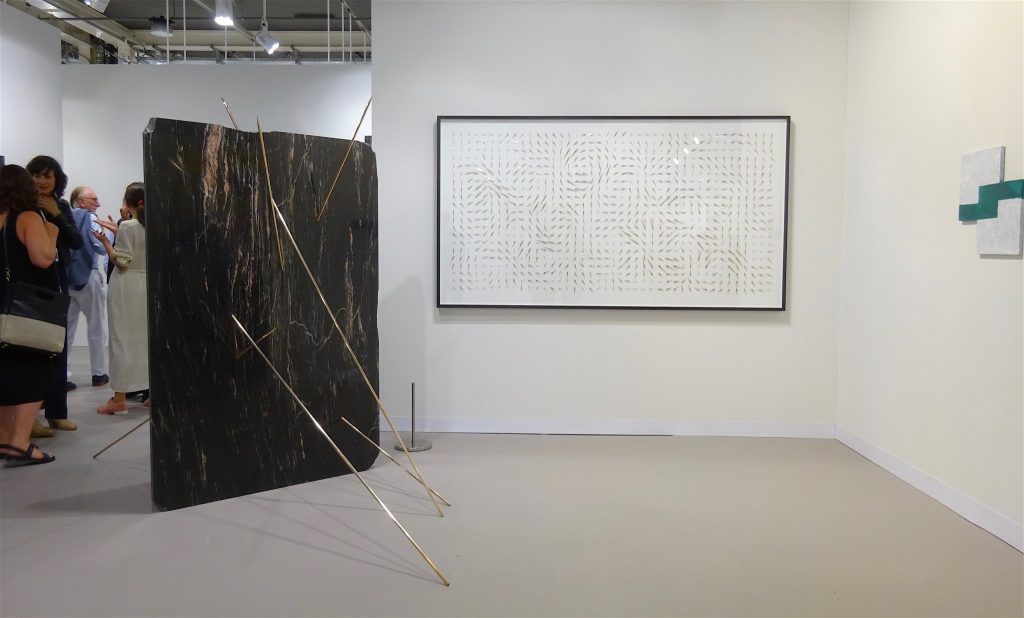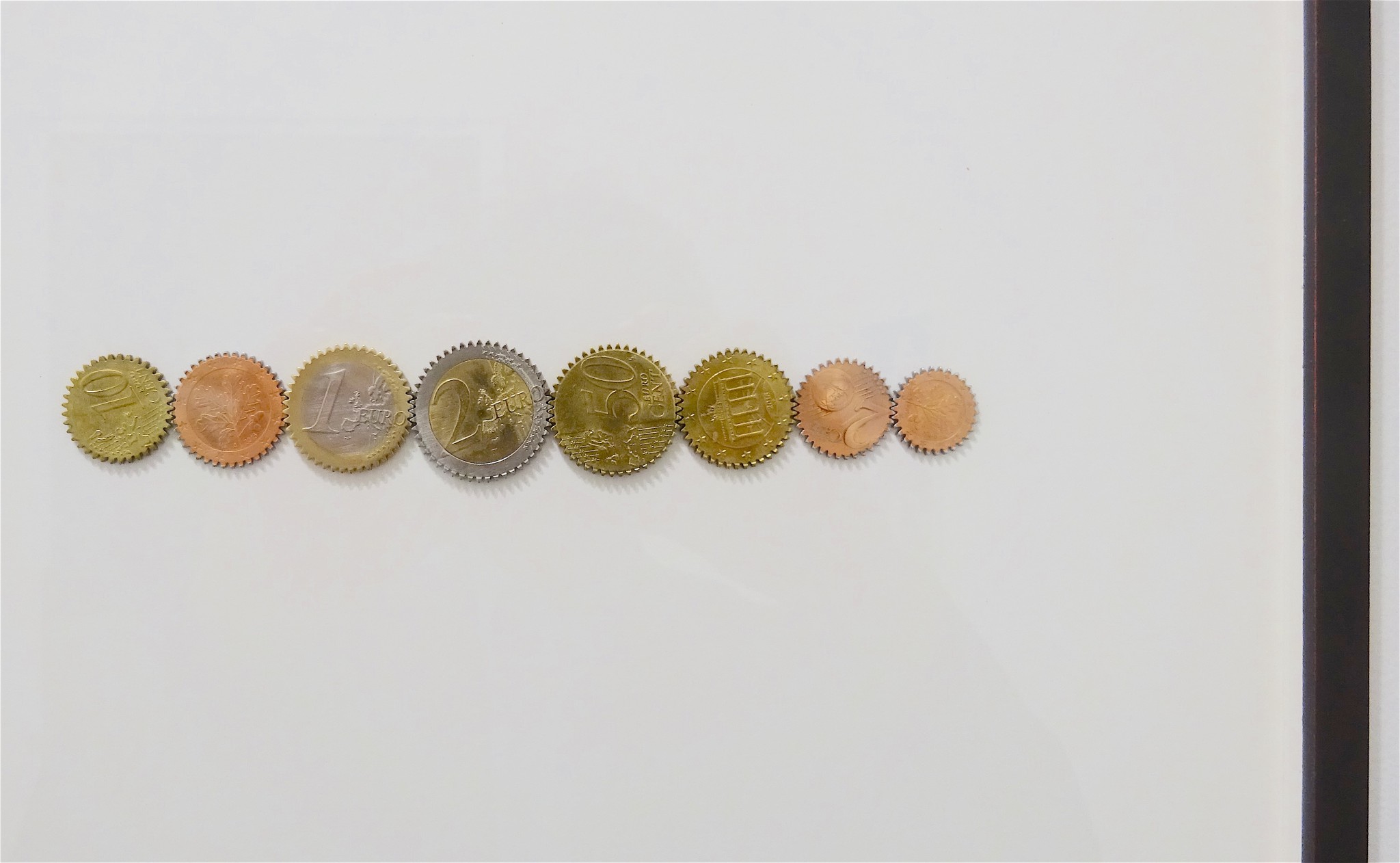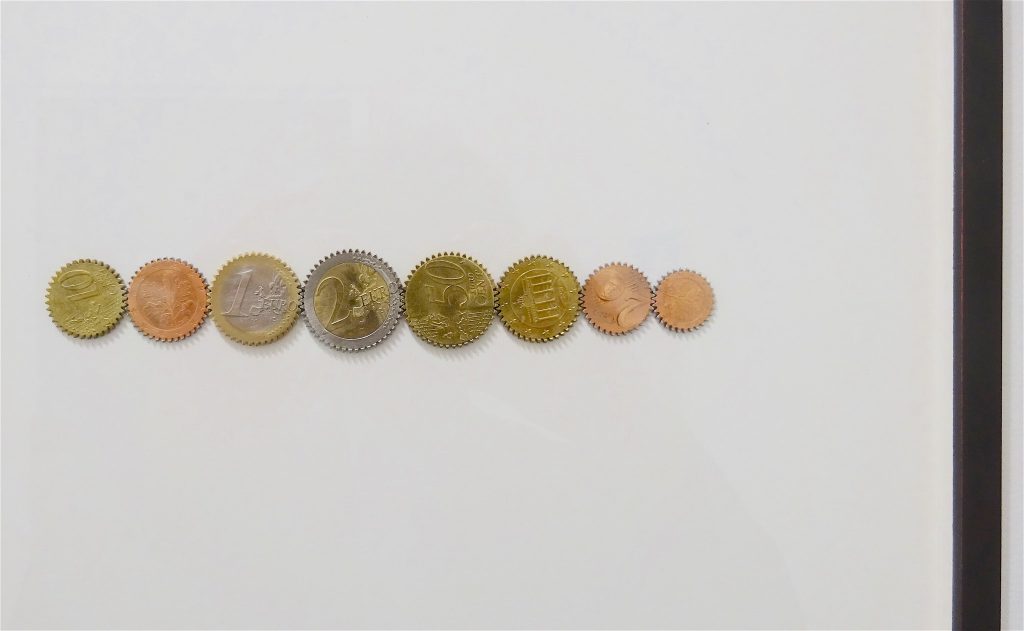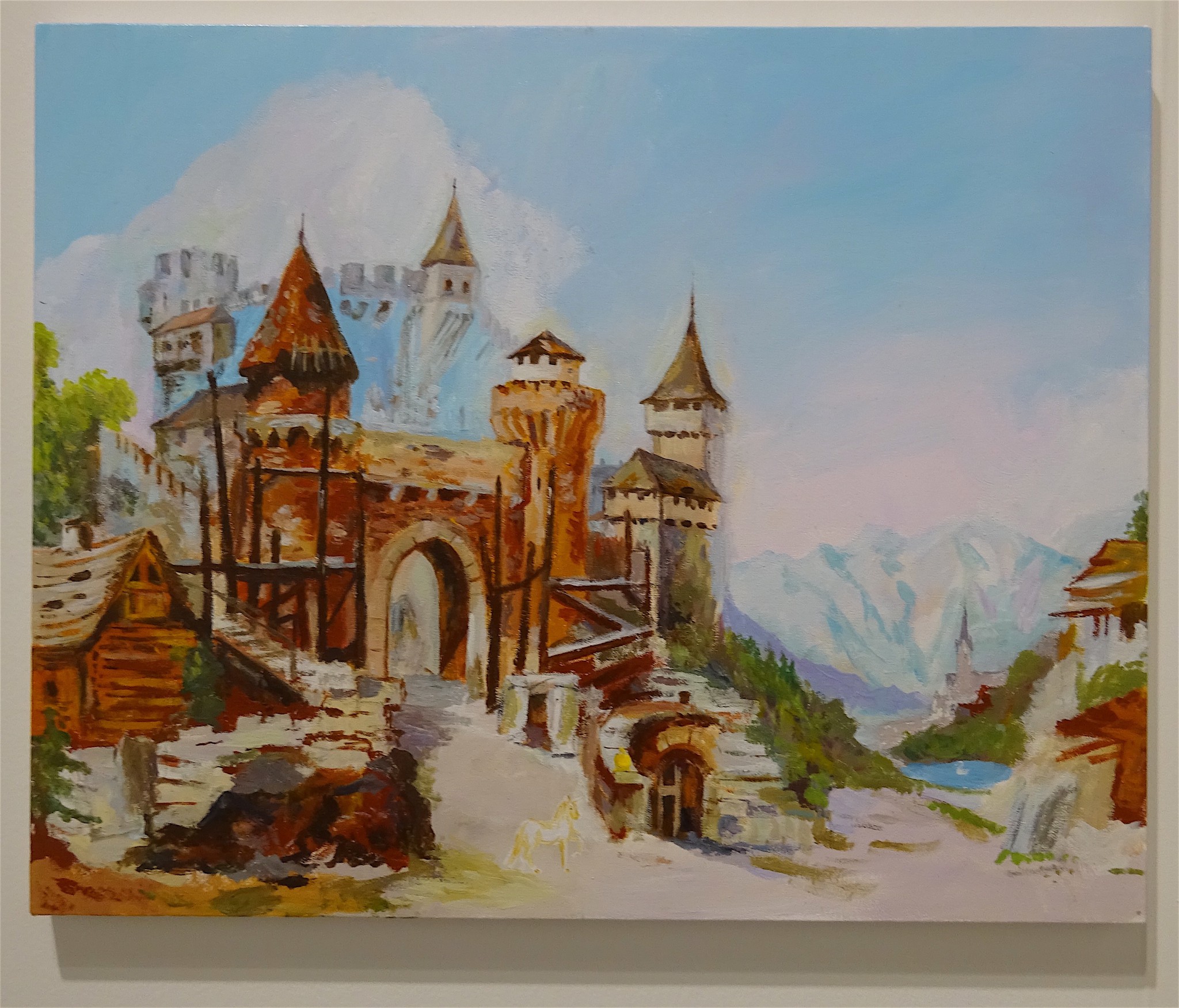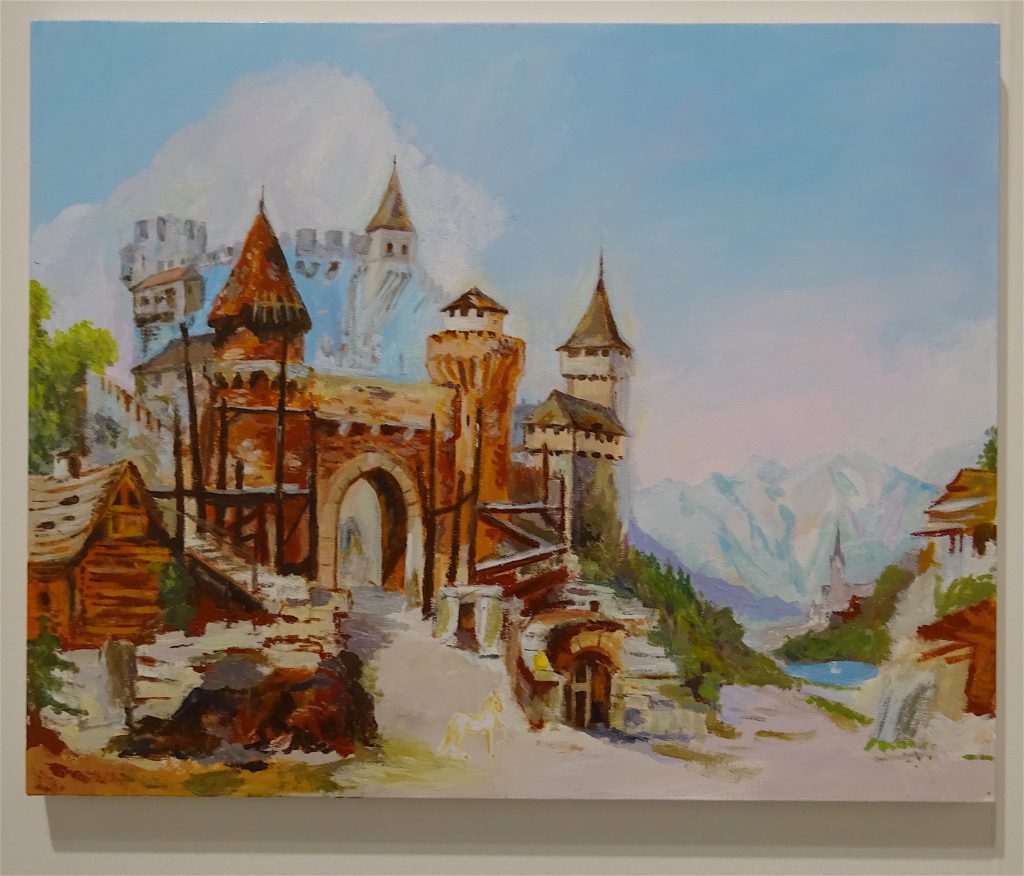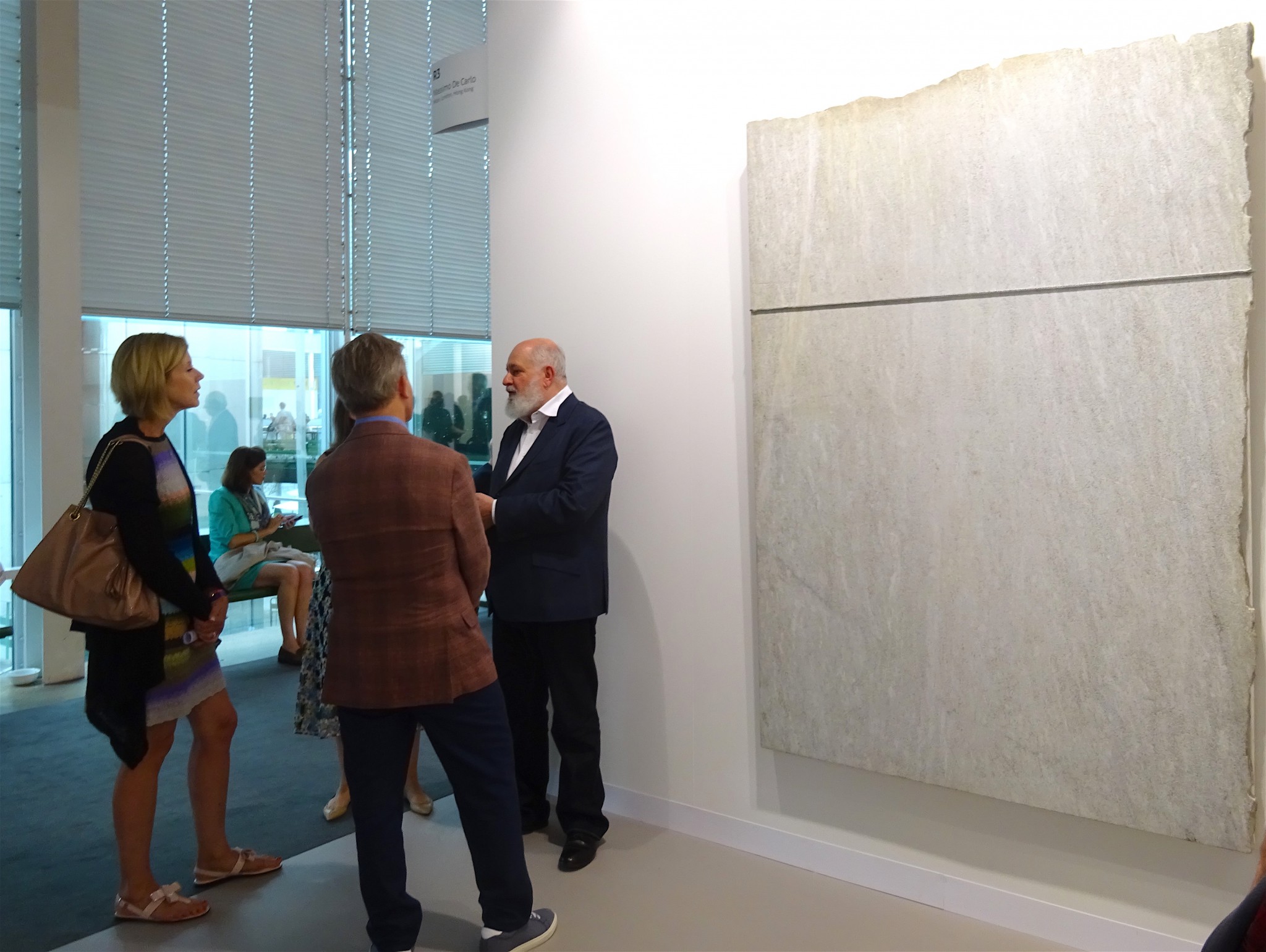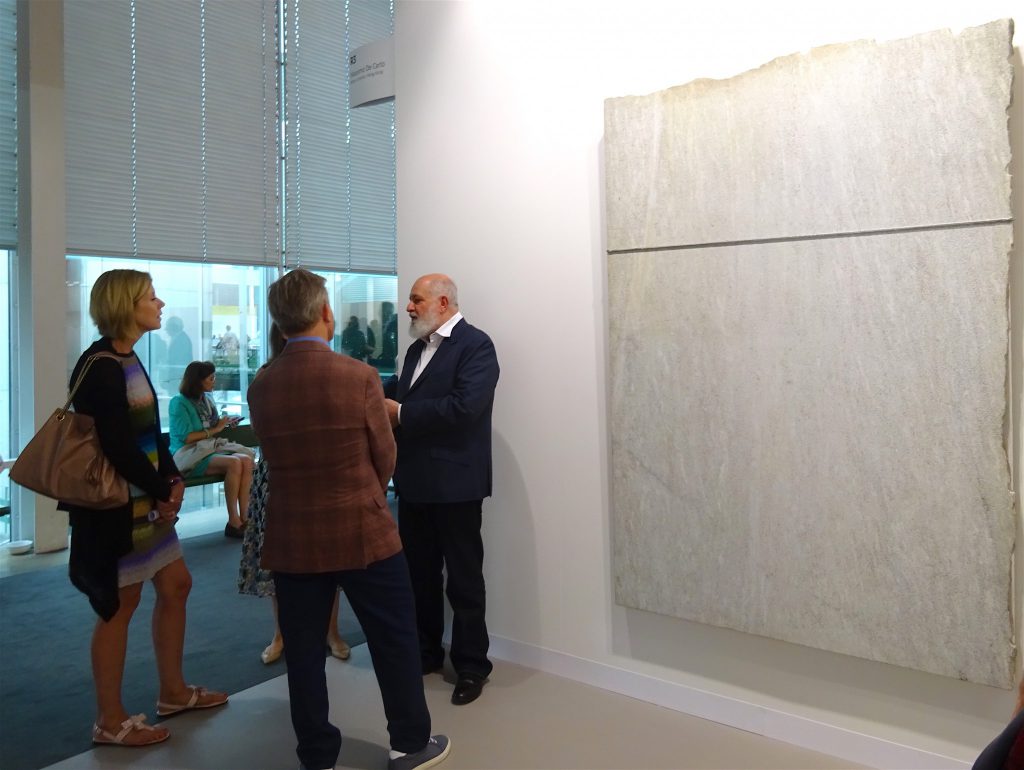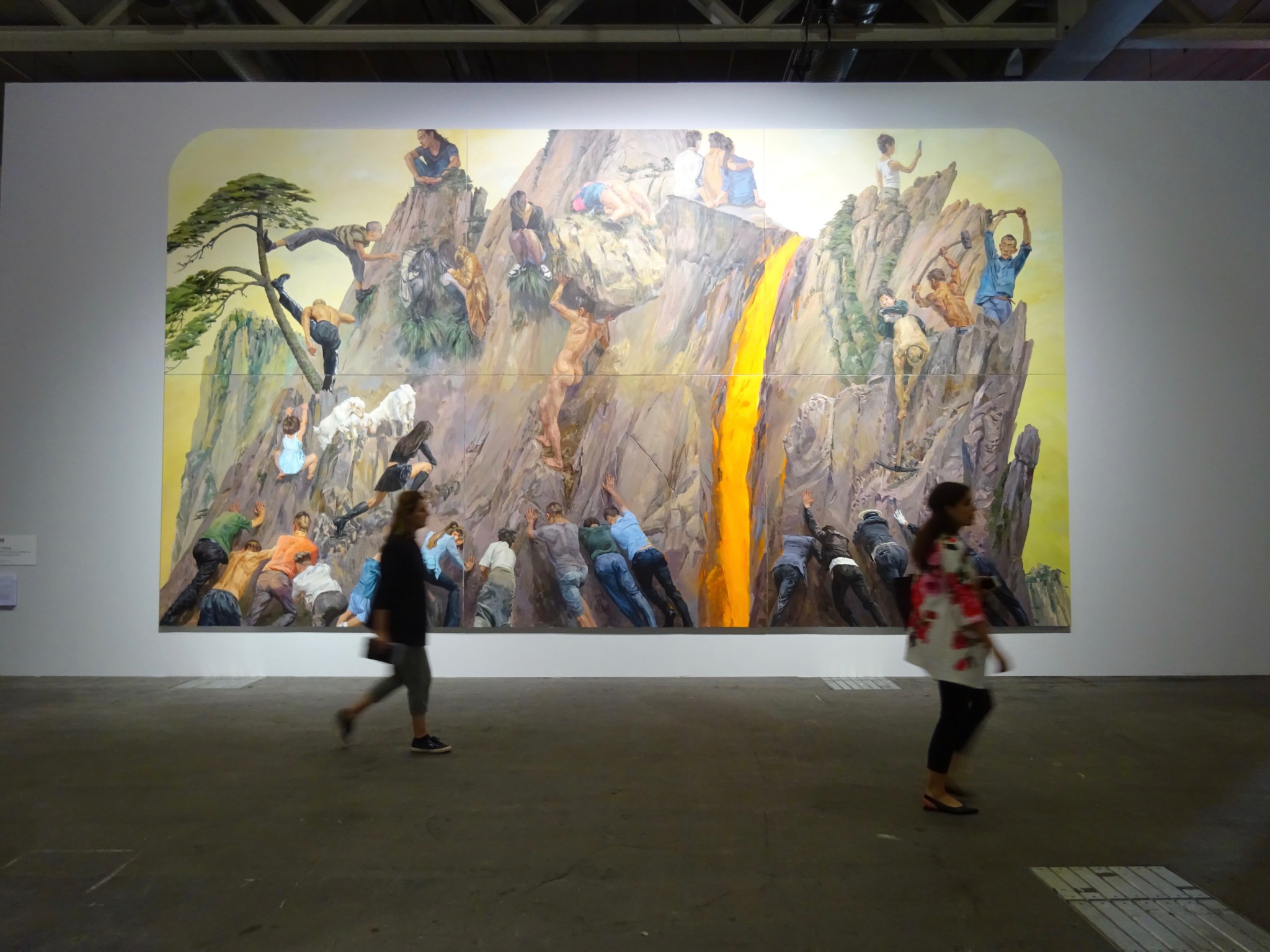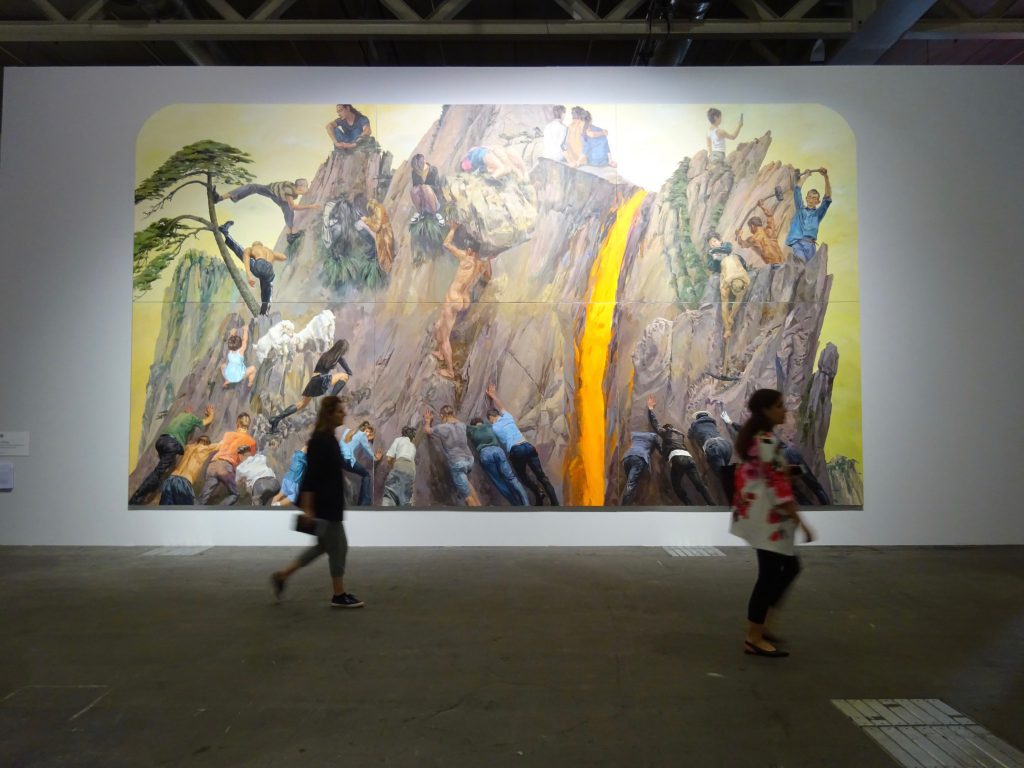 "The Laughing Heart: Yu Hong" by Thomas Rhazi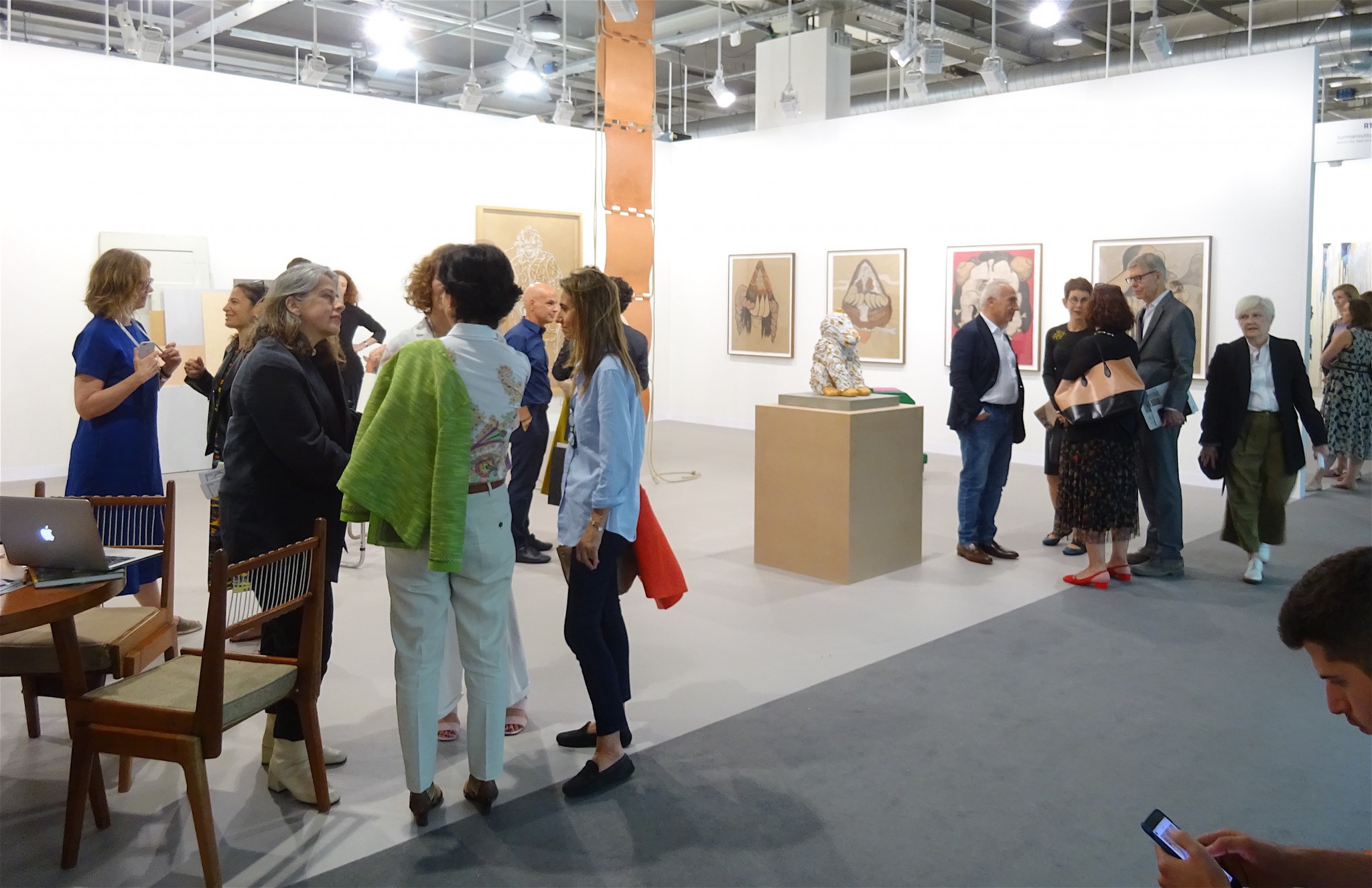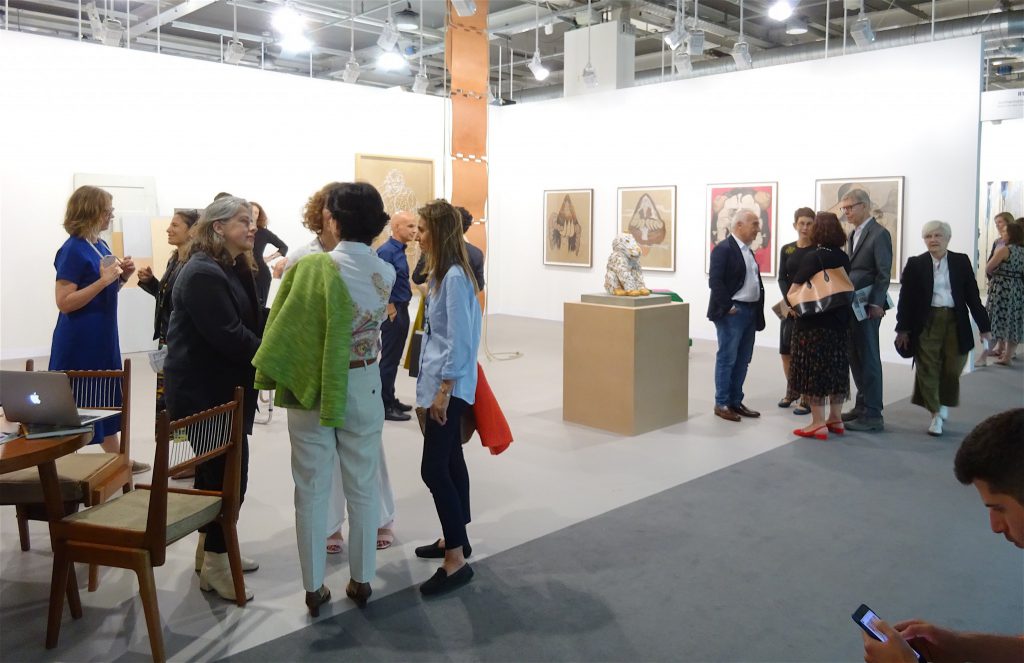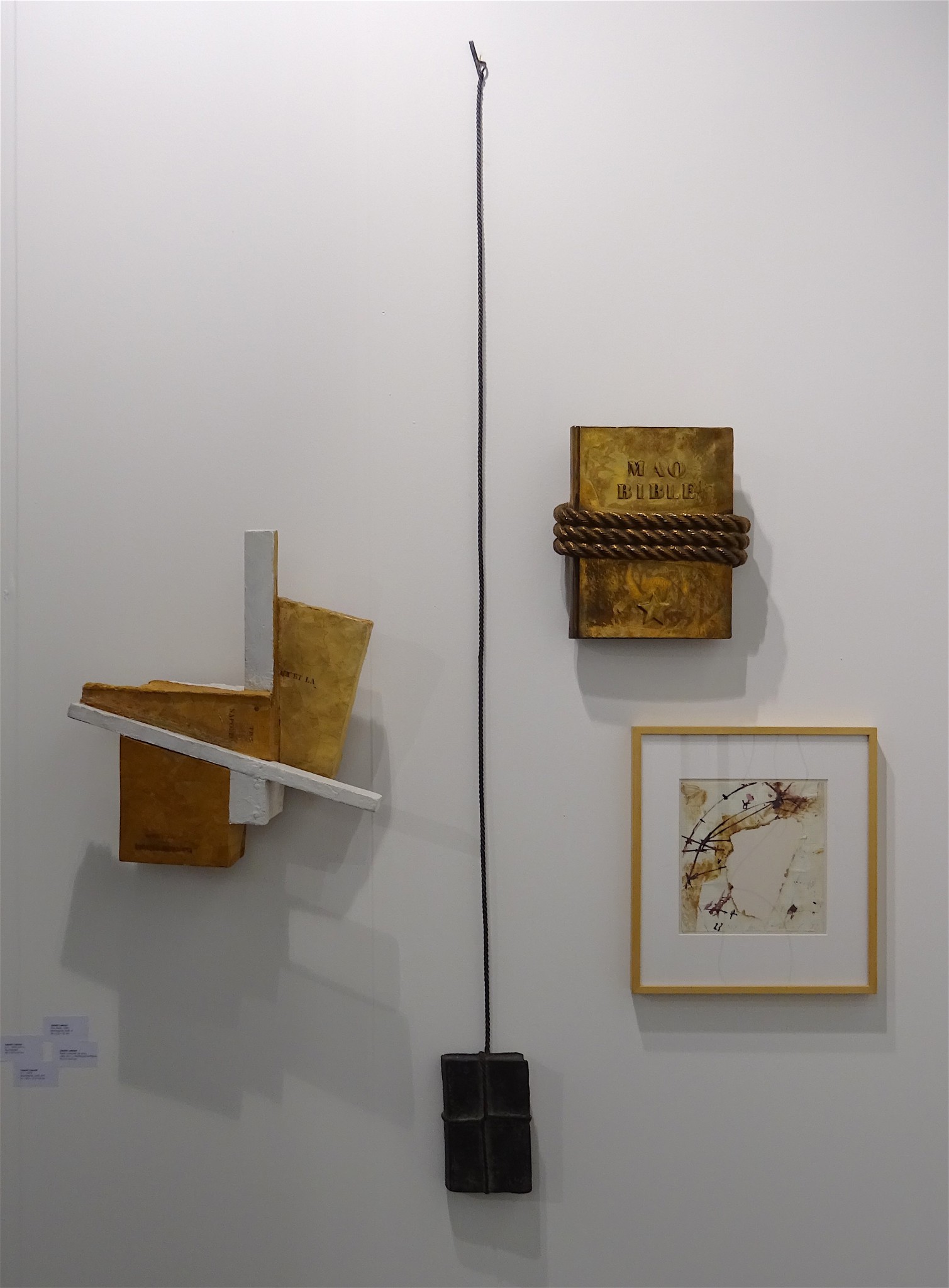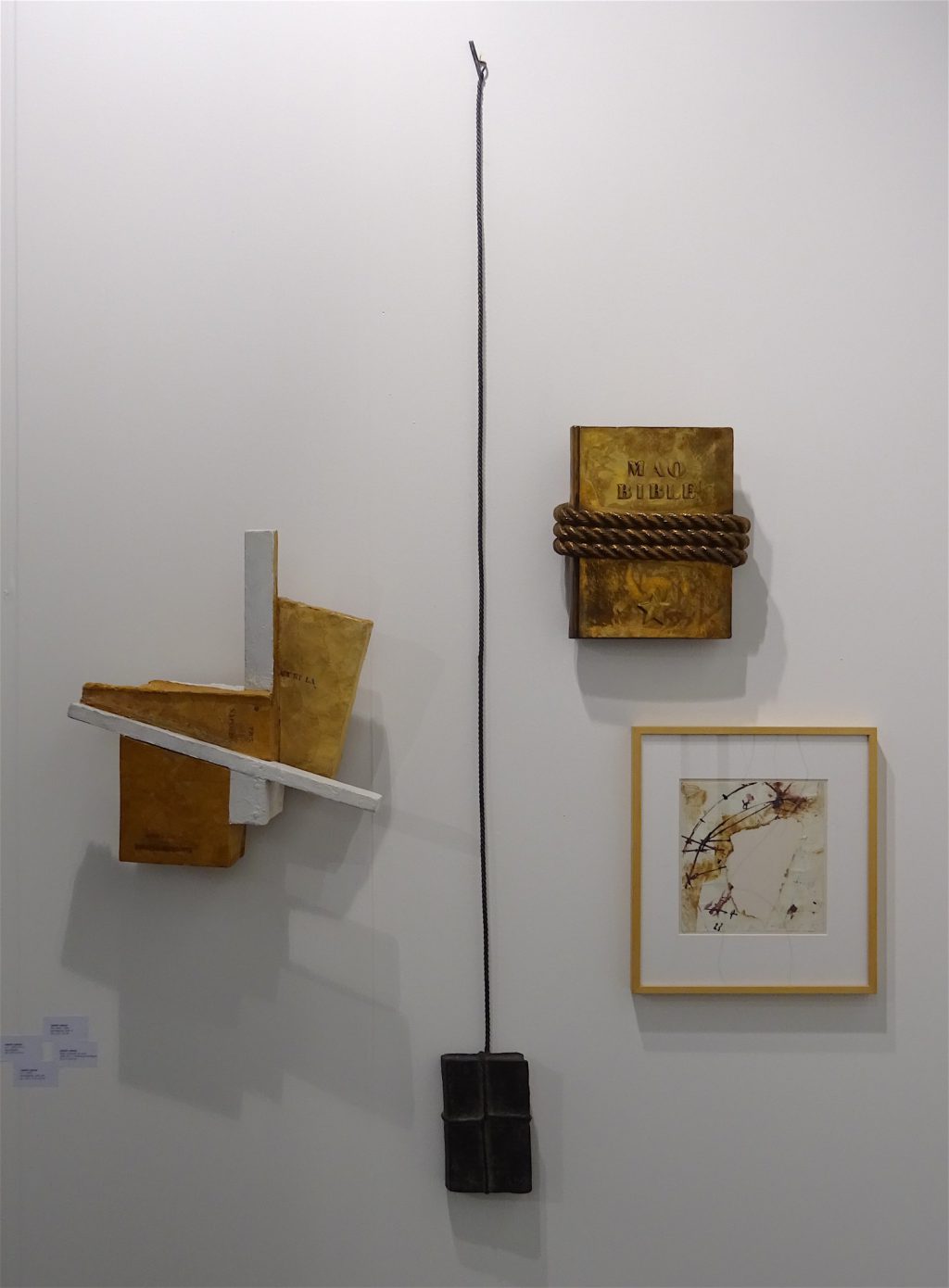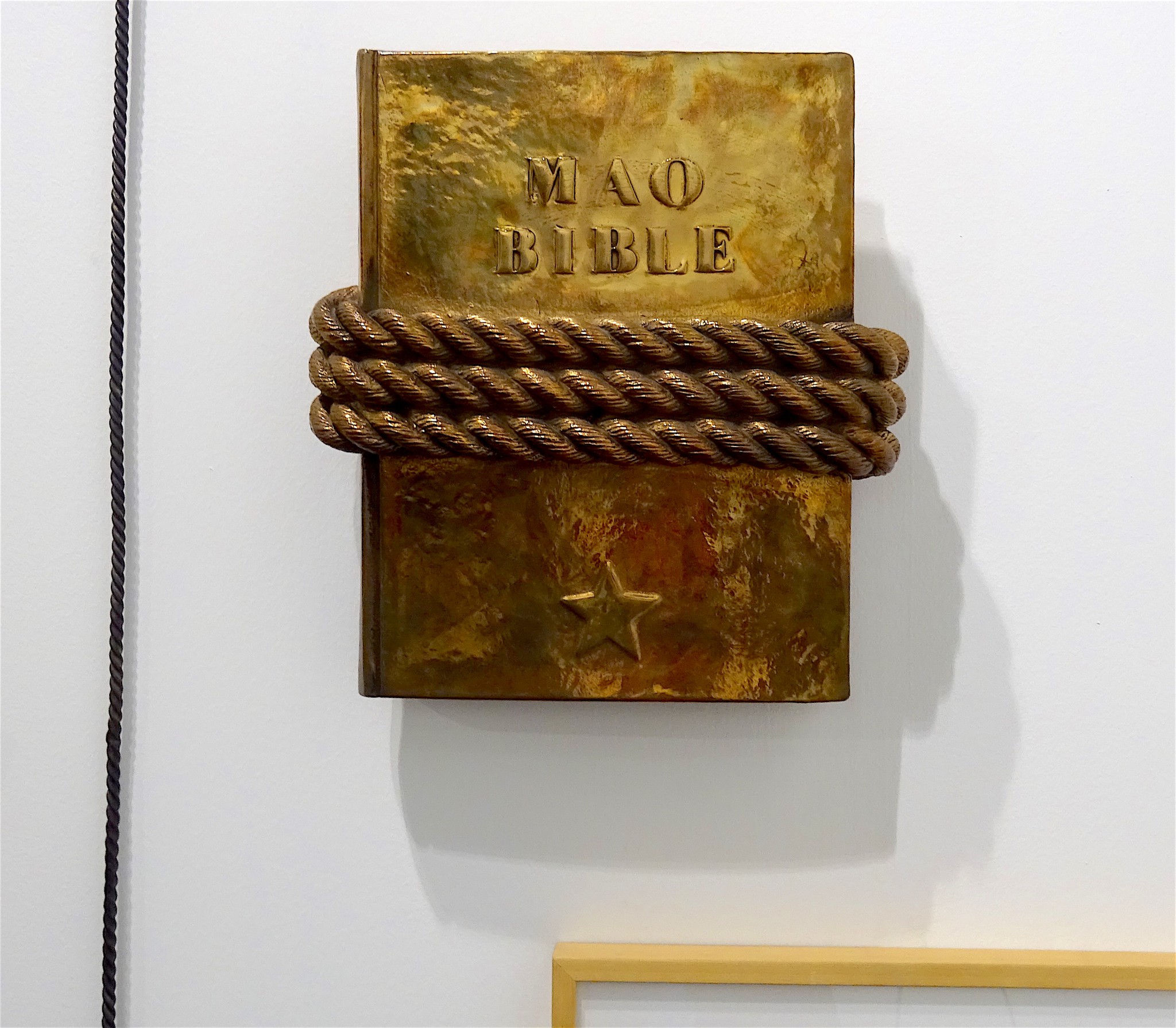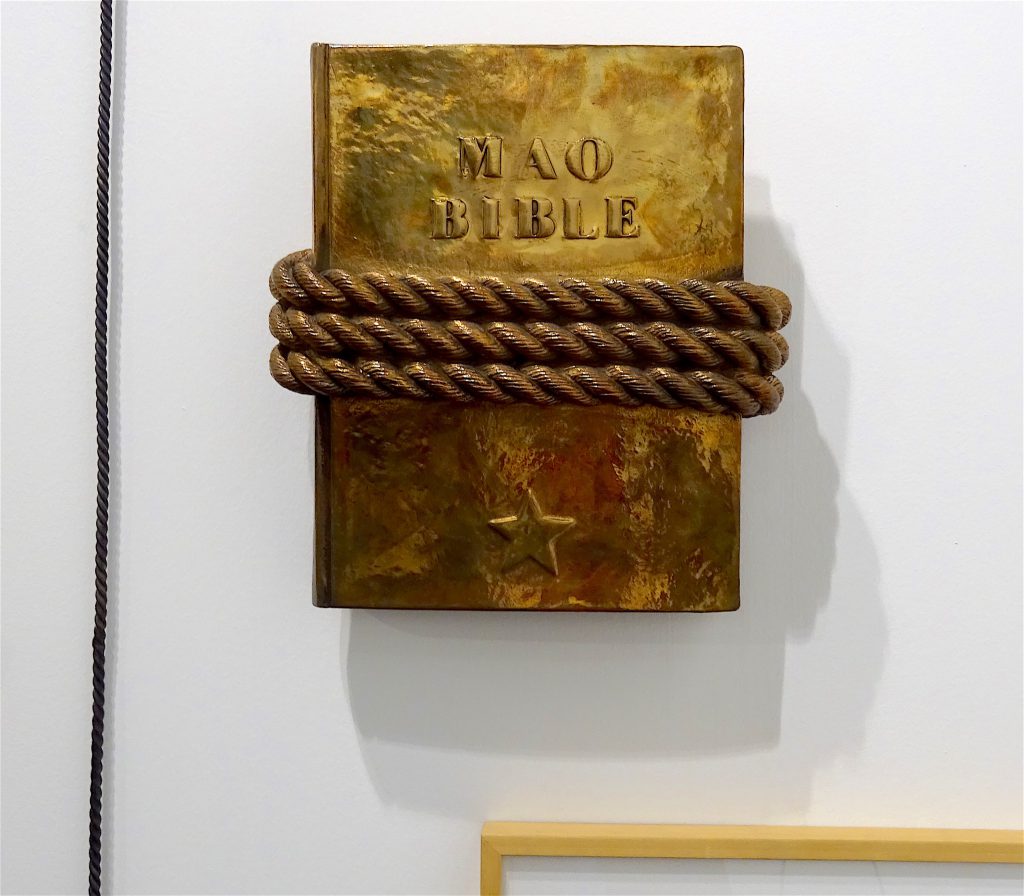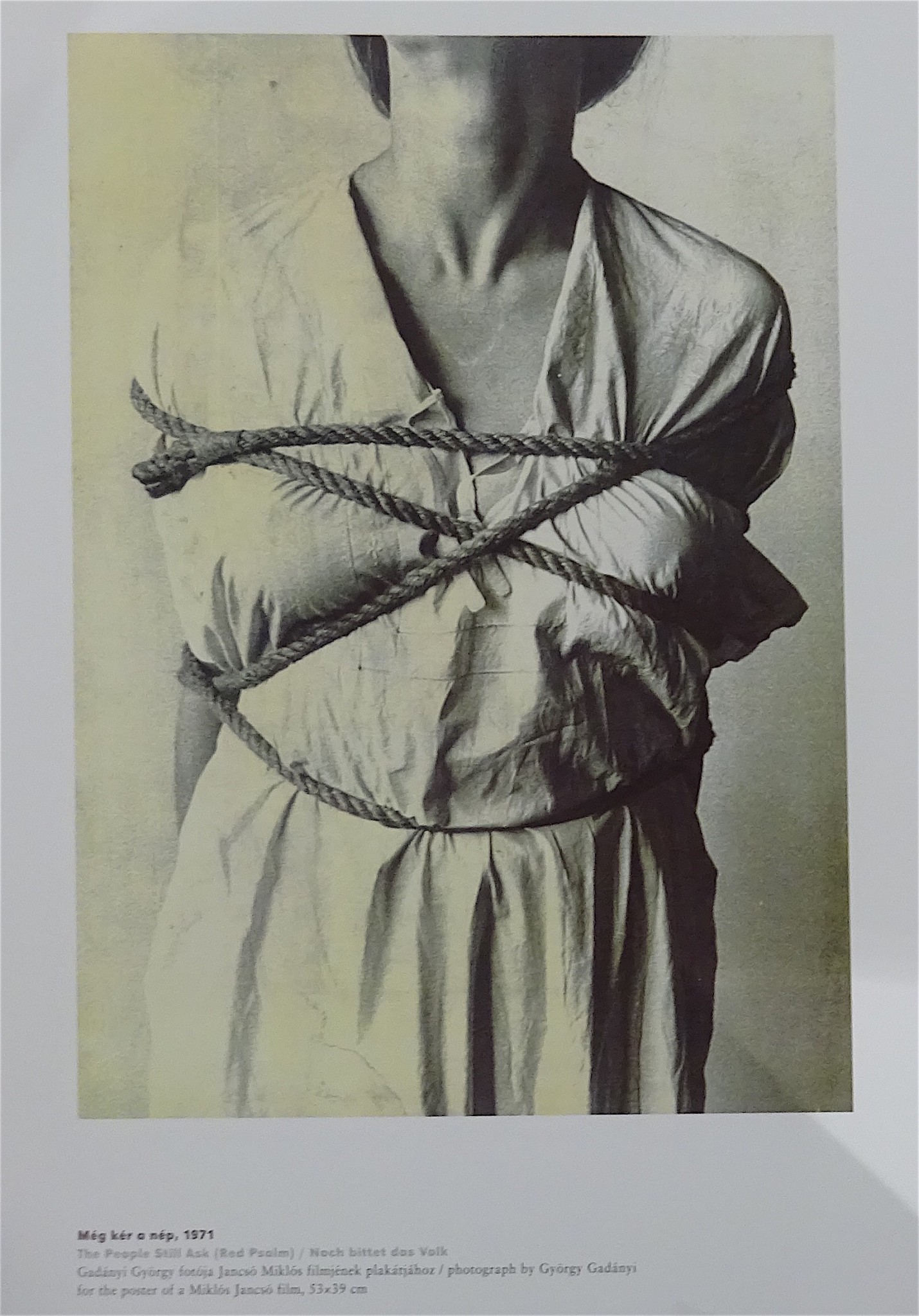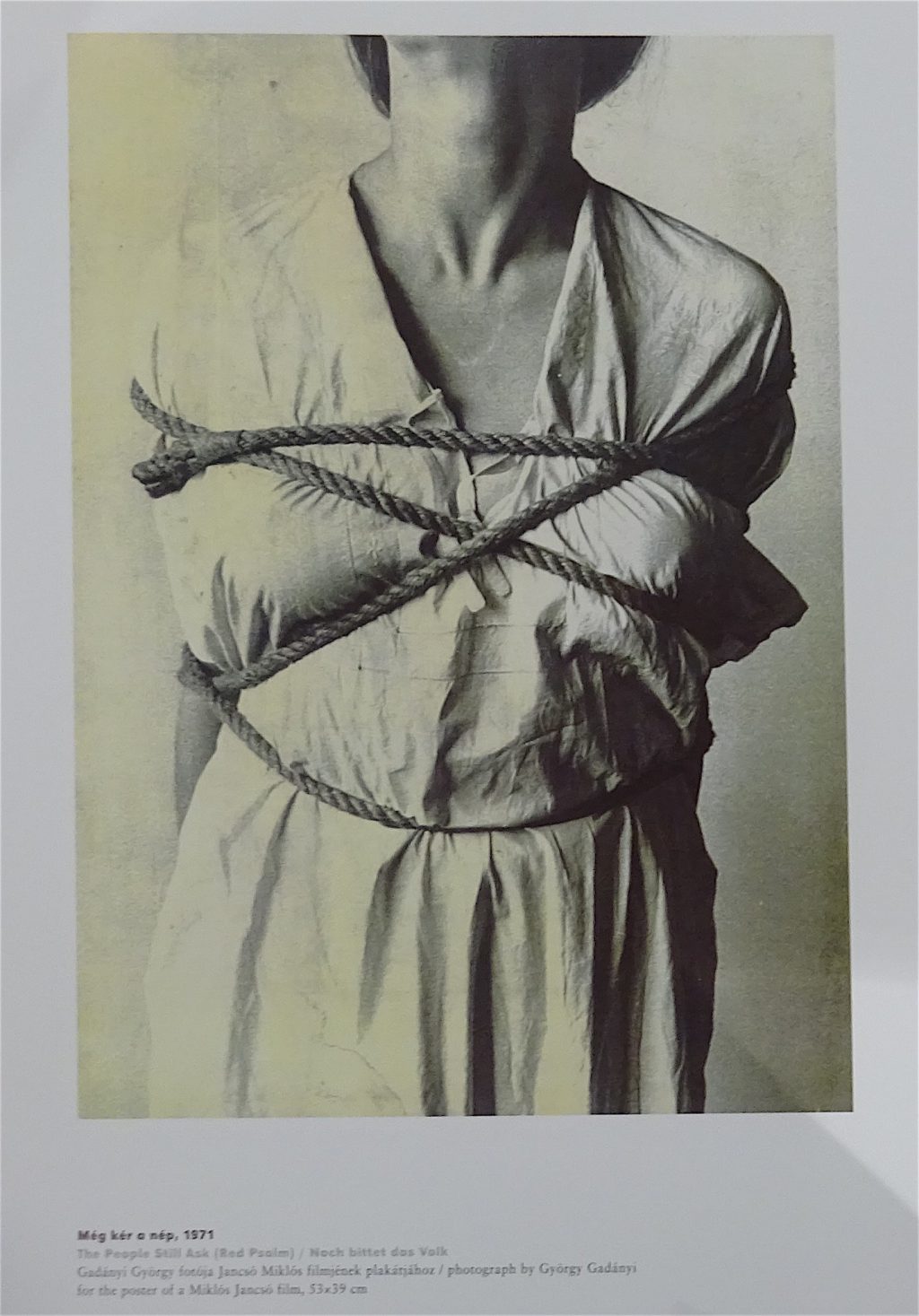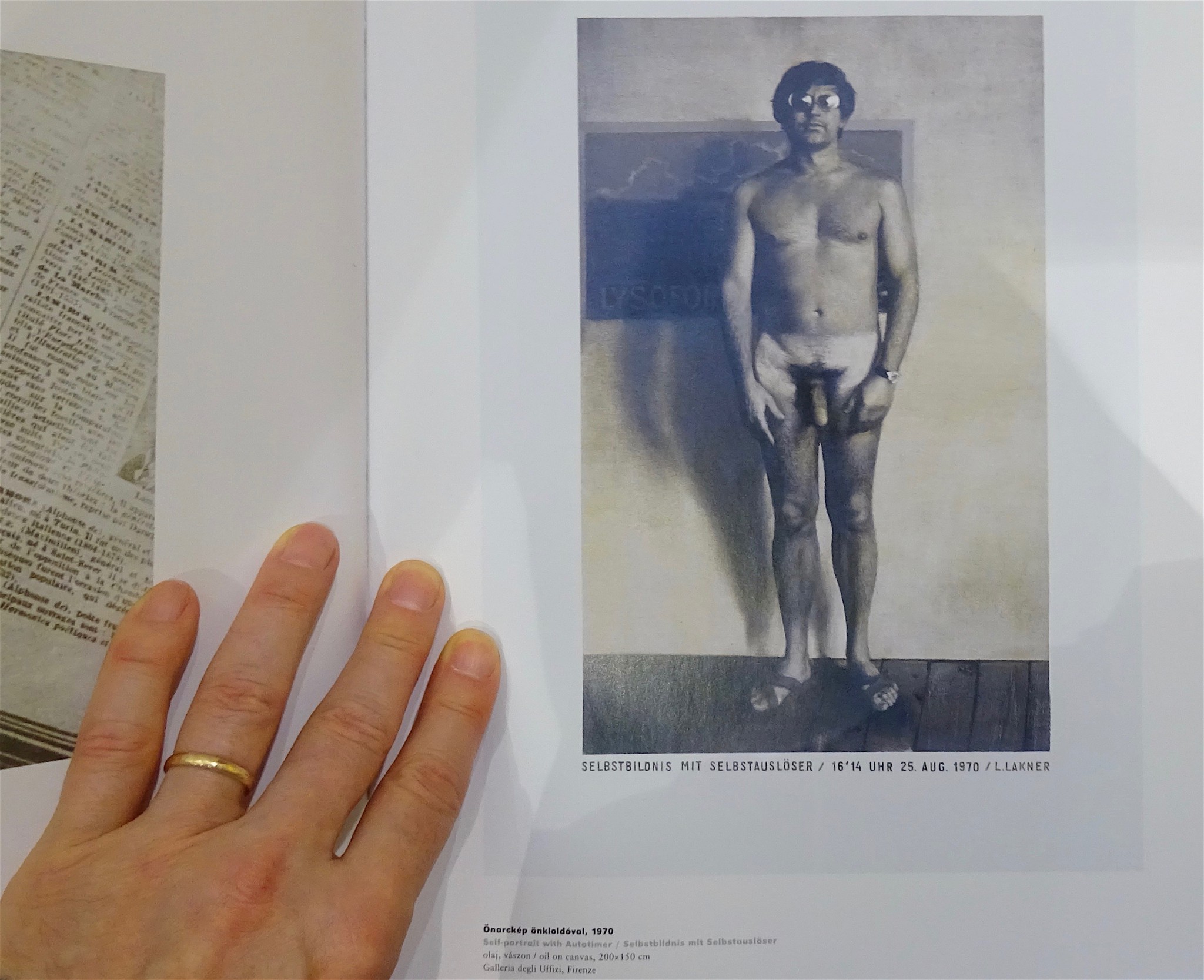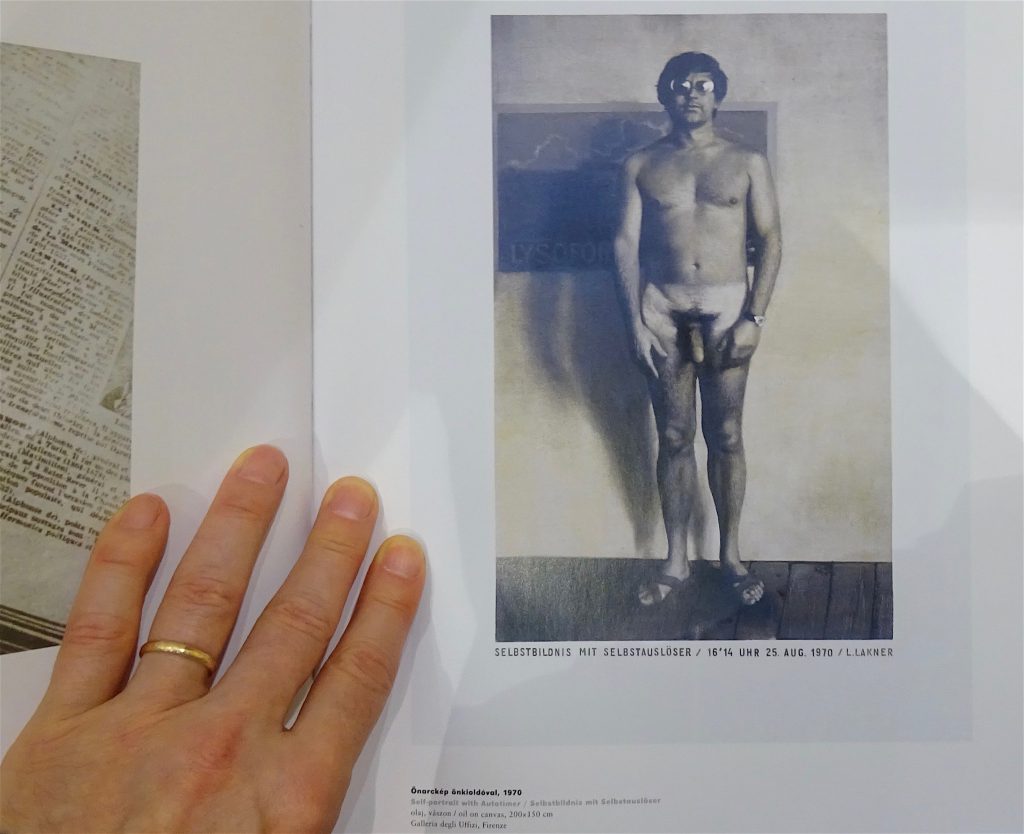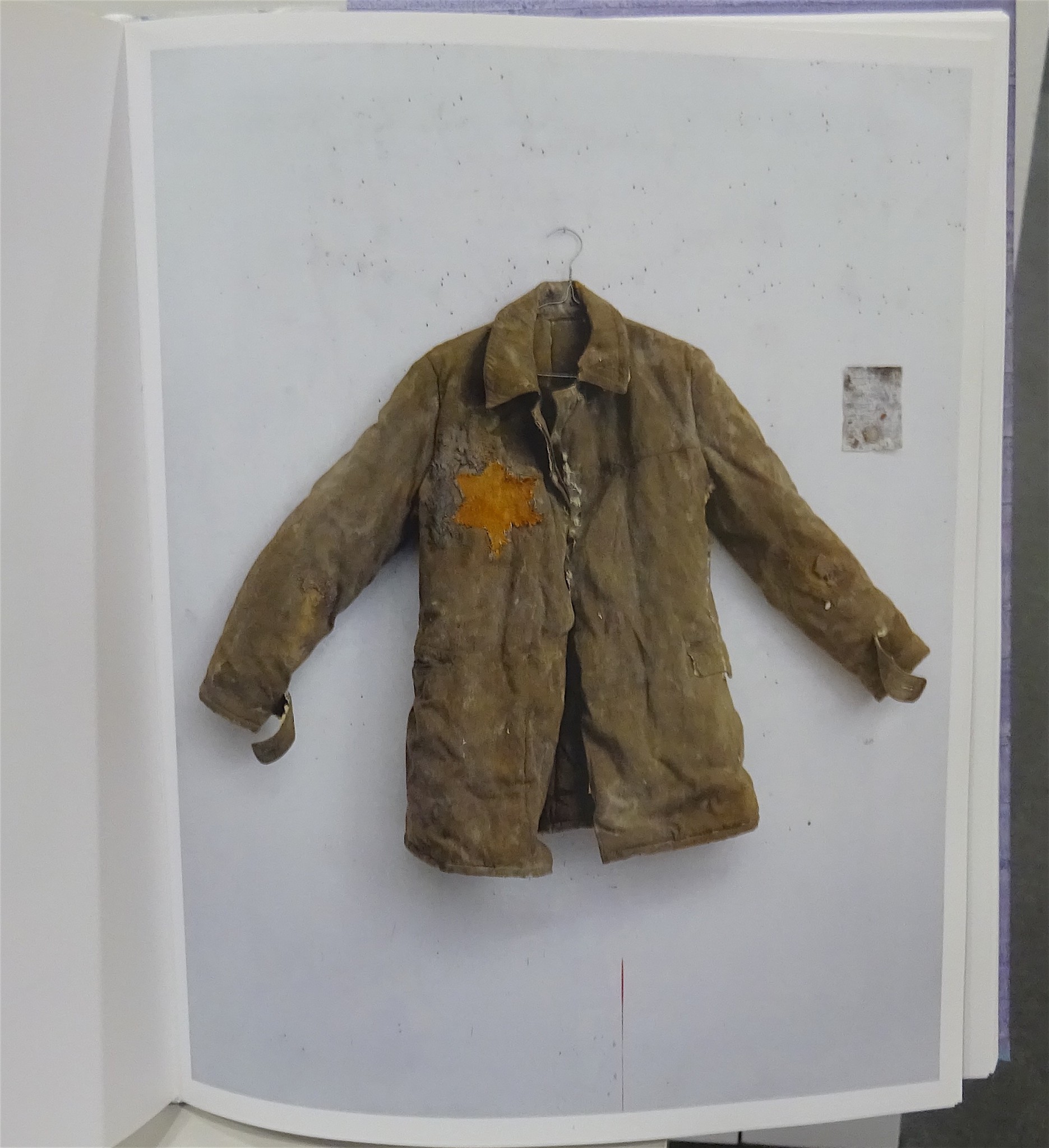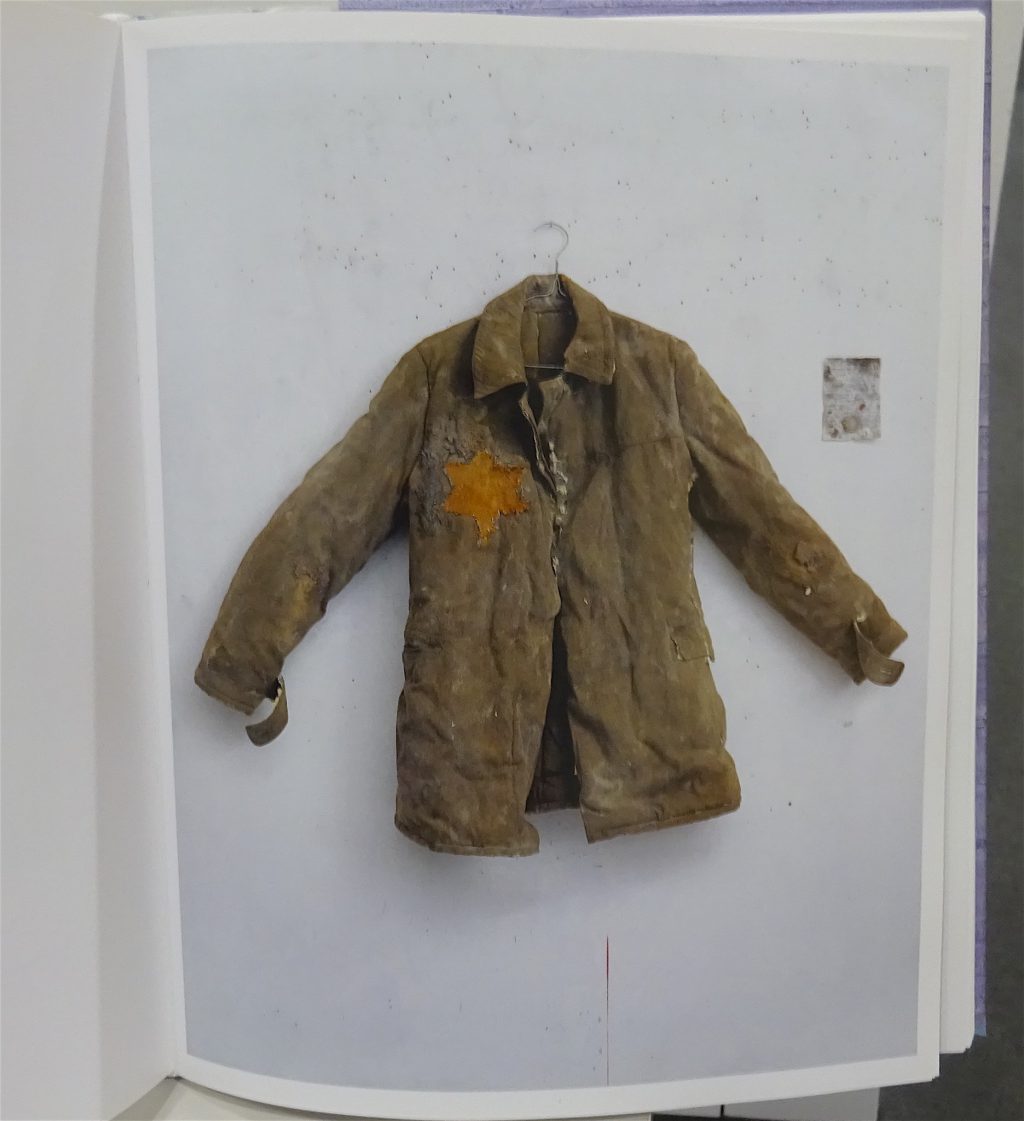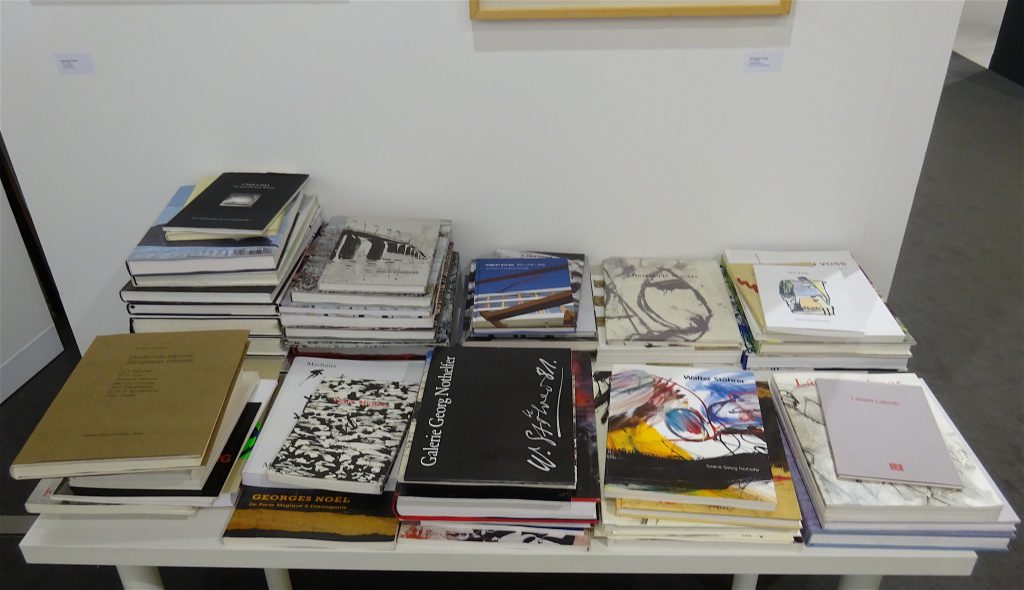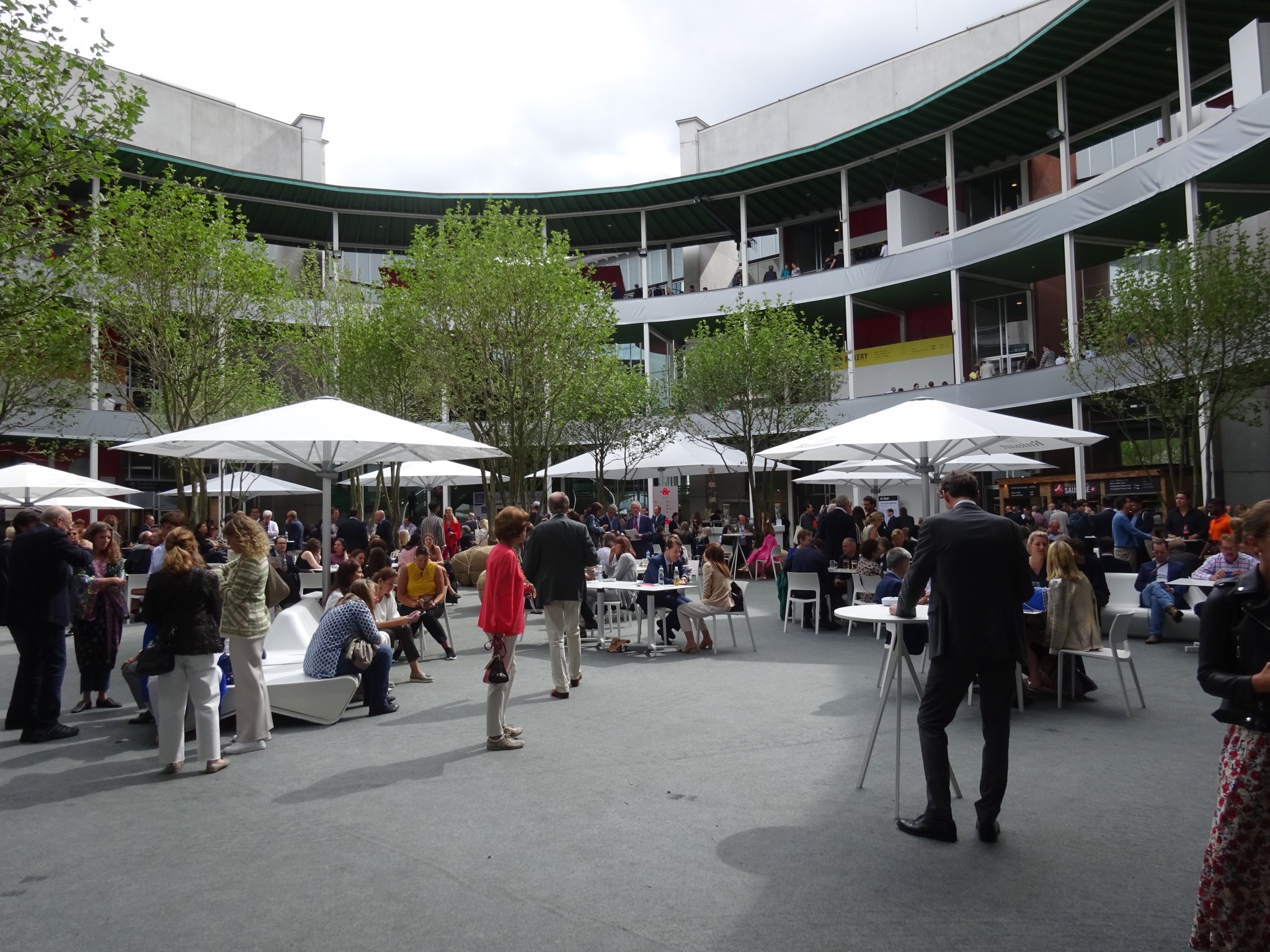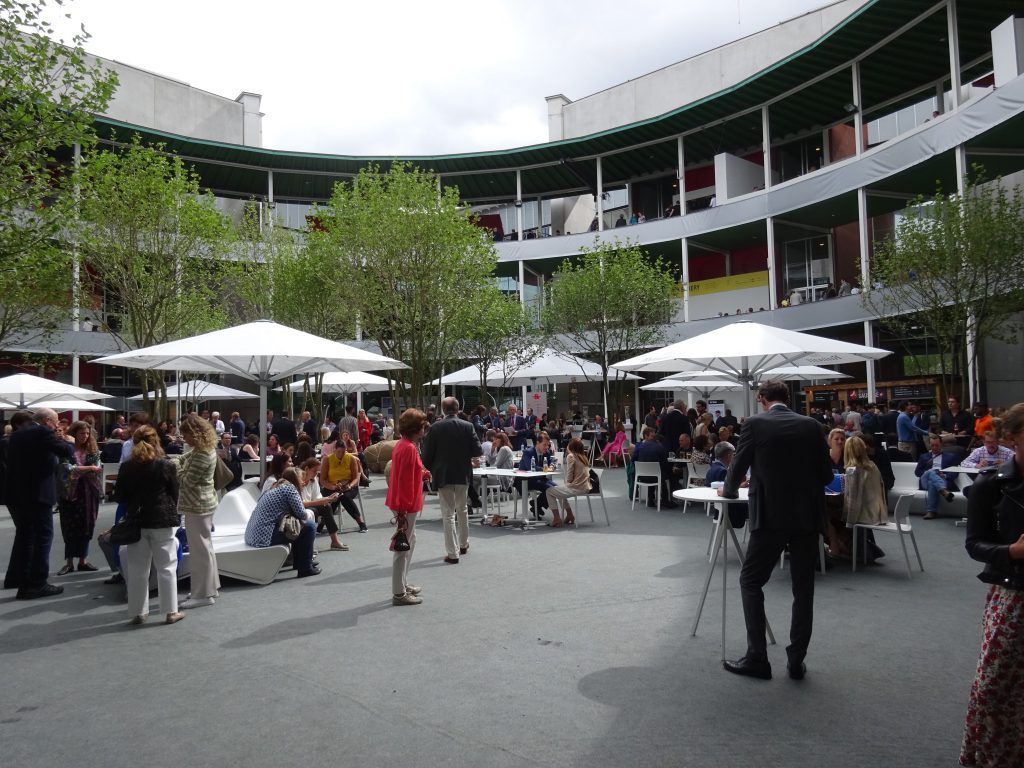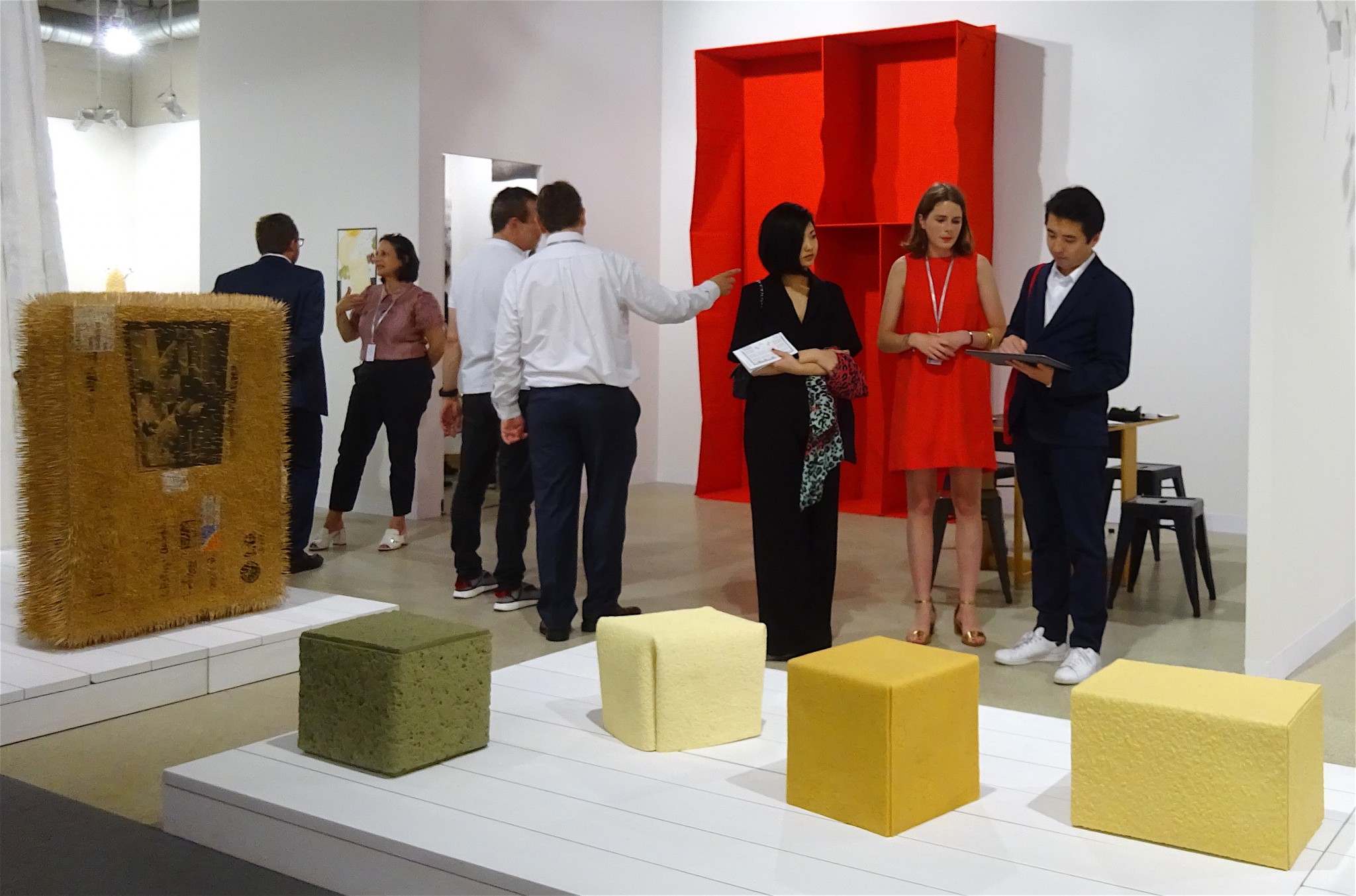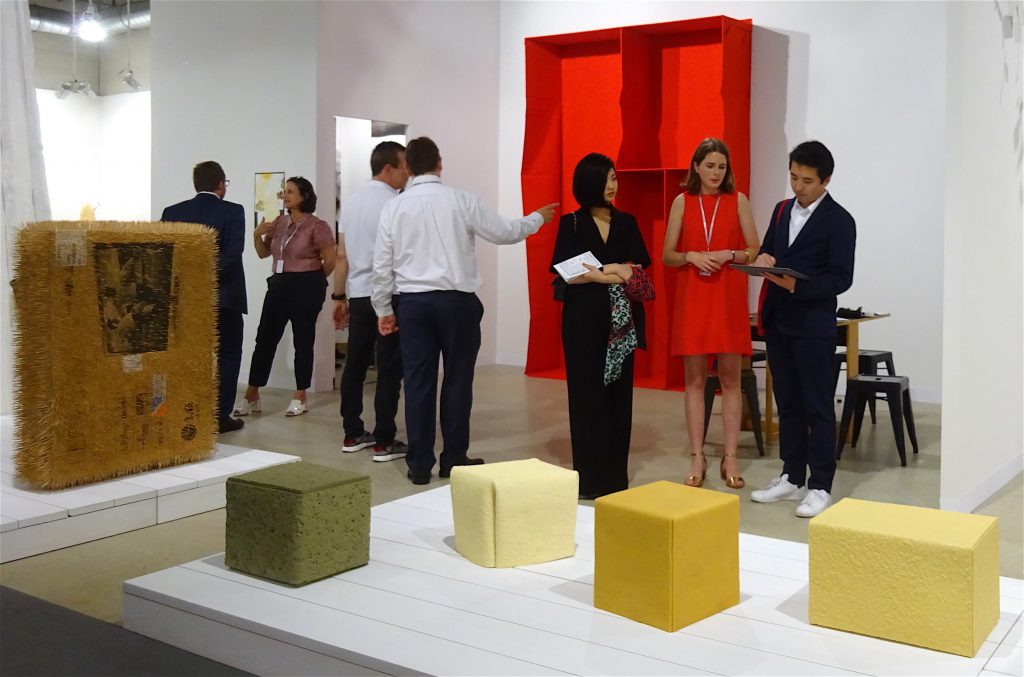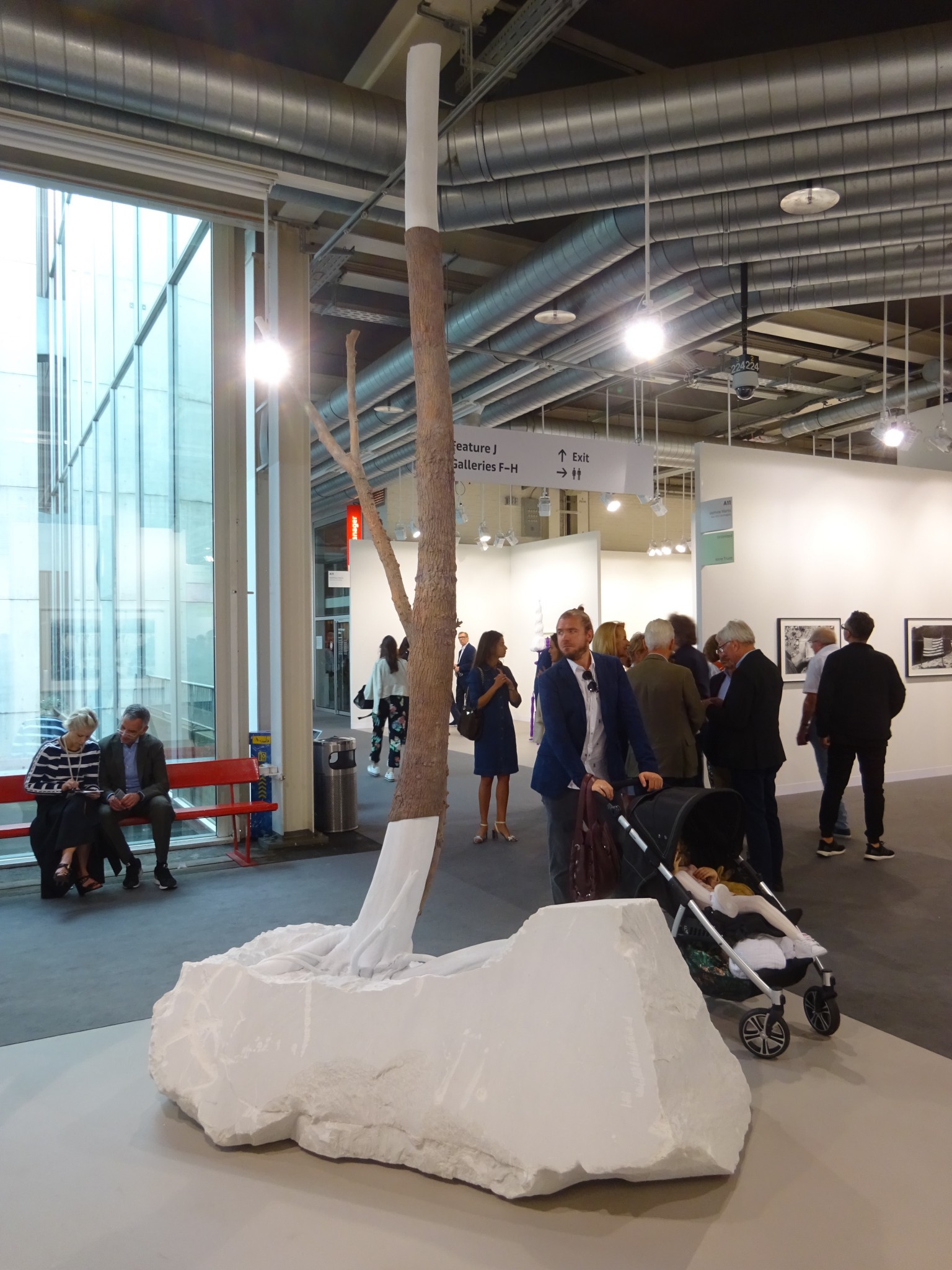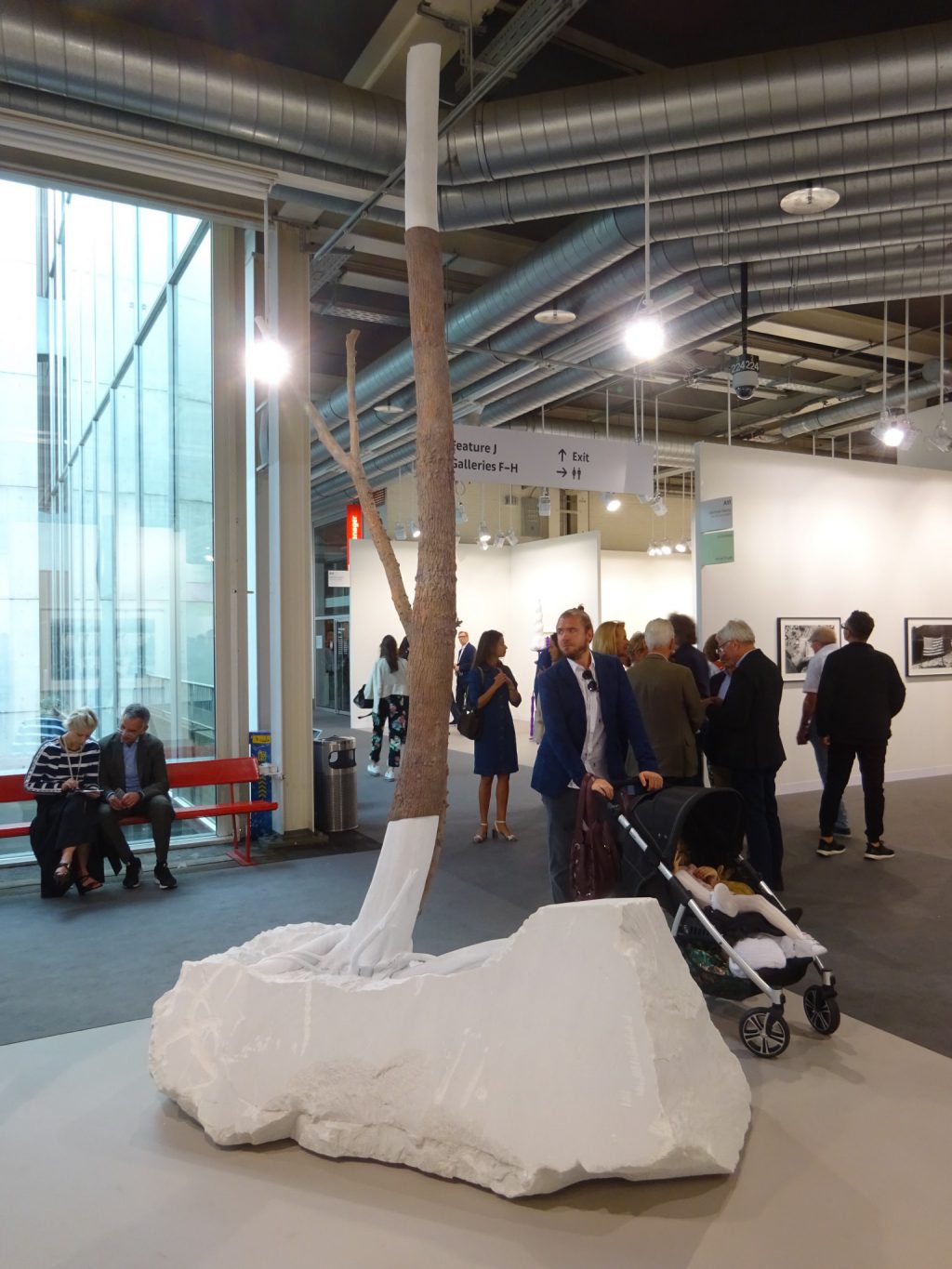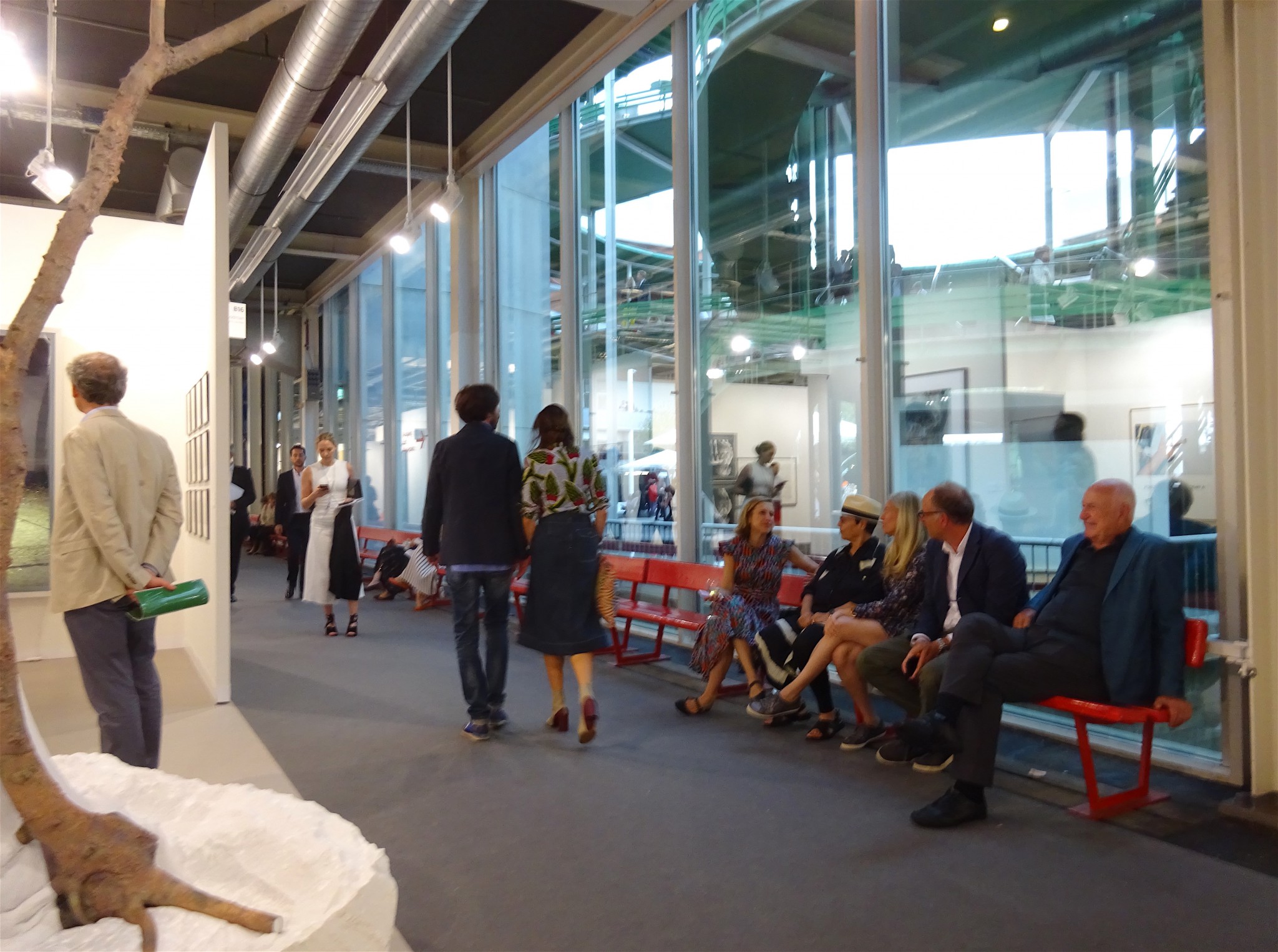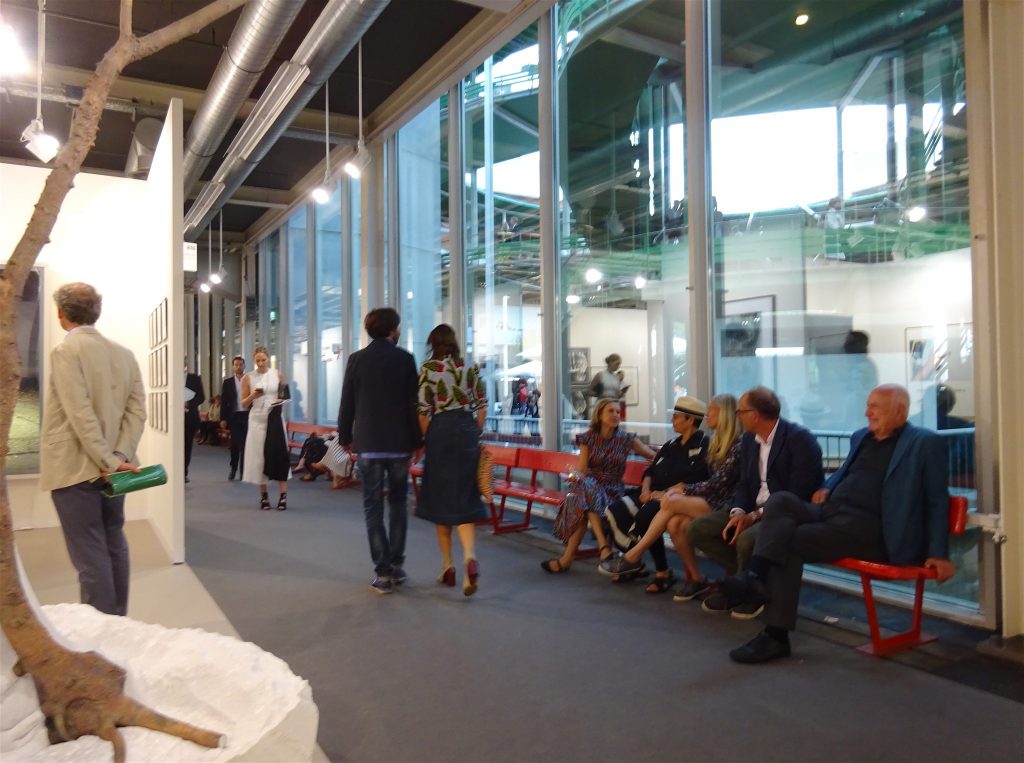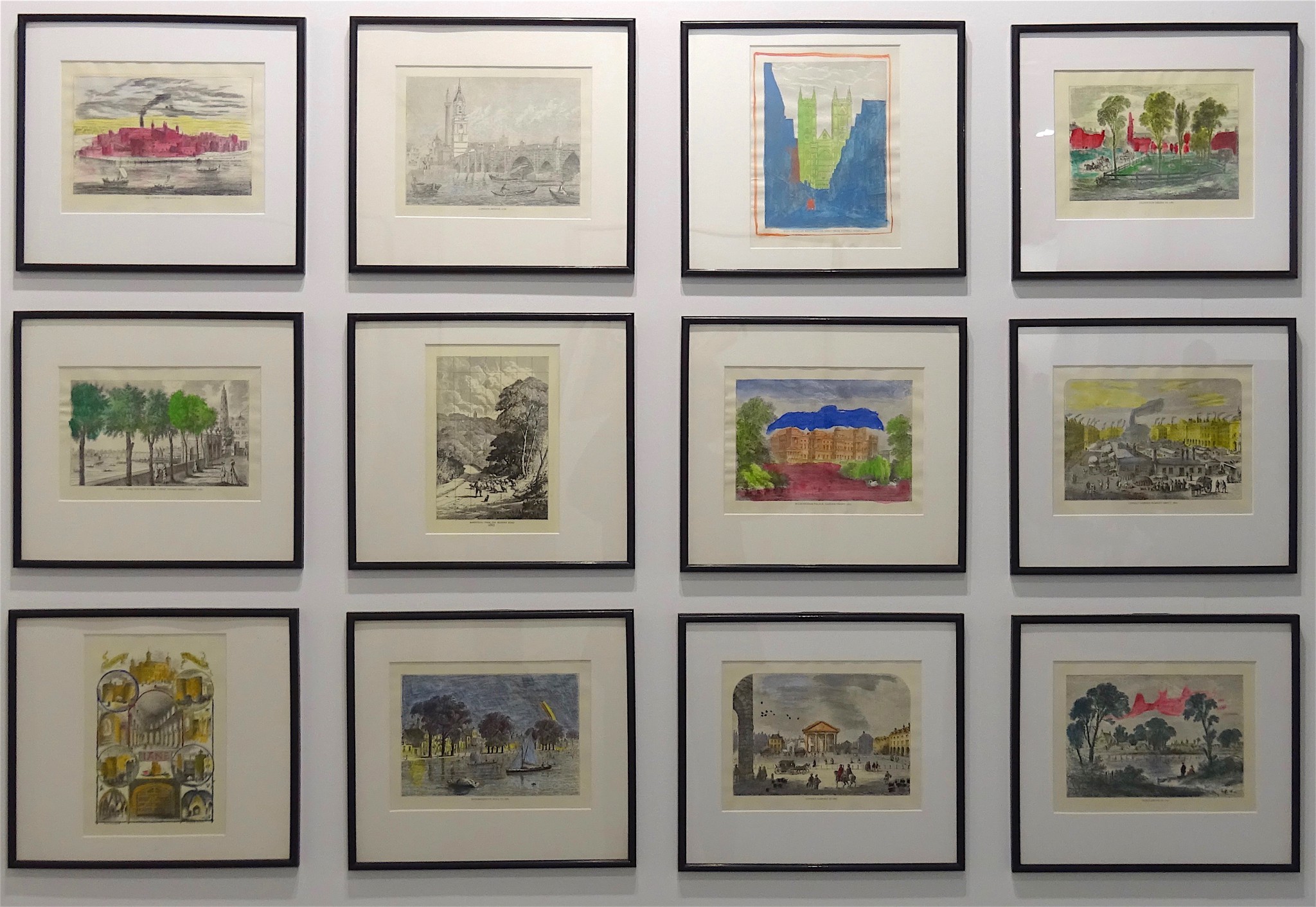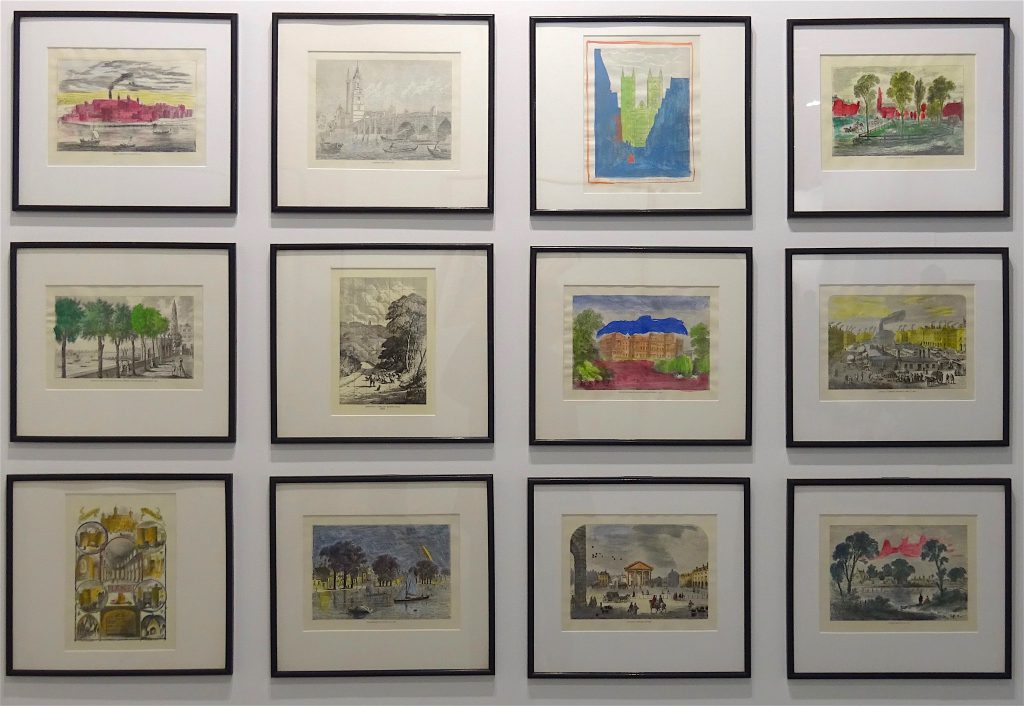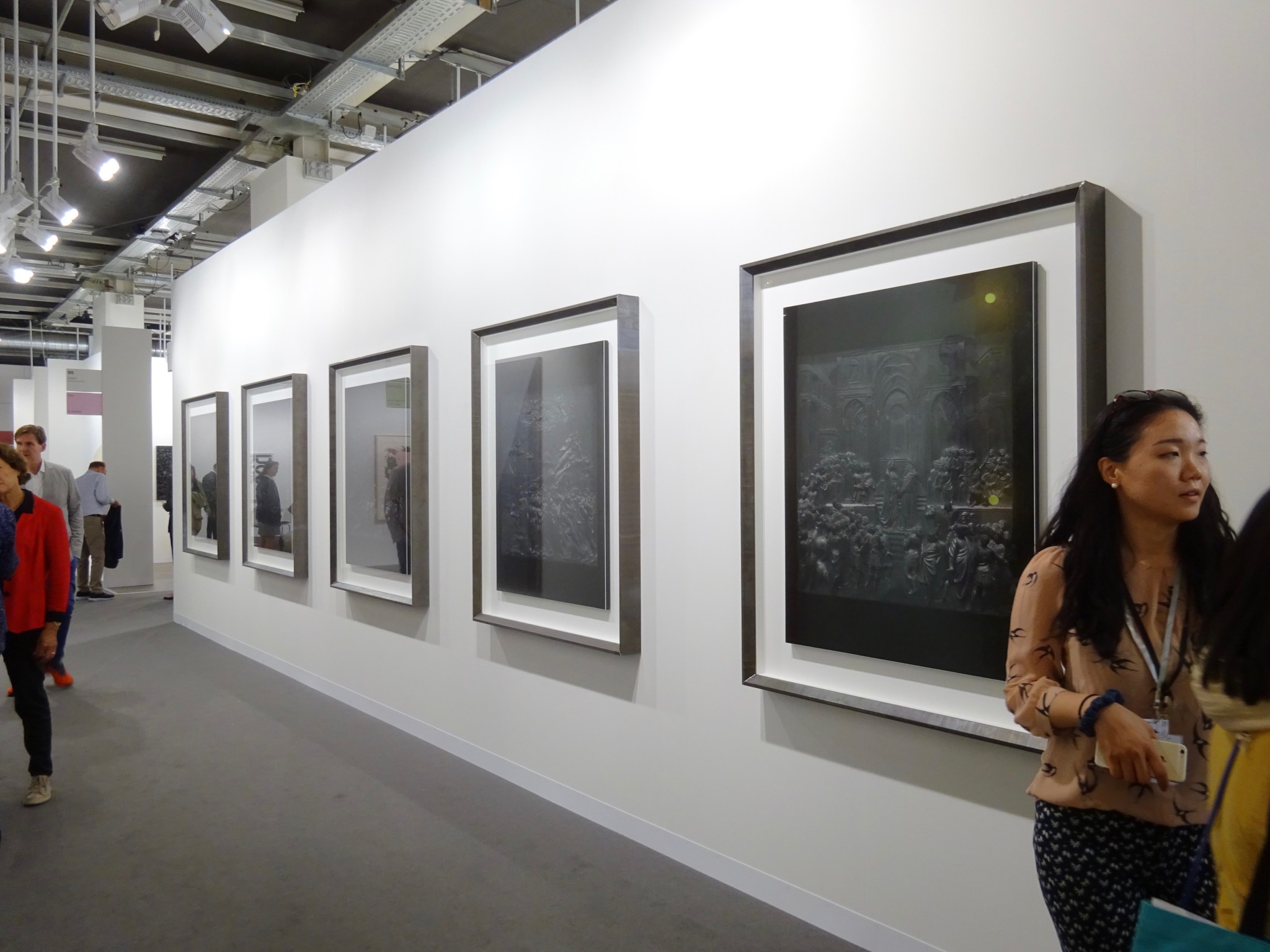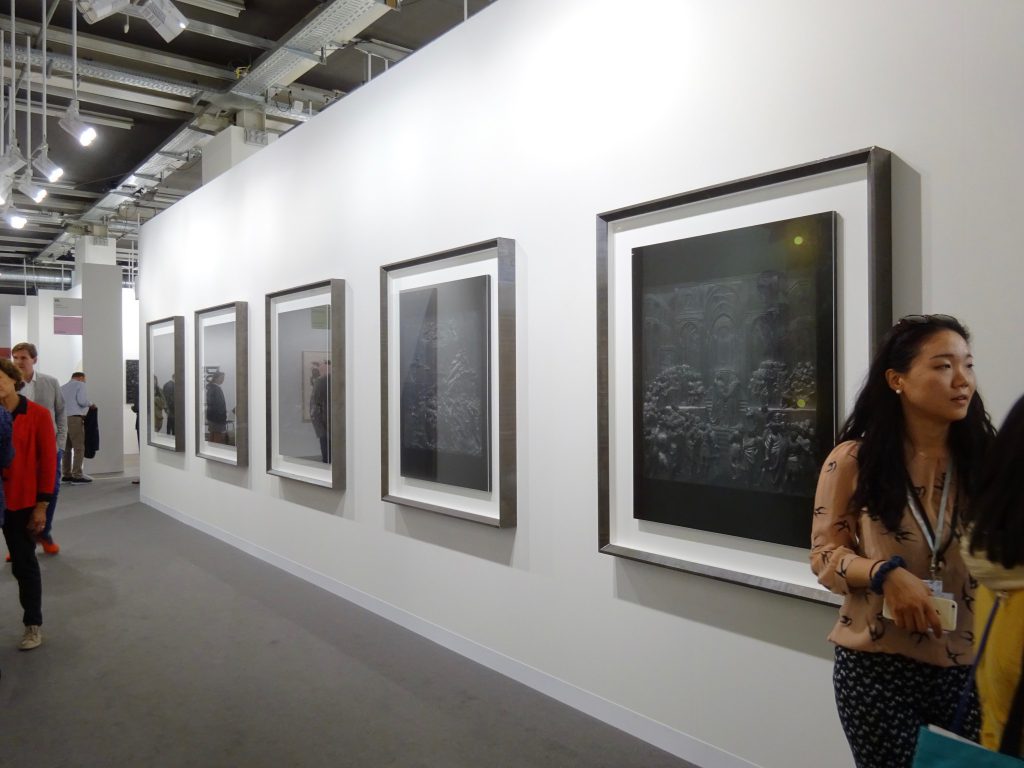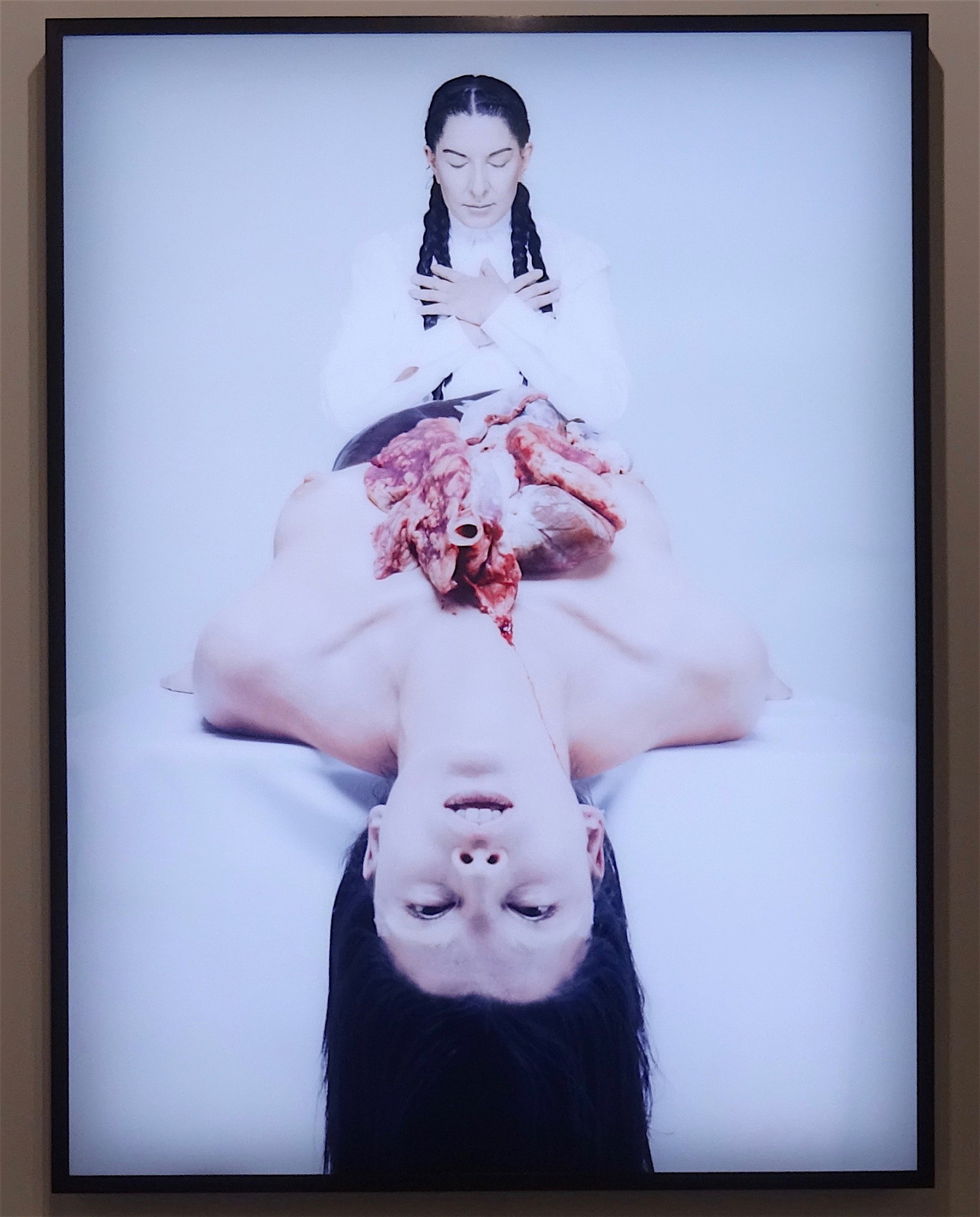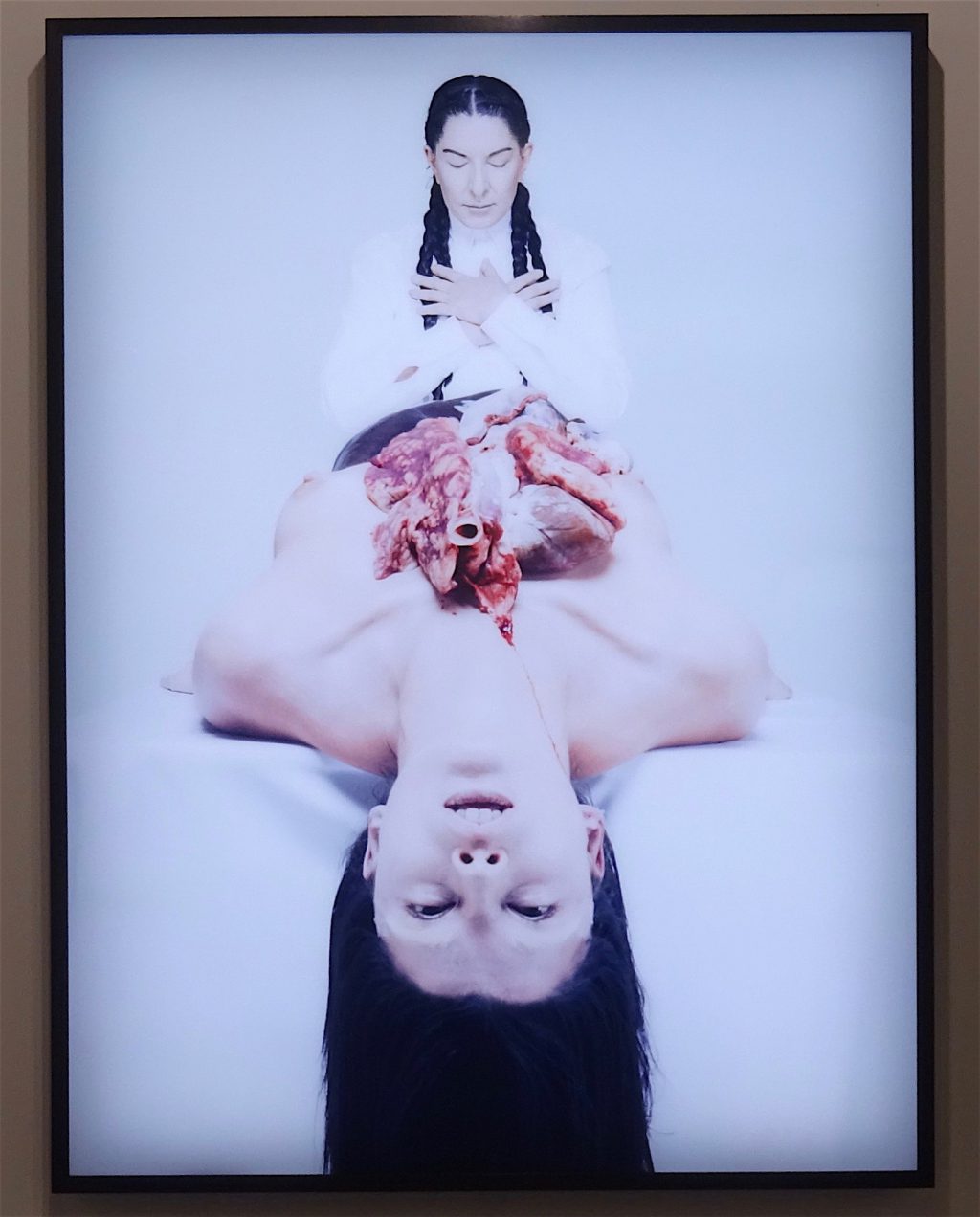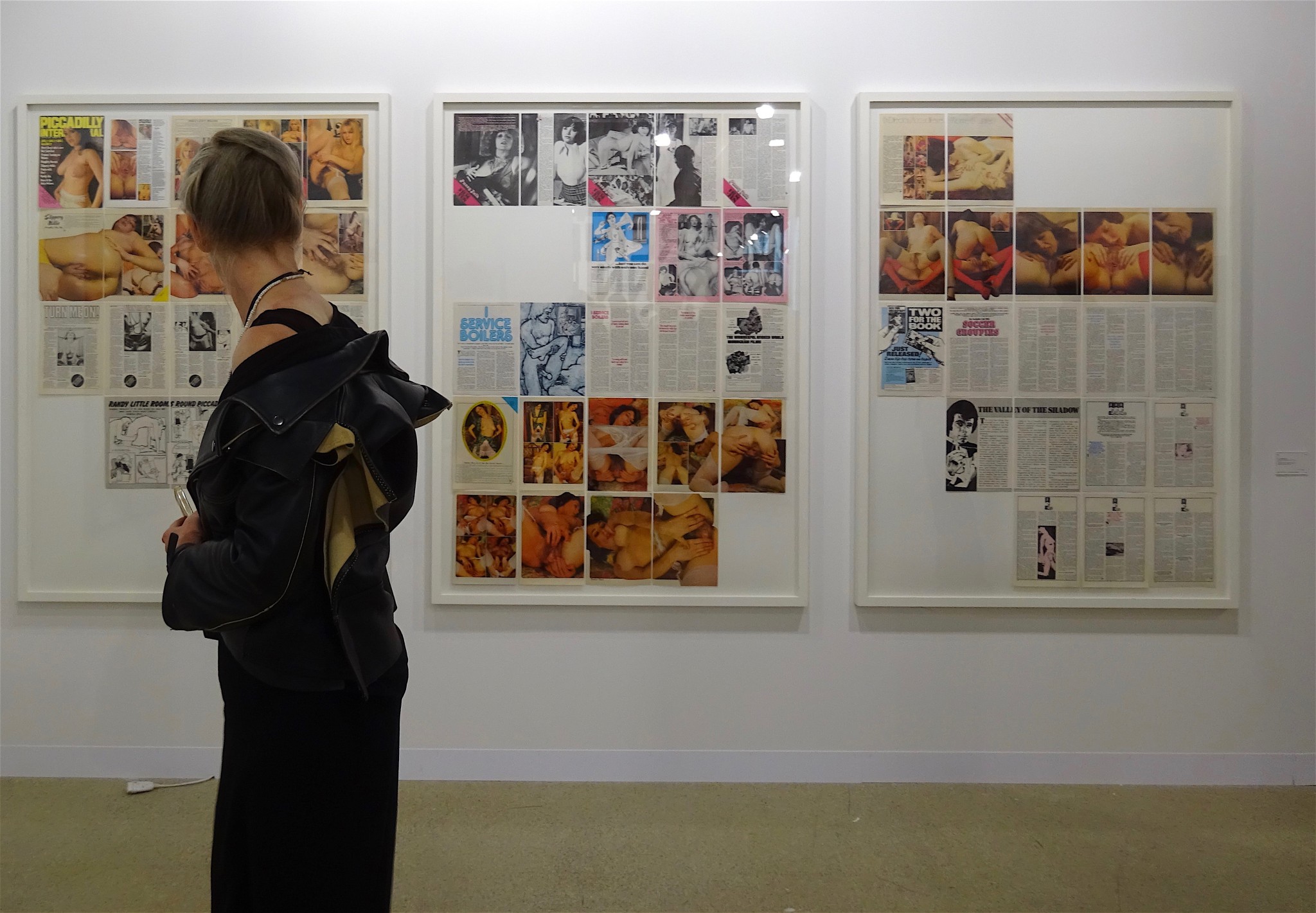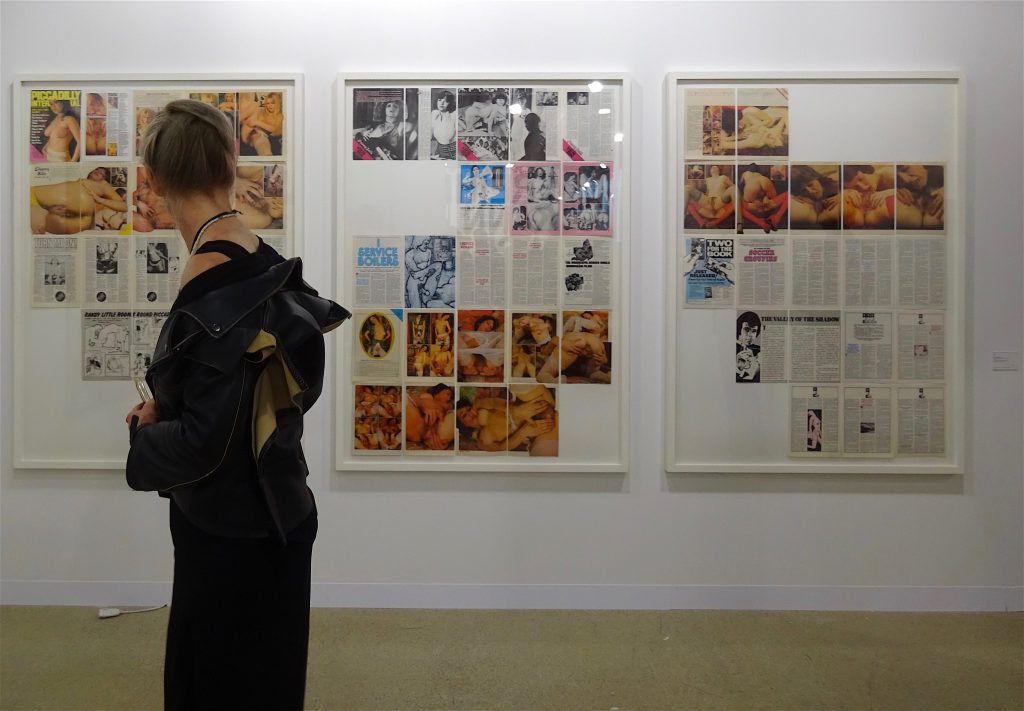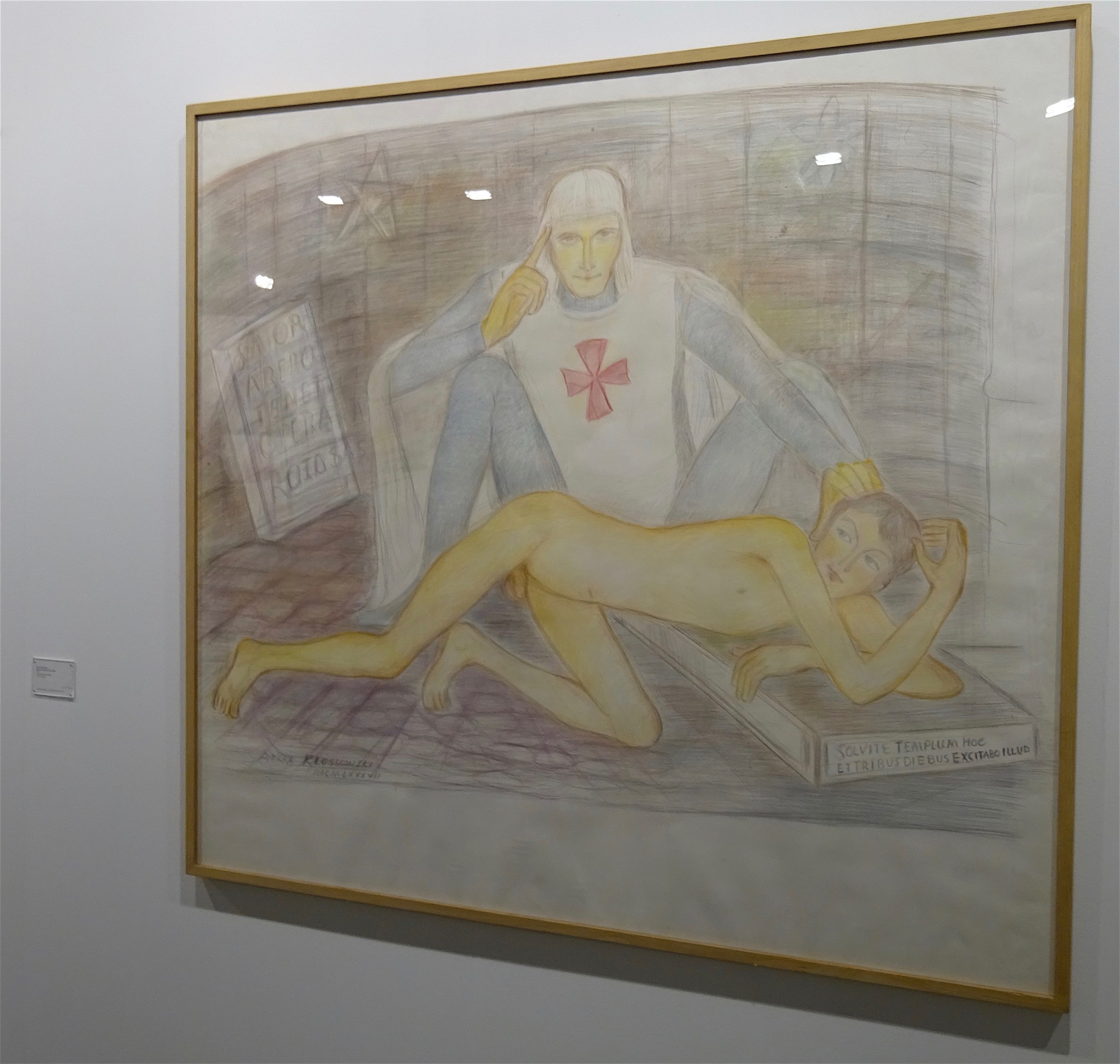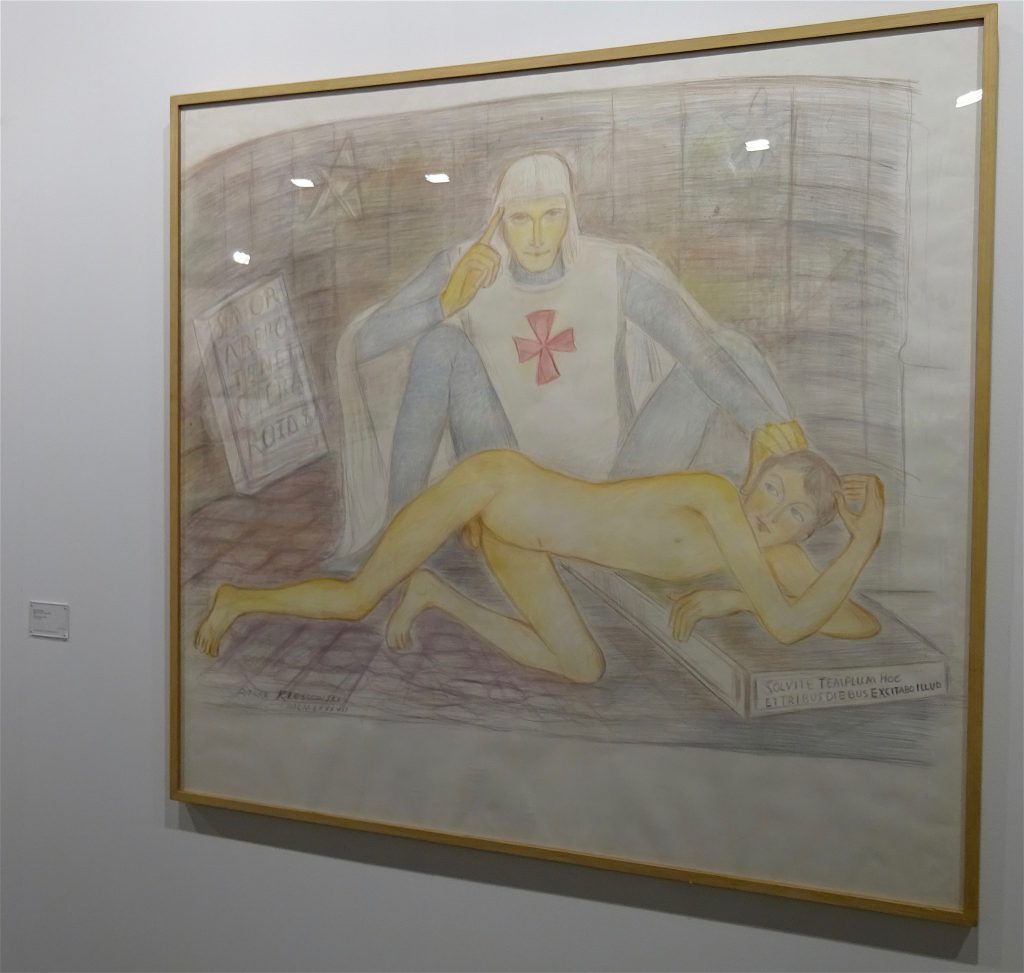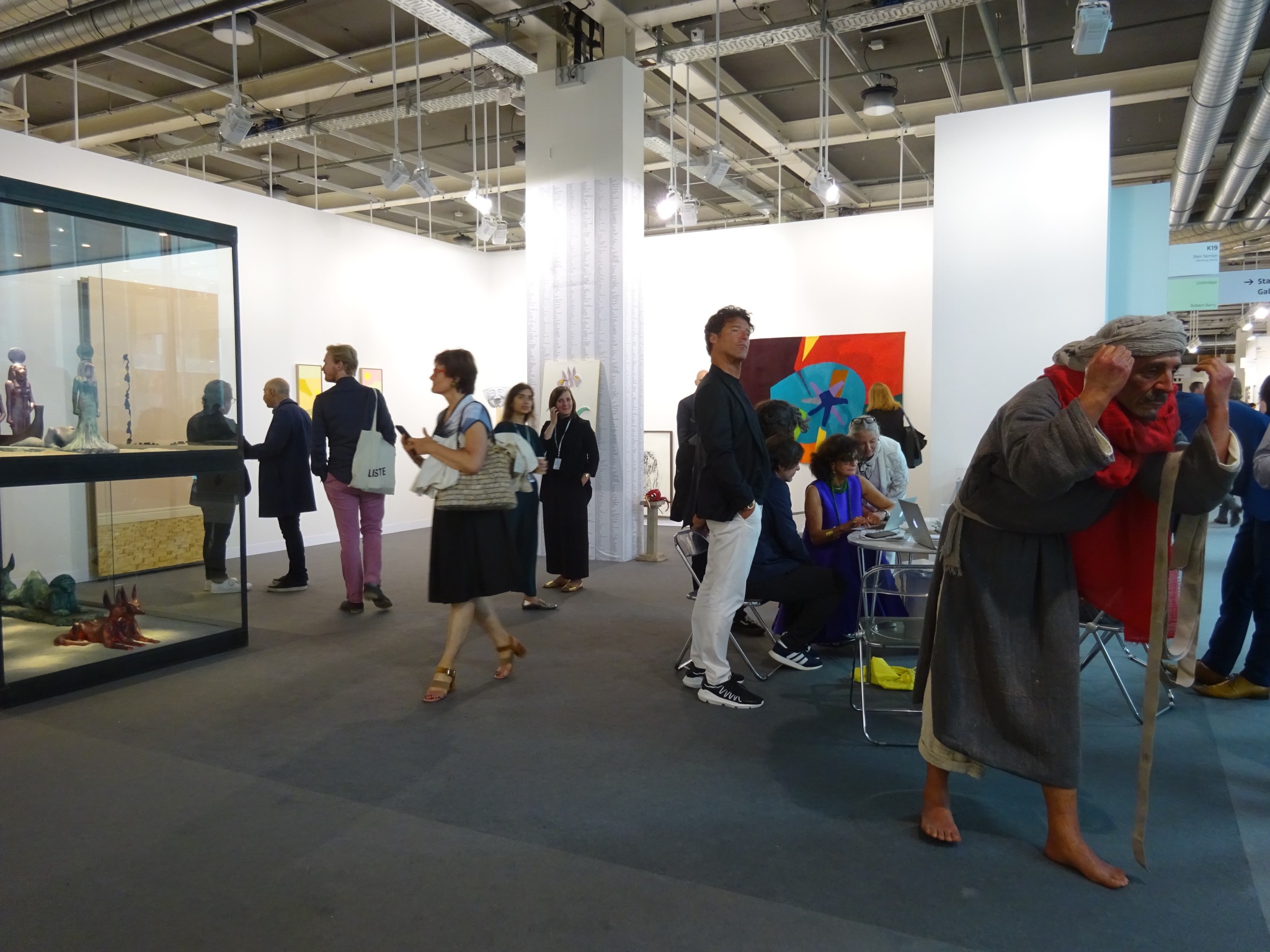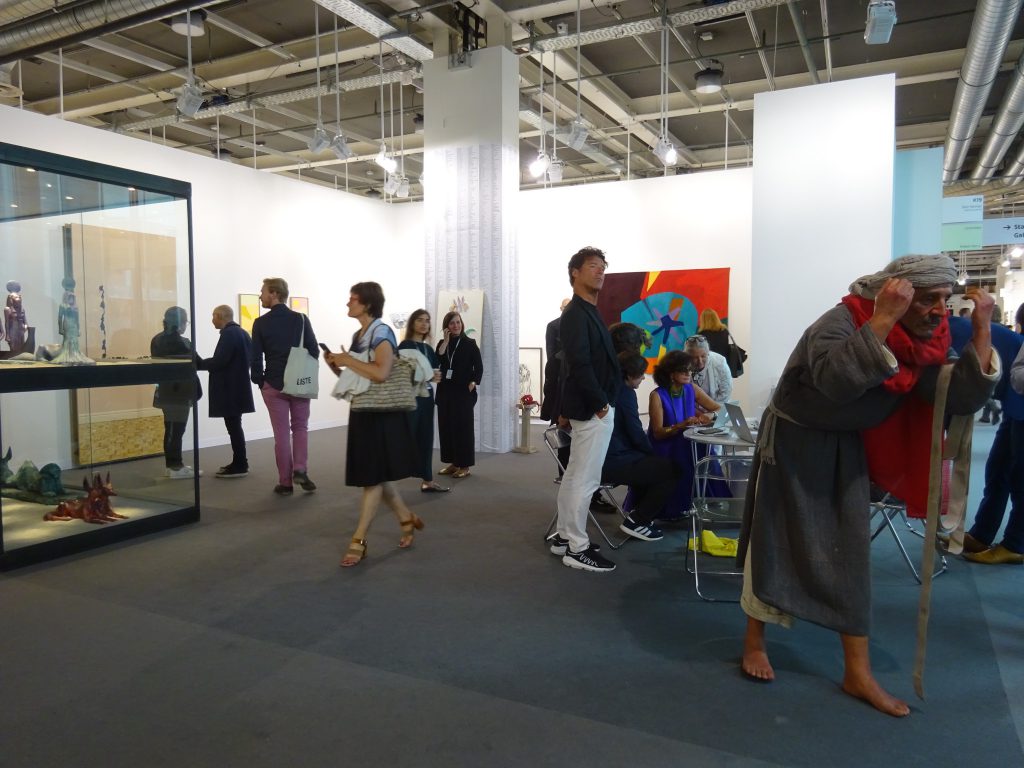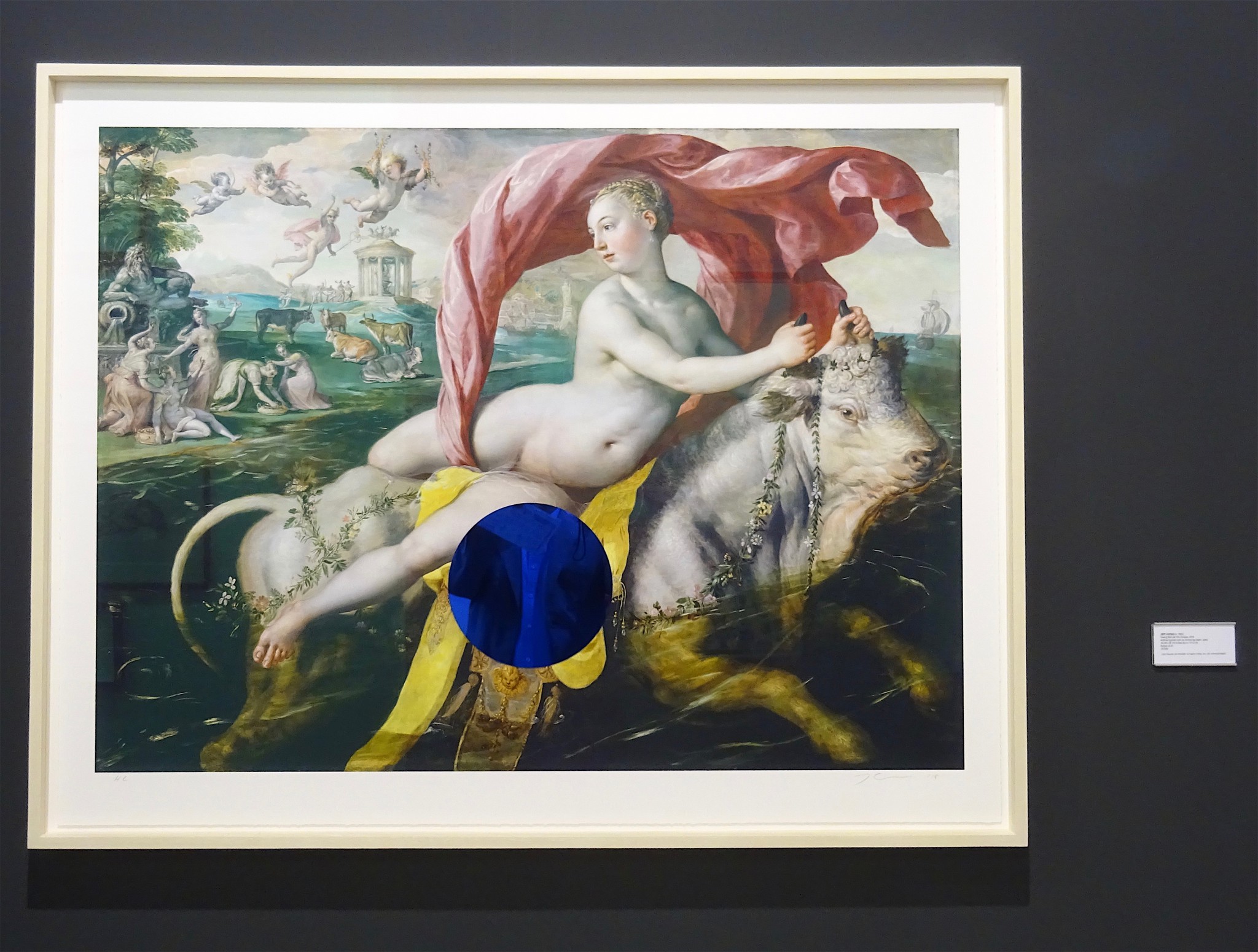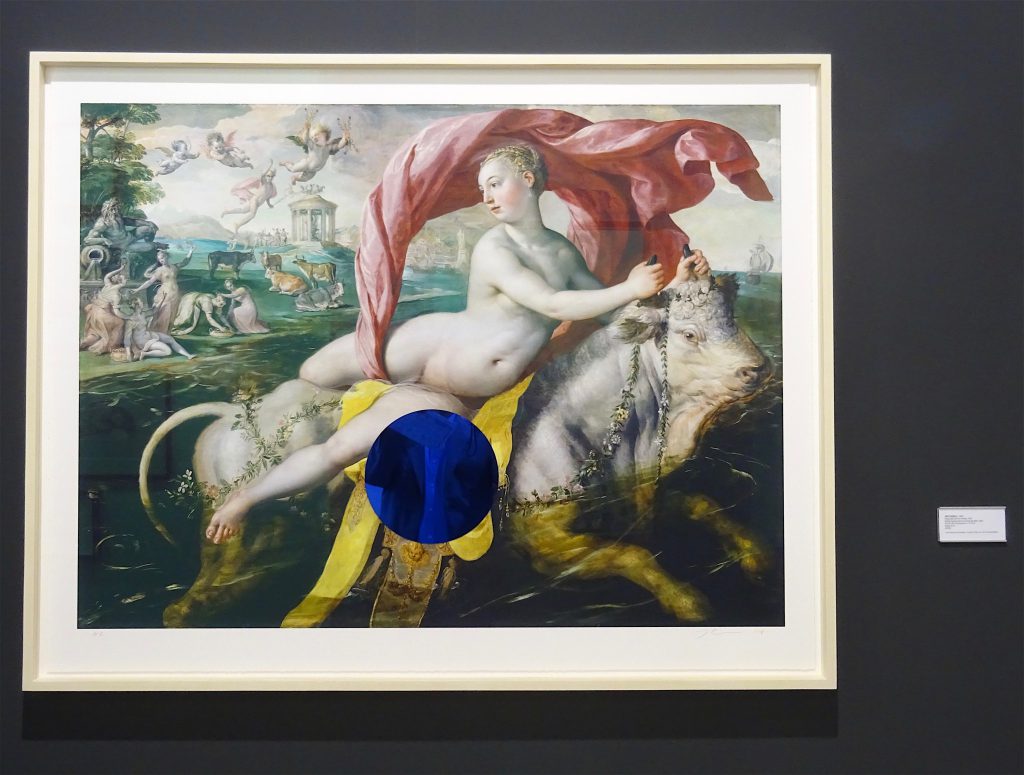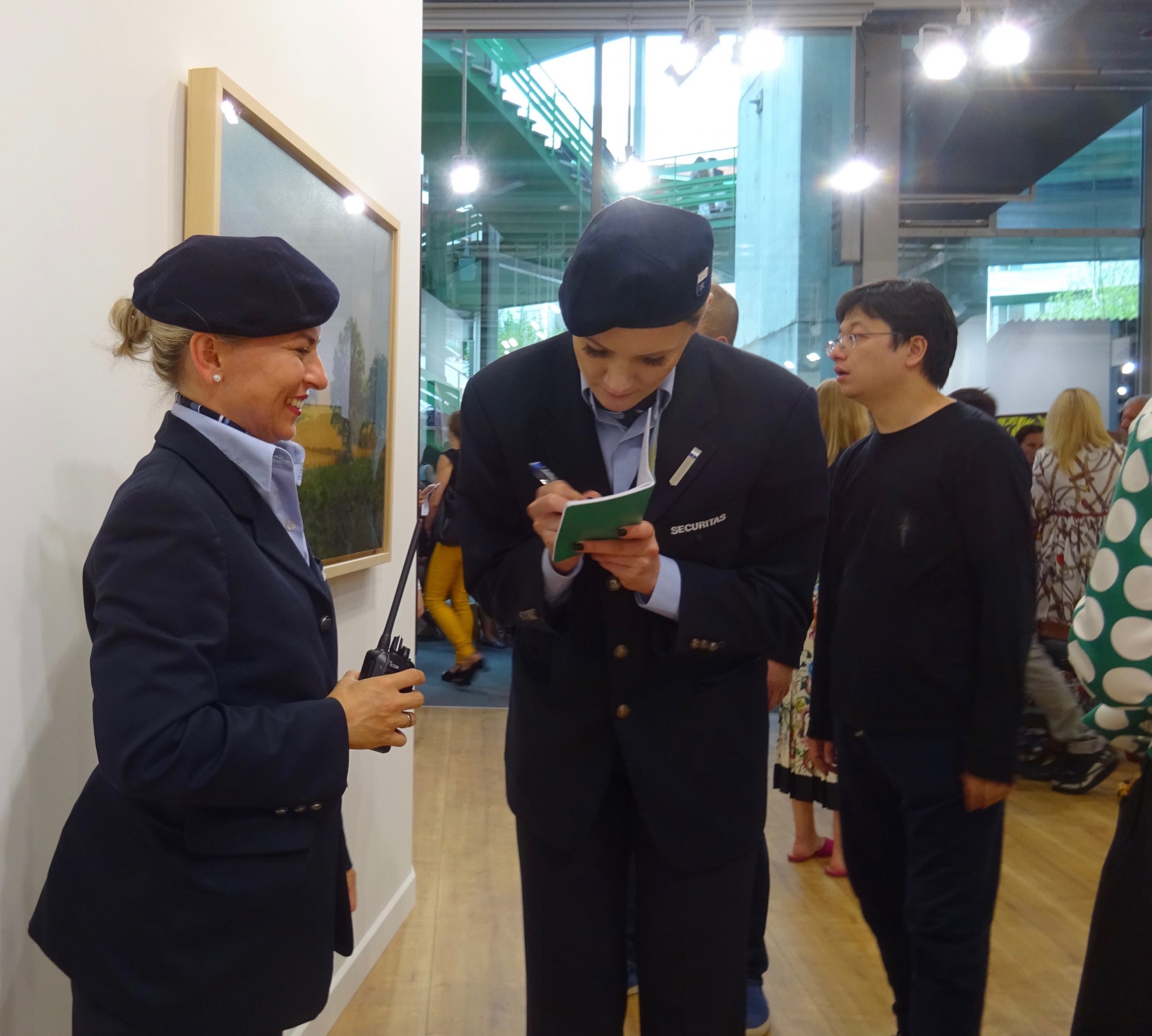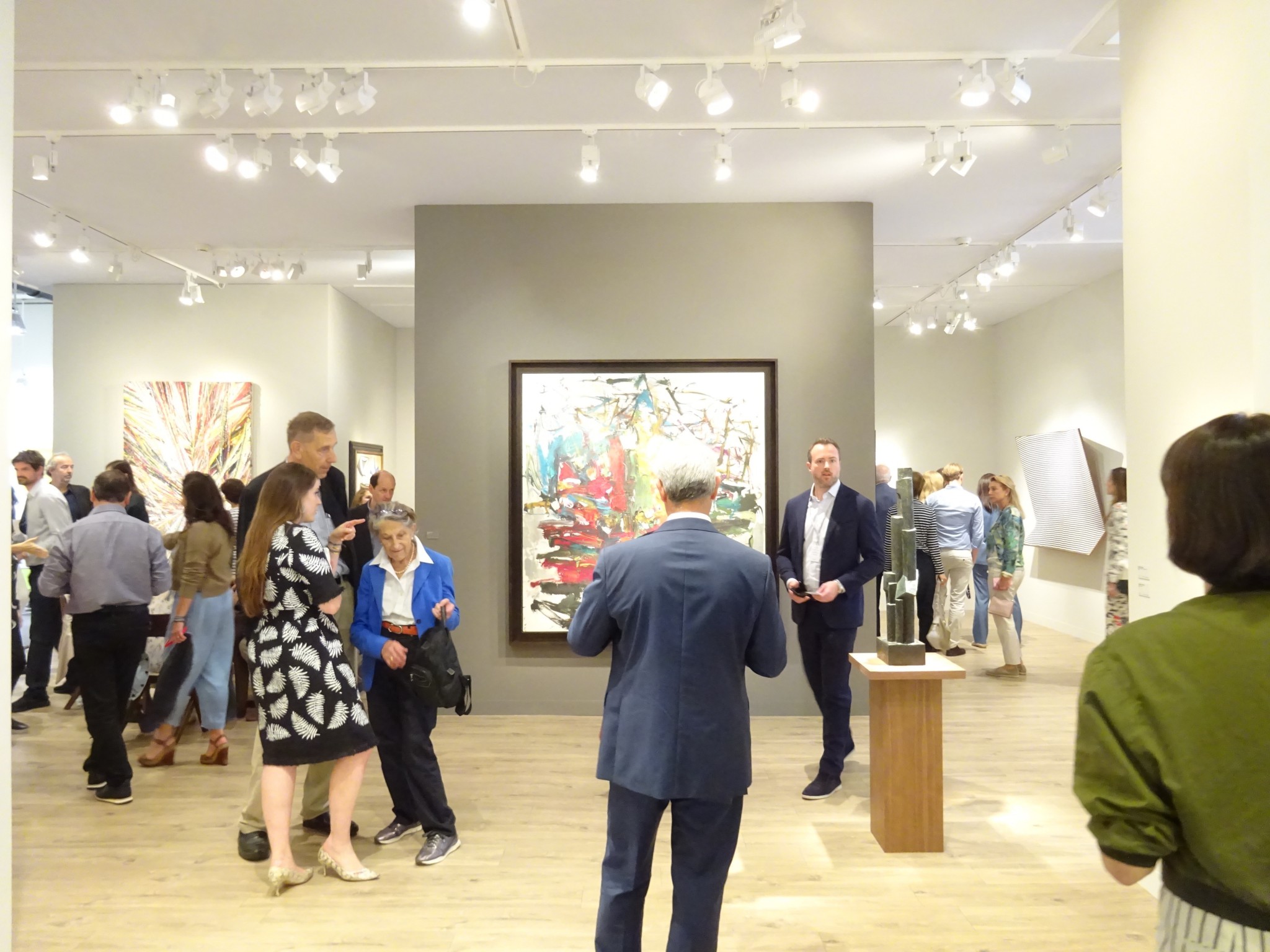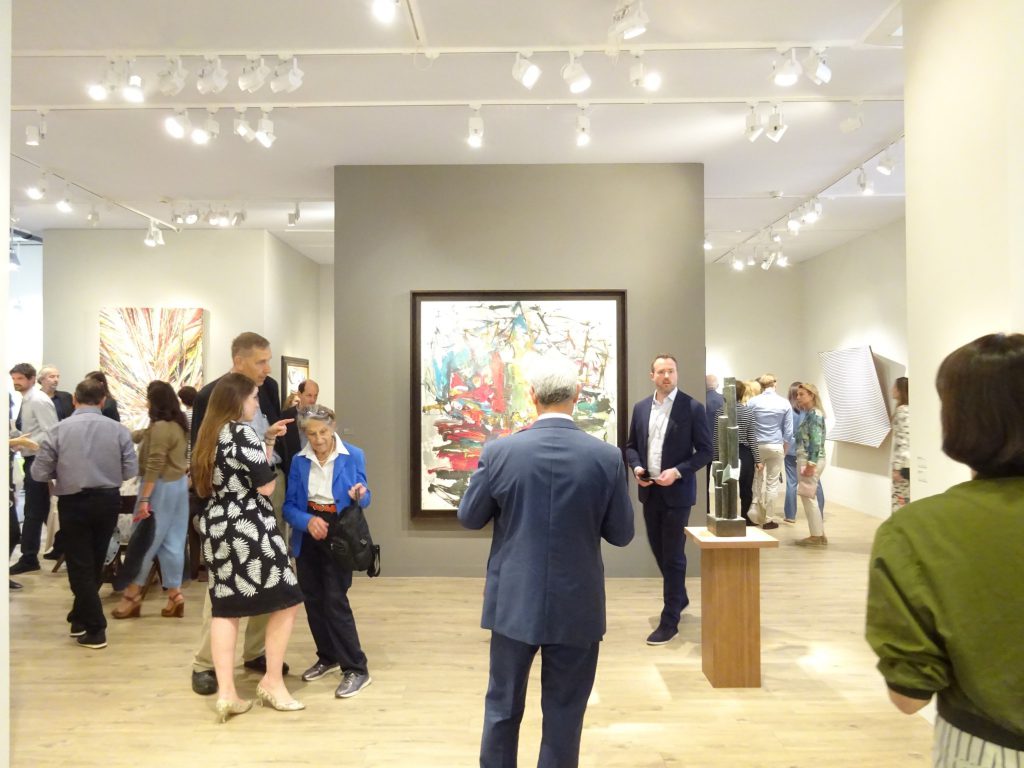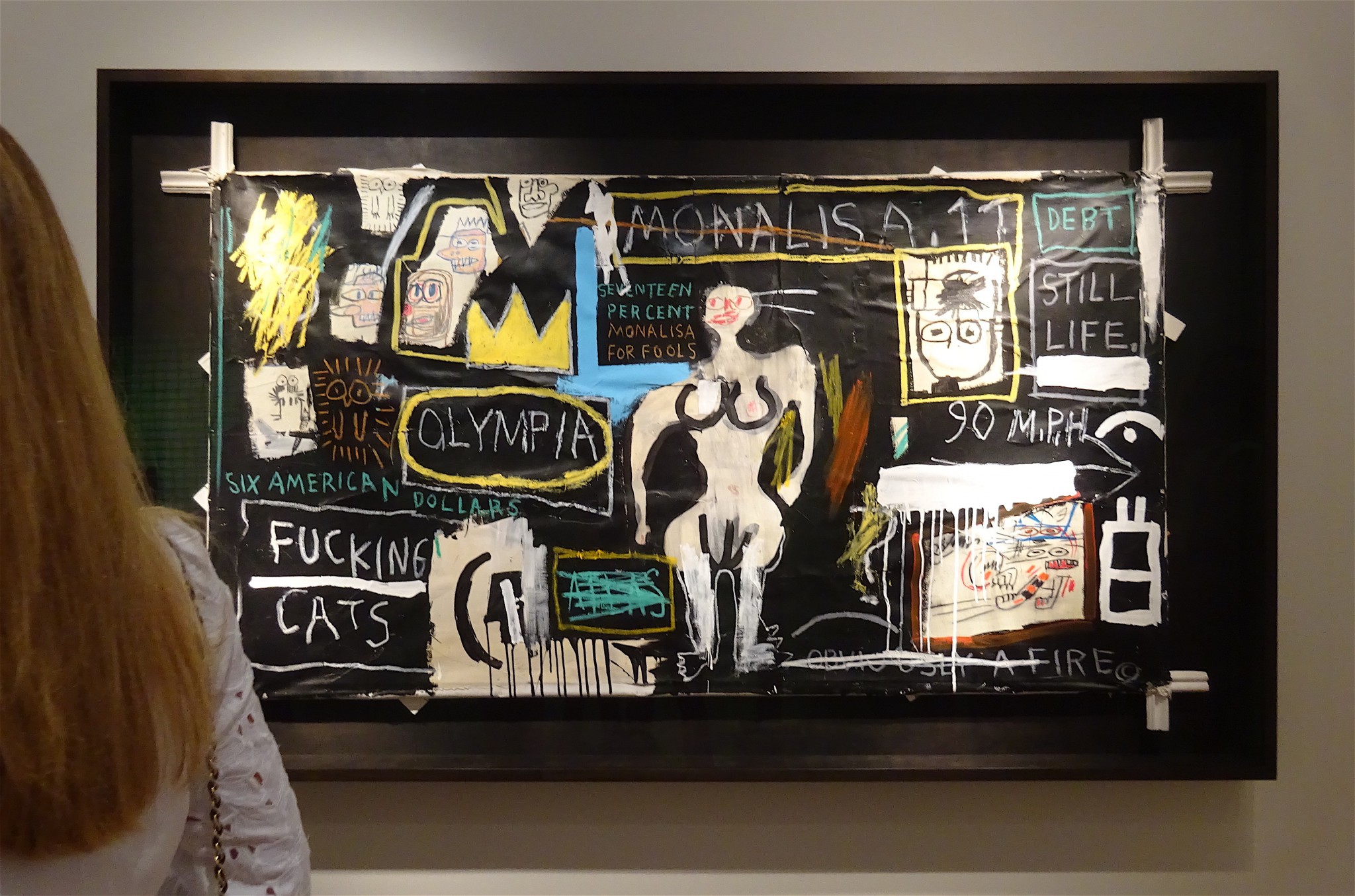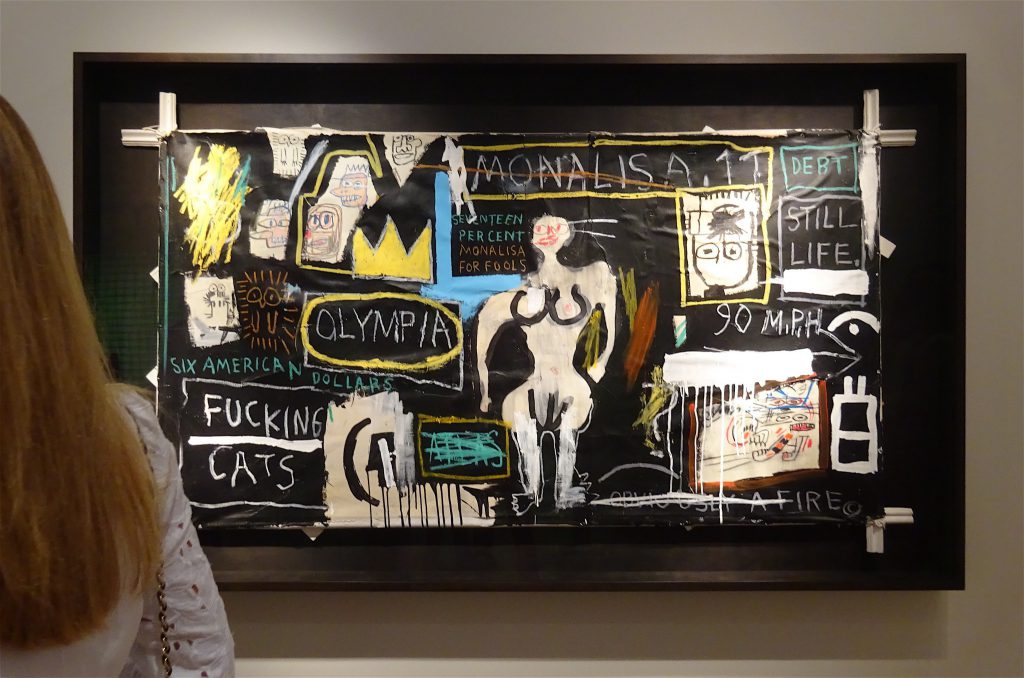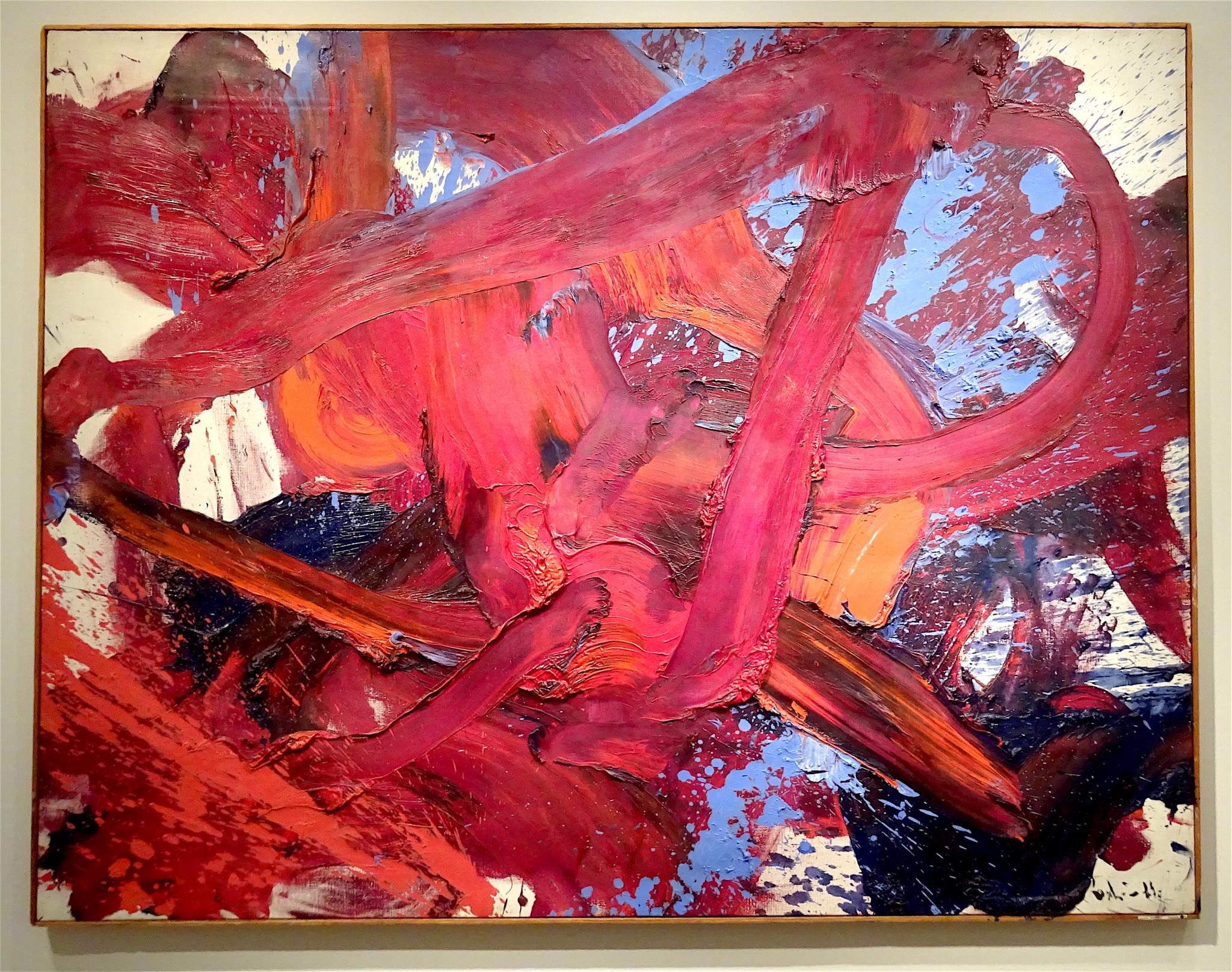 see also:
白髪一雄・フット・ペインティング
SHIRAGA Kazuo – Foot Paintings
https://art-culture.world/articles/shiraga-kazuo-白髪一雄/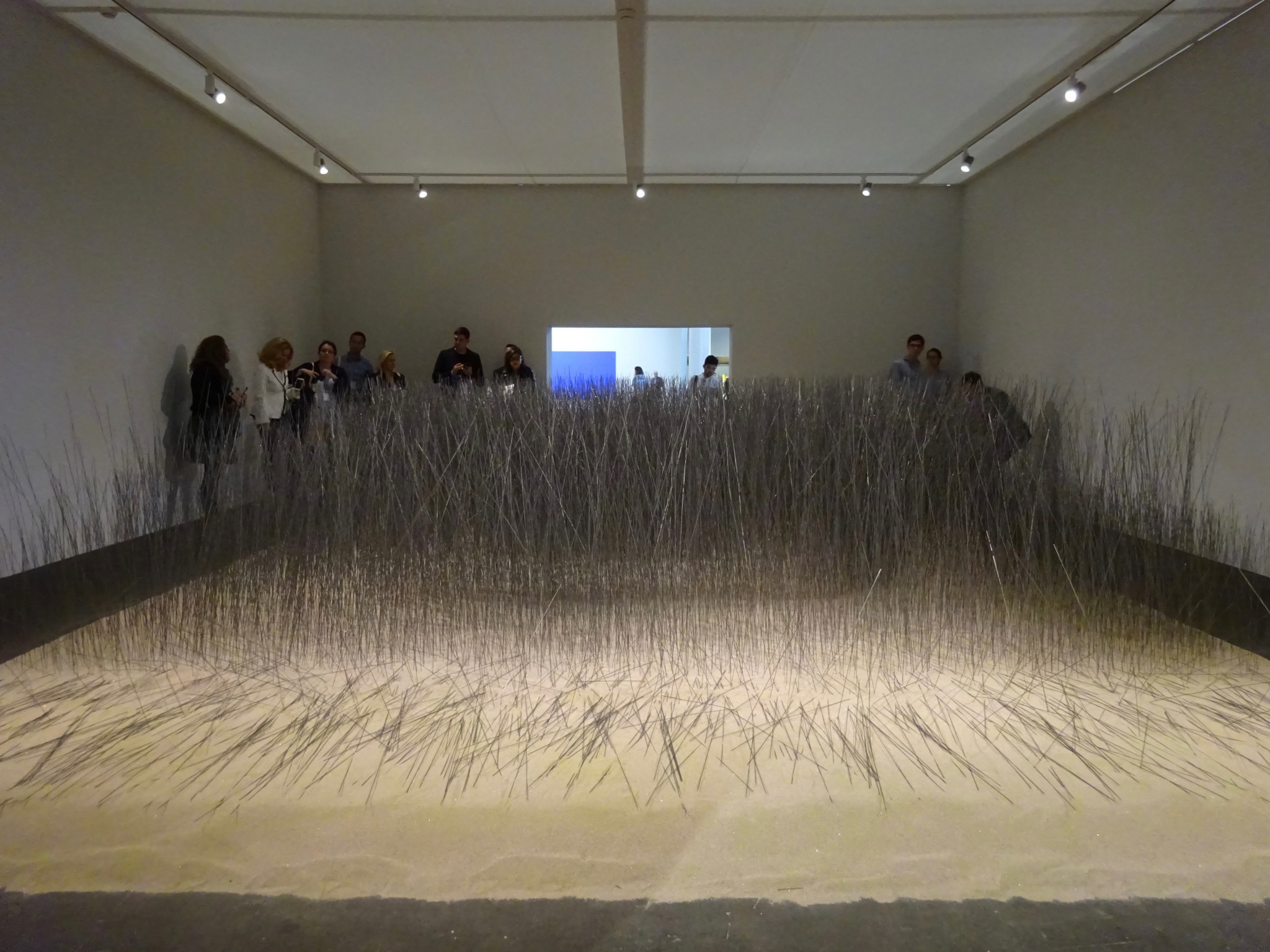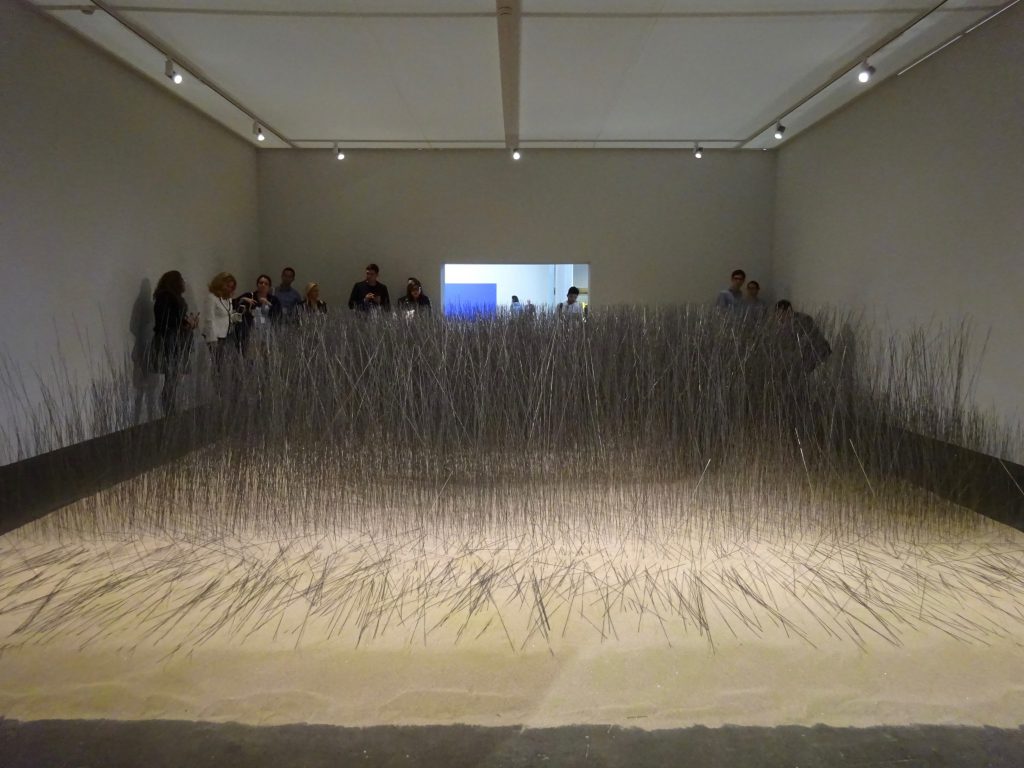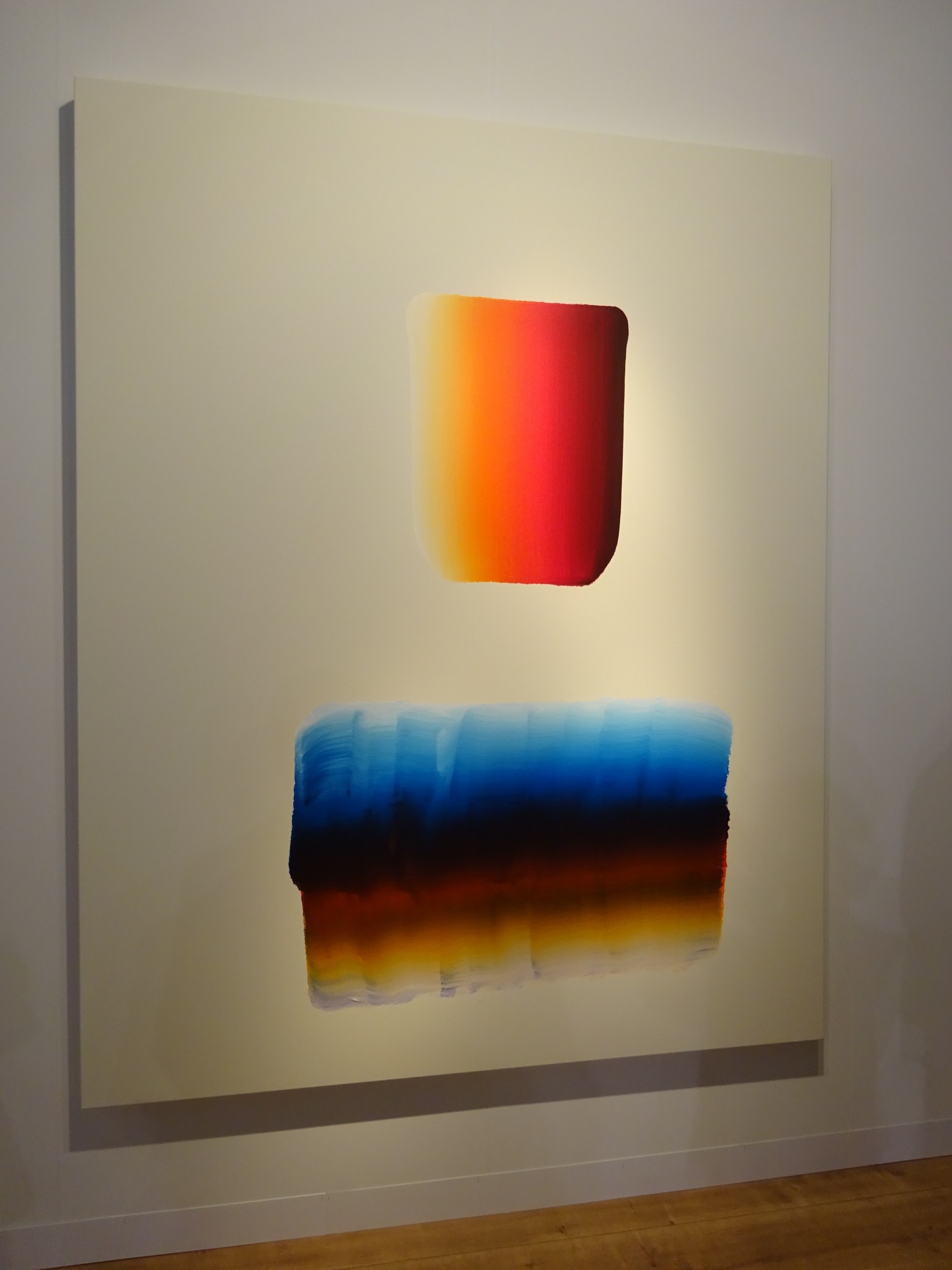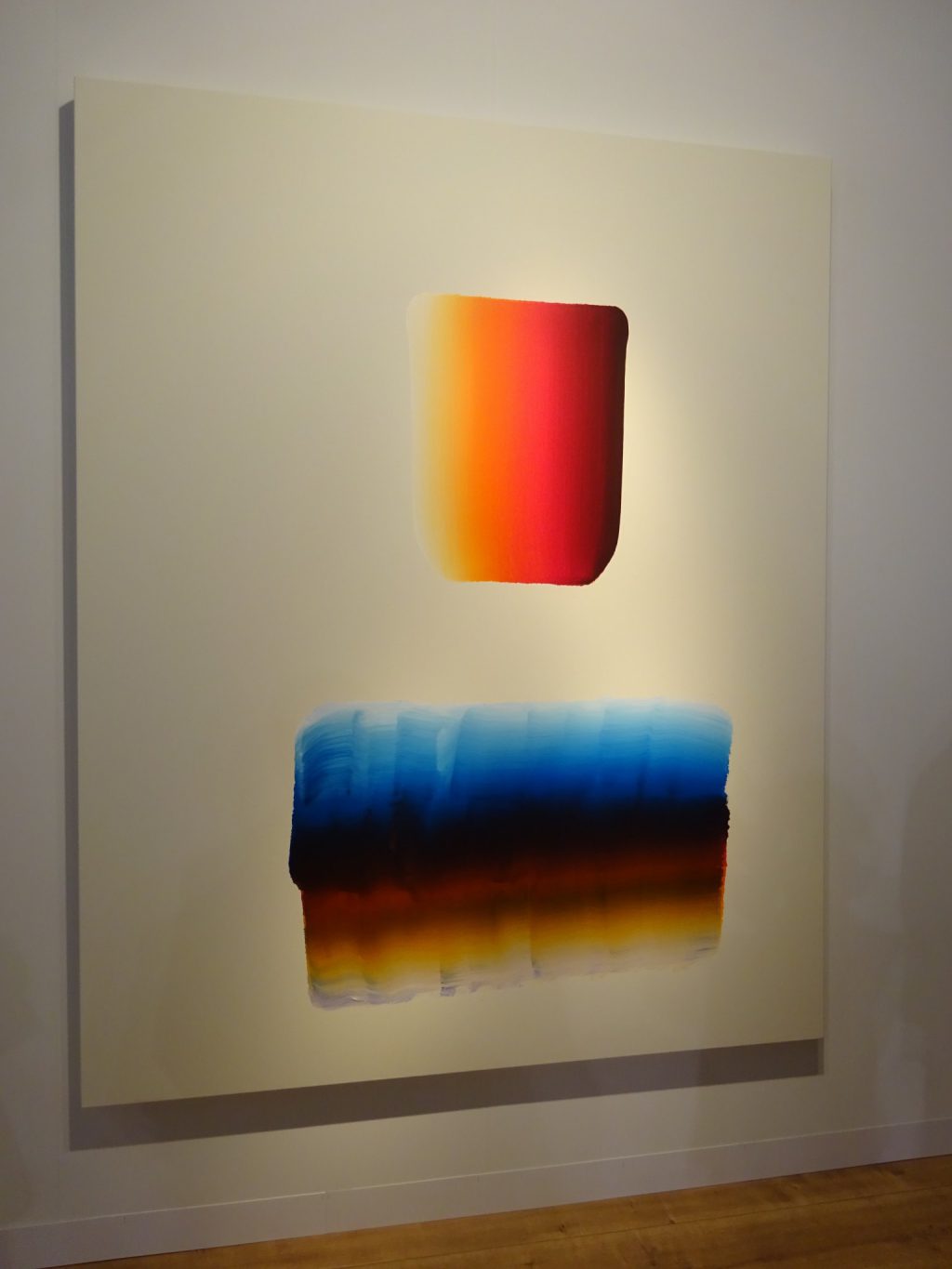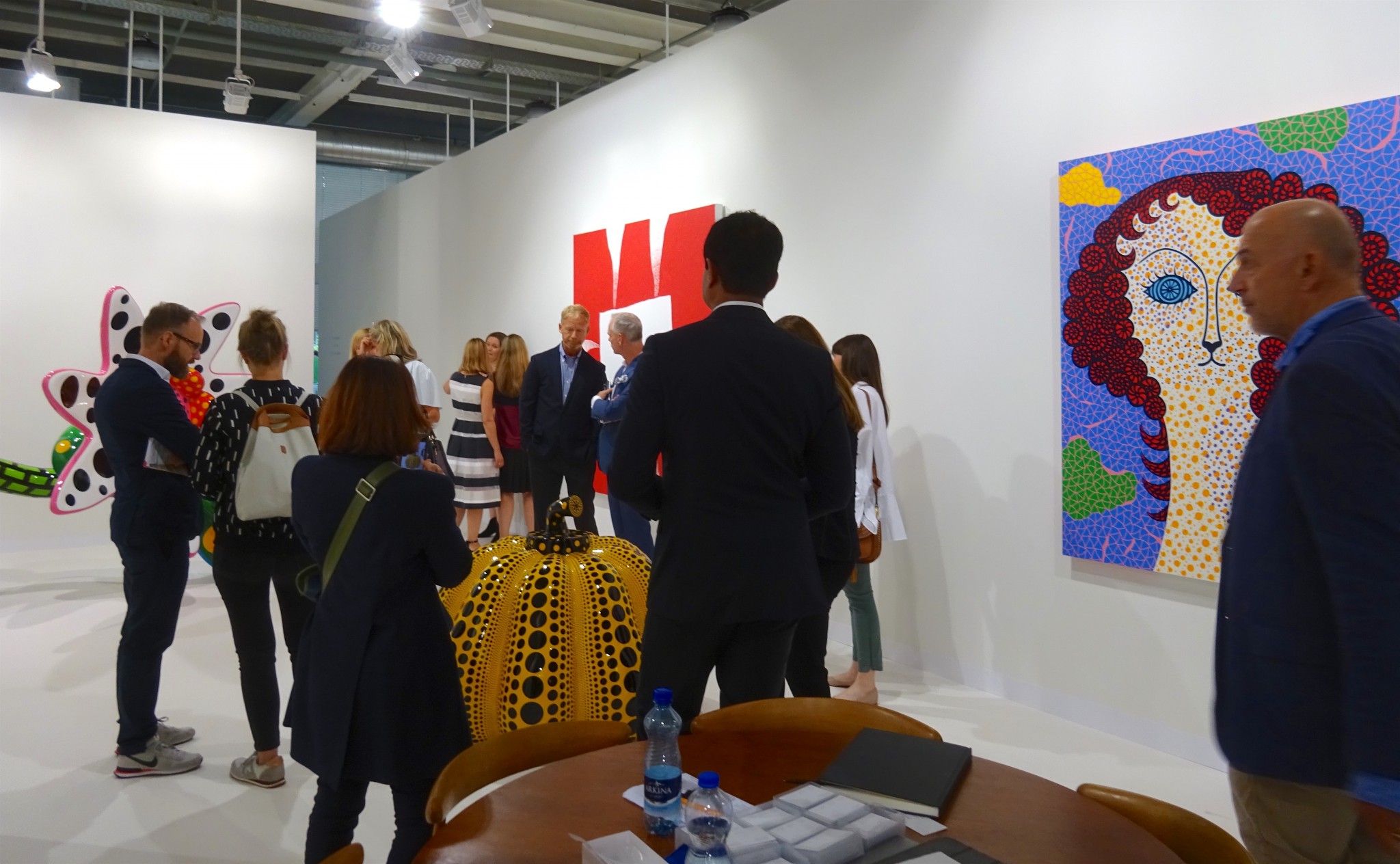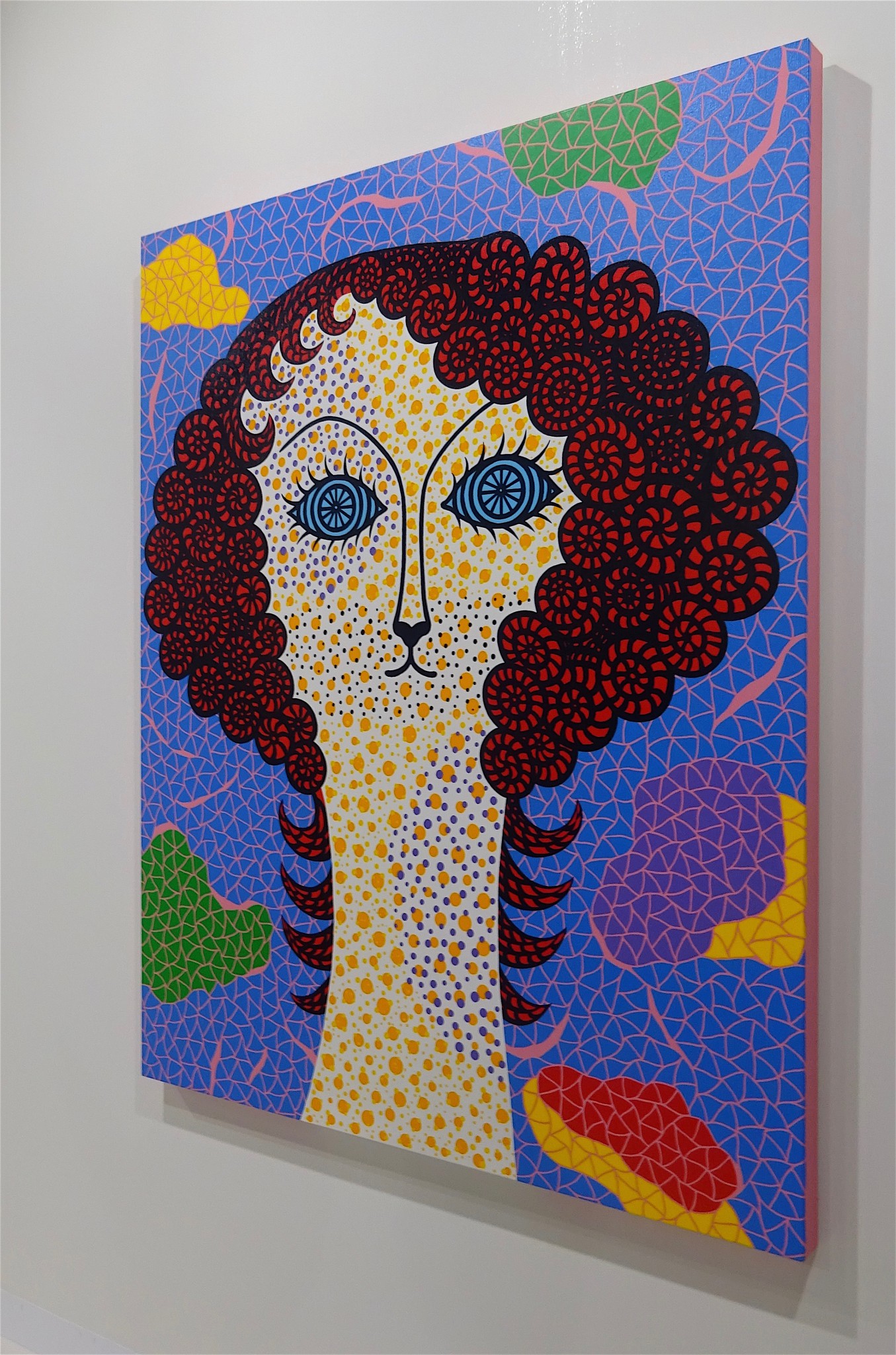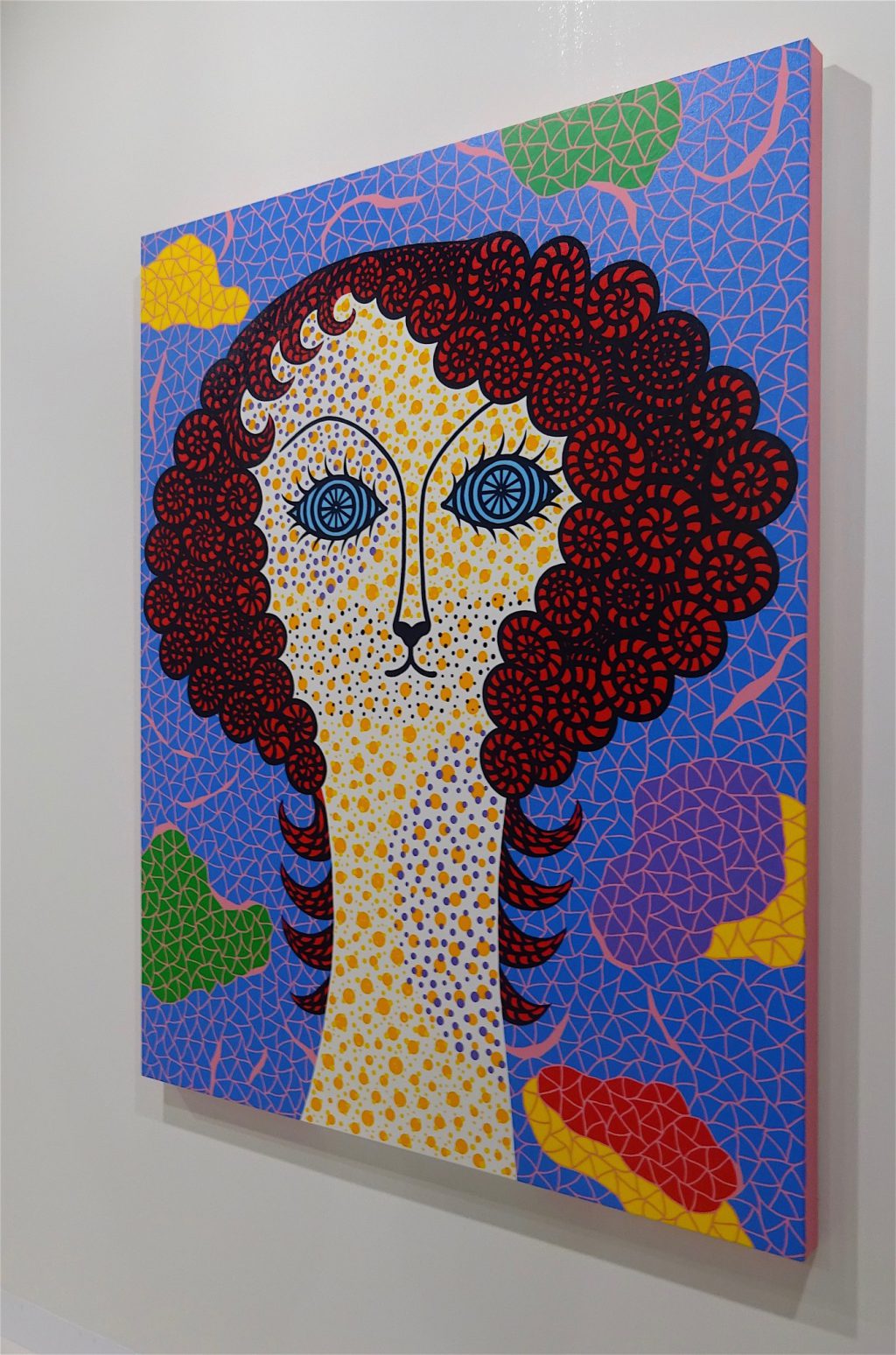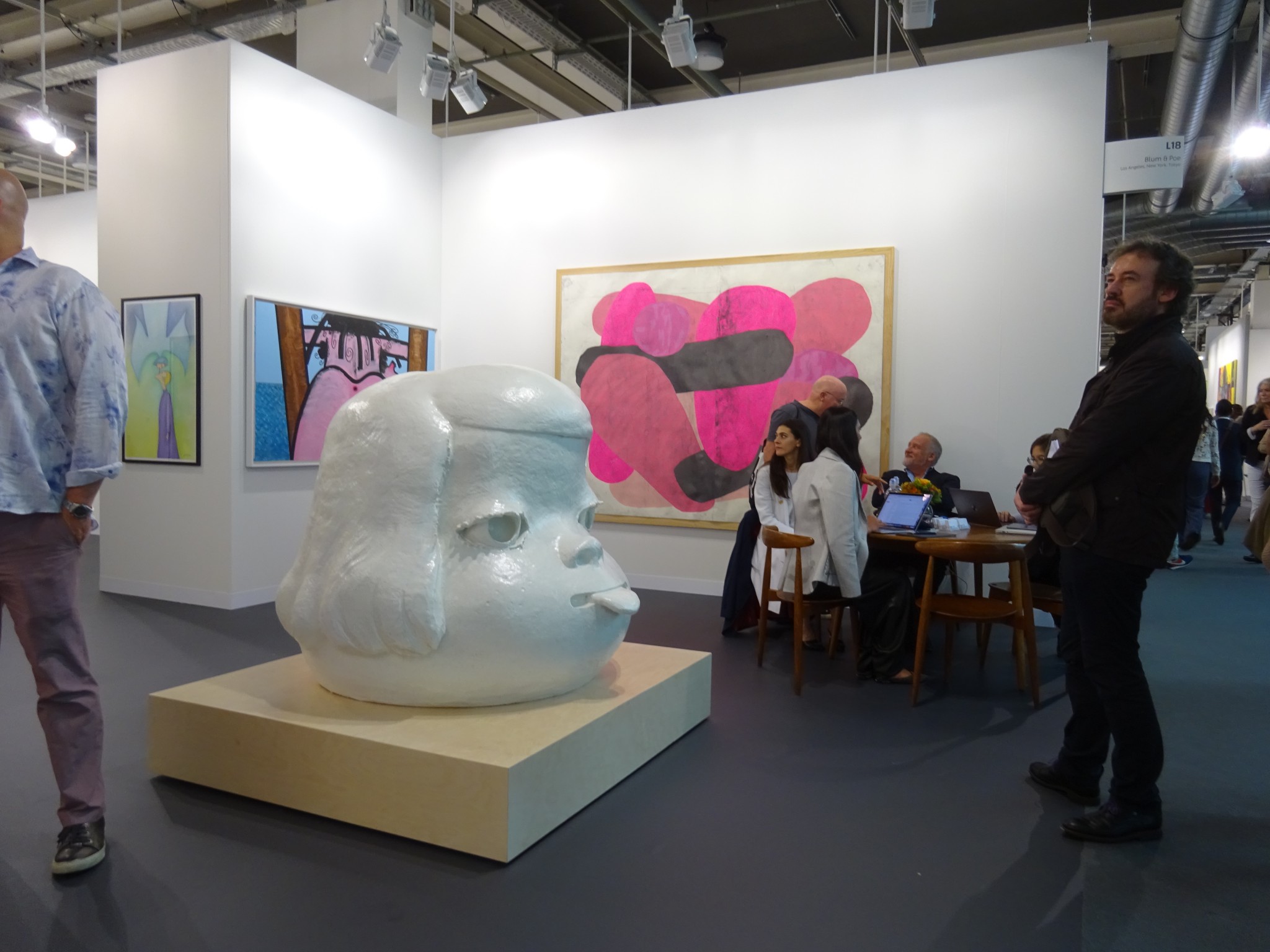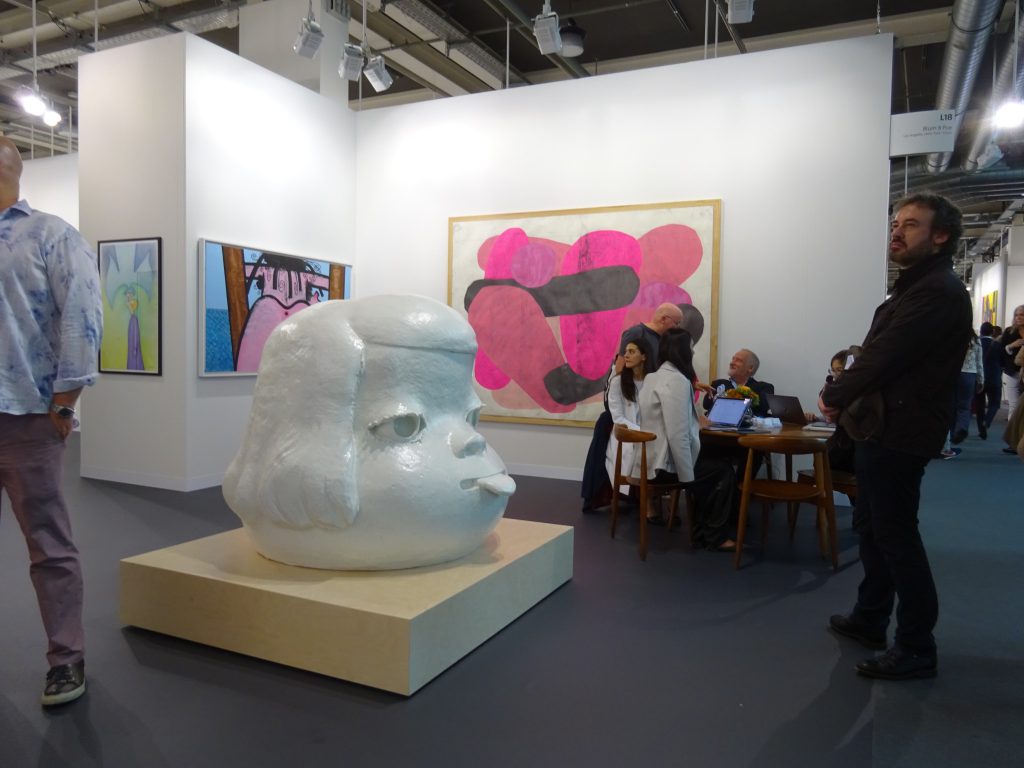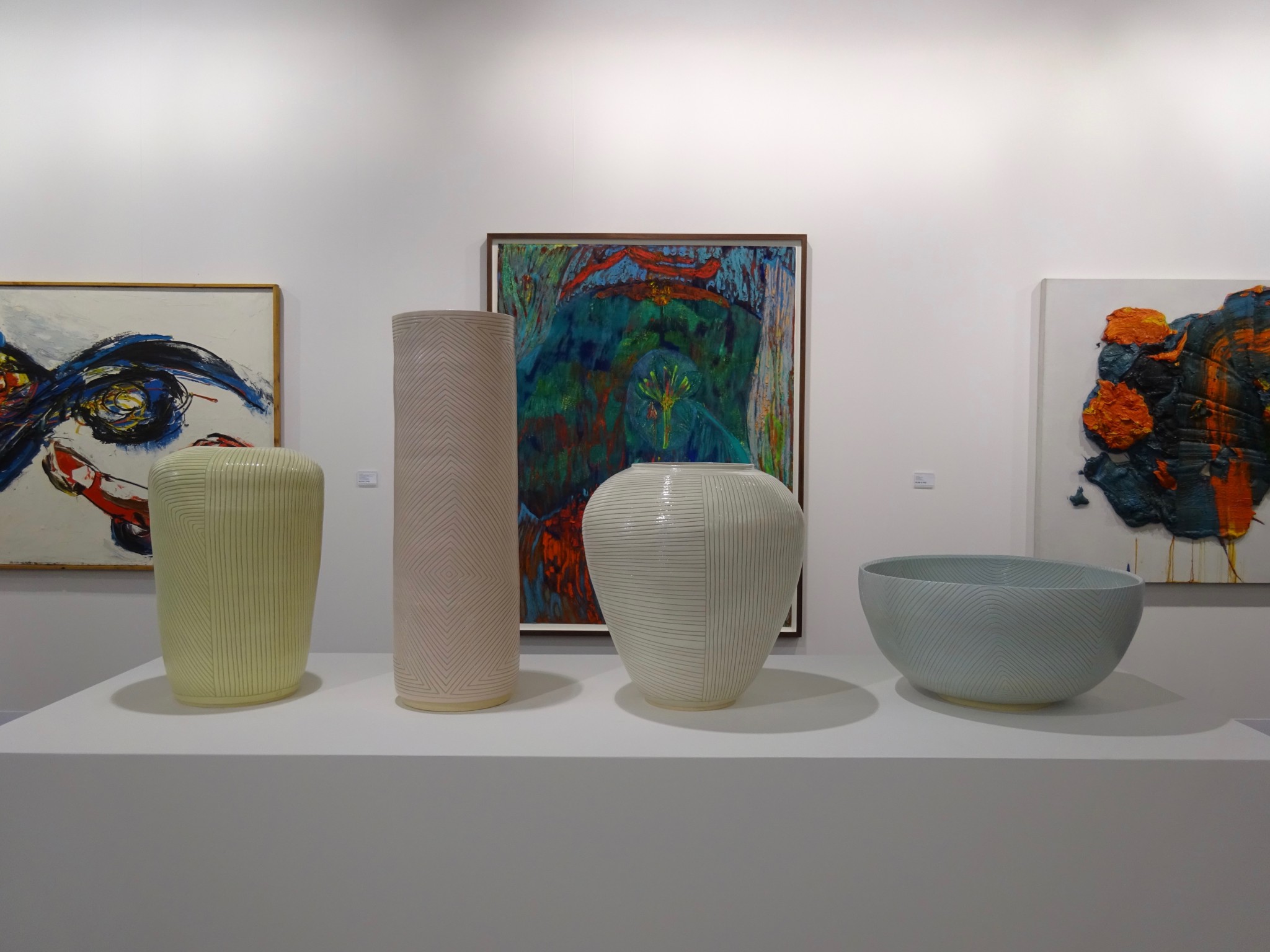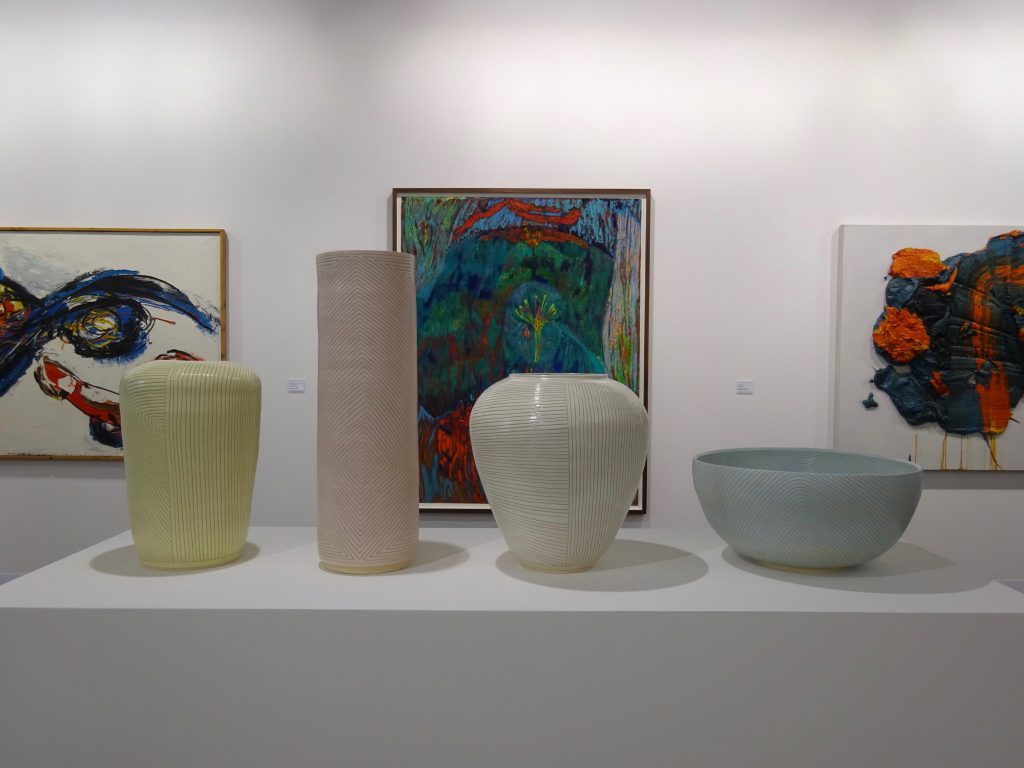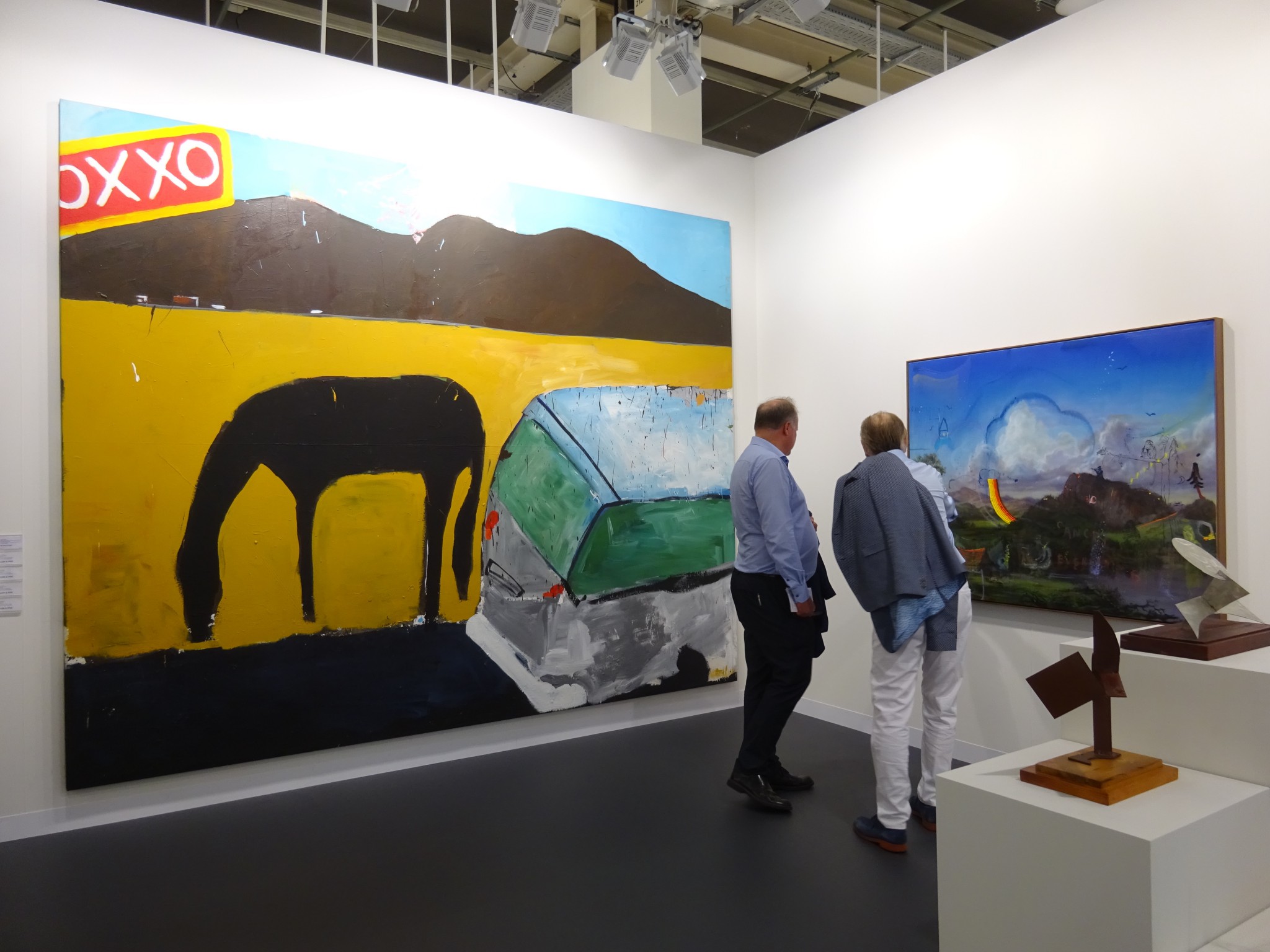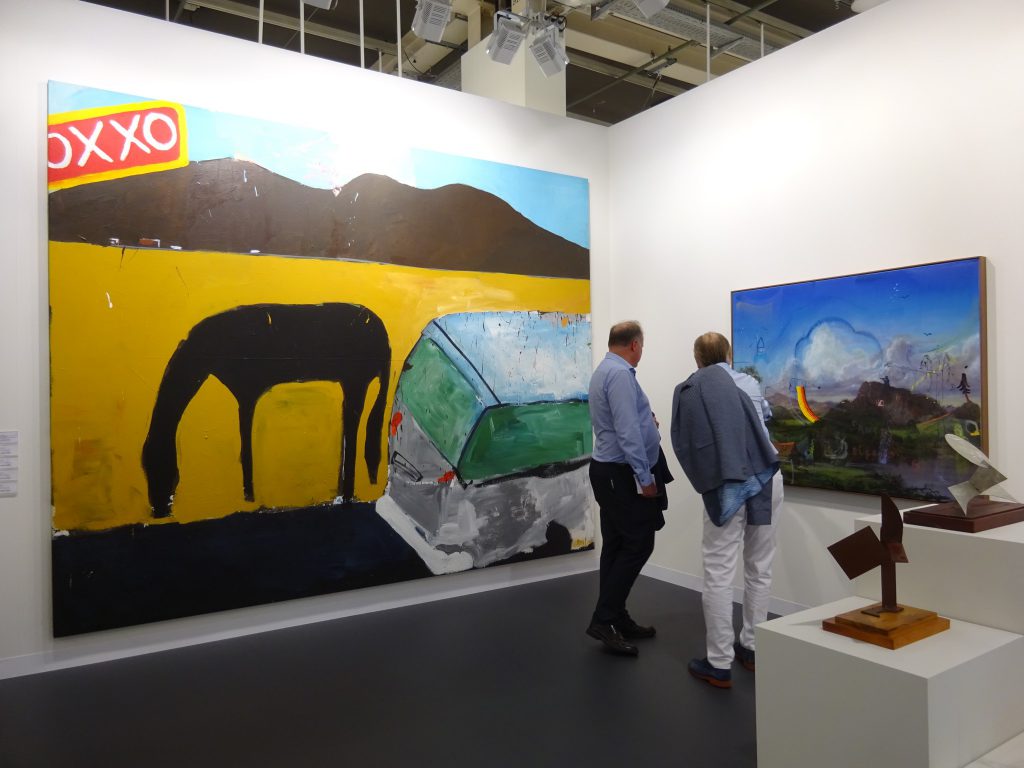 (Compare with:)
"Black Artist" vs. "Yellow Artist" in the context of "Henry Taylor @ Blum & Poe Tokyo"
https://art-culture.world/articles/black-artist-vs-yellow-artist-in-the-context-of-henry-taylor-blum-poe-tokyo/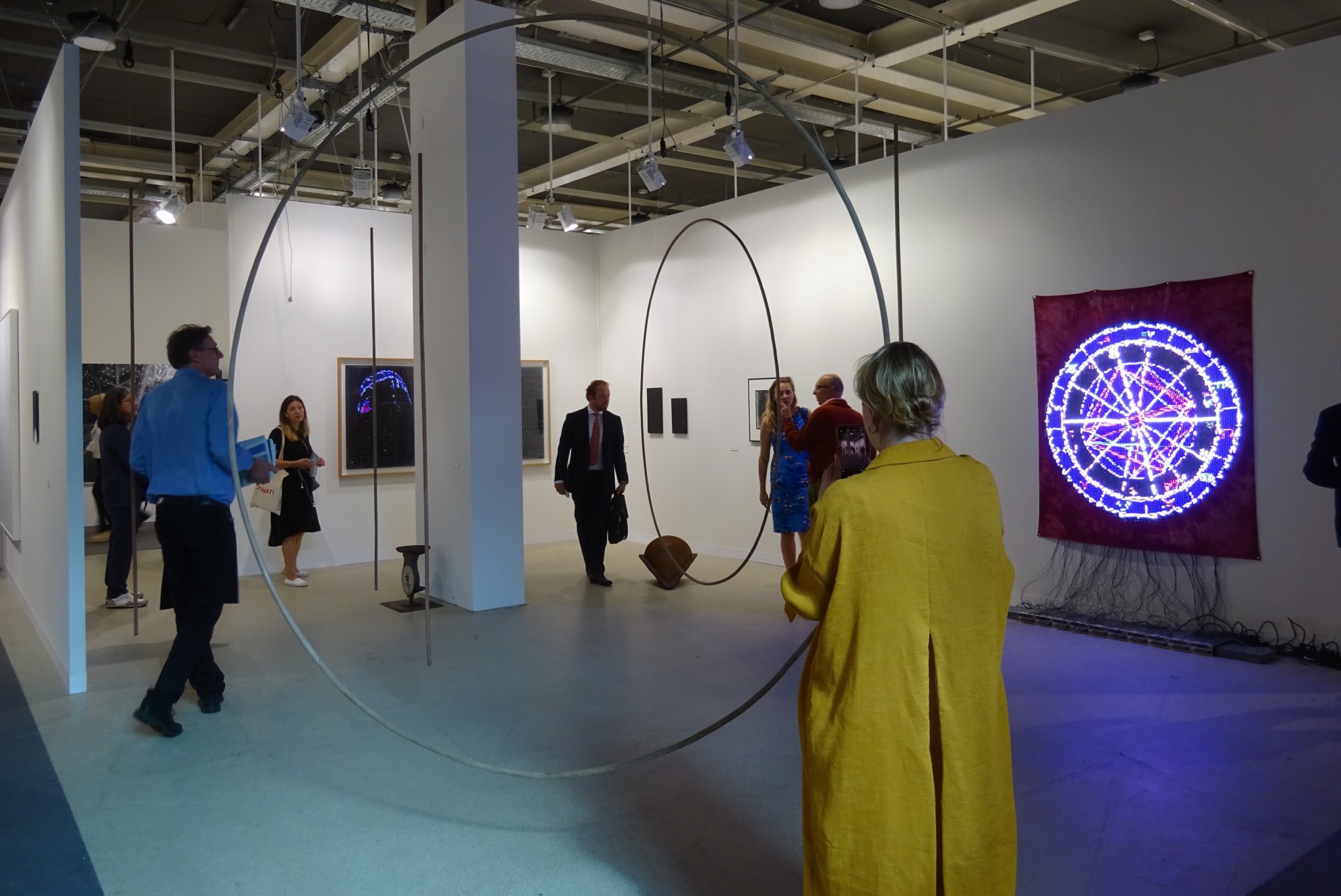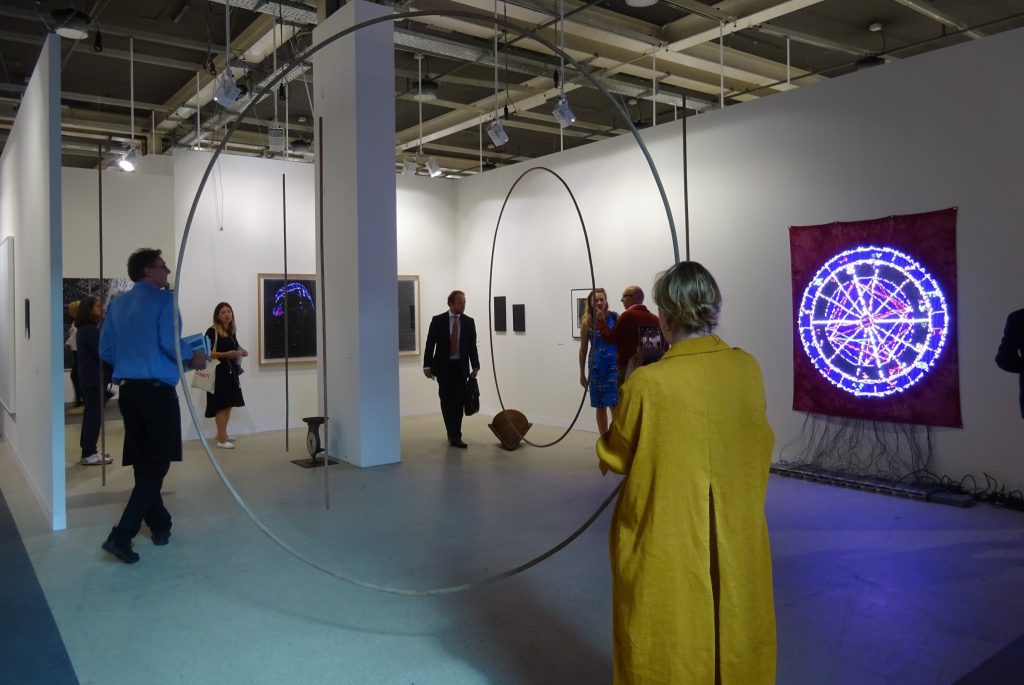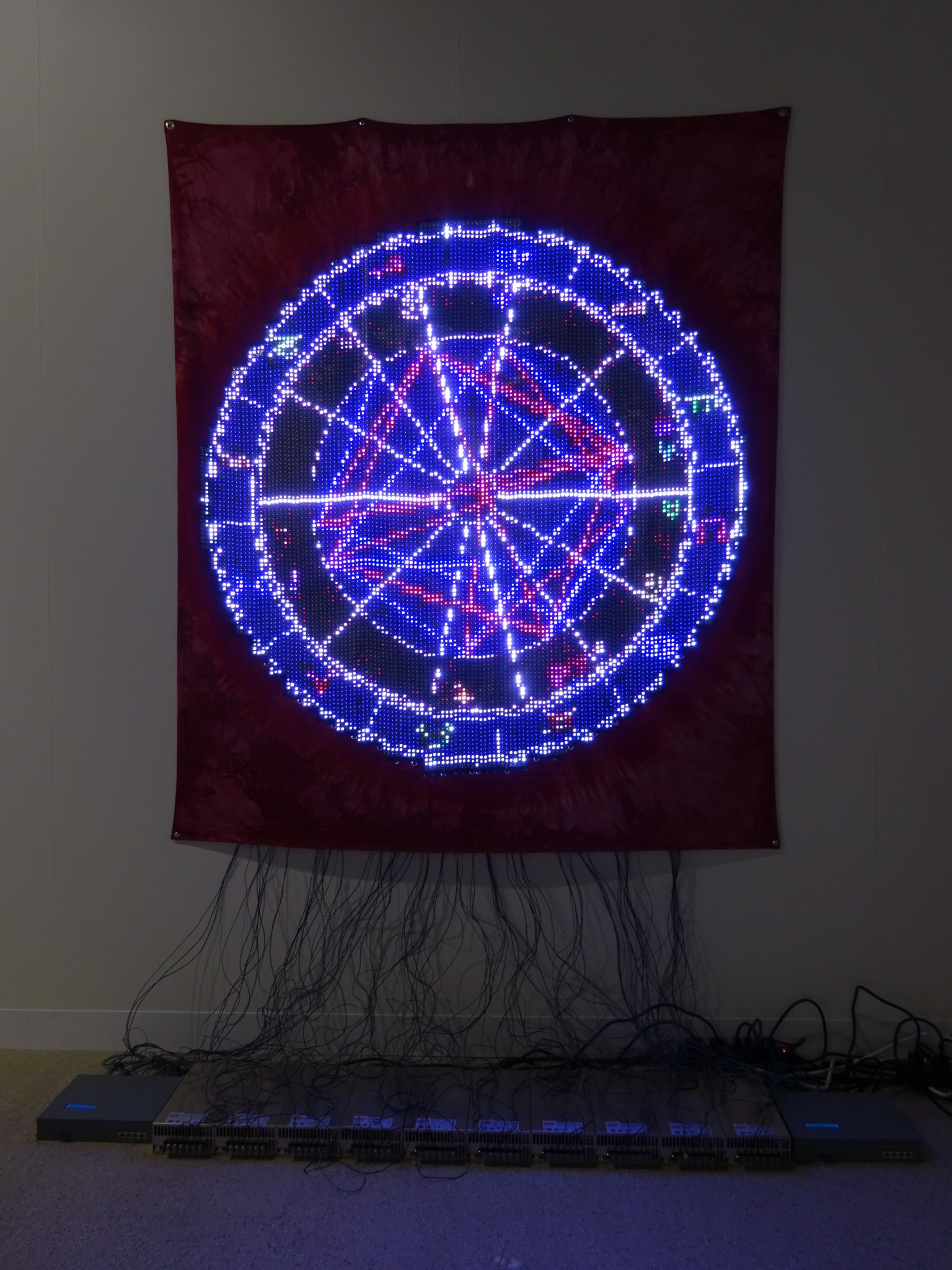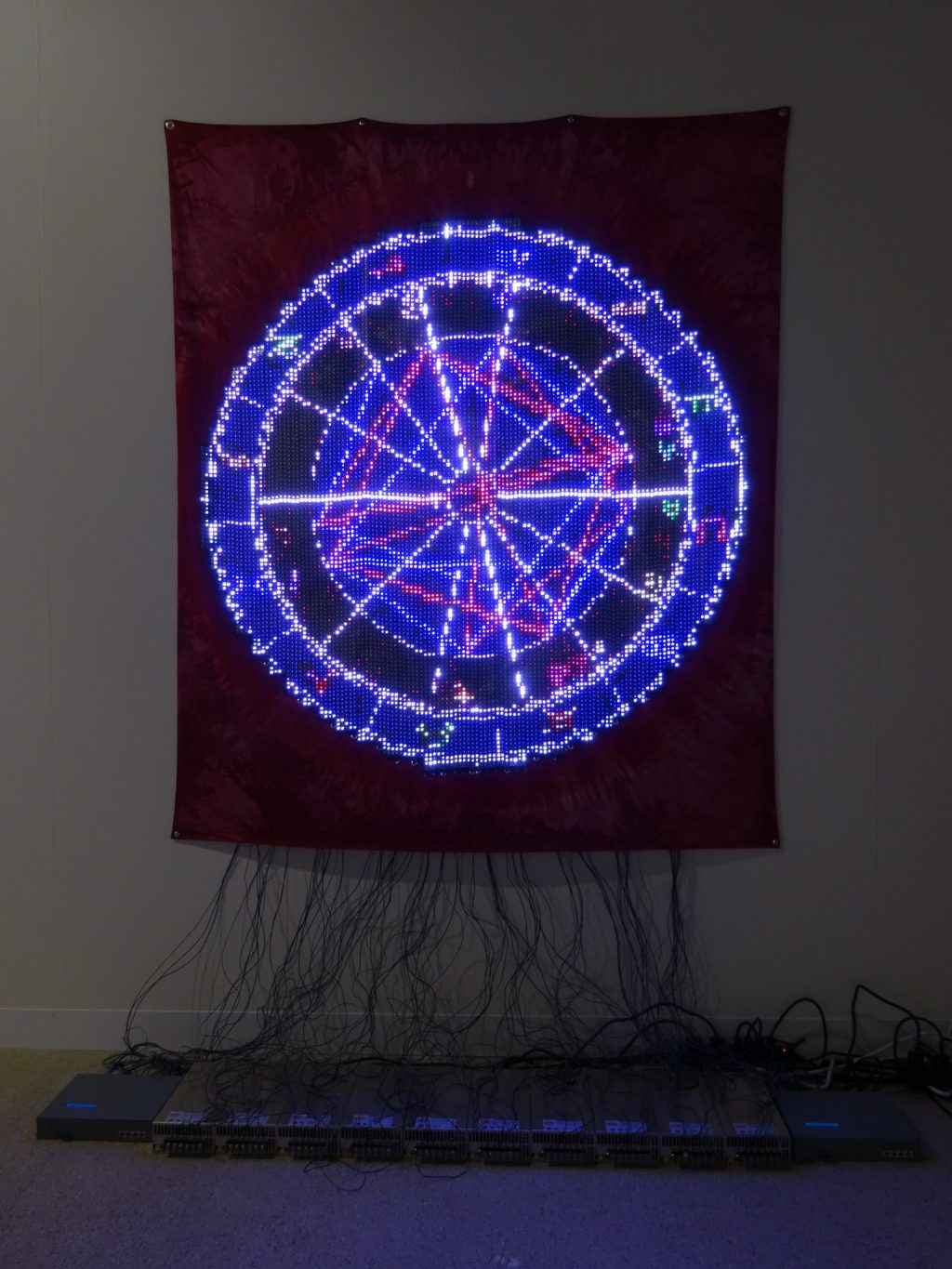 for the record: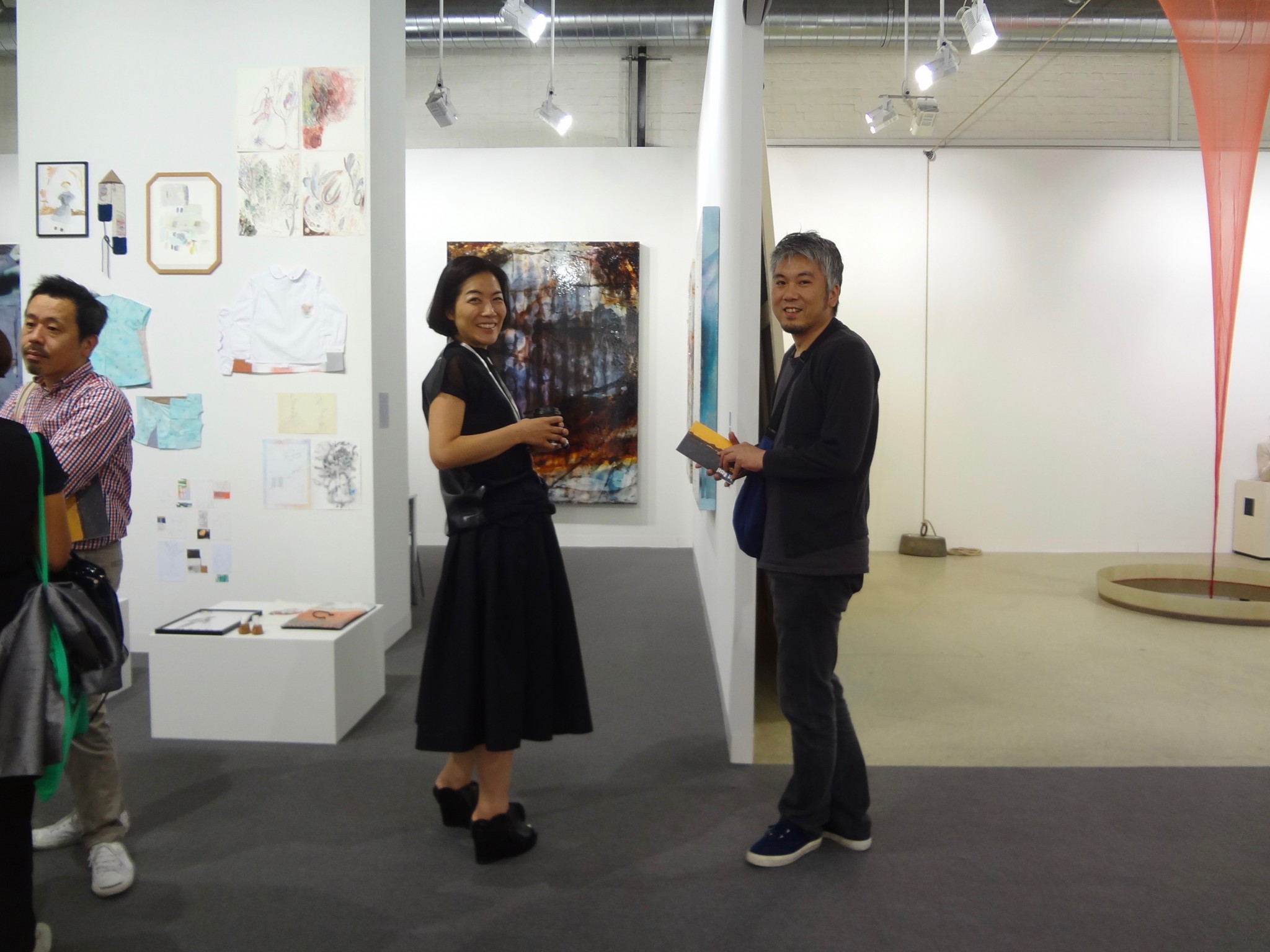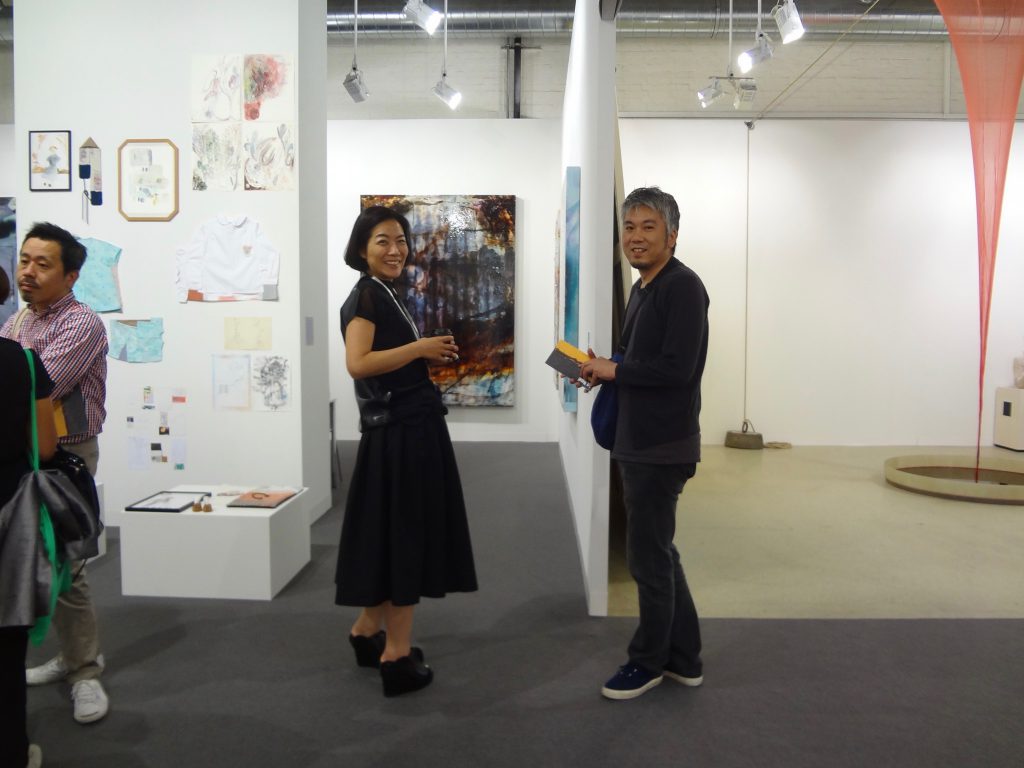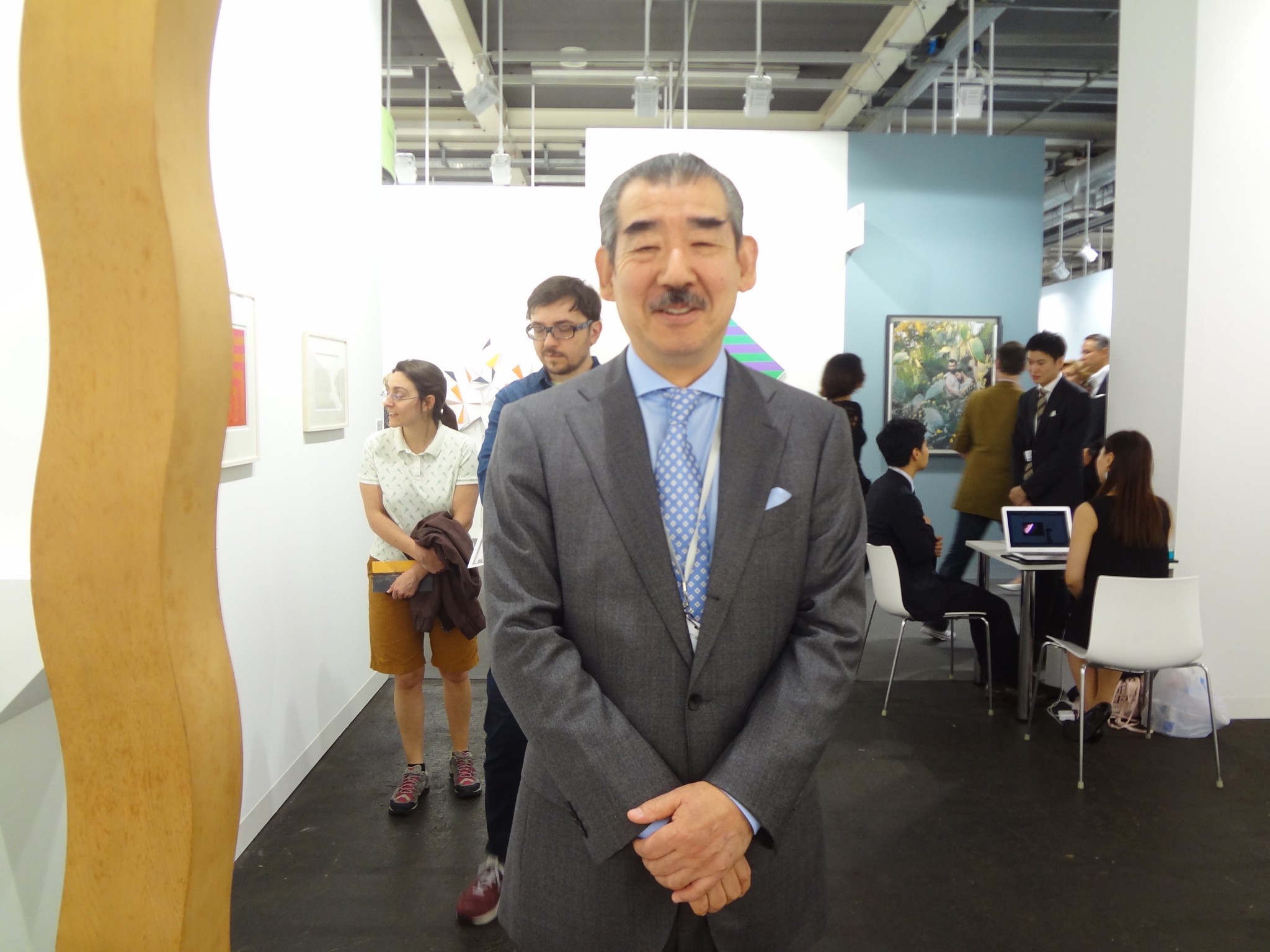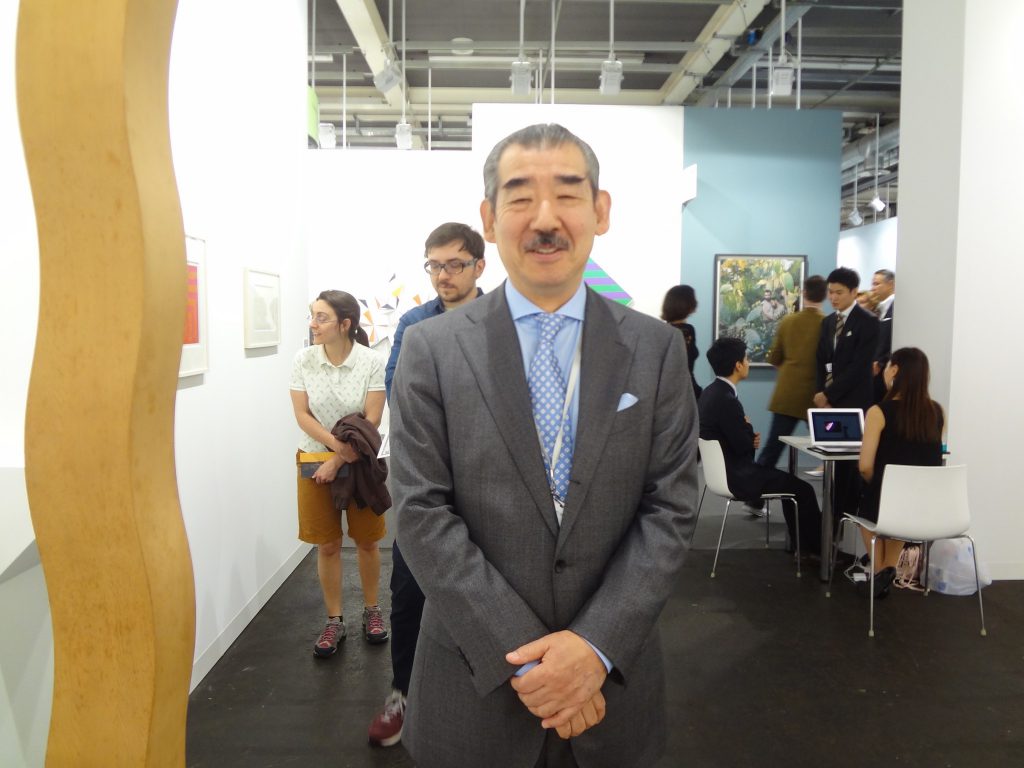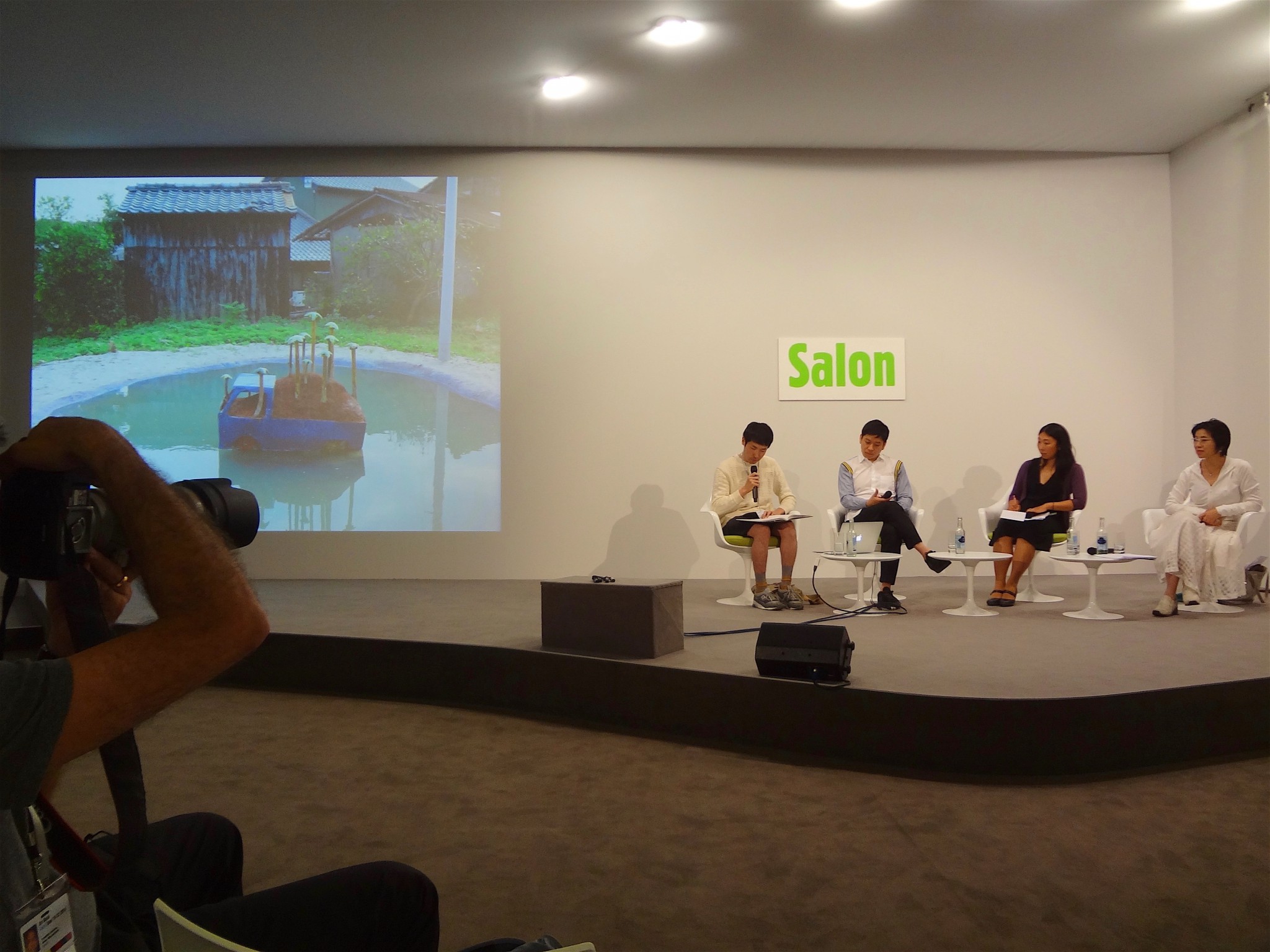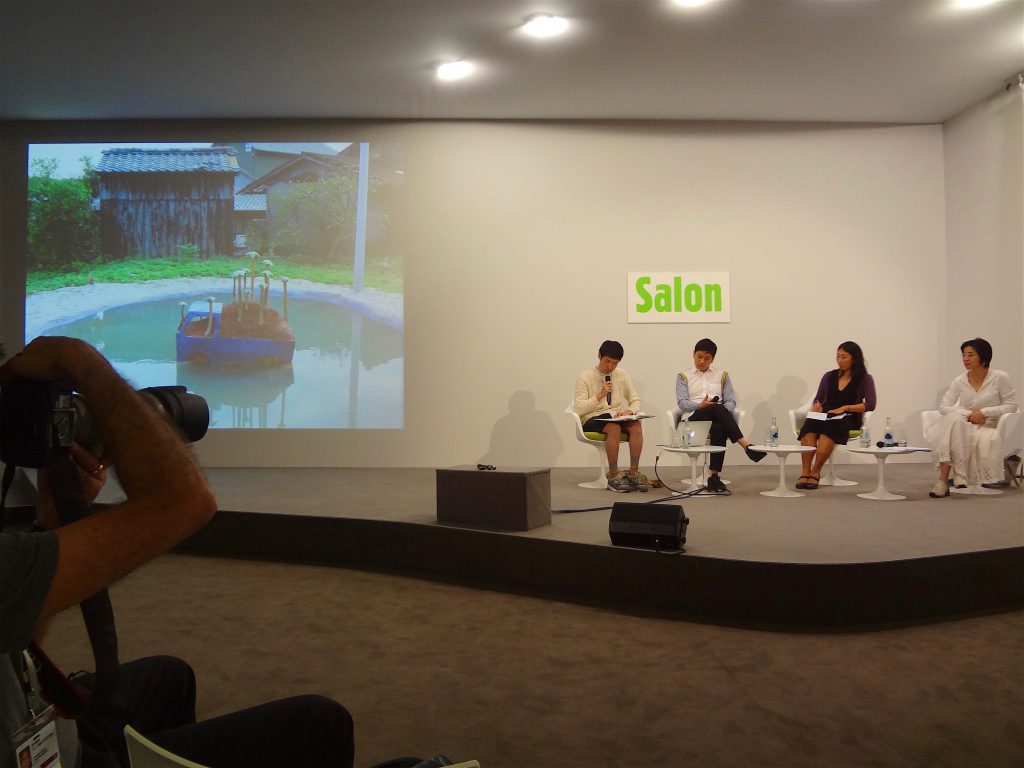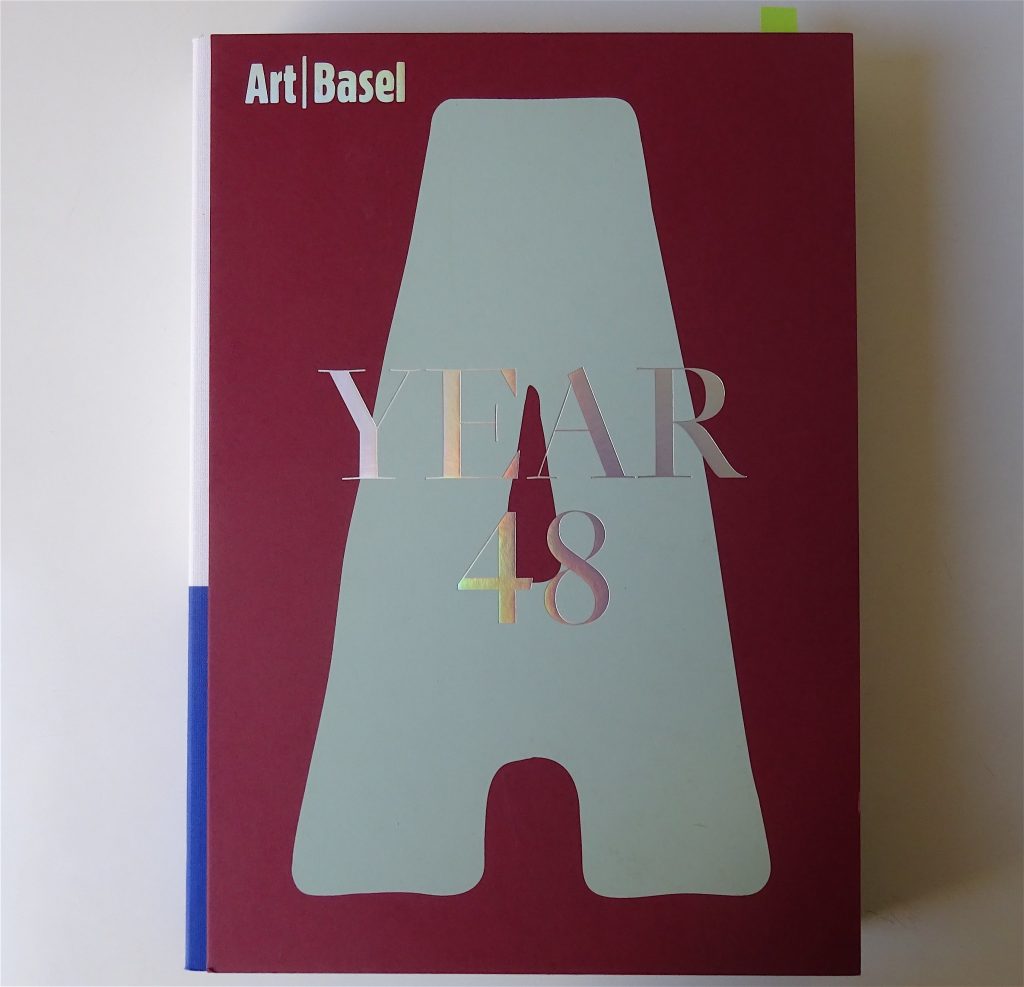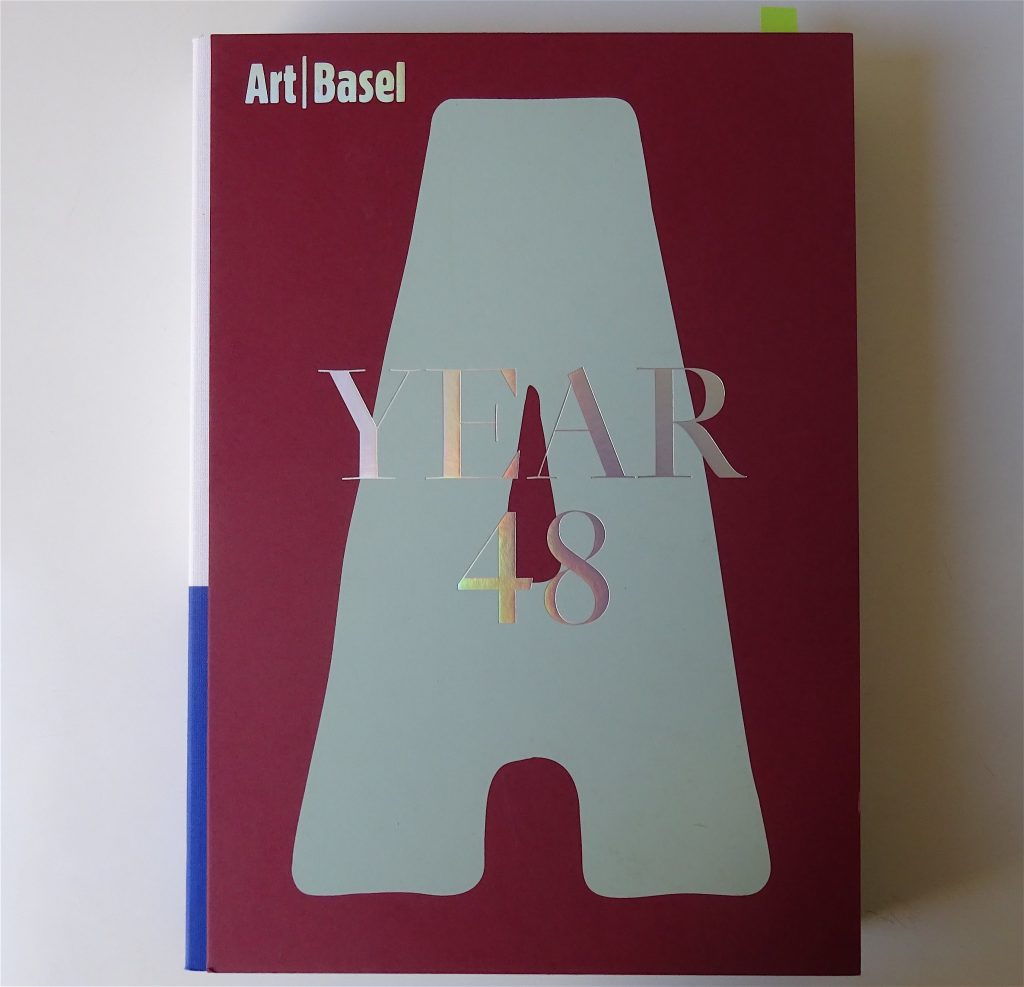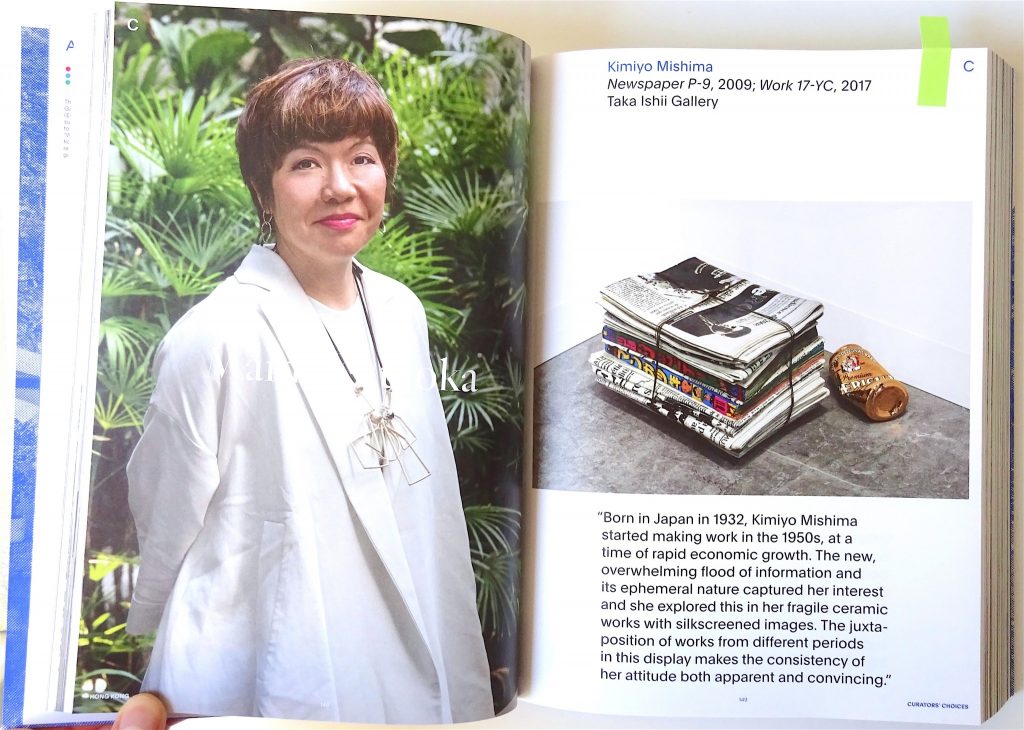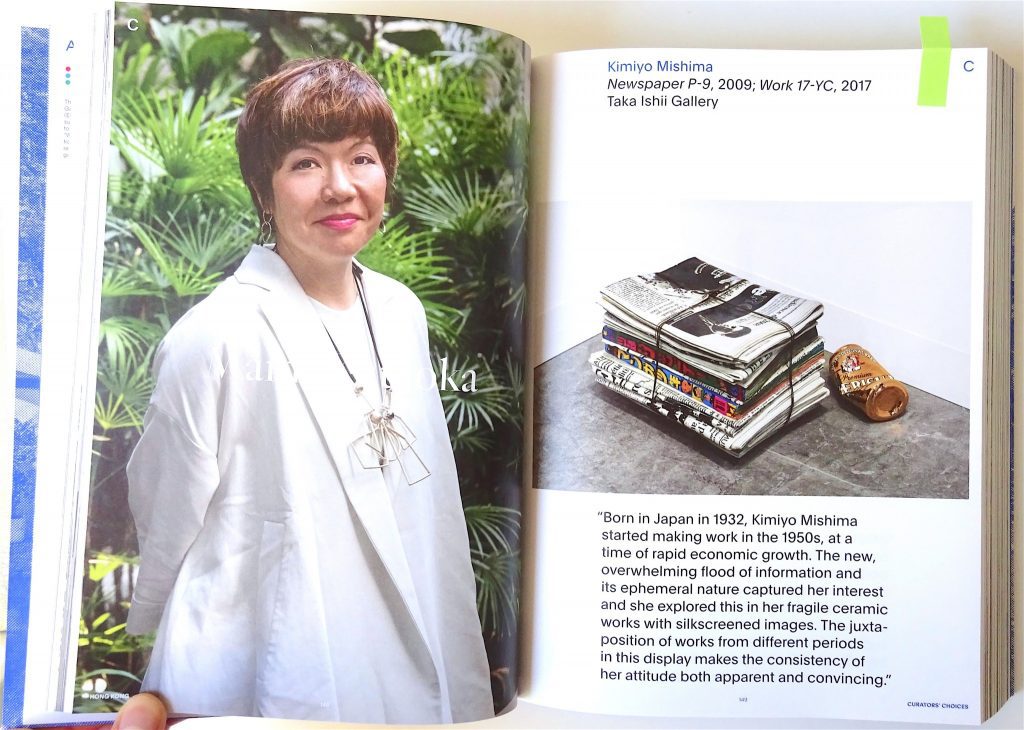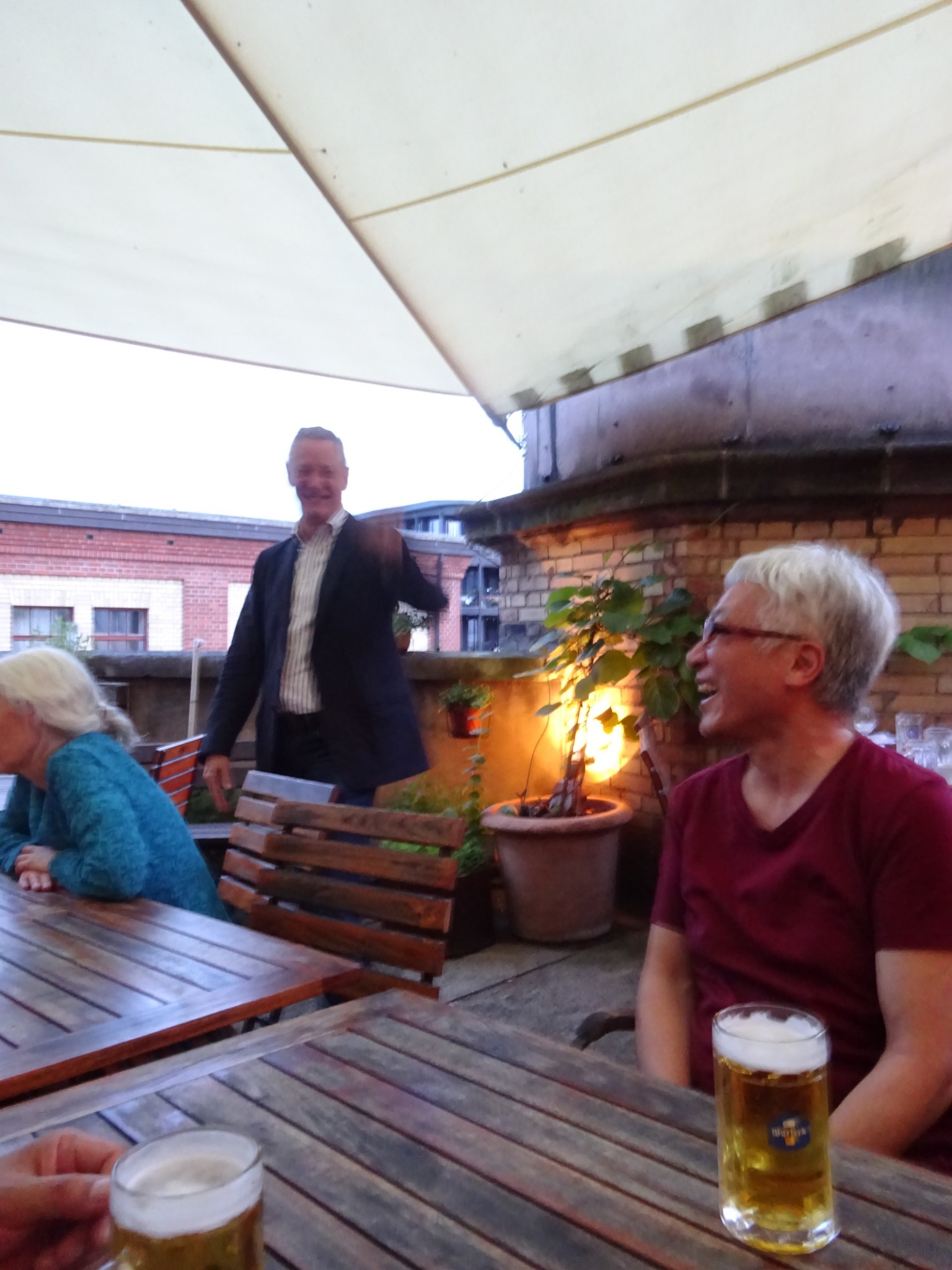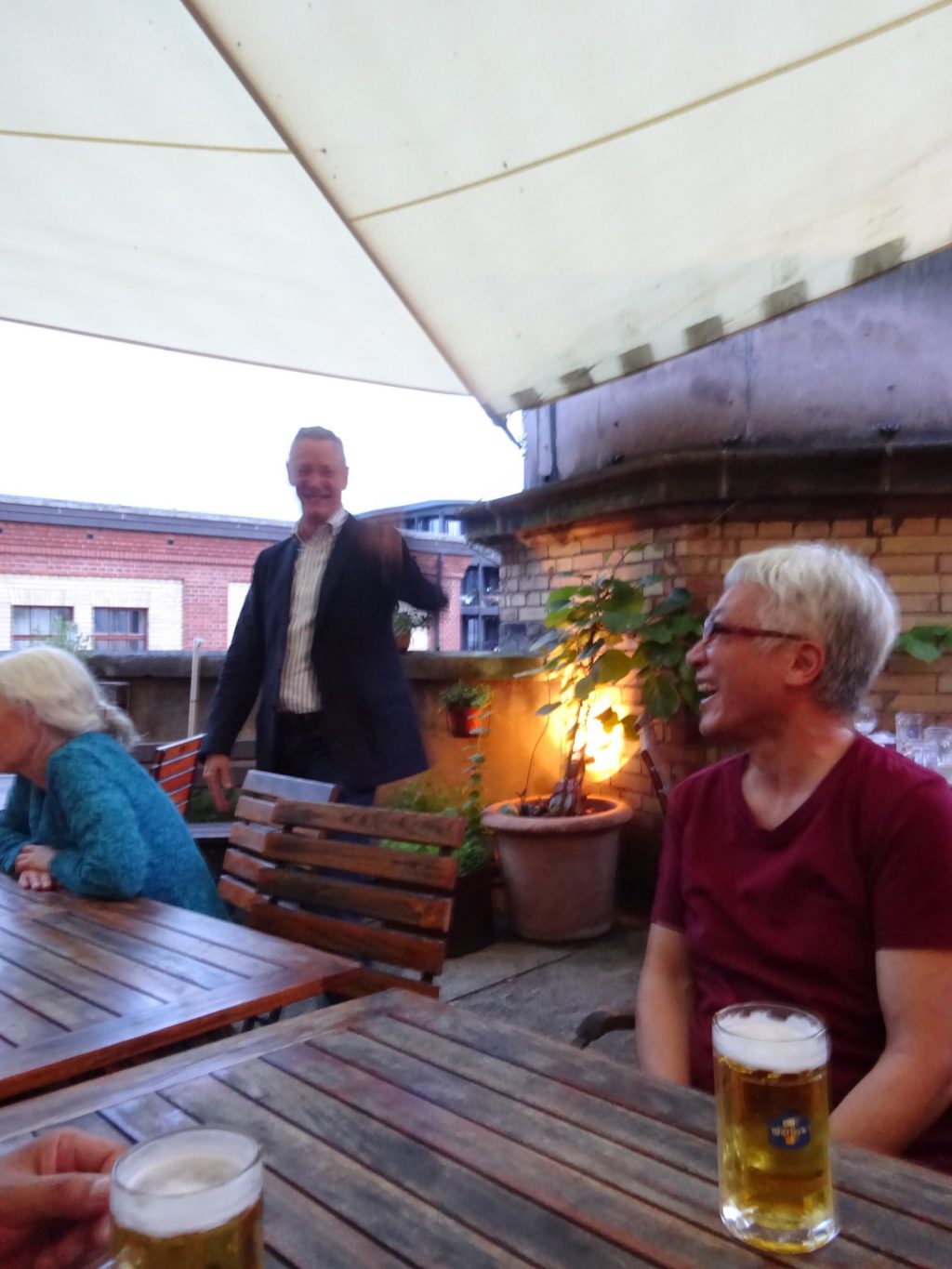 ---
今日のおまけ, today's bonus.
On the opening day of Art Basel I saw two times Steve Wynn with entourage, strolling around. The "elbow incident" with Picasso's "Le Rêve" is a famous, precarious story about art sale.
May I hereby attach the pics & articles.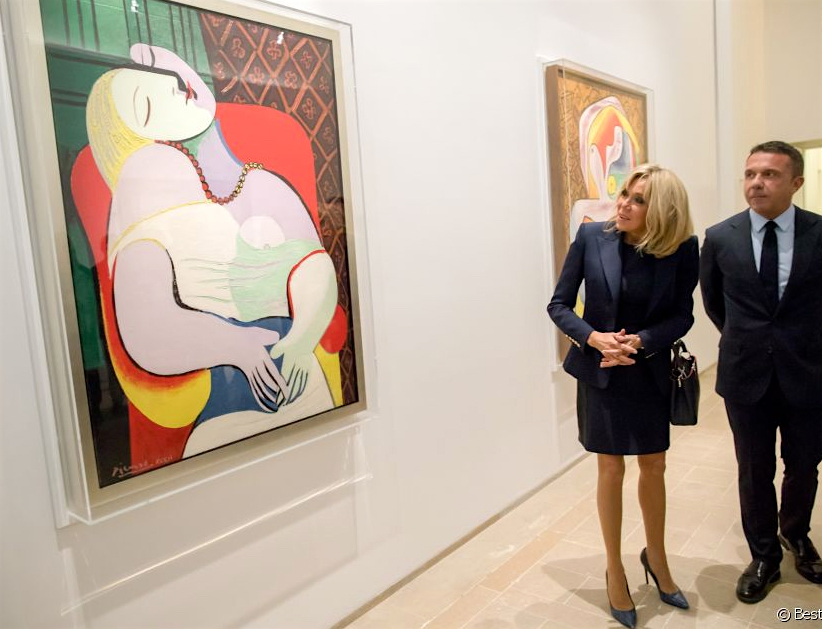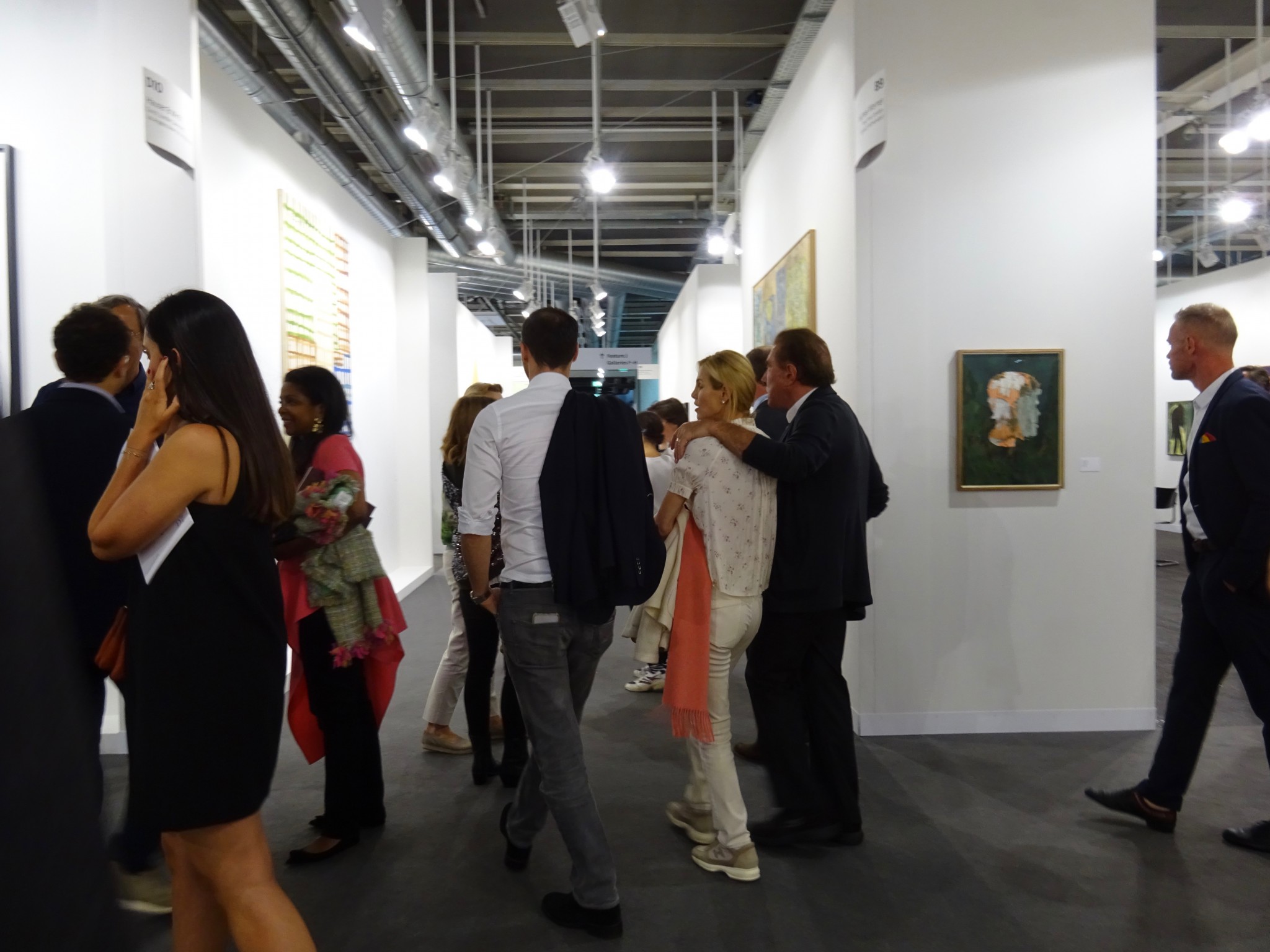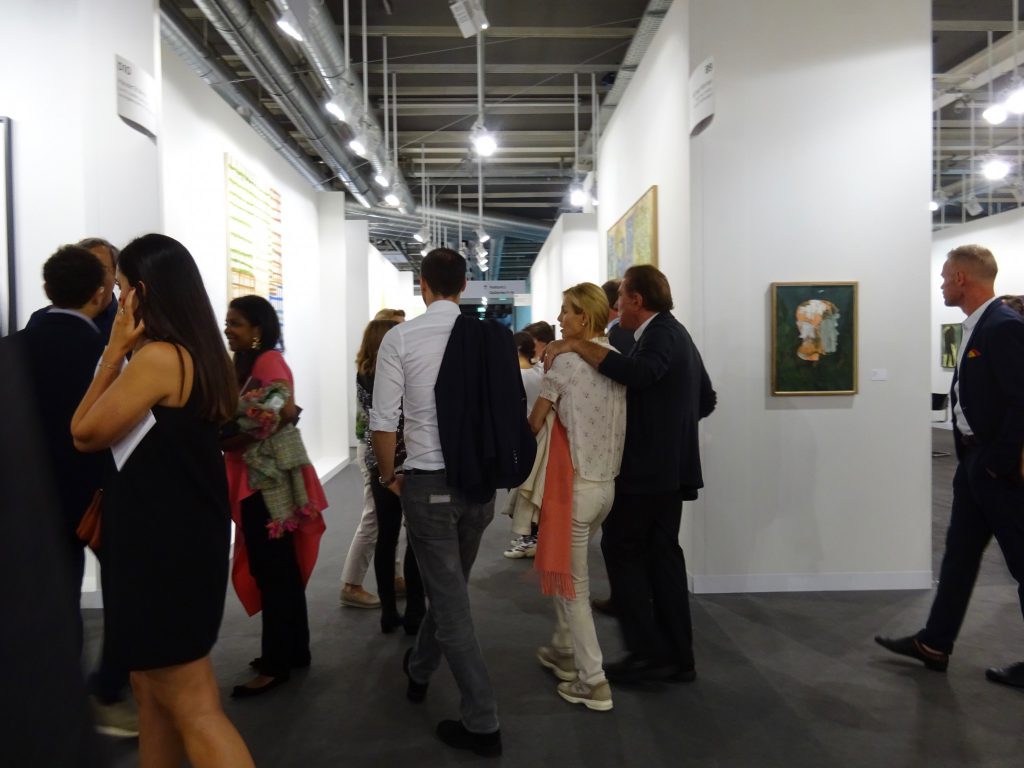 The $40-Million Elbow
By Nick Paumgarten, 2006/10/23 New Yorker
You might have seen "Le Rêve," Picasso's 1932 portrait of his mistress, Marie-Thérèse Walter, in your college art-history textbook. The painting is owned by Steve Wynn, the casino magnate and collector of masterpieces. He acquired it in a private sale in 2001 from an anonymous collector, who had bought it at auction in 1997 for $48.4 million. Recently, Wynn decided that he'd like to sell it, along with several other museum-quality paintings that he owns. A friend of his, the hedge-fund mogul and avid collector Steven Cohen, had coveted "Le Rêve" for years, so he and Wynn and their intermediaries worked out a deal. Cohen agreed to pay a hundred and thirty-nine million dollars for it, the highest known price ever paid for a work of art.
A few weeks ago, on a Thursday, a representative of Cohen's came from California to inspect the painting. She removed it from the wall, took it out of its frame, and confirmed that it was in excellent shape. On Friday, she wrote her condition report, and so, according to their contract, the deal was done. All that was left was the actual exchange of money and art.
That weekend, Wynn had some friends visiting from New York—David and Mary Boies, Nora Ephron and Nick Pileggi, Louise Grunwald, and Barbara Walters. They were staying, as they often do, at his hotel and casino, the Wynn Las Vegas. As they had dinner together on Friday night, Wynn told them about the sale. "The girls said, 'We've got to see it tomorrow,' " Wynn recalled last week. "So I said, 'I'll be working tomorrow. Just come on up to the office.' " (He had recently moved "Le Rêve" there from the hotel lobby.)
The guests came at five-thirty, and Wynn ushered them in. On the wall to his left and right were several paintings, including a Matisse, a Renoir, and "Le Rêve." The other three walls were glass, looking out onto an enclosed garden. He began to tell the story of the Picasso's provenance. As he talked, he had his back to the picture. He was wearing jeans and a golf shirt. Wynn suffers from an eye disease, retinitis pigmentosa, which affects his peripheral vision and therefore, occasionally, his interaction with proximate objects, and, without realizing it, he backed up a step or two as he talked. "So then I made a gesture with my right hand," Wynn said, "and my right elbow hit the picture. It punctured the picture." There was a distinct ripping sound. Wynn turned around and saw, on Marie-Thérèse Walter's left forearm, in the lower-right quadrant of the painting, "a slight puncture, a two-inch tear. We all just stopped. I said, 'I can't believe I just did that. Oh, shit. Oh, man.'"
Wynn turned around again. He put his pinkie in the hole and observed that a flap of canvas had been pushed back. He told his guests, "Well, I'm glad I did it and not you." He said that he'd have to call Cohen and William Acquavella, his dealer in New York, to tell them that the deal was off. Then he resumed talking about his paintings, almost, but not quite, as though he hadn't just delivered what one of the guests would later call, in an impromptu stab at actuarial math, a "forty-million-dollar elbow."
A few hours later, they all met for dinner, and Wynn was in a cheerful mood. "My feeling was, It's a picture, it's my picture, we'll fix it. Nobody got sick or died. It's a picture. It took Picasso five hours to paint it." Mary Boies ordered a six-litre bottle of Bordeaux, and when it was empty she had everyone sign the label, to commemorate the calamitous afternoon. Wynn signed it "Mary, it's all about scale—Steve." Everyone had agreed to take what one participant called a "vow of silence." (The vow lasted a week, until someone leaked the rudiments of the story to the Post.)
The next day, Wynn finally reached his dealer, and told him, "Bill, I think I'm going to ruin your day." The first word out of Acquavella's mouth was "Nooo!" Later that week, Wynn's wife, Elaine, took the painting to New York in Wynn's jet, where she and "Le Rêve" were met by an armored truck. Cohen met them at Acquavella's gallery, on East Seventy-ninth Street, and he agreed that the deal was off until the full extent of the damage could be ascertained. The contract, at any rate, was void.
The painting wound up in the hands of an art restorer, who has told Wynn that when he's done with it, in six or eight weeks, you won't be able to tell that Wynn's elbow passed through Marie-Thérèse Walter's left forearm.
Last Friday, when Wynn's alarm went off, at 7 a.m., his wife turned to him in bed and said, "I consider this whole thing to be a sign of fate. Please don't sell the picture." Later that morning, Wynn called Cohen and told him that he wanted to keep the painting, after all.
https://www.newyorker.com/magazine/2006/10/23/the-40-million-elbow
——
Years After The Elbow Incident, Steve Wynn Sells Picasso's 'Le Rêve' For $155 Million
NPR, March 26, 2013
Steve Wynn has finally parted with "Le Rêve," a painting of Pablo Picasso's mistress Marie-Thérèse Walter.
Wynn sold "The Dream" to Steven Cohen, who owns the hedge fund SAC Capital, for a cool $155 million.
The Financial Times reports that SAC Capital just paid $614 million to settle accusations of insider trading. The paper adds that this private art sale could be a record.
"Christies said the highest price for a Picasso sold at auction was $106.5m, set in May 2010 when the auction house sold Picasso's 'Nude, Green Leaves and Bust,' painted in 1932, the same year as 'Le Rêve' and also depicting Picasso's muse Marie-Thérèse Walter," the Times reports.
If you remember, Cohen had agreed to buy the painting for $139 million back in 2006. But as NPR explained, when the Las Vegas casino magnate and art collector was saying goodbye, "he accidentally whacked the masterpiece with his elbow, leaving a silver dollar-sized hole and scuttling the deal."
Bloomberg reports that the restoration may well have been part of the deal.
"The restoration seems to be factored into the price," Beverly Schreiber Jacoby, valuation specialist and president of New York-based BSJ Fine Art, told Bloomberg. "If you didn't know that it has been damaged, you would not see it. It's superbly restored."
https://www.npr.org/sections/thetwo-way/2013/03/26/175412881/years-after-the-elbow-incident-steve-wynn-sells-picassos-le-r-ve-for-155-million
up-date:
up-date 2020/7/23
50 Years of Art Basel – the 1970s
Half a century ago, Trudl Bruckner convinced fellow Basel gallerists, Ernst Beyeler and Balz Hilt, to found the fair then known simply as 'Art'. Marking its 50th anniversary at a moment when nothing is as it has been, a series of five talks will follow Art Basel's journey across the decades, from its roots in the Swiss town to its presence on three continents. These talks will not only tell the story of Art Basel, but also the evolution of the artworld over the last five decades.
The first talk in this mini-series brings together participants from Art Basel's earliest editions. What were art fairs like in the 1970s? What were the dynamics between collectors, gallerists, and artists in the 1970s? And what memories remain strongest five decades later?
Collector Ulla Dreyfus-Best (Basel), and gallerists David Juda (London), and Ursula Krinzinger (Vienna) were in conversation with Art Basel's Global Director Marc Spiegler on Thursday, July 16, 2020 at 10AM ET / 4PM CET / 10PM HKT.
https://www.artbasel.com/stories/conversations–art-basel-at-50-the-1970s