バンクシー「愛はごみ箱の中に」aka「少女と風船」
Banksy "Love Is in the Bin" - aka "Girl with Balloon"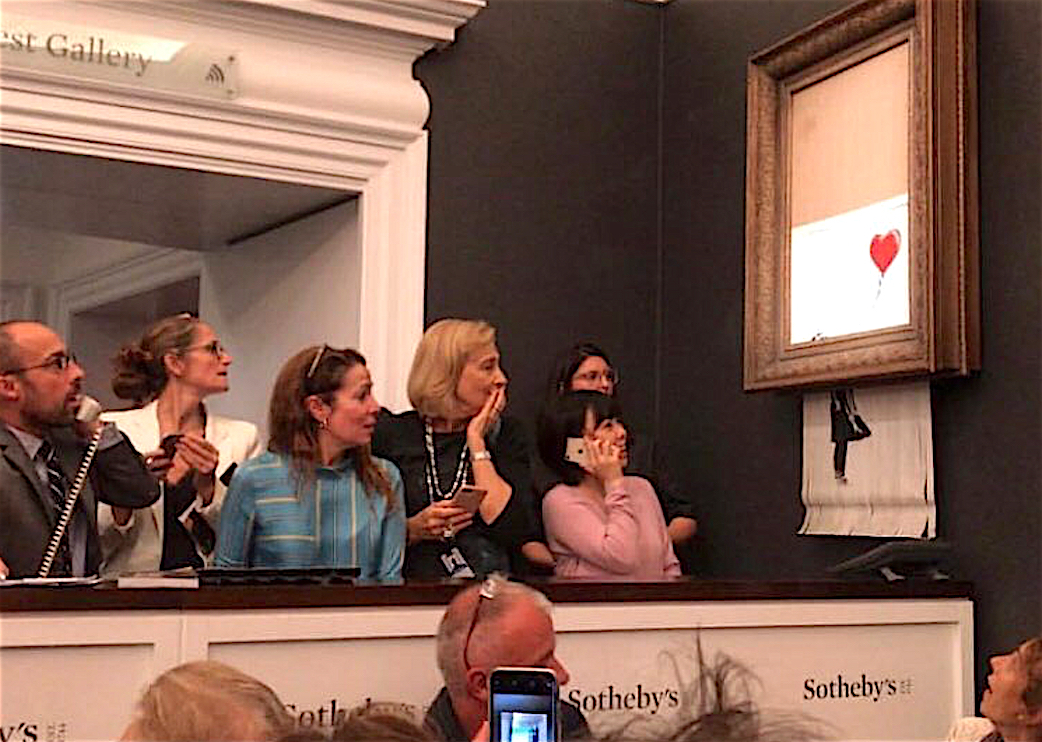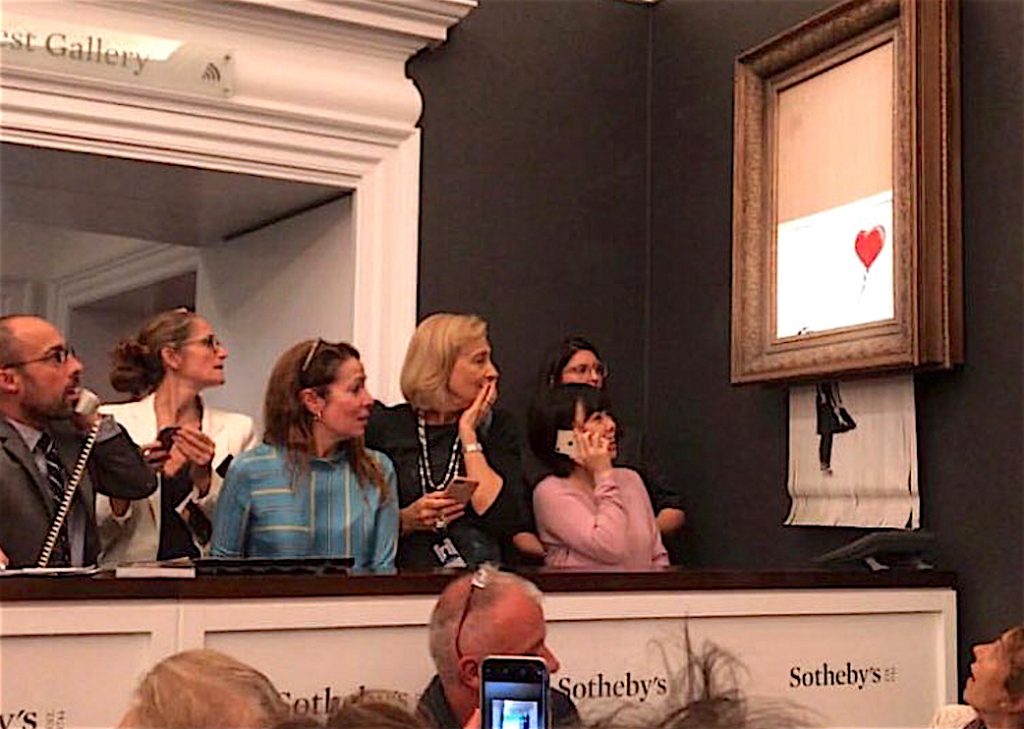 ダダイスム・リミックス:バンクシーのサザビーズ・オークション「自滅」作。12年前に制作した作品として、大した企画ですね。Dadaism remix: Banksy's best work until now.
(I changed the title, because the name of the artwork had been altered.)
---
For the cynics among us, the latest video poses a whole new set of questions. Did Banksy practise his prank on another Girl With Balloon, or did he send a "fake" through the shredder? The video does not appear to be 12 years old, so how recently did he install the shredder? And what could that mean for the consignor's part in all of this?
2018/10/18 up-date
Director's cut by Banksy:
In the video posted on Tuesday entitled Shred the Love (the director's cut), Banksy shows himself constructing the shredding mechanism inside a frame. It then cuts to the auction room and the moment of partial destruction. At the end, the video notes: "In rehearsals it worked every time …" as it shows the piece going the whole way through the shredding machine.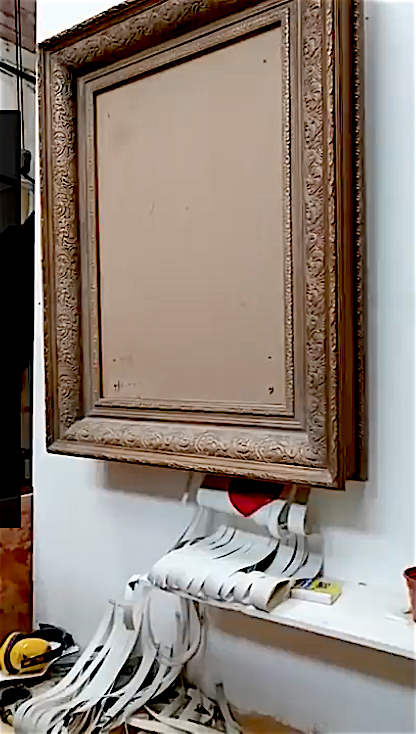 "It's I think by far the most asked-about lot in the sale," he offers. "The artist put the frame on as well. You get that quite often with Banksy; he quite likes the romanticism of having a very ornate, you know, National Gallery-esque frame."
---
A world-famous Banksy artwork was destroyed in a shredder at an auction moments after it was sold for over £1million.
The "Girl With Balloon" canvas had an estimate of £200,000 to £300,000 when it went up for sale at Sotheby's in London.
But, once the hammer went down on a winning bid of £860,000 – worth £1.04million when a buyer's premium was added – the piece was shredded by a mechanism hidden in the frame's base.
Stunned art lovers gasped as the piece was destroyed, with parts of it emerging in strips from the frame.
https://www.mirror.co.uk/news/uk-news/rare-banksy-girl-balloon-picture-13371453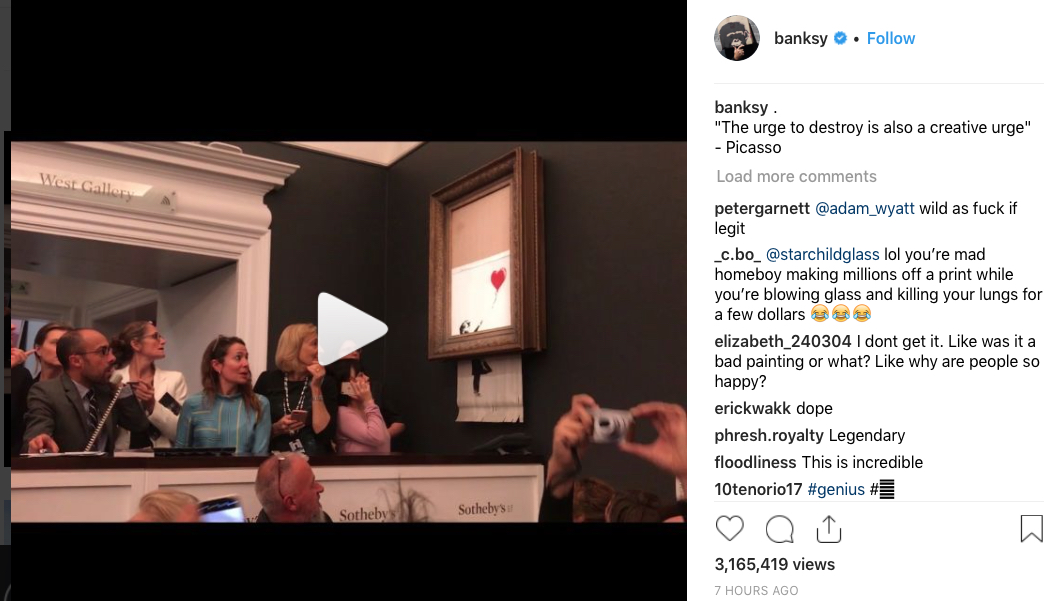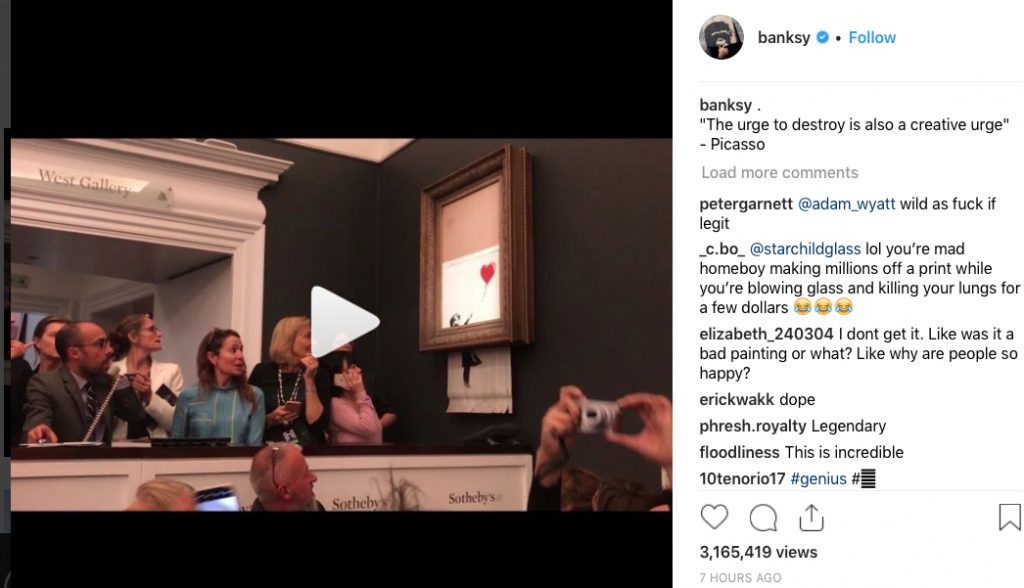 banksy. "The urge to destroy is also a creative urge" – Picasso
https://www.instagram.com/p/BomXijJhArX/?taken-by=banksy
Banksy Shreds 'Girl with Balloon' Painting after Sotheby's Auction
Immediately after the painting had been sold to a phone bidder for 1.04 million pounds ($1.2 million), part of it was mysteriously shredded, according to Sotheby's.
"We've just been Banksy'ed," Alex Branczik, Sotheby's European head of contemporary art, said at a press conference following the auction. The painting was shredded by a contraption that seemed to be hidden in the frame.
---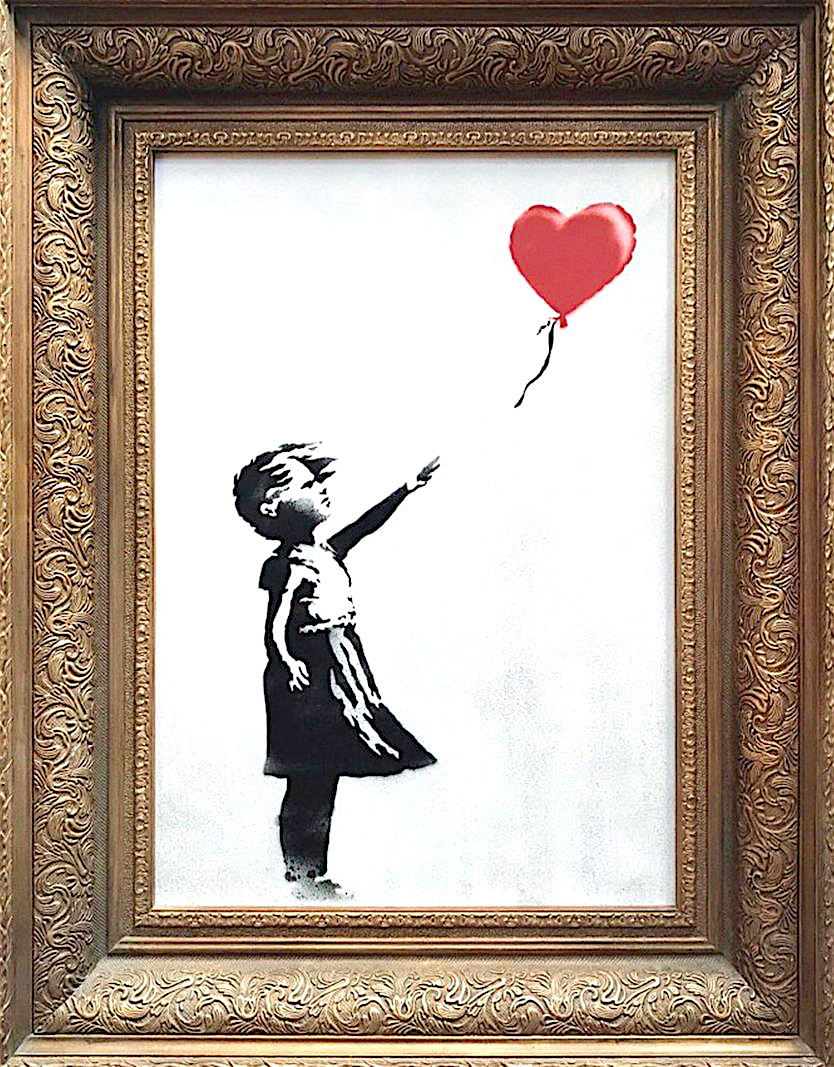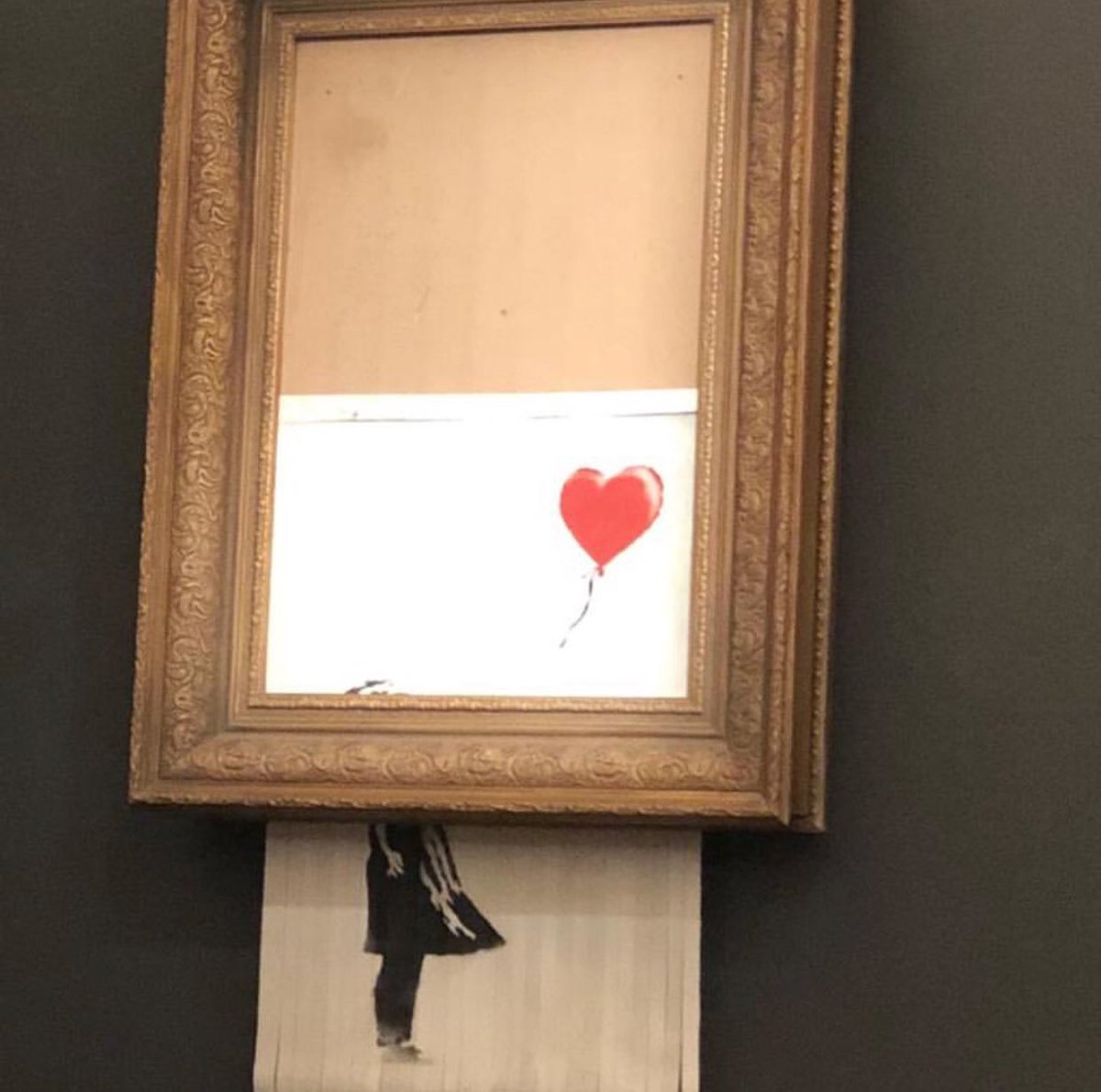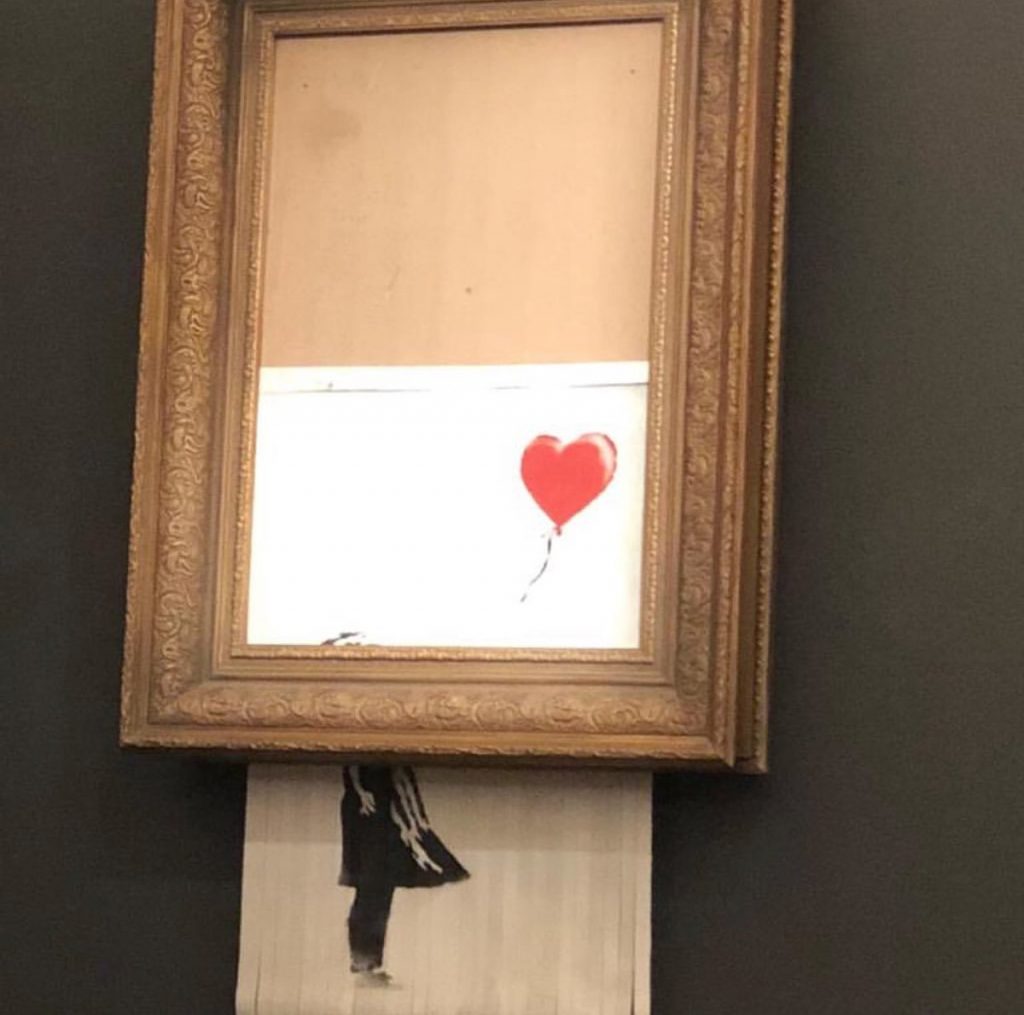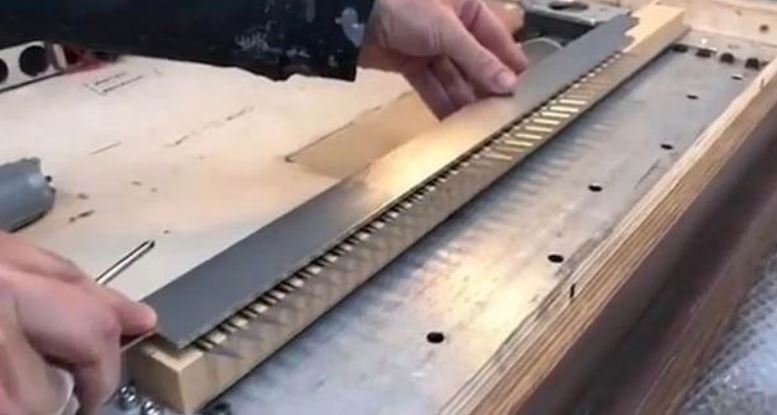 ---
2018/10/9 up-date: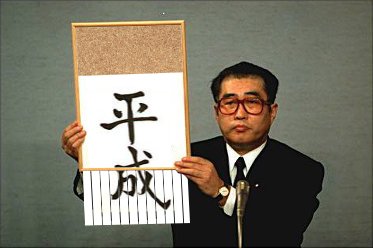 https://twitter.com/roaroa_movie/status/1049586691466354688
---
Why putting £1m through the shredder is Banksy's greatest work
Art is being choked to death by money. The only rebellion left is for artists to bite the hands that feed them – as Banksy appears to have done on Friday night
Jonathan Jones
Mon 8 Oct 2018
…
What happened at Sotheby's is Banksy's greatest work. He has said something that needed to be said: art is being choked to death by money. The market turns imagination into an investment and protest into decor for some oligarch's house. The only real rebellion left is for works of art to destroy themselves the moment they are sold.
Banksy's Million Quid Artwork Destroying Itself – as perhaps we should call this masterpiece of radical performance – belongs to a tradition of destruction in art that is only just 100 years old. In 1917, a porcelain urinal, titled Fountain and bearing the signature "R Mutt" in crudely daubed black paint, was submitted to a New York art exhibition. Marcel Duchamp, the man behind the stunt, is often seen as a dry, ironic wit whose "readymades" are dissected reverently as philosophical conundrums, but that does an injustice to the anger and contempt in his gesture. To call a pissoir Fountain was to urinate on high culture – and that could not be a neutral gesture in 1917. Duchamp was part of the dada movement. This deliberately reductive and primal movement – the name imitates baby talk – was begun by pacifist German draft dodgers in exile in Switzerland in 1916 and spread to Berlin, Paris and more cities by the end of the first world war.
The dadaists hated the European culture of fine art and self-conscious sensitivity that could slaughter its youth by putting them through the giant human shredder that was the western front. All sides in the first world war claimed to be defending "civilisation". The dada generation spat on that civilisation. In his 1919 work LHOOQ (which sounds like the French for "she's got a hot arse"), Duchamp drew a moustache and small goatee on a reproduction of the Mona Lisa. He also said he wanted to "use a Rembrandt as an ironing board".
The problem with the anti-art tradition that started with dada's violence against the very idea of culture is that, over the past 100 years or so, it has been assimilated into the mainstream of modern art. The sassy and slick smart alecs who are claiming that all Banksy has done is add value to his work are the latest in a long line of art-world insiders who have turned dissidence into art history. As an older man in the 60s, Duchamp was embraced by the establishment. Replicas were made of his lost Fountain. There is one in Tate Modern today.
……
When the auctioneer's hammer came down at Sotheby's and a "modern masterpiece" began to eat itself, the stage was set perfectly. Here was the art world's moment of truth – however theatrical and multifaceted it may prove to be. Of course, this revolt will be assimilated. Of course, the market will smile and the cash tills will go on ringing. Yet for once the commodity bit back. Art turned on the hands that feed it.
In principle, all artists should do the same until the market is cut down to size and stops defining the art of our time. Most won't, of course, for good reasons such as the need to make a living. Yet Banksy has let a little light into a very claustrophobic room – and proved he is the artist who matters most right now.
https://www.theguardian.com/artanddesign/2018/oct/08/why-shredder-is-banksy-greatest-work
2018/10/10 up-date:
Banksy's Hanky-Panky at Sotheby's: Letting the Hot Air Out of Punctured "Balloon"—Part I
October 9, 2018 by CultureGrrl
…
But the event, however risible, is not something that Sotheby's can responsibly make light of: If the auction house winks at vandalism of consigned property, how can it take a strong stance against others who might decide to physically attack works on its premises?
That said, the opposite course of action would be equally unpalatable: If the auction house were to seek civil damages and/or press criminal charges against Banksy (and/or whoever activated the frame's mechanism) for what might be interpreted as an illegal act, much of the artworld would surely take umbrage.
…
https://www.artsjournal.com/culturegrrl/2018/10/banksys-hanky-panky-at-sothebys-letting-the-hot-air-out-of-punctured-balloon-part-i.html
2018年10月13日のアップデート:
AFPBB News
…
 サザビーズは11日、細断後の作品が「愛はごみ箱の中に(Love is in the Bin)」に改称され、バンクシーの代理として作品の認証を担う団体「ペスト・コントロール(Pest Control)」の認証を受けたと発表。
 サザビーズによると、買い手はオークションでの落札価格で作品を購入することを決めた。落札者は匿名だが、欧州の収集家の女性で、同社の常連客とされる。
 サザビーズは落札者のコメントとして、「先週に落札が決まり、作品が細断された時、初めはショックを受けたが、美術史のかけらが自分のものになることに、少しずつ気付き始めた」との言葉を紹介している。
---
2018年10月15日のアップデート:
バンクシーの細断絵画、売買成立 作品名は「愛はごみ箱の中に」
2018.10.12
競売大手サザビーズは11日、落札直後に額縁の仕掛けで細断された覆面アーティストのバンクシーの作品について、売買が成立したと発表した。もとの作品名は「少女と風船」だったが、新たに「愛はごみ箱の中に」と名付けられている。
「少女と風船」は5日、140万ドル(約1億5000万円)で落札されたが、その直後、額縁に仕掛けられていたシュレッダーで細かく切り刻まれてしまった。サザビーズは「バンクシーにまんまとやられたようだ」と述べていた。
落札者は欧州の女性コレクターで、サザビーズの長年の顧客でもある。この女性は今回、「あの晩に生み出された新たな作品」を購入する決断を下したと明らかにした。
購入価格は同じ140万ドルで、バンクシー作品としては2008年の最高記録に並ぶ金額となっている。
バンクシーは6日、インスタグラムに動画を投稿。「競売に備えて数年前に」額縁に仕掛けていたというシュレッダーを示すとともに、ピカソの「破壊衝動は創造の衝動でもある」との言葉を引用した。
サザビーズによると、購入者の女性も「先週落札が決まって作品が細断された時にはショックを受けた。だが次第に、芸術史の一部を自ら所有することになると思うようになった」と語ったという。
サザビーズは「予想外の形で生まれたこのパフォーマンスアートは、一瞬にして芸術史に残る作品となり、史上初めて競売中に新たな作品が生まれる結果になった」としている。
ロンドンにあるサザビーズのギャラリーでは、13日から14日にかけて「愛はごみ箱の中に」が一般公開される見通し。
https://www.cnn.co.jp/style/arts/35126929.html
Banksy Girl with Balloon Love Is in the Bin
Shredded Banksy: was Sotheby's in on the act?
As the auction house puts the work on display, visitor opinions differ about how much it knew
Sat 13 Oct 2018
Art lovers who flocked to Sotheby's on Saturday to view the Banksy artwork that shredded itself were sharply divided about whether the auction house was aware the stunt would take place.
When the stencil print known as Girl with Balloon descended through the shredder built into its frame, technicians in the sale room immediately took it off the wall and carried it out of view as bidding concluded. Fast forward a week and the work, now titled Love Is in the Bin, is on display in at Sotheby's gallery.
Guests queued the length of the central London gallery and out of the door on to Regent Street as the Chemical Brothers' rave anthem Hey Boy, Hey Girl provided the soundtrack for selfies.
…
Sotheby's stressed it had "no prior knowledge of this event and were not in any way involved". Its European head of contemporary art said earlier this week: "I took it for what it was, a coup on the art world."
Another spokesperson said: "When we asked the artist's studio about removing the work from its frame during the cataloguing process, we were expressly told not to. We were told that the frame, which was glued, was integral to the work; breaking it would damage the work, and negatively impact its artistic value."
Sotheby's employees were tight lipped on Saturday. "I work in the contemporary department and we had no idea," one said. "I don't think we knew but we're not allowed to say any more," said the receptionist. "Have you got the press release?"
A spokesperson on behalf of Banksy said: "I can categorically tell you there was no collusion between the artist and the auction house in any shape or form.
"The painting had 27 confirmed bidders on the night. A reputable auction house would never encourage their valued clients to bid on something they knew would be destroyed, their credibility would never recover. Banksy was as surprised as anyone when the painting made it past their security systems."
https://www.theguardian.com/artanddesign/2018/oct/13/shredded-banksy-was-sothebys-in-on-the-act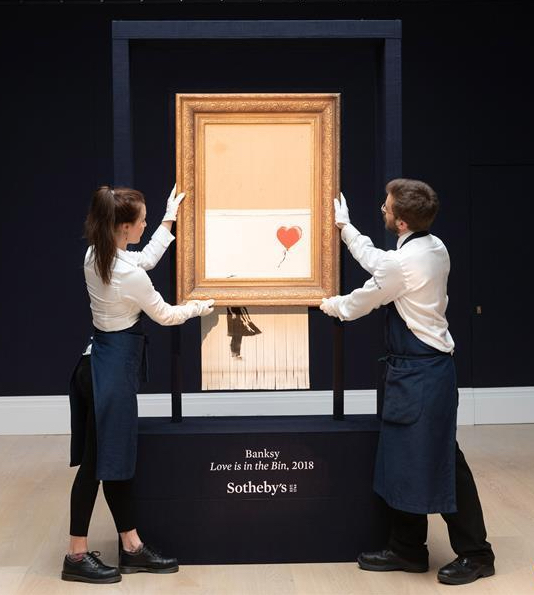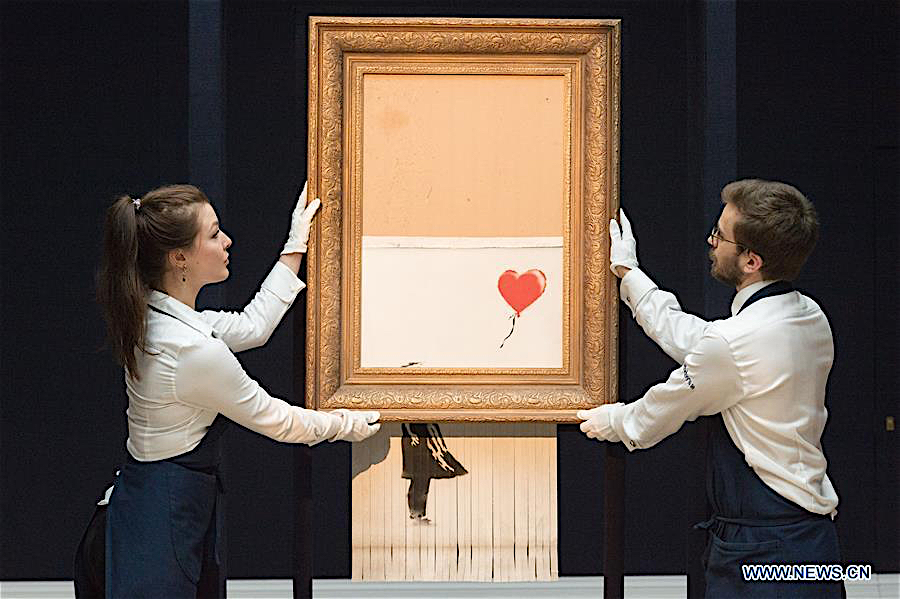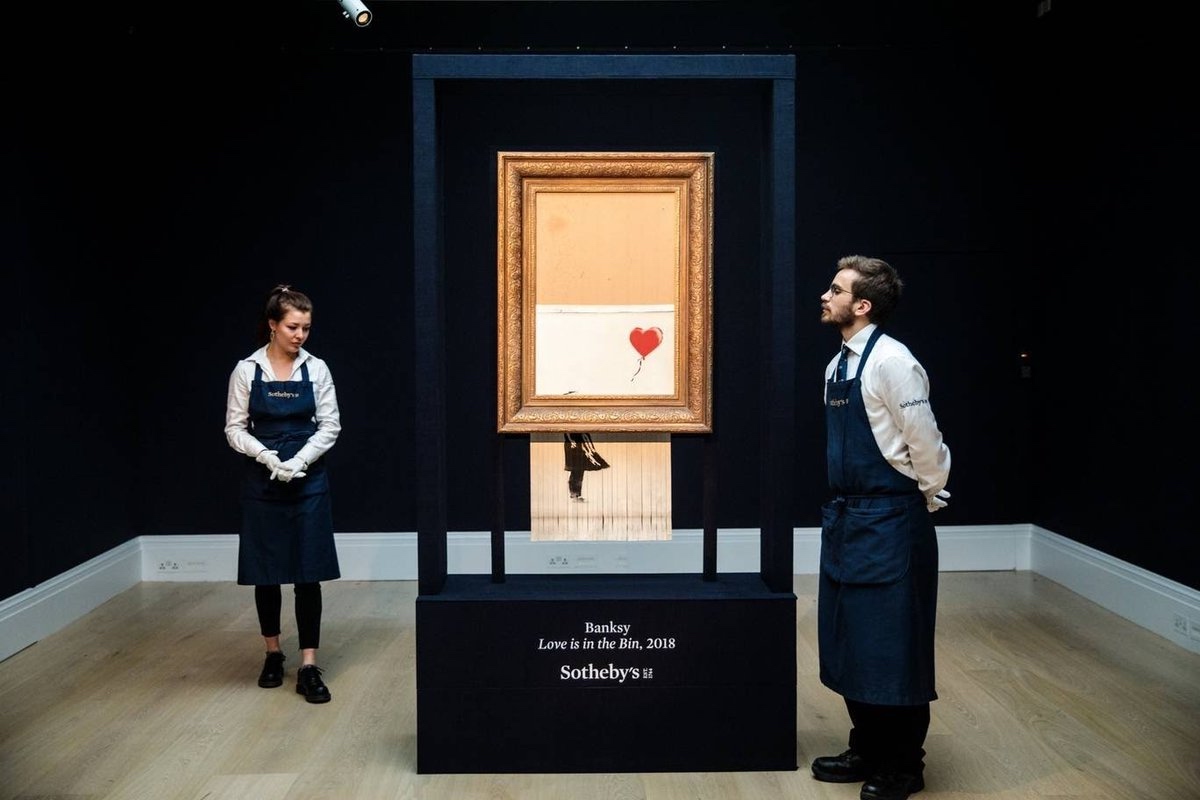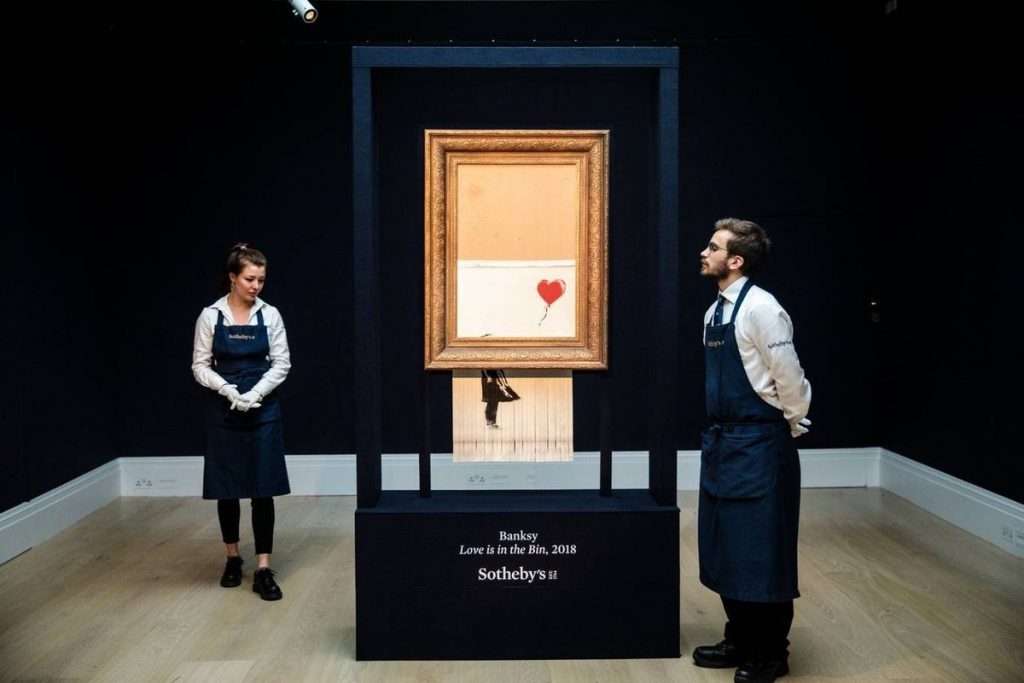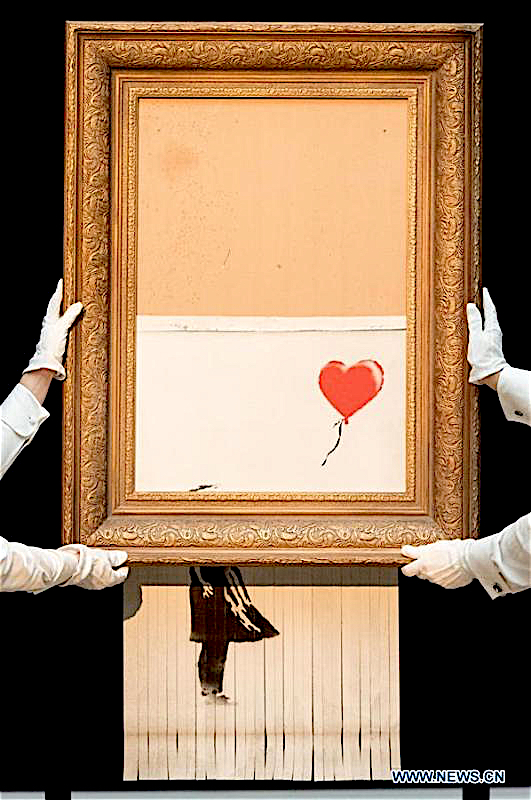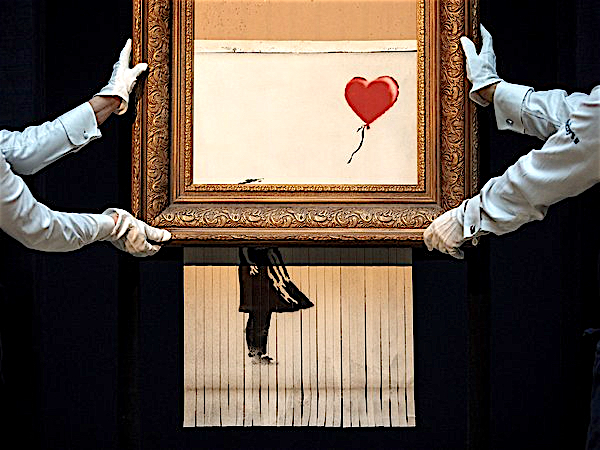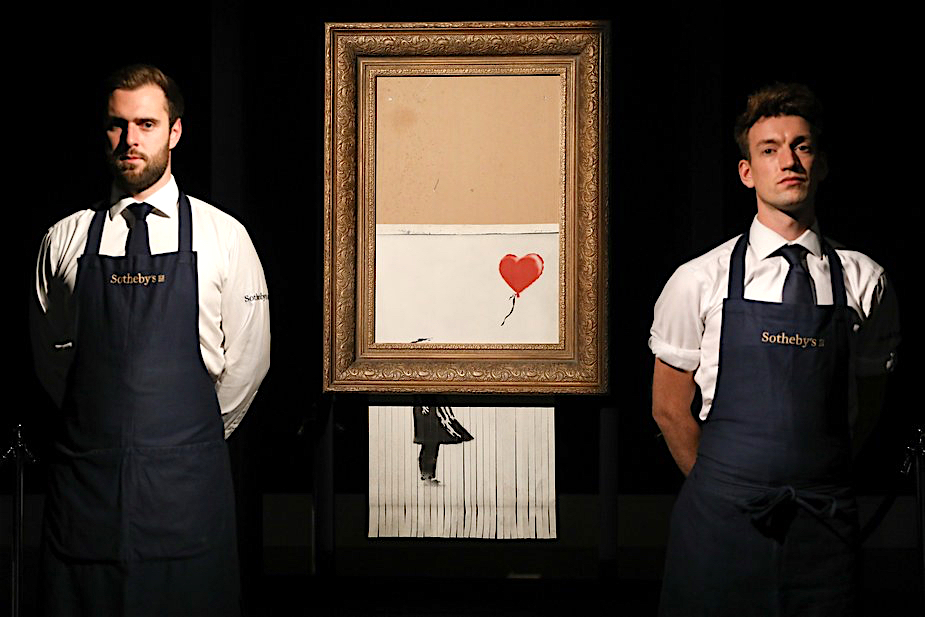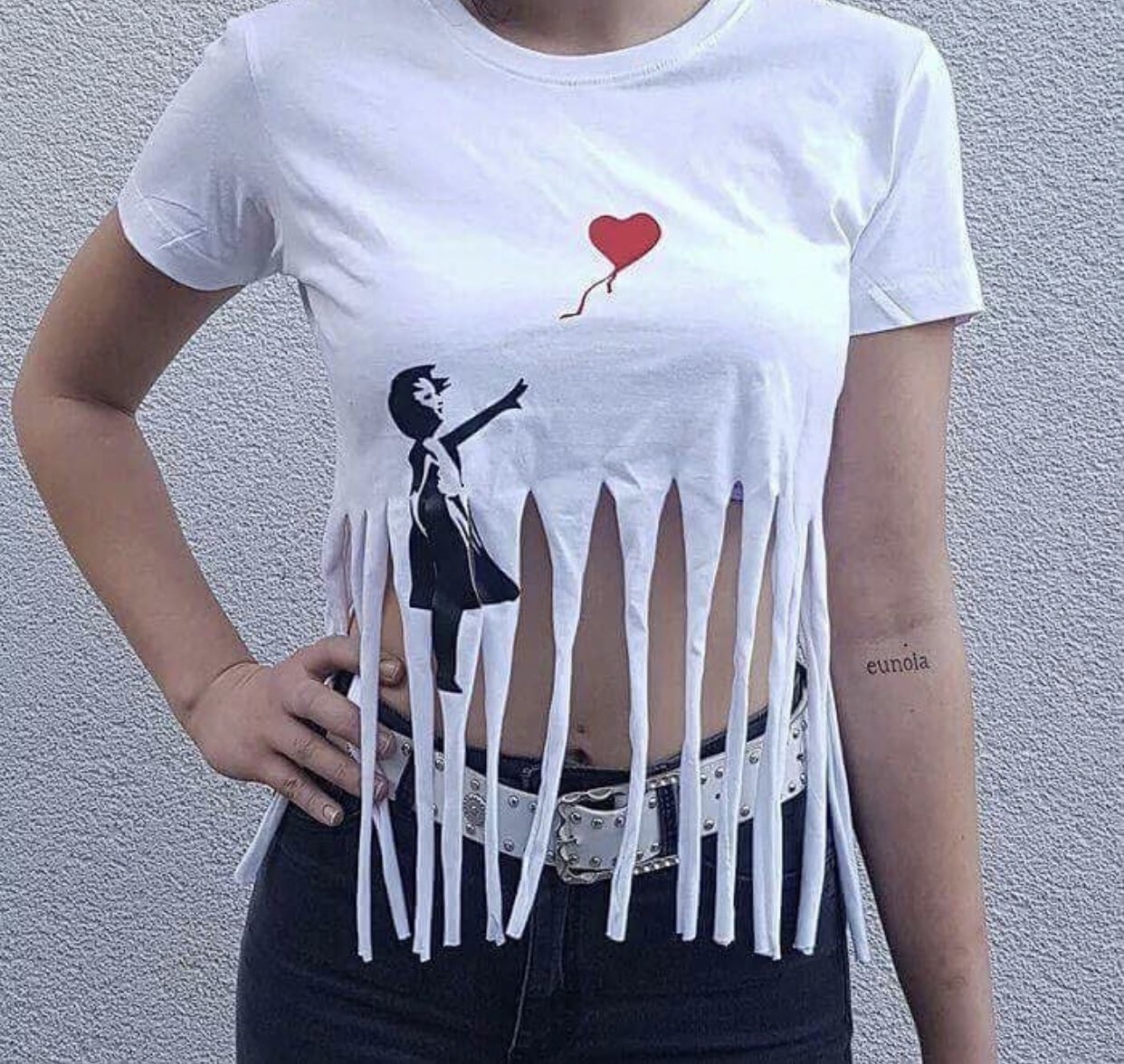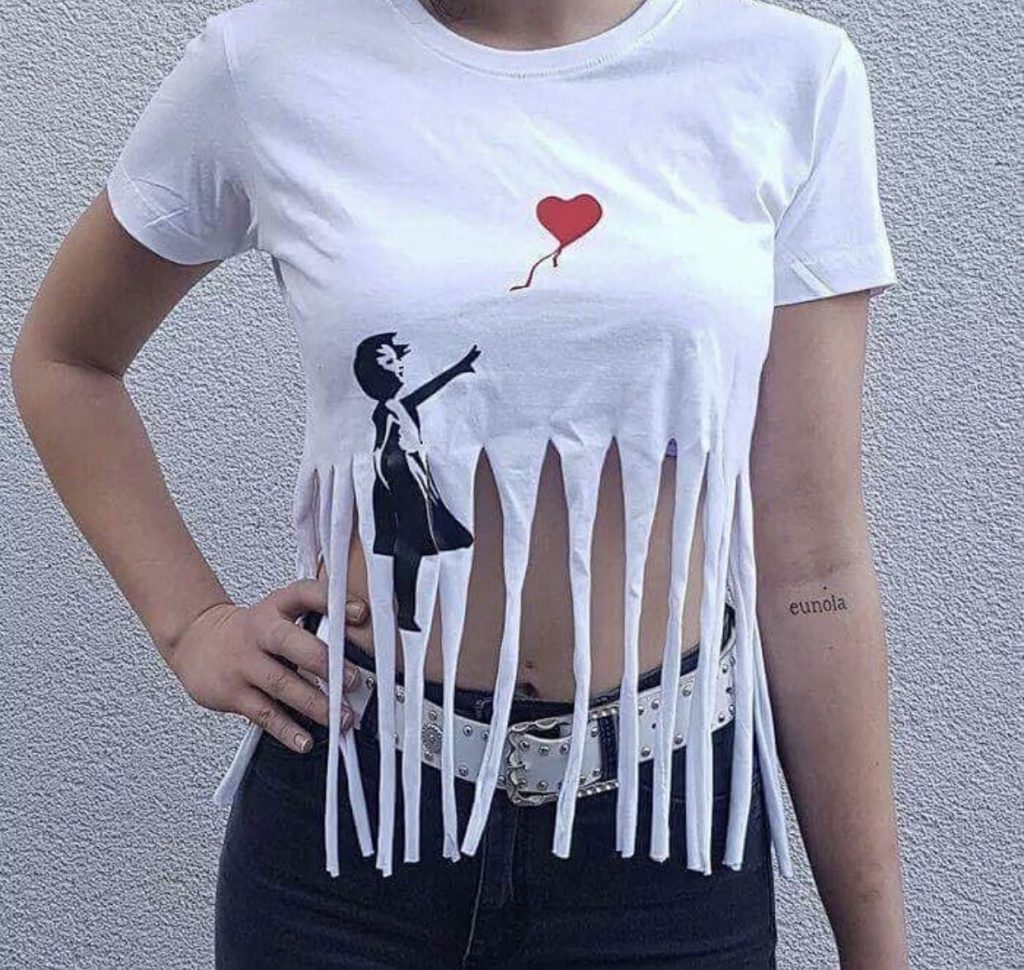 up-date: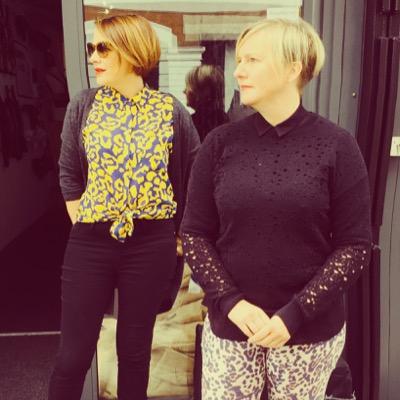 The work was inscribed on the back, "Thanks Jo," with a heart and a CND symbol. (The "CND symbol" (more commonly known as the peace symbol) was originally "the logo for the British Campaign for Nuclear Disarmament")
Could the Jo in question be Jo Brooks, Banksy's longtime friend, publicist, interpreter and defender?
…
If the seller was, in fact, the guardian of Banksy's secret identity and his reputation, we can reasonably surmise that she was not caught off-guard by what happened. We still don't know whether the anonymous buyer was a co-conspirator in this caper, bidding up the soon-to-be-damaged (or, as Sotheby's would have it, reborn) work to the point where unsuspecting rivals, if any, dropped out.
…
Although Banksy's "performance" might have seemed amusing at the time, it could cause problems down the road, if copycats are inspired to stage their own auction-house "interventions" or if humorless regulators take it upon themselves to cast a critical eye on this shredding of auction-house protocol.
Which brings me back to my previous characterization of Banksy's prank as "a clever metaphor for the self-sabotaging auction houses, which, through opaque side deals, secret pre-arrangements and favored treatment for those who enter into such compacts have damaged their credibility as a transparent public marketplace where buyers can feel reasonably confident that they are paying fair market value, equitably arrived at, on a level playing field."
…
What, in fact, does this gesture tell us about the art market? A notoriously secretive and very lightly regulated market, in which the identity of both seller and buyer are protected, and even exact pricing is often obscured, can easily be pranked. Here was an anonymous artist playing the system's own code of secrecy back against it. A neat trick. It could well be another step in the overall growing movement for greater regulation and clarity. Or perhaps not….What the event does question, profoundly, is the notion of trust on which the art world runs…
---
おまけ: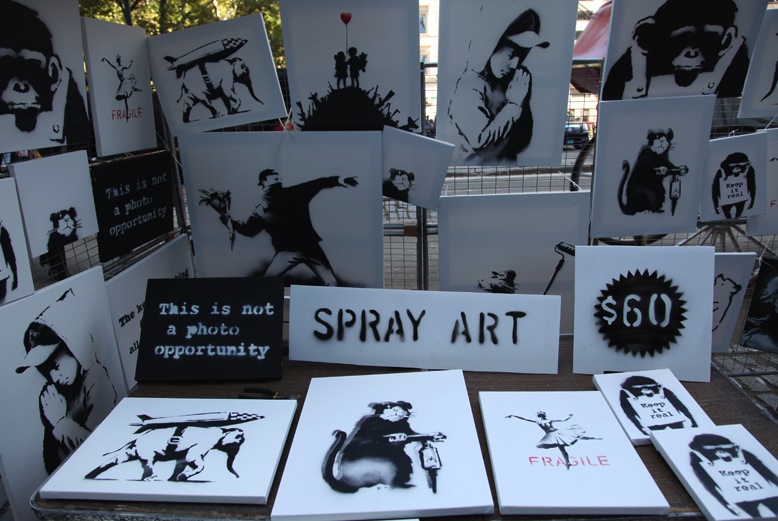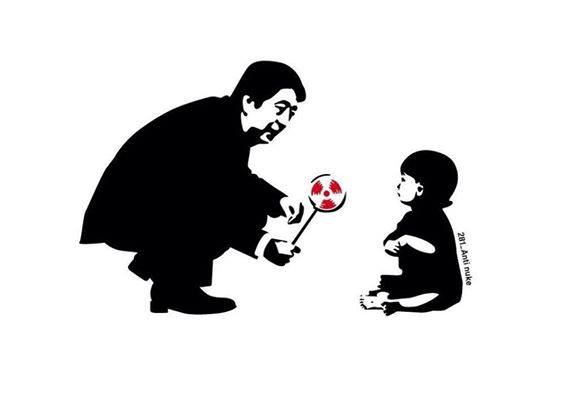 ---
平成31年1月17日のアップデート、NHKより:
防潮扉に「バンクシー」の絵? 本物かどうか…都が調査へ
2019年1月17日 18時36分
社会風刺画で世界的に知られる正体不明のアーティスト「バンクシー」の作品に似ていると指摘された絵が東京 港区にある防潮扉で見つかり、施設を管理する東京都が本物かどうか調べることになりました。
東京都によりますと、先月下旬、世界的に著名なアーティスト、バンクシーの作品の可能性がある絵が防潮扉に描かれているという情報が都に寄せられました。
都が調べたところ、港区にある防潮扉に、たてよこ20センチ程度の大きさで傘を差すネズミとみられる絵が見つかり、バンクシーが以前描いた絵に似ているということです。
都はバンクシーの作品かどうか、分からないとしていますが、このまま放置するといたずらなどのトラブルが起きる可能性あるとして、16日、絵が描かれている扉の一部を取り外し、都内の倉庫で保管しているということです。都は今後、この絵がバンクシーの作品かどうか、調べることにしています。
バンクシーは、町なかの建物などに社会風刺画を描くことで世界的に知られる正体不明のアーティストです。去年10月にイギリスで開かれたオークションでその作品が1億5000万円余りで落札された直後に作品の下半分がシュレッダーで細断され、話題を集めました。
東京都の小池知事は記者団に対し、「本物かどうか定かではないが、確認のために保存し、本物かどうか調べたい」と話していました。
https://www3.nhk.or.jp/news/html/20190117/k10011781411000.html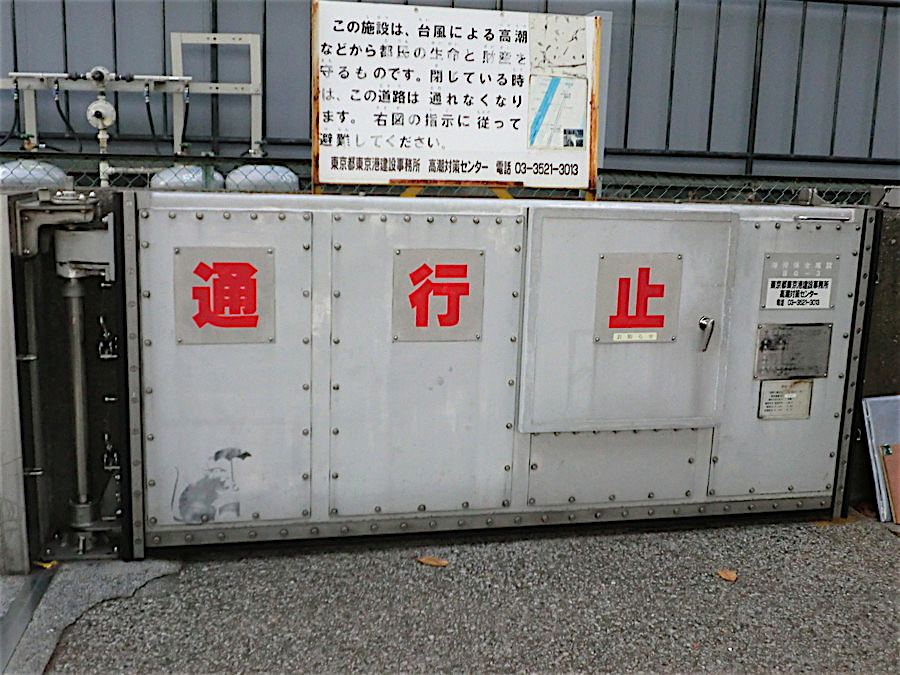 アップデート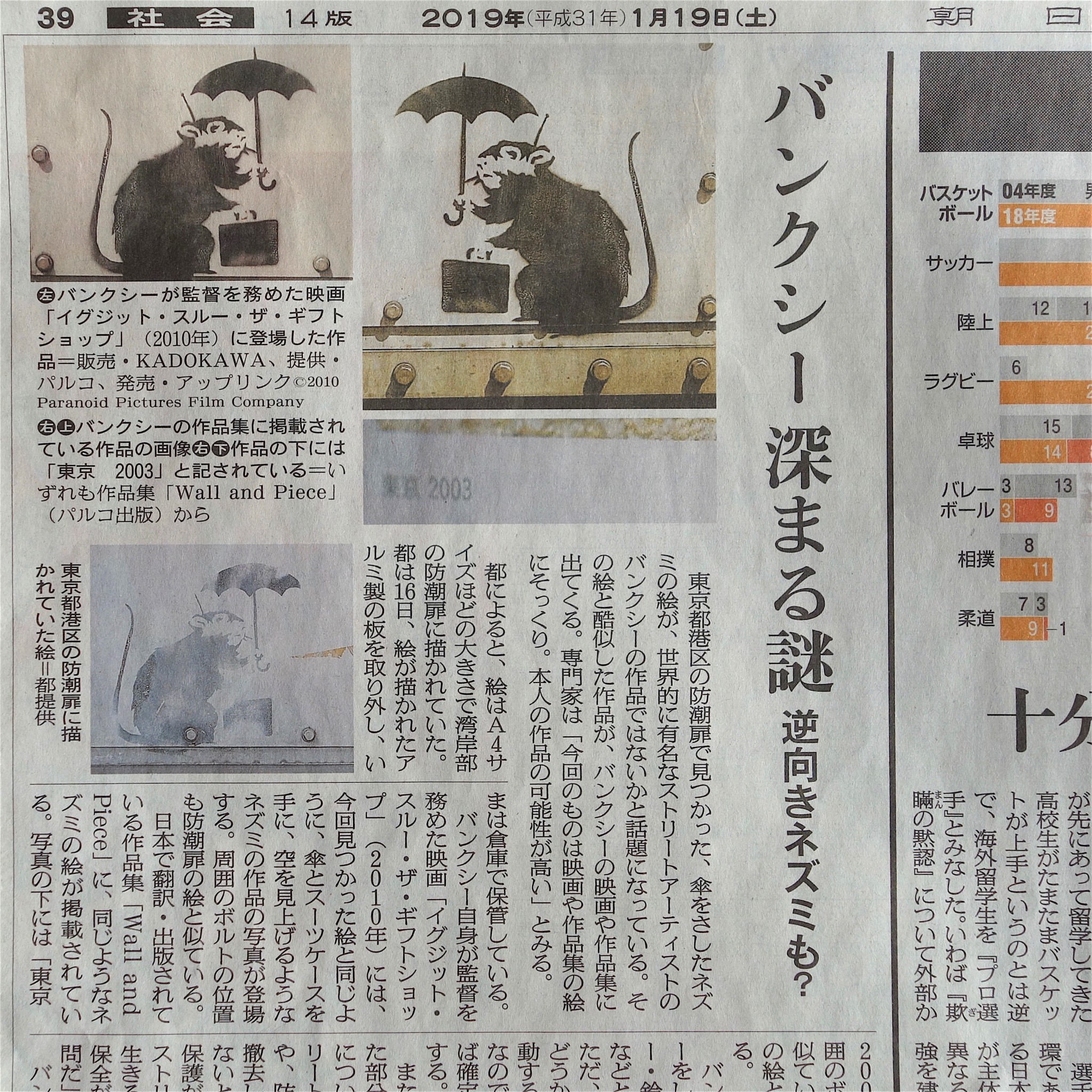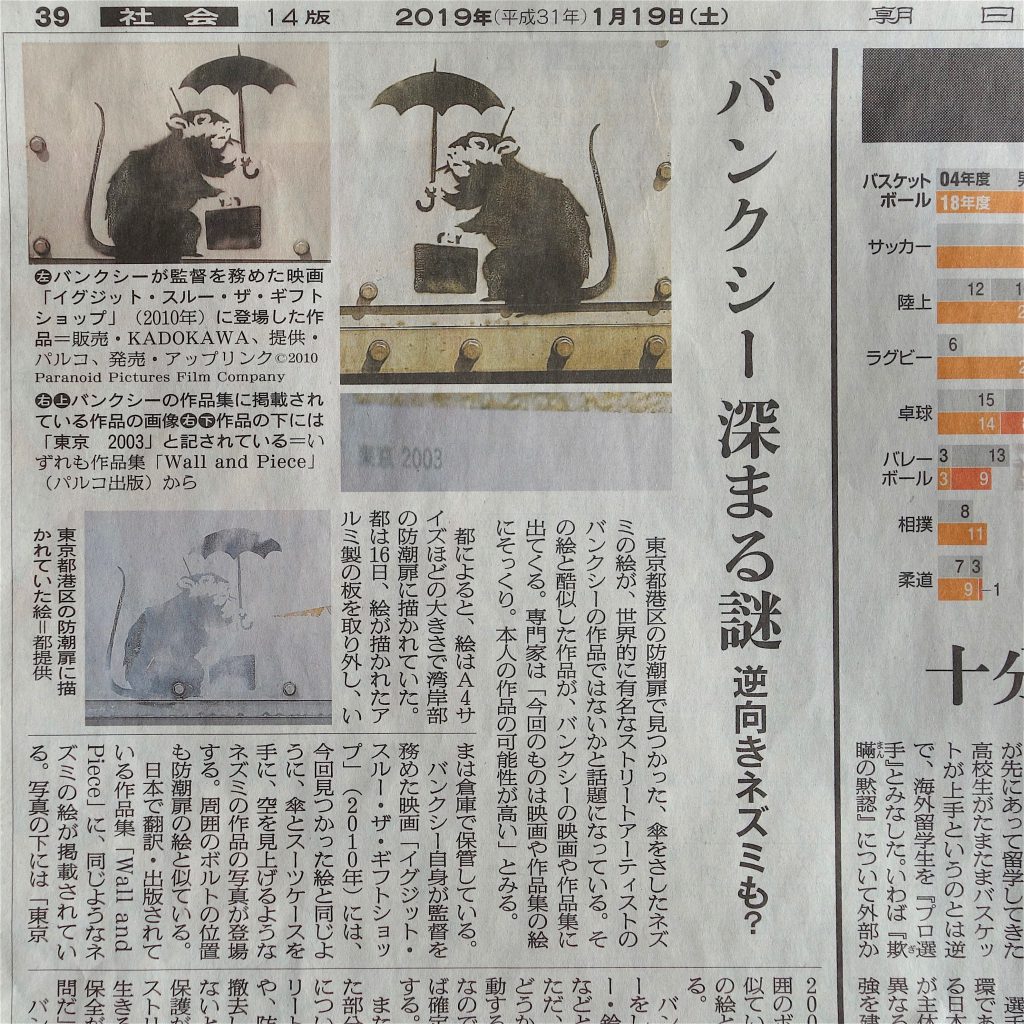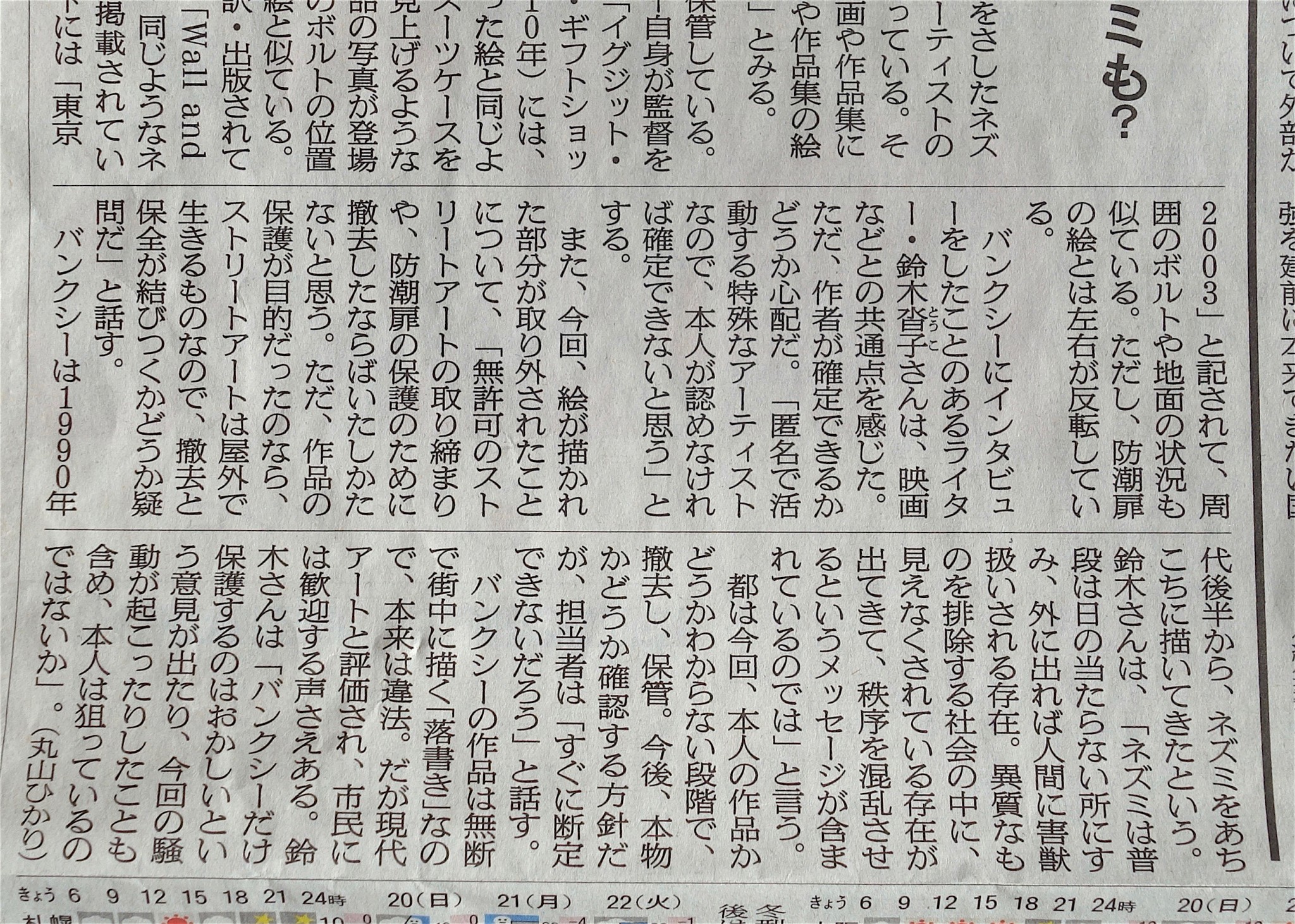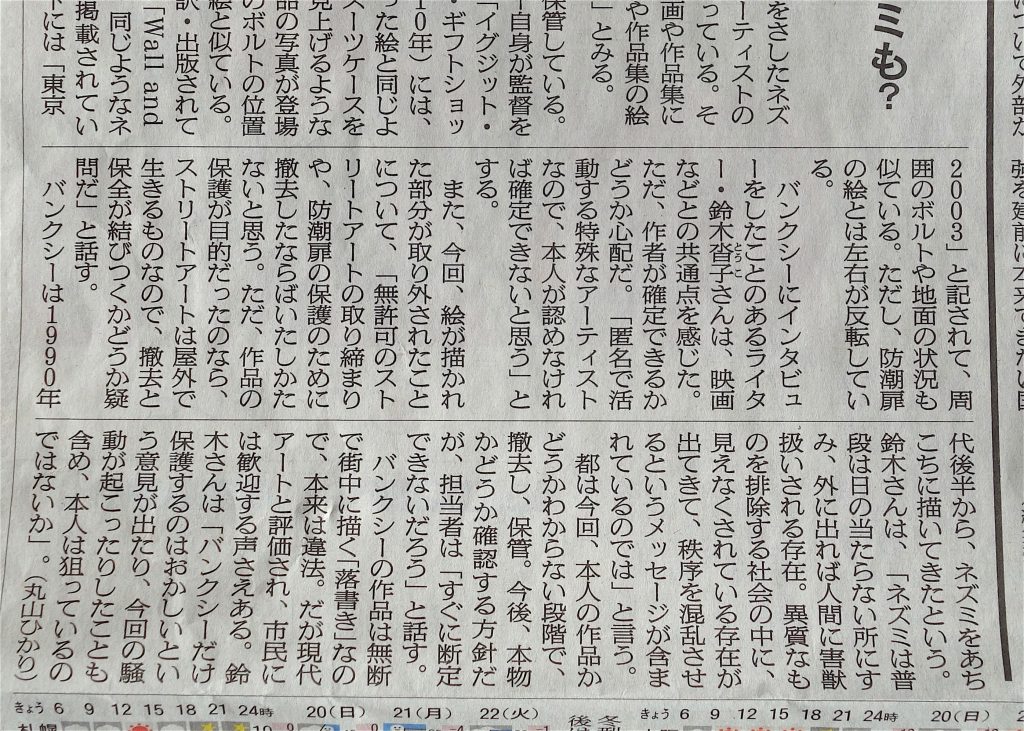 アップデート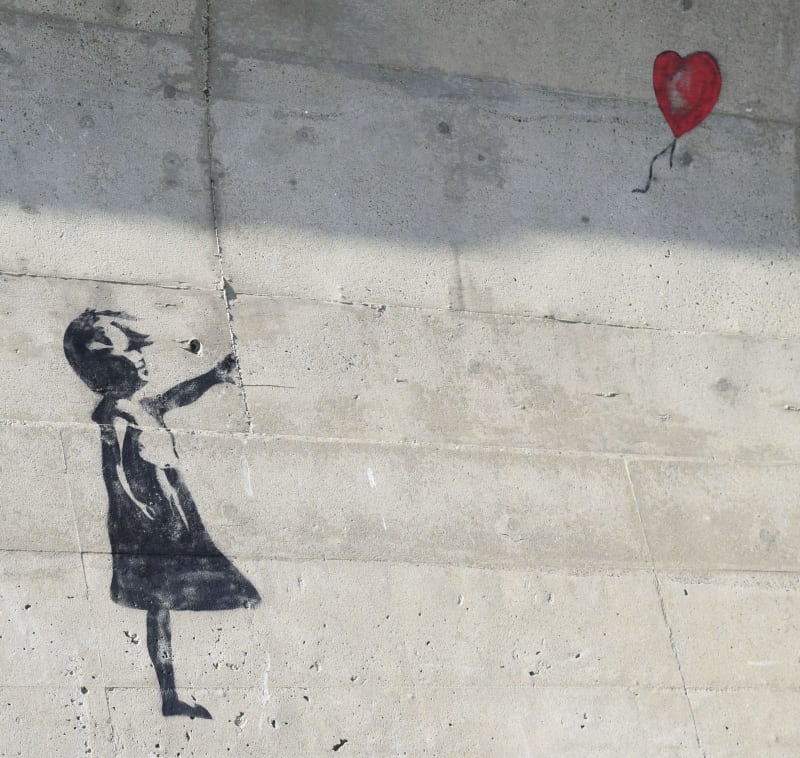 多くの見物人が訪れている防波堤の絵=千葉県九十九里町で
千葉・九十九里にもバンクシー?「少女と風船」に似た絵が町内2カ所に
英国を中心に活動する正体不明の路上芸術家、バンクシーの作品「少女と風船」に似た絵が千葉県九十九里町の片貝漁港など町内2カ所で見つかり、インターネットで知った人たちが訪れるなどして、話題となっている。
 漁港の防波堤コンクリート壁に描かれ、宙に浮かぶハート形の赤い風船に手を伸ばす少女のモチーフが、昨年10月、オークションで落札後に裁断されたバンクシーの代表作と似ている。約1週間前に東京都港区の防潮堤に描かれたバンクシーの作品に似たネズミの絵が明らかになり、これに呼応してネットで拡散した。
サーフショップの壁に描かれた絵=千葉県九十九里町で
 「少女と風船」に似た絵がある場所は週末に100人以上が訪れるサーフスポットの入り口で、サーファーの間では以前から話題になっていたという。毎週サーフィンに訪れている近くの船橋孝義さん(54)は「バンクシーをまねた作品だろうが上手だと話していた。東京でのニュースを聞いてこっちも本物ならすごいと思った」と話した。
 壁とほぼ同じ絵は約1キロ離れたサーフショップの外壁にも描かれている。店長の市東重明さん(43)によると2、3年前に知らないうちに描かれたという。「店に出入りしている日本人アーティストの一人が描いたと思う。防波堤の絵も同一人物でないか」とバンクシー説を否定した。
 防波堤には落書きも多数あり、管理する県銚子漁港事務所の担当者は「真贋(しんがん)を確かめる予定はない。本庁と協議して対応を検討する」としている。市東さんは「アート作品として気に入っている。店の絵は消しません」と話した。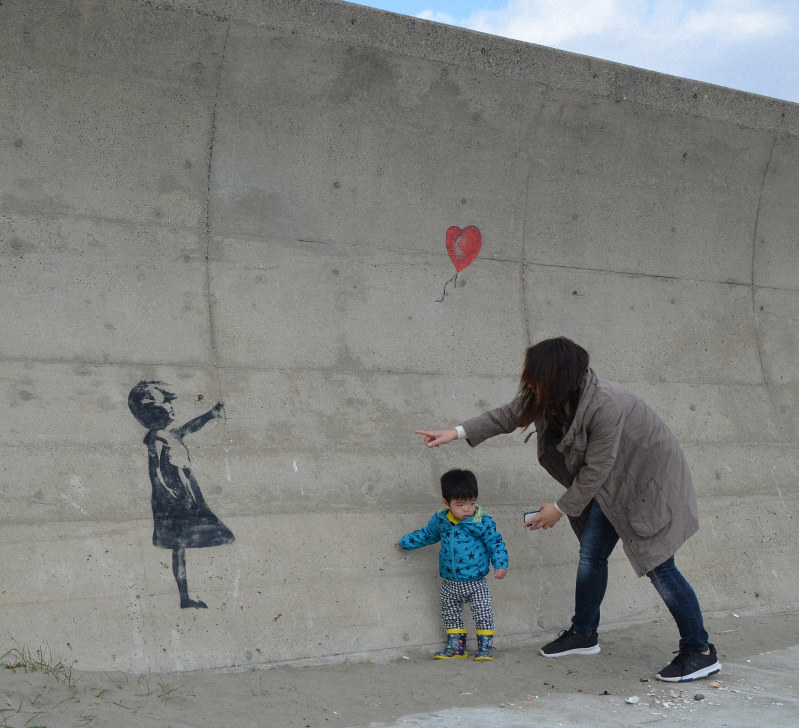 Another Banksy-like work draws attention after one found in Tokyo
January 23, 2019
CHIBA (Kyodo) — Graffiti on a seawall resembling the work of Banksy has attracted attention east of Tokyo after another work in the Japanese capital stirred debate on whether it is a piece by the elusive street artist.
The drawing in Tokyo has sparked some excitement, with authorities saying they plan to check on its authenticity. But the work found in the coastal town of Kujukuri, which resembles Banksy's noted "Girl with Balloon," may end up as a disappointment.
"As it seems to have been drawn recently, I guess it may be a copy by a fan," Yoshitaka Mori, who has expertise on the works of the British-based artist, said, while noting he has not seen the actual graffiti on the concrete seawall at a fishing port.
The drawing of a 1-meter-tall girl in monochrome and a red heart-shaped balloon was noticed by port office officials on Monday after an inquiry from a media outlet, according to the town in Chiba Prefecture.
An official overseeing the port, appearing surprised by the attention, said there is no plan to ask for experts' judgement on the authenticity of the graffiti.
Mori, a professor at Tokyo University of the Arts, said he could not "think of any reason why Banksy, who in recent years has been busy traveling around the world and constantly producing works, should come to Japan secretly and create works."
Banksy, whose identity is known to few, has produced works of art, including some featuring rats, on walls and other locations all over the world. In October he caused controversy after he shredded the "Girl with Balloon" during an auction in London.
In Tokyo, a drawing of a rat holding an umbrella and bag — no bigger than a sheet of office paper — was discovered on a metal flood barrier near Hinode Station on the Yurikamome train line in the bay area of Tokyo's Minato Ward.
The Tokyo metropolitan government in January removed the part of the barrier on which the mysterious work is drawn and put it in a warehouse due to concerns that the image, which has already been shared online, may attract too many visitors.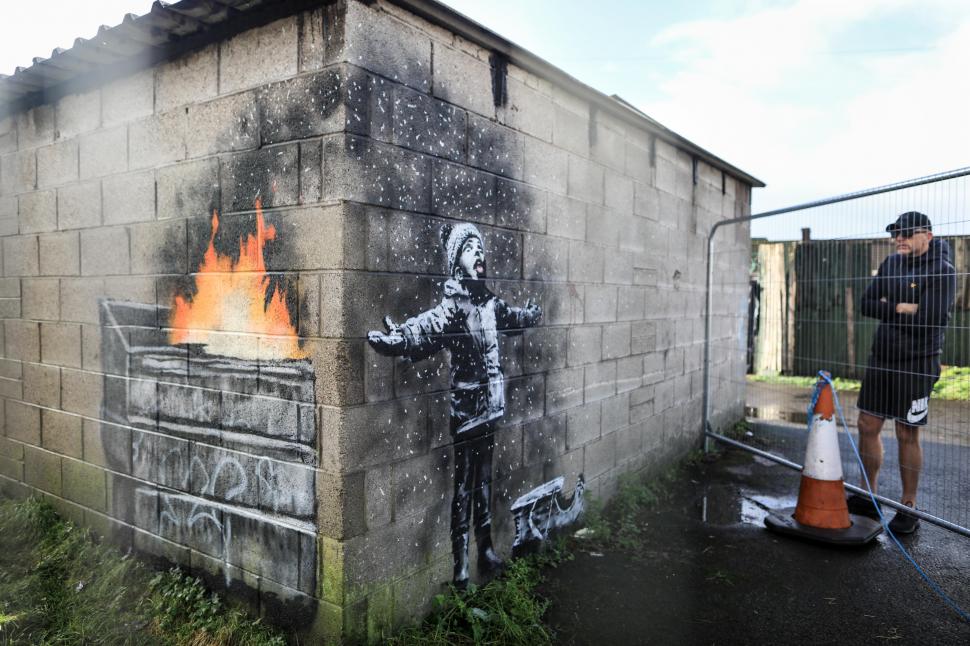 正体不明の芸術家バンクシーの新作が英国に出現。少年が雪の中で手を広げているように見えるが実は焼却灰で、環境汚染への風刺とも取れる。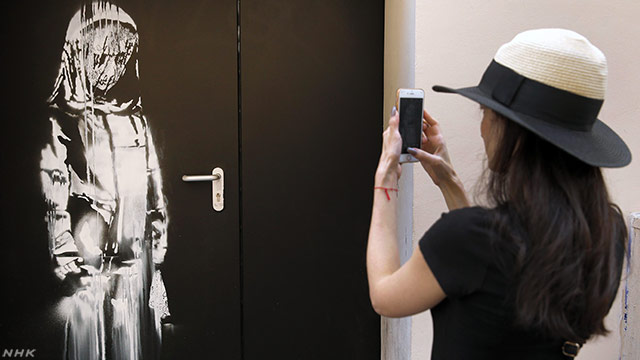 2019年1月28日 0時17分
鋭い社会風刺画で世界的に知られる正体不明のアーティスト、バンクシーが2015年にフランスのパリで起きた同時テロ事件の現場に描いた作品が盗まれたことが分かりました。
盗まれたのは、2015年11月にフランスのパリで起きた同時テロ事件の現場の1つとなったバタクラン劇場の非常口の扉に描かれていた正体不明のアーティスト、バンクシーの作品です。
ベールをかぶり、うつむいて悲しげな表情を浮かべる人物を描いた作品は、テロの犠牲になった人たちを追悼するメッセージが込められているといわれ、去年6月に見つかってからは多くの観光客も訪れていました。
地元メディアが捜査関係者の話として伝えたところによりますと、25日夜から26日にかけて、複数の人物が工具を使って非常口の扉を切り取り、扉ごとトラックに積み込んで走り去ったということです。
バタクラン劇場は26日、ツイッターで声明を出し、「パリや世界の全市民のものだった事件を記憶するシンボルが奪われた」として、「強い憤り」を表明しました。
世界的に高い評価を受けているバンクシーの作品は高値で取り引きされていて、去年10月にイギリスのロンドンで行われたオークションに出品された作品は、日本円で1億5000万円余りで落札されています。
アップデート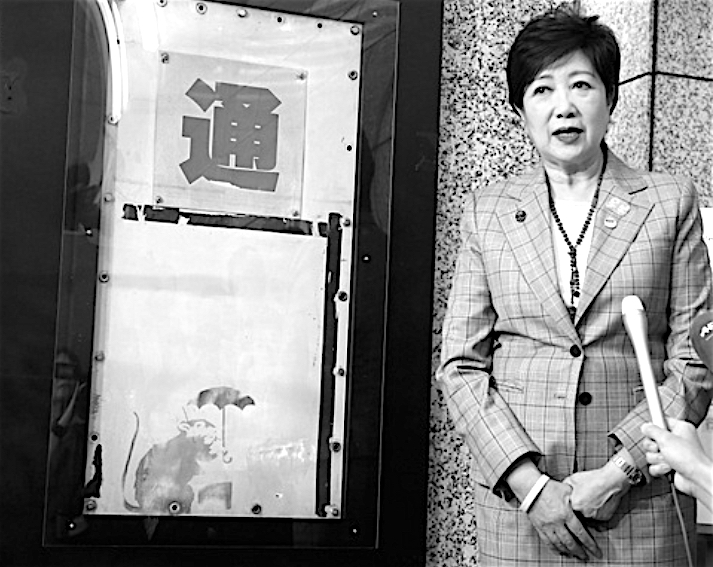 東京都港区の防潮扉に描かれていた正体不明の絵が、5月8日までの期間限定で都庁で展示されることとなった。
 この絵はスプレー塗料で描かれたと見られるもので、傘を差したネズミのようなものが描かれている。誰が書いたのかは不明だが、風刺画で知られるバンクシーが似たような作品を描いていることからバンクシーの作品では無いかとも言われている。
 バンクシーは昨年、その作品がオークションでの落札後にシュレッダーで切り刻まれたことで話題となり、そのため都庁ではこの作品を見るために多くの人々が集まっているという。
2019/10/4 up-date: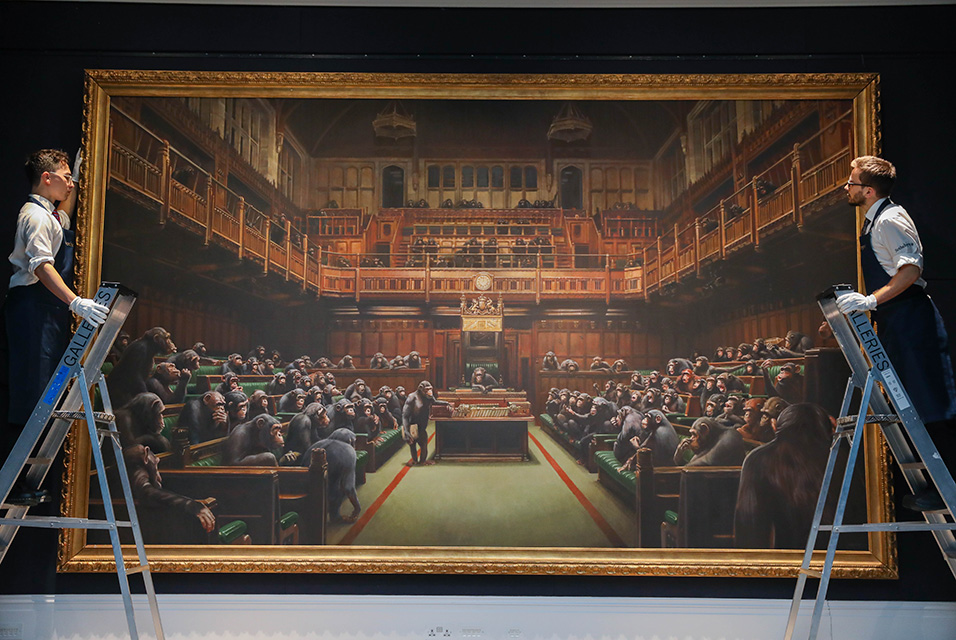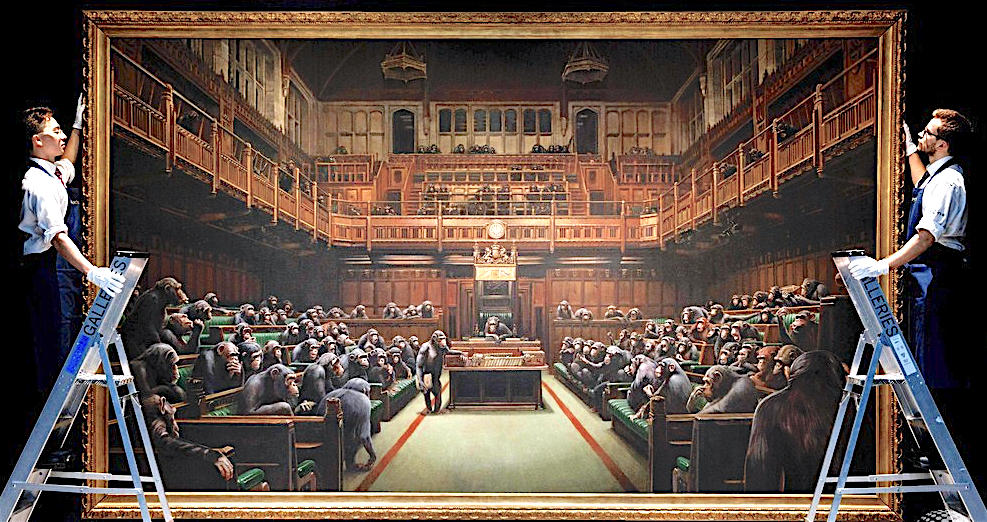 「退化した議会(Devolved Parliament)」と題された2009年のバンクシー絵画
議員の代わりにチンパンジーが着席している英議会を描いた英国の覆面ストリートアーティスト、バンクシー(Banksy)の絵画が3日、競売に掛けられ、バンクシー作品で過去最高額となる約990万ポンド(約13億円)で落札された。競売大手サザビーズ(Sotheby's)が明らかにした。
"I call BS to compare (favorably) his art to the art of Jean Michel Basquiat as 'street artists,'" art advisor Josh Baer wrote in his auction newsletter, the Baerfaxt, after the sale. "Look at a JMB painting vs this work, which is pretty much a poster. If your art advisor is 14 years old, and has been pushing you to also go long Kaws, then the rest of us art advisors over 30 or whatever should just quit."
more at:
https://news.artnet.com/market/banksy-devolved-parliament-sale-1669825
Sotheby's Auction of Banksy's Devolved Parliament. £8.5 million plus premium (9.8 mil all in!)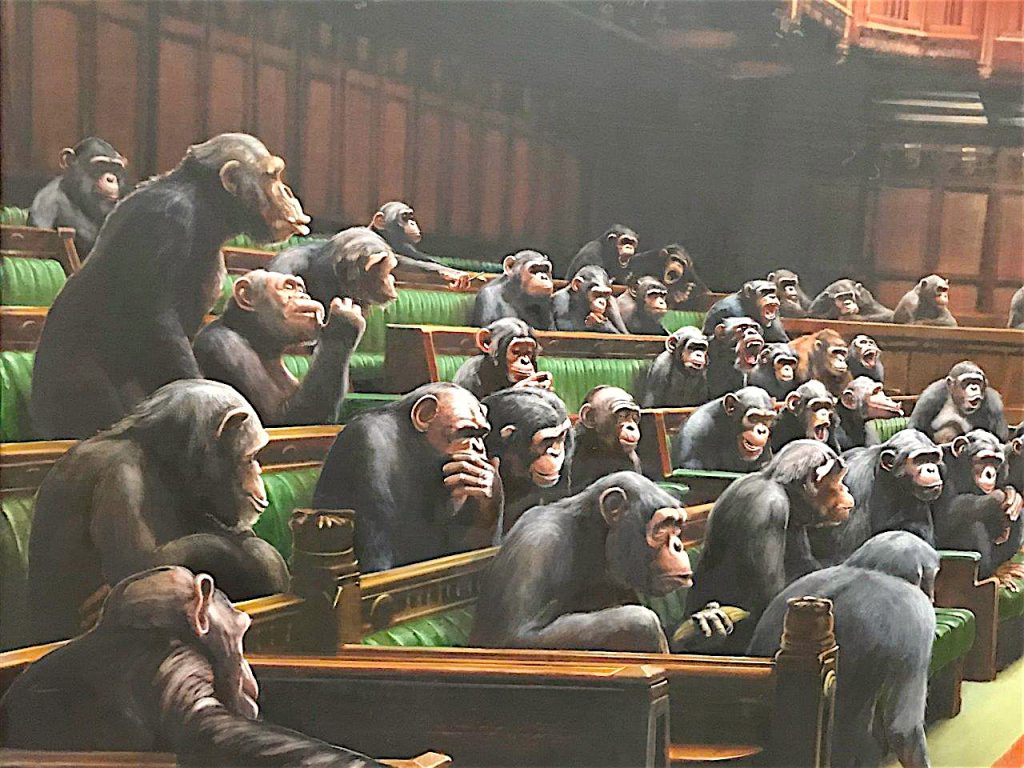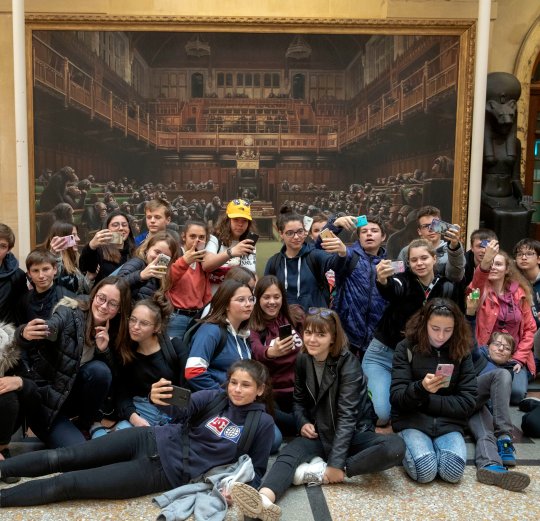 ——
up-date:
2020/4/24
バンクシーが描いたとされる少女の壁画 マスク姿に 新型コロナ
鋭い社会風刺画で知られる覆面アーティスト、バンクシーが描いたとされる少女の壁画に、マスクが着けられているのが見つかり、新型コロナウイルスの感染拡大防止を訴えるものとして関心を集めています。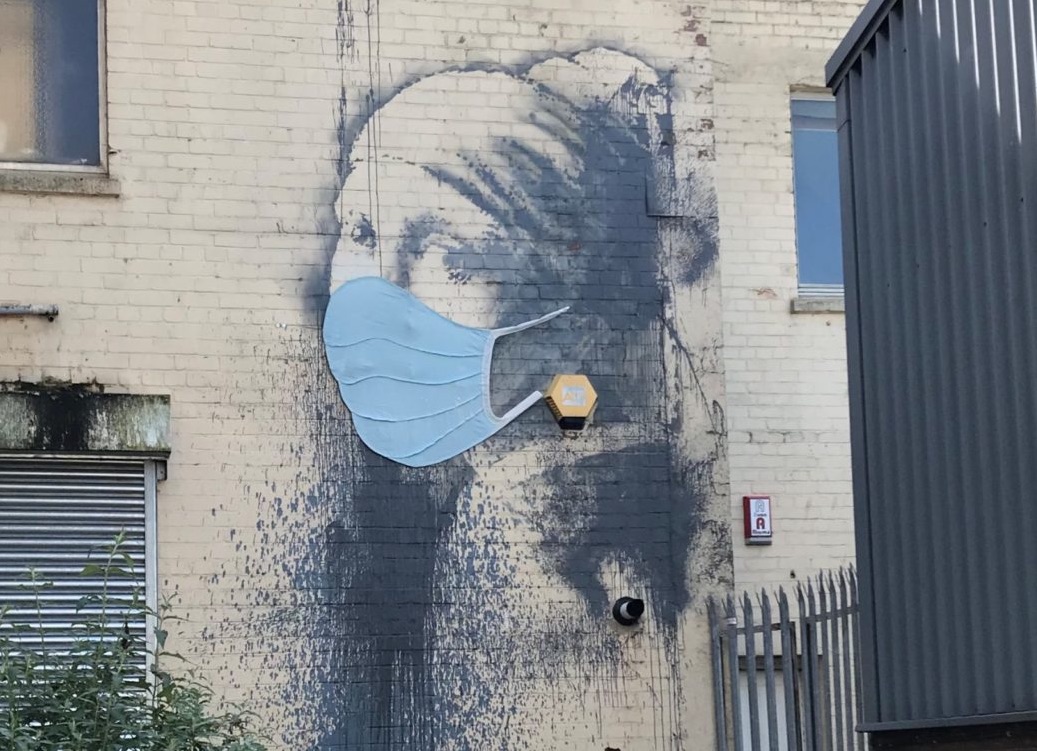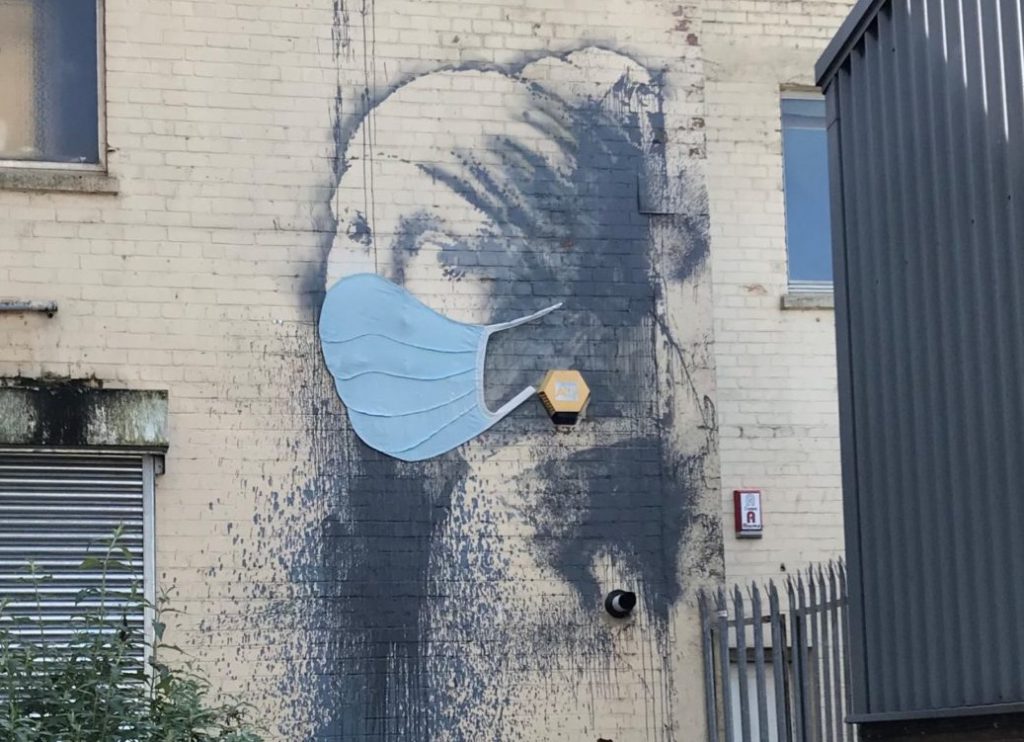 up-date: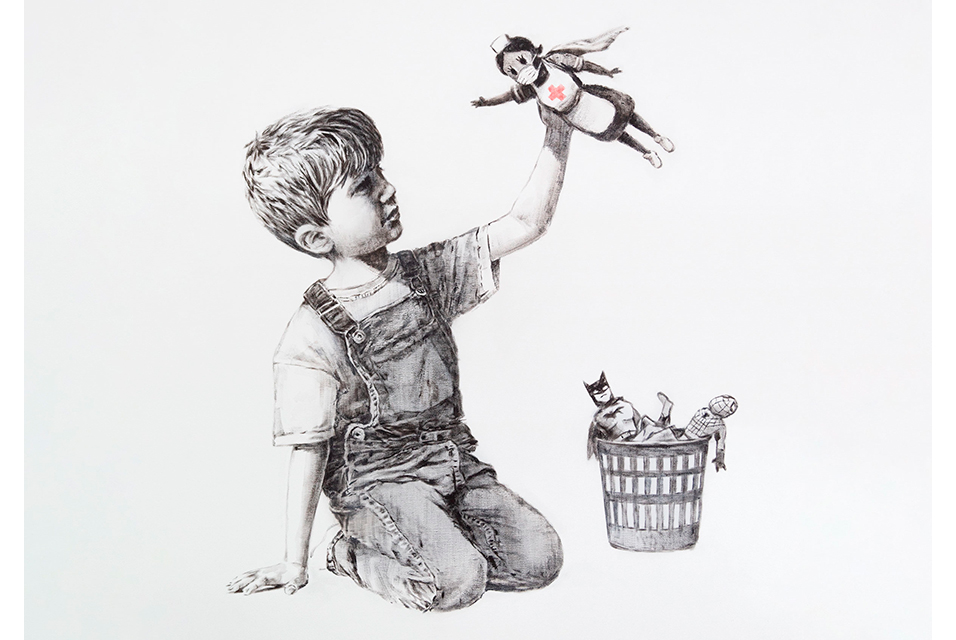 「あなた方のご尽力に感謝します。白黒ではありますが、この作品で少しでも現場が明るくなることを願っています」と、病院関係者(国民保健サービス NHS)にメモを残していた。
The sole splash of colour in the artwork — entitled 'Game Changer' — is the red cross on the nurse's uniform, while discarded Superman and Batman figures lie in a basket next to the boy.
"Thanks for all you're doing. I hope this brightens the place up a bit, even if it's only black and white," the enigmatic artist said in a note for hospital workers.
バンクシー新作が英病院に 看護師は「子供たちのヒーロー」 医療従事者へ感謝
up-date:
バンクシーはなぜ「医療従事者への感謝」を風刺画に仕立てたのか? パンデミックの表現とストリートの作法
バンクシーが5月7日に発表した新作《Game Changer》。看護師の人形を手にした子供を描いたこの作品は、新型コロナウイルスと闘うサウサンプトン病院で展示され、オークションにかけられることがわかっている。バンクシーがこの作品に込めた意図とはなんだったのか? バンクシーに詳しい鈴木沓子が読み解く。
文=鈴木沓子
https://bijutsutecho.com/magazine/insight/21875
---
up-date 2020/6/7
バンクシーがアメリカの黒人男性死亡事件受けて作品投稿
2020年6月7日 8時43分
アメリカで黒人男性の死亡事件を受けて抗議デモが各地で広がるなか、鋭い社会風刺画で知られる覆面アーティスト、バンクシーは6日、SNS上に黒い人物の肖像とろうそくの火で燃え始めたアメリカの国旗を描いた作品を投稿し、人種差別の解消を訴えています。
…
作品には黒い人物の肖像の横に花やろうそくが手向けられ、肖像の上にあるアメリカの国旗がろうそくの火で燃え始める様子が描かれています。
バンクシーは作品とともにメッセージを寄せていて「最初はこの問題について私は黙って黒人のことばを聞くべきだと思っていた。しかしこれは彼らの問題ではない。私自身の問題だ」としています。
そのうえで人種差別の問題の例えとして、アパートの上の階の水道管が壊れて下の階に水漏れしている状況をあげながら、人種差別が続く社会システムを是正するのは下の階で影響を受けている黒人がするべき仕事ではなく上の階の白人の問題だとして差別の解消を訴えています。
https://www3.nhk.or.jp/news/html/20200607/k10012461371000.html
---
バンクシーって誰?展
会期:2020年8月29日~12月6日
会場:東京・天王洲の寺田倉庫G1ビル
2020年7月7日、アップデート:寺田倉庫G1ビルを会場に、2020年8月29日~12月6日の会期で開催予定だった「バンクシーって誰?展」が、延期されました。2021年夏になりそうです。(?)
---
アップデート 2020年7月15日
if you don't mask – you don't get.
バンクシー、ロンドン地下鉄車内に新作 マスク着用促す
2020年7月15日
覆面アーティスト・バンクシーによる新作が、イギリス・ロンドン地下鉄のサークル・ライン車内に登場した。くしゃみをしたりマスクで遊んだりするネズミなどが描かれた、マスク着用を促す作品となっている。
バンクシーは14日、清掃員の格好をした、バンクシーとみられる男性が映った動画をインスタグラムに投稿した。
動画では男性が地下鉄の乗客にその場から立ち去るよう指示し、車両内のあちこちにネズミのステンシルアート(型紙にスプレーを吹き付けて絵柄を作成するアート)を施す様子が確認できる。
ロンドン交通局(TfL)は「厳格な反落書きポリシー」に従い、「数日前に」この絵を消したとしている。
「マスクをせよ、さらば与えられん」と名づけられたこの作品には、新型コロナウイルスのパンデミック(世界的流行)から着想を得たポーズをとったり、マスクを着用したりしているネズミが多数あしらわれた。
中にはくしゃみをするネズミや、除菌ジェルをスプレーするネズミもいた。
また、運転席のドアにはバンクシーの名前が書かれた。
動画の最後には、駅の壁に「私はロックダウン(都市封鎖)された」と書かれているのがわかる。直後に地下鉄のドアが閉まると、「でもまた立ち上がる」とのメッセージが現れ、英ロックバンド・チャンバワンバが1997年に発表した曲「タブサンピング」が流れる。
full text:
https://www.bbc.com/japanese/53413712
Banksy Hits London Subway With Coronavirus-Themed Graffiti | NBC News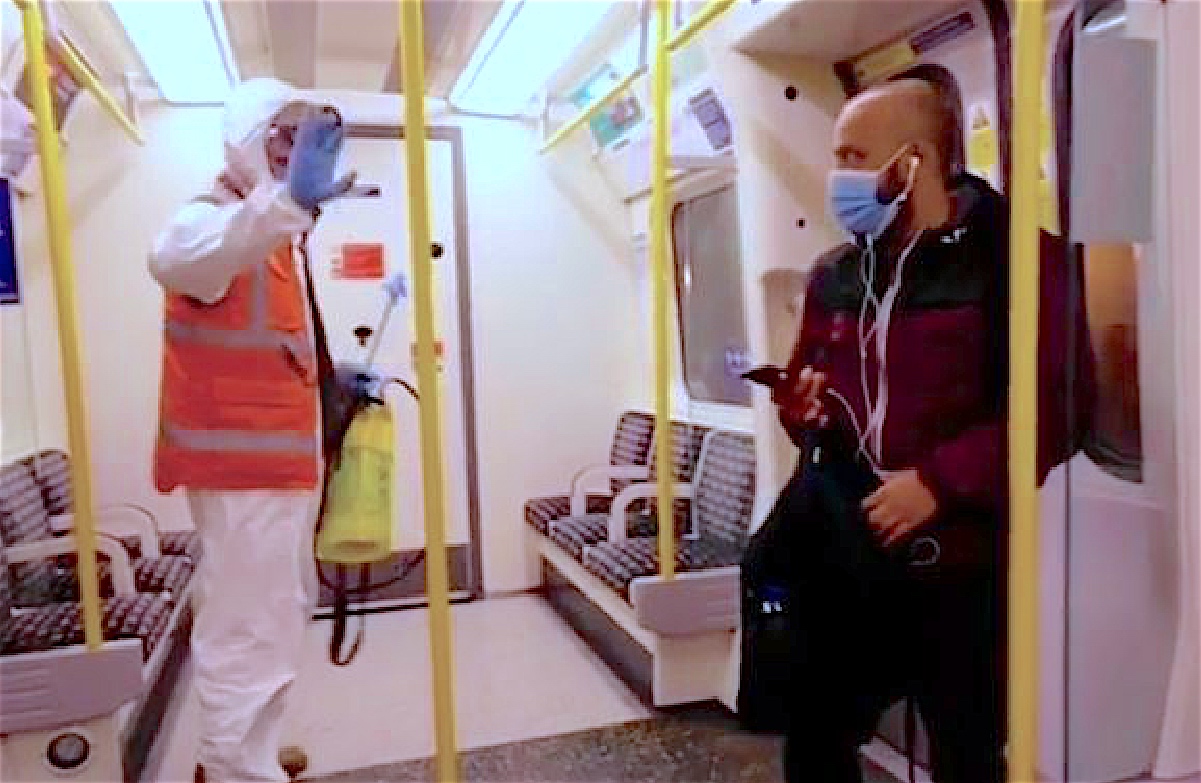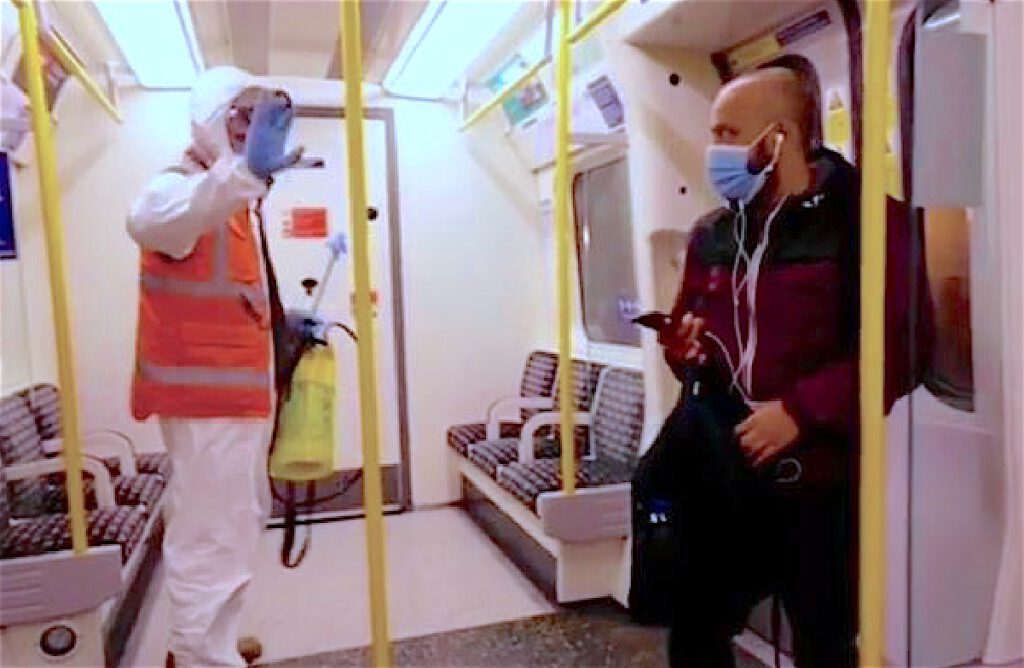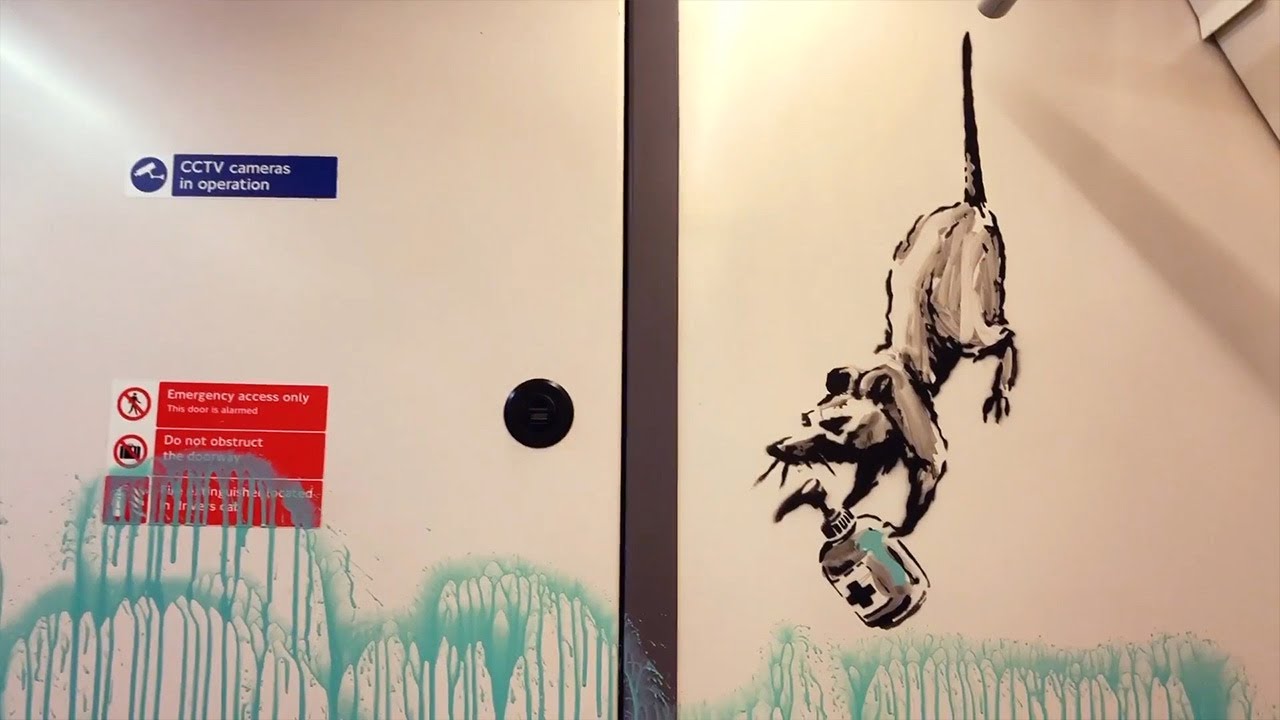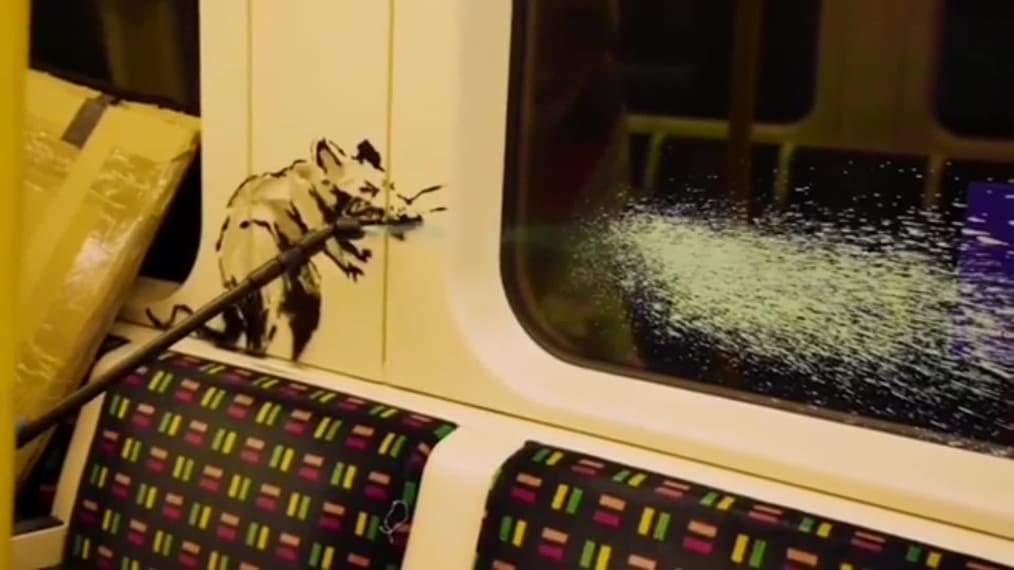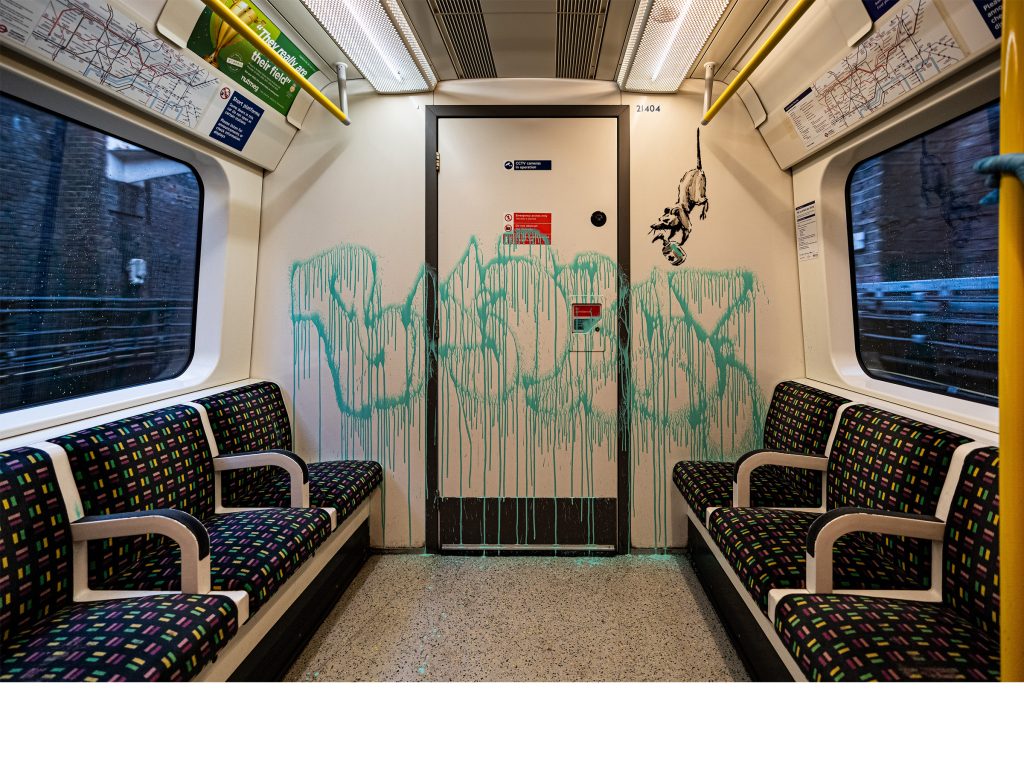 up-date 2020/7/27: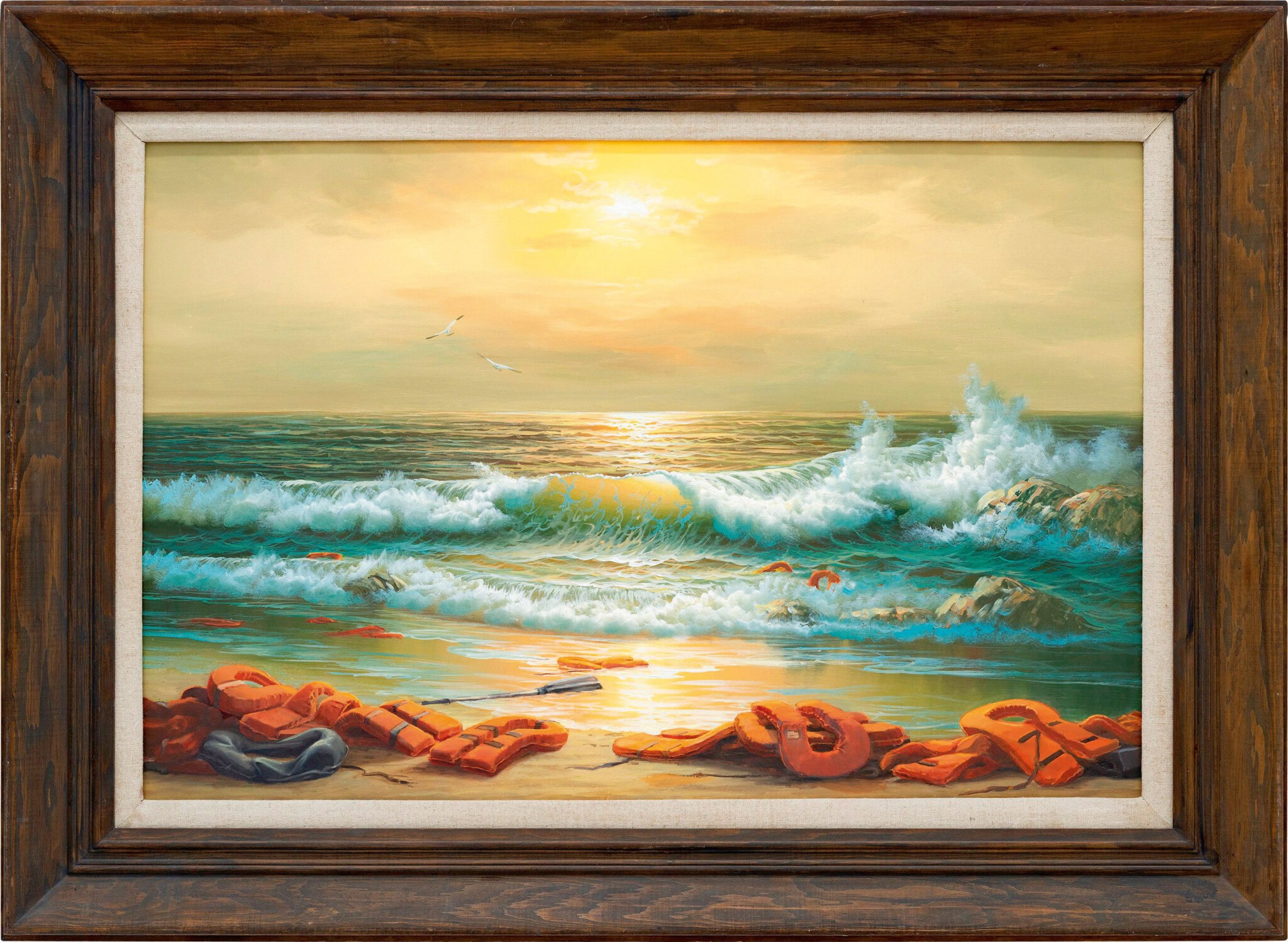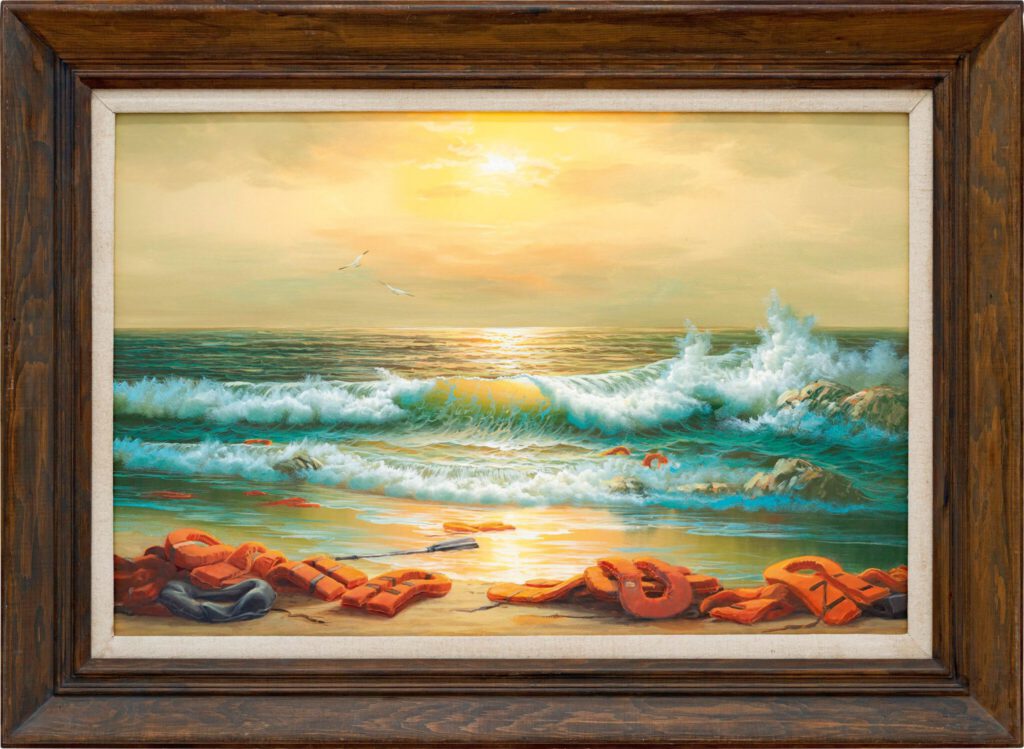 バンクシー "Mediterranean sea view", detail 2017
Banksy triptych—estimated at £1.2m—to be sold at Sotheby's in aid of Palestinian hospital
quote:
A triptych by Banksy, which was until recently displayed in the artist's hotel in the Palestinian town of Bethlehem, will go under the hammer at Sotheby's London on 28 July. The trio of works, entitled Mediterranean sea view 2017, are included in the Rembrandt to Richter cross-category evening sale (estimate £800,000-£1.2m). "This work is accompanied by a Pest Control certificate of authenticity," says the Sotheby's website, referring to Banksy's authentication body.
more at:
https://www.theartnewspaper.com/news/banksy-triptych-heads-for-auction-in-london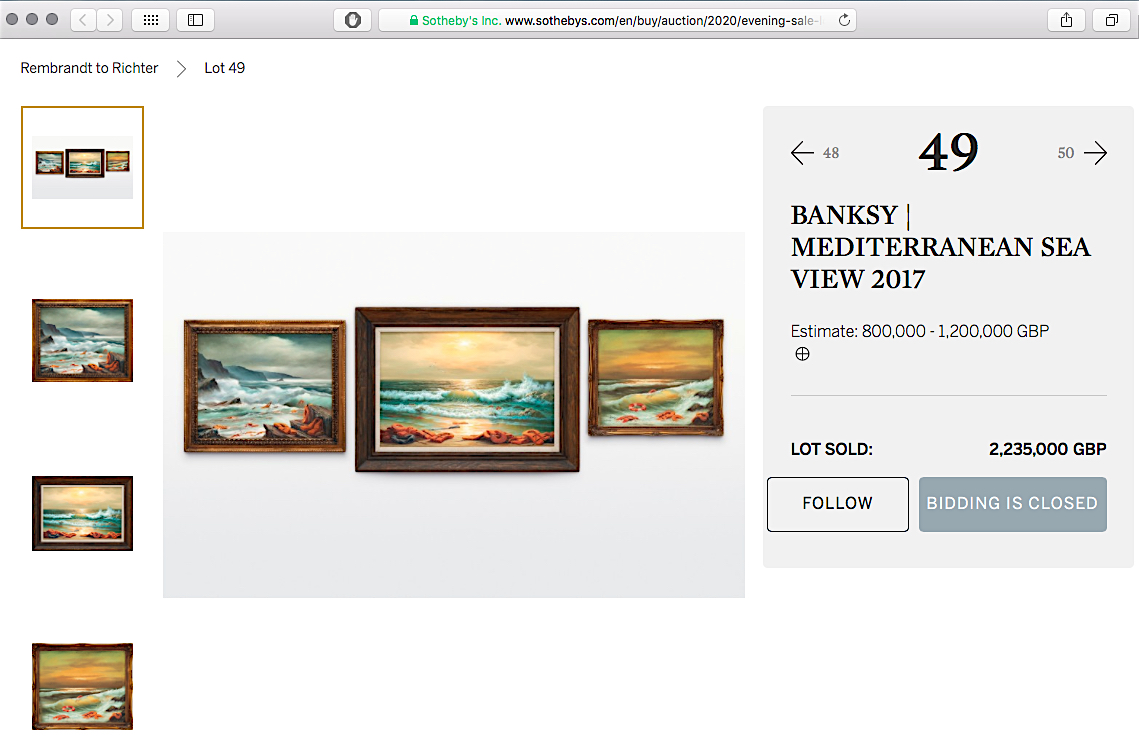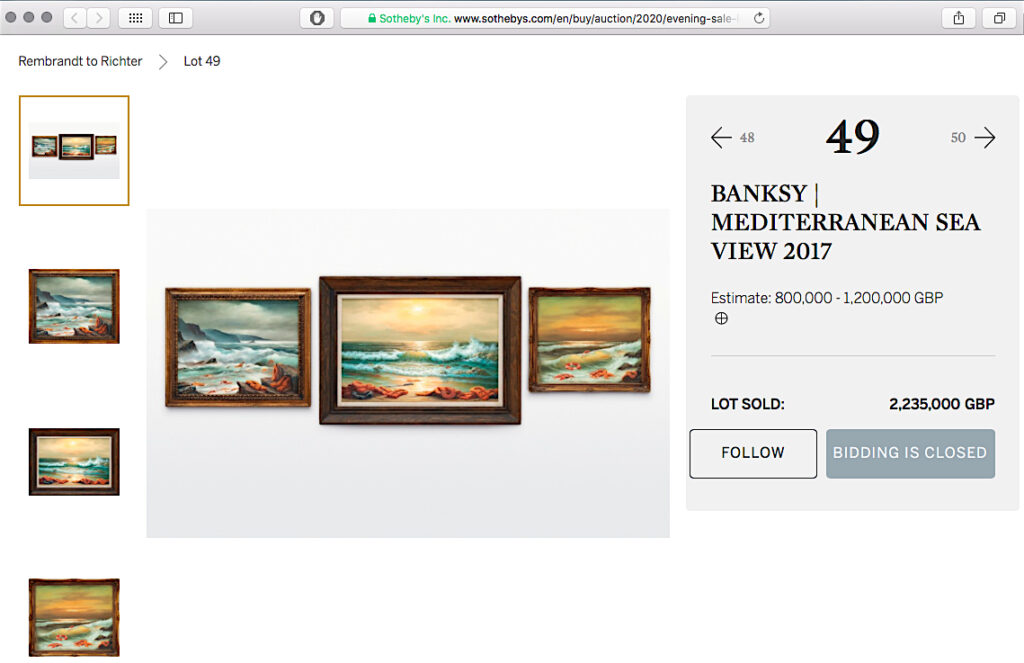 LOT 49, BANKSY | MEDITERRANEAN SEA VIEW 2017
Estimate: 800,000 – 1,200,000 GBP
LOT SOLD: 2,235,000 GBP
Description
BANKSY
b. 1975
MEDITERRANEAN SEA VIEW 2017
reworked oil paintings in artist's frames, in three parts. Signed on the third canvas.
ii: signed on the reverse
iii: signed
framed, i: 83 by 68 cm. 32¾ by 26¾ in.
framed, ii: 115 by 84.5 cm. 45¼ by 33¼ in.
framed, iii: 69.8 by 59.5 cm. 27 ½by 59½ in.
Executed in 2017, this work is unique
This work is accompanied by a Pest Control Certificate of Authenticity.
Provenance
Painted for and displayed in the lobby of the Walled Off Hotel.
Donated to ABCD Bethlehem.
All proceeds will go towards building a new acute stroke unit and purchasing children's rehabilitation equipment for BASR hospital in Bethlehem.
more at:
https://www.sothebys.com/en/buy/auction/2020/evening-sale-london/banksy-mediterranean-sea-view-2017
---
アップデート 2020年8月27日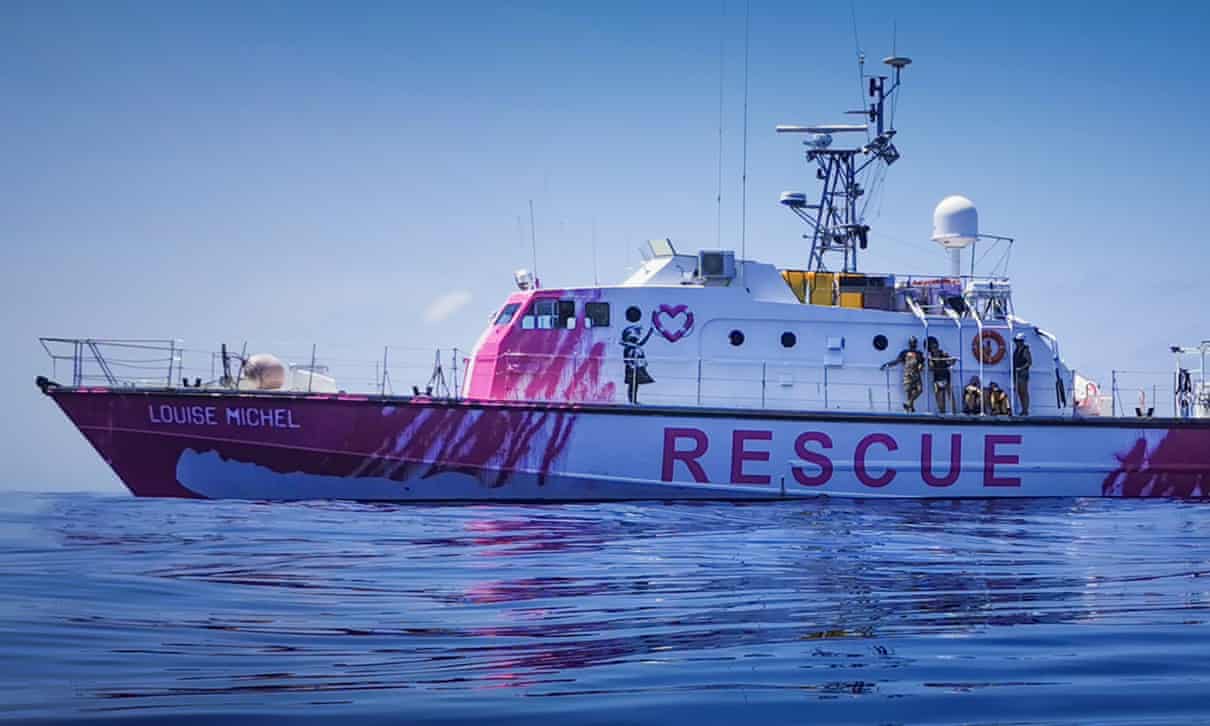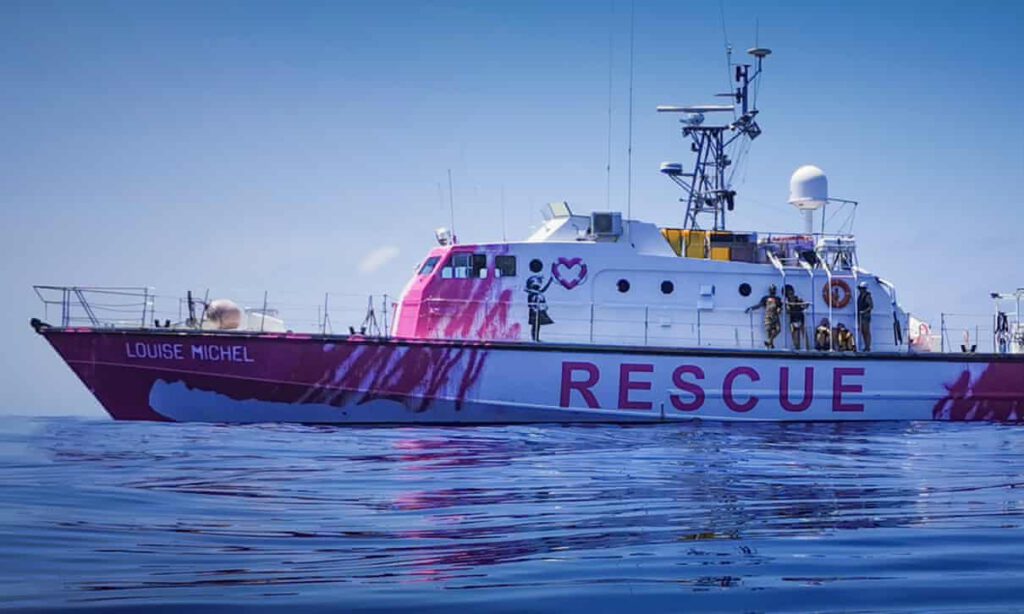 Banksy funds refugee rescue boat operating in Mediterranean
https://www.theguardian.com/world/2020/aug/27/banksy-funds-refugee-rescue-boat-operating-in-mediterranean
up-date 2021/3/24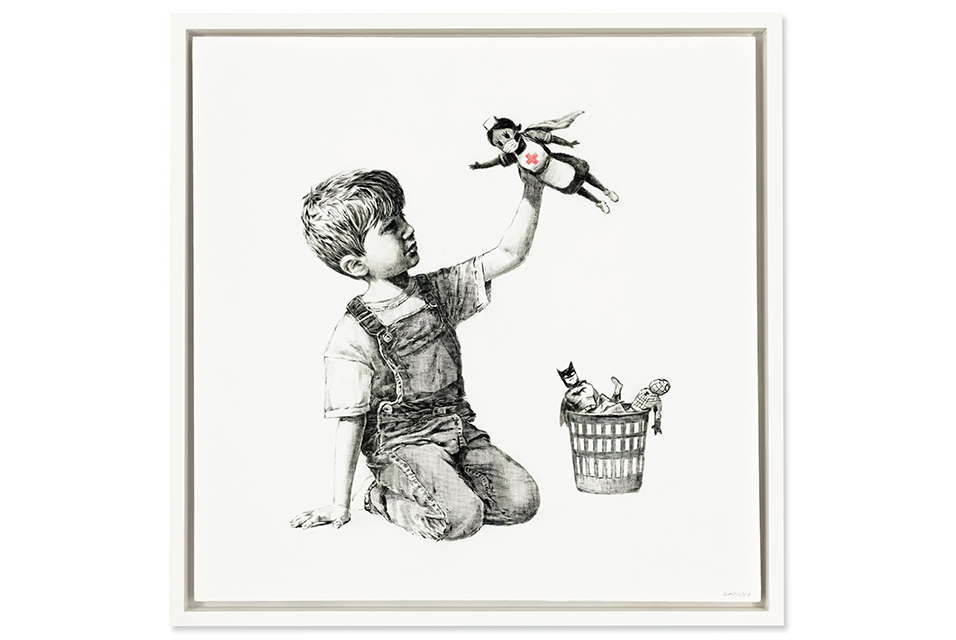 LONDON.- Banksy's Game Changer was sold for £16,758,000 / $23,176,314 / €19,422,522 at Christie's on 23 March 2021, in the 20th Century Art Evening Sale. Proceeds from the sale of the artwork will be used to support health organisations and charities across the UK that enhance the care and treatment provided by the NHS. Christie's will donate a significant portion of the Buyer's Premium to these causes.
full text:
https://artdaily.cc/news/134144/Banksy-s-Game-Changer-sells-for–23-176-314#.YFsbji2ZORs
2021年3月25日
"吉本の借金王"かつみ・さゆり 爆上がりした「バンクシー」の絵「1億超えたら売るかも」
"吉本興業の借金王"で知られる夫婦漫才コンビ「かつみ・さゆり」が25日放送のフジテレビ系「バイキングMORE」(月~金曜前11・55)に出演。かつみ(58)が2015年に200万円で購入した謎の画家「バンクシー」の絵「CYW」と同タイプの作品がサザビーズオークションで約4500万円で落札され、絵を売るかどうかに注目が集まる中「お守りなので売る予定はありません!でも1億超えたら話は別、売るかもしれない」と胸中を明かした。作品は19パターンの色違いで制作されたシルクスクリーン。かつみが購入したのは、オレンジ色でバンクシーのサインが入っており、25枚が世界で流通。「おそらく日本でこの色を持っているのはボク1人だけだと思います。価値的には同じだと思うんですよ」という逸品だ。新型コロナウイルスの感染拡大により「昨年、営業などの仕事が9割がなくなった」という2人にとってハッピーなニュースで、20年以上続いた借金ライフに、やっと光が差した形。これまでは株の失敗に加え、バブルが弾けて1億円以上の負債をかかえる中、オオクワガタの繁殖や100円ショップオープンなど副業は失敗のオンパレードだった。バンクシーと並び、昨年7月に開設したYouTubeチャンネル「かつさゆのボヨヨンチャンネル」が最近、評判を呼んでいるのも2人にとっては嬉しい話題。"アラフィフの美魔女"さゆり(51)の美脚と美容動画の再生回数が爆上がり。なかには240万回以上再生されたものもある。カメラも購入するなど先行投資して、力を注いでいる。かつみは番組で「ようやくこれだけいろんな投資して本業が一番もうかることがわかりました。YouTube力入れてやりたいです」と苦笑い。愚痴一つ言わずに内助の功で支えたさゆりとの二人三脚の希望となるのか、バンクシーの行方が注目される。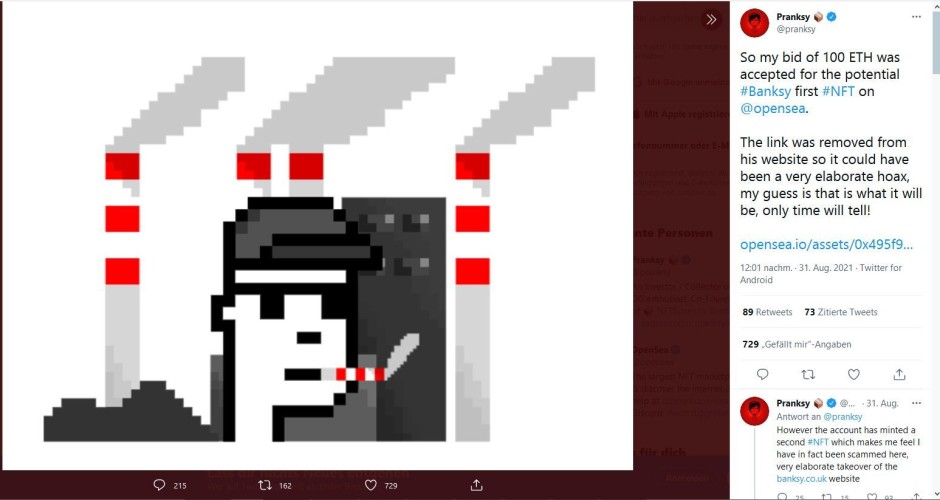 up-date 2021/11/5
Record Banksy Buyer Paid in Cryptocurrency – It turns out that the undisclosed Asian buyer who bid a record $25.4 million for Banksy's shredded "Love in Bin" paid that sum in cryptocurrency. The buyer has a background in crypto (though they are "not particularly" interested in NFTs) and feels a kinship with Banksy's anti-establishment sensibility. It's a testament to the new breed of collector shaking up the market; per the Canvas, this buyer has only been dabbling in art for two years, and has never bought from a gallery.
up-date 2021/12/6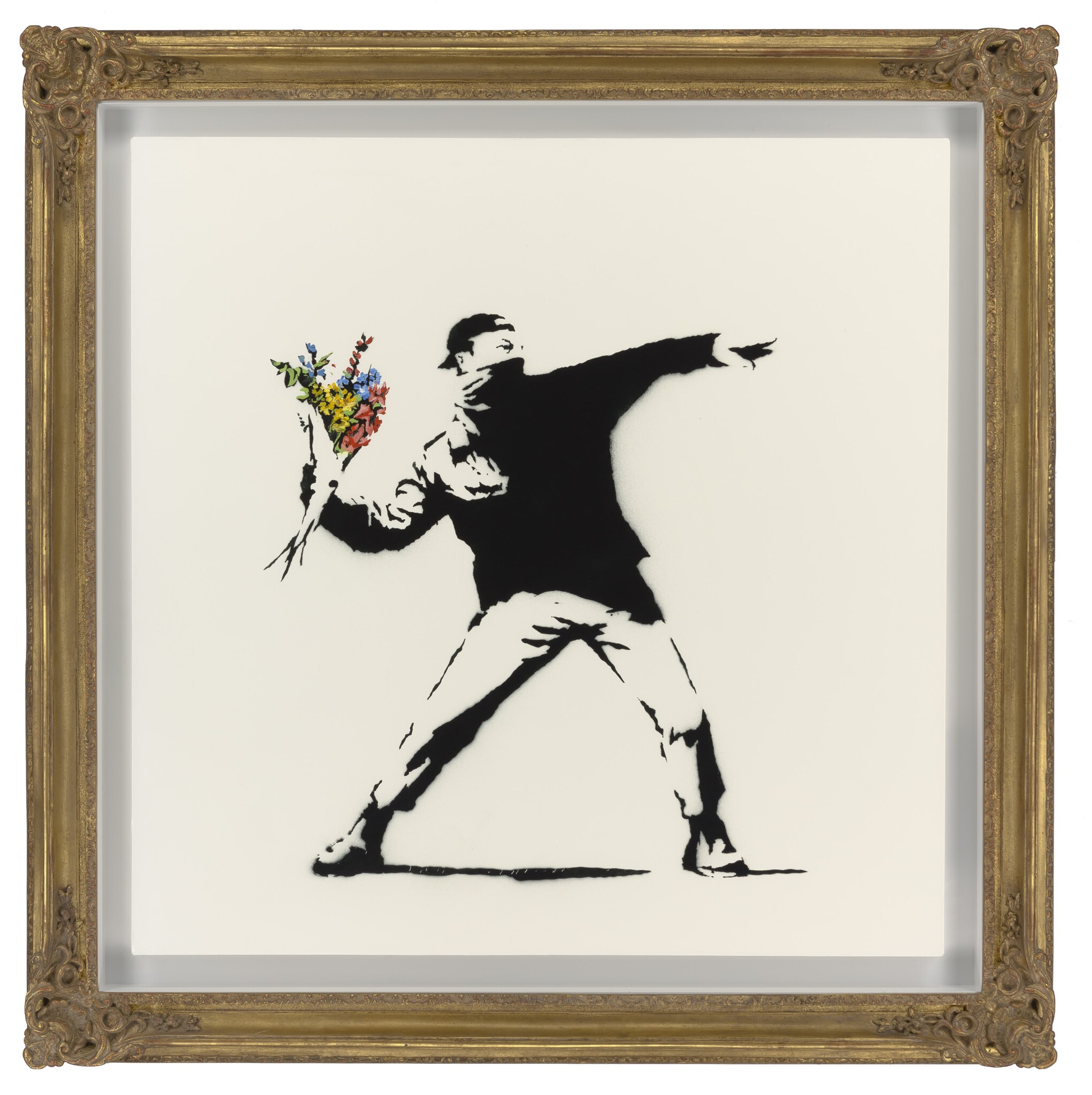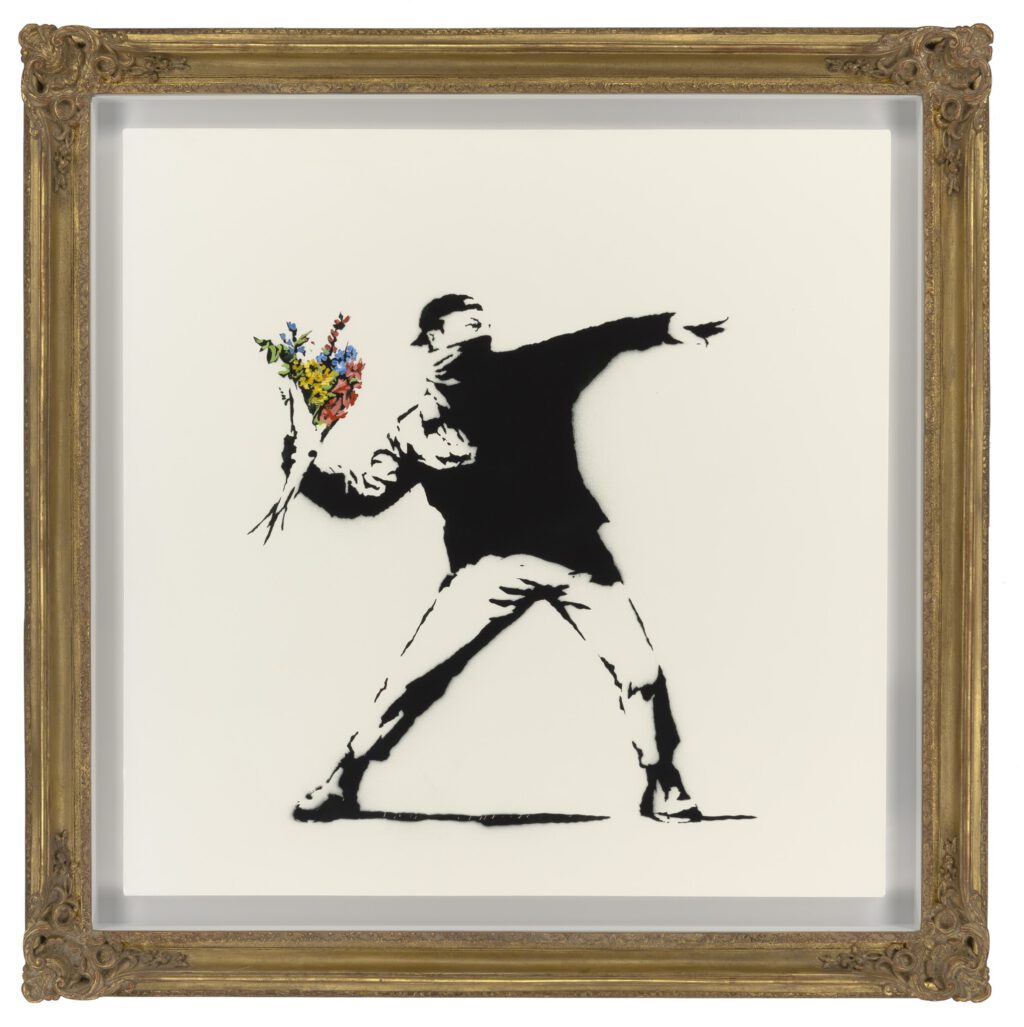 Banksy's 'Love Is in the Air' to Be Fractionalized into 10,000 NFTs
"I always wanted to own art, even when I had absolutely no money—I wished I could have at least a tiny stake in the paintings that I liked." So said Loïc Gouzer, the ex-head of contemporary art at Christie's and a co-founder of Particle, a new NFT company that aims to fractionalize ownership of traditional artworks by converting them into sets of NFTs called Particles, thus allowing for potentially thousands of people to share ownership of certain works. After receiving $15 million in seed funding from a venture capital firm and announcing its presence as a company this past summer, that wish is now a reality.
Particle revealed on Wednesday that its first acquisition is Banksy's Love Is in the Air (2005), which the Particle team acquired for $12.9 million at auction. The work has been segmented into 10,000 NFTs, each representing a unique section of the painting. An initial offering of Love Is in the Air will begin January 10 and run through January 14, allowing collectors a chance to purchase a Particle of the work for about $1,500. After the initial offering, the Particles will enter the secondary market across NFT platforms and there's no telling how they might change in value.
The physical version of Love Is in the Air will be handed over to Particle Foundation, the nonprofit arm of the company that will maintain, preserve, and tour the work so that collectors can see the pieces they can rightfully claim to own. Royalties received in the resale of Particles (like all NFTs, Particles are attached to a smart contract that ensures a portion of the resale value is returned to the creator of the NFT) will be partially used to fund Particle Foundation. And the foundation will also retain 1 percent of Love Is in the Air Particles to act, as a press release explains, "as a protective shard and ensure no one person can envisage claiming possession of the physical painting."
With the entanglements intrinsic to the fact that each Particle will fluctuate in value across a vast and changing collector base, it would be intensely complicated to ever attempt to sell the physical work. To make a comparison: For a company like Rally, which fractionalizes ownership of collectibles in a more traditional manner, the sale of an entire object or work is the only way for collectors to see a return on their investment. Currently, some 5,500 joint holders of a copy of the Declaration of Independence are voting on whether or not to sell the historical document. If they decide to sell together as a group, they'll all get their investment returned, and potentially more.
In Particle's case, the potential for return on investment is not a collective decision but instead something immediate and individual to be carried out on secondary NFT platforms. The downside of that is that each investor must take the responsibility of marketing and selling their asset in the volatile NFT market.
Together, Particle and the Particle Foundation have stated ambitions to create a kind of meta museum, combining the stewardship of traditional institutions with the exclusivity of a private collection and the returns and risks related to the rabid digital market that is NFT trading. The enterprise's vision is highly dependent on its own ability to endure the challenges of this complicated matrix.
For Gouzer, the challenge is worth it for what it might mean for more people to know the feeling of owning great works of art. "Particle Foundation is going to be a museum for the people, but also by them," he said. "It will be great to see art like that, because pure enjoyment of art is not complete until you feel you own it."