2020年10月2日 デイヴィッド・ツヴィルナー ギャラリー:アーティスツ・フォー・バイデン
2020/10/2 David Zwirner Gallery: Artists for Biden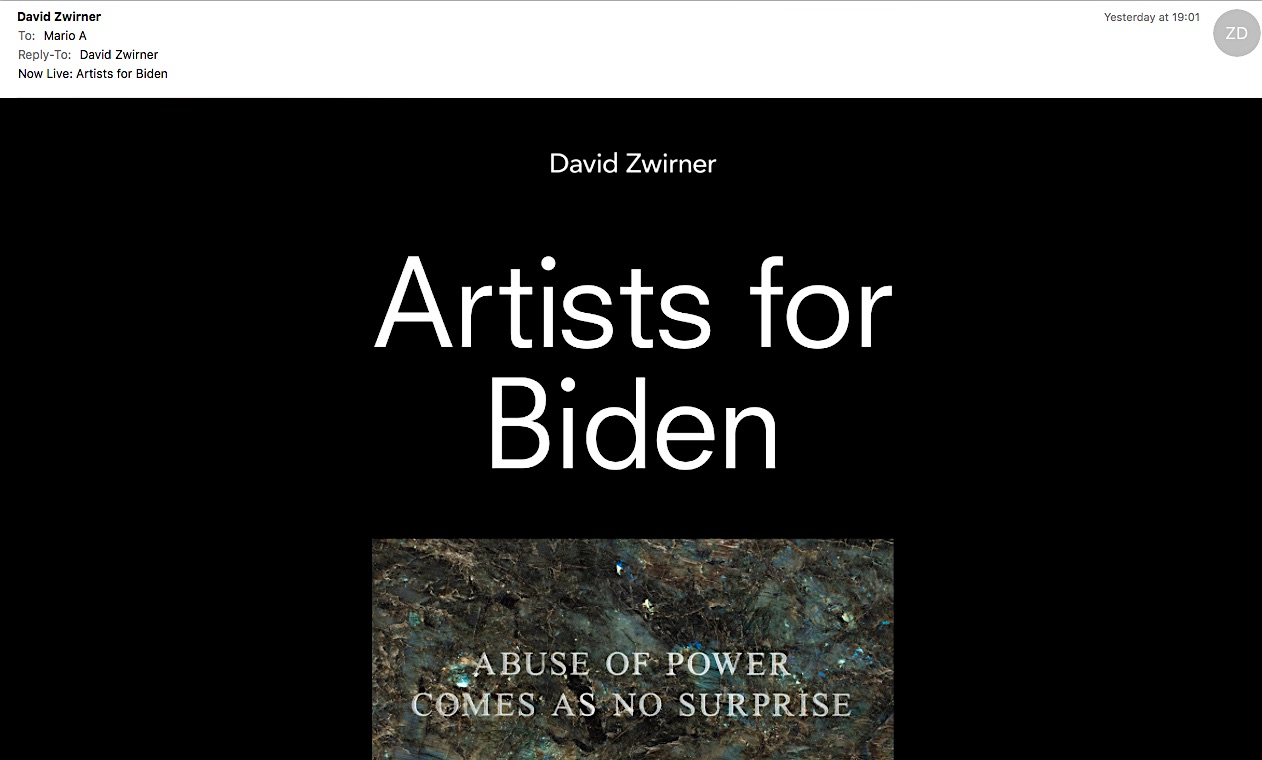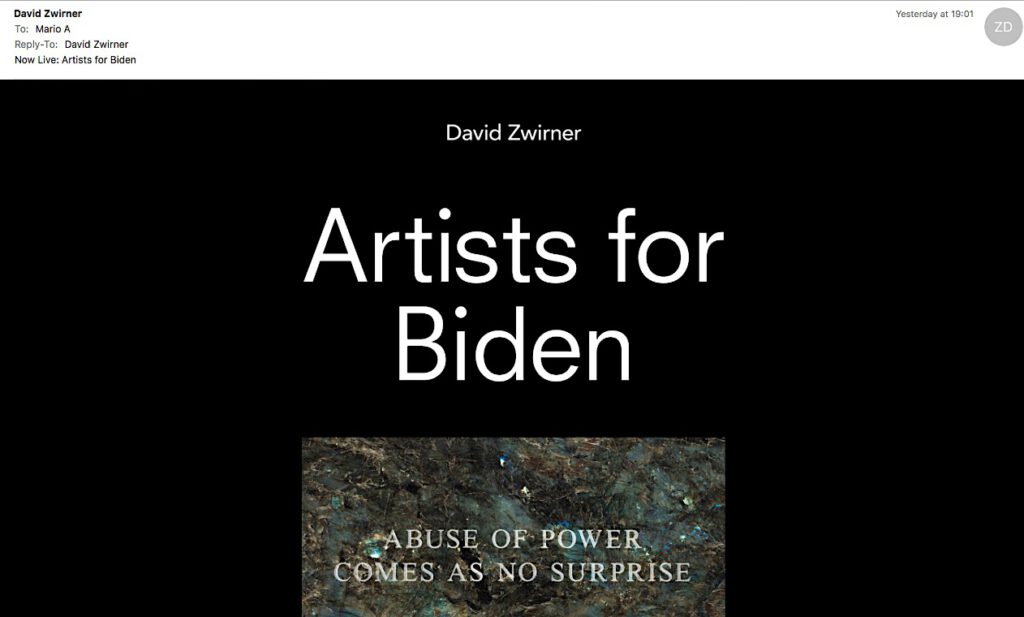 昨日届いたアート・ニュースレターの中、デイヴィッド・ツヴィルナー ギャラリーのは非常に目立っていました。我が国で考えられない行動なので、未来向けに、ART+CULTUREで記録させていただきます。ご参考の為。
Dear Friends,
I am honoured to invite you to explore Artists for Biden, featuring works donated by more than one hundred artists and galleries raising funds to help Joe Biden, Kamala Harris, and Democrats across the country.
During the early access day, available to anyone who pre-registered for the sale, more than one hundred artworks were purchased in a tremendous show of support for the Biden Victory Fund. I encourage you to explore our sale highlights featuring available works by Cecily Brown, Jenny Holzer, Michael Heizer, Sam Gilliam, and more. You can also contribute at any price point by donating directly to the Biden Victory Fund at joebiden.com .
Artists for Biden is presented on Platform – our new website developed to host online sales and charitable initiatives for peers and partners – and it has been so powerful to see artists and the arts community come together in such a generous and unified way toward this common goal. I hope you can join us, through your participation in this sale, as we look ahead to November 3.
David Zwirner
アーティスツ・フォー・バイデン @ デイヴィッド・ツヴィルナー ギャラリー
https://platform.art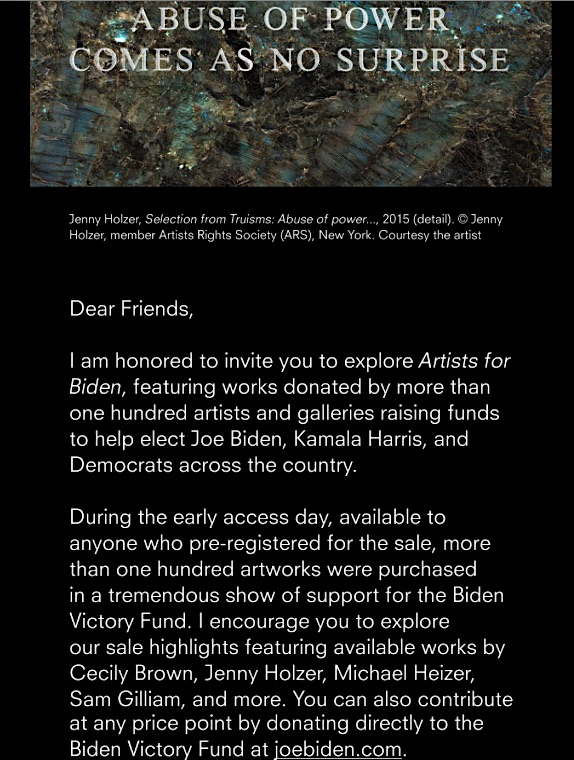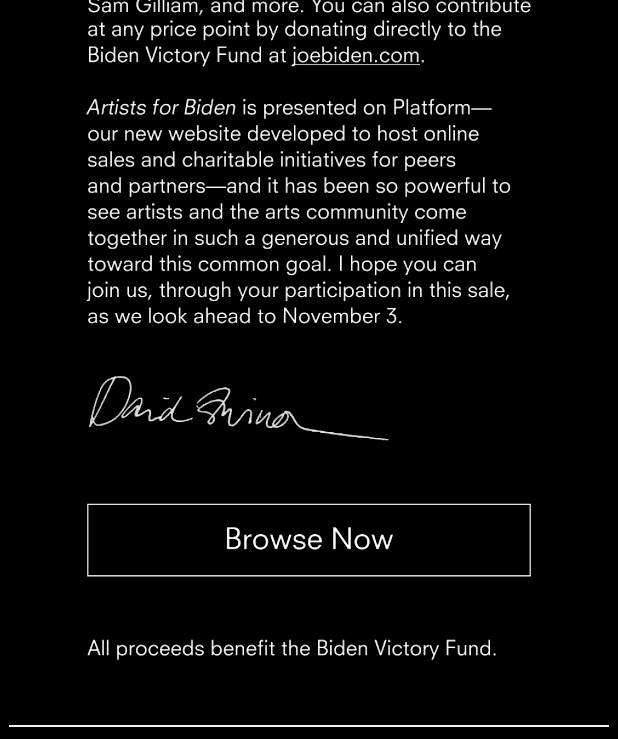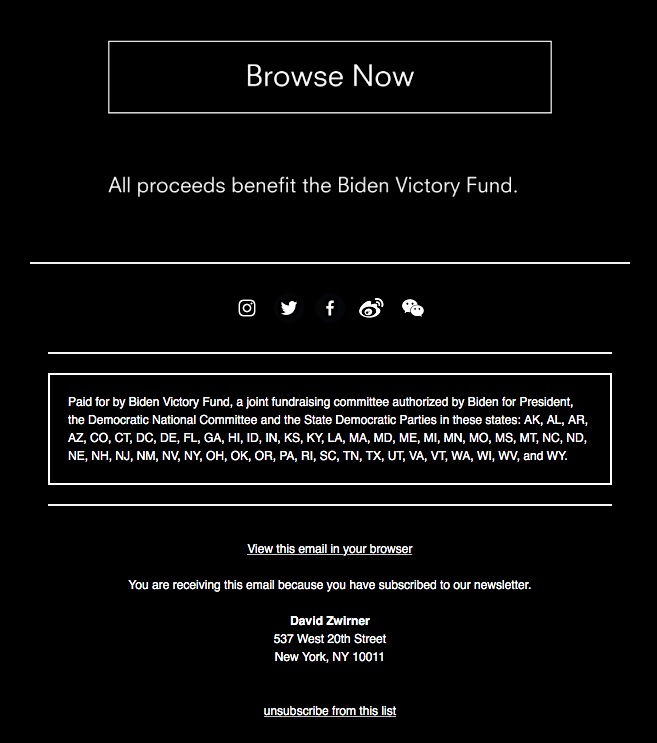 ---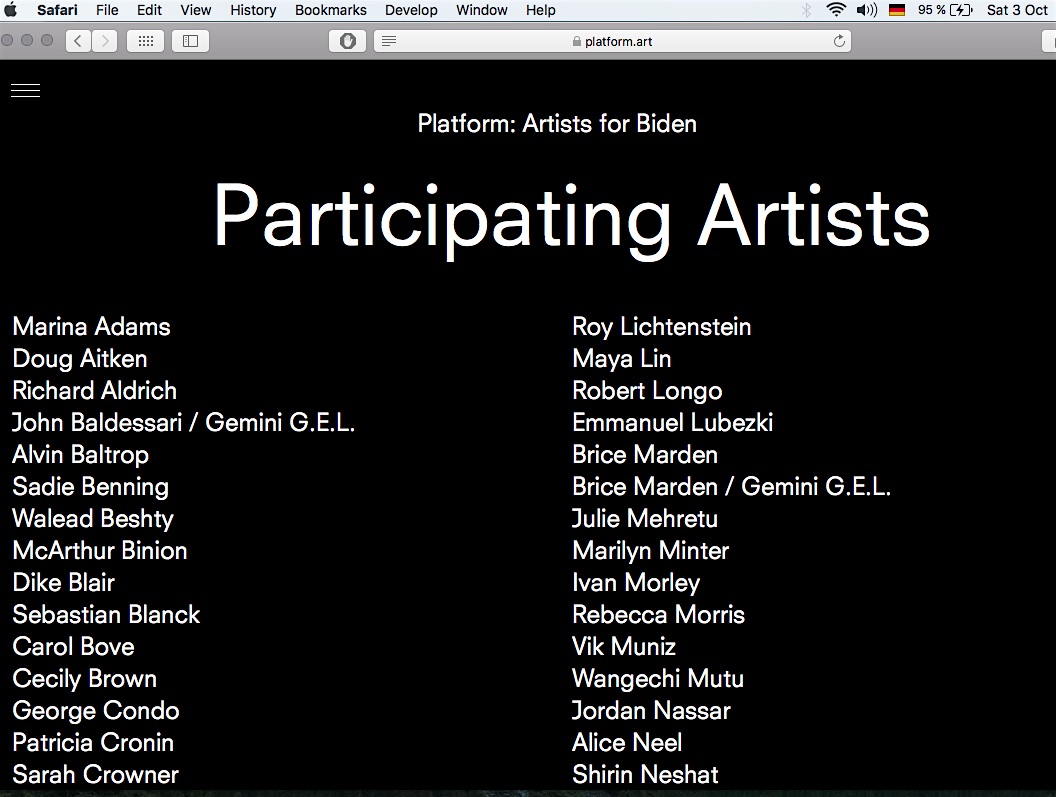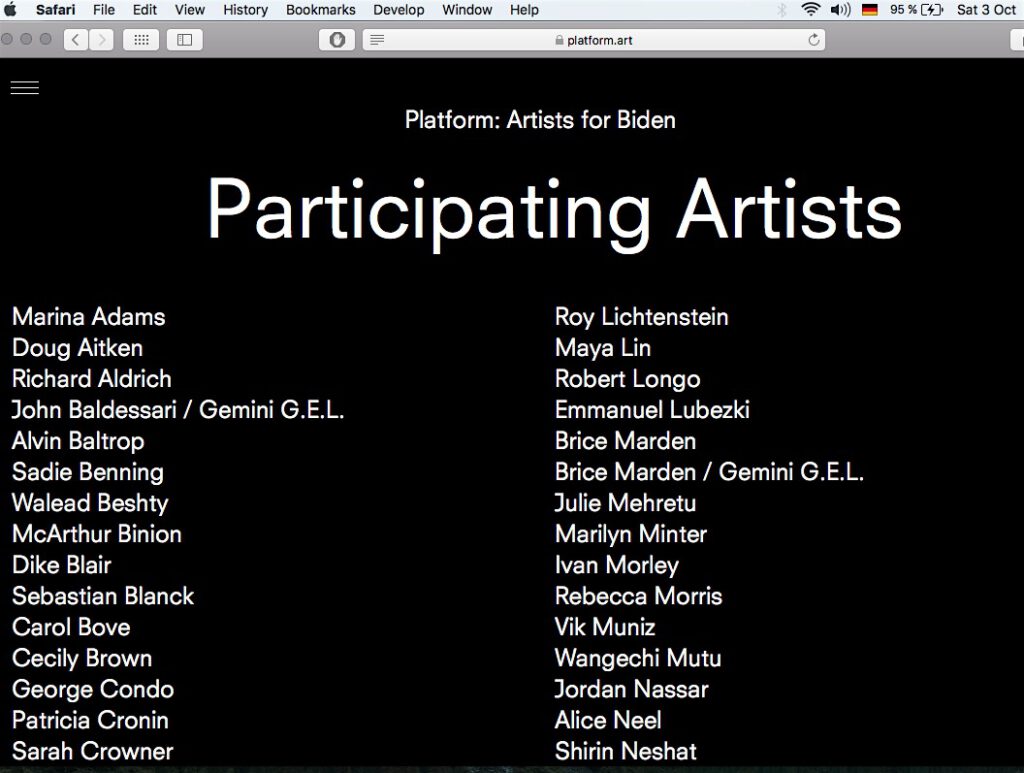 Marina Adams
Doug Aitken
Richard Aldrich
John Baldessari / Gemini G.E.L.
Alvin Baltrop
Sadie Benning
Walead Beshty
McArthur Binion
Dike Blair
Sebastian Blanck
Carol Bove
Cecily Brown
George Condo
Patricia Cronin
Sarah Crowner
N. Dash
Tara Donovan
Carroll Dunham
Marcel Dzama
William Eggleston
rafa esparza
Shepard Fairey
Rochelle Feinstein
Radamés "Juni" Figueroa
Spencer Finch
Suzan Frecon
Charles Gaines
Jerrell Gibbs
Sam Gilliam
Joanne Greenbaum
Isca Greenfield-Sanders
Thomas Hager
Trenton Doyle Hancock
Tyler Haughey
Michael Heizer
Carmen Herrera
Lynn Hershman Leeson
Jenny Holzer
Ridley Howard
Alex Hubbard
John Huggins
Ayana V. Jackson
Jasper Johns
Rashid Johnson
Deborah Kass
KAWS
Ellsworth Kelly
Jon Kessler
Toba Khedoori
Christine Sun Kim
Jeff Koons
Doron Langberg
Liz Larner
Bonnie Lautenberg
An-My Lê
Roy Lichtenstein
Maya Lin
Robert Longo
Emmanuel Lubezki
Brice Marden
Brice Marden / Gemini G.E.L.
Julie Mehretu
Marilyn Minter
Ivan Morley
Rebecca Morris
Vik Muniz
Wangechi Mutu
Jordan Nassar
Alice Neel
Shirin Neshat
Catherine Opie
Angel Otero
Jack Pierson
Lari Pittman
Martin Puryear
Christina Quarles
Robert Rauschenberg / Gemini G.E.L.
Alexis Rockman
Ugo Rondinone
Victoria Roth
Ed Ruscha
Alison Saar
Betye Saar
Fred Sandback
Fanny Sanín
Kenny Scharf
Richard Serra
Cindy Sherman
Amy Sillman
Gary Simmons
Laurie Simmons
Xaviera Simmons
Vaughn Spann
Tavares Strachan
Sarah Sze
Mika Tajima
Kyle Thurman
Fred Tomaselli
Leo Villareal
Charline von Heyl
Carrie Mae Weems
Lawrence Weiner
James Welling
Stanley Whitney
Kehinde Wiley
Chloe Wise
Christopher Wool
Rob Wynne
Lisa Yuskavage
Andrea Zittel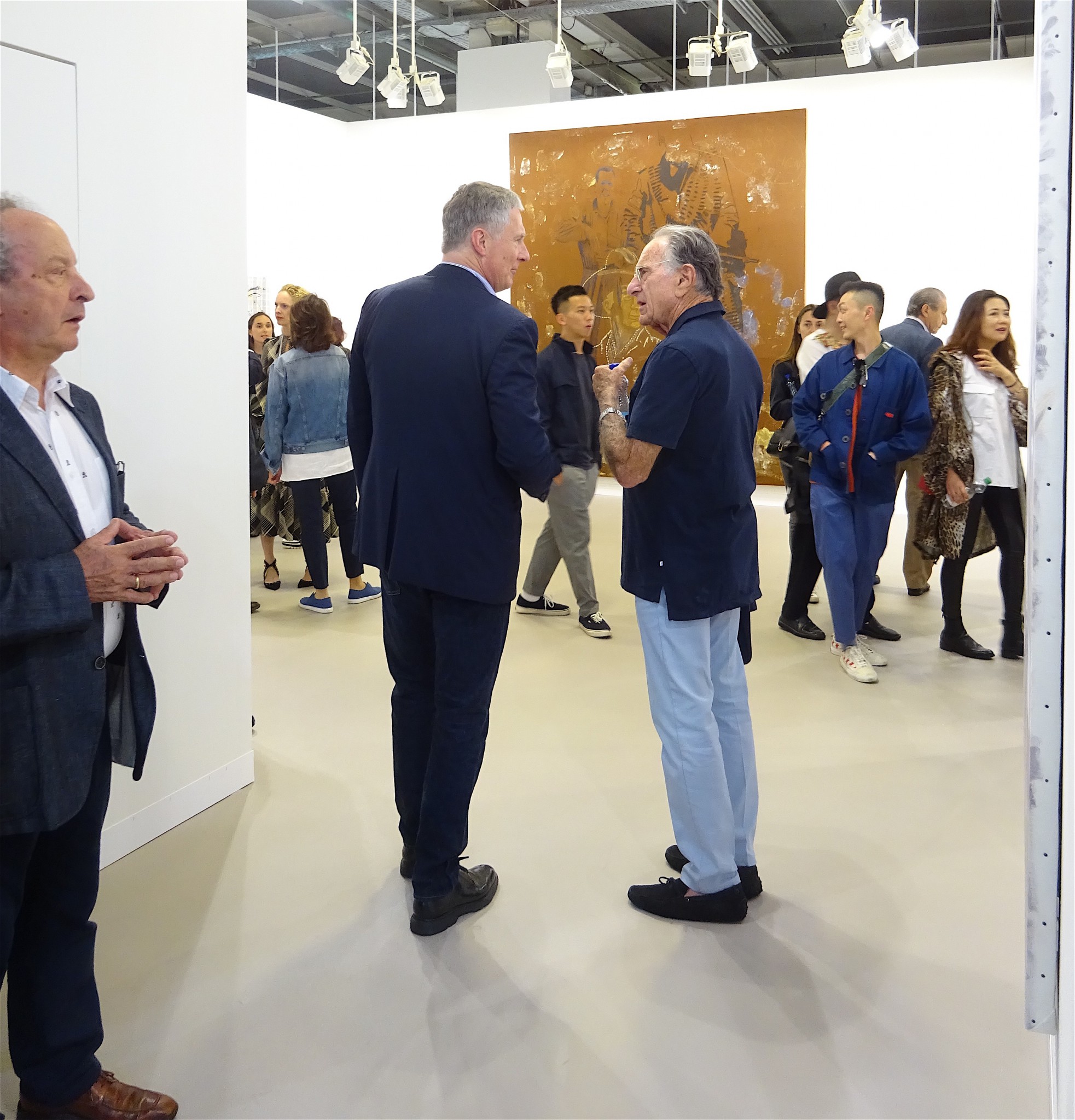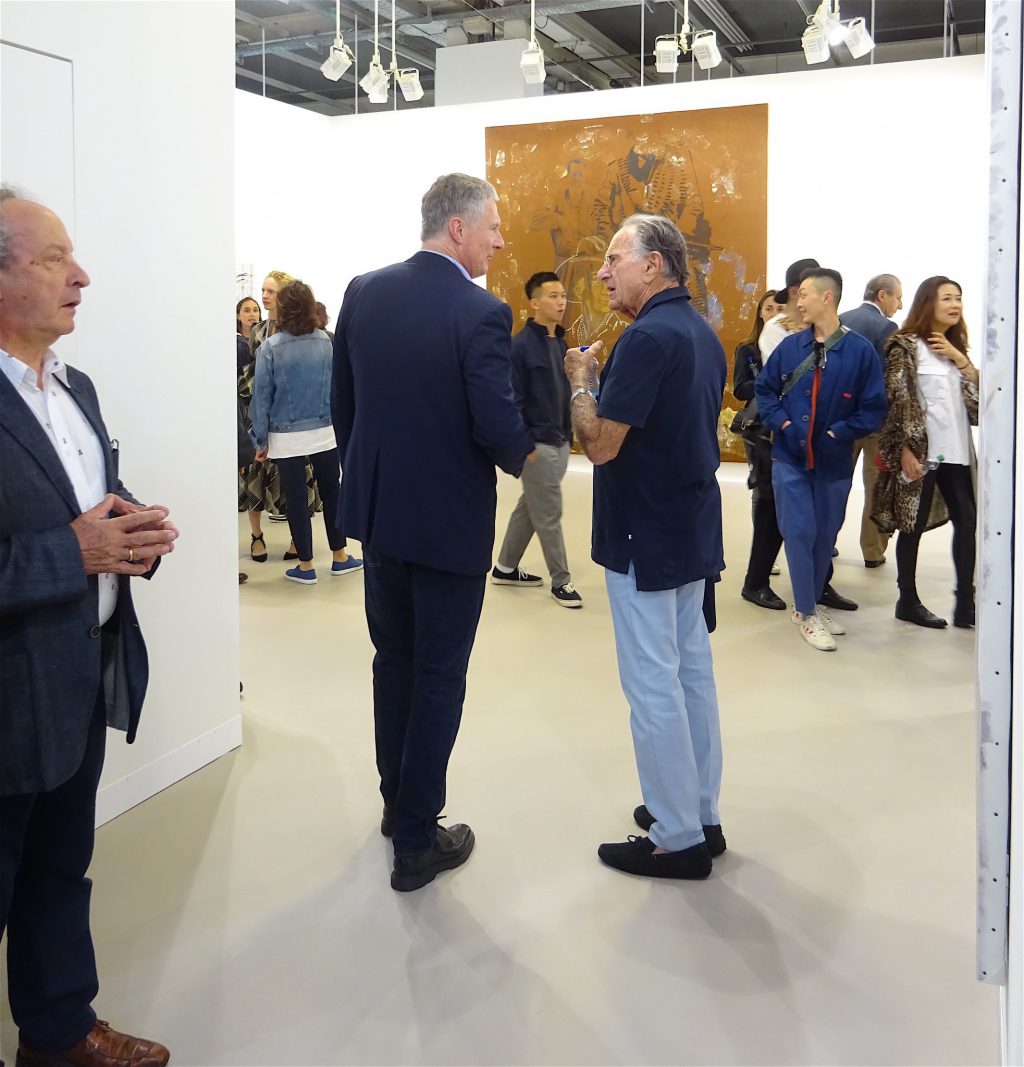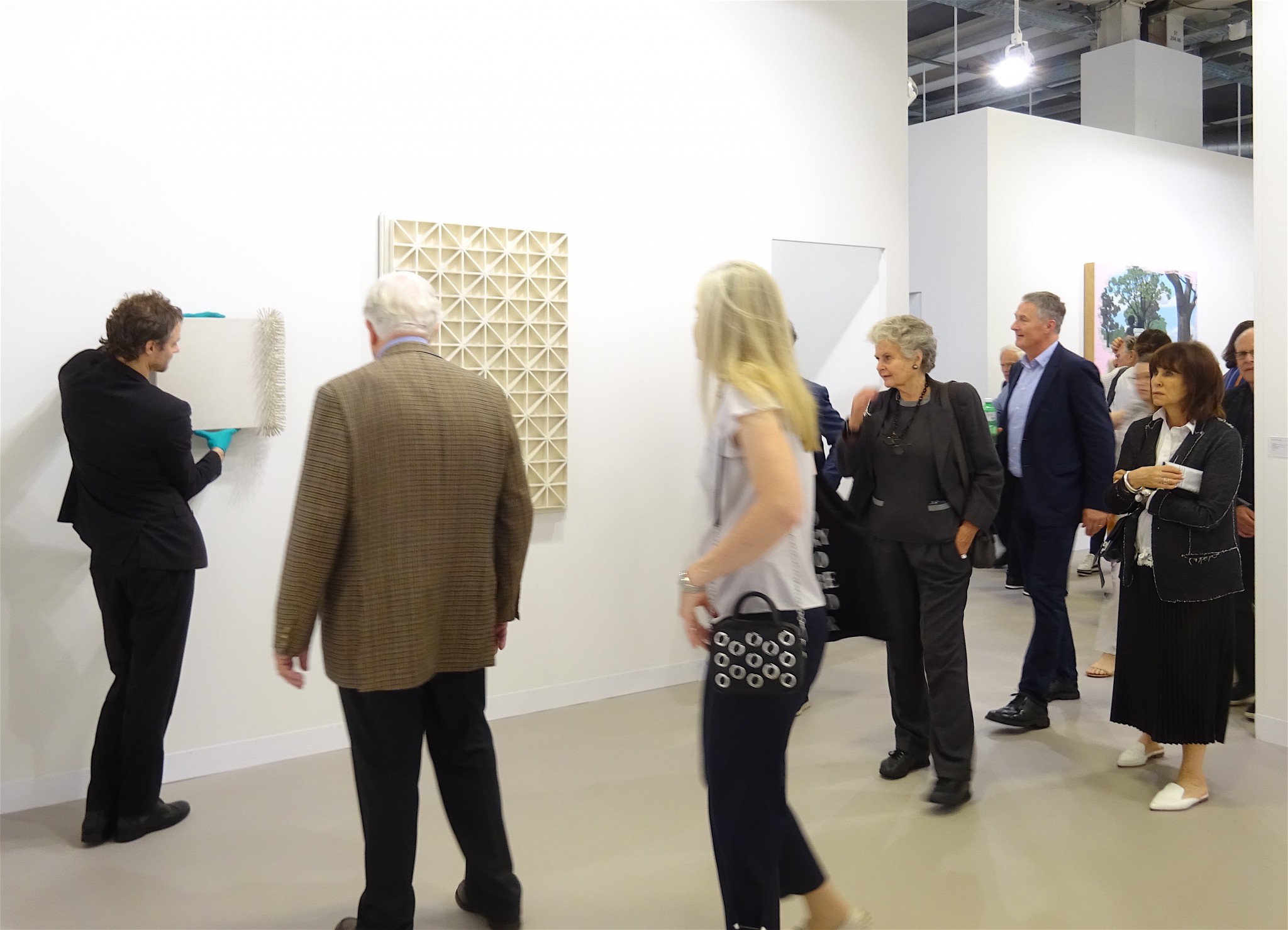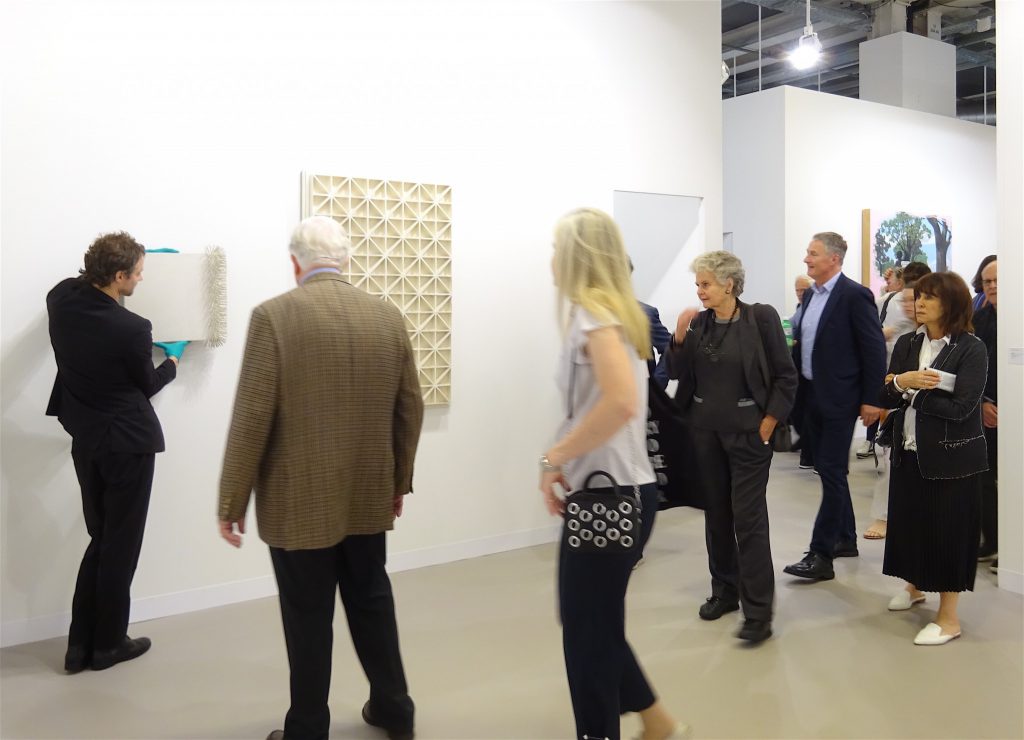 ---
今日のおまけ。
The world looks on the U.S.A. and will remember: "Will you shut up, man".
…
Anna Dipp:
Beyond pathetic!! a bully filled with anger and hate!! A DISGRACE.
わたくし:
Anna, yes you're absolutely right. The main problem is, that the world has to endure this kind of ego-centric behaviour, hate, anger, noisiness by these selfish "Americans". From my European and Japanese standing point: A country of uncivilised people. Sorry to say.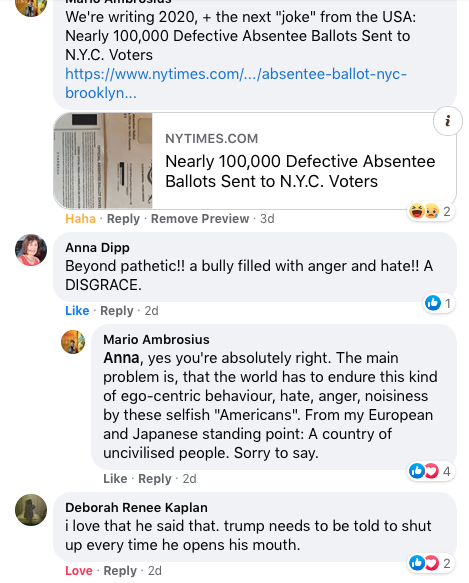 Presidential Debate "Will you shut up man.."