前澤友作コレクションですが、これで終わりか?
Is this the end of the 'MAEZAWA Yusaku Collection'?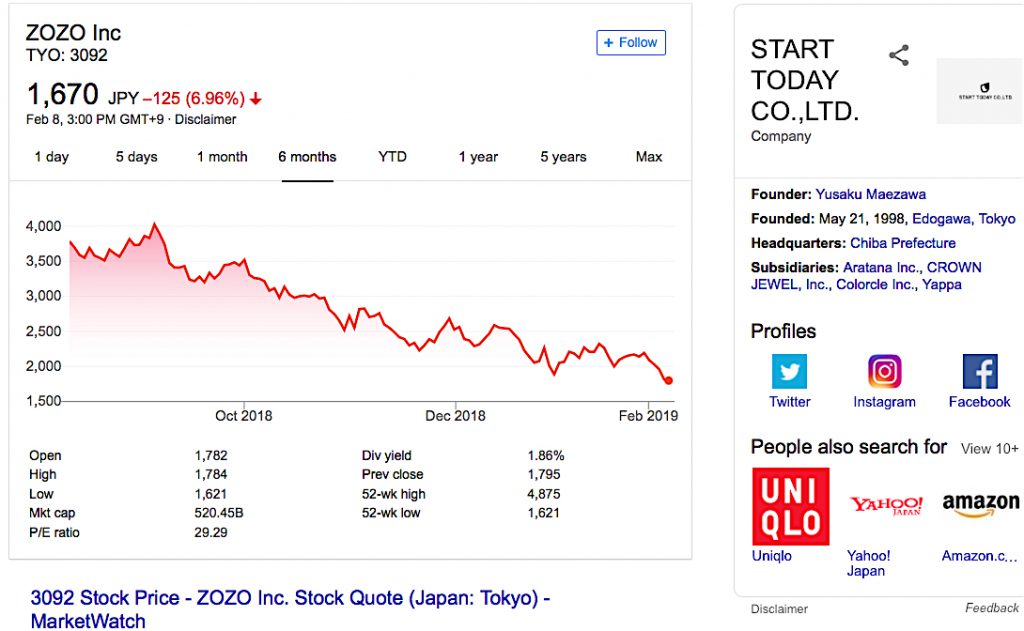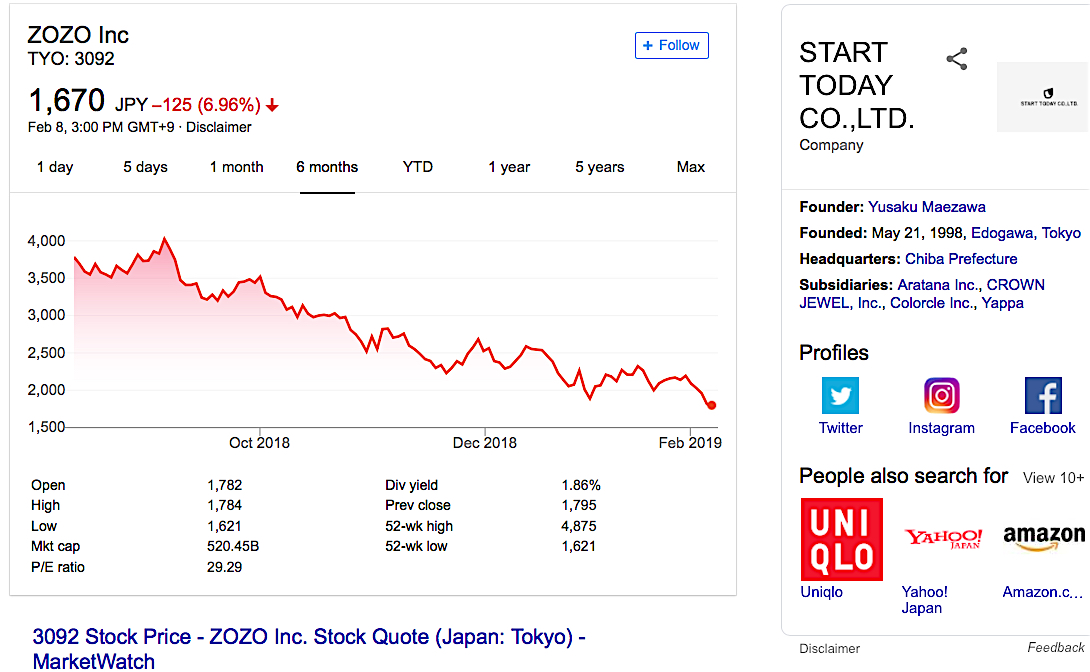 Before gossip will take over the topics about world wide famous Japanese collector MAEZAWA Yusaku 前澤友作, I just want to post today's stock price of his company ZOZO Inc. on ART+CULTURE. For the record, so to say.
In the actual Japanese magazine PEN, with the main topic "The Value of Art" I was missing his name and his collection, as other Japanese collectors had been introduced.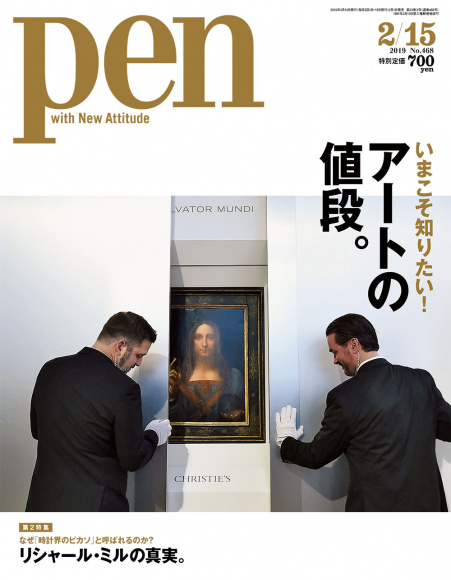 「お金」から読み解く新しいアート特集、Pen 2月15日号「いまこそ知りたい!アートの値段。」が好評発売中です
https://www.pen-online.jp/news/info/pen_468_art/1
Yesterday Maezawa announced that he will stop using/operating TWITTER for the time being.
Let's hope, he can manage to get his company back on track again.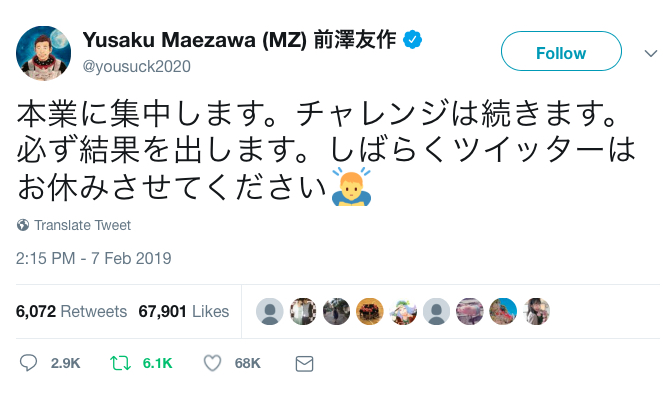 Yusaku Maezawa (MZ) 前澤友作 @yousuck2020
本業に集中します。チャレンジは続きます。必ず結果を出します。しばらくツイッターはお休みさせてください
https://twitter.com/yousuck2020/status/1093377612578082817
Japanese Billionaire's E-Commerce Site Hits Turbulence
Yusaku Maezawa bought the first ticket to fly to the moon with Elon Musk's SpaceX but on Earth his company is no longer soaring
WALL STREET JOURNAL, By Megumi Fujisawa, Feb.2, 2019
TOKYO—The Japanese billionaire who bought the first ticket to fly around the moon on Elon Musk's SpaceX vehicle is losing momentum back on Earth.
The business of selling fashion brands online may not be rocket science, but it is getting trickier for Japanese entrepreneur Yusaku Maezawa after years of rapid growth for his site, with big brands backing away and competition from the likes of Amazon.com Inc. rising.
full article at:
https://www.wsj.com/articles/japanese-billionaires-e-commerce-site-hits-turbulence-11549112401
---
See also:
サザビーズとクリスティーズのオークションに夢中になっている前澤友作
MAEZAWA Yusaku, crazy about auctions at Sotheby's and Christie's
https://art-culture.world/articles/maezawa-yusaku-crazy-about-auctions-at-sothebys-and-christies/
前澤友作の米国アーティスト・ダーリン、マーク・グロッチャンの作品:クリスティーズのロンドン・オークションで下落
MAEZAWA Yusaku's American Artist Darling Mark Grotjahn @ Christie's London & Lévy Gorvy : Sharp Depreciation
https://art-culture.world/articles/maezawa-yusaku-mark-grotjahn-christies/
ARTnews の「トップ200コレクターズ」」2018
THE TOP 200 COLLECTORS (ARTnews 2018)
https://art-culture.world/articles/the-top-200-collectors-artnews-2018/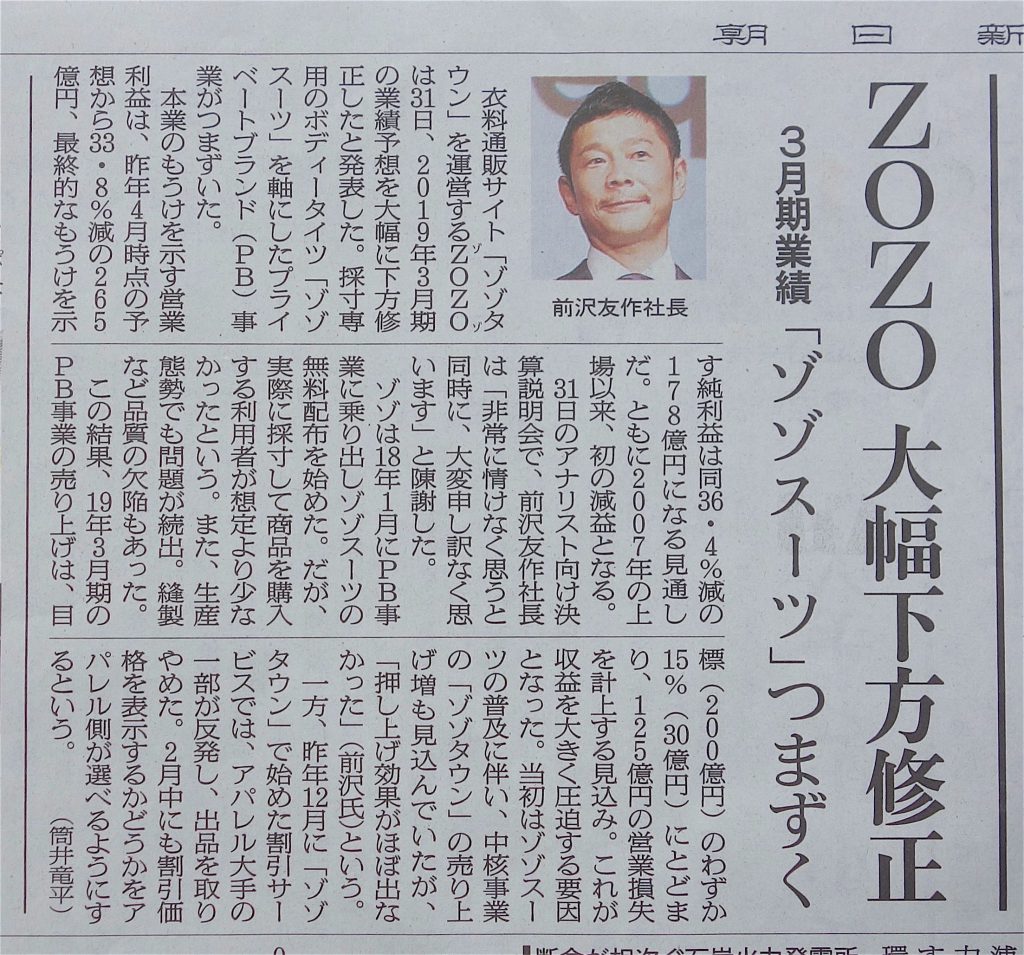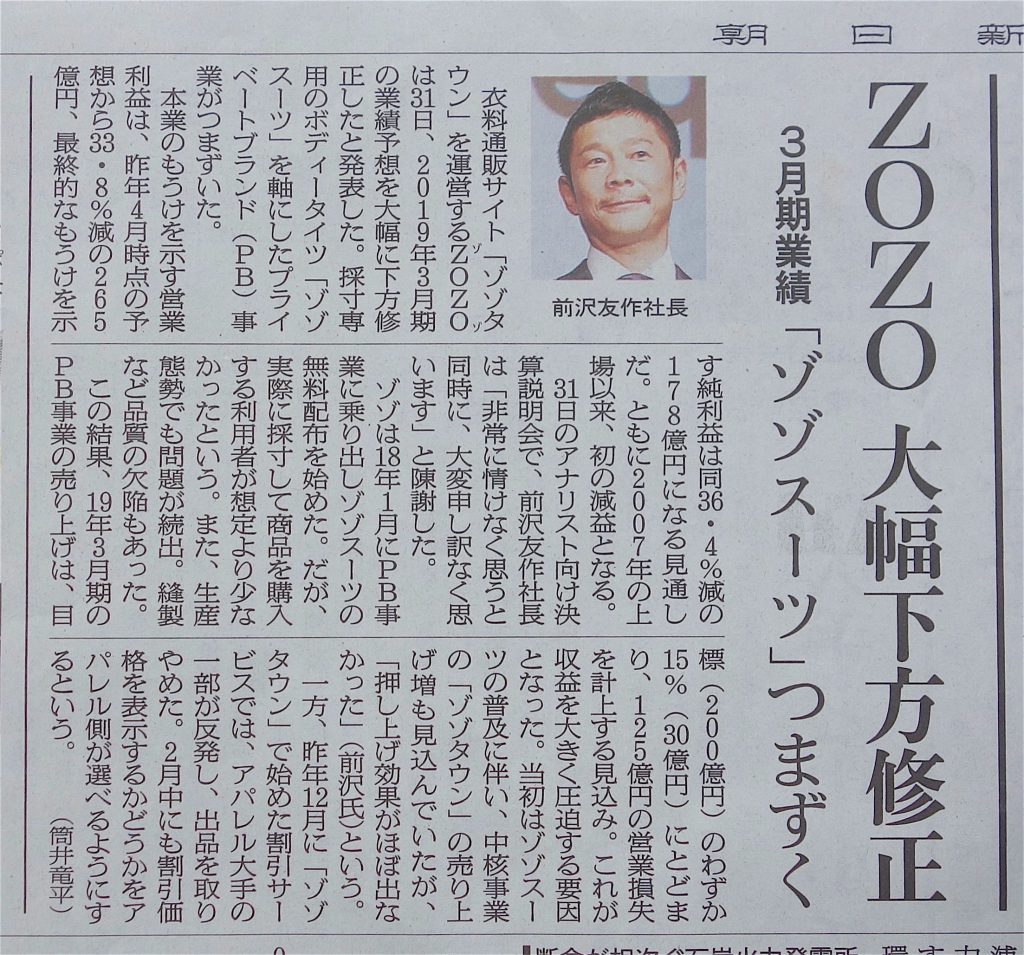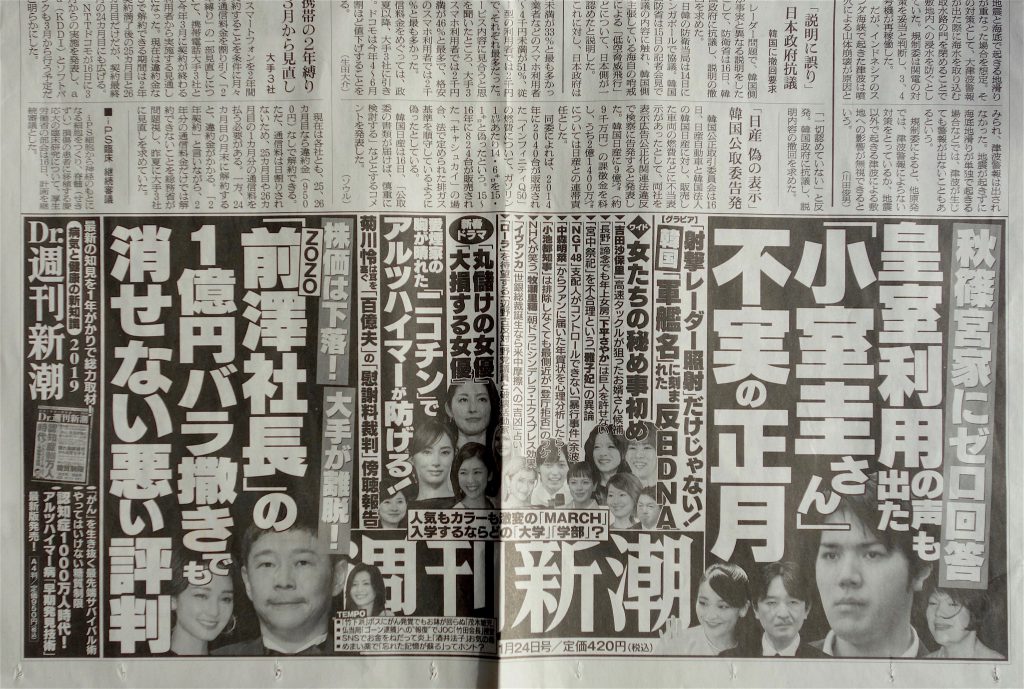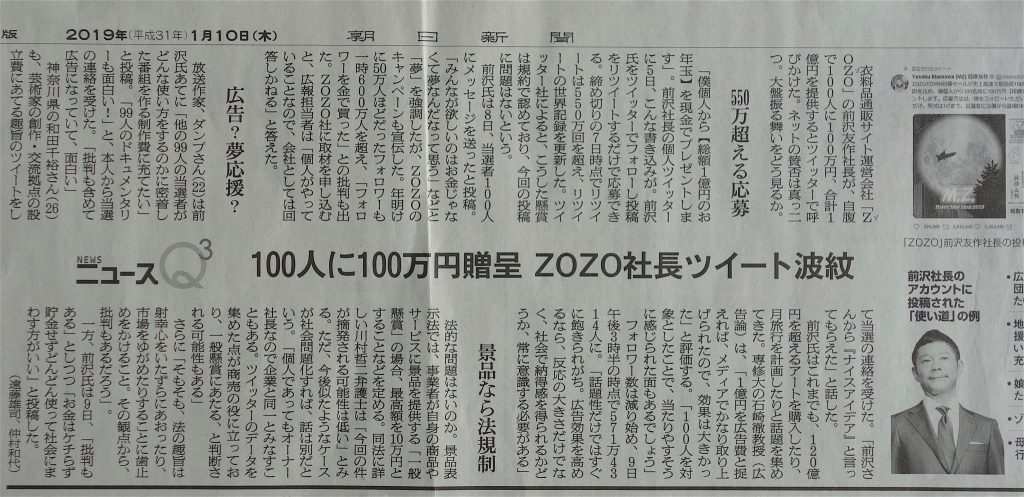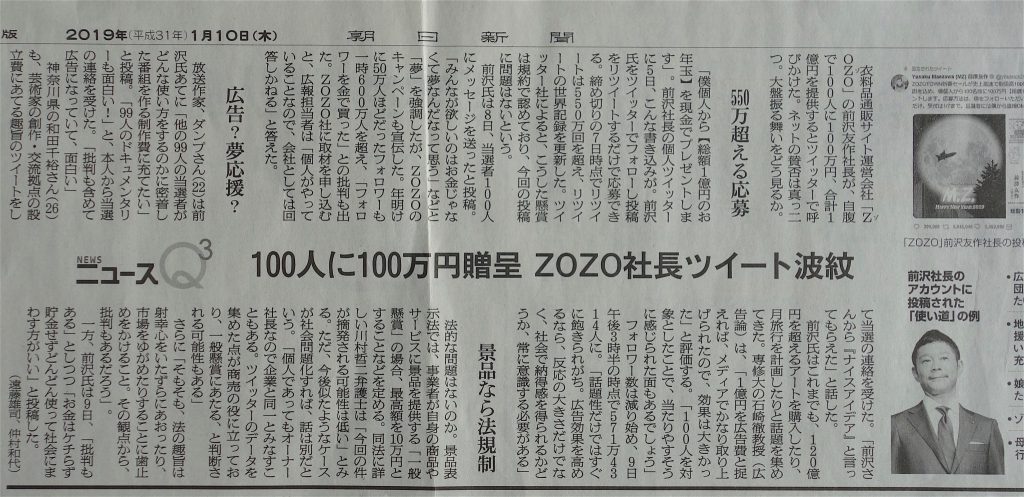 拝啓、ZOZO前澤友作様「1億円バラマキ、本当に下品です」
『藤田孝典』 2019/01/09
「うわー!100万もらえるって!乗っかるか」
と半分冗談で言った私にけーすけは
「俺、こういうの好きじゃない」
と一言だけ。
この感覚かっこいいと思った。
たしかにそんな風にばらまくお金があるなら、月に行けるお金があるなら、ZOZOで働いてる人たちを幸せにしてあげて欲しい。
不満に思ってる人たちがいるなら。
…
とうとう始まった前澤バッシング。ばらまくなら低賃金労働者の最低賃金あげよ! マルクスまで引用! 至極まっとうなご意見。最低賃金派遣&バイト労働者搾取で成り上がった男ですね。
https://ironna.jp/article/11629?p=1&fbclid=IwAR2fK_u-imF1fCK-H8vhGa0PdmpAj4wwFNViWHigeIo4Cy8quh95XF1lnk4
Let's discuss Yusaku Maezawa's great Twitter giveaway
BY JESSE JOHNSON, Japan Times, STAFF WRITER, JAN 14, 2019 

In the latest headline-grabbing move by Japanese billionaire Yusaku Maezawa, the founder and CEO of major online fashion mall operator Zozo Inc. has announced a plan to dole out ¥1 million to 100 individuals to mark a successful New Year's sale.
Maezawa, who is scheduled to take a trip to the moon in 2023, wrote on Twitter late Saturday that he would give away a total of ¥100 million in cash out of his own pocket to 100 followers on the social media service who follow his account and retweet his post by the end of Monday.
"The Zozotown New Year's sale was the fastest ever to reach sales of ¥10 billion," he wrote, "So as a gesture of my appreciation, I will personally be giving a present of ¥1 million in cash to 100 people for a grand total of ¥100 million."
The tweet quickly went viral, garnering more than 2.5 million retweets as of late Sunday after smashing the previous Japan retweet record earlier in the day. It also prompted an incredible upsurge in users following Maezawa's Twitter account, which went from some 500,000 prior to Saturday's post to some 2.94 million by late Sunday.
In another tweet Sunday, the Zozo chief thanked those who had already participated, saying he believed a "dream," not cold, hard cash, was the motivating factor behind the attention surrounding his plan.
"I think that what everyone wants is a dream, not the money," he wrote. "If you have ¥1 million, you want to use it for something like friends, family members, society and animals. This makes me want to cry because the use is aimed at things other than yourselves. Japan, you're not half bad. You have many dreams. As for the retweets, I understand we hit a new Japan record. … Thank you."
In mid-September, Maezawa captured global attention after announcing he would embark on an 800,000-km trip around the moon and back aboard the BFR spacecraft developed by Elon Musk's SpaceX, along with several artists he plans to invite.
The billionaire, who would become the first private lunar traveler, said he hopes to contribute to world peace, a desire that was given greater urgency following the Sept. 11, 2001, terrorist attacks in the United States. Because of this, he said he was seeking "artists committed to making the world a better place."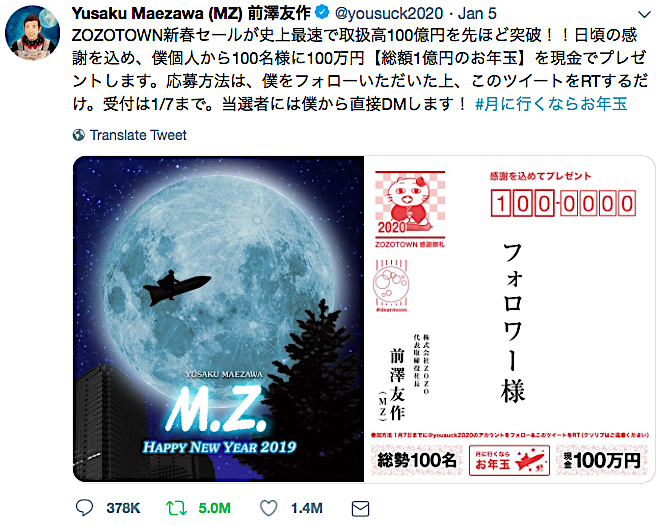 Yusaku Maezawa (MZ) 前澤友作 @yousuck2020, Jan 5
ZOZOTOWN新春セールが史上最速で取扱高100億円を先ほど突破!!日頃の感謝を込め、僕個人から100名様に100万円【総額1億円のお年玉】を現金でプレゼントします。応募方法は、僕をフォローいただいた上、このツイートをRTするだけ。受付は1/7まで。当選者には僕から直接DMします! #月に行くならお年玉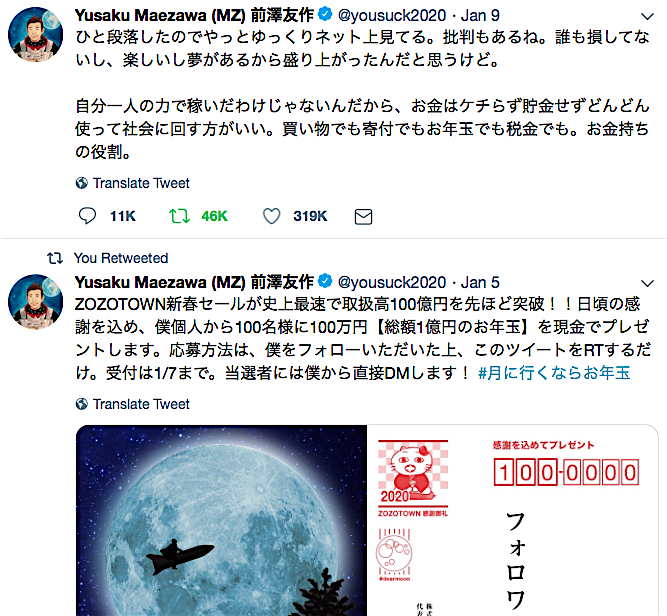 Yusaku Maezawa (MZ) 前澤友作 @yousuck2020, Jan 9
ひと段落したのでやっとゆっくりネット上見てる。批判もあるね。誰も損してないし、楽しいし夢があるから盛り上がったんだと思うけど。
自分一人の力で稼いだわけじゃないんだから、お金はケチらず貯金せずどんどん使って社会に回す方がいい。買い物でも寄付でもお年玉でも税金でも。お金持ちの役割。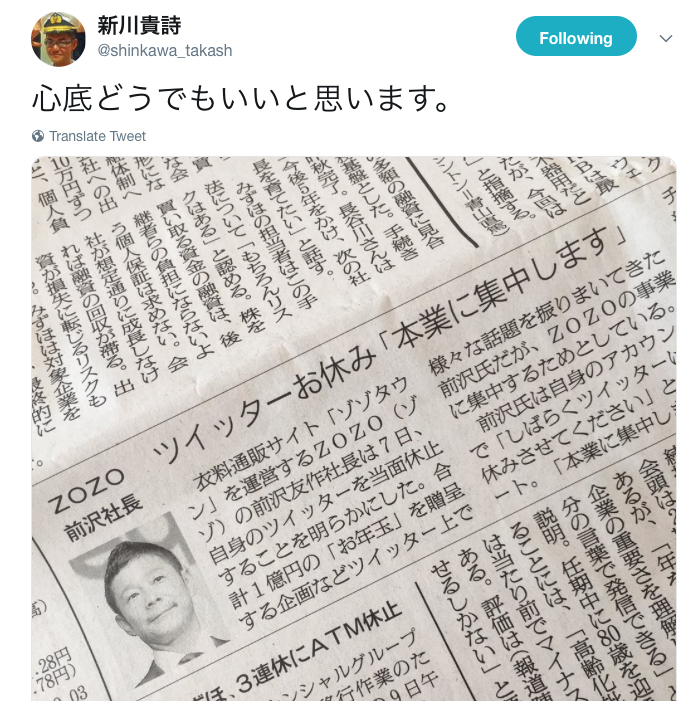 https://twitter.com/shinkawa_takash/status/1093651469591441408