ARTnews の「トップ200コレクターズ」」2018
THE TOP 200 COLLECTORS (ARTnews 2018)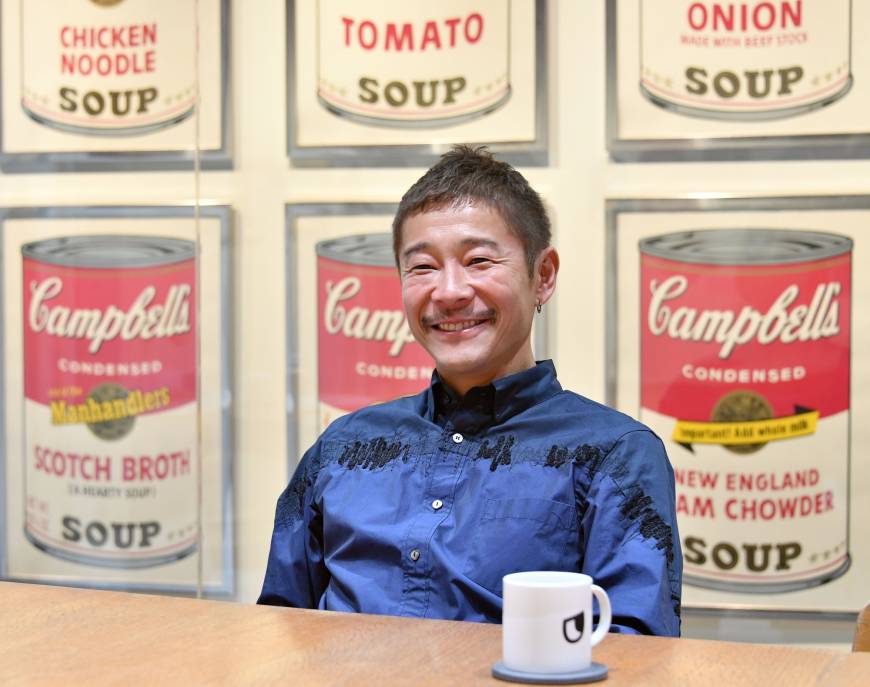 米国の美術雑誌「ARTnews」が1991年から毎年発表している「200 Top Collectors」は、美術界のみならず、ビジネス界でも注目されている。今日の新しいリストを読むと、日本のコレクターが4人選ばれていますが、この中だったら、私の意見としては、2人だけで十分と言えます。(他の2人の名前は入れ替えることを検討していただきたい。) (In short: 2 names should be changed into new 2 ones.)
この何年間、前澤友作さんの無駄なお買い物を見ると、日本のバブル時代を思い出します。当然、Basquiat作は高すぎ、アーティストMark Grotjahnからは「ゴミ」を直接買い取って、Rothkoの「work on paper (カミ)」をUS$ 18.856.500 (estimate US$ 7.000.000)で購入したのも可笑しく、つまり、ニューヨークのオークション、米国のアーティストたちに夢中である前澤さんのアチチュード、みっともないです。
2018年10月6日のアップデート:
前澤友作の米国アーティスト・ダーリン、マーク・グロッチャンの作品:クリスティーズのロンドン・オークションで下落
MAEZAWA Yusaku's American Artist Darling Mark Grotjahn @ Christie's London & Lévy Gorvy : Sharp Depreciation
https://art-culture.world/articles/maezawa-yusaku-mark-grotjahn-christies/
---
興味がある方はリンクへどうぞ。
THE TOP 200 COLLECTORS
http://www.artnews.com/top200year/2018/
https://www.artnews.com/toc/2018-artnews-top-200-collectors/
YUSAKU MAEZAWA
前澤友作(千葉、オンライン・リテール/ZOZOTOWN)
Location:
Chiba City, Japan
Source of wealth:
Online retail
Collecting area:
Antique Japanese pottery; Modern and contemporary art
Top 200 appearance:
2016, 2017, 2018
It makes sense that Yusaku Maezawa would be a big fan of Jean-Michel Basquiat. They're both former rockers: Maezawa played in a punk band in Japan before moving to California to be close to his heroes in the Dead Kennedys and the Melvins, while Basquiat was in the band Gray, gigging regularly at the Mudd Club and other spots in downtown Manhattan. They're both into high and low fashion: Maezawa is partly responsible for bringing the street style of Harajuku to high-end Japanese retailers, and Basquiat went from dressing like a workaday artist to splattering paint on his five-figure Armani and Comme des Garçons suits. They're also both fans of dating famous women: Maezawa was for a period attached to the actress Saeko, and Basquiat shacked up with Madonna for a time at Larry Gagosian's house in L.A. And there is this: Maezawa, who is now worth billions thanks to his online retail site Zozotown, dropped $110 million on a gigantic Basquiat at Sotheby's in May of 2017.
Fun fact:
$98,000,000: The price tag for a two-day art shopping spree that Yusaku Maezawa went on at Christie's New York in May of 2016, which included the purchase of a $57.2 million Basquiat. Another purchase: a Christopher Wool, for $13.9 million.
http://www.artnews.com/top200/yusaku-maezawa/
---
2018/9/18 up-date: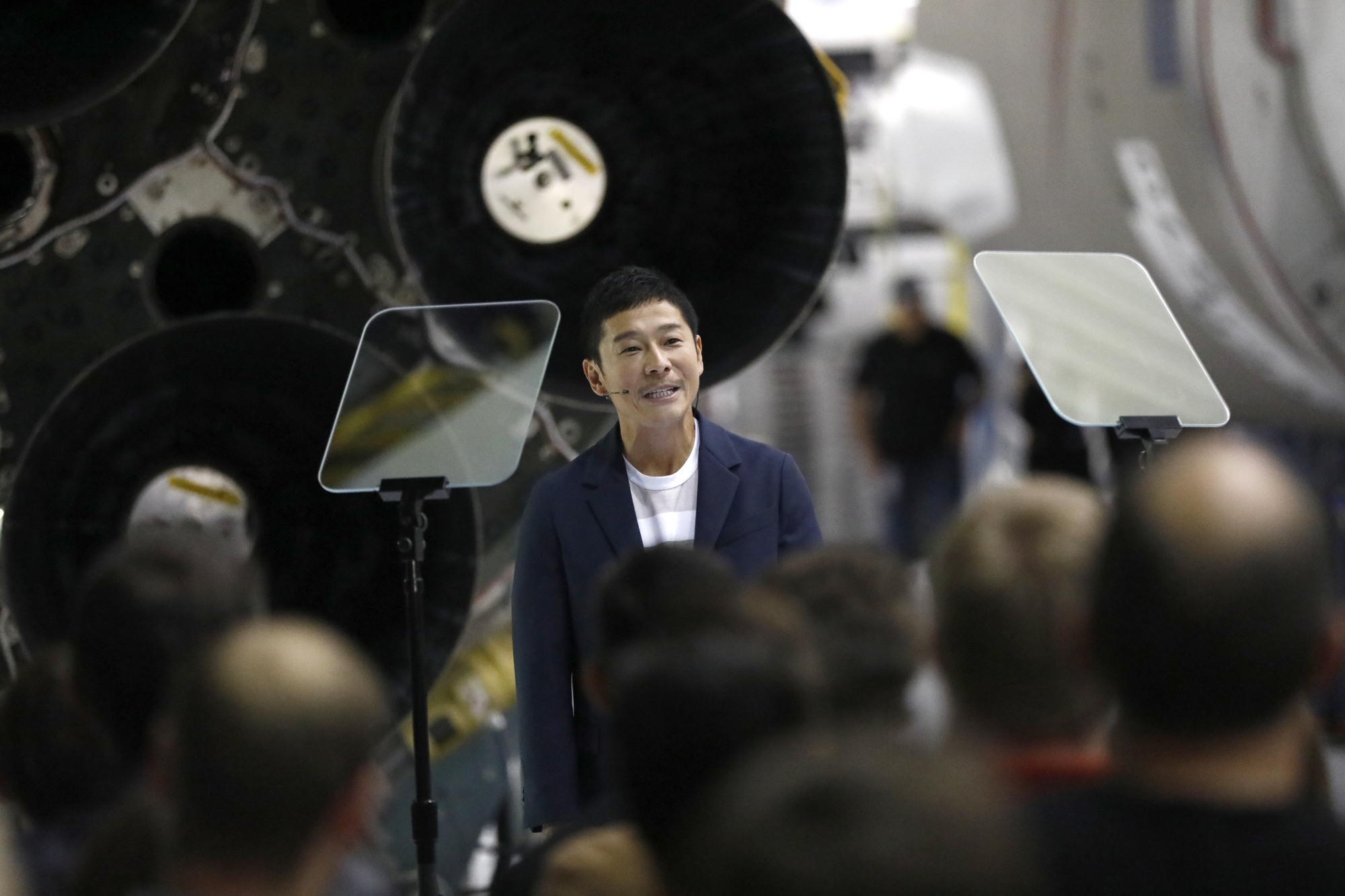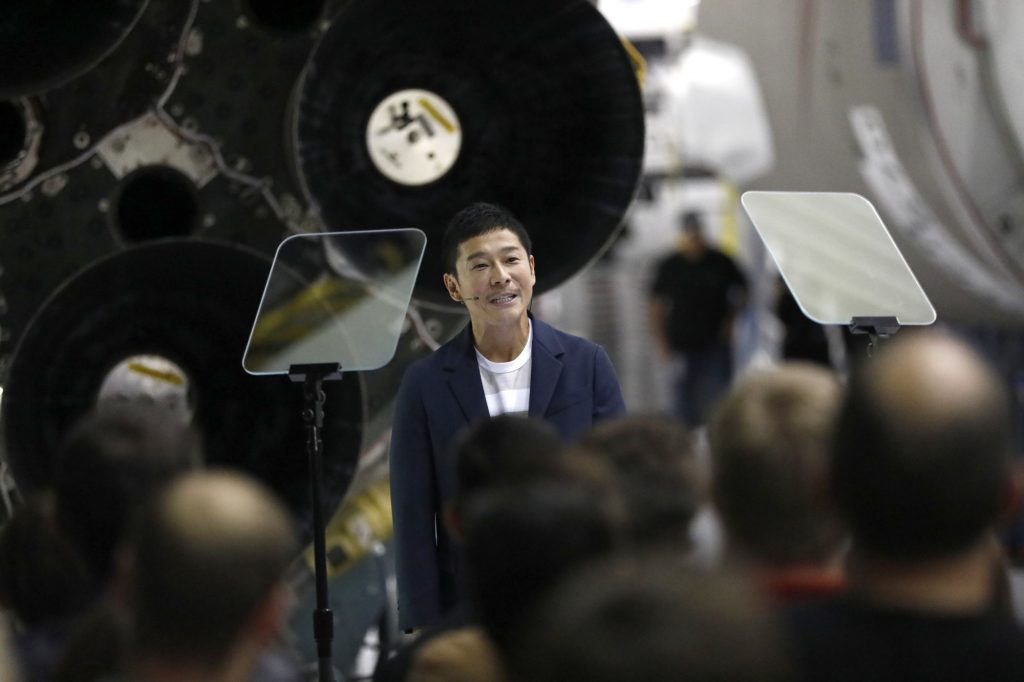 I choose to go to the Moon, with artists – Yusaku Maezawa
月に行くことにしました。アーティストと共に。 #dearMoon
I choose to go to the Moon, with artists.
If Pablo Picasso had been able to see the moon up-close,
what kind of paintings would he have drawn?
If John Lennon could have seen the curvature of the Earth,
what kind of songs would he have written?
If they had gone to space, how would the world have looked today?
People are creative and have a great imagination.
We all have the ability to dream dreams that have never been dreamt, to sing songs that have never been sung, to paint that which has never been seen before.
I hope that this project will inspire the dreamer within each of us.
Together with Earth's top artists, I will be heading to the moon… just a little earlier than everyone else.
I am truly blessed by this opportunity to become Host Curator of "#dearMoon".
I would like to thank Elon Musk and SpaceX for creating the opportunity to go around the moon in their BFR. I would also like to thank all those who have continuously supported me.
I vouch to make this project a success. Stay tuned!
Press conference。前澤さんのスピーチ @ 49:30 – 1:03:25。短いコメント @ 1:27:32
#dearMoon 001_Project Movie
https://twitter.com/yousuck2020/status/1041868405316280321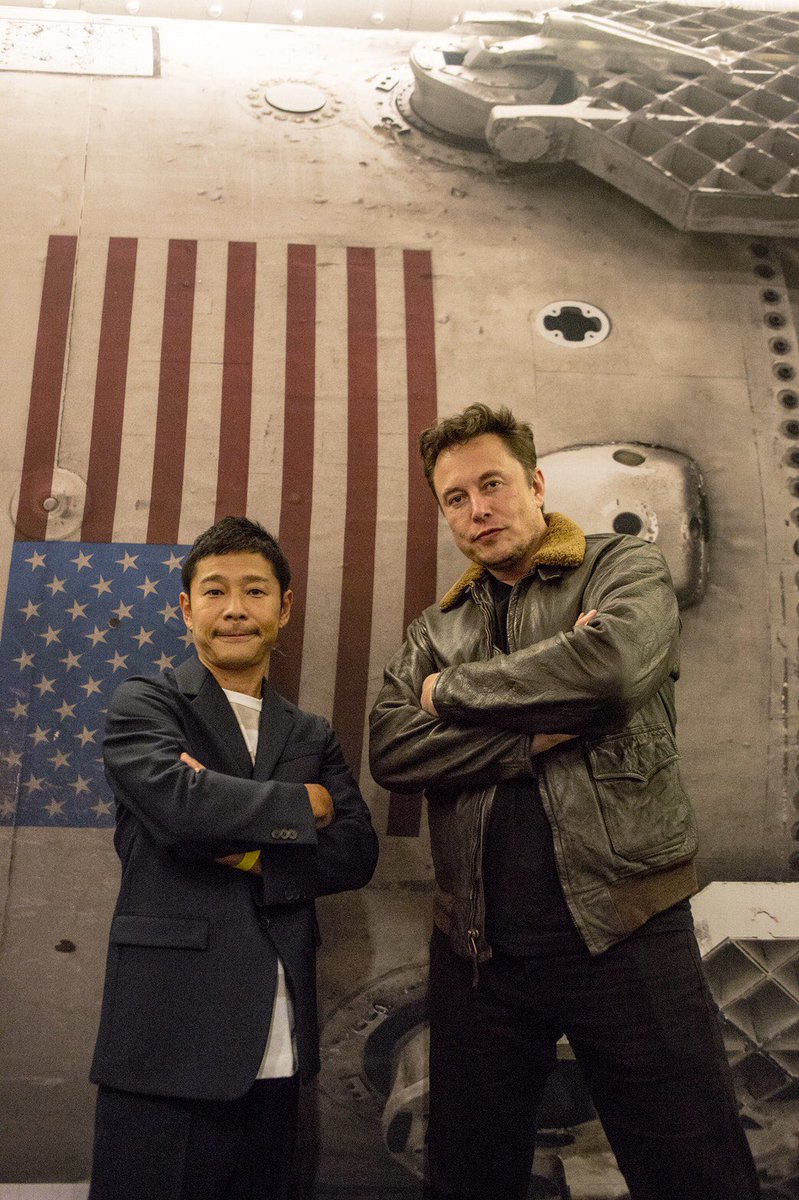 https://twitter.com/yousuck2020/status/1042001887250210816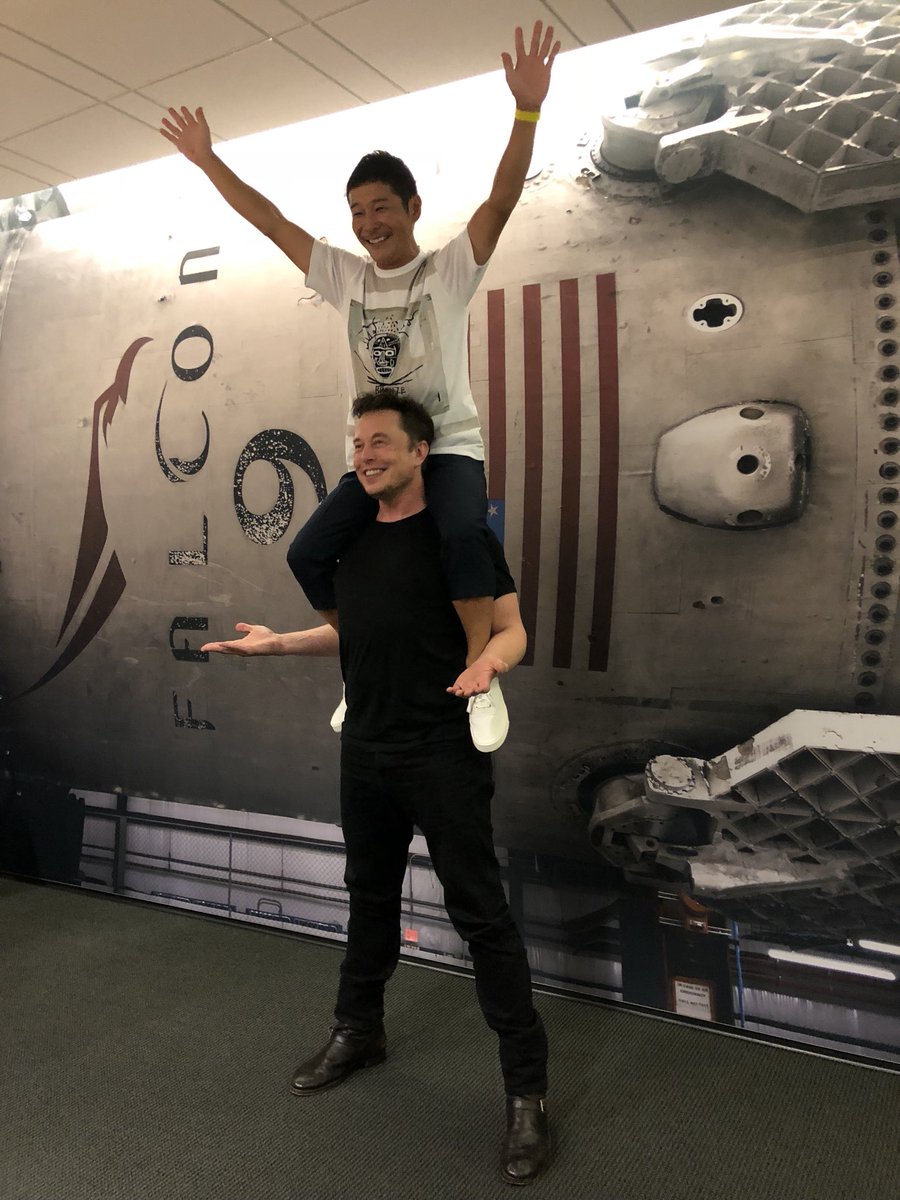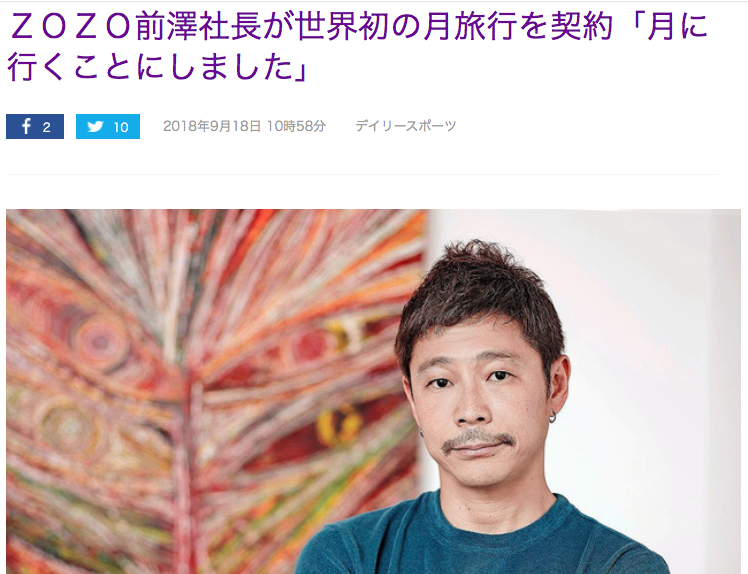 http://news.livedoor.com/article/image_detail/15321368/?img_id=18798284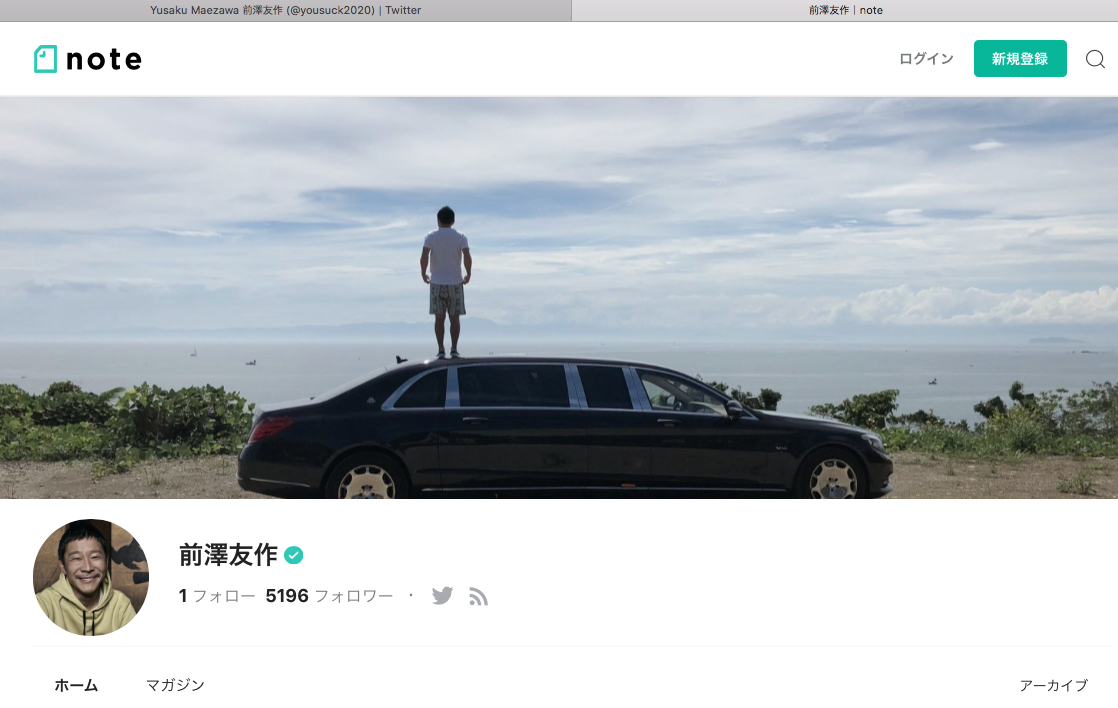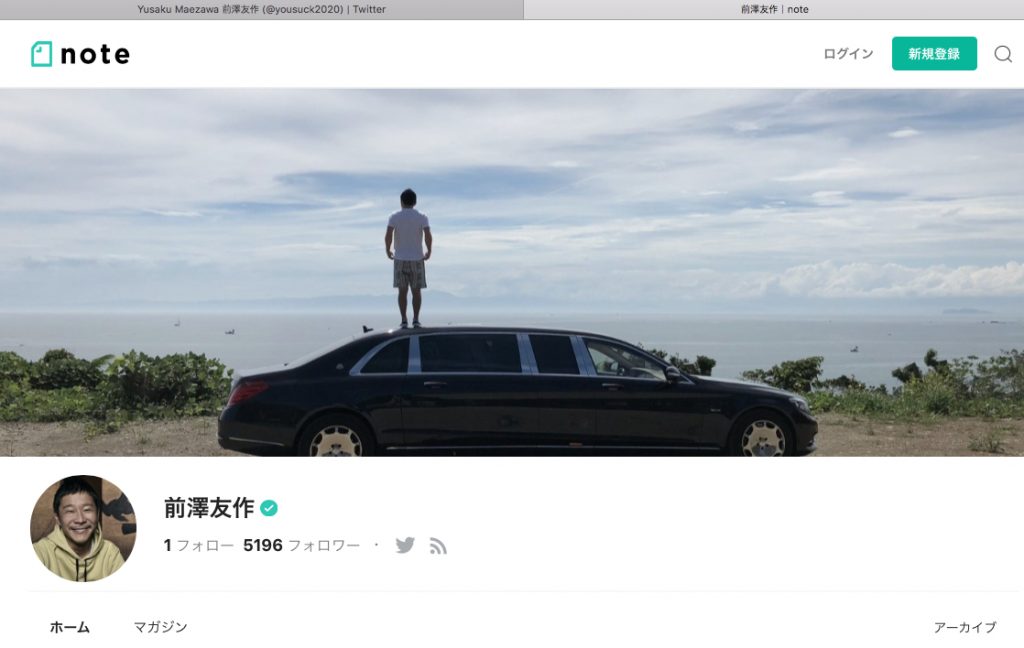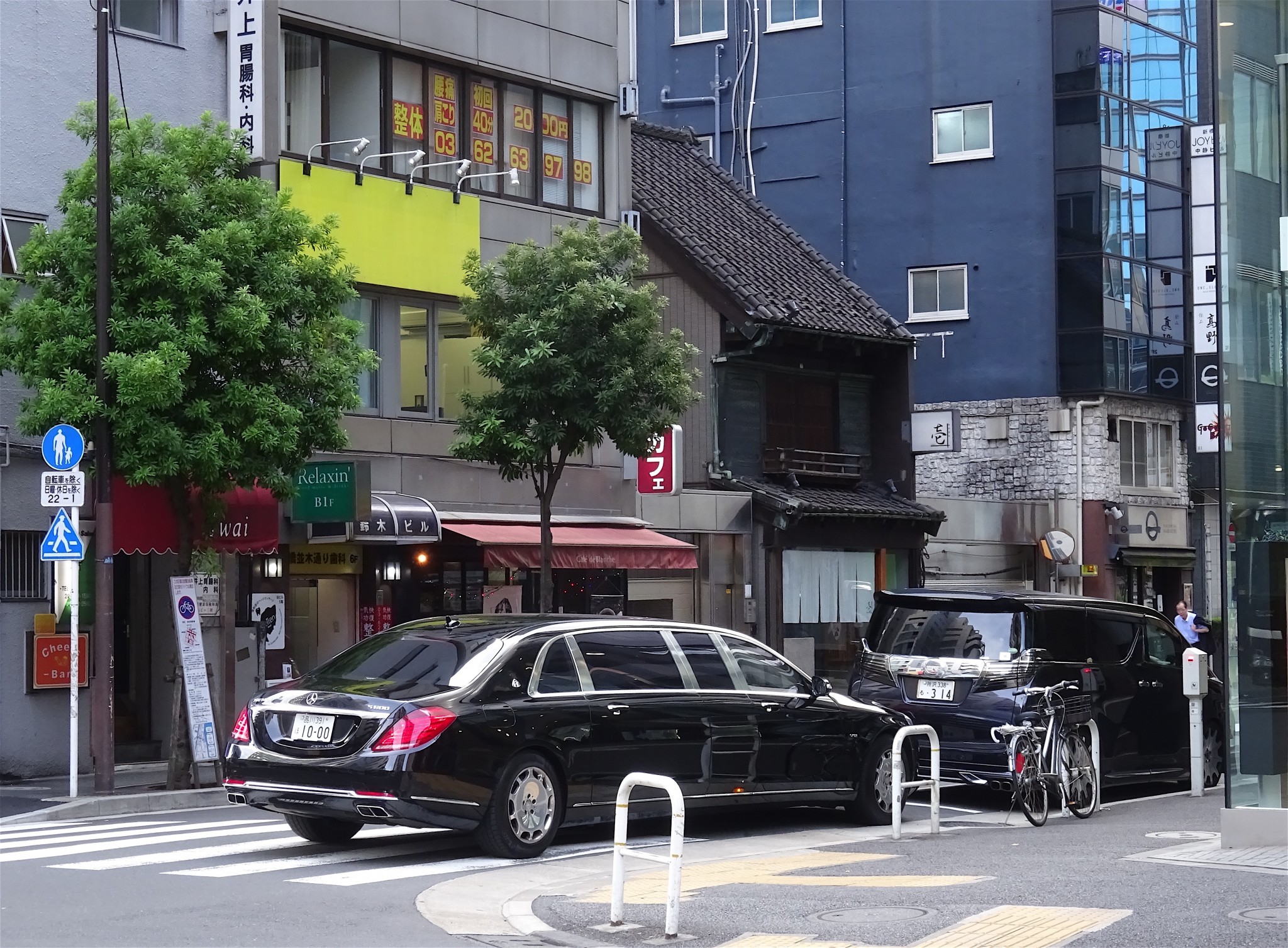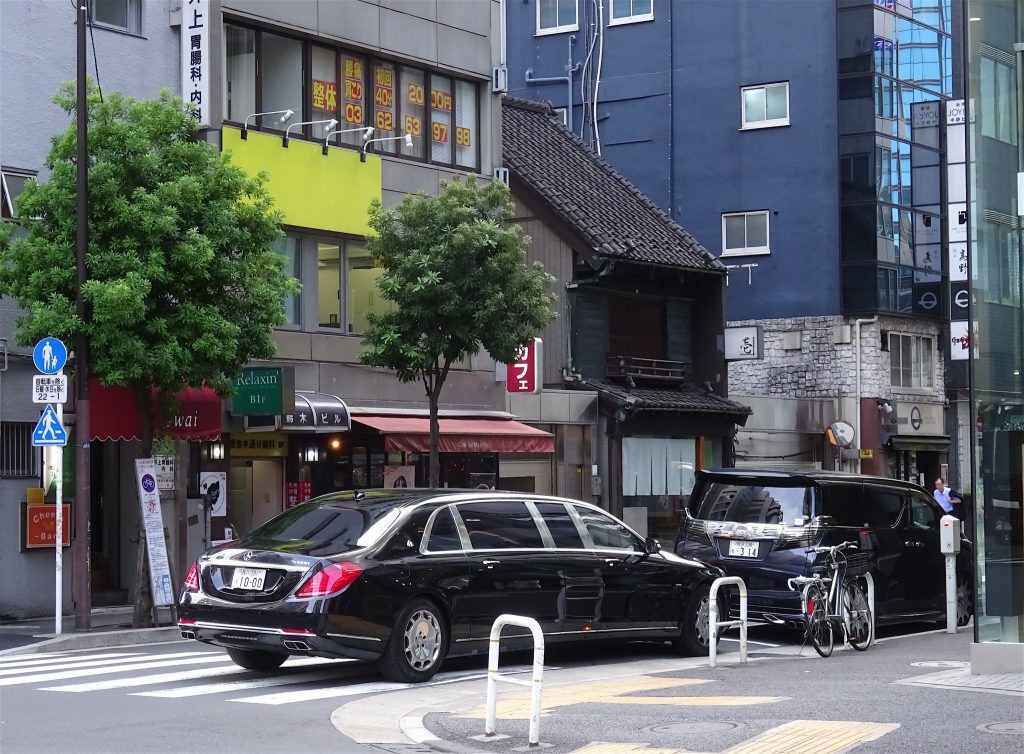 Hyperdrive
Musk Names Japanese Billionaire for 'Dangerous Mission' to Moon
By Dana Hull and Justin Bachman
September 18, 2018, Bloomberg
Maezawa to be first private passenger on trip planned for 2023
SpaceX founder Musk says he may be part of the journey
Japanese billionaire Yusaku Maezawa will hitch the first SpaceX ride around the moon and plans to invite as many as eight artists to join him — with the rocket company's founder Elon Musk possibly signing up for the space flight.
Maezawa will fly on Space Exploration Technologies Corp.'s BFR rocket on the trip in 2023, Musk announced Monday. SpaceX expects Maezawa, 42, to be the first private passenger to make the journey that only two dozen astronauts have been on during the Apollo era that ended 46 years ago.
"He is, I think, the bravest person and most willing to do so," Musk said, referring to Maezawa. Calling it a "dangerous mission" and "not a walk in the park," he said SpaceX will complete several test flights before putting humans on the rocket.
Musk, a master showman, is adept at inspiring a massive audience of followers for his pursuit of electric cars and other clean-energy endeavors critical to combating global warming. Sixteen successful missions for SpaceX this year is a bright spot in an otherwise tumultuous few months for Musk, who is also chairman and chief executive officer of electric-car maker Tesla Inc.
Maezawa, whose net worth is $2.3 billion, is the founder and CEO of Japan's second-largest e-commerce company Start Today Co. The company has grown from its origins as a mail-order music album business, and now makes most of its money through its shopping website Zozotown, which is popular with younger domestic consumers.
Shares of Start Today fell 2.4 percent in Tokyo on Tuesday after the announcement.
With SpaceX, Musk has described his mission as nothing short of making humans a multi-planetary species. He wouldn't disclose the price Maezawa is paying for the ride, but did say that the billionaire is funding "a material percentage" of the BFR system's estimated $5 billion development cost.
Maezawa said the accompanying artists, including painters, photographers, musicians, film directors, fashion designers and architects, "will inspire the dreamer within all of us." "I choose to go to the moon, with artists," he said, adding he would ask them to create works sparked by the the trip upon their return. He's dubbed it the "Dear Moon" project.
'Don't Say No'
"By the way, if you should hear from me please say yes and accept my invitation," he said. "Please don't say no."
Near the end of the 70-minute presentation, Maezawa also offered a seat on the vehicle to Musk, who wants to extend humanity throughout the solar system but has been rather circumspect on his own personal spaceflight inclinations. "As far as me going, I'm not sure," Musk said. "Maybe we'll both be on it."
Musk, 47, made it clear before the private passenger event that crewed spaceflight for NASA remains SpaceX's top priority. He sent out a series of tweets of appreciation for the agency, including one in response to Administrator Jim Bridenstine.
Boeing Co. and SpaceX have contracts with NASA to fly the agency's astronauts to the International Space Station as part of what's known as the Commercial Crew Program. The agency sent 24 astronauts to the moon during the Apollo era, with the last of these missions taking place in 1972.
After an uncrewed demonstration flight this fall and an in-flight abort test, U.S. Air Force Colonel Bob Behnken and former Marine Corps test pilot Doug Hurley will be the first two astronauts to fly in SpaceX's Crew Dragon. The craft designed to ferry humans safely to and from the orbiting lab will take off from Florida's Kennedy Space Center in 2019.
Musk has put NASA and the Air Force — which collaborates with the space agency in myriad ways — in the awkward position of having to respond to controversial conduct recently. The U.S. military branch last week downplayed media reports that it was looking into Musk's marijuana use on a livestreamed podcast earlier this month, saying they were inaccurate and that it was determining the facts.
SpaceX President and Chief Operating Officer Gwynne Shotwell said last week that there was "no chance" that Musk's conduct will impact SpaceX's ability to win contracts, and that there's been "no impact at all" on the level of confidence in him on the part of the closely held company's backers.
Maezawa was one of the two people who had paid a deposit to become the first to fly around the moon, Musk said Monday, noting that SpaceX's ambitious exploration plans required the company "to seek every possible means for funding" the development of BFR. He didn't discuss the other person.
Stepped Forward
Maezawa approached SpaceX with his idea for the trip and the desire to invite artists whom he respected. "He stepped forward to do it," Musk said. "To be clear, we're honored that he would choose us. This is not us choosing him."
The e-commerce entrepreneur has long stood out in the Japanese corporate world. In a place where company executives maintain low-key lifestyles and keep out of the spotlight, Maezawa is active on social media, sharing snippets from lavish meals or vacations, and is a regular name in entertainment publications. He made a splash in the art world in 2017, when he spent $110.5 million on a Jean-Michel Basquiat painting at a Sotheby's auction, setting a record for an American artist's work at the time.
"Ever since I was a kid, I've loved the moon," said Maezawa, who was a drummer in a rock band and had spent six months in southern California as a teenager. "That's why I could not pass up the opportunity to see the moon up close."
— With assistance by Lisa Du
https://www.bloomberg.com/hyperdrive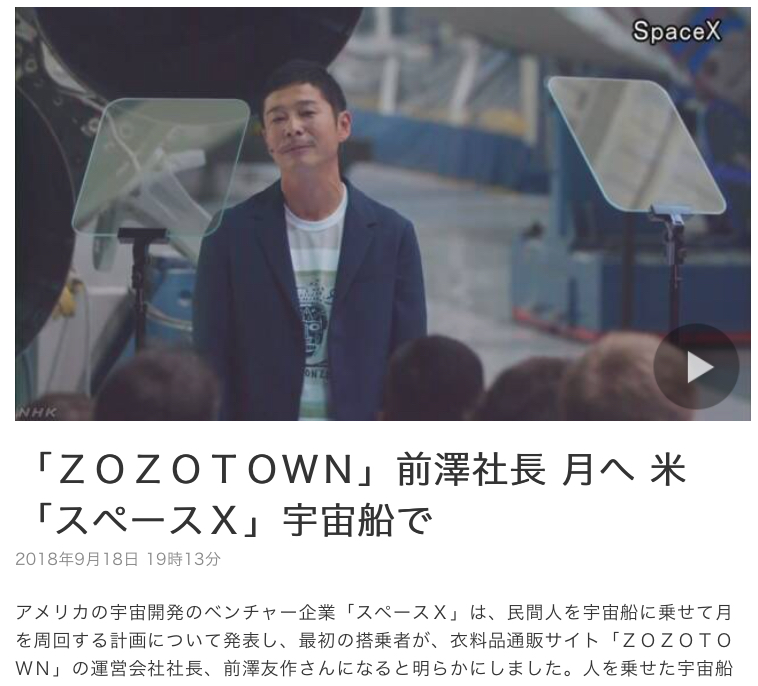 「ZOZOTOWN」前澤社長 月へ 米「スペースX」宇宙船で
2018年9月18日 19時13分
アメリカの宇宙開発のベンチャー企業「スペースX」は、民間人を宇宙船に乗せて月を周回する計画について発表し、最初の搭乗者が、衣料品通販サイト「ZOZOTOWN」の運営会社社長、前澤友作さんになると明らかにしました。人を乗せた宇宙船が月を周回するのはNASA=アメリカ航空宇宙局が進めたアポロ計画以来で、民間企業としては初めてです。
スペースXのイーロン・マスクCEOは17日、カリフォルニア州にあるロケット工場で記者会見を開き、現在開発を進めている大型のロケットに民間人を乗せて月を周回する計画を発表しました。
そして最初の搭乗者は、衣料品通販サイト「ZOZOTOWN」の運営会社社長、前澤友作さんだと明らかにしました。
会見には前澤さんも登場し「2023年、世界中から数人の芸術家を招待し、ともに月を周回する軌道に向かう」と述べました。
スペースXは来年にも国際宇宙ステーションに人を送り、有人飛行のノウハウを蓄積したうえで民間人を乗せた打ち上げを行うとしています。
マスクCEOは「前澤さんは本当に勇敢で、月旅行に行きたいと最も望んでいた。危険はあるが、月への旅行がすばらしいものだとわかってもらえるよう期待している」などと話しています。
前澤社長「月に行くことにした 興奮している」
「スペースX」の会見に出席した前澤さんは英語で「私は月に行くことにした。ついに公にすることができた。とてもうれしいし、興奮している。とても光栄で、関係する皆さんに感謝しています」と笑顔で話していました。
そのうえで「2023年、この計画にアーティストを6人から8人、招待したい。地球に戻って創作活動に生かしてほしい」と述べました。
一方、会見では「スペースXは過去に計画を先送りしたこともあったが、今回は2023年という期限を守ることができるのか」といった質問があり、「スペースX」のマスクCEOは「確実だとは言えないが、できるだけ早くできるだけ安全に実施したい」とこたえました。
ツイッターに動画も投稿
前澤さんは日本時間の午前11時前、自身のツイッターにも「月に行くことにしました。アーティストと共に。」と書き込みました。
また、2分半ほどの動画も投稿しました。
「画家、写真家、音楽家、映画監督、ファッションデザイナーなど、地球を代表するアーティストを月周回へ招待する計画だ。
彼らは月から、丸い地球から、何を感じ、何を生み出すのか。
その作品は、きっと人類の財産になるだろう。
宇宙を舞台にしたアートプロジェクト、はじまる」としています。
前澤さんの会社 株価値下がり リスク警戒か
前澤さんが社長を務める「スタートトゥデイ」の株価は「スペースX」の発表を受けて先週末の終値より2.43%下がりました。
市場関係者は「きょうはこの会社に関わる取り引きの材料は少なく、社長が宇宙旅行に出かけることのリスクを警戒した思惑売りが出たのではないか」と話しています。
日本企業も宇宙旅行を計画
民間企業による宇宙旅行の計画はアメリカを中心に各国で提案されています。
日本の民間企業からは月への宇宙旅行の計画はまだ出されていませんが、九州工業大学の教授などが設立した東京のベンチャー企業「SPACE WALKER」は、高度120キロの宇宙空間で数分間飛行する旅行計画を発表しています。
JAXA=宇宙航空研究開発機構とも連携を図りながら宇宙船の開発を進め、2027年までに実現させるとしています。
ANAホールディングスなどの出資を受けている名古屋のベンチャー企業「PDエアロスペース」も、ジェットエンジンとロケットエンジンの機能を併せ持ったエンジンの開発を進め、2024年をめどに宇宙船を完成させ、数分間、地球を宇宙空間から眺める体験を提供したいとしています。
一方、日本企業の月を対象にした取り組みでは、東京のベンチャー企業「ispace」が、将来、月で行われる資源開発に備えて2021年をめどに月面に探査車を送り込むことを計画しています。
大手ゼネコンの鹿島建設などはJAXAと協力し、月面基地を建設するため、地球から遠隔操作で動かすことができる重機の開発を行っています。
月旅行のロケットと日程
「スペースX」が月旅行に利用するとしているのは「ビッグ・ファルコン・ロケット」、通称「BFR」と呼ばれる大型のロケットです。
全長は118メートルで人が乗る宇宙船本体と、その下にエンジンを載せたブースターがついた形をしています。
およそ100トンの物資を打ち上げることを目標に開発が進んでいて、宇宙船もブースターも再利用できるように設計されているということです。
打ち上げ後、強力な推進力をもつブースターで上昇した宇宙船は地球の周りを飛行する「待機軌道」にいったん入り、打ち上げからおよそ38分後に月に向かう軌道に入ります。
その後宇宙船は飛行を続け、打ち上げからおよそ2日と6時間後に月の上空に到着し月の裏側をぐるっと回って地球に戻ってきます。
途中、月の上空を飛びながら月面の様子を観察したり、月の地平線から地球が昇る「地球の出」を見たりできるということです。
そして打ち上げからおよそ3日と13時間後には地球に戻る軌道に入り、およそ5日と23時間後に大気圏に突入して地上に着陸する計画です。
スペースXは国際宇宙ステーションへの物資の打ち上げは行っていますが、まだ有人飛行は行っておらず、BFRも開発途中なため、技術的な課題を今後、クリアーしていくことが必要で、月旅行の実施までにはまだ時間がかかる可能性があります。
https://www3.nhk.or.jp/news/html/20180918/k10011633991000.html
---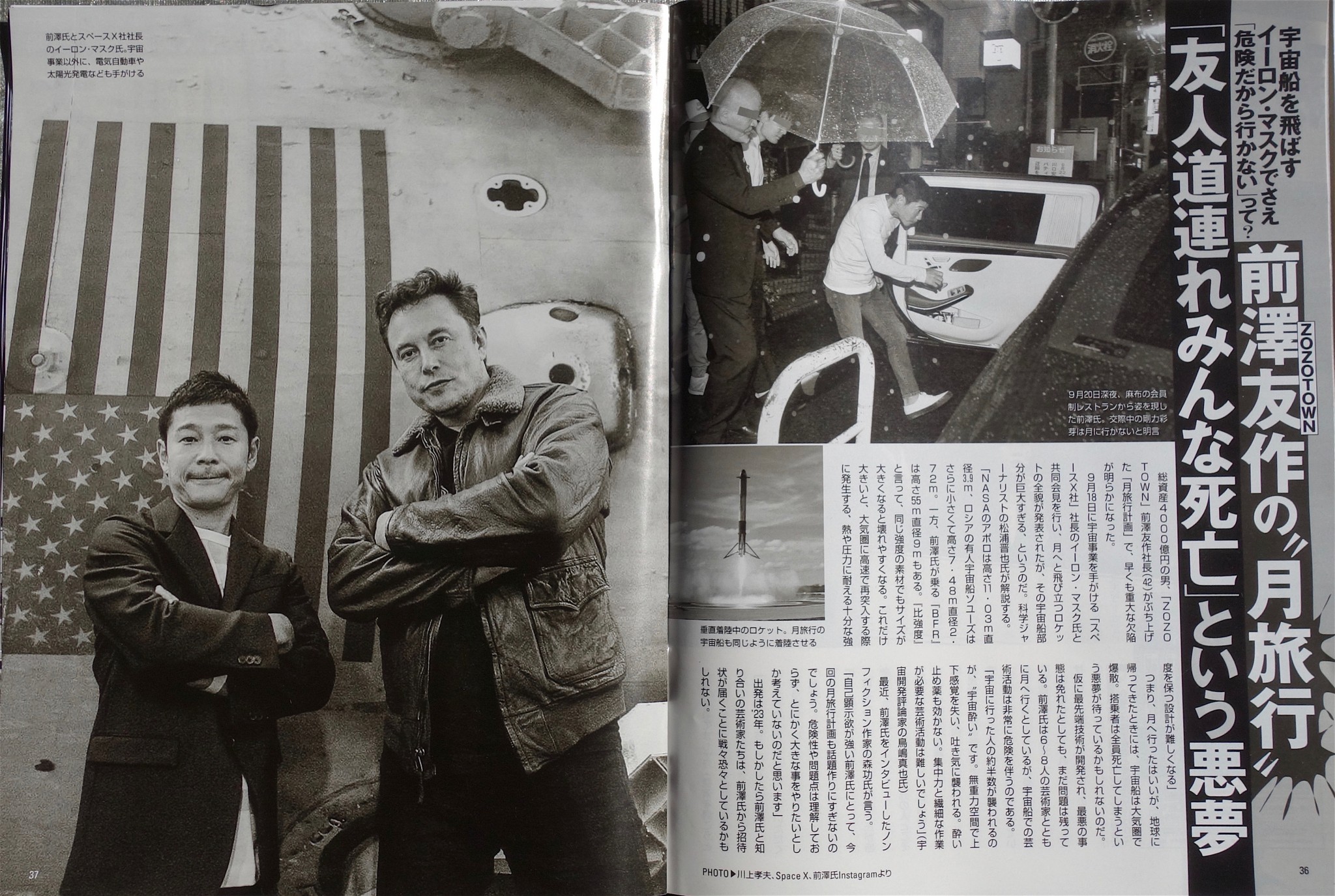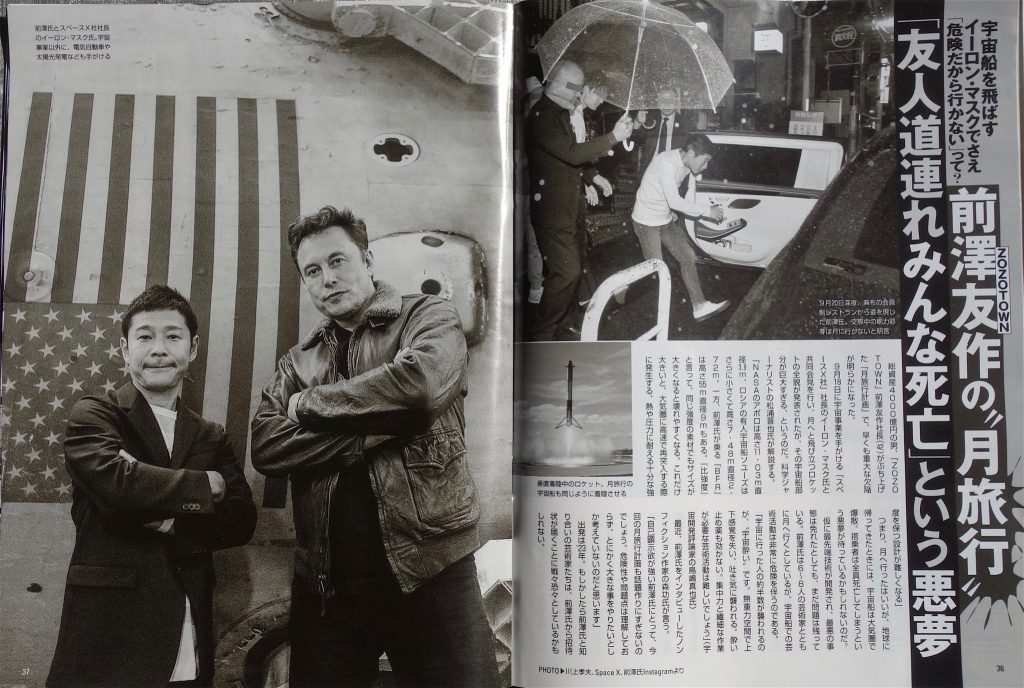 ---
ZOZO前澤友作Space X本社における英語のスピーチはなぜ100点満点?
Huffington Post2018年09月19日
…
彼の態度は堂々としていて余裕に満ちています。まず「Thank you, Elon.」とお礼を言って「Thank you, everyone.」と報道関係者にお礼を言います。
これは当たり前のことのように思うかもしれませんが、実は日本人の殆どが出来ない(!)のです。欧米で人前でスピーチをするときのキホンのキですので、皆さんもこのやり方をパクること。
つぎに「Wow!(わお)」という感嘆の声を発します。これも、本当に日本人には出来ないことです。前澤氏が外国暮らしをしたことがあることが、この一声でわかります。
次に「I'm from Japan.」と言います。つまり「日本から来ました」ということです。これは極めて効果的な口火の切り方です。なぜなら上に述べたようにワクワク期待させて、東洋人が歩いてきて檀上に登るわけだから「こいつ、一体なにもの?」という疑問を全ての報道関係者が持っているからです。だから「日本人です」という切りだし方は適切。
そして「My name is Yusaku Maezawa. You can call me MZ(エム・ズィー)」と言います。
ここがとても、とても大事なことなのですが、気がついた方も多いと思いますがイーロン・マスクですら前澤氏の名前を発音するのに苦しんでいるわけで、そこで前澤氏は「オレのことエム・ズィーと呼んでくれればいいから。」と助け舟を出すわけです。
しかし本当は、前澤氏がやっていることは、自分のブランディングです。つまりアメリカ人から彼を「エム・ズィー」と呼ばせることで、アメリカ人にも親しみを持ってもらえることが出来るからです。
ZOZOはコンシュマー・ブランドでありスタートトゥデイの野望がグローバルである以上、BFRによる月旅行はスタートトゥデイ社にとってまたとないパブリシティの機会です。その大事な局面で「名前が発音できない」では、折角のチャンスを逸してしまうわけです。
この間、19秒。
みんなもわかるとおり、難しい単語や言い回しは、一切していません。でも19秒で聴衆のハートを掴んでいる。
もし、これをフツーの日本人にやらせたら、たぶん「ユー・キャン・コール・ミー・エム・ゼット」とやってしまうでしょうね。
ゼットは日本語です、つうじません。ズィー(Z)が正しいです。
そろそろダサい日本語英語から卒業すること。
それからもうひとつ苦言を呈すれば「あいつは英語は出来ないけど、仕事は出来る。だから英語はカンケーない」という時代は、そろそろ終わりつつあります。
仕事の出来る日本のビジネスマンの大半は、ちゃんと英語も喋れます。その現実を直視すること。
https://www.huffingtonpost.jp/takao-hirose/zozo-mz_a_23531927
up-date 2018/9/24 via artnet
The Gray Market: Why Yusaku Maezawa's Plan to Send Artists to the Moon Is Cosmically Misguided Patronage (and Other Insights)
Our columnist on Yusaku Maezawa's "Dear Moon," new statistics on viewer behavior, and museum representation of African American artists.
Tim Schneider, September 24, 2018
(quote)
MOONSTRUCK
On Tuesday, the New York Times reported that Yusaku Maezawa, the Japanese billionaire and record-setting Basquiat collector, has reserved space for himself and up to eight artists on what is slated to be the first civilian journey to the moon. Maezawa says that the mission, which is currently scheduled to launch in 2023 via Elon Musk's SpaceX, will result in a "revolutionary art project" titled "Dear Moon."
My colleague Sarah Cascone relayed more information about the art angle, including that a video released on the "Dear Moon" website implies Maezawa will select one representative each from a cross-section of creative disciplines. The implication is that a single luminary in each field will be able to return to Earth with insights able to dramatically improve mankind—an idea he alluded to by wondering, "What if Picasso had gone to the moon, or Andy Warhol, or Michael Jackson, or John Lennon, or Coco Chanel?"
As it turns out, we actually have a partial answer to this would-be rhetorical question. In 1969, the New York Times solicited reactions to the original moon landing from an assortment of public figures—including Picasso. His response?
"It means nothing to me. I have no opinion about it, and I don't care."
Now, I'm not naïve enough to suggest that we should always take flamboyant artists (or anyone, for that matter) at their sound bites. But Picasso's answer reinforces my personal sense that "Dear Moon" is, at best, absurdly frivolous—and at worst, a space-capsule study on how tone-deaf many billionaire art patrons are to the artistic community writ large.
One indisputable fact: Maezawa's plan amounts to the most ostentatious artist residency in the universe. Although neither he nor Musk would confirm the price tag for their lunar tourism, Cascone notes that one estimate projected a rough cost of $200 million. Subtracting the price of putting his own butt in one of the shuttle seats, this would mean Maezawa could spend about $178 million to send, at most, eight artists on a week-long journey to the moon and back. That's just over $22 million per artist.
…
So as of now, Maezawa is likely to blow at least $178 million to give a handful of artists a residency that Picasso essentially considered worthless. Meanwhile, many other artists are so broke that they have been competing with one another for the chance to secure temporary space in locations that include literal trash heaps.
I don't doubt that Maezawa sincerely wants to spur great artistic leaps, and I admire the fact that he's willing to put serious cash behind the effort. But he could do exponentially more for art and humanity by budgeting the same cash to pay the rent and living expenses for thousands of underappreciated artists around the globe. Call it "Dear Landlord"—a project funded by a major reality check.
https://news.artnet.com/opinion/yusaku-maezawa-dear-moon-1354495
2018/10/3 up-date
HUFFPOST JAPAN 2018年10月02日
ZOZO前澤友作社長、今度はストラディヴァリウスをコレクションに。
演奏会での披露が予定されている。もう何をしてもあまり驚けない…
ZOZOの前澤友作社長が、今度はヴァイオリンの名器「ストラディヴァリウス」を手に入れたと発表した。
コレクションに加えたのは、黄金期(1700-1725)に製作されたストラディヴァリウス1717年製「Hamma(ハンマ)」。
グラミー賞受賞ヴァイオリニストをはじめ、世界の一流音楽家によって弾き継がれてきた歴史があり、その名器の音色は300年間世界中の人々を魅了してきたヴァイオリンという。
演奏家憧れのストラディヴァリウス
ストラディヴァリウスは、350年ほど前、イタリアのクレモナ地域で、アントニオ・ストラディヴァリにより生み出された「最高傑作」と言われるヴァイオリンのこと。
完璧な均整をもった形と称され、その音色・響きは歴代のローマ法王やマリー・アントワネットなど数多くの人々から愛されてきた。
前澤社長はこの「Hamma」に関して「今後、このストラディヴァリウスを世界中ぐるっと旅させます」とコメントを発表。
「現地の音楽家の皆さまにもご協力いただきながら、その国や地域の子供たちの耳に、この力強くも繊細な奇跡の音色を届けていければと思います」としている。
演奏会で披露する予定
この「Hamma」は、10月9日から森アーツセンターギャラリーで始まる「STRADIVARIUS 'f'enomenon -ストラディヴァリウス 300年目のキセキ展」にて展示及び生演奏されるという。
値段は?過去のオークションは億越えが当たり前
今回のヴァイオリンの価格について、ZOZOは公表していない。
ストラディヴァリウスは、オークションなどで高価な価格が付くことでも有名だが、日本音楽財団が所有していた1721年に製作された「レディー・ブラント」は2011年に約12億円で落札された。
このほか、同じく黄金期のストラディヴァリウスは、2006年に約3億9000万円で落札されたこともある。
---
2018/10/5 up-date:
quote:
A painting by the American painter Mark Grotjahn, Untitled (Yellow and Green Low Fall Face 41.80) estimated at £6m to £8m (low estimate US$ 7.8 million), also went unsold. "Grotjahn's is a complicated market, and it's interesting to see it playing out at auction—his work has been at an inaccessible price point on the primary market for a while and it's hard to find these works," Schiff says. "Mark was a victim of mass speculation from very early on, in 2006-08, so he took control of his own market to stop that happening — he really controls who is able to buy his work and his prices." Schiff says she has already contacted Christie's "to see if there is a good post-sale opportunity" but it seems not.
https://www.theartnewspaper.com/news/british-artists-dominate-christie-s-patchy-gbp71-1m-sale-as-over-priced-koons-and-richter-fail-to-sell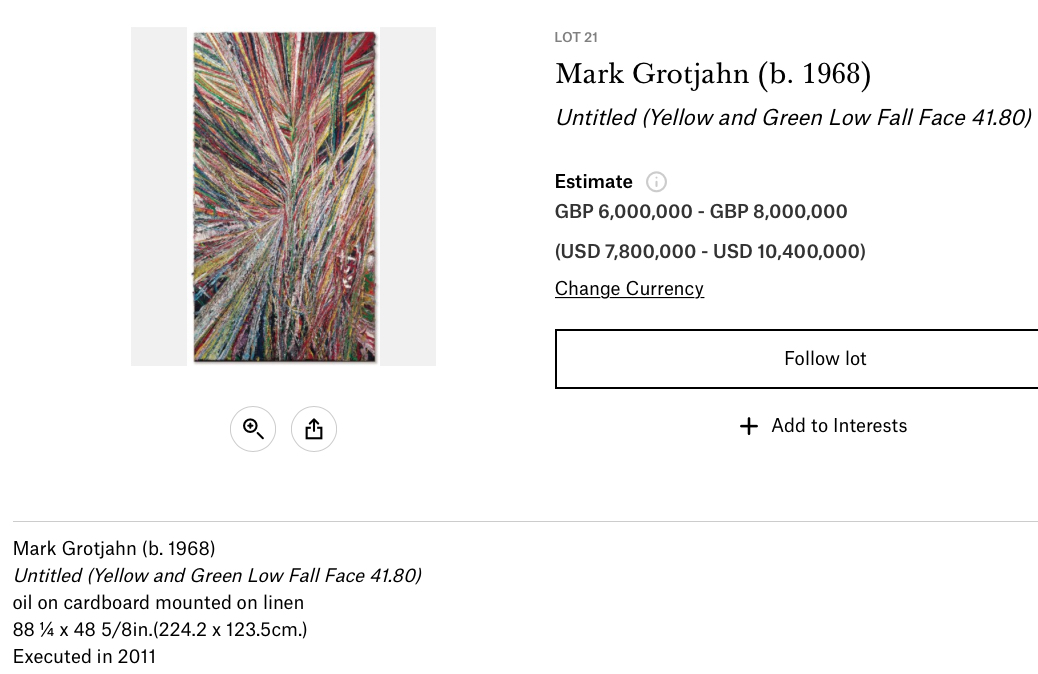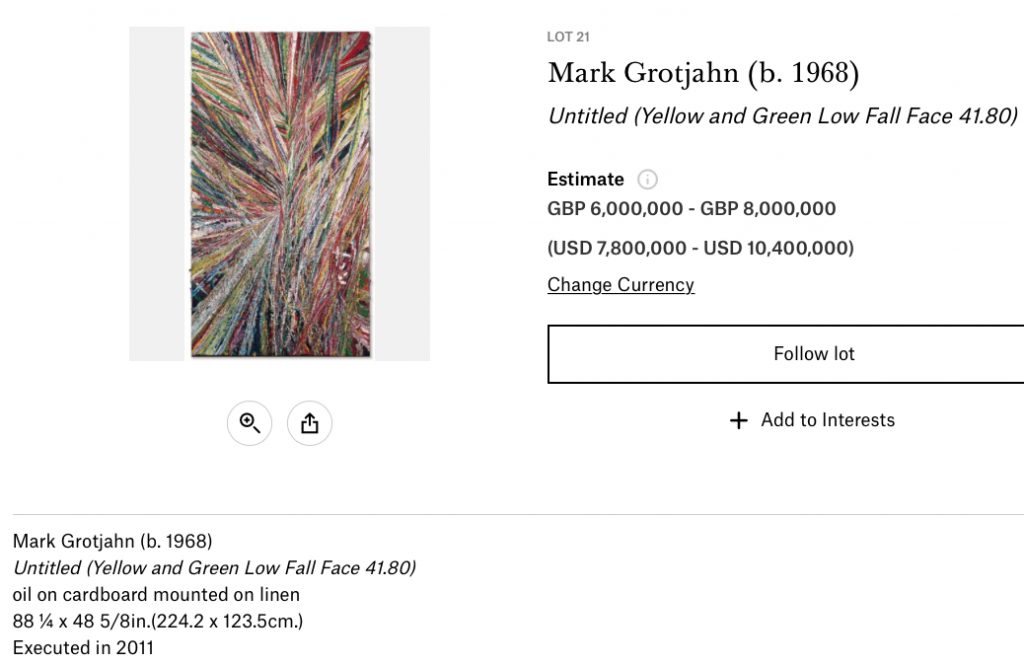 https://www.christies.com/lotfinder/Lot/mark-grotjahn-b-1968-untitled-yellow-and-6162422-details.aspx
---
TAKEO OBAYASHI
大林剛郎(東京、建築・デザイン/大林組)
Location:
Tokyo
Source of wealth:
Construction contracting, engineering, and design
Collecting area:
Contemporary art
Top 200 appearance:
2013, 2014, 2015, 2016, 2017, 2018
Chairman of the Obayashi Corporation, a Japanese construction conglomerate, Takeo Obayashi is known in the art world for commissioning a Tadao Ando–designed space in Tokyo, where he shows his collection of contemporary art. At the Yu-un Guesthouse, visitors can see works by Daniel Buren, Tracey Emin, Mike Kelley, Yayoi Kusama, and Marc Quinn, as well as site-specific installations by artists such as Olafur Eliasson. Obayashi is particularly fond of young Japanese painters. In 2010, he told Artinfo, "There is so much talent, and nobody is really paying much attention to it."
http://www.artnews.com/top200/takeo-obayashi/
---
TATSUMI SATO
佐藤辰美(広島、製造業/DAIWA PRESS VIEWING ROOM)
Location:
Hiroshima, Japan
Source of wealth:
Manufacturing (radiators)
Collecting area:
Contemporary art; primitive art; antique textiles
Top 200 appearance:
2005, 2006, 2007, 2008, 2009, 2010, 2011, 2012, 2013, 2014, 2015, 2016, 2017, 2018
Tatsumi Sato's passion for collecting—a passion that was ignited by what he once described as his "desire to have beautiful things around"—began more than four decades ago. He was drawn to his first acquisition, a small Imari ware firefly cage, because of its subtle craftsmanship. Since then, Sato's collection has grown to include works that range from the antique to the contemporary, both Japanese and foreign. His Daiwa Press Viewing Room, which was originally created as a place to store his collection, has hosted shows, and, through the Daiwa Press Company, he has published an array of art books.
Fun fact:
Sato has ranked an On Kawara "Date Painting" among the favorites in his collection.
http://www.artnews.com/top200/tatsumi-sato/
---
TADASHI YANAI
柳井正(東京、ファッション リテール/ユニクロ)
Location:
Tokyo
Source of wealth:
Fashion retailing (Uniqlo)
Collecting area:
Modern and contemporary art
Top 200 appearance:
2010, 2011, 2012, 2013, 2014, 2015, 2016, 2017, 2018
I don't think art is something that you should study," Tadashi Yanai told the New Yorker. "Something beautiful is something that you enjoy by observing it." Or, in Yanai's case, something that you enjoy by wearing—as one does with wares from his Japanese clothing company, Uniqlo. The enterprise has paired in the past with New York's Museum of Modern Art to produce items adorned with images by artists Andy Warhol, Jackson Pollock, Jean-Michel Basquiat, Keith Haring, Ryan McGinness, Sarah Morris, Jack Pierson, and Lawrence Weiner. As for his own art collection, Yanai is modest about it. "I have some art," he has said. "I don't know if you'd call it a collection." Others, obviously, would.
Fun fact:
When asked by the New Yorker if he would be spending more time collecting art after he retires, Tadashi Yanai's response was, "No, I don't think I will be doing such a thing. You see, I only have interest in playing golf and doing business."
http://www.artnews.com/top200/tadashi-yanai/
---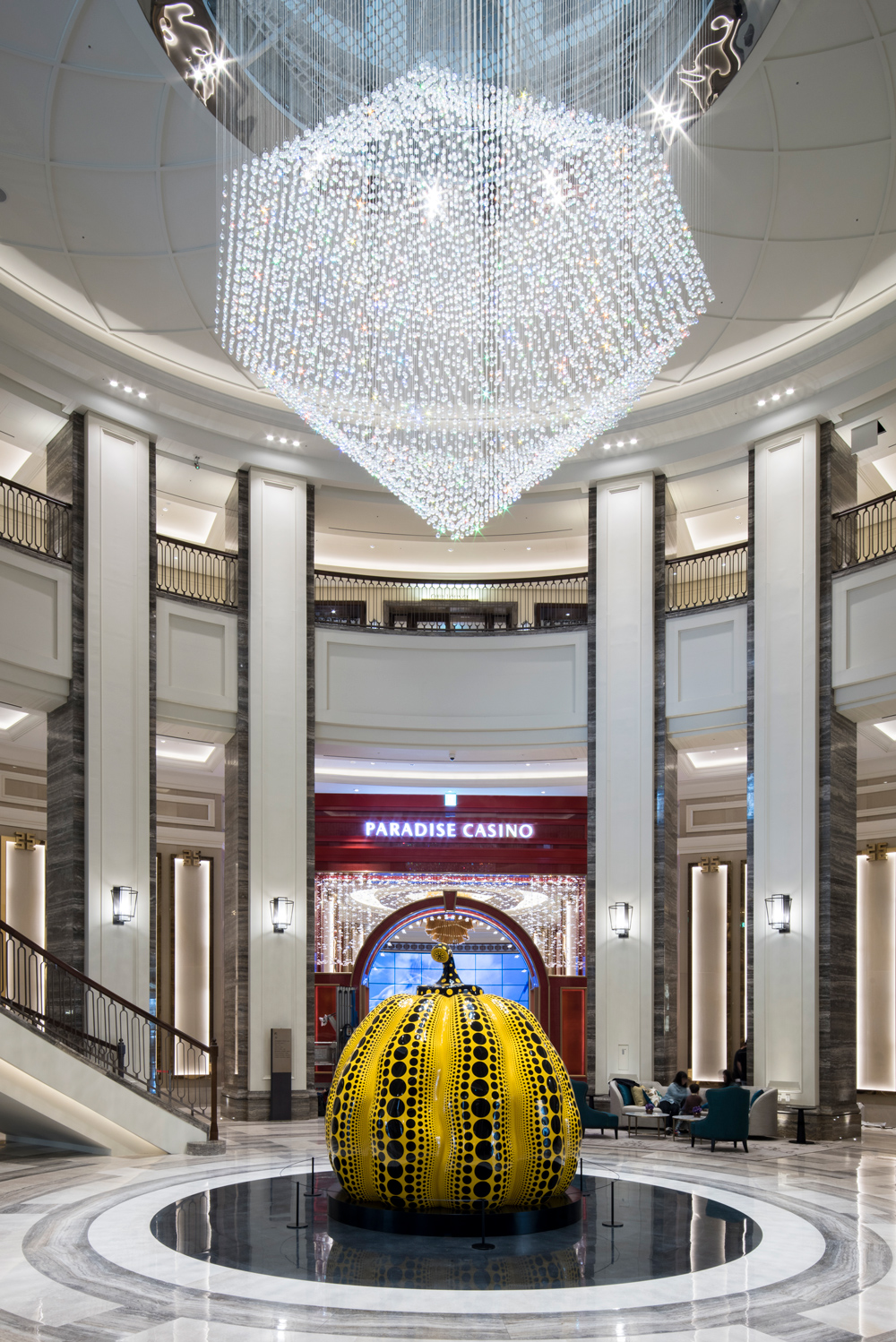 Yayoi Kusama's Great Gigantic Pumpkin as installed in Top 200 newcomers Elizabeth and Phillip Chun's Paradise City. © YAYOI KUSAMA/COURTESY DAVID ZWIRNER, NEW YORK; OTA FINE ARTS, TOKYO, SINGAPORE, AND SHANGHAI; VICTORIA MIRO, LONDON; AND YAYOI KUSAMA INC.
---
Hester Diamond: The Life of a Fearless and Visionary Collector
Matthew Armstrong (Curator, Art advisor) on Donald Marron's collection
From 1995 onwards Marron hired Matthew Armstrong to curate his personal and professional collections, who continued to advise him until 2019. On his death, the financier's family kept a selection of his artworks, but it was planned for the vast majority of the collection amassed since the year 2000 to be sold.
At the time, the leading auction houses competed to obtain the collection, but to no avail. So they came up with a unique solution. In February 2020, in the midst of the global pandemic, three of the biggest New York art dealers, Pace, Gagosian, and Acquavella, who are usually rivals, announced they were going to club together to buy the Marron collection comprising 300 works, and sell it on gradually.
ここに載せた写真やスクリーンショットは、すべて「好意によりクリエーティブ・コモン・センス」の文脈で、日本美術史の記録の為に発表致します。
photos: cccs courtesy creative common sense