When will Nathan Drahi from Sotheby's get out of Hong Kong?
Patrick Drahi's Extremely Capitalistic Way of Art Dealing And Speculating With Sotheby's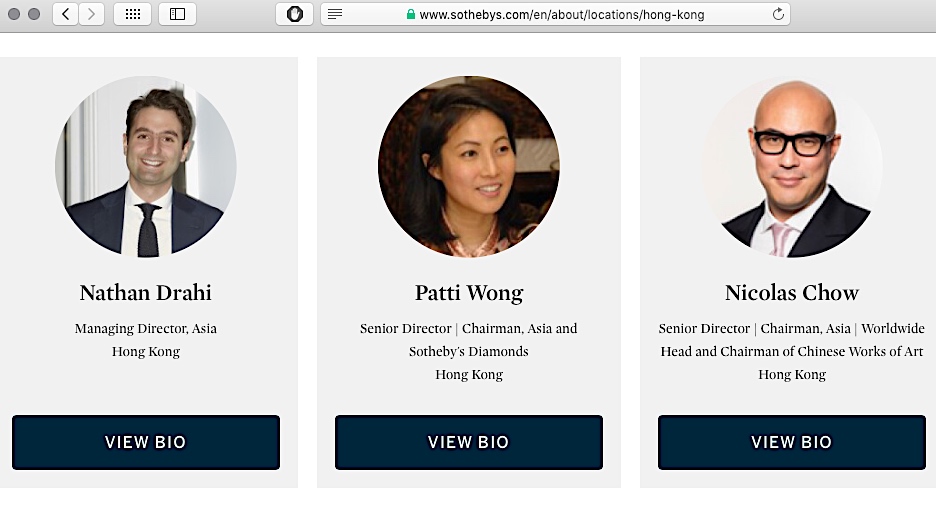 As a veteran artist in Japan, with quite idealistic opinions, it makes more and more difficult for me to agree with the actual tendencies of the global art world.
Two examples:
1) I am against the so-called "NFT works" by digital illustrators, like Beeple, to be recognised as art works, put into the canon of art history.
Check:
#USABS U.S. ARTY BULL SHIT. NFTデジタル・アーティスト ビープル:「美術史の流れを変えたい」や「悪役である」というメリット
#USABS。NFT Digital Artist Beeple: "I want to change the course of art history" and the merit of "being the bad guy"
https://art-culture.world/articles/nft-beeple-digital-artist-ビープル/
2) Every auctioneer applauded when Christie's and Sotheby's became private enterprises, so a more long-term strategy, not quarterly results, would benefit everyone involved.
At the moment, Christie's Pinault's engagements as a collector should be applauded. Showing his marvellous collection in different places around Europe is a win-win situation for all of us art lovers.
Check this out:
フランソワ・ピノーの三番目の刺激的な現代美術館、再建築 by 安藤忠雄
Exciting 3rd Contemporary Art Museum for François Pinault, rebuild by ANDO Tadao
https://art-culture.world/articles/francois-pinault-art-museum/
原口典之と関根伸夫のアート実践を考える
Thoughts on the artistic practice of HARAGUCHI Noriyuki and SEKINE Nobuo
https://art-culture.world/articles/haraguchi-noriyuki-sekine-nobuo-原口典之-関根伸夫/
現代美術コレクター、兼オークションハウス・クリスティーズ社長フランソワ・ピノー氏のコレクション展 in モナコ公国
Contemporary Art Collector, Christie's Auction House Owner François Pinault Shows His Collection In The Principality of Monaco
https://art-culture.world/articles/pinault-collection-ピノー・コレクション/
However, Patrick Drahi demonstrated that he doesn't like art. What a shame. A disaster for the Asian art market, too, with his amateurish, spoilt son Nathan Drahi, who is the wrong person in Hong Kong's Sotheby's.
Check this out:
Sotheby's Harsh Reshuffle: After Amy Cappellazzo and Kevin Ching, Next Prominent Figure TERASE Yuki Bites the Dust
サザビーズのコンテンポラリーアート部門アジア地区部長・寺瀬由紀氏を巡って
https://art-culture.world/articles/terase-yuki-寺瀬由紀/
Next One @ Sotheby's: Hugely Popular Amy Cappellazzo Bites the Dust
What will happen @ Sotheby's Japan?
https://art-culture.world/articles/amy-cappellazzo/
アジアのアートマーケットの中心的人物:26歳のネイサン ドライ氏、新CEO サザビーズアジア (サザビーズのオーナー パトリック・ドライの息子)
Key Person of Asia's Art Market: 26 Years Old Nathan Drahi, New CEO Sotheby's Asia (Son of Sotheby's Owner Patrick Drahi)
https://art-culture.world/articles/key-person-of-asia-art-market/
French-Israeli telecoms billionaire Patrick Drahi has selected Goldman Sachs and Morgan Stanley to pursue the IPO for around 5 billion US Dollars.
Check:
https://www.theartnewspaper.com/2022/01/13/sothebys-selects-banks-initial-public-offering-five-billion
Means, Drahi would make a profit of around 1.3 billion US Dollars in just 3 years. Let's say it bluntly: we artists feel annoyed, we're just being fucked by the Drahi's family.
I really hope, that young and unsympathetic Nathan Drahi will part from Hong Kong as soon as possible.
Up-date 2022/12/8:
Sotheby's Chairman Patti Wong, Who Ushered House's Growth in Asia, To Depart
ANGELICA VILLA, December 7, 2022
https://www.artnews.com/art-news/news/sothebys-international-chairman-patti-wong-to-depart-1234649457/