Next One @ Sotheby's: Hugely Popular Amy Cappellazzo Bites the Dust
What will happen @ Sotheby's Japan?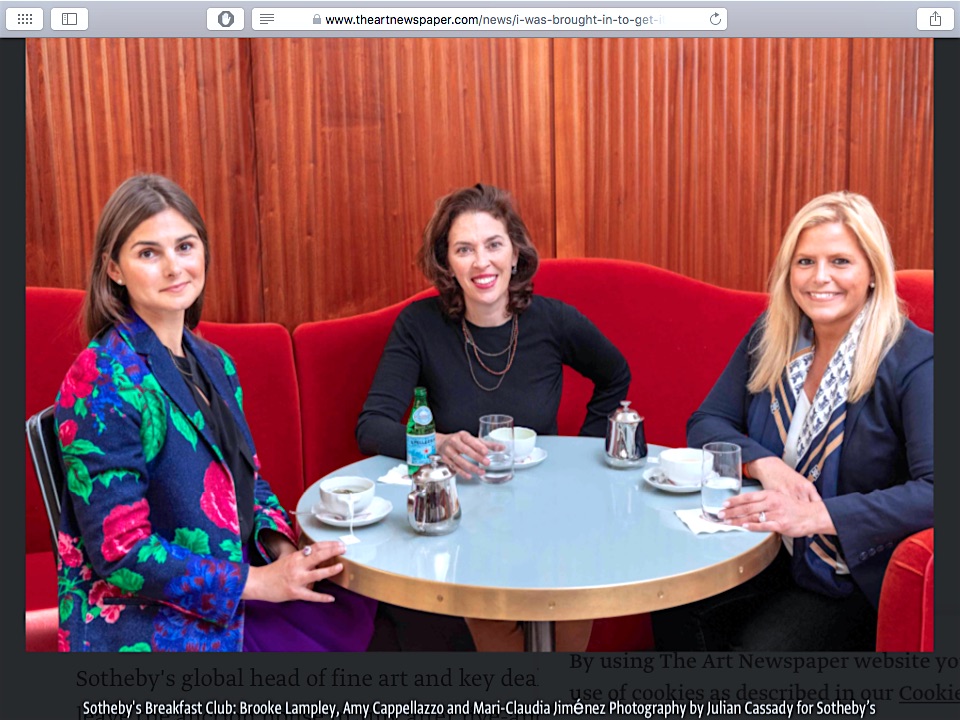 Sotheby's Breakfast Club: Brooke Lampley, Amy Cappellazzo and Mari-Claudia Jiménez Photography by Julian Cassady for Sotheby's
—
Sad news for the global art business world, announced just minutes ago via The Art Newspaper.
Charming Amy Cappellazzo, 53, initially peaked her career as director at the Rubell Collection in Miami, the same year when I exhibited at the 1. ART BASEL MIAMI BEACH art fair. (And got my front page coverage on the MIAMI HERALD Newspaper!)
Through her intelligent manoeuvres, sympathetic temperament, her eloquent appearance, she succeeded in gathering a huge crowd of followers in the global art scene. Perche fa anche una bella figura. ;-)
I loved her sincerity, honesty, openness without fake statements. Targeting the provincialism of Americans with its anti-intellectual culture (not my words, courtesy Mike Kelley), she emphasised the necessity of being at least bi-lingual. Fantastico. I'll miss her.
Insiders will remember her also for teaming up with Allan Schwartzman, who, together with collector Howard Rachofsky, brought a whole bunch of Japanese artists into the American art market, the most famous one SHIRAGA Kazuo. You may learn more at:
白髪一雄・フット・ペインティング SHIRAGA Kazuo – Foot Paintings
https://art-culture.world/articles/shiraga-kazuo-白髪一雄/
In a kind of gossip context, we may assume that the new owner of Sotheby's, Patrick Drahi, (called also as the "cost killer" in the French media), prefers to communicate directly in French language with Gregoire Billault, who has been now promoted to chairman of contemporary art. In this context, besides the language barrier, Amy's high salary might have been an obstacle, too. Third, we don't know if the philosophies, how to run an auction house, matched between the new owner and the strong personality, the "New York Queen" of Sotheby's. Power struggle behind the scene seldom leaks to the public. Especially in auction houses, confidential behaviour means strict rules and commitments, written in the employee's contract.
Check Amy's amazing biography:
Amy Cappellazzo is Chairman of the Fine Art division of Sotheby's. Prior to accepting the position, Cappellazzo founded Art Agency, Partners with Allan Schwartzman. The firm filled a significant need in the art market for a client-oriented combination of industry knowledge, financial sophistication, and discretion. The company's attention to detail and emphasis on client care catalyzed a paradigm shift in the market that did not go unnoticed; in January of 2016 Sotheby's acquired Art Agency, Partners in a groundbreaking deal. Cappellazzo previously served as a market leader in the field of contemporary art at Christie's, where she rose to the post of Chairman of Post-War & Contemporary Development over thirteen years. During her tenure Cappellazzo directed groundbreaking initiatives that led to record results, with upward of $650 million realized in a single sale. Previously, Cappellazzo was an art advisor, curator, and key figure in the establishment of Art Basel in Miami Beach. Cappellazzo received her B.A. in Fine Arts/Art History from New York University, where she was a Presidential Trustee Scholar. She holds a master's degree in Urban Design from the School of Architecture at Pratt Institute, where she focused on the role of public art in shaping cities.
https://www.sothebys.com/en/about/team/amy-cappellazzo
---
up-date 2021/10/13
Today's New York Times: what a joy, Yuki & Amy in full swing for the Asian art market! … our stars in the auction world (2021/10/13)
https://art-culture.world/articles/new-york-times-yuki-amy/
---
2016:
May 2020, Amy's diplomatic comment on the new owner of Sotheby's Patrick Drahi:
Check my text from 2 weeks ago, about Nathan Drahi, the new 26 years old CEO Sotheby's Asia, son of the owner of Sotheby's:
アジアのアートマーケットの中心的人物:26歳のネイサン ドライ氏、新CEO サザビーズアジア (サザビーズのオーナー パトリック・ドライの息子)
Key Person of Asia's Art Market: 26 Years Old Nathan Drahi, New CEO Sotheby's Asia (Son of Sotheby's Owner Patrick Drahi)
https://art-culture.world/articles/key-person-of-asia-art-market/
Readers of ART+CULTURE may remember last year's December, introducing charming Brooke Lampley from Sotheby's New York.
More than a Muse: Picasso's Great Love Affair パブロ・ピカソ
https://art-culture.world/articles/picasso-great-love-affair/
It's Official: Amy Cappellazzo Is Done With Sotheby's. And a New Generation Is Taking Her Place
The polarizing dealmaker will be replaced by two relative Sotheby's newbies.
Katya Kazakina, April 28, 2021
quote:
Cappellazzo thrives in high-pressure situations. In 2017, she faced a major test when the collection of Emily and Jerry Spiegel came to market. It was a messy feud, with their two grown daughters pitching multimillion-dollar works to rival auction houses. The younger sibling ended up consigning just one work to Sotheby's: an untitled skull painting by Jean-Michel Basquiat. Cappellazzo pushed Sotheby's to dig into its coffers and guarantee the seller a price of $60 million. At the time, the artist's auction record was $57 million.
"I knew we could make the painting an icon," Cappellazzo recalled this week.
The risk paid off: The painting soared to $110.5 million, a record for an American artist at auction.
"It's never about just winning the consignment," Cappellazzo said of her philosophy. "You win when you sell the picture and you make money."
full text:
https://news.artnet.com/market/amy-cappellazzo-art-detective-sothebys-1962645
check my texts on 前澤友作 Yusaku Maezawa
ジャン=ミシェル・バスキア 〜 メイド・イン・ジャパン 〜 売り出し中
Jean-Michel Basquiat 〜 Made in Japan 〜 For Sale
https://art-culture.world/articles/jean-michel-basquiat-made-in-japan-ジャン=ミシェル・バスキア/
サザビーズとクリスティーズのオークションに夢中になっている前澤友作
MAEZAWA Yusaku, crazy about auctions at Sotheby's and Christie's
https://art-culture.world/articles/maezawa-yusaku-crazy-about-auctions-at-sothebys-and-christies/
Courtesy via The Art Newspaper:
'I was brought here to get the company sold privately and that is done': Amy Cappellazzo to leave Sotheby's in July
Brooke Lampley and Mari-Claudia Jiménez will step up into new roles in the global fine art division, while Gregoire Billault is the new chairman of contemporary art
Anna Brady
(quotes:)
Sotheby's global head of fine art and key dealmaker Amy Cappellazzo is to leave the auction house in July after five-and a half years at the firm. In her place, Brooke Lampley and Mari-Claudia Jiménez will step up into new, expanded leadership roles in the Sotheby's global fine art division while Gregoire Billault has been promoted to chairman of contemporary art.
Cappellazzo was the last one standing of the Art Agency, Partners (AAP) trio whose business was acquired by Sotheby's for $85m in 2016—the others, Adam Chinn and Adam Schwartzman left in 2018 and 2020 respectively.
…
Of recent changes in the auction business, Cappellazzo observes: "Covid has accelerated a lot of the digital disruptions, technological disruptions and capital disruptions." She sees "the potential for massive expansion on the luxury side—you can't massively disrupt the Picasso market because there isn't a limitless supply. But with watches, sneakers, handbags or wine, there is."
Now it is time to move on: "I was brought here to Sotheby's to help get the company sold privately and that goal is now done," Cappellazzo says. "It was a tough thing to be publicly traded: people rode up and down our stock with every sale. So we are a better company privately held."
Pressed on this point, she continues: "I think I understood that, I was brought in to impose a certain discipline to deals in the book and to the processes and way of working. Getting the organisation more robust in private sales is also another hallmark of my time here. And the constant slogging and pushing for digital disruption is also something I've come to represent."
Sotheby's chief executive Charles F. Stewart tells The Art Newspaper: "Amy has been nothing but great in terms of the support towards Sotheby's overall and to me personally as the new leader of the company…she wants to do something more entrepreneurial. This is about Amy and what she wants to do with her life." He adds: "She didn't jump but she also wasn't pushed. It was a discussion"
full text:
https://www.theartnewspaper.com/news/i-was-brought-in-to-get-it-sold-and-that-s-done-amy-cappellazzo-will-leave-sotheby-s-in-june
To get a deeper understanding about Amy's work, please read these two investigative texts:
(Courtesy The Art Newspaper)
Amy Cappellazzo becomes head of expanded Fine Arts division as Sotheby's restructures
While her role grows to cover departments such as Old Masters, second global division will include luxury objects and decorative art, jewellery and wine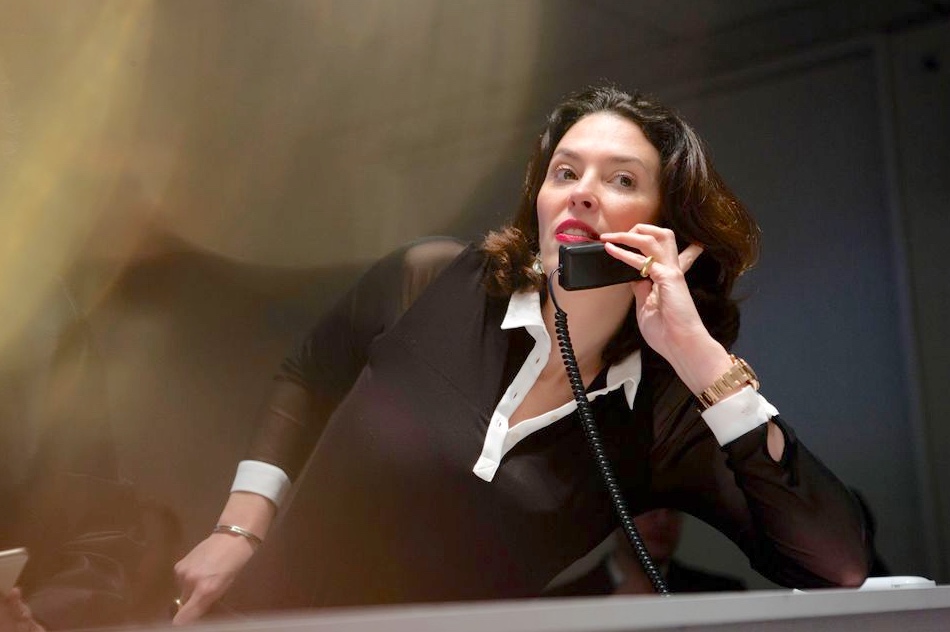 Anny Shaw, 12th December 2019
(quotes:)
In the first real glimpse of his vision for Sotheby's, the new chief executive Charles Stewart announced last week he is reorganising the auction house into two global divisions — Fine Arts and Luxury, Art and Objects.
Amy Cappellazzo, the chairman of Sotheby's current Fine Art division—which includes contemporary, Impressionist, Modern British and Latin American art—will head up the expanded division. In her larger role, Cappellazzo will also oversee Old Master and 19th-century paintings and drawings, as well as prints and photographs.
…
The reorganisation, which has seen around 20 to 30 senior executive layoffs in the past month, is an attempt to "reduce the current silos that exists between fine arts, business development and regional organisations", Stewart says.
…
Those named as having left are understood to have taken voluntary redundancy, many remunerated with generous severance packages (others have been fired). Carlotti received $3.9m, according to an earlier SEC filing, which also revealed that Smith's severance deal was worth $28.2m (including $16.9m of Sotheby's shares) — this despite barely growing Sotheby's stock price. Drahi is understood to be drastically scaling back on such compensation deals.
…
There are rumours of further redundancies early next year as Drahi forges ahead with his cost cutting, which Bloomberg estimates to be in the region of $66m, but some say could be as much as $100m. Drahi borrowed $1.1bn to help finance his $2.7bn purchase of Sotheby's.
full text:
https://www.theartnewspaper.com/news/sotheby-s-amy-cappellazzo-to-head-up-new-global-division-dealing-with-fine-art-from-old-master-paintings-to-photographs
---
17 Nov 2019
Sotheby's Amy Cappellazzo Tells It Like it Is
The art world powerhouse has a frank conversation with The Canvas' Jeremy Hodkin about working at the famed auction house.
(quotes:)
Question:
In multiple interviews you've bemoaned how artists' price points rise from entry-level extraordinarily fast before they even have their second, third, or fourth solo show. In one particular interview you stated that "The acceleration of prices on the entry-level stuff is just so great that very few artists survive the glare." I mean, you have to concede that the auction houses deserve at least part of the blame for this phenomenon with the way that in-demand primary-market darlings are rushed to auction these days. Would you agree with the premise and do you think the auction houses bear some of the responsibility for the sustainability and longevity of both individual artist's careers as well as to the market as a whole? Or would you argue that the auction houses are just responding to market demand?
Answer:
My feeling is that we all have to be thoughtful and judicious about how we interact with the market. For instance, whenever we see a young artist become super, super hot, we always encourage the vendor to price the work at a level that will catalyze deep bidding. You never want to price it to the heavens right out of the gate. We could be holier than thou and say, "We're not going to take art for sale from young artists." But to what end? Is that some kind of rule that we should follow religiously because it's always right? Of course not. There are times when that would absolutely be the wrong thing to do.
But I don't necessarily think it's a bad thing in and of itself. It just is what it is. I don't have a moral opinion about what kind of trading velocity or traction exists in the marketplace for young artists. I don't have moral position on the fact that it's raining today. Would I prefer it not to be raining today? Sure. But I don't have a moral position on it one way or another. The art market is like the weather in that way. It is what it is. People should stop complaining about the weather and get an umbrella. Figure out how to cope it with it.
If an artist doesn't ever want to sell at auction, then she should probably consider never selling any work except to her parents or her parents' friends. But if an artist is going to sell a work of art for money, then she's traded away the power and control over that painting. That's just the first rule of business. That's how the marketplace works. Honestly, dealers and MFA programs should work harder to educate artists on the way the market works so that they're more adept and savvier about how the art world works by the time they reach a certain level of success." The art market is like the weather. It is what it is. People should stop complaining about the weather and get an umbrella. Figure out how to cope it with it."
…
Question:
Do you think they're not doing a good enough job of that now?
Answer:
BFA and MFA programs? I'm pretty cozy and familiar with a lot of these places—I've been a long-time trustee at Pratt—and I don't think most art schools do a great job of educating artists about the business end of things. I think they find it gauche and feel it is not their responsibility.
Question:
Sotheby's art business is essentially divided into three separate divisions. There's Art Agency, Partners, the advisory firm that you and Allan [Schwartzman] started and sold to Sotheby's in 2016; there's the Private Sales Division which is run by David Schrader; and there's the Fine Art Division which encompasses all of the auction sales. Your position at the house is fairly unique in that you transcend any one particular division. Can you walk me through how you advise a client on whether to offer a work at auction versus offering it privately. What are the factors at play?
Answer:
The first thing I'd say is that clients have very different and personal reasons for wanting to sell something from their collection. So, it's most important to figure out what's personally most important to them. Do they want privacy? Is it publicly known that their company has dropped 25% in value, or will selling the marquee item from their collection at auction indicate to their friends and competitors that they're doing poorly? Are they in a position where they don't want their ex-wife to know they're selling an asset? Or might they just be a risk-averse person who wants to avoid the uncertainty of an auction? So, there are a number of personal factors that are important and could come into play.
…
Question:
Auction house specialists can usually be divided into one of two categories: lifers and non-lifers. The lifers are in it for the long haul. They love the auction houses. They love the pace. They love the security. And between you and me, they seem to usually be European. The non-lifers enjoy the auction houses in the short to medium-term, but ultimately, would like to branch out and start their own advisory firms, become individual advisors of some sort (like Tobias Meyer), or start their own galleries (like Emmanuel Di Donna or Brett and Dominique). Are you an auction house lifer, Amy? You've already left the auction business once only to be drawn back a few years later. For how many more years can I expect to see you up at the telephones?
Answer:
That is an amazing question. I can't believe you asked me that. You're good. To be honest, I don't really know the answer. I do think there's something valid in the idea that my European colleagues here at Sotheby's (and at Christie's when I was there) tend to be lifers. I think the culture in Europe is still very much one of having a set job, and it being your job for life. Americans expect to be more peripatetic. Americans don't even expect to live in one place, we expect to move. For instance, you're from Florida but you've lived in New York for 10 years. This is now your home. That's just America. The American mindset is very much, "This is good for me for now." I think the whole 'lifer' concept has become a rarer thing in American business, period.
full text:
https://garage.vice.com/en_us/article/evj3vj/sothebys-amy-cappellazzo-tells-it-like-it-is
---
---
Today's bonus:
Double check the film "The Price of Everything" from 2018 about New York's auction houses. The comments of the director will help you to nurture a different perspective.
Short Talks – Nathaniel Kahn (The Price of Everything)
ここに載せた写真とスクリーンショットは、すべて「好意によりクリエーティブ・コモン・センス」の文脈で、日本美術史の記録の為に発表致します。Creative Commons Attribution Noncommercial-NoDerivative Works photos: cccs courtesy creative common sense