Today's The Art Newspaper: "Could Japan rise again? New fair to launch in Tokyo in July 2023"
"TOKYO GENDAI"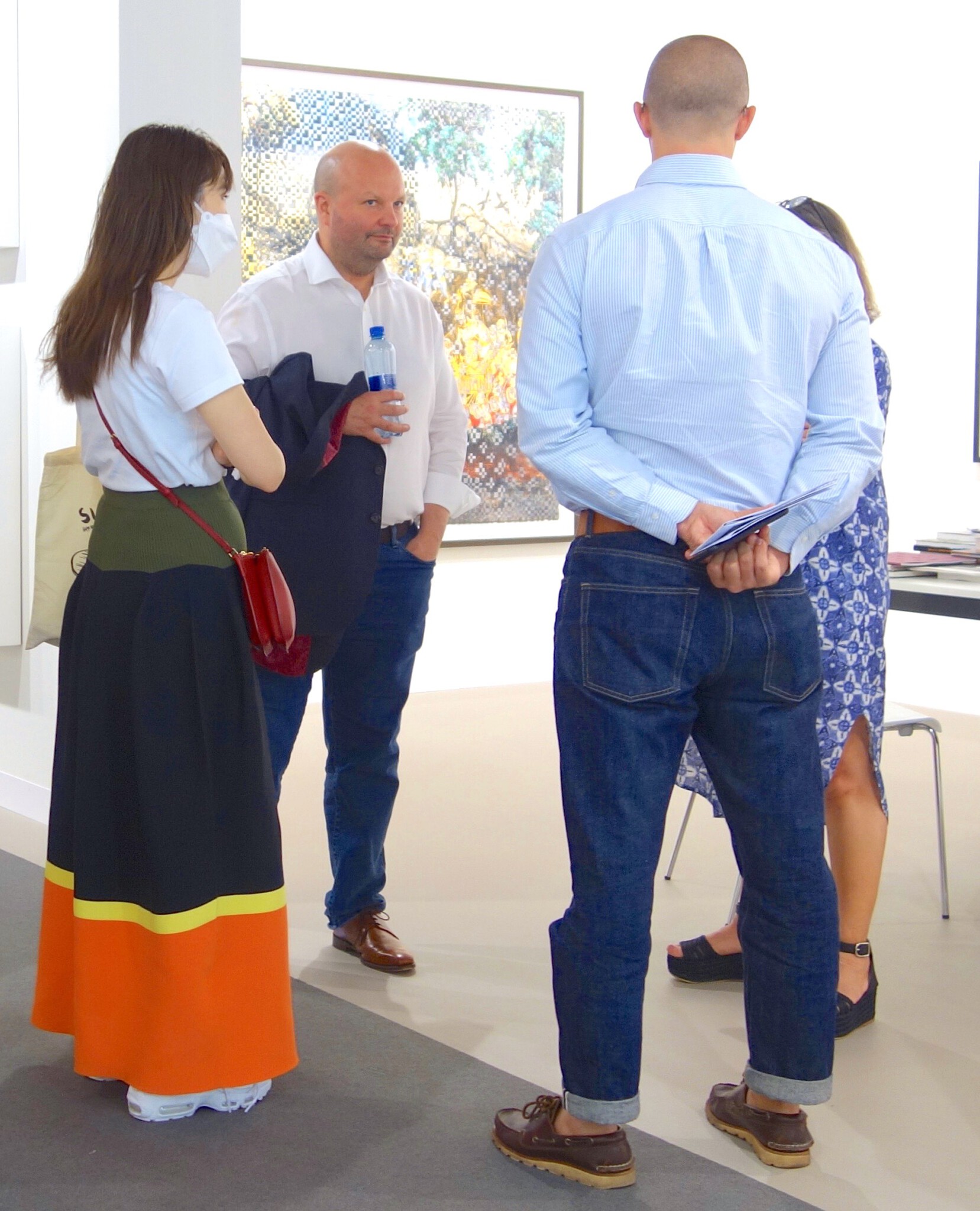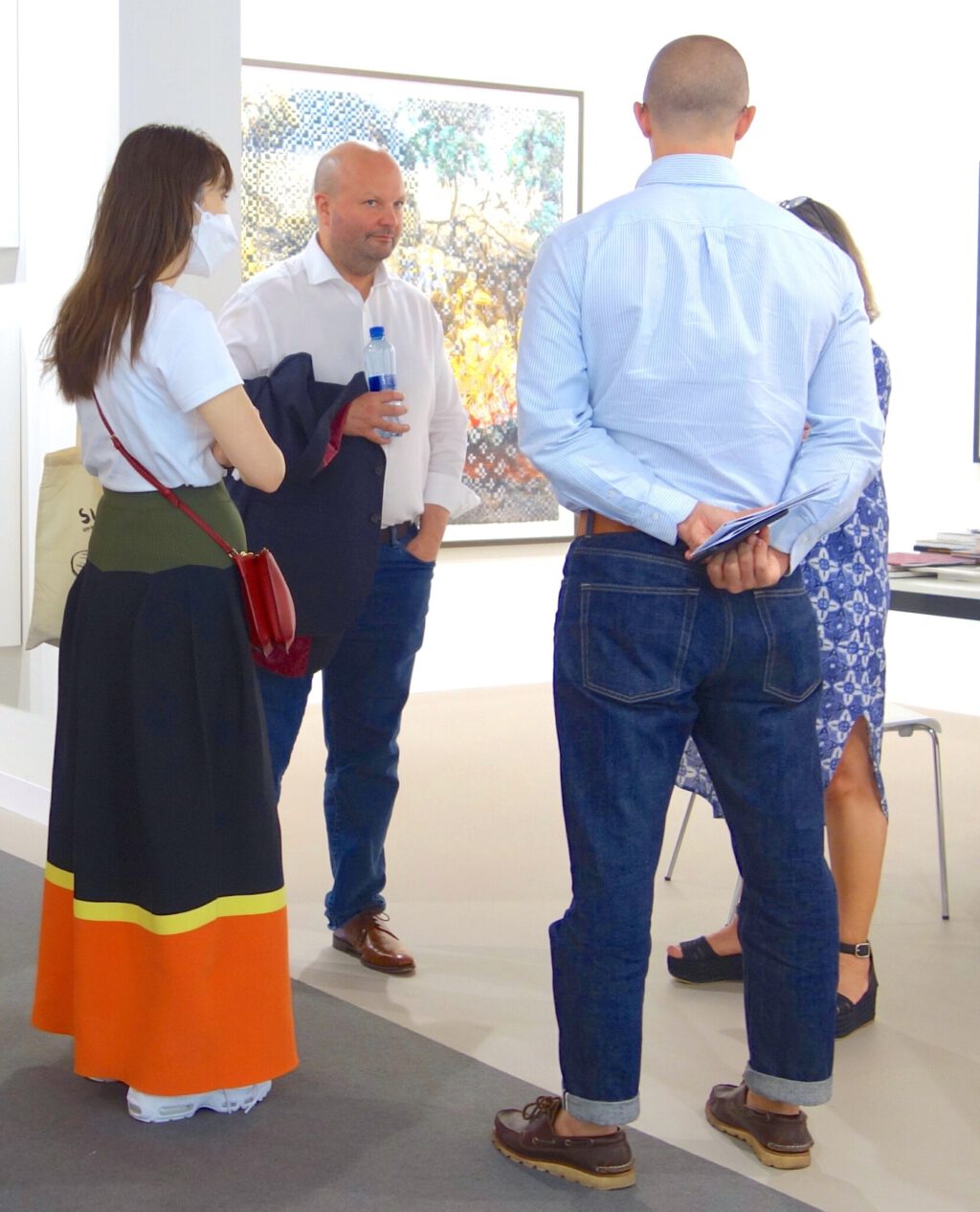 (Above cover pic had been actualised.)
Today's global art news about a new art fair in the Kanto region will make big waves in the local art scene.
After the disappearance in 2003 of NICAF (Nippon International Contemporary Art Fair) and the short lives of TOKYO ART EXPO in the 90's and G-tokyo (art fair with Tokyo-based galleries) in the 2010's, we'll see if this new TOKYO GENDAI can succeed in the city of Yokohama (not Tokyo, as erroneously written in the title of "The Art Newspaper", "artnet news" and "BT" articles).
Actually the TOKYO INTERNATIONAL ART FAIR is running in Roppongi, Tokyo.
ART FAIR TOKYO in the center of Tokyo (Tokyo International Forum) already established itself several years ago with around 40-50.000 visitors.
Japanese news at BT 美術手帖 news website:
東京に新たな国際アートフェア。「TOKYO GENDAI」が来夏開催へ
東京に新たな現代アートのアートフェアが誕生する。その名も「TOKYO GENDAI」だ。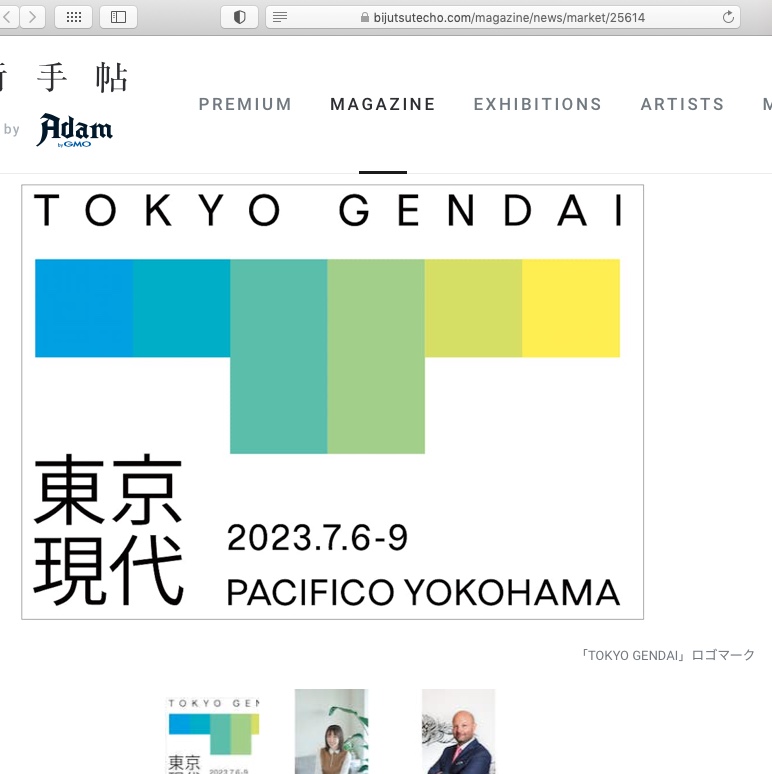 (引用文:)
なおフェアにはアドバイザリーボードとして森佳子(「森美術館」理事長)、田口美和(「タグチアートコレクション」共同代表)、高橋龍太郎(精神科医、現代アートコレクター)、大林剛郎(株式会社大林組 代表取締役会長)、ハワード&シンディ・ラコフスキー夫妻(コレクター)といった著名コレクターらが名を連ねる。
more @:
https://bijutsutecho.com/magazine/news/market/25614
BT INTERVIEW 2022.6.13
独占インタビュー:東京のアートマーケットに勝ち筋はあるのか? 「TOKYO GENDAI」ディレクターに聞く
2023年7月、国際水準のアートフェア「TOKYO GENDAI」がパシフィコ横浜で初開催される。これまでアジアを中心に数々のフェアを手がけてきた「The Art Assembly」のマグナス・レンフリューが音頭を取り、Google Arts & Cultureで日本のアートシーンとも関係を築いてきたEri Takaneがフェアディレクターを務めるこのフェア。その狙いや日本のマーケットに対する考えを聞いた。
https://bijutsutecho.com/magazine/interview/25683
The Art Newspaper
Could Japan rise again? New fair to launch in Tokyo in July 2023
Founded by Sandy Angus, Tim Etchells and Magnus Renfrew, the event looks to cement a growing market in Japan
Anny Shaw, 9 June 2022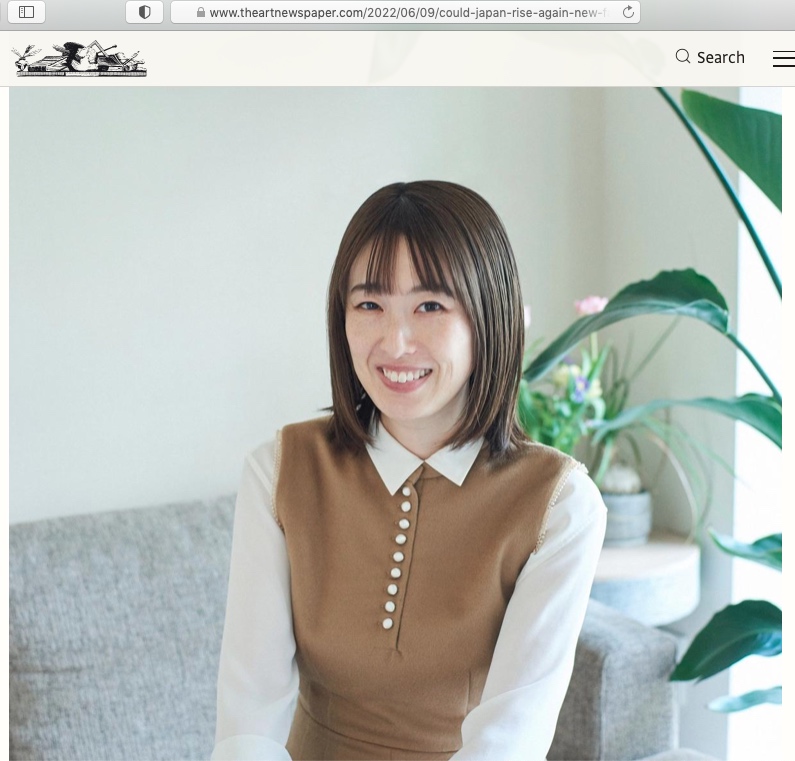 Quotes:
Adding to the burgeoning crop of events in the Asia Pacific region, a new fair is set to launch in Tokyo in July 2023.
It is the brainchild of Sandy Angus, Tim Etchells and Magnus Renfrew, whose network of fairs now includes Taipei Dangdai, the India Art Fair, Sydney Contemporary, Photofairs Shanghai and Art SG, which is now due to launch in January having been delayed several times.
Called Tokyo Gendai ("gendai" means contemporary in Japanese), the new fair will take place from 7-9 July 2023 in the sprawling Pacifico Yokohama convention centre. Between 80 and 100 galleries are expected to take part, around 20% of whom will come from Japan. The curator and art consultant Eri Takane has been appointed the fair's director.
…
quotes:
Among those on Tokyo Gendai's committee is Marc Glimcher, the president and chief executive of Pace Gallery, who describes Japan as "an important part of the international cultural scene". He adds: "Now it's time for the country to take its place again as one of the most prominent collecting communities in the world, and establishing Tokyo Gendai as a landmark fair is the next step."
Fellow committee member Tim Blum, the co-founder Blum & Poe gallery who opened a space in Tokyo in 2012, says: "With the slow but steady ascent of the Japanese collecting class in tandem with the vast global reach of the arts of Japan, it feels like the right time to execute a global contemporary art fair of the highest calibre."
The fair's advisory group, meanwhile, comprises collectors from Japan, the wider region and beyond including Yoshiko Mori, the chair of the Mori Art Museum; Miwa Taguchi, the co-founder of the Taguchi Art Collection; the collector Ryutaro Takahashi; Takeo Obayashi, the chairman of the Obayashi Corporation; and the Dallas collectors Howard and Cindy Rachofsky.
full text @:
https://www.theartnewspaper.com/2022/06/09/could-japan-rise-again-new-fair-to-launch-in-tokyo-in-july-2023
artnet news
Betting on Japan as the Next Asian Market Hub, Veteran Fair Organizer Magnus Renfrew Is Organizing a New Art Event in Tokyo
Tokyo Gendai, planned for next summer, is the latest contemporary art fair in Renfrew's portfolio.
Eileen Kinsella, June 9, 2022
Quote:
Eri Takane, the show's director, previously worked for Google Arts and Culture in Japan and served as director of the Sazon Art Gallery in Tokyo. During a 13-year stint in Manhattan, she also worked as a fundraiser for the Japan Foundation.
more @:
https://news.artnet.com/market/tokyo-gendai-art-fair-2127153
Financial Times, 4 hours ago:
Japan gets an international art fair
Japan will get its first big art fair for decades as the market continues to increase its focus on Asia. Tokyo Gendai will run in the waterfront Pacifico Yokohama convention centre, south-west of the capital next year (July 7-9). The founders are Sandy Angus, Tim Etchells and Magnus Renfrew, working through their affiliation The Art Assembly, which organises five other Asia Pacific fairs including Taipei Dangdai and the India Art Fair. "Gendai" means "contemporary" in Japanese, and plans are for the fair to have up to 100 selected exhibitors, focused on Japan and the Asia Pacific plus galleries from around the world. The event already has strong support, including from the Japan Tourism Agency, and a selection committee that includes Marc Glimcher, president of Pace, and Tim Blum, co-founder of Blum & Poe. Yoshiko Mori, chair of Tokyo's Mori Art Museum, is among the new fair's advisory group. Tokyo Gendai's director is Eri Takane, who recently organised VIP relations in Japan for the Taipei fair and previously advised Google Arts & Culture in Japan. The country hosted one of Asia's earliest art fairs in the same convention centre in 1992, but its international, commercial scene has since been limited. Now, Renfrew says, the time is right for one of the wealthiest cities in the world to galvanise its longstanding institutional and gallery strengths. "People say there are too many art fairs, but Asia represents half of the world's population and does not have a relative number of events. There is a younger generation of collectors coming through [in the continent]. It feels like a sea change," Renfrew says.
https://www.ft.com/content/04d4d535-2cea-4233-b6fd-99f94d0e217d
---
South China Morning Post, today:
New art fair Tokyo Gendai will introduce international contemporary artists to a younger generation of Japanese collectors
Quotes:
Tokyo Gendai aims to capture the growing appetite among a new generation of Japanese collectors who are wealthy and interested in international contemporary art, he says. "The markets in Japan have enormous potential. It is a great centre of wealth. It is also a destination that people enjoy visiting because of its rich cultural offerings," he says.
The country has a particularly wide "psychological catchment area", he says. The Taiwanese have a close affinity to Japan because of Taiwan's history as a Japanese colony and are close enough to visit easily, as are people in Hong Kong, he says, and Japanese traditional and contemporary culture greatly influence people around the world.
In contrast to existing fairs in Japan, Tokyo Gendai has an international selection panel that will vet applications and aims to deliver a consistent fair experience year after year, says fair director Eri Takane.
Takane, previously an independent curator and art adviser with a wide range of experience working in New York and in Japan, including at Google Arts & Culture where she worked with Japanese non-profit institutions to present their collections online, says Japanese art gallery sales have recovered after being hit by the pandemic.
"The new generation is more willing to buy art and wants to see international art works. That's what I feel in the six years living in Tokyo since I came back from New York," she says. A special section of the fair will be devoted to non-fungible tokens (NFTs), videos and new media works, she adds.
…
quote:
"We don't feel our success is based on other people's challenges. That's how we always set things up. We chase the dream and not the competition," says Renfrew.
Takane says: "Japan has a language barrier. People here are starting to speak more English now, but in Hong Kong, everyone [in the art market] speaks English. Japan looks to Hong Kong as a central art place. We have our own uniqueness and we are not really in competition."
full text @
https://www.scmp.com/lifestyle/arts-culture/article/3180819/new-art-fair-tokyo-gendai-will-introduce-international
---
About Eri Takane 高根枝里氏 について:
高根枝里さん / アートマネジメント、キュレーター
2020年7月22日
たかね えり●ハンター大学心理学学科とニューヨーク大学大学院アートマネジメント学科を卒業後、日米間でのキュレーター交流に携わる。現在は、アートマネジメント/キュレーション業、 アートコンサルティングを全世界で行う。
more @
https://hpplus.jp/spur/114025
———————
アートコンサルタント
高根 枝里 さん
(引用文:)
アートコンサルタントとして国内外を問わず活躍されている高根さんのプロフィールを教えてください。
18歳でNYに渡り、大学で心理学と大学院でアートビジネス全般を学びました。日米間のキュレーター交流などに携わり2016年に帰国、現在はIT企業のアート部門を担当しながら、アートマネジメント・アートコンサルティングを行っています。また、今年4月から始まった東京FMのラジオ番組『サステナ*デイズ』でパーソナリティを務めています。
more @:
http://www.town.yakage.okayama.jp/satelliteoffice/column/detail_03.html
———————
Asia Society Japan Center, Friday, 27 February 2020
Eri Takane, Art Consultant
Quotes:
Ms. Takane has a one-of-a-kind role in the art world, establishing connections among artists, collectors and institutions. She works with both artists and collectors, sometimes as a manager for artists, and sometimes as a curator of art shows or as a consultant for collectors and corporations. In her work as a manager for artists she not only represents artists but also coordinates studio residential programs for them. As a consultant for art collectors and corporations she helps collectors look for art pieces, listening closely to their preferences She introduces them to galleries and occasionally takes them to international art festivals. She prefers sharing the enthusiasm and joy of finding a piece that a collector is passionate about to working with investment-oriented collectors, although she admits it was exciting to see an artwork that she had helped acquire from the Mary Boone Gallery increase tenfold in its value.
full text:
https://asiasociety.org/japan/art-breakfast-2020-eri-takane
---
(From the ART+CULTURE Editor-in-Chief)
五木田智央のニューヨークのアートディーラー、メアリー・ブーンは刑務所に30ヶ月間
GOKITA Tomoo's New York Art Dealer Mary Boone sentenced to 30 Months in Prison
https://art-culture.world/articles/gokita-tomoos-new-york-art-dealer-mary-boone-sentenced-to-30-months-in-prison/
---
Tokyo Gendai 東京現代
2023/7/7-9
PACIFICO Yokohama
https://tokyogendai.com
https://tokyogendai.com/ja/
---
Up-date 2023/7/6
Market Maestro Magnus Renfrew Is Betting Big on Tokyo for the World's Latest Major Art Fair
July 5, 2023
quote:
What should visitors expect to see in Tokyo, both in and out of the fair?
Within the fair, I think the quality of the work is going to be really high. That's a testament to the seriousness with which the galleries are taking this opportunity. At the fair, we have a great talks program and, in addition to the different sectors, we also have an exhibition of female Japanese artists. It's also a great opportunity for Japanese collectors to see work from elsewhere in Asia and also from major galleries from the US and Europe.
For international visitors, there's going to be a very strong presentation of the best Japanese galleries and the work of Japanese artists at the fair, but also an opportunity to discover Japan. One thing that's been interesting for us is that while we've been saying that we want to help to build the market in Japan, I think that Japan's got probably the widest psychological catchment area of anywhere in Asia. Most people want to go to Japan to experience Japan. And for those people who do know Japan within the region, there's a huge affection for Japan and people are looking for an excuse to come. Post-pandemic, there's a real appetite for the people to reengage with Japan. This is an exciting moment.
Prior to the fair, we have excursions to different parts of Japan, which has been partially supported by the tourism board. There are trips to the Odawara Art Foundation's Enoura Observatory, Naoshima Island, Kyoto. The night prior to the fair opening, we've got Yukata Night in Roppongi, where galleries are coordinating openings, and a gallery night at the Terrada Art Complex on Friday. We're very grateful to Mr. Obayashi who's opening up his guest house, designed by Tadao Ando, to showcase his private collection.
Full interview:
https://www.artnews.com/art-news/market/tokyo-gendai-inaugural-edition-preview-magnus-renfrew-1234673334
Screenshots from:
https://tokyogendai.com/galleries2023/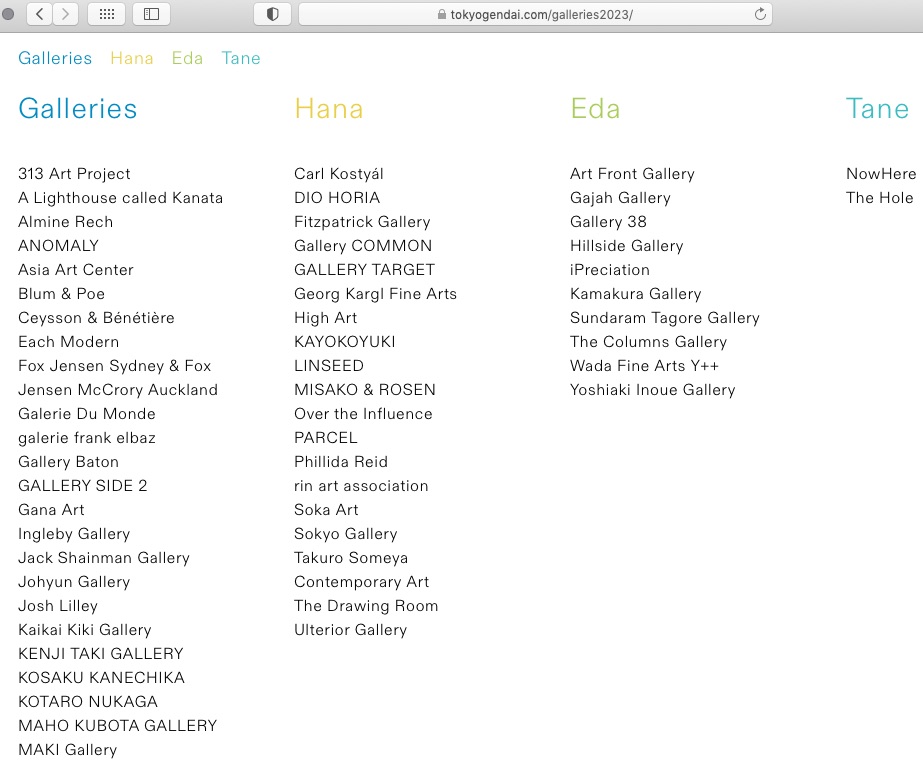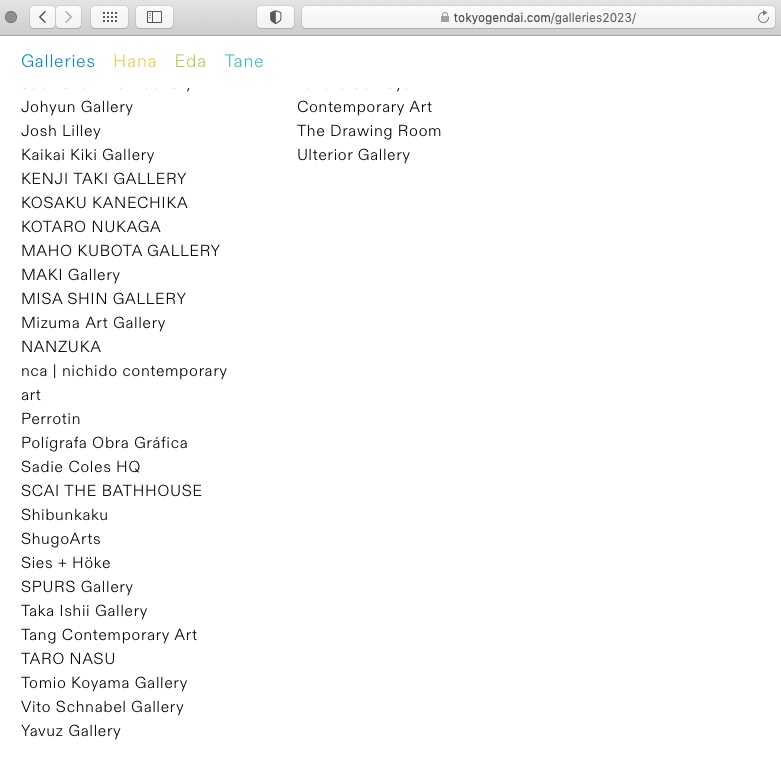 Galleries
• 313 Art Project (Seoul)
• A Lighthouse called Kanata (Tokyo)
• Almine Rech (Paris, Brussels, London, New York, Shanghai)
• ANOMALY (Tokyo)
• Asia Art Center (Taipei, Beijing)
• Blum & Poe (Los Angeles, New York, Tokyo)
• Ceysson & Bénétière (New York, Koerich, Paris, Lyon, Geneva, Saint-Étienne, Pouzilhac)
• Each Modern (Taipei)
• Fox Jensen Sydney & Fox Jensen McCrory Auckland (Sydney, Auckland)
• Galerie Du Monde (Hong Kong)
• galerie frank elbaz (Paris)
• Gallery Baton (Seoul)
• GALLERY SIDE 2 (Tokyo)
• Gana Art (Seoul)
• Ingleby Gallery (Edinburgh)
• Jack Shainman Gallery (New York)
• Johyun Gallery (Busan)
• Josh Lilley (London)
• Kaikai Kiki Gallery (Tokyo)
• KENJI TAKI GALLERY (Tokyo, Nagoya)
• KOSAKU KANECHIKA (Tokyo)
• KOTARO NUKAGA (Tokyo)
• MAHO KUBOTA GALLERY (Tokyo)
• MAKI Gallery (Tokyo)
• MISA SHIN GALLERY (Tokyo)
• Mizuma Art Gallery (Tokyo, Singapore)
• NANZUKA (Tokyo)
• nca | nichido contemporary art (Tokyo, Taipei)
• Perrotin (Paris, Hong Kong, New York, Seoul, Tokyo, Shanghai, Dubai)
• Polígrafa Obra Gráfica (Barcelona)
• Sadie Coles HQ (London)
• SCAI THE BATHHOUSE (Tokyo)
• Shibunkaku (Kyoto)
• ShugoArts (Tokyo)
• Sies + Höke (Düsseldorf)
• SPURS Gallery (Beijing)
• Taka Ishii Gallery (Tokyo, Hong Kong)
• Tang Contemporary Art (Beijing, Hong Kong, Bangkok, Seoul)
• TARO NASU (Tokyo)
• Tomio Koyama Gallery (Tokyo)
• Vito Schnabel Gallery (New York, St. Moritz, Santa Monica)
• Yavuz Gallery (Singapore, Sydney)
Hana
• Carl Kostyál (London, Stockholm, Milan)
• DIO HORIA (Athens)
• Fitzpatrick Gallery (Paris)
• Gallery COMMON (Tokyo)
• GALLERY TARGET (Tokyo)
• Georg Kargl Fine Arts (Vienna)
• High Art (Paris)
• KAYOKOYUKI (Tokyo)
• LINSEED (Shanghai)
• MISAKO & ROSEN (Tokyo)
• Over the Influence (Hong Kong, Los Angeles, Bangkok, Paris)
• PARCEL (Tokyo)
• Phillida Reid (London)
• rin art association (Takasaki)
• Soka Art (Taipei, Beijing, Tainan)
• Sokyo Gallery (Kyoto)
• Takuro Someya Contemporary Art (Tokyo)
• The Drawing Room (Manila)
• Ulterior Gallery (New York)
Eda
• Art Front Gallery (Tokyo)
• Gajah Gallery (Singapore, Jakarta, Yogyakarta)
• Gallery 38 (Tokyo)
• Hillside Gallery (Tokyo)
• iPreciation (Singapore, Hong Kong)
• Kamakura Gallery (Kamakura)
• Sundaram Tagore Gallery (New York, Singapore, London)
• The Columns Gallery (Singapore, Seoul)
• Wada Fine Arts Y++ (Tokyo)
• Yoshiaki Inoue Gallery (Osaka)
Tane
• NowHere (New York)
• The Hole (New York, Los Angeles)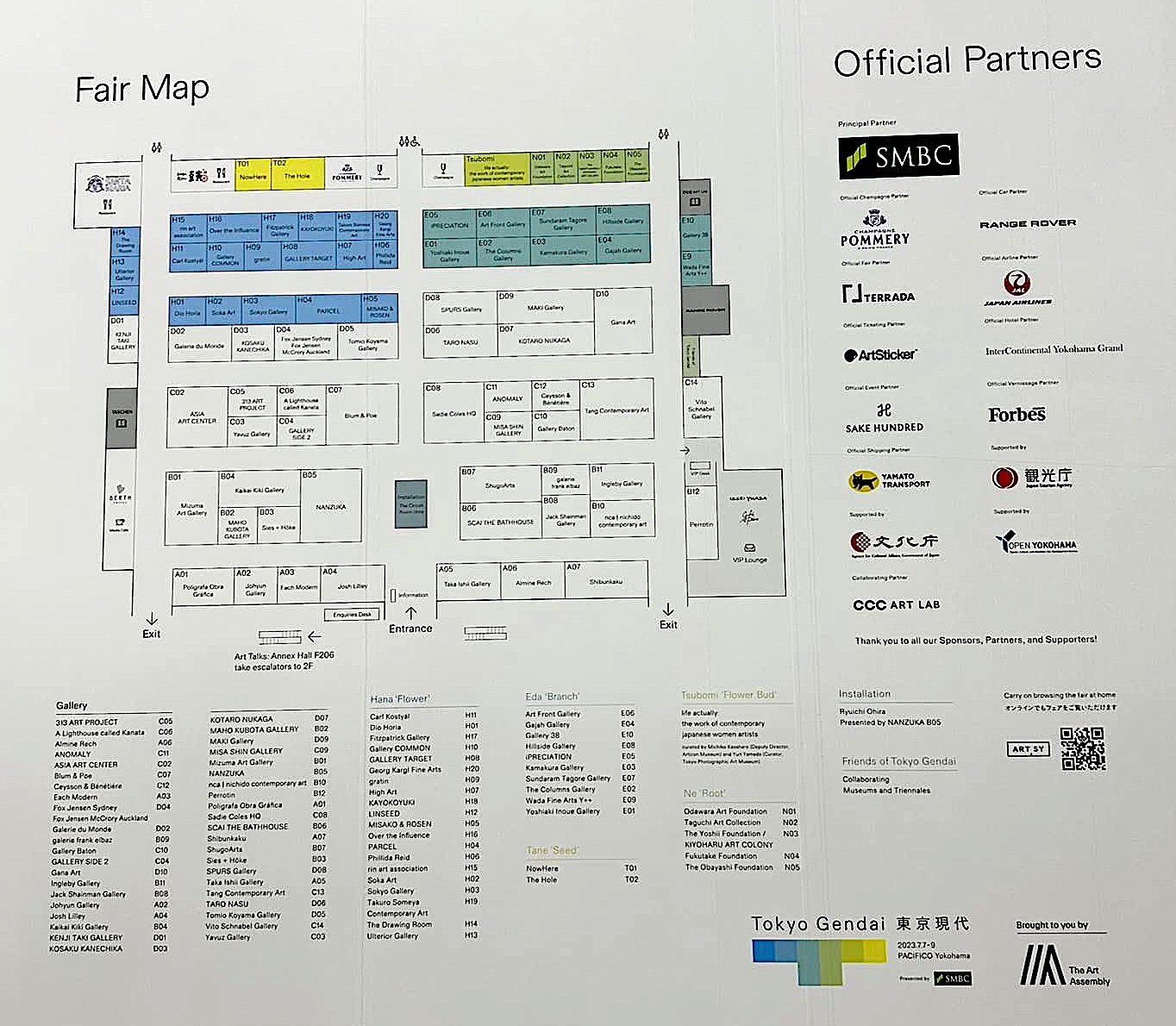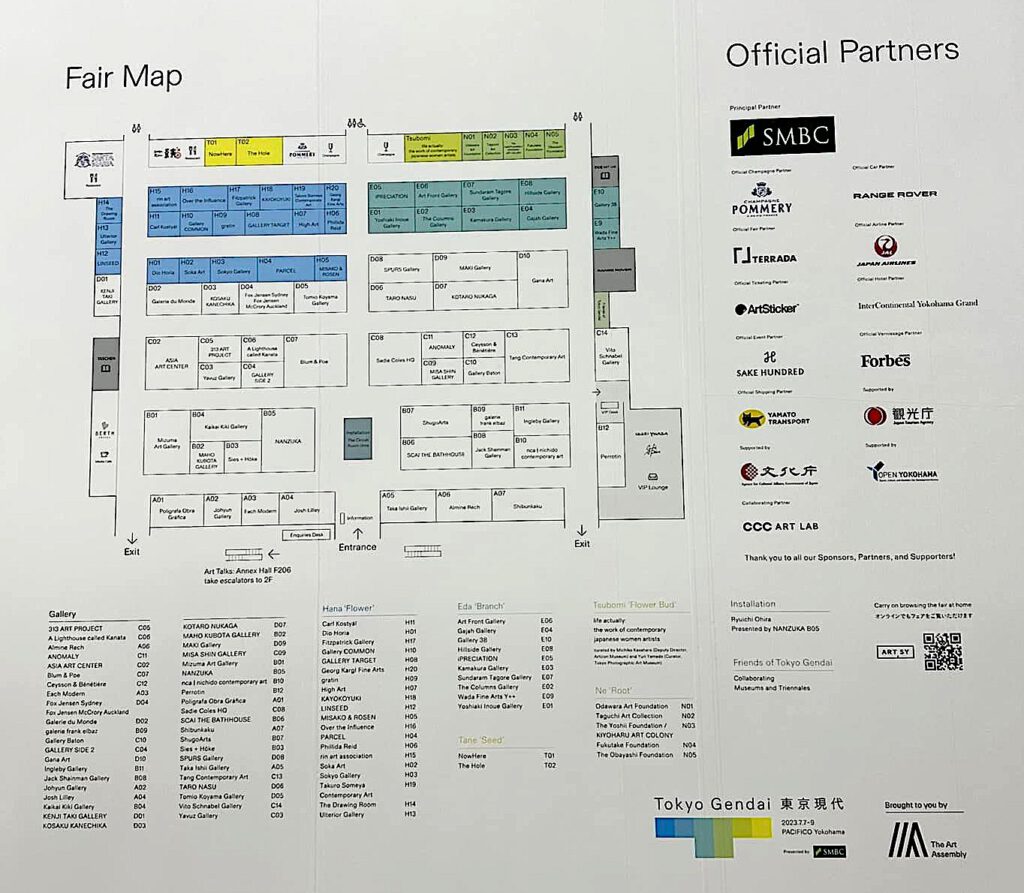 ---
The Best Booths at the Inaugural Edition of Tokyo Gendai, Buzzing with Energy and Early Sales
ARTnews, Maximilíano Durón, July 6, 2023
quote:
The inaugural edition of Tokyo Gendai, the art world's latest fair, opened to VIPs on Thursday afternoon, with a long line forming ahead of the 2 p.m. opening time and crowded aisles throughout the day. Dealers reported a number of first-day sales, and the buzzing energy throughout the exhibition hall at the Pacifico Yokohama on the first day was palpable.
In a press conference just before the VIP opening of the fair, Magnus Renfrew described this moment as "the beginning of a new chapter for the art scene in Japan," and he reiterated previous talking points that the inaugural edition of the fair is "the first step on a longer journey," adding that the group's "aspiration is that over the coming years we can really build this into a fair of global importance. It's really time now for the Japanese art scene to step into the spotlight."
Similarly, Katsunori Takahashi, the head of the private banking division for SMBC, the fair's lead sponsor, said that though modern and contemporary art has, in recent years, become popular in Japan like elsewhere around the world, Japanese financial institutions "have only been making limited contributions" to the art scene when compared to their counterparts in North America and Europe. With SMBC as principal sponsor, "I think it is a very small step that I would like to make into a very big opportunity … to make further contributions" to Japan's art market.
Below, a look at the best booths at the 2023 edition of Tokyo Gendai, which runs until Sunday, July 9.
In the run-up to the fair, the organizers have billed this as Japan's first truly international art fair in at least 30 years, bringing collectors and galleries from Japan together with their counterparts from across the world, primarily from the Asia-Pacific region but also New York and Europe.
more@
https://www.artnews.com/list/art-news/reviews/the-best-booths-at-the-inaugural-edition-of-tokyo-gendai-buzzing-with-energy-and-early-sales-1234673504/jonathan-lyndon-chase-at-sadie-coles-hq/
---
Up-date 2023/7/8
NEWS / MARKET
2023.7.7
ポジティブなバイブスで幕を開けた初回の「Tokyo Gendai」。セールスは?
開催前から大きく注目を集めた新たな国際的アートフェア「Tokyo Gendai」。初日の様子をレポートする。
文・写真=王崇橋(ウェブ版「美術手帖」編集部)
quote:
 都心から離れた会場や、欧米のギャラリーにとって夏休みにあたるフェアの開催時期は、海外ギャラリーの出展を躊躇わせてしまう。また、海外の作品を輸入通関する際に課税される10パーセントの物品・サービス税(GST)も、従来海外のギャラリーにとって大きな参入障壁だった。Tokyo Gendaiは開催の約1年前から税関に保税資格の申請をしており、保税資格の取得により海外からのギャラリーはGSTを留保したかたちでの美術品持ち込み・展示が可能となったため、多くの海外ギャラリーにとって今後の出展はより容易になると考えられている。
English translation:
The fair's location away from the city centre and the timing of the fair, which falls during the summer holidays for European and US galleries, make overseas galleries hesitant to exhibit. The 10 per cent Goods and Services Tax (GST) levied on imported artwork has also been a major barrier to entry for overseas galleries, and Tokyo Gendai applied for bonded status with the customs office about a year before the fair. The bonded status will make it easier for many overseas galleries to exhibit in the future, as they will be able to bring in and exhibit their artworks with GST retained.
full text:
https://bijutsutecho.com/magazine/news/market/27484
Compare with:
7月7日(金)- 9日(日)開催 「Tokyo Gendai」保税資格を取得した世界水準のアートフェアへ
国内外のアートシーンを代表するアーティストらによる注目のプログラムを発表
「Tokyo Gendai」広報事務局
2023年6月8日 15時00分
■保税資格を取得した世界水準のアートフェア「Tokyo Gendai」
■世界を舞台に活躍するピアニスト、アーティストの向井山朋子が新作インスタレーション・パフォーマンスを世界初披露
■彫刻家の大平龍一がTokyo Gendaiのために特別インスタレーションを制作
■日本の女性現代アーティストによる展示セクション、国内の芸術文化財団によるブースが新たに登場
■片岡真実や名和晃平など日本のアートシーンを牽引するスピーカーによるトークセッションを開催
■最旬アートに触れる注目のサテライトイベントとVIPプログラムを発表
■新たなパートナーとして、InterContinental Yokohama Grand 及びInterContinental Yokohama Pier 8、POMMERY、Clearが決定
■各種入場チケットの販売が5月17日(水)より開始
quotes:
日本で初めて保税資格を取得した世界水準のアートフェア「Tokyo Gendai」
2020年12月、2021年2月の関税法基本通達一部改正により、保税地域でのアートフェアなどの実施が可能となったことを受け、Tokyo Gendaiは開催会場全体を保税地域として使用する許可を横浜税関より取得しました。このたび当フェアの共同創設者、マグナス・レンフリューが出席し、5月19日(金)に同税関にて許可書交付式が行われたことをお知らせいたします。
フェア開催期間の2023年7月6日(木)~9日(日)は、会場であるパシフィコ横浜が保税展示場となるため、海外からの出展者は関税等を留保した形で美術品を持ち込み、展示することができます。これは、海外ギャラリー及び関係者の日本市場参入障壁の大幅な改善につながり、美術品取引における大きな機会創出となります。
河野 太郎氏(デジタル大臣、内閣府特命担当大臣(デジタル改革 消費者及び食品安全)国家公務員制度担当)コメント
「この度、Tokyo Gendaiが国際アートフェアとして日本で初めて保税資格を取得したことを大変嬉しく思います。私が規制改革担当大臣時代に行った規制緩和により、当初の目的であった海外基準のアートフェアの開催と世界のアートギャラリーの日本進出を後押しできたことは、なによりも喜ばしいことです。是非各国のアート愛好者の皆さまにフェア、そして日本にお越しいただけることを期待するとともに、横浜・東京のみならず、日本各地へも足を運んでいただきたく思っております。」
Magnus Renfrew, Co-Founder, Tokyo Gendai, コメント
「Tokyo Gendaiの保税資格取得にあたり、ご尽力いただいた財務省及び横浜税関に心より感謝を申し上げます。保税展示場におけるフェア開催が可能となったことは、海外からの出展ギャラリーにとってまたとない機会であるのみならず、当フェアが今年の開催を皮切りに世界のアート関係者の日本進出を支援していくことを意味します。Tokyo Gendaiは、引き続きグローバルアートシーンにおける日本の国際的プレゼンス向上を見据えた国内外関係者による活発な交流の創出と国内アート市場のさらなる発展に寄与していきます。」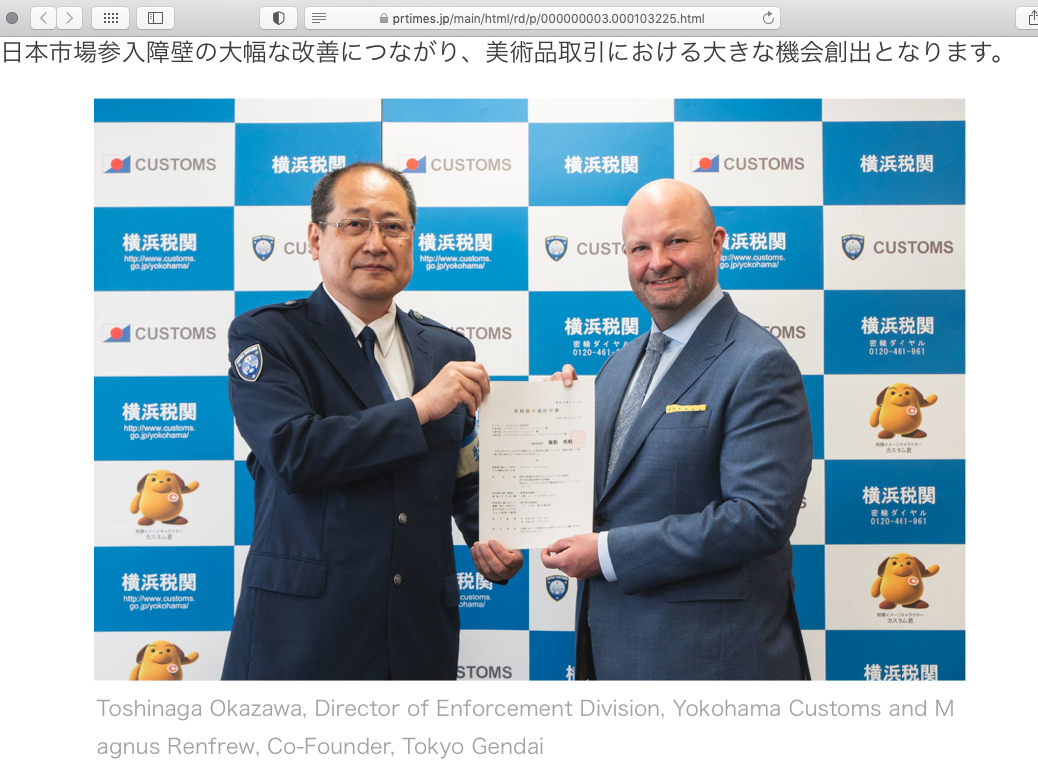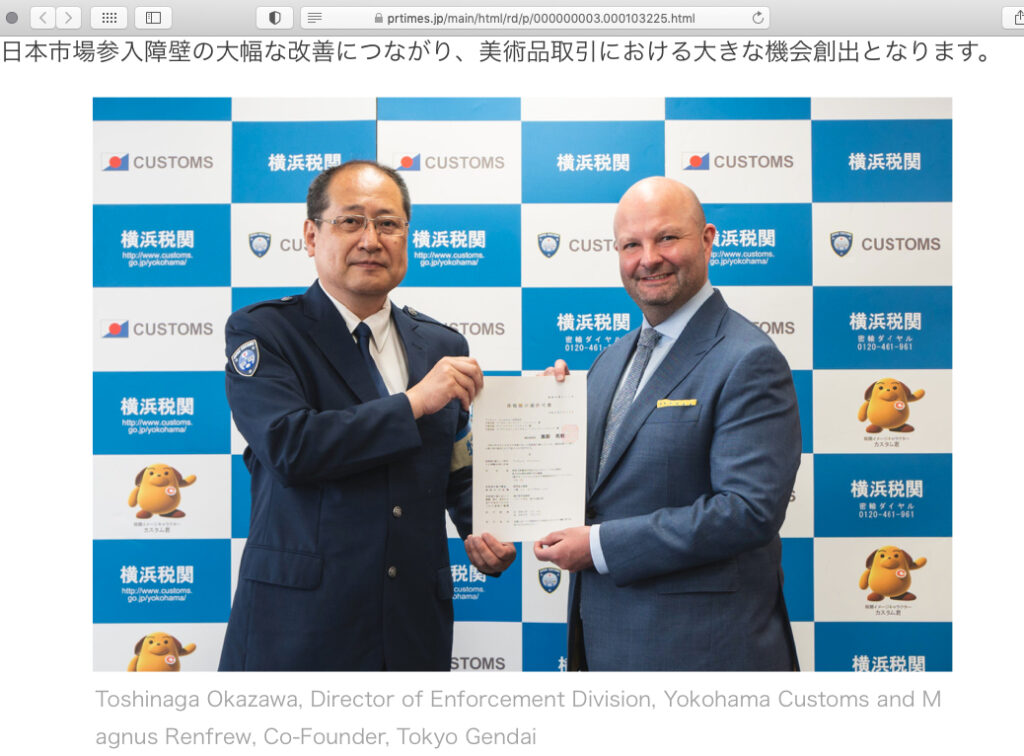 quote:
片岡真実、名和晃平など日本のアートシーンを牽引するスピーカーによるトークセッションを開催
会期中、片岡真実(森美術館館長)、大林剛郎(大林組取締役会長、大林財団理事長)、南條史生(森美術館特別顧問、十和田市現代美術館総合アドバイザー、弘前れんが倉庫美術館特別館長補佐、アーツ前橋特別館長)、名和晃平(彫刻家)をはじめとするアート関係者を招き、国内外における現代アート業界のトレンドや社会情勢にみるアートのあり方など、多岐にわたるテーマをアーティスト、コレクター、キュレーターなどの異なる視点から掘り下げるトークセッションプログラムを開催します。
※参加ギャラリーは公式サイトをご覧ください
https://tokyogendai.com/ja/
quote:
■Magnus Renfrew
20年前から国際アートの世界で活躍し、この10年間はアジアに拠点を置いています。ART HK: Hong Kong International Art Fair (2007年から2012年)とArt Basel in Hong Kong(2012年から2014年)をスタートしてこれらのイベントのディレクターを務めました。Taipei Dangdaiの共同ディレクターとART SGの共同設立者でもあります。アートの世界で最も影響力のある100人の一人として、ArtReview誌が選ぶPower 100に二度ランクインしました。2013年には、アジアでアートシーンを築いたことが認められ、世界経済フォーラムにYoung Global Leaderに選出されました。
■Eri Takane
第一線で活躍する世界的なアーティストやコレクターのアートコンサルタントとして、Google Arts & Cultureの日本の担当などを4年間担いました。「セゾンアートギャラリー(SEZON ART GALLERY)」のアートディレクターを務めるなど、日本のアートセクターにおいて豊かな経験を有しています。また、Tokyo FMのラジオ番組では、『サステナ*デイズ』の司会を務めていました。約13年在住していたニューヨークでは、国際交流基金(Japan Foundation)に勤務し、アメリカにおけるアート関連の非営利団体への資金提供に尽力しました。
■The Art Assembly
「The Art Assembly」は、アートフェアの主催者として世界の第一線で活躍するサンディ・アンガス(Sandy Angus)、ティム・エッチェルズ(Tim Etchells)、そしてマグナス・レンフリューによる取り組みです。とりわけ、アジア太平洋地域において主要な国際アートフェアを実施しています。「Tokyo Gendai」は、「India Art Fair」(インド)、「台北當代(TAIPEI DANGDAI)」(台湾)、「Sydney Contemporary」(オーストラリア)、「PHOTOFAIRS Shanghai」(中国)、「ART SG」(シンガポール)に次ぐ、アジア太平洋地域における6つ目のメジャーな国際アートフェアとなります。
「The Art Assembly」によるアートフェアは、開催地のみならず世界規模で美術関係者が集う重要な機会をつくり出しており、クリエイティブ、そして商業的な交流の場となっています。どのアートフェアでも、開催地のマーケットに深く根差した見解や状況を十分に加味し、適用するよう計画されています。
「The Art Assembly」が目指すのは、イノベーションの推進、コンテンポラリーアートとの関わりを深めること、異文化間のコミュニケーションを促進することです。この目標を達成するために、グループ内での連携を強化し、知識やリソースを共有しています。ここ数十年にわたる経験、専門知識、そして広範囲に及ぶグローバルネットワークやアセット、傘下のアートフェアにて、ギャラリーとオーディエンスを結びつける役割を担っています。
theartassembly.com
full text @
https://prtimes.jp/main/html/rd/p/000000003.000103225.html
---
The First Tokyo Gendai Art Fair Is Off to a Promising Start. But There's a Long Road Ahead for Japan to Compete on the Global Stage
The fair bucked low expectations in its debut.
artnet, Naomi Rea, July 7, 2023
quotes:
The eleventh-hour withdrawal of six exhibitors including Pearl Lam Galleries and Cardi Gallery did not help confidence levels. The fair's organizers attributed the abrupt bailouts to logistical issues, but there were also grumblings among the exhibitors about expensive overheads (the organizers declined to share a price per square meter) but a representative from one gallery confirmed that their booth had cost around $70,000.
…
Almine Rech sold works ranging from a Roby Dwi Antono work for between $19,000 and $21,000 to those by Tom Wesselmann priced between $423,000 and $466,000. Ceysson & Bénétière sold works by French artist Claude Viallat priced between $10,000 and $35,000.
Perrotin had largely sold out its booth of works by artists Mathilde Denize (priced up to €30,000) and airbrushed paintings by Aryo Toh Djojo (around $20,000) by the end of the first day, and Tang Contemporary Art took home a total of $390,000 across 13 artworks. While Sadie Coles HQ was pleasantly surprised to have sold multiple works at prices topping out at more than $200,000, director John O'Doherty said they had come for another reason: to see their long-term Japanese clients and engage with this emerging generation of collectors, given the importance of face-to-face meetings in Japan.
…
A few recent policy changes have signaled that the Japanese government may finally be coming around to encouraging art sales from a policy standpoint. One month out of the fair, it granted Tokyo Gendai "bonded" status, meaning that foreign exhibitors were relieved from paying an up front 10 percent sales tax on any work imported into the country even before it is sold, a rule which had caused significant cash flow issue for galleries. Now the exhibitors can charge this to collectors at point of sale. The fair's cofounder, Magnus Renfrew, of the Art Assembly, said he hopes that this will encourage international exhibitors in the future.
While Blum said the revision was a "huge step," he thinks the government needs to go bigger and allow "bonded" warehouses and create incentives such as tax write-offs for gifting. "In Japan if they want to compete on the global stage with art they have to adapt," he said.
…
For Takeo Obayashi—Japanese construction boss, art collector, and chairman of the Aichi Triennial—an international art fair is an opportunity to develop the tastes of this emerging generation of collectors. "There are many collectors in Japan but unfortunately they haven't seen many of the great artists whose works are spotlighted in global museums. So sometimes those emerging Japanese collectors buy some things that are strange, by artists who are only recognized in Asia," he said. "I want to introduce the great artworks by internationally recognized artists to those emerging collectors."
full text:
https://news.artnet.com/market/tokyo-gendai-sales-report-2333586