パフォーマンス・アートでタイムリーな、優れた外交術:在ニューヨーク総領事・大使 山野内勘二 plays「Jimi Hendrix」
Timely, Excellent Diplomatic Skill With Performance Art: Consul General of Japan in New York, Ambassador YAMANOUCHI Kanji Plays "Jimi Hendrix"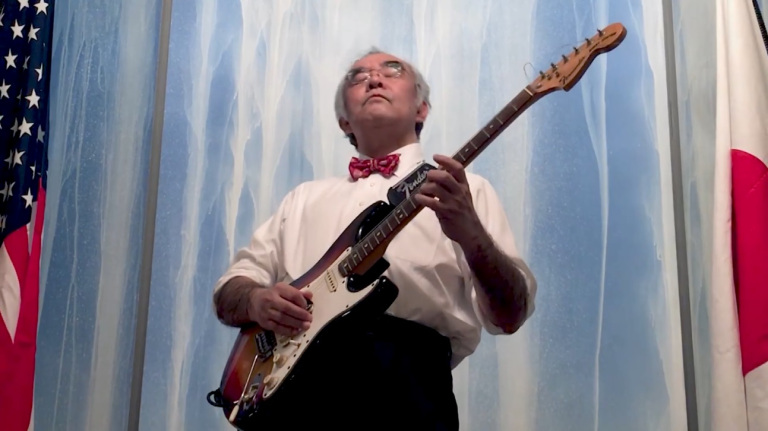 The American Experience.
The Jimi Hendrix Experience.
Ambassador YAMANOUCHI Kanji 大使 山野内勘二 succeeded in warming up our hearts with a natural gesture and marvellous diplomatic skills.
AMAZING, with GRACE, cool, – the best artistic diplomacy practice I can IMAGINE of.
すげー、ヤバイ。
Ambassador Yamanouchi playing Jimi Hendrix's legendary guitar solo "American National Anthem" from Woodstock 1969 on the occasion of today's "Fourth of July", keeping our historical, crucial BLM-Era in mind, earns our deepest respect.
By using the official Facebook page of the Consulate General of Japan in New York (在NY日本国総領事館 のフェイスブック・アカウント ) his message touches the right spirit of the ZEITGEIST.
Quote: "Gratitude, Respect and Rock & Roll – Ambassador Yamanouchi has expressed his appreciation for the resilient American people and the long relationship between the US, NY & Japan in a special video that includes a 4th of July performance inspired by music legend Jimi Hendrix. Happy Independence Day, America!"
Watch the video, exclusively here:
https://www.facebook.com/watch/?v=193877002042806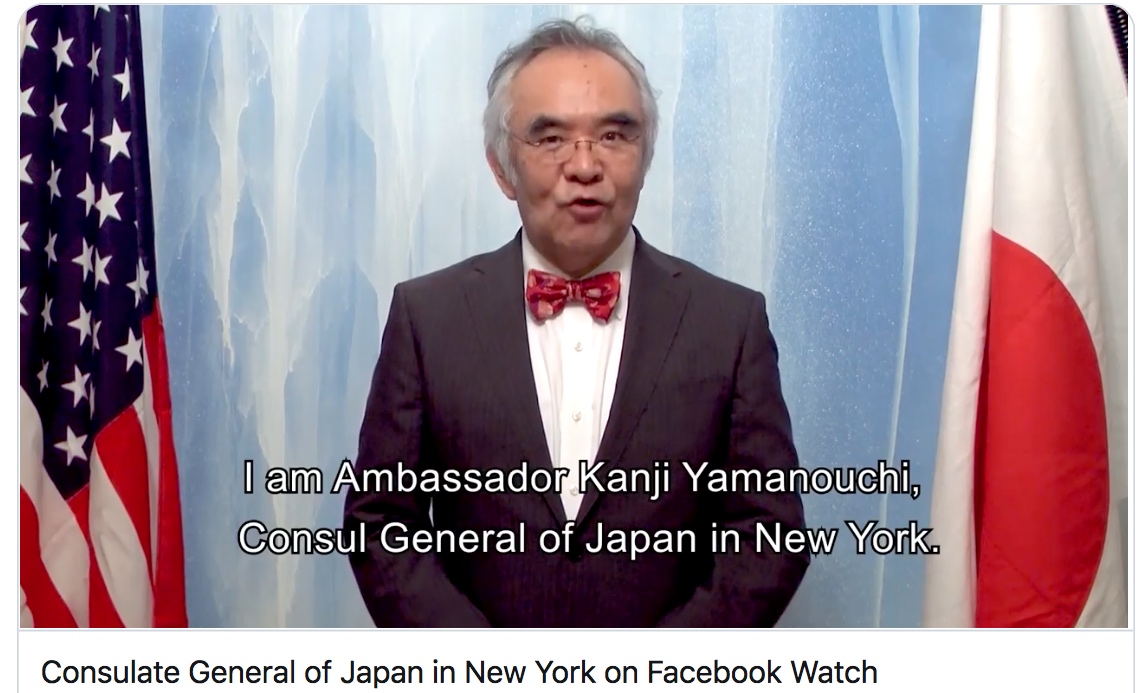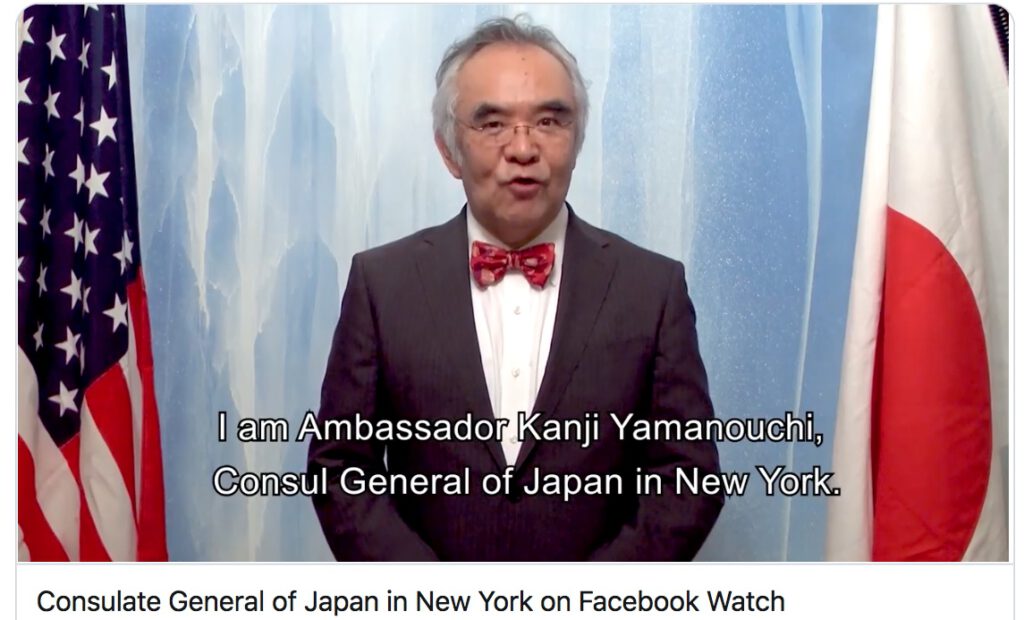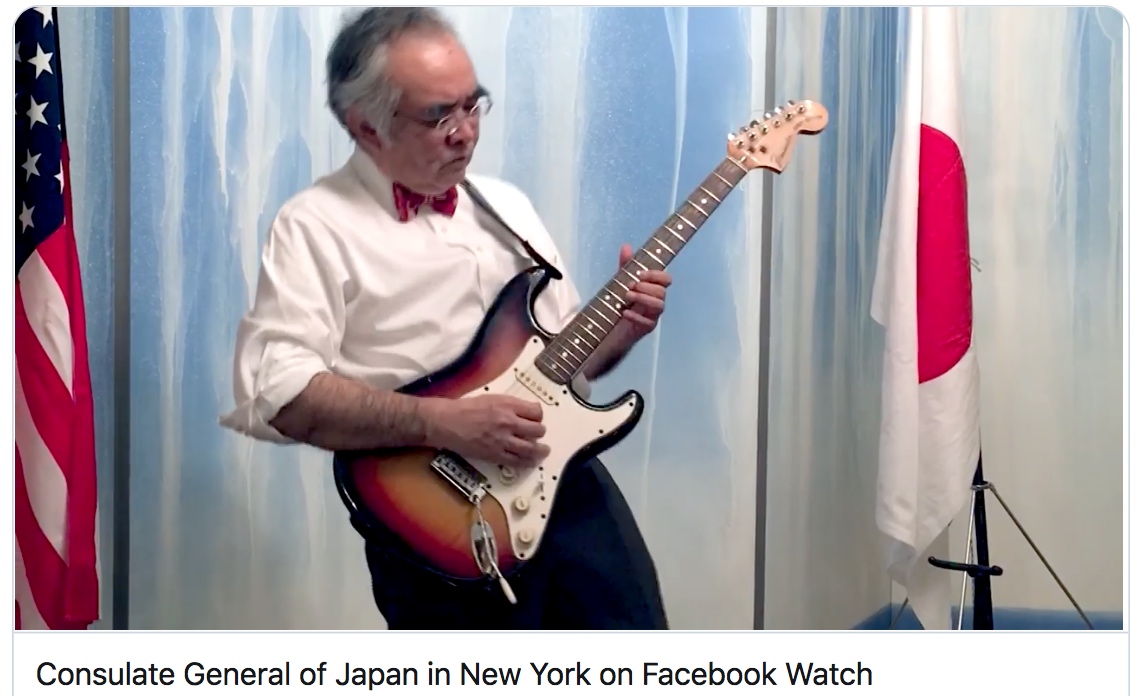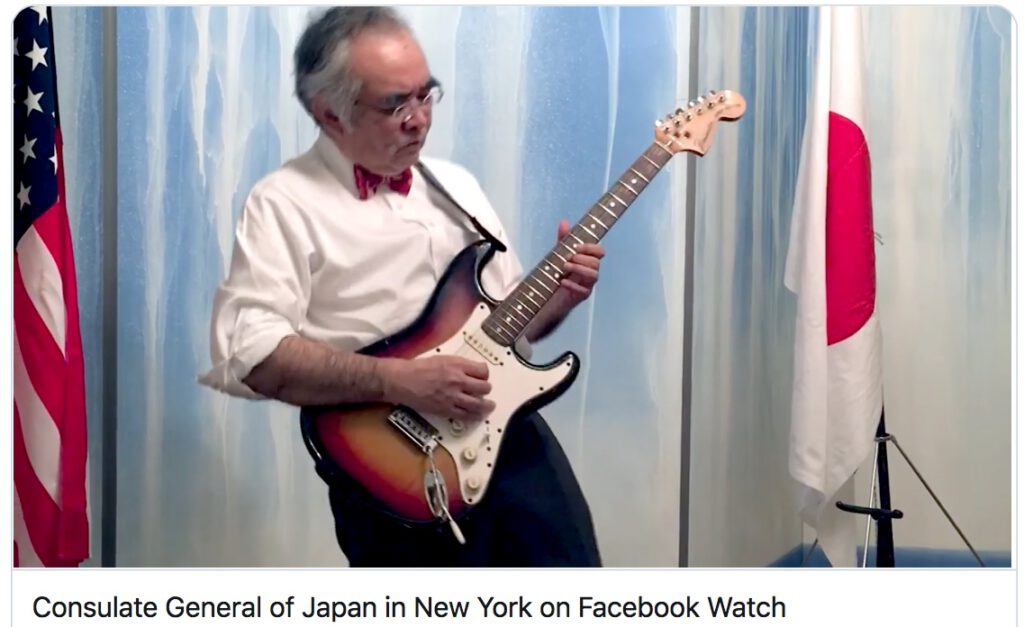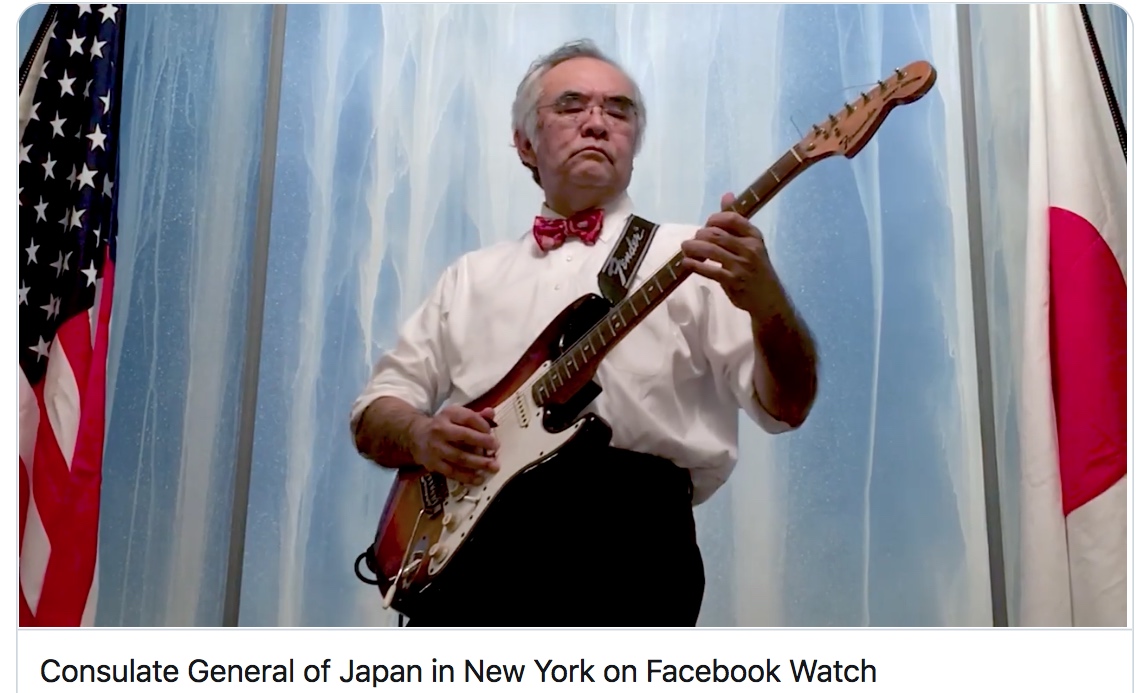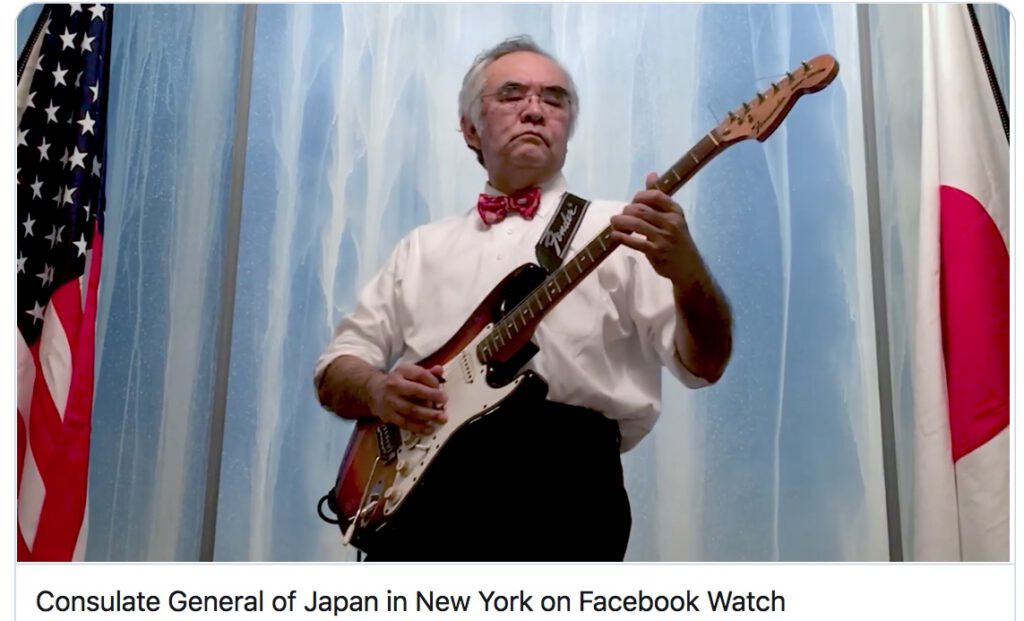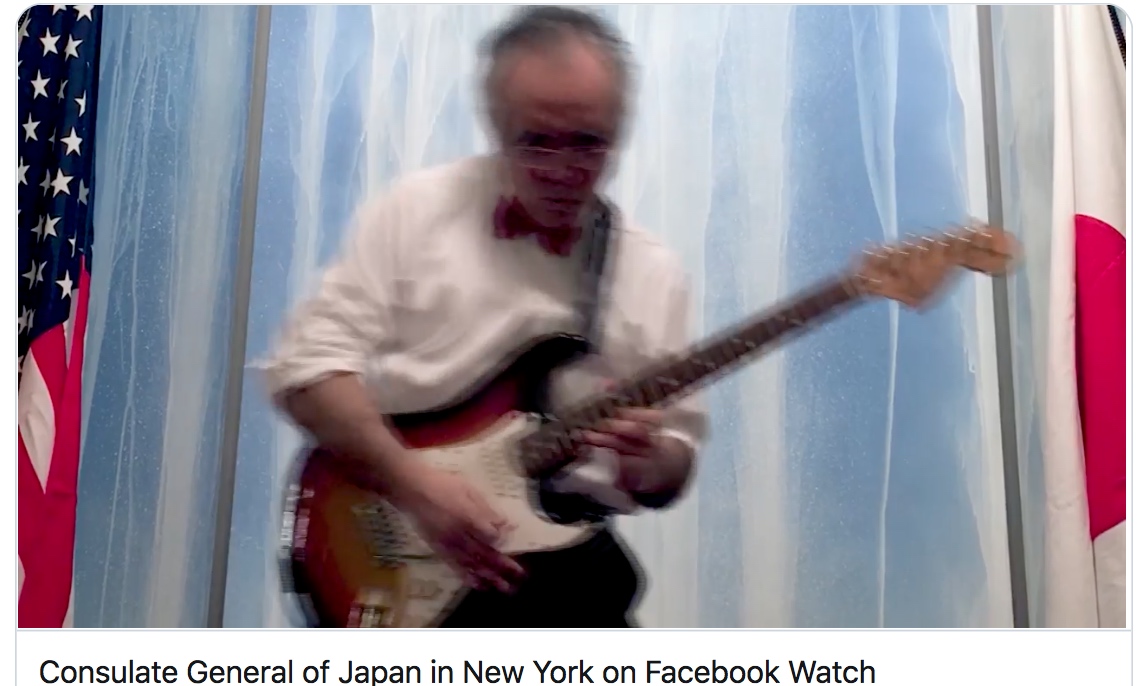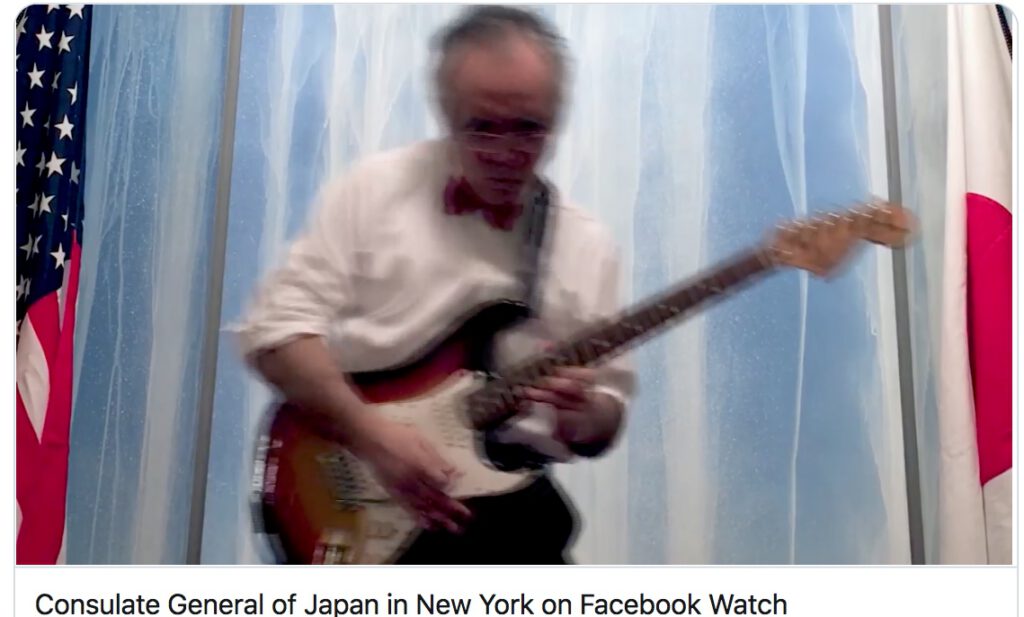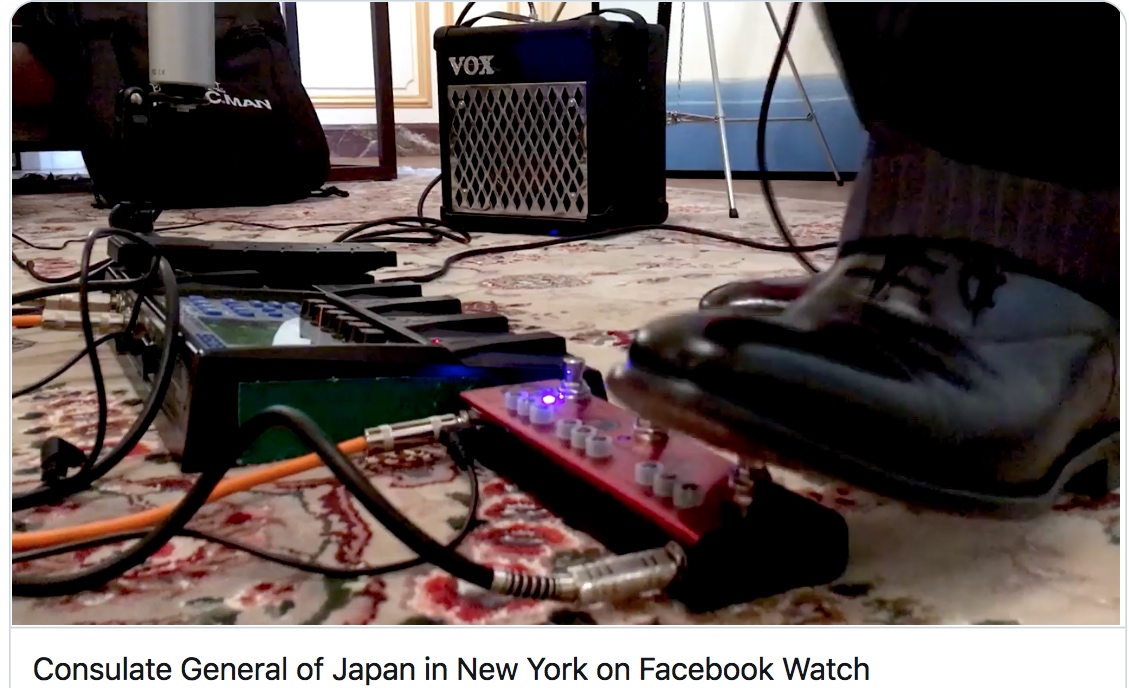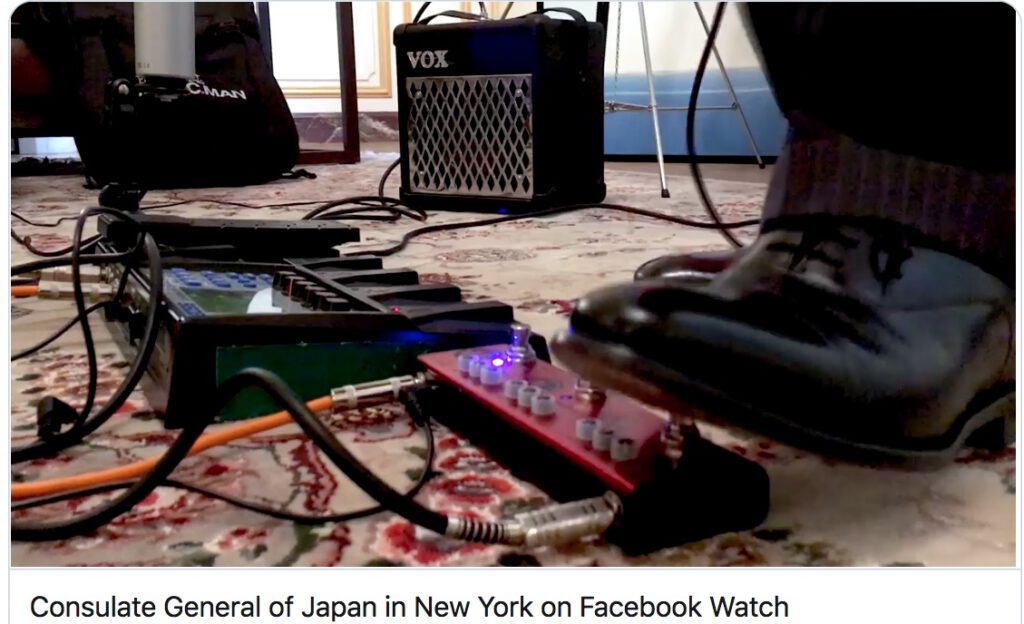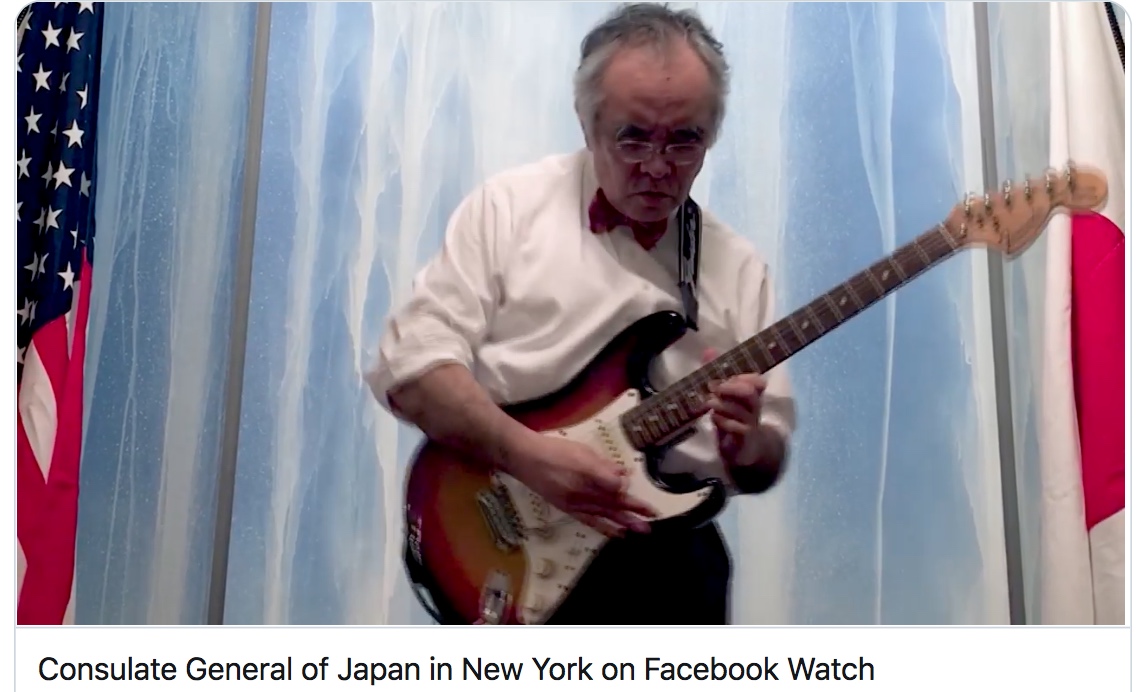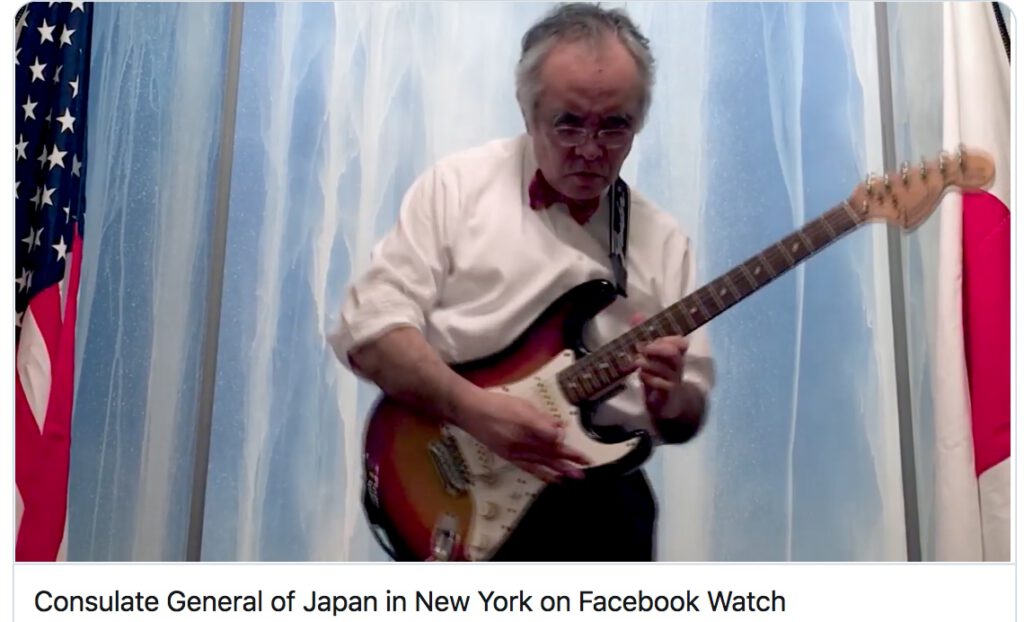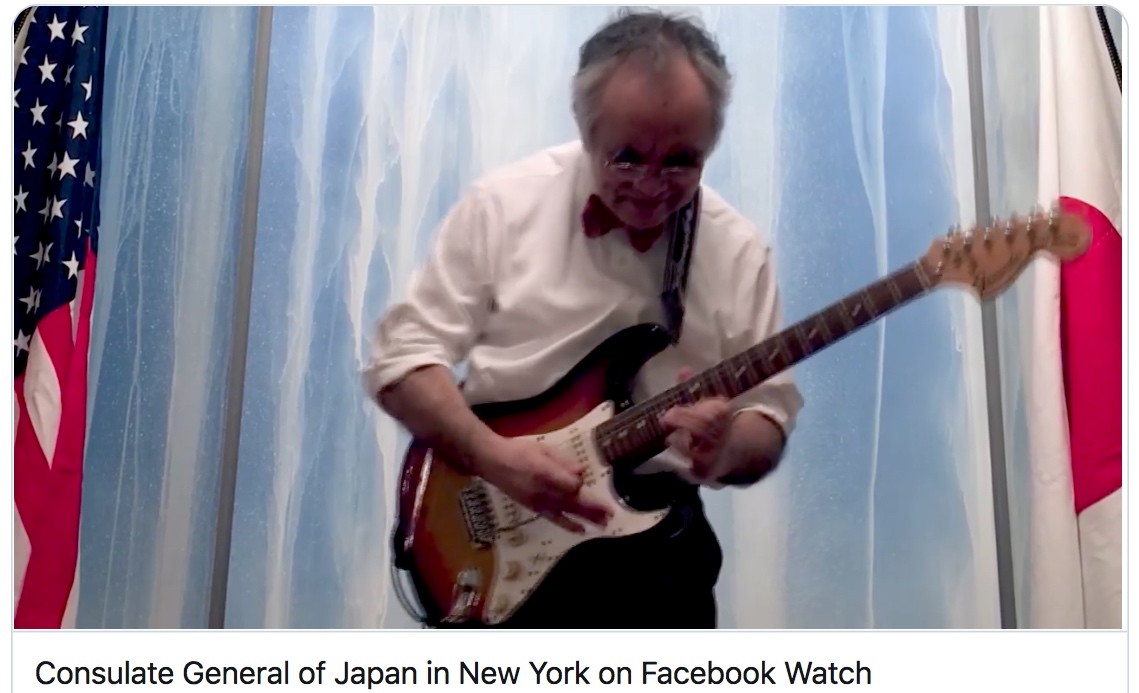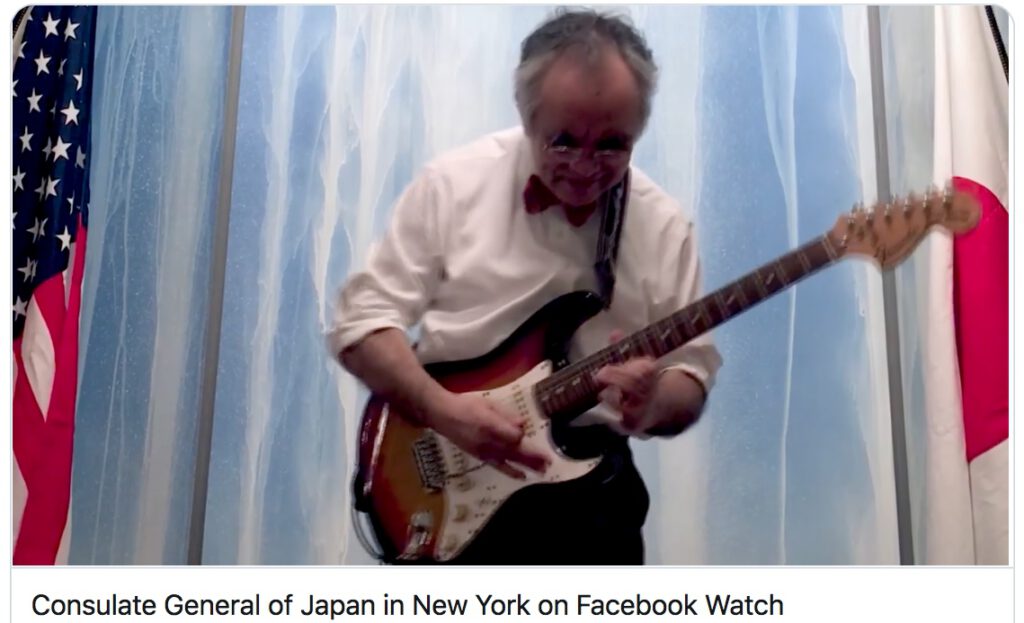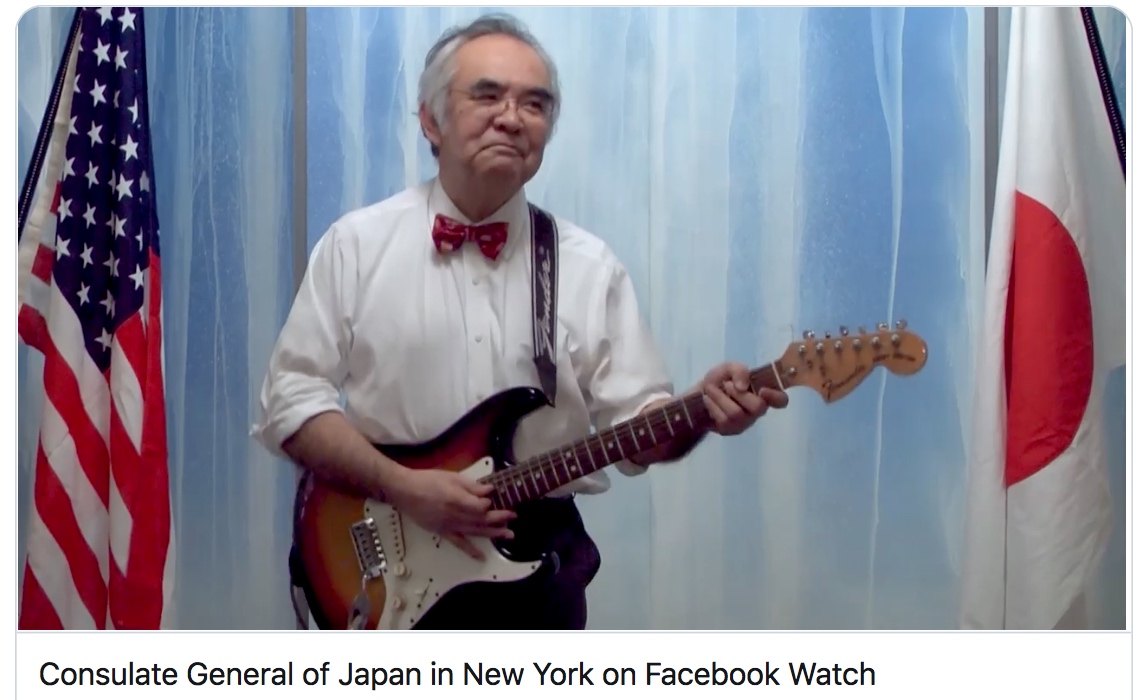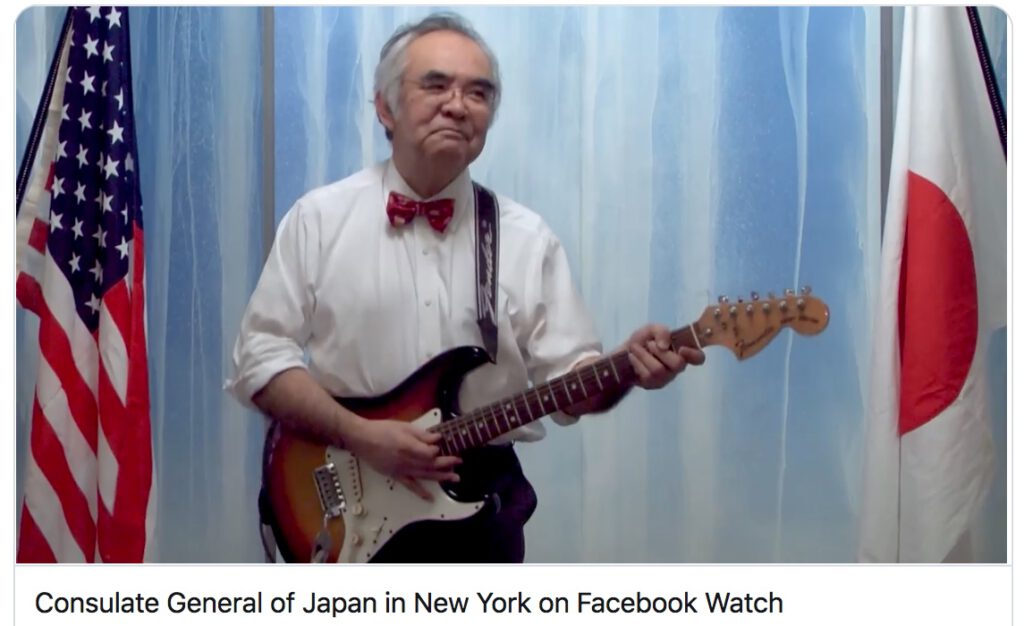 In the context of Japanese contemporary art, another layer can be seen in the video: Ambassador Yamanouchi chose a (Nihon-ga) painting by SENJU Hiroshi 千住博 as the background.
In this sense, what kind of vita does this amazing, 62 years old, ambassador have? I could only find the following, in English written, bio, which transmits, nevertheless, a pretty good overview.
"Kanji Yamanouchi was appointed Ambassador and Consul General of Japan in New York in September of 2018. Since his arrival in New York a month later, the Ambassador has committed himself to utilizing his years of experience to craft a new chapter in U.S.-Japan relations that will fit the economic and political demands of the 21st century, as well as the nation each has become.
Ambassador Yamanouchi grew up in Nagasaki, Japan, a place which instilled in him a deep appreciation for peace. In 1984, he joined the Ministry of Foreign Affairs of Japan and was first posted overseas in Washington, D.C. As the First Secretary in the Political Section of the Embassy of Japan, he gained a riveting introduction to U.S. politics through his work with President Clinton's second administration. Ambassador Yamanouchi was then posted to the Embassy of Japan in Korea in 2001 as Counsellor, where he worked as part of the advance team for then-Prime Minister Koizumi's first visit to North Korea.
After returning to Japan in 2003, he was assigned successive posts at the headquarters of the Ministry of Foreign Affairs such as Director of the First Southeast Asia Division and Director of the Press Division. In 2007, he became Director of the First North American Division and found himself deeply involved in U.S. politics at another historic moment – the election of President Barack Obama. As the head of the primary agency in charge of U.S.-Japan relations, he was critical in sound policy development which assisted in reinforcing the strong alliance between the two nations.
In 2009, the Ambassador was selected to be the Executive Assistant on Diplomatic Affairs for Prime Minister Hatoyama, and then for Prime Minister Kan. In this capacity, he participated in high level meetings with heads of state from around the world.
This was followed by a promotion in 2011 to the position of Deputy Director General for the Asian Affairs Bureau where he focused on regional issues with neighboring countries. He was key in negotiating with China on maritime issues and spearheaded the inaugural round of "Japan-China High Level Consultations on Maritime Issues."
In 2013, he was posted to the Embassy of Japan in Washington, D.C. as Minister for Economic Affairs, where he made tremendous contributions to the development of Japan-U.S. economic relations and also played an active role in Japan's negotiations of the Trans-Pacific Partnership.
Those three years of experience in economic affairs in D.C. were invaluable to his diplomatic projectory. In 2016, he was promoted to the position of Assistant Minister/Director-General for the Economic Affairs Bureau and became a key player in the formation of Japanese foreign economic policy. That year he again witnessed a critical juncture in international affairs – the election of President Donald Trump and Brexit, among other major global changes – and contributed greatly to the advancement of international economic policies for Japan, including the U.S.-Japan Economic Dialogue, promotion of the TPP and Economic Partnership Agreements.
Ambassador Yamanouchi graduated from Tokyo University of Foreign Studies and went on to receive a Masters in Political Science from Wesleyan University in Middletown, Connecticut. He has a deep appreciation of music, and while he can play many instruments, his favorite is the bass. Ambassador Yamanouchi is married and has one daughter."
http://weai.columbia.edu/event/u-s-japan-relations-in-a-turbulent-world/
Another charming interview from last May shows his strong work ethic. A sympathetic, sophisticated, well skilled diplomat, indeed. (In the last 35 years I met several Japanese and German ambassadors, who most of them were stiff and snobbish.)
Tea Time with Ambassador Kanji Yamanouchi
Interview in Japanese (2018/19):
V: Vision S: Strategy O: Honesty P: Passion
山野内勘二氏:「VSOP」を胸に皆さんの役に立てるような良い仕事をしたい
山野内勘二総領事・大使インタビュー
Last, his official page/message at the Consulate General of Japan in New York 在ニューヨーク日本国総領事館
https://www.ny.us.emb-japan.go.jp/jp/l/04.html
https://www.ny.us.emb-japan.go.jp/en/a/03.html
The reason why I regard his performance as a work of contemporary art.
シミュラークルから物語的な知覚アートまで:展覧会の画像一覧
From Simulacra to Narrative Perception Art : Exhibition Images
https://art-culture.world/articles/from-simulacra-to-narrative-perception-art-exhibition-images/
---
Today's bonus おまけ:
Very popular during her tenure in Japan (2013-17), Caroline Kennedy:
U.S. Mission Japan's rendition of the popular Koi Dance (Love Dance)