原口典之と関根伸夫のアート実践を考える
Thoughts on the artistic practice of HARAGUCHI Noriyuki and SEKINE Nobuo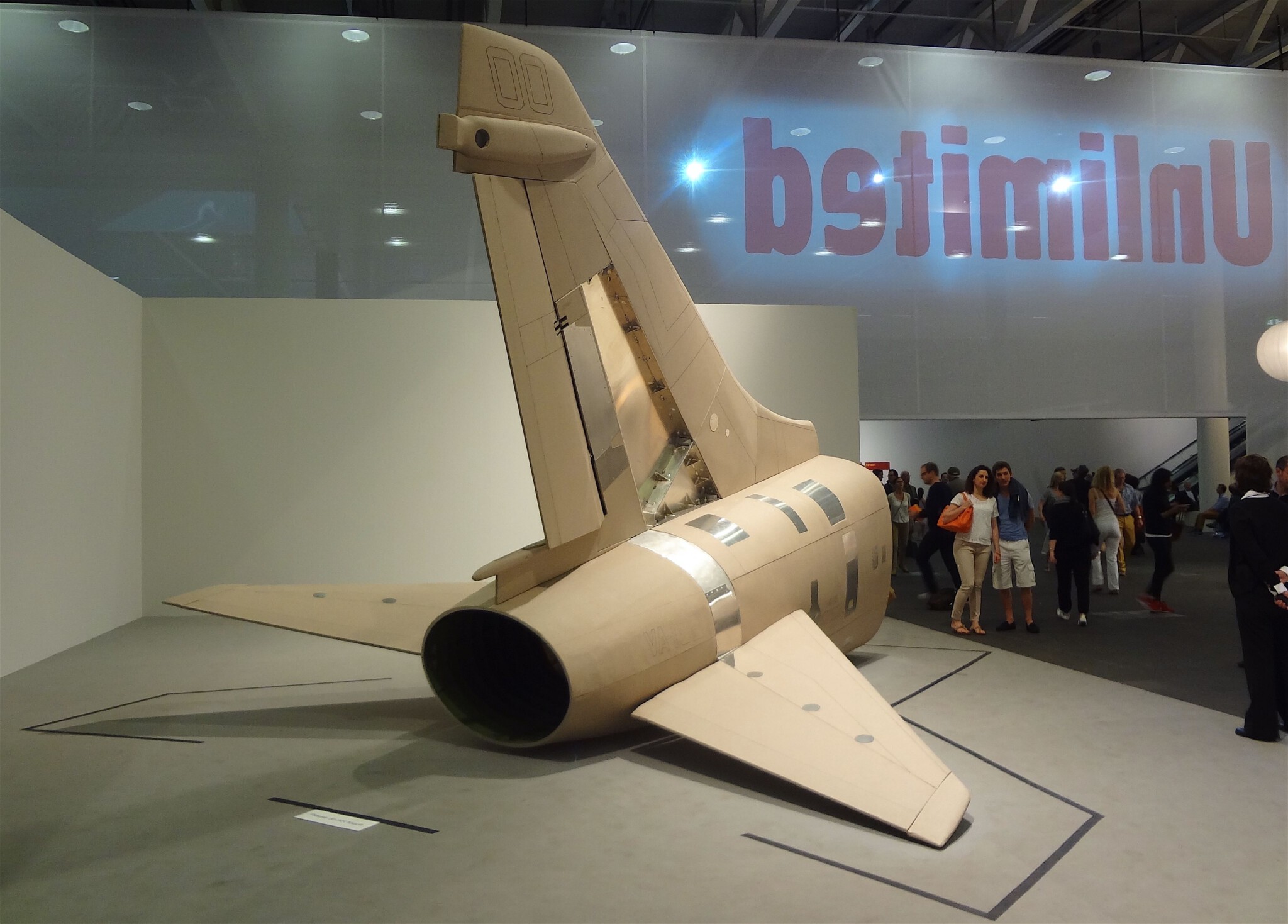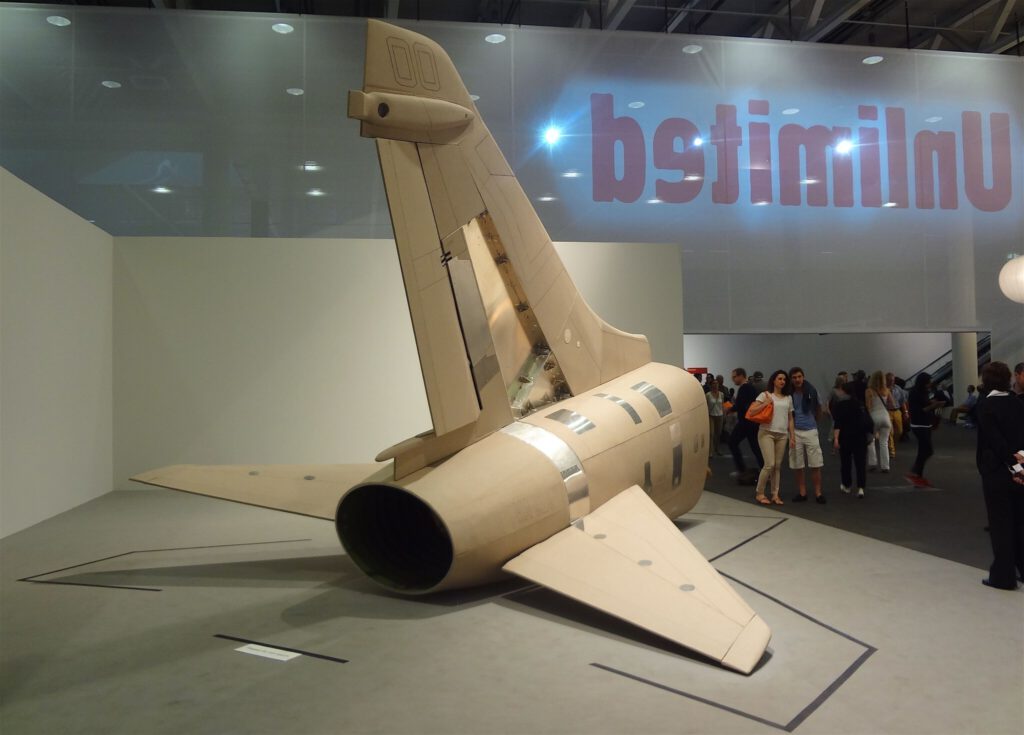 "Holy Sanctus, this… is… crazy!", I said to myself when I saw the latest work of HARAGUCHI Noriyuki 原口典之 just right at the entrance of "Unlimited" at Art Basel in 2013. "That's really a big splash, a fascinating eye-catcher amongst the 1000 artists exhibited at this Suisse fair."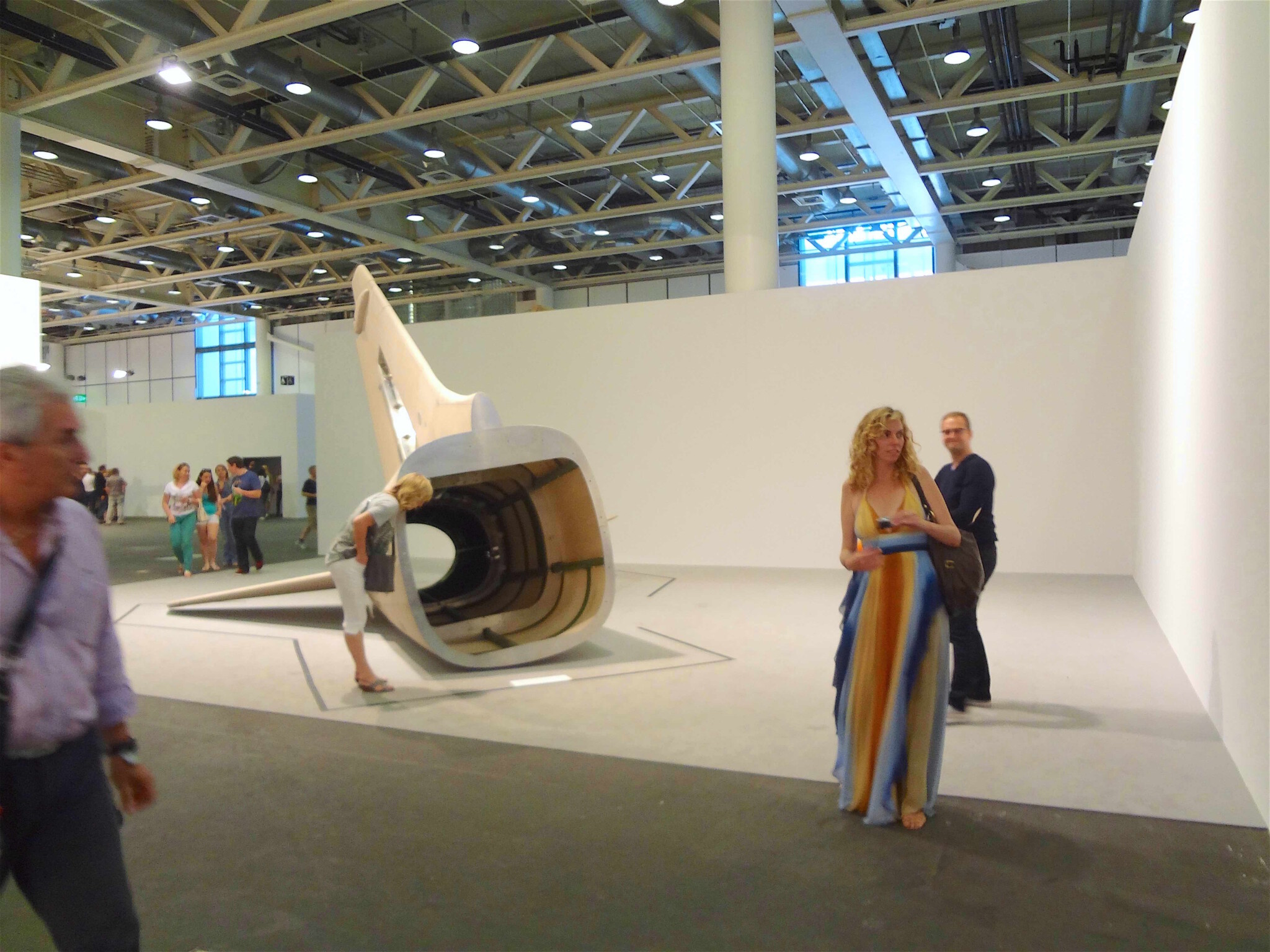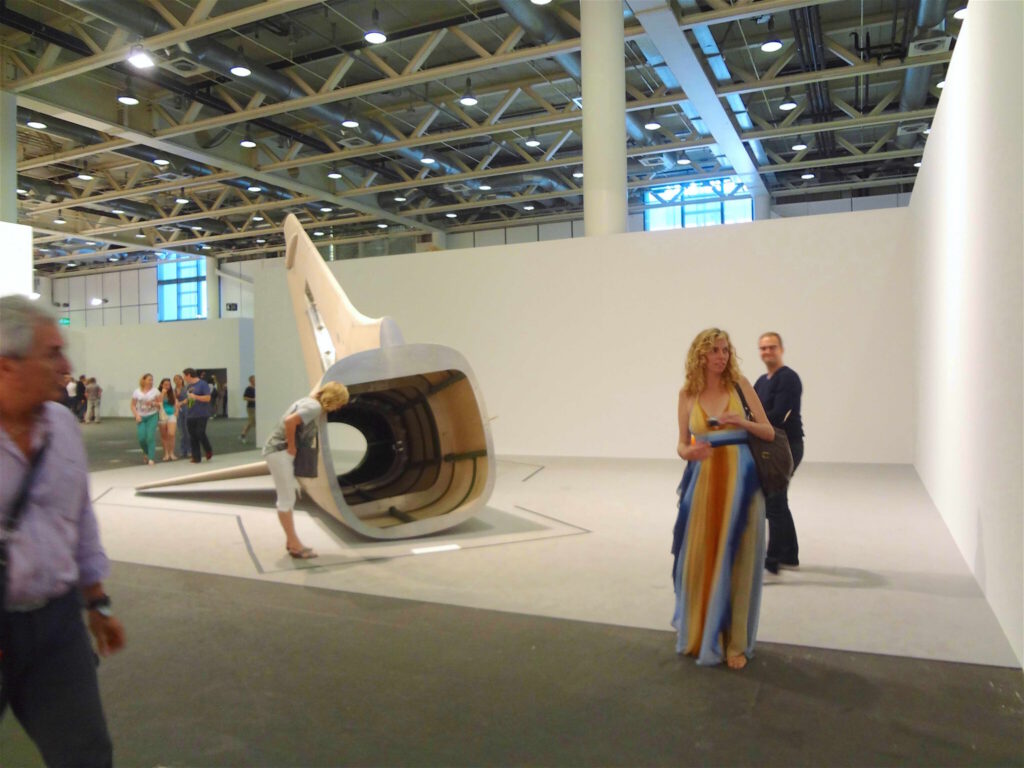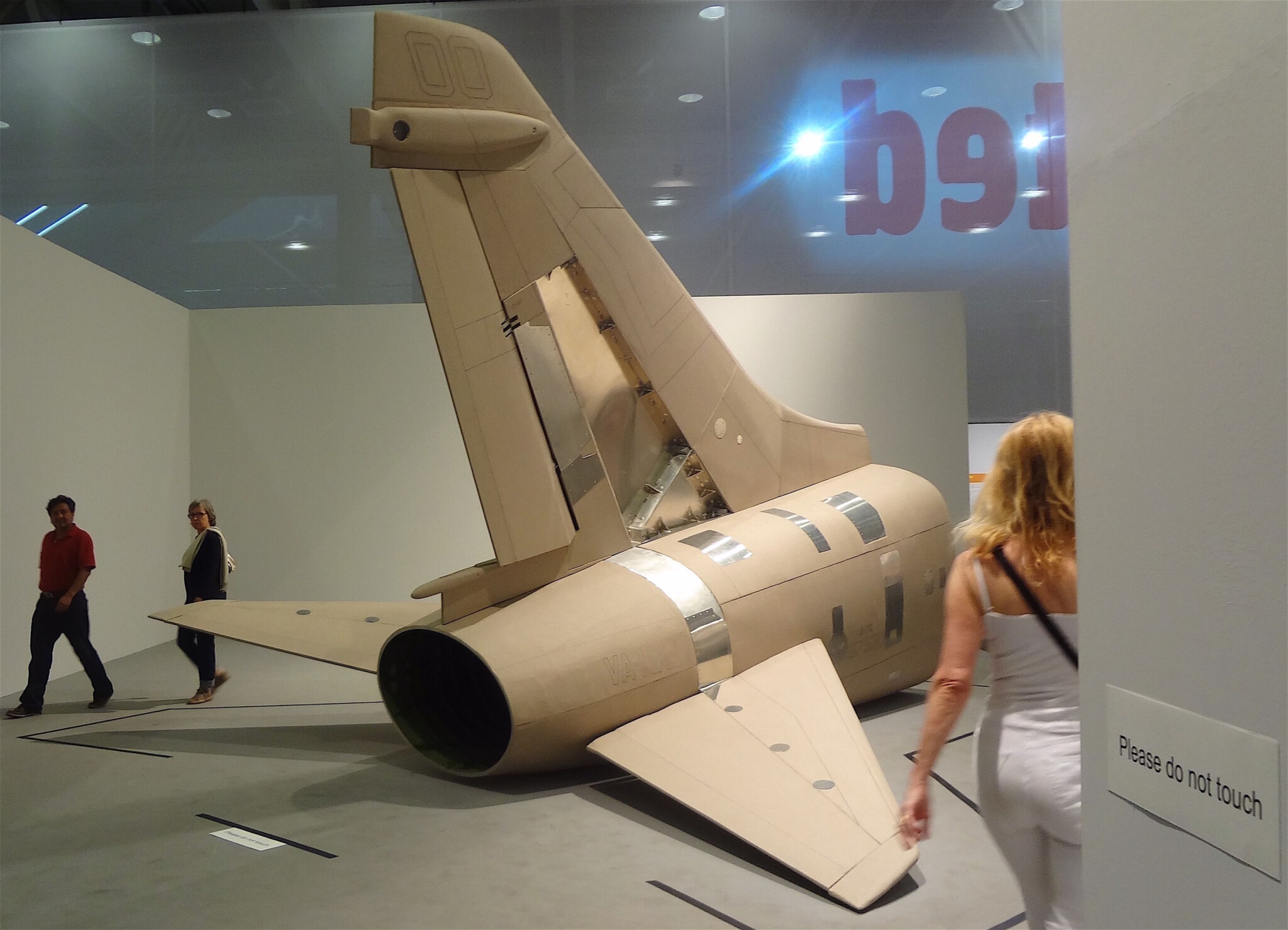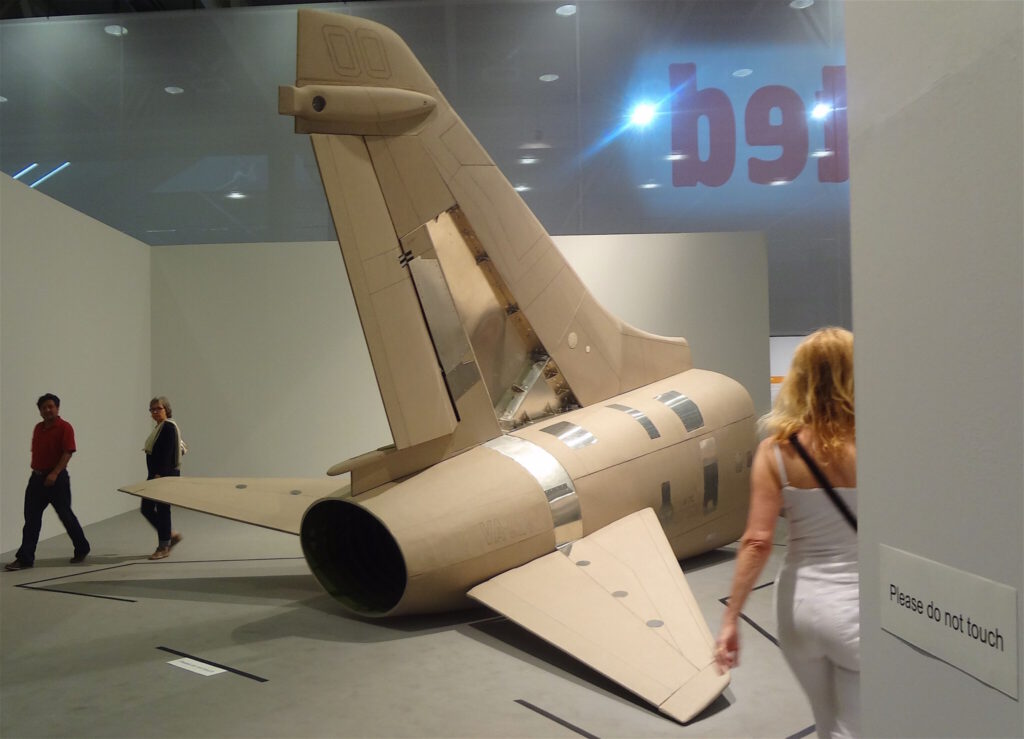 "A-7E Corsair II", executed in the year of 2011, is a full-scale replica of the tail of a US Navy jet fighter constructed by hand from aluminium, plywood and canvas. Fifth in a series of US Navy jet tails, which Haraguchi created in 1968 as a student at Nihon University Tokyo, where colleagues began to riot in protest against the Vietnam War, the presence of US military on Japanese soil (status quo until today), and the Japanese-American security treaty (see problematic Okinawa situation).
Treaty of Mutual Cooperation and Security Between the United States and Japan
https://en.wikipedia.org/wiki/Treaty_of_Mutual_Cooperation_and_Security_Between_the_United_States_and_Japan
日本国とアメリカ合衆国との間の相互協力及び安全保障条約
https://ja.wikipedia.org/wiki/日本国とアメリカ合衆国との間の相互協力及び安全保障条約
The revolt inspired him to assemble a raw "A-4E Skyhawk" behind the barricades by smuggling plywood into the campus. That prototype work had been later destroyed by university authorities. However, Haraguchi continued this body of work in 1995 with a second version of "A-4E Skyhawk", follow-ups in 2000 with "Viking S-3" and the "F-4 Phantom" 2009.
Compare the "replication" or "appropriation" art practice result by Robert Longo and Roy Lichtenstein from the U.S.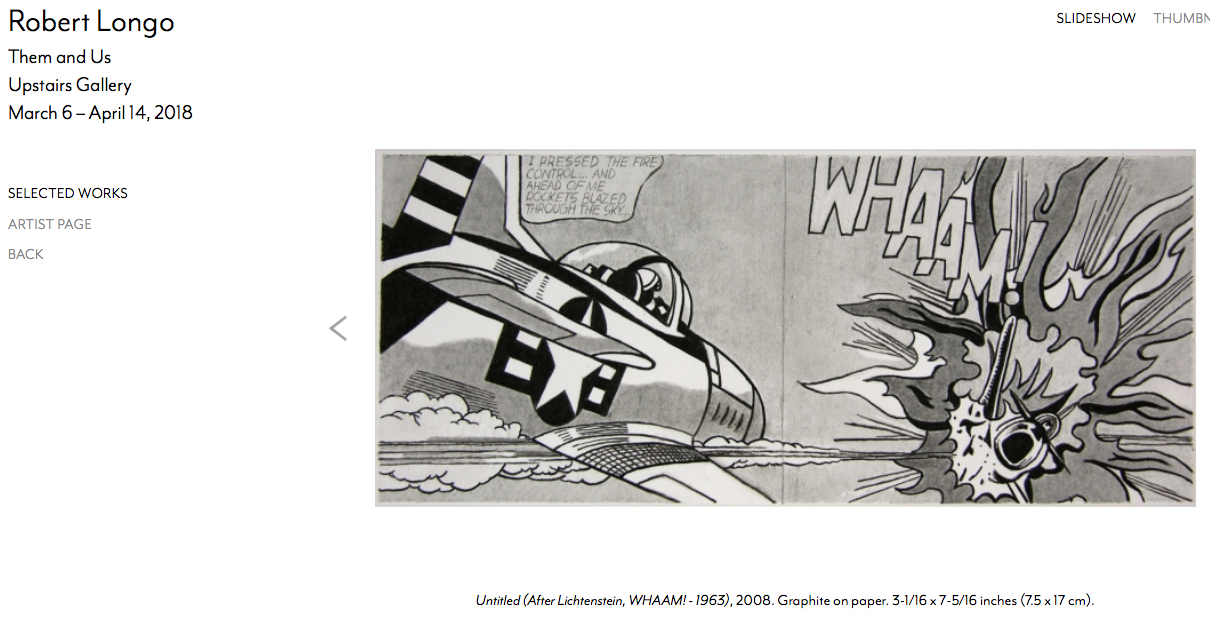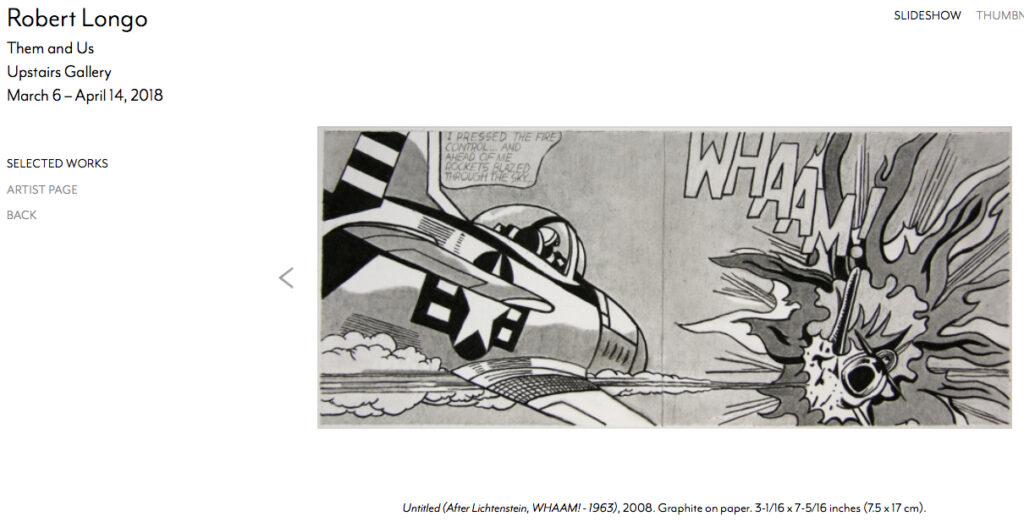 My personal virtual-connection with Haraguchi starts here with the F-4 Phantom as I served in the German Luftwaffe as a Flugabwehr Aufklärungspezialist, where "my" pilots flew those airplanes to spy in foreign territory. Interestingly, Haraguchi's social conscience was developed through Yokosuka and ANPO,
https://vimeo.com/ondemand/uplinkcloud058eng
ANPO: Art X War
whereas I, as a young person, was affiliated to the Green Party in Germany, which got my first vote as an adult of 18, in 1977. Later, in an evolutionary process and the so called "Marsch durch die Institutionen", the "BÜNDNIS 90/DIE GRÜNEN" became part of the German Government. Those were the times when Joseph Beuys sang:
Sonne statt Reagan
Consequently, because of the heart-breaking Tōhoku earthquake and tsunami and the related "Fukushima Daiichi nuclear disaster/meltdown" in 2011, my exhibition "The situation is under control" in 2016 curated by Aozora Mimi (AOYAMA | MEGURO), Tokyo, can be regarded as the socio-art-related link to my youth and its German "AKW? Nein Danke"- anti-nuke movement, which I wanted to connect with the Japanese people. See the link to my website and my book at Art Diver Publishing House:
https://marioa.com/works/mario-a-亜-真里男-atomkraft-nein-danke-原子力?おことわり/
『The situation is under control』2016
著:亜 真里男(あ・まりお/英語名:Mario A)
解説:市原研太郎
https://artdiver.tokyo/product/mario?lang=en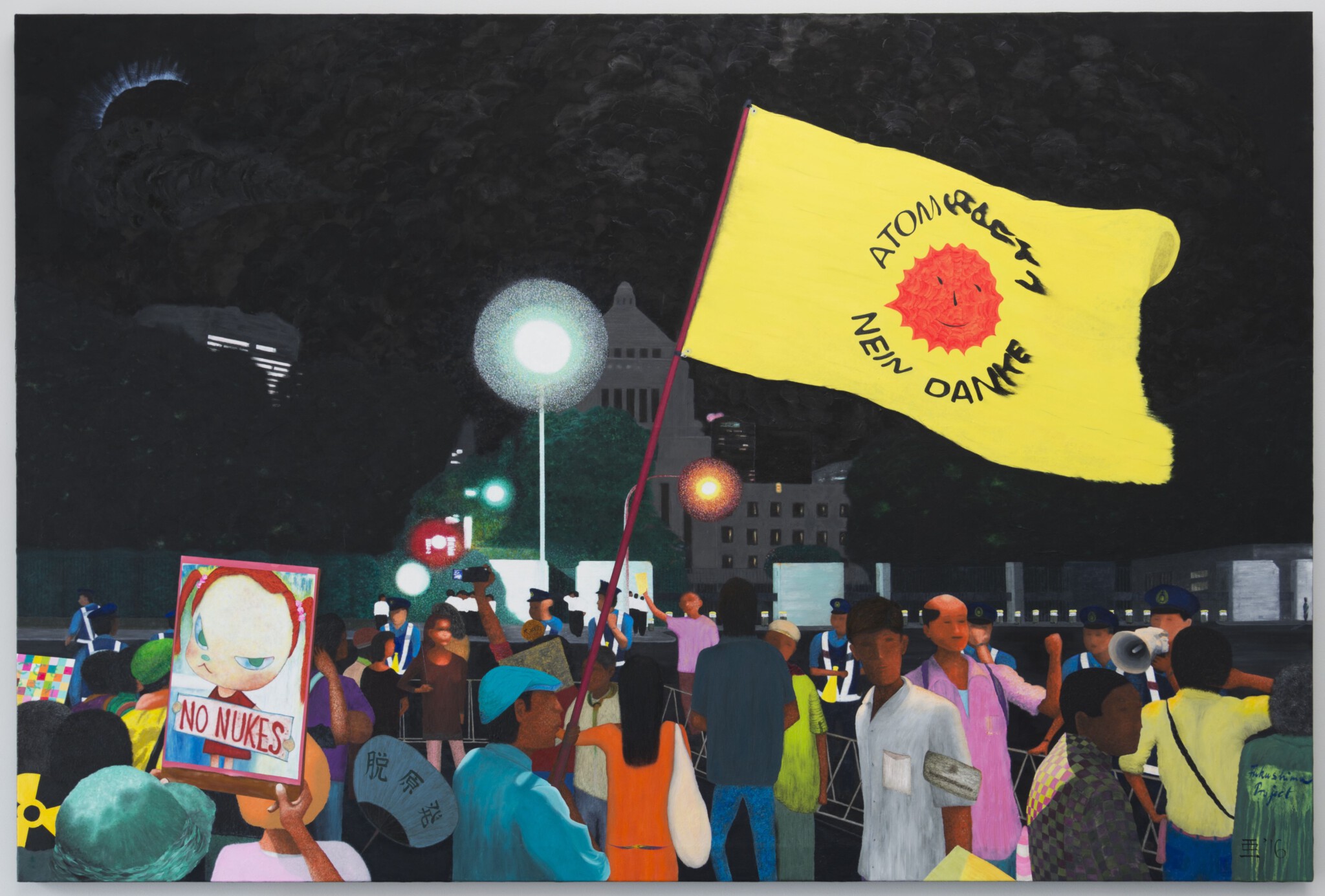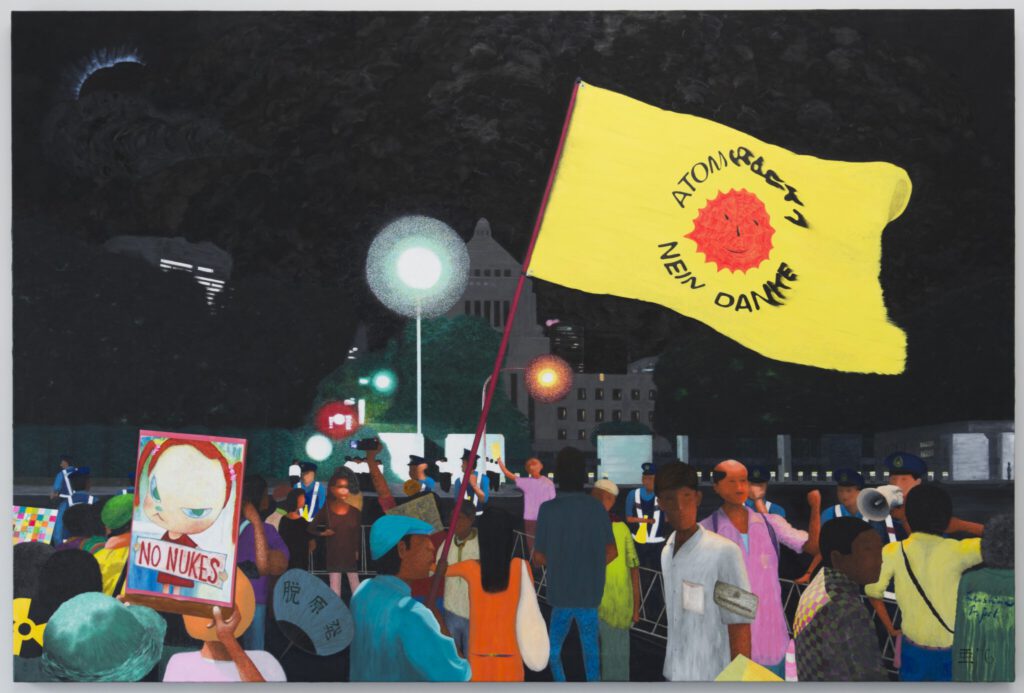 In this sense, we can see a difference between Germany and Japan. As no Japanese artist ever joined the army, in contrast to their South Korean colleagues or me from Germany, "growing up as an adult" relates directly to aspects of some infantil parts of the society. In contrast, for example, female artists from Israel, who had to serve as soldiers, or soldiers-became-artists from other countries, would evidently write through a different perspective.
Actually, the Japanese art scene is mourning about the death of respected Haraguchi, as on August 27th he passed away at the age of 74.
Born in Yokosuka, the headquarter of the United States Navy's Seventh Fleet, he started out as an artist during that ANPO-era and continued his artistic practice in the context of socially-engaged art. For that reason, he attracted huge attention in Japan for being selected as the first Japanese artist to "Documenta", in 1977. Through my researching, the Japanese reader may be happy to see some rare footage from Germany.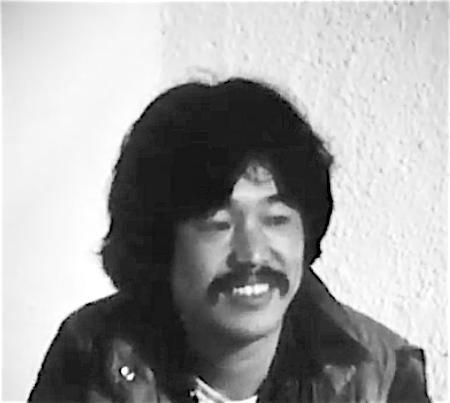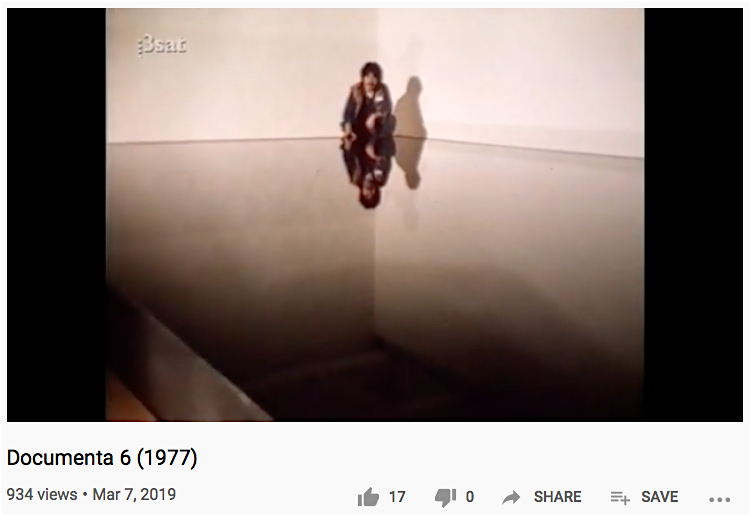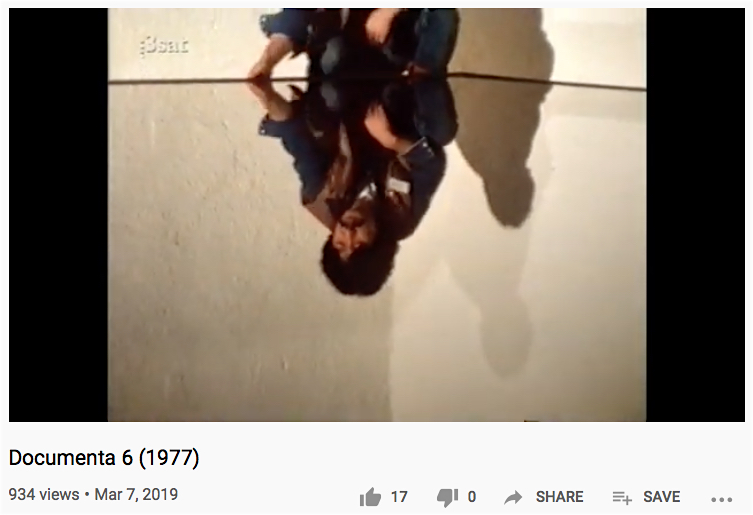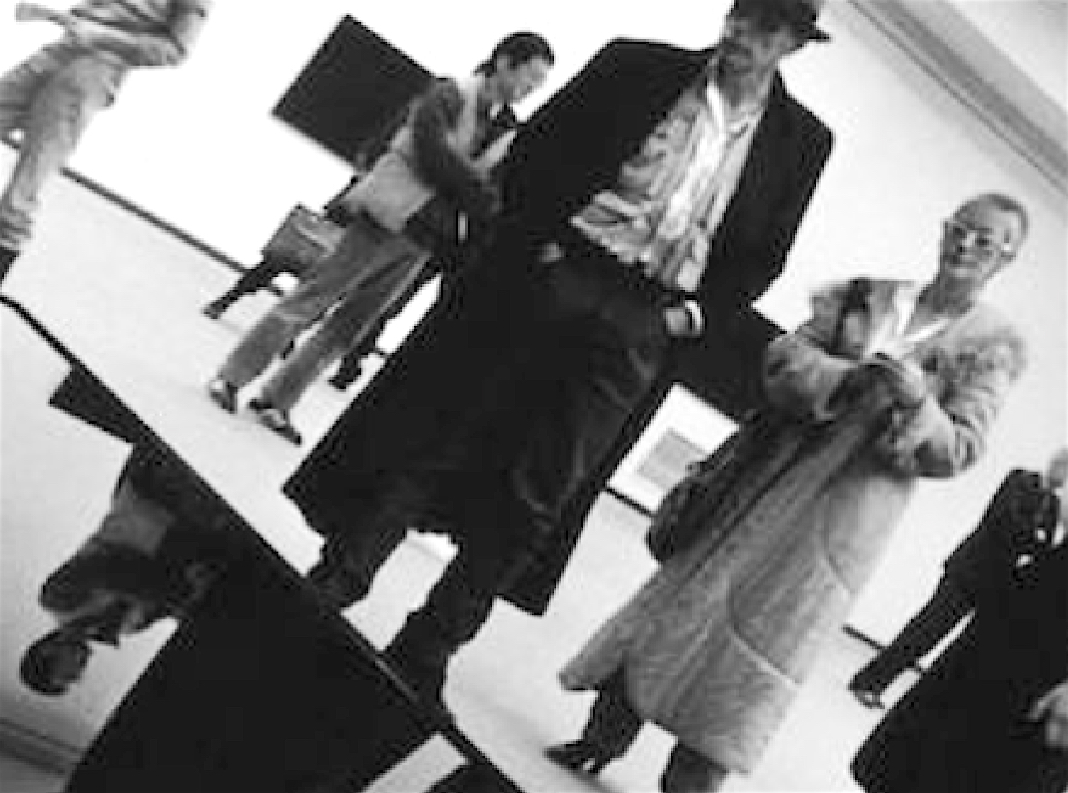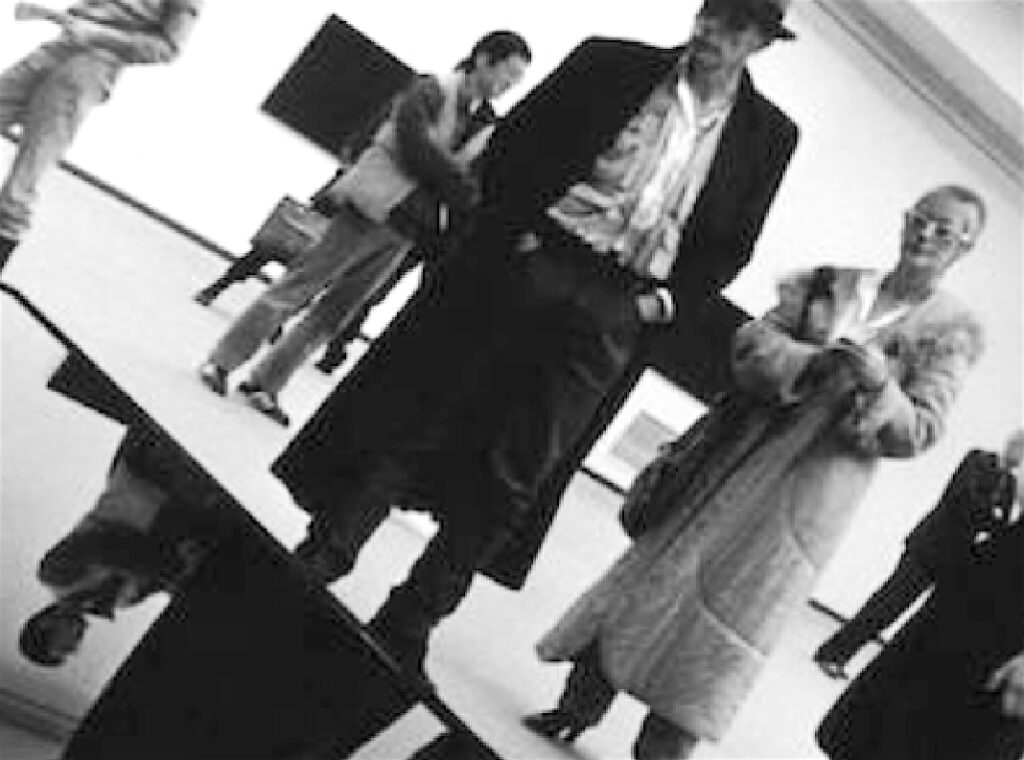 Documenta 6 (1977) 原口典之 HARAGUCHI Noriyuki @ 31:56-33:48 Min.
Die größte Kunstschau der Welt
He went on to participate in the "10th Biennale de Paris," Musée d'Art Moderne de la Ville de Paris, France and in 1978 he succeeded in having his first international solo exhibition at the art-historical, influential Galerie Alfred Schmela in Düsseldorf, Germany, which focused on ZERO artists, ergo, the connection to Japan's "Mono-ha" ("school of things") naturally developed in a timely matter. 
"NORIYUKI HARAGUCHI" at the Lenbachhaus, München in 2001 and the invitation for "Das Schwarze Quadrat. Hommage an Malewitsch" (Kunsthalle Hamburg, 2007) put his name constantly on the map of the global art scene. In 2009 his first retrospective "Noriyuki Haraguchi: Society and Matter," had been held in Yokohama's 'BankART1929 Studio NYK', with a follow-up at his home town's Yokosuka Museum (2011). 
It seems, that local galleries couldn't offer Haraguchi the well deserved platform at international art fairs, like Frieze, FIAC or Art Basel. This structural art vacuum had to be filled with a gallery from the U.S., namely Fergus McCaffrey, who/which constantly promoted Haraguchi's art practice with enthusiasm and serious art-academic research results.
(2018/5/11) ロバート・ライマン展 @ 新空間「ファーガス・マカフリー東京」ギャラリー
Robert Ryman @ New Gallery Space of Fergus McCaffrey Tokyo
https://art-culture.world/articles/robert-ryman-new-gallery-space-of-fergus-mccaffrey-tokyo/
Astonishingly, thanks to Haraguchi, we get a rare chance to experience the curatorial relationship between Japan and Iran through fascinating multi-layers in an art-socio-political context. The second version (after 1971) of his famous sculptural work "Oil Pool" was exhibited at the above mentioned "Documenta 6", "consequently" acquired by the Tehran Museum of Contemporary Art, Iran, where it remains installed to this day. At that time, "West-" affiliated Empress Farah Diba Pahlavi was eager to bring so-called, in today's art-history-writing questionable termed, "modern/contemporary art" to Iran.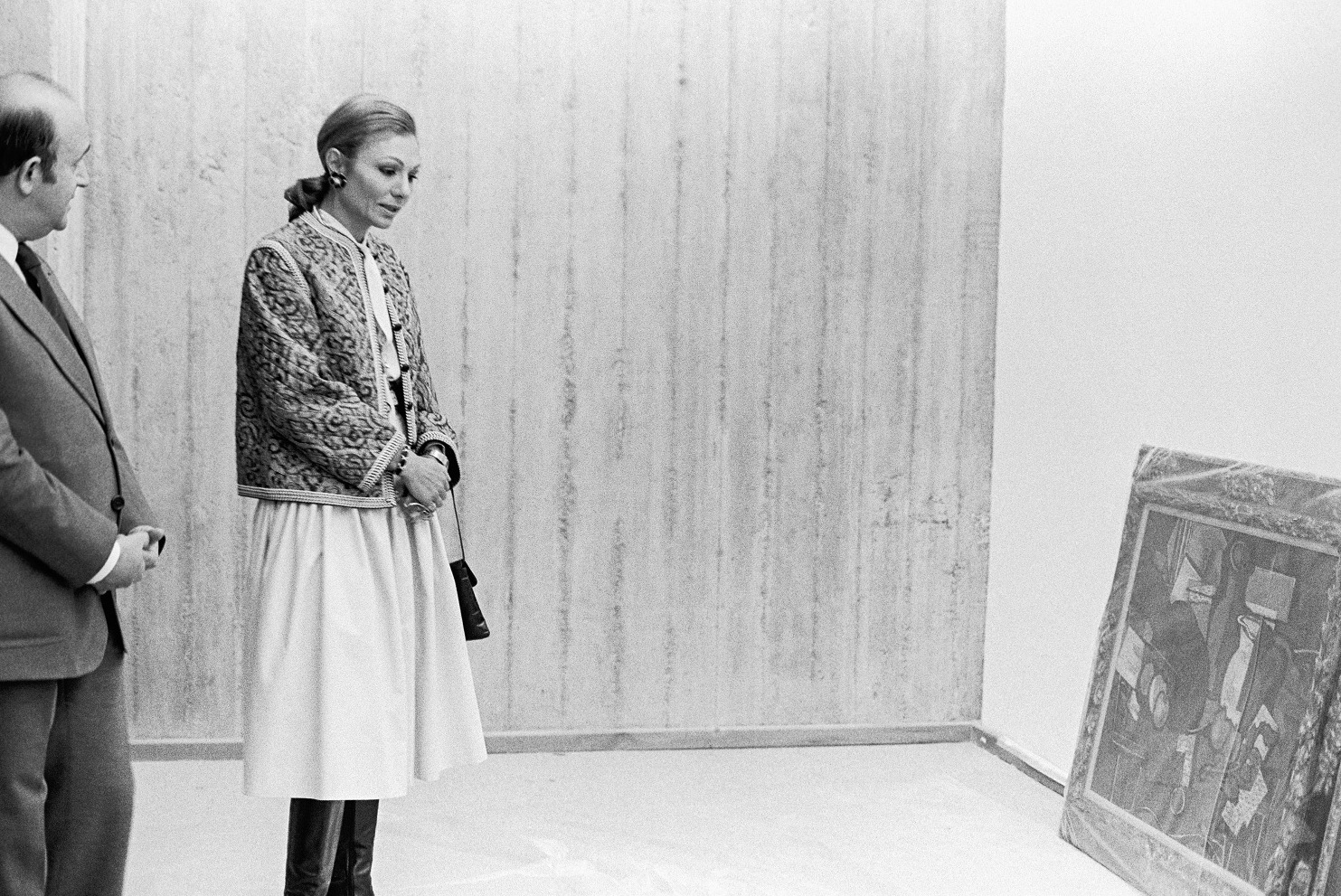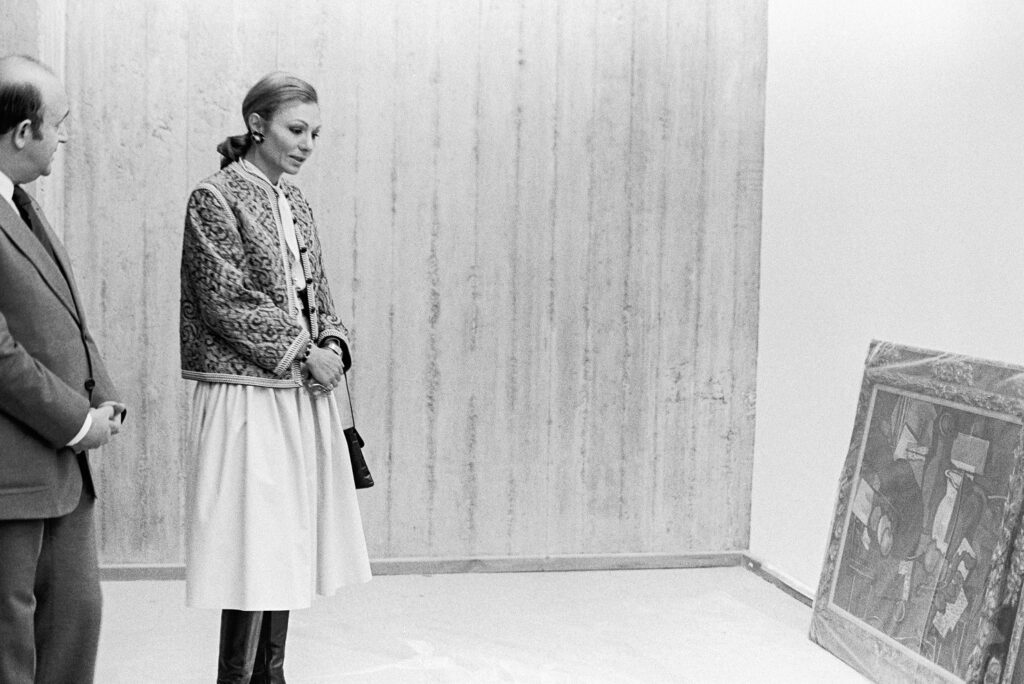 Donna Stein with F. Pahlavi 1977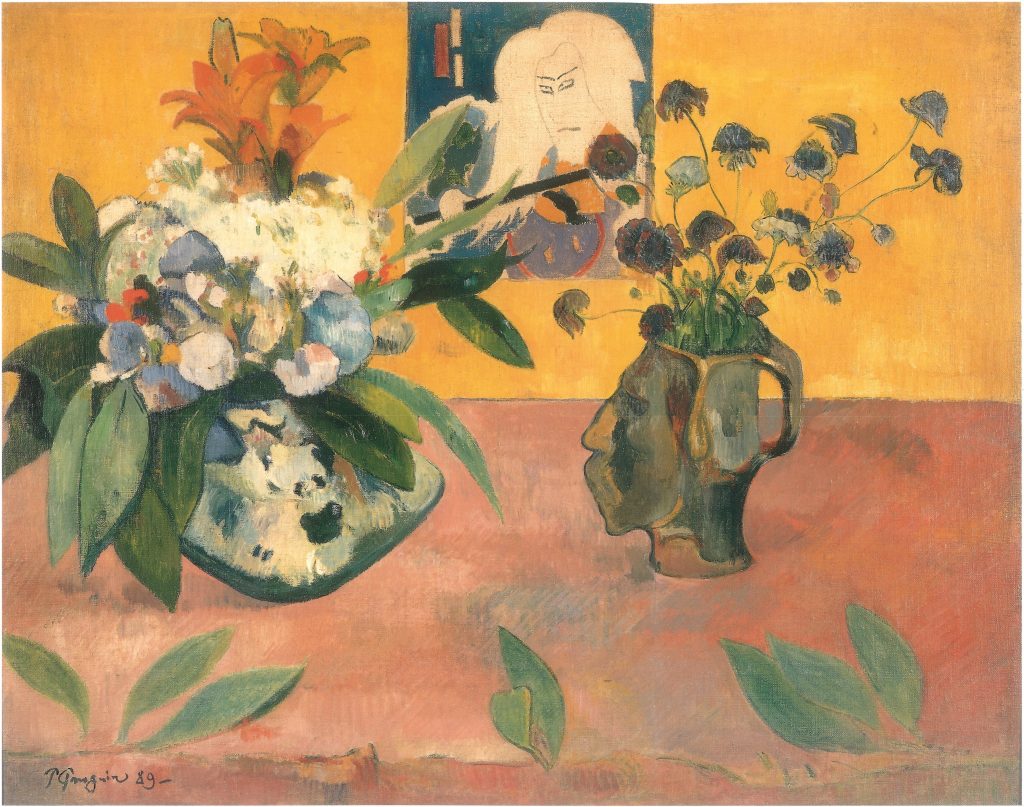 quote:
In the meantime, my art collecting activities proceeded apace. Three major paintings were purchased at record prices from the Sotheby Parke-Bernet auction in March from the Estate of Josef Rosensaft: Gauguin's Still Life with Japanese Print (1889); Rouault's Trio (Cirque) (1938); and Kees van Dongen's Trinidad Fernandez (1910).
I was thrilled that we obtained the Gauguin, which I considered among his greatest still-life paintings. Ambroise Vollard, his French dealer, lent the canvas to the New York Armory Show in 1913—an historic exhibition that shocked the world and changed our perception of beauty. This key transitional canvas created between the artist's Brittany and Tahiti periods demonstrated his interest in Japanese ukiyo-e woodcuts and primitive art, thereby anticipating the cross-cultural dialogue that shaped the philosophy of the Tehran Museum of Contemporary Art. In addition, the earthen-ware jug depicted in the middle of the composition served as an intriguing self-portrait of this pioneering French artist and Van Gogh's best friend.
full text:
https://news.artnet.com/art-world/empress-and-i-excerpt-1966113
One of Stein's favorite acquisitions was Paul Gauguin's 1889 Still Life with Head-Shaped Vase and Japanese Woodcut, which was bought at auction from the estate of collector and Holocaust survivor Josef Rosensaft, who had died in 1975.
"It is a very beautiful painting," Stein says. "The interesting thing about it is that the jug is actually a self-portrait of Gauguin. It was important to acquire works that were self-portraits or portraits of the artist as a compliment to whatever works were in the collection by those artists. It was meant to be educational for people who lived in the middle of Asia and didn't necessarily know who these people were."
full text:
https://iranwire.com/en/features/4458
Farah Pahlavi: the empress of Iran about Iran keeping the entire collection of western art
Following pic taken from:
展覧会の画像一覧:素晴らしい三島喜美代 + 茂司 @ MEM
Exhibition Images: Wonderful MISHIMA Kimiyo + Shigeji @ MEM
https://art-culture.world/articles/exhibition-images-mishima-kimiyo-shigeji/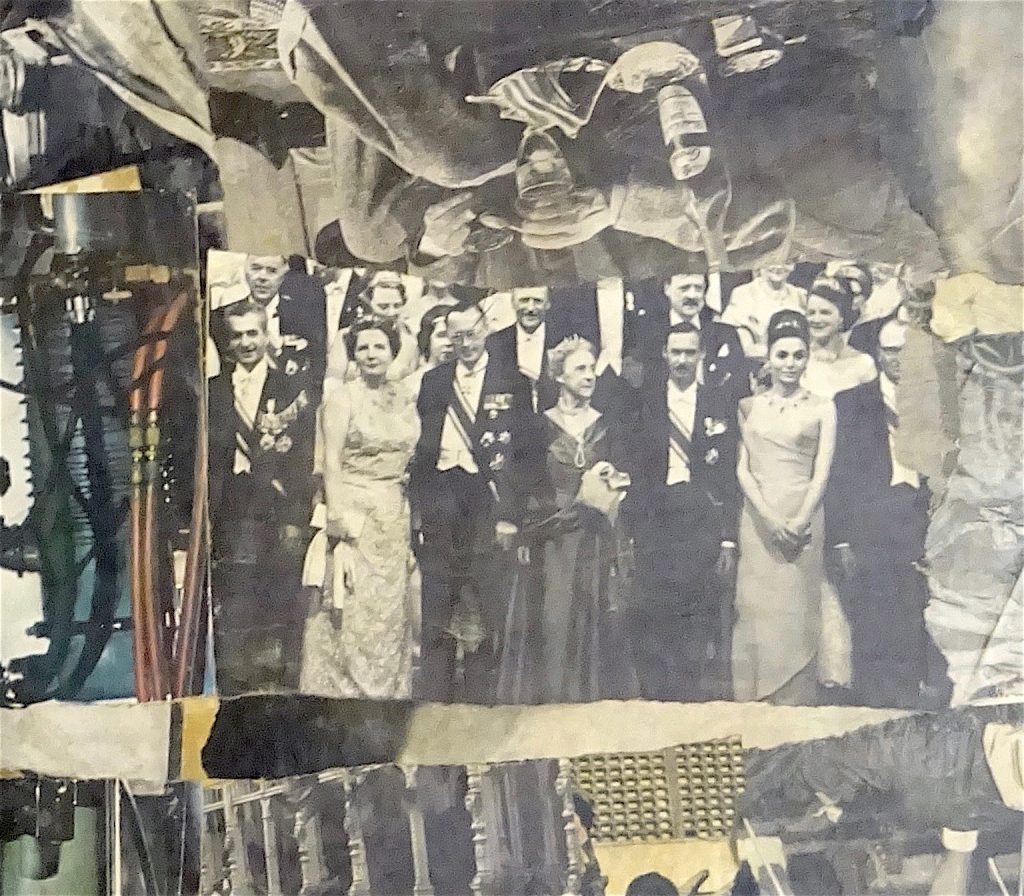 However "things" became "complicated", as the socio-political 68's Student Revolution (directly influenced by contemporary artists, curators and critics) is partly related to Farah Diba Pahlavi's husband, Shah Mohammad Reza Pahlavi, who was overthrown in 1979 by Islamic revolutionaries. What can be partly observed also in Japan, many in Iran believed the country was sick with a case of Gharbzadegi: "Westitis," "Westoxification," or "Euromania," an obsession with Western art and culture that obscured Iranian identity.
I don't know how Haraguchi thoughts and arguments related to this problematic, highly complex topic, were.
As I was not engaged with his writings in real-time, there's also the possibility, that he didn't care, as works by "Mono-ha" artists normally lack the socio-political statement regarding contemporary local/global feminism-, anti-nuke-, peace-, sex-revolution-, conservation of the environment-movements etc.. For example, actually everyone engages more or less in the Black Lives Matter movement.
Said that, on the contrary, I have to admit, Haraguchi's series "US Navy jet fighter" transports a highly political comment in the context of the actual Japanese-American security treaty.
Interestingly, Tehran's collection of Modern art is said to be one of the world's most important, but art lovers and artists haven't seen it—the majority has been locked away in storage at the city's Museum of Contemporary Art (TMoCA) since 1979. 
Nevertheless, Haraguchi's unique art position in Iran refers to his permanent installation at the TMoCA since day one and Japan's "relatively" neutral diplomatic stance towards oil exporter Iran.
"Oil Pool", or also named "Matter and Mind", had been restored and cleaned up in 2017 under the supervision by the artist himself. Art handlers carefully cleaned up the ground and poured new tubs of waste oil into the low metal container, making an opaque and gorgeously reflective surface with mesmerizing effects.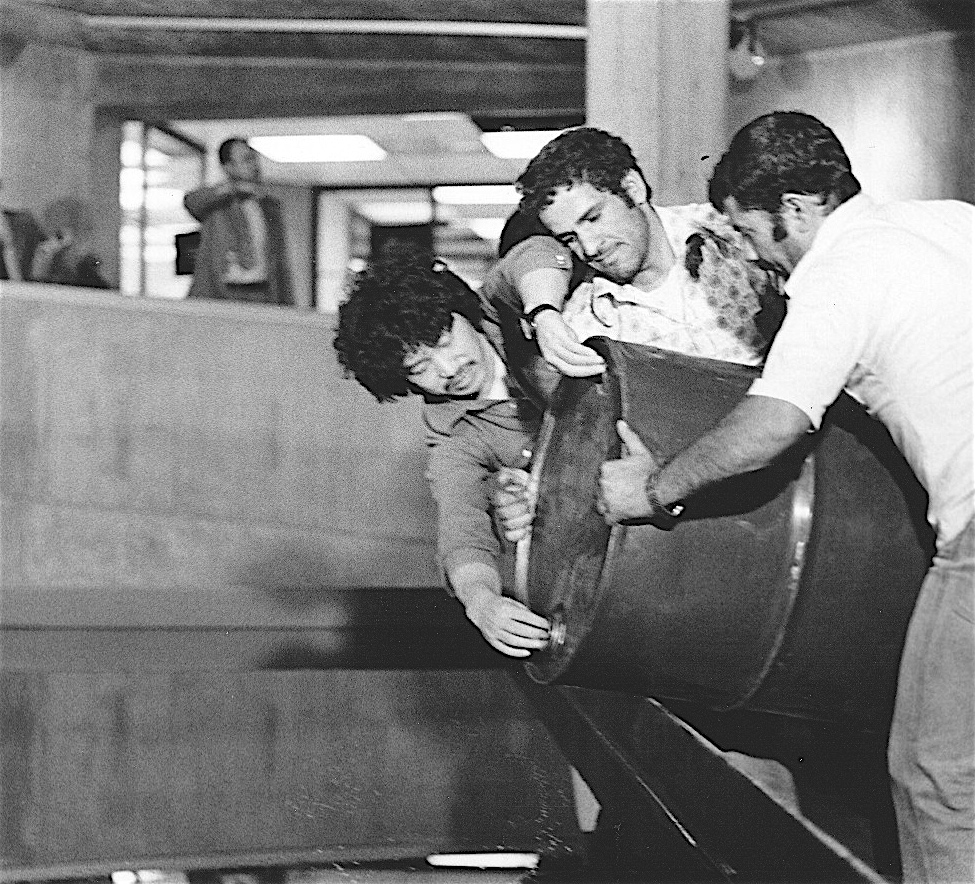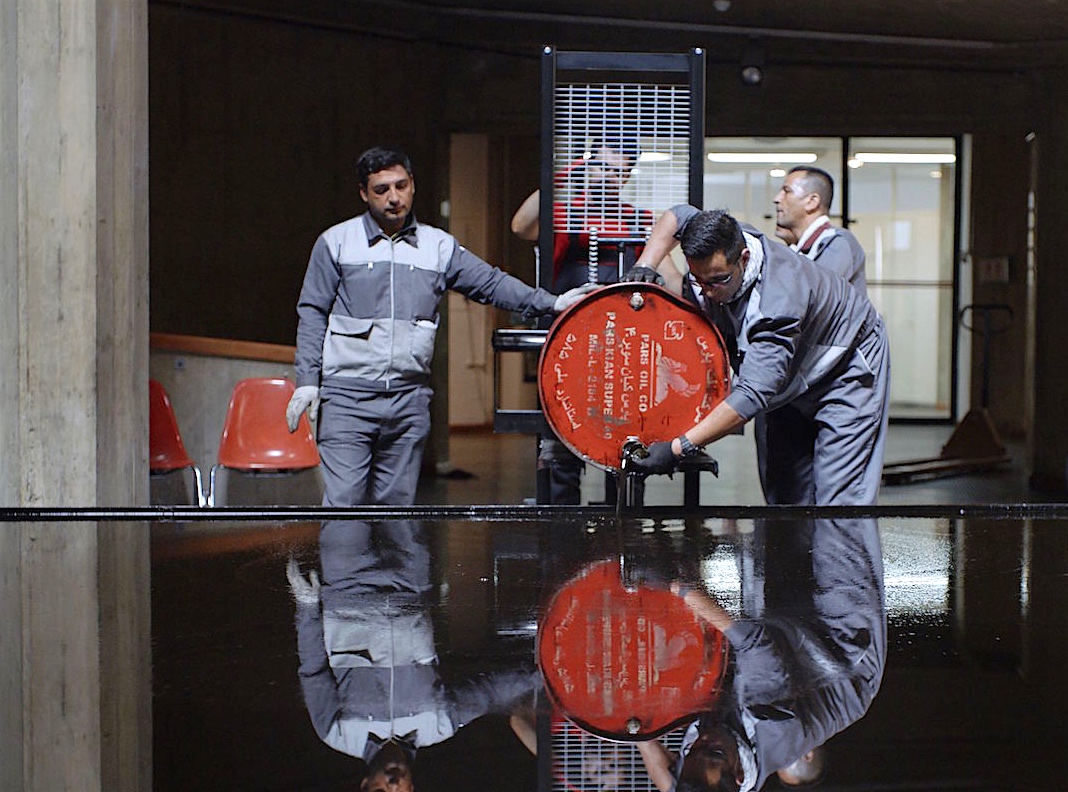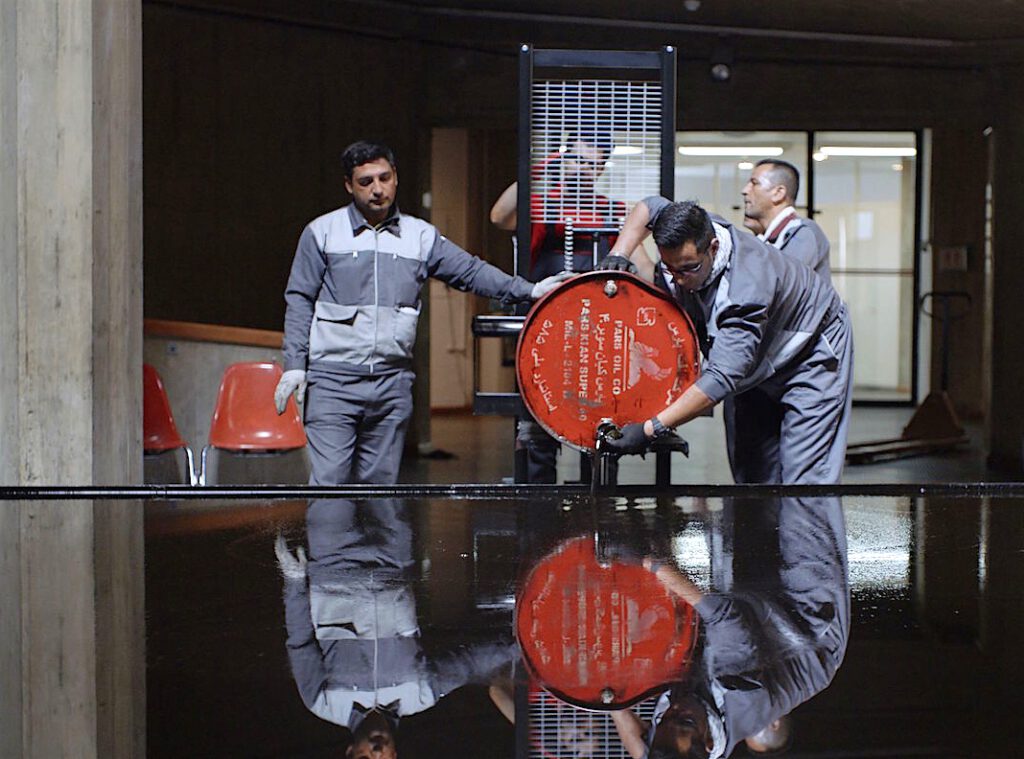 The mystical, ritual scenery had been superbly documented by Shirin Sabahi, see the attached photograph and the youtube link.
The museum was designed by Iranian architect Kamran Diba, who interwove elements of western and traditional Persian architecture. A spiraling walkway in the middle of the museum leads down to the reflecting oil pool of Haraguchi. One can lean on the railing and stare down and contemplating through the dark mirror of "Matter and Mind". The prevailing emptiness, which echoes in the artistic practice of this Japanese artist is impressively captured not only in a modern, or, post-modern, but timeless art context. Respect.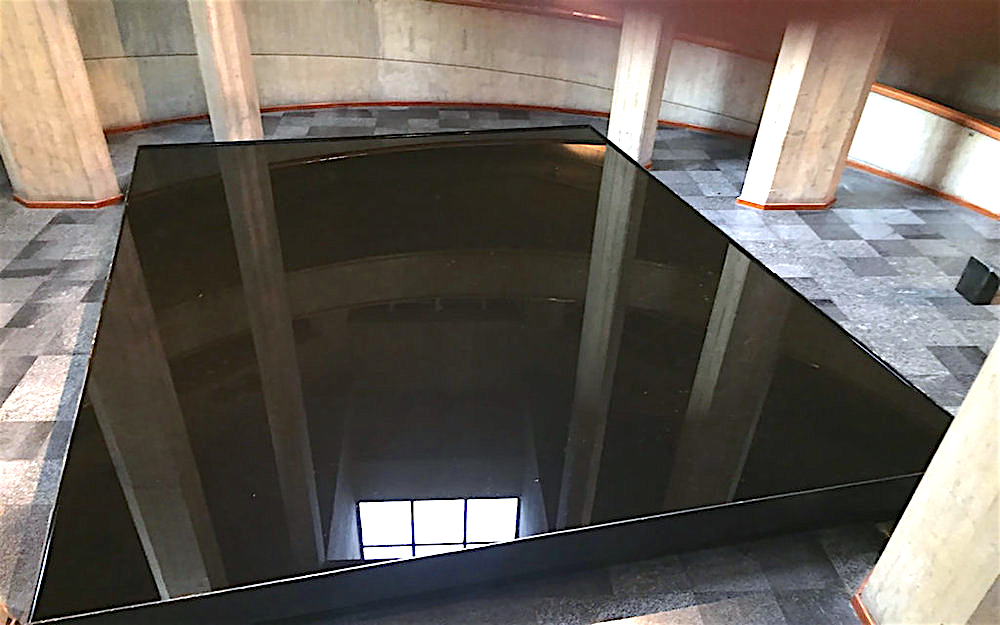 In 2013, myself had an interesting, close-to-simulacra-, déjà-vu-experience at the curatorial chef d'oeuvre exhibition "PRIMA MATERIA" @ Pinault's Punta della Dogana, Venice. A new normative aesthetics/anti-aesthetics between "East & West" (happily, my cultural background via Japanese and Italian artists came to full blossom), had been challenged by the curators Caroline Bourgeois and Michael Govan, in which I amazingly found the execution technic by SEKINE Nobuo 関根伸夫 with his "Phase of Nothingness – Water" very similar to HARAGUCHI Noriyuki's "Oil Pool / Matter and Mind". Instead of oil, Sekine used water, which per se should be transparent. However, as the bassin was all in black, it resembled Haraguchi's work.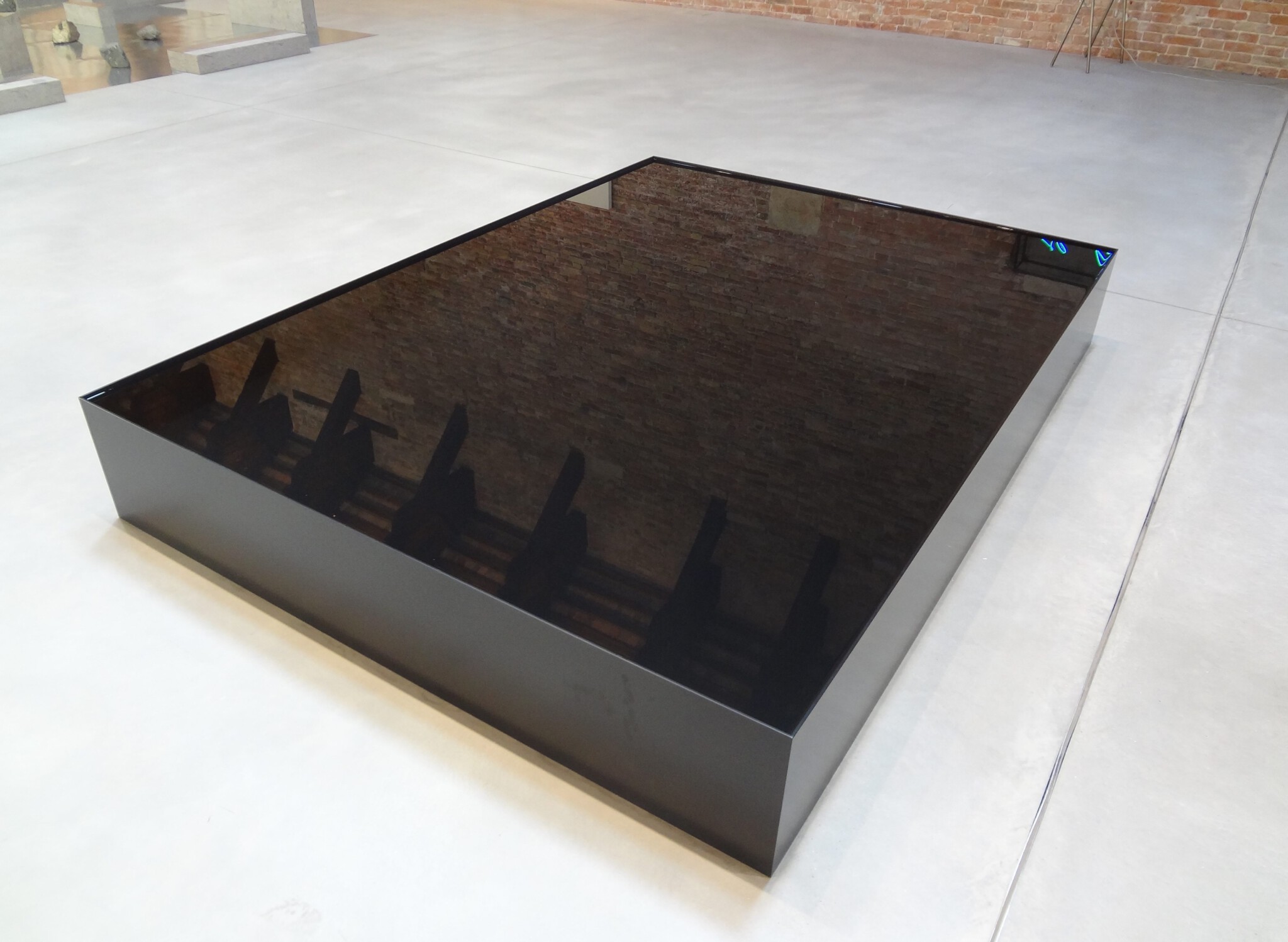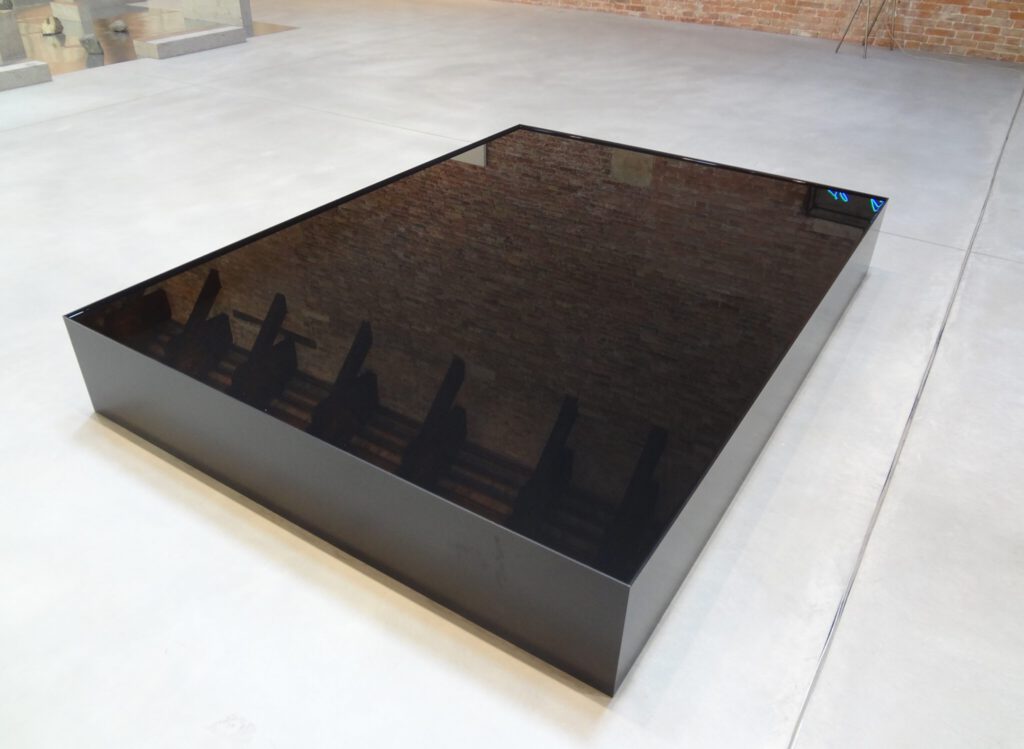 Additionally, Sekine incorporated his iconic work "Phase-Mother Earth" from 1968 (mentioned in Japanese school books) via a similar transcending, cubic sculpture into this installation, letting the initiate wonder about the artist's motivation.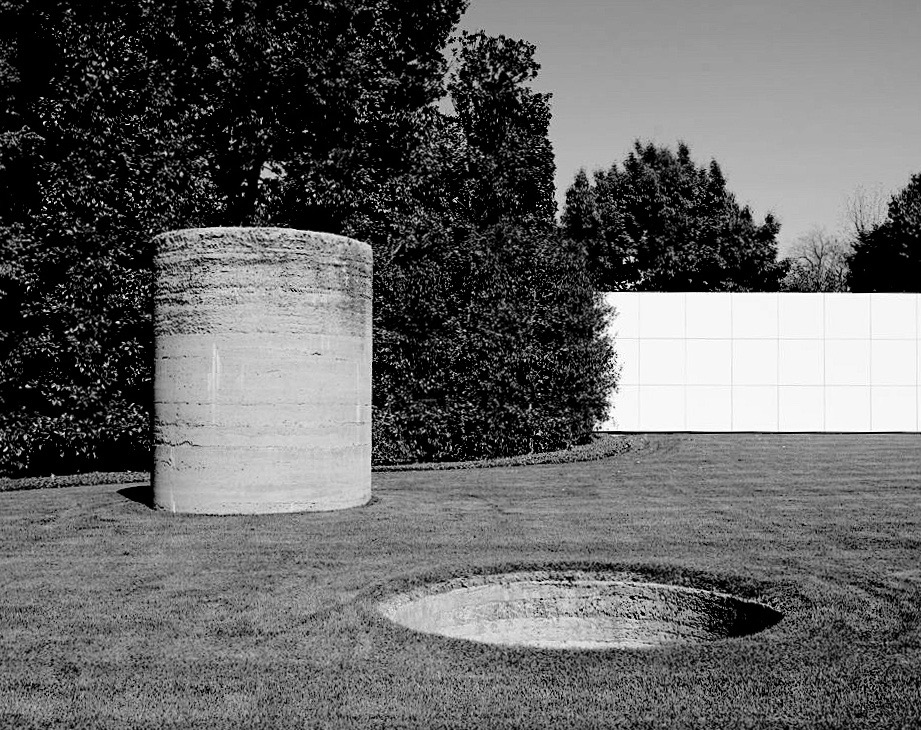 This decision probably had been communicated/discussed with the curators of this sensational exhibition, which was tailor-made via a stringent concept-space program, arousing the intellect/art-history-knowledge of global art lovers.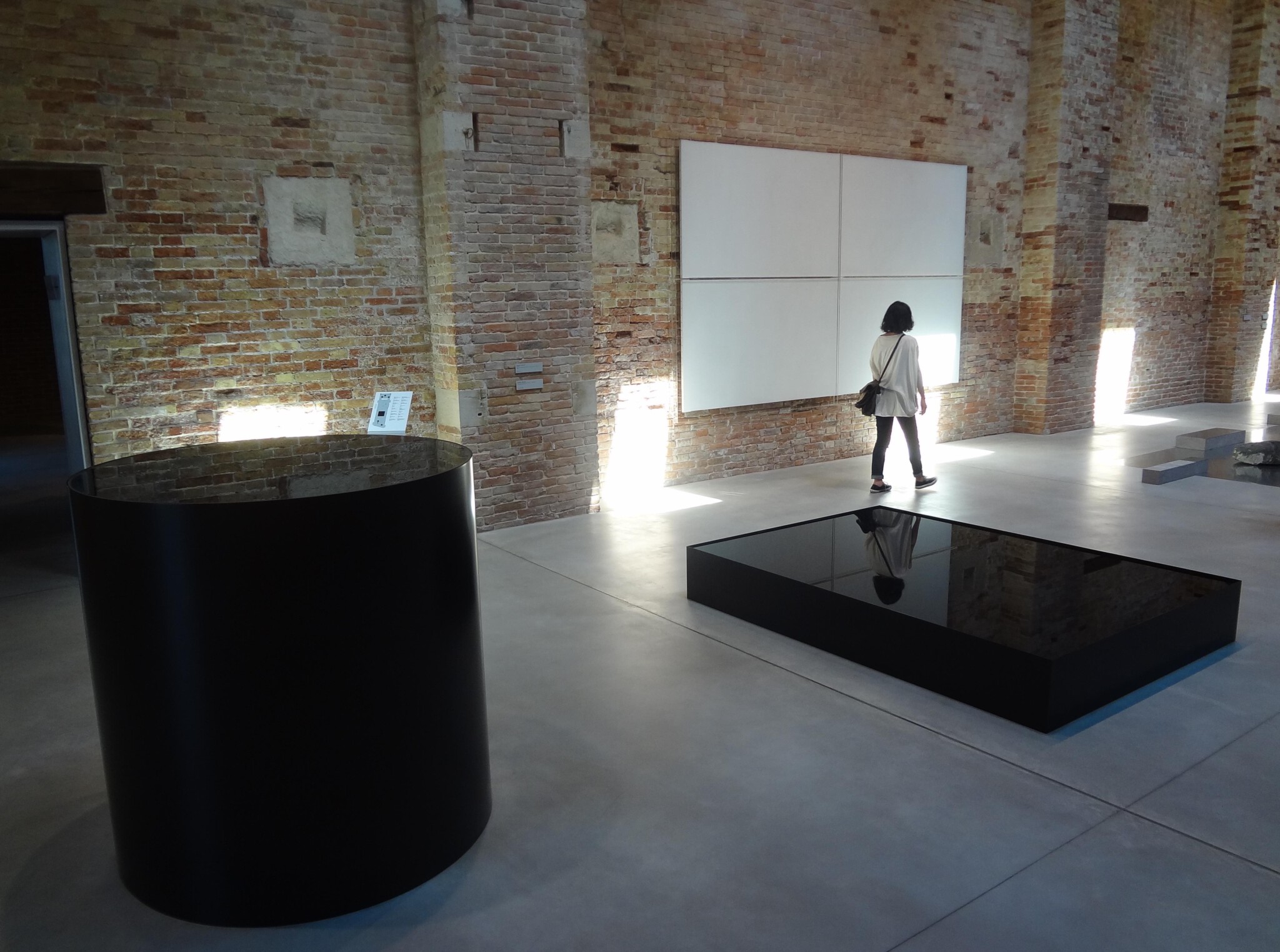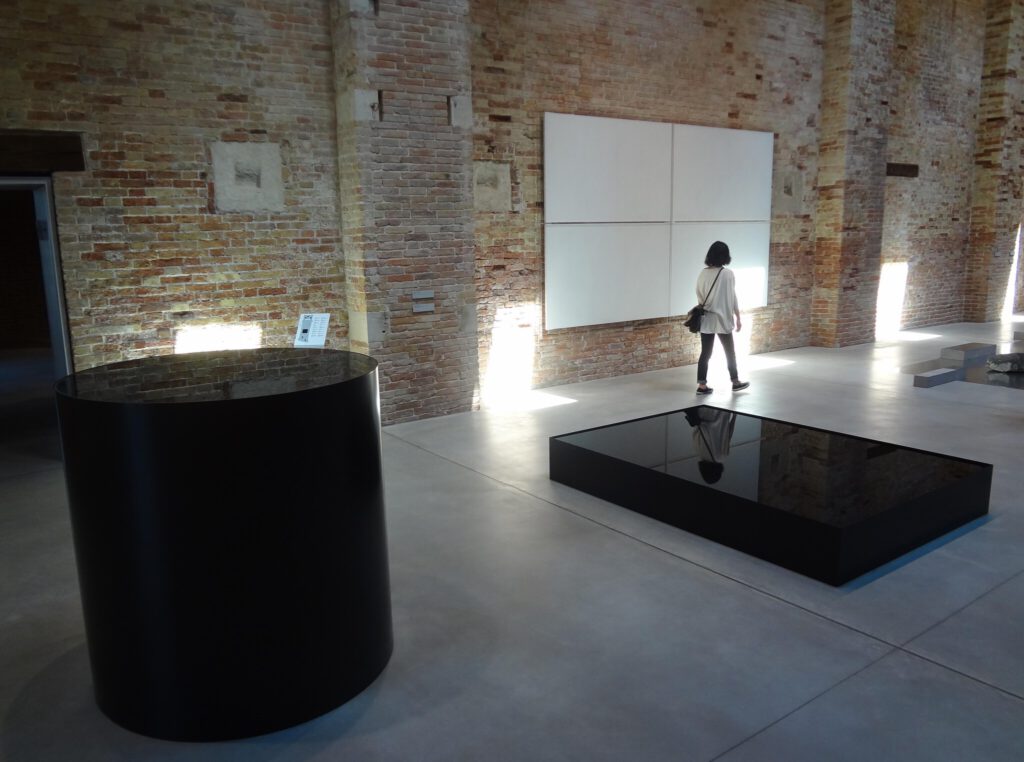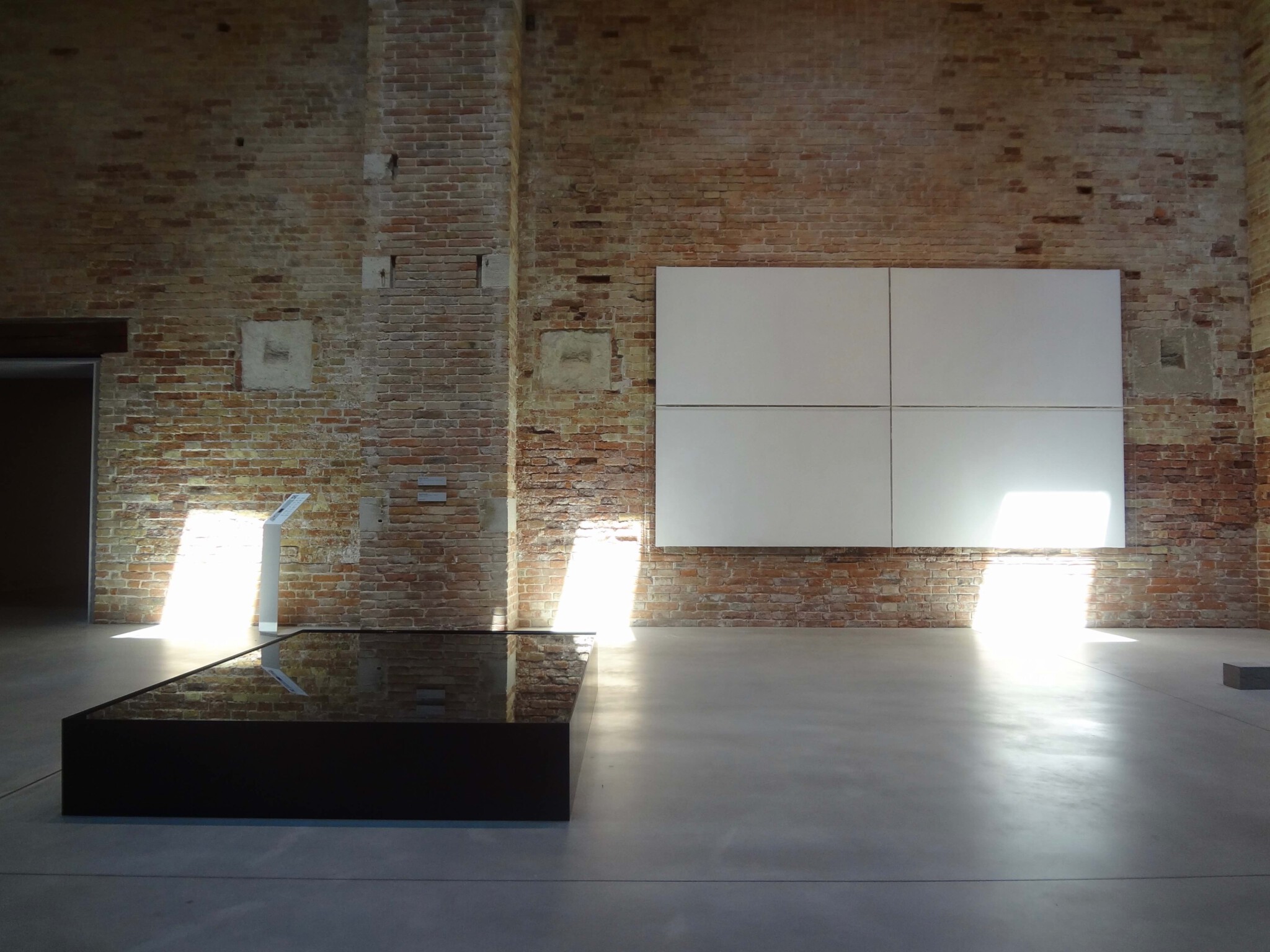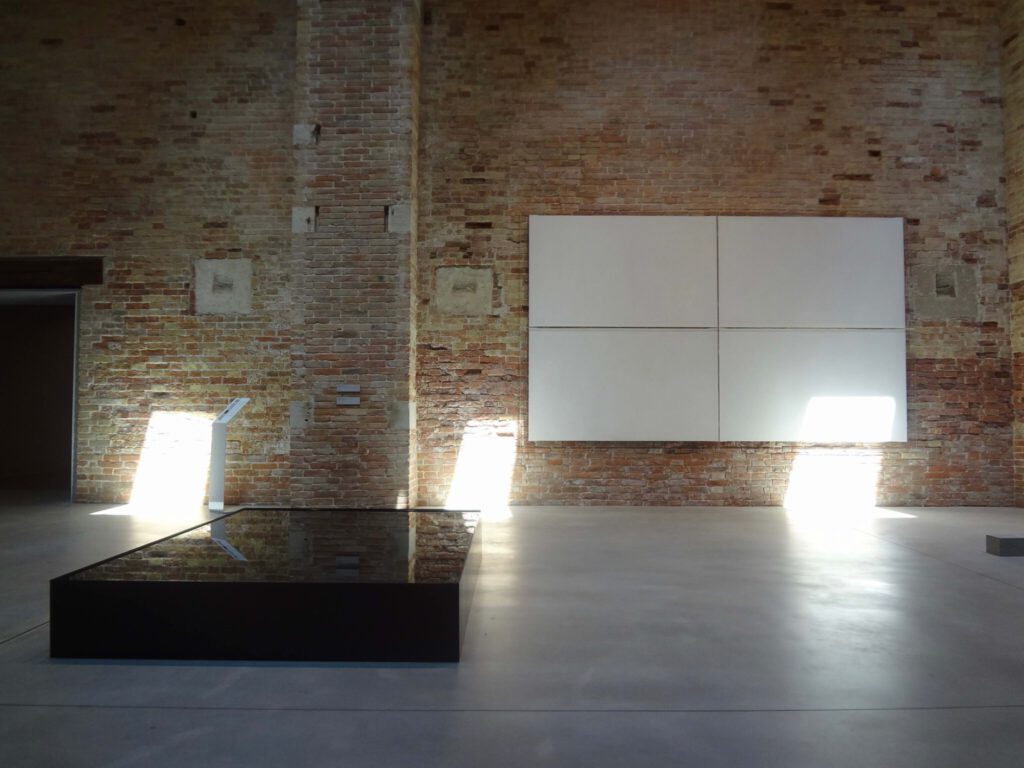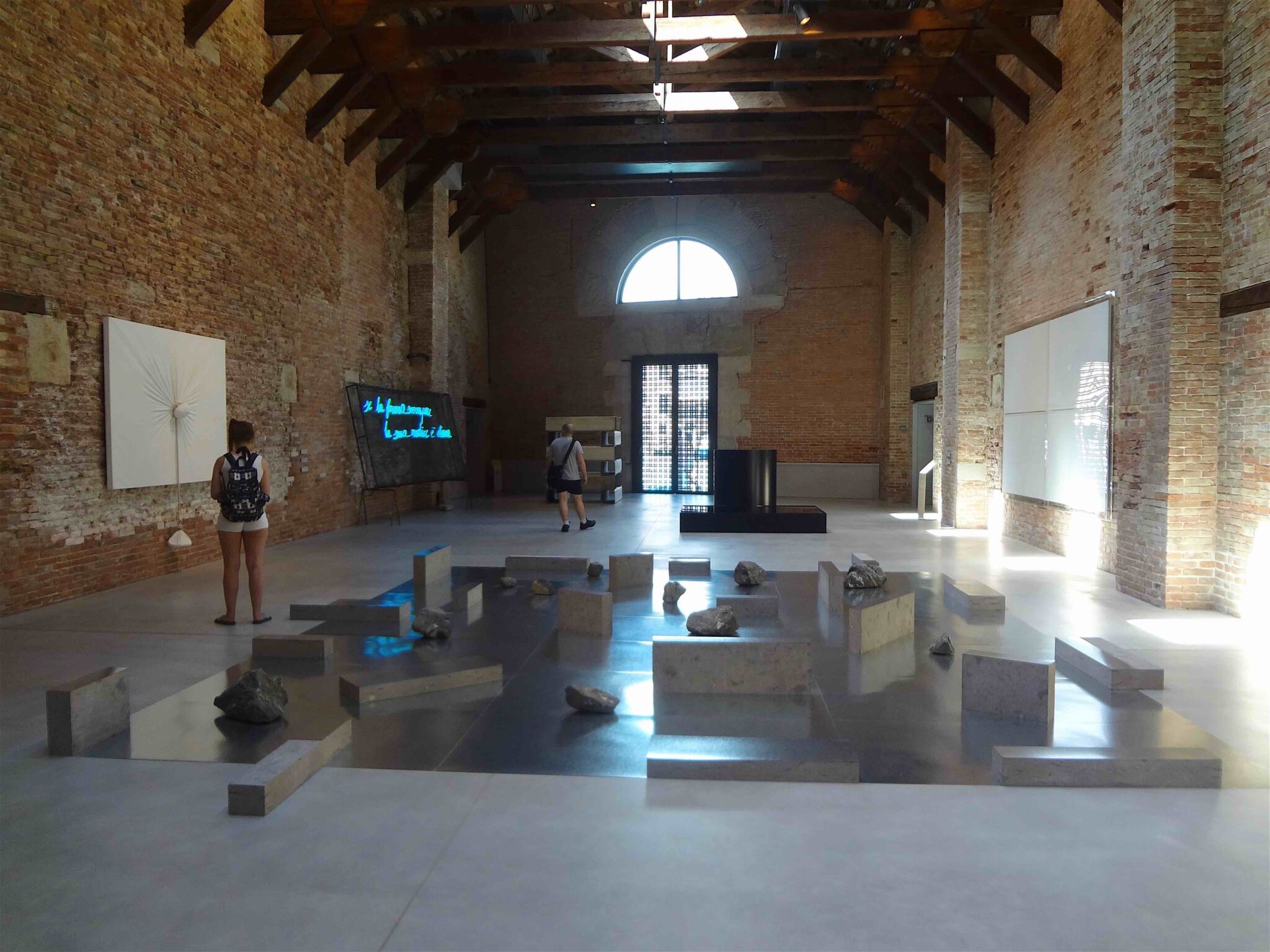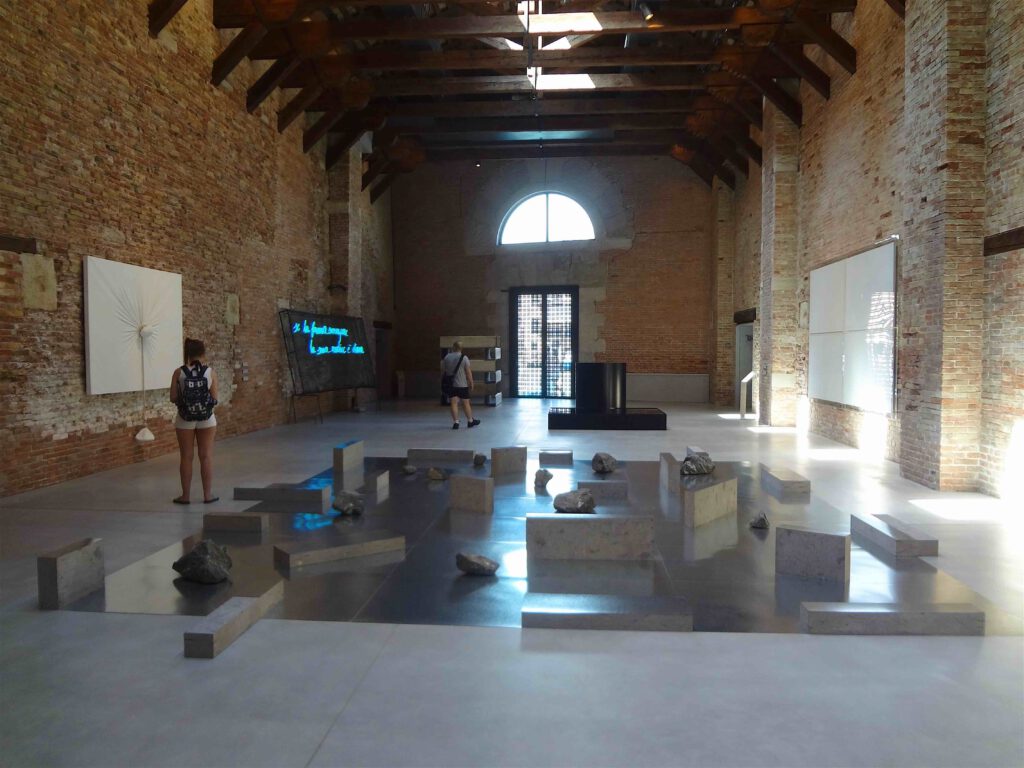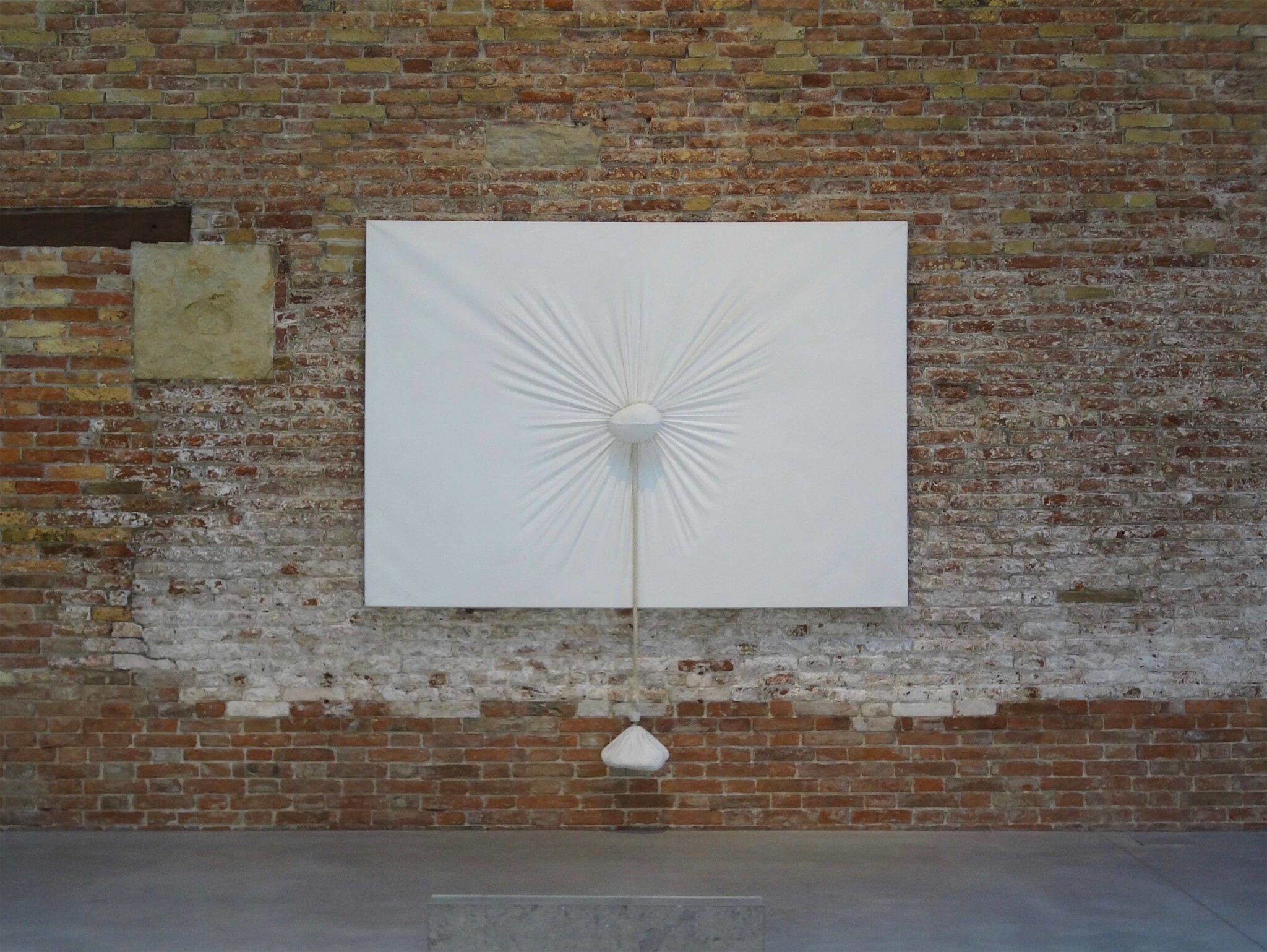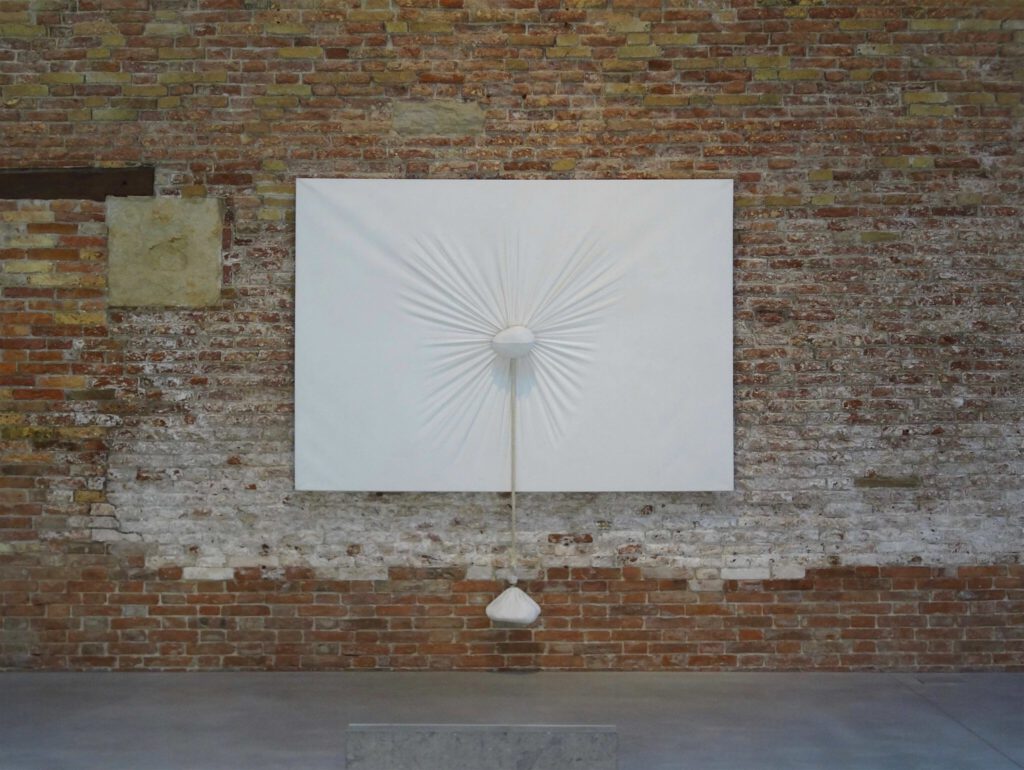 Said that, our imaginary curatorial strings embrace the "replication" or "appropriation" of Haraguchi's cube work "Ento (Round Tower)", also created all in black.
See the new gallery √K Contemporary ("Root K Contemporary") in Tokyo, which opened with the spectacular solo exhibition "wall to wall Noriyuki Haraguchi" in March of this year, just 6 months before Haraguchi said 'sayonara'.
https://root-k.jp/artists/原口-典之/
https://root-k.jp/exhibitions/wall-to-wall-noriyuki-haraguchi/
https://root-k.jp/wp-content/uploads/2020/07/e179a37347b1d8c47a5feb2e4472f690.pdf
As Sekine came to international fame already in 1970 at the Venice Biennale, the progressing, evolutionary artistic-practice and influences between colleagues might be clear.
"Mono-ha"'s creative starting point can be located in the town of Yokohama, the legendary Fujimi-studio. (Besides the debates between Lee-Ufan and SEKINE Nobuo in Tokyo's Shinjuku's coffeehouse TOP).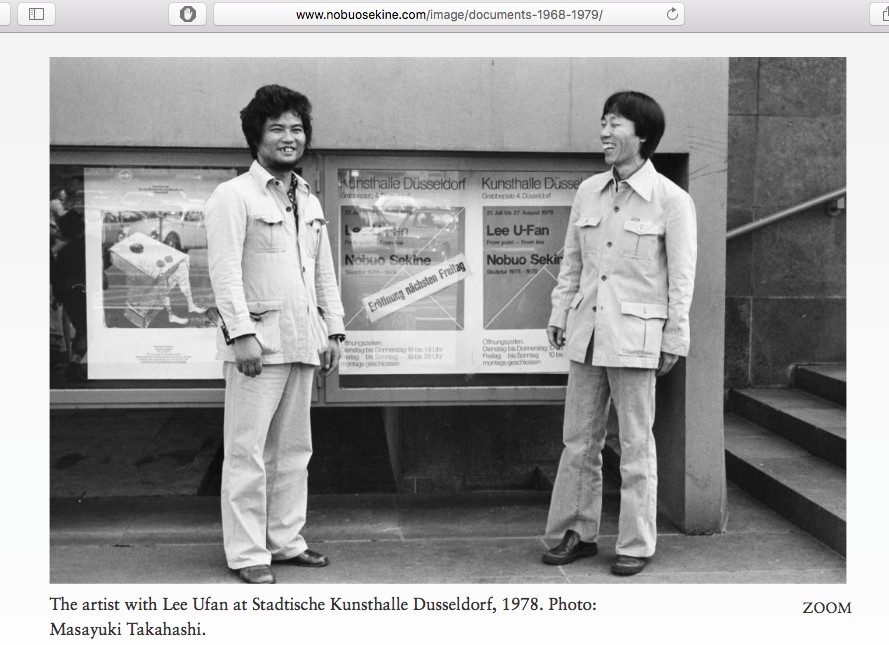 more at:
http://www.nobuosekine.com/image/documents-1968-1979/
As Haraguchi lived and worked at near-by Yokosuka, these two artists' "Mono-ha"-gestures, in my opinion, should be newly re-evaluated; they deserve a re-contexualized, in depth-going, two-man show, even though you and I might not be able to tell the difference at the beginning, – fascinating details become attitude. I think, as happens to every artist, Haraguchi and Sekine might have hidden/left some unrealised art projects, from which one or two could develop to a jewellery masterpiece when putting to light in a future exhibition.
Sekine succeeded in being represented in the U.S. by the gallery Blum & Poe in Los Angeles, which, among several solo/group shows, placed marvellous sculptural works in the Unlimited section of Art Basel, Switzerland. The stringent "Phase Conceptions" body of works connected superbly between Basel and Venice. As a juxtaposition, Basel exhibited the "Phase of Nothingness-Black" from 1977-78. See my attached pics.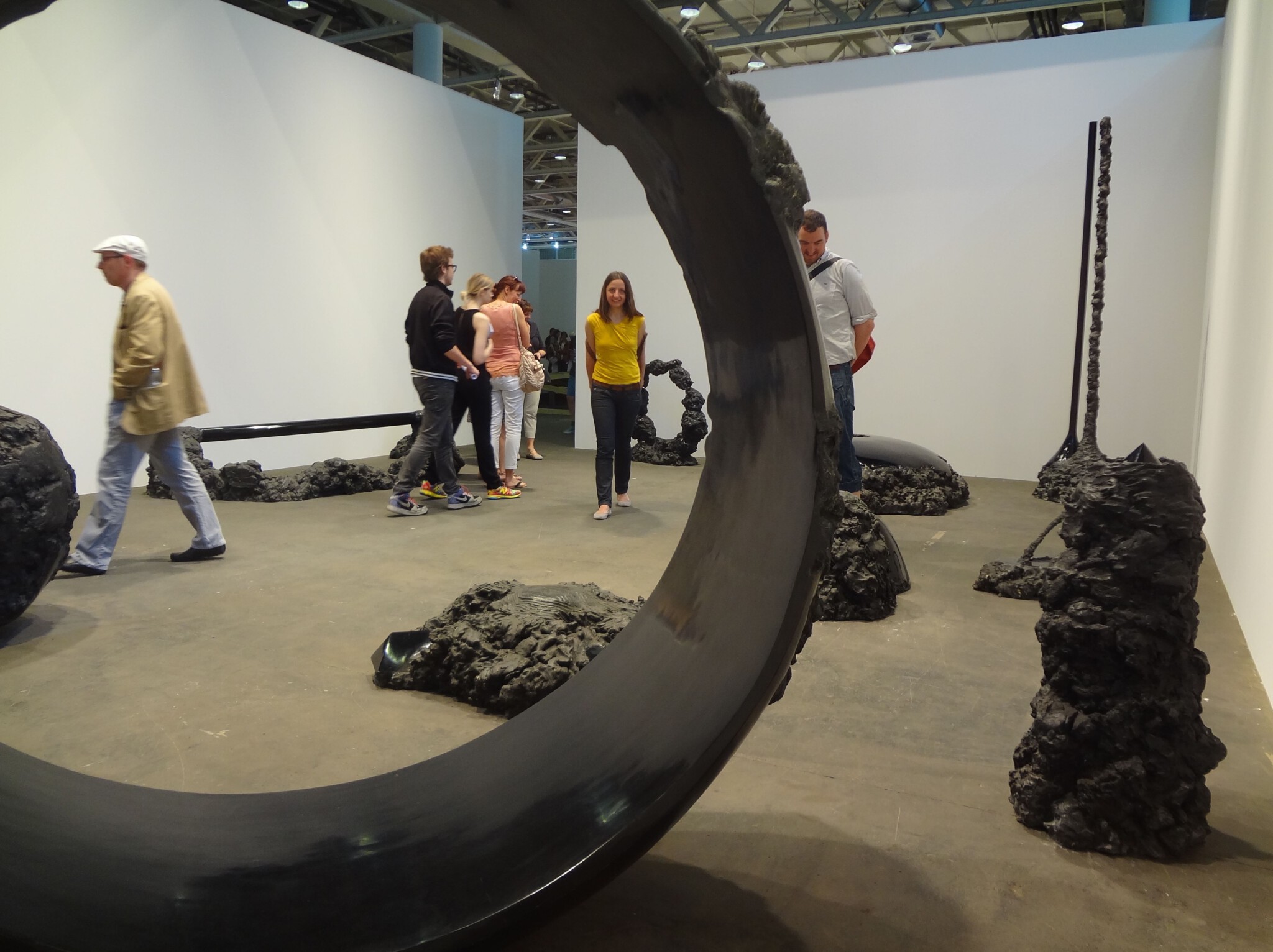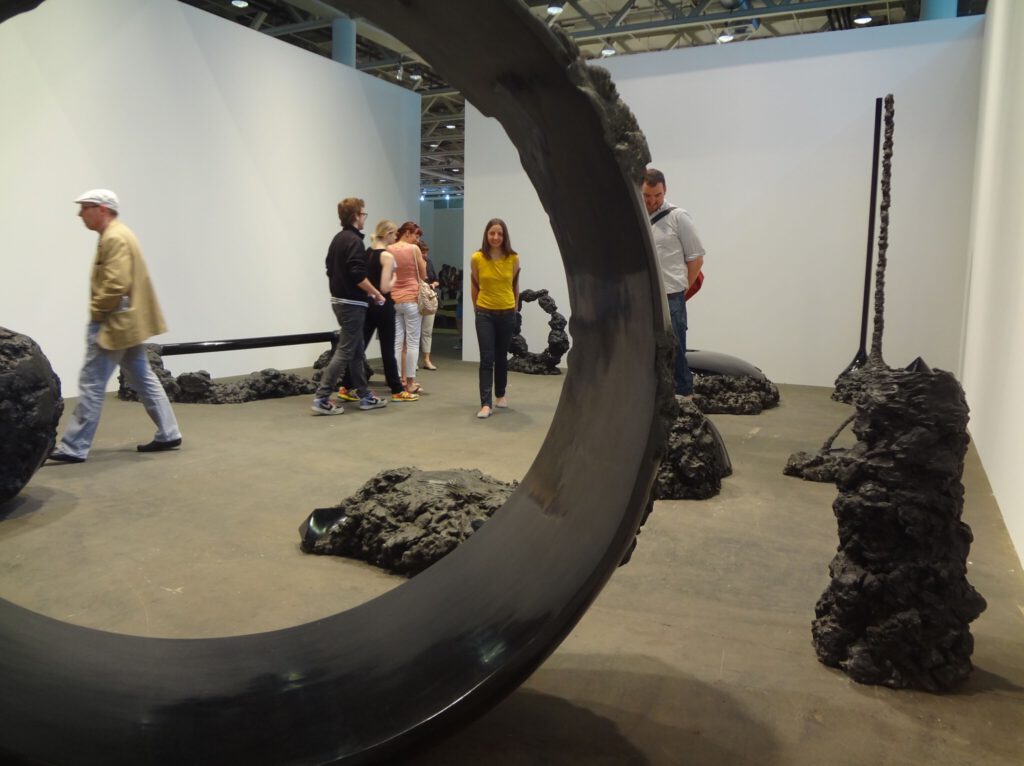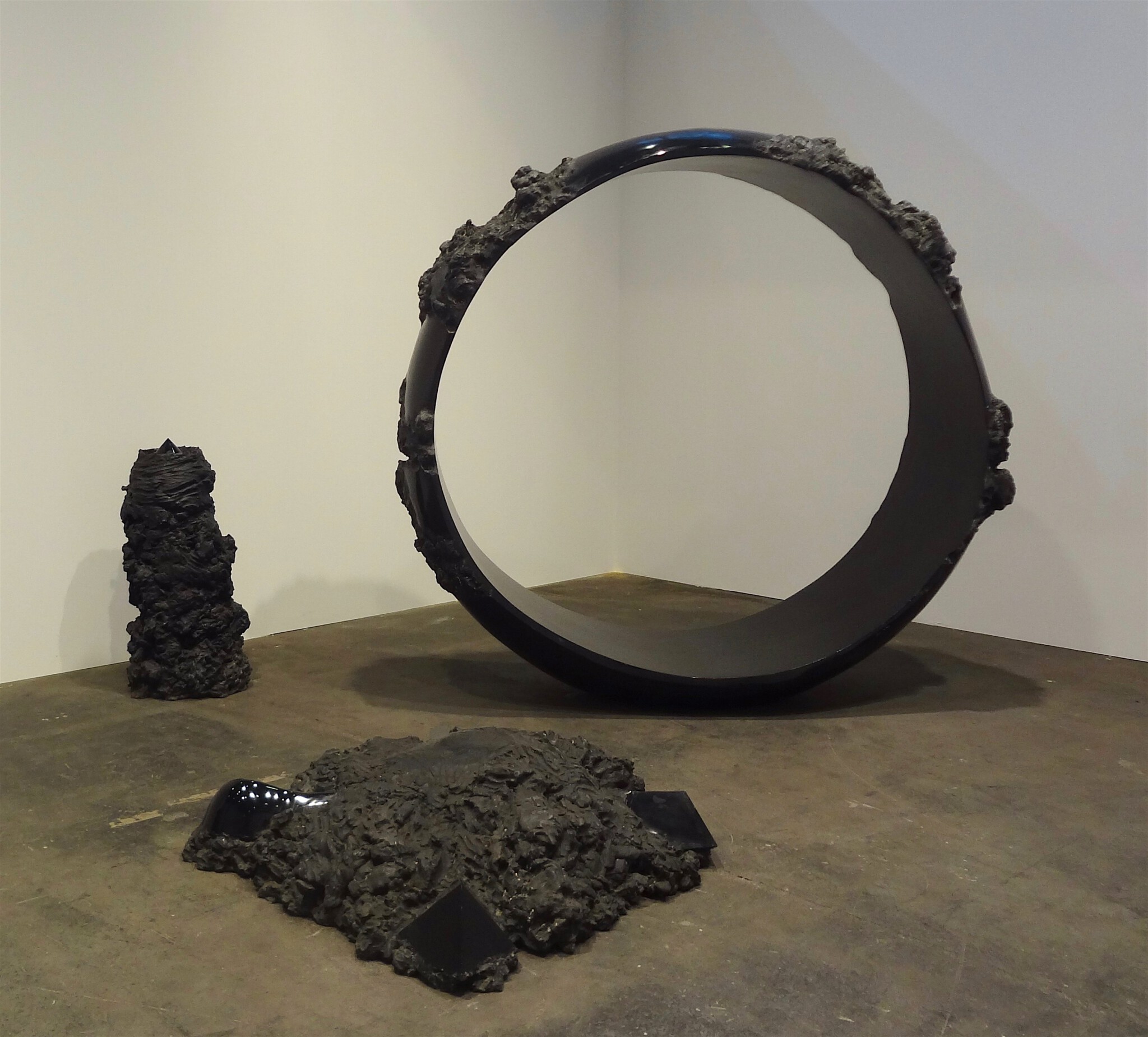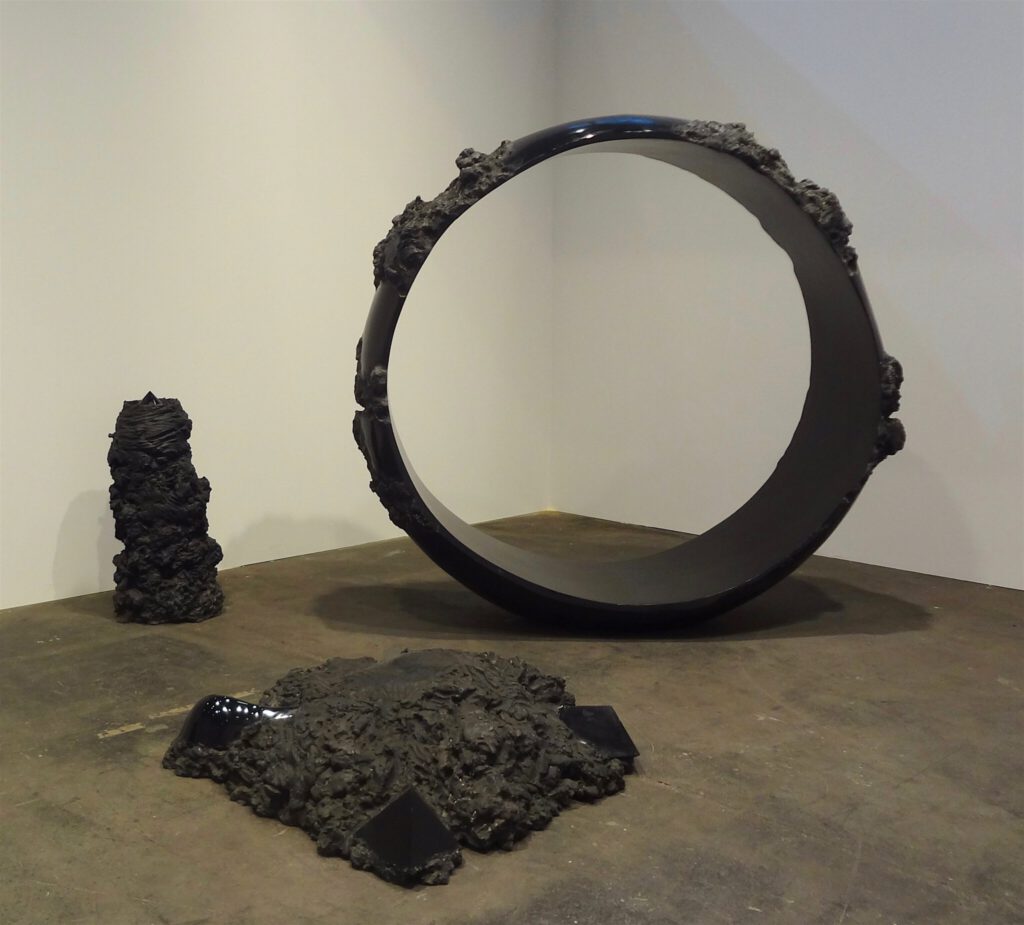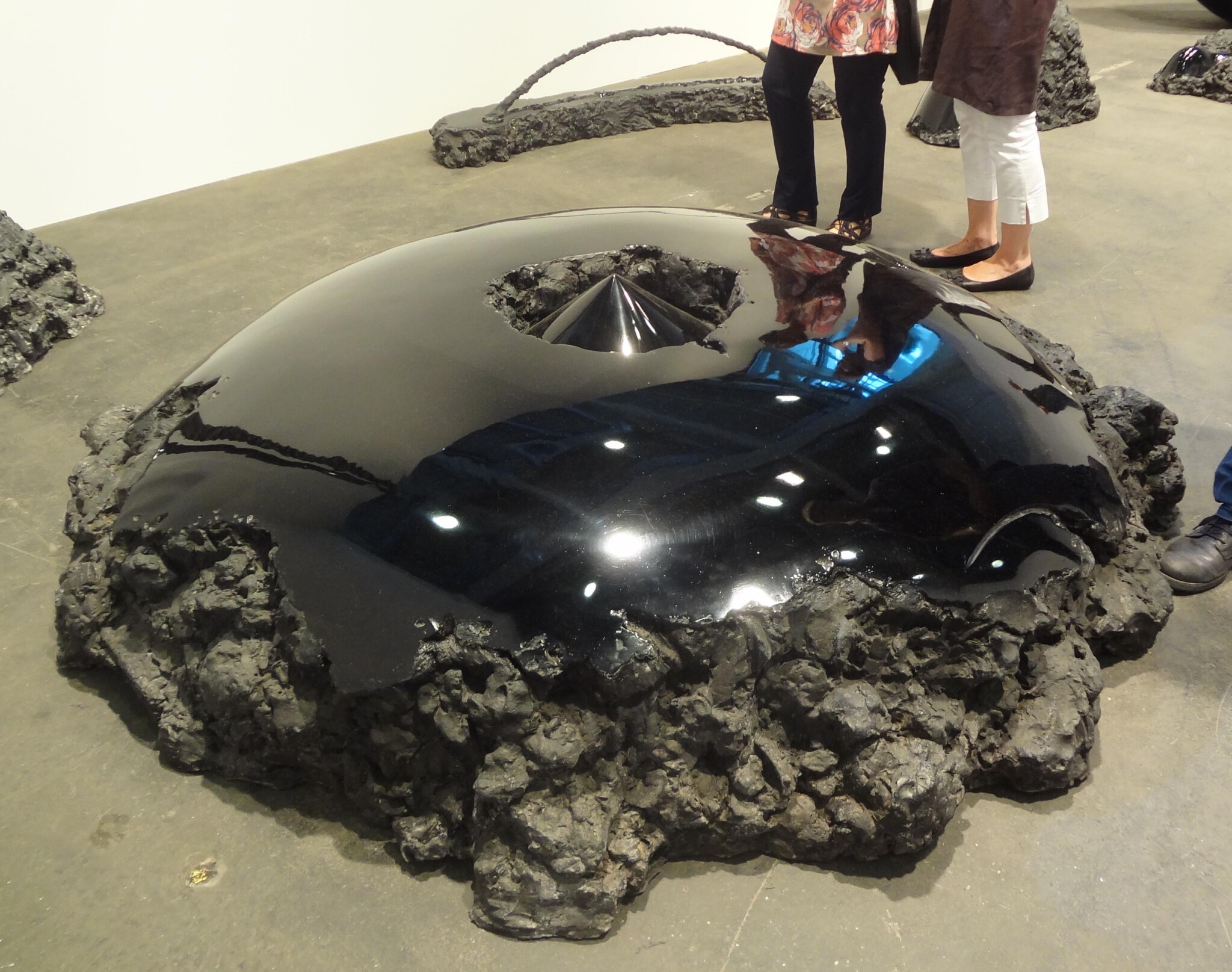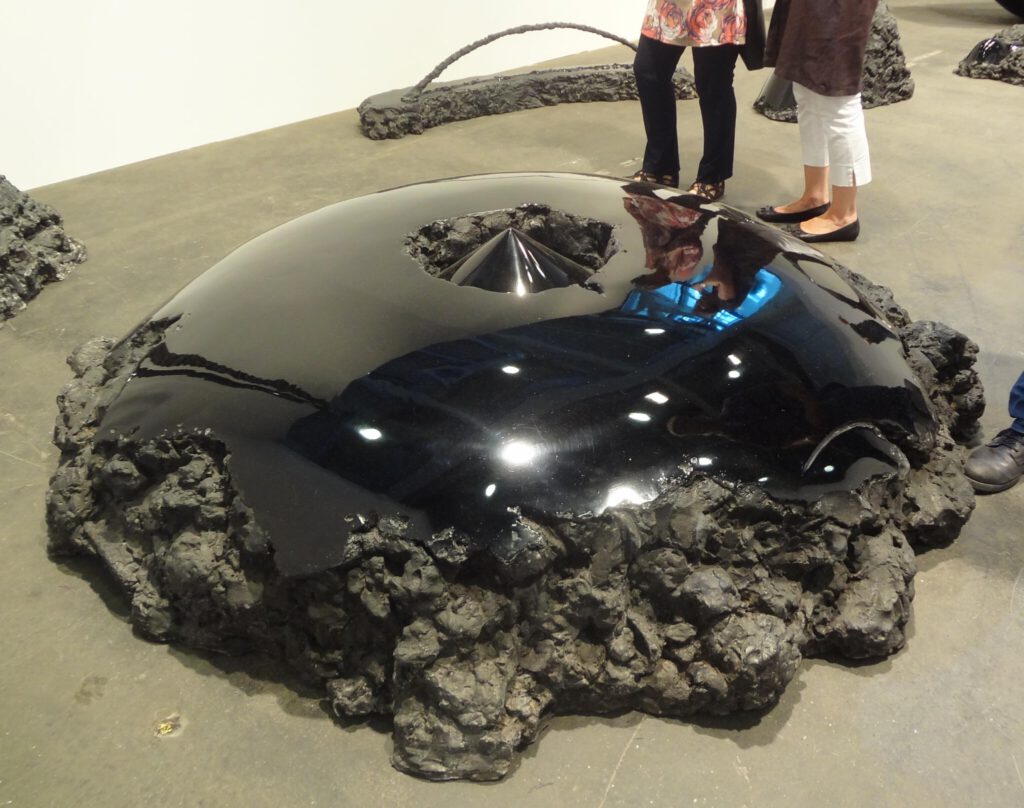 Sadly, Sekine passed away at the age of 76 last year in May in Los Angeles.
Last, in memoriam, as a personal memory to share, I may attach the photograph taken 12 years ago at his exhibition "SEKINE, NOBUO" in GALLERY-BS.com.
Tokyo, 26th of September 2020
Mario A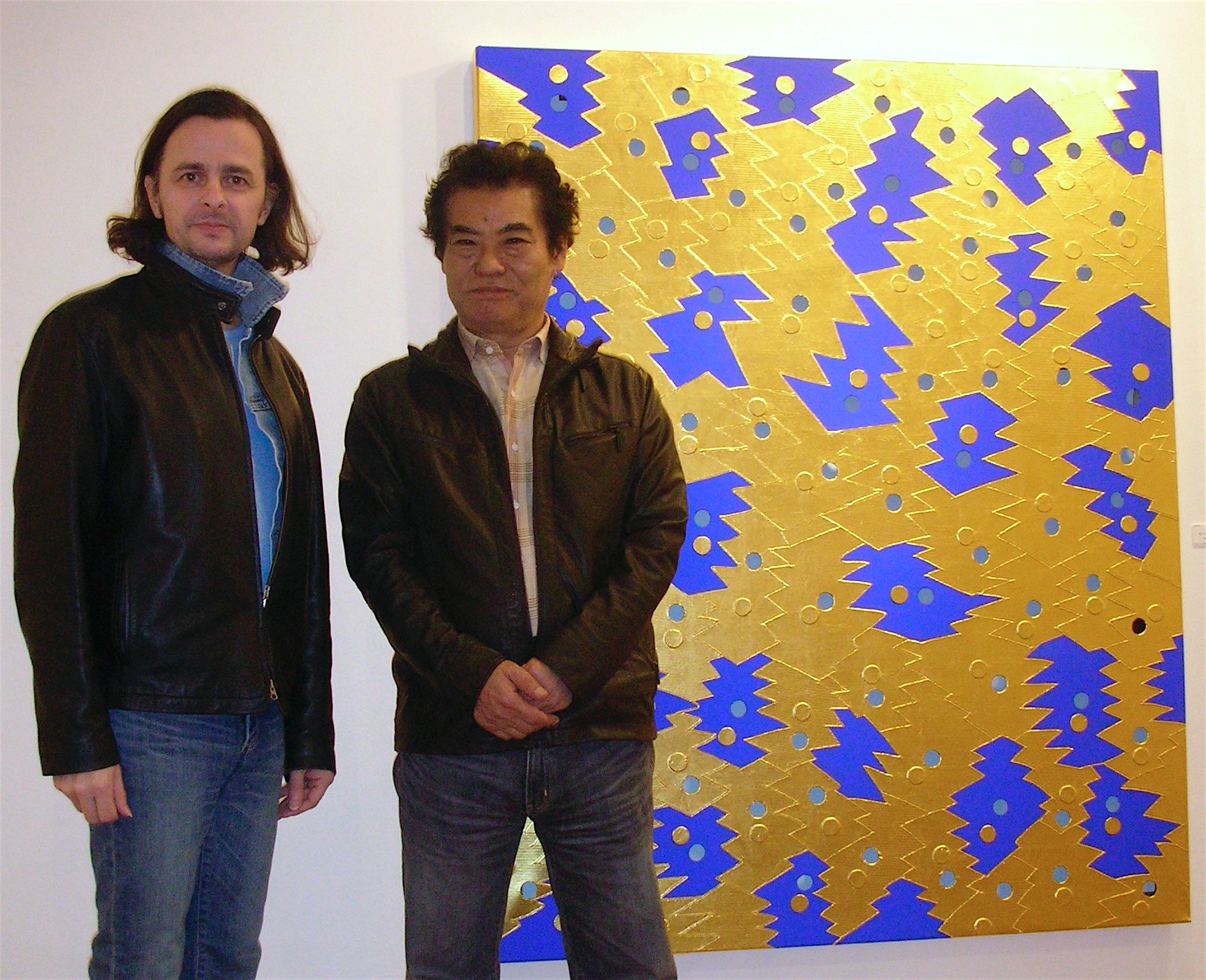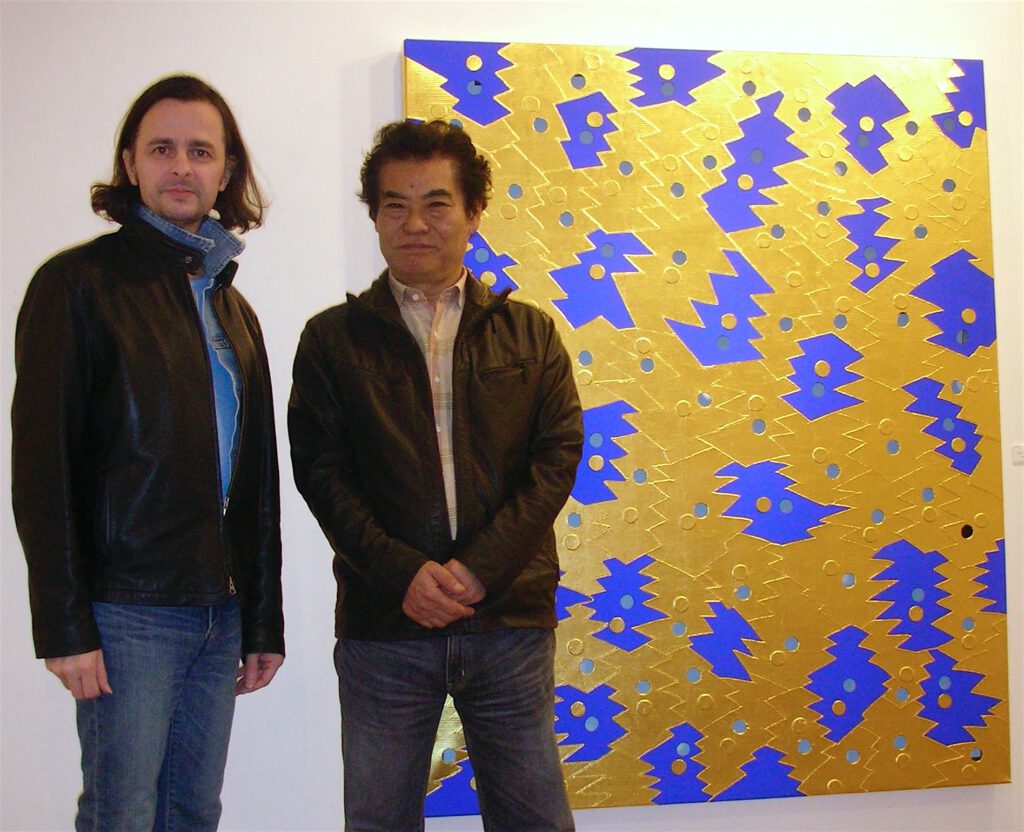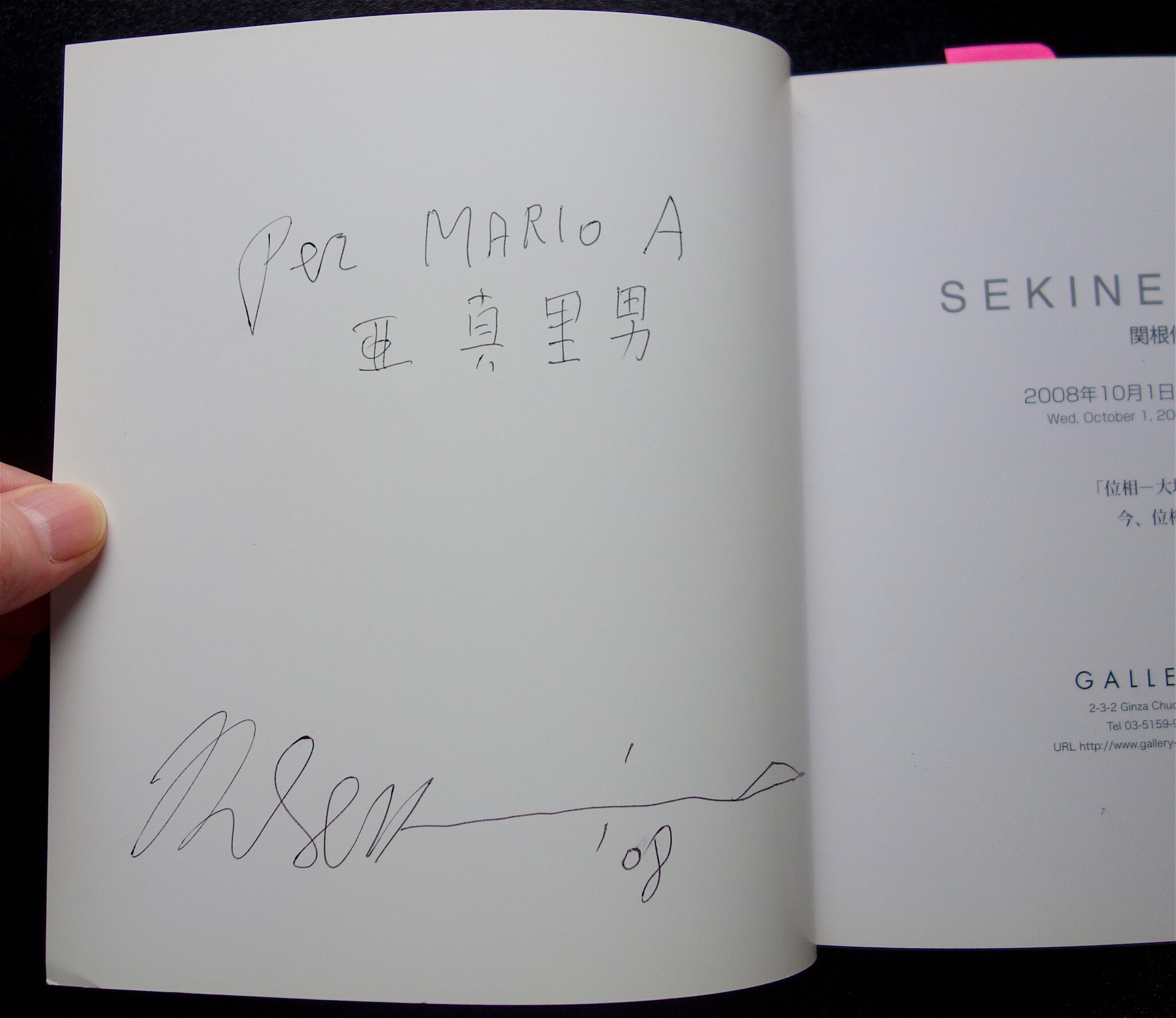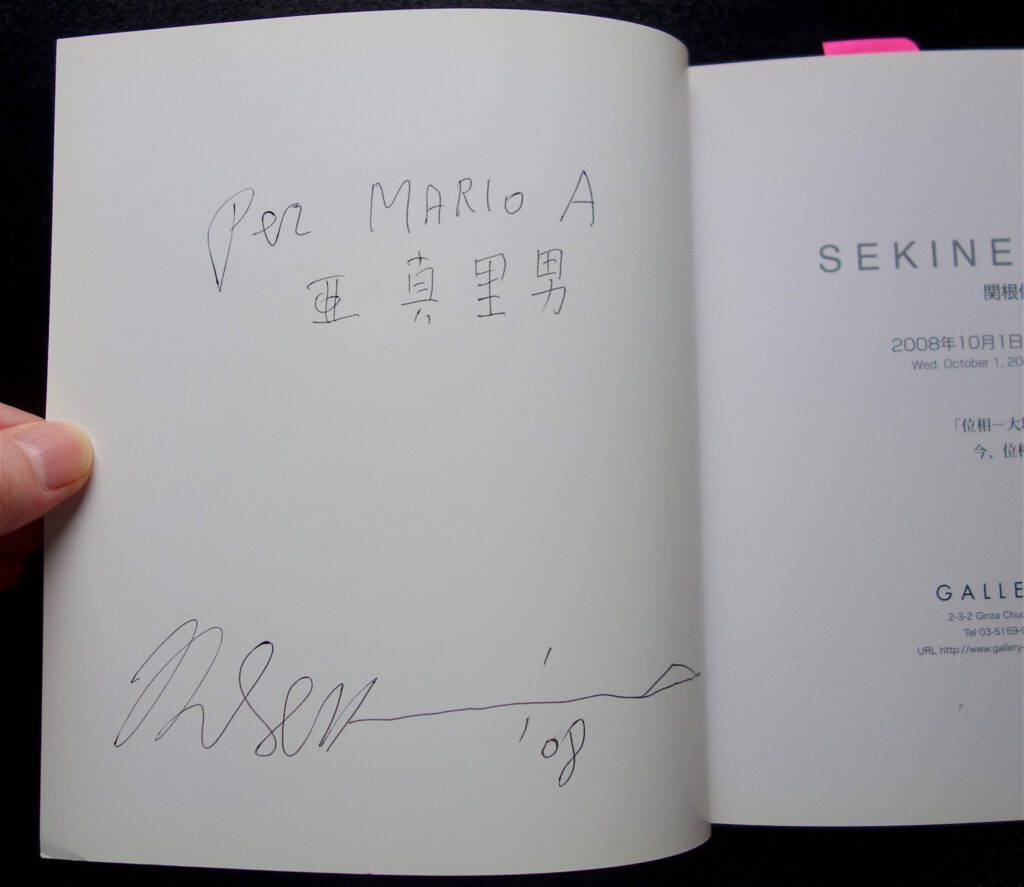 On this occasion let me post further works by the two artists which I encountered at various Art Basel booths.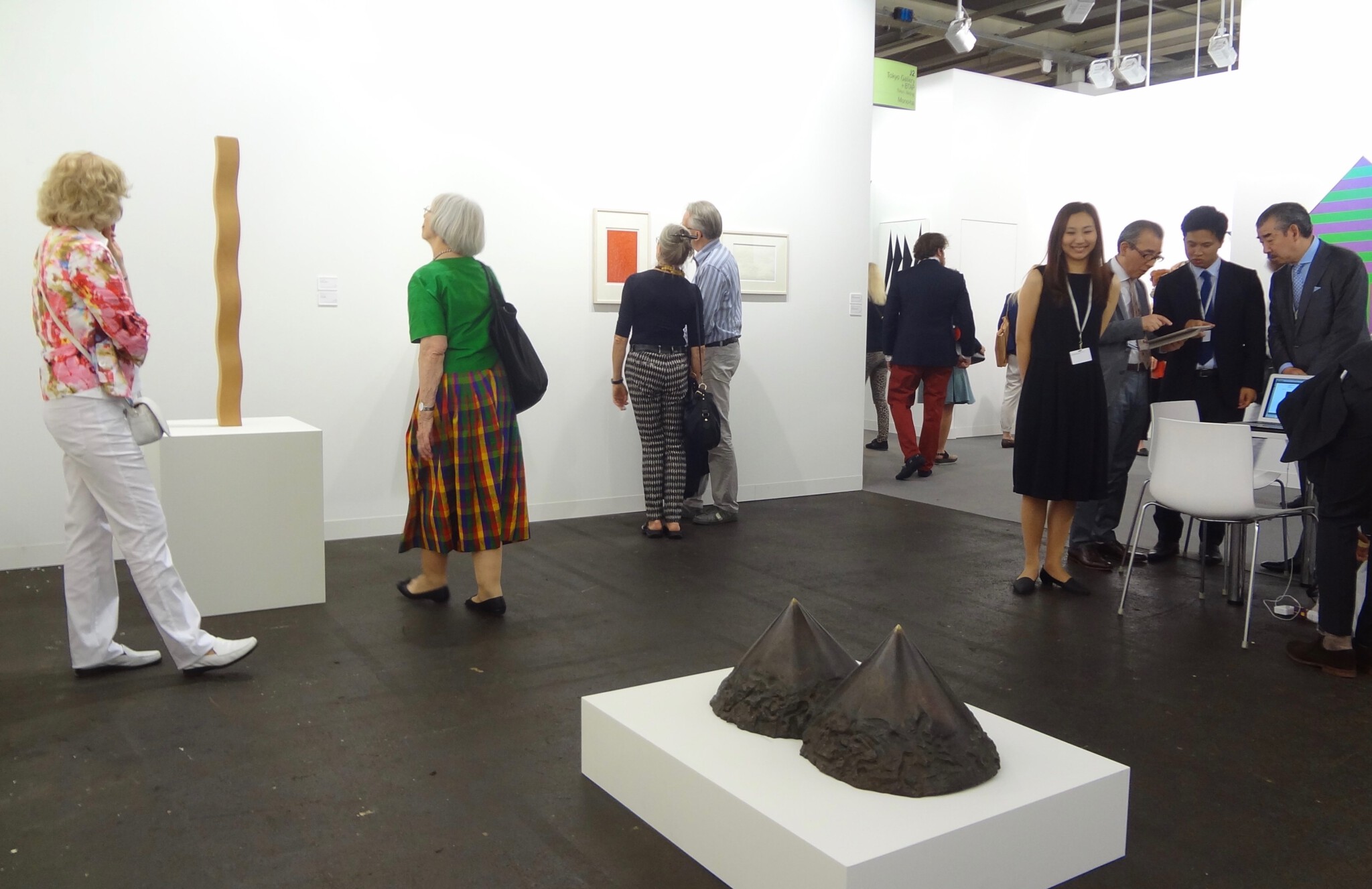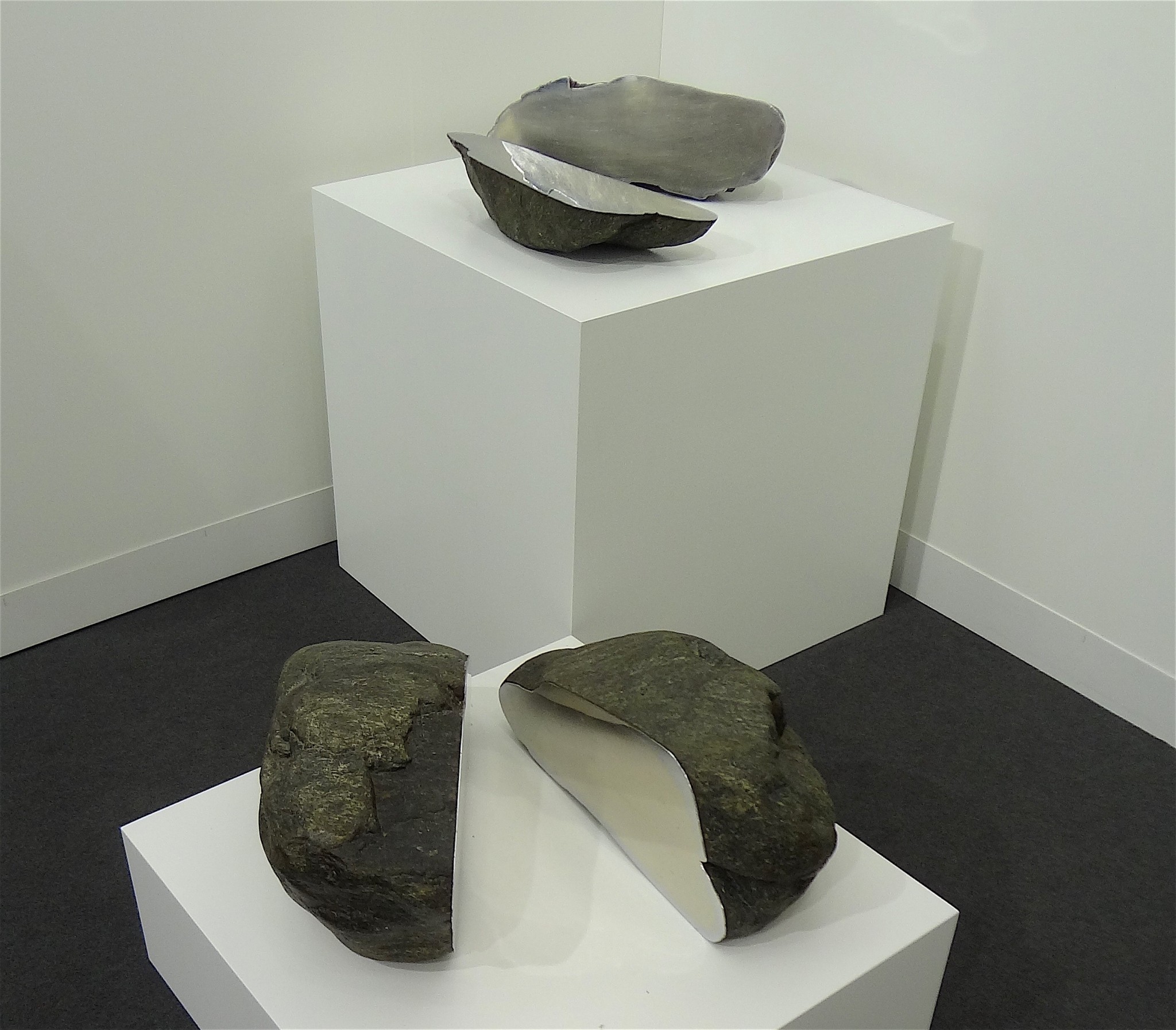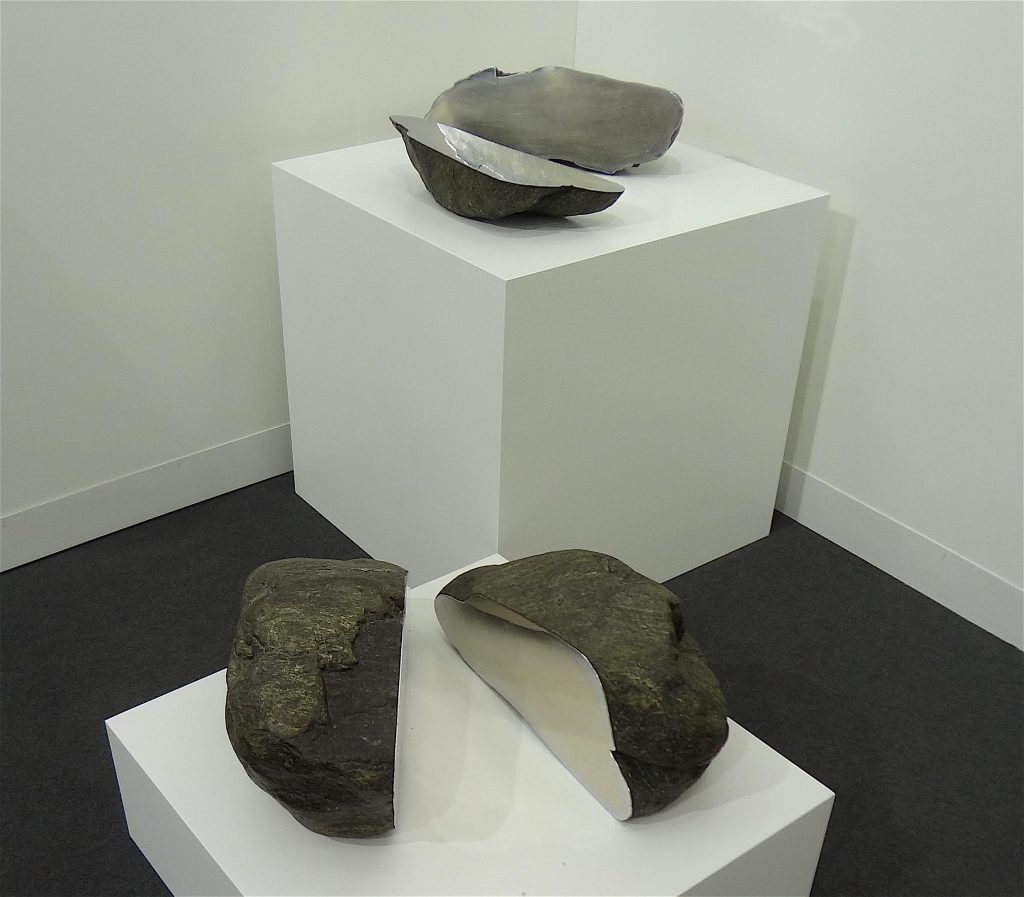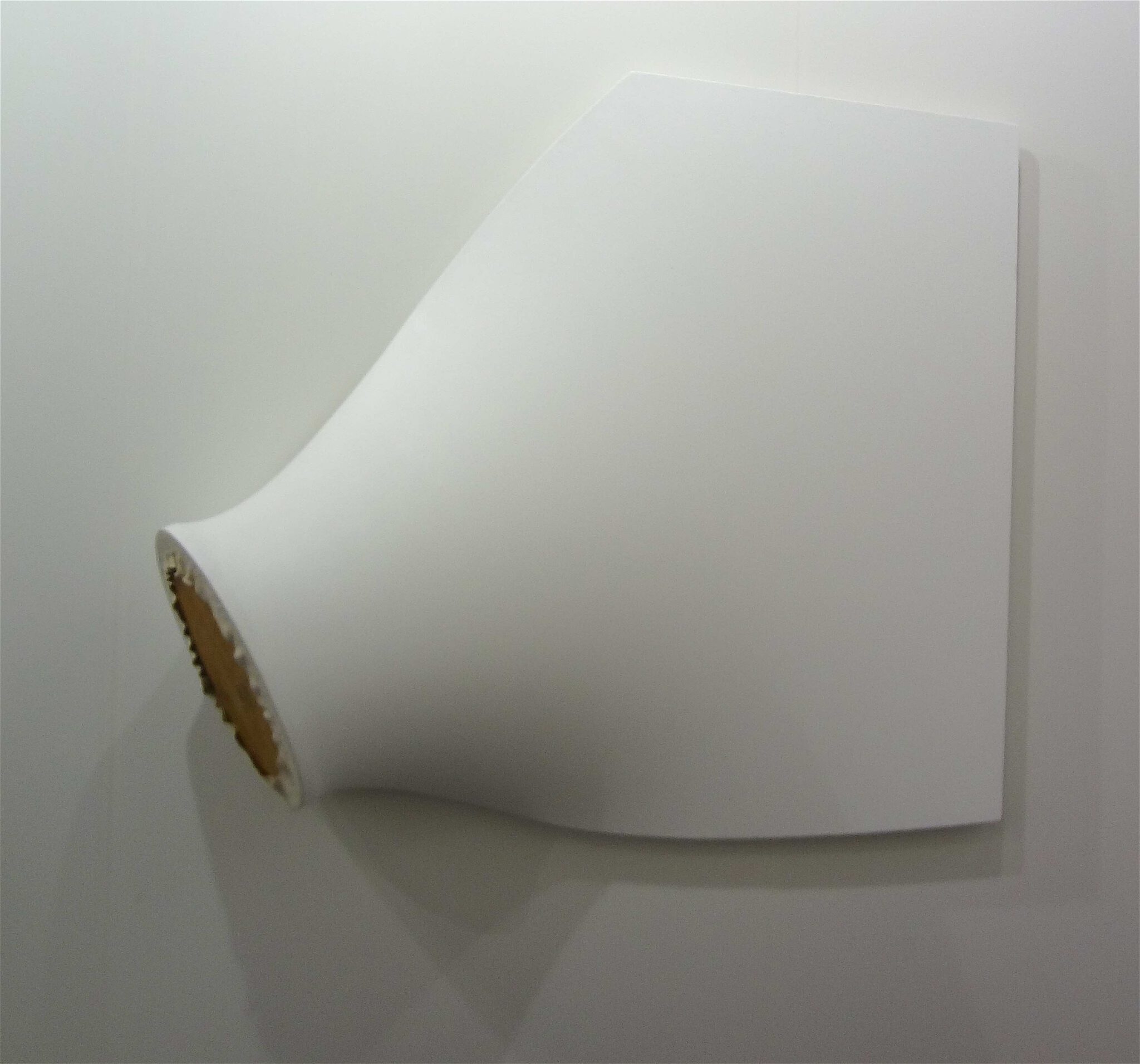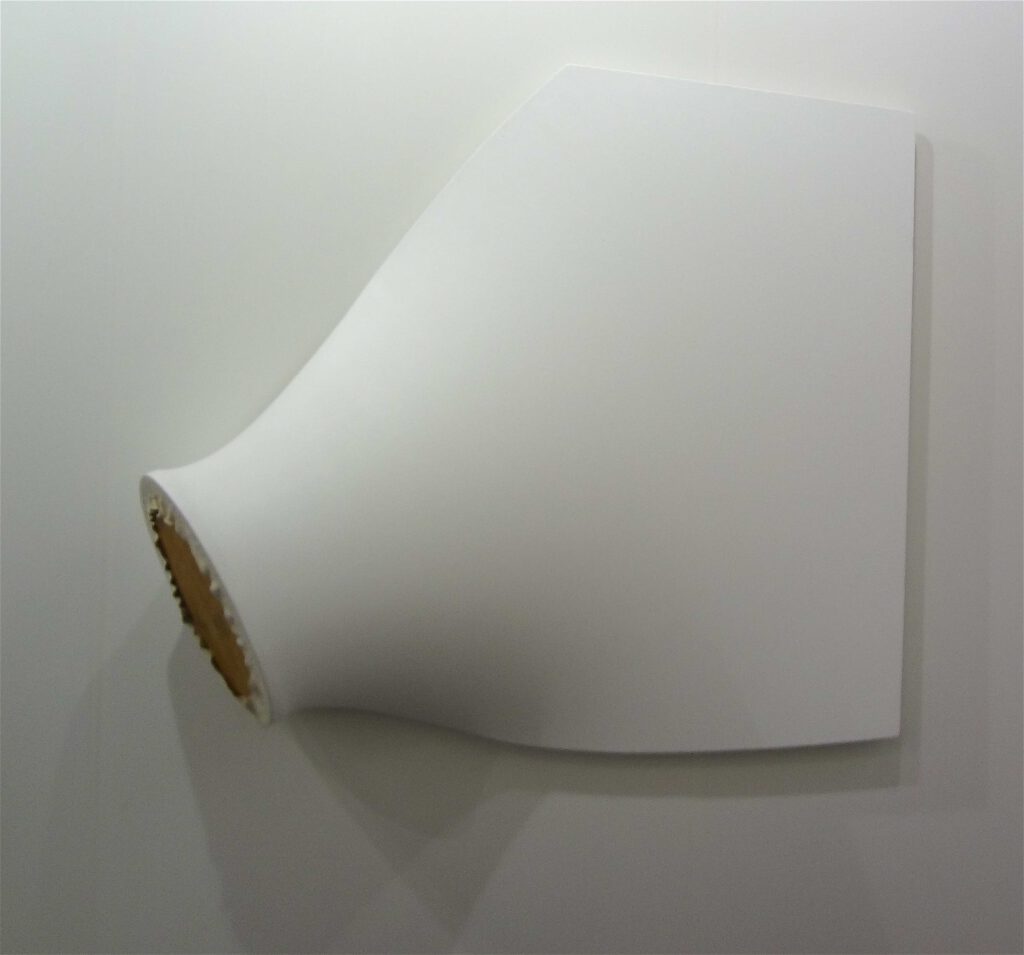 ---
原口典之さん死去
2020年9月2日
 原口典之さん(はらぐち・のりゆき=美術家)8月27日、胃がんで死去、74歳。葬儀は近親者で営んだ。
 木や石、鉄などを使い、ものの存在や関係性を問う「もの派」の一人として知られた。77年、ドイツの国際展「ドクメンタ」で、鉄製のプールに油を満たした「オイルプール」を発表した。
https://www.asahi.com/articles/DA3S14606818.html
関根伸夫さん死去 76歳 「もの派」の代表的美術家
毎日新聞2019年5月14日
前衛的な美術動向「もの派」の代表的作家で国際的にも活躍した美術家の関根伸夫(せきね・のぶお)さんが13日、居住する米国・カリフォルニア州の病院で亡くなった。76歳。体調を崩し、療養していた。
 埼玉県大宮市(現さいたま市)生まれ、多摩美術大大学院修了。在学中は現代美術家の斎藤義重と高松次郎に師事した。1968年、神戸須磨離宮公園で開催された現代彫刻展に「位相―大地」を出品。大地を円筒形に掘り、土を穴と同形に固めて隣に置いた作品は自然素材や工業製品をそのまま使う「もの派」の出発点になり、李禹煥さんや菅木志雄さんらと共に動向をリードした。
 70年のベネチア・ビエンナーレ国際美術展で日本館代表を務め、欧州に2年間滞在。帰国後、都市空間に彫刻を取り込む環境美術に力を注ぎ、代表作に東京都庁ふれあいモール「水の神殿」(91年)、東京・多磨霊園みたま堂(93年)など。近年、米国で「もの派」の回顧展や関根さんの個展が開かれ、国際的評価が高まっていた。
https://mainichi.jp/articles/20190514/k00/00m/040/202000c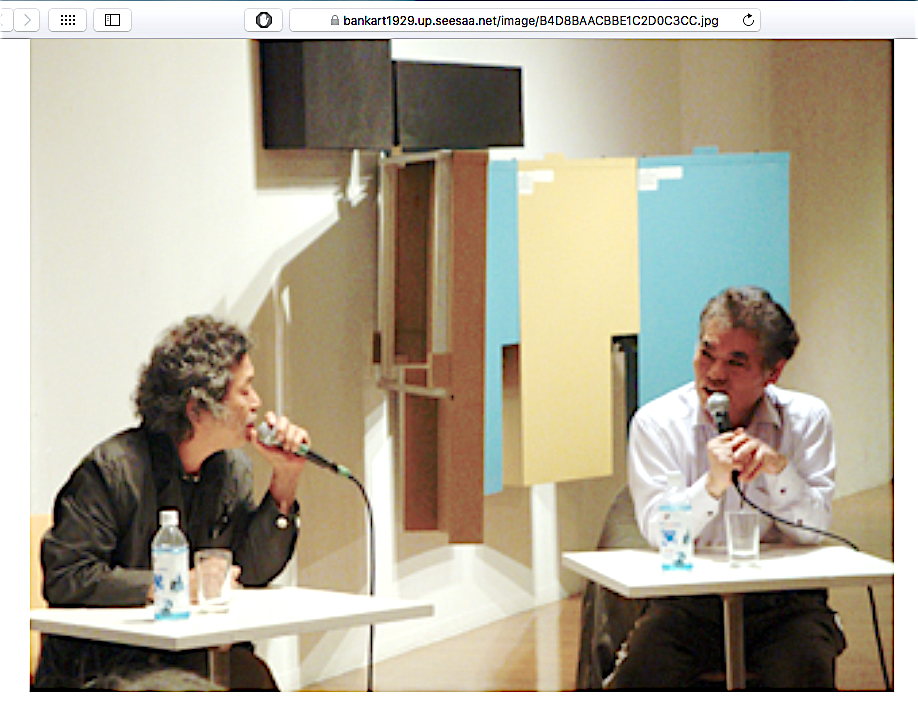 BankART1929BLOGより:
2009年05月29日
公開対談vol.2 原口典之 × 関根伸夫
金曜の夜に開催している原口典之展の公開対談シリーズ。
第2弾の今夜は、美術作家の関根伸夫さんがゲストです。
http://bankart1929.seesaa.net/article/120823754.html
ここに載せた写真は、すべて「好意によりクリエーティブ・コモン・センス」の文脈で、日本美術史の記録の為に発表致します。
Creative Commons Attribution Noncommercial-NoDerivative Works
photos: cccs courtesy creative common sense