原産のデジタル式。池田亮司の非代替性トークン作の直接販売 @ サザビーズ
Origins of Digital Formula. IKEDA Ryoji's direct sale of NFT @ Sotheby's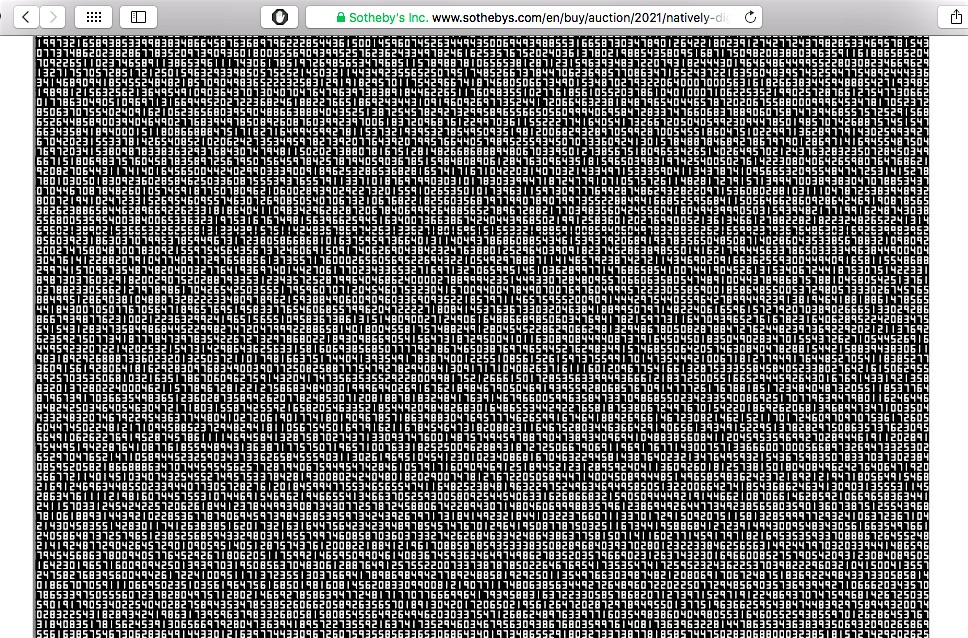 IKEDA Ryoji 池田亮司 jumps on the NFT – Sotheby's bandwagon, too. His first NFT actually costs about 7.000 US$, we'll see at what price level the last bid on the 10th of June will end.
Check the live auction:
https://www.sothebys.com/en/buy/auction/2021/natively-digital-a-curated-nft-sale-2/a-single-number-that-has-10-000-086-digits?locale=en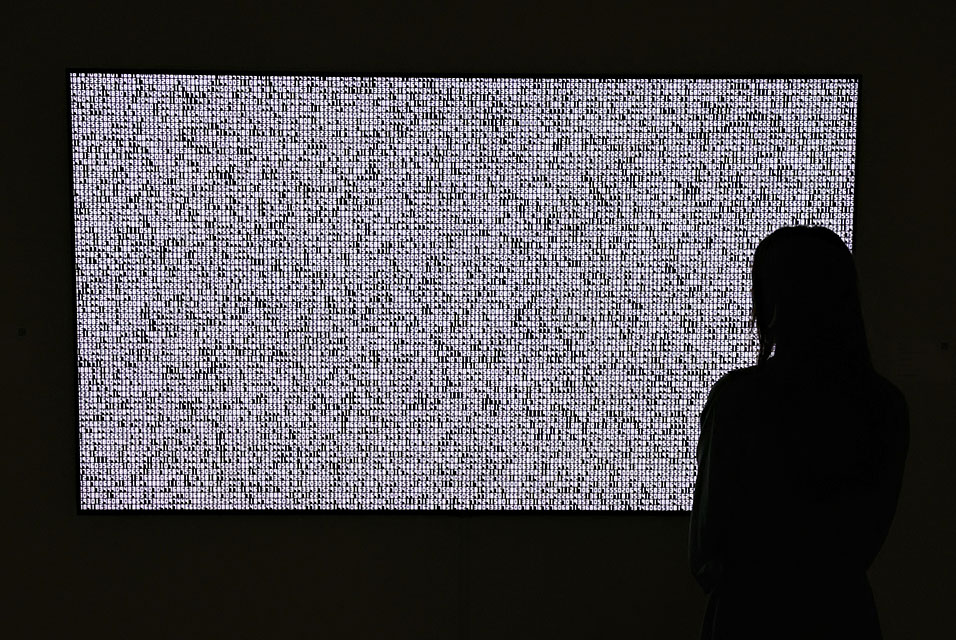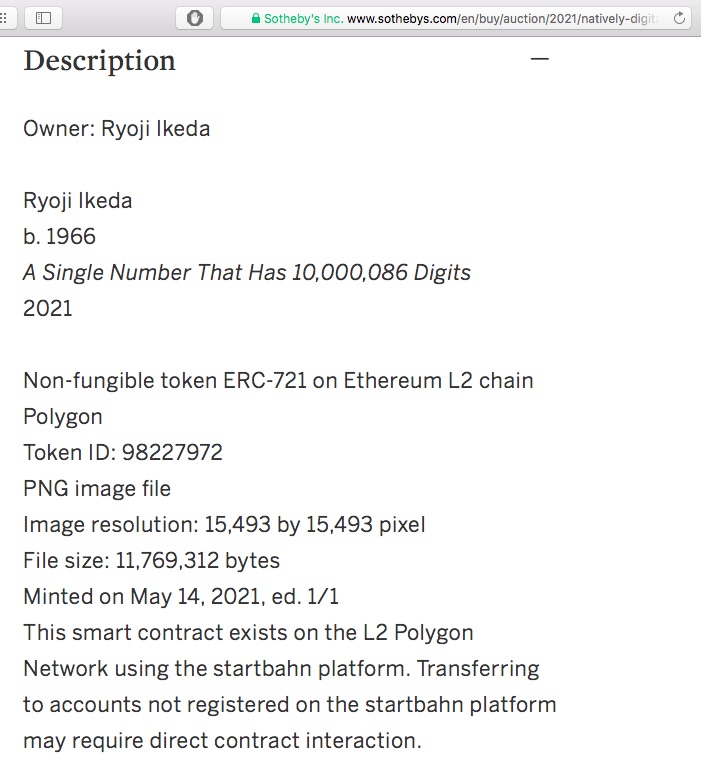 Lot 8
Description
Owner: Ryoji Ikeda
Ryoji Ikeda
b. 1966
A Single Number That Has 10,000,086 Digits
2021
Non-fungible token ERC-721 on Ethereum L2 chain Polygon
Token ID: 98227972
PNG image file
Image resolution: 15,493 by 15,493 pixel
File size: 11,769,312 bytes
Minted on May 14, 2021, ed. 1/1
This smart contract exists on the L2 Polygon Network using the startbahn platform. Transferring to accounts not registered on the startbahn platform may require direct contract interaction.
Smart Contract Address: 0x2dCb5CCa01361719Ad48051109916d9D42a24800 (Matic/Polygon)
Condition Report
The following condition report is provided by nameless™.
This token was minted on the Startbahn platform, which is built on the Polygon blockchain, a Layer 2 sidechain to the Ethereum blockchain.
The Startrail solution built on Polygon where this NFT currently exists is built with a thoughtful approach to users and artists, and offers a custodial solution for ease of use.
The security of the token meets standard ERC721 levels, and the solution includes standard ERC721 functions for transferability, but the addition of extra contract functions to enable specific features on the Startbahn platform.
The tokens created by the Startrail contracts (these are the groups of backed contracts Startbahn uses for the extra functions provided by the platform) do meet ERC721 standards for function use, and can be ported to the ethereum mainnet. What this means is that even though Startbahn recommends users create an email based wallet through tor.us, the tokens can be transferred directly to any ethereum address if desired by the buyer. The buyer may also transfer this NFT to the Ethereum main network but additional transaction costs will incur.
To receive this NFT, the preferred way is for the buyer to create a Startbahn Cert. account (https://cert.startbahn.io/en) with their email address. The usage of Startbahn Cert. is free of charge.
The artwork associated is saved on the artist's private server, but will be delivered to the buyer at the end of the auction. All ownership history and genuinity of the artwork is securely stored in the Startrail Registry Record (SRR). In Startrail, artists can set terms of each NFT which applies even after the primary sale.
The traceability and security of this token is good, the buyer must be aware that this NFT does not currently support transactions on secondary NFT marketplaces (which may be subject to change). The buyer may resell this NFT via galleries, auction houses or off-chain markets, and transfer the NFT ownership to the next owner via Startbahn Cert.
nameless™ Condition Reports are statements of opinion only and not representation of fact. The reports are non-exhaustive and based solely on information provided to nameless and/or obtained by nameless prior to sale, unless otherwise specified. The reports may make reference to a lot's smart contract details and history, metadata and/or media file specifics, storage, and/or origin, and other token features, however such reports may not refer to or identify all faults and potential vulnerabilities that may exist. The images of a lot form part of the condition report for the lot, however certain images of a lot provided online may not accurately reflect the actual condition of the lot. Condition reports may make reference to particular imperfections of a lot, although the lot may have other faults or issues not expressly referred to in the condition report for the lot or shown in the online images of the lot.
Condition reports are not an alternative to carrying out your own inspection and investigation of a lot and/or seeking your own independent professional advice. All auction participants should inspect a lot and satisfy oneself as to its condition prior to bidding. The responsibility for ascertaining the condition of a lot remains with the purchaser, and nameless cannot be held responsible for the content of condition reports, which are provided for guidance only in assessing the condition of a lot. NOTWITHSTANDING THIS ONLINE CONDITION REPORT OR ANY DISCUSSIONS CONCERNING A LOT, ALL LOTS ARE OFFERED AND SOLD "AS IS" IN ACCORDANCE WITH THE CONDITIONS APPLICABLE TO THE RESPECTIVE SALE(S).
up-date: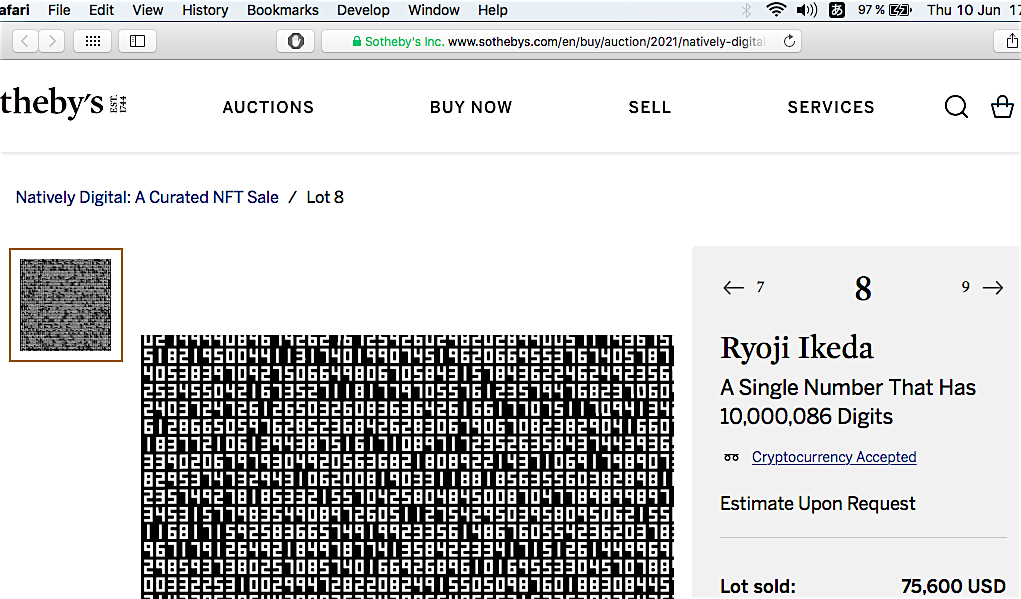 ---
Recognised as one of Japan's leading electronic music composers and visual artists, Ikeda is renowned for his unique practice across both visual and psycho digital formula.
Tbh, I recommend you to smoke a joint with your fellows while appreciating his IRL performance. But not in Japan, – you may die in your tiny, 3-tatami, prison cell.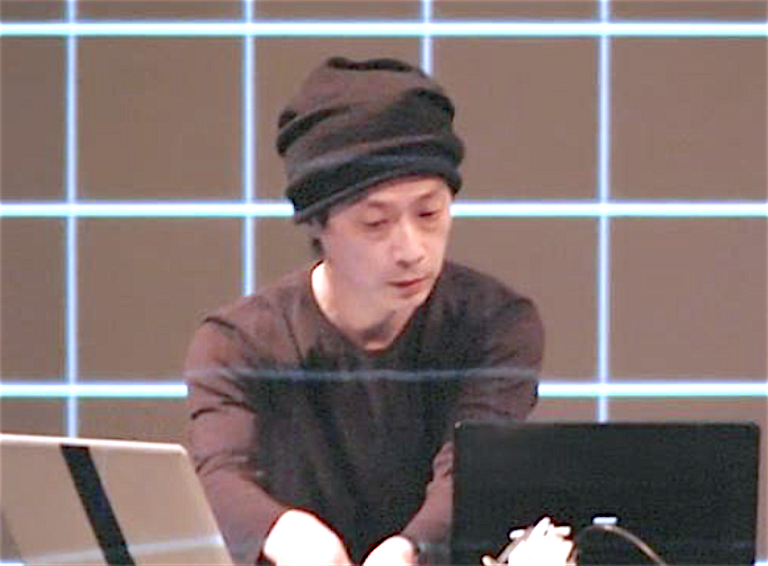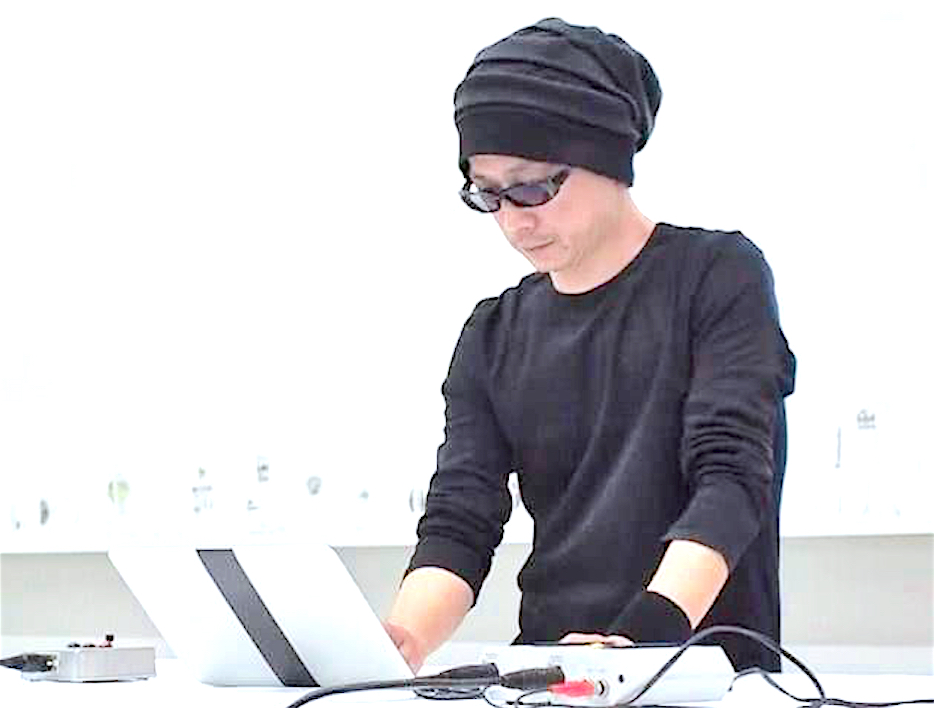 I encountered Ikeda's work for the first time some 30 years ago during ダムタイプ Dumb Type's performances @ Spiral Tokyo,
later in Berlin and at his solo show at MOT (Museum of Contemporary Art, Tokyo).
池田亮司 + / – [ the infinite between 0 and 1] キュレーターインタビュー
Concerning NFT and the art market, you may learn more via the following, constantly actualised, links:
NFT デジタル作品 コレクターズ
NFT digital artworks collectors
https://art-culture.world/articles/nft-digi-デジタル作品-コレクターズ/
世界のNFT作品70%下落。今日の村上隆:すでに入札をしてくださっていた方々には誠に申し訳ないのですが、より便利に楽しく安心して私のNFT作品を楽しんで頂く為にも、今回の取り下げをご理解頂けますと幸いです。
NFTs prices linked to art down 70%. MURAKAMI Takashi, today: I sincerely apologize to those who have already put in their bids, but I hope you will understand the logic behind this withdrawal, the aim of which is to later allow you to enjoy my NFT works more conveniently and with peace of mind.
https://art-culture.world/articles/murakami-takashi-nft-apology/
クリスティーズ:ビープルのデジタル作品 NFT(非代替性トークン)「The First 5,000 Days 」69.3 Million 米国ドル
Beeple "The First 5,000 Days" NFT Fetches US$69.3 Million @ Christie's
https://art-culture.world/articles/beeple-ビープル/
As you may purchase IKEDA Ryoji's NFT work with your cryptocurrency; – just keep in mind that hours ago TESLA's Elon Musk expressed some discontent (broken heart) with Bitcoin. So I expect some funny, explosive volatility in the crypto-market. For the Robin-hooder: I'm not talkin' about Musk jerking off with "GameStonk".
Most beloved meme of the day: GameStonk ゲームストンク
https://art-culture.world/articles/gamestonk-ゲームストンク/
Check it out:
"Her: I know I said it would be over between us if you quoted another Linkin Park song but I've found someone else. Him: So in the end it didn't even matter?"
ここに載せた写真とスクリーンショットは、すべて「好意によりクリエーティブ・コモン・センス」の文脈で、日本美術史の記録の為に発表致します。Creative Commons Attribution Noncommercial-NoDerivative Works photos: cccs courtesy creative common sense