世界のNFT作品70%下落。今日の村上隆:すでに入札をしてくださっていた方々には誠に申し訳ないのですが、より便利に楽しく安心して私のNFT作品を楽しんで頂く為にも、今回の取り下げをご理解頂けますと幸いです。
NFTs prices linked to art down 70%. MURAKAMI Takashi, today: I sincerely apologize to those who have already put in their bids, but I hope you will understand the logic behind this withdrawal, the aim of which is to later allow you to enjoy my NFT works more conveniently and with peace of mind.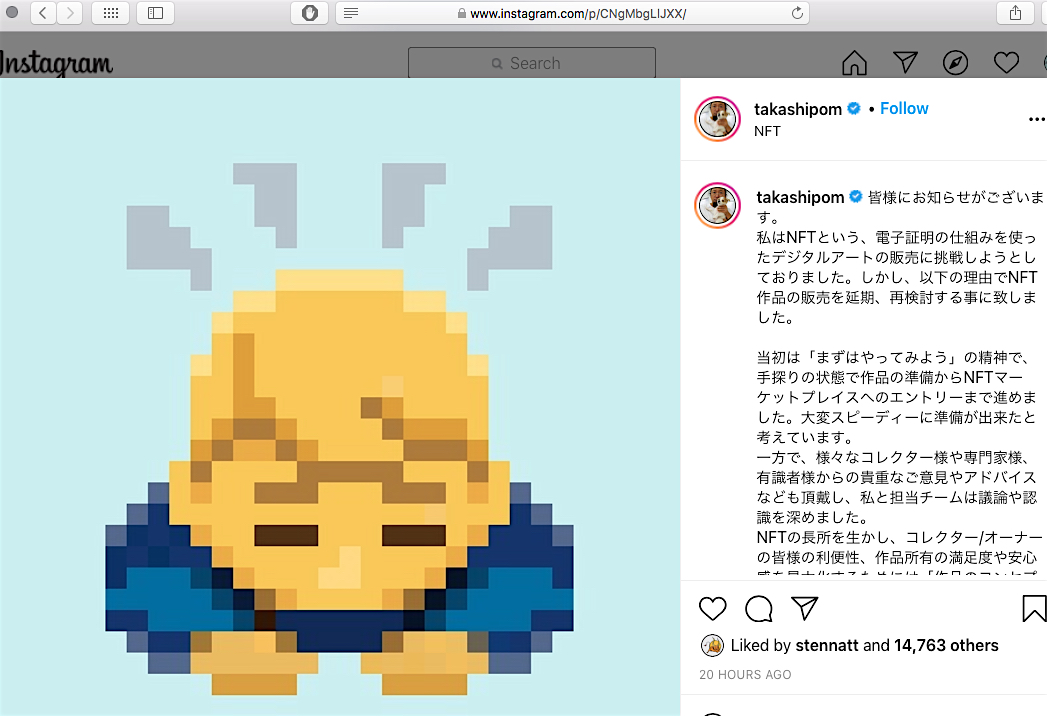 NFT shows the lack of critical behavior amongst artists and wanna-be artists. It was just a matter of time, when Murakami realised, this is not going to work properly. Thank god, he pulled today the rip cord, shortly before the auction-deadline.
Check his digital marketplace @ opensea, apologising.
https://opensea.io/collection/murakami-dot-flowers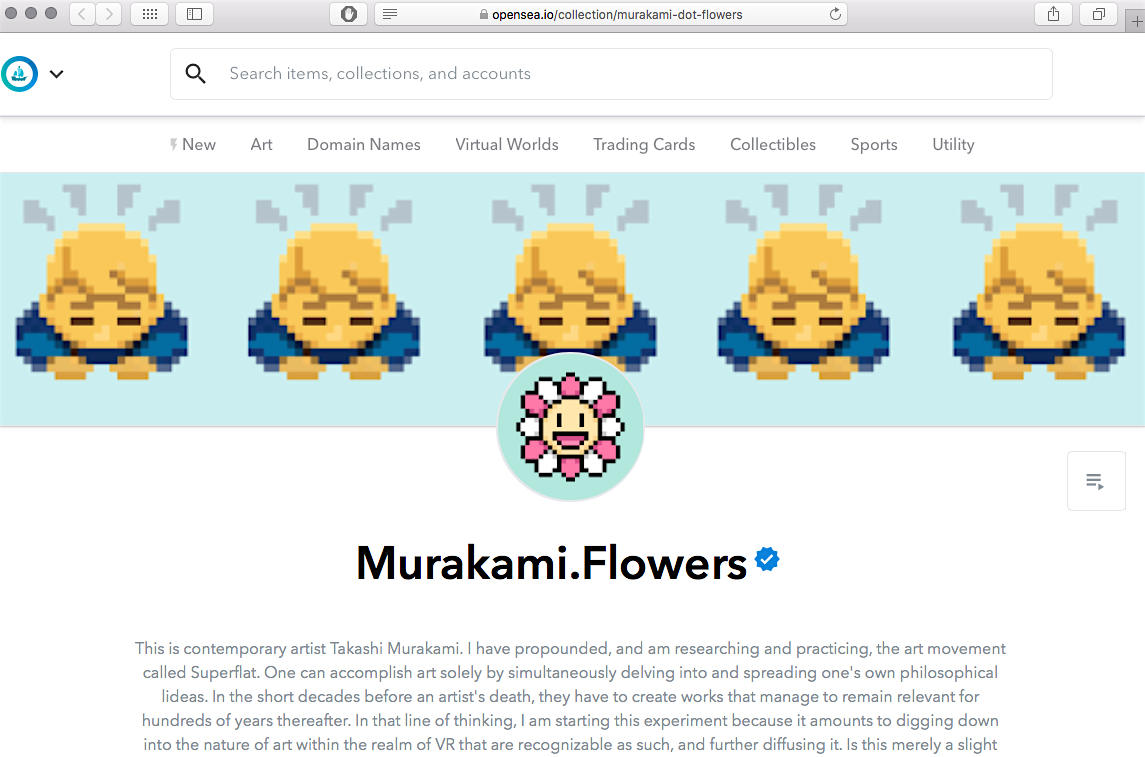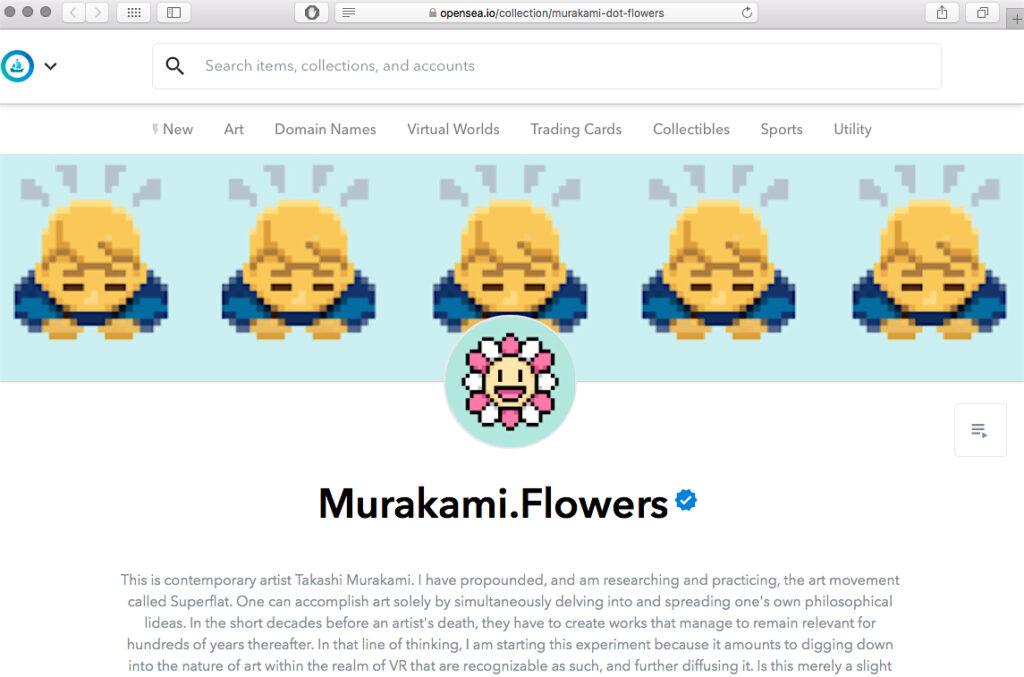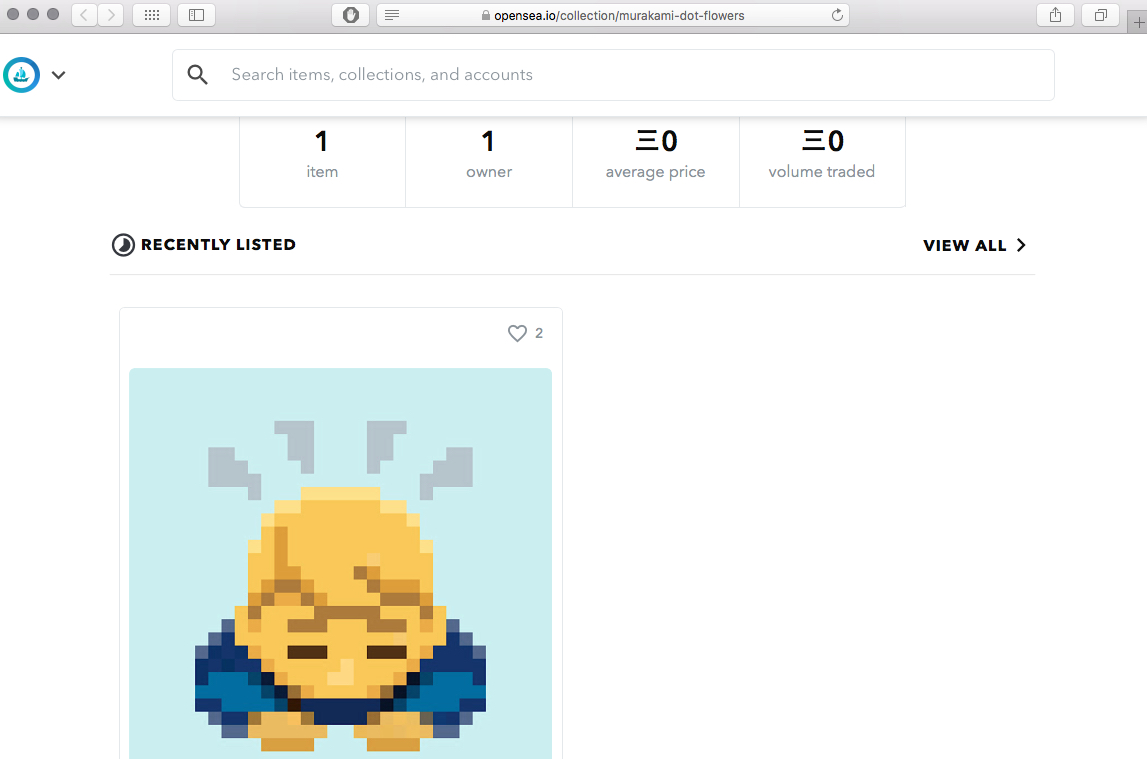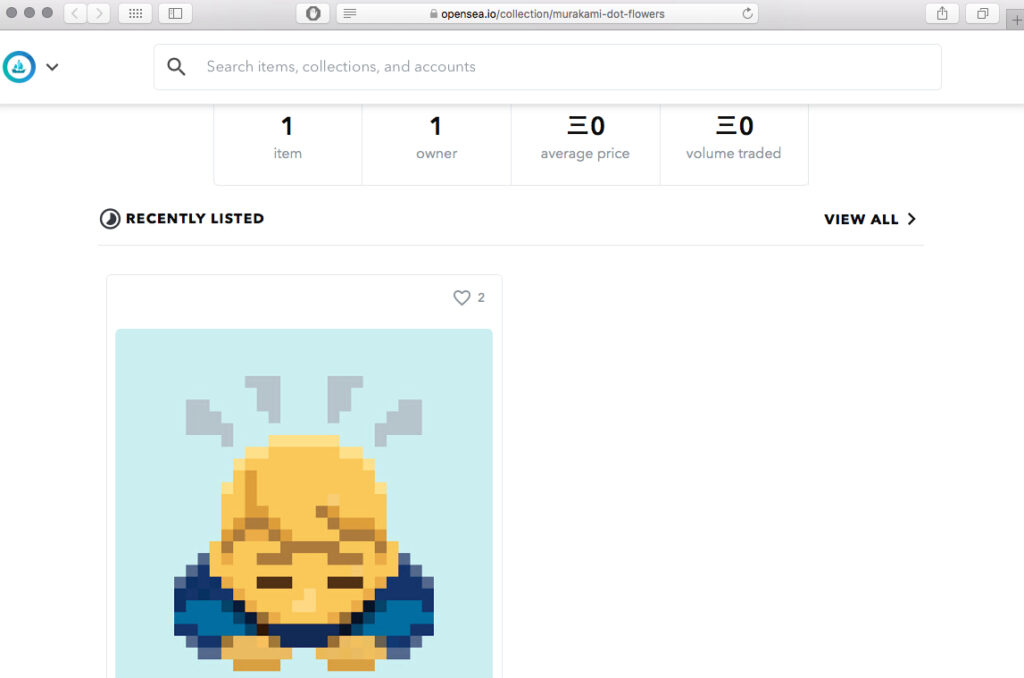 London-based NFT agency Lily & Piper: "A drop in value was inevitable. There has been an over-saturation of platforms and it's getting hard to differentiate and navigate."
see The Art Newspaper:
Sorry to burst your bubble: NFT prices slump 70%
https://www.theartnewspaper.com/news/sorry-to-burst-your-bubble-nft-prices-slump-70
'It's Whiplash': After a Record-Setting Run, NFT Artwork Prices Have Plummeted Nearly 70 Percent in Four Weeks
Is this the bubble bursting—or is it merely a course correction?
https://news.artnet.com/market/nft-market-1957770
Conversation between curator Michelle Kuo and artist Seth Price on the subject. It turns out that both Price and Beeple use the same 3D movie-making program to create still imagery. "So it's a use of this extremely complex tool in a very dumb way, and it can be interesting when you misuse a tool," Price says. When it comes to the rise of NFTs, he argues that "the reason that art is used here is because it, itself, is a good tool to further the larger project, which is developing these new forms of trading, speculation, circulation. Art is just a useful idiot in this scenario."
https://www.moma.org/magazine/articles/547
We'll see if Takashi-kun will give it a new try. Stay tuned!
check these links, too:
村上隆とNFT:芸術家は、死ぬまでの短い数十年間で、その後何百年も対応可能な作品を作らねばなりません。(2021/3/30)
MURAKAMI Takashi thinks, to be remembered hundreds of years later, he has to join shitty NFT: "Murakami Flowers" for dumb NFT digital money speculators
https://art-culture.world/articles/murakami-takashi-村上隆-nft-murakami-flowers/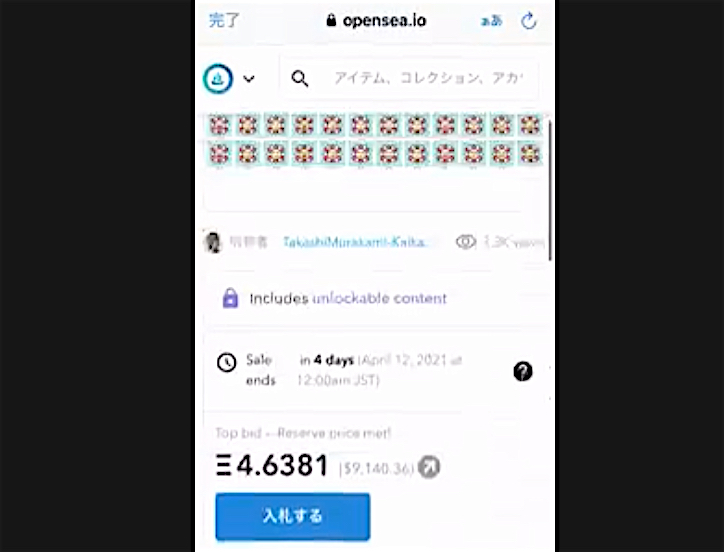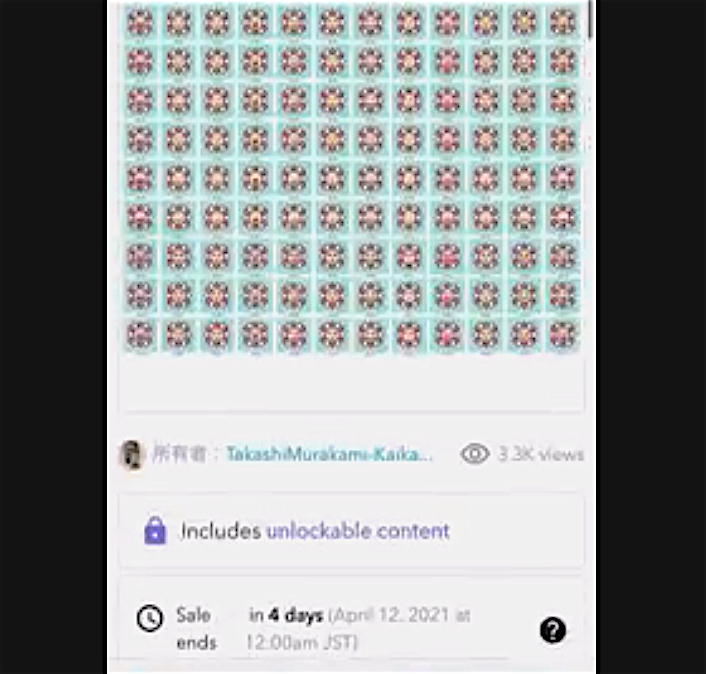 クリスティーズ:ビープルのデジタル作品 NFT(非代替性トークン)「The First 5,000 Days 」69.3 Million 米国ドル (2021/3/12)
Beeple "The First 5,000 Days" NFT Fetches US$69.3 Million @ Christie's
https://art-culture.world/articles/beeple-ビープル/
takashipom
皆様にお知らせがございます。
私はNFTという、電子証明の仕組みを使ったデジタルアートの販売に挑戦しようとしておりました。しかし、以下の理由でNFT作品の販売を延期、再検討する事に致しました。
full text in Japanese:
https://www.instagram.com/p/CNgMbgLlJXX/
takashipom
I have to make an announcement here. I was about to take on a challenge of offering NFTs, digital artworks that use electronic certification mechanism, for sale. For the following reasons, however I have decided to postpone and reexamine the sales.
full text in English:
https://www.instagram.com/p/CNgMKRbl2JJ/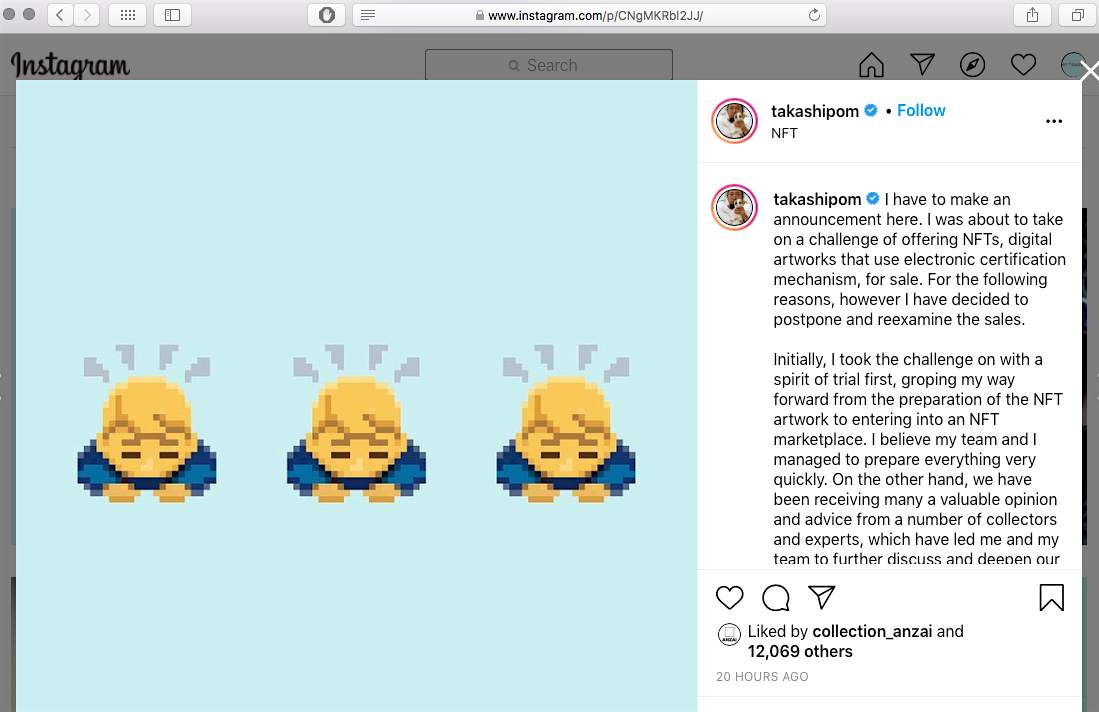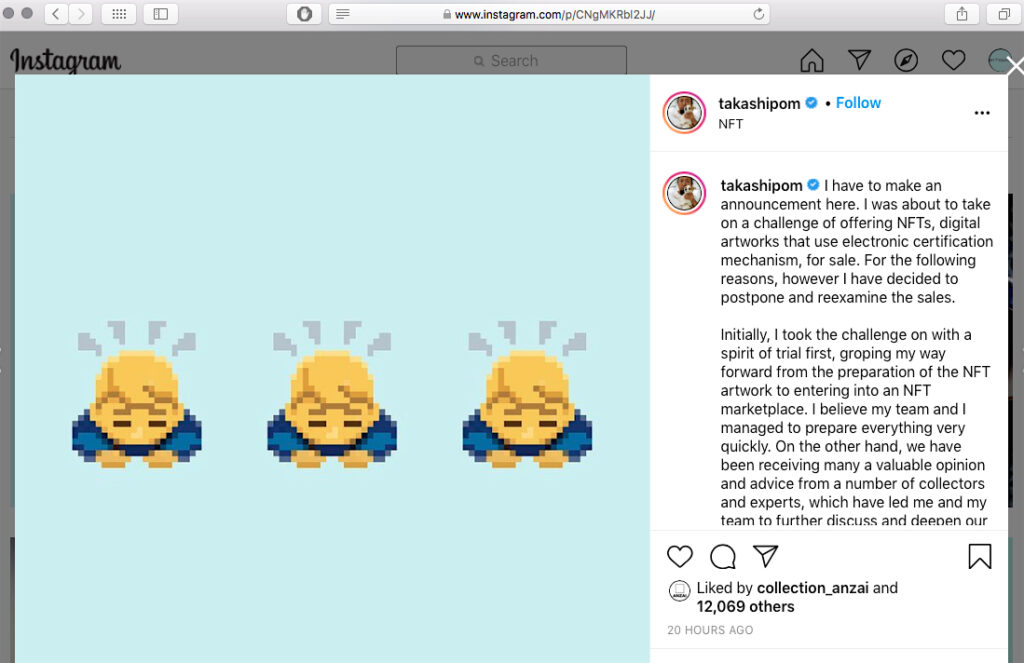 ---
About MURAKAMI Takashi, learn more via:
村上隆:「森ビルさんや、協賛のスポンサーさん達にはご迷惑をお掛けしております が、メディアへのインタヴュー一切をお断りしております。」(2021/3/3)
MURAKAMI Takashi Refuses To Give Any Press Interview (repost from the archive 過去サイト・アーカイブの再投稿 2015/10/16)
https://art-culture.world/articles/murakami-takashi-refuses-to-give-any-press-interview-村上隆/
森美術館前なう!日本一美術家、天才村上隆の超ダサい、米国産、金色うんこ自画像!爆笑!!(2020/11/20)
In Front of The Mori Art Museum, NOW! Japan's No.1 Artist, Genius MURAKAMI Takashi's, Made in America, Golden Bullshit Self-Portrait Sucks! ROFL!!
https://art-culture.world/articles/genius-murakami-takashi-天才村上隆/
日本の現代アーティスト・トップ 6(2020年)(2020/7/18)
Contemporary artists from Japan, Top 6 (2020)
https://art-culture.world/articles/contemporary-artists-from-japan-top-6-2020-日本の現代アーティスト・トップ-6-2020年/
米国ギャラリー Blum&Poeのアーティスト・リストから外された村上隆 (2019/4/23)
Takashi Murakami Had Been Erased From American Gallery Blum & Poe's Artists' List
https://art-culture.world/articles/takashi-murakami-blum-poe-村上隆/
今日のJapan Times。「村上隆:日本のアート・アウトサイダー、平成時代を定義した、'嫌われた'アーティスト 」。不幸な村上隆、、、(2019/3/14)
Today's Japan Times. "Takashi Murakami: Japan's art outsider. The 'hated' artist who defined the Heisei Era". An Unhappy MURAKAMI Takashi…
https://art-culture.world/articles/takashi-murakami-japans-art-outsider-the-hated-artist-村上隆/
村上作品の価値?不幸な村上隆、、、(2018/11/16)
The Value of Murakami's Works? An Unhappy MURAKAMI Takashi…
https://art-culture.world/articles/takashi-murakami-art-works-value/
日本のアート界を駄目にした男? 不幸な村上隆、、、(2018/10/19)
The Man Who Ruined The Japanese Art World? An Unhappy MURAKAMI Takashi…
https://art-culture.world/articles/takashi-murakami-kaikai-kiki-japanese-art-world/
ここに載せた写真とスクリーンショットは、すべて「好意によりクリエーティブ・コモン・センス」の文脈で、日本美術史の記録の為に発表致します。
Creative Commons Attribution Noncommercial-NoDerivative Works
photos: cccs courtesy creative common sense