リチャード・プリンス @ Gagosian Beverly Hills 2020
Richard Prince @ Gagosian Beverly Hills 2020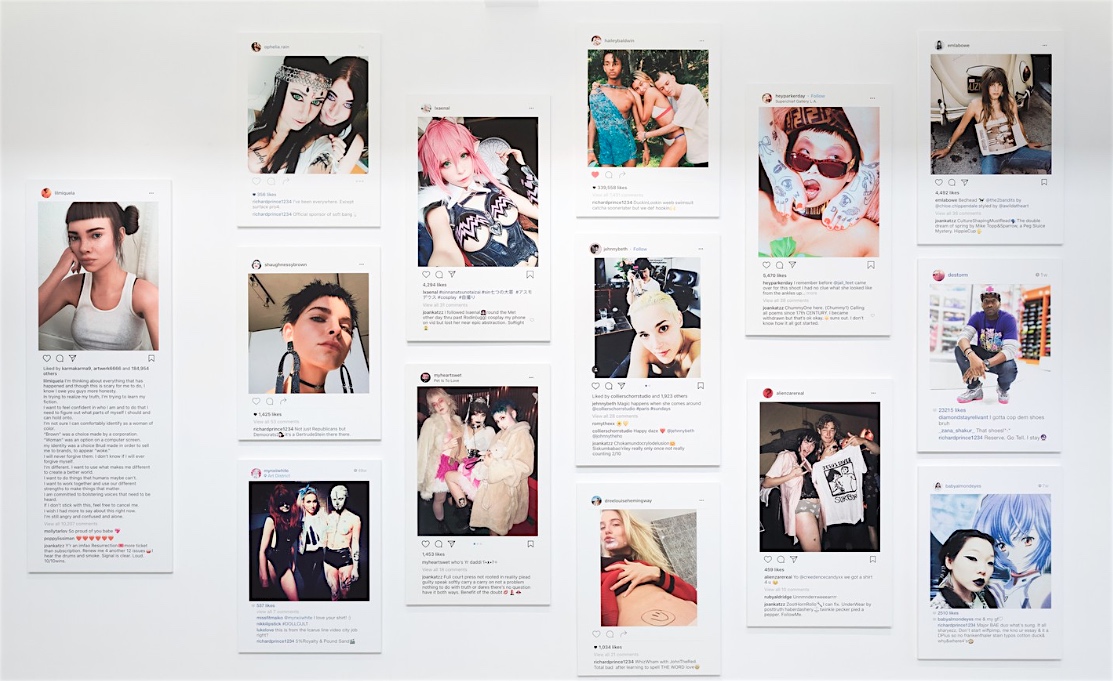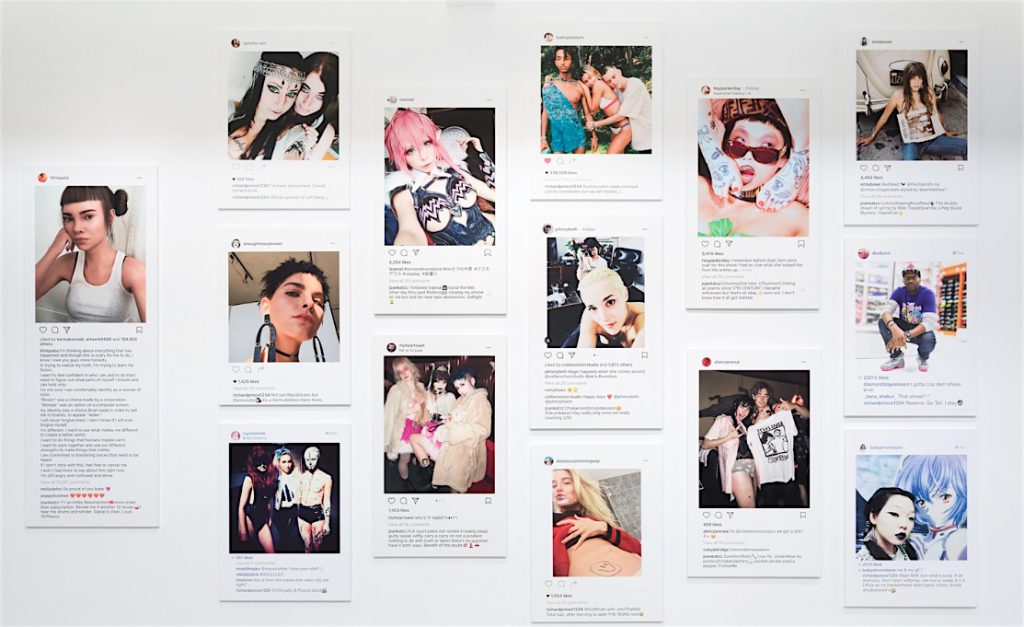 最近、キュレーター達の間で話題になっている「curatorial ethics」や、アーティストの名声の追求は、「関係性の美学」に対して、疑問が見えつつあります。 何十年も、プリンスはアートの独創性を再コンテキストし、原作者や原所有者といった 社会理念を覆させ、アート作品の視点を変えて考えさせる事をテーマにしていました。 そしてついに、新作品群を巡る「インスタグラム・オン・キャンバス」では、最先端なウォーホル風の、マネー・プリンターの過程をたどっています。
この作品は、アーティスト実践における疑念を抱かざるを得ない「when art is over」 と解釈できます。
しかしある意味、sardonic perspective趣味における、作家自身とオーディエンス(=インスタグラム・ユーザー)の物語体を読み取ることもできます。 ポスト・関係性の美学の概念を巡って、相互に関係のあるフェイスブックやツイッタ ー、インスタグラム、ユーチューブは、アーティスト達の発表媒体として利用され、正に、プリンスが現代アート実践の行き詰まった状態を崇高な精神で見せていると言える でしょう。
Since Andy Warhol, intellectual property in the context of photo-based contemporary art became a precarious topic. Any photo taken in a public space ("public internet" included) can be used in any non-commercial or editorial way without the permission of the people in the photo. Of course, the permission of the people in the photo is needed if the intent of the use of the photo is to promote or sell something that is a commercial enterprise. Artistic practice can be always regarded as one of those categories that bridges the line of the law. A photo-based artist can use a photo with people in it in a public space to make art but not for a commercial enterprise. The crucial question is, if an artist can be called a commercial oriented entrepreneur or not. However, the contemporary artistic perspective of "adding something new to the world of art" should become first priority in the decision-making powers' context.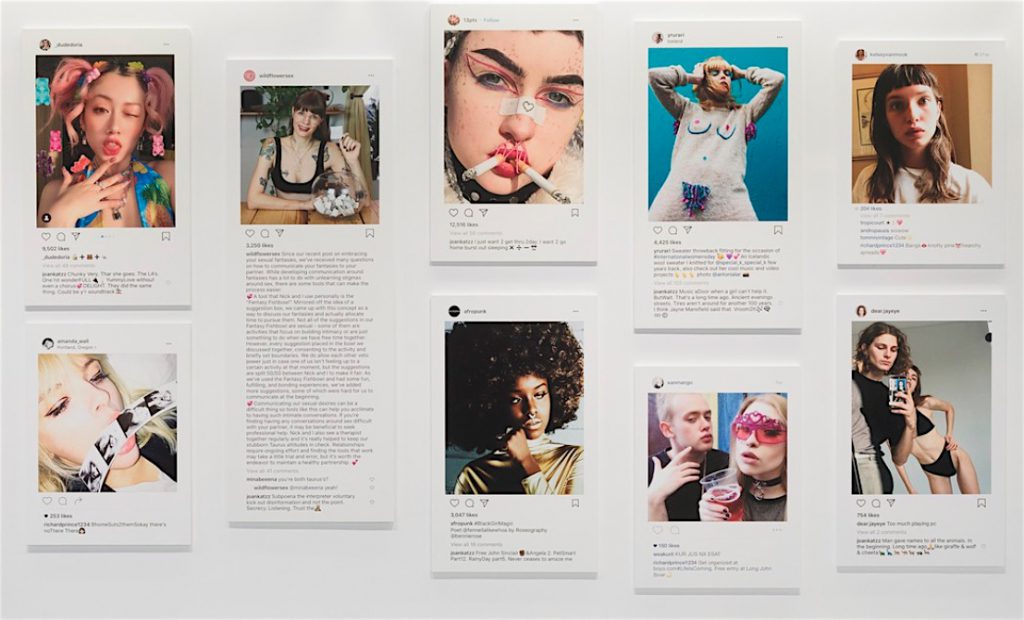 RICHARD PRINCE @ GAGOSIAN Beverly Hills
New Portraits
2020/2/6 – 3/21
https://gagosian.com/exhibitions/2020/richard-prince-new-portraits/
RICHARD PRINCE AT GAGOSIAN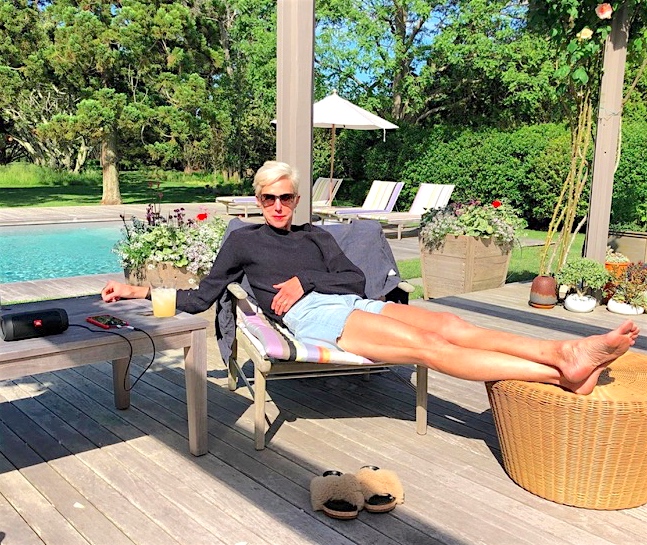 See also:
Warhol's works are protected by fair use because they are "transformative" of the original photo and "add something new to the world of art"
Andy Warhol Prints
https://art-culture.world/articles/andy-warhol-prints/
Compare also the statement by Eikoh HOSOE regarding Mishima Yukio's photographs.
三島由紀夫のホモエロティシズム写真作品 © 細江英公
MISHIMA Yukio's homoerotic photoworks © Eikoh Hosoe
https://art-culture.world/articles/mishima-yukio-homoerotic-photoworks-eikoh-hosoe/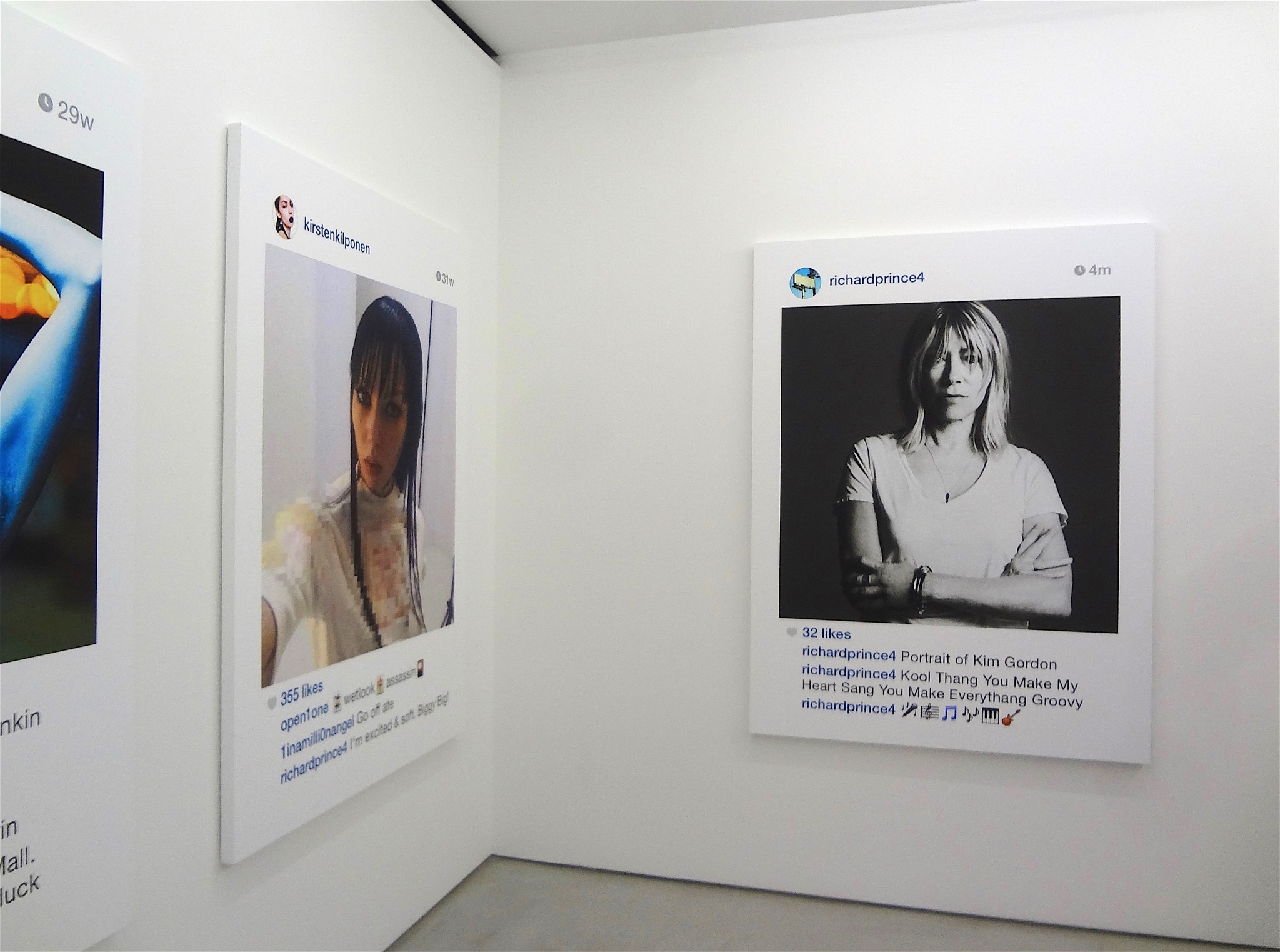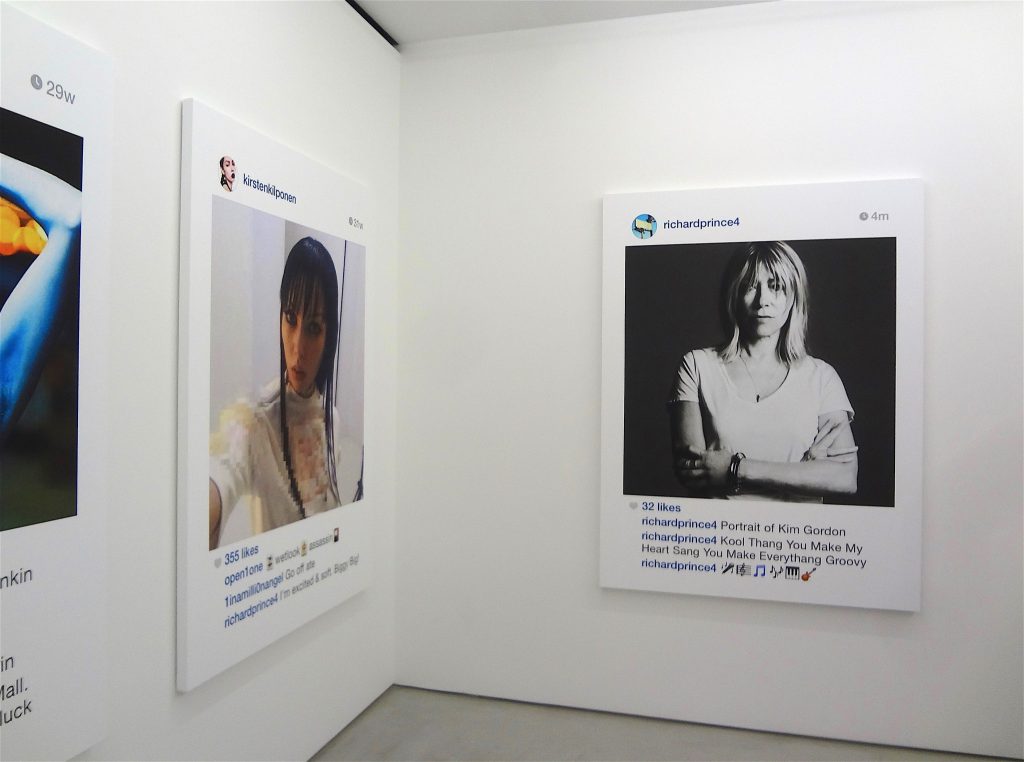 リチャード・プリンス と著作権の問題:「元ソニック・ユースのキム・ゴードン」作 @ Blum & Poe 東京
Richard Prince and copyright issues: 'ex Sonic Youth Kim Gordon' @ Blum & Poe, Tokyo
https://art-culture.world/articles/richard-prince-and-copyright-issues-ex-sonic-youth-kim-gordon-blum-poe-tokyo/
B like Baldessari, The Painter
概念とペインティング
https://art-culture.world/articles/baldessari-the-painter/
When Does an Artist's Appropriation Become Copyright Infringement?
Jessica Meiselman
Artsy, Dec 28, 2017
https://www.artsy.net/article/artsy-editorial-artists-appropriation-theft
For the record, my review from 2014 on Richard Prince @ the Kunsthaus Bregenz
Fucked up, cool concert by Prince, America's next Warhol (1+2) 2014/9/5
https://www.art-it.asia/u/sfztpm/4qwud3rIteHFNERjoVQY/
https://www.art-it.asia/u/sfztpm/jUQntpWXgo75Zq6dhfma/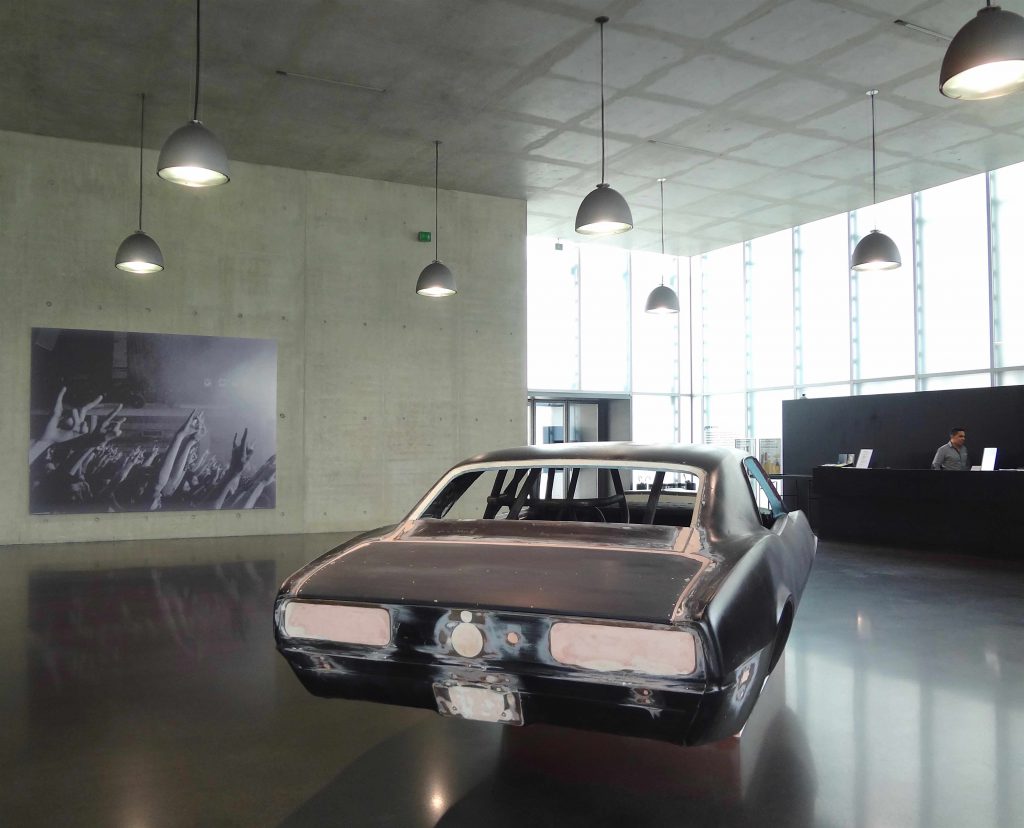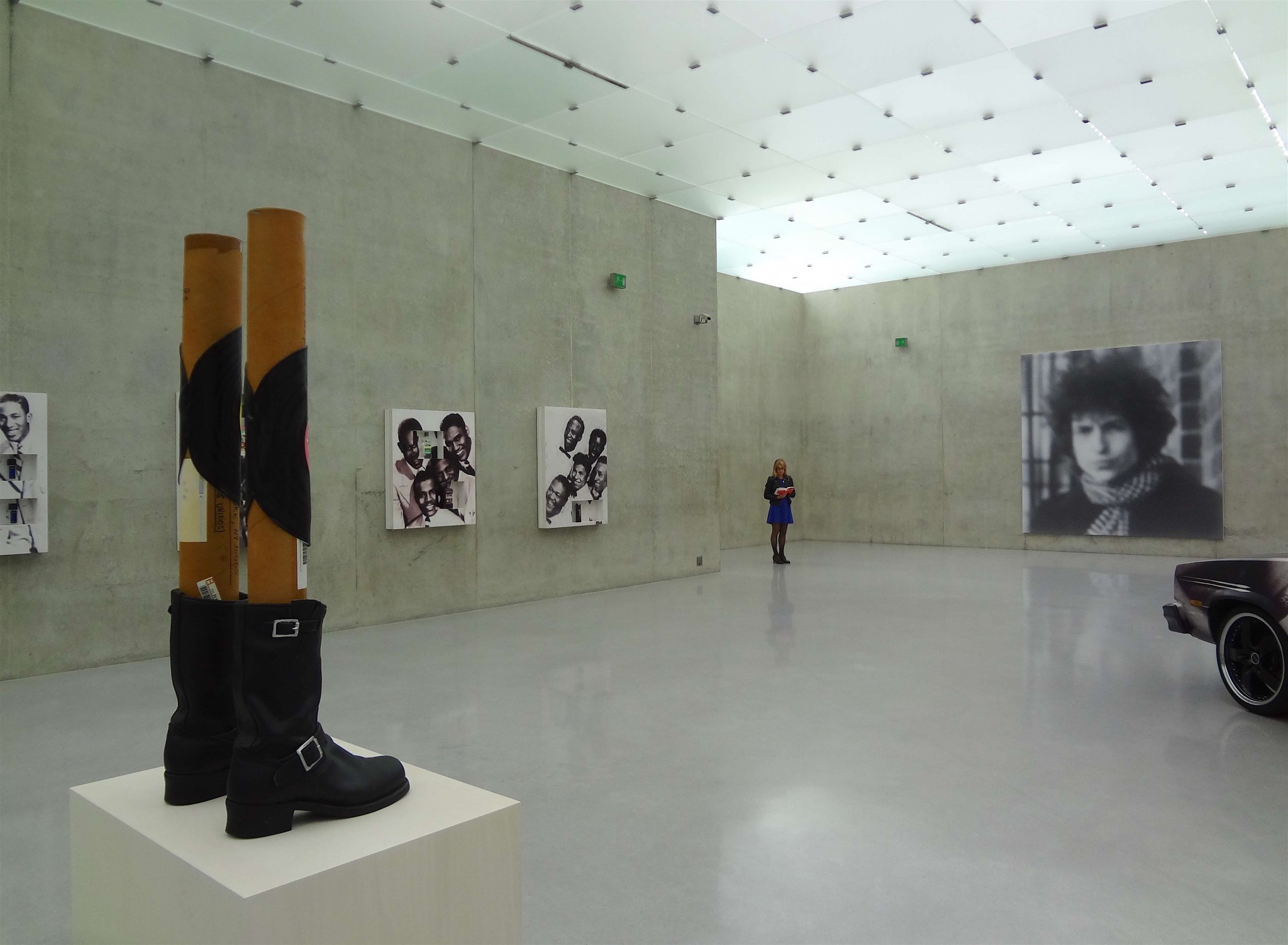 Richard Prince im Kunsthaus Bregenz 2014
Led Zeppelin – Whole Lotta Love (Official Music Video)
---
up-date 2020/2/15, from artnet:
From Richard Prince's $5 Million Muscle Car to Bunny Rogers's Inner World, Here Are 5 of the Best Artworks at Frieze LA
There was excitement in the air and plenty of absorbing art to look at (and buy) at this year's edition of the fair.
Andrew Goldstein, February 14, 2020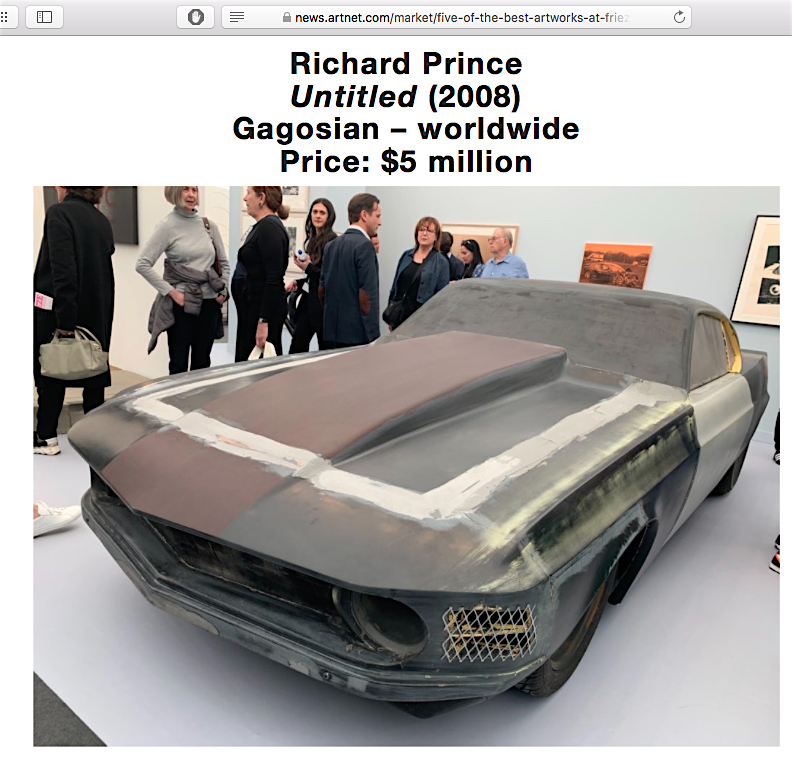 Richard Prince
Untitled (2008)
Gagosian – worldwide
Price: $5 million
(quote)
"You can't get more all-American male than Richard Prince's leering, preening enactions of machismo, from the elliptical pickup lines/brags that he leaves as comments on attractive young women's Instagram feeds (the subject of his current "portraits" at Gagosian's LA gallery) to his walloping muscle car anchoring the gallery's Frieze booth…."
https://news.artnet.com/market/five-of-the-best-artworks-at-frieze-los-angeles-2020-1779048
---
Richard Prince – New Figures, Almine Rech Gallery, Paris
up-date:
Richard Prince: This Ain't No Retrospective, It's a Rodeo
A new book looks at the figure of the American cowboy through the outlaw lens of Mr. Prince, an artist known for his sly borrowings.
quote:
"RUBIN Part of the thought in making this book was that it was almost a visual biography of Richard by other means. And of the history of the cowboy in the 20th century.
PRINCE The things about those ads was that it wasn't a cowboy you were seeing. It was a model. But the model might be a real cowboy, acting like a cowboy. It was making itself up.
RUBIN Those ads came along when traditional westerns were running out of steam. Then the adman Leo Burnett takes the cowboy smoking on the cover of Life magazine in 1949 — who looked like he was right out of John Ford — and extracts the essence of that cowboy. And instead of using it to entertain and stimulate through popular culture, he's selling nicotine, right? And then Richard comes along, and he has the same love of the cowboy and the myth. So he starts deconstructing it and at the same time giving it new life, probing all the contradictions and the dark underbelly of the thing."
full interview:
https://www.nytimes.com/2020/04/02/arts/design/richard-prince-robert-rubin-cowboy-book.html
Creative Commons Attribution Noncommercial-NoDerivative Works
photos: cccs courtesy creative common sense