ジャン=ミシェル・バスキア 〜 メイド・イン・ジャパン 〜 売り出し中
Jean-Michel Basquiat 〜 Made in Japan 〜 For Sale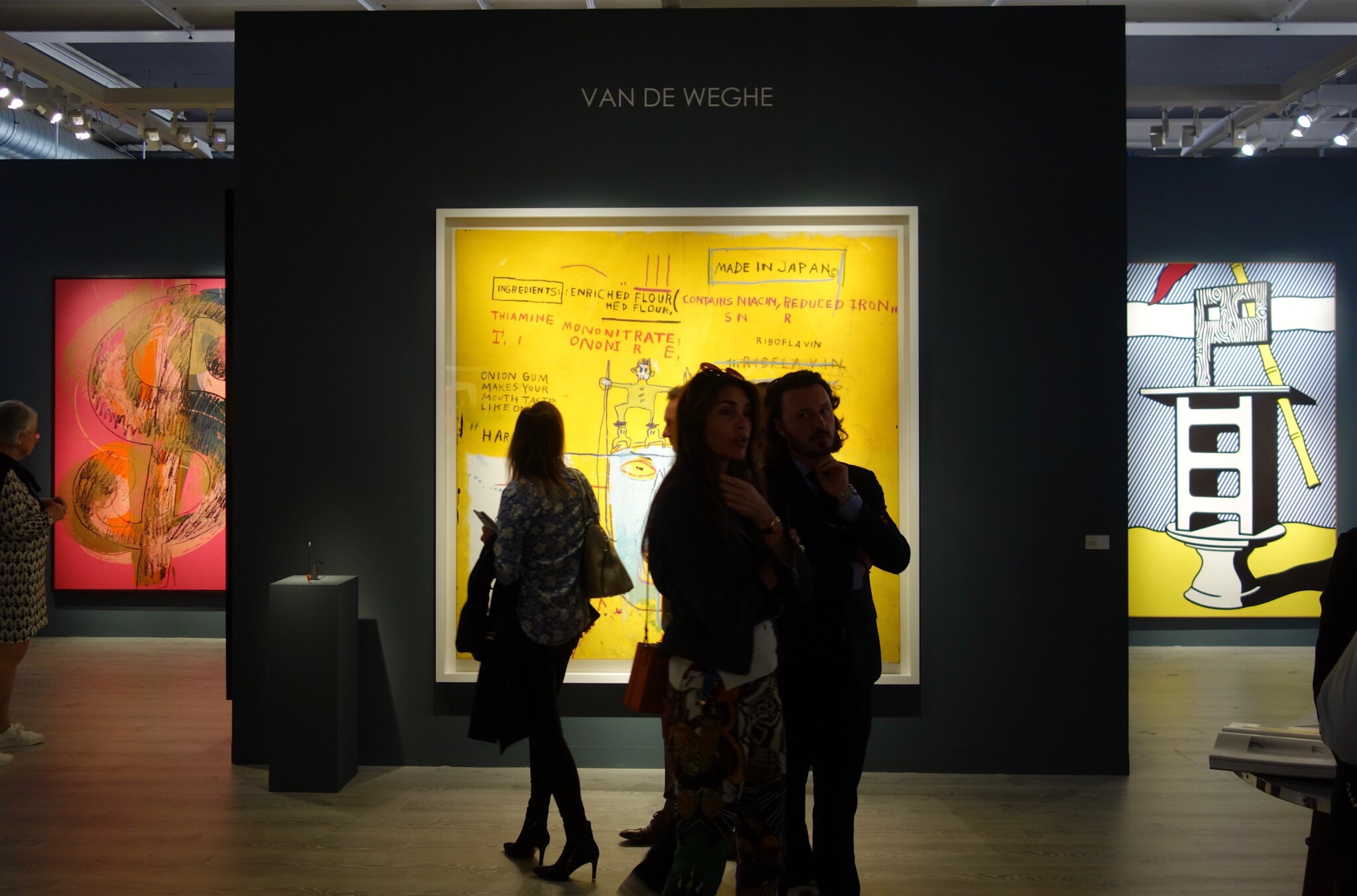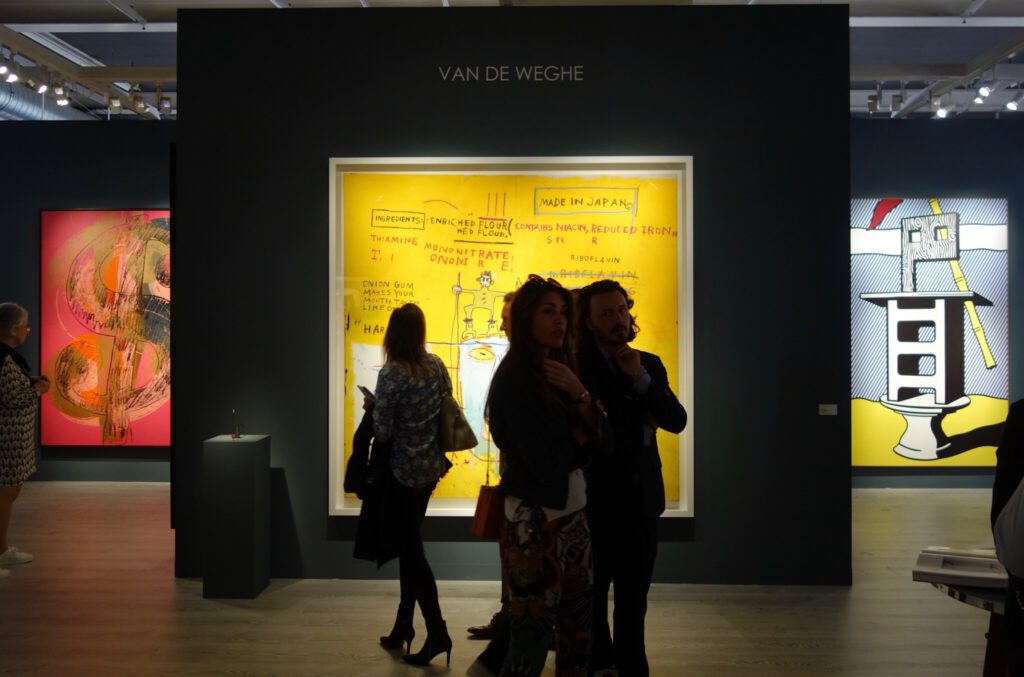 ご存知のように、27歳の若さでこの世を去ったアーティスト、ジャン=ミシェル・バスキアが相変わらず日本で大人気です。2017年5月に現代アートのコレクターでいらっしゃる前澤友作氏がアメリカ人アーティストの作品としては過去最高額の約123億円で《Untitled》(1982年)を落札しました。2017年10月に東京の代官山ヒルサイドフォーラム(第4回CAF賞作品展)、それから、昨年『バスキア展 メイド・イン・ジャパン』@ 森アーツセンターギャラリーで展示されました。こちらのART+CULTUREのカバー画像は2019年9月の森アーツセンターギャラリー展の3か月前の写真です。2019年6月12日にスイスのアートバーゼルのVAN DE WEGHE FINE ART ブースで目玉として表に出されました。当時に販売値段を聞いてはしなかったが、2012年のササビースのオークション結果として、ギリギリ下のエスティメート7,362,500米$で落札。VAN DE WEGHE FINE ARTが森アーツセンターギャラリー展を通じて、この「Onion Gum」(aka 'Made in Japan')に新しいビジネス・クライアントを見つけたでしょうか。前澤友作氏、または、カワサキ氏を意識されていましたかね〜。さて、次に、グローバル・アート・ニュースの中、新たなバスキアの販売品が発表されていました。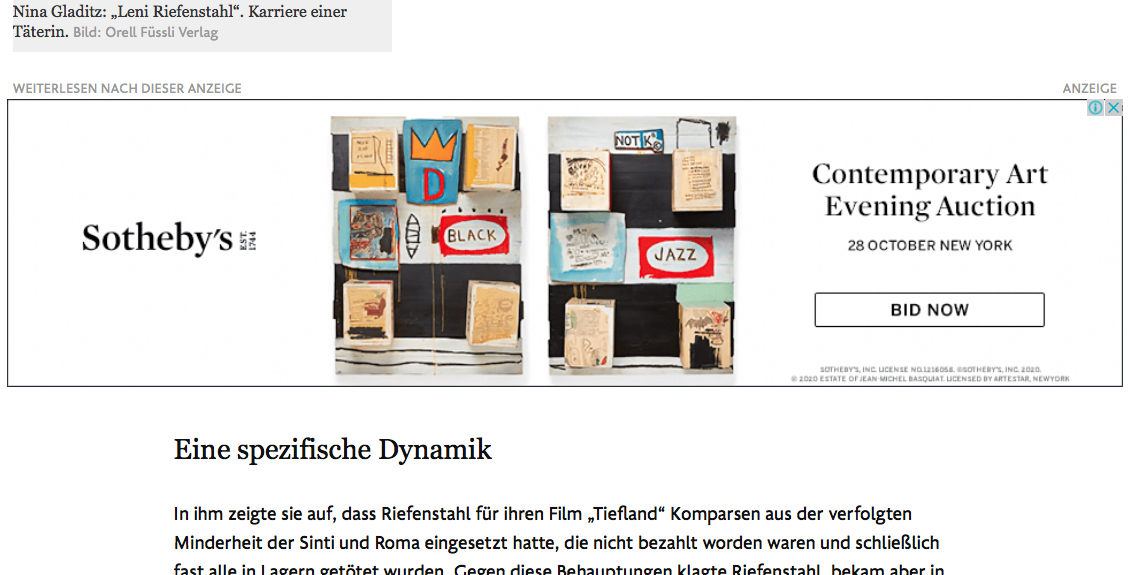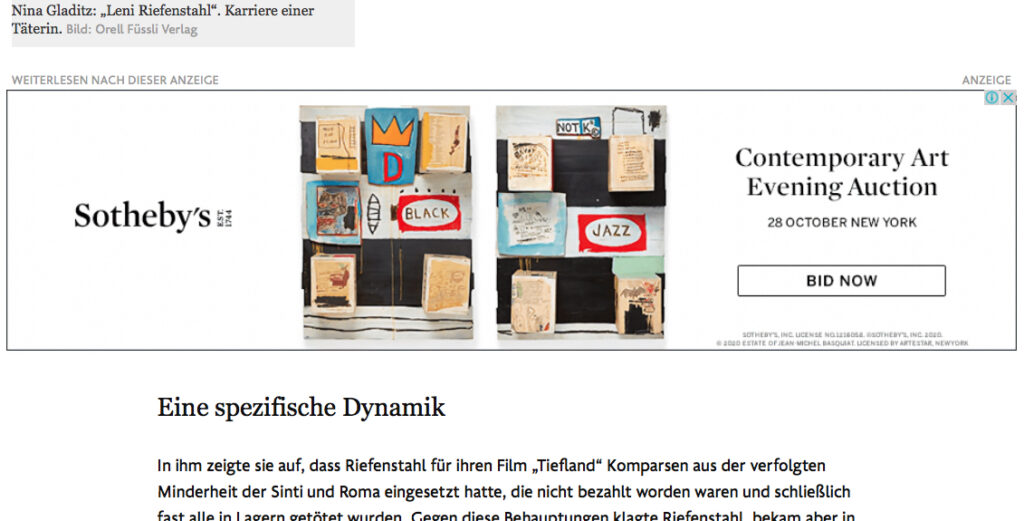 「Black / Jazz: Property from the Collection of Enrico Navarra」@ ササビース、エスティメートは 2 x 4,000,000 – 6,000,000 米$、10月28日のLIVE BIDDINGはいかがでしょうか。
今回、白髪一雄作品も3,500,000 – 5,000,000米$のエスティメートで販売されています:
https://www.sothebys.com/en/buy/auction/2020/contemporary-art-evening-auction-3/kazuo-shiraga-chikuusei-shohao
ご参考:白髪一雄・フット・ペインティング SHIRAGA Kazuo – Foot Paintings
https://art-culture.world/articles/shiraga-kazuo-白髪一雄/
アップデート:
Sotheby's Contemporary Art Evening Auction 28 October 2020, Lot 22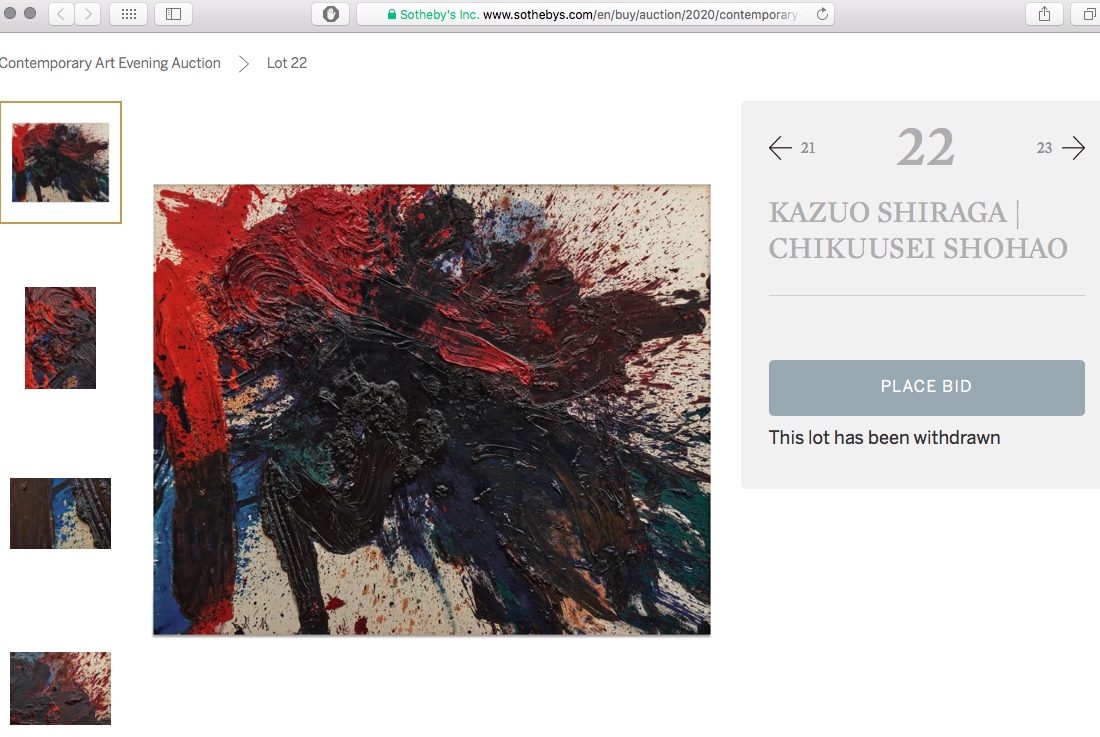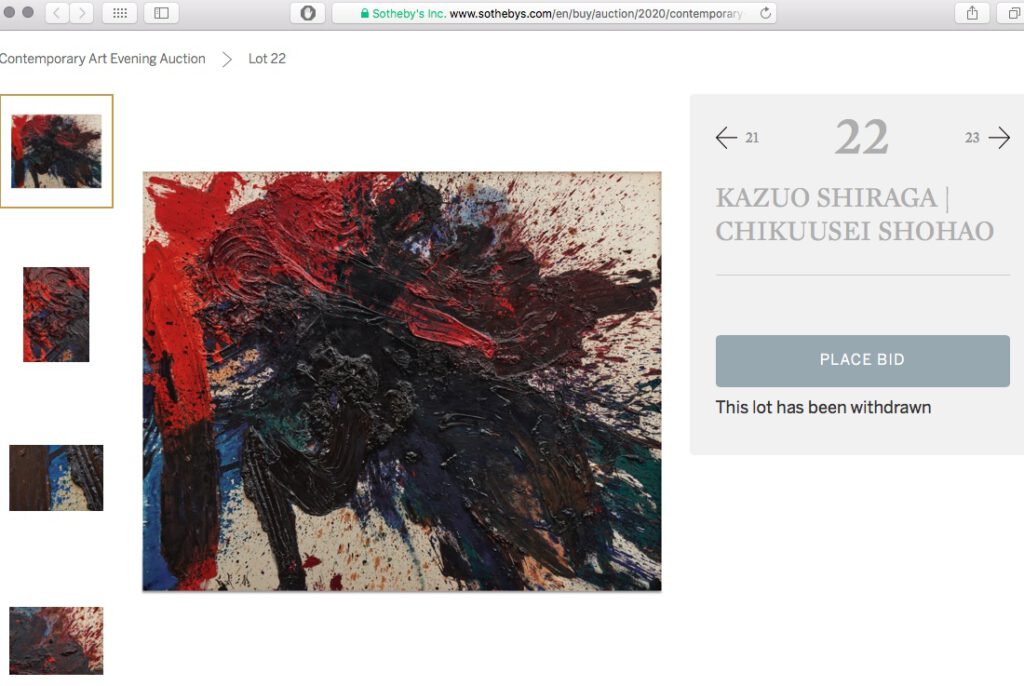 Description
Property from a Distinguished Private Collection
KAZUO SHIRAGA
1924 – 2008
CHIKUUSEI SHOHAO
signed in Japanese; signed in English, titled in English and Japanese and dated 1961 on the reverse
oil on canvas
51 ⅜ by 63 ¾ in. 130.5 by 161.9 cm.
Saleroom Notice
Please note this lot has been withdrawn.
Provenance
Galerie Stadler, Paris
International Centre of Aesthetic Research, Turin
Carlo Frua de Angeli, Milan
Centro Culturale Braidense, Milan
Private Collection, Italy (acquired from the above in 1976)
Private Collection, New York (acquired from the above)
Mnuchin Gallery, New York
Acquired by the present owner from the above in 2015
Literature
Exh. Cat., Toyoshina, Azumino Municipal Museum of Modern Art (and traveling), Kazuo Shiraga: Painting Born out of Fighting, 2009, n.p., no. 95, illustrated in color
Exhibited
New York, Mnuchin Gallery, Kazuo Shiraga, February – April 2015, pp. 34-35, illustrated in color
---
JEAN-MICHEL BASQUIAT
1960 – 1988
BLACK
Provenance
Galerie Bruno Bischofberger, Zurich
Akira Ikeda Gallery, Nagoya (acquired from the above)
Acquired by the present owner from the above in March 1996
up-date:
LOT SOLD: 8,134,650 USD
https://www.sothebys.com/en/buy/auction/2020/contemporary-art-evening-auction-3/jean-michel-basquiat-black
JEAN-MICHEL BASQUIAT
1960 – 1988
JAZZ
Provenance
Galerie Bruno Bischofberger, Zurich
Akira Ikeda Gallery, Nagoya (acquired from the above)
Gallery Schlesinger, New York (acquired from the above in 1988)
Twiga Collection, New York
N.Y.A.W., New York
Acquired by the present owner from the above in February 1995
up-date:
LOT SOLD: 6,928,200 USD
https://www.sothebys.com/en/buy/auction/2020/contemporary-art-evening-auction-3/jean-michel-basquiat-jazz
注目されている宣伝ビデオはこちらです:
The Incredible Visual Language of Jean-Michel Basquiat
ところが、今年7月に67歳で亡くなったエンリコ・ナヴァラさんは有名なアート・ディーラーとしてアジアの現代アーティストたちを上手に売り込んでいました。
Enrico Navarra, Art World Visionary, Is Dead at 67
As a gallerist and publisher, he championed artists who weren't yet fully appreciated, notably Jean-Michel Basquiat.
New York Times, By Neil Genzlinger, Aug. 6, 2020
quotes:
Enrico Navarra, a gallerist, collector and art-book publisher with a visionary instinct who promoted artists, especially Jean-Michel Basquiat, before the rest of the art world had fully appreciated the importance of their work, died on July 21 in Le Muy, France. He was 67.
Justine de Noirmont of his gallery, Galerie Enrico Navarra in Paris, said the cause was emphysema.
Mr. Navarra was a charismatic behind-the-scenes figure whose career was defined by "not being afraid to believe in something no one else was believing in," Grégoire Billault, head of the contemporary art department at Sotheby's in New York, said in a phone interview.
quote:
Mr. Navarra was among the first to explore the Asian art market, and his gallery's publishing arm brought out a series of "Made by" books — "Made by Chinese" (1996), "Made by Brazilians" (2014), "Made by Thai" (2019) and so on — spotlighting contemporary art in countries not on much of the art world's radar.
full text:
https://www.nytimes.com/2020/08/06/arts/enrico-navarra-dead.html
This video shows him with a part of his collection in his house in Saint Tropez, Southern France
サントロペでのコレクションなどについての取材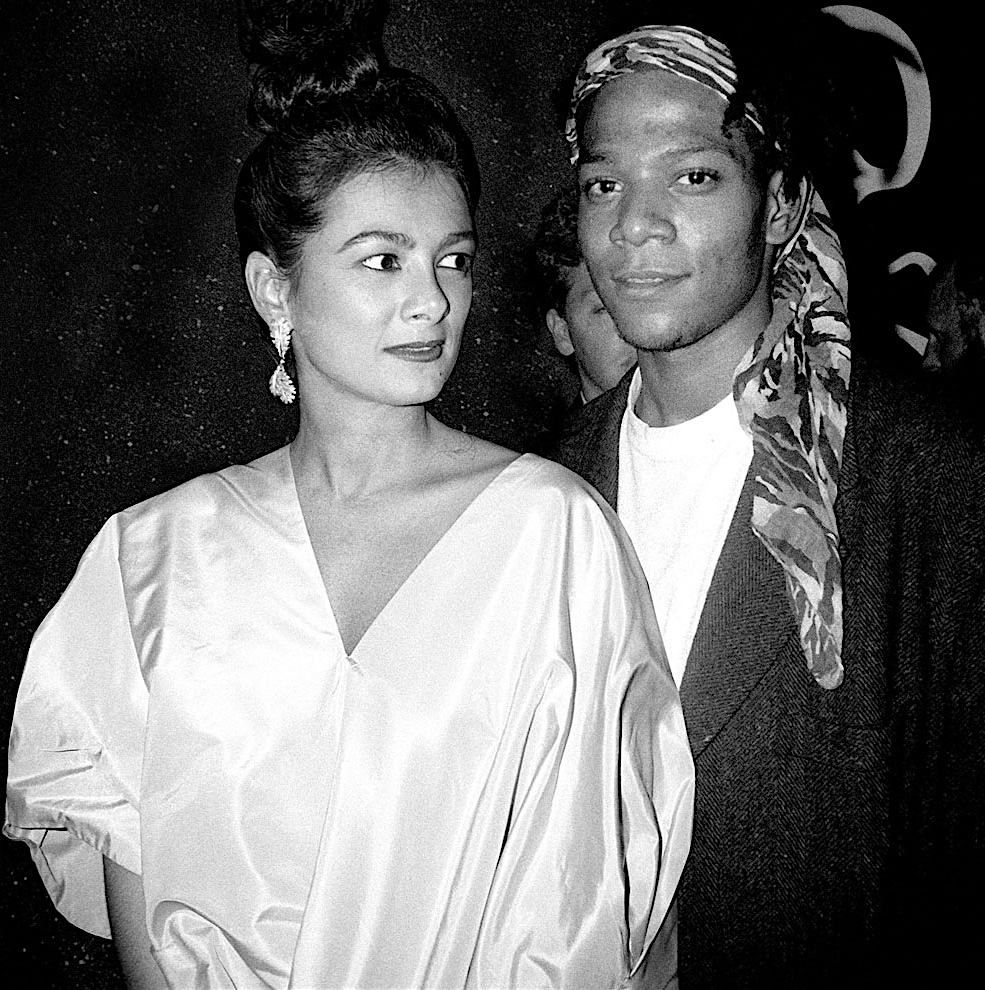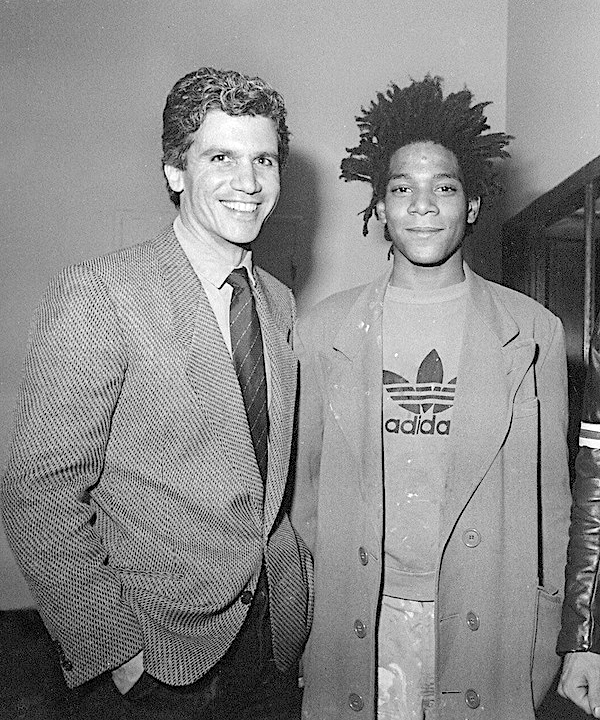 五木田智央のニューヨークのアートディーラー、メアリー・ブーンは刑務所に30ヶ月間
GOKITA Tomoo's New York Art Dealer Mary Boone sentenced to 30 Months in Prison
https://art-culture.world/articles/gokita-tomoos-new-york-art-dealer-mary-boone-sentenced-to-30-months-in-prison/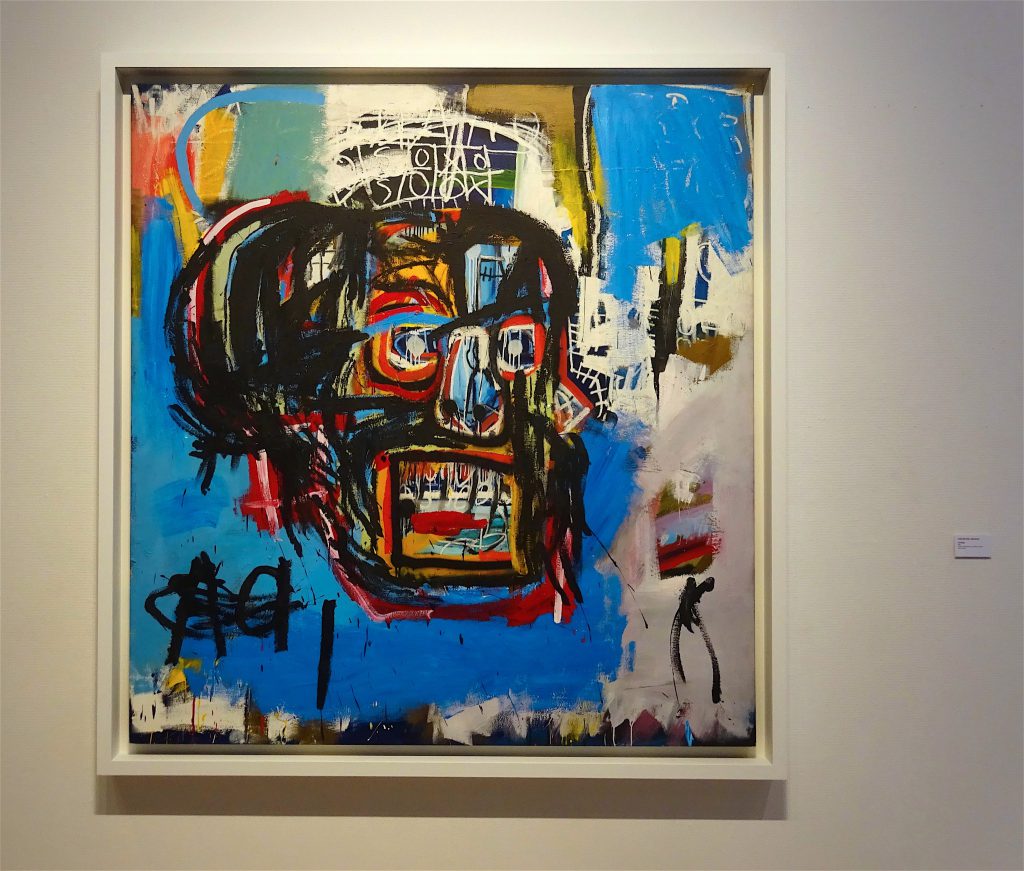 The Battle for Basquiat
Basquiat. «Untitled » 1982 explained by Dieter Buchhart
Yusaku Maezawa Meets a Masterpiece
サザビーズとクリスティーズのオークションに夢中になっている前澤友作
MAEZAWA Yusaku, crazy about auctions at Sotheby's and Christie's
https://art-culture.world/articles/maezawa-yusaku-crazy-about-auctions-at-sothebys-and-christies/
Jean-Michel Basquiat's 'Untitled, 1982' – The Devil
映画『バスキアのすべて』予告編
前澤社長のバスキア作品落札の瞬間が見られる/映画『アートのお値段』予告編
---
Embattled Talk-Show Host Ellen DeGeneres Is Selling Off a Basquiat, a Multimillion-Dollar Flock of Sculptural Sheep, and Other Pricey Art
Some buyers have already corralled some of DeGeneres's Francois-Xavier Lalanne sheep.
Artnet News, September 23, 2020
https://news.artnet.com/art-world/ellen-degeneres-selling-basquiats-lalannes-works-multi-million-dollar-collection-1910085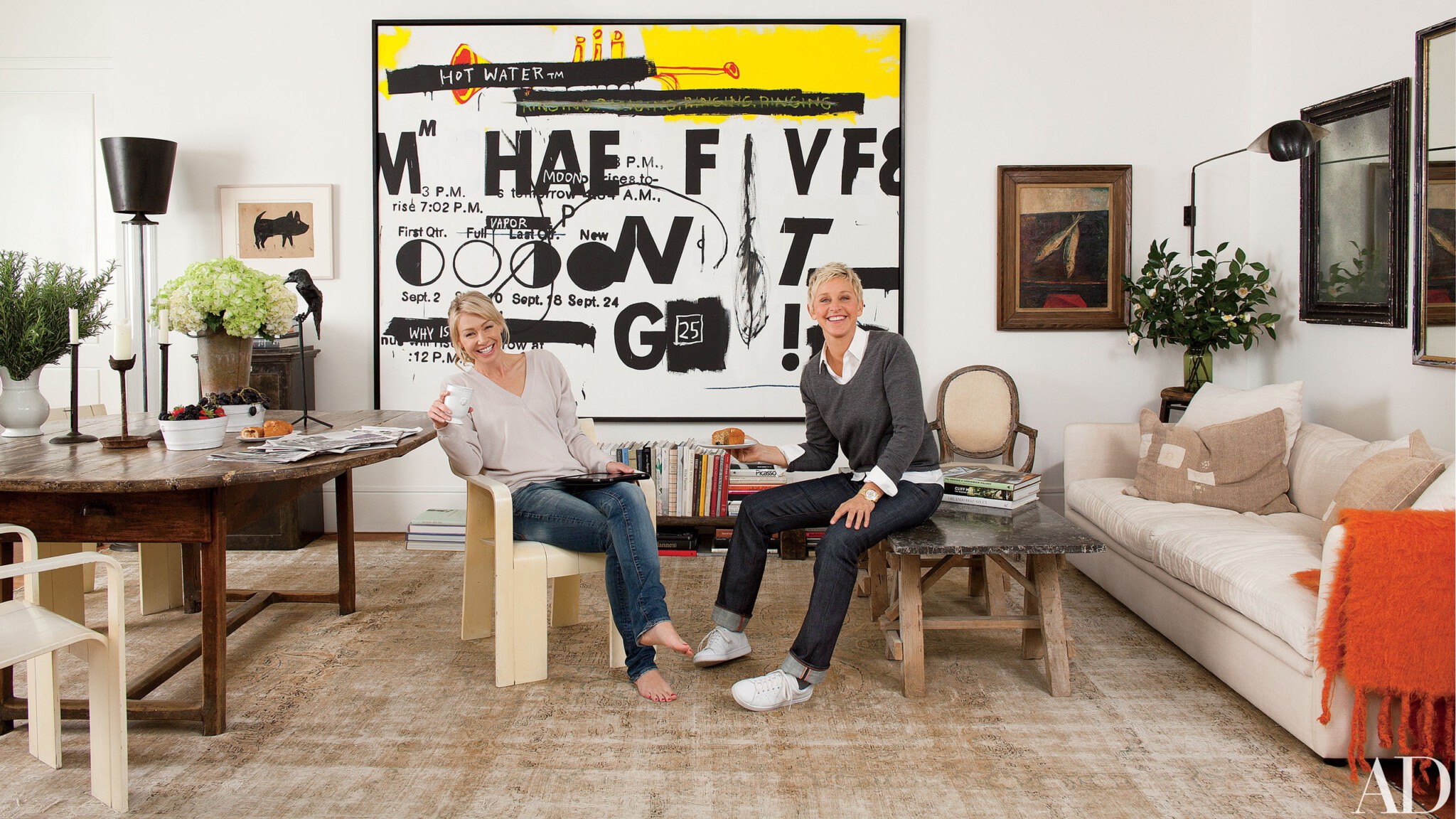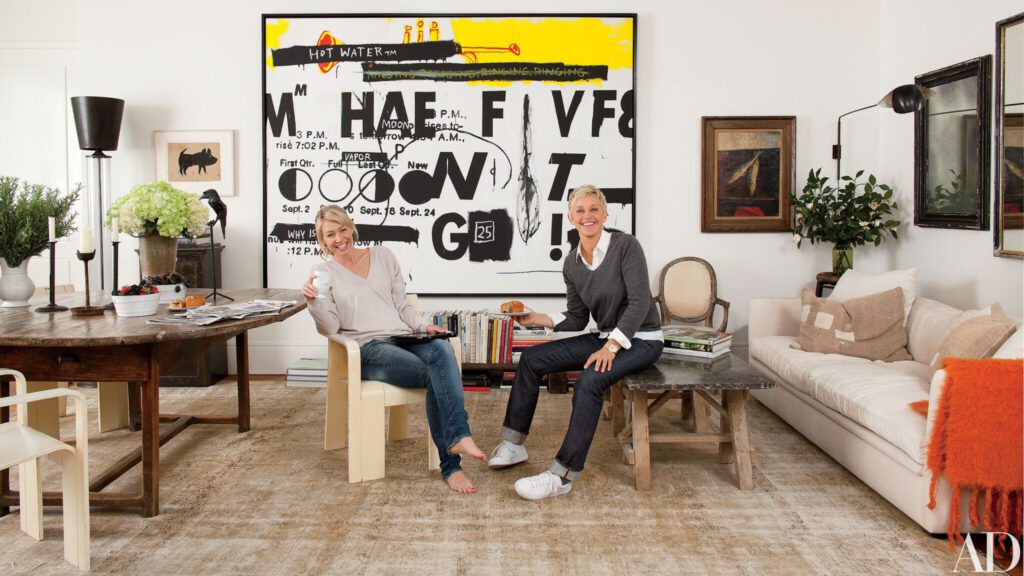 Portia de Rossi and Ellen DeGeneres at their Beverly Hills house, which was designed by architects Buff & Hensman and later expanded by decorator Melinda Ritz. In a sitting area adjacent to the kitchen, an 18th-century French worktable is paired with a suite of vintage bent-plywood chairs by Gerald Summers; the large painting is an Andy Warhol and Jean-Michel Basquiat collaboration, and the drawing to its left is by Bill Traylor. The cocktail table is 19th-century Belgian, the torchère is by Waldo's Designs, and the Kirman rug is antique.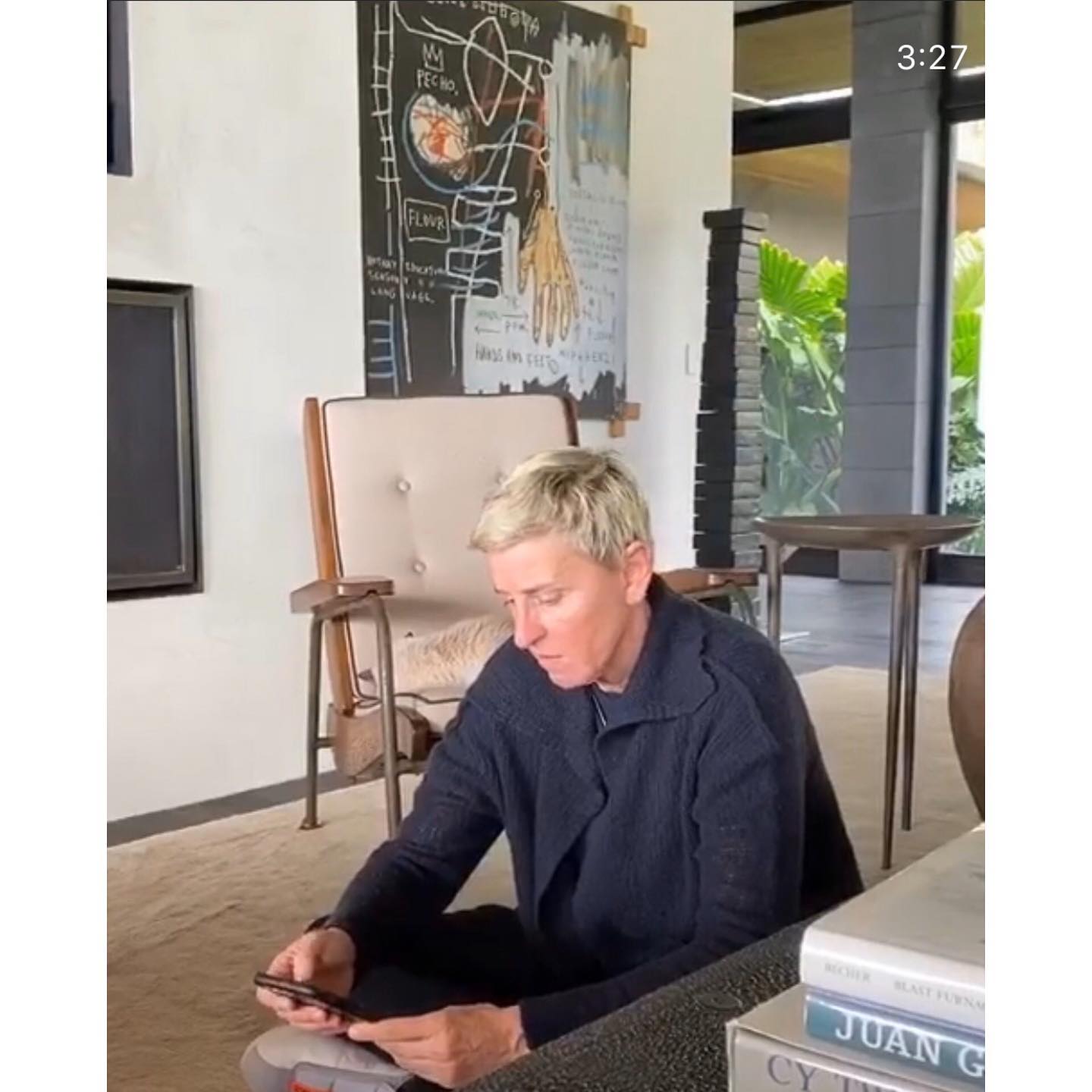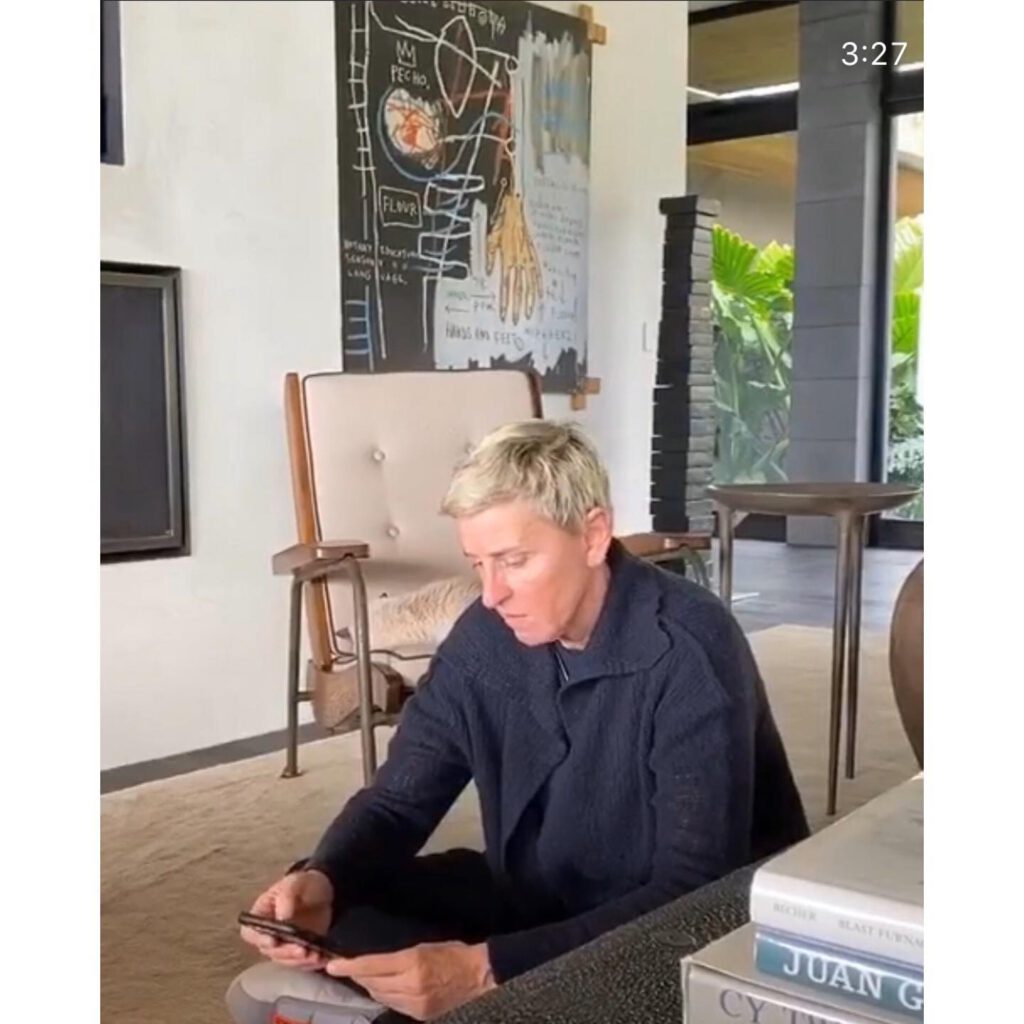 Via:
Bought In At Auction
March 23
Last week, I posted an IG story showcasing the Basquiat hung in Ellen DeGeneres' living room. Here is a bit more information about the work itself:⠀
⠀
1. The work was offered at auction in February 2002 (through Christie's) and hammered at $388k (according to an auction database. Christie's removed the lot from its website… So god knows what happened after the auction…)⠀
2. The work was owned by the Mugrabi family until, potentially, January 2019 (the work was featured in the blockbuster Basquiat exhibition in Brazil: Jean-Michel Basquiat: Works of the Mugrabi Collection, from January 2018 – January 2019)⠀
3. The work was supposedly sold to Ellen DeGeneres after/during or even before! (oh gosh the art world is so untrustworthy! ) the Mugrabi show⠀
4. The work was previously owned by the Robert Miller Gallery and the Galerie Van de Weghe.⠀
5. The work was included in an exhibition organized by the Nahmad Contemporary Gallery in 2016 ("Words Are All We Have: Paintings by Jean-Michel Basquiat")⠀
6. In 1982, Basquiat created no fewer than 65 works employing an "open stretcher bar" system (Fred Hoffman).⠀
⠀
Now, the million-dollar question is how much Ellen DeGeneres paid for the work… Well, my friends, I do not have the answer, but what I can tell you is that the most recent open stretcher bar artwork that was sold at auction hammered at $4.3mm in Feb 2020 ("The Mosque") and it was bought by @masterworks.io
***⠀
@theellenshow #basquiat #mugrabi #mugrabicollection @nahmadcontemporary #art #themosque #anatomy #artreporter
https://www.facebook.com/382816842074085/posts/last-week-i-posted-an-ig-story-showcasing-the-basquiat-hung-in-ellen-degeneres-l/1077266452629117/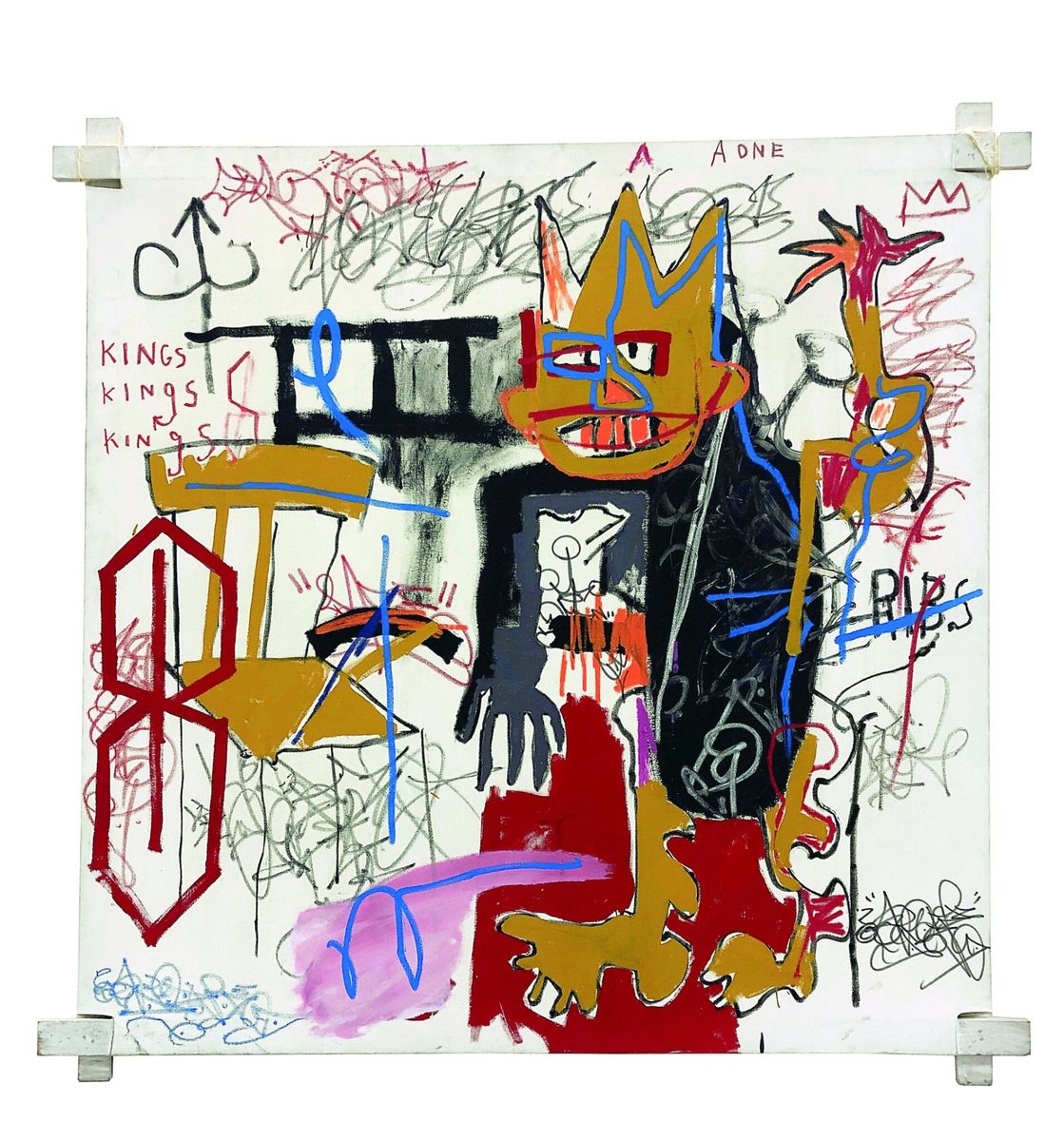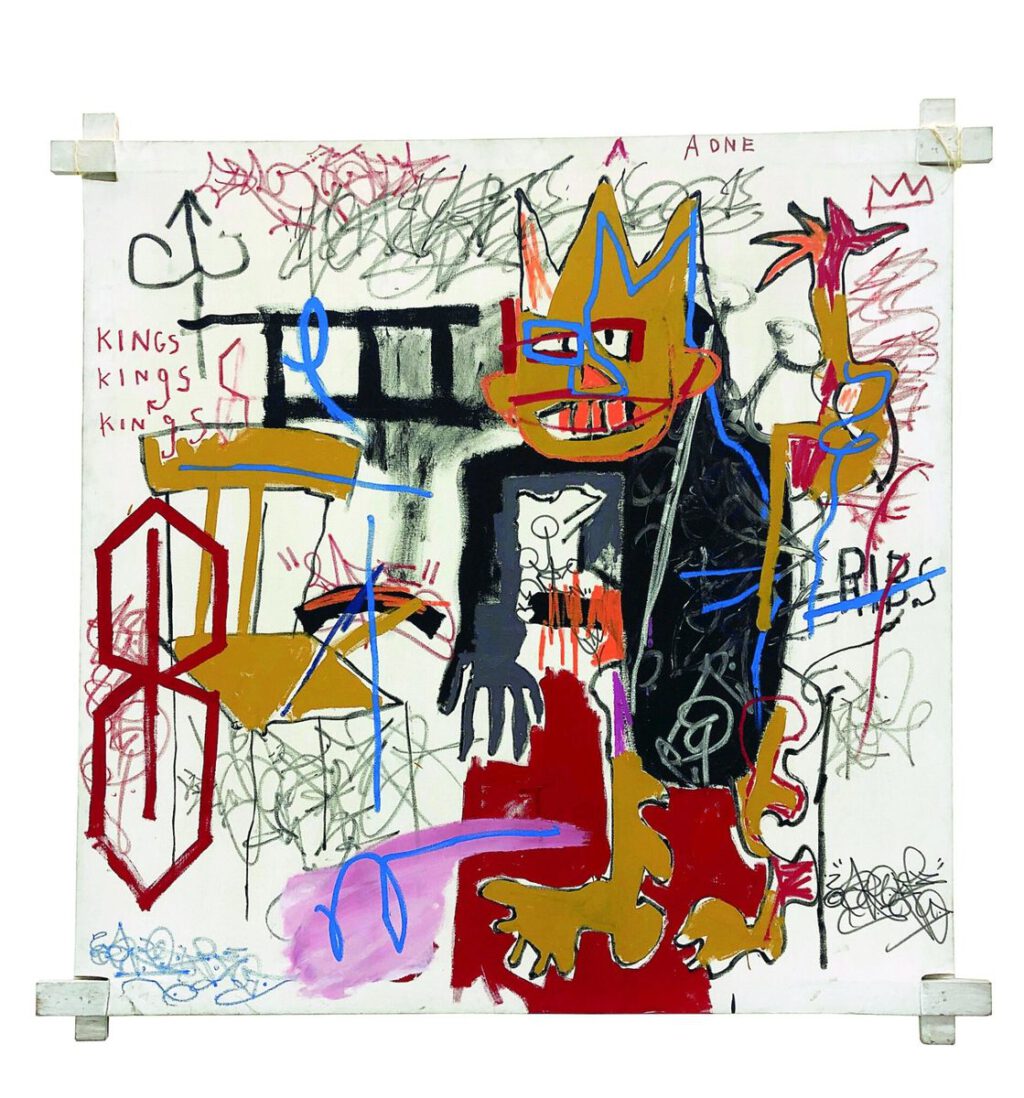 Jean-Michel Basquiat 'Portrait of A-One A.K.A. King' | New York | December 2020
Jean-Michel Basquiat crowns a king in this portrait of friend and fellow street artist Anthony Clarke. Executed during Basquiat's meteoric rise to fame in 1982, 'Portrait of A-One A.K.A. King' exemplifies the gestural, painterly prowess and distinctive iconography that denoted the peak of his career.
While the six-foot-by-six-foot work was acquired in 1986 by the Mugrabi family for just $18,150 in a Sotheby's New York sale, the painting has changed hands once again to the current anonymous seller.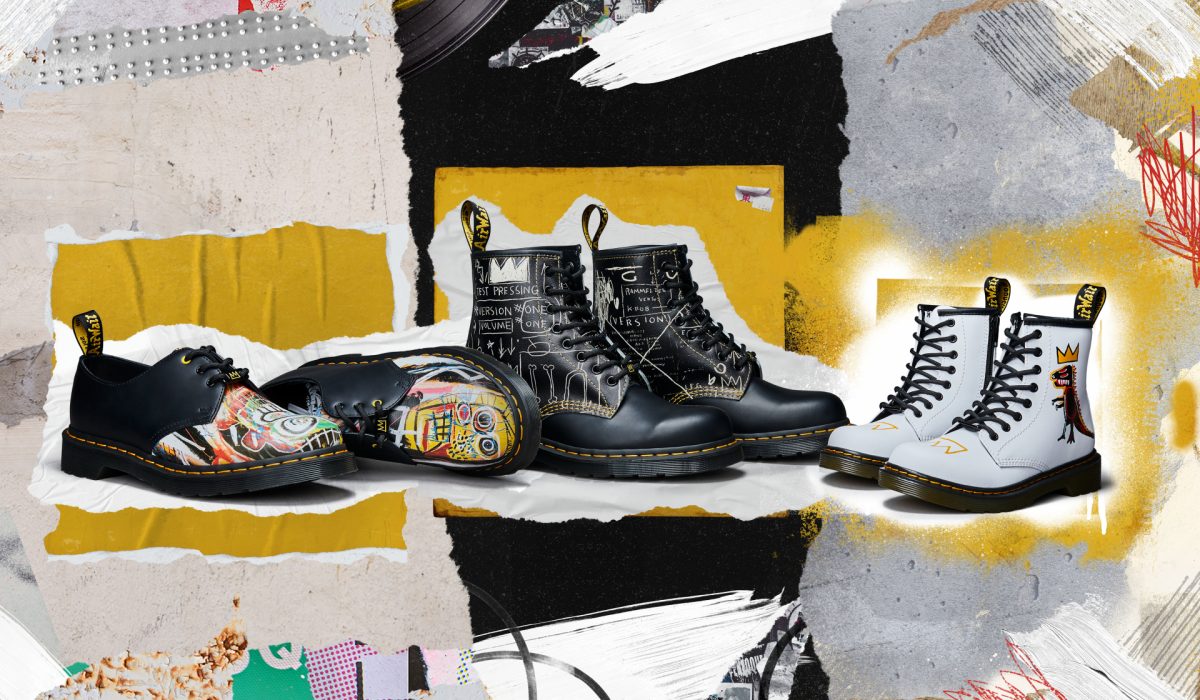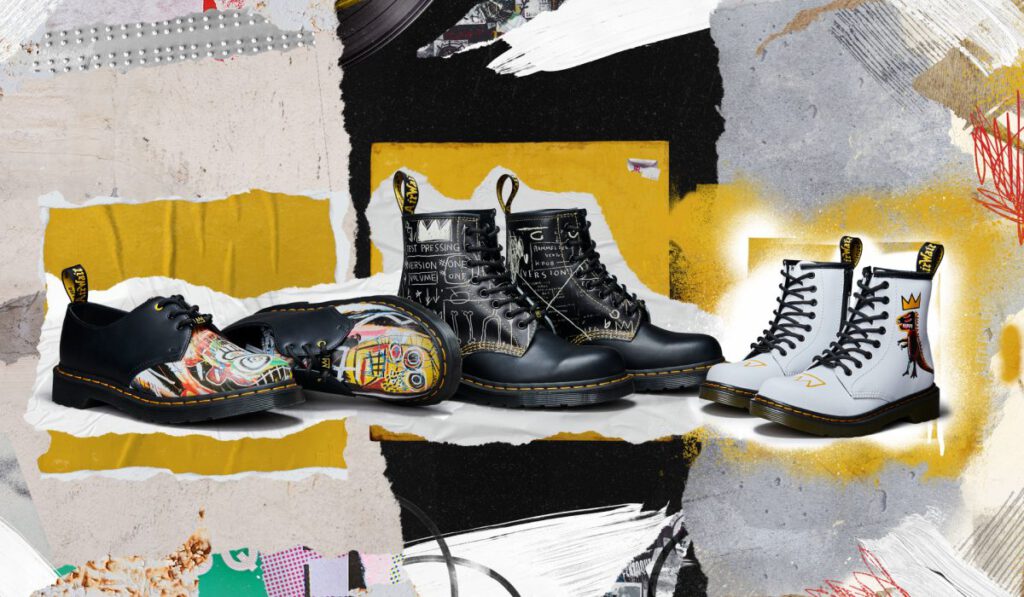 Next sale: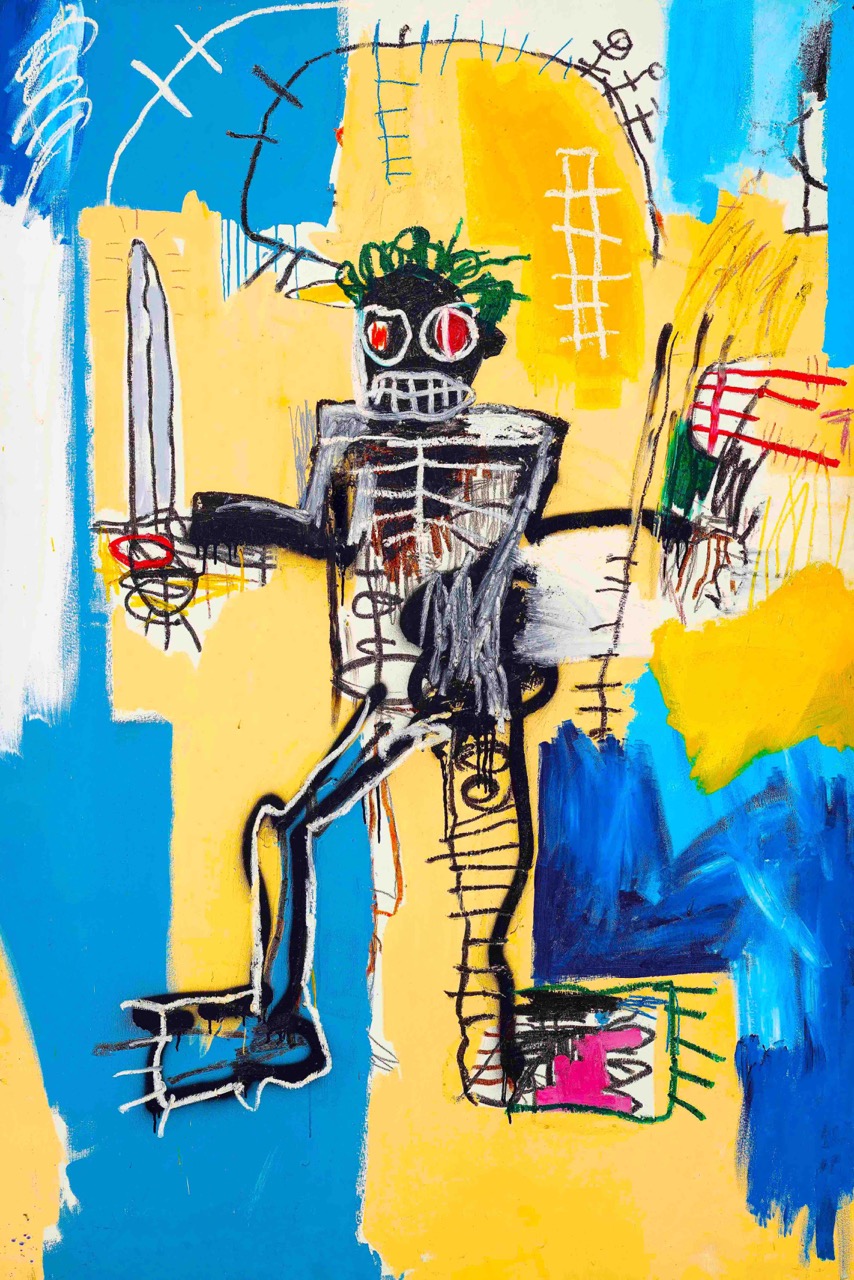 "Collectors are increasingly making links between traditional artists and Western art history," Albu says. "I think it's so important to broaden that idea of building the collection and understanding that Sanyu also gets inspired by Matisse, or that Zao Wou-Ki gets inspired by Soulages and the artists in Paris in the 1950s and 1960s."
The sale will begin at 2 p.m. London time (10 p.m. in Hong Kong, 9 a.m. in New York), an unusually early start for an "evening" sale, in an effort to tempt Asian buyers to stay awake and active throughout the evening while still being late enough for US bidders to have had time for a quick espresso.
"It is simply a masterpiece," Cristian Albu, Christie's international director of postwar and contemporary art, said of Warrior.
If it sells for within its estimate, Warrior will have increased dramatically in value. The current seller, a private American collector, purchased the work at Sotheby's London in 2012 for $8.7 million, where it was estimate at $7.8 million–$10.9 million. Prior to its sale in 2012, the work—once held by the Mugrabi family—sold at Sotheby's London in 2007 for $5.6 million and, before that, in 2005 for $1.8 million.
First exhibited in 1983 in Tokyo at Akira Ikeda Gallery, the work eventually traveled to exhibitions in Paris, Vienna, and Milan in the coming decades. It was last showcased in 2019 in the inaugural exhibition of the Brant Foundation's New York space.
Up-date, result via artnet:
a) The 1982 painting sold for $41.8 million at Christie's Hong Kong on Tuesday, setting a new record for a work of Western art in Asia.
Buyers competed for the Basquiat, which carried a third-party guarantee, through three specialists operating the phones from New York and Hong Kong, with the winning bid coming from Jacky Ho, the house's evening sale head in Hong Kong, after six minutes of action.
Basquiat, who was of Haitian and Puerto Rican descent, played an important role in the 1980s scene in New York. The work sold at Christie's is from 1982, Basquiat's most coveted year, and depicts a full-length warrior figure, sword in hand. It last sold at Sotheby's London in 2012 for $8.7 million. Before that, it had an active decade on the market, having traded hands three times in seven years; along the way, its price climbed some 450 percent. This latest sale marks a $30 million profit on the seller's 2012 investment.
b) "Basquiat is one of the strongest markets coming out of the pandemic," said Christophe van de Weghe, a dealer who specializes in Basquiats. "It's worldwide. You can sell Basquiat, like Picasso, to someone in India or Kazakhstan or Mexico. You can have a 28-year-old spending millions on Basquiat, and you can have a guy who is 85. He appeals to all kinds of people, from rappers to hedge-fund guys.''
…
"Warrior" depicts a figure with fiery eyes and a raised sword against patches of blue and yellow. It was painted on a 6-foot-tall wooden panel with oil stick, acrylic and spray paint in 1982. It has come up for auction four times, including Tuesday's sale. It last appeared Sotheby's in 2012, fetching $8.7 million from real estate mogul Aby Rosen.
Christie's declined to confirm that Rosen was the seller of "Warrior," but its provenance indicates that the current owner bought the work in 2012. Rosen offered the work for sale privately last year, according to a dealer with firsthand knowledge of the sale. Rosen didn't return emails seeking comment.
Basquiat's 1982 painting "Boy and Dog in a Johnnypump" was among the highest known transactions of 2020. Bought by billionaire hedge fund manager Ken Griffin for more than $100 million, it has been hanging at the Art Institute of Chicago.
Although Basquiat was prolific, there's a limited supply of work: about 900 paintings and 3,400 works on paper.
full text:
https://artdaily.cc/news/134163/Basquiat-brings–41-9-million–even-amid-digital-gold-rush#.YFsZ5C2ZORs
up-date 2021/3/27 via Judd Tully
At any rate, Basquiat's "Warrior" has been on a kind of Ulysses like journey, dating from an early purchase in 1996 by the esteemed collector/dealer Jose Mugrabi for around $250,000 and who acquired the 72 by 48 inch acrylic and oilstick on wood panel from the late and great Paris dealer Enrico Navarra who staged a Basquiat solo that same year and also published Basquiat's catalogue raisonne in 2000.
"When we bought those paintings," said Alberto Mugrabi, one of Jose's art dealing sons, "we were expecting them to sell for a million dollars in the future. That was back then and we sold it privately in around 2000. Basquiat will be exactly like van Gogh—if you want to see what Basquiat is going to look like, look at van Gogh's market and it might even be stronger than that."
After a time at London's Hamilton Gallery (as noted in the catalogue raisonne), the painting first appeared at auction at Sotheby's New York in November 2005 when it sold for $1,808,000 against an estimate of $1.8-2.5 million.
Barely two years later in June 2007 the painting reappeared at Sotheby's London and made £2,820,000/$5,619,132 against an estimate of £1.5-2 million.
It came back to Sotheby's London in June 2012 when it made the top lot price of £5,585,250/$8,705,729 against an estimate of £5-7 million. The winning telephone bidder was Aby Rosen.
For its fourth trip to the auction block, "Warrior" appreciated handsomely and became the fifth highest Basquiat price at auction at $41.8 million, trailing "Flexible" from 1984, "Dustheads" from 1982, "Untitled" from 1982 and the record setting "Untitled" from that same great year and that realized $110.5 million at Sotheby's New York in May 2017, selling to the Japanese billionaire Yusaku Maezawa.
"Warrior," before its brief stay at Christie's in Hong Kong, was exhibited at the Brant Foundation's inaugural Basquiat blockbuster show in the East Village in the spring of 2019.
full text:
https://juddtully.net/blog/a-well-traveled-basquiat-lands-for-41-8-million-at-christies-hong-kong/
---
up-date 2021/3/20:
(Jean Michel Basquiat art market report for 2020)
(quotes:)
Lots achieving a sold price between $100k and $1m, representing the middle market, saw a slight underperformance of sold price totals relative to the aggregated pre-sale ARTBnk Values, but continued the trend of a more pronounced underperformance relative to buyer's premium adjusted mean estimates. The aggregated sold price of $68,370,861 fell short of the aggregate presale ARTBnk Value of $71.392.440 by -4.2%, but against the buyer's premium adjusted mean estimate the results were -11.7% below auction house expectations.
Buy-in Rate
Given Basquiat's long and frequent history of sales, the unusually high 34% buy-in rate for the period is a clear indication that auction house and seller expectations are higher than the current traders in the market are willing to support. The majority of bought in lots (11 of 14) occurred in the middle market.
full text:
https://artdaily.cc/news/134050/Jean-Michel-Basquiat–ARTBnk-Market-Report#.YFX8fC2ZORs
2021/3/25 next one: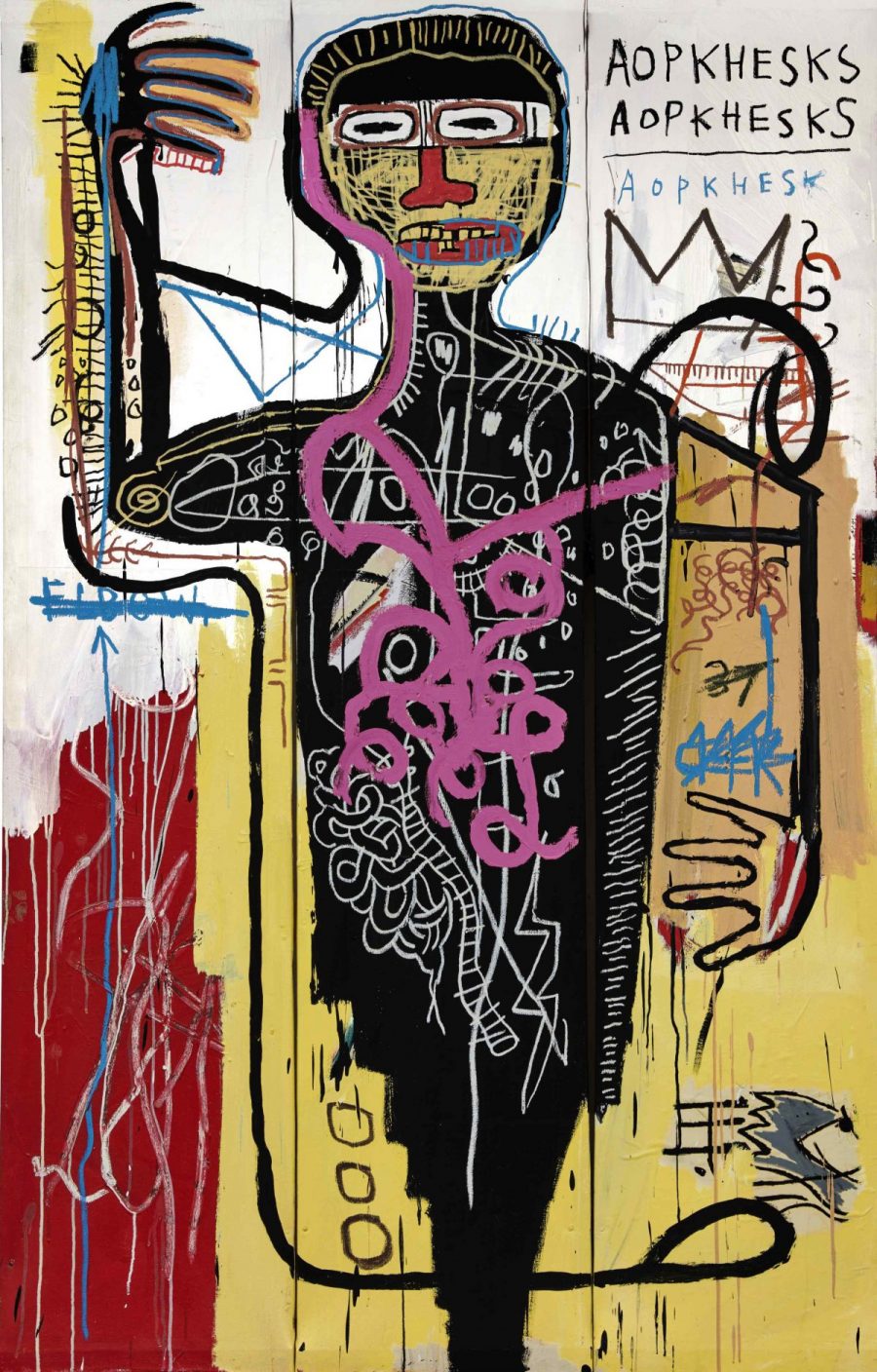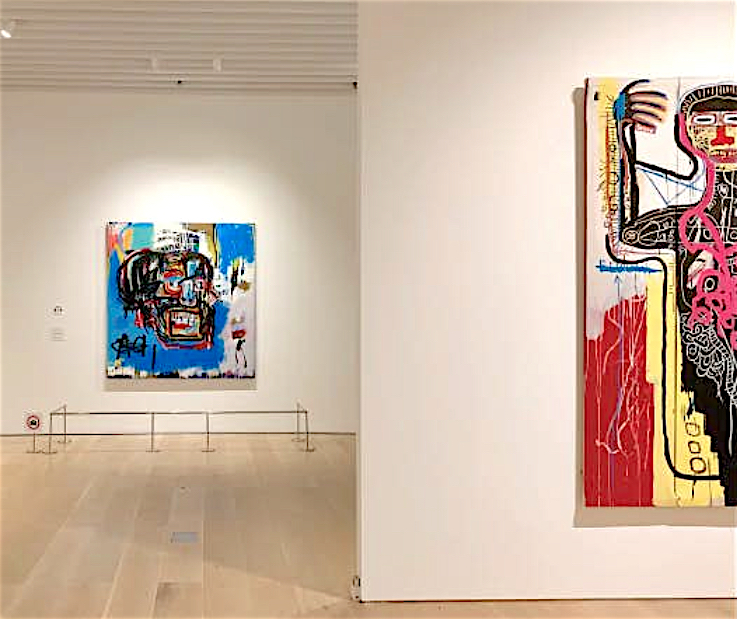 Sotheby's Unveils $35 M. Basquiat Set to Make Auction Debut in May
The painting shows influence from Basquiat's time in Modena, Italy, where he had his first solo show, at Galleria d'Arte Emilio Mazzoli in 1981. The title of the piece references the Renaissance-era Medici family, and it has some of the signature Basquiat motifs—a full skeletal figure, a crown, anatomical drawings and scrawled phrases in the background—that are coveted by collectors.
"In Versus Medici, Basquiat melds the political and art historical as he consciously stages a reckoning with the Westernized ideal of visual culture and was intent on mastering and commandeering the accepted 'rules' of art history in order to break them," Grégoire Billault, Sotheby's New York head of contemporary art, in a statement.
Painted when the artist was just 22 years old, it has remained in the same private collection since 1990 and has never been sold at auction. Prior to 1990, the work was previously owned by the late Belgian art collector Stephane Janssen, an early promoter of the CoBrA movement, who purchased it from Larry Gagosian during a studio visit with Basquiat in 1982. It was featured in the 2017 exhibition "Intuition" at the Palazzo Fortuny in Venice and 2019 in "Basquiat" at the Mori Art Center Gallery in Tokyo, see the above picture.
Basquiat's paintings from 1982 are the most valuable ones by him on the market, with nine of his most expensive works sold at auction made that year. The announcement follows Christie's sale of Basquiat's 1982 painting Warrior, from the collection of Aby Rosen, for $41.9 million on Tuesday in Hong Kong. That work has appreciated in value by 381 percent since its last sale, in 2012, where it made $8.7 million.
2021/4/12 next one:
Christie's to offer a major Basquiat from 1982 featured in Guggenheim Bilbao retrospective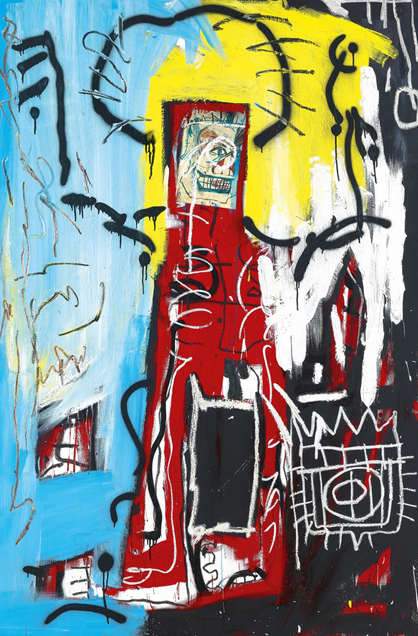 quote:
HONG KONG.- Christie's 20th/21st Century Art Department unveiled an important masterpiece by Jean-Michel Basquiat: Untitled (One Eyed Man or Xerox Face), following the successful sale of Basquiat's Warrior on 23 March, which set a new record for the most expensive Western artwork ever sold at auction in Asia. The painting will be offered in the 20th/21st Century Art Evening Sale on May 24 in Hong Kong, where it will be featured as one of the major highlights of the spring auction season. Building upon the phenomenal results achieved last December in Hong Kong, which witnessed strong buying and bidding from Asian clients, Christie's continues to present exceptional works of art by Western artists in Hong Kong.
full text:
https://artdaily.cc/news/134721/Christie-s-to-offer-a-major-Basquiat-from-1982-featured-in-Guggenheim-Bilbao-retrospective#.YHQq-i2B2Rs
2021/4/27 next one up for auction: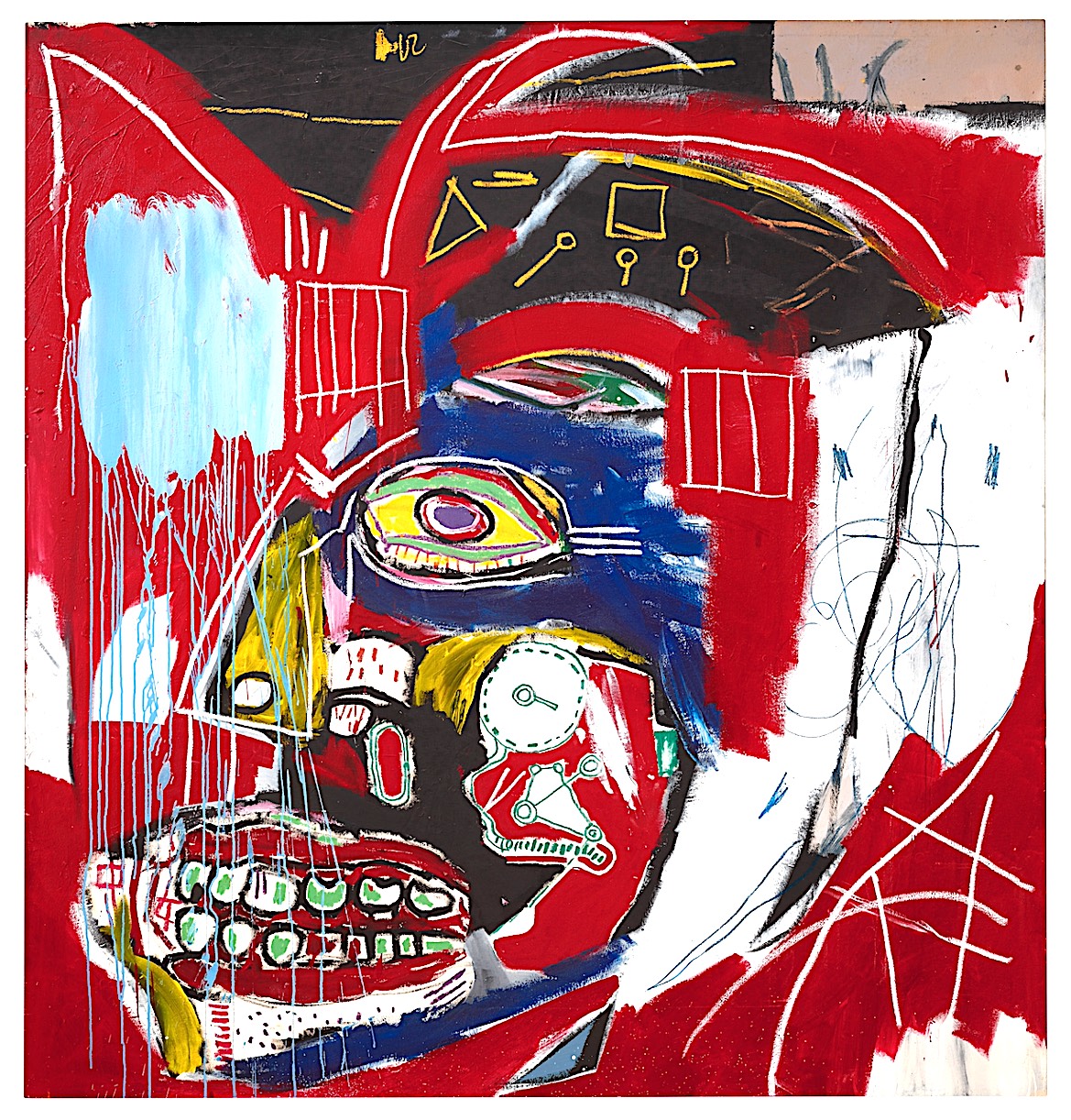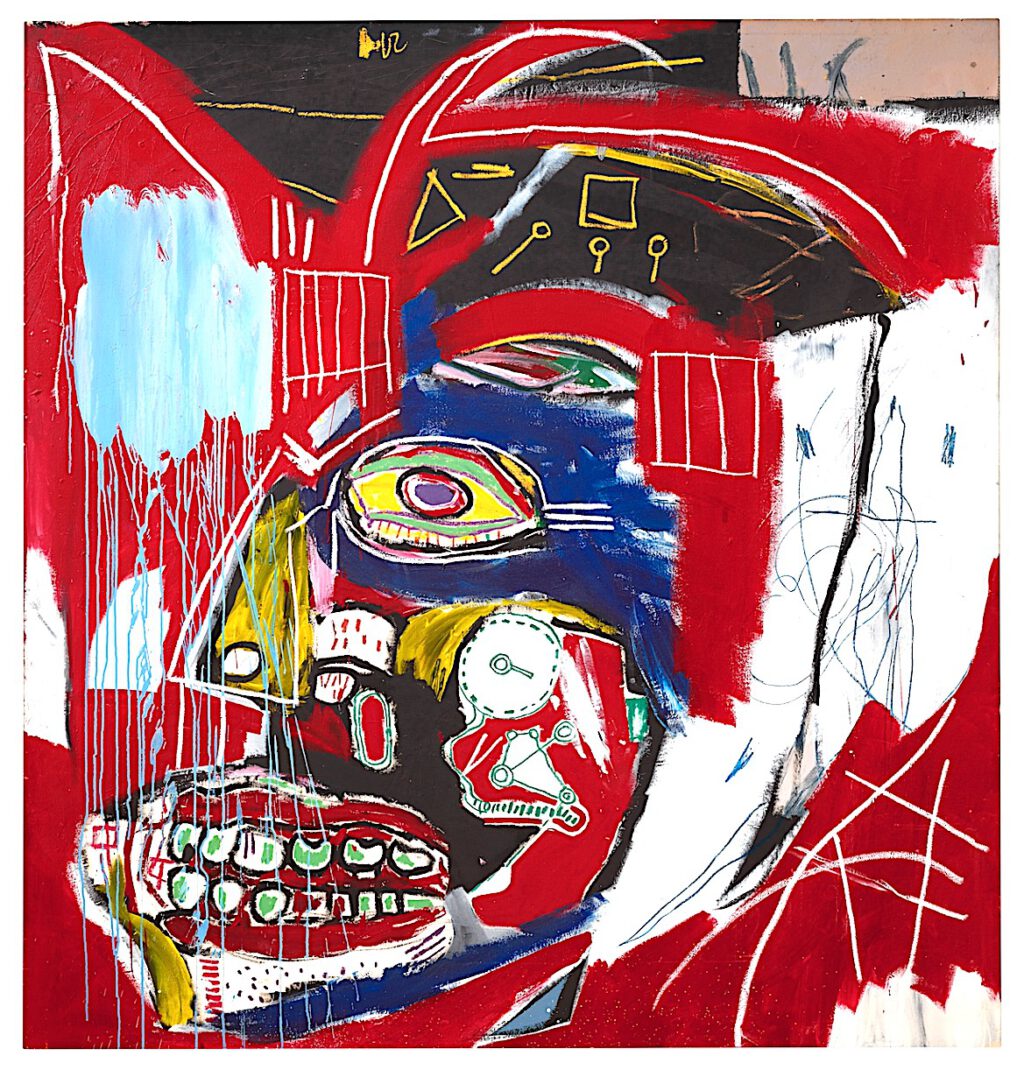 Christie's has unveiled a 1983 painting by Jean-Michel Basquiat that the house will offer for sale in its New York contemporary art evening sale on May 11. Titled In any case (1983), the painting is expected to fetch a price of $50 million and is being sold by Italian collector Giancarlo Giammetti, the cofounder of fashion label Valentino.
For 14 years, the work has remained in the hands of Giammetti, who purchased it in 2007 from Gagosian. Most recently, Giammetti loaned the piece to the major 2017 exhibition around Basquiat at the Fondation Louis Vuitton in Paris. Prior to that, it sold at Sotheby's in November 2002 for just $999,500.
The last of the artist's three monumentally sized paintings of the human skull headlines the inaugural 21st Century Evening Sale at Christie's New York.
No subject is more powerful or more sought after in the oeuvre of Jean-Michel Basquiat (1960-88) than the singular skull. For the enigmatic artist, the human head was more than an obsession. As the punning title of In This Case (1983) implies, the head is a case or a cage for a cog-like machine teeming with impulses and ideas.
'In This Case is one of only three monumentally sized skulls that Basquiat painted,' explains Alex Rotter, Chairman of 20th and 21st Century Art. 'The impressive size of these heads rival the height of a fully grown man himself. The painterly intensity and immediacy present in this work is unparalleled in Basquiat's oeuvre.'
up-date 2021/5/12
NEWS / MARKET
2021.5.12
バスキアの《In This Case》が約101億円で落札。バスキア史上過去2番目の高額
ジャン=ミシェル・バスキアの絵画《In This Case》(1983)がクリスティーズ・ニューヨークの21世紀美術イブニングセールで9310万ドル(約101億円)で落札。バスキアのオークションにおける過去最高額の2番目を記録した。
quote:
同作は、バスキアが1983年に制作した、「髑髏」をモチーフにした絵画3点のうちのひとつ。ほかの2点は、それぞれロサンゼルスの私設美術館「ザ・ブロード」と、ZOZOの創設者・前澤友作に収蔵されている。後者は2017年に1億1000万ドル(約123億円)以上で落札され、バスキアおよびアメリカ人アーティストのオークションでの過去最高額を記録した。
full text:
https://bijutsutecho.com/magazine/news/market/24026
up-date:
#USABS U.S. ARTY BULL SHIT: White Artist Andy Warhol Pisses On The Face Of Black Artist Jean-Michel Basquiat
#USABS ジャン=ミシェル・バスキアの顔に小便をかけるアンディ・ウォーホル
https://art-culture.world/articles/andy-warhol-pisses-on-the-face-of-jean-michel-basquiat/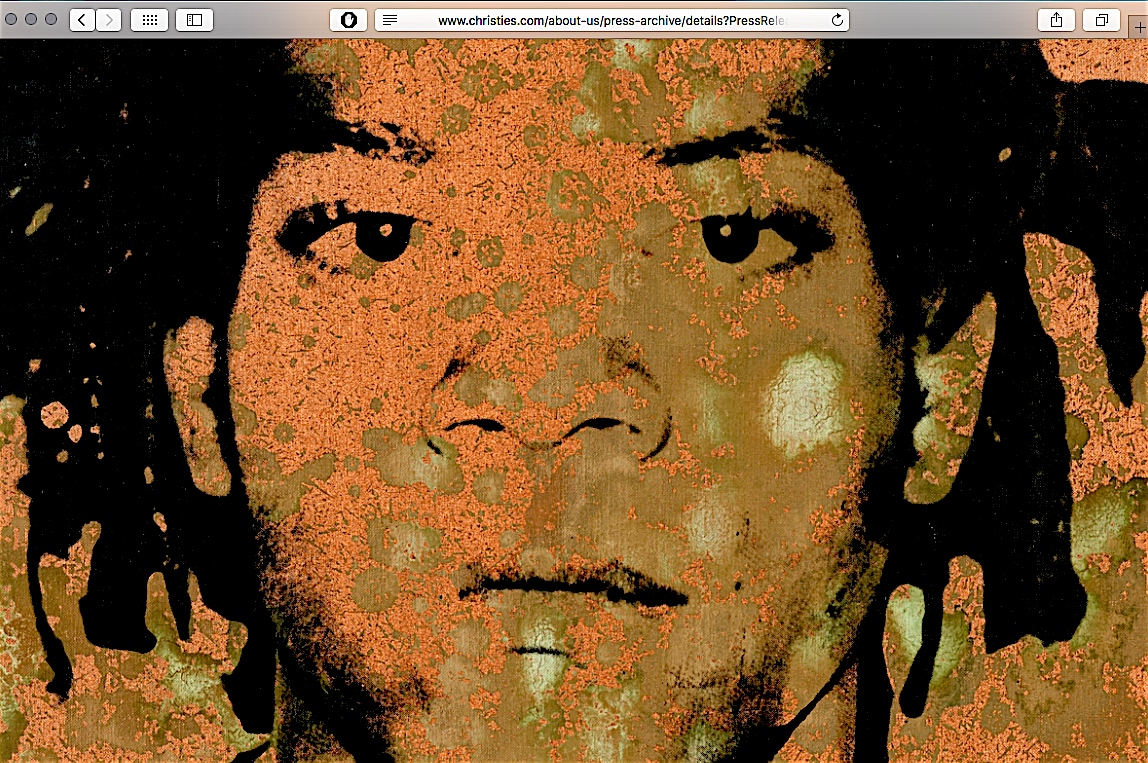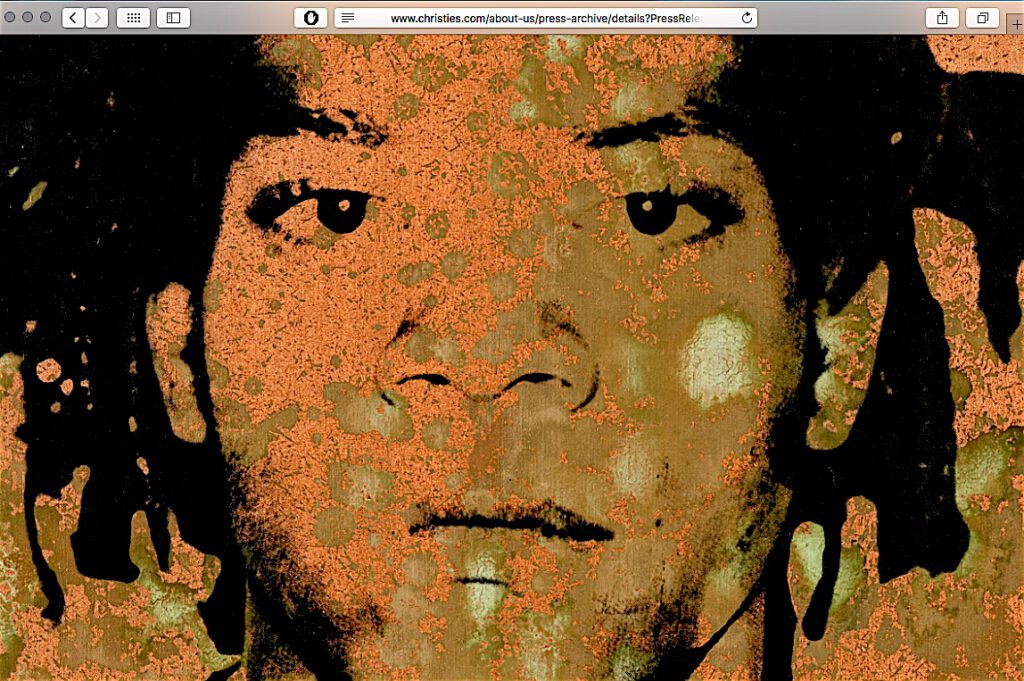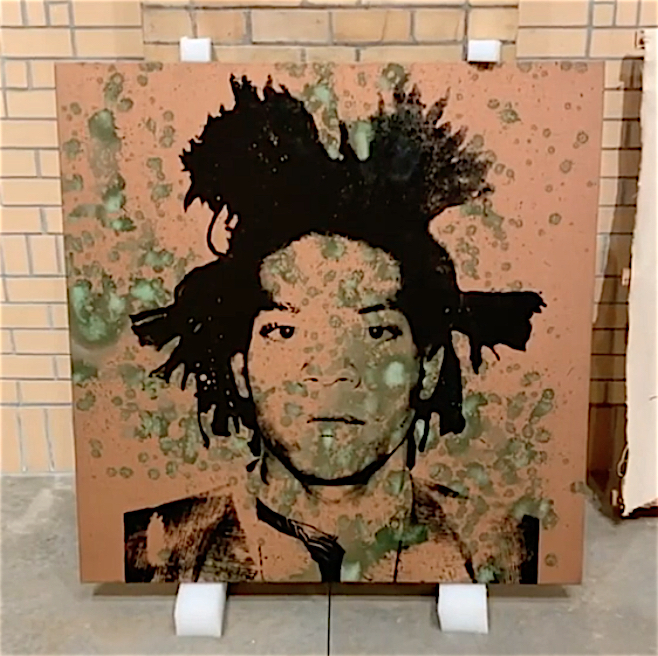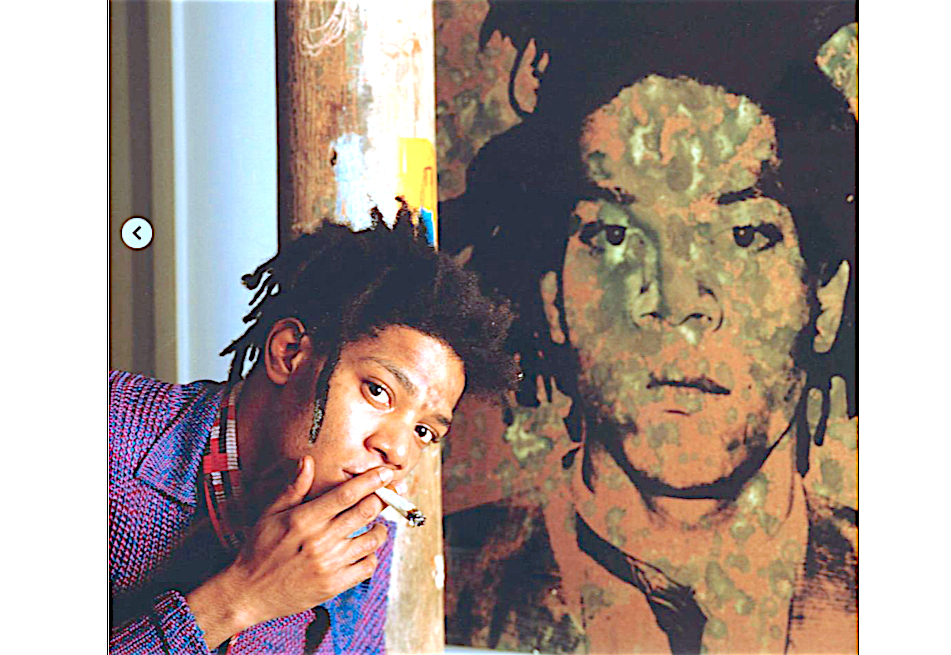 次のセール、2021年10月13日:
October 13, 2021 Artnews
$40 M. Basquiat Painting Headed to Christie's Looks to Join Artist's Most Expensive Works