The Year 2021. Still Symptomatic For New York's Art Scene: Taking Drugs.
2021年。麻薬とニューヨークのアートシーン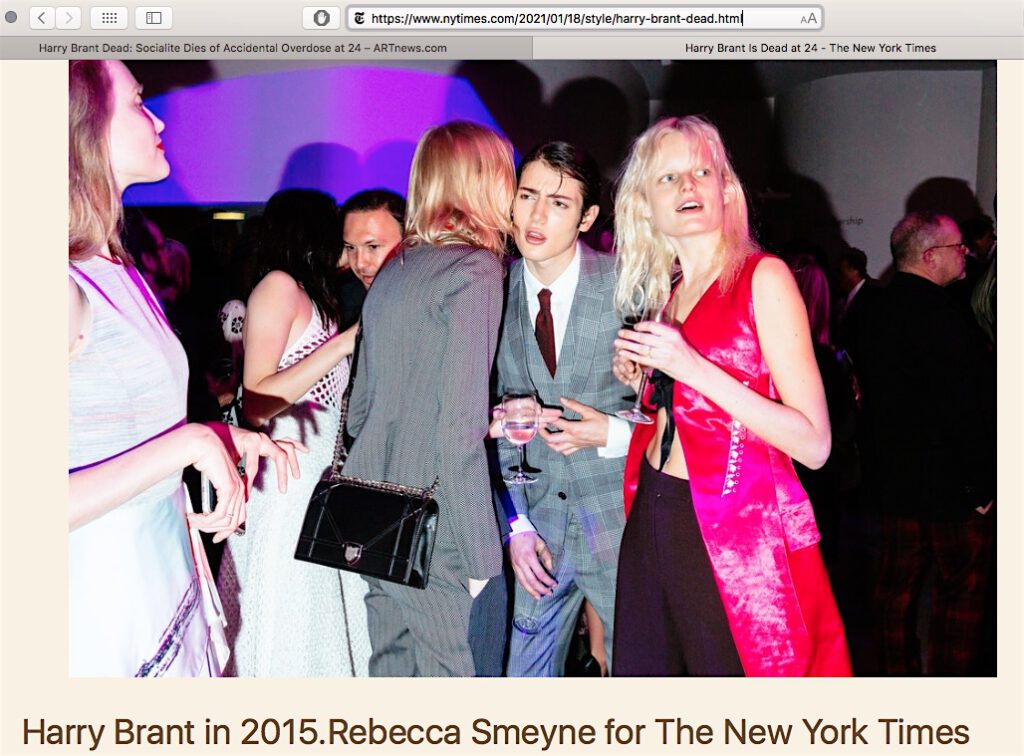 I am an easy recognizable artist in Tokyo and everybody here knows that I do not take any drugs. Neither do I smoke cigarettes. I like to drink wine, am a sexually very open-minded person but an anti-drug activist. Smoking is just soooo un-cool, sooo antiquated.
Sadly, artists from the U.S. arriving in Tokyo think to get pot easily from their Japanese gallerists. Fuck you, imbecile artist. This is not L.A., we're in strict Tokyo, where at "every corner" a police station (Koban) and cameras are installed. Never heard about Japanese prison cells with only 3 (!!) Tatamis ( = 4.86 m2)? Any global news about NISSAN's Ghosn's imprisonment in memory? Learn more via:
世界の三番目、大金持ちの経済大国のニッポン。
World's No.3, extremely rich, economic super-power Nippon.
https://art-culture.world/articles/extremely-rich-economic-super-power-nippon/
Before you come to Japan, try to read and learn how to behave in this country. No guns, no drugs, no handshake, bow in front of the person you're talking to, exchange your business card, take off your shoes, learn how to use chop-sticks, be polite, don't fuck around, smile and use some Japanese sentences…. in these Corona-times: put your mask on and keep Social Distancing…. bla bla bla….
Today's top, earthquake news in the global art scene belongs to the son of Peter Brant, Harry, who died of "accidental drug overdose of prescription drugs, his family said " (translate: no "real drugs").
However, ehem, well, The New York Times yesterday published this sort of "hint":
"In 2016, Mr. Brant was arrested after refusing to pay a cab fare in Greenwich, Conn., and charged with larceny, interfering with an officer and drug possession. … According to his parents, he had been planning to enter a new drug rehabilitation center this year, "
I won't jump on the gossip waggon, read yourself in the New York Times and at ARTnews magazine, see the attached links:
Harry Brant Is Dead at 24
The socialite and style setter began making a name for himself as a teenager.
Published Jan. 18, 2021, Updated Jan. 19, 2021, 9:51 a.m. ET
https://www.nytimes.com/2021/01/18/style/harry-brant-dead.html
Harry Brant, Socialite Son of Top Art Collector Peter Brant, Is Dead at 24
BY ALEX GREENBERGER, January 19, 2021 3:01pm
https://www.artnews.com/art-news/news/harry-brant-dead-1234581662/
People in the New York and Los Angeles art scene consume any sort of drugs. This fact can be read and watched on TV/film/youtube posthumously. In other cases, this bohemian-like drug-addiction appears as a kind of sentimentally written episode in one's memoir by the still living (former) art journalist, or art critic (uuhh, I'm soo cool), or art dealer (uuuuuh, I'm sooo cooool, too). Easily readable via the internet.
Please keep in mind, that this kind of social pressure by U.S. art dealers, art critics and artist-colleagues can be disastrous for artists who refuse taking drugs.
In this regard, you may understand the concept in the contemporary art world of the U.S.. Either you are "IN" (joining taking drugs) or you are "OUT" (no drugs). If you join, you have to ride the ambiguous "boom & bust" waggon. Play the Cool & Shut Your Mouth.
The global art world knows that Japanese collector MAEZAWA Yusaku 前澤友作 loves drug-addict Jean-Michel Basquiat.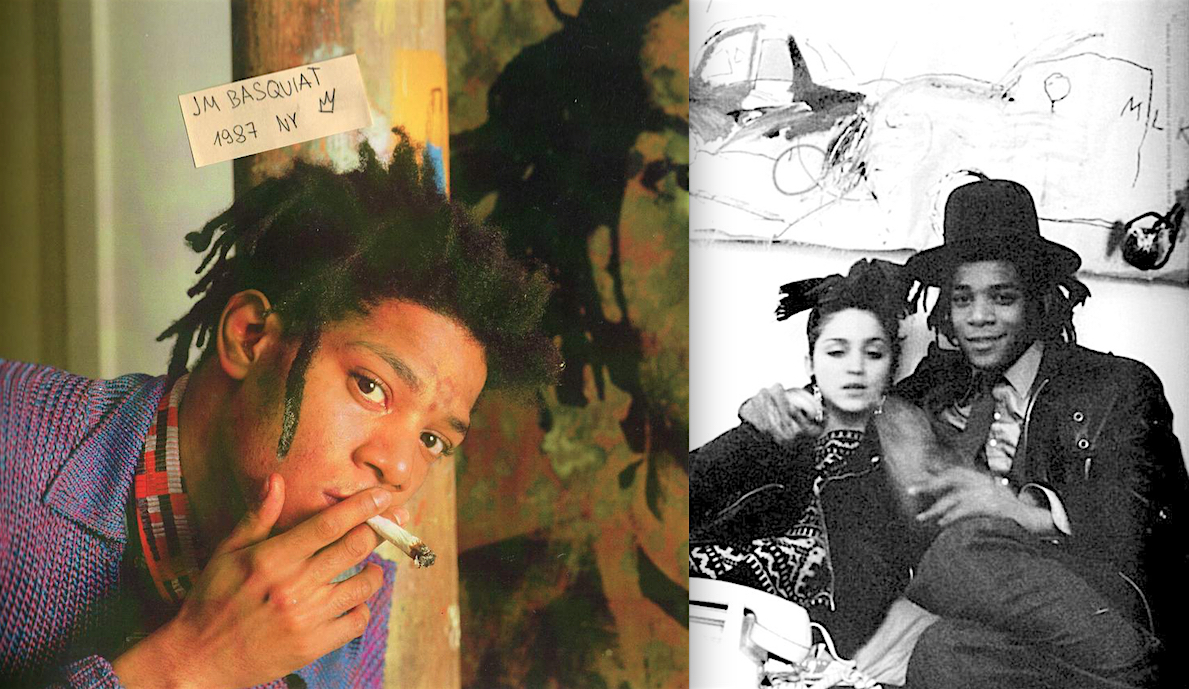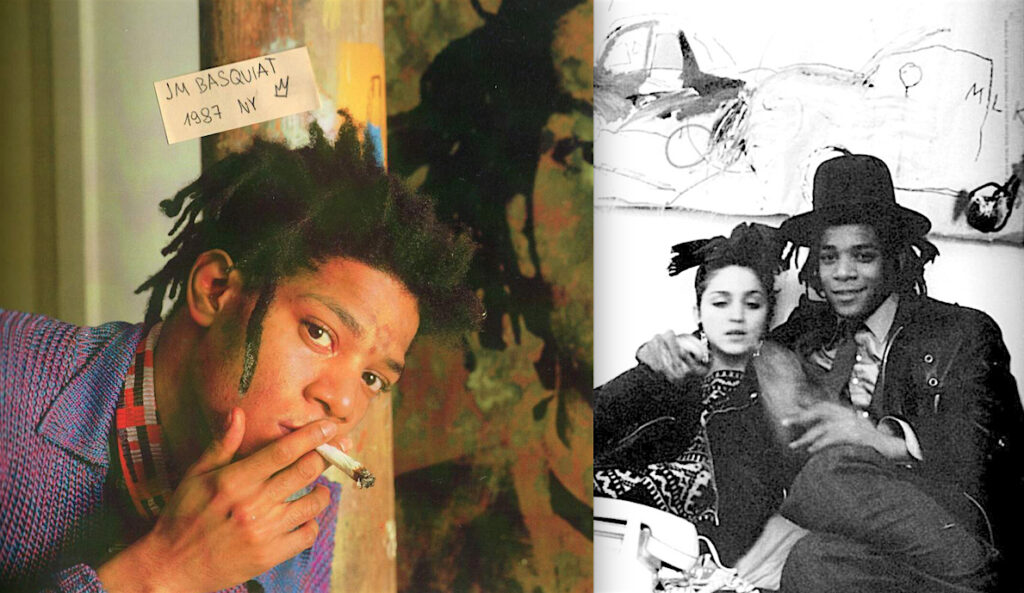 Unfortunately, everyone forgets that he had been dumped by the New York and L.A. art scenes, which consequently killed Basquiat. An exemplary case of the "American" art world's "Boom & Bust Principle". Btw, in a typical art flipper's attitude, it seems, that Maezawa is actually willing to sell his Basquiat for US$ 90 millions. See below pic. Any interest?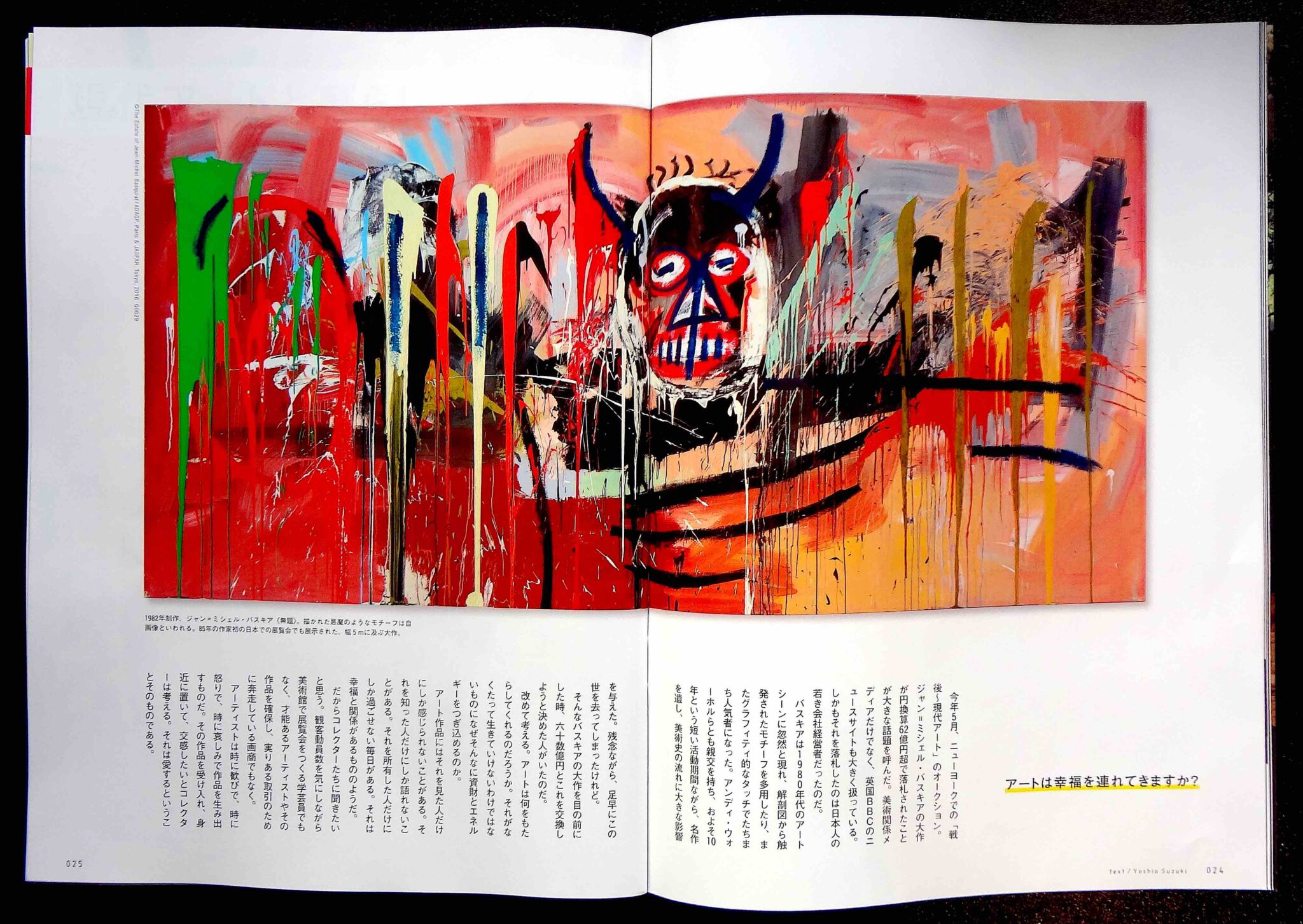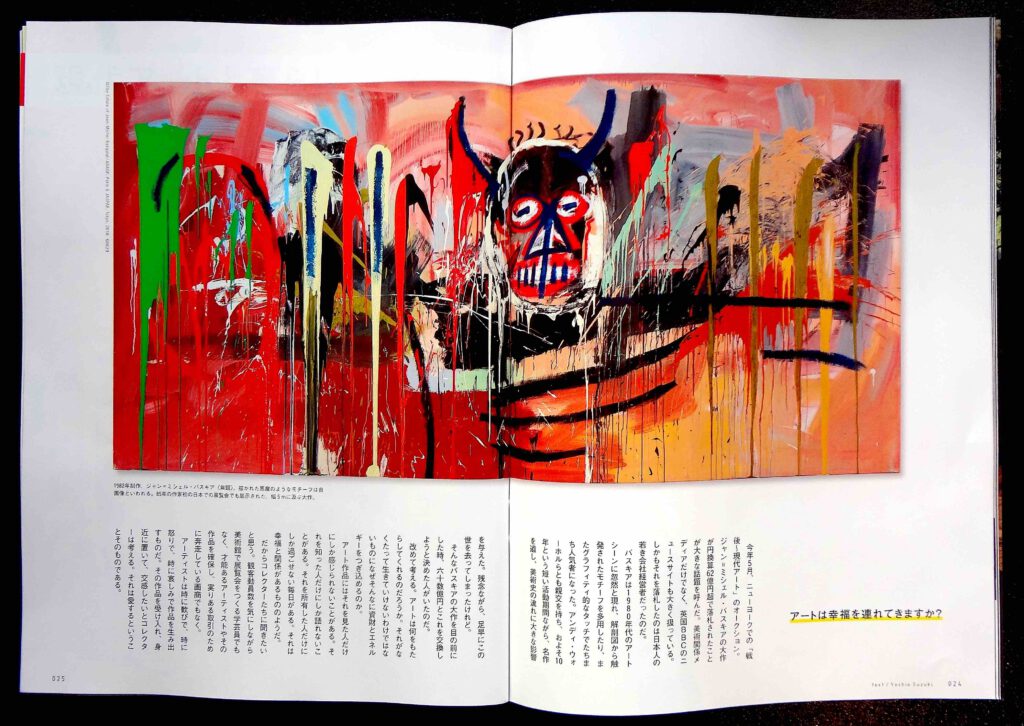 前澤友作コレクションですが、これで終わりか?
Is this the end of the 'MAEZAWA Yusaku Collection'?
https://art-culture.world/articles/end-of-the-maezawa-yusaku-collection/
ジャン=ミシェル・バスキア ~ メイド・イン・ジャパン ~ 売り出し中
Jean-Michel Basquiat 〜 Made in Japan 〜 For Sale
https://art-culture.world/articles/jean-michel-basquiat-made-in-japan-ジャン=ミシェル・バスキア/
ARTnews の「トップ200コレクターズ」」2018
THE TOP 200 COLLECTORS (ARTnews 2018)
https://art-culture.world/articles/the-top-200-collectors-artnews-2018/
So, why is there such a big fuss about Harry Brant? Because his father is one of the most influential art collectors in the world.
Peter Brant Is Still Shaking Up the Art World
Gearing up for a major Warhol exhibition at his foundation's East Village HQ, the industrialist-collector looks back at 50 years of staying on top of the collecting game
Architectural-Digest, By Horacio Silva, January 27, 2020
read full article:
https://www.architecturaldigest.com/story/peter-brant-foundation-warhol-interview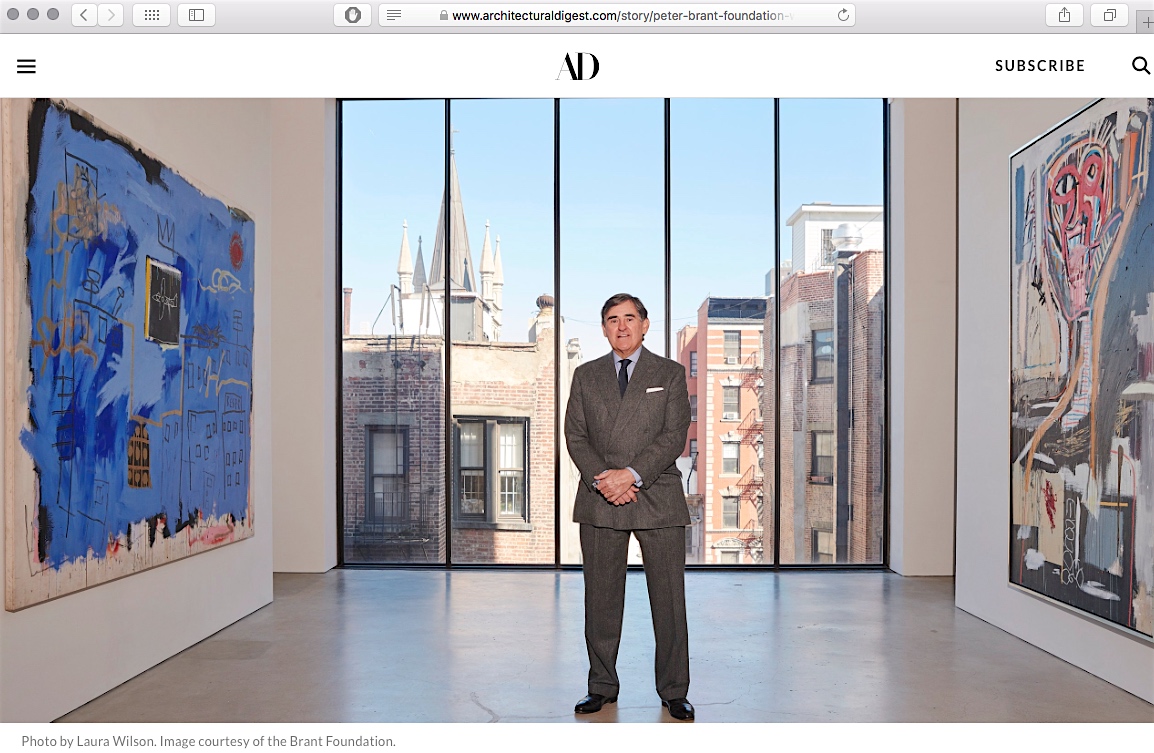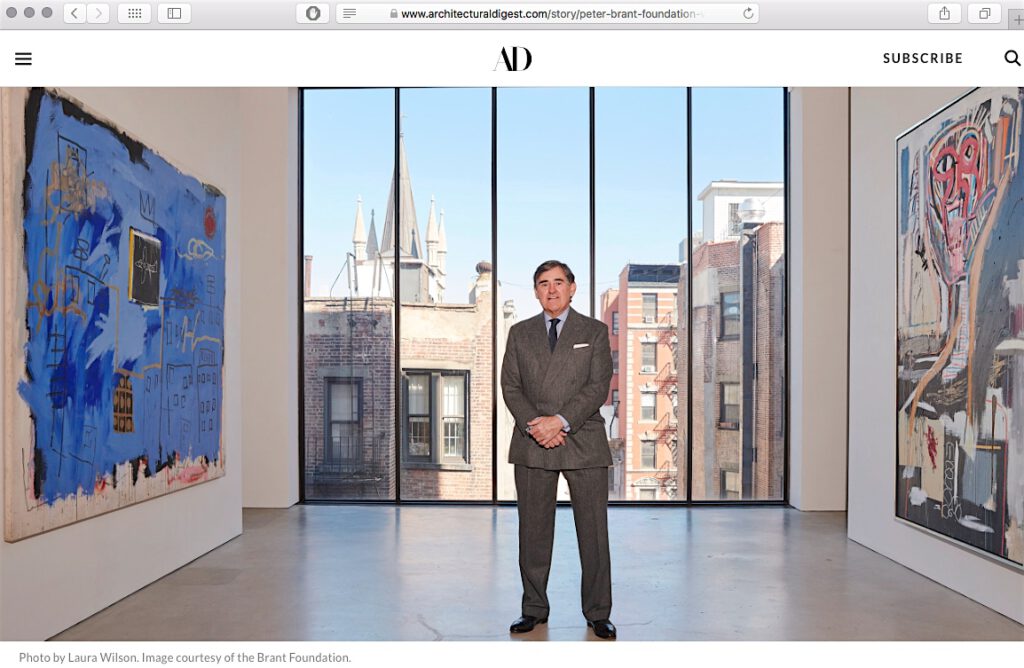 Let's check wikipedia, too.
quote:
https://en.wikipedia.org/wiki/Peter_Brant
Art collection and the Brant Foundation
Brant is one of the world's Top 200 art collectors. He bought his first pieces of art after turning an $8,000 investment into several hundred thousand dollars as a young man. His first purchases according to The New York Times, included "a couple of Warhols and, later, a major Franz Kline." In 1976, Brant commissioned Andy Warhol to paint his cocker spaniel, Ginger. Warhol made two paintings of Ginger, as well as drawings. Brant is one of the largest collector's of Warhol's art.
Brant is a member of the Advisory Council of the Andy Warhol Museum in Pittsburgh. The Museum of Contemporary Art in Los Angeles named Brant to its board of trustees in December 2009.
Brant's collection is on display to the public at the two locations of the Brant Foundation Art Study Center, in Greenwich, Connecticut and the East Village neighborhood of Manhattan. His collection includes numerous works by Warhol, Jean-Michel Basquiat, Jeff Koons, Dan Flavin, Glenn Ligon, and Cady Noland. Brant is one of Basquiat's major collectors. In 2020, he sold his Basquiat painting Boy and Dog in a Johnnypump (1982) to Ken Griffin for more than $100 million.
---
Japanese readers of ART+CULTURE obviously aren't very familiar with the behind-the-scene relationship in the art-magazine world of the USA. Peter Brant owned the influential magazines "Art in America" and "ARTnews" until 2018. Only the magazine "artforum" remained out of his control. Means, every artist and art dealer in the U.S. knew, still knows Brant's power, his Godfather-like, structure and network. Learn more via:
Will 'ARTnews' and 'Art in America' disappear as print journals?
https://art-culture.world/articles/artnews-and-art-in-america-disappear-as-print-journals/
Also in 2018 Brant filed for bankruptcy regarding his magazine "Interview". Nebulous circumstances let the magazine come back, check this link:
https://www.businessoffashion.com/articles/news-analysis/how-interview-magazine-came-back-from-the-dead
Well, before I drift into other art-related topics in the U.S., better to finish today's writing. Hope my Japanese readers learned one more aspect about the art world in the U.S.. ありがとう、じゃね〜!
Tokyo, 2021/1/20
Mario A
Heroin and the War on Drugs | Retro Report | The New York Times