現代美術コレクター、兼オークションハウス・クリスティーズ社長フランソワ・ピノー氏のコレクション展 in モナコ公国
Contemporary Art Collector, Christie's Auction House Owner François Pinault Shows His Collection In The Principality of Monaco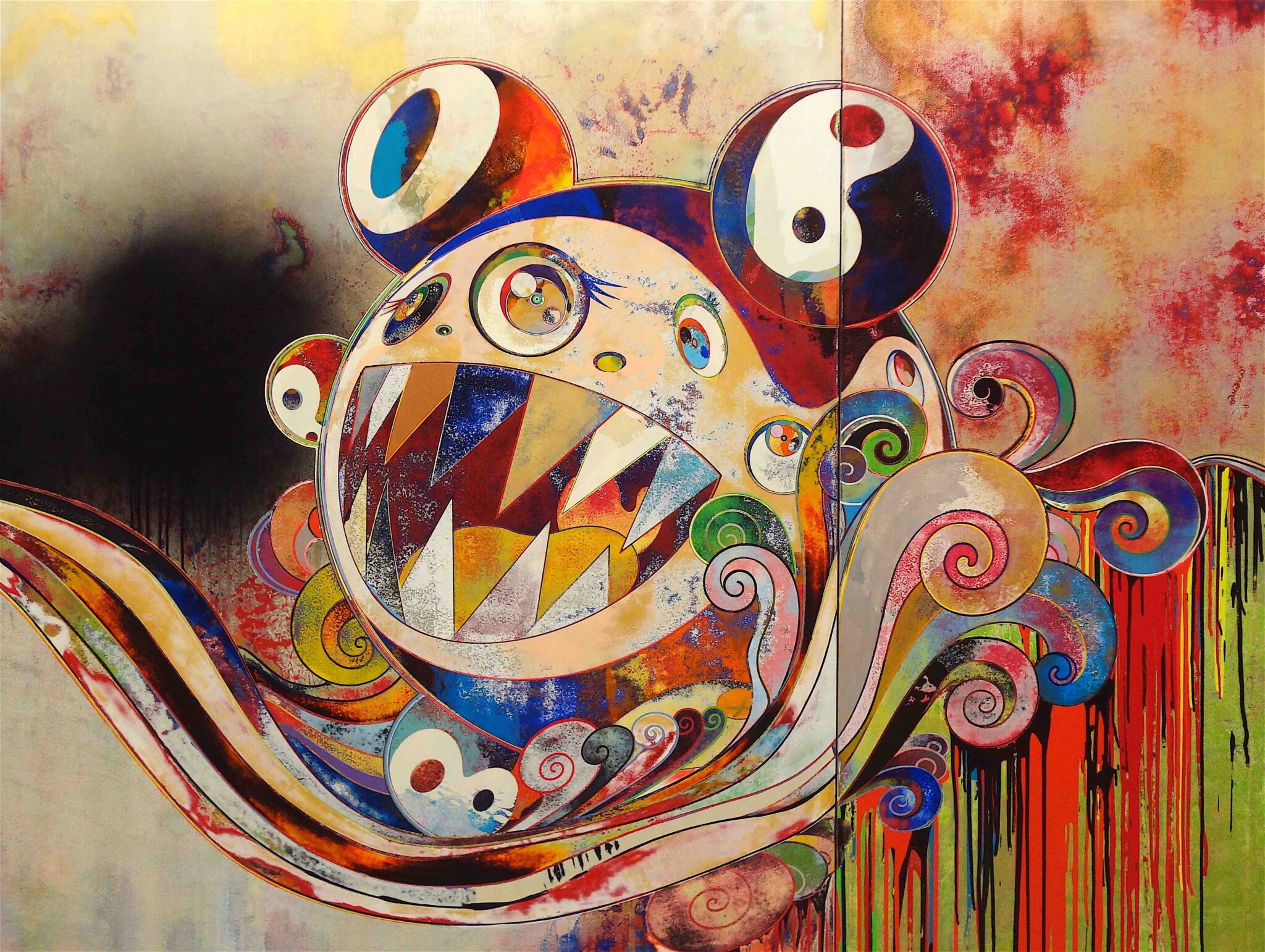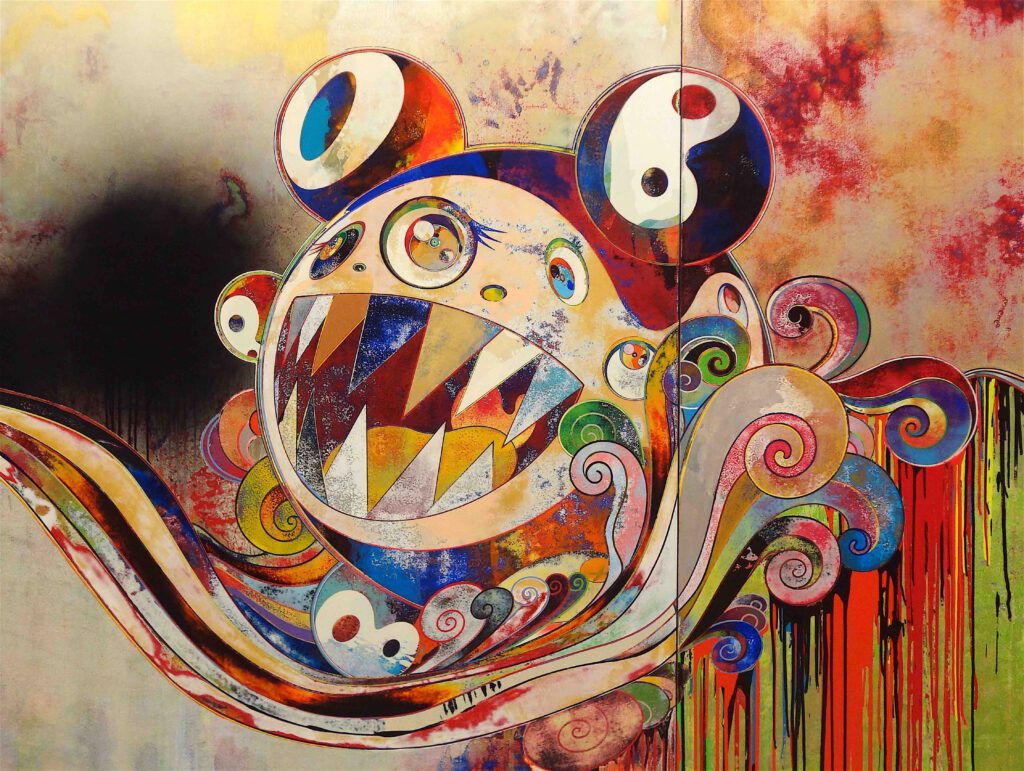 モナコで開催された、ピノー・コレクションから主要なアート作品40点を集めた展覧会「アート・ラバーズ」を観た時、日本できちんと紹介した方がいいと現場でわかりました。
ピノー氏は世界最高の現代美術コレクターと言っても過言ではありません。ヴェネツィアやパリで開催された彼の展覧会を見れば、将来的に次の「アート・プラクティスの規範」がどのように書かれるのか、想像がつくかもしれません。
モナコ展のために推薦された作品に関して、残念ながら女性の芸術活動の視点が欠けています。これはチーフ・キュレーターの責任だと思っています。
とはいえ、展示された作品は、目に見えるか見えないかにかかわらず、古典作品とのつながりや関係性を示すために特に選ばれたものです。
芸術の文脈性という考えは、モナコで発表された作品の選択に共通するテーマであり、コレクションの中で最も有名な作品と、以前の展覧会では一度も展示されたことのない15点を含む稀少な作品が集められました。
「アートラバーズ」では、引用、暗示、参照、パロディ、賞賛、批判、転用、リメイク、アプロプリエーション、再利用などを通して、作品間の絡み合う関係の多様性から生まれるインスピレーション、変化、形やアイデアの生成の並外れたダイナミクスを探求しました。ピノー氏にとって、それは前向きな、ポジティブなダイナミズムであり、過去にさかのぼって敬意を表したり、後悔したりするようなものではないのだと思います。
「アートラバーズ」展は、60年代から現在に至るまで、ヨーロッパ、アメリカ、アジア、中東など様々な地域で活躍するアーティストたちの絵画、彫刻、インスタレーション、ビデオ、ドローイングを一堂に集め、ピノー・コレクションの多様性を証明しています。そのため、ポスト・モダニズムの進化の過程における新たな要素や層を示しています。
アーティストたちのラインアップ:
アデル・アブデスメッド
マウリツィオ・カッテラン
ジェイク&ディノス・チャップマン
チェン・ジェン
マレーネ・デュマ
ウルス・フィッシャー
ダン・フラビン
ポール・フライヤー
シプリアン・ガイヤール
ダグラス・ゴードン
スボッド・グプタ
デビッド・ハモンズ
ダミアン・ハースト
ジェフ・クーンズ
バートランド・ラヴィエ
ルイーズ・A・ロウラー
シェリー・レヴィン
ポール・マッカーシー
ジョナサン・モンク
村上隆
ジューリオ・パオリーニ
リチャード・プリンス
ロブ・プルーイット
チャールズ・レイ
ルドルフ・シュティンゲル
スターテバン
杉本博司
ハビエル・テレス
ピョートル・ウクランスキー
レイチェル・ホワイトリード
ヤン・ペイミン
ツェン・ファンジー
チャン・ホァン
ART LOVERS : STORIES OF ART IN THE PINAULT COLLECTION
https://www.grimaldiforum.com/en/exhibition-summer-monaco/pinault-collection-grimaldi-forum-monaco#.YSK8lC2B2Rs
フランソワ・ピノーについて、その他にもご参加:
ルドルフ・スティンゲルが焼け落ちる Burning Down Rudolf Stingel
https://art-culture.world/articles/burning-down-rudolf-stingel/
クリスティーズ香港のジョージナ・ヒルトン氏:杉本博司の東京オークション後、オークショニアとしての輝きを放つ
After SUGIMOTO Hiroshi's auction in Tokyo, Georgina Hilton shines as brilliant auctioneer @ Christie's Hong Kong
https://art-culture.world/articles/georgina-hilton/
フランソワ・ピノーの三番目の刺激的な現代美術館、再建築 by 安藤忠雄
Exciting 3rd Contemporary Art Museum for François Pinault, rebuild by ANDO Tadao
https://art-culture.world/articles/francois-pinault-art-museum/
日本の現代アーティスト・トップ 6(2020年)
Contemporary artists from Japan, Top 6 (2020)
https://art-culture.world/articles/contemporary-artists-from-japan-top-6-2020-日本の現代アーティスト・トップ-6-2020年/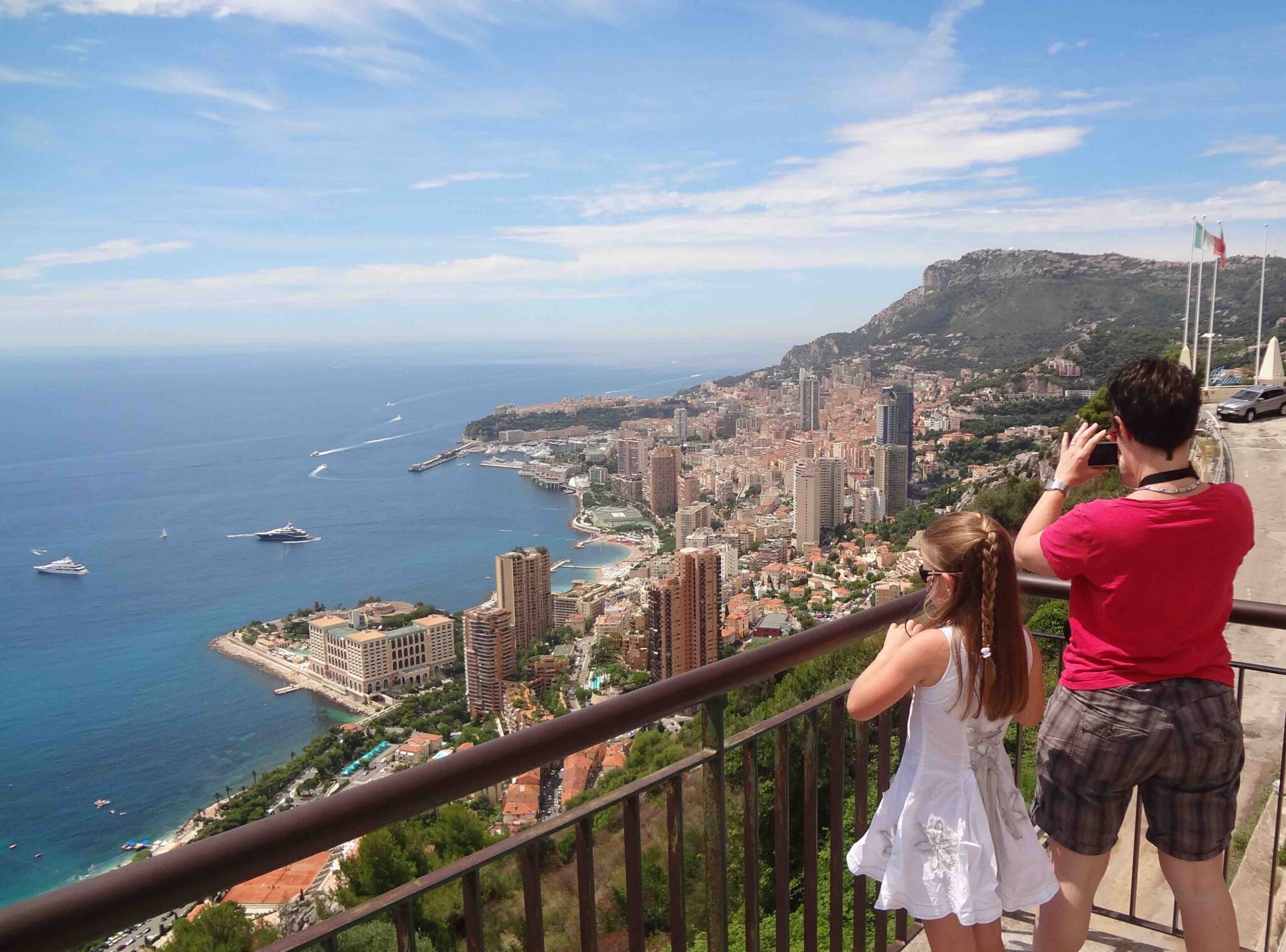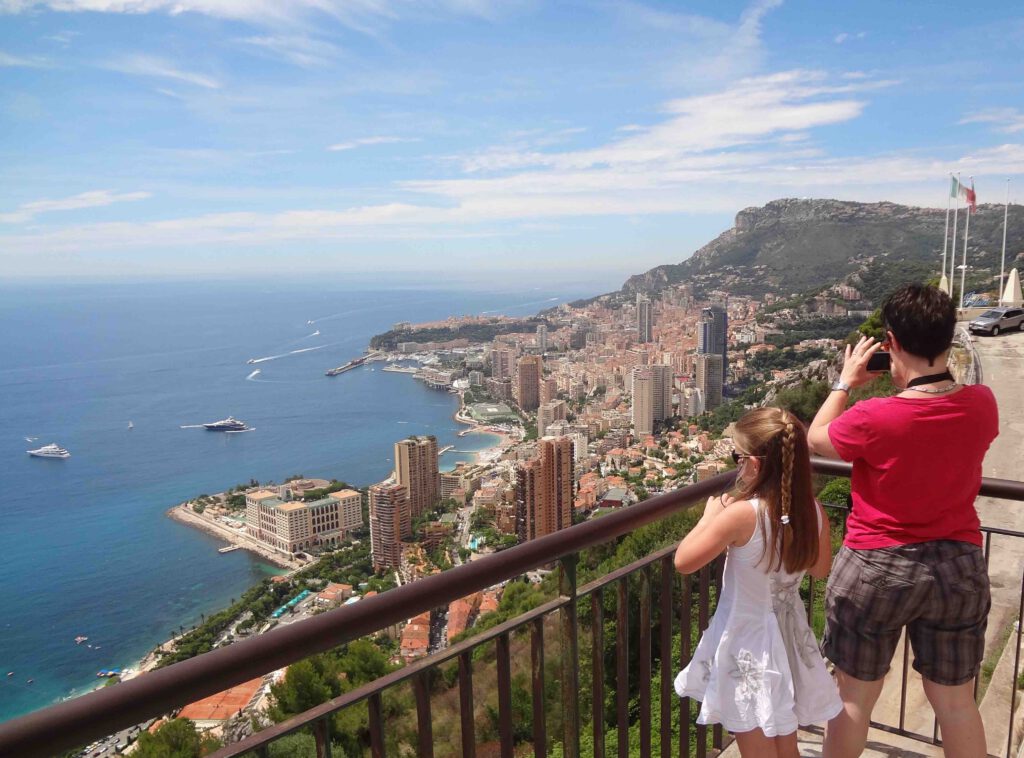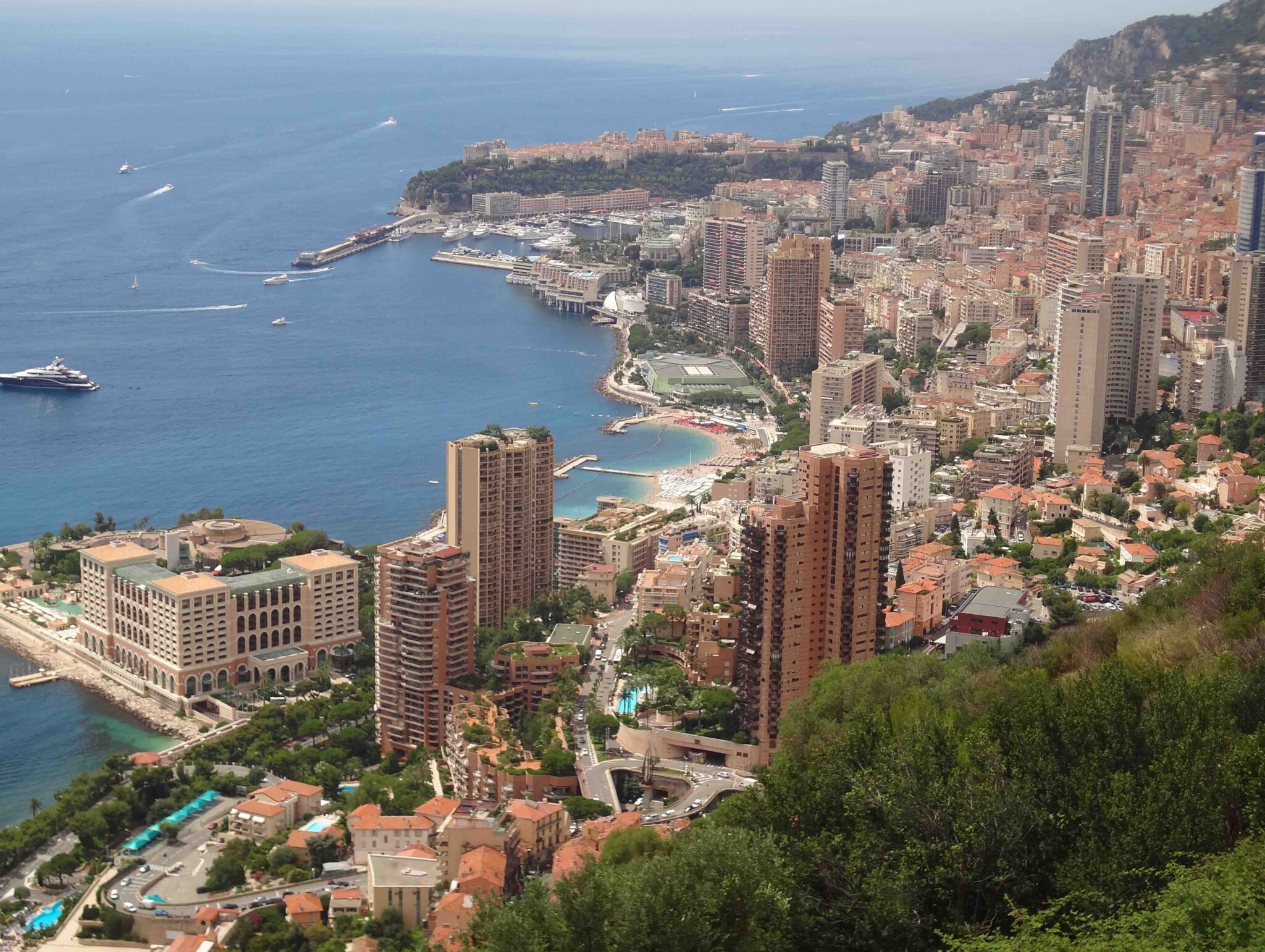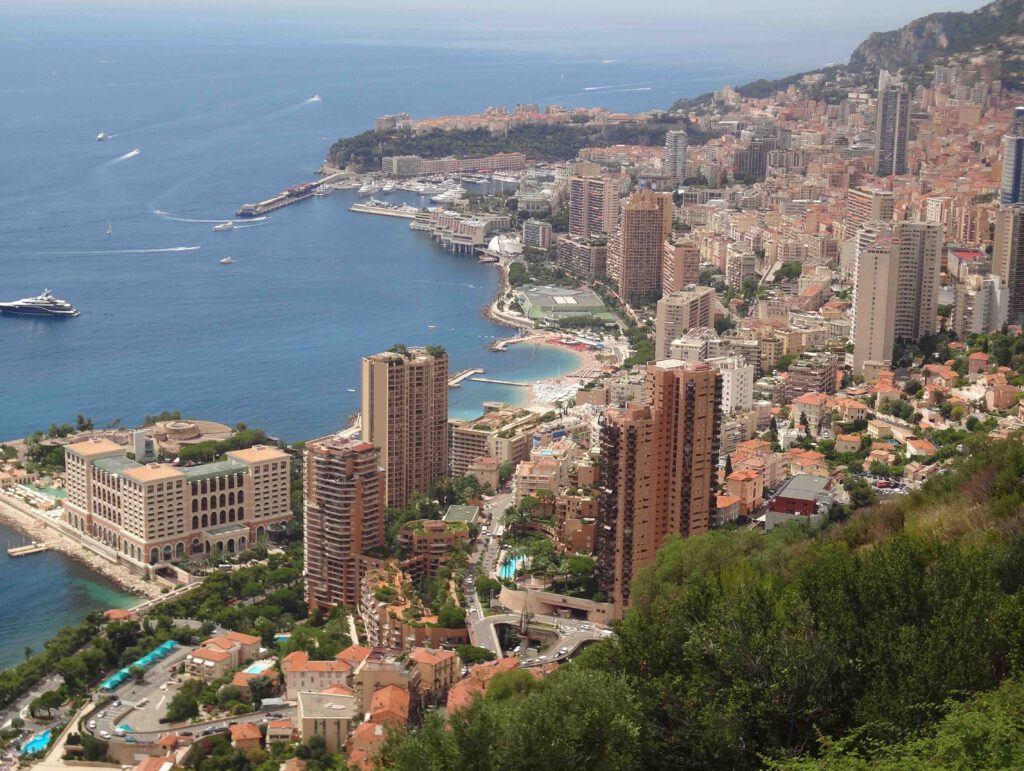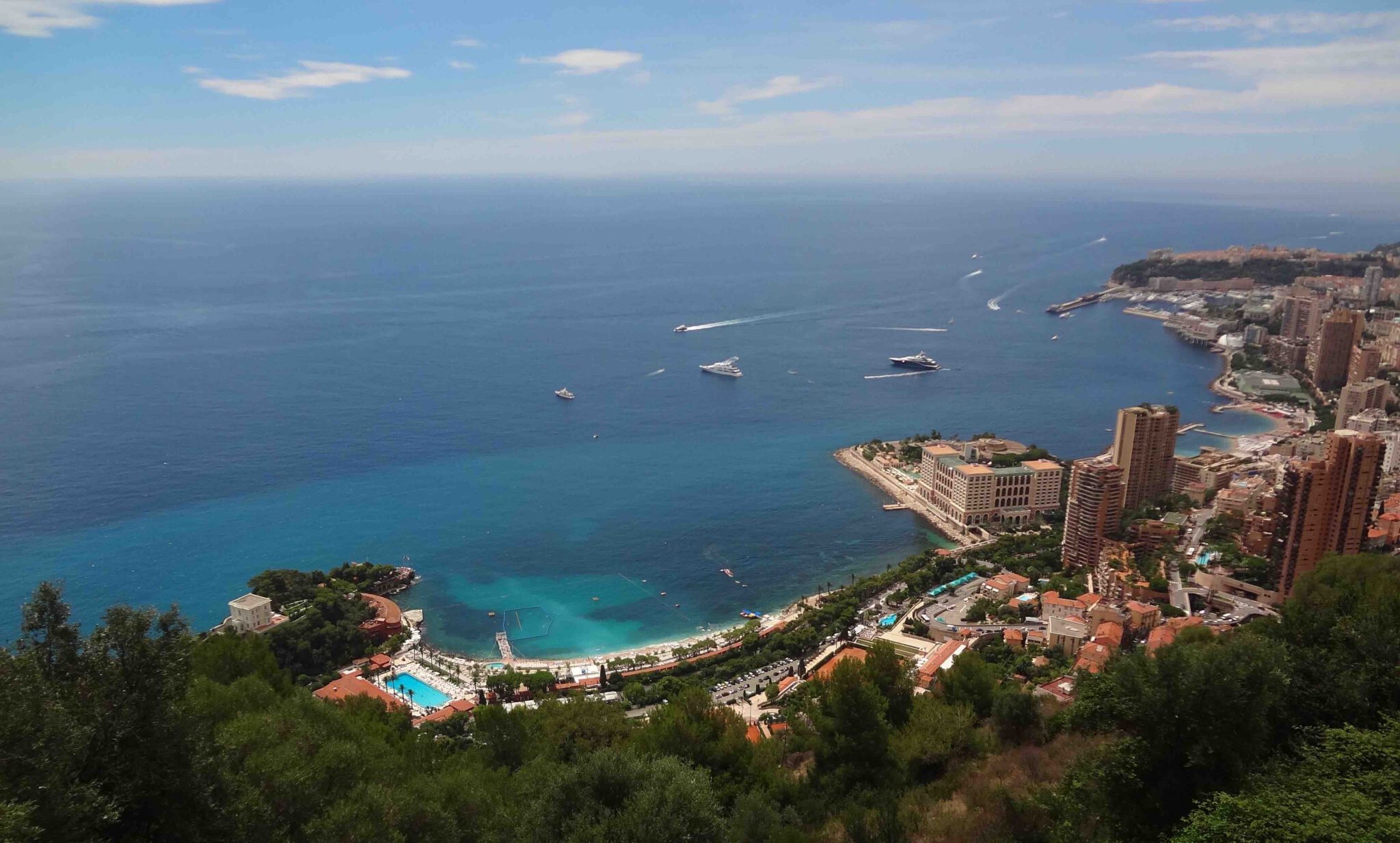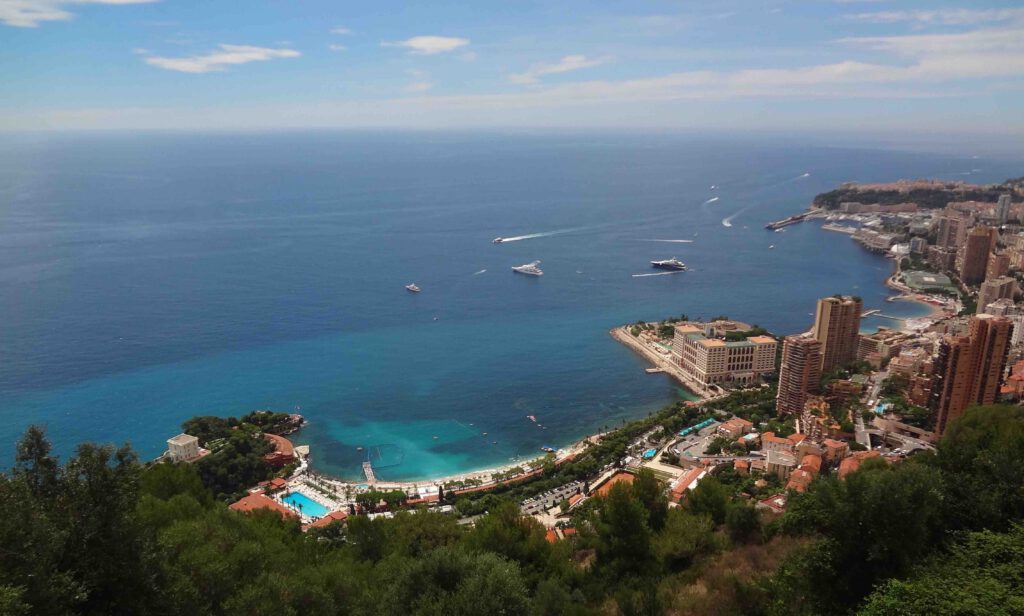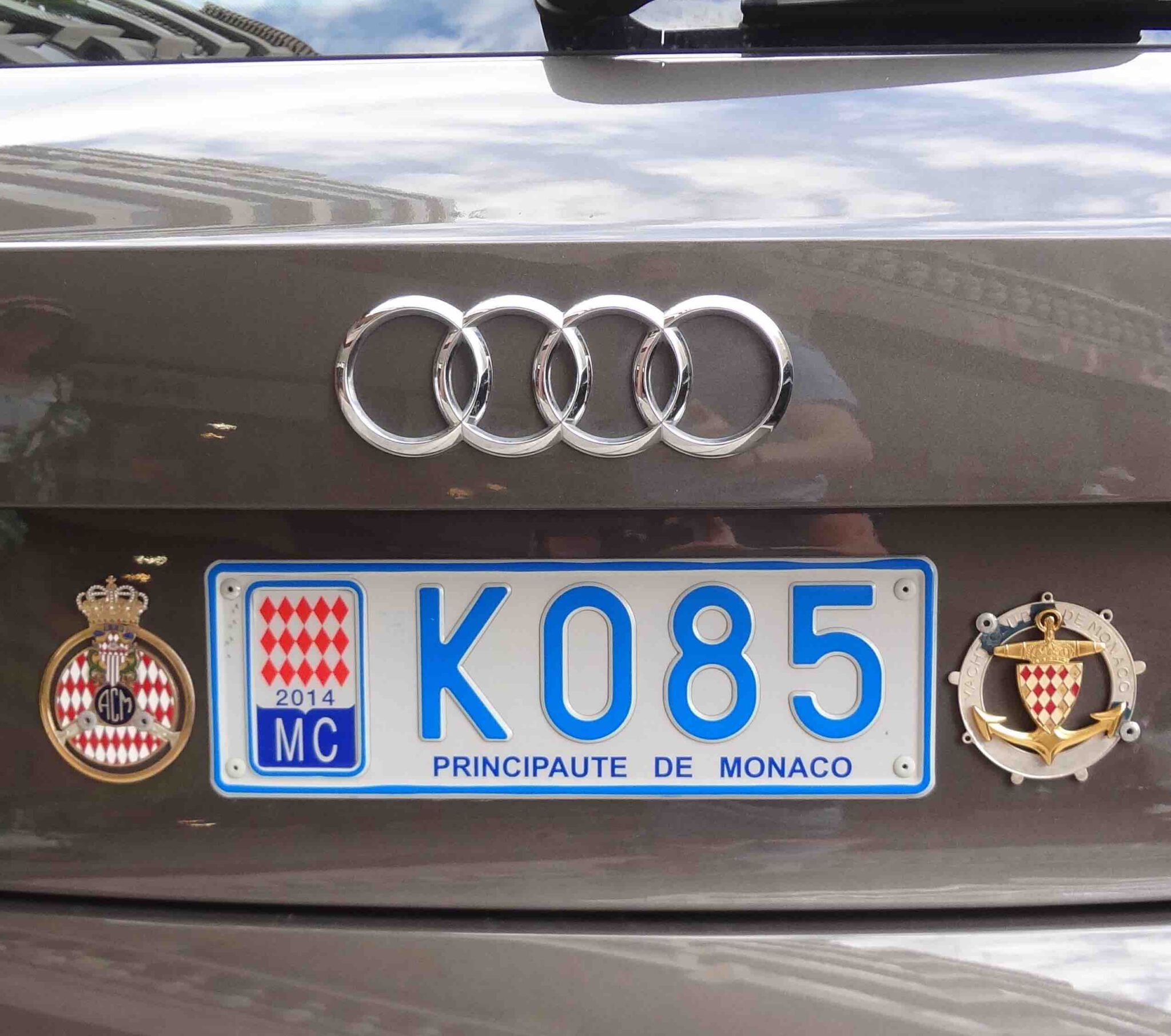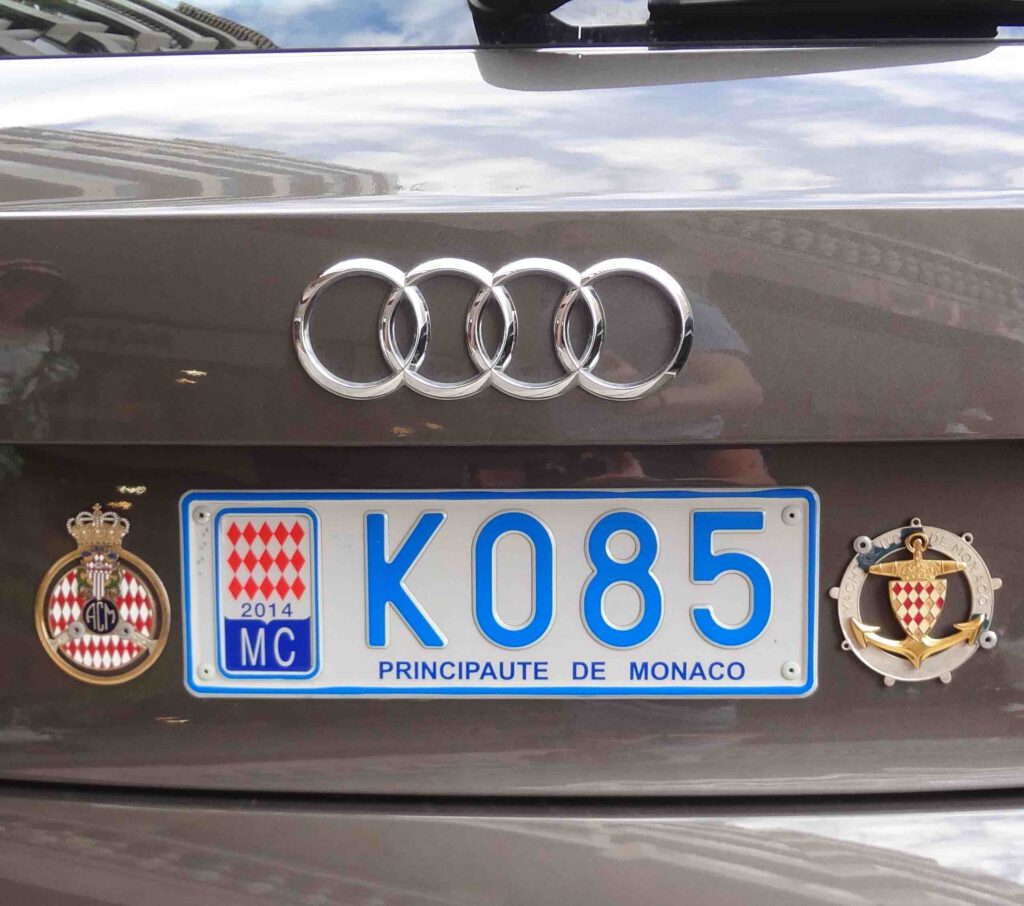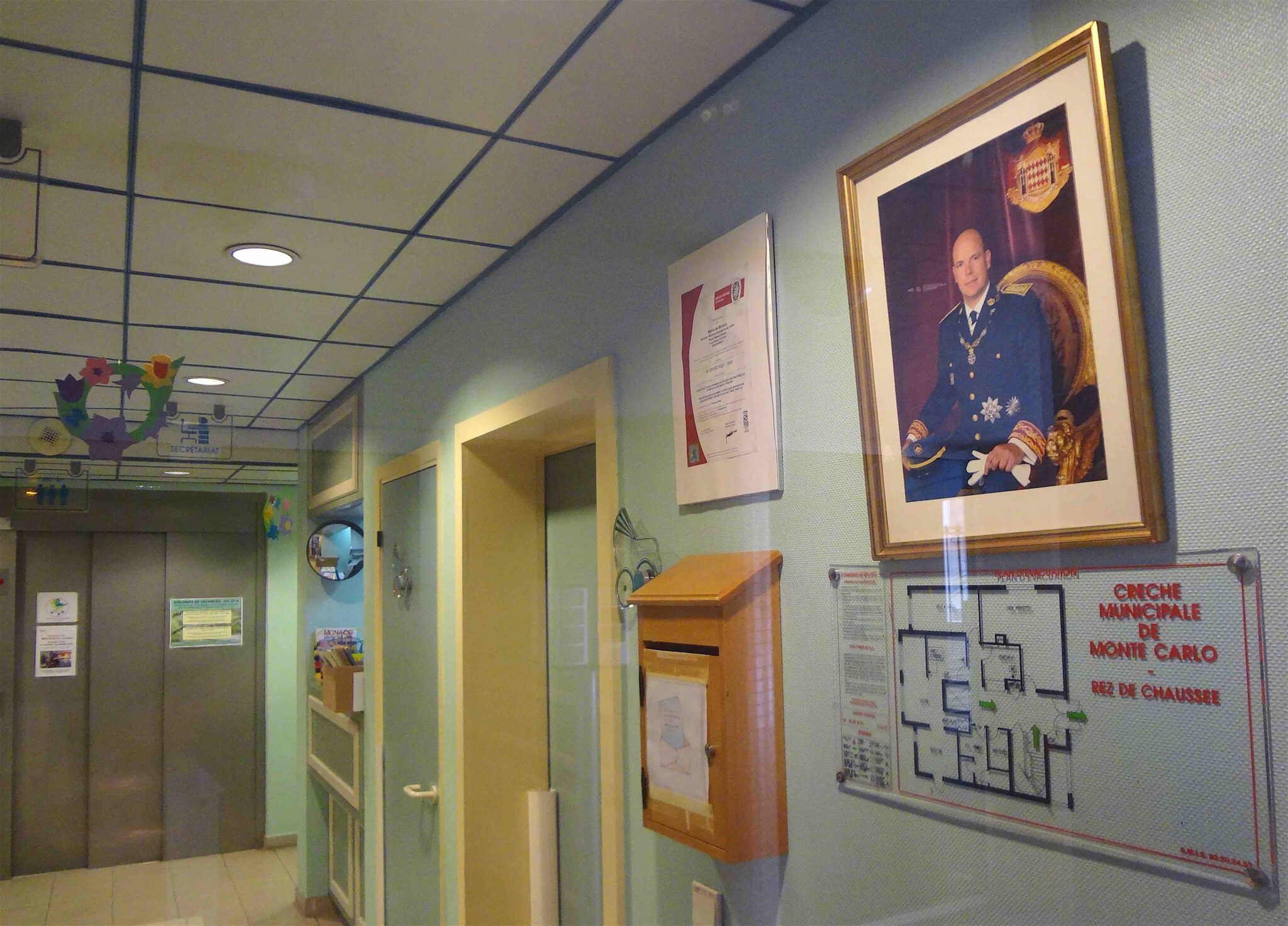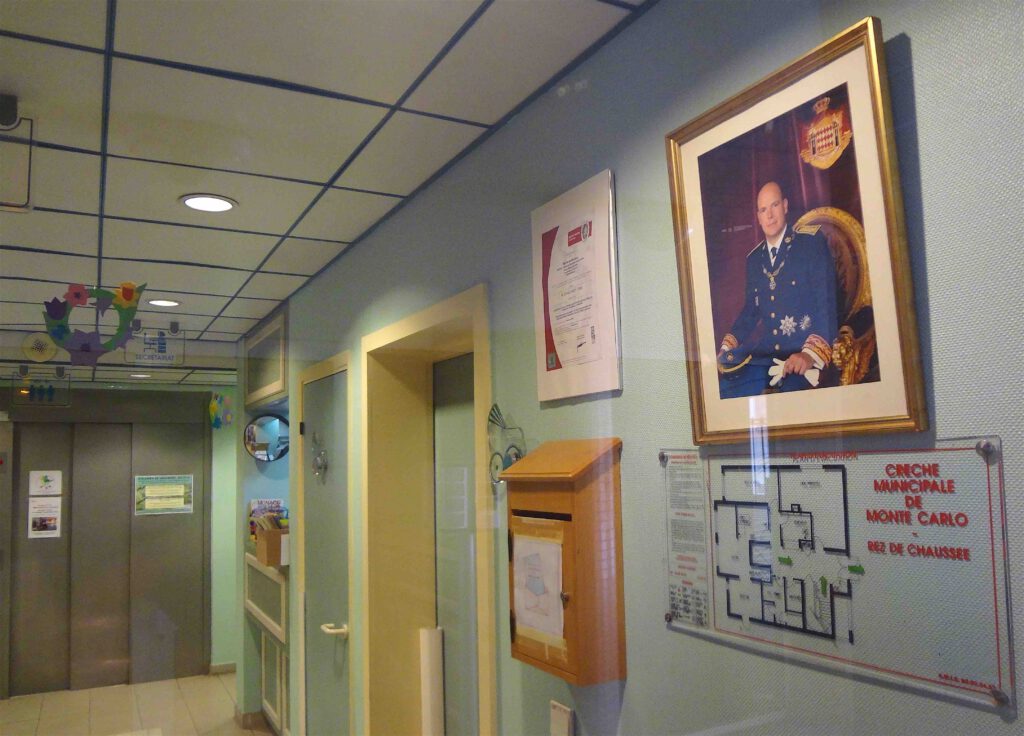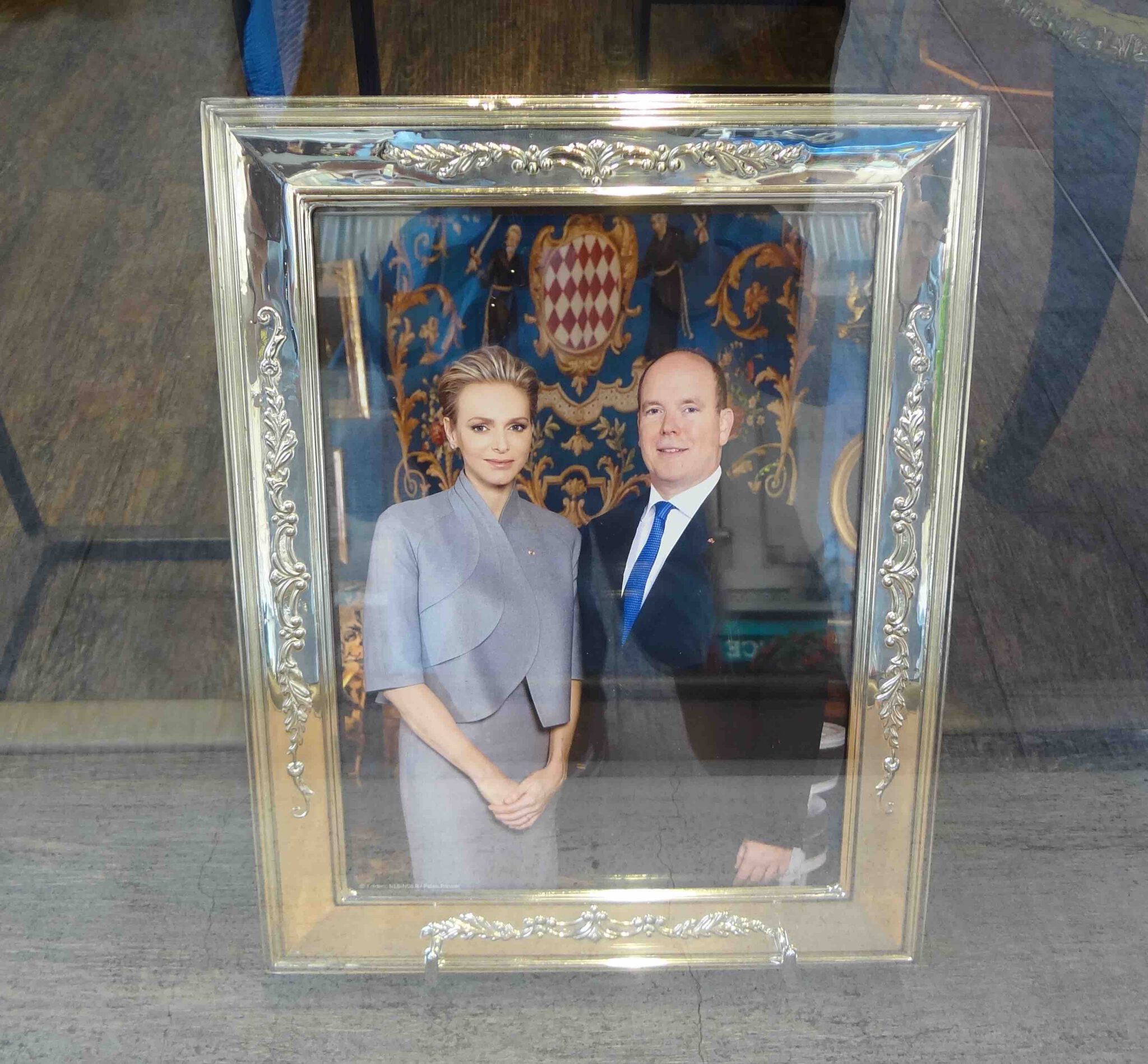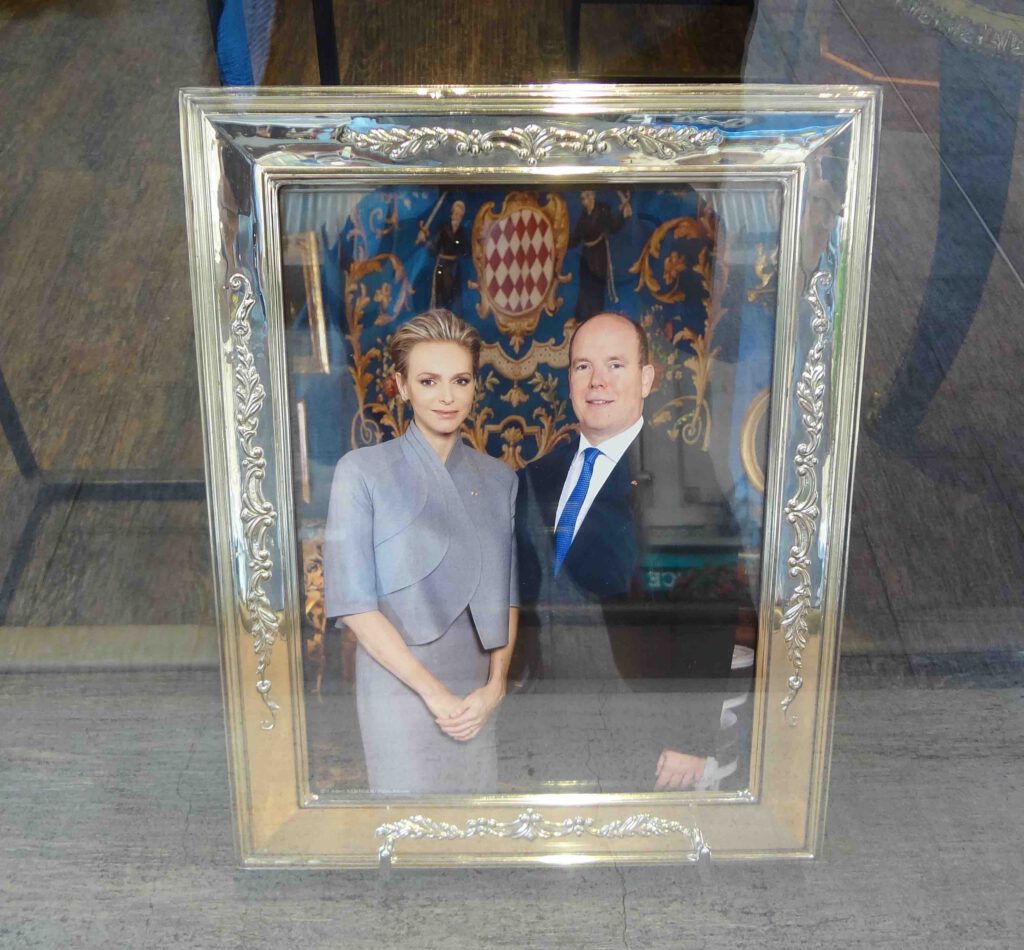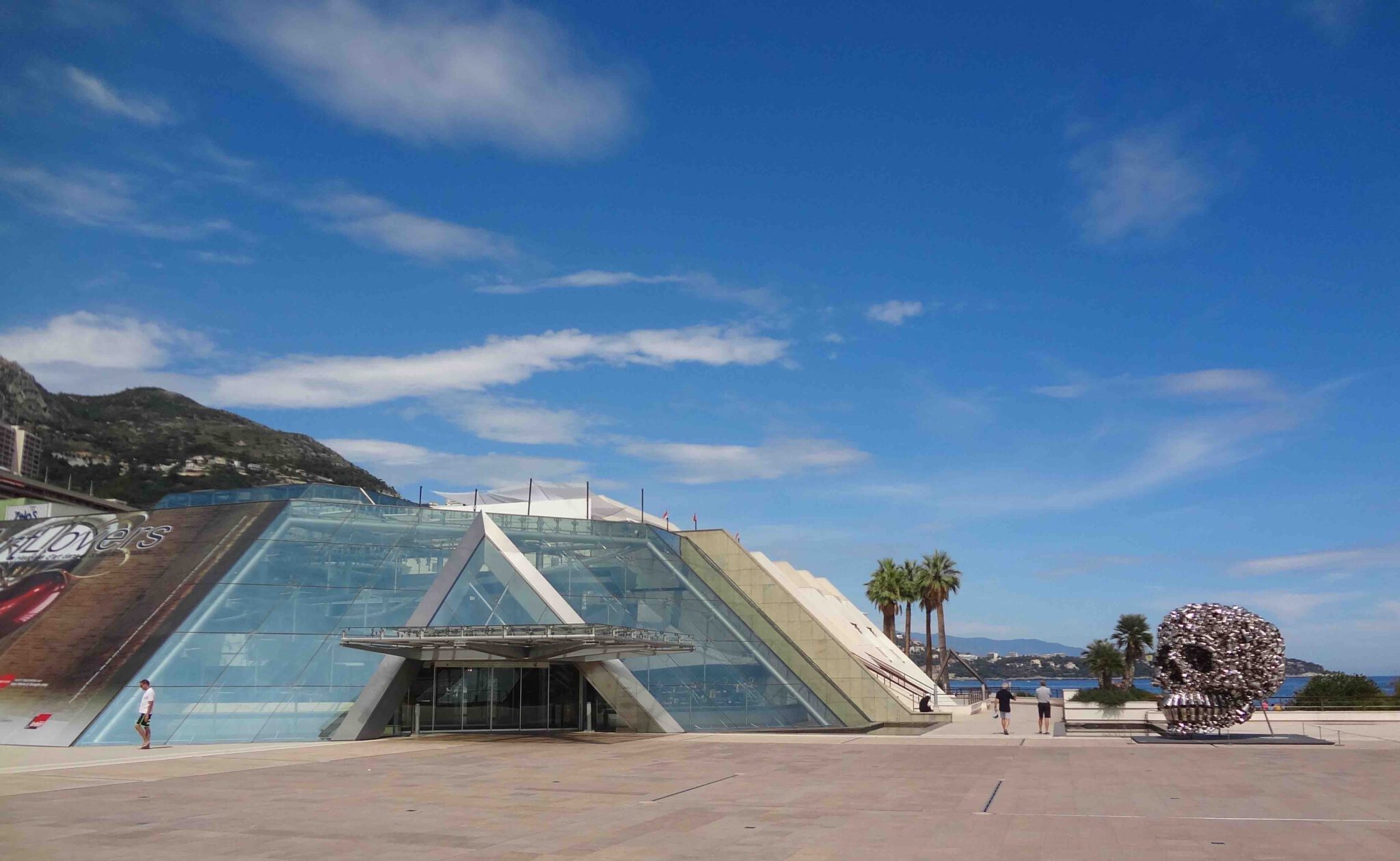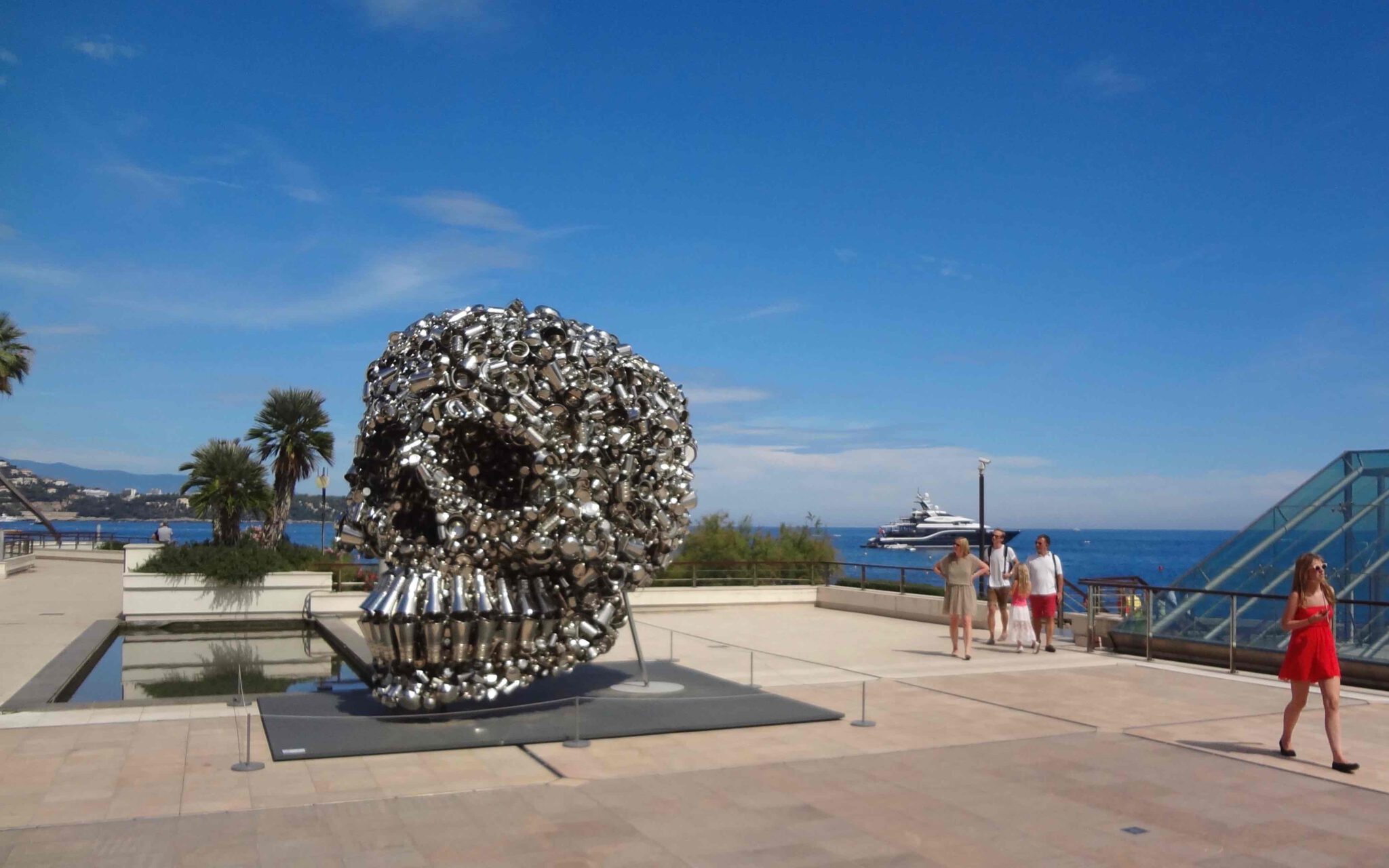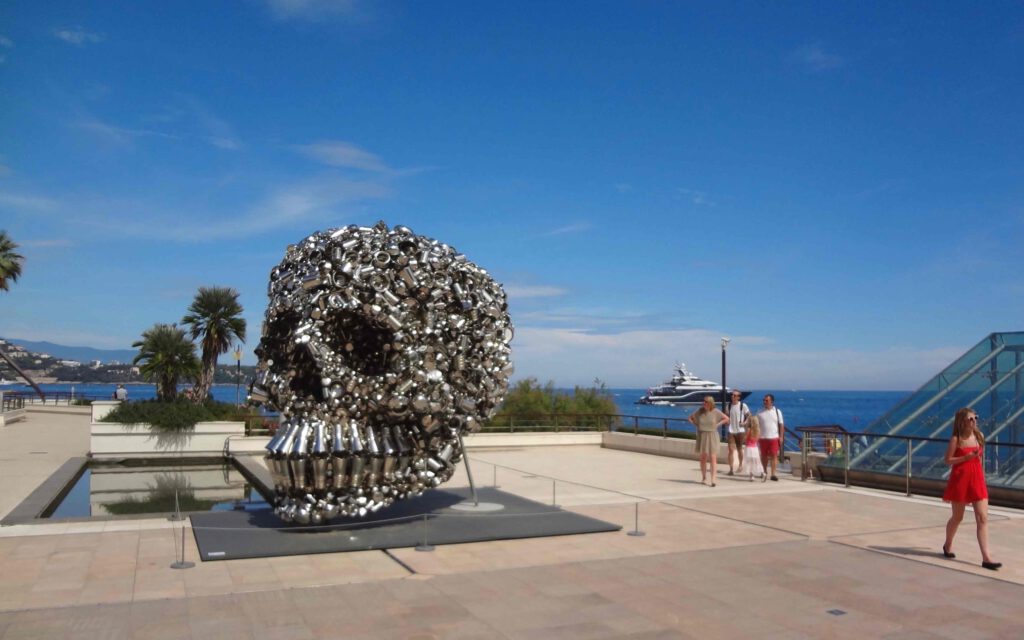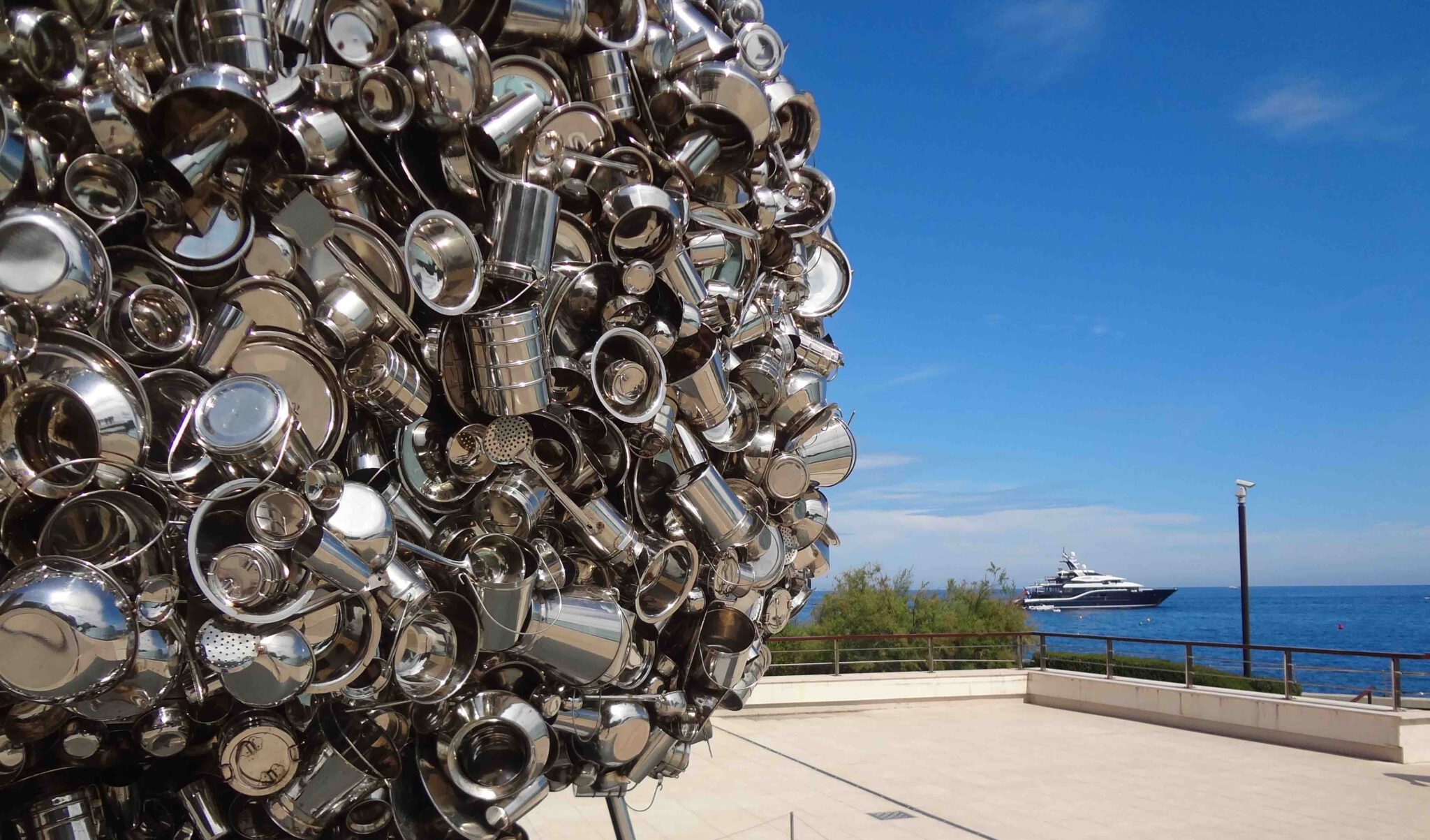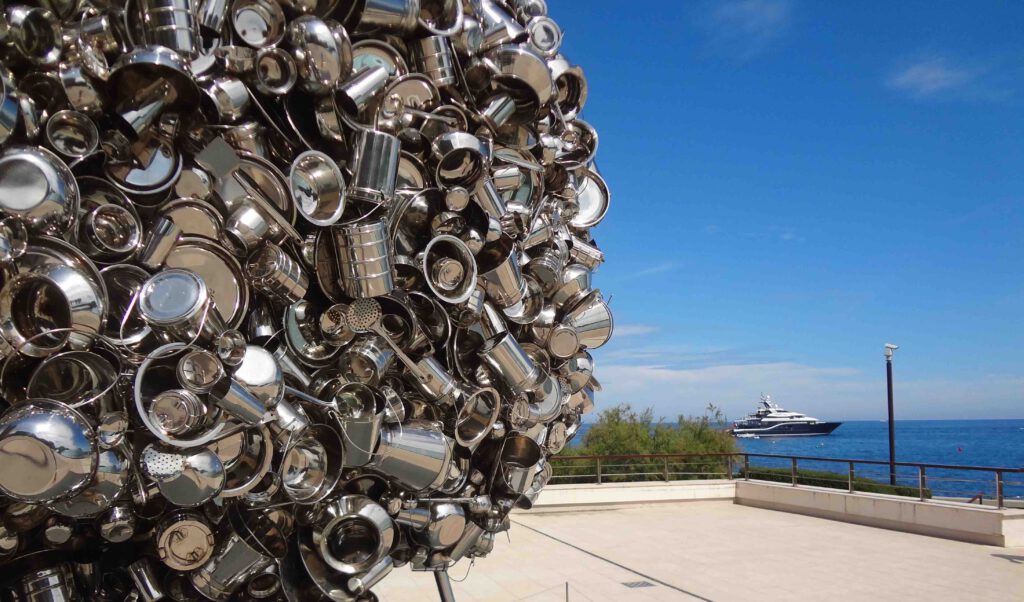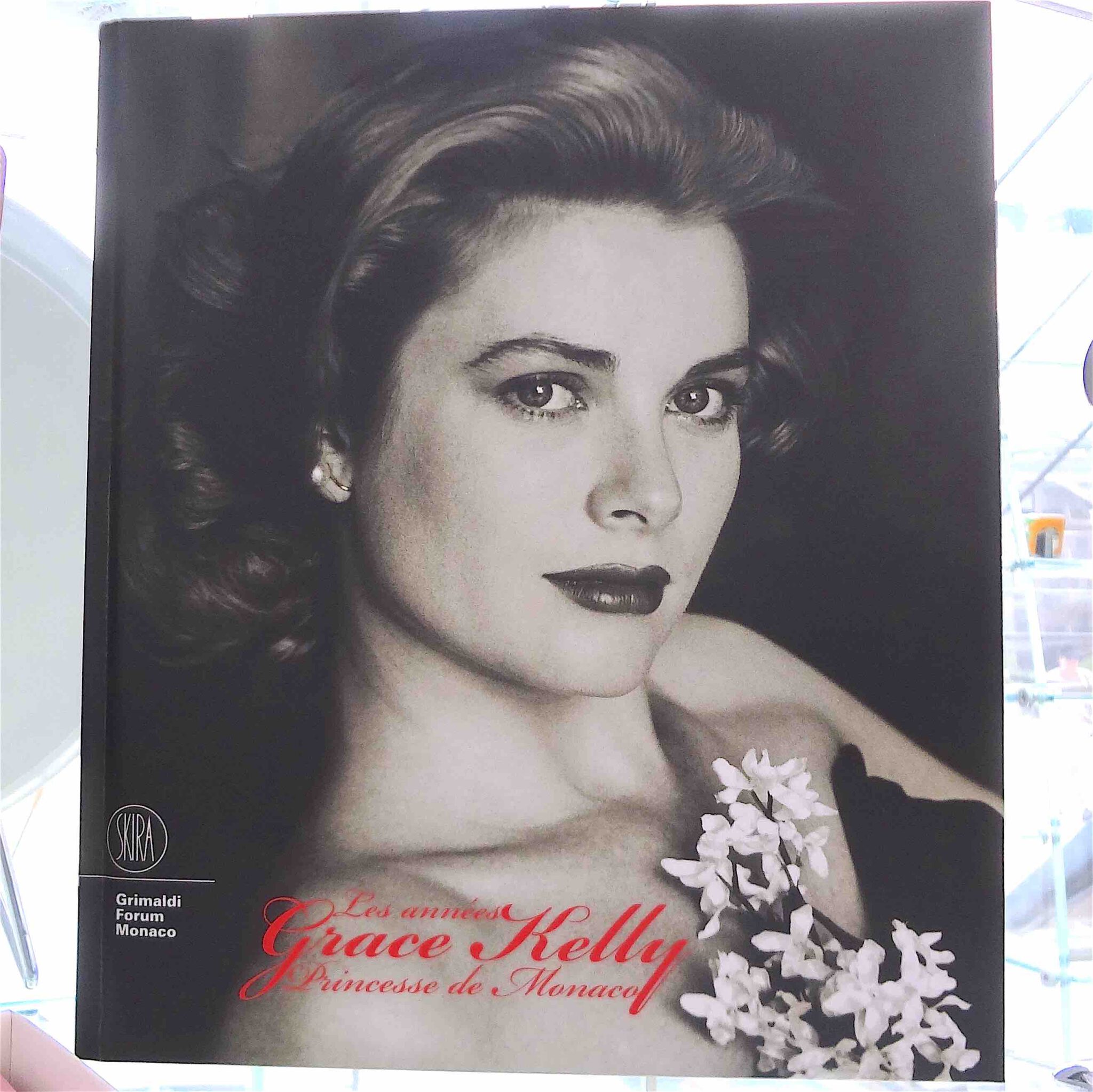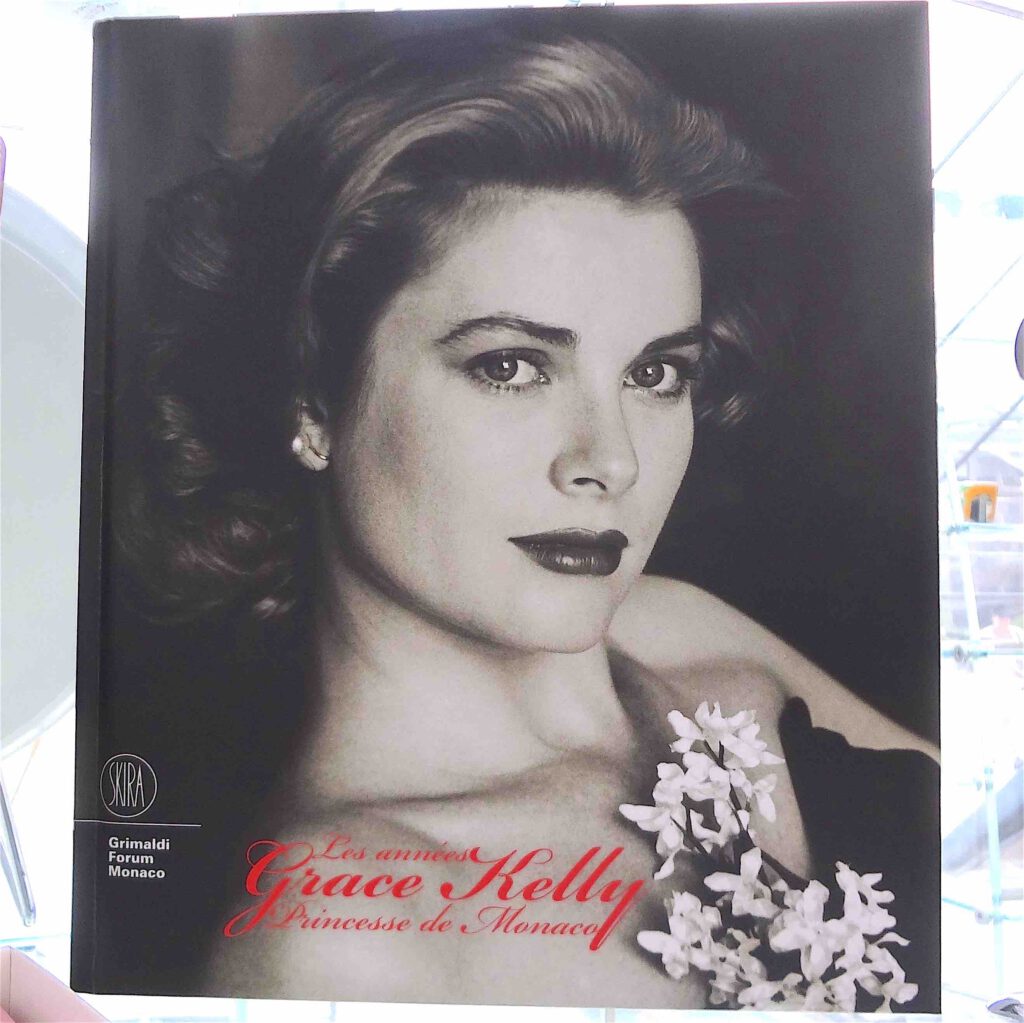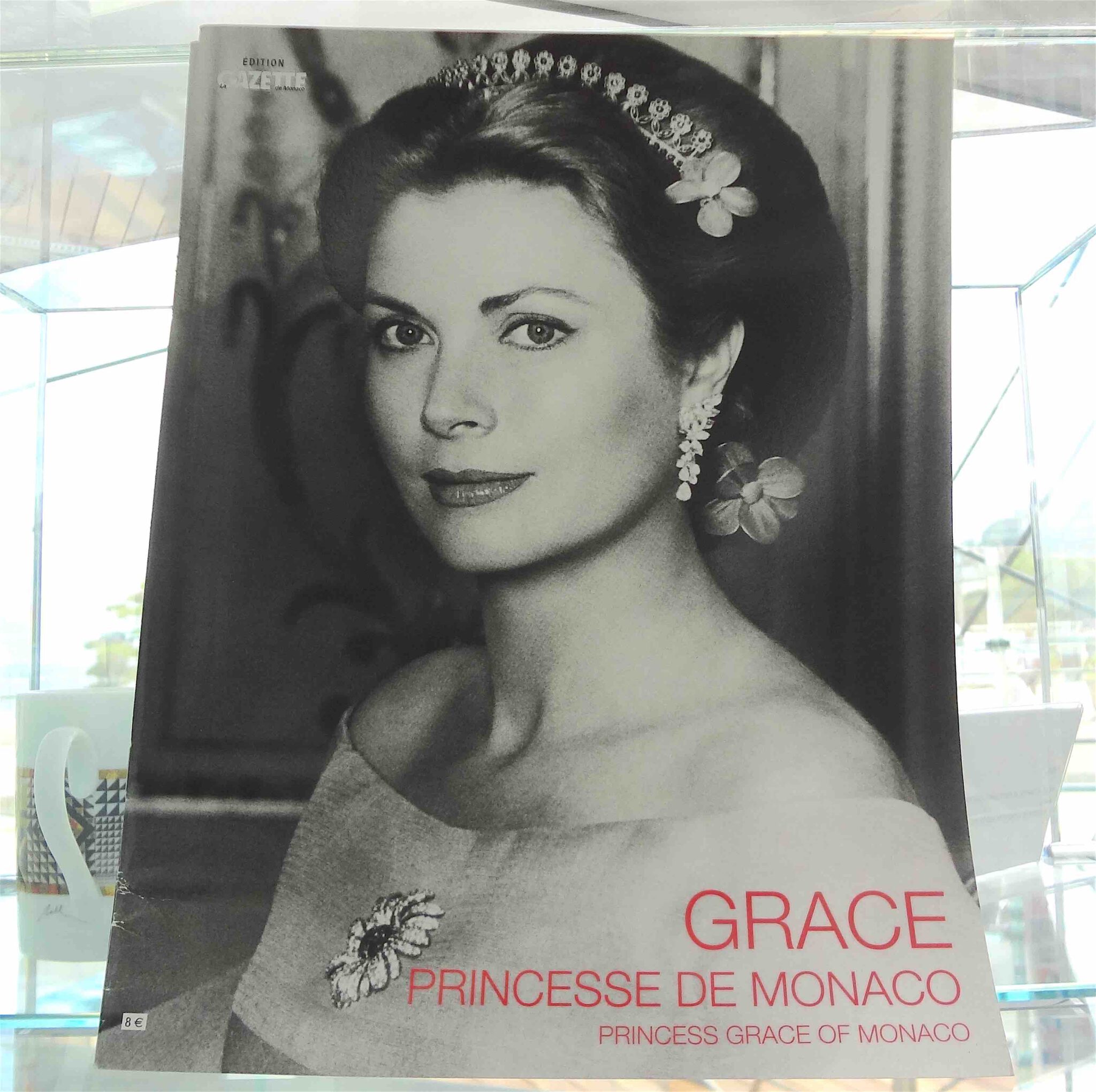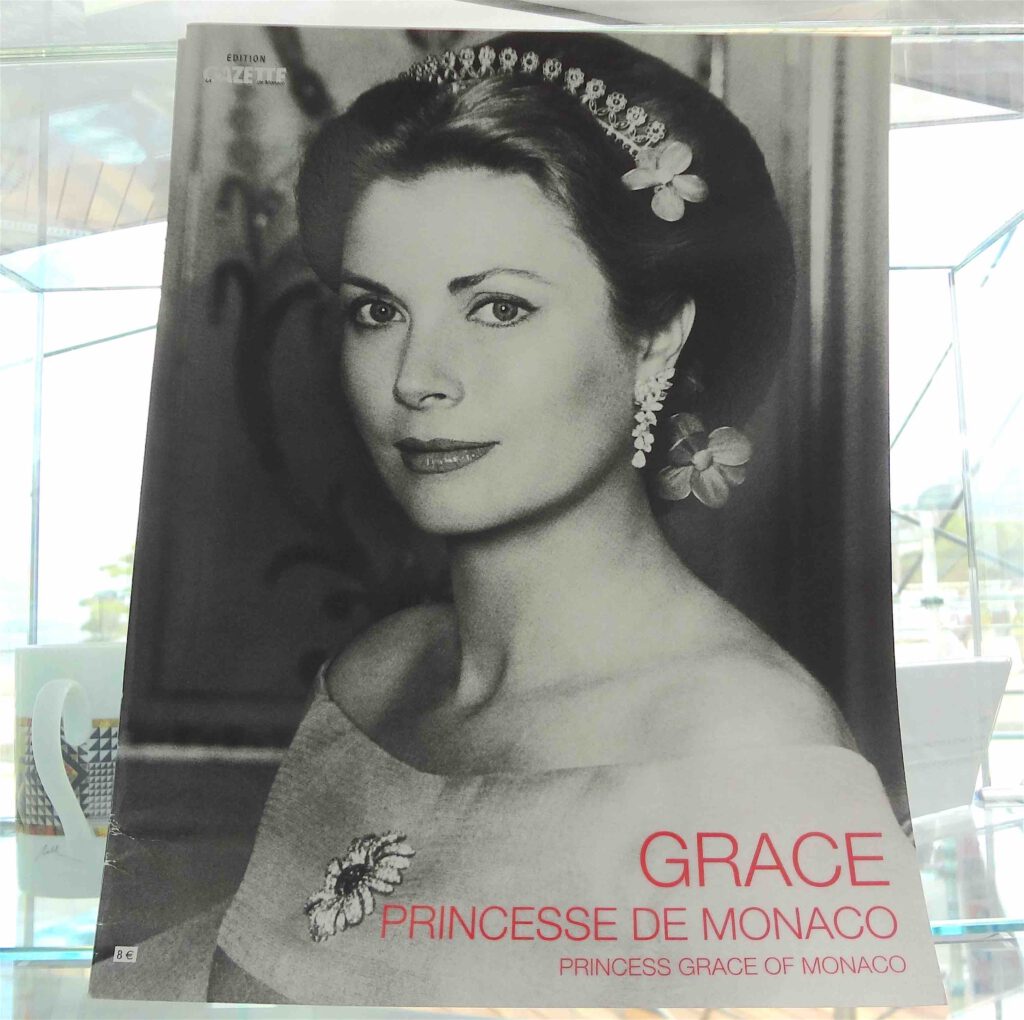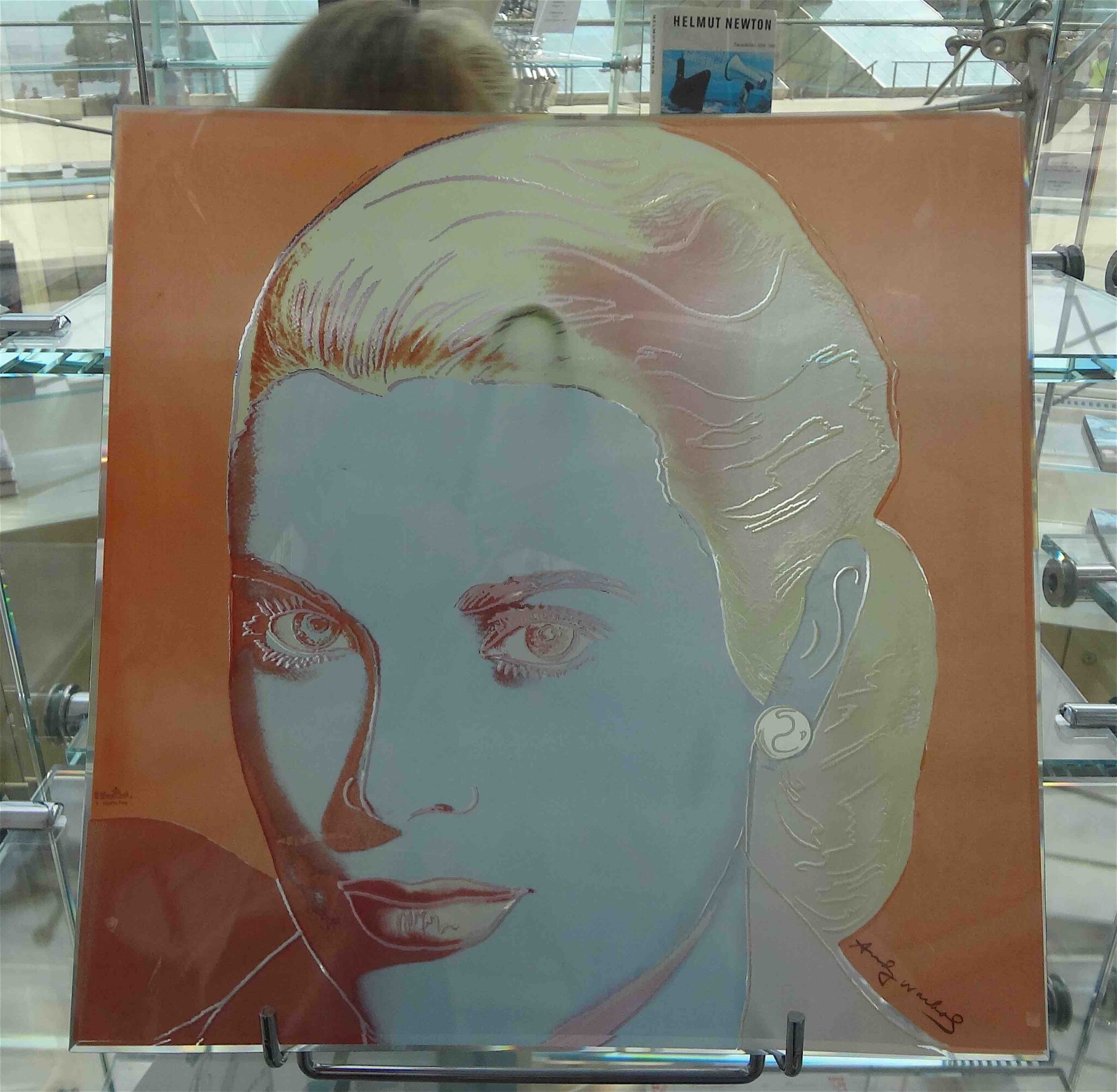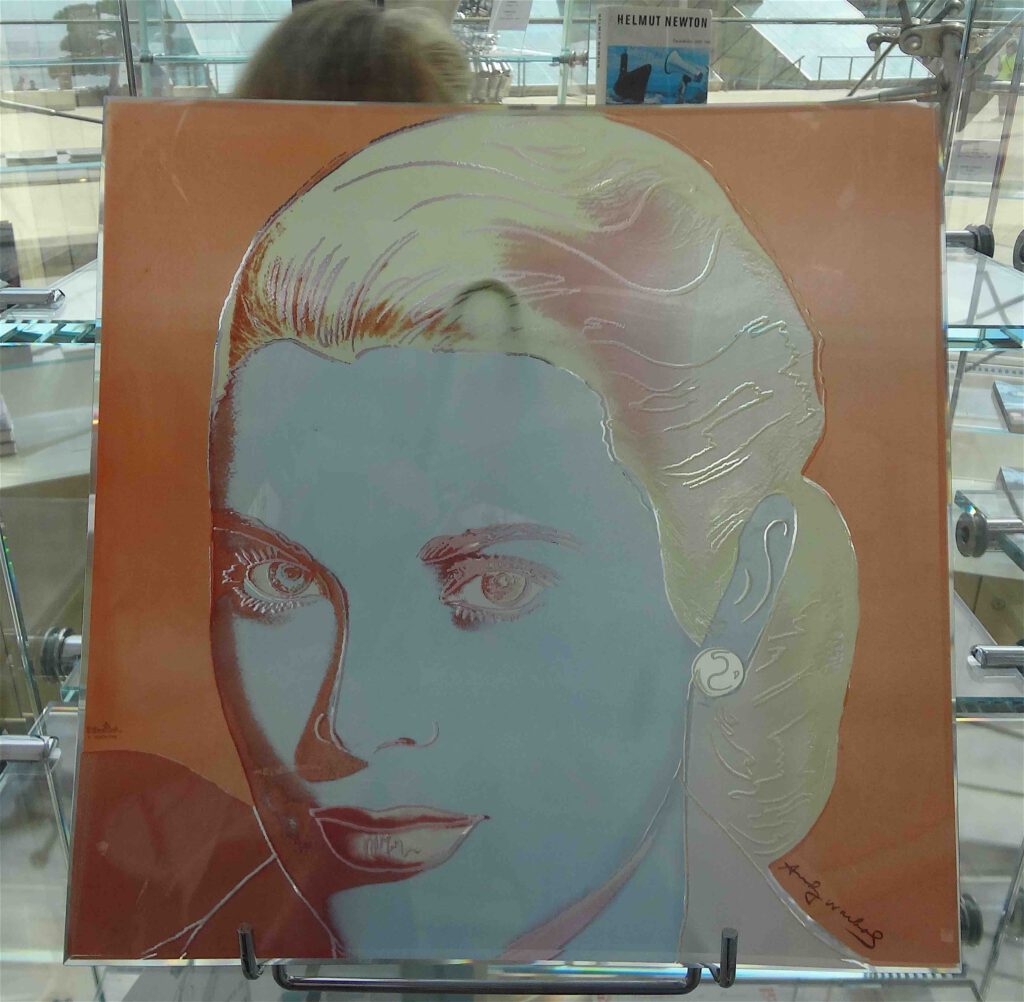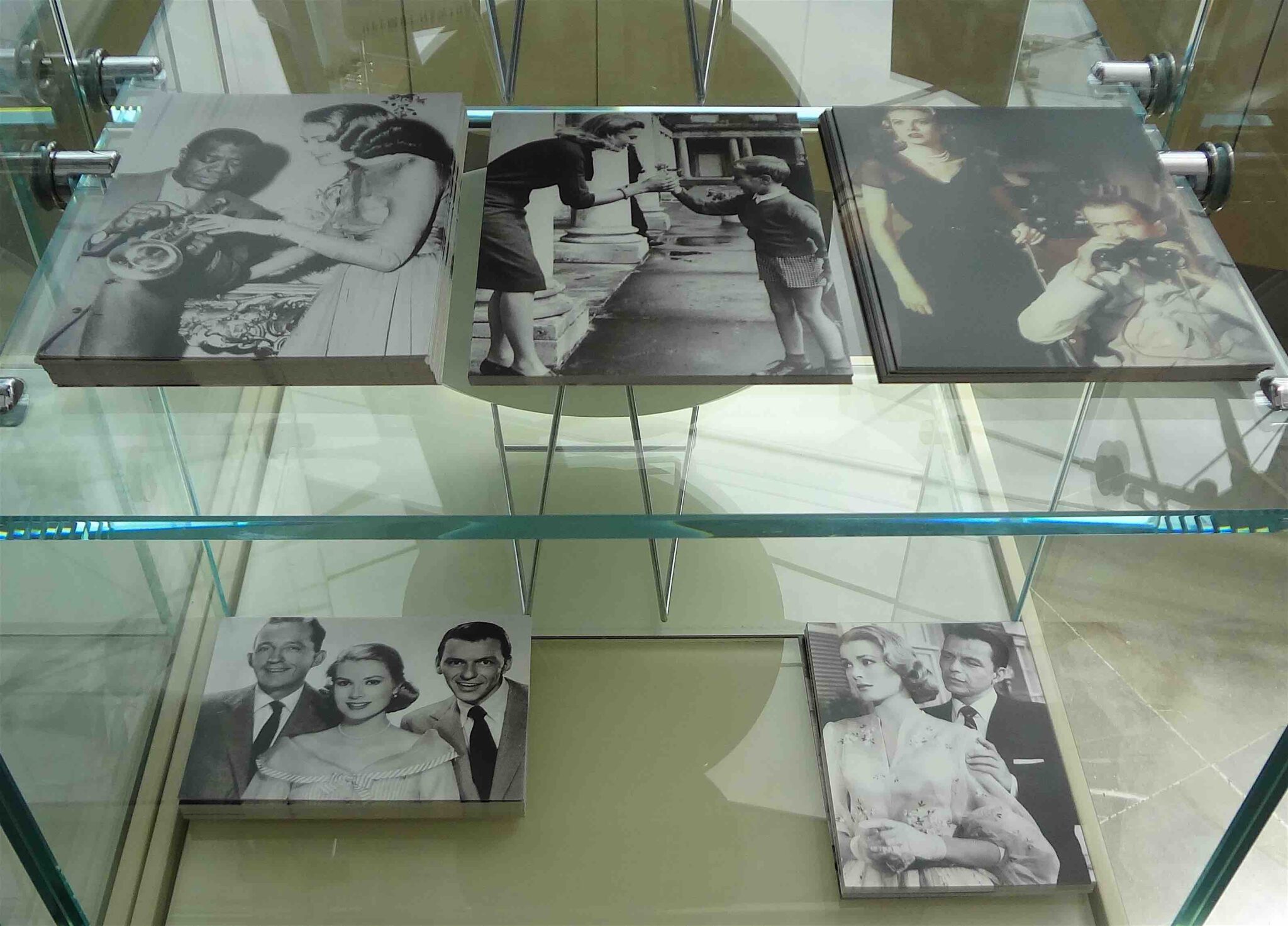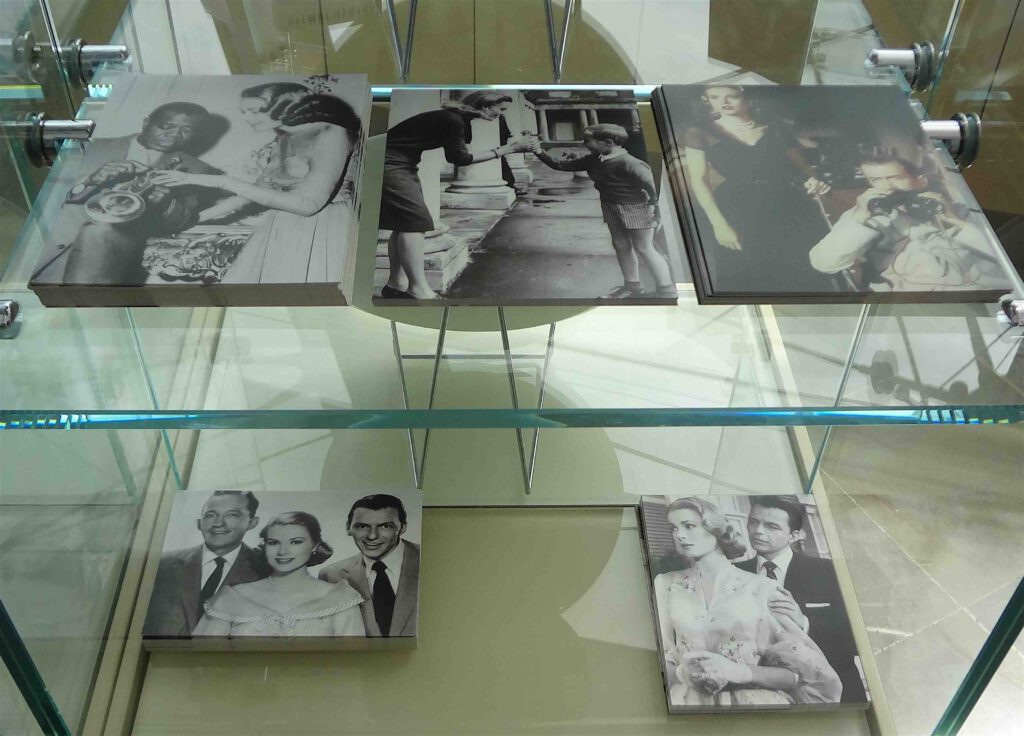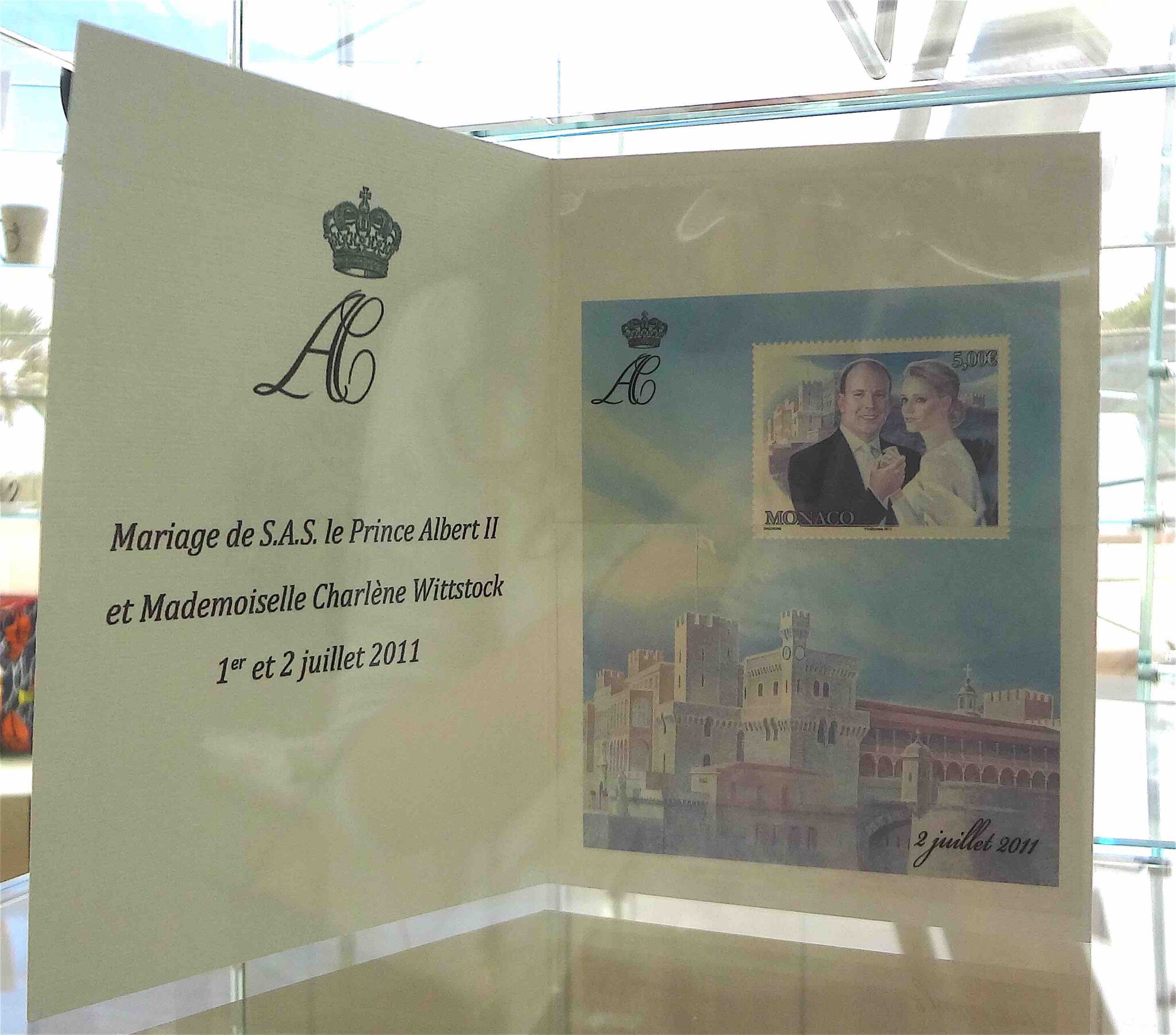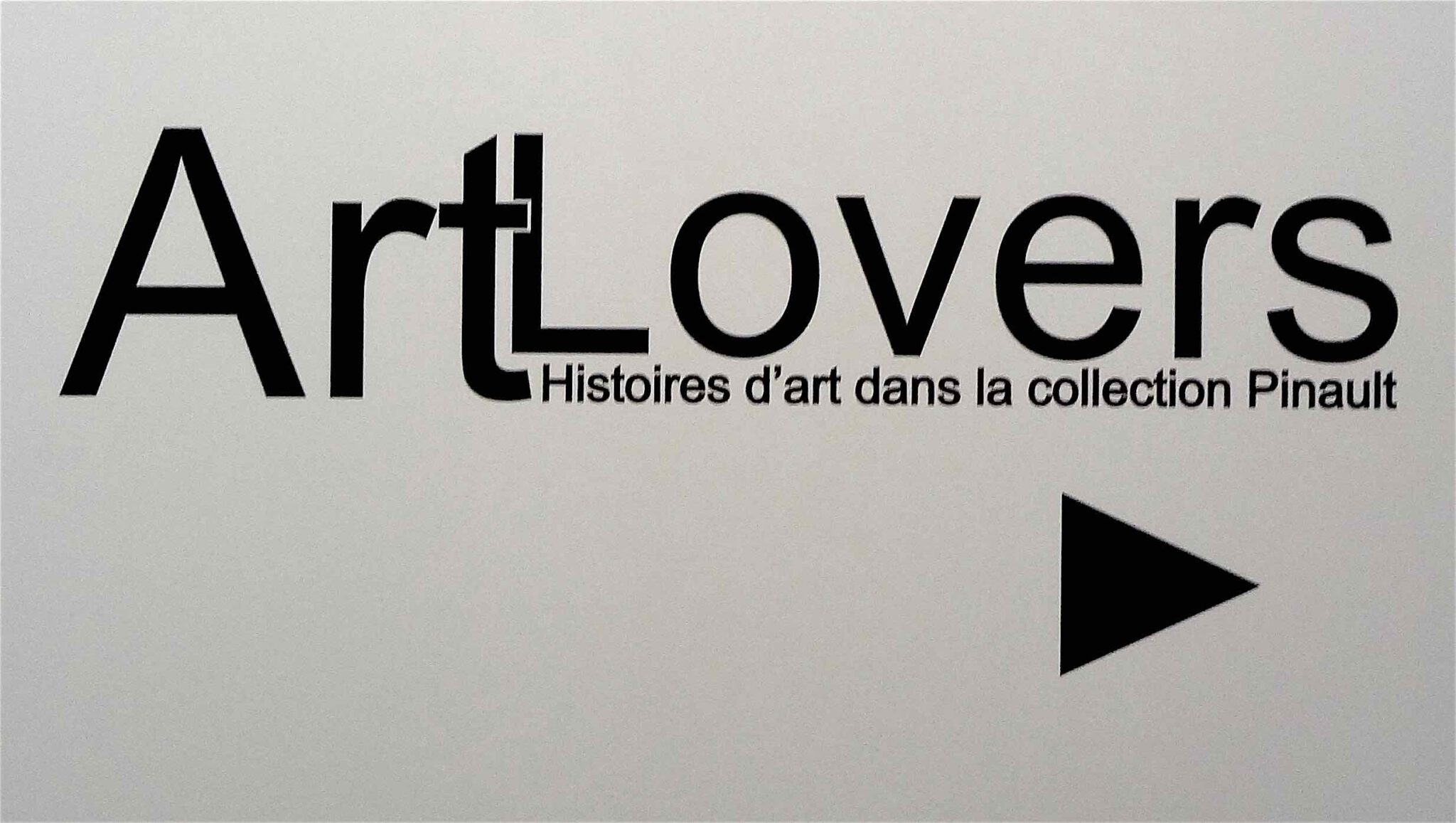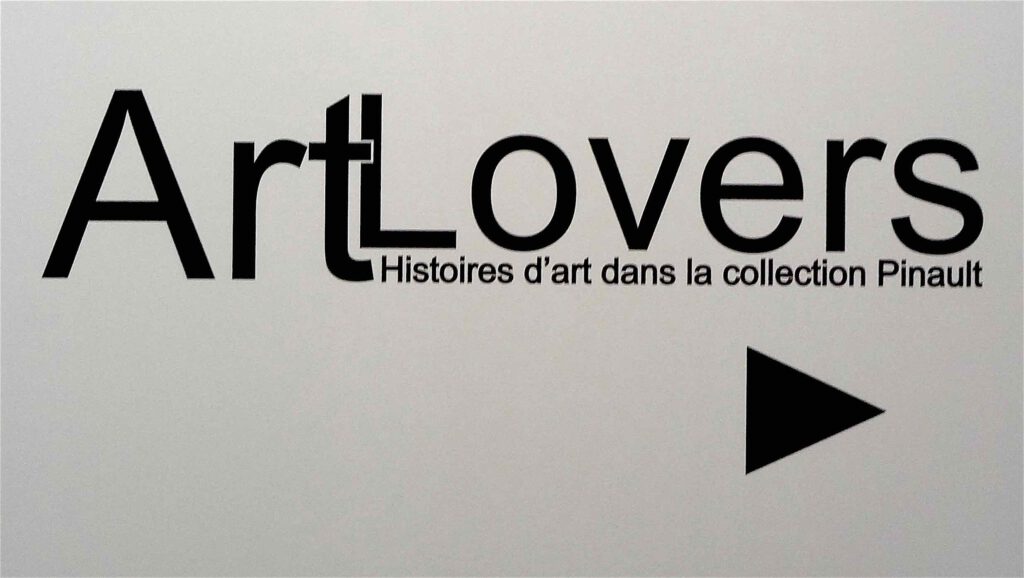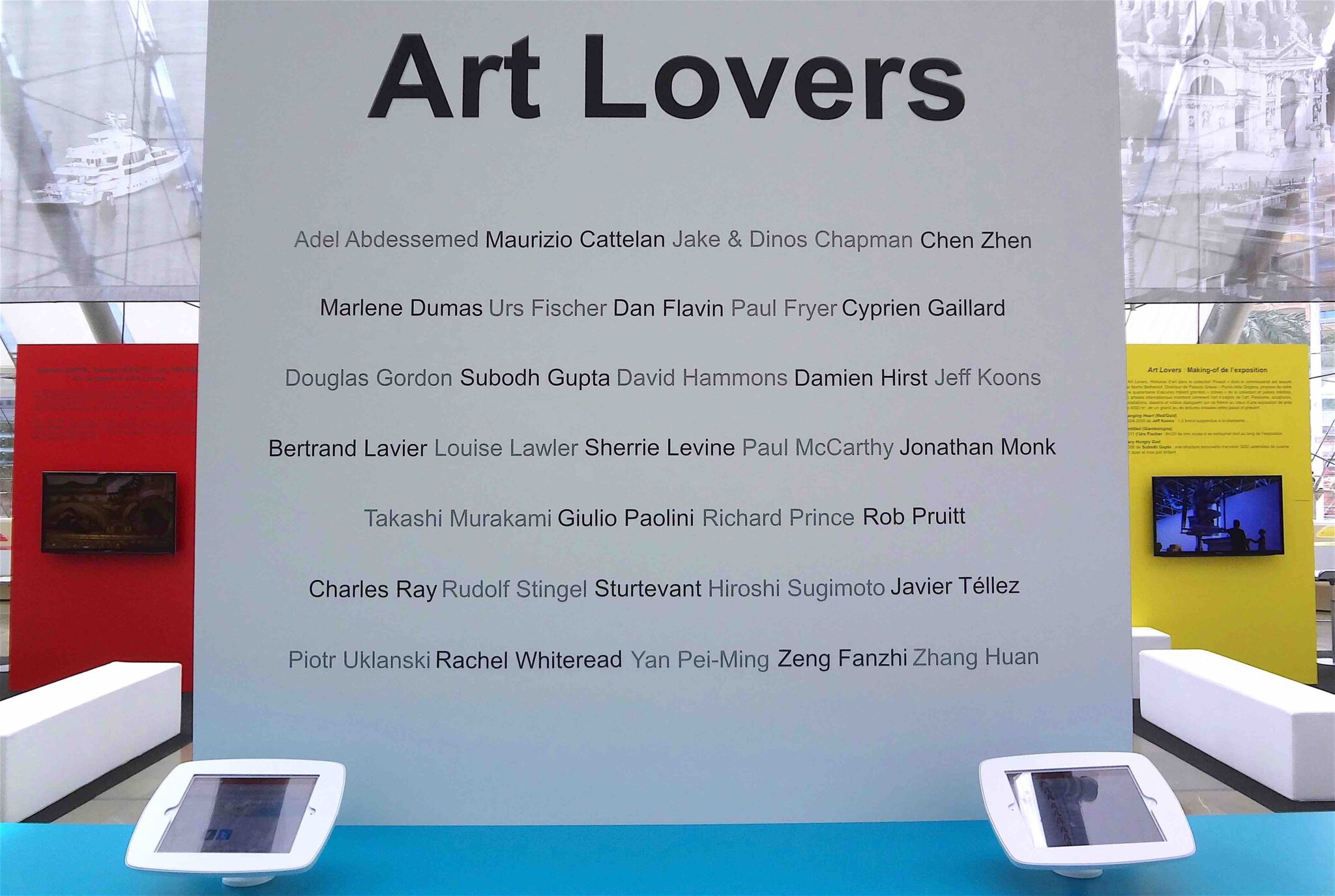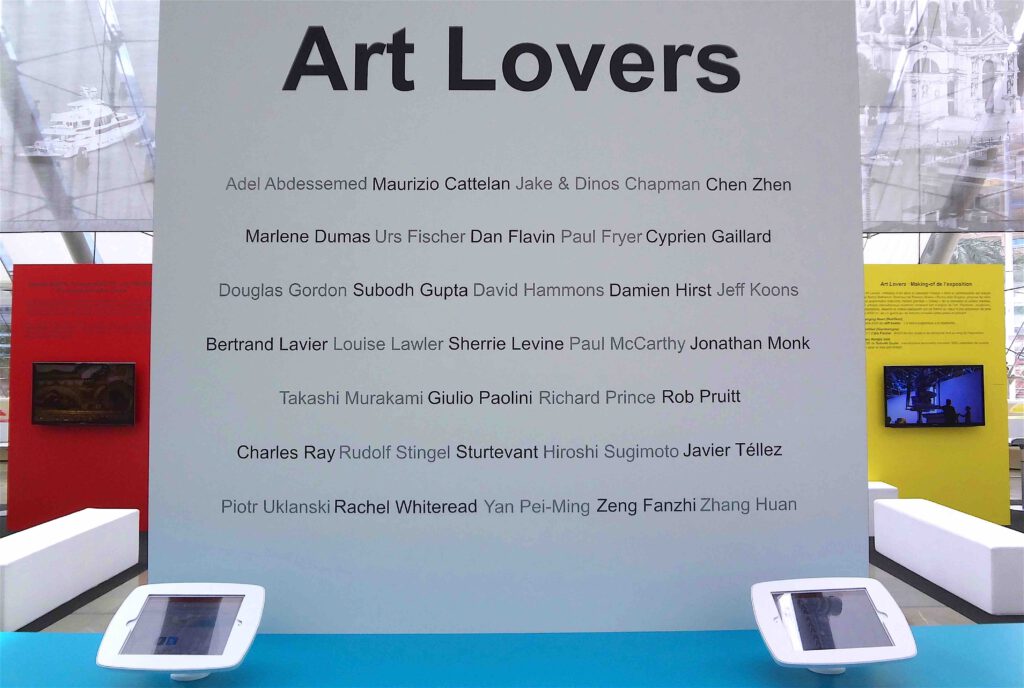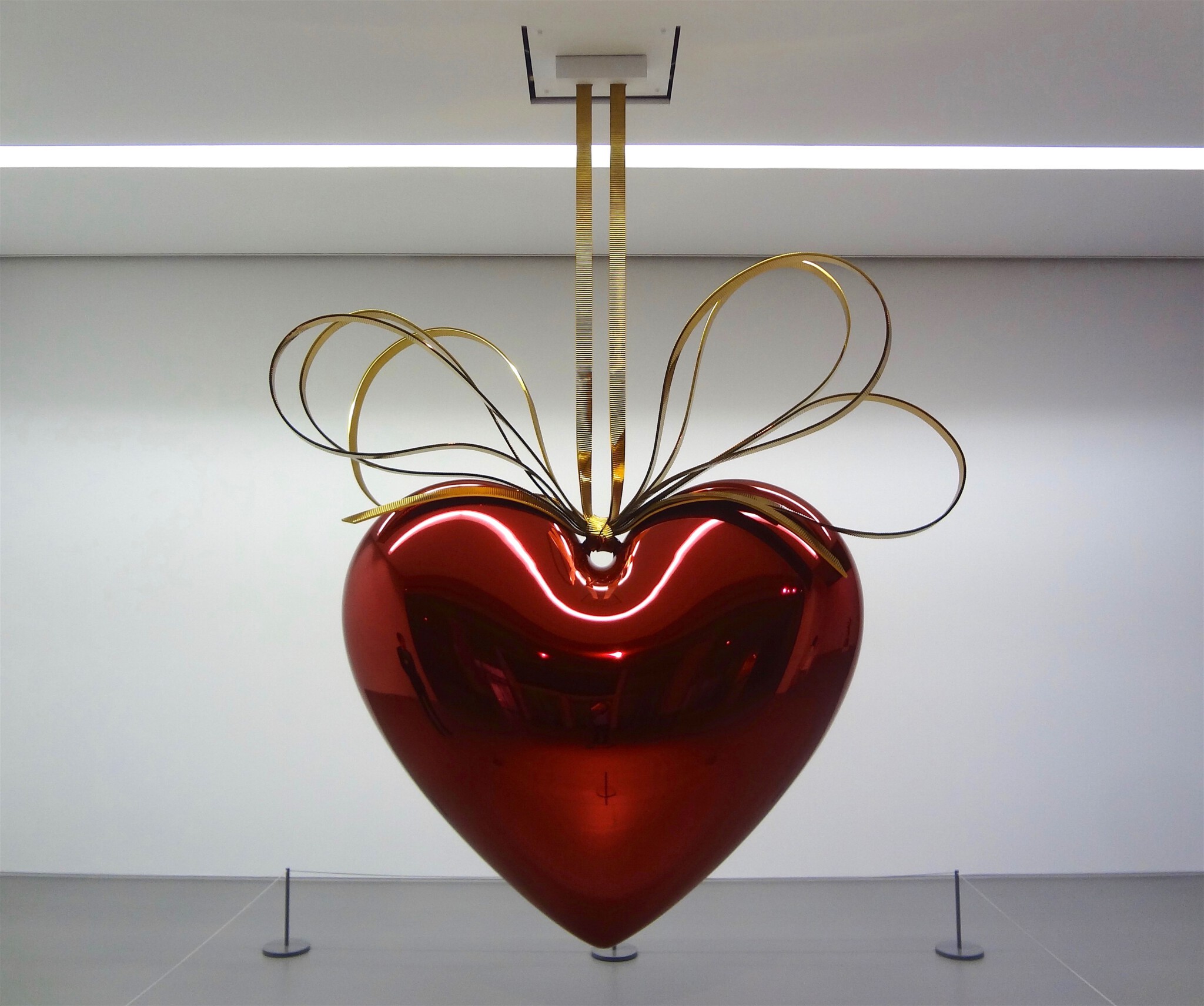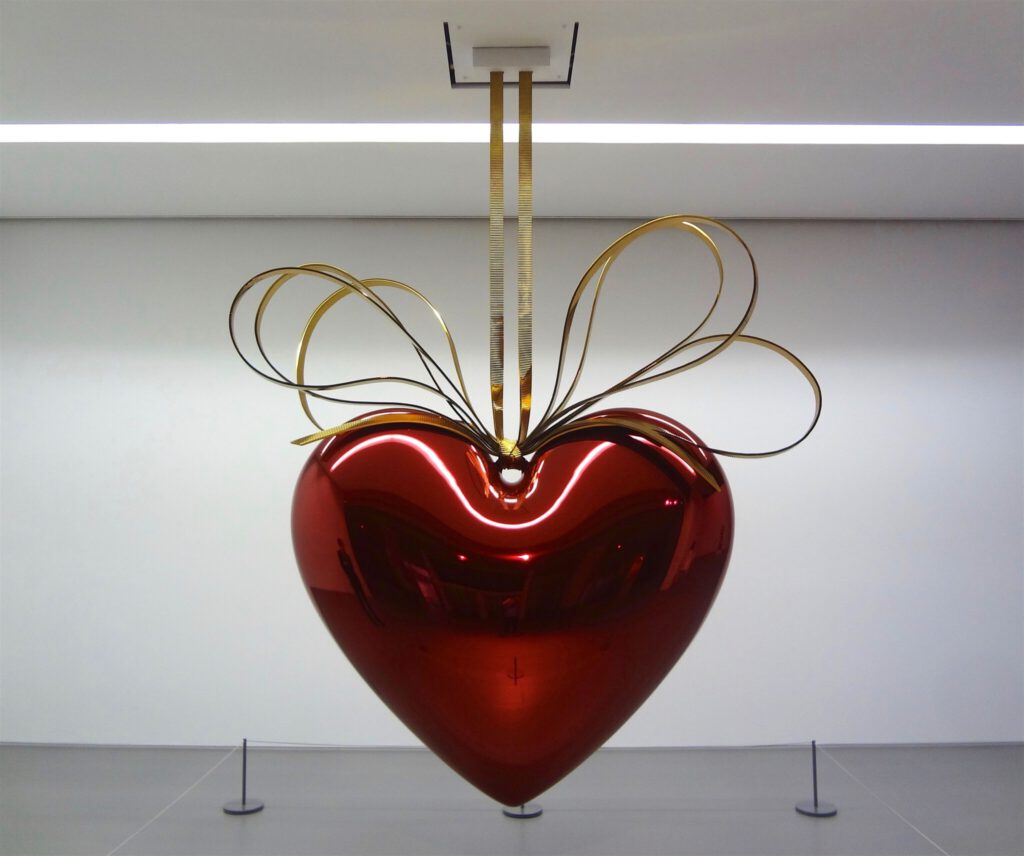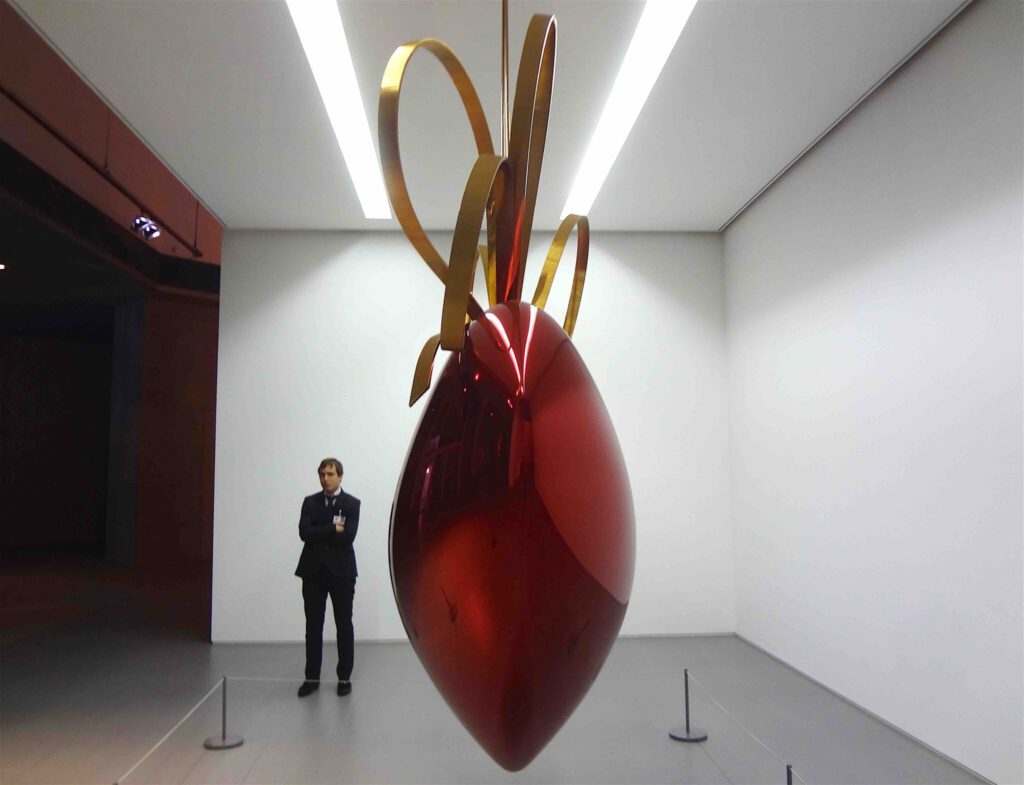 compare with 比較: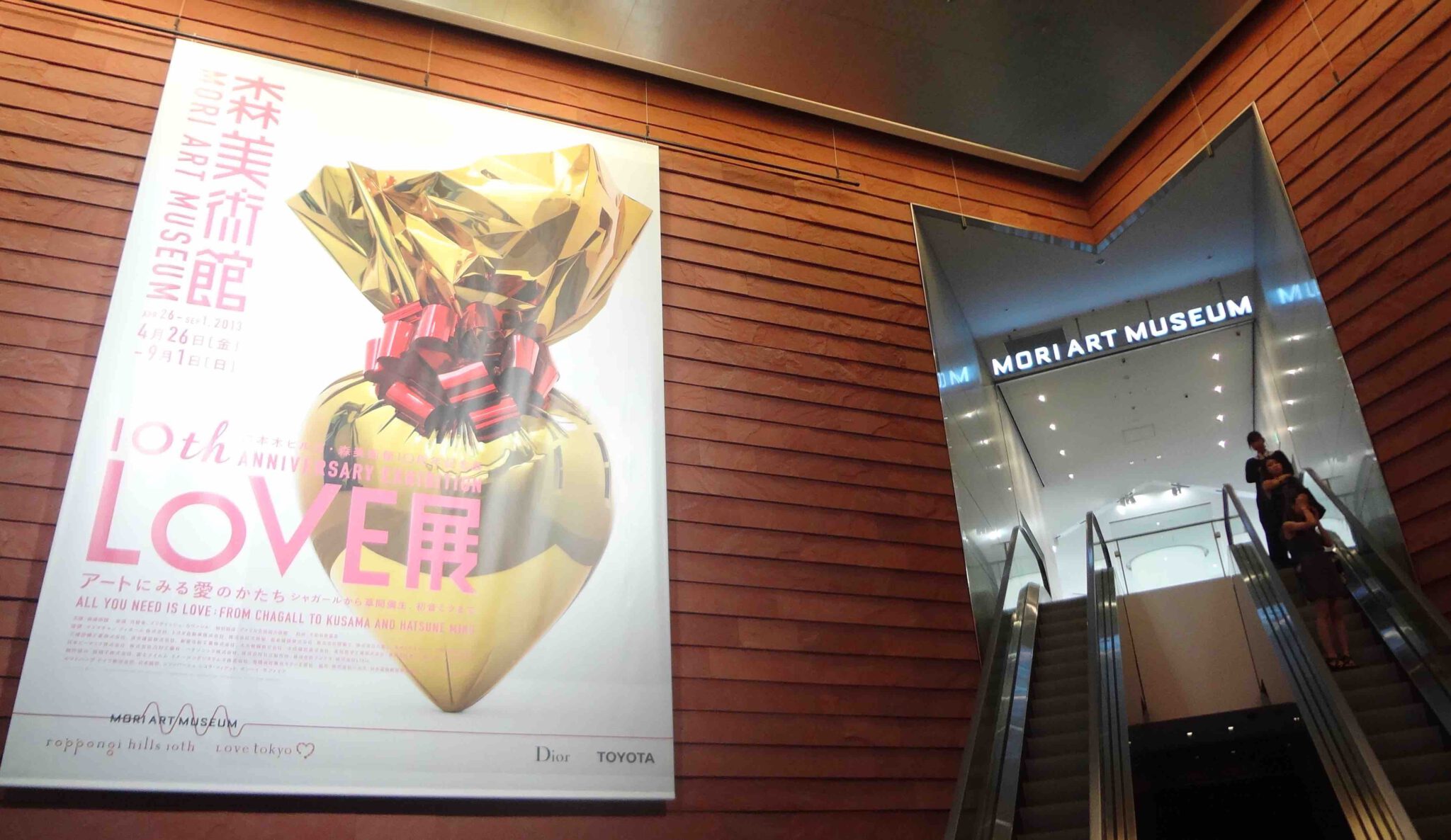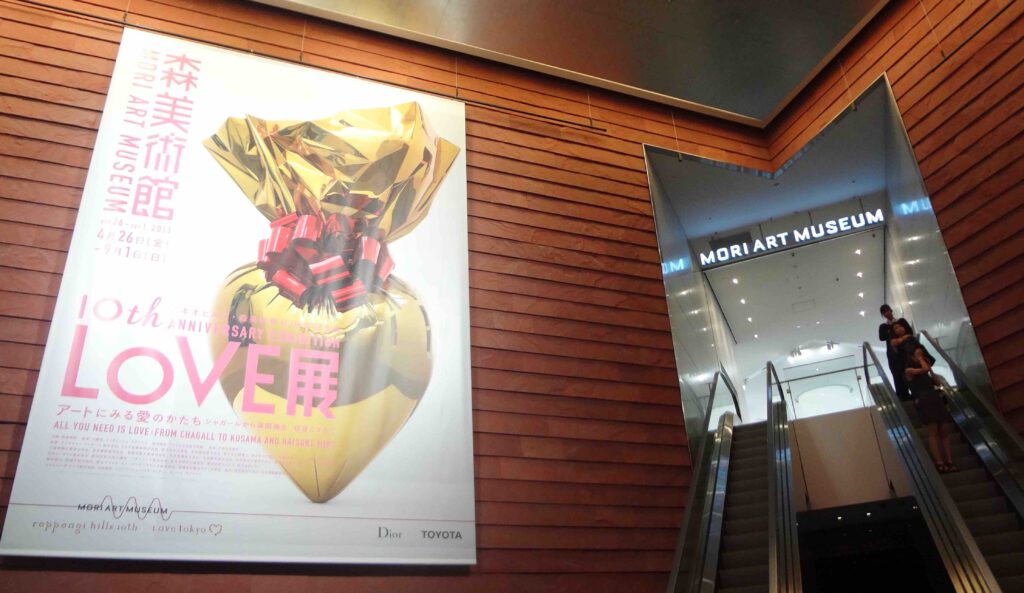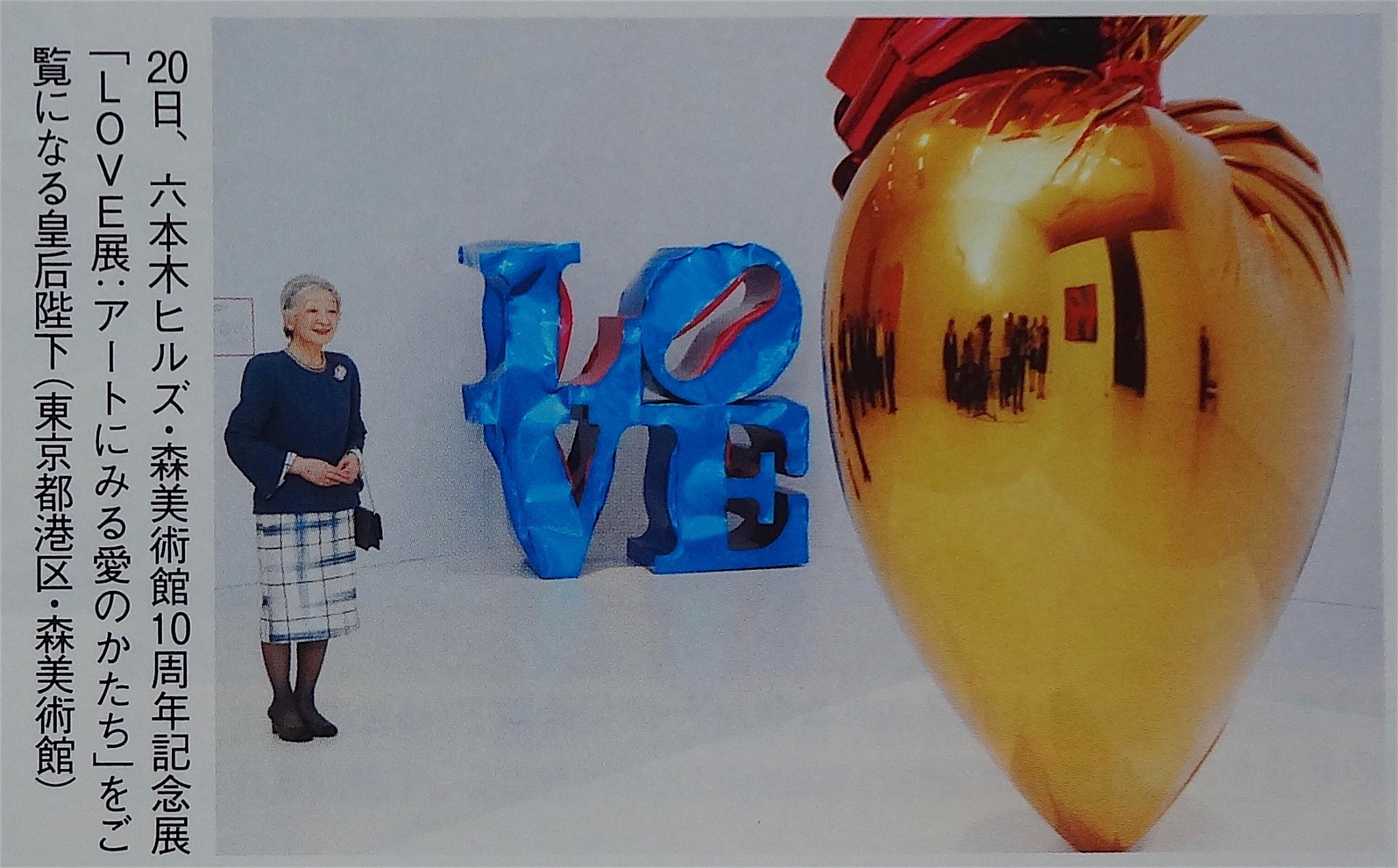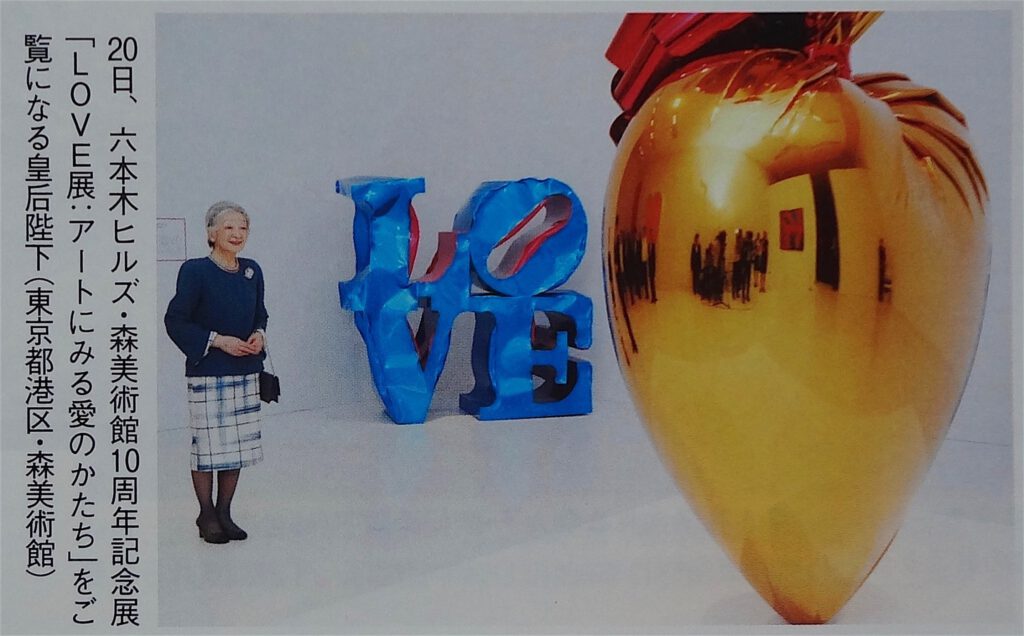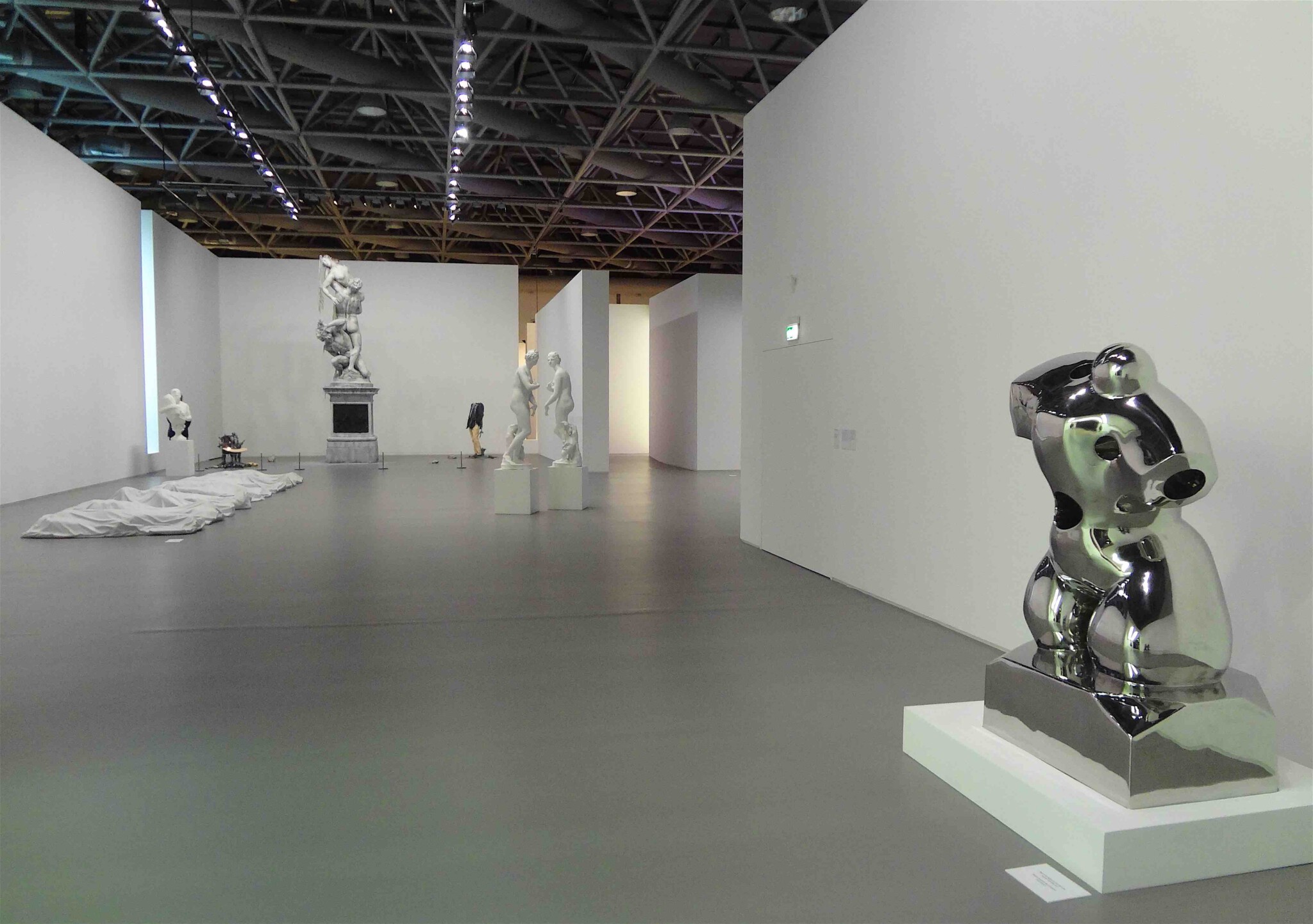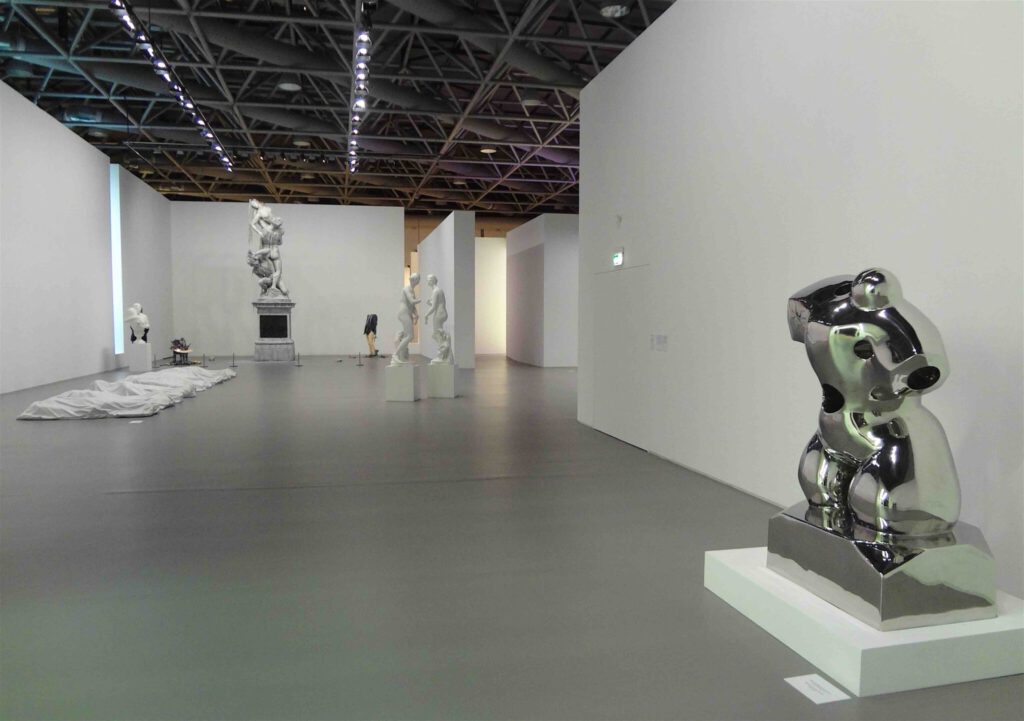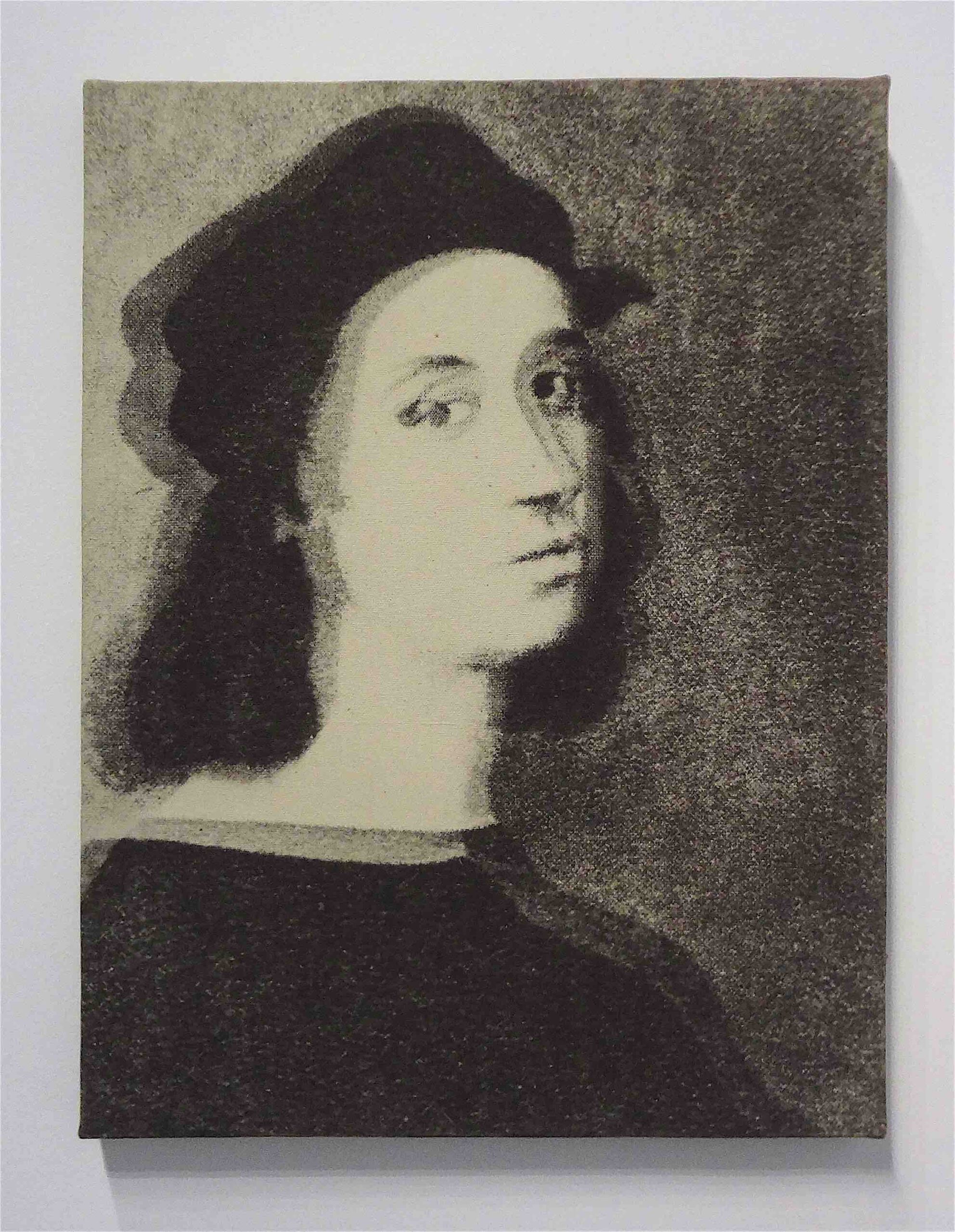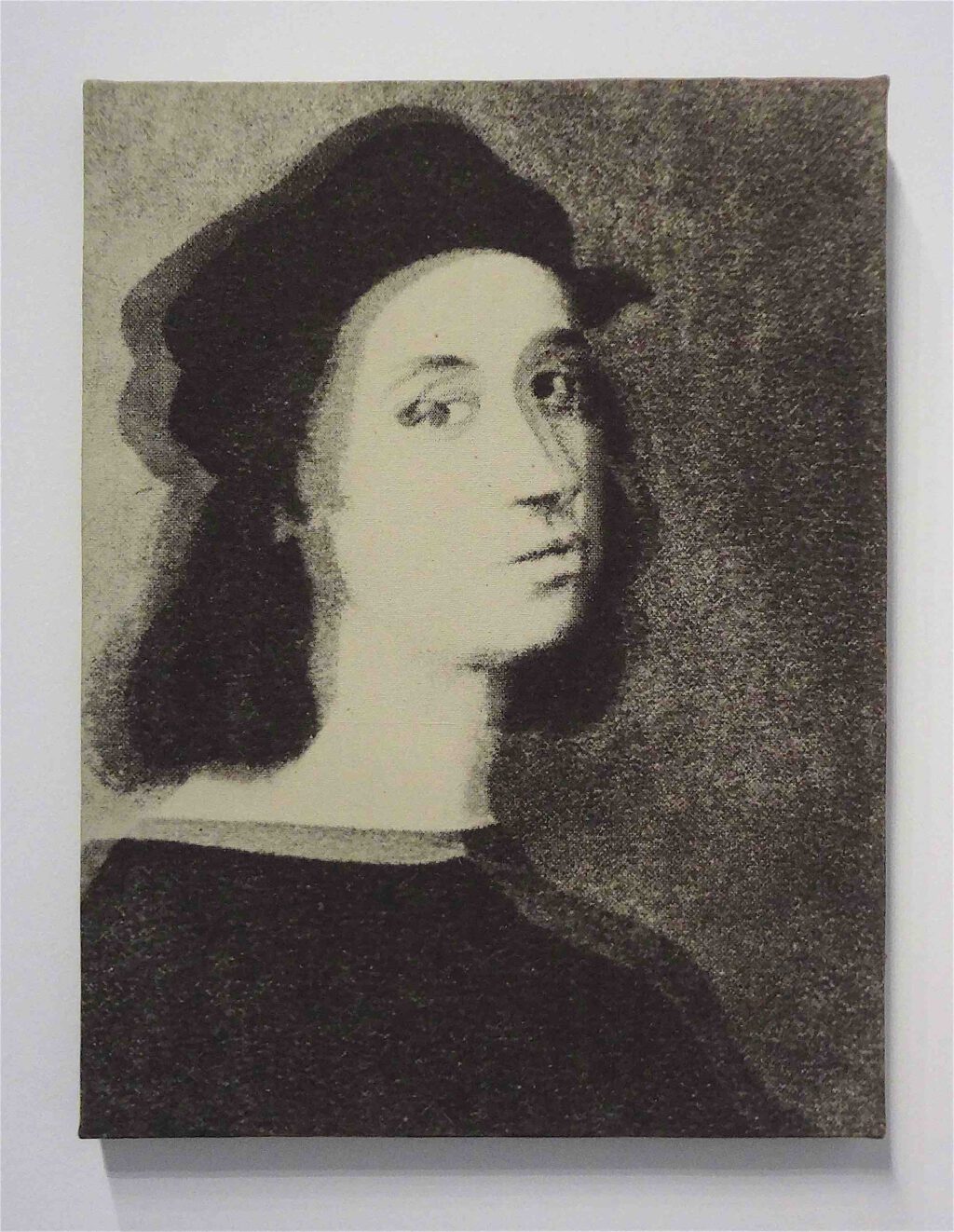 See also:
大注目を浴びた池田亮司(アーティストたちによって裸にされたアート・バーゼル、さえも*)2021年度
IKEDA Ryoji attracted considerable attention (ART BASEL Stripped Bare by Her Artists, Even*) 2021 version
https://art-culture.world/articles/art-basel-2021/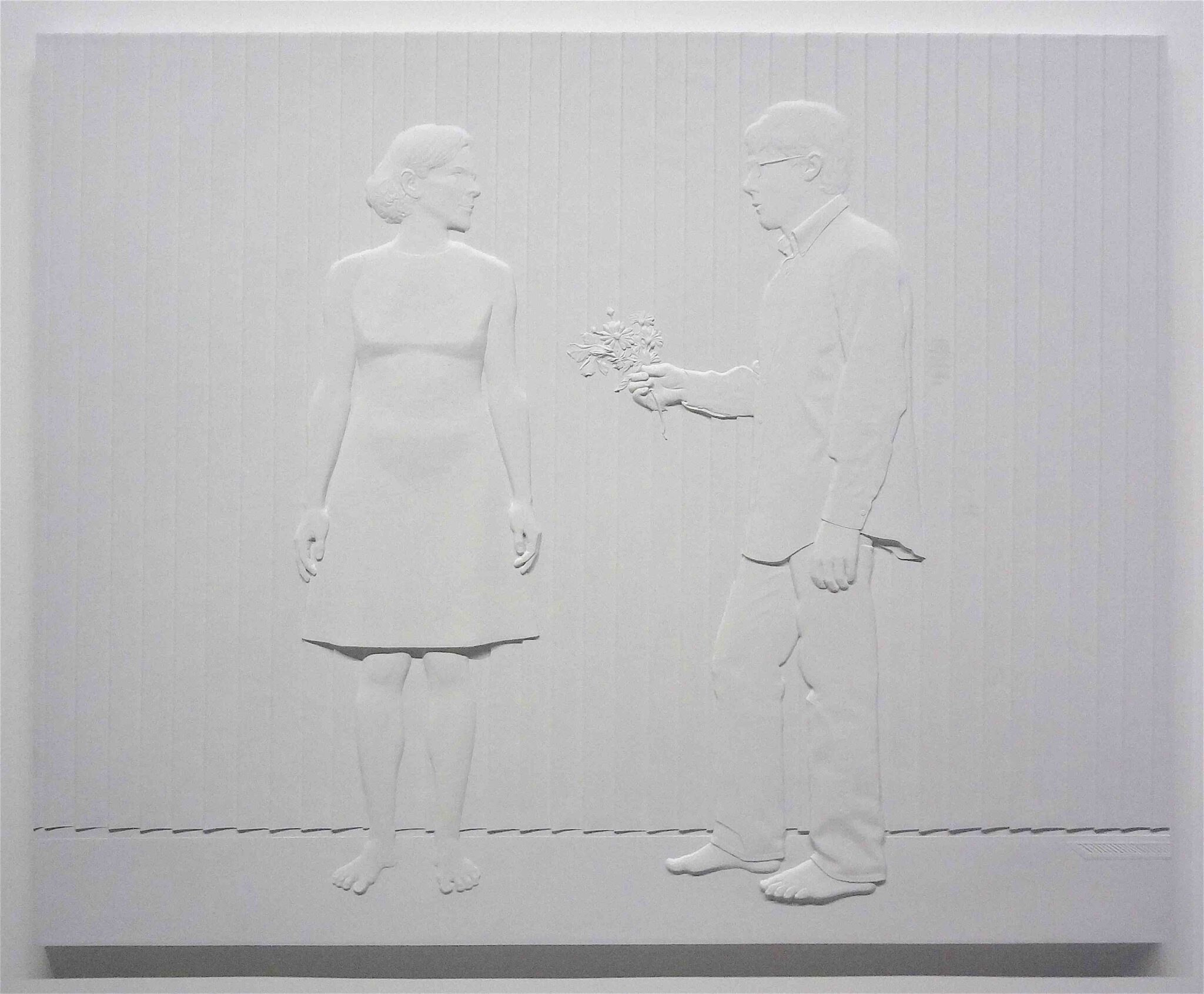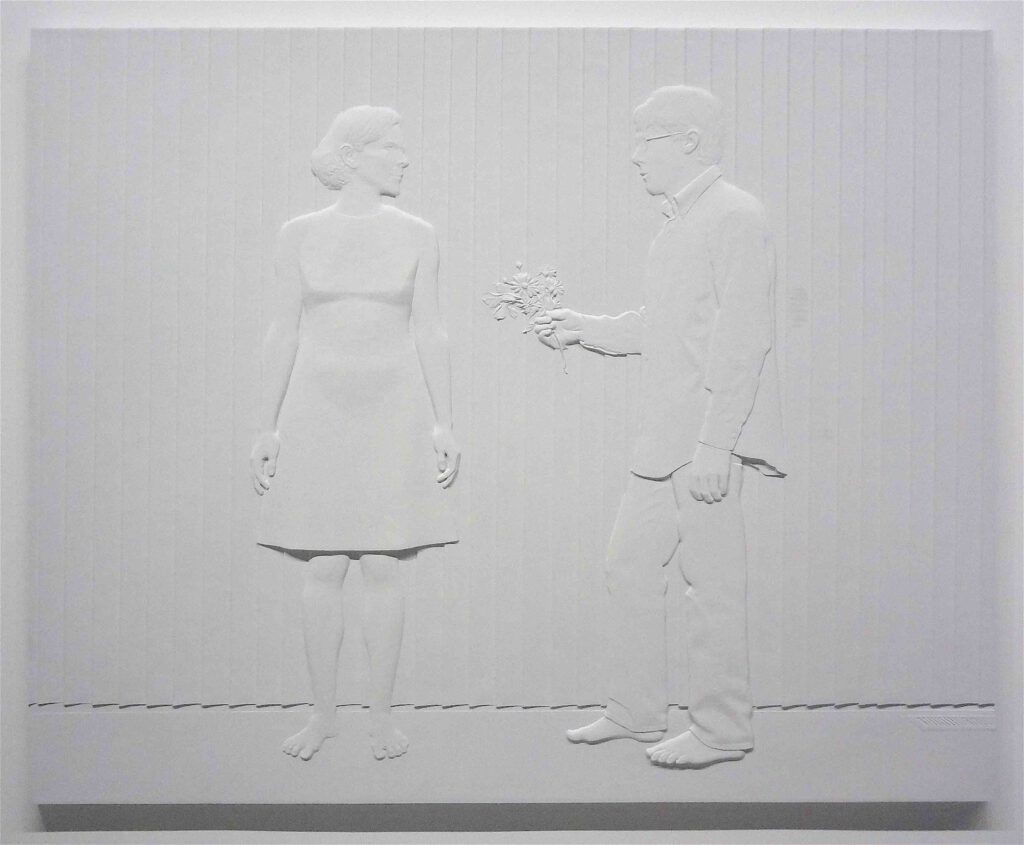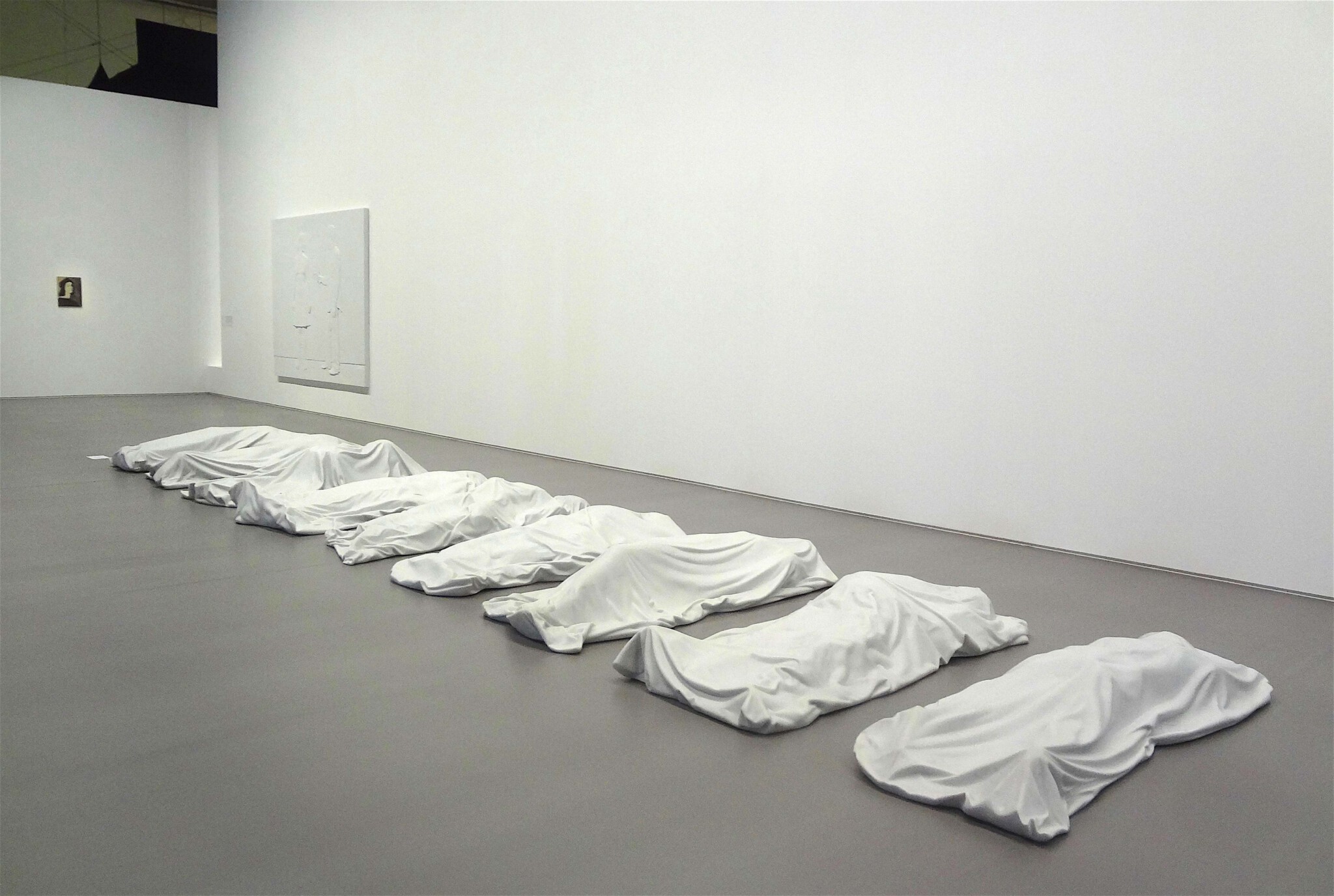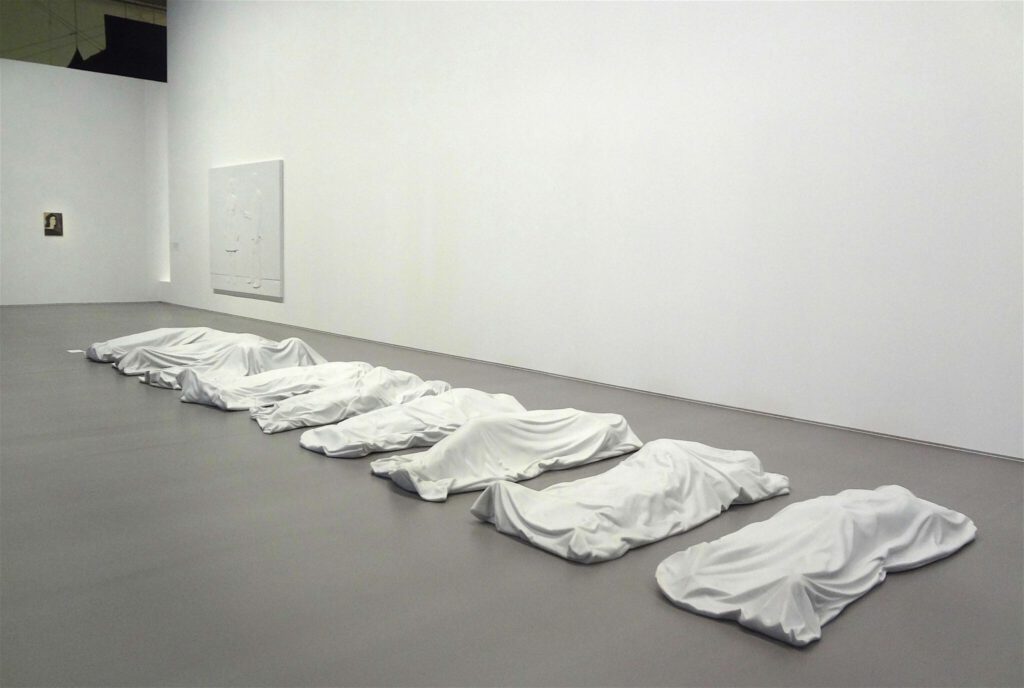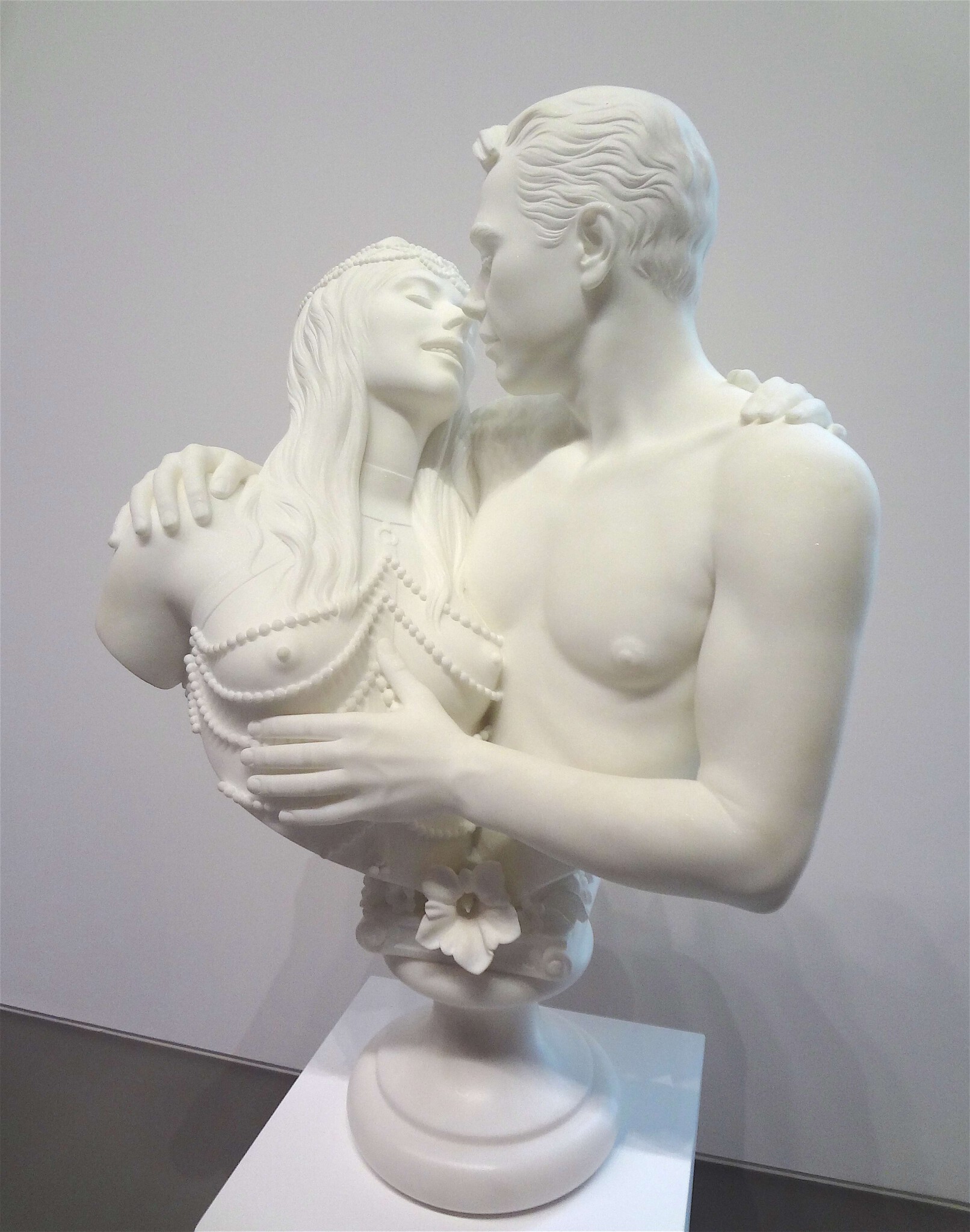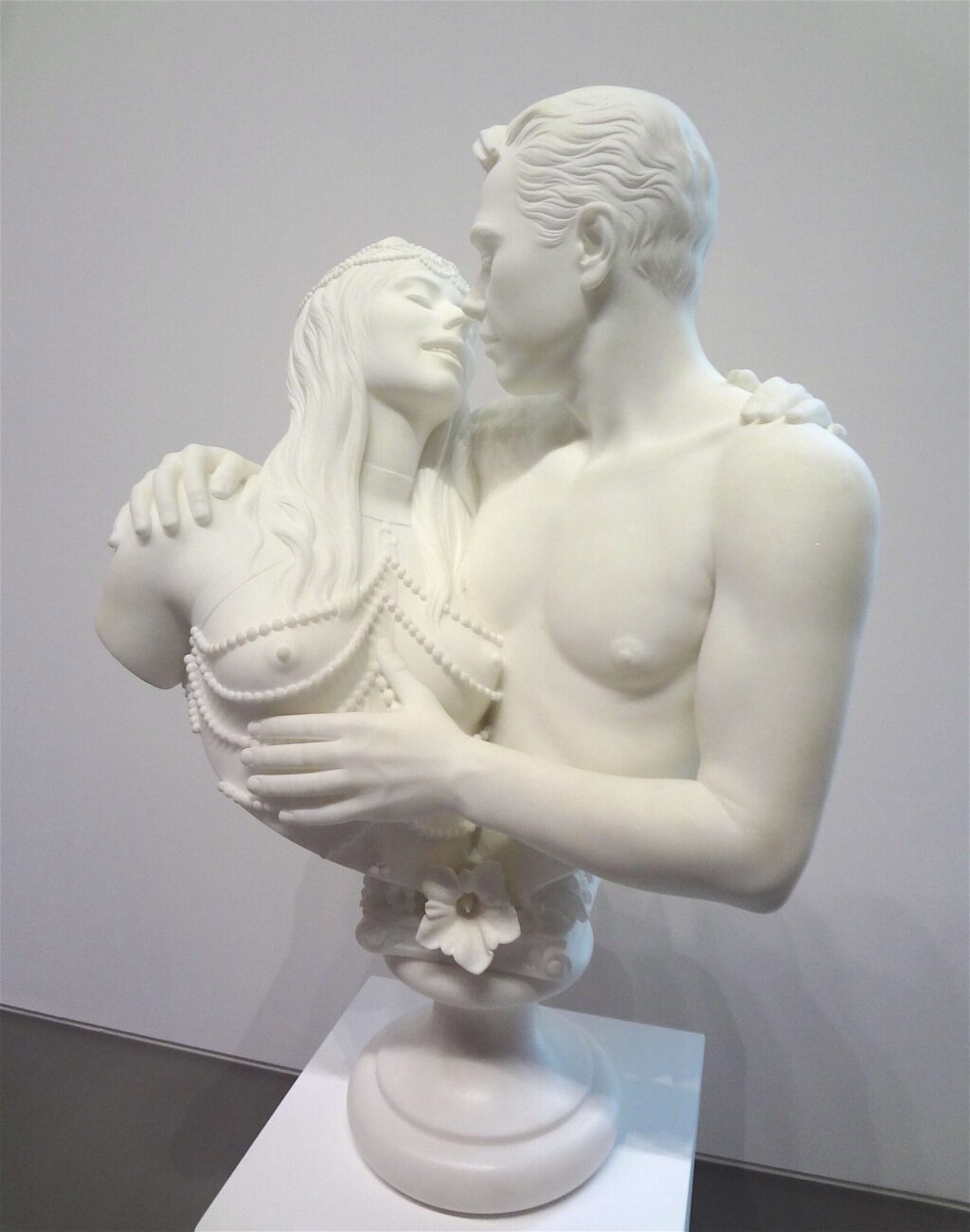 This sculpture is part of Jeff Koons's 'Made in Heaven' series, which shows the artist in intimate or erotic situations with his wife of the time, Ilona Staller, known as Cicciolina. In the stylised nobility of its poses and the perfection of its lustrous, sensual surface, Bourgeois Bust borrows from the canons of neoclassical sculpture ranging from Canova – Psyche Revived by Cupid's Kiss (1793) – Gérome and Clésinger.
---
compare, reference, 比較、参照: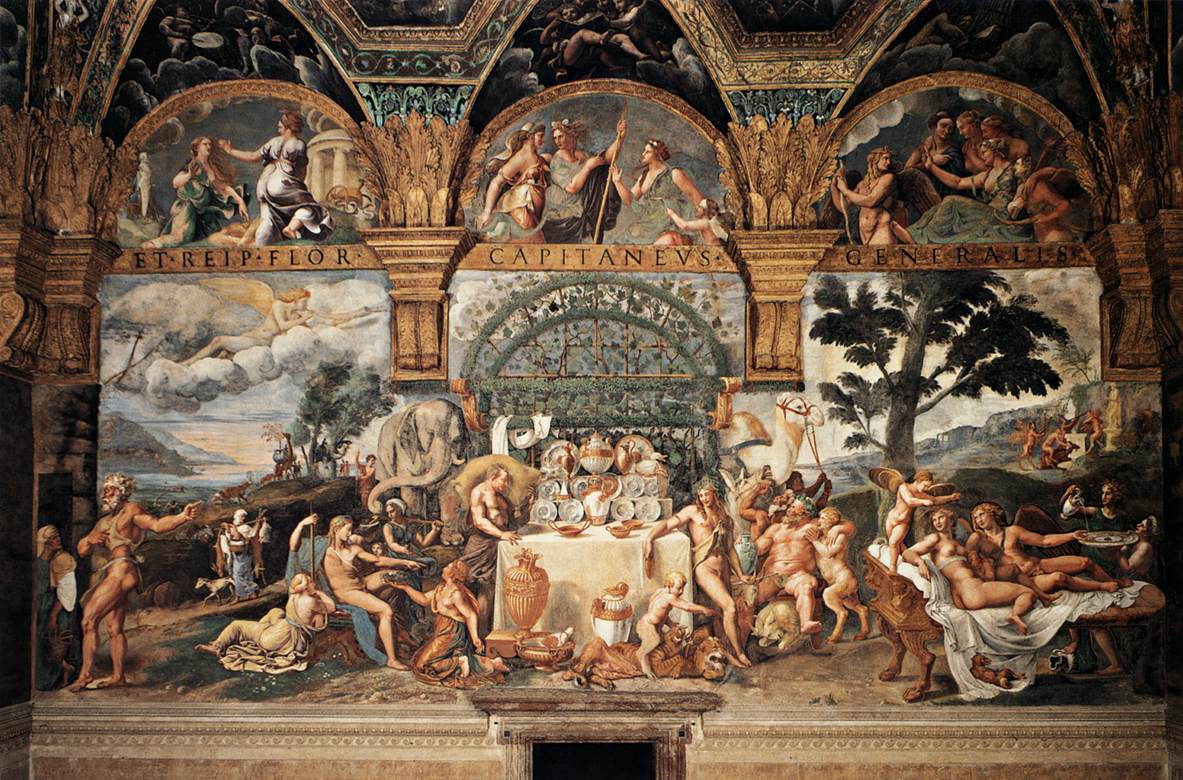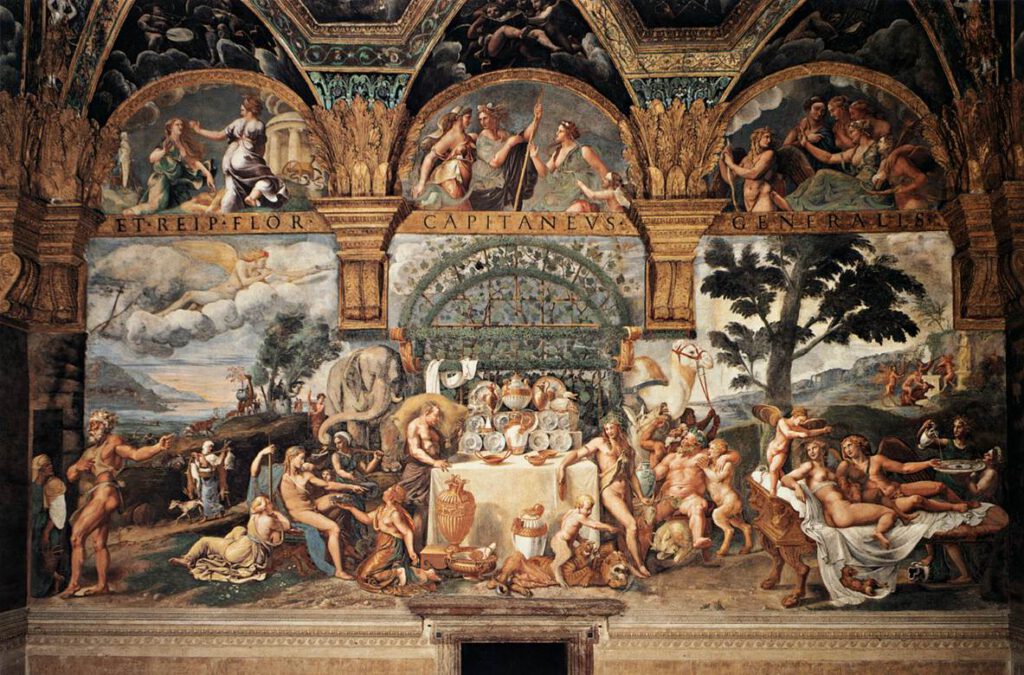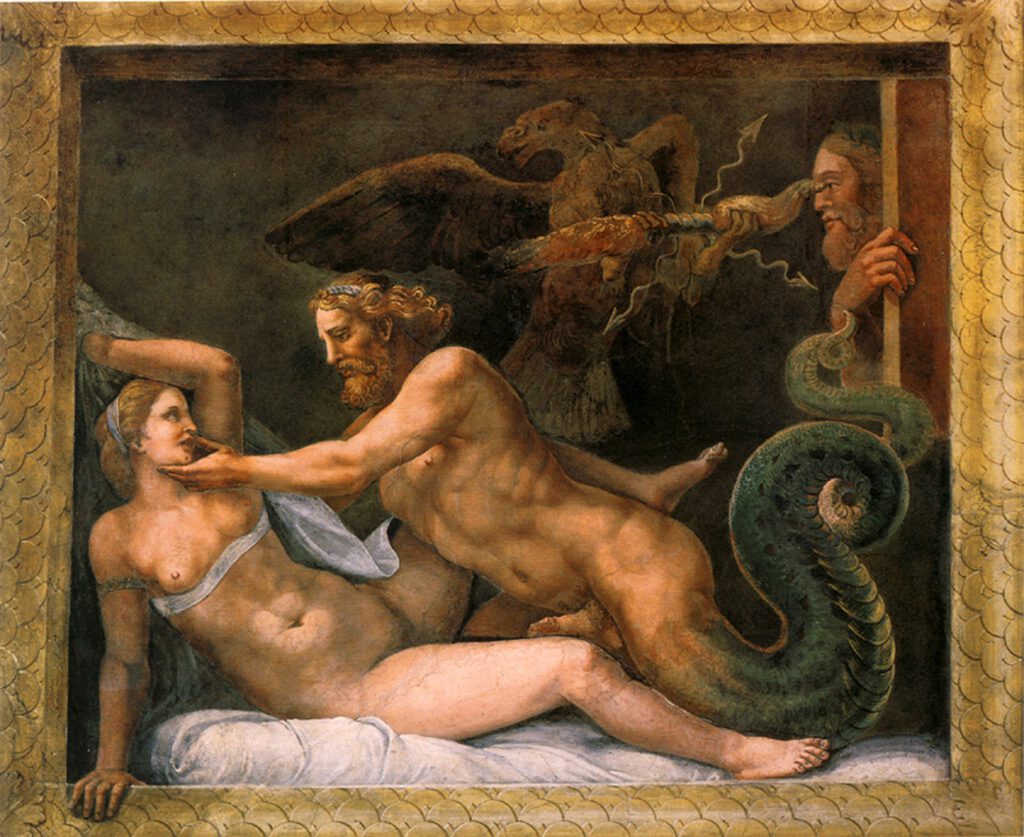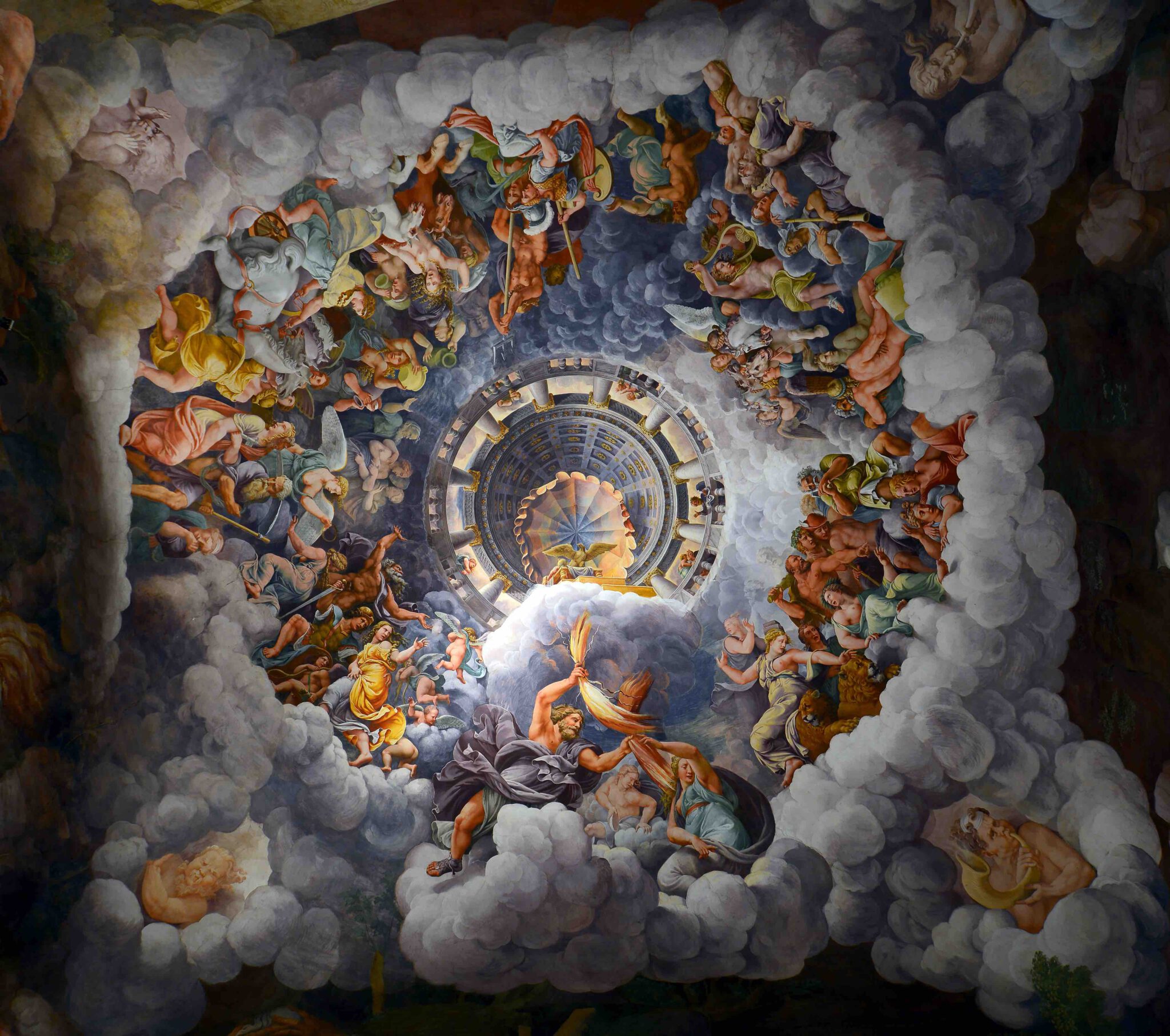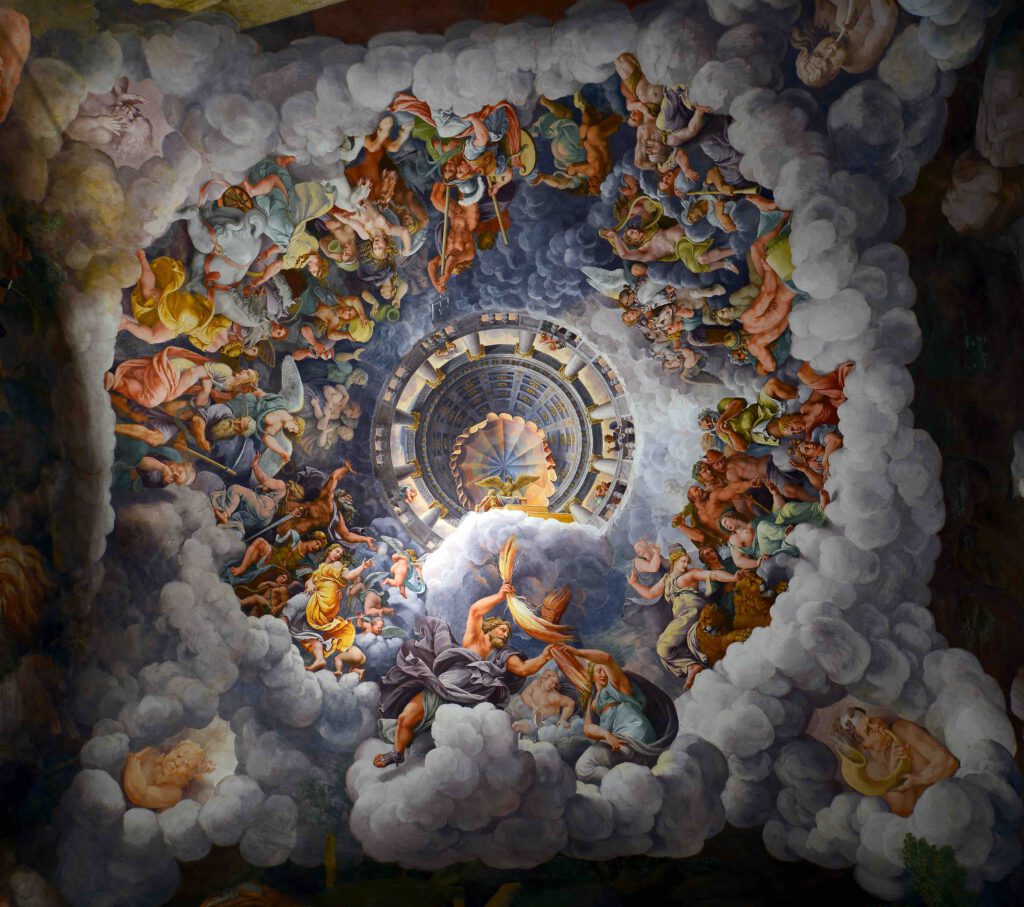 ---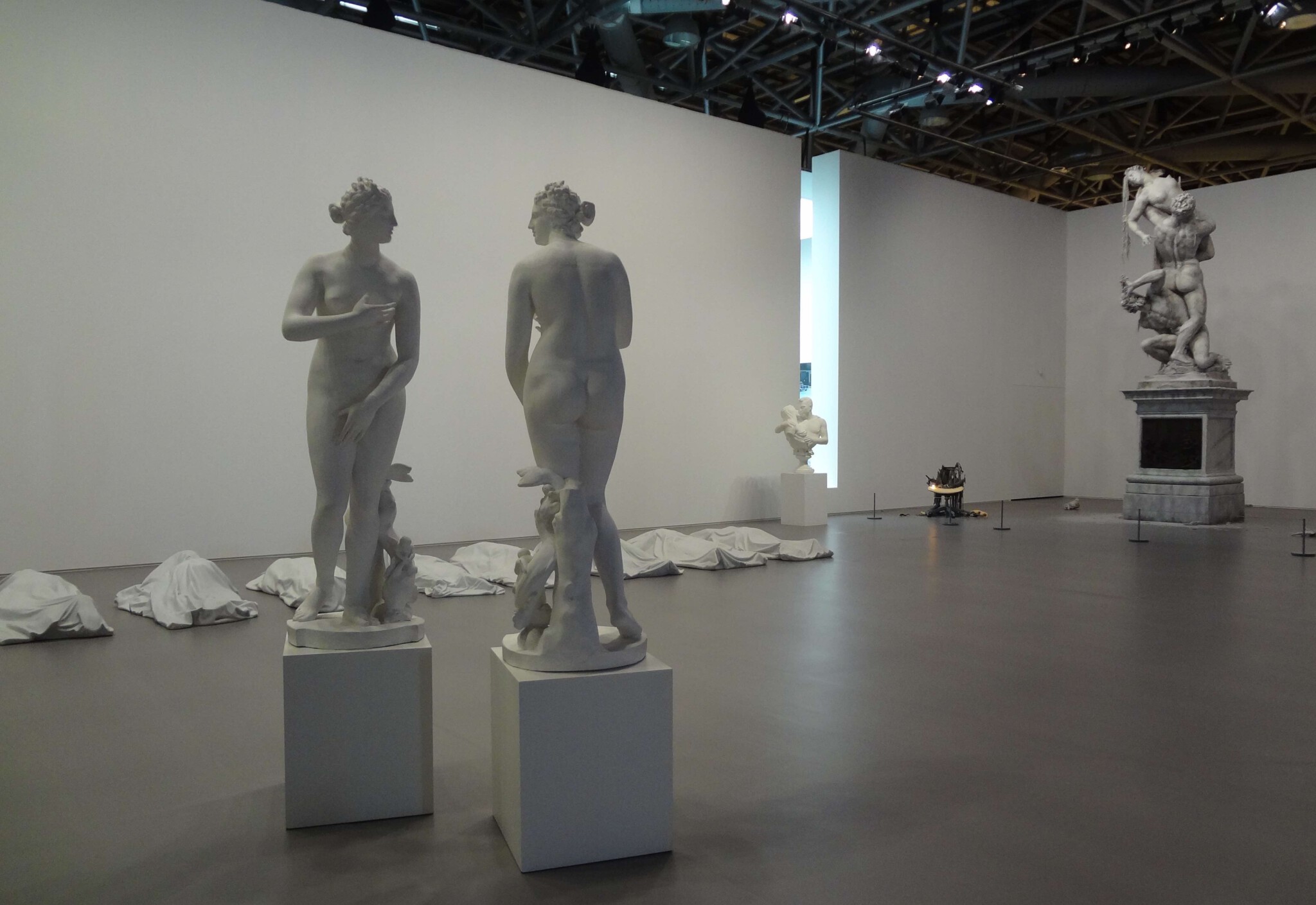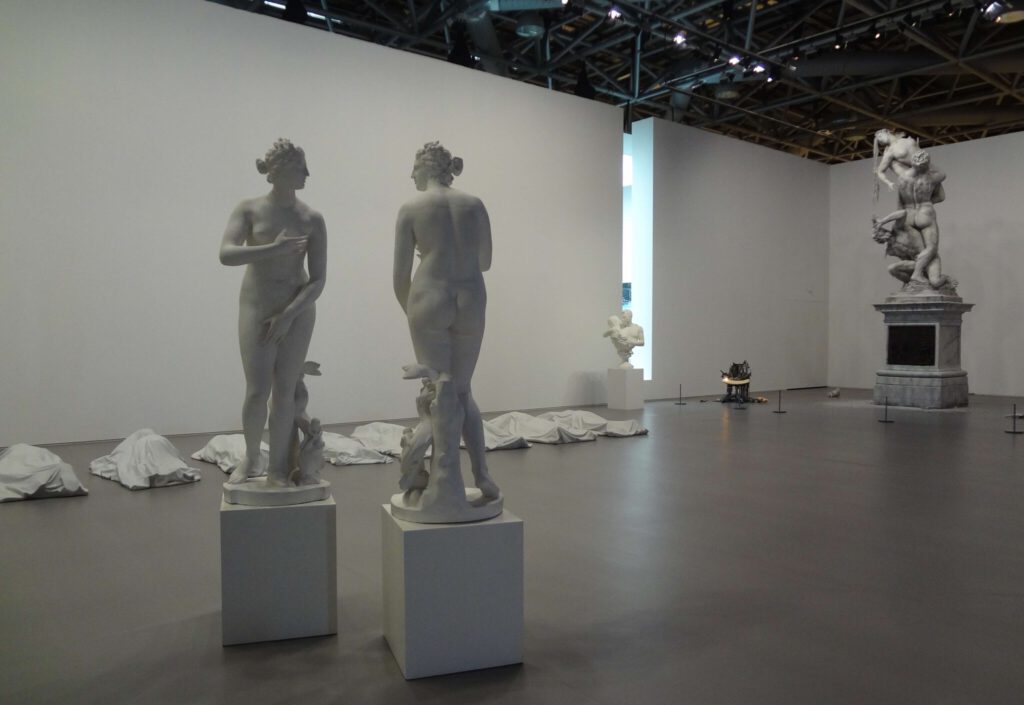 Here Paolini returns to one of sculpture's most celebrated motifs, the Medici Venus. Itself a copy of a Greek bronze, the Medici Venus has inspired artists ranging from Coysevox to Pistoletto. The mute dialogue taking place between these two works in plaster calls into question the concepts of singularity and duality, original and copy, before and after.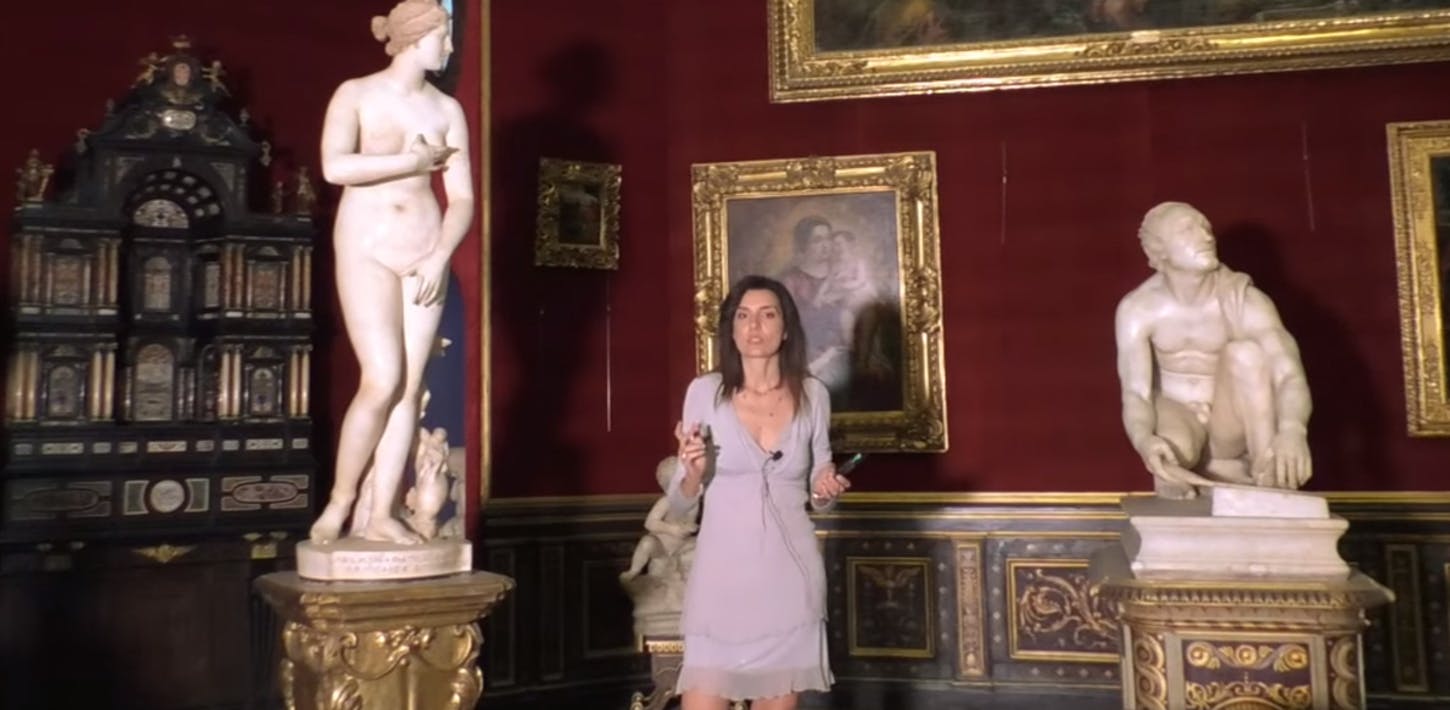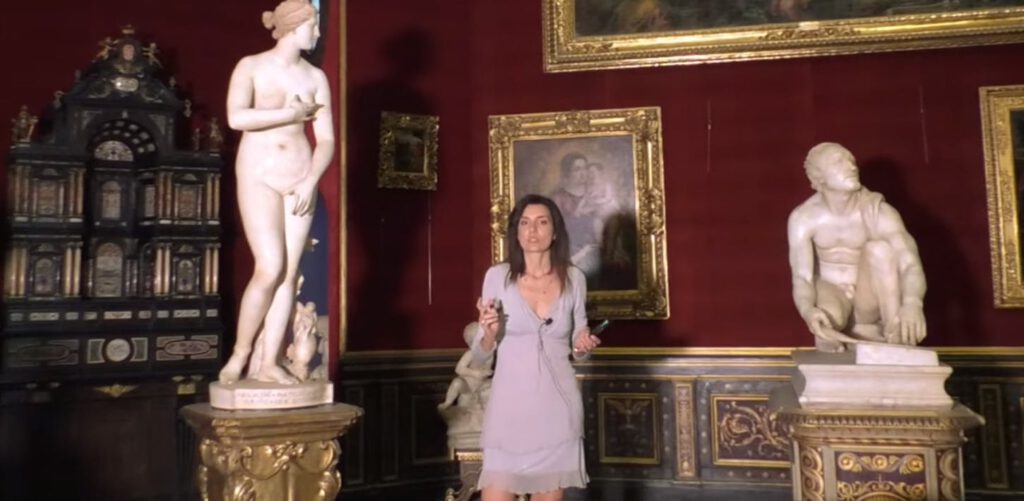 video:
https://www.uffizi.it/en/artworks/medici-venus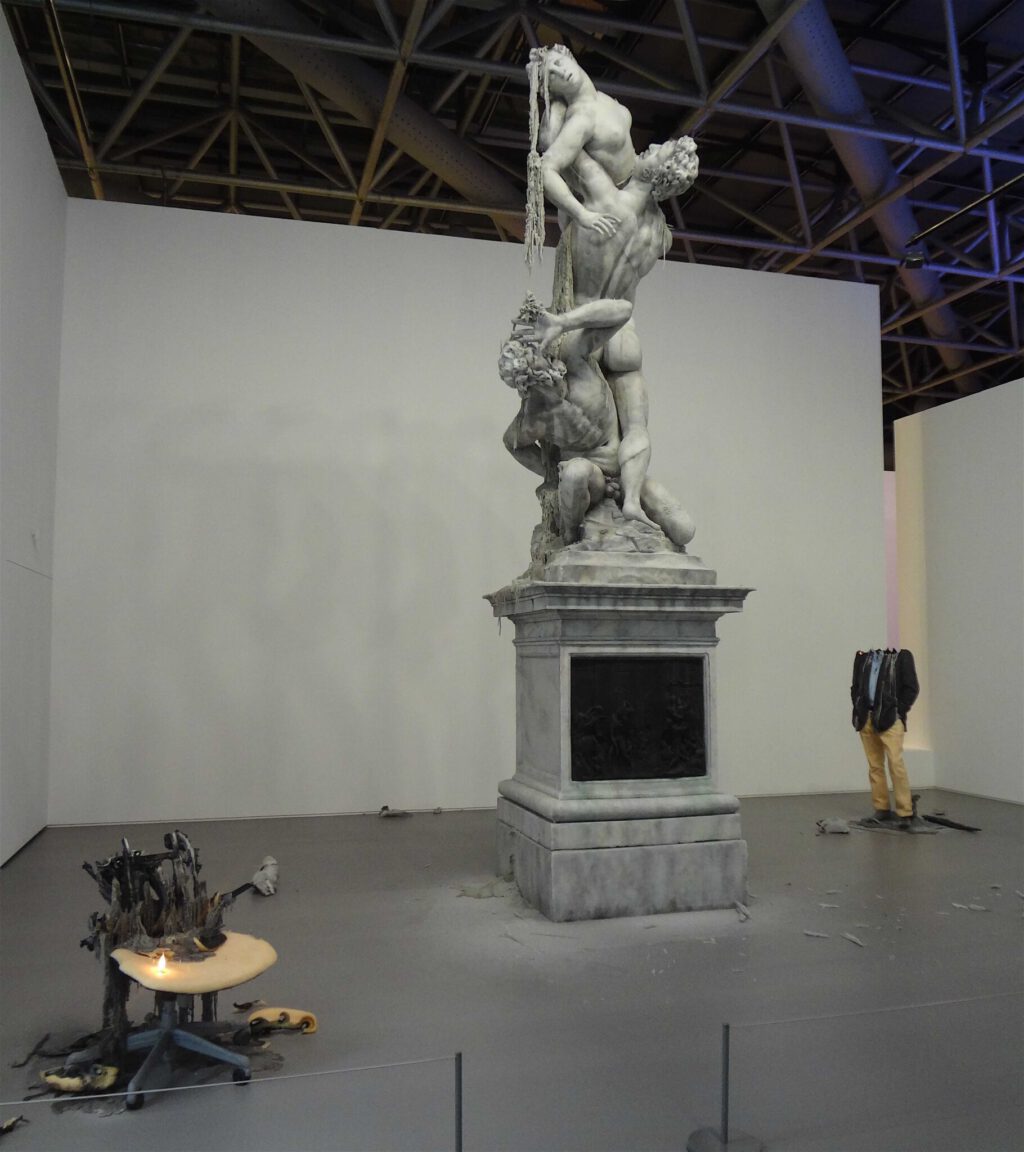 These three candle-sculptures by Urs Fischer (Swiss, born 1973) comprise a life-size replica of Giambologna's Rape of the Sabine Women (c. 1579), a portrait of Fischer's artist friend Rudolf Stingel and a representation of an ordinary office chair. In the course of the exhibition they all gradually melt, in a metamorphosis leading from the figurative to the abstract, from a deliberately chosen form to a shape due entirely to chance. This work points to art as something as mutable and impermanent as everything else.
reference、参照:
Giambologna's The Rape of the Sabine Women サビニの女たちの略奪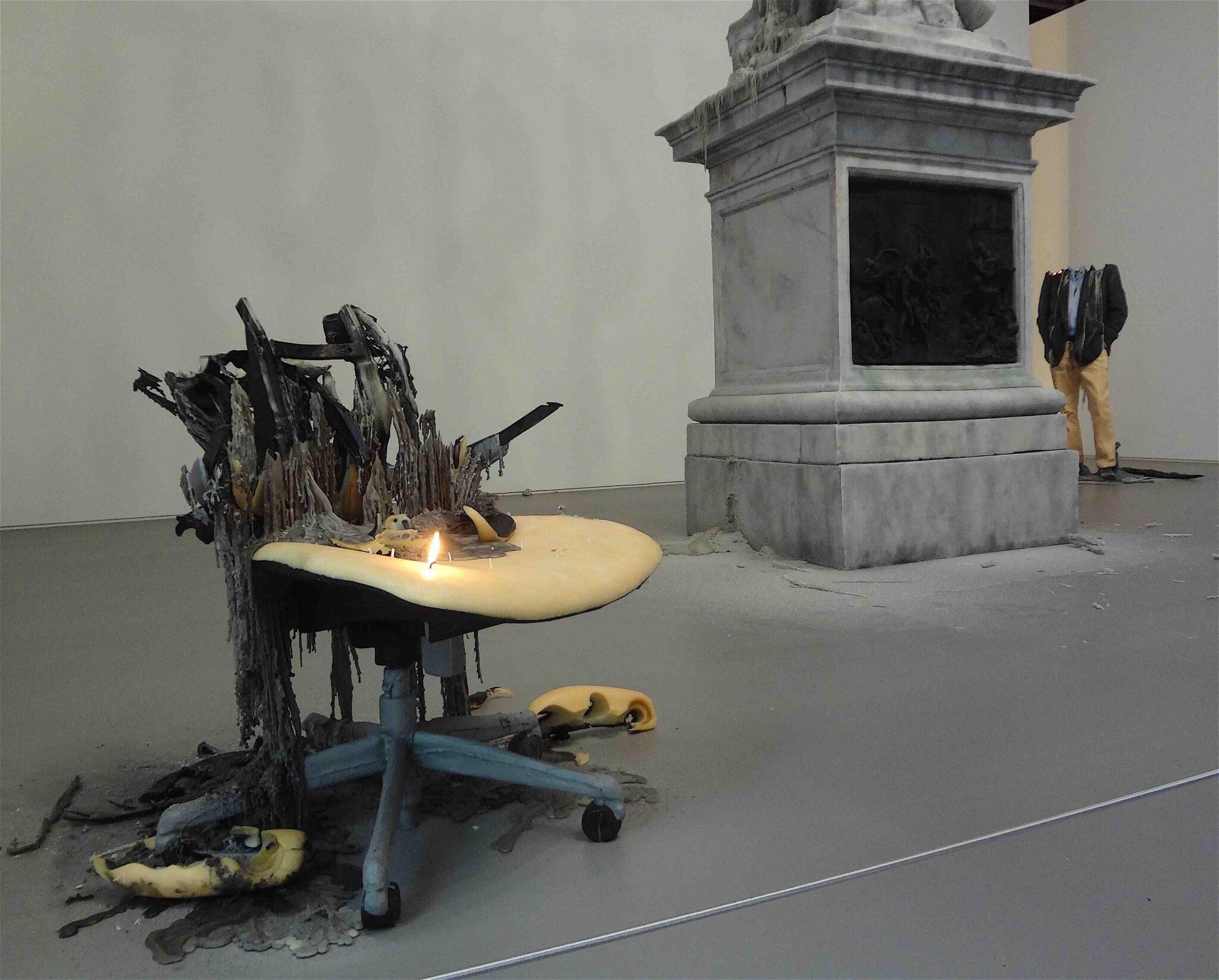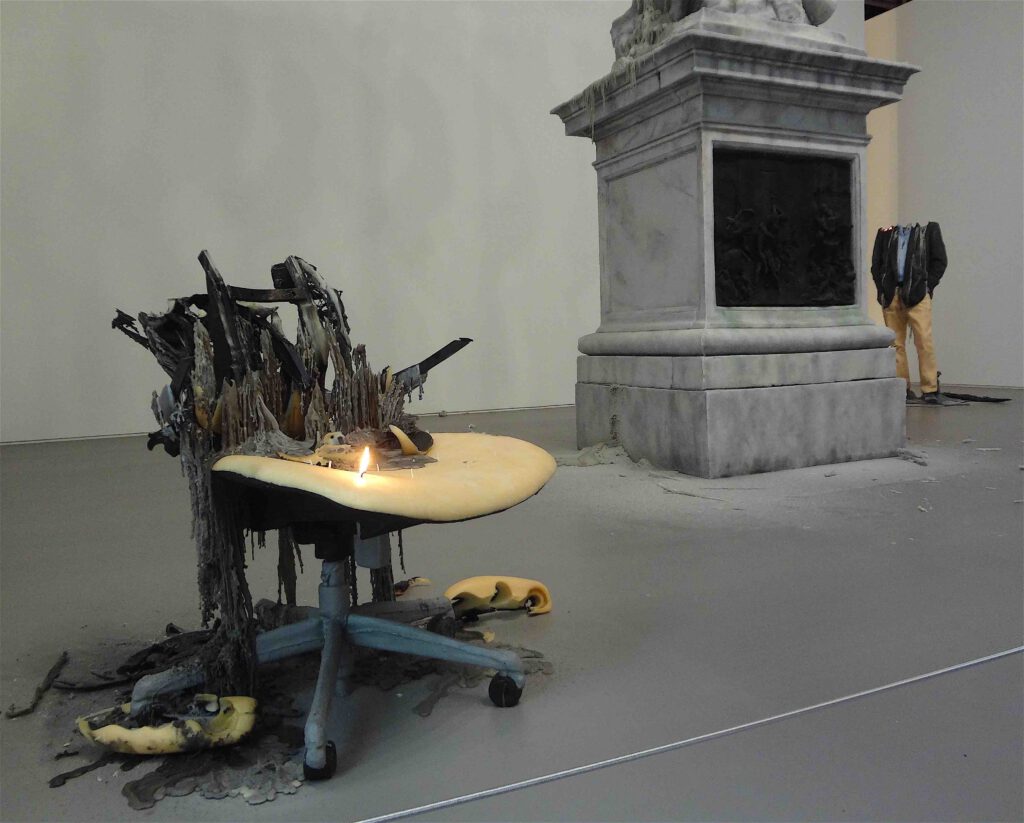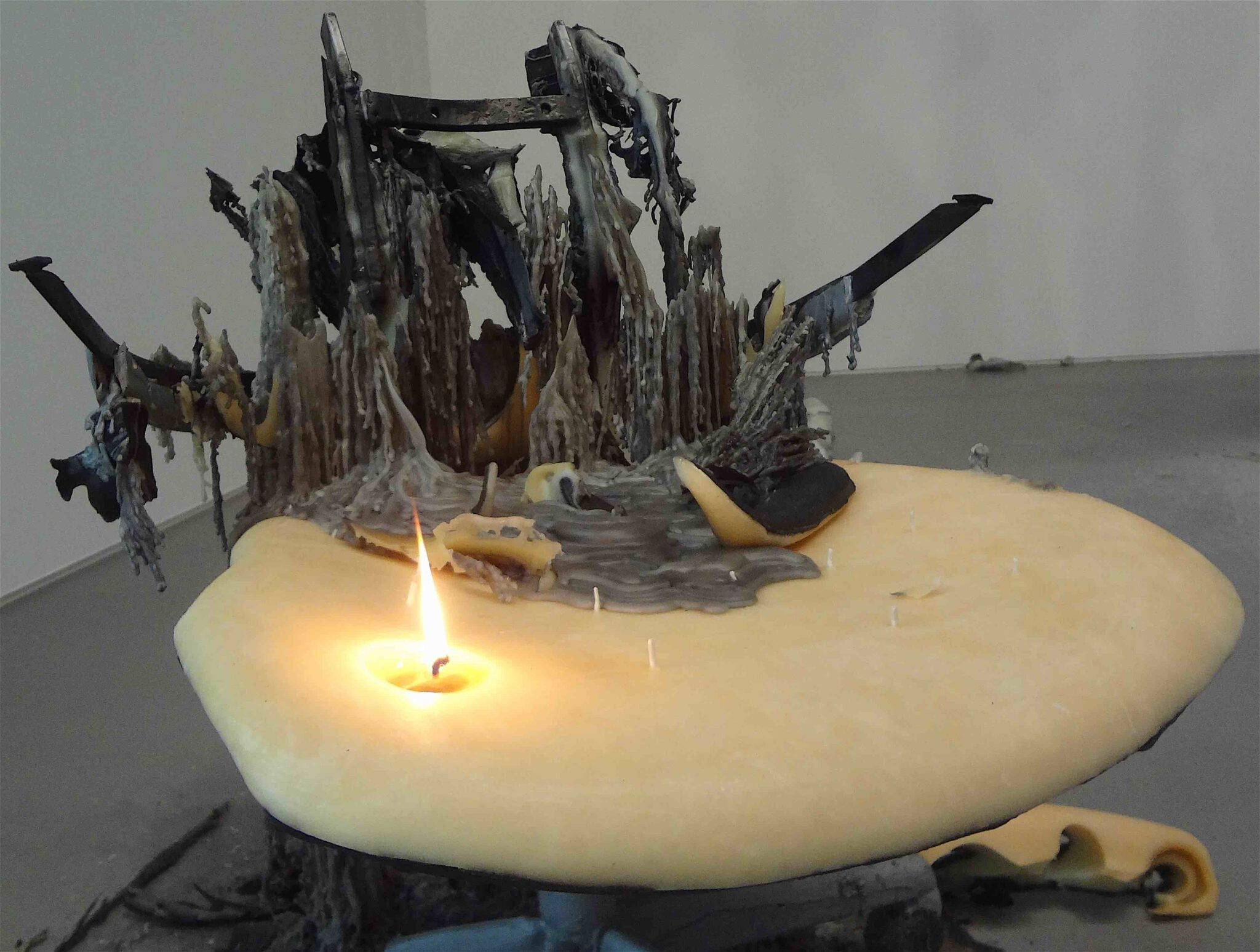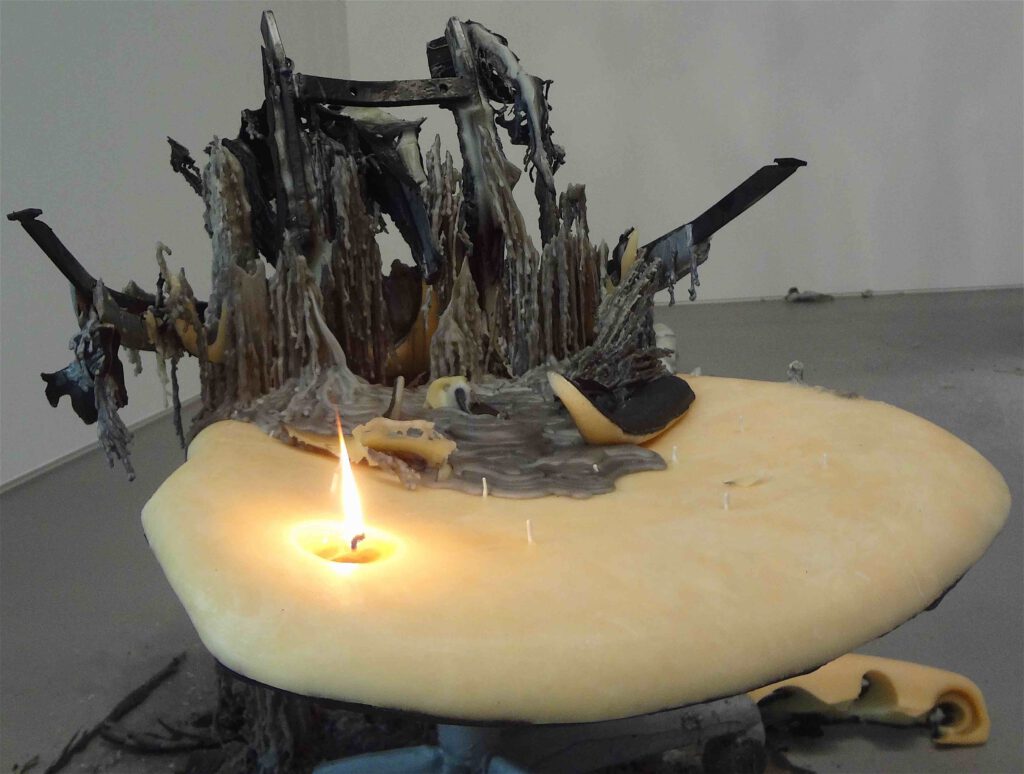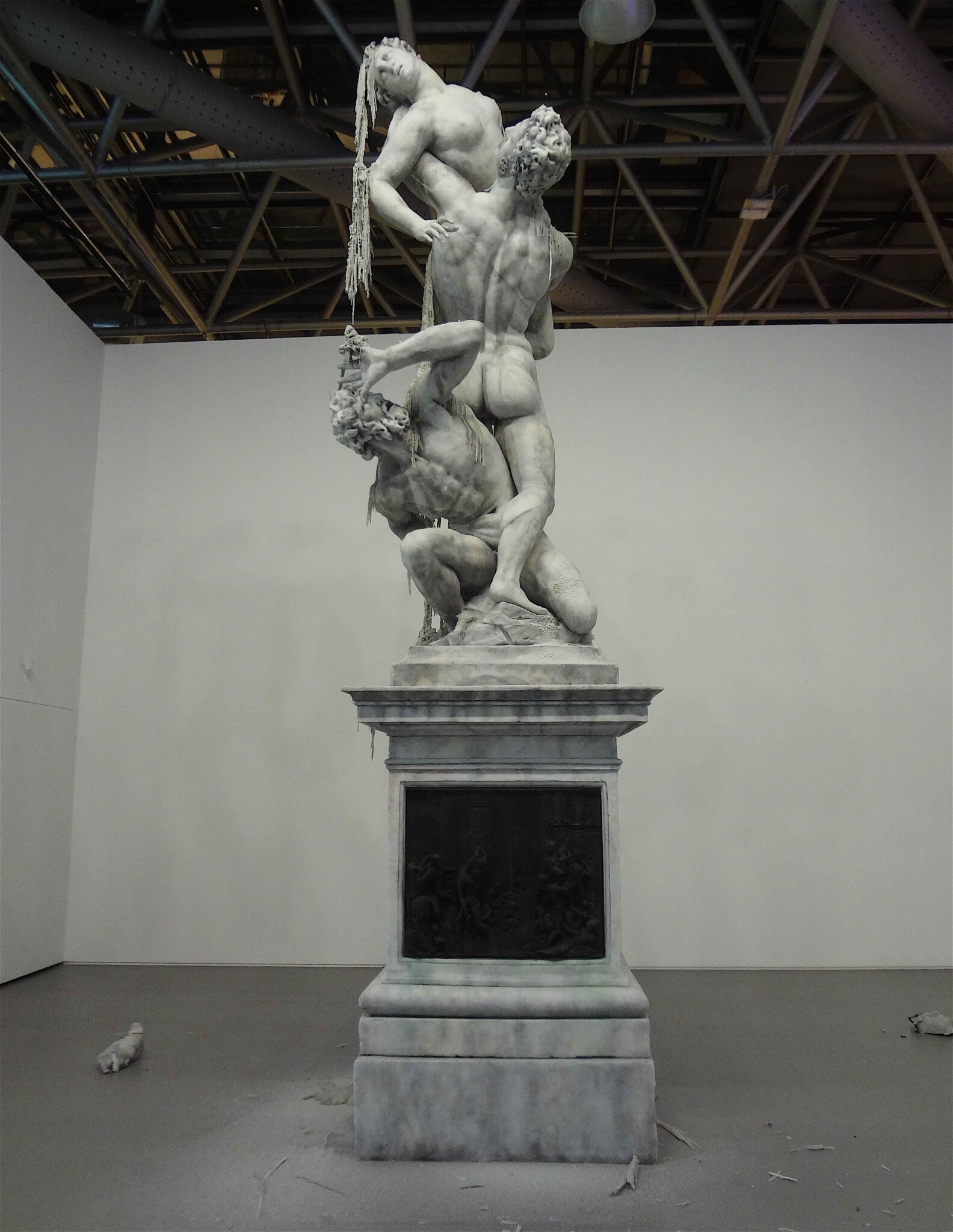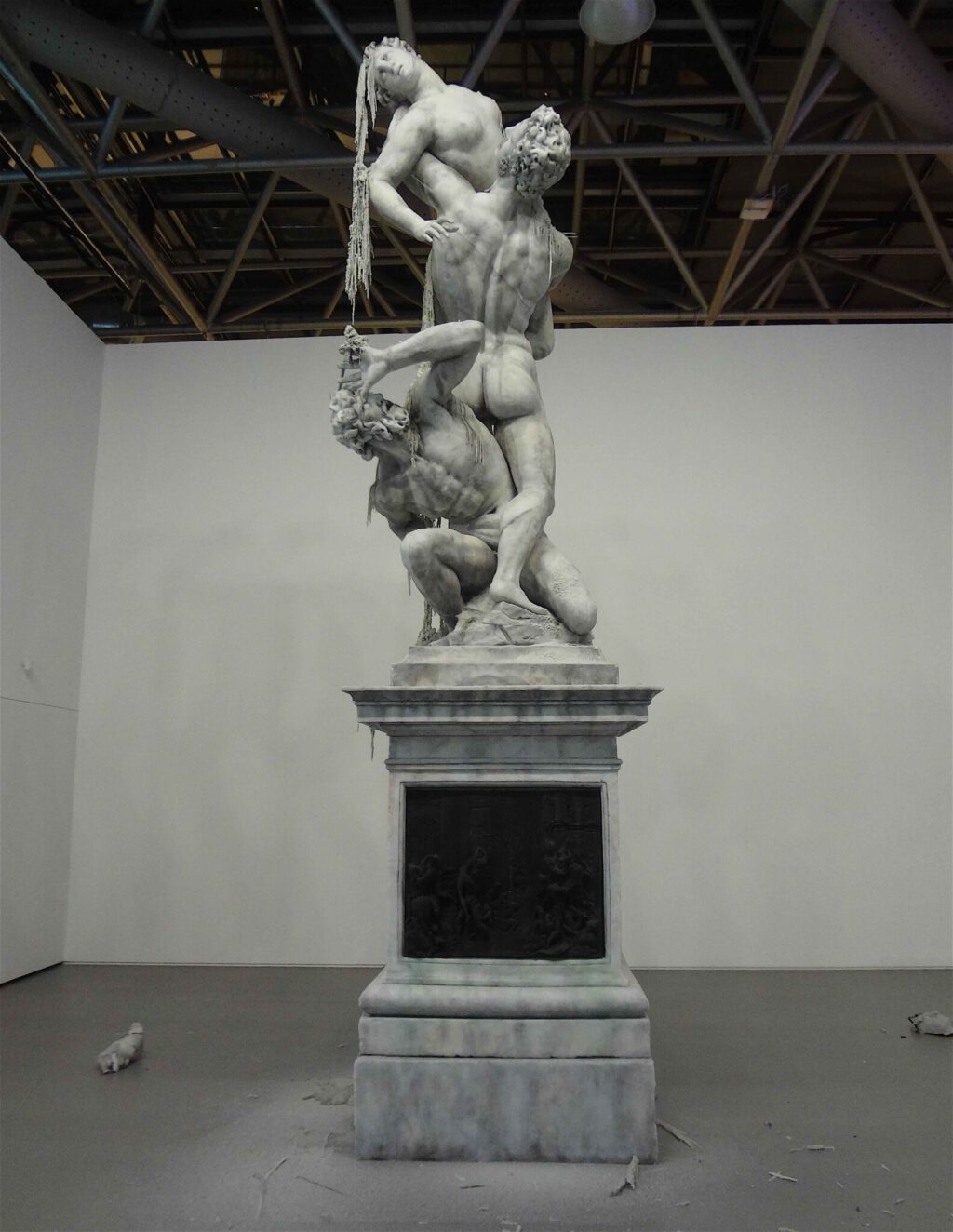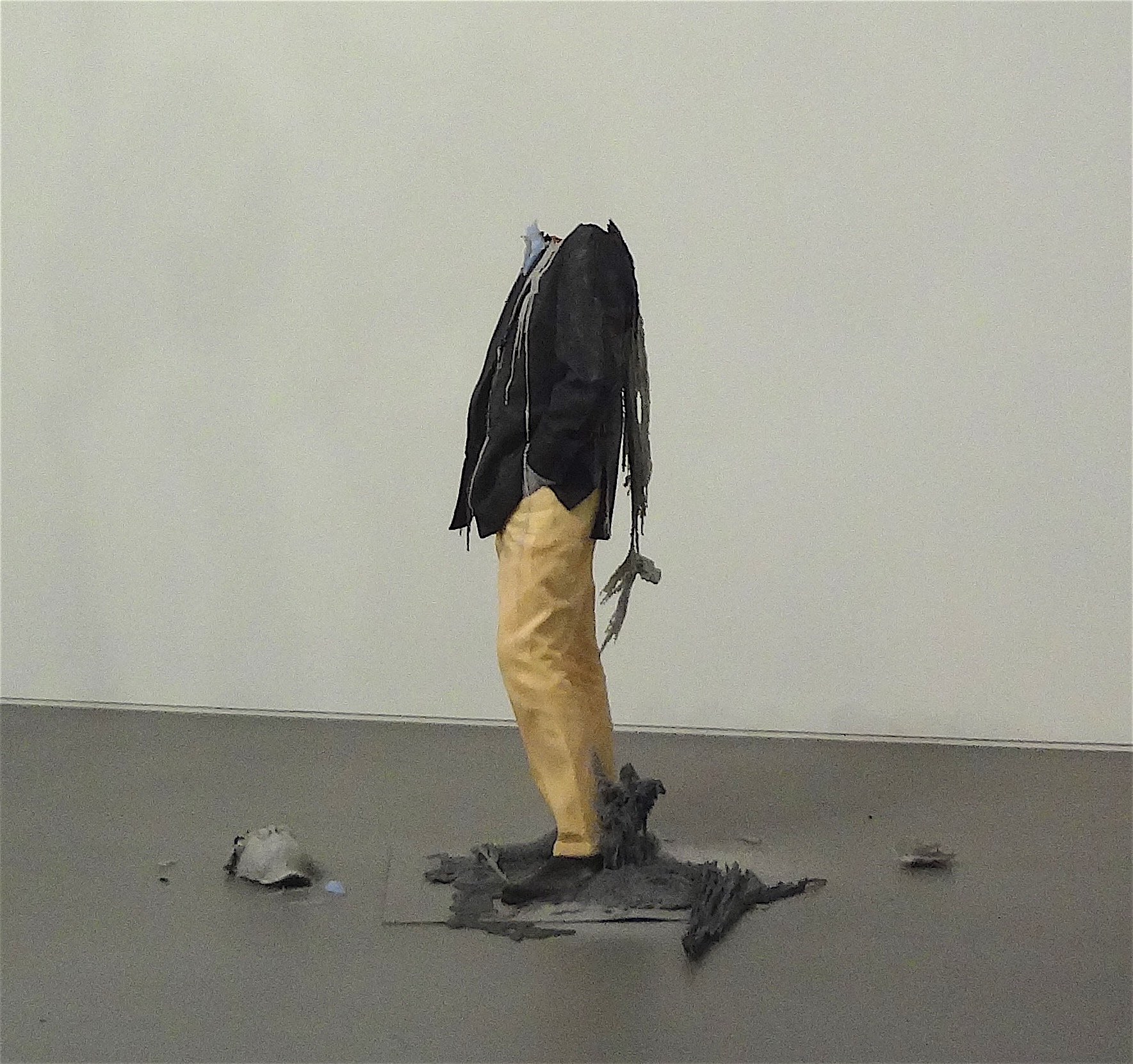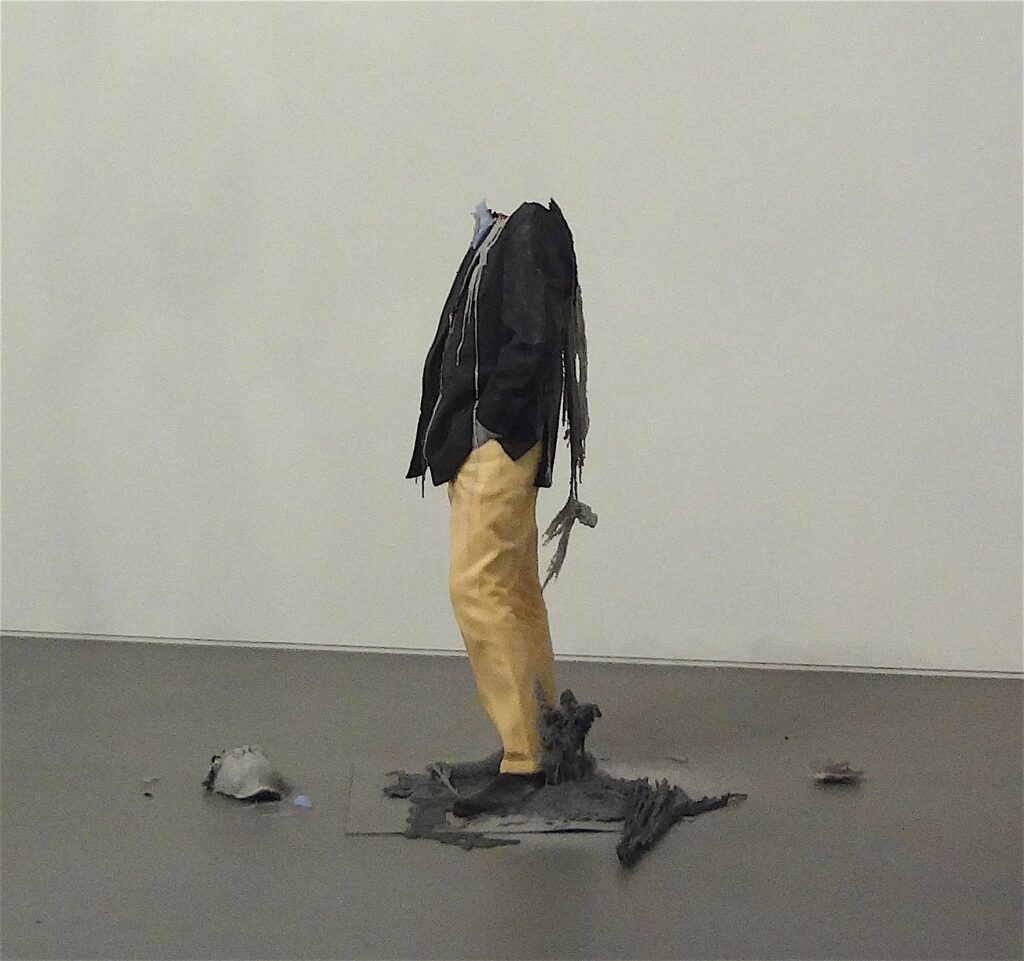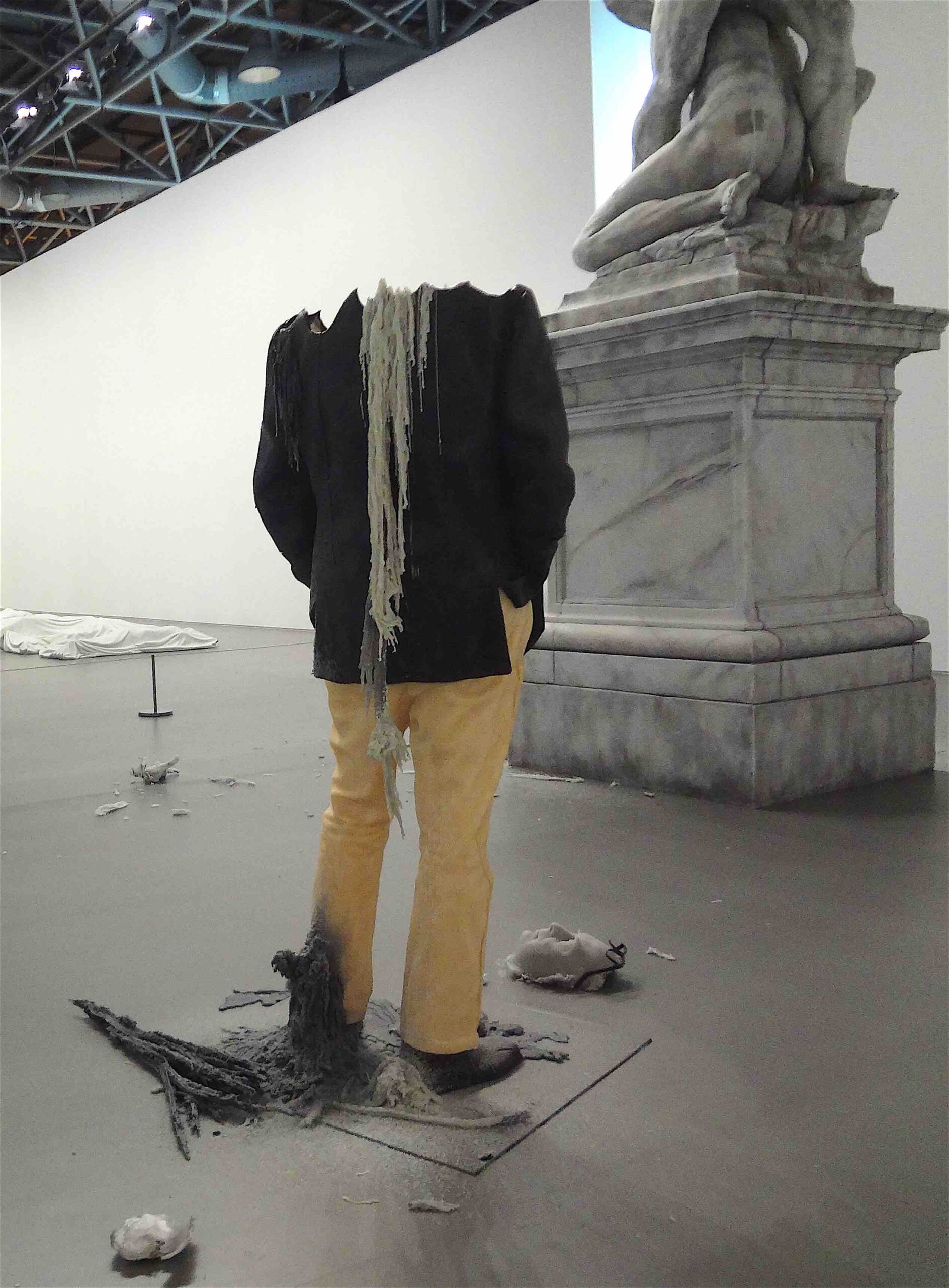 ---
比較 compare, check this edition work via the following links:
ルドルフ・スティンゲルが焼け落ちる
Burning Down Rudolf Stingel
https://art-culture.world/articles/burning-down-rudolf-stingel/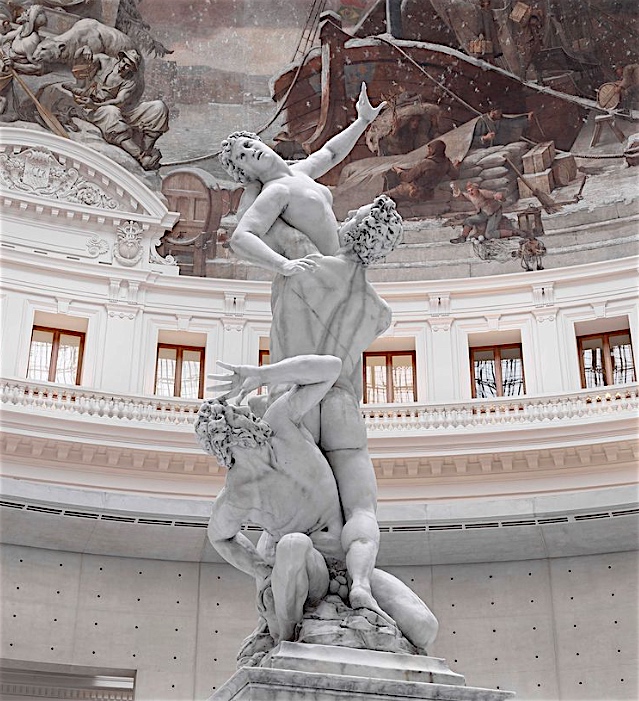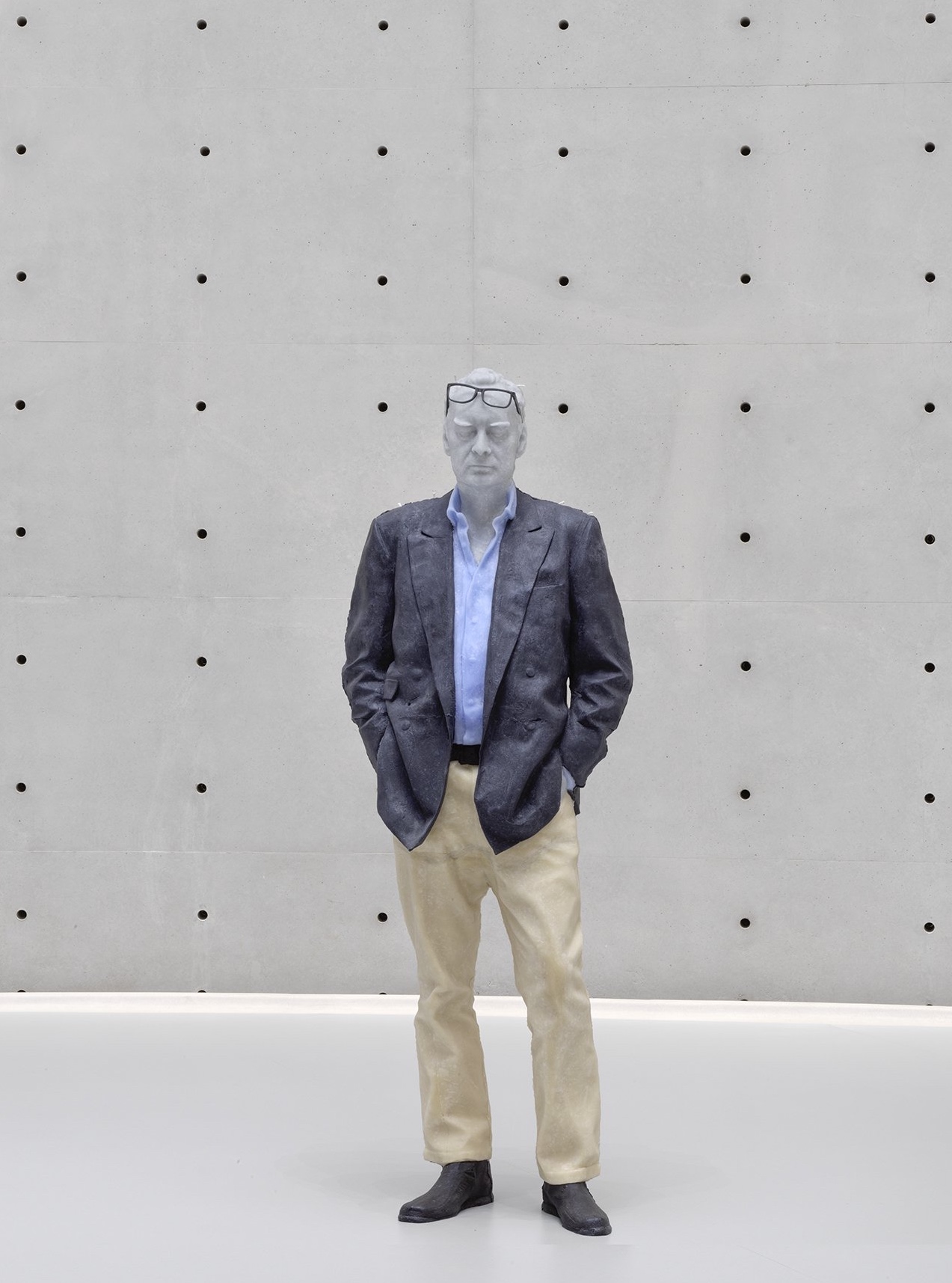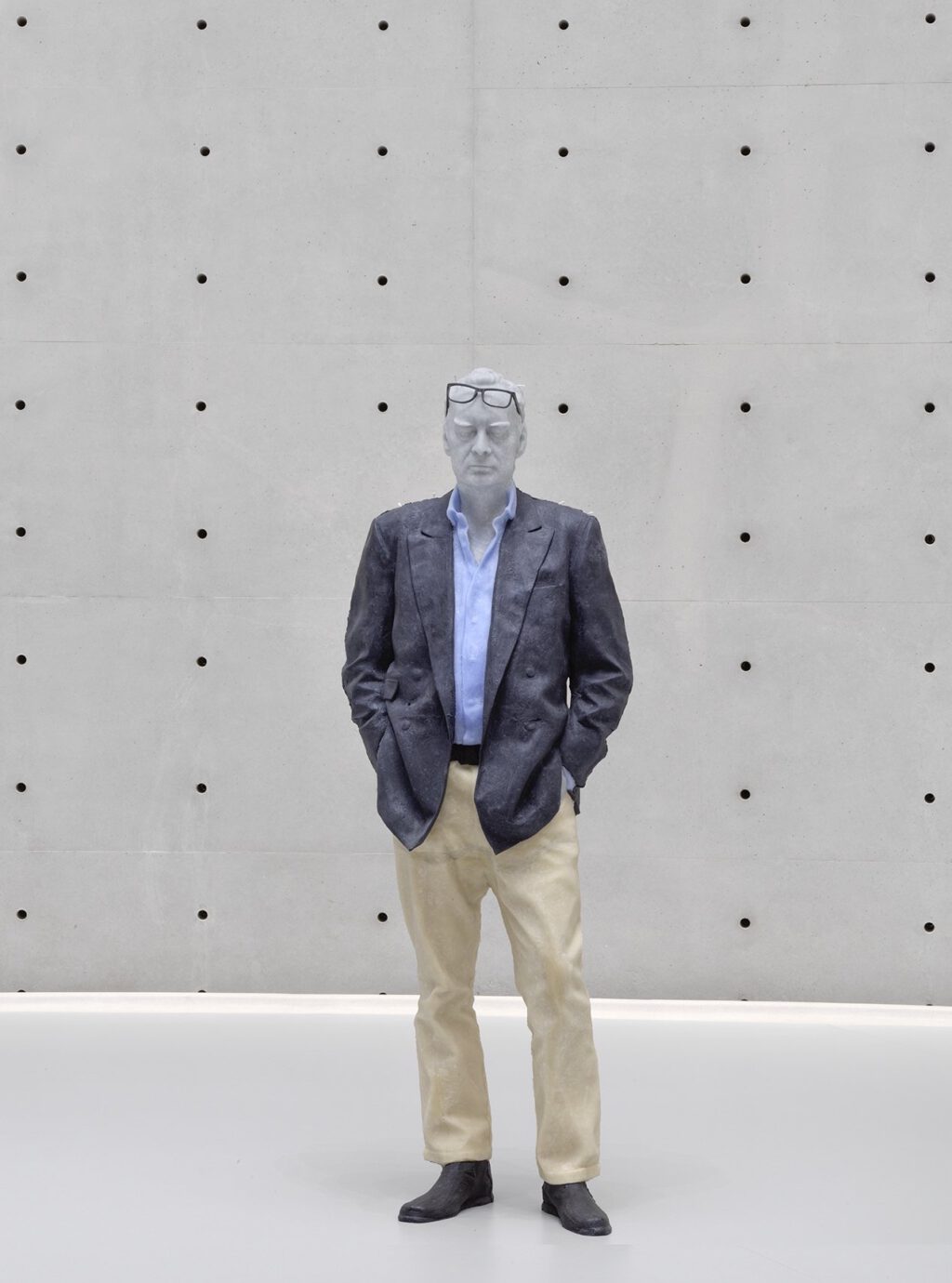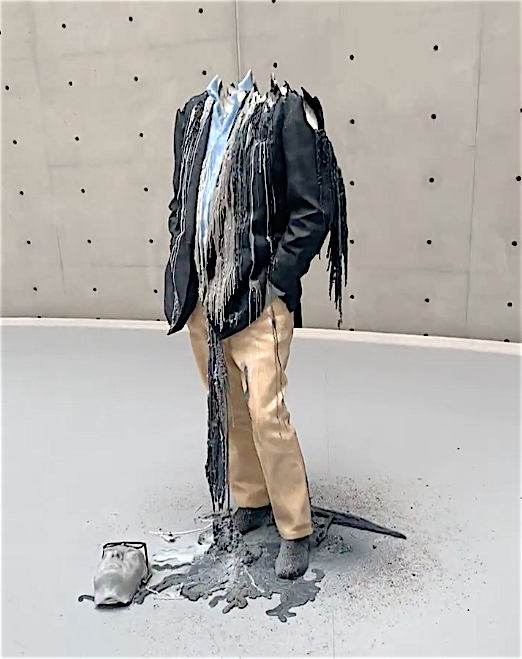 please compare 比較:
フランソワ・ピノーの三番目の刺激的な現代美術館、再建築 by 安藤忠雄
Exciting 3rd Contemporary Art Museum for François Pinault, rebuild by ANDO Tadao
https://art-culture.world/articles/francois-pinault-art-museum/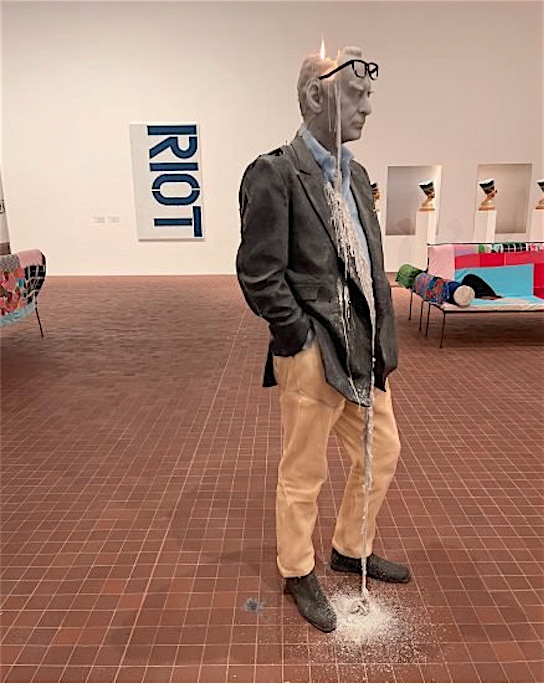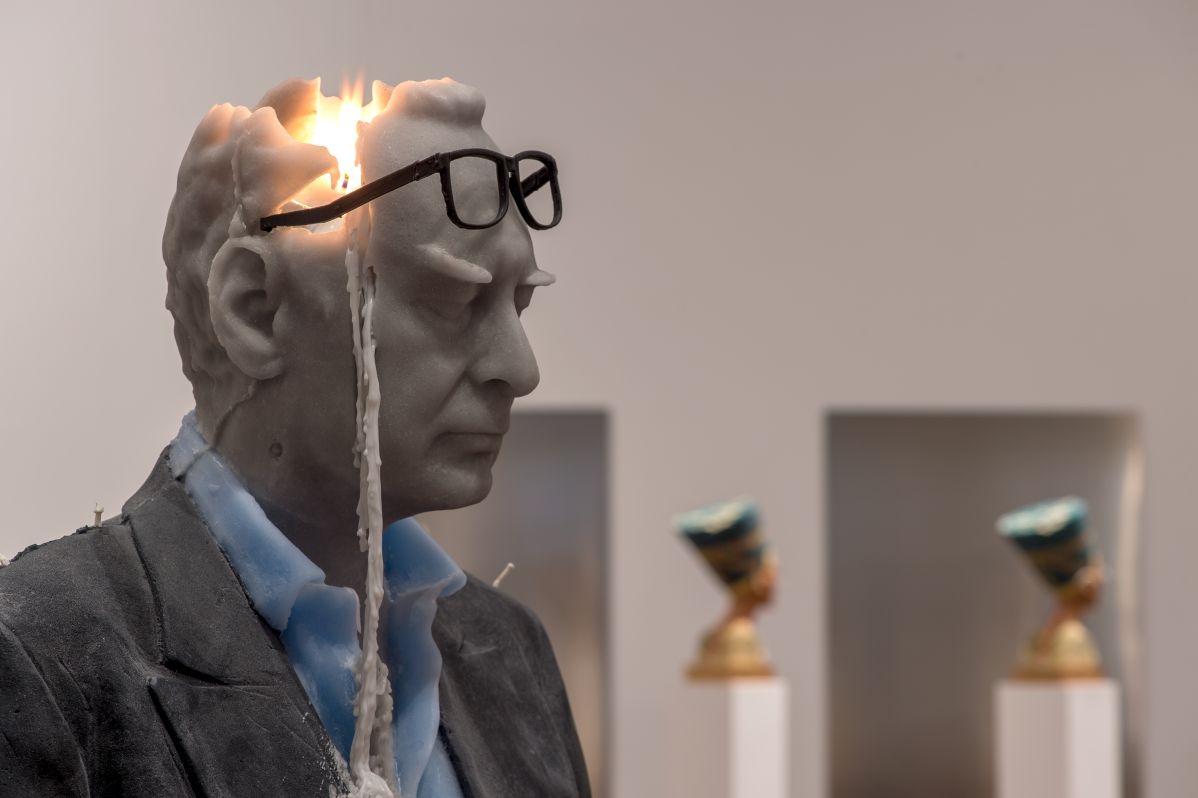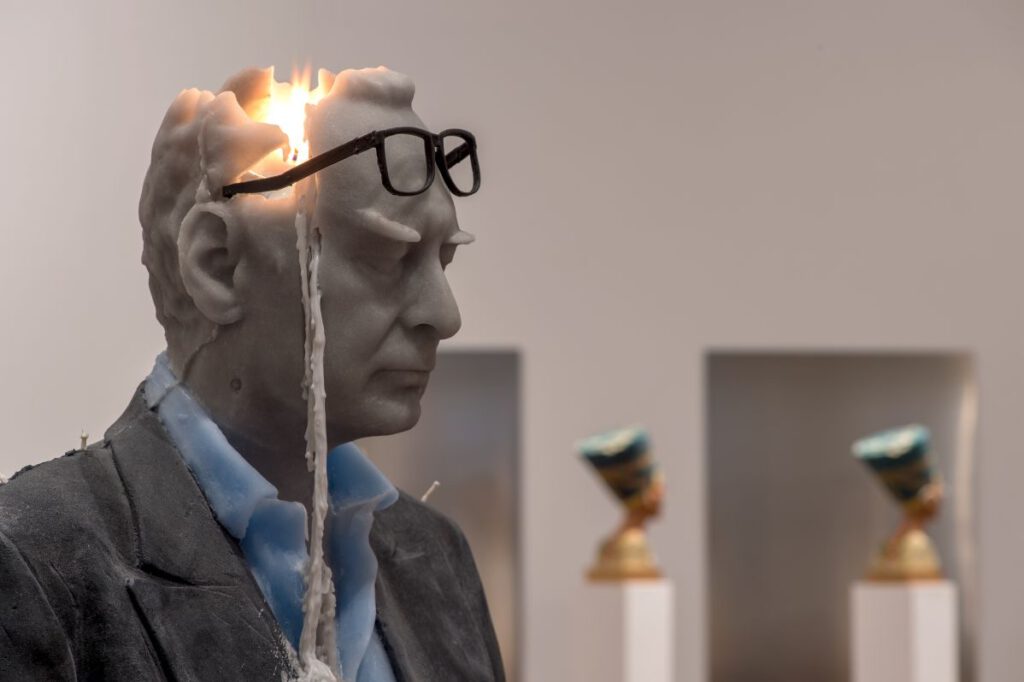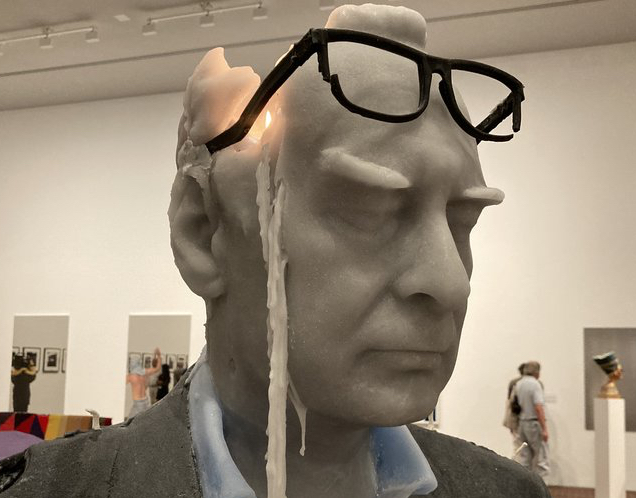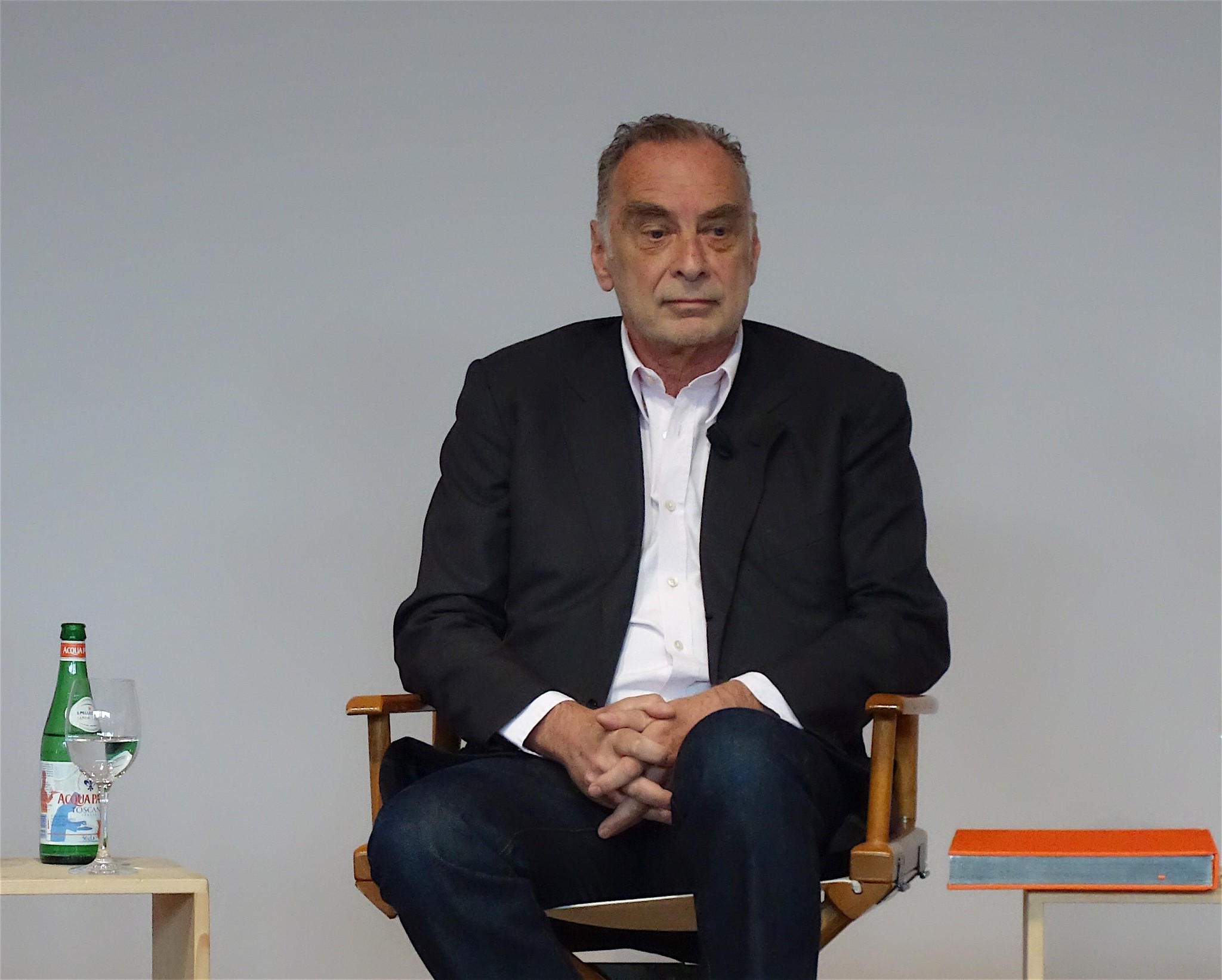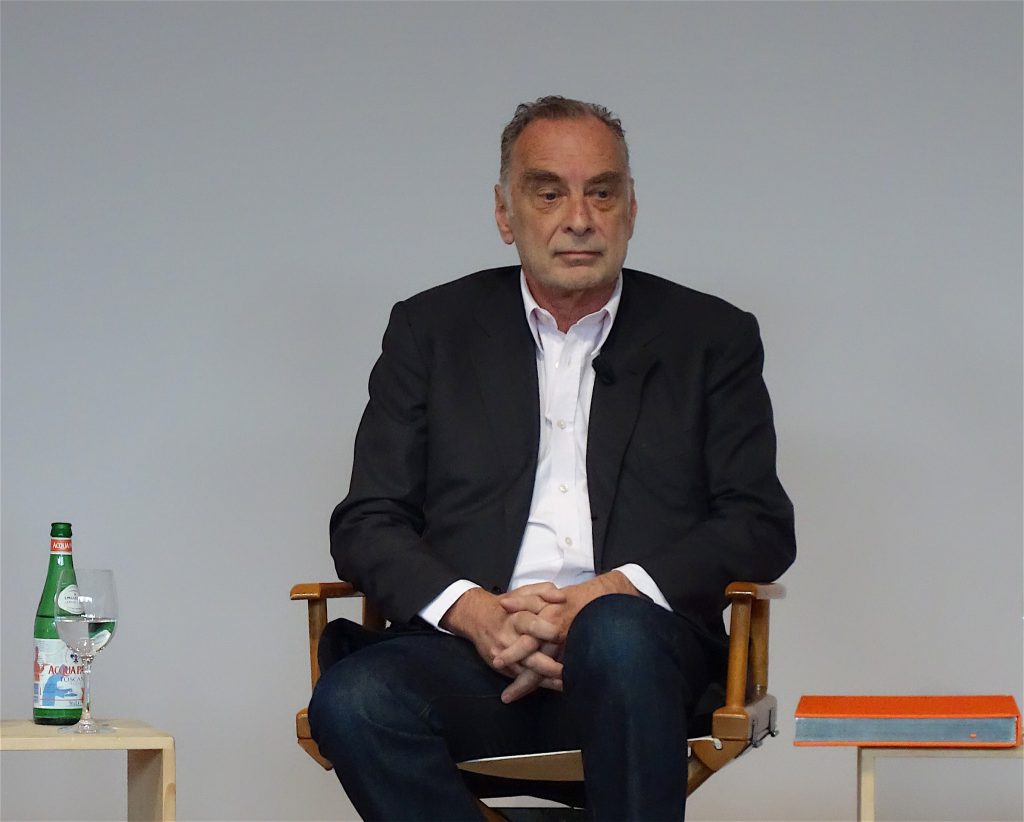 taken from:
Rudolf Stingel ルドルフ・スティンゲル
https://art-culture.world/articles/rudolf-stingel/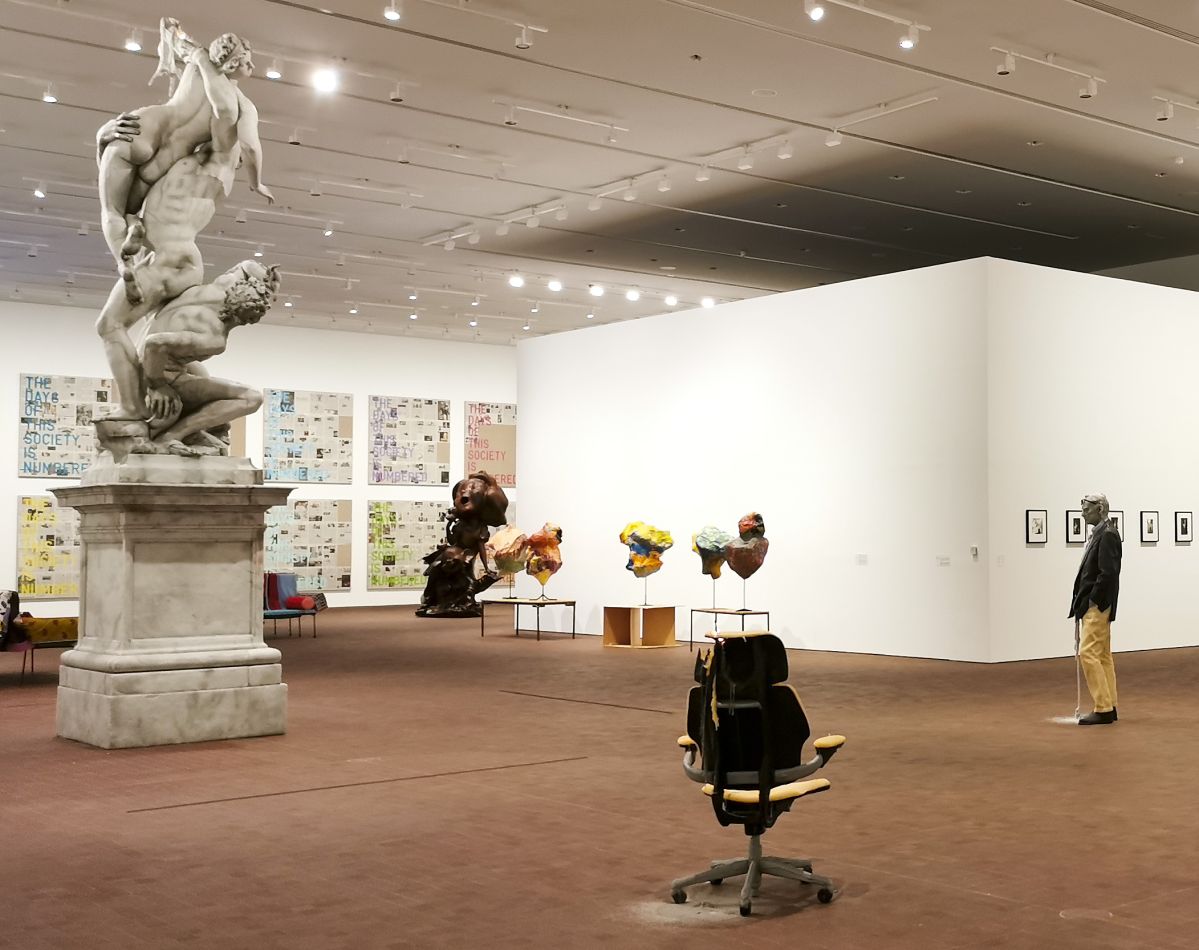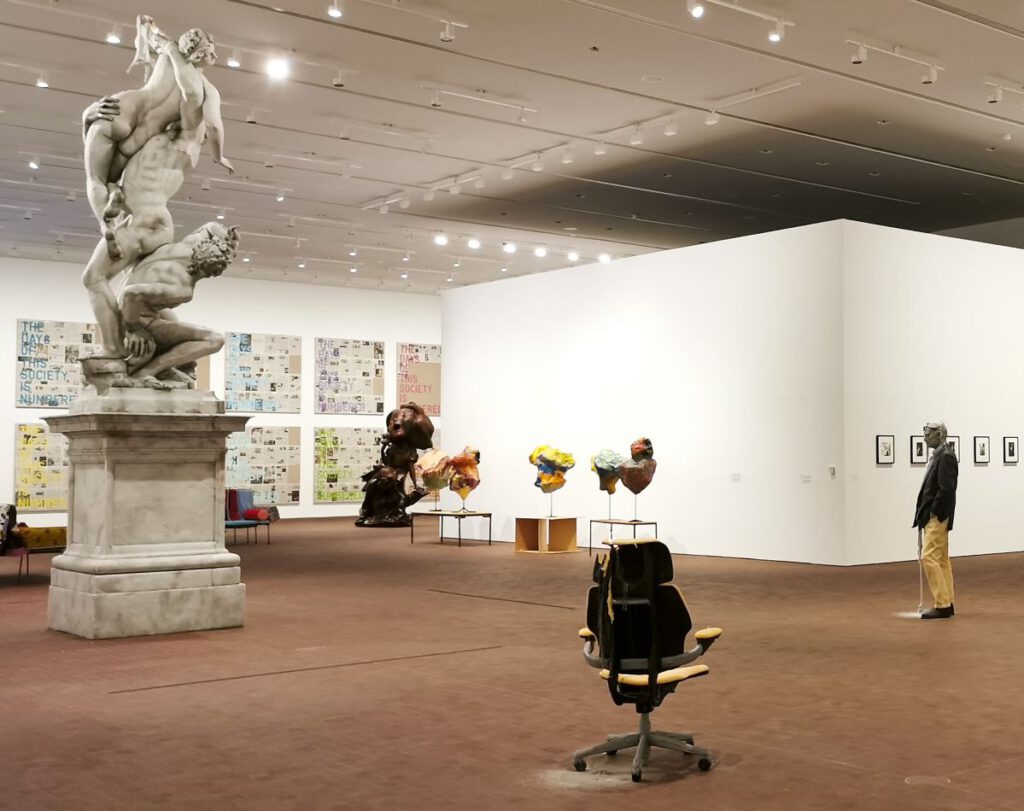 please compare 比較:
ダーム・パトロネス マヤ・ホフマン氏の新建物「LUMAアルル」
Dame Patronesse Maja Hoffmann's New Building "LUMA Arles"
https://art-culture.world/articles/dame-patronesse-maja-hoffmann/
---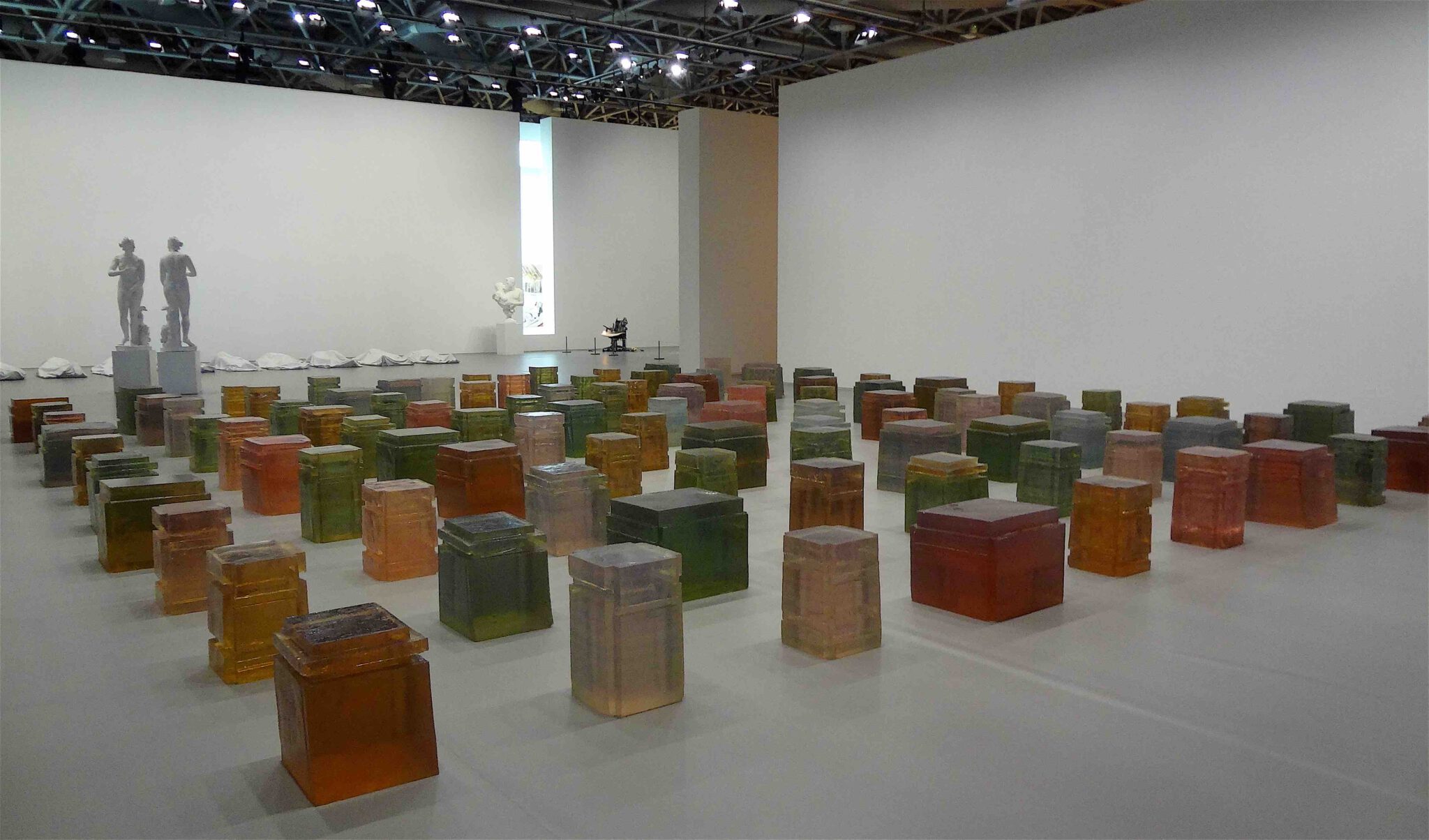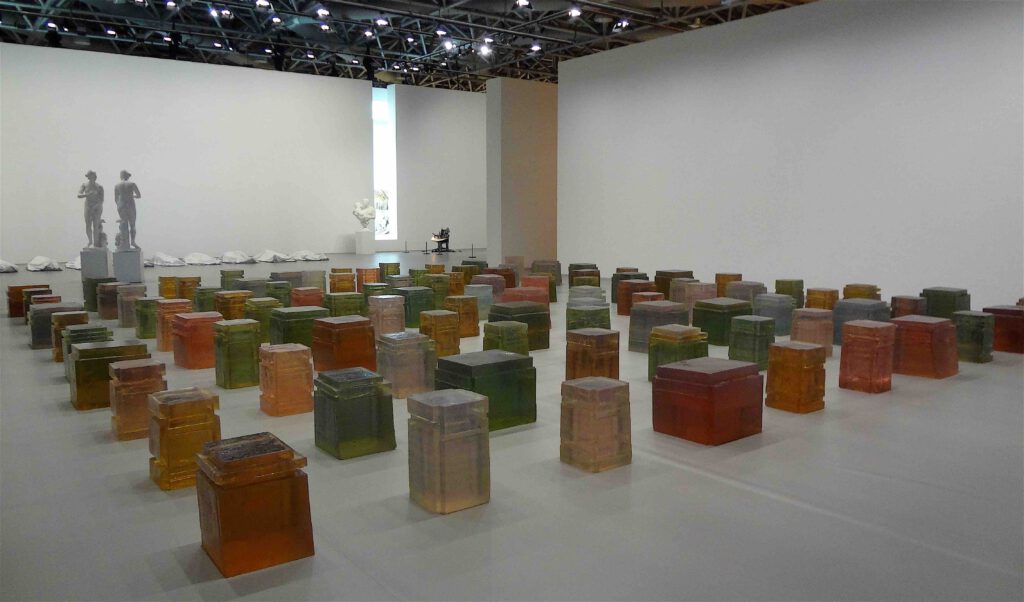 比較 compare with:
レイチェル・ホワイトリード 「Wardrobe」2019年 と バルテュス「Passage du Commerce-Saint-André」1952-1954年 @ バイエラー財団 2020年1月まで
Rachel Whiteread "Wardrobe" 2019 & Balthus "Passage du Commerce-Saint-André" 1952-1954 @ Fondation Beyeler, until Jan. 2020
https://art-culture.world/articles/rachel-whiteread-balthus-fondation-beyeler-バルテュス-バイエラー財団/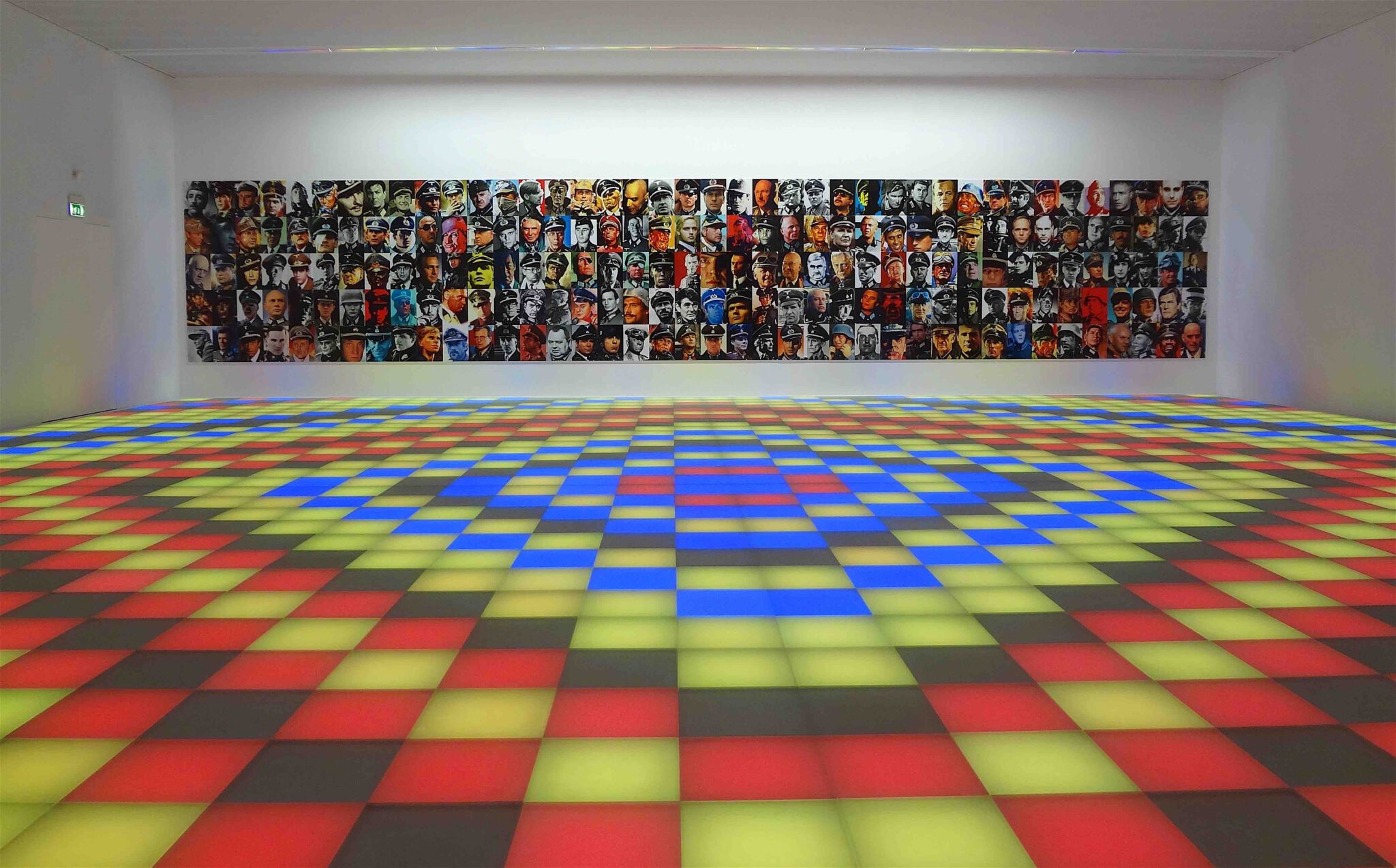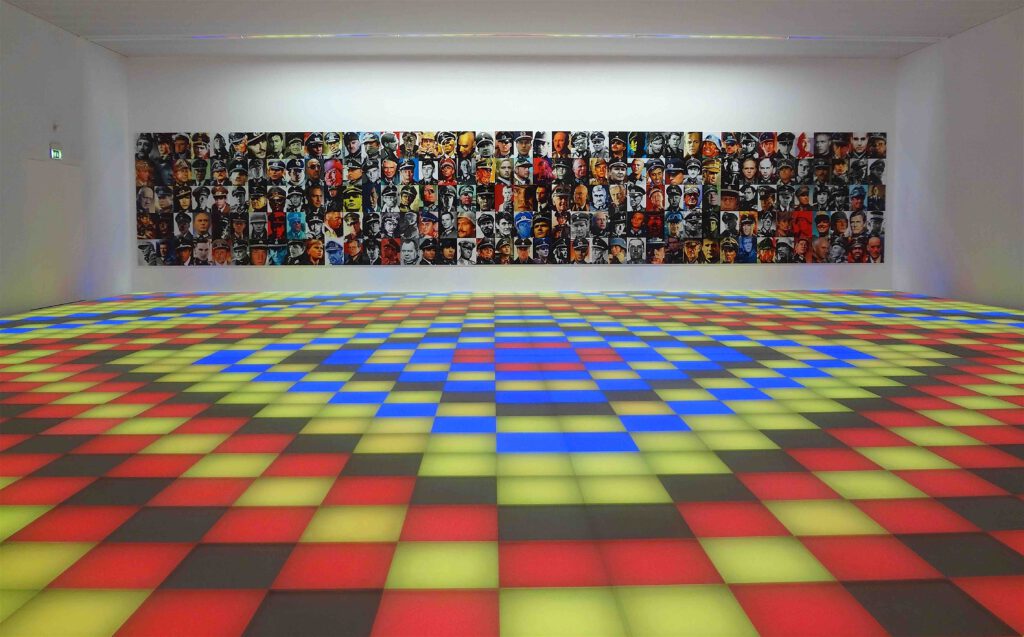 "Untitled (Dancing Nazis)" is a combination of two earlier pieces by Piotr Uklanski (Polish, b. 1967): firstly a sound and light installation referencing the club in Saturday Night Fever and the Minimalist works of Carl Andre and Dan Flavin; and photographs of actors who have played Nazi roles in the movies. This new work sets out to blur the boundaries between art and entertainment, good and bad taste, history and fiction.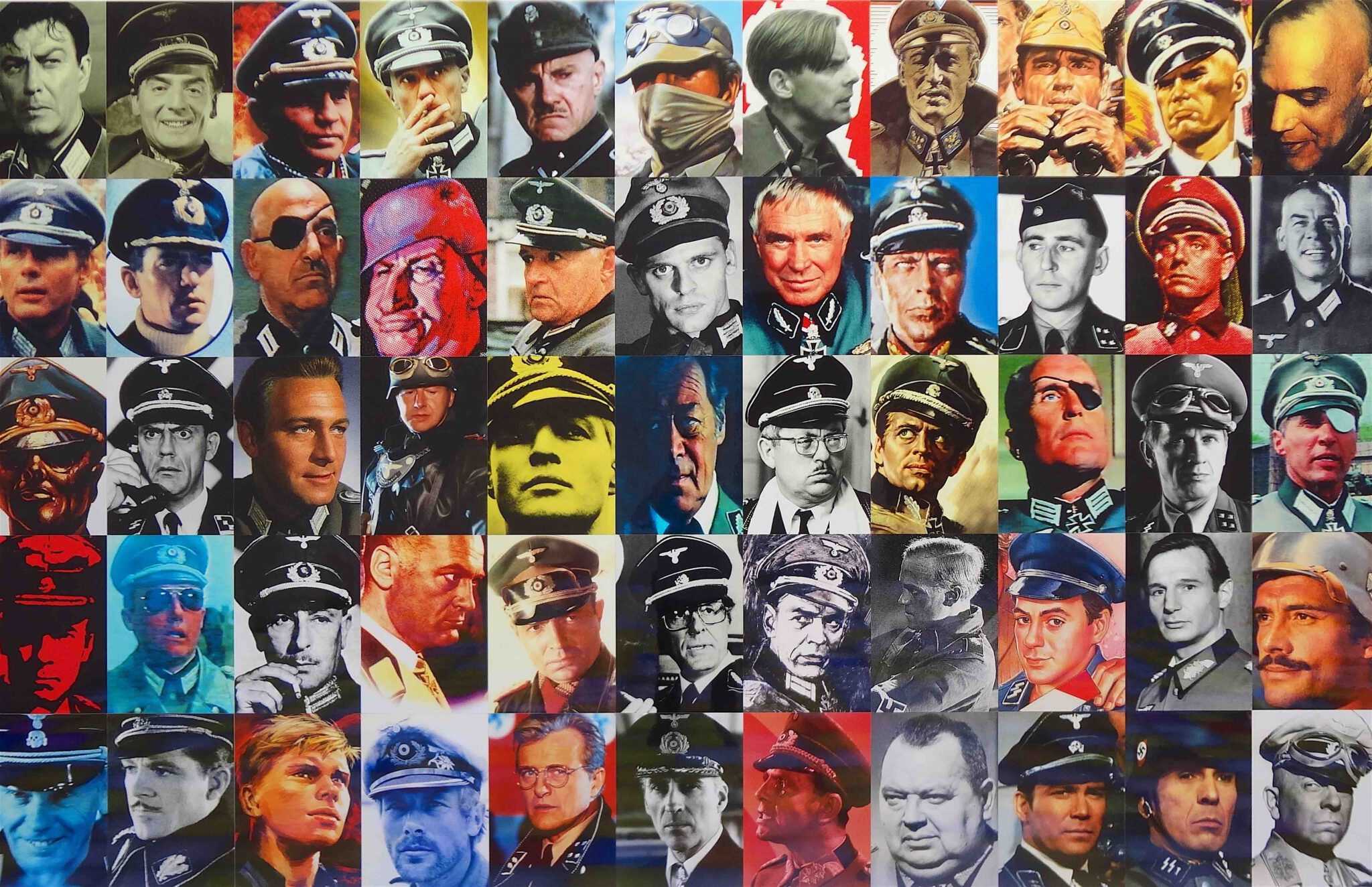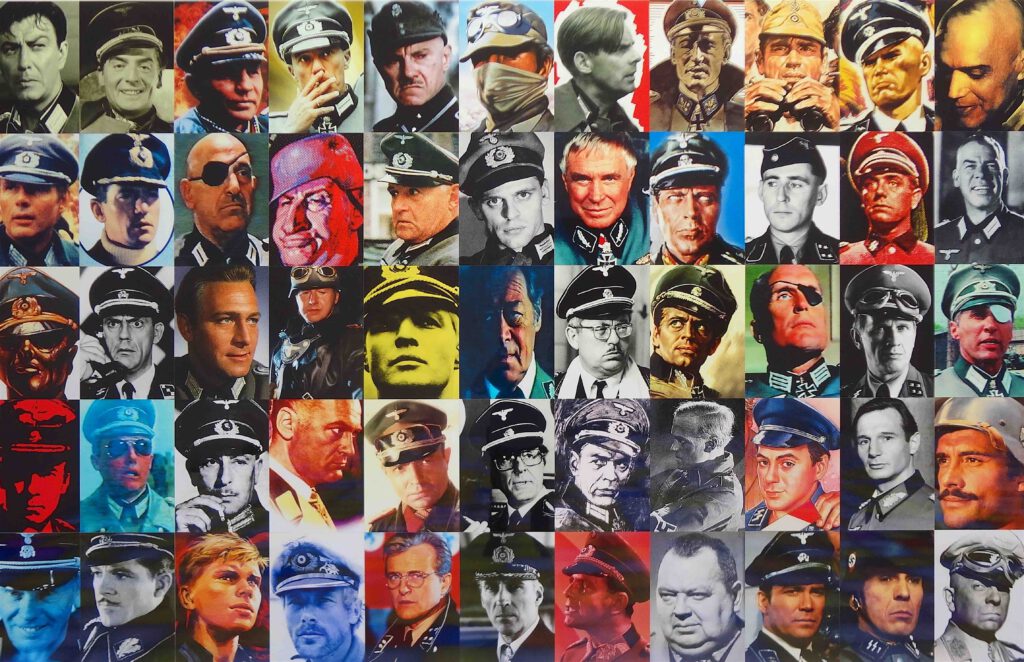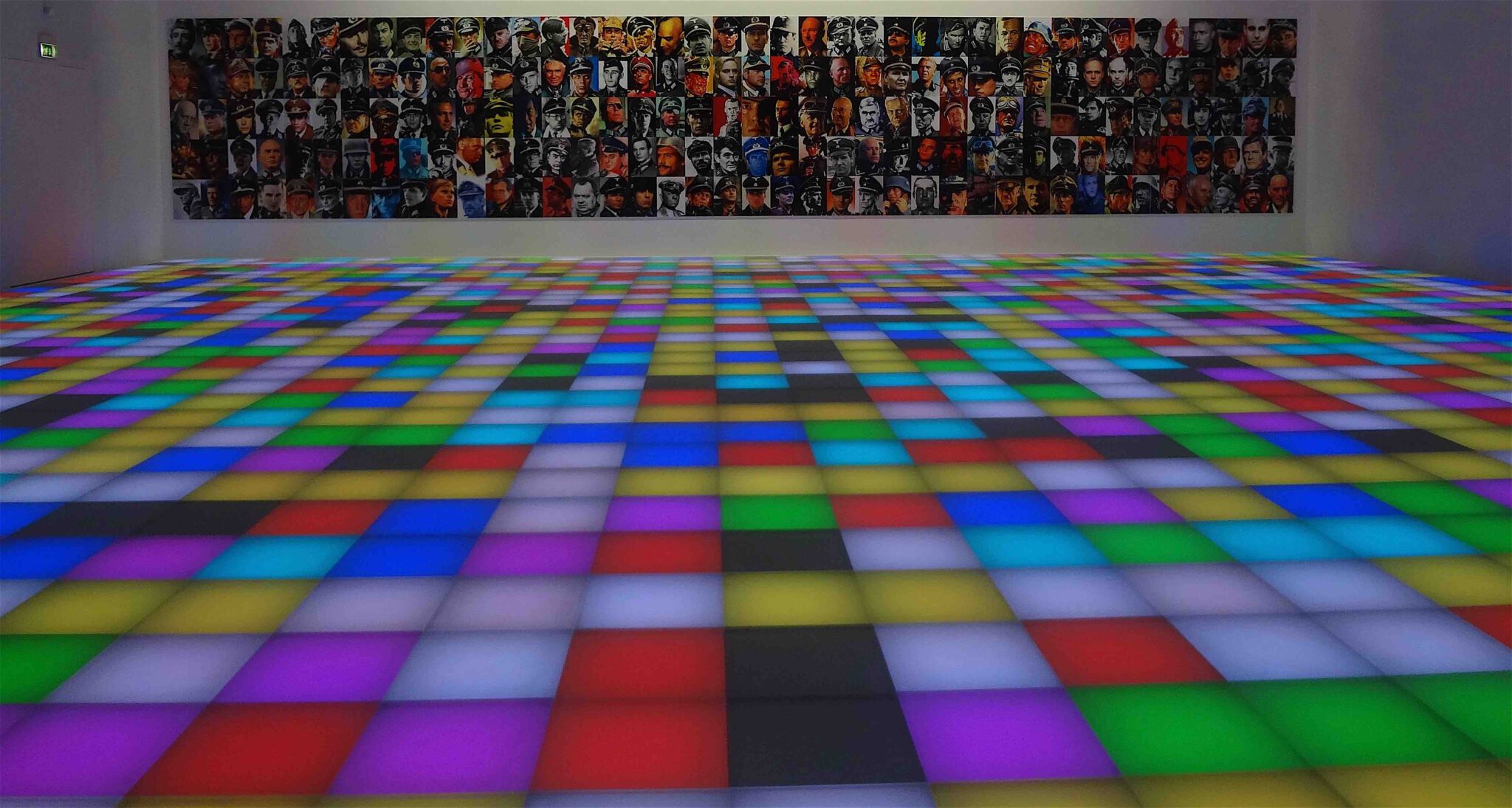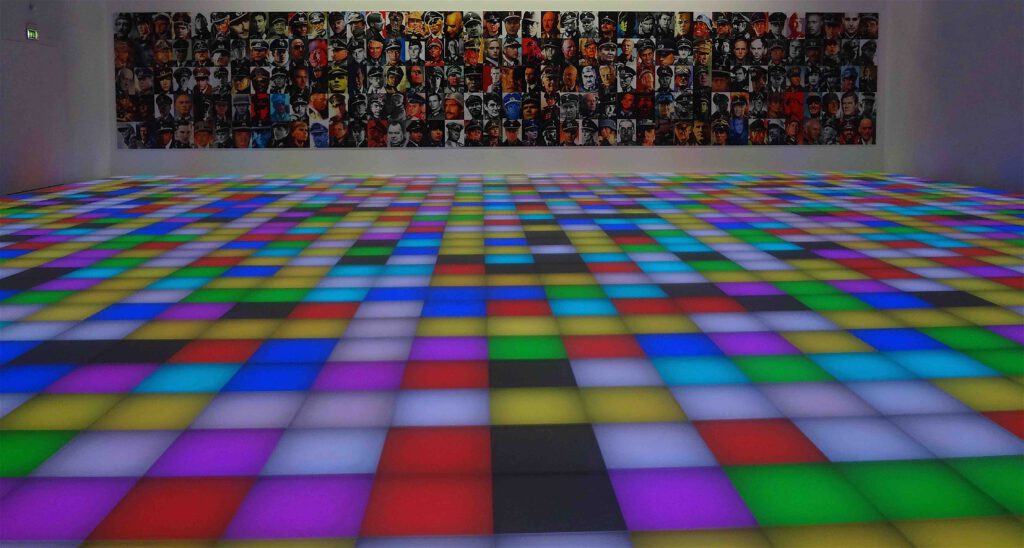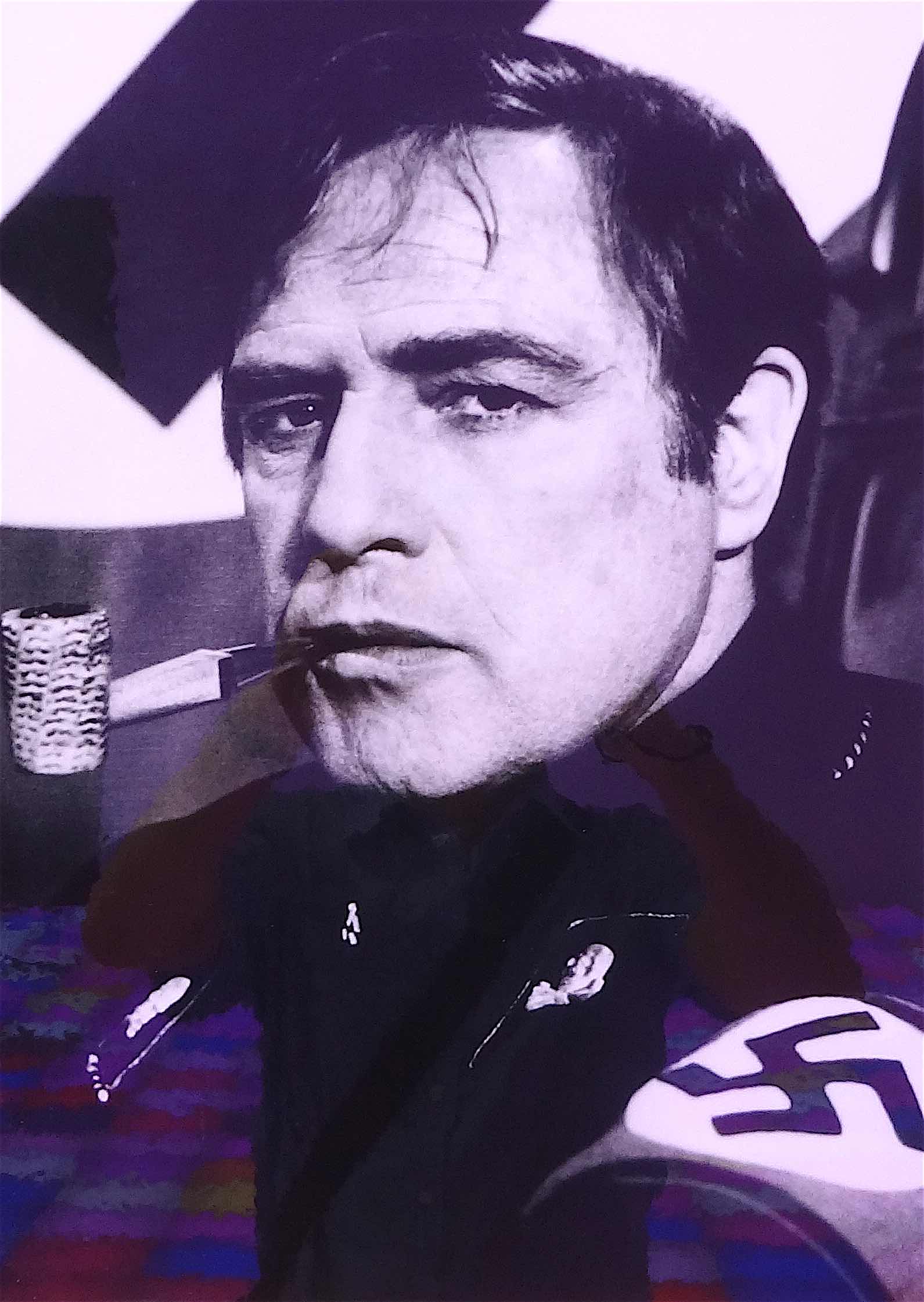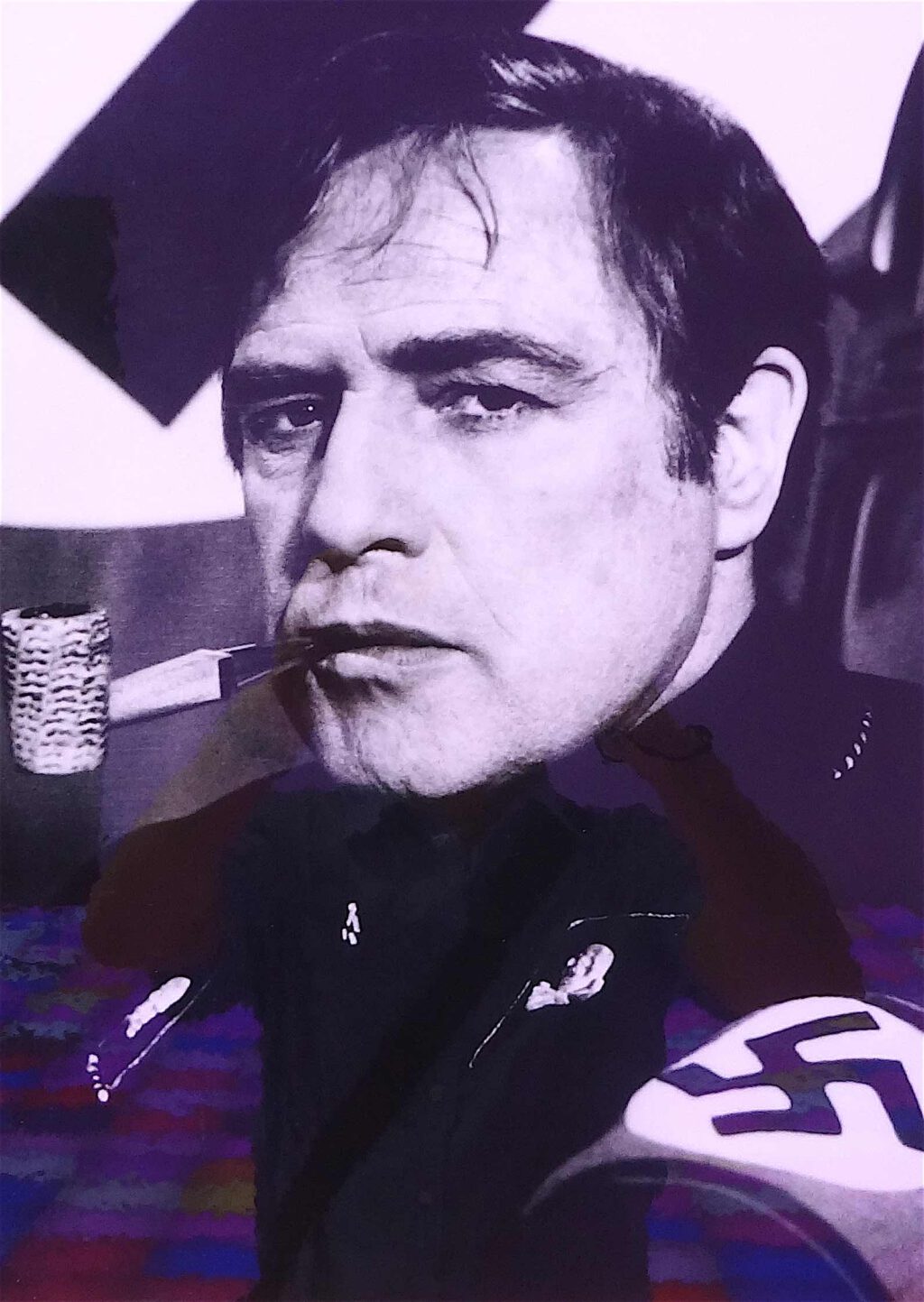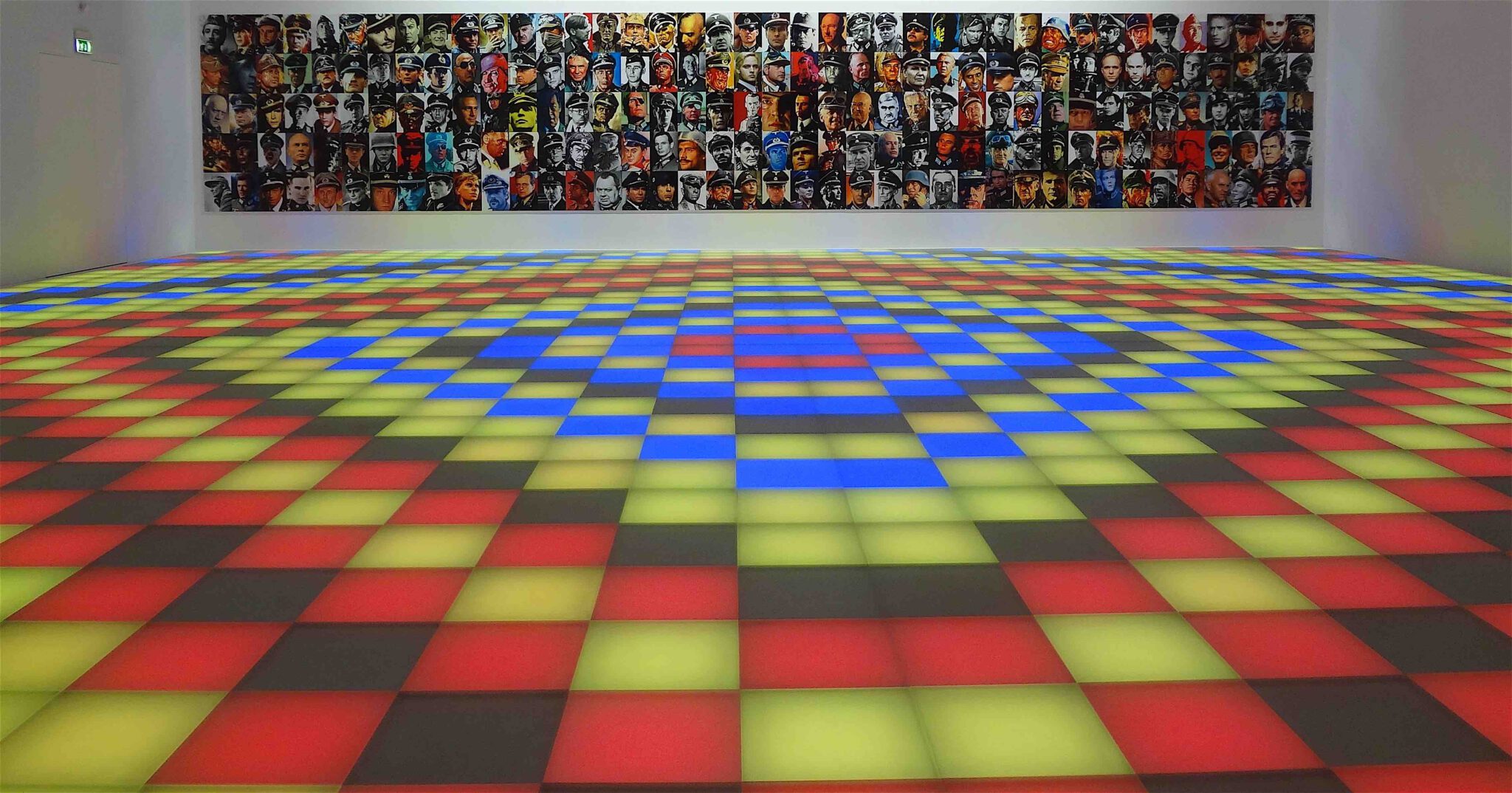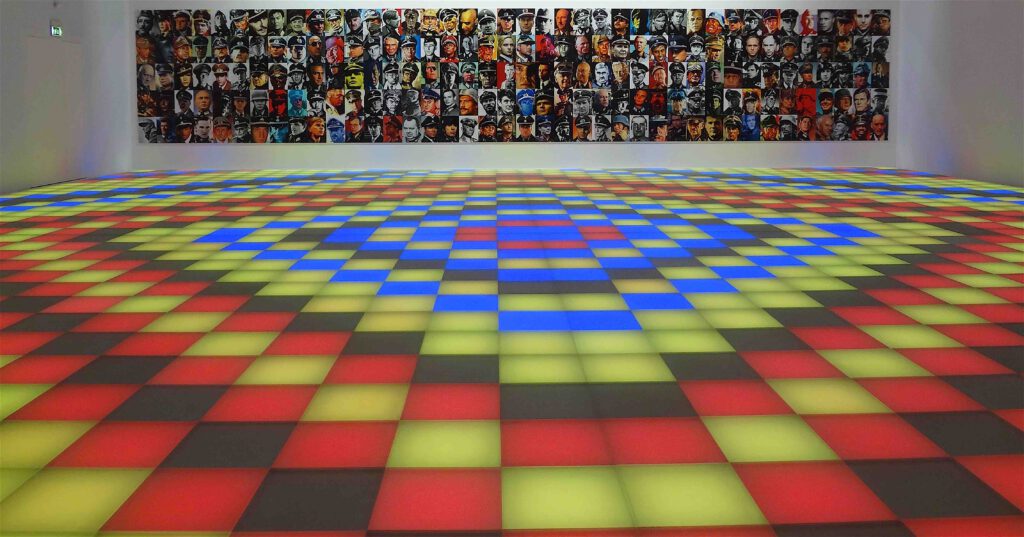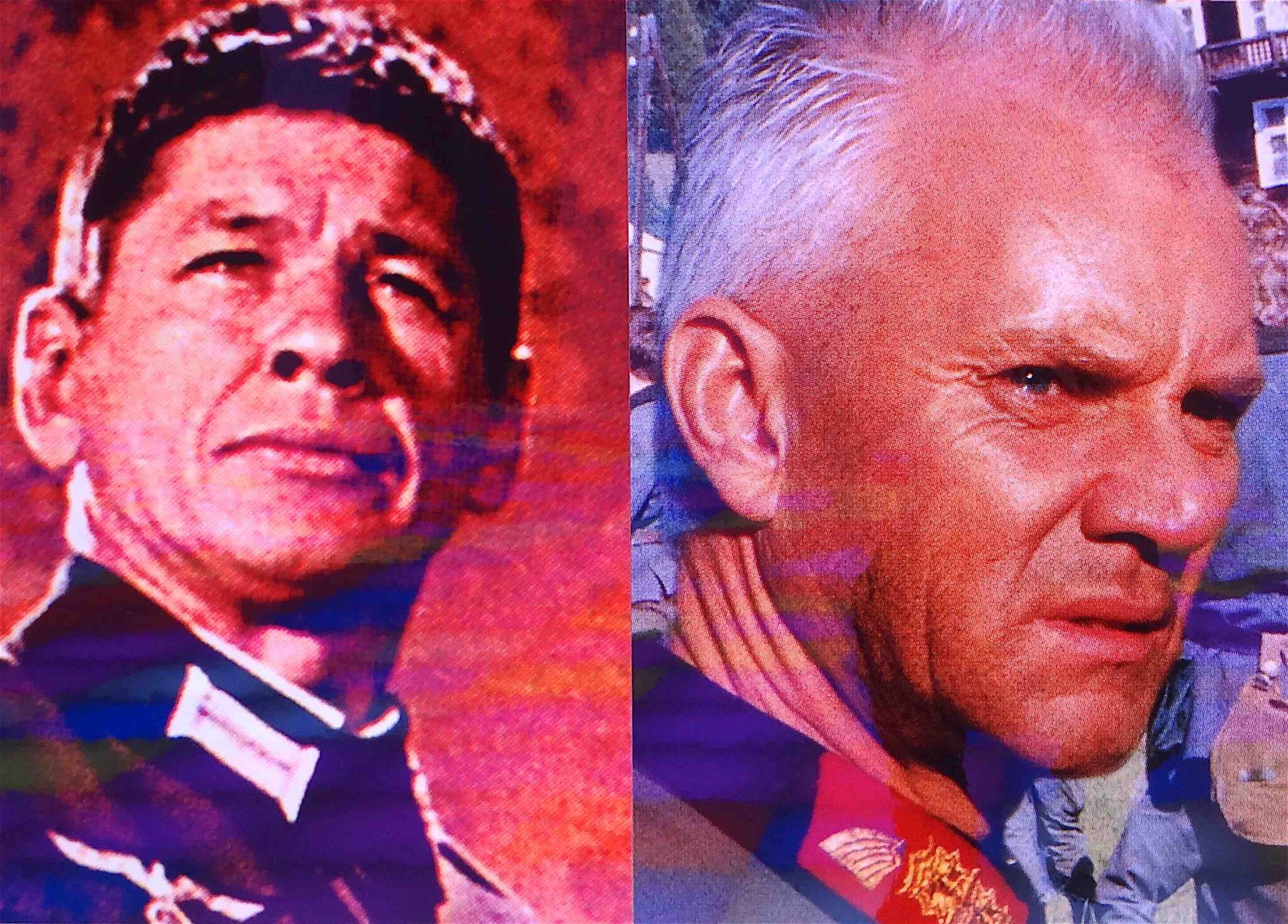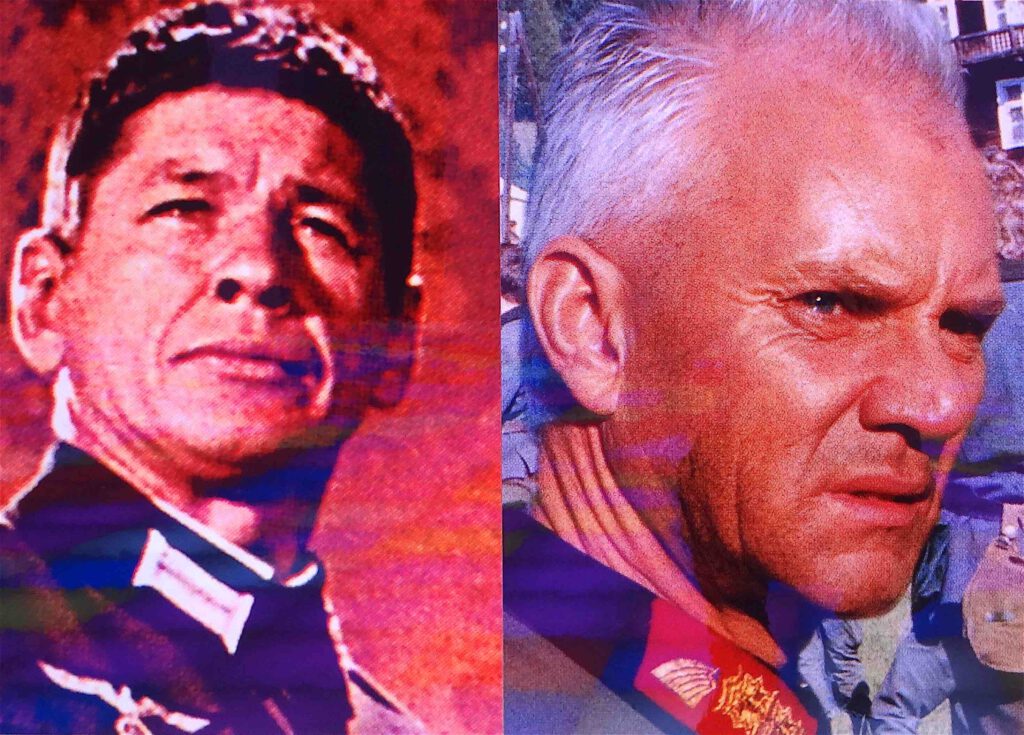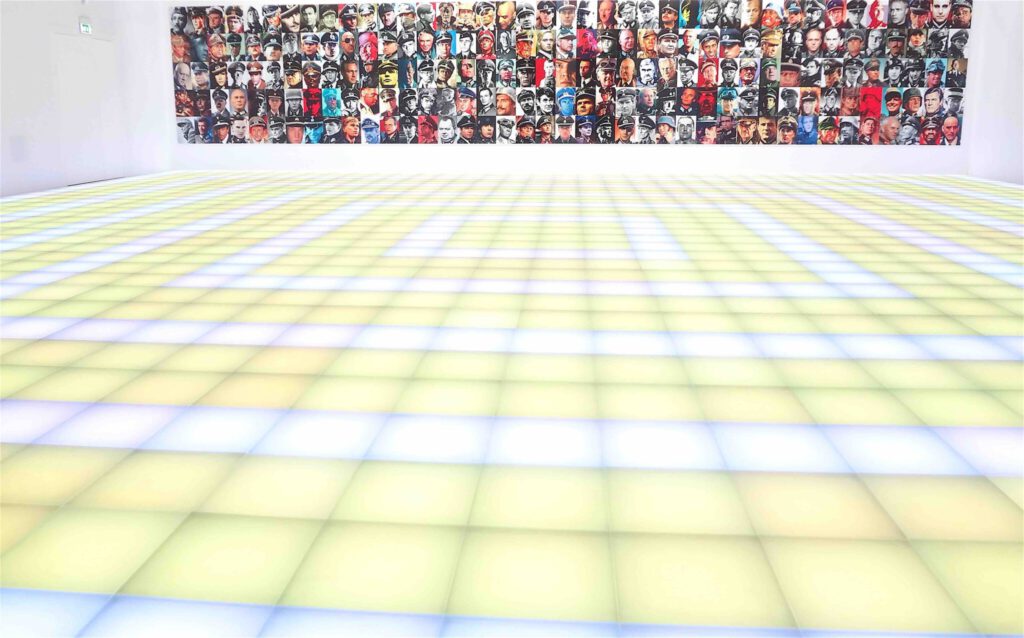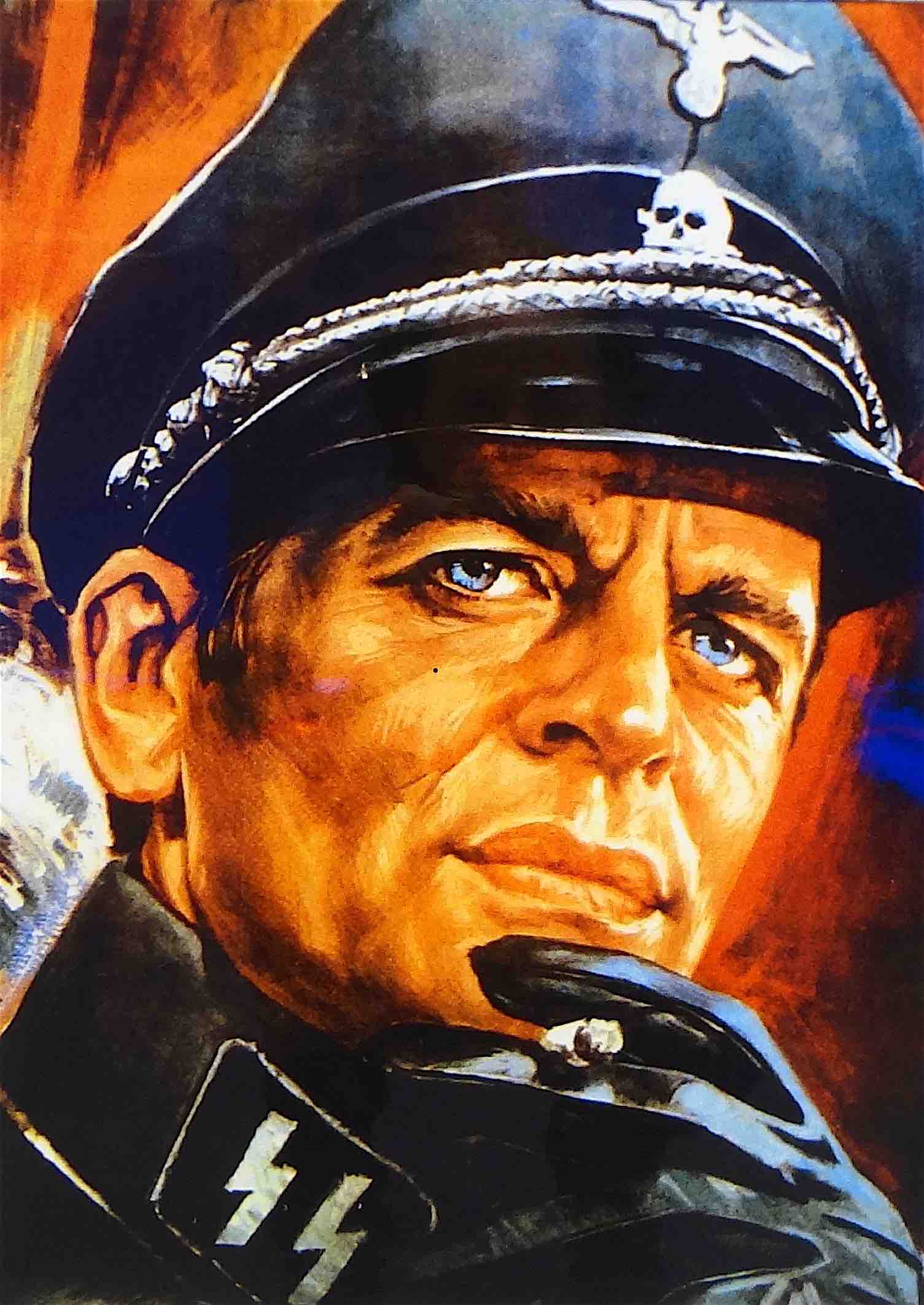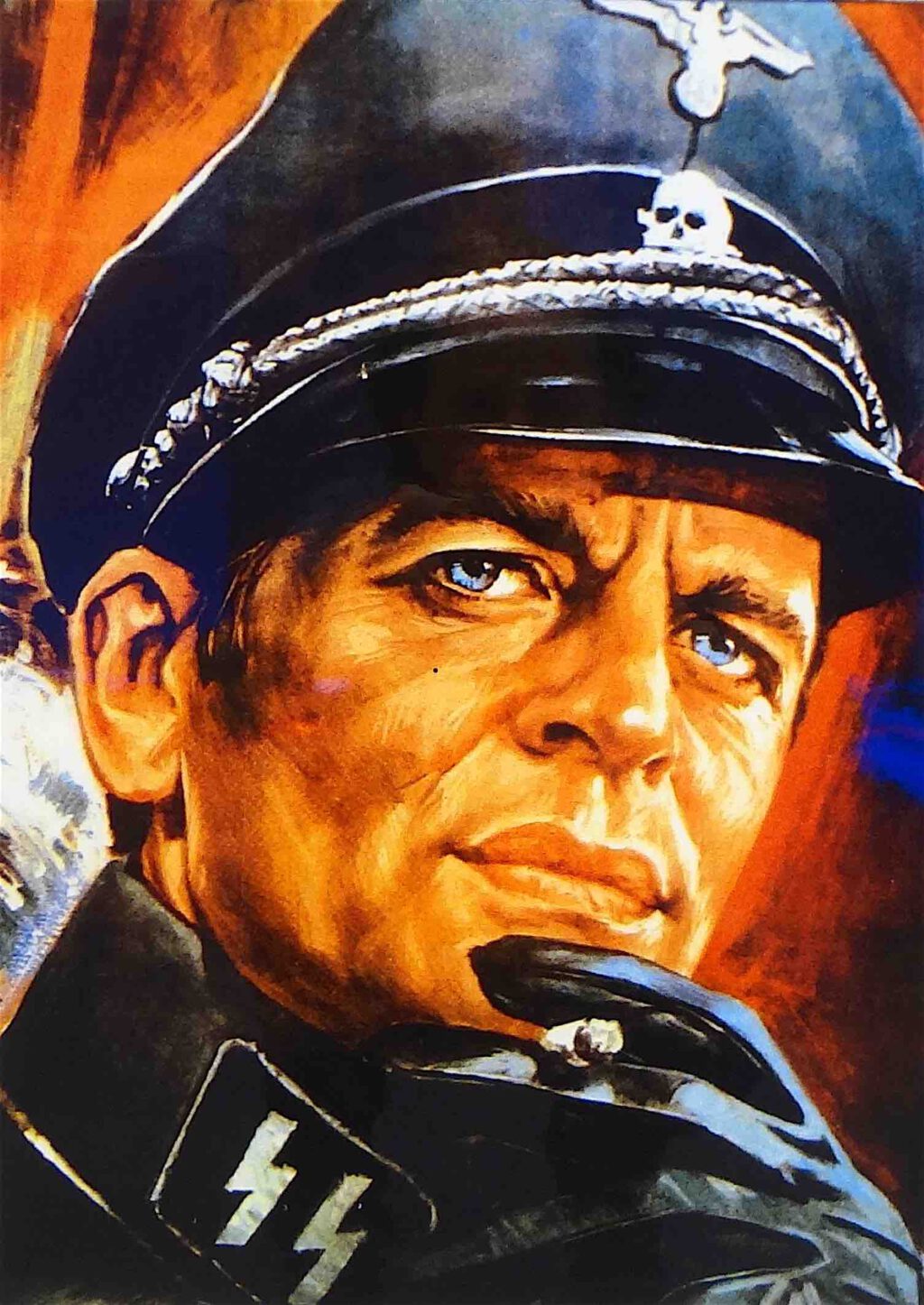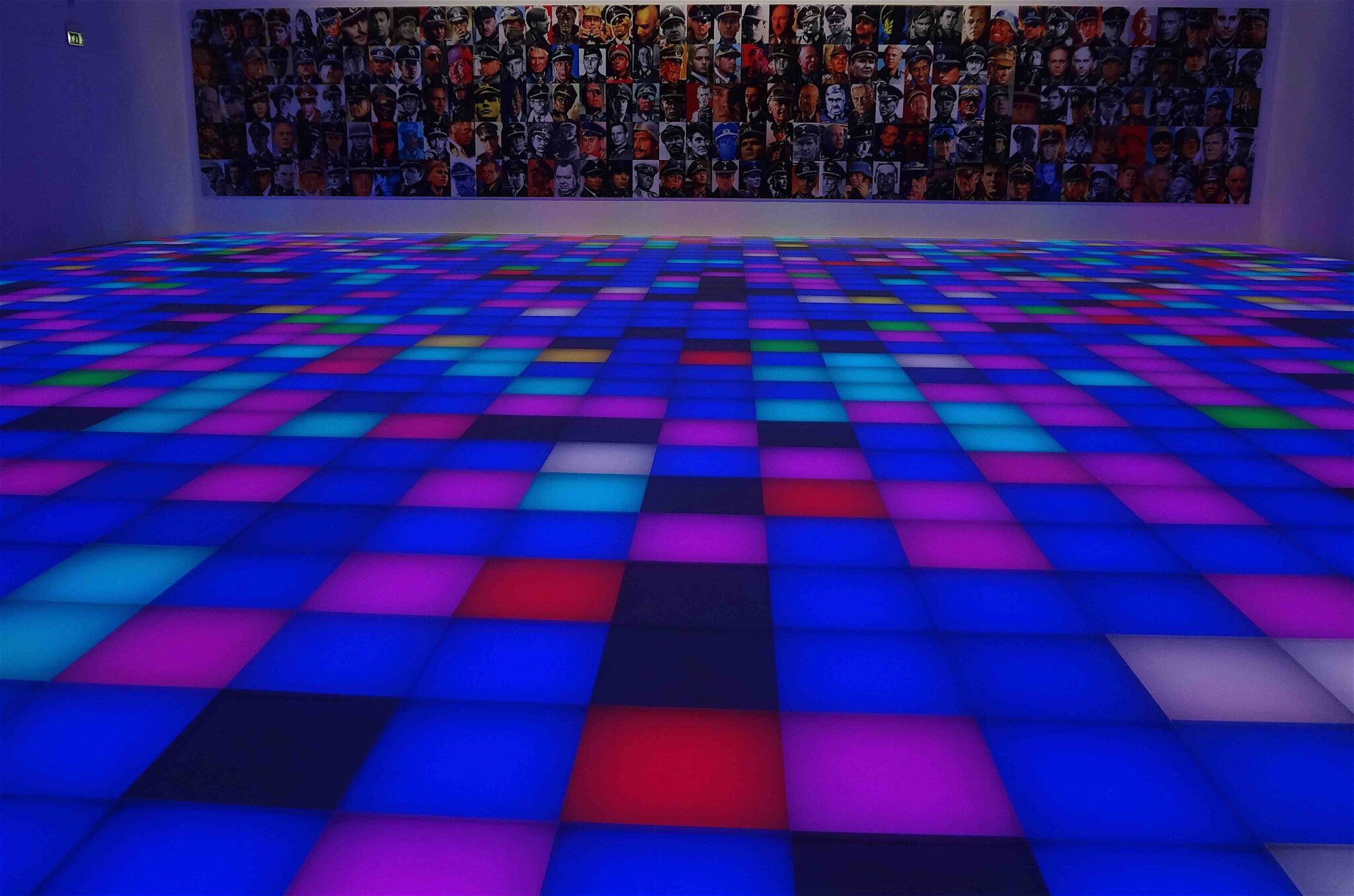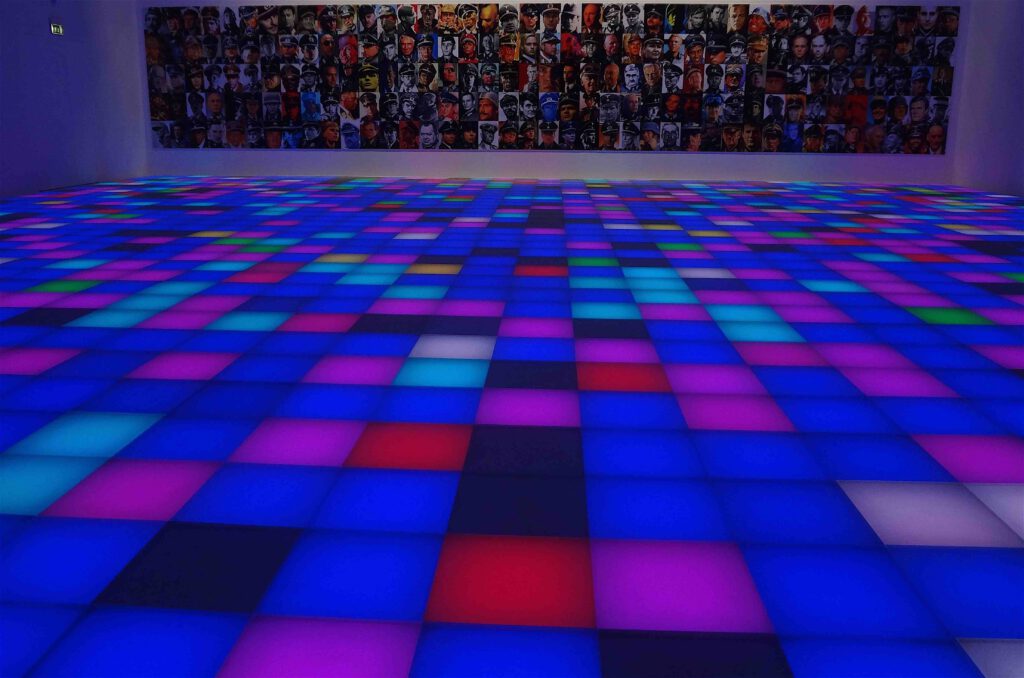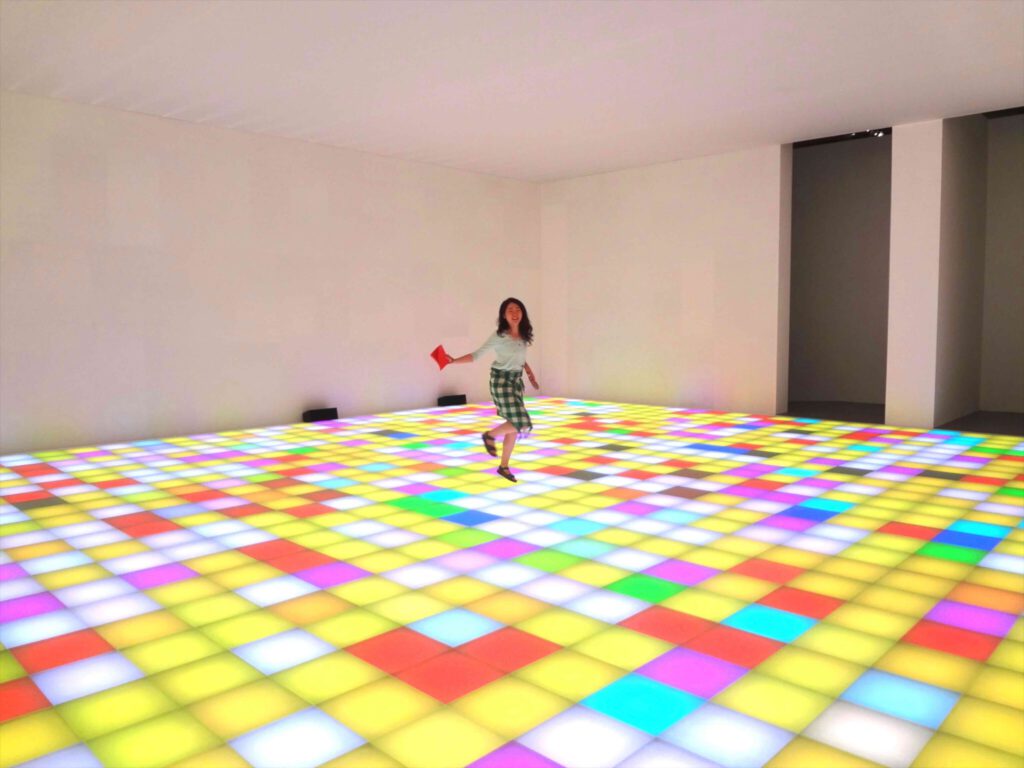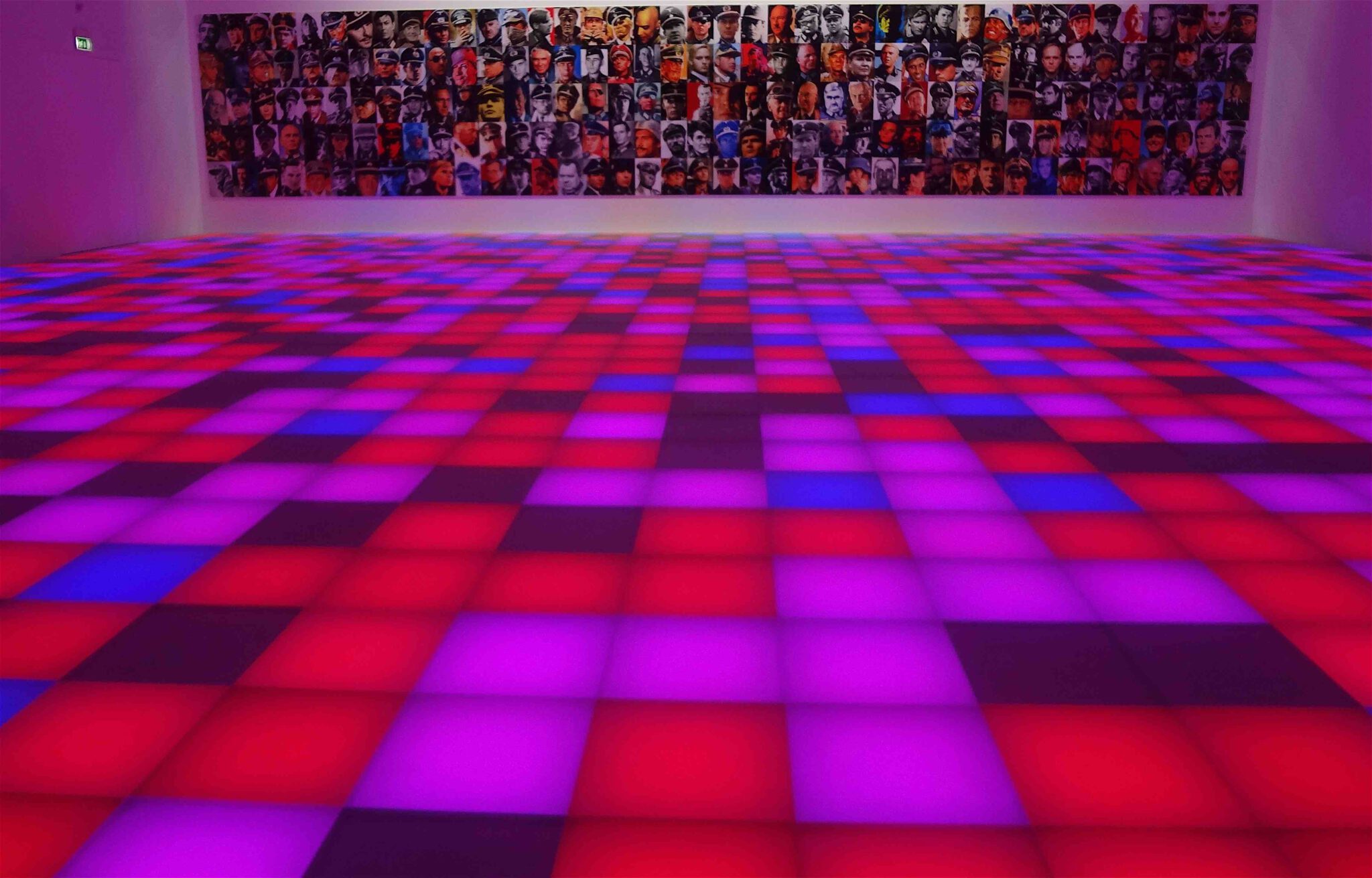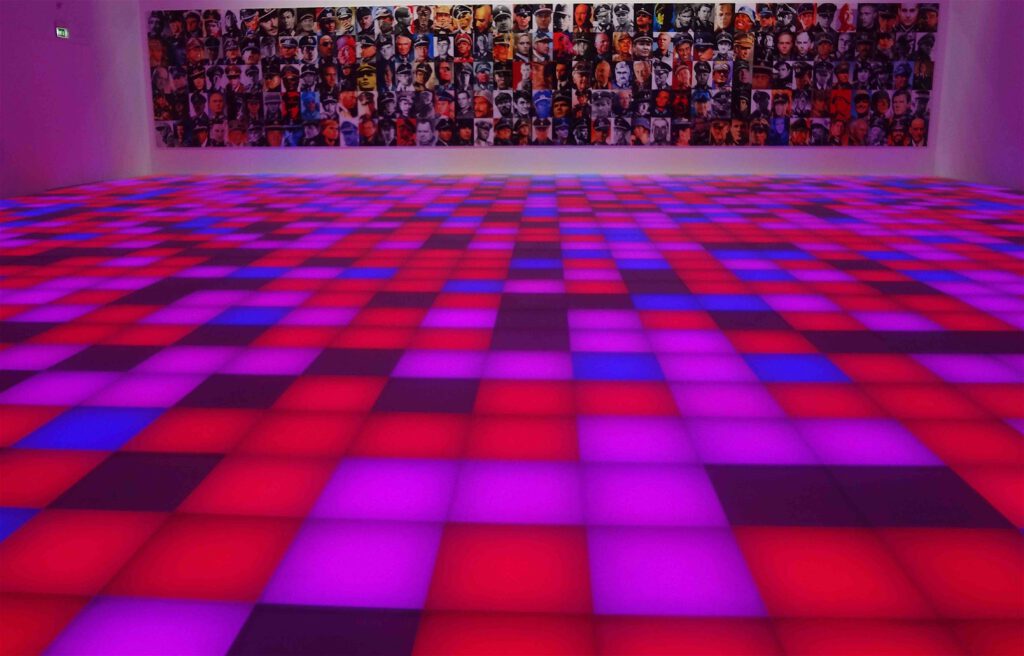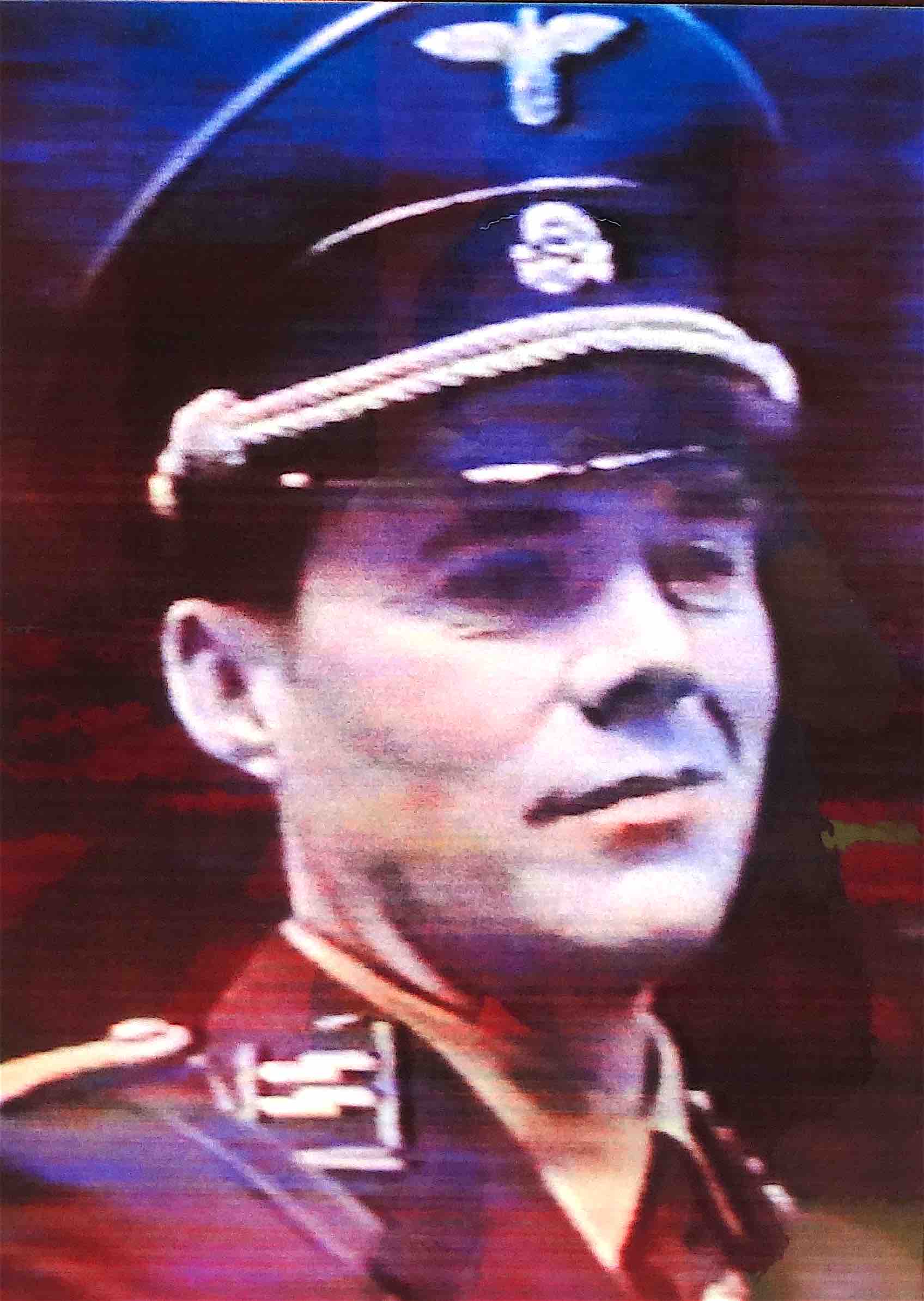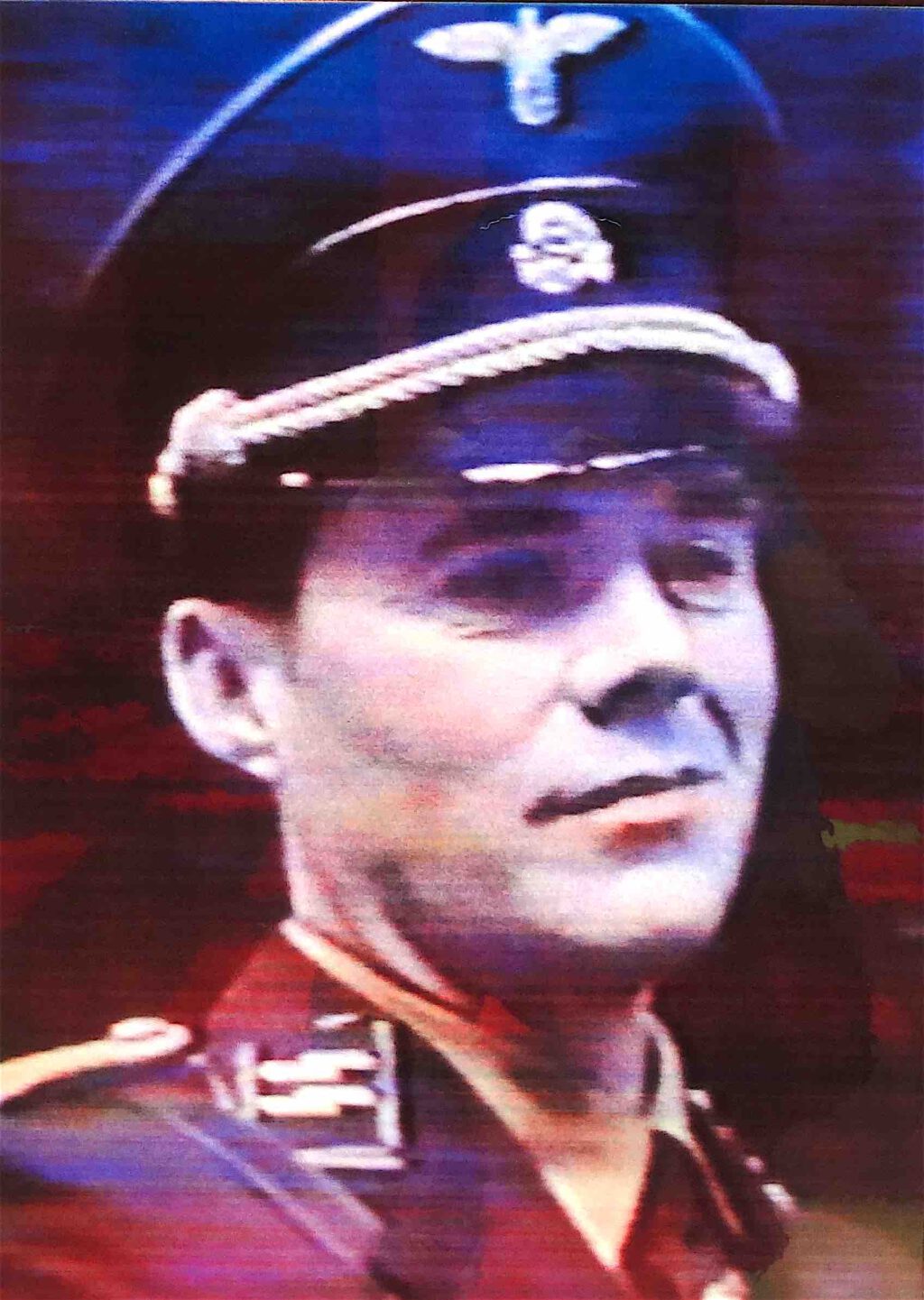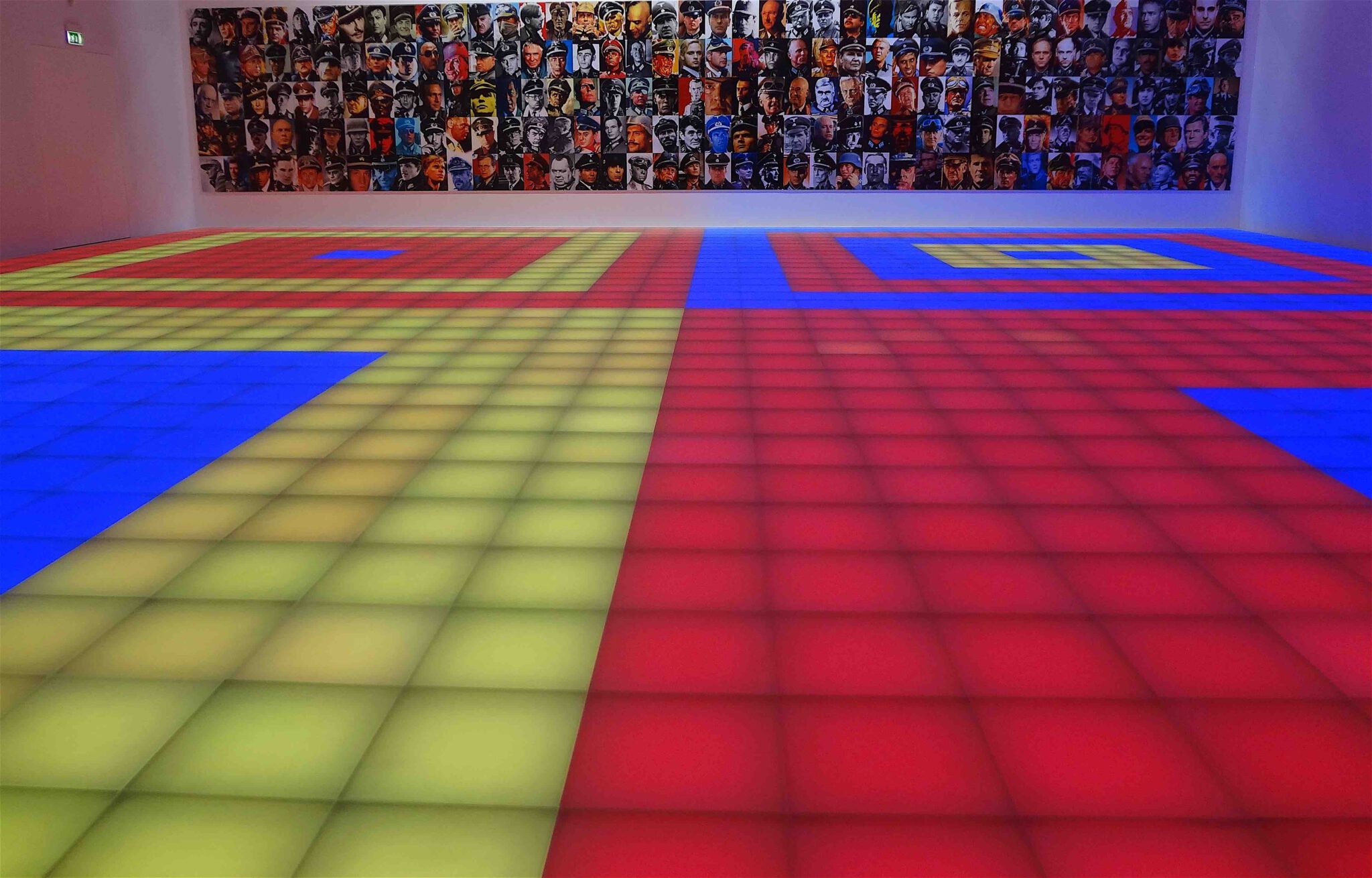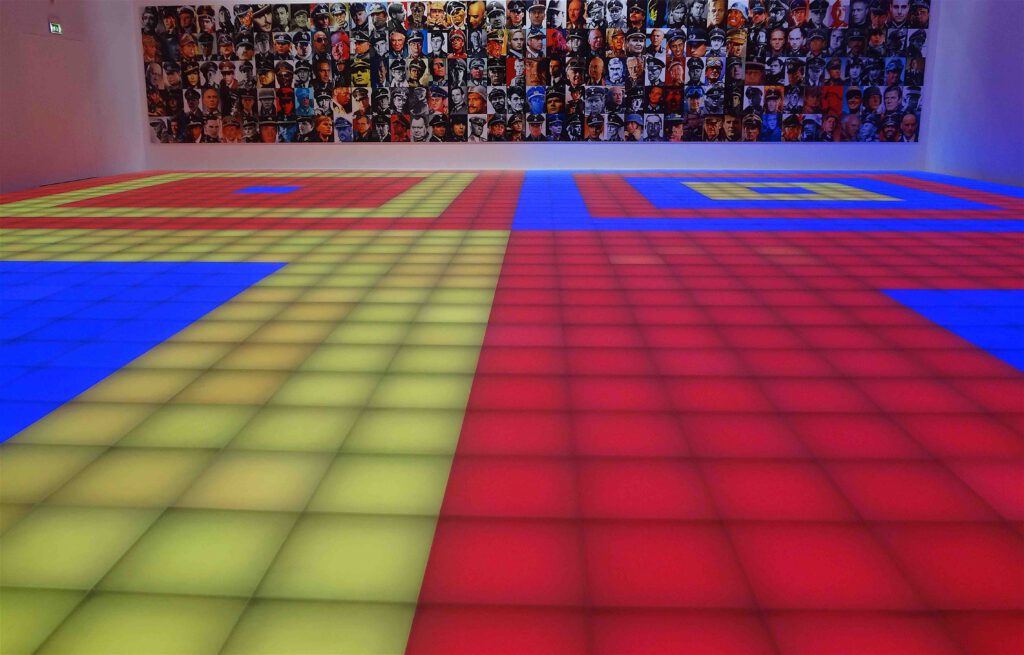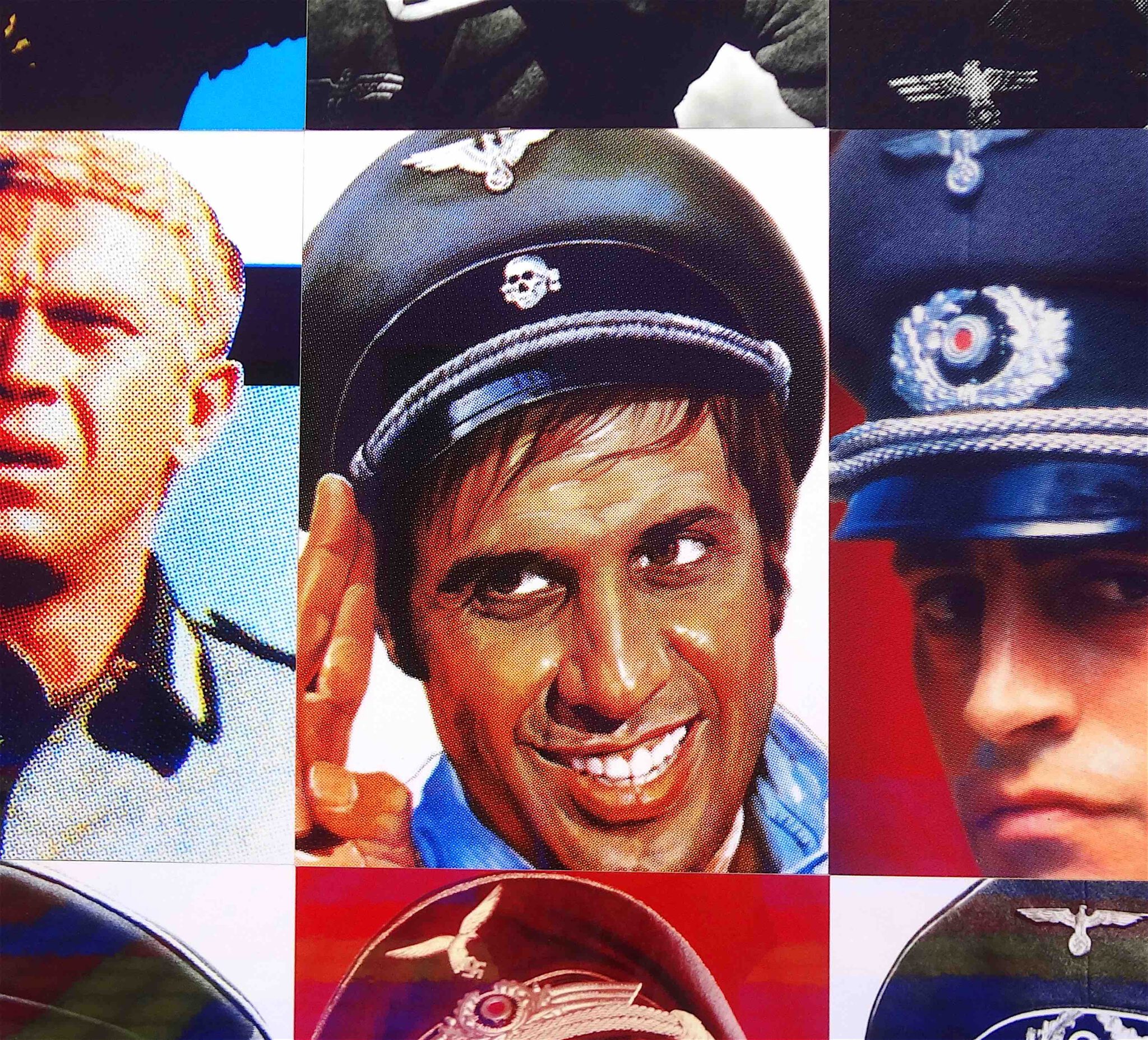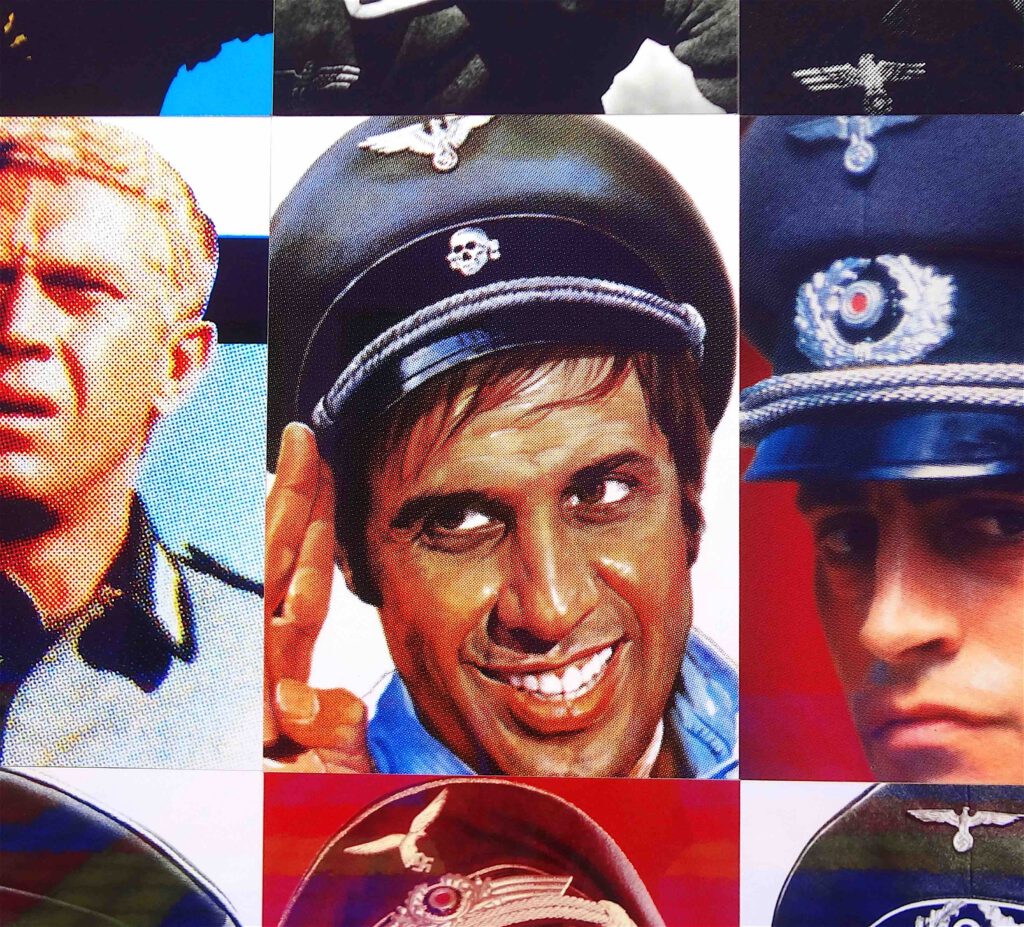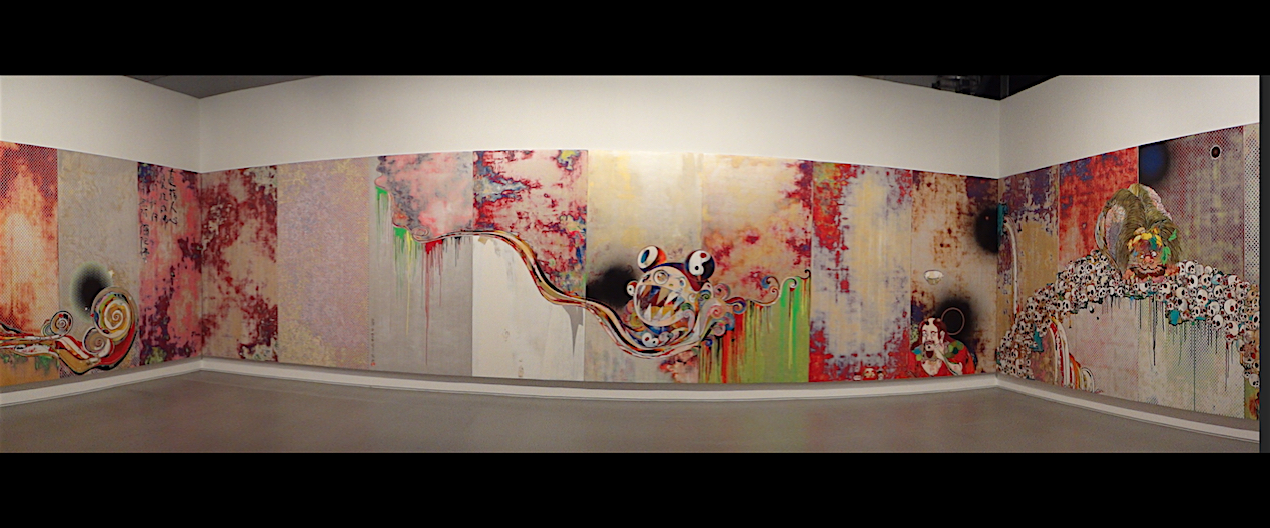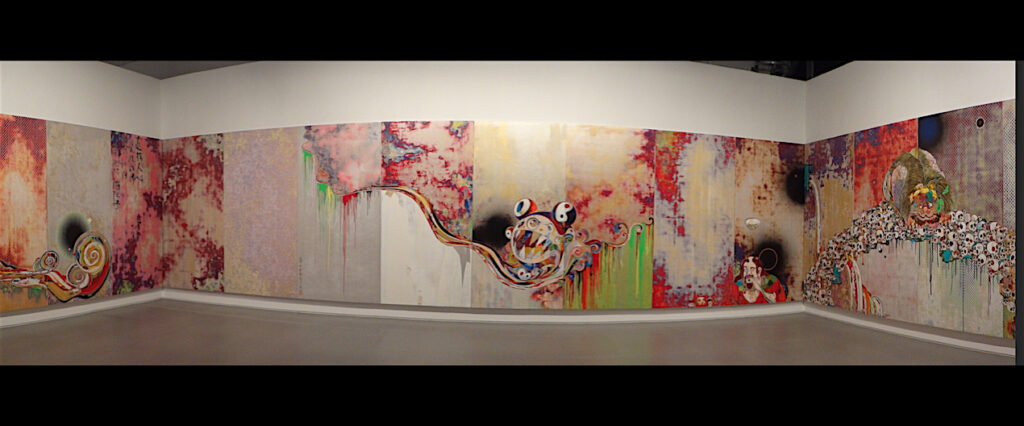 ---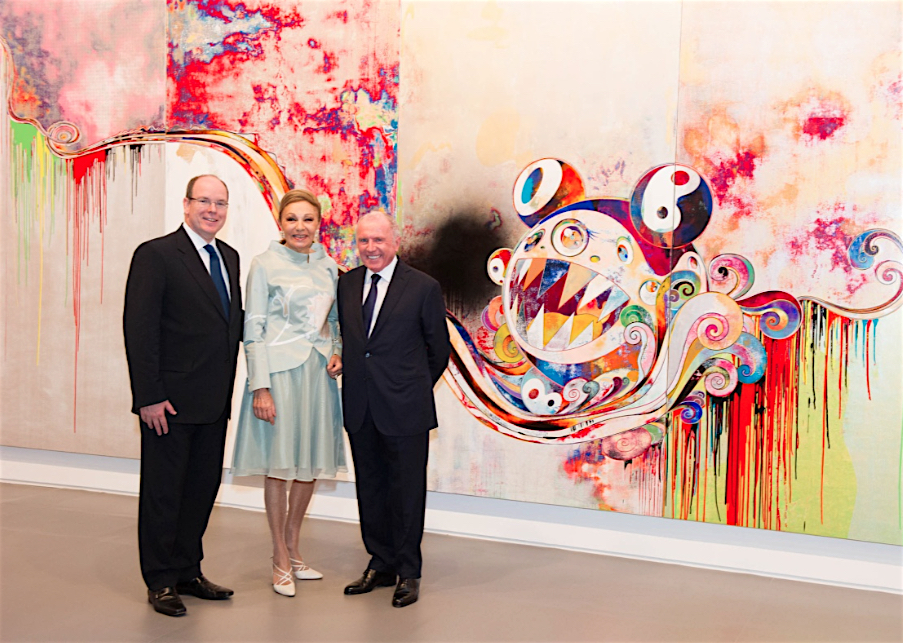 旧イラン皇妃ファラー・パフラヴィー陛下について、regarding Her Imperial Majesty Farah Pahlavi, Shahbanou (Empress) of Iran from 1959 to 1979, learn more via:
原口典之と関根伸夫のアート実践を考える
Thoughts on the artistic practice of HARAGUCHI Noriyuki and SEKINE Nobuo
https://art-culture.world/articles/haraguchi-noriyuki-sekine-nobuo-原口典之-関根伸夫/
展覧会の画像一覧:素晴らしい三島喜美代 + 茂司 @ MEM
Exhibition Images: Wonderful MISHIMA Kimiyo + Shigeji @ MEM
https://art-culture.world/articles/exhibition-images-mishima-kimiyo-shigeji/
---
This polyptych by Takashi Murakami (Japanese, b. 1962) is deeply marked by the history of Far Eastern art. Among the sources openly acknowledged by the artist are a big cat crouched on an arch made of skulls, inspired by Sakaki Hyakusen (1697-1752), and a tornado and a gigantic wave harking back to Soga Shohaku (1730-1781), Utagawa Kuniyoshi (1797-1861) and Kano Sansetsu (1590-1651). Murakami makes no secret of his allegiance to this 'Lineage of Eccentrics': so important are they to him that he personally published an English-language version of the book bearing this title.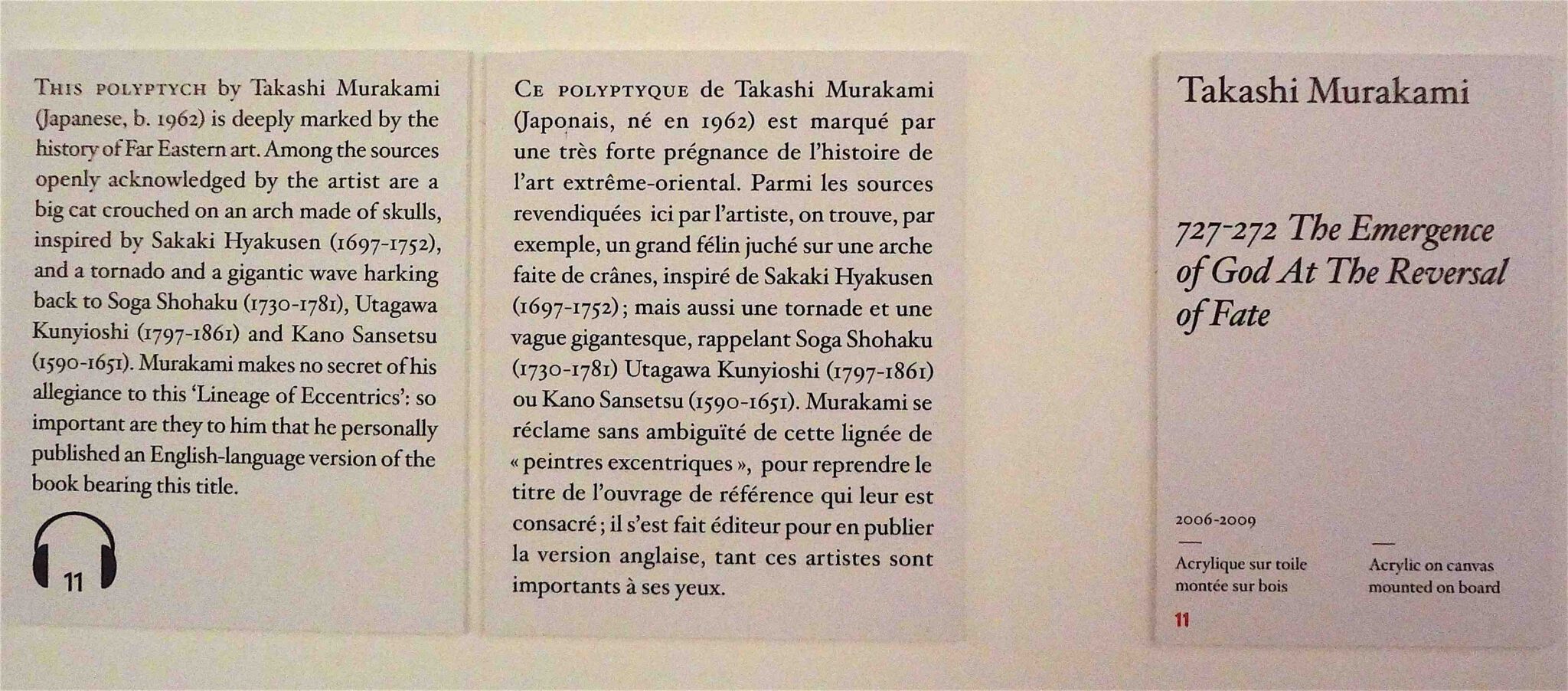 (この村上隆(日本、1962年生まれ)のポリプティク作は、極東美術の歴史が深く刻まれています。彭城百川(1697-1752)の影響を受けた、頭蓋骨でできたアーチの上でうずくまっている大きな猫や、曽我蕭白(1730-1781)、歌川国芳(1797-1861)、狩野山雪(1590-1651)の影響を受けた竜巻や巨大な波など、村上隆が公に認めている出典がある。村上氏は、この「奇人の系譜」への忠誠を公言しており、このタイトルを冠した本の英語版を自ら出版するほど、重要な存在となっています。)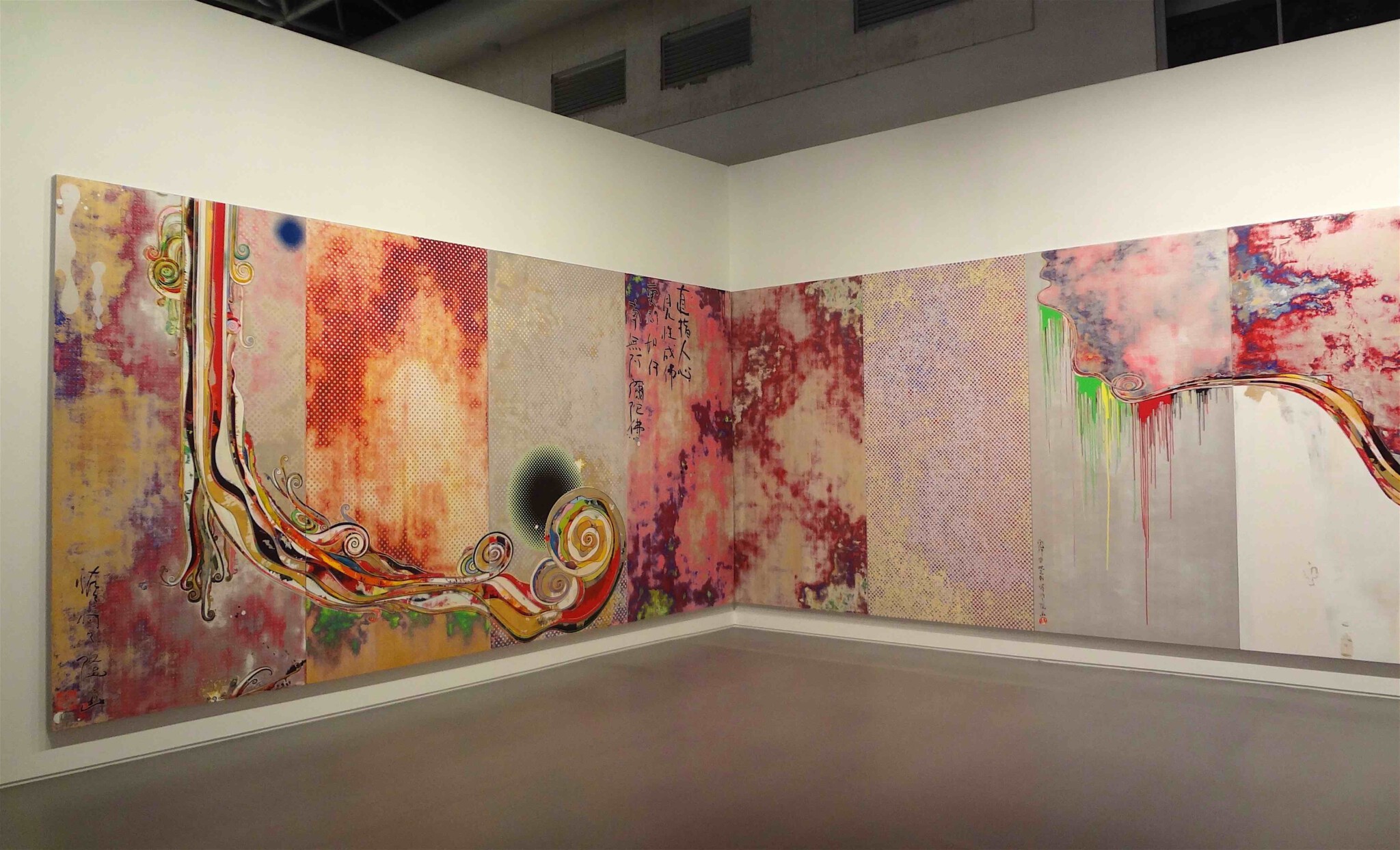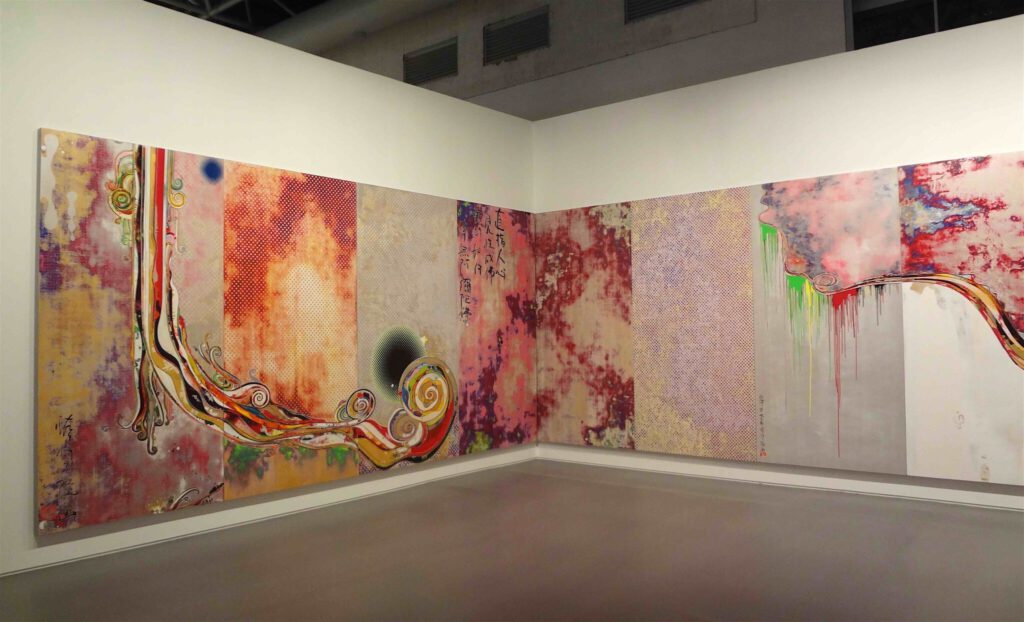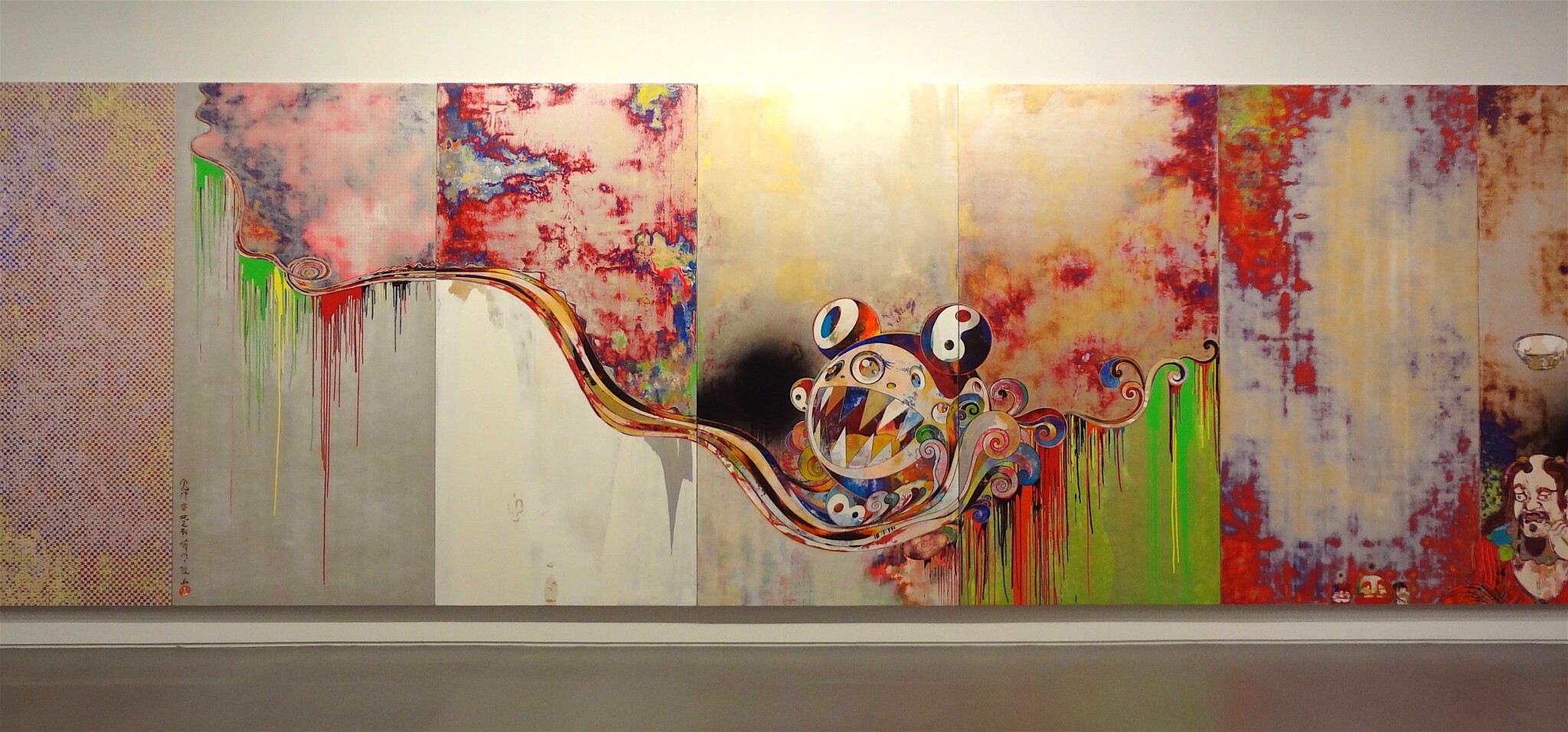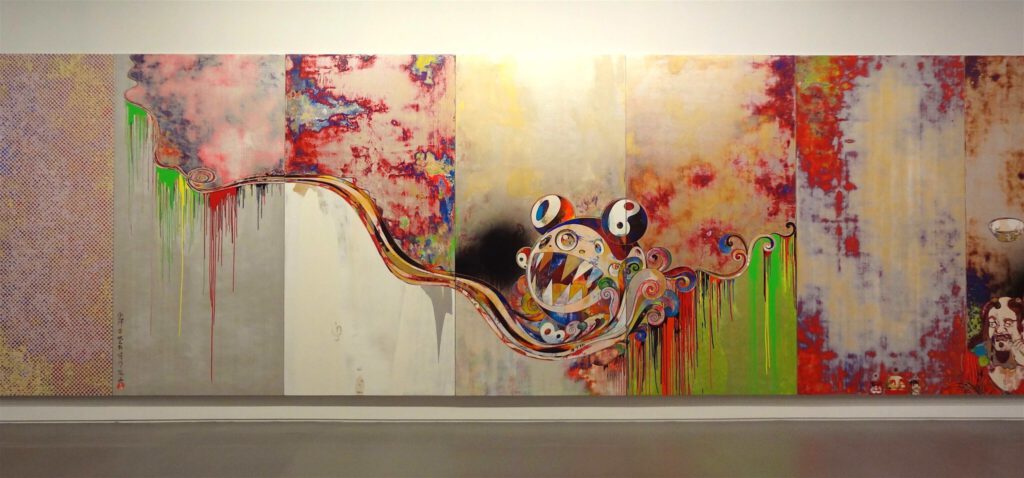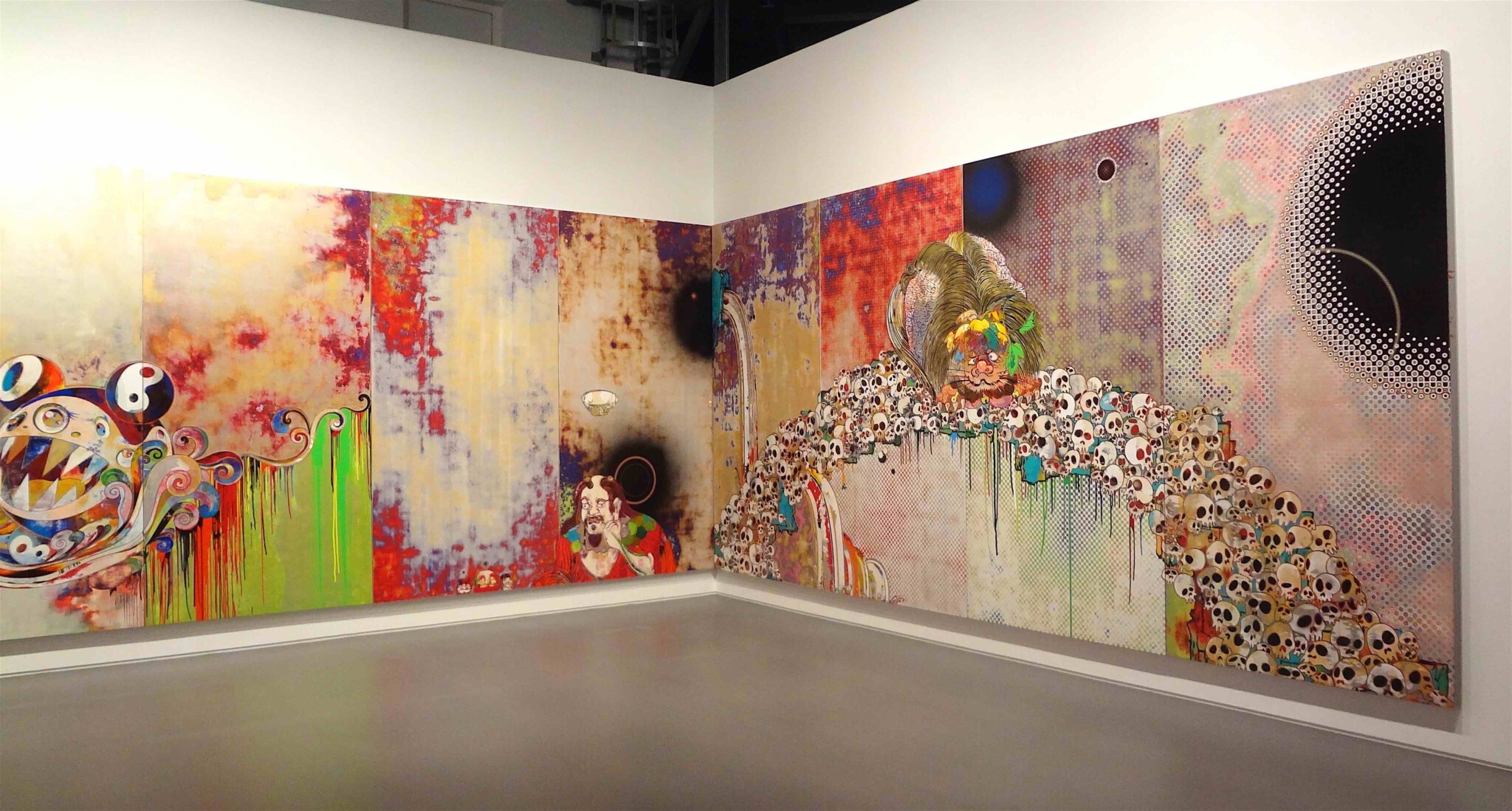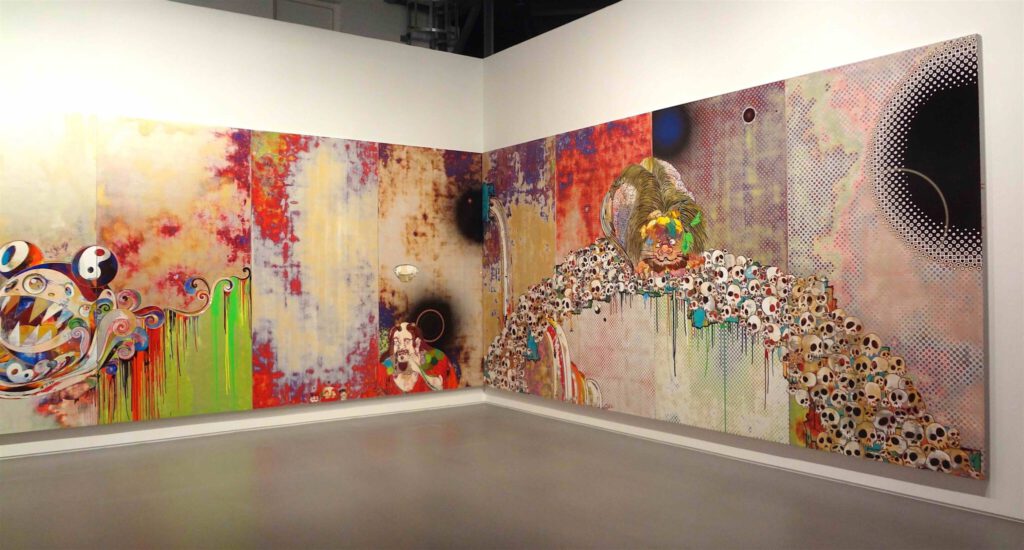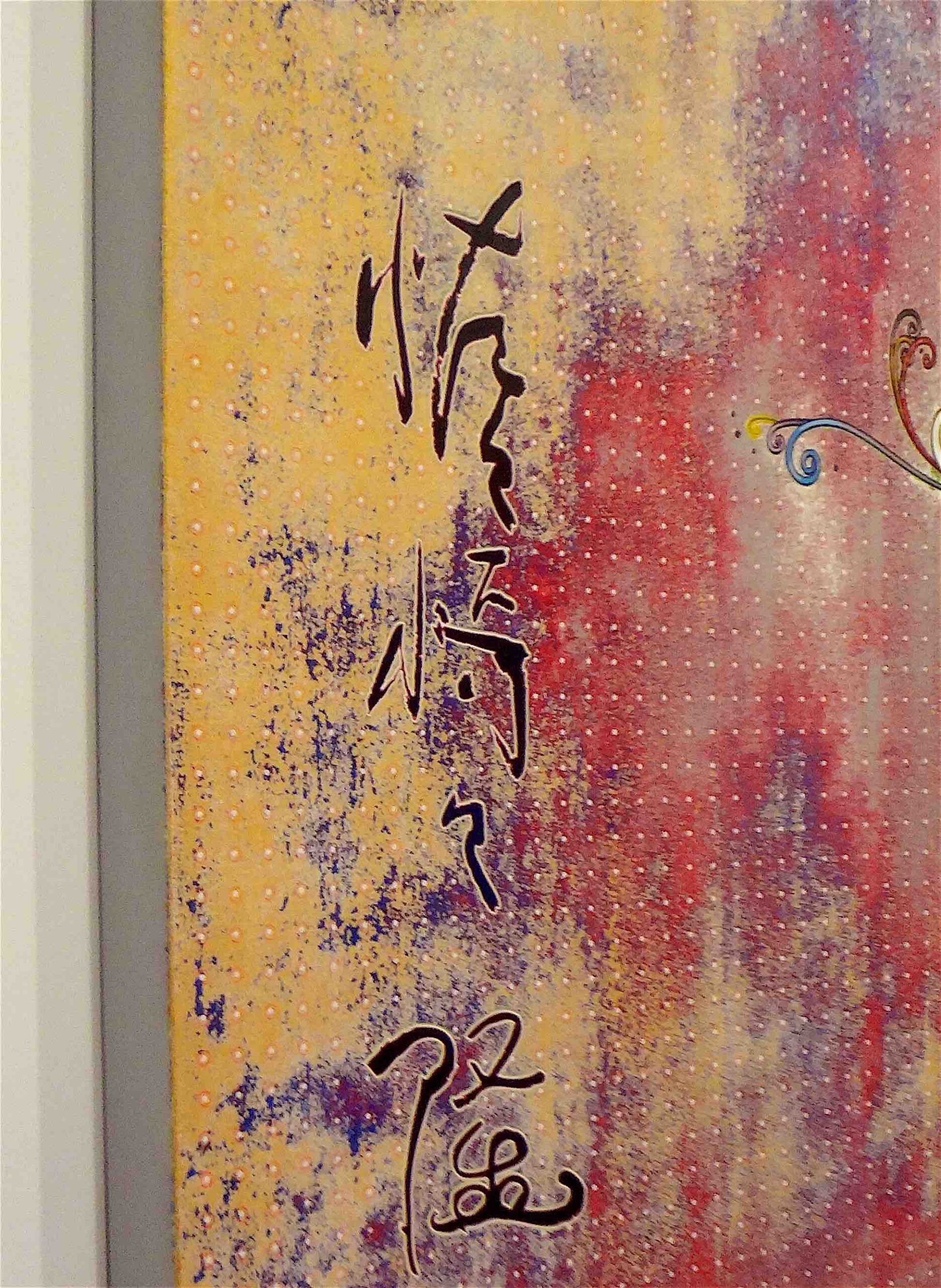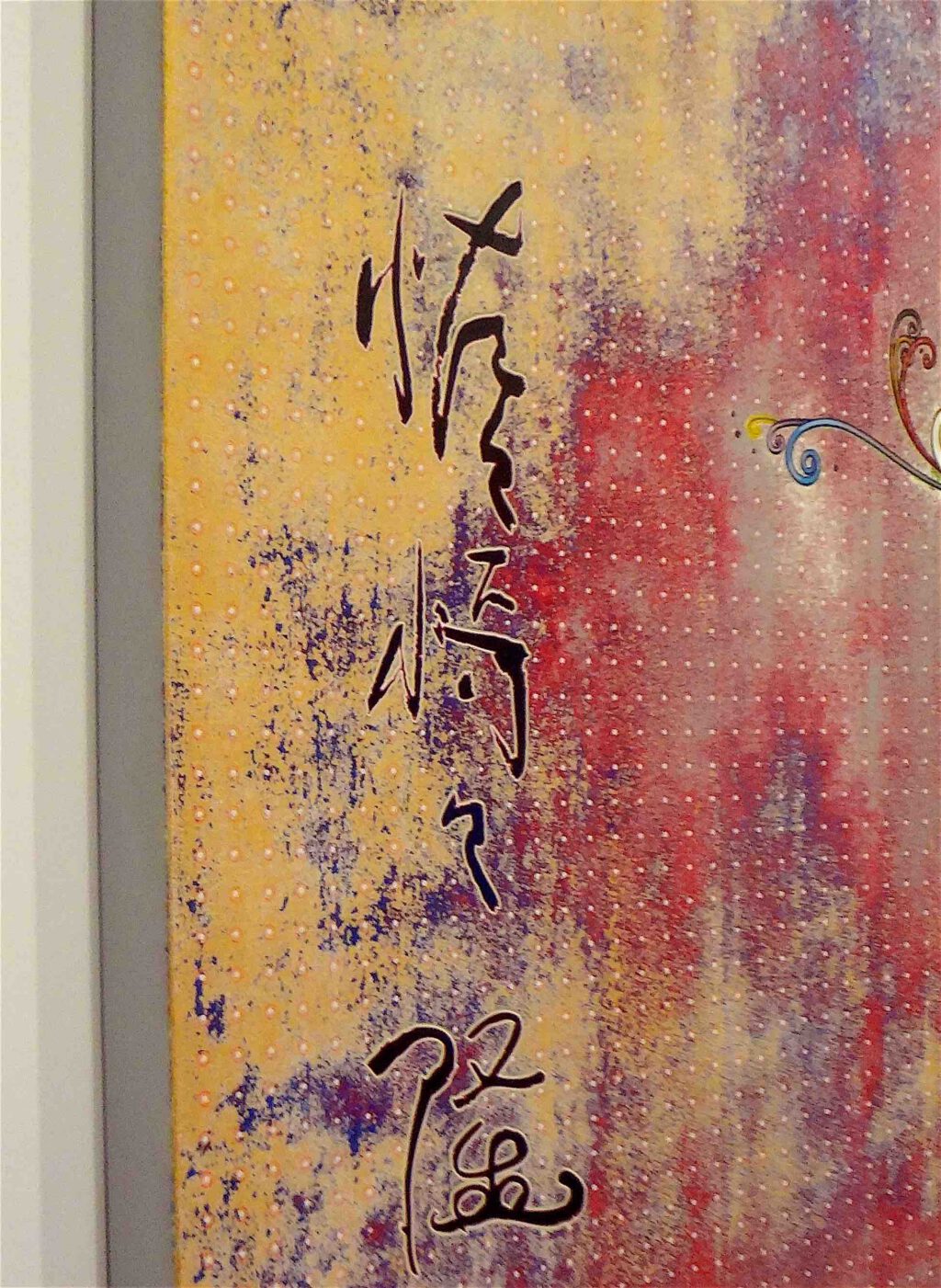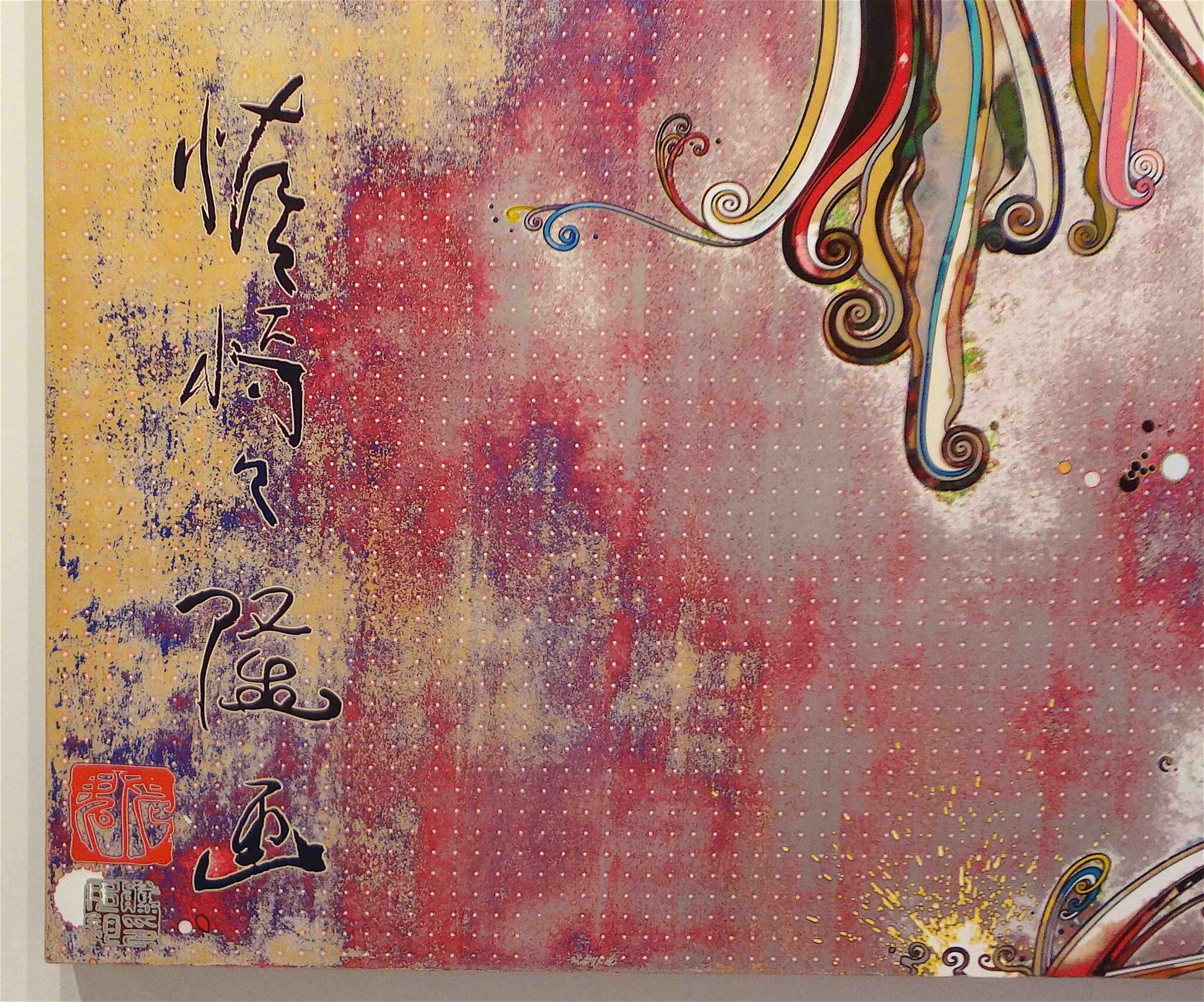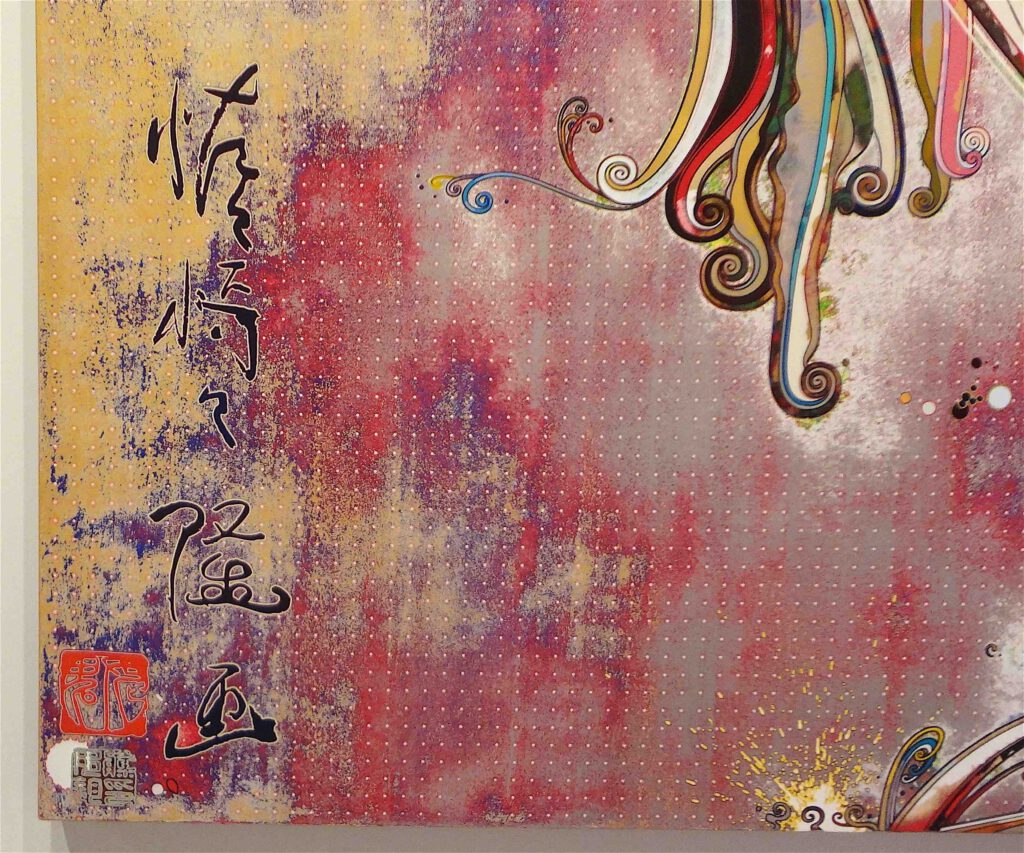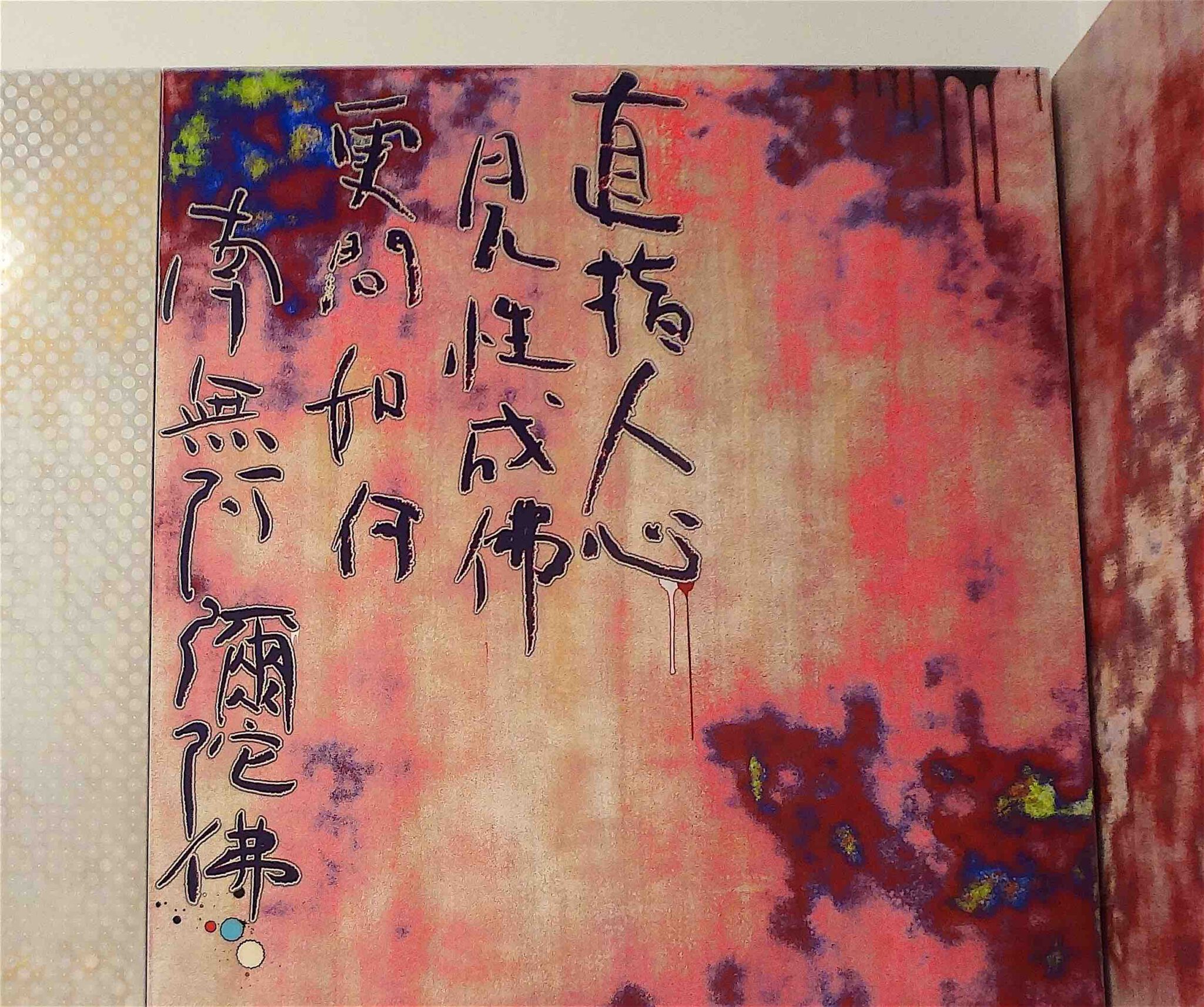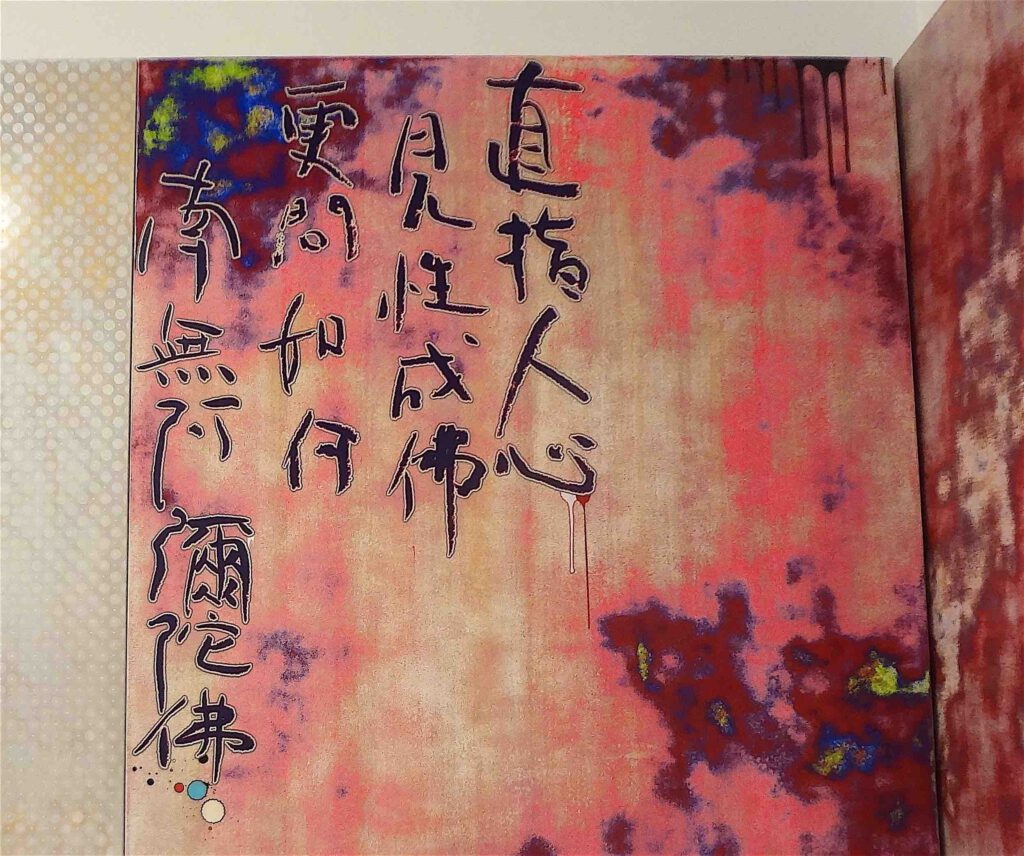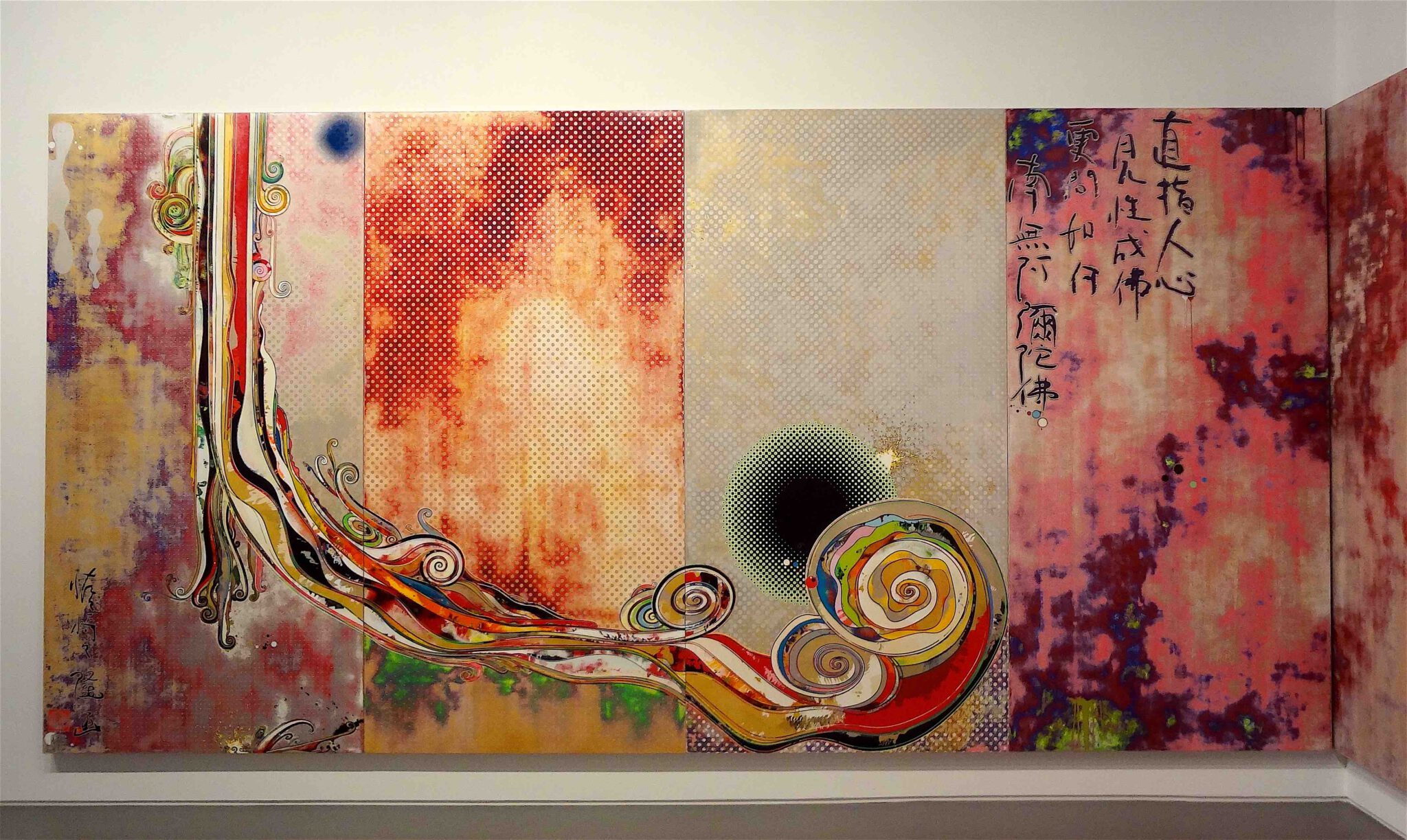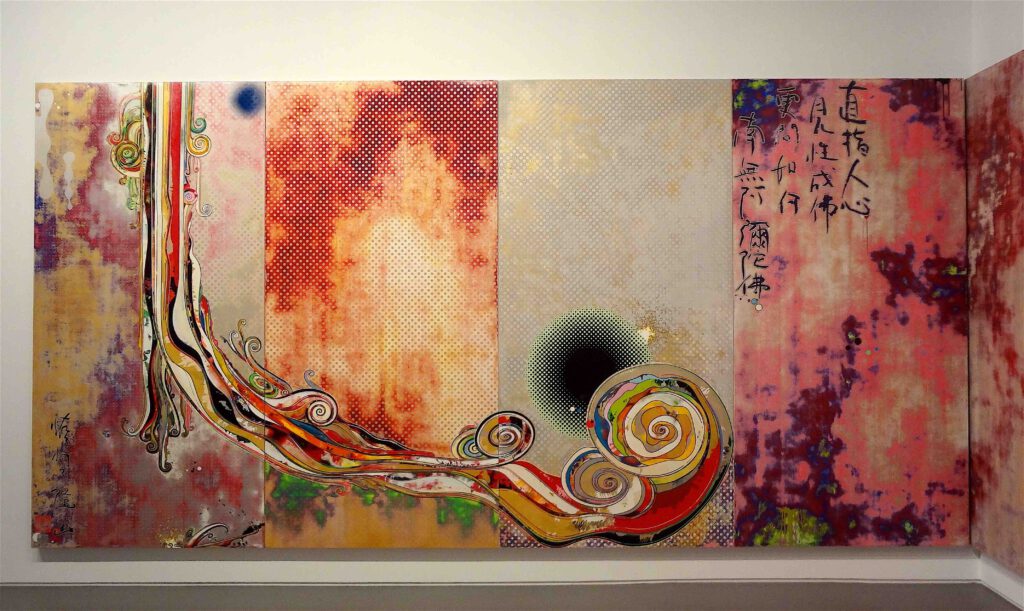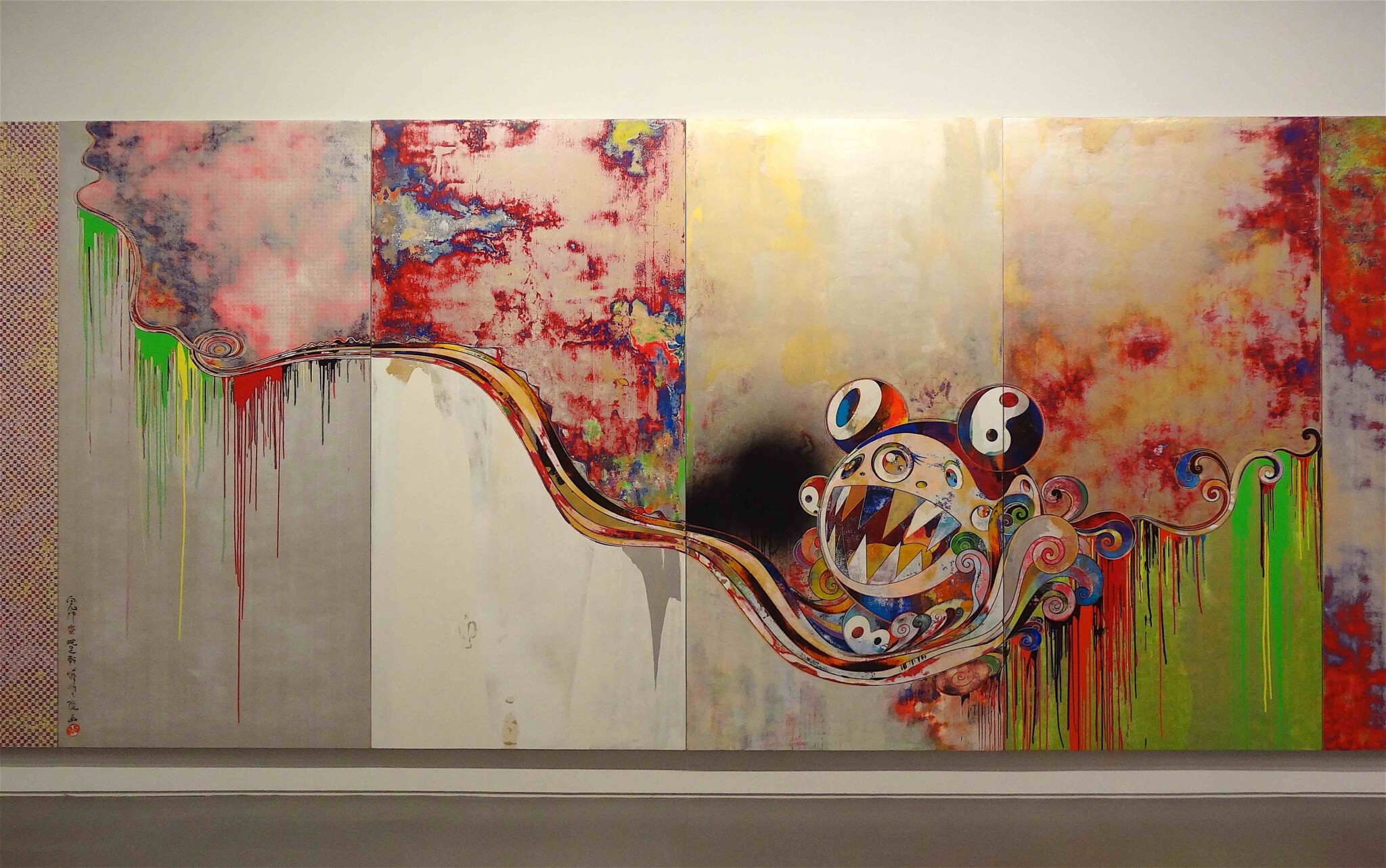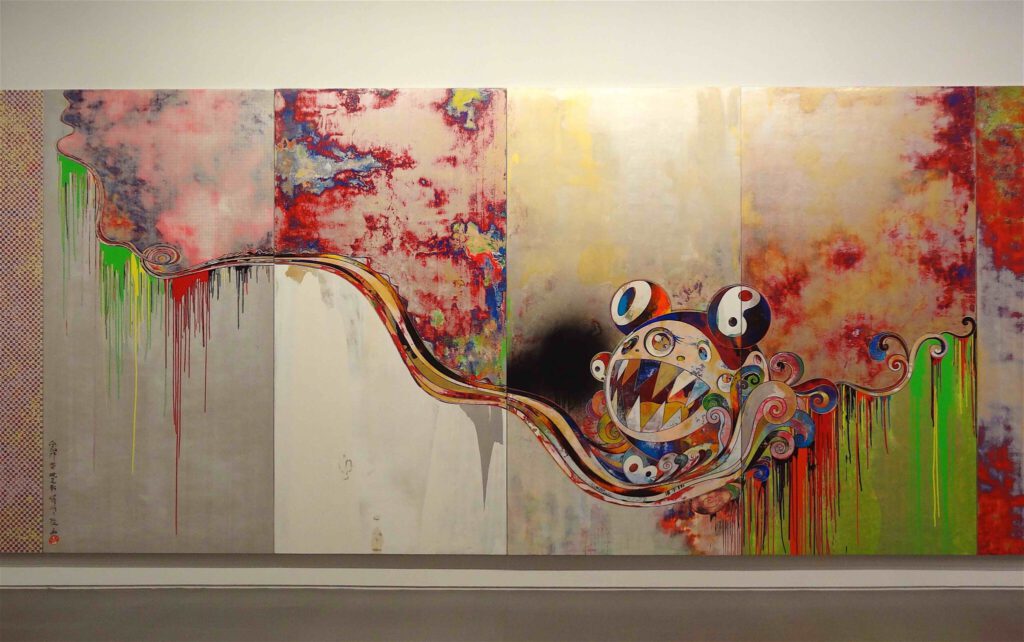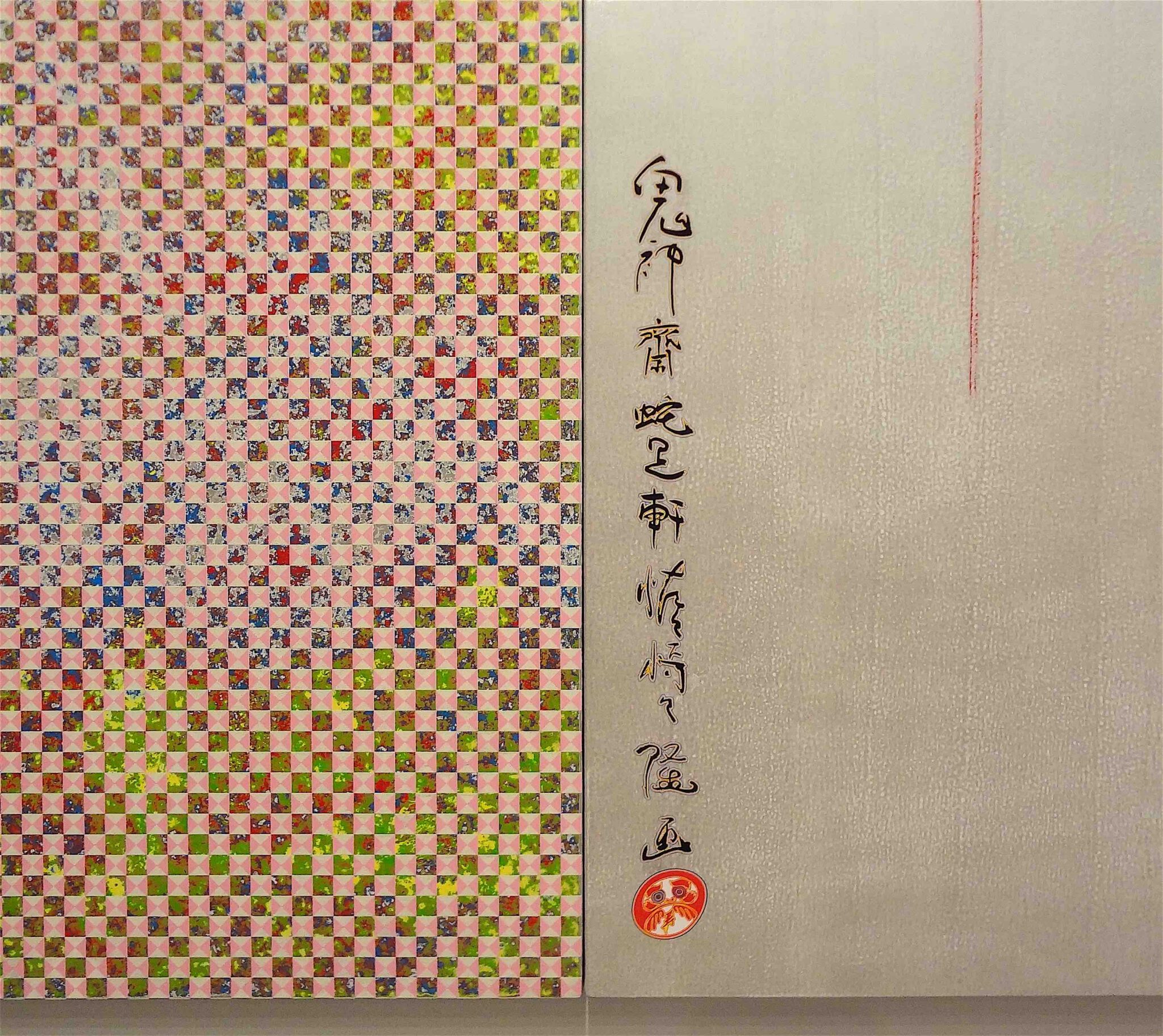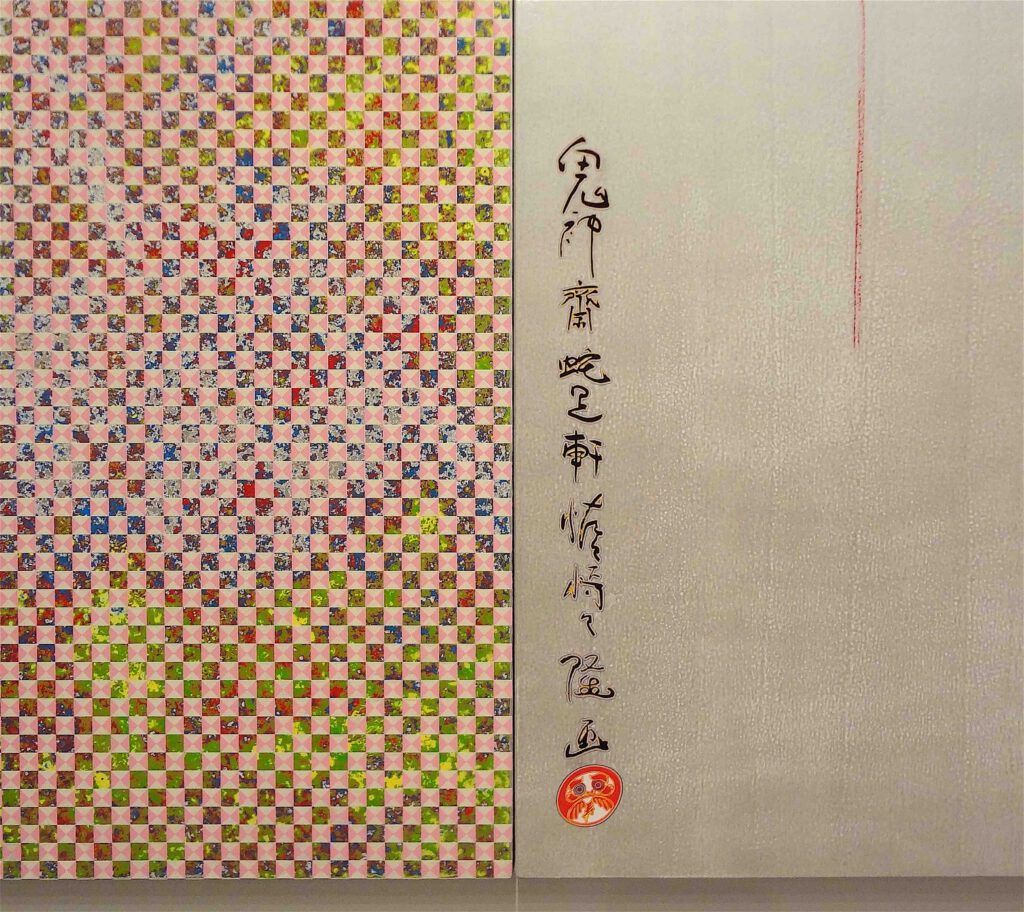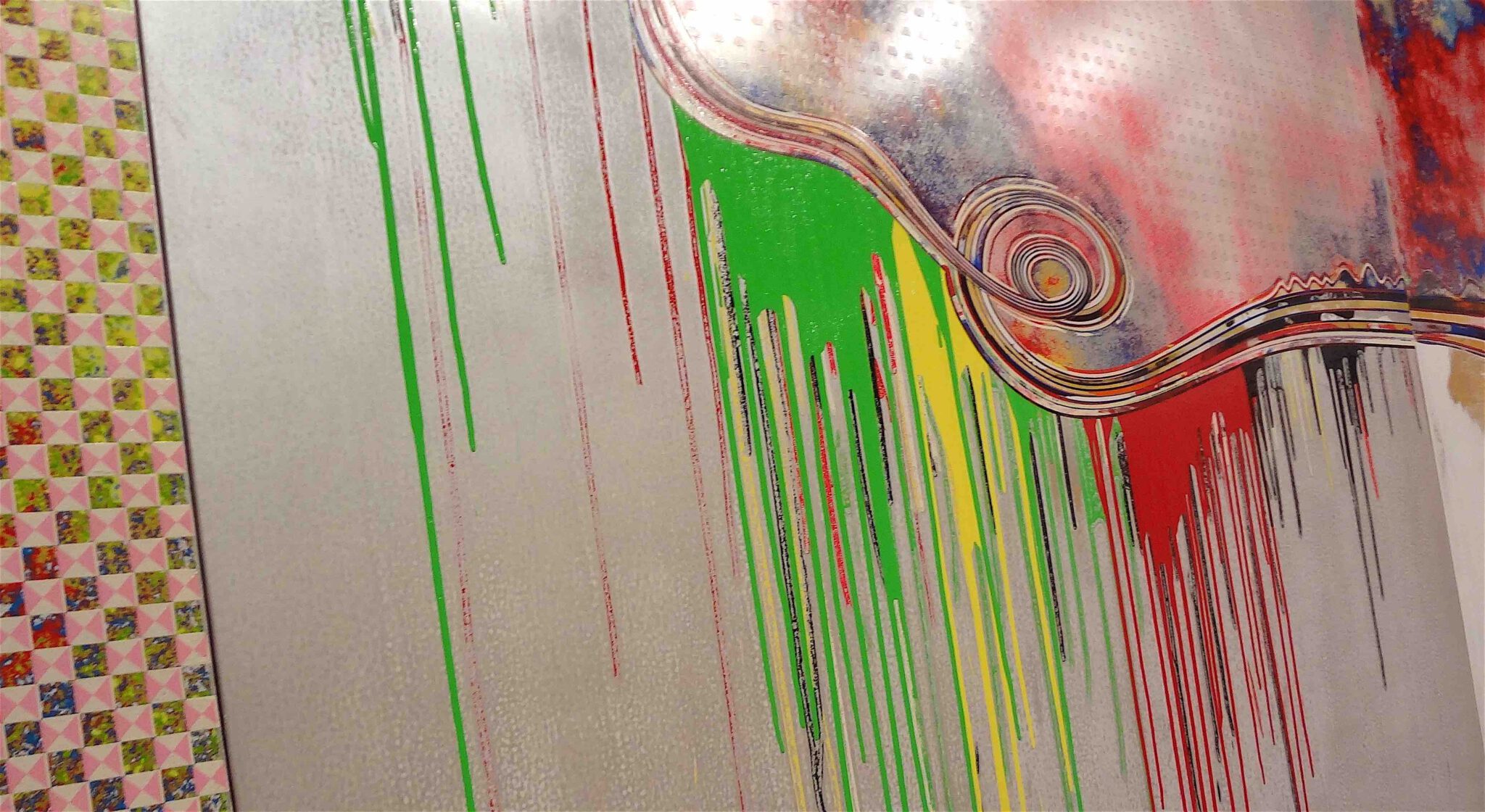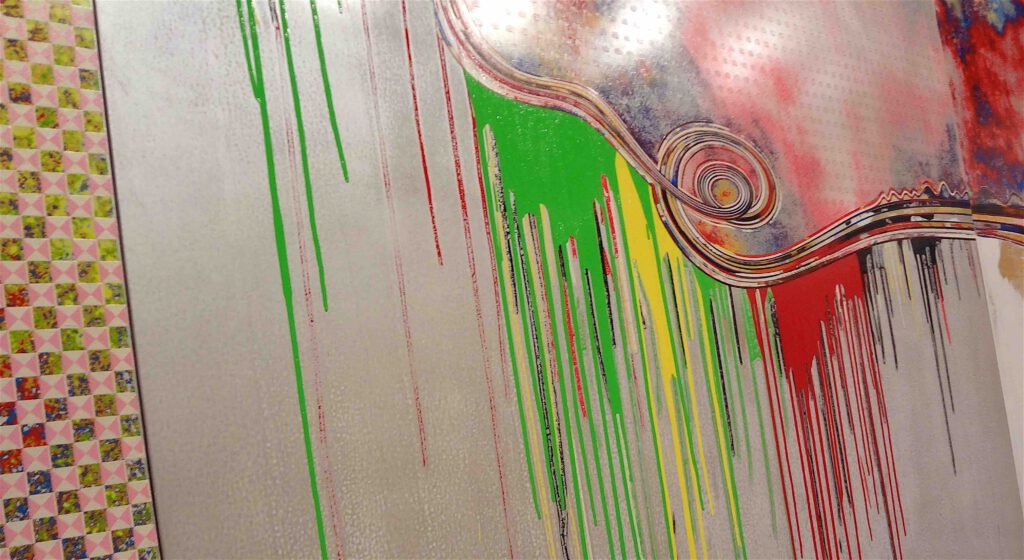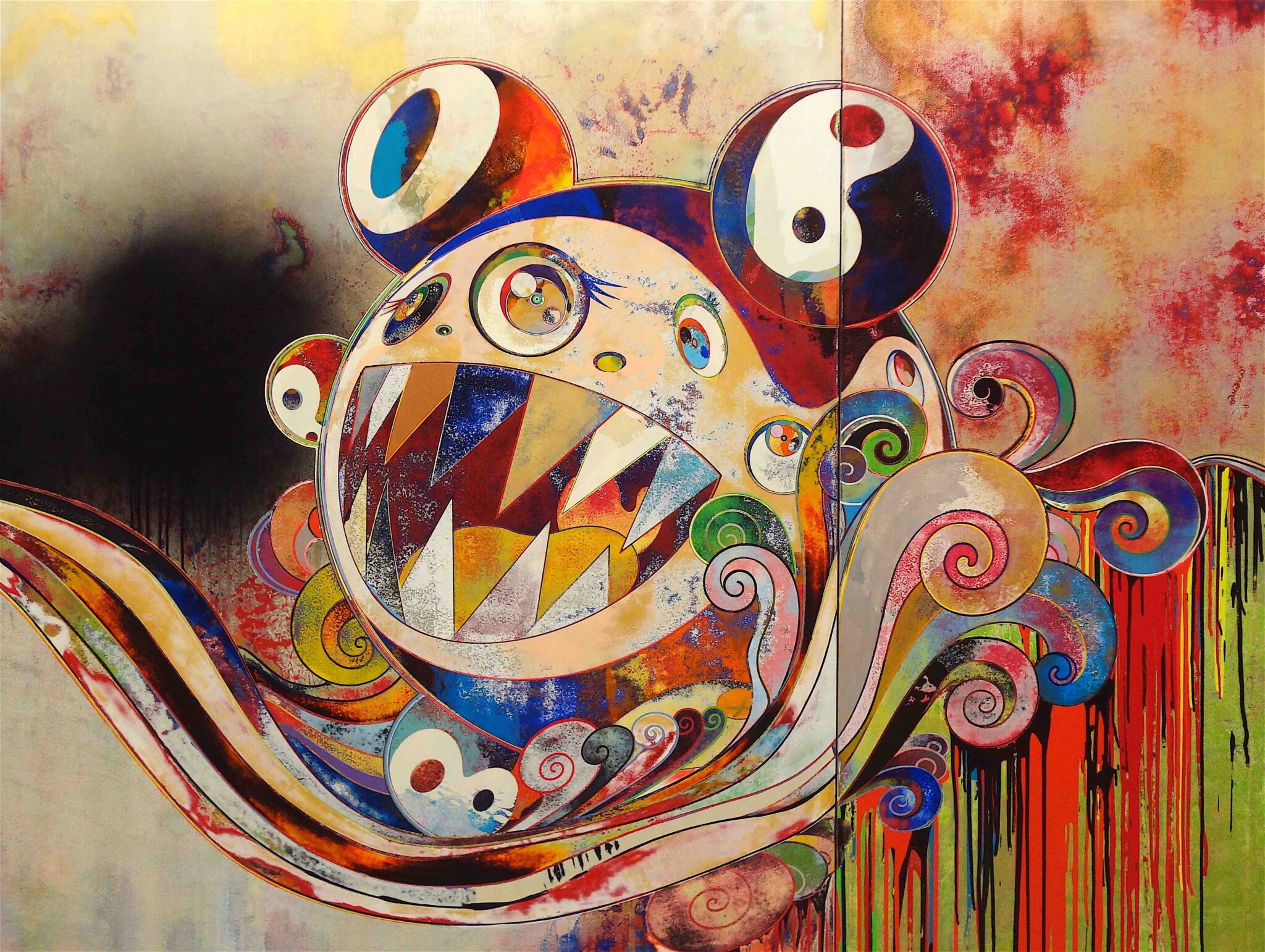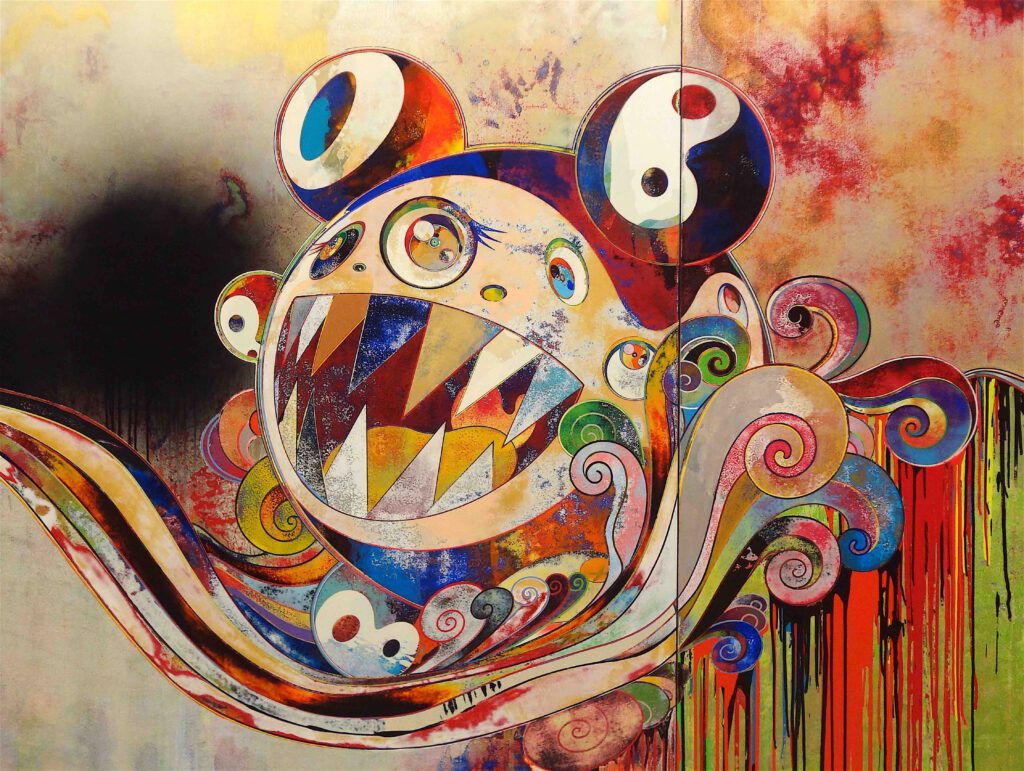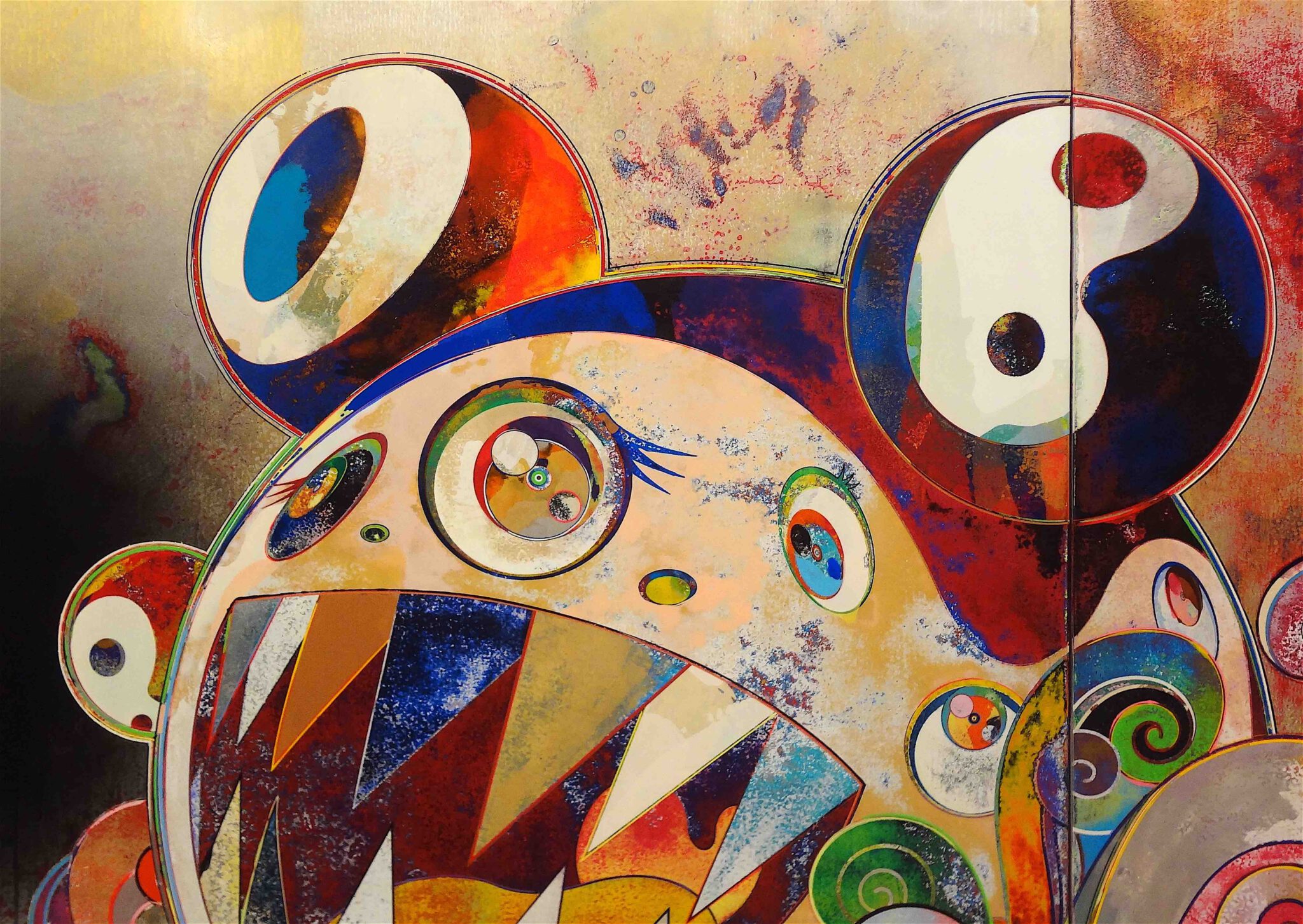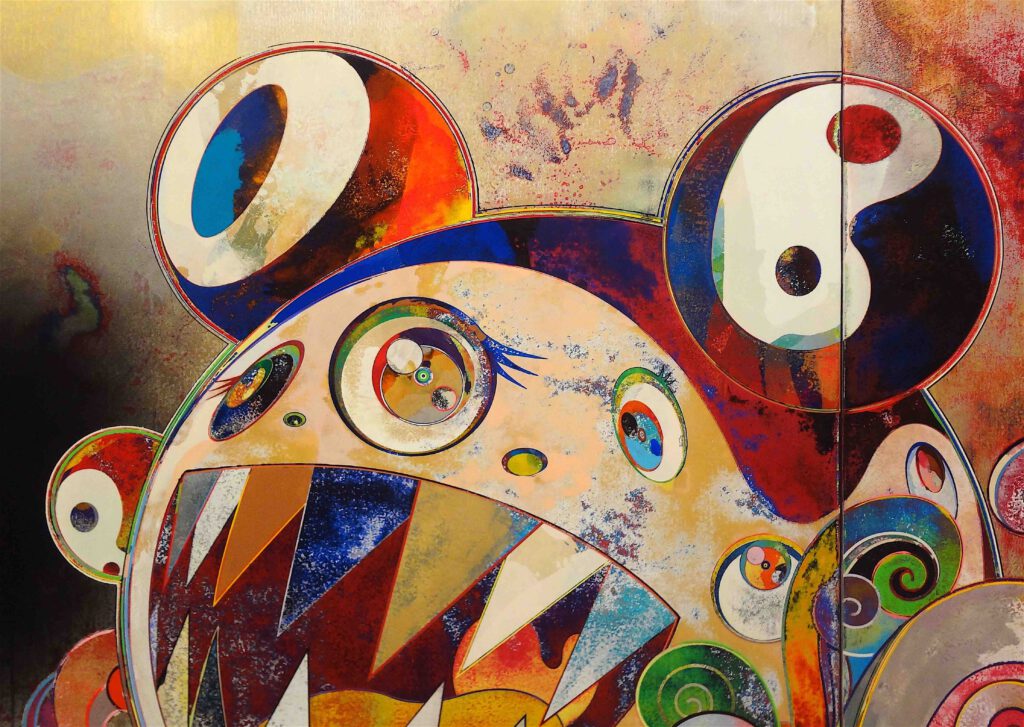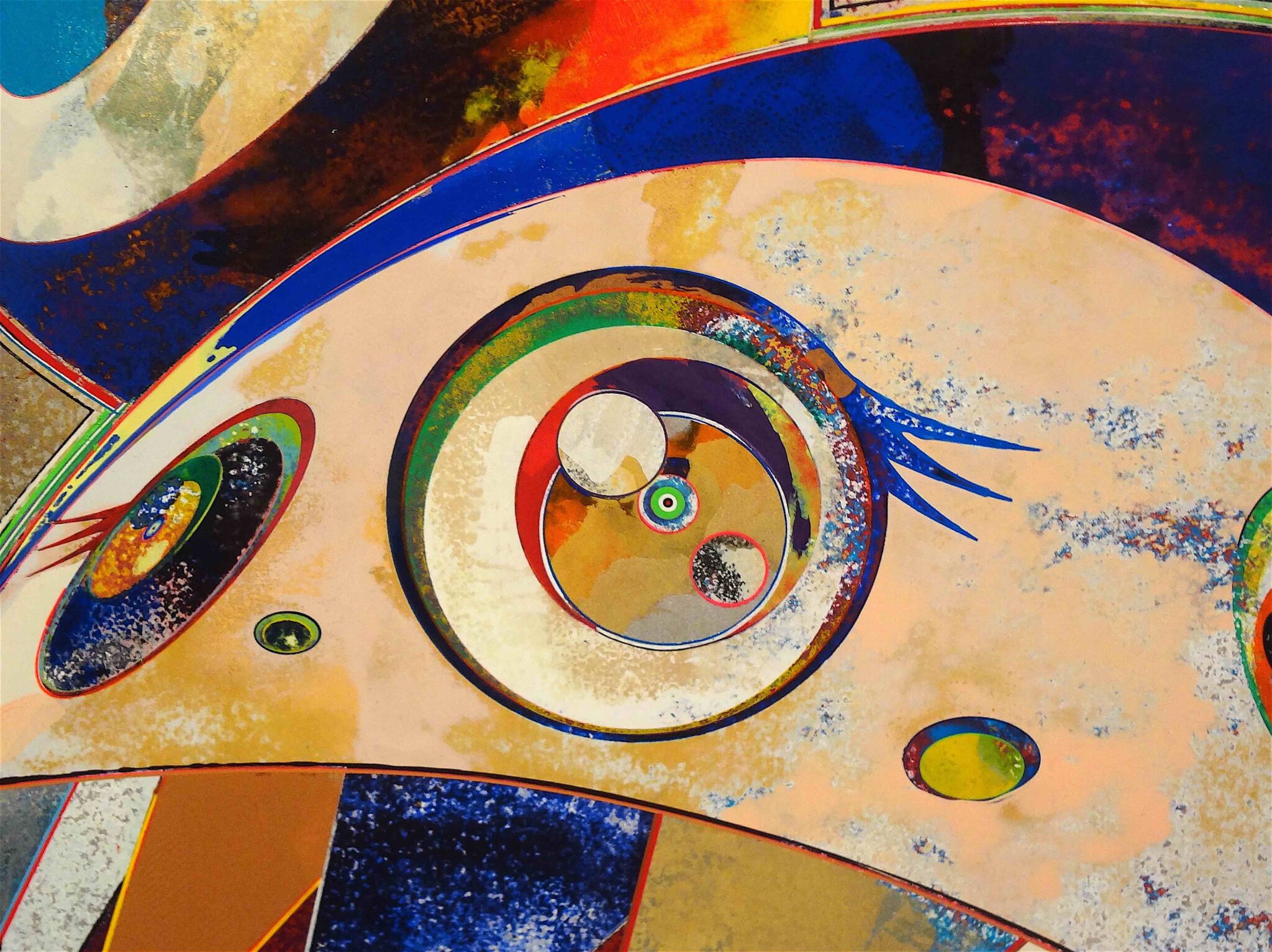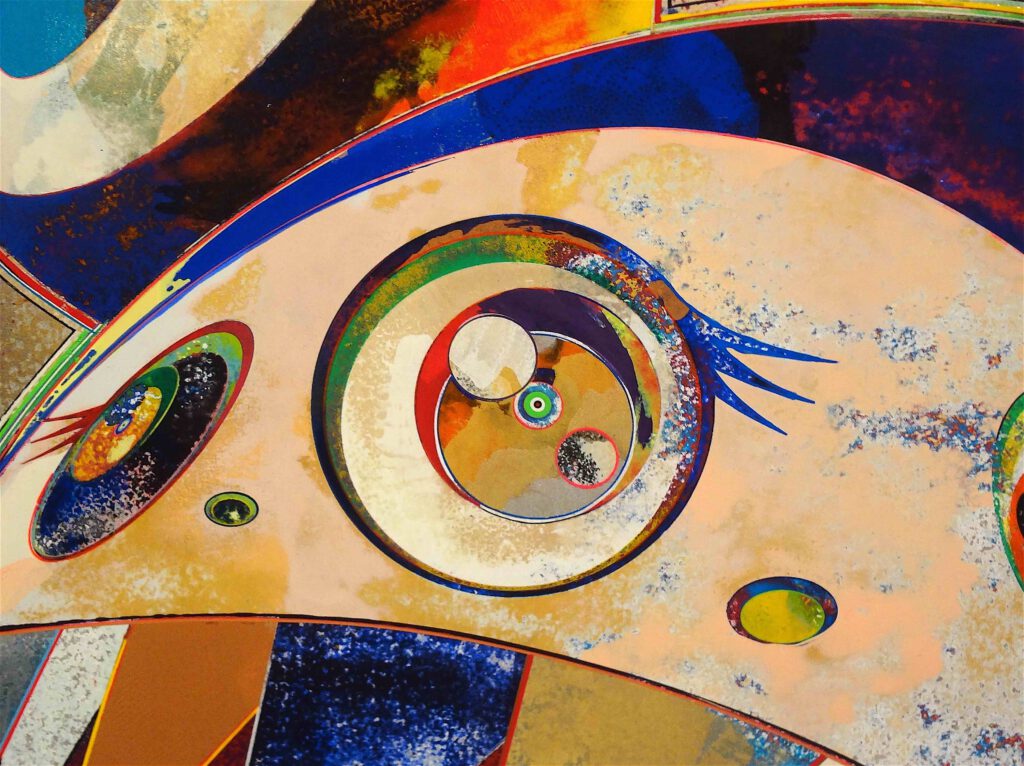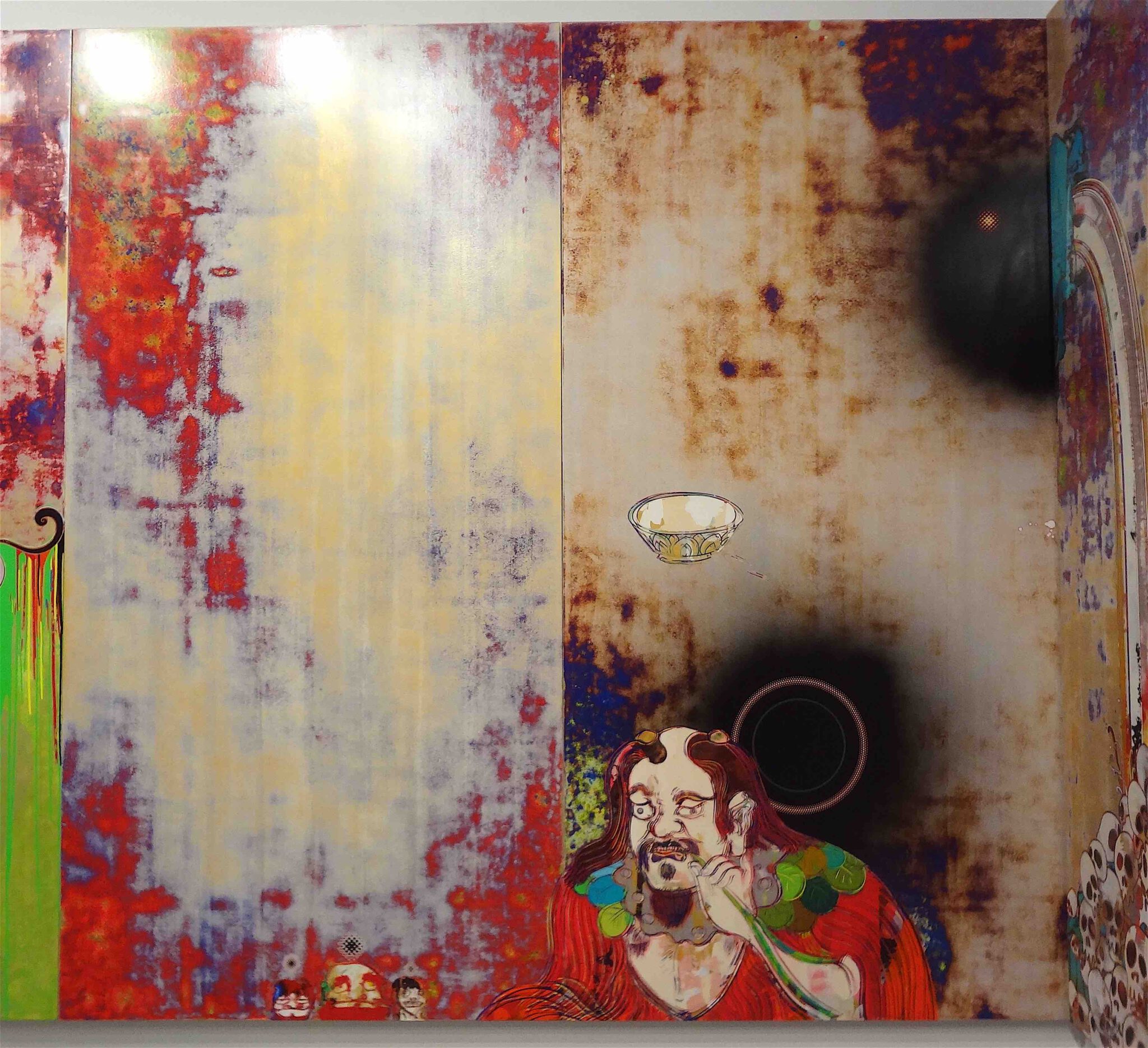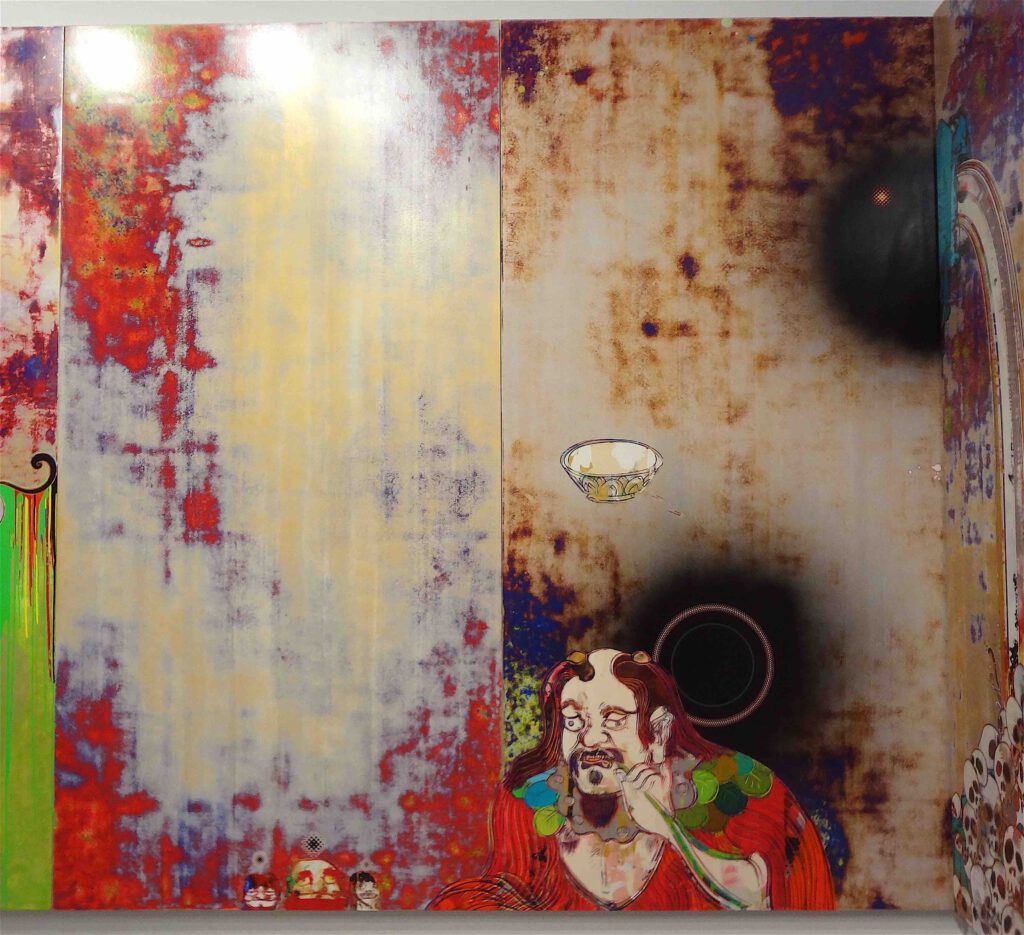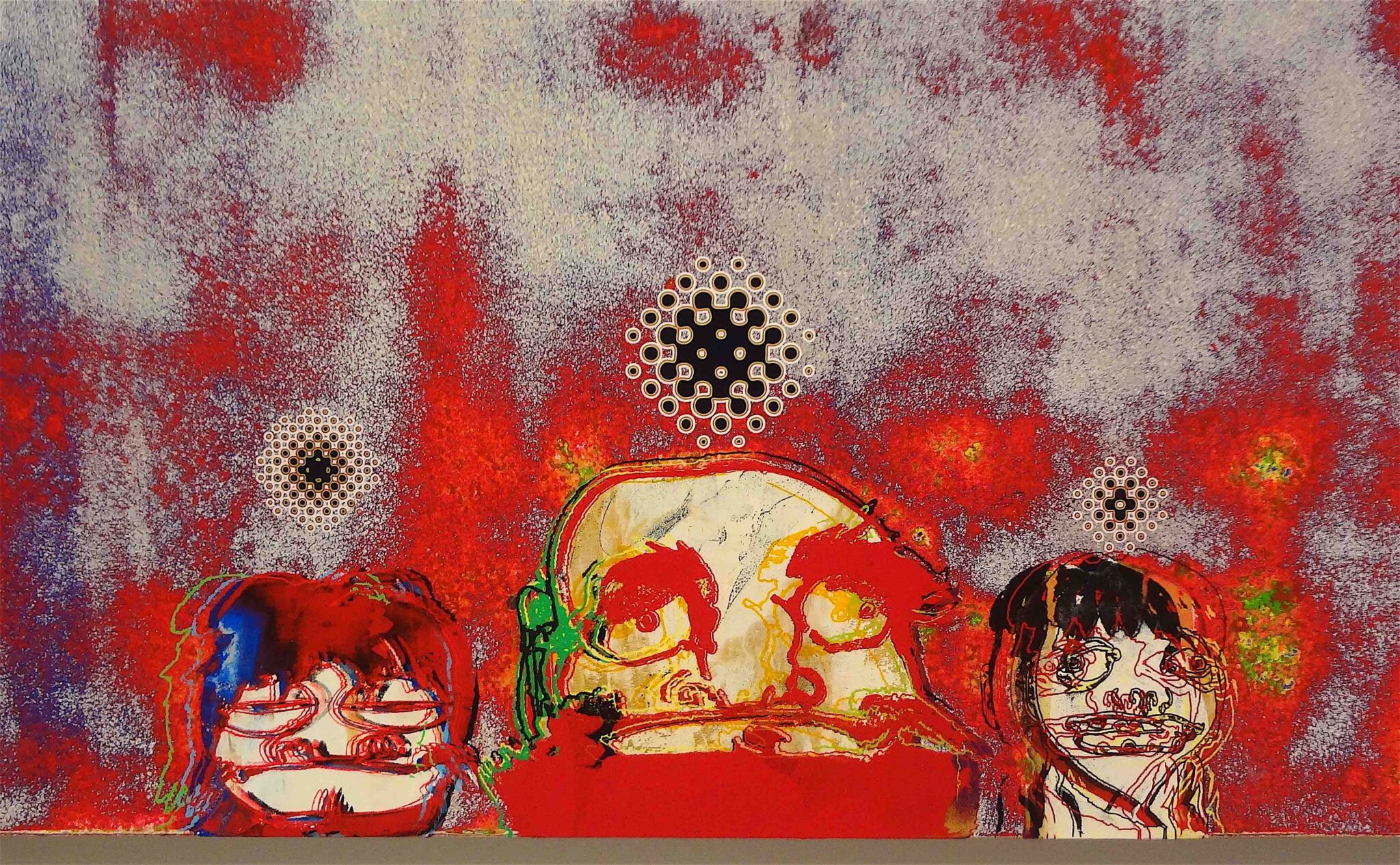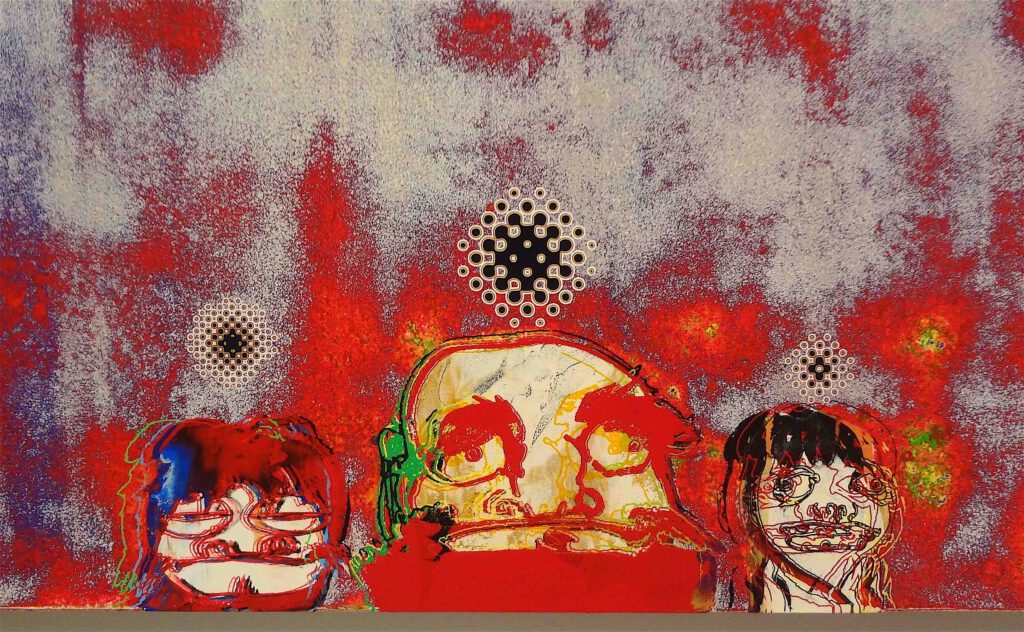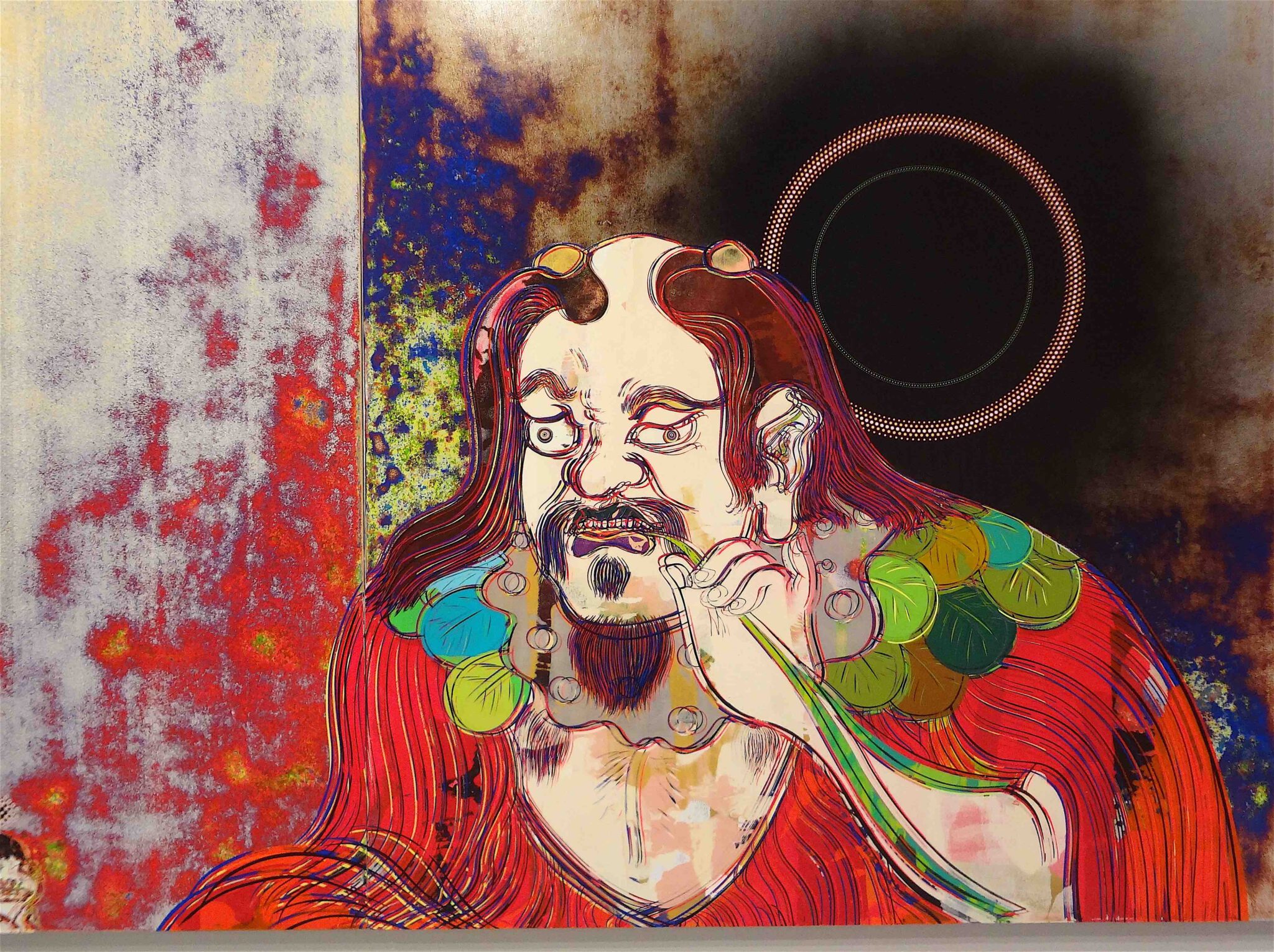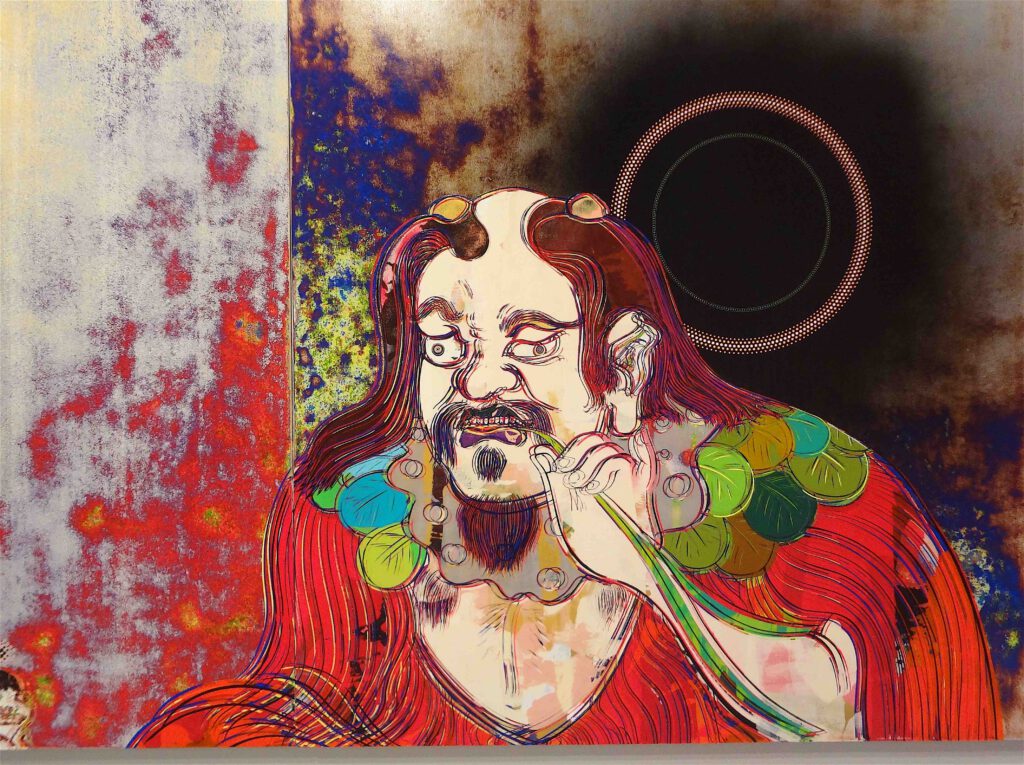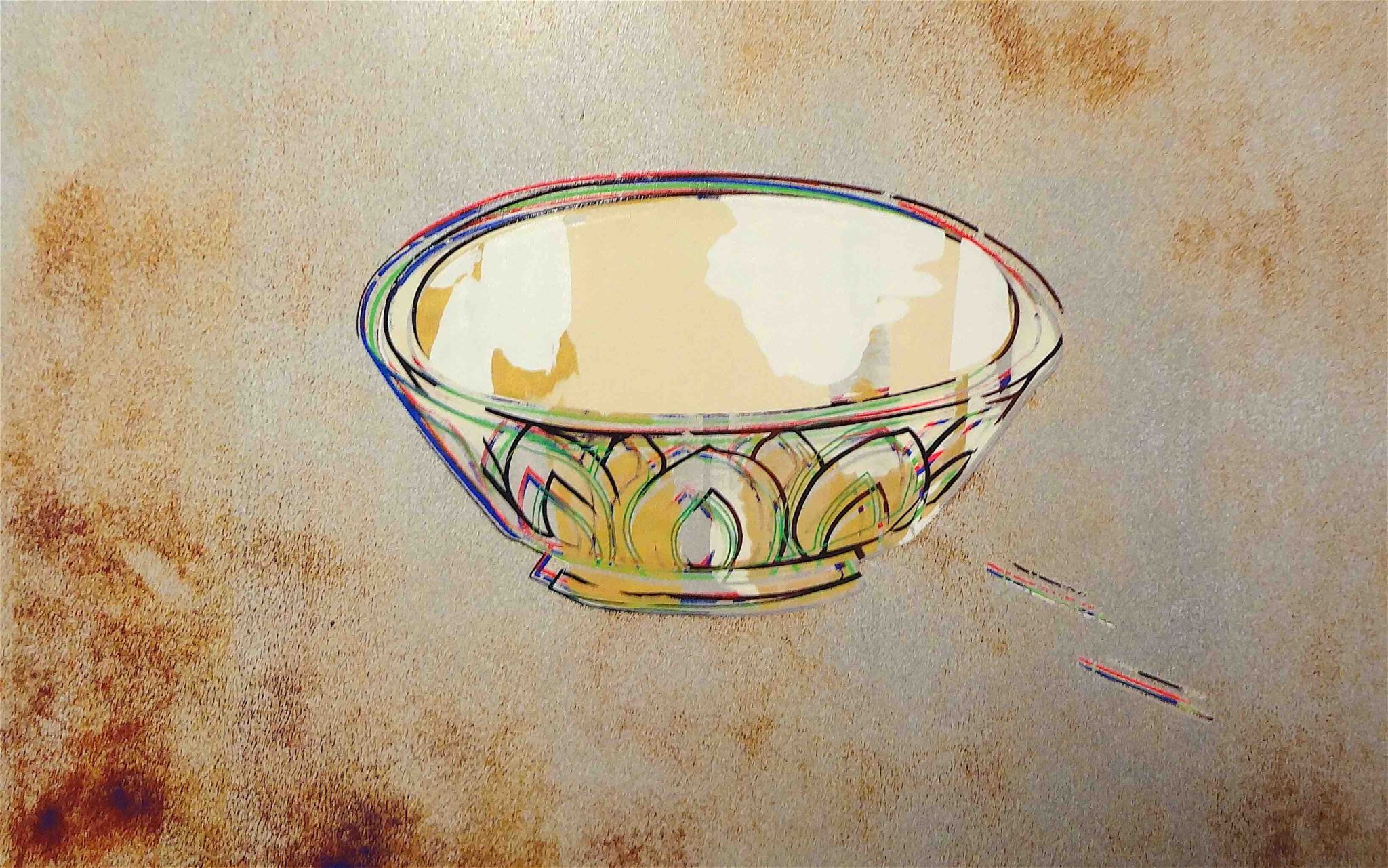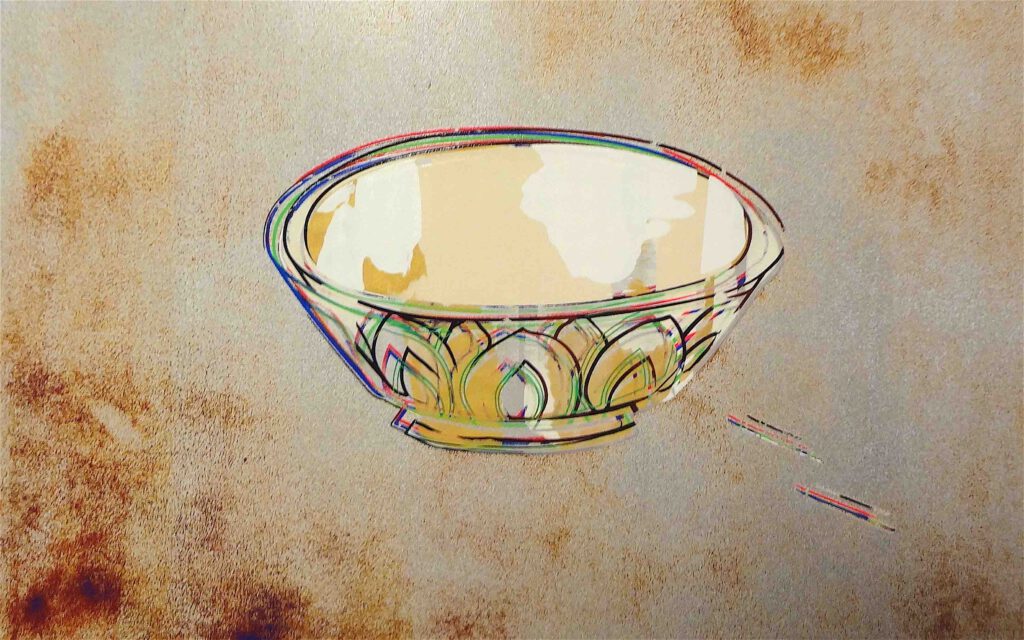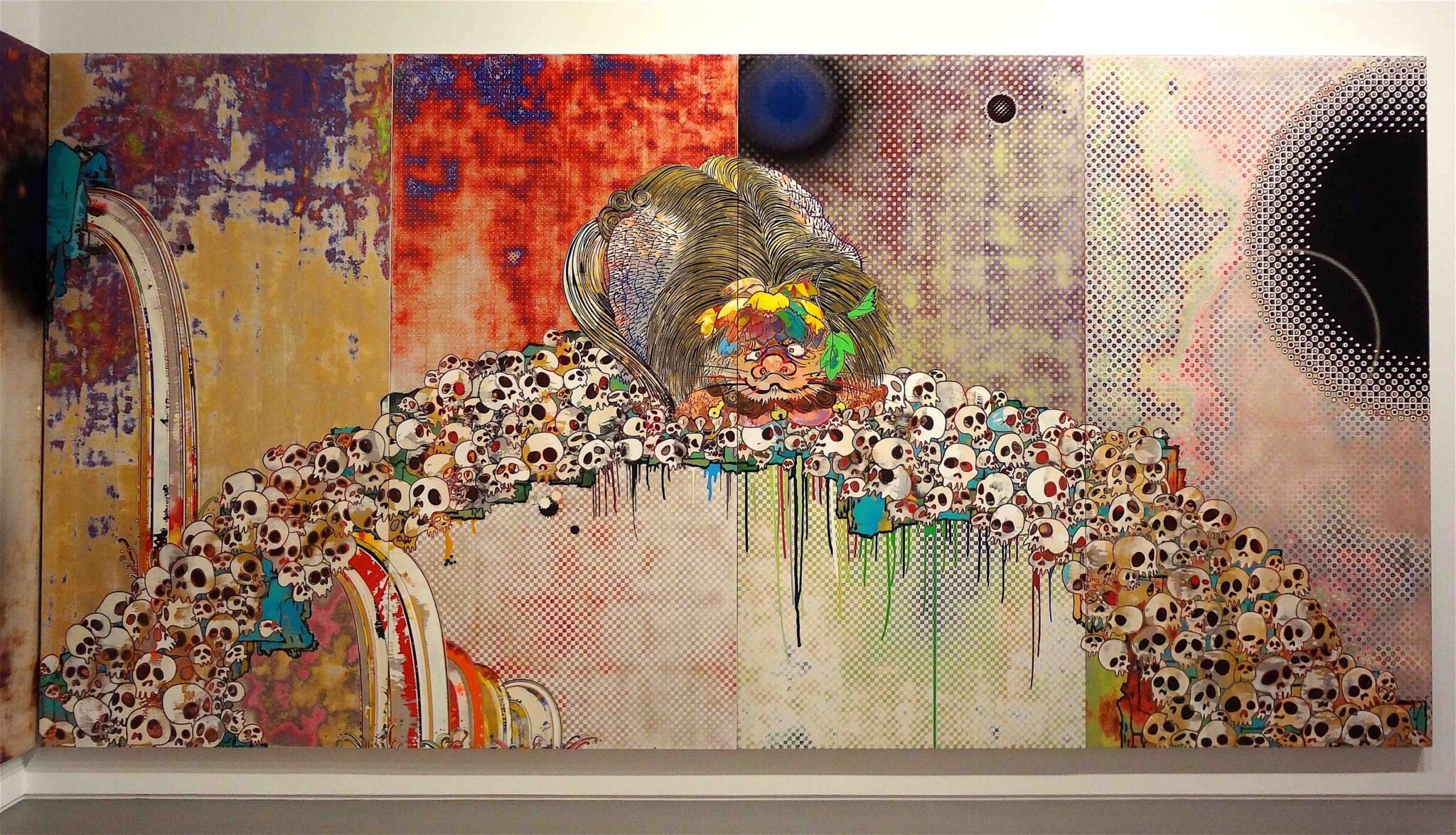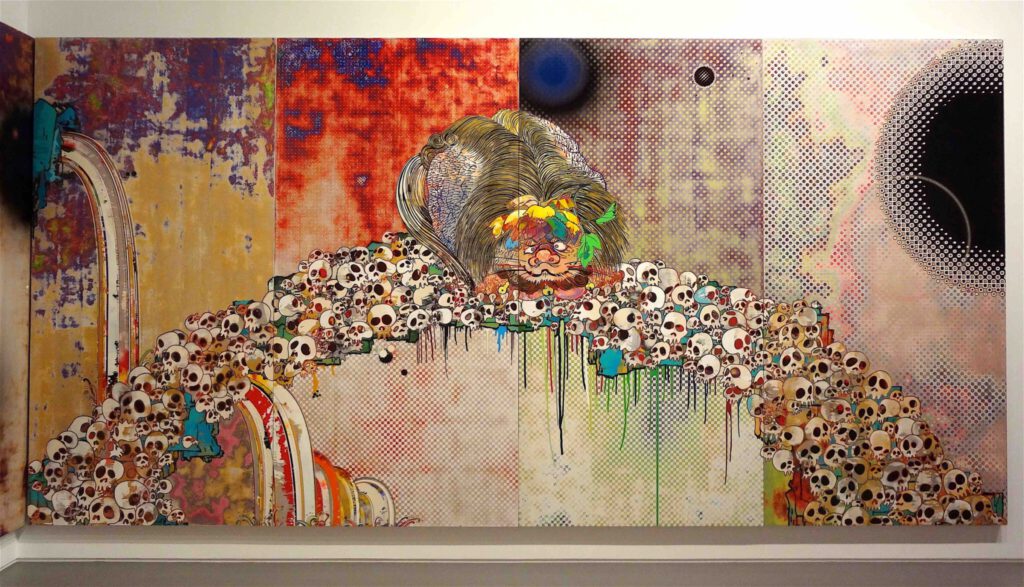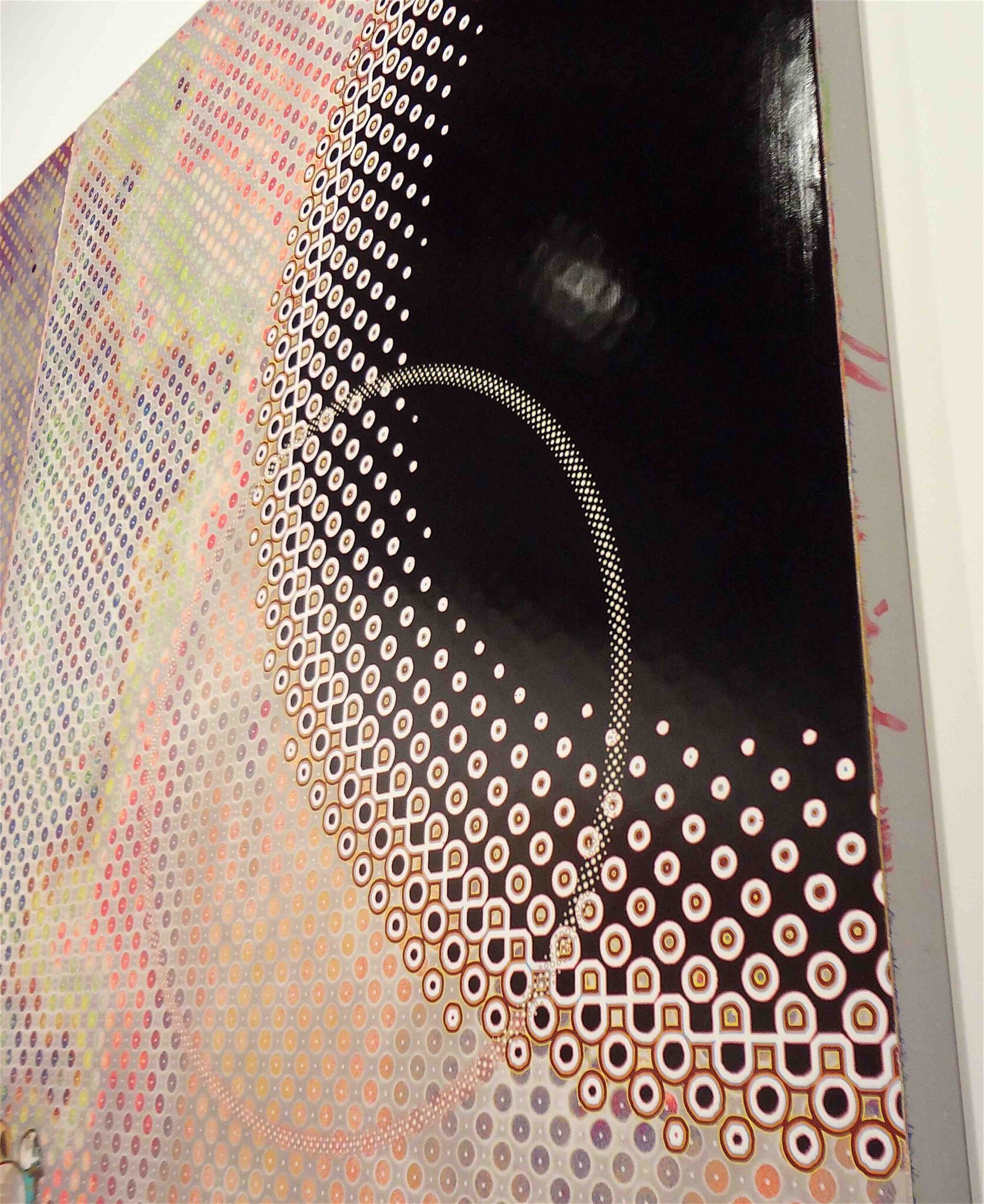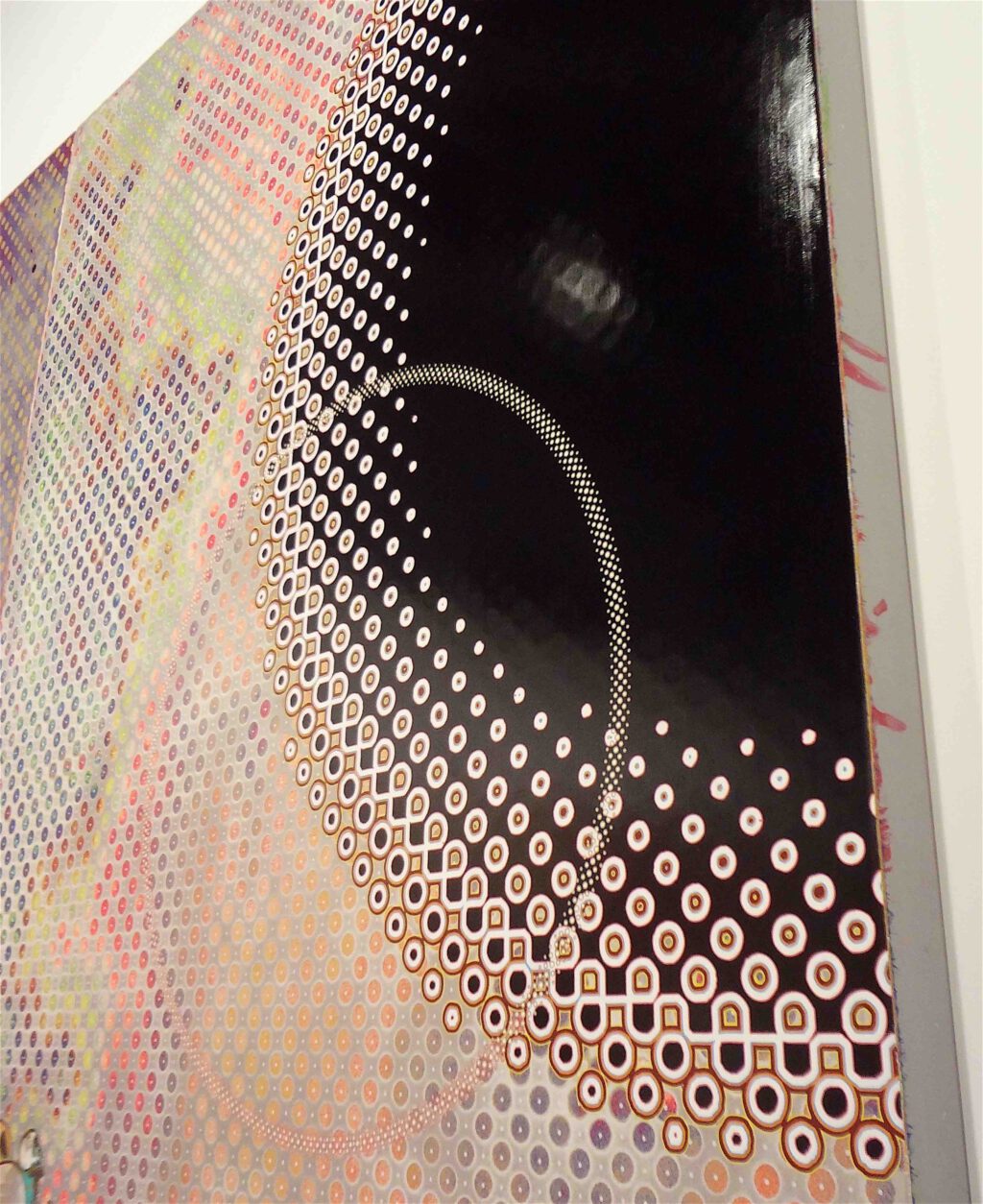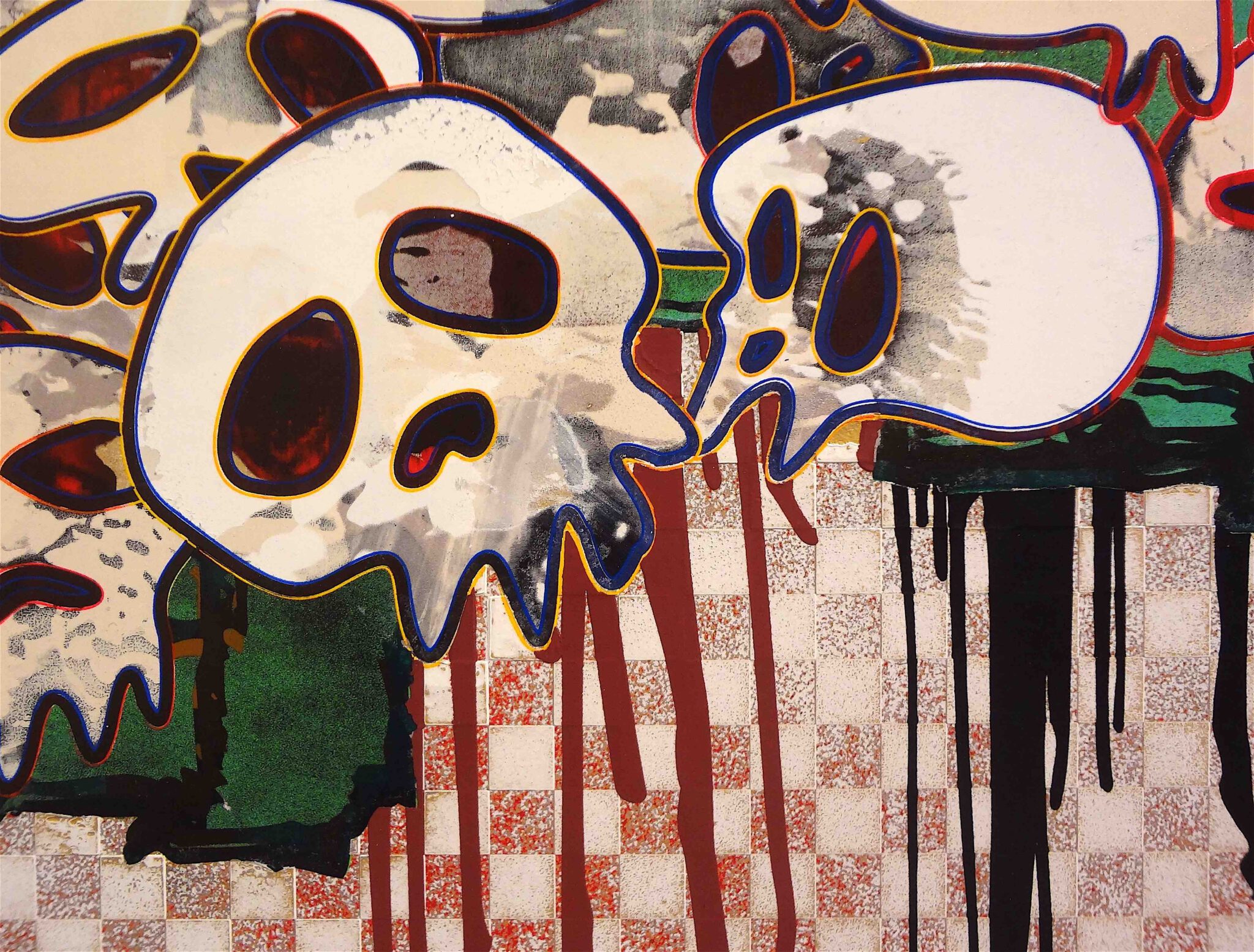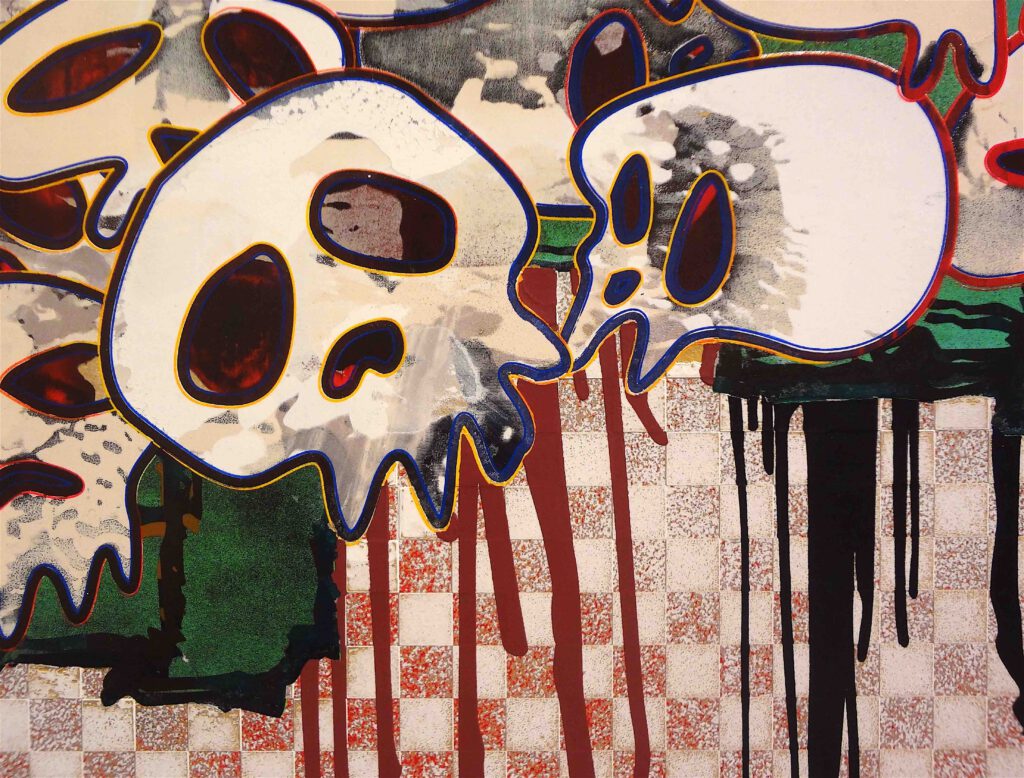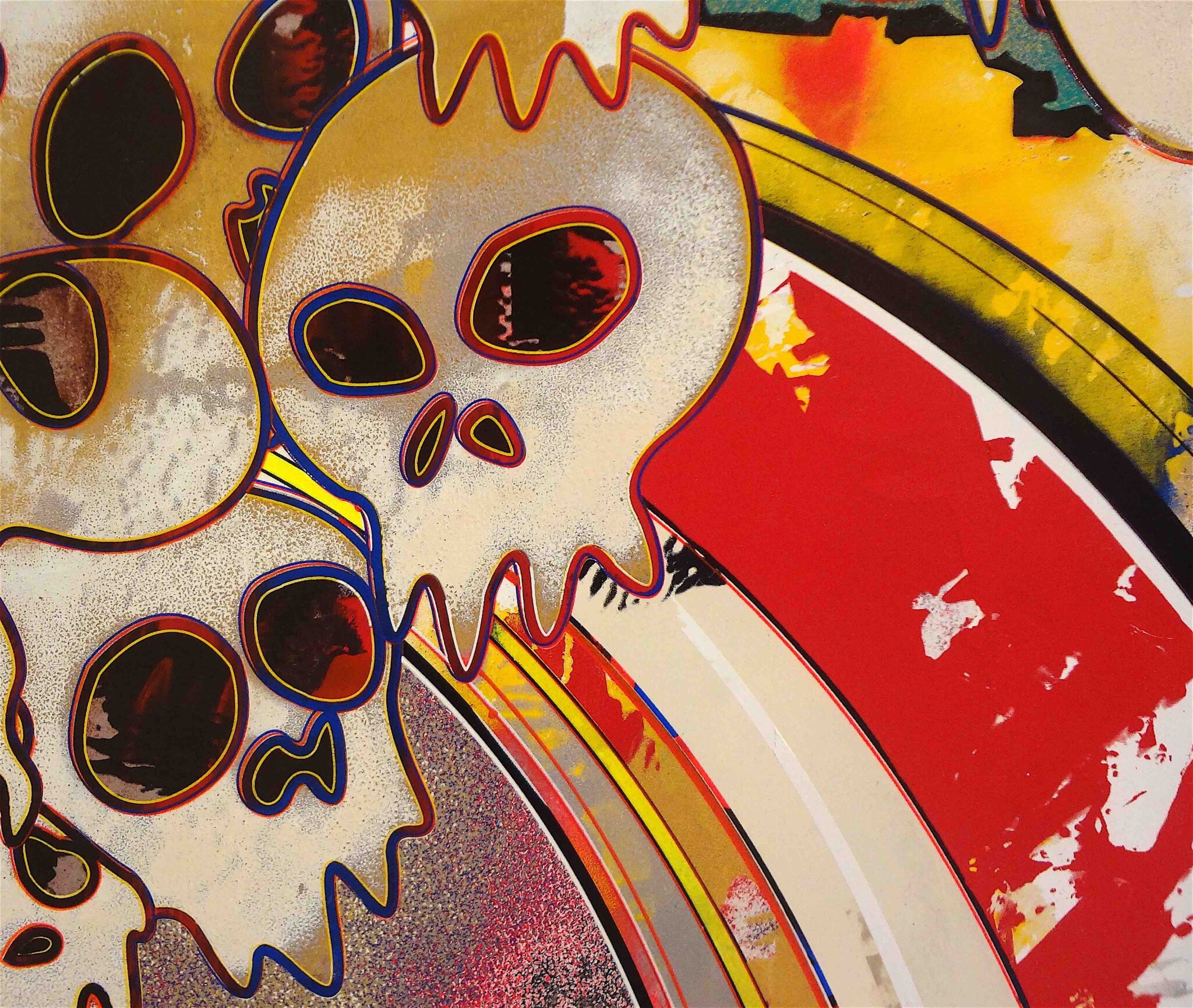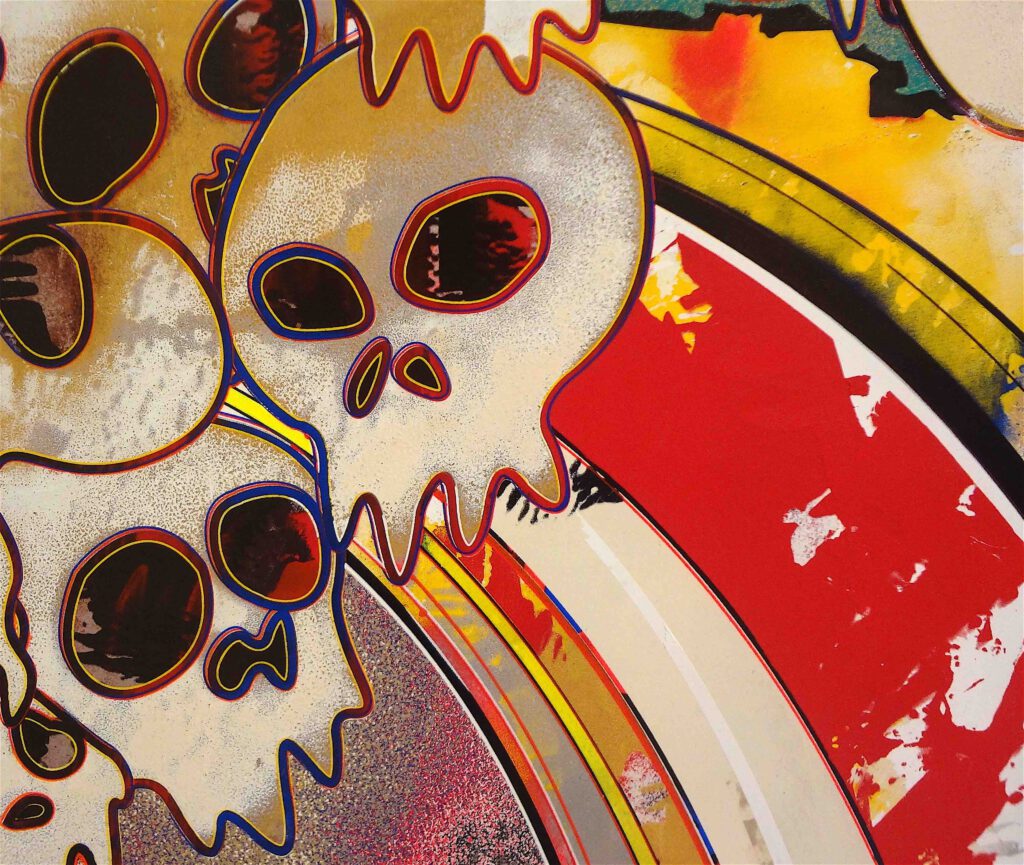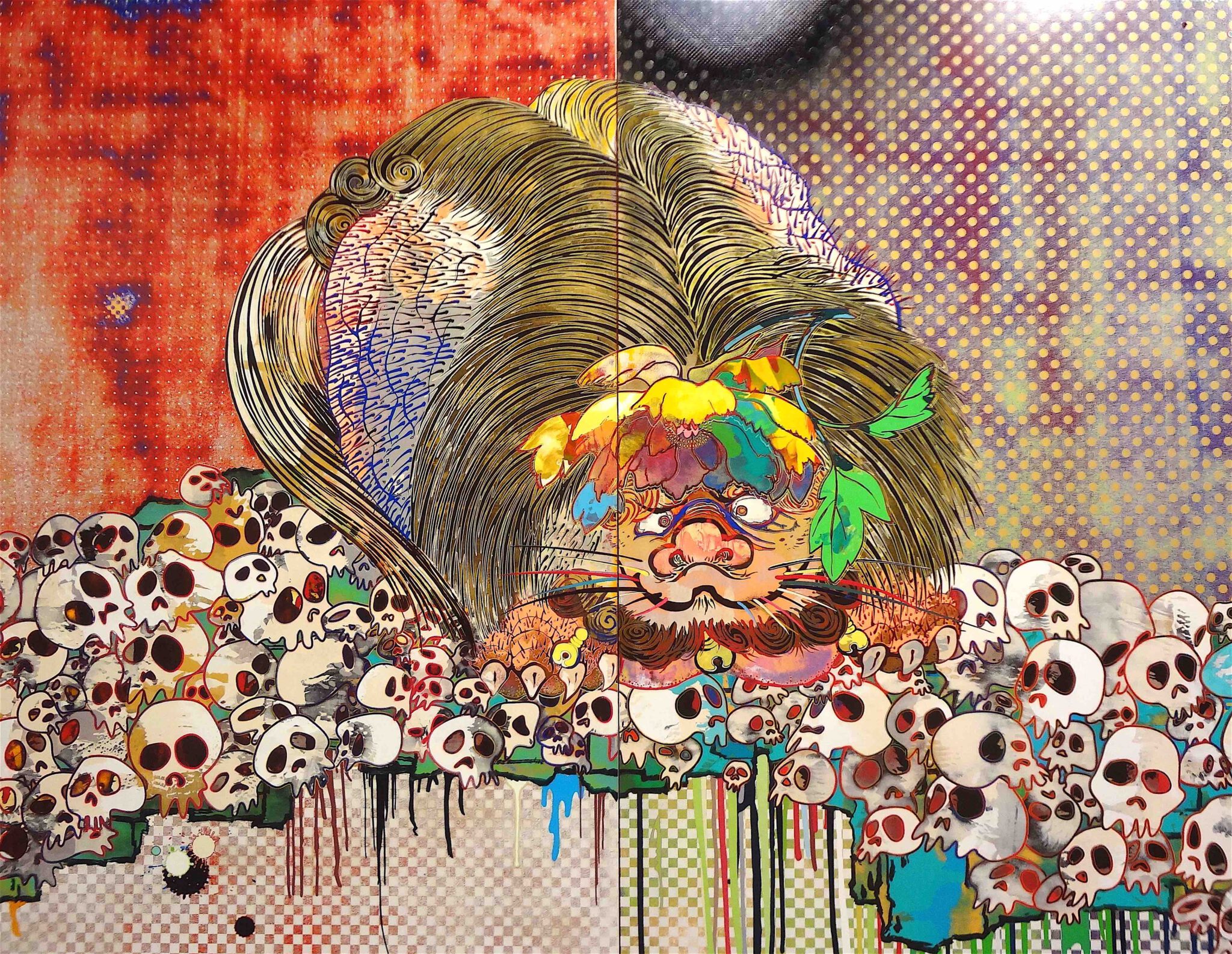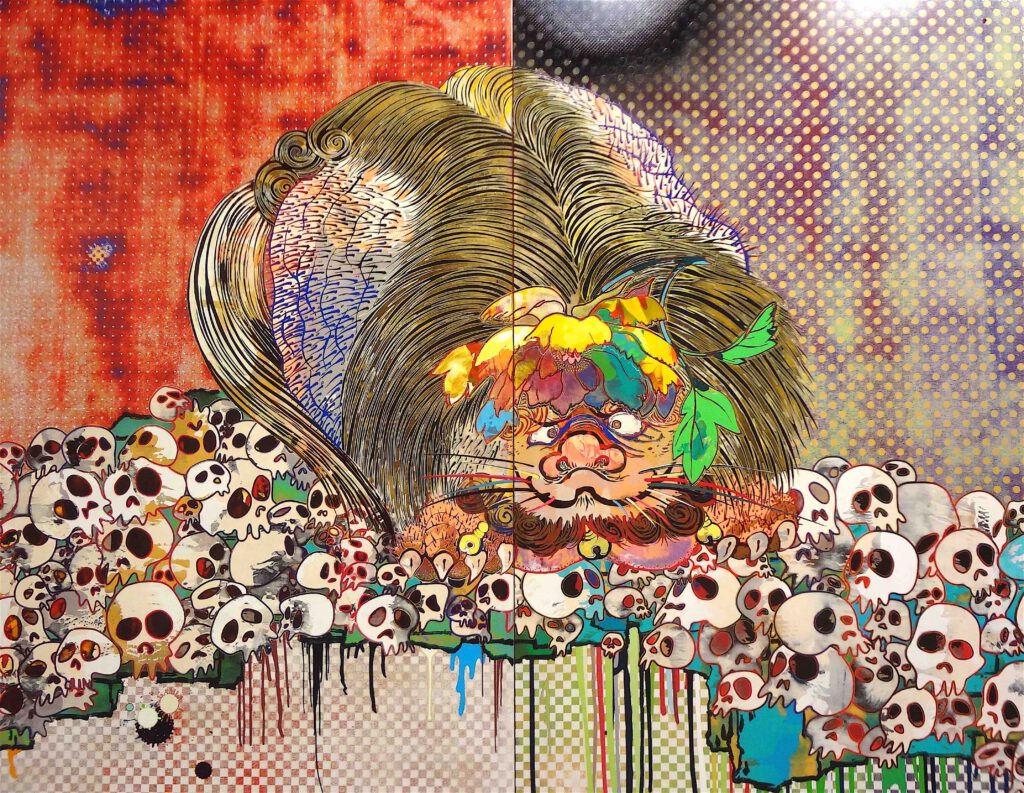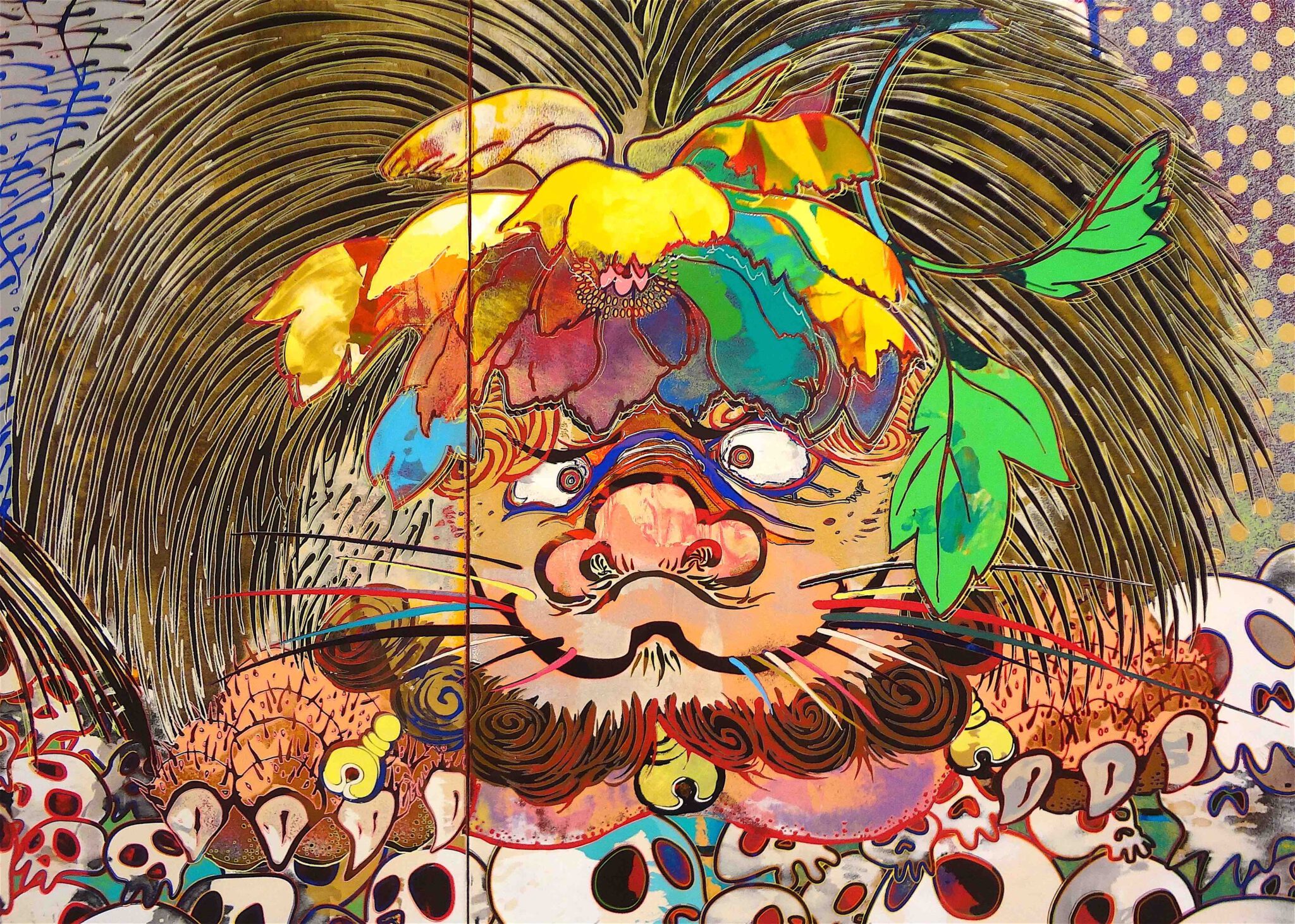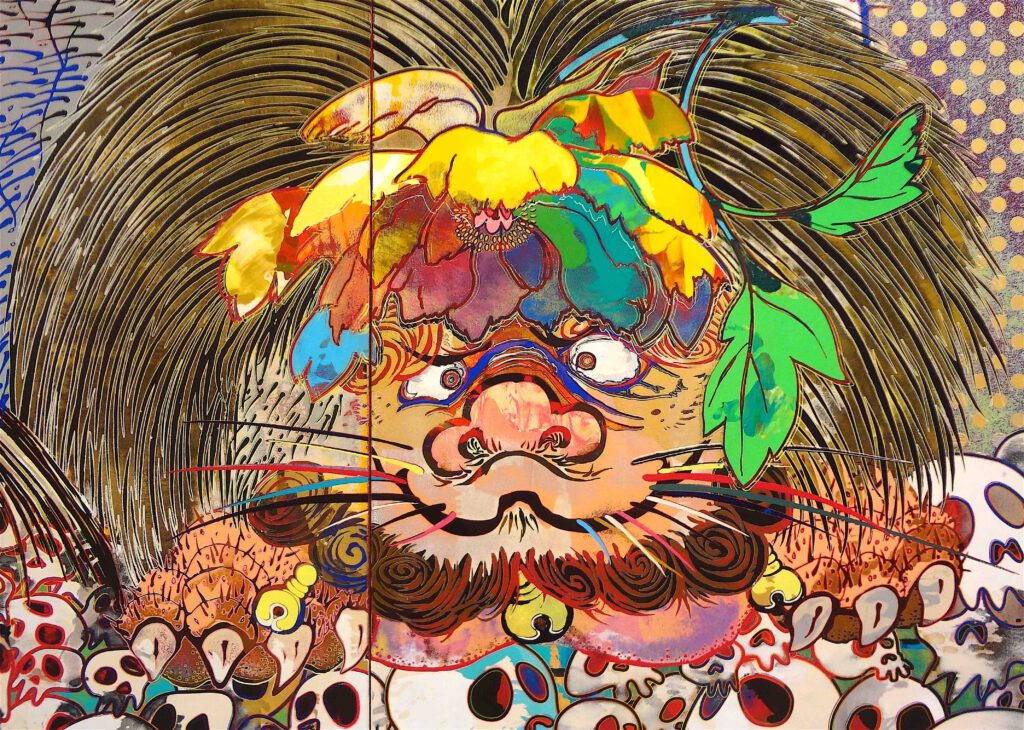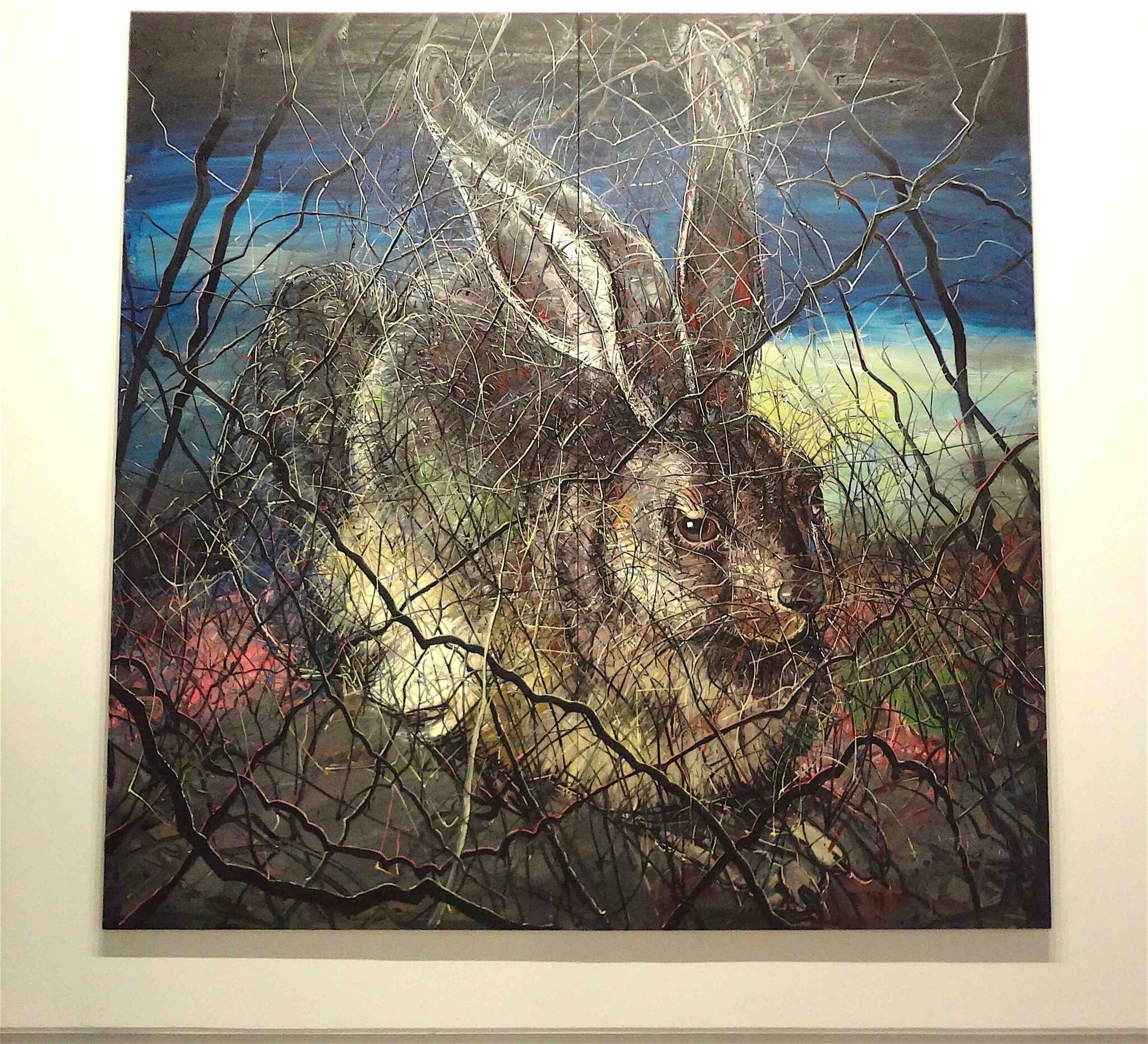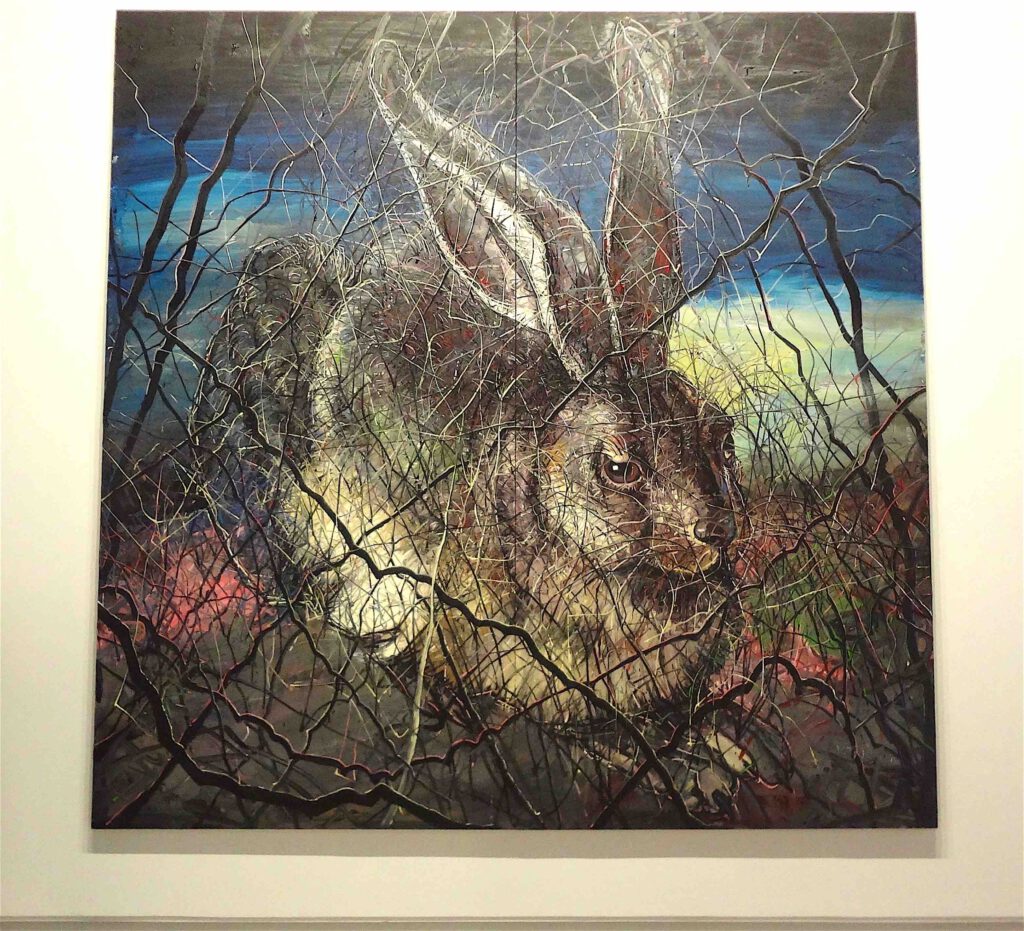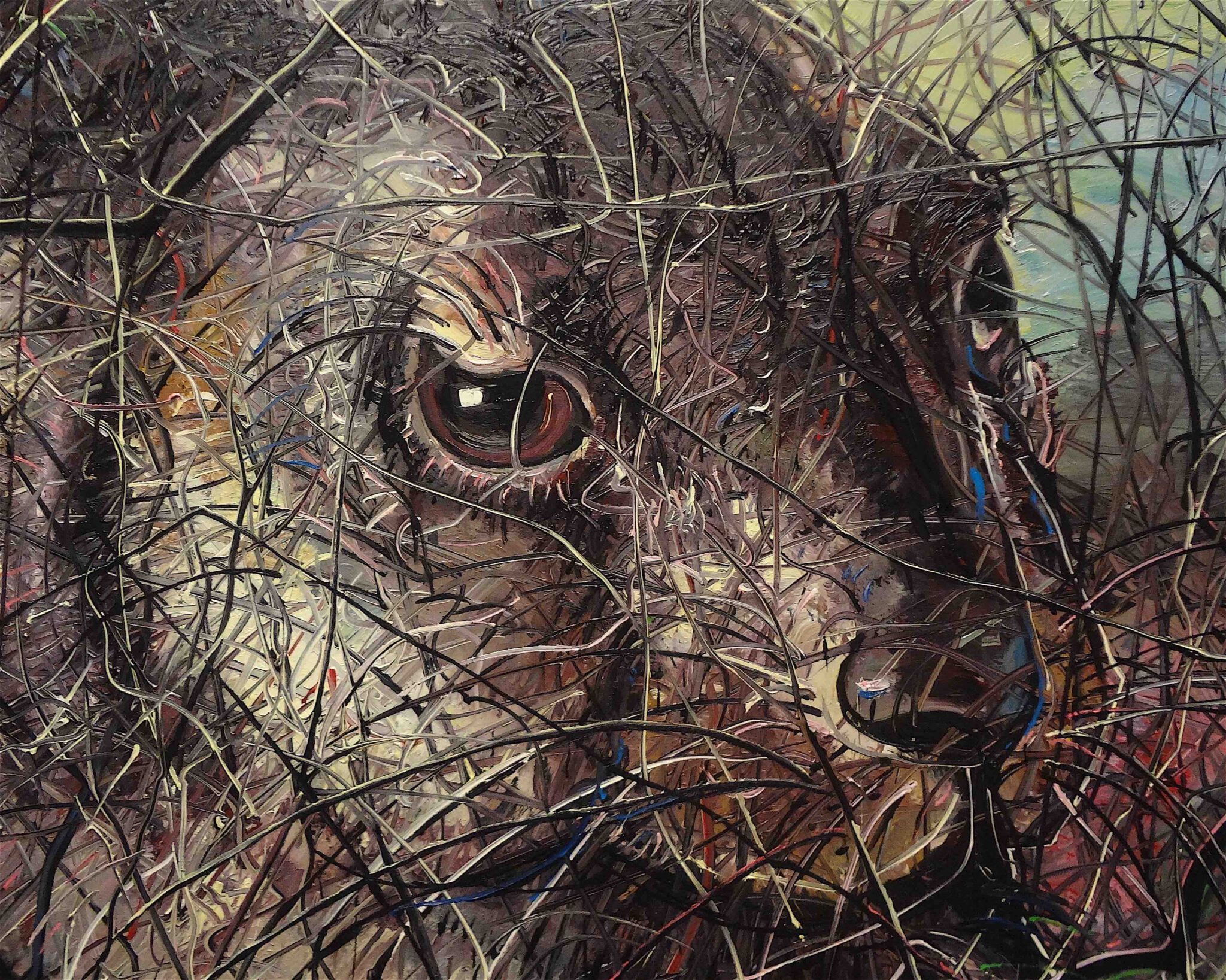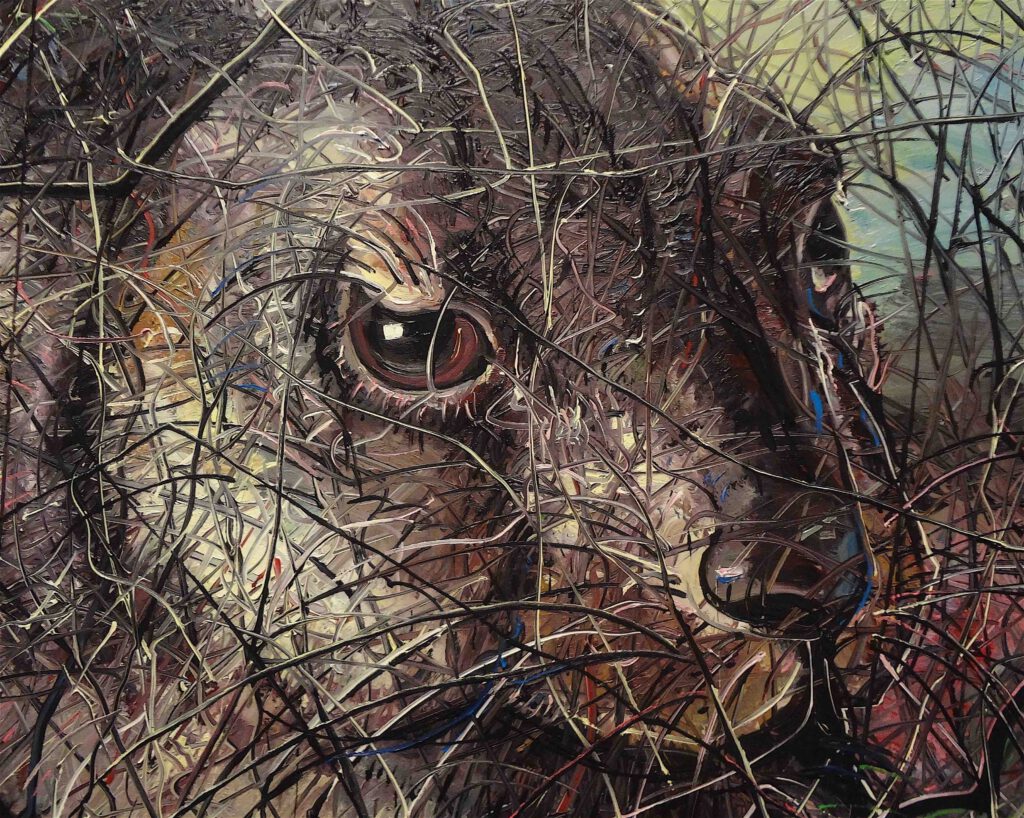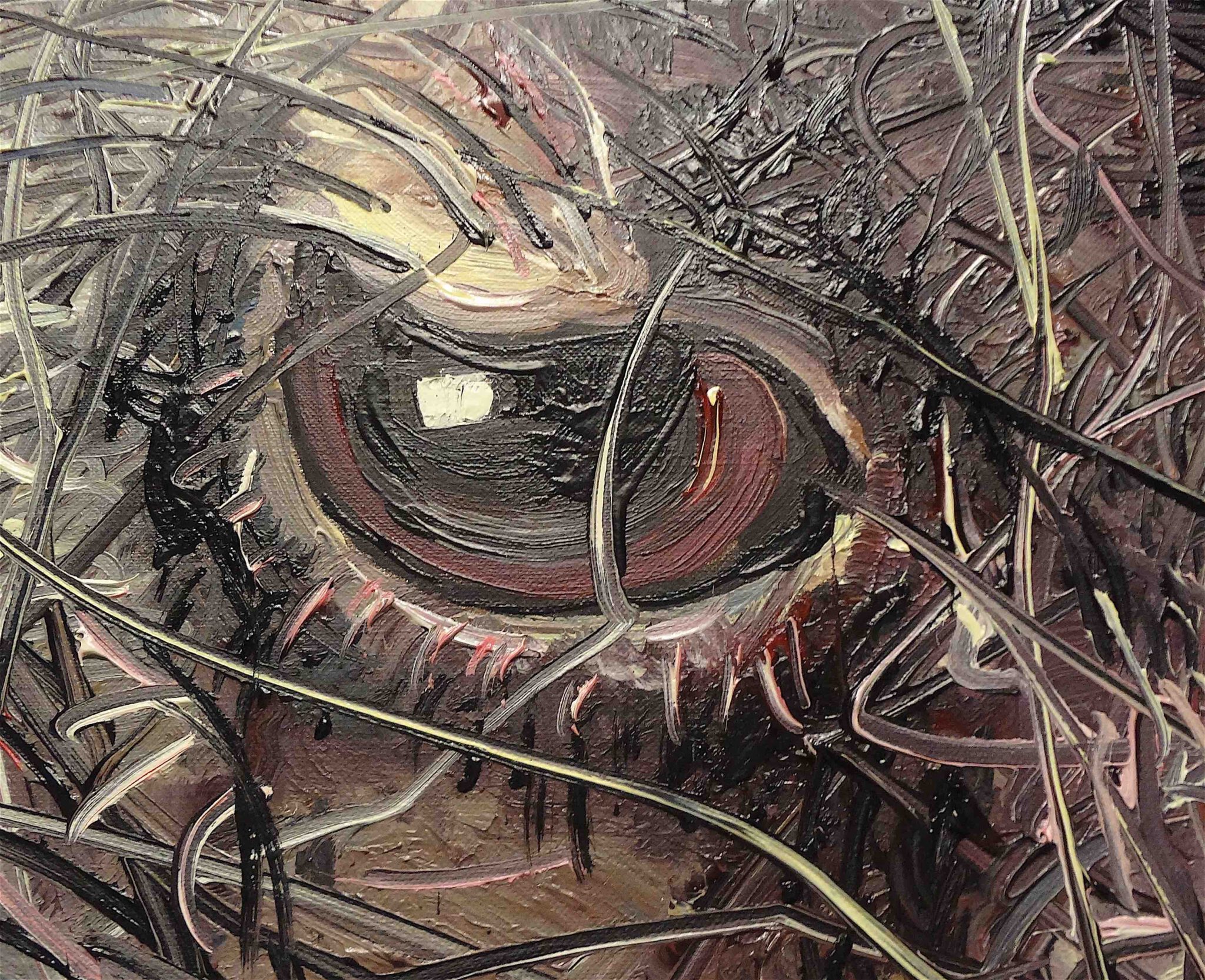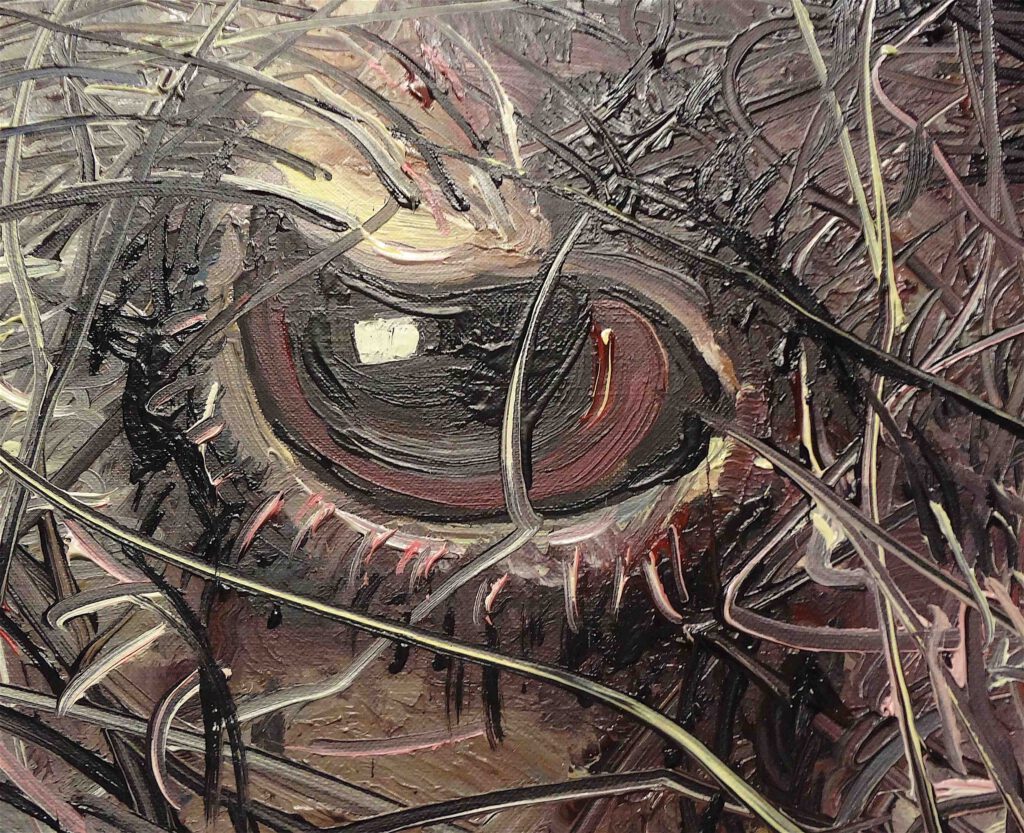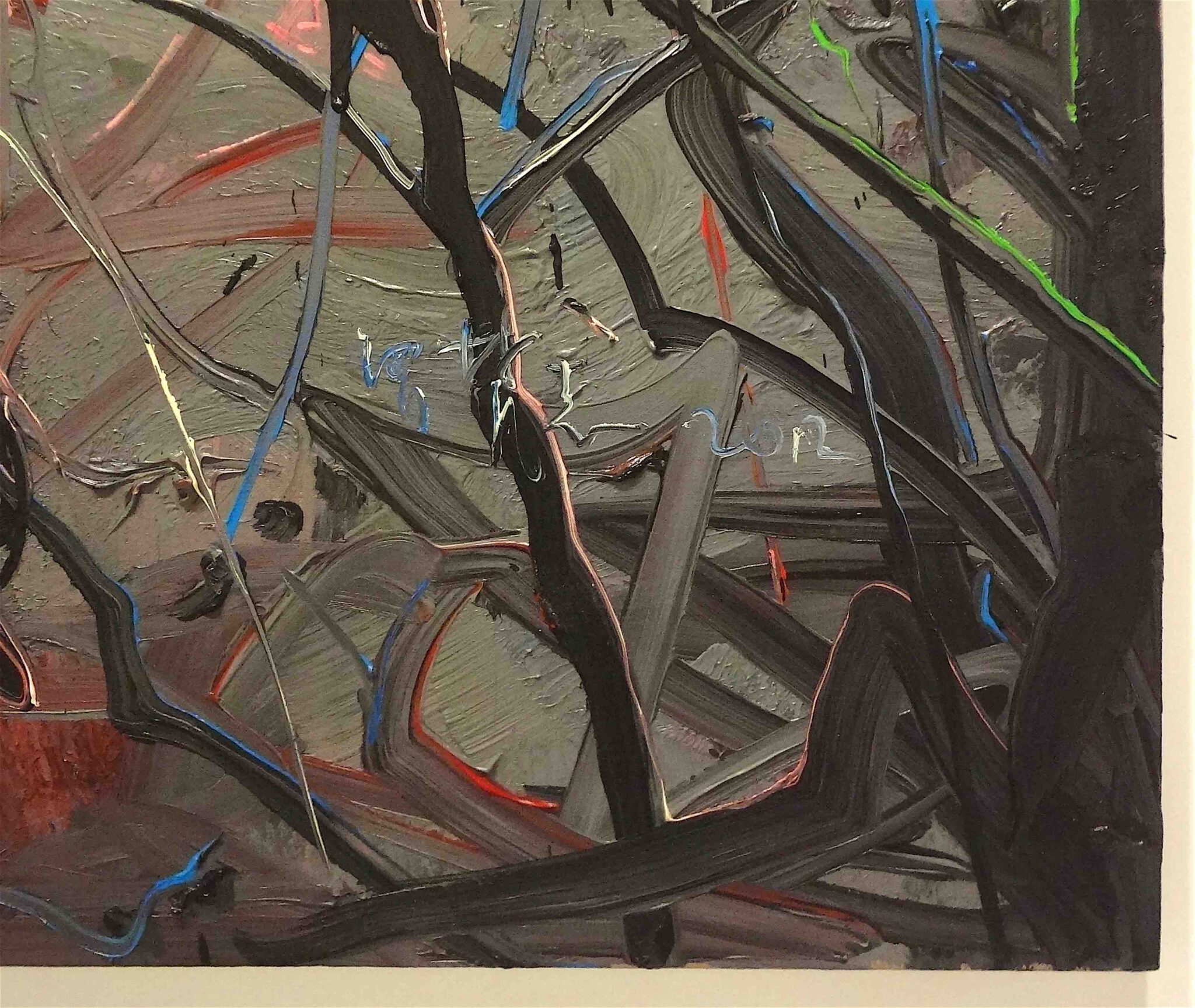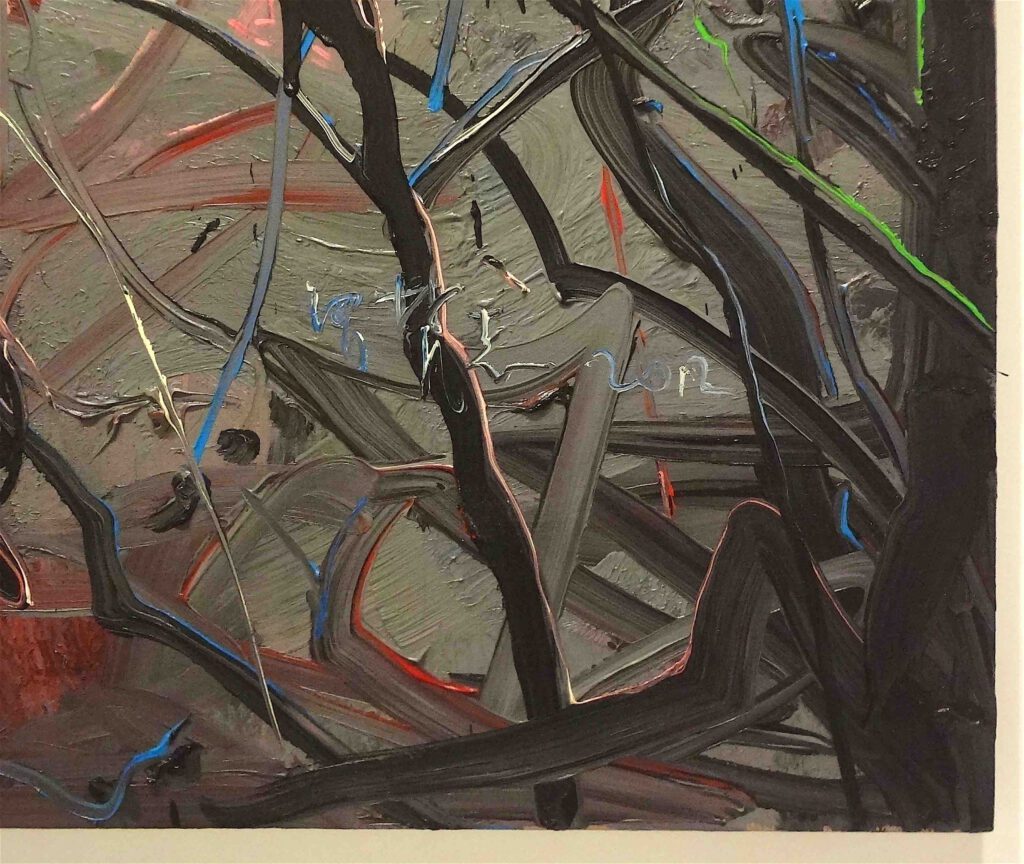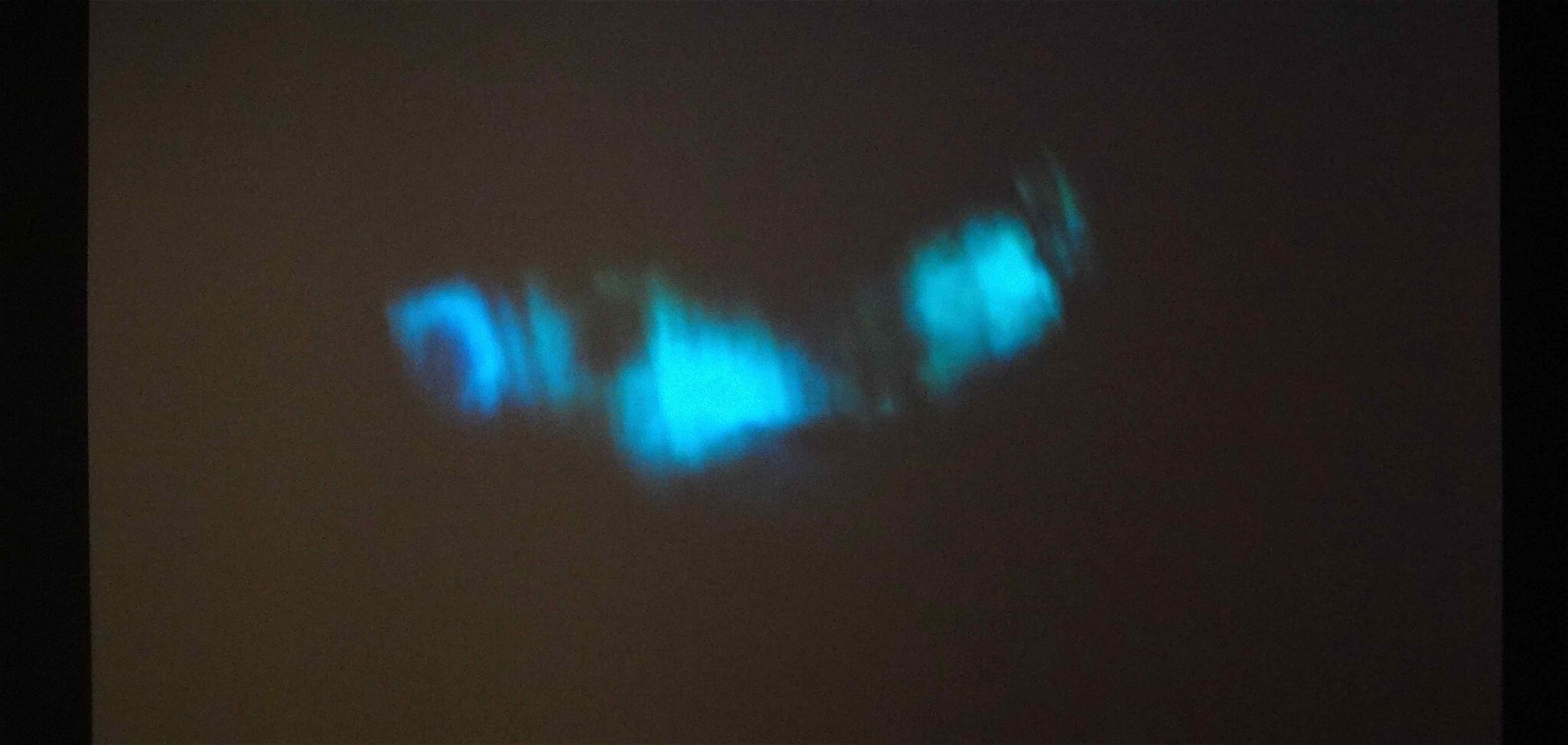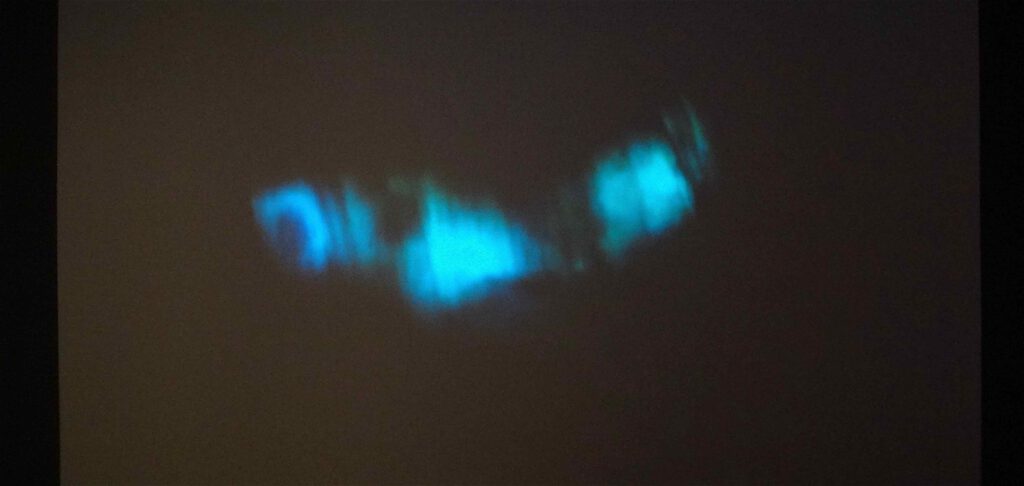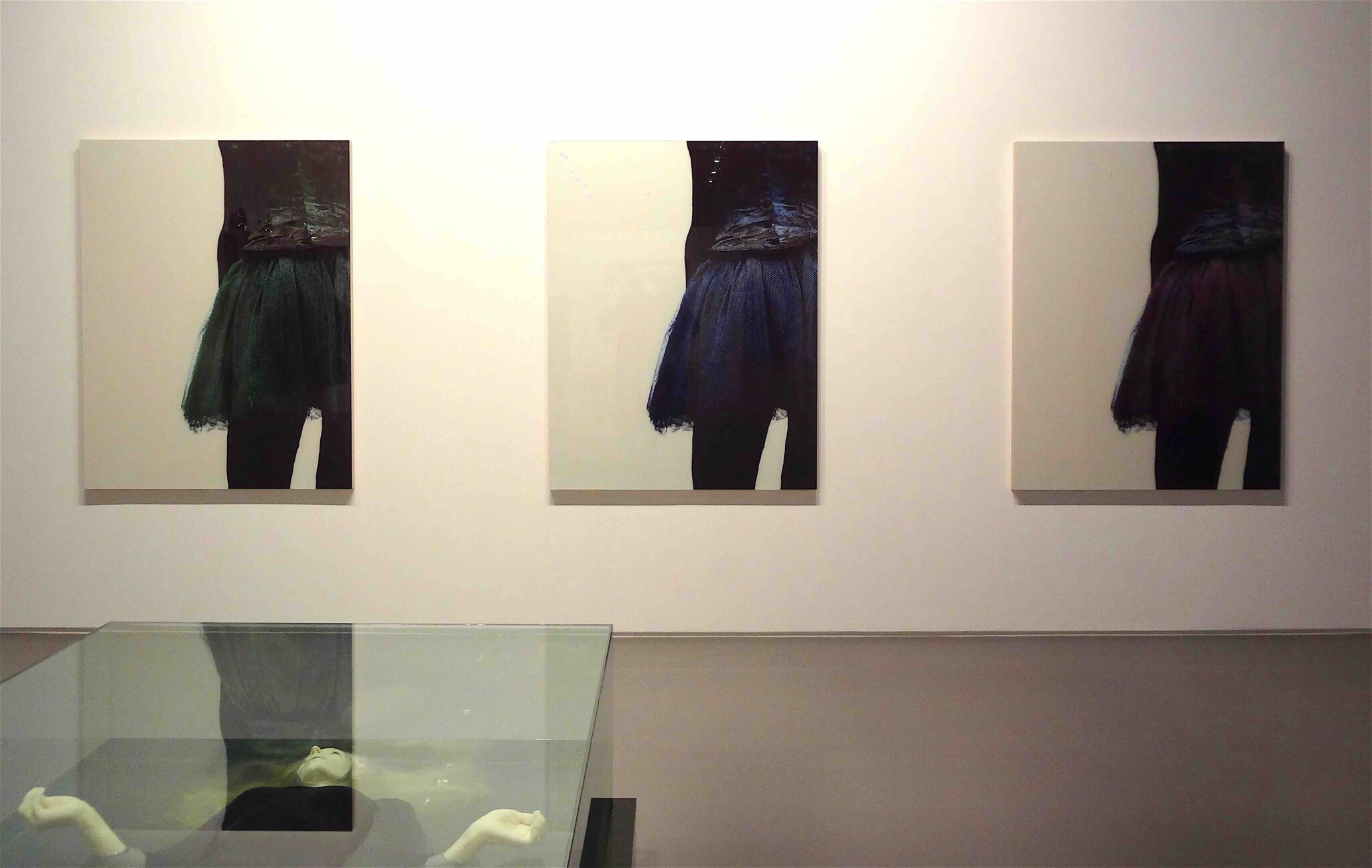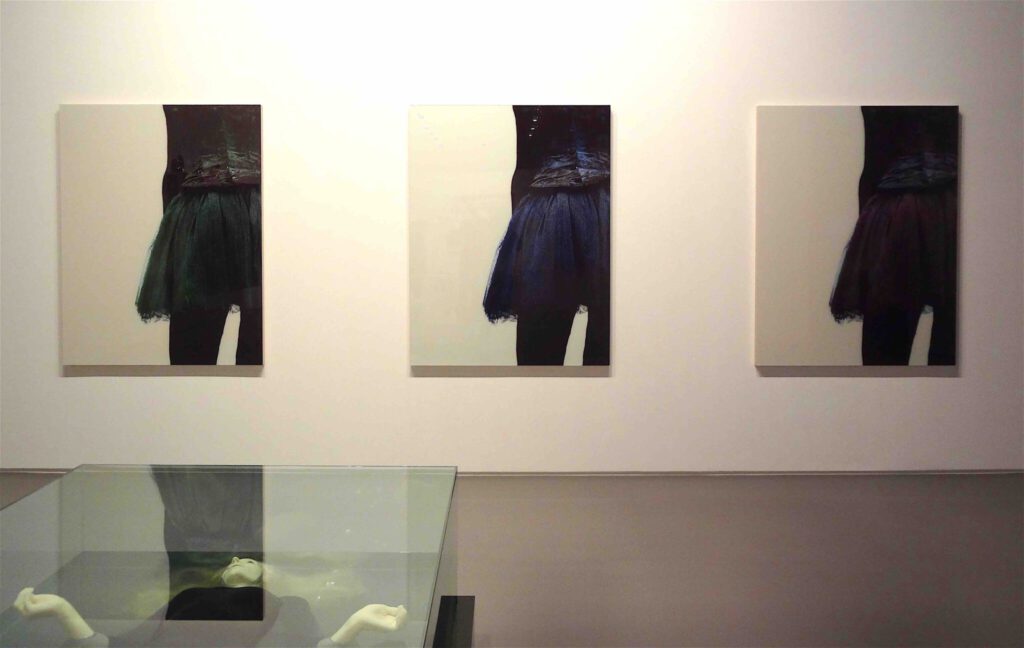 This work by Louise Lawler (American, b.1947) appropriates Degas's sculpture Little Dancer Aged Fourteen, which created a furore when it was shown at the sixth Impressionist Exhibition in 1881. The changes effected include photography, cropping, decontextualisation, multiplication and colourisation.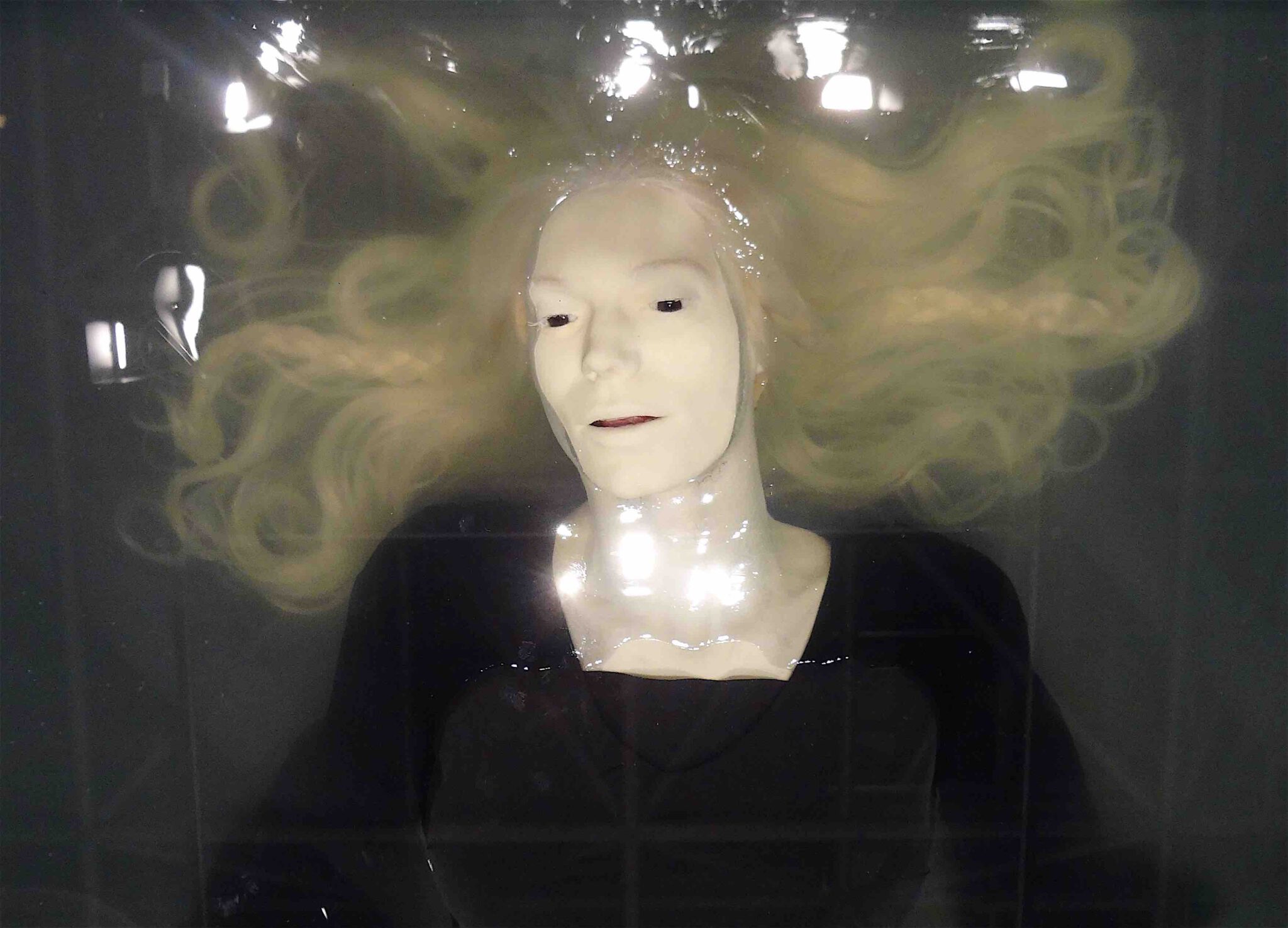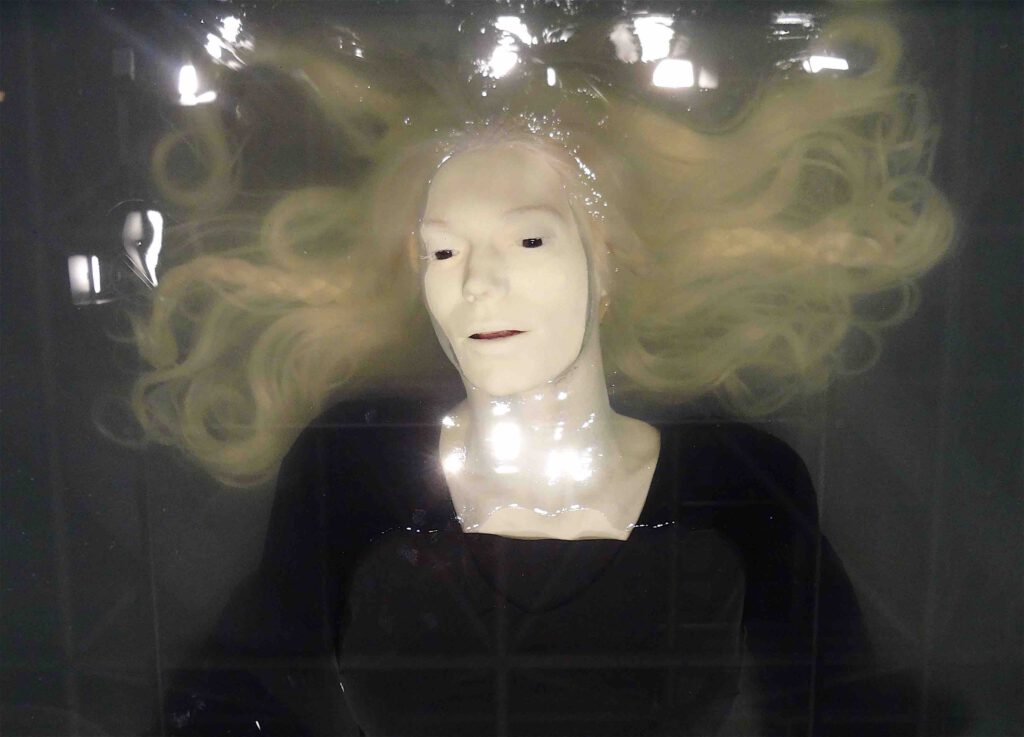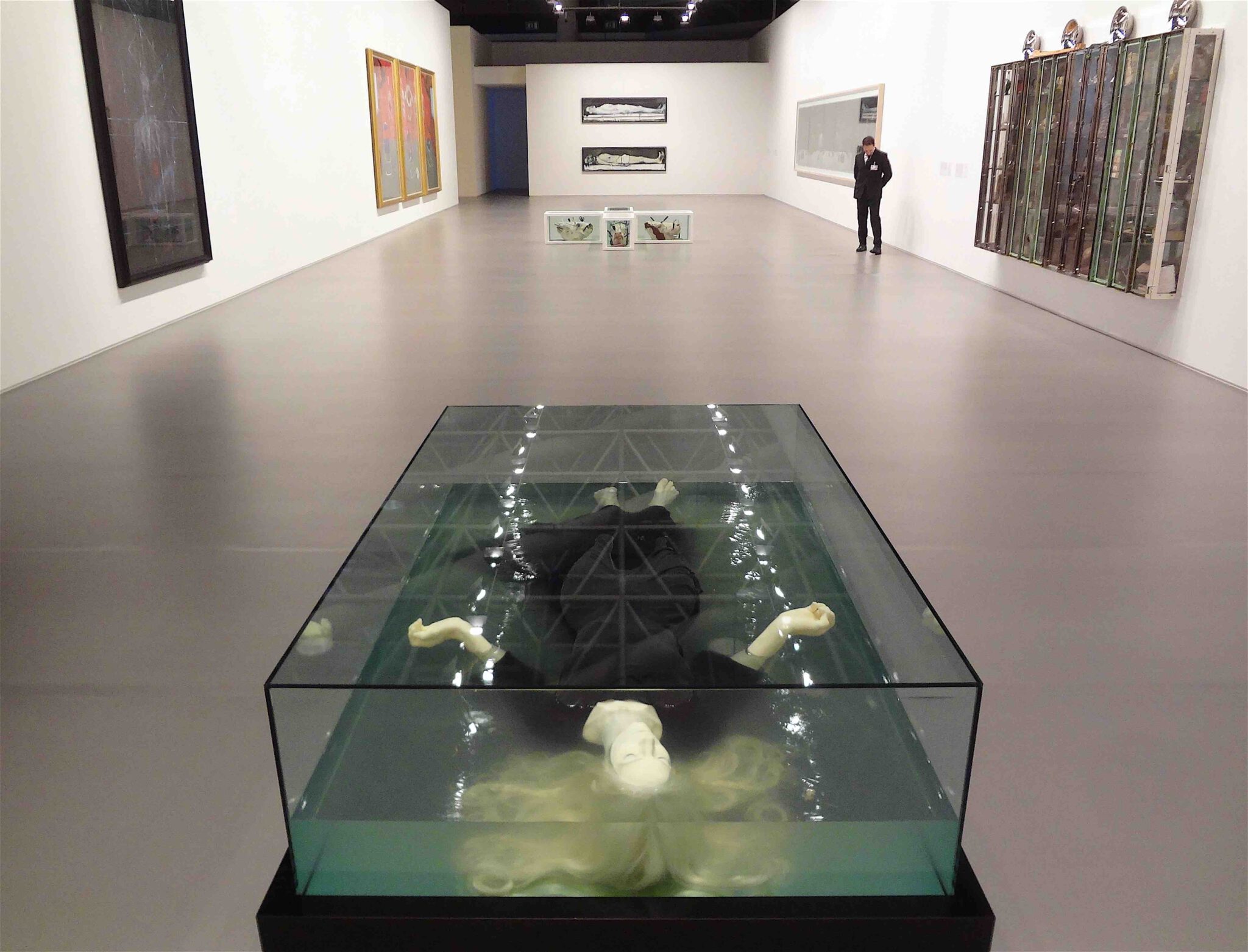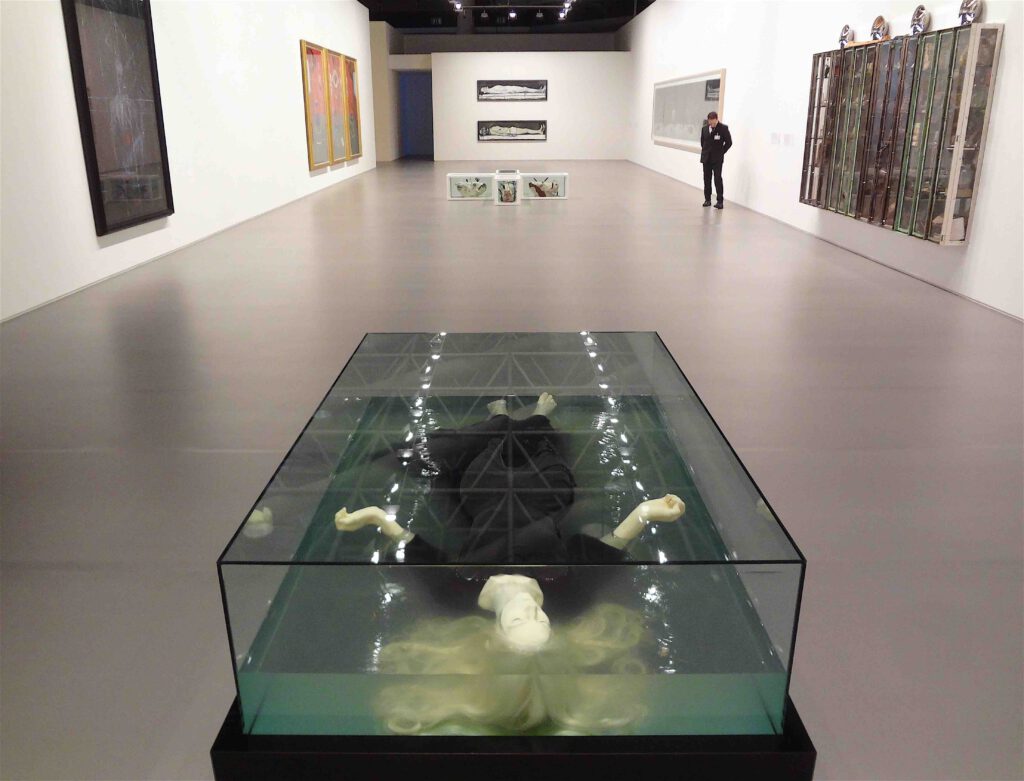 Here Paul Fryer (British, b. 1963) transposes Sir John Everett Millais's iconic Pre-Raphaelite Ophelia (1851) from painting to sculpture, from the two-dimensional to the three-dimensional, from the dignified world of the great museums to the more trivial, ambiguous one of the wax museum, with its mixed bag of anatomical exactitude and popular entertainment.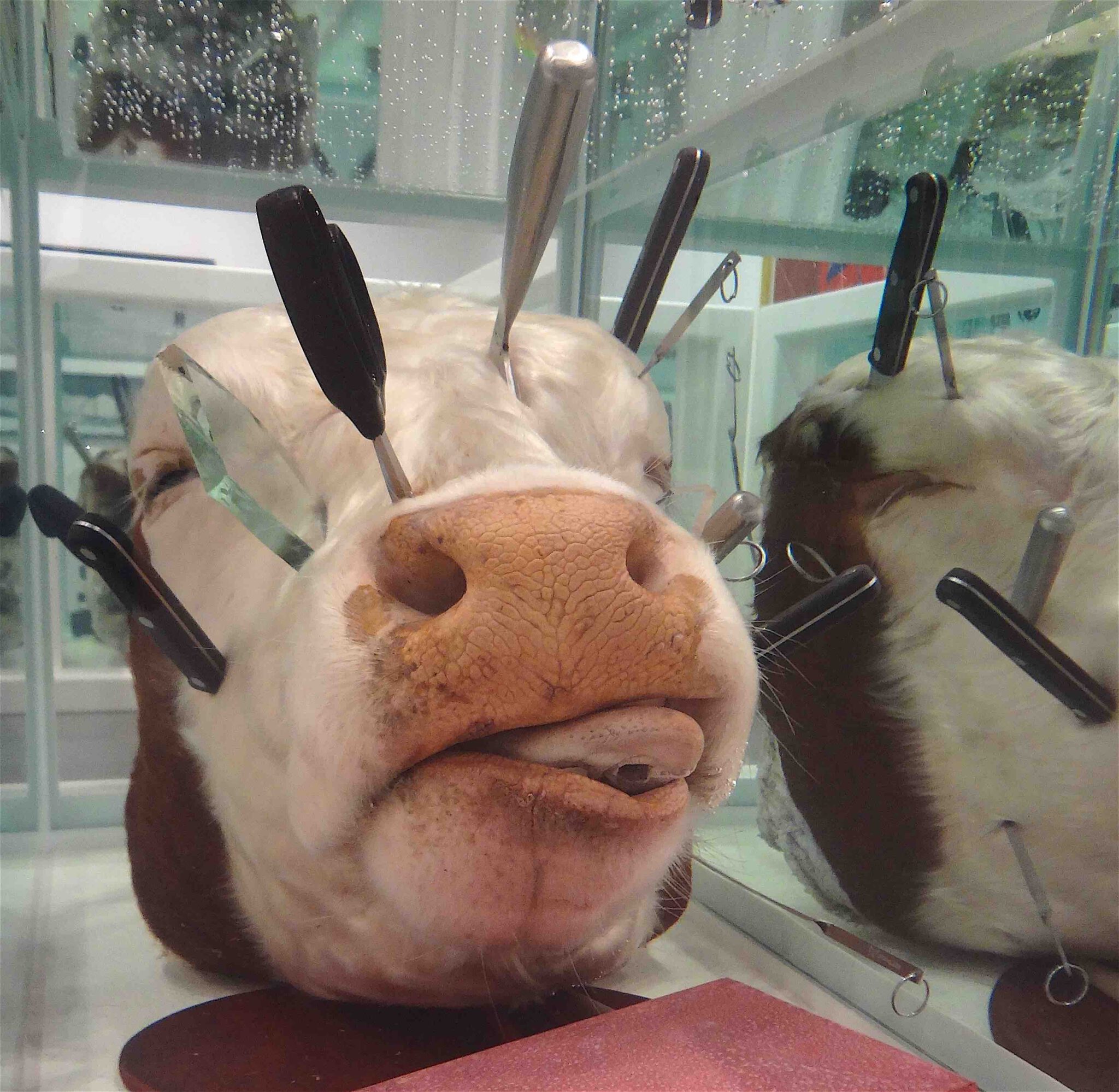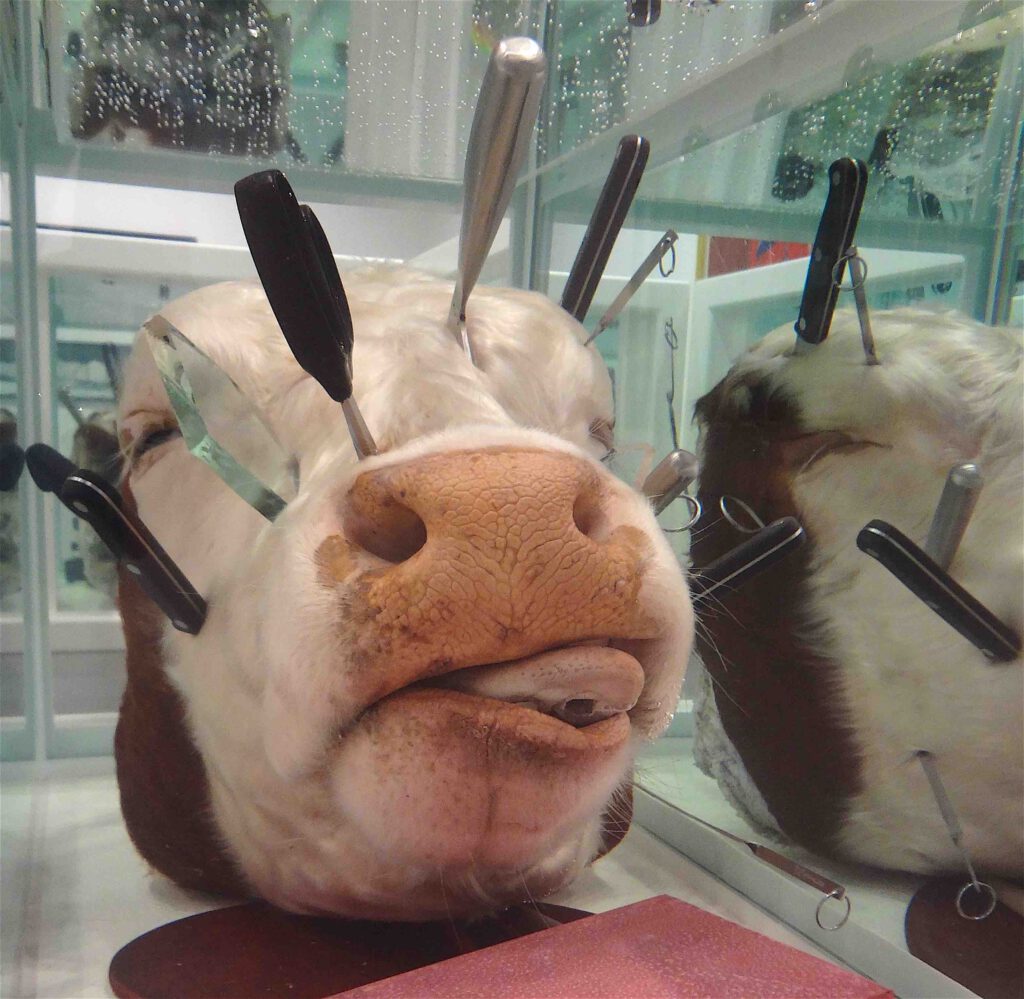 The title of this work, such as The Evangelist, explicitly references Christian imaginary and, more specifically, the representation of the four Evangelists. The Evangelists are canonically associated with the ox, the lion, the eagle and the man, but despite the title Matthew, Mark, Luke and John, only the ox appears: the attribute of Luke, traditionally the patron saint of painters and artists.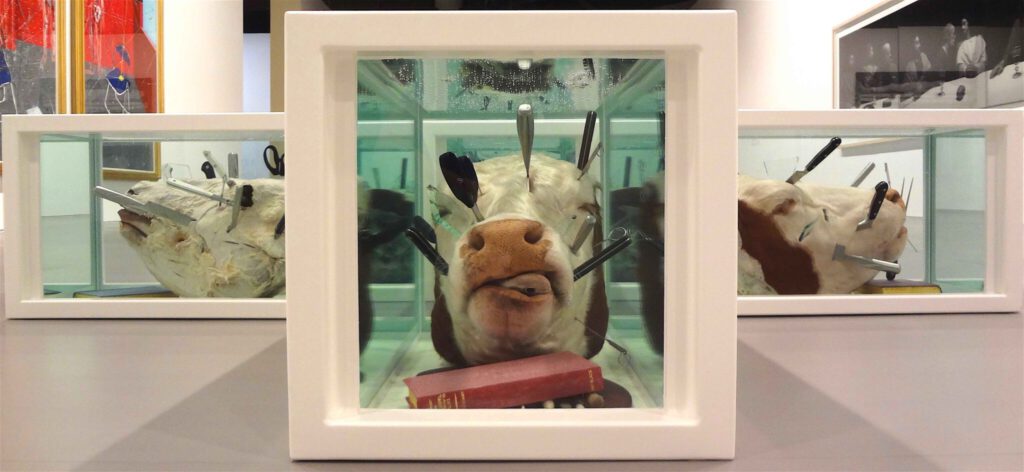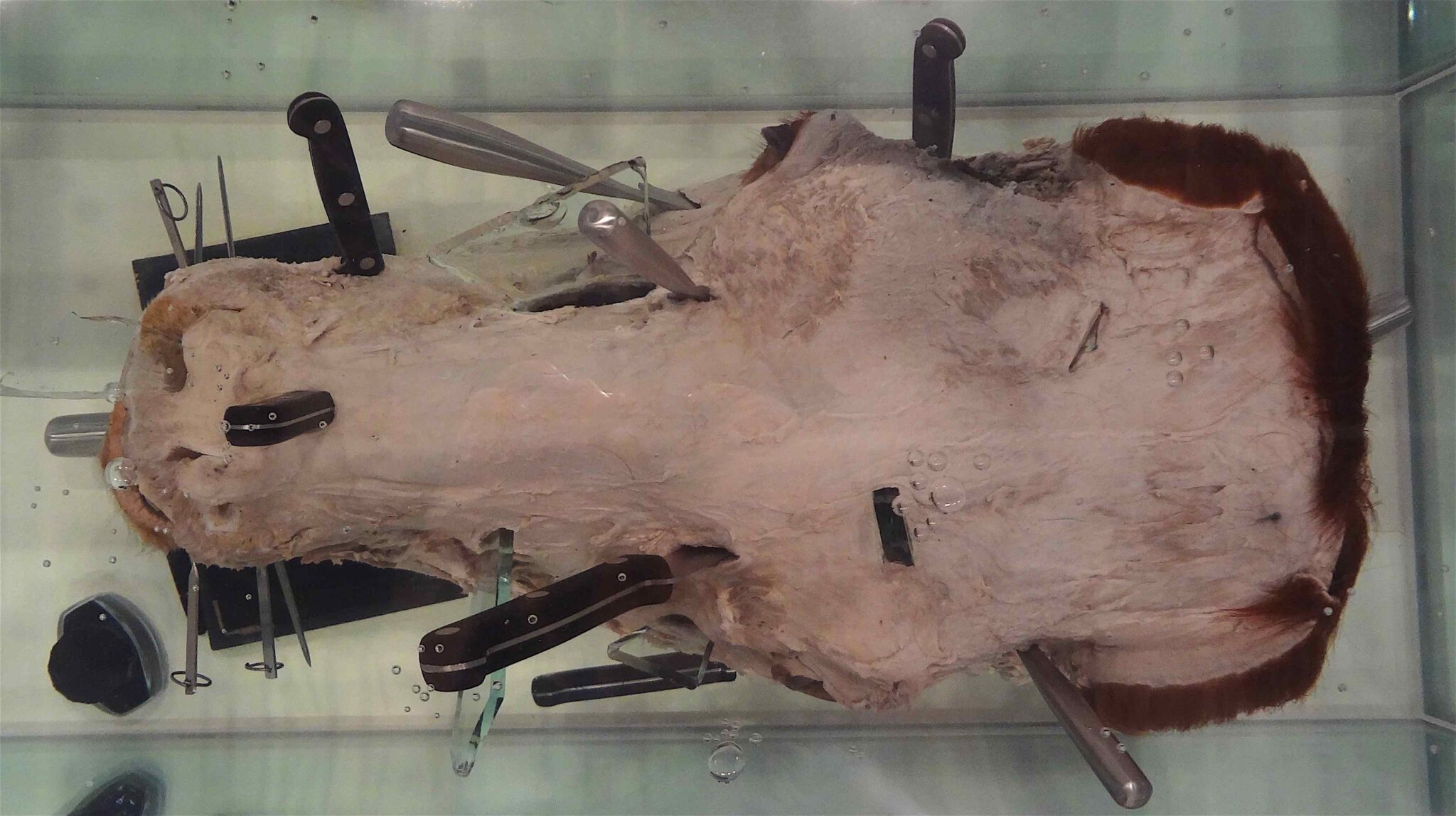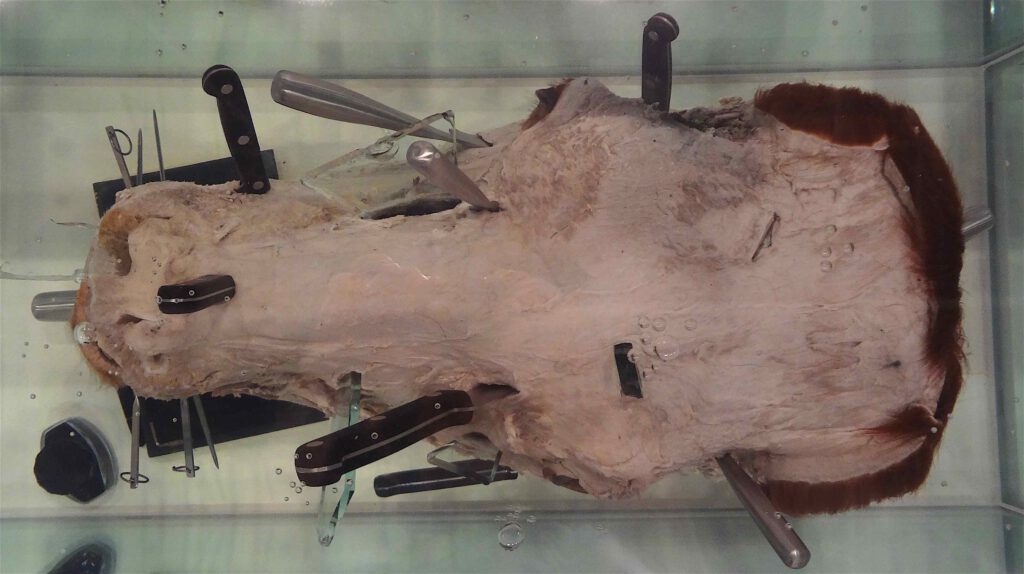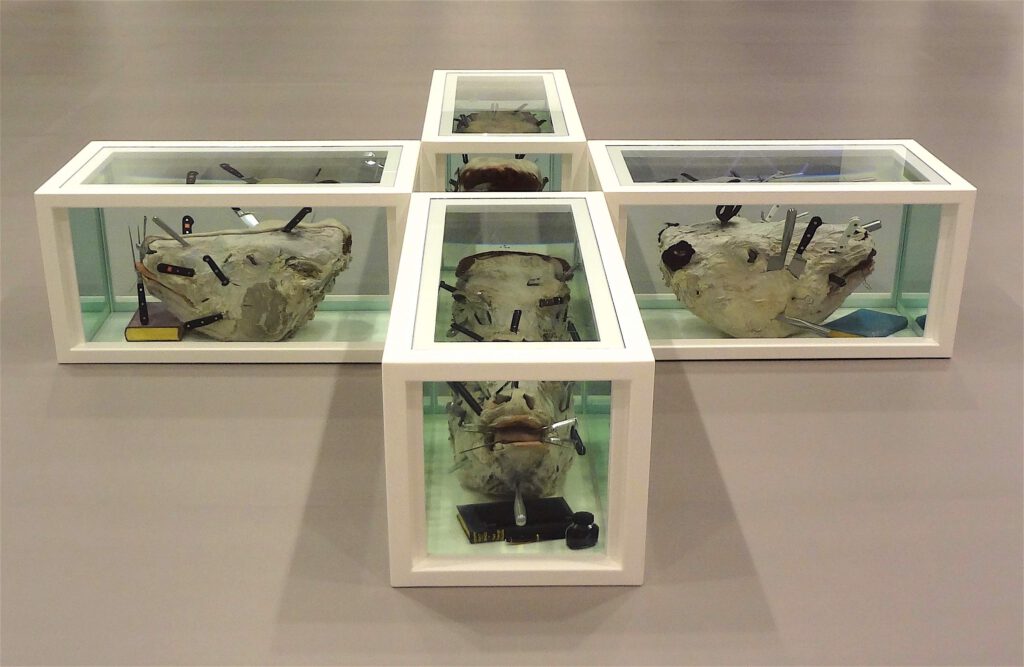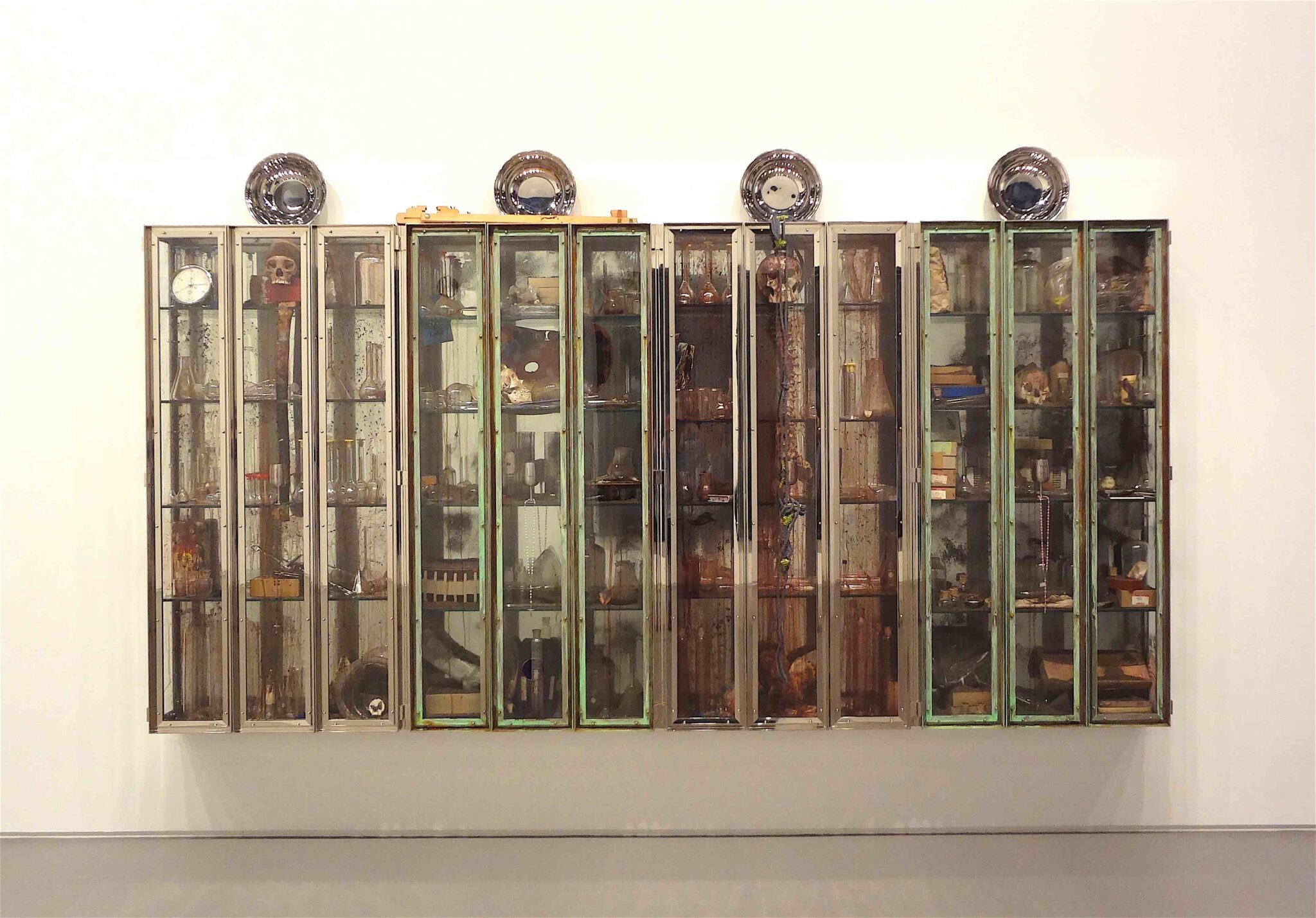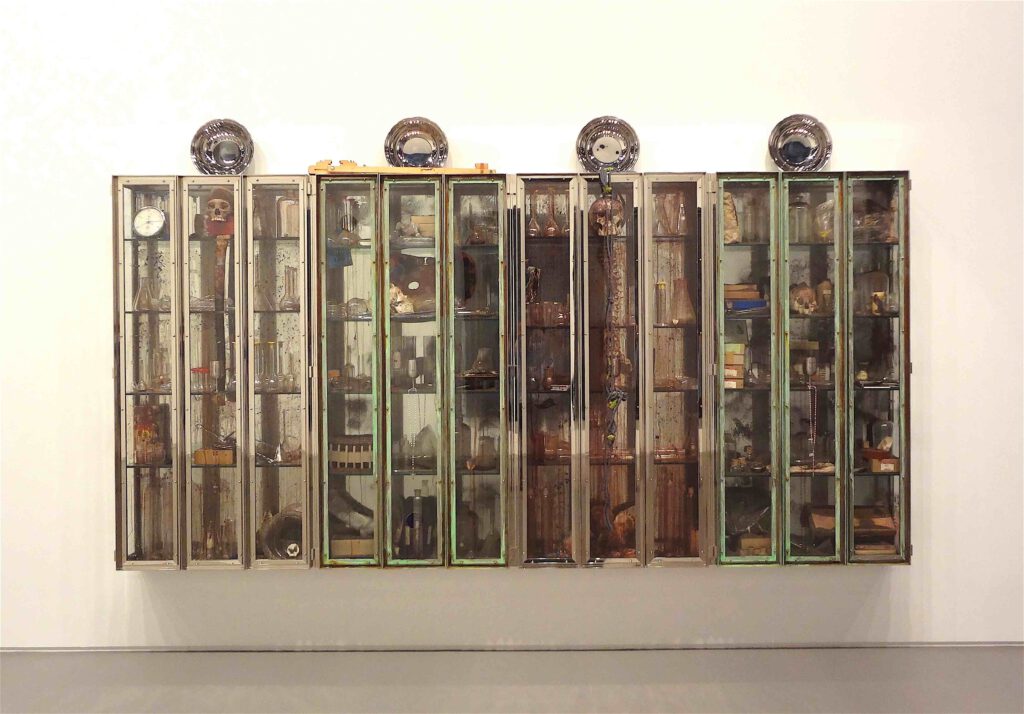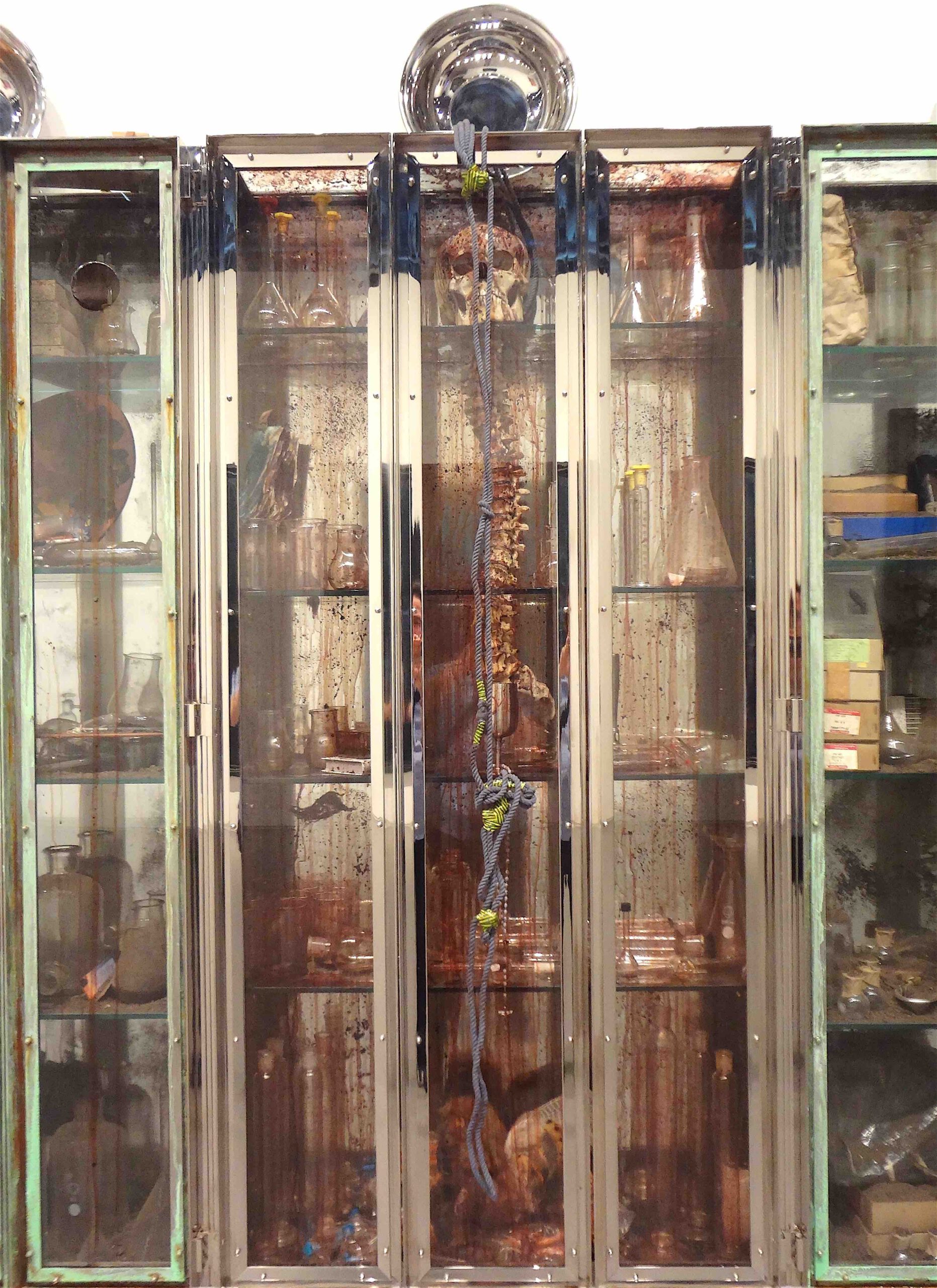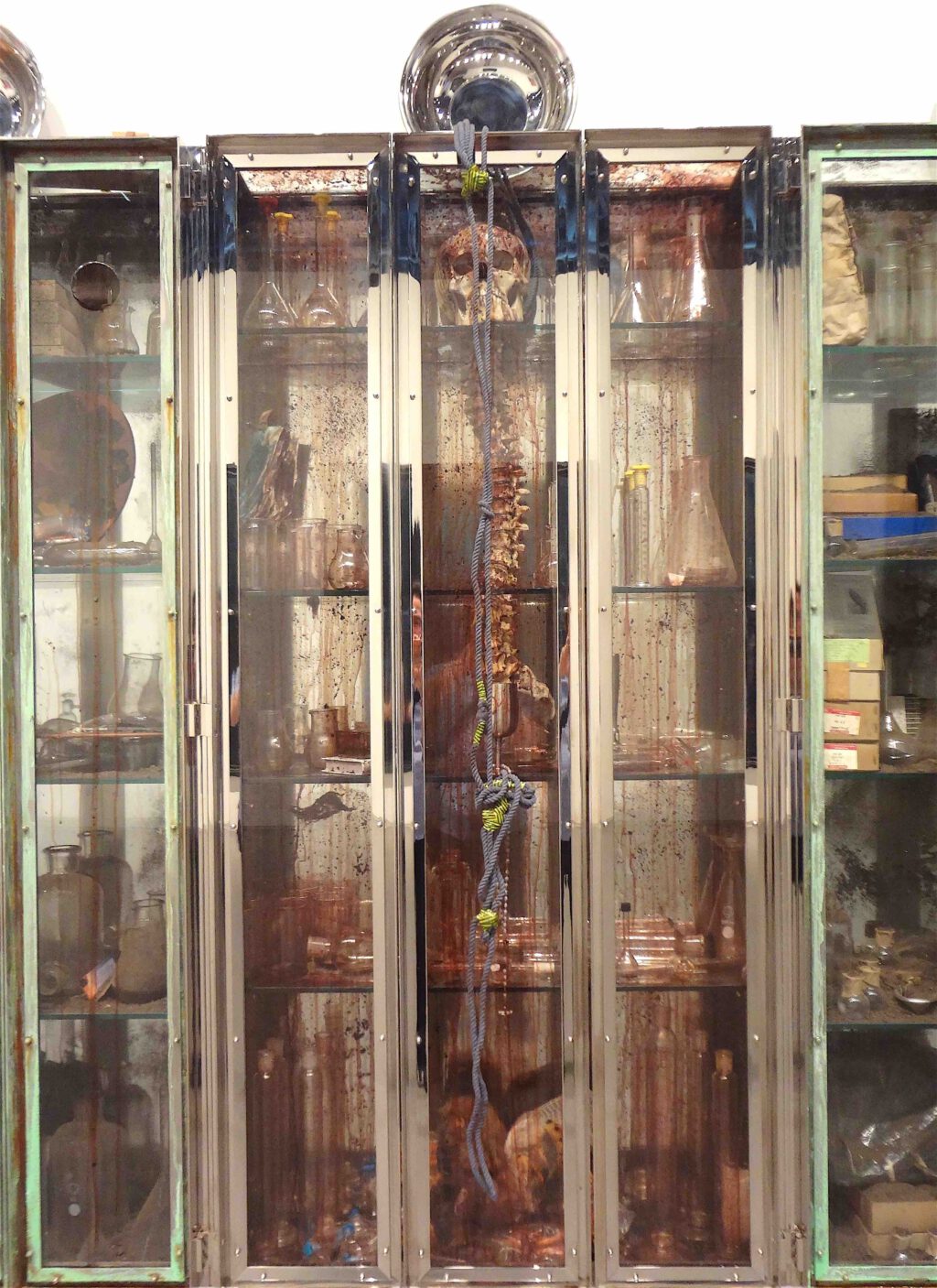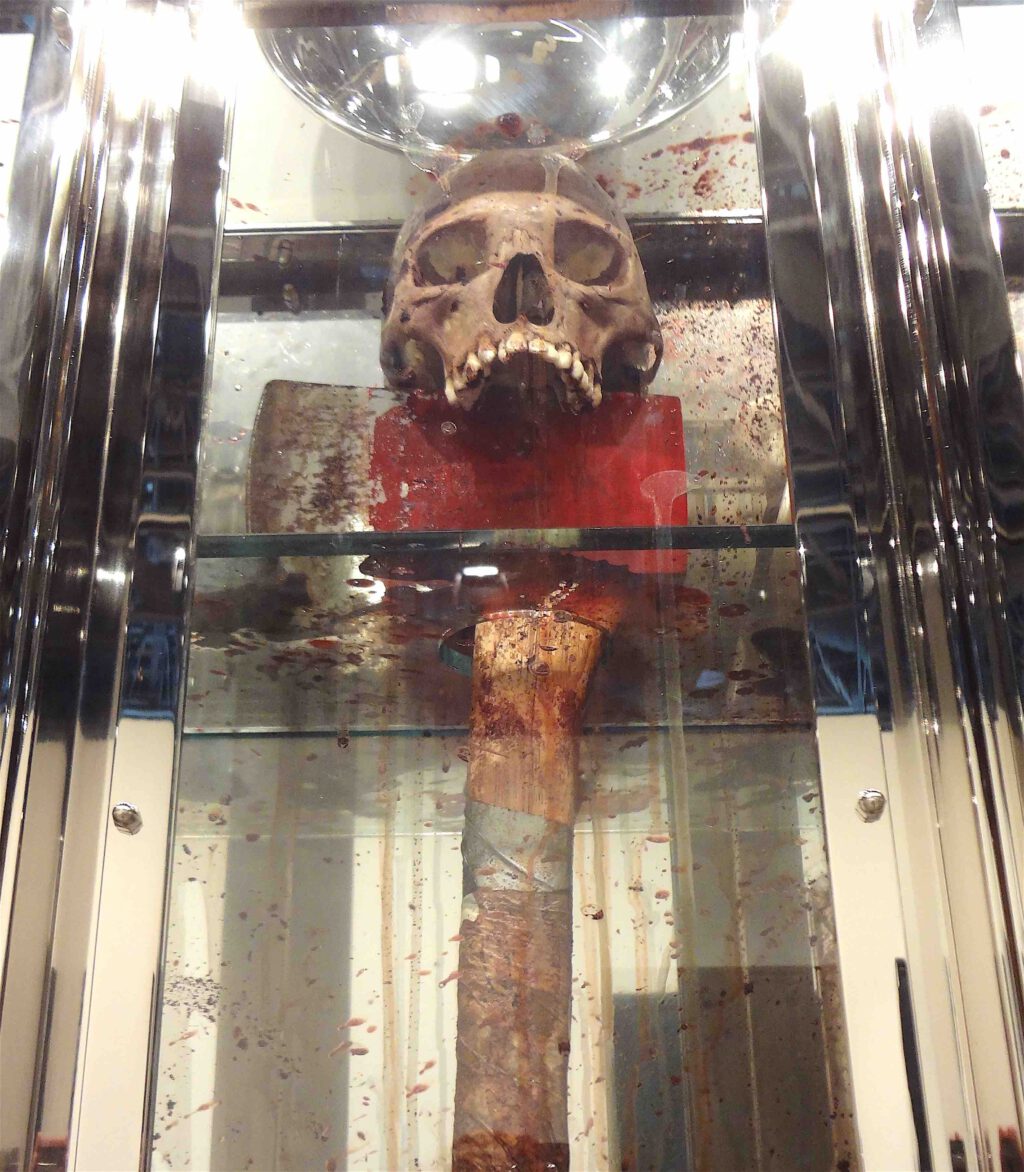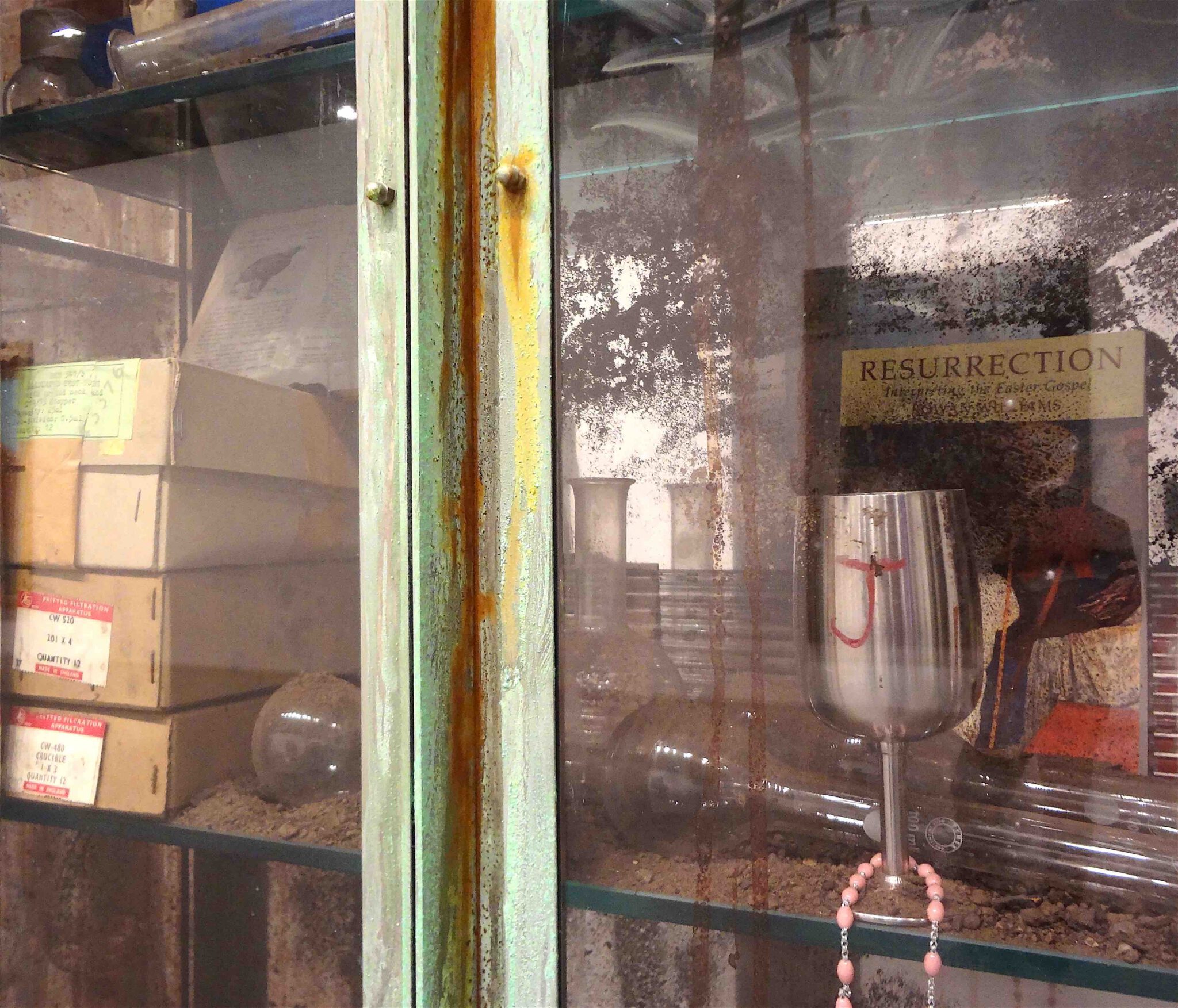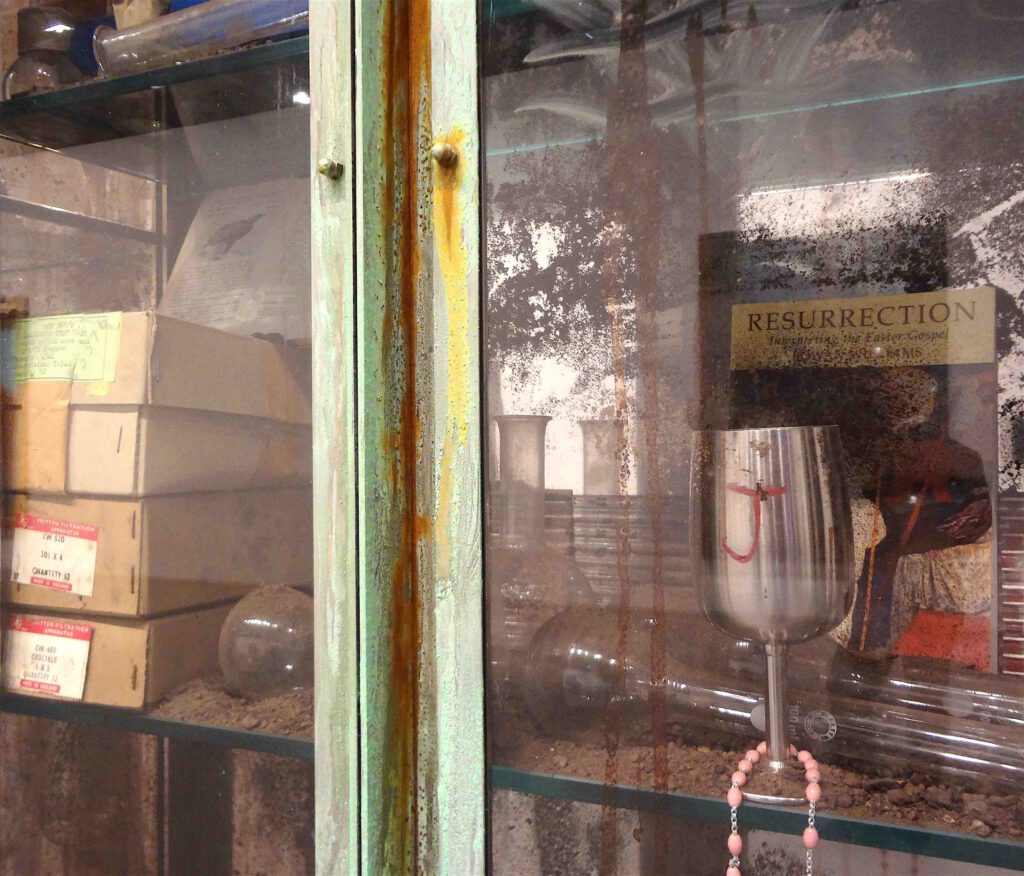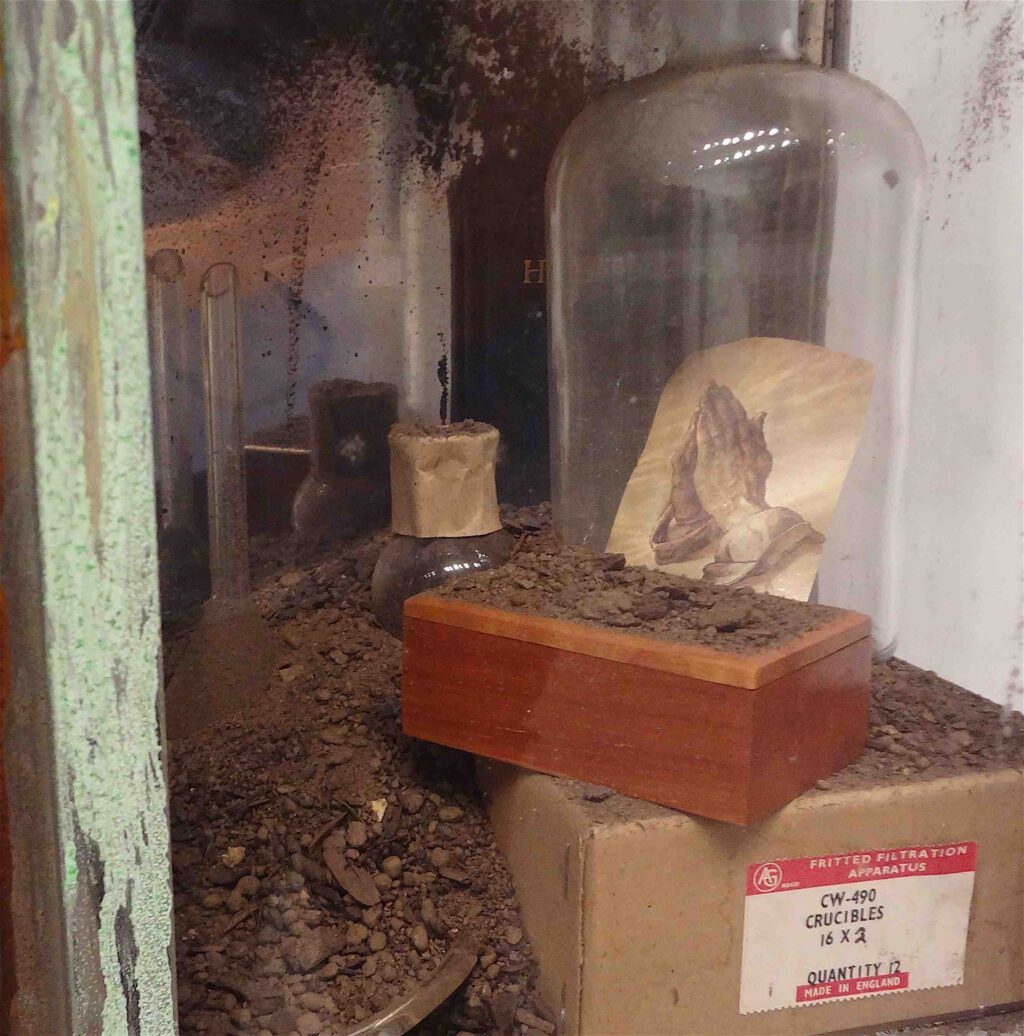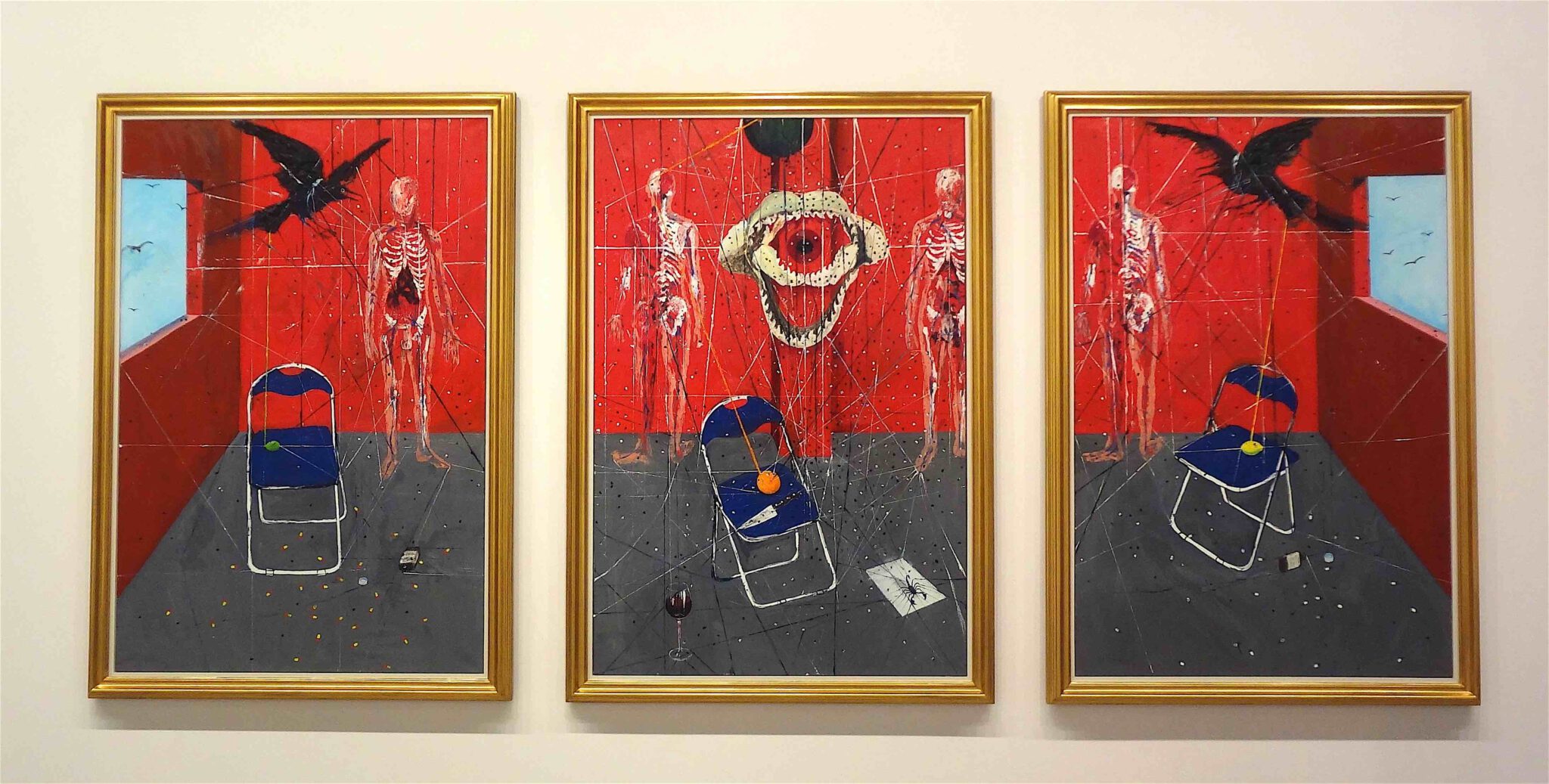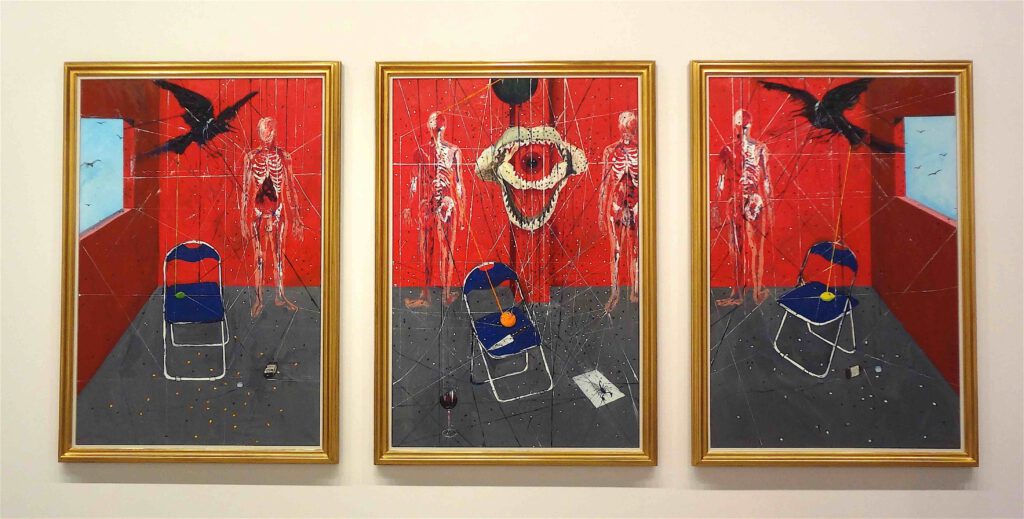 A number of works by Damian Hirtst (British, b. 1965) make specific reference to Francis Bacon, English painting's major 20th-century figure. Here Hirst borrows highly characteristic aspects of the Bacon style in order to address personal issues, either aesthetic (questions of painting and the artist's touch) or existential (the death of his artist friend Angus Fairhurst).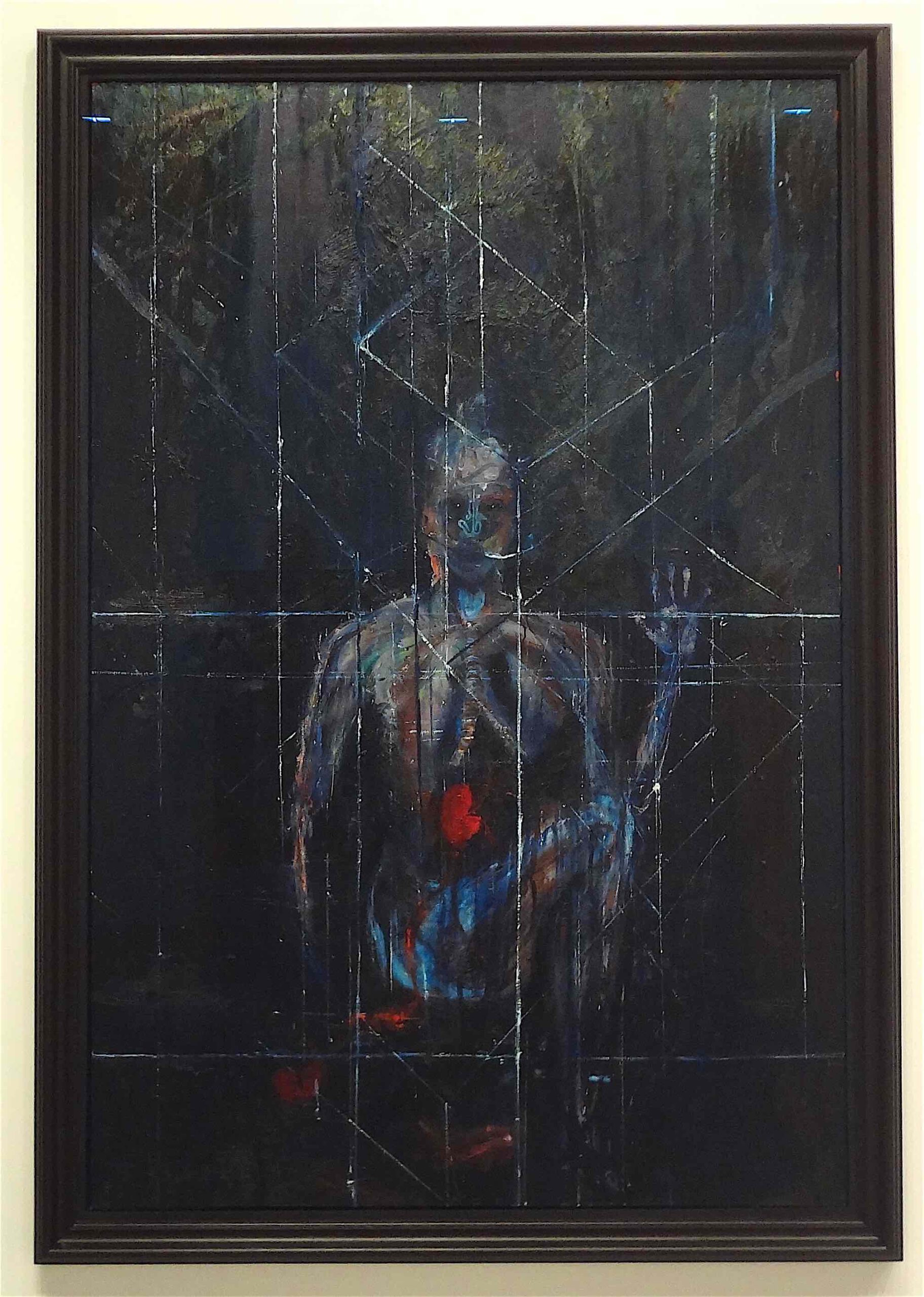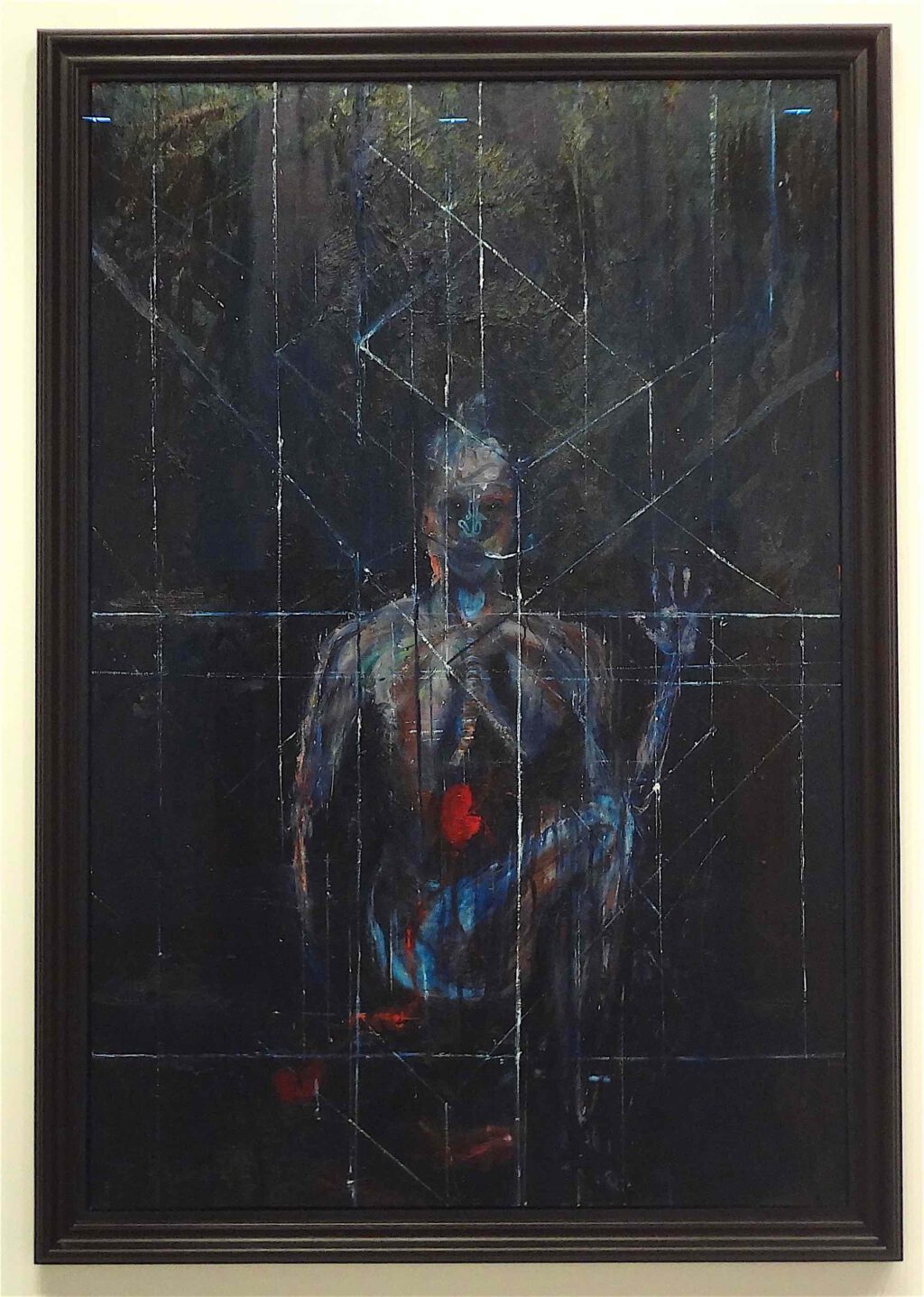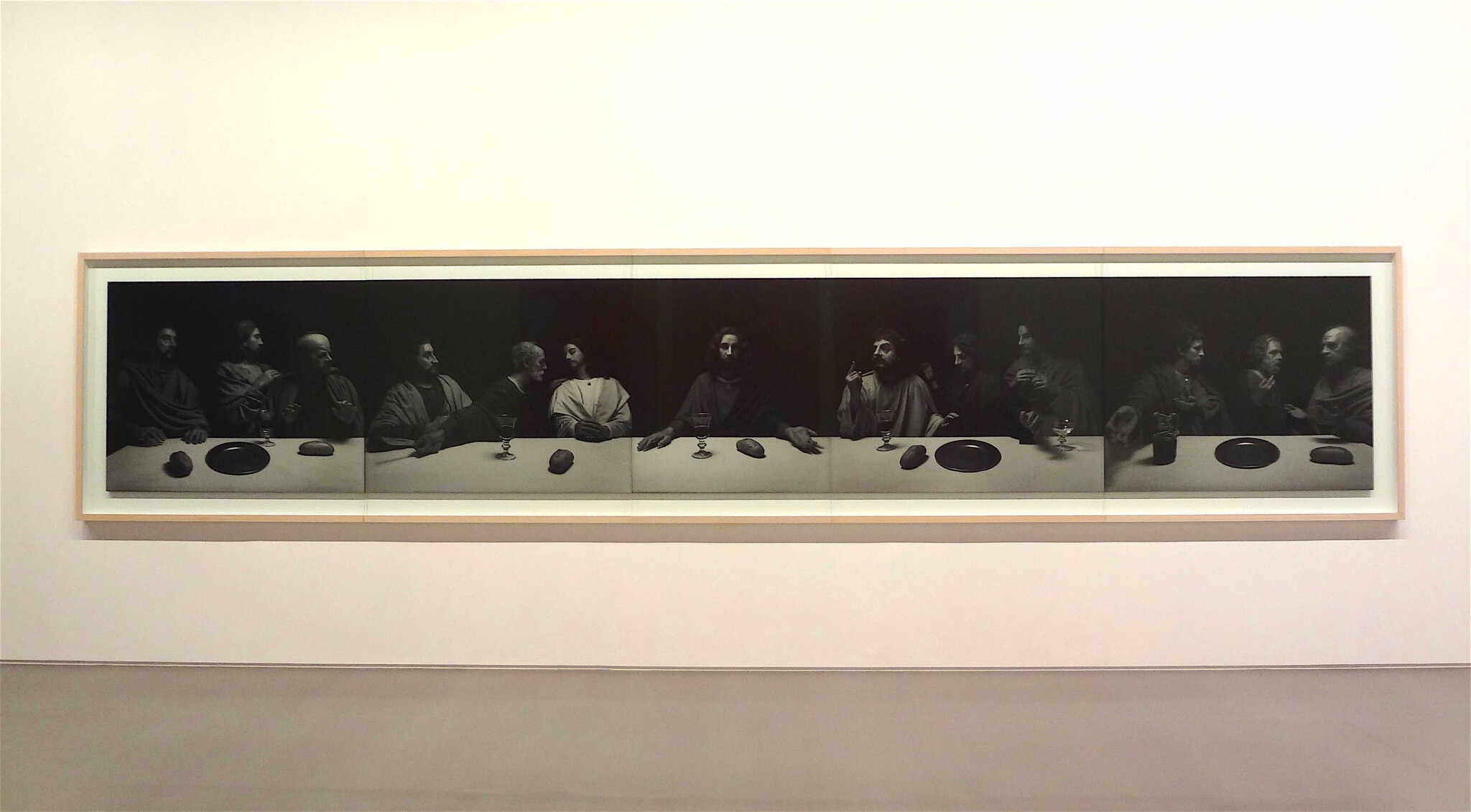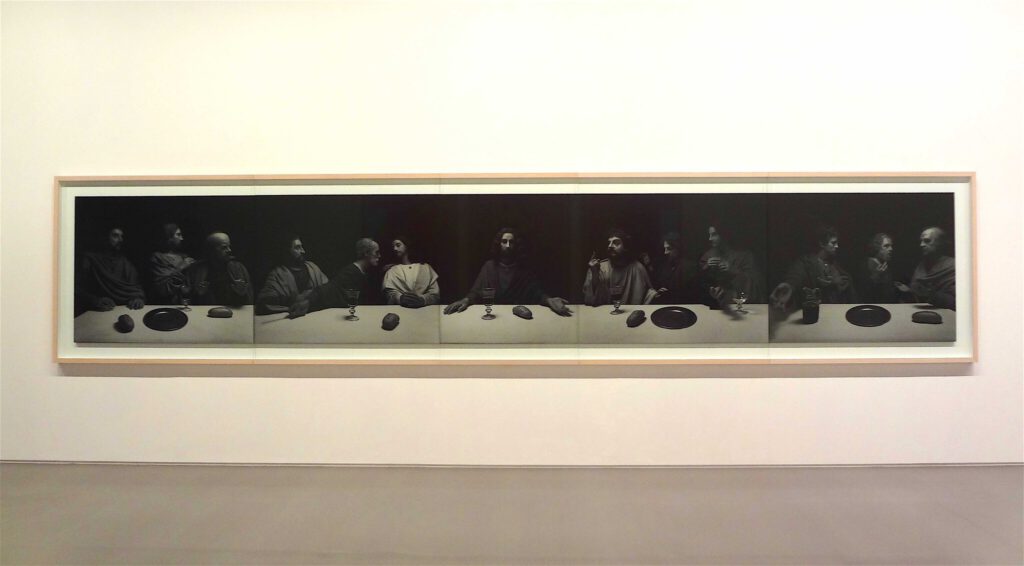 This work by Hiroshi Sugimoto (Japanese, b. 1948) is a photo of a wax version of Leonardo da Vinci's Last Supper from a museum in Japan. in this translation from painting through sculpture to photography, we are offered the ghost of a ghost of an image – or one of that image's avatars.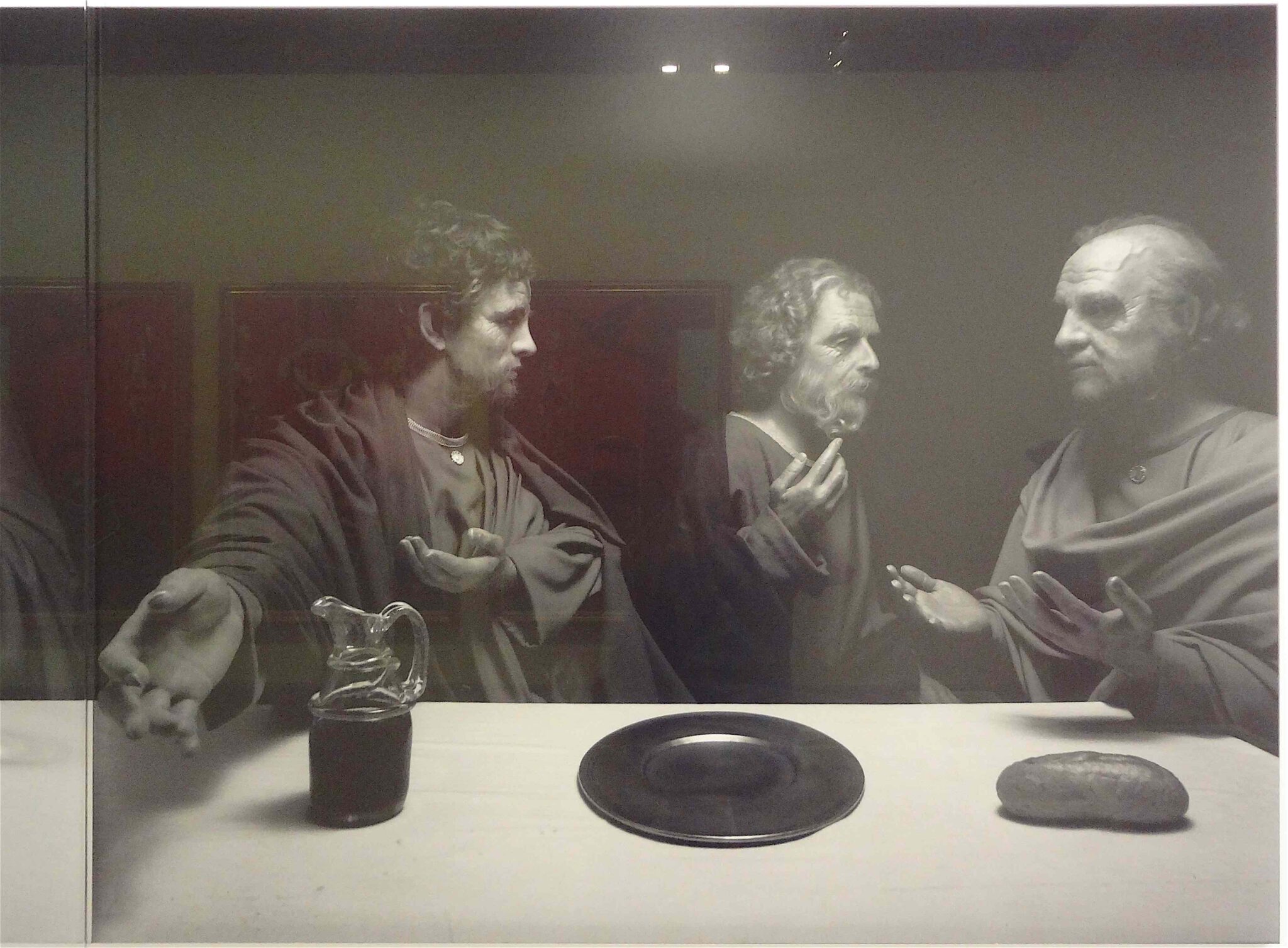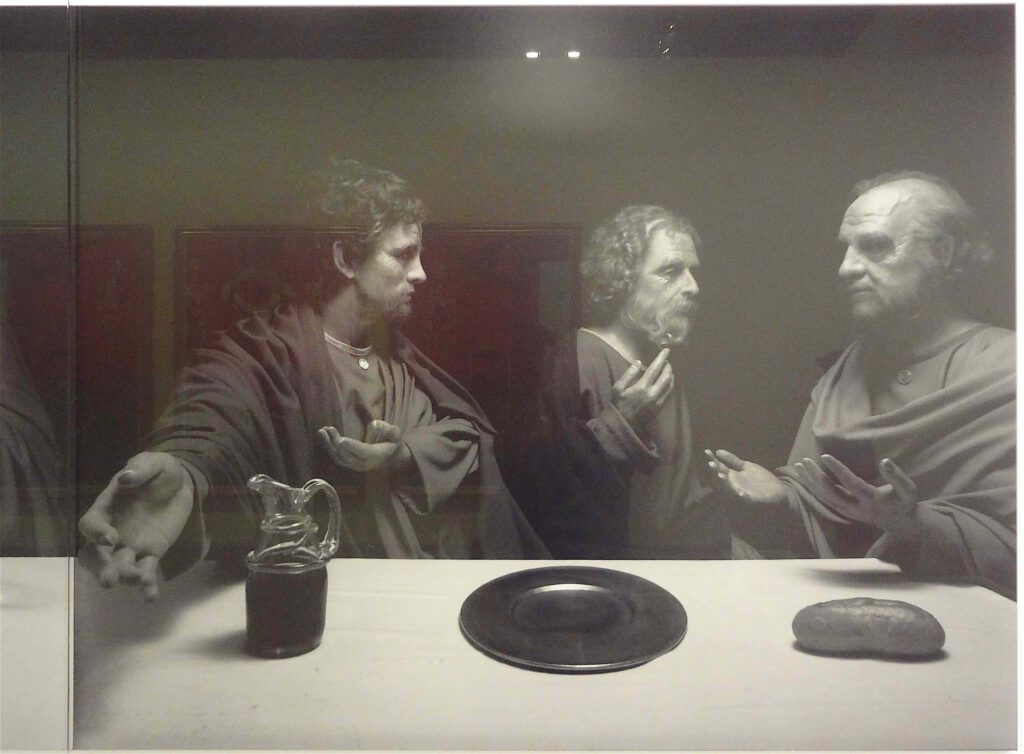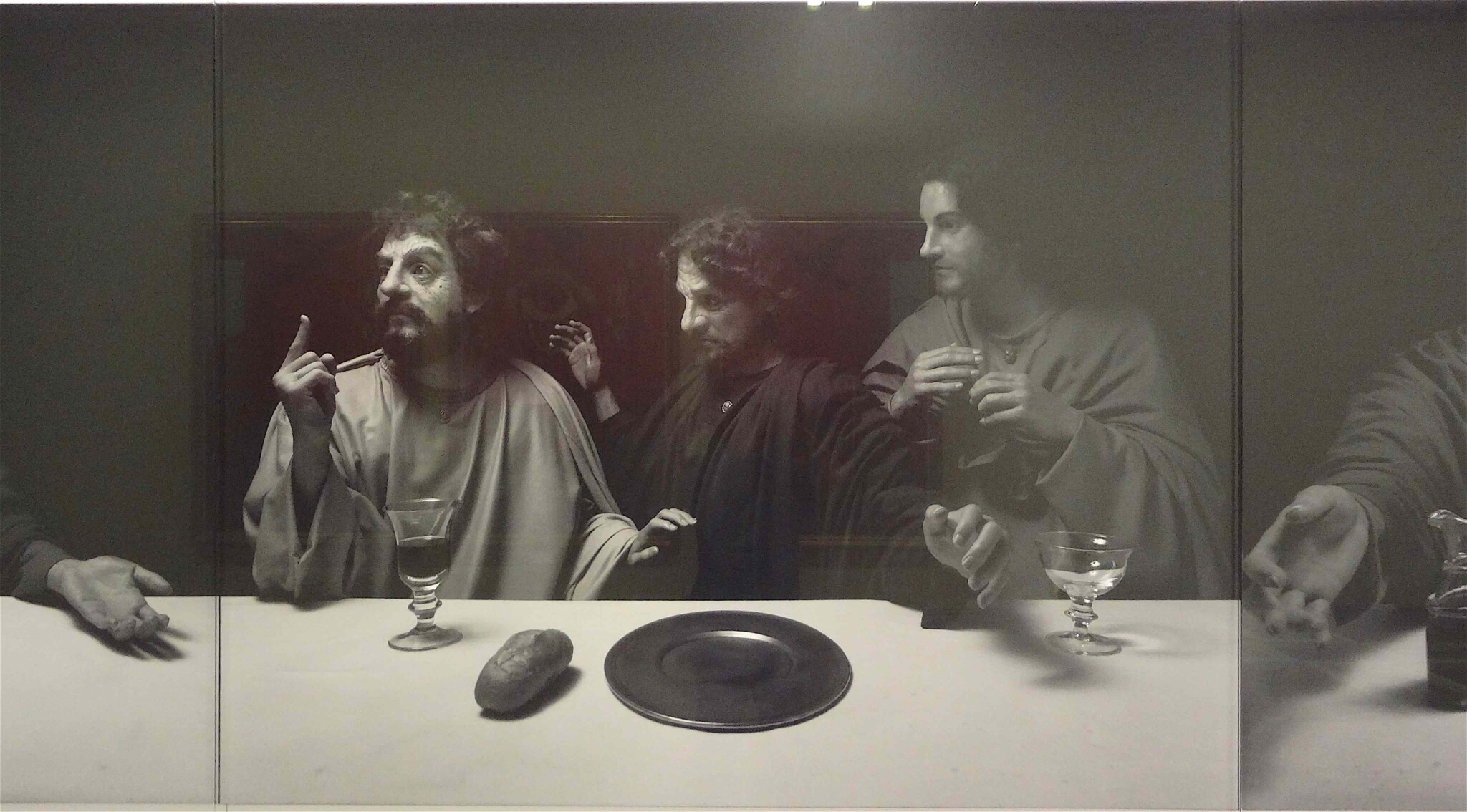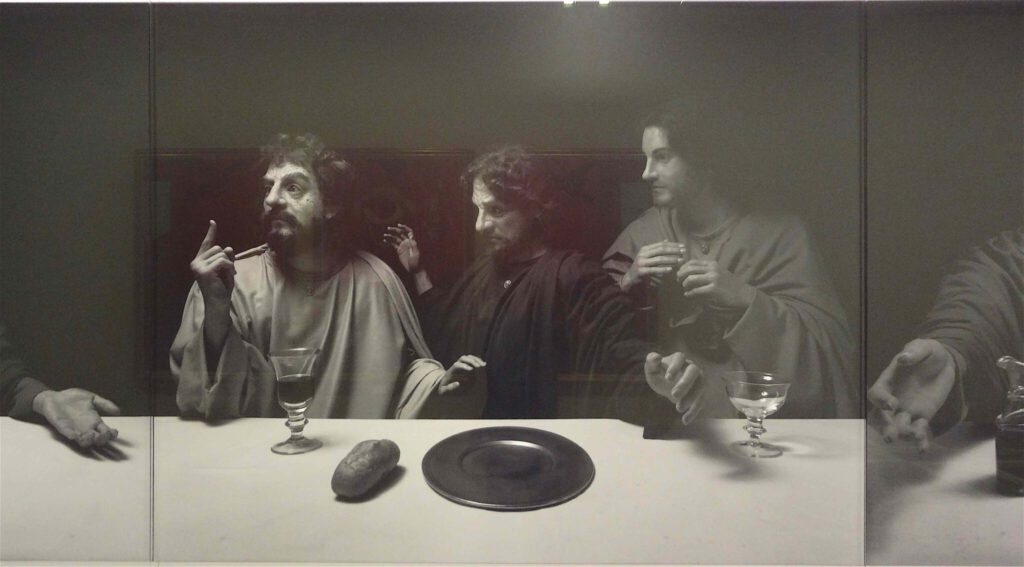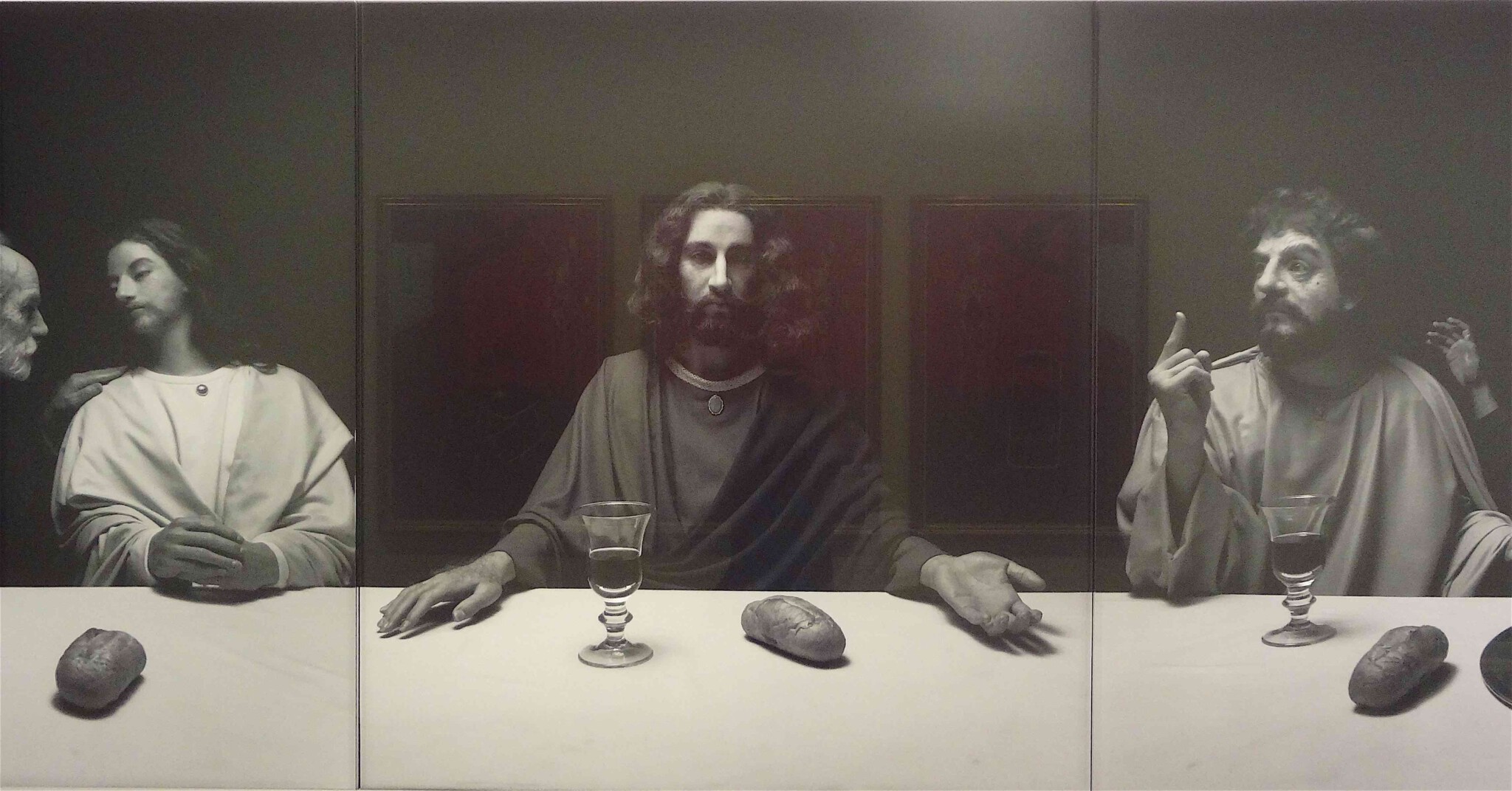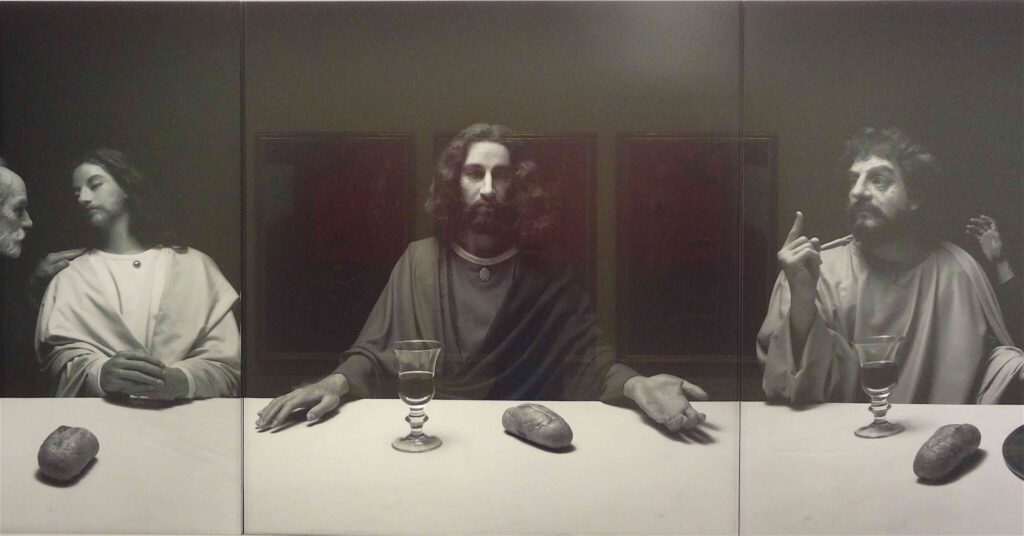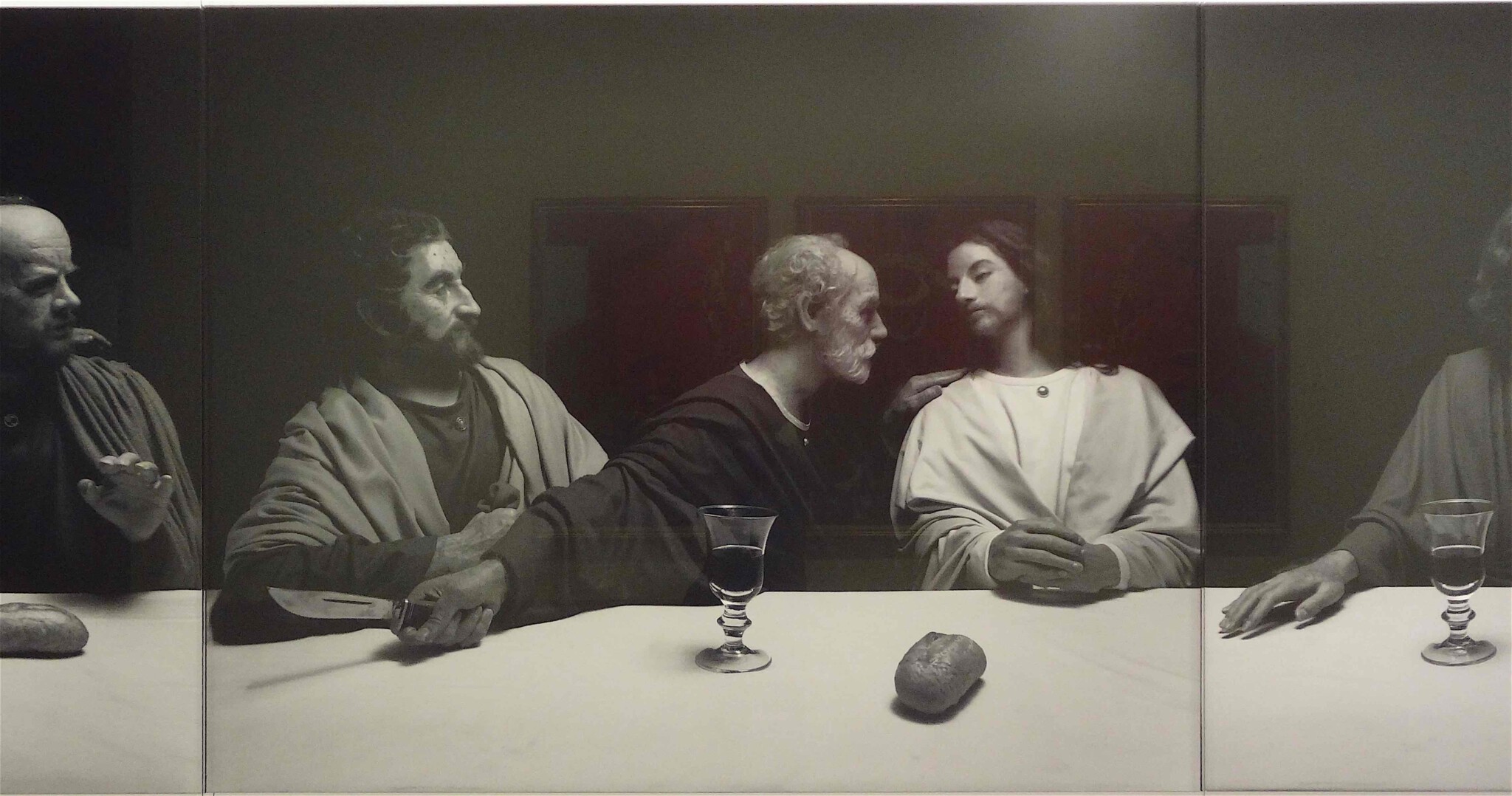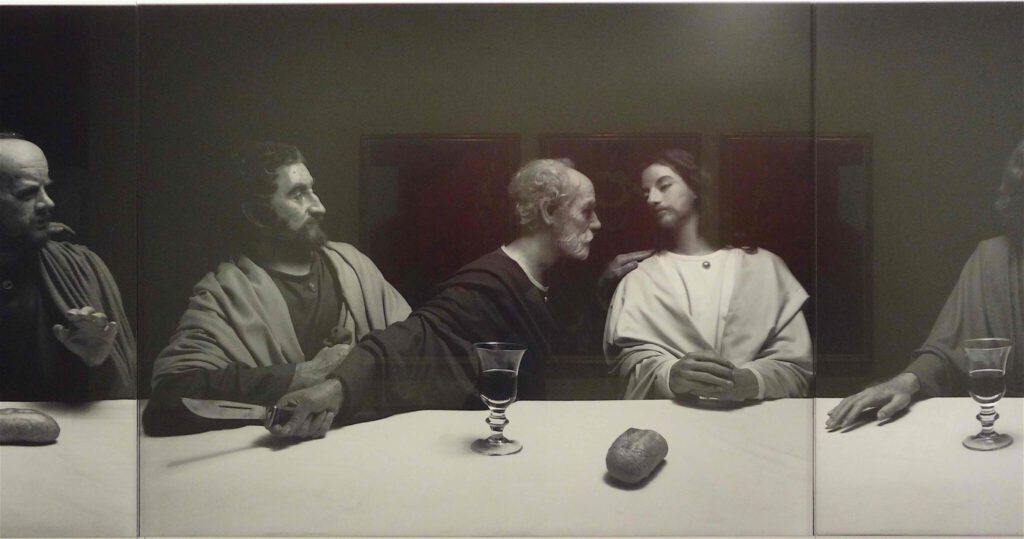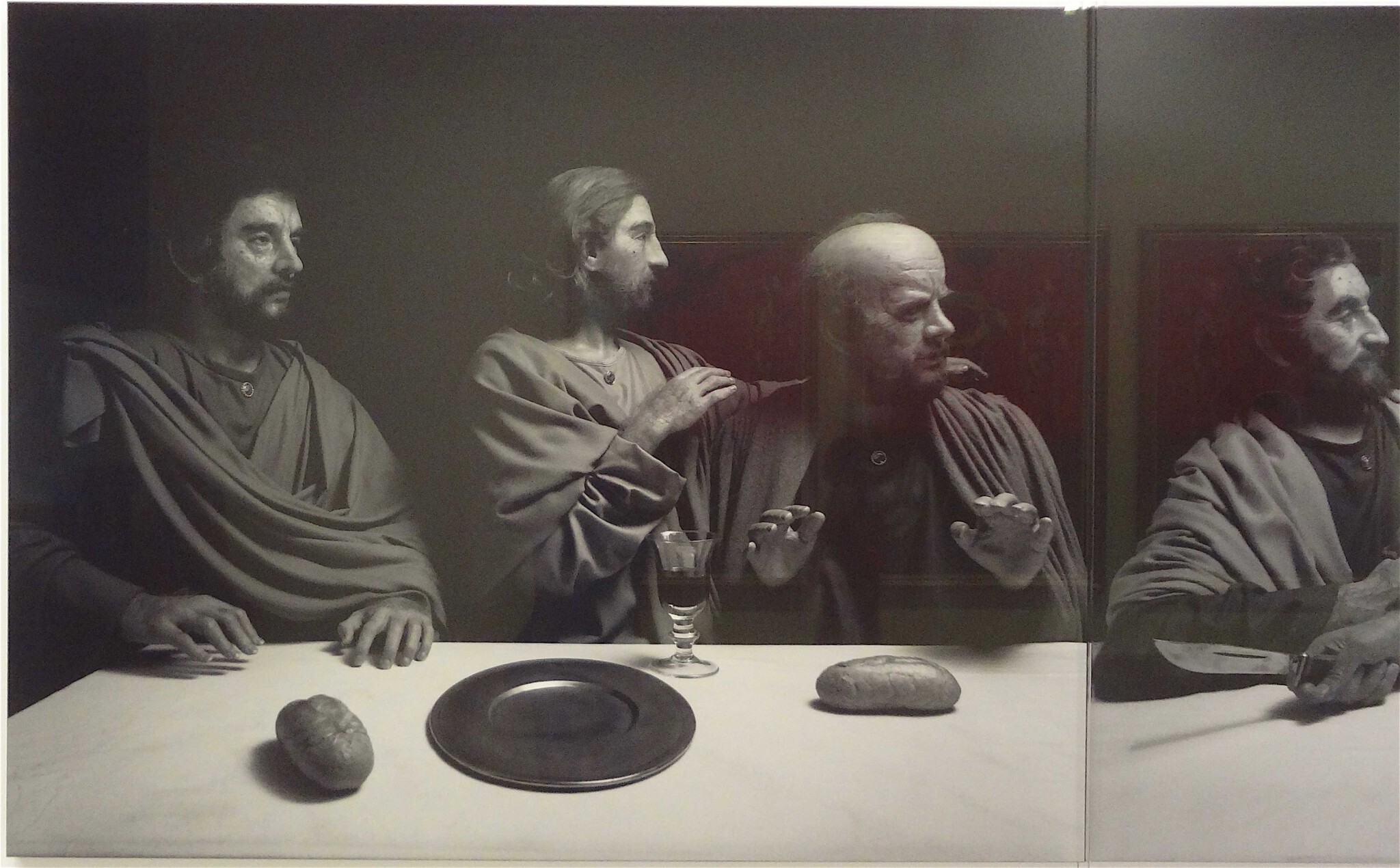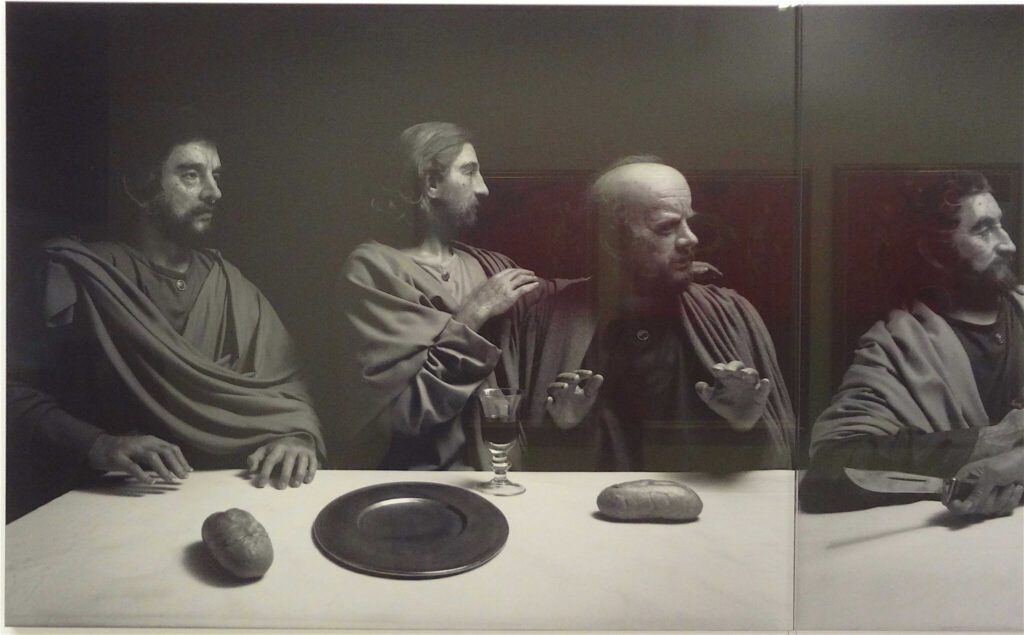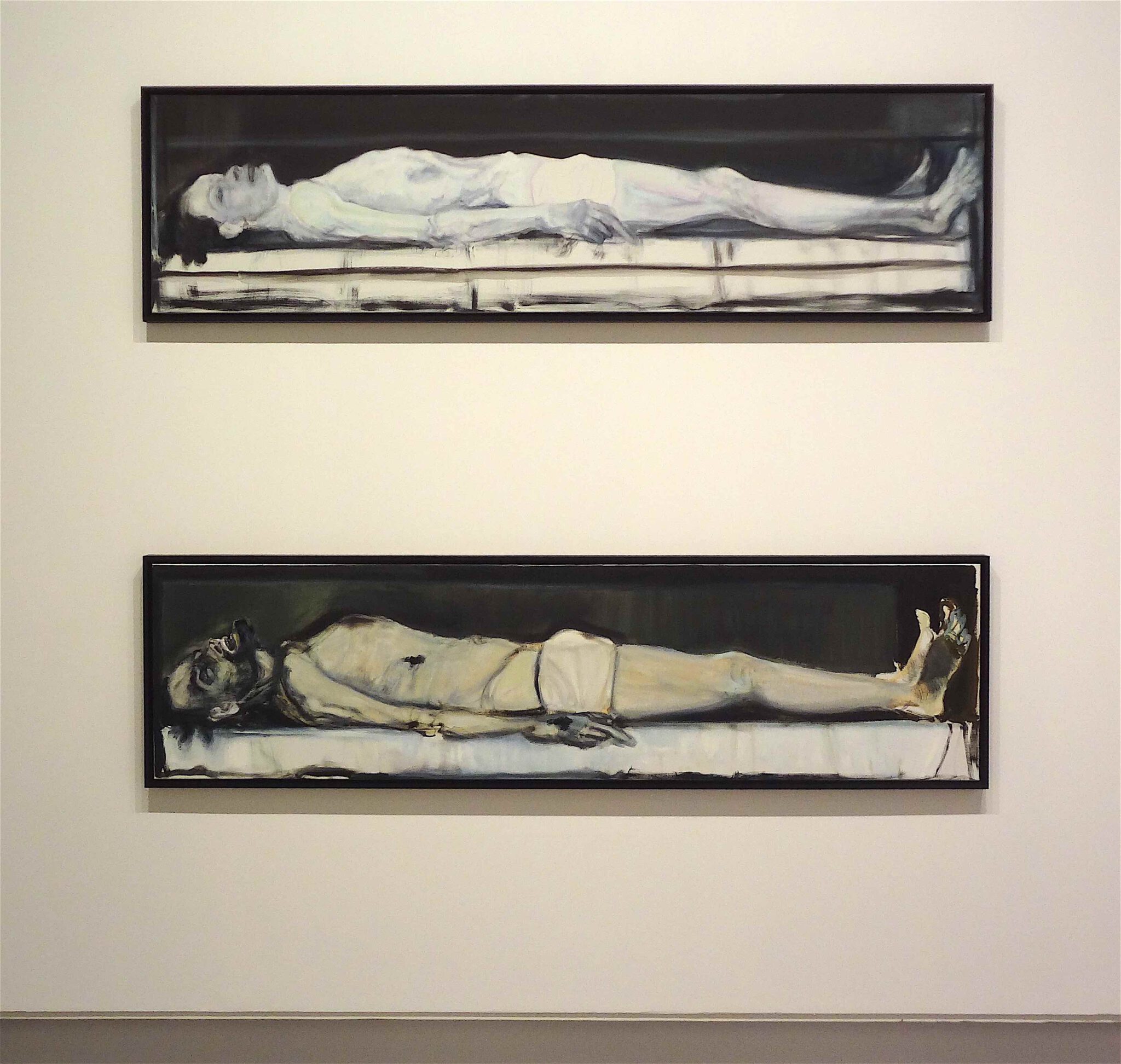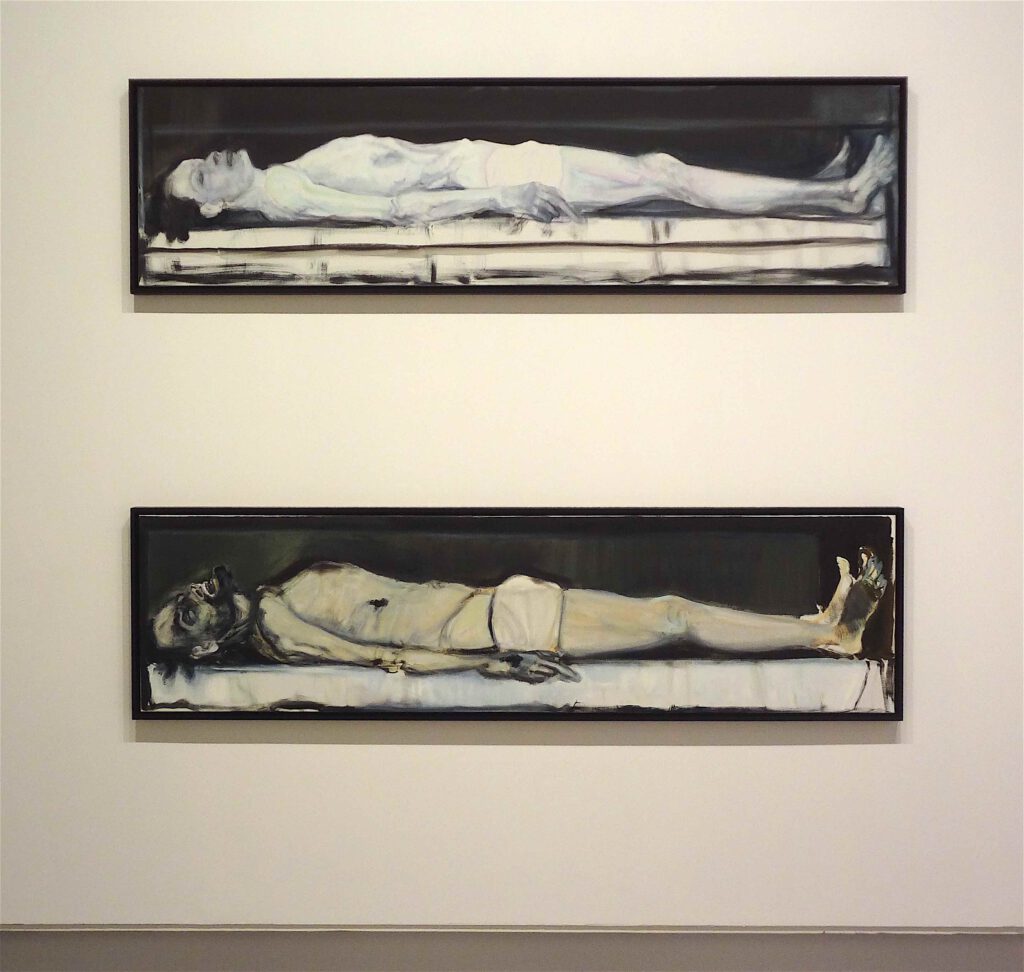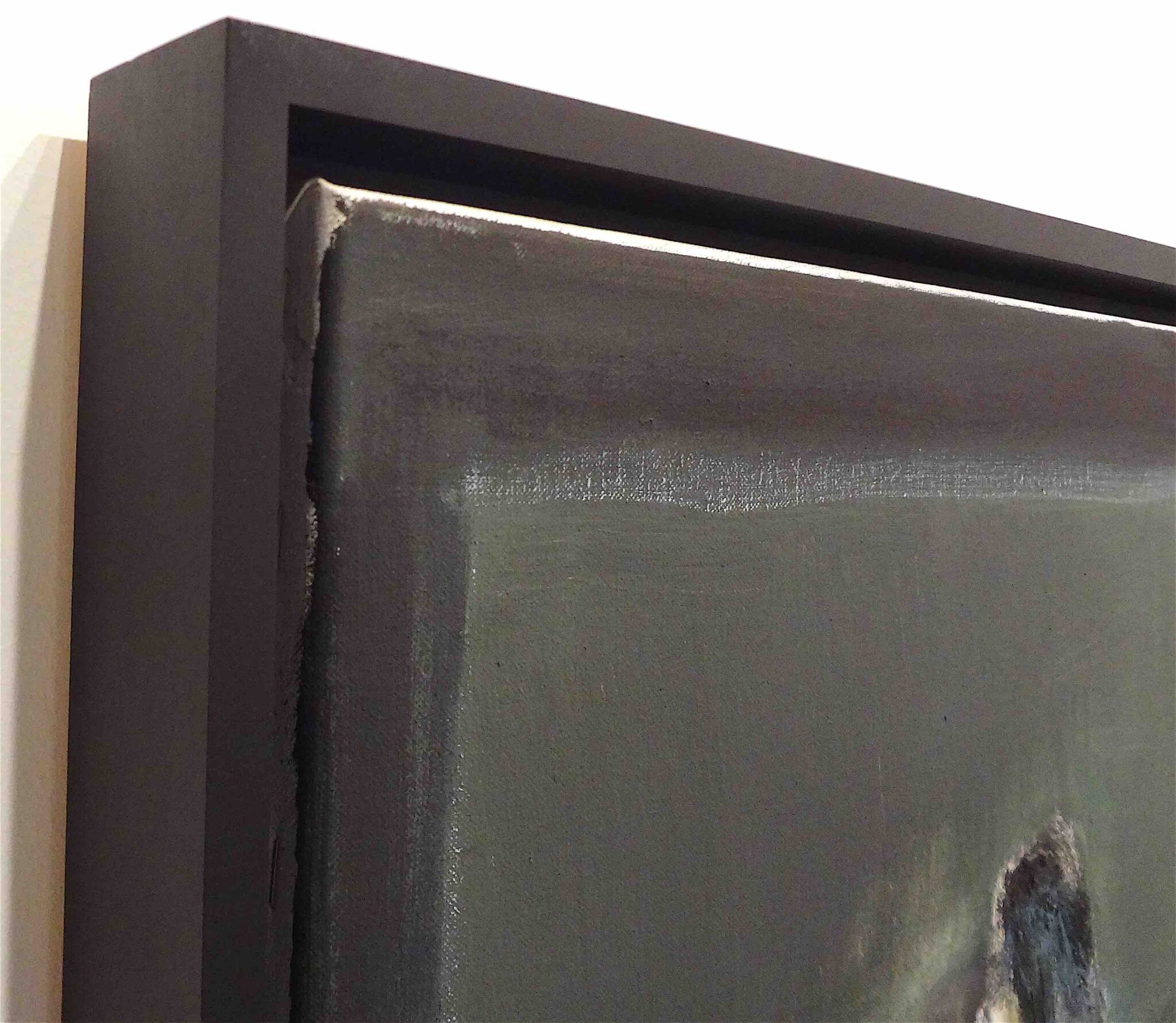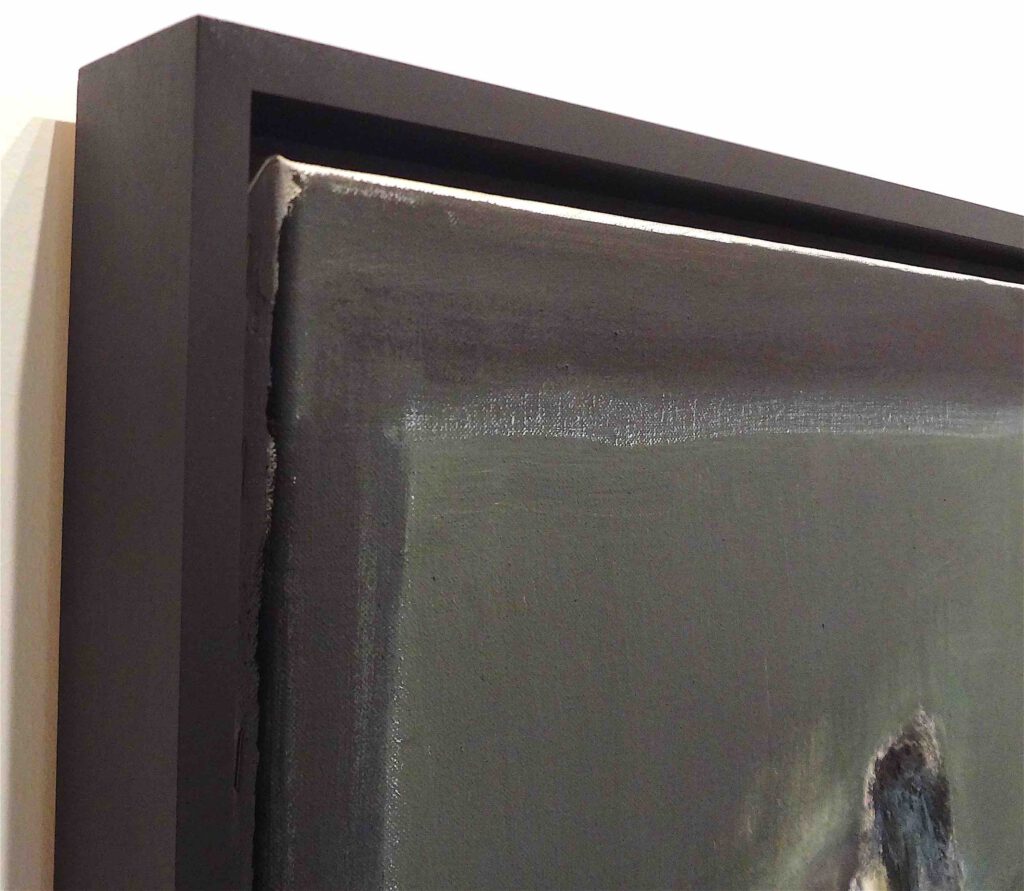 Gelijkenis ('Likeness') by Marlene Dumas (South African, b. 1953) brings together two images with very similar formal structures: Holbein's The Body of the Dead Christ in the Tomb and a photograph of Michael Jackson in the oxygen chamber supposed to slow his ageing (1986). The work sets up a dialogue between registers: the sacred and the profane, the spiritual and the trivial, art and the gutter press.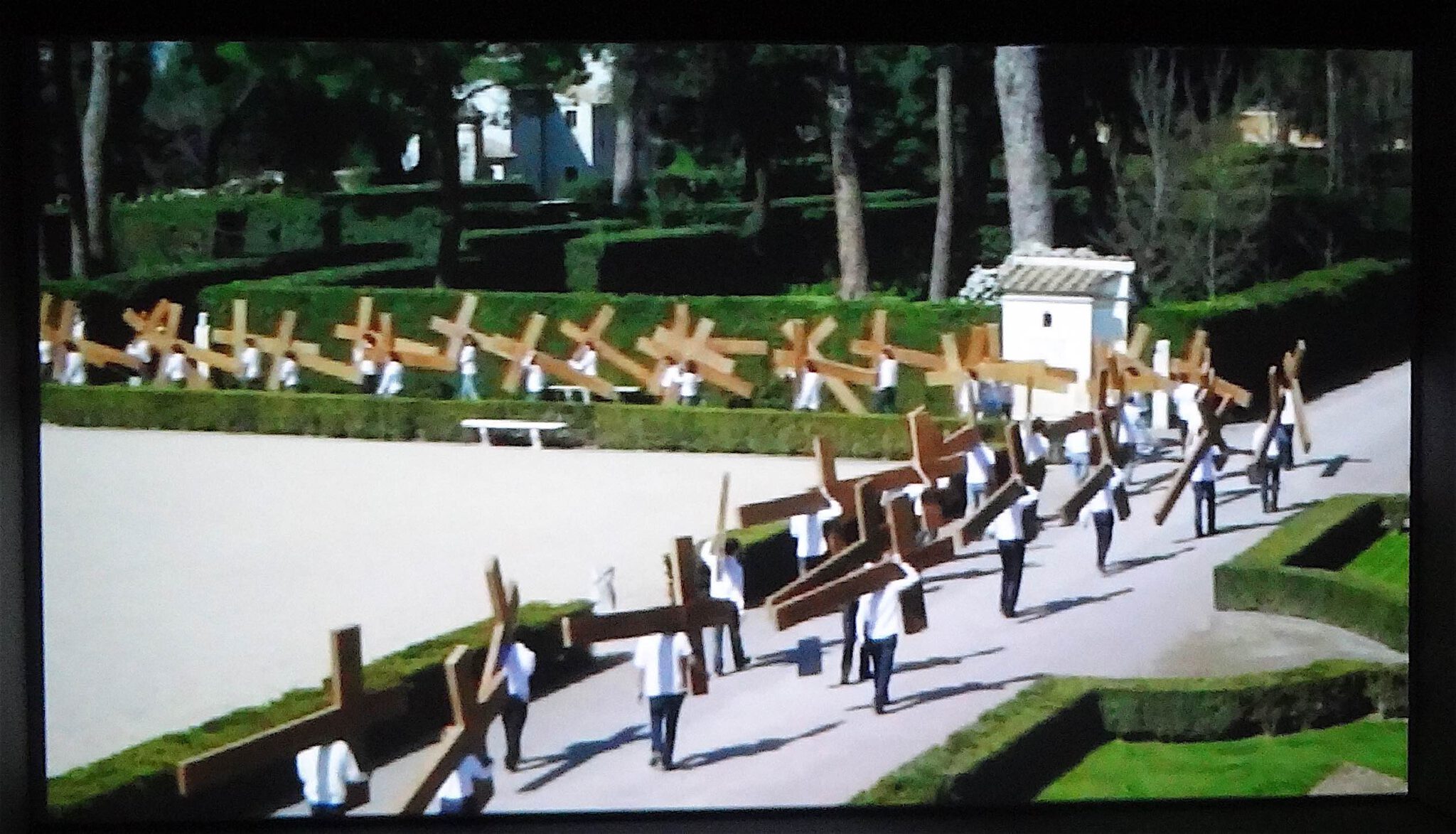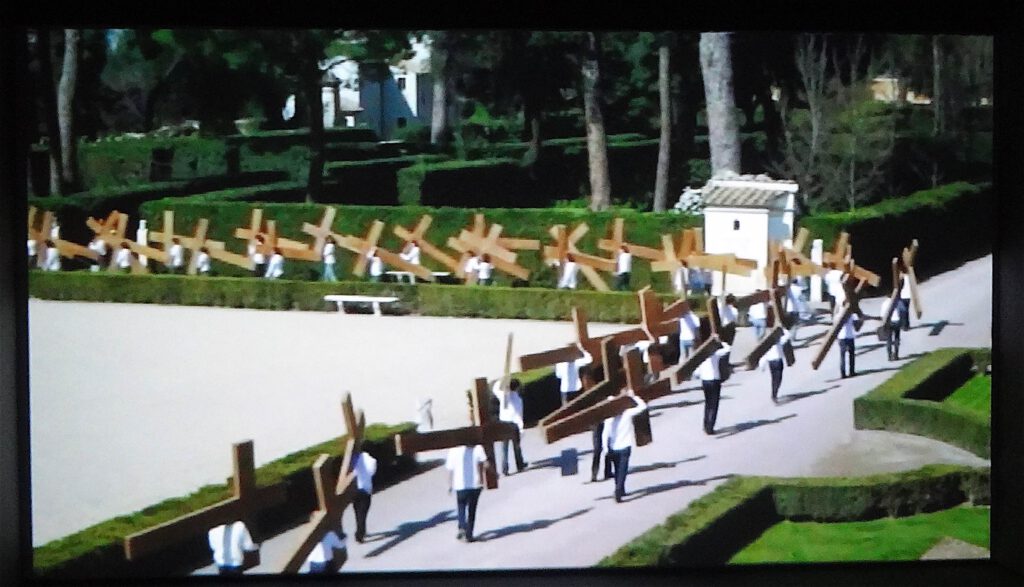 Dio by Adel Abdessemed (French, b. 1971) returns to the visual tradition of the via crucis, the Way of the Cross. The significance of art history is underscored here by the choice of the location: the Villa Medici in Rome. Dio also references the history of the cinema and in particular the Pier Paolo Pasolini of The Gospel According to St Matthew and La Ricotta.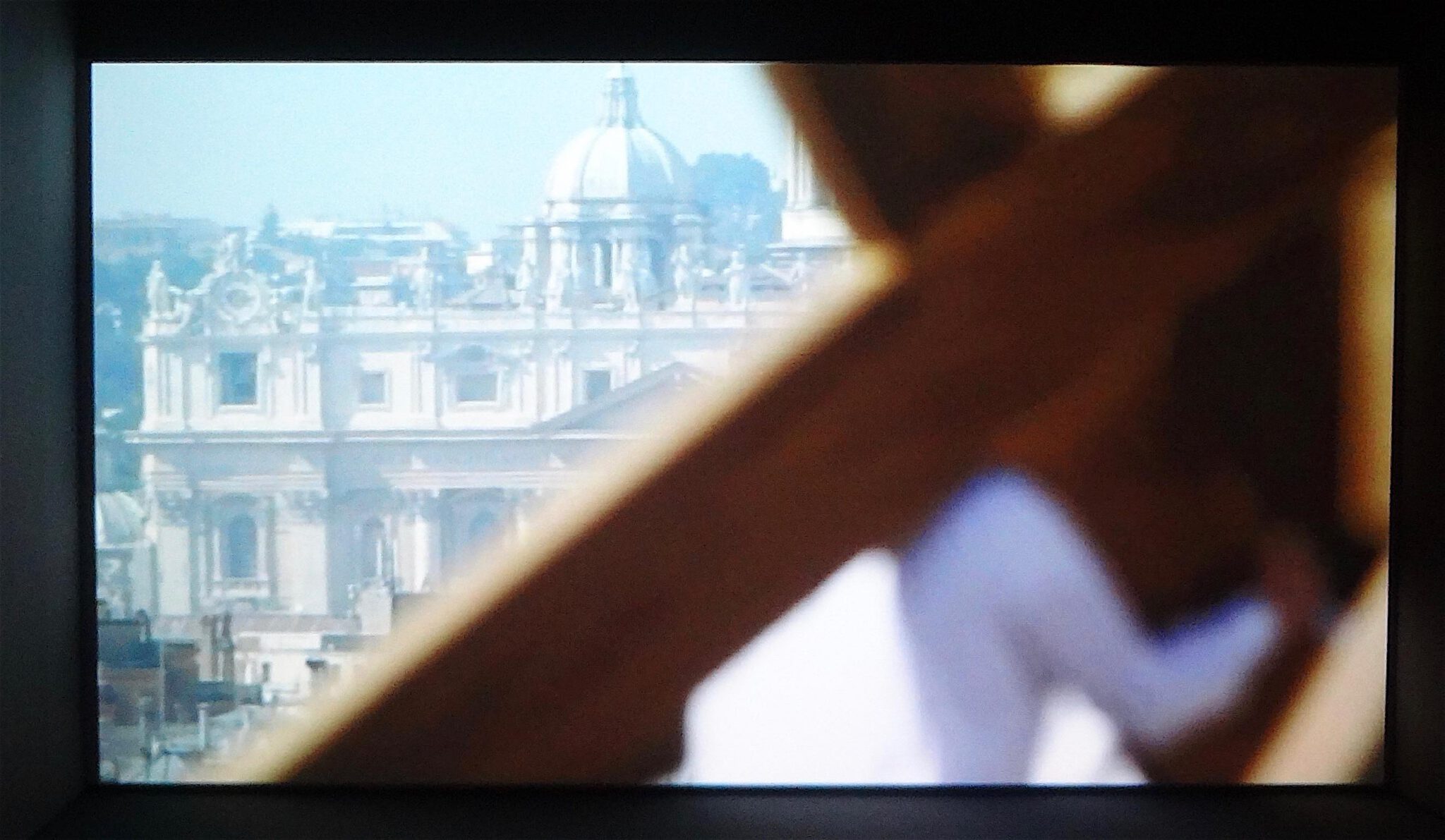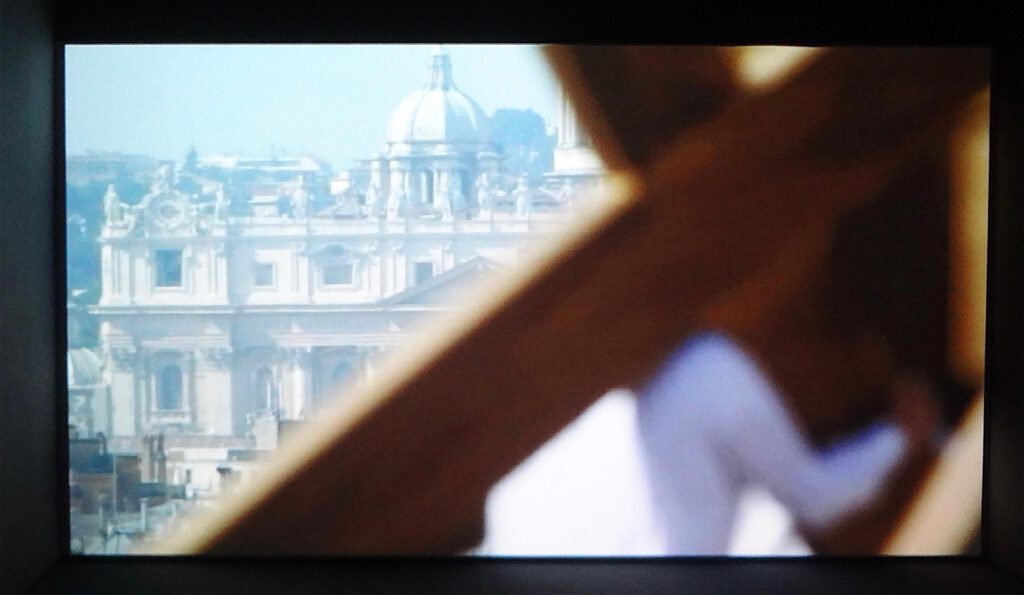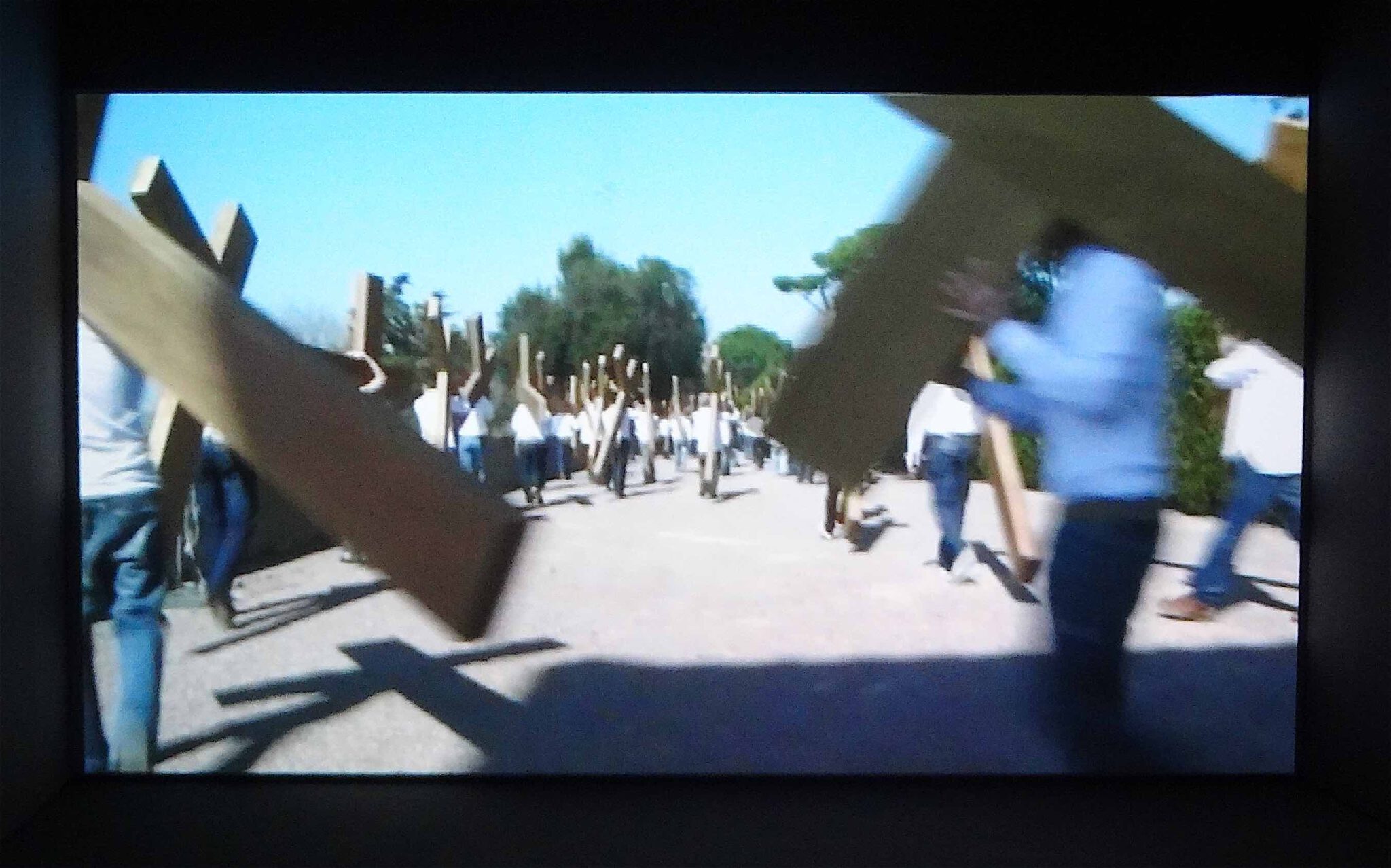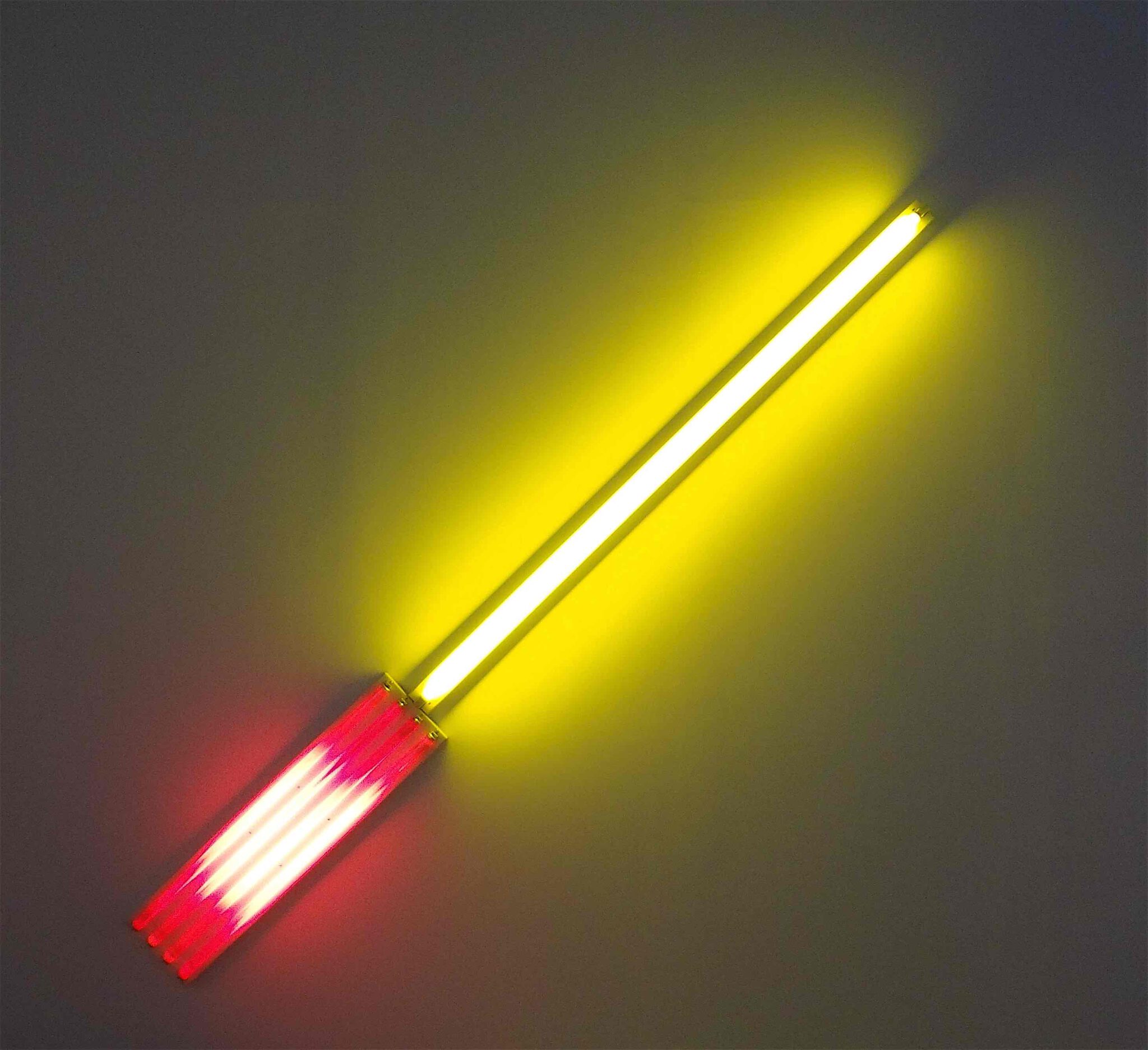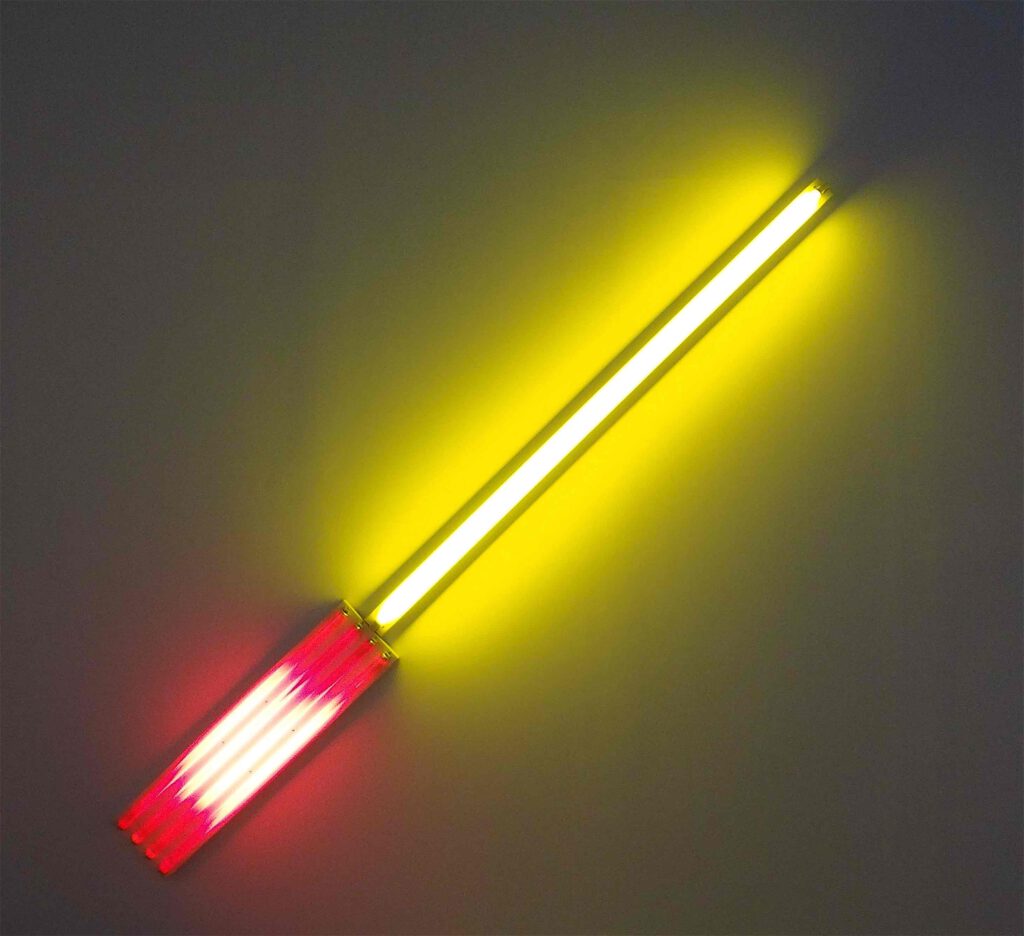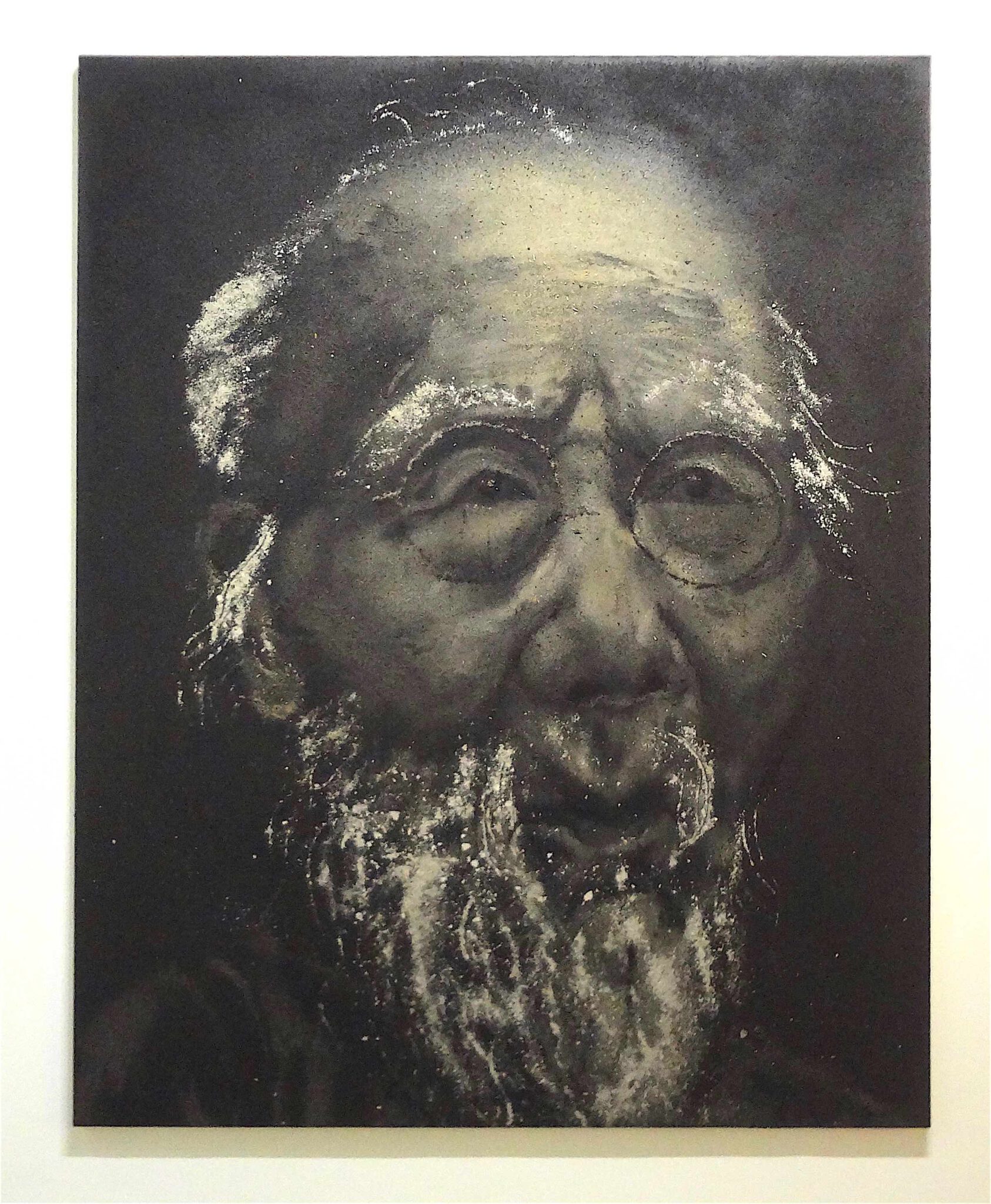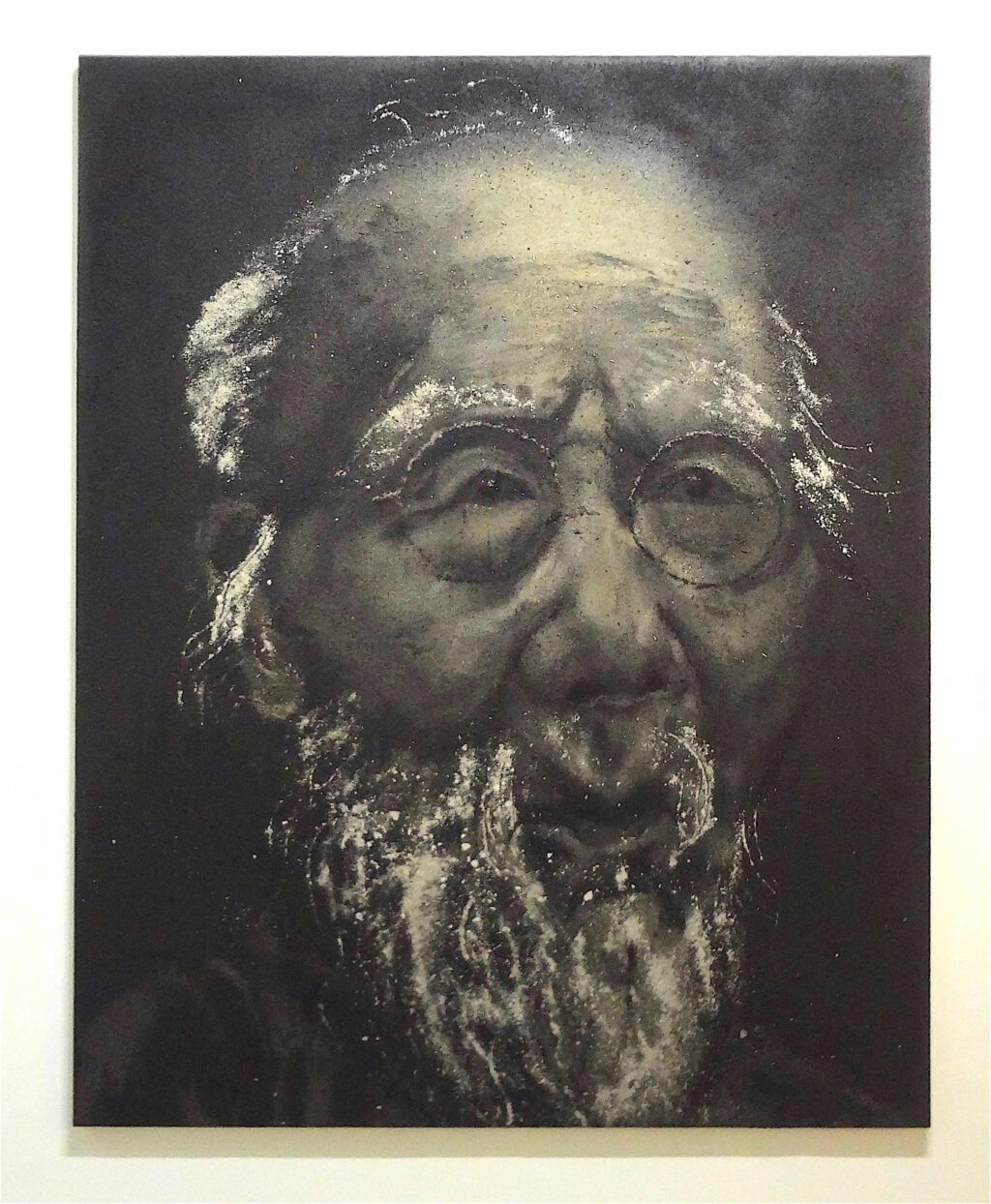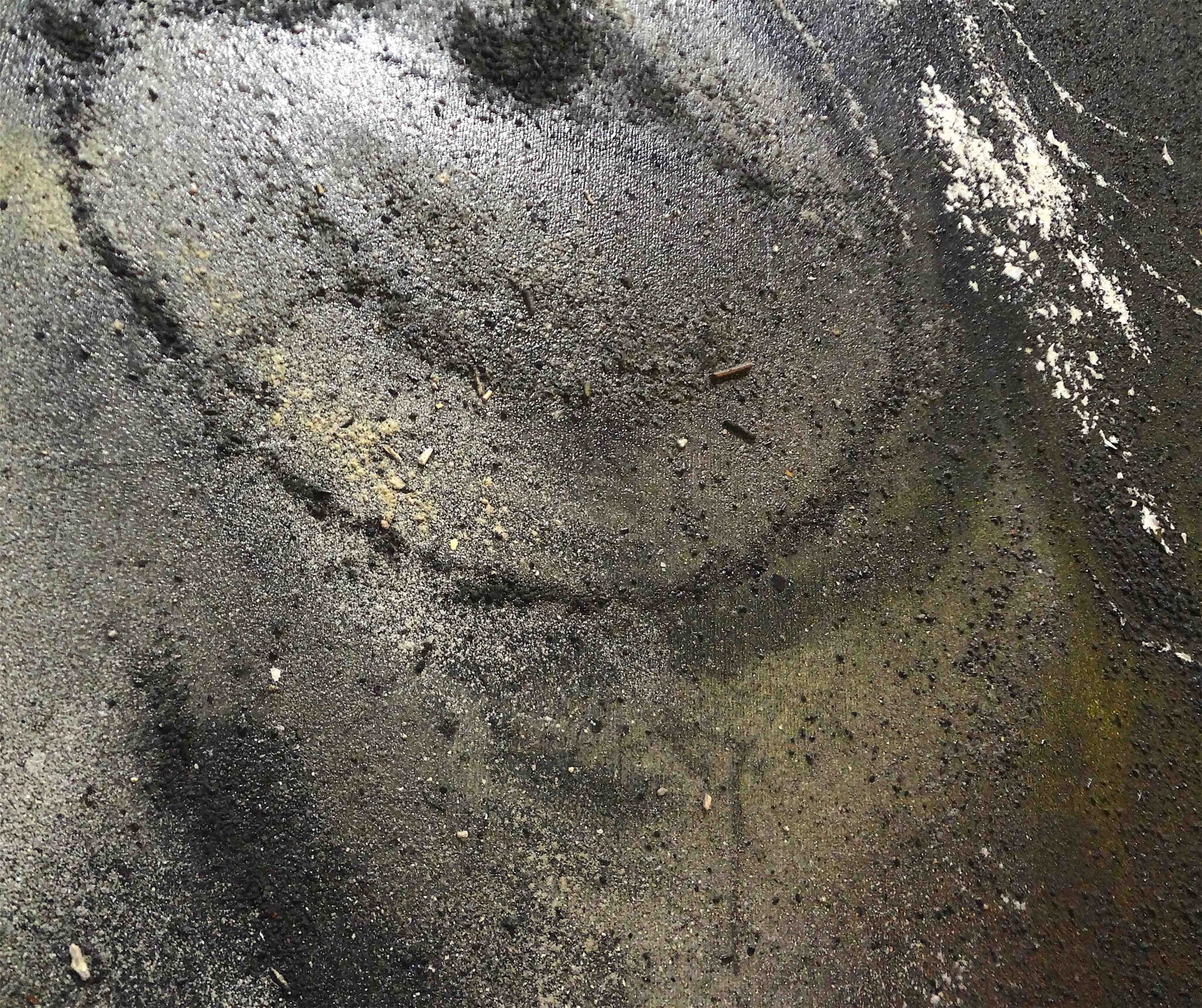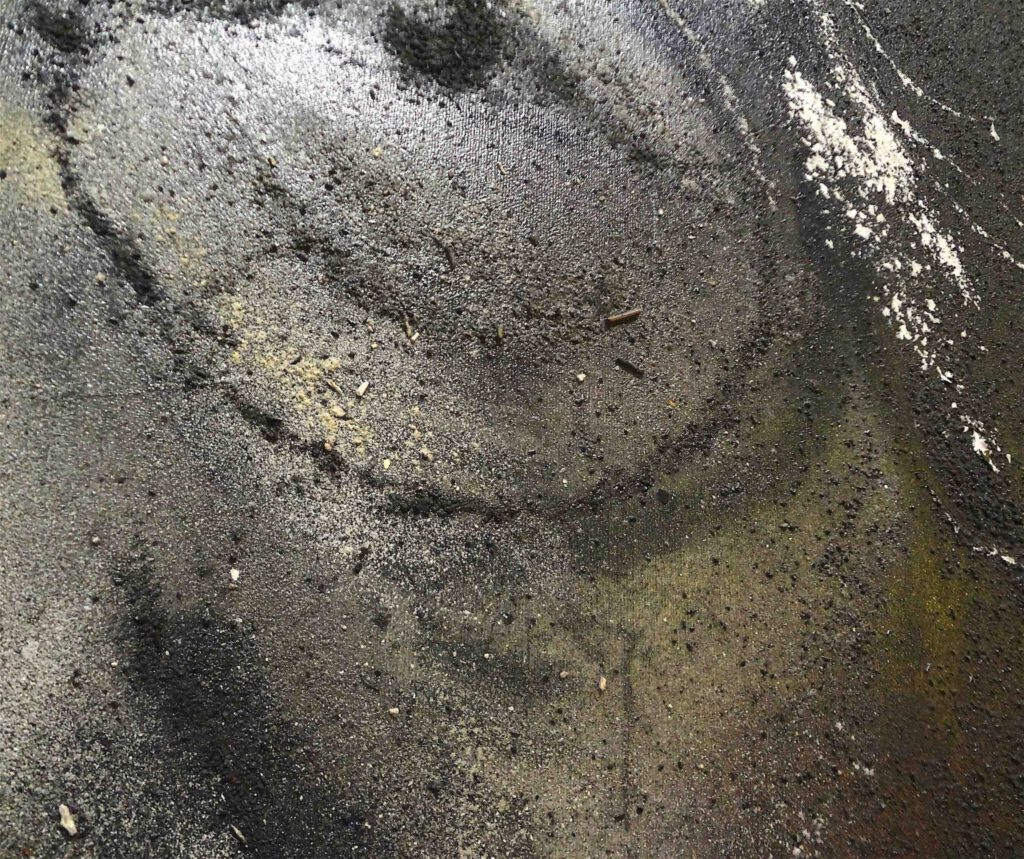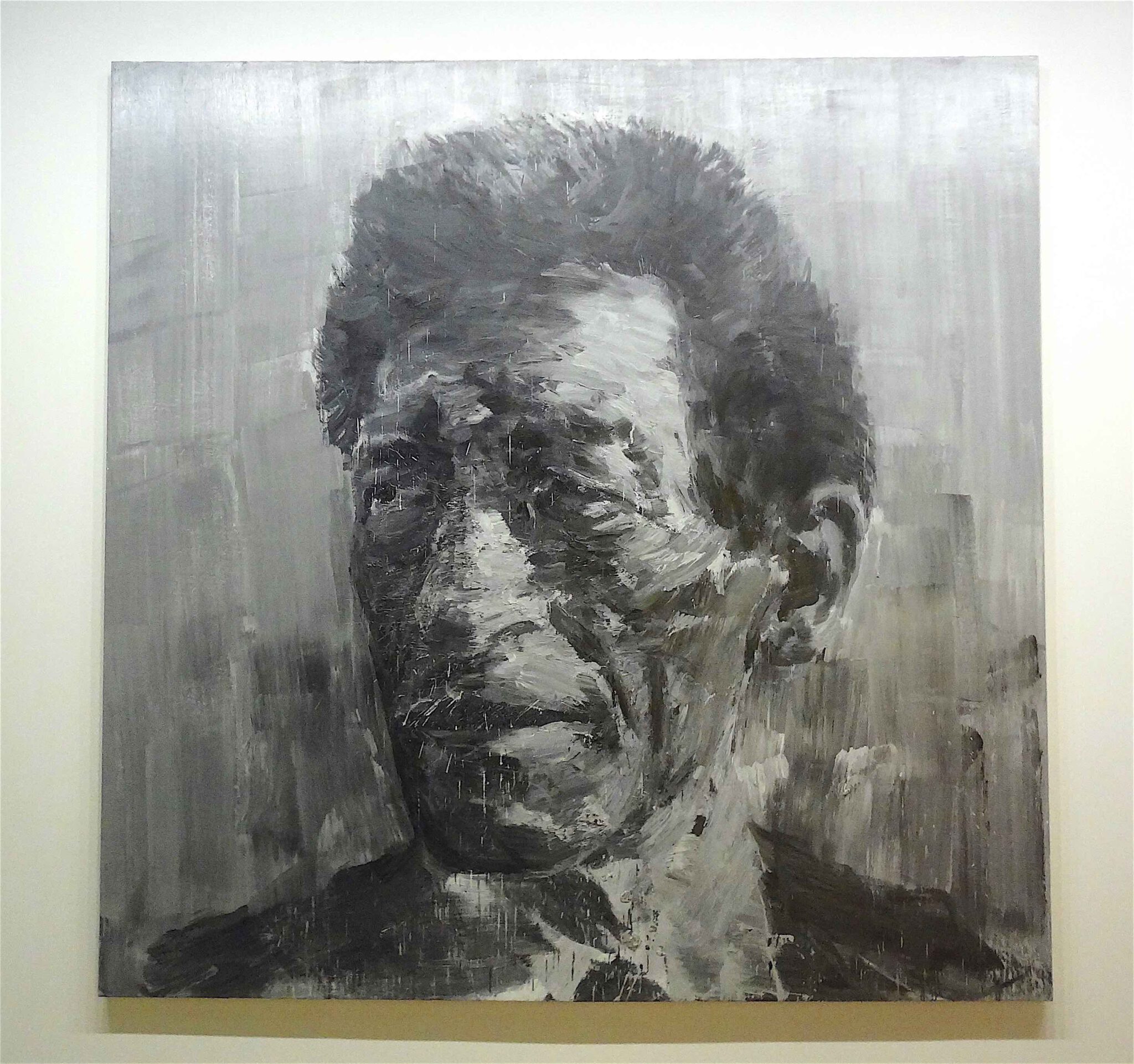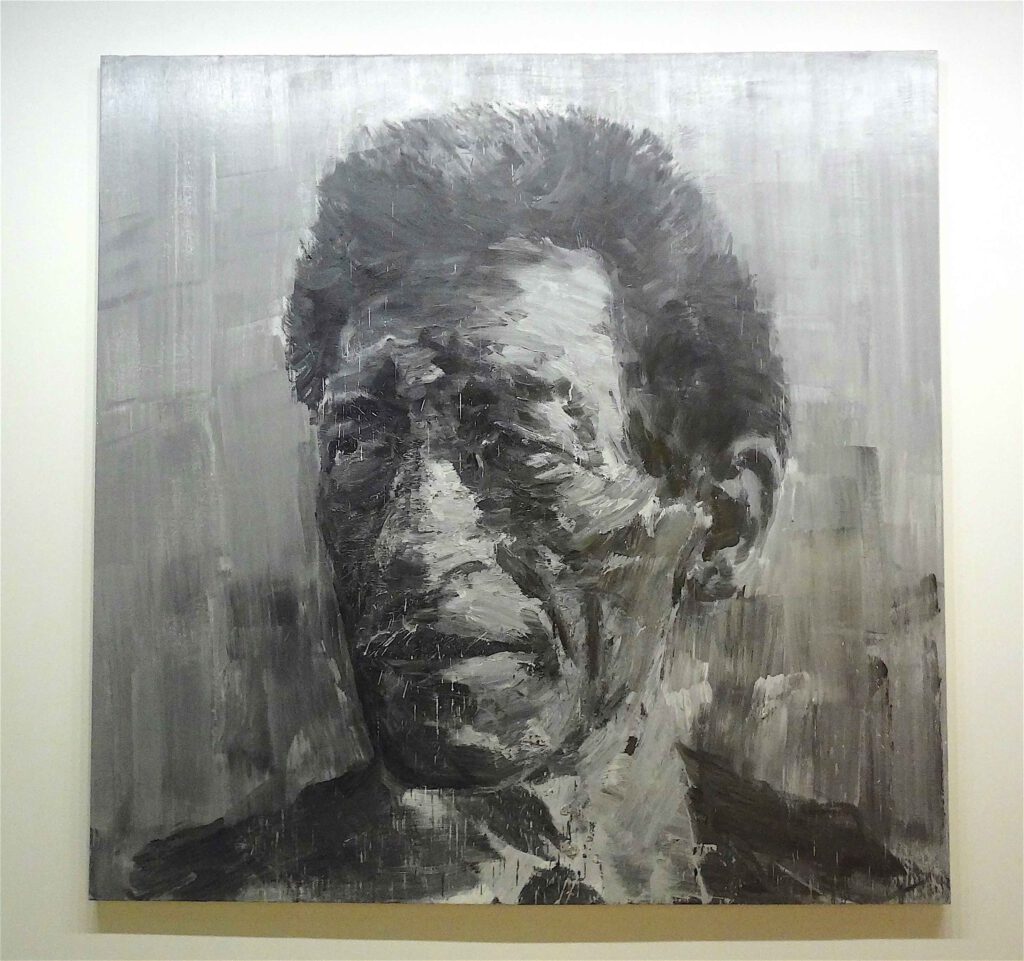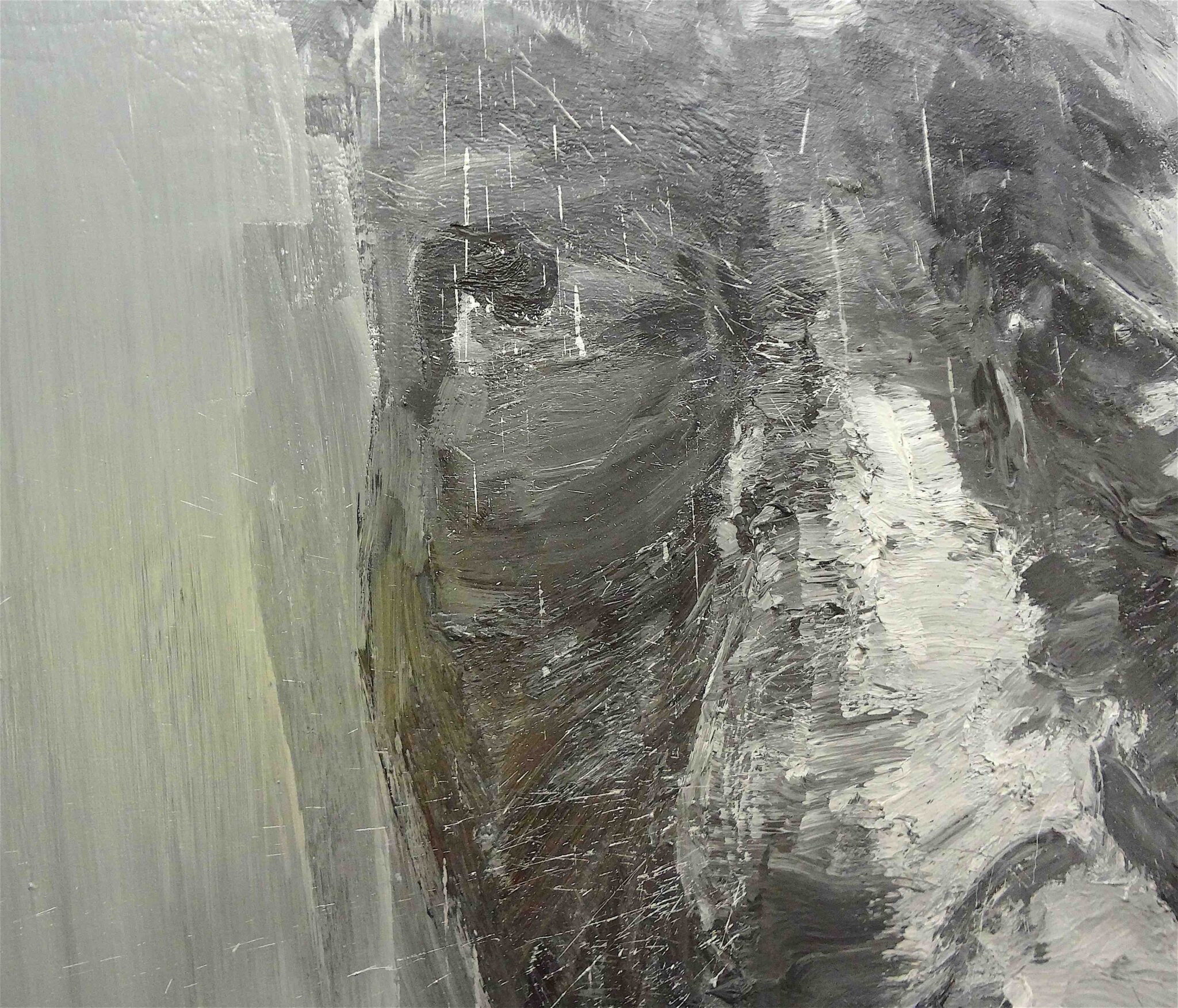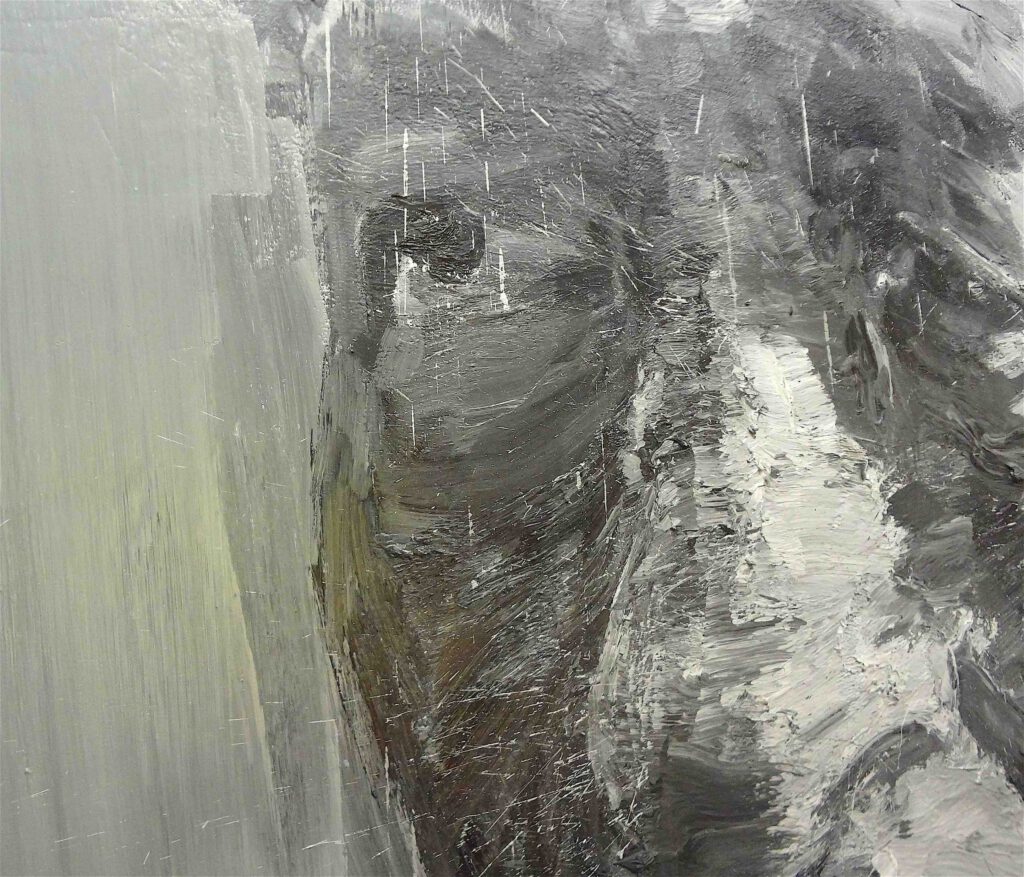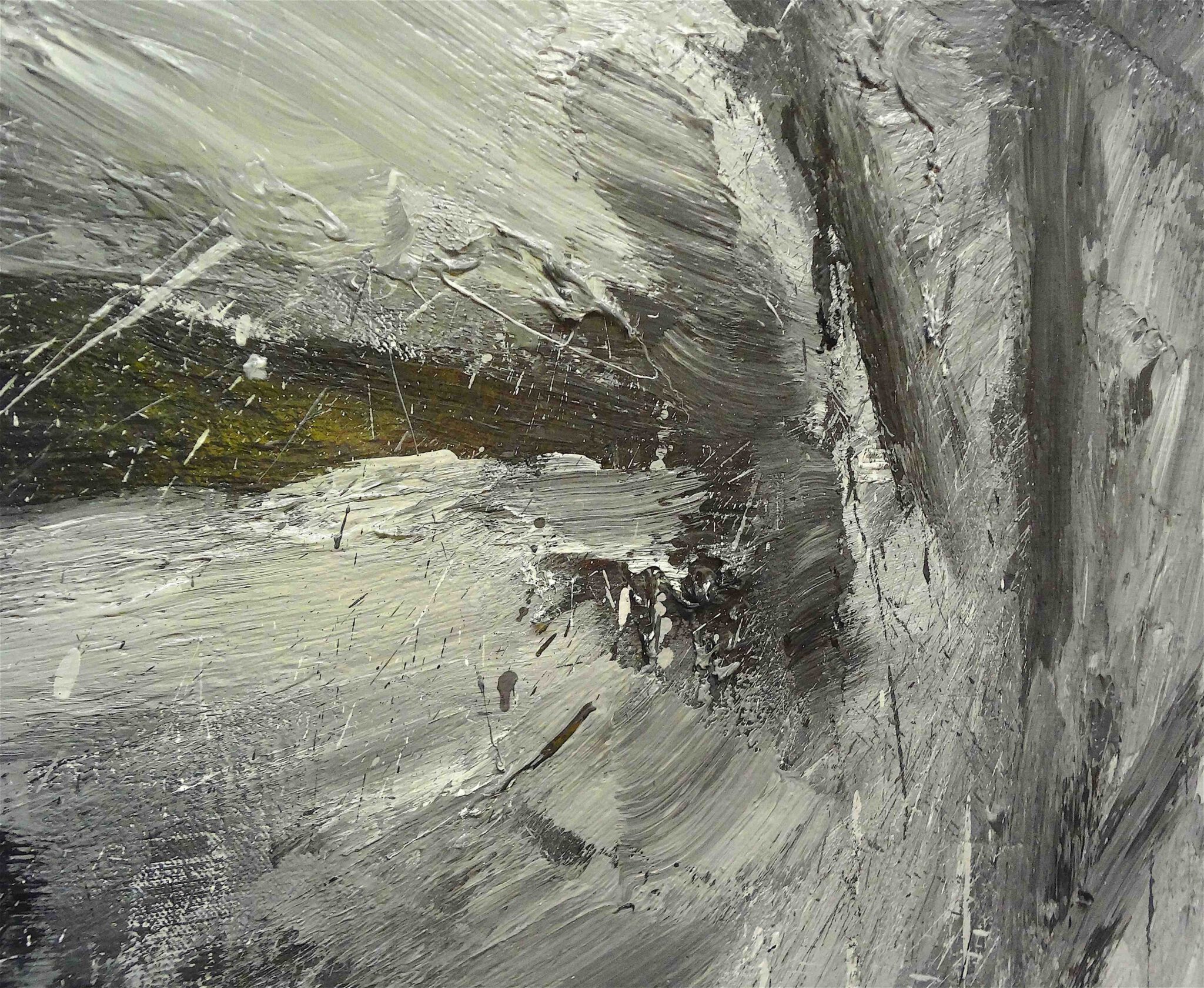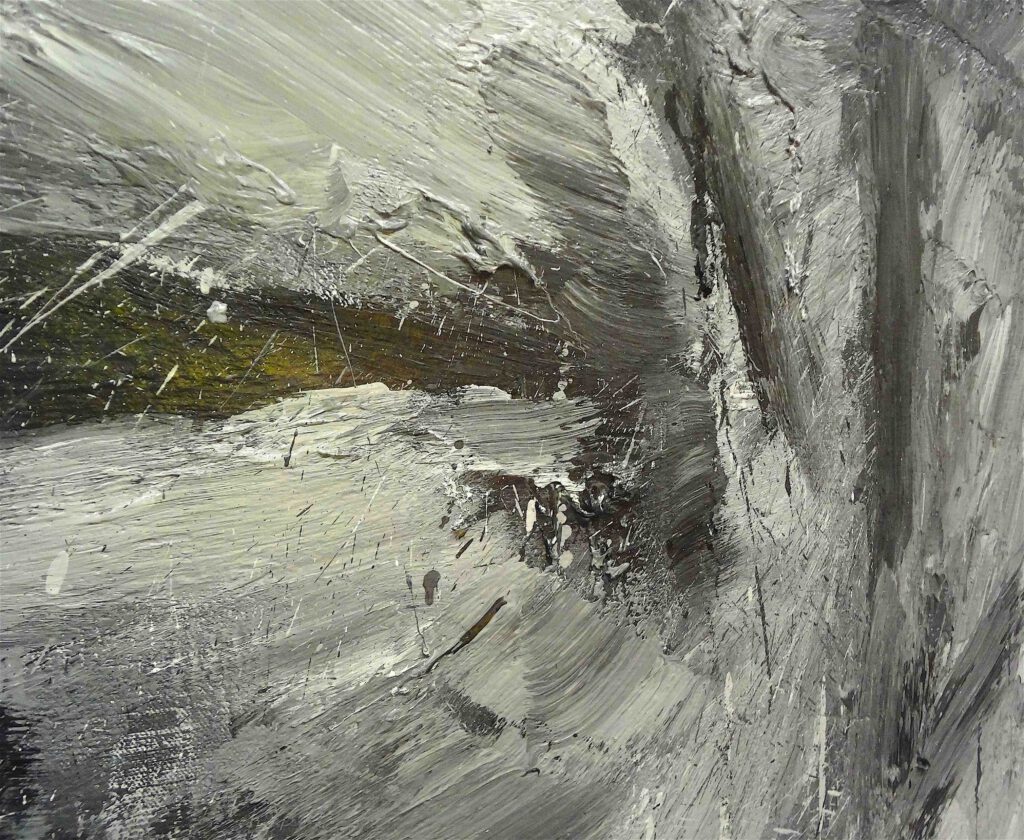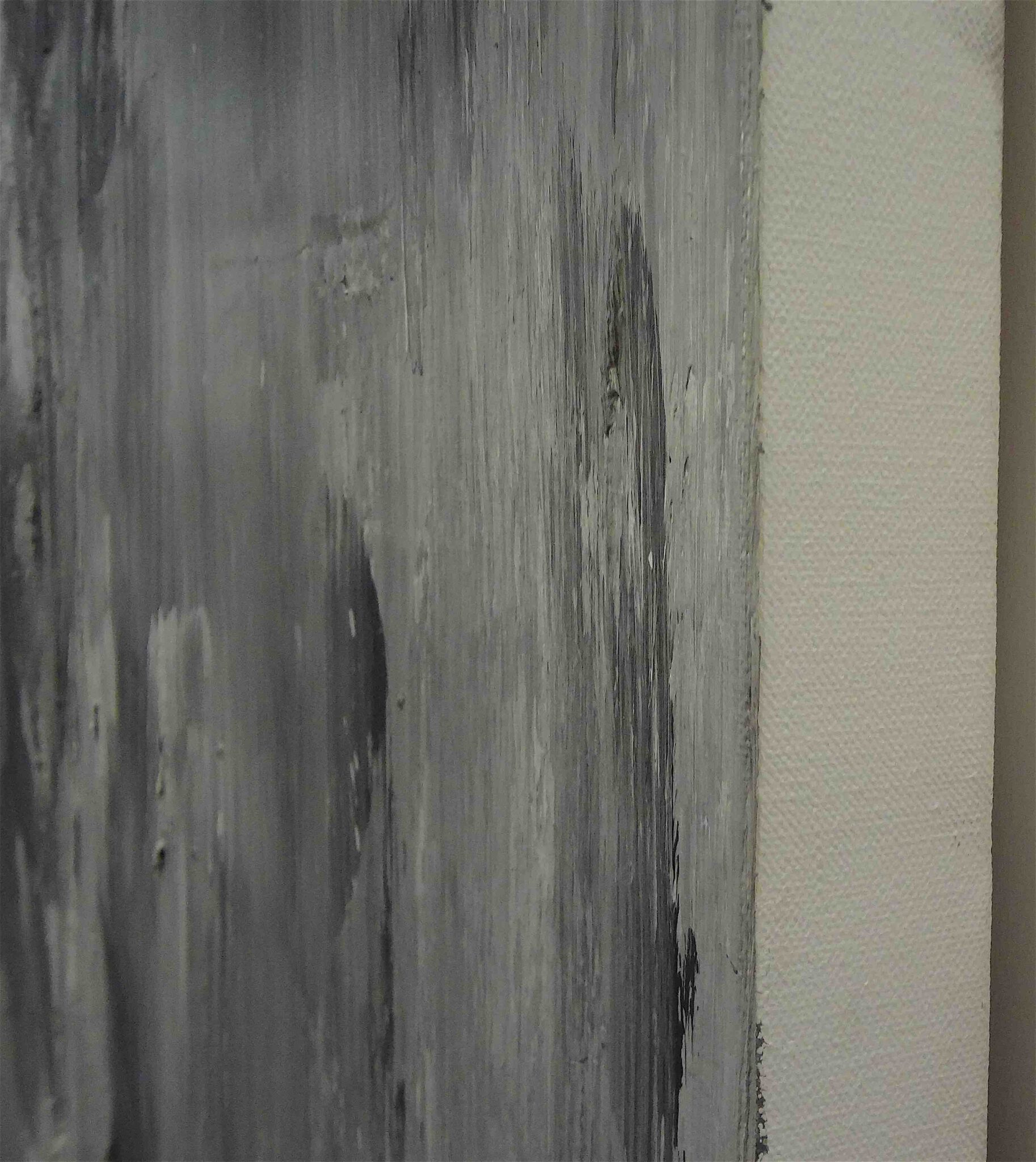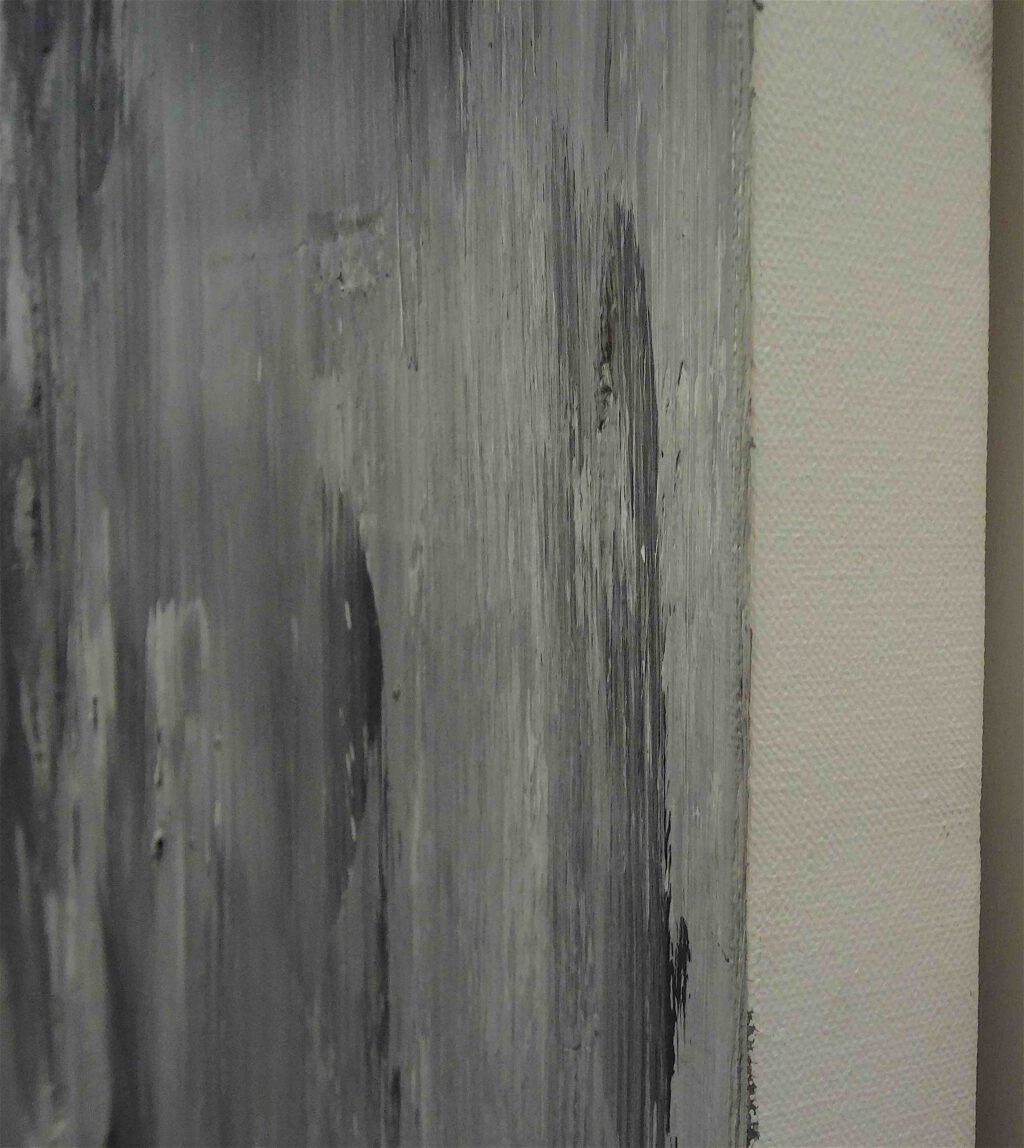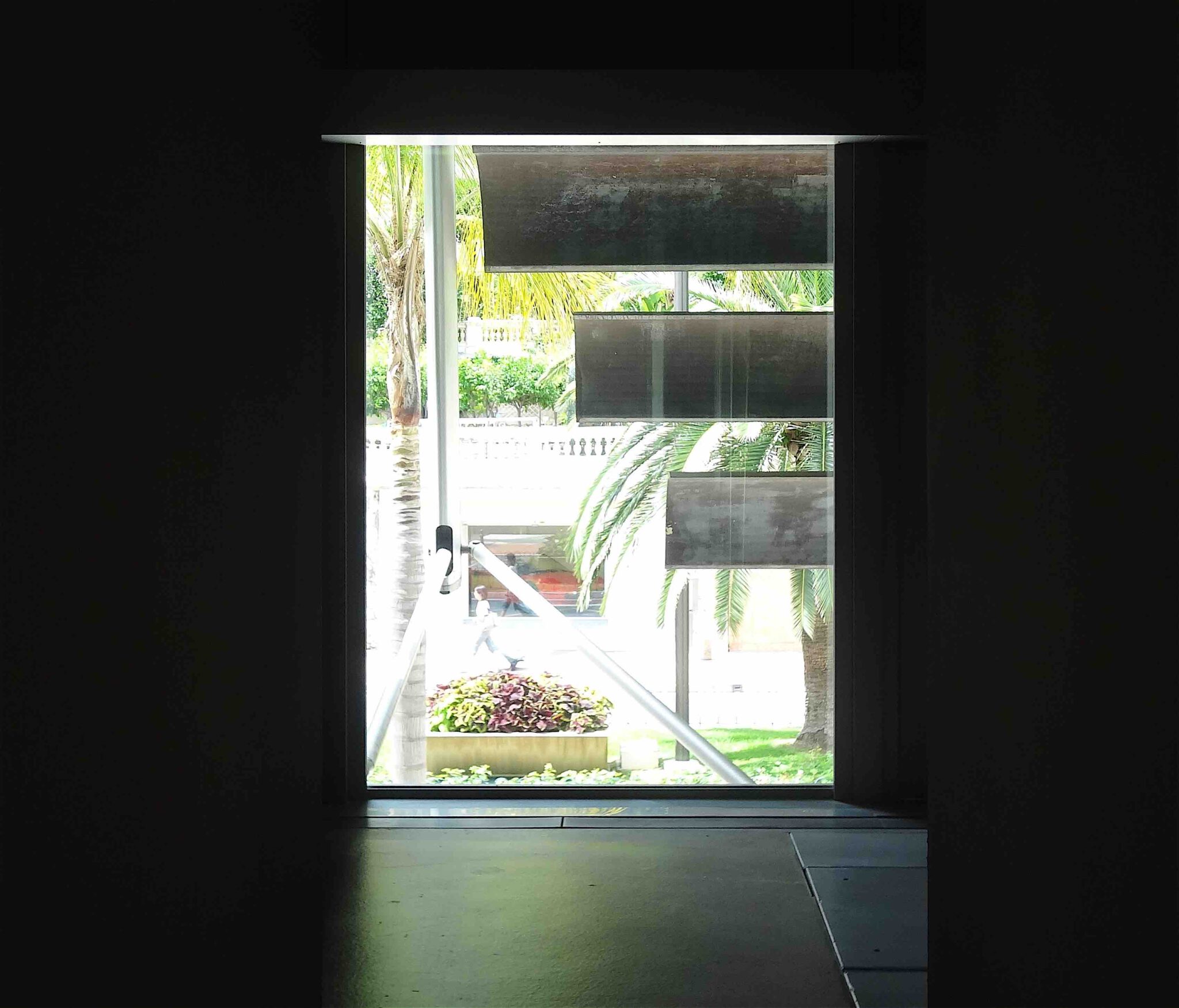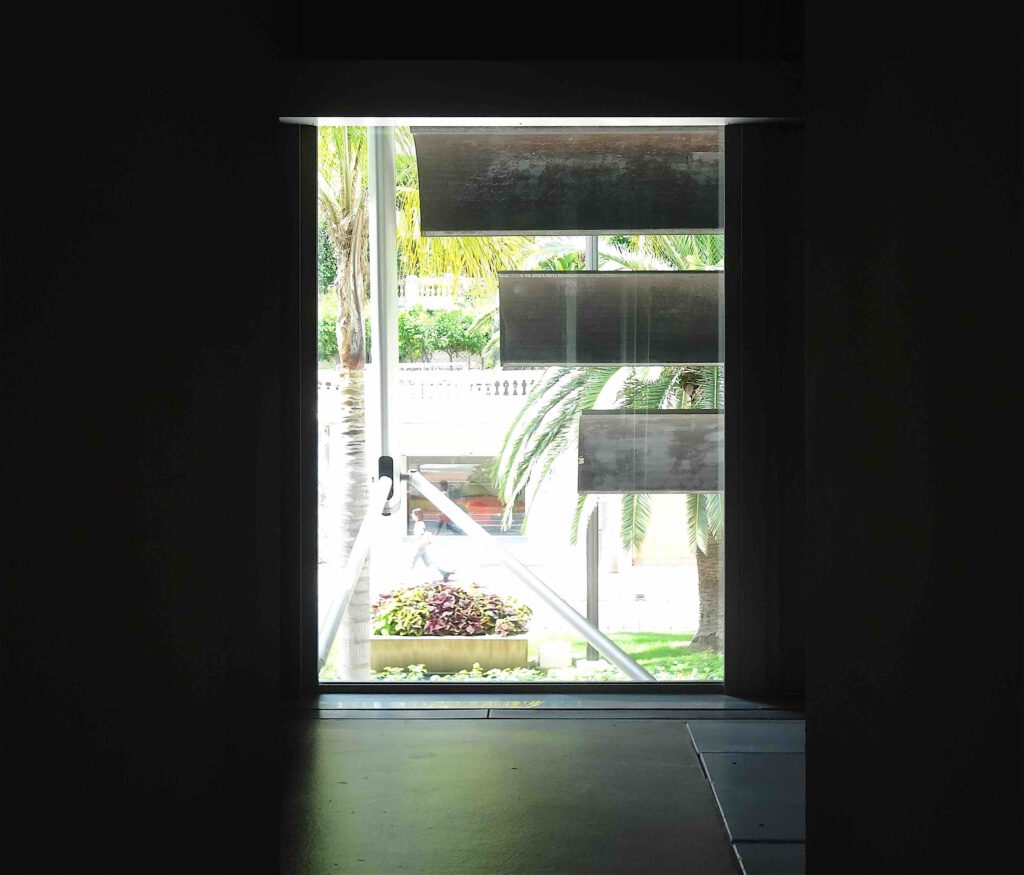 When he decided to paint – literally – the Gabriel Gaveau grand piano, Bertrand Lavier (French, b. 1949) opted for ironic appropriation of a totally unmistakable manner and brushwork: the 'Van Gogh touch', which in the course of the 20th century became the clichéd yardstick for artistic quality and expressive sensitivity. Through a gap in the exhibition wall we get a glimpse of the same artist's 308 GTS, acquired by the New National Museum of Monaco 2009, in the garage of Villa Sauber, on the other side of Avenue Princess Grace.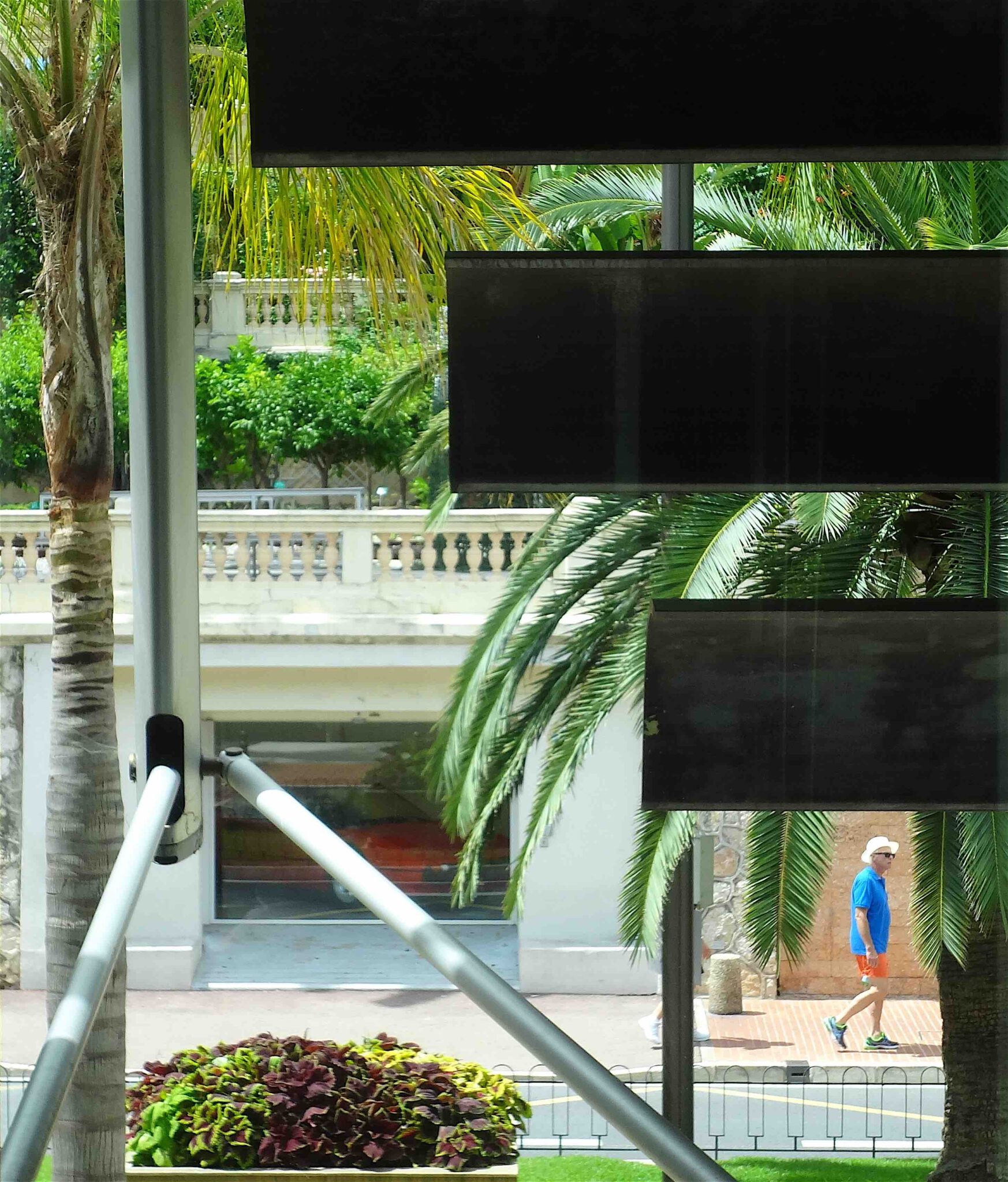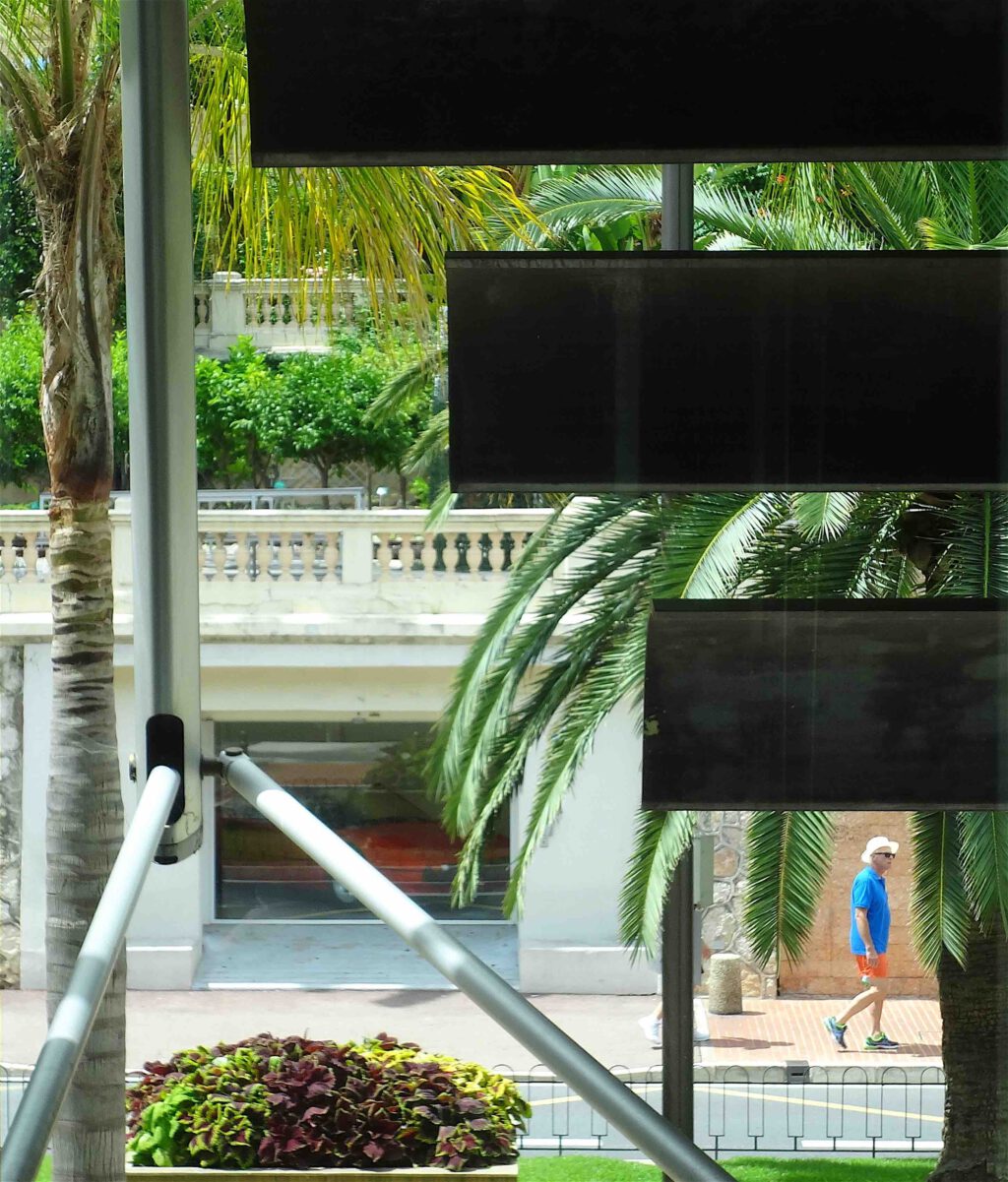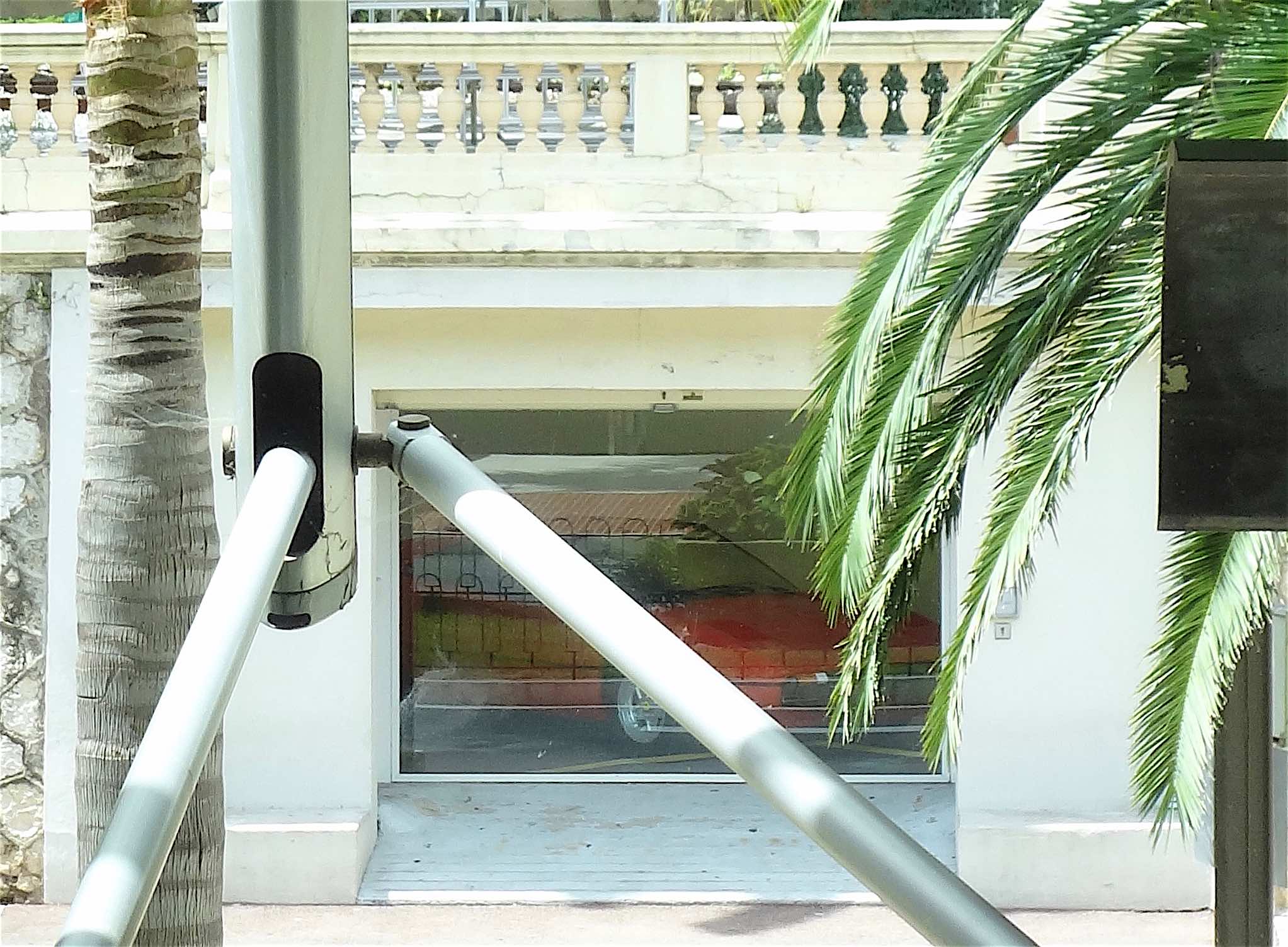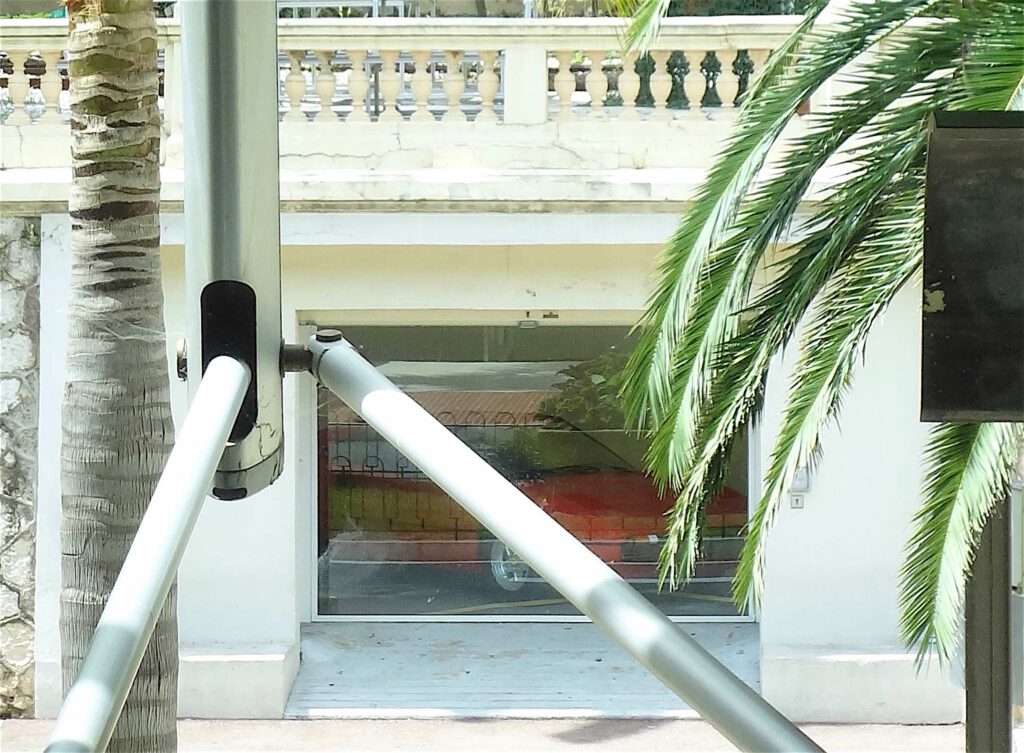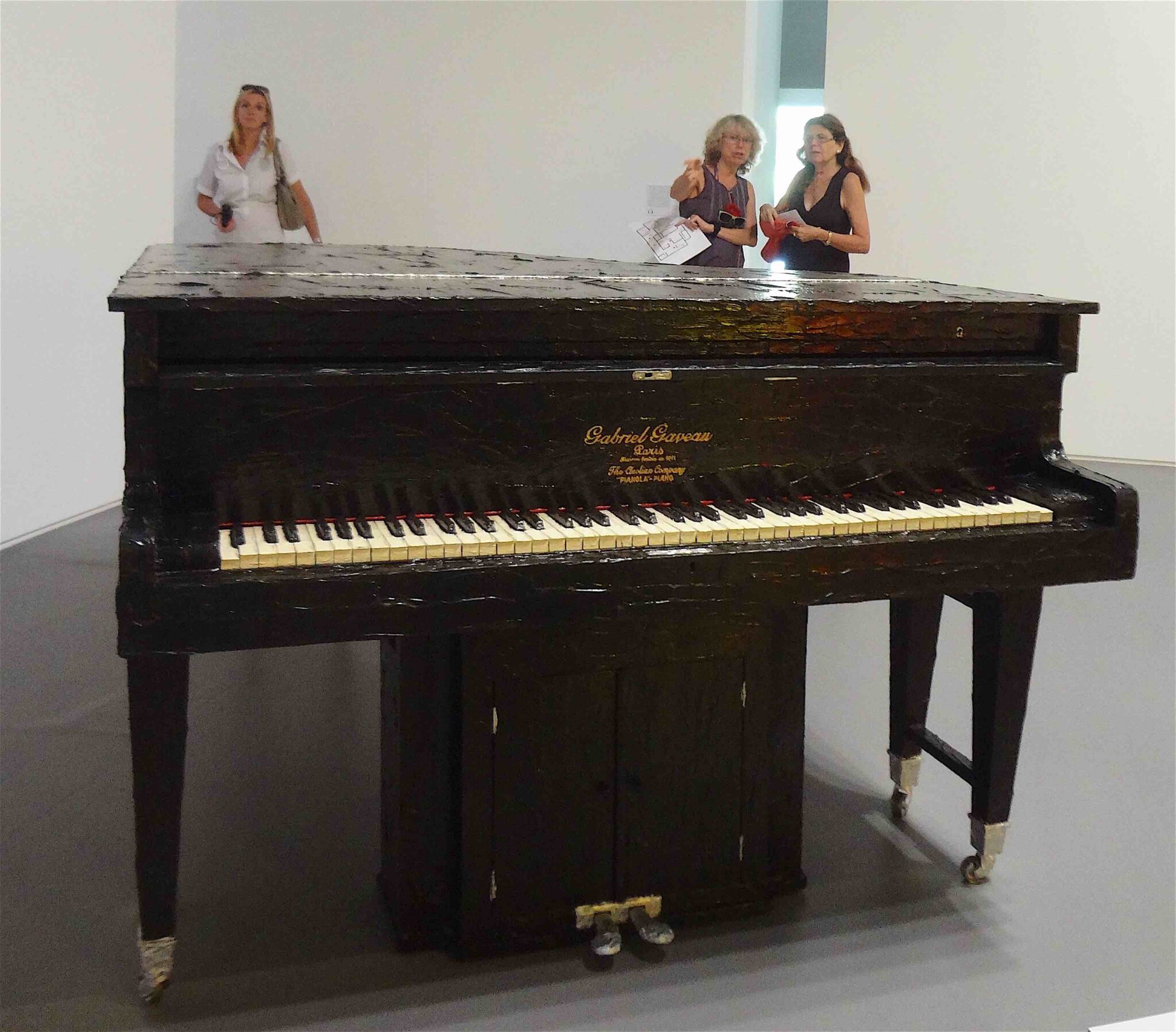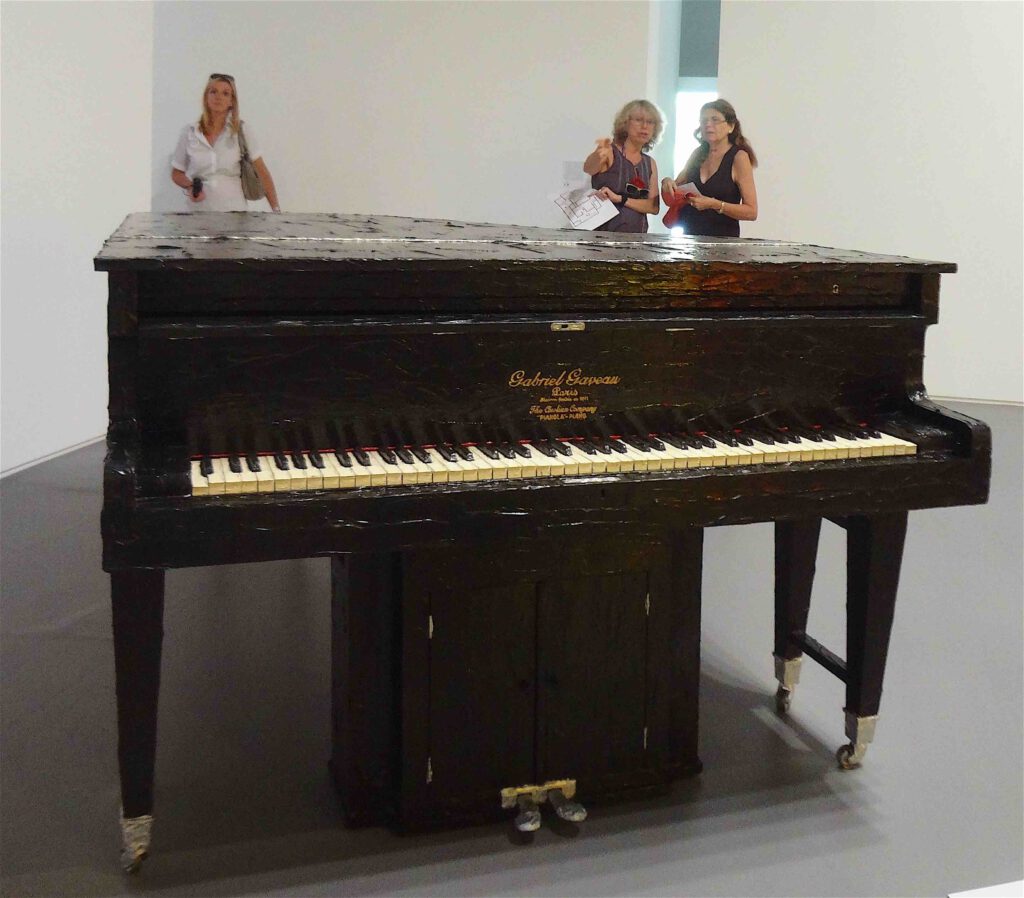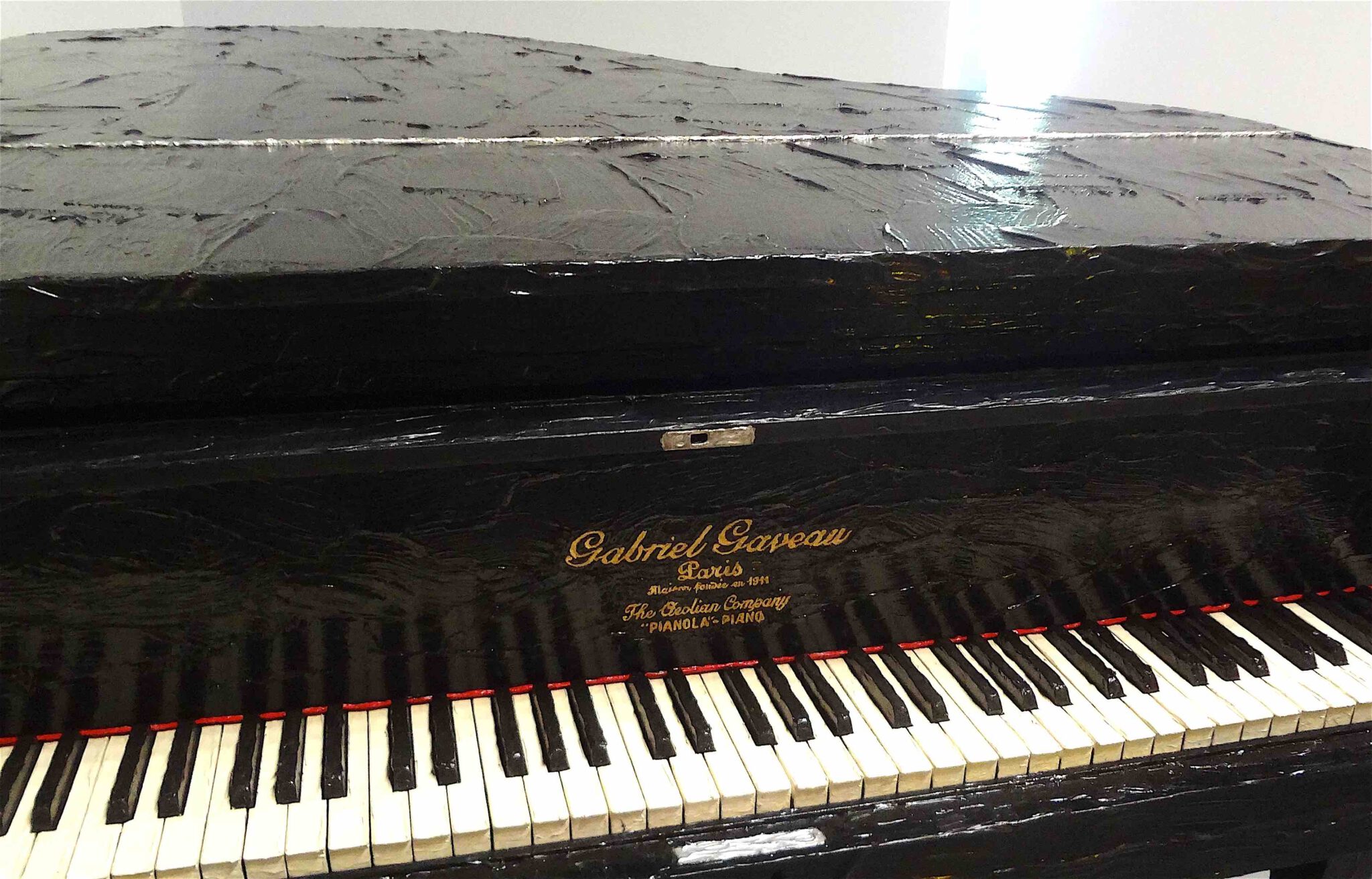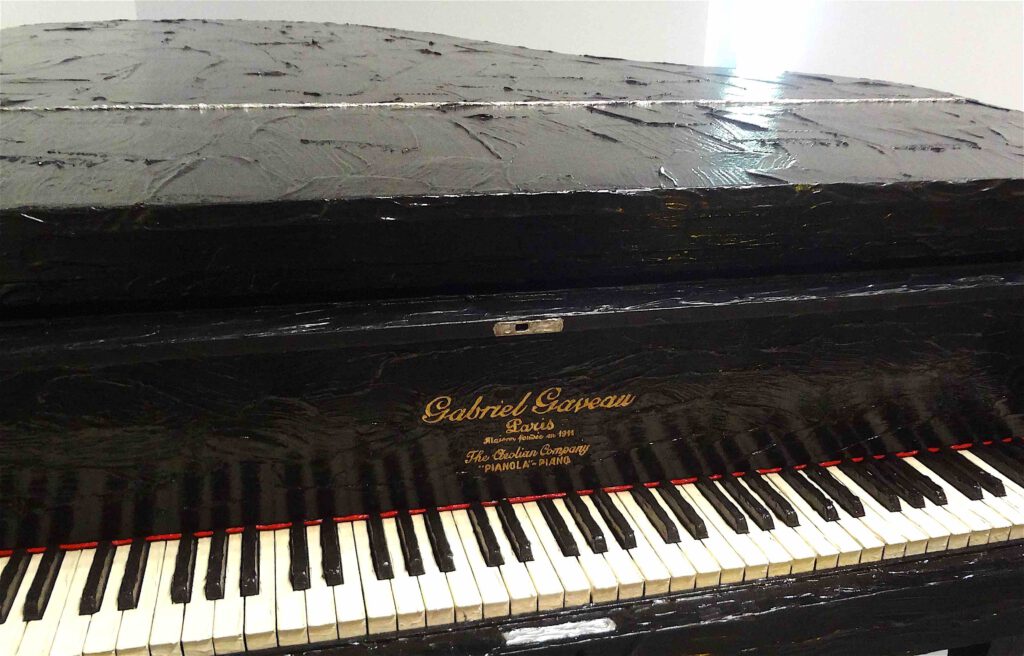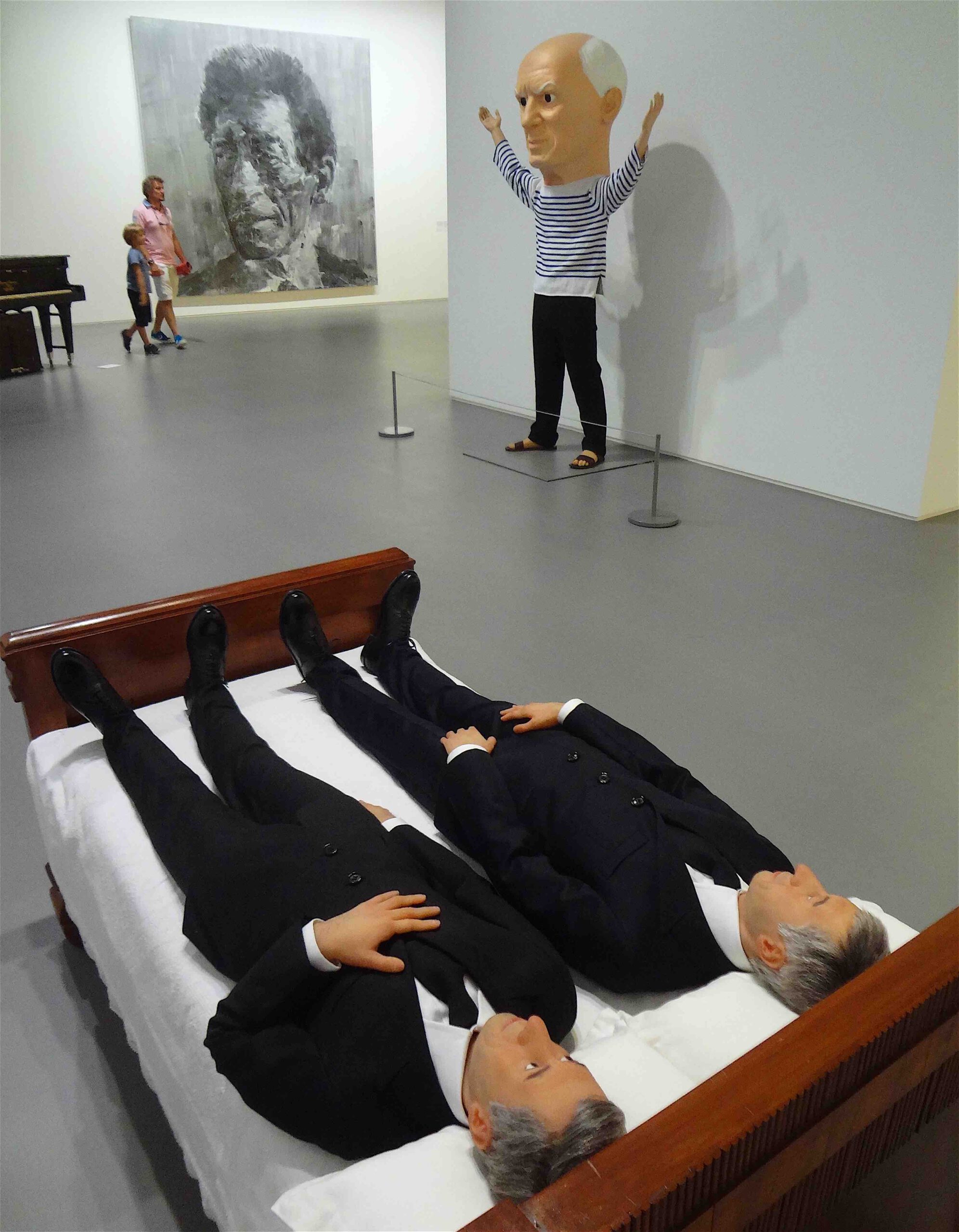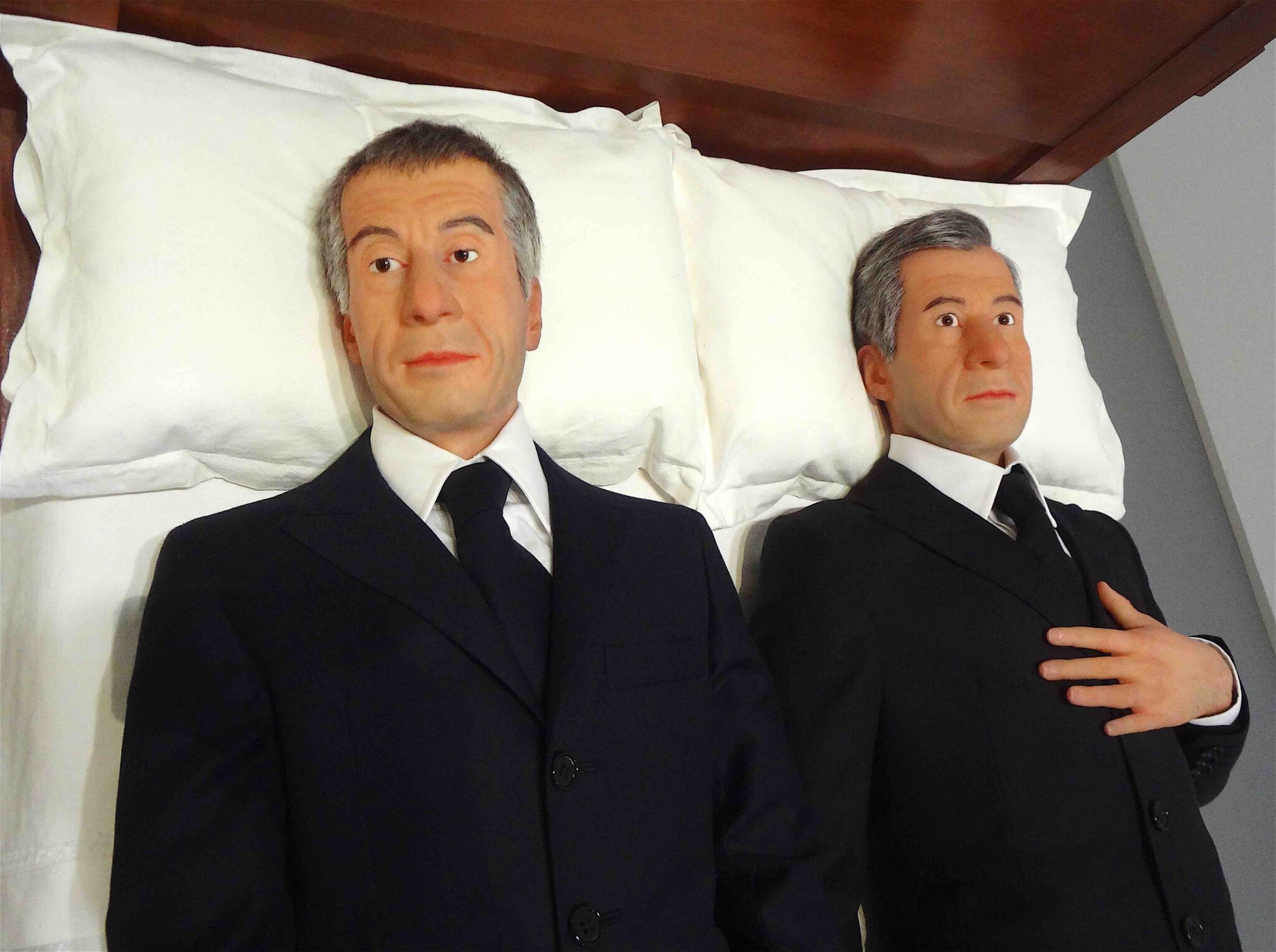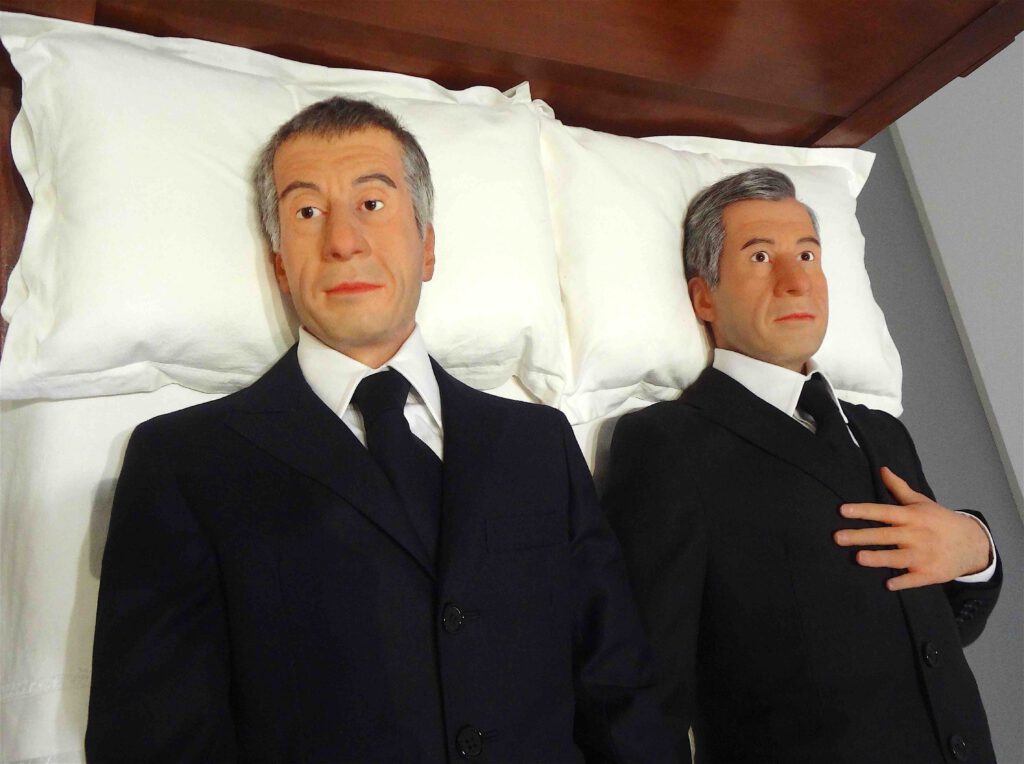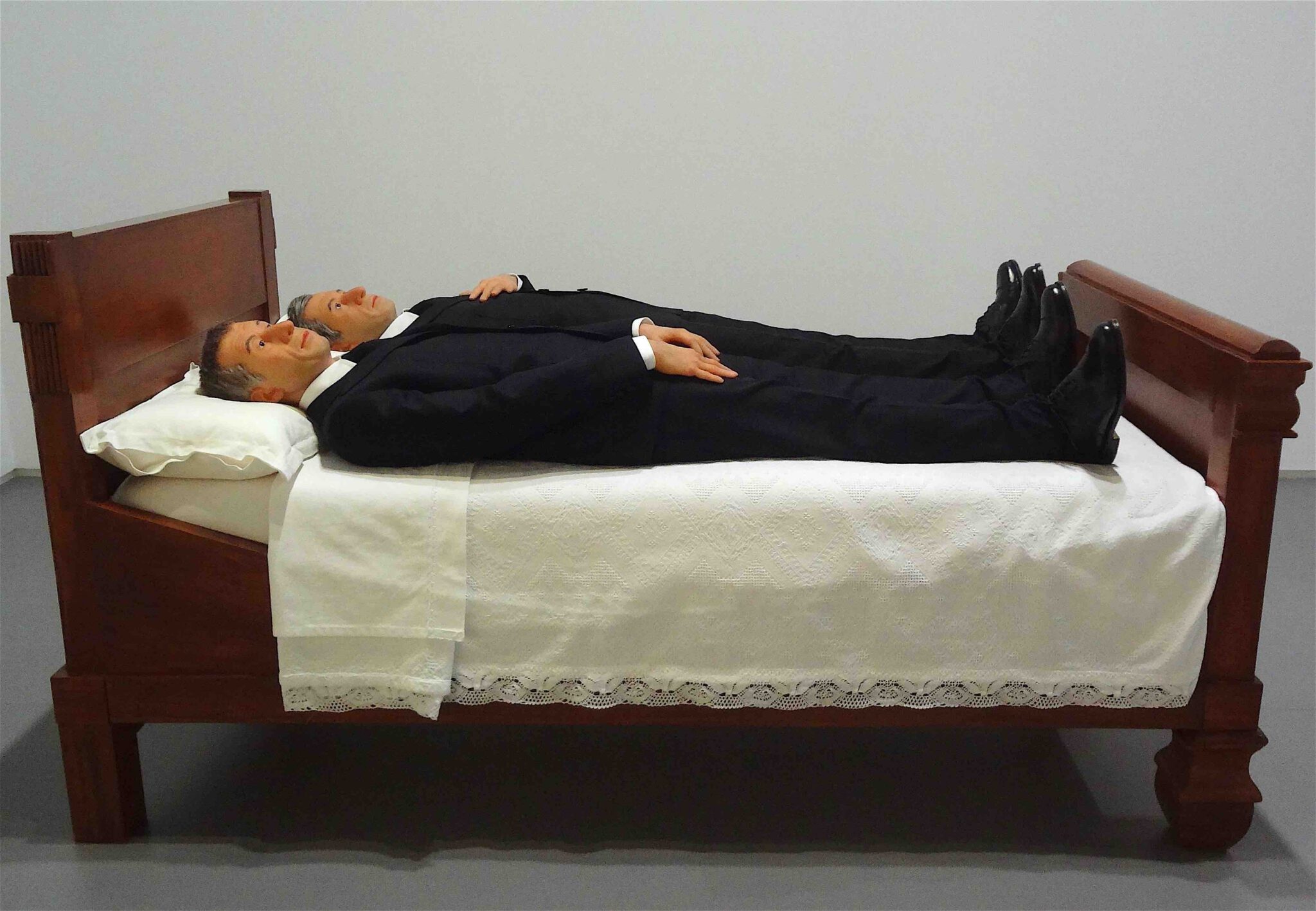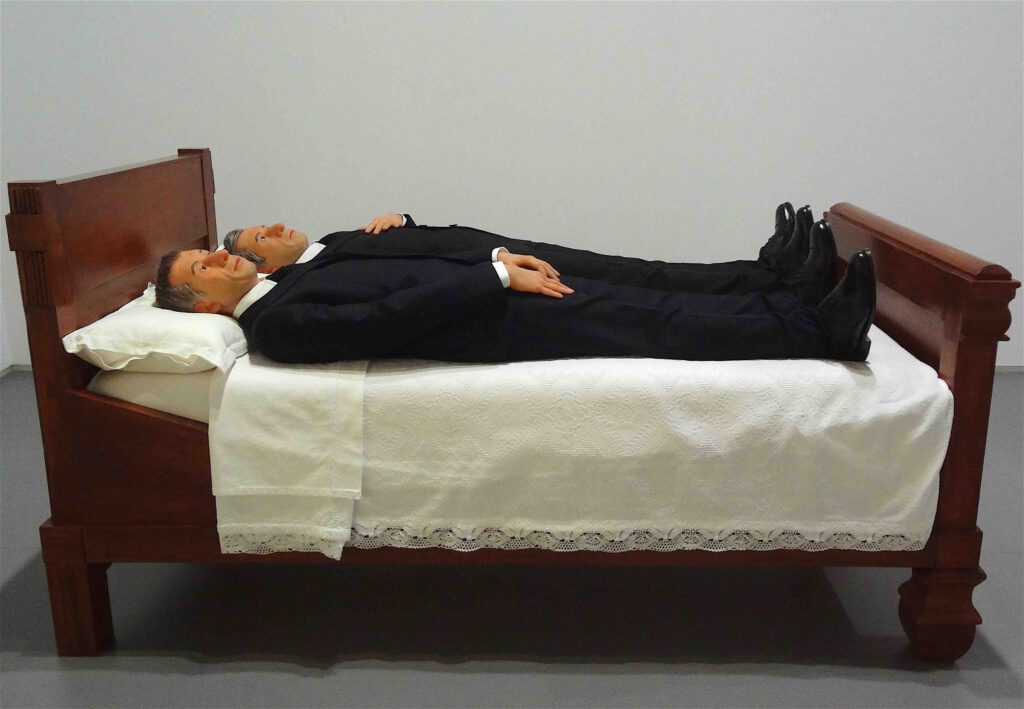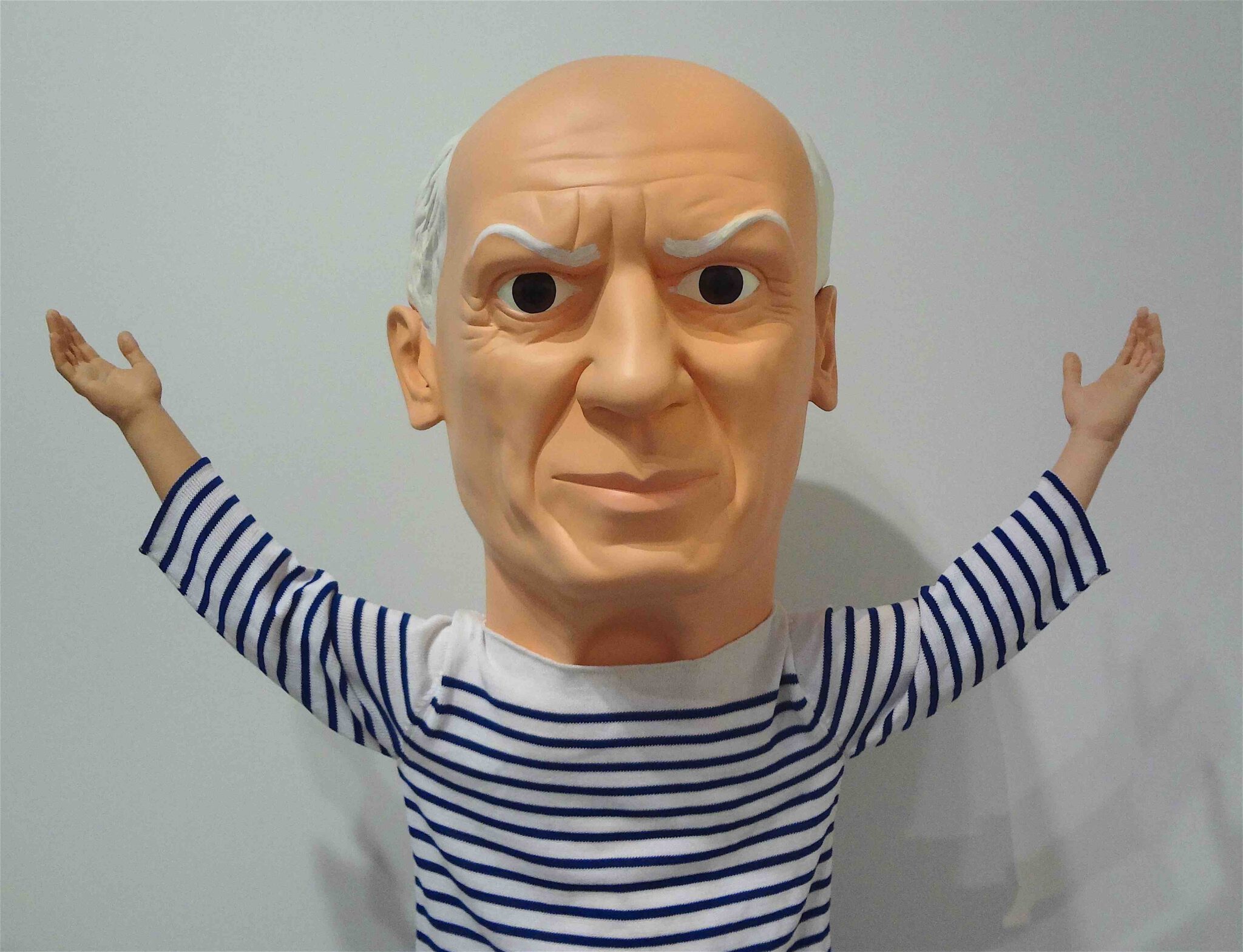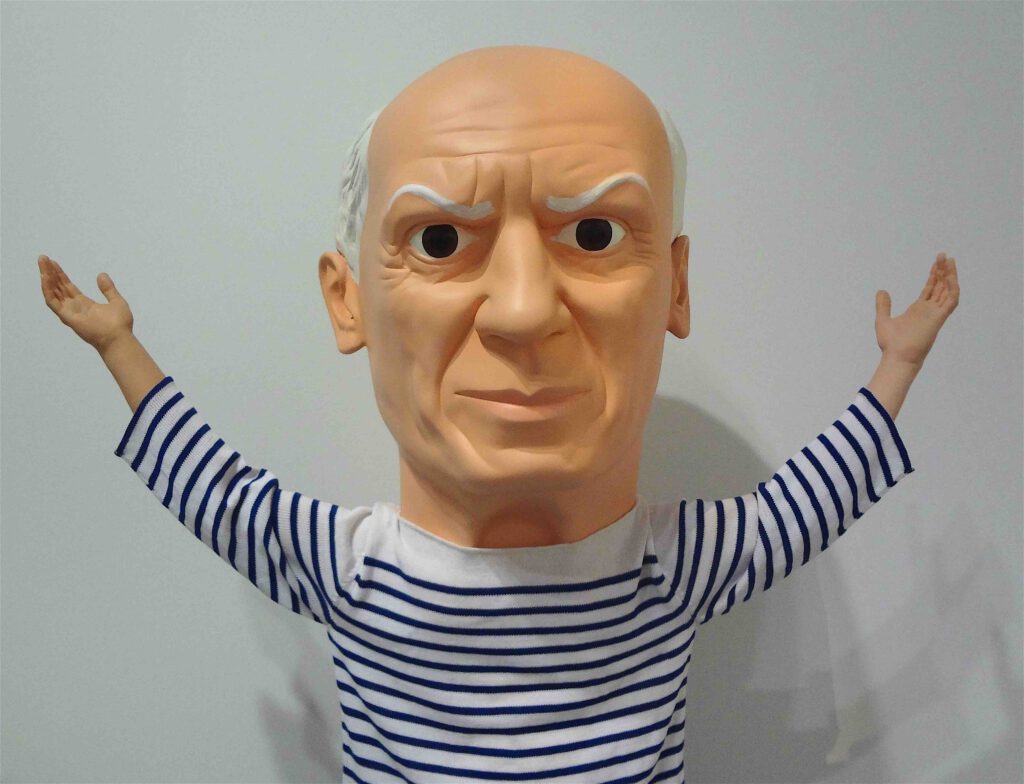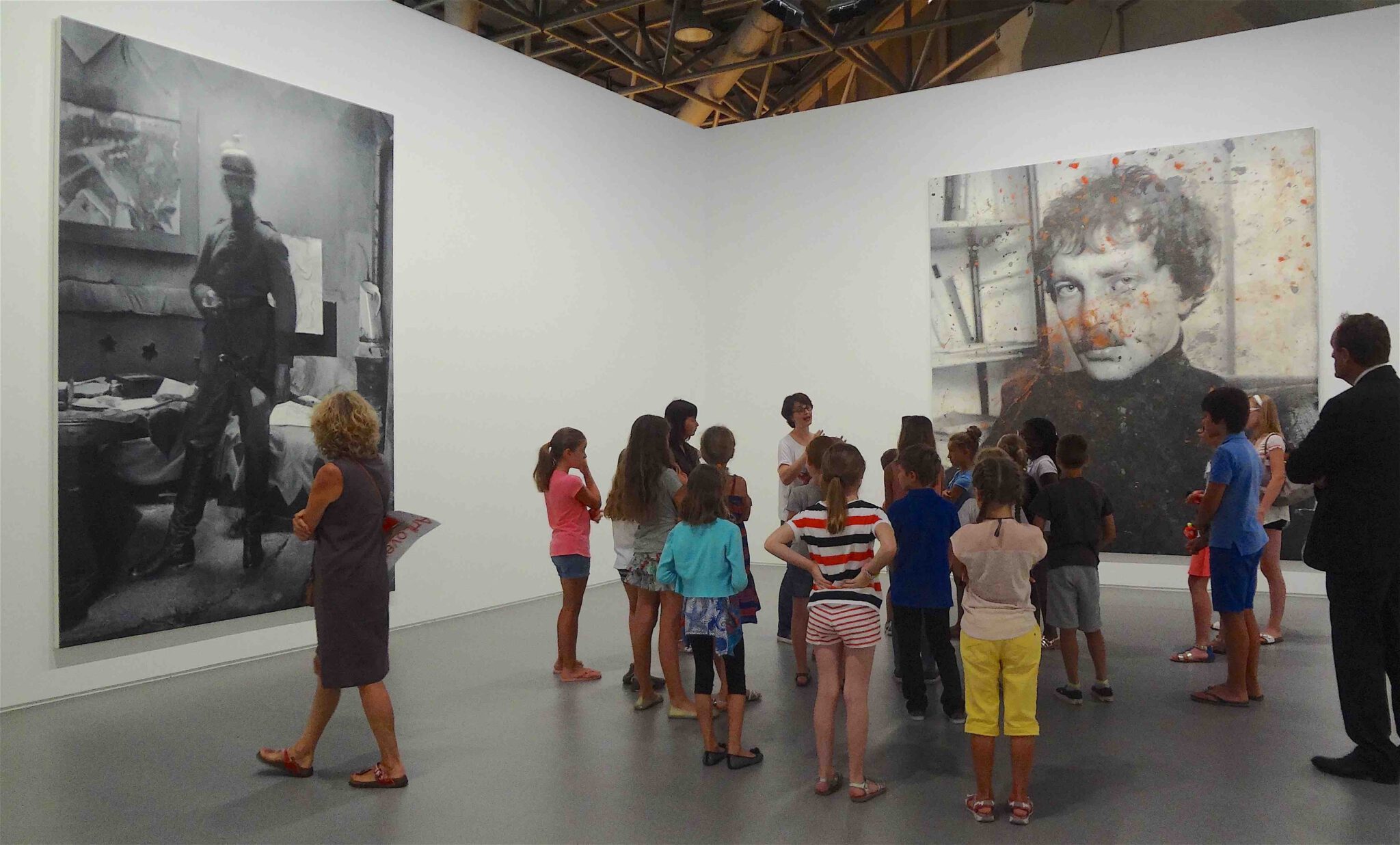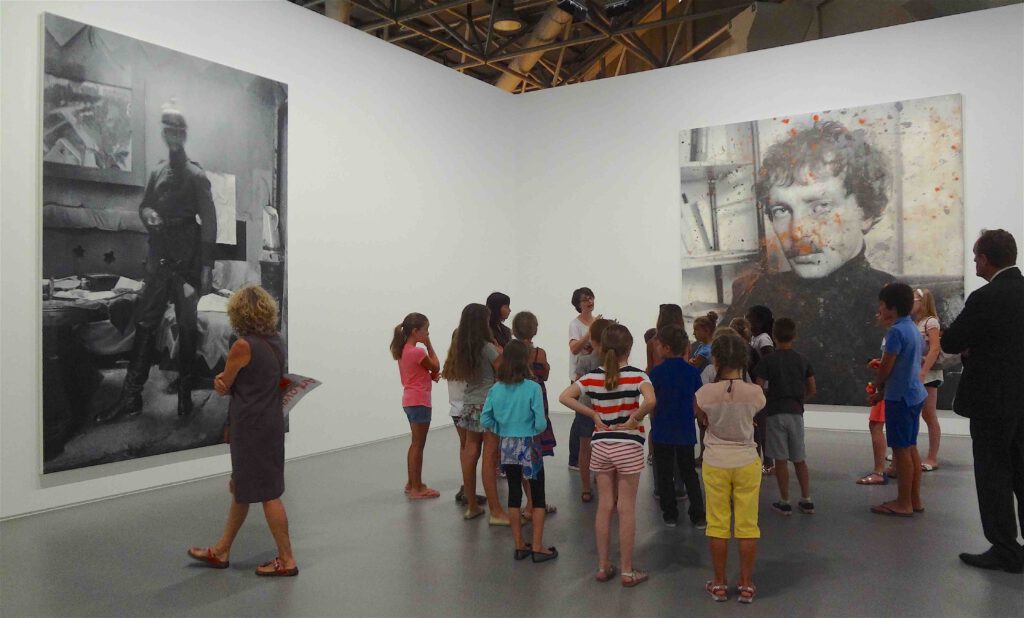 These two works by Rudolf Stingel (American, b. Italy 1956) involve the same process: they are painted from an enlargement of an old or damaged photograph, with the artist meticulously reproducing both the motif – a sculpture, a landscape or, in this case, a portrait – and such fortuitous elements as rips and paint spatters. Suffused with melancholy and the inexorable passing of time, they show the Expressionist painter Ernst Ludwig Kirchner (1880-1938) and the artist Franz West, a longtime friend of Stingel's who died in 2012.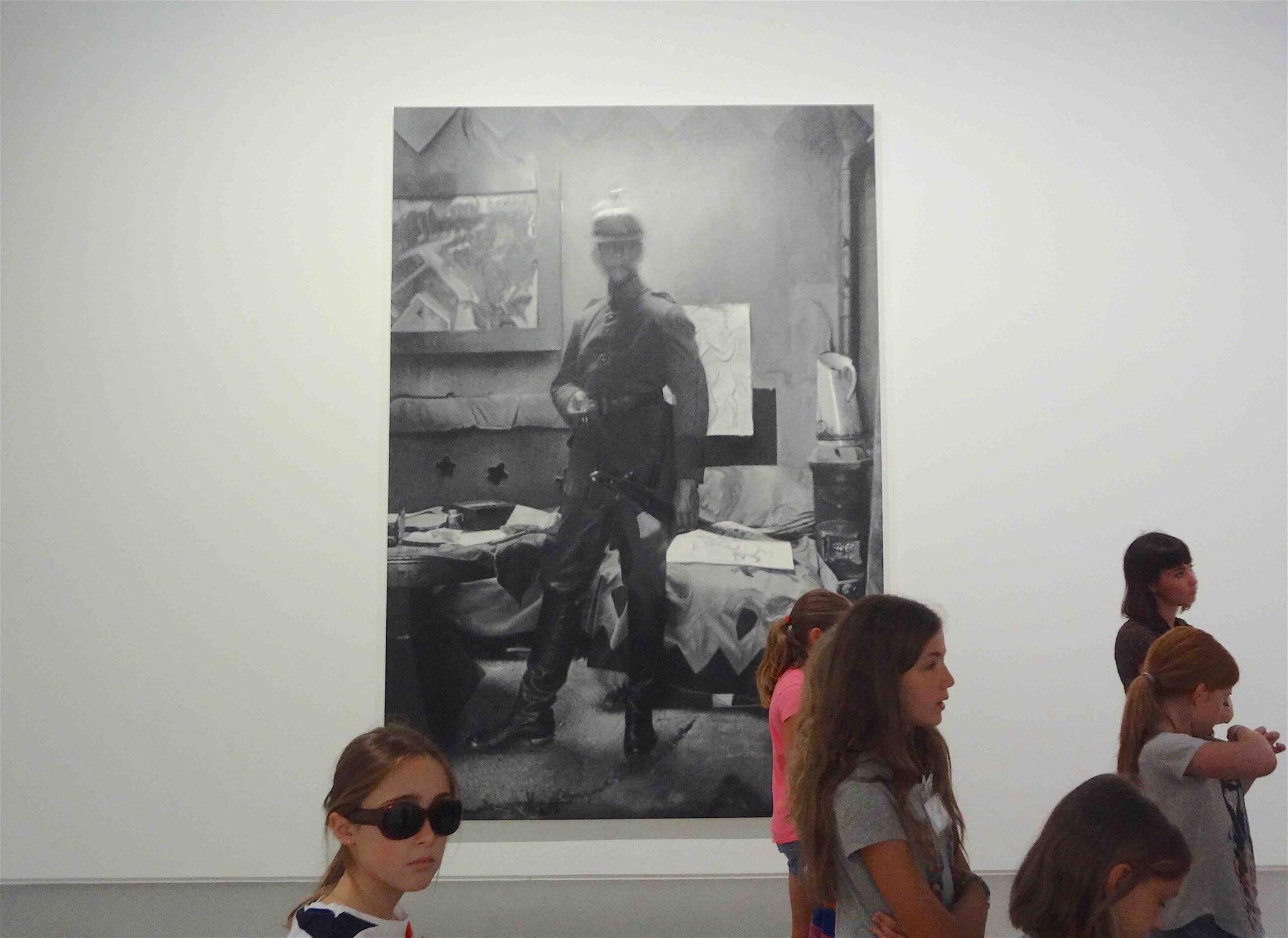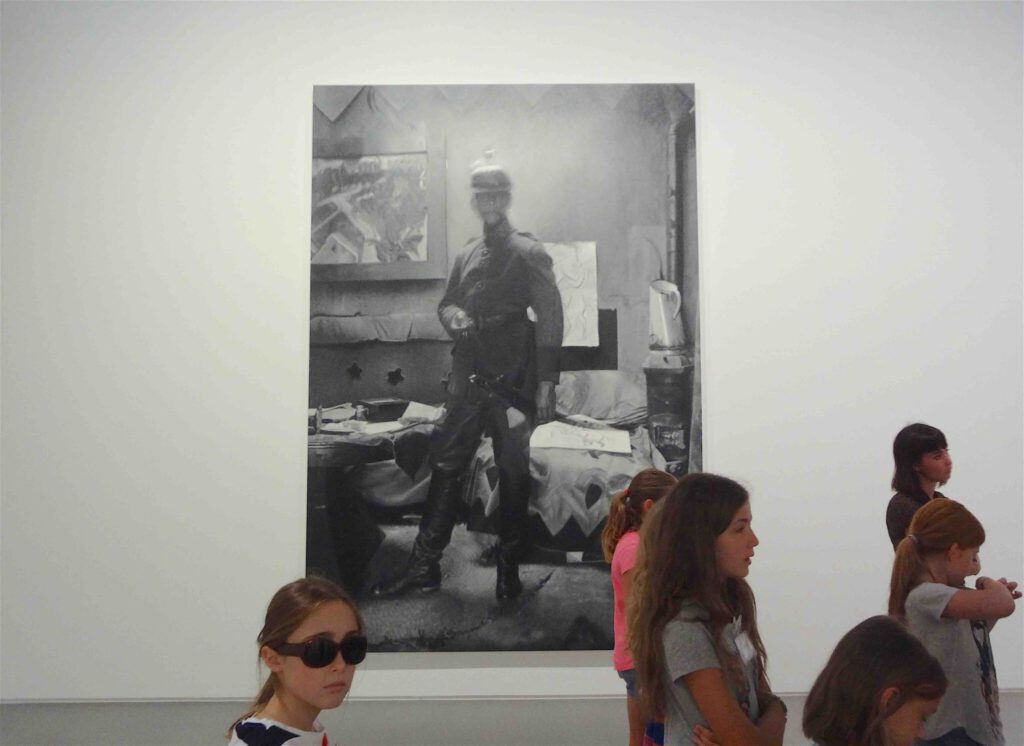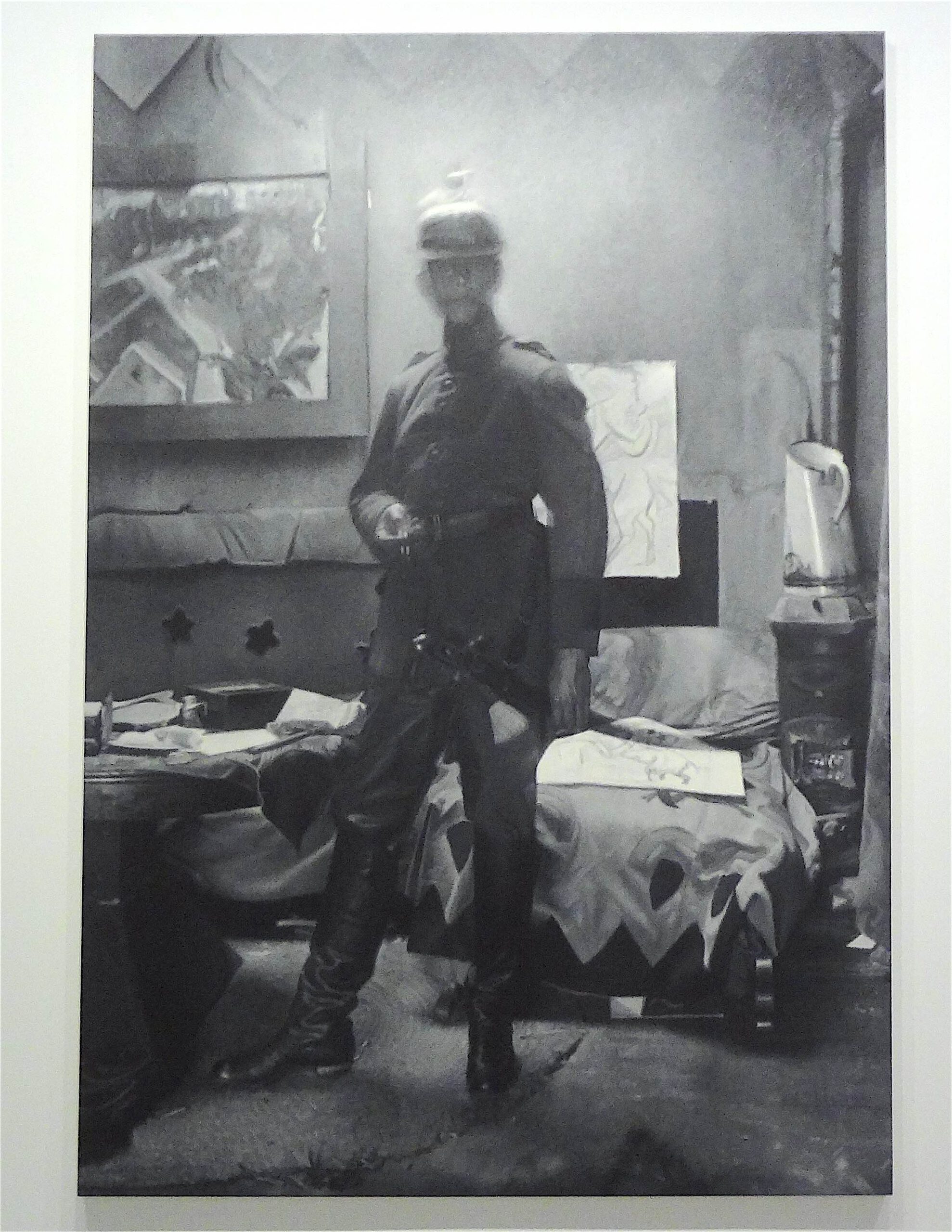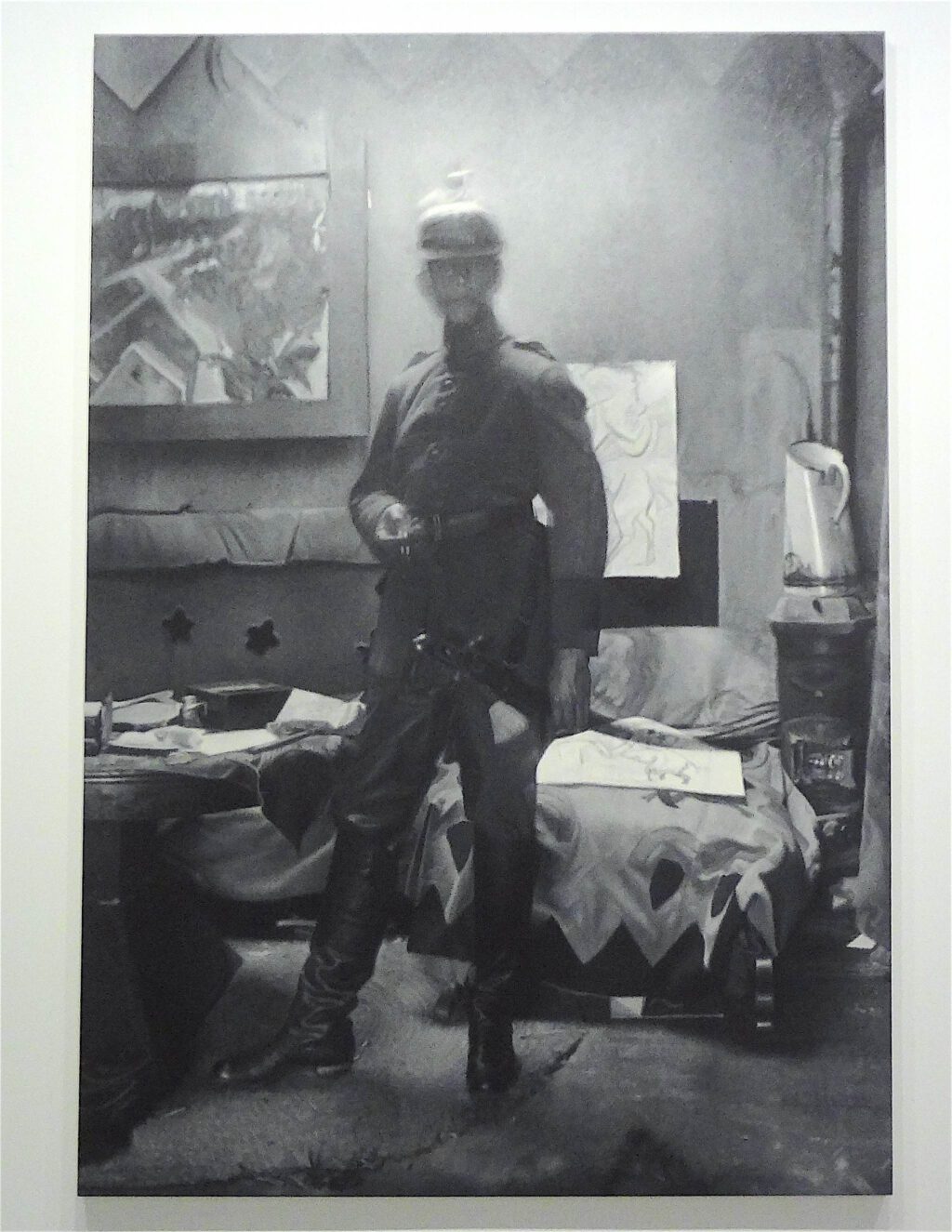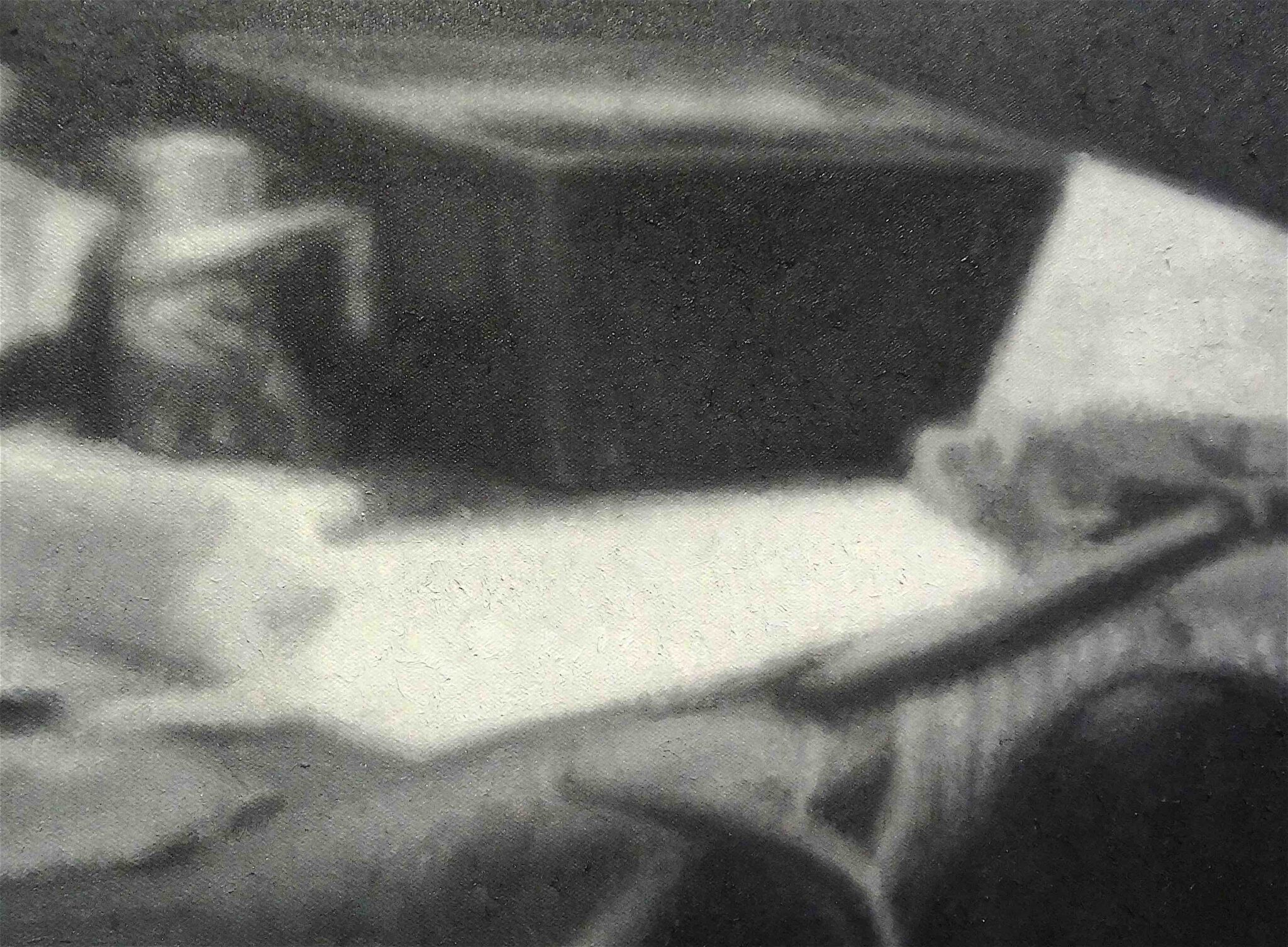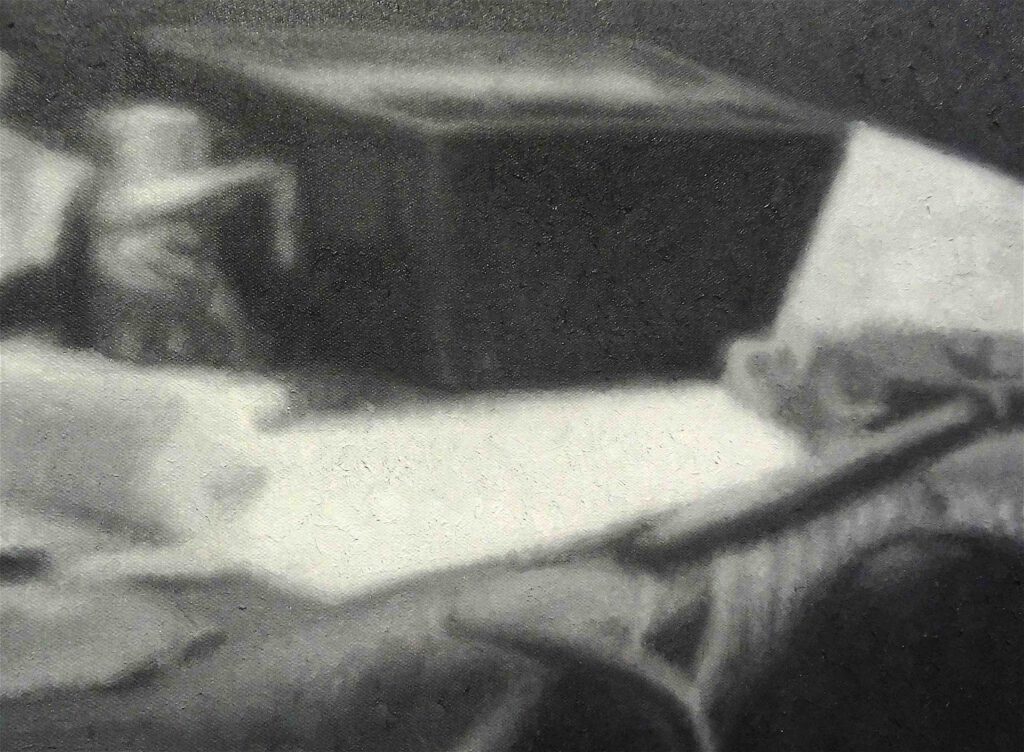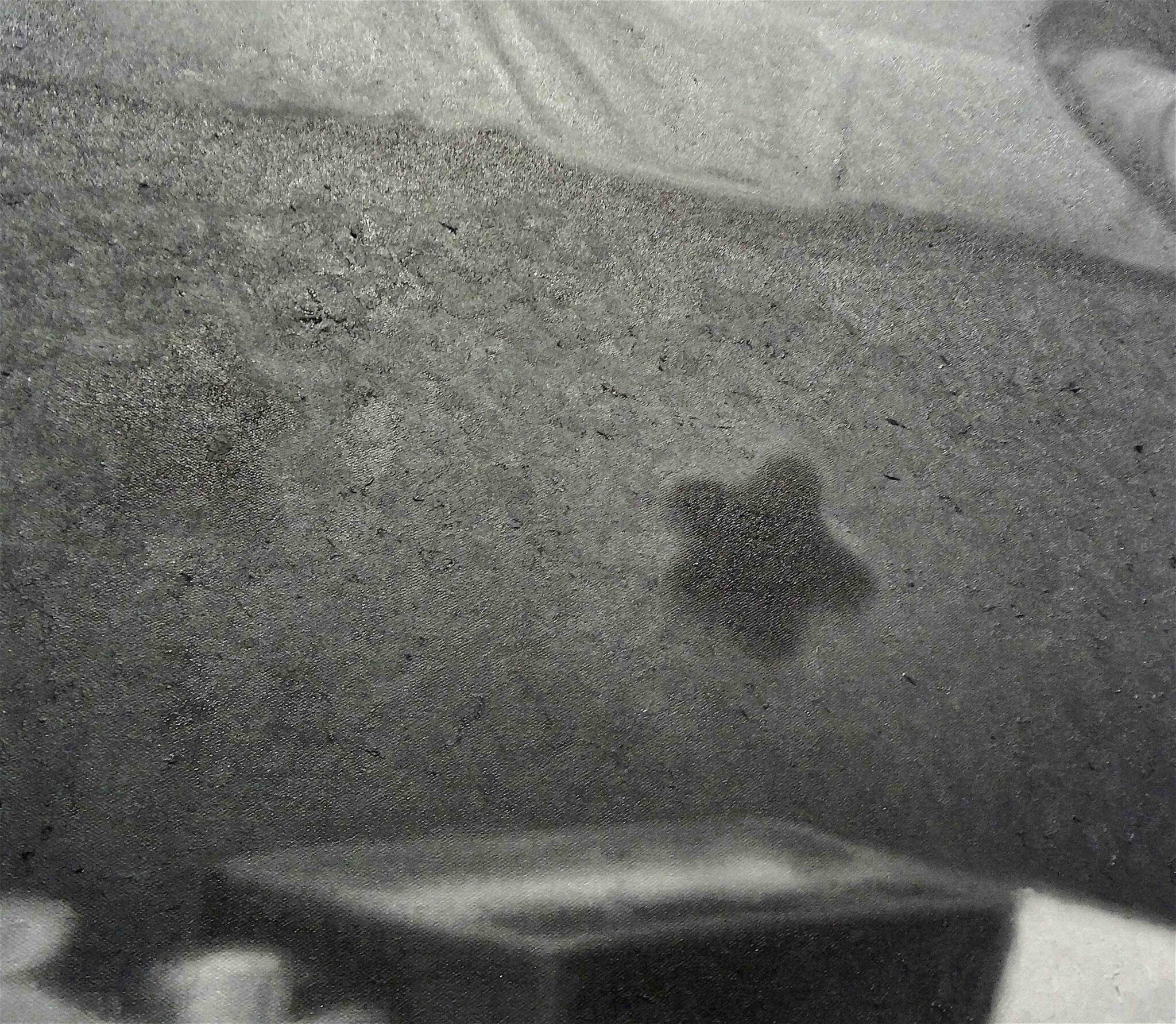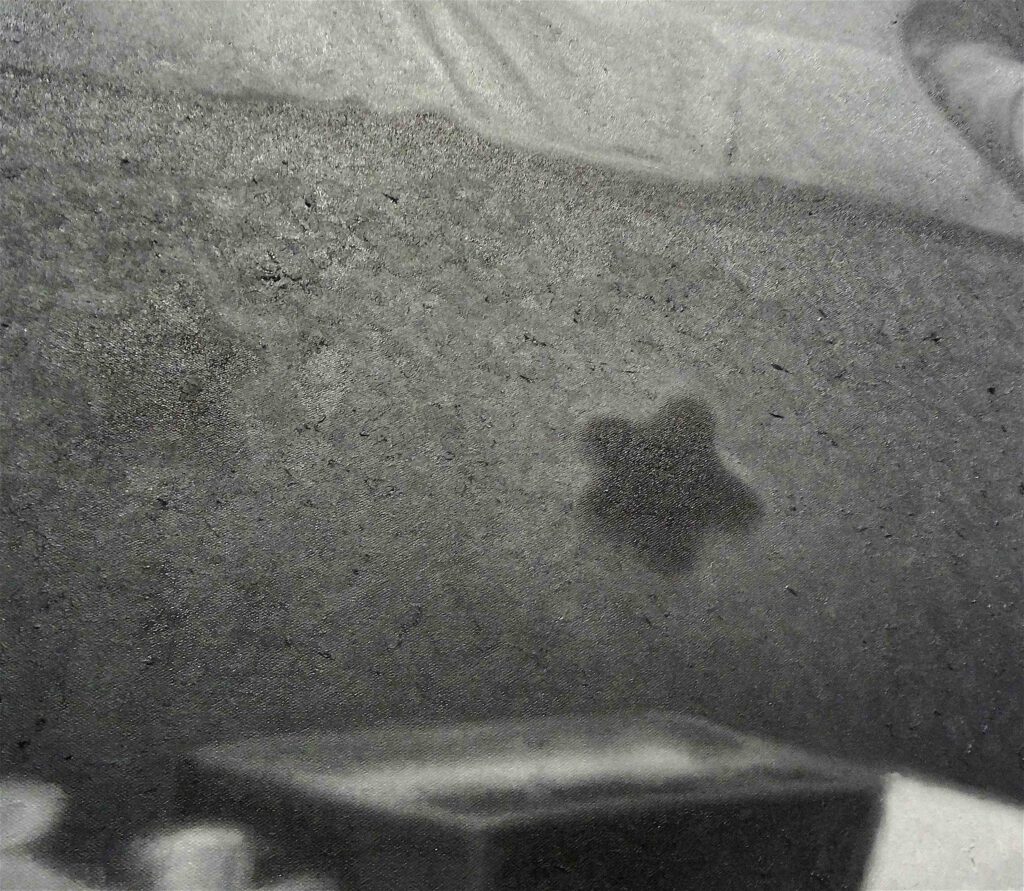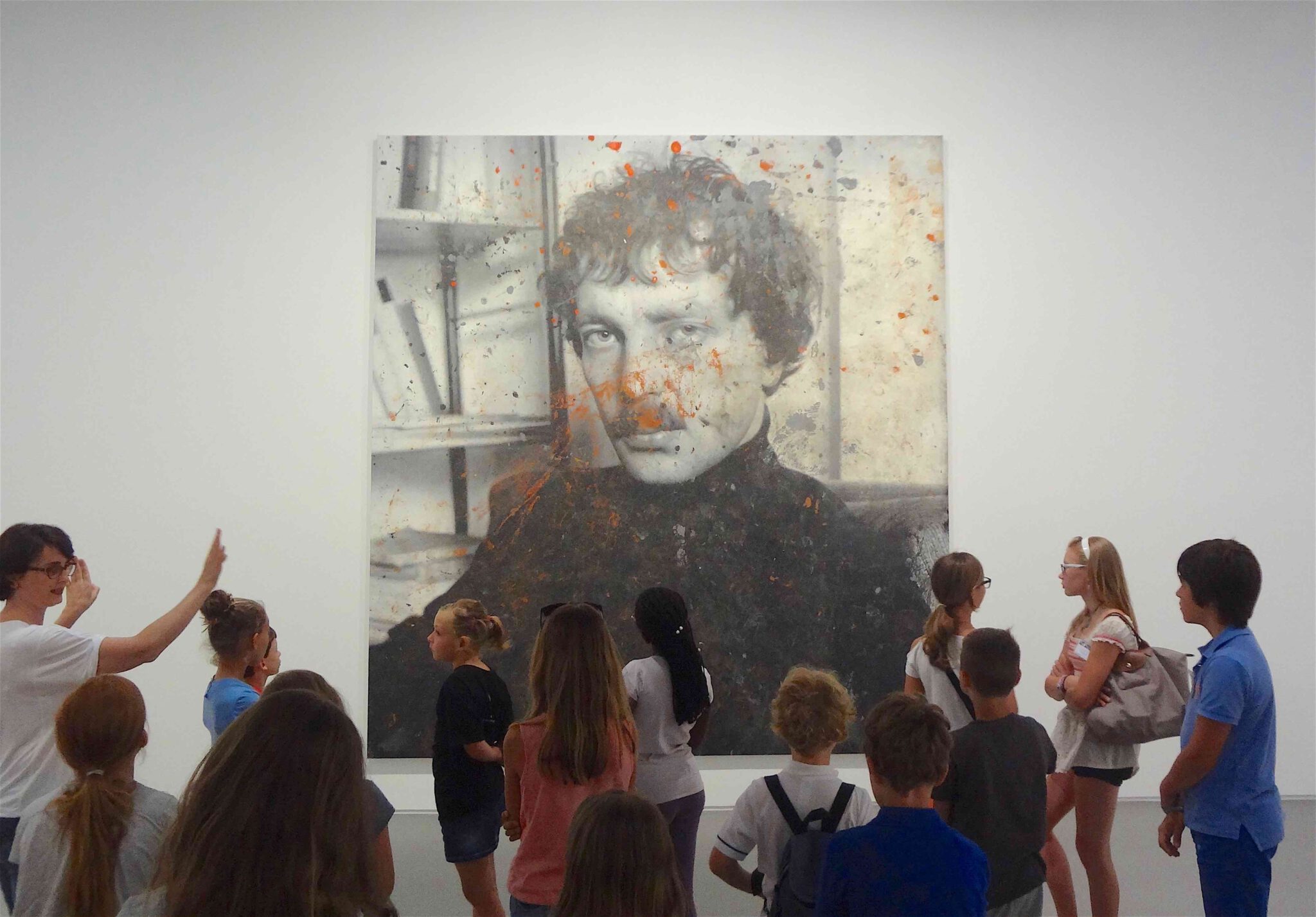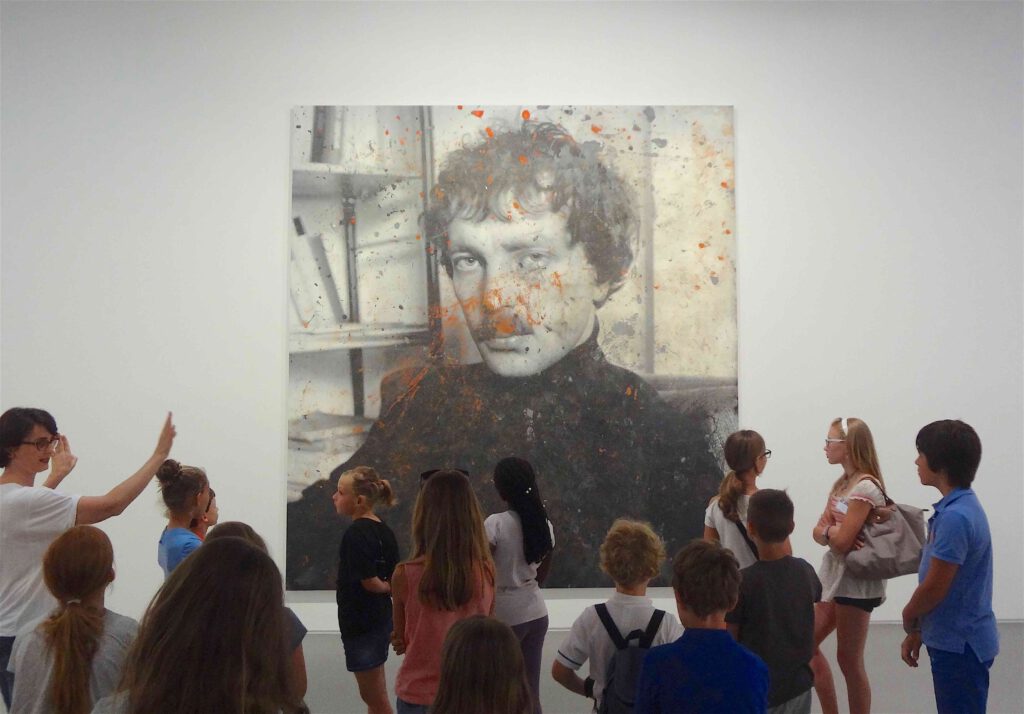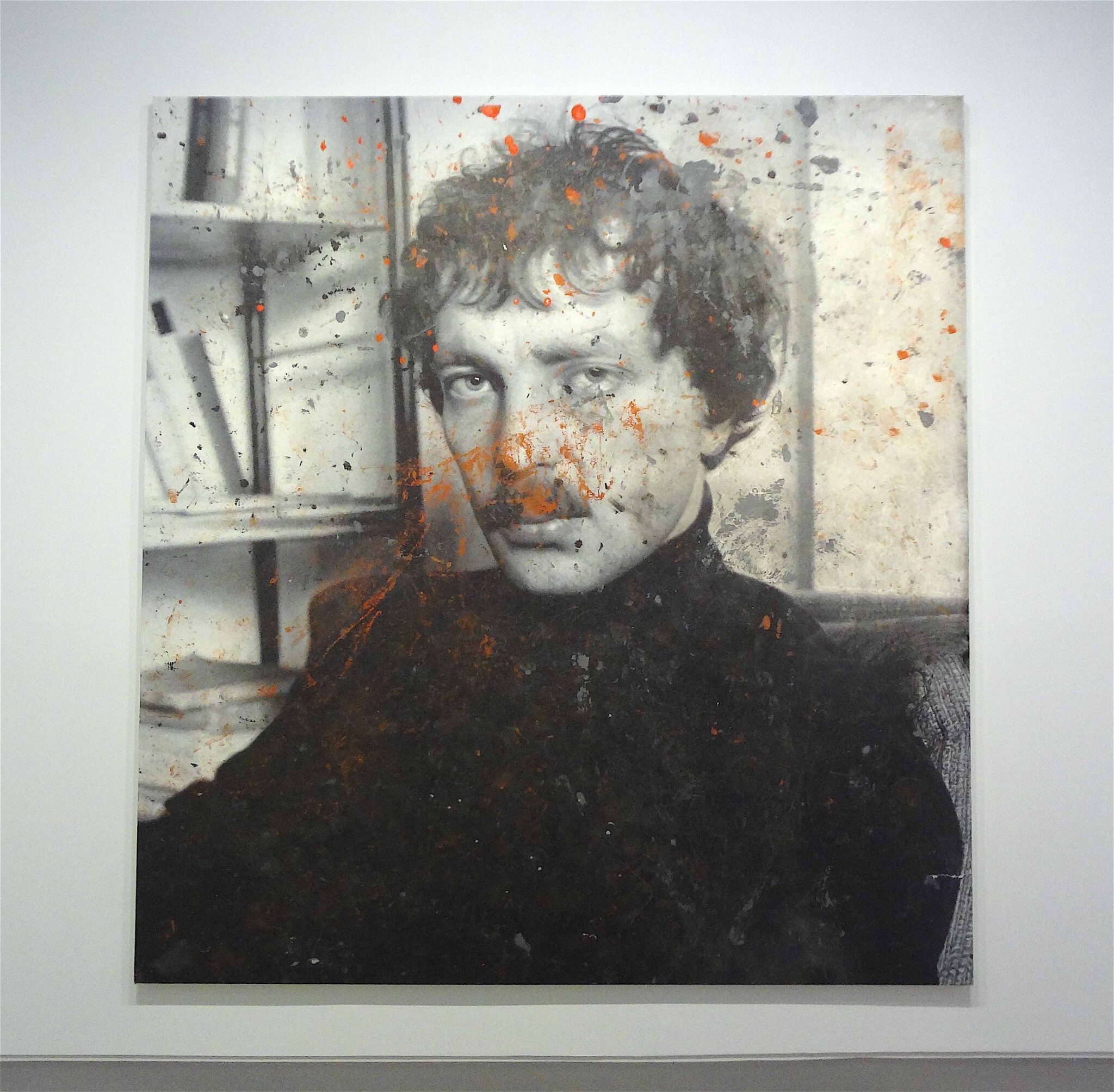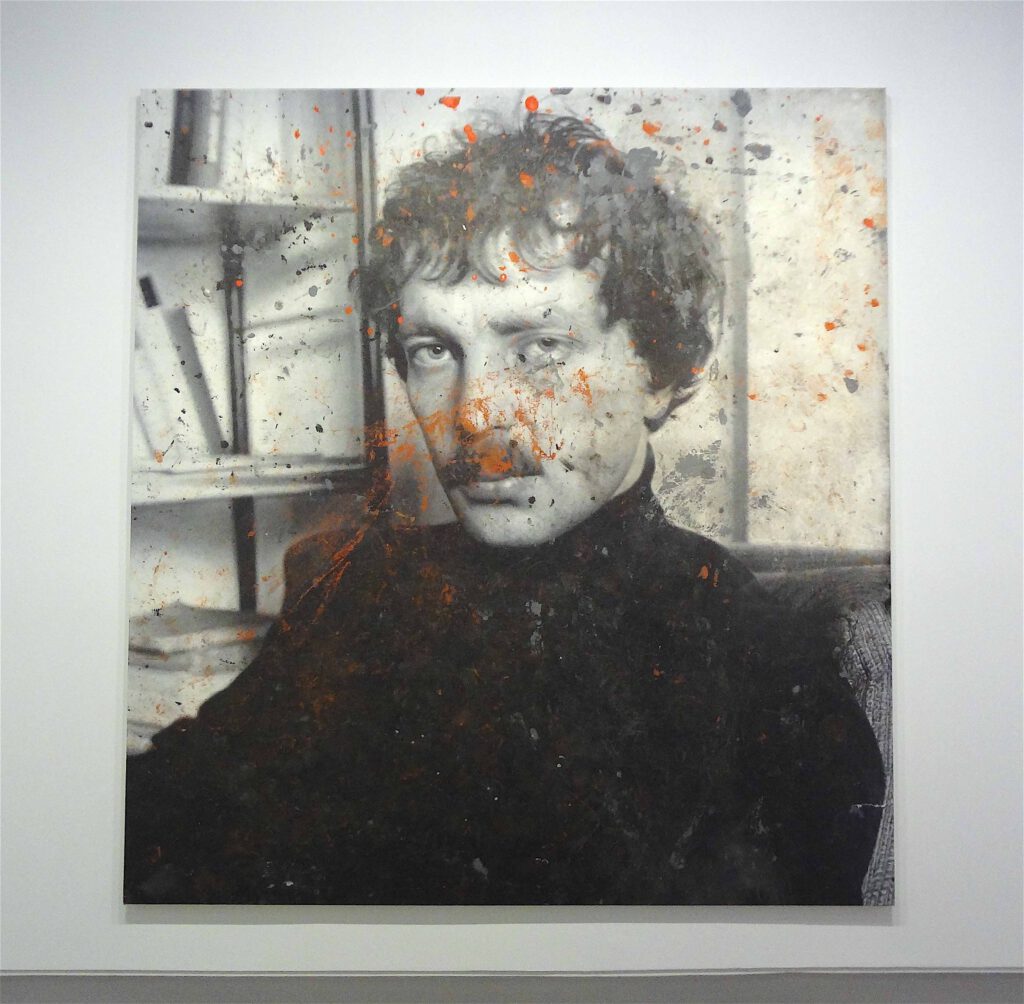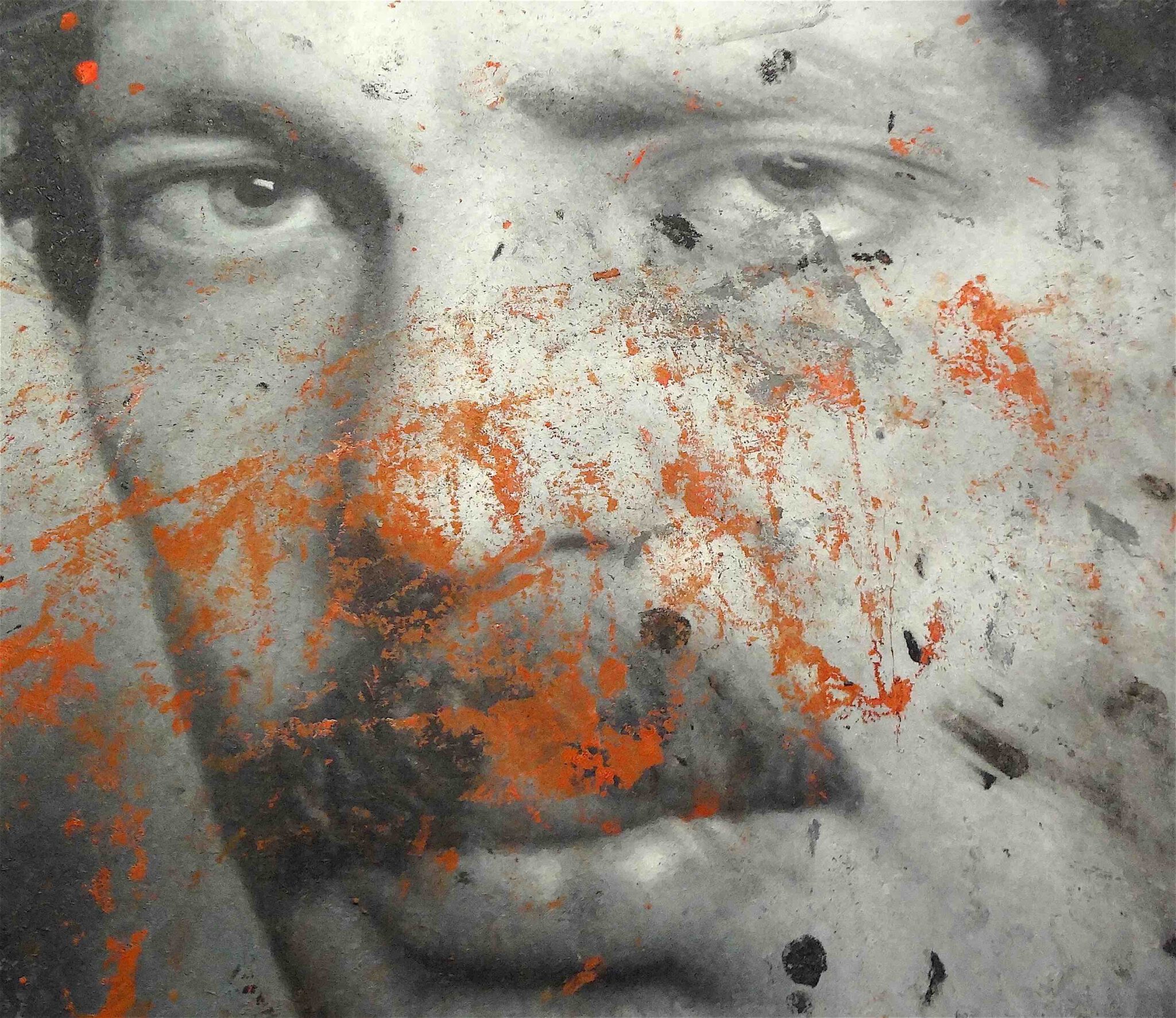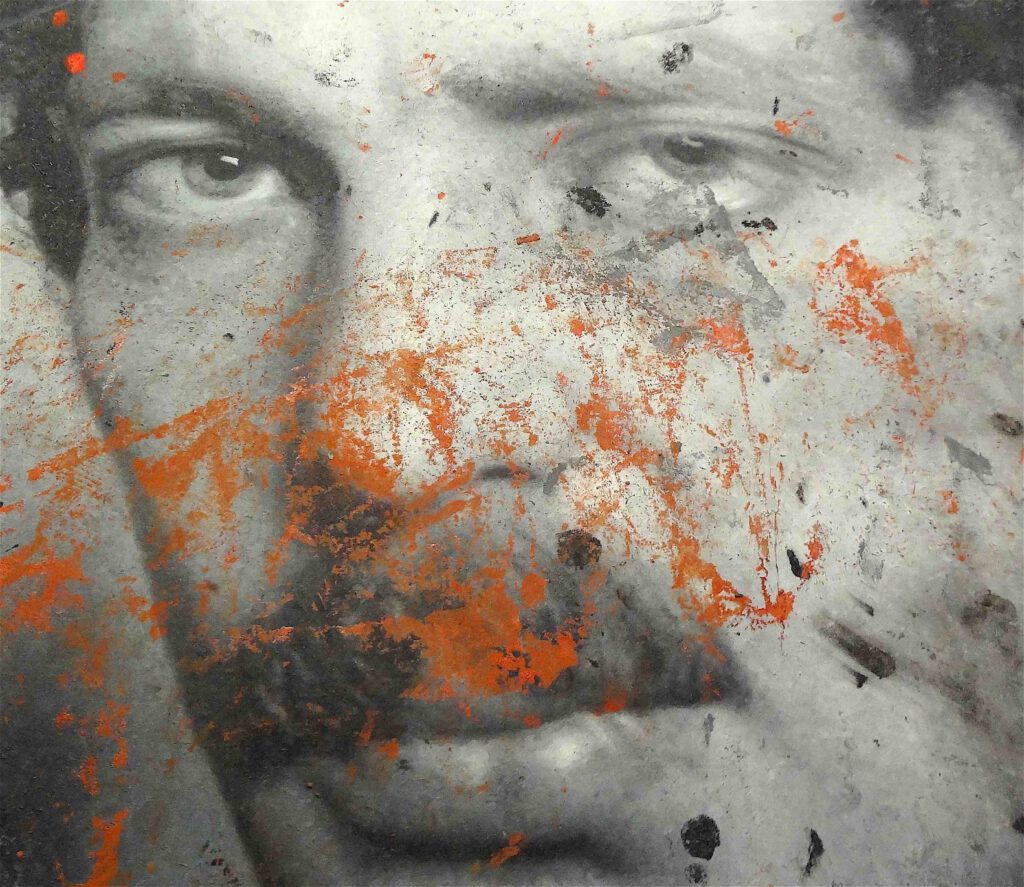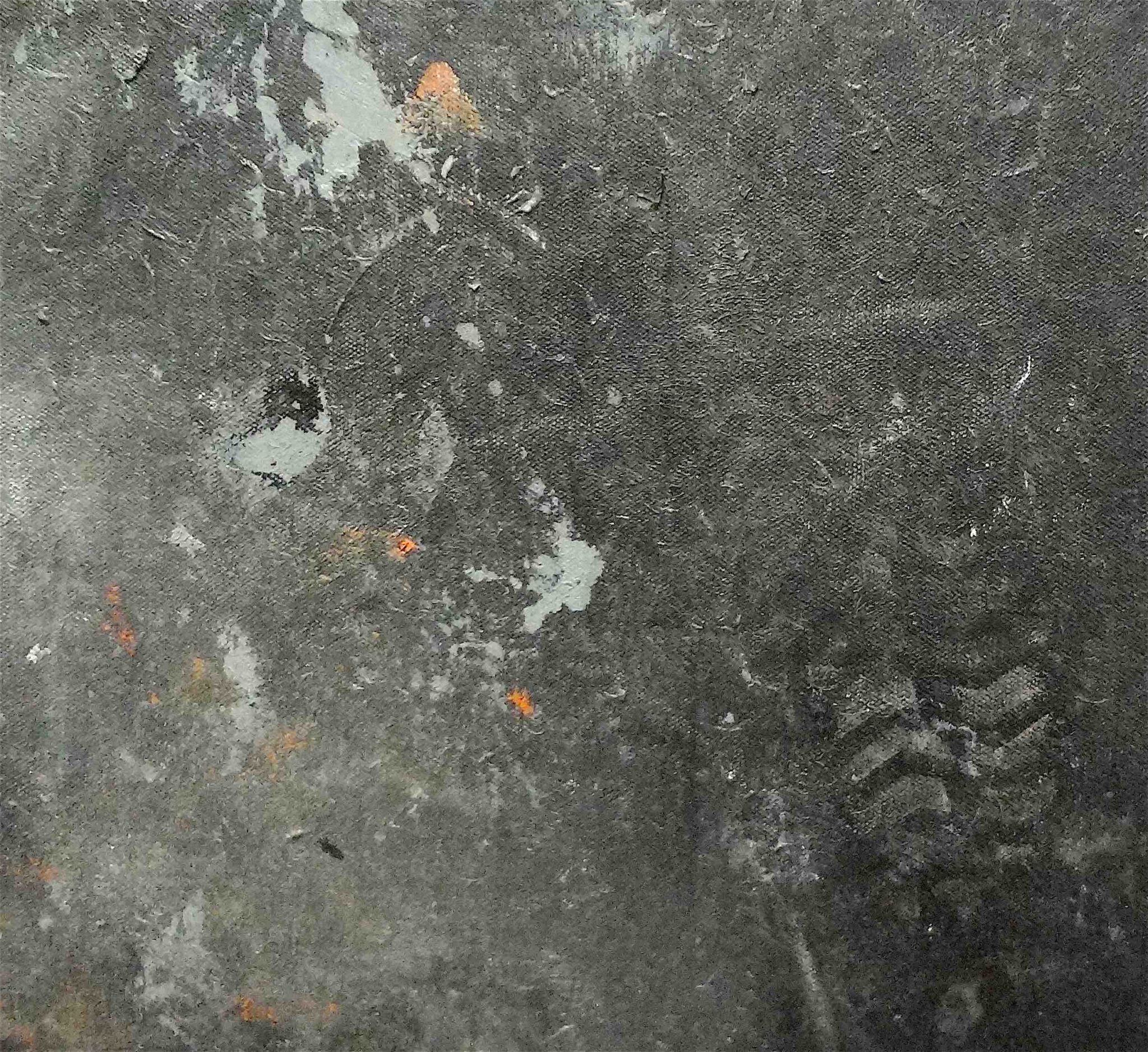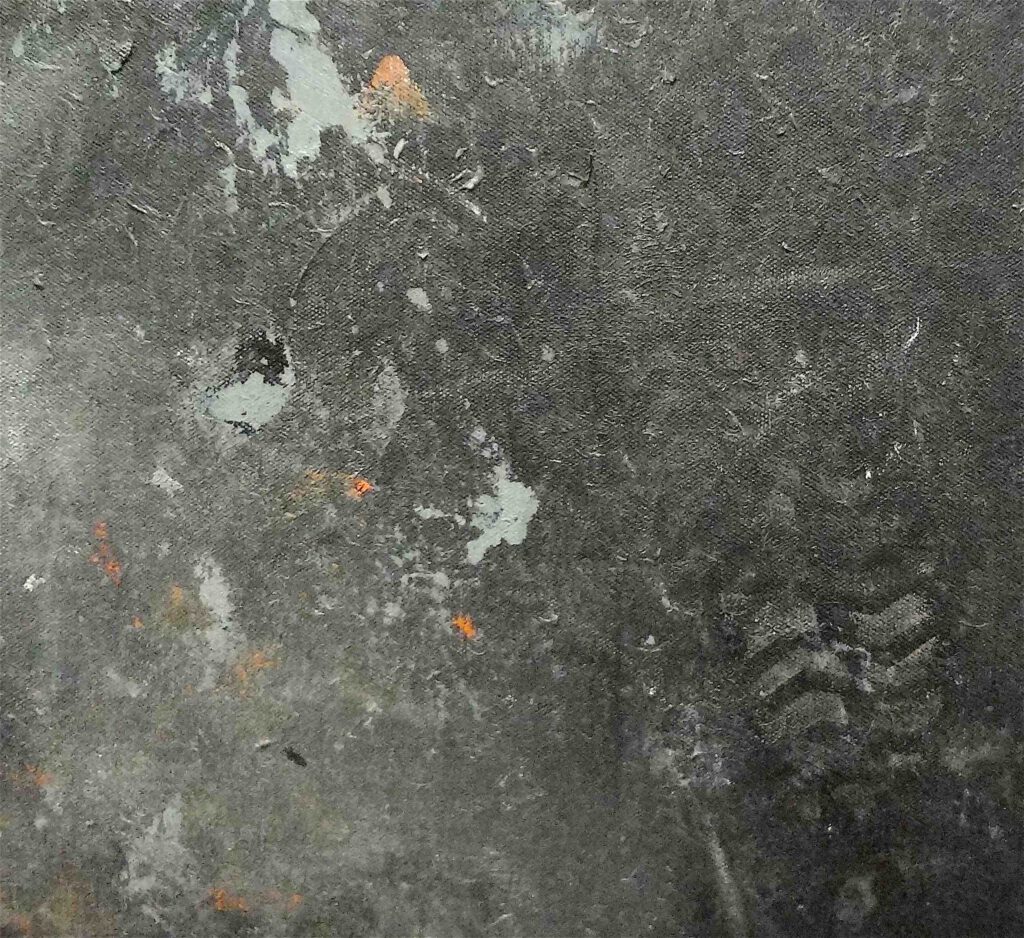 compare 比較: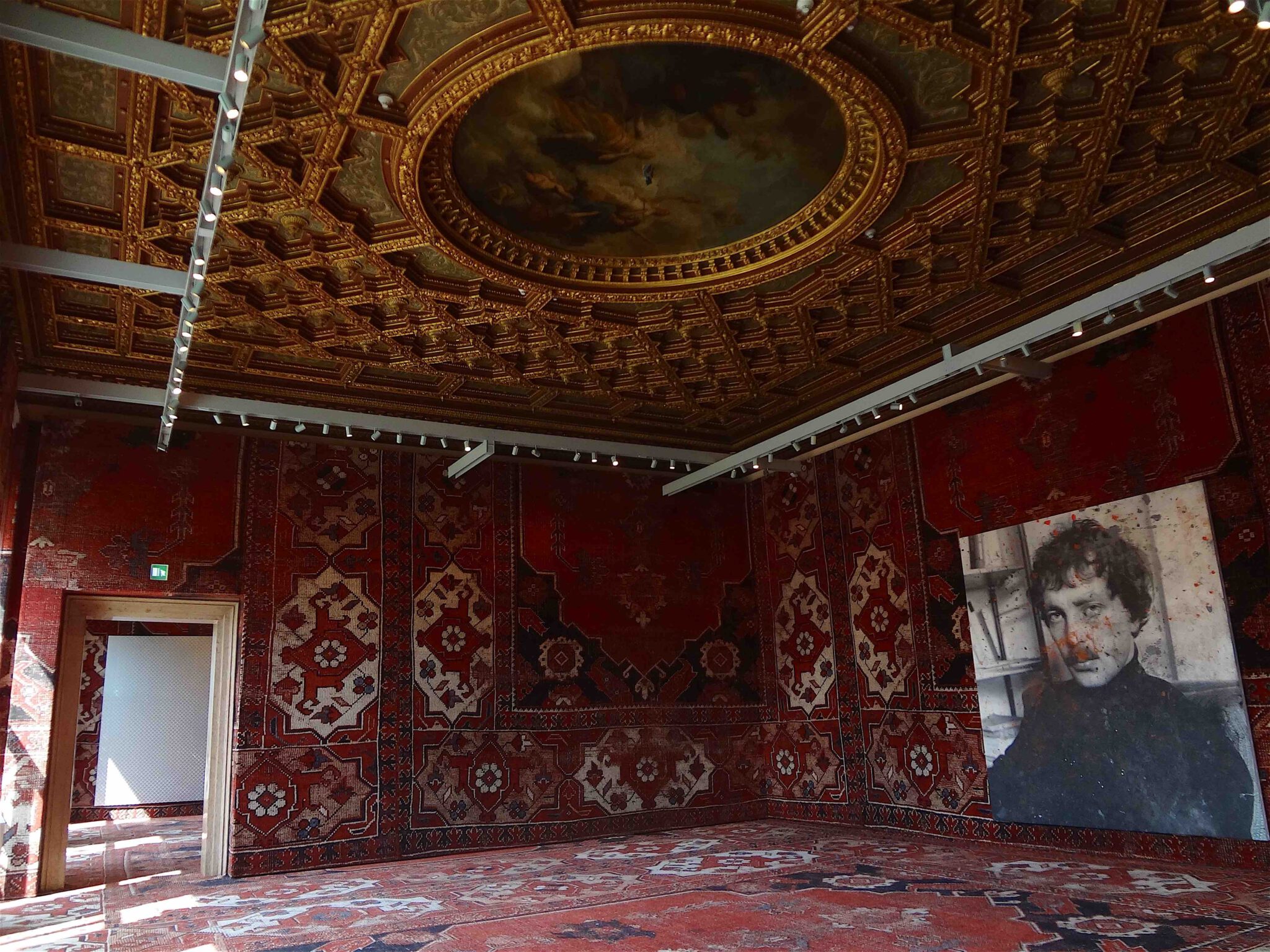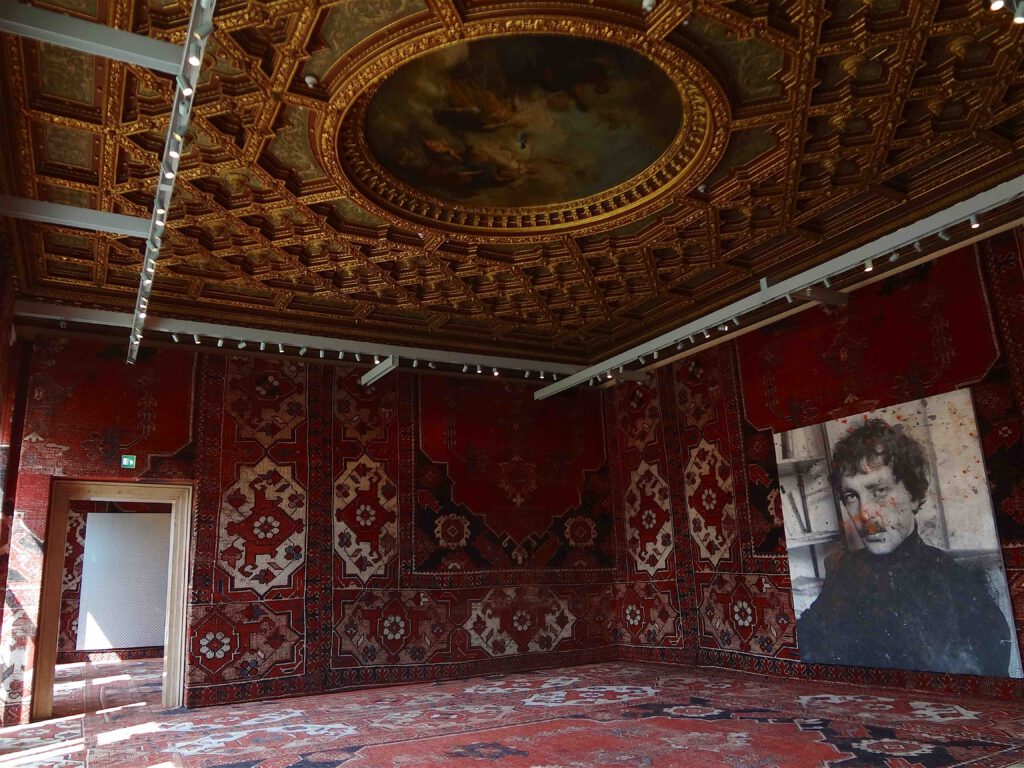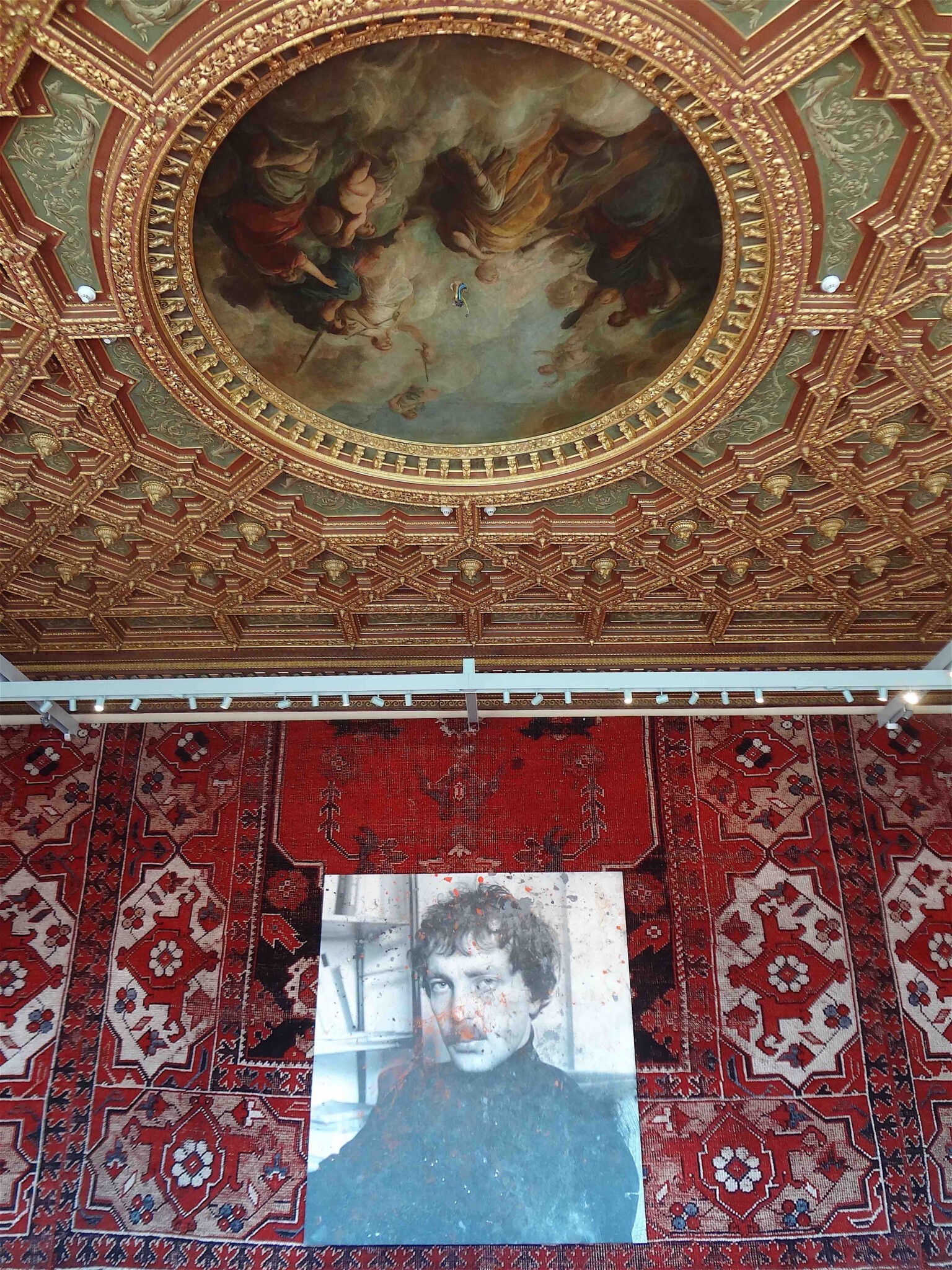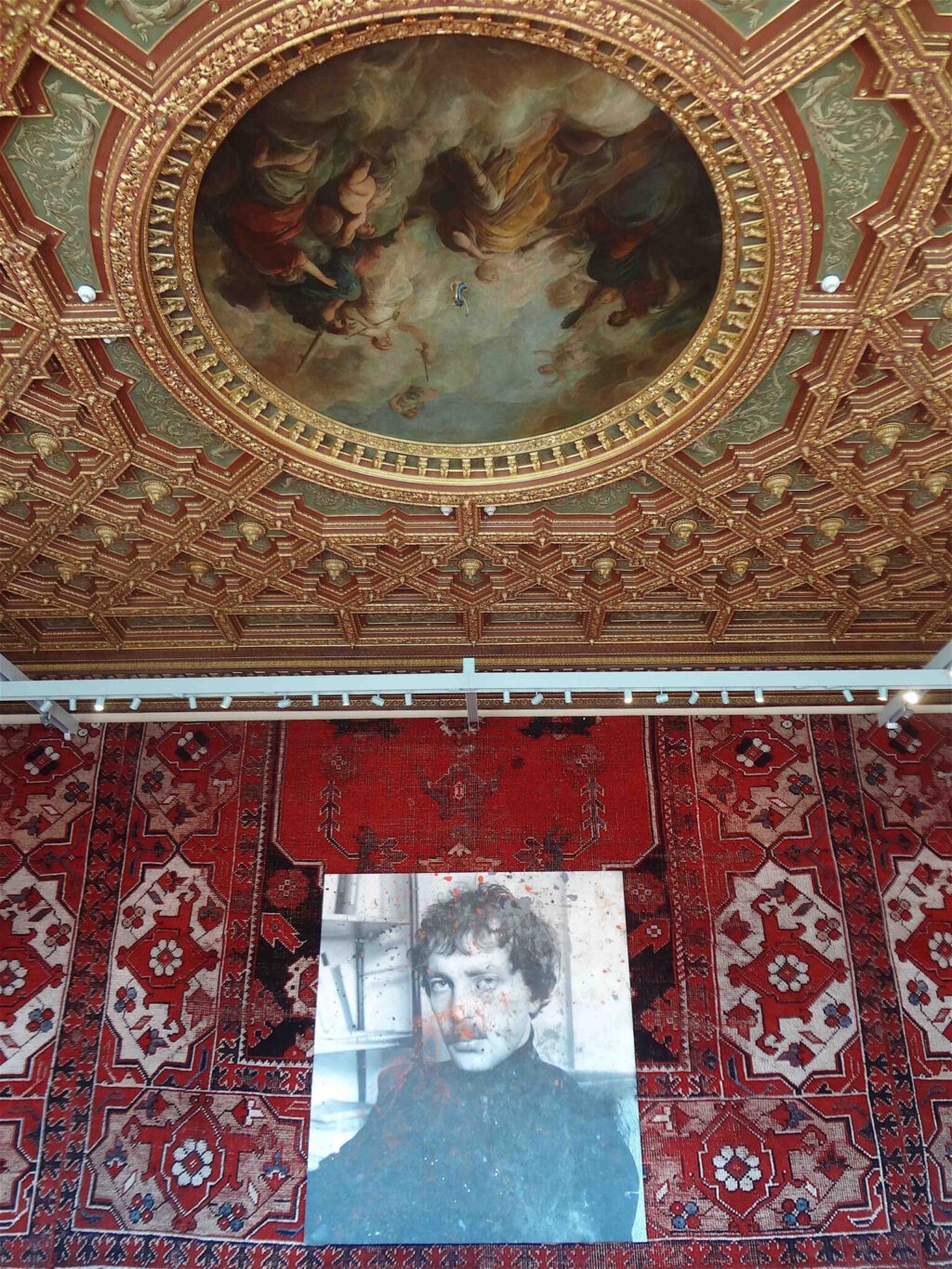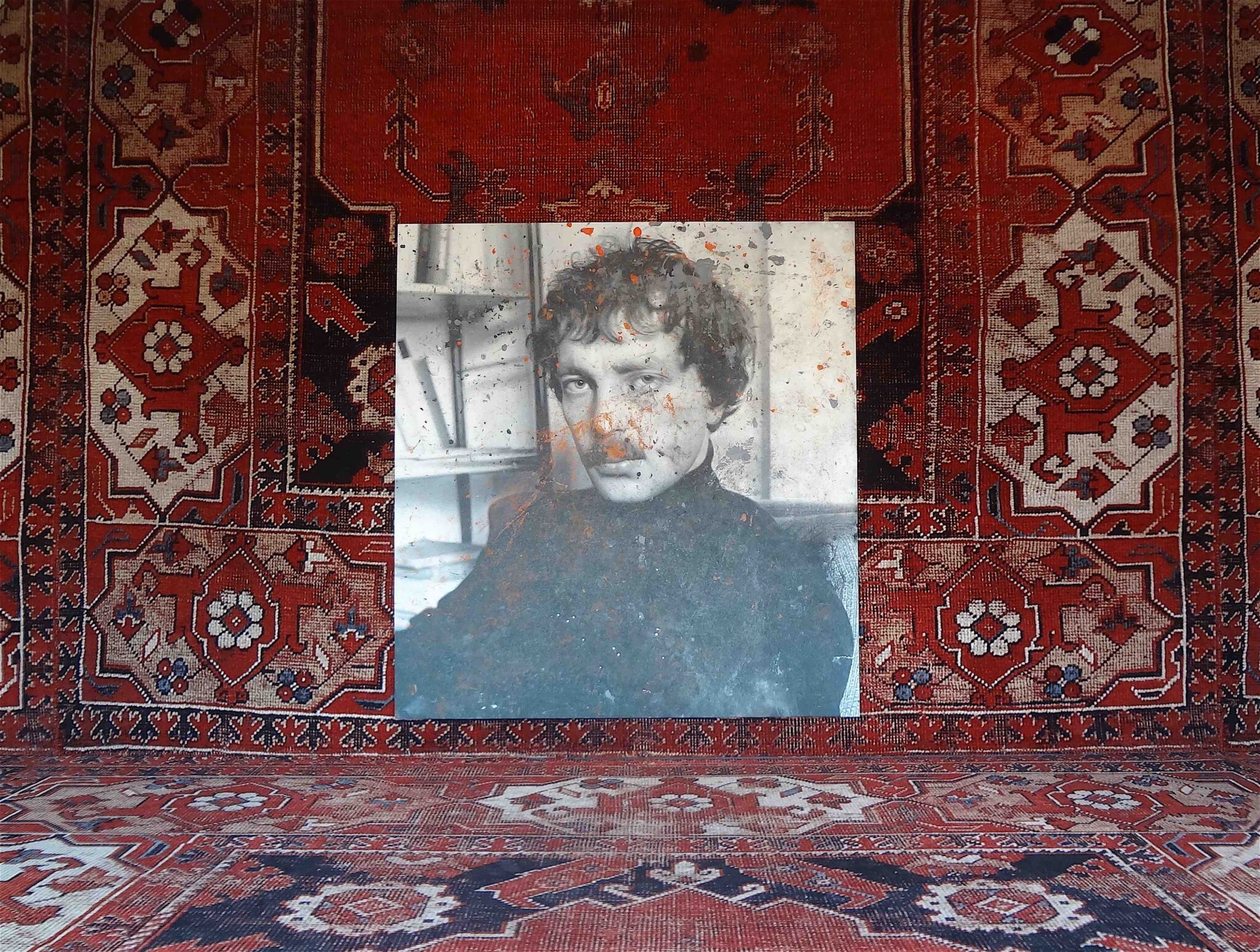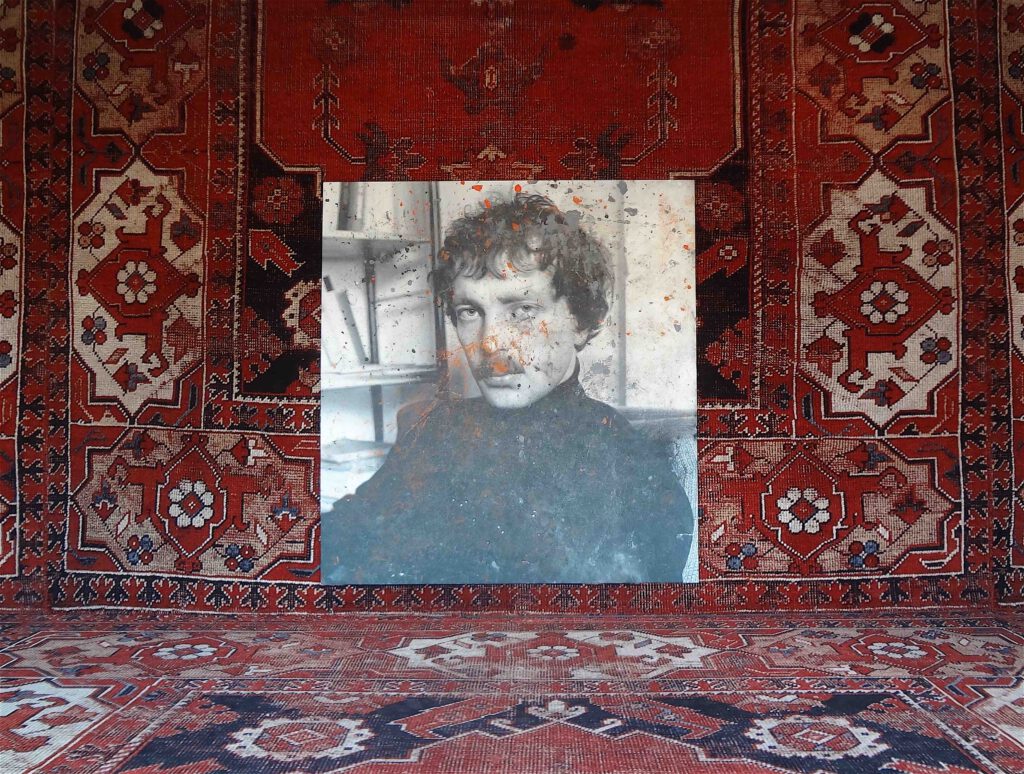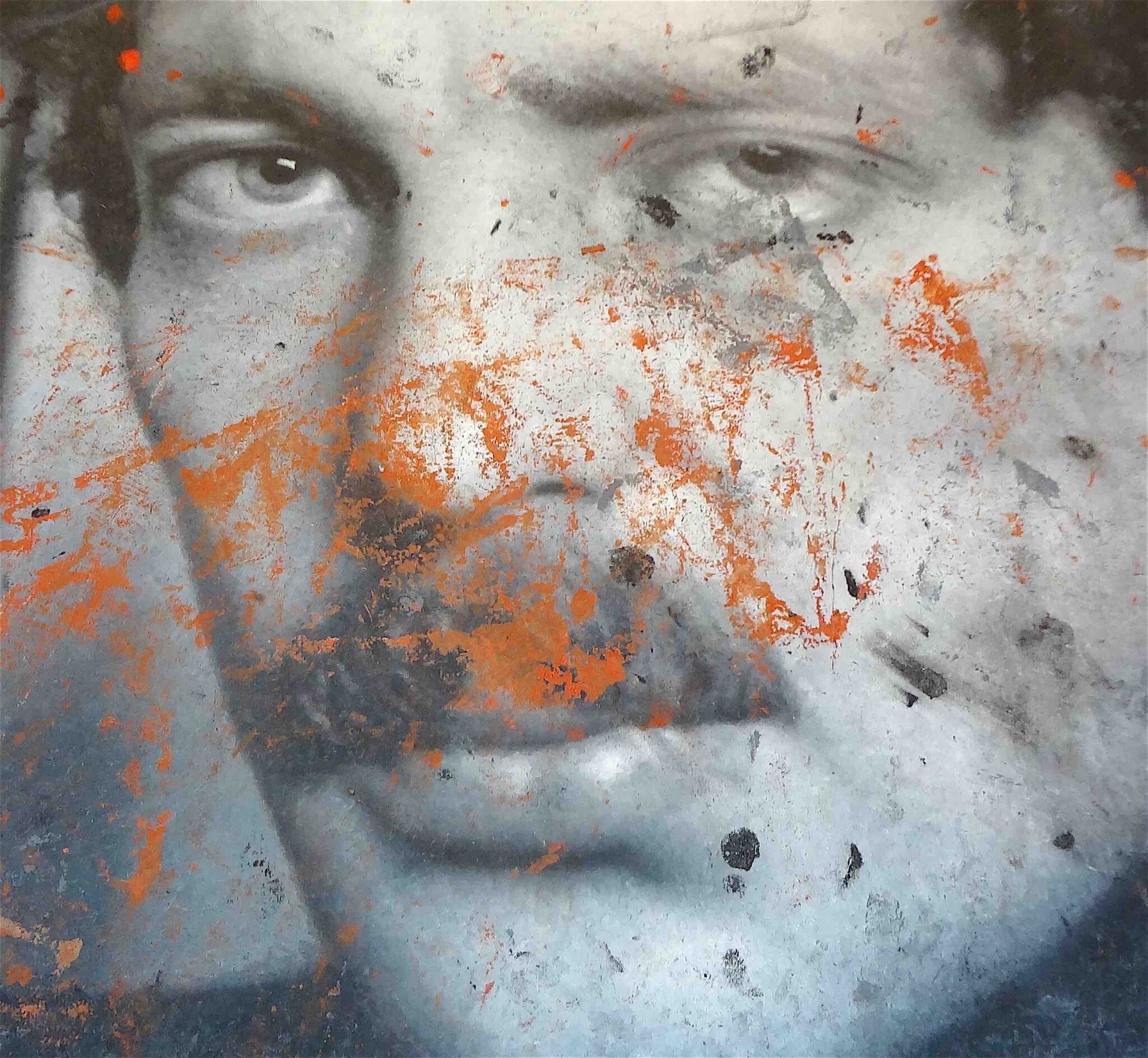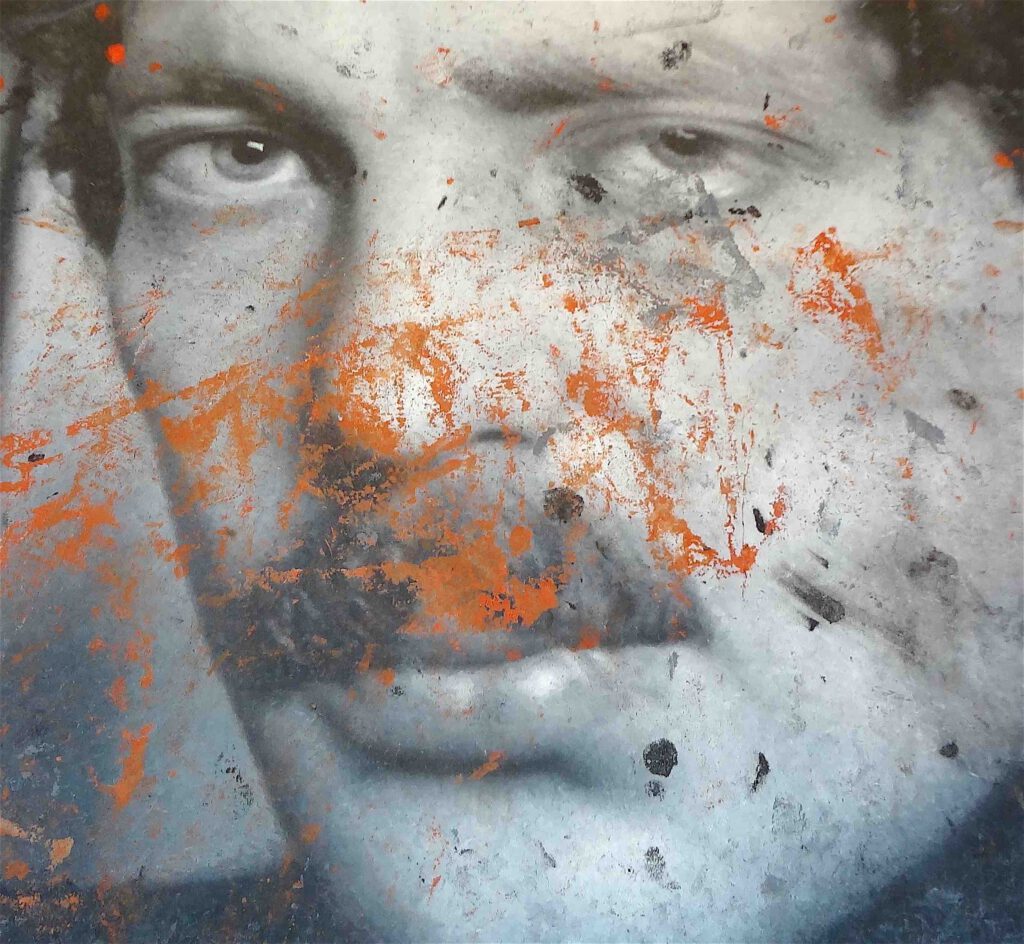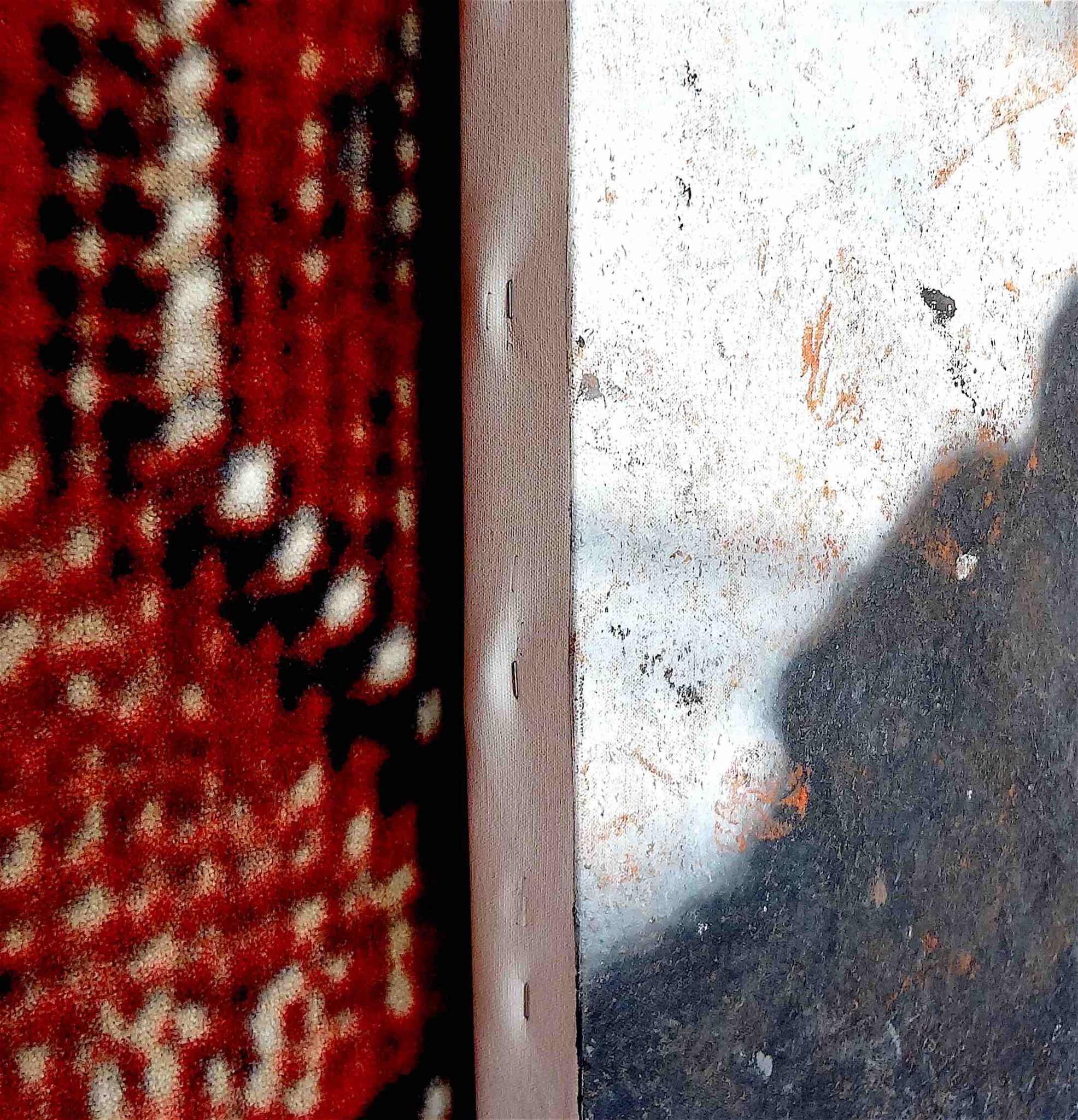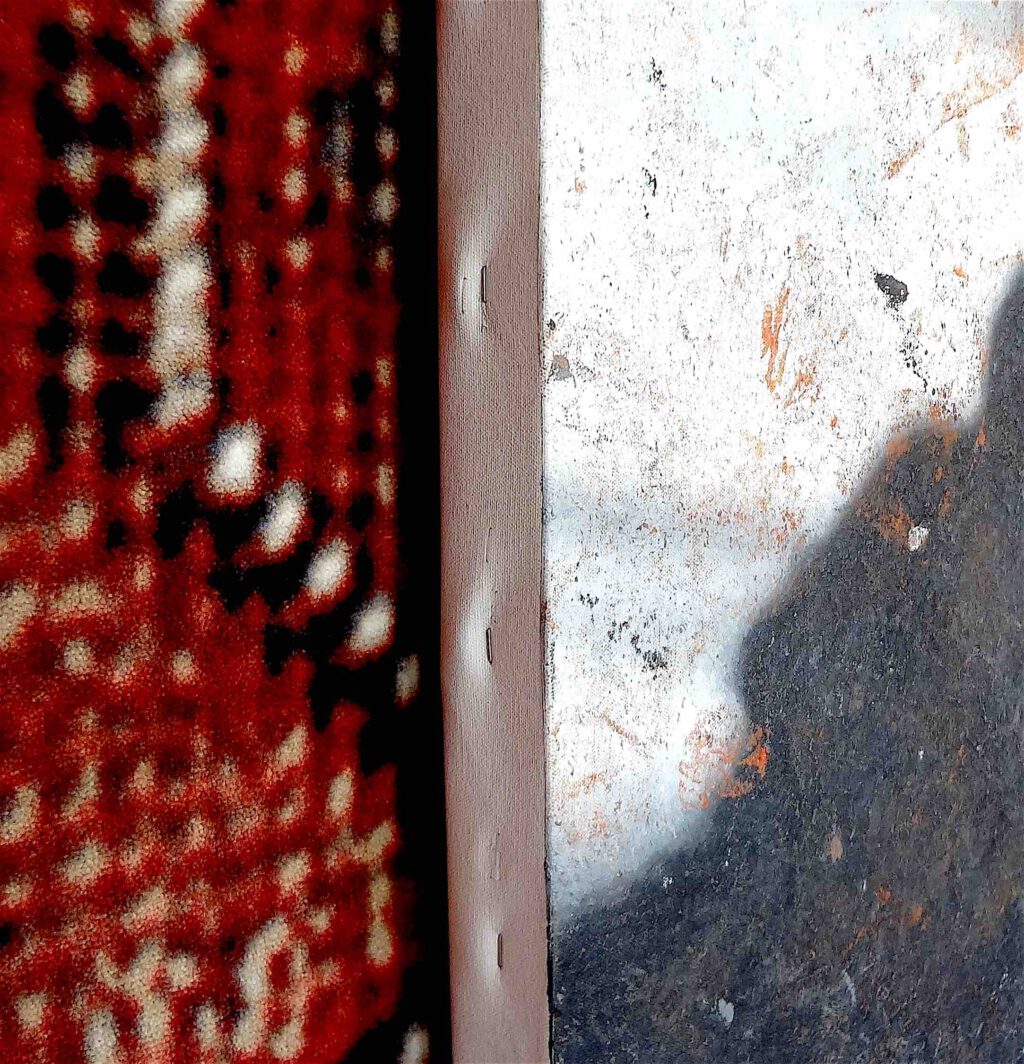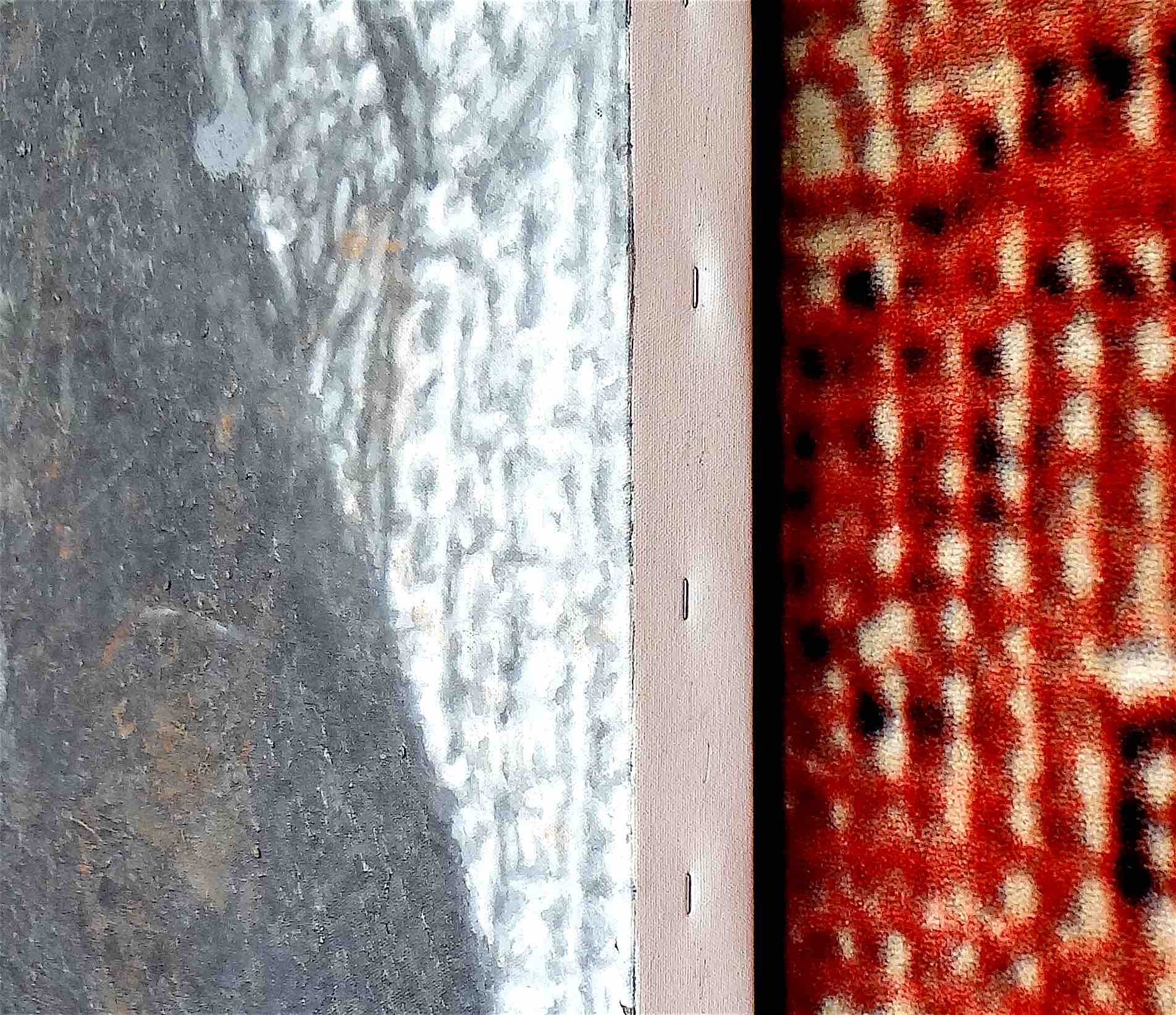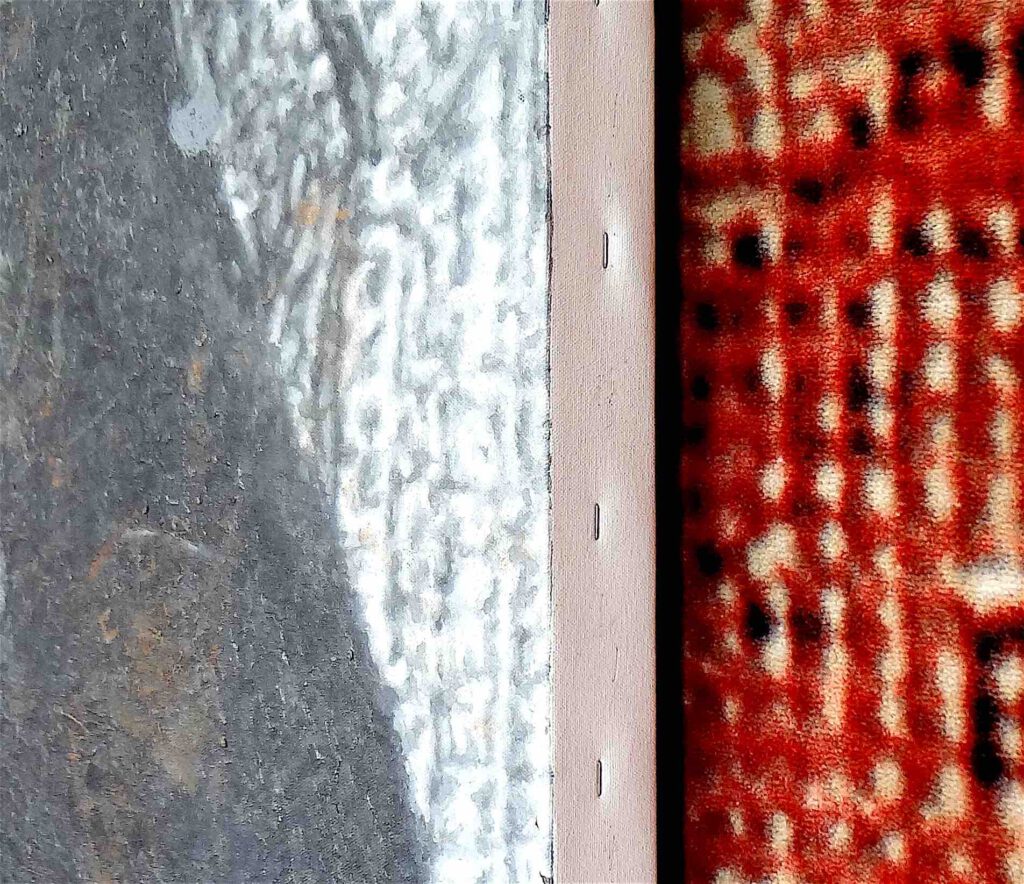 more その他に:
Rudolf Stingel ルドルフ・スティンゲル
https://art-culture.world/articles/rudolf-stingel/
ルドルフ・スティンゲルが焼け落ちる Burning Down Rudolf Stingel
https://art-culture.world/articles/burning-down-rudolf-stingel/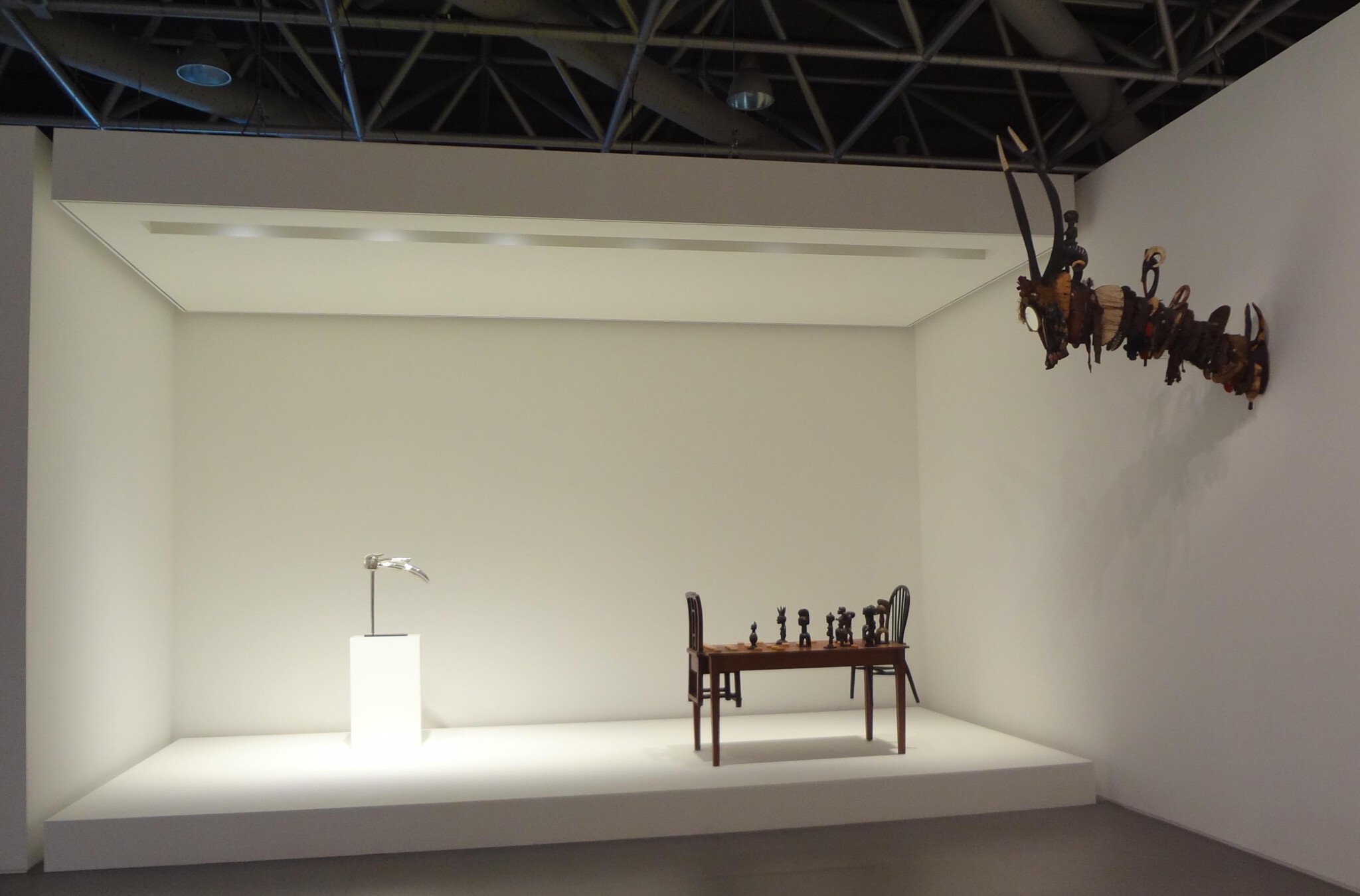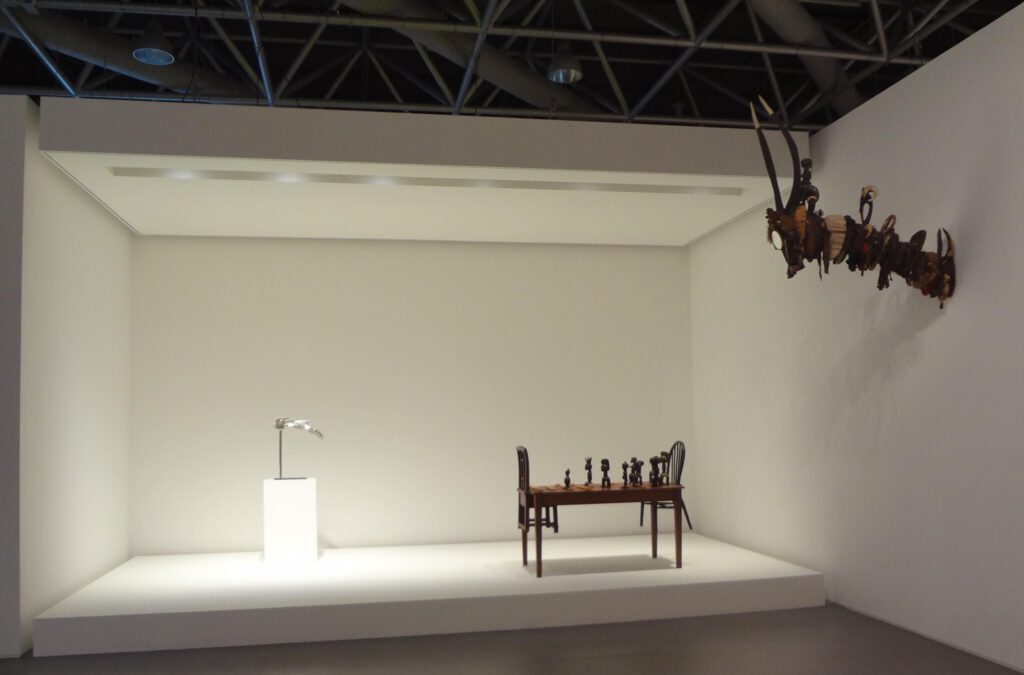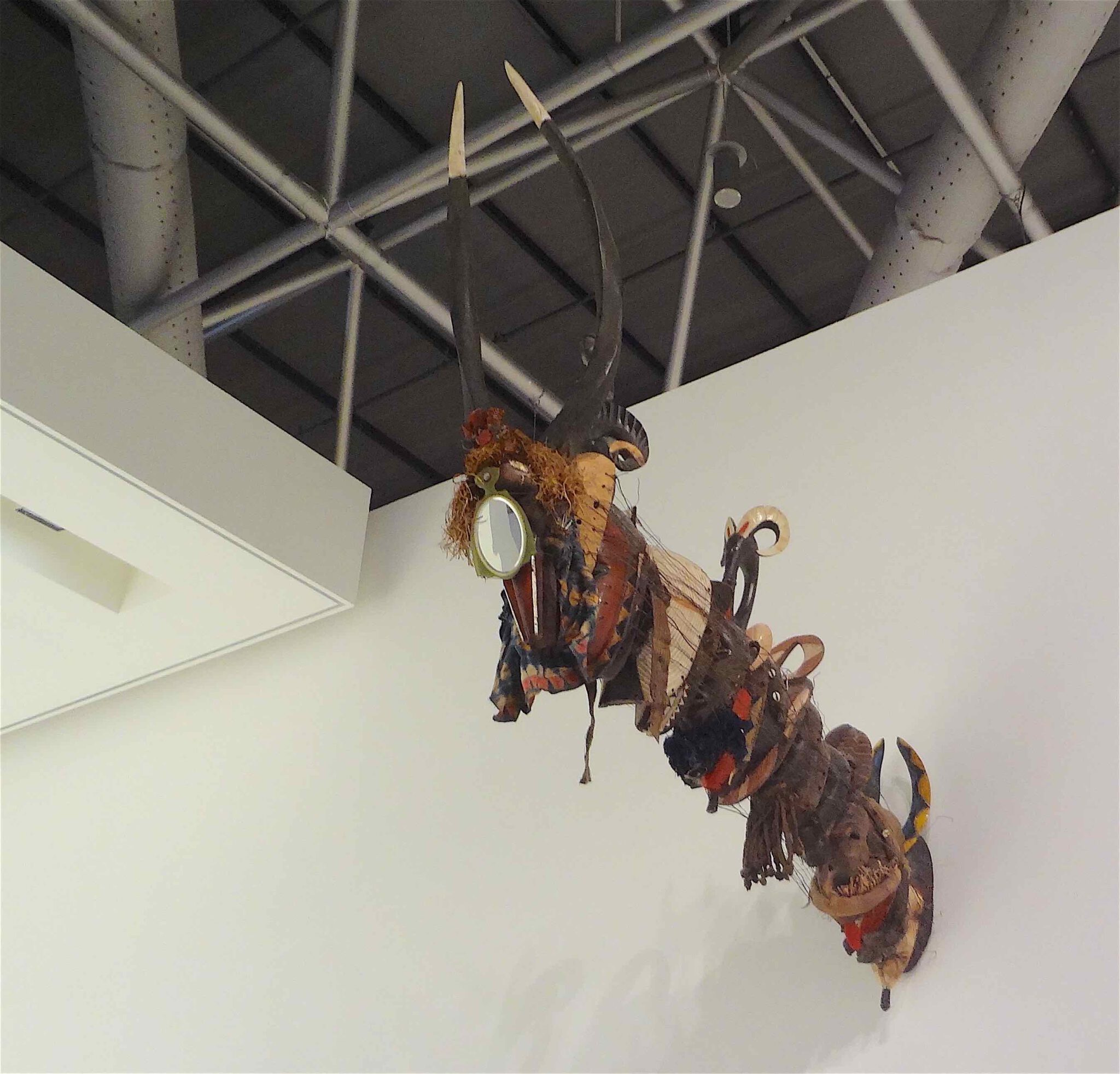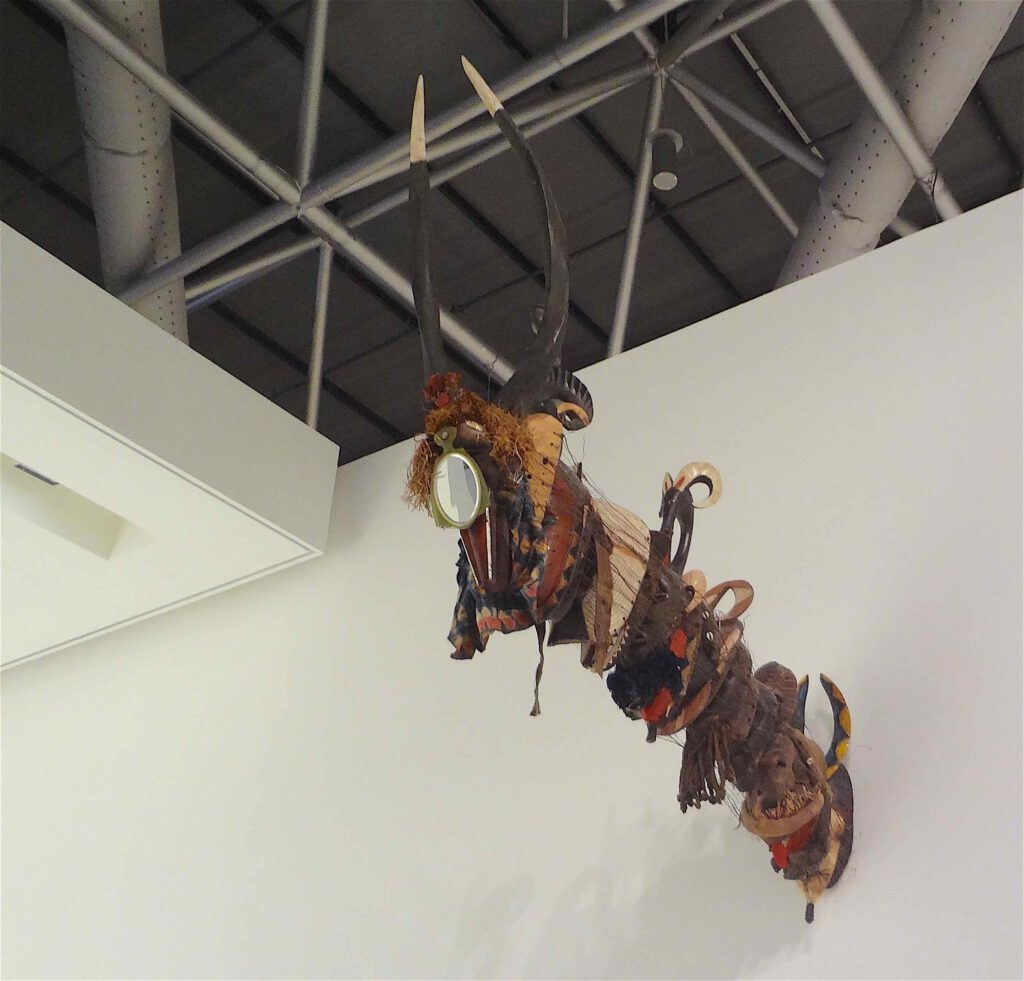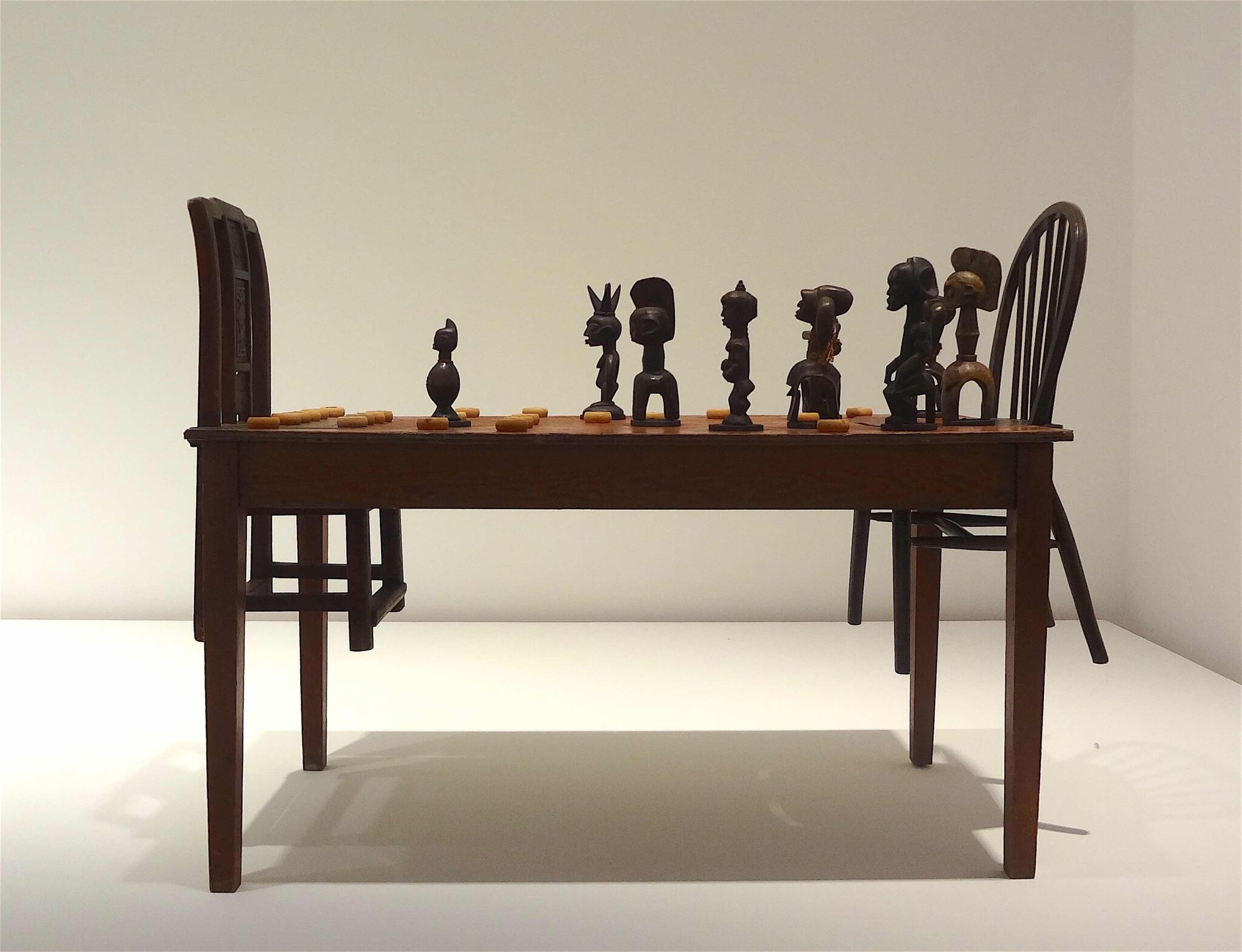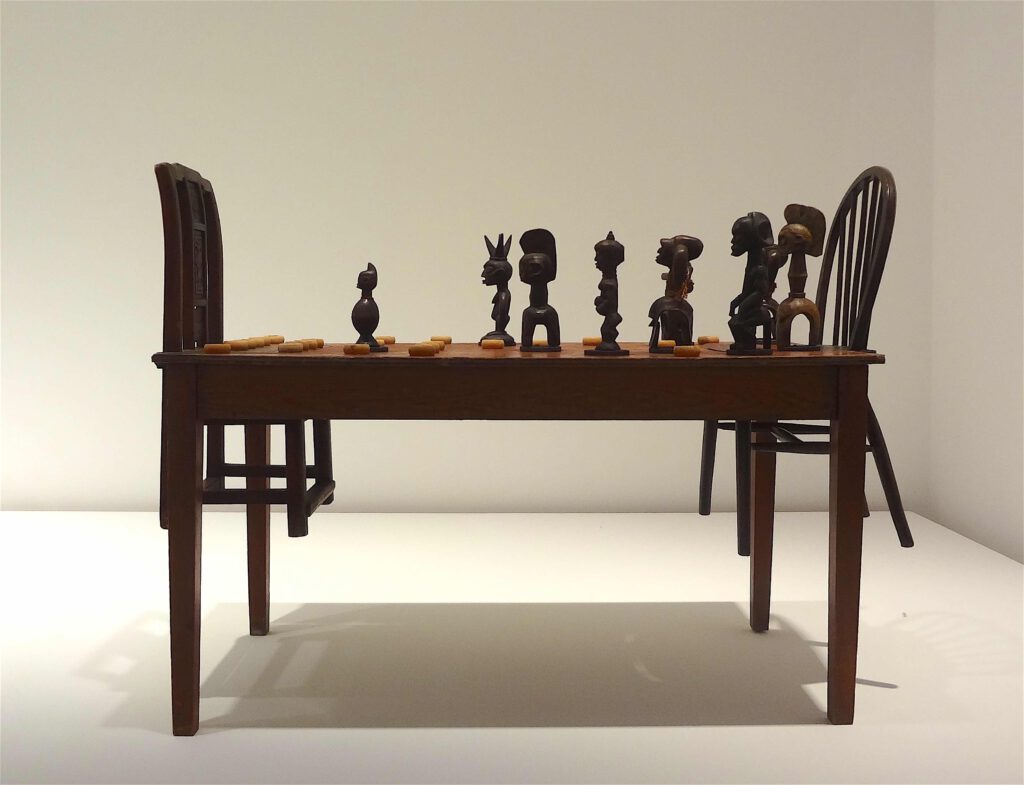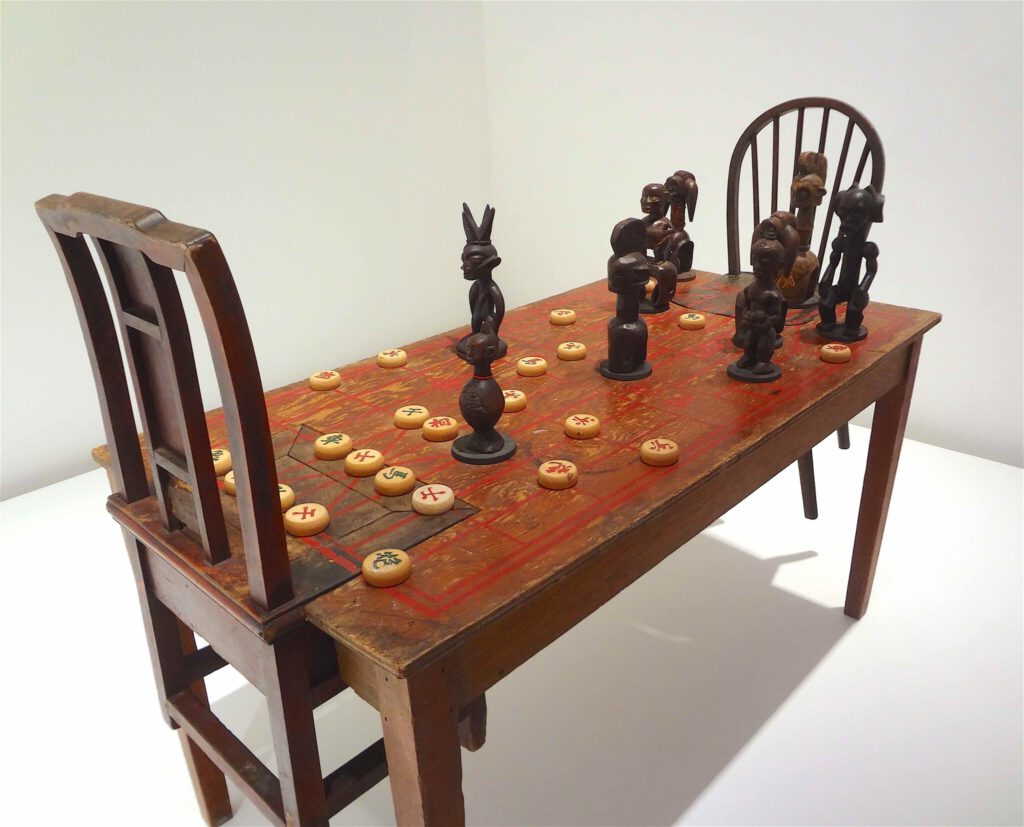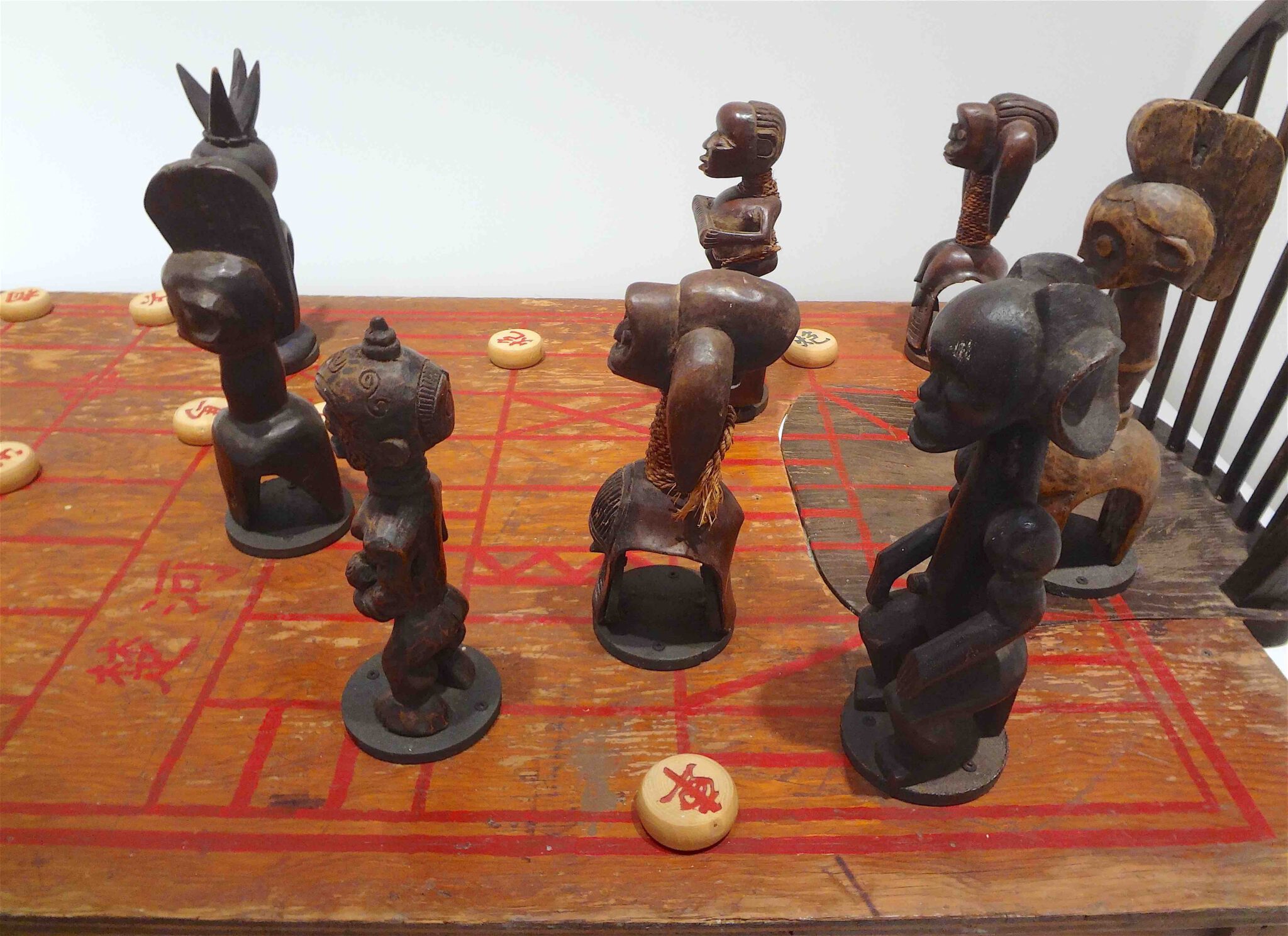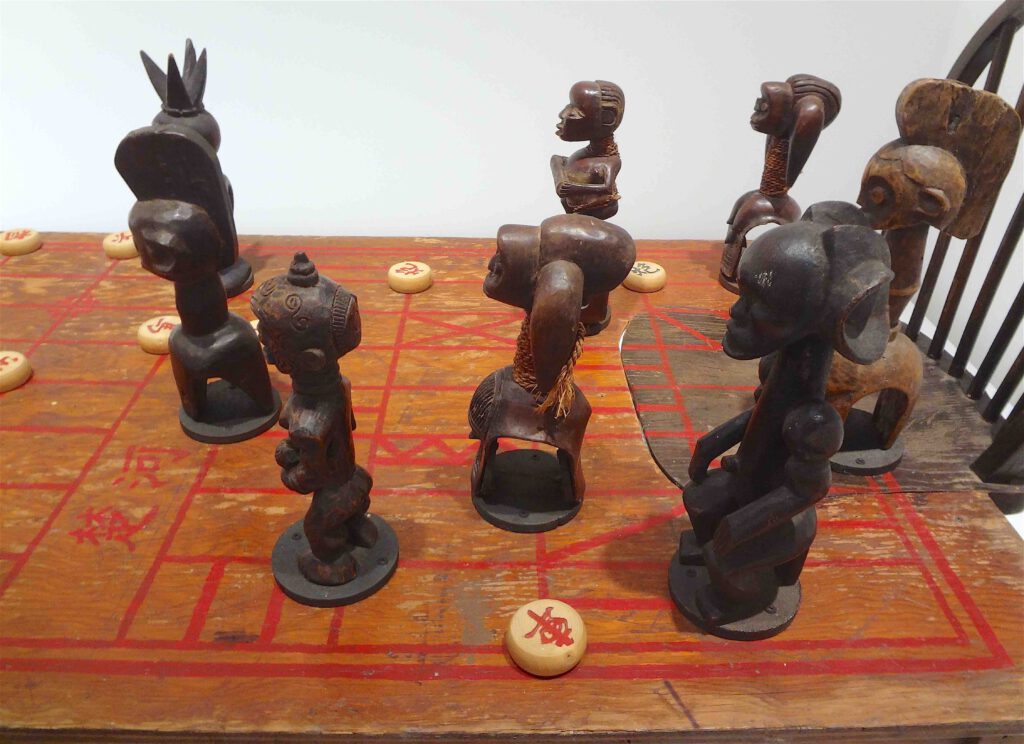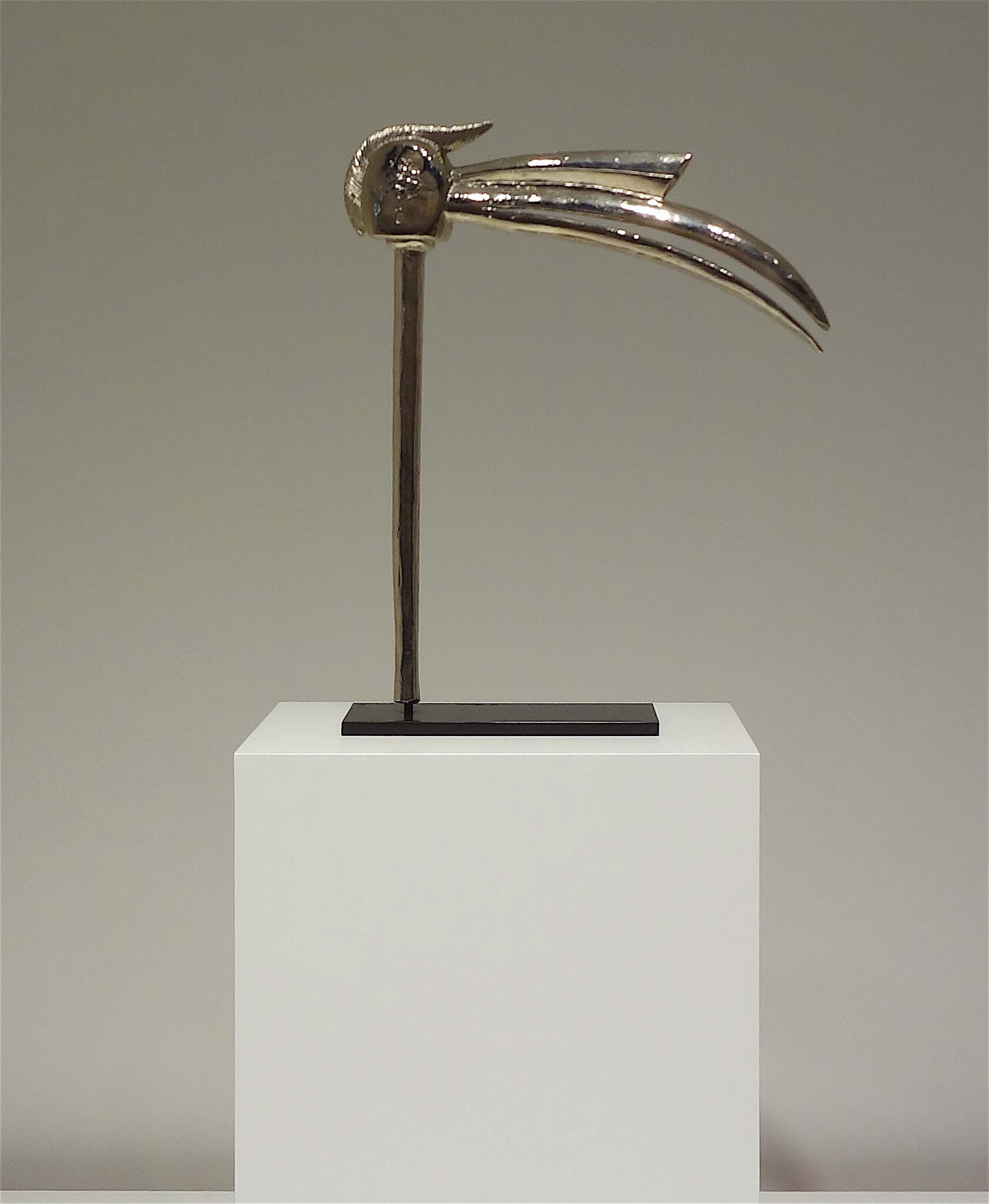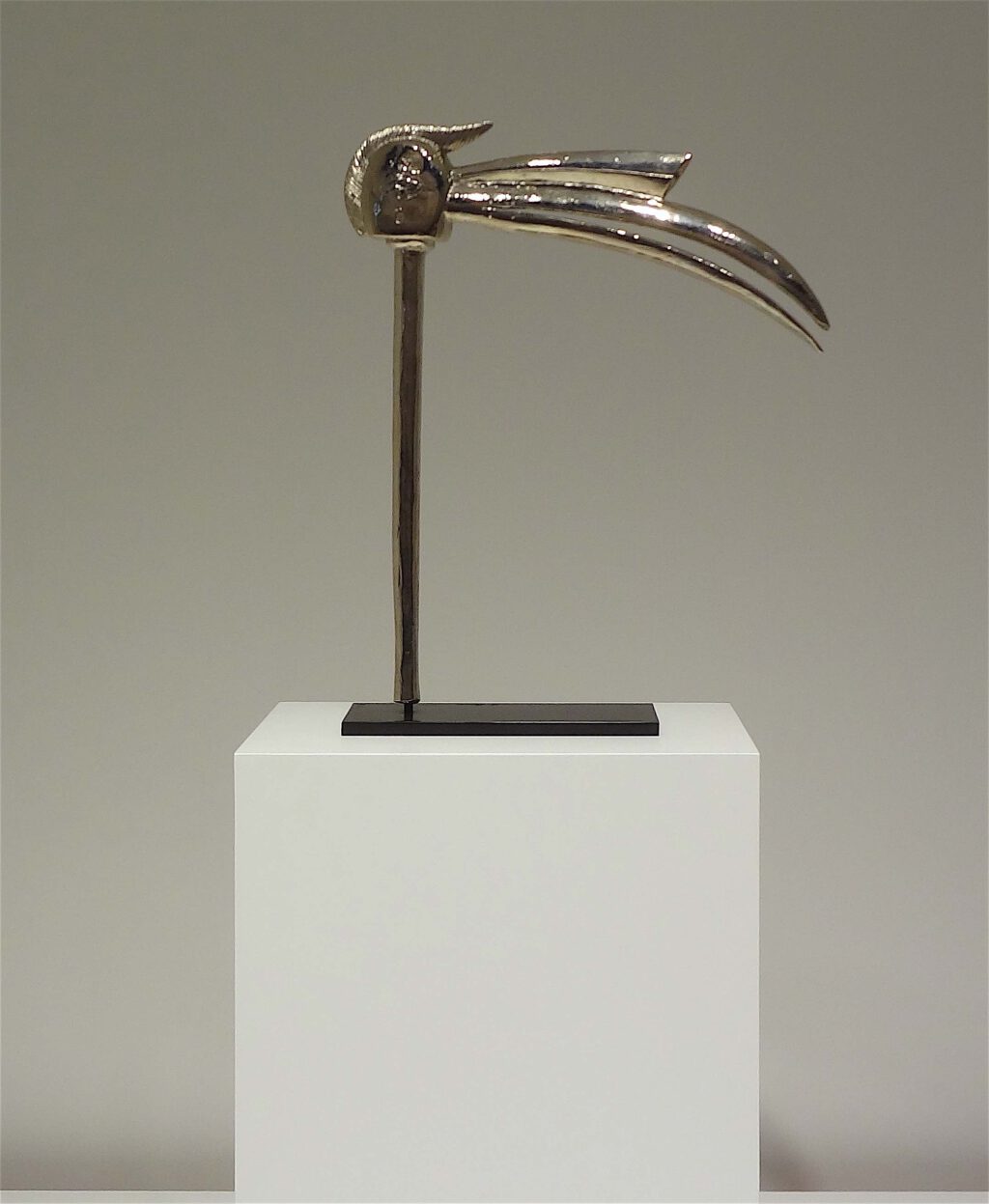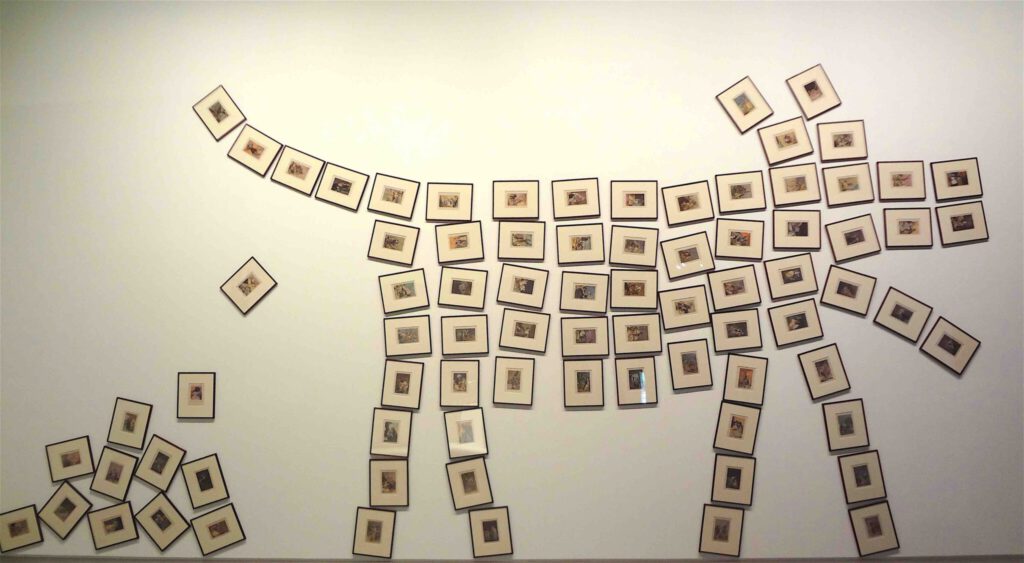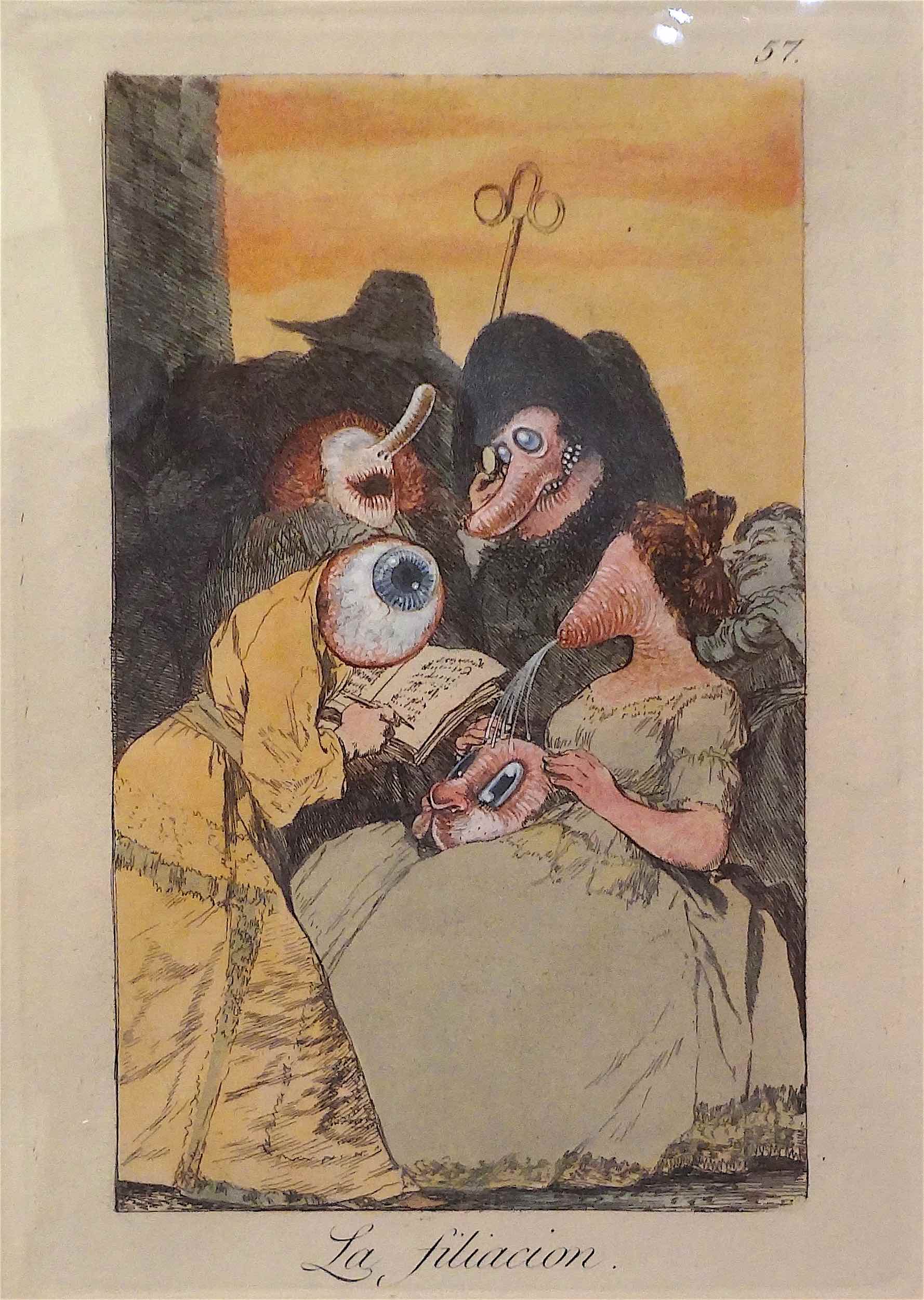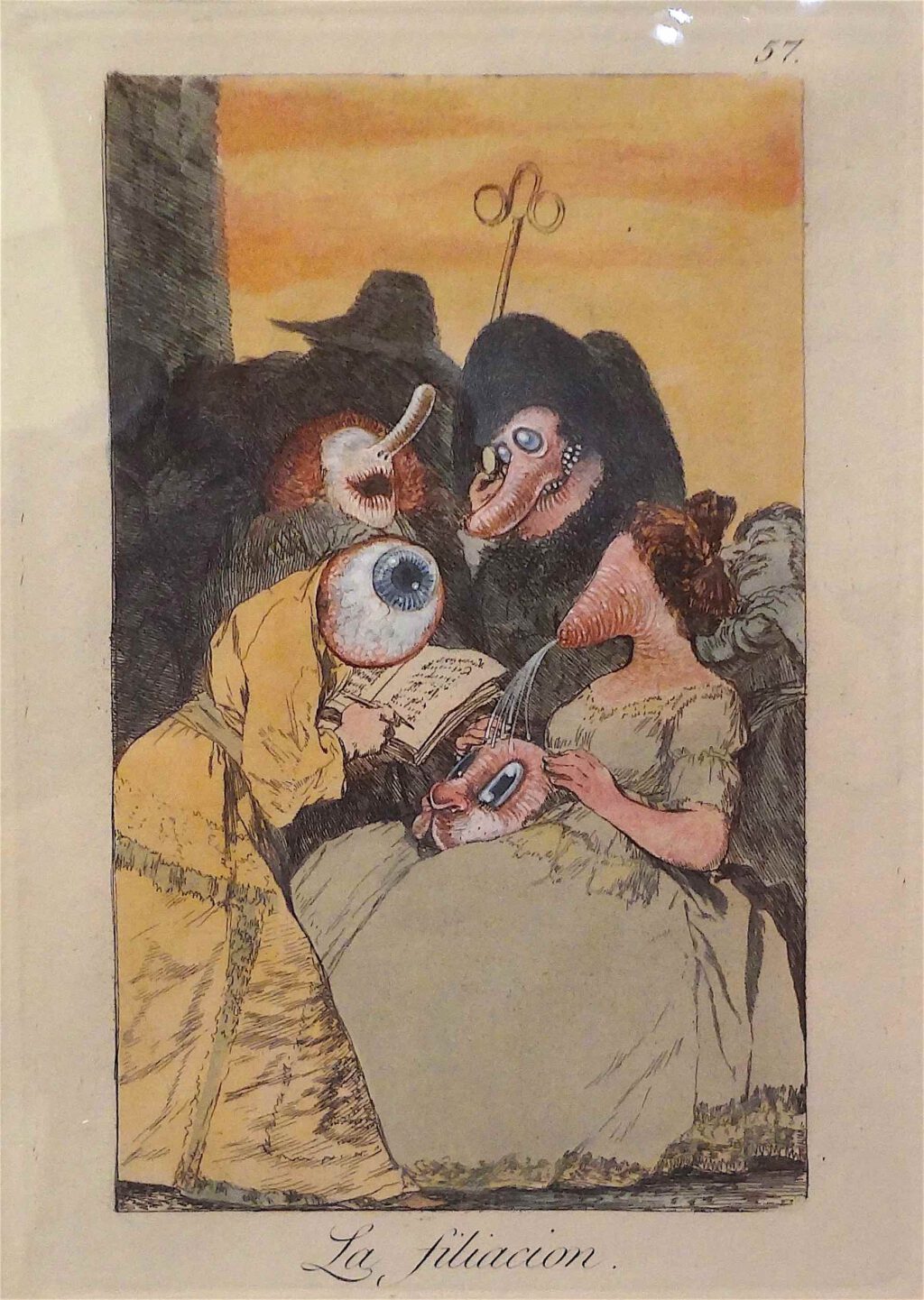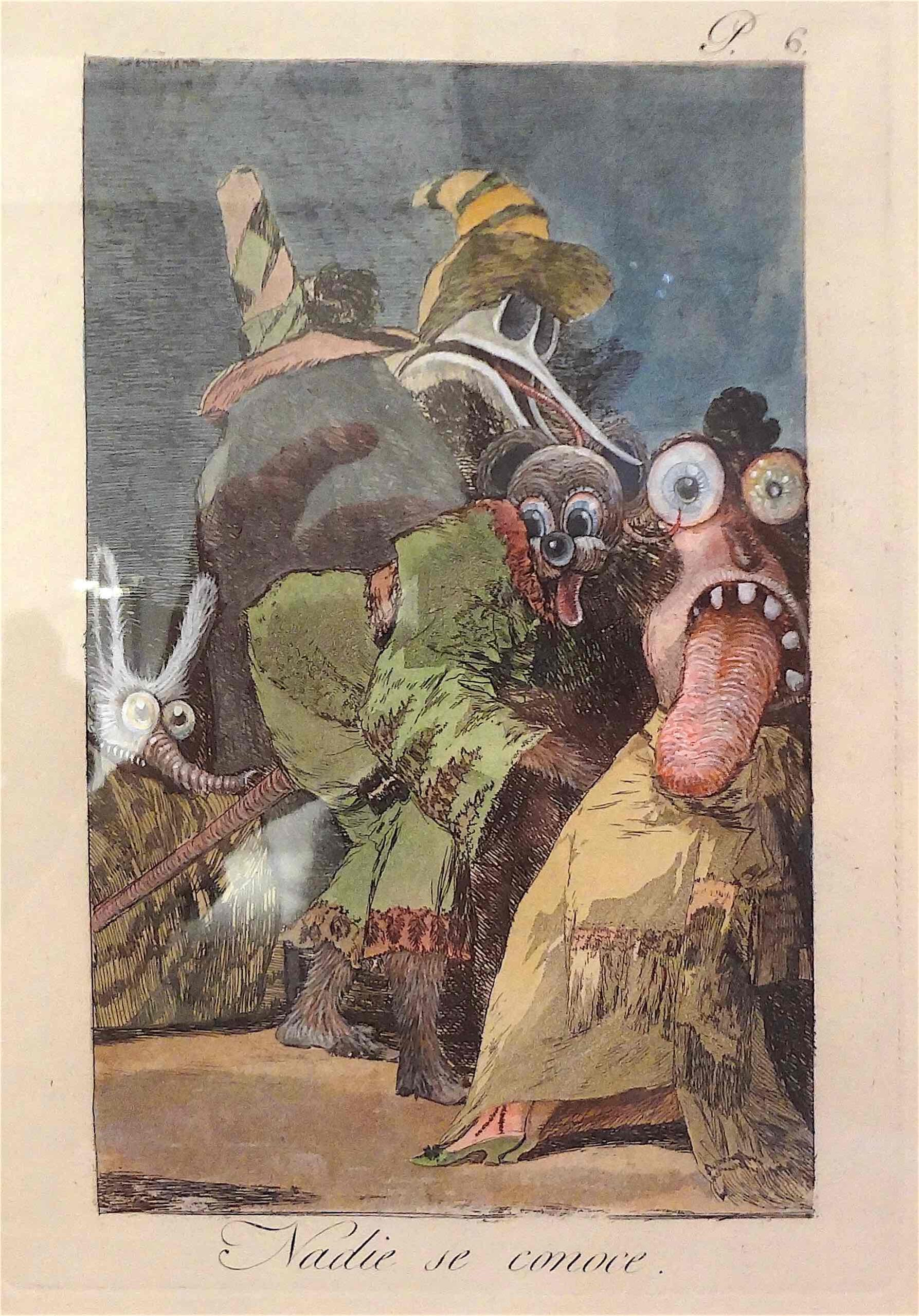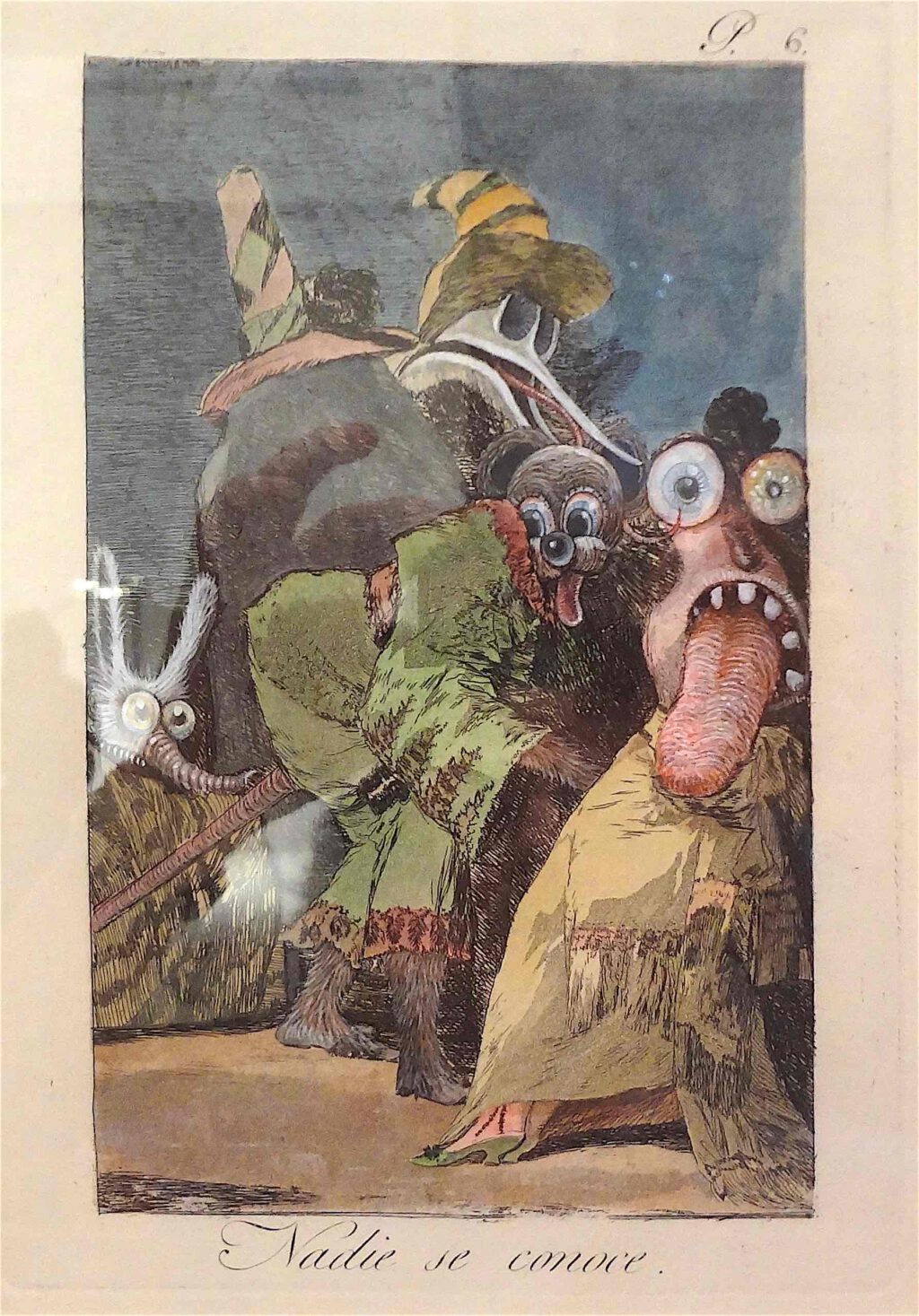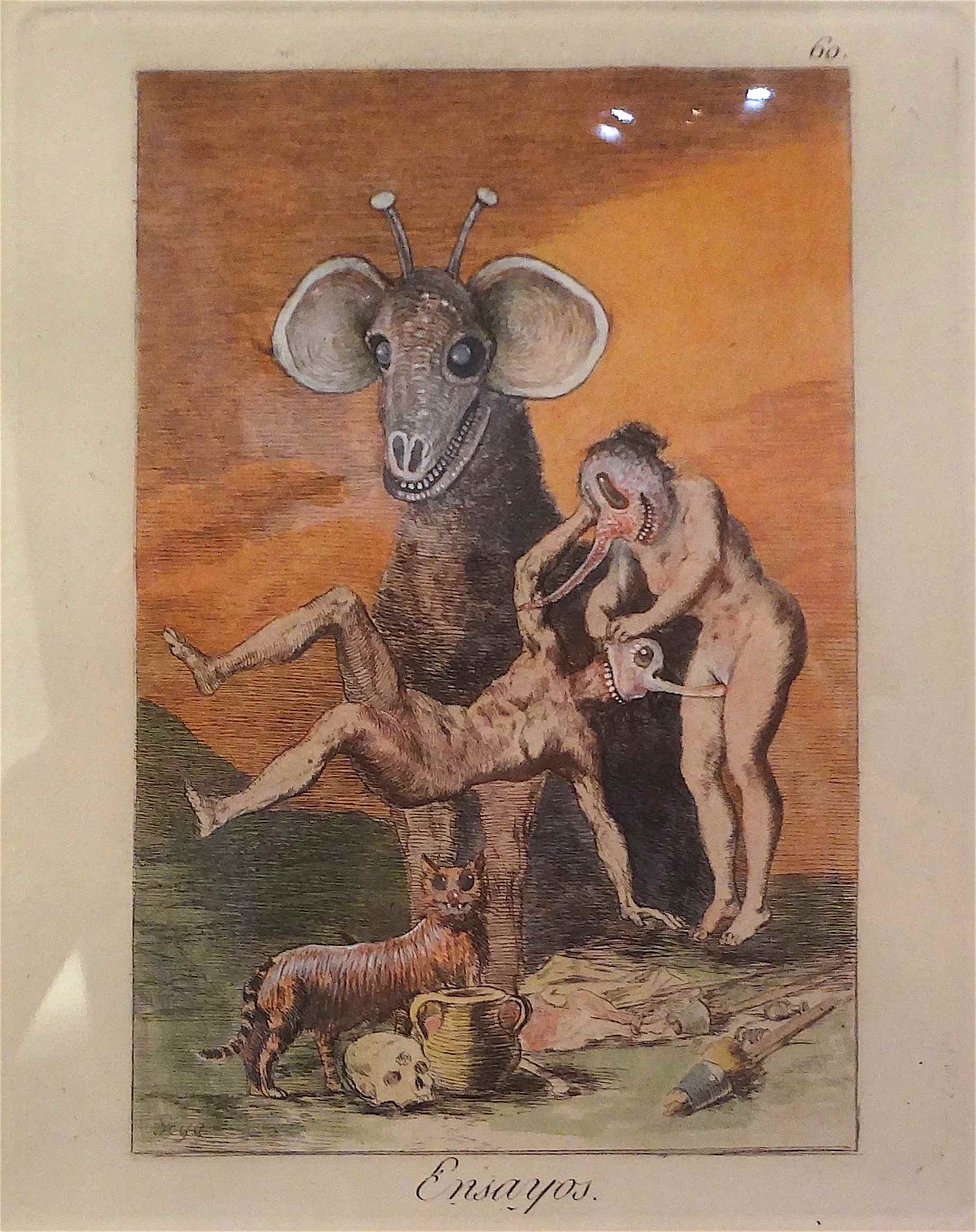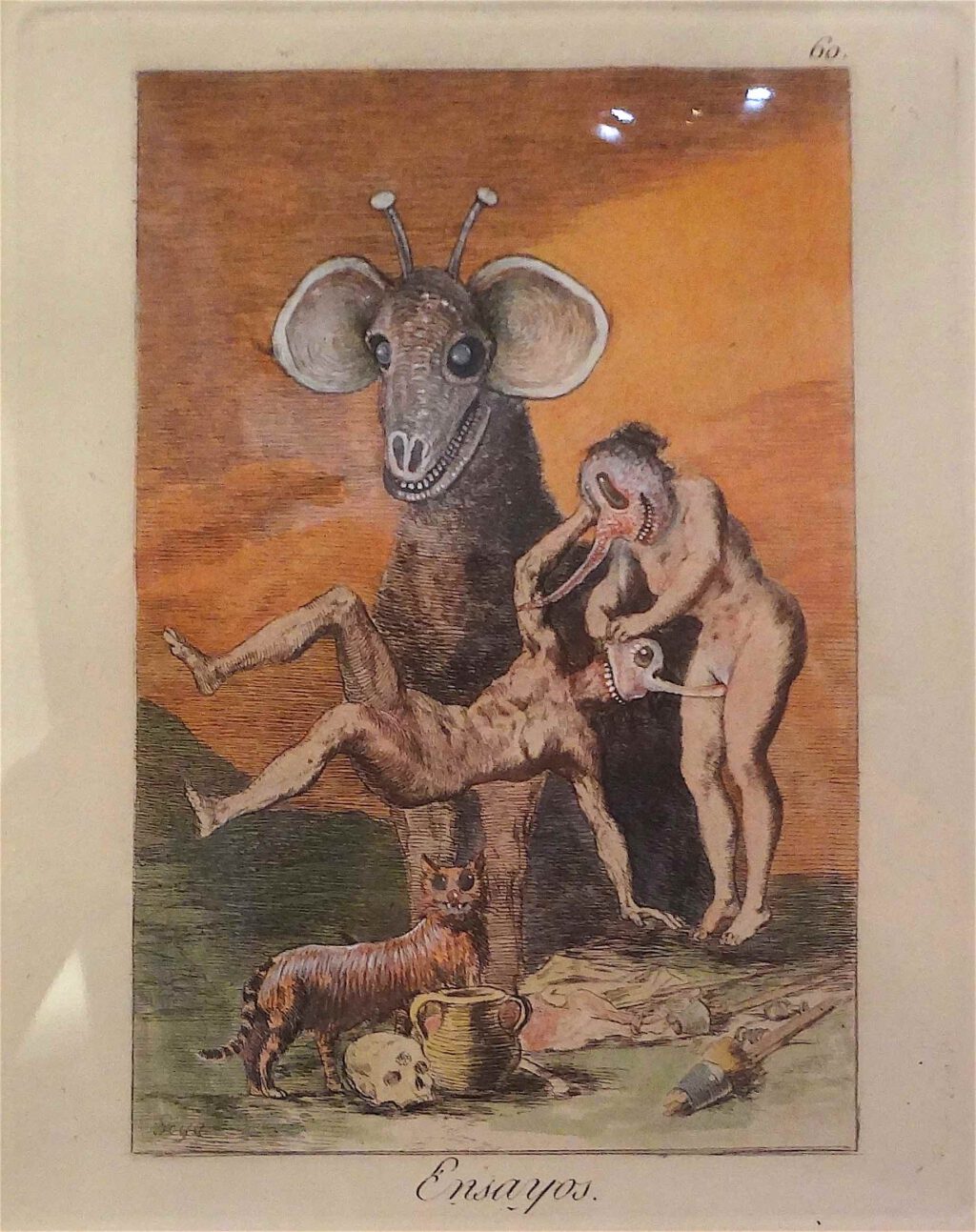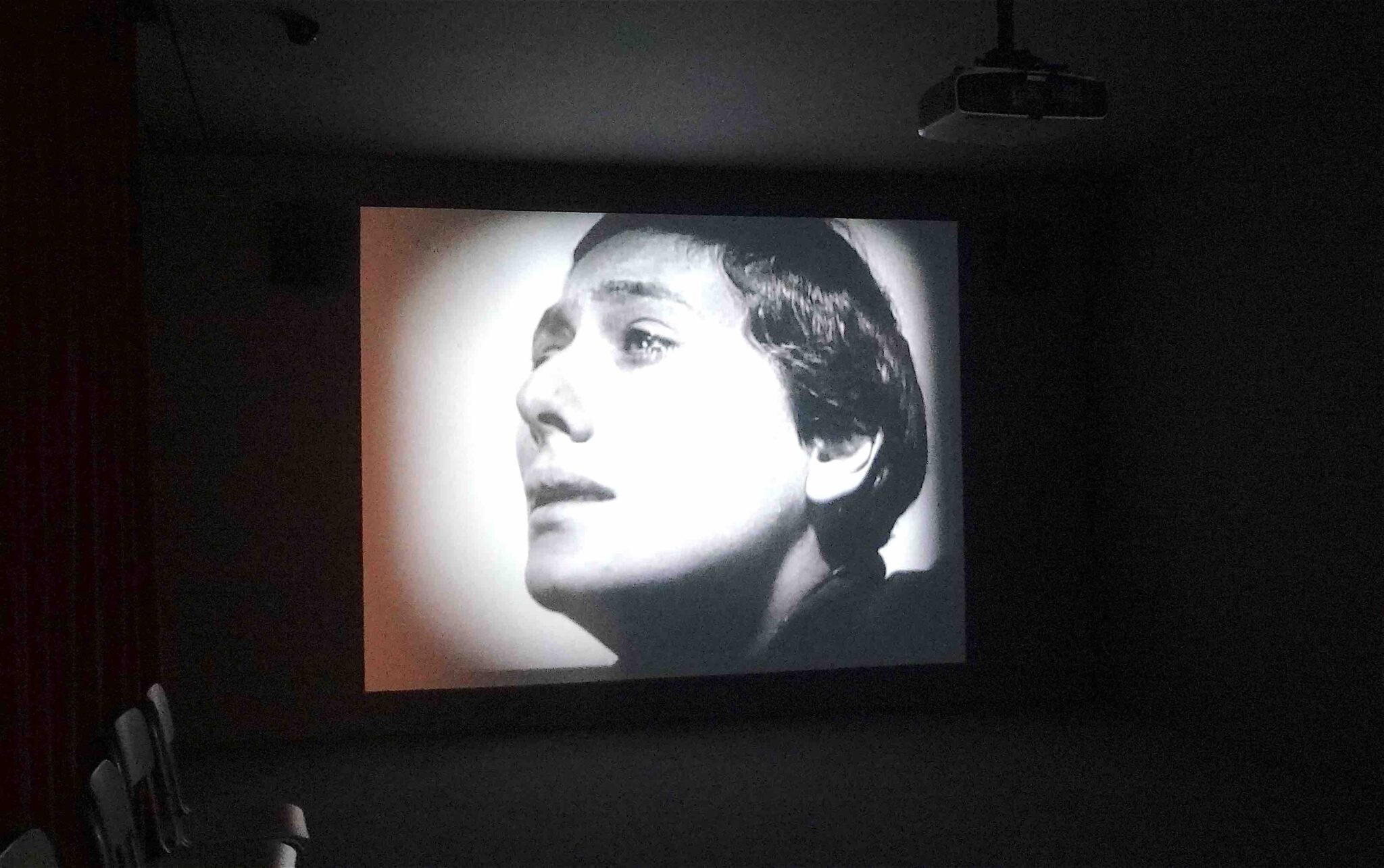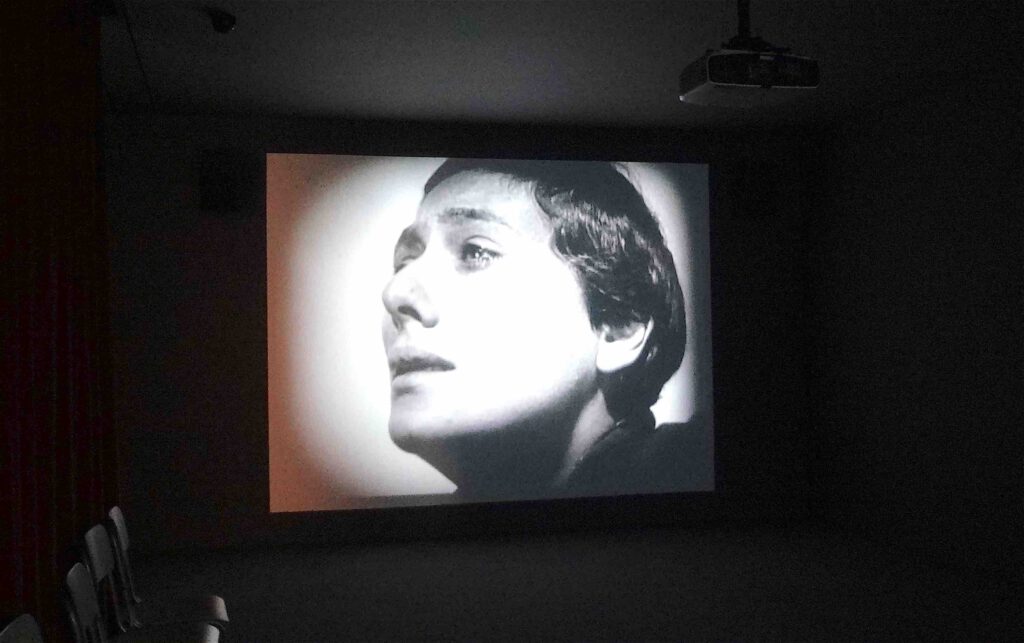 Javier Téllez "La Passion de Jeanne d'Arc (Roselle Hospital, Sydney)" 2004
Video installation, double projection and red velvet curtains.
Twelve and a Marionette
Super 16 mm movie transferred on video, colour, sound, 40'55''
La Passion de Jeanne d'Arc
16 mm movie transferred on video, black and white, silent, 97'02''
La Passion de Jeanne d'Arc – trailer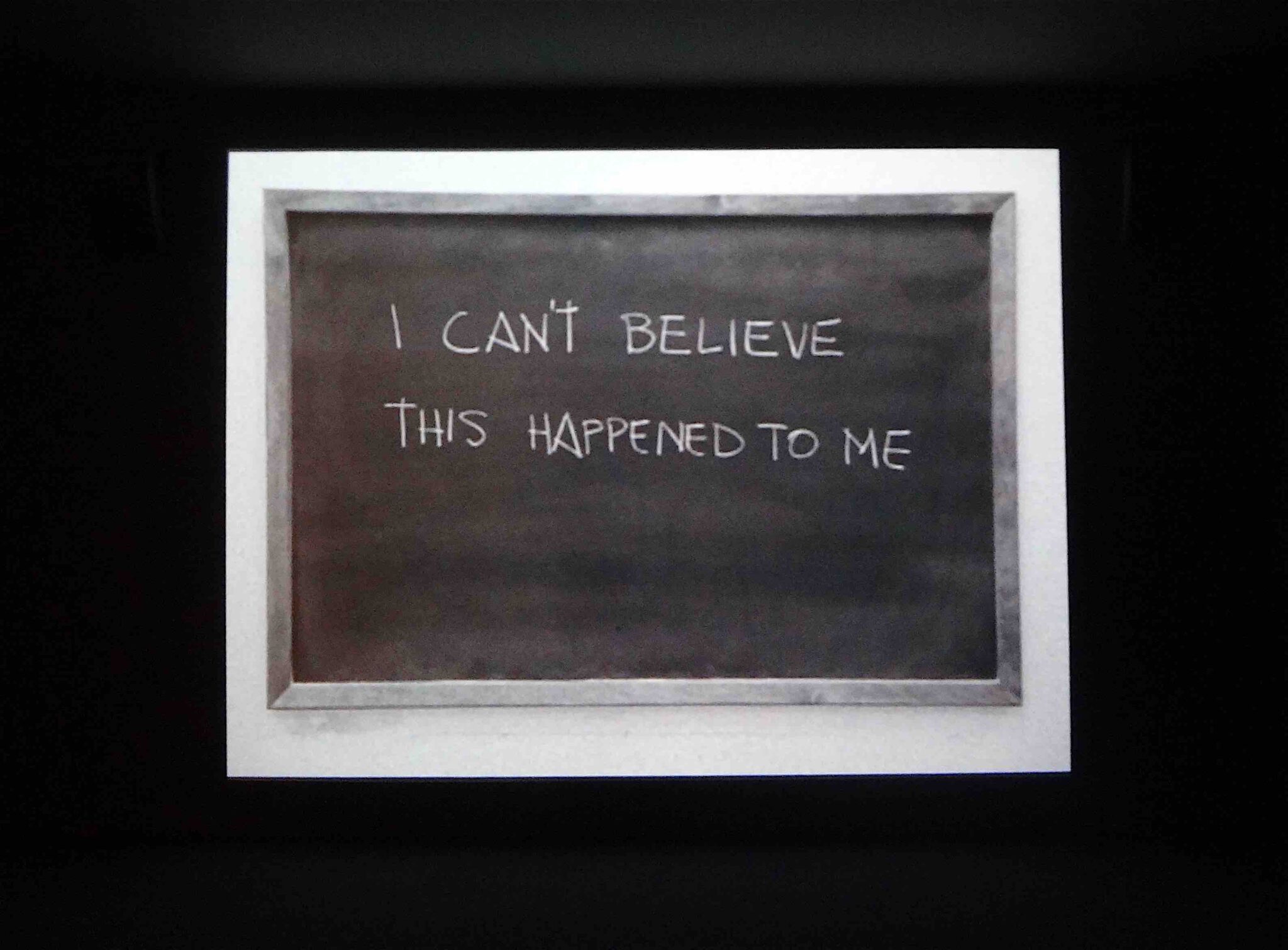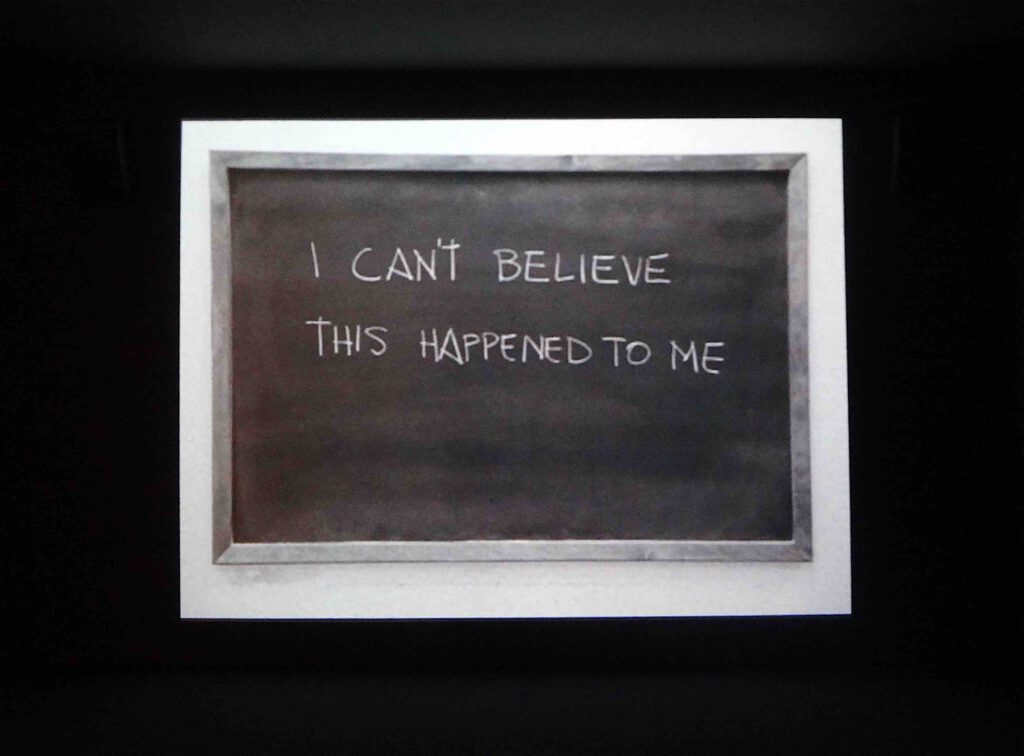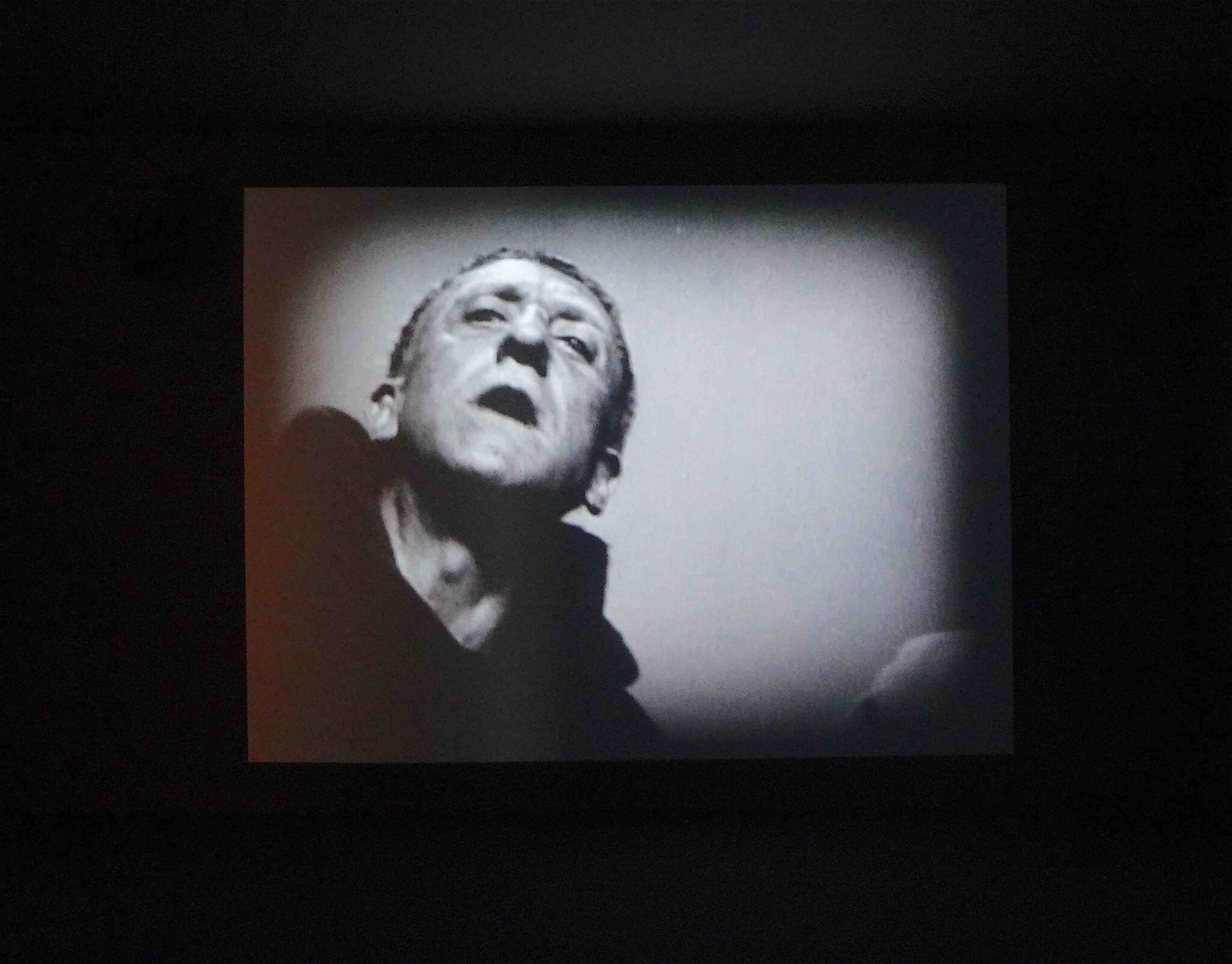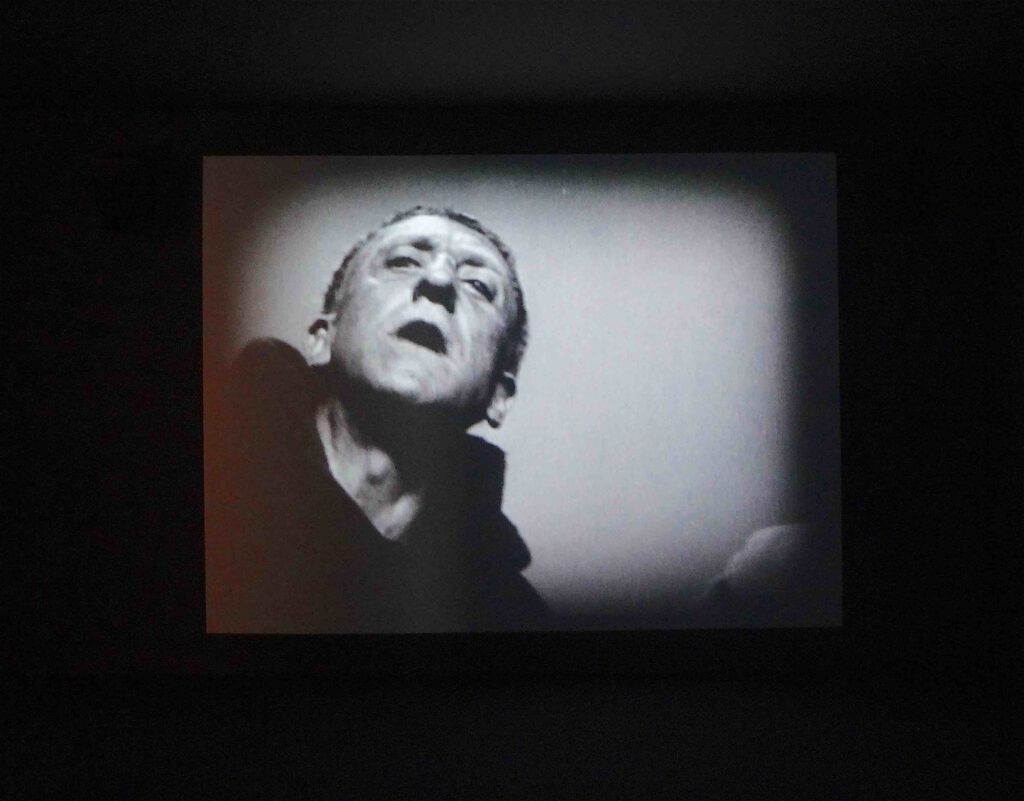 This work by Javier Téllez (Venezuelan, b. 1969) emerged from a workshop in which the artist asked women patients in a Sydney psychiatric hospital to rewrite the inter titles for Carl Theodor Dreyer's masterpiece "La Passion de Jeanne d'Arc" 1928. In this installation the revisited version is shown opposite a film in which each participant in the project recites – or sings – her personal narrative of confinement, repression and exclusion.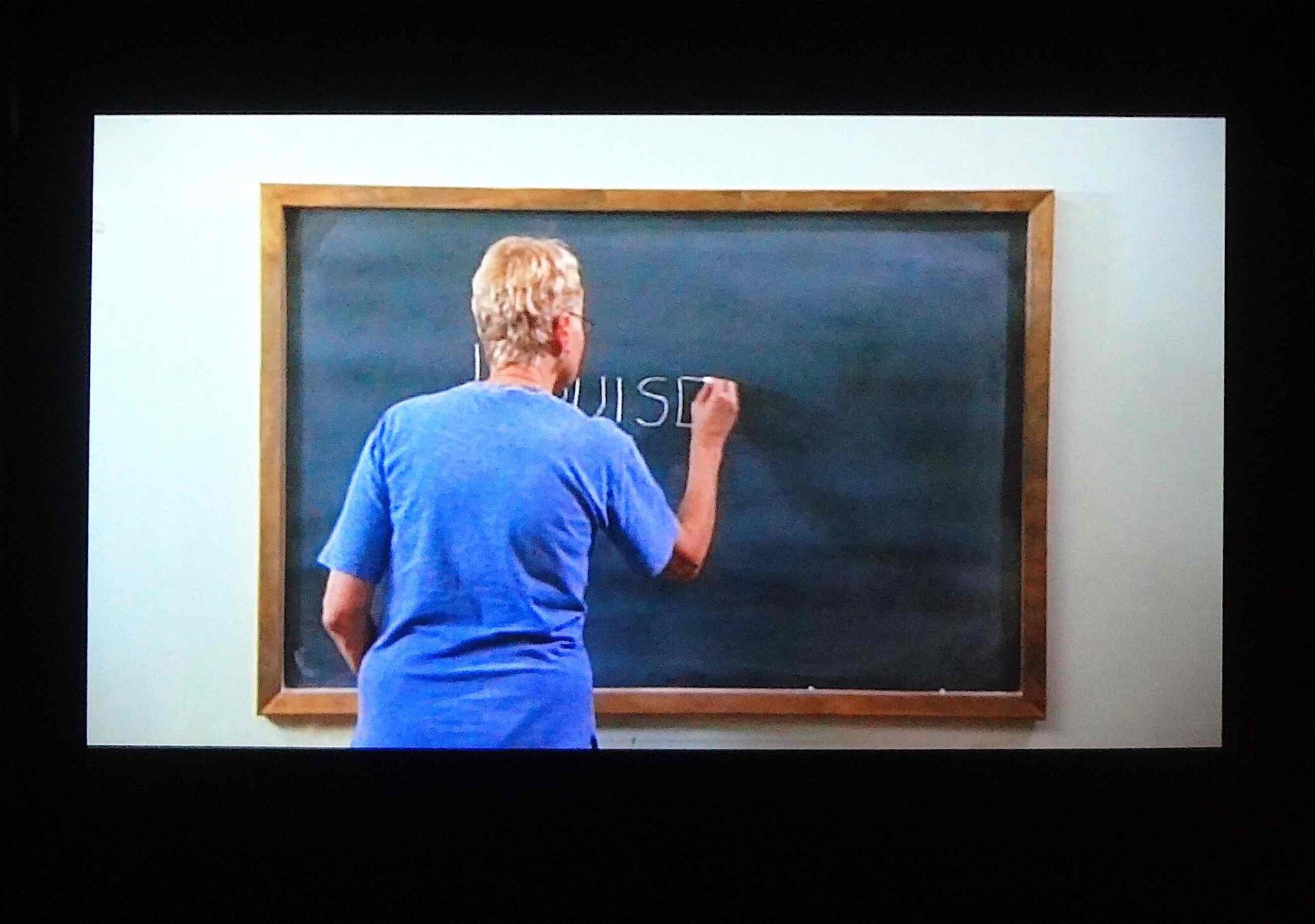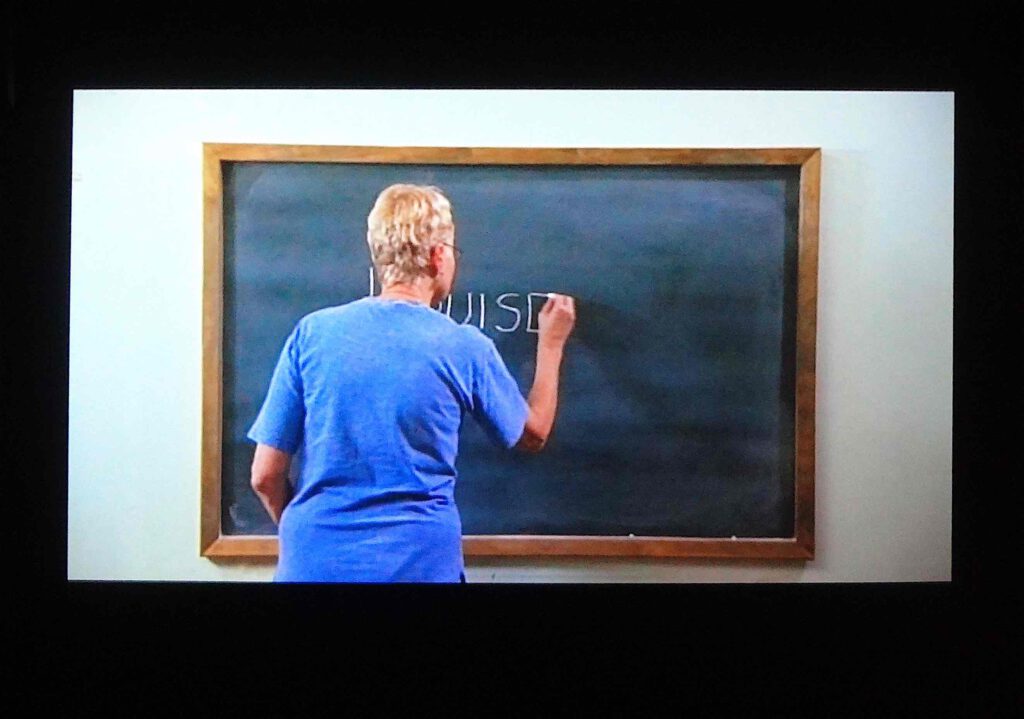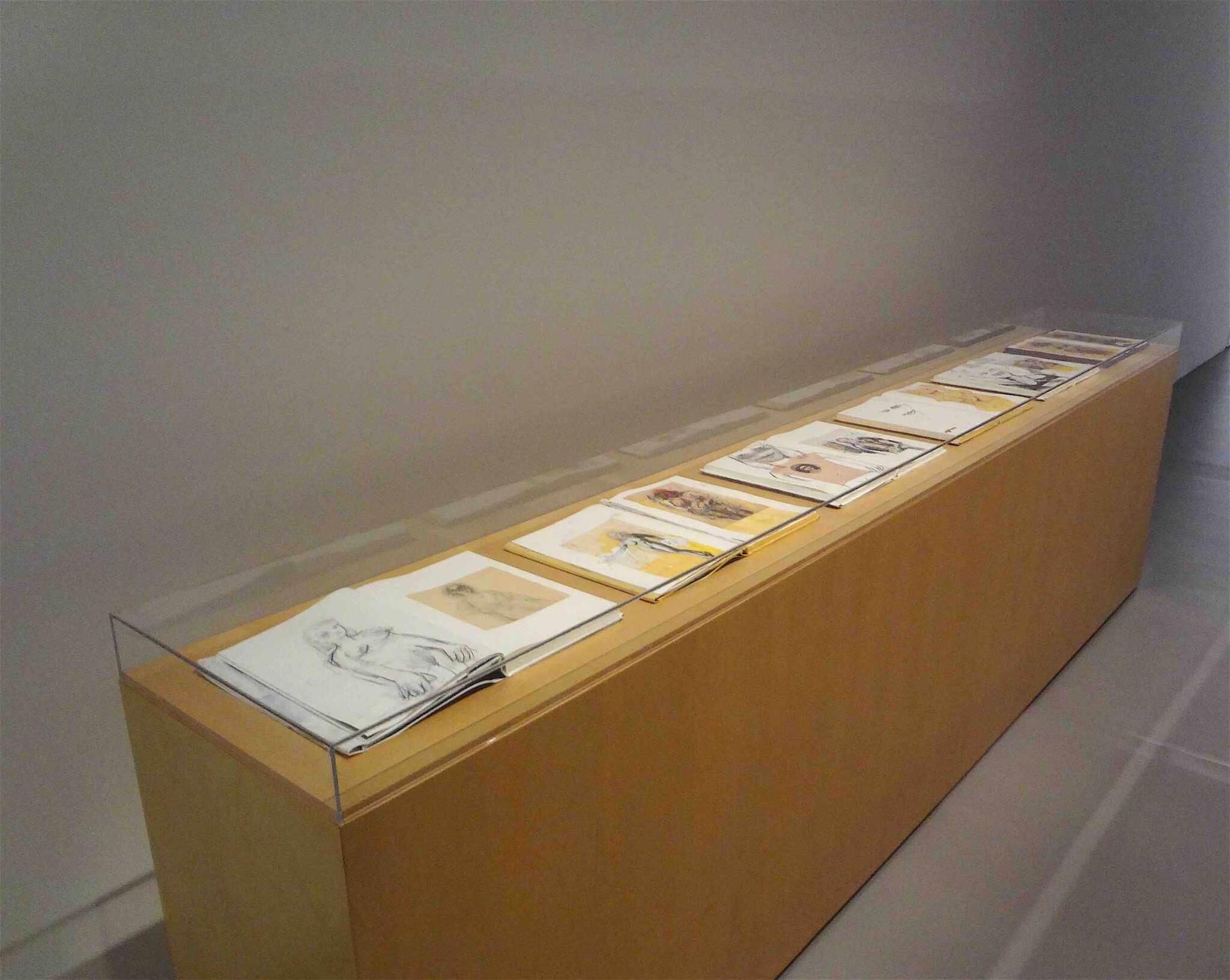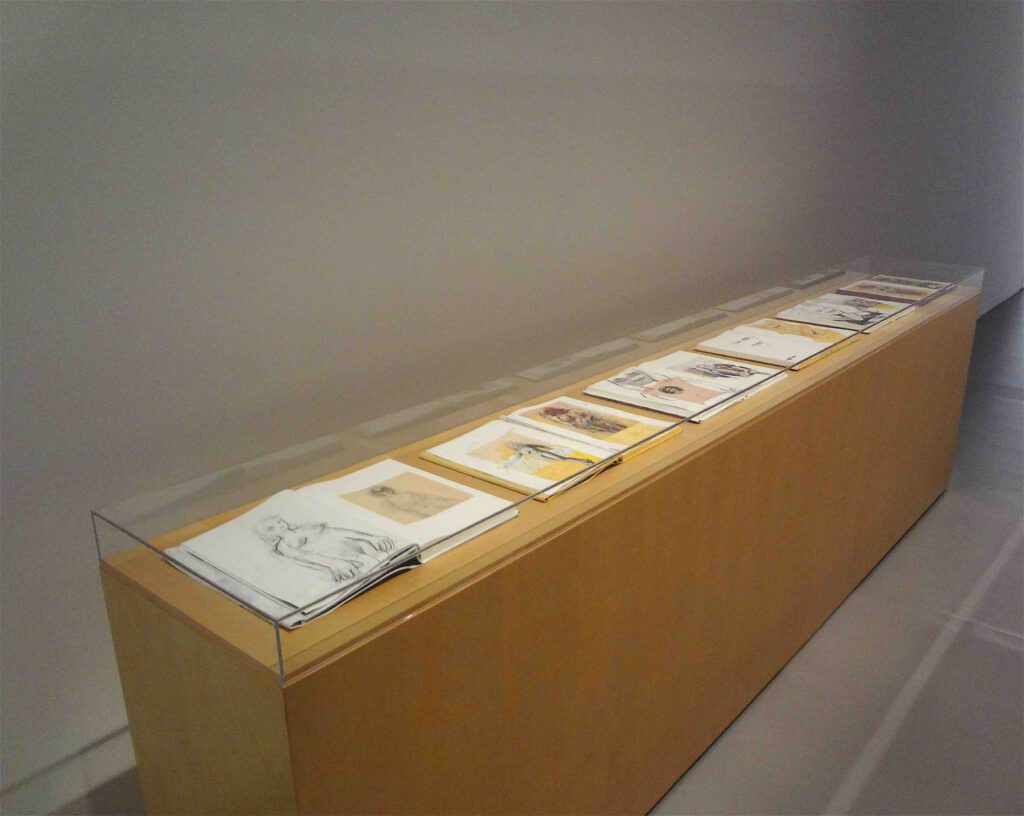 Based on the rechanneling and appropriation of existing images from art history or American popular culture, the oeuvre of Richard Prince (American, b. 1949) seeks to subvert the concepts of artistic paternity, authority and property. Here, in a homage to the great American painter he avowedly venerated, Prince draws directly onto the pages of a book about the Women of Willem de Kooning (1904-1997), triggering an ambiguous dialogue between the original images and his own handiwork.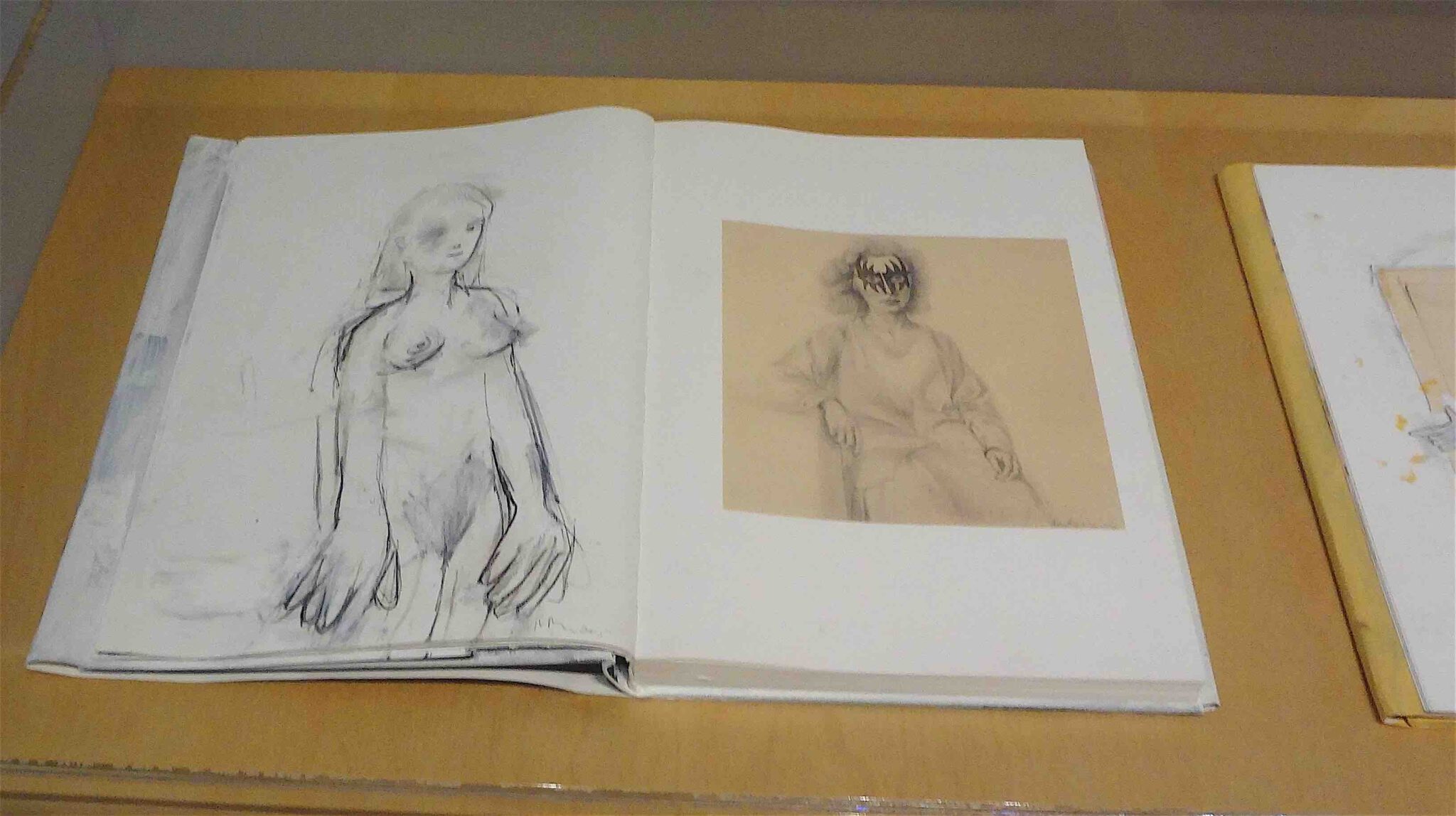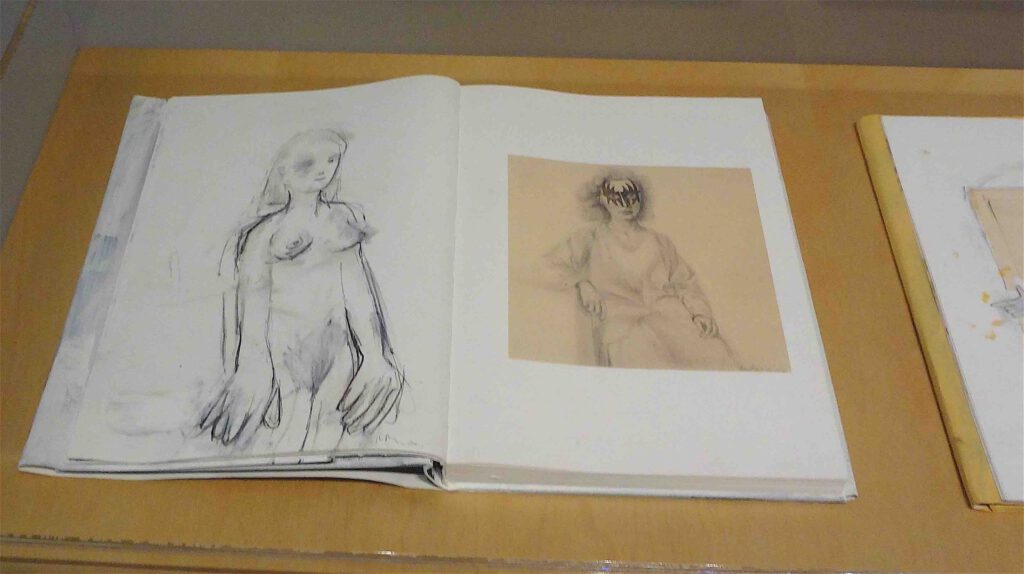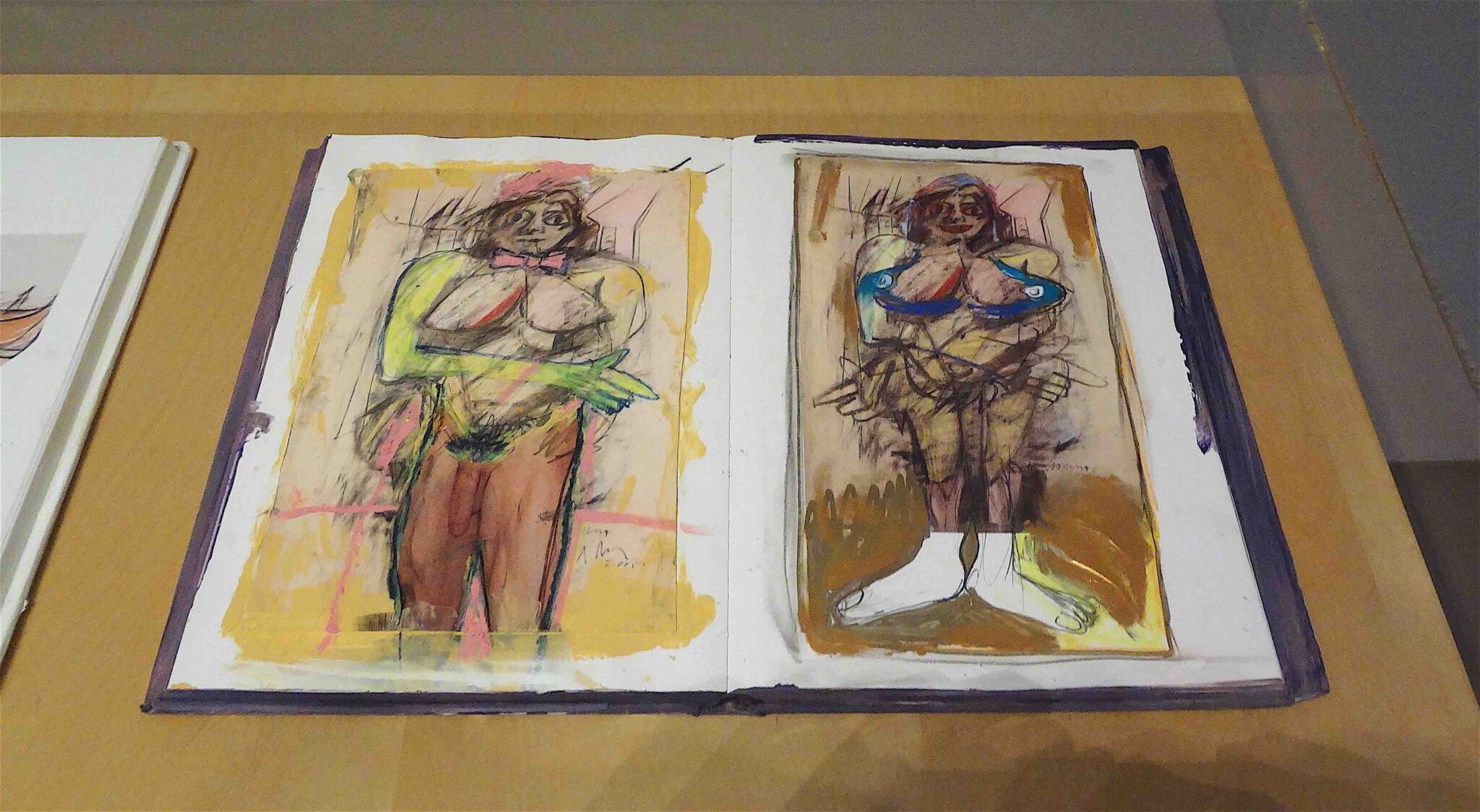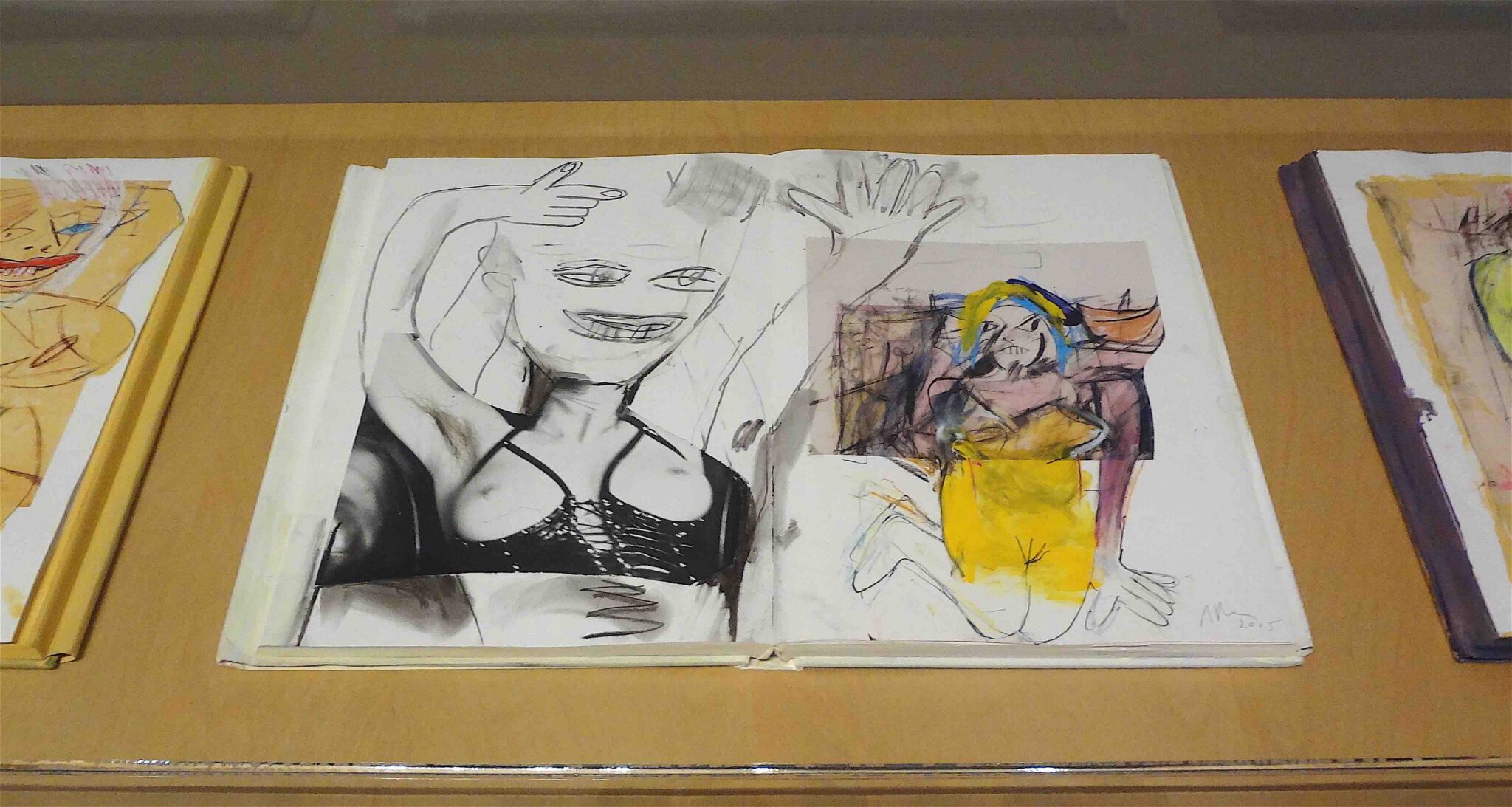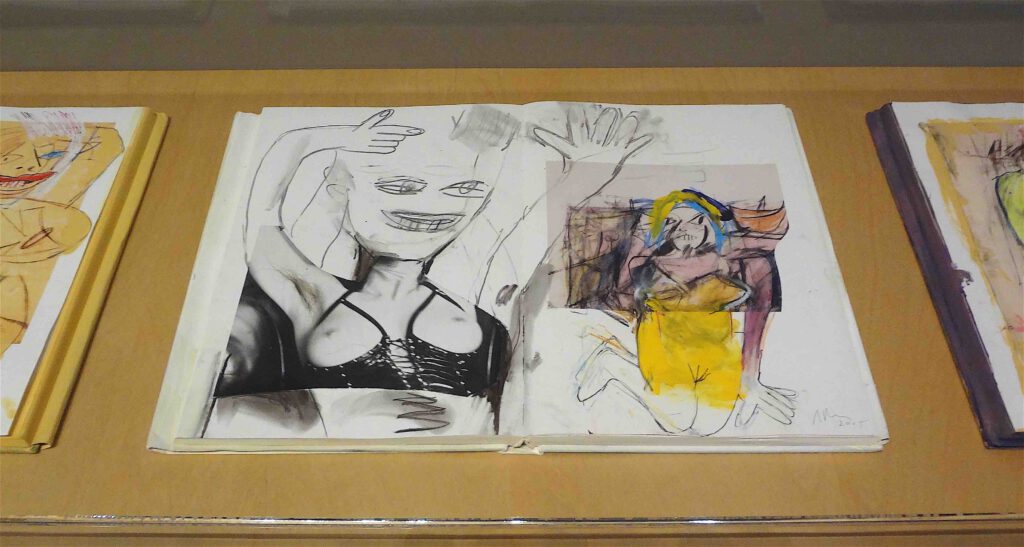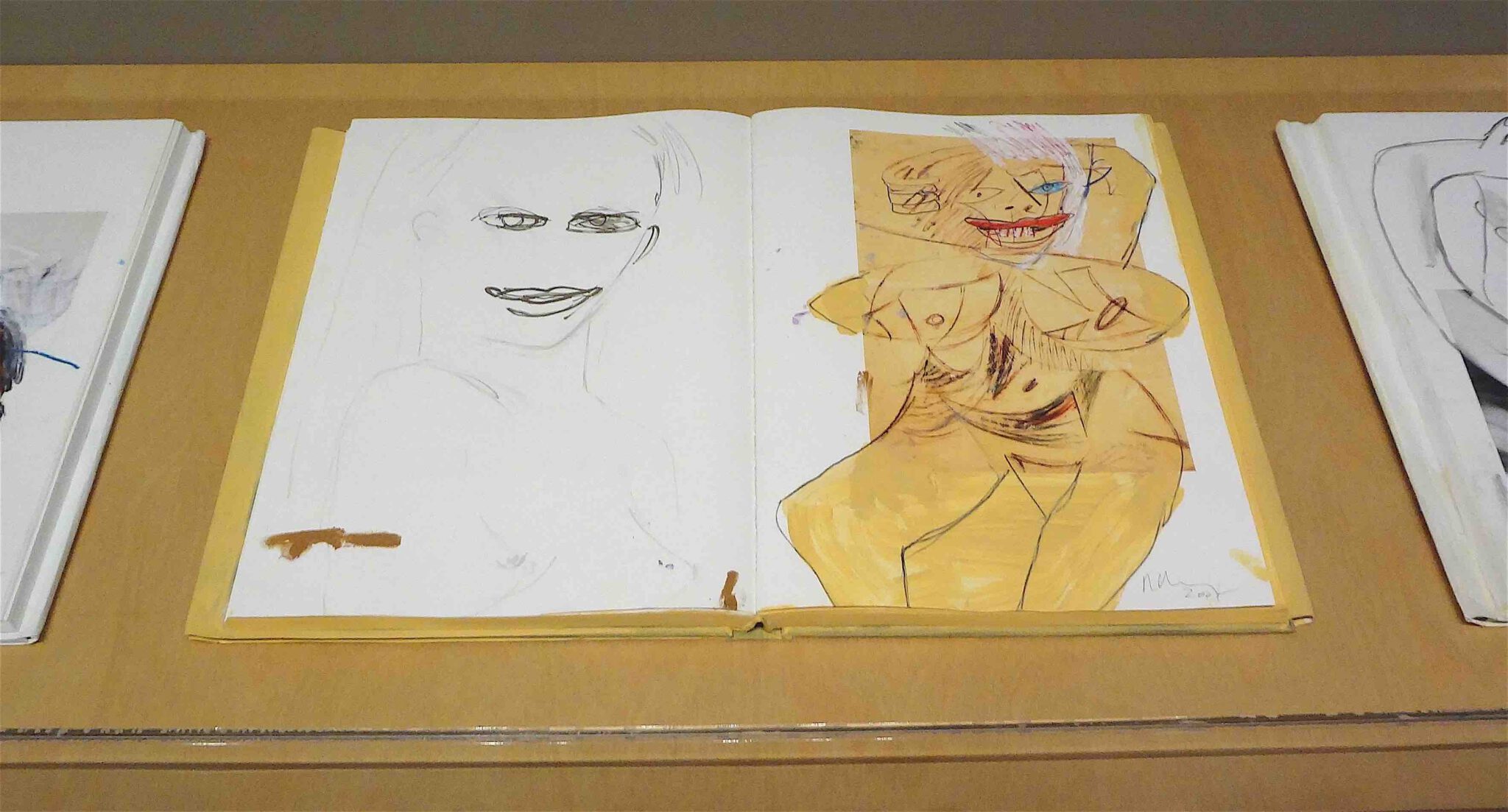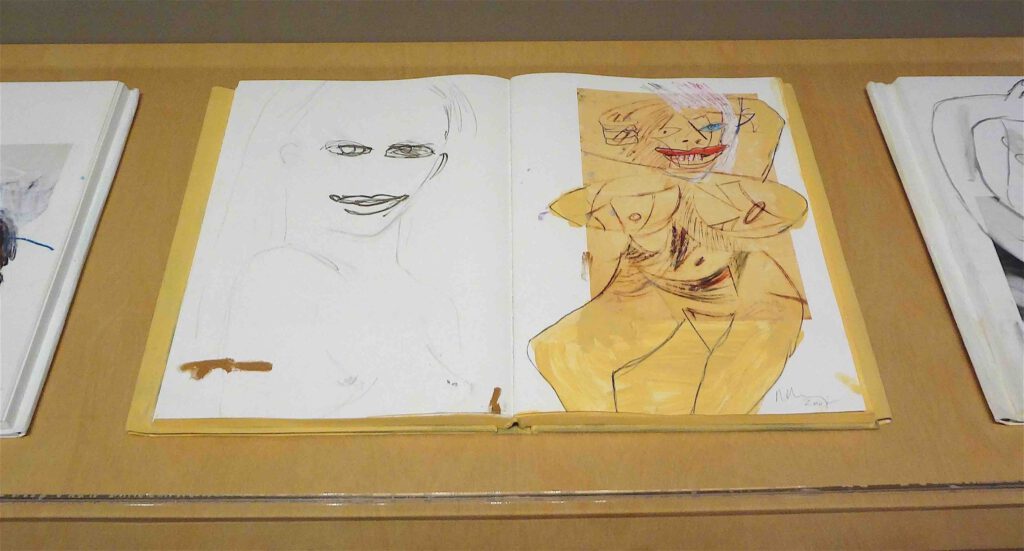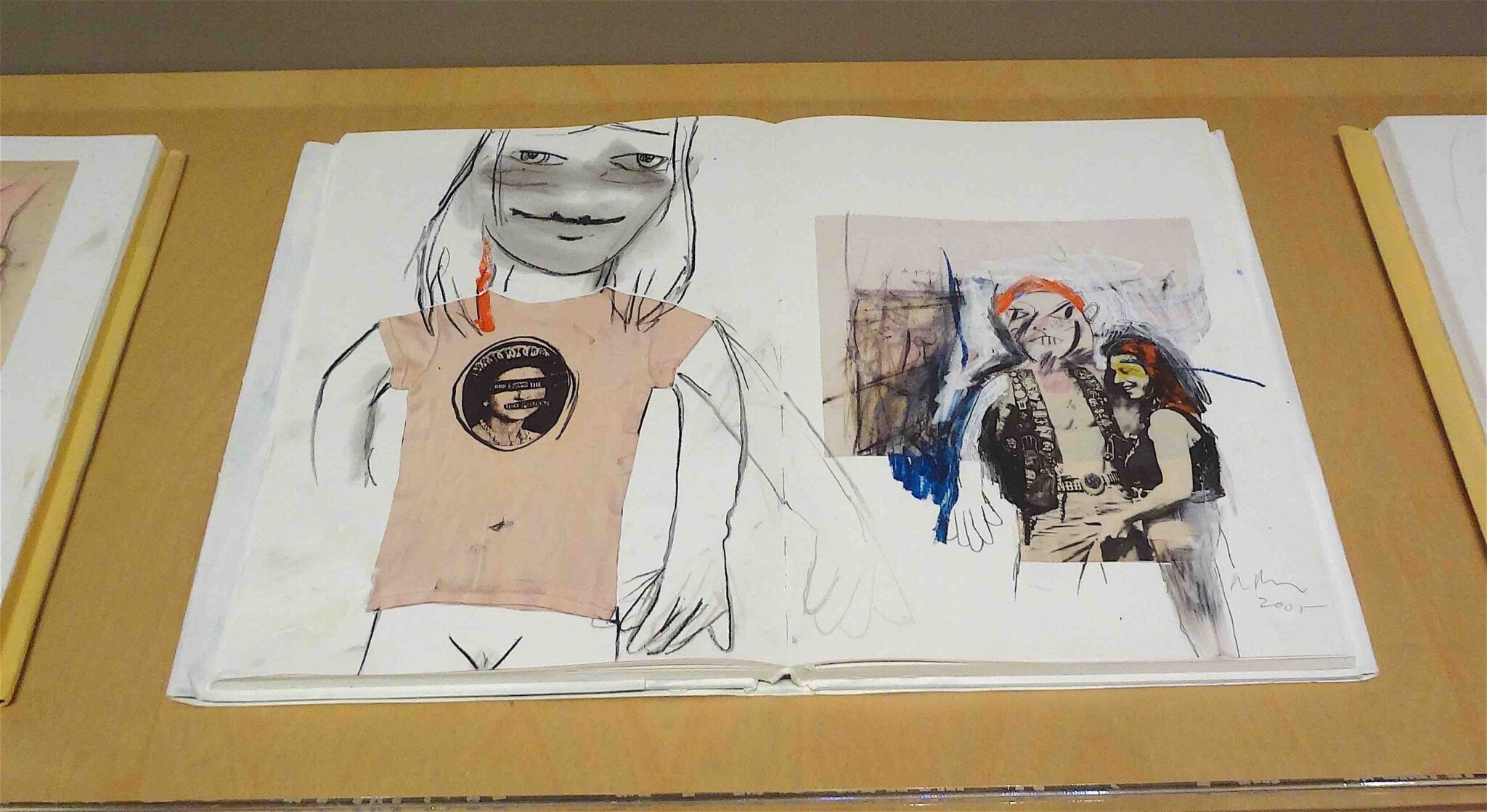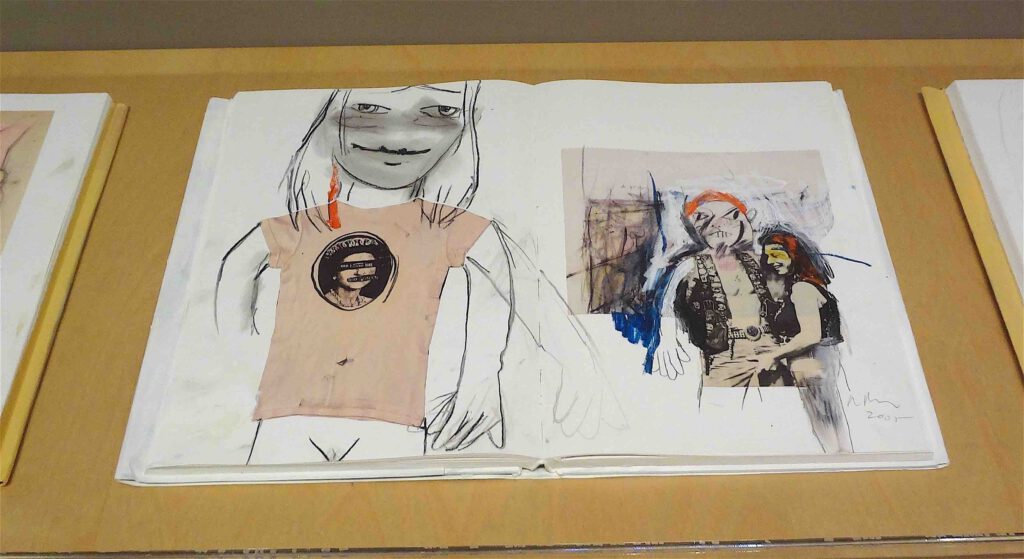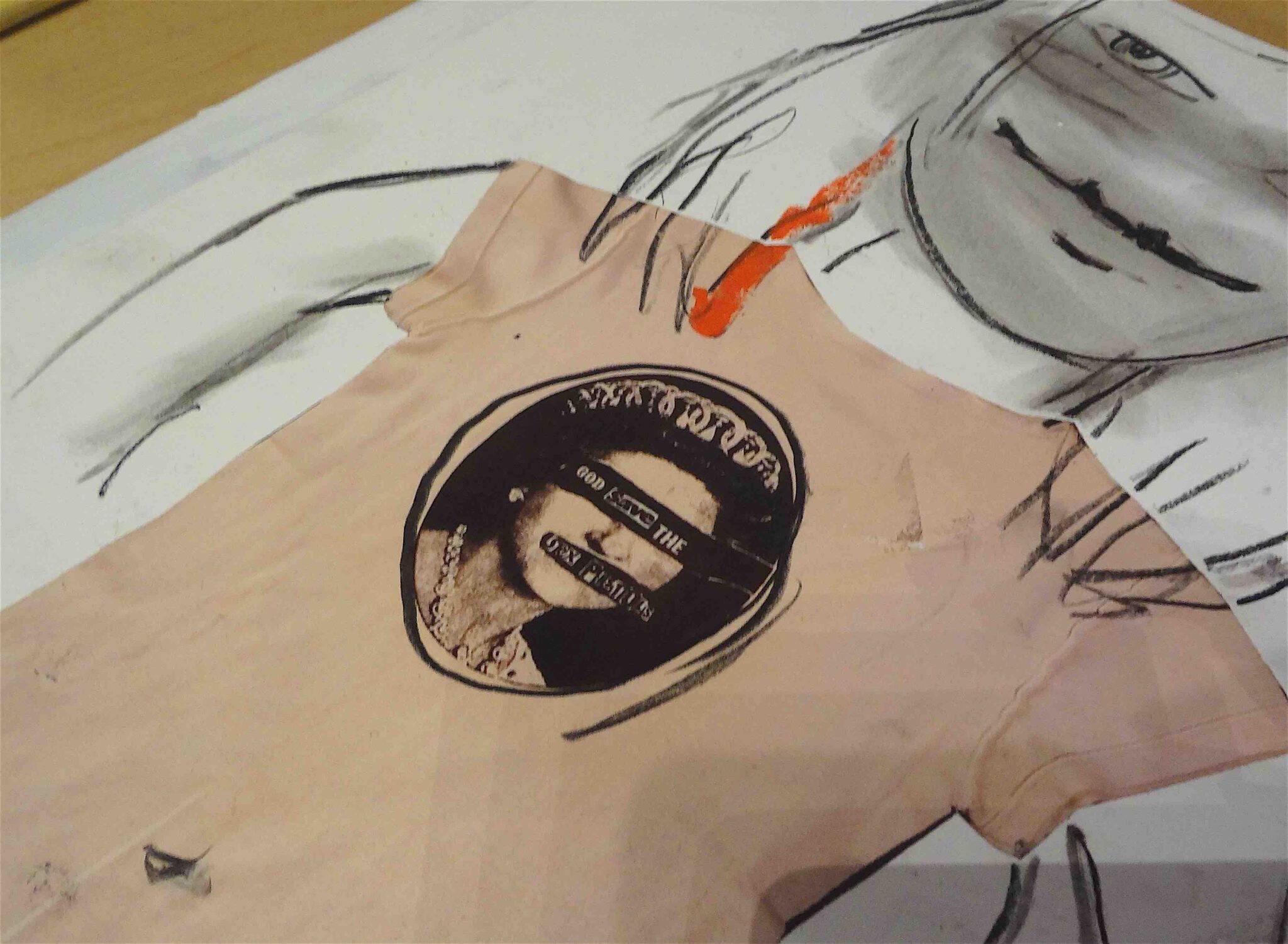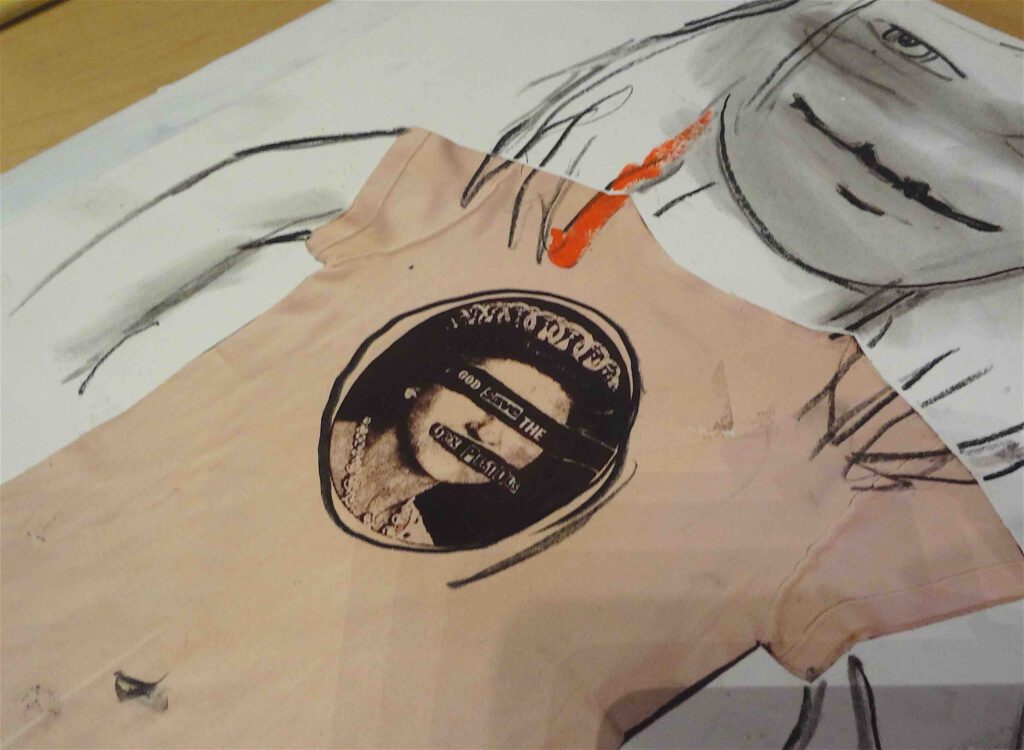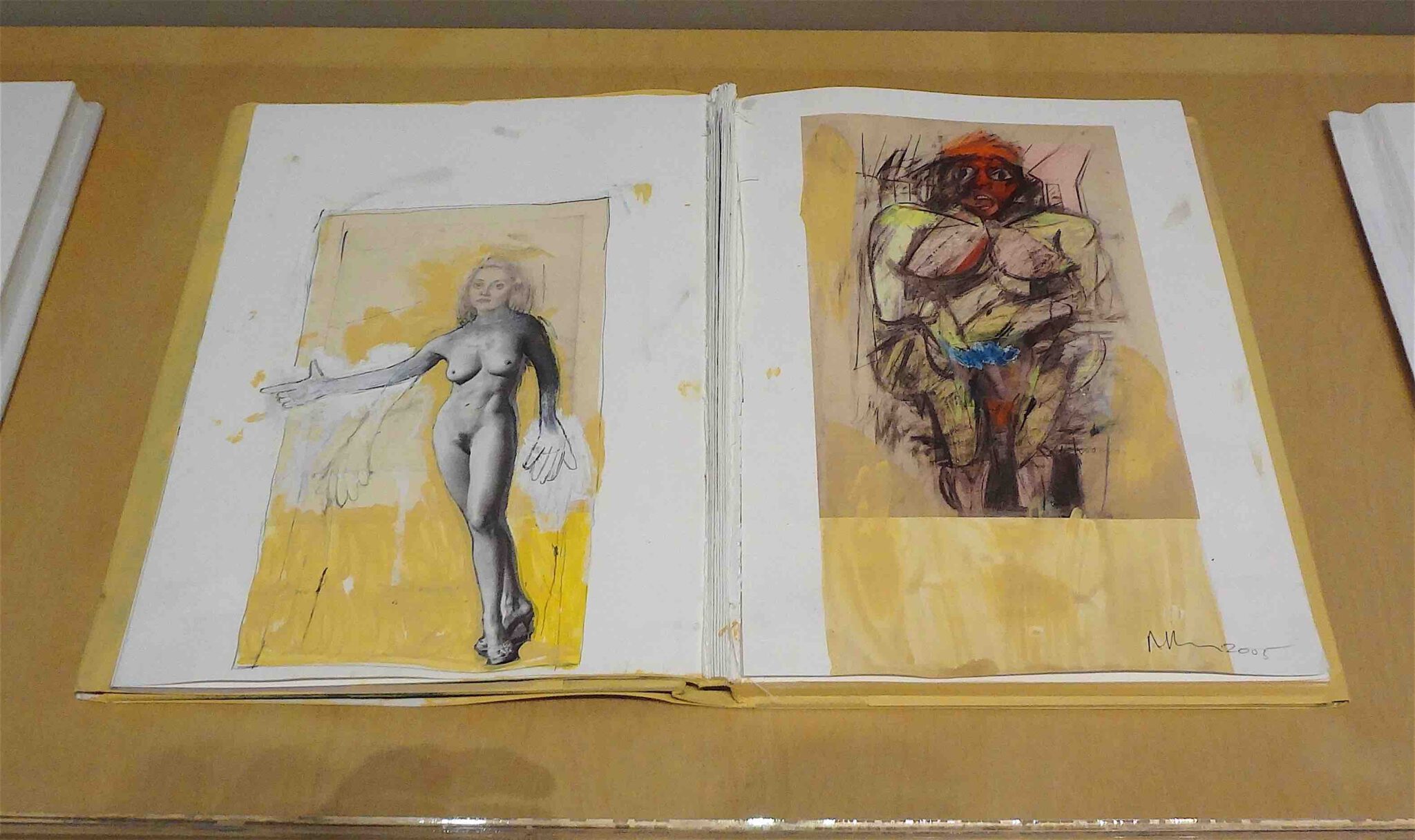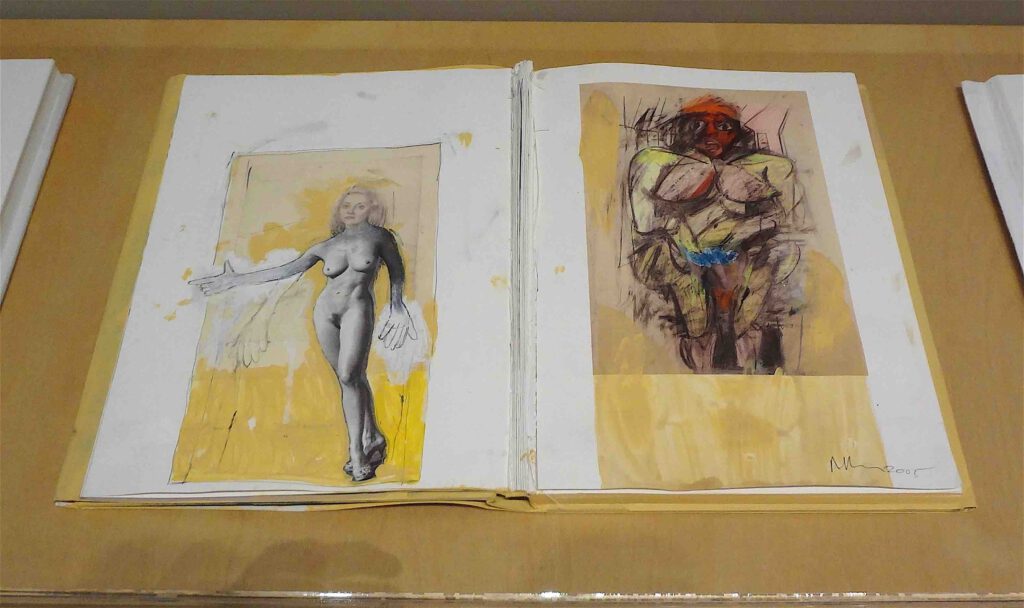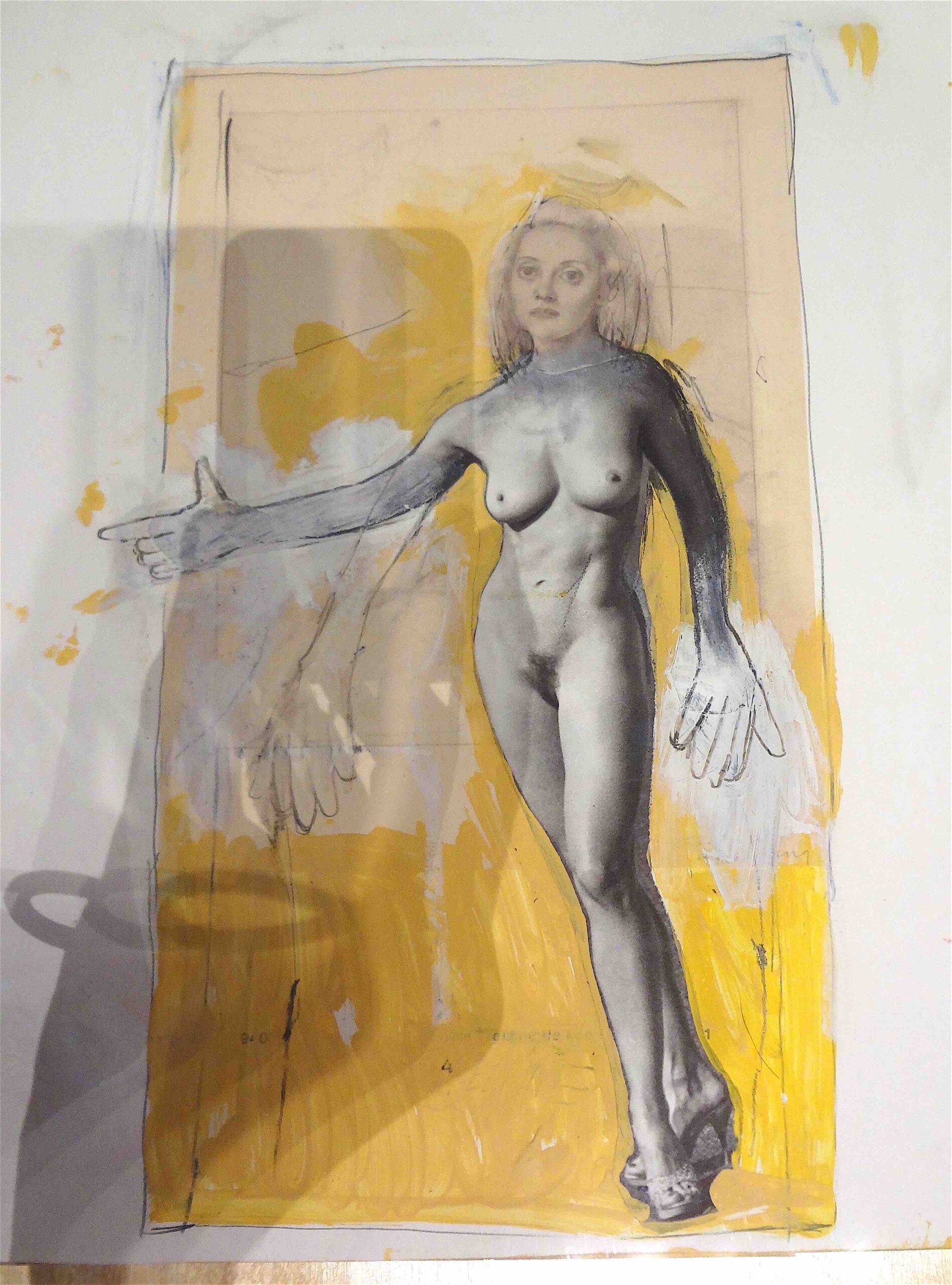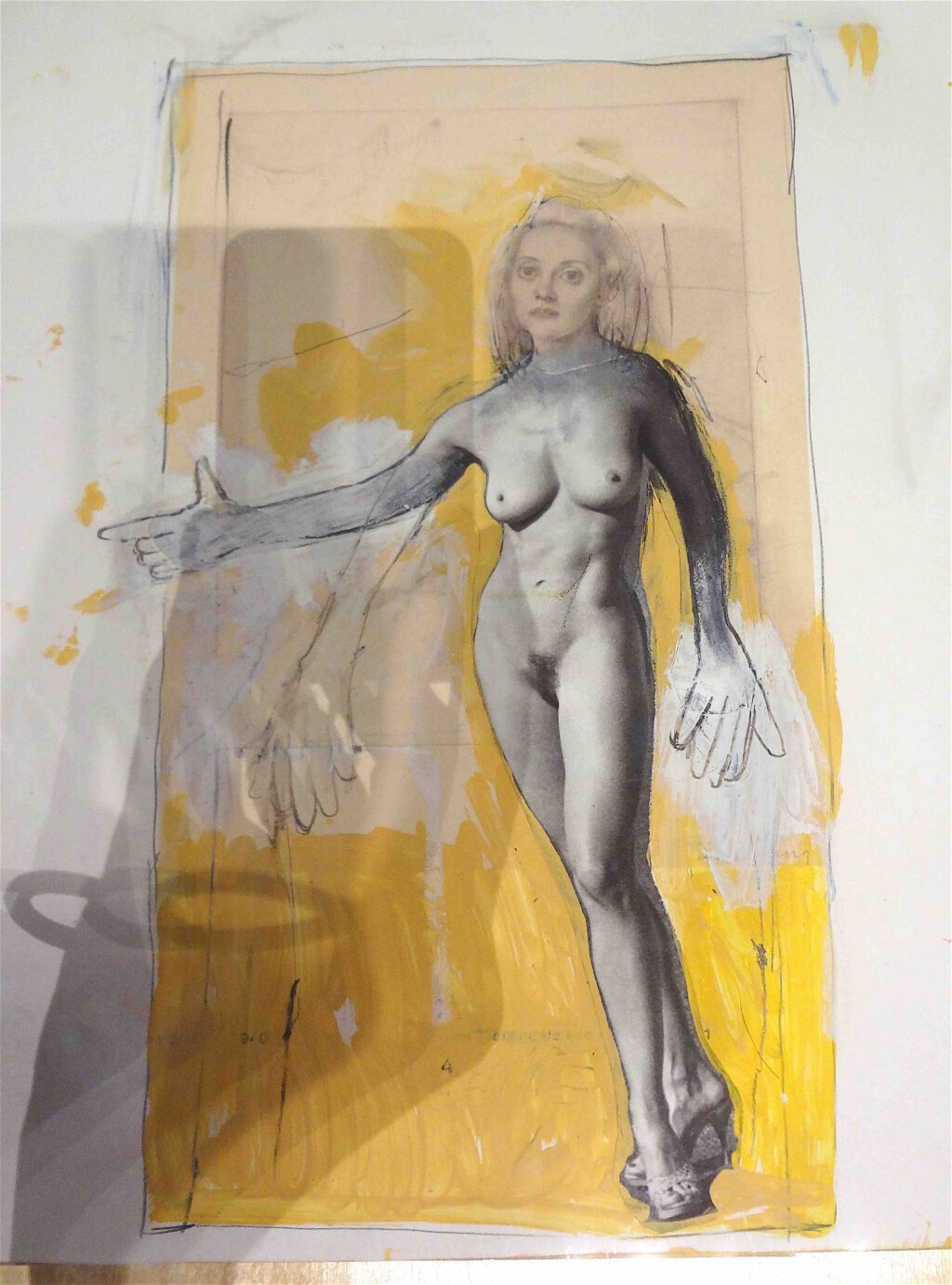 "You talkin' to me? You talkin' to me? You talkin' to me? Then who the hell else are you talkin' to? You talkin' to me? Well I'm the only one here. Who the fuck do you think you're talking to?"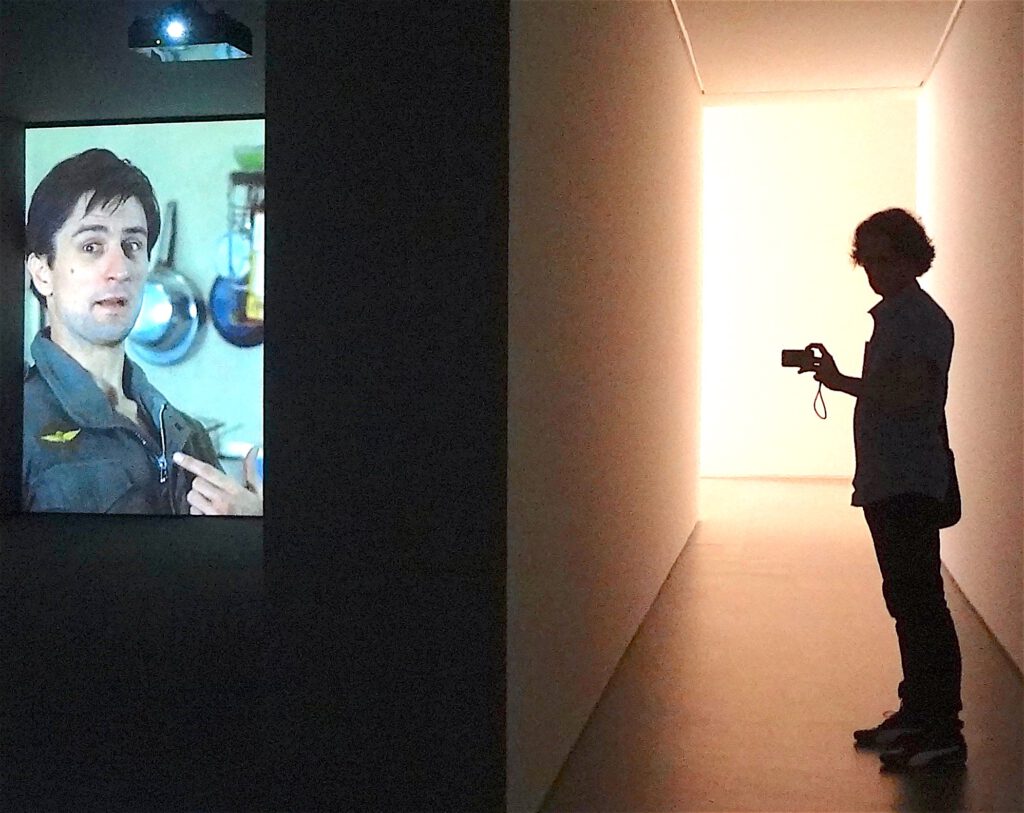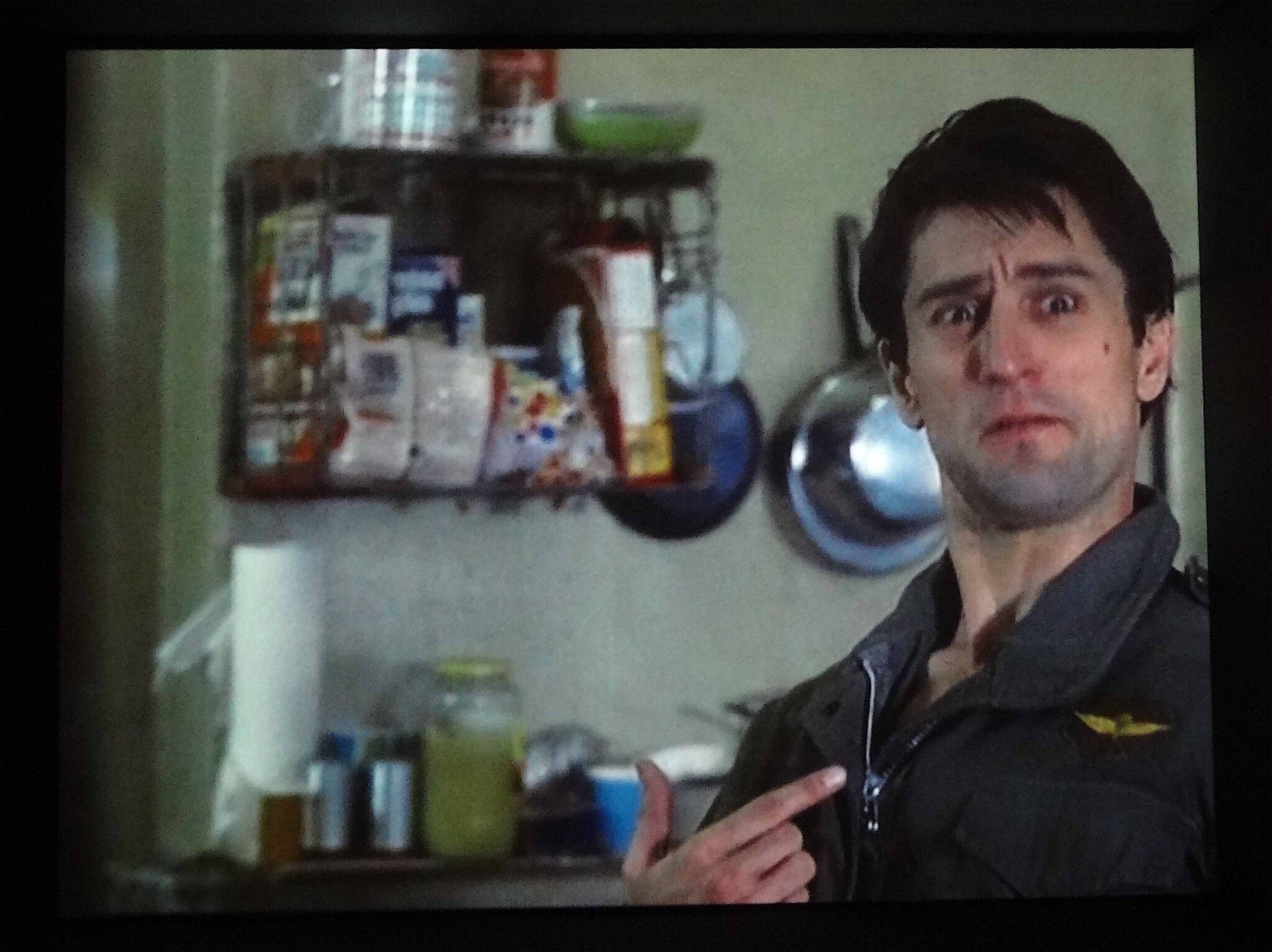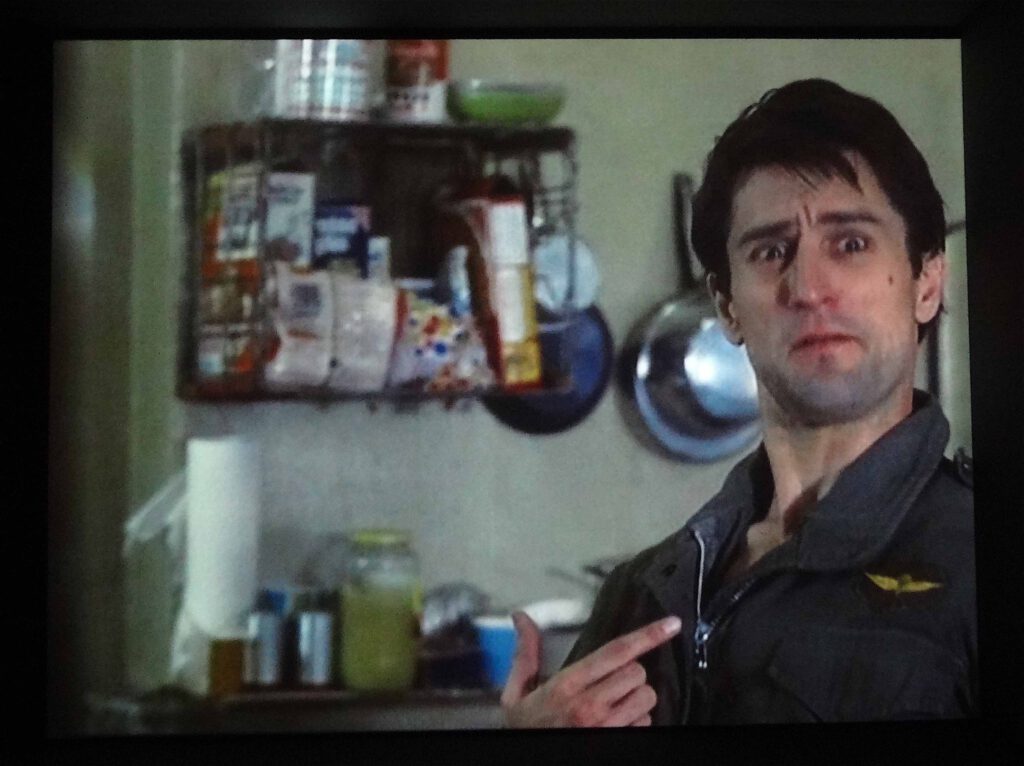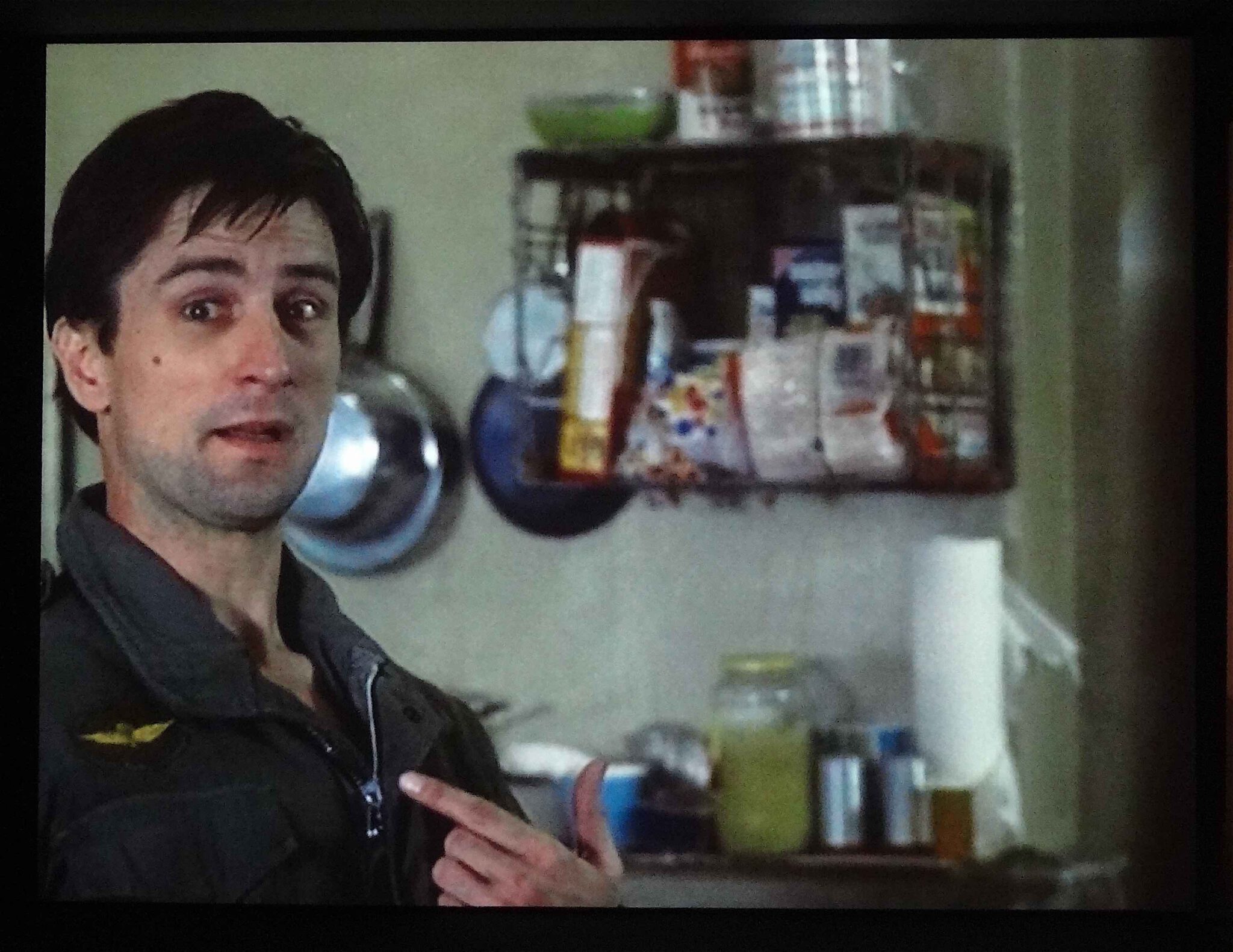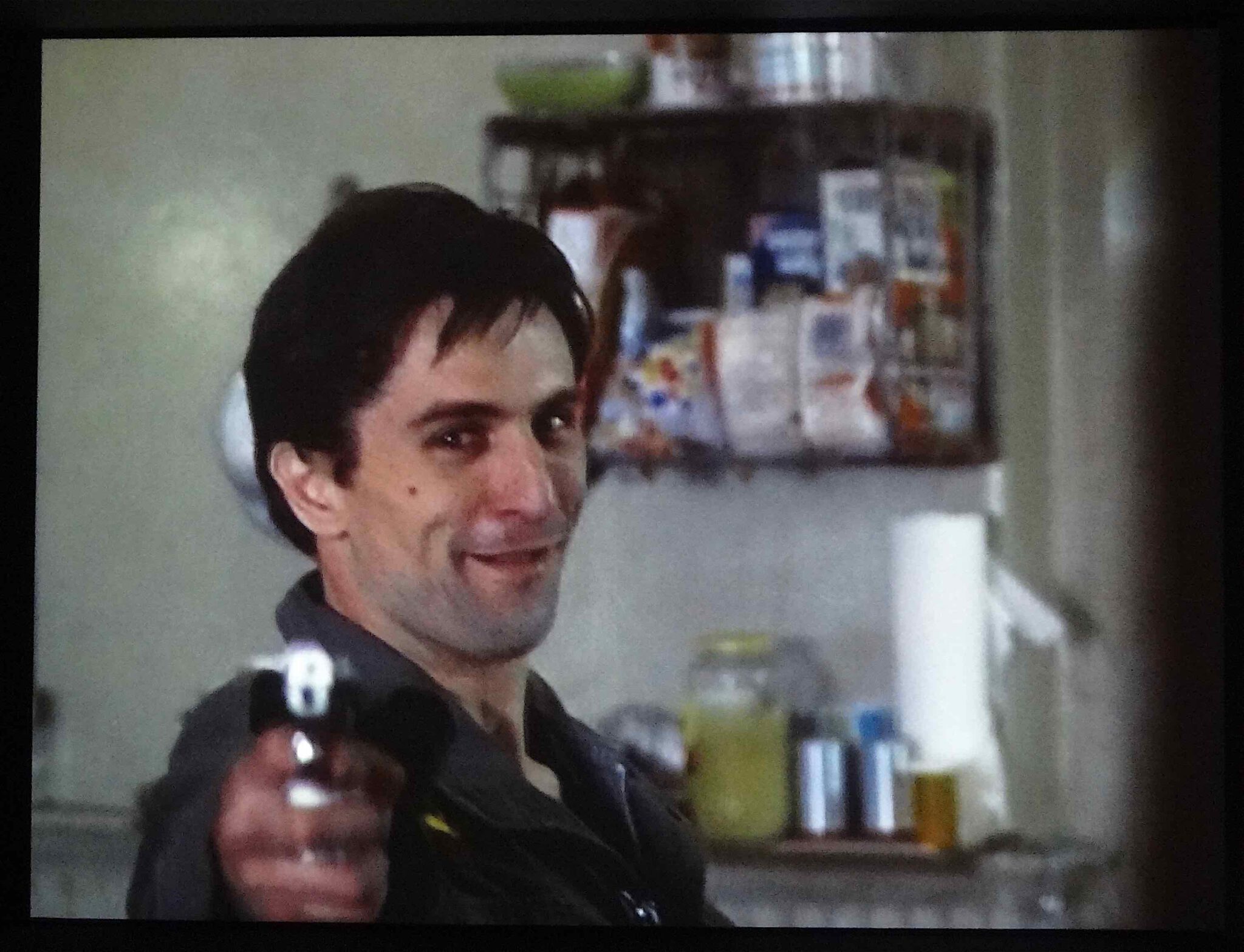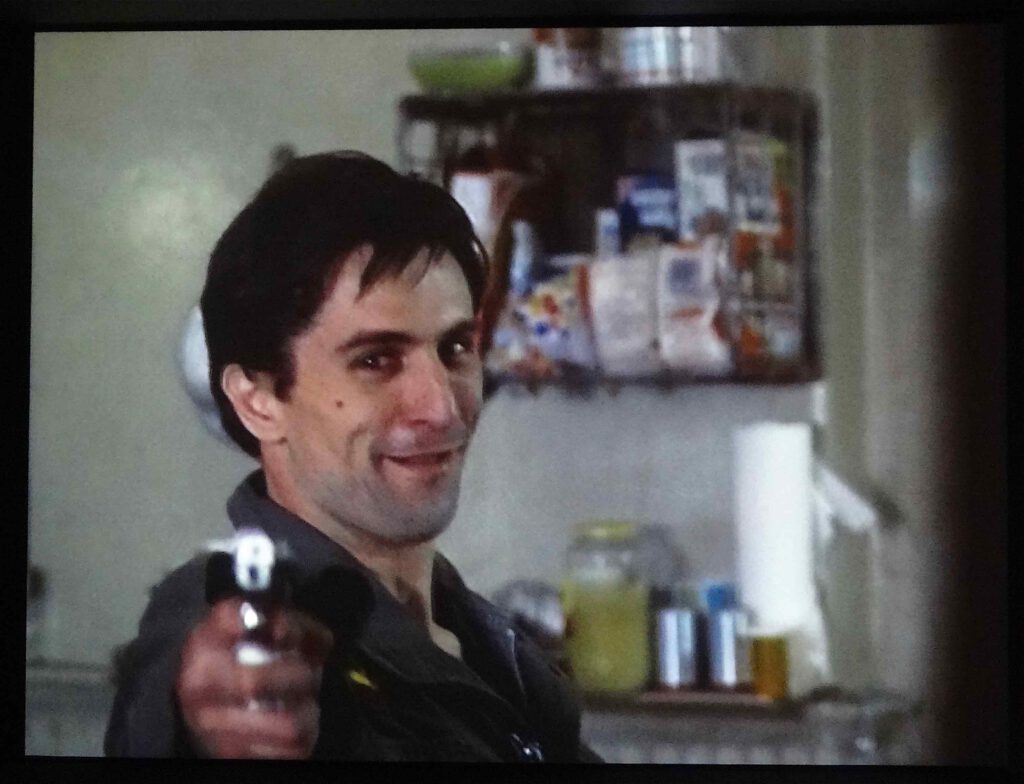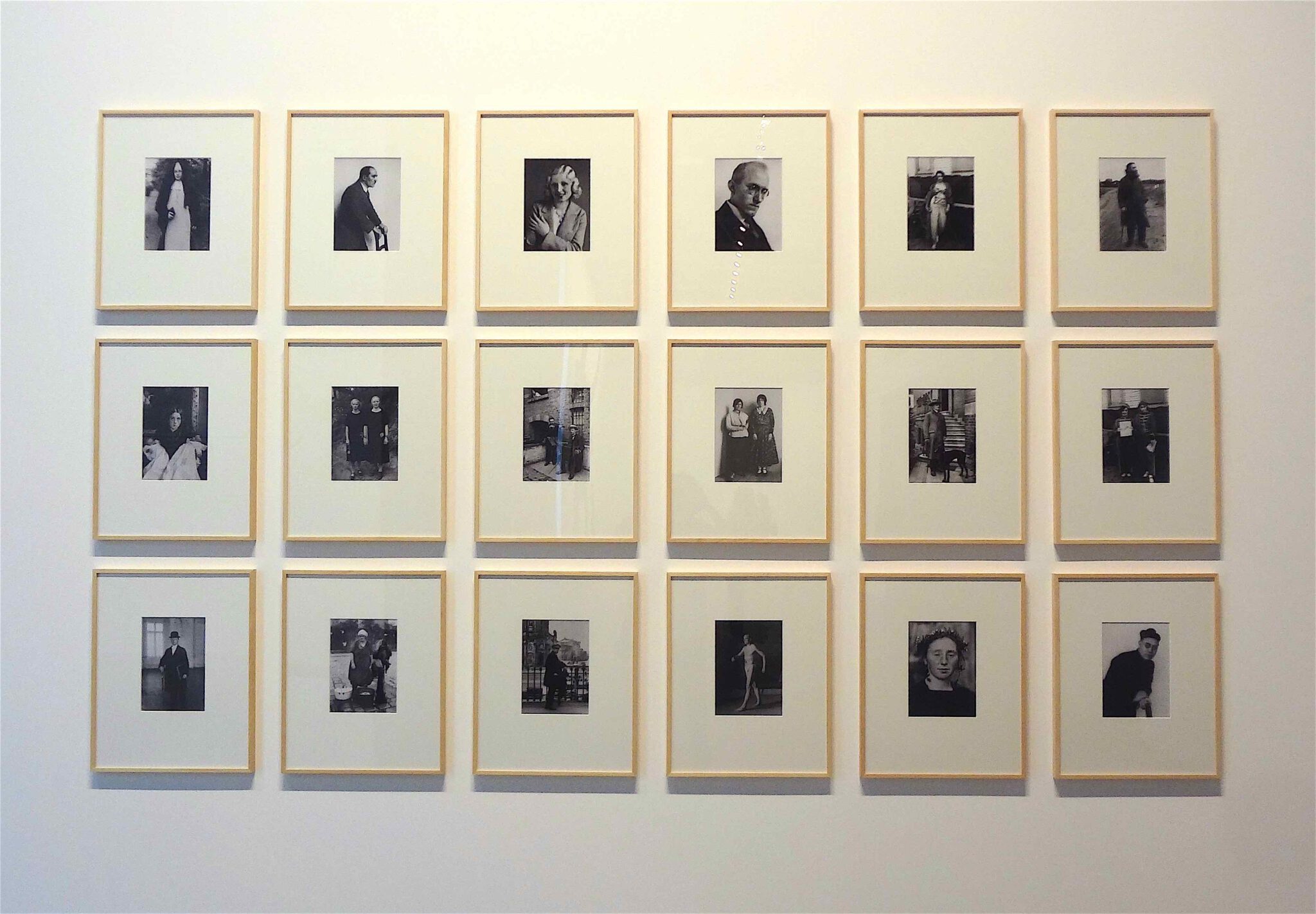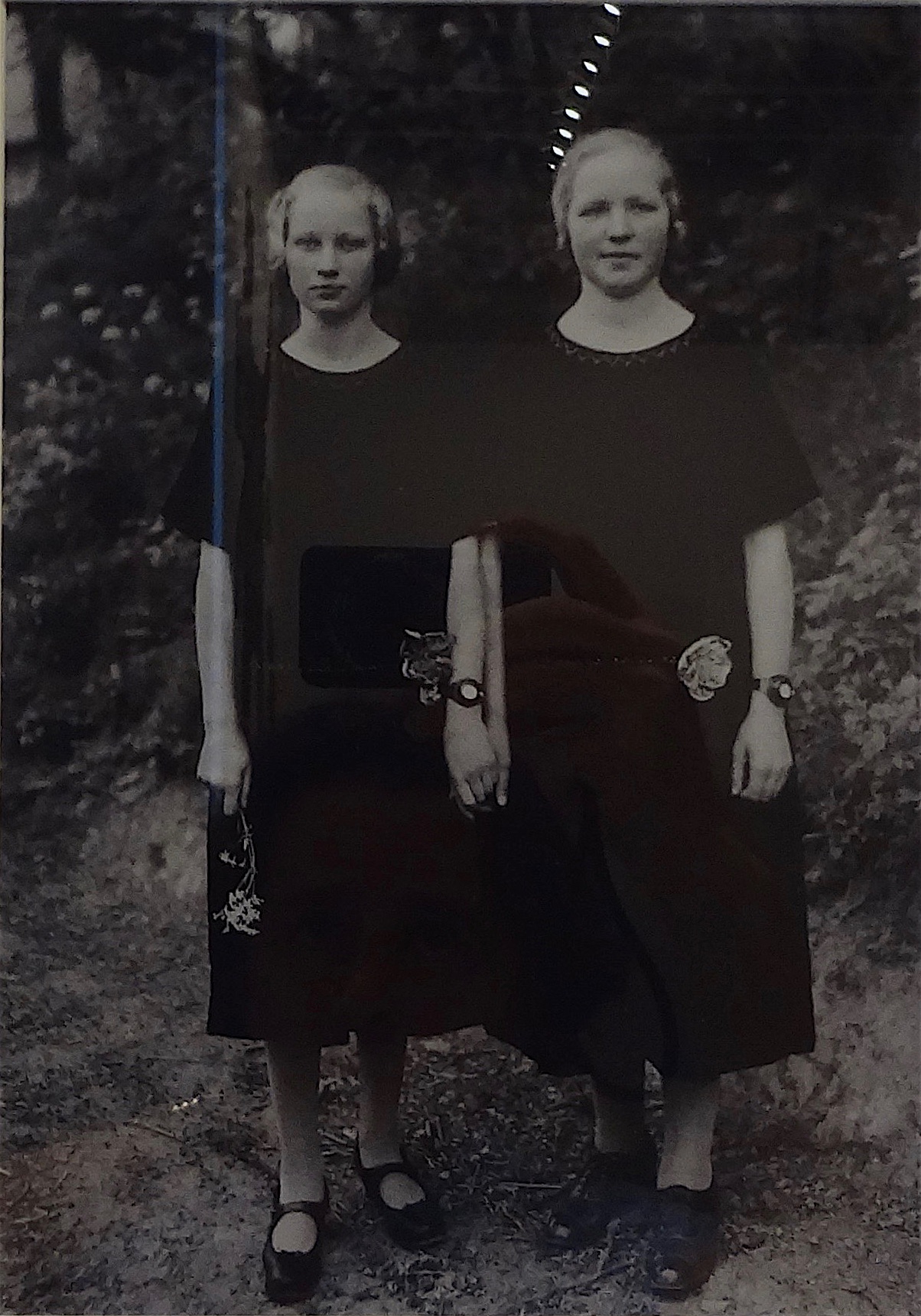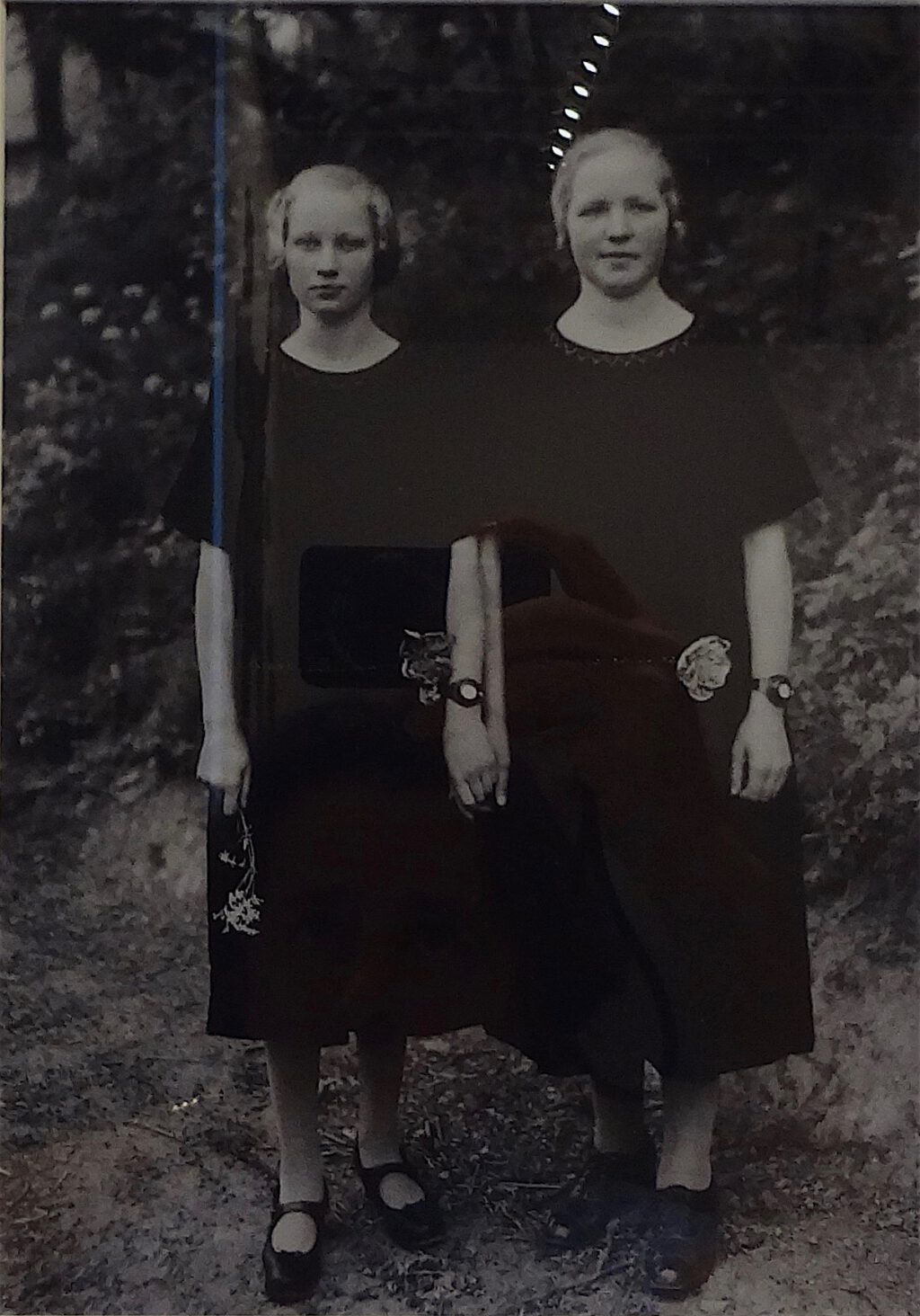 Since the early 1980's Sherrie Levine (American, b. 1947) has produced several series of rephotographed iconic images by such greats as Edward Weston, Walker Evans and, in 2012, August Sander. Titled 'After', these series – remakes seemingly identical in every way to the originals – are critical incursions into the concept of the readymade, the modernist myth of originality and feminist appropriation of a long-patriarchal history.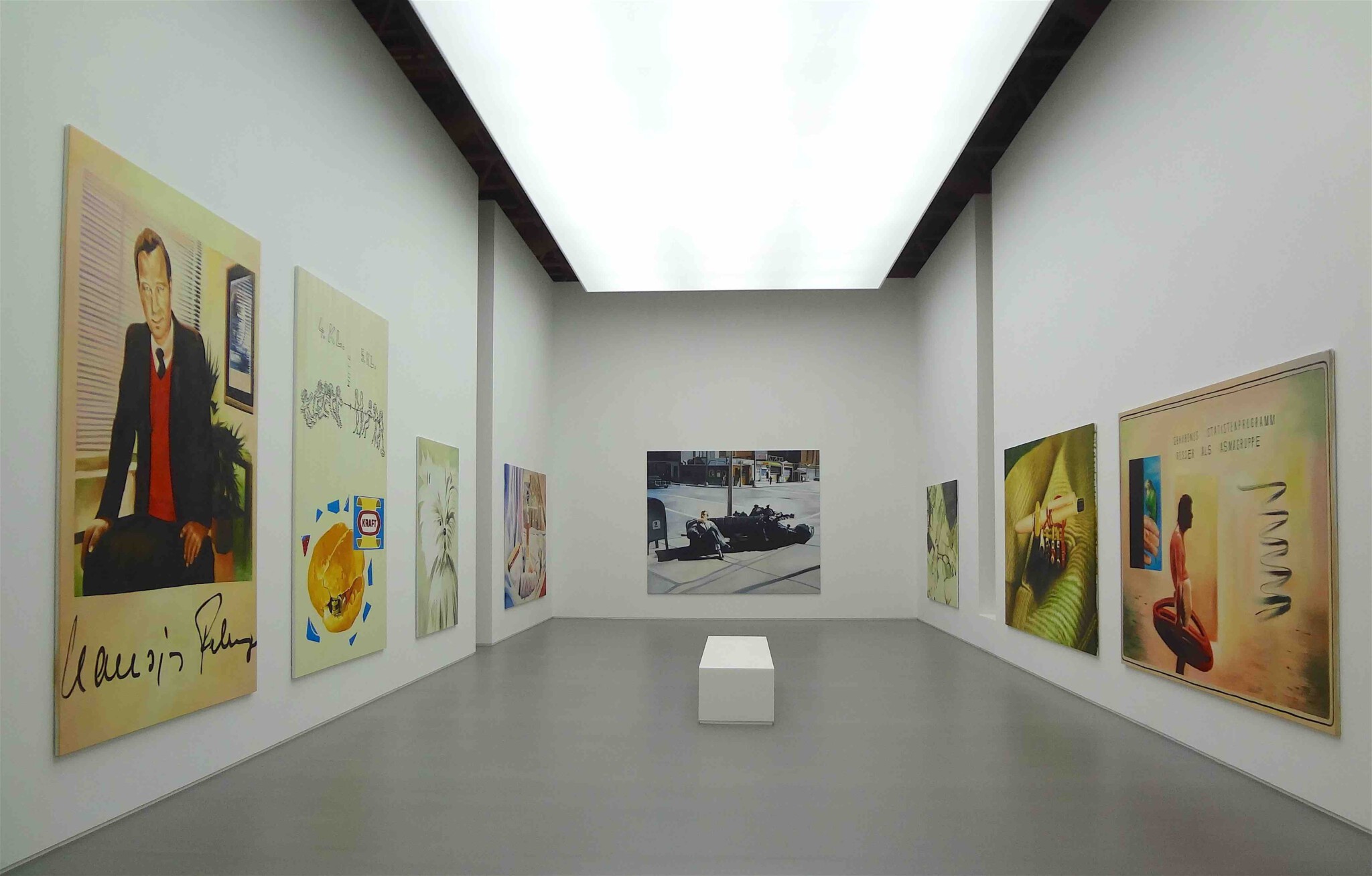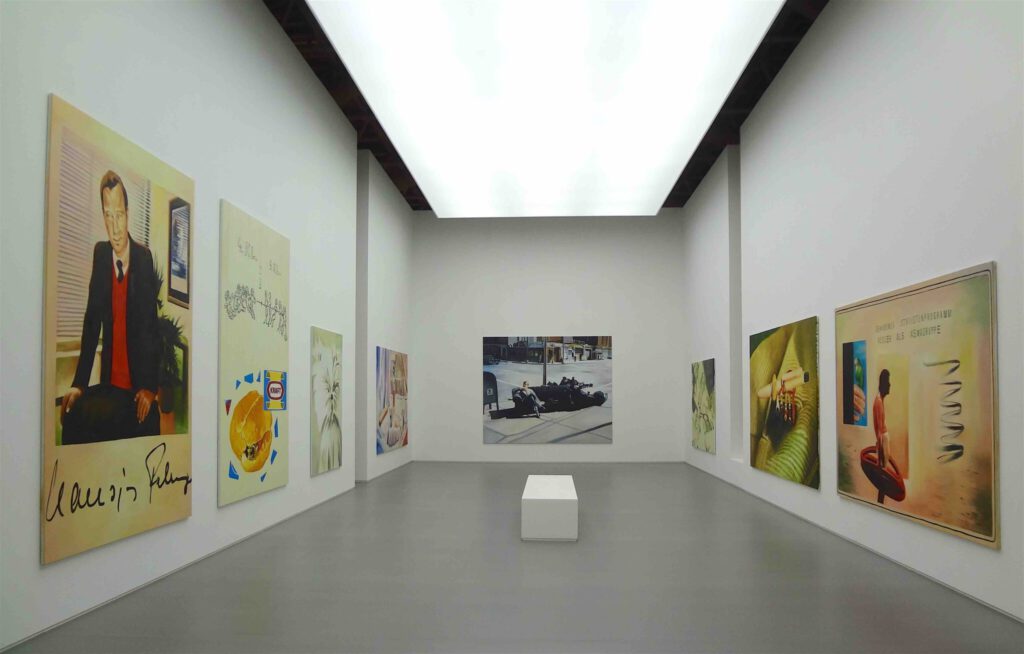 This cycle of paintings by Jonathan Monk (British, b. 1969) references German artist martin Kippenberger (1953-1997). In 1981 Kippenberger had a sign painter produce a series of pictures on different (and sometimes absurd) themes. Titled 'Dear Painter, Paint for Me' and signed by Kippenberger, this attack on concepts like style, authorship and originality is now considered a seminal work. In 2011 Jonathan Monk commissioned online a reproduction of Kippenberger's series from a Chinese company specialising in the copying of pictures. In addition to its use of mockery and irony, Monk's remake raises once more the question of authorship and uniqueness in art, at a time when the circulation of images has gone global.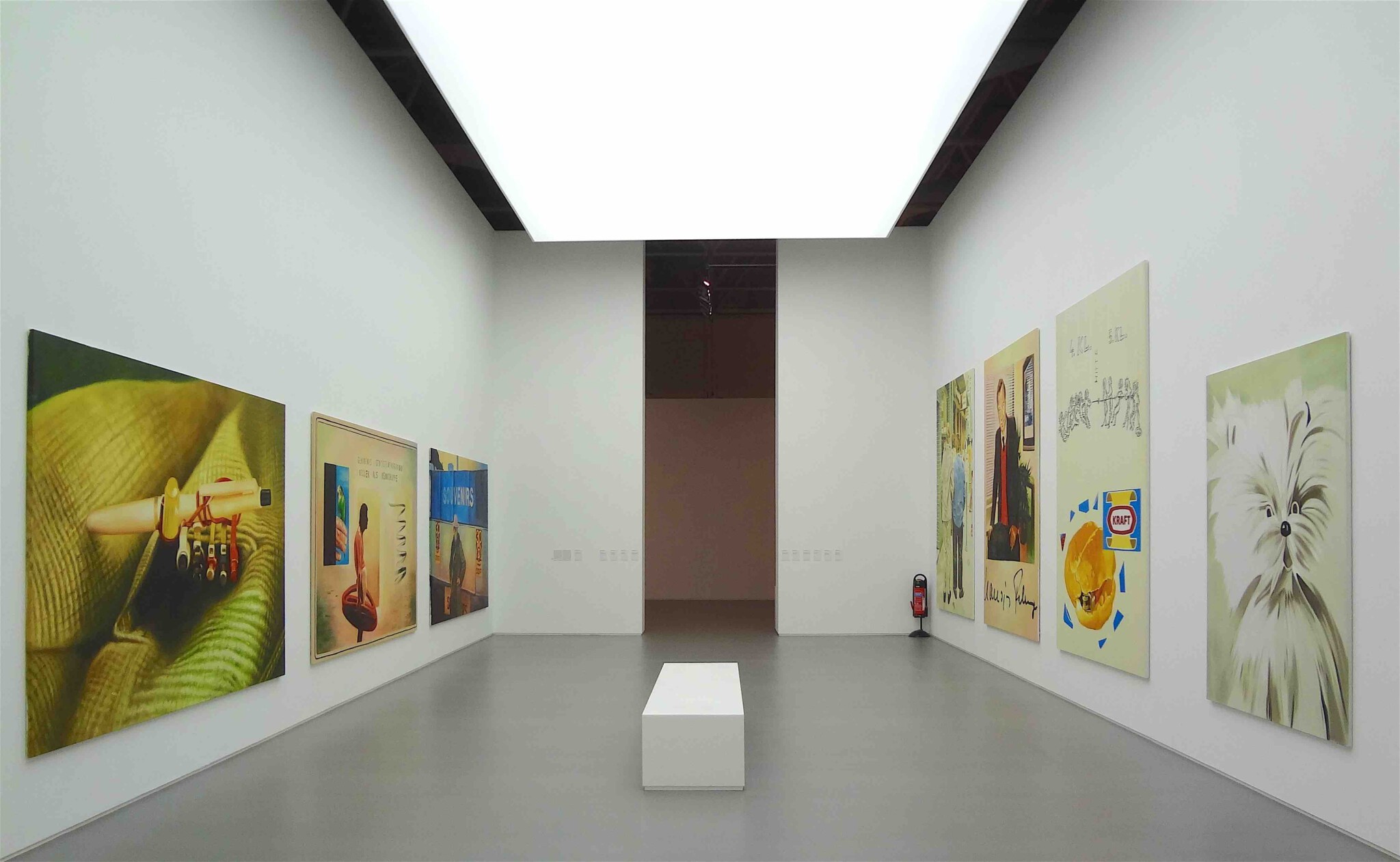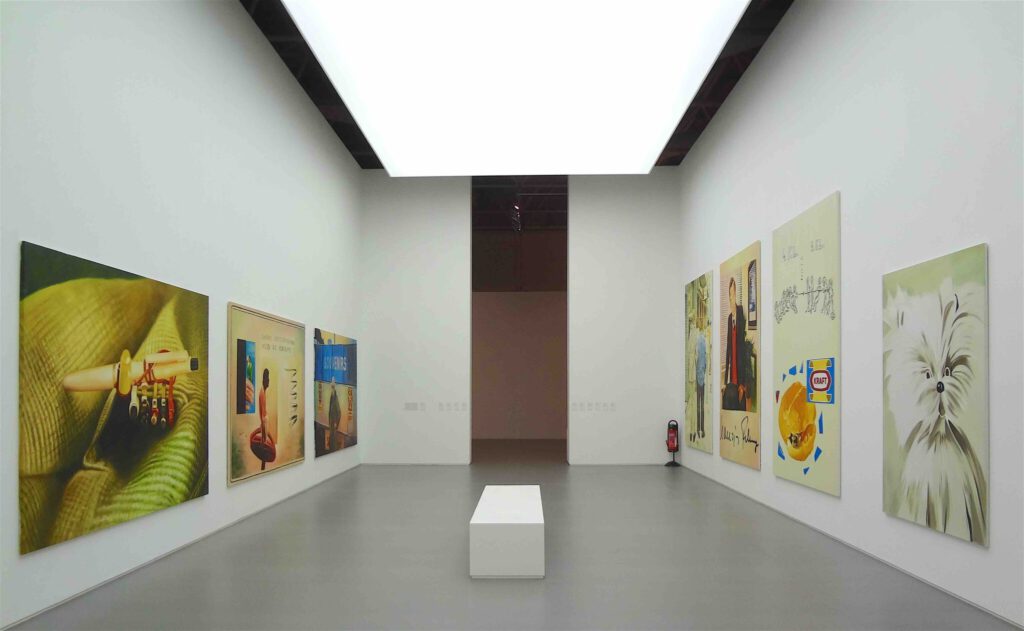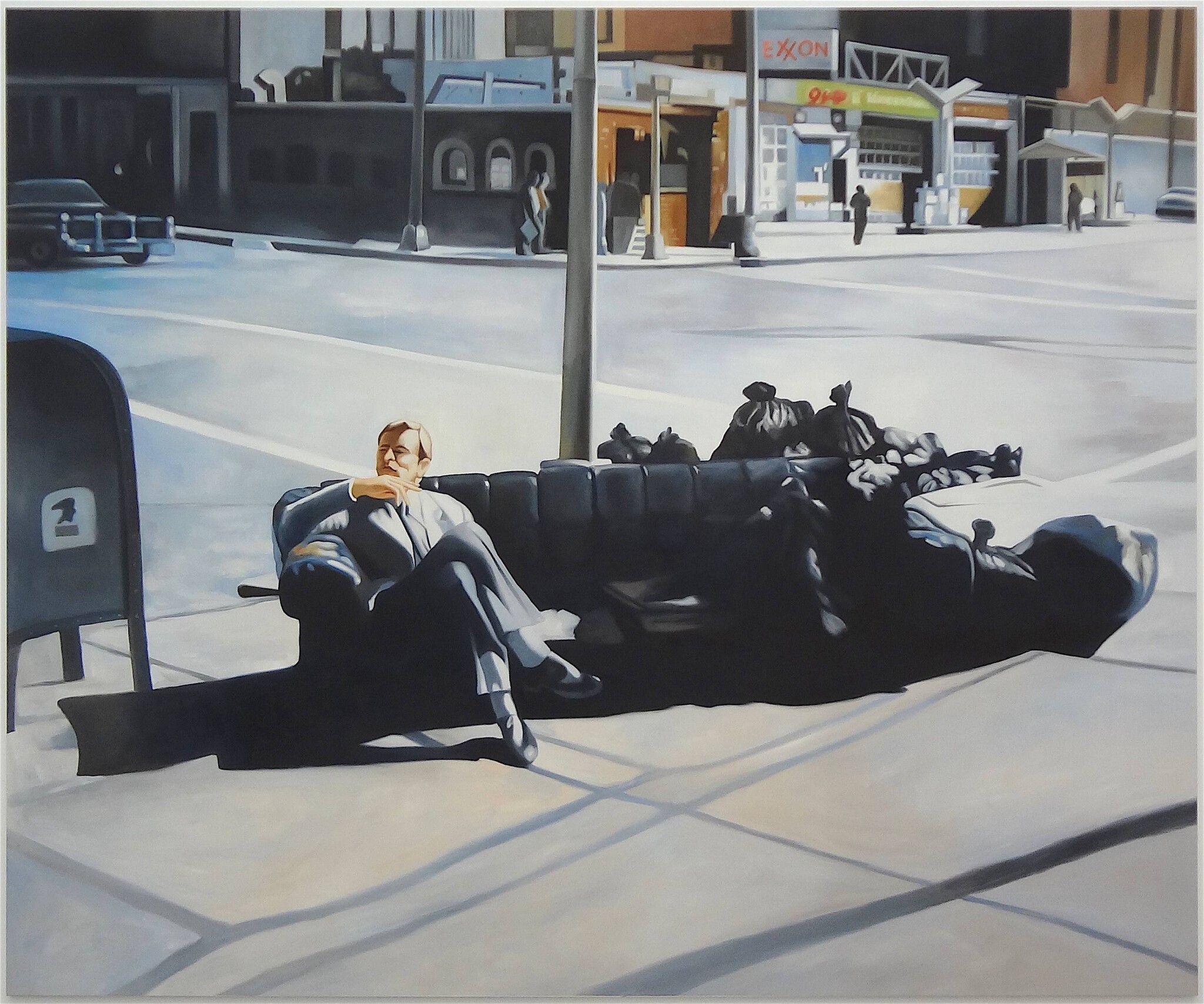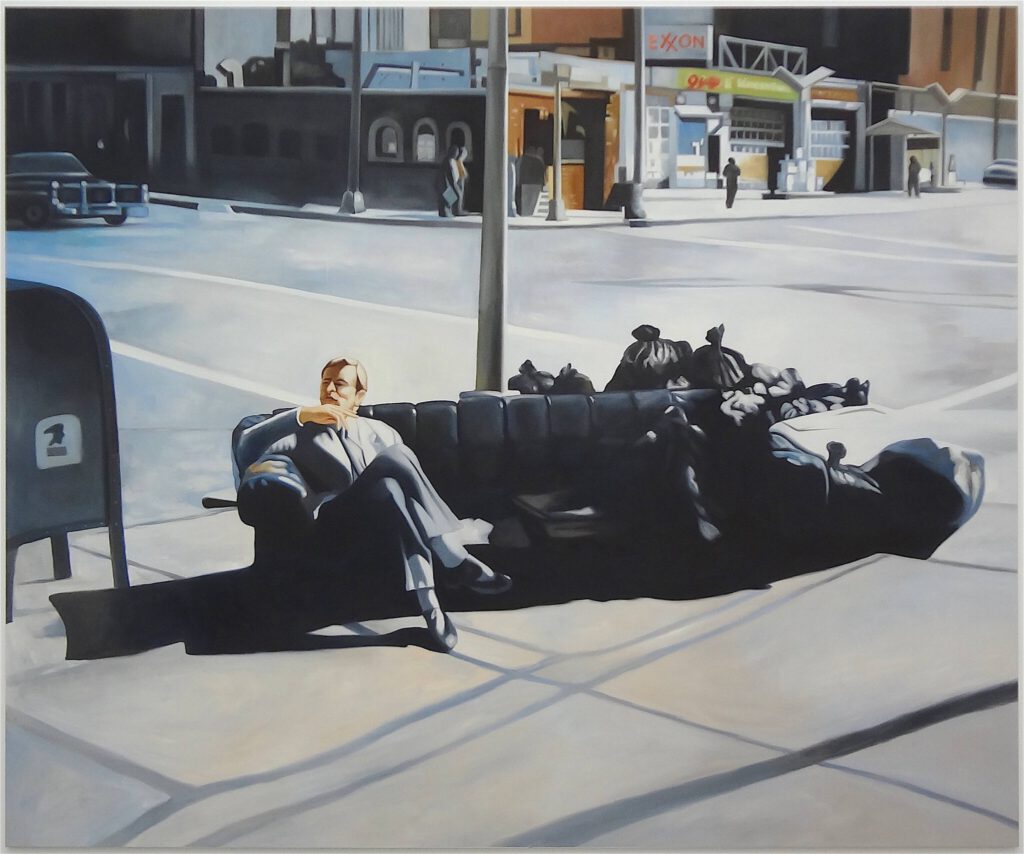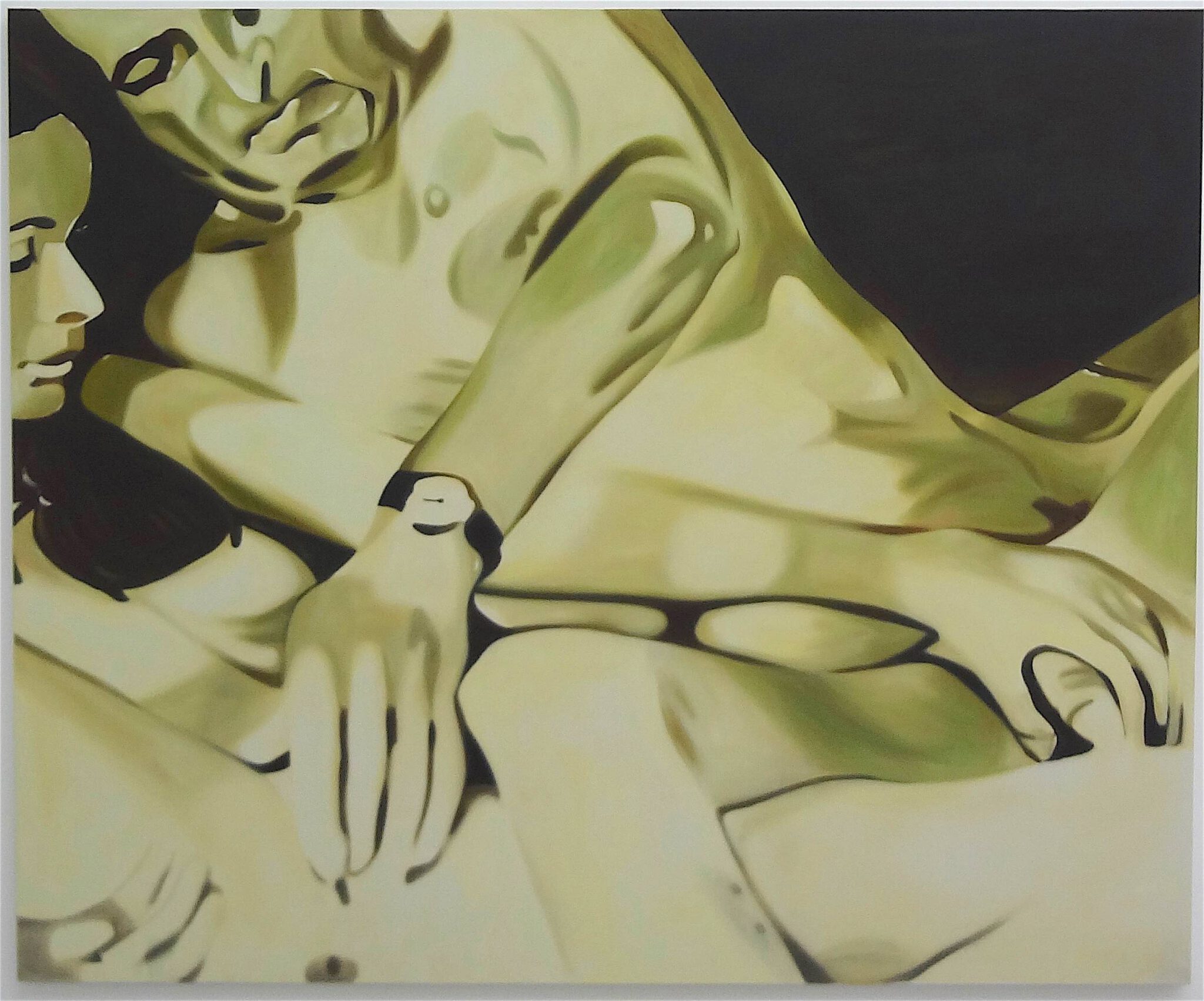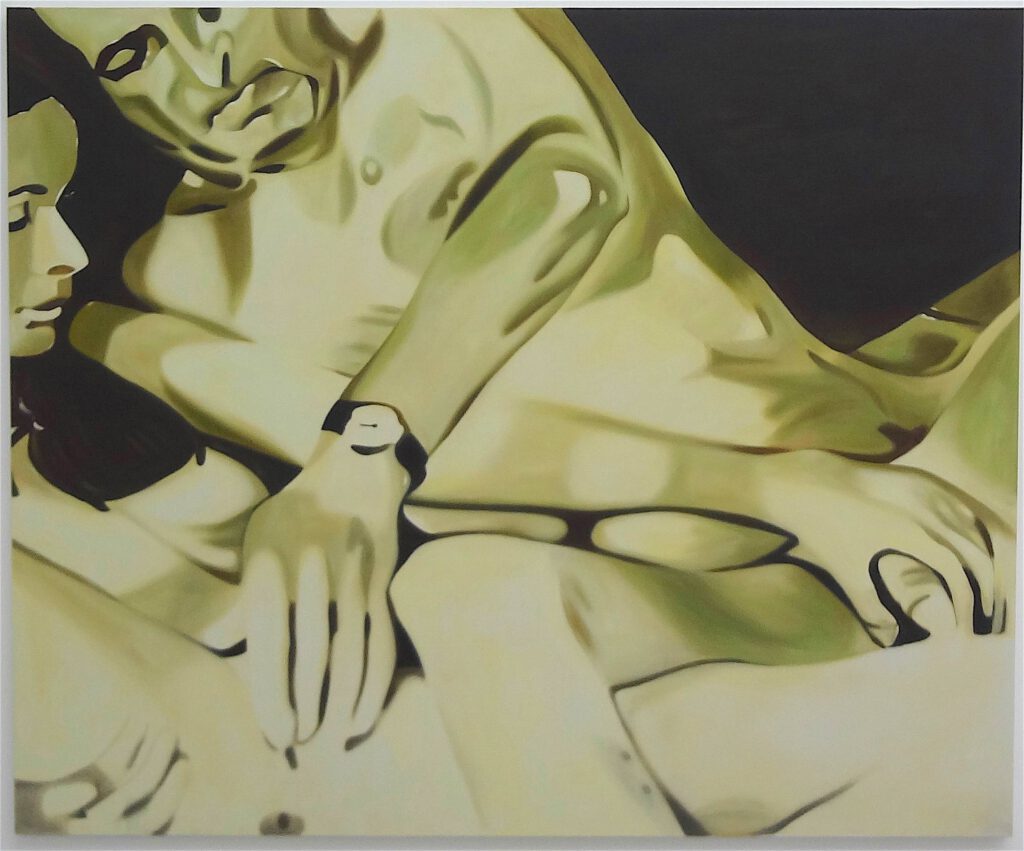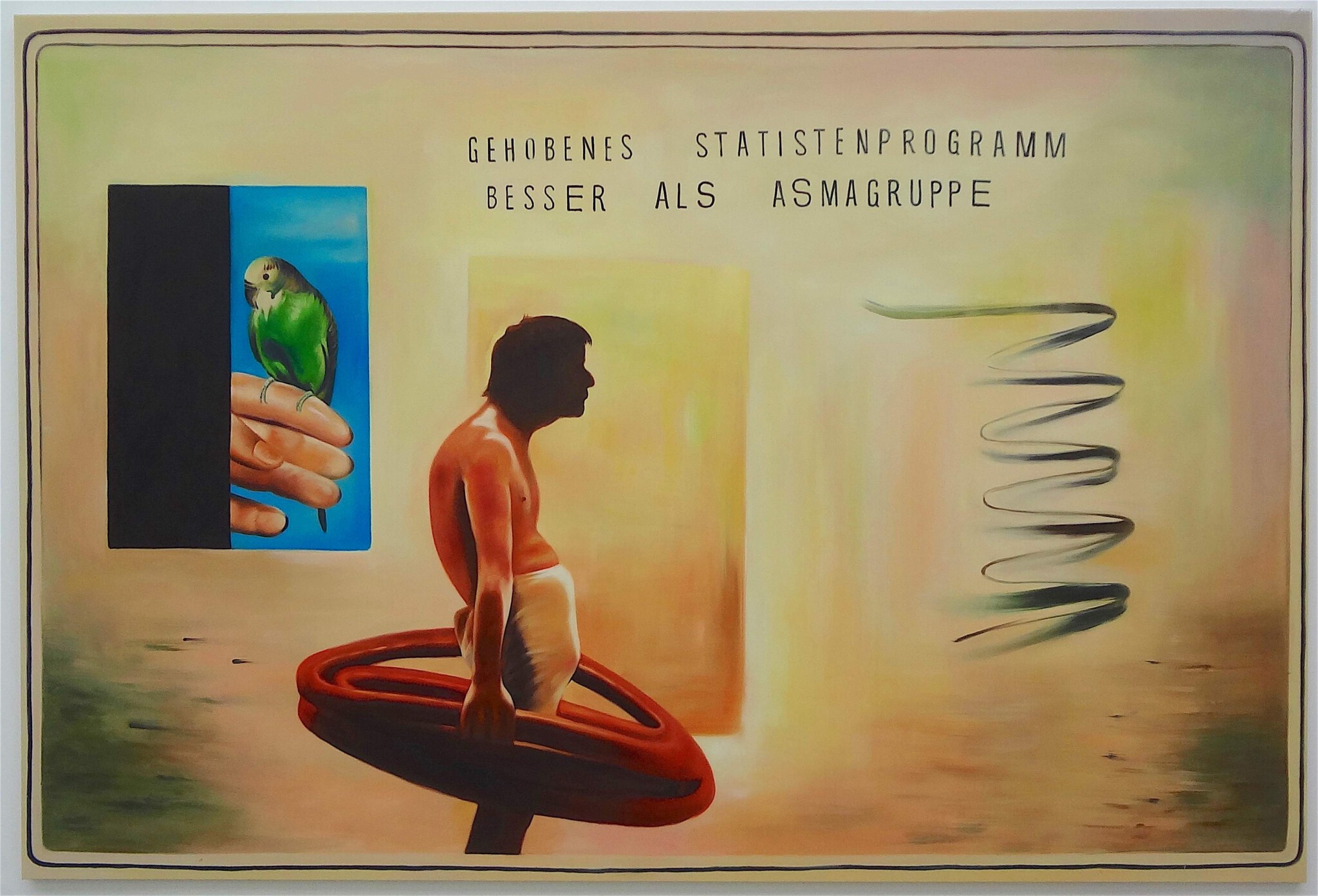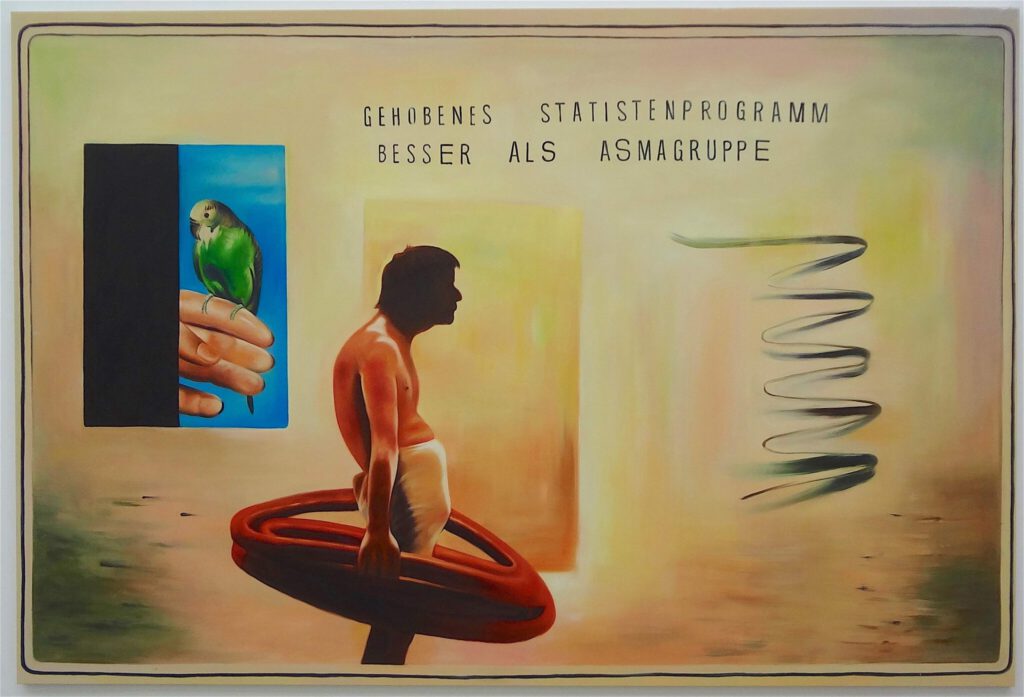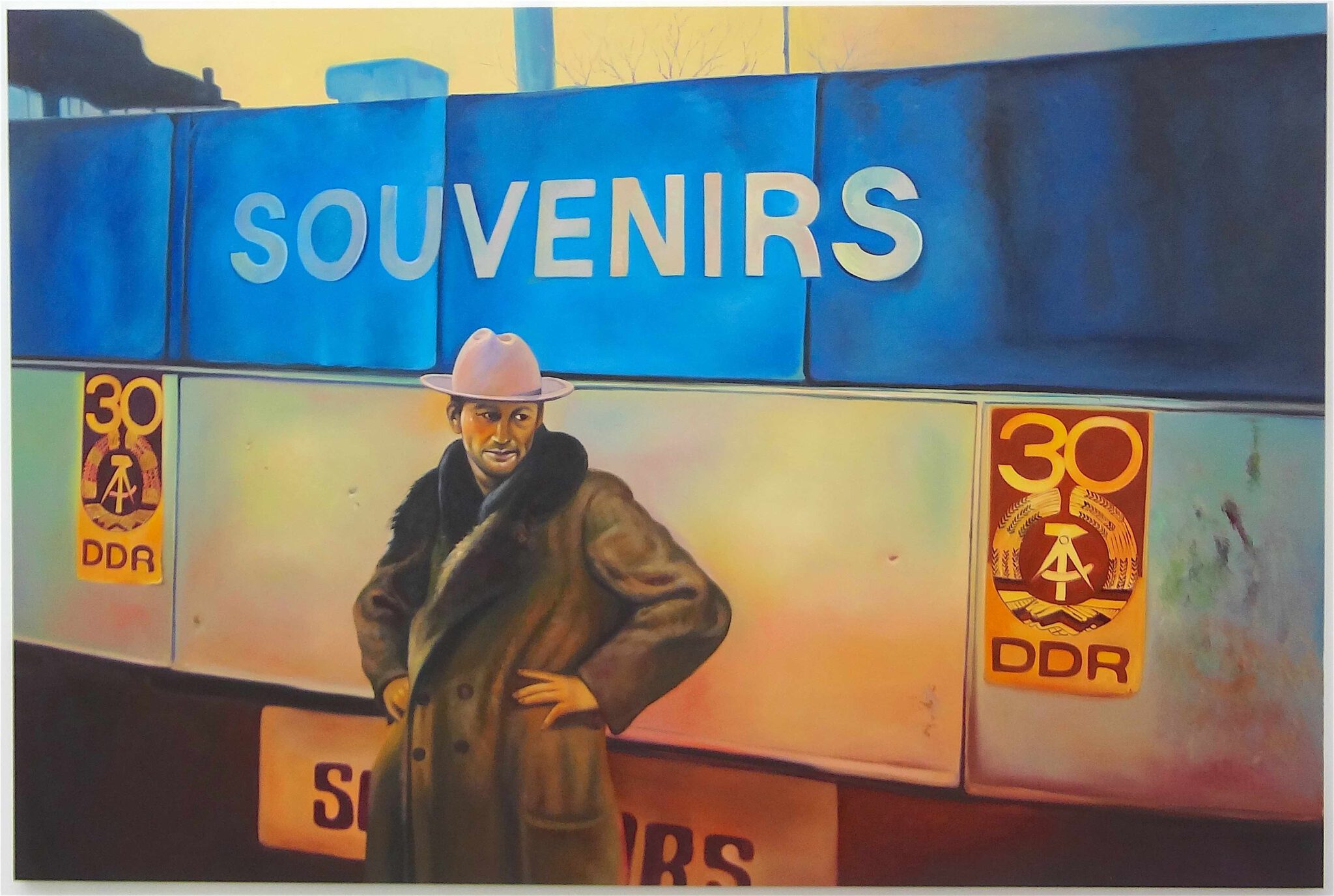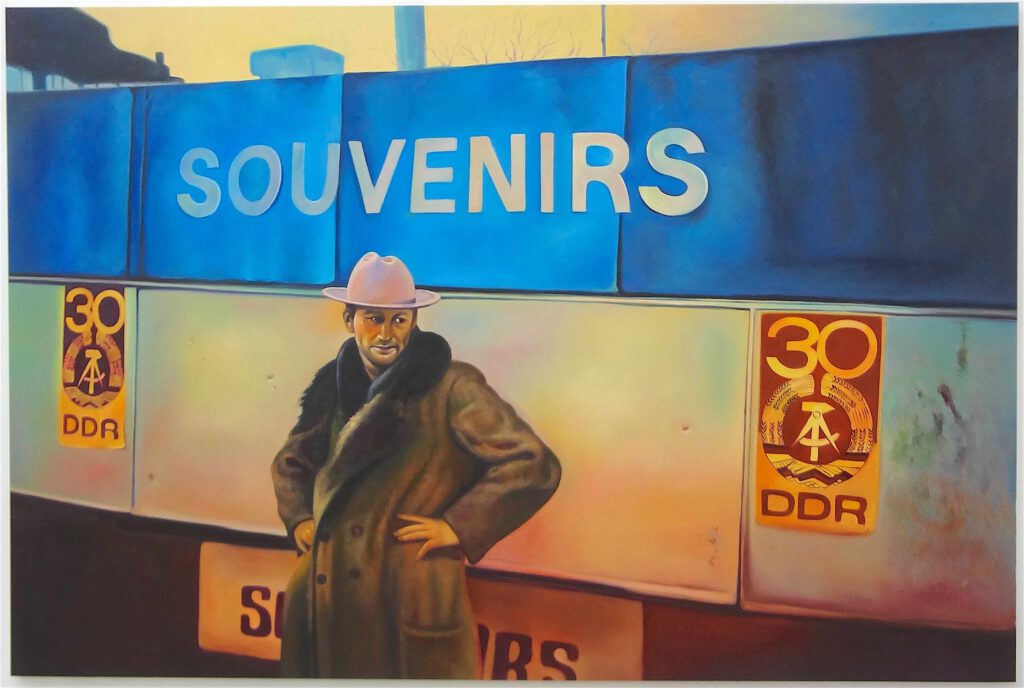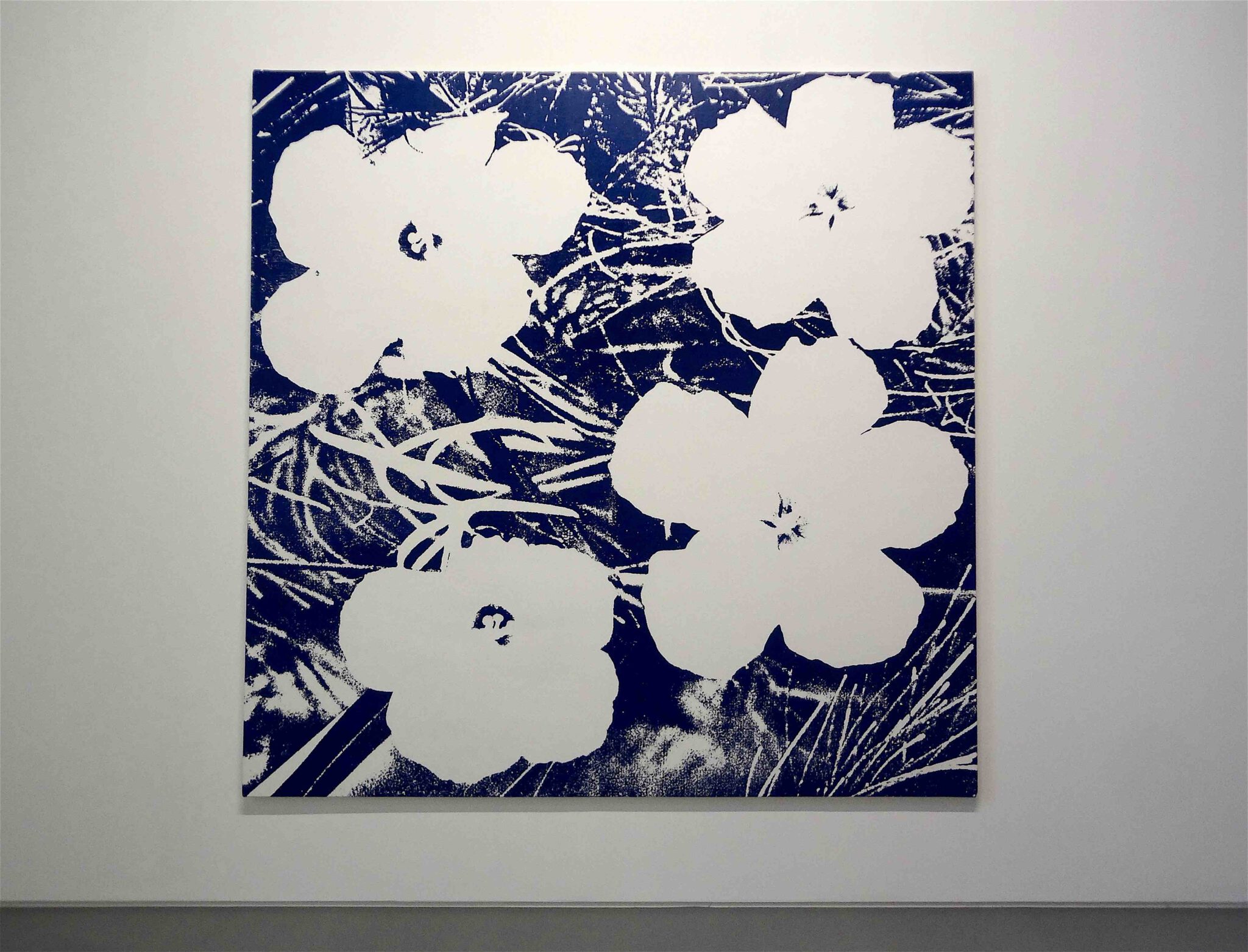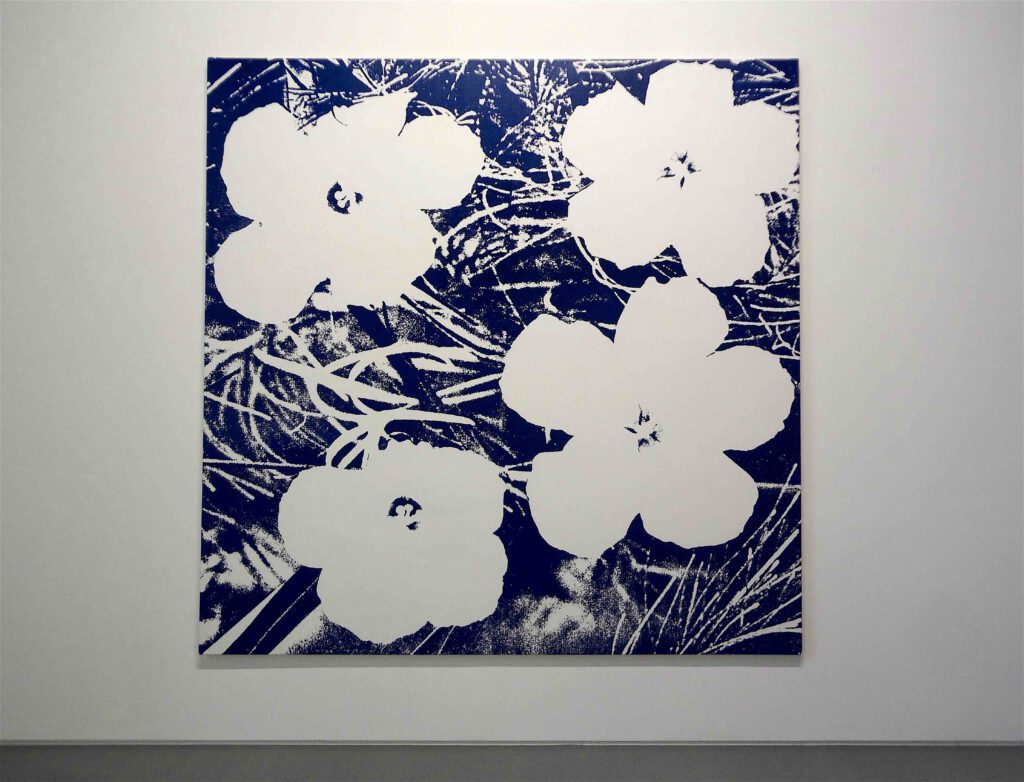 Between 1965 and her recent death on 7 May 2014, the American artist Sturtevant devoted herself to producing from memory replicas of groundbreaking works of modernism and contemporary art. Neither homages nor pastiches, her pictures embody a subtly radical take not only on issues of uniqueness and reproduction, but also on the image-based fabrication of art history in mass culture. In an ultimate allusion the two works on show featured in earlier Grimaldi Forum exhibitions: Flowers from the 'Superwarhol' exhibition in 2003 and a work by Felix Gonzalez-Torres from the 'New York New York' show of 2006.