Wayne Thiebaud @ Beyeler Fondation ウェイン・ティーボー 個展
@ バイエラー財団、スイス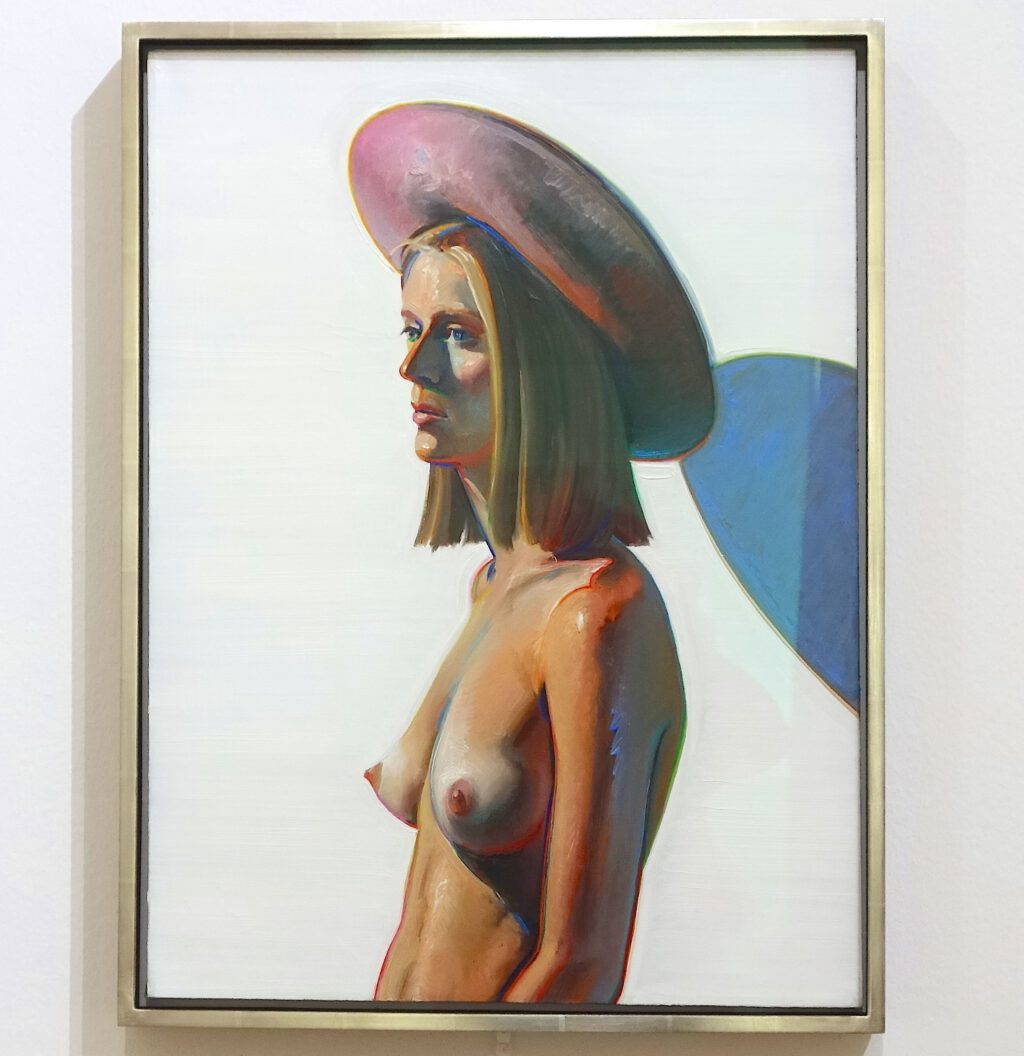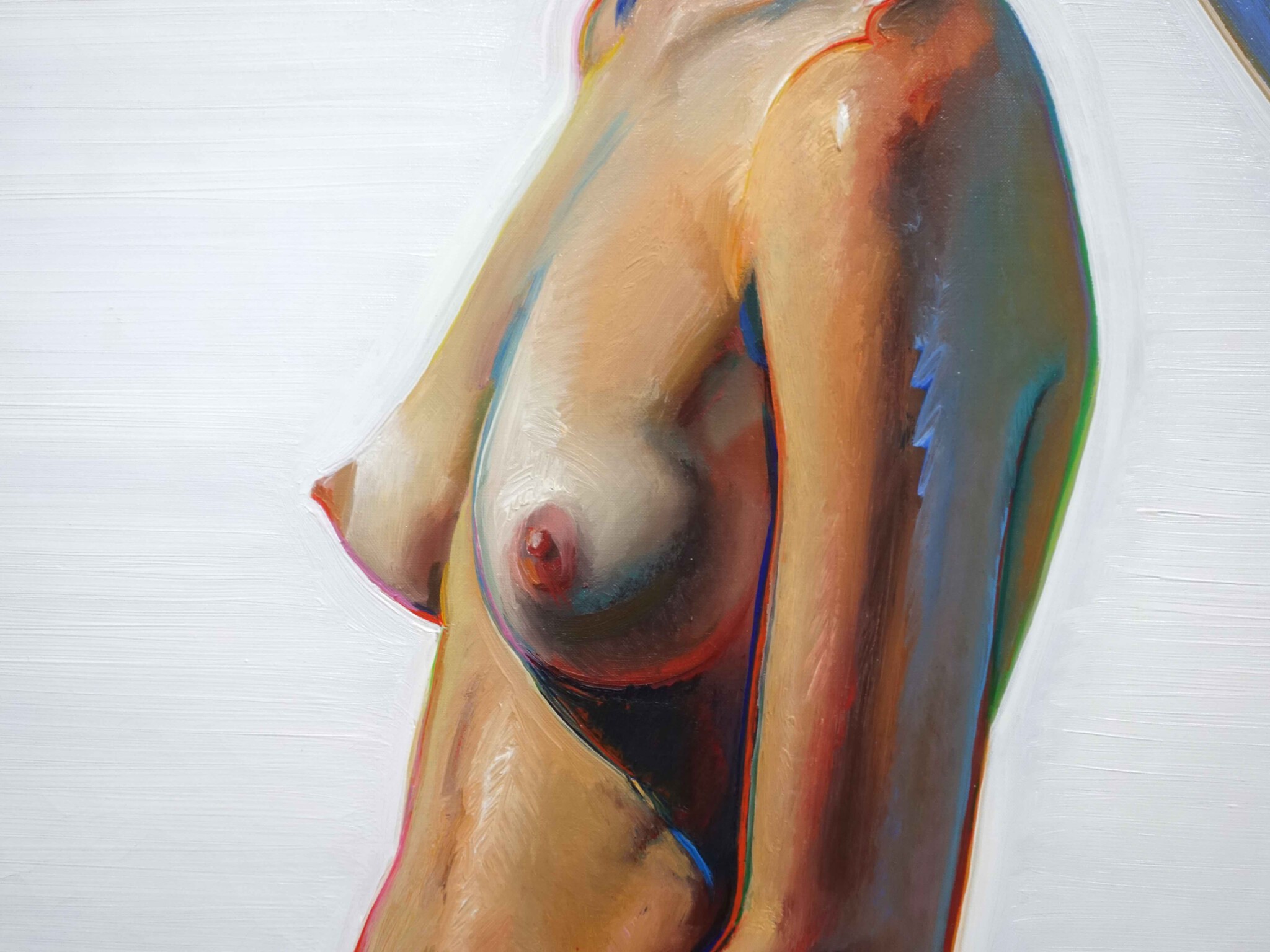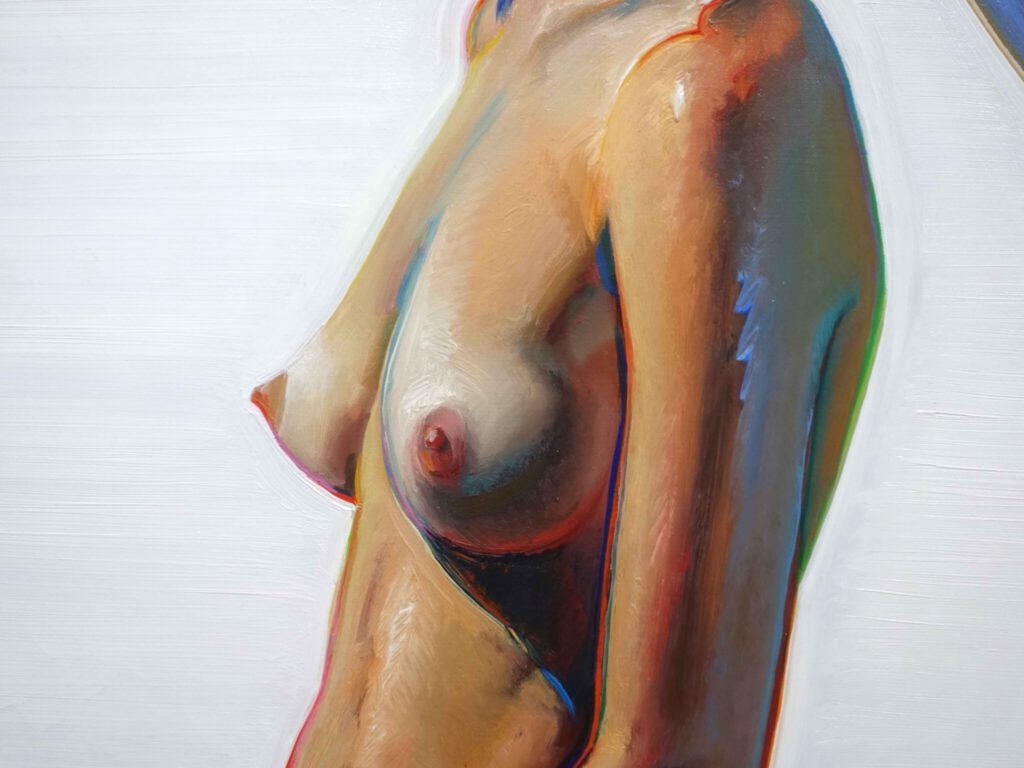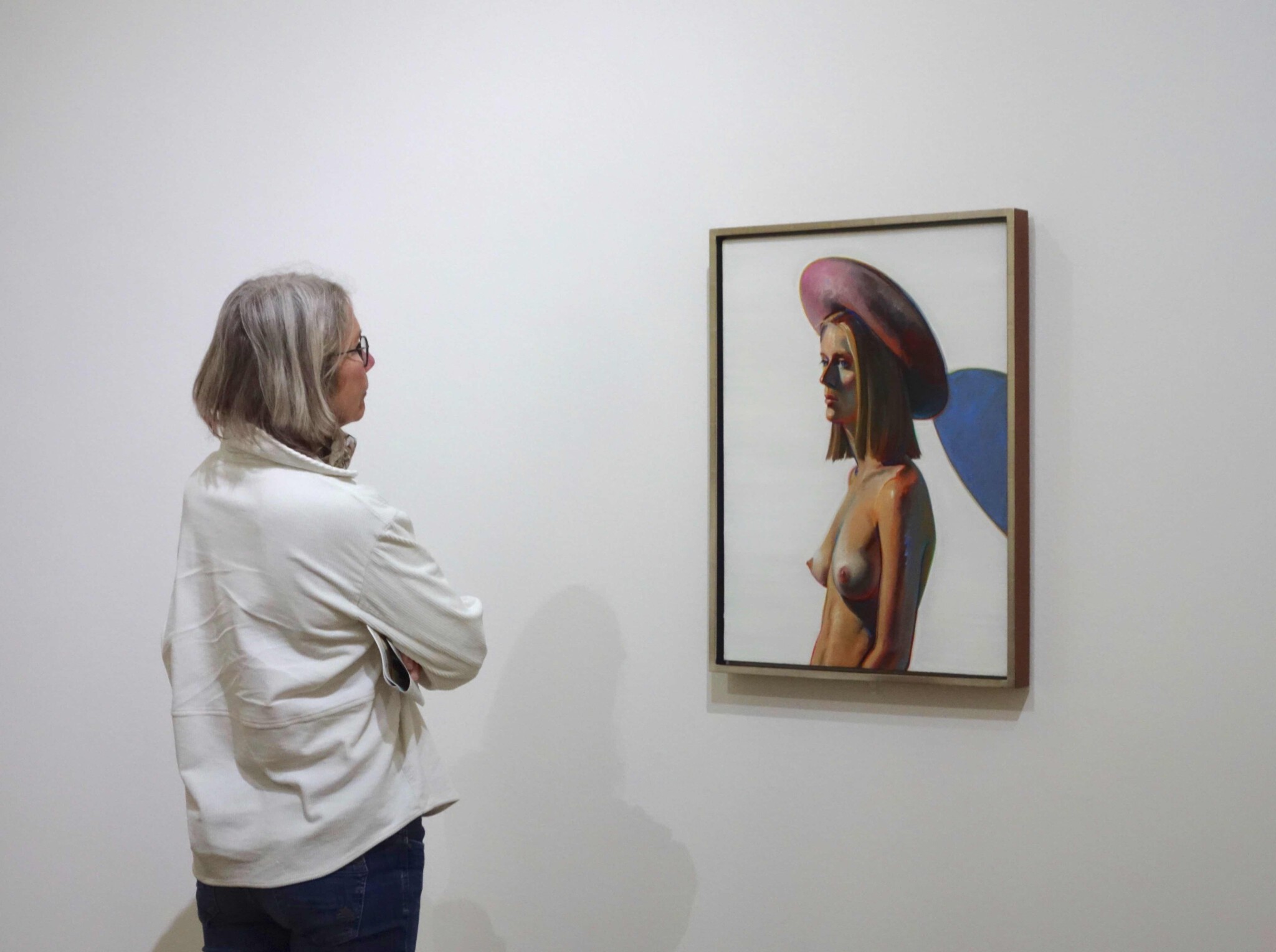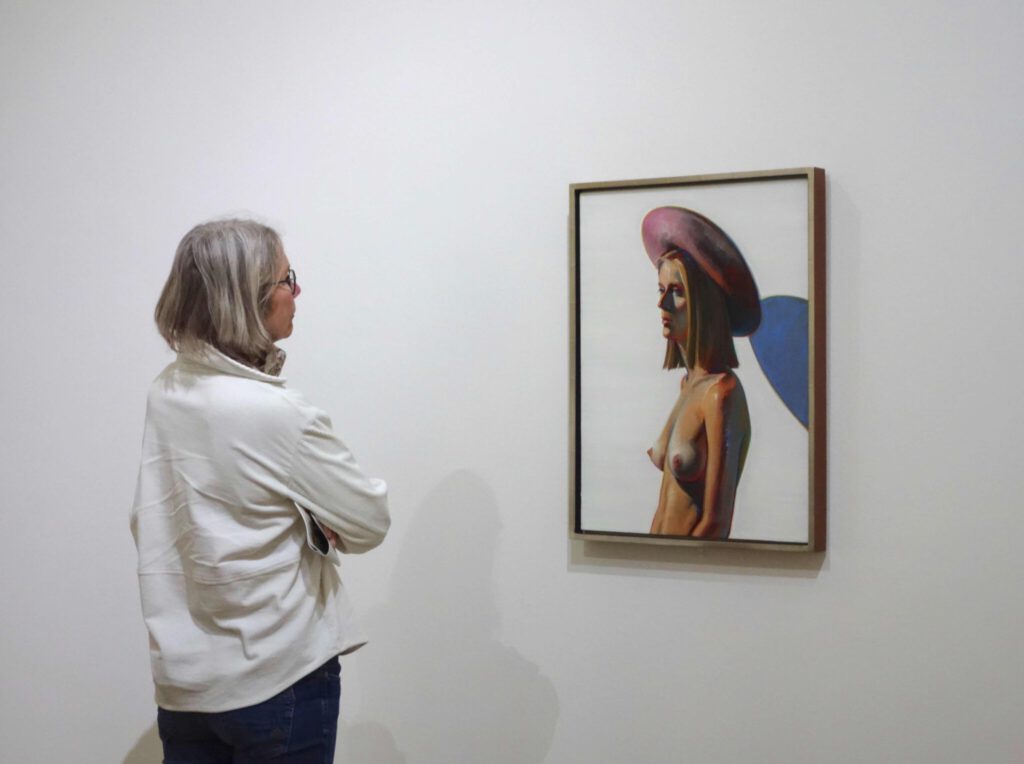 ウェイン・ティーボー Girl with pink hat, 1973, oil on canvas, 91.4 x 74.9 cm
We are actually living in a new era of Post-postmodernism in which an eclectic, highly diversified spectrum of artistic practices in different continents emerged. The manoeuvres by these art workers in the global contemporary art scene manifest their repulsive attitude towards Postmodernism, ergo exhibition visitors are being mentally and intellectually challenged more and more.
Complicatedly expressed art critical theory implies a possible aversion of a large part of the audience to anything contemporary, also because art history is being re-written every ten years.
In this context, we might understand why paintings by Wayne Thiebaud remain so popular.
A quite sensual experience, easy to comprehend exhibition runs until next month at the Fondation Beyeler, close to Basel, Switzerland.
The late art critic Satoru Nagoya wrote about me "Mario A, one of the most brilliantly gifted – or perhaps I should say, the single most brilliantly gifted –oil painting artist in Japan", means, Thiebaud's oil works had been inspected, analysed with my critical painterly eye during this exhibition. As until today neither Japan nor Europe realised a comprehensive overview of Wayne Thiebaud's 70 years imaginative universe, I finally got this thankful opportunity through the initiative and excellent curatorial practice by Ulf Küster.
Interestingly, Thiebaud's paintings from the early period, do transport a universal character, especially amongst children. However, implying his Walt Disney roots,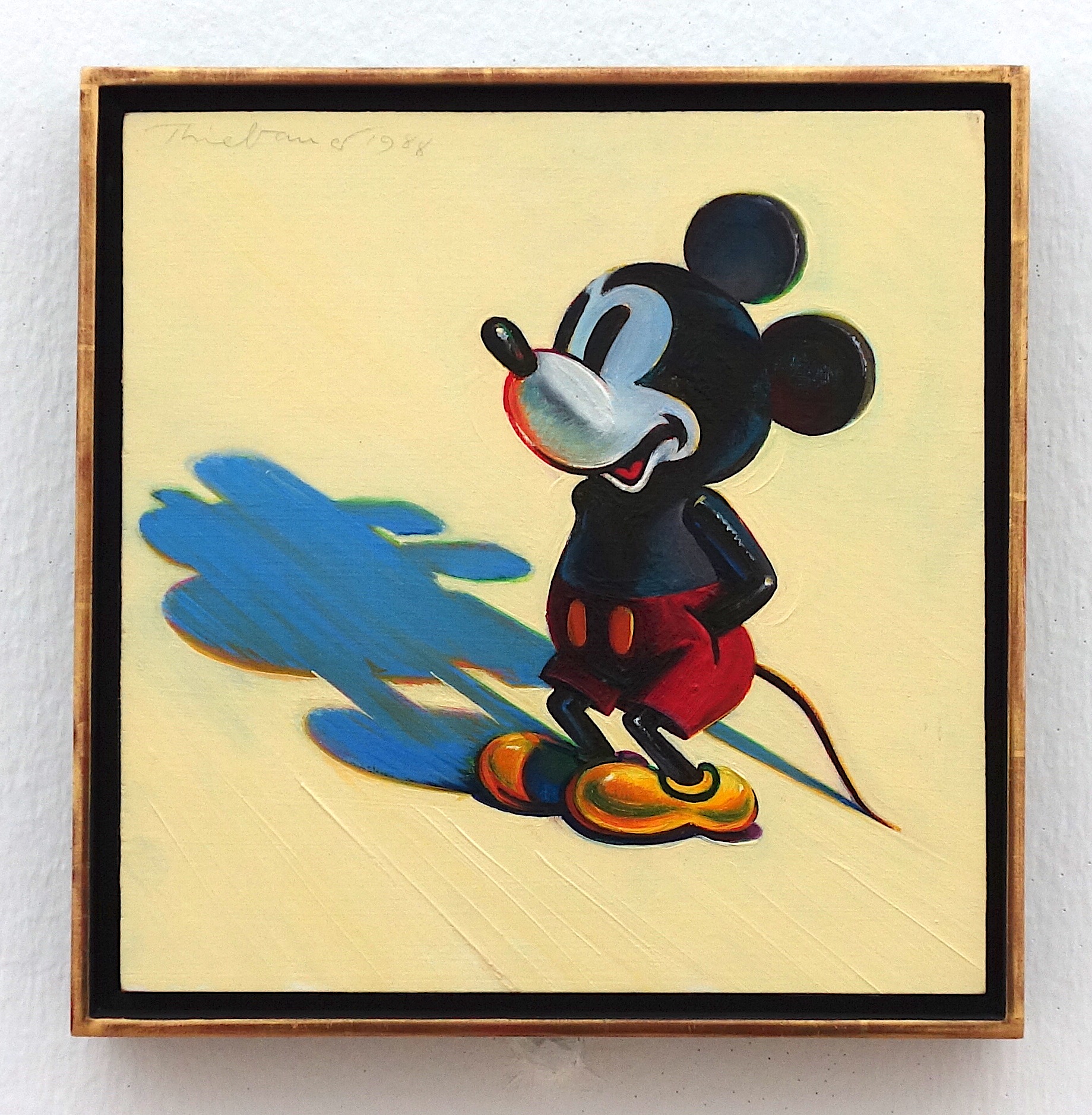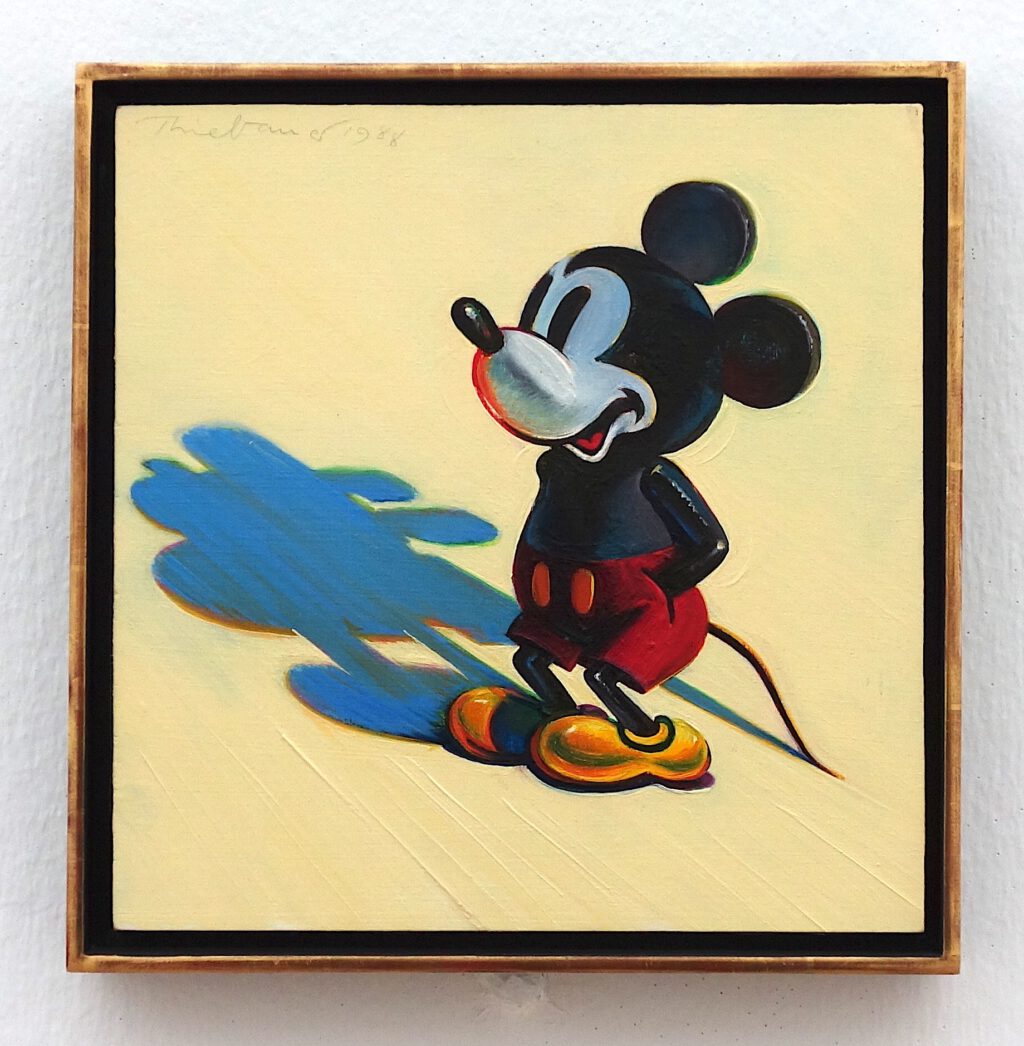 ウェイン・ティーボー Mickey Mouse, 1988, oil on board, 26 × 26 cm
I'm questioning this 'California thing', where warm temperatures and sunshine dominate the urban, in some cases even an artificially cool, lifestyle. A White middle-class American Experience from the 60's (and probably the early 70's), if you like to hear. Commentaries on war or social movements we search in vain.
Pies, pies, pies. In seemingly endless rows and the most sugary colours. Multi-level, multi-layered, in whole and in parts. Large and within reach. But this sweet overkill does not cause a feeling of fullness. For the confiseries do not conceal that they are the work of a painter. Wayne Thiebaud has put them on canvas, working the impasto oil paint like cream and icing.
In this context let's read a conversation between Willem de Kooning and Thiebaud from 1958:
"Why are you painting anyway?" That was a question which stopped me. I just said, "Well, I love doing it." He said, that's not enough. He said, you have to find something you really know something about and that you are really interested in, and just do that. Don't spend so much time looking at what you think will make you successful."
Thiebaud:
I said to myself, well, I've never been to art school. I know a little bit about art history. What has my life been? I grew up a Mormon boy in America. I worked in restaurants and helped cook hamburgers, washed dishes, was a busboy. What is that world? Is there anything in that world? So I said, I'm going to just start as directly as I can. And I took the canvas and made some ovals, thinking about Cézanne—the cube, the cone and the sphere—and put some triangles over them and thought, well, that maybe could represent a pie on a plate. I had seen them laid out in restaurants and I was always kind of interested in the way in which they formed these nice patterns. I said, alright, I'll go ahead with this and I'll make them into pies. I was really enjoying myself… and as I finished, I looked at it, and said, my god I just painted a bunch of pies. That's going to be the end of me as a serious painter."
Source:
https://www.theartnewspaper.com/2023/02/07/thats-not-enough-willem-de-koonings-advice-to-a-young-wayne-thiebaud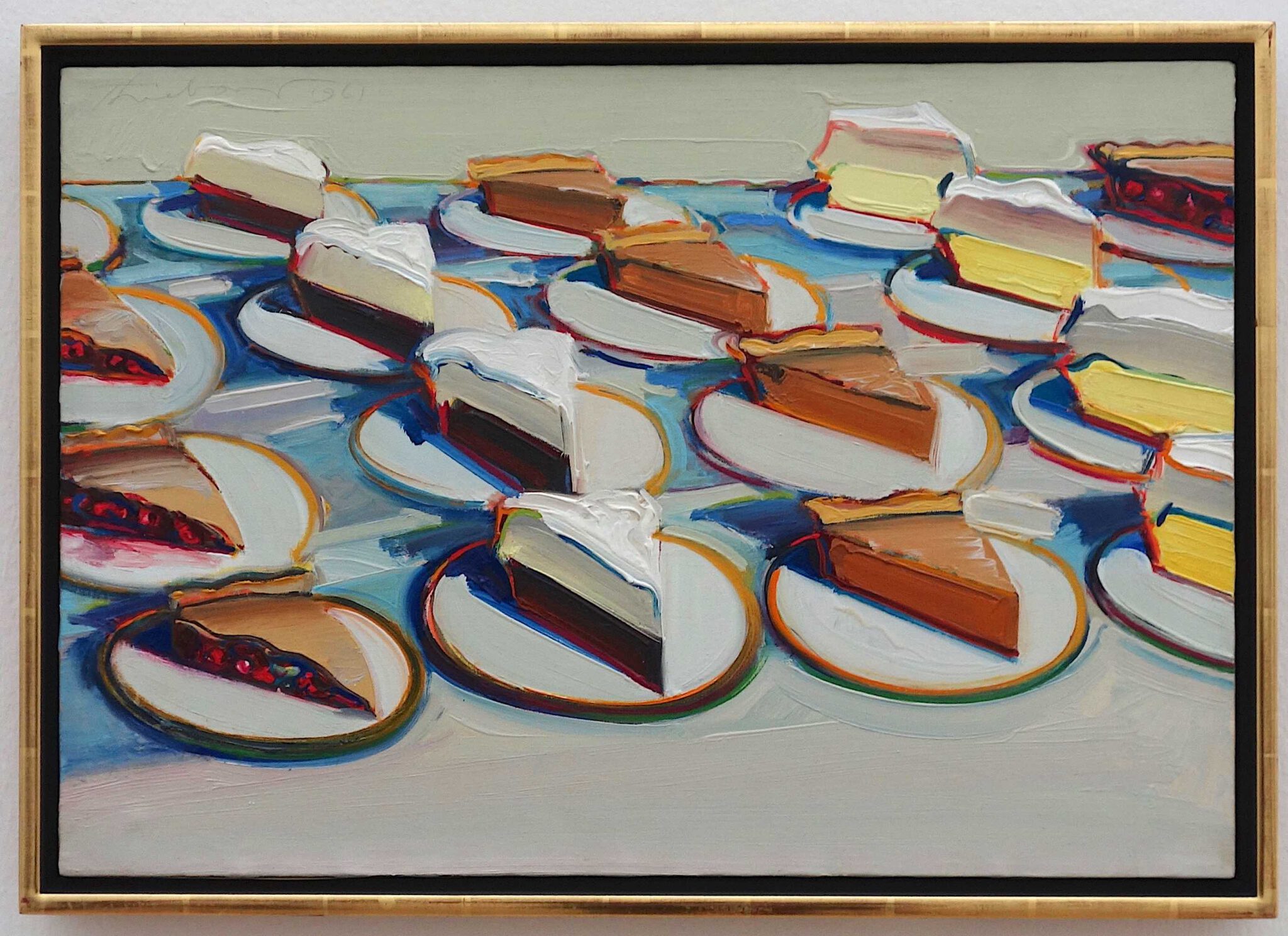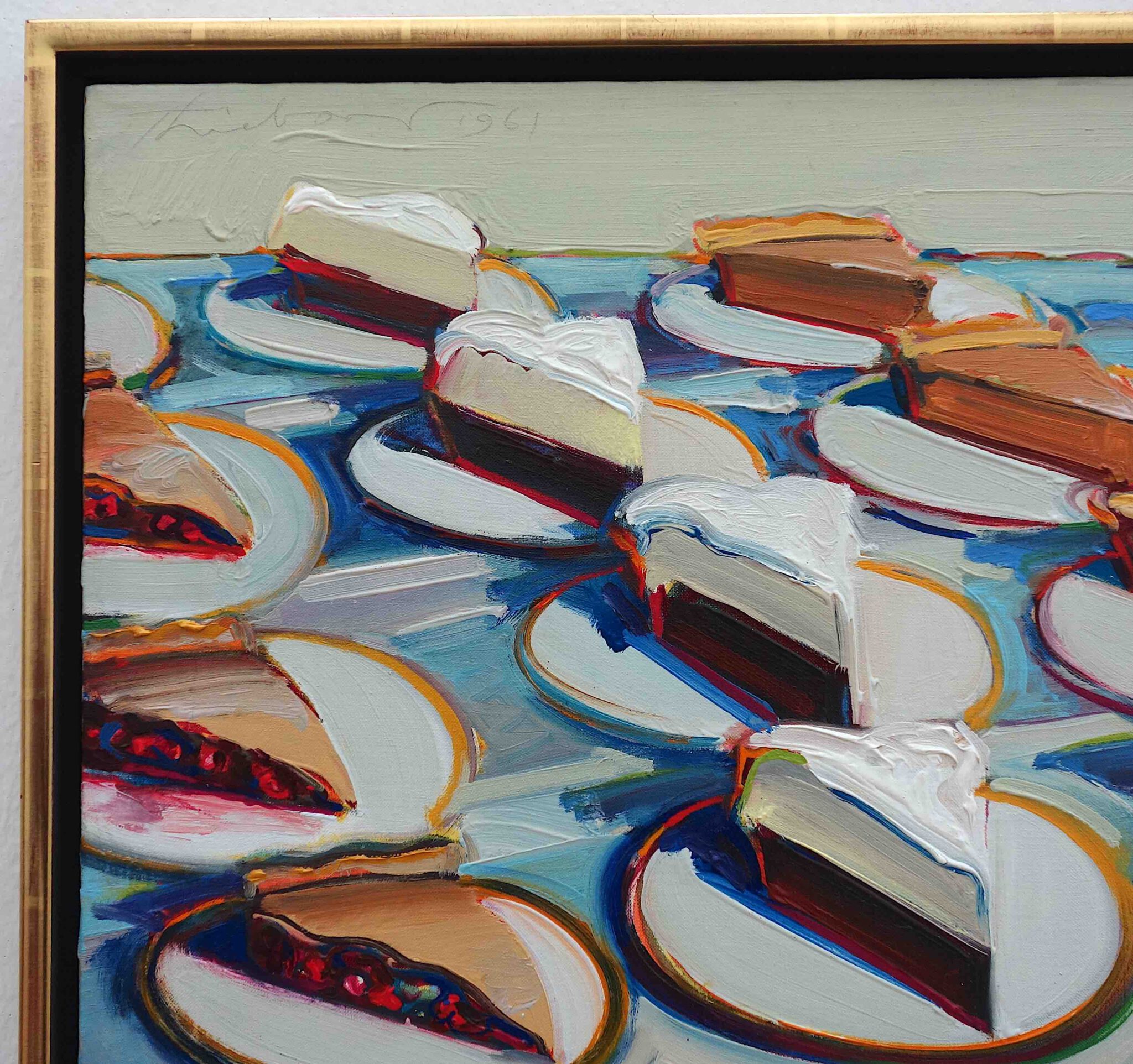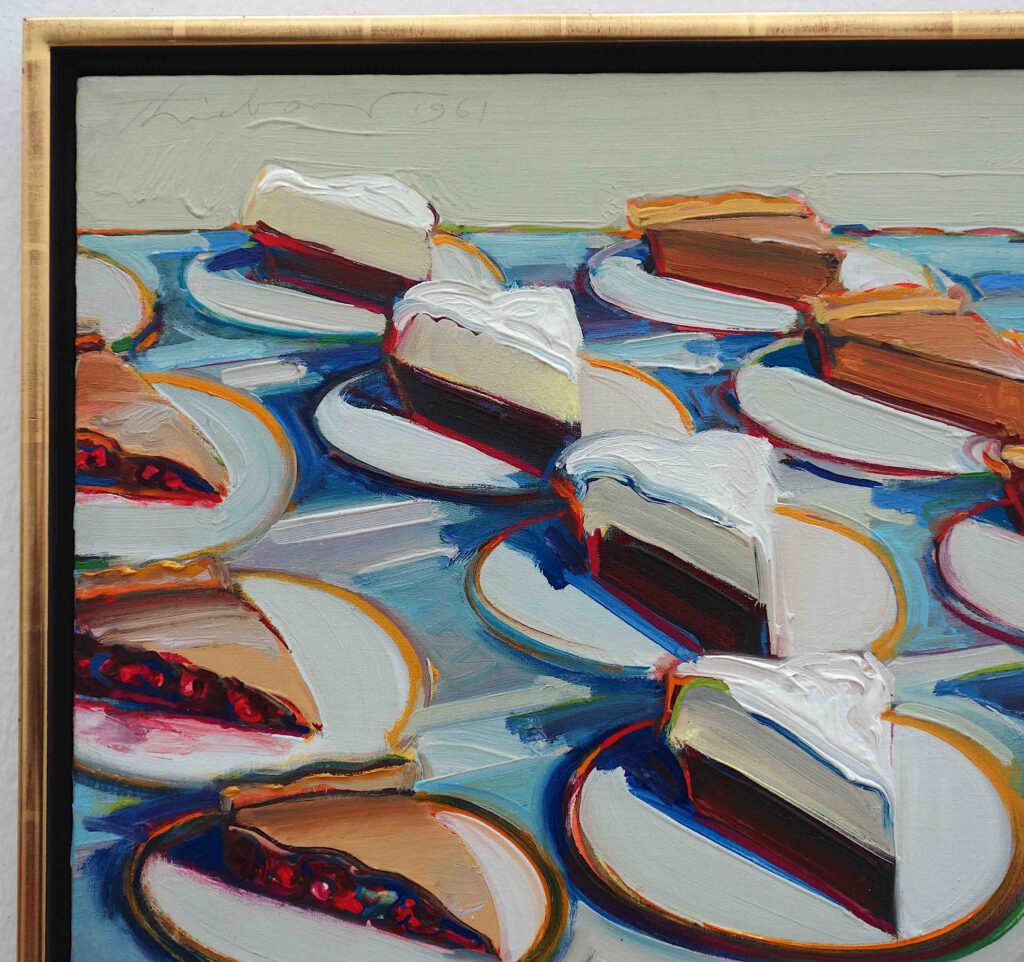 ウェイン・ティーボー Pie Rows, 1961, oil on canvas, 55.9 x 71.1 cm
As an irony of fate, it turned out that he achieved his first commercial success with these American Kitsch motifs. The flashy eye candy.
I clearly notice how he pushed himself as a young painter by experimenting with brushstrokes, colour, composition, light and shadow.
In the seemingly innocuous pictures of cake slices and wedding cakes, there is clearly more than just a desire for bright, creamy hues. Sweet frosting and poisonous impasto made for an interaction between the visual and the visceral.
Painted pieces of cake and peppermint candies in rows and groups. This created a kind of pattern in which the individual motif becomes part of a larger whole.
Apparently, the American curatorial practice brought this kind of matrix, his cylindrical cakes and cones of ice cream close to Warhol's monotonous cans of soup.
In an evolutionary process Thiebaud has repeatedly tackled the same subjects.
Colours and abstract compositions, everything graphic and serial, means, his cake displays are always also diagrammatic confectionery landscapes, from which instead of buttercream, fat oil paint oozes. He painted mainly everyday things like cakes, slot machines or lipsticks, which had to be bright and pinky colourful.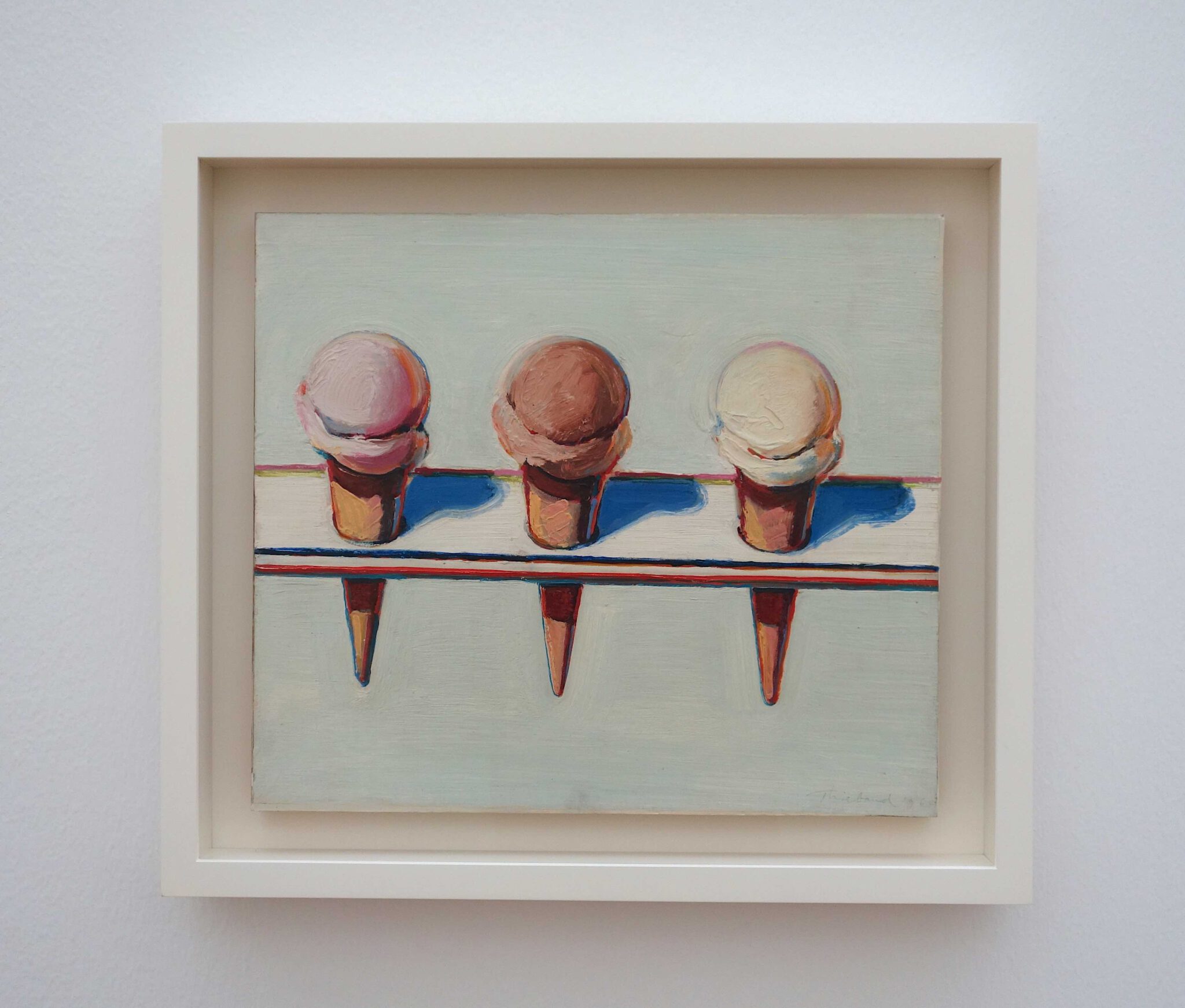 ウェイン・ティーボー Three Cones, 1964, oil on cardboard, 33 x 37.5 cm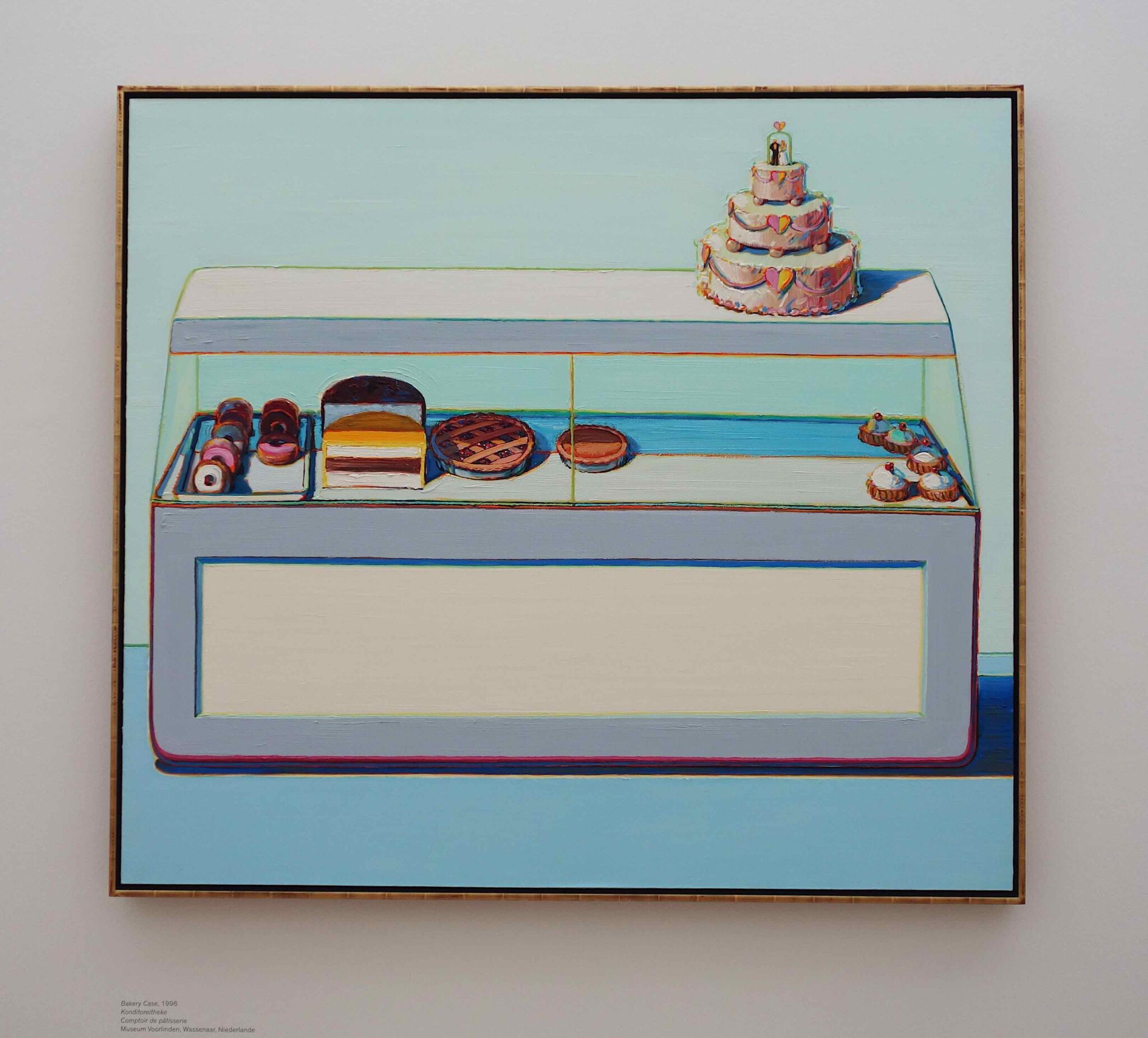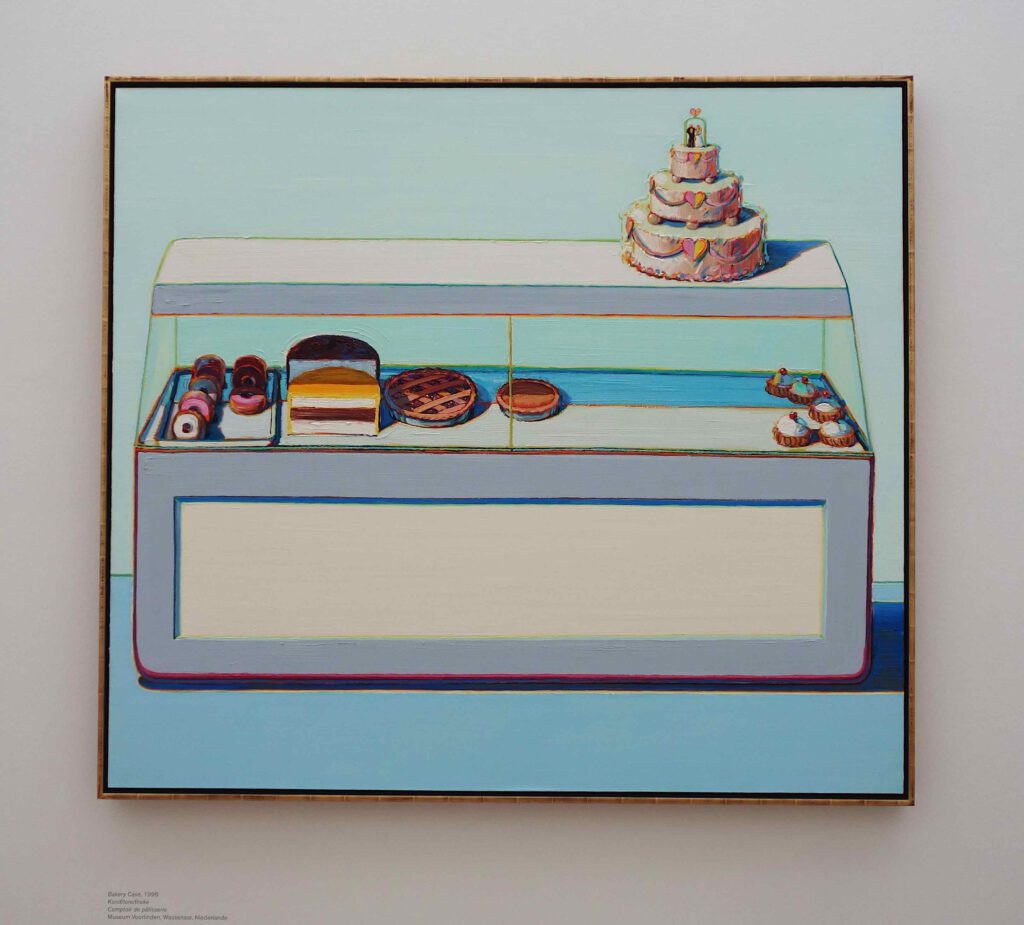 ウェイン・ティーボー Bakery Case, 1996, oil on canvas, 167.9 x 187.9 cm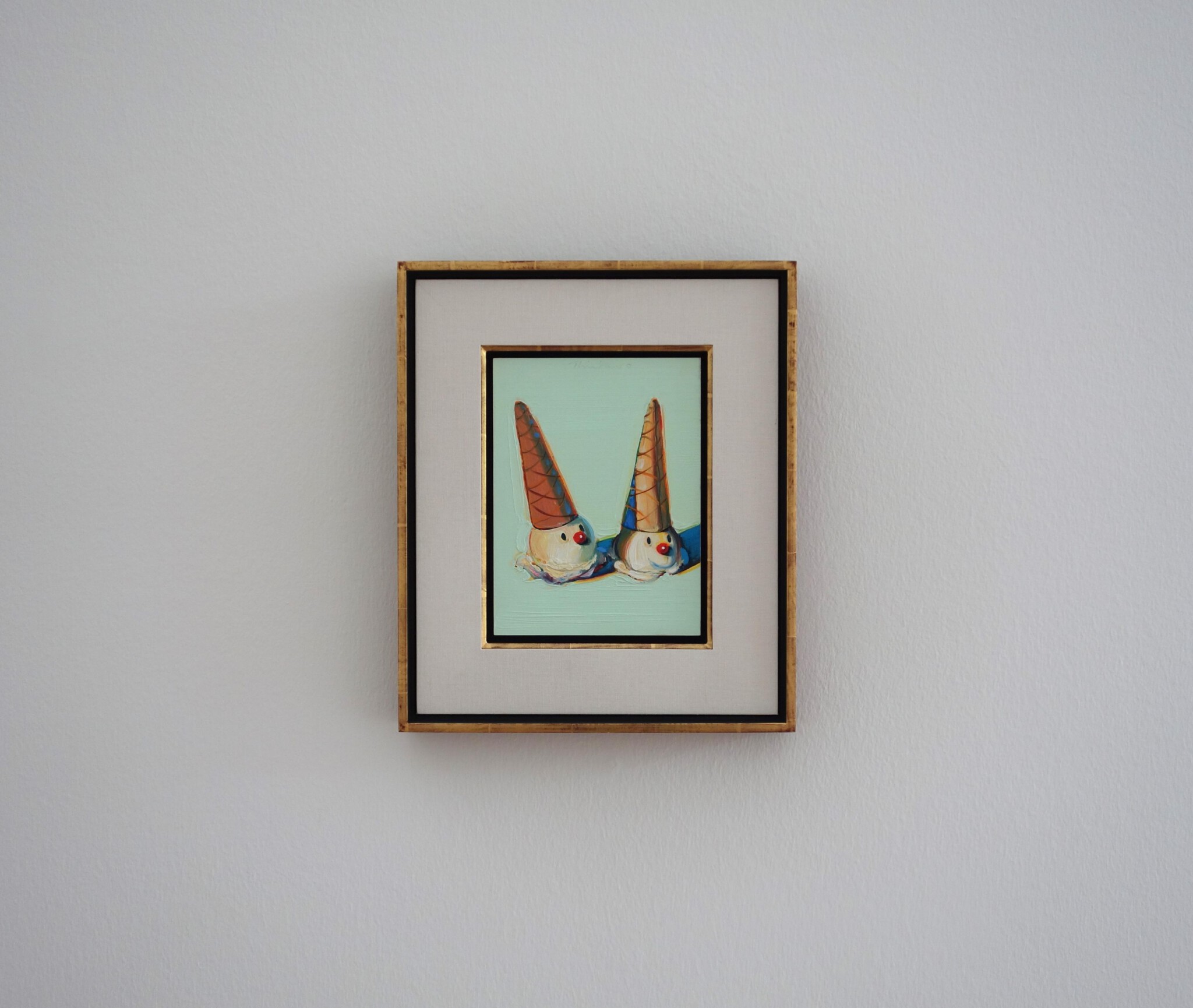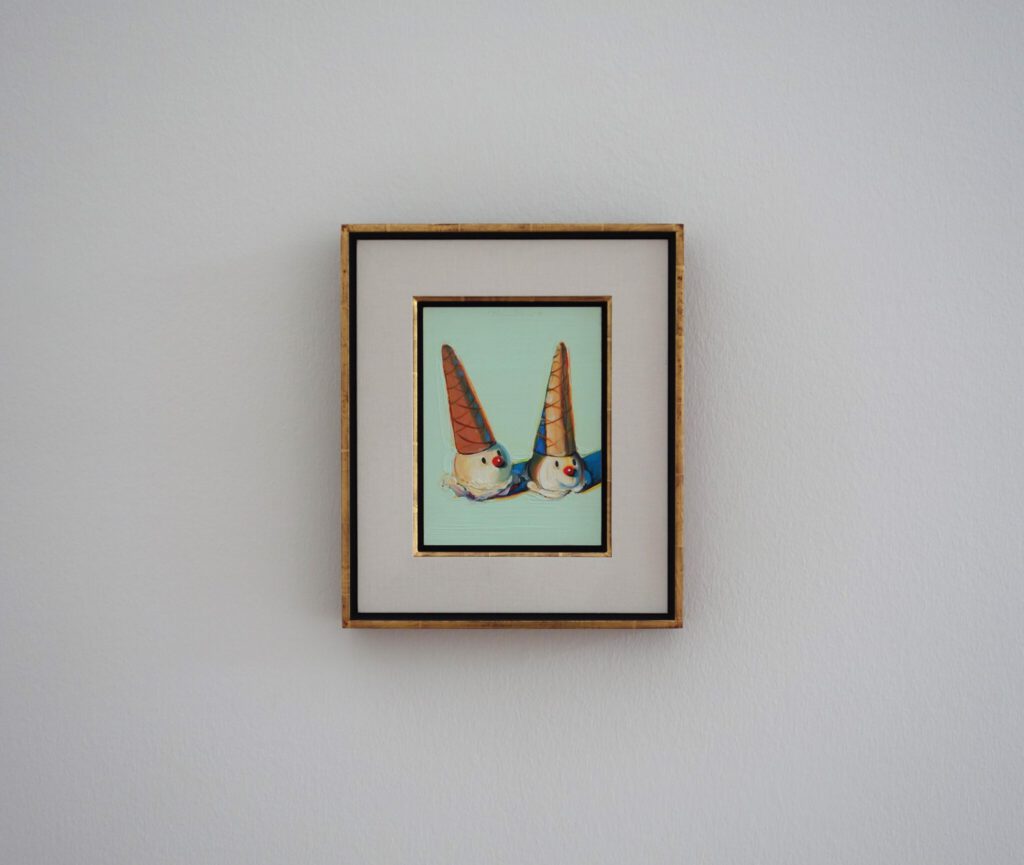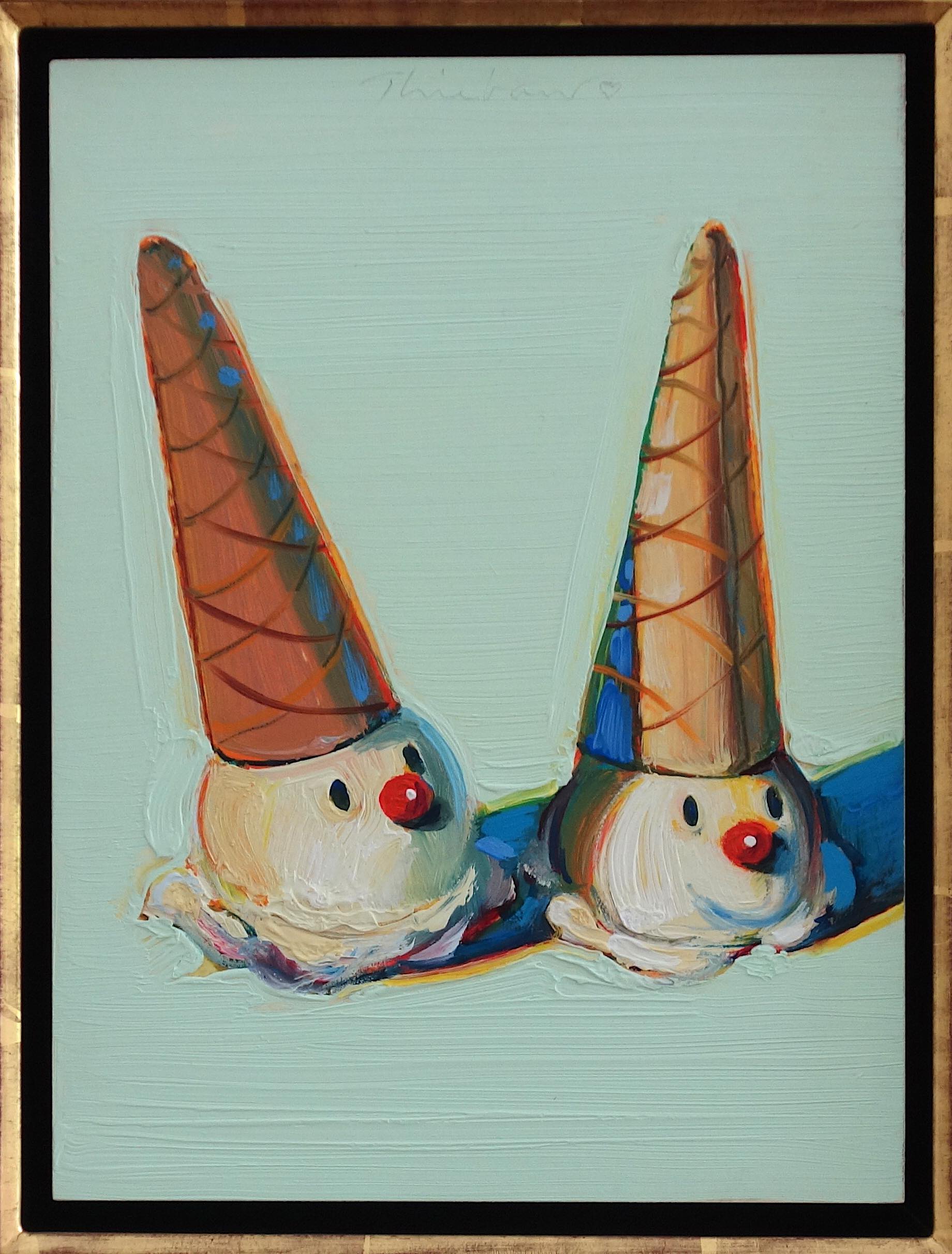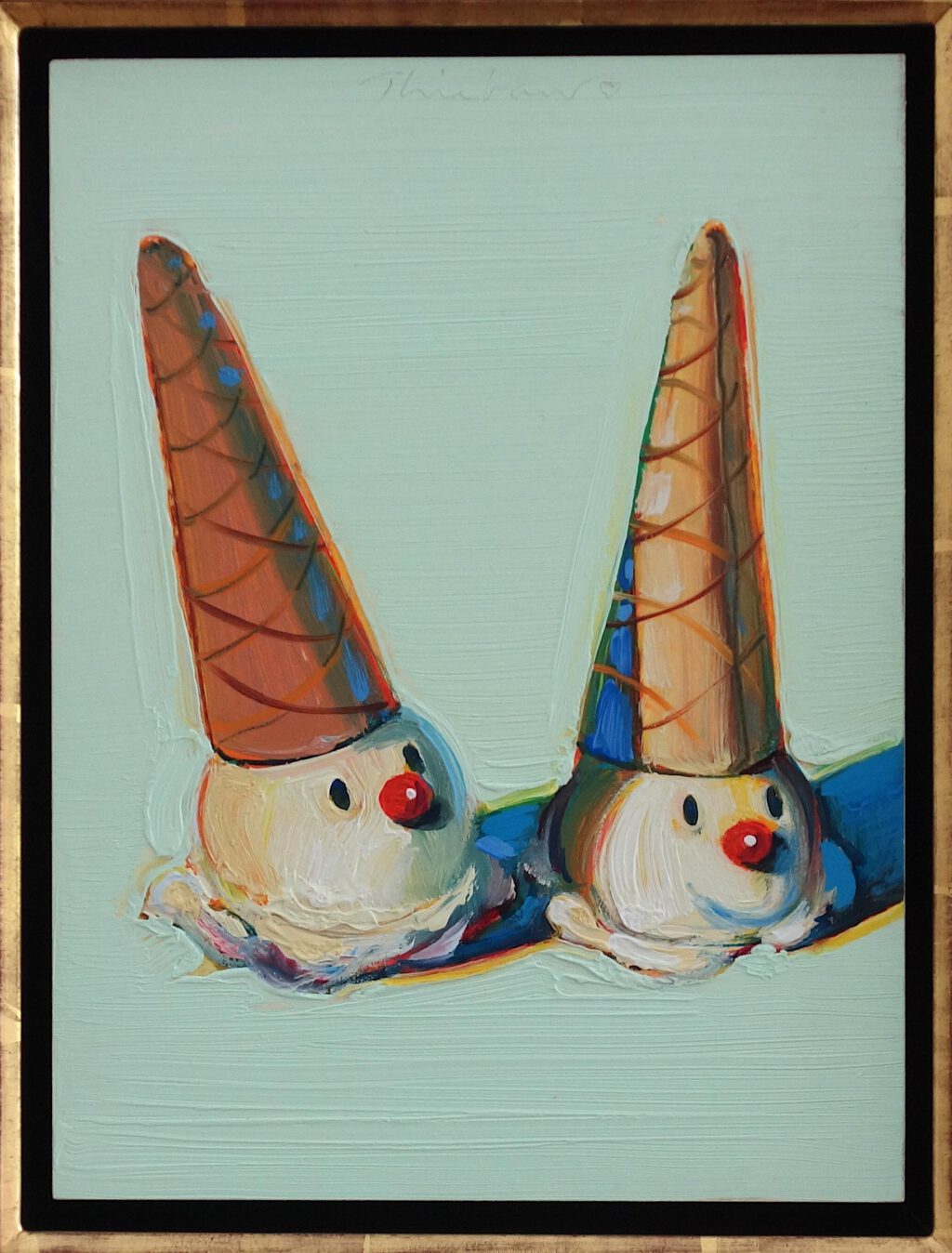 ウェイン・ティーボー Jolly Cones, 2002, oil on wood, 28 x 21.5 cm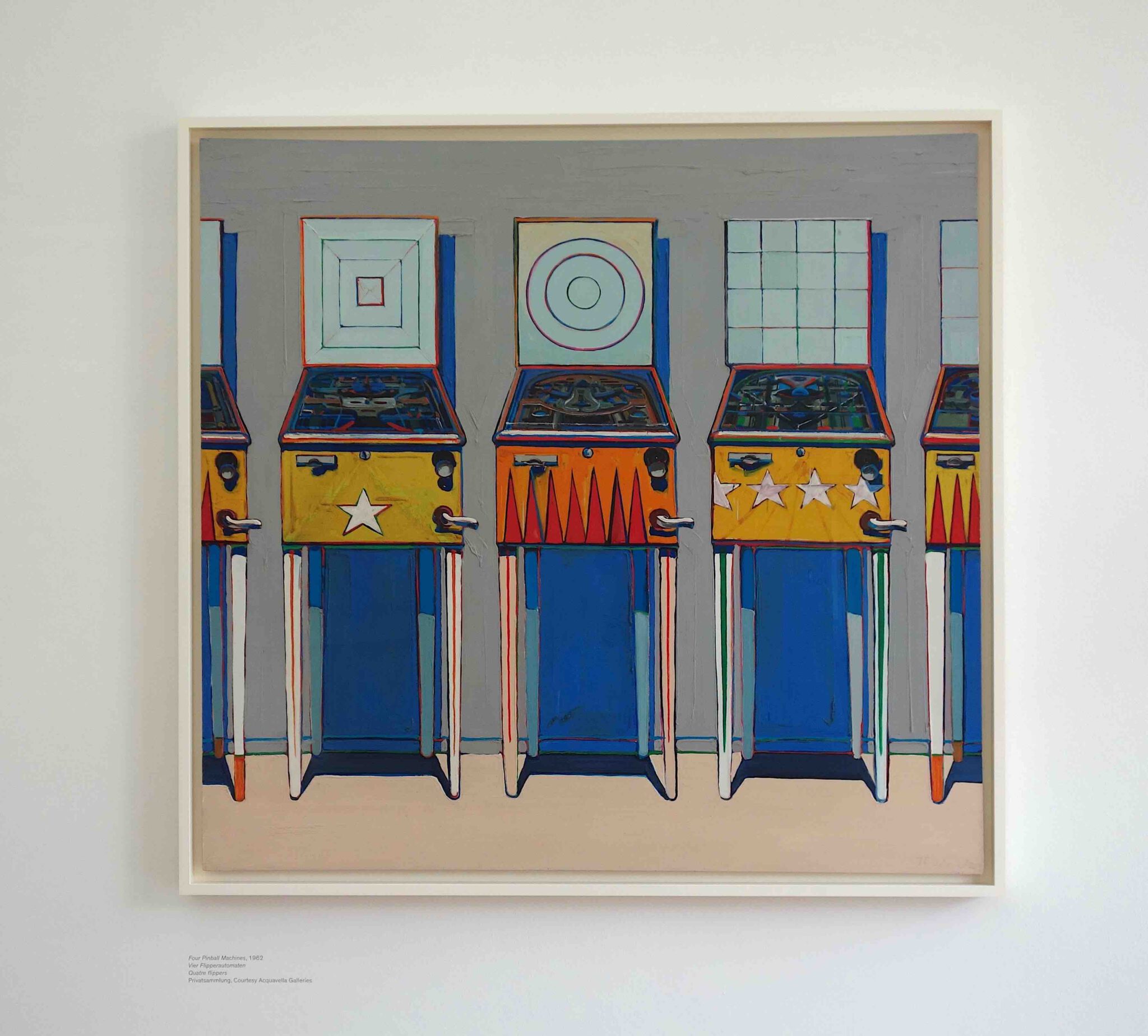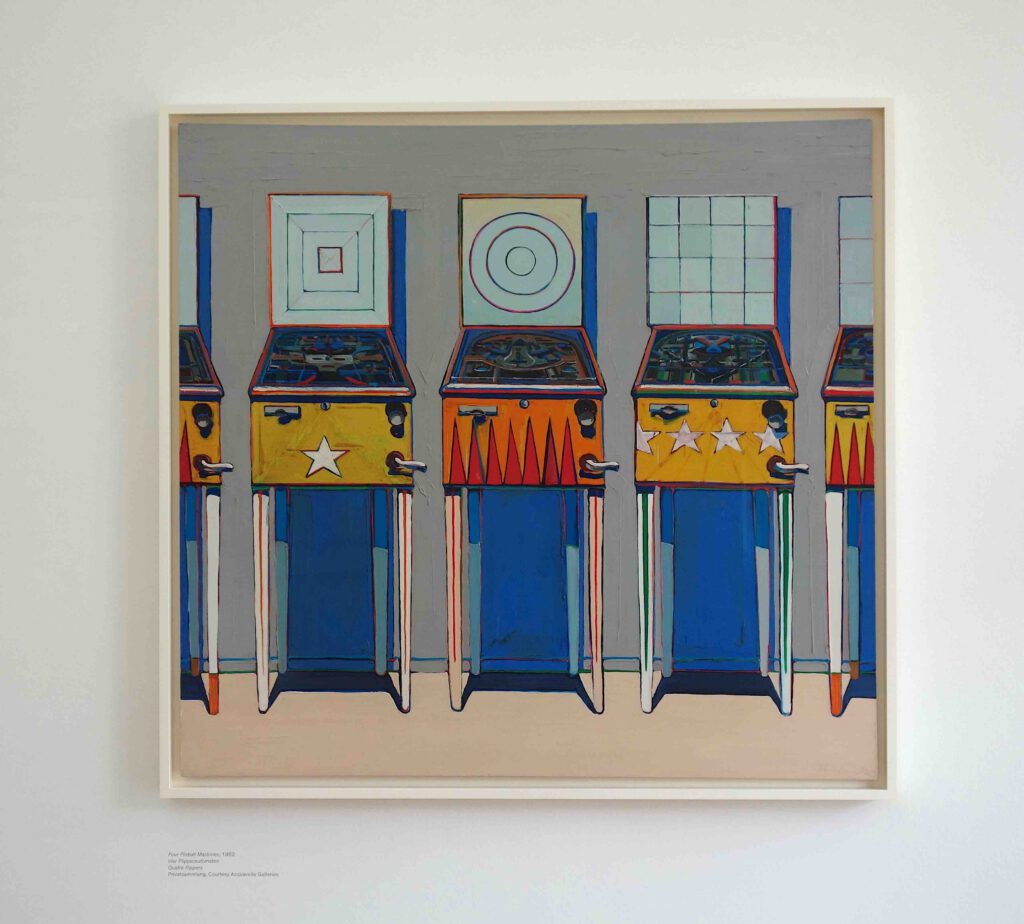 ウェイン・ティーボー Four Pinball Machines, 1962, oil on canvas, 172.7 x 182.8 cm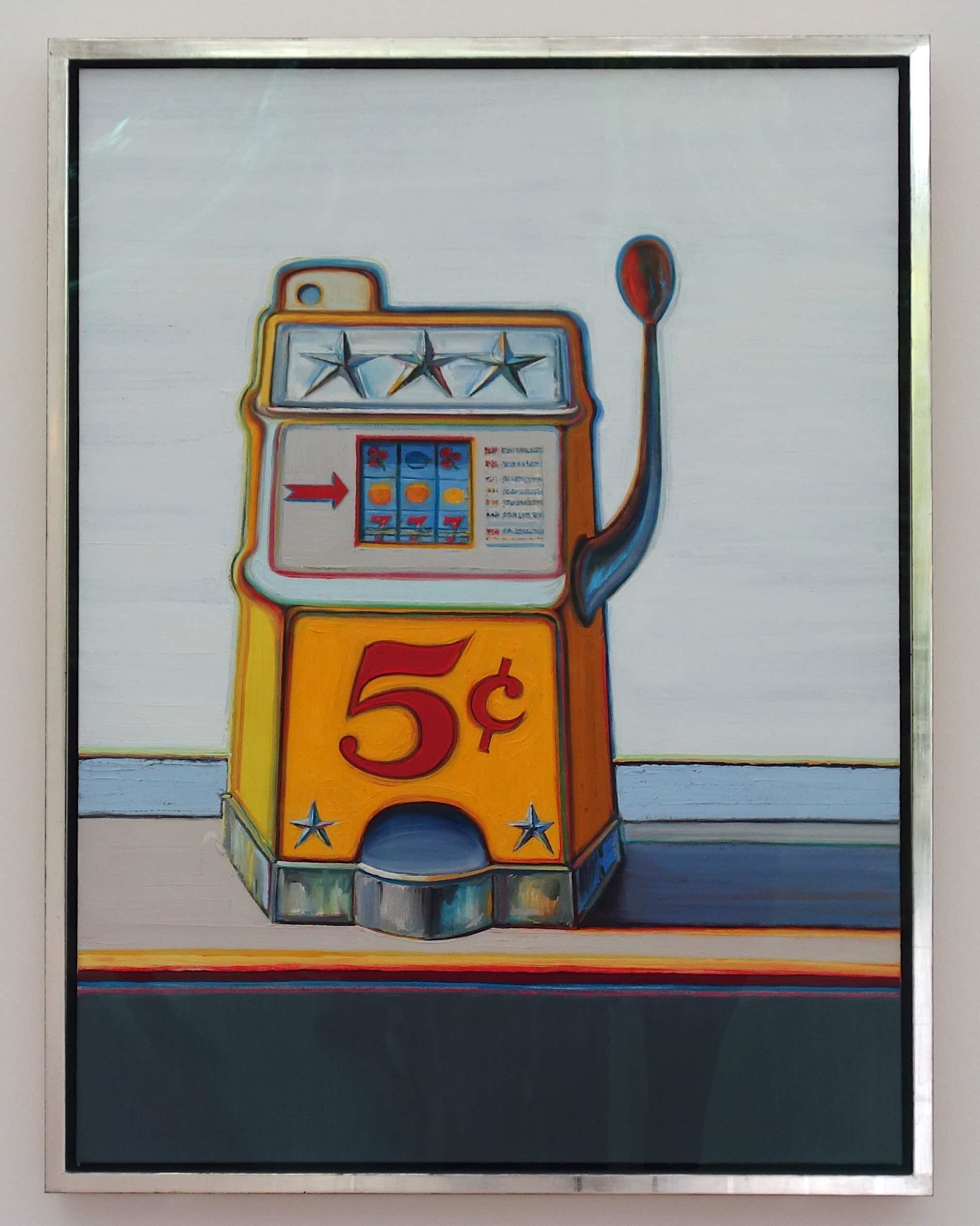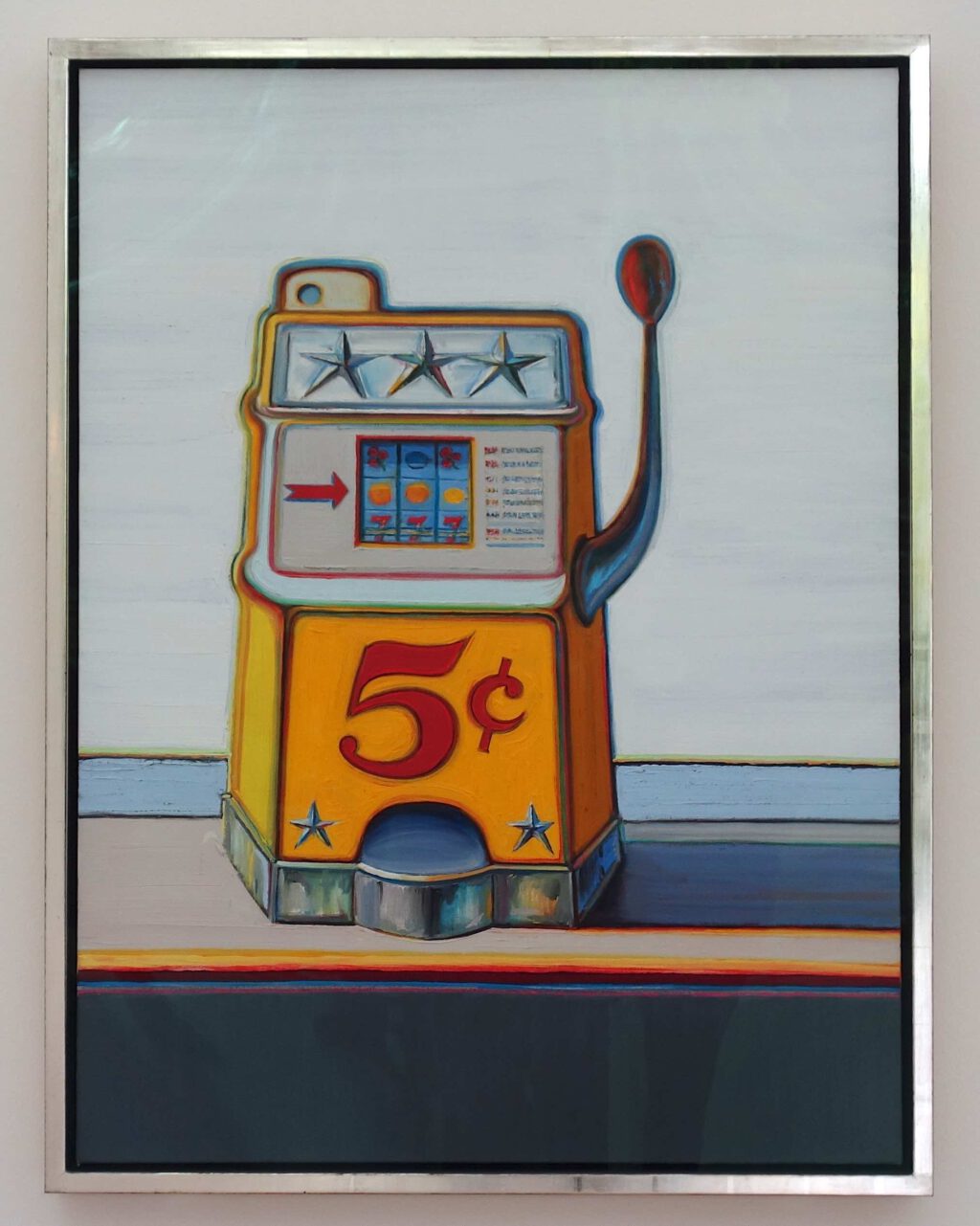 ウェイン・ティーボー Jackpot, 2005, oil on canvas, 122.6 × 91.4cm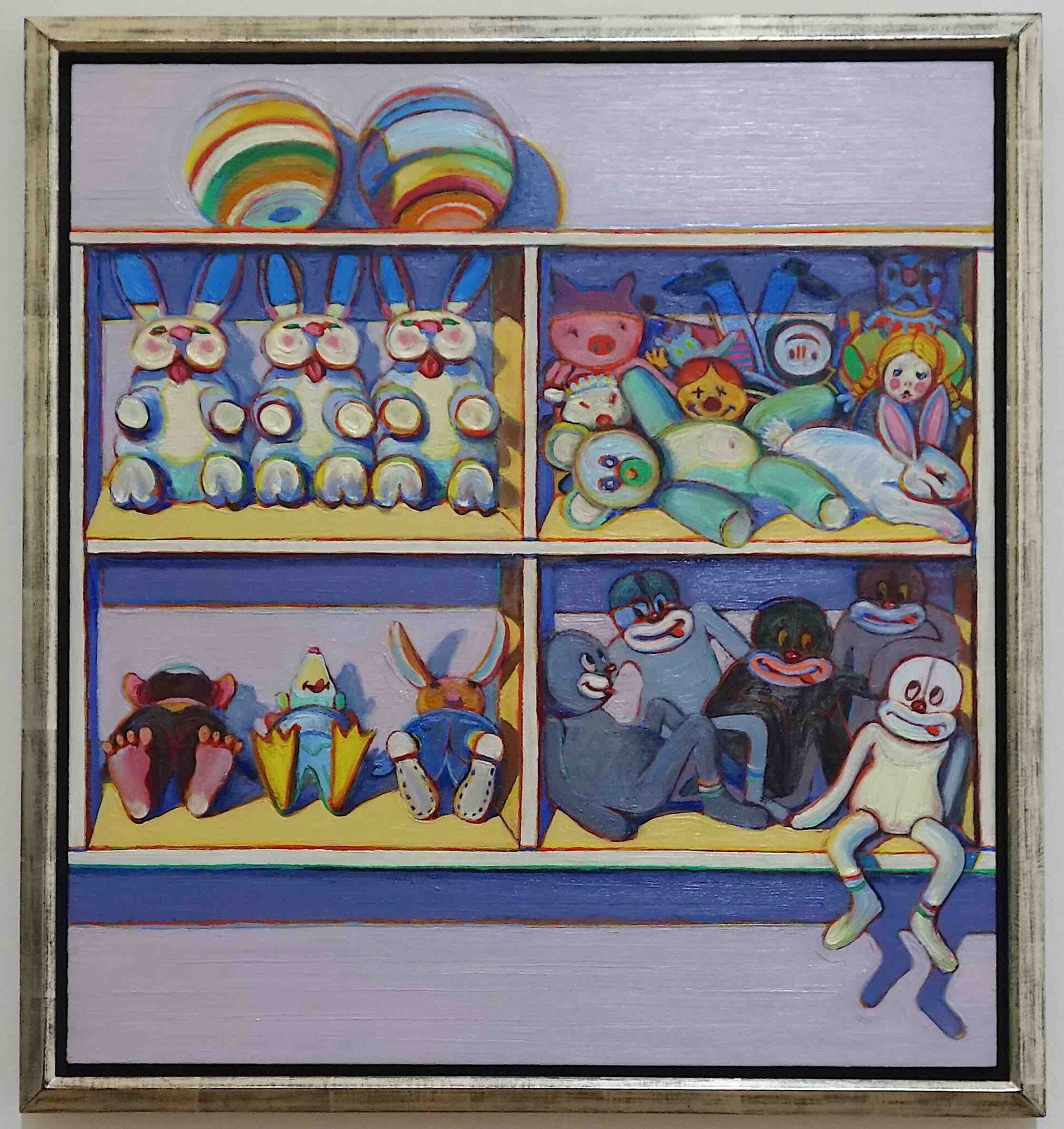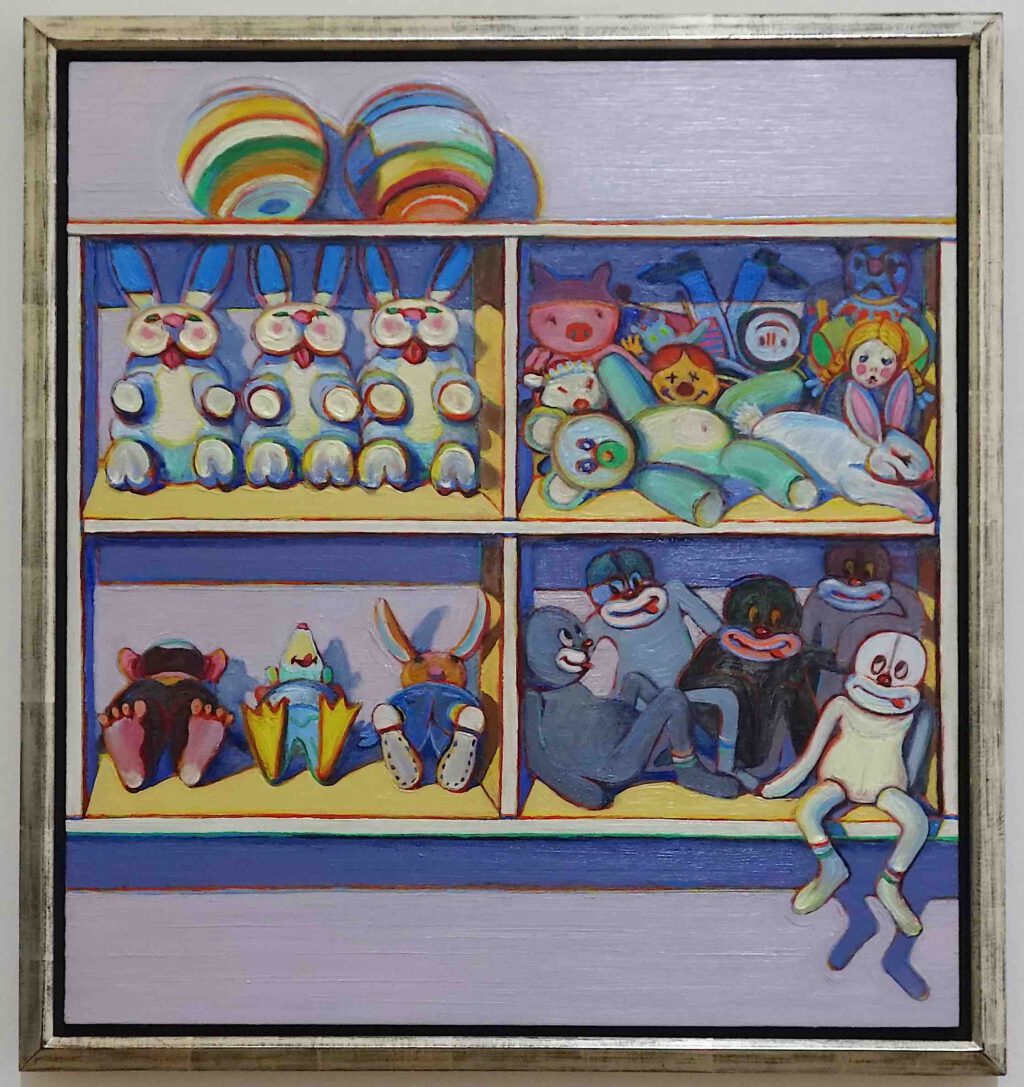 ウェイン・ティーボー Stuffed Toys, 2004, oil on board, 61 x 56 cm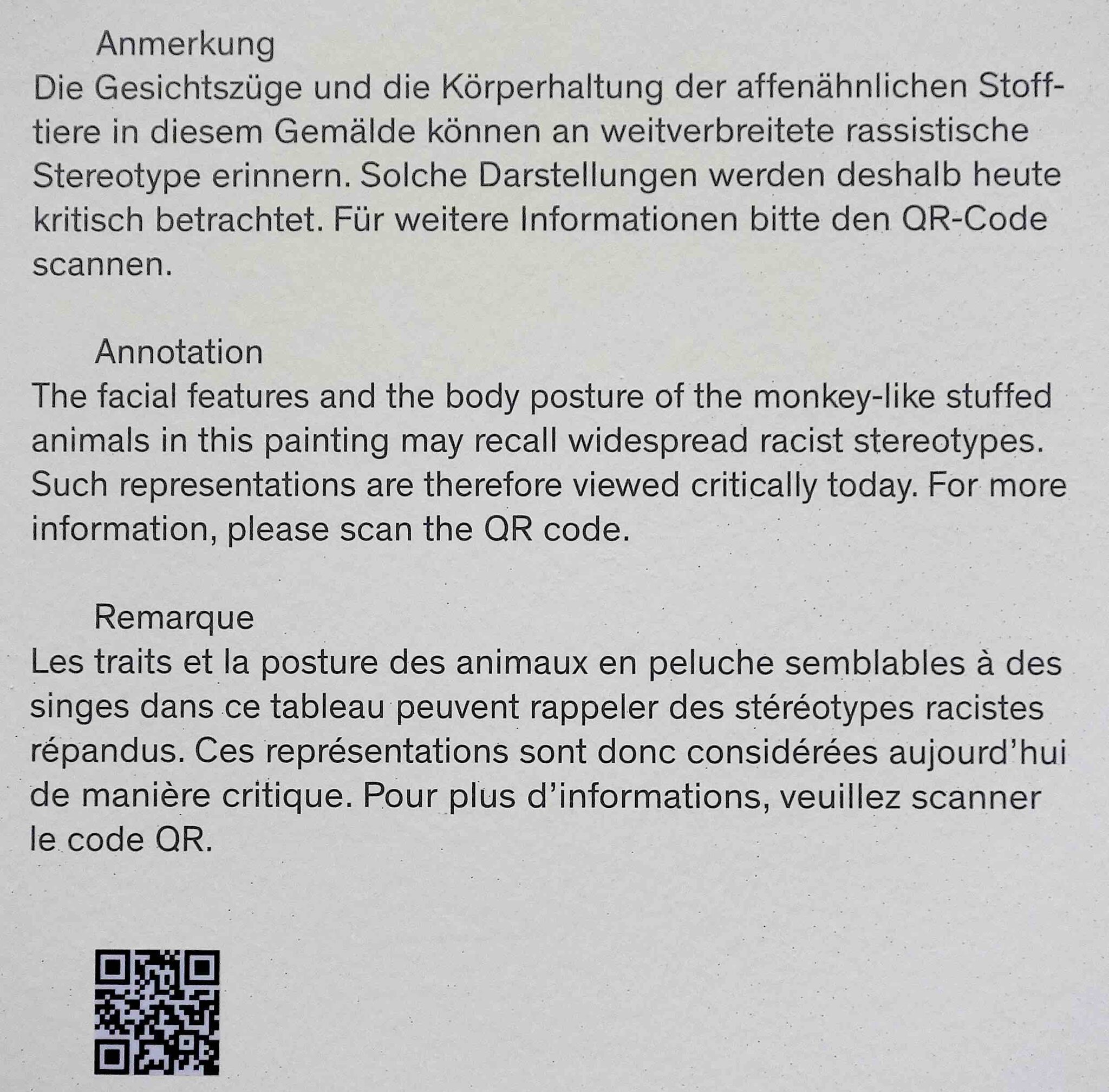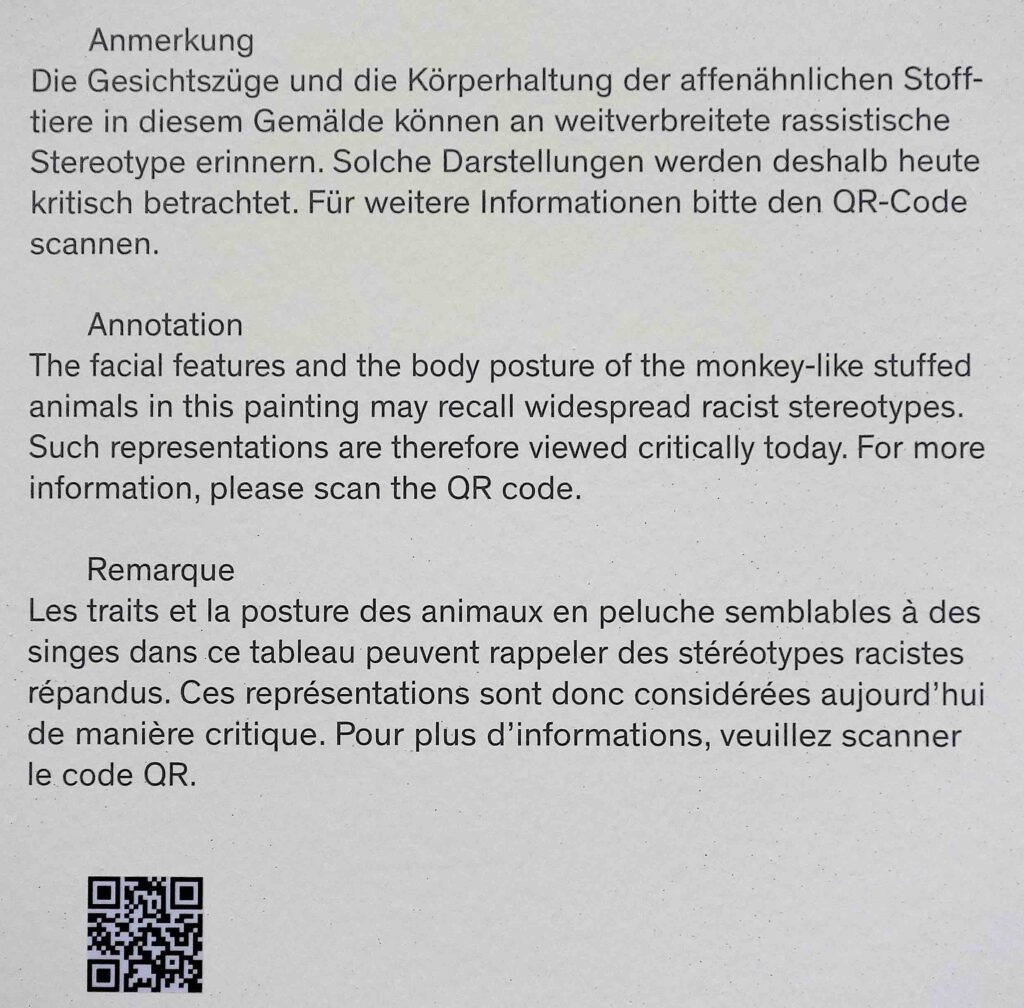 Problematic painting, executed in 2004
Then his wife Betty, his emancipated daughter Twinka and friends. People and objects from his close environment.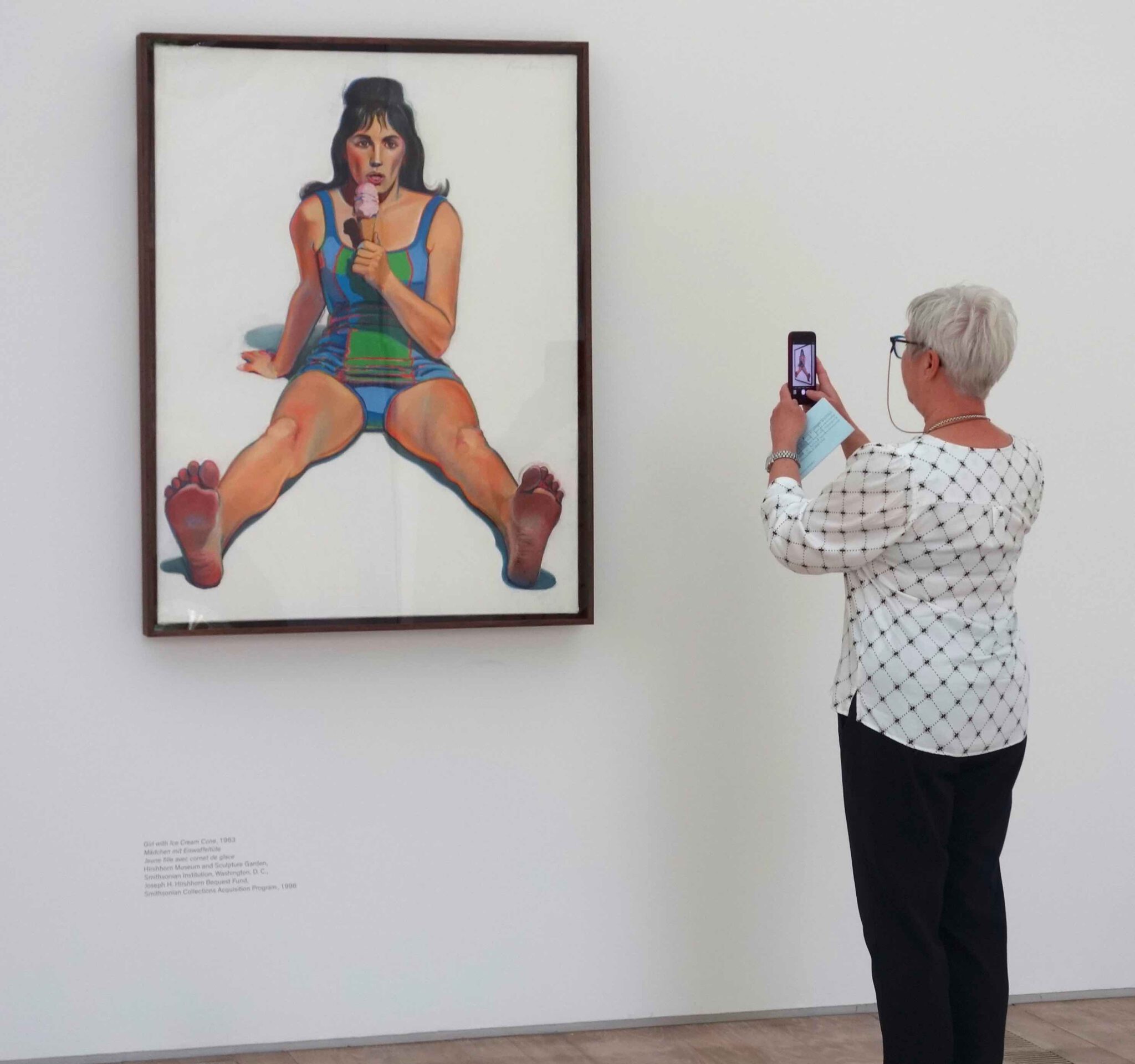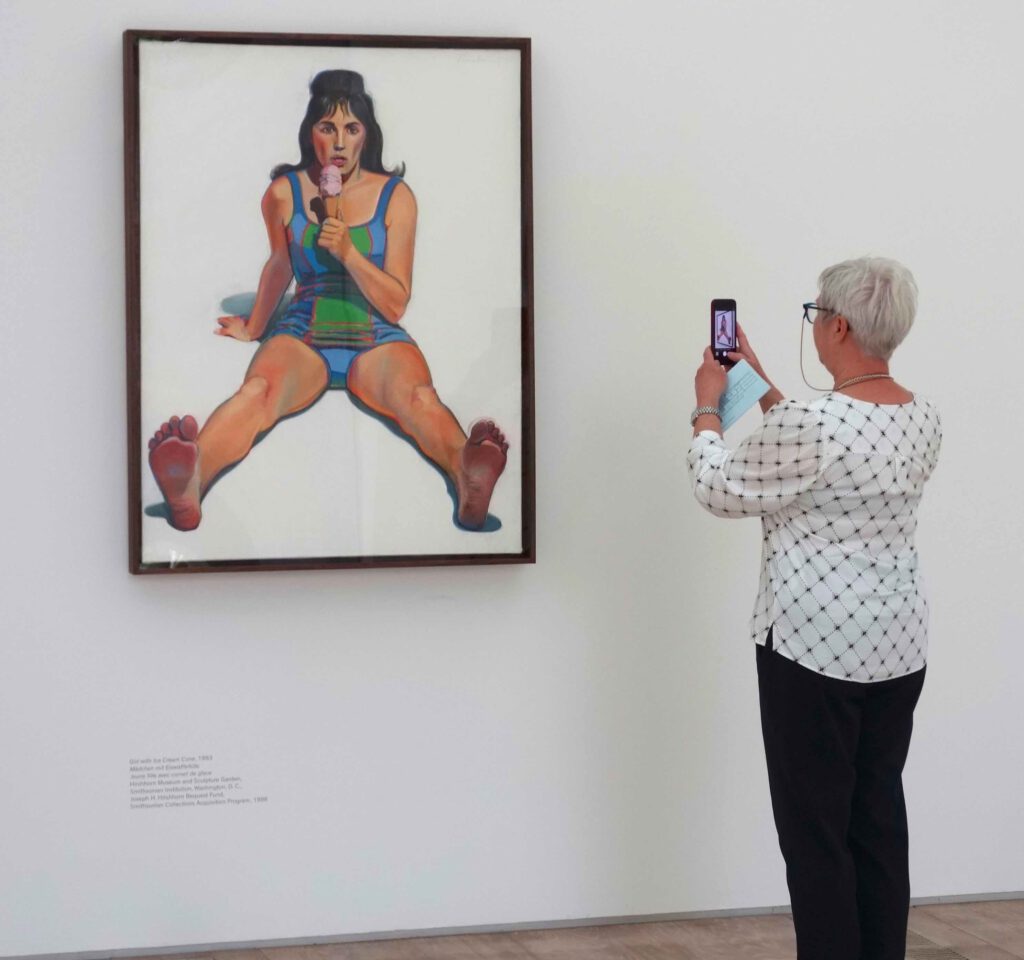 ウェイン・ティーボー Girl with Ice Cream Cone, 1963, oil on canvas, 122.2 x 92.1 cm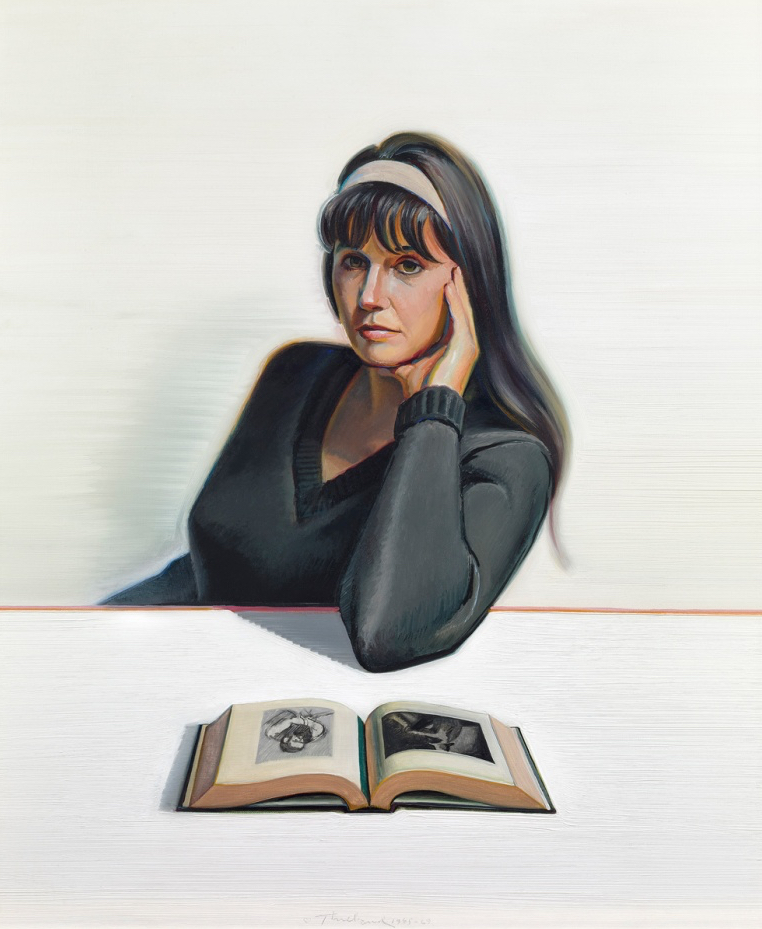 ウェイン・ティーボー Betty Jean Thiebaud and Book, 1965–1969, oil on canvas, 91.4 x 76.2 cm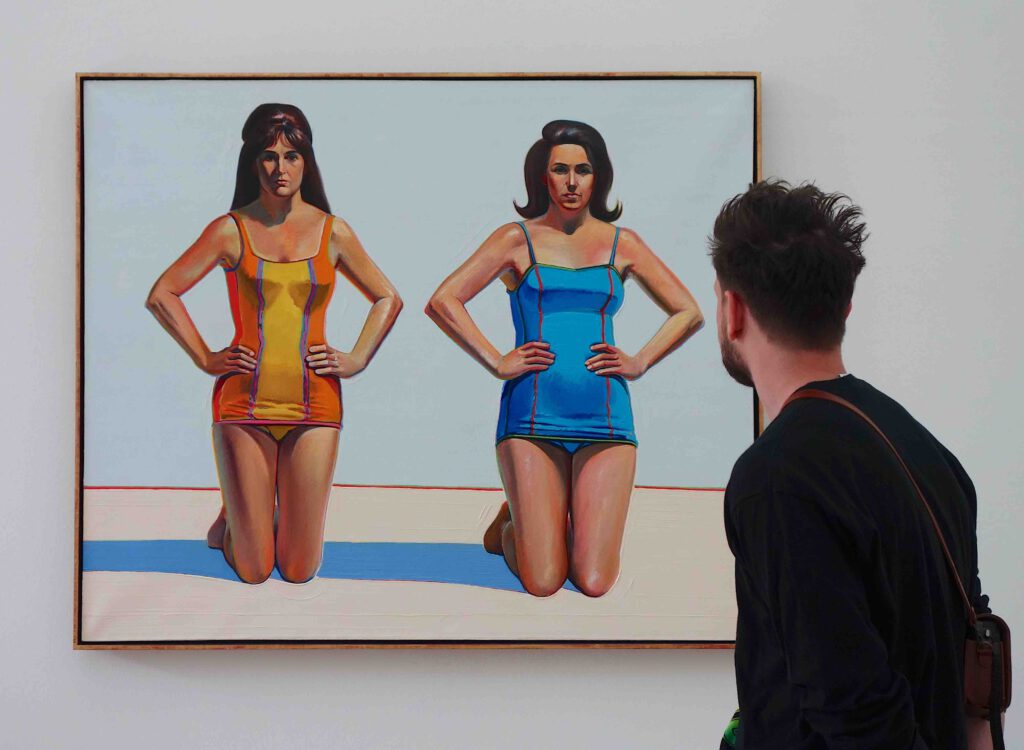 ウェイン・ティーボー Two Kneeling Figures, 1966, oil on canvas, 152.4 x 182.9 cm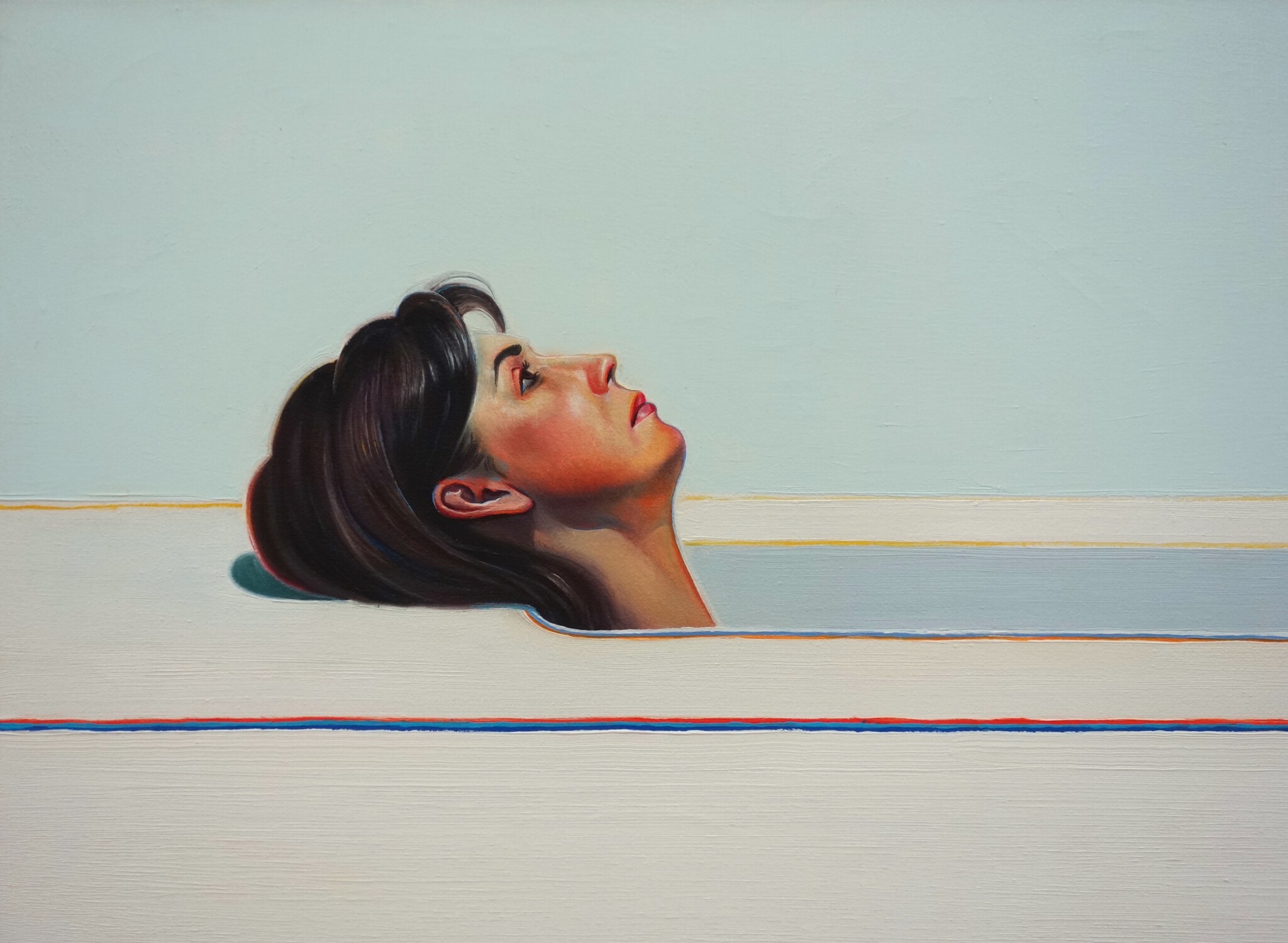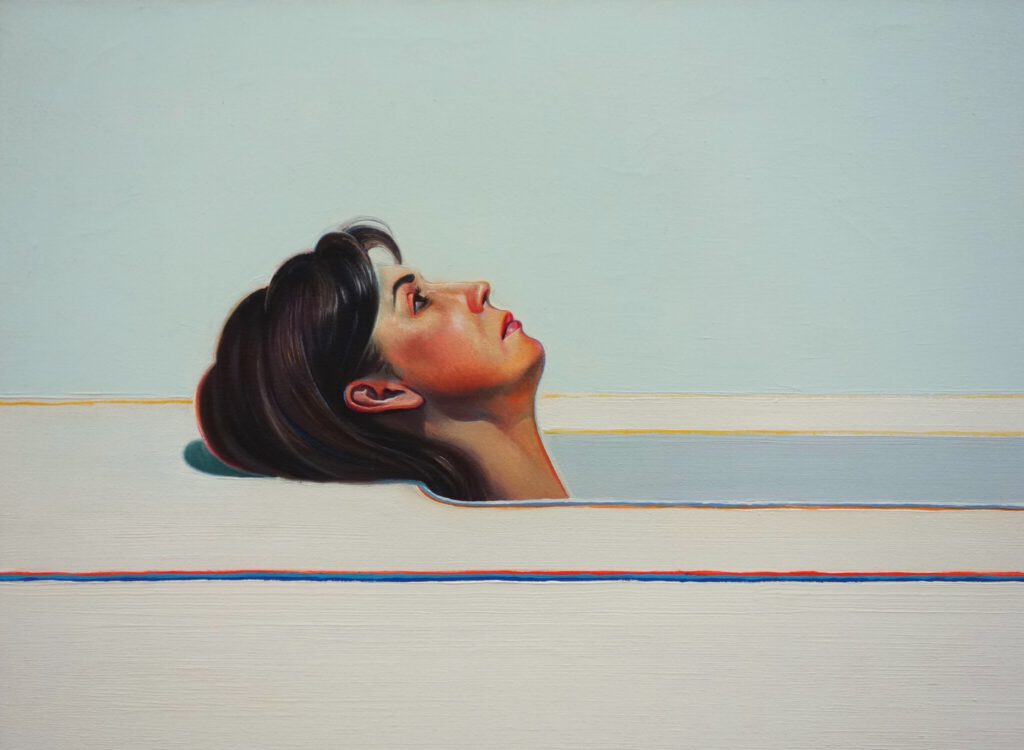 ウェイン・ティーボー Woman in Tub, 1965, oil on canvas, 90.8 x 152.4 cm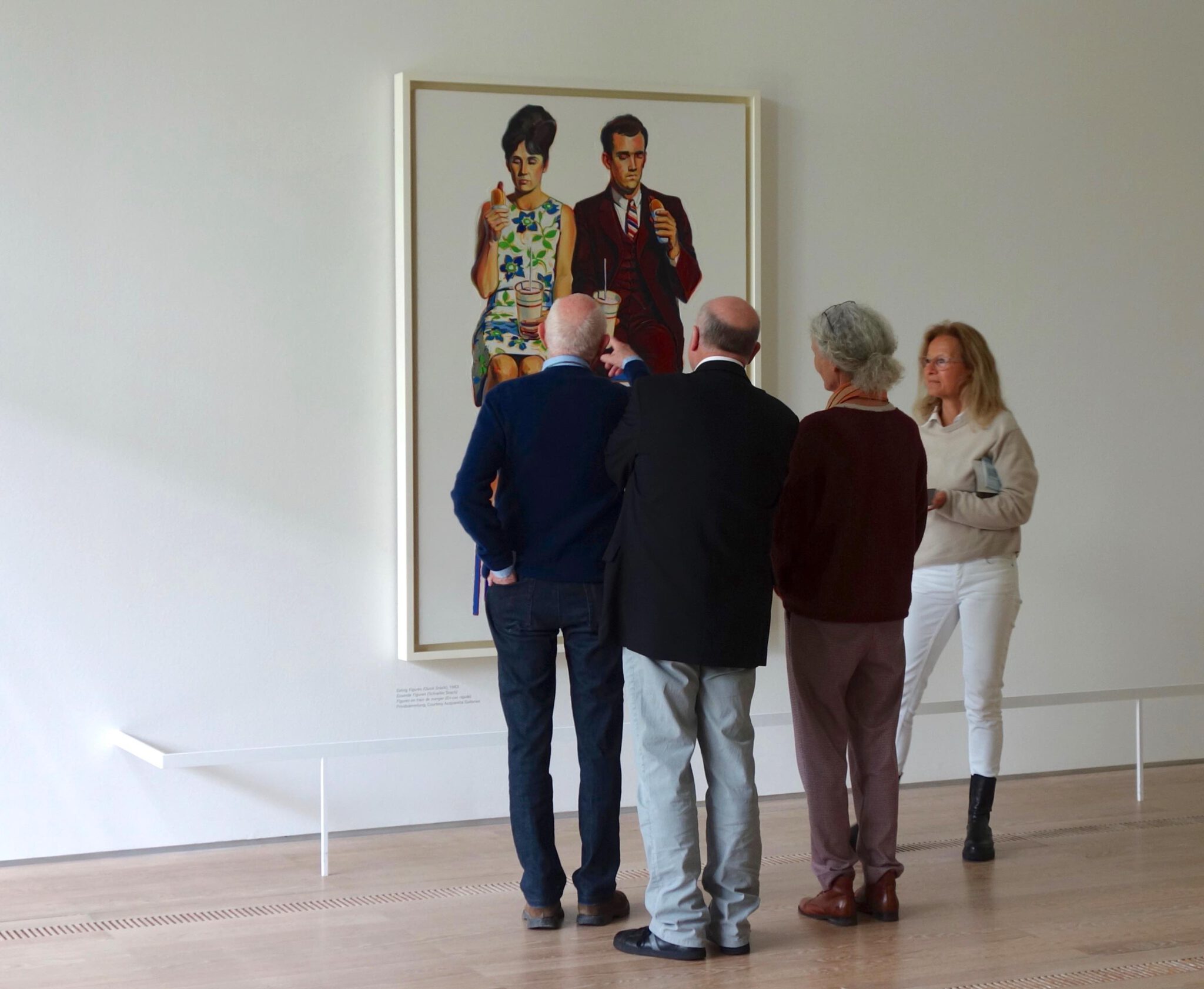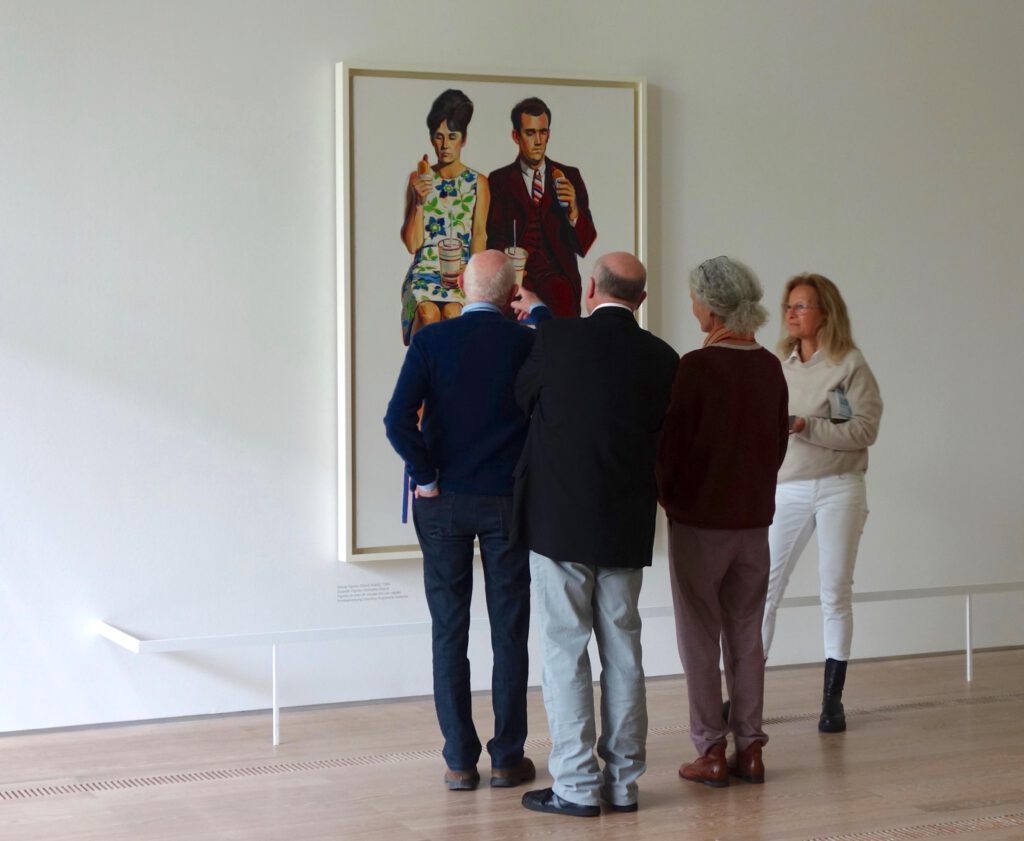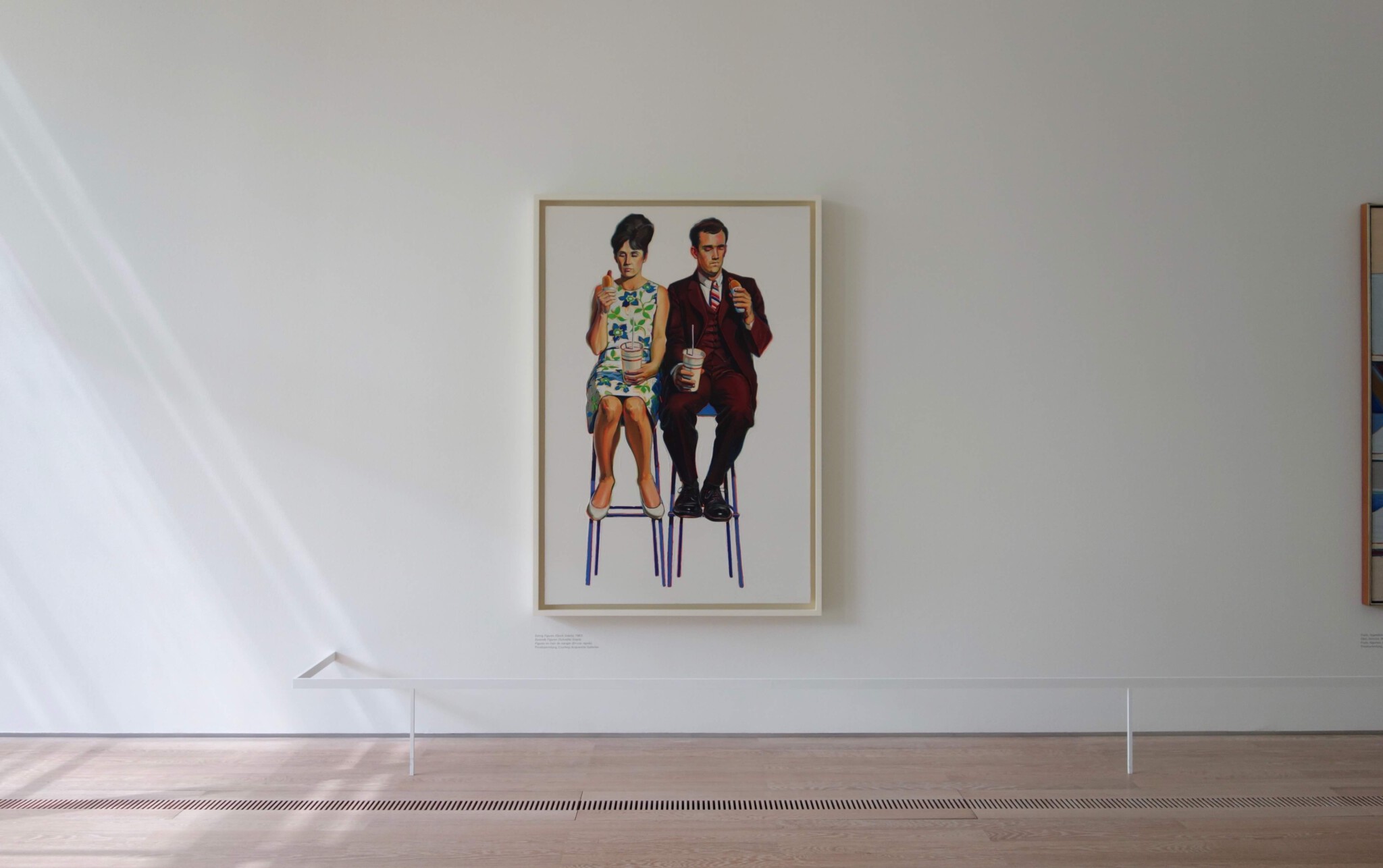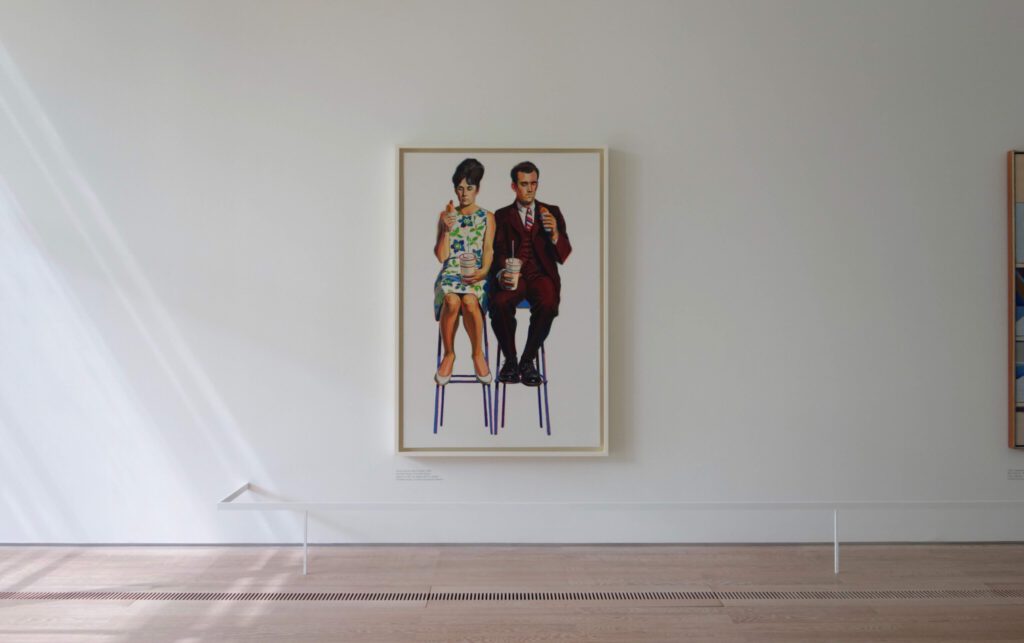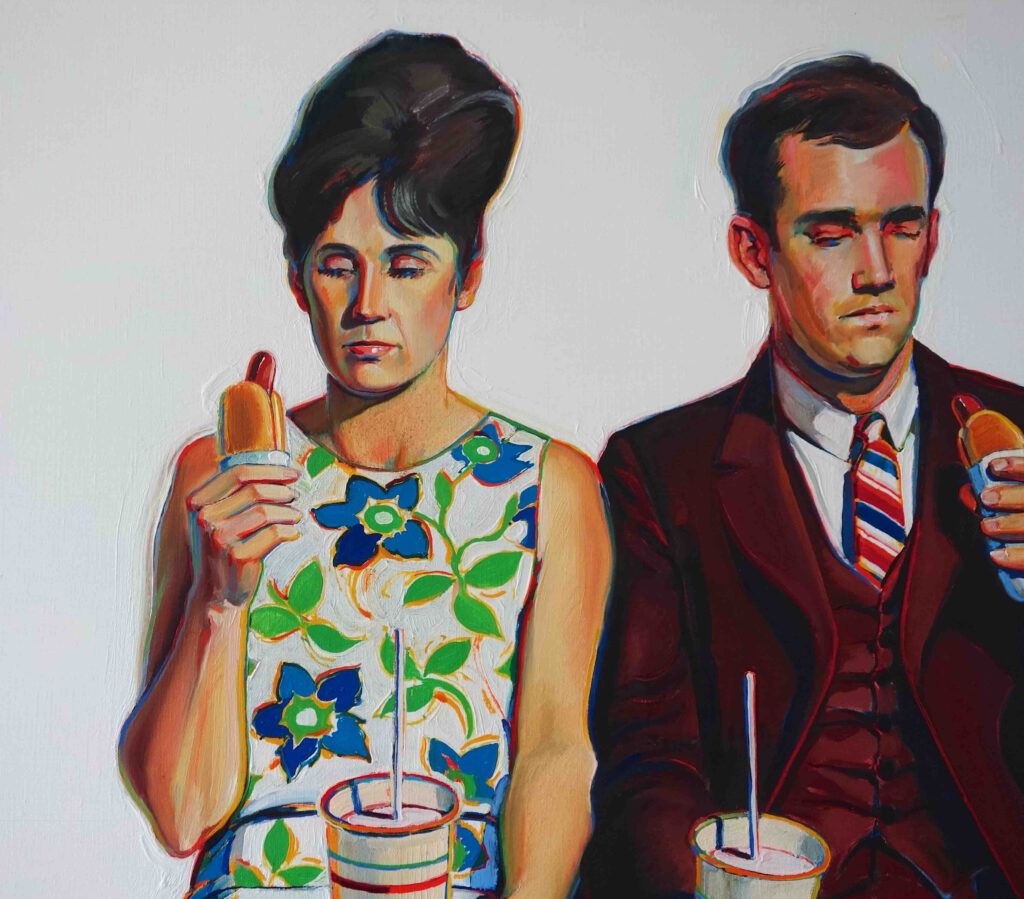 ウェイン・ティーボー Eating Figures (Quick Snack), 1963, oil on canvas, 181.6 x 120.7 cm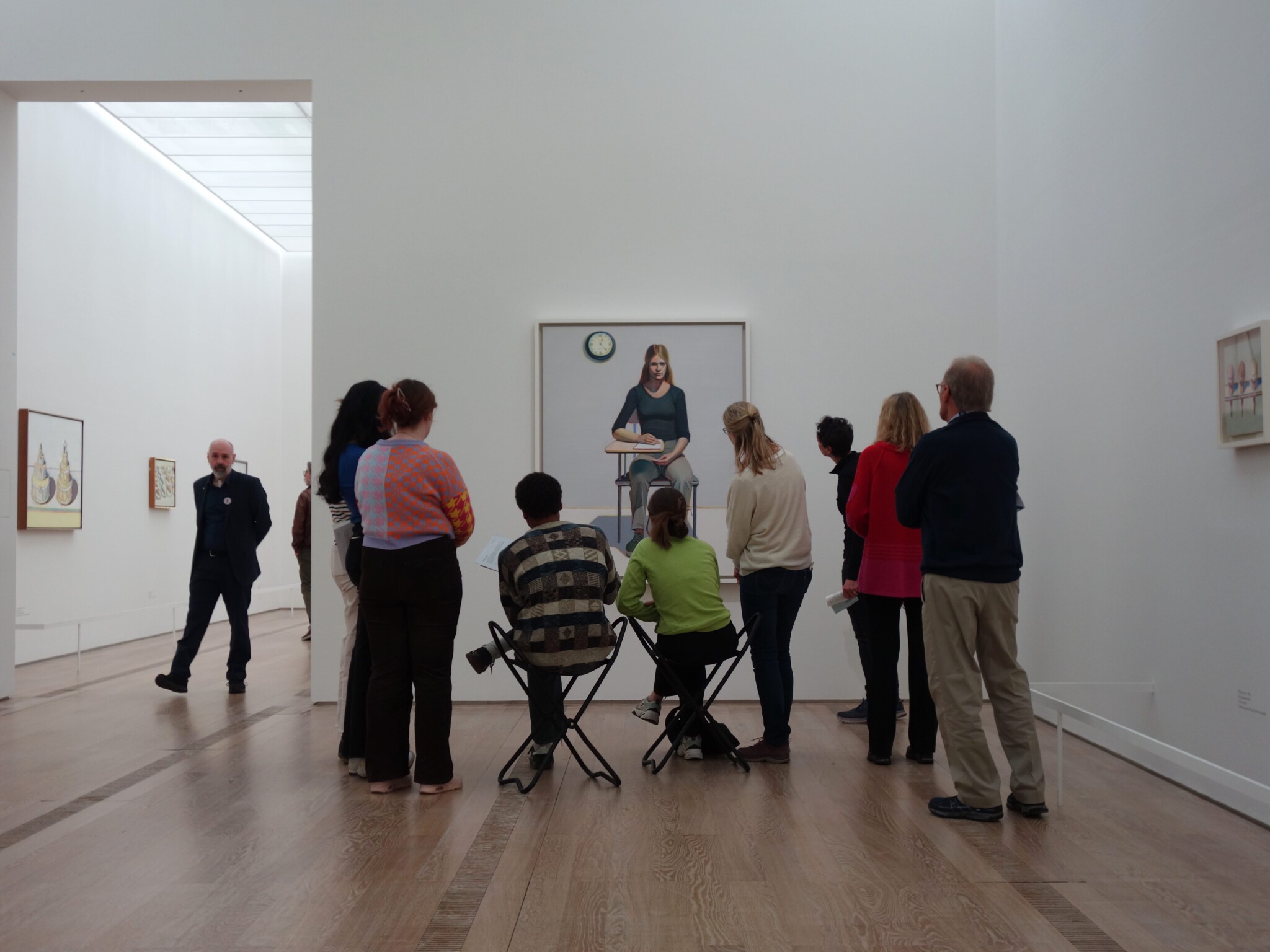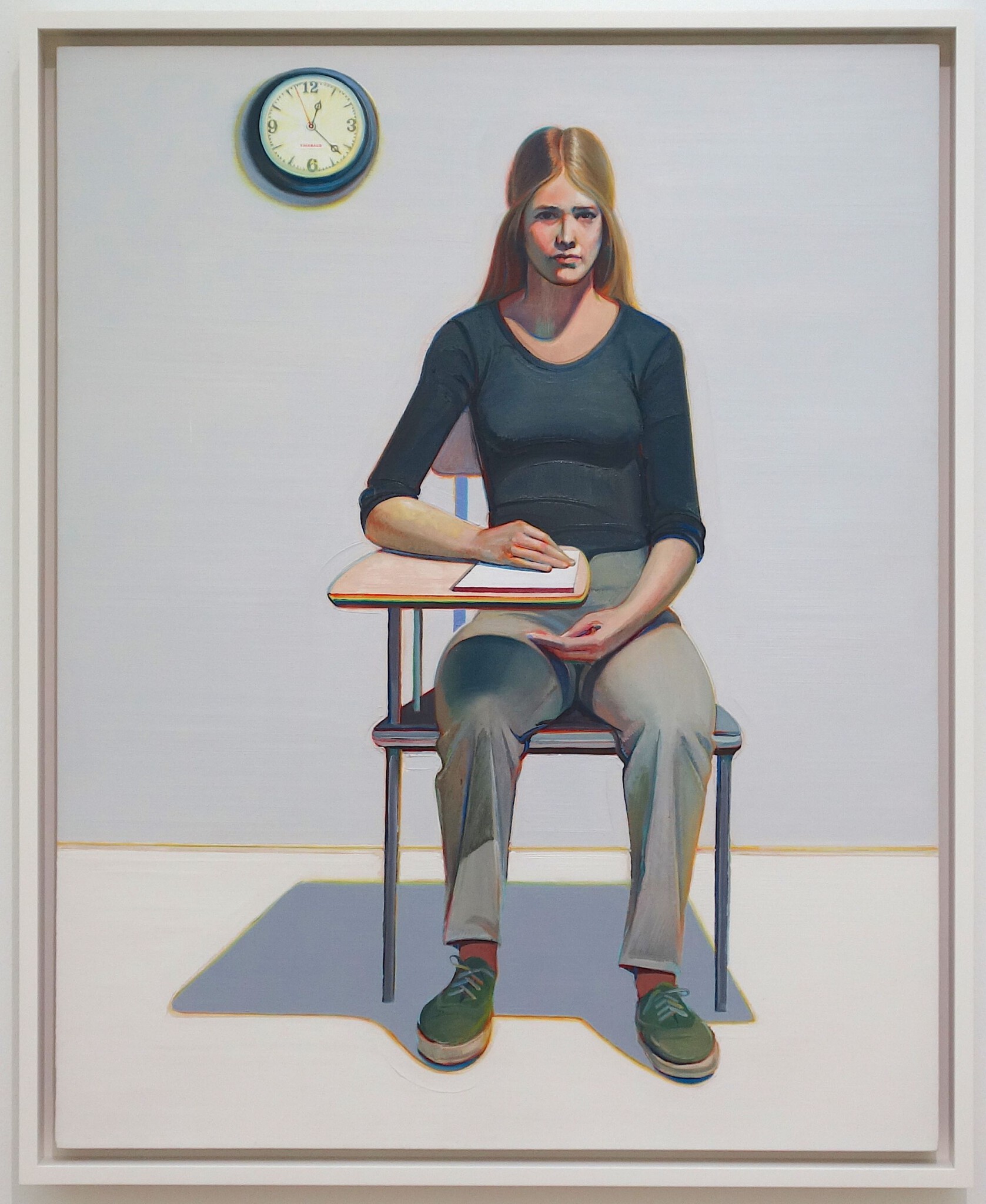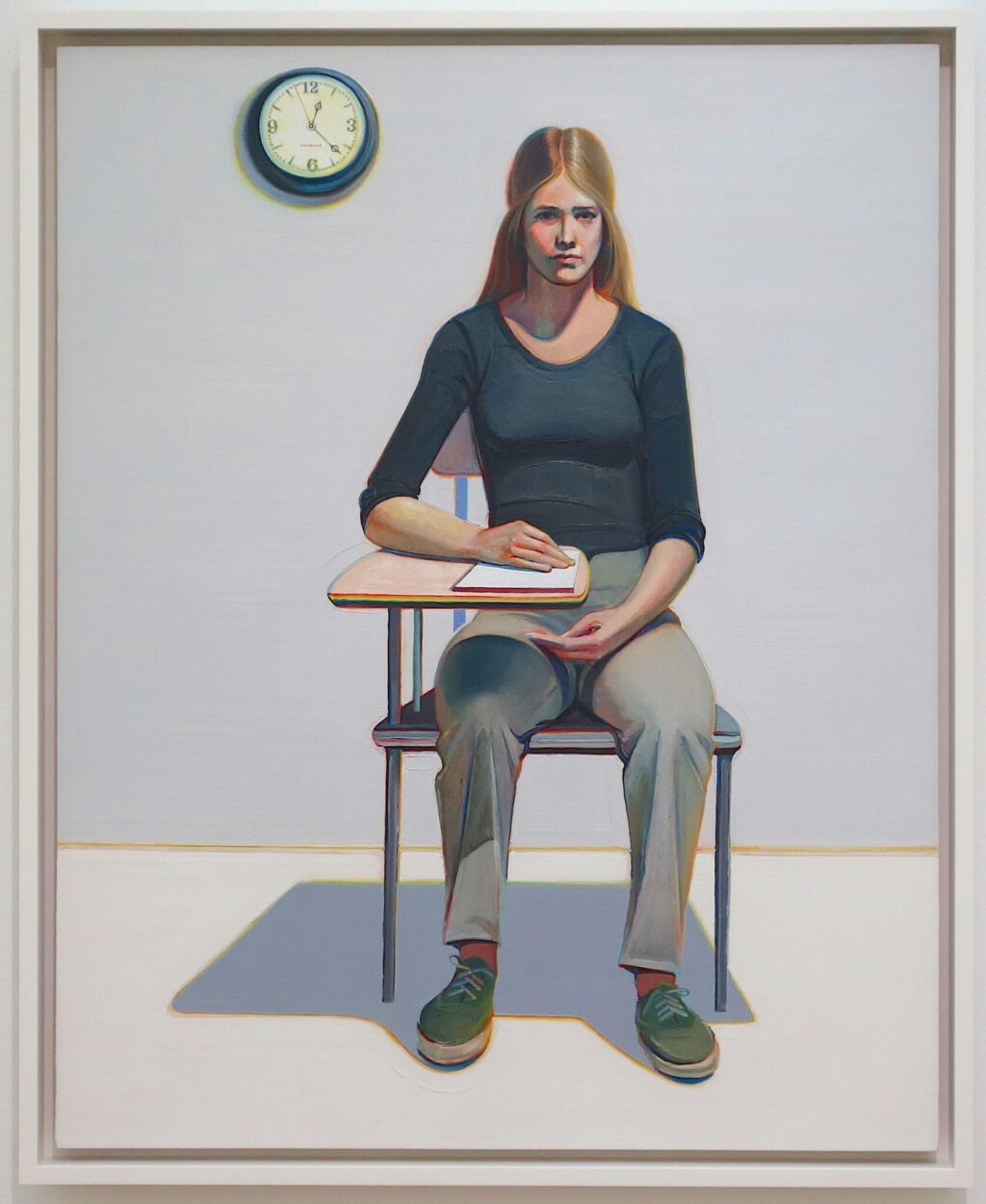 ウェイン・ティーボー Student, 1968, oil on canvas, 152.7 x 122.2 cm
ウェイン・ティーボー Three Prone Figures, 1961, oil on canvas, 35.6 x 45.7 cm. Published in the Beyeler catalogue, unfortunately not exhibited. It would have been one of Thiebaud's earliest works shown, next to "Pie Rows" from the same year 1961.
I discover that he kept exploring the formal possibilities of painting. What kinds of varying light can you have in one painting? Direct glaring light, then fugitive light, then green glow. In retrospective, I can call him a Pop Art pioneer who was initially misunderstood and even rejected by many galleries.
As a painter I consider Thiebaud's delta paintings as one of his better works, in which the painterly process, the execution, offers multiple facets of oil painting (except "Ponds and Streams" from 2001, painted in acrylic).
Thiebaud began to literally zoom-in into the Sacramento River delta. The photographic eye slowly shifts its perspectives, tries to establish new subtle, high viewpoints which purposely cut off the horizon. Silvery water in unexpected hues assembled by tiny trees and farmhouses. Obviously, he forcibly rearranges rivers, channels, fields into abstract, autark, discordant painting patterns, to provoke and challenge the viewer's perception.
With this kind of works, I can acknowledge his efforts in having developed towards true oil painting practice.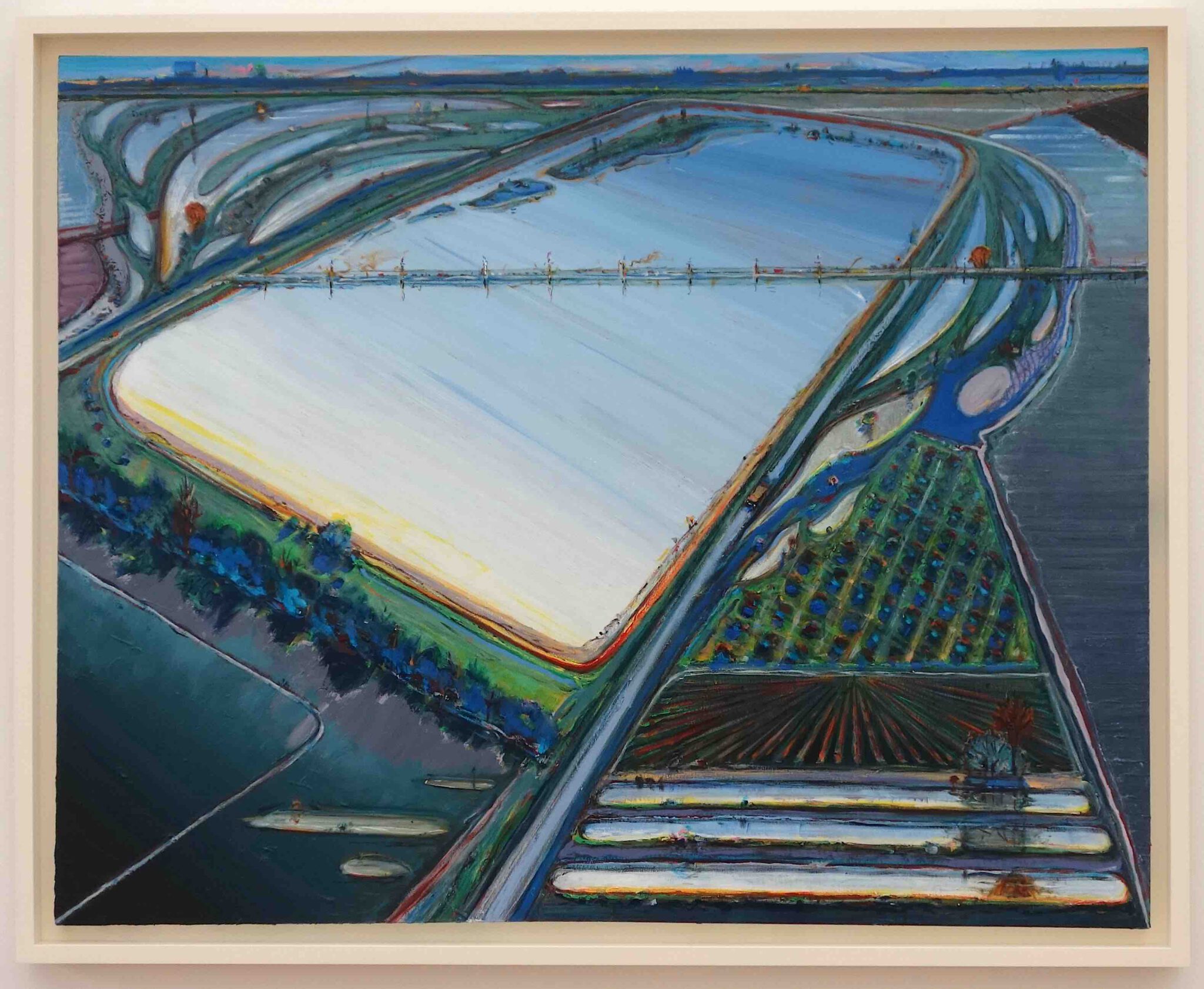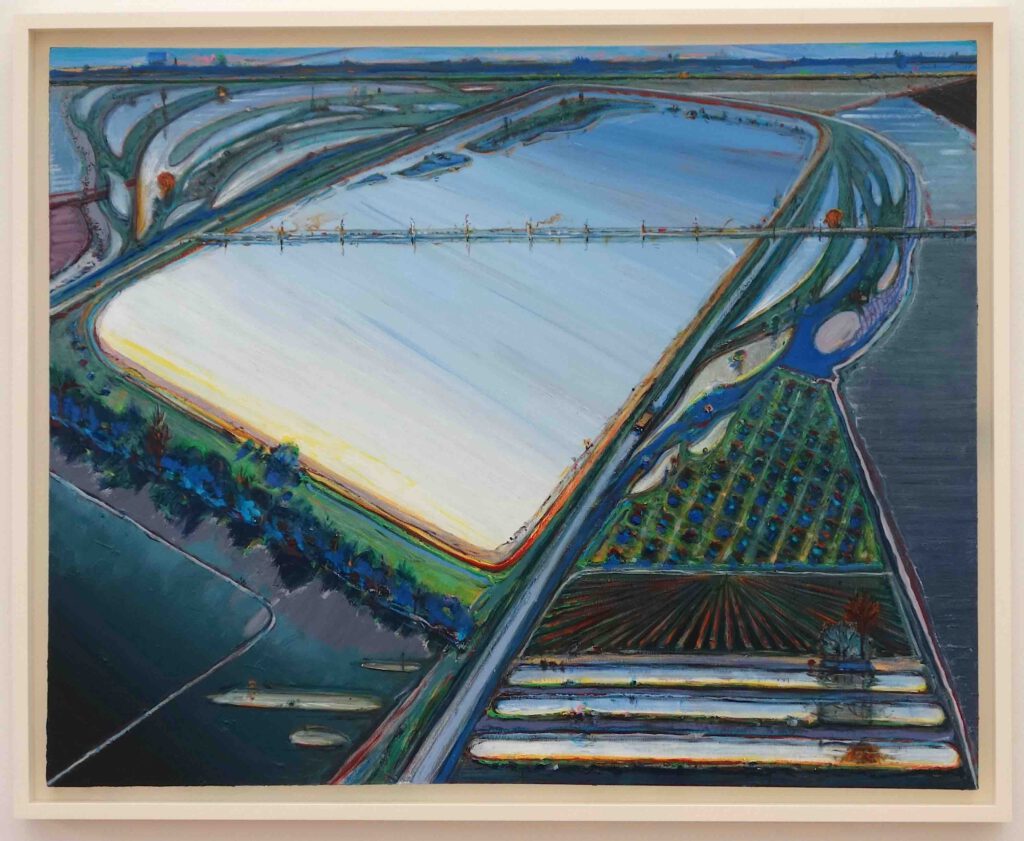 ウェイン・ティーボー Flood Waters, 2006/2013, oil on canvas, 121.9 x 152.4 cm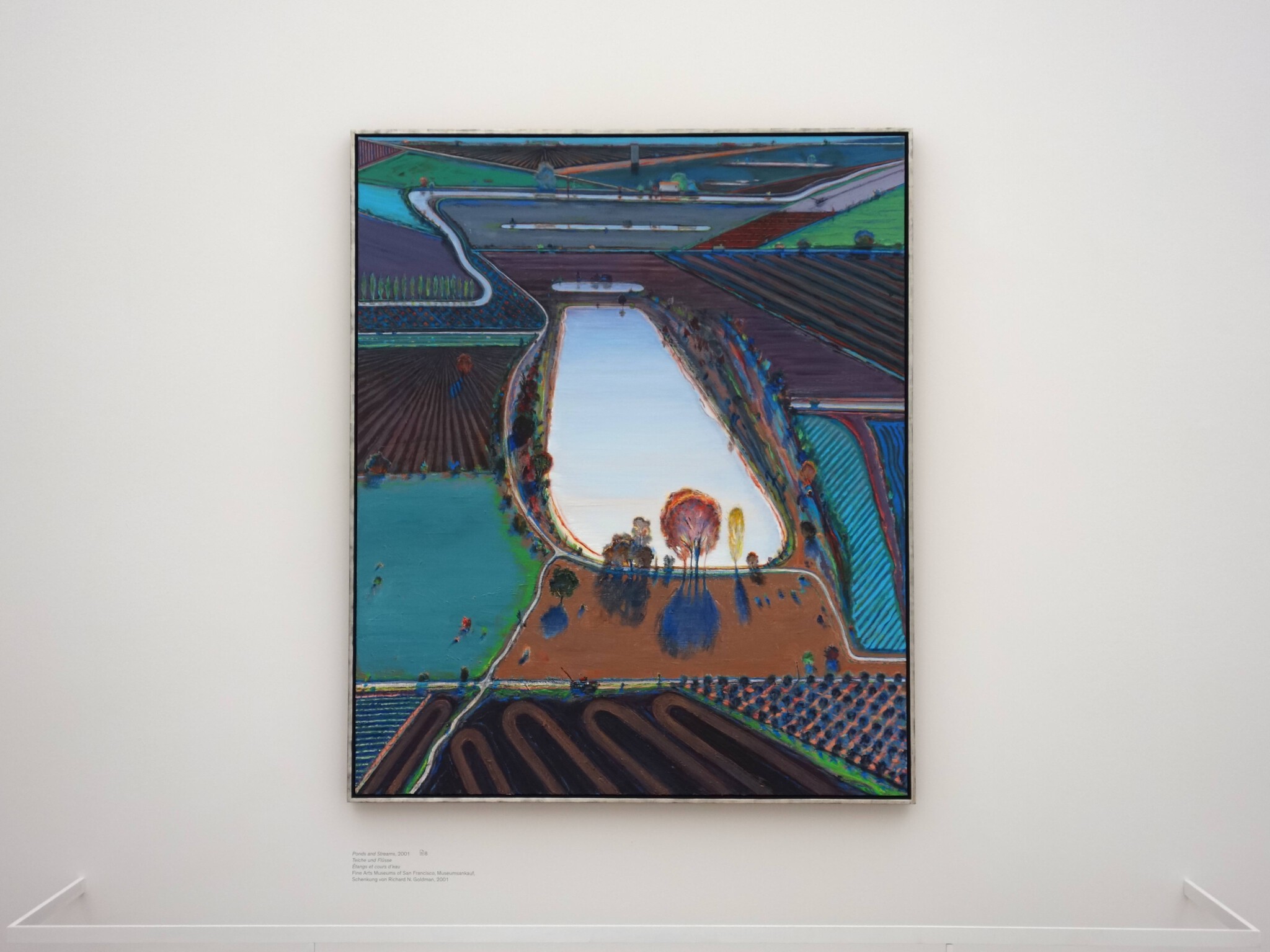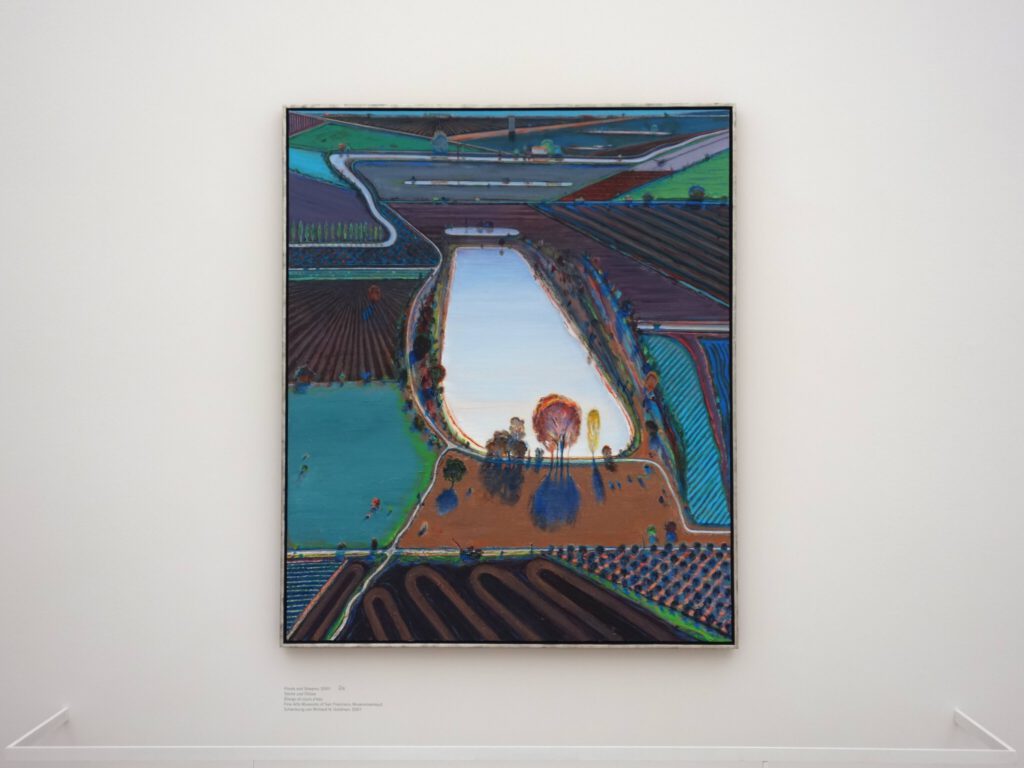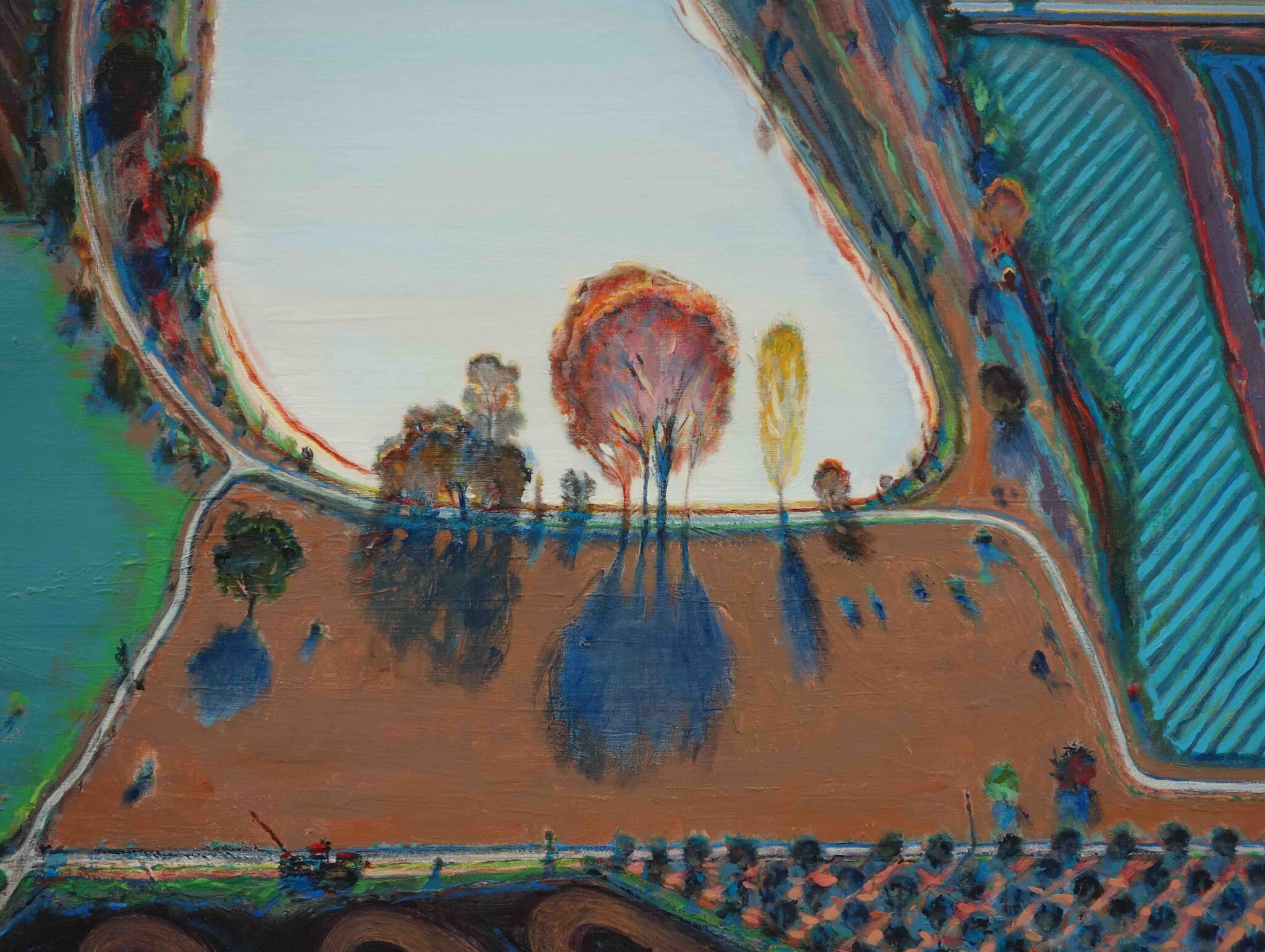 ウェイン・ティーボー Ponds and Streams, 2001, acrylic on canvas, 182.9 x 152.4 cm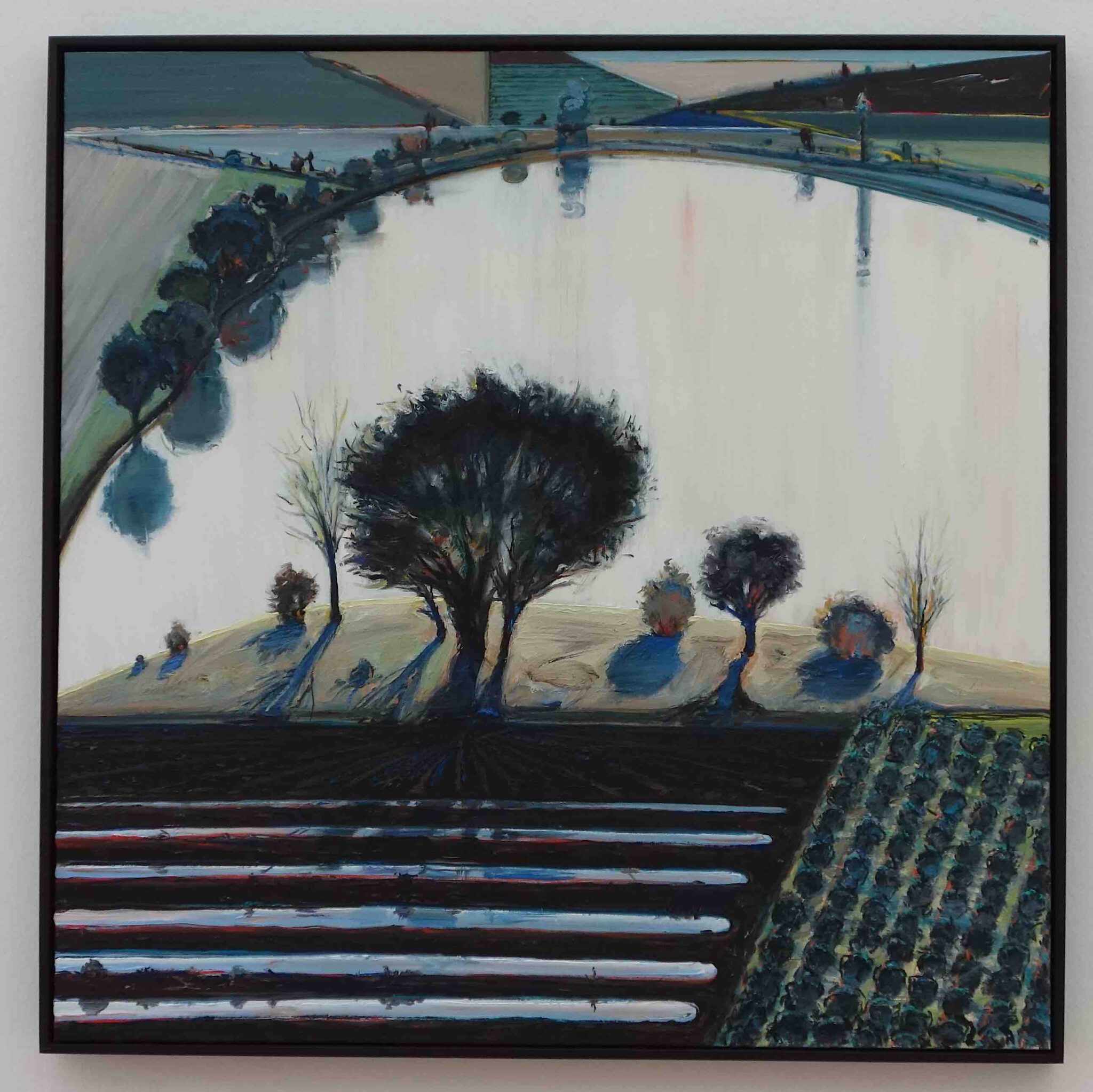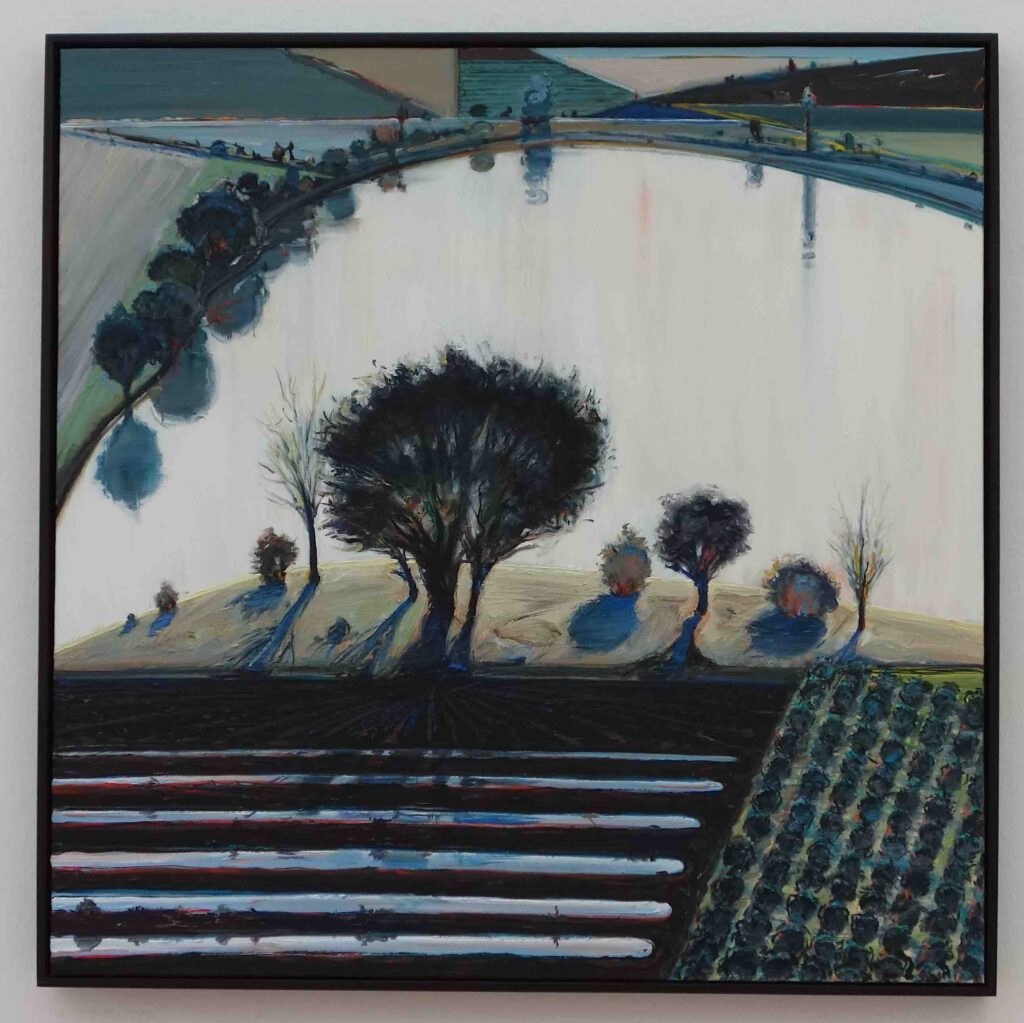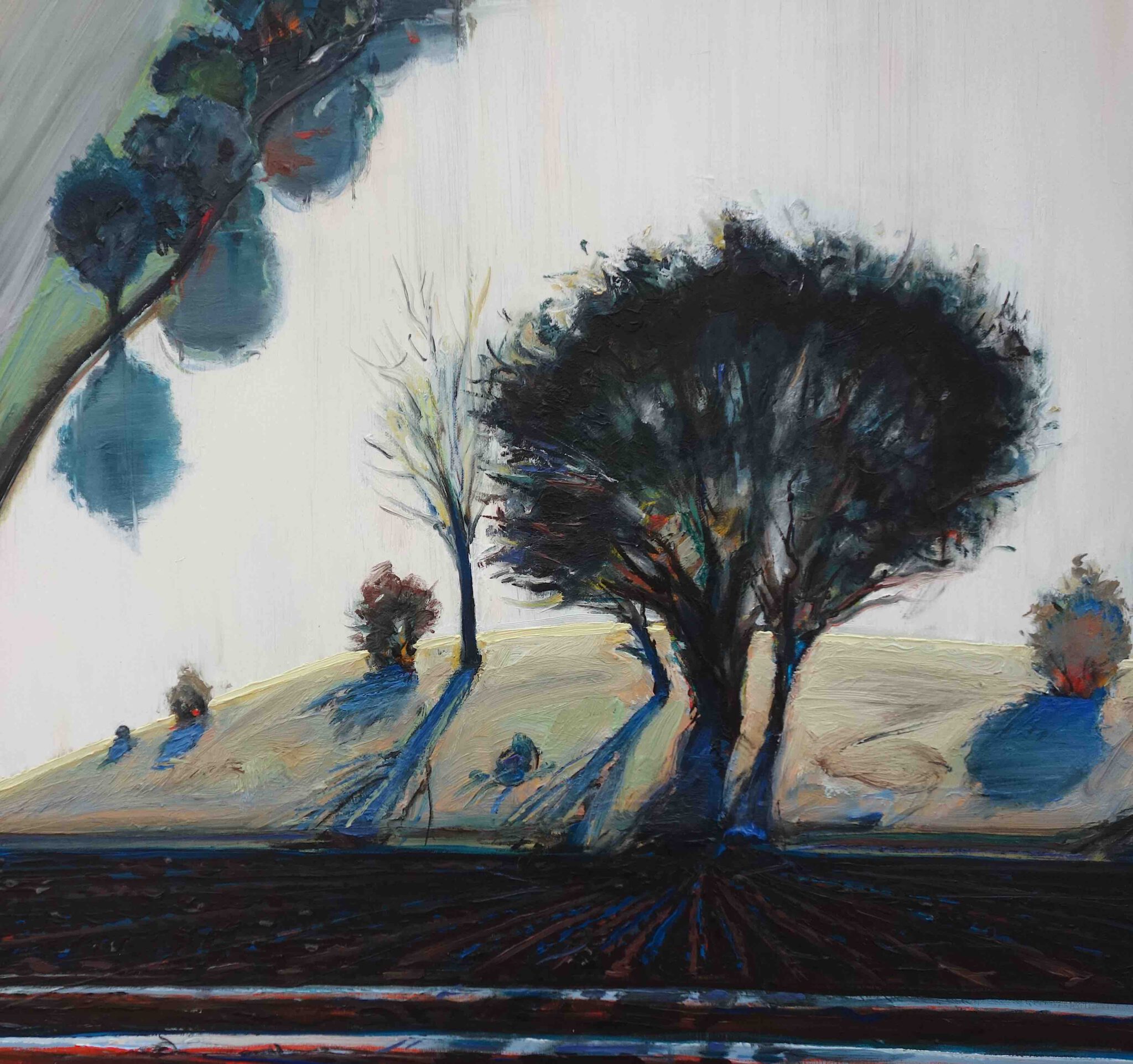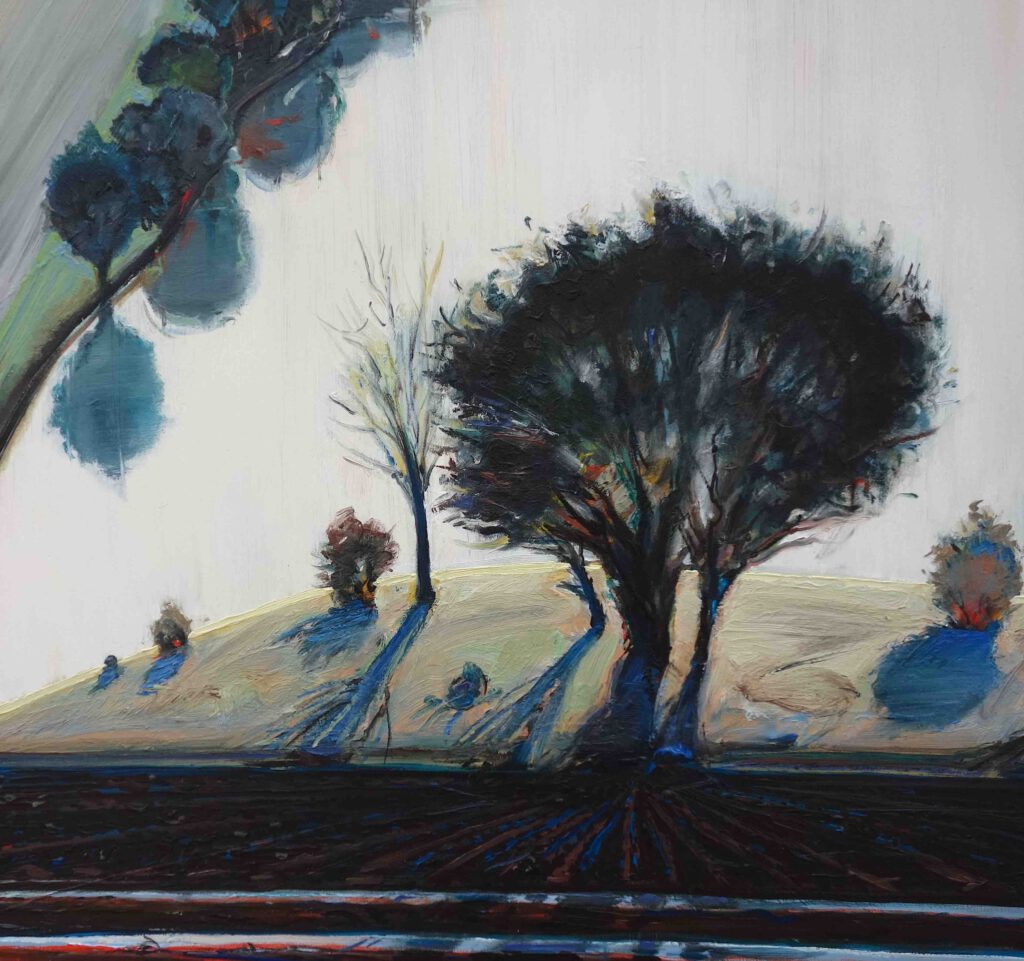 ウェイン・ティーボー River Pool, 1997, oil on canvas, 91.4 x 90.8 cm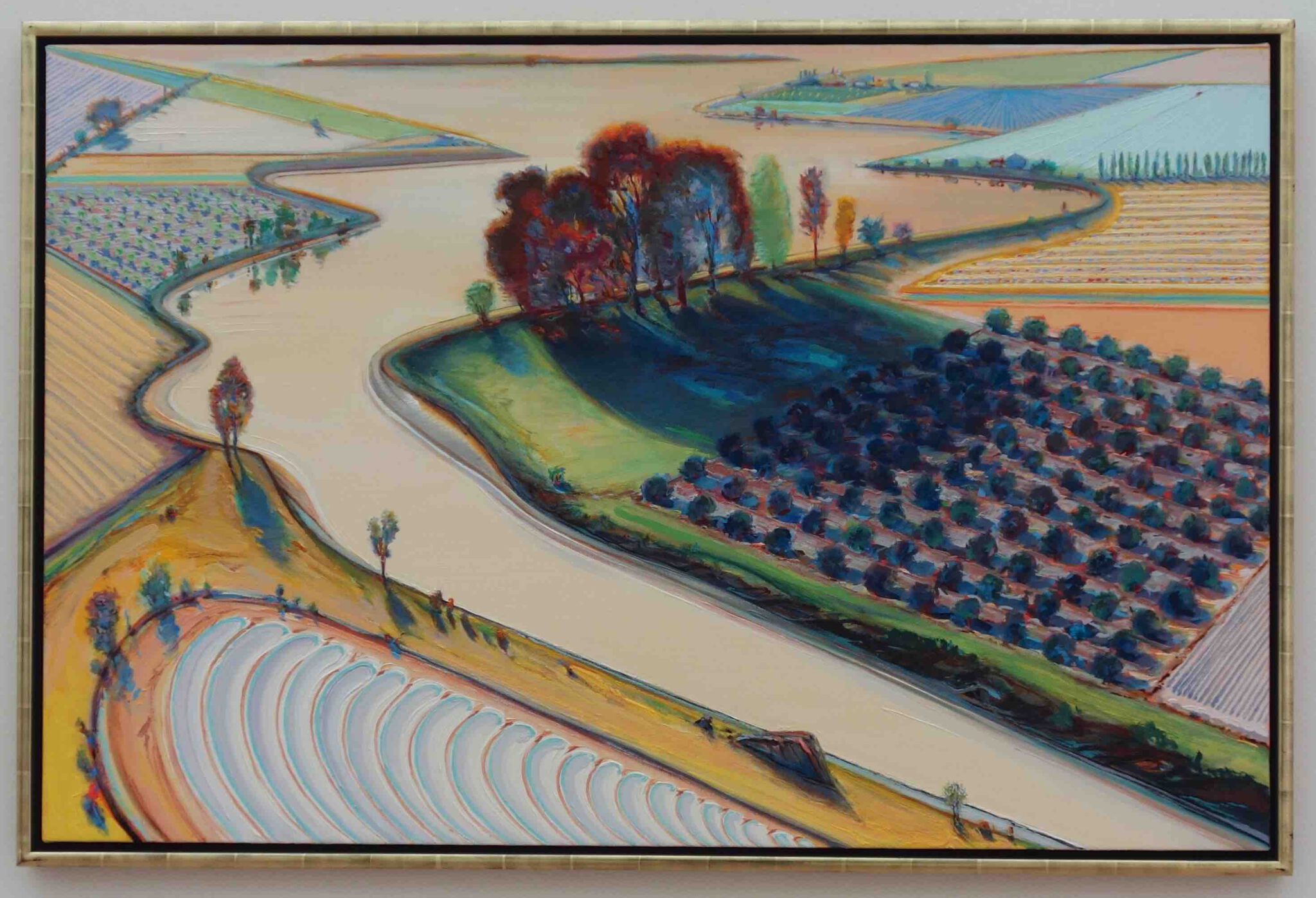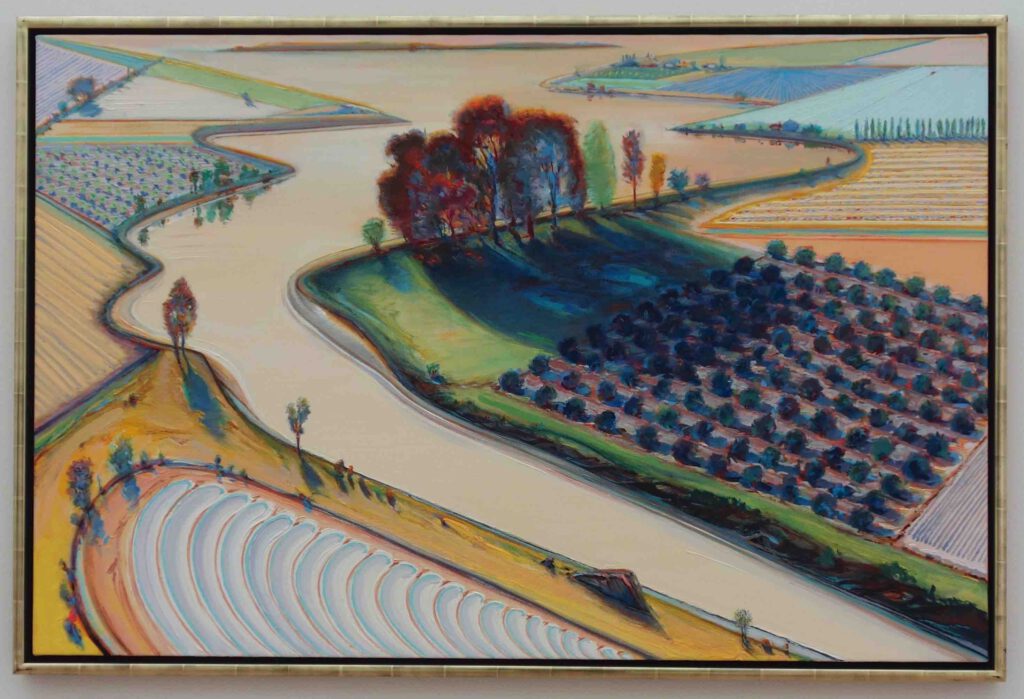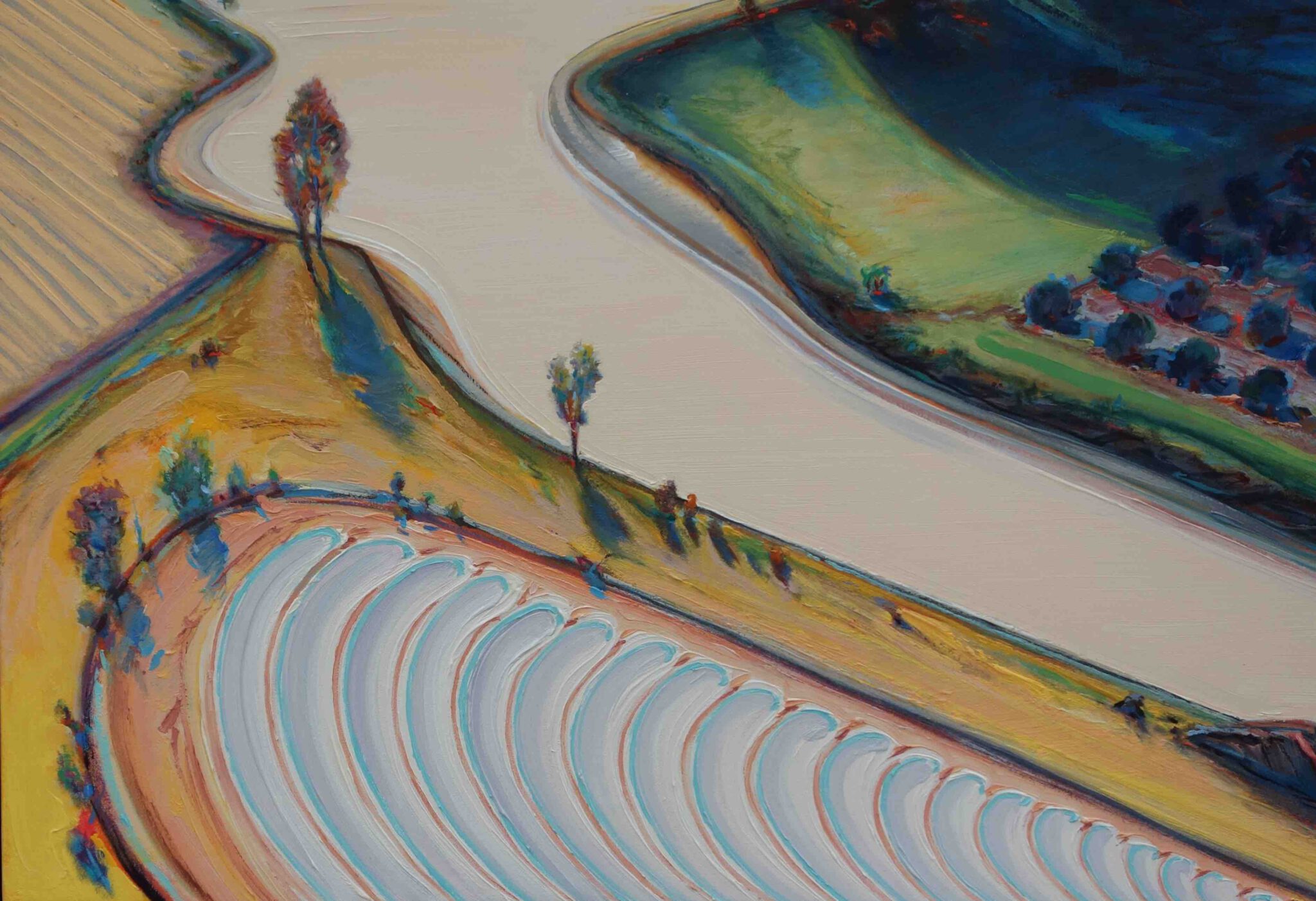 ウェイン・ティーボー Flatland River, 1997, oil on canvas, 96.5 × 147.3 cm
Taken @ ART BASEL 2022, already posted here on ART+CULTURE: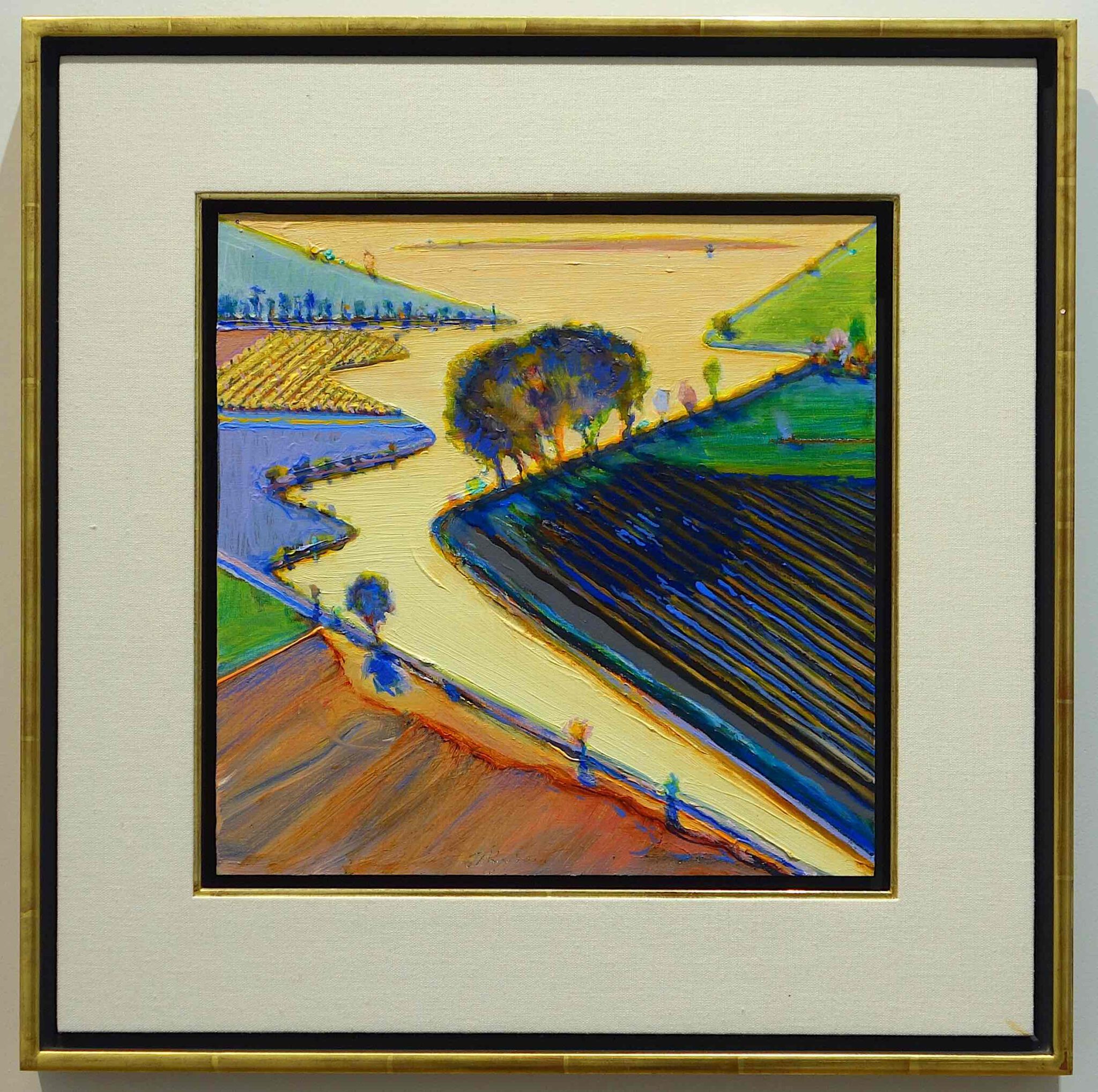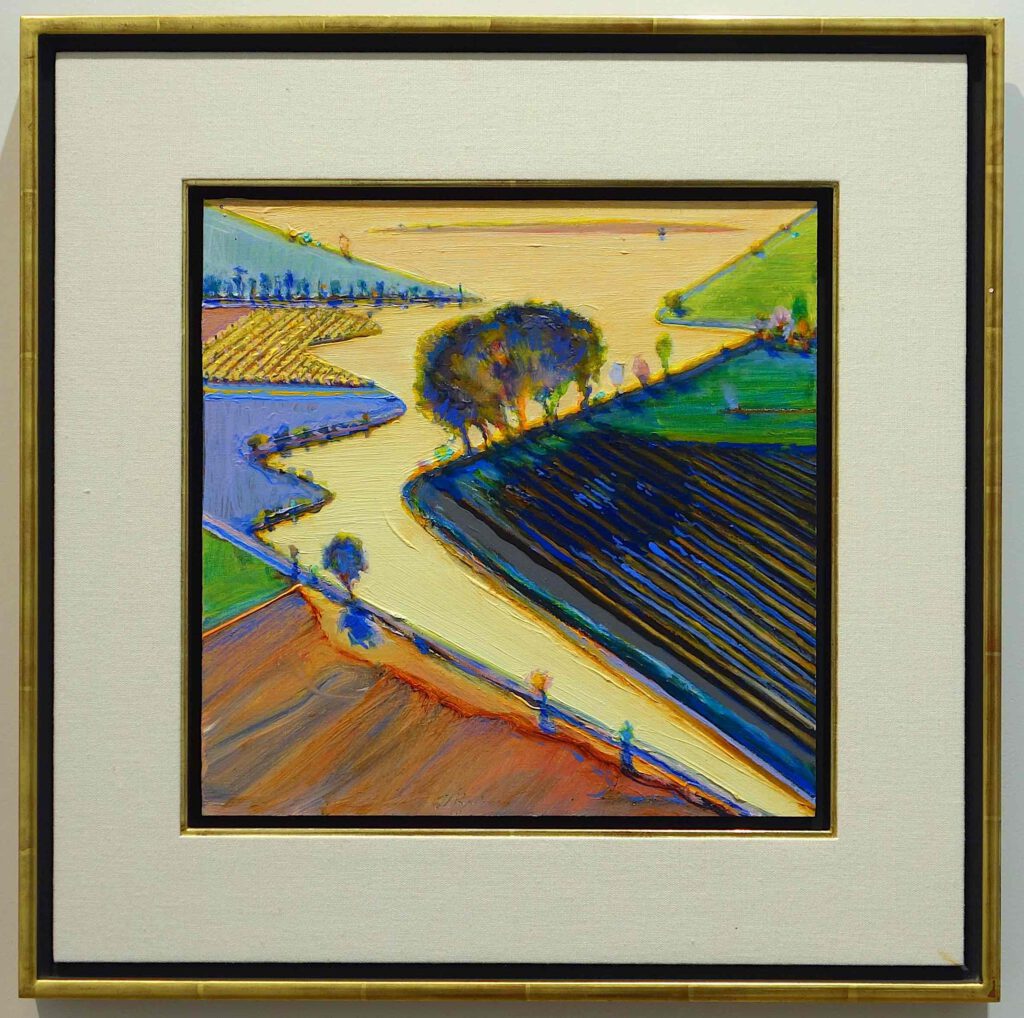 Regarding his vertiginous San Francisco cityscapes, I prefer resisting the help of lineal and strict contours. Thiebaud uses the drawing board of an architect and deprives us any natural sense of the spacial aura, the philosophising painter's raison d'être. Even if Perspective Dissonance stimulates an atonal, interesting composition with "wrong shades & lines", it does not mean to consider his painterly ductus, even if it seems original at first sight, as excellent or provocatively fascinating. Once you understand his trick, the wanted effect becomes boring.
In this series, I noticed that he switched into easy-to-make acrylic painting. Which, of course, in the end, doesn't really matter for the normal audience.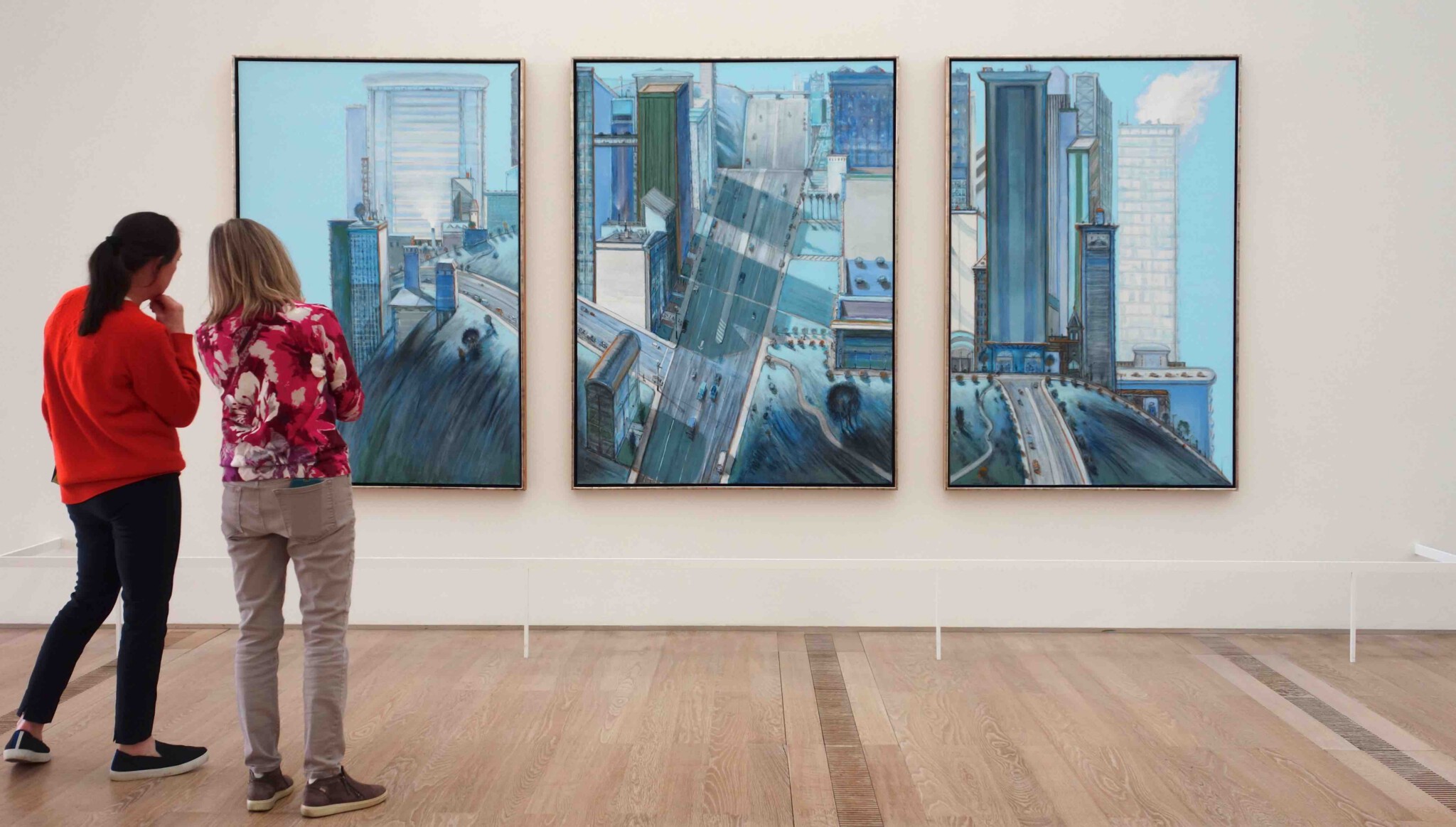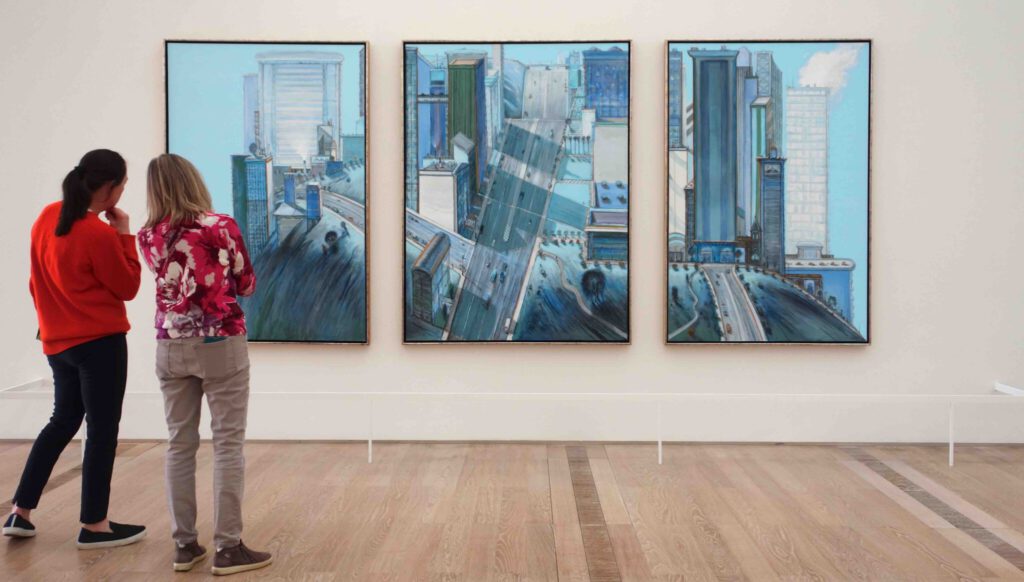 ウェイン・ティーボー City Views, 2004, oil on canvas, 
left panel: 182.2 x 121.9 cm, center panel: 182.6 x 136.8 cm, 
right panel: 182.2 x 121.9 cm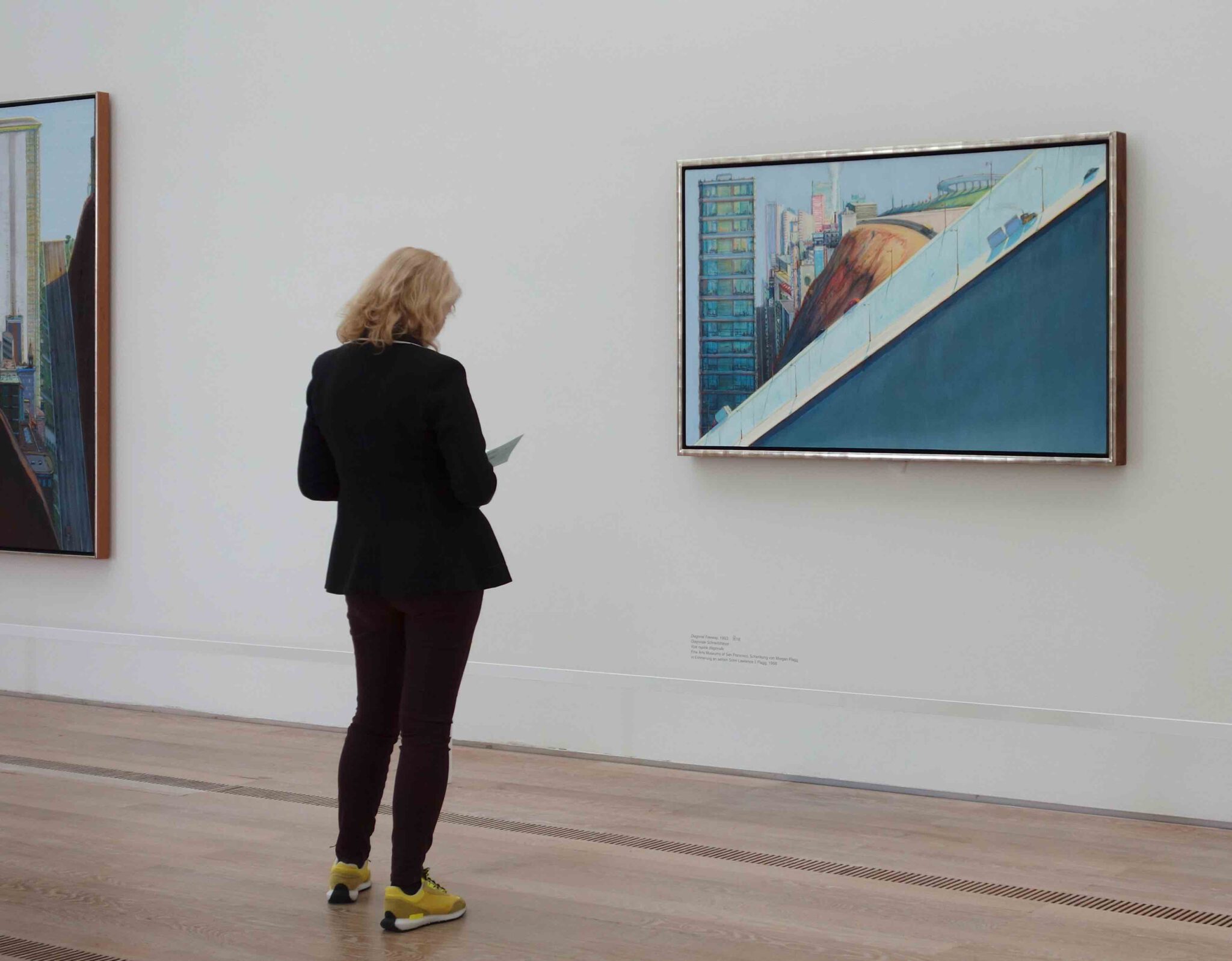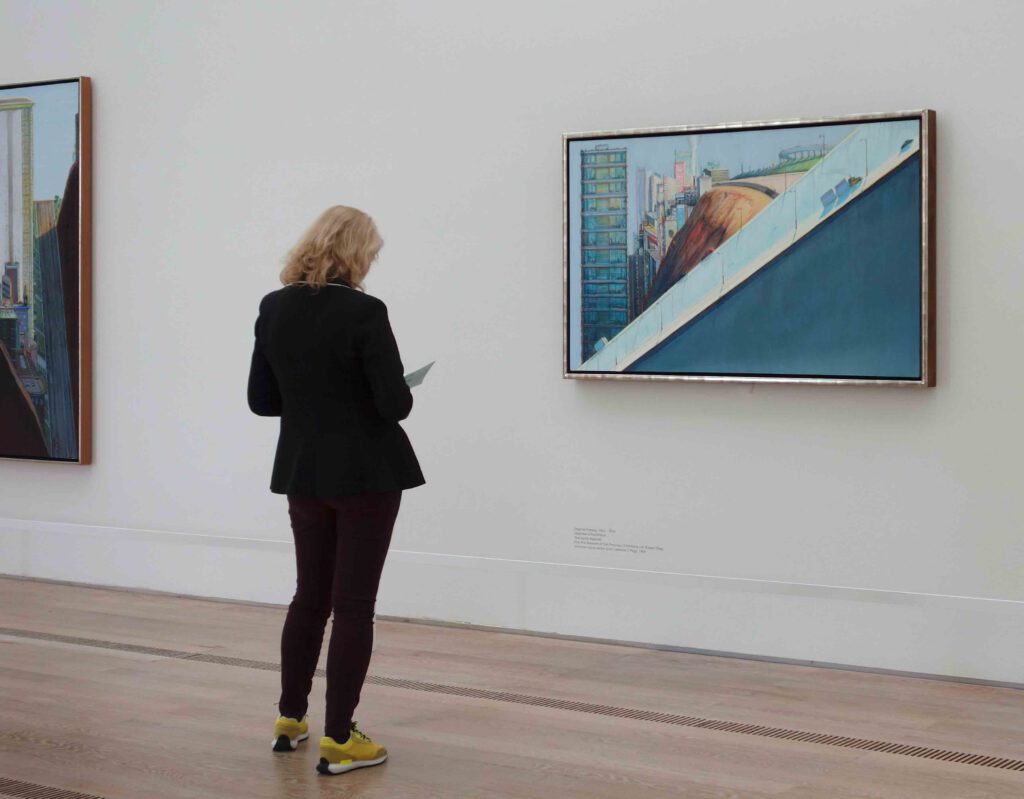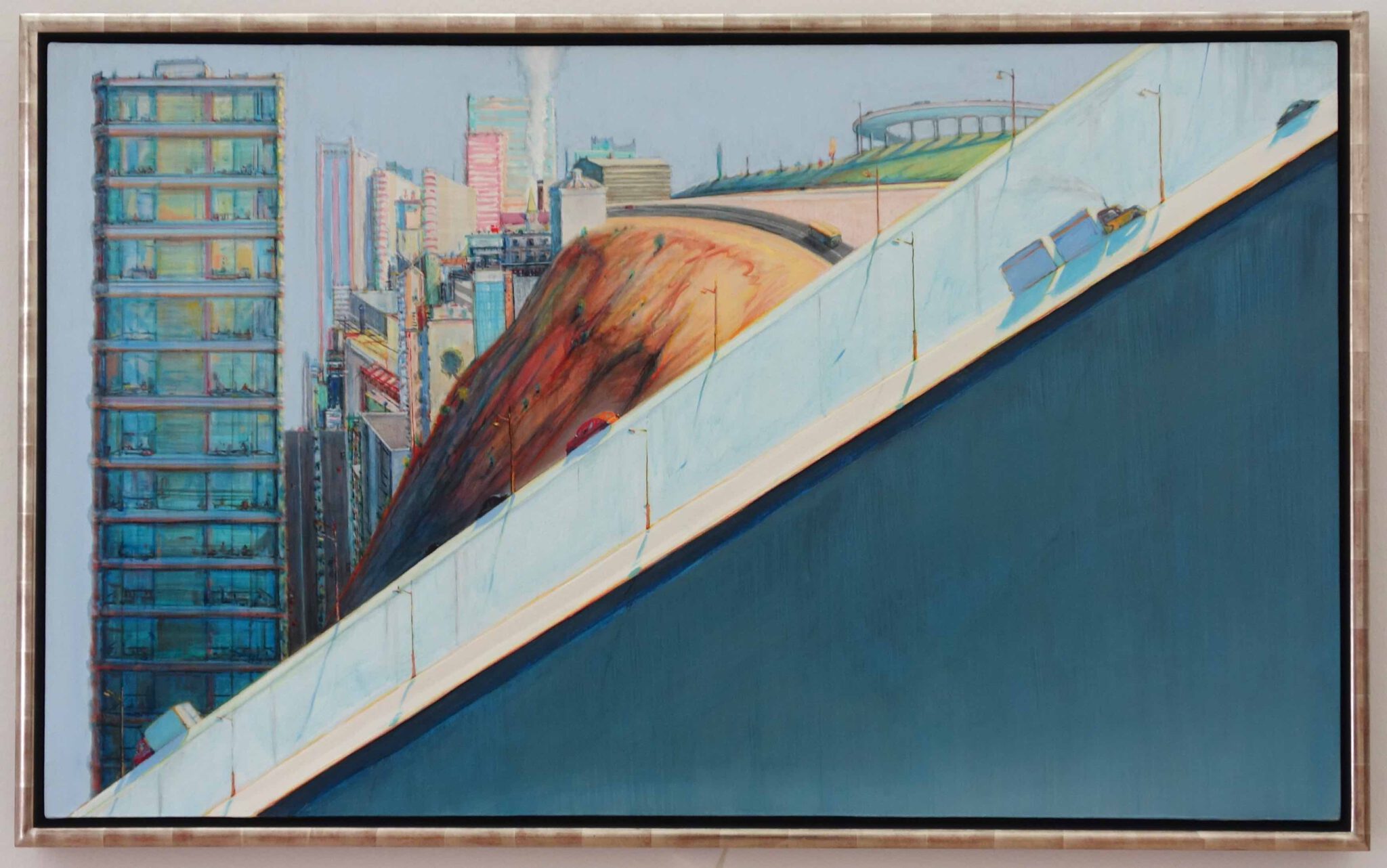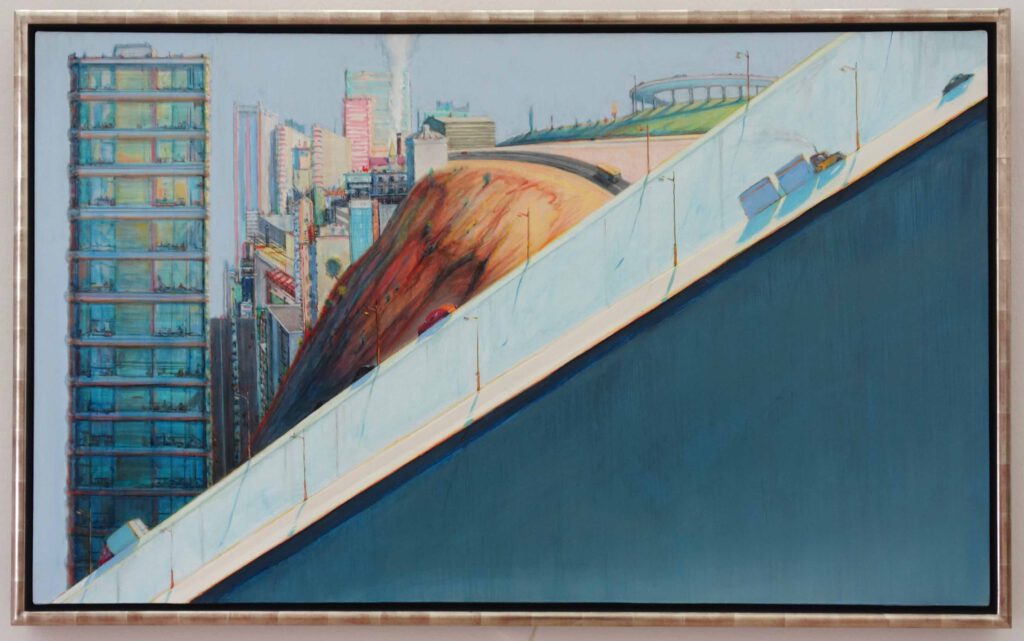 ウェイン・ティーボー Diagonal Freeway, 1993, acrylic on canvas, 91.4 x 152.4 cm
ウェイン・ティーボー Civic Center, 1986, oil on canvas, 121.9 x 91.4 cm
Same picture, taken at ART BASEL 2022, posted already here on ART+CULTURE with these informations. Because the lighting of the fair booth, the colours appear differently.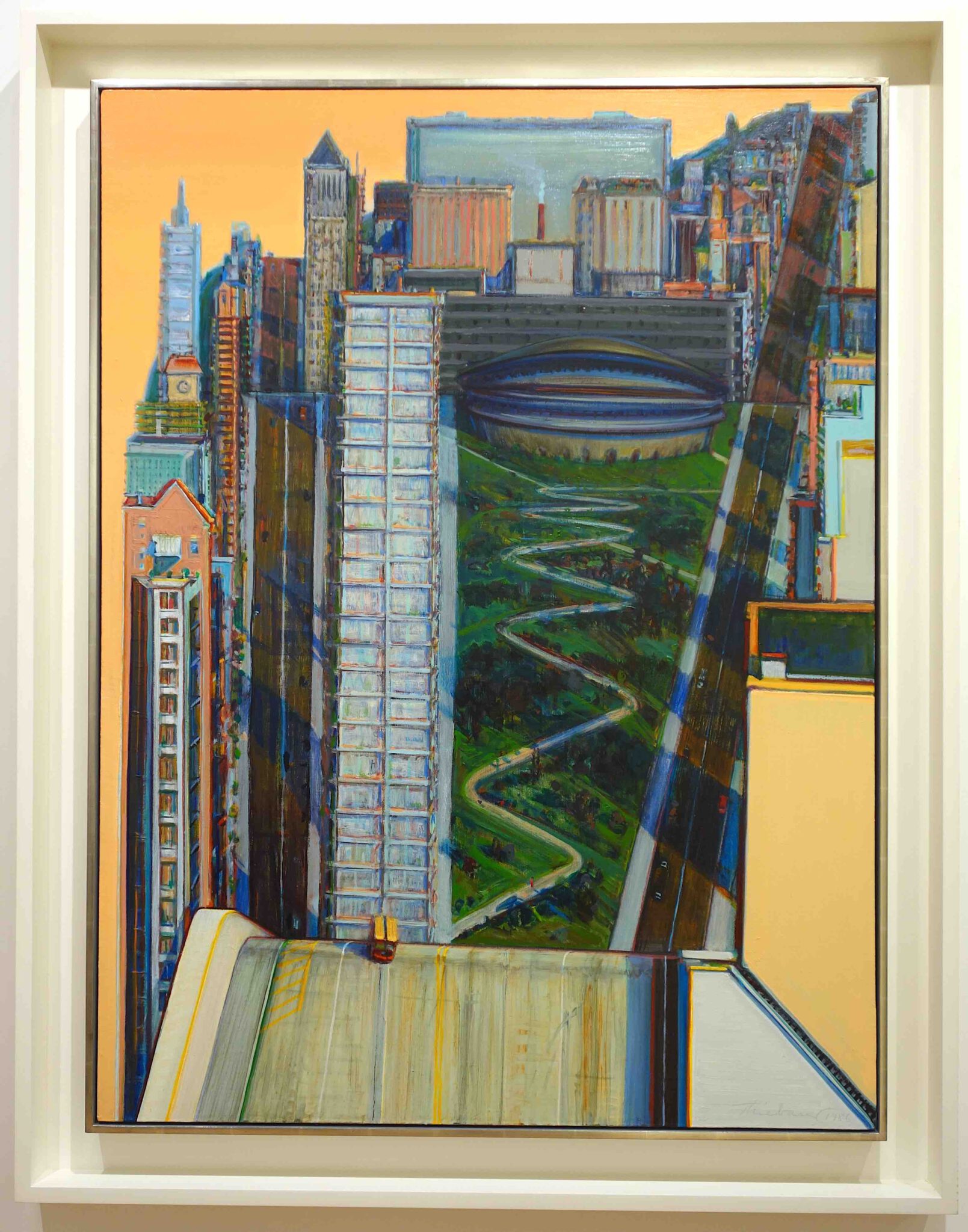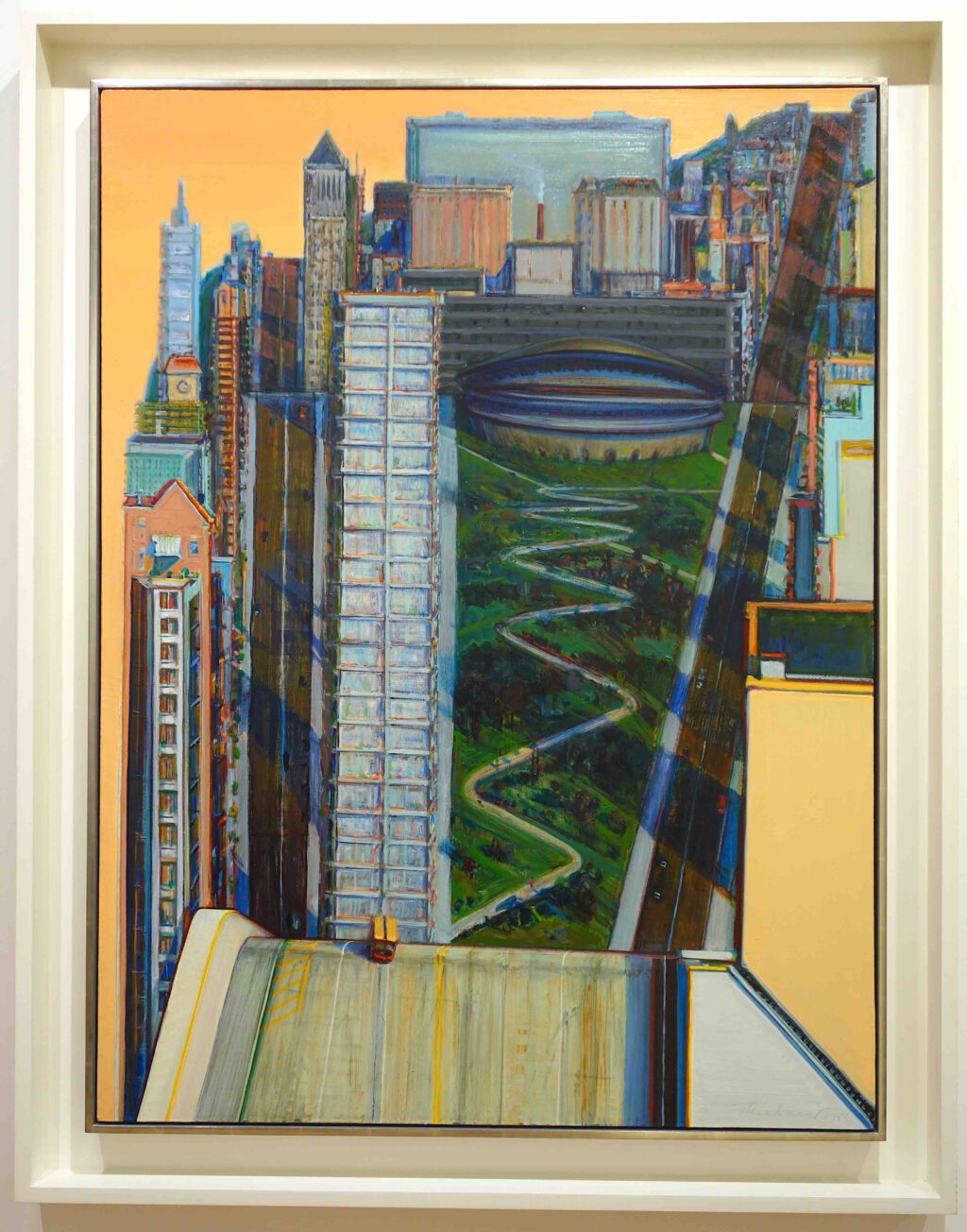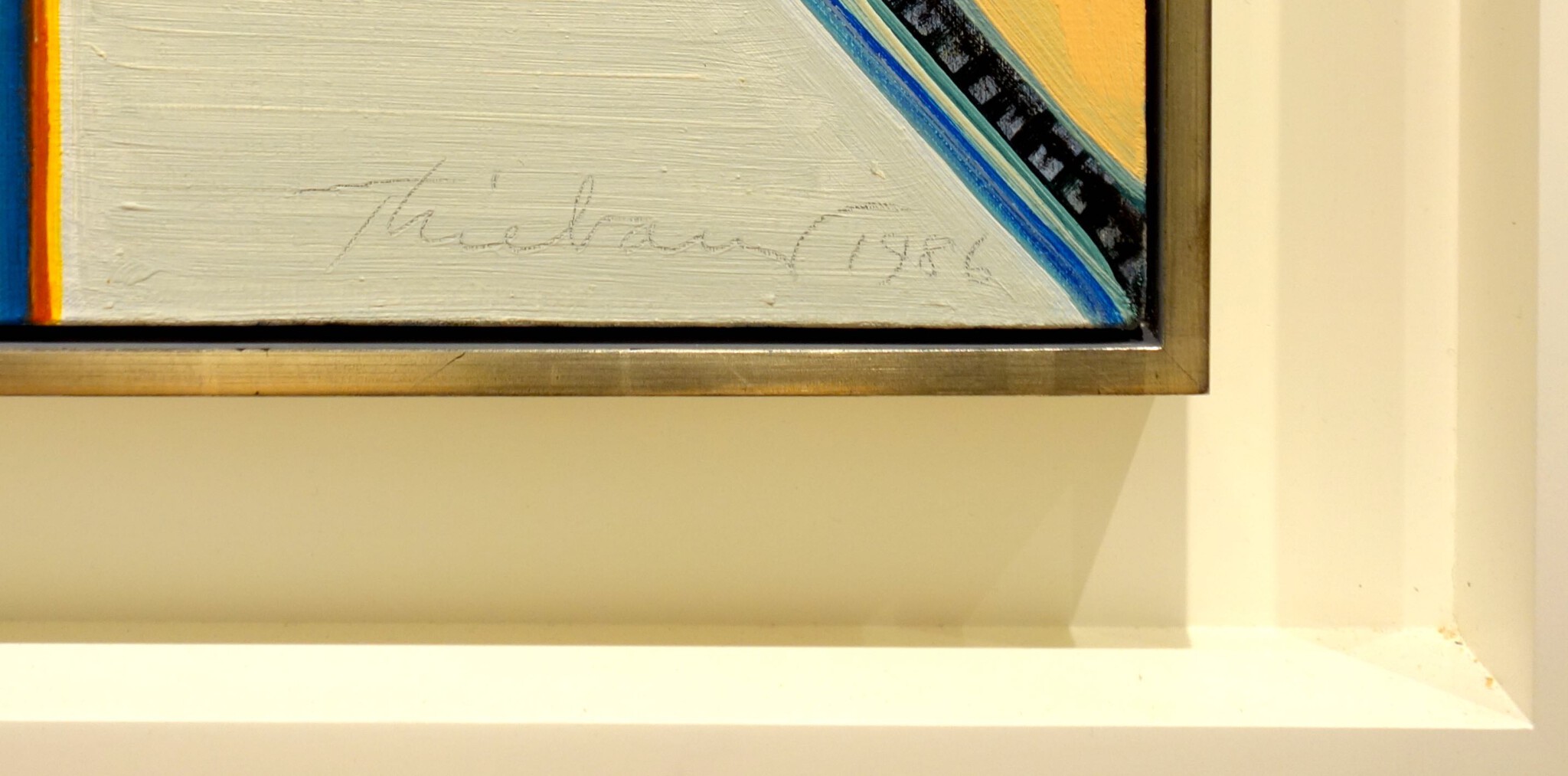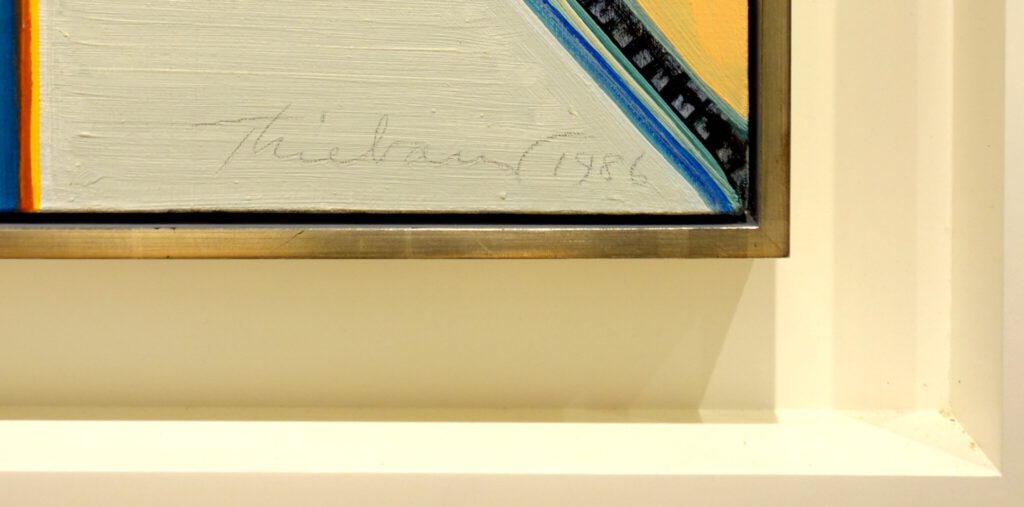 Wayne Thiebaud "Civic Center" @ Acquavella booth. Signed and dated 1986 twice.
This work had been auctioned and sold @ Sotheby's New York "Contemporary Curated", 06 March 2020. The estimate in 2020 was 2.500.000 – 3.500.000 USD.
Provenance:
Campbell-Thiebaud Gallery, San Francisco
Acquired from the above by the present owner in 1994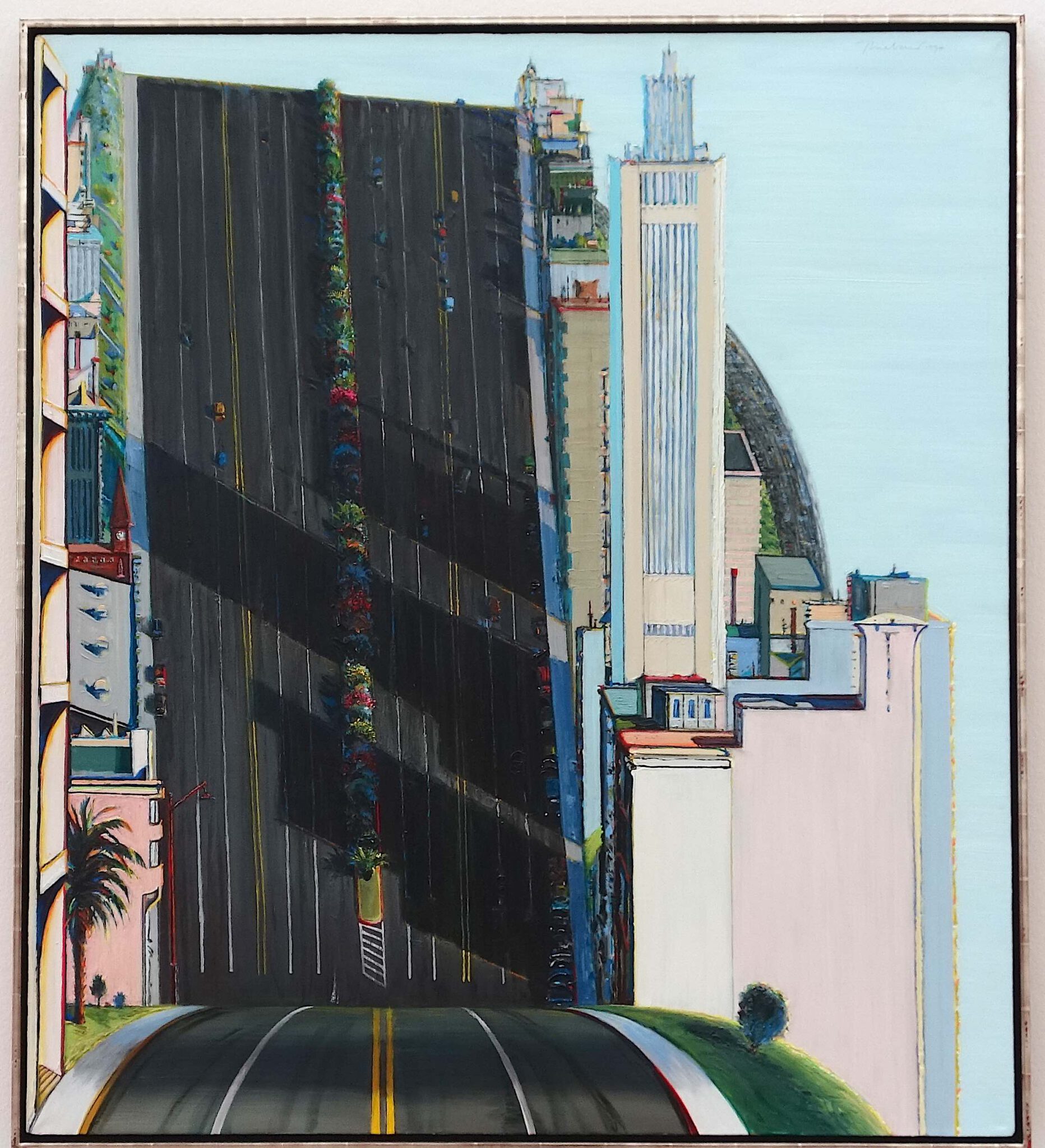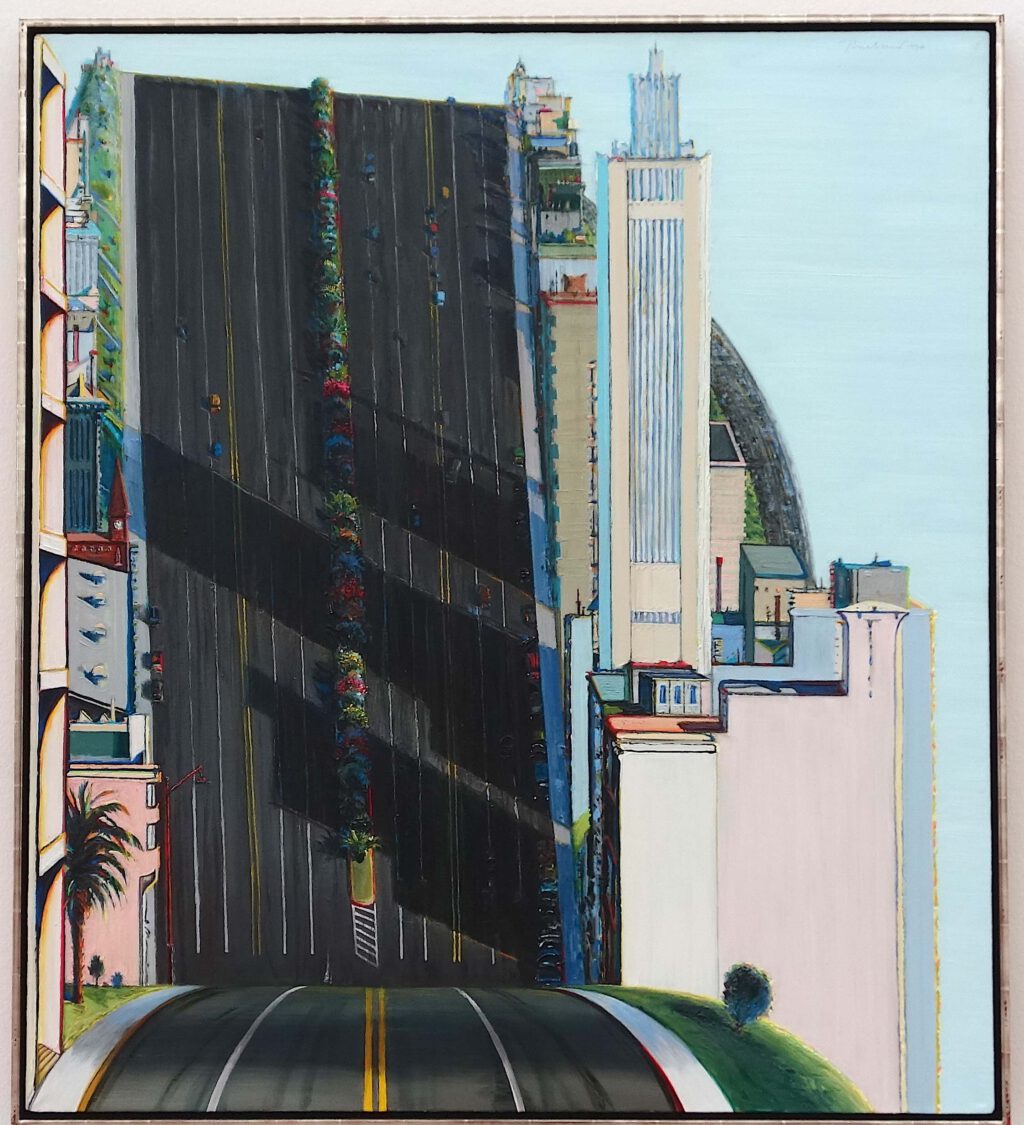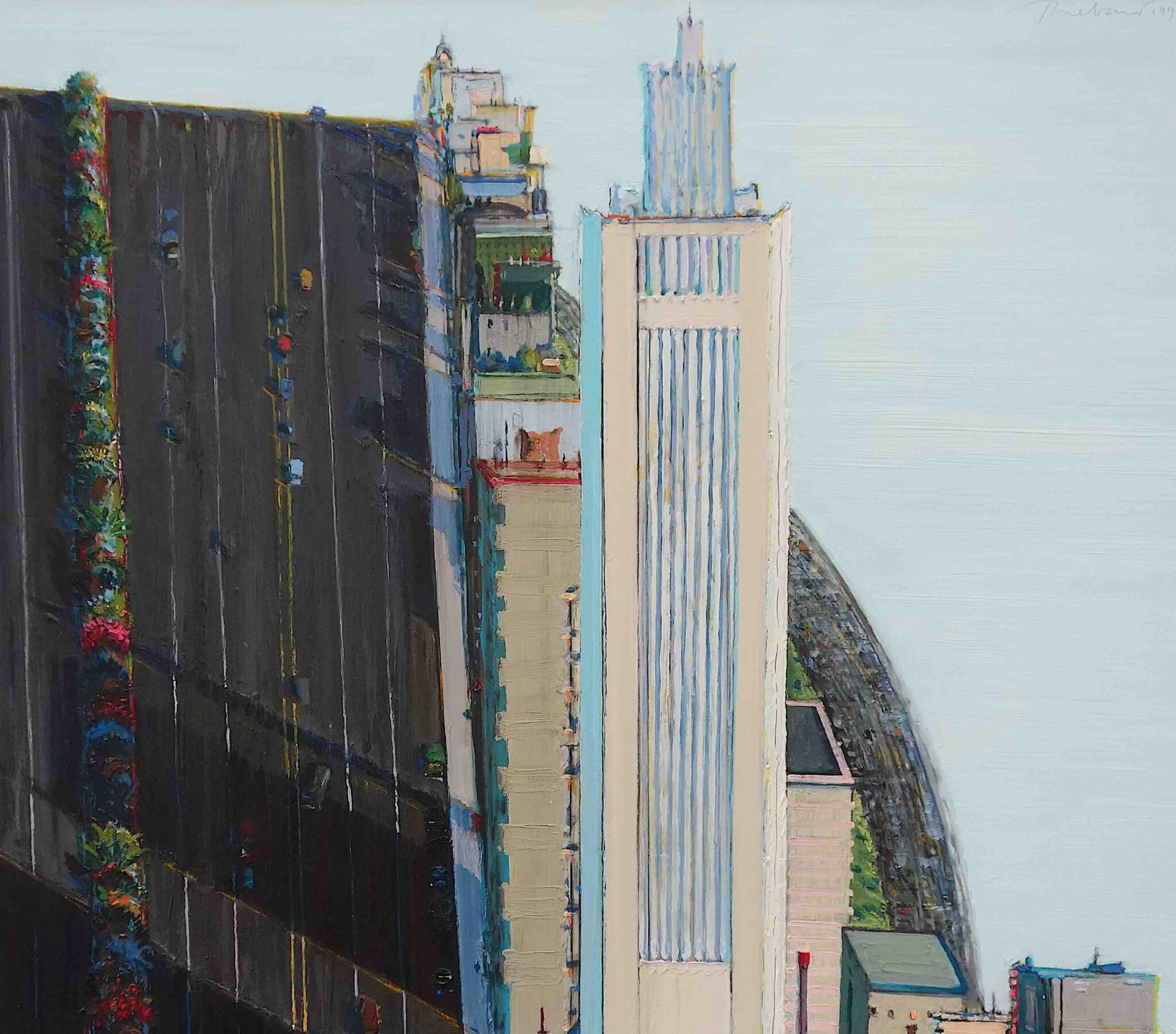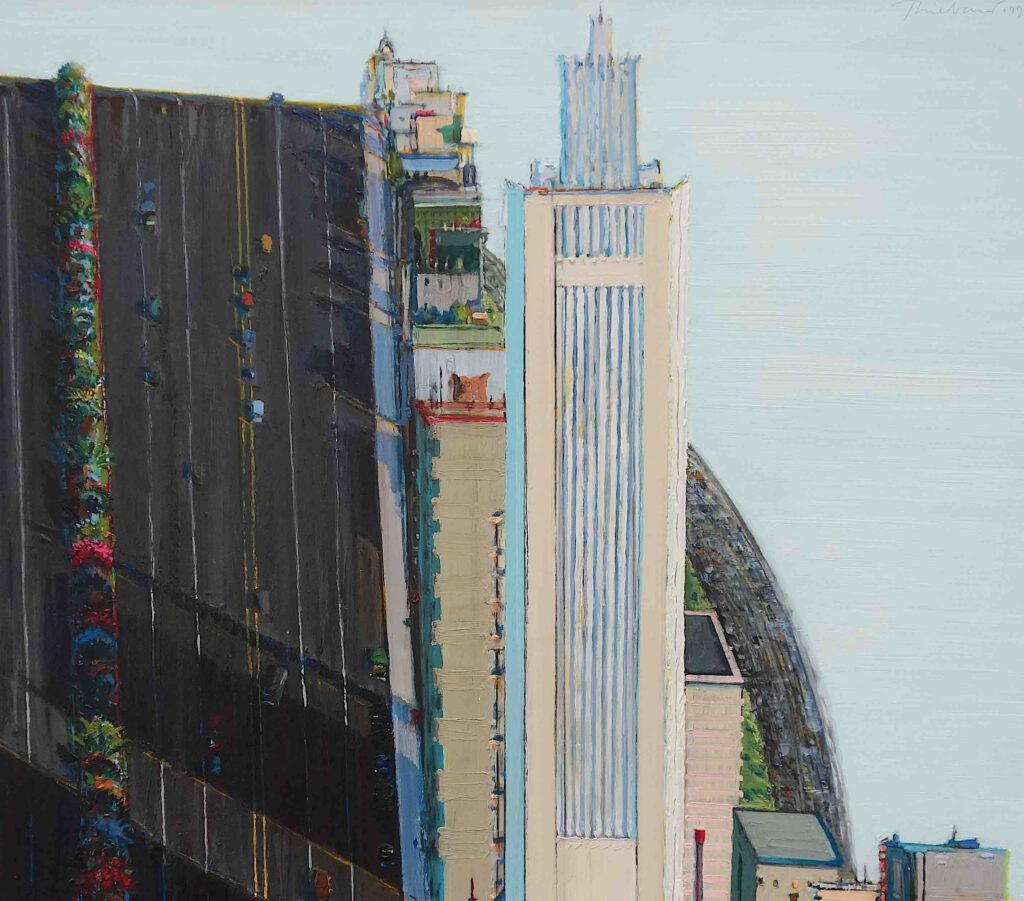 ウェイン・ティーボー Wide Downstreet 1994, oil on canvas, 137.2 x 121.9 cm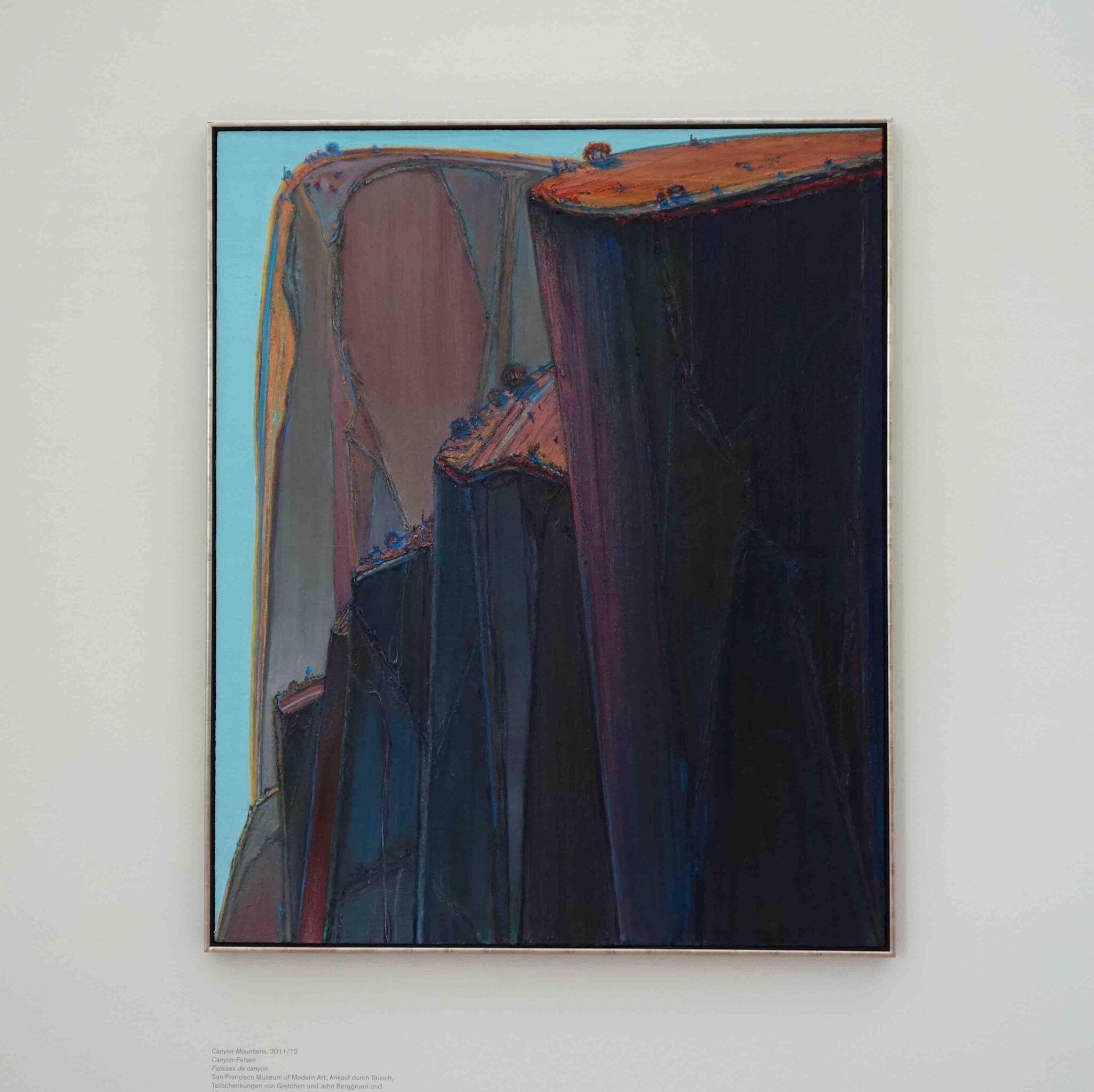 ウェイン・ティーボー Canyon Mountains, 2011-12, oil on canvas, 167.96 cm × 137.48 cm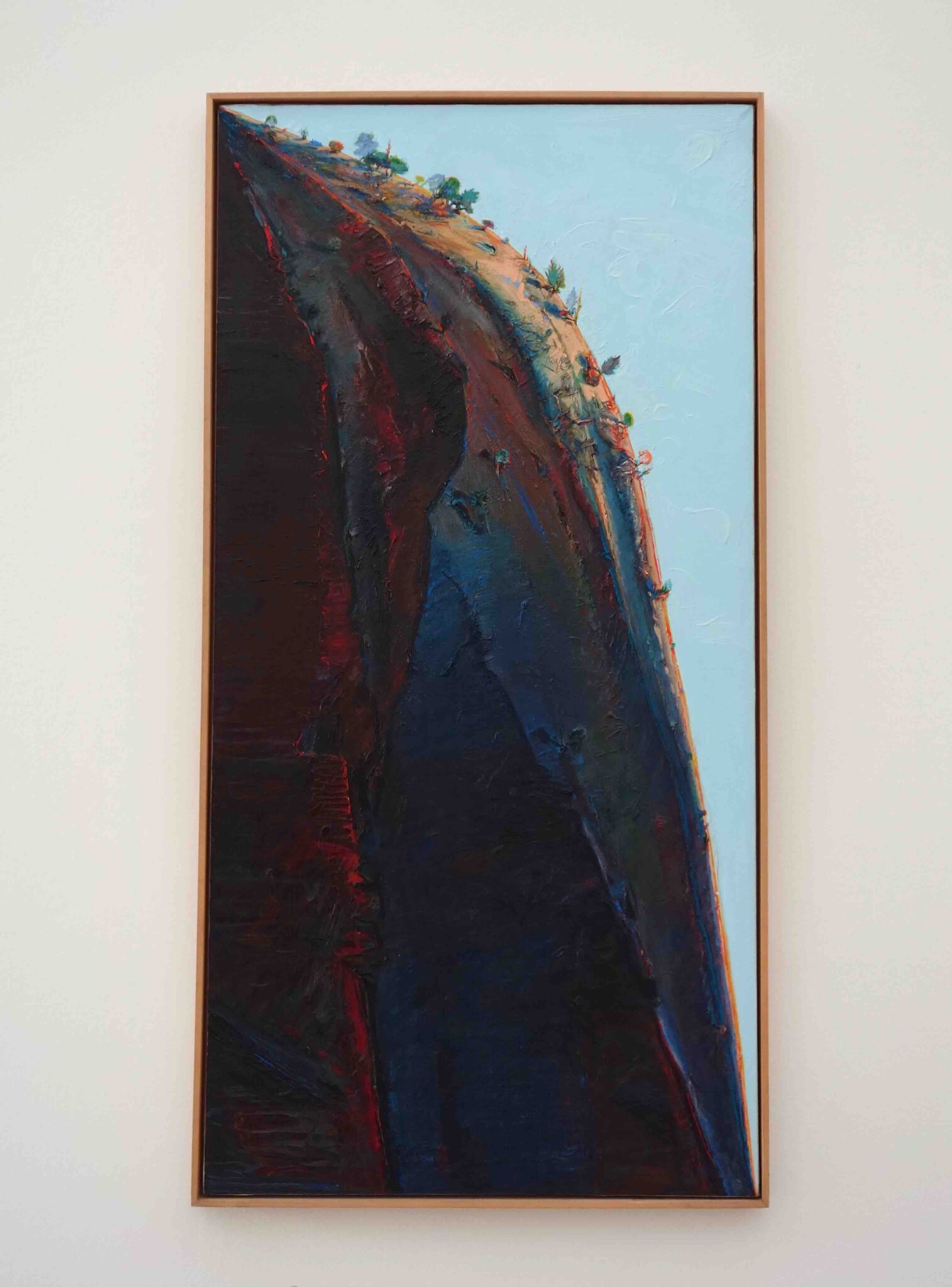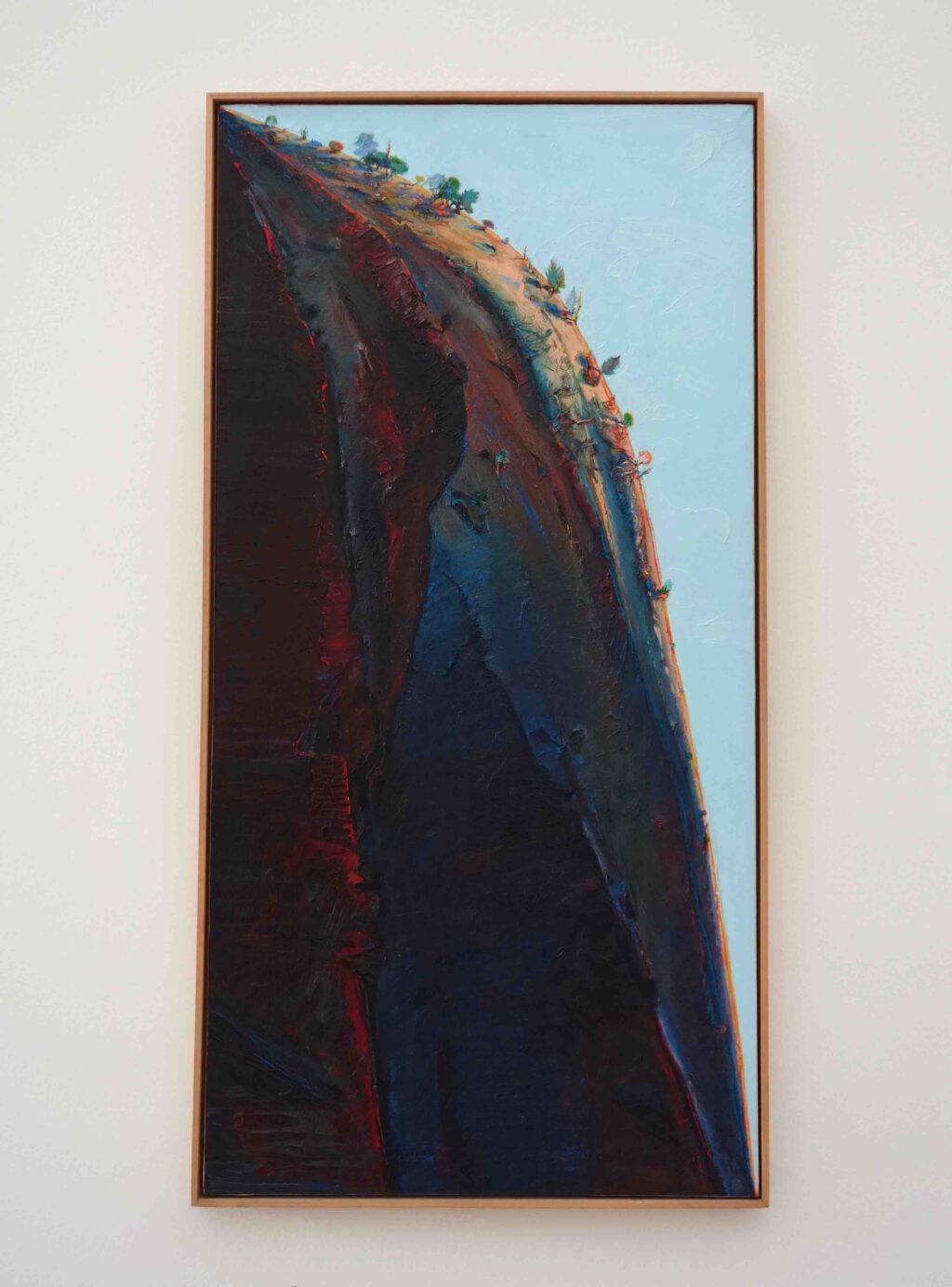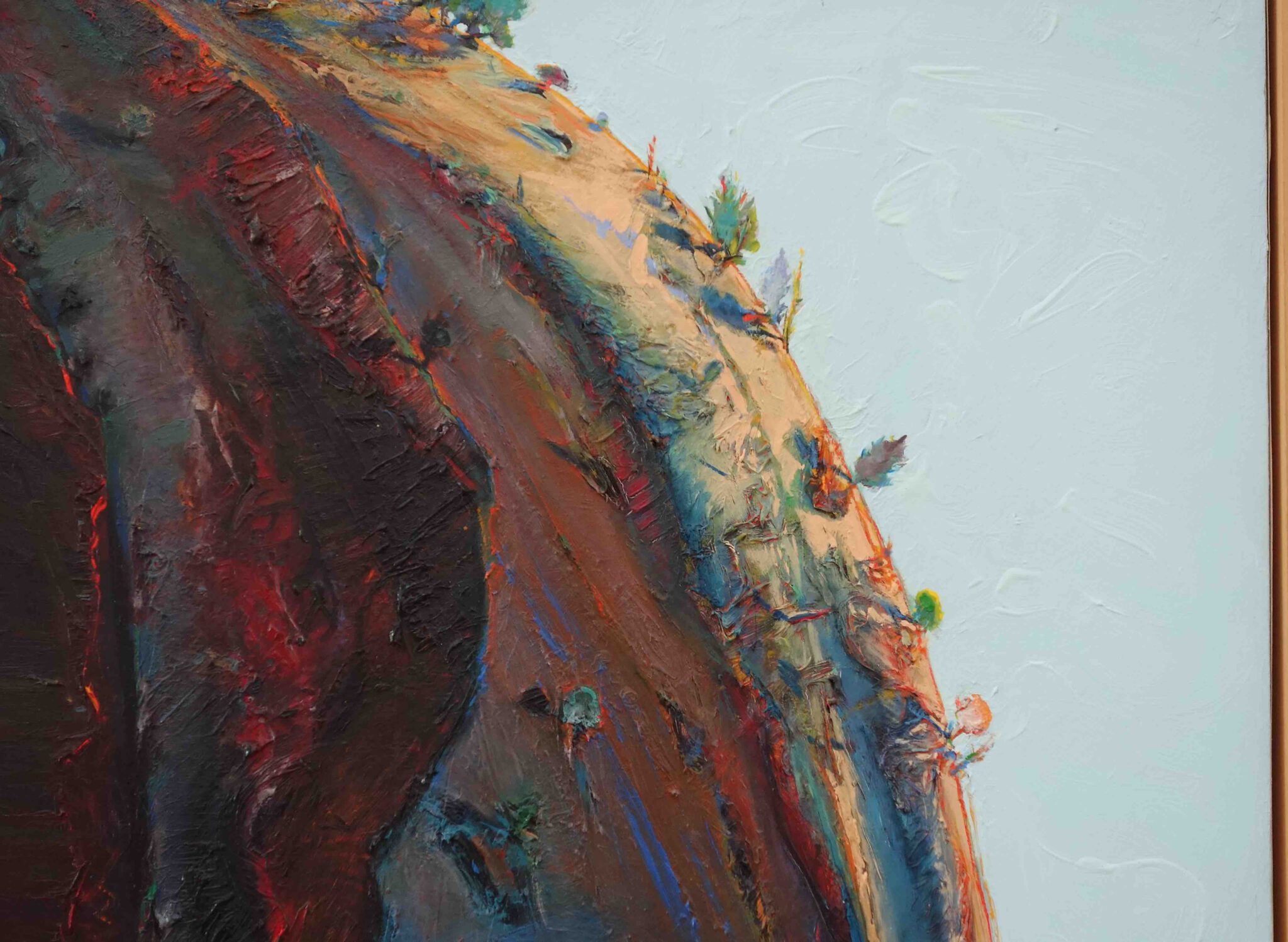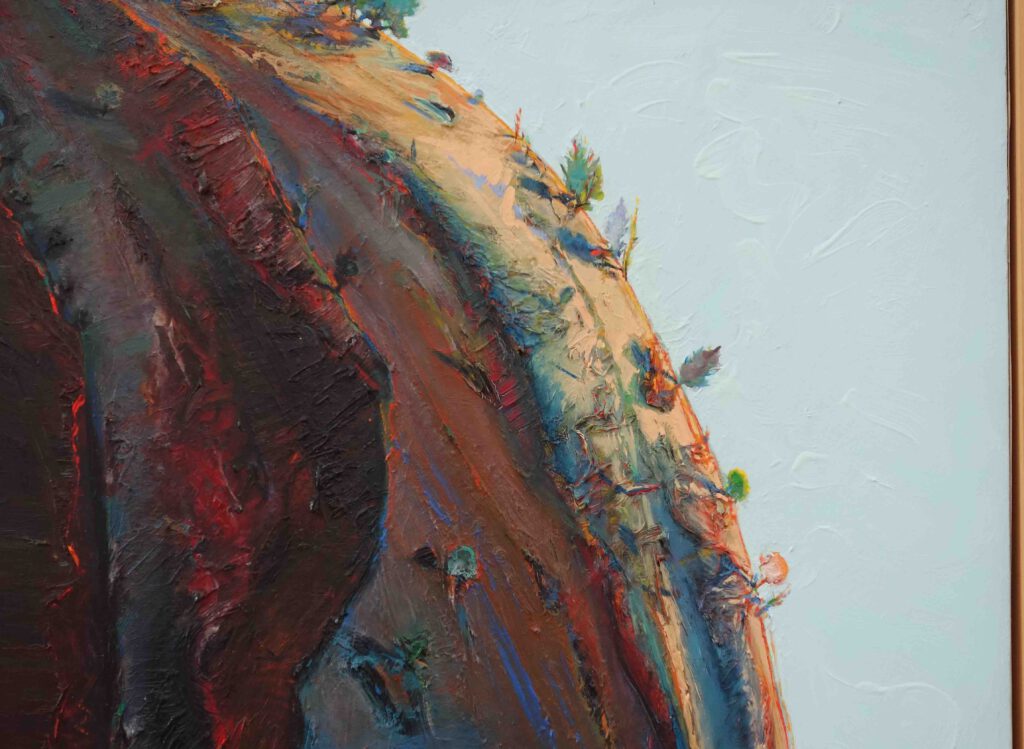 ウェイン・ティーボー Yosemite Ridge, 1975, oil on canvas, 182.9 x 91.4 cm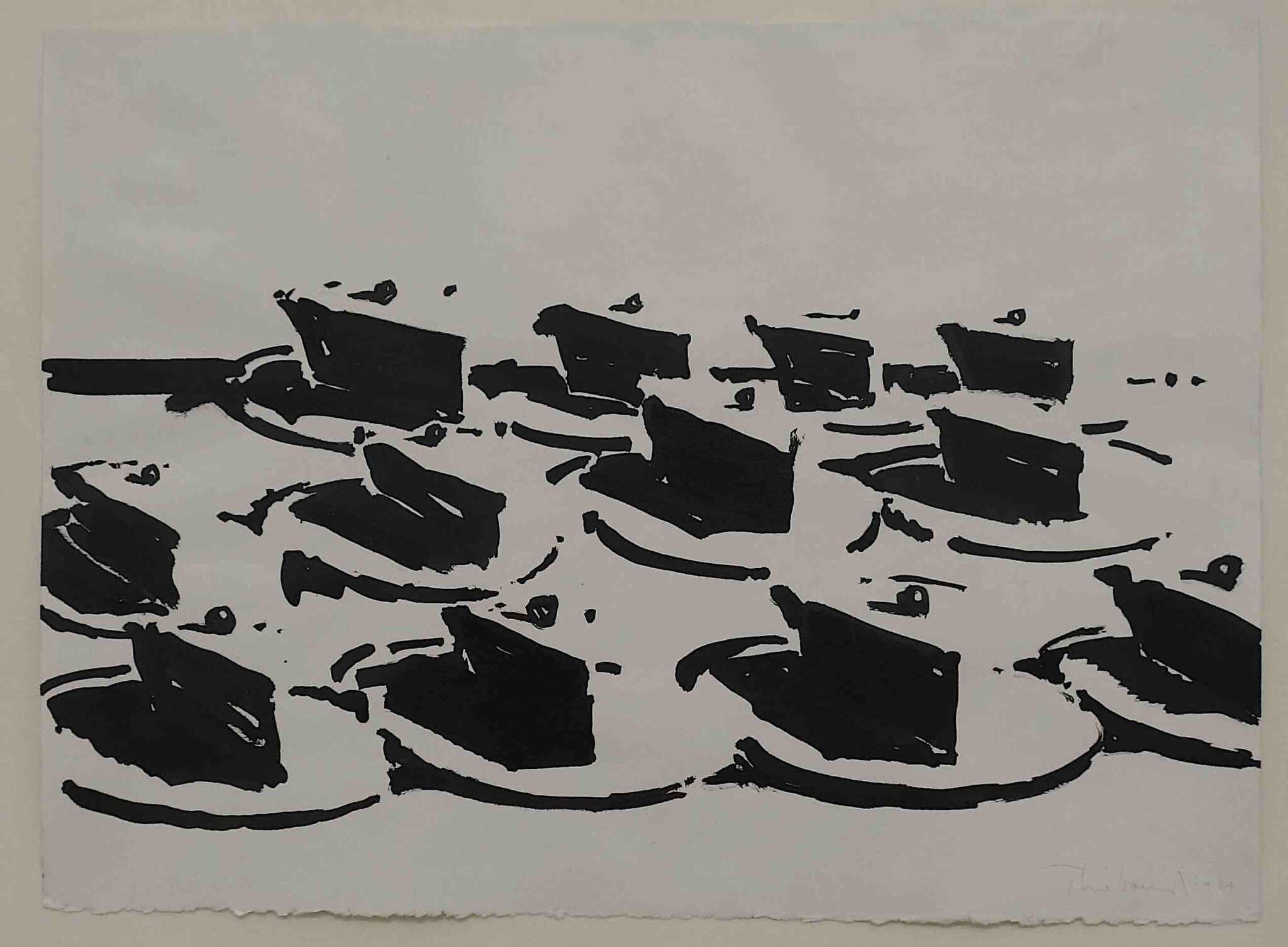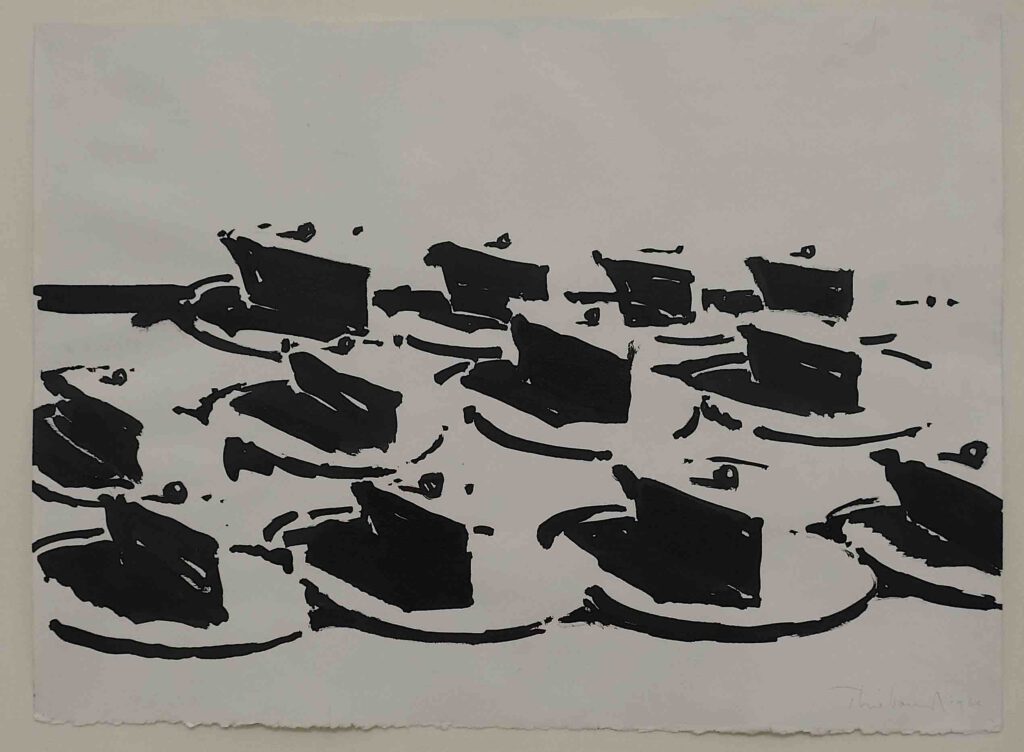 ウェイン・ティーボー Boston Cream Pies, 1964
ウェイン・ティーボー Untitled, 1975, graphite on paper, 38.1 x 25.1 cm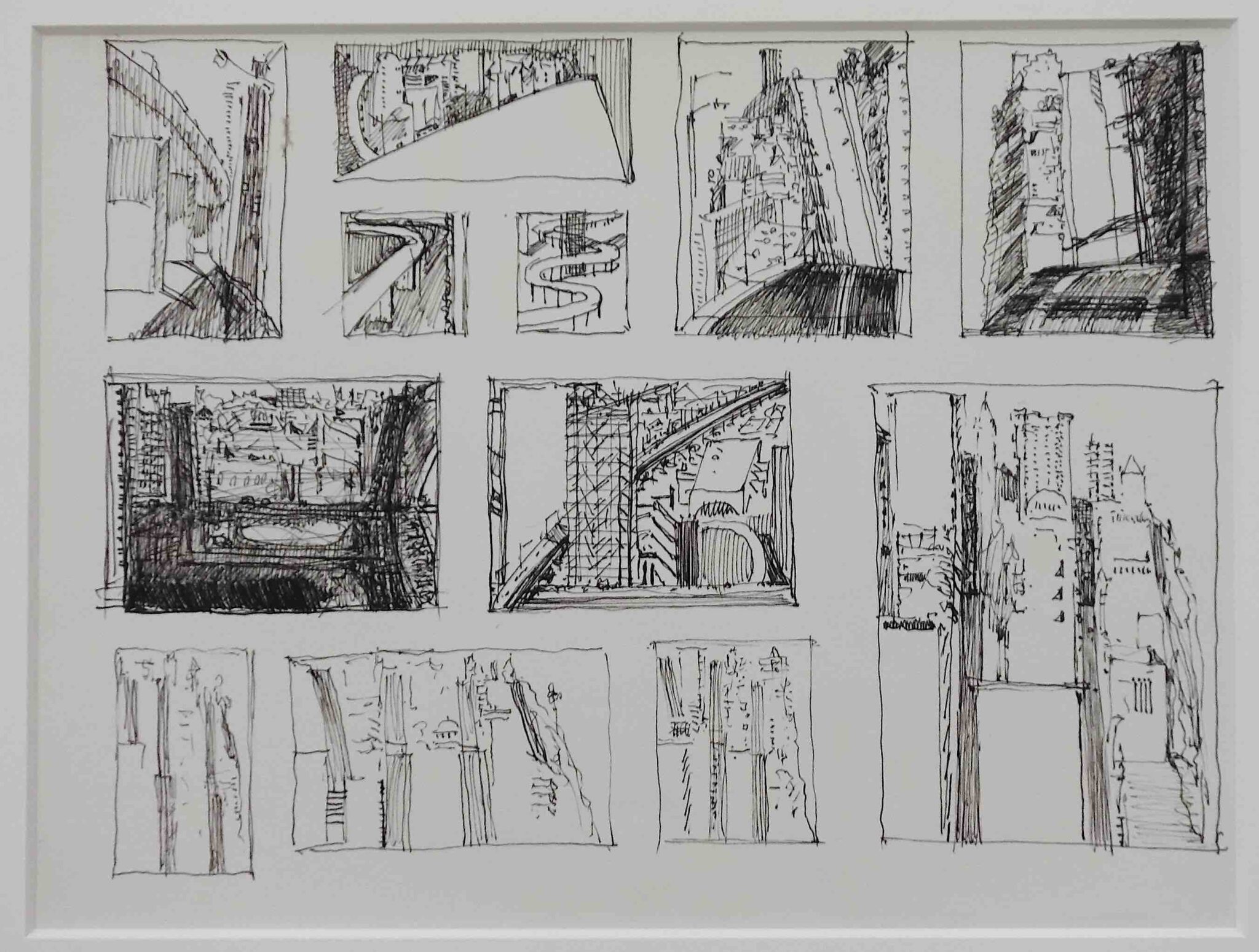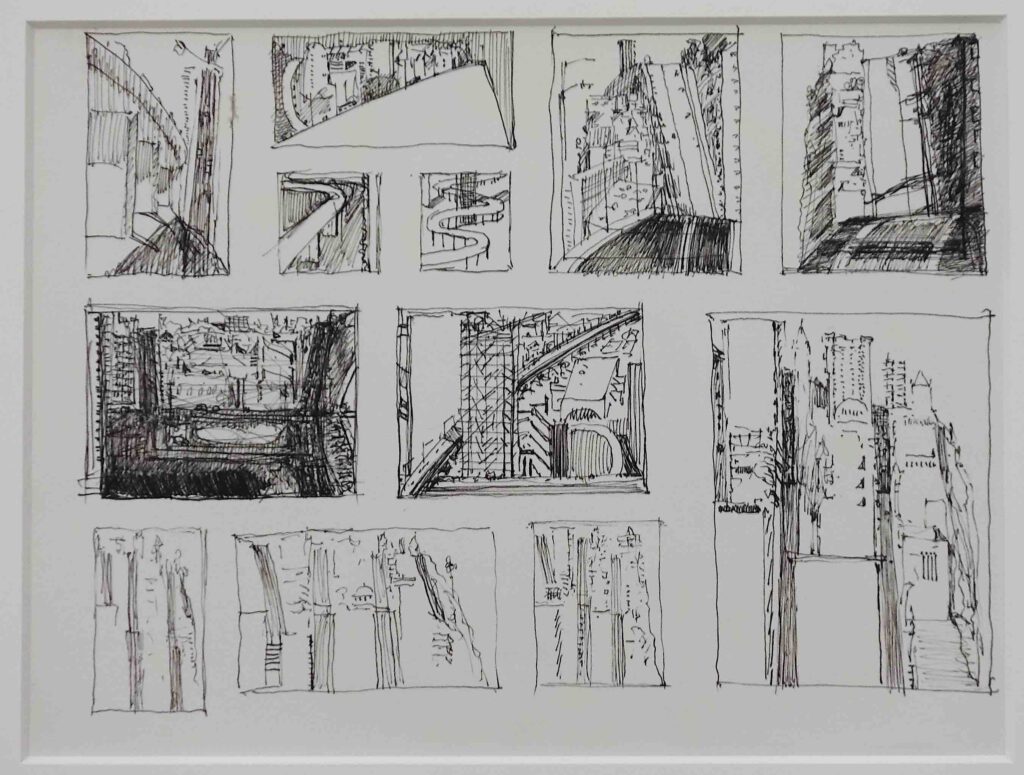 ウェイン・ティーボー Untitled (Page of sketches with cityscapes), 1990's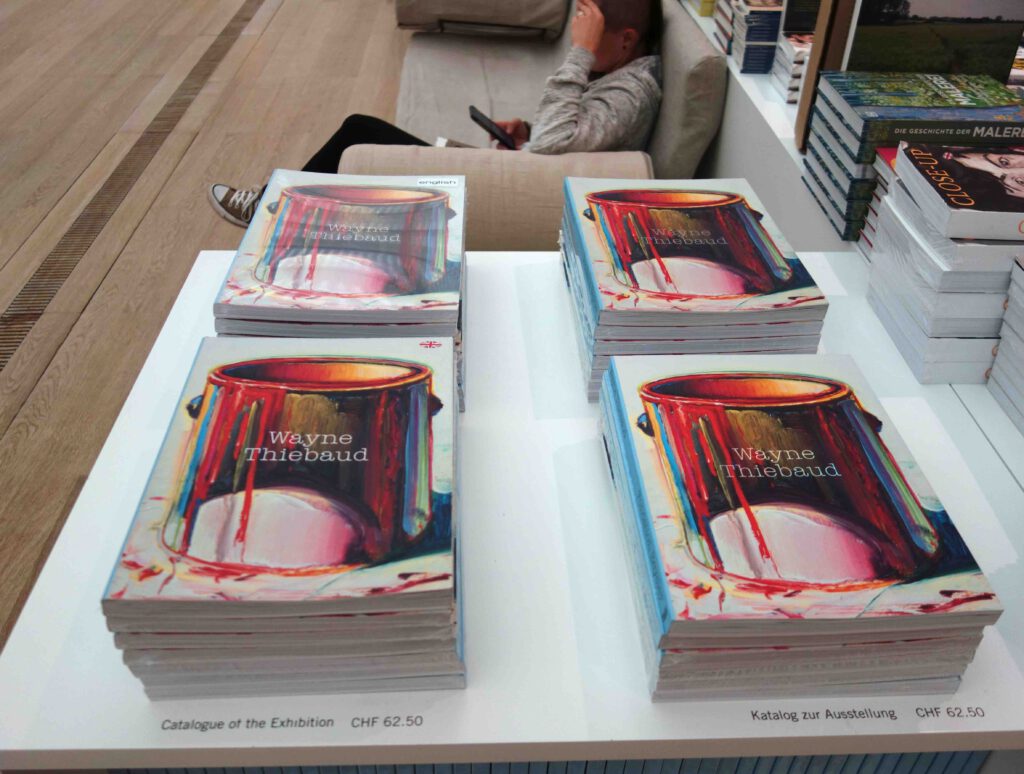 On this occasion may I introduce you to the daughter of Wayne Thiebaud, Twinka Thiebaud, and Henry Miller.
Twinka, actually a writer, became a renown model for many artists, including her father. Last year, the Crocker Art Museum curated a retrospective about her practice, showing 100 works by 33 artists.
One famous example of her modelling is her picture in 1974, taken together with Imogen Cunningham (1883-1976). See the attached pic. Eventually this first adult full-frontal nude photograph published in the Life magazine catapulted her into a celebrity status. More infos via Wikipedia.
Twinka became the last partner of Henry Miller and worked as his cook and caretaker until his death in June 1980.
Before Twinka, Miller's Japanese wife, musician TOKUDA Hoki (Hiroko) ホキ徳田, divorced him after 10 years of marriage, 3 years before his death.
Several years ago I met vivid Tokuda-san in the bar KAZAHANA, talking about Henry Miller and the Henry Miller Museum of Art in Ōmachi City in Nagano, Japan, which closed in 2001.
亜 真里男「風花 wunderBAR」Mario A "KAZAHANA wunderBAR"
https://art-culture.world/articles/kazahana/
Concerning Henry Miller and his last wife TOKUDA Hoki you may find more informations via the internet.
Link_https://www.youtube.com/watch?v=94KcXO25m4M
ホキ徳田  生い立ちからヘンリー・ミラーとの出会い(ピアノ弾き語り、元スリー・バブルス歌手、ヘンリー・ミラー・元夫人)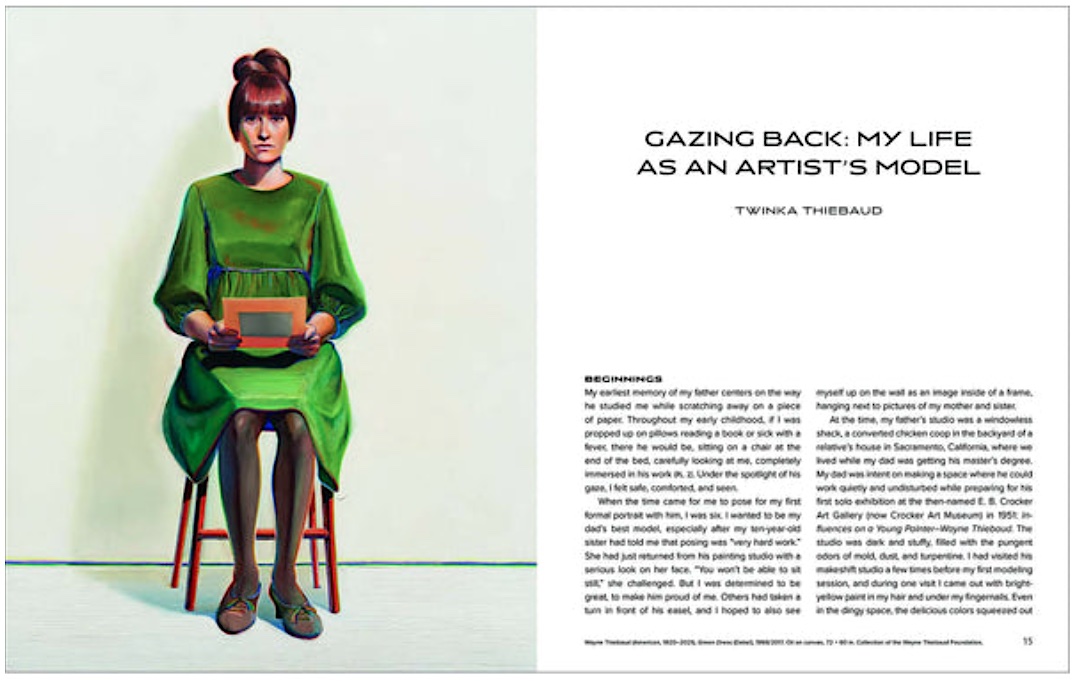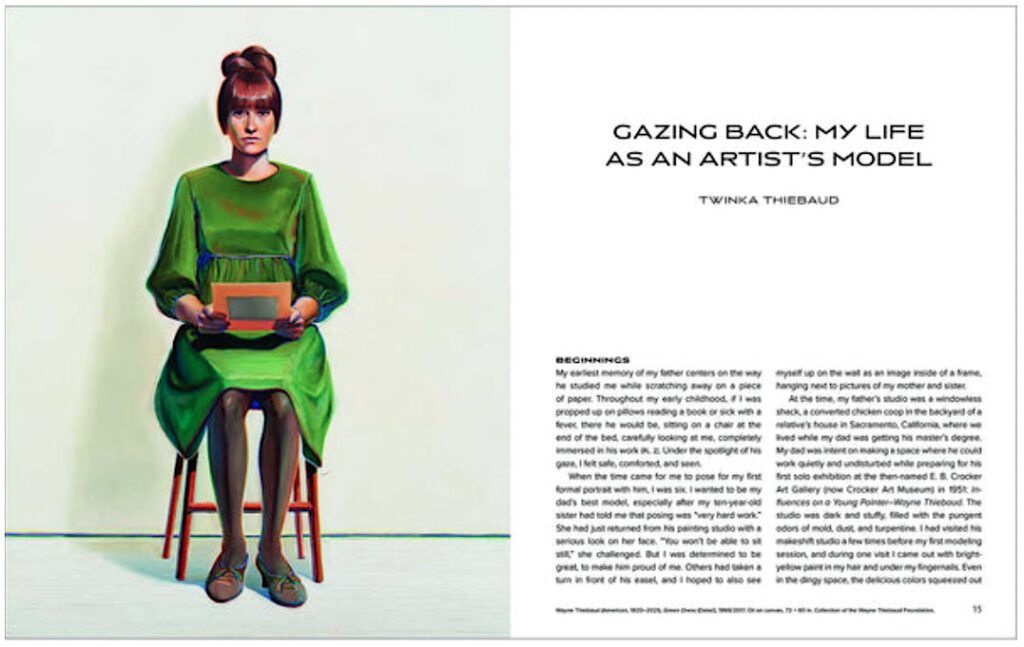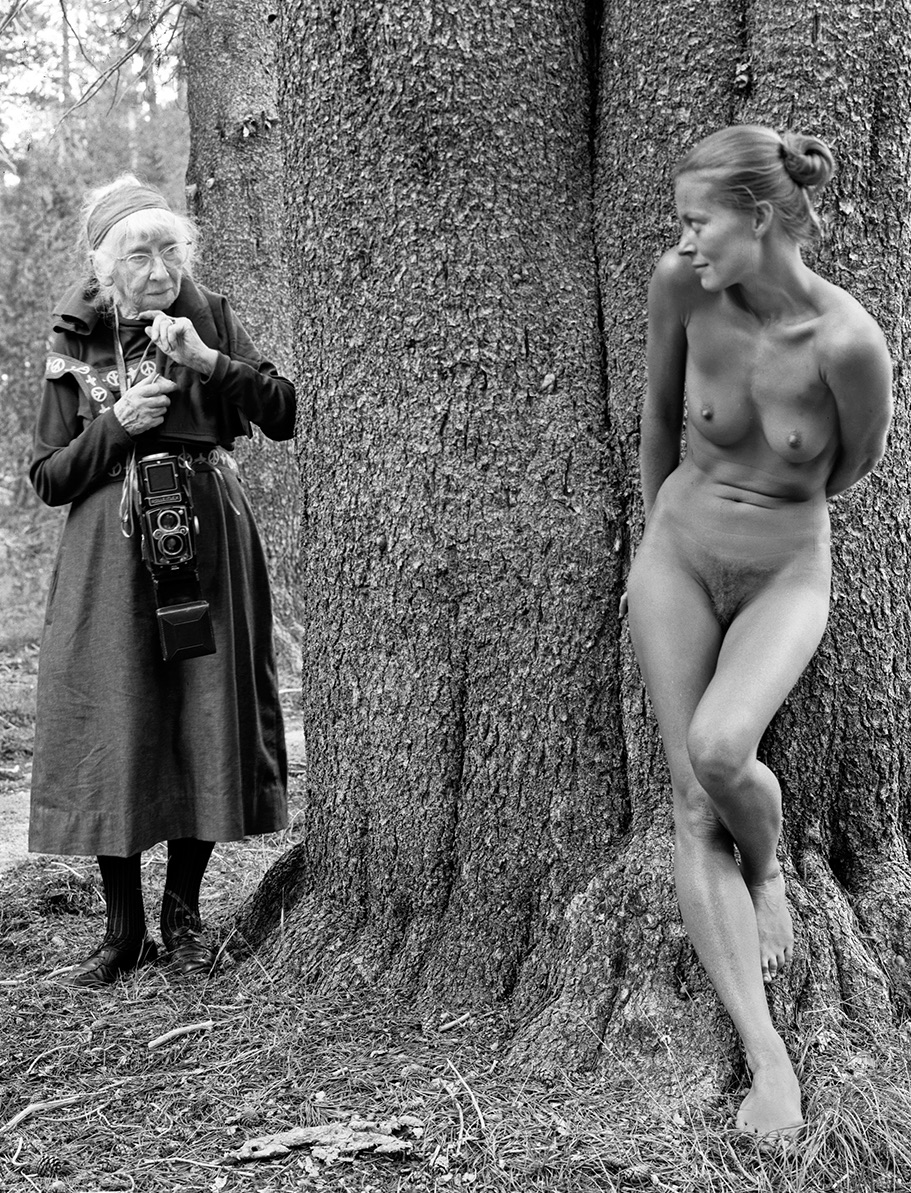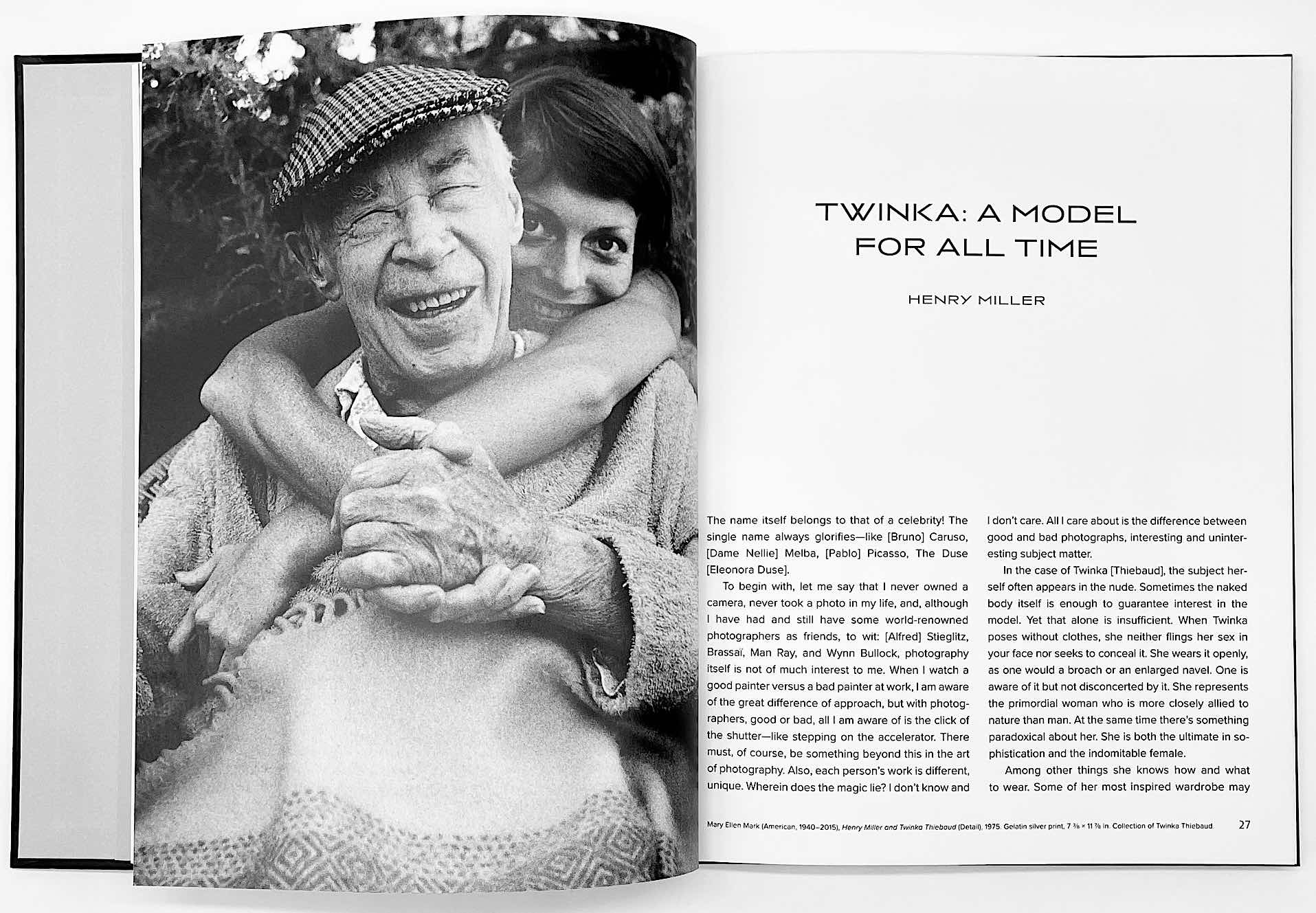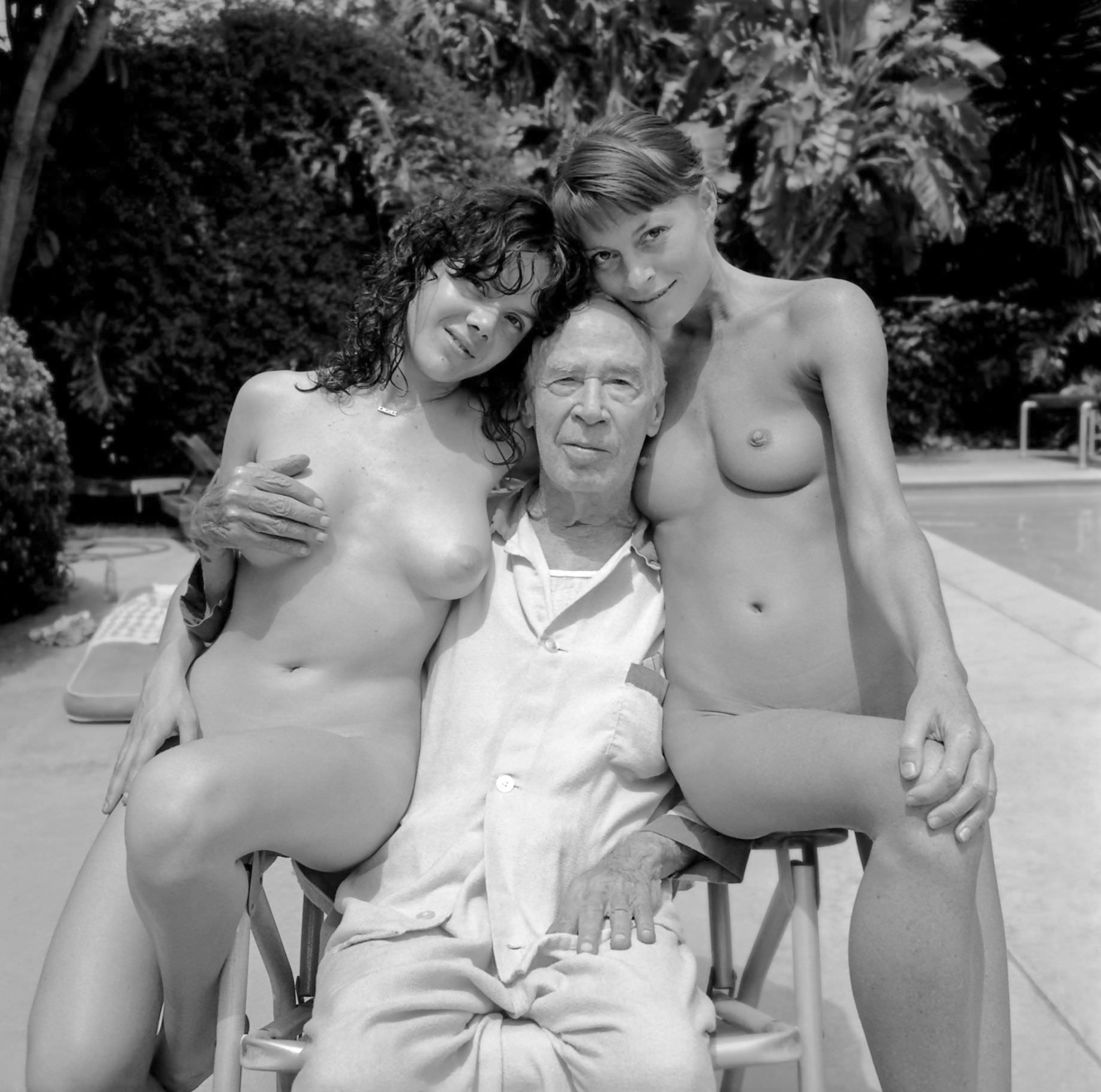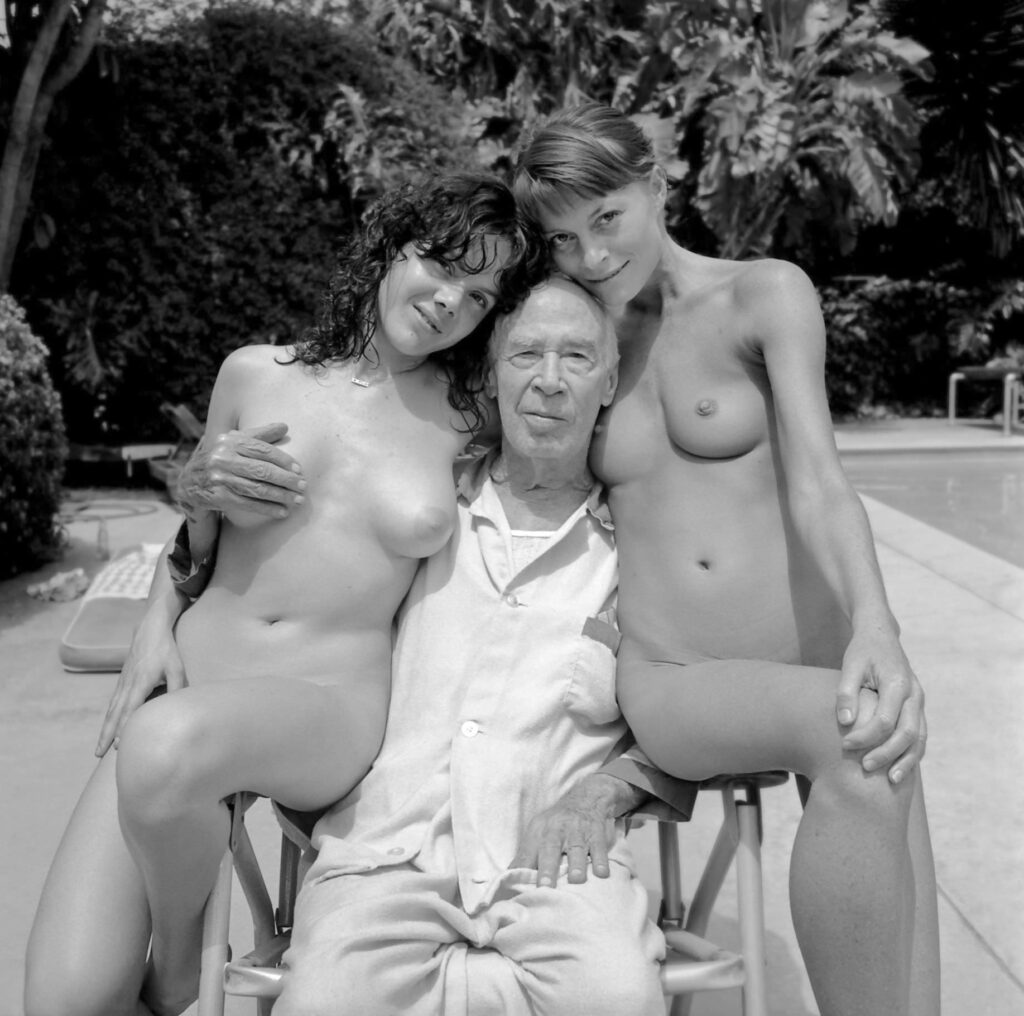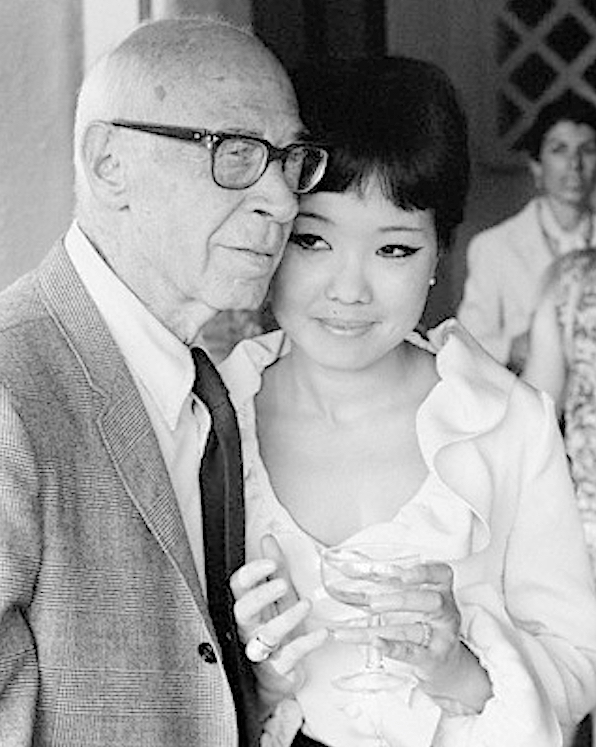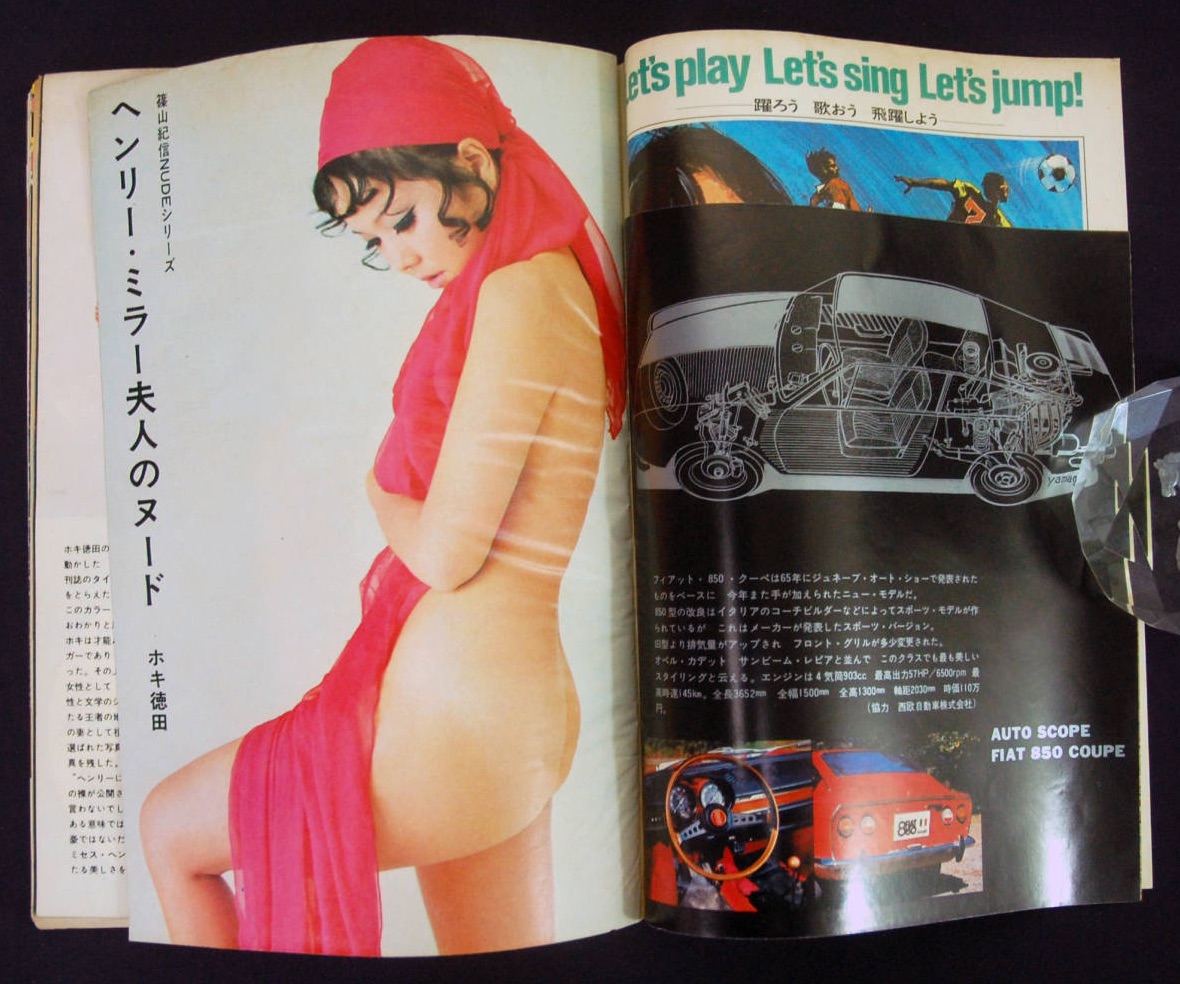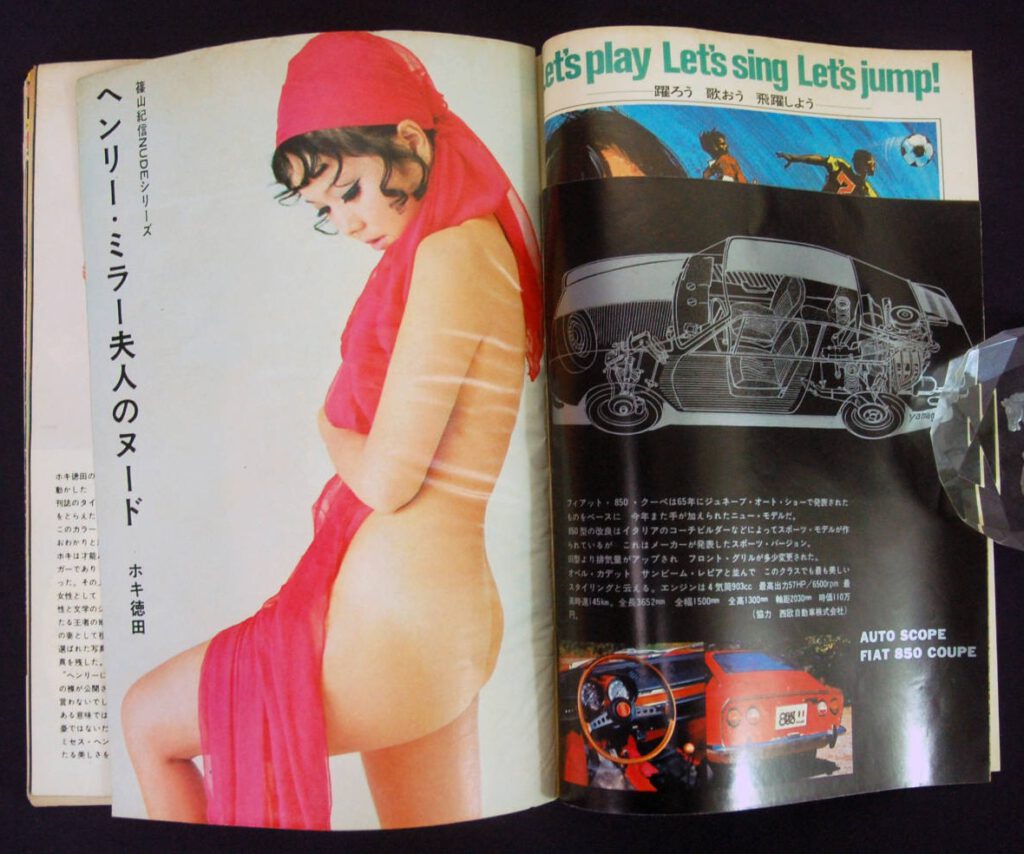 Things of colour vs. people of colour. Cultural memories. In this context I'm missing an important social conscience in Wayne Thiebaud's Gesamtkunstwerk.
Said that, together with the visitors at the Fondation Beyeler, I experienced a joyful time, interacting and speaking to several people on the spot.
By writing this text, my critical eye as an oil painter returned to the serious "modus existencia"; may I hereby apologise to the readers, who understandably want to enjoy a nicely painted work.
Thiebaud is largely unknown in Japan, but has long been popular in the United States. An important part of his body of work can be associated to the "embodiment of the pop". Astonishingly, his most famous pupil was Bruce Nauman, who for a time also worked as his assistant.
The painterly practice always shows small inconsistencies, which can be analysed as witty, humorous, amateurish or mischievous.
When depicting the figurative moment, he chose a combination of static pose, front-facing orientation, bright colours, the impasto, traces of energetic brushwork in a wholly neutral setting, which consequently allow almost no interference as to the sitter's personality or a possible narrative. The painting's "entertaining" presence is also due to the relation between flatness and spatiality within the composition.
Curator Ulf Küster, in direct cooperation with Acquavella Galleries, New York (founded in 1921), succeeded in getting 65 works to his museum. I can imagine the many difficulties and bureaucratic hurdles in assembling the necessary representative works. Küster's tremendous curatorial practice should be applauded.
Tokyo-Basel, 28th of April 2023
Mario A
WAYNE THIEBAUD
Fondation Beyeler, Riehen, Switzerland
29 January – 21 May 2023
open every day
https://www.fondationbeyeler.ch/en/exhibitions/wayne-thiebaud
ここに載せた写真は、すべて「好意によりクリエーティブ・コモン・センス」の文脈で、日本美術史の記録の為に発表致します。
Creative Commons Attribution Noncommercial-NoDerivative Works
photos: cccs courtesy creative common sense
Expansion of the Fondation Beyeler Museum is in full swing, see the actual pics.
Sam Keller on the expansion of Fondation Beyeler and Basel as city for art and architecture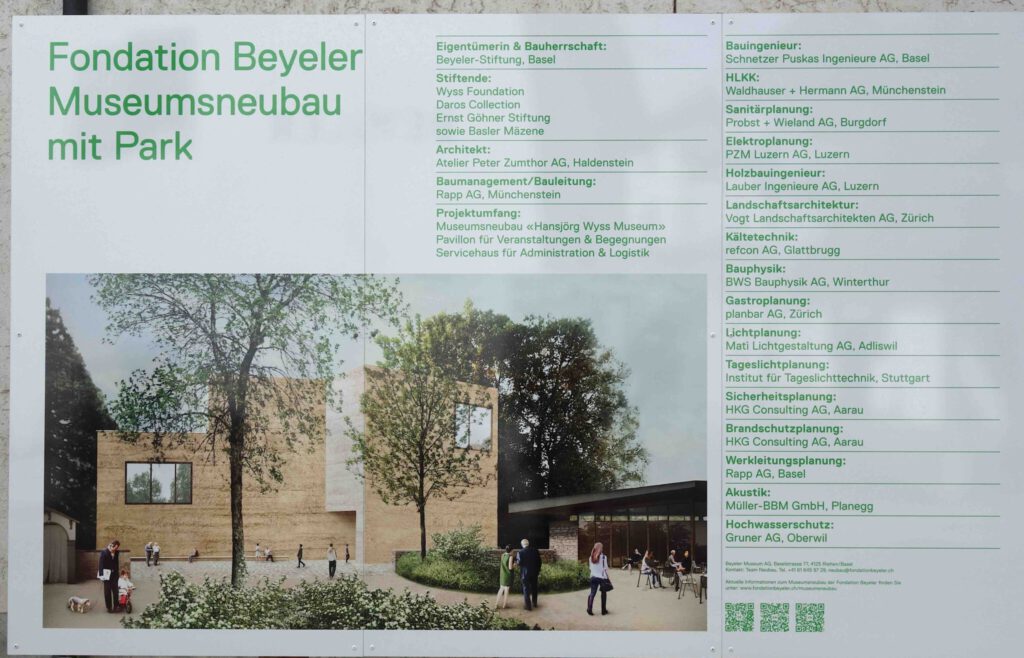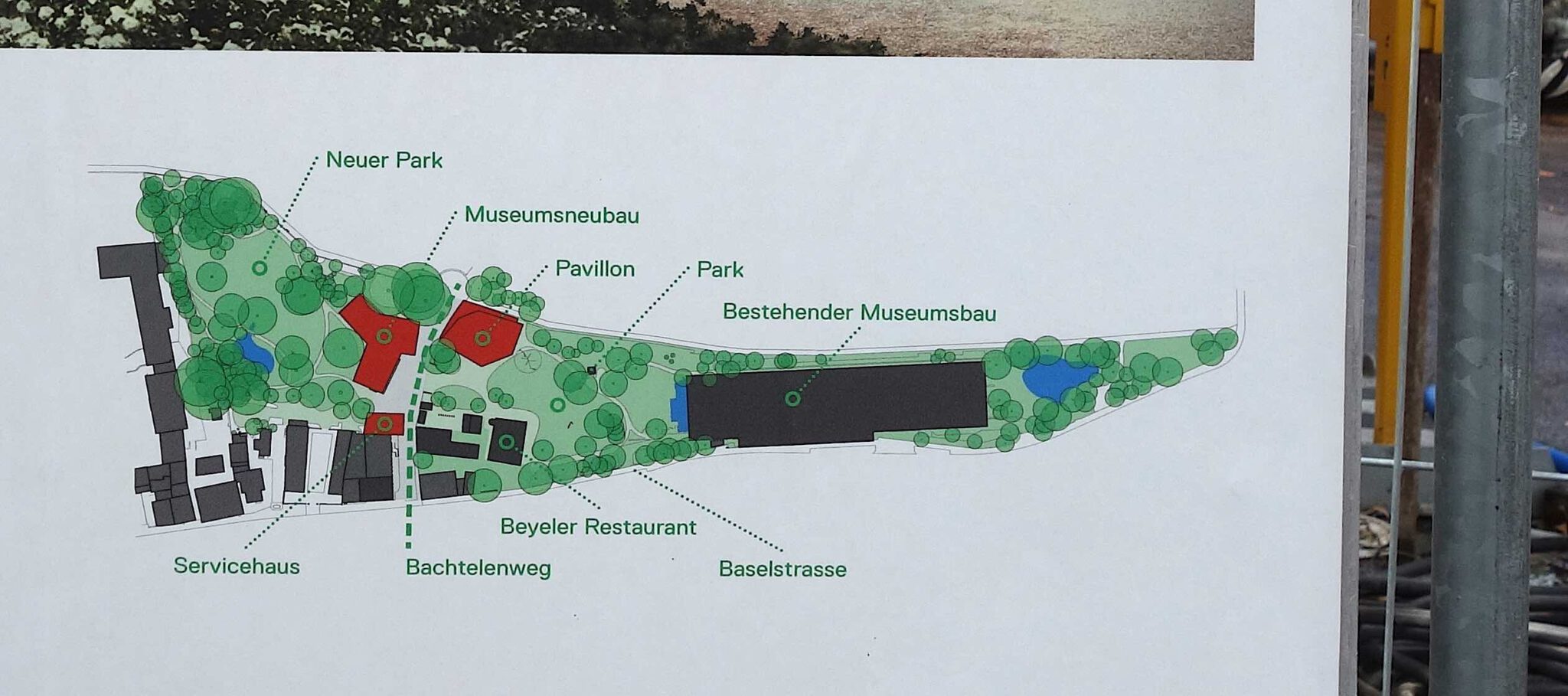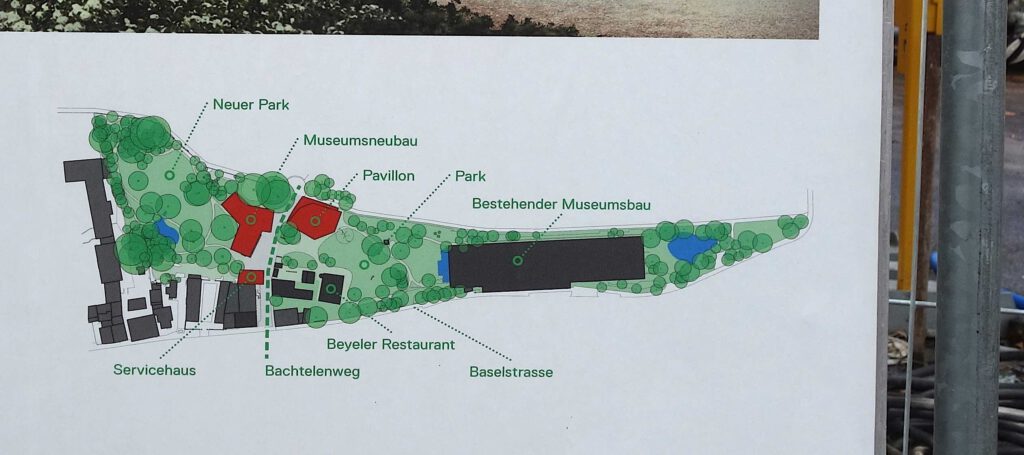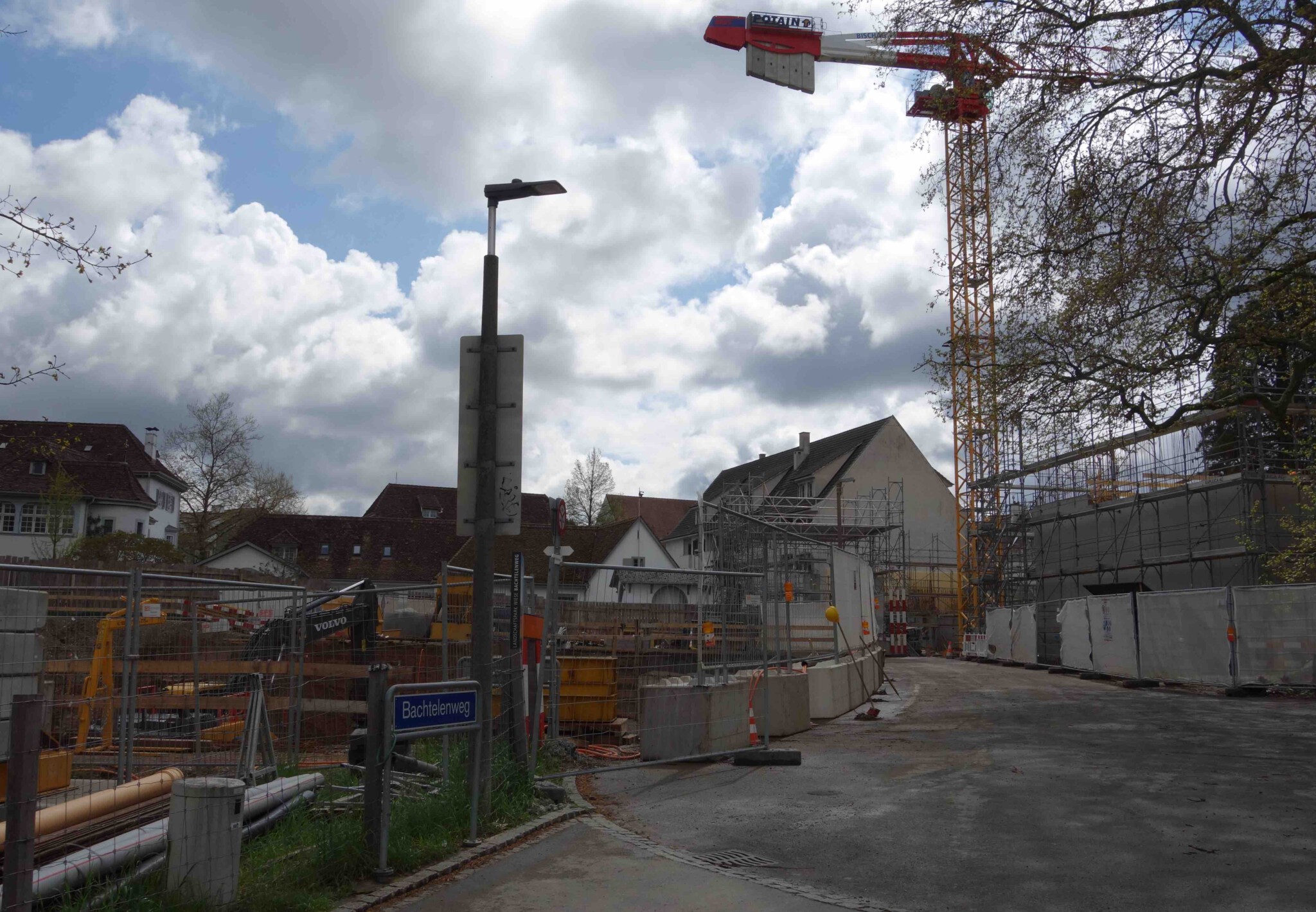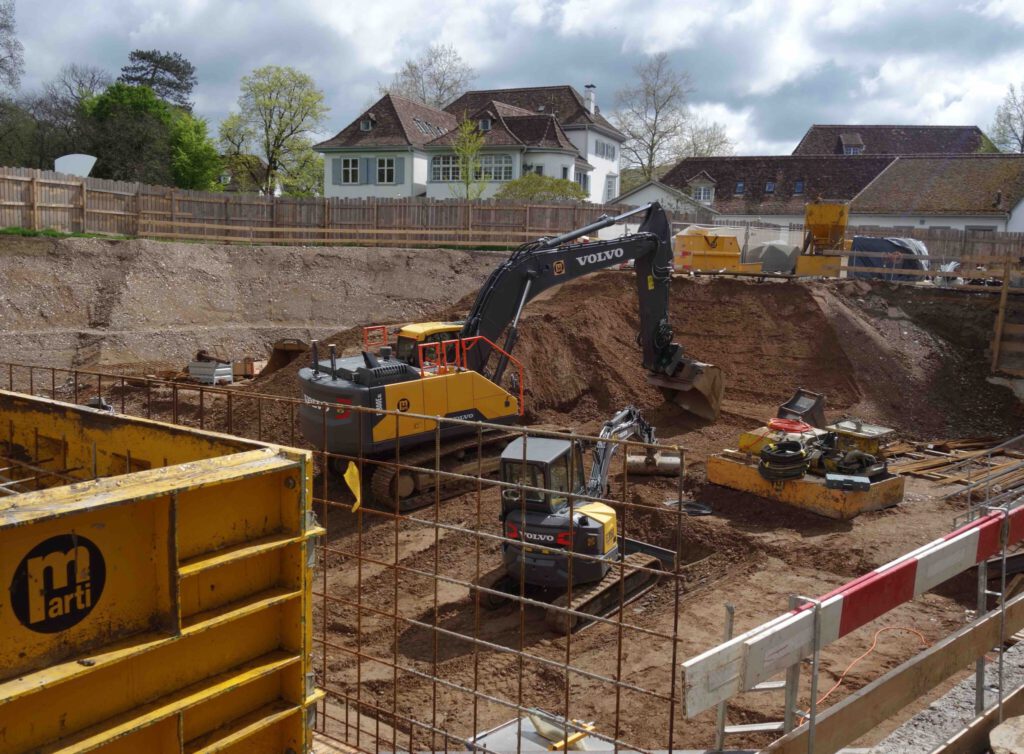 In case of interest, you may check several other Fondation Beyeler exhibitions:
スーザン・フィリップスの、繊細な地震計の感覚:内外のスペースを"巡聴"
Delicate, Seismic Sensitivities by Susan Philipsz: Listening Around Inner & Outer Spaces
https://art-culture.world/articles/susan-philipsz-スーザン・フィリップス/
日本文化論:ポニテ帰国とその他の事件を巡り、日本人が好きな天皇制、日本帝国。
https://art-culture.world/articles/japan-kulturologie-ueber-pferdeschwaenze-und-anderen-begebenheiten-ポニテ帰国/
レイチェル・ホワイトリード 「Wardrobe」2019年 と バルテュス「Passage du Commerce-Saint-André」1952-1954年 @ バイエラー財団 2020年1月まで
Rachel Whiteread "Wardrobe" 2019 & Balthus "Passage du Commerce-Saint-André" 1952-1954 @ Fondation Beyeler, until Jan. 2020
https://art-culture.world/articles/rachel-whiteread-balthus-fondation-beyeler-バルテュス-バイエラー財団/
Rudolf Stingel ルドルフ・スティンゲル
https://art-culture.world/articles/rudolf-stingel/
モンドリアン ノ ピュア・デザイン mondrian's pure design
https://art-culture.world/articles/mondrian/
New polyrhythm 2022's works by Gerhard Richter of close consonances, embodied by psychopathic spectrum atonality
ゲルハルト・リヒターの新作群 @ バイエラー財団、スイス
https://art-culture.world/articles/gerhard-richter-new-works-ゲルハルト・リヒター/
roni horn~hydrosphère féminin ロニ・ホーン
https://art-culture.world/articles/roni-horn〜hydrosphere-feminin/
女性の力強さ @ バイエラー財団:ベルト・モリゾ、メアリー・カサット、パウラ・モデルソン=ベッカー、ロッテ・ラーゼルシュタイン、フリーダ・カーロ、アリス・ニール、マレーネ・デュマ、シンディ・シャーマン、エリザベス・ペイトン
The Strength Of Women @ Fondation Beyeler: Berthe Morisot, Mary Cassatt, Paula Modersohn-Becker, Lotte Laserstein, Frida Kahlo, Alice Neel, Marlene Dumas, Cindy Sherman, Elizabeth Peyton
https://art-culture.world/articles/berthe-morisot-mary-cassatt-paula-modersohn-becker-lotte-laserstein-frida-kahlo-alice-neel-marlene-dumas-cindy-sherman-elizabeth-peyton/
Similar topics regarding Wayne Thiebaud, see:
ピクチャリング・アメリカ @ ドイツ・グッゲンハイム・ベルリン:トリステス+退屈 (2/2) (ロバート・ベクトル)
picturing america @ Deutsche Guggenheim Berlin: Tristesse + Boredom (2/2) (Robert Bechtle)
https://art-culture.world/articles/picturing-america-ピクチャリング・アメリカ-グッゲンハイム/
B like Baldessari, The Painter 概念とペインティング
https://art-culture.world/articles/baldessari-the-painter/
ロバート・ライマン Robert Ryman R.I.P.
https://art-culture.world/articles/robert-ryman-r-i-p/
チャック・クロース、安らかに眠れ Chuck Close, Requiescat In Pace
https://art-culture.world/articles/chuck-close/