中国政府について:アイ・ウェイウェイ「過去70年間、彼らは自分たちのやり方、イデオロギーと慣習で行動した」
Ai Weiwei about the Chinese Government: "They have been acting in their own way, with their own set of ideologies and practices, for the past 70 years"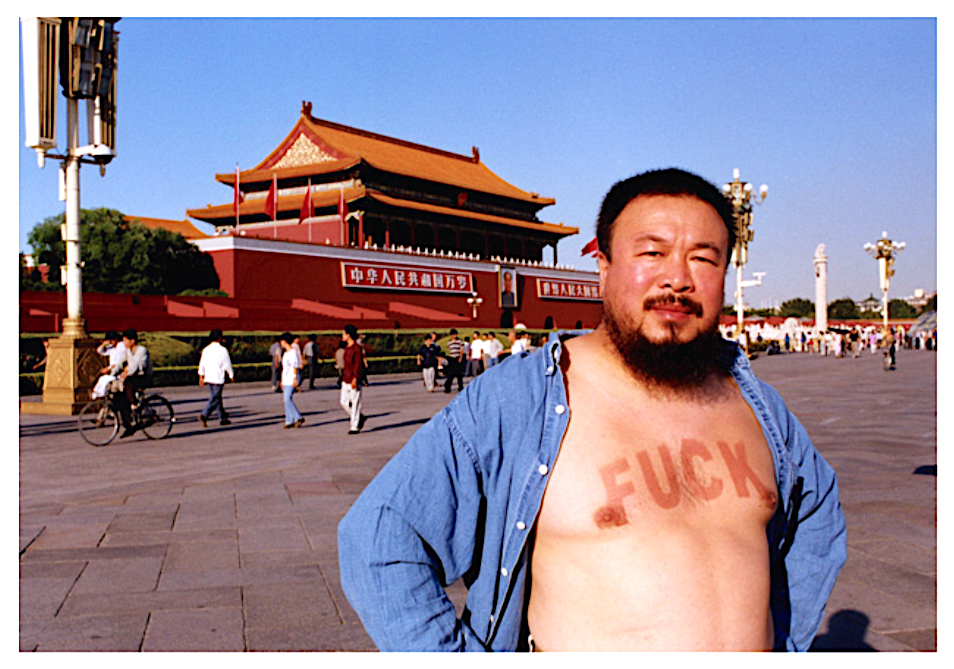 Nothing new by Ai Weiwei, a voice which is heard.
REALPOLITIK, a pragmatic, diplomatic attitude, is common sense amongst people who are in charge of politics.
And not only in Japanese companies, which are doing business in mainland China.
Or in North Korea, Vietnam, Laos, Cambodia, The Philippines, Malaysia, Indonesia, Burma, Thailand, South Korea, Taiwan.
"Capitalistic" trade relations between Chinese and Japanese exist since centuries.
Chairman Mao Zedong and Premier Zhou Enlai met with visiting Japanese Prime Minister Kakuei Tanaka on September 27, 1972.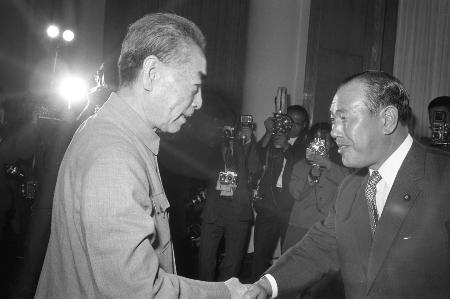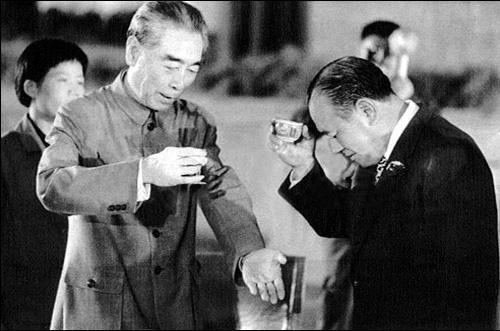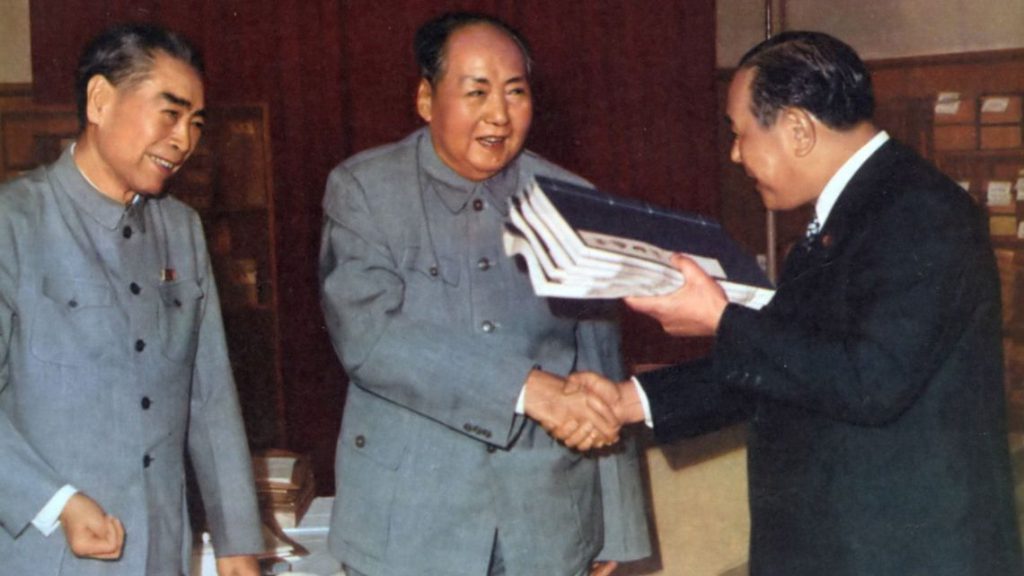 欢迎田中角荣总理大臣访华 (新影1972)
(youtube.com/watch?v=0ZFwxZhTNyg)
Fact is, mainland Chinese People tend to see their country as No.1 in the world.
(As in the U.S., Russia a.o.)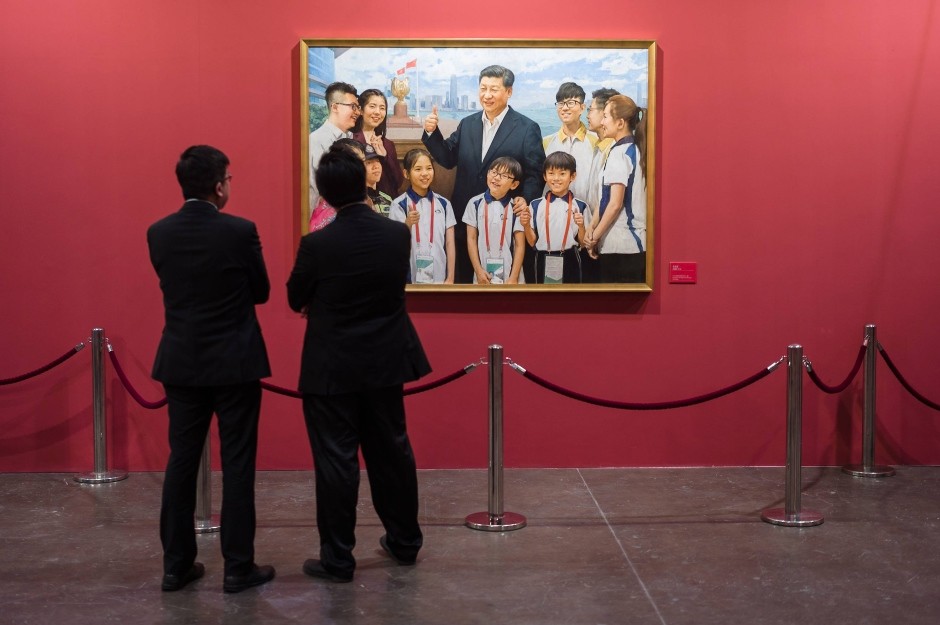 In the context of contemporary art, abstractly speaking, they tend to see Chinese art as No.1.
From my personal point of view, sides should be taken.
I won't stfu about this behaviour.
Personally I don't care who, what or which one is No.1.
In this sense, regarding contemporary art practice, I am very critical of mainland China and their art operators, their socio-political environment, and their turbo-capitalistic behavior in cities like Shanghai, Shenzhen and Beijing.
ANALyzing history is more complicated than "ordinary people" might think.
If Ai Weiwei calls Japan the "West", – because Japan is very much (!!!) economically involved with China since more than 70 years (!!) -, then I have a big problem with Ai Weiwei.
STATEMENT FROM AI WEIWEI
"The Chinese government's recent actions are unsurprising. They have been acting in their own way, with their own set of ideologies and practices, for the past 70 years.
Domestically, the disappearances and forced detentions without due process are common. I would be surprised if that was not the case every time considering China does not have an independent judicial system. There are no clear laws, only interpretations of the law based on the Party's interests. China is not a nation under rule of law. China is a nation under rule of the Party.
Today, China is the second biggest economic power in the world, only behind the United States of America. Though China has quickly developed, the West has also greatly benefited from this partnership through the exploitation of many Chinese basic rights in terms of labor, environmental damage, corruption, among other such issues.
The West has pretended to not notice or, more insidiously, has been a willing partner. They are the hidden force behind China's rise. And while China has become an ever more powerful machine, it still has not changed its authoritarian tendencies.
The argument often repeated in the West is that strong economic growth in repressive states inevitably lead to the embrace of human rights and democracy. An understanding of the history of dictatorships tells us that this is not a credible assumption. Dictators have never voluntarily relinquished power and control. Change has always come abruptly, either through revolution or another equally disastrous event. There is no precedence for this kind of gradual shift and the West understands this well.
China has been the perfect dream of the West. Under the banner of globalization, China has been able to do everything that the West could not and have been instrumental in helping the democratic states become what they are today. The West's apparent conflict with the situation in China is because of its refusal to acknowledge its complicity in creating this monstrous regime.
In the end, nothing will change. China completely ignores so-called universal values. It is under the control of a one-party system where its citizens have never had the right to vote. And without voting rights, there is no responsibility or trust in society. There is no independent press or media. What can you expect? I think that China has done quite well under those circumstances. The real problem comes from the West where there is a complete lack of vision and responsibility, only an interest in profiting from the status quo."
http://www.artfixdaily.com/artwire/release/2637-chinese-dissident-artist-ai-weiwei-calls-out-the-wests-complicity
up-date 2019/7/10:
Pace Gallery Closes Beijing Branch—Arne Glimcher: 'It's Impossible to Do Business in Mainland China Right Now'
BY Barbara Pollack, Art News POSTED 07/08/19 4:38 PM
Pace has closed its outpost in the heart of the 798 Art District in Beijing. The opening of the expansive, 22,000-square-foot space in 2008 marked the first entry of a U.S. contemporary art gallery into mainland China, years before many others started branches in Hong Kong, Shanghai, and the capital city.
Under the direction of its president, Leng Lin, Pace Beijing had shown a mixture of American, European, and Asian artists. It opened in 2008, to coincide with the Summer Olympics in the city.
Pace will continue to maintain its two galleries in Hong Kong and may consider expanding its footprint there.
"It's impossible to do business in mainland China right now and it has been for awhile,"  Arne Glimcher, Pace's founder, said in an interview. "The last straw is Trump's duty on Chinese artists coming into this country and Xi Jinping's duty on Americans coming into China."
Glimcher has long been a key Western enthusiast of Chinese contemporary art, and represents artists Zhang Xiaogang, Zhang Huan, Qiu Xiaofei and Yin Xiuzhen, among many others. For now, Glimcher is keeping an office and a viewing room in Beijing.
"Since Xi has come to power, people are afraid to conspicuously show their wealth and the mainland Chinese are not buying in China," Glimcher said. He added that, "if they are, they [are] buying for their apartments in other places in the world and they come to Hong Kong anyway."
Beyond the repressive climate in the country, Glimcher also cited the 38-percent luxury tax on purchases of works of art on the mainland as a key obstacle to commercial success. Speaking of both the U.S. and Chinese presidents, he concluded, "I think it is really unfortunate that the culture has to be sacrificed by these administrations who don't understand its value or its role in society."
http://www.artnews.com/2019/07/08/pace-gallery-closes-beijing-branch/
up-date 2021/5/5
Critical text on the BT website of today, 2021/5/5 美術手帖 about Ai Weiwei and the M+ Museum in Hong Kong
アイ・ウェイウェイの作品はM+で展示できるのか? 香港美術館の自己検閲を問う
今年年末に開館予定のアジア最大級のヴィジュアル・カルチャーのミュージアム「M+」(エムプラス)。そのコレクションに含まれるアイ・ウェイウェイらによる政治的に挑発的な作品をめぐり、香港の親中派メディアや議員と民主派のあいだで大きな論争が起こっている。美術館の自己検閲について、今回の事件の経緯を振り返りながら現地の関係者に話を聞いた。
文=王崇橋(ウェブ版「美術手帖」編集部)
quotes:
論争の的となったウリ・シグのコレクション
 今回の論争の的となっているのは、シグのコレクションに含まれているアイ・ウェイウェイの写真シリーズ「Study of Perspective」のうち、北京の天安門広場に向けて中指を立てた一枚だ。1995年から2017年にかけて制作されたこのシリーズで、アイはホワイトハウス、エッフェル塔、ベルリンのライヒスタークなど、世界中の重要な施設やランドマーク、モニュメントに向かって中指を立てている。
西九文化区管理局の責任者であるタンはアイの作品について、「アイ・ウェイウェイの作品はすべて寄付によるもの。M+は、アイ・ウェイウェイの作品を購入したことはない」と弁解する。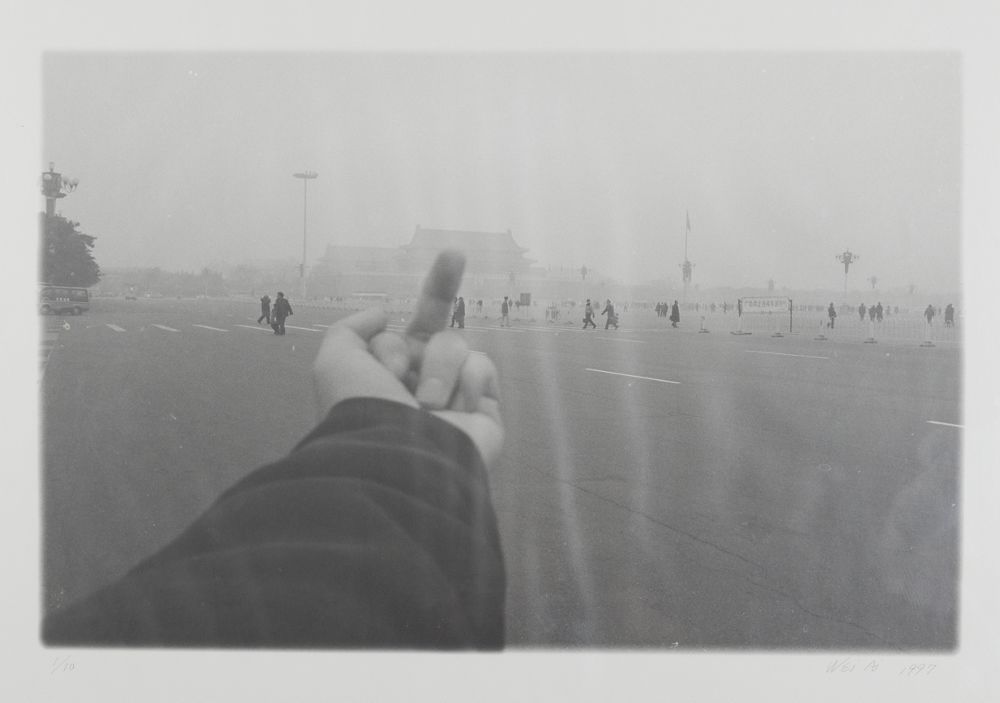 アイ・ウェイウェイ Study of Perspective:Tian'anmen 1997 (C) Ai Weiwei
 シグがM+に作品を寄贈する際、M+は1億7700万香港ドルをシグに支払っており(コレクションは当時13億香港ドルの価値があると推定)、コレクションは一部が寄付、一部が購入という形式でM+に収蔵された。
ニューヨーク・タイムズの報道によると、アイ・ウェイウェイは作品の収蔵に協力し、香港が世界的な芸術都市になることを目指していたという。アイは、「当時はとても前向きだった。自分の作品が、たくさんの中国人がいるところで展示されるなら、とても幸せだと感じていた」と語る。しかし、いまのような状況は想像していなかったようだ。
 シグは3月23日に西九文化区に送った声明文で、「現代美術は現実を批判し、傷口に指を入れることさえあるかもしれない。(中略)現代美術はあなたの良き友人ではない。この世界の現実に目を向け、その分析や批評に関心を持つことが求められている」としつつ、そのコレクションについて次のように記している。
「私がつくろうとした百科事典的なコレクションとは何か? そのようなコレクションは、個人のコレクターが自分の好みに合わせて作品を探すような焦点では形成されていない。それは、ある機関が持つべきものであり、中国在住の現代的で実験的なアーティストたちの美術作品を時間軸に沿って、あらゆるメディアにわたって、すべて包括的に映し出そうとするものだ。私が興味を持ったのは、特定の時間における彼らの関心事と、この予測不可能な環境や完全に変化しつつある国家の雰囲気のなかでつくられた作品だった」。