日本のアート界を駄目にした男? 不幸な村上隆、、、
The Man Who Ruined The Japanese Art World? An Unhappy MURAKAMI Takashi...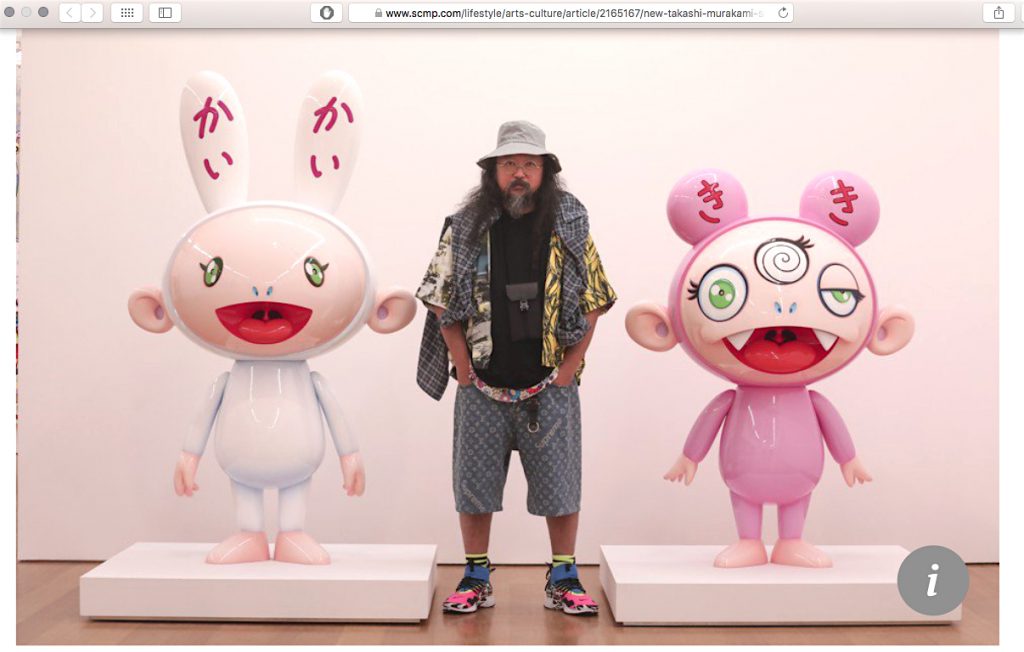 弟で日本美術院の裕二君「かいかい」と、思い出に浸る村上隆「きき」の再製作がむなしい「KAIKAI KIKI」
(screenshot of South China Morning Post website article: "New Takashi Murakami show at Gagosian Hong Kong looks to youth and the inevitable future" 2018/9/22)
https://www.scmp.com/lifestyle/arts-culture/article/2165167/new-takashi-murakami-show-gagosian-hong-kong-looks-youth-and
MURAKAMI Takashi @ Gagosian Hong Kong, wallowing in the past with a remix of KAIKAI (= brother, INTEN 院展 Nihonga Painter MURAKAMI Yuji 村上裕二) & KIKI (= Takashi 隆).
---
update, 他にもご参考 please compare with:
村上作品の価値?不幸な村上隆、、、
The Value of Murakami's Works? An Unhappy MURAKAMI Takashi…
http://art-culture.world/articles/takashi-murakami-art-works-value/
---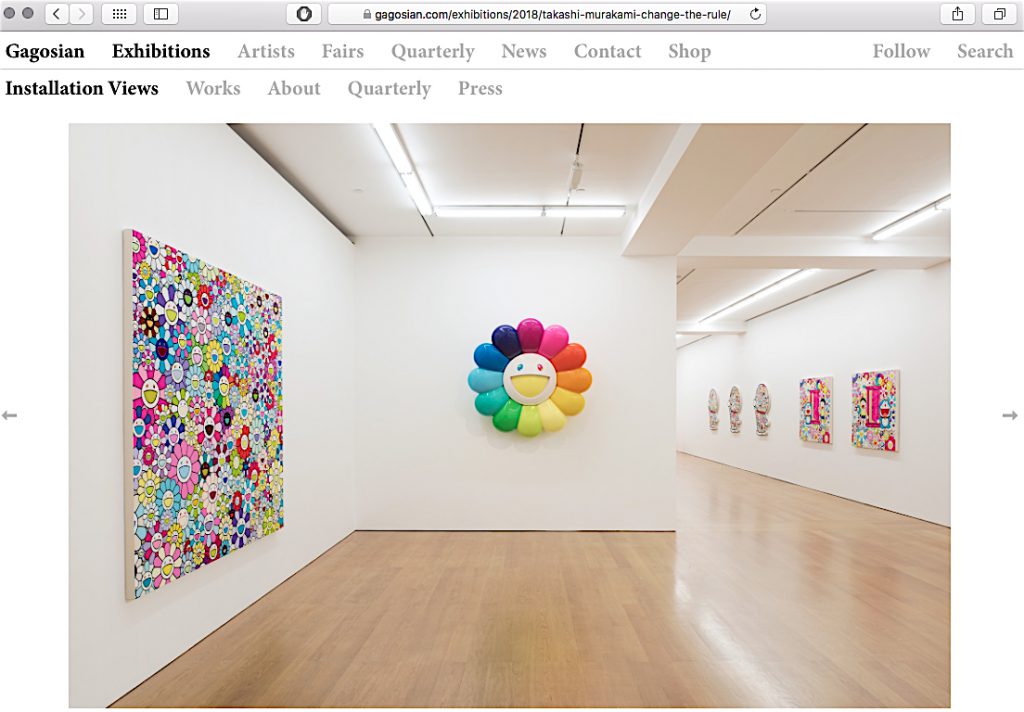 Takashi Murakami "Change the Rule!" @ Gagosian Hong Kong
(村上隆 「ルールを変え!」)
September 20 – November 10, 2018
https://gagosian.com/exhibitions/2018/takashi-murakami-change-the-rule/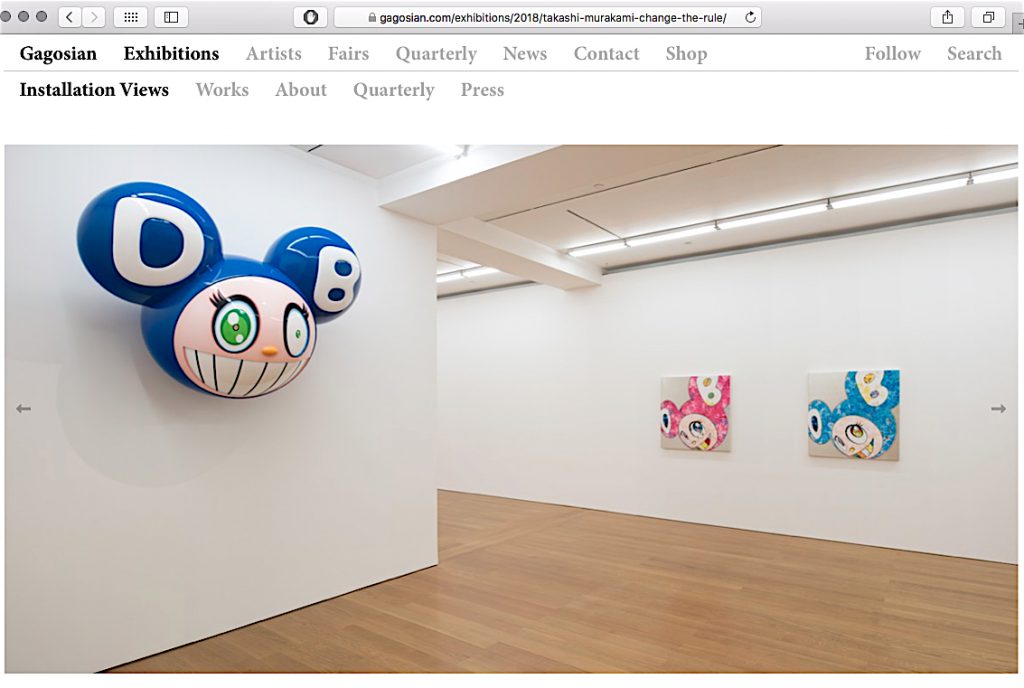 2018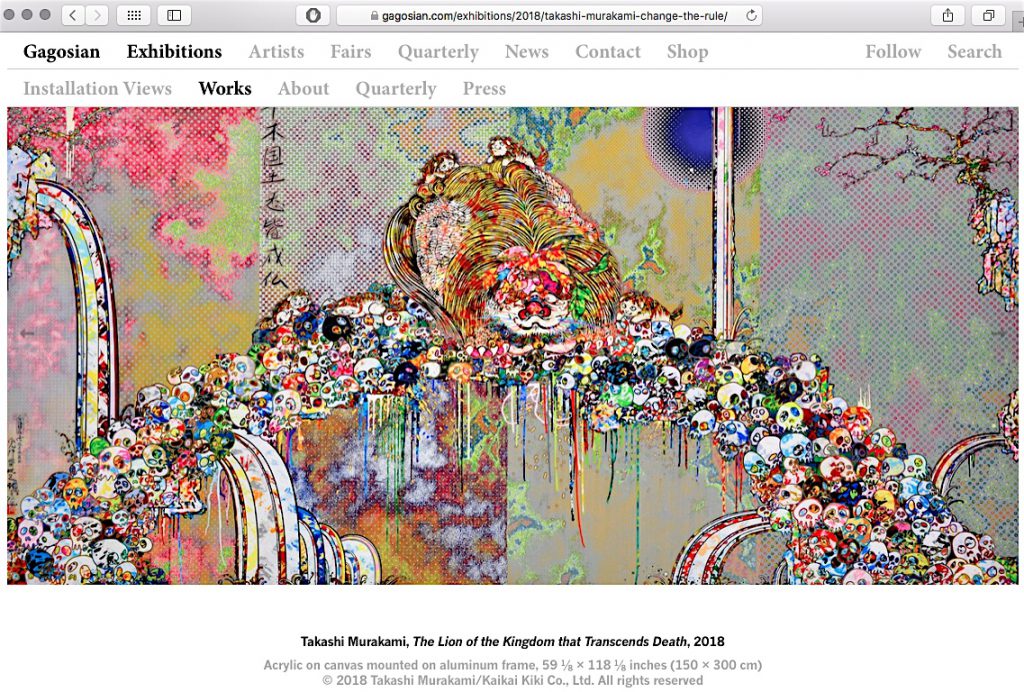 ---
identical work, compare with 比較:
2017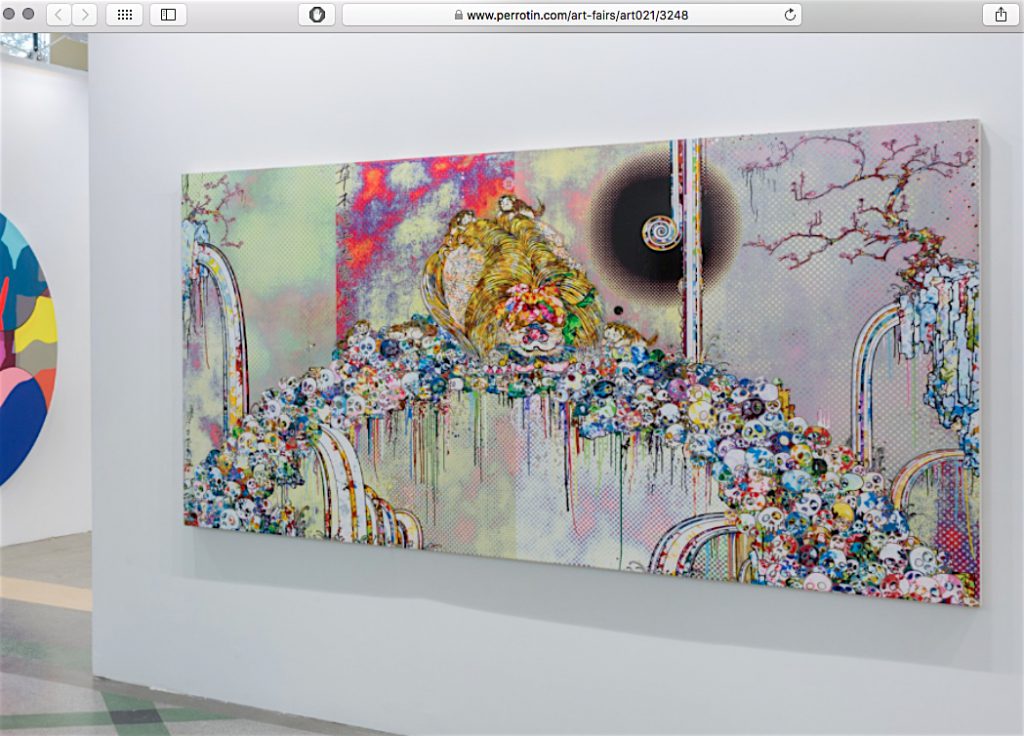 https://www.perrotin.com/art-fairs/art021/3248
2015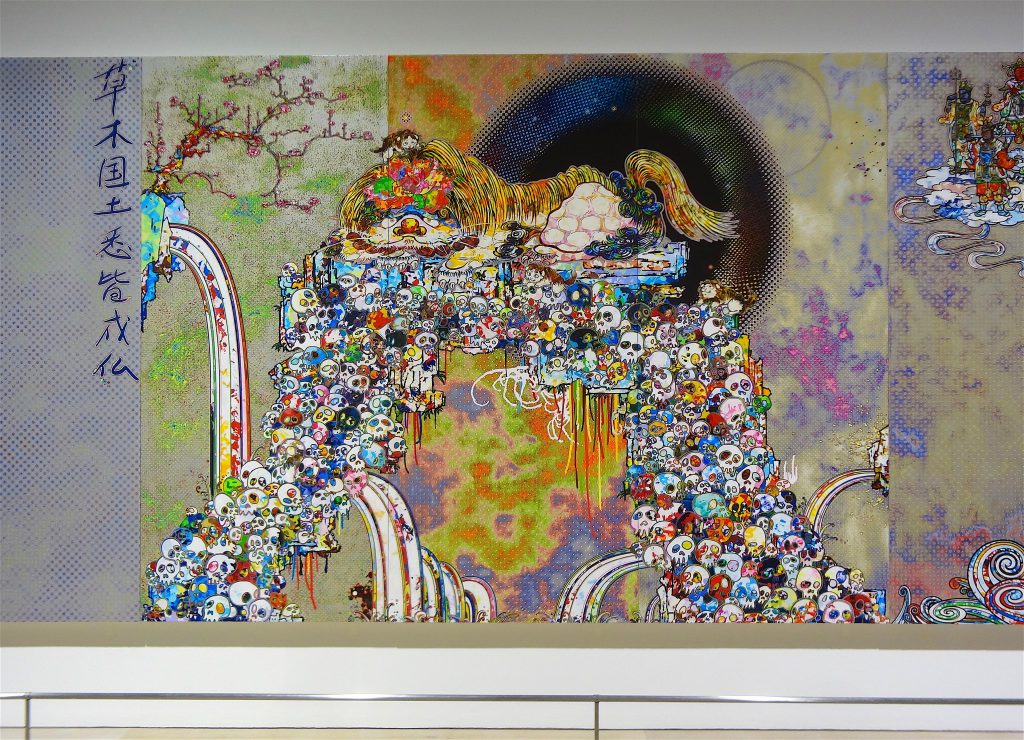 2014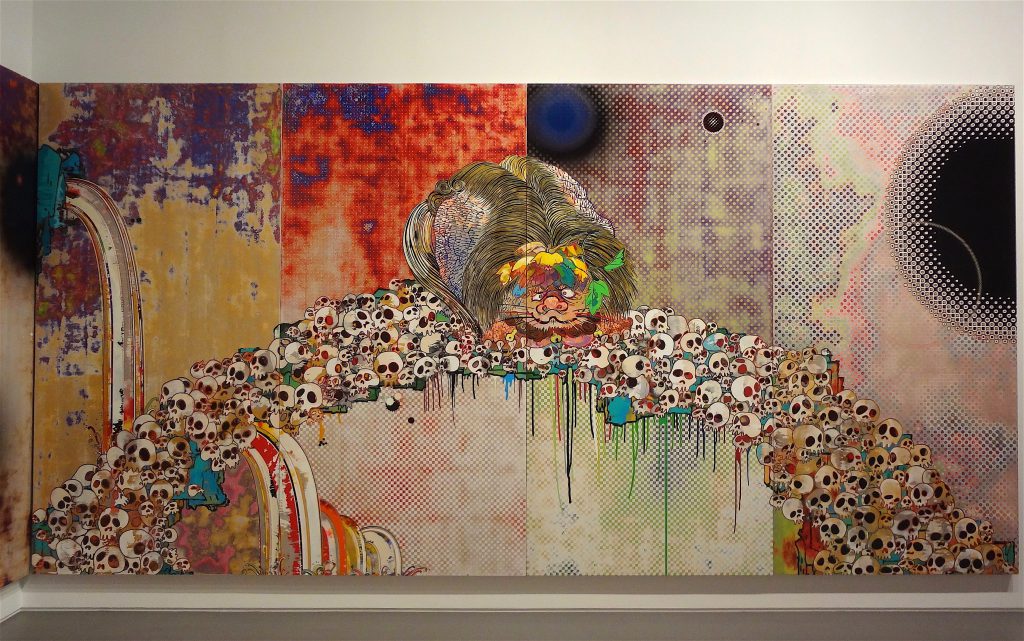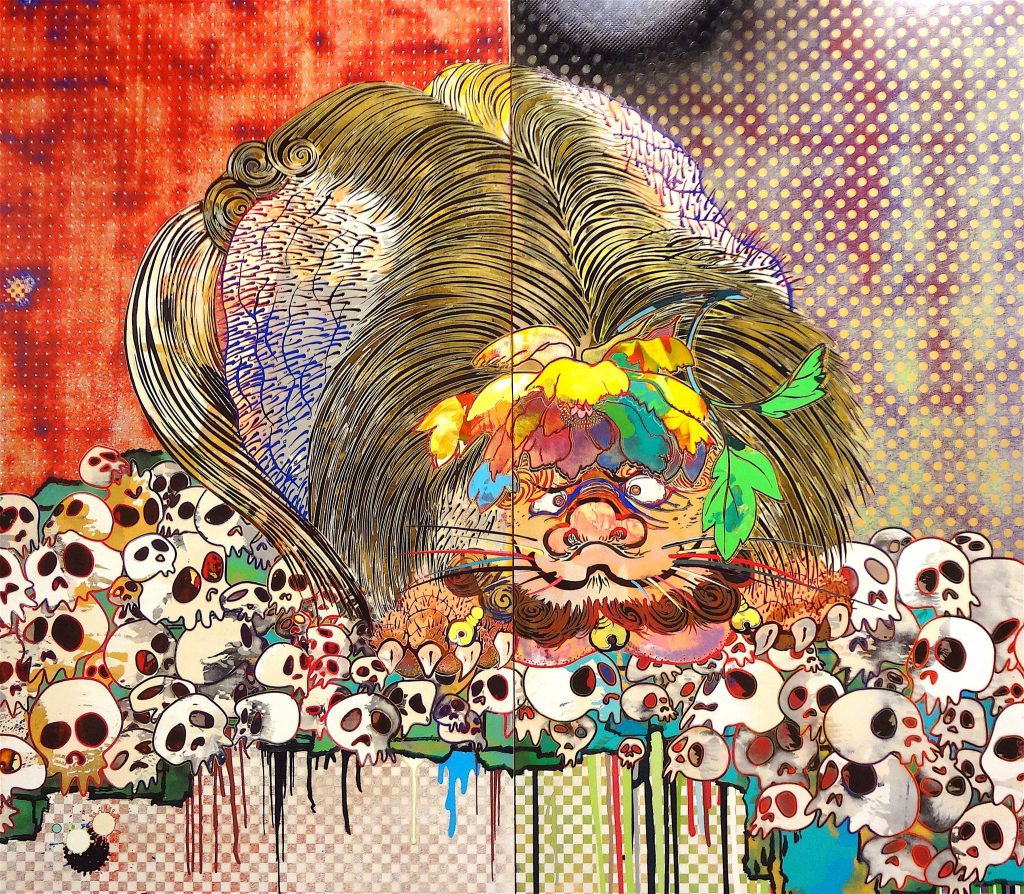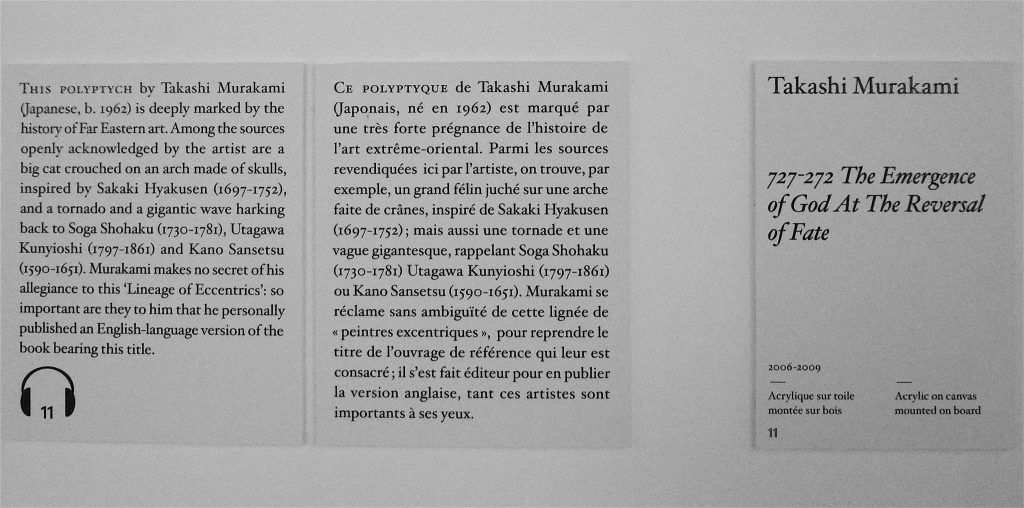 2011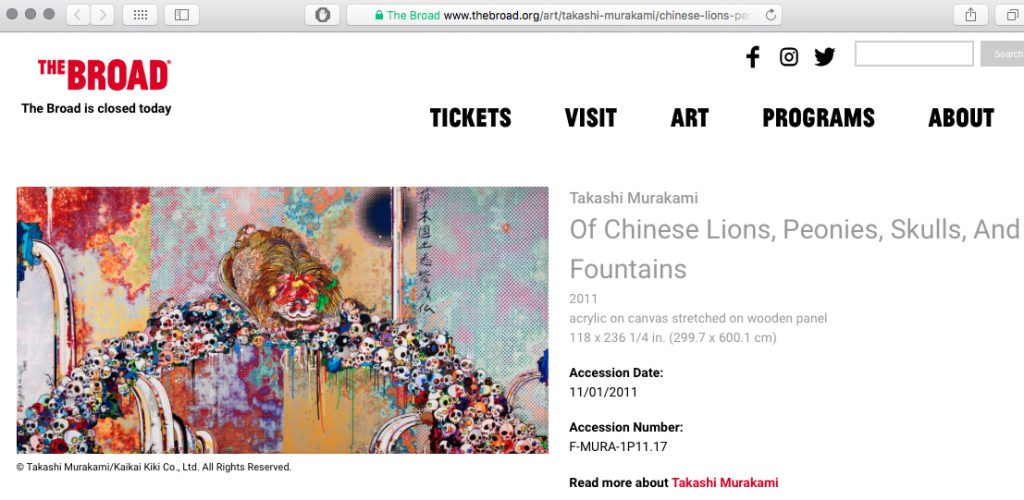 https://www.thebroad.org/art/takashi-murakami/chinese-lions-peonies-skulls-and-fountains
---
Murakami Takashi's strategy in the beginning of his career was to become a Nihonga-painter because "elderly rich people" would then be potential collectors (= NHK TV documentary quotes).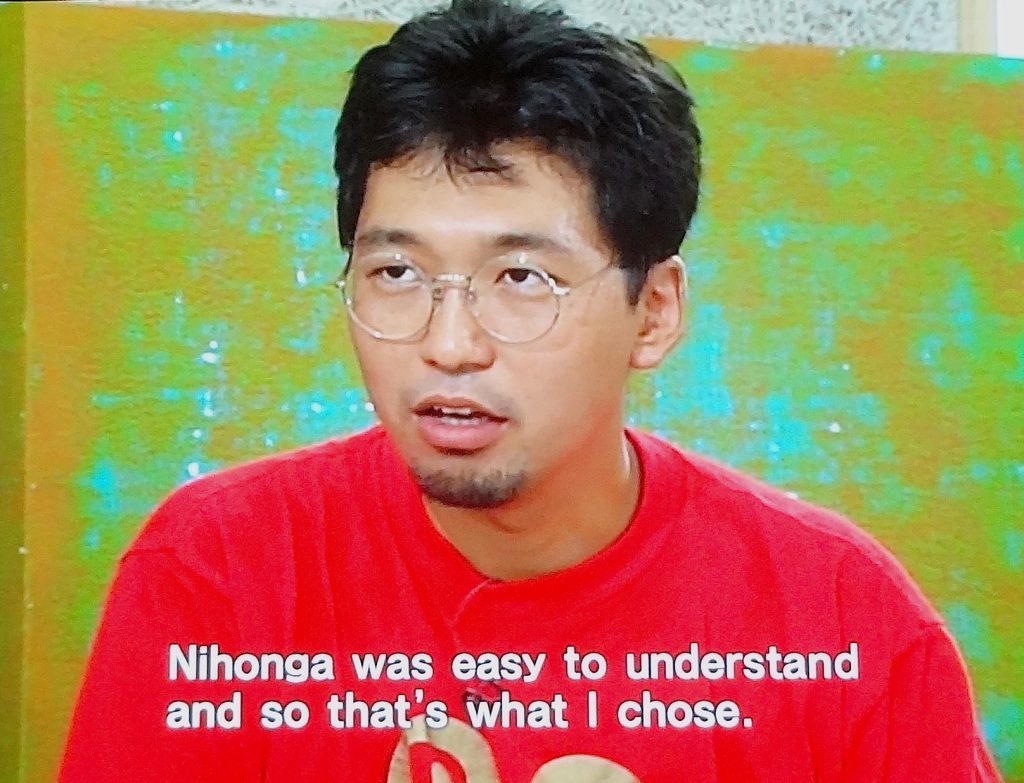 森美術館の村上隆個展の時、NHKの村上隆ドキュメンタリーのーコマ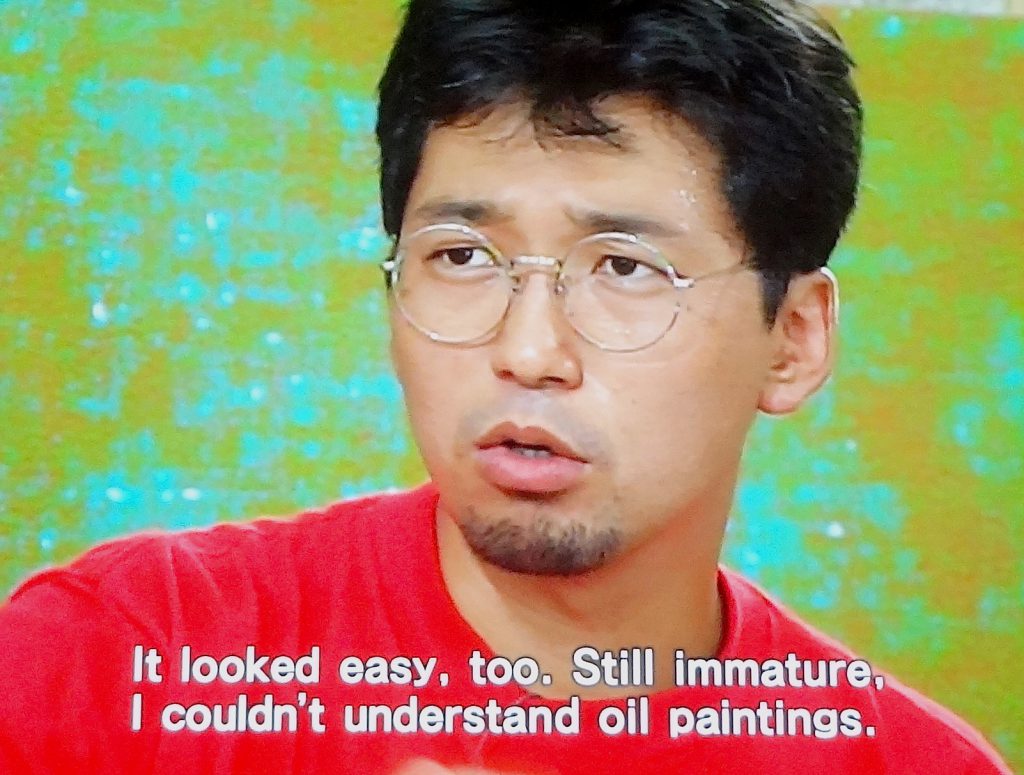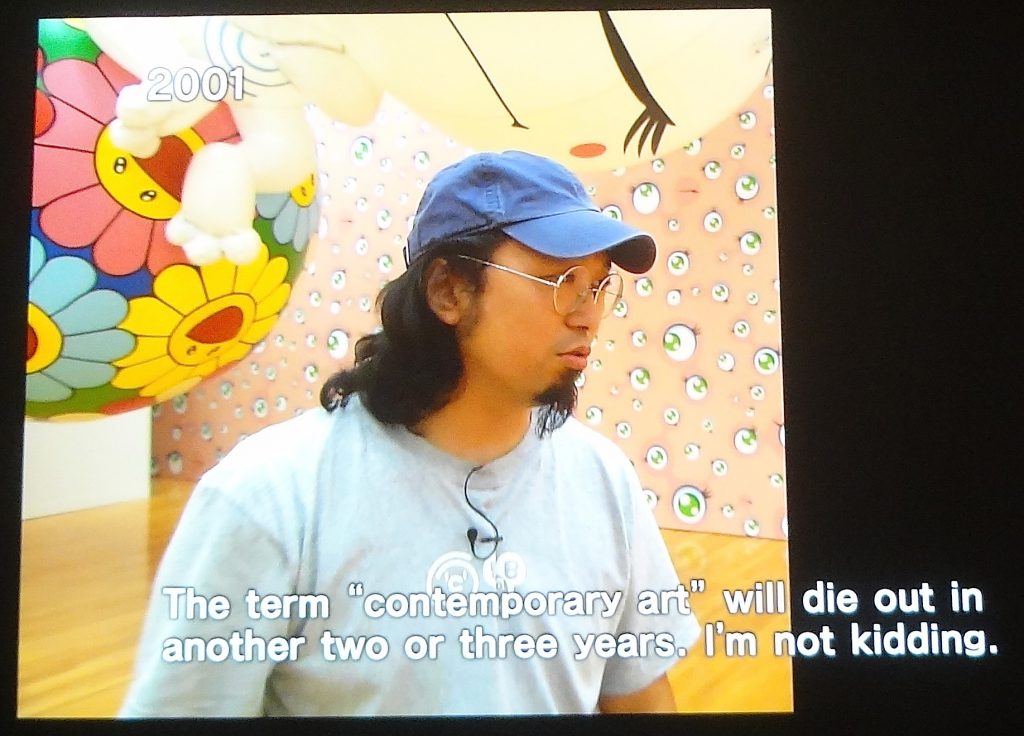 After graduating university, he shifted from traditional Nihon-ga towards 'contemporary art' by applying conceptual contexts. Later he found a way to succeed in the US art market by using a sensual connotation in his figurine sculptures, copied/originated from Japanese subculture fusioned with Disney's concept.
Nowadays, Murakami's questionable notion on building a bridge between Japan and neighboring countries like China, Korea and South East Asian countries will be watched with less enthusiasm, a remix of déjà-vu art.
In comparison to the Murakami-fever several years ago, his running exhibitions at Gagosian are actually a non-event in Japan. The new normal for art operators in this art industry.
That gives me the opportunity to recapitulate on several critical, not very pleasing, episodes during his career.
Hier stehe ich. Ich kann nicht anders。
Here I stand. I cannot act otherwise。
開催中の村上隆個展@GAGOSIAN。
世界一のギャラリーでの村上隆の大胆な個展を無視している日本の現代アート関係記者、メディア。
弟で日本美術院の裕二君「かいかい」と、思い出に浸る村上隆「きき」の再製作がむなしい「KAIKAI KIKI」。
私には、これが村上隆さんの一番重要な作品であり、村上世界を一番分かりやすく表現した「key artwork」に見えます。
つまり、「俺は現代アート界で頑張る、お前は日本美術団体の世界で頑張りな。」という偽装作。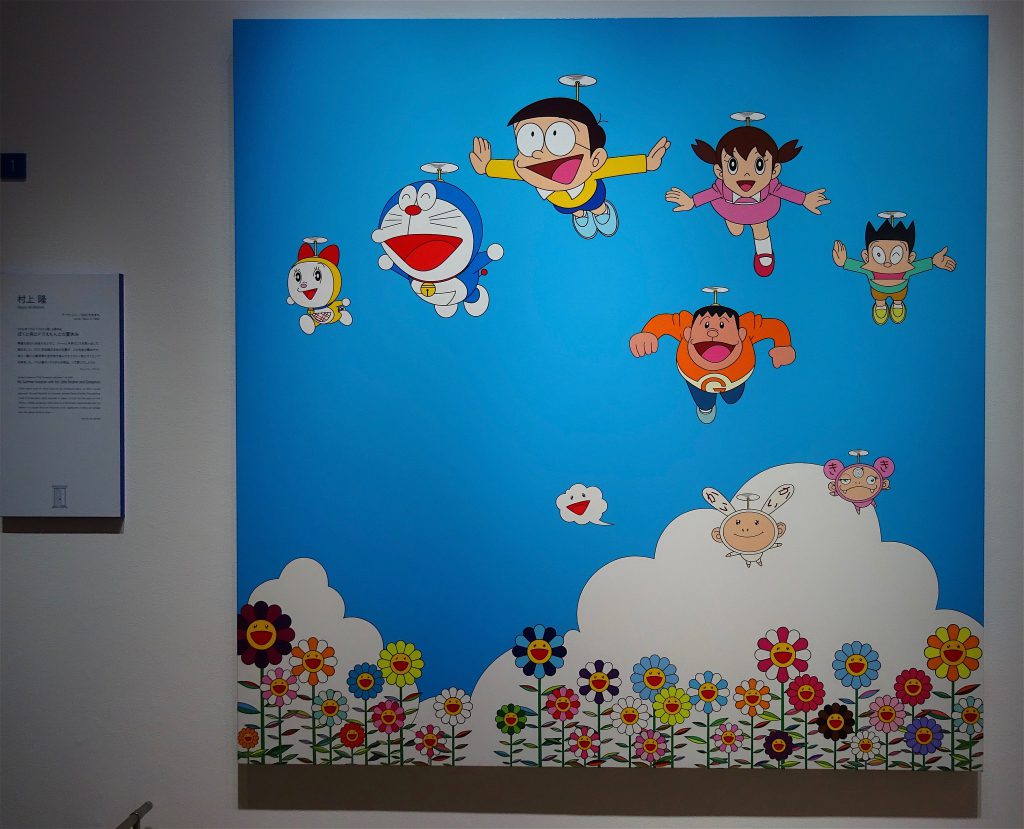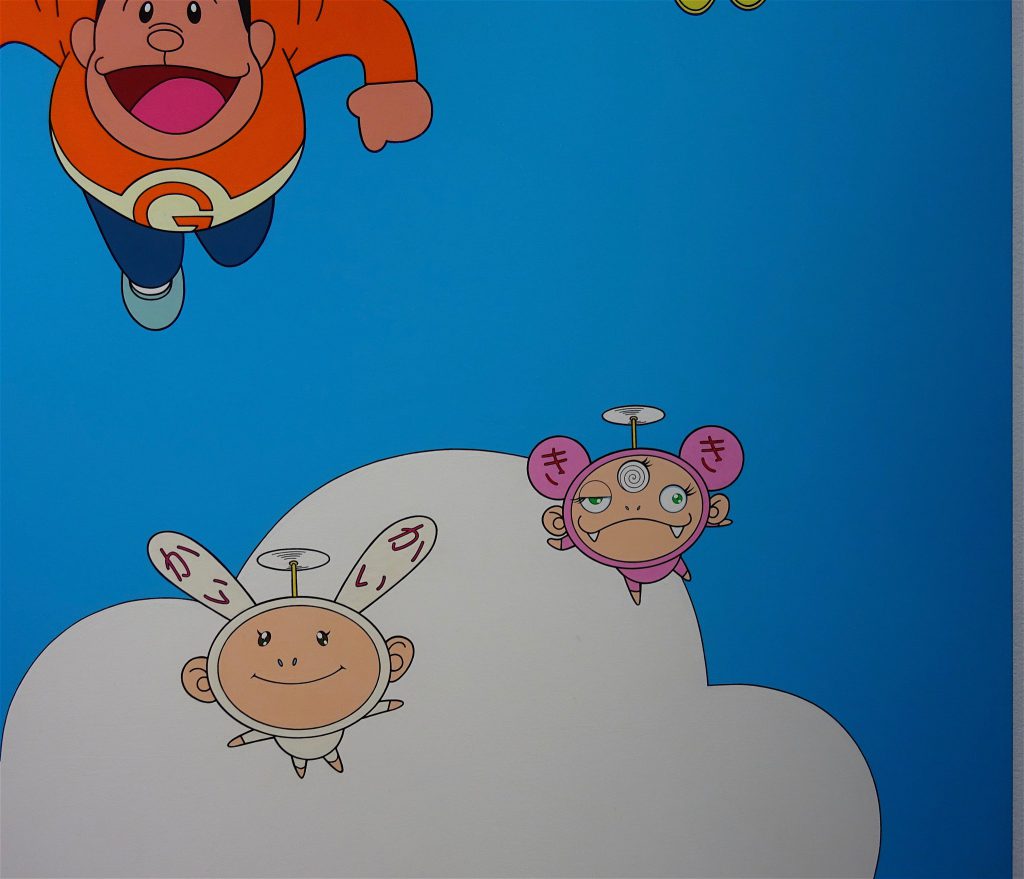 「かい かい」= 日本美術院の日本画家 村上裕二
「きき」= 村上隆
KAI KAI = younger brother and Nihonga-painter MURAKAMI Yuji
KI KI = MURAKAMI Takashi
KaiKai Kiki Co., Ltd., established April 20, 2001
http://english.kaikaikiki.co.jp/company/summary/
天皇制の為:下らない横山大観戦争画 ー 内閣総理大臣顕彰受賞者村上裕二
For The Sake Of The Emperor: Trashy Taikan YOKOYAMA – Yuji MURAKAMI (Prime Minister's Award Honoree)
http://art-culture.world/articles/for-the-sake-of-the-emperor-trashy-taikan-yokoyama-yuji-murakami-prime-ministers-award-honoree/
日本現代美術界を巡る村上隆と村上裕二兄弟 1-4 (2015年11月2日)
In the context of Japanese contemporary art: The brothers Takashi & Yuji Murakami 1-4
https://www.art-it.asia/u/sfztpm/6p2UkBKatRZjGcDfhVri/
https://www.art-it.asia/u/sfztpm/25QoWYRnCJj98xz1EKBm/
https://www.art-it.asia/u/sfztpm/IbsvW6iA1JBpXmDkNwgP/
https://www.art-it.asia/u/sfztpm/juve3h6srI4VXopAJKPU/
内閣総理大臣賞受賞の村上裕二氏におめでとうございます(2016年9月12日)
Prime Minister's Award for Yuji MURAKAMI
http://www.art-it.asia/u/sfztpm/9QmoaJgx6lhbziReNG2K/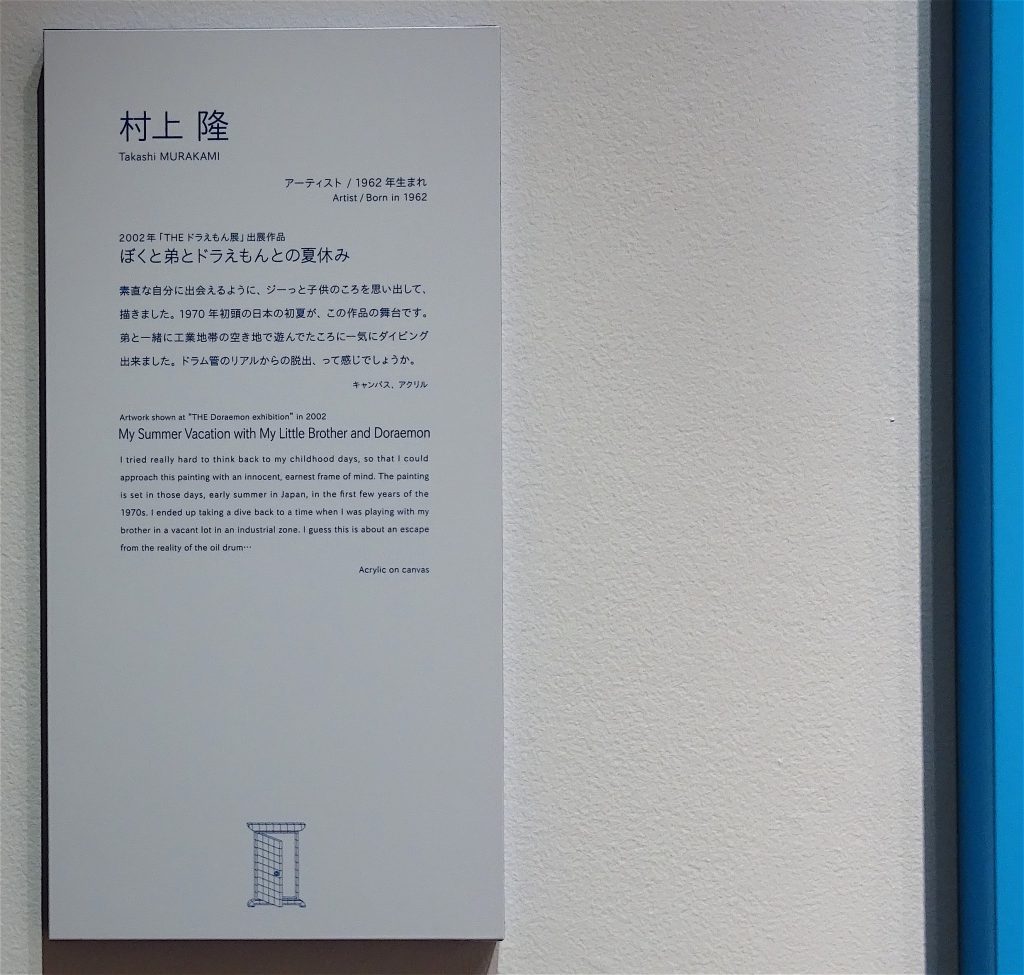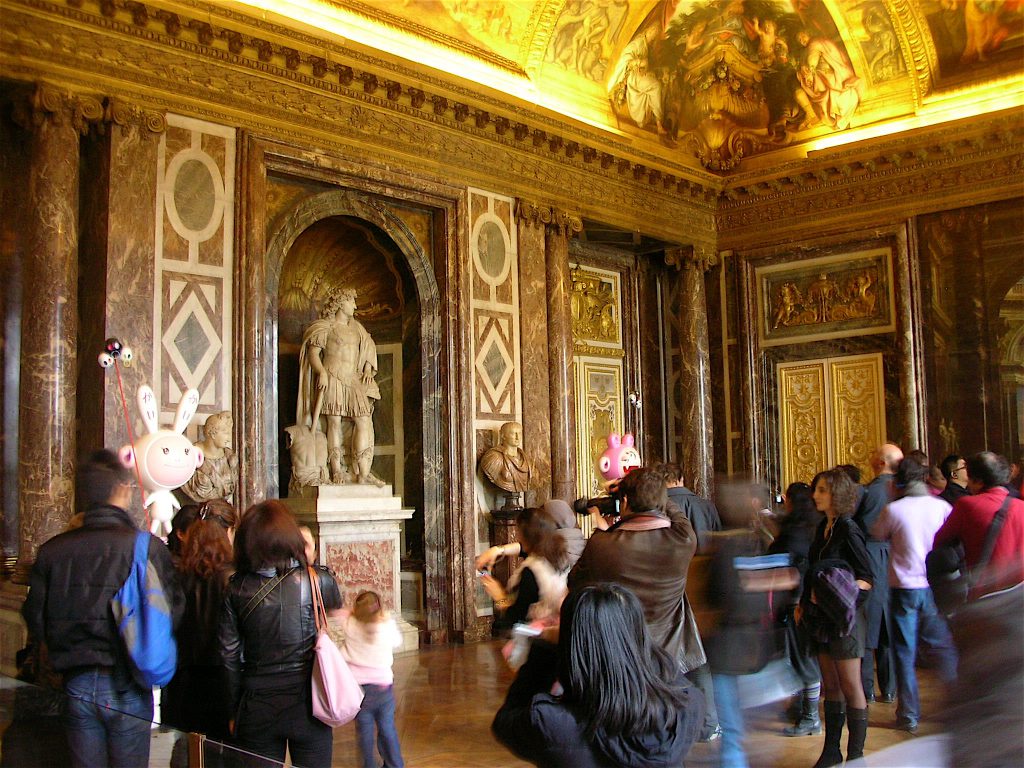 KAI KAI (left) = younger brother and Nihonga-painter MURAKAMI Yuji; right: KI KI = Takashi. Displayed work by MURAKAMI Takashi during his show "Murakami Versailles", in the Venus Salon, in 2010.
Explanation board: Takashi Murakami "Kaikai & Kiki" 2000 – 2005, Fibre de verre, fer, résine synthétique, peinture à l'huile et acrylique. Collection de l'artiste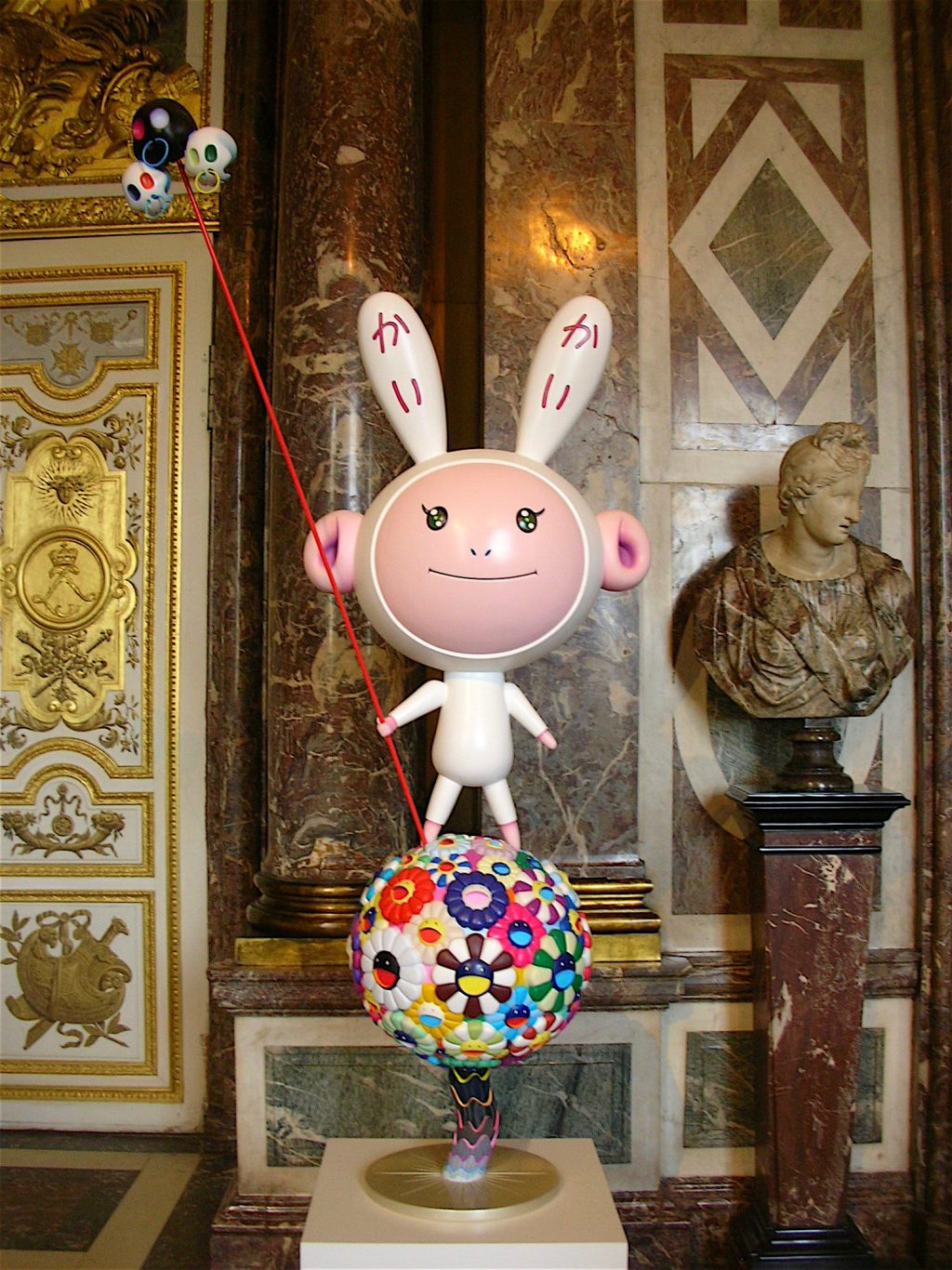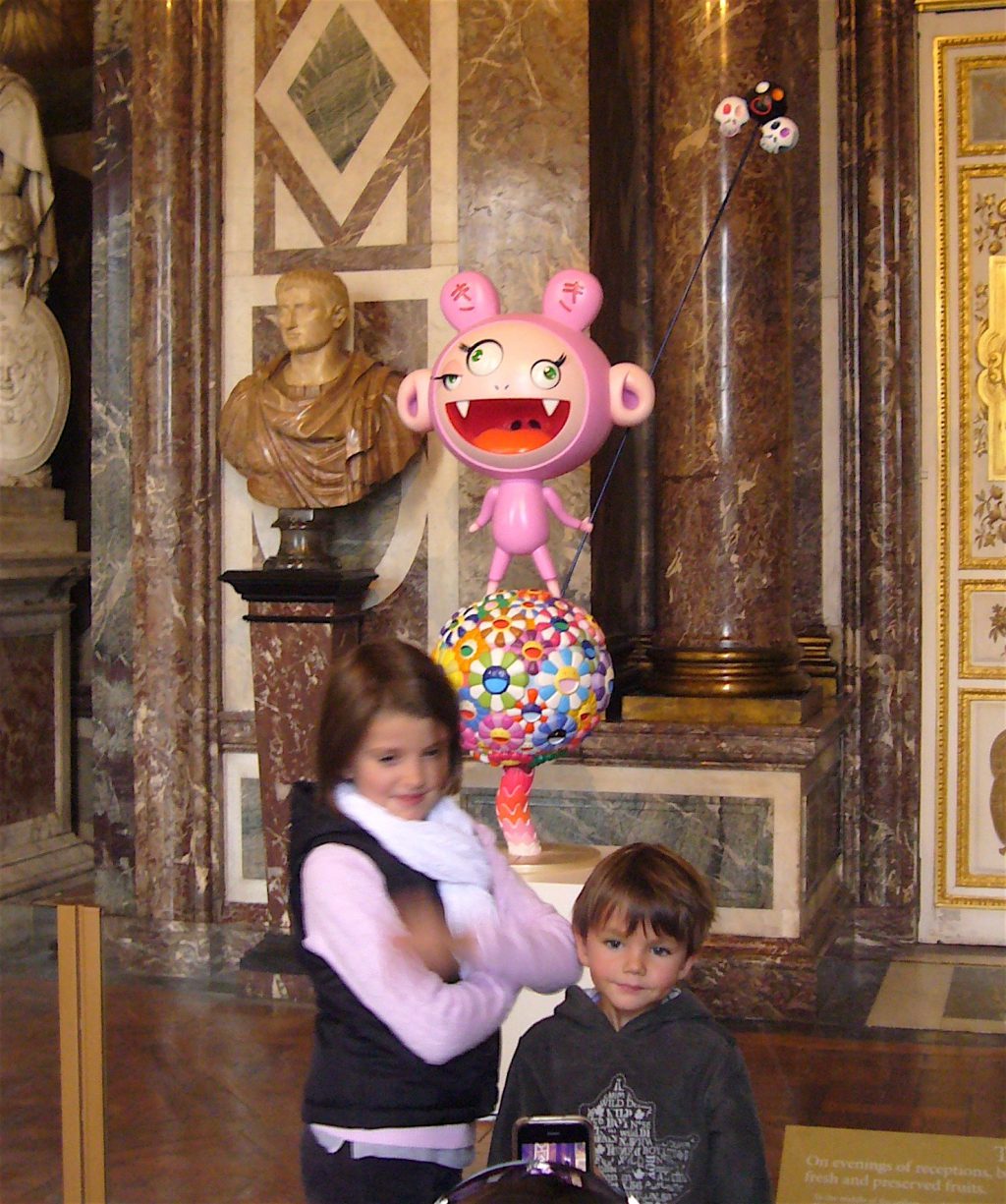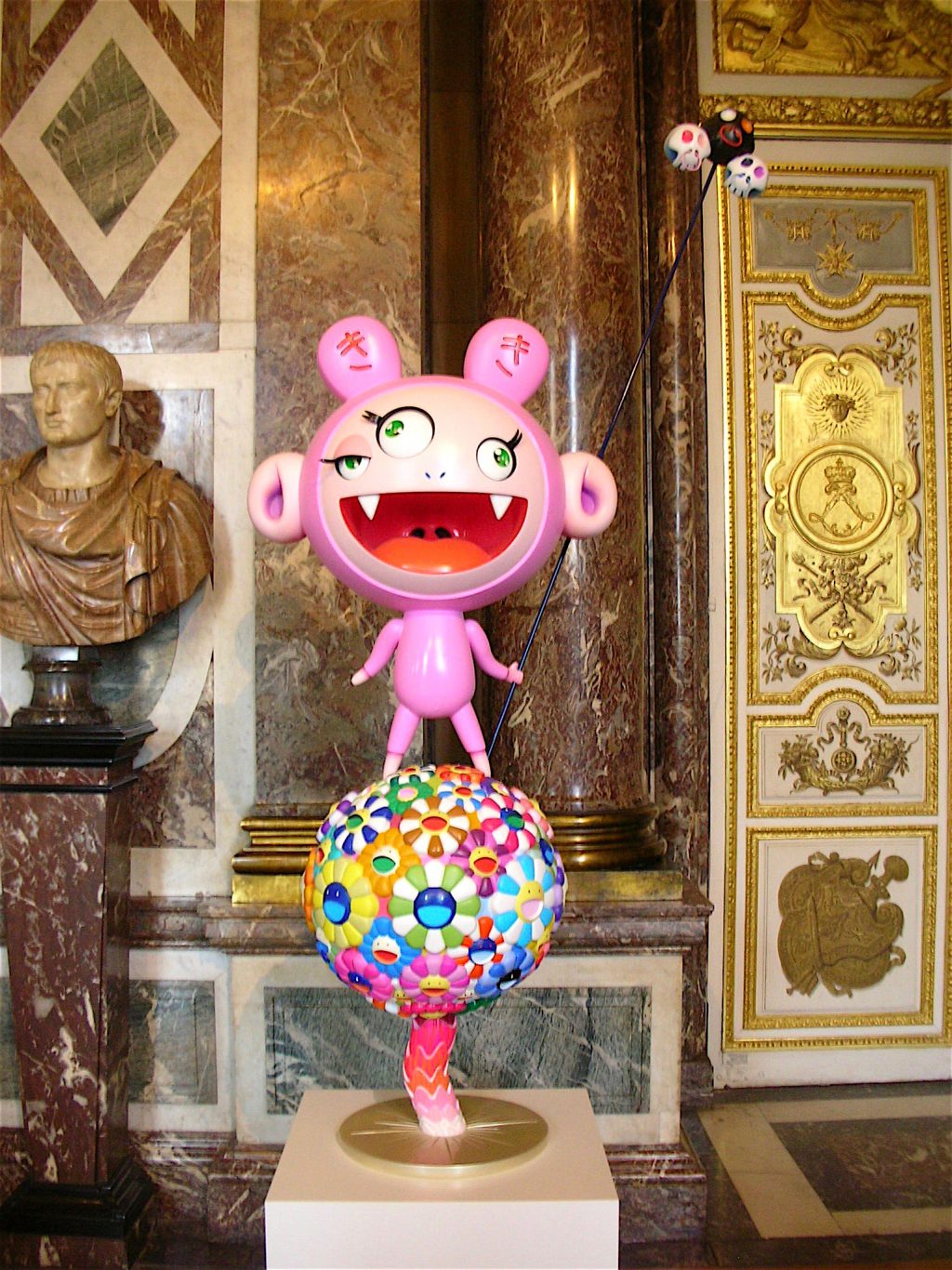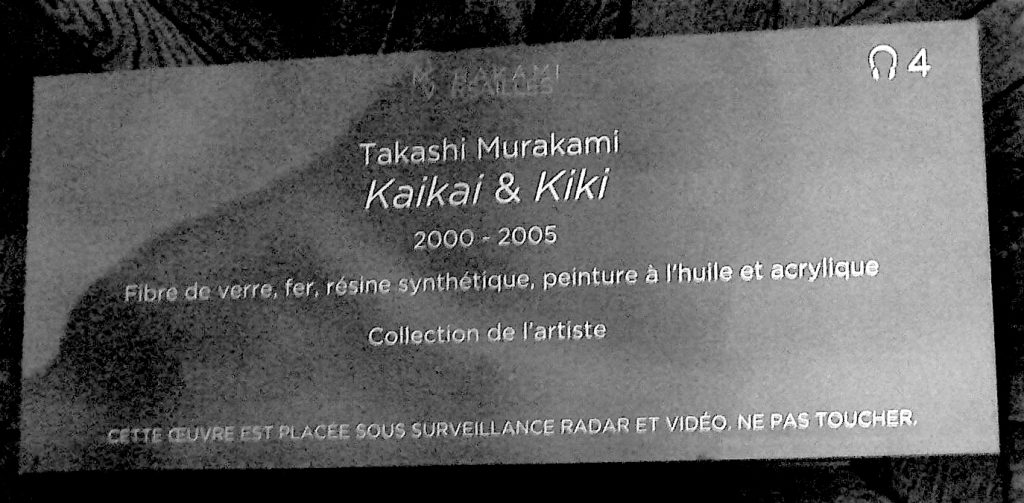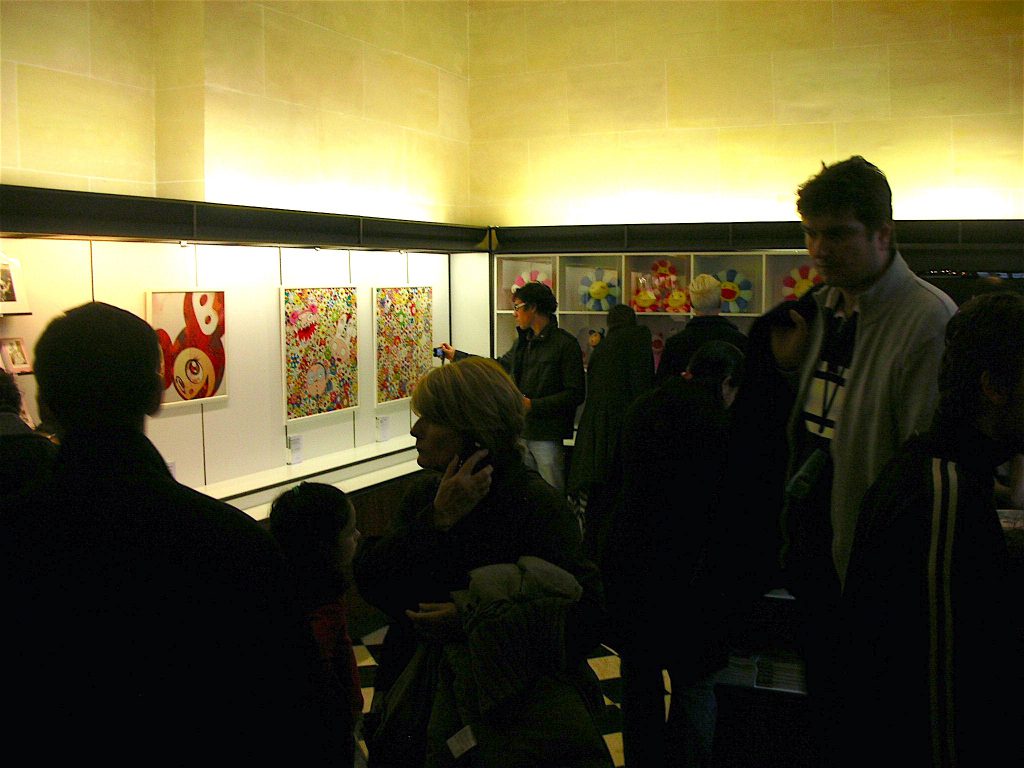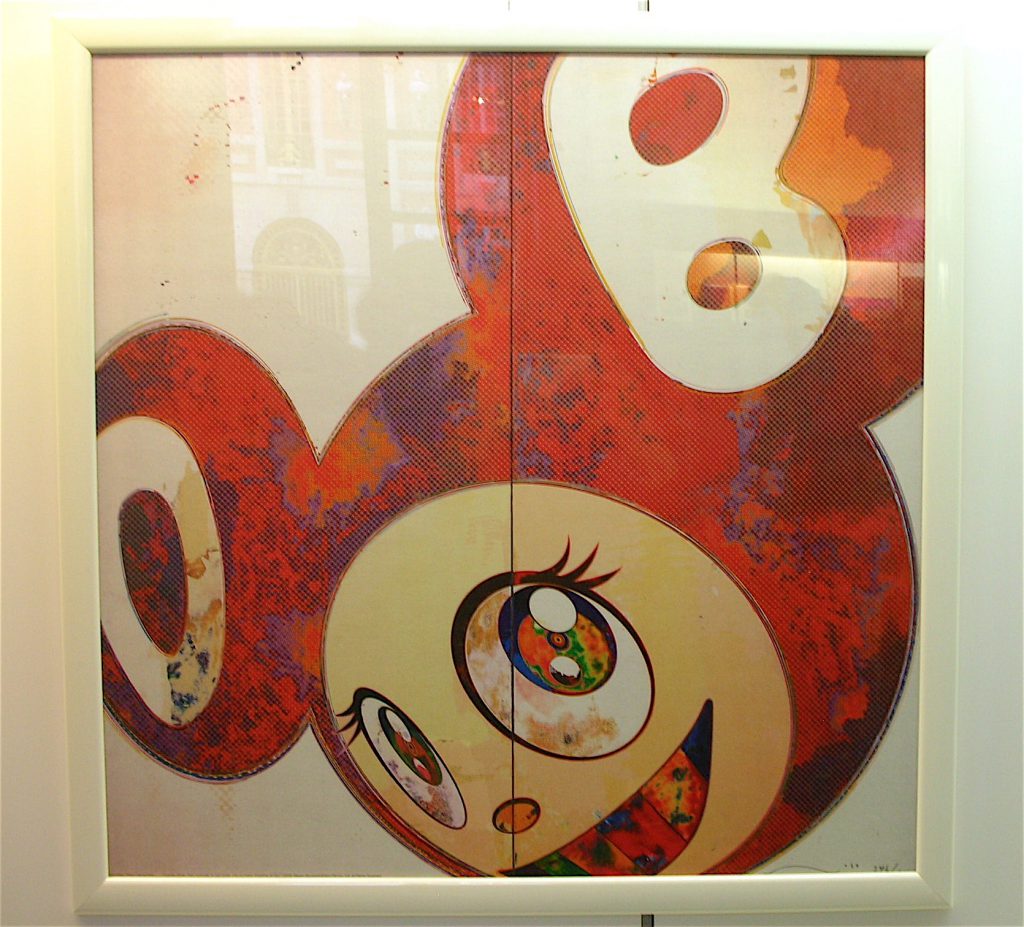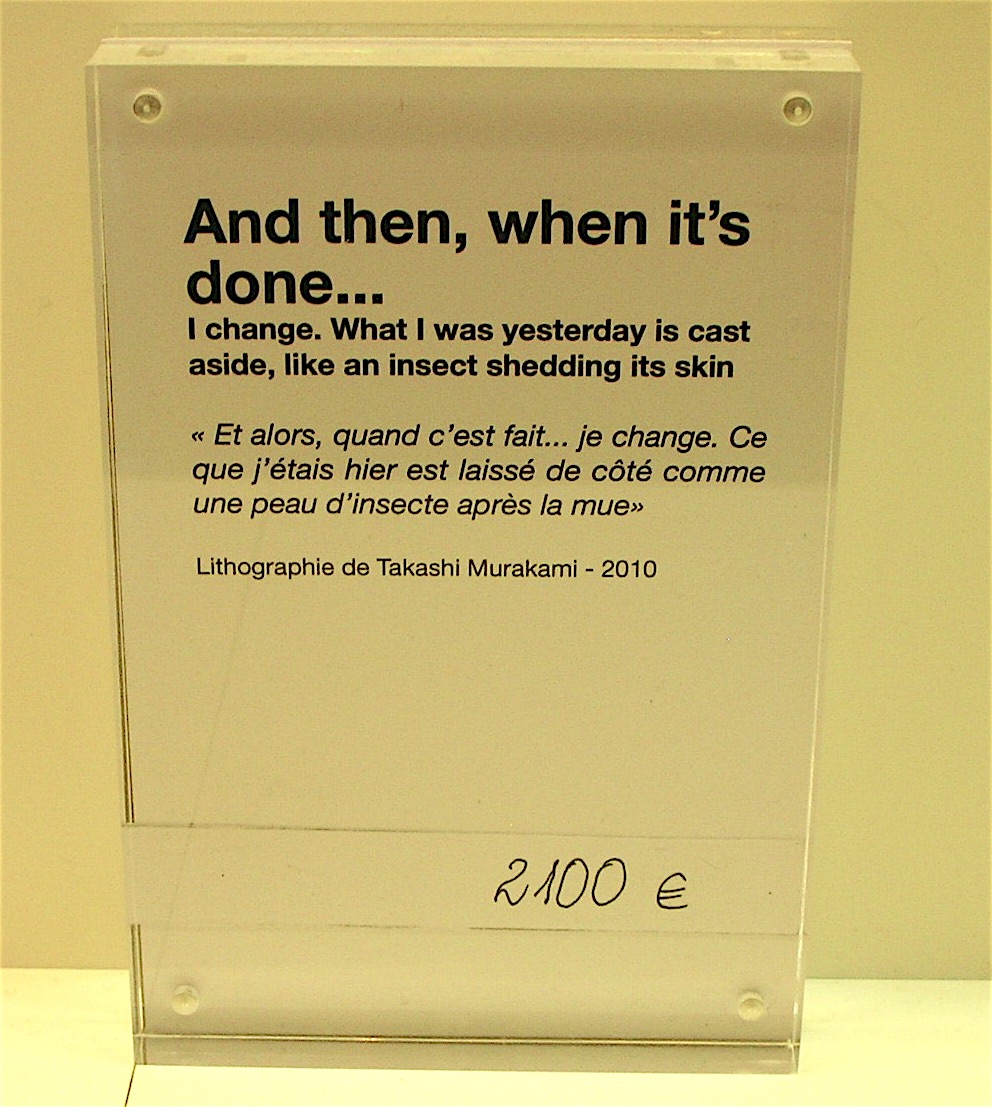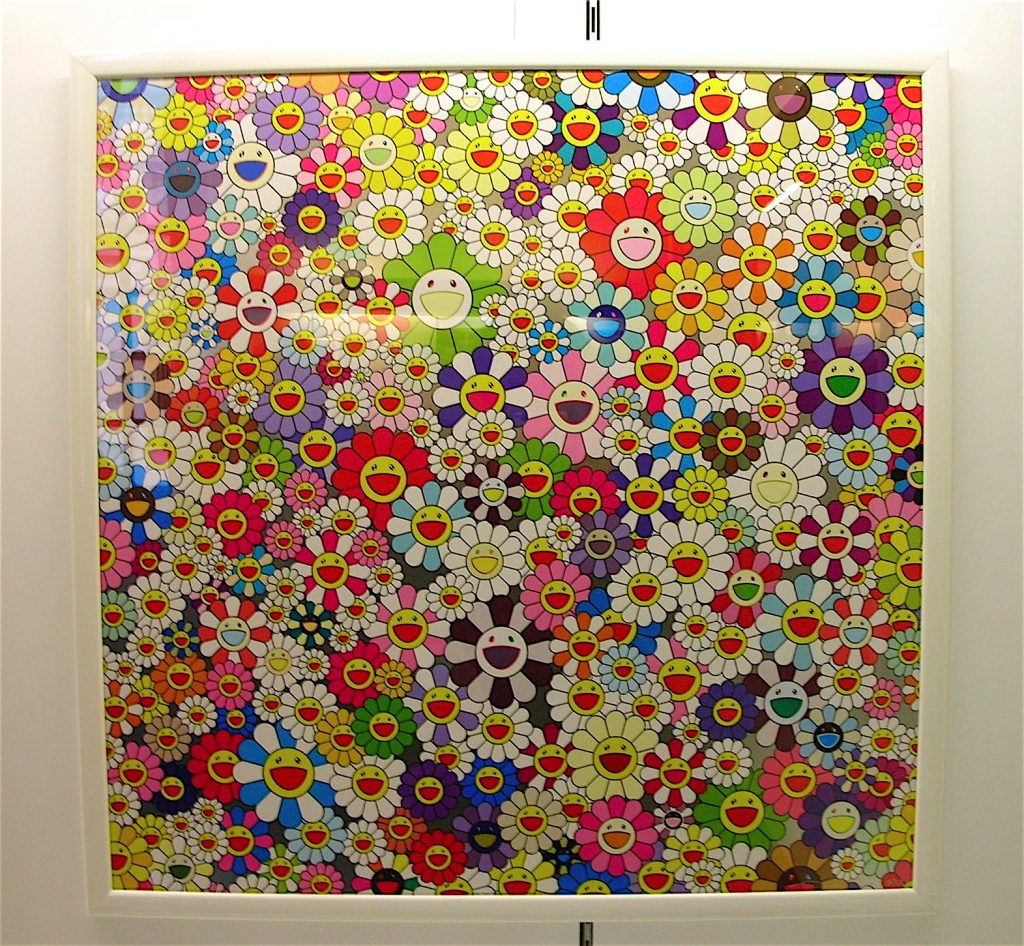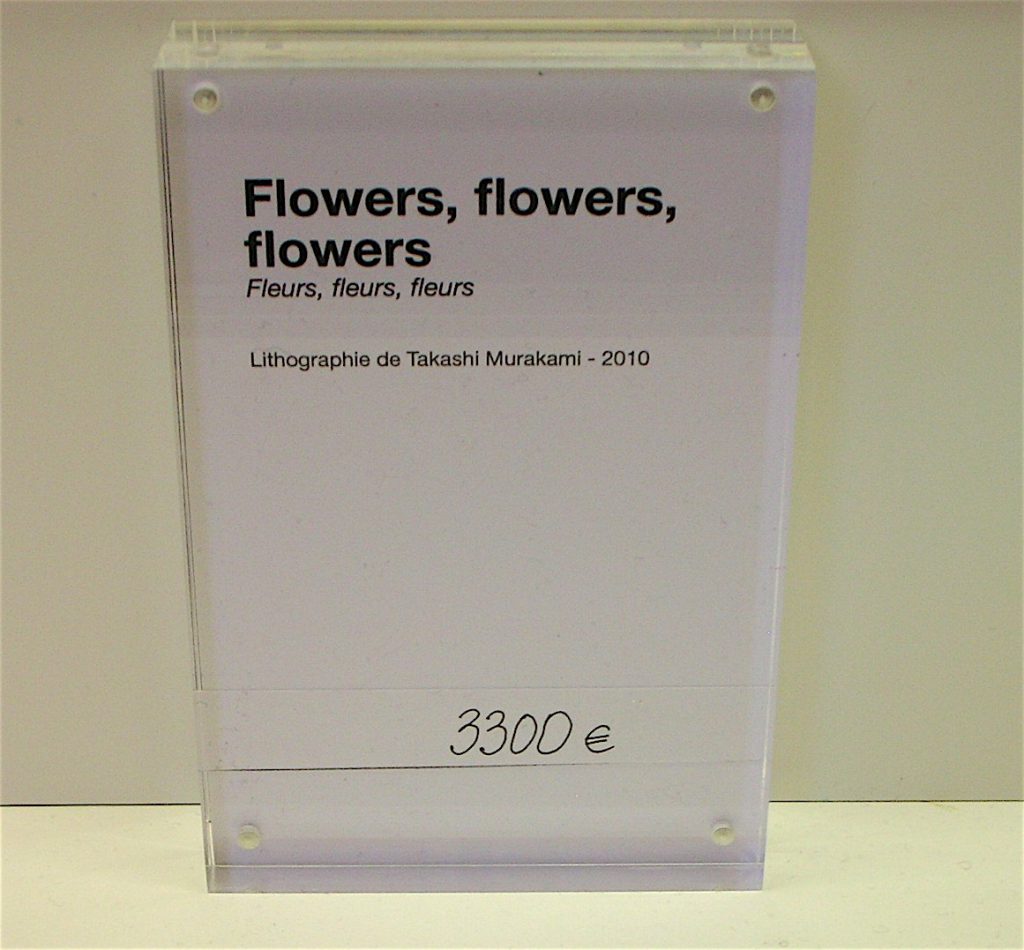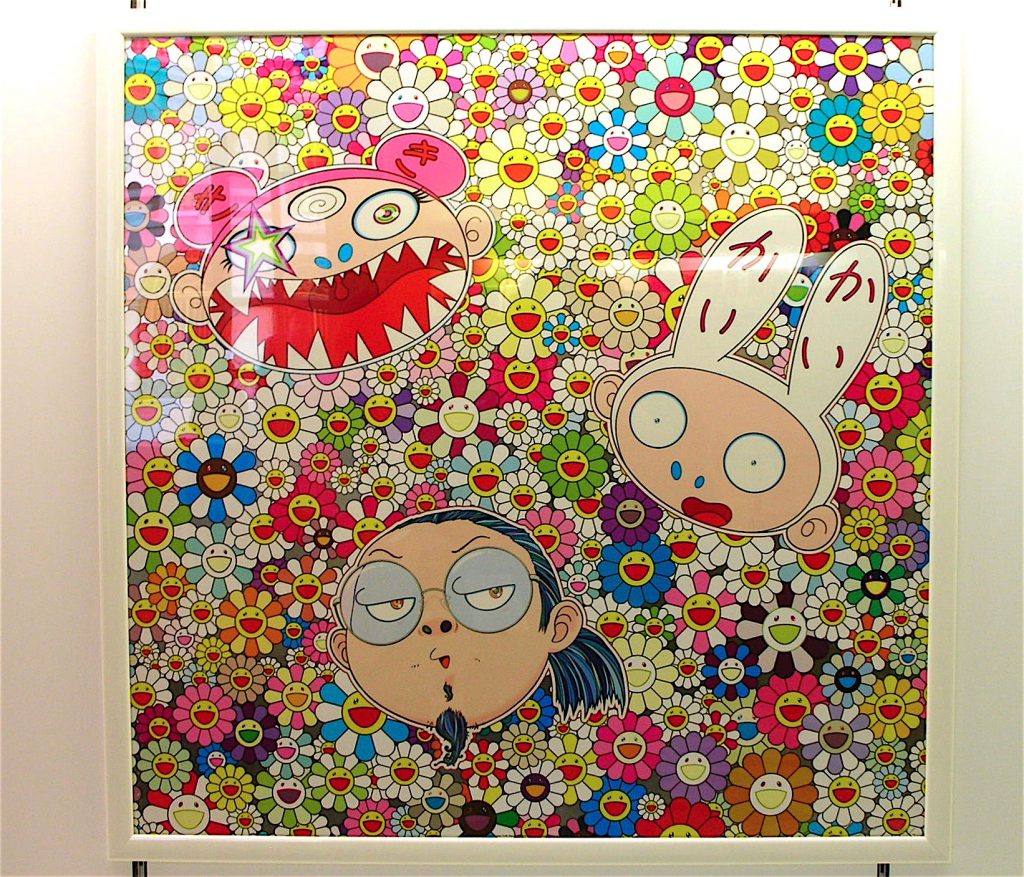 混乱 Chaotic constellations by MURAKAMI Takashi's works, compare with: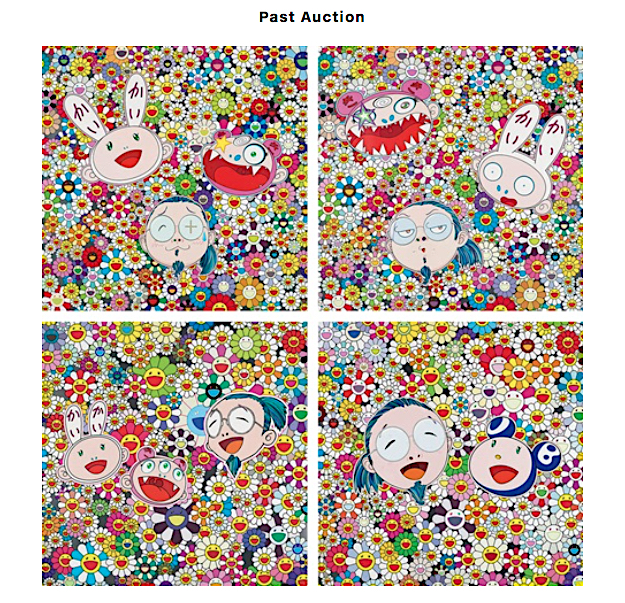 http://www.artnet.com/artists/takashi-murakami/kaikai-kiki-and-me-for-better-or-worse-in-good-Q0hdyXEi4dAjnXLFsUH7PQ2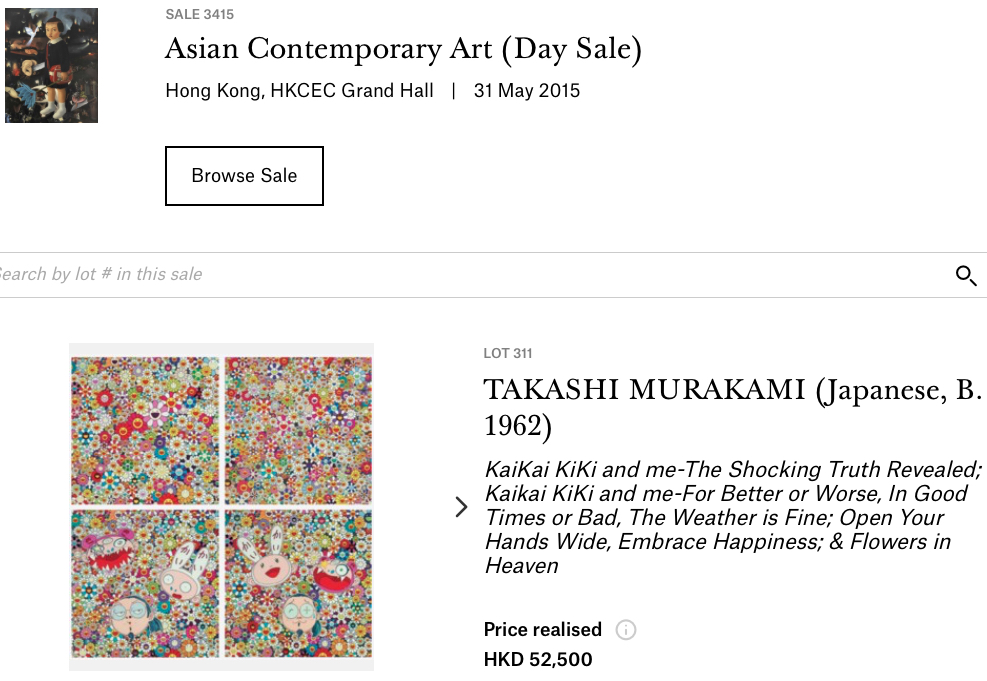 村上隆 MURAKAMI Takashi Kaikai Kiki And Me – The Shocking Truth Revealed!, Kaikai and Kiki, Lots of Fun; Kaikai Kiki And Me – For Better Or Worse In Good Times And Bad. The Weather Is Fine; and Me and Mr. DOB (4 works) , 2009, 4 offset lithographs in colors, on smooth wove paper, the full sheets @ Christie's Hongkong, 31 May 2015, Price realized HKD 52.500 (= ca. 6000 Euro)
https://www.christies.com/lotfinder/Lot/takashi-murakami-japanese-b-1962-kaikai-5905971-details.aspx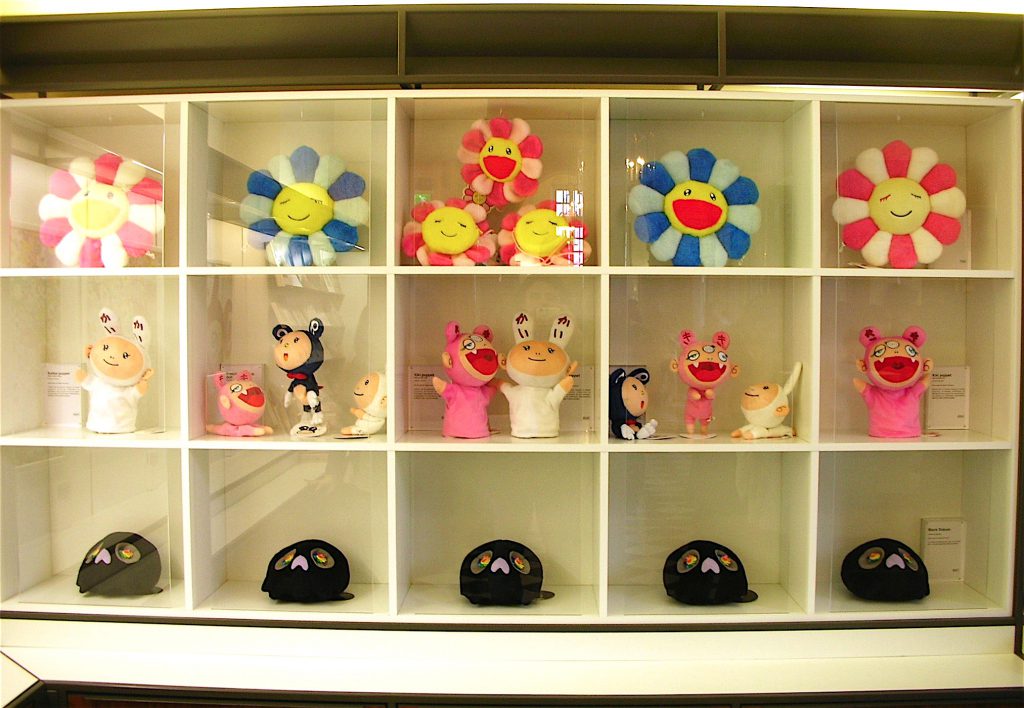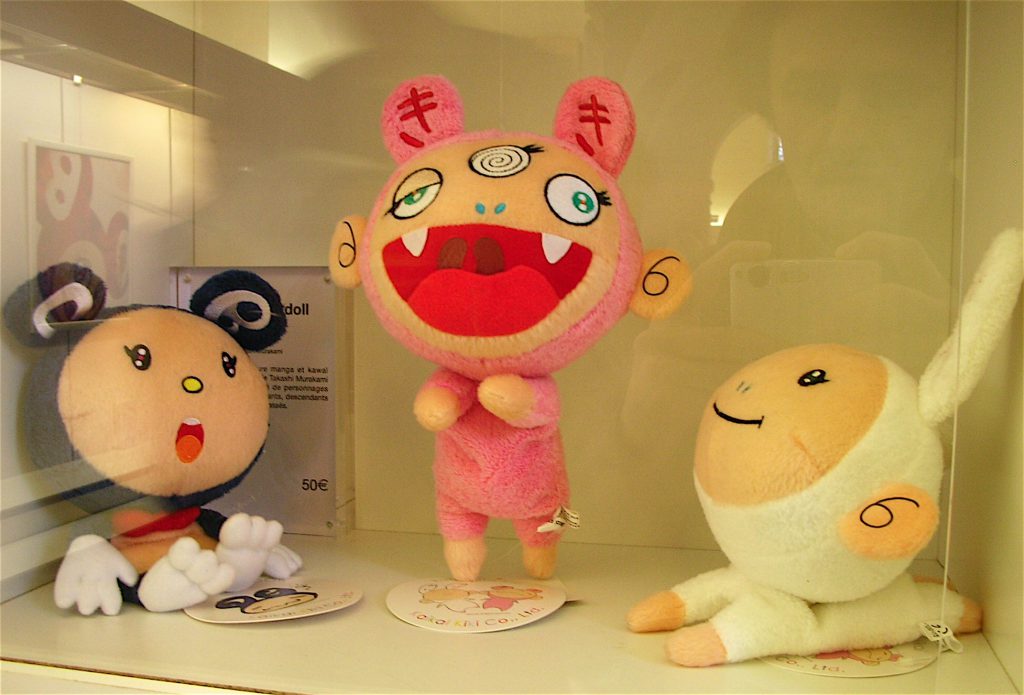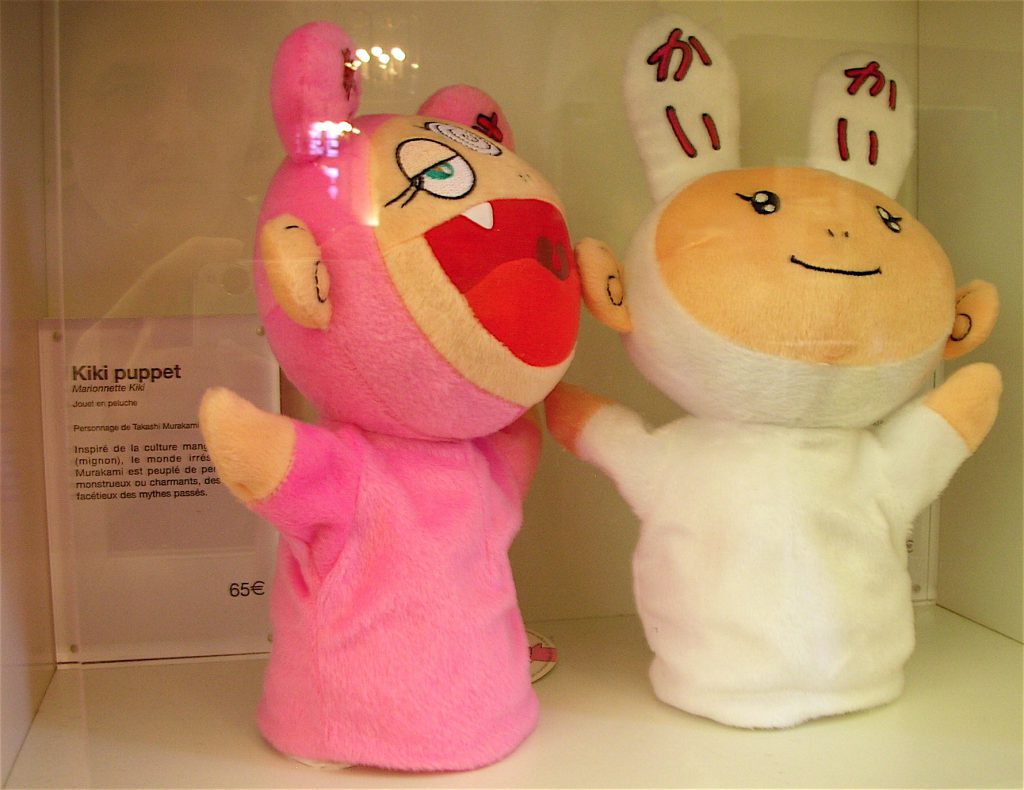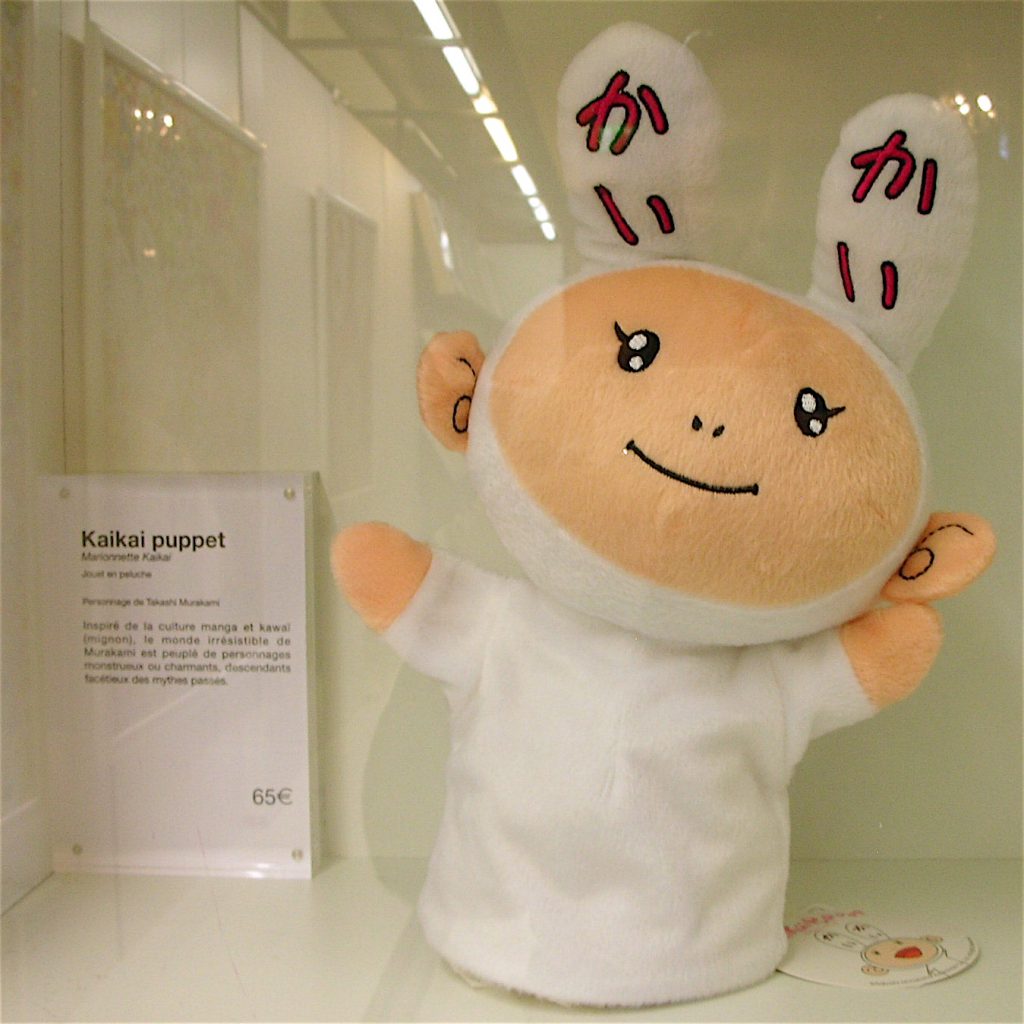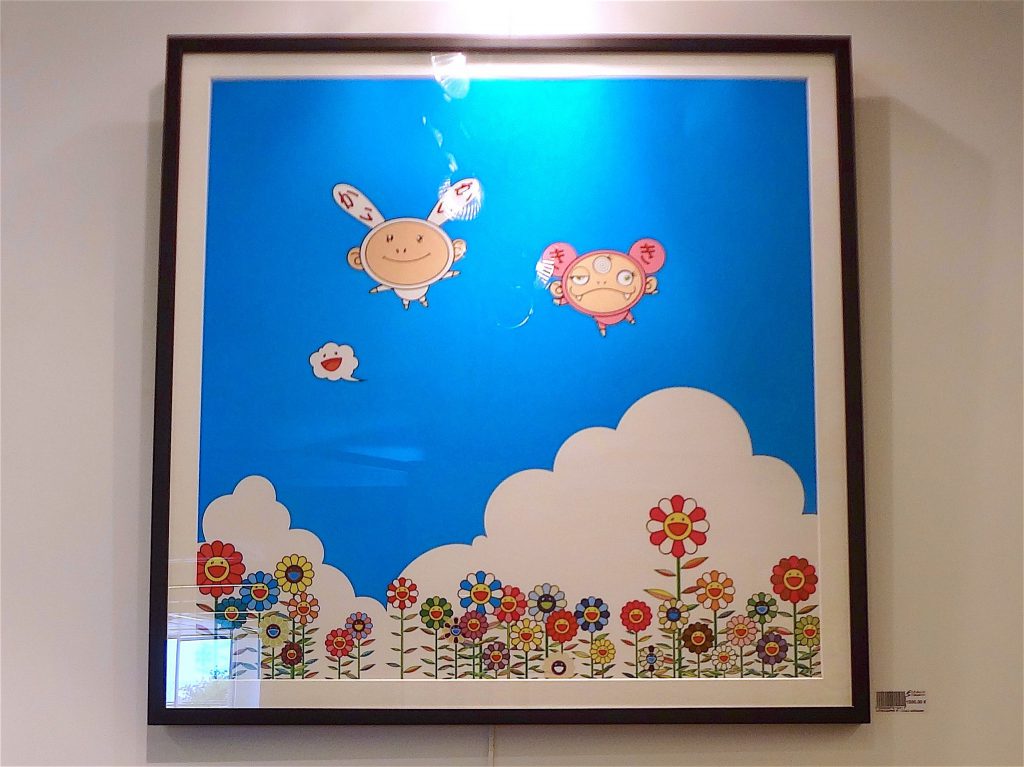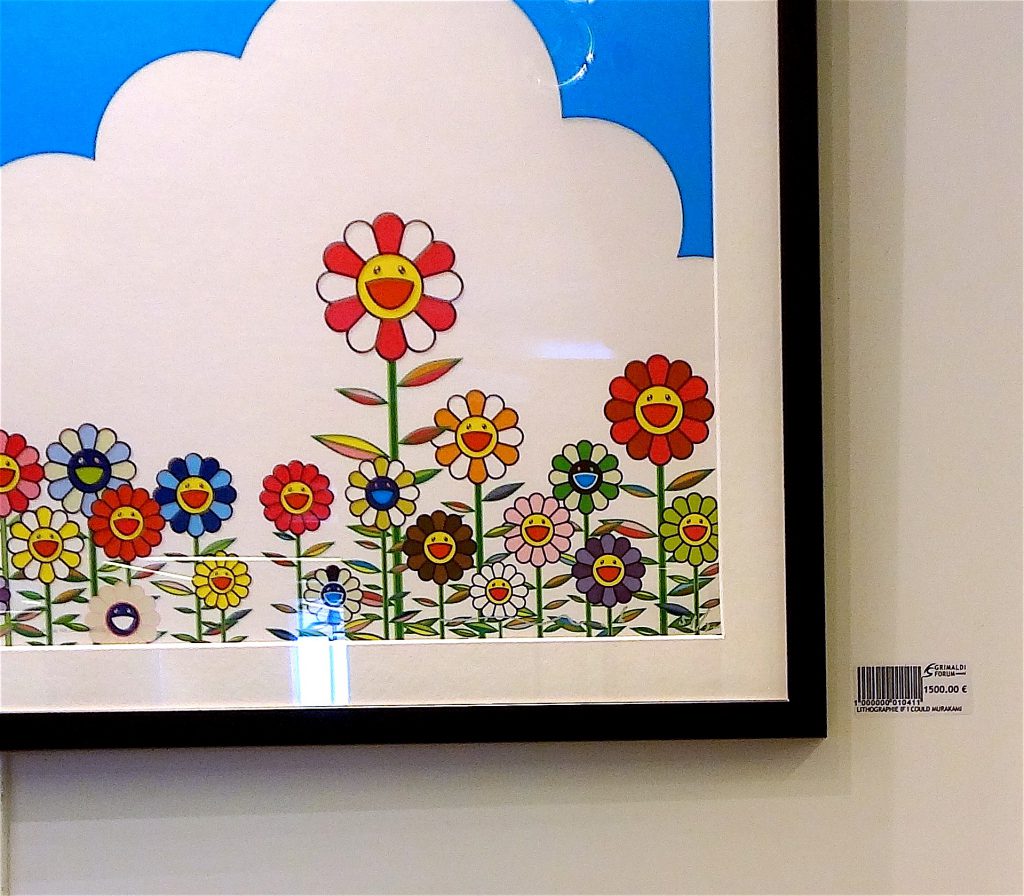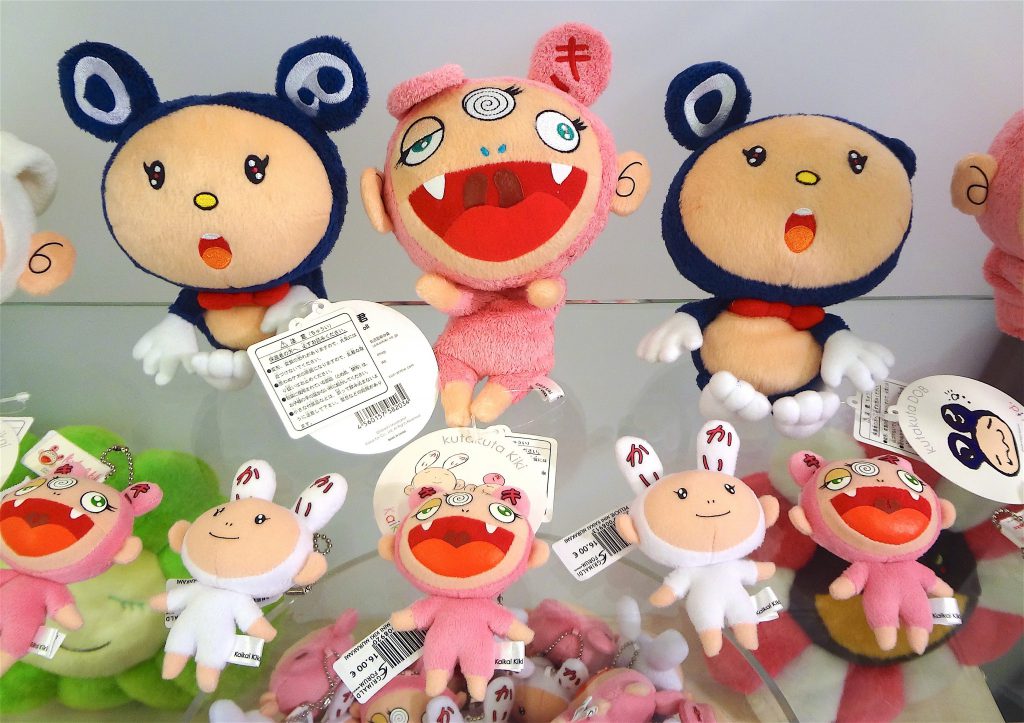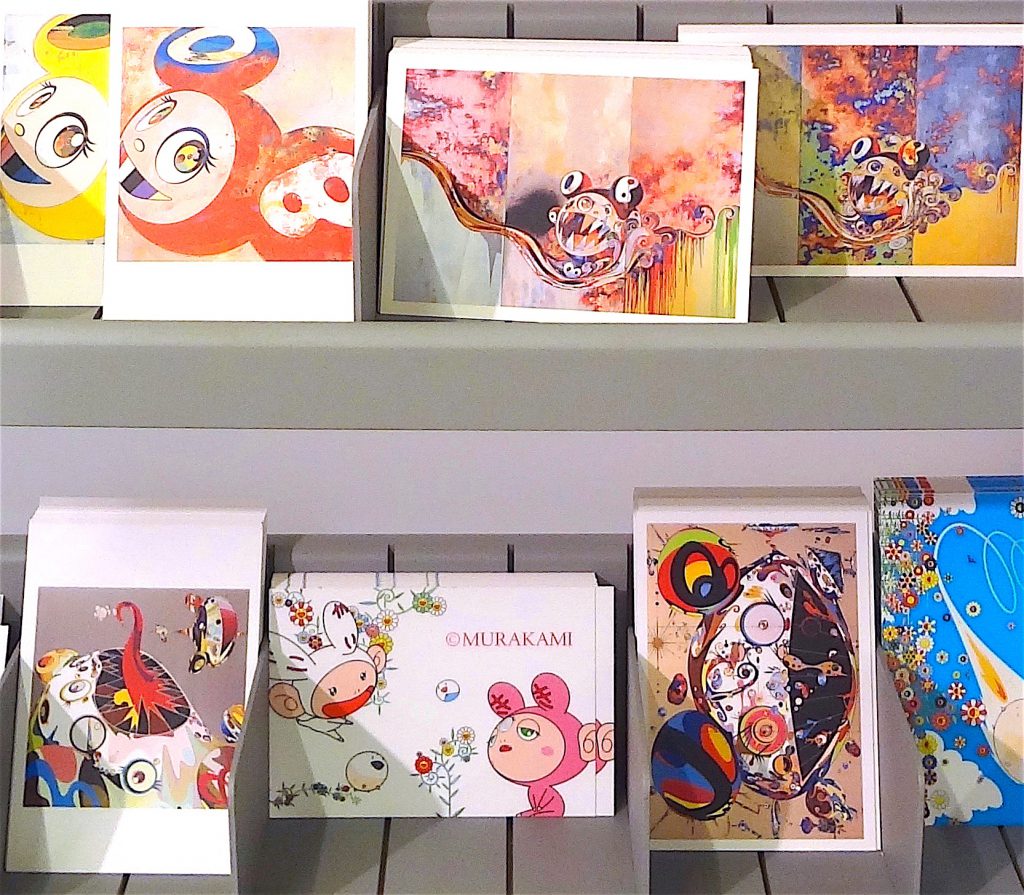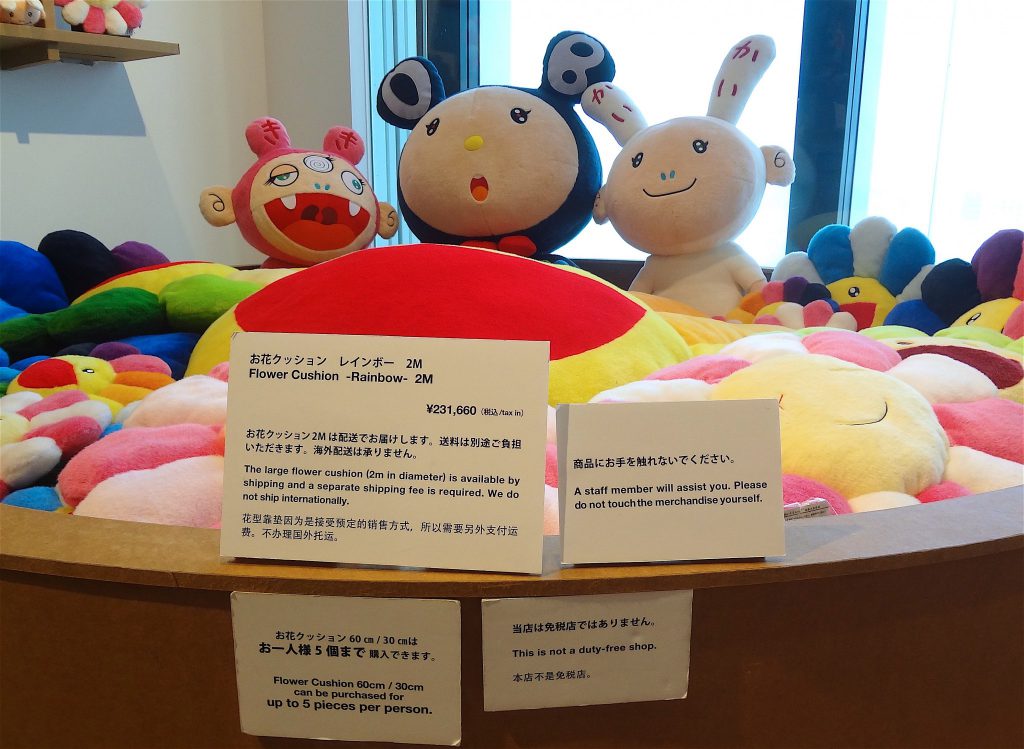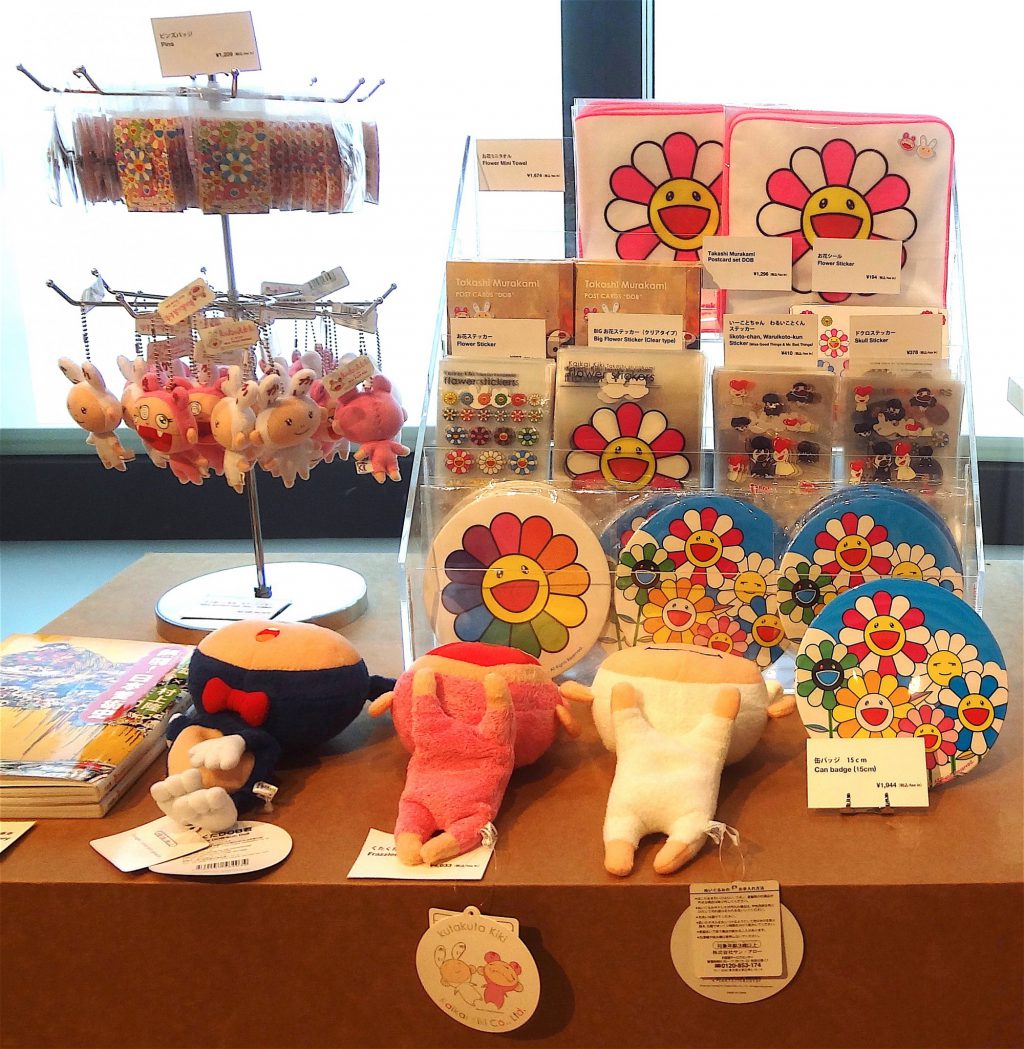 村上隆のNippon Disneyland (1)
http://www.art-it.asia/u/sfztpm/E0dAeqOyfjZnukWBp7go/
村上隆のNippon Disneyland (2)
http://www.art-it.asia/u/sfztpm/9b2ktg3UDYLVd4cXGeH5/
村上隆・Versailles・ベルサイユ宮殿・Kings of Kitsch 2/3
http://www.art-it.asia/u/sfztpm/7mOB2qf1UChP8uMskxRH/
これを読んでいるあなた、覚えていないですよね。
今一度、村上隆が新作で過去作品を再製作した意味を思い起こしてみようと思います。
2002年から2016年までの約15年間、何百人もの無意味な作品を揃えた @ GEISAI。
日本の若いアーティストたちは:既読スルー。
https://www.facebook.com/GEISAI
https://twitter.com/GEISAI_Official
1、礼儀作法、2、仁義を守らせる、3、ルールの習得。これら、ファシズムに近い村上隆の2013年の発言。
日本の若いアーティストたちは:既読スルー。
---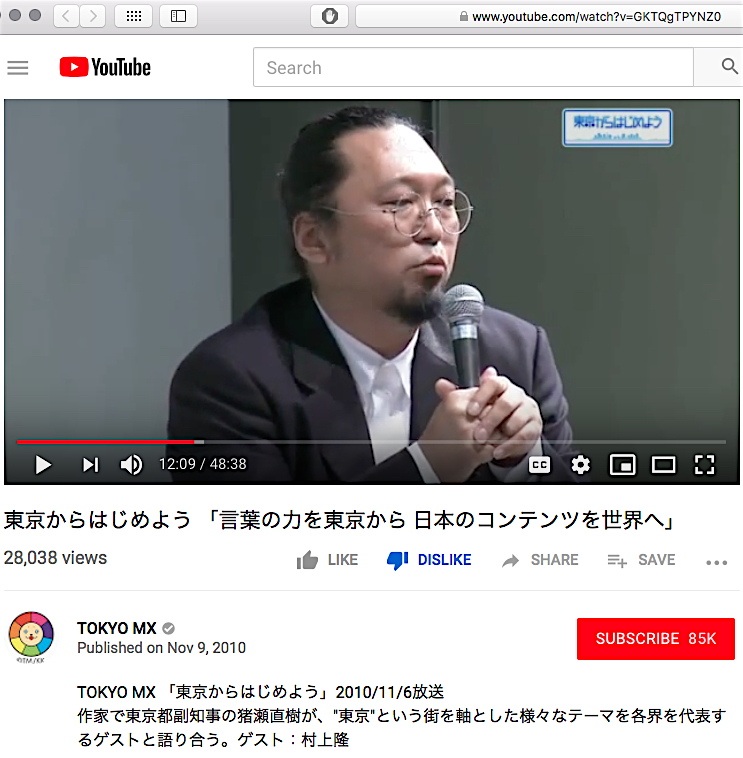 東京からはじめよう 「言葉の力を東京から 日本のコンテンツを世界へ」
GEISAI#18
GEISAIも12年目です。
で、#18です。
今回は29歳以下の回。
GEISAIに何を求め、何を感じて行くのか。
参加する皆さんの思いもそれぞれありましょう。
主催者側にも、毎回テーマがあります。
特に最近凝ってるテーマは、若手参加アーティストへの説教、です。
1、礼儀作法
2、仁義を守らせる
3、ルールの習得
そういうのが無きゃ、アートの世界じゃやっていけない。 これ、完全なる定義って思ってます。
一昨年より、いろいろ積極的に若いアーティスト達とプロジェクトを行って来て ほんとうに、どいつもこいつも、自分勝手で無責任でガッツも無く、欲も弱い。 なんじゃらほい?ってな感じ。
なので、とにかく、上記3つを繰り返し繰り返し 言うようにしています。
皆さんそれぞれのクリエイティヴィティがどれほど可能性があっても 社会人として不完全では、この日本では数年、ちやほやされるかもしれませんが 国外では、即死状態になってしまうアーティストを涌かせる訳には行かないのです。
という事で、若者へのチャンスと気づきをテーマに 審査員のお三方を選出いたしました。
今!フィギュア業界で天下を取っている グッドスマイルカンパニーの社長の安藝貴範さん。
ゼロ年代から台頭してきた新しいグラフィティアート業界で、 日本のマーチャンダイズグッズカルチャーに触発されて作品を作ってきた、 NYのアーティストKAWS。
僕も、デビュー時にお世話になった、 ワタリウムミュージアムの2代目、和多利浩一さん。
このお三方に審査員を迎えて行うことになりました。
お三方 共に、義理人情のお強い方々です。
GEISAI♯18 是非、ご参加ください。
ちあまん:村上隆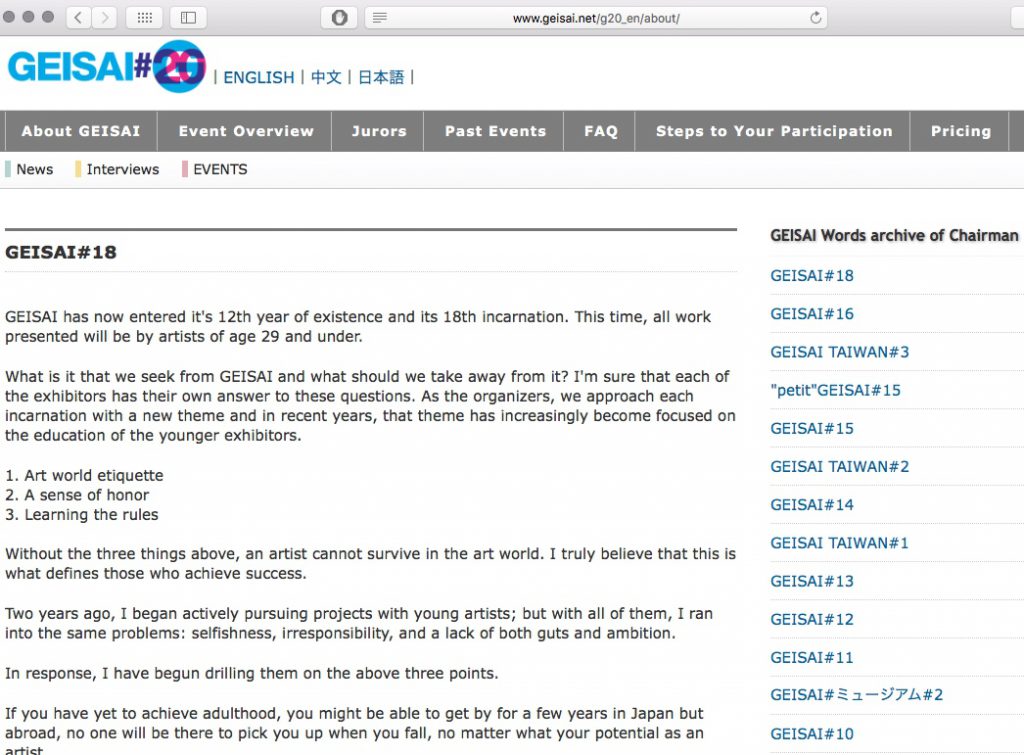 GEISAI#18
GEISAI has now entered it's 12th year of existence and its 18th incarnation. This time, all work presented will be by artists of age 29 and under.
What is it that we seek from GEISAI and what should we take away from it? I'm sure that each of the exhibitors has their own answer to these questions. As the organizers, we approach each incarnation with a new theme and in recent years, that theme has increasingly become focused on the education of the younger exhibitors.
1. Art world etiquette
2. A sense of honor
3. Learning the rules
Without the three things above, an artist cannot survive in the art world. I truly believe that this is what defines those who achieve success.
Two years ago, I began actively pursuing projects with young artists; but with all of them, I ran into the same problems: selfishness, irresponsibility, and a lack of both guts and ambition.
In response, I have begun drilling them on the above three points.
If you have yet to achieve adulthood, you might be able to get by for a few years in Japan but abroad, no one will be there to pick you up when you fall, no matter what your potential as an artist.
For the jury, I have selected three people who are well suited to offering chances and advice to young people.
Takanori Aki, whose Good Smile Company has conquered the figure world of today.
New York artist KAWS, who emerged as part of the graffiti scene in the early 2000s and whose work is influenced by Japan's collectible merchandise culture.
Koichi Watari, second generation owner of the Watarium Museum, who helped me greatly around the time I made my debut.
These are the three jurors we have chosen.
All three have a strong sense of duty toward their work and others.
We look forward to seeing you at GEISAI#18
Chairman Takashi Murakami
http://www.geisai.net/g20_en/about/index.php
---
パクリ作品、他のアーティスト作を真似ている村上隆のアート・プラクティス。
日本の若いアーティストたちは:既読スルー。
若いうちから、投機好きな絵画のアート・フリッパーと組み、オークションのマネーゲームに参加している村上隆。
日本の若いアーティストたちは:既読スルー。
美術手帖を倒産させた一因、村上隆のBTモノポライゼーション。当時の編集長と副編集長を自分のものにした。
日本の若いアーティストたちは:既読スルー。
何の才能もないのに、大きな、うるさい声で、自分の不幸を発信し、日本アート界を馬鹿にしている村上隆。
日本の若いアーティストたちは:既読スルー。
---
---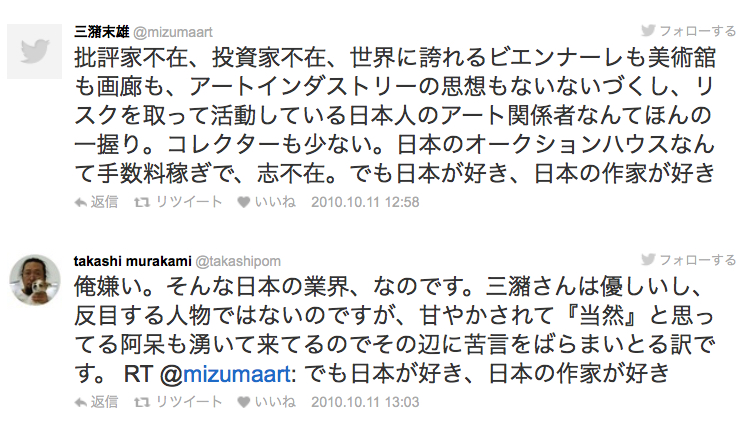 三潴末雄@mizumaart
批評家不在、投資家不在、世界に誇れるビエンナーレも美術舘も画廊も、アートインダストリーの思想もないないづくし、リスクを取って活動している日本人のアート関係者なんてほんの一握り。コレクターも少ない。日本のオークションハウスなんて手数料稼ぎで、志不在。でも日本が好き、日本の作家が好き
返信 リツイート いいね 2010.10.11 12:58
takashi murakami@takashipom
俺嫌い。そんな日本の業界、なのです。三瀦さんは優しいし、反目する人物ではないのですが、甘やかされて『当然』と思ってる阿呆も湧いて来てるのでその辺に苦言をばらまいとる訳です。 RT @mizumaart: でも日本が好き、日本の作家が好き
返信 リツイート いいね 2010.10.11 13:03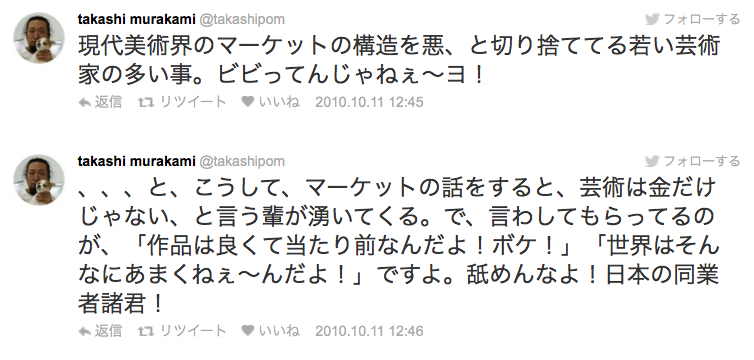 takashi murakami@takashipom
現代美術界のマーケットの構造を悪、と切り捨ててる若い芸術家の多い事。ビビってんじゃねぇ~ヨ!
返信 リツイート いいね 2010.10.11 12:45
takashi murakami@takashipom
、、、と、こうして、マーケットの話をすると、芸術は金だけじゃない、と言う輩が湧いてくる。で、言わしてもらってるのが、「作品は良くて当たり前なんだよ!ボケ!」「世界はそんなにあまくねぇ~んだよ!」ですよ。舐めんなよ!日本の同業者諸君!
返信 リツイート いいね 2010.10.11 12:46
takashi murakami @takashipom
もう一度言います。日本の現代美術業界に投資しない方がいいですよ。無意味ですから。利殖も出来ないし、コンセプトを共有も出来ない。値付けにも根拠が希薄。、、、え?僕?わしら?ええ、ええ。この話聞いて嫌になったら投資しない方がいい。しかし、わしらは問題点を見据えて手を打ってる。
2010-10-11 11:23:29
takashi murakami @takashipom
流通の改革。価格の見直し。価値観の設定基準の構築。その辺を基礎工事からやり直す。GEISAI10年やってきて、開墾事業は半分出来た。まだまだ、やるこたぁ、尽きません。
2010-10-11 11:26:19
takashi murakami @takashipom
ブームを一発立ち上げて、デヴューしたもん勝ち、と言い放ったバカな若者集団の1人とか、是非是非、その論理で生き抜いてくれと思いますよ。ええ。お前だよ!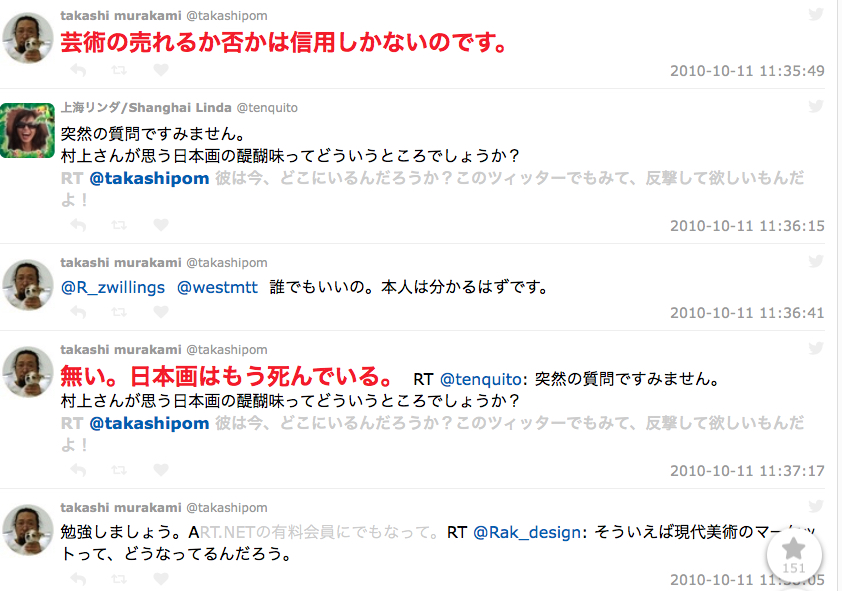 takashi murakami @takashipom
芸術の売れるか否かは信用しかないのです。
2010-10-11 11:35:49
上海リンダ/Shanghai Linda @tenquito
突然の質問ですみません。
村上さんが思う日本画の醍醐味ってどういうところでしょうか?
RT @takashipom 彼は今、どこにいるんだろうか?このツィッターでもみて、反撃して欲しいもんだよ!
2010-10-11 11:36:15
takashi murakami @takashipom
@R_zwillings @westmtt 誰でもいいの。本人は分かるはずです。
2010-10-11 11:36:41
takashi murakami @takashipom
無い。日本画はもう死んでいる。 RT @tenquito: 突然の質問ですみません。
村上さんが思う日本画の醍醐味ってどういうところでしょうか?
RT @takashipom 彼は今、どこにいるんだろうか?このツィッターでもみて、反撃して欲しいもんだよ!
---
---
何の才能もない日本美術院の裕二を応援する兄の村上隆。
日本の若いアーティストたちは:既読スルー。
ビジネスマンの本質を発揮して活躍する村上隆。
日本の若いアーティストたちは:既読スルー。
Company Overview, Company Information, Kaikai Kiki Co., Ltd.
http://english.kaikaikiki.co.jp/company/summary/
Business Description
1. Exhibitions in Japan and overseas, event coordination, contemporary art course planning and production
2. Artwork planning, production, sales and imports/exports
3. Book planning, cover and binding design, editing, publishing, sales and imports/exports
4. Art text book planning, production, sales and imports/exports
5. Clothing product planning, design, production, sales and imports/exports
6. Consumer goods planning, design, production, sales and imports/exports
7. Packaging product design, production, sales and imports/exports
8. Advertisement planning and production
9. Internet website planning and production
10. Antique sales
11. Copyrights and translation rights management and trading
12. Artists and celebrities' performance, illustration and manuscript management
13. Character planning, development and design sales
14. Film and video planning, production, sales and loans for promoting sales of broadcast programs and character products
15. Art lecturer dispatch and introduction
16. Animation planning, production, sales and imports/exports
17. Animal and plant handling and sales
18. All tasks accompanying all of the above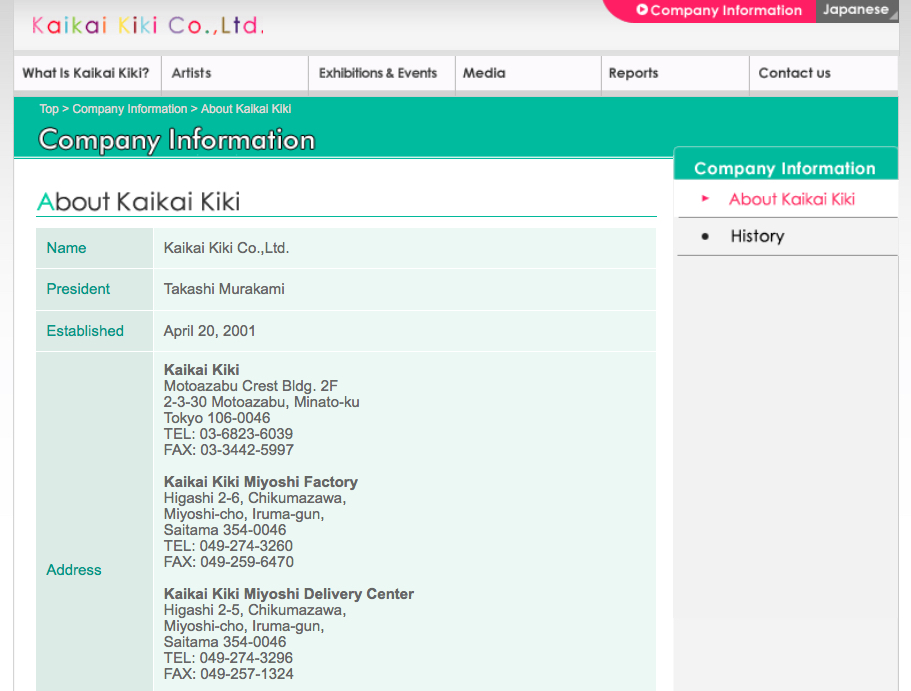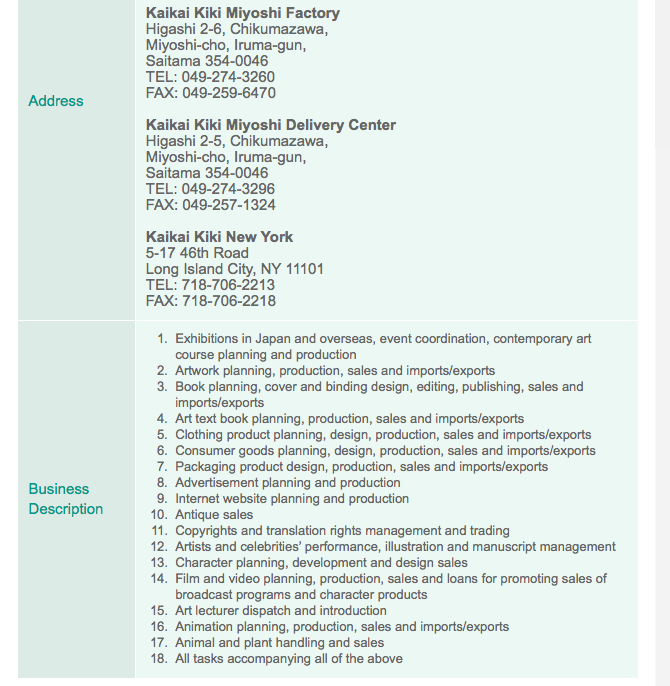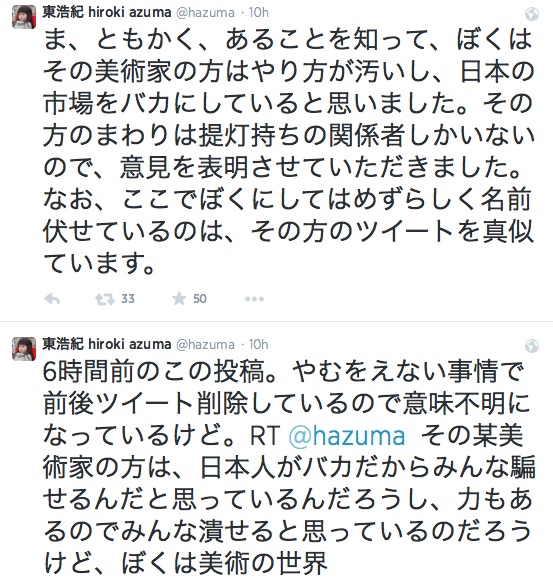 ---
up-date 2018/12/21:
As Mr. Azuma, who left a disaster with his company, was the "intellectual backbone" for MURAKAMI Takashi's art practice, see also:
東浩紀 氏:「ぼくにはひとを見る目がないし、人望がないようです。」
Mr. AZUMA Hiroki: "I lack analytical skills towards people, it seems, I enjoy no popularity."
http://art-culture.world/articles/azuma-hiroki/
---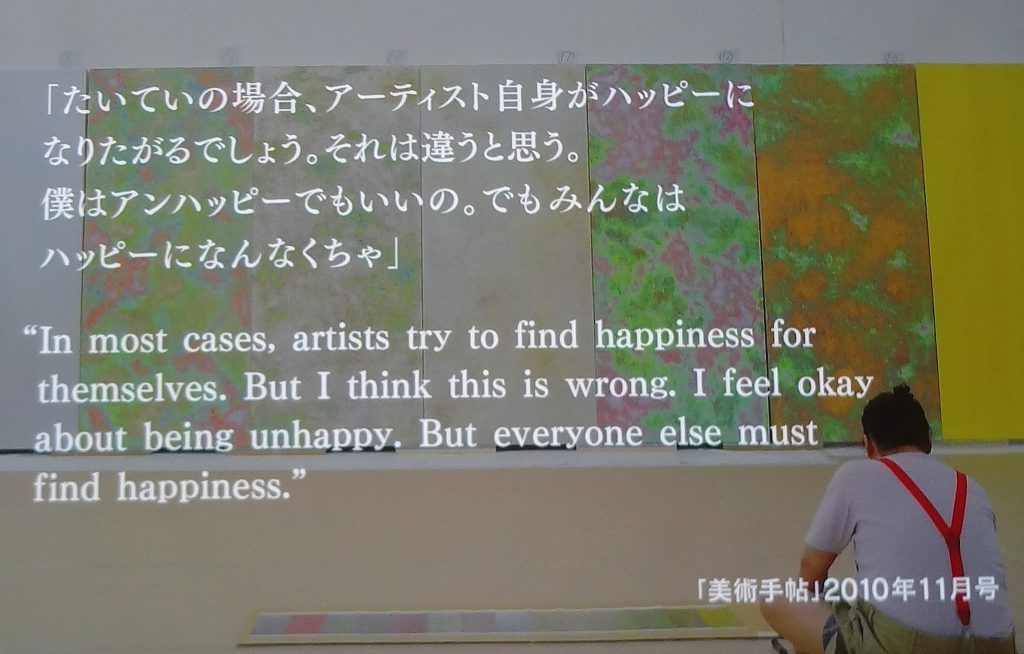 村上隆:「たいていの場合、アーティスト自身がハッピーになりたがるでしょう。それは違うと思う。
僕はアンハッピーでもいいの。でもみんなはハッピーになんなくちゃ」美術手帖2010年11号
MURAKAMI Takashi: "In most cases, artists try to find happiness for themselves. But I think this is wrong. I feel okay about being unhappy. But everyone else must find happiness." BT art magazine October 2010
村上なんて、どうでもいいですか。
村上なんて、忘れてもいいですか。
本当に、それでいいんですか。
Tokyo, 19th October 2018
Mario A 亜 真里男
---
Today's bonus 今日のおまけ: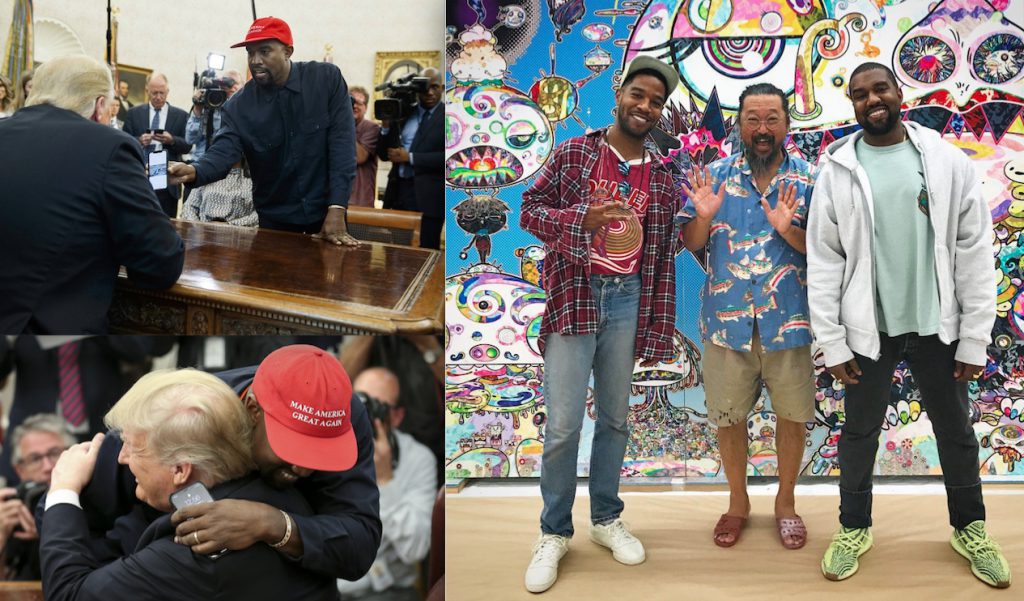 2018/11/1 アップデート: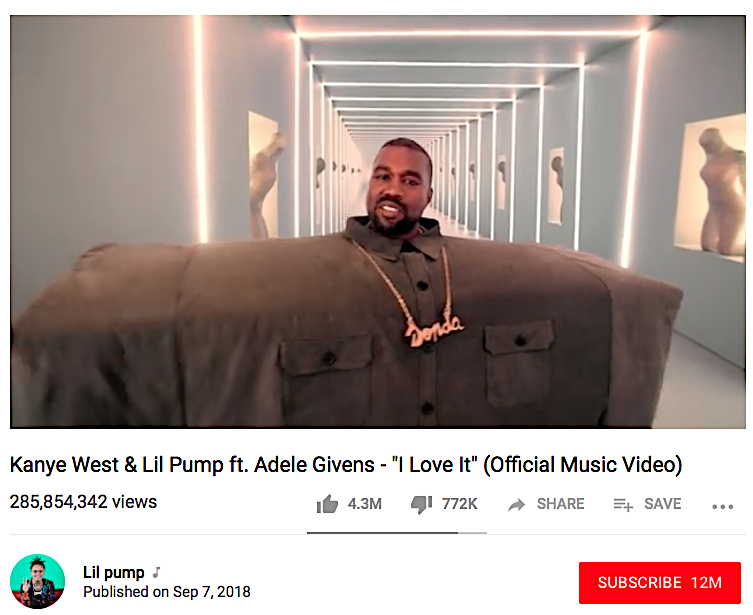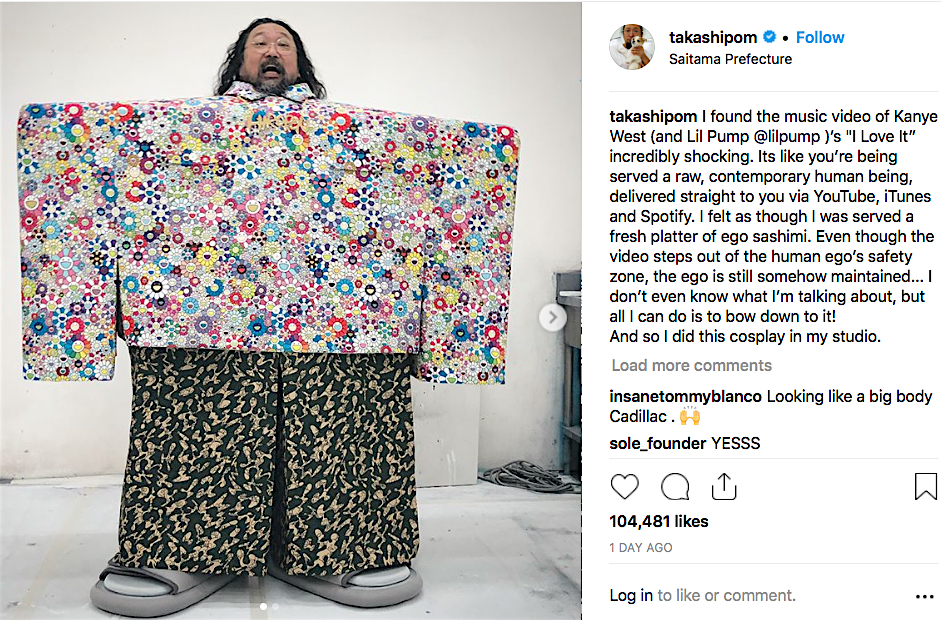 参照:
Kanye West & Lil Pump ft. Adele Givens – "I Love It" (Official Music Video)
Lil Pump "I Love It" Public Challenge
ここに載せた写真とスクリーンショットは、すべて「好意によりクリエーティブ・コモン・センス」の文脈で、日本美術史の記録の為に発表致します。
Creative Commons Attribution Noncommercial-NoDerivative Works
photos: cccs courtesy creative common sense
---
他にもご参考 please compare with:
村上作品の価値?不幸な村上隆、、、
The Value of Murakami's Works? An Unhappy MURAKAMI Takashi…
http://art-culture.world/articles/takashi-murakami-art-works-value/
---